Wednesday 20 June 2007
Busy, busy, busy......Rune continue to build at the pooldeck....ofcourse there were to less of wood and some other things so he have to go to store and buy more. I´m on my way to my hairdresser to cover the gray autobahn in my head....as usual every 5 week. I really have no time for this today, but it was neccessary!!!!! First I went to a store and buy things for Midsummer....after 2,5 hour at the hairdresser I was really stressed, because I have costumer in my store at five o´clock!!!! Normally it takes most 1,5 hour! I was home half past five!!! But I called Rune (he was trimming three cockers at home, and he been at his doctor and at drugstore and at the sopstationen and throw lot of garbage, at the lady who helps me to alter(ändra) the dresses....and pick up two dresses for me) He called me because he forgot to go to the cateringshop and take home food that we ordered yesterday, so I have to go there too before I was home.... In the store for 3 hours, one of the dresses didn´t fit at all...back to the store and the girl tried it again and the seamstress (sömmerskan) change it but it was not better...we almost got panik...she will married in some day and her store is closed over Midsummer..Back home to my store and find some other dresses...now a white one that she remember that she liked first time...it was to big and we will try to change it quickley. Her friend changed dress too then, because they would like to be similar while they will married at the same time.. After two hours all three of us was very pleased about the result, ofcourse both dresses need to be changed (unfortunatelly)!
Rune was also on his way into the house at same time as me , and we started to make dinner, but first dinner for all dogs..... We were so tired and I was thinking about how in hell I will get the dresses ready tomorrow...... We went to bed tooooo late as always..about 3 o´clock...
And Jenny (friend and kennelhelp and owner of Expos sister from Holland and soon owner of one of Donnas puppies) thank You for coming here many tims every week, even if You live 50 km from here, just to be with our dogs and specially Donna....your favourite...it is so good to know that they have company when we are running in and out, some days, like this day. Last week when Donna expecting her litter Jenny took holiday from her work all week, and Martin her boyfriend have to take free too to take care of Kassie their dog because Jenny stayed her all the time, day and night, she don´t want to miss anything, and she was helping Rune, all hours at vet when Donna was caesarean.We are so happy to know You!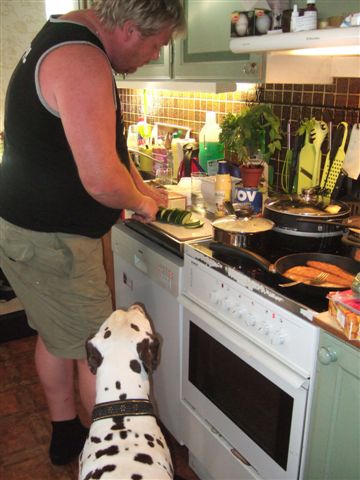 Tuesday 19 June 2007
I woke up with a terrible headache as usual...and realized that I had slept almost ten hours, that was not good...Rune was snoring in a bed at the other side of the room and nobody of us have heard anything from the dogs..probably all of them have slept well all night for the first time last weeks. Even Diamond and Rolex was still asleep.... I looked at Jill and she was still in her bed, but she was shaking her whole body and looked very unhappy. Ok...up and take temp on her....no fever today, but what was wrong??? Took her under my quilt and tried to warm her up while Rune called the vet again... after 5 minutes she stopped shaking and relaxed a little. Half an hour later she and Rune was on their way back to vet again..they would like to take a x-ray of her stommac in case something is wrong.
I started to make breakfast for all other dogs and go to store to buy something for us..so we can eat when Rune is back..and I have to go to the drugstore to get more medicine for Jill....but first I had to clean up in the kitchen...I have to do that many times during the day but it is so much easier when the dogs are out...and the sun is shining today again so only Donna is here with her puppies. Chrissi is in one of our big halls close to us with her litter....her puppies are two weeks today and we will start to hearing test them during this week.
Now a shower for me and, hurry hurry....during the day many of young girls that have their first prom are coming back with their dresses to my store...so I have to dress up a little more than when I´m in the house with all dogs *S*!!!
And still waiting for a call from Rune what the vet find out about Jill........
Rune called just now and something was wrong....it seams that nothing could pass through her stommac so she have to stay there...during the day...poor Jill..she is so unhappy without us.
18:30 Jill is home again!!! Probably Constipation (förstoppning)...was her diagnose...and they give her extra fluid, enema...and some injections so we hope everything will be ok with her now.
The sun is still shining...I have been in my shop for two hours and Rune is now making dinner...I hope he will continue to build our new terrace after dinner because we have promised to barbeque there at Midsummer Day with some of our friends and family...
Monday 18 June 2007
All puppies are well, and they grow a lot every day........Chrissi and Donna is in very good condition and take care of their puppies perfectley... Even Devlin is a very good babysitter.
But Jill who was sterilized at friday got fever today and started to throw upp everything that she try to eat.....when I was out with her she started to scream when she try to pee. My poor sweet darling......this was not good at all. I called the vet and Rune already started to drive there while I was calling...At the vet she got injections with antibiotic and something against the pain, every medicine we try to give her she throw up after a little while because it haven´t had any effect for her...
During the evening she eat a little, but after some hours she throw it up all over Rune that was trying to sleep beside her in a bed at the floor in the kitchen (the kitchen is almost 50 sqm) and we live our whole life here everytime we got puppies..it is because we don´t want to leave newborn puppies and mom´s the first weeks. We have everything that we need here two TV, one where we make food and one where we sleep and eat, so we don´t miss anything *S*, the computer is here, everything to drink and eat. Telephone and everything that we need during the day and night. We have large windows so we can see the other dogs when they are out playing..and they can see us. Just two meters to a toilet and three meters to the indoor kennel.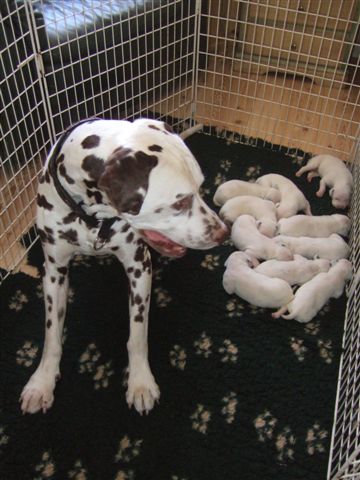 Sunday 17 June 2007
This morning....I woke up to a loveley smell of dogshit ....when we finally fall in sleep last night the puppies continue to play some more hours...*s*
Under dagen kom det flera som ville hälsa på oss...det tyckte vi om.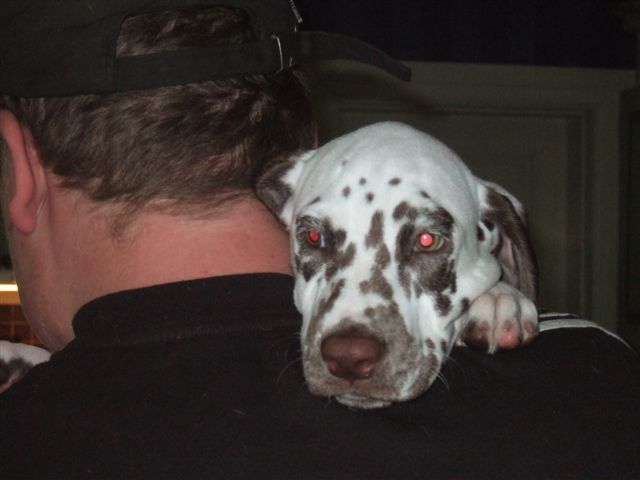 Vi fick även gå ut i den hemska rastgården där det fanns bamse STORA lejon på båda sidor som ville leka med oss, fast matte tyckte det räckte med nya bekantskaper för idag....så vi busade med pappa istället resten av dagen.
Diamond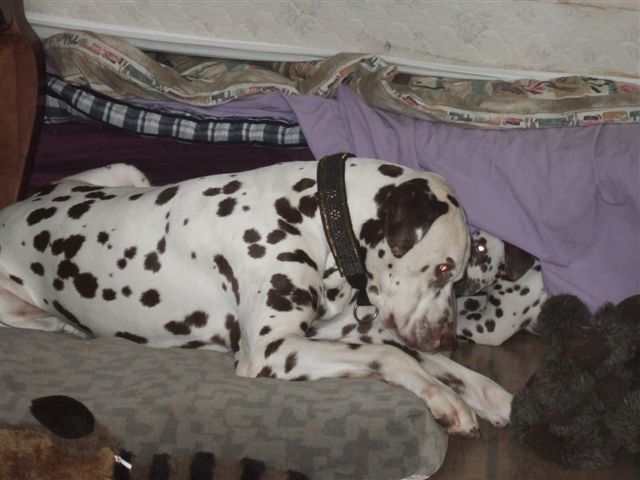 Saturday 16 June 2007
A day in hell, but it was worth it!
| | |
| --- | --- |
| My birthdaygift was to go to Amsterdam and bring our 2 new puppies from kennel Gwynmor home. I got up half past 3 in the morning and went to the airport, Landvetter. I was there 1,5 hour early, but it was a line out the doors for check in with SAS. I tried to check in on the machines, and realized that I forgot my mobile in the car. I had to bring the cage back to the car and get the phone with all the flight information etc. Back again and try to do the check in. Not possible! Then it was only to go back to the looooong line and hope for the best. I realized that it would not be possible to check in in time standing in this line and asked for help. A friendly person helped me, but said it was too late for check in. She still managed to do it and checked the cage all the way to Amsterdam, but I was only checked in to Copenhagen. I ran and dropped of the cage and ran to the securety control. It was 200 people in line before me, but I ran through and was allowed to go first. I only had wallet, mobile and camera, but didn't get through the scanning! I had to take off my shoes and when I was cleared I had to run without my shoes to the gate. All well! At Copenhagen I had to check in my self to Amsterdam and had to wait in another line again. I was checked in 5 minutes before departure and when I entered the gate, they had checked me in wrong! I was checked in back to Landvetter and they had taken away the reservation for the puppies on the journey back! So at the gate, they had to check me in again to Amsterdam. Ok so far so good, but I had to contact SAS to re reseve the transport for the puppies. I had an economy ticket, but was placed behind the economy extra seats, so I got breakfast even if I should'nt. Thank you! Well at the airport, I was waiting for my luggage/cage, but it never came. Then another line to report missing luggage. Now I had some hours before Annemiek and Rhys came with the puppies and could relax a little, but of course contact Annemiek to bring another cage just in case. | At 13 o'clock Annemiek and Rhys came with the little ones. They where very tired so we let them sleep in the cage, and sat down to have a cup of coffe/Coca Cola. Henk that bought Gwynmor A Shadaow in A Mirror, came to show me his puppy. Thank you for letting me see him. It was nice to meet you and Shadow. After spending some time together we said goodbye to Henk and Shadow and went for the check in. More problems. They could not accept 2 puppies in 1 cage! But as they lost my cage we could not do anything about it. After a lot of discussons, it was ok. They tried to check me in all the way, but it was not possible, so I had to check in again in Copenhagen. I said goodbye to Annemiek and Rhys and went for some taxfree shopping and everything seemed to be ok for the rest of the journey. I had only 45 minutes to check in and go to the gate, and I belived that it could not be any more problems so it wouldn't be any more stress! I could see the puppies was transported into the plane and was very satisfied with that. |
Well seated and ready for take off - did I say ready? It was problems with the brakes and they had to fix it before we could leave! Then I became quite stressed again. Now I also had to think about the puppies and what would happen if I missed the last plane to Landvetter and the puppies got to go with the plane to Landvetter or even worse if I got on the plane and the puppies didn't!!!! Couldn't take any more now. I called Florence and asked her to check for alternative flights etc. I did not want to alarm Annemiek and Rhys before I knew how it would be, and make them stressed about the situation. It took more than 1 hour to fix the plane and I guessed that the last plane to Landvetter would have left already when we arrived Copenhagen so I prepered my self for a night in Copenhagen! But during the flight they said that the plane for Landvetter was waiting for us because the crew had to go with that flight. I asked if I had time to do the check in and go with the plane, and I would not have the time. What will happen with the puppies, I asked. Most likely they will be transported to Landvetter, and I got angry and said that the puppies WILL NOT GO ON A PLANE WITHOUT ME!!! After a while they said I could run to the gate and it would be ok and the captain would personally make shure that the puppies would be on the plane with me. Ok out running again. My plane was next to our gate, and I ran there, but no one was to be seen. Then I ran the other way, but no staff anywhere. I ran back to the first gate, and a nice lady asked if I was Johansen! I've never been so happy to hear my name! She checked me in and then I asked about the puppies. She looked at me with a big questionmark on her face! She said go on the plane and I will make shure that if the puppies are not on the plane, she will take me off the plane. Finally I was on the plane and waited for a confirmation that the puppies was on the plane too. Then I could see that they carried the cage from the other airplane to my plane. I called Florence and said that finally it was ok. From there I had no more problems.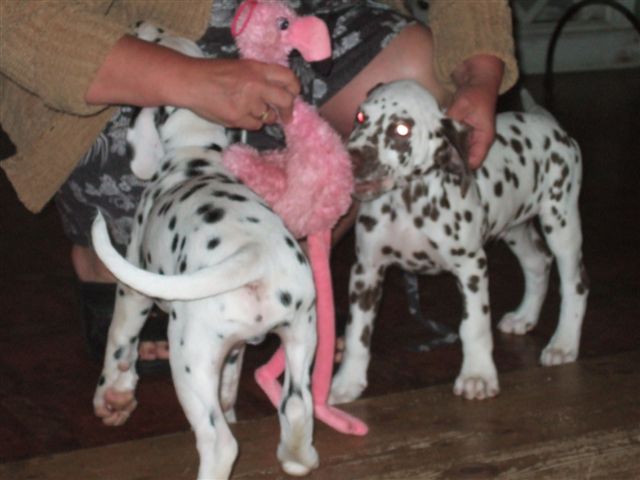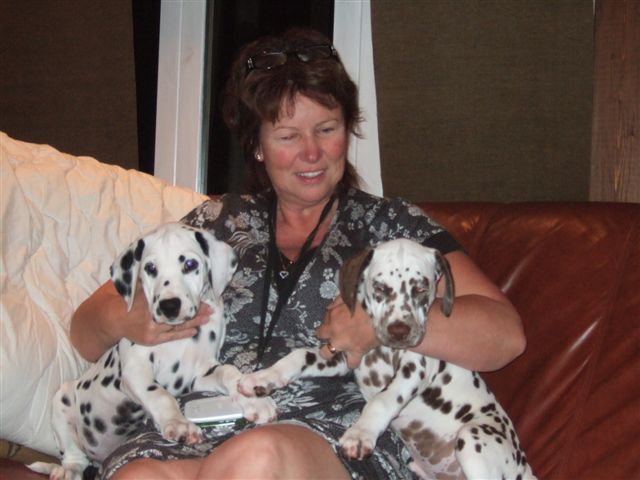 The puppies and I arrived at midnight in Götene after 20 hours of travelling. We are so satisfied with the puppies. They slept with us in the kitchen (as we sleep there to be close to Donna with her newborn puppies). Rolex and Diamond had a lot of energy after sleeping and travelling all day so it was no time to sleep for us either! In the middle of the night, I finally got my birthdaycake! Thank you Annemiek and Rhys for all your help and for two wonderful puppies and my beautiful birthday gift!!!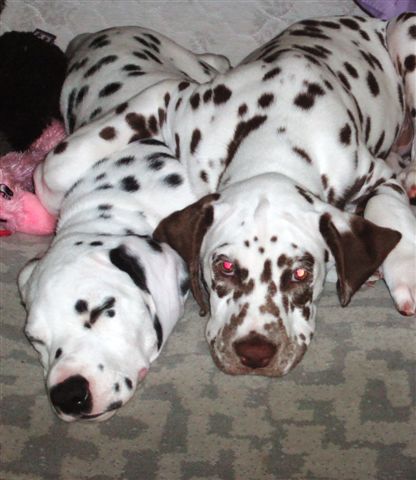 Wednesday 13 June 2007
Finally Donnas Puppies are here!!!
She got 11 puppies 3 males and 8 bitches, we have now 1 male and 7 bitches most of them are blackspotted.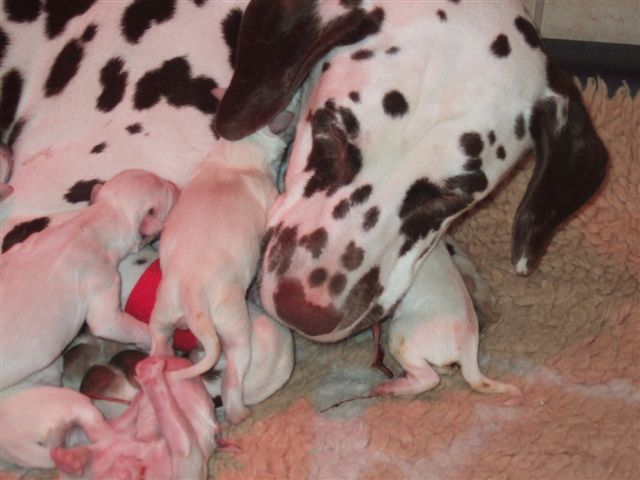 Tuesday 12 June 2007
I called the vet in the morning and ask a little about my fright about why Donna havn´t started to get birth to her puppies..Don´t worry he say and ask me to call again tomorrow if nothing have happend.. During the weekend (when I was home and Rune in Norway on dogshow and at his brothers oldest son´s confirmation) she stopped to eat and more things that I think was a sign that she was ready to start. But yesterday and today she eat like a HORSE!
In the afternoon a man with a machine was here to dig a large hole so the small fun/pool we bought will be standing a bit better. We have sold the caravan Rune renovate some month ago, so he have to drive to the new owner and deliver it. After that he was driving to Jönköping to a store that have almost 40% discount if You buy things there during just that night. He bought a shower to put up in the garden for very hot days, lot of duckboard for the pooldeck and fence for Hanna and Jens garden, they really need it for their dogs.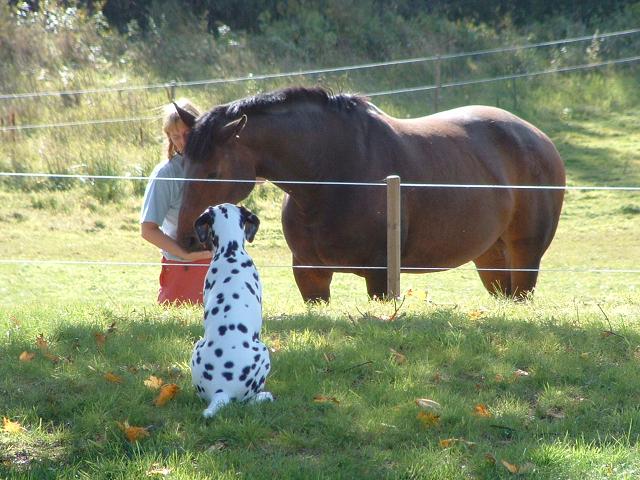 Carola and Hannie as puppy 2004.
Monday 11 June 2007
In the house with Donna whole day..still waiting for her puppies to come out. It was really hot, hot, hot. Poor Donna and Chrissi and Us. Rune called a store to buy an aircondition that will be very good (we bought one last summer, and it was really shit)..Ok in about two days they will delivery it her, thank good!!!!!!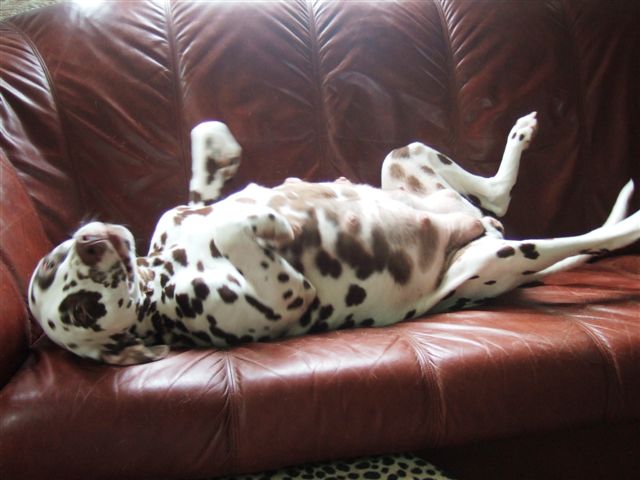 Donna still in very good condition and play even if it is a terrible heat.
Sunday 10 June 2007
On our way to Norrköping at a Dogshow... Jenny home with the dogs...and Donnas temp was not low enough that I need to stay home. Today we have Expo, Devlina, Perfect, Jill and Darling with us..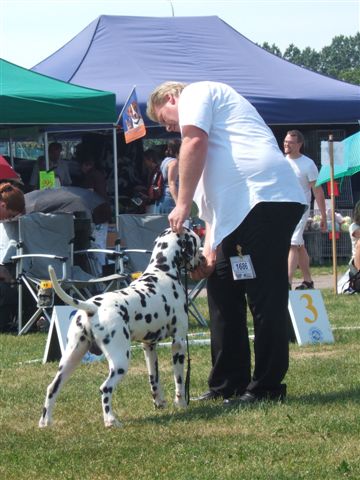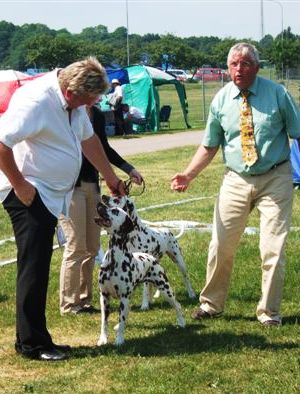 Expo Devlina Milda
Perfect and Darling Changing trousers beforethe final, with LOT of help!!!!!
Super final today too, BIS 2 Breeding Group!
Many thanks to Helena A, Helena B, Jenny A, Hanna and all of You that make it possible for me to show my breedinggroups!
And ofcourse to my Darling Rune that show most of the dogs, in a perfect way.
Congratulations to one of our Best Friends Mr Dragon himself, his loveley bitch Spotnik´s Coffe Cream was Best Of Breed.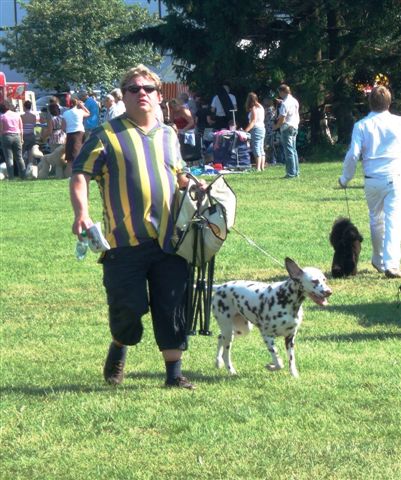 Saturday 9 June 2007
On my way to Dogshow i Vänersborg, only Expo was entered. Rune was home with all other dogs and the newborn litter.
Judge was Cecilia Ringstrom from Canada..almost 40 dalmations entered.
Expo Best Of Breed again and Ch Jilloc´s Hothouse Flower BOS (Topwinning Dal in Sweden 2003)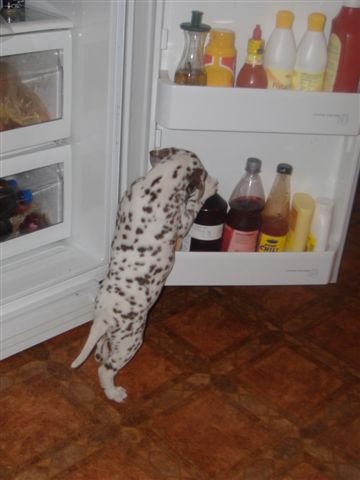 Jilloc´s Run Wild Run Free 7 w old..and then 14 month old today.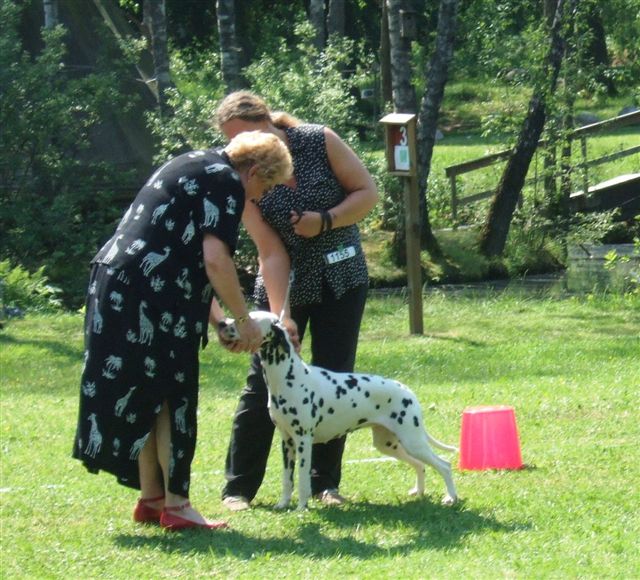 Citykids bitch after our Dennis from his last litter. Handlers/puppybuyers on a hot day. Hanna and Rebecka some years ago..
Jilloc´s Matchmaker fick sitt andra cert idag...här 7 v gammal. Second CAC today in Vänersborg.
Perfekt Ending of the day. BIS BREEDINGGROUP!!!!!
Friday 8 June 2007
Today lot of teenagers in Sweden celebrate their last day in Highschool, and end it with a prom.
Lot of girls have been in my store this week to take home their dresses they have bought or hired.
In the afternoon a garden party at Rebeckas home (Rune was still home watching for puppies)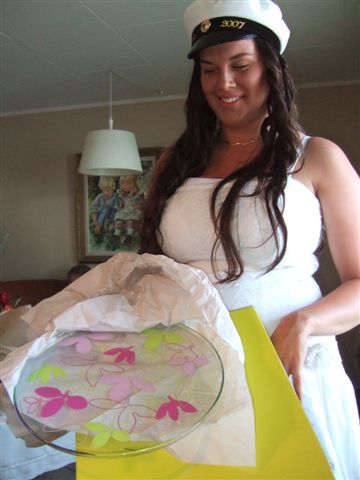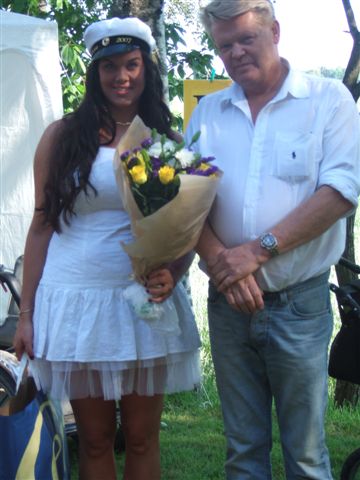 Thursday 7 June 2007