Diary
Friday 31 August 2007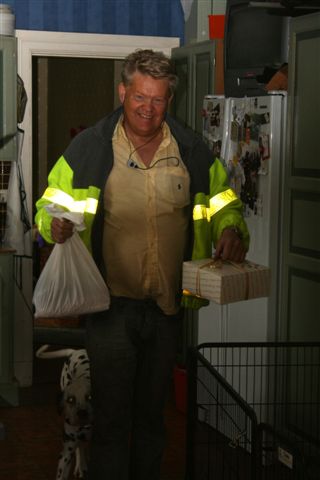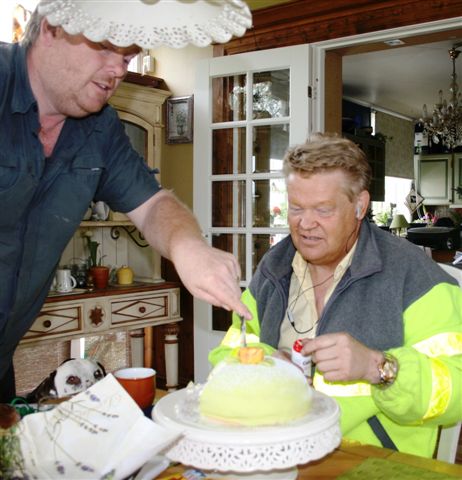 Exactely at 11 o´clock Mr Cake himselves enter the kitchen soooo peckish of coffe and cake....as always. Rune didn´t want to show his dietist or anyone else that he eat things like this so he hide himselves behind a lamp, but we saw him!!!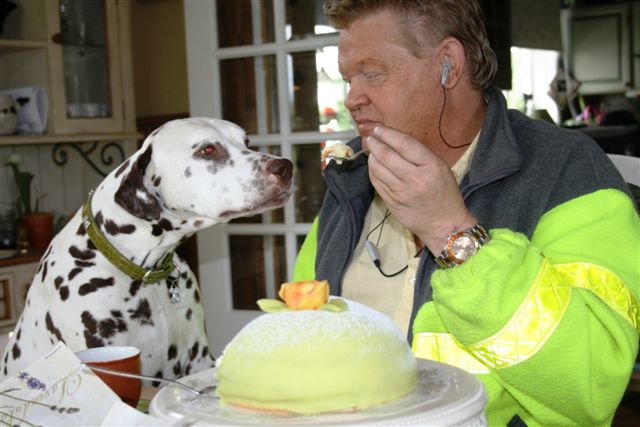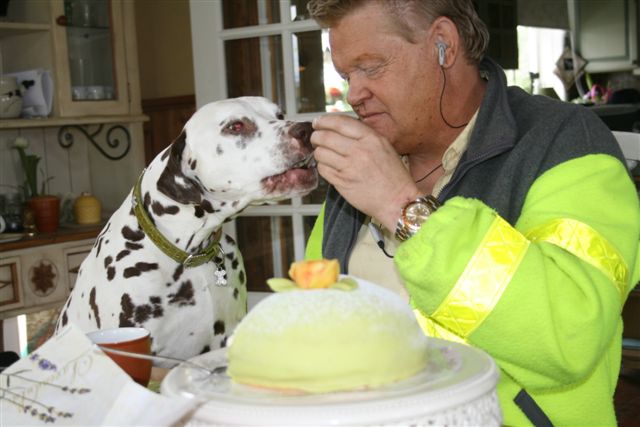 Especially one of our dogs is a Cake Monster too!
Don´t tell Me it is empty....pleeeeeeeease give me some more!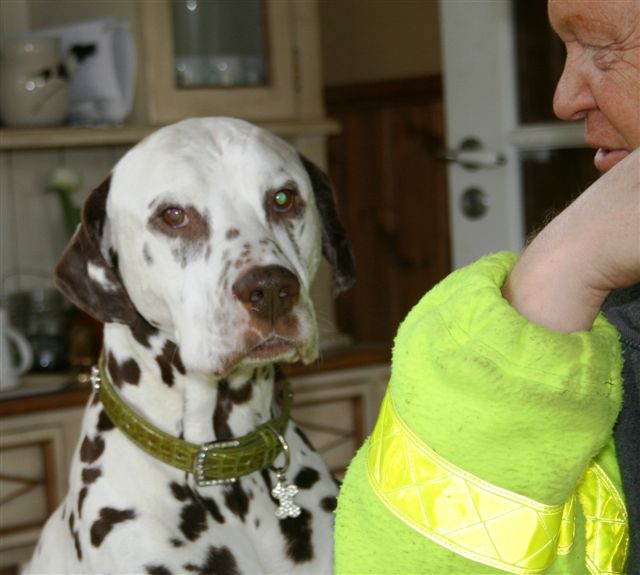 Mummy can I have the rose later.......of course Darling, I´ll give it to You before Rune steal it!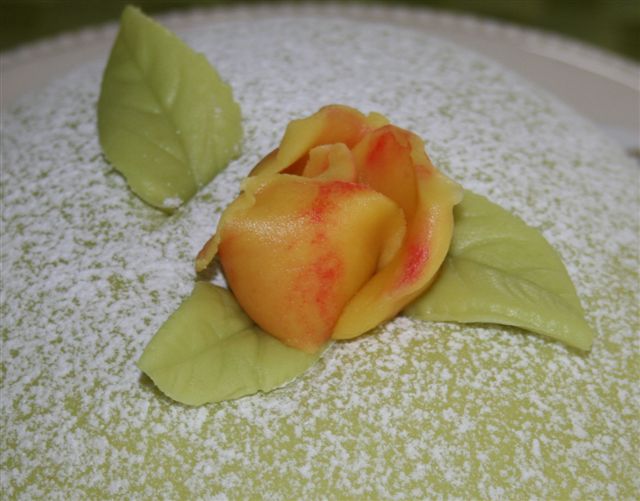 Thuresday 30 August 2007
We try to answer lot of mails and to take new pictures of our dogs today, and to make lot of boring paperworks that we both hate. I take a rest from that and took some photos.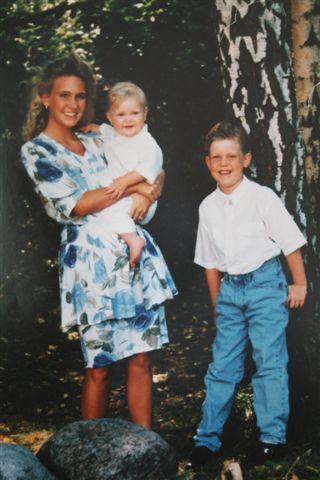 My favourite photo of my children is from august 1991. Jennie was 18 years old, Jonnie almost 7 and Jonnie was 11 month.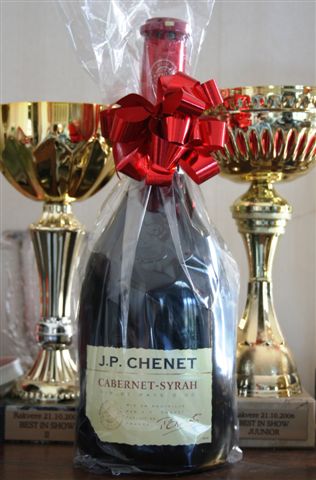 I looked at this wedding couple many times before I bought it because it was rather expensive, but it is very well done and one day I really need to buy it anyway......The bottle and both trophys we got in Estonia last year when Jill was BIS 2 and Expo became BIS Junior (but don´t remind me of that terrible boattrip over the sea). I have been the owner of a Bichon Frisé for 17 year, not so many people knows that. Nord Ch Azurs André was born in the first bichon litter in Sweden, but this bichon I bought in Italy at the World Winner Show 2000, and this one will live forever. But the best thing with this one is that I do not need to take care of his coat at all (I hate it, no more dog with coat for me). We bought a small dog because Jennie was only 4 years old and would like to show, and our dalmatians was too strong for her we think. But she didn´t think he was a dog so she continue to let the dalmatians pull her around in the ring, she got a special prize most of the time because she was so small and the dog so big, but she always say that she got the prize because she won (even if they walk the opposite way against all the others, I was right she said, the other 20 children did it the wrong way!!!) Hopefully I find old pictures from this time some day!
Wednesday 29 August 2007
This week we have only done the most neccacary things at home, we decide that we really need to rest, to stay longer in the bed every morning, dont go to any meetings and so on, but we feel more tired than ever, so maybe this is not the right thing to do, to feel less tired.
During this week we have been out at the backyard and made a bigger place for the smallest puppies to play on (because the small puppies are not that small now) and there are still 9 puppies at home. It have been loveley weather during the days, but the nights are much colder already.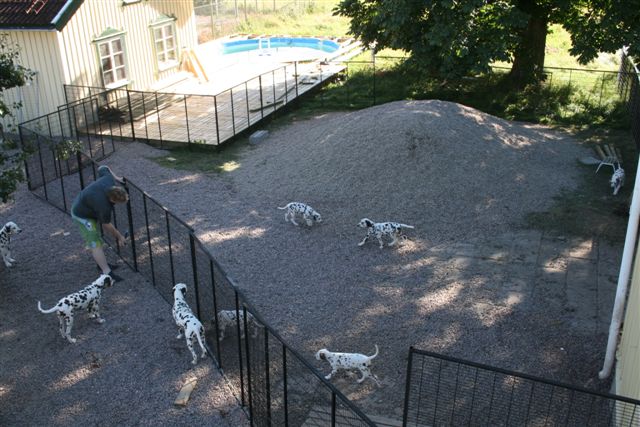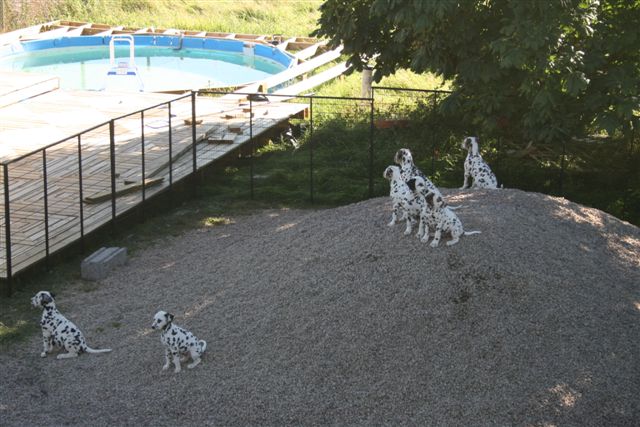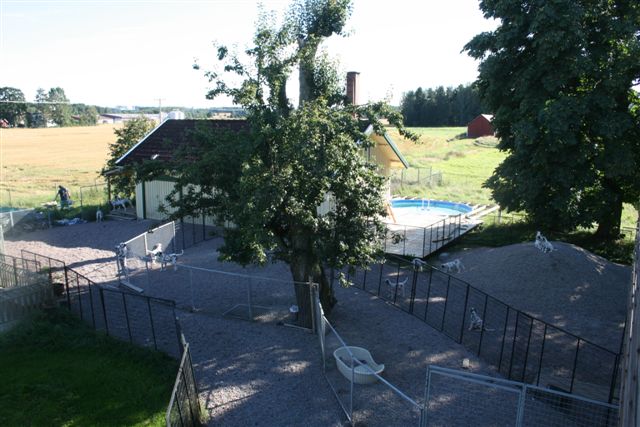 Around the south wing there are dog yards, and the whole backyard is a fense around, in the south wing we had a kennel five years ago, but where never pleased not having some of the dogs so close to us as we have today. In the north wing I have my weddingstore. We bought the small caravan for our kennelgirls, but they have never use it so proably we sell it before next summer. Our pool and pooldeck will not be ready this year!
Thuesday 28 August 2007
Medevi.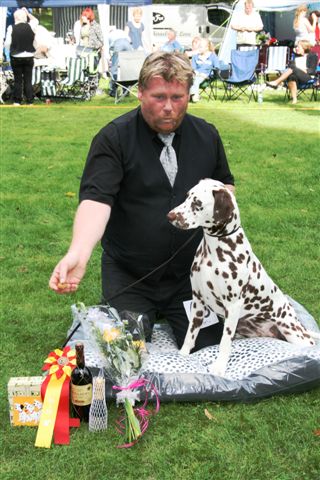 Look what we won! Best Breedinggroup was Jilloc´s with 4-combinations from 1,5 year to 11 years.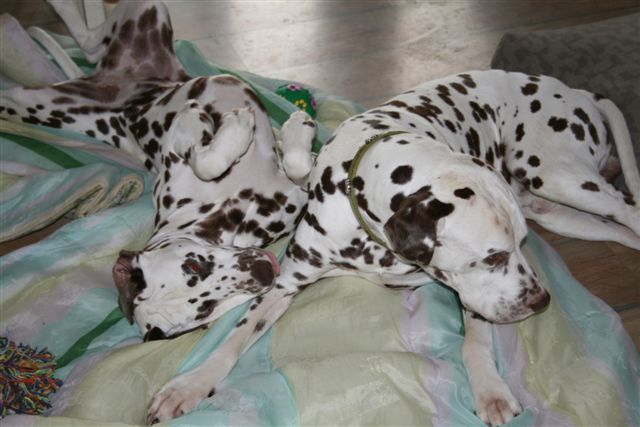 Come on daddy play with me!!!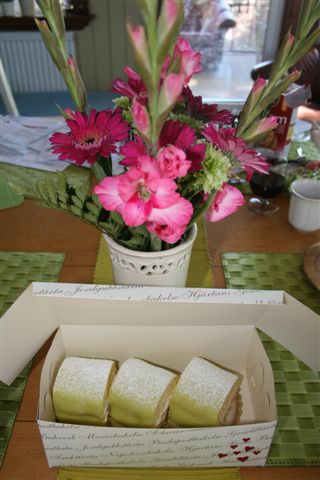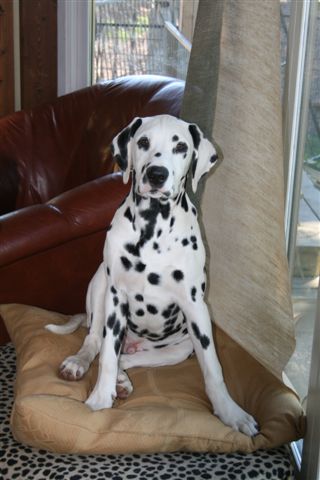 Someone been here for coffe, guess who! Rolex know but he will not tell You.
Monday 27 August 2007

Guess if we were tired today!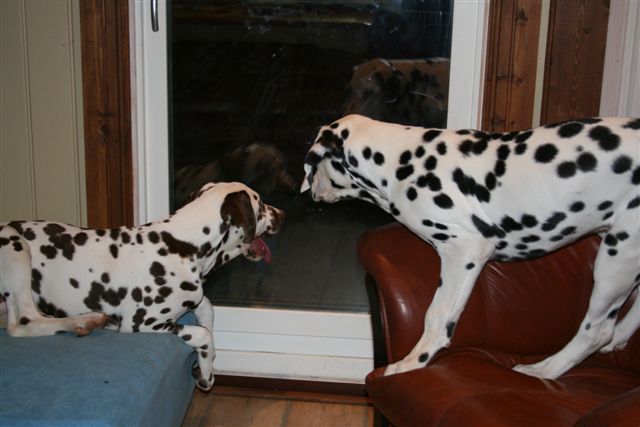 Please Daddy, it is my ball, I won it! Diamond and Rolex saw spotted dogs in the window. Rolex want Devlinas toy.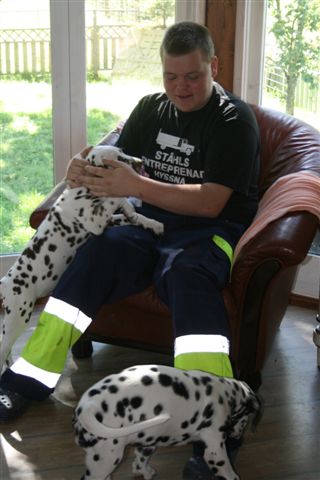 Devlina try Jonnies intergralhelmet. Lill Zally o Daddy with Jonnie. Sugardaddy and Jonnie again.
Sunday 26 August 2007
The Alarmclock was ringing 5.45 this morning again, and we had to get up because we have promised to be at a puppyshow in Gothenburg to sell handbags and blankets with dogmotive there........guess if we regret that.
It was stormy weather and it was not easy to keep the tent standing. After nine hours we drove back home and on our way back we eat at Mac D so we don´t have to make dinner at home. After feeding the dogs we went to bed early for once in a while.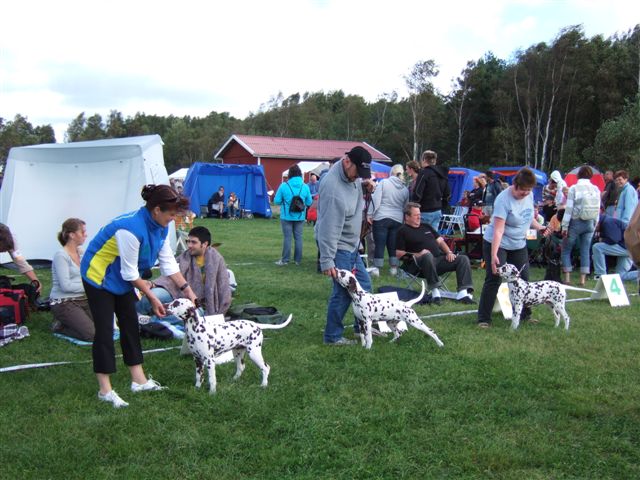 Rune wish he was home instead. Some dalmatians was entered to the small show.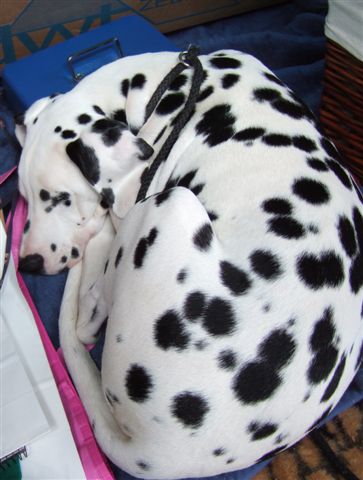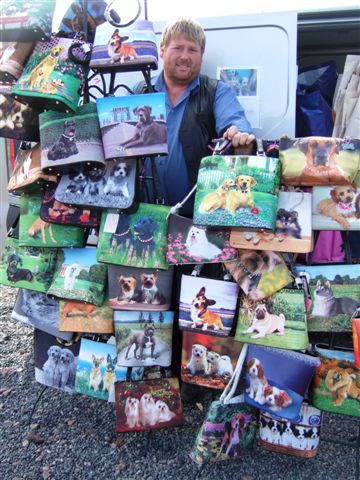 We let our dangerous dog watch over the cashbox.
Saturday 25 August 2007
Swedish Dalmatianclubshow in Medevi, judge Aase Jacobsen, Norway
It started with puppies 4-6 month, with Diamond and Rolex (4,5 m) entered the showring for the first time in their lives (but not the last *S*)
Hanna was showing Diamond and Rune had Rolex, I was really not in condition to be here, but of course I have to, and I took almost every picture today, but the camera maybe had a bad day too because most of the pictures was not good at all.
Diamond was nr 1 in puppyclass and Rolex was nr 2 both with honourprize.
BOS Gwynmor After Eight (Diamond) and BOB Timanka´s Romantic Miracle (Mini Mel).
Mini Mel was nr 1 in class 6-9 m nr 2 was Perdita´s Red Ribbons To Lovinda, but she got a blue one!!!!! and was not pleased at all so she EAT IT UP!!! *S*!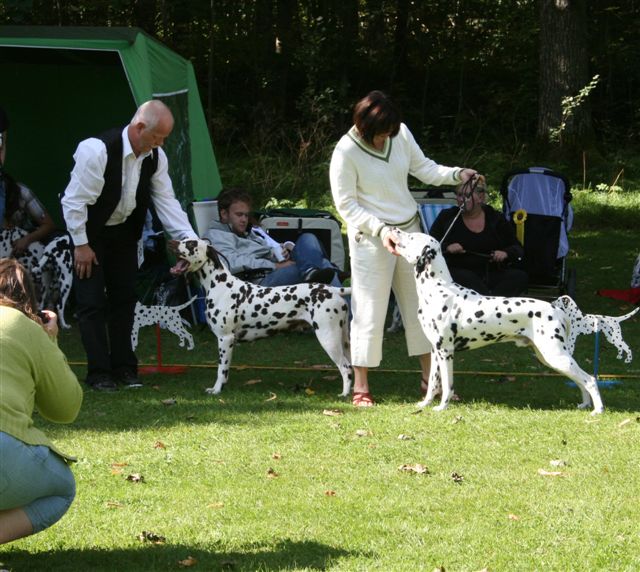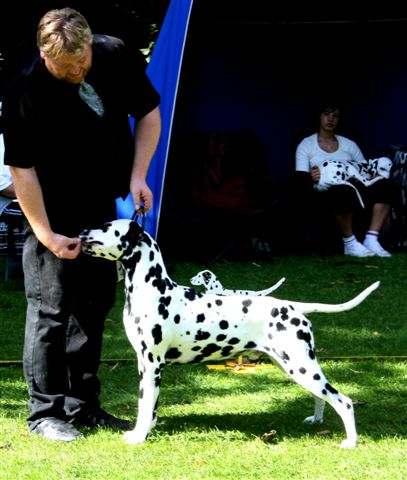 Best Male Ch Lovindas Fabian, Nr two Ch Jilloc´s Easy Rider, Nr three Expo (no photo), Nr four Jilloc´s Loverboy (Bosson), Nr 5 Ch Ridotto Napoleone (no photo)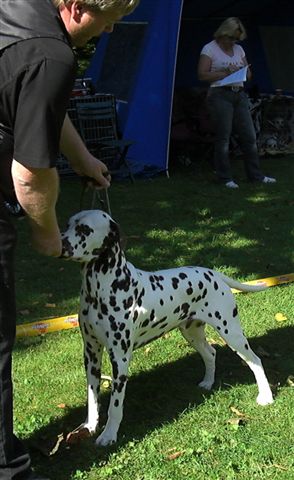 Jilloc´s Rich and Famous (Disco) CK and winner of youthclass, Fairytail Spots Afrodites Loverboy nr two in y class with CK and Expo with CAC.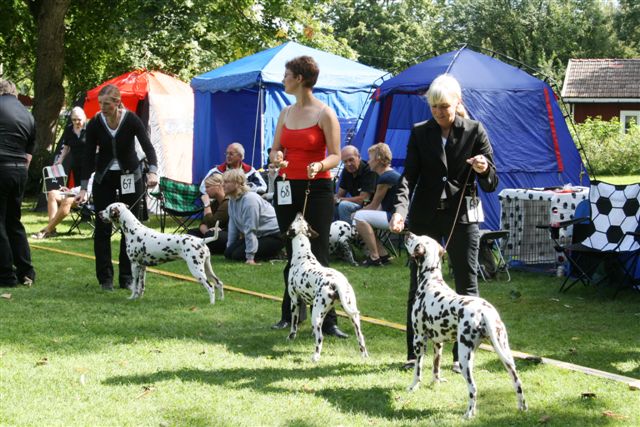 Three sisters in youthclass Milda and Helena, Nova and Anna, Angie and Eva. One month ago Nova fell 20 m out from a hill. She was sitting there for many hours before they found her and have to get help from SOS Rescue to get her up to a happy owner.
Nr 2 in open class was Devlins daughter from Norway Ch Dot Coms Bandwidth, with Miriam and nr 3 Jilloc´s Picture of Paradise with Lotta.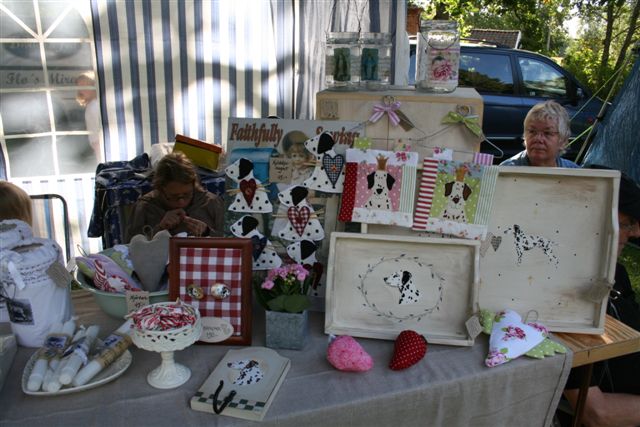 Lot of nice things that Lotta make! Nr 1 in open was Timanka´s Listen To Your Heartbeat (Saga)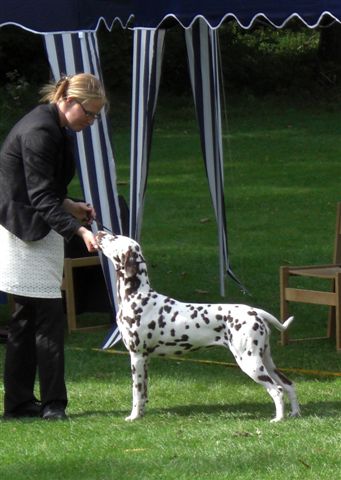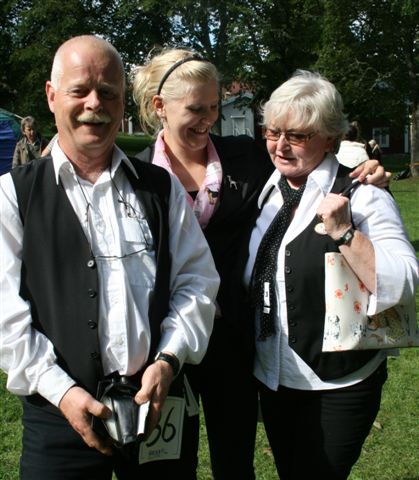 Fairytale spots A Dream Come True, (Bossons daughter) ck in youthclass. Anne Karin was shopping so the wallet was totally empty! Jens taking photo.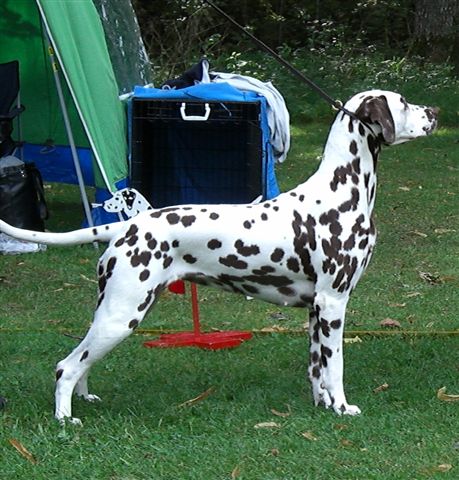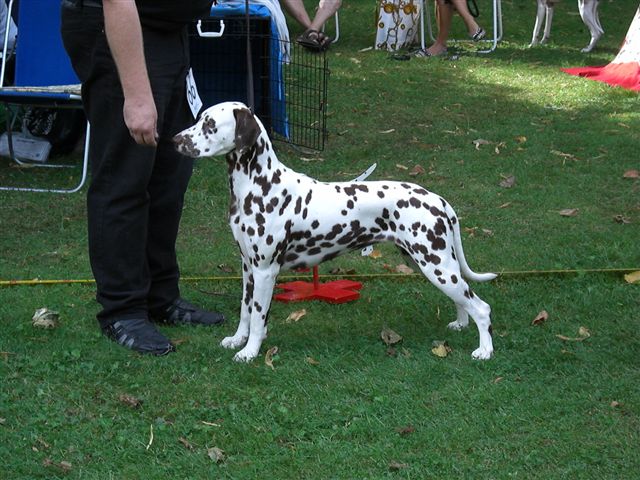 Devlina from both sides. Nr one in youthclass.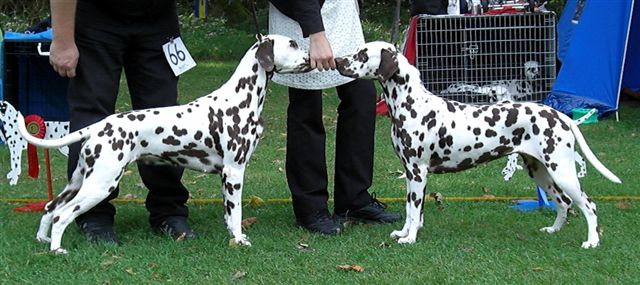 Best Bitch Jilloc´s Reflection In A Mirror nr two Ch Jilloc´s Joyride
Competition about BOB!
Medevi 25 aug. 2007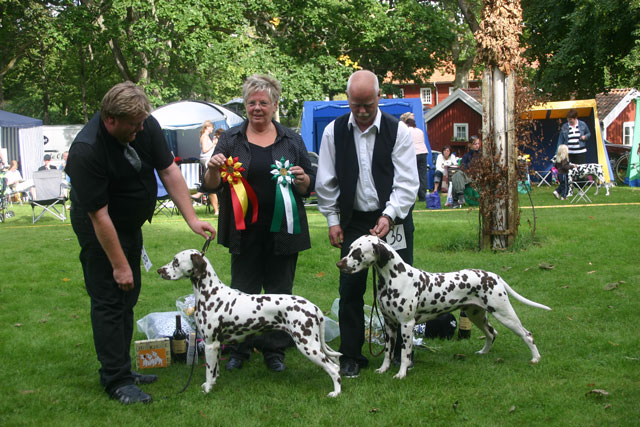 Photo A K Nyhammer
Jilloc´s Reflection In A Mirror BOB, Aase Jacobsen, Ch Lovindas Fabian BOS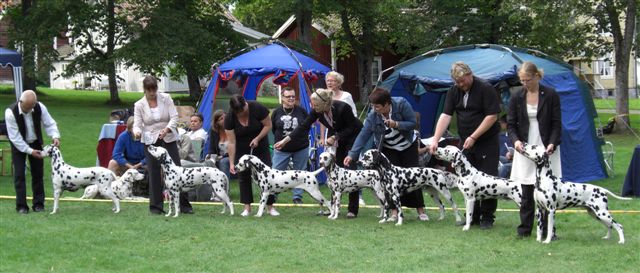 Two progencygroups. From left Ch Jilloc´s Key To Success with 4 children. From right Ch Jilloc´s Loverboy with 4 children.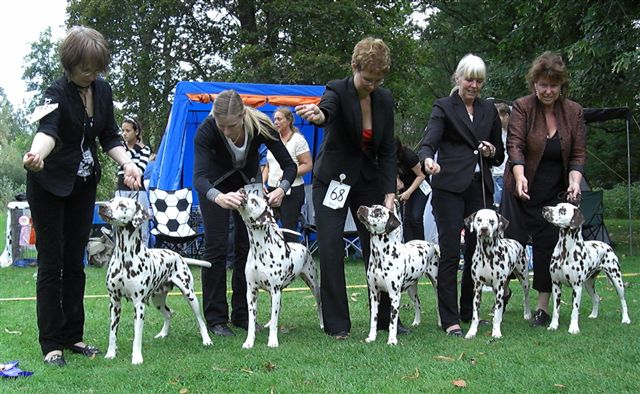 Best Progencygroup!!! Ch Timanka´s Miracle of Love with four Daughters from Jilloc´s R-Litter born 2006.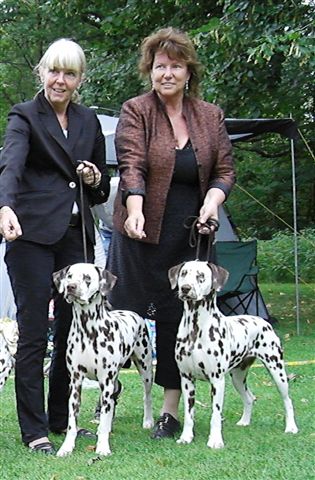 Angie and Devlina a perfect couple!
Friday 24 August 2007
When I wrote this date I realized that IT IS ONLY FOUR MONTHS TO CHRISTMAS EVE today....terrifying!!!!!!!!!!!!!
We have got soo many wounderful pictures from our puppybuyers this week.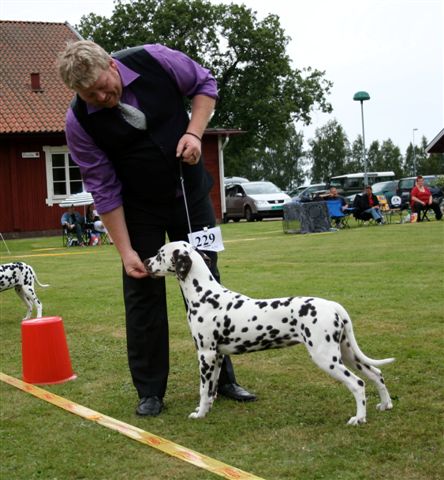 Thank You Maija Eloranta for those two....Me taking up meatballs from my brah. Mollys know where thay are(so many people laugh at me when I´m feeding the dogs in the ring, but there is NEVER any pocket at my clothes). In year 2000 there were one large side about me and Devlin in a big newspaper here in Sweden, were the Headline was -:Devlin is topwinning this year because of the meatballs in Florences brah (he ended as nr 3 Dog of The Year All Breed In Sweden). Rune and Mini Mel on her first show in Ljungbyhed this year.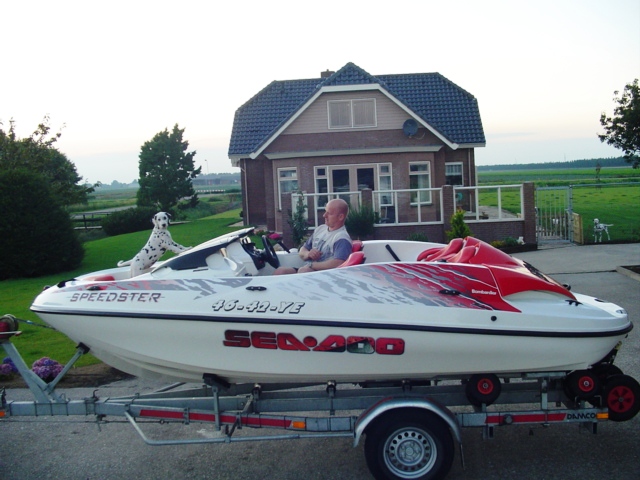 SEVEN and ANDRE in their speedboat outside their home in Netherlands. She would like to be a figurehead in the bow of the boat!! Crazy dog, but she looks GREAT there.
This special dog have a VERY BAD HABIT, and we are laughing a lot every day when Diana and Andre tell us about their eventfully days with Seven. As soon as they put her in the car and drive 20 meters she shit!!! even if she do not need it *S*just think about their trip from Sweden to Holland...they had to stop MANY times *S*. When they are going to some friends Diana take the car and Andre walk with Seven in his arms (poor man, she is heavy now) just to avoid sitting in a smelling car with her. He got VERY good condition on these weeks since they came home with Seven. Now they try to be smarter than her so Diana drive the car with the boat after and Andre and Seven is sitting in it as on the picture. IF SHE SHIT they don´t have to feel the bad smell. Everyone in their neighbourhood have seen this ekipage, and some day maybe the newspaper put a picture of them at the frontpage *S! Hope this bad habit is over before the winter otherwise we have to send lot of warm clothes to Andre....
This morning I started the day by giving three dogs a shower.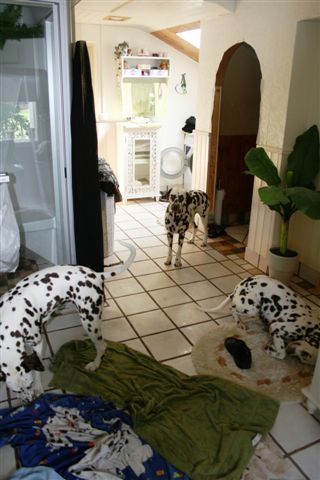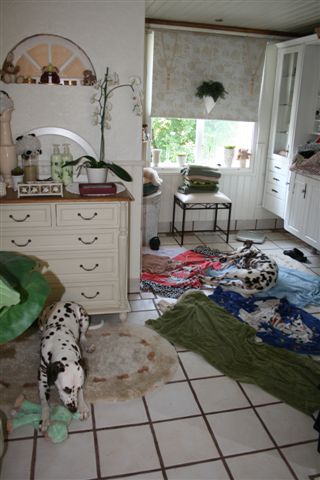 It looked like kaos in the bathroom before I was finished, and all three rush downstairs at the same time. But I have to give seven dogs more a bath today, so I just follow them to the kitchen to eat breakfast.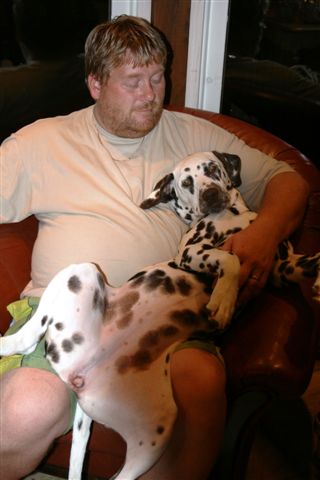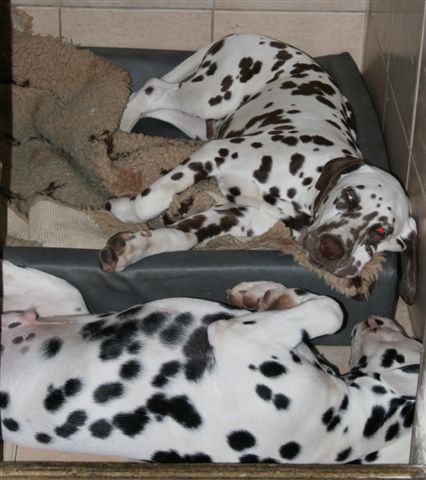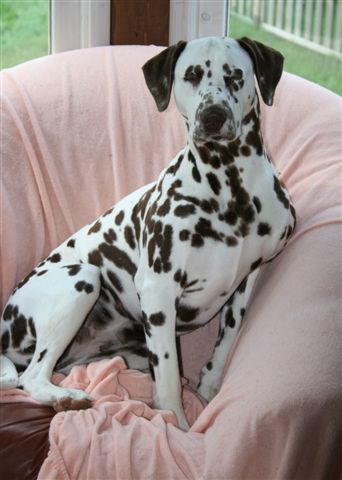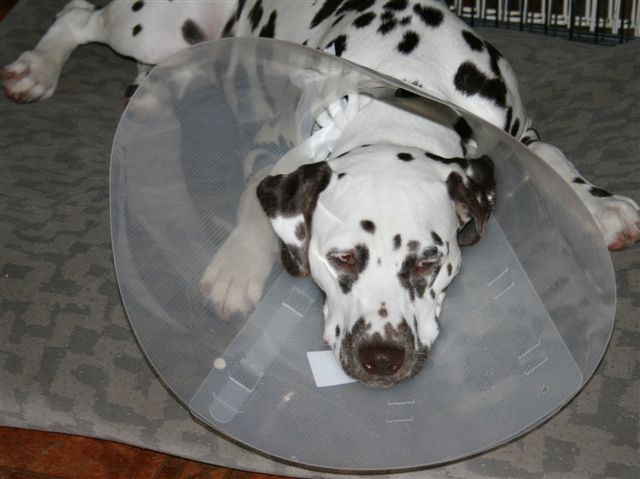 Mini Mel hurt her paw . D o R resting, they are going to their first show tomorrow. Devlina sit and sleep. Mini Mel unhappy because of her paw.
Later today both Annicka with her dogs and Jenny is coming to stay here over the night, so they have a bit closer to the dogshow tomorrow morning.
I have to continue to give all dogs their bath now even if I feel I have 40 degree of fever and coff all the time.....typical!!!
Thuresday 23 August 2007
Last night we went to bed at 4 o´clock. When we woke up at 9.30 this morning and went downstairs we saw that Jonnie already have been here and cut all grass in front of our house, because Rune have promised him to go with him and look for a new crossbike today (now it isn´t funny with the car and 4-wheel motorcycle anymore). When we came into the kitchen I saw that he had been eating breakfast *S* chocolatcookies, pepsi and candy! Five minutes later Roy called from his car and say it was time for coffe now....phew!!!!! He was here two minutes later and while Rune was feeding the dogs their breakfast I feed Roy with sandwitch and coffe. He been so much in Asia now that he is used with extreamley good service *SSS*!
Rune was so tired today and sleep all day long, even the dogs was very tired and sleep both here and there all day.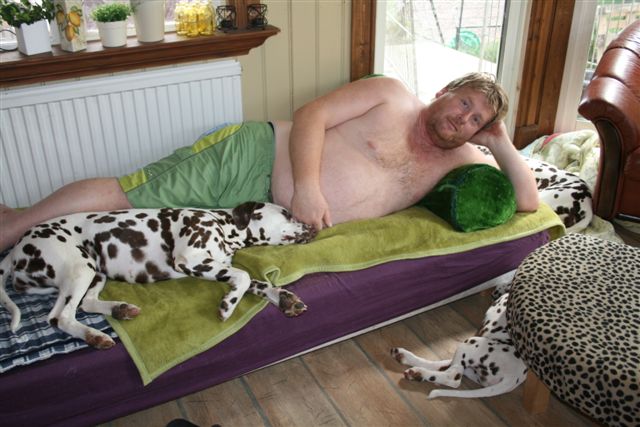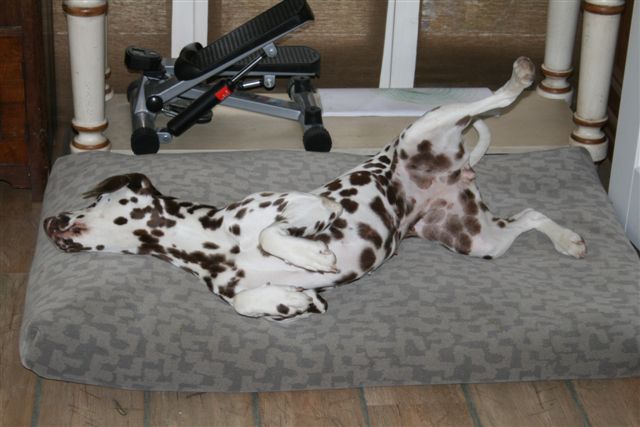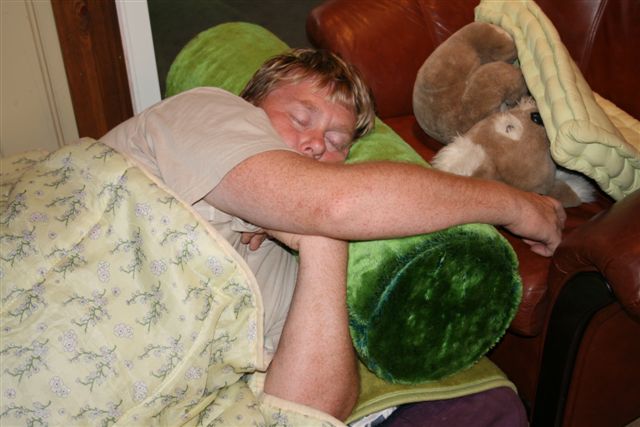 So tired already at 11 o´clock, Devlina exercising, Rune sleeps again, I have never had such a lacy dog as Rolex.....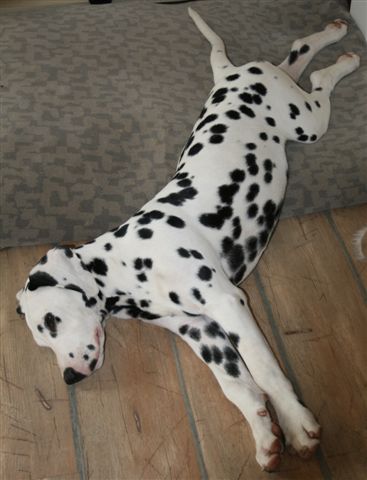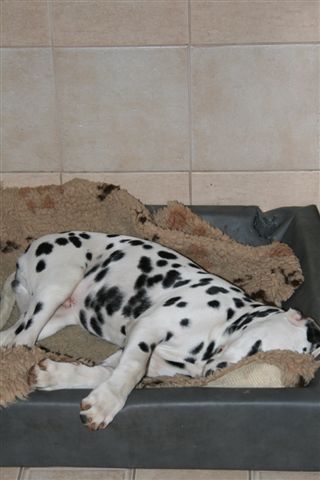 Mini Zally sleeps like a frog, Rolex grows while he is sleeping, he sleep in the same bed for SIX hour this afternoon/evening, Nothing left of our new partytent we bought for the small show here for our puppy buyers. My daughter Jennie came here after she had been out shopping for some hours last friday, and the tent was gone!!! She drove around to our neighbours and ask if they have seen a tent *S*! One person told her that the large partytent has been blowing over E 20 and the police have been here and take care of it and put the rest of it together and tied it up around a gaspump at the Gasstation close to us, so Jonnie and his friends had to go there with their motorcycles and trailers to bring it back home again. It had been a small storm for some hours just through our garden, shit happens!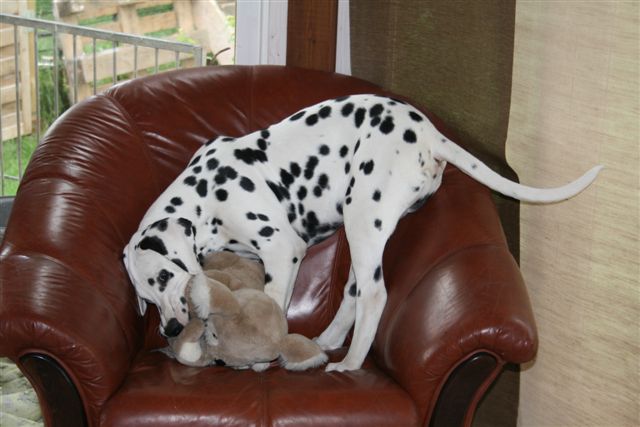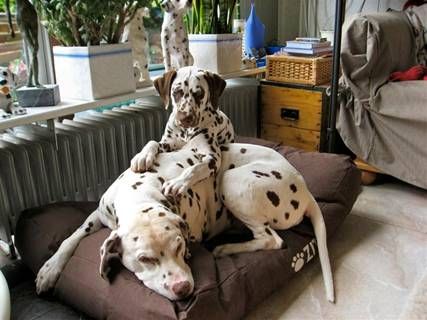 Maybe Rolex was so tired because he play a lot by himselves.. Devlina play she is a puppy when Jill is there..Picture from H Kentin of Shadow..Rolex and Diamonds sweet brother. He lives together with a very kind and patient older dog in Netherlands.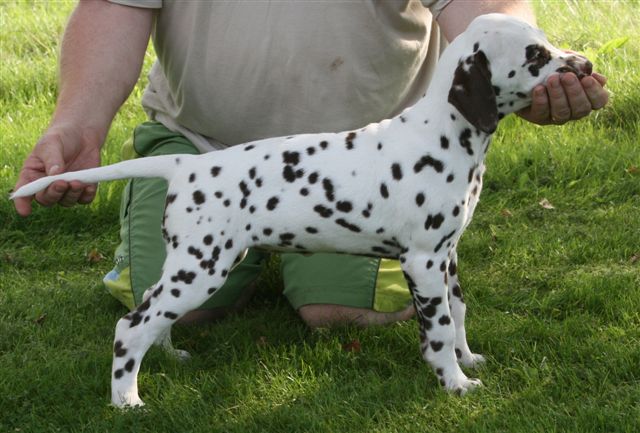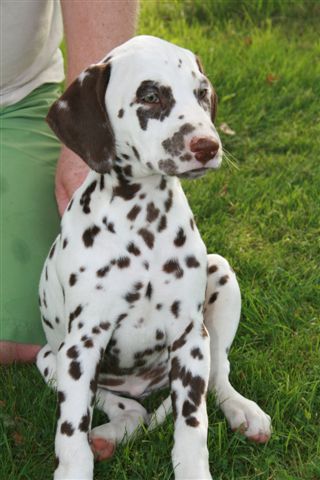 Jilloc´s Trumph Card is now for sale.
Jilloc´s The Perfect Match still avaliable.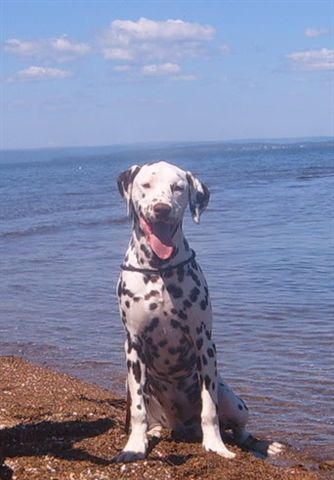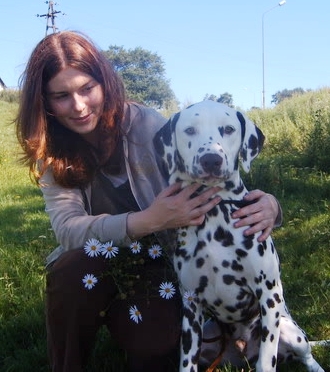 Finally Tyson arrived to his new home in Vladivostok Russia......ten hours flight from Moscow and 10 000 km!!!!!! from there.
Here is "our" darling sitting at the coast of Pacific Ocean, can´t belive he is so far from us, but we wish his new owner Evgeniya good luck with him in the future at Gloriandus Kennel.
In the evening we eat all shellfish that Roy bought yesterday, we were only three persons eating todaybut we should have been at least six. But Rune was happy he eat for four, at least*S*.
Many years ago when Jennie and I was in Norway visiting Rune and looking at Timanka puppies after Devlin, he asked if we would like to eat shrimps. I said that we like it both of us and that he could buy about 1,5 kg. But he have bought 4 kg!!!!!!!!! he eat 3,5 kg by him selves, Jennie and I NEVER forget that *S*!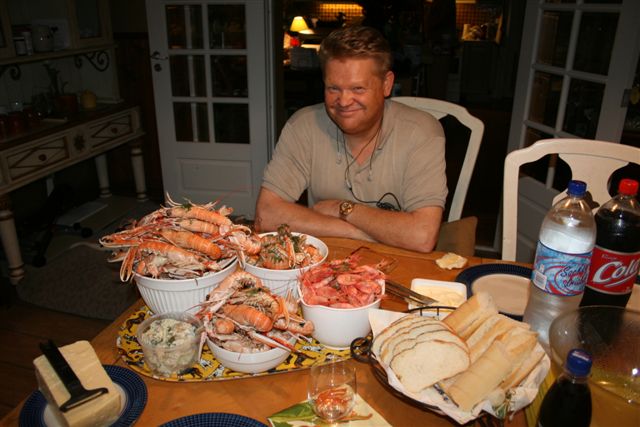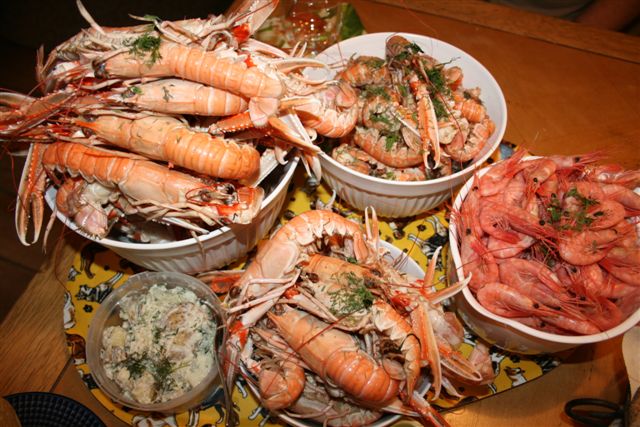 Wednesday 22 August 2007
Woke up at 7.06 the mobile phone was ringing, just Roy that called from Kopenhagen to tell us that he was on his way home from Asia. He called yesterday and told us that he came to the airport in Bangkok to fly home, as always he flies at 00.50, and he have forgot that is a new day and date then so he was there at 21 august but the plan will start after midnight so then it was 22 august, so he was TWENTYFOUR HOURS TOO LATE! After some hours they found a seat for him so he will come to Denmark today...better than nothing. And now he wake me up, just to say that the plane have landed........thank YOU, I hate when the phone is ringing that early!!!! I fall in sleep again....after 45 min he called again just to tell me that they have found a flight for him, so he will be in Gothenburg at 10 o´clock......no more sleeping because I have to call Nathalie (Jimmies girlfriend) so she can go there to meet him with his car. Ok, better to get up...and go downstairs to see how it was with Rune today..because he couldn´t lift his legs and walk upstairs last night... Now he was awake and looking at tv (as always). He decide to try to take the medecine that the doctor told him not to take, but he have to get out off the bed, and he was soooooo hungry (yesterday he have not eat anything just drink a little and sleep).
10:30 Roy called again. He was on his way from the airport, he was so hungry for Swedish food and told me that he will go to a special store in Gothenburg to buy salmon, shrimps and crawfish and ask me to make something that he have been longing for to eat. It is the same every time he is back from his travelling *S*! He buy ten times more food the first week at home than we all can eat, so the dogs have to help us with that....they all love him when he came with all his shopping bags with delikatesses.
He buy lot of food every day and if he don´t eat it up the first day he delivere it to us the day after because then he think it is too old.....? I have learned to look at the date on the package and most of the time I can see that the food is fresh at least 10 days more. You can give it to your dogs he says again and again. Some hours later he came back for something and I told him that the lunch, dinner o evening food is ready....ok he says what is it today? Today we have for ex. chicken breast with potatogratin and bearnaisesauce hommemaid from our catering here in Götene...or fishgratin, or potatosallad with cassler etc. etc.etc. He always eat with a great appetite and often say that -:I have to buy the same some day...it was so good. Where have you bought it??????? I got it from You three days ago for the dogs, but it is fresh 10 more days, is often my answer and everytime he looks at me ....for some seconds and then he laughs and continue to eat...
I think it is a trick from him to fill our refrigerator with lot of things he like just to get me to make the dinner almost every day with his favourite food, so he don´t have to make dinner himself *S*.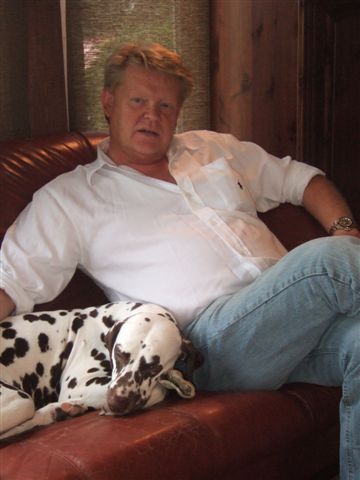 Devlin and Roy eat together. Jill and Roy waiting for coffe. He come almost every day with a cake.
Jenny came in the afternoon with Kassie, she have been swimming with her in Skara. They just want to say hallo to her/mine puppy. Yesterday I decided to keep J Topwinning Trophy, from the beginning our favourite was J Trumph Card but Trophy is little bit bigger now and because I will keep J Top Model and she is not that big I´ll keep the biggest of the two liverspotted bitches. Thats it! Tomorrow Jenny will tell her employer that she should be free to take care of her "baby" for some weeks.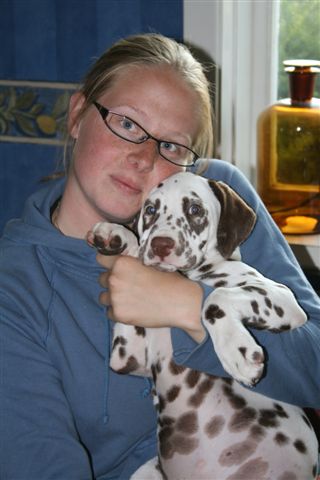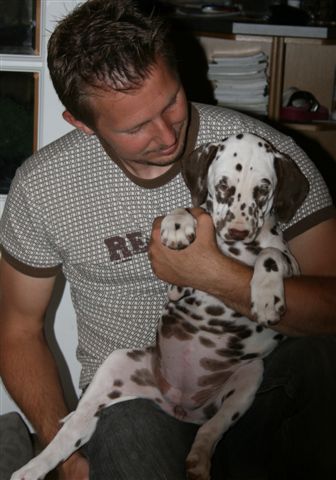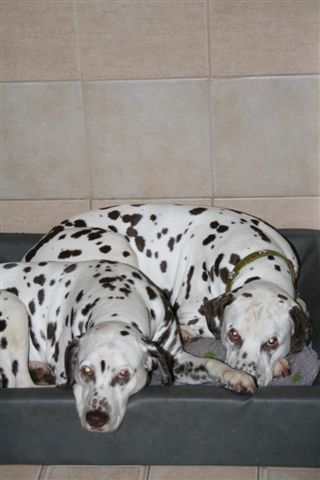 We all eat dinner (salmon that Roy bought today *S*) and later on Jens came to help us to eat up our cakes and later in the evening Hanna came for coffe and cake, the last pice of the cakes was for Darling and Devlin.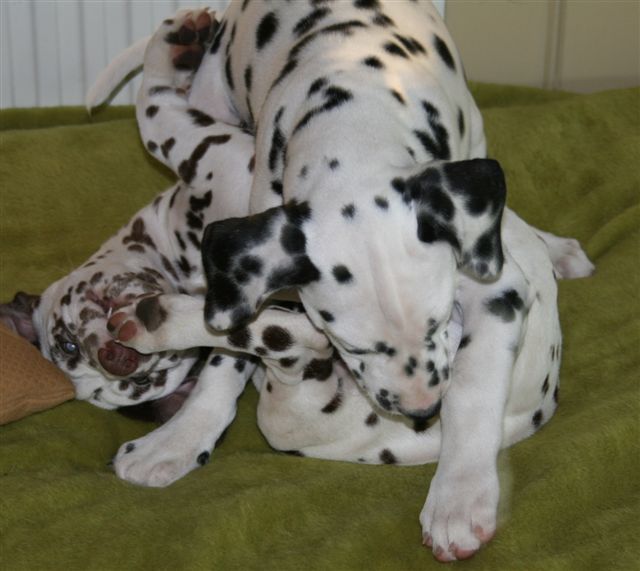 Top Model (black) on the top. Trophy found a paw to bite in, too late she found out that is was HER OWN *S*!!!
Thuesday 21 August 2007
Last night I got a message from my friend Bente in Norway, she told me that Nellie, J Puzzle Pice for Skvaa, is very pregnant with Bossons puppies. They have made a ultrasound today and saw many small puppies. Hurray!
Rune have been in bed all day sleeping, something was wrong with his medicine and he really passed out today, he is still sleeping and clock is almost 23 in the evening......he is not allowed to eat that medicine anymore. And when he can´t take it he can hardley walk...hopefully it is better until saturday at our big specialshow in Medevi....we have to wait and see. If I´m not dead I will run like hell he said when he woke up some minutes today. We will see........!
I went to my vet today with one of the puppies for another healthcontroll (here in Sweden you have to do it every 7 th day if the puppies still is for sale) This time it was J Truly In Love that should be delivered to her new owner, since the beginning we called her "Italy" because there were someone in Italy that was interested in a puppy and she was one of the best of the puppies that was available. But she was not what they want for Italy, but we still call her that nickname.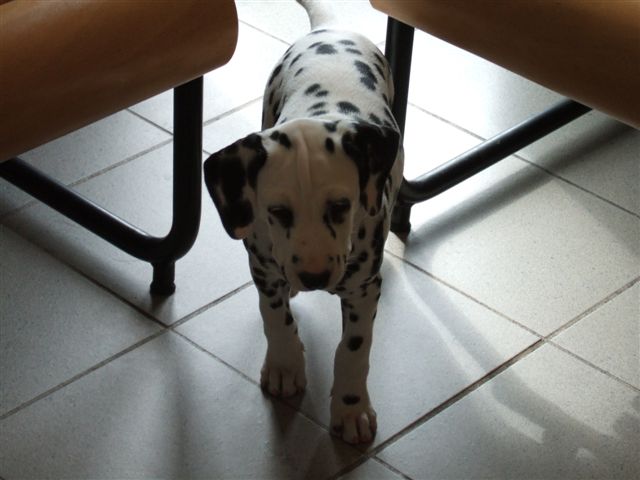 In the morning "Italy" got a nice bath. At the vet she read some books about cats. She was so quorious and happy in everyone she met.
We have to wait one hour today, because they have forgot about us, but I was not in a hurry (better to be here than home with a sick man that feel sooooo sorry for himselves, many of you ladies probably understand what I mean *S*!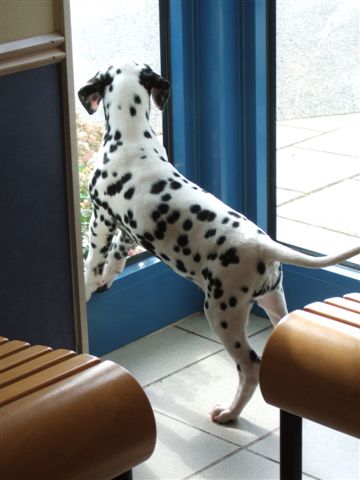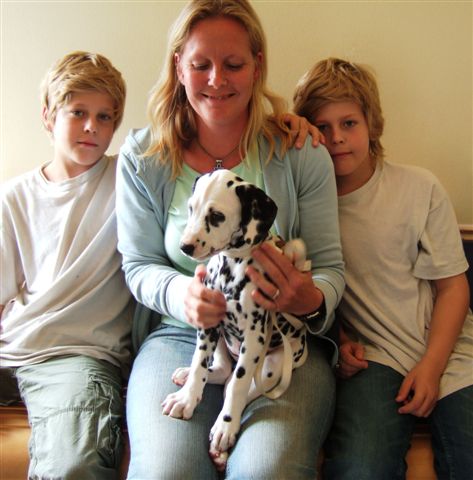 There was NO sign that " Animals only at the floor" as in most places, so I sit in a chair for a while, just for fun. I was looking in the window and suddenly I saw someone I remember...my new family!!! Yvonne and her sons came to take me home to their two other dalmatians, hurray!
This evening we send a mail to my old mum and told her that my new nickname is Troja, no more Italy for me I´m so happy to stay in Sweden because I do not understand other language, I´m only 9 weeks...and today my weight was 7950g.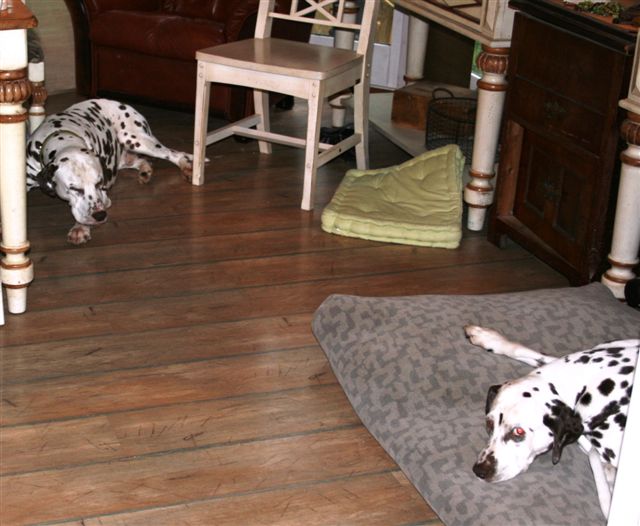 Puppies sleeping after eating up a wall. Devlin and Darling sleeping. Jill and Rune sleeping together.
When I came back home everyone was sleeping...I was soo bored that I bought two cakes, just because they look sooooo nice. Hopefully I got many visitors this evening that can help me to eat them up!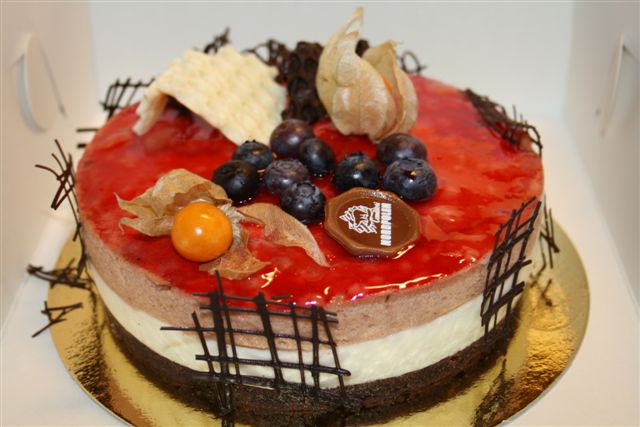 Monday 20 August 2007
If someone have seen us today they couldn´t belive we were the same persons as they saw yesterday. Walking around like very old and stiff-legged people......still in the nightgown at six o´clock in the afternoon. Of course we went up this morning to feed the dogs and to do other neccesary every day things, but nothing extra. First Rune slept on the bed for the dogs and later on I was sleeping there. We have decide to take new pictures of the puppies today....but clock is already 2.45 in the night and all puppies is asleep, so we have to do it tomorrow, I hope.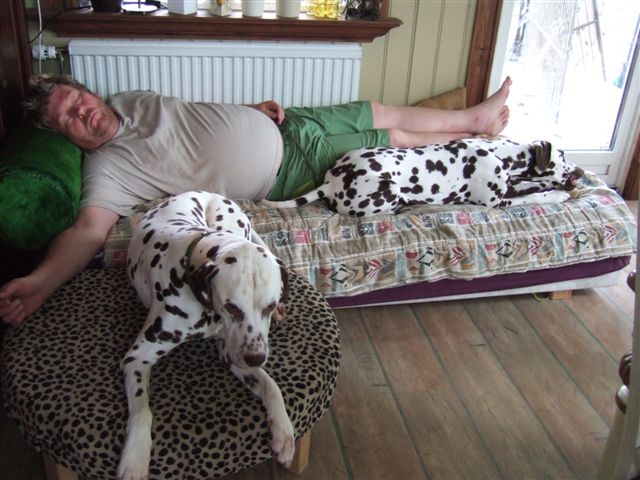 Rune sleeping with Jill and Devlin. Devlin and Darling in the same bed.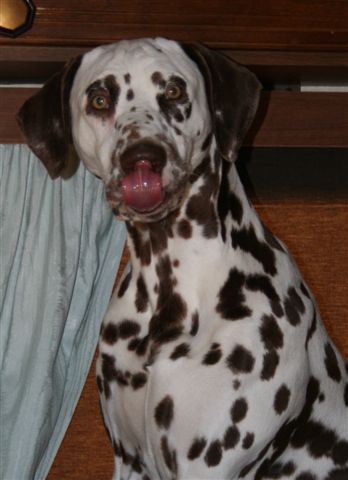 Devlina licking herselves in her nose!!!
Sunday 19 August 2007
Up again very early to go to next dogshow in Nyköping 60 km north of Norrköping. We vere all sooooooo tired today.
Me and Disco, Rune and Expo and Maria and Hercules. Milda and Molly looking at the competition from their lodge.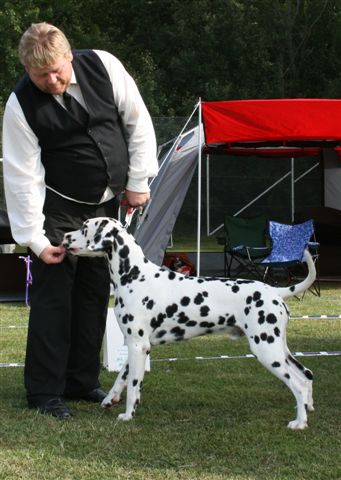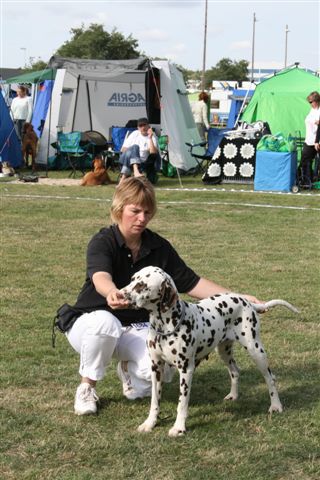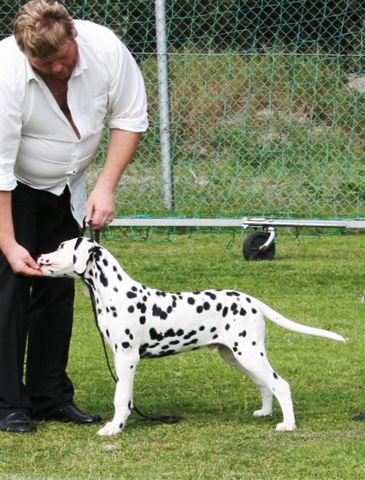 Expo was best male and BOB and BIG 2. Nina with a daughter of Zamzon. Rune is training Rolex to stay nice.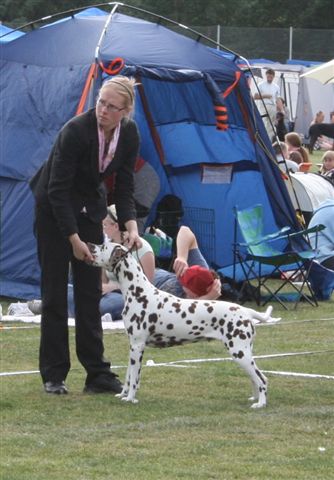 Windys owner was so nervous when there only was three bitches left from the big open class. Maria with Yamina and Jenny with Windy, Windy was nr one, and later on nr four best bitch.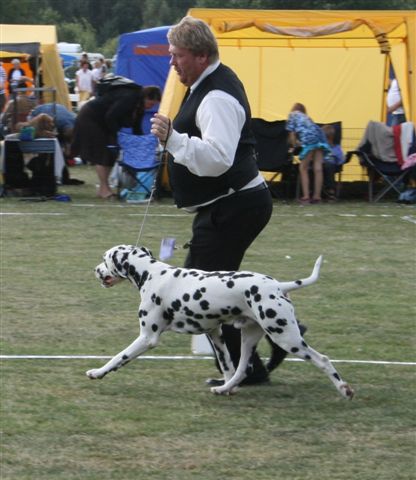 A nice old bitch from Becajos, BOB Veteran. Expo is running faster than Rune and Hanna is running much faster than Hjärtat.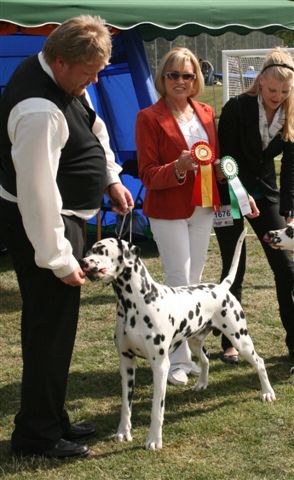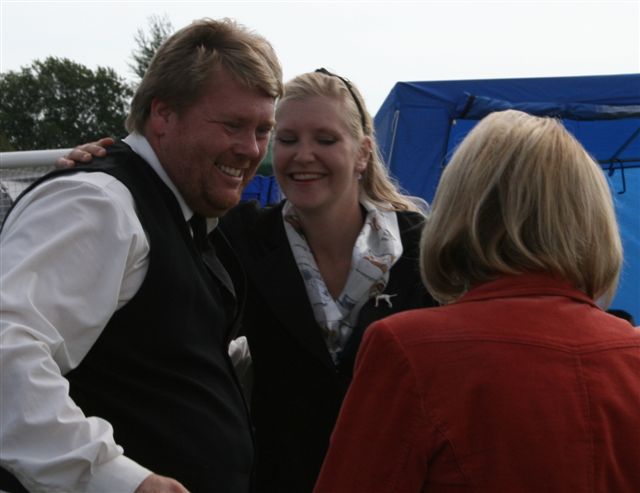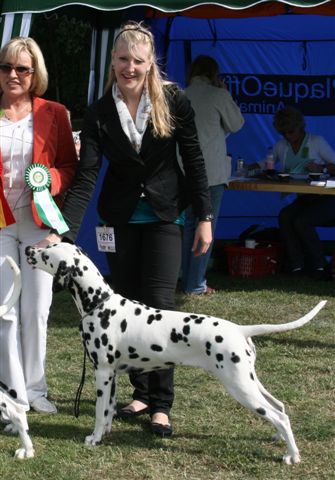 Expo BOB with the judge from Belgium, Ritha Rainers. No hard feelings as long as we all are in the same family! Hjärtat BOS.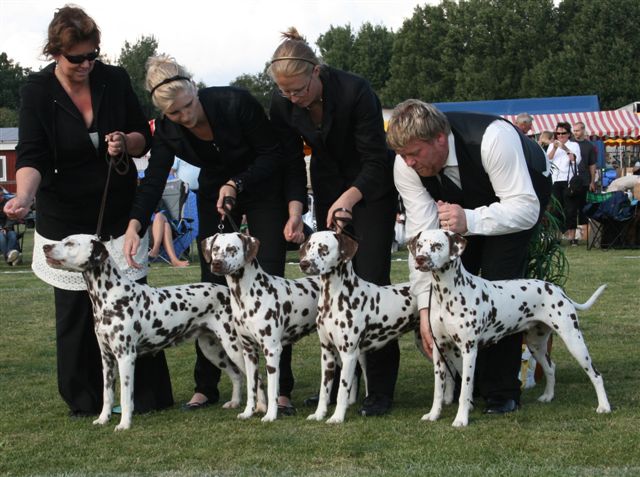 BIS nr 4 in Breedinggroups, with Darling 11, Windy 2,5, Devlina 1,5 and Milda 1,5.
We were very tired already when we have packed all our things together and drove back to Norrköping to pack our caravans and start to go back home. At seven o´clock we were ready to go, but after some miles we have to stop and eat. We were all so hungry and tired, and both Hanna and Jens eat tooooo much!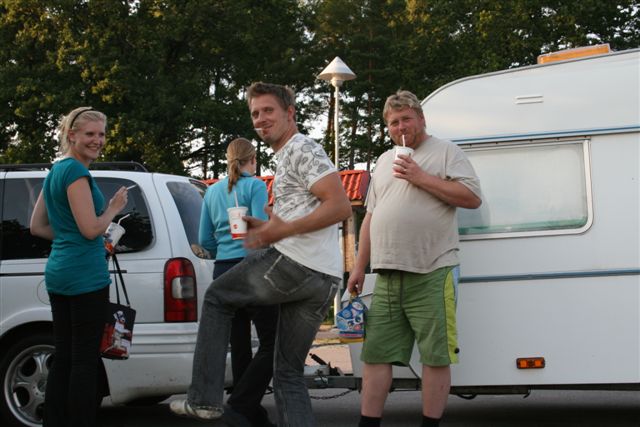 We were all home at midnight, so hard the last hours in the dark, so we have to stop and buy icecream and candy many times. Poor Jens that have to go to work at 6 o´clock in the morning.....It is a hard life *S* but we do it of our free will!!!
Saturday 18 August 2007
Up early again of course, and into the dogshow with everything we need during the day and with six dogs, Jill stayed in the caravan because the camping was only 300 m from the ring.....perfect! The weather was cloudy and windy, almost stormy during the day. Dalmatian was the first breed in the ring and the Italian judge was ready with her judging of 40 dogs after little more than two hours. We went back to our caravans again and make lunch for all dogs and all of us. So good to rest there for some hours instead of sitting in the stormy and sometimes rainy weather.
Most of the photos from this weekend is as usually taken by Jens and Me.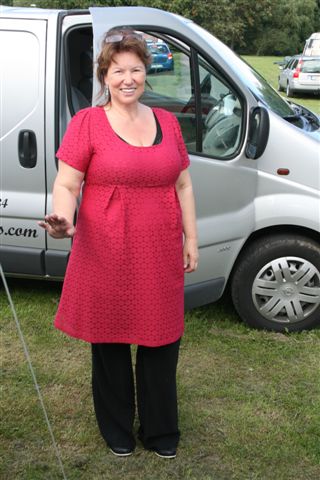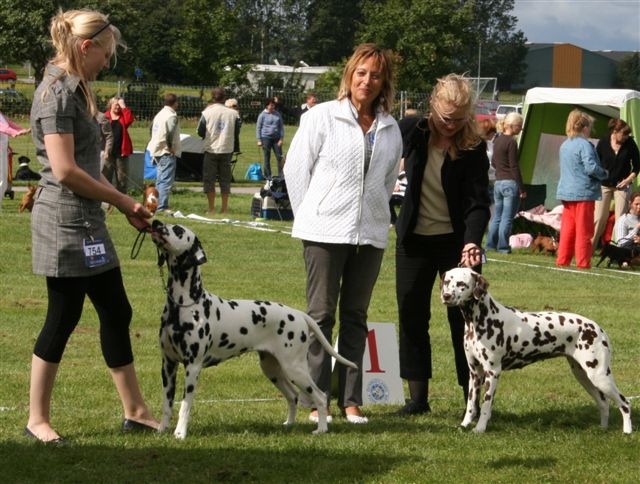 Best bitch "Hjärtat" (Bosson and Chrissy´s daughter), nr two "Vinta", Jills sister. BOB "Herkules" Devlins son with Maria and Hanna with "Hjärtat".
Another CAC for Expo today too! See more at "Showresult".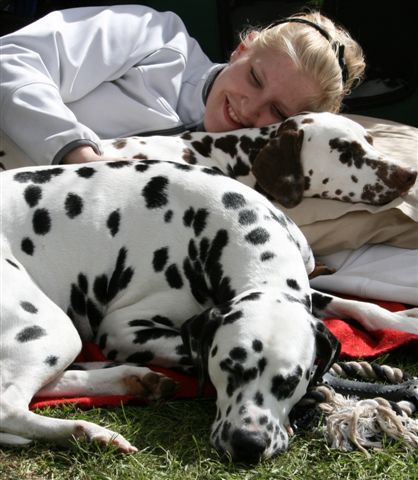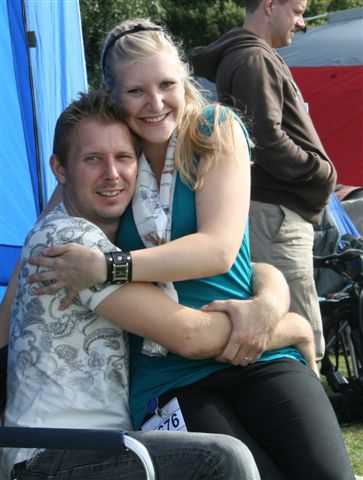 Hanna, Tindra and Hjärtat resting. Hanna use her prizes as earrings. First time Jens was there when their dogs won.
Even this evening we were barbecue, maybee for the last time this summer?
Hildegunn is looking what Rune put on the barbecue. Jens have bought new jeans and would like to show us how they fit. Picture from lunch.....
Friday 17 August 2007
Up early because Rune and Tyson was leaving to go to the airport in Stockholm. When they have left and we had walked all dogs I go back inte the bed again to sleep some more hours. After about 30 minutes I woke up to a terrible noice!!! I was a man on a lawn mower without a sound silencer on driving around our caravan for at least two hours....MY HEAD......I was so damned that I got a terrible migraine. I doesn´t even help to put my fingers in my ears and a pillow over my head....I was furyous. And then the machine started to stop and he started it again and it stopped and he started almost for one hour. This was my wounderful lacy morning I dreamt about the whole week....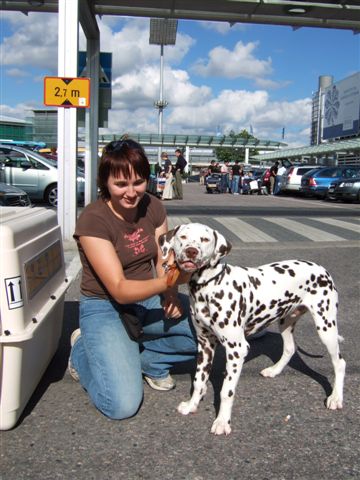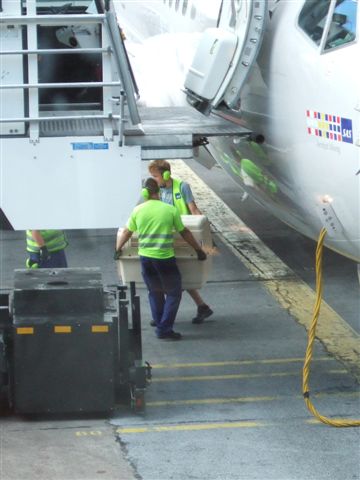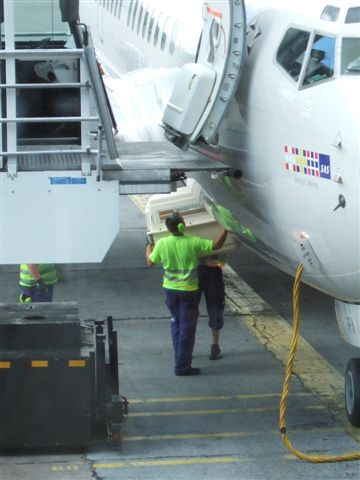 Tyson at the airport in Finland, ready to start his long journey to his new home. He was calm and happy and laugh to everyone he meet.
Rune was back in Norrköping at eight o´clock in the evening and we barbecue and have a nice evening. Rune was happy that we do not live in Stockholm because he hates to sit in all those line of cars miles after miles in the afternoon, poor people that lives there or in other big citys.
Thuresday 16 August 2007
Today we will finish everything at home, but with all our aches and pains everything goes in slowmotion. Try to drive from home as soon as Jennie is here. After giving all dogs a bath we were totally worned out, so we didn´t start our trip against Norrköping until 19 o´clock...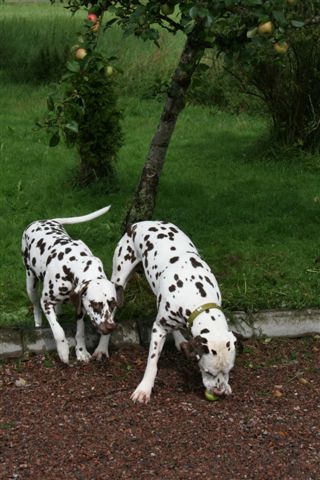 When Devlin was out peeing at his usually morning three he suddenly recognise that there were something hanging from a granche...was it balls???Jill told him to take some down to her and Devlin with his poor legs as the gentleman he is started to look at them and later on try to jump a little to make her pleased. Jill was pushing him all time....one more...and one mooooooore please.....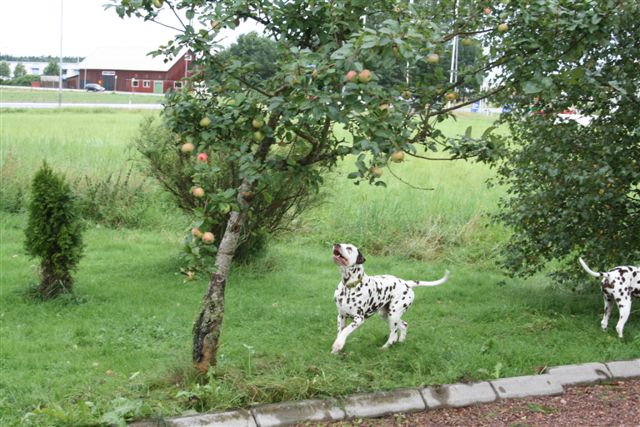 Jill try to find more "balls" in some of the other threes...stupid bitch!!!...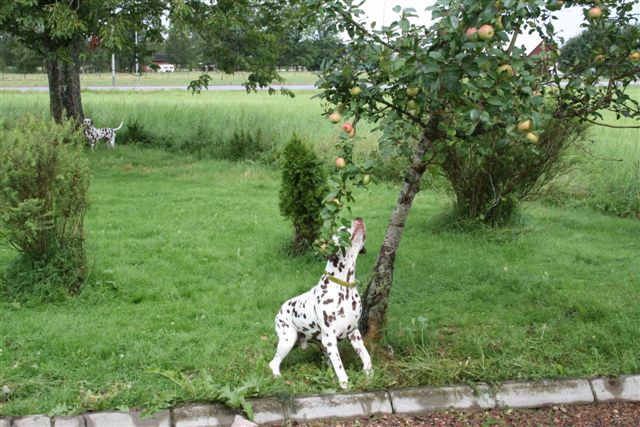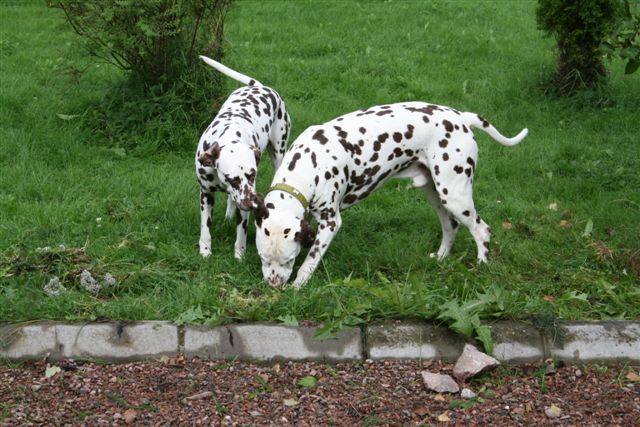 It was apples......I just take a bite in evey one then I gave it to Jill...I was running around to try to jump higher but it doesn´t help....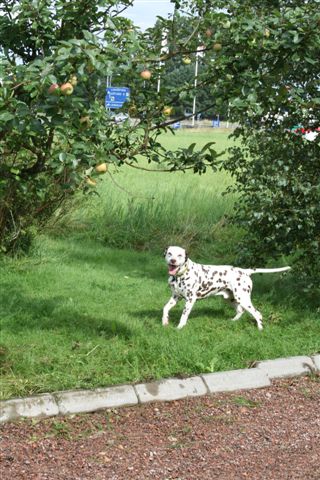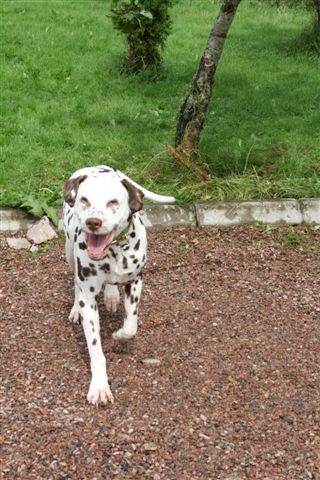 I was really tired in my legs now so it have to be enough for today....mummy told me to come in and rest.
We arrived to Norrköping half past 23, but the owner of the camping close to the dog show had been nice enough to let the gate open for us so we could park the caravan and make everything ready tonight. Two hours later Hanna, Jens and Jenny arrived and put their caravan close to us.
Wednesday 15 August 2007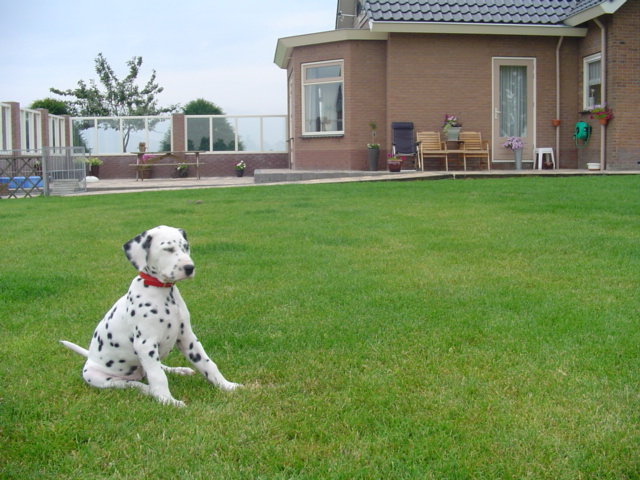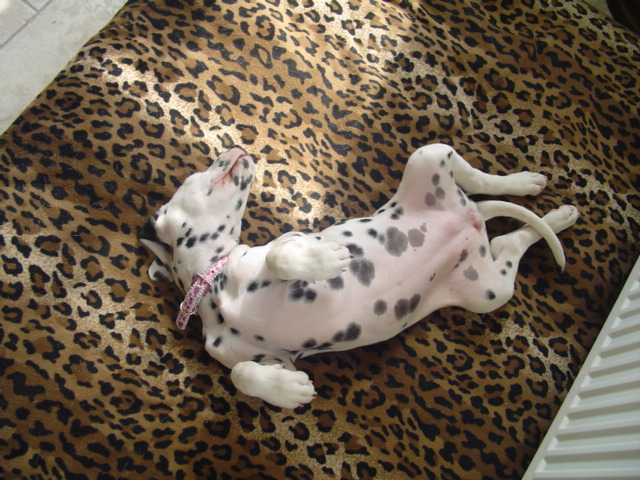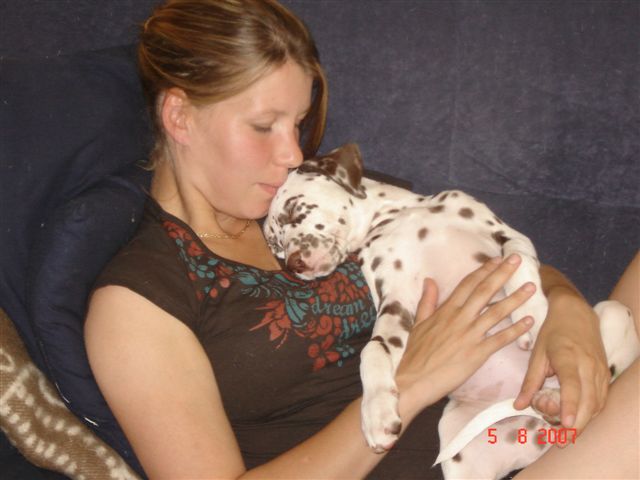 Loveley pictures from Seven in Netherlands and from Mette o Neela in Finland.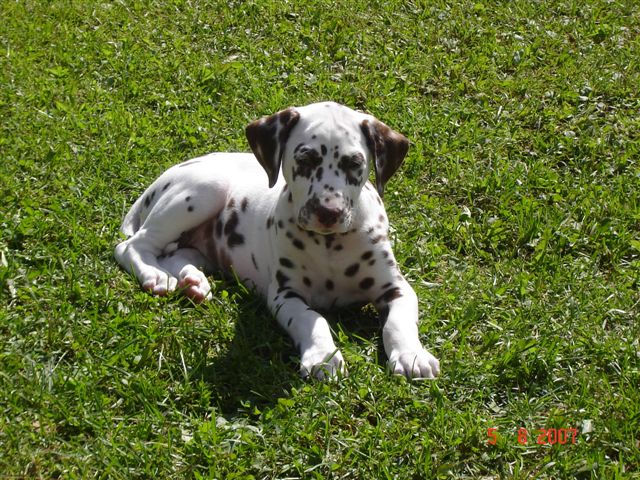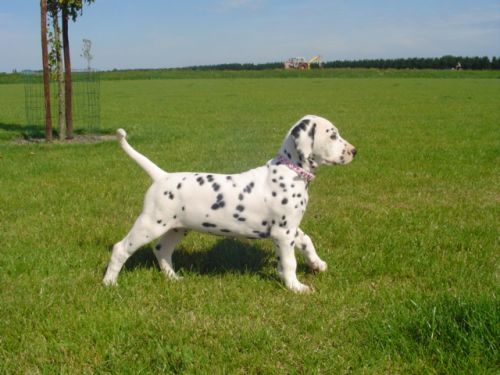 Photo by KOK
Rune was back to his doctor today again, he has limbinflammation and can hardley walk. His feets are swollen like pigsfeets.....*S*. This weekend will be a nightmare with us two limping in the showring. We are going to both Norrköping on saturday and to Nyköping at sunday...I don´t even dare to think about it. At friday Rune deliver Tyson to his new home, they fly from Stockholm in the middle of the day, and I will stay in the caravan in Norrköping with Jill, Expo, Disco, Devlina, Mini Mel, Rolex and Diamond. Devlin, Donna and Bosson will stay home with 4 of Chrissi´s puppies and 6 of Donnas. Jennie my daughter is comming tomorrow to take care of them.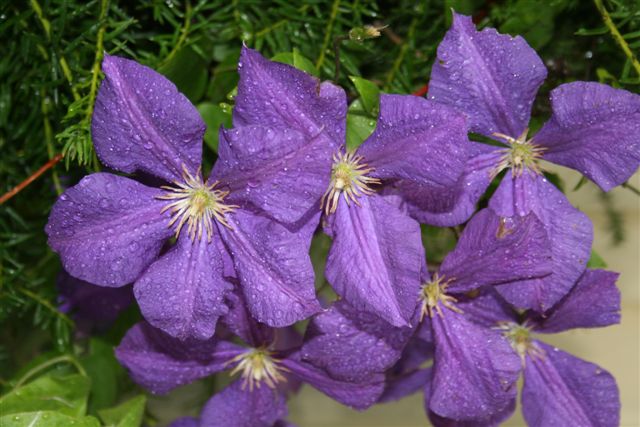 I Love My New Camera!
Thuesday 14 August 2007
Lot of paperworks all day long for us and the dogs were calm and sleepy.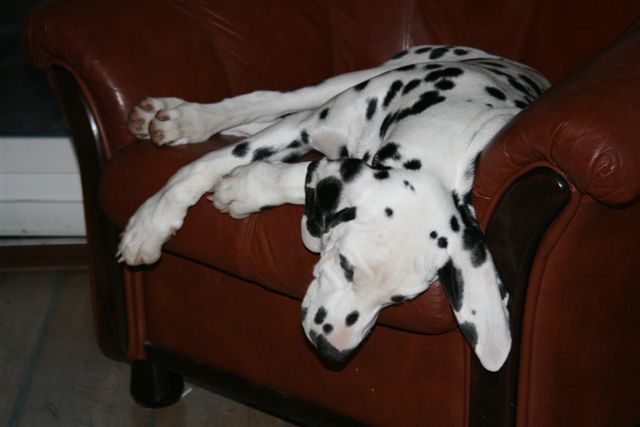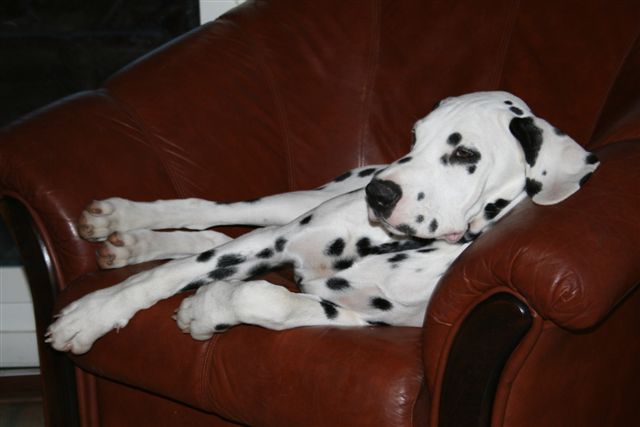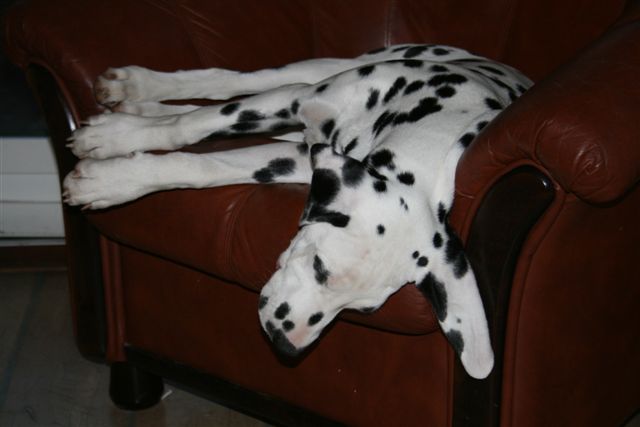 Rolex is growing every day, he can´t understand why the armchair is getting smaller and smaller.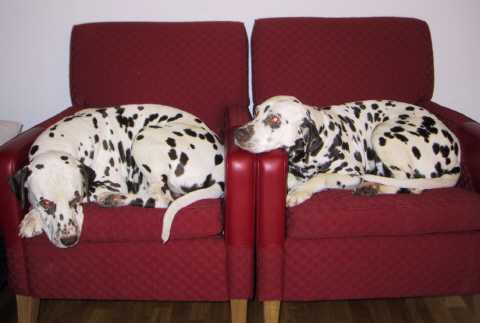 Devlin and Darling resting at a hotel somewhere.
Monday 13 August 2007
We were sitting in the kitchen when Hanna and Jens called and told me to put on the coffemaker. They had been to the vet and take bloodtest for rabies of Chrissy, Hjärtat and Tindra and they were on their way home, and had bought breakfast for all of us.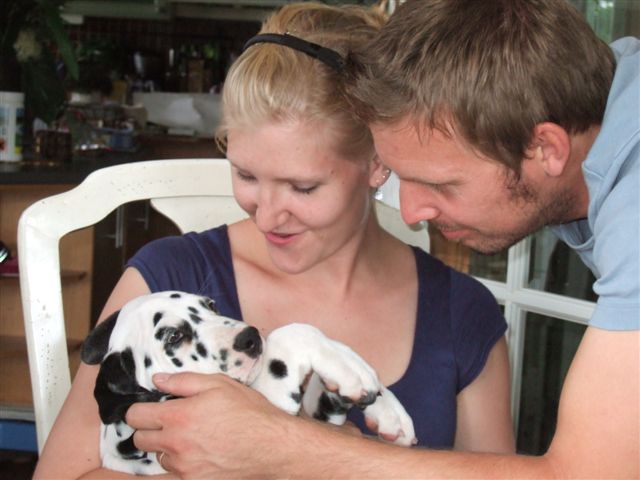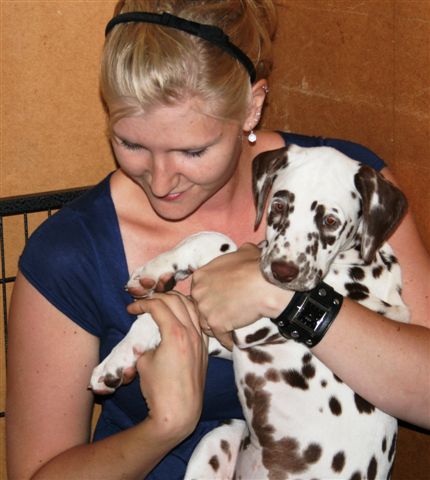 Loveley breakfast! Grandma´and Grandpa´cuddle with Sugardaddy. Hanna with Mini Zally.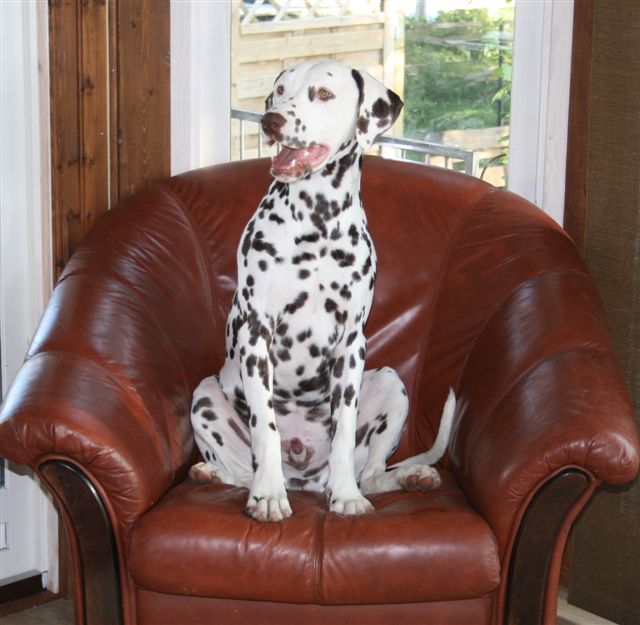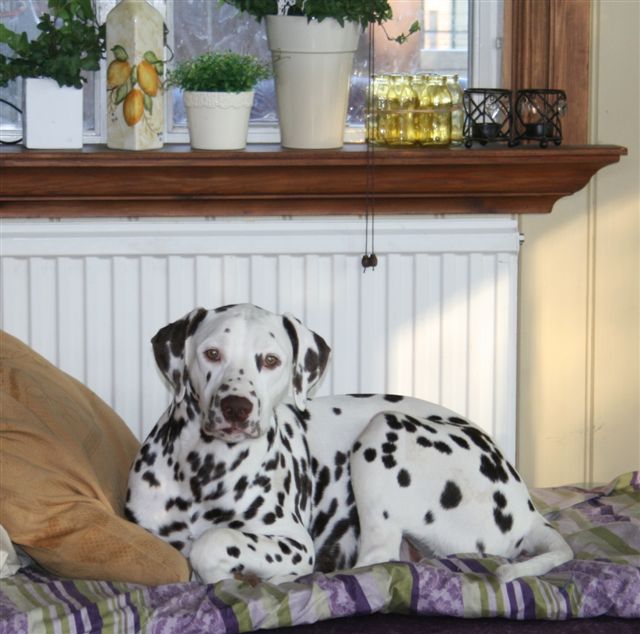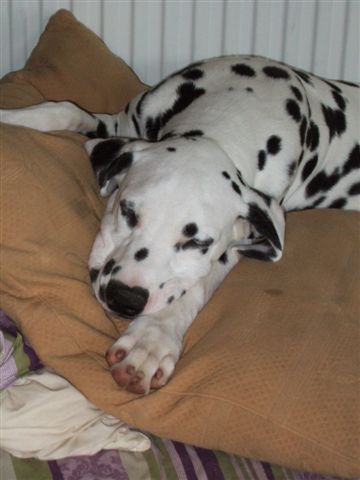 Tyson (Timankas Real Power 6,5 month) is leaving for his new home this week and we will miss him. Rolex think it is good, then he will have the pillow by himselves (only in his dreams)!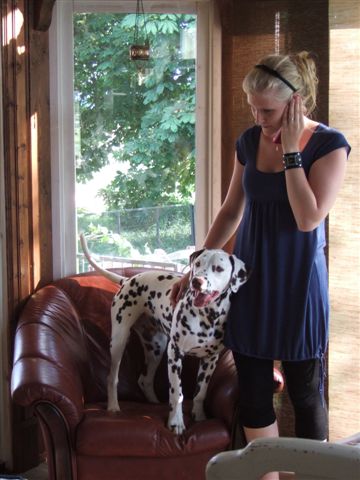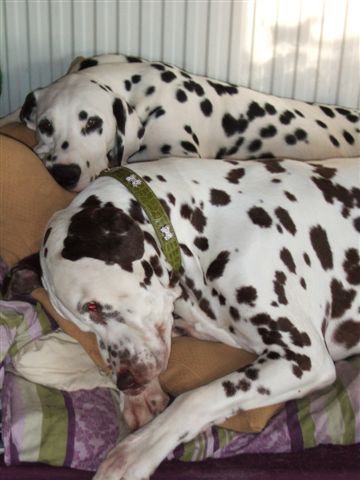 Tyson friend with everyone. Young Lady in the armchair, older dogs on the floor. Rolex think it is ok to share pillow with his father.
Sunday 12 August 2007
Today Rune went up early because he was going to judge at a specialshow with Nova Scotia Duck Tolling Retriever. The dogs and I stayed in bed much longer.....
Some days ago Jonnie came down into the kitchen after taking a shower, he smelld so good and I asked him wich showercream he had used. I took one of yours he told me, and describe the showerbottle.....but I couldn´t understand wich one he meant...later in the evening I took a shower too and smell excatley the same as Jonnie did. I looked at the bottle and it was my normal one.......then I remember that some days earlier I filled my empty bottle with dogshampoo, that was why we have smelled sooooo good. I told Jonnie about that yesterday and he went up to take a shower again and when he came down later he said that he have found another with good smell and decribe that bottle. OBS...he never read at anything because he is always in a hurry. That was the big can with dogshampoo, excatley the same as I have filled in the small one he used the day before. So in the future it is only neccesary for us to buy shampoo for dogs and we can all use it *S*!!!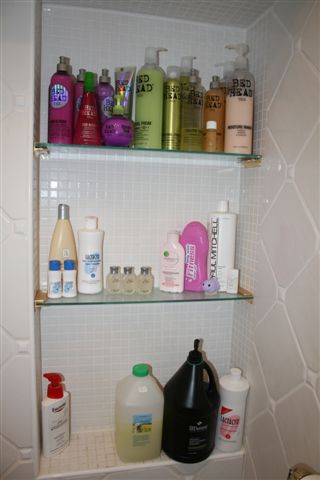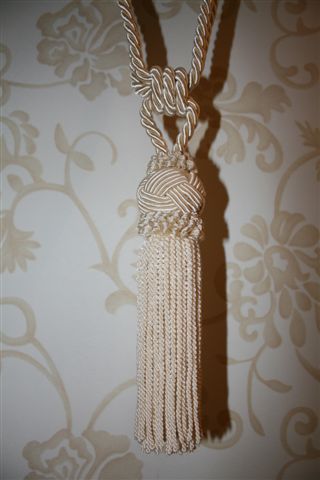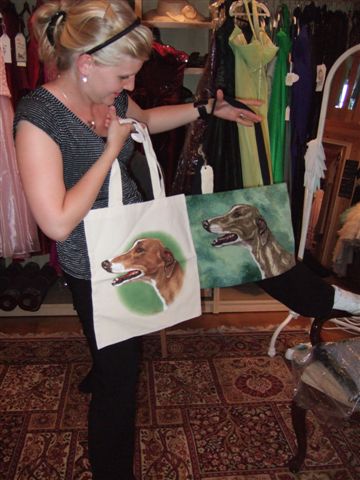 This Eastern Rune N helped us to put this glasshelf up in the shower. Hanna showing some bags.
In the bottom our new favourite, Dogshampoo.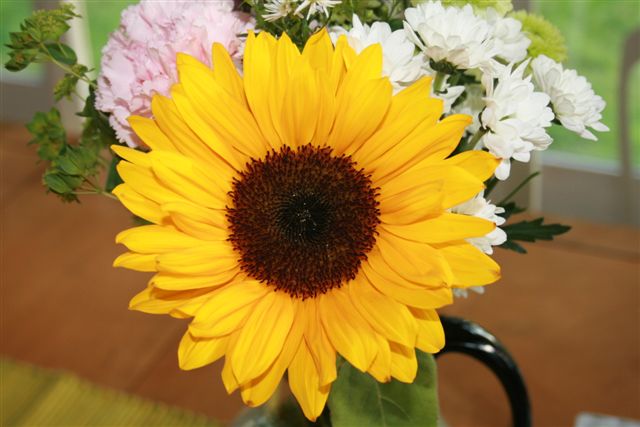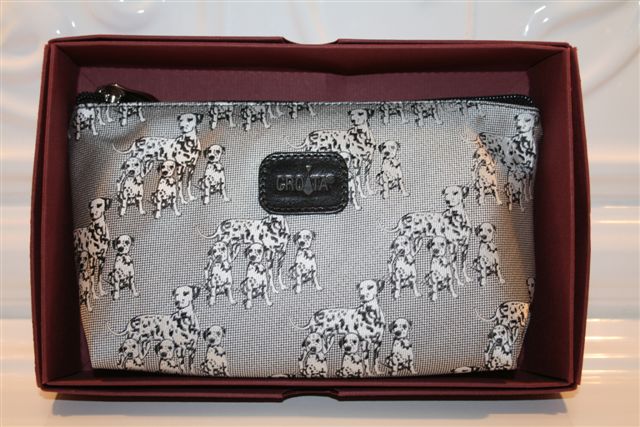 Just testing my camera on a sunflower. Devlinas gorgeous BIS present from the Judge in Ljungbyhed.
Saturday 11 August 2007
Last evening Annicka came to us with her dogs, to stay her over night and to go with us to a dogshow in Askersund about 1,5 hour drive from here. We ate, talked and looked at the puppies for many hours. Just a few hours to sleep and up again 5.30, at 6.30 Hanna and Jenny and their dogs came here too and we started to pack everything and everybody into our car.
The show started at 9 o´clock and we were back home at 21.00 in the evening. Thank you Jens that you took so good care of our dogs at home. We had a sucessfull day and lot of time to spend together with some of our puppybuyers, and other friends.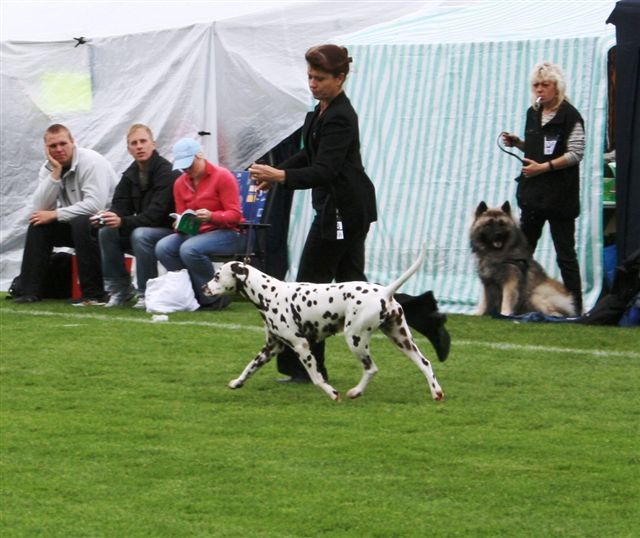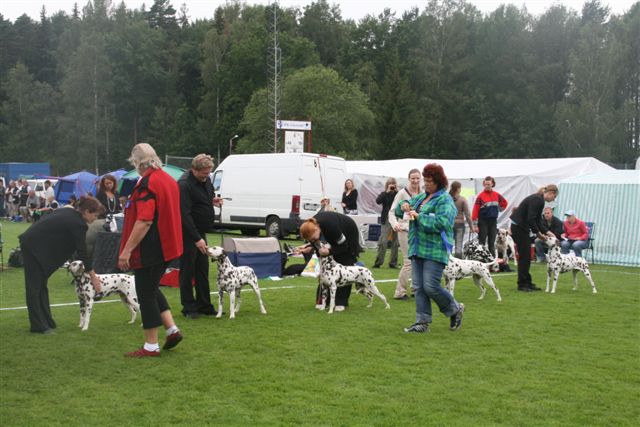 Jill´s sister Donna (J Judges Choice) on her first show ever. Annicka o Molly. Best bitch 1-5 Ch J Hothouse Flower, Ch Veteran J A Match Made In Heaven, J Matchmaker..Champion Today Hurray!!!!!...J Right Here Right Now and J Playmate of The Year.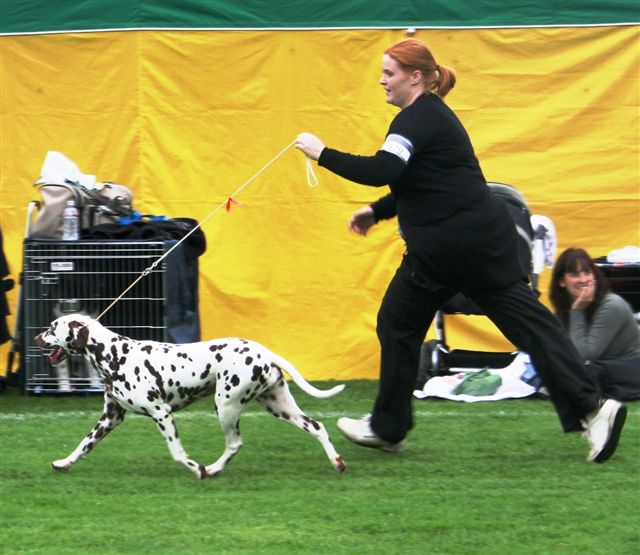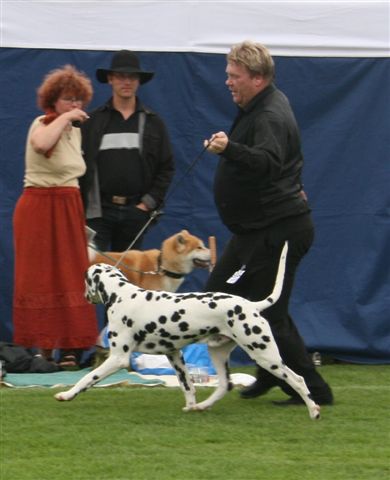 J Matchmaker new Swedish Champion and Louice that really had to run this day! Expo and Rune BOB and nr 3 in Group!!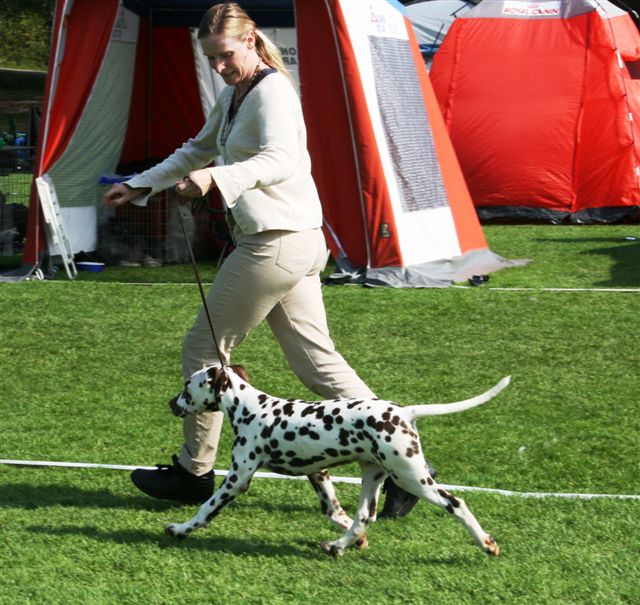 Because I had hurt my leg, I was just taking photos and eat chocolate today! Helena training with Diamond, and Hanna try to learn him to stand in a good way. (He is 4 month old now).
Diamond and Rolex drink sourmilk. Mini (BOB Puppy) and Expo (Best of Breed)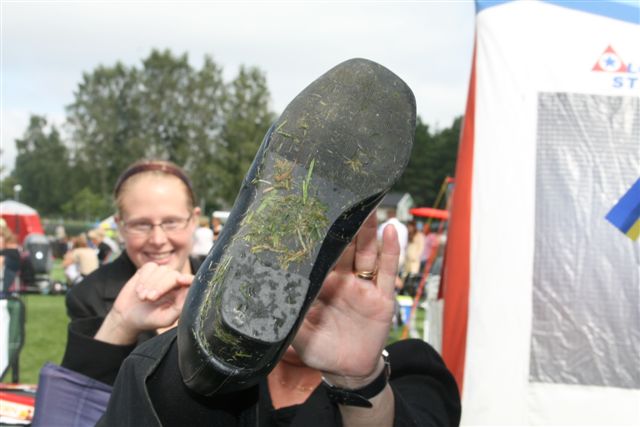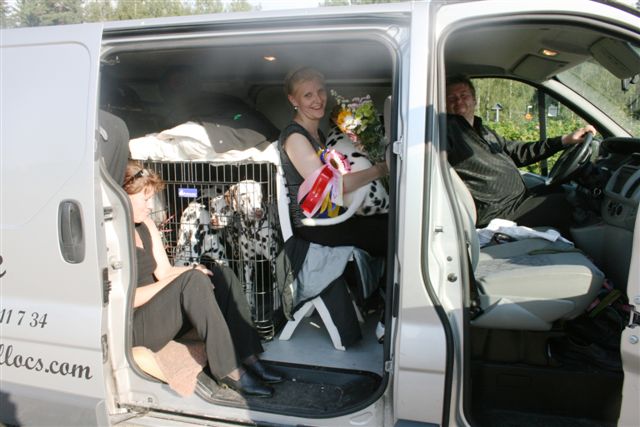 Kerstin Åslund, about 25 years since we met. Annicka showed us her shoe instead of her face. Not much space left in our car.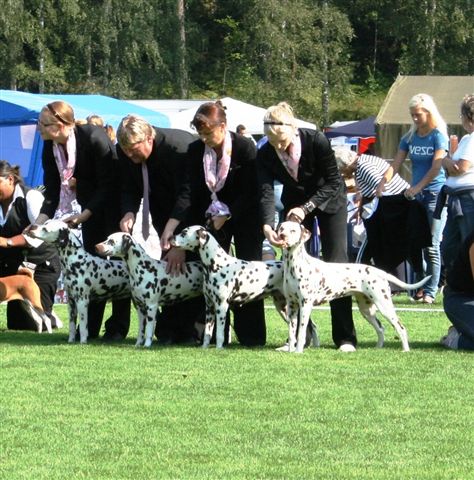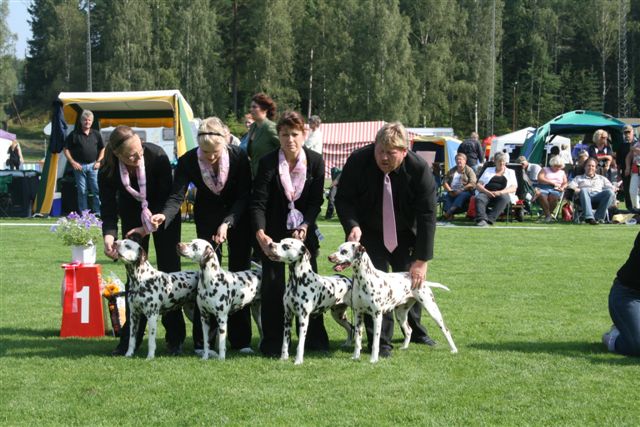 Best In Show Breedinggroup was Jilloc´s.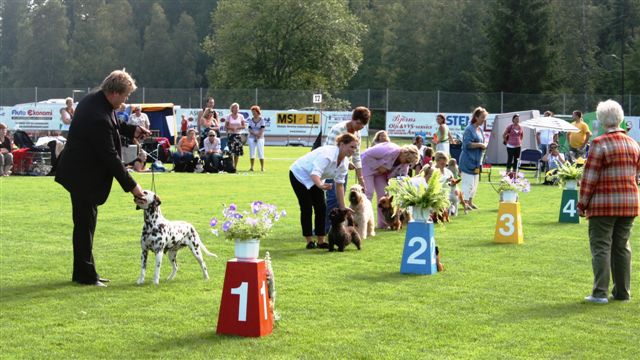 We were all happy after a long day. Rune and Darling in the Veteran Competition, BIS 2 VETERAN, Hurray!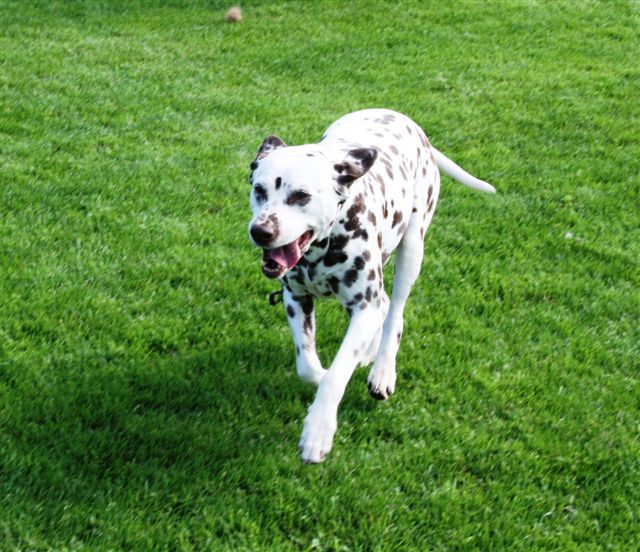 Our "Darling" almost 11 years old born 1996.10.09.....Good Girl!!! Here I come, Darling running out of the ring!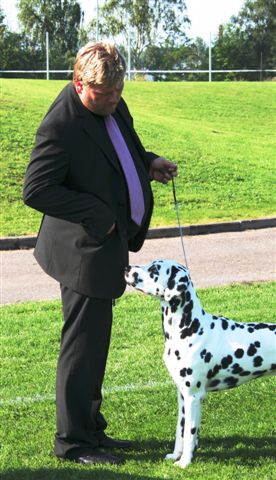 Friday 10 August 2007
Today I woke up when Rune called on me for breakfast. He had been up early to go back to the doctor and after that he went to the store to buy fresh bread for him selves and some other things for me...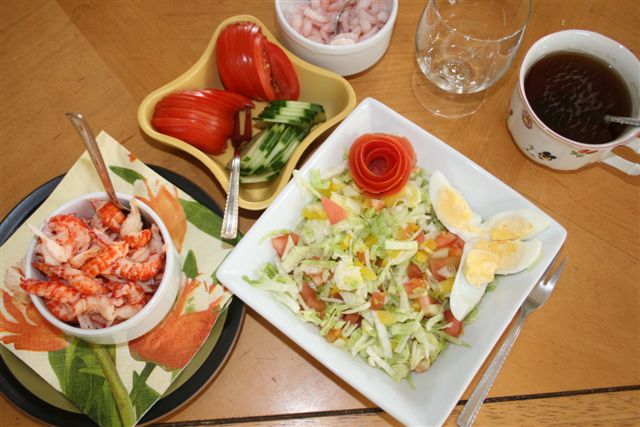 Rune loves to make food, and make often very nice salads for me, only if he don't have to eat them him selves *S*.
Last year when we were a whole month in Thailand at the small island Koh Samui, we were taking lessons some days at the hotel to learn how to cut melons and tomatos inte loveley roses, pattern and even to make swan´s out of apples.
We have many loveley pictures from that trip, but they are in our laptop that my daughter borrow, she called one day and told us that it came smoke out of the computer so we will try to take out all informations and pictures from it, IF WE CAN, don´t want to think about if everything is destroied.
After a while I understand why he made me such a wounderful breakfast *S*
In the afternoon I delivered a puppy to a very sweet family, they live not so far from us and raise horses at a loveley farm.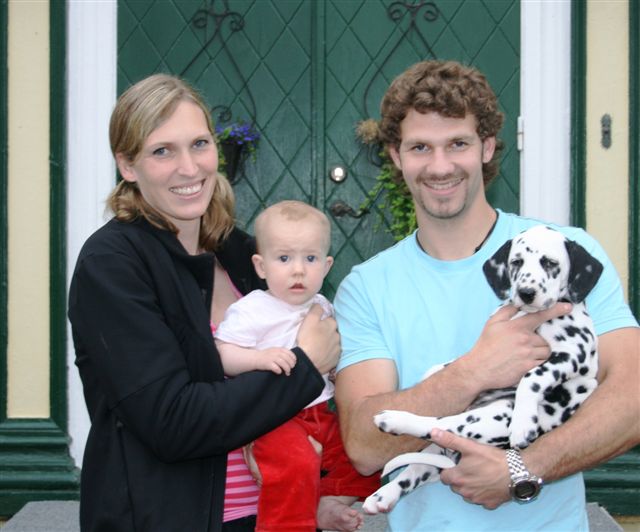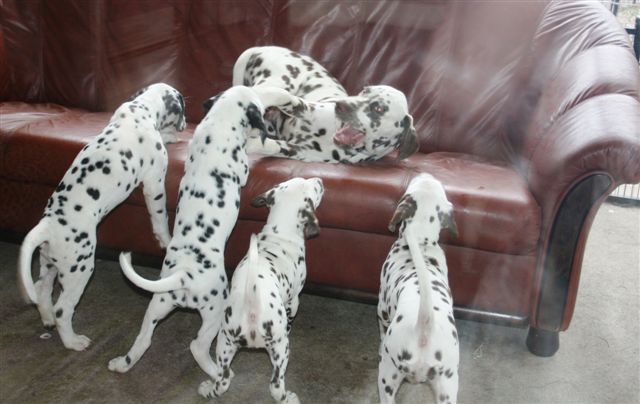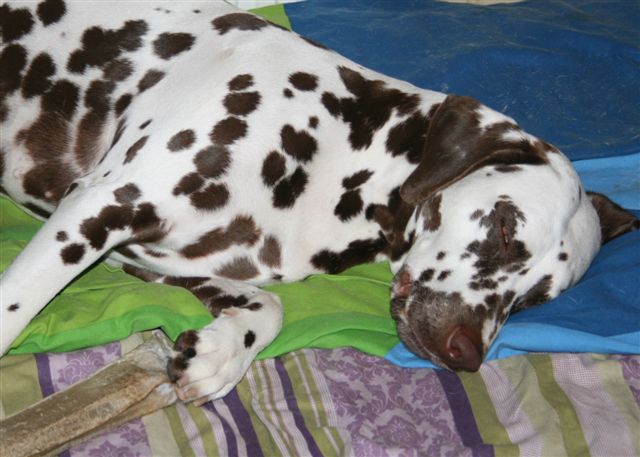 Diamond so happy to be the only one that can jump up into the sofa. Devlin sleeping on a pillow. Jill watching her bone even if she is asleep.
Thursday 9 August 2007
Today we have entered some of our dogs to Dogshows in Denmark, Finland and of course in Sweden.
In the afternoon a puppybuyer came to look at Donnas puppies.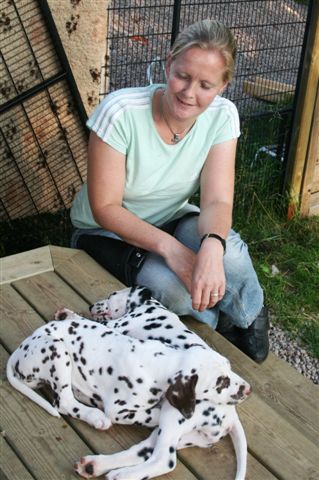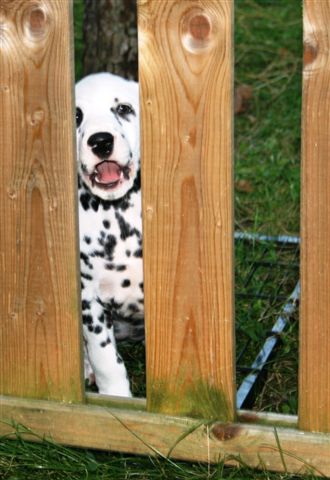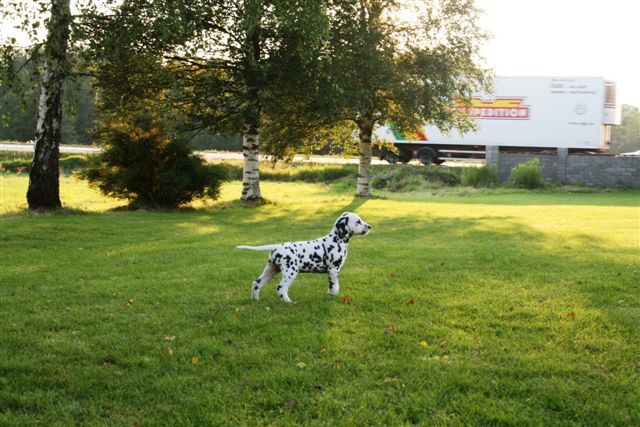 Jilloc´s Truly In Love Jilloc´s Top Model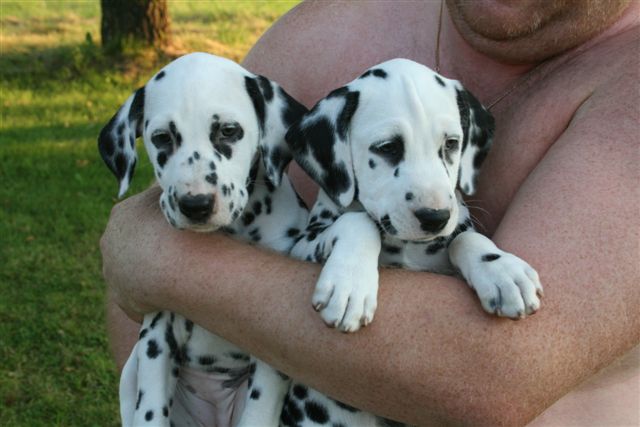 J Top Model & J Truly In Love
Wednesday 8 August 2007
Just some photos i found in my mobilephone today.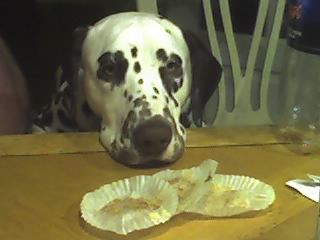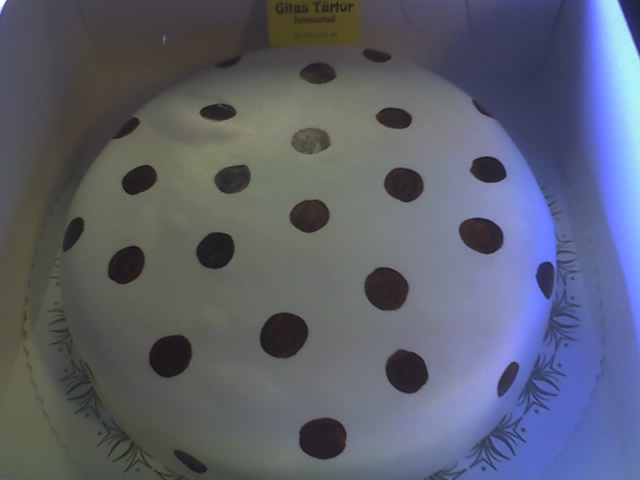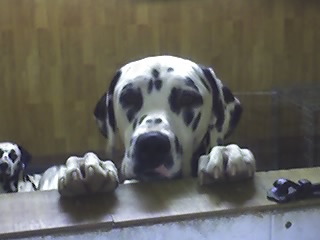 When Devlina woke up this morning, someone already eat all goodies up, just woundering who? We bought this cake to our vet and his staf, just because they are so nice. Expo just looking.....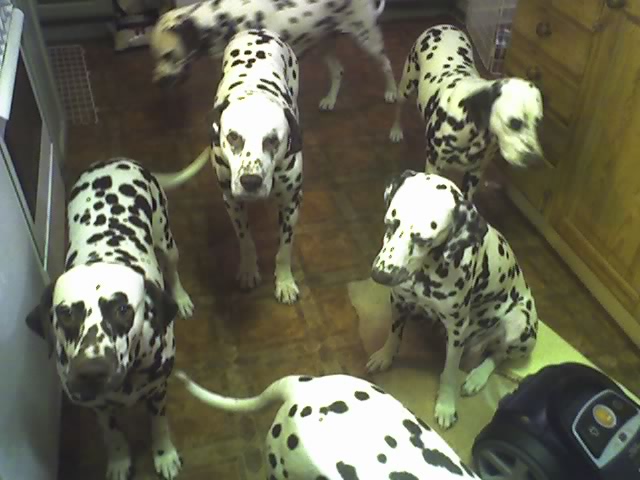 Disco at x-ray some month ago. Six dogs waiting for something to eat. Here is Rolex and Diamond swimming from Devlin to Silke.
Next time I will buy a mobilephone with camera with more megapixels, because I take photos all the time.
Tuesday 7 August 2007
We slept long in the morning because Rune had been sick this night..... At one o´clock we went to the vet AGAIN!!!!!!!!! This time to give Donnas litter vaccinations and chip and to make a health control of them because they are 8 weeks tomorrow and the puppy buyers are starting to come and chose some of them.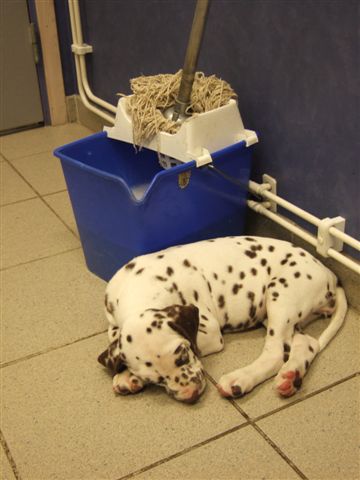 Lot of paperwork for the puppies. We really need to clean the floor many times during our visit there. Tore with one puppy.
Picture from Saturday. Donnas black bitches.
Monday 6 August 2007
Another sunny day and we enjoyed it. Just sitting in the garden and scratch at ALL mosqito-bites we got during the weekend. Eat a lot of sallads we have left but Devlin eat most of them, it is his favourite meal.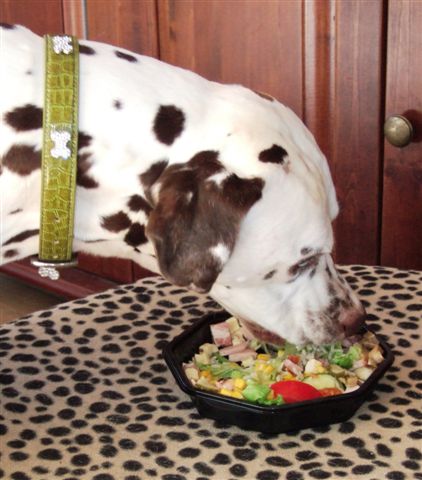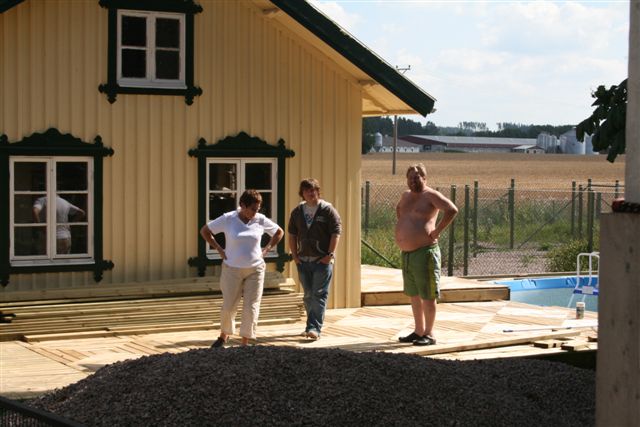 Rune was thinking about to continue with the pooldeck, but first he start to clean the pool. He was in the icy water for over two hours, which result in terrible pain the whole night. The doctors first belive that it was appendicitis, but when they heard about his long icy bath they think it is an inflammation. Today he have pain but not that much, and he got lot of medicin.......hopefully he is better before saturday when we are going to a show, and at sunday he will be judging at a dogshow the whole day. And I have pain in my heal string, this time in my left one. Two years ago I broke my right heal string in a stair and couldn´t show dogs for a whole year......I got crazy about this!!!!!!
In the evening Runes mother and Even drove back to Norway.
Sunday 5 August 2007
Up at nine o´clock, it was a line up of people to the toilets and the shower, next year we need line up tickets (a good idé, why havn´t I thought about that before). Some of us eat breakfast before we all went out to start the barbeque and to prepare for this day show of a new small breed Prazsky Krysarik, finally I learned the right name, most of the time I call them "rats". Imagine that - I heard that they can hunt rats......but I can´t understand that because rats are much bigger???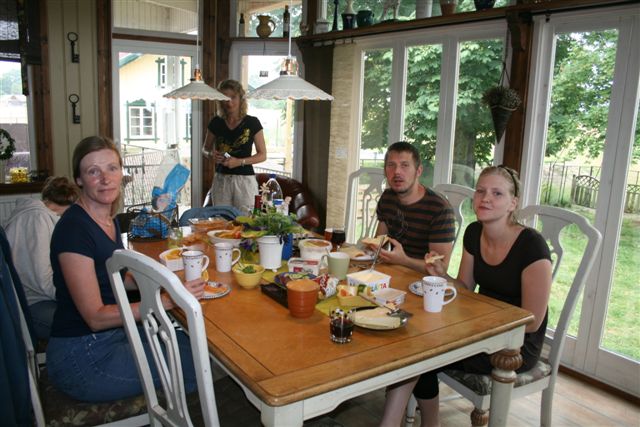 SOME OFF THE STAFF WHERE VERY TIRED TODAY, BUT EVERYONE WAS KIND ENOUGH TO GO UP AND OUT TO HELP US.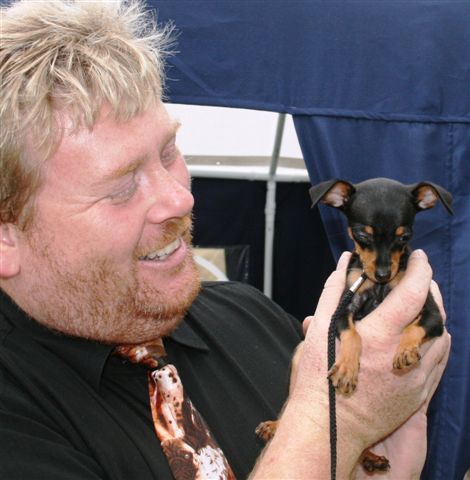 This small puppy weigh aprox 800 g. Our 8 week old Dalmatian puppies weigh 8 kg.
A very young handler, with a grown dog. Sugardaddy on a walk at the grass, SUDDENLY two DANGEROUS very large dogs attact him!!!
Help Me......he was screaming!!!! They eat Me up....
His Bigbrother Rolex (with the fitting name AT YOUR REQUEST) was also in the garden, and came runnig to help, but he kissed the dangerous dog instead, so I have to take care of myself.....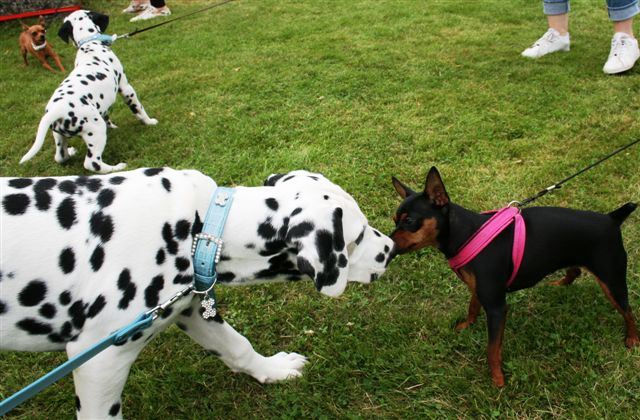 Diamond and Hanna. Pricetable at sunday. Jens after "A Hard Day´s Night.
Rune give away a bag as a present from the judge. There were many that was jealous of this tough car!
We were all tired and some of us went to my store for a while to do other things just for fun.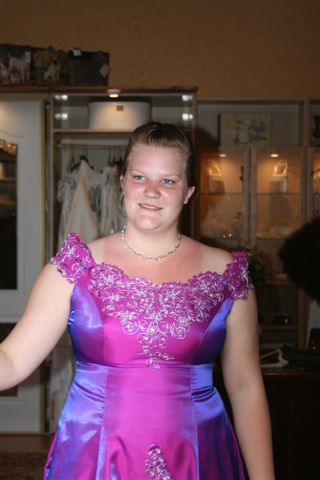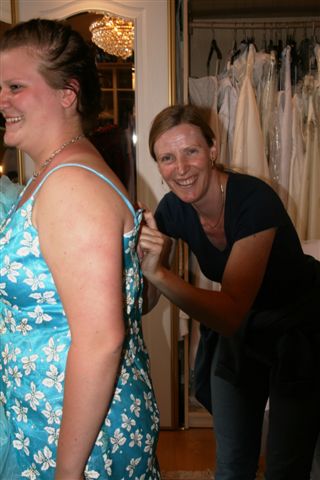 Maria tried some gowns, next year is her first prom. Catarina and Helena was very good to help her.
Even and Oddlaug (Runes mother) taking a break.
Hanna and Jens have a long way home(800 m *S*) so they have to stop and rest after 100m at Uno-X, they were so tired when they were home 5 minutes later.......*S*!!!
Seven took a nice bath in the middle of the night.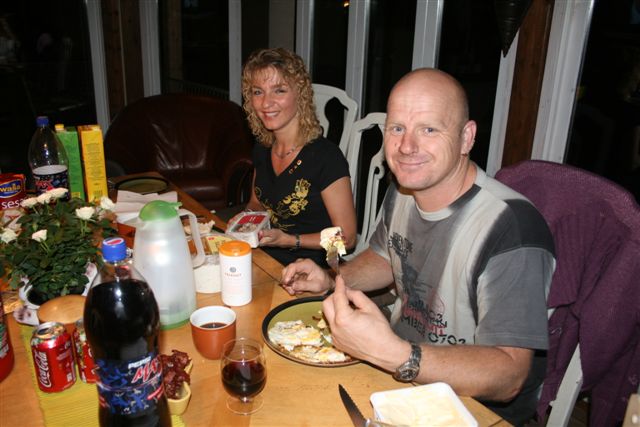 Rune make eggs and bacon at 3.30 in the night so Diana and Andre get something to eat before their long trip back to Holland. Some other crazy people exercise in the middle of the night.
Jill jump in the car and Diana and Andre was happy to take two dogs back home, but we take her out again, and kissed "Seven" goodbye, I am so proud that you want a puppy from this litter and wish You all luck in the future with her. Hope to see you soon again somewere in Europe, it is always a pleasure both for Expo and us.
Saturday 4 August 2007
Sunny day in Götene. Helena Berg helped all that need help to handle their dog.
This was a PERFEKT day to be out in the garden for all of us. Catarina Blomgren who was here with a puppy after our Zamzon, was kind enough to step in in the last minute to judge. Everything this day is just for fun and if there is till ex a beautiful dalmatian with a blue eye, that one can be Best In Show here! So hopefully we meet some dogs we have not seen since they left, sometimes many years ago...that make us happy. In 2005 we had 61 dogs here at the show (both cockers and dalmatians), last year over 50 and this year only 26. Hopefully we can arrange it again next year.
Best Puppy was Timanka´s Reason To Collect, 6 month with young Gunnar Johansen from Norway on their first show ever. Best female puppy Dalanyas Baileys Cream, for the day handled first by Hanna and later by Maria her owner.
Photos from this weekend taken by Jens and Me. This professional photo taken by Johan Frick Meijer in 2000.
Jenny with Kassie and Hanna with her young bitch. Even this year was Liselotte working and take a brake her, but always ready to go! Roy was talking in telephone as always *S*!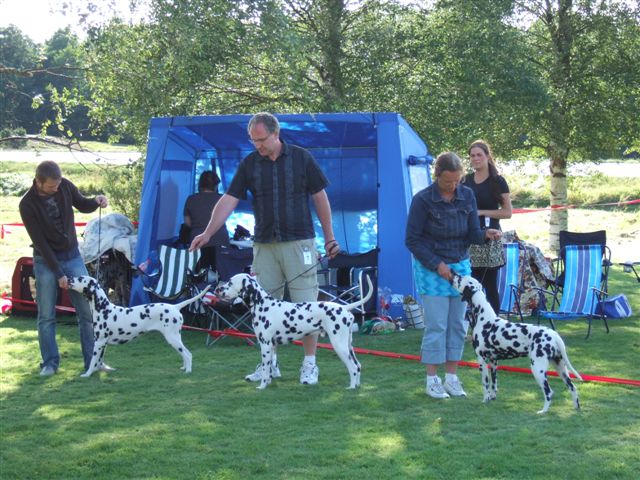 Three Amature Handlers in a competition. Hanna won a bag at the lottery. Rune sold lot of hamburgers, sallads, hot dogs, french fries and chicken nuggets, coffe, soft drinks and candy. At our show next day we only sold two cup of coffe and ONE hamburger *S*!!!
Jill was looking through the window. Nina B with Neppa. We met Donna, Jills sister for the first time in 3,5 years. Darling and Louice was here.
Rebecka hired a handler from Holland for one of her bitches J Just Enough, but Hanna won it all with SV-06 Fairytale Spots A Key To My Heart (Chrissi´s and Bossons daughter)
Good Girl!!!! We eat a good dinner in a perfekt Summer Evening.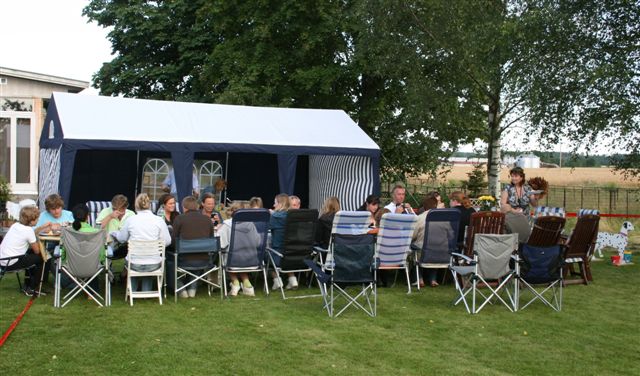 Jilloc´s Seventh Heaven and one of her relatives.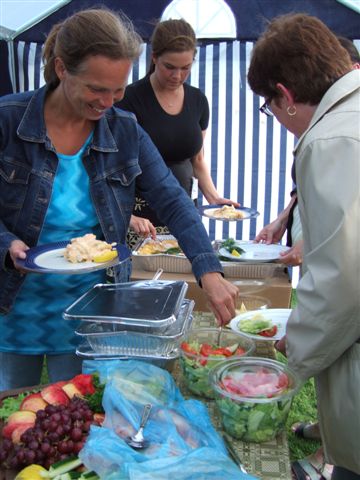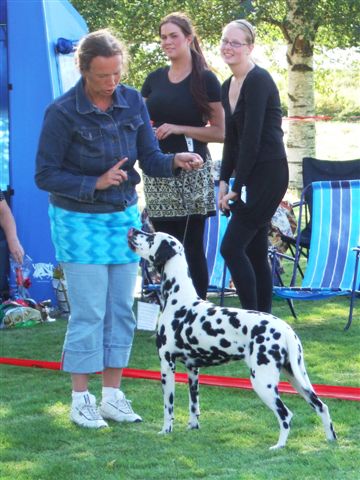 Monica was hungry, she helped Rune to sell food all day and showed Dilba in the afternoon. Best try to show a bitch in season did JENS.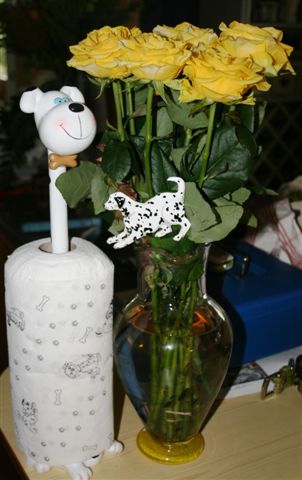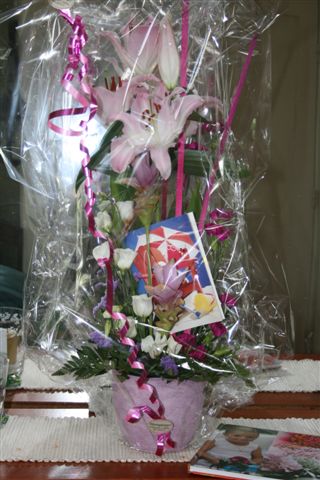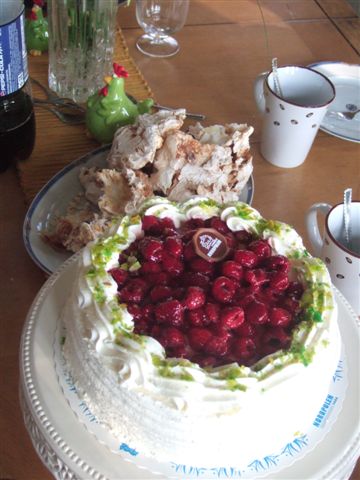 Happy to se J Quite Spotted Girl again. Presents, flowers, chocolate, wine and much more, thank You so much for all nice things.
Hanna was so happy that Kristina choosed one of Chrissi´s puppies. The new owner was even more happy. Windy is J Super Models Aunt.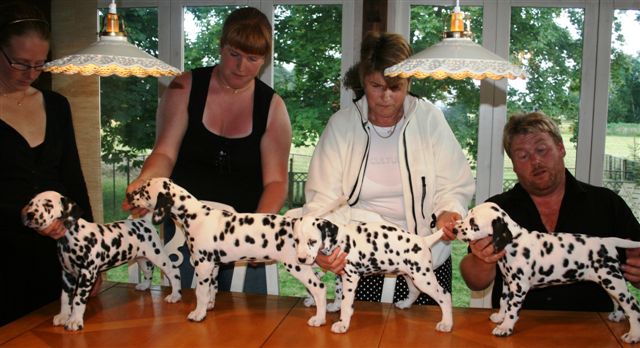 Three black bitches after Donna and nr two is after Chrissi, not easy to chose.
It was early morning before Rune and I went to bed......
Jennie my daughter called and told me that she been to the gasstation this morning to fill her car up with Diesel, as always, BUT filled it with Gasoline instead......a tow truck helped her to a workshop and she was 4.000:- poorer in two hours, and she have to go back to the gasstation and fill the car up again..............so easy to do like this when you are in a hurry. Rune did it once with our lawn mover *S*, but don´t let him know that I told You all about that.....
Friday 3 August 2007
Up almost all night to look at the puppies, talk about our loveley breed and to plann for the future. Early in the morning Rune went to the vet AGAIN.....to get a passport for one of the dogs, because Niina and Mette changed their mind of dog when they came here, and they almost lay on their knees to buy J Scandal Beauty instead of their first choice. It was not easy to take that decition during the night because I've had decided to keep her for myself from day one...but she have a sister that I also was very fond of so after lot of doubt I said yes..............and I really want Niina to have something that I want by myself because I think she is a loveley person, super handler and she have asked me for a very good bitch for almost three years now. But you never know what will come out of a very young puppy...the future will tell us if our choice was right.
Today it is Roy´s Birthday
Rune bought a cake on his way home from Vara and Hanna and Jens was just in time for the coffe too.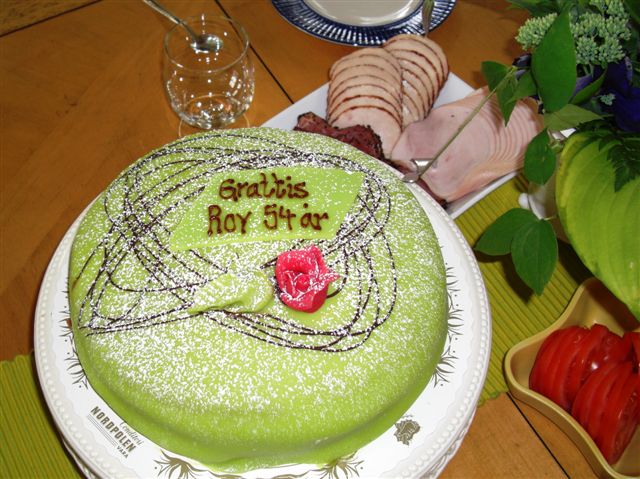 We eat cake and the puppies got sourcream they was happy without tasting the cake.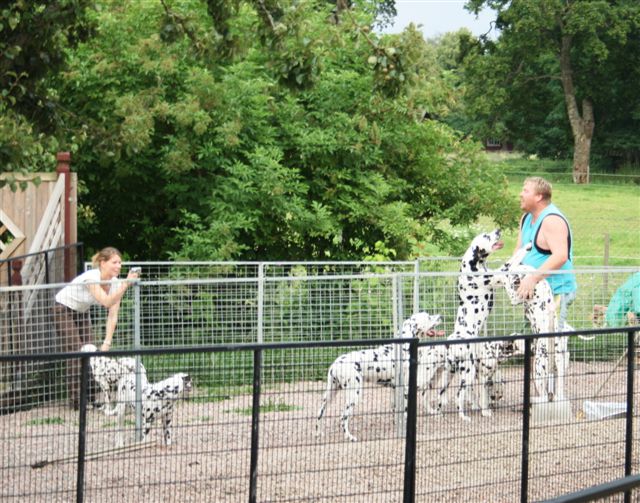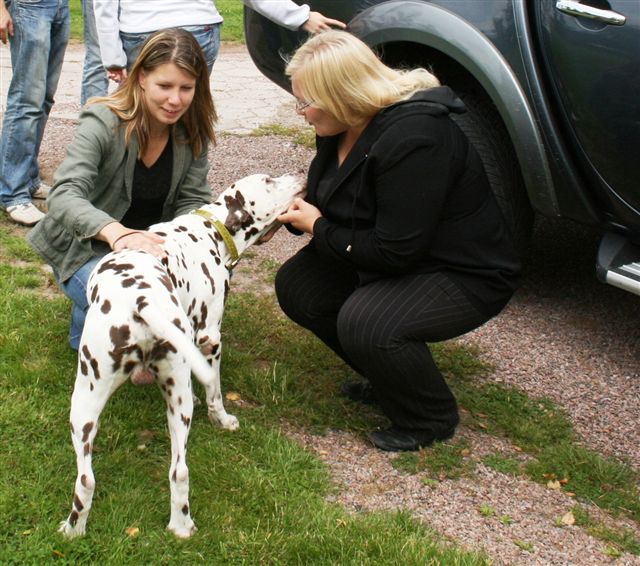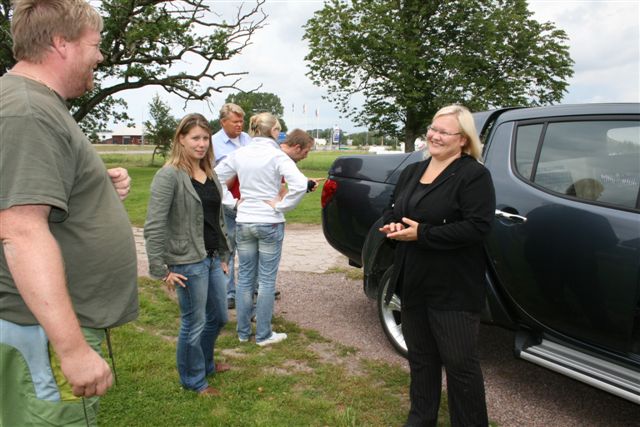 After they have said goodbye to Devlin and grandmother Hanna and I have kissed the puppies many times, Roy drive them to Landvetter airport outside Gothenburg. Later we got a mail that the trip home went very well, and the puppies have been so easy to travel with. At the airport in Finland many friends was waiting when they arrived.
Hanna and Jens and Rune and Jonnie and I started to make lot of things that HAVE TO be ready until our SHOW tomorrow, we decide yesterday to have it because some more people have called and tell us that they would like to come. I have already called our "judge" and tell her that we should cancel the Show and was now in a hurry to find someone else to take care of that.
Rune was making more space for the showring in the garden, Jens cut grass and Jonnie worked with the trimmer.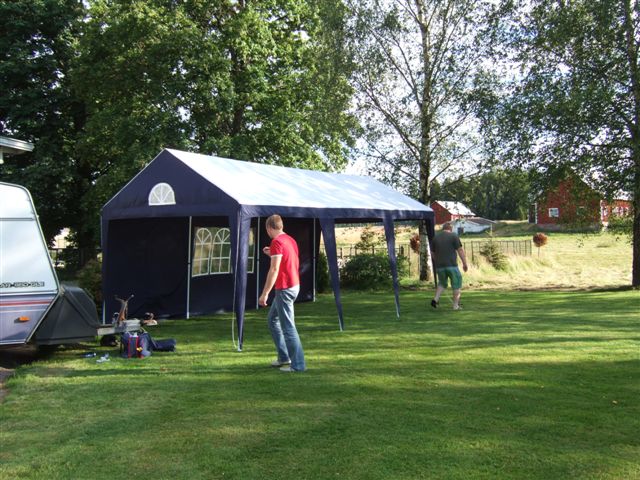 Jens and Rune put the new tent together. Hanna and Devlin found a perfect place to put the showring at, in front of the house.
If You wonder what I was doing...............I have a hard time to take pictures to show you here in MY Diary!
In the afternoon many have already arrived....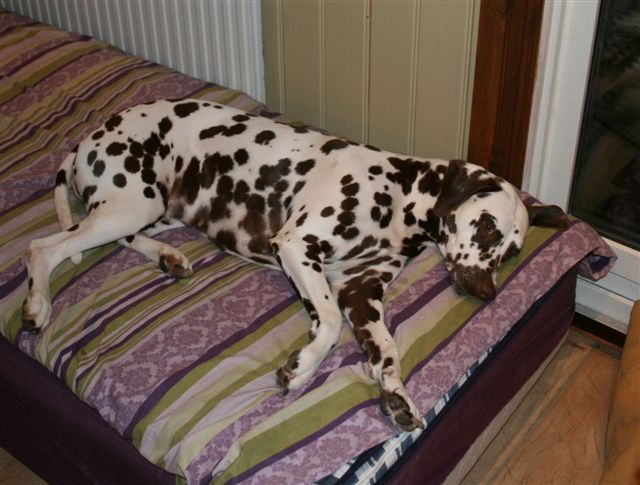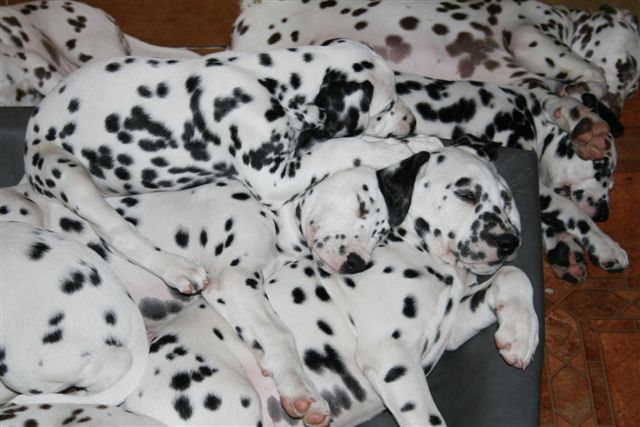 Hanna painted our "First Place Dalmation" in the middle of the night, all dogs was sleeping, we did not have the time to do that.
Hanna and Jens went back home to bring their caravan here so they have just a few steps to the ring tomorrow. We are so happy that you have holiday just now , because without your help today there probably haven´t been anything ready at saturday morning.
Thank You, we are so happy that we live so close to eachother (800 meter).
Thursday 2 August 2007
Niina and Mette from Finland arriwed from Finland, to get their puppy home and to bring a malepuppy to a puppybuyer of Niina that had lost her dogs in a fire some time ago, when she was at work....terrible cant even think about that without get tears in my eyes. One of her two dalmatians was a son of Devlin from Niinas litter, born 2001. When she heard that I got a litter after Devlin now and that Niina was going to me to get a puppy home, she asked me if there was a liverspotted male. And it was a great honour to help her with that. J Stand By Me was just what she wanted.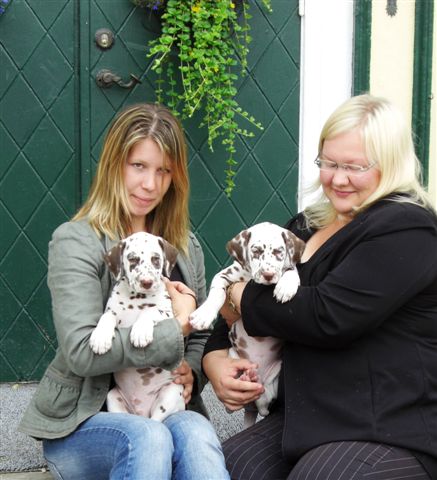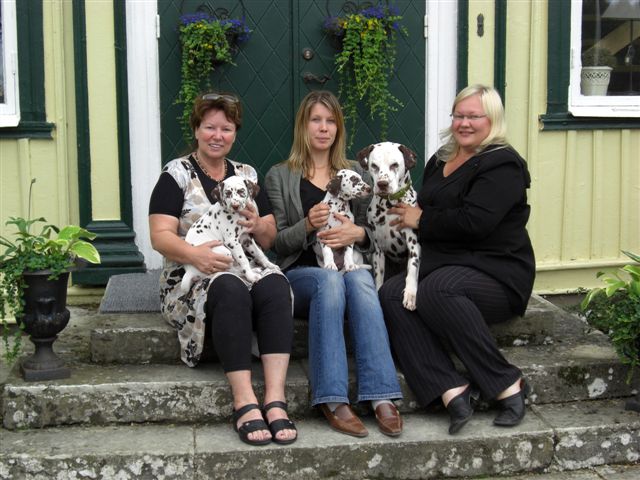 Wednesday 1 August 2007
Today the first puppy from Chrissis litter is leaving to go to his new home in Stockholm, they are now 8 weeks and one day old.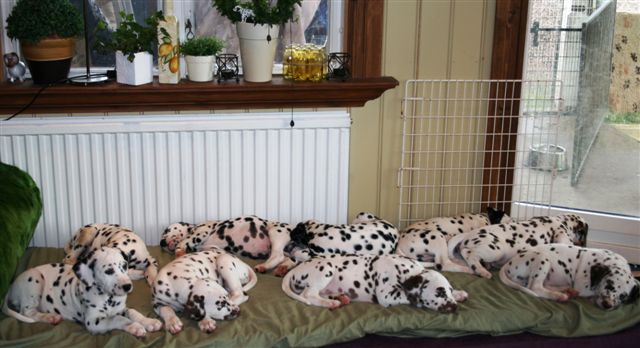 All puppies without "Seven" is asleep, she is waiting for her new owners to come .....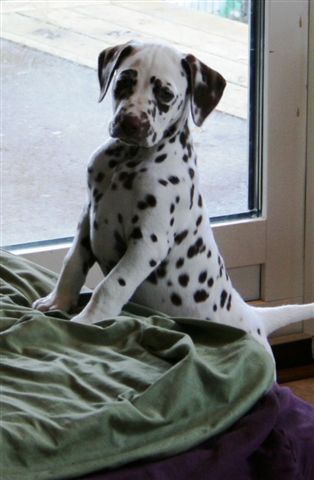 "Seven" thinks they are coming now.....? Splendid Choice will stay here with us. Finally "Seven" and "Scandal" fall in sleep.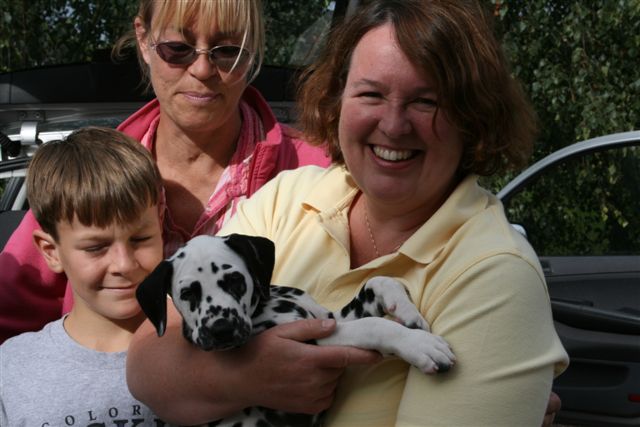 J Speedy Gonzales "Gonzo" was the first one that go home to a happy owner.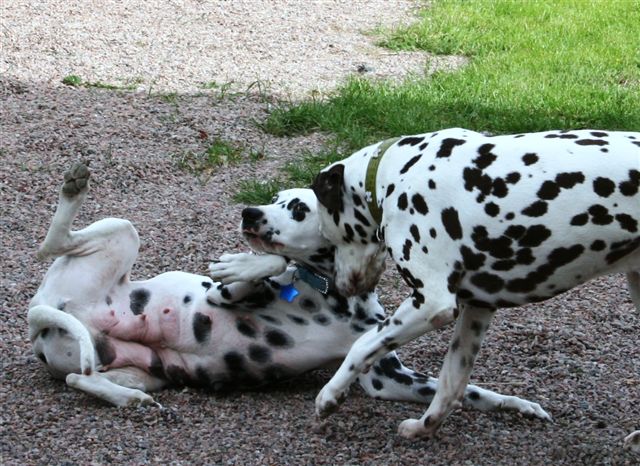 Devlin ask Chrissi if she want to have more puppies!!! Look how nice I am he says, I can lay on my back for You too My Darling!!!!!