Diary
Sunday 30 September 2007
Drive away from home at 3.00....one hour to late...as always. I was soooooo tired but have to stay awake so Rune didn't fall in sleep while he was driving. I talked to him in a strange way, I heard my selves talk about thing that doesn't fit together at all. We stopped to fill gas before the border to Norway and I became a little bit moor awake. All dogs were calm and sleep, even the puppies.
We arrived to Letohallen about 50 km north of Oslo close to the airport Gardermoen. It was a rainy morning but it was a nice hall for the show. We parked close to the entry with the caravan and start to carry all our things in to make the stand with bags and blankets.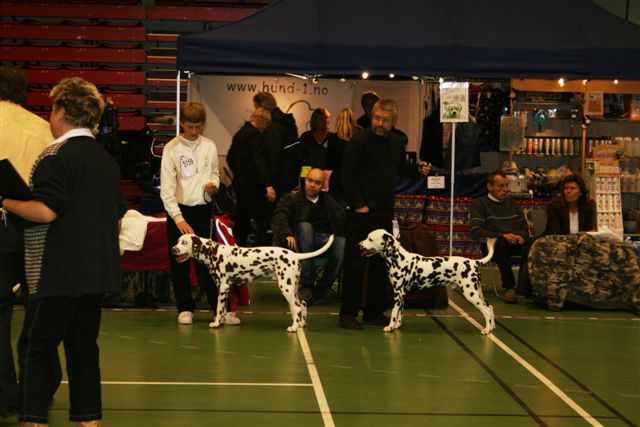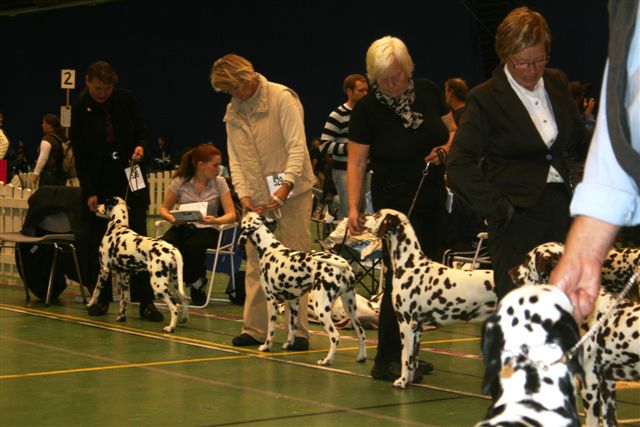 Timanka´s Reason To Collect and Timanka´s Randezvous still puppies. Open Class bitches, I think ....?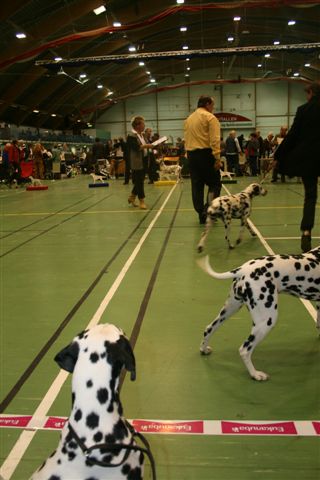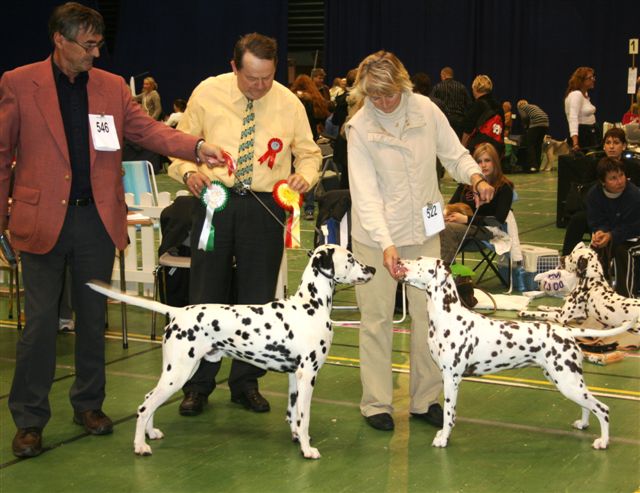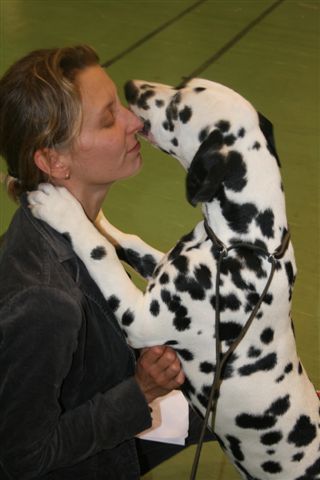 Daddy study how to be a showdog. Ch Dalmos Elegant Edward BOS & Spotnik´s Diva Deluxe BOB. Daddy love everyone!
Judge: Frans De Ridder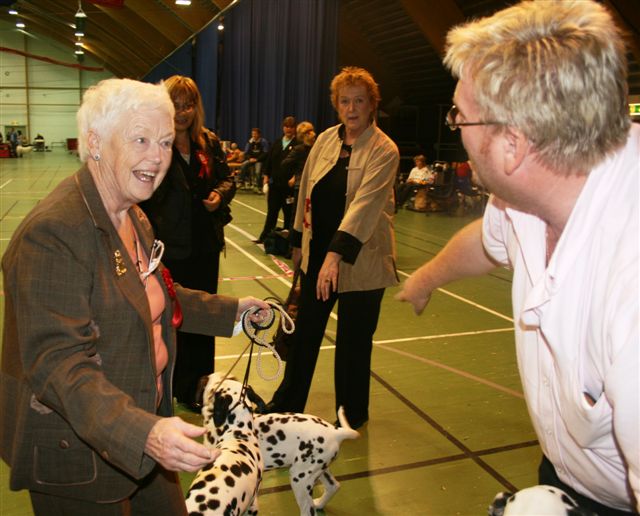 Three judges from differtent countries try to buy one of our puppies *S*! Marie Bailey from Ireland is a dalmatian breeder and judge.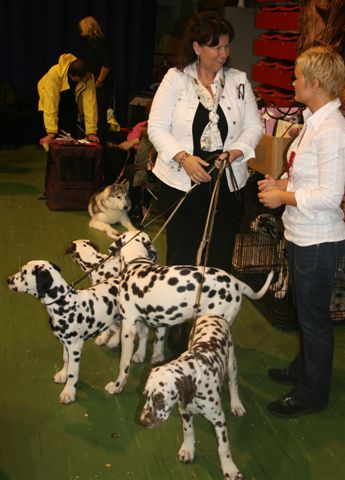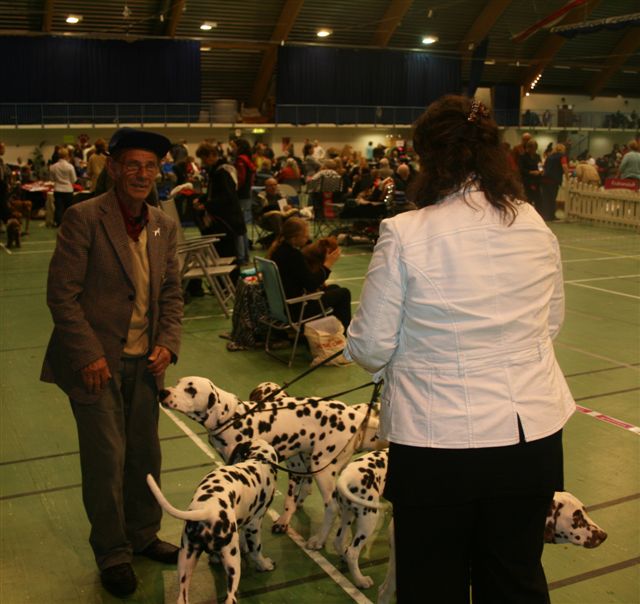 Eileen was working in the ring. Our young dogs was really socialized today, it is important for us that they think it is funny to be at a show otherwise they can't show themselves up in a good way, so we have to start early with that training just for fun. And this was the first time our small puppies have to have a lead on. They were very clever after a while.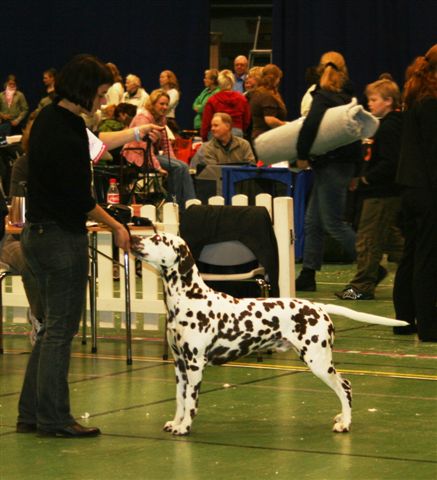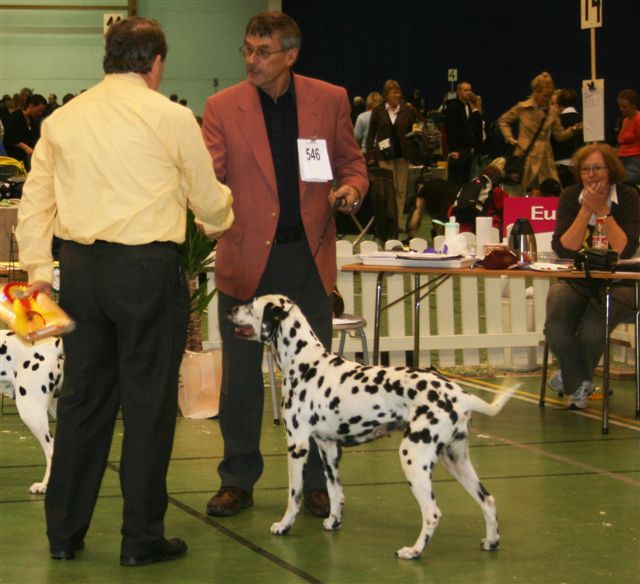 Daddy training in the showring and Ch Dalmings Hocus Pocus (Devlins) son in front of the judge. Ch Dalmos Octavia BOB Veteran (Dennis daughter).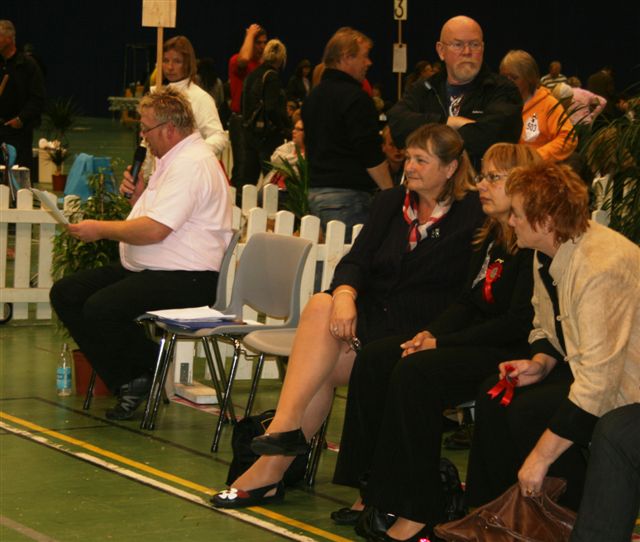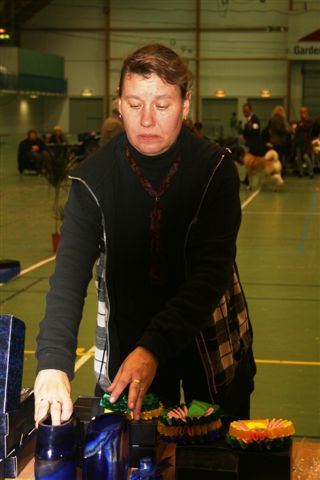 Rune was the speaker in the final ring. Erika bought lot of nice prizes for the show.
Saturday 29 september 2007
Jonnies Birthday 17 Years Old
Jonnie Roy Eddie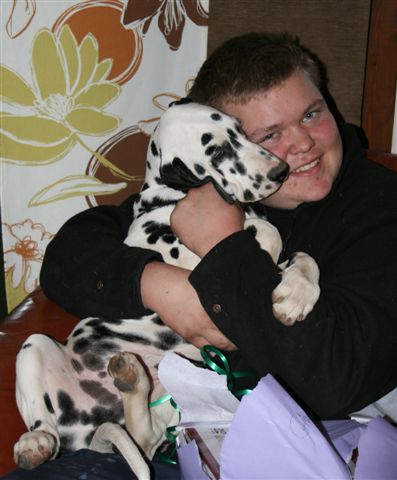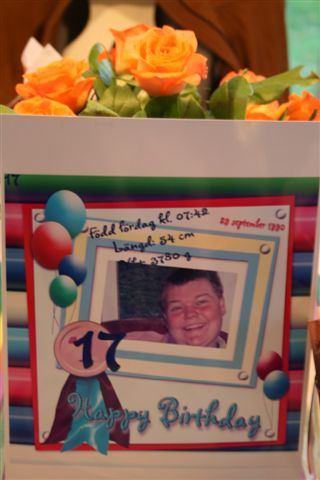 Daddy o Jonnie Born 1990.09.29 at time 7.42 (I was up early *S*) length 54 cm weight 3780 g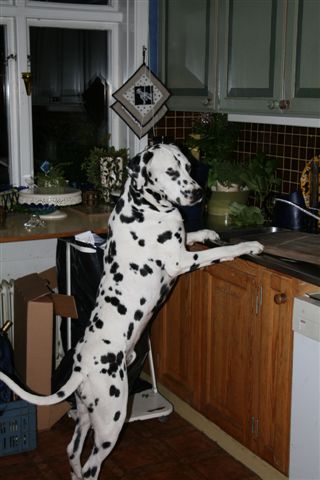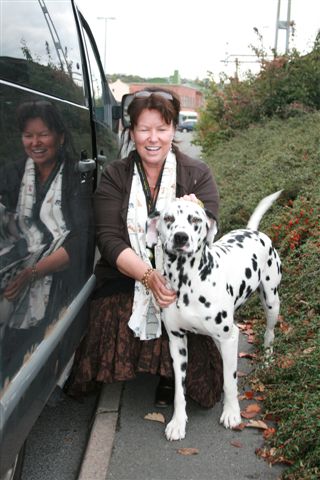 Up early again for breakfast. See Mummy they look at me, I HAVE TO laugh! What strange animal is it over there?????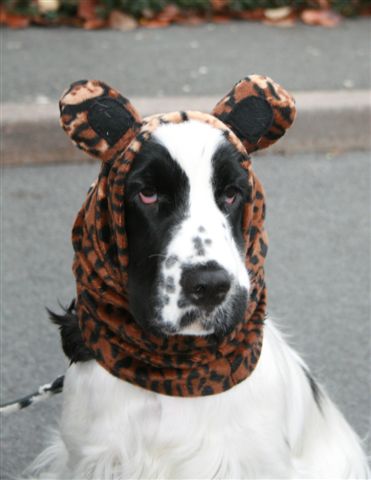 It was CLARA, a nobel strange dog from Germany close to the country where I was born, so we almost uderstand each other, and she drove me to Stockholm to meet my new family.....clever girl that can drive a car! She had a Mercedes of course......
Breeder meeting first of all and later Kattis (Claras Mum) and Rune went down to the garage. He would like to show Kattis how big it was!!? Clara didn´t understand nothing, she just want to go back home and take Expo with her.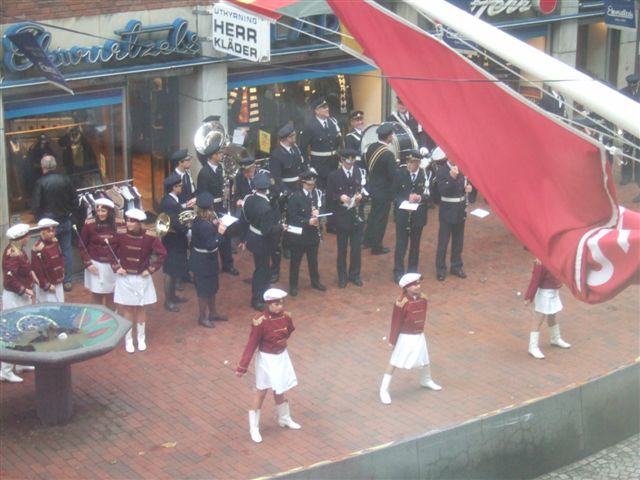 Outside our conferance room we heard a terrible noice and looked out.....oh my god!!!! And when all this people was ready to play there were a band playing large music for some hours, it was good but I got a terrible migrane of all this noice, but maybe it is because we have slept toooo little last nights. Just want to go back home and pack everything together because we have to be in Norway tomorrow morning to sell bags at a show at 8 o´clock.
Home about six o´clock and try to make everything ready.....we were so tired that everything went in slow motion....I have still pain in my head and can´t think of everything I have to do....and I need to give some dogs a bath tonight because they have been digging again in the mud. Szzzzzzzzzzzz......Rune went up to sleep some hour because he was to tired to drive. I will give Rolex a bath in some minutes, and clock is now 01.15. We have to start at two a clock...to reach the show in time tomorrow, I really don´t know how to walk up the stairs with Rolex and he probably think I´m crazy when I tell him that he have to take a bath now and then to dry him with my fön....don´t know the correct name but don´t care......to tired... and I have to wash my hair and to take a shower.....NOW...crazy...NO...more than crazy...totally kaputt!!
Sleep well to You All that can.....I´ll be back at my computer in the end of next week, we will go to Norway to sleep......maybe.
Thinking about Expo, goodnight my Darling I know that You got a goodnight kiss from me tonight from Your new mum Pia, she love You already!
And we will always love You. See You in Växjö, have a nice time until then.
Friday 28 september 2007
Up after 2 hours sleep.....to change one more dress and to clean in the house because we will celebratew Jonnie this evening because he have birthday tomorrow at saturday but then we are in Jönköping at a breedingconferance whole day and we will drive to Norway tomorrow evening, to try to sell bags at a show there (crazy..Yes) .....But we will ONLY take nine of our dogs with us so it is very easy...*S* and the youngest once, they need to come out in this age, espicially if they not have got a new home yet.
My mother and her sister came here and later Roy came with lot of food. I was in the store most of the day from early morning, and Rune took care of the "Ladies" in the house.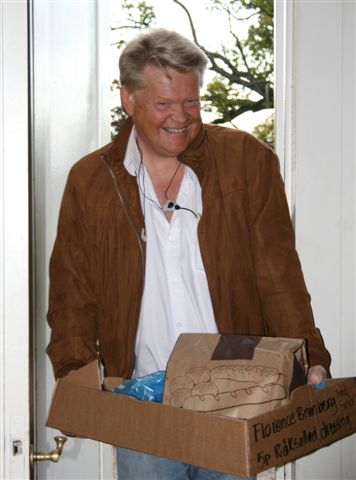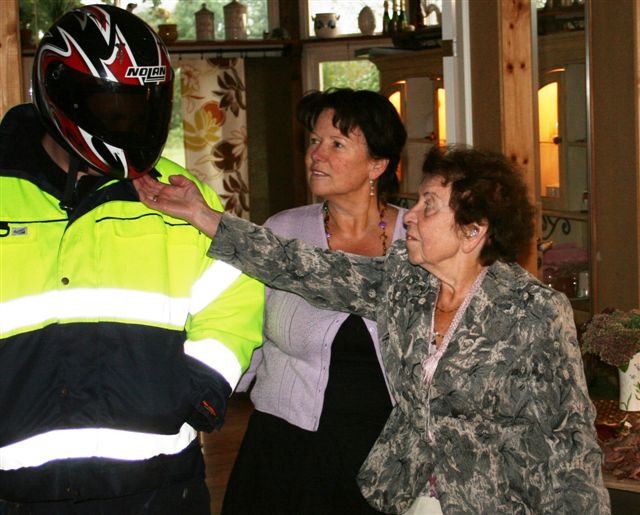 My aunt and Jill Roy with some o the food. Who is behind the helmet?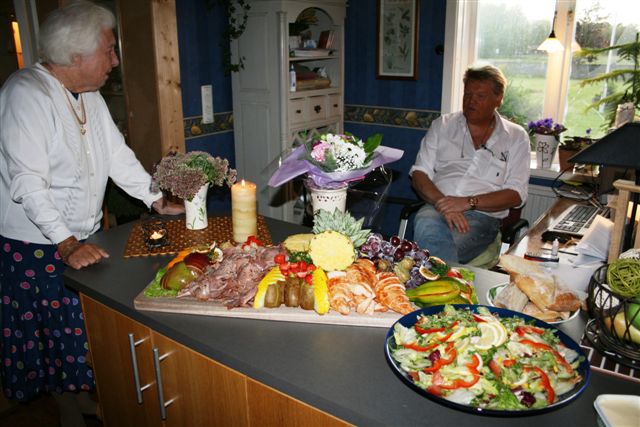 No cake today.....BUT many other nice food to eat, and of course we eat cake that my mother have made after everything else.
Roy love his coat (but I thought he bought this one for Jimmie from the beginning) *S*!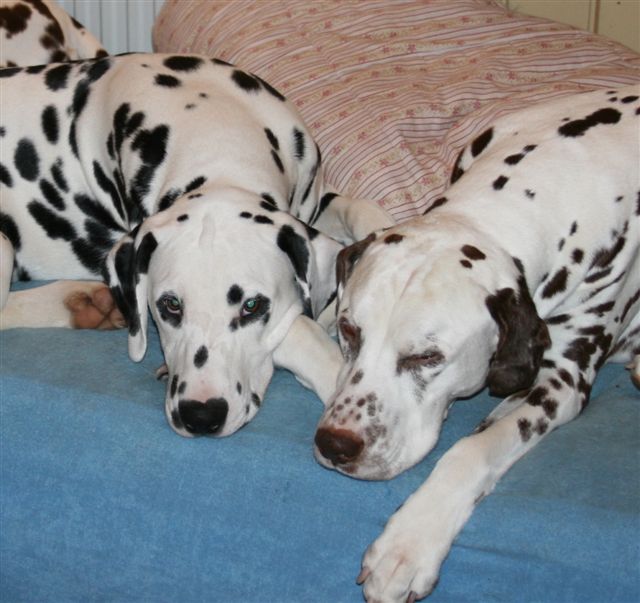 Expo 5,5 month old and Devlin almost 11 year.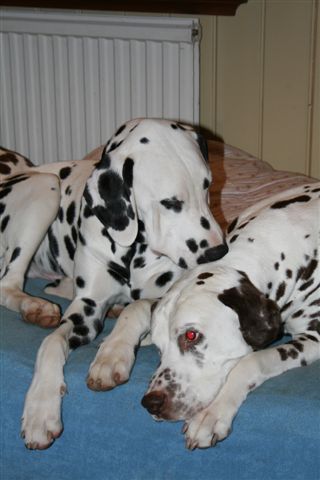 I Love You Daddy, and You smell so good....just like me! Please let me sleep Young man....ok I Love You too!!!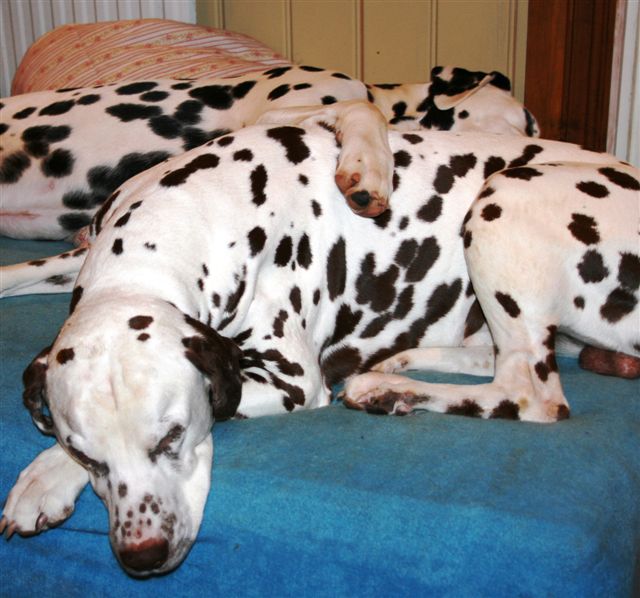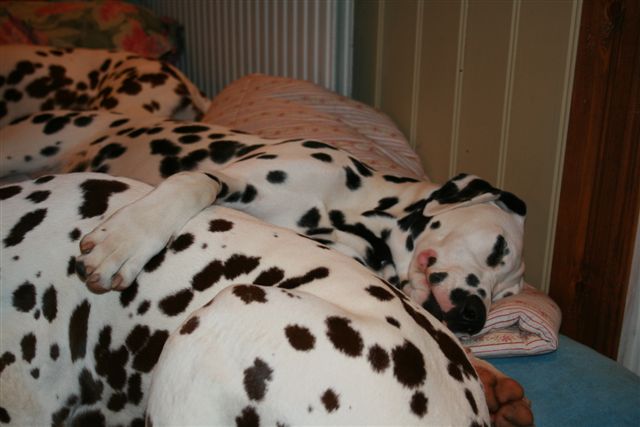 I stop licking You and just give You a hug while we are sleeping......szzzzzzzzzzzzzzzzzzz!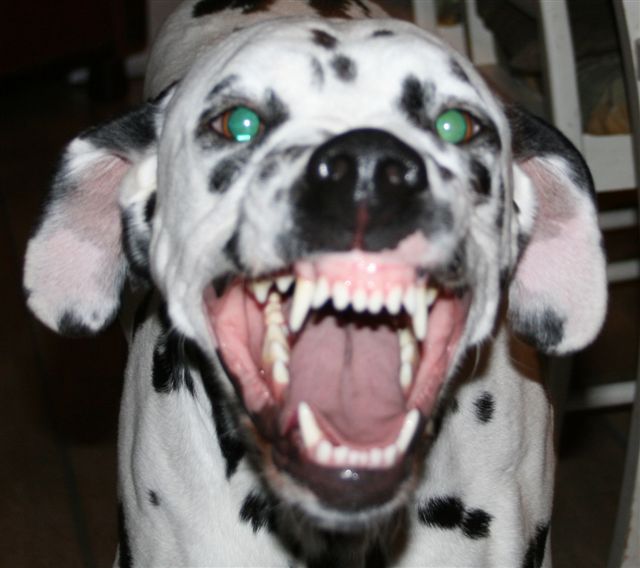 Tomorrow Expo is moving to his new home about 700 km from our place, we tried all night to take nice photos of him, but he laugh ALL the time, so he is maybe very happy to get a new family?? No of course not he is always like this....good that he have all his teeth!!!!!
He look like a rabies dog I saw in a movie many years ago! But Expo is so happy that he try to eat You up every minute !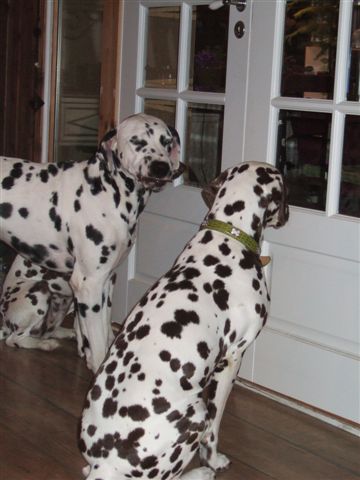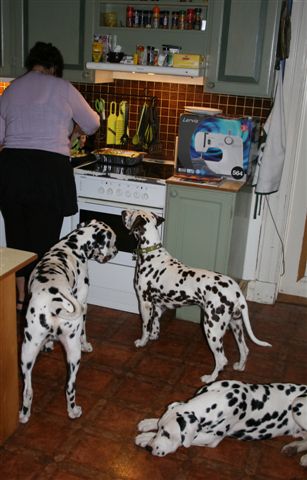 If You just put Your hands on the camera, he laugh in case of.......Rolex with his strange sleeping style.....always so many that are hungry.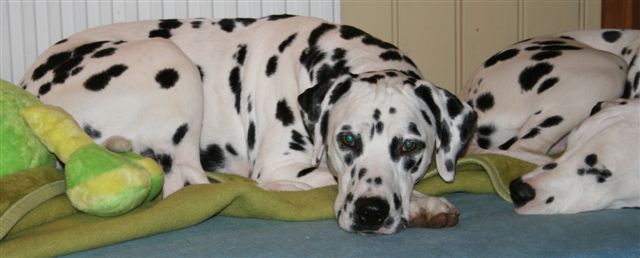 Mummy think we are like father and son (but we are not).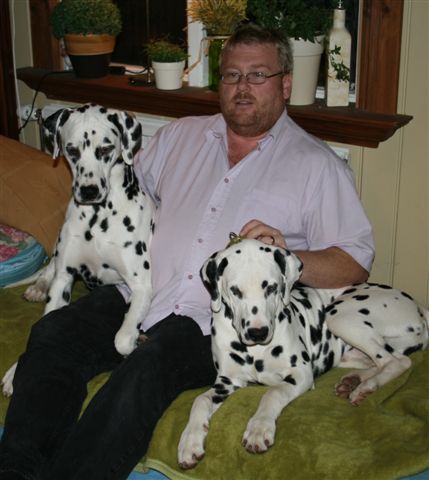 Thuresday 27 september 2007
Tonight we couldn´t go to bed because we were so crazy about the new camera!!!!!!!!!!!!!!!!! We both start to read about it in all papers we got...and after 4 hours I found a little not about something at the lens that we have put the wrong way..HAPPY!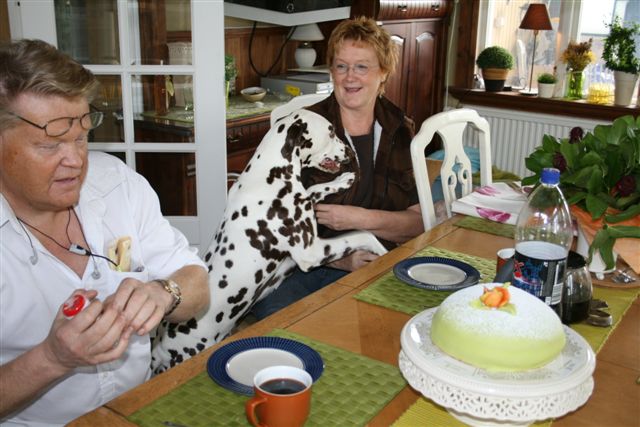 Today Anita was her and ofcourse someone else with cake, Anita was so happy and eat a big pice of it *S*. (Just joking)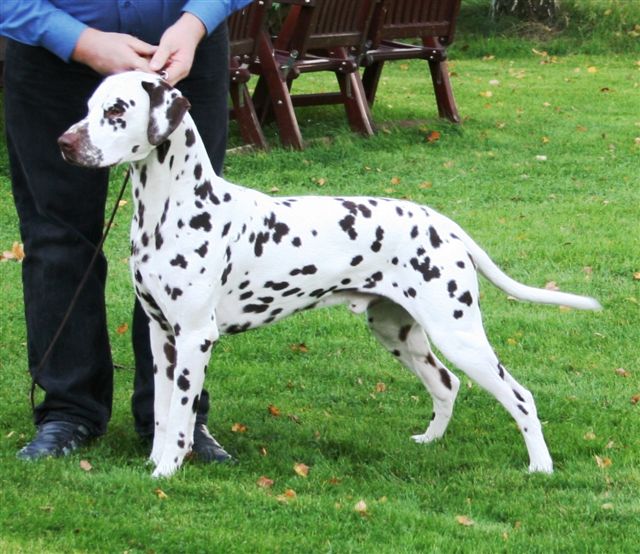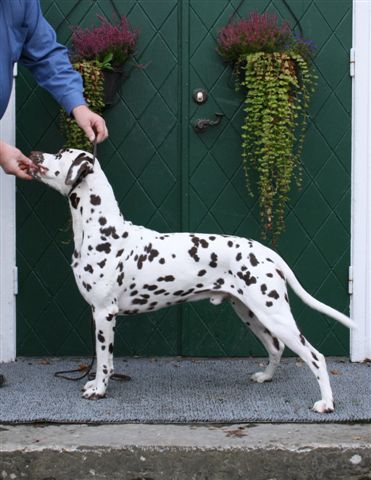 Took some pictues of Harry, he start to look really good now.
Worked late in the store, suddenly many people that are going to wedding very soon and we need to change some dresses emidiatelly, and Rune love to take care of the iron......maybee because of his girlfriends in that room *S*
Even Jonnie was there!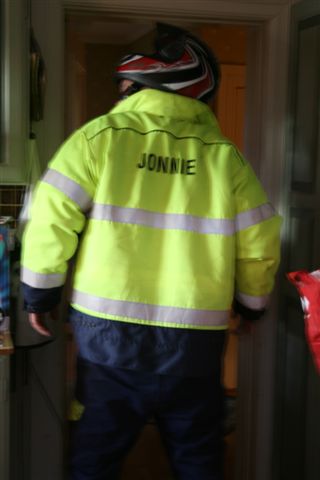 Tired!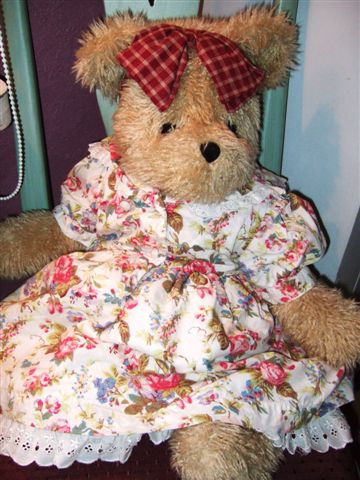 I bought this dress at a little store many years ago, I gave it to my granddaughter, but Jennie my daughter think it was terrible, so I take it back and put it on my teddy bear, and I still love the dress, and so do the bear that Devlin got many years ago as a prize of honour at a summer show at Gotland.
Wednesday 26 September 2007
Yesterday at the vet revaccinating some of the puppies. Gloria, Decibel, Bell, Daddy o Star.
Today we really need to go up early, but when You know that You are even more tired then other days when You can chose how long You can stay in bed. Crazy feeling.........! Devlin and Jill and Devlina love to sleep as long as possible.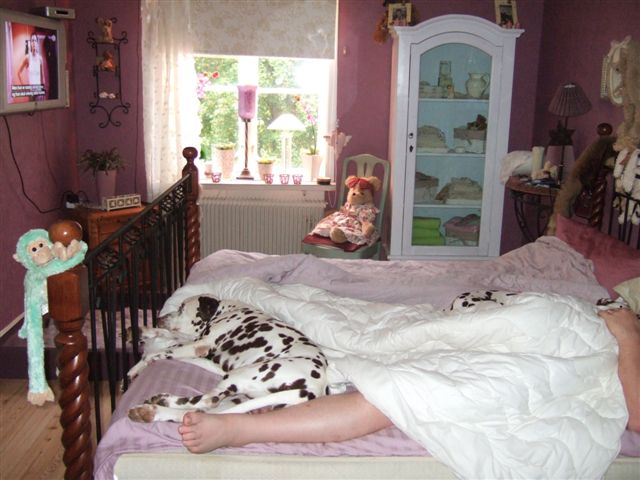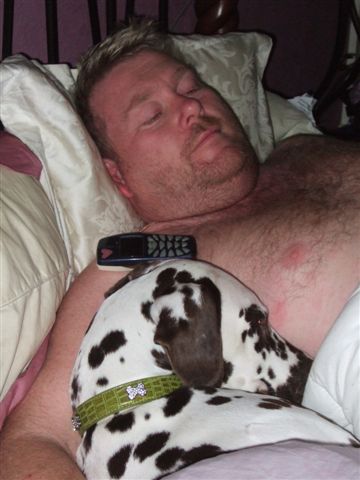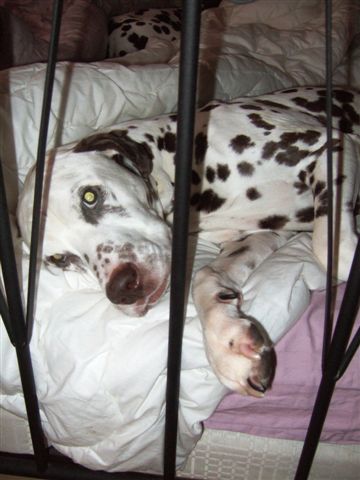 Today suddenly very bad quality of my photos???? This is taken with my camera but last picture with Elins lens.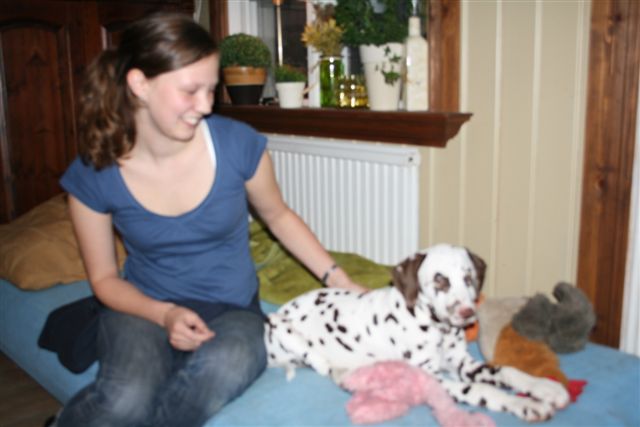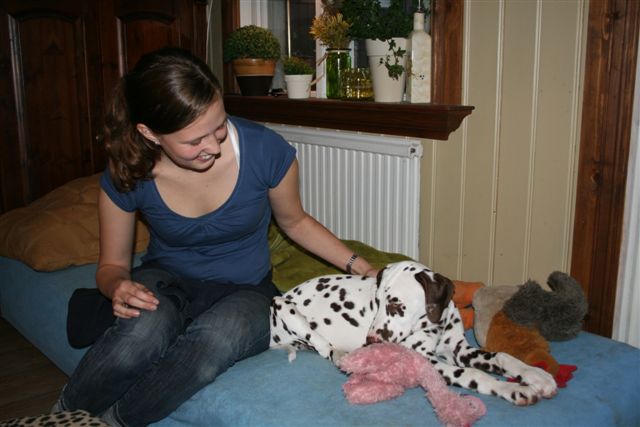 Elin and Trumph Card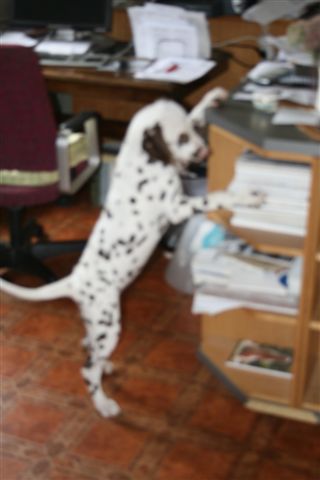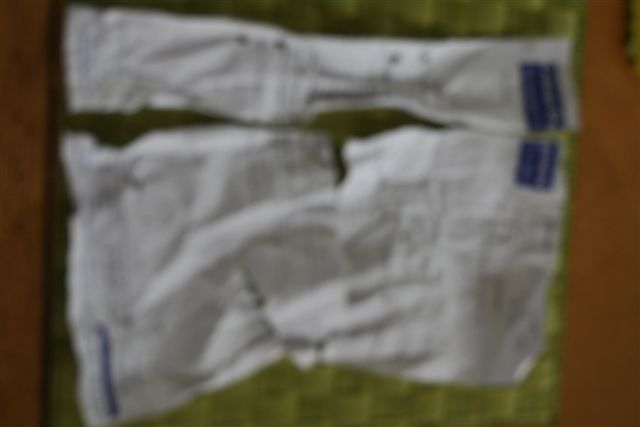 WHAT HAVE HAPPENED WITH MY NEW CAMERA????????????????? Spermbank and Trumph Card eat up one of our bill that I was on my way to go and pay today, and most of the money!!!!!!!!!!! that I have put on top of the bill.....grrrrrrrrrrrrrrrrrrrrrrrrrr!!!!!!!!!!!!!!!!!!!!!(4.000:-)
We worked some hours in my store. Rune ironed some wedding dresses and I packed Jonnies birthday presents in boxes and some more things that dog Dalmatian owners have ordered. In a while I will go back out and make some small things at dresses that some customers pick up tomorrow morning...early morning...(11 o'clock)*S*.
Tuesday 25 September 2007
Rain, rain and more rain sometimes I love it, I almost love everything with autumn, but most of all that snakes go back to sleep all winter and that flies are much more slower so I can catch them and that the air is fresh and clean. And that there are a little less dog shows to travel to so I can start with some of my "projects" that I have on my "LIST" of things we (Rune) have to change here at home...now nr one at the "list" is our bedroom *S* I have sooooooooooooooooooo many new ideas what I would like to do. First to take a wall down so we can se the lovely little old window that now is in the wardrobe. And then to change the ugly floor that we say that we will do first of all before we moved in 5 years ago (2002.11.01).
I'm a really a restless soul when I am at home from dog shows for a longer time...than 2 weeks (but I love it in the same way)*S*!
Many times during a day I look at "Extreme Home Makeover".....it is My favourite Program of them all. First I see it on Danish TV later on the day at Norwegian TV sometimes at Swedish and then from USA...... But I get soooo many expensive ideas and funny solutions that is not that easy for my Darling to realize after my directions and with our money. In Usa they have millions to spend, so of course it look a little bit more simple here in our home, but most of the time we are very pleased with the result both of us, and that is most important. We really love our old fashion home. I have lived in some fancy, new build, special, lovely different types/stiles of houses/properties. Even built a new home in old stile, but you cant build in real old feeling in a new house...even if it is so perfect and lovely. We will try to find some photos to put under "About Us" later when I have tidy up in our wardrobes from our previous homes.
This is from one of My favourite home that I owned from 1999-2005.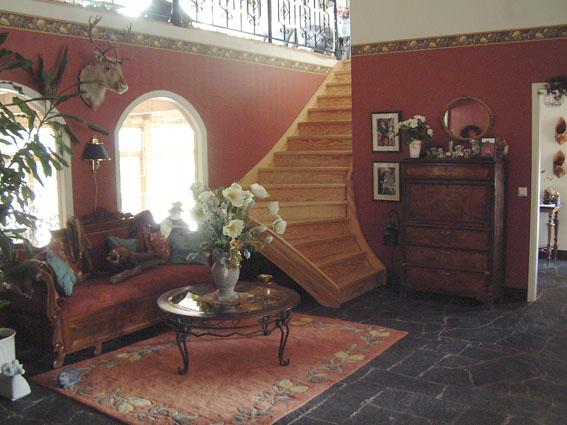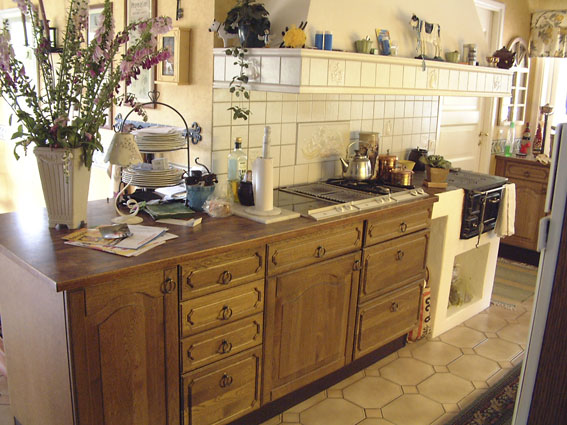 Monday 24 September 2007
Three Months To Christmas Eve..hopefully with Lot of Snow!!!!!
Today we got Expos new x-ray result........now he is C on both sides, one year ago one C and one D (and 8 sister and brothers with A...this is not fair, but that is the way it is). He is Worlds Most Lovely Dog, with a super character....and will continue to be a star at shows hopefully, even if he never be a stud dog.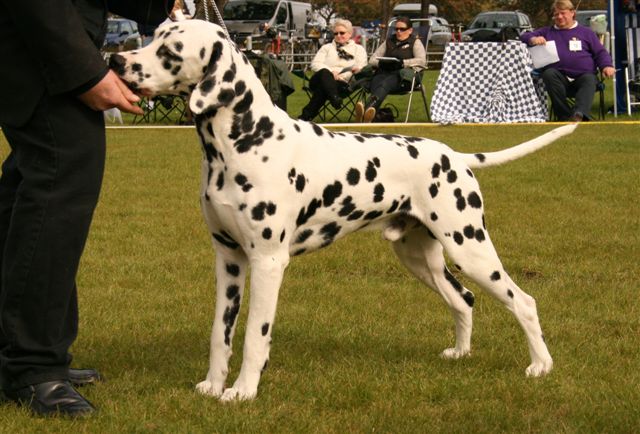 Photo: Anne Skalin 2007
Expo
Swedish Winner -07 Export Selection the Astonishing
17 CAC in Sweden before 2 years age
2 CAC in Norway before 2 years age
1 Junior CAC in Estonia
BIS Puppy in Sweden SKK ***** BIS Junior in Estonia Est.KK
BIG Winner in Sweden
2 CACIB in Sweden
sire: Int o Nord UCh Est.Ch Jilloc´s Loverboy dam: Int NL BE LUX Ch JW-02 W-04 Gwynmor Pere Ubu
Proud Breeder: André o Diana Kok, Netherlands
Proud Owner: Florence Brunberg-Karlsson and co owner in Sweden
Sunday 23 September 2007
A New mail from Russia, today Tyson became Best In Show Puppy, Congratulation to Evgeniya at Gloriandus Kennel!
We have been out of Dryer for our clothes for some weeks now, and today I couldn´t stand it anymore so we bought a new one (thank god that the dryer for our dogs blankets is still working, but I do not want to mix our clothes in the same as their things, and it is in the kennel at ground floor with their washing machine). It have been hanging wet things all over first floor, and you have to iron everything otherwise it is not soft enough to wear. I love my Dryer, and if You have Dalmatians it is NECESSARY!!!!!
When Rune was in the store he found a cheep Sewing machine......on discount today!!! Ok I really need one, BUT I HATE to use things like that...I have NO PATIENCE AT ALL with such things. But Rune is really good on those things *S* as in everything else....! And he like to show me who I can do things in his way....and after a while he have finished what I should have been doing.......PERFECT...for me *S*, so I look forward to see what I/we/he will start with. Probably new curtains in the kitchen....I'll let You know.
Lovely sunny weather today and Rune decide to cut all grass around the house (it is really necessary) it have been so much rain so the grass is to high and we haven't been home to cut it when the weather was good. Last time he start to cut the grass and the tractor stopped and we have to repair it for lot of money (we do that almost every month!!!). Today he started and after 5-6 minutes he was back in the house again, he haven't seen a toy from the dogs that was under the long grass so it get caught under the tractor in the motor....he took it away but the motor did not want to start again (I think he was happy) so he decide to sit and eat chips instead and look at TV. But he do not know that I will pack up the sewing machine in a while.....then he maybe be in a hurry out again.
Funny pictures from Holland! I LOVE MALE DOGS!!!!!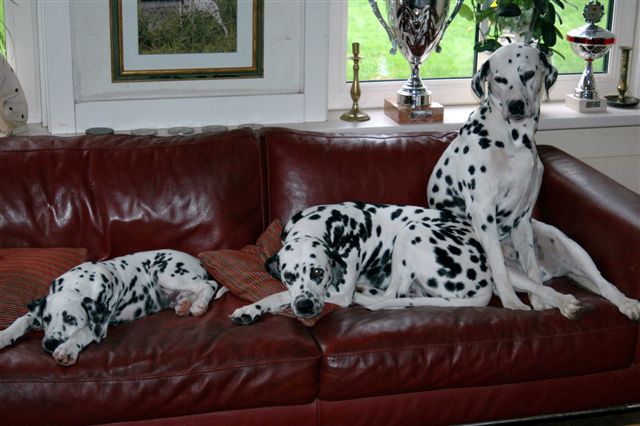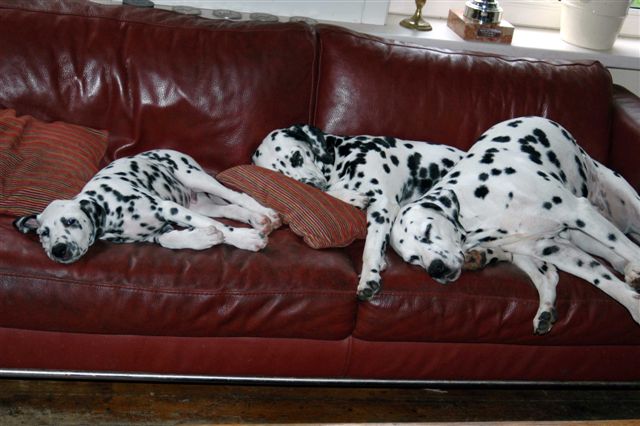 Photo:Morgans
Caio, Silke and Mr. Kindhearted himselves......... Selwyn at Gwynmor.
Saturday 22 September 2007
We got a mail that Tyson (Timanka´s Real Power, now living in Russia, Vladivostok) was second Best In Show PUPPY today on his first Show over there. We where so proud!!! And most of all that he love his new life and family.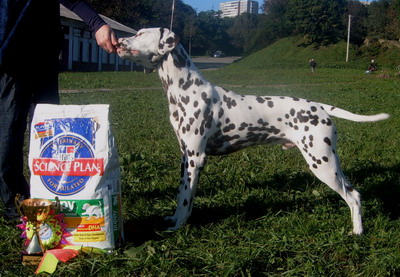 Photo: I´lina Kseniya
Tyson 8 month old today.
Last week we got a Perfect Picture of CH Jilloc´s Perfect Reflection
"Harry", owner A Whitmarsh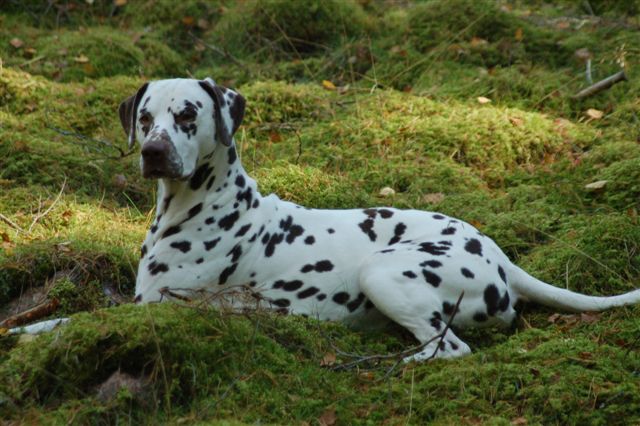 Hopefully Ch Paper Moon's Cooee expect puppies after "Harry" see more www.albican.nu
Carola is the active one in our "family". She sent us pictures of Hannie (T. Perfect Collection) and Perfect
(J. Miss Perfect) Photo's are taken by her husband Peter. Even our "show dogs" can work!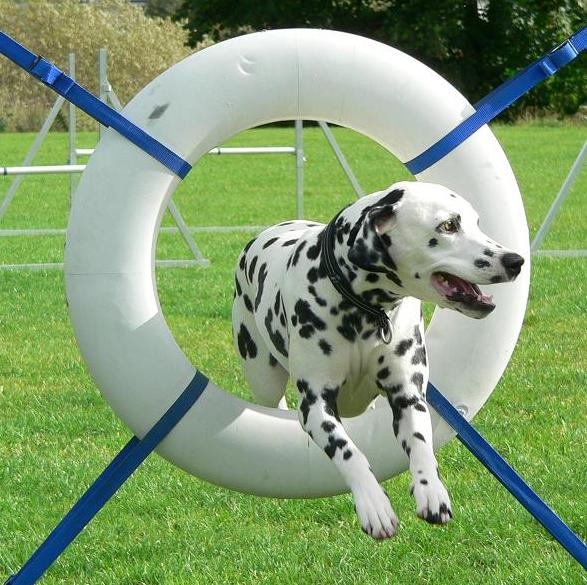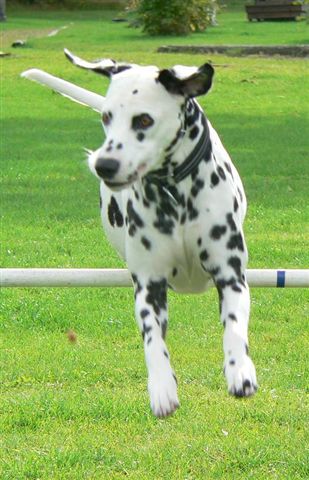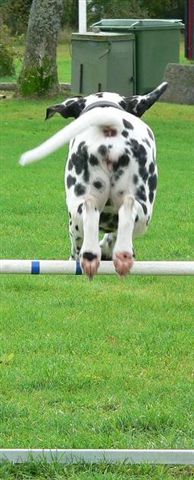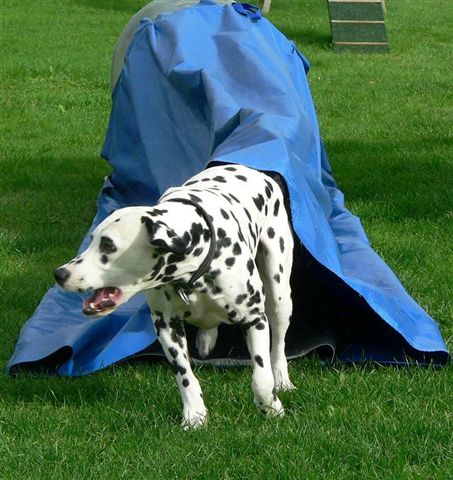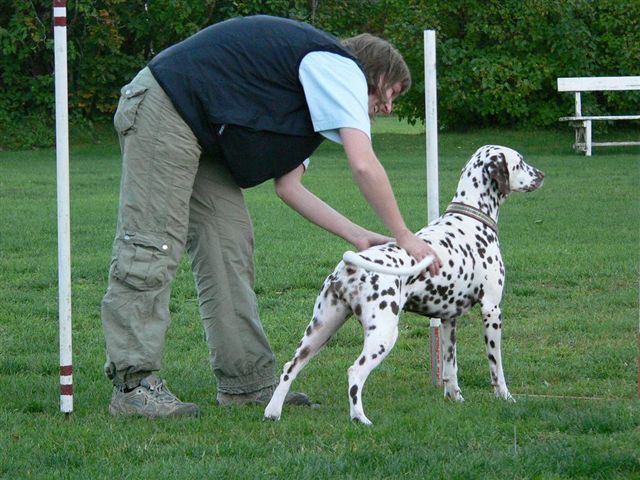 We also present another dog that do a lot of different things. The last thing is Rally obedience! Jilloc's Island In My Dreams, Hedda. Owner Helena Thörngren. Her highest score in Obedience klass I is 167,5 points. Where she also was no: 1.
Hedda after "Devlin" and "Edda" born in 2002.
Friday 21 September 2007
So wonderful to know that we just can stay home this weekend, no travelling at all....we are always so tired after a hard showing season, and with so many puppies at home we never have the time to rest. And with all our aches and pains we really need to settle down for a while.
After a long morning (why are we more tired when we have slept 9 hours than 4?????) we eat breakfast at 1 o'clock and then we go to the store to buy food . Annelie A called yesterday and told us that she will visit us during the afternoon today, and when we came back from the store she was already here. We (she) drink coffee and we talked a lot for some hours, that was fun because we haven't had the time to talk so much at shows this summer we have always so much dogs with us and so much people around us...
We and most of the dogs looked at TV all evening and sleep a little and look again...an so on......At 5 o'clock we went to bed after a last call to Norway to Bente (Kennel Skvå) because Nelly (J Puzzle Piece for Skvaa) started to give birth just after midnight to her first puppy after our Loverboy. www.skvaa.no
Annelie and Rune. Me and Top Model....now called BELL.
Thursday 20 September 2007
Many thanks to All of You from the Whole World that send greetings to us and our dogs, hope to see You somewhere maybe next year!
Rune was going back to the doctor today, it was not easy, but he could see a little bit better today. But now he was back for his sleeping apné to get the result of all tests and to get some aid to get more oxygen during the night. He came home with a suitcase with a machine that he will put over his nose all the night so he can breath better, the result of his test was really bad. At normal You breath about 20-22 times every minute BUT RUNE breaths 25 times during FIVE MINUTES!!!!! And he STOP breathing 42 times every HOUR!!!!! This is NOT good at all, and the night he took the test we really think it was one of his best nights.......o my god!!!! I don't even dare to think about the bad nights. This was good for us to know because now we understand more why he forget lot of things and do some other crazy things sometimes..
Last night when we went to bed he put his machine over his face, and start it. Jill immediately sit up in the bed and stare as one bewitched at Runes face.....ok he really looked like an ALIEN so I understand her.....she didn't want to lay down and she didn't look at me when I try to reach her....she was really paralyzed. Rune try to talk to her, but his voice sound strange so she probably think that someone else that she/we don't know was laying on his side in the bed....After about 45 minutes she lay down again but she was still in doubt who the Alien was doing there!!!
Eva and Angie came to visit us and in the afternoon Jenny and Decibel came too. I forgot to tell that someone else came for coffee too *S* but You probably know.....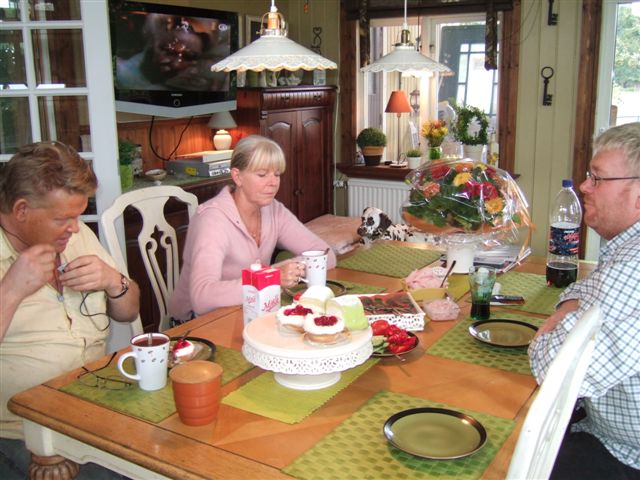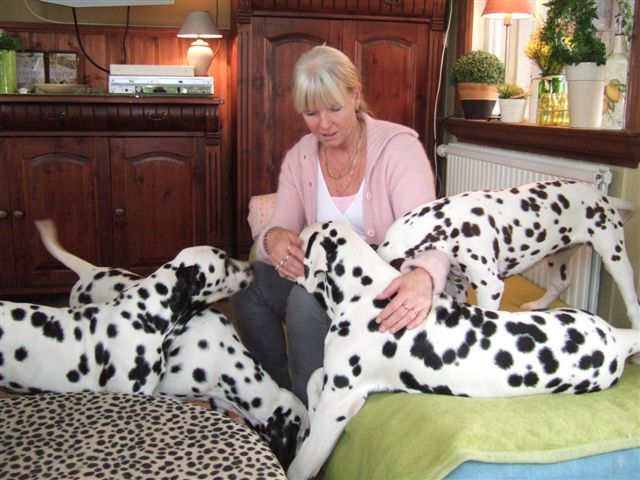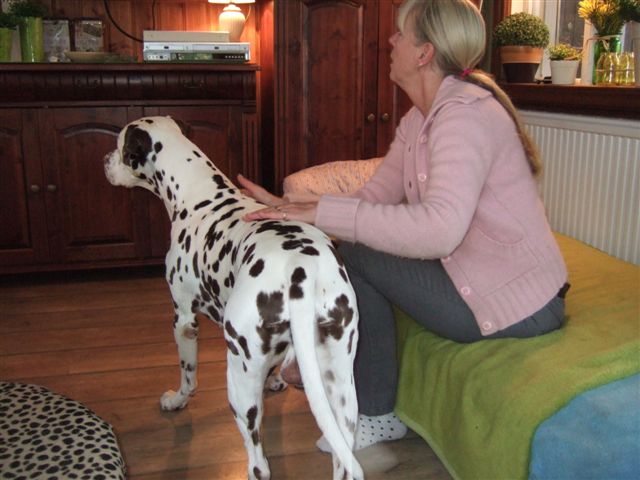 Angie love to run through the tunnel!!!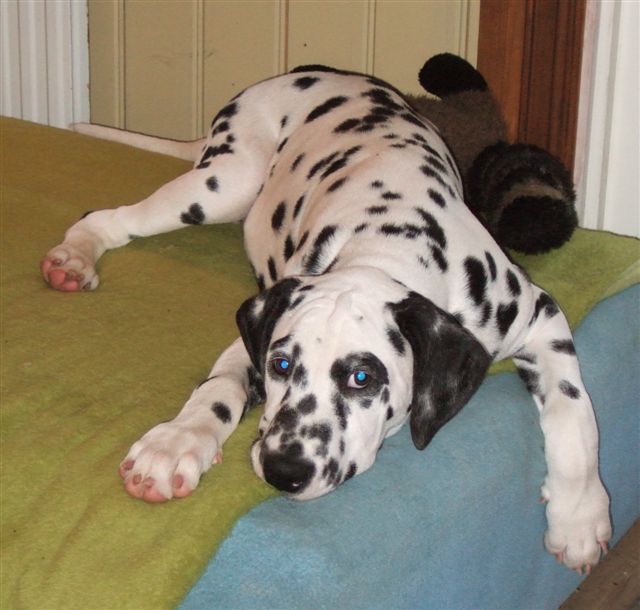 Star was very tired after a while. Hallooooooooo here I come again!!!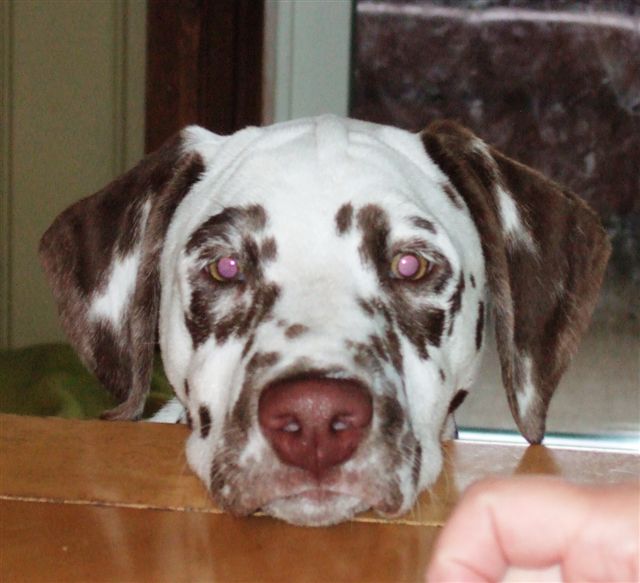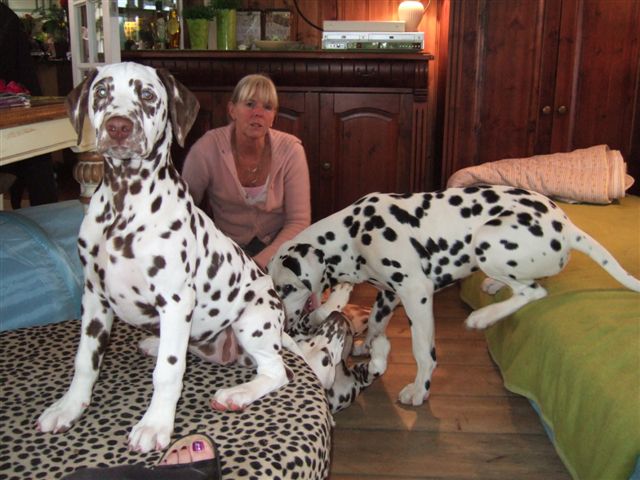 Gloria can not run through the tunnel, but she can sit on a chair at the table and look very sweet. Rolex who is the lacy one that ALWAYS are sitting under his three and smell at the flowers...suddenly found a NEW smell that he was very fond of...........girls!!!!!!!!
He really fell in love with Angie, but it was Devlina that was in season (he didn't understand that).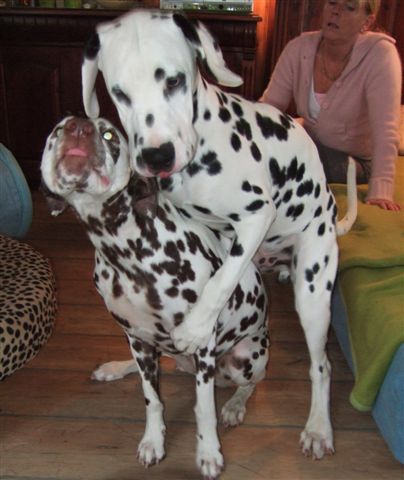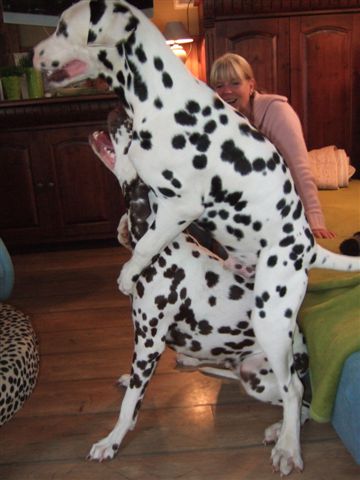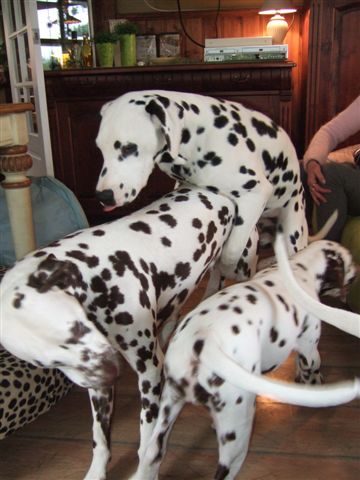 Gloria try to eat Diamond up!!!! Angie would like to eat the same as us.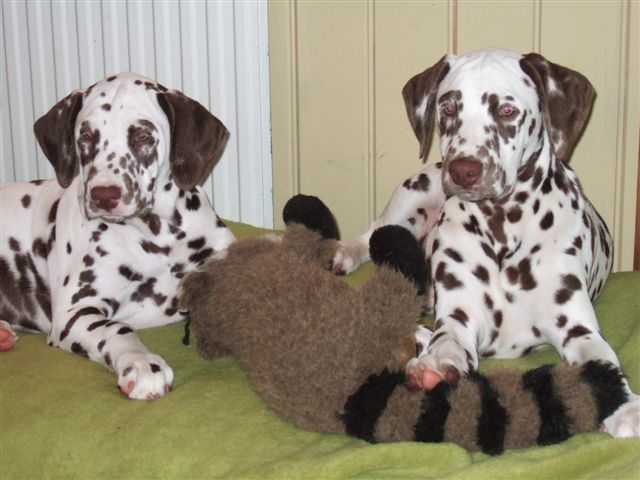 Decibel and Gloria they are not sisters, just friends!
In the afternoon Jenny, Rune and I try to take new pictures of some of the dogs, it was not easy, and we had no patience today. I hurt my heel string again...damned. But now we know what to do with Rolex in the show ring. Just to let a bitch in season run some meters in front of him, then he run like hell.
Wednesday 19 September 2007
When we woke up this morning Rune couldn´t open his eyes without a terrible pain in his head and eyes...something was really wrong! We called the doctor and in some hours there came a car and take him to a special clinic in the hospital in Skövde. He couldn´t see anything and I have to lead him, and give him something to eat and put everything in his hands so he could find it. The taxi driver follow him into the clinic where he met a special doctor for eyes. He had an inflammation in his eye behind the cornea so they prepare his eye so he couldn´t feel anything and he have to take medicine one time every hour this week. Because he still have problem with his limb inflammation and eat lot of medicines for that they told him that sometimes the inflammation can spread in whole his body for a while before he is well again..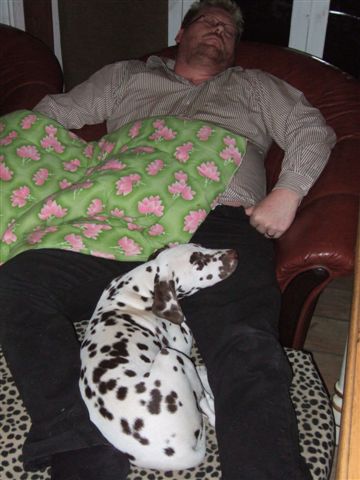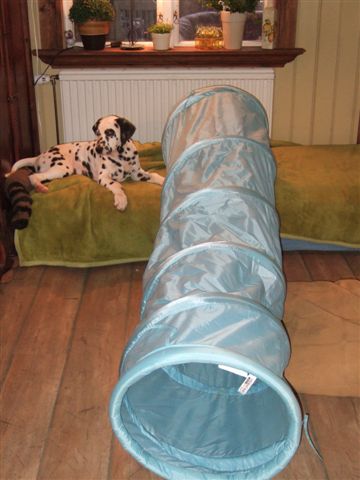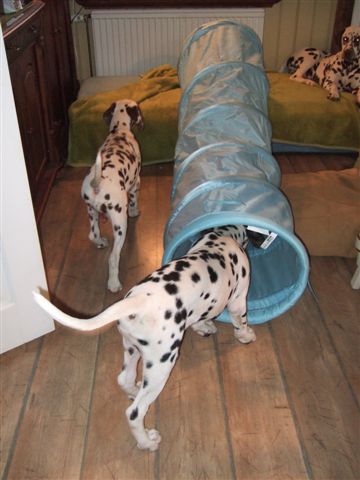 Rune and Gloria resting. Star wonder what he shall do with this blue "thing". But he was very clever after a while. Diamond just looking.
Rune think he looks like a POPSTAR ON TOUR in his sunglasses!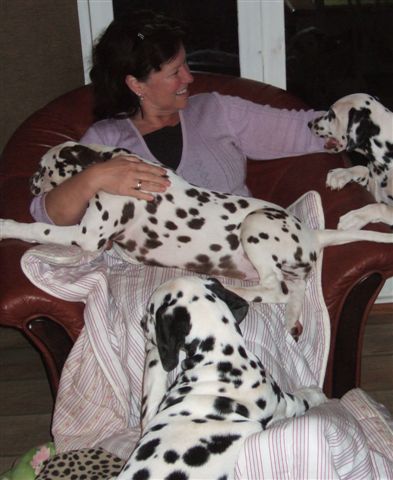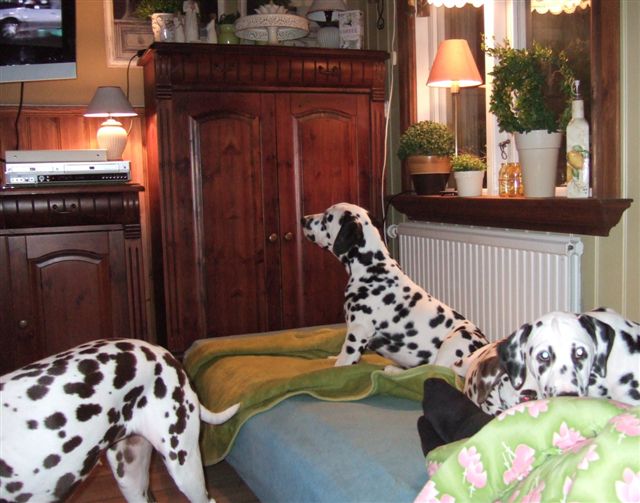 Everyone would like to lay in my knee when the TV program starts. Daddy is sitting in the bed looking.
Sugardaddy would like to look at a "Julia Roberts Movie" with me before he go to bed.
The other dogs were sleeping, they have seen the movie before.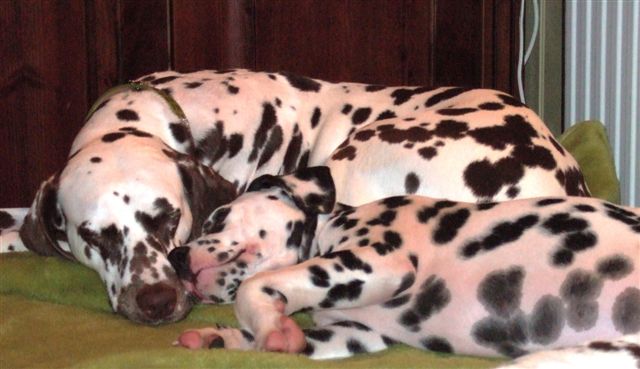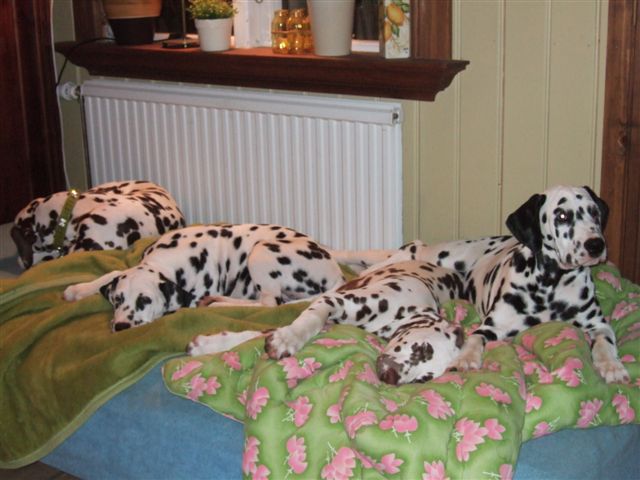 Star and Rolex behind Diamonds back. Star is giving Rolex a goodnight hug! And so do I to All Of You My Friends In the Whole World!!!!!!!!!! The clock is now 4 in the night/morning and Rune have to be back to the doctor at 9 tomorrow morning and we got friends for a visit tomorrow at 10 o'clock, so I have no choice......just to go to bed this early today!
We were both so very happy that we in the last minute decide NOT to go to Finland for a dog show tomorrow, it was the meaning but we found out that it was to expensive for us now with all our travelling this summer (as always) and with all our pain we really need to stay home and rest for a while *S* but we think we rest more at a show than at home with all dogs. We wish Kattis and Helena and PO and Carin Good Luck in Finland this weekend (and of course we would like to be there with You*S*).
...........Goodnight...........
Tuesday 18 September 2007
Up 7.30....I really don't know how we get up..our dogs just looked at us and continue to sleep for some more hours. We have to do a lot at home when You have been away for some days....
At ten o'clock Samou and his parents was coming on visit, and all our dogs was so happy to get a new friend who would like to share their breakfast with them. He was drinking in their water and eat their dog food, and they were licking him totally wet. He was just happy!
They were in a hurry to try to reach the boat to Finland in time, so after some hours our dogs have to say goodbye to Samou.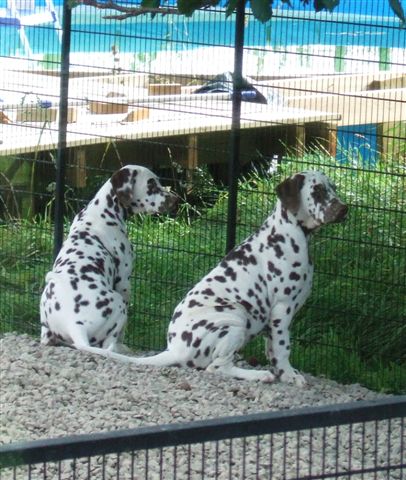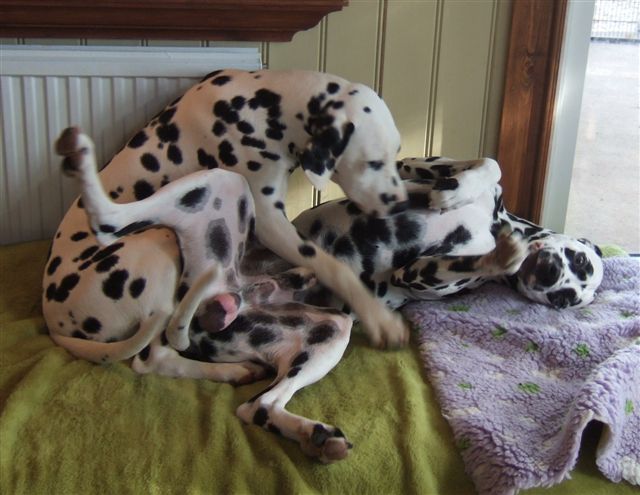 Jonnie was coming for breakfast and continue to play with the dogs. Gloria and her brother Spermbank look at something. Rolex and Bosson.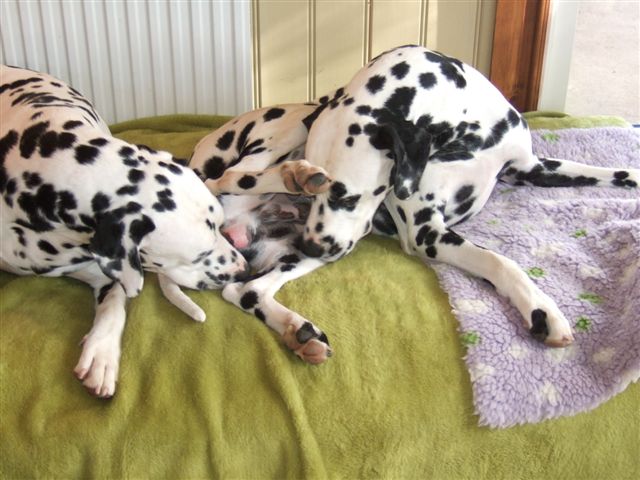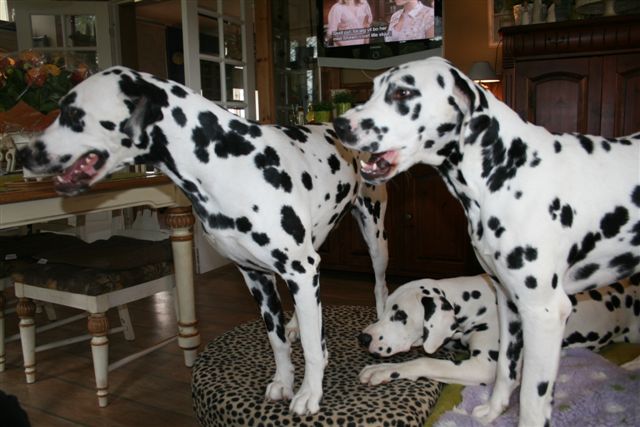 Expo help his father with the morning wash. Expo found something that smell good. Rolex just want to sleep. Bosson, Rolex and Expo begging.
Someone have start to eat up the leather couch, but it wasn't Rolex! I put Expo in jail for a while because he eat up some sandwich from the table, he was so happy. Rune and Jill was so tired after this weekend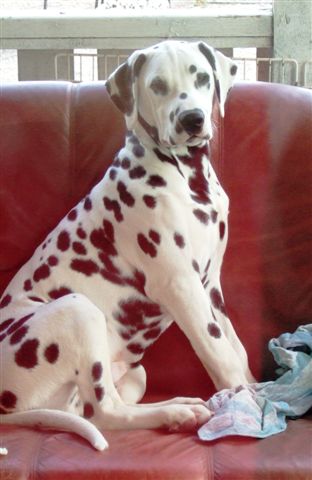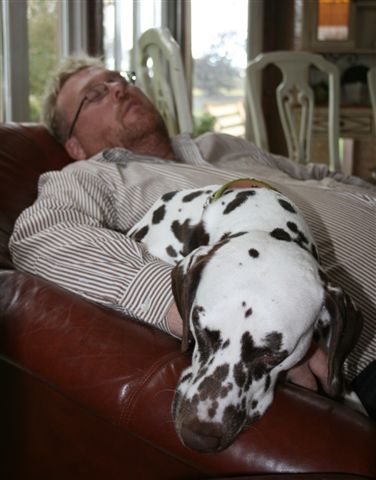 Bosson and Rolex sleeping too. Bosson was out, and when he want to come back in he try to tell Jill to open the door, but she was so tired or didn't see him through the dirty glass door???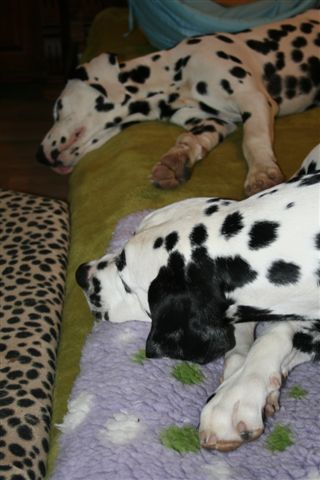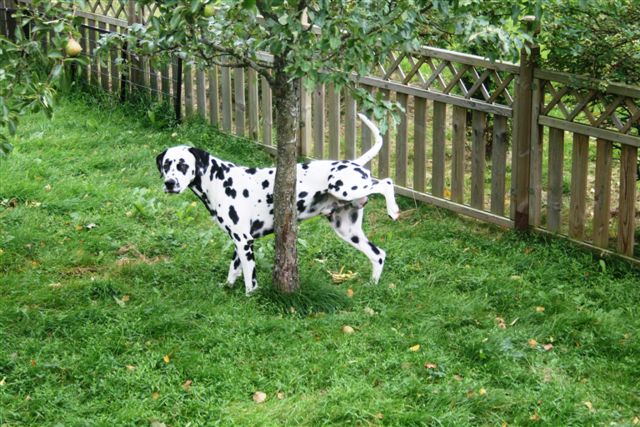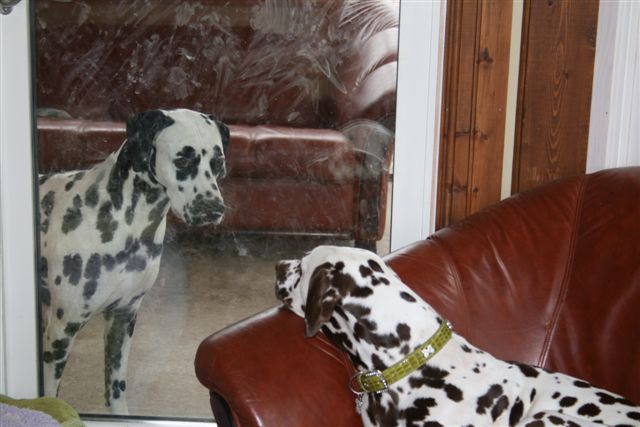 Suddenly Bosson saw me behind the camera.....Mummy please let me in....Expo try to help him convince Jill to help them, but she was not interested at all.........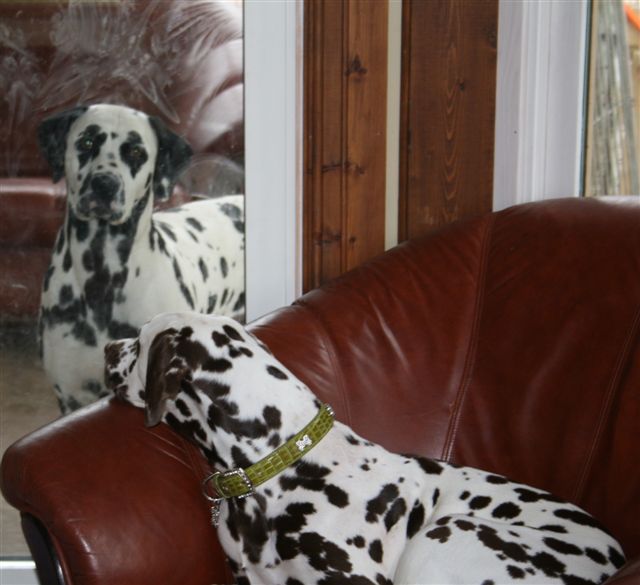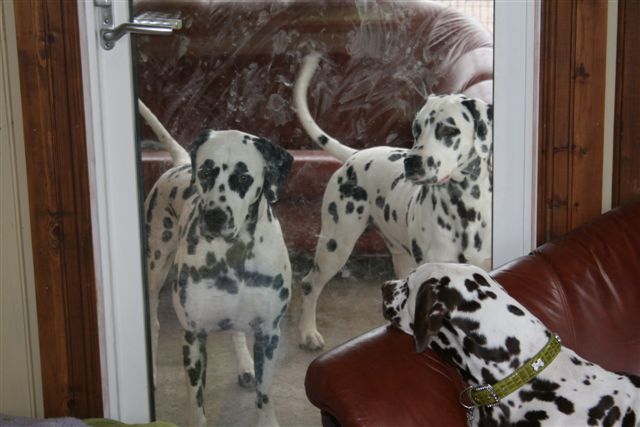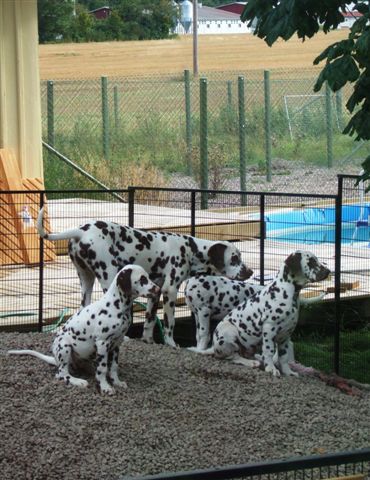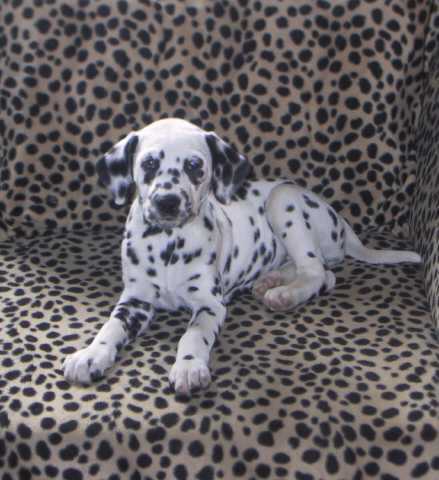 Diamond and some puppies from S litter and T litter. J Love of My Life "Belle" Bossons sister when she was about 5-6 weeks old (2004).
Monday 17 September 2007
We woke up at nine o'clock (toooo late) the mobile phone was calling.... give all dogs breakfast and drive to the bakery to buy breakfast for us..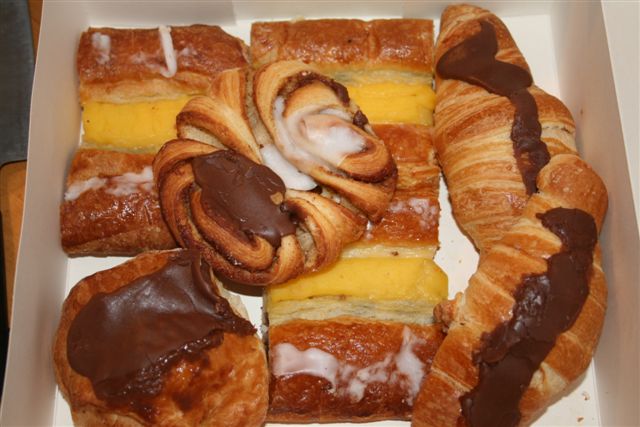 This was a good start of a sunny day in Copenhagen!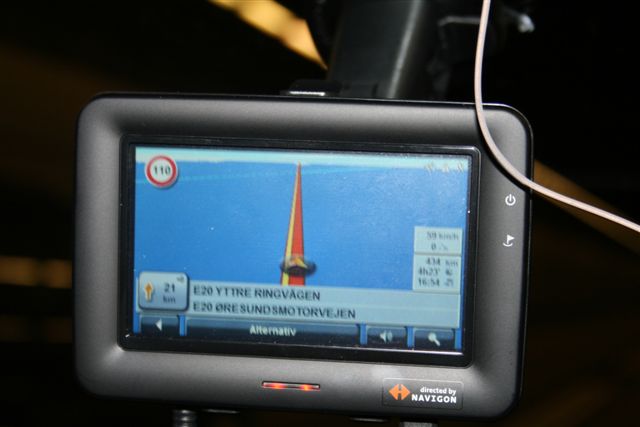 The Bridge to Malmö. Our best friend on this trip, NAVARONE, but it looked like we walk on water.
Immediately when we came home we got a visitor, who would like to see what we have bought!
We both went to bed at 5 o'clock in the morning and put the alarm clock at 7.30 because we know that we get some friends on a visit at 10 o'clock!!!! (In the middle of the night for us *S*)
Sunday 16 September 2007
One more show today, a Special Show, and 29 Dalmatians entered.
Yesterday in the final ring Disco didn't get anything but he showed very well, and I took a picture of first place podium until next time *S*!!!
We met a breeder from Russia in Denmark, she was there to mate a dog for a friend (not Dalmatian), and she came to us and told us that she have been mailing with us some months ago about one of our dogs...so small the world can be! She is the producer of the Russian Dalmatian Book of The Year every year and we got some to take home and read (look at pictures of dogs), so interesting! Thank You Very Much! We will really try to come next year as we talked about.
Dallise Bossons daughter was best BABY, we were so happy to meet her 5 months old. We never forget when Lise came to us in Sweden for mating. She have a driving licence but no car, so she hired one and drove to us in a snowstorm in February just to mate, well done off a tough Lady!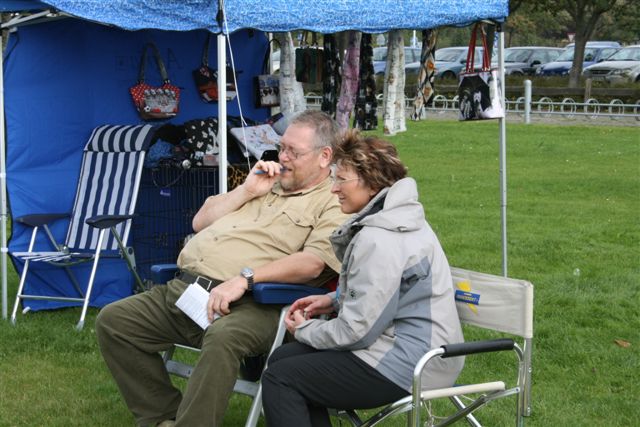 Friends from Germany. One of the funniest thing with dog shows is to meet all friends. Friends from Norway and Sweden.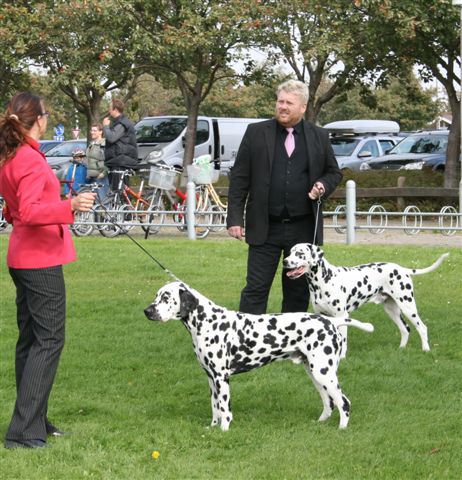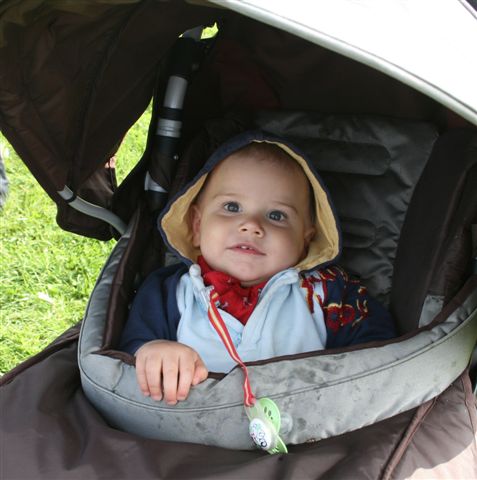 Friends from Finland, Anne and Jupiter. Samou, Finlands happiest Child. Kai o Zid a happy couple together.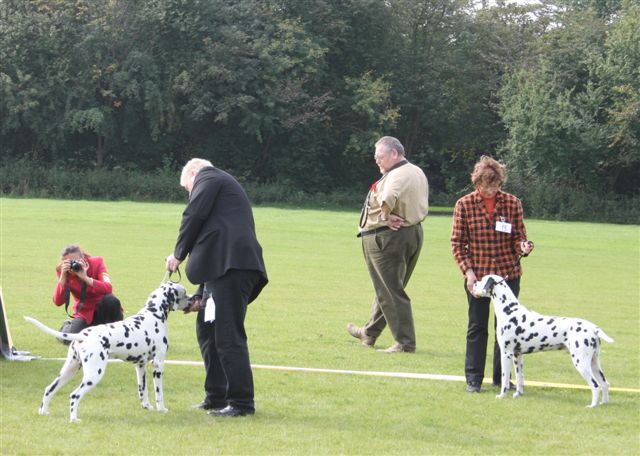 Only two males in championclass. Some of the males from open.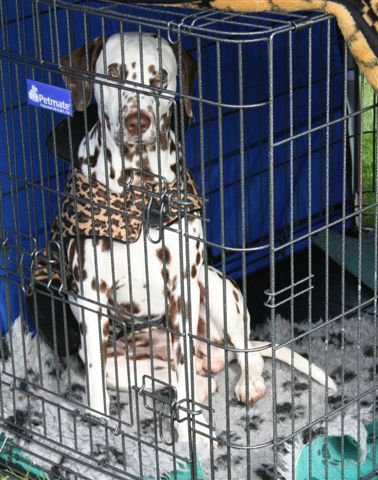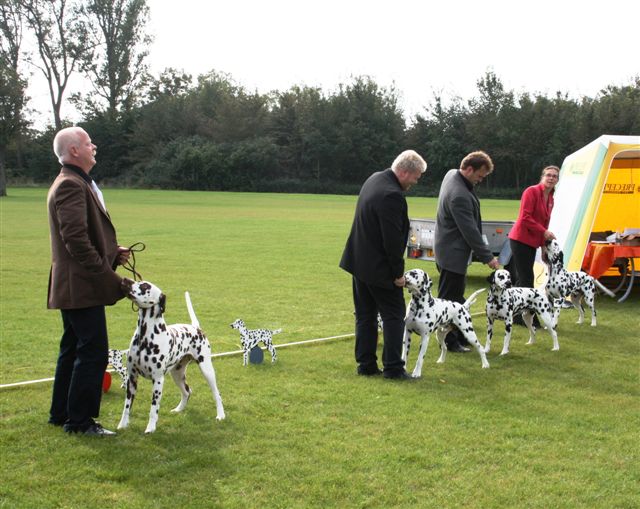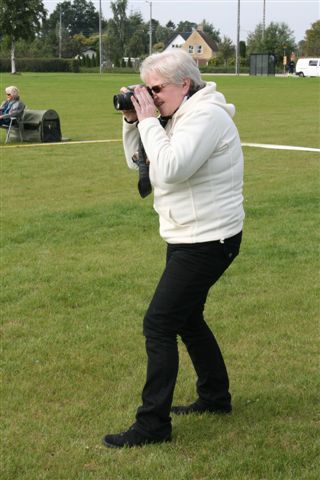 Devlina alone with her leopard dress. Rune and Fabian was Danish Champion today!!! Anne took photos without battery *S*!
Congratulations!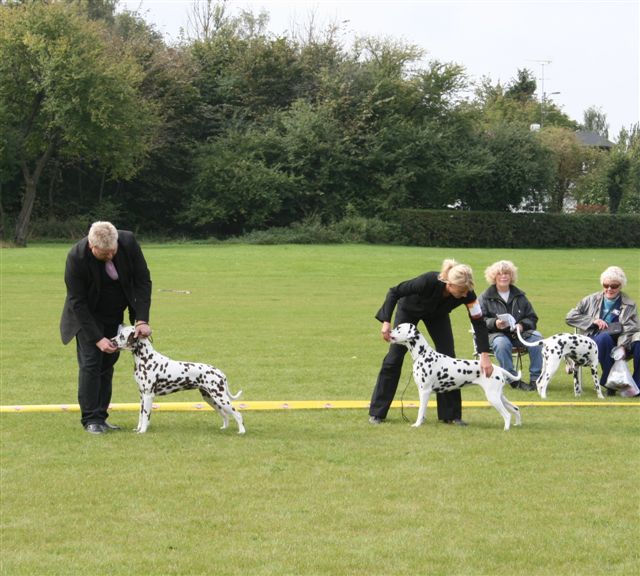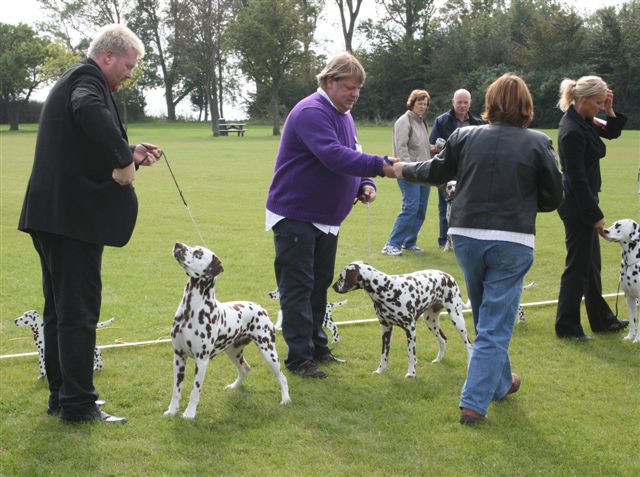 Rune with Devlina and Mette with her Copenhagen winner 2007. Rune, PO and Mette in Intermediate Class with their dogs.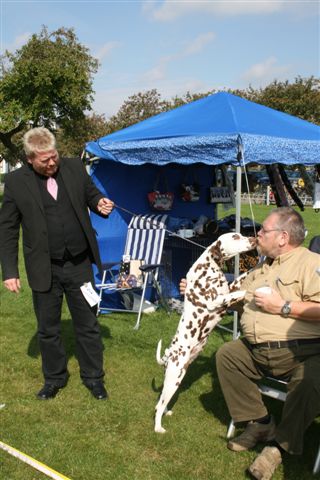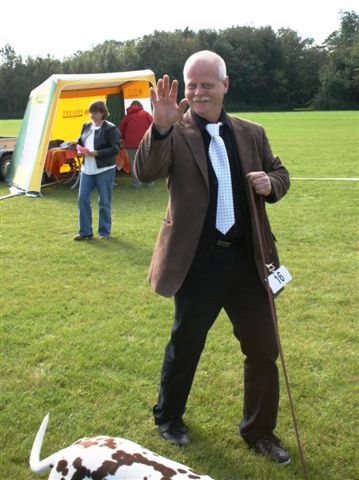 Devlina found a friend. BOB Jilloc´s Reflection In A Mirror & BOS Ch Lovindas Fabian. We got what we needed, see You again!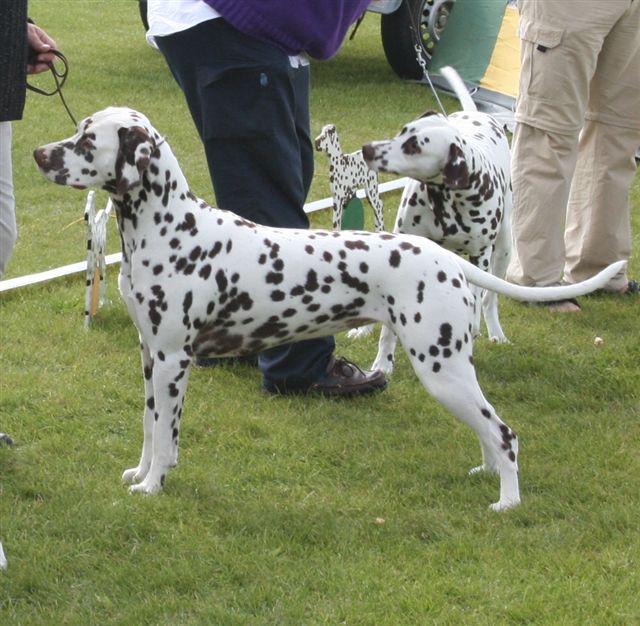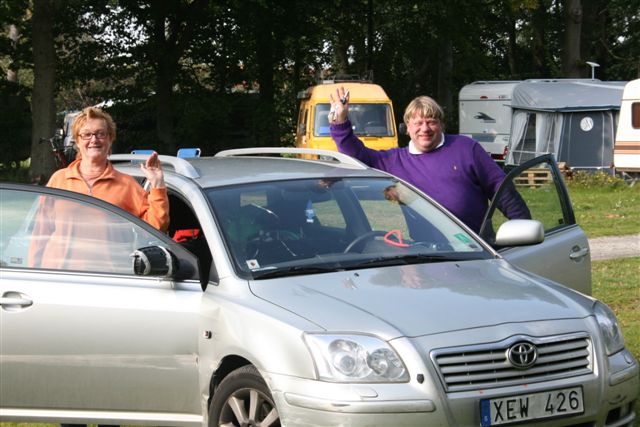 We saw some nice Dalmatians, our favourite was Oriana´s . PO brought the judge Anita Whitmarsh back home to Sweden, so she didn't have to wait till late in the evening for her flight.
We decided not to go home today. We had another nice evening with a Danielle Steel movie (my favourite), pizza and a lovely salad, and we had a good night sleep with our dogs, in the caravan. We will try to wake up early.....I said TRY!!! *S*!
Saturday 15 September 2007
We are in Denmark, with all lovely cakes and bread and...........dog show today of course!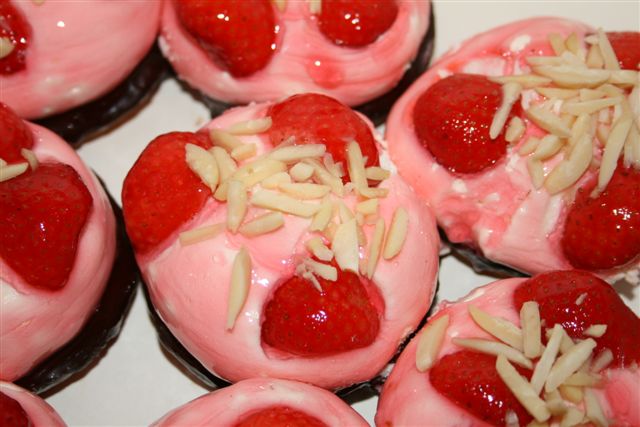 Today we were going to an International Show in Bröndby/Copenhagen, Copenhagen Winner 2007!
Only 24 Dalmatians was entered!!!!! The judge was from Spain Carlos Fernandez-Renau. There were two German dogs, one from Finland, Two from Norway and seven from Sweden entered and only 12 from Denmark.....It was so stormy weather that we just want to go back to the caravan........but.....
BOB and Best Male Jilloc´s Rich And Famous became Copenhagen Winner 2007 with CAC and CACIB
Second Best Male was Ch Lovindas Fritjof
Third Best Male was Ch Lovindas Fabian
Four Best Male was Ch Frökens Jupiter
BOS and Best Bitch Shospots
Second Best Bitch was
Third Best Bitch was
Four Best Bitch was Jilloc´s Reflection In a Mirror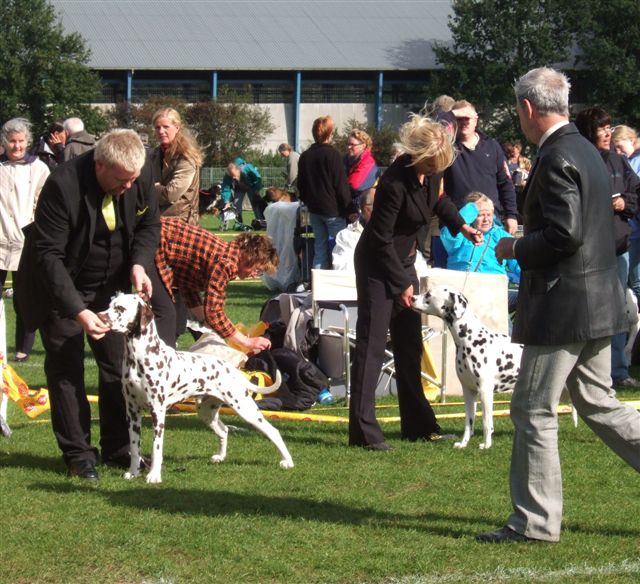 Only one puppy, Bossons daughter from kennel Toot´s in Norway. Just a picture from the dalmatian ring.
Jilloc´s The Perfect Match, with her owners from Germany, on her way to her new home.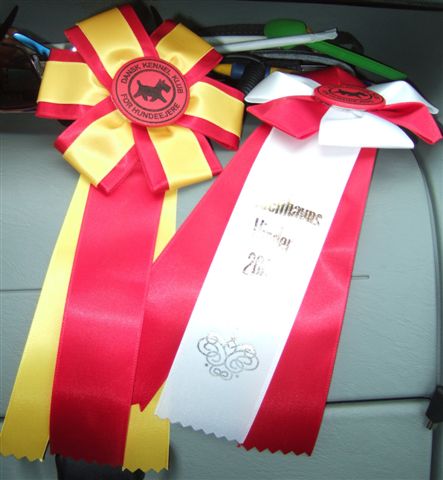 Discos rosettes from today!!! We were invited to a party for a Silver Wedding anniversary, and have to buy a weddingbouquet.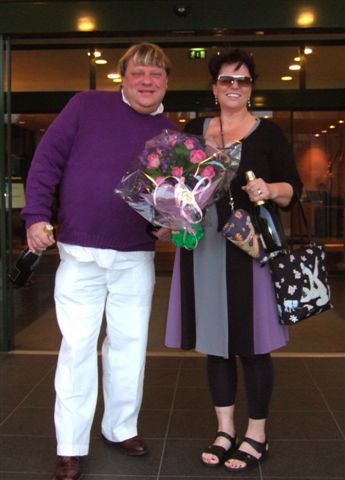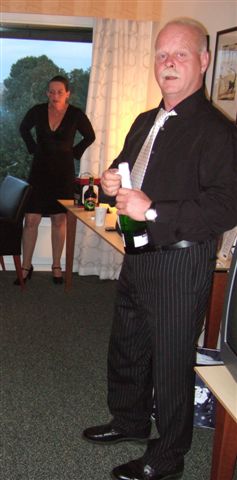 P O and Me on our way to the party at a prominent hotel in the city. Rune N met us in the door with champagne!!! The happy couple for 25 Years Now. Anne Karin and Rune Nyhammers, two of our best friends from Norway.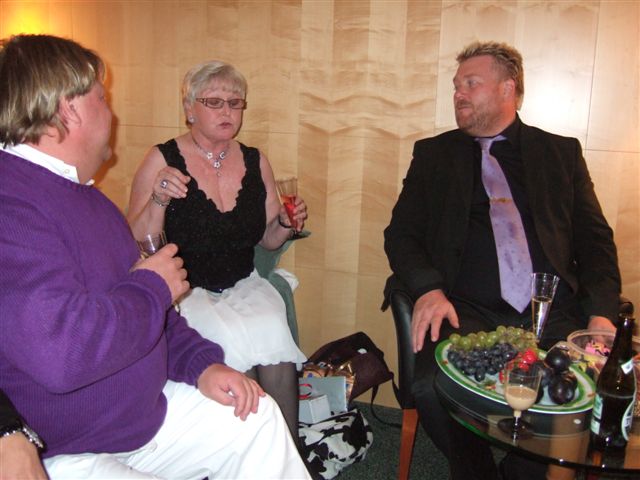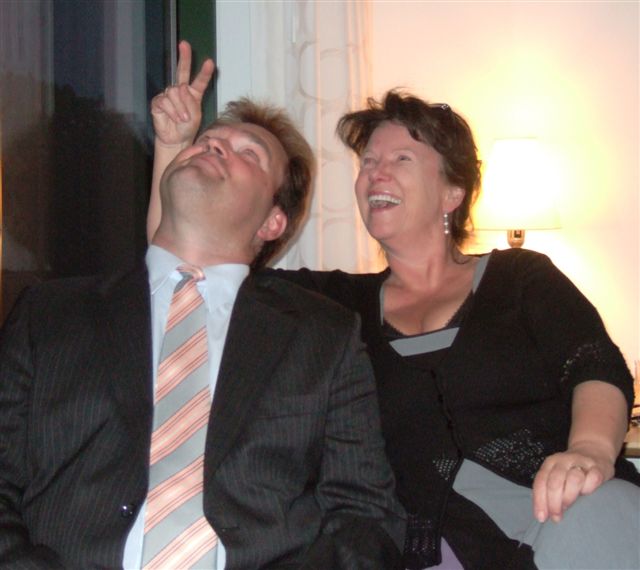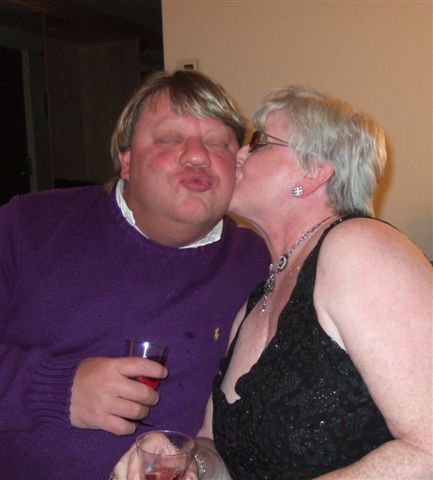 So much nice to eat and drink, lot of kisses and lot of laughs.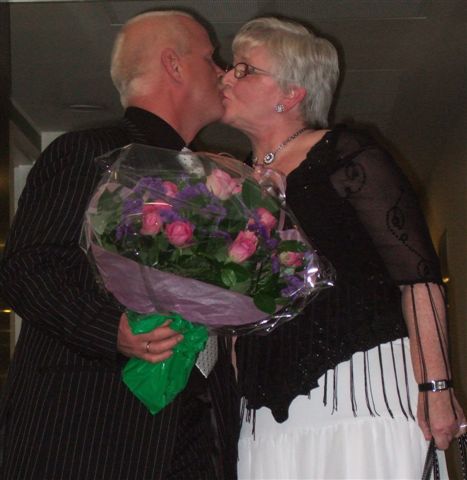 Rune was more than happy for the gift he got from Anne Karin, he always wanted a pink purse. "Thank You My Darling"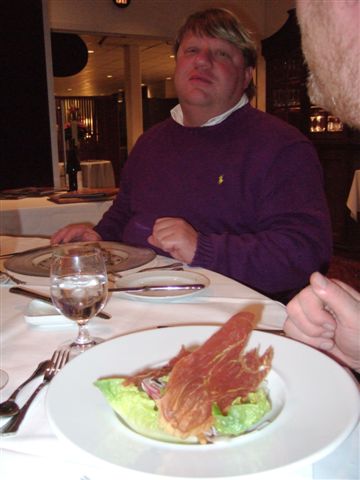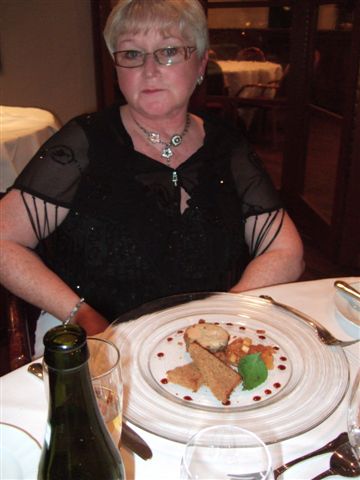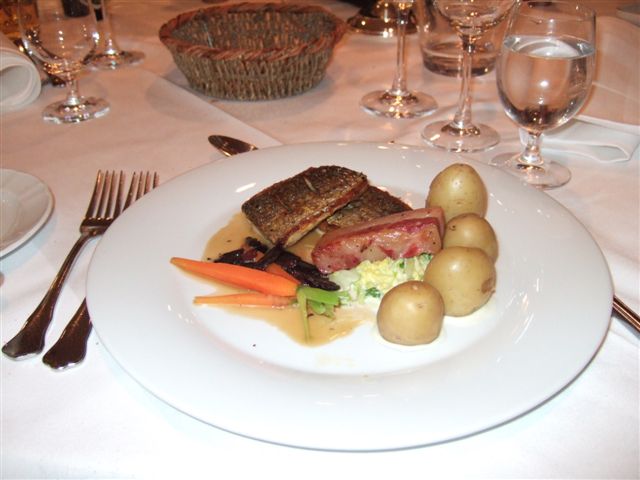 PO look at all lovely first courses. Runes roasted parma and Anne's goose liver. I got fish with a large piece of bacon (strange) as mane course, something was very exclusive and remarkable, but everything that was over we give to PO who was used with all this superb food. Because we have no dogs there to give it to. Even if Fabian was running around in the hotel and took the elevator from floor to floor before we found him and Rune N put him in their car until we have finished the dinner....*S*. Unfortunately I didn't see it, be sure I would have taken photos of him if I had seen it *S*! So sorry that I couldn´t show You that.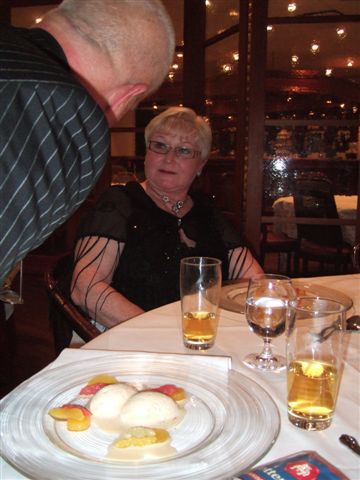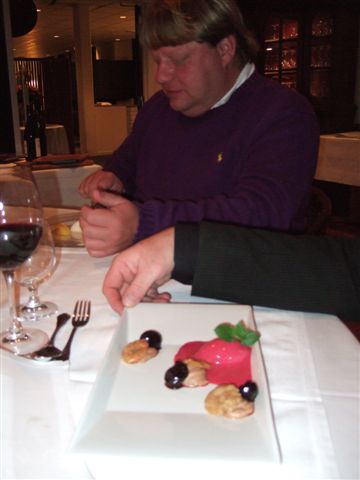 To the dessert Rune hold a speech to his wife, and many times he dip his jacket in his dessert, I try to save his jacket every time, but he thought I was interested in something else *S*! Even P O hold a speech to the hosts, and thank them for a unforgettable evening. We moved into the bar some hours later and the evening continue...........We really hope we can celebrate their GOLD WEDDING anniversary 2032 at the same place again, and show our future dogs in Bröndby the same weekend then *S*. If we are alive and healthy of course!!!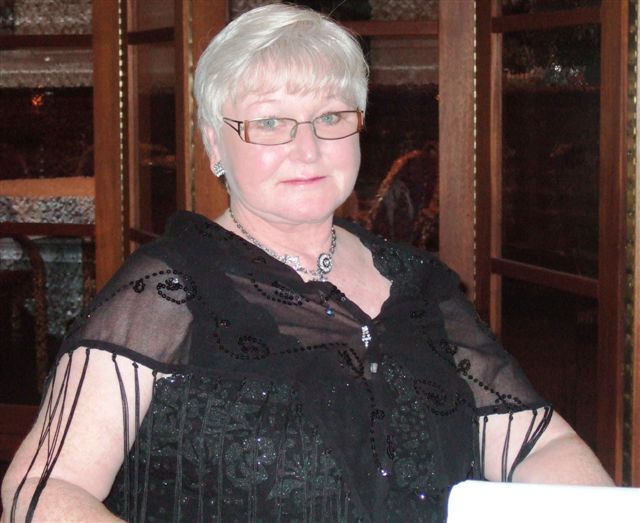 The Hostess, beautiful more than ever this specially day!!!!
Friday 14 September 2007
Nothing new to hear that we were so tired when the morning bell was ringing. I thought that most thing we have to continue before we were starting our trip was already done. But when I start to read on my note what I have to do before we go I found out that I haven't done ANYTHING that I really HAVE TO DO before we can drive from home... Runes notes was almost ready, and he was away most of the day yesterday....maybe he had put some of his things on my list ????? No I have to admit that so much other things happens here all the time that I have done first *S*.....as always! I'm a specialist to make things in LAST minutes before we go...... Most of the time when Rune and all dogs are ready waiting in the car I am cleaning the floor in the house and running around from room to room to se if I can clean something more. I hate to leave the house to the kennel girls with lot of things to do, without things they should do with the dogs.
Devlin have been running for two days in and out to the car, because he is always so afraid that we will go without him. This year he have to stay home when we travel, because he can't stay still for a long time in the car because of his operation two years ago for his disk hernia in his neck. After a big operation and when he was totally lame for some weeks he have learned to walk again, but not as before. But we have decide that he will come with us to Denmark, that's why we take the caravan with us so he can walk around there when we are at the show, because he can absolutely not stay in a cage. As soon as we opened the door to the caravan he jump in and occupied one cage in the caravan and pretend to sleep......*S*!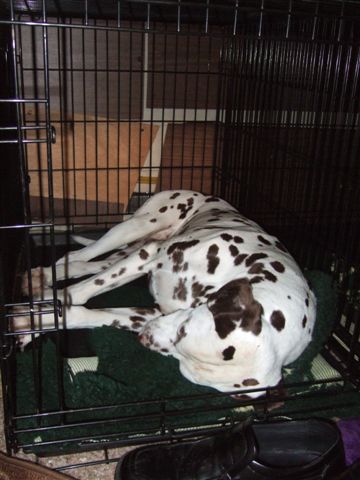 He couldn´t believe his ears when we told him to jump into the car instead together with Jill and the puppy, where we have made a nice place for them to sleep..... Devlina have one of the cages behind and Expo and Disco share the large cage together. Our problem was that Devlina was in season at day 11, but everything went well. We put her in a fabric cage up in our bed in the caravan with a blanket over, and when they couldn´t see her the stupid boys did not think that she was there *S*! Only Devlin would like to jump up to her, but he is not strong enough in his legs, so after he tried some times he understand that that lovely girl was nothing for him.
We start our trip at 15.00 and after many hours of accidences, road workers and many many problems on the road, we entered to the camping in Bröndby some minutes after 1 o'clock in the night.....10 hours!!!!!! Normally it take 6 hours with caravan after the car, but it was so stormy that we wasn't sure that the bridge between Sweden and Denmark was open.......but it was, we where lucky!
Thursday 13 September 2007
Yesterday Rune was travelling from early morning to noon...and I was trying to make our caravan ready for our trip to Denmark. The meaning was that we were going to Denmark early today but we were totally exhausted after all things we have to do yesterday. Rune had to go to Västerås because we got a buyer from Germany for J Perfect Match, and they have to know her BAER result first, and it was not easy to get time at the clinic in Västerås already this week. If she was full hearing we could bring her with us to Denmark, so the buyers don't have to travel here to Sweden......... Se was full hearing and both her new owners and we where so happy.
Finally today we have to give six dogs a bath and prepare for Jenny to take care of the dogs because she was working today and tomorrow so we have to wait to go until tomorrow afternoon.
We got the result from the bloodiest of Minis rabies today, and it was to low, so Mini travelled with Rune and Perfect Match to Västerås. They met Helena Berg and her mother so they take care of Mini for us for a while (wonderful people)!!!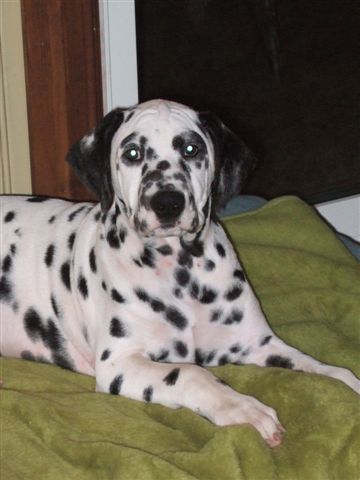 Star after his bath... Someone was here for coffe!!!!!!! And I have costumers until late in the evening.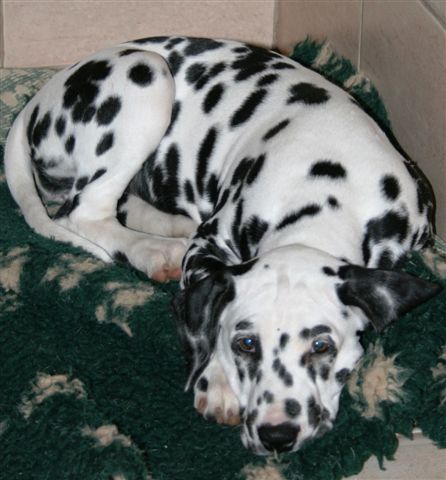 J Perfect Match "Match" is resting after her long trip to Västerås today. She don't know that we will take her to Denmark tomorrow, and that she will continue to Germany at Saturday.
Wednesday 12 September 2007
I'm so happy to show You this.
Gwynmor A Shadow In The Mirror (Devlins lovely son in Netherlands) look at him selves in a Mirror!!! What A Star!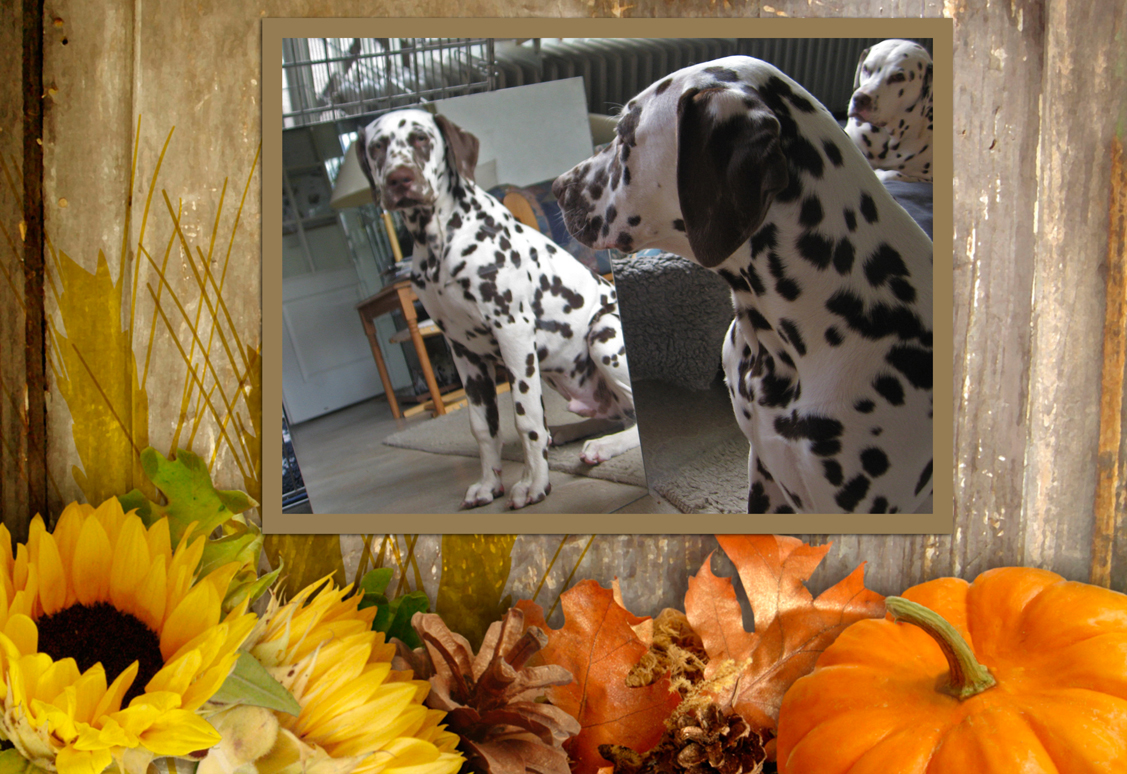 Such a Super Photo taken by Shadows Owner Henk Kentin.
Tuesday 11 September 2007
Today My Aunt was 87 years old, and we went to her and my mother in their summerhouse!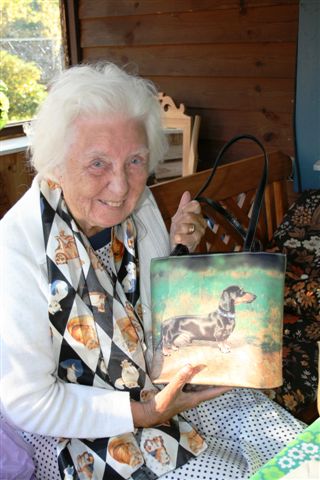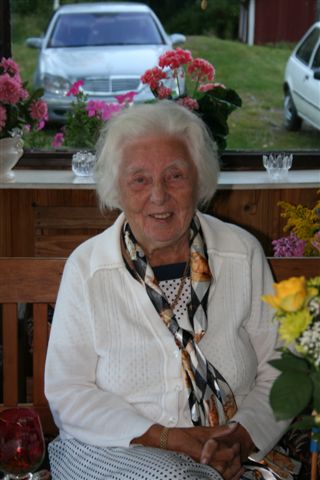 Of course she got a bag with a dachshound on, and a scarves with cats. Three years ago she got a wallet with the same motive , but she think it was sooo nice that she cannot afford to use it, let's se how it will be with this bag *S*!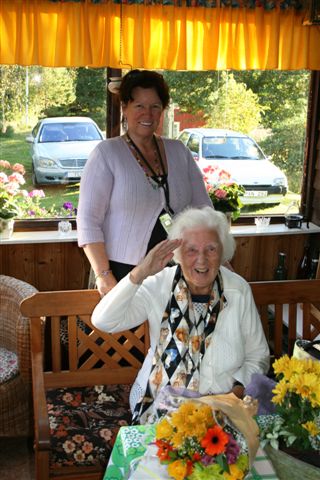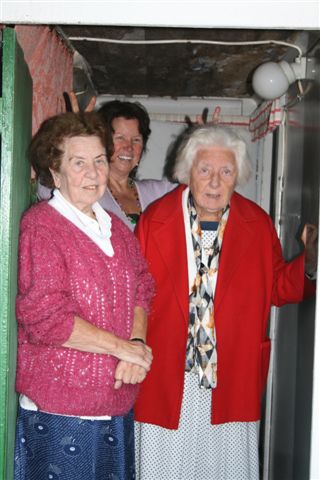 I have spent more times with my Aunt than with my mother when I grew up. She had no children of her own and we have been very close to each other, and she and my father and I have the same humour. My mother and my Uncle was the prudent ones......Today she can't remember things from day to day but sometimes she find out things from passed days. When she saw me today she guess that I have been about 39 years now (unfortunately not) and most of the time when she meet Jennie (my daughter) and Ellie (her daughter) she think that it is Me and Jennie as a little girl. Time goes by very fast. Today she had a very good day and eat lot of cake and laugh a lot, her lovely character is still there. She have always had dogs and I loved to be with her because of that, but I hated all her dogs because they were so jealous when I was in there home my Aunt and I spend all time together that we could from the day I was born, and she followed me to all doctors and other things when my mother was working.
In my grandmothers very old house where both my mother and my Aunt is born. Rune found a photo of me and one of my Aunts dogs, when I was about 13 years old.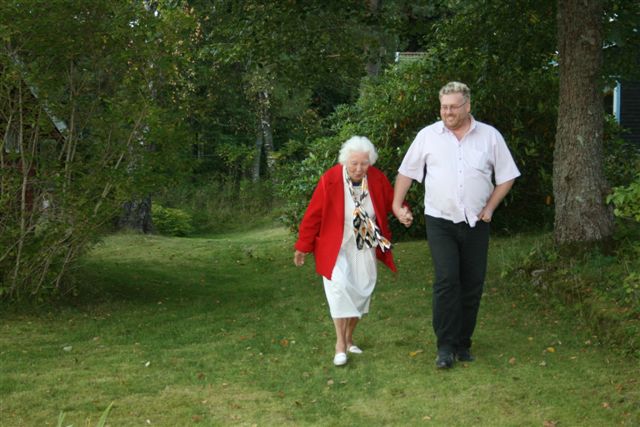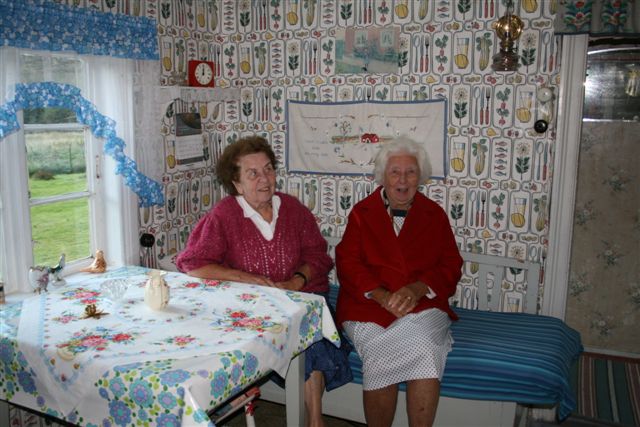 My Aunt and Rune walking between the new house and the old house. They have been sitting here at the kitchen table many days before
school eating breakfast..75 years ago......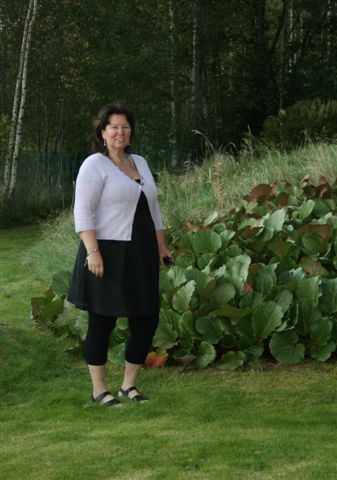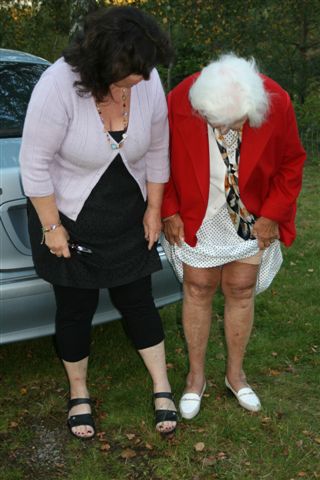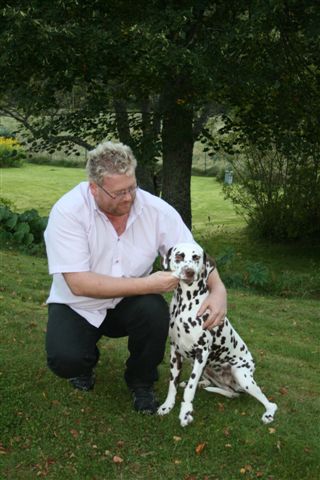 I look like I'm pregnant, but it is only cake! I haven't been in the sun at all this rainy summer. Puzzle was there with us.
Monday 10 September 2007
Some days ago Rune got his diagnose from his doctor, he have sleeping apné. (the brain get not enough oxygen when he sleeps), that's why he is so tired all the time and fall asleep when he sit and talk with You (it is not necessary that you ARE boring) and he have hard to remember things we have talked about. They will give him some medicines and something else, maybe a tent over our bed in our bedroom filled with oxygen so we /he will be quick and fit for fight again. Maybe we get so much energy that we never sleep *S*! The doctor talked about a pump over his mouth in the night but he has claustrophobic after an accident when he was young and almost died when snow was falling over him in a snow cave, and some years later he almost drowned when he get water over his face (when he take a shower in the morning). It is not easy to have claustrophobic.... Easy for her to say - she NEVER take a shower! (sign Rune) It is because all dog shampoo that I'm allowed to use is empty. Rune don't let me use his CHANEL (sign Flo).
Today I have been home all day long cleaning the house and Rune went to his hairdresser to make his hair nicer, and later on at his dietist to learn how to eat *S* and then at the vet with Puzzel (Timanka´s Playmate) to take a blood test to se if she is in season.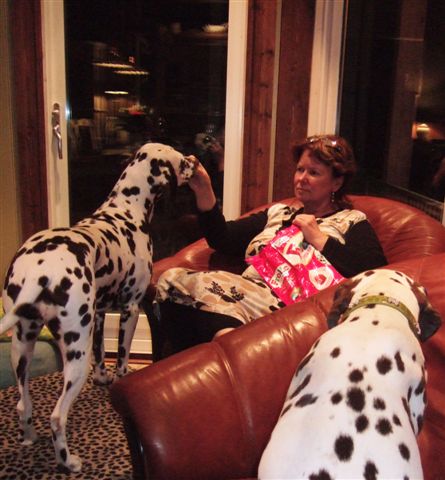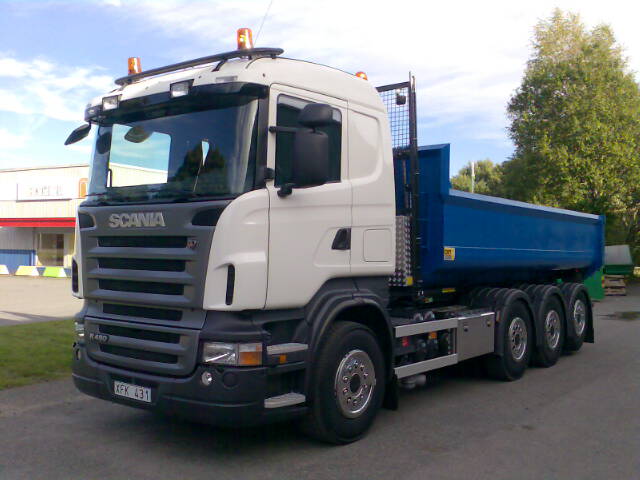 Jill and Devlina have a competition which one of them that can eat most. JIMMIE got a new Truck today, he was so pleased.
Sunday 9 September 2007
Pictures I found in my mobile phone from my Favourite Store in Örebro. PK Design. Next month we go back again, I look forward to that, it is better than Christmas Eve for me. We only go there twice a year. Rune always drive VERY fast when we come close to Örebro because he is afraid that I'm in shopping mode (she always IS!, sign Rune)...and he knows what it means. And he think that I get soooo many new ideas of changing at home when I have been there. Last time half the staff help us to the car with all things I bought, and they let us out at the personal entrance so we don't have to go so far to get to our car. Rebecka, Hanna and Jenny never forget our trips to dog shows during the last four years....Rune drive faster and faster when we come closer to Örebro, and hope that I forget where we are.....and suddenly I scream...STOP.......turn right I HAVE TO GO TO PK DESIGN......JUST A QUICK LOOK, I don't need anything today!!!! Be he know me now, as soon as I'm in the store I find many things that I have to buy for Roy most of the time, because he need them, and I call him and describe what we are looking at...ok he say if you think I need it I probably do *S*...he is so easy to convince... And when Rune se me with my arms full of things I say...it is for Roy.......ok....but that was a nice thing he says...maybe we should have the same.......Oooo My Darling..... I'm not hard to convince about that *S*! The only problem is that we almost have to put the dogs and our kennel girls at the roof of the car. My favourite trips are when we have our caravan with us, then we have room for everything.
I bought this fabric last time (febr -07) I only need a sewing machine.....but I don't want any. I hate to sew, most of the time I leave the fabric to my dressmaker, but it take so many months before I get it back, but if I had left it there in February I probably got it back now, stupid Me!
In the afternoon Anna, Ola and Clara was coming. (They have had two Dalmatians from me CH J Sweet Senorita o CH J Triple and Touch) today they have two cockers from Rune.......They really miss their Dalmatians and even Clara that almost couldn´t remember "Ellie" and "Martin" played with our big and clumsy dogs all the time, I don't know who was most happy.....Clara or our dogs.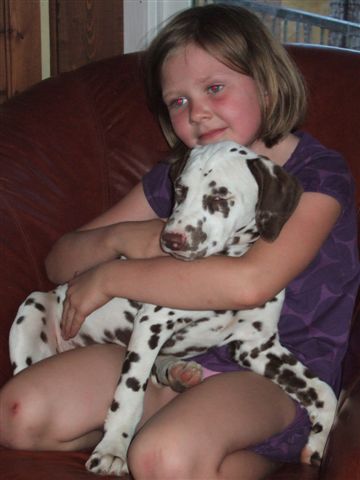 Trumph Card (Doris ?)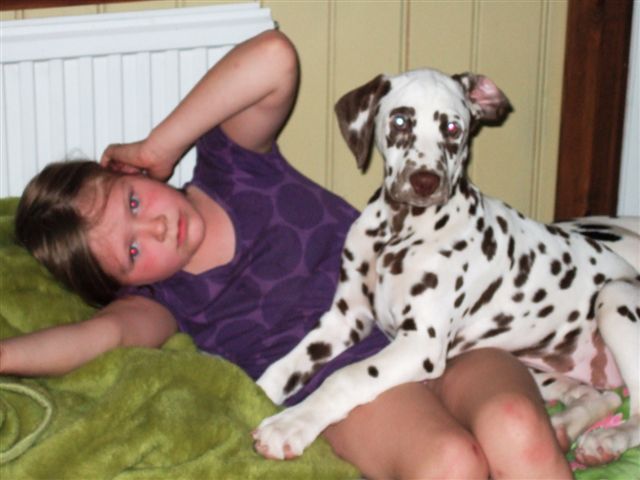 Clara and Gloria
Saturday 8 September 2007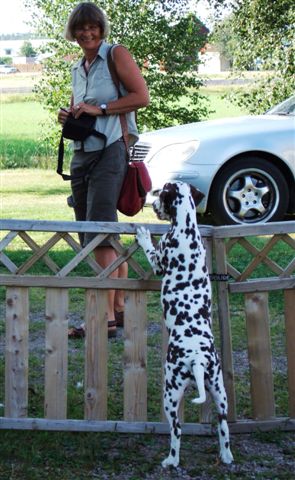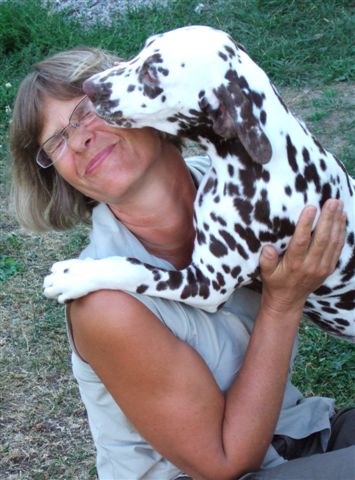 The judge in the ring in Sofiero. First meeting 2006 between J Run Wild Run Free. Carin and Russin second best bitch with CAC.
Hanna was here EARLY to take Expo with her, I heard him slip around on the floor in the hall and snort loudly, that is the way that he sounds when he is laughing a lot...of course he was very happy when Hanna came just to say hallo to him, and then he was allowed to follow her to her car, there were also Rebecka, Dilba and Puzzel and she was in season, HURRAY! What a good start at of the day.
Many hours later when he and Hanna enter the show ring in Sofiero, in south of Sweden, it was enough with all joy for the day the judge think. Hanna felt that the judge disgraced her in the ring, and she told her many times that she couldn´t show the dog (she is REALLY a very good handler) and have shown Expo a couple of times before in a perfect way, maybe to good, what do I know, I was in my lovely bed at home. I called Lena E that I know was there looking at the Dalmatians and she said that there were nothing wrong with Hannas showing at all. After the competition when I heard which dogs that was placed I understand that she (the judge) prefer dogs with lower legs than Expo, and I understand that, but that is the way he looks like. Hopefully he get his last CAC next time because he is over 2 years now. Better to wait until another show to become a Champion than cut his legs of in Sofiero!!!!!
We are so happy that Ch Timanka´s Playmate became BOB and nr two best bitch with her first CAC was J Run Wild Run Free, Devlinas sister. Congratulations to You both!
Late in the evening Hannas and Expo came back and even Jens was here then and we eat dinner together and chatted about the day until two o'clock in the night...
Expo doesn't care what prize he get, he know that he is "One In A Million" for us. And he was pleased to be nr 4 best Male so the other boys can get something sometimes......I have already more than 20 CAC he laugh......(but here he is only 4,5 months old and without teethes).
Some photos from the plant school some days ago. Rune hates to go here with me because first of all he have to carry flowers and plants to the car many times and later at home he have to plant..poor man*S*!
This plant was very beautiful it was called "Summerbutterfly". It is hard to decide what You really need at home, I always think that we need everything.....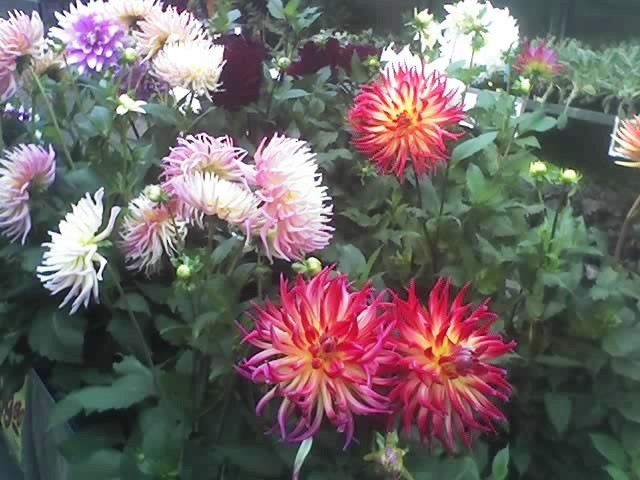 Dahlia was Runes favourites, I love it All........................
Friday 7 September 2007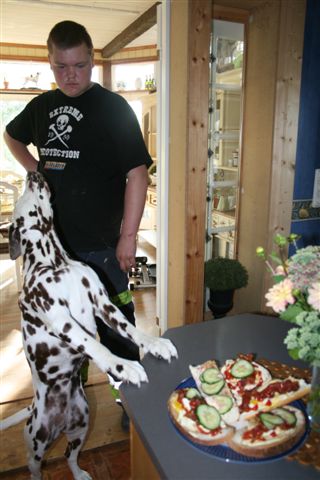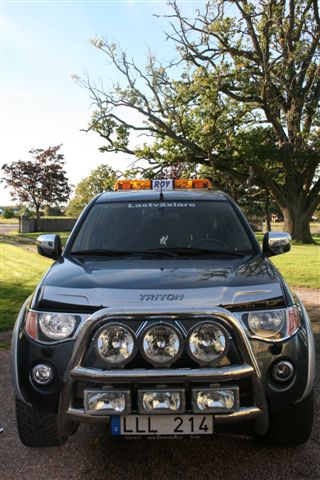 Jonnie have cleaned some cars this morning and was very hungry for breakfast. Devlina was interested when it smells bacon, Jonnie asked her what she was doing....she told him not to be worried, she was just exercising against the bench, because she like to stretch in the morning, strange dog.....
Jonnie and Gloria. Jill think that Gloria talks to much so she put her ear over her mouth, it worked.
So good to stay home this weekend. Expo will travel with Hanna to Sofiero tomorrow, she is going there with her own bitch.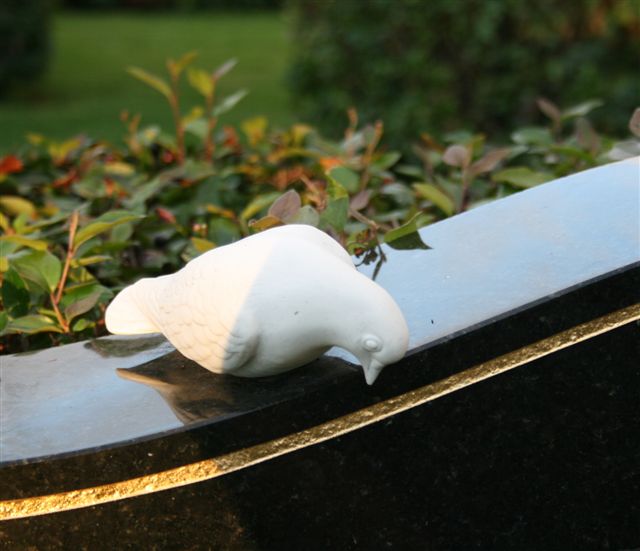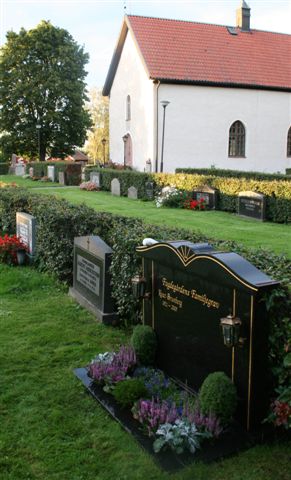 We planted some new flowers at my fathers grave, only 250 meter from our house, in the winter we can se the candles on his gravestone from our window at first floor.
When we came back home, Rolex had fall asleep (as usually)
sitting in his best chair, watching over his fathers "Kvack"...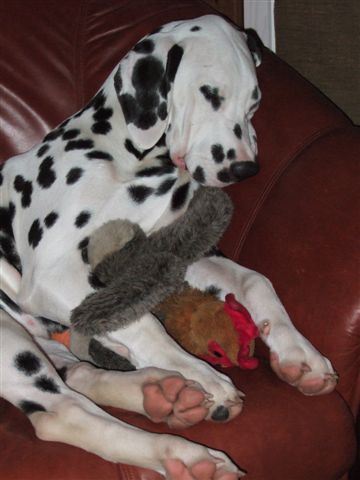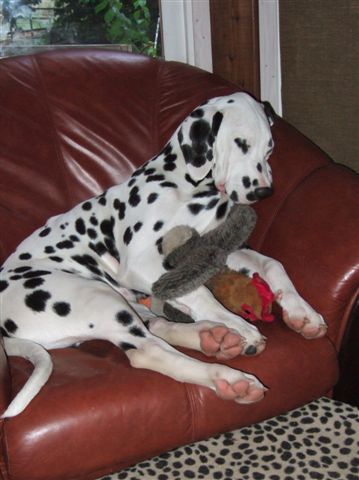 Do You really have to use FLASH ?????? You wake me up, but look......sssssssshhhhhhh....."kvack" is still sleeping, OK then I have to stay still until he wake up too....puh!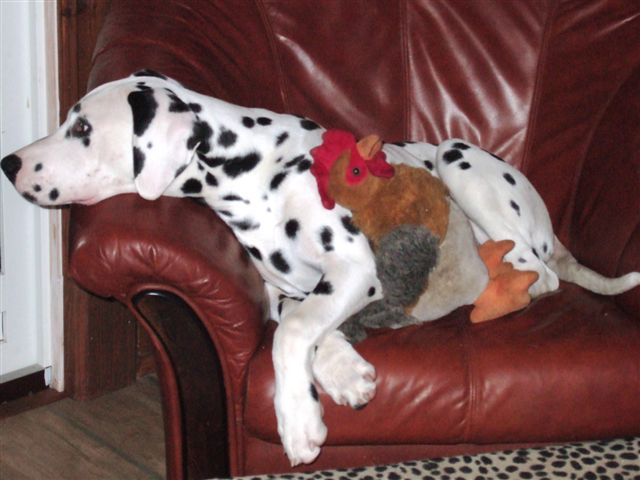 Thursday 6 September 2007
Today we were shopping some plants for the garden, and for my fathers grave, we start to plant it in the evening but have to go in to see something important on TV *S*.
When we where at the plant school many miles from home Hanna called me and told me that she was at my house to get a present for her friend that I had wrapped in last night, there was a car standing outside our house. She went out and ask them what they were doing there. They told her that they have "saved" Devlina when she was running at E 20 the highway close to our house!!!!! Damned dog.....! She can jump over almost everywhere OR maybe she have climbed over Runes ladders into the garden? Thank God for those nice people that stop and take her away from the road. Good Bless You!!!
They have lift her over the fence to Bosson and Expo and Disco and Donna, but she immediately jump over again (it have never happened before) but now she probably think it was really fun that someone come to talk/play with her so she would like to be with them until we came home??? Hanna brought her into the kitchen and locked all doors very carefully.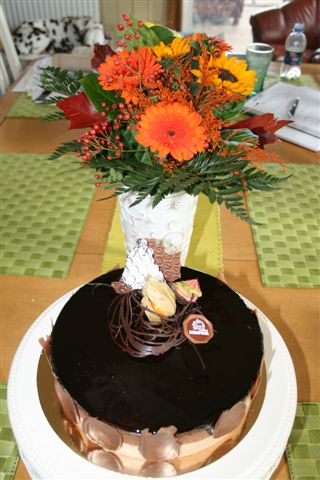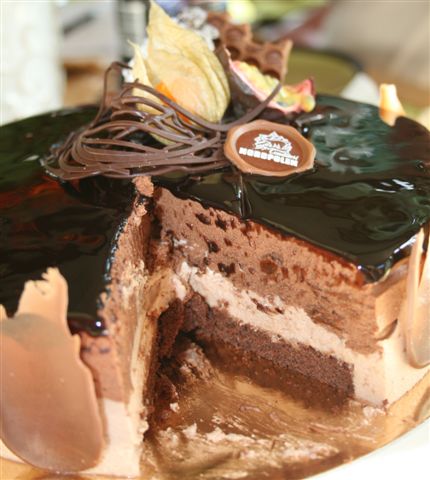 There was lot of blood at the floor in the kitchen when we came home, Devlina have started her second season today. We bought something for coffee today.....the cake was NOT that good as it look. (Can I say when I have eat a lot and I'm full *S*). It taste like chocolate pudding (I love that) but was not that good when You think about how much this chocolate pudding cost instead of the normal one...
Jonnie was happy, he have sold one of his tractors today, and he have been helping the guy that will ship it to north of Sweden, to load the car on a truck and trailer.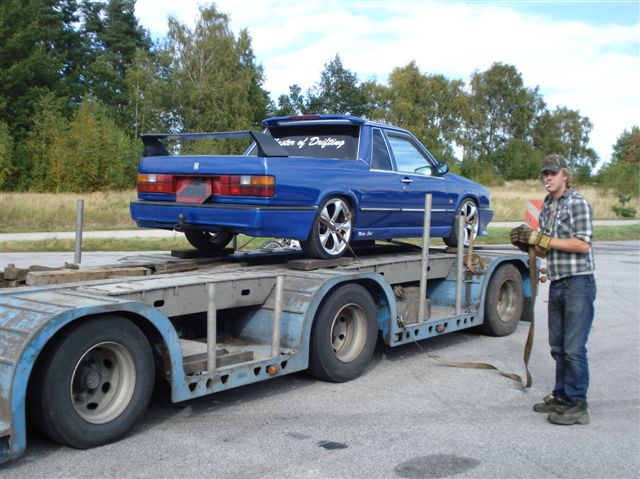 And he got one more old WRECK to take care of....phew!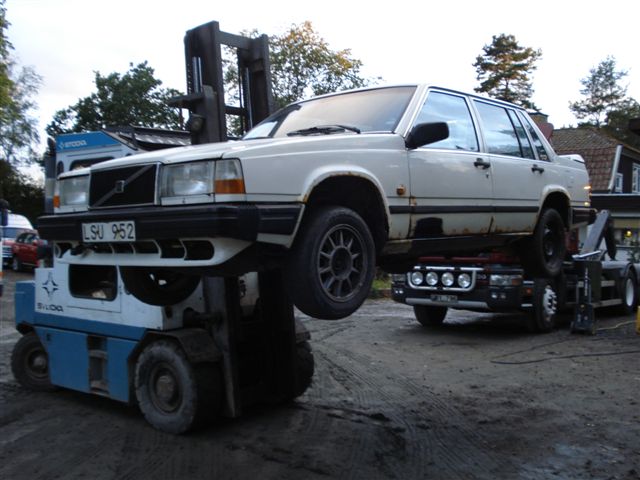 Photo:Kok
Seven try to count how many teethes the Great Dane lady have.........Probably You don't believe me, but her name is .....Florence *S*, even in the pedigree. Edna and Seven terrorise Andre when he try to sleep, poor man. But now he is happy, he don't need to sit in the speedboat with seven anymore when they are driving somewhere. She don't shit in the car , good girl!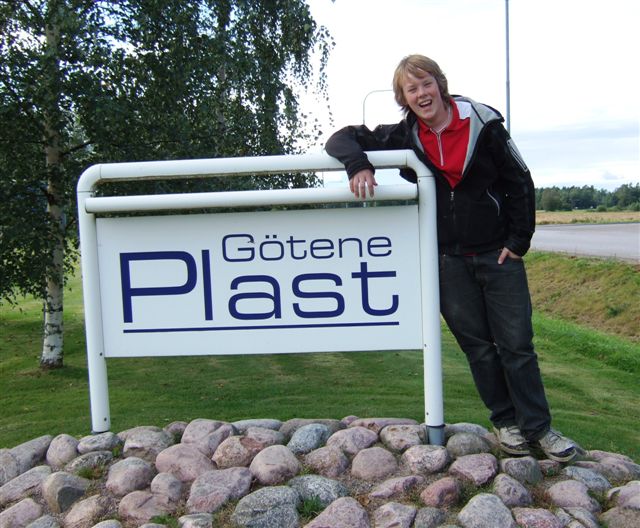 Jonnie and Albin taking pictures of each other....
Wednesday 5 September 2007
Sometimes at TV when girls or ladies have to give an answer of what is one of the most important things they look for when they chose a partner, they say that HUMOUR, is very important.......I agree with them to 100 %. Often it is enough to just look at each other, you don't need to say what you are thinking about...and we both start to laugh......I thought that was something that you develop when you have lived together/or grown up together for many many years (my ex husband and I had that connection, and still have) , but if you and your partner really fit together you can discover that you have that special connection already after a while. You can sit in a room with lot of people and something happens that no one discover, but at exactly same second you can look at your partner even if he/she is standing in the other side of the room and in his eyes see that he have been thinking about exactly the same thing as me......and we can start to laugh so people around you think you are really crazy...
If you don't have HUMOUR it is much harder to live a happy life I think. I often see funny things in very small things that happened and is not often sad or depressed when some people lie about me or tell other people bad things that they have made up about me (or my dogs, men *S*, children, houses etc.etc) just to be EVIL. Most of the time I just feel sorry for them, they probably have a dull life them selves...poor people. And think about it, that some people find YOU so interesting that they have to follow up on You, then You really have to be someone important *S*!!! Don't they have a life of their own.
In Swedish I will write a kind of proverb that I thought about some years ago:
Tänk om det fanns en God karamell,
Som gjorde varje elak människa snäll.
Jag skulle köpa massor o ge Alla som behöver.
Kanske ta en själv för säkerhets skull.
MEN DET BLEV INGEN ÖVER!
What if there was a Good caramell
that made every bad person a Good person
I should buy plenty and give one to Everyone that need it
Maybe one for my self - just in case
BUT THEY WHERE ALL GONE!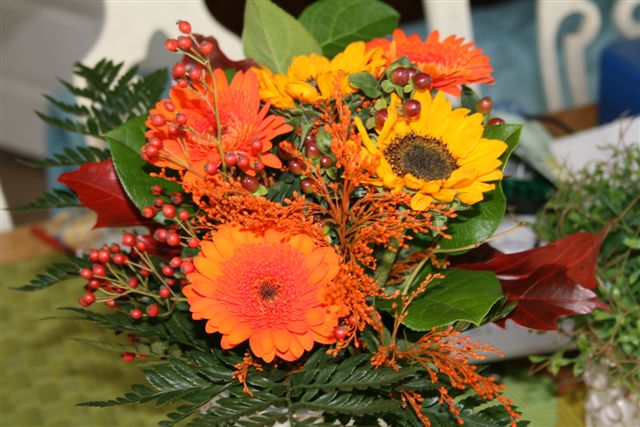 When the Cake Man came for coffe today he hadn´t any sweet things with him, but we got loveley flowers instead....much better!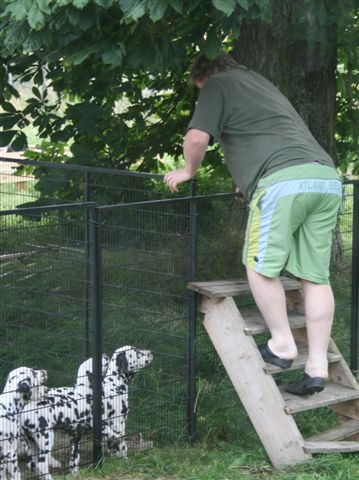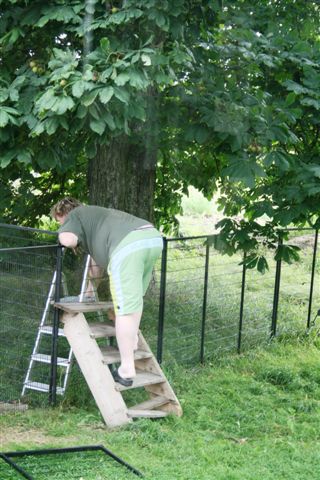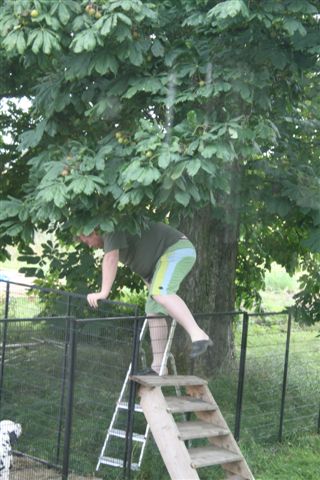 Most of you probably don't think this is so funny at all, but I laugh so much.....Rune have been looking for a rake for almost four weeks now because we have to put out the gravel in the dog yard....I told him to buy a new one yesterday, but then he said that he will go and look at one more place in the garden first *S*.....I know that HE knew where it was, he just don't want to do that boring work, that's why he told me that he couldn´t find it....if some MEN is reading this and wonder how I know that.........I just can tell YOU...........that I'm a WOMAN, and that is why!!!!!! All women know exactly what I mean.........*S*.
There are so many things I could tell you - but I'm too much of a Gentleman to say it in public! (sign Rune)
First of all he try to climber over the fence, but his legs was took short. Then he went away to find something to stay on at the other side.....I was laughing, but that was not nice of me...he really have lot of problem just now with his legs and swollen limbs, and when he get caught with his feet at the fence and was standing there with his foot fixed at the top of the fence for some minutes I laugh so I cry.....and every time he looked into the kitchen I turn around and hide my camera (I know - not nice of me at all). When he finally came over the fence he walk straight on to the rake....just what I suspected!! Then he went to the pool and throw lot of thing into the water ???? When he turn around I saw that it was chlorine tablets for the water...I thought it was chestnuts from the big three there.....and then he start to climb back. I promise you that both ladders that he put up to climb over the fence will be exactly there until next spring!!!!!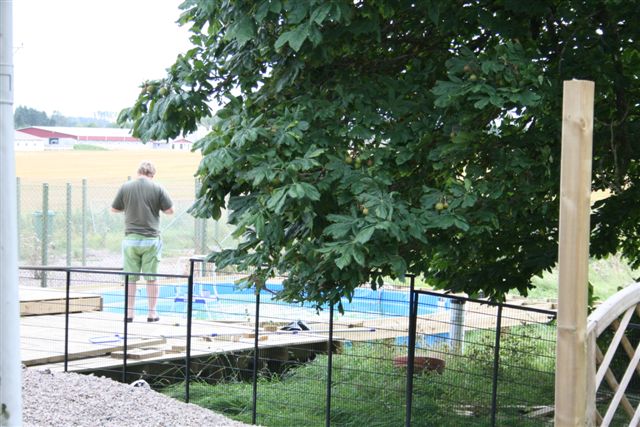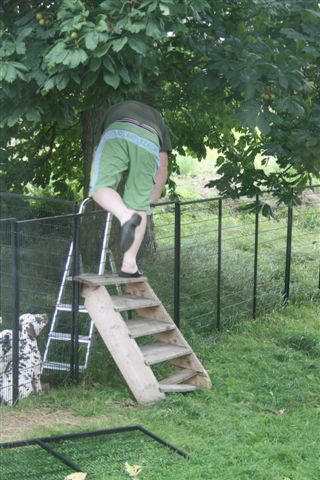 After a while when he came into the kitchen he asked if I had seen what a smart solution he have made in the garden......I looked innocent and said no..????? And he told me about the ladders.......*S*! In the evening when he saw the pictures....he didn't say anything....we just looked at each other and laugh A LOT!!!!
I have to carry my camera around my neck all the time now so he can't take pictures of me when I do "funny" things......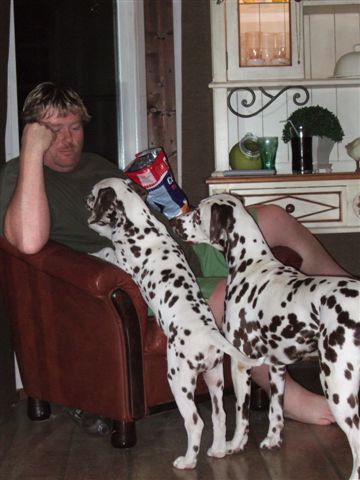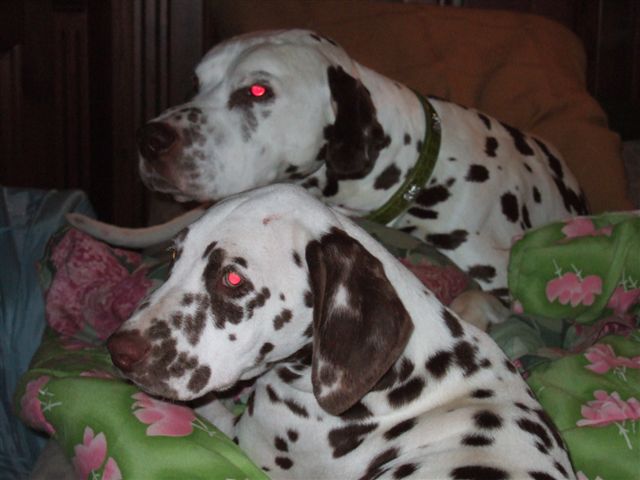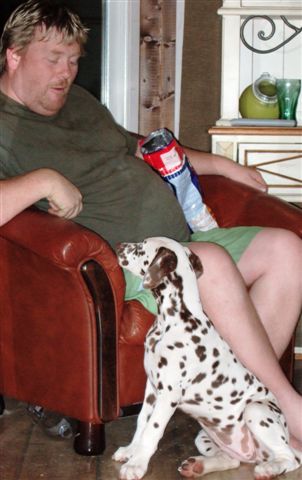 Last night Gloria and Devlina eat chips. Father and daughter, you see it at their eye colour. Rune destroy my new show dog, so he can win it all with Mini Mel.....he is afraid of the competition so he learn Gloria to SIT!
We where out in the store to take pictures of all things with dog motive until 3 o'clock in the night, we need to sell everything now to get more space for other things there. We put it under Flo´s Miracle Of Love/Övrigt and try to sell it on internet for almost half the prize.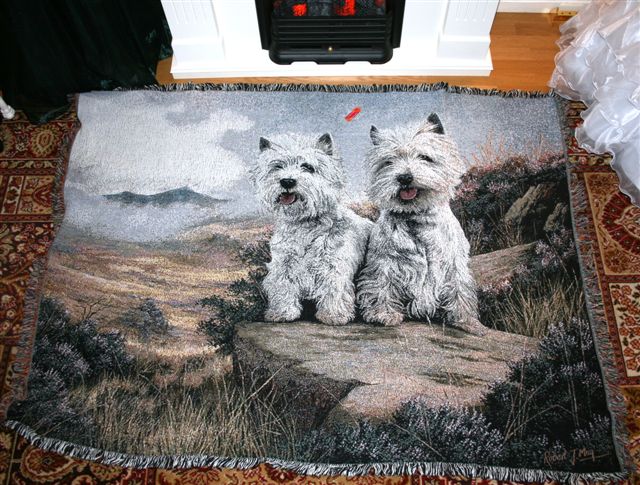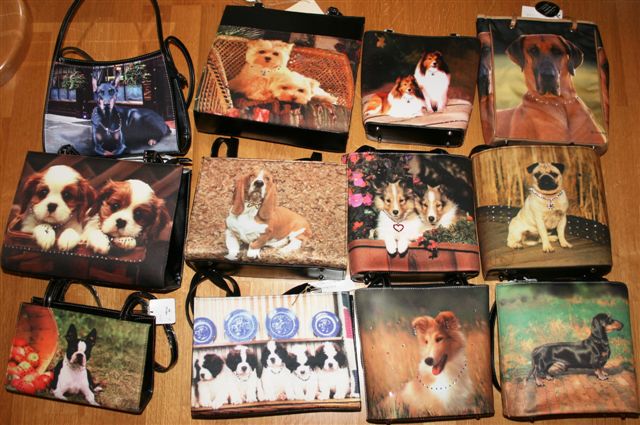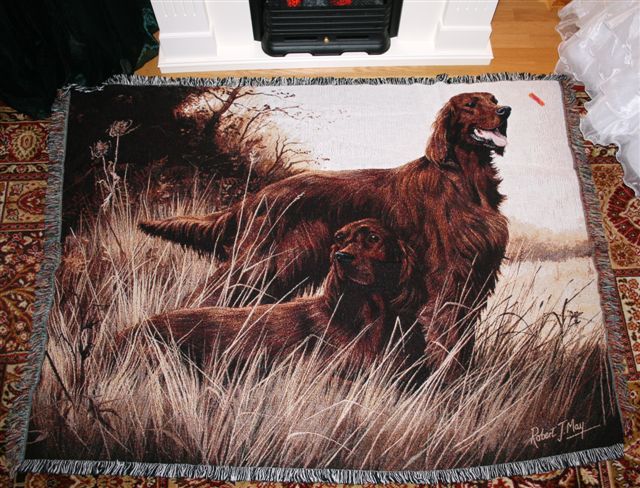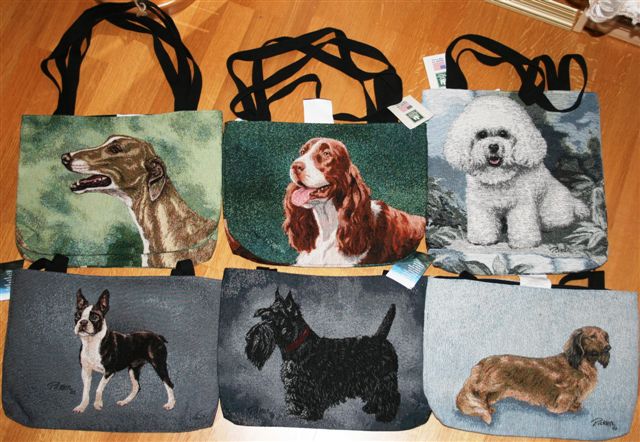 Tuesday 4 September 2007
Yesterday evening Rune got a terrible job, he put a new ketchup bottle in the freezer and next time he opened the door it fell out in the floor and smashed ALL over the kitchen!!!! RED spots all over........he love to do kitchen work like this....unfortunately I don't have any picture how it looked at the floor from the beginning because my camera was ketchup all over, so I have to clean it first. Toyboy just tried his new winter coat so he only get ketchup in his head and over the coat of course. It was 1,5 liter in the bottle but it seams like 10 liters before everything was cleaned up.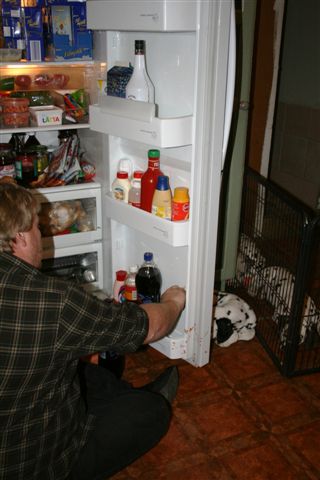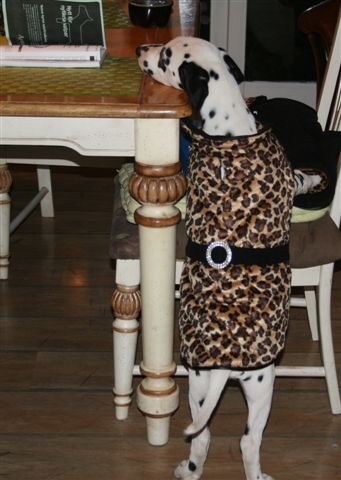 This morning Rune and Toyboy drive to Strömstad about 250 km from home, to meet Toyboy´s new owners when they came with the ferry from Norway. It was a grey and rainy day at home, but when they came to Strömstad it was a perfect summerday.....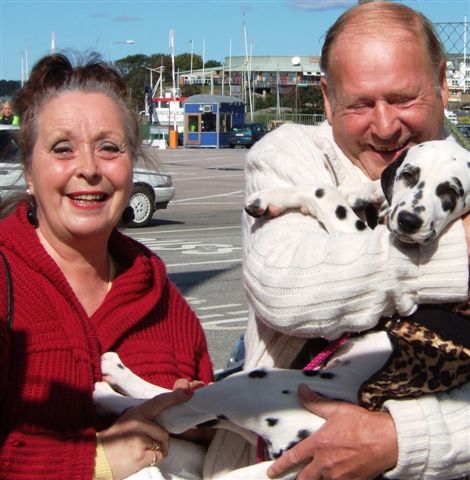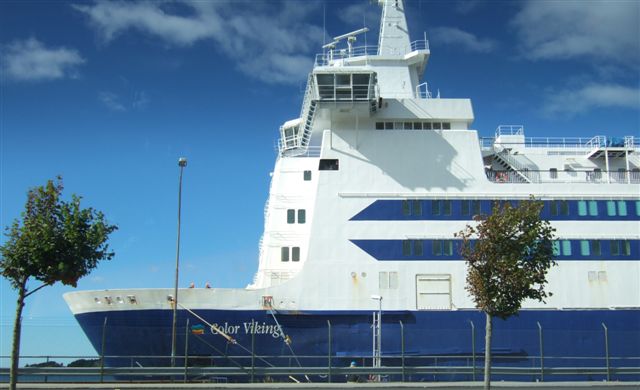 Toyboy loved his new owners from the first minute and they loved him. He is now named ZINO.
I have to stay home with the other dogs, and otherwise Mr Cake haven't got any coffee at 12 o'clock today....puh!!!
When he called and ask me to put on the coffee I said.....PLEASE don't buy anything to me today, I really do not need more sweet things. So he ONLY bought two of my favourite cakes with raspberry, cream and meringue...and of course I have to taste (eat it up) mine, damned!!! Six days in the week he buy marsipancake, because he and Rune love that best, and I have eaten it soooo often now that I can stay over that now, but not those lovely things.....mmmmmmmm!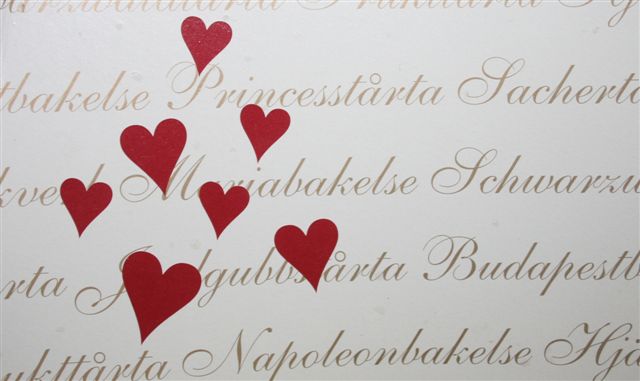 Devlin was not so happy when Roy only bought TWO cakes...........he couldn´t find HIS *S*!!!!!
Today I decide that it will be Sugardaddy and Splendid Choice, that will share the first time of the day together with me and the older dogs.
All the other puppies can walk in the kitchen too from the backyard through the kennel and the small hall and they are in our kitchen, but there is a fence so they don't destroy everything if I'm not there all the time. It is perfect because when they need to do something they rush back thought the hall, through the kennel and out so they don't need to pee inside. They are so clever at this now.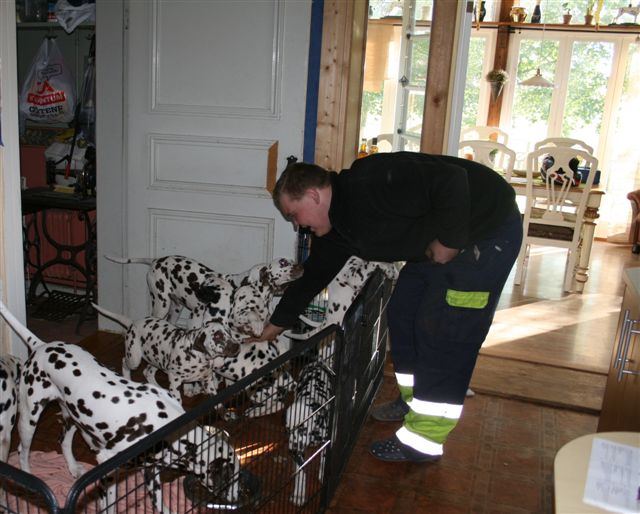 They are so happy when Jonnie is coming. Devlina love to jump into their area and eat their food up...stupid dog. If her food is outside the fence she don't eat it *S*.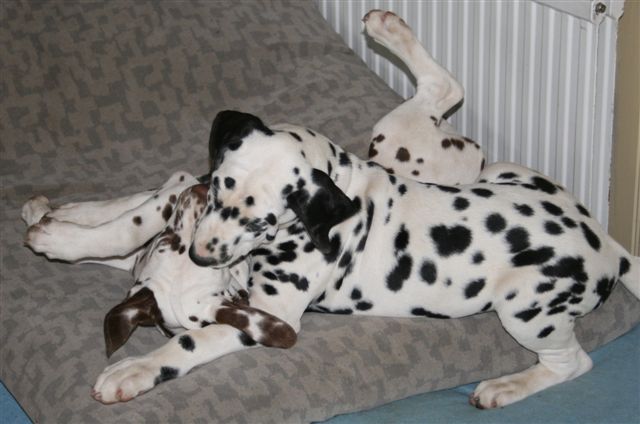 First the puppies played and have fun together, but their sister and brothers eat up a filled chair with LOT of foam rubber in, all over the kennel and I don't want them to eat that up it could be dangerous, so I have to clean it up at once. Thirty minutes earlier I have been there cleaning the kennel, so they probably think it look TO perfect.
When I enter the kitchen again after I have used the vacuum cleaner for 20 minutes I did not hear anything from Daddy and his sister so I believed they have fall asleep. Jill was sleeping in her chair and Devlina was out with the small puppies and Devlin was sleeping in a sofa at the small terrace outside the kitchen. When I was looking around I suddenly saw the small DEVILS.........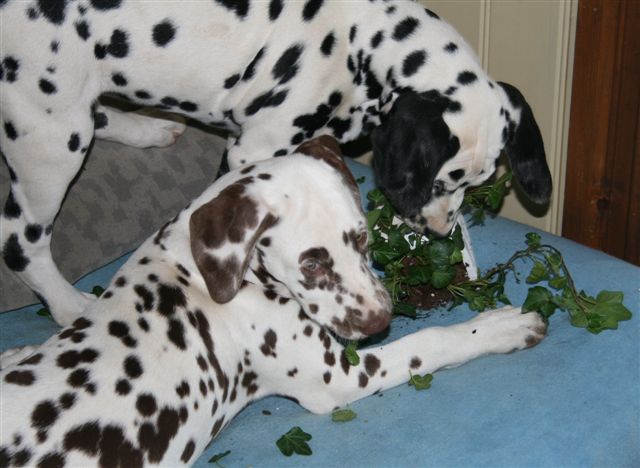 They have found " a salad" in the kitchen window, and they decide to eat breakfast (again). Since the damage already have happened I took my camera before I scream at them to stop........I told Splendid Choice that she was NOT a Splendid Choice just now, her glory have fall of her head..............AND THEN I HAVE IT!!!!!!! Her name will be GLORIA..... it will fit her perfect ( not just now, but most of the time).
And a judge that loved her father Devlin is named Gloria Mitcham-Geringer, we often talk about her and hopefully meet her somewhere again in the future, then I will show her my GLORIA.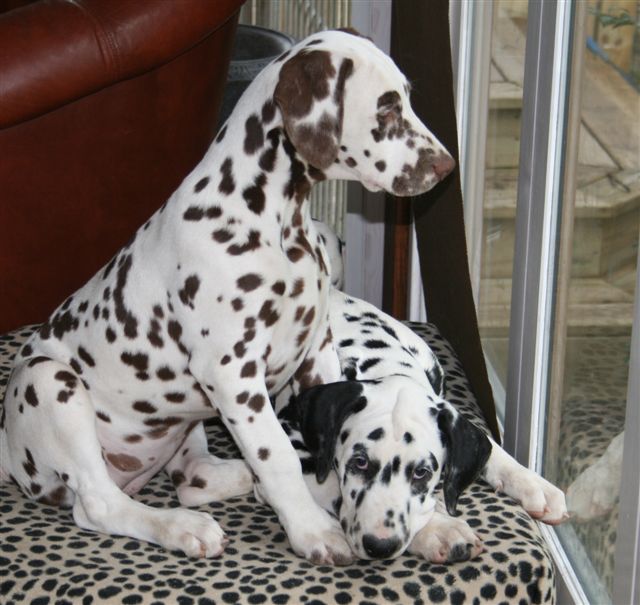 After that incidence they just sit and look out into the garden for a while, and Sweet Gloria got her glory back again. Daddy looked very guilty..........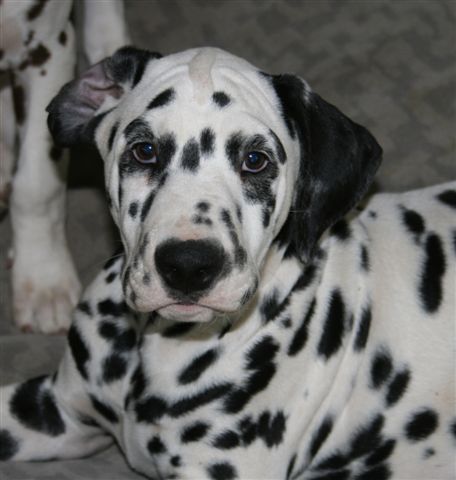 The guilty one? Jill said-: Don´t look at me I have been sleeping. Gloria pretend not to hear.
Monday 3 September 2007
Rune went to our vet with Toyboy and Mini Mel, we have to have a health certificate for Toyboy before his trip to Norway tomorrow, and they took a blood test of Mini to se if her rabies is ok so she can go with us to Denmark in two weeks. At the same time Rune will meet Carola so Perfect can go back home again to her coowner.
I just got a sms from Hanna, she send congratulations to Expo at his 2 years day today! We had forgot. So.....
Congratulations to All Puppies in The Astonishings E-Litter born 3 sept 2005
Edna, Kassie and Joey (that we have met) and to Your owners.
Lovely photo of Perfect in the bushes taken by Carola.
Tack Carin Andreasson för dessa bilder från Högbo igår.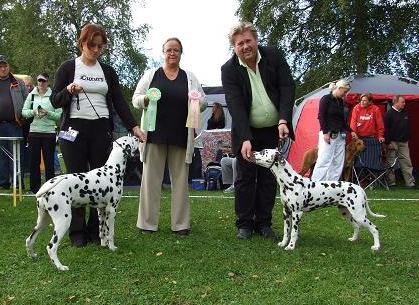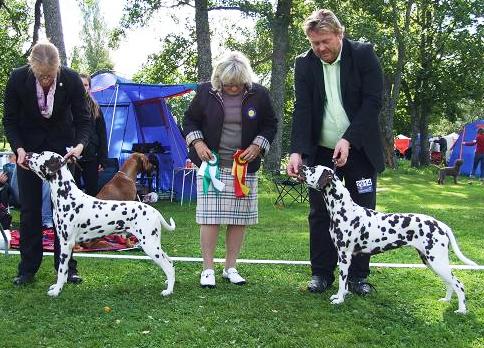 Bim o Bir Valp med Domaren Sara Nordin.
Bim o Bir Vuxen med Domaren Kerstin Nilsson, Danmark.
Sunday 2 September 2007
I woke up when the phone was ringing. Jenny called to tell me that Mini Mel have been best puppy out of 6 Dalmatian puppies, and that Disco just have been best male with CAC and CACIB.....ALREADY!!!!!! I said......what is the clock. Jenny told me that it was almost 12 o'clock. Both Devlin, Jonnie and Me have been sleeping MANY hours.......and I haven't heard the puppies yet, but they can go out from the puppy room when they like to, but they should be hungry now........ I feel much much better after a long good night sleep and when I came down into the kitchen all puppies still was asleep. It was so calm in the house and the puppies looked at me as they think....Ohhh are You coming already????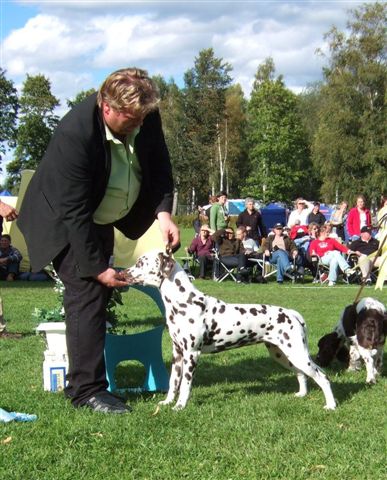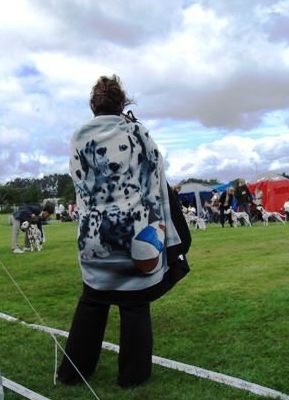 Mini Mel was BIS 2 Puppy , Disco was BOS, J Joyride was BOB and BIG 2, and My Breedinggroup Bis 3. Jens send me a picture from this summer at me in my new Dalmatian dress....I think it looks nice.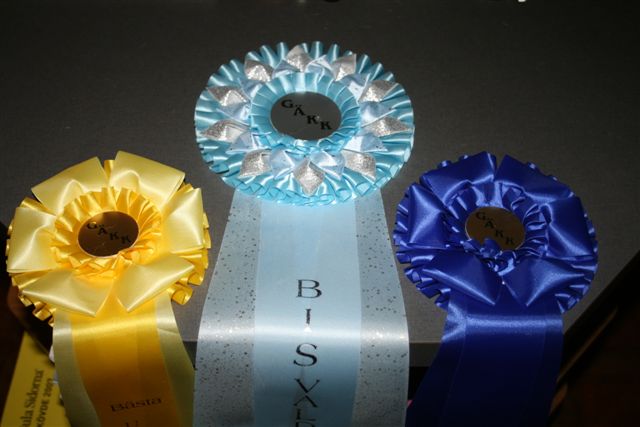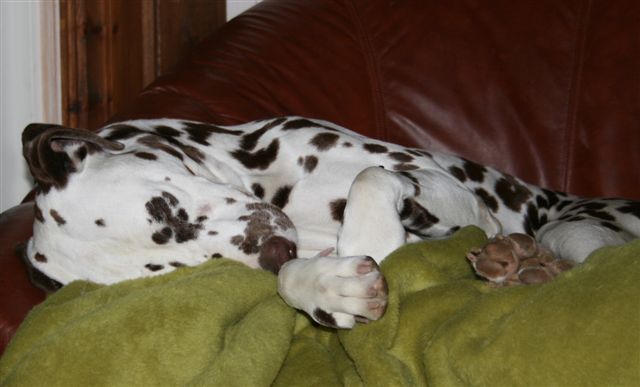 Nice cocards today. Princess Devlina soooooooo tired after sharing a pizza with Jenny, late in the evening when they came back from Högbo.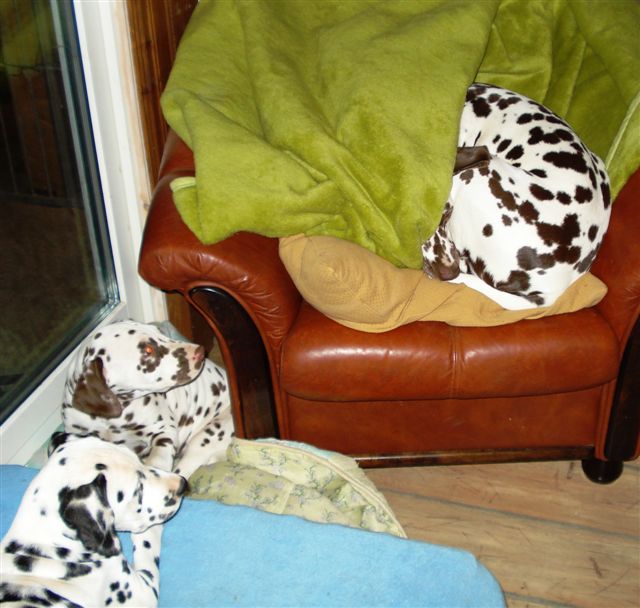 Decibel did not understand anything when Jenny showed her the cockade.....Oyo something to eat....or??? We will have a pink one when You are old enough Jenny told her, but Decibel didn't care at all. Top Model and Decibel looked at Jill, but she was so tired of puppies that she took a blanket over her head so she couldn´t see or hear them.......but they saw her....
We got news from Netherlands today!
Andre and Diana practice everyday with SEVEN, they have learned her to stay like this in the show ring, strange people!
Photo:Kok
And IF she can hold one of her ear standing UP, when the judge is coming she will be nr one they told her, and she CAN!!! Hurray!!!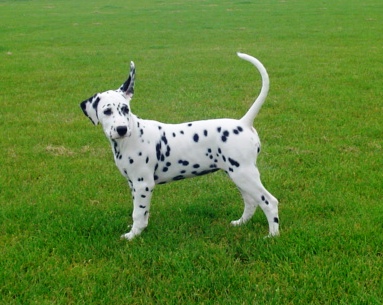 Photo:Kok
We bought this "Dalmatian"??????? from Netherlands, is it really a real genuine Dalmatian or a POINTER??????