Diary
Wednesday 31 October 2007
Rune got the flue again!! Fever and cough.....we are so tired about that now. Our plan was to take the caravan to Växjö tomorrow morning because we have to be there early tomorrow to get a place for the caravan where we can get electricity for Runes breathing mask that he use every night. They have promise us that if we are there early. At Friday Rune is going to practise as a judge together with a judge for 80 cockers. Ok we have to wait and se tomorrow morning.
He was indoor all day just start to plan for our large walking closet . Between that he eat pills and sleep a lot.
I have costumers for some hours and after that we looked at TV.
I give five dogs a bath in the evening.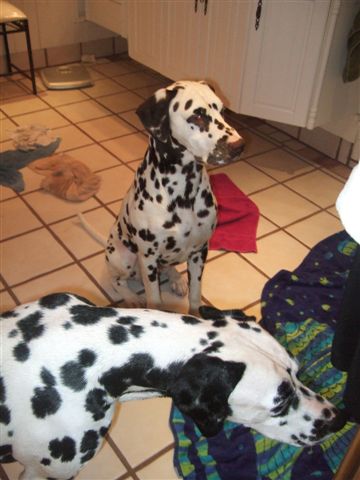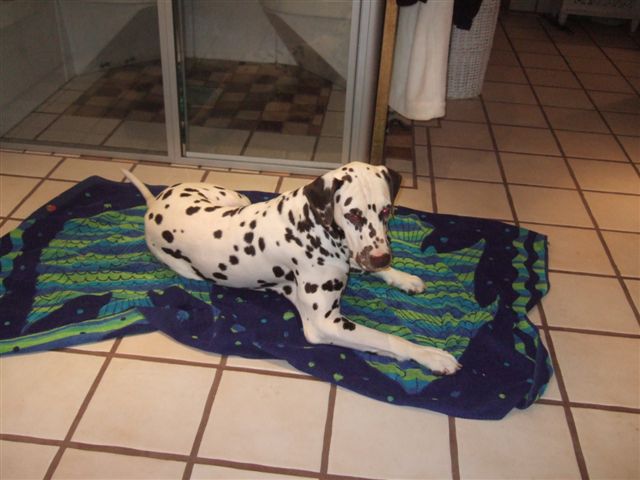 Rune have started to build a wall. Disco and Bosson ready to take a bath. Disco laying on the hot floor to get dry.
About one year ago it was hopeless to feed Devlina, this is what we did to get her interested in food. Did she steal anything??? No!!!!
But today there have been nothing left. She steal everything before the other dogs...*S*! I like that....ok it depends what it is, but it is better than the opposite. But she loved the small leca stones that we put around the plants - so we spread dry dog food on the floor so she would believe that it was leca stones - and she went for it! She is not the smartest - but very cute.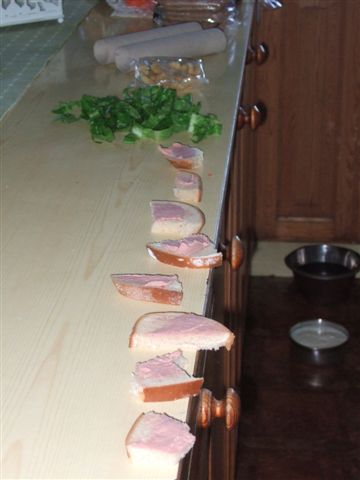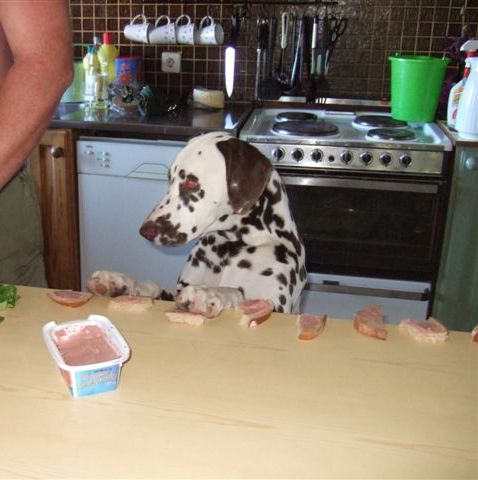 Thuesday 30 October 2007
Last night before Ellie went to bed she met a Halloween Monster in our house!!!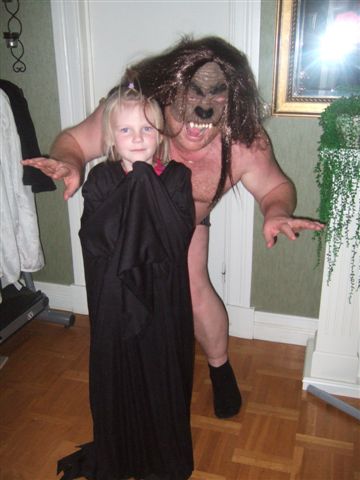 The Monster looked very scaring but it was very nice and make jelly to Ellie and play with her the whole evening.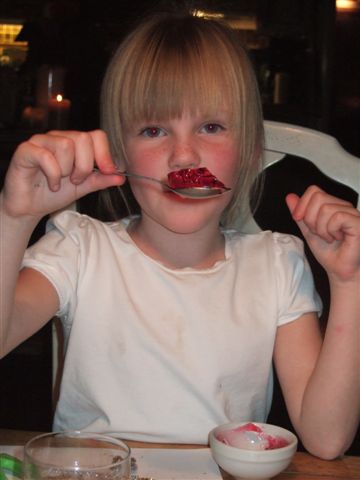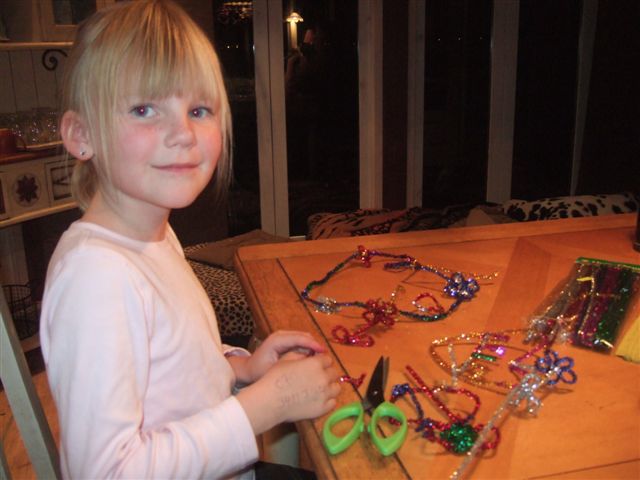 In the afternoon Jennie came to bring Ellie back home again, and Rebecca was here too and I have lot of custoumers in my store today, because many teenagers are free from school this week and they already start to look for their dresses for their Prom next year.
At half past ten when Hanna was finish from her work she and Jens came here to eat and bring us some things from their trip to Egypt last week, and to show us lot of pictures.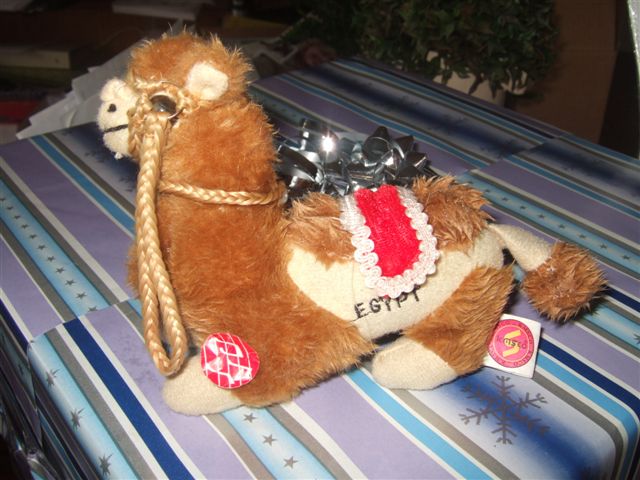 Lot of things to talk about late in the evening. Devlin got this one!!! And it is music in it.....HE LOVES THAT!!!!
I better lay on my things if I fall in sleep, there is always some naughty one that just wait for that!
Monday 29 October 2007
When we went down to make breakfast this morning Daddy already have been setting the table...but in his own way *S*!! And he was so happy to show us how nice it was????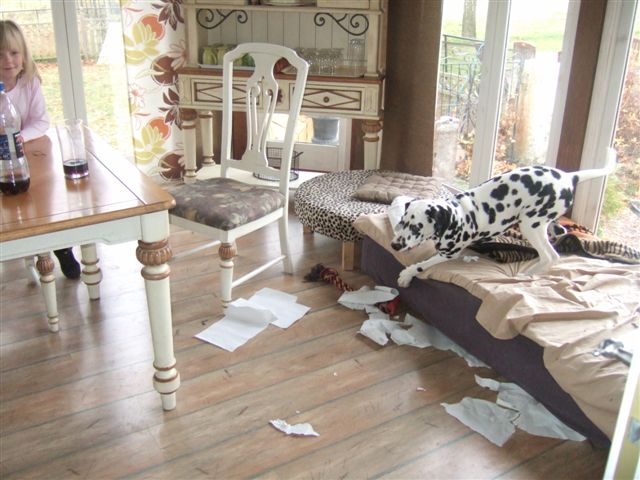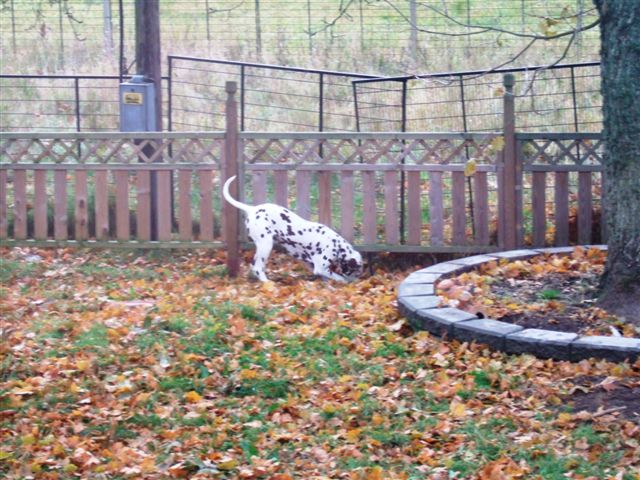 Daddy so happy! Disco in the garden, maybe he think he can dig a hole and see to China!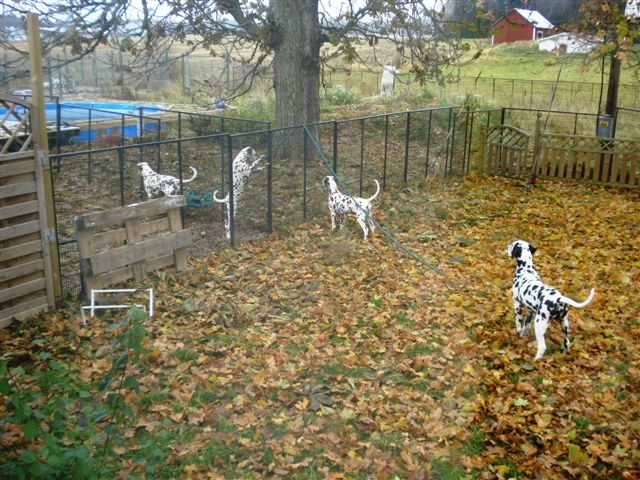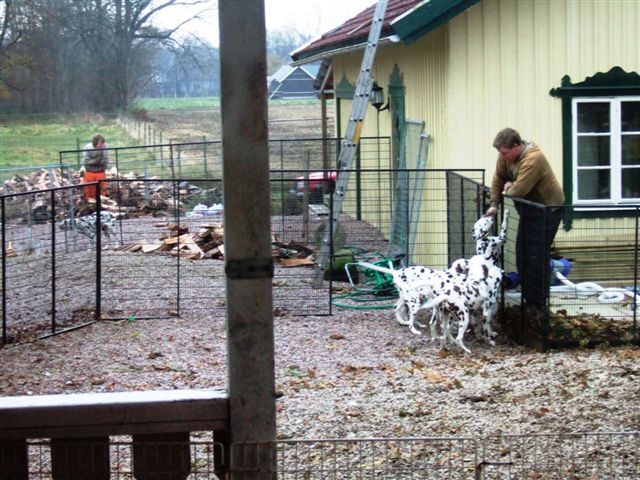 Rune try to empty the pool before winter is here. Albin and Jonnie have promise to take the wood inside...hm....!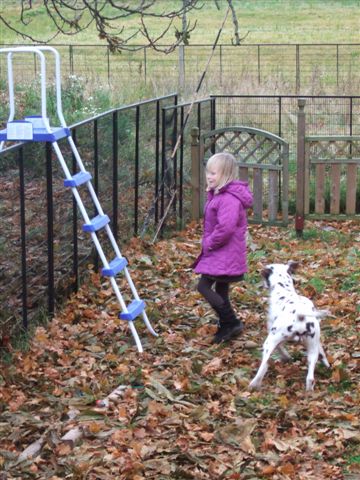 Diamond is looking for Ellie. she is playing with Disco and they pick chestnuts in the garden.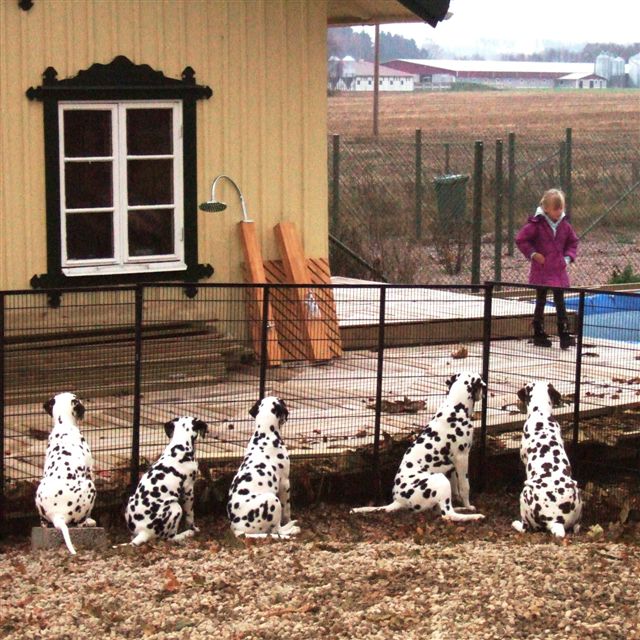 Trumph Card, Bell, Star, Rolex and Diamond look at Ellie she is singing for them!!! Maybe they were sleepy *S*!
Disco told the other dogs that HE is chosen to move to USA next week (and he hope they have cleaner windows over there *S*).
Ellie in her dreams!
Sunday 28 October 2007
Daddy at his first show ever....but not his last (I promise)!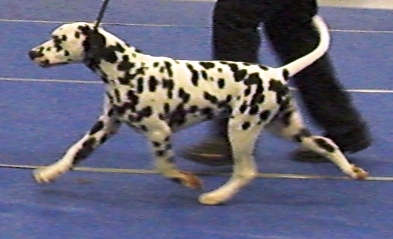 BOB Puppy and BIG 2. I miss my new camera, I have to wait some more weeks.....grrrrrrrr!!!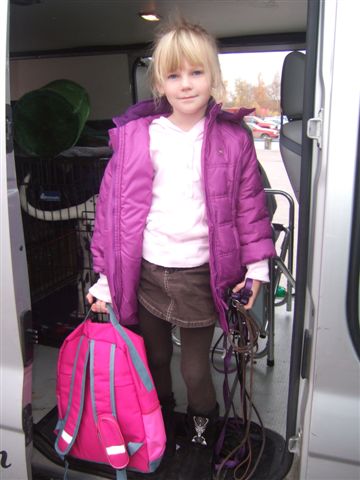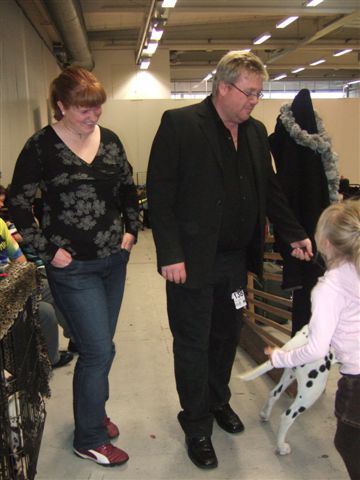 Kennelgirl Number one Ellie. Last night cutting nails on the puppies. Maria came to be with us in Örebro.
Breeze was there. Gloria was training (she don´t need it). Dezibel in front of the judge. Chrissi was BIS 3 !!!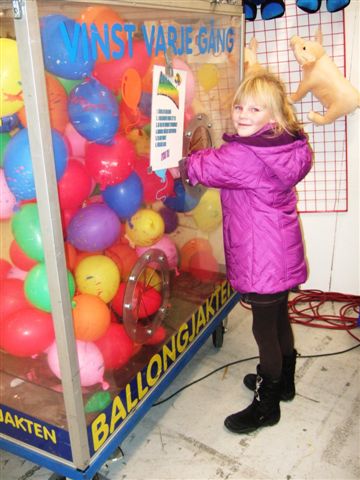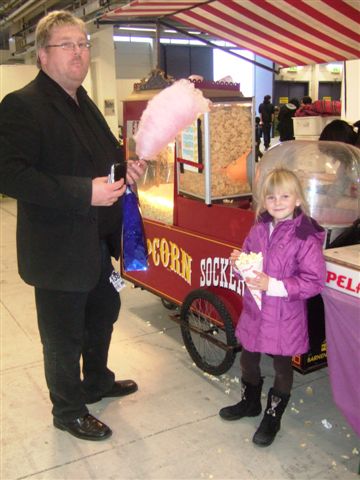 Bell playing with Jenny and Ellie. Lot of things at the fair for children. And of course for Rune that loves candy.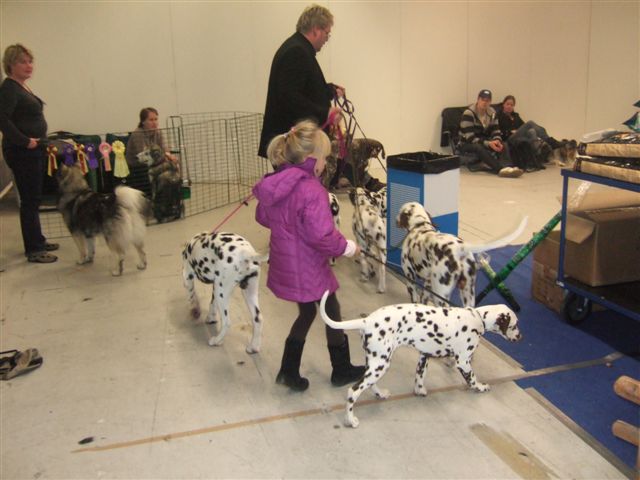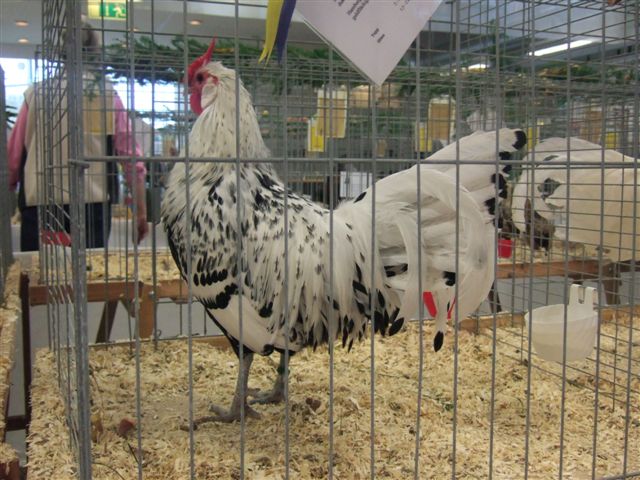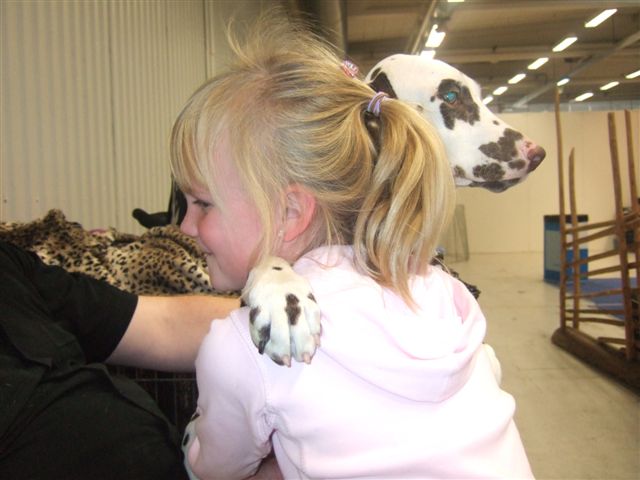 Many dogs to walk in and out with. I would like to have this spotty cock at home! Trumph Card give Ellie a hug!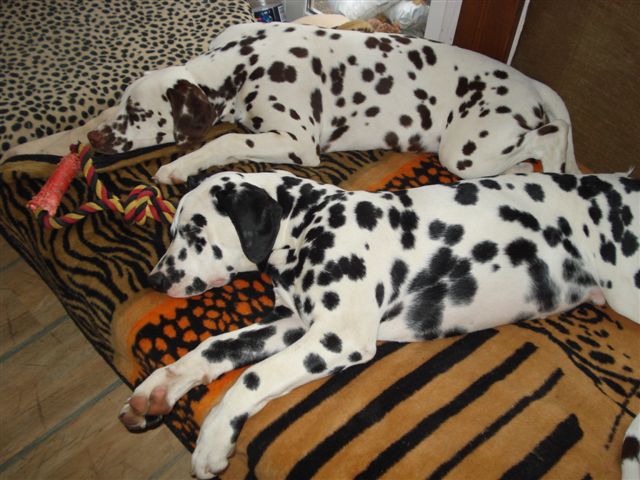 We were all very tired when we came back home! The COCK had a very nice spotted wife, that he was really in love with!
Saturday 27 October 2007
Ellie is here with us because she will go with us to a small puppy show tomorrow in Örebro. It is a fair for lot of different animals like cows, pony, rabbits, snakes, roosters, goats, cats and dogs for ex.
Rune got an idea some days ago when we couldn´t find our clothes that he will build a large walking closet on first floor and we were planning for that all night long and then we (Rune) gave 7 dogs a bath. I went upstairs to put more clothes into the dryer and when I walked through the room I just tried my bed for some minutes, and fell asleep at NINE o'clock........When I woke up again at 12 o'clock the dogs were ready and smelled nice....lucky me.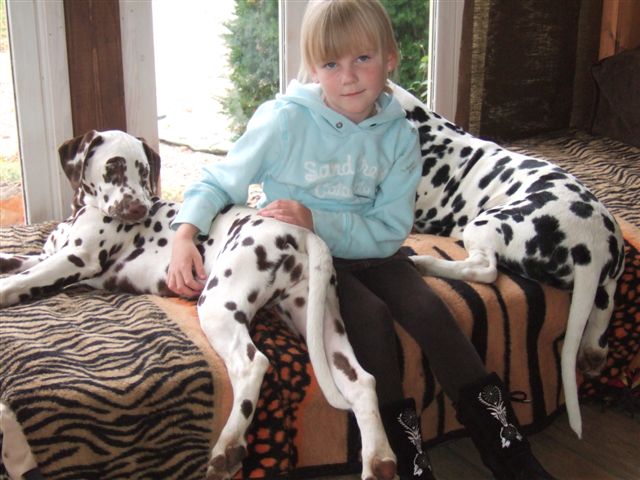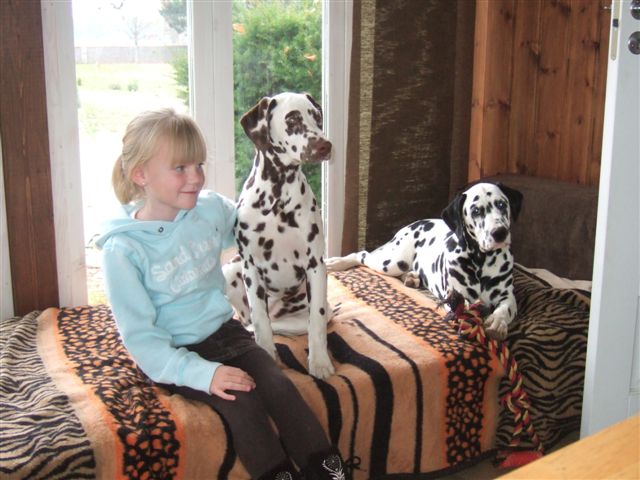 Ellie, Gloria and Daddy.
Tyson, Timanka's Real Power in Russia was at an all breed show in Vladivostok. He won Junior CAC, Jun.BOB, BOB and BIG!! At his first official show only 9 months and 5 days old. Congratulations to you Evgeniya. Judge: Borbosov Kirill.
Friday 26 October 2007
Tired, try to stay in bed a little bit longer than normal. The chimney sweeper should come between 7-12 today....OF COURSE he was in our garden 5 minutes BEFORE 7, how can people come to a work in that time in the morning I have always wonder???? Are they crazy??? Probably if You ask me!!!
Of course we got visitors for coffee! There were some more but not all of them are on the photos.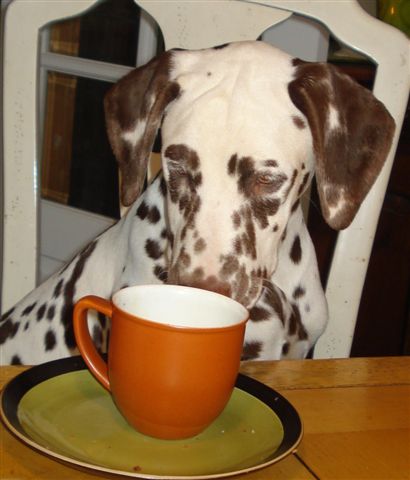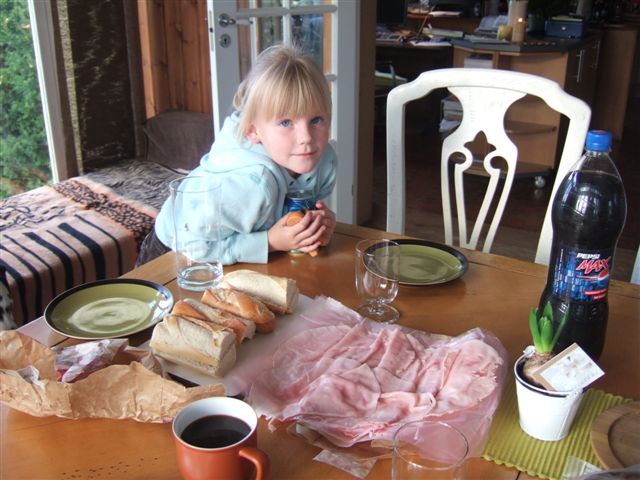 Thursday 25 October 2007
Just after midnight Hanna and Jens came back from Egypt, so late in the night they were home at our place to take their dogs home again. We were not home because we have to do the last things with the guest room and kitchen that we had promised to be ready with until tomorrow (the morning).
Here is the guestroom some days ago, and later on when it was almost ready.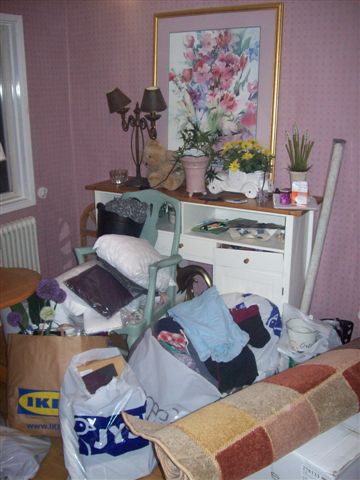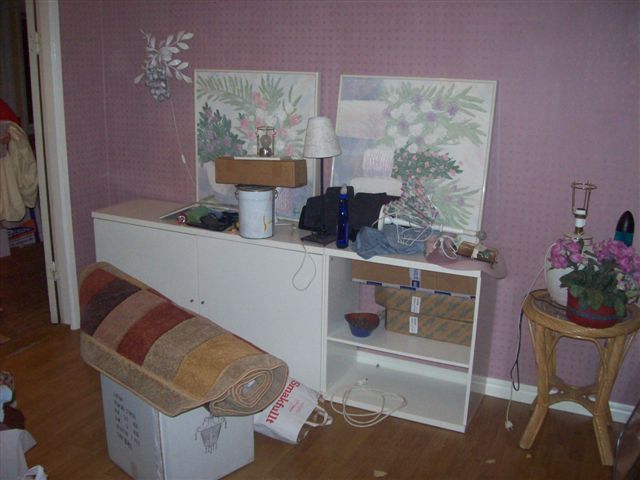 Much better, but lot of work.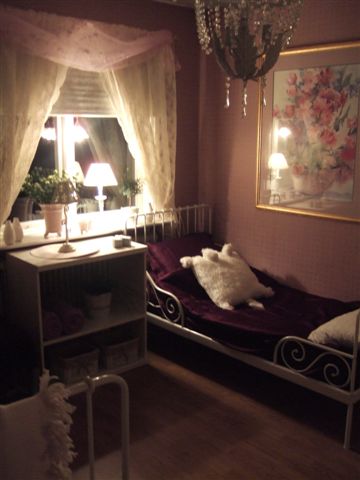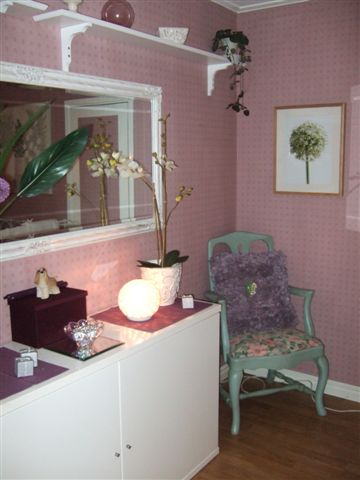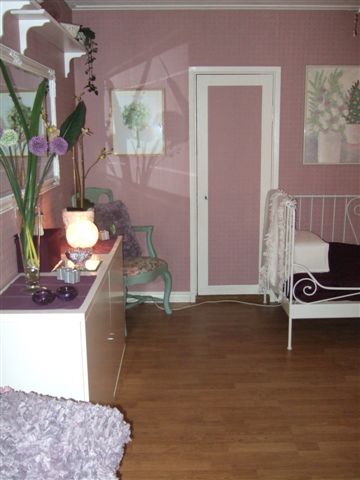 The kitchen before and one hour later.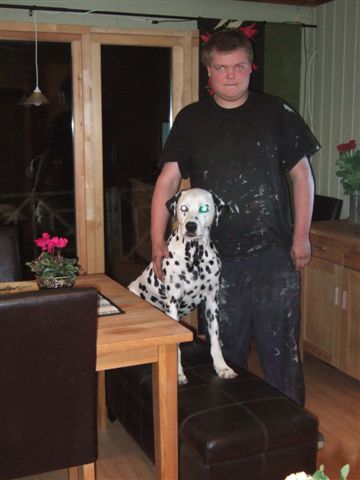 Jonnie with Elliott, his own dog (T-Cart Kracker Jack 8,5 years)
Look what we found when we should throw out the garbage. I love those small and sweet animals, but my youngest son get totally crazy and scream and cry and jump up on a sofa for hours....poor boy...I know exactly how he feels because I am totally terrified with snakes and worms..brrrrrrrrrrrrrrrrrrrrrrrrr I can't even look at them on TV or in papers. and I can't go out when it have been raining because small worms comes up from the ground then. Ok I know they are harmless but I just CANT look at them!!!!!!
It took us over two hours to get this mouse out of the house and Jonnie was standing at the sofa screaming all the time. At five o'clock we were back in our house again. Tired!!!!!!!!!!!!!!!!!!!!!!! Put the morning bell at 6.30!!!!!!!!!!!!!!!!!!!!!!!!!!
Zzzzzzzzzzzzzzzzzzzzzzzzzzzzzzz...........
Up even before we have gone to bed and drove to Landvetter to meet Roy at the airport. We really don't know how we managed to get there, I try to talk all the time (as usually *S*) and at the same time hold my eyes closed so I can get a little rest......
After we met him we drove to see Jimmie at his work, but it was so much fog today that it was really hard to drive..all the way from home to Gothenburg it was the same. After talking to Jimme for a while we drove to Vara and our favourite bakery to eat breakfast.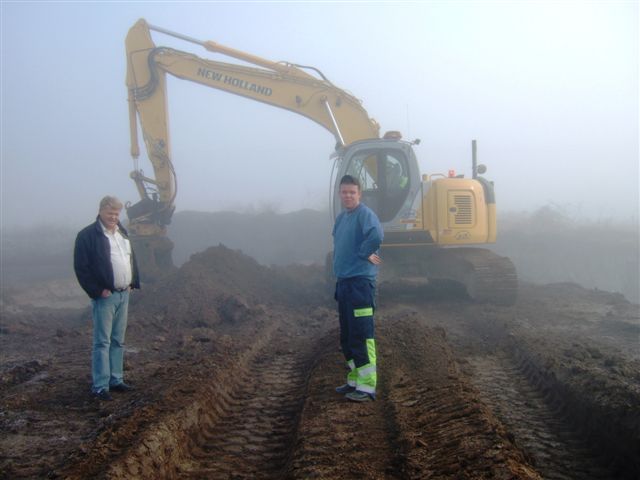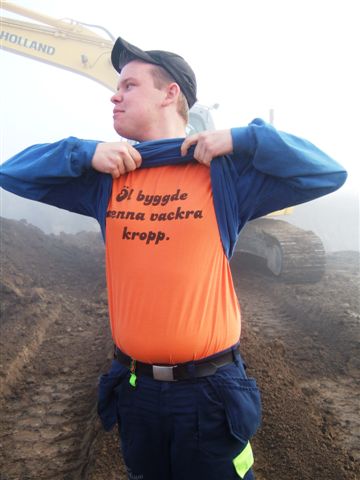 Jimmies work.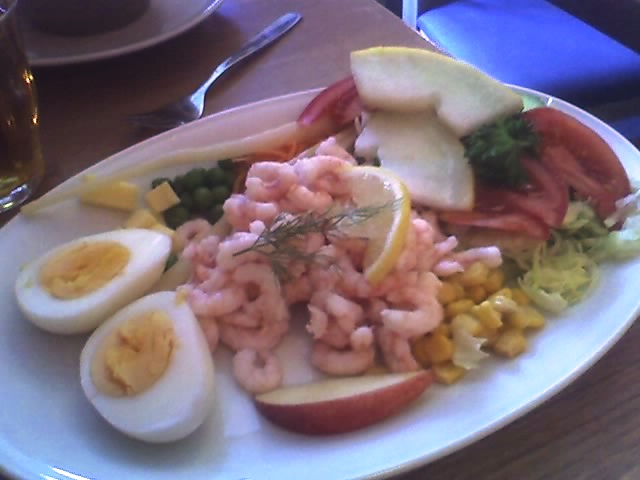 At the bakery in Vara and in a window outside I saw a spotted horse!
When we came home we went to a store to look at wallpapers and decide to put up new in our kitchen because it will take years before we can renovate the kitchen...so we just have to make the kitchen a little new until then.
Of course I found some more wallpapers for the large new wall on first floor, and we ordered new windows to decorate it with so it looks more nice *S*.
Lacy evening and we was laying in bed to look at TV but we both fall asleep....
Wednesday 24 October 2007
Only two months to Christmas Eve!!!
I have already bought lot o presents, the best thing is to give nice gifts away in nice packets in many colours and with LOT of braids, and I love to make those packages during long dark nights with lot of candlelight's and I would like to se snow falling when I look out of the window. Hopefully we will get our new lampposts in front of the house coupled up before first of Advent, then I can se the snowflakes falling much easier (or the raindrops *S*). In some weeks Rune start to dress our garden with small lamps that we light up from first of December. Expensive ?? maybe but it is just for some months and It give us and all people that drive through so much joy. But it is lot of work...some WEEKS ago I cut lose lot of lights from four large bushes in front of the house. Rune (of course) have forgot to take them away last spring and now the arms of the bushes have grown over it. I just have to cut it away and we have to buy four!!!! new large net to cover the bushes with light again *S*.
Last night before we were going to bed I took my water can from the sink in the kitchen and filled up with fresh water. I do that many times every day and pour the water out in a large bowl for our dogs.
In the middle of the day I remember that it was problem to pour the water out. It was something that stopped the water to come out from the tube and I have to do it many times before the bowl was full. Sometimes we drop things into the water can when it is standing at the sink, so I didn't think so much about it UNTIL NOW!!!!!!!!!!!!!!!!!!!! I got the same problem again and I look into the can and couldn´t see anything BUT from the tube there was something hanging out???????????????????????
WHAT IS THIS ?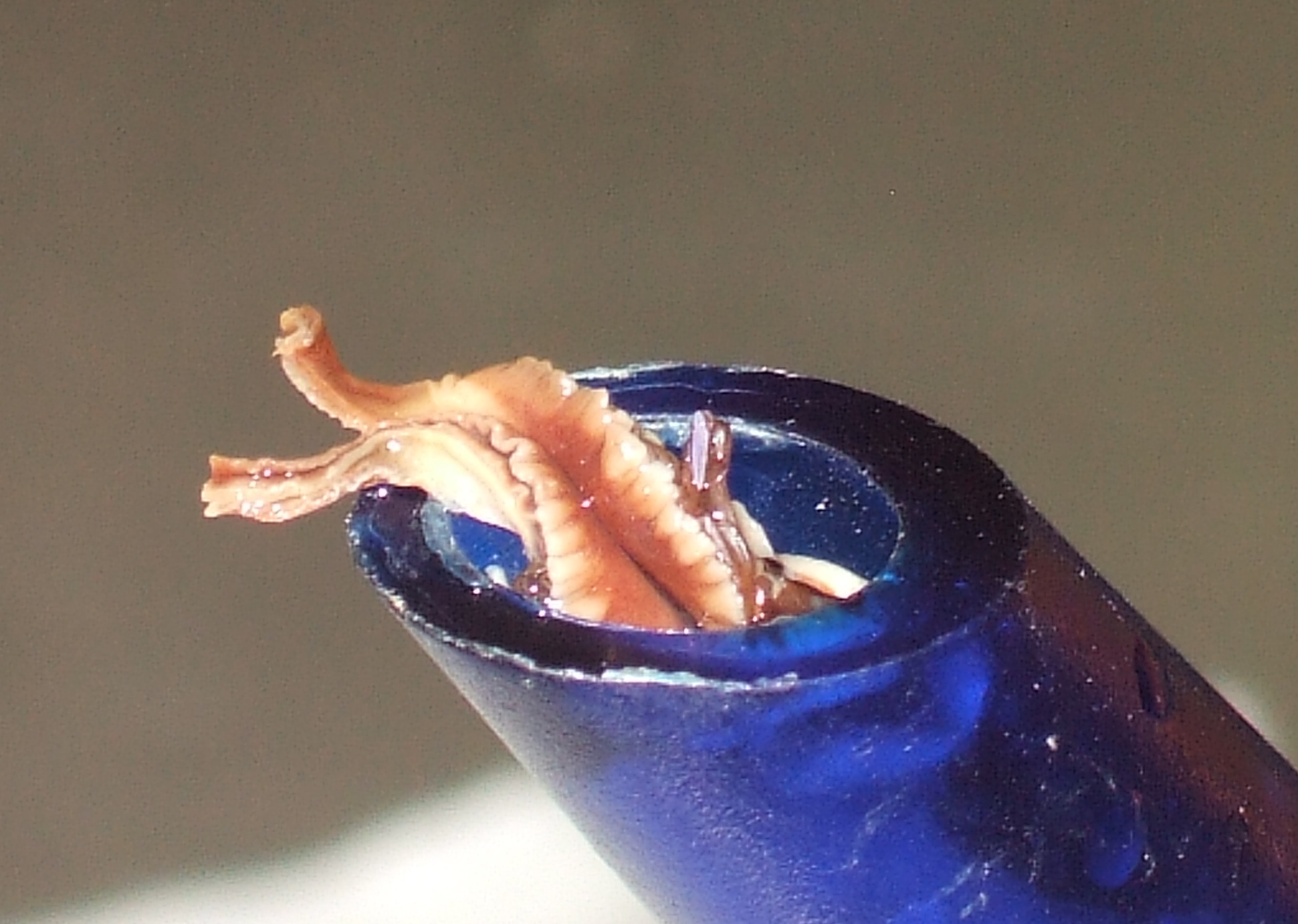 We couldn´t go to bed now, we have too see what this was....after a while we took a spoon and get one more thing out from the tube...
What is this ???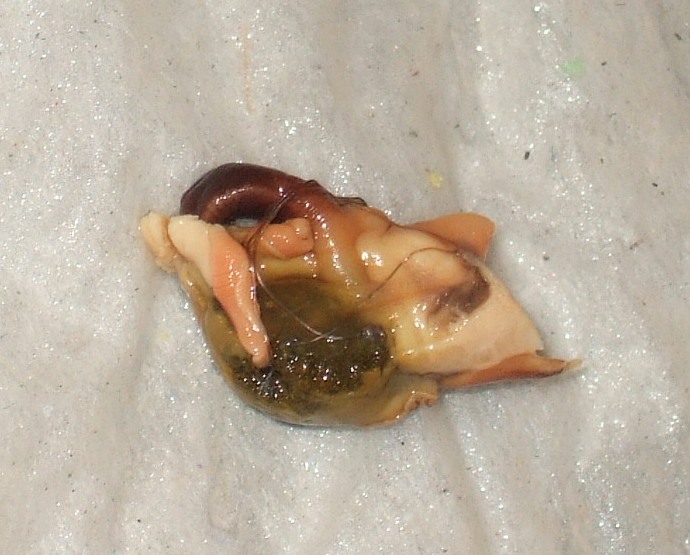 Please help us to understand what this is.....ohhhhhh sooooo disgusting!!!!
The only good thing is that we don't want to eat anymore!!!
But tomorrow "the Cake man" is back home again so our appetite probably is coming back too *S*.
Tuesday 23 October 2007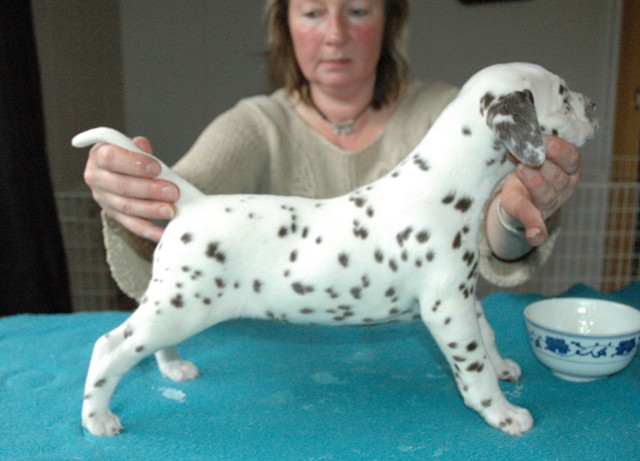 Bente called us to tell us that she had x-rayed her litter out of Bosson and Nelly for Mega O. We are so happy for you that the whole litter was free. Congratulation. Thank you for listening to our advice and did this, as we think it's soo important to know the status of the litter so we can learn more about it. Here are a picture of one of the liver bitches and one of the black males 4 week of age. www.skvaa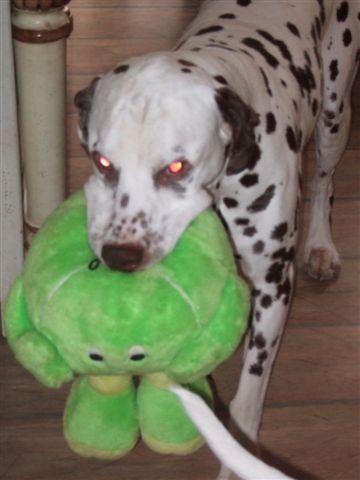 Devlin with a frog that he got from his son Herkules this summer!
Monday 22 October 2007
Away to the house and look at the guestroom that we have promise to give a new makeover.....for some weeks now. We have to be ready at Wednesday this week so even I have to go to measure some things in the room and then away to shop some things for the room. Rune away to fix the light in that house because it was totally dark in some rooms. He was there for some hours and I was making dinner at home.
Anita W called and told us that her "son" the Prince Harry have became a father at kennel Albican´s in Stockholm, she was so proud.
I went to bed at NINE o'clock ......it never happened before!!!
I'm so tired all the time because I hear everything..and I mean EVERYTHING that happens in the house and around it all night. and Rune have lot of problems now to keep the mask over his face in the night because he get panic and take it of..and then he start to SNOOOOOOOOOOOOOOOOOOOOOOORE......Oh my head!!! And our guest dogs are so damned because they do not have to sleep in our bed (there is full already) so they bark ALL night long, so it is better to stay up than be in the bed and try to sleep, but this evening I just have to lay down.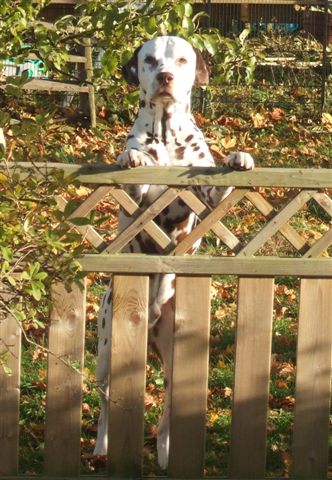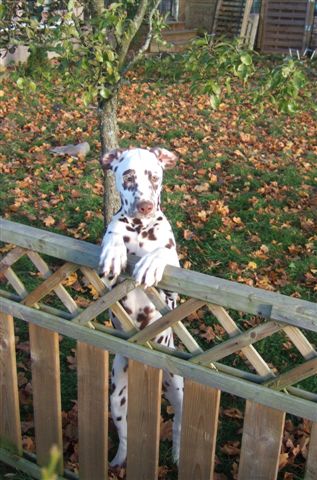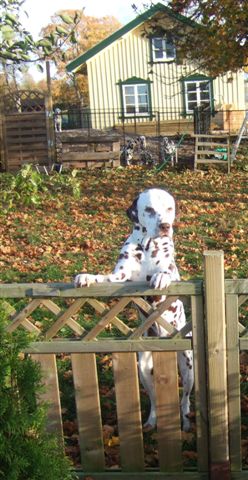 Lovely October weather both for dogs and people.
Sunday 21 October 2007
Alone the whole day and first of all I sleep long in the "morning" *S* and then up and clean the house again. In the evening I was almost as tired as Rune when he was back home. We just sit and look at TV for many hours, at the picture Bell in my knee.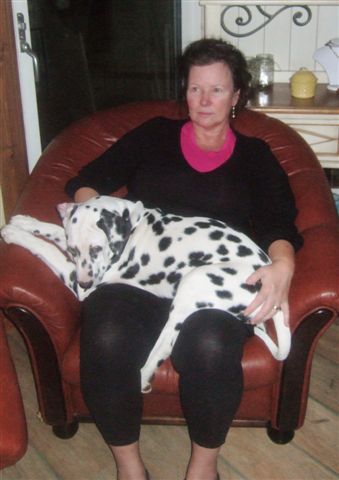 Saturday 20 October 2007
Rune on his way to a whole day with Skaraborgs Kennel club meeting. I was sleeping until two o'clock, still so tired. I love to be alone at home sometimes....I have so many things to do that I never do when Rune is home. This afternoon I was cleaning in the bathroom for about 4 hours, it really looked good then, I was cleaning lot of clothes and put into the wardrobe when it was dry. My dogs love those lacy days together with me they are so calm and sleep more than normal days too *S*! Rune was home at 11 o'clock in the evening and fall asleep in a chair in the kitchen immediately, he will go back to the meeting whole day tomorrow again....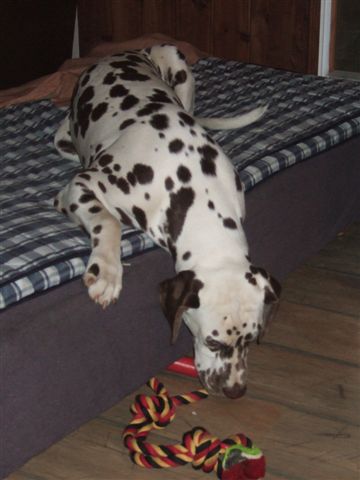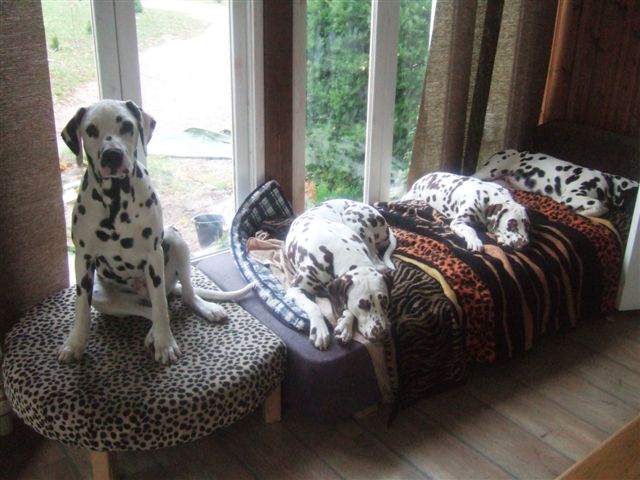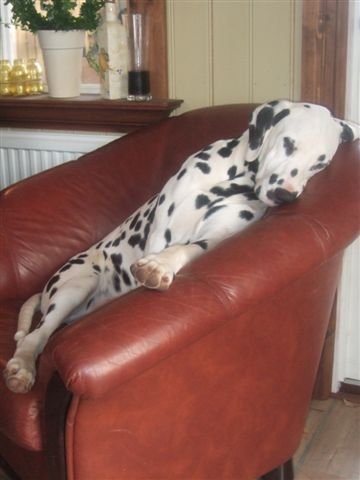 Friday 19 October 2007
Today was another hectic day it start early in the morning with people coming and calling. Rune was driving here and there to buy thing to the garage, the boys was painting again and there was always something they need. I was cooking food and was indoor with the dogs. I still was coughing all the time, this make me crazy...... Fourth time this year and it last for some months every time, I'm soooo tired about that. Lot of problems to start the trucks and we have to call for mechanics many time today and a Paylouder to move some other things..late in the evening we eat a quick dinner and go to sleep.
Jonnie and Albin have lot of problems to get their cars into the garage, the cars was to low to get over the step indoors.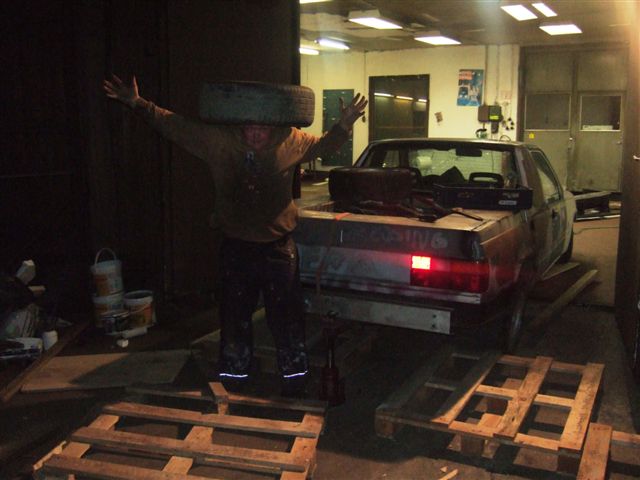 Many times during the day the boys are here to eat. Jonnie with a wheel on his head, they have lot of fun, it is most important I think because so many young boys are out in the evenings just to drink and smoke and do other not so good things. I'm so proud that both of my boys and my daughter always have been so interested in cars that the prefer to be chauffeurs for their friends instead of drinking them selves just like me, and Jennie is now 34, Jimmie is 23 and Jonnie 17, so far so good!!!
Thursday 18 October 2007
Rune help Jonnie to move more things and cars to the new garage, they hired the trailer in the evening and have lot of things to do. I was home with all dogs and try to sleep as much as possible.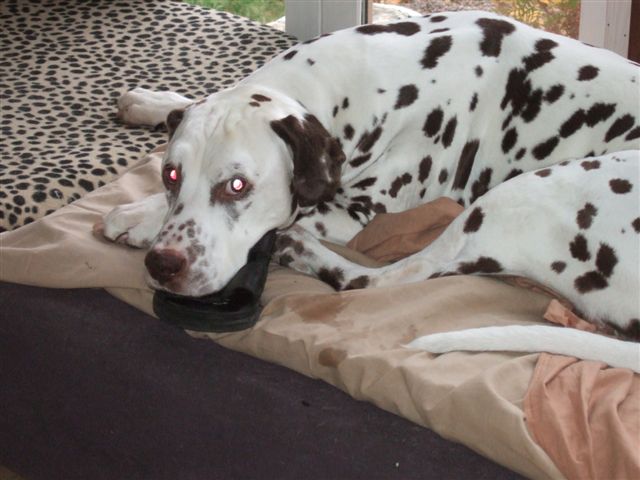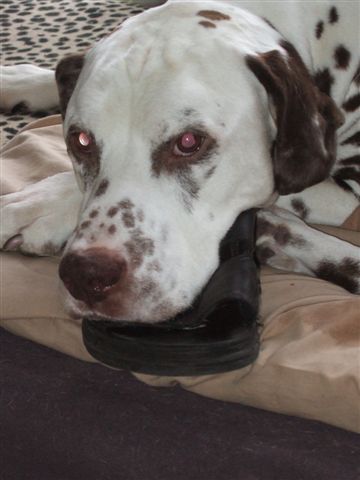 Every time when Devlin understand that we are going out, and that he have to stay home he is in a hurry to get one of my shoes just to watch it for me when I'm away and of course to lick on it a little, to make the other dogs jealous. During his 11 year he have NEVER eat on my shoes or other things (ok the whole inside of my new Chevrolet Van he eat up when he was 4 month old and I was in a store to buy food for 30 minutes....I take him with me every short drive just to make him use to the car because he was always lying under a chair and throw up, Darling under one chair and Devlin under the other and they even didn't move when I was out of the car....until this special day...when I was back to the car I saw that it was all white in the car????? when I look throw the front window...oh my good...did I leave some pillows and eiderdown in the backseat??? I have bought some the day before for lot of money???? No it was ONLY Devlin sitting on a backseat with his tongue hanging to the floor and he was so happy for the first time in a car.......HE HAVE EAT ALL THREE BACKSEATS UP........TOTALLY, both seat and the back. From this day he love to go with me in the car and he never throw up anymore because he probably think that he have killed the dangerous car and we never repaired the seats but put pillows over the whole backseat and he love to lye on them like A KING OF THE ROAD) My Darling!!!!
Wednesday 17 October 2007
We try to sleep as long as possible but of course all our dogs need breakfast in the middle of the day... We would like to go back to bed in some hours but the phone was calling all the time and I have to call many places to try to hire a trailer to pack all Jonnie cars and things on that he will put in the garage. It was hopeless, but tomorrow evening we get one trailer that we have hired for 24 hours. We were happy that there were no one available today because Rune or I have to pull it with the pick up and we are not in that condition yet to work with all those things.
So happy that we got mail today from Vladivostok and Evgeniya and Tyson with lovely pictures, we bought a map some days ago to put on the wall and we are going to put red spots all over the world were our dogs are living. Tyson is so far far far away! On 3 dog shows he have won BIS, BIS 2 and BIS 3 PUPPY. We are proud of you.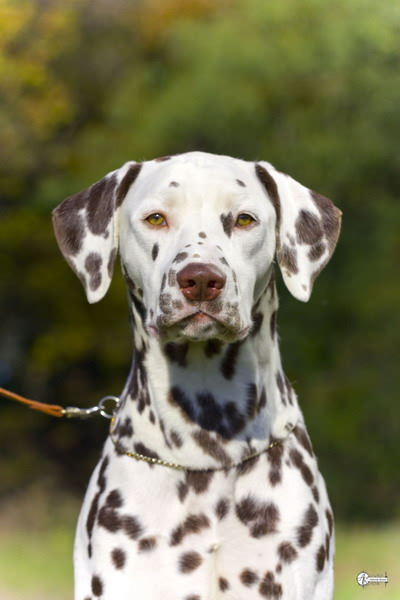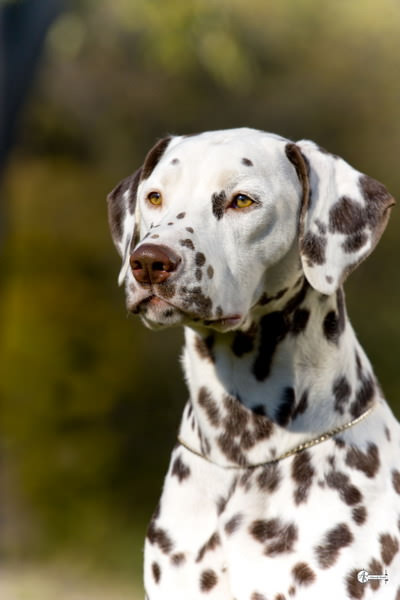 Photo:Aleksandr Ermakov
Timanka´s Real Power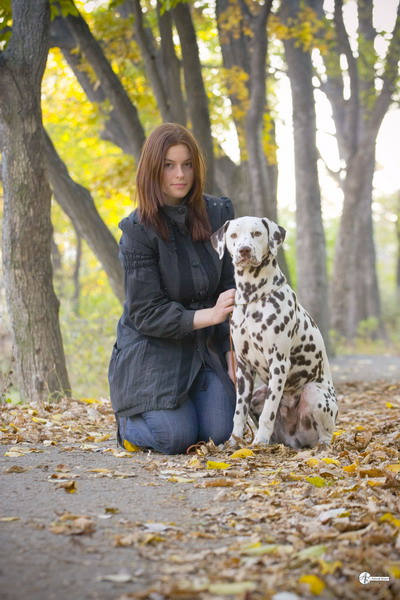 Photo:Aleksandr Ermakov
Evgeniya & Tyson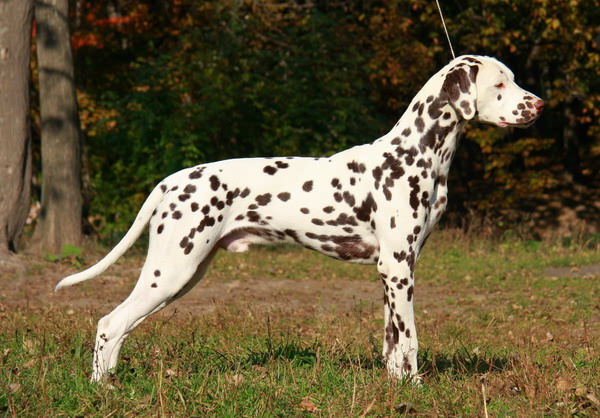 Photo:Aleksandr Ermakov
A little bit to thin for the Nordic countries but probably perfect for Eastern Europe. Tyson 8,5 month old.
Today we light a candle for a person that I have known since 1975 when I bought my first Dalmatian. The meaning was that we should be at his funeral today, but we where not in condition to leave home. I have always bad conscience for things that I can't do I would like to be everywhere everyday for everyone I know.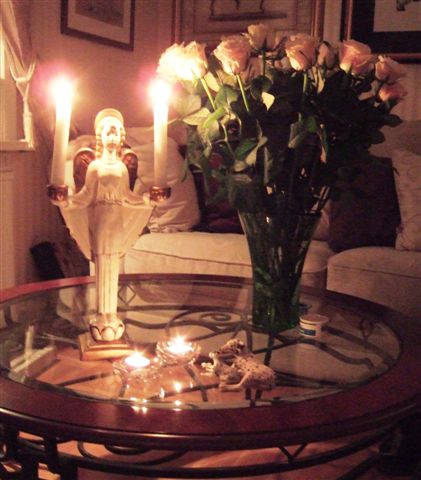 A better pictures of the barn and the other buildings.
Tuesday 16 October 2007
Our old house is build 1857 and at the south side there is an old barn etc, I have no idea when it was build. Before we bought this house 6 years ago the barn was separated from the house and many acres of wood and land was sold to different farmers around the main building. This was one of the largest properties from the beginning, the owner before us have lived here for 52 years, and I'm very interested in pictures from this time and have plans to go to our library to find something from the beginning of 19 the century.
Today I bought the old barn and a bit of land, so my property are whole again.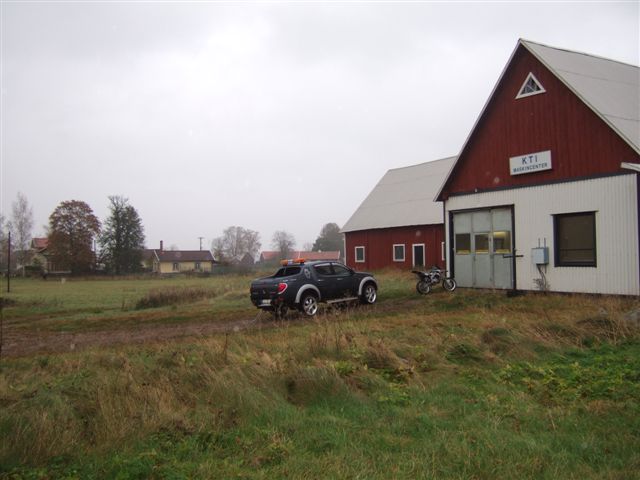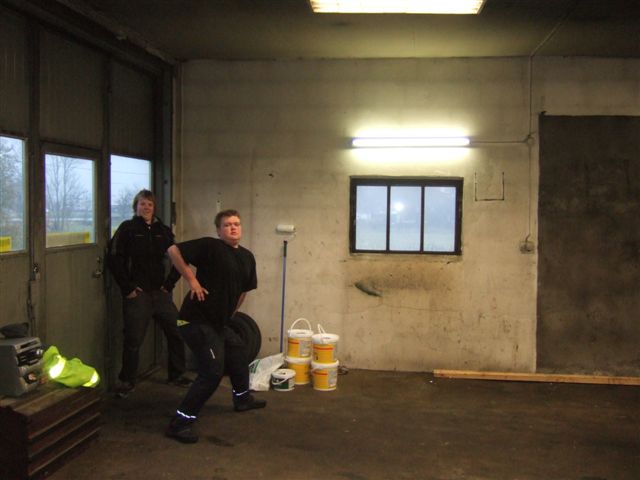 In the background our house and wings. Albin and Jonnie start to paint the walls white again in the garage.
So close for Jonnie to come and eat. Behind the large three outside our kitchen you can se the barn and two more buildings.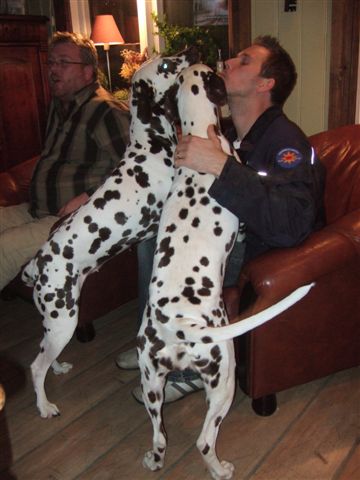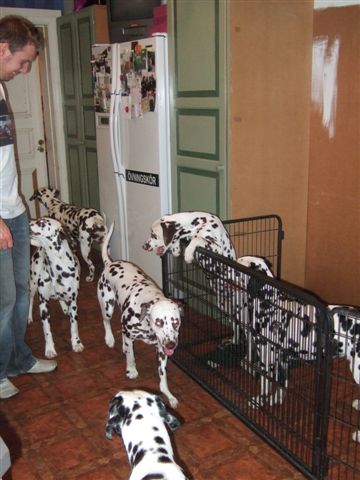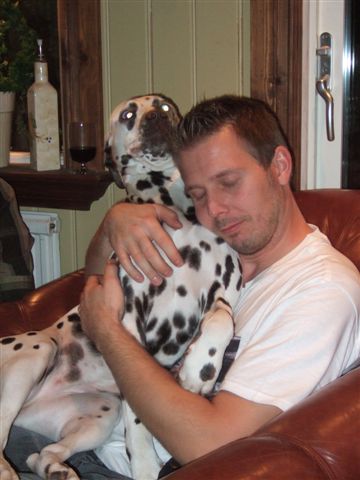 At eleven o'clock in the evening Hanna and Jens was coming with two of their dogs, because they are going to holiday to Egypt tomorrow. Tindra and Hjärtat are going to stay here for 8 days.....what is the difference between 15 or 17 dogs.....nothing!!! We thought it would be easy because all our dogs love each other, but first of all Hjärtat pee at the floor and ten minutes later Tindra did something else at the floor....what a beginning *S*, Jens tried to take the blame so we wouldn't get angry with their dogs and Hanna have to start to clean the floor.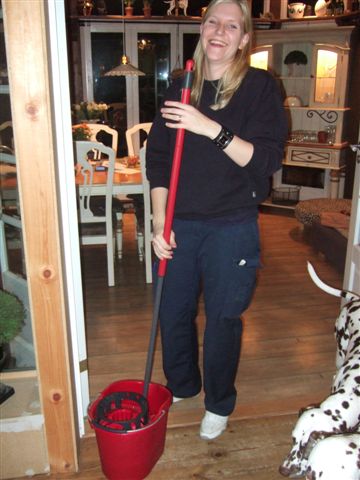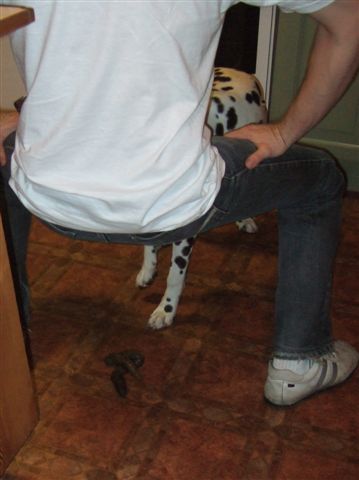 We try to go to bed before morning because my cold have gone worse today again, and now in the evening Rune got fever too.
Jonnie is still in the garage painting the walls for the second time today, it will be a surprise to look in there tomorrow.
Now we go upstairs to look at (to sleep to) a movie clock is now 3.15.
Monday 15 October 2007
Jonnie is so happy that Mini is back, they love each other very much.
Devlina think it was better space in the chair before Mini was here.
Sunday 14 October 2007
Late last night Rune and I got an idea (again). We have talked about to make our bedroom larger during the winter, and we found out that it was time to start NOW, so I went upstairs and start to empty our bedroom. We have talked about where we will put our bed during the renovation and I've got an idea (as usually), in our large TV room outside our bedroom and bathroom, it will be perfect.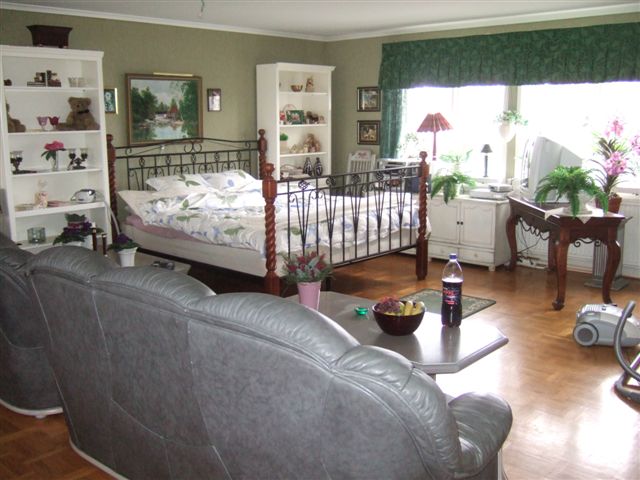 Before we start to make a temporarily bedroom of our TV room at first floor, and after......
Devlina and Jill found there normal places in the bed. One under and one over the quilt.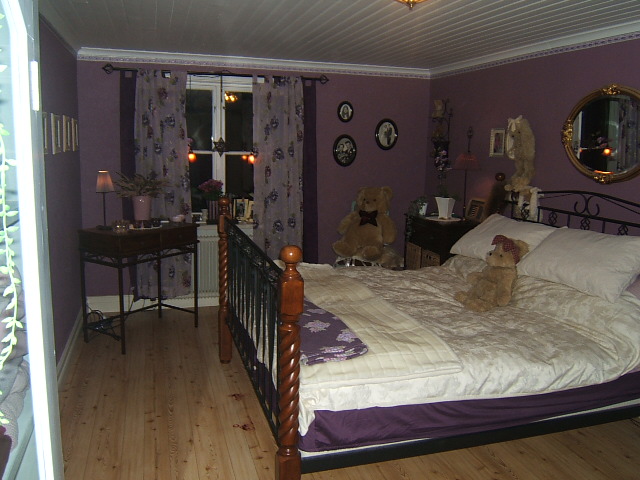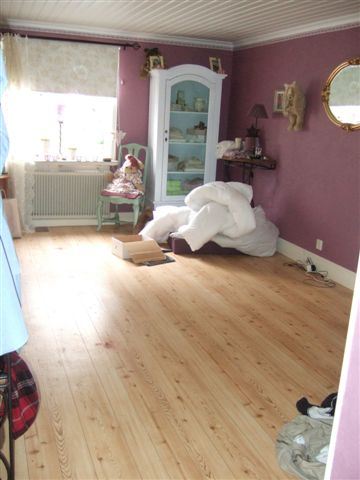 The bedroom before, the bedroom now before we start to renovate.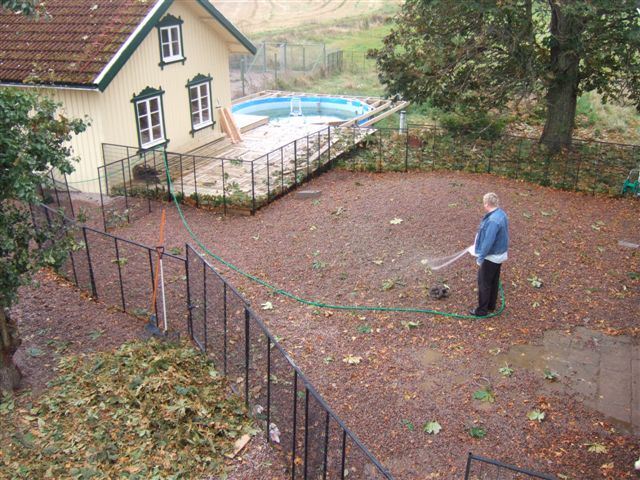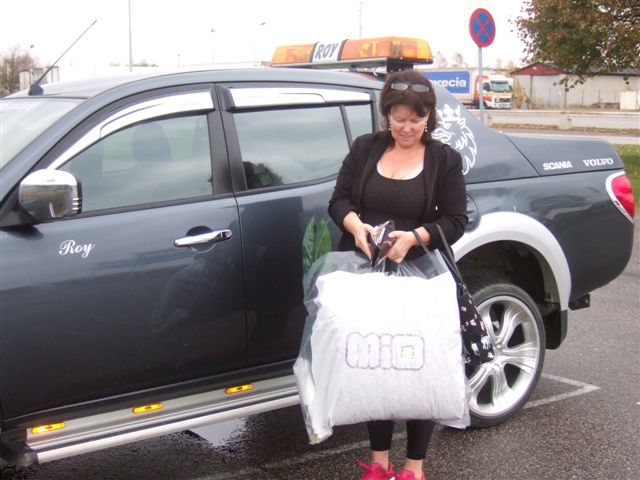 Before we went shopping this morning Rune have to take away some of all leaves in the dog yard that have fall down during the night, and there is still more on the threes.... We stopped shopping when the wallet was empty!
Saturday 13 October 2007
Easy to jump out of the bed today, when we are going to my favourite store PK Design in Örebro and to meet Helena and Mini to bring her home. There were not so many things today in the store that I need to have, so we try to go back again before Christmas, when the store is full of new things. But it was easy to fill the car with things anyway because we were at IKEA on our way home, and I have a project to decorate a guestroom next week for someone that I know, so there were many things that I should buy.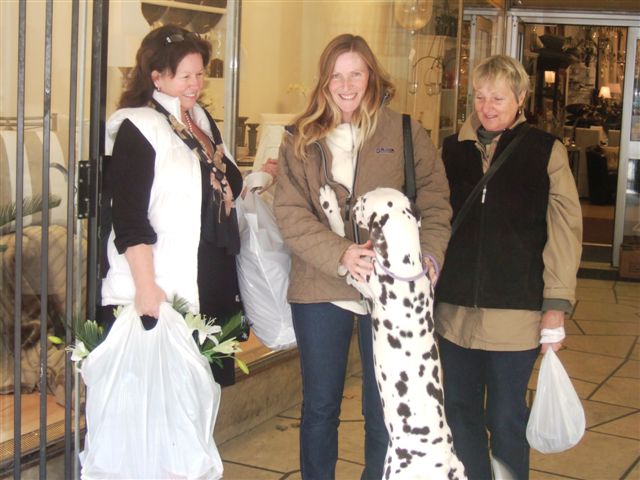 We met Helena, her Mother and Mini outside PK Design.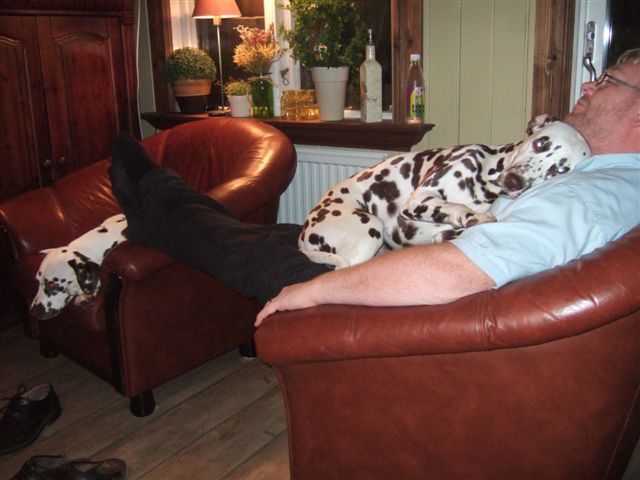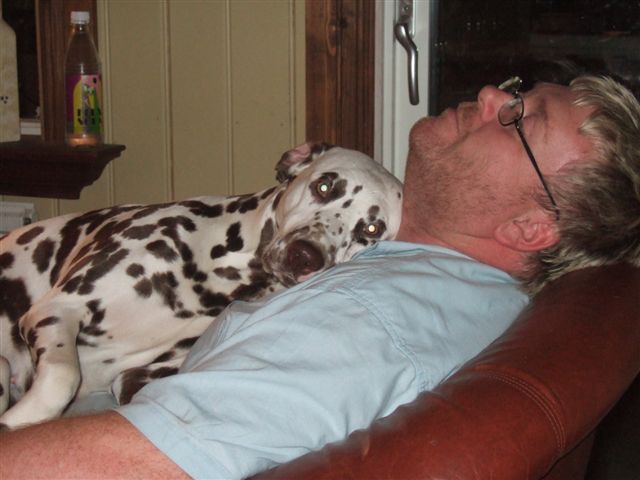 When we were back home Devlina was so afraid that Mini will take her place close to her daddy's heart, so she was laying on him all evening.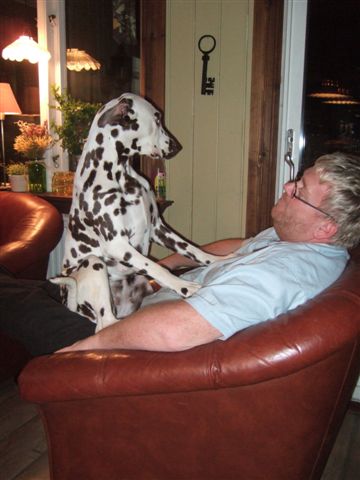 Friday 12 October 2007
This is a day like many other days in our life.
We went to bed at five o'clock and put the alarm clock at eight. After 30 minutes my phone was ringing, it was Jonnie that have to tell me once more that I have to wake him early tomorrow/today morning. Ok.......Back to sleep. I woke up at 10 o'clock and haven't heard Runes or my bell ringing. We jumped up and Rune start to call many people that we need to talk to this "morning" and we have to hire a trailer to transport a machine to a customer in the afternoon, but the machine was to heavy so we didn't get one even if he called over ten different places around our area. I jump into the shower and put my clothes on because I have to go to the dentist with Jonnie that have terrible pain in a teeth two days and nights now. And I had to meet my daughter Jennie when she came here with lot of paperwork and to drive her to the bus so she can go back home again after leaving our pick up here. We need it to pull the trailer and the machine today. She have been up at seven o'clock this morning an bought her a new car because she crashed the other one some weeks ago. So her new car was parked in Gothenburg for some hours so she had to be back immediately because she only can park there for three hours....I hate to go to Gothenburg because of the hopeless parking possibility, and so expensive!!!! About 60 kr for each hour, oh my god I'm so happy to live in the country.
Rune drove to Jonnie and wake him up, and filled gas and throw our garbage at the garbage dump, then back here and Jonnie put new clothes on and we were on our way to the dentist a little to late of course.
The dentist took x-ray and told us that his pain was probably from his accident some days ago, when he was falling of his motorcycle and get a smash on his cheek.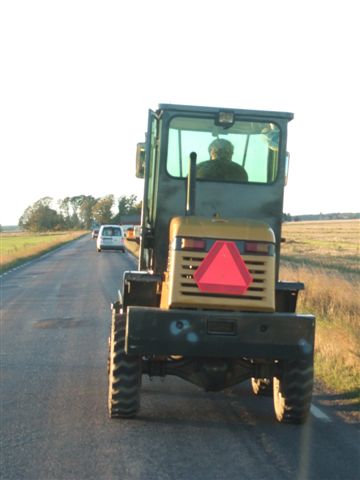 Jonnie said he was tired in his ass after driving the machine for over four hours. Not easy to come out with the truck when one is parked in the front of it. Just 18 km per hour...You can run faster!!!!
I have to go home and call the insurance company if he will get problem with this in the future.
Then we went to the nurse close to the dentist and she said when she saw Jonnies face today that we had to wait and that a doctor will look at his injury. I called Jennie and she was almost at our home and she had only 20 minutes before the bus will drive from Götene to Gothenburg.....hurry hurry. And we were lucky, it only took some minutes before they have looked at him and say that it probably will be better in some days, nothing more to do than put ice on all the time, because he couldn´t almost see on that eye it was really swollen today.
First back to Jonnies house and try to start a truck, but there was one truck in front of that one so we couldn´t reach it. And the owner of that truck lives in south of Sweden have taken his keys to his truck back home!!!!!!!!!! We called him and he have to start to drive here immediately with the key...because the truck behind that one was sold and the new owner is here in about one hour!!!!!!!!!!!!!!!!!!!!!!!!!
Drive to fast to home and pick up Jennie and to the bus station in Götene, talked to Jennie while we were waiting for the bus that was 10 minutes late, and then back home. Rune and Jonnie already get back to Jonnies house to try to pull the truck away with another, but it was not successful at all. I was home feeding the dogs and eat breakfast (a half breakfast, Devlina eat it up when I was answering the phone). Lot of paperwork and many phone calls. Rune and Jonnie was in and back to the truck garage many times to try to make some trucks ready today, finally after three and a half hour waiting for the key they came with the key and the man that been waiting for his car could start his long trip home after Rune and he been to a truck stop eating dinner. Jonnie was already start with the machine that we haven't found any trailer to, so he had to drive it 50 km in slow-motion 18 km/hour as most. First of all before he was going he try to fix something and unfortunately he put one of his fingers into the fan......he was calling me and cried and first he told me that half the finger was gone, but after a while we found out that it was there, but it hurt so much in the beginning, my poor darling. It took over four hours to reach the address for the buyer.....
Jonnie ordered a large dinner and I started with it and make a lot of everything, but when they came back in the evening he told me that they have been a quick visit at Mac Donald before they where home at eight a clock. Both of them were very tired and Jonnie want to go home and look at some dvd movies, and Rune want to open a bottle of wine and eat cheesdoodles and eat 2 l of ice-cream. I eat to much ice-cream too.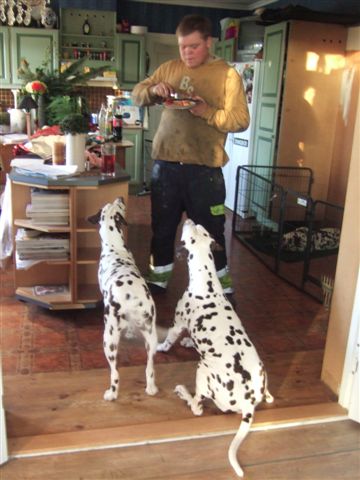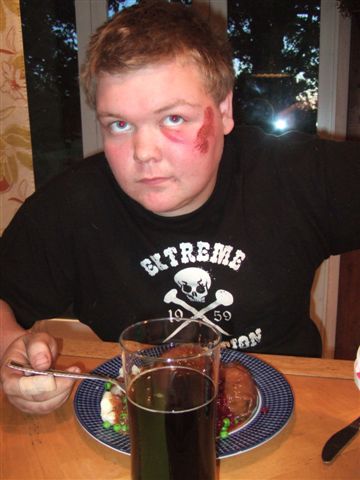 Devlina and Devlin is always hungry. Jonnie was almost to tired to eat. Gloria want ice-cream instead of dog food.
In the late evening we were just sitting together with our dogs and look at TV.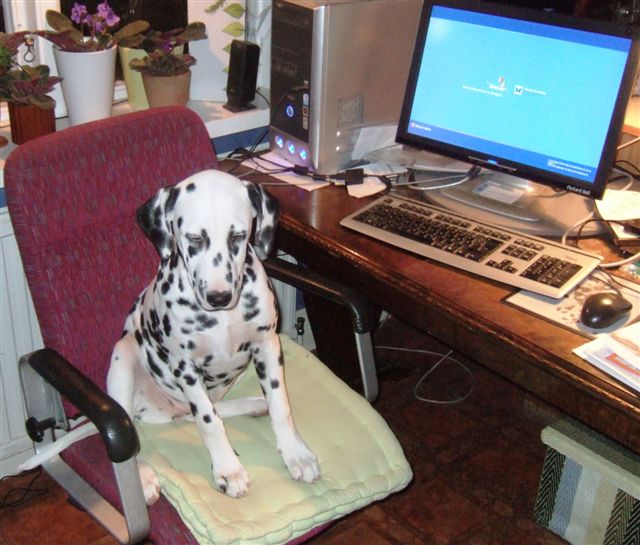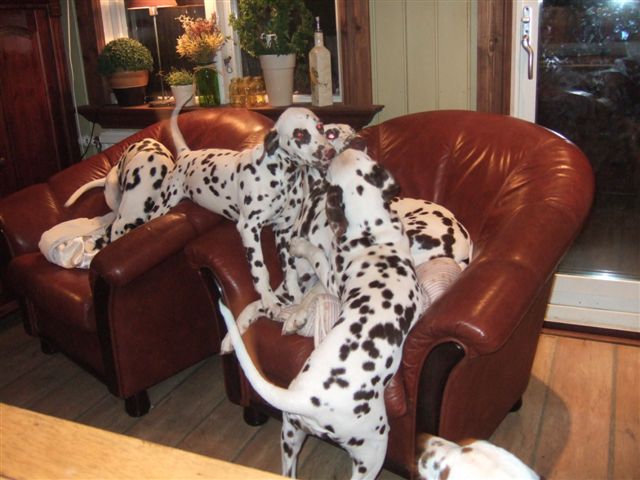 Bell is our new secretary. Two chairs for five dogs.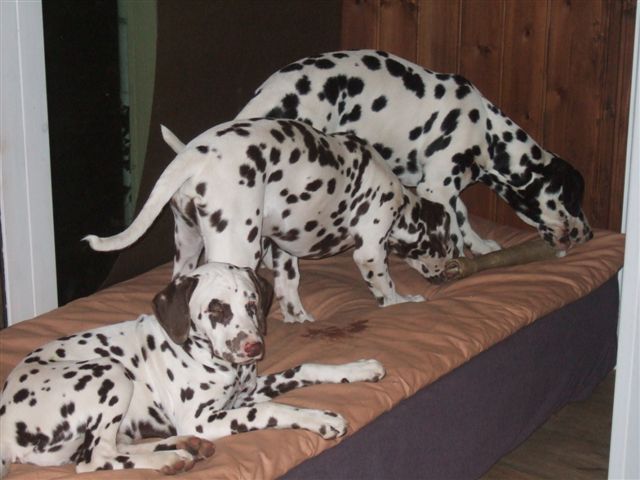 Trumph Card, Gloria and Daddy found a bone! Gloria resting, because Jill took the bone back!
My new camera is on service, the battery could only take some pictures before it was empty, so I wait to get it back over a week now.
Trumph Card 4 months tomorrow, Sugardaddy eight days older!
I have talked a long time with my friend now about her son, the doctors have already put him on the "heart list" for a new heart as soon as possible. She was very happy for the super doctors at the hospital and even in this terrible situation the doctor had a bit of humour and told her to look positive on everything especially because the winter is coming soon and lot of accidents happens every day, which means that someone who is waiting for a new heart get a new life again while someone else give their lost life to another person. Thank god that people sign up as organ donors. So many unhappy people in one family and so many happy in another in a split of a second, but this is unfortunately the fact of life. And the doctors in a hospital see both things every day and have to keep the spirit to continue with their important work.
Flowers for Andreas first of all and then to those fantastic Doctors all over the
world who are there for us.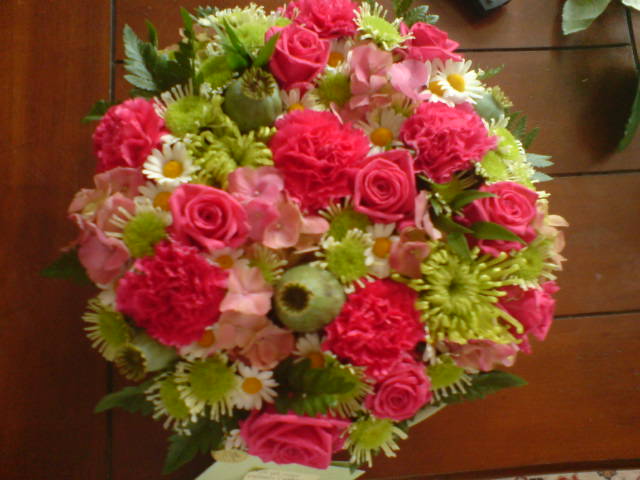 Thursday 11 October 2007
Up almost whole night coughing...and I hate to take medicine for that because I think it taste and smell alcohol, and I hate that!! But at seven o clock in the morning I couldn´t stand coughing anymore so I went down to look at the bottle with medicine and after a while I took a large spoon.....bläääääääääää!!!!!!! About a hour later I took more and went up to try to sleep because I was soooooooooooo tired. I fell into the bed with my legs hanging at the floor, every piece of the bed was occupied of our dogs and Rune was almost hanging out over the other side so it was not his fault that there were no space for me. I was happy when he took the dogs and went down with them so I can sleep a little, I didn't cough anymore. How stupid of me not to take the medicine earlier.....but it is always like that...
My ex is in Asia for some weeks so all of his friends and costumers are calling us to ask everything between heaven and earth (fråga om allt mellan himmel o jord), so we are even more confused now than in normal weeks. Rune came up and ask if I want something and I remember that I say -: Yes, a million.....to go shopping, but I was so tired that it haven't help to give me lot of money just now. I remember that I was dreaming of shopping *S*.
The clock was almost 3 o'clock so I went down to take my pills and eat salad for breakfast.
Now in the evening/night 03.05 I feel much better. and we have decide to go to Örebro at Saturday to visit PK DESIGN my favourite store, and to meet Helena Berg that have had Mini Mel for some weeks (thank god because she have been in season) and she come back home now again. Thank You Helena You are one of the best to socialize and take care of dogs.
This flower is for Andreas and His family!
Some days ago one of our friends young son, suddenly got sick and is now lying at a hospital with a pump operated in him to help his heart to beat, suddenly a virus (they think) can turn Your whole world up and down, then You realize that nothing more than Your family and health is important.
This "Angel" is hanging in our house, and we All need an extra help from above sometimes.
Wednesday 10 October 2007
When I think of yesterday, I can't even remember what I was doing...probably sleep and sleep and sit in the kitchen hanging over the table sleeping. I'm so happy that Rune didn't take any pictures of me than *S*.
Jonnie was out in the evening with his motorcycle and it was icy on the road that he haven't notice so he turn over, and for the first time he had not closed his helmet so it fell of. He called me and say that there were no dent at the motorcycle......but just a little on his face and arm and finger. He was very lucky this time!!!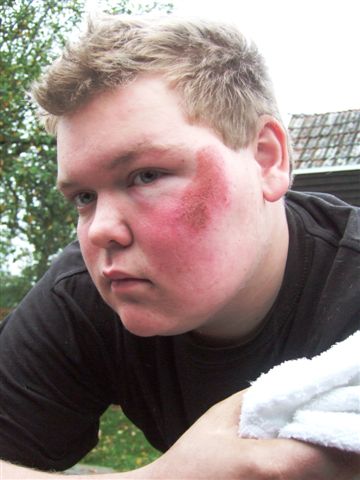 Two young boys, one make things in high speed every day and the other make everything in slow-motion. Rolex was sleeping like this for over an hour without falling down??? He is absolute one of the most charming dogs I ever known.....soo cool....!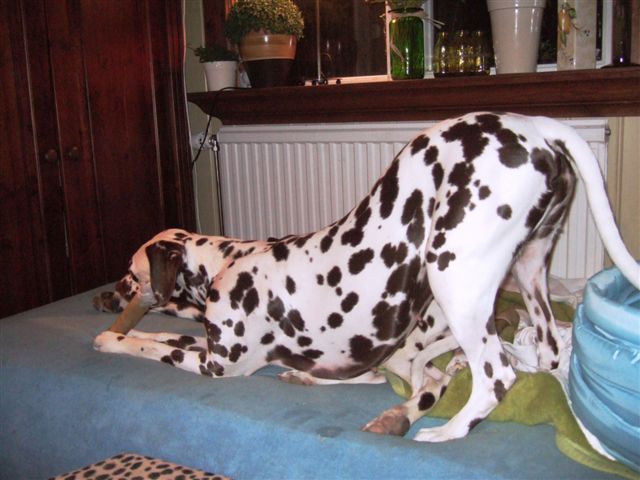 Rune planting everything we bought (he hates to plant). Jill eating on a bone for many hours.
I'm such a crazy person, now when I'm sick I can only think about to give my home a makeover, and I start to clean the windows in the kitchen and to move the furniture's around, and it have to happen immediately!!!! I have so many plans now....that I get tired of my selves*S* (don't mention how tired Rune gets...... - we - he have to do all the things I've planned...)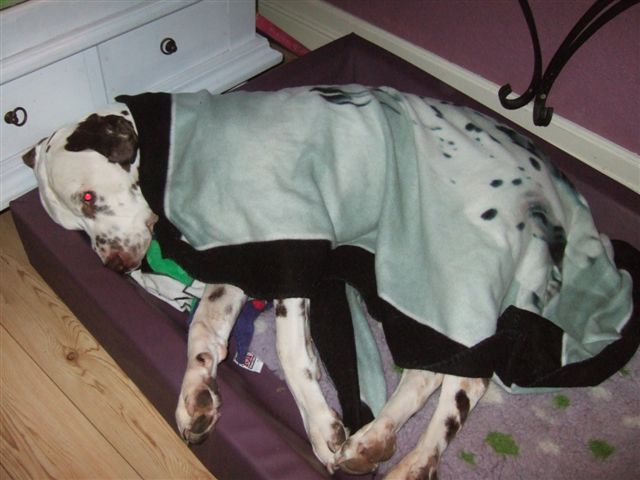 Devlin is still tired after his birthday party!
Tuesday 9 October 2007
Devlin & Darling 11 years Today
Congratulations to the whole A Litter born 1996.10.09
It was my second A-litter the first one was born 1980 in January and was a Great Dane litter, some months later I got my first Dalmatian litter.
When Devlin and Darling was born we lived in Kungsbacka south of Gothenburg, and it was evening and I was sitting waiting for "Dallas" on TV. Jonnie, then 6 year old was in the large bathroom with Zoe lying in her puppy bed. Just when the series start he called at me and said (it was not his first time waiting for a litter) I think You have to come, something is happening ...but I thought he was joking with me because he know that I want to look at TV. I went to the bathroom, and there was a puppy coming out of Zoe...he was so happy that he was right. She always had very easy to get birth to puppies that's why I didn't think it wasn't time yet.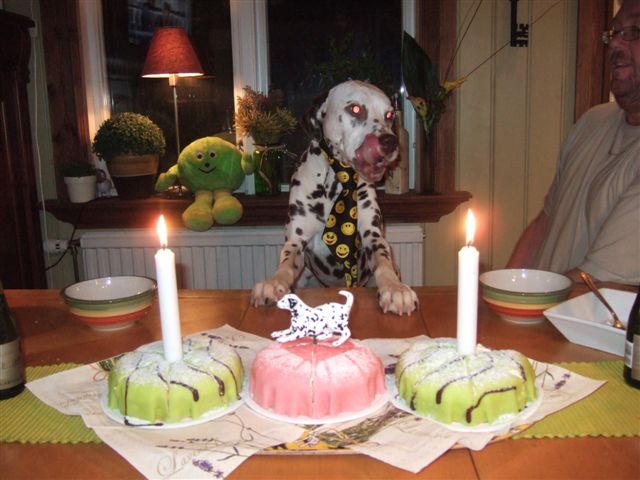 We had cake for 14 dogs and Rune.
The impudent miss Gloria thought everything was just for her!!!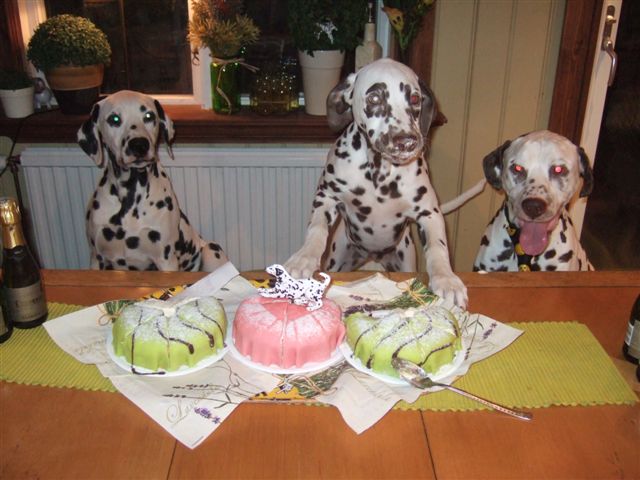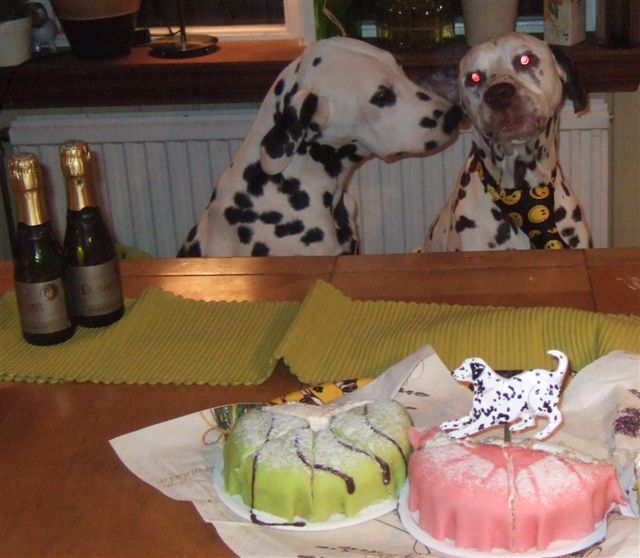 Rolex was not interested in cake, but he whisper to his dad that he want to taste the champagne. But NO...Devlin think he was tooo young!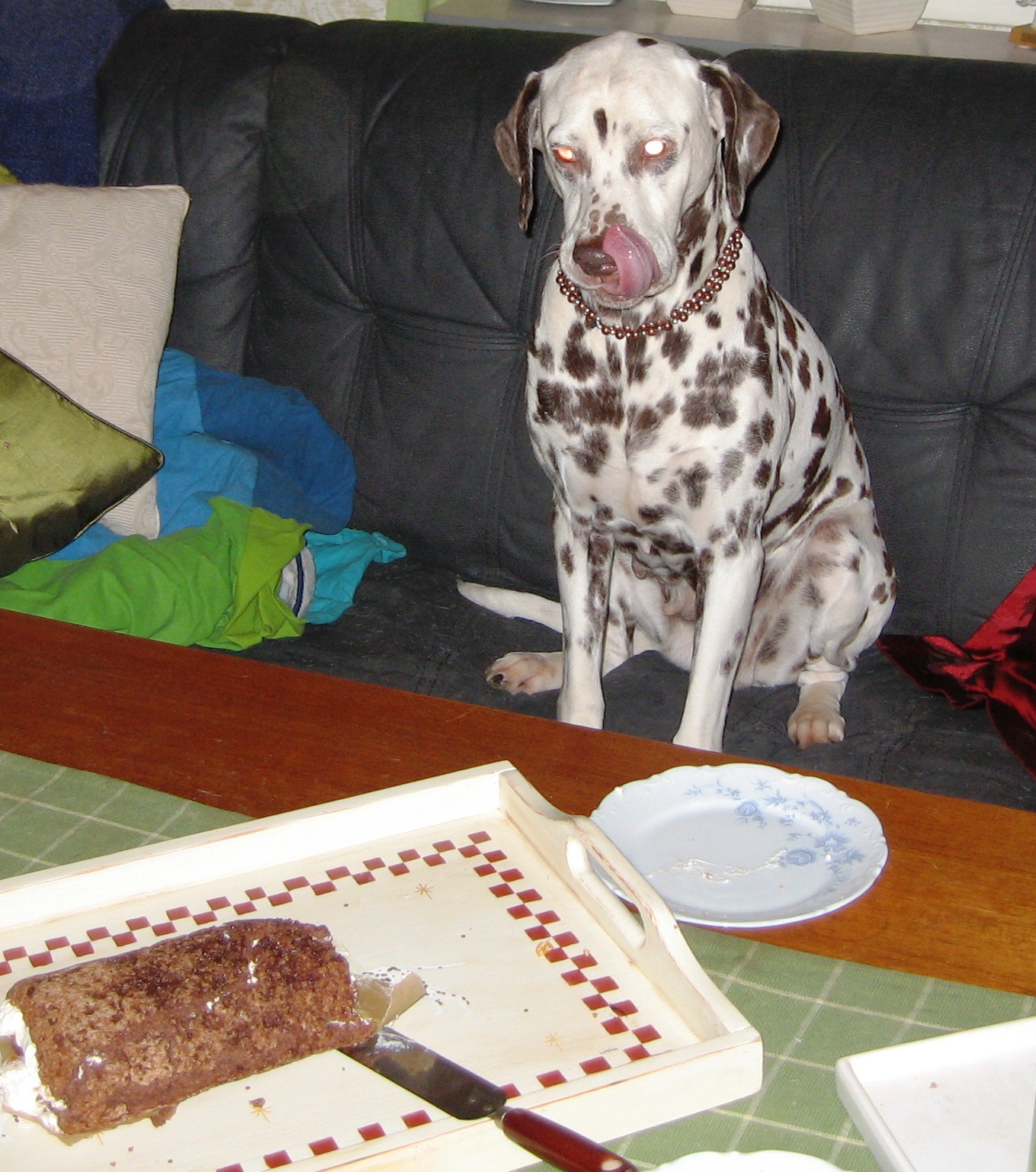 Darling got a cake to, we got this picture from Louice.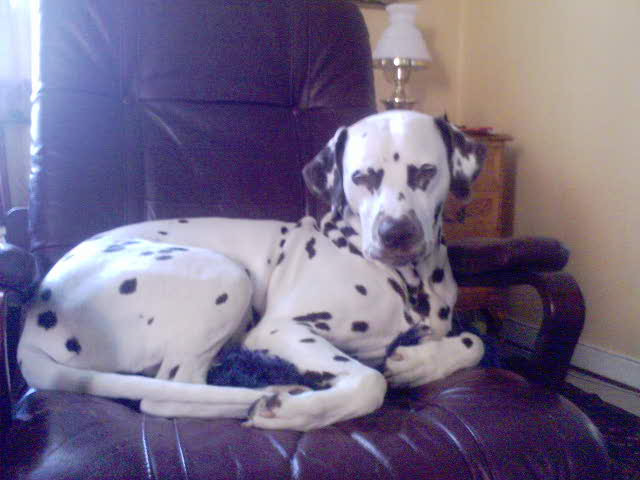 Milda, Mini Mel and Molly sends their best wishes to Devlin for his birthday! - And from Helena of course. Typical pictures -
the young brats have to share a bed, and the queen her self is lying in her own chair - ALONE!
Monday 8 October 2007
I got the flue again......so tired about that. It started already yesterday so we just do the most important things here at home.
Yesterday we got help to move the old gateposts that we have close to the highroad before we make new last year. We will take the old gate and put it to a enclosure close to our house. They were very heavy and we need a crane lorry to move them.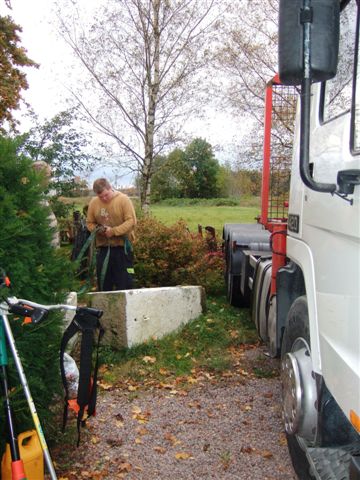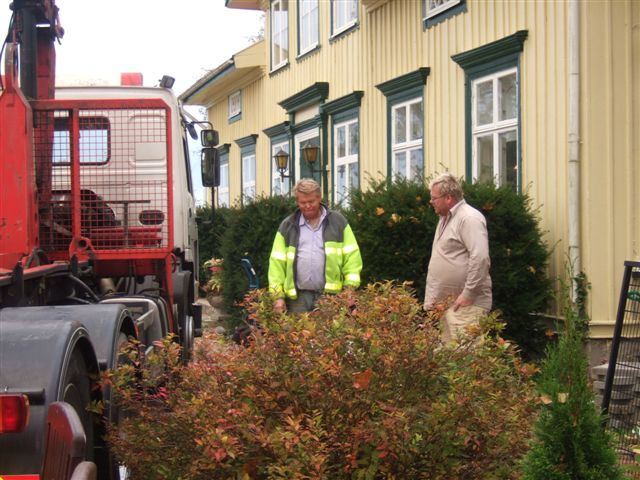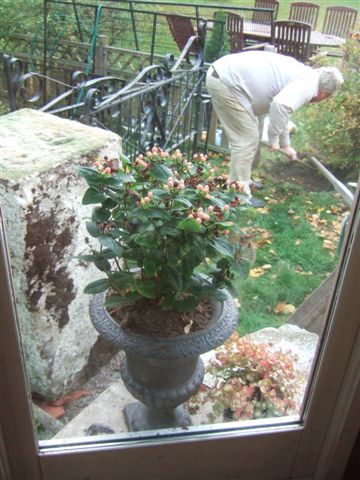 The dogs and I was inside to rest. Disco and Sperm were very tired.
Sunday 7 October 2007
Photo: Pia
Expo happy as always, in his new home!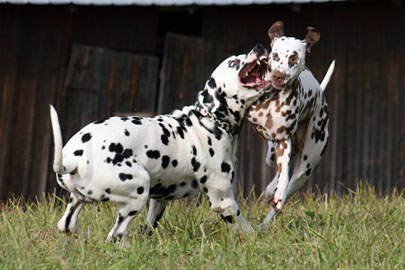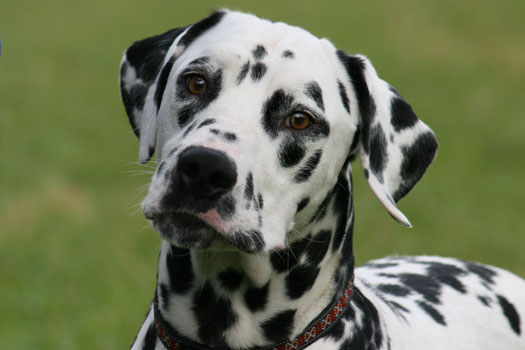 Photos: Pia Laurila
Saturday 6 October 2007
We (Rune) have to take all plants out again from the caravan today...for the last time.
Devlina practice to laugh when the other dogs want her chair...stupid girl, she should show her teeth and look angry, but she probably do not know what that is!!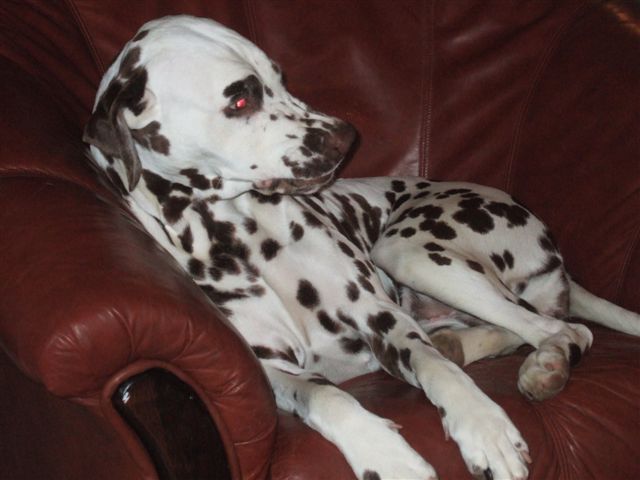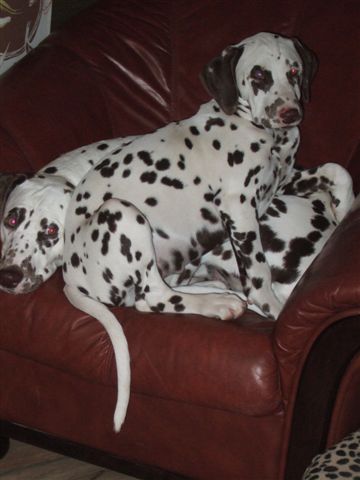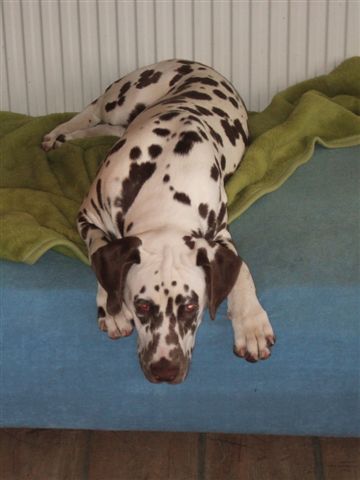 Devlina at the bottom, Trumph Card over her *S*. Diamond alone at the bed.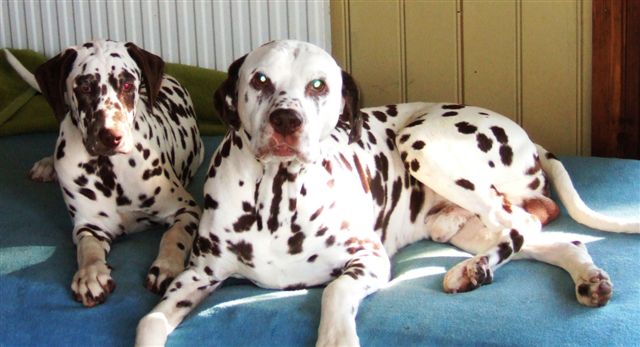 Father and son, Sperm and Devlin in the sun.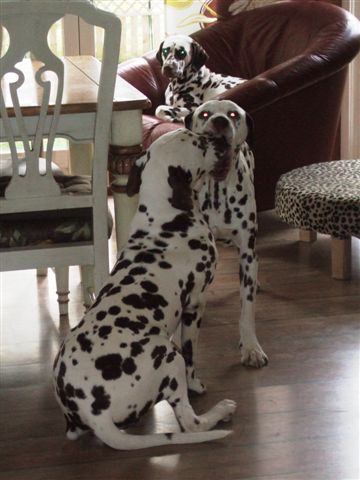 Don't put your nose in my mouth when I gasps.........Please play with me daddy.........Diamond !!!! Take Your feet away from my eye!
Sperm want to play with his father too, but he is much calmer than his half-brother so he went to the bed after a minute.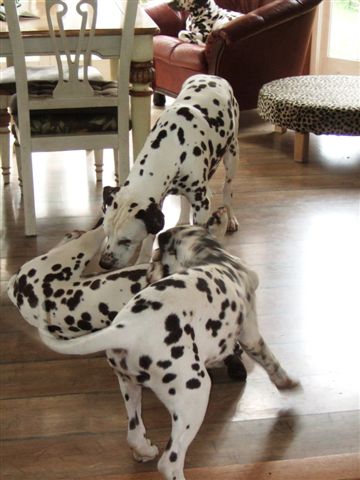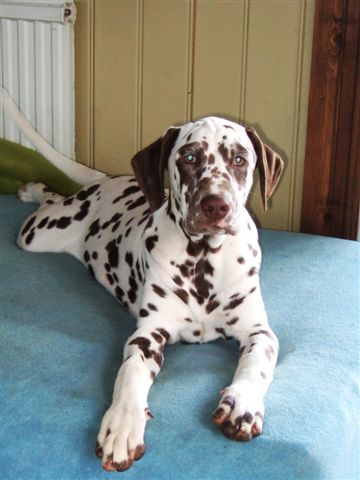 Sperm Bank 4 month old still looking for a nice home.
Friday 5 October 2007
We did as little as possible today!
Here are some pictures from our holiday.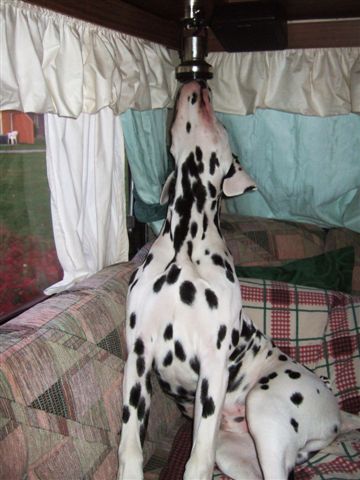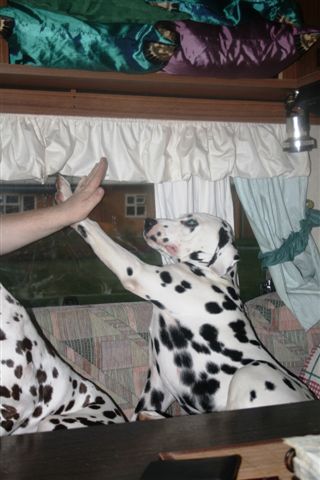 Devlina told Rolex to pull on the lamp then he will get Frolic out of it directly in his mouth......she is not nice that girl!!!!
After a while Rolex did perfect...HIGH FIVE with Rune, smart guy!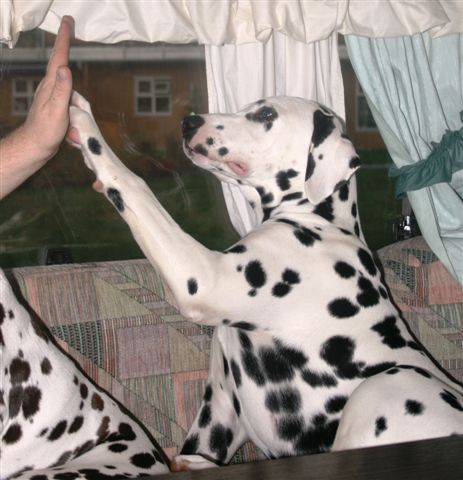 But he was very tired to use his 6 month old brain that much already*S*!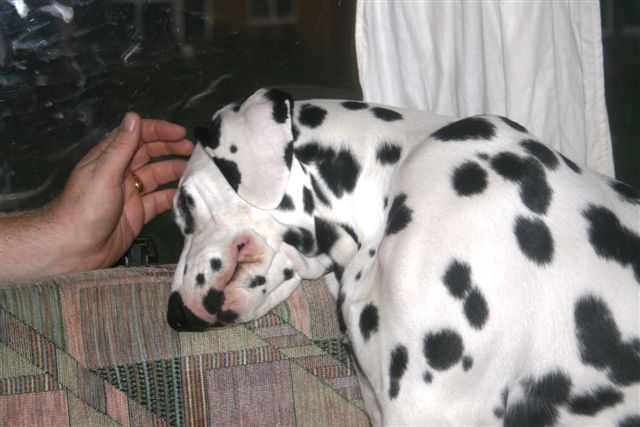 Thursday 4 October 2007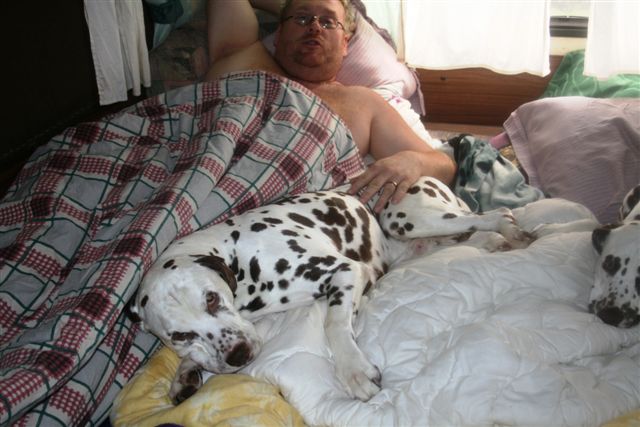 Nice morning in the caravan all of us would like to sleep long, but we can't we were on our way back to home today, and I have to stop and shop a little first *S*!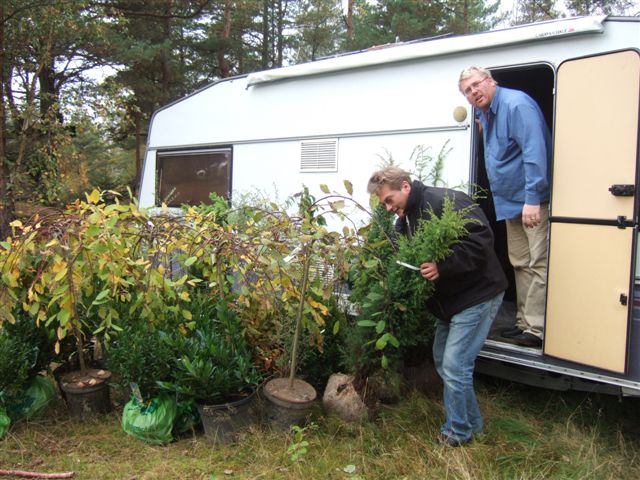 But first of all we have to get all plants back into the caravan again, Rune was so happy and he love to plant in the garden *S*! We have bought some lottery tickets and he really hope to win so he can call for a gardener immediately when we came home.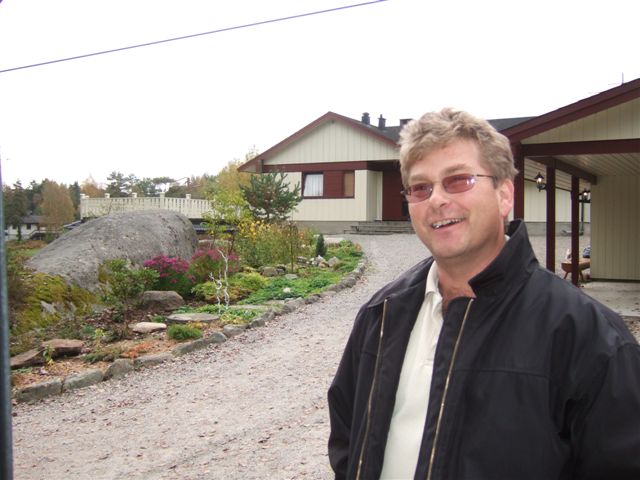 Bye bye for this time, see You soon again!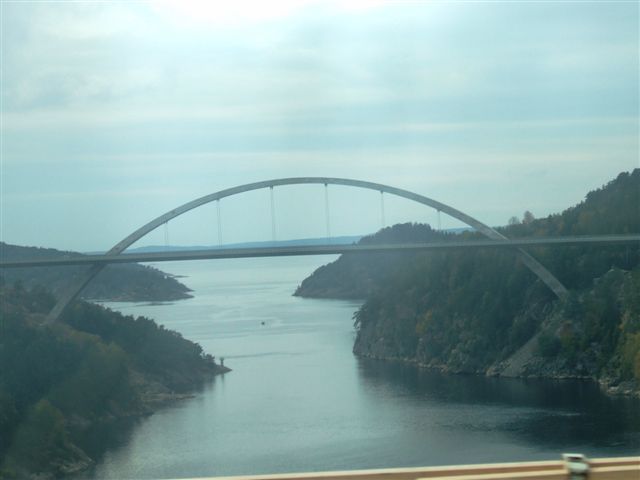 I saw a new car in Norway, it was just what I want for Christmas present!!! We drive over the old bridge and took a photo of the new one.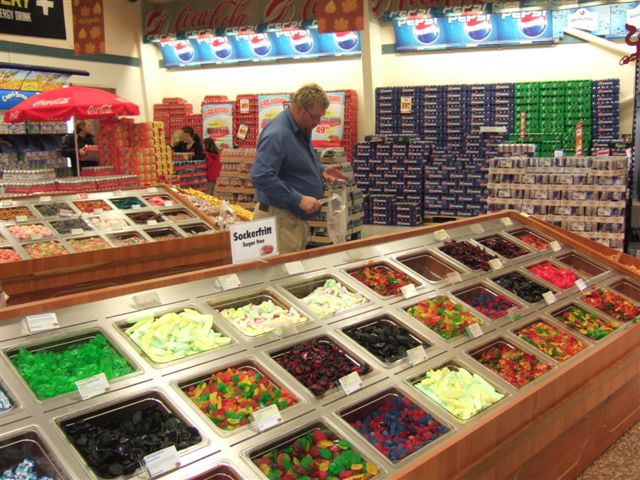 This is a store where we always stop.
Rune need those sweet things to stay awake he says....I bought 4 small chocolate but in the next shop I bought lot of ice-cream instead.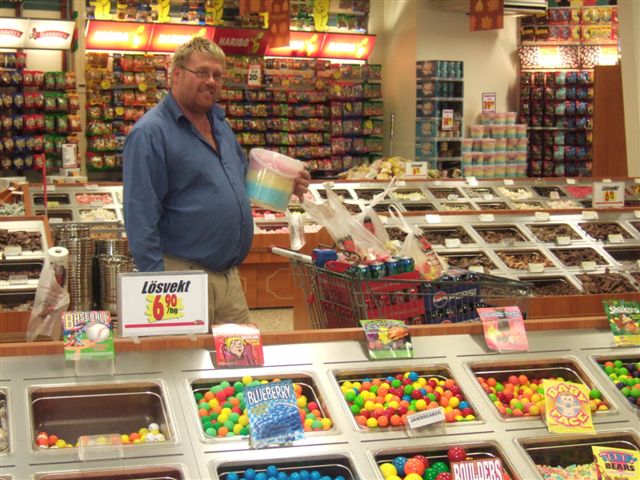 Back home between nine and ten and it was still open in Götene so I got my salad that I have wait for whole day long and Rune got another pizza !
Home Sweet Home!
Wednesday 3 October 2007
It looks like this every morning. It is cue to the toilet!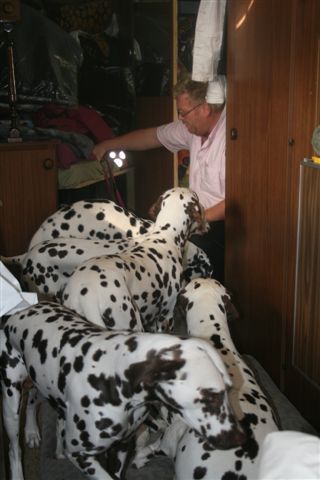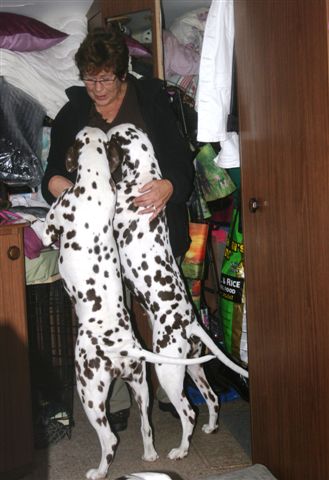 Cue, but the puppies have to go first. When the others are out Rolex look if he can get more breakfast. Hallo, are You coming again!!!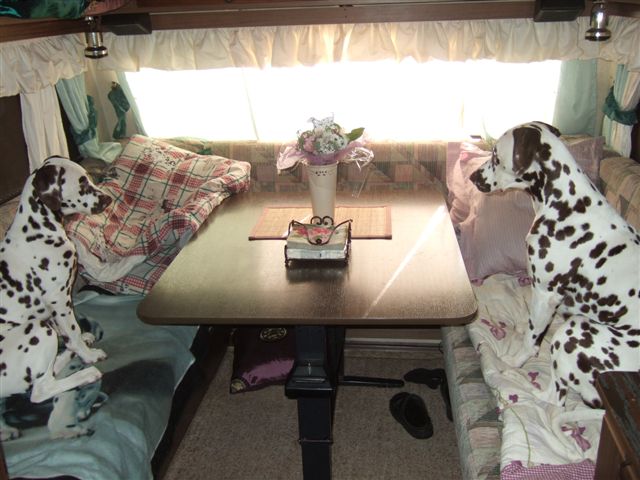 Gloria and Devlina wait for more (better) breakfast.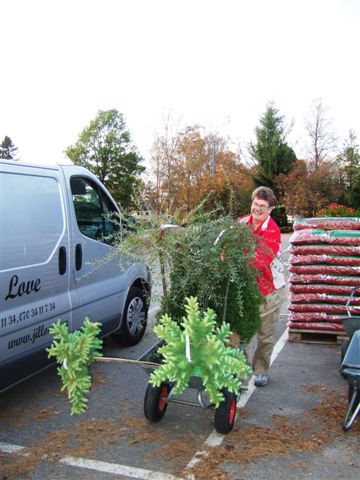 It was not easy to get everything into the caravan. The lady at the plant shop was happy to sell a lot. Don't forget ME..said Devlin!!!!!!
They have put this outside as store in Klöfta where Rune lived before...... And You can put Your dog there maximum one hour!!!!!!! What if it is hot???? Or cold????? Or someone that irritate Your dog???? MAXIMUM 10 minutes I think, if You really have to get medicine or something in the store.....I really hope they take them away soon, because in Norway it start to be much colder now.
We were on our way back to the border to Sweden, and the meaning was that we will go shopping in Oslo, but all money was empty and we have NO MORE SPACE for anything!!!!!!! so we drove to a Pizza place called Dolly Dimple that I have heard Rune talk about for 6 years now, so of course he have to eat it before we were in Sweden again. The family pizza was very expensive like everything else to eat in Norway (now I understand why Norwegian people earn so much money). It cost 198 Norwegian kr!!!!!!!!! in Sweden about 100 Swedish kr (about 88 Norwegian kr)......
I was really disappointed when I taste it......but I'm not very fond of pizza but this was not special at all, but better than that shoe sole we eat some nights before.....terrible! Once in my life I eat a pizza that was a real pizza. I can still want to go back to eat that one. It was in Como, Italy and Pia Pedicini ordered it from a real pizza store when we were there at visit after World winner show in Milano 2000!!!!
I really hope that we can go back there next summer, because we have decide to NOT take any puppies until 2009 just because we would like to travel with ALL our dogs with us in Europe.
We were so tired and decide to not go any longer than to Runes brother and his family. They live close to Fredrikstad. We were there at half past eight, and it was lovely to just open the door for all our dogs so they can run free at their place far away from the road and close to the forest. We were talking to them for some hours and went to bed about one o'clock, after emptied the caravan with all plants *S*!!!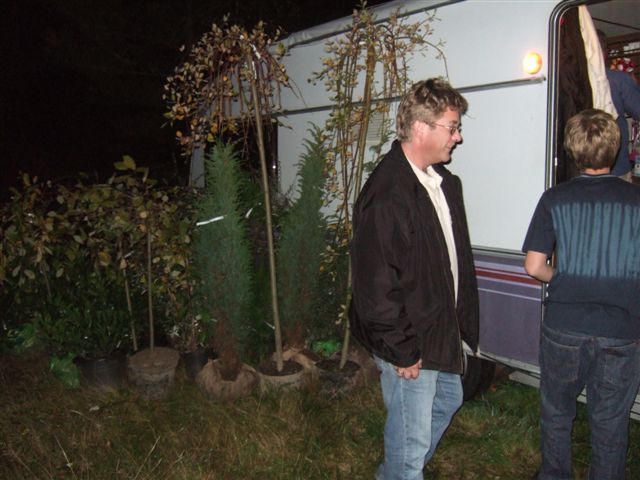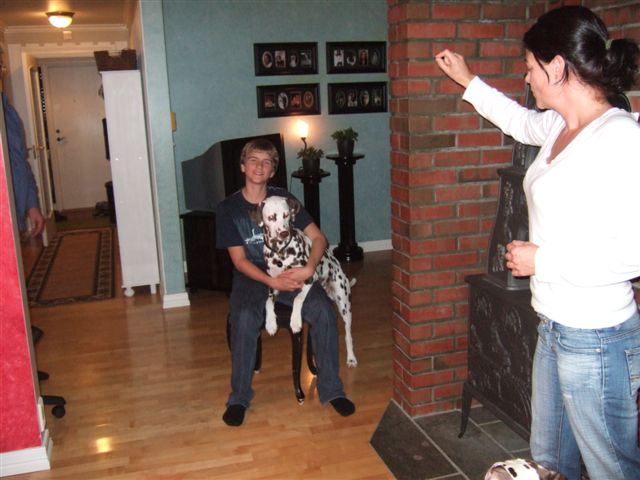 Ole Björn and Gunnar helped Rune. We try to take nice pictures of Gunnar and Collect. (Timanka´s Reason To Collect)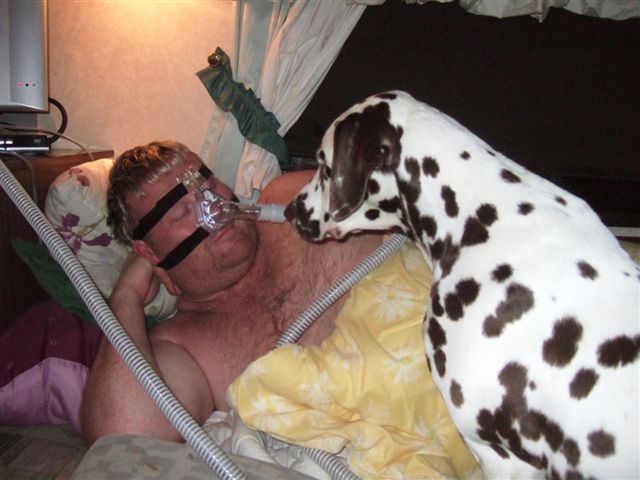 Devlina try to get used to "the Alien Man" that comes every night.....even in the caravan he was there...
Tuesday 2 October 2007
Runes mother was free from work today just to go shopping with us. We sleep some hours between every time the dogs was out for peeing, so it was late in the afternoon before we drive away to shop. I remember a gardener since some years ago when we try to found nice things to put on Annes grave, and I was so impressed then of all nice things they have in their assortment so we drive there and they have just started to sell threes and bushes with 50 % discount before the winter comes. Rune got a present from his mum, a wallet with money in, Hurray!!! So we decide to buy plants for most of the money, to plant in front of our house at home.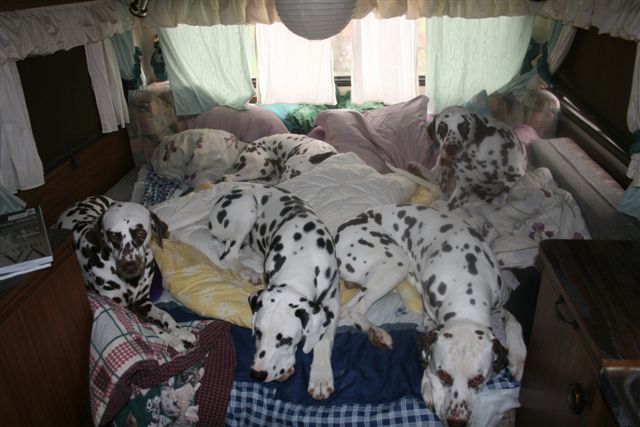 There were not much space for Rune and Me, now we understand why our body and legs hurt so much every morning, even Gloria was sleeping here in the night. Daddy, Bell and Sperm was sleeping in the other end of the caravan, and Bosson, Disco, Diamond, Star and Trumph Card was home in Sweden.
It was very sunny and we have no air-condition in this caravan so we have to take the curtains down *S*!!!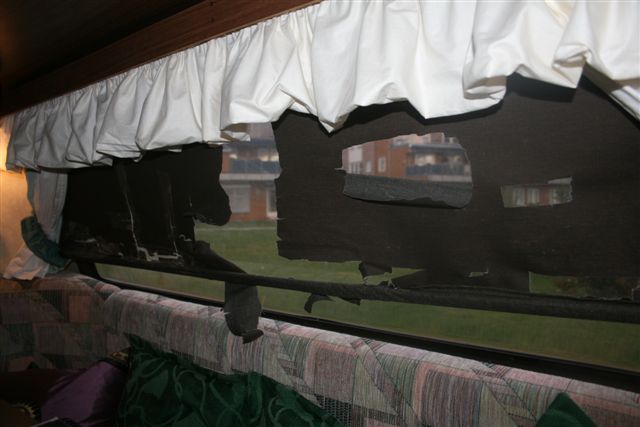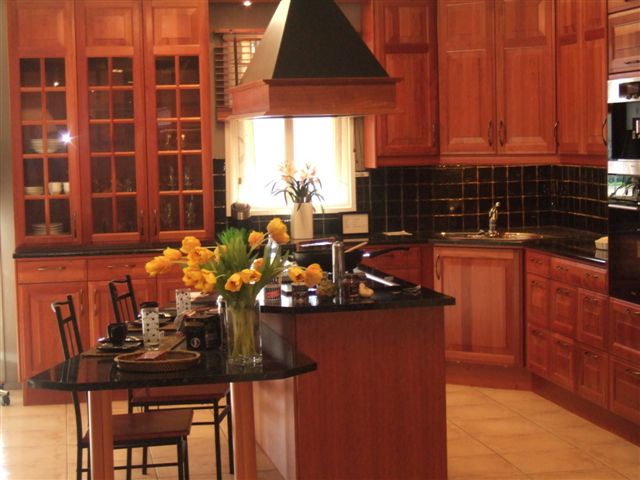 We were out looking for a new kitchen but we better buy a new curtain first *S*!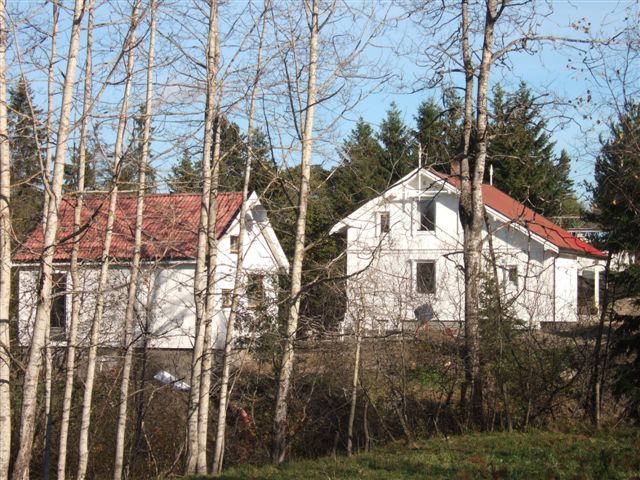 Behind the threes at the grass was Annes first house and later on she and Rune moved to this place. The new owner took away the old barn and renovate the old house and built a new house where the barn was, but they have taken the best of all down......all the fence that they have put up for over 100.000 nkr, stupid people...probably they do not have any dogs!!!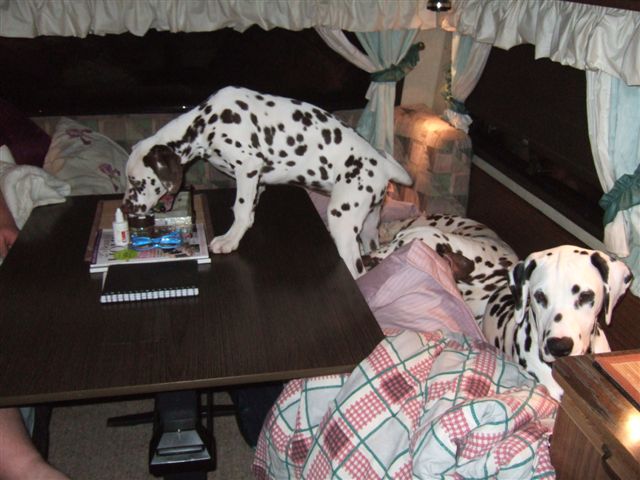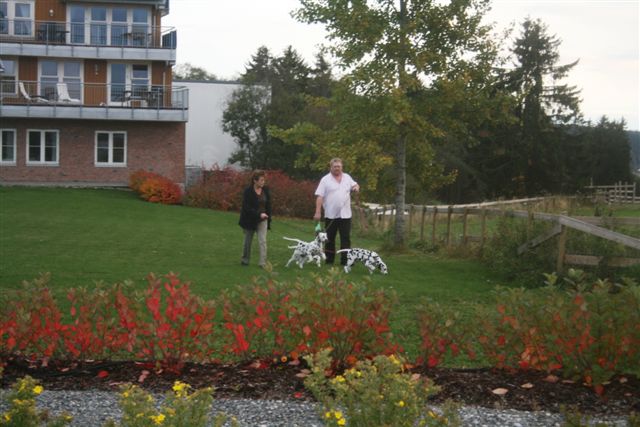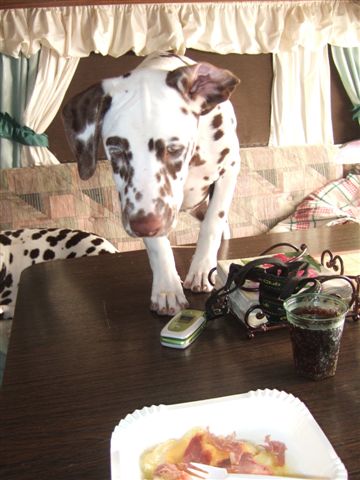 Gloria looking for something. In and out with the dogs, MANY times every day. Hi Mummy, what do You eat?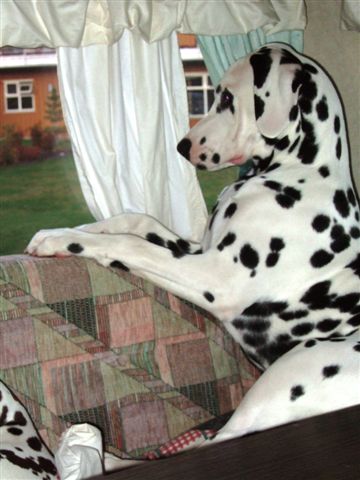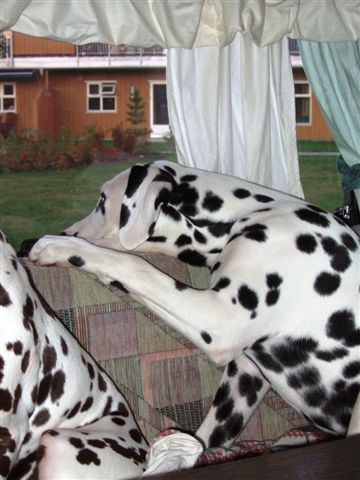 Expo didn't tell us what he was looking at....sorry that is what we do all the time...call Rolex for Expos name, because we were talking and thinking about him all the time and we got many sms from Pia in North of Sweden how great everything went with Expo. He probably think he is coming to heaven with Pia´s two Dalmatian bitches to play with all day!!!!
Jill was exactly just as tired as us and she was also gasping all the time......but she didn't want to go to bed.
Rune have ordered his favourite food from his mum, and we eat a nice meal with meat, potatoes and sweet and sour sauce in the evening.
I took a shower and fell a sleep in the sofa for a while. Devlin would like to go out into the caravan to sleep.
Monday 1 October 2007
Yesterday night after the show we drive to Runes mothers home (just 20 km) and put our caravan at a parking close to her apartment. Rune ordered pizza and I took a shower, then we eat and I fell asleep with my clothes on in the caravan with to many dogs all over me...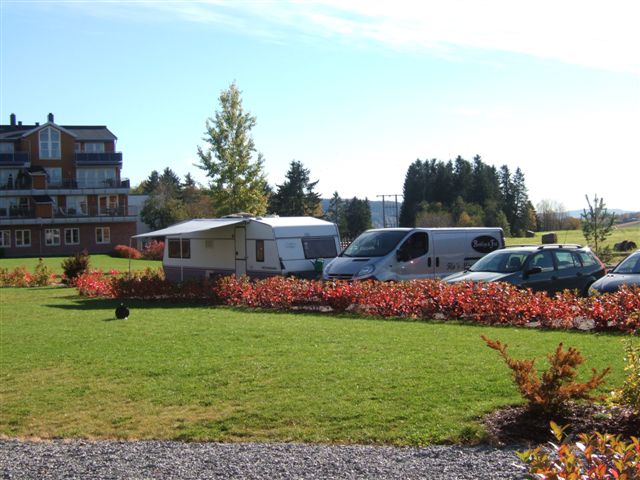 The puppies (Daddy, Bell, Gloria and Sperm) woke up early and would like to go out and pie...Rolex was to tired to go out and the grown dogs didn't want to go out. It was a lovely sunny day, but we were to tired to care about that so Rune drive to the store and buy fresh bread when the store opened and we eat breakfast and then out with all dogs and then back to bed, lovely!!!!
We woke up at five o'clock when Runes mother called, she was been back from work *S* and she ask if we want dinner.....
out with all dogs again and give them their dinner. It was really hard to walk with all dogs in lead because so many people was sitting in their windows just looking what we (Rune) were doing, and check so our dogs didn't do anything on the grass or somewhere else. Our puppies haven't walked in a lead before and absolutely not have to do their things without running free at home. They didn't understand what we want from them. Close to the apartment and the parking there was a large field that was perfect to let the dogs run so we lift them over a fence and let them run, so much easier. BUT of course it was someone that had things to say when we take that way so a man came and told us to go around another way to the field......we have to walk around many houses to reach the field, and then the dogs already done what we were out to do. Stupid people that do not think about an easy and quick way for people who lived there with dogs....
We were not allowed to go this way to the field, about 20 m. We have to go around the house about 450 m instead!!!!!!!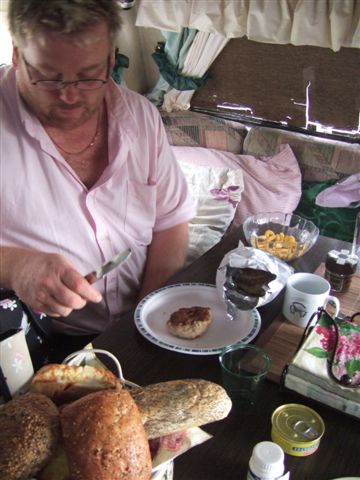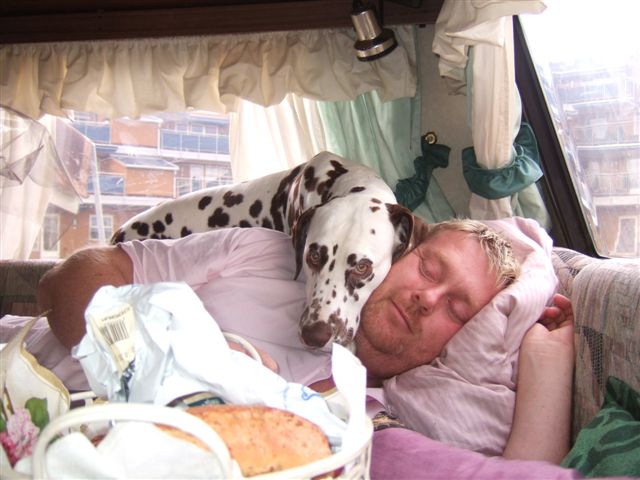 Nice fresh bread for breakfast, and Devlina want more.
Devlin was dirty when he was out, but he had no Mirror so he didn't know that!