Diary
Friday 30 November 2007
Up early (for us *S*) and try to do lot of things before lunch today, it is so good when You are back home in the middle of the day and You know that You do not have to go out again.
We are looking at IDOL on TV every Friday, so we have to be ready with lot of things before it start. But with 14 dogs in the house You are never ready with anything, just to do things again and again and again...it never stopped. When You have fed them, You have to let them out and then You have to vacuum clean at least twice a day and You have to wash the floors because it is mud in the garden and indoors now, every time they have been out (and it is all the time with 6 puppies almost 6 months old). Then You will play with them and to cut their nails 252 NAILS !!!!! And to wash 28 ears......and so on and then feed them again and try to learn them not to eat on the furniture's and to take the paper from the toilet so I have to clean again (Daddy is a little devil with toilet paper)..
Very often I think about ... WHAT IN HELL had we been doing without dogs?????
Probably we have had a nice and clean home, or I could have a job as normal people and earn money instead of spend money on the dogs all time, veterinarian, dog food, bones, toys, blankets with lilac spots, collar with diamonds on coats in different pattern and so on....
But I think that people with dogs are more happy then people without dogs, but of course You don't need to have 14!!!!! We really need to sell some young dogs soooooooon so we can bring all dogs with us next summer, and do not need to have someone to take care of the dogs that have to stay at home. We have decide to NOT to have any litters at all 2008. Because we have so many young dogs at home now and we really don't want to take litters without having the opportunity to keep something.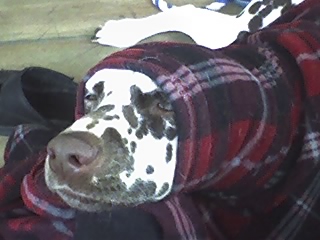 Jill one morning when she try to came out from Runes bathrobe..she take the wrong way through the arm...she looked like a seal *S*!
Thursday 29 November 2007
Today we were at the vet with Jonnies dog Elliott. He is soon 9 years old and need a little make over in his mouth.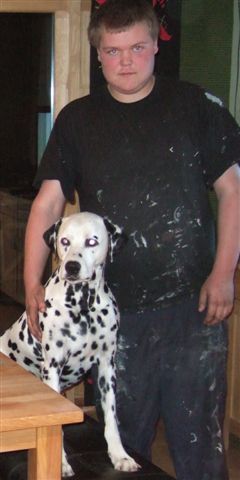 Elliott, T-Cart Kracker Jack and Jonnie.
Wednesday 28 November 2007
I was in my store for many hours and try to get it better there. I have tooooo many wedding dresses and really need to sell some of them. I think it is much more fun with prom dresses but I have no more space to buy more of them before I have sold out some of my wedding dresses.
After some hours I was really pleased with what I have done out there.
Today I got four red scarves from USA. IF we have the best breeding group (but I think it will be really hard) of Dalmatians in Stockholm, we will have those on in the final ring. We think it is nice with something red in December, and that show is so close to Christmas this year.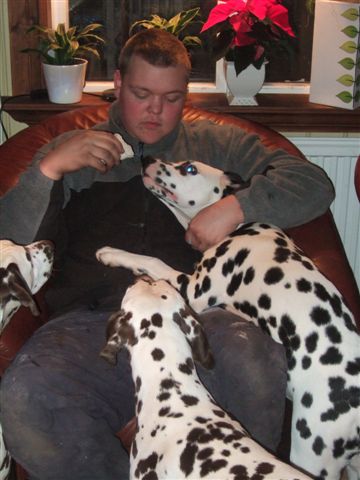 Please, can we have Your sandwich???
Tuesday 27 November 2007
Today we will have Hildegun on visit. It is almost two years since she have been here, but of course we have met on dog shows. She have a sister to our Jill.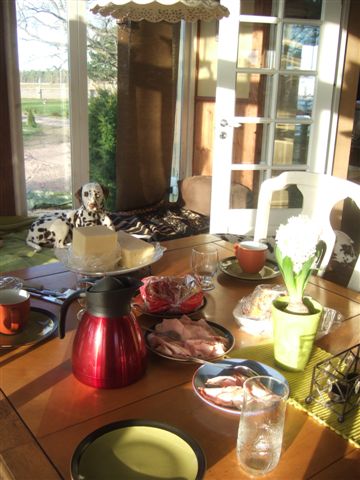 Devlina watching the table. Hi, have we met before??? No....!!! Ok, but we love You anyway!!!
We have a large house, but we love to sleep in the same bed.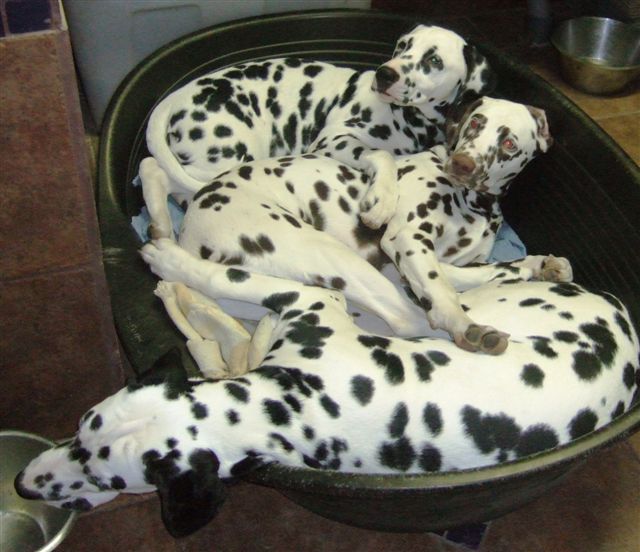 Monday 26 November 2007
This is what I want for Christmas, if anyone of You have lot of money and want to make me happy, please!!! Next time it will be a Volvo again...but where can we put all dogs??????
Sunday 25 November 2007
Much better on the road this early morning, but it took almost 3 hours to Hamar. Leelo was there with her bitch. Devlins daughter and she became Norwegian Champion today and so close to the winner title. Congratulations!
"Birdie"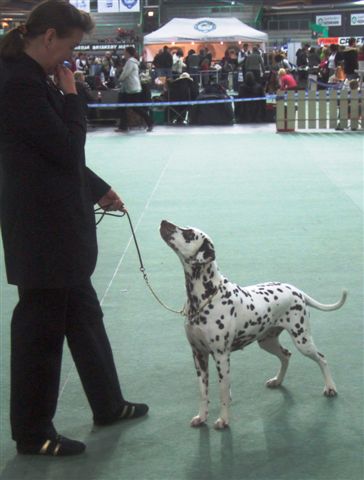 Bente and her "Darling". Erika and her Ch Dalmo´s Evita (Bossons future wife). Aase really have to work hard for "Best Bitch".
This was a grandchild of our Rocca al Mare Allegro ad Jilloc´s "Dennis", a bitch from Dalmo´s. BOS from Toot´s and BOB from Bel A Mir.
Saturday 24 November 2007
Up at 6 o'clock.....oh my poor head!!!! We were in Hamar half past eight. Rune was going to practice as a judge at American cocker today.
I'm ALWAYS so cold, but today I didn't know how to come indoor fast enough. And all Norwegian people think it was nice weather..brrrrrrrrrrrrrrrrrrrrrr!!!!!! And my head was NOT better yet, and I took pills for my headache almost every hour...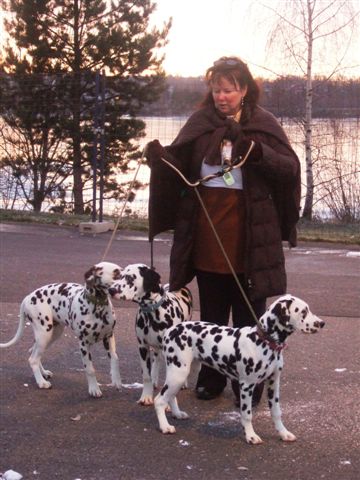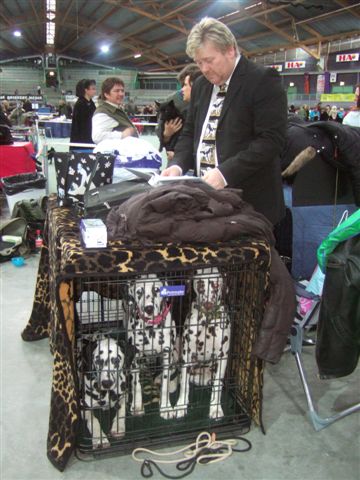 This was good practice for Gloria, Daddy and Bell. Rune read FCI standard of American Cockers before it start.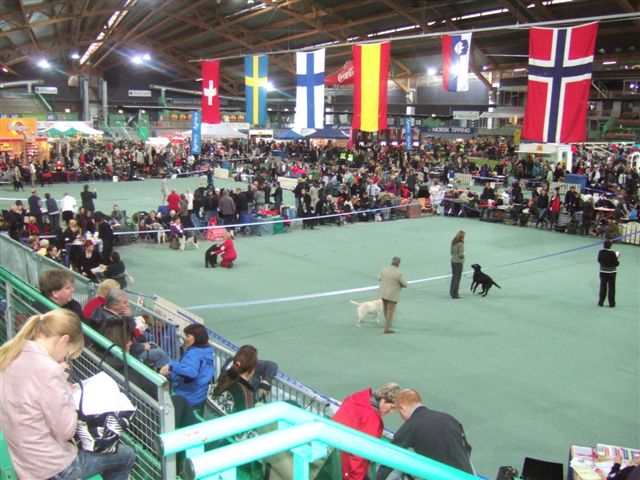 The Dog Show was over three days so it was more space than last time I was in The Olympic stadium, The Vikingship in Hamar.
Soon after it was over in the ring we start to drive to Bente and Reidar (about 180 km from Hamar) to look at Bosson and Nelly's puppies, and to stay there over the night, and then go back to Hamar tomorrow again and I will look at Dalmatians and Rune will practice together with Anette Vieler from Denmark. It was a terrible snow storm and it took us MANY hours to go to Kennel Skvå. We were very tired when we finally was there. After a good dinner and when we have take photos of the puppies we all went to bed. Even Anne Karin and Rune Nyhammer from Bergen was there, and we all have to go up VERY early tomorrow to try to reach Hamar in time for the judging.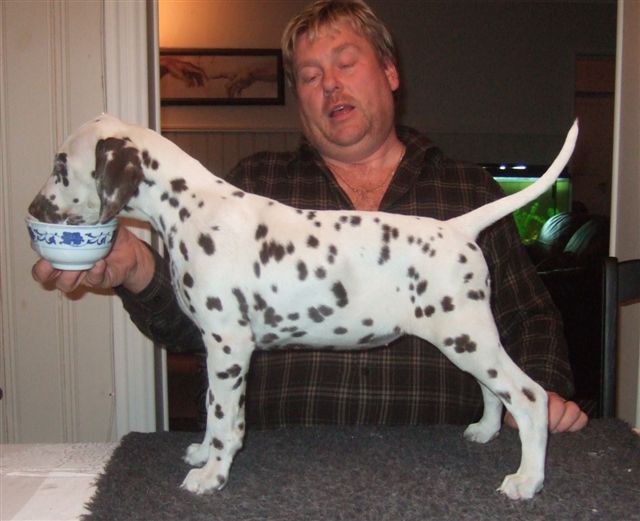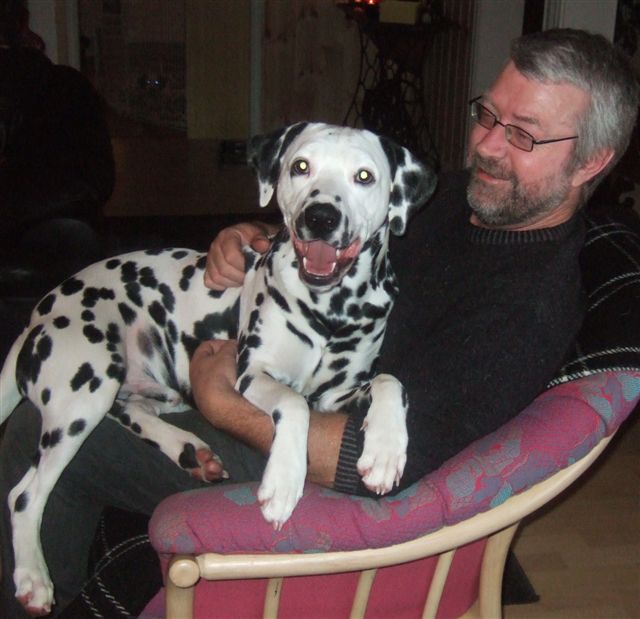 Bente will keep this bitch. Mario was happy to see us.
Friday 23 November 2007
Just some hours sleep tonight because we were in a hurry to start our trip to Norway and there is always so many things to do before You leave home. And it was not easy to try to put all our things and three puppies into the pick up. Our Opel is still at the garage and they are changing things that was broken, we will get it back next week.
Yesterday when Rune got time to change the summer tires into winter tires they discovered that there were no wheel nuts that fit .....we really need winter tyres on Norwegian winter roads this time of the year. After many hours Rune found a store that have those things we need and he have to drive there, it took some hours and was very expensive (of course). So this morning he have to be at the garage at 7 o'clock to change again. Ok when he was back home about 8, we eat and try to drive as soon as possible. At 12 o'clock we were ready to go. First to some stores to buy things that our Norwegian friends would like to have from Sweden and then we buy some flowers to bring with us.
We met Louice and give her some big clothes (she really need it because it is only one month left of her pregnancy now). We stopped at the border and buy lot of candy!
Meet Louice and walk the puppies. It seams like Rune is going to the gym, but it was the candy store! Where shall I put everything???
After that we drive to Oslo to the Hospital to meet my friend and give her some things that she can give her son who had a large operation this Monday. We met her and he have told her that he want to meet us so we followed her and stayed with Andreas for a while. He is a gorgeous young man, and we wish him all luck in the future. I feel so sad when I think about this well behaved boy that never made any harm to anyone......why doe's this happen to just him. But that is life! No justice at all!!!!
Half past ten we were at Runes mothers place and we saw the last minutes of Swedish television of IDOL!
Then we eat a little and I and the puppies went to bed.
When Rune get to bed some hour later he immediately start with his Zzzzzzzzzzzzzzzzzzz!!!!!! My headache was terrible after a while and I wake him and he had to take his madras and put it in the kitchen. Then the puppies start to walk around, play and to watch on a bone for each other....when one puppy was sleeping the other two was playing...oh my god how will I manage tomorrow.
Thursday 22 November 2007
Look what I found In one of our pick-ups!!!!!!
Maybe we can need it for some of our dogs before a dog show when we know that the judge only is looking for light spotting *S*!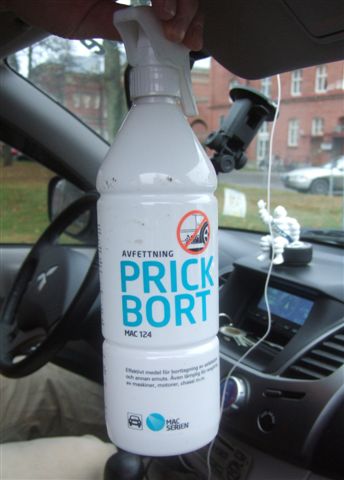 It means "Spot Away".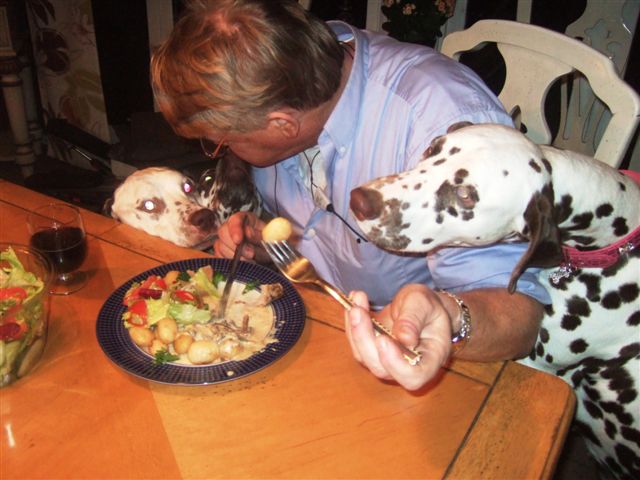 GUESS WHO lost his potato one second later *S*!!!!!!
Roy was afraid that Devlin or Jill should jump up and take his food, but forgot about Devlina she is sooooo quick sometimes!
Wednesday 21 November 2007
After more than almost two month of reparation of my NEW camera, we got the answer that they can't do anything to make it work again????
Ok, we have called them so many times because we really have missed the camera during this time and they have told us every week to wait a week more!!! They offered us a new camera or money back, and we took the money back because we were not pleased with the store and their interest in us during this time.
But I like just that type of Camera and went to another store to buy a new one, and just this week they have it on discount, but they think there were no one left, it was empty in the store, but they look around and found one left for us. Hurray!!! And 1.500:- less than in the other store. Sometime God is really good, it never happened to me before, I always pay tooooo much for everything and always shop in the wrong store or find out that the week after I bought something someone else have bought the same thing much much cheaper than me. so today we are really happy, BUT the money is already gone, we went to a store and buy trousers for Jonnie, Rune and Me, and dog food for some days.
In my new wardrobe I have 49 pair of black, brown and off-white trousers...they are hanging there, most of them with tags on, never used! I have LOT of clothes but only about 5 % can I use.......why!!???!! Because of all CAKES of course......!
I was at the orthopaedics clinic today to buy new slippers because I can only use special ones with inlay because of my injured heal string, and I found new boots at the same time, so I was very poor when I walk out from there. Rune was at the hospital at the same time and get a new "alien" machine...because the other one sounds like 5 vacuumcleaner in my ears...but he can sleep anyway!!!! BUT I CAN'T!!!! I cross my fingers for some sleep tonight.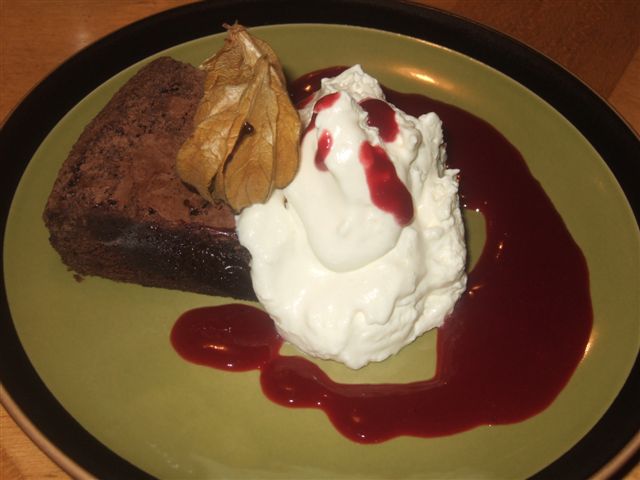 I found a photo of the chocolate cake we ate last Saturday!!! I wish I had this NOW!
Tuesday 20 November 2007
Finally I got a picture from the big Puppy Show in Malmö one week ago. Jilloc´s Top winning Trophy "Dezibel" and Jenny were there. I'm so proud of Jenny she is the perfect puppy buyer. She do exactly what You tell her to do with her (and mine) bitch. And You can se it on Dezibel, she is always in perfect puppy condition (as we want them)...And we have told Jenny no walking and no running yet. The week before Malmö I told her that she was allowed *S* to take Dezibel around her house every evening just to learn her to walk nice on the lead. Before she have only been out for peeing in the garden.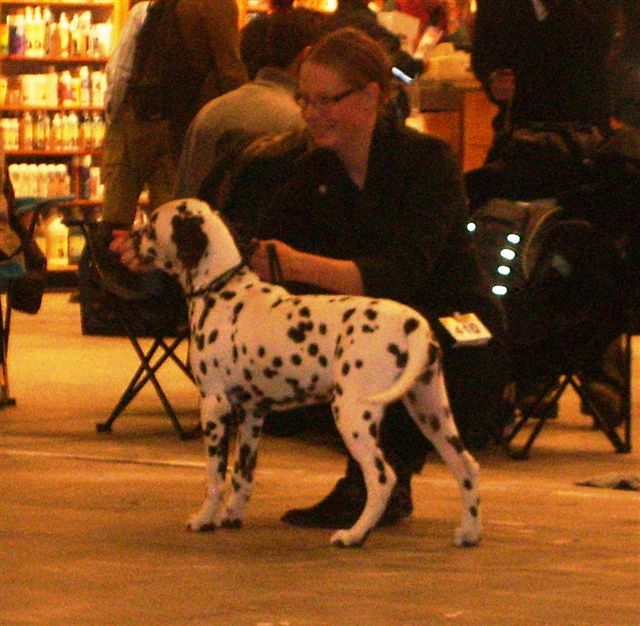 Today a surveyor man was here to put our garden together with the new area around the barn so all will be a agriculture property instead.
It took only about 50 minutes, and that was good because those men's work are very expensive.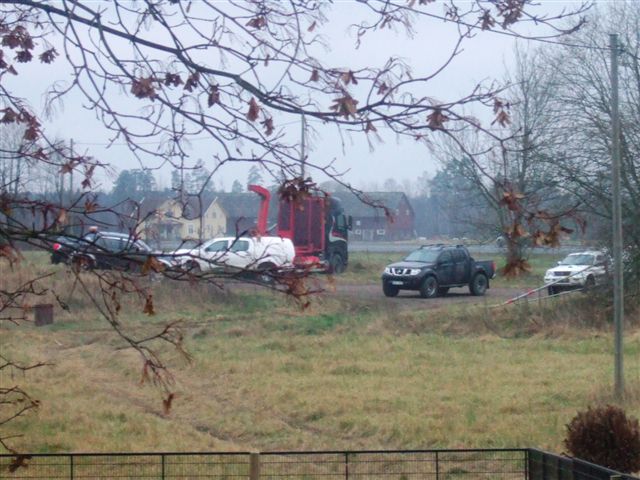 Monday 19 November 2007
Today we congratulate Andreas in Norway that he finally got his big operation! We are so happy for You and Your family that have had a really hard time. From today it can only be better.....
And once again I feel so grateful when I think about those fantastic specialist doctors all over the world that are there for us all.
From one day to another our whole world can be upside down, it can happened anyone of us.

Photo:David Photo:H Kentin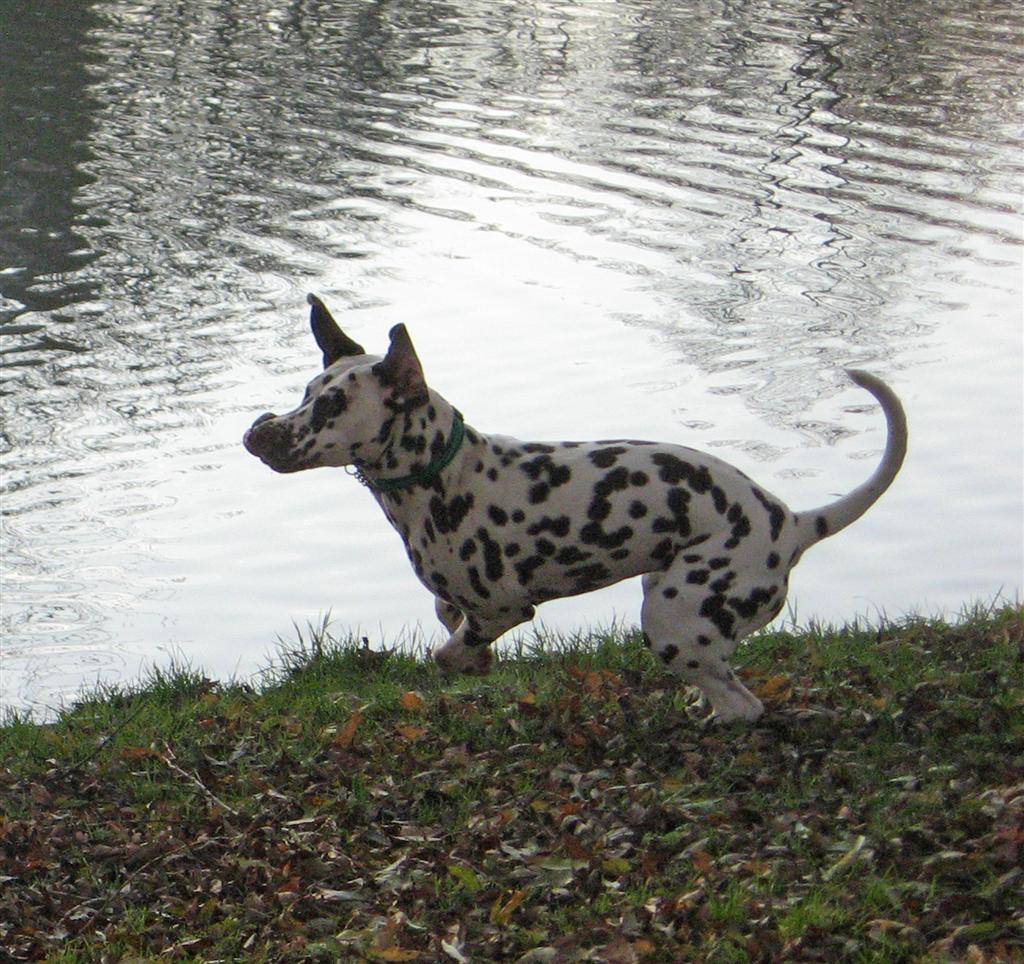 Daddy our new destroyer!!! Diamond and Yamina the new Lovers! Shadow (Diamonds brother) playing in Holland!
Sunday 18 November 2007
I got this photo today. This is one of my Favourite Boys SUCH Jilloc´s Perfect Reflection "Harry"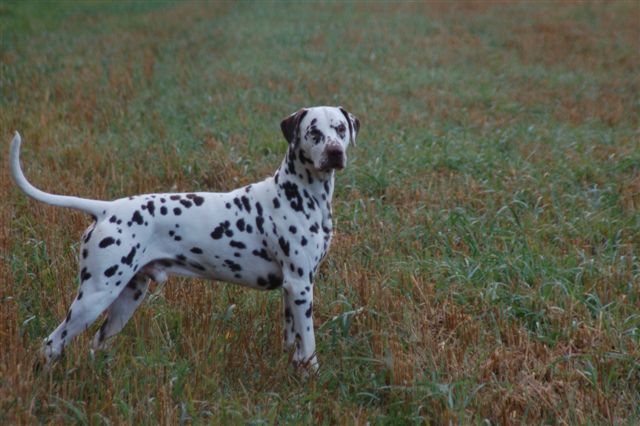 Owner: A Whitmarsh Photo: A Whitmarsh
Saturday 17 November 2007
Rune up early and away to Stockholm at 6 o'clock. I and the dogs stay in bed some more hours, and then up and start to clean again, as always.
It looked much better before Jimmie and Nathalie arrived.
Nathalie, Jimmie, Roy, Albin, Jonnie and I are going to eat dinner here this afternoon before they all go to the cabaret tonight.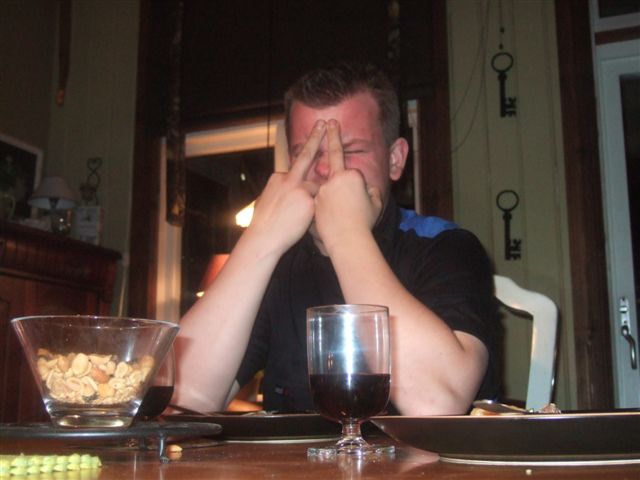 Jimmie and Nathalie was hungry! Jonnie made a new style on Roy's hair! Jimmie hate to be on photo!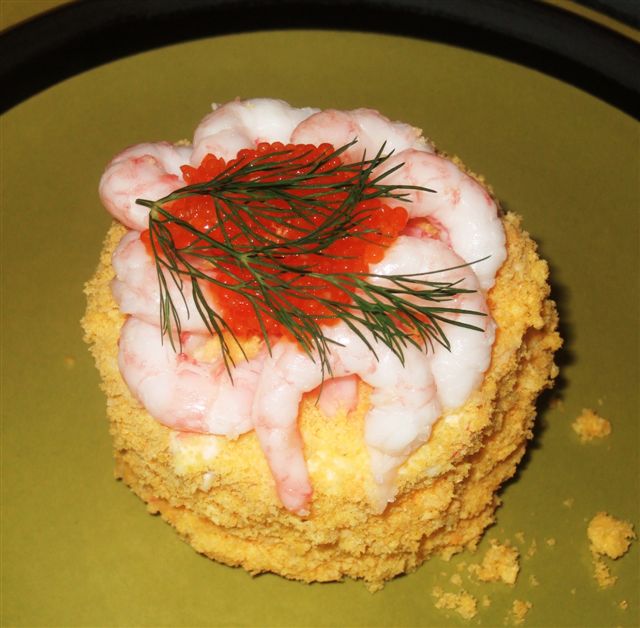 We start with this one and I can tell You ...it was very good!
Then we continue with small round fried potatoes, pork filet, broccoli, chanterell sauce and béarnaise sauce....Mmmmmmm!
After all a creamy chocolate cake with whipped cream and raspberry sauce.
Everything was so good that I forgot to take pictures of it!
I have tried to eat only vegetables and dark porridge for some weeks so that's why it was even better with this food then normally *S*!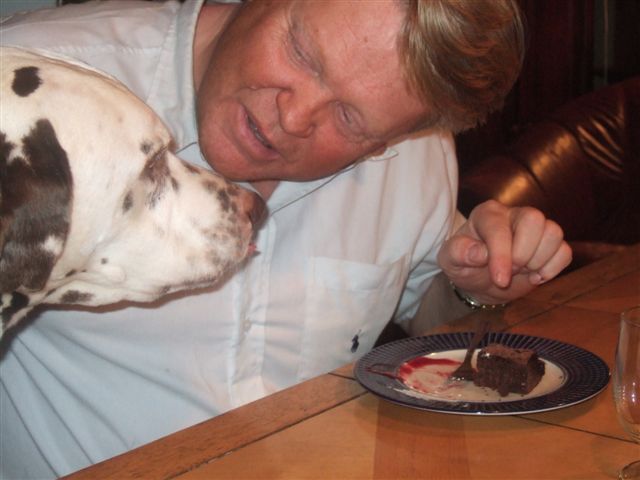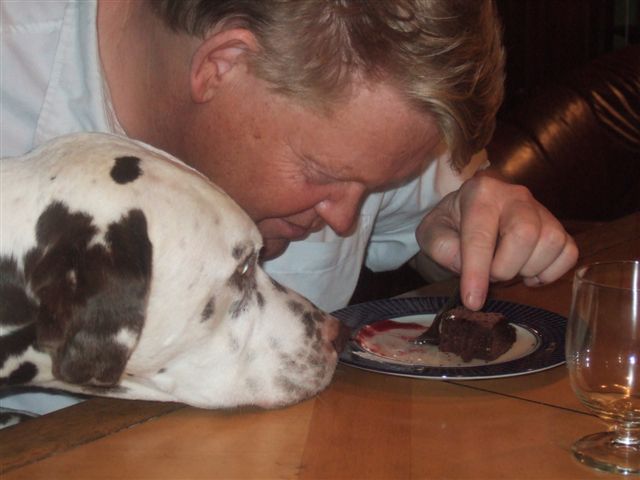 Roy always provoke Devlin with what he have on his plate....he got this chocolate cake in the end!!!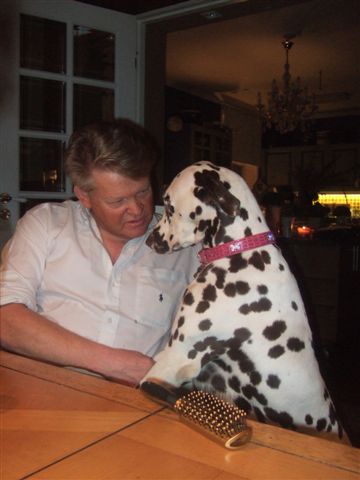 Nathalie and Roy. Many girls want something. Something for me? Nothing left for Bell!
Late in the evening Jonnie and Albin continue to work with their cars (tractors).
Goodnight!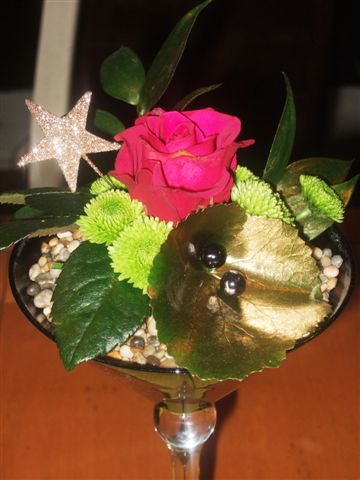 Rune was home 9 o'clock to change car and to sleep for some hours, and then go back to Stockholm again!
Friday 16 November 2007
Rune get up very early to start to call for our insurance about our cars, and the electric man was coming 7.30!!!!!!!!!!!! Devlin and I change room so we can sleep some more hours while he was working in the walking closet.
At 11 o'clock I start to clean after the electric installation man and after a while it look good again. rune was on his way to get a trailer to pull our car to the garage some miles away, he was just waiting for Roy to come with the truck. Soon they start to load our car on the trailer. It look a little bit to small, but Rune have ordered one that could take our car 5.70 long and 1920 kg heavy...hopefully they know what they do at the gas station.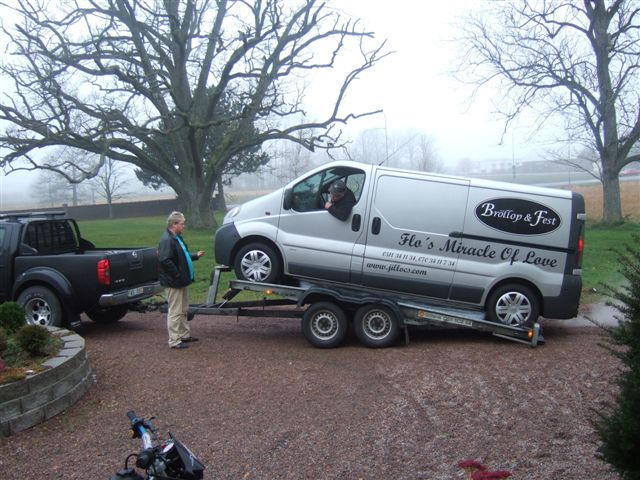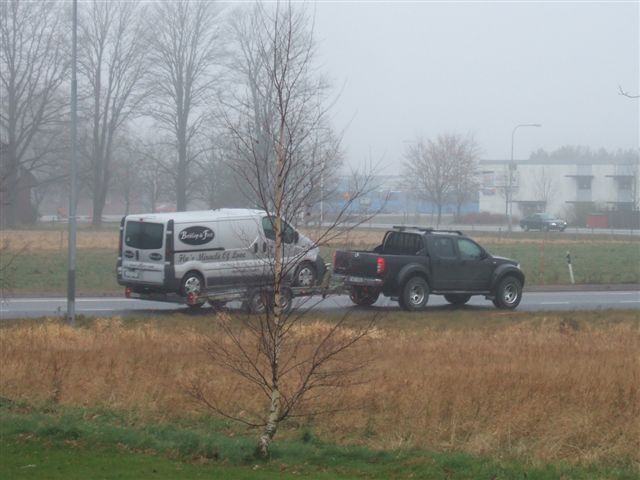 After only one kilometres they heard a Big Bang, two tires at the same side have exploded!
After lot of trouble when I called the gas station and ask for tyres.. and the man called me idiot and that this was not his problem if we were so stupid to put a car on this trailer!!!???!!! You hired this one to us when we told You that we need it for our car, I told him. NEVER!! he said.. And Roy get angry and drive to the station and told the man what he think about his behaviours, because it is not the first time we have got an unpleasant behaviours from them so we only go there if it is the last chance as it was today. We always go to Statoil, but they had no trailer available today, unfortunately!
After many hours Rune get our car to Opel in Mariestad....he was now in a hurry because he and Roy need to go to Gothenburg and back and he have so much to do at home and we have to go to the store to buy food and we need dog food over the weekend.....
Finally we found out that Rune cam bring the pick up from Roy's place tonight and then Jimmie and Nathalie was coming here tomorrow with the other truck, to celebrate Jimmies birthday and to eat dinner and then they were going to a cabaret in Skara tomorrow night, this is how we have to arrange everything the easies way.
Thursday 15 November 2007
Not fun at all this morning!!! Our wood furnace is BROKEN, and I am cold all the time normally, and now it really start to be COLD!!! Thank god that we made electric heat in the floors under the stone in the rooms for the dogs and even in our kitchen it is heat in the floor so we have to stay here all the time....or we have to work hard so we keep the heat *S*! I think I stay in the kitchen instead....
We called many phone calls before we found someone that could bring us new things to our furnace...maybe in the end of next week...We really need something else to heat up our house with, but we don't have the money to do that just now...
In the afternoon we have time at our vet for Star, Bell and Hannas Hjärtat. Hanna is working so we bring Hjärtat with us instead.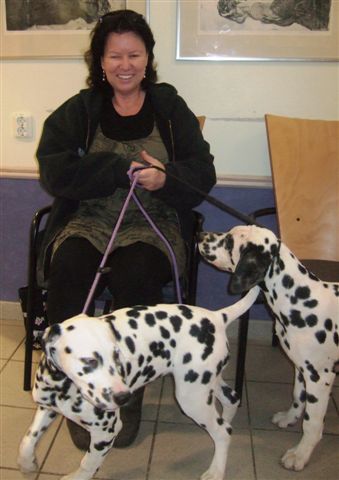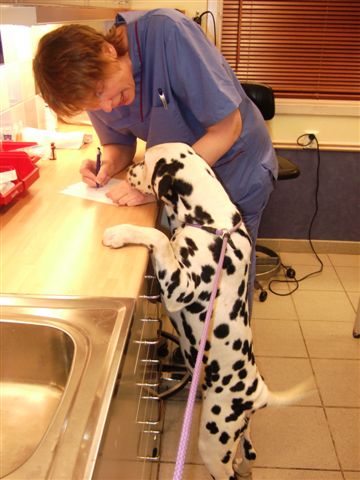 Bell o Star love to be at the vet! Bell is soooo curious....:-Are you writing something nice about me?????
Star weight 27,5 kg today (5 month and one week old) Bell weight 22,5 kg.
After that we went to lot of stores, to buy light for the garden (it is soon Christmas, and we love to decorate the garden) something nice for my fathers grave and lot of other things. In the evening we were back home and Jonnies tractor was broken and Roy was not at home so we have to hurry to make food to him and then Rune took our car again and start to drive to Jonnie.....in front of our house he almost crashed into all plants because the car was not steerable anymore????? He stopped immediately and let the car stay there and take my Mercedes instead. Ok away to Jonnie with lot of food...he was happy...and Rune was so hungry we haven't had the time to eat until early today and now he know that the dinner was ready at home.....mmmmmmm! BUT when he was on his way back the fan stopped in my car and there was something wrong...and Rune only think about..please let me come home to the hot dinner!!!!!!!!! When he was 100 m from our house the car stopped and he roll the last meters of the E 20 so the car stopped just between our gates and there it stand. Something was wrong with the electricity and it was totally dead!!! He run into the house...so happy that he finally get his dinner while it still was hot *S*!
Ok what a day! Broken Heating and TWO broken cars!!! To much in one day.....And Roy only have one car that he need and the other one was in Gothenburg at Jimmies place...And Rune are going to go to Stockholm early Saturday morning for a conference for judges...he have to be there the new preparands from 2007 have specially been invited there and it is NOT polite to stay home, even if You haven't any car.
Wednesday 14 November 2007
We got mail from Finland today from Mette and Niina and Neela (J Scandal Beauty), she have been on her second puppy show.
Her first show a month ago she was Best In show Puppy! This time she was Nr 1 Best In Group, Congratulations!
Neela 4 months at this photo! Photo by: Mette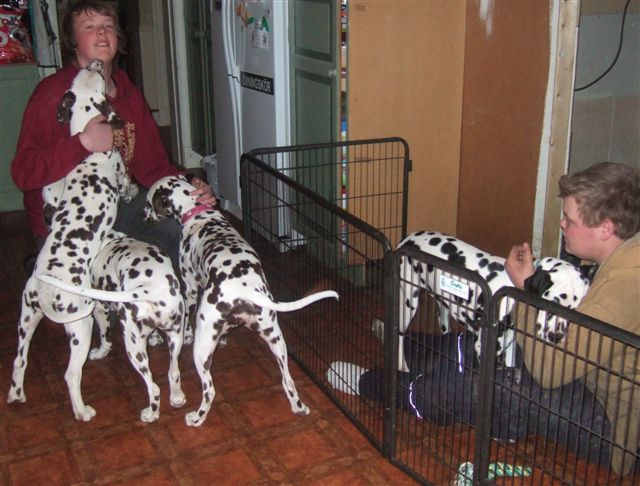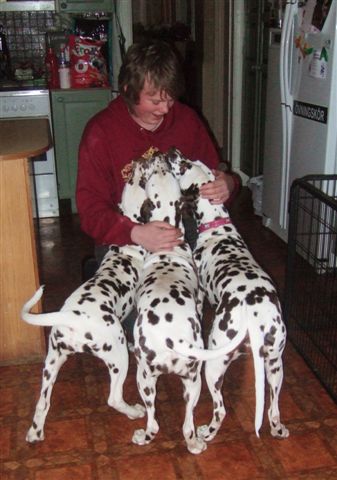 Hello...are You awake? Our dogs are so happy every time when Albin and Jonnie walk through the door (many times every day*S*).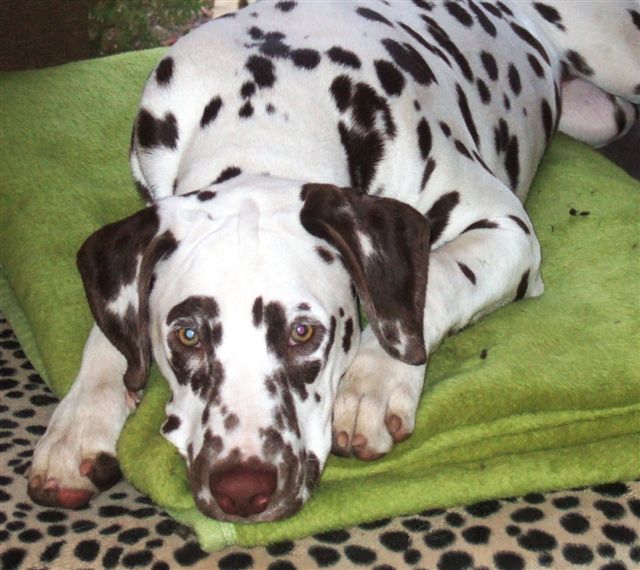 Princess on the pea!!!!!!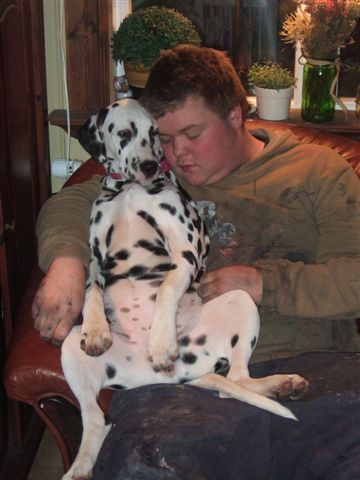 First cake in many weeks! Bell and Jonnie resting after work! In the evening no space for us in the bed!
Tuesday 13 November 2007
We Celebrate Jimmie today!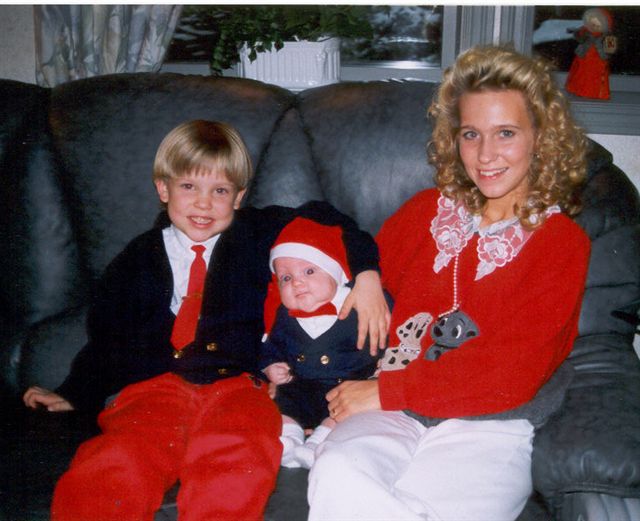 Jimmie 6 year, Jonnie 2 month and Jennie 17,5 year. Photo from Dec 1990.
Today it is my oldest son Jimmies birthday, he is 23 year now.
And today he bought him selves a small house in Dalskog where we lived before.
Congratulation To You!
We will meet at Saturday and eat dinner here, and he will only have presents for his house now washing machine, dryer and things like that.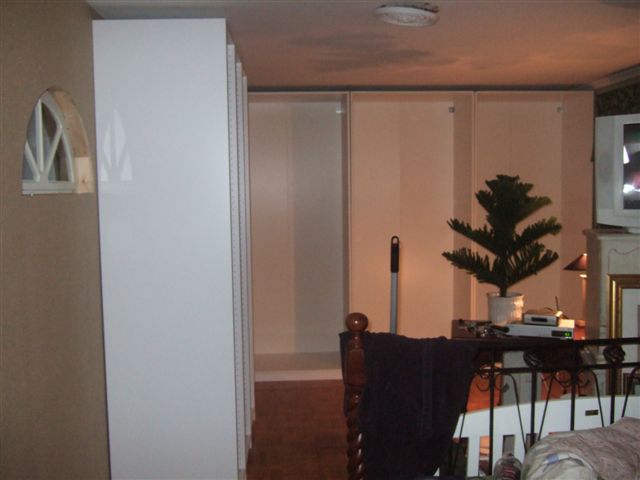 It starts to get more ready in the wardrobe.
Monday 12 November 2007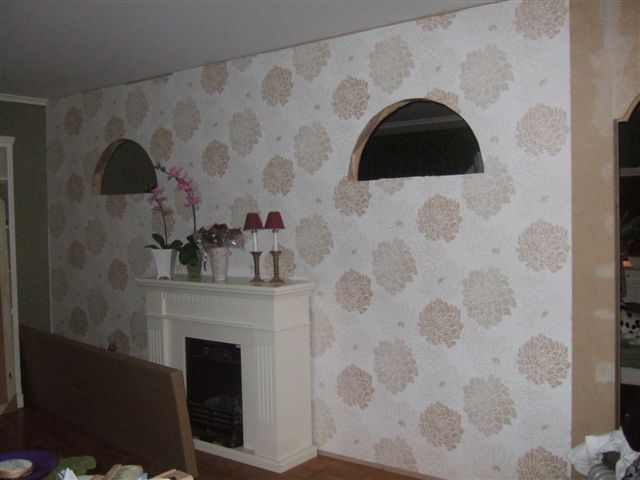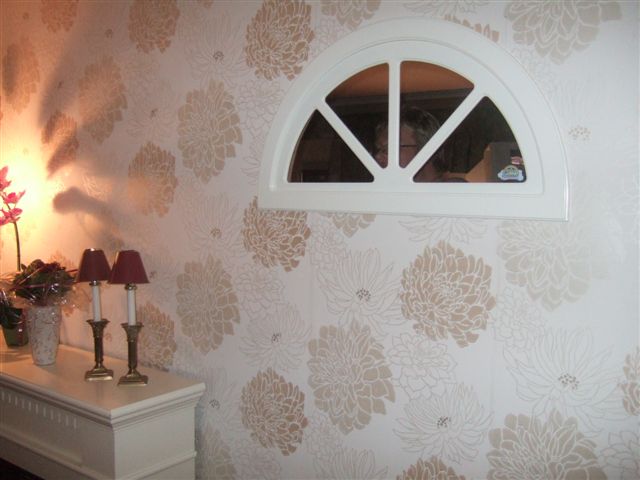 Last night Rune start to hang up wallpapers, of course it was something wrong with two of the rolls so he could not finish and we put up two decoration windows instead. We went to bed 6 o'clock in the morning....tired? Yeeeees.
Can I still have hope for Daddy !?!
He have now lost two more teeth and there are already new! I'm happy!
Only two more to go.....please!!!!
Daddy's sister Breeze got all her teeth!
This is EXPO, but his name could be Turbo!!!!!!!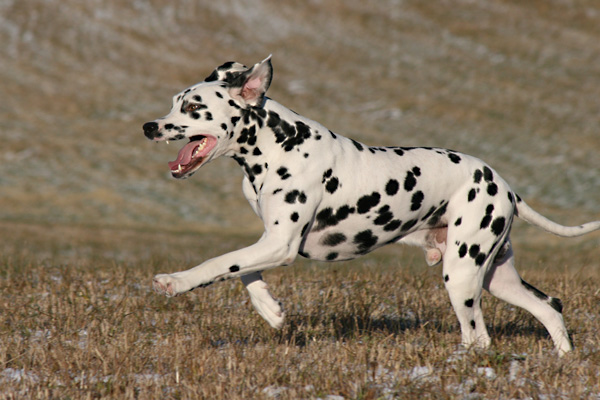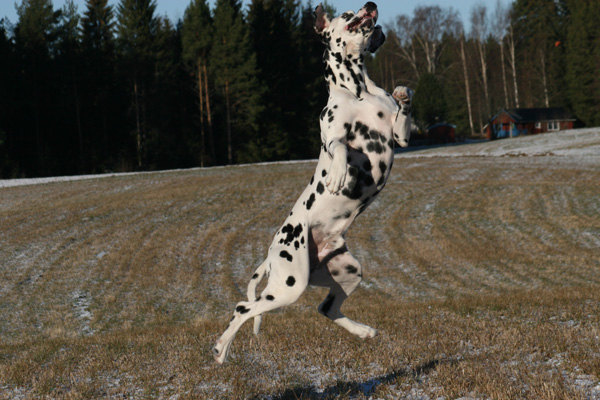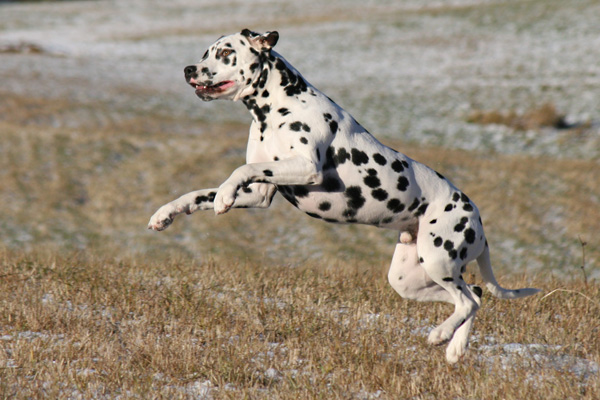 These photos are taken by Pia Laurila, Expos own super photographer!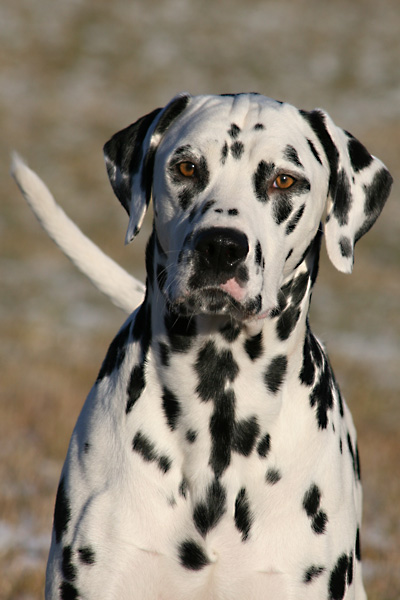 Photo by Pia L.
Sunday 11 November 2007
Fathers Day here in Sweden!
Devlin got LOT of congratulations from his children in different countries!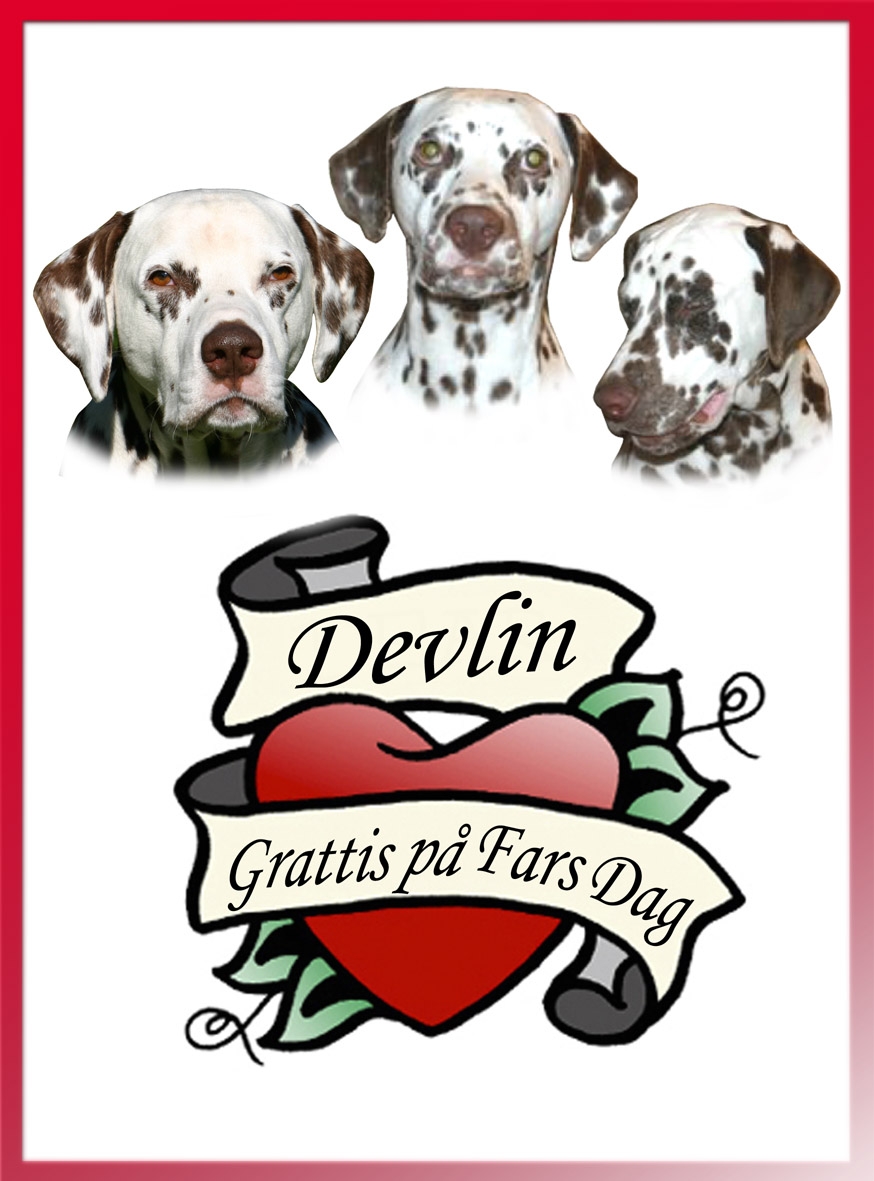 Herkules, Milda o Diamond
Even Bosson get kisses from some of his children.
Both Boys say Thank You to You All!!!
Diamond was with Maria and David to Strömsholm to swim??????? He didn't really understand in the beginning but Yamina showed him how to do it! And now he want to go back!!! Thank You so much Maria to let Diamond try so many new and funny things, we love You.
And Devlin send lot of kisses for You, You are his favourite "babysitter" (Devlin stayed with Maria last year for 4 weeks when we were in Thailand, and he loved it!)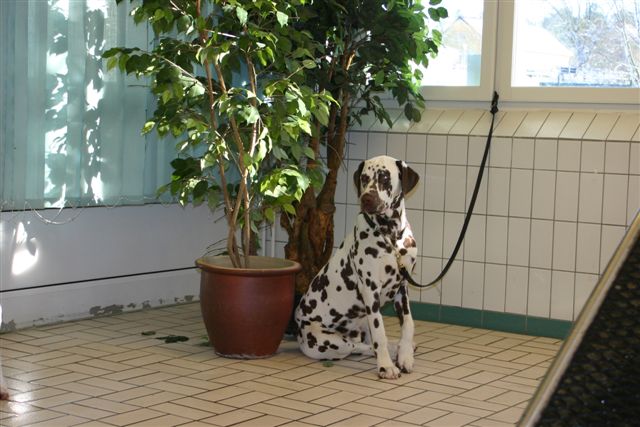 Diamond wonder ....What are we doing here????? Oh my god...What are we going to do????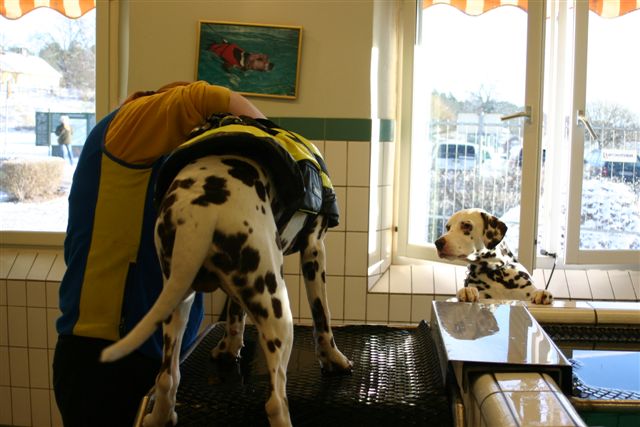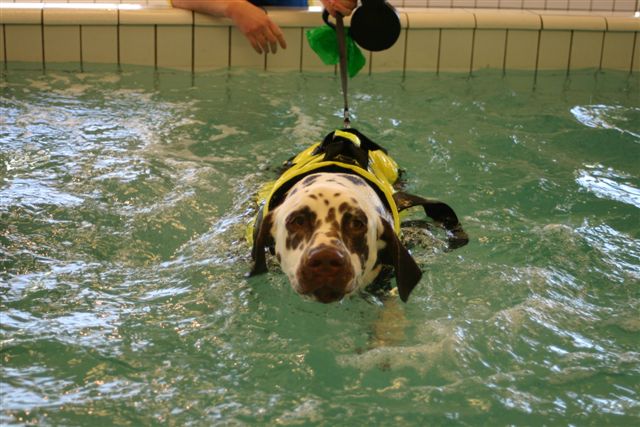 Yamina say -: Come on you MOUSE...You look stupid! No No Not into the water, Mummy gave me a bath yesterday! DAVID, save ME!!!!!! And stop taking photos of me!!!!!!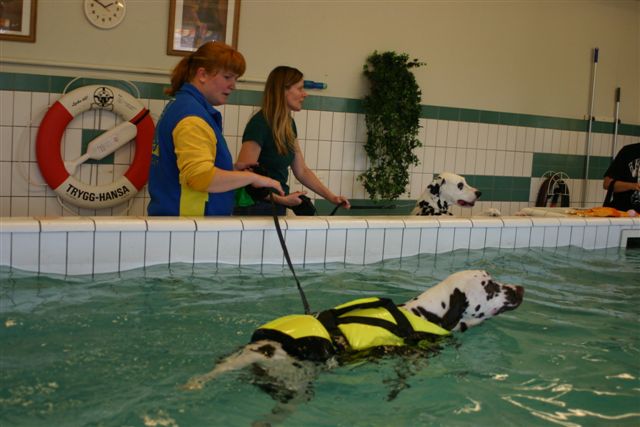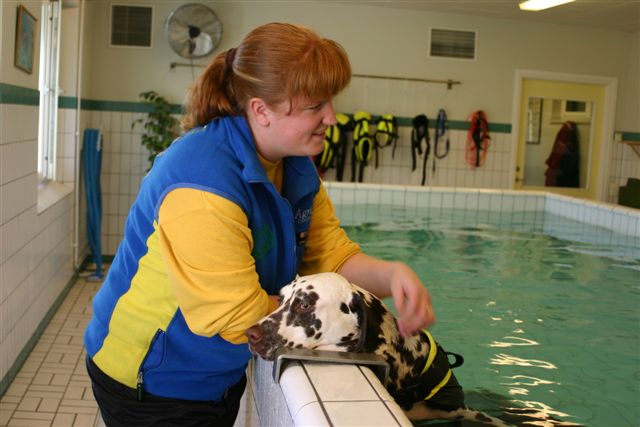 All photos taken by David Gaetani
I'm sooooo tired, but this is probably a bad dream....so if I close my eyes I hopefully wake up in my bed again!
Saturday 10 November 2007
I'm sooooooooo happy to be home a weekend, like normal families. That is maybe why I love this time of the year so much.
I was in my store for some hours with customers and Rune was together with a couple that want to meet Dalmatians and know a little bit more about the breed. Then he can talk for hours and days *S*!!! They would like to meet one of our puppies that is for sale, but most important was that they meet the grown dogs we think. Today they have a smaller dog that is rather calm, so maybe a Dalmatian is a little too "happy" dog for them*S*! Our breed is more like children we think....together with You all the time. In the sofa, at the toilet, on the kitchen table in the freezer and so on.......
We (Rune) continue to build on our walking closet!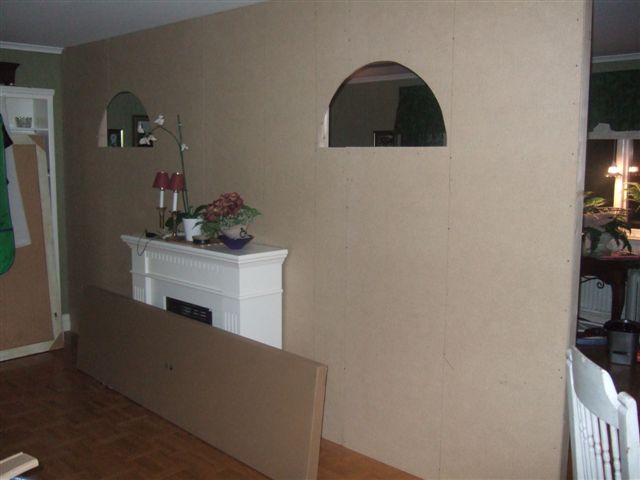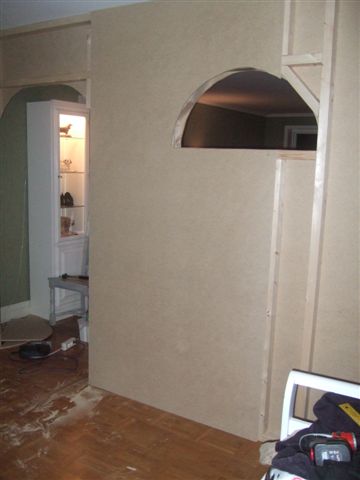 Friday 9 November 2007
Just a little bit snow in the air in the afternoon. We were out shopping food, and today I went with Rune. The best is when I stay at home, it is much cheaper then, because I see so many nice things and lot of very good food, and I often say..today it is Friday (or any other day *S*) so we really need something really nice to eat tonight. Not so clever at all.....and too expensive for us.
I have start to get Christmas feeling......Rune bought two hyacinth some weeks ago and they smell lovely at the kitchen table, that is Christmas for me...I love it.
I've Got A Mail.....Seven has All her teeth.......Hurray!!!
We looked at the other dogs at home again, but last week they still have many to change, but now:
In Chrissi and Devlins litter.
Spermbank has All his teeth!
Star has All his teeth (but still only one testicle)!
Daddy still have FOUR to change.....HELP....I need him to get more!!!!
Neela has probably All, Nina told me some weeks ago.
And as I wrote some days ago, Gloria has All.
I keep my fingers crossed for Breeze , the liver spotted male in Finland and Gonzo in Stockholm.
In Donna and Bossons litter.
Bell need to change one more.
Trumph Card have them All.
Dezibel need to change some more Jenny told me.
Thursday 8 November 2007
Rolex and Diamond and Gwynmor A-litter is 7 month today!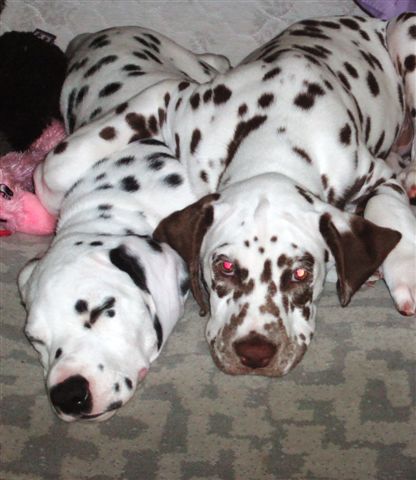 Here are they only 10 weeks!
For some hours we had a lady from Animal protection society here to check our possibility to have many dogs and how they live. Our dogs almost kissed her to death so we think that she was a little tired of them in the end. Only Rolex was sleeping!
Pictures......
Wednesday 7 November 2007
The weather was very ok when Rune and Disco start their trip to Stockholm. after 30 minutes Rune called and told me that he was afraid that they could not be in time to the flight because it was terrible weather and he have forget to put our winter tyres on our car, it is the same every year. You don't do it before it is too late.
When it was light in the morning it was a little bit better and they were at Arlanda at 7 o'clock!
Every time a dog are going to fly an American lady arrange everything for the dog a safe flight.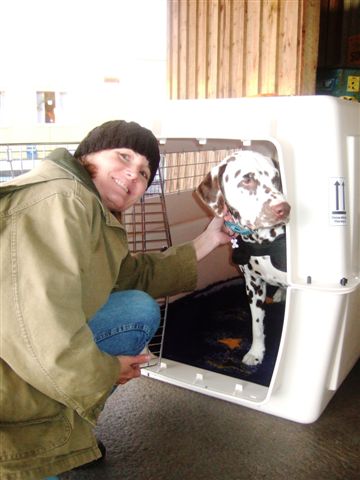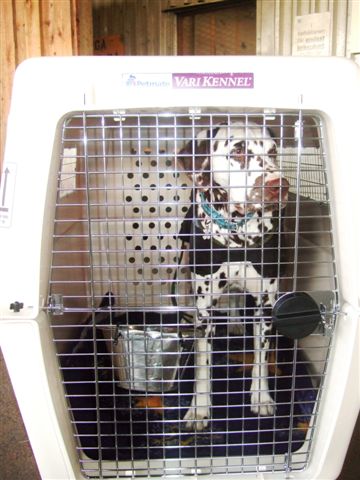 Disco like his cage. But where is my Mummy?
I'm so happy that I wasn't there, I have probably died if I have seen him go away on the truck.....Alone!!!
In Västerås Rune met Maria our friend and leave Diamond there for some weeks. We have some really good friends here that take care of our dogs sometimes when we have too many in young age at the same time. We think it is very good that they get socialised in different things and that they not are together just with our dogs at home. Diamond was sooo happy to stay with Maria, David and Yamina.
On his way back home Rune did lot of things, that we haven't had time to do last weeks. He was at Cheepy, Ikea, Silvan and some more stores to buy some things that we need for our new "walking closet". The car was full when he came home in the afternoon, and he was very tired.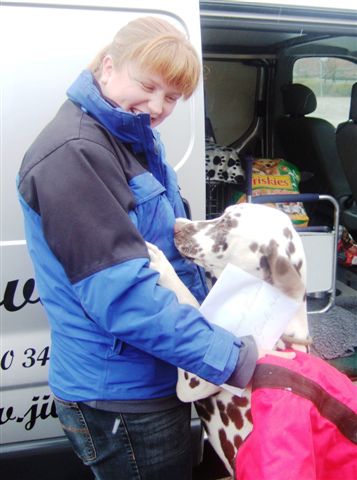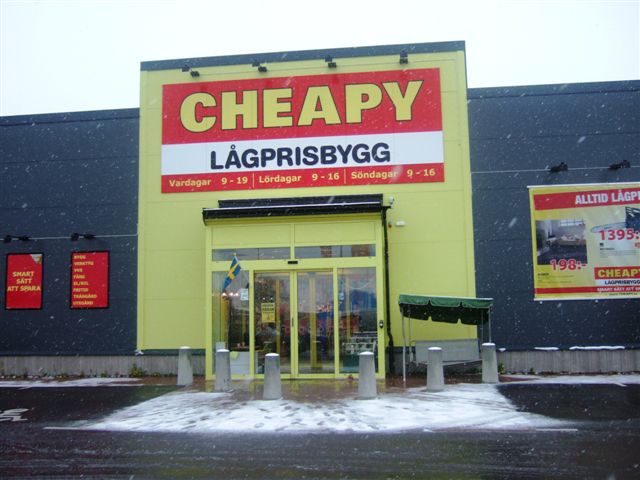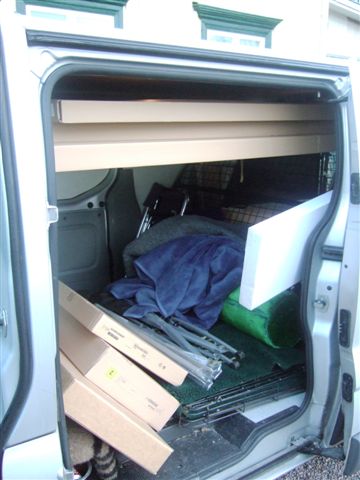 Diamond was so happy to meet Maria (but he is a dog that loves everyone he meet at the street *S*).
In the evening we were waiting for hours to hear from "Disco" that he have arrived safe to USA, but the plane was late because of snow and storm and turbulence (my poor darling) I know what he can feel because I hate to fly. I'm totally convinced every time when I fly long flights that the airplane is going to crash, and then I think about my children and dogs. Who will feed Jonnie the way he want is my largest problem every time and I promise myself not to fly anymore.......but we already have been looking for our next tour to Thailand *S*(the most wonderful place on earth-Koh Samui)!
We called USA and there were no answer .....until 1.15 in the night (here). Disco was safe on ground and he really need to pee and shit a lot first of all. Then to the car for some hours trip to his new home, and he immediately fall asleep in his new Mummy's knee in the backseat, he was so tired. So good to hear from him, and we fall asleep immediately then too.
Tuesday 6 November 2007
Today we have lot of work to take copies of all Discos papers and to send everything to the lady in Stockholm who arrange Discos flight to USA tomorrow. Lot of phone calls and suddenly it was afternoon and I have to be in my store in my store for about three hours. For the first time since I opened the shop I have sold a dress to a little girl 4 years old.....so cute. I ask if they were going to a wedding, but in the country where they came from it is important to celebrate when a girl is 15 year, so all invited guests should be dressed in pink or lilac. I love their traditions, here in Sweden there is not so many occasions to dress up, but I see more from year to year that young girls really want to dress up for their prom. This evening I had the first girl that bought her prom dress, and so many have already been here to try. Ok the prom is in June but they would like to be first so they can chose from a lot. But I always tell them to not be in a hurry to decide. Go to many stores first so they are sure about their choice. Most girls and parents tell me that in every store they just want to sell immediately, but I do the difference...and sometimes they came back to me sometimes not if they found "the dress of their dreams" somewhere else, most important are that they get what THEY want for their first and only prom!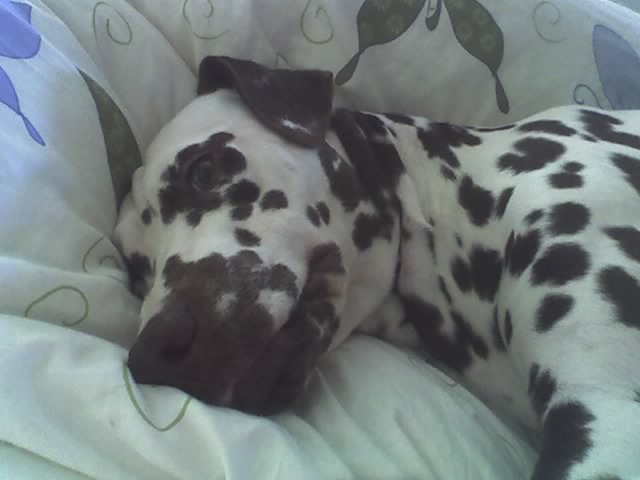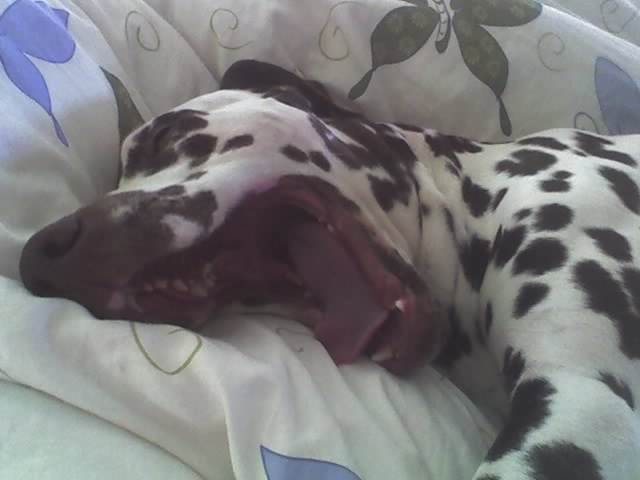 Disco love to sleep in our bed!
Sometimes he read a little before he go to sleep!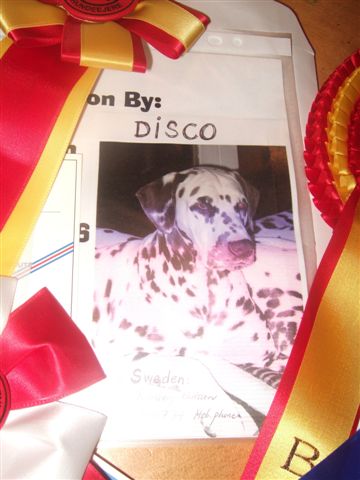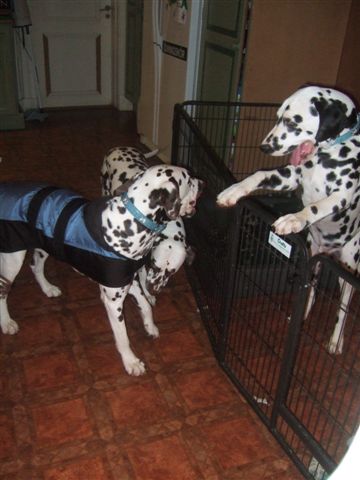 In the middle of the night.....Disco is ready to go.....Goodbye MY FRIENDS!!
Monday 5 November 2007
Up and away to the vet with Disco and Devlina. We were at the bank first and have lot of problems with Western Union Bank and it took over an hour there so we where very late to the vet......but they were nice to X- ray Devlina and make a check of Disco and he got a health certificate for his trip at Wednesday.
Rune drive me back home and go back to the bank again.....puh!
At the vet Rune took a little nap while we were waiting. We saw a ambulance for animals on the highway, we really need more of them!!!
Hopefully nice photos of Devlinas hips today!?!
Lot of people in my store so I was out there the whole evening, and when I came back in we eat dinner and I went up to do something there, but I saw our bed and lay down for a while and fell asleep immediately. I sleep until morning next day!!! My longest night ever I think.
Jilloc´s S - Litter is 5 month Today!
Hurray......Gloria got ALL HER TEETH!!!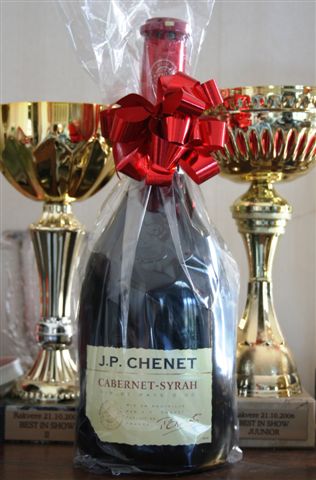 Just some things our dogs got in Estonia last year!
Sunday 4 November 2007
As always...tired!!!!! Inside the house almost the whole day and build a little more on the wall to the new walkingcloset...In the evening we and the dogs looked at TV.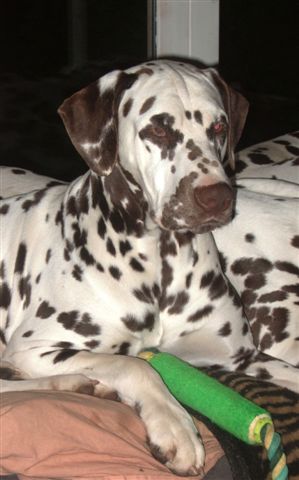 Take a lot of pictures of Disco of course. And he was the only dog in our bed during the nights this week. He is "Mummy's" boy and so terrible sweet!!!
As always Devlina and Disco soooo close together. Exactly as Darling and Devlin have been for 11 years now, always in the same chair!
Saturday 3 November 2007
One hour later the morning bell was ringing and I was sooooooooooooooooooo tired, should I stay home????? Finally I decide to dress my selves and go with Rune and our dogs. Ok we drove away from home 30 minutes later than we have decide, but finally we were on our way to Växjö. In Falköping we stopped to let Jenny and Rebecka and three more dogs go with us to the show.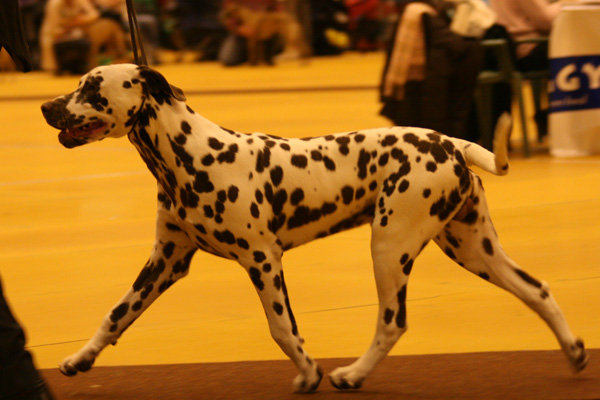 Photo: Laurila
Diamond (Gwynmor After Eight) almost 7 month was the first Dalmatian in the ring. He was still a puppy and tooooo strong for the judge today. But he did it very well and love to be with us at a dog show. At Wednesday this week when we are going to the airport in Stockholm with Disco, for his trip to USA. Diamond will go with us then, and we leave him in Västerås with Maria (she have had Devlin for us when we were in Thailand last year, and she is the owner of Ekryda Herkules, Devlins son, and a wonderful person that we trust very much) he will stay at her home for a while. She is waiting for a new dog and love to take one of our younger dogs during that time. I chose Diamond because I think it is important that he and Rolex is not together all the time, and that he is sooo easy to handle, just like his father and Marias other male Herkules.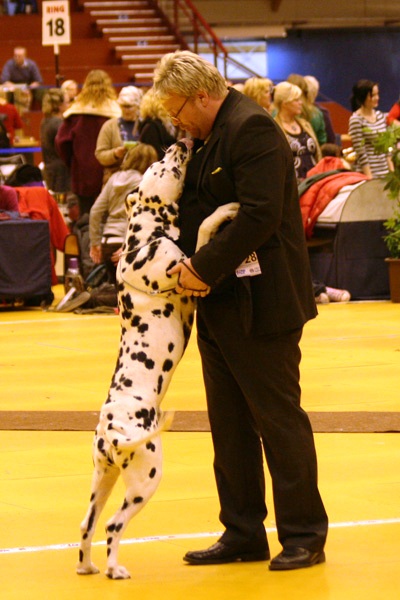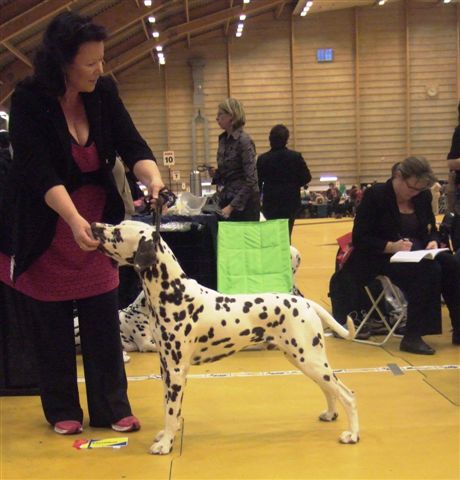 Pia and Teemu came from north of Sweden to be there with Expo, he was as happy as ever, sweet dog!! Disco became best male with another CAC and his third CACIB this year. Now he have two in Sweden and one in Denmark so he only need one in another FCI country to become a International Champion. And his new owners in USA have promise to come back here to try to get his last CAC when he is over two years old.......... so he can be Nordic Champion because he already have CAC in Denmark, Norway and here in Sweden.
Already in March 2008 we will meet him again in England at Crufts. He is qualified there and they asked us to go there to show him. In USA he will be shown by a very good handler and the owners always travell together with him, and they are very good on competitions in agility with one of their other Dalmatians. We are sure he will have a wonderful life just like Expo got this year with Pia and Teemu. I feel tears in my eyes when I think about my lovely boys, but I know they will have it even better in their new families as they will have more time to spend on each of them. BUT I do not go with Rune to Stockholm at Wednesday to leave Disco at Arlanda Airport......I can't stand to se him go, and if I'll be there I probably hide my self into the cage (we have bought the mega large one) and then it will be much more overweight to pay for, I'm not sure his new owners will be happy then.
It was really Discos Day today!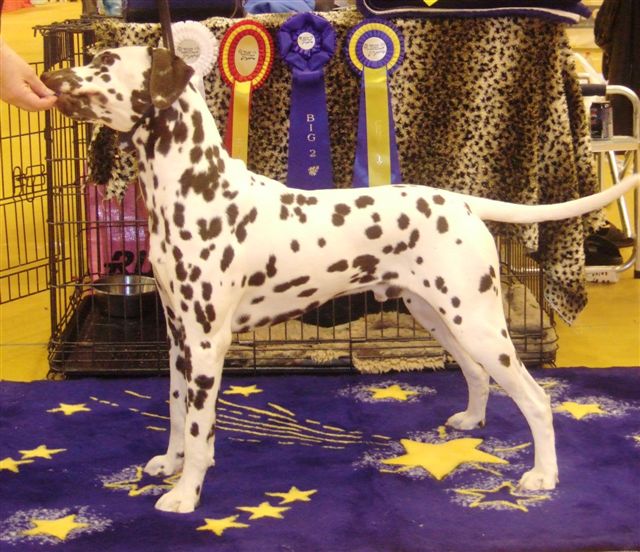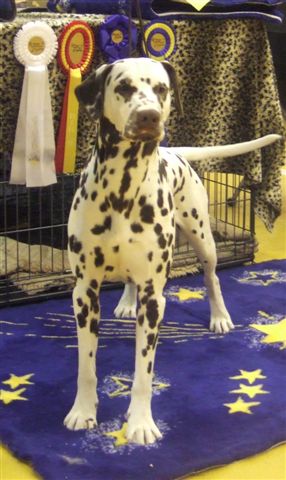 We bought a yellow and blue blanket with stars for our Swedish Star, he will bring it to States and sleep on it during the long flight over there.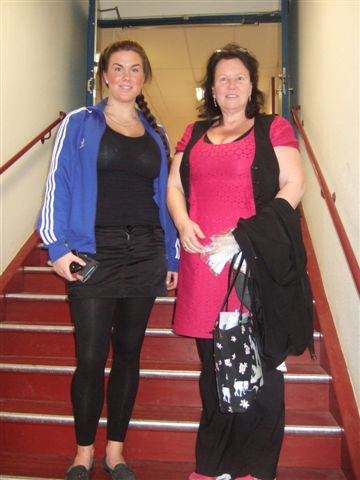 Disco was BIG 2, we were all so happy for that and took a lot of pictures of him today.
Disco Jilloc´s Rich And Famous 7 week 2006.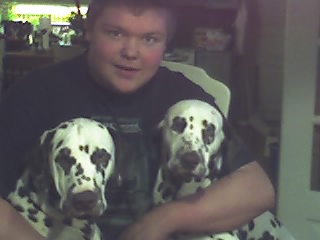 Disco o Devlina sleeping. Disco o Devlina with Jonnie last year.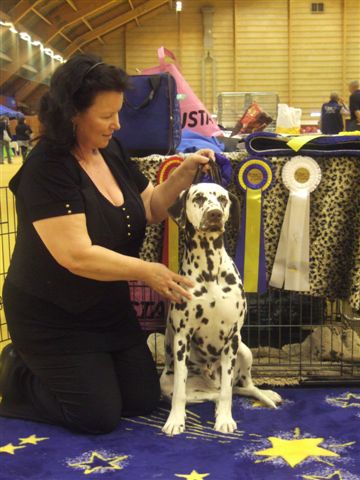 Photo:Johan Frick-Meijer
Disco 2007, and his father Devlin that was Nr .3 "DOG OF THE YEAR" All Breeds in Sweden 2000.
BIS 3 Breeding Group
Disco-Perfect-Devlina-Milda
Friday 2 November 2007
When we came down into the kitchen this morning we immediately saw that something happened with Daddy, he couldn´t stand on one of his hind legs. The toes was hanging and we thought that a string in his leg was broken!!!! His brother Star was sleeping with him tonight and maybe they have played toooooo much, not good at all in this age!!!
Rune took him into the car and drove to the vet. He is my darling, I mean Daddy but of course Rune is my darling too that always take good care of our dogs. Daddy got x-ray and more things. One string was hurt but not broken...thank god! In two weeks he will be ok IF he is calm during that time.....EASY*S*!!!!?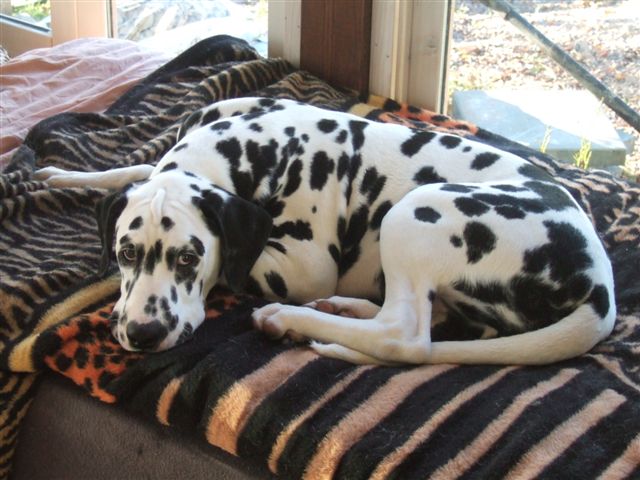 When they were back home Daddy sleep for four hours, probably he and Star have played the whole night, Star is much more "high speed" than his brother.
The other dogs take good care of him, maybe they understand that he was hurt. Devlina, Devlin and Jill lay around him on the bed while he was sleeping......so nice.
Even Diamond understand that something was wrong and sleep close to his younger brother.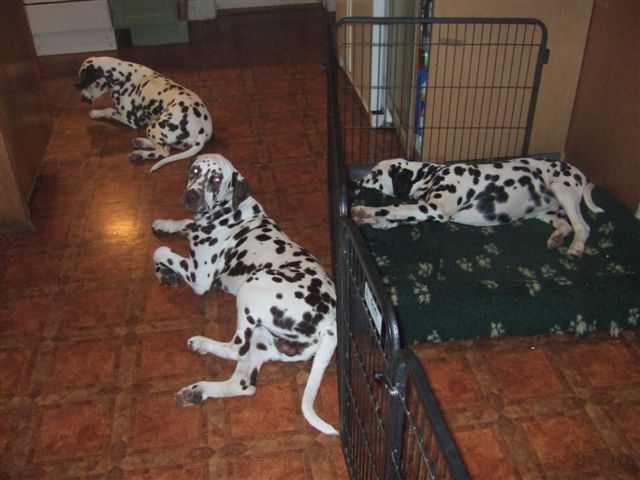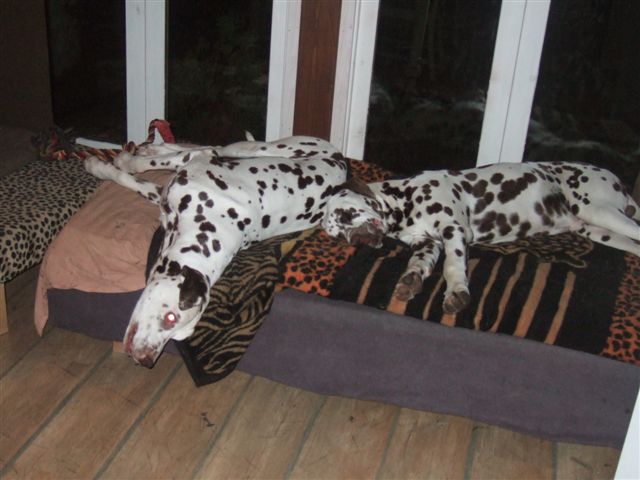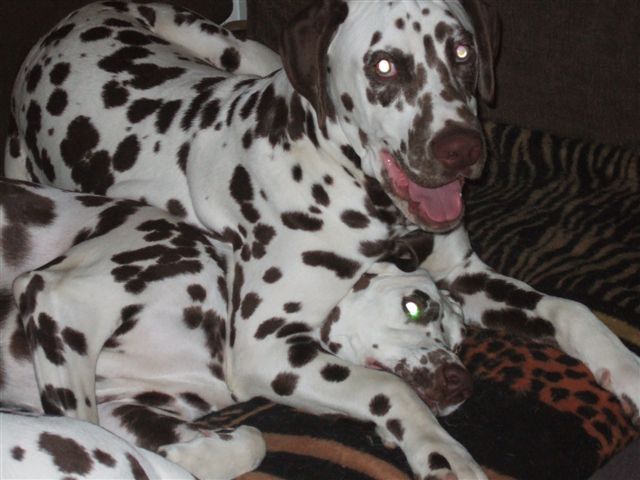 Devlin and Diamond Diamond love to give Devlina a hug!
We try to get into bed early, but most of our dogs was barking for a long time tonight. We thought that they heard Jonnie and his friend in the garage when they worked with their cars until the middle of the night, but suddenly I heard Jonnie talked to the dogs and ask them to stop barking!!! I fell asleep again an thought I heard some dogs out in the garden. I went up (have only slept for 50 minutes) and went out at the balcony and there was Mini and Disco out in the dog yard.......When I went to bed the rain was pouring down, but now it was over, thank god, because the door was closed so they couldn´t get in again. Woke up Rune and he went down to bring them in again. I couldn´t fall asleep again just thinking about if Disco was ok because he was one of that 6 dogs we had entered to Växjö tomorrow/today.
Thursday 1 November 2007
No trip to Växjö for us today. Rune was not better so he have to sleep and drink tea, and in early morning he was back to his eye doctor at the hospital to check his eyes. In some weeks he maybe can use his lenses again, hopefully.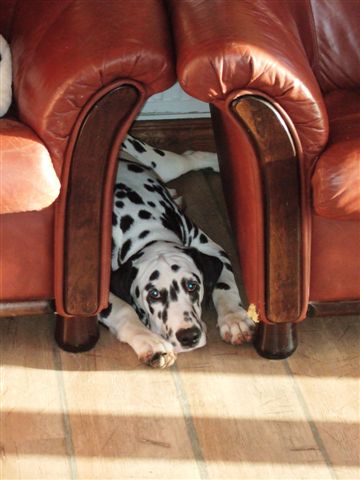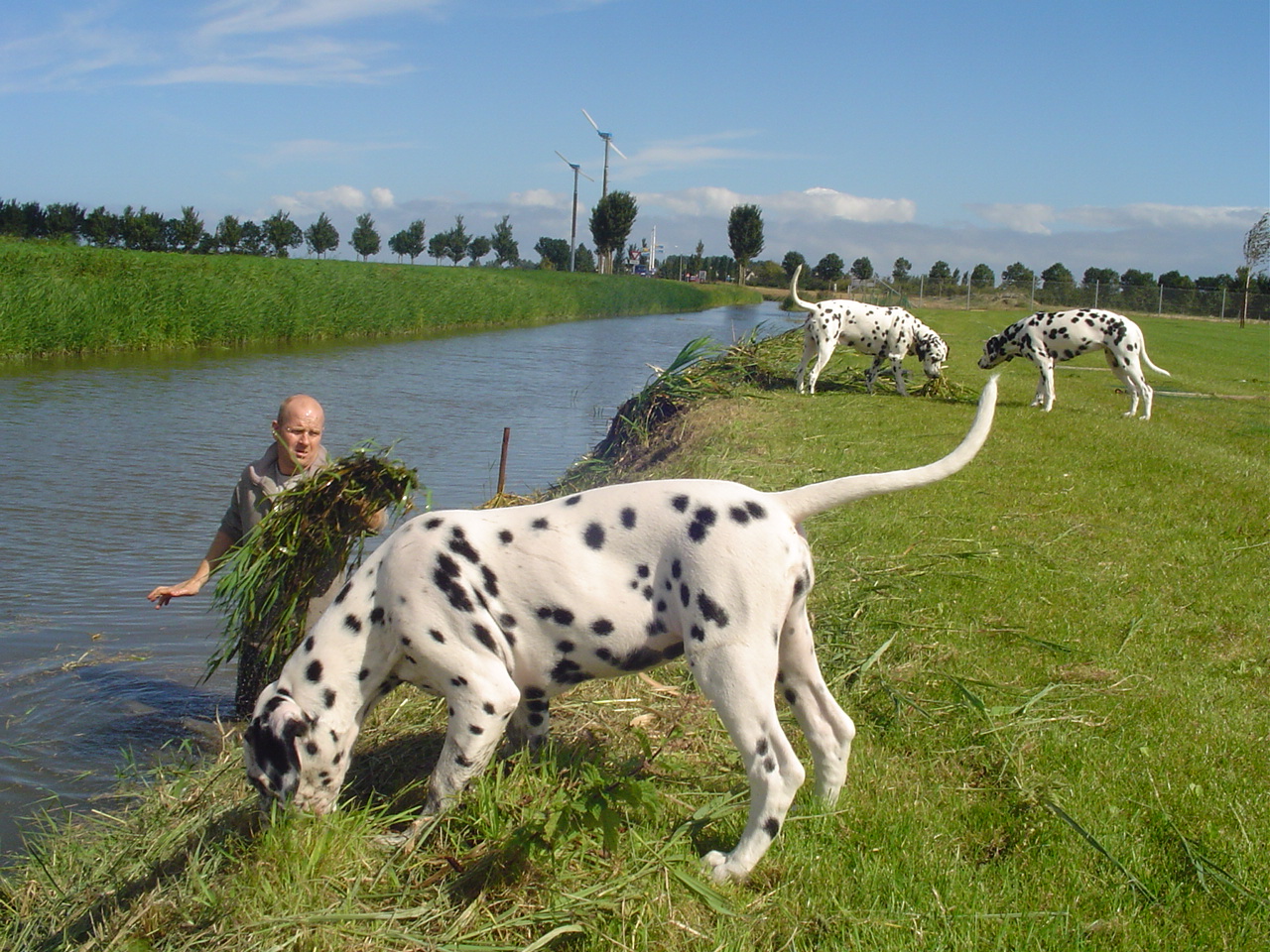 Photo: Kok
Daddy resting (PS! His naughty brother is the one that eat on the chair). Daddy wish that he have been in Holland with his sister Seven, she have a wonderful free life with Diana, André and some more dogs. Wow what a garden, and with a looong pool!!!! But they only feed their dogs with fresh grass......strange people*S*!!!!!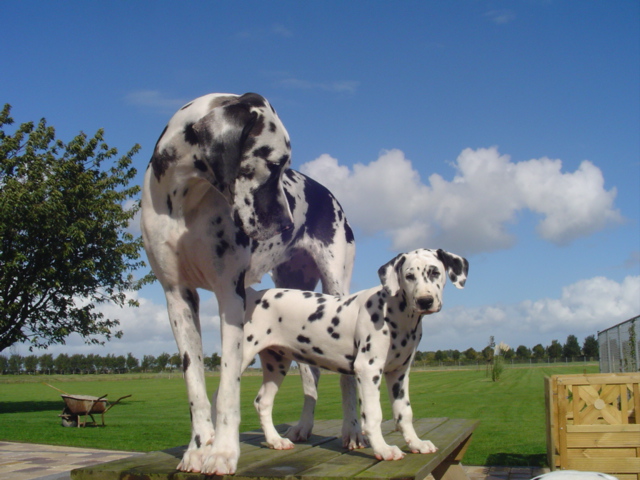 Seven present her Big sister Florence. Photo from summer-07 by Kok