Monday 31 December 2007
New Years Eve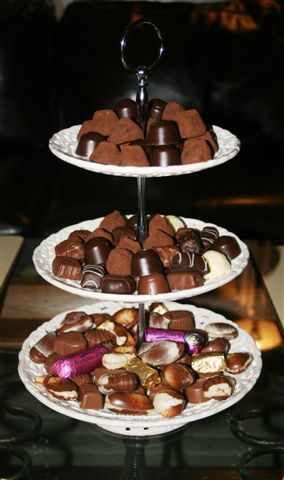 I put lot of chocolates on my Christmas present from Hanna, nice!!! Thinking about Disco in USA every time we look at this bottle!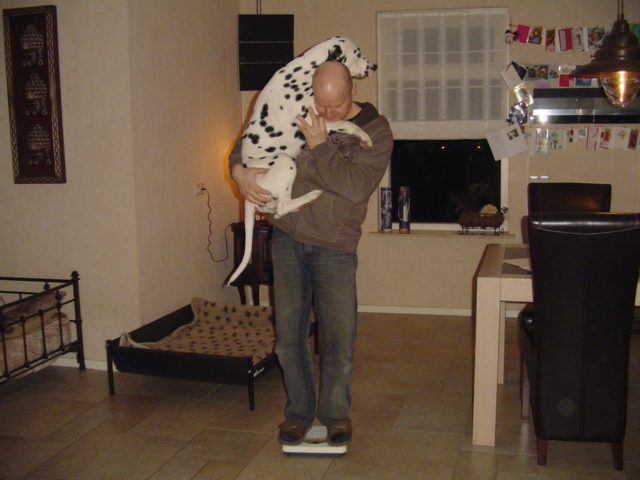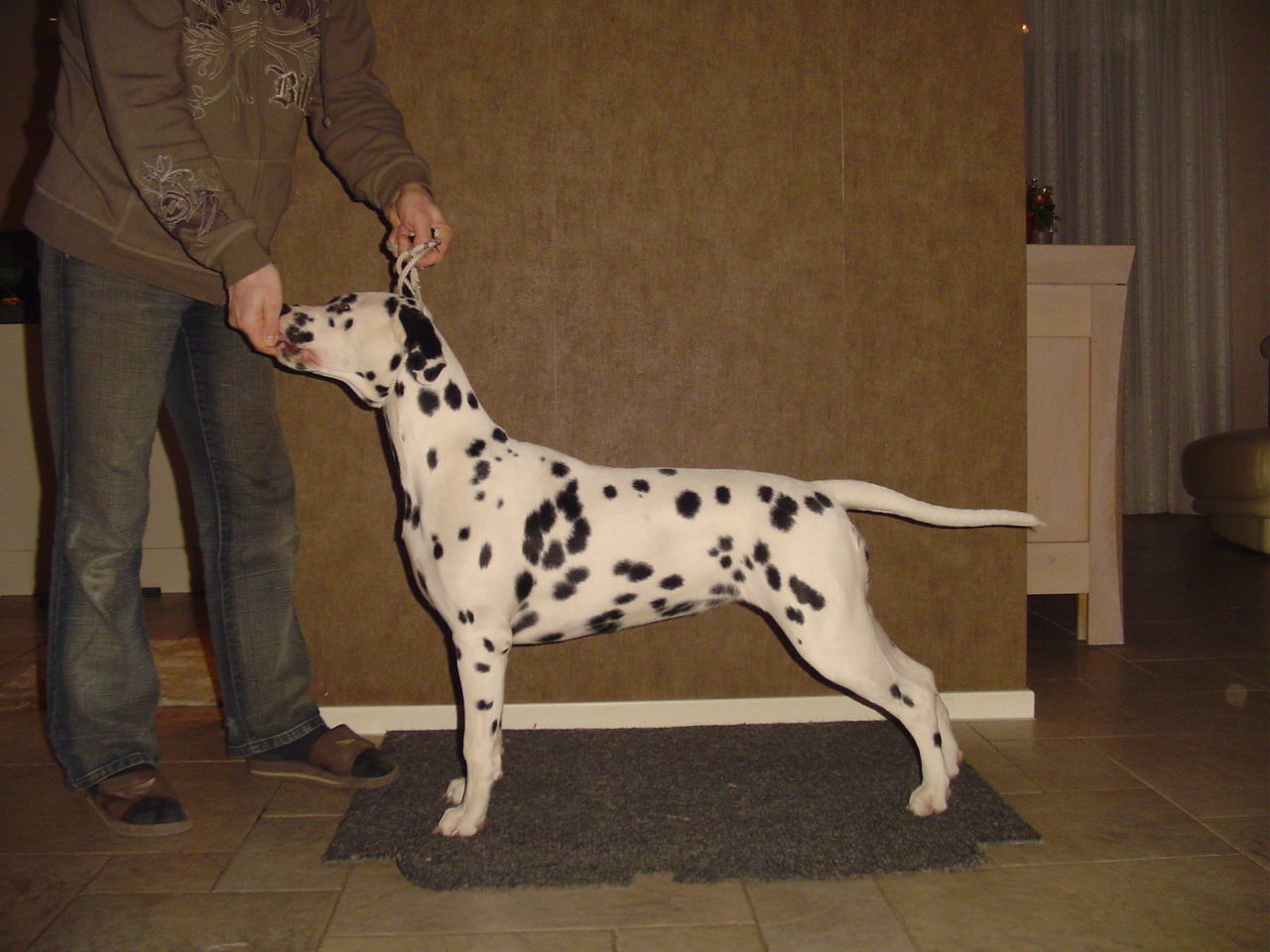 Photo by Kok
Andre is always carrying around with Seven around his neck (he and she still thinks she is a little baby *S*) and he was CHOCKED when he saw that he weighs over 100 kg after all Christmas food. But suddenly he remember that he had Seven in his arms and then he can continue to eat and drink a lot over New Year! Seven is NOT a baby anymore she is a good looking young lady now 7 month old in some days.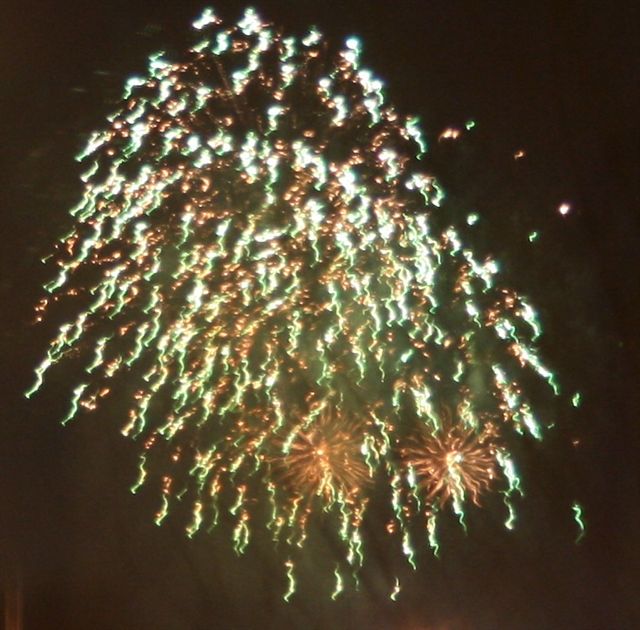 As always Jonnie want lot of bombs to salute the new year.
Sunday 30 December 2007
Devlina is now happy and free from her puppies (that she thought she have *S*), she is playing around like a puppy and she have start to destroy things ..... she never did that as a puppy!
Our new phone was her breakfast today!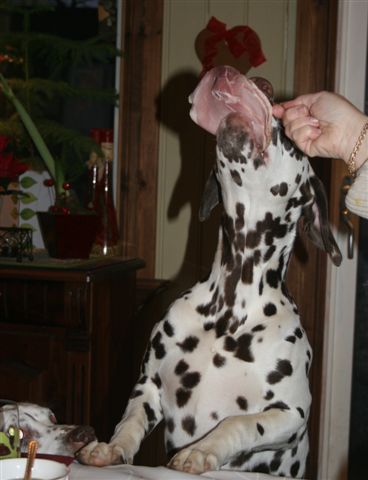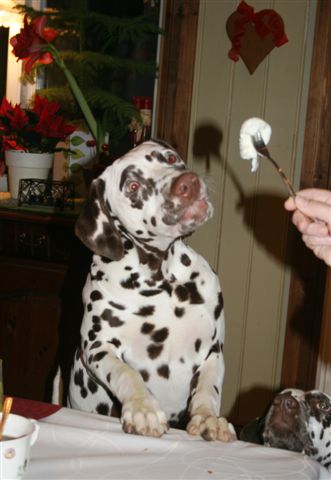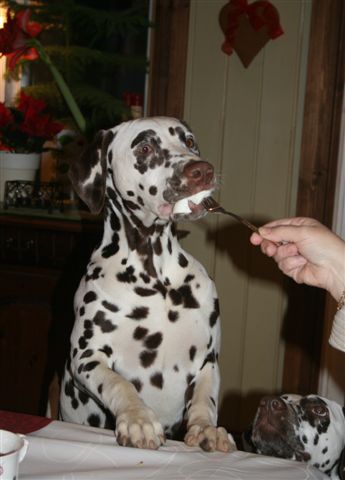 Gloria get ham and egg for her breakfast!
After breakfast she sleep for a while and watch her toy. Present from my oldest son at Christmas.
Saturday 29 December 2007
Picture from Norway of Zappa eating his own cake.
Photo by Sølvi Sundin
Friday 28 December 2007
We got so many mails from all over, from people that we don't know. Thank You for all positive things that You write to us about our dogs.
We wish You all a Happy New Year together with Your Families and dogs!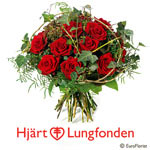 At 4 o'clock I send a mail and ordered flowers for Louice and her family. I got a message that it was to late to deliver them today so I asked them to send them to her tomorrow instead. But after about 2 hours Louice called and say thank You for the flowers!!!!! That was fantastic, so smooth and easy to order from Euro florist, I will do it again!!!
Home all day, sleep a lot and look at TV..... more tired and tired, even if we sleep a LOT just now, strange!
Thursday 27 December 2007
Today Jonnie was very happy, his new car (tractor) was coming.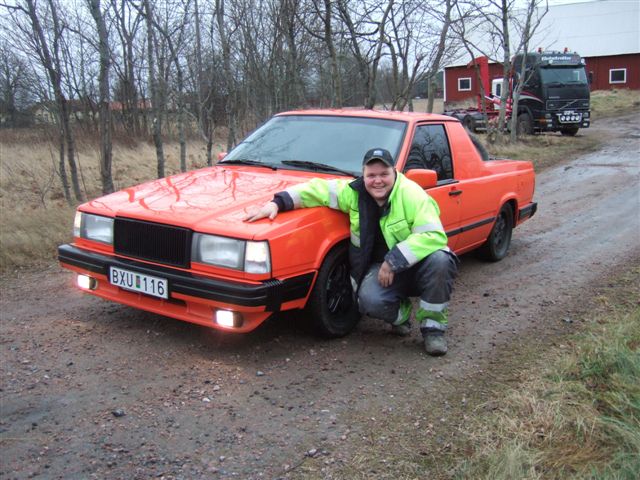 Now it is high time to sell his other cars....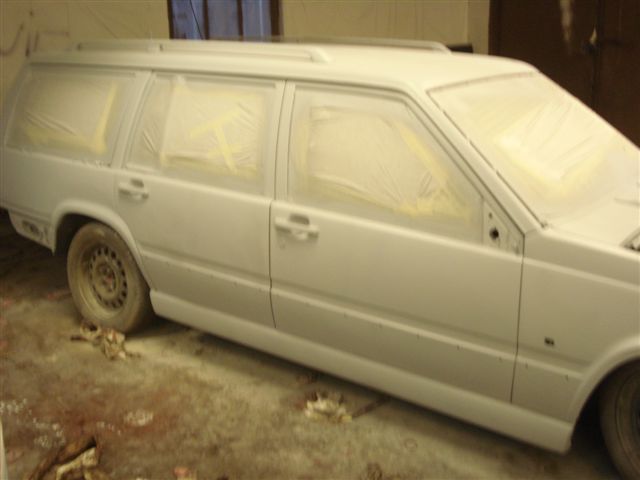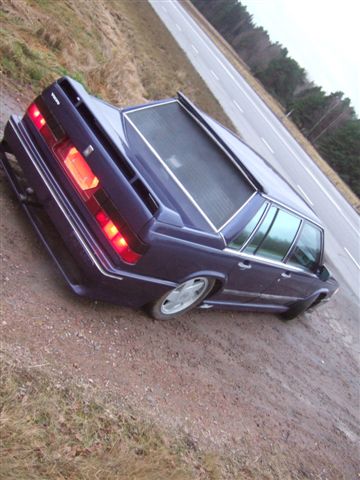 Albin is stretching a little before he starts to work with the cars. Elliot love to sleep in Roy´s suitcase every night *s*.
In the afternoon Rune and I go to Lidköping to buy a cheep lap top on discount.
Wednesday 26 December 2007
Away from home at 6 o'clock...it sounds that the engine in our car will explode any second......we turn it of and start again and wait....Rune almost got panic because he have many things for a dog show today in this car, and there were people waiting for him at the race track 25 km from our home, not so far but it doesn't help when there was something wrong with our car. And I have 4 puppies to show and two more puppies was with us just for training. After about 10 minutes the car suddenly start normal again and we start to drive to Axvalla very slow. It went well! Very strange!
It was a large hall that was light and nice.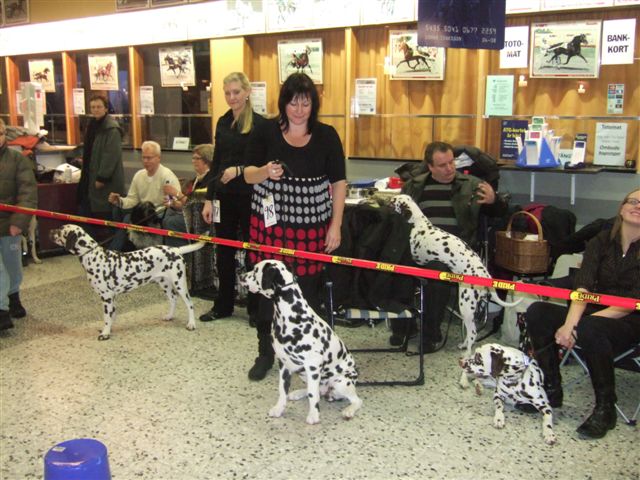 There were 11 Dalmatians entered today. Eight puppies and three grown dogs. Hanna, Catharina, Jenny, Per-Owe, Carola and I was there.
Hanna helped me to show Sperm-Bank and Bell, Jenny showed Dezibel.
In BOB I got help from Hanna again and she showed Sugardaddy to BOS and Gloria (Splendid Choice) was BOB.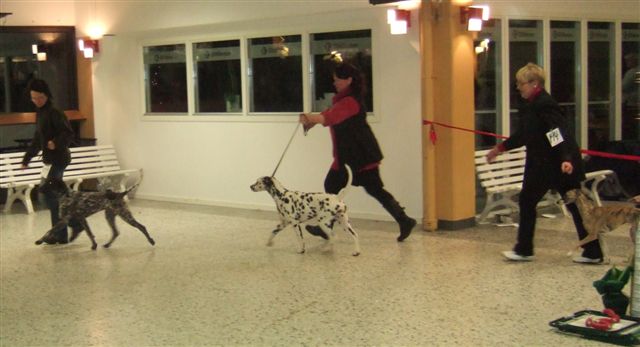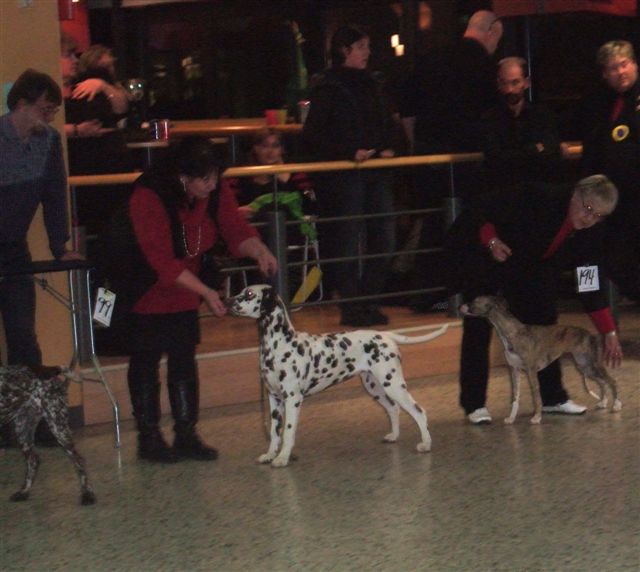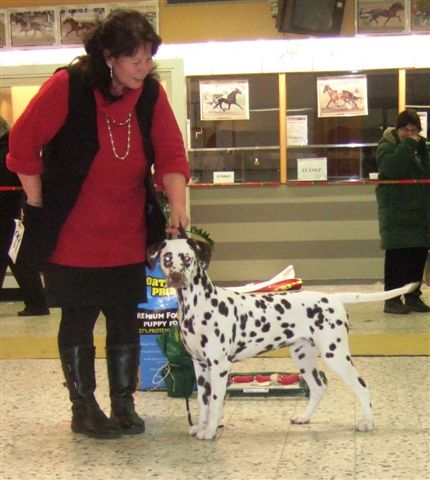 Gloria in BIS................she showed her self very well, and just like me she love to be in the ring. She was BEST IN SHOW PUPPY!!!
She is now 6 months and 3 week old and she have so much from her grandmother Zally that I love, thank You again Hanna and Jens for letting me have this wonderful litter with Chrissi (J Key To Success).
Sperm Bank her brother is still for sale, but now only to someone that continue to show him, he is a great dog so far with a super temperament and lovely character. Super movements and all teeth. We will keep him and continue to show him until we feel that right person are interested in him. You can meet him at shows this spring, if You would like to say hallo to him. He is liver spotted.
Jilloc´s Sperm Bank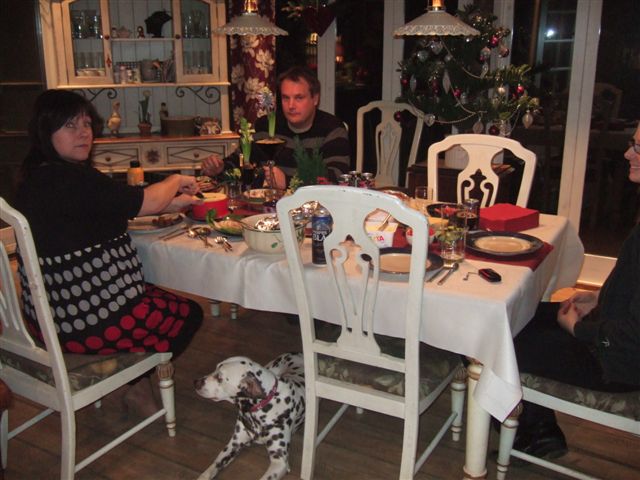 After the show we drive home to us and make something to eat, We all eat so much and Jenny eat too much cheesecake that she have to lay down for some hours *S*, before she can drive back home again.
We try to take photos of Catharina's young bitch after our Zamzon. Catharina have dressed up with Red spotted dress, red necklace and red eyes, perfect in Christmas time!
Runes cheescake that Jenny almost eat by her self!
Devlin and Darling with their christmas present from Jenny!
Tuesday 25 December 2007
Today We Congratulate Louice that got a son today 01.58
Nils Börje Robert, 3080g o 47 cm tall
We are so happy for You and that everything went well.
Darling send lot of Kisses to You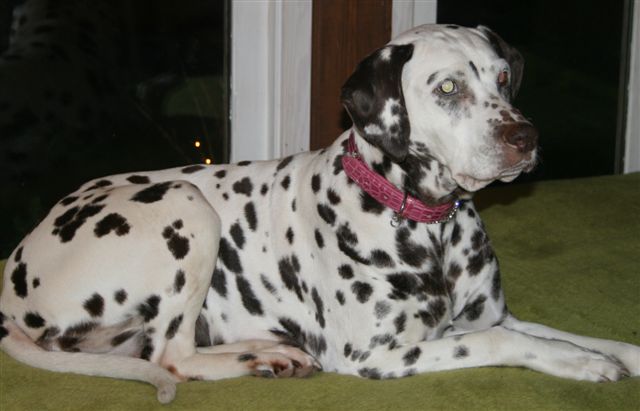 And we saw that we ended at nr 7 BEST BREEDER in Sweden this year, all breads (nr 6 last year).
Thank You all that been with us in our groups!!
Monday 24 December 2007, Christmas Eve, JULAFTON
I miss the snow from yesterday, there is no Christmas without snow I think!
A lovely picture from Norway taken by Bente. Her own bitch and Black Rolex (he moved to Sweden yesterday) in the snow!!
They are puppies after J Puzzle Piece for Skvaa and our Bosson (J Loverboy).
The puppies proud Mother Nelly. Photo:Bente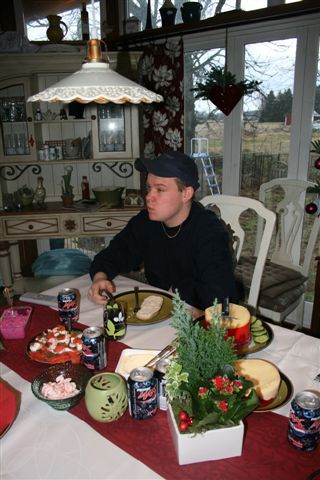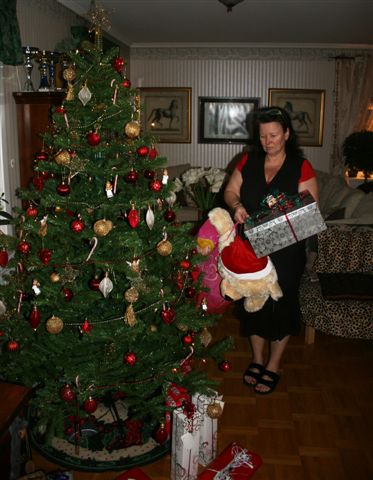 When Jimmie came we eat lunch and then we did nothing for some hours. I send Ellies package with Jimme, because we do not meet her until next week and she will probably get her presents as soon as possible. In the afternoon we eat dinner and then we opened our gifts.
I never want anything, just flowers that is one of the best things I can get, but today I got a thing that I really want. It was a large photo with all times we have won the group since 1999 until today...I have told Rune many times that I want all photos when Devlin was the winner, but this was even better. Thank You!!!!
The hard working Santa I found in the sofa, he have been up whole night to work with his car and fall asleep as soon as he have eat dinner.
Both boys love egg, salmon and shrimps so before I get my camera ready there were one egg gone!!!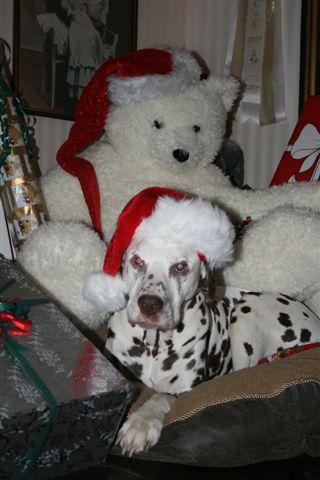 Best of all this Christmas is that Devlin and Darling are with us!!!!
Who closed the light?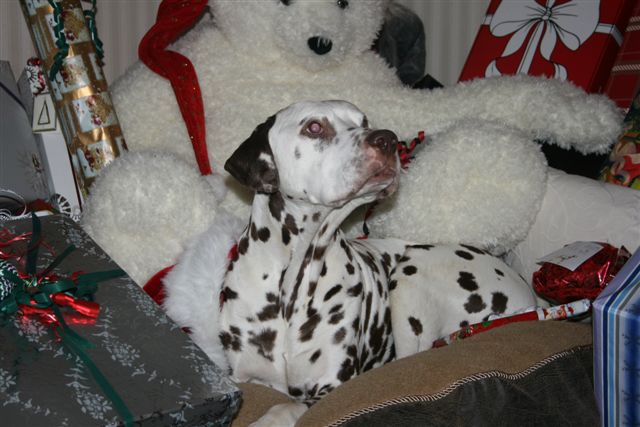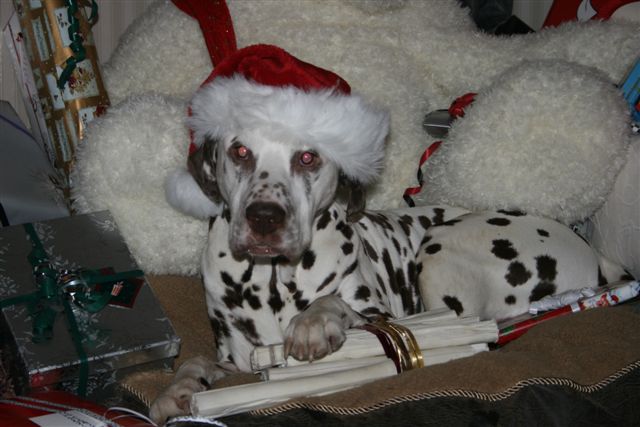 We got 19!!!!!! bones from Jenny, and Devlin watched them all for a while..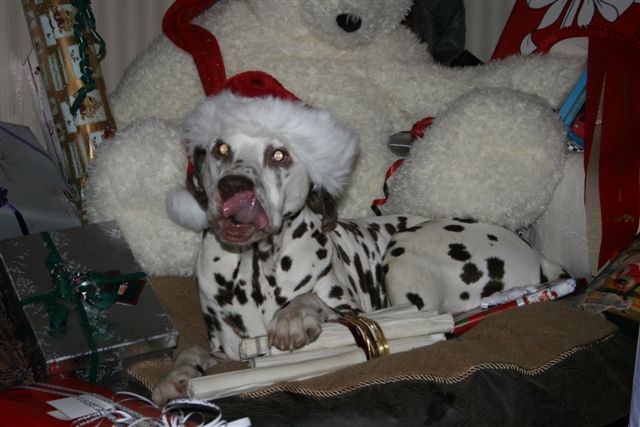 He just taste them a little and they were very good, so all the other dogs get one bone each in the evening!!!
And Devlin himself lay on the best rug in the room where no dogs are allowed to eat and eat up his bone...
BUT WHO CARES........IT IS CHRISTMAS ONLY ONCE A YEAR!!!
Sunday 23 December 2007
Most of all we would like to stay in the bed under the blanket all day long, but we have to go out and bring the ham and some more things home.
One positive thing was that it was a little bit Christmas weather for some hours before it disappear again.
We look a little at tv in the evening and Rune made lot of Norwegian Christmas food, that he NEED every Christmas *S*.
These things was for cheescake.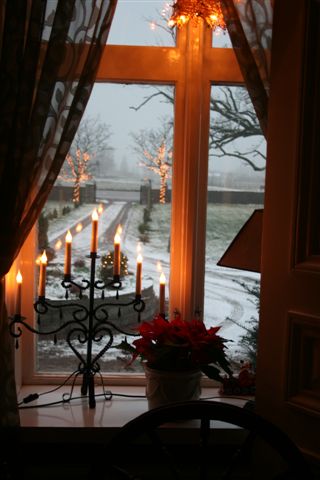 Hanna and Jens in the mood for Christmas. Christmas.
We were at my fathers grave and light the candles.
I think it is so peaceful in the graveyard here and I hope we have possibility this year too to go there at 1 of January, it is many people singing in the church and it is so full of feeling, hopefully we have got some snow then. Two years ago we have LOT of snow and it was so beautiful like in a dream around the church.
First Day of a New Hopeful Year.
And it is my fathers Birthday so we go there to show him that we never will forget him.
Saturday 22 December 2007
Rune was out shopping some more things, I decide to stay home because it is so much more expensive to take me out into Christmas decorated stores....I can't stop shopping!!!
I continue to clean the house instead.
I pick up some papers from the kitchen table, and start to look at them, and then I could only find the papers to one show in Gothenburg in the beginning of January , we are going there with three puppies (it is their only time they can be entered in puppy class at a Kennel club show, and I'm so happy to have two possibilities to show them twice the same weekend) and with Mini and Donna at the Swedish Winner Show 2008, at the other day I will only show the puppies and Rune will be practicing as a judge for Rhodesian Ridgeback again.....BUT....
when Rune was back he start to check when he have paid for the show and so on, and we found out that he have enter our dogs to WRONG DAY, and that he have forgot to enter the puppies day two. He was sure that he have been doing that, and I remember that he was sitting in front of me and made the enter form at the computer and he change to my account when he made the payment for day two and the puppies
But.... something was still wrong and they were not entered. We got really depressed after checking with the Kennel club that our dogs was not in the catalogue at the Winner show!!!
Goodnight we really do not want to talk about it!!!!
Friday 21 December 2007
Last night Dezibel and Jenny was here to pick up their Christmas presents and to get some from us.
We try to dress Dezibel like a Santa, but she prefer to eat Runes chips instead *S*!
WHY are You laughing??????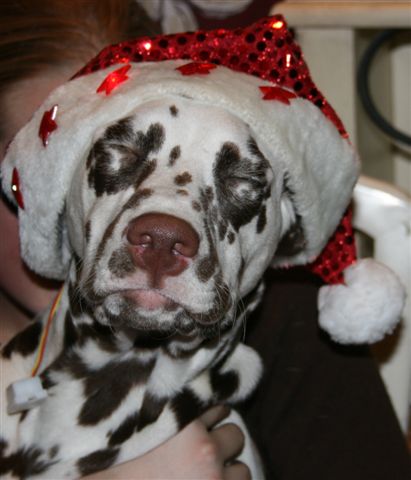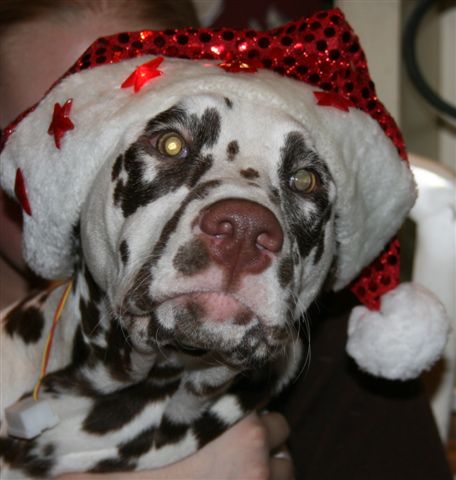 This must be a bad dream, if I close my eyes it maybe disappear.............Noooooooooooooooooooooo the ugly twinkling thing on my head is still there (and I have lost my hearing so I don't understand why they have so fun????)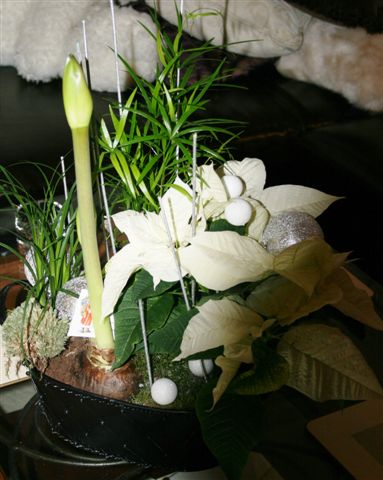 Loveley flowers from Kattis Voijkan and Helena B. Hi...have we seen You before? Elegant red Christmas flower from Jenny.
Thank You All for funny things and sweet Christmas Cards, We hope You will have a peaceful Christmas and a Healty and Happy New Year.
So easy to remember Eva B and Maja, thank You!!
Darling put everyones shoes close to her in the night *S*! Stupid sister........... Goodnight, don´t disturbe me!
Rune and I was up almost until morning to try to get everything ready before Christmas (and we NEVER are!!!)
My Christmas present from Roy, I got it already today, and I really need it...thank You!!! (And I bought it myself *S*).
Not the washingmachine, but those two shelf under the macines...it make the working area about 30 cm higher (for us older people with all kinds of pain). I really can rekommend it for everyone, and You can emidiatelly see if there is something left in the machines. Perfect!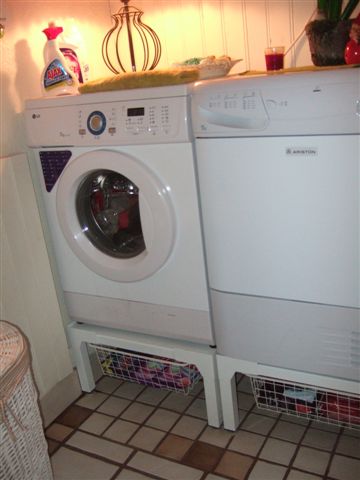 Thursday 20 December 2007
Fantastic News from Russia, Finland, USA and Latvia!!!
We are very proud of!
Disco started his show carrier in the show ring last week. He was reserve BOB, only beaten by a Champion dog, and got his first point to become a champion. He was shown at 4 shows at The Crown Classic Show in Cleveland and have now 4 points out of 15 that he need to become a champion. Congratulations to Carl and Inna, and lots of kisses to Disco!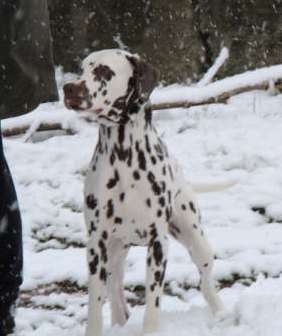 Disco in the snow at his home in Usa.
We are very proud of!
In Russia at Vladivostok Int Show was Tyson Junior BOB with Junior CAC, BIS 2 Junior and BOB Dalmatian and later on BIG! Judge for the breed was Khan Chul Kang from South Korea. Congratulations to Evgeniya with lots of kisses to Tyson!
Tyson in action Tyson BIG.
We are very proud of!
That Neela........ J. Scandal Beauty participated on 2 puppy shows this weekend in Lithuania where she won 3 BIS-puppy Saturday and 2 BIS-puppy on Sunday!! Congratulations to Niina and Mette! We and Neelas brothers and sister sends lots of kisses to her!
Neela enjoying life this a hot summer day.
We are very proud of!
Last but not least. In Riga, one of Bossons sons Aragorn The King won BIS puppy!! We send our congratulations to Svetlana and Pavels too and good luck in the future! Here he is relaxing after a exciting day!
Wednesday 19 December 2007
As every morning many dogs playing at the field, looking for snow!!!
We have a pirate in our family now, his name is JONNIE BOY!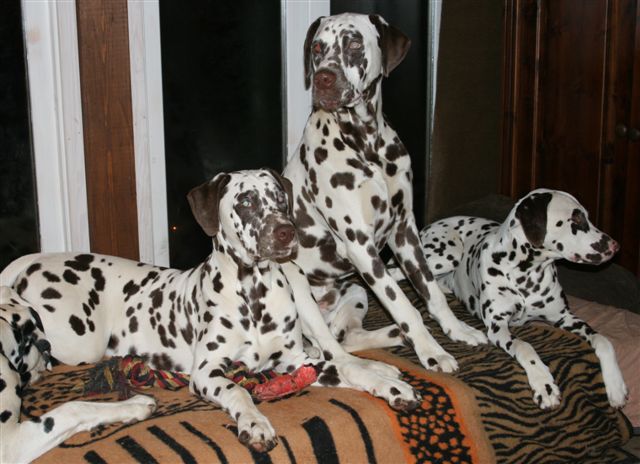 Rolex, Sperm, Diamond and Trumph card.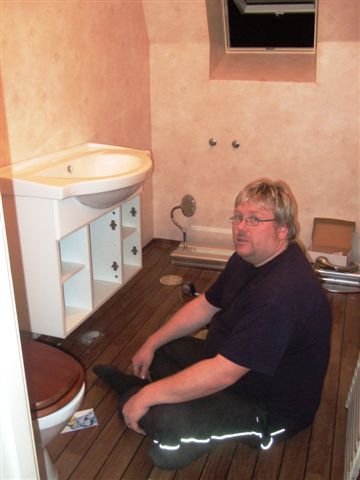 Elliott in the new bathroom at Roy's place, we were there until 3.30 tonight to try to make it ready until the Plummer is coming in the morning to put all things back again..
OF COURSE he didn´t come.......there is NO toilet and shower during Christmas and New Year!!! Thank You....I hate things that we can´t do by ourselves!!!!
Tuesday 18 December 2007
We have so much to do that I can't even wrote about 10 % off it all.
But for four hours today we were at Roy place and I try to reach the kitchen Zink..Jonnie (and Roy) are experts to destroy a whole kitchen in just some minutes when they make food or something else there...puh!! It took me two hours before I can start to make food to Jonnie, Albin and us.
During that time both boys and Rune were out and try to load some thing to a chassie, they have promise to come with a low trailer, but they came with a normal truckchassie so it was not that easy. I was happy to stay inside the house during that time. All three of them where black of oil and mud when they finally came in to eat after some hard hours.
In the afternoon Carola and Peter came to bring Perfect back home again after her trip to Stockholm with us!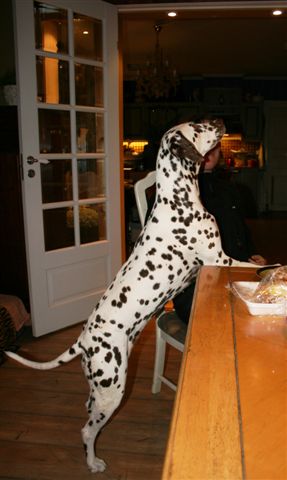 All dogs are so happy for visitors. Perfect want something from the table. Diamond and Sperm.
Monday 17 December 2007
Soooooooooooooooooooooooooo very tired!!!
Both Me and Rune have time today to the Doctor, we really can't remember how we came there!
Pictures from last week.
No winter outside. Christmas inside. We bought a Santa and Jonnie HAVE to carry it on his head to the car.
I always buy more than one of everything, just in case I need it when the store is closed! The Wing where I have my store!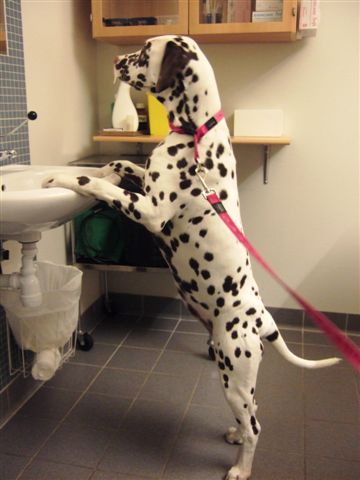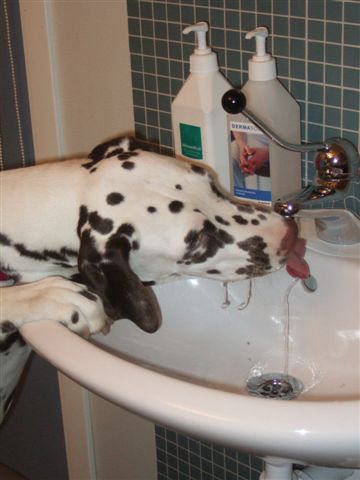 Jenny was at the vet with Dezibel, and she was so thirsty*S*! I was in the store and try clothes what should I do without my camera
This is one of the very good cakes Louice made for us last week!!!!
We save it for Christmas.
Sunday 16 December 2007
Away from home at 4.30, in Stockholm at the Mess Centre 7.45.
We met so many of our friends there today, and we WISH YOU ALL a MERRY CHRISTMAS!
Photos taken by Pia, Teemu, Hanna and Myself.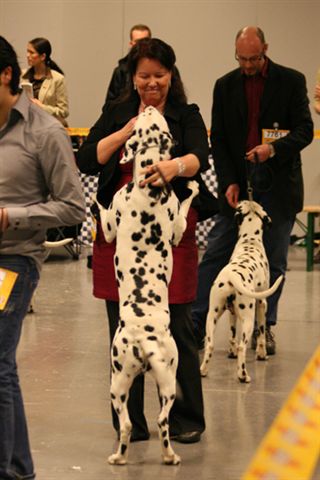 Yes Expo, I love You too!!! Harry was there!!! Titti was Nord Jun Winner-07 on Saturday, Pia was pleased!!!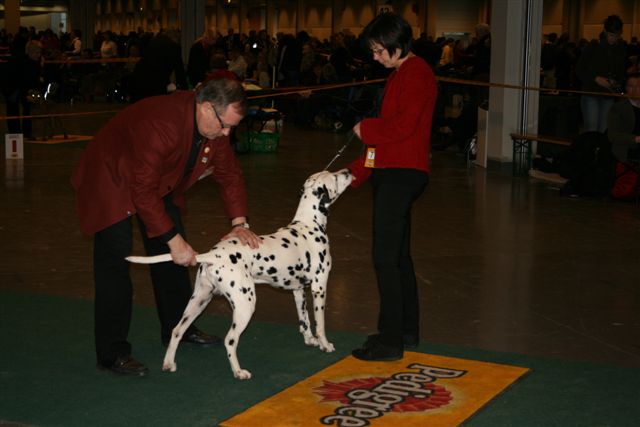 Kerstin and Brandon (Ch J Easy Rider). Hanna and Hjärtat (F S A Key To My Heart)
Hurray, Anita came with a cake to Rune, I don´t know who was most happy...Rune or Anita?!?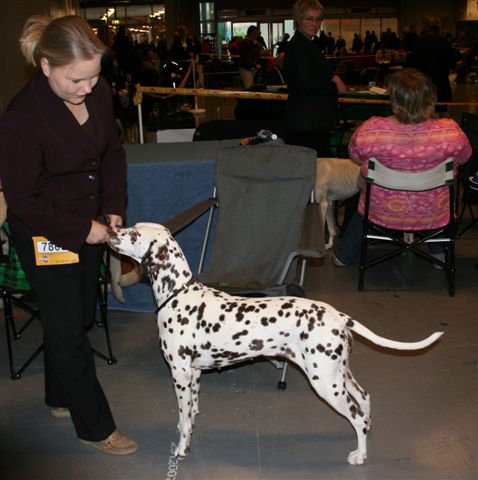 Thank You Pia for showing Perfect for us! Eva B and her Falabellas bitch.
Devlina want to go home to her puppies (she think she have puppies at home *S*)! So close to his Nordish Ch, Expo was nr 3 Best Male.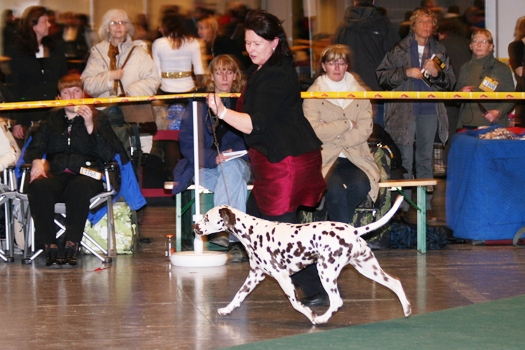 I have prepared myself to run today with Expo. And later on with Devlina, she got another CAC and her first CACIB,
and became second Best Bitch after Jill.
And many thanks to Niina that showed Jill in best bitch class to a new title Nordic Winner 2007, Nordic Junior W 2003 Int o Nord Est. Ch Jilloc´s Joyride!!!
Nr Three in BEST BITCH our Timanka´s Romantic Miracle (Mini)!
Nordic Junior Winner 2007 Today Hurray!!!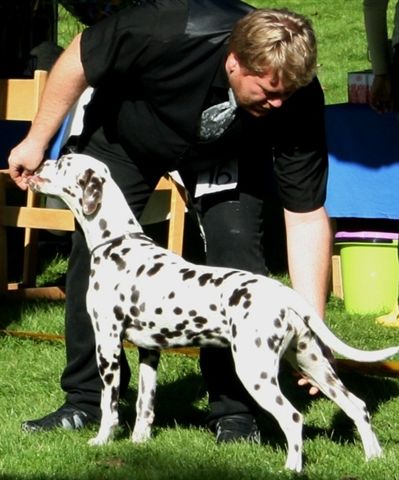 BOB Dalmrosa's Toro Bearnaise, Judge Harri Lehkonen and BOS Joyride and Niina.
Best Progency Group and BIS 4 Ch Timanka´s Miracle Of Love with Devlina, Nova, Milda, Mini!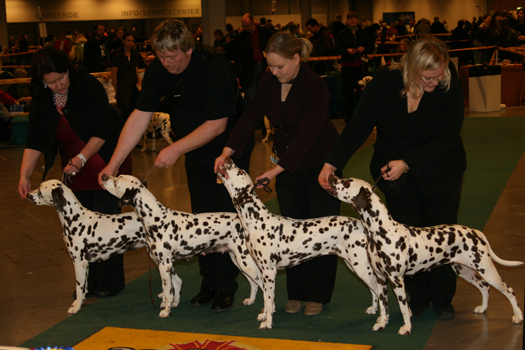 Best Breeding Group Jilloc´s Devlina (1,5 y) Darling (11,2) Perfect (3,7) and Jill (4,9).
Here with Niina from Finland (owner of J Scandal Beauty, and Top Dalmatian in Finland 2005 CH Marnellin Investiamablis, Devlins Daughter) and Pia (co owner to Expo).
Again Thank You All that have helped us to handle our dogs during
this Year, without You we have been nothing!
And in the FINAL RING we ended as BIS 3 BREEDING Group under Dan Ericsson, Sweden!
Here with Jenny (co owner of J Top winning Trophy) and Lena Erlandsson a very good colleague and friend (owner of Ch Labyrinth Perfect Harmony etc.)
After a VERY long day we start to drive back home, but first we have to meet Maria and David in Arboga to bring Diamond back home again, and we all were very hungry after a long day with only cake and candy so we all eat at Mac D.
Thank You to Helena Bergs Mother that stayed in Hall C with some of our dogs when we were in the final ring. Here with Jill and Darling.
After about an hour we have to stop and sleep for some hours and then continue to drive again. We were home in the middle of the night, tired, as usual!!!
I fall a sleep with five dogs in the bed!
Rune sleep in the sofa.
Darling and her Brother Devlin always so close together, and to me!!!
Some of our new things for the last show of the Year!
Saturday 15 December 2007
Today Rune is in Stockholm to practice as a judge for cocker spaniels.
Last night we were looking at TV and both of us fall asleep in the sofa. At one o'clock in the night we woke up and then we have lot of things to do as we should have done before we go to bed. At four o'clock Rune was ready to leave for Stockholm, because that we have slept some hours he was not tired enough to go to bed so he decide to drive and to sleep there instead.
I locked the door and went upstairs, but it was knocking at the door!!!!!!!!!!!!!!!!!!!! Oh my god, I hate to be alone and are so afraid when Rune not are at home...I looked out and saw that both our cars still was outside our house...so I opened the door. Rune was standing at the star and would like to come in again. TO CHANGE TROUSERS!!! When he have lift one of his legs to came into the truck with large tires his trousers was broken RATCZZZZZZZZZZZZZZZZZZZZZZZZ over a METER...****SSSS****! What have happened today IF that have happened when he was jumping OUT OF the car instead in Stockholm, I don't dare to think about it *S*! With his trousers in his hand he run upstairs and try to find some other trousers that fit..and I will promise ...it is NOT easy *S* the same problem as I have just now, NOT FUNNY!! But I always have extra, extra and extra clothes with me since that time, many years ago when we were going for a show with our mobile home (Roy and I), and I took a shower late in the night and put only a morning gown on when we leave because in the big mobile home I have everything I need in the large wardrobe and I have full control of everything (I thought). In the morning I couldn´t find my bra!!! And there were no one at any place, and it is not so easy for me just to find a bra in my size...even if the stores are open....
Maja at Swedog told me that she had a big one at her hotel room and her husband drive there to bring it to me..but it was MANY sizes toooooo small. I took bandage to put around me but noting help, and I can't almost walk without my breast is jumping up into my face and crash all my teeth!!!! What should I do...I HAVE TO SHOW DEVLIN...he have been BIS at a large show two weeks before and I really want to show him and hope for more good results....after some hours I really don't know how we tight my breast up with bandages, the small rented bra and some other things, I couldn´t almost breath. But Devlin became BOB, BIG Nr 1 and finally BEST IN SHOW again that day*S*!
Photo: Per Unden
This is a day I never forget, of many reasons*S*!!!
I remember how hot I was, You can see it on the photo *S* but I was most embarrassed of my "wild hanging" breast after all running through the final ring, that's why I put my arms in front of me instead of thinking about to put up Devlin in a better way!!!!
Yesterday Louice came her with Darling, and with a Present for us. It was lot of candy, cakes and more things that she have baked and made by her self!!!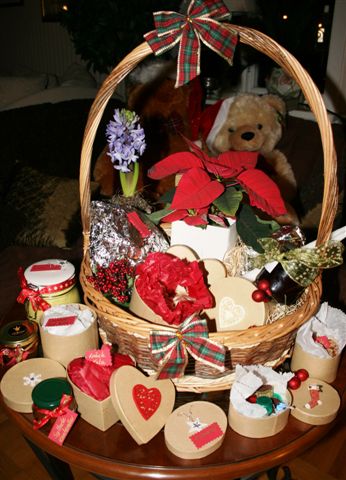 Just what we need for Christmas, thank You Louice You are great person, we Love You and wish You all luck with Your little baby that hopefully came out next week!
Jill just want to sleep!
Friday 14 December 2007
So happy to hear from Norway that Andreas have been walking by him selves to Mac Donald's!!!!
We really wish You and Your whole family a peaceful Christmas in Your own home!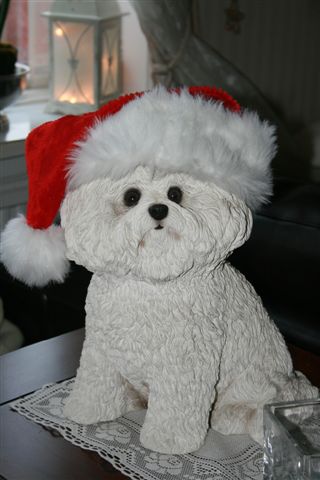 This Bichon I bought in Milan, Italy in 2000 at the World Winner Show!
I was out shopping some more things for the show in Stockholm this weekend, and of course I bought lot of things that I don't need, but they look nice in the store (but not on me at home).
I continue with Christmas presents and there are not so much more to buy (but I don't stop until the night before).
This year I have bought many silver packages and I put many things into the same, so when they open it there can be money, lottery, jewels, chocolate, vine, bones, clothes and many other things, it is so much more easy than pack every little thing in. Most of the time I have many, many things for every one and I am NEVER ready to pack things in....much calmer (what that is. I have heard people say that word)*S* I can recommend it!!!!
Devlin is a little stronger now that's why I hurry to buy the last things before Christmas. As we never know from one day to another how he is.
In the evening we got an phone call from Carl and Inna in USA. Disco have been on his first show, and he became Reserve BOB, and got 2 points on his way to USA Champion (They need 15 points). This was the first time in the show ring with his handler, and they need more training together to make a perfect result, but we were all so very PROUD!!!
Congratulations to You!
Thursday 13 December 2007
This was the first LUCIA day in my whole life that I haven't seen or heard a Lucia or a Lucia song.....
Just in the house all day and try to clean and decorate a bit more.
Wednesday 12 December 2007
Back to the dentist with Jonnie today, they have made impression of his teeth to make soft palates for him, but when we were there they didn't fit at all.... tooooo big, it was maybe for someone else or??? So we have to go back there next week again. and we really don't have the time just now.
I try to be home all the time because Devlin is not so strong just now, so I don't want to leave him at all. We hope he can be with us over Christmas and New Year.....but today I was not so sure about that...so I gave him his Christmas presents and bones..he was happy as always and immediately he pick out the eyes of the Santa he got, because they were hard and he only love soft things and he will never destroy the rest of the Santa. He had him in his mouth when he was sleeping in my bed all night long. My Darling!!!!
Tuesday 11 December 2007
Hallo my friend, do You remember Me?
Do You have anything to give Me today?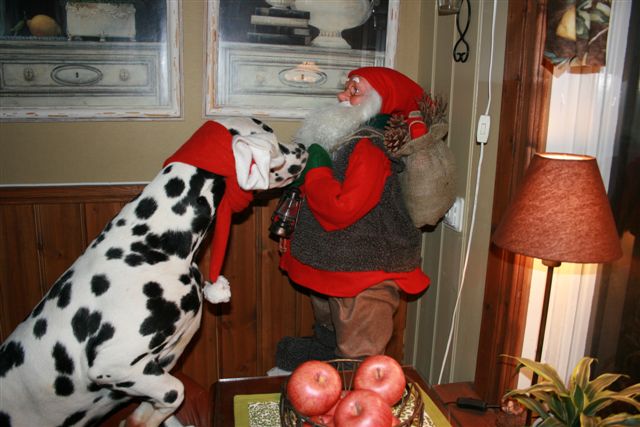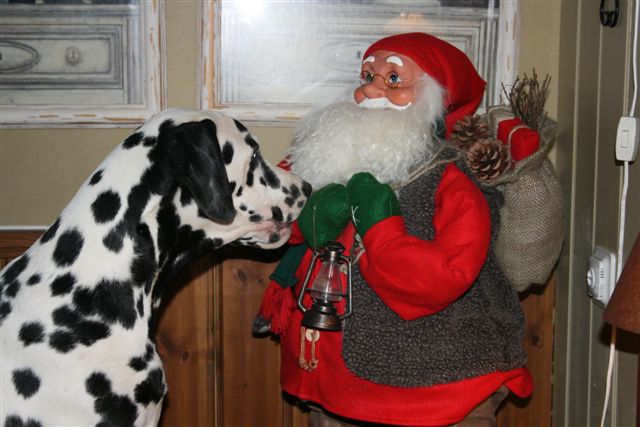 If I put my head here and just look at You, can You please give some more candy????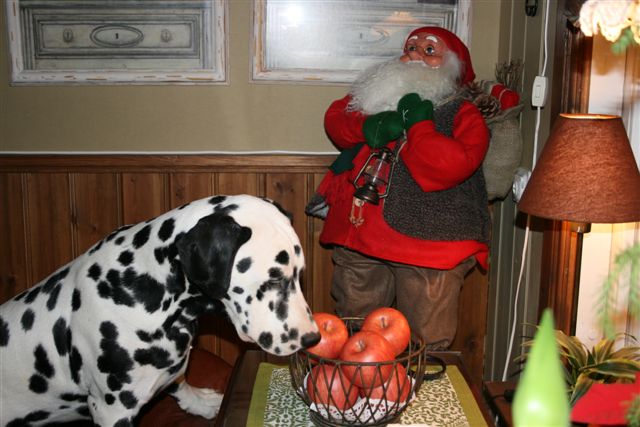 Nothing today....then maybe I take an apple....No they didn't smell as good as the candy!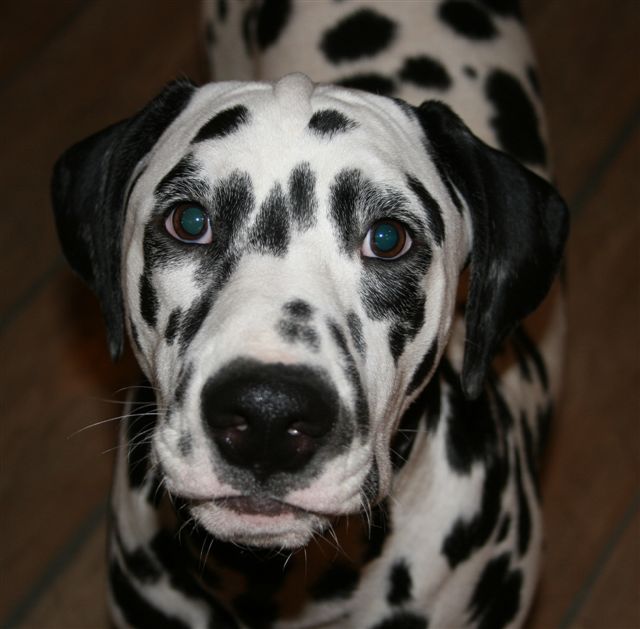 Mummy, Do You know Why I didn't get anything today??
I promise....I have been VERY nice since 5 June when I was born......ok ALMOST *S*!!!
Monday 10 December 2007
Rune was at work and after that he have to go to Gothenburg to make some thing that we need to Christmas presents, for our friends!
I put up a Santa Claus in the kitchen, and Daddy was soooo interested!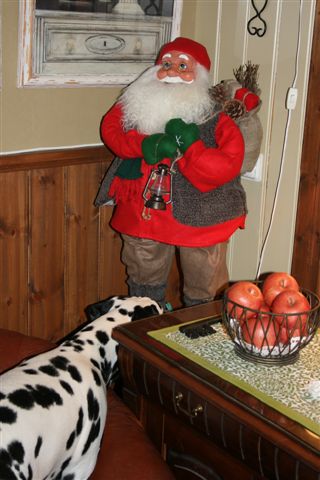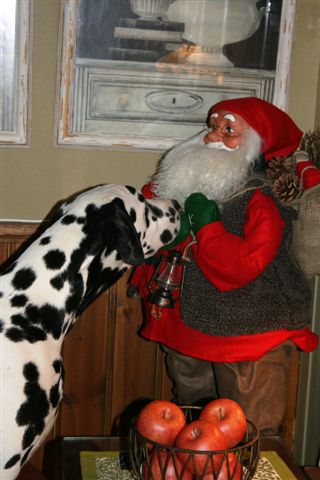 Hey there, do You have anything to me????
Sunday 9 December 2007
Today we open one of our wardrobes that is rather big. It is full of things that we need to decorate with in our house before Christmas...You can think about what it looks like with all those things all over.....and in some weeks you have to put it back again ...puh!!!! But Rune love it even more than me so...it will be Christmas this year again. But.. Roy is in Asia, Jennie is working, my mother have to stay with my aunt in Gothenburg so it probably be only Jimmie (Nathalie go to her parents), Jonnie, Rune and me around the Christmas table this Year. And 15 dogs of course because Darling is coming this week to stay for a while. But we will try to do as little as possible (not easy with all those dogs) and look at TV a lot, we hope.....*S*!
Things all over! Much better the morning after!
Rune decorate the Christmas three and fall a sleep! The ONLY ugly Dalmatian in our house!! The oldest Dalmatian in our house!
Saturday 8 December 2007
Today it is the big final in Swedish IDOL, we cross our fingers for Marie Picasso!!! And in the evening we call and vote for her over 20 times at our phones...we have newer done anything like this before because we think it is so expensive, but it was necessary. SHE HAD TO WIN, and she did!!!!! HURRAY!!!!
What a lovely voice in "This Moment"!!!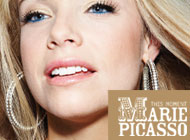 Friday 7 December 2007
Damn, now mummy have started to take embarrassing pictures of us here in the house!
Daddy love to have his twinkling cap on (I think)*S*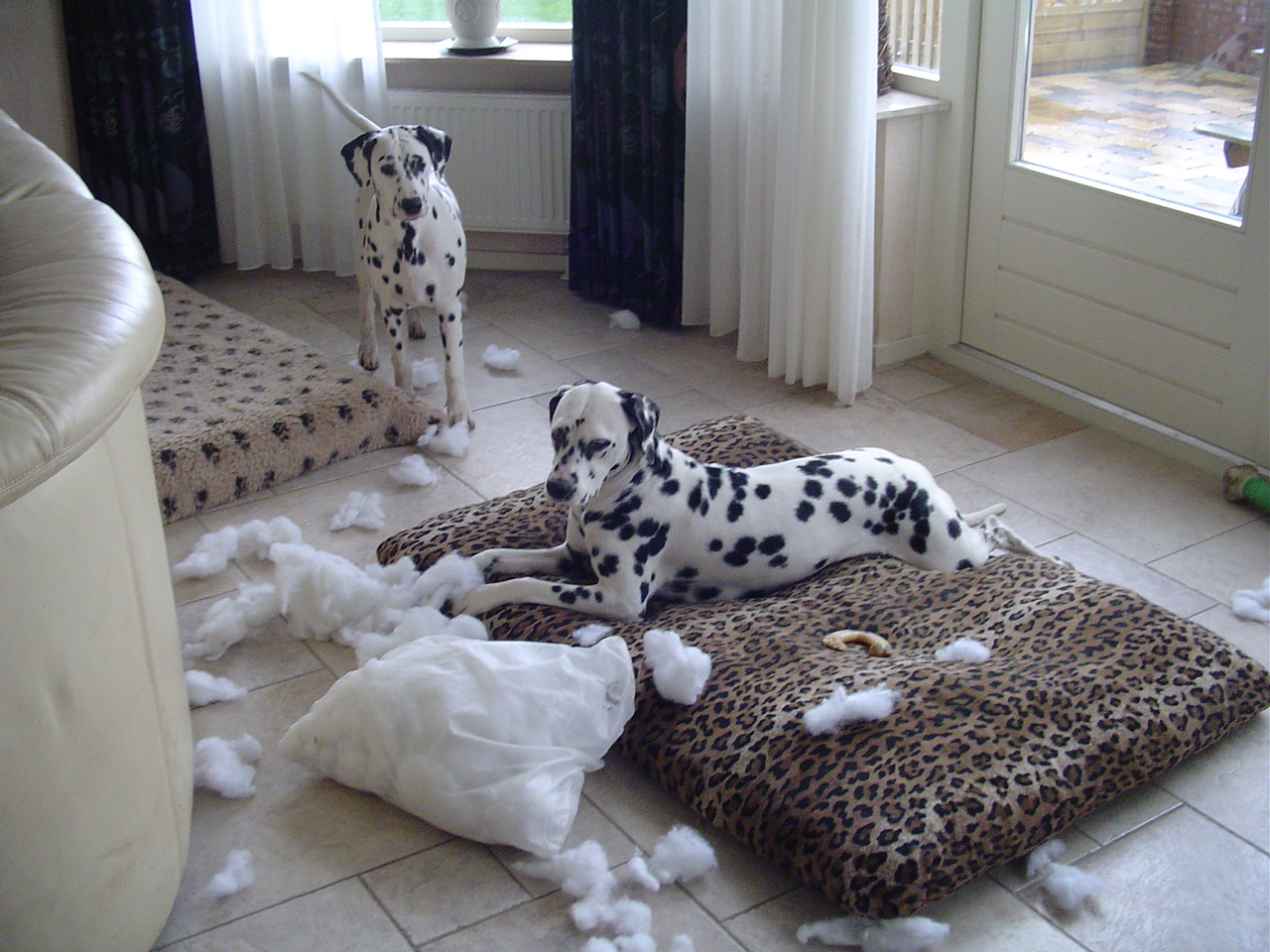 Photo: Kok
Daddys sister Seven, in Netherlands is a destroyer too...but Seven told her mummy that it was Edna that did this *S*!
Seven is standing , far far away from the pillow!!!
Thursday 6 December 2007
Bell is a little "Princess on the pea" too. She love to sleep on the top of somebody else....poor Devlina, she is so sweet!
And Bell love to be in the middle of everything, just like her mother Donna. She destroy everything on the computer many times a day when she is jumping up and put her head on the keyboard *S*!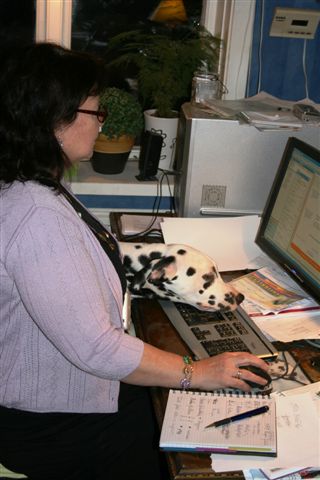 Wednesday 5 December 2007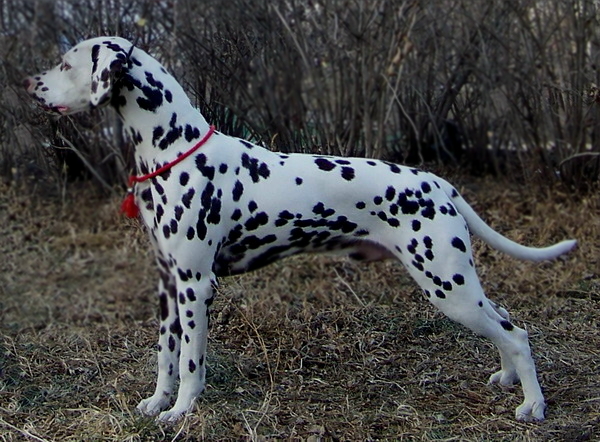 New photo from Russia of Tyson 10,5 months old, thank You Evgeniya and Good Luck in the future!!! Photo: Evgeniya
Good news from Finland. Neela have been to another puppy show, she was BOB, Best of Group nr 1 again!!! Congratulations!!!
Jilloc´s Scandal Beauty 6 months old today!!! Photo from Mette.
Today we were back to the dentist with Jonnie, it was a hard time because the injection with anaesthetize was not working so he had lot of pain, poor boy.
Some hours later when we were back home he was happy again!
Thuesday 4 December 2007
Photo:Helena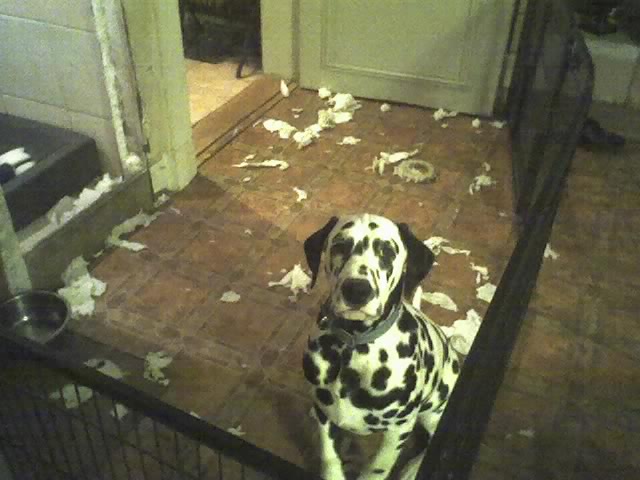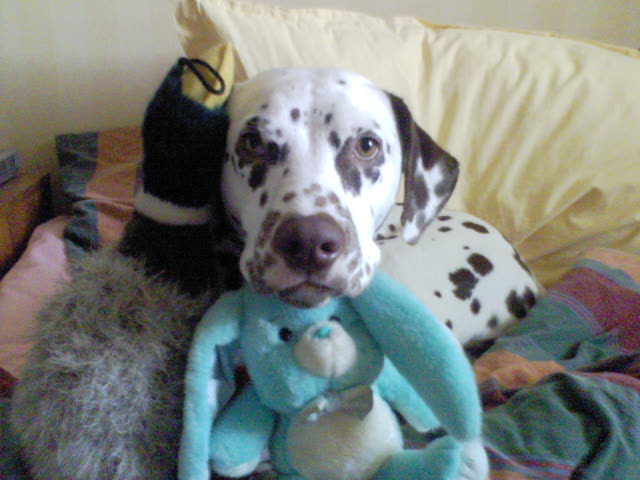 Daddy the toiletpaper destroier!!!!! Milda after a hard day in the forest together with her toys.
We eat a late dinner with Christmas food because Roy are going to Asia tomorrow again, and the first thing he dream about when he is there is the Swedish food, so he ordered ham tonight!!!
Monday 3 December 2007
Photo by Helena.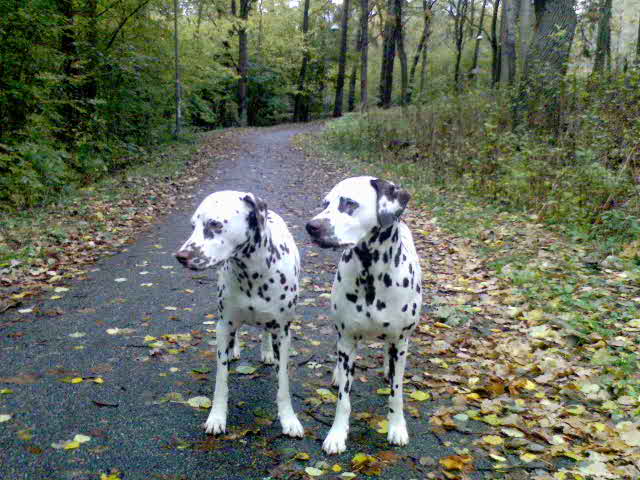 Jilloc´s Right Here Right Now and Timanka´s Movie Star, owner Helena Berg, Stockholm.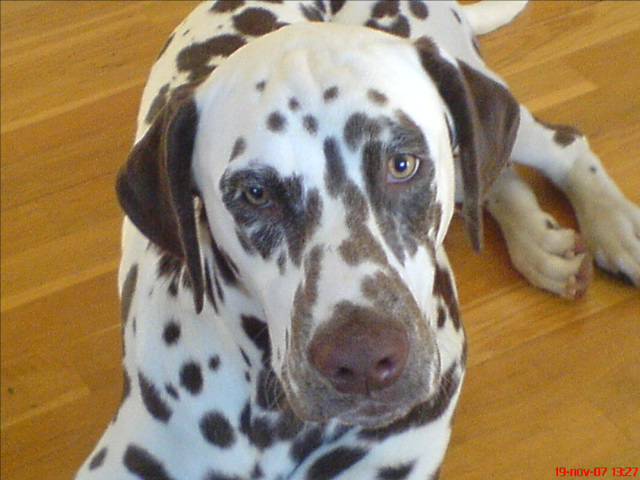 Photo by Maria. Photo by Karin.
Diamond is happy to stay with Maria and David one more week. Leija in Karins suitcase, so she don't forget to take her with her to Hungary.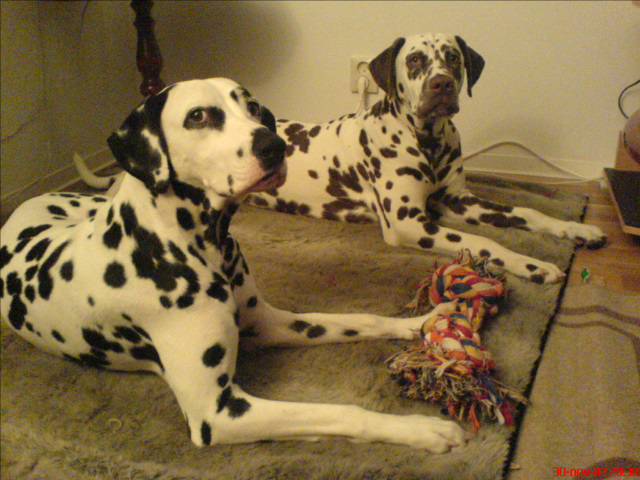 Yamina o Diamond. Photo: Maria