Friday 29 February 2008
Shadow is looking at a amazing painting of him selves...wonder what he is thinking!
Maybe...Who is that "Handsome" guy? *S*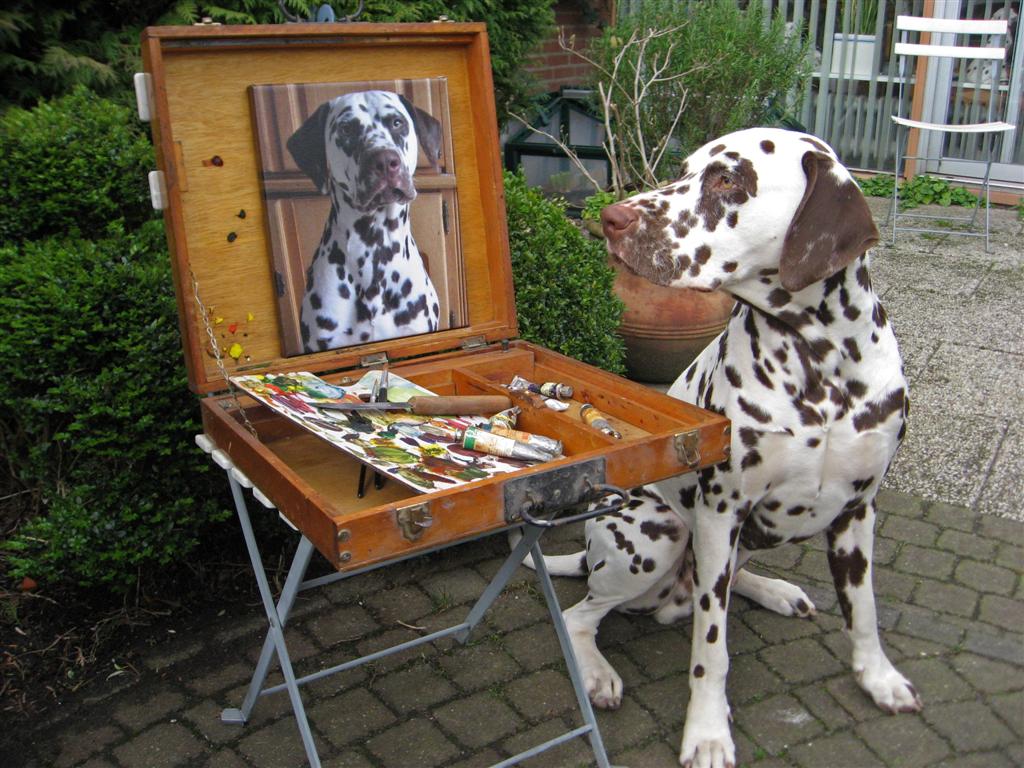 Thank You Joke and Henk for all lovely pictures You send to us. We look forward to meet You this summer. Photo: Joke Kentin
Thursday 28 February 2008
Rune and Roy up in the middle of the night to go to Gothenburg, and Landvetter Airport. Me and all dogs take a looooong morning....
After that I continue to clean.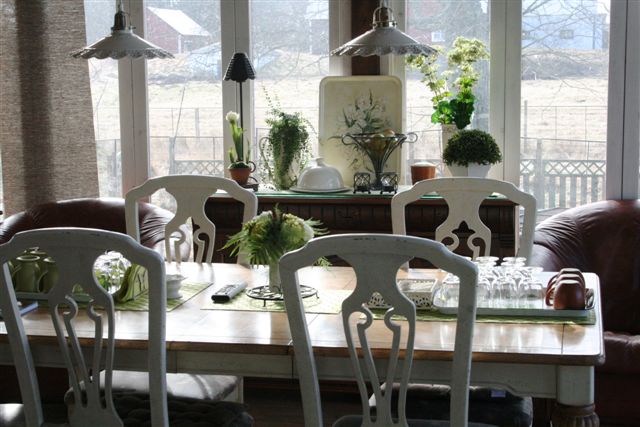 I have been cleaning the kitchen for two days now, when the sun is shining I'm so inspired to make changes all over the house *S*!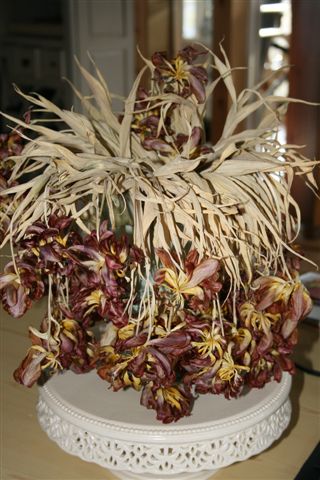 Daddy our destroyer always find something to eat on. Even a bouquet of old tulips can be beautiful I think, or am I crazy?
Wednesday 27 February 2008
Today we had taco for dinner, we all love it. Especially Devlin and Devlina, they prefer vegetables before meat!!!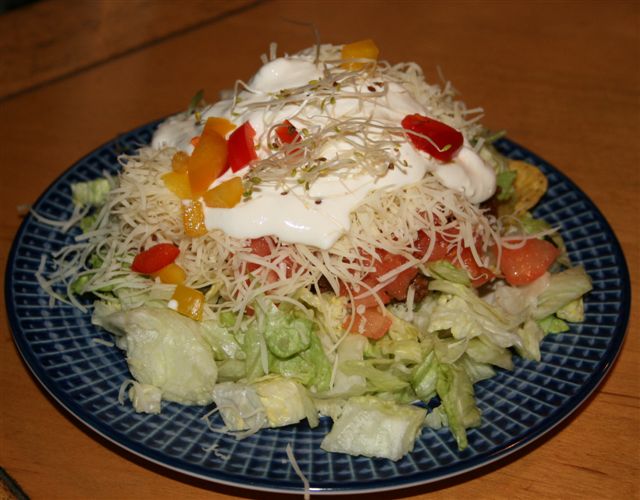 So much longer days now, I can se that it is Jonnie driving at E20 now, last week I only saw lamplights!
Tuesday 26 February 2008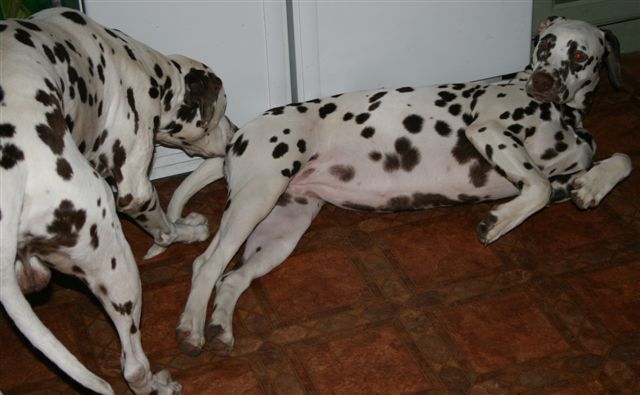 Devlin believe that Gloria is in heat....but no. We have hope that this will be ready before all shows start, but unfortunately not.
Monday 25 February 2008
This is yesterdays shit from the kitchen floor, hair destroyed toys etc. The same every morning and sometimes many times a day.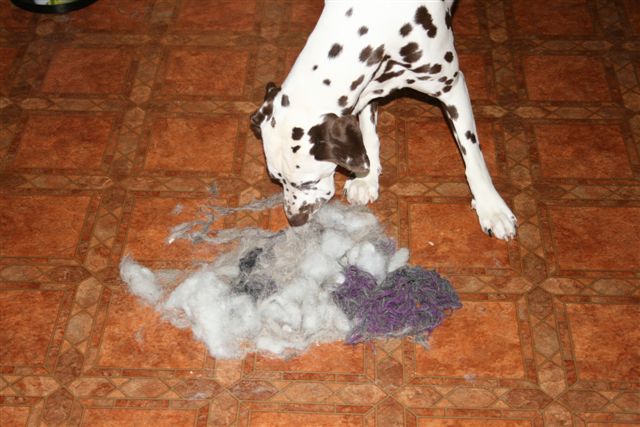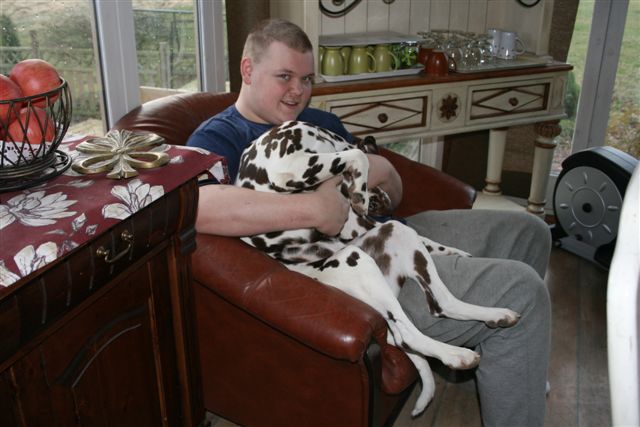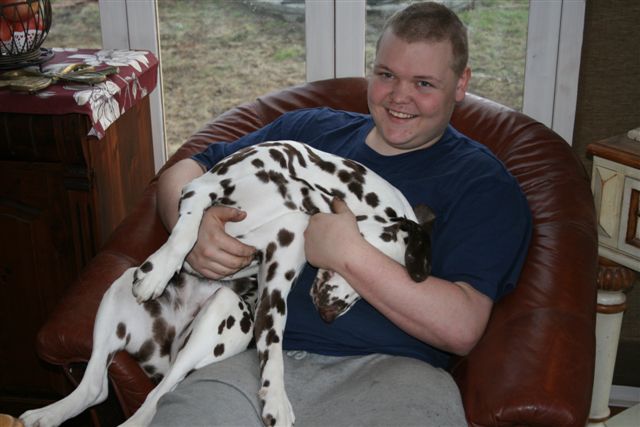 It looks like Devlina have no head, but she love to sit like this for hours *S*!
Devlina and Gloria resting together, they are so tired because they have been out helping Rune to carry wood.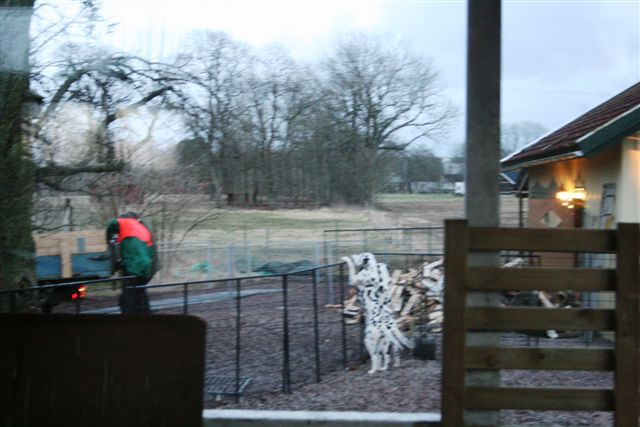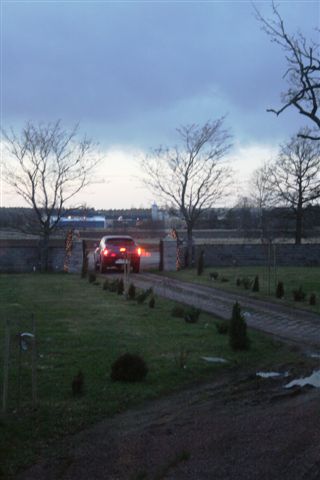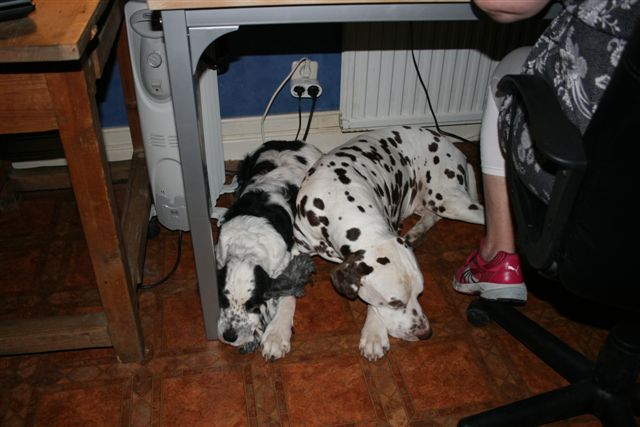 Rolex and Bell look at the tractor. Rune have to go back many times and fill the tractor with wood. Devlin have given up....Tulla can sleep together with him. She is still so in love with him, as she was when she was a baby 2001......he was probably her FIRST LOVE *S*!
We got the blood test result today...even Daddy, Gloria, Bell and Rolex are now ready to go out into the Big World for shows!!!
Sunday 24 February 2008
Today we had a lacy day.....up at 12 o'clock and didn't do more than was necessary. I fell asleep on the sofa again 15.30 and sleep for almost 4 hours!!! When I wake up, I was even more tired *S*!
We got lovely pictures from Star and his family, so good to se. Photos taken by Anette.
Mimmi looking at TV, Star is sleeping. Joel and Star that is looking for funny toys they have here in a cage. (Ginny pig)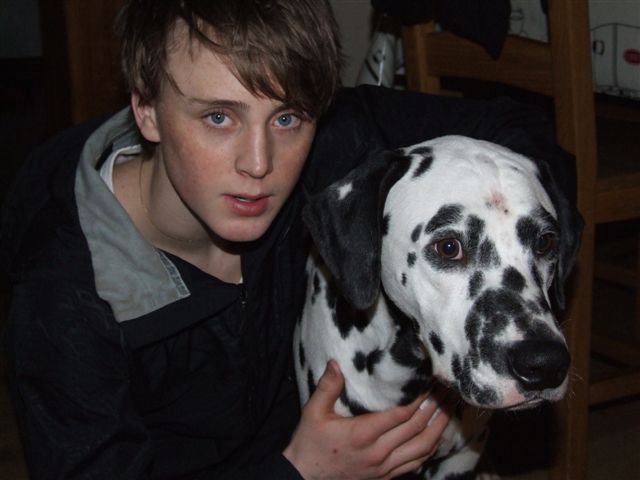 Kim and Star.
Saturday 23 February 2008
Last night at 0.30 when we were going to go to bed, a very exciting thriller started on TV and we had to look at it until 2.30...are we stupid...YEEEEES!
Up toooooooo early for us, and we can't understand how we came to Hyssna. No snow left but very stormy and ice on the road....
In Hyssna at 9 o'clock, then they had changed the judge so there were suddenly 40 dogs before us in the ring.....IF we have known that we could have been sleeping one more hour this morning....
We drove to the closest community where I loved to shop when I lived there. I didn't find ANYTHING that I would like to buy (for probably the first time in my life!!!)
We drove to Jimmies house but he was not at home, only the caterpillar outside....maybe he works today!?
Back to the show in a HORSE ARENA!!! if I have known that I would NEVER entered to the show. I hate those cold places with horseshit all over, and our hungry Dalmatians love to eat it, and jump on us and lick us in our face.. yack!! Of course I dressed up with skirt and toooooo little clothes, no one have told us that it wasn't in a normal heated hall. Poor me!! But if I'd been slim, then I'd been able zip up my coat so I wouldn't be so cold..
Star and Bell threw up all over them selves so Rune had to get hot water and clean them, and we had to stop to buy towels!
Suddenly Anette and her family came.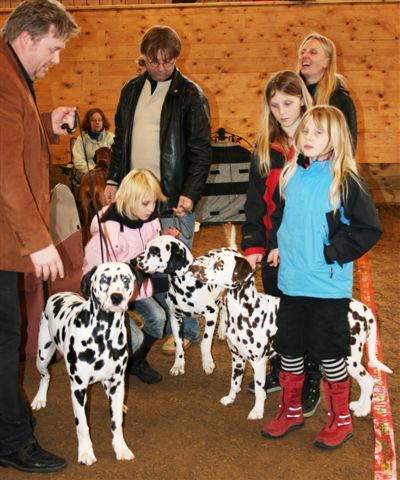 Happy to meet them again, it has been such a long time. They loved Star and he loved them, his tail is wagging all time he is awake, he can't even sit without wagging *S*!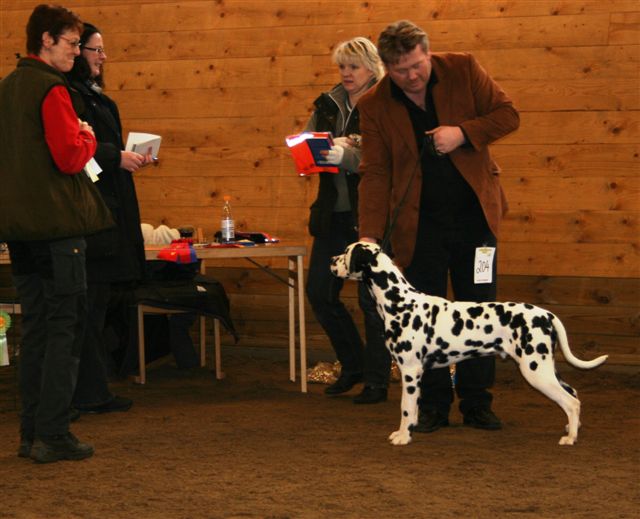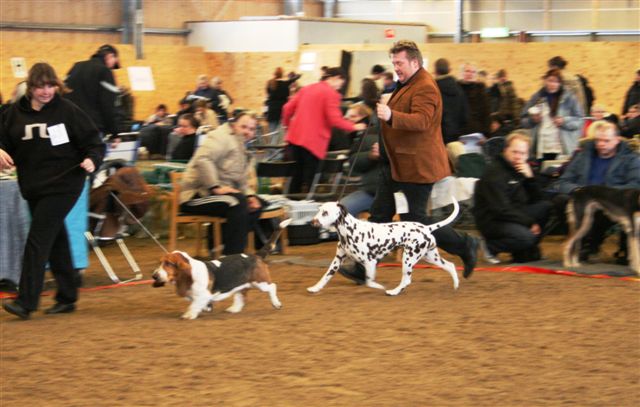 I didn't feel well today so Rune had to show both Daddy and Devlina (he was happy for that).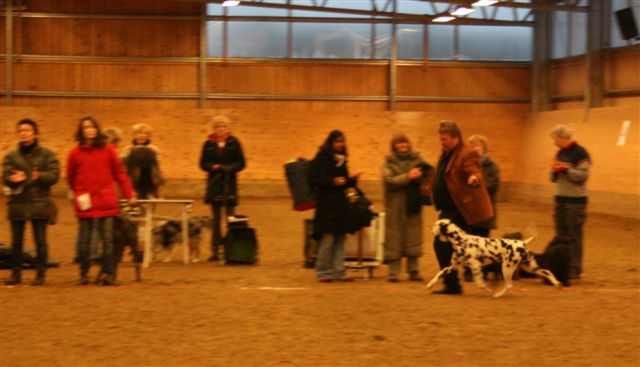 After the show Rune told me that this was the first and last time he will show Daddy....*S* he is Mummy's BOY and was just looking for me in the ring of honor...so he was really un concentrated all time. I agree, he was terrible, and looked like a very spoiled "baby"...and he is.....MINE *S*!
He was BIS 5, Puppy in the end of the day, but just in some more weeks, it start to get serious, when he becomes a Junior and compete with the grown ups!!
This day have become a lot longer than we thought from the beginning. We had to rush home, because Jens celebrate his birthday today, so we stopped on our way back home and bought flowers for him and some lottery. Even some flowers for Hanna just because she is so cute and nice. Jonnie have spent the day with our dogs all day so we decided to pass our house and go directly to Hanna and Jens.
We told them that we will only stay for 30 minutes, but we where there for 3,5 hours.....!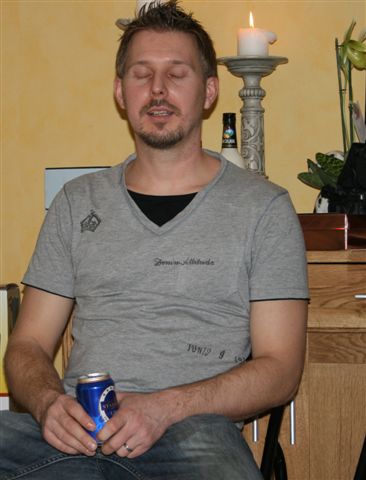 When Hanna had her Birthday I forgot to take a picture of her, but today I caught her on a photo! We looked at the Swedish semi finalists for the Swedish Eurovision song contest on TV........Jens was just sitting on a chair singing -:I LOVE EUROPE, I LOVE EUROPE, I LOVE HANNA, I LOVE EUROPE....his "favourite" artist is in the final with that song, but we think Jens is singing that stupid song MUCH BETTER!!!! If that song wins it all here in Sweden, many of us have promised to throw our TV's out through a closed windows *S*! (Not Jens..!)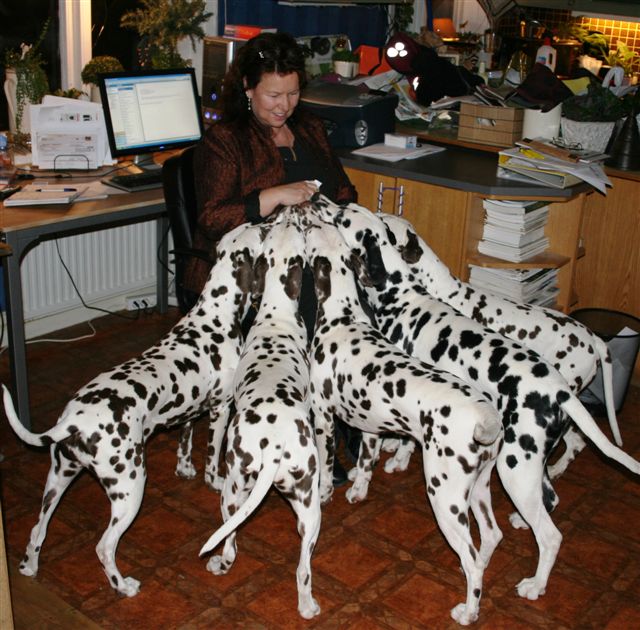 Rune is fond of Tindra and he HAVE to put her up *S*: Jill, Devlina, Gloria, Daddy and Devlin would like to have Frolic at the same time.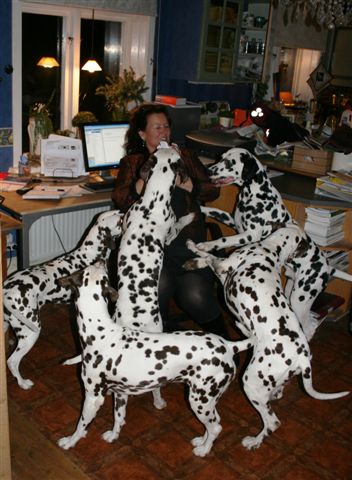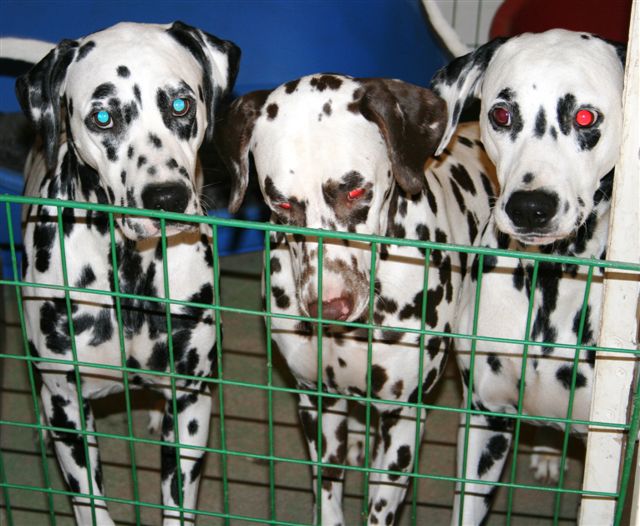 Give ME more, No ME, ME, ME, ME...No Me!!! Hanna and Jens dogs DON'T have the same eye colour as ours, they are VERY special *S*!
Friday 22 February 2008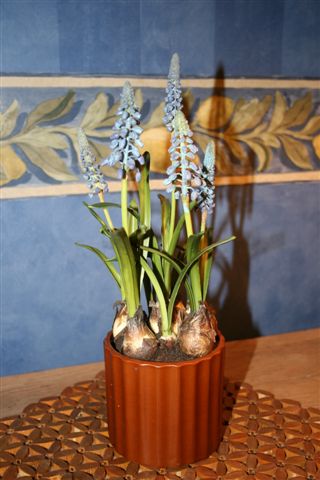 In the evening it was snowstorm, suddenly it was bright and beautiful in the garden, but poor spring flowers under the snow.....
I was in my store for some hours, during that time Rune gave some dogs a bath and cut 234 nails on our dogs! And made dinner.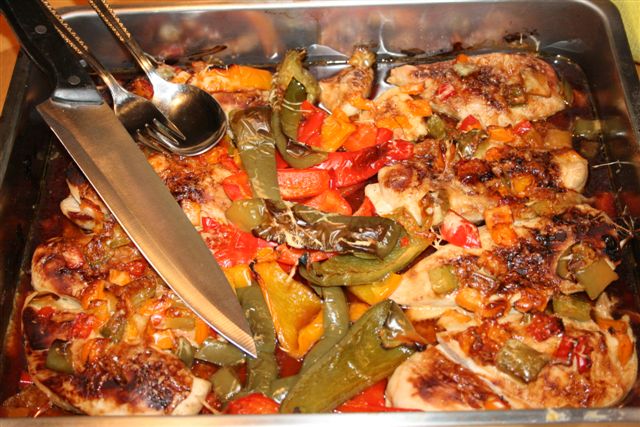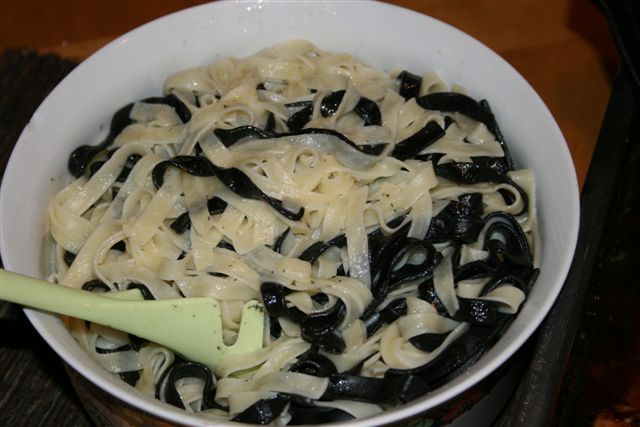 Chicken with peppers and black & white pasta (what else *S*).
Gloria at the bottom and Devlina on Top of course *S*!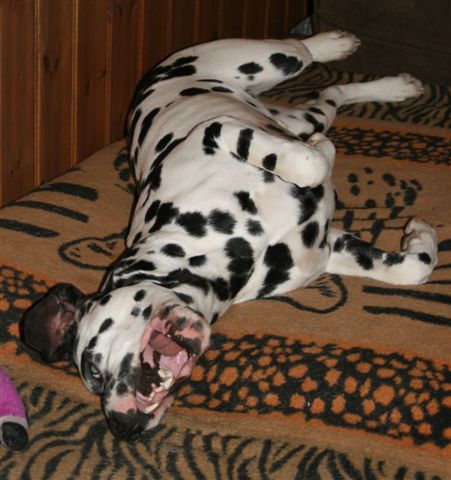 After the bath when Star was sleeping on the couch. We told him that he will meet his new family tomorrow, he was so happy and start to laugh and play. A friend o mine, Anette was working with Jonnie at school 7 years ago.
She and her family took care of one of our bitches, Edda, when we where away for dog shows. I never forget, when we just arrived home late, a Sunday evening and Anette called and told us that one hour earlier during their evening walk with Edda, a poisonous snake bite her...they carried her home and she started to get unconscious, so we immediately drove there and during that half an hour it took for us to get to their home, Edda almost passed out. We gave her lots of cortisone tablets but was afraid it was too late, no vet could do anything at this stage because it had taken too long time and we had about one hour to drive to get to Gothenburg. We put Edda in a large dog bed and carried her out to our car, it was better to bring her home to us so the family's five children didn't have to see Edda in pain. After two more hours her leg where like a big log, we have never seen anything like that. We tried to bring her out to pee the day after, but it was not possible to get her on her legs........one more day and night and we said, she HAD to pee so Rune carried her out and put her in front of our house where we had a puppy pin, in the pin there were a bowl with puppy food and in a split of a second, Edda with her leg that she couldn´t bend or stand on took a high jump into the puppy pin and eat up all food, pee and jump out again and couldn´t move one step. We carried her indoors again and she was sleeping for 20 hours and then out slowly, slowly with her terrible leg, over the fence and eat food for the puppies, and back over again.......she was fantastic. I don't believe we took any photo of her then, it looked too bad.
I have written to Anette some times at Christmas, but we haven't talked with each other since 2002 when we moved to Götene, and now I know that I got the wrong mail dress....she sent me an e-mail this Christmas, and I was so happy to hear from them.
Because we have so many puppies left from last summers that we haven't found any nice enough people to sell to, I asked her if they have a dog now. During all years they have helped friends with their dogs, because the whole family love animals.....They have thought about it, and now when their children start to get older and her husband his work many days at home it would be perfect. Then I told her that I have one of my favourites, Jilloc´s Somebody's Star at home now over 8 month old, and I would like to give him to them if they would like to have a dog. They have never forgot about Edda so a Dalmatian would be perfect for them. I send pictures of Star from birth till today...and we will keep this as a secret for the children if he didn't like them (impossible) or they didn't like him (impossible)! We will meet tomorrow in Hyssna/Sätila at a small show only 6 km from their home.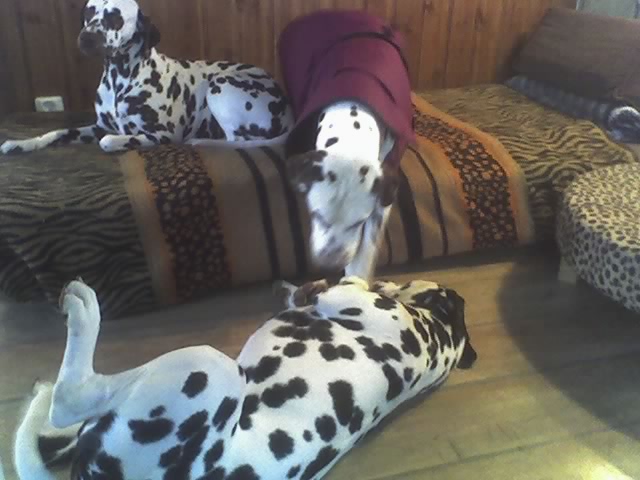 Star o Devlina sleeping. Gloria killing the Pelican. Devlin tell Daddy to lay still!!!
Thursday 21 February 2008
Tulla has been trimmed today. Jill think she smells different. Devlin didn't care at all, but Tulla want him to say something how she looks. He was just tired and don't answered her.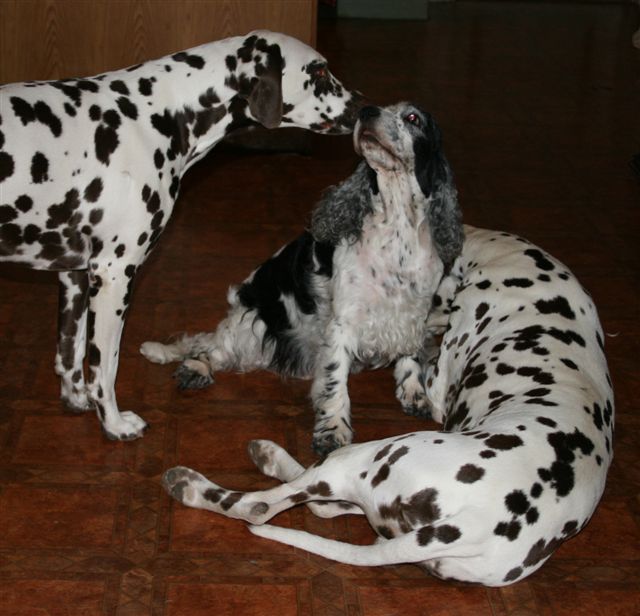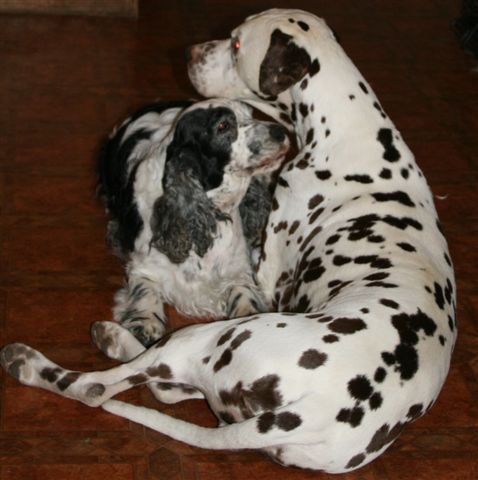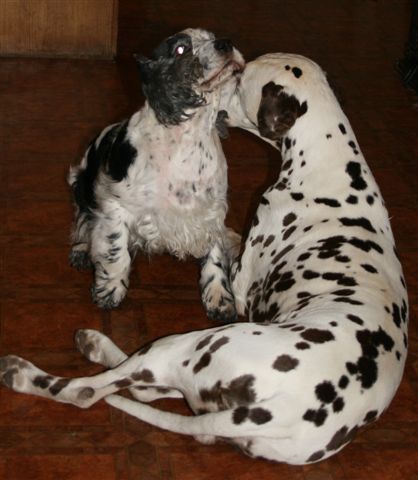 Tulla whispered in Devlins ear -:How old are You? Don't You like me anymore....OK, I understand You have had enough girls, but I love You anyway, so I stay here close to You!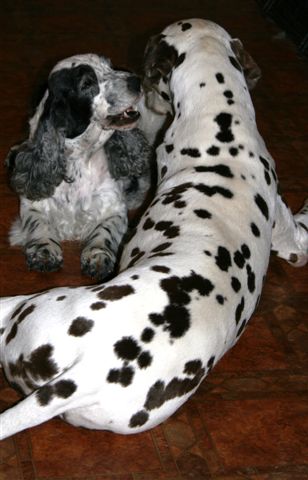 Ohhhhhh my God........ I remember YOU!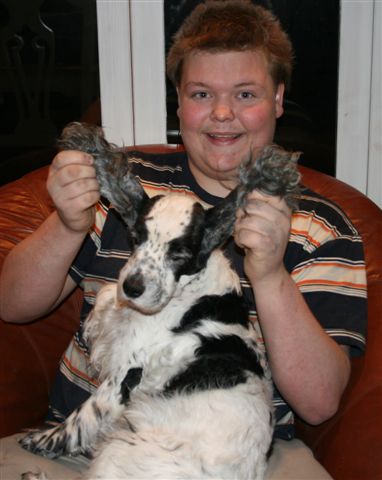 When is my mum and dad coming back from their vacation? Soon I hope!
Wednesday 20 February 2008
What is this?
I can tell You....it is an English Dalmatian *S*!
Photo: Stephanie Yates
Tuesday 19 February 2008
Some friends here for coffee. They have bought a new house and want my advice how to paint and furnished some rooms. I love that, but I really do not have the time. But of course I said yes!!!
Tomorrow I'll be back to one of my doctors, I go there to try to learn how to say NO to everyone that I take care of things for *S*!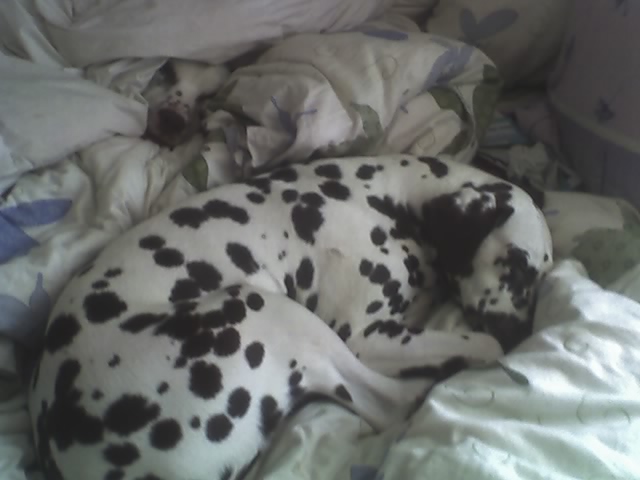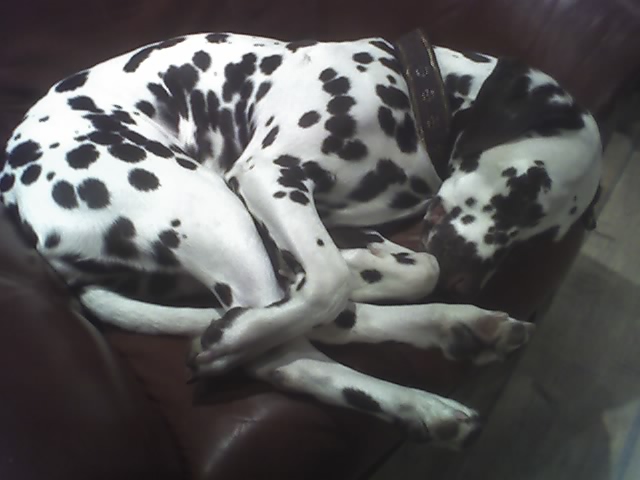 Can You see DEVLIN??? He is under my blanket, You can just see his nose and eyes. Jill over the blanket, and in her chair.
Monday 18 February 2008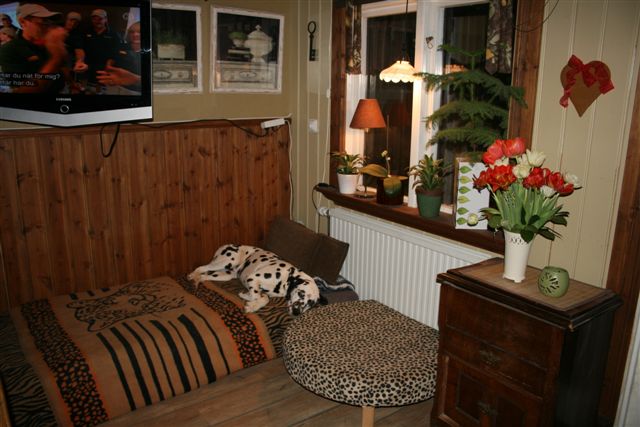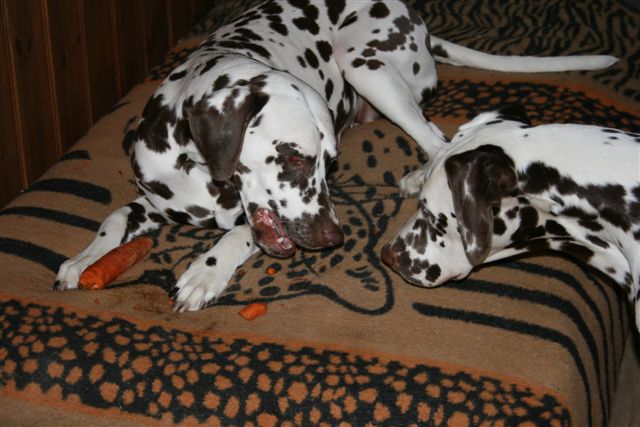 Star was sleeping at the couch for many hours. Jill eat a carrot. Gloria want to have exactly the same one.
Rune was at a meeting with the Kennel club in the evening for many hours. I entered to some dog shows and booked hotel.
Sunday 17 February 2008
Today I have lot of energy (for once) and start to clean the house. I love to make changes and move furniture around *S*.
Roy came for coffee, and Rune was happy to get someone that understand what he is going through those days when I get my "suddenly ideas", and he have to carry things around in the house until I am pleased. Roy was so happy that Rune have "taken over" !!!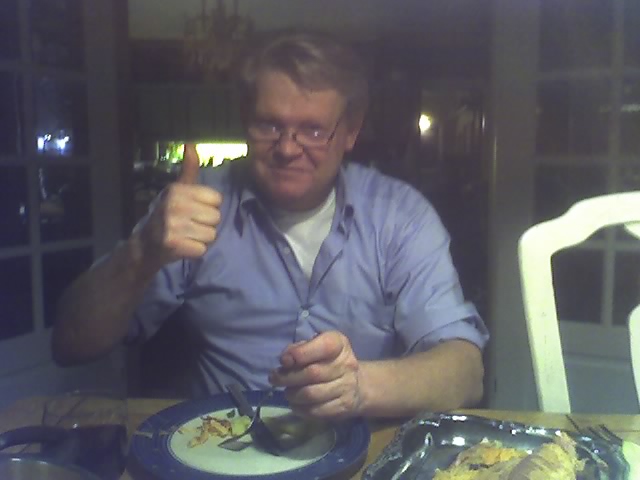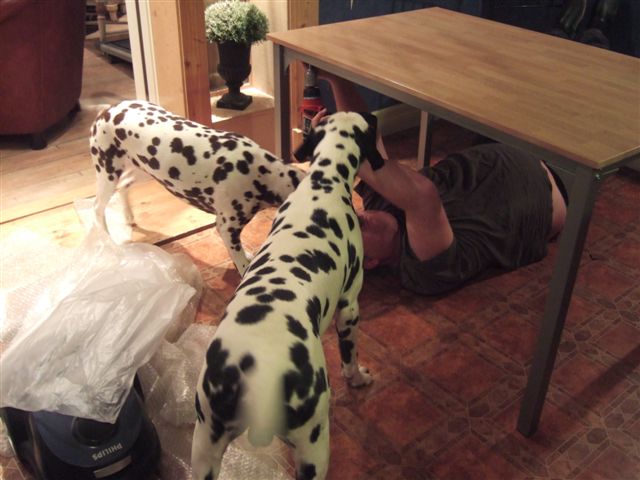 Chaos! Our dogs was licking Rune in his face so he couldn´t see to screw.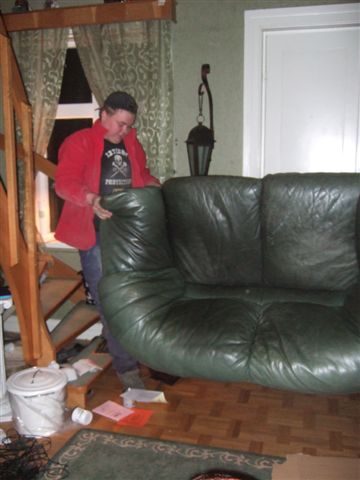 As soon as Jonnie is coming to eat I have lot of work for him. Now when I have started to make changes in the kitchen, I decided to take his double chaos room at the same time. Even Daddy was tired of me running around. When I start with something I have to be ready, it doesn't matter how long time it takes.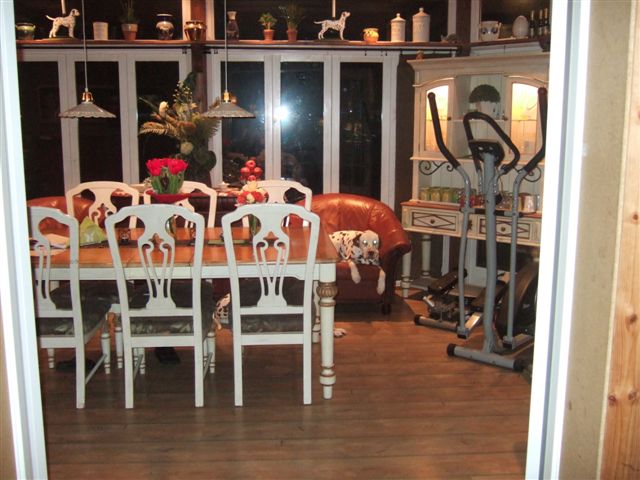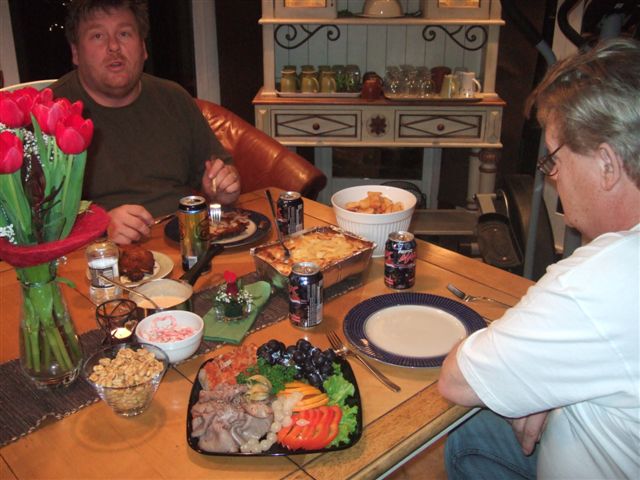 Toooo late in the evening we eat dinner/nightfood.
Saturday 16 February 2008
Today we are going to take some pictures in my store to put on our Homepage. I have told Hanna to do her hair nice and to put makeup on. She came at 12 o'clock and look perfect (as always). Ellie just woke up so we did not have the time to do her hair, but she is always so sweet anyway.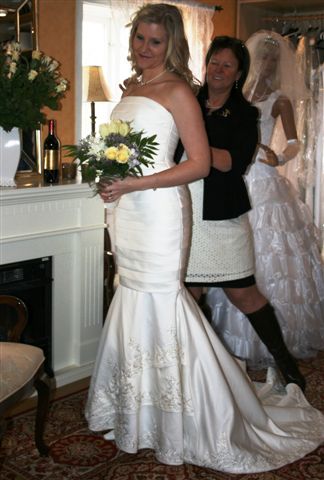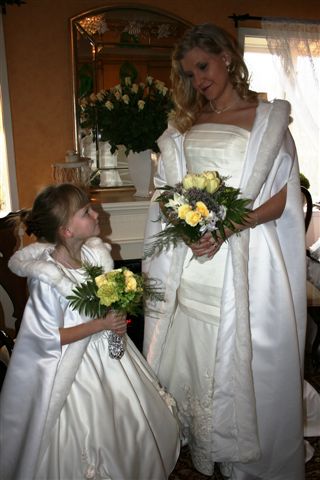 In 35 years I have only been to two weddings.......it is one of my dreams that some of our friends are going to married soon, but remember to tell us a looooong time before, so there are no Dog Shows the same weekend *S*!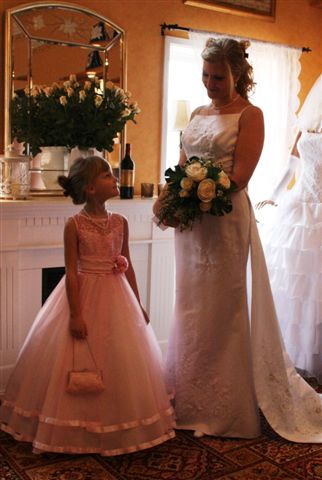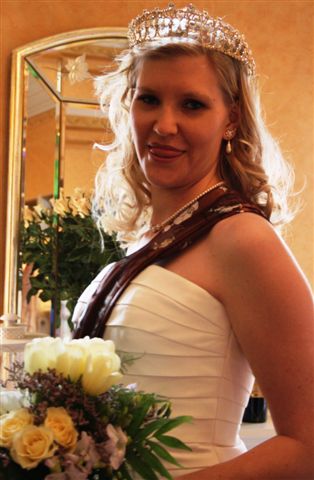 Hanna and Ellie is gorgeous together! This is the sweetest Miss Dalmatian owner 2008!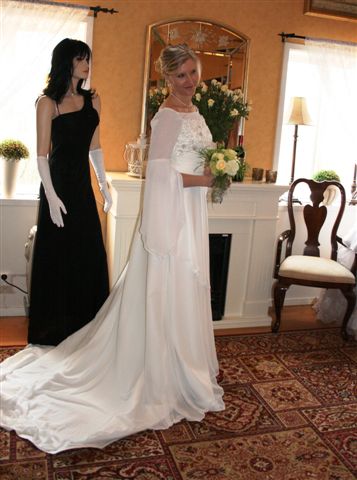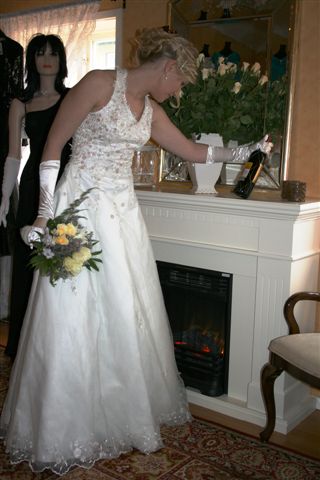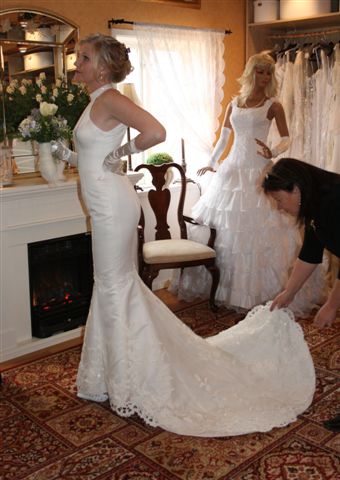 Hanna looks Perfect in every dress, and she act like a real Top Model.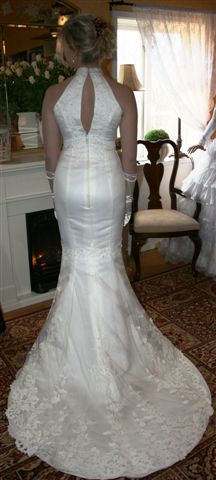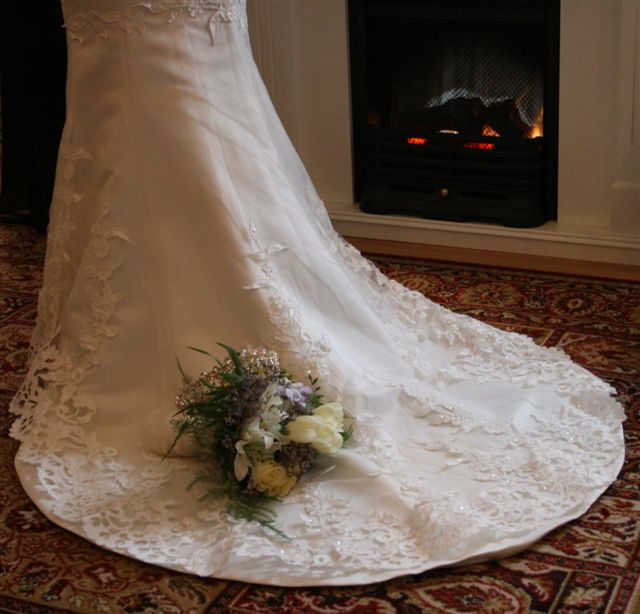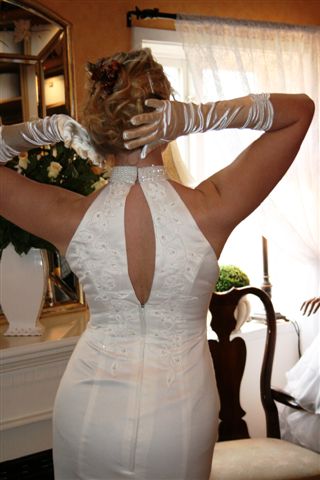 When my dress fits like Hannas, I have promised Rune to marry him...he is still waiting..and he probably have to wait a looooooooong time *S*. But I have a nice one waiting for me! So when I have lost about 20 kg and operated my fat cheeks, then we will invite You All to join us at our wedding. The sooner the better!! (hopefully in this lifetime).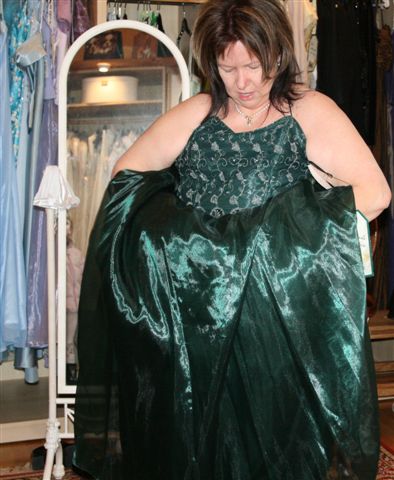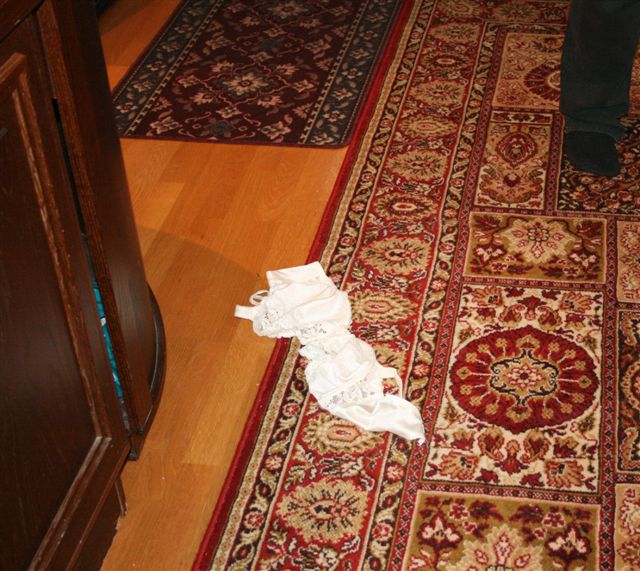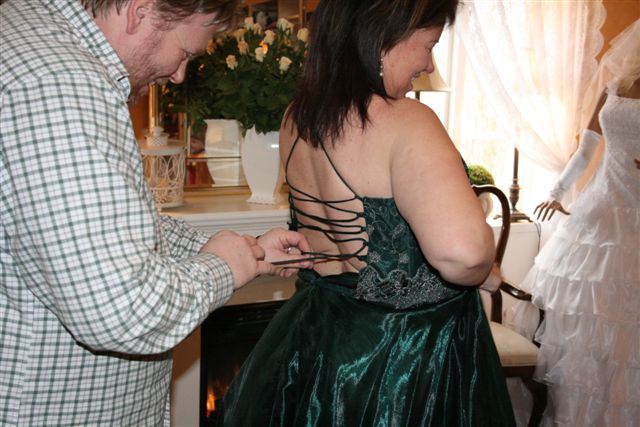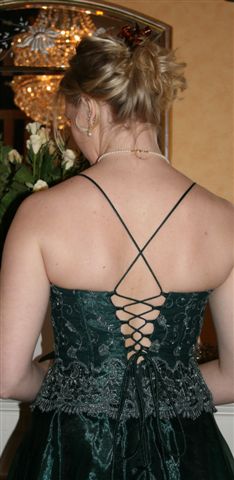 Both Rune and Hanna want me to put a dress on...it was NOT easy there were too much things in the way. I even had to drop my bra, but it was not enough. Hanna looked nice from both sides!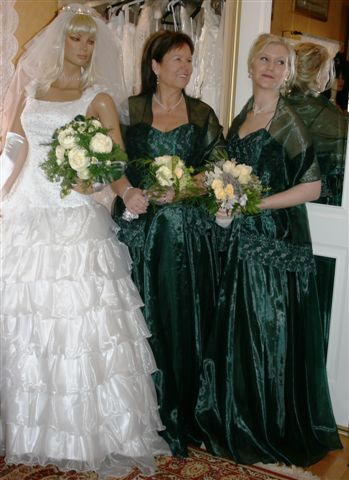 The Bride, Mother of the Bride and Sister of the Bride!
Black pants under *S*! Rune like to help, Oooooops!!! Even Roy came and would like to help us???????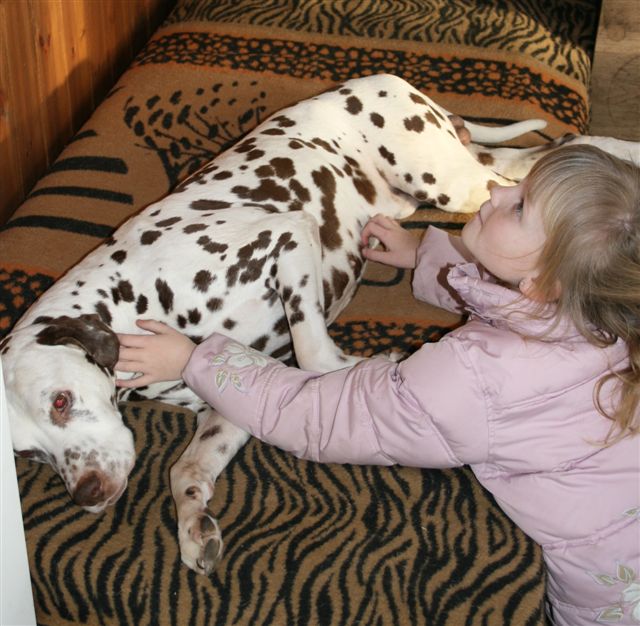 Ellie looked at TV and scratched Devlin at the same time, before Jennie came to bring her home again.
Friday 15 February 2008
If my grandma have lived today it have been her 109th Birthday!
We where in a hurry this morning, I have time at my hairdresser for the first time in about 10 !!!!!!!!!!!!! months. I really need it, if we say so *S*. Ellie and Rune went to a bakery to eat breakfast while they were waiting for me. But of course Roy called, so after they had eaten they had to go back home and send some mails and photos for him. Let the dogs out and went back again to Lidköping to fetch me.
I was ready and in a store looking for a black skirt.
My new obsession is to buy more and more black skirts....I only have 6 now....In many years I have been crazy about buying black pants (I have about 54 rather new now, when I find someone I like I often buy two of the same in my size and one smaller size....in case of *S* You know what I mean. But it never happen so they are just hanging there, and look very nice in my wardrobe!!!!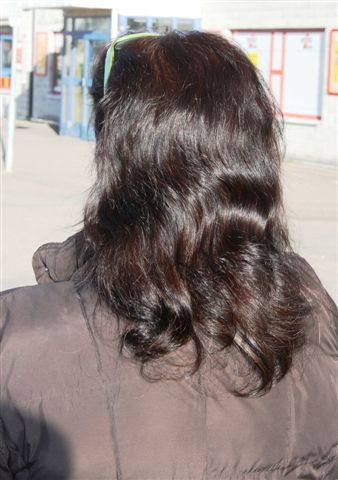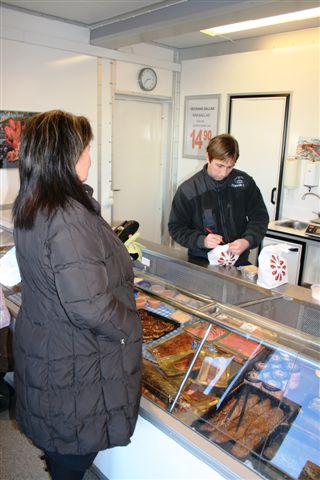 Before the hairdresser and after.....when I look into a mirror I couldn´t recognise my self *S*! Neither did Rune or Ellie!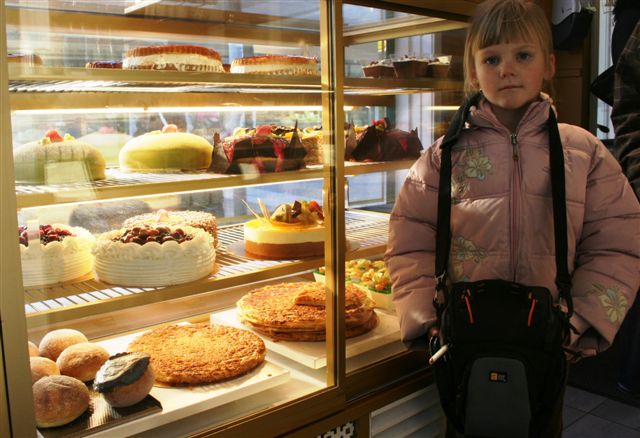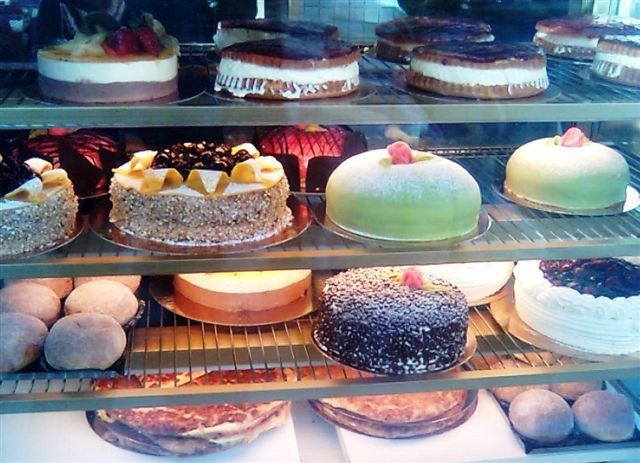 Ellie and Rune went to buy a cake, but there where so many that they had a hard time to decide which one to buy!
Lucky me that was in the other store, because I would buy them all *S*!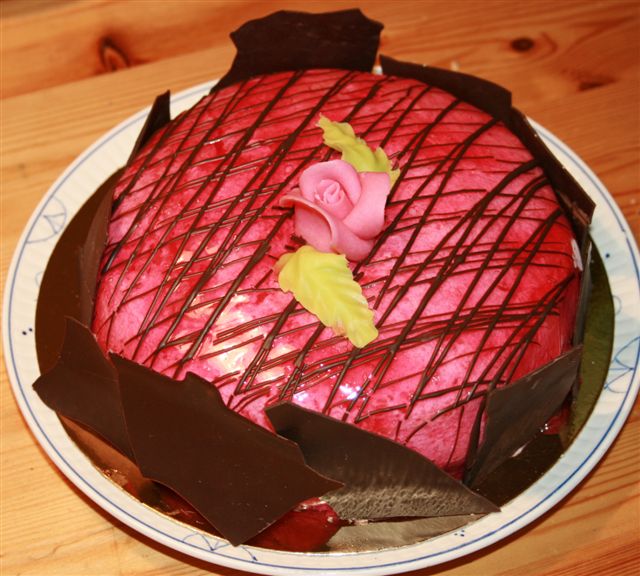 This was their choice, Ellie loves pink! And Rune loves everything!!! Poor Mark that have gone home now*S*, and Rune was mean enough to send those picture to him, and ask if he was hungry!!!!!!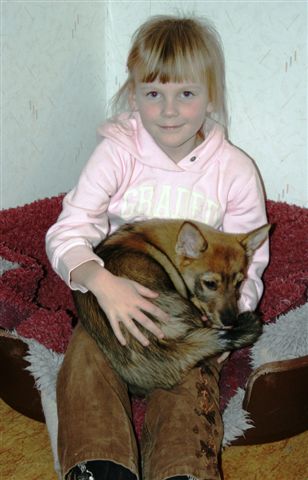 The sun was shining the whole day, soon spring is here.....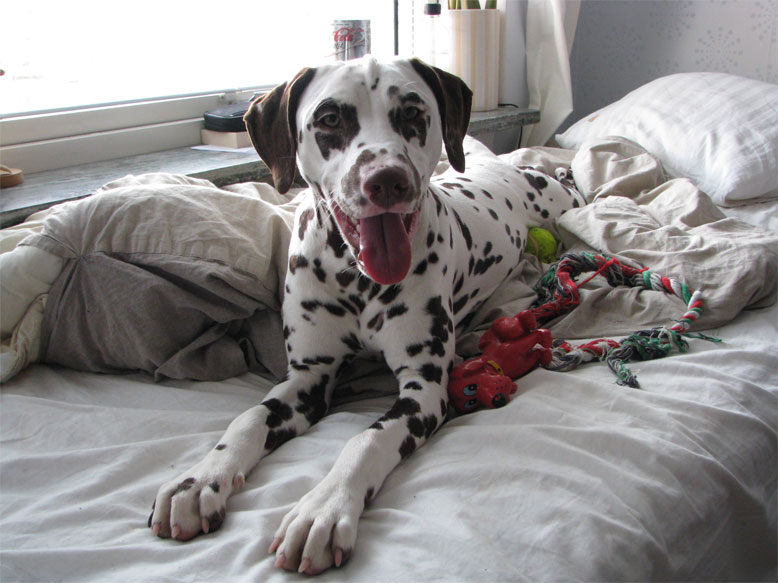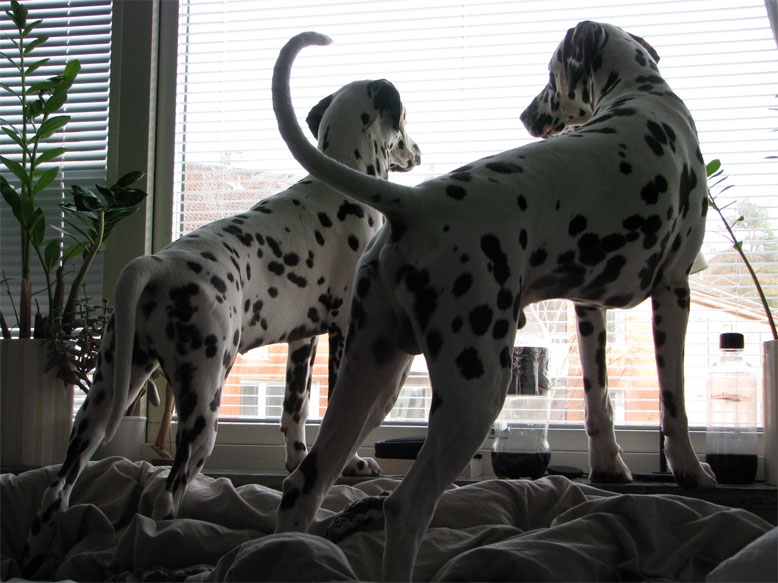 Lovely pictures from Trumph in her new home, thank You Jenny-Stina!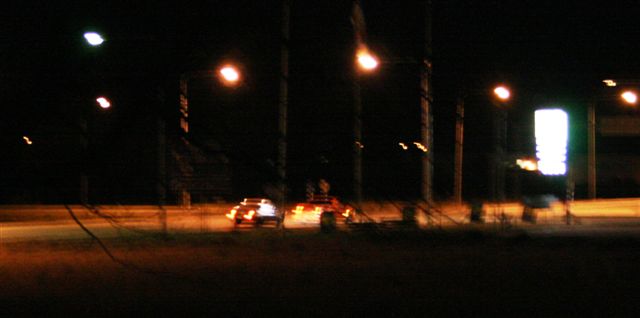 Late in the night Jonnie was towing his friends car, from Skara to Götene, this is things he love to do and he called and ask us to take a picture when they passed our house *S*:
Thursday 14 February 2008

Happy Valentine To You All from Ellie and Us!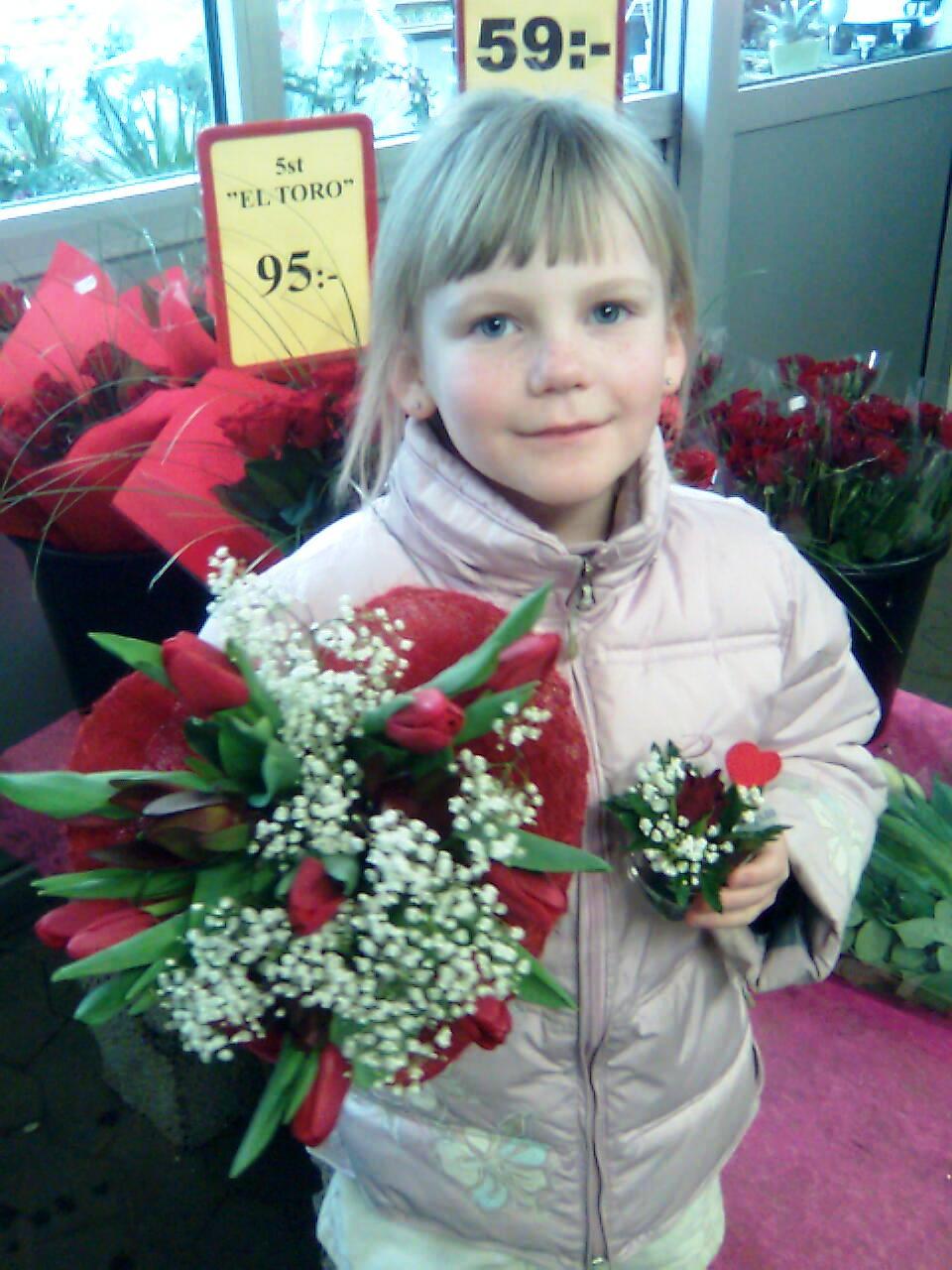 When I woke up and looked around, both Rune and Ellie was already gone. Only me and Devlin in the bed.
I understood that they have gone to buy flowers. I heard them whisper about that last night!
Ellie loves secrets.
But after a while they came back and I pretended to sleep, she woke me up and gave me flowers, and told me not to came down to the kitchen before the breakfast was ready, there will be a surprise. I could feel the smell of bacon...of course she have ordered it today, even if we ate it for dinner two days ago, it is one of her every day wishes to eat when she is here*s*!
Bacon breakfast and flowers for me, hurray, what a surprise!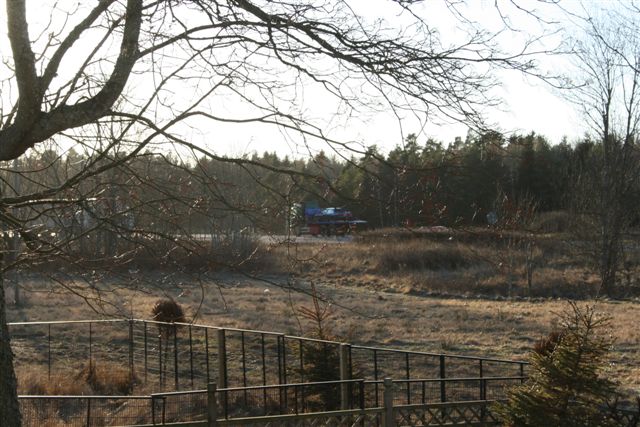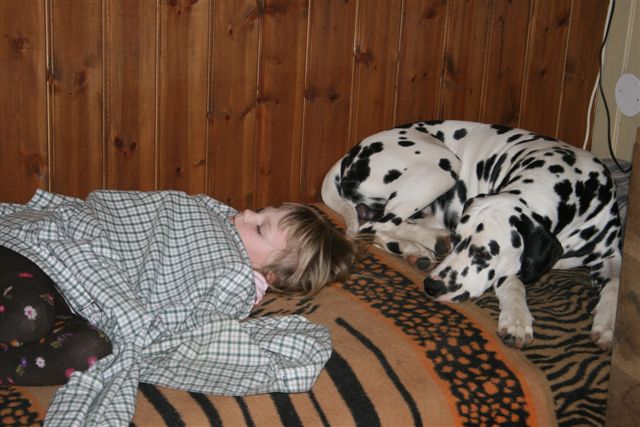 Roy on his way with one of Jonnies cars. Ellie was tired of all secrets and sleep on the couch with Daddy.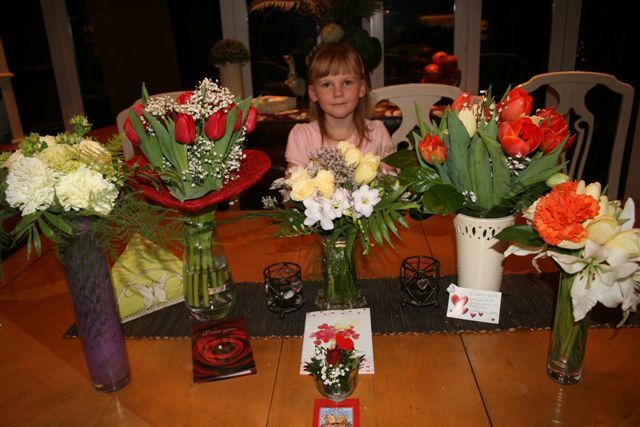 Ellie got flowers ,a card, money, a teddy bear and hair slides.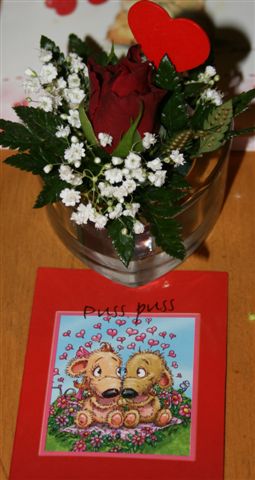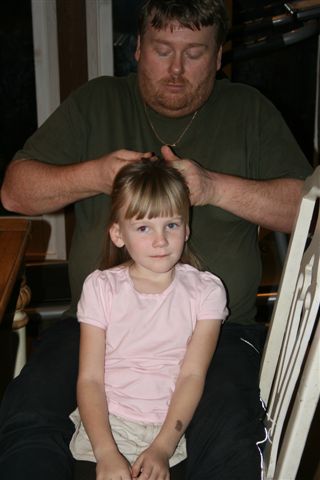 Tomorrow I will go to my hairdresser for the first time in one year, Ellie went to Rune instead. No one can see that he is not fond of children, he is always playing with Ellie....and follow her directions, of his free will *s*!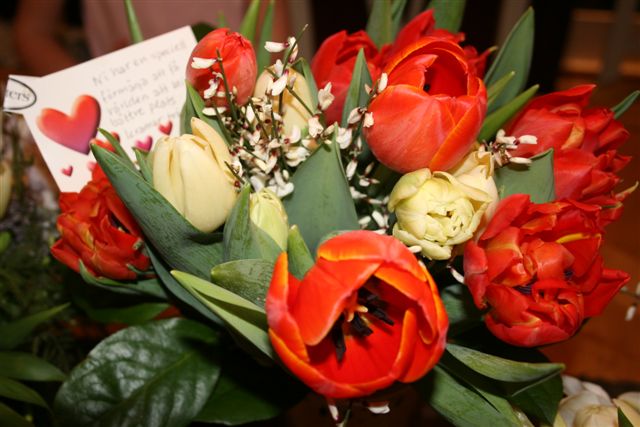 Late in the afternoon a taxi came with flowers for us?????
They were from another wonderful girl Jenny (with Decibel), You are tooo Kind, We love You and are so very happy to know You!


And Many thanks to All of You that sent us Mails, Sms and phonecalls today!
Wednesday 13 February 2008
Away to Lidköping to the Hospital, Rune have time there for his narcolepsy. Instead of having 42 breathing stop every minute like he did earlier, he have only 3 stops now when he has his oxygen breathing mask on, what a difference!!!
Ellie waiting for Rune.
After we drove to Falköping where Jenny live, she met us at the vet station, we were going to take blood tests for rabies for four of our young dogs, so hopefully we will be ready go to Europe soon!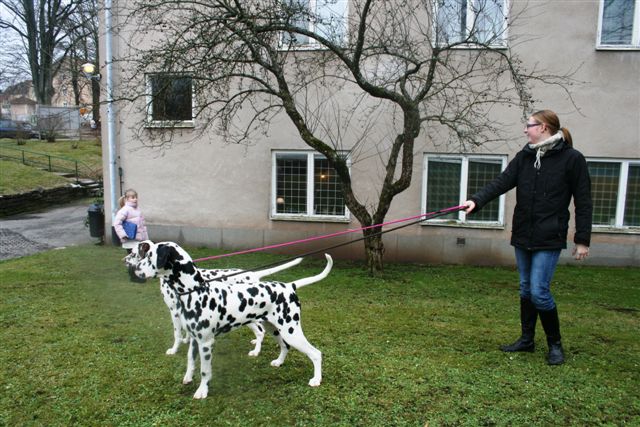 Rolex and Bell. Daddy and Gloria.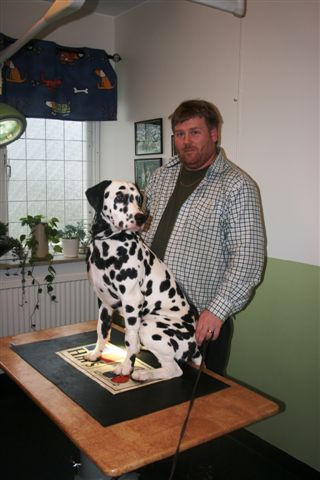 They where all so happy to meet Jenny. Daddy was surprised that he was allowed to sit on the table, he is not allowed to do that at home!!
Rune and I drove to Jönköping and Ellie stayed with Jenny and her dogs, they went to Mac D and they hired a movie and ate chips and cola, the best place ever is to stay with Jenny Ellie told us when we fetch her in the evening. Then we drove to Skara, the clock was nine in the evening and we had to shop some things there before we go back home. At ten o'clock we were back home again, tired of course, but we had to make dinner. At half past two !!!!! Ellie fell a sleep on the sofa in front of the TV, thank god she has a holiday from school!
Tuesday 12 February 2008
Ellie and Rune up long time before me and make a breakfast that Ellie ordered (she love to stay here because she always get her best "Rune" breakfasts every day)....poor Rune *S*!
Today she ordered homemade potato chips...What a breakfast!!!! But it is one of runes favourites too!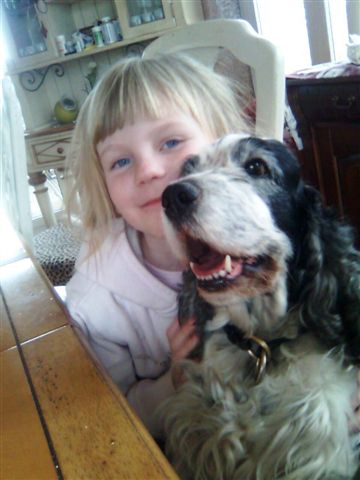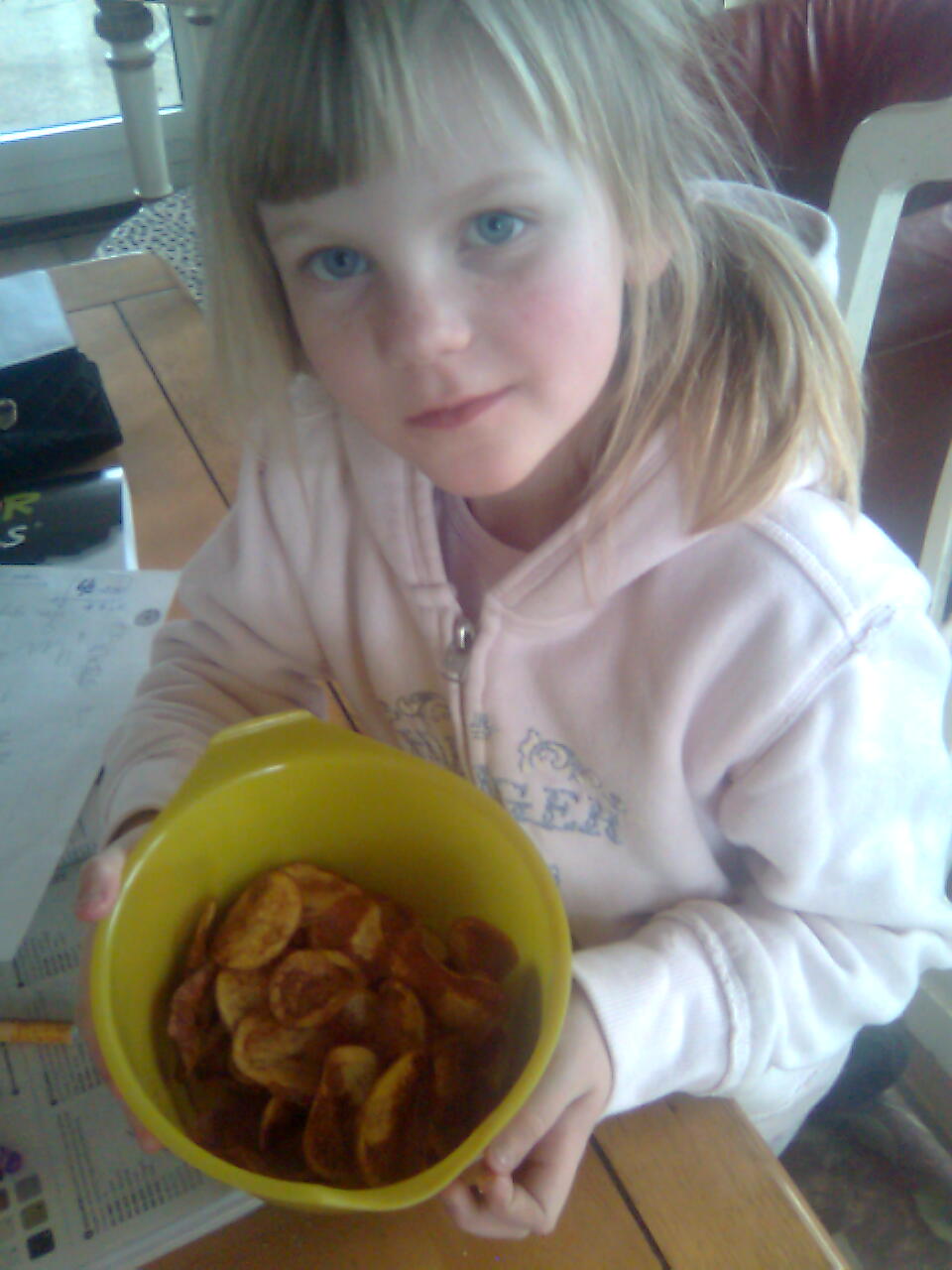 Lot of work. Tulla is here for a month, her family is in Thailand. Ready to eat.
Monday 11 February 2008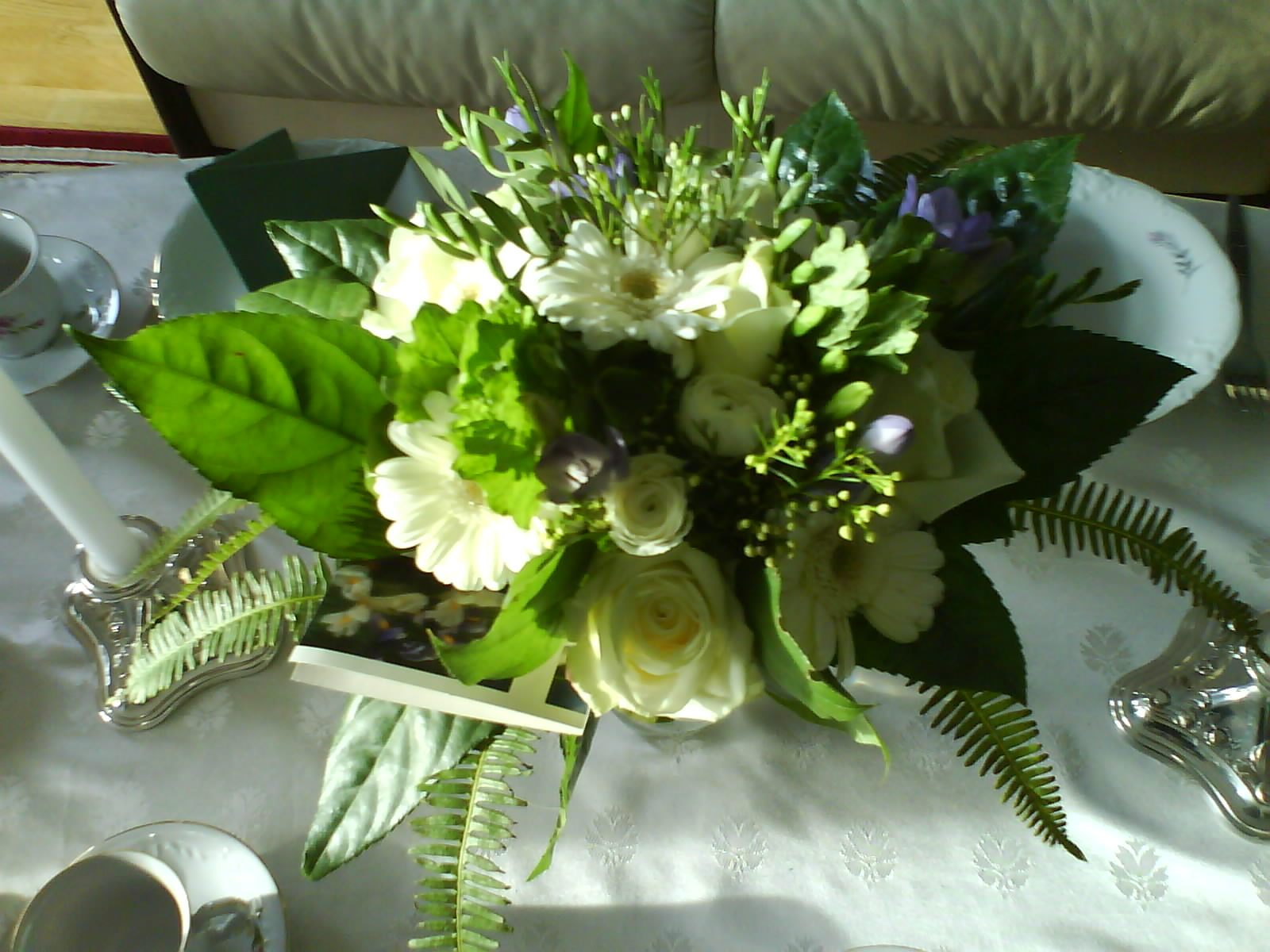 Photo: Ole Björn Johansen
Last week a relative of Rune was berried, and we sent flowers to his Aunt to her home. All of You probably know that sometimes You spend a LOT of money sending flowers and after a while when You see pictures of the bouquet You have send, You have been really disappointed. It looks like shit!! So we often call directly to the flower store, in this case in Norway and talk to them directly what we (in this case I) want. I love flowers and are rather well known in lot of sorts and I always would like to design it myself.
This time we were VERY pleased, they have done exactly what I ordered! When Louice got her son in December I ordered nice roses from a picture, but it didn't look the same AT ALL but cost the same....not funny!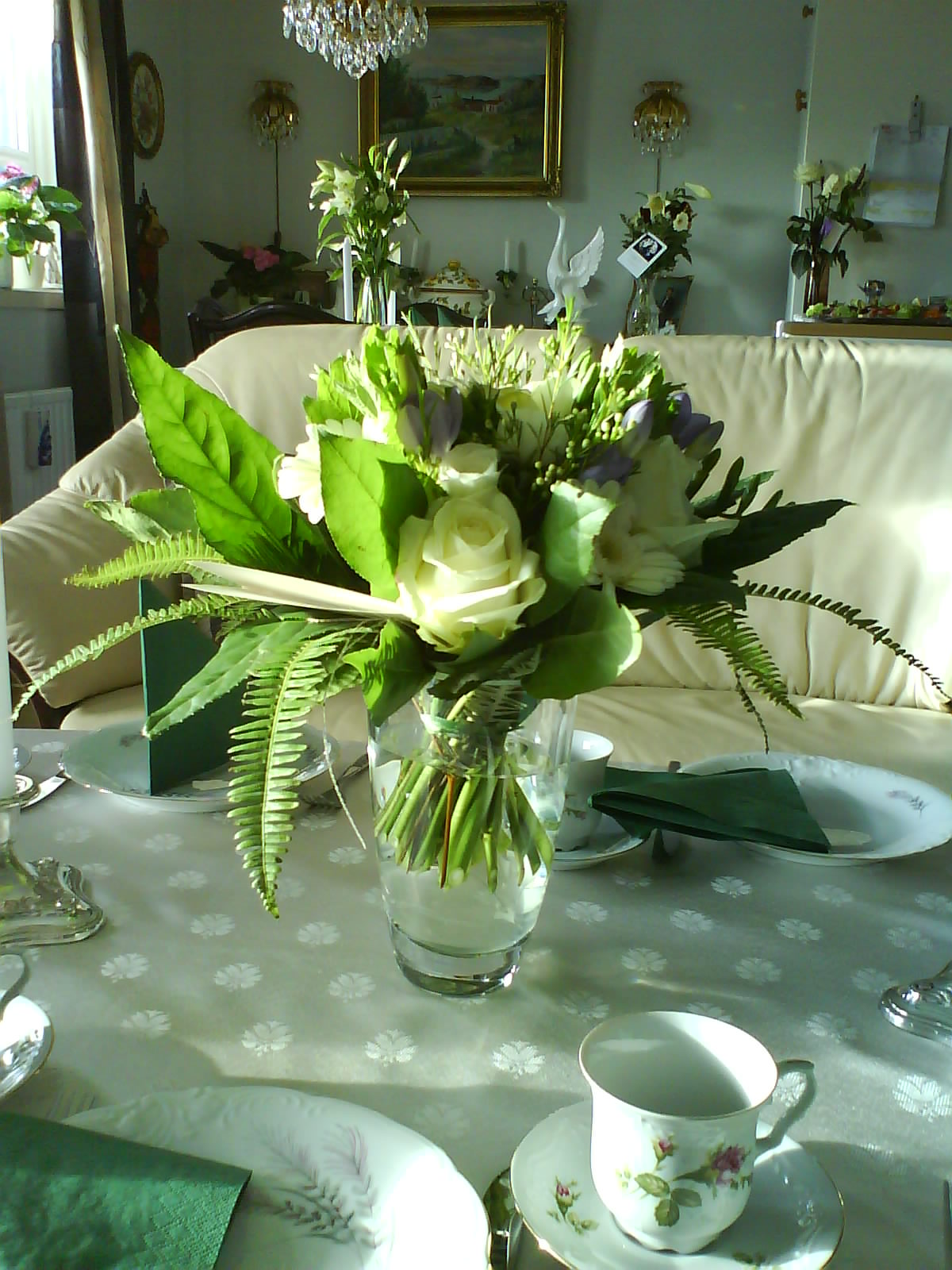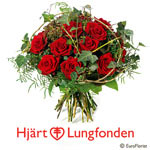 This was what I ordered for Louice.
And the way it looked. It is sooo important that the specialists in the flower store can tie the flowers together in the right way, otherwise it do not look good at all.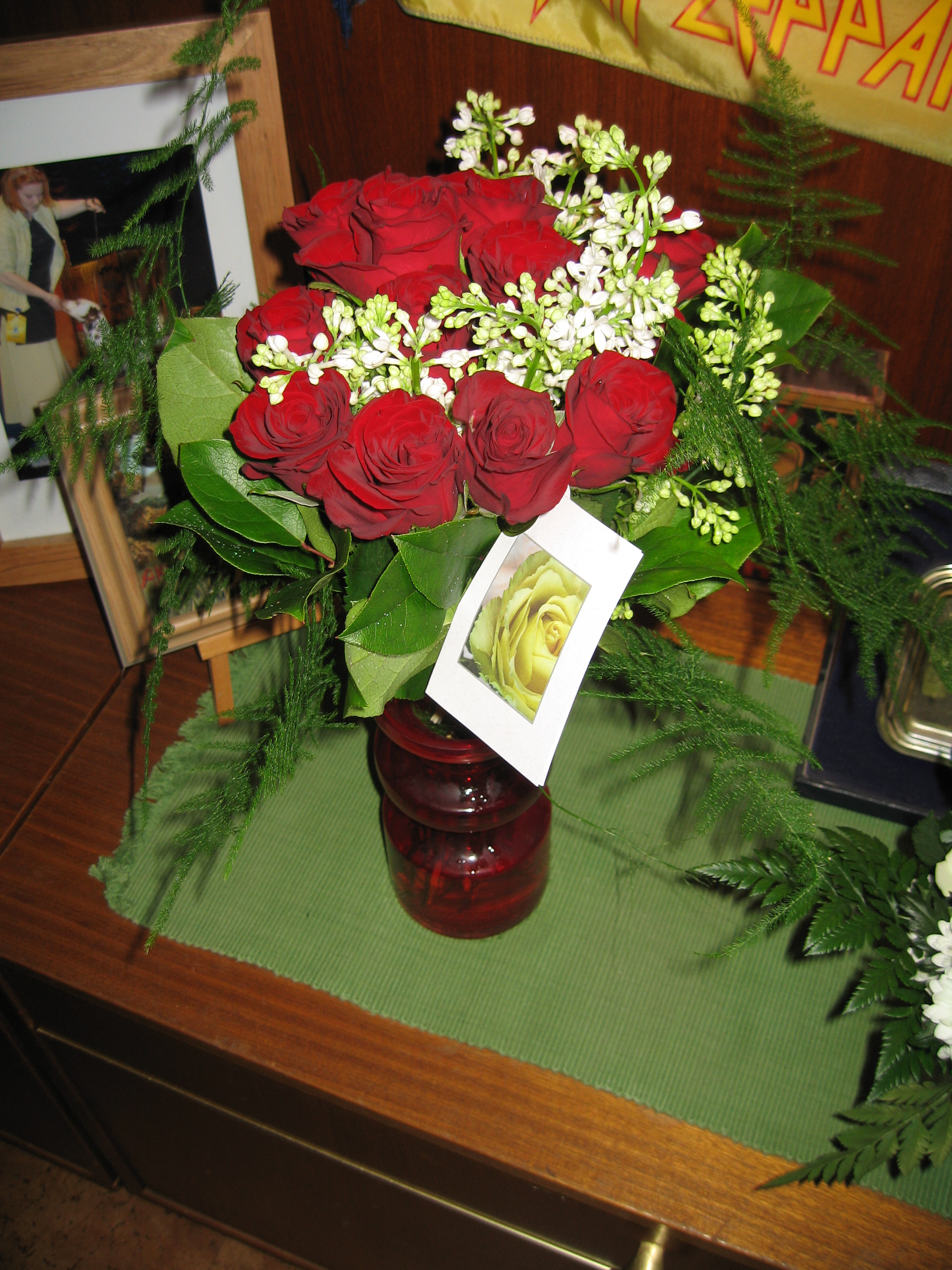 Sunday 10 February 2008
Looooooong morning!
In the afternoon Jennie and Ellie came to us, Ellie have vacation from school next week and we have promised her to stay with us.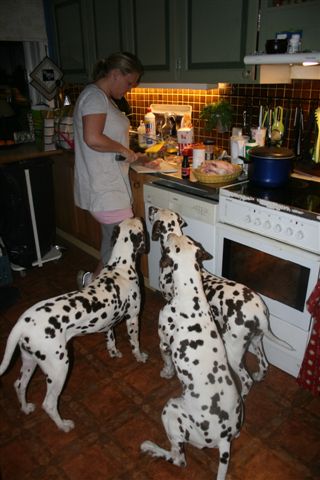 Gloria, Devlin and Jill is always hungry. Face mask as soon as Jennie is here, I hate to do it myself.
Ellie helped Rune to put his new wardrobes together in the evening.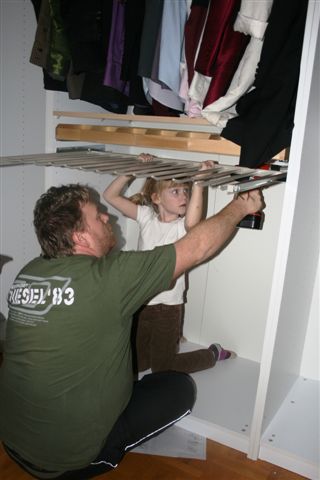 Congratulations
Joke, Henk & Shadow
So happy to tell that Devlins son, Rolex and Diamonds brother Gwynmor A Shadow in The Mirror
got his first Youth CAC and regular CAC some days ago at an International Show in Eindhoven, Holland for Mrs. A Katona.
Later he beat open and champion males and became Best Male!
Good Luck in the future! Photo: Nancy van Wel
Saturday 9 February 2008
Rune up 5 o'clock to go to Mjölby to be a judge student at a special show for Springer spaniels. Poor...When he went up, I heard him groan and moan to come out of the bed....to less hours to sleep again, as always.
About 45 minutes after Rune left from home, I heard someone coming in through the front door......WHAT WAS this at 6.30 in the morning???
It was Rune that came back!!!! He have forgot to change shoes, so when he had driven some miles he found out that he had wooden shoes on, not that nice to his suit*S*!!!
He was back late in the evening, soooooo tired, and fall asleep immediately!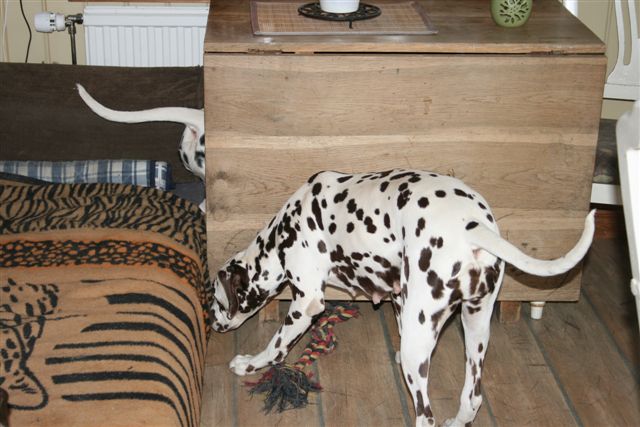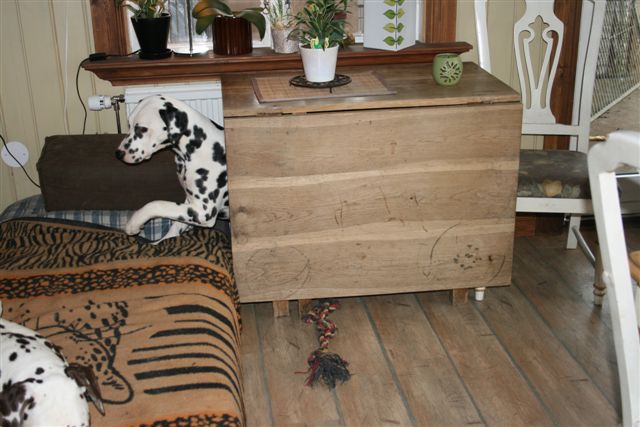 Donna try to find out........ who is under the table.......it was only Bell!
Friday 8 February 2008
Up early, Mark was anxious to go home, he have a looooong trip a head. Rune and I was also on our way to Gothenburg, to help Jimmie in his house. I had a hard time to find something to put on this early morning (we have slept 2 hours) after all cakes last night and last week. So it have to be a large bath towel.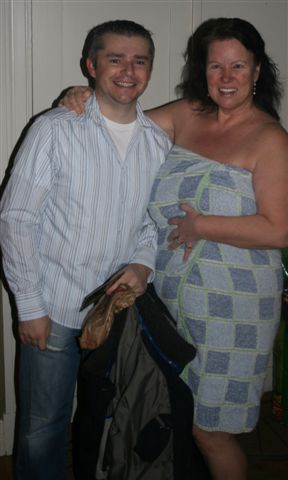 We have ordered an early time at the vet for Mark and his dogs, so he can get all necessary papers to go back cross the border again.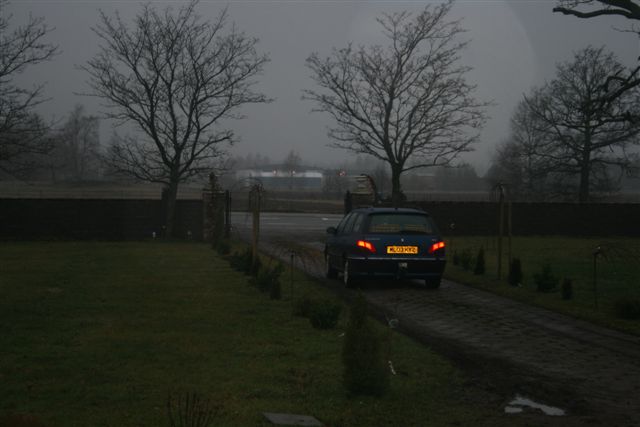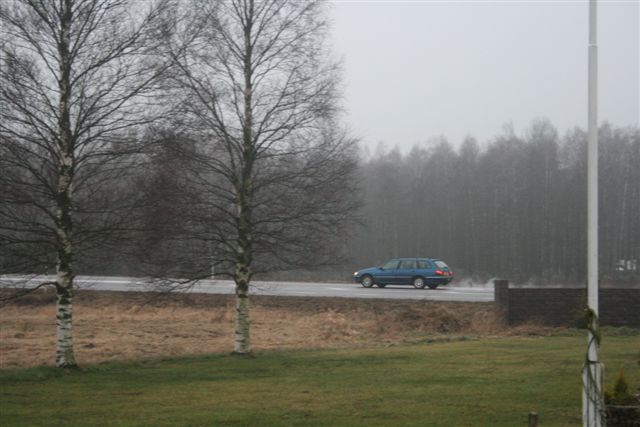 Please, please, please......................don't forget........... RIGHT side of the road...we were so afraid. BUT he did it correct!!! Anyway as long as we saw him *S*!!
Jimmie have forgot to put out his key, so we had to stop and shop while we were waiting for him to come back home. It looked like a mess when we (note: Rune) start to put up wall papers in the kitchen. And for once I manage to get Jimmie to start to put furniture's together (ok, he used wrong screws so instead of four chairs there were only screws enough for two, but what a hell....it was a good start).. ha ha ha this reminds me about all years together with Roy, and on EVERY birthday/Christmas our children got new cycles, tractors, cars, doll pram and dollhouse and so on. Jennie, Jimmie and Jonnie was anxious to start to use their toys and Roy had to put those things together immediately while I was filming and take pictures, as soon as those tractor or other things where put together they should cycle away while I was filming. EVERY, I say EVERY year during 20 years there were always toooooo much screws in the package, and they had sent tooooo many Roy said, EVERY year...are You sure You have done it right I asked EVERY year......This is good he said, it is ENOUGH (he never had time to read the instructions)..but ENOUGH was NEVER enough, after some meters cycling or pulling........one wheel or handle or seat fell of!!!!!!! And the Birthday child start to cry......and Roy always get some of our employee to come and put it together in some minutes, and everything was good again, and the toys lasted at least some months/years for Jennie and Jimmie. And some hours for Jonnie *S*!!!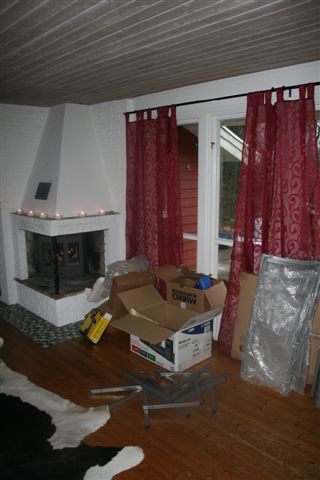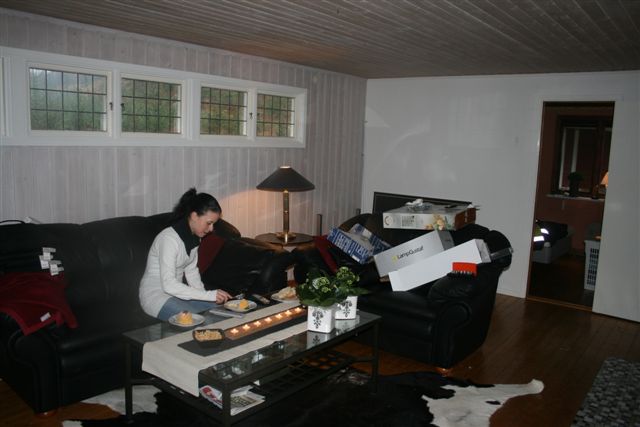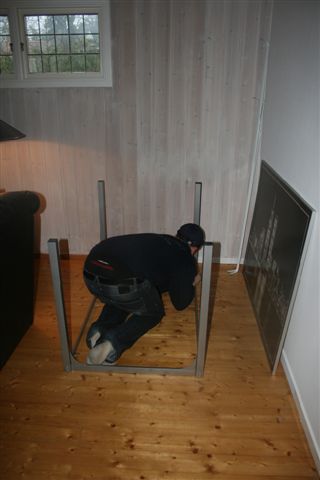 Nathalie took care of the dishes and then she started to eat instead!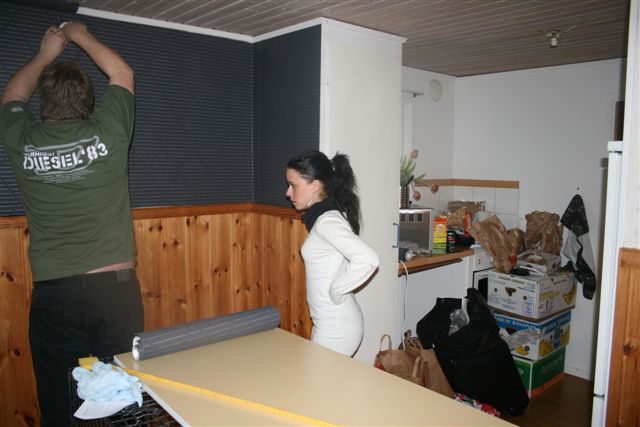 After some hours there were lot of people waiting for dinner.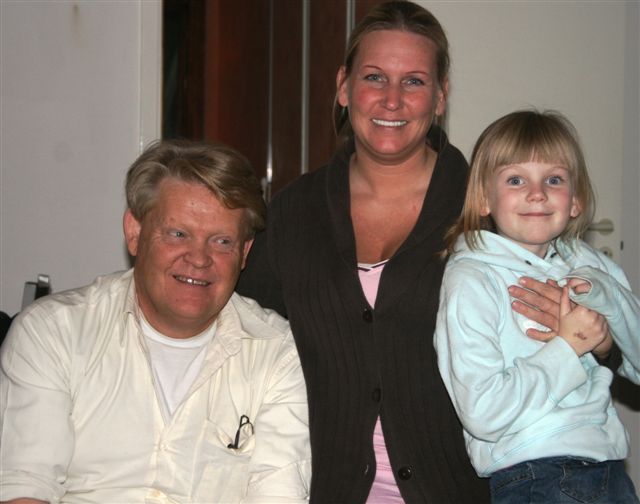 We are hungry!!!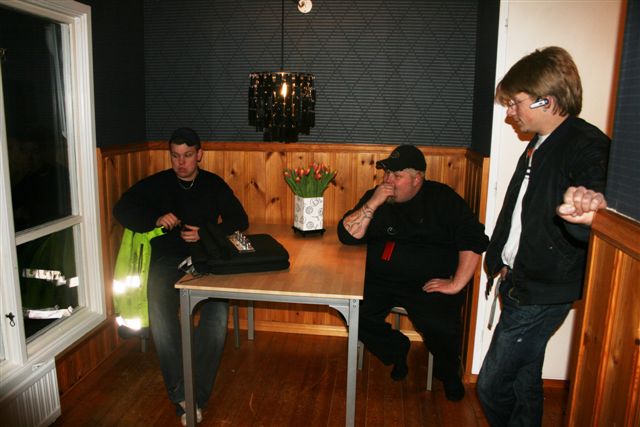 Now she is coming with her camera again...Jimmie is used to it, but he don't like it!
I bought lamps, and curtains, threes till ex. When it was only Jimmie, Rune and I left, we put up some more things, so it started to look better and better.
We were home very late this evening....too long way to go between Dalskog and Götene!
Thursday 7 February 2008
Hip Hip Hurray for Mark today, it is his Birthday and we HAVE TO eat cake today!
In the middle of the day "he" got visitors for coffee, they had bought something nice for us all *S*.
In the evening Mark got his best present ever, so he was even more than happy!
Then the party started. Jens came with "Hjärtat" and Jonnie came, Hanna came later on after work, Roy came too as he knew there would be more cake tonight!
And Mark came with the CHAMPAGNE!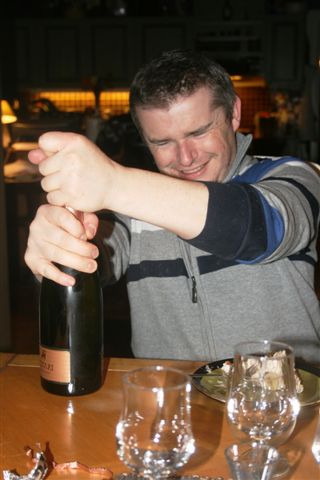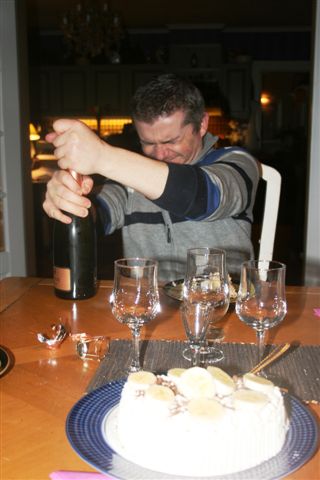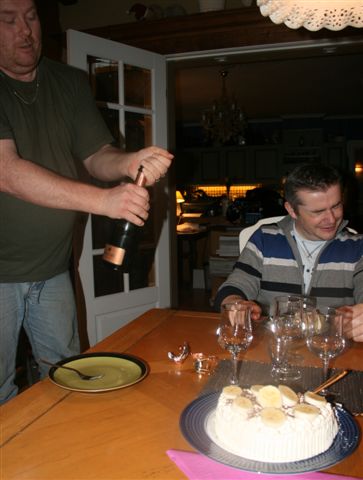 The bottle was hard to open, finally Rune succeeded (he was thirsty), Mark was to afraid to look at him!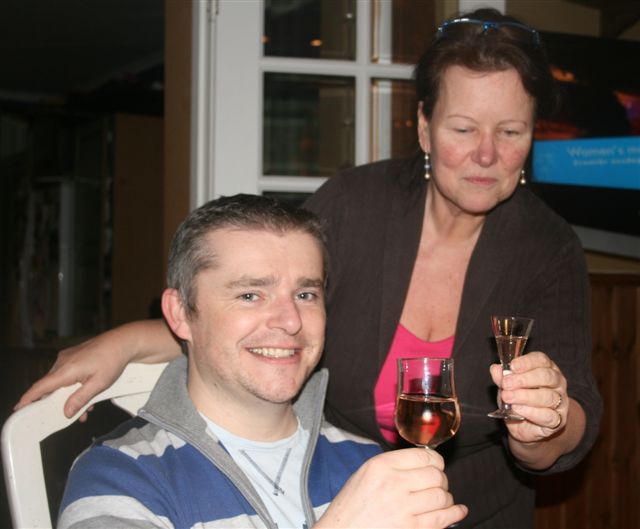 I'm not fond of champagne, but of course I have to drink for Mark today, just a little taste....blääääää!!!!! But I tasted much more from the cakes *S*!
Goodbye for now, see You later.
Mark started to tell us, when he had been in Götene today, people started to recognise him. He was impressed of that, almost every car he was meeting in the streets was waving to him. He thought that some of them where Jonnie and his friends because they drive around all the time in the village..... He think that Swedish people are soooooooooooooooo friendly (he have heard something else *S*).
BUT
Suddenly he understand WHY they waved at him.........
He was driving at the WRONG side of the road!!!!!!! And he had No light on the car...
I cant even remember when we laughed so much last time. And it was NOT because of the Champagne!
One thing that he had been thinking that was quite strange was that at the same time they were waving at him, they looked so angry, now he know why.
Then I start to tell everybody when the police stopped me MANY years ago in my car just for a control and looked at my new driving licence, I was 18 years old and they checked my car and ask who was with me in the car.
In a baby chair in the backseat there was a 3 year old baby boy sitting, I was babysitting that day.
The Police asked me who he was.......Oh, it is only my husband I told them. (They probably thought that I was totally crazy, and laughed a lot). If they have known me today they probably haven´t laughed at all........I'm 15 years older than Rune but it is not that much difference today when the police stop us and look at us, as it was that day!!!!!!!!!!!!!!!! Mark and the others laughed as much as they almost passed out, so did even I.
We decided earlier today that we all have to go to bed as soon as possible tonight, but it was way past TWO o'clock, before Hanna and Jens went home.....we were all very tired but couldn´t stop laughing.
Wednesday 6 February 2008
Today I booked a time with a person that will help me to think right about food...I was there for about one hour. After that I was so inspired that I immediately went to the bakery and bought a good looking cake with raspberry, blueberry and whipped cream. I thought about poor Mark that soon will be on his way back to Scotland again and I know that he will be happy for another cake that he haven´t bought
himself *S*! That was the ONLY reason that I bought this cake today (of course, what do You think about me?).
Jonnie got his newest car ready today, and he was happy!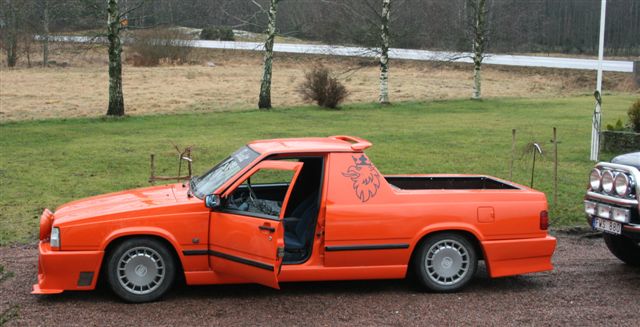 Only one more thing to do...change rims some other day!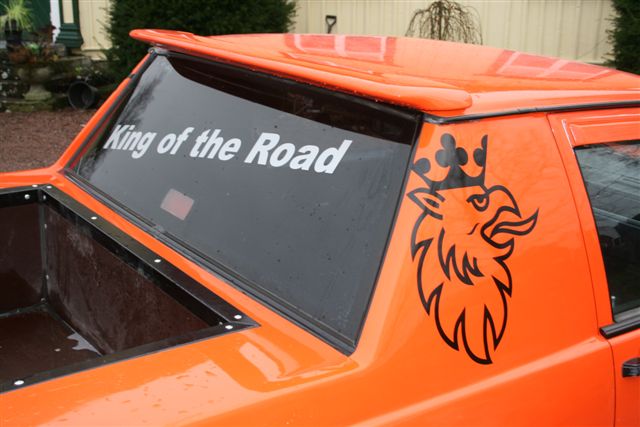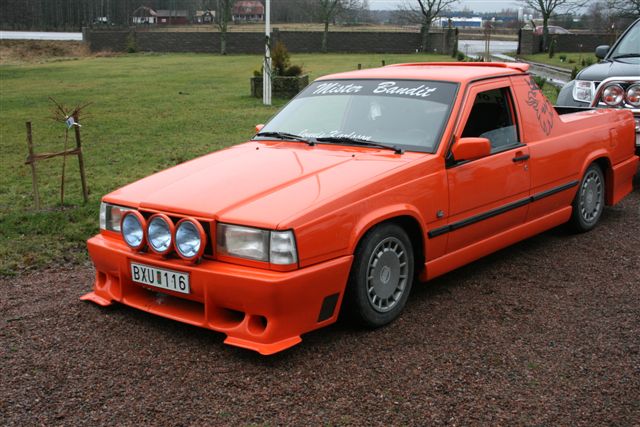 Of course he think he is the "King of the Road" *s*, in the front window there is written "Mister Bandit", I named the car that after our Dalmatian Mr Bandit........when Jonnie asked for a tough name for his car *S*!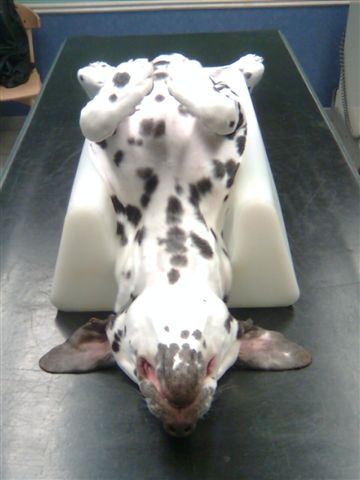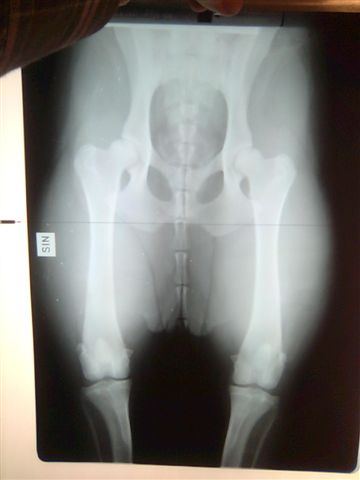 Trumph and Mini at the vet two weeks ago.....Still waiting for Minis X- Ray result........nice hips!
Tuesday 5 February 2008
Today when we woke up and jump out of the bed, I was screaming .....Ohhhhhhhhhhhhhh my heal string it hurt so I almost couldn´t walk down the stairs... It is always the same, when I start with something I do it all the day for some weeks (training) because I would like to be slim VERY fast!!!! And then I can't do any training for many days/weeks so those kilos I have lost come back again....and mostly some extra kilos!?!
Mark have been waiting for Swedish cakes..he have seen that we eat it every week. Today he couldn´t wait anymore so he went to a store and buy one by himself.
Of course I have to taste it because we haven´t eat cake for almost a month....shit!!!!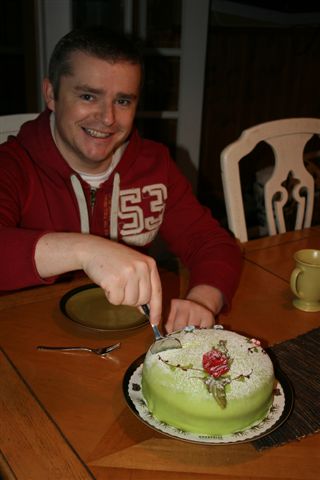 This was what Mark had come here for...the cake! See how happy he is!!!
In the evening Jens was coming here with Crissie so Mark could meet her before he go back home. Rebecka and Elaine was coming too, just for fun and to show Puzzel for Mark.....
Of course we had to eat a little and Rebecka is always soo hungry so we made some different things to eat.
Elaine was talking and talking as always, she have so many funny things to tell. But Jens have heard it before so he fell a sleep *S*, but Elaine continue to talk...........! And she is really great talking her own English/Swedish..Swinglish...so we laugh a lot. But not Jens he was still sleeping.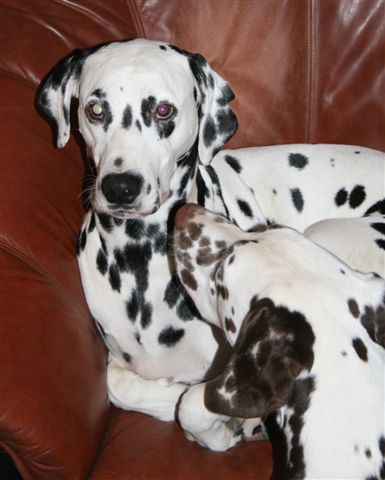 Crissie take place in Jill's chair. Gloria was kissing her mother.
When everybody have gone to bed......even Jens, Rune sat at the computer and was playing with his necklace....he was swinging it around and around over his head, like a lasso. I told him not to, he have dropped it before when he was playing like this......But suddenly it flew away over the kitchen and after one hour he still haven´t found it.... I went up to bed at two o'clock in the night and then he was still crawling around and was looking into the garbage for the third time....5.30 in the morning he came up to go to bed with his necklace on...so tired.....BUT sooooo happy!!!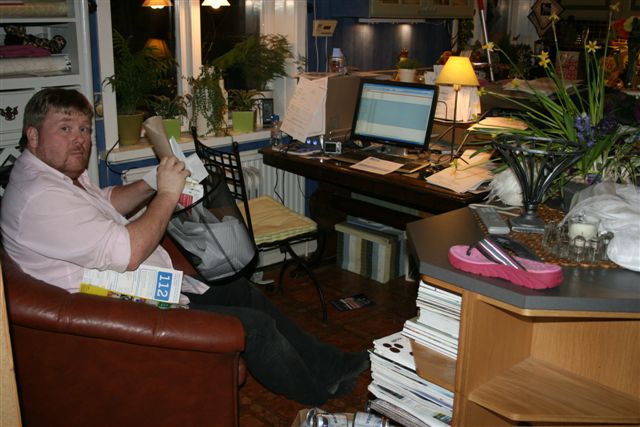 Here is a picture I took when I went to bed 3,5 hours before him *S*!!! He hate when he saw that I took up my camera, You can see that. Hopefully it was the last time he played with his goldchain.
But something was good, he found one of my missing pink slipper that I thought some of our young dogs have been eating up!!
Thank You, You are soooooo sweet, now we save lot of money because I do not need any new this summer. You always know what You are doing.
Monday 4 February 2008
It had been tooooooooooooooooo much junk food during the weekend so I decide to exercise more than normally today, I promise You...it was necessary!!!
I was pleased with my training in the evening, so I rewarded my selves with something sweet....I know it was wrong, but what a hell after all this exercising I probably been toooo thin *S* tomorrow if I don't eat anything more than my normally rabbit food!
About rabbits, one of Ellies rabbits died today, there was a cat jumping over the fence to Alva and Albin, and Albin was so afraid and paralysed so after some hours he died. This was sooo sad but tomorrow Alva will have a new boyfriend Little Skutt, he have to move from his family because one of the children have been allergic.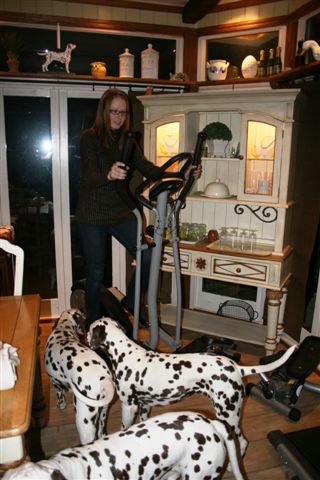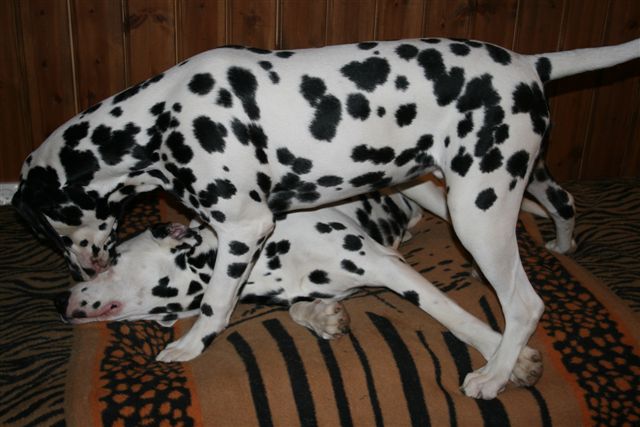 I have never understand WHY people that don't need to exercise do it anyway? Rolex and Daddy clean each other.
Even young boys can be tired, but it is not often!
Sunday 3 February 2008
Today we got puppy buyers to come and look for Trumph, and Sperm.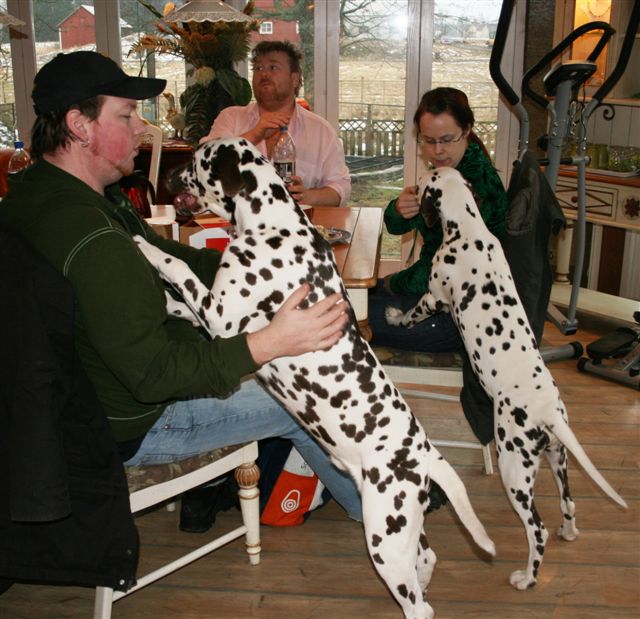 Please take me..NO take me instead the happy boy and girl try to impress most to our visitors. But because they had a two year old Dalmatian male before, we think it will be better with Trumph Card.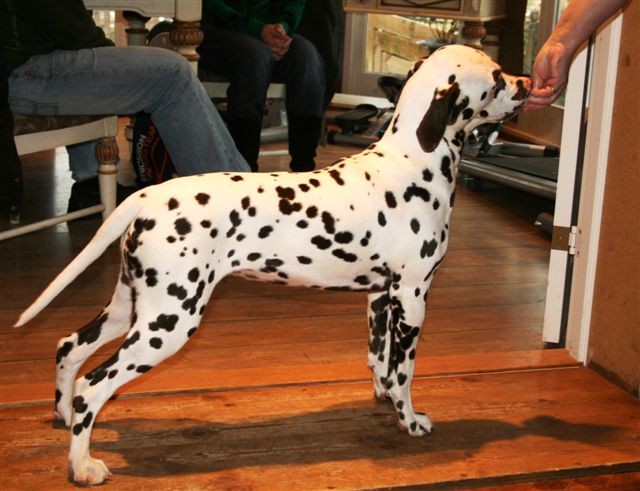 Jilloc´s Trumph Card 8 months in some days.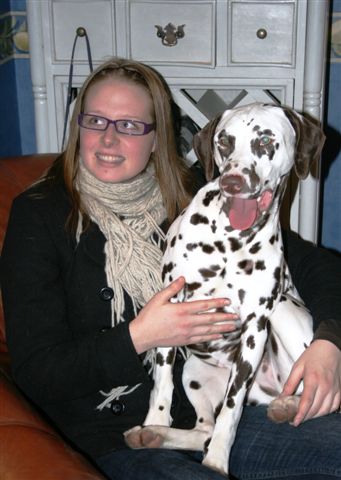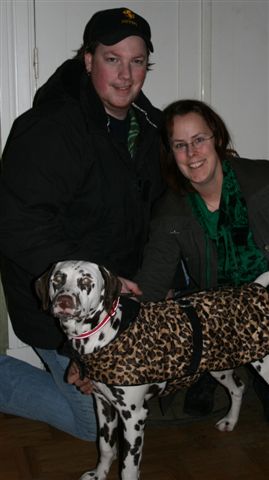 Jenny came to say goodbye to Trumph when she was following Jenny-Stina and Andreas to her new home.
In the evening we ate dinner.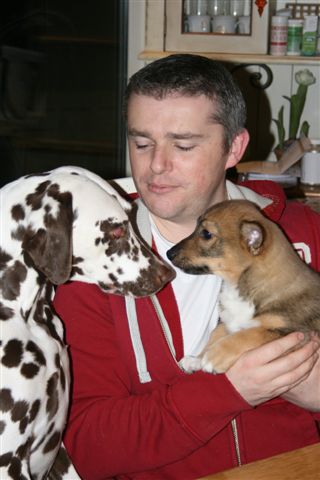 Anita's didn't have any dog food at home so she came with Harry and William to feed them here.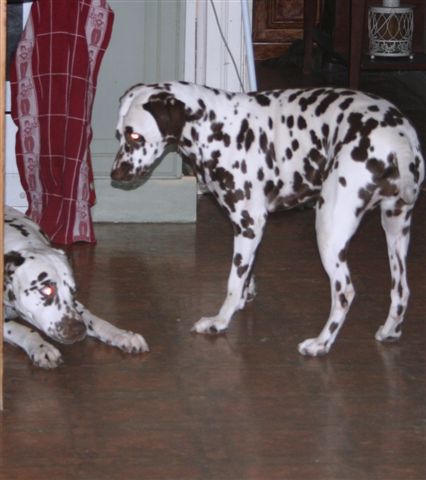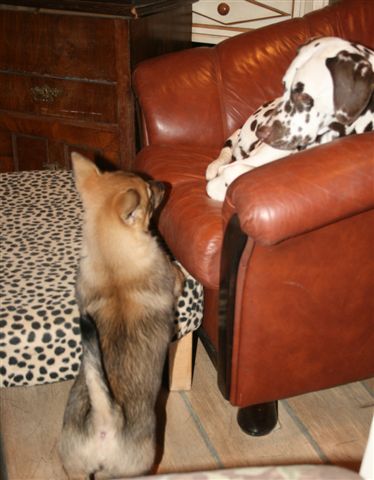 Harry was crawling around as soon as Jill looked at him, William couldn´t understand what he was afraid of......And he try to charm Jill in HER chair........just wait some months Jill said, then You can try and charm me...I will learn You to crawl around too when You see me next time.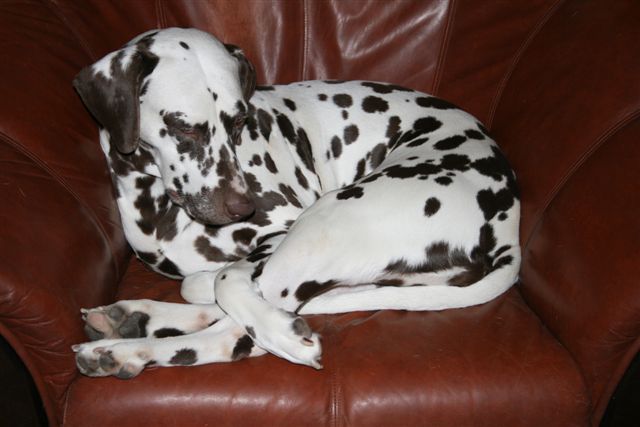 Just now she was tooooooo tired to bother about such a young rascal....
Anita was very afraid when Rune cut Williams nails. We looked at a movie from Crufts last year when Mark was BOB with his bitch.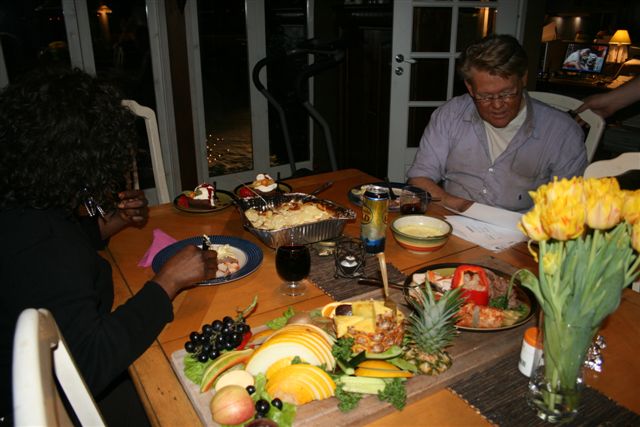 Roy and Fatomatofato F came later in the evening to eat.
Another long day was over and Rune and I have decide, to start to renovate our bedroom tonight, but we just opened the door and shut it again and went to one of our guestrooms to sleep instead.
You maybe understand why!
Saturday 2 February 2008
Many costumers in my store today from 11 until six o'clock.
We have ordered food from the catering store, so it was only to make the table when I was back in the house.
Our friend that have lived in England for 30 years was invited to meet Mark as we thought that they have lot of things to talk about.
All of us can make mistakes *S*!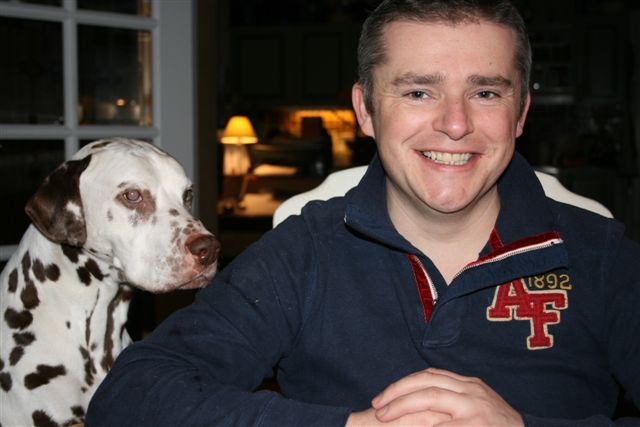 Mark was very happy that it wasn't him this time!!!!!
We eat potatogratain roastbeaf, chickenbreast and porkfilé with sallad and fruit.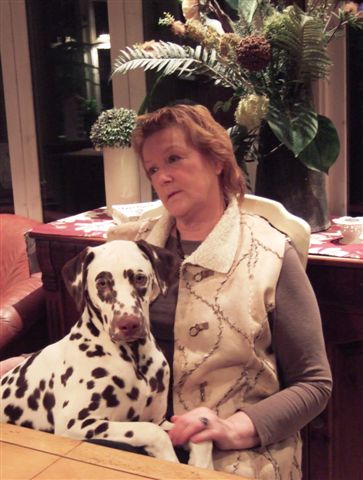 Gloria jumped from knee to knee to get something to eat. Chocolate cake with cream, rapsberrysauce and fresh fruit.
Devlin wonder when he is old enough to drink beer..........NEVER!