Diary
Monday 31 March 2008
Lot of problems with our computers last weeks, so Rune try to buy some new things so we can use it like before again.
Sunny weather outside....spring is here!
Rolex in his own strange sleeping positions (YES, he was sleeping like this for 45 min)*S*!!!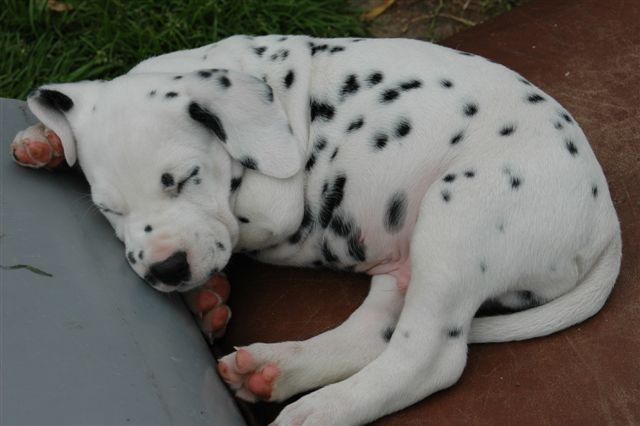 Photo from Annemiek of Rolex when he was just some weeks old, he has always been a sleepy one *S*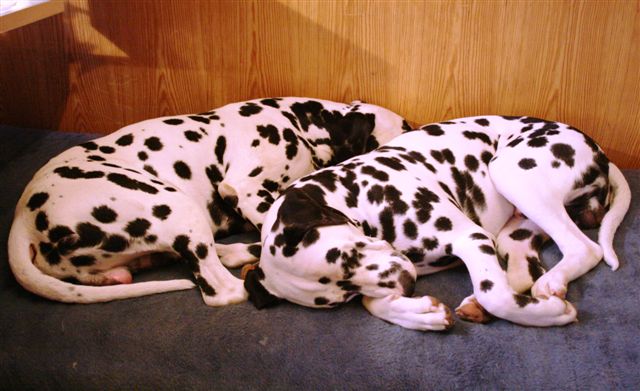 Bosson and Daddy on the bed.
Sunday 30 March 2008
ROLEX
Gwynmor At Your Request is 12 month next week.
He is more like a teddy bear or a porselindog, always so calm and nice.
We have now two bitches in season, but they do not bother Yet....!
BOSSON-DADDY-ROLEX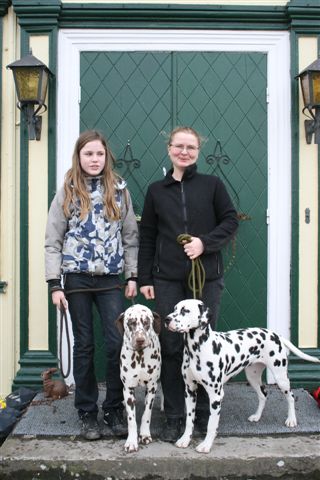 Elsa with Sperm and Hildegun with Bell, they were all tired after two days course.
Rune took a picture while he was driving, of the lovely weather.
Saturday 29 March 2008
Only 9 dogs at home today, when Bell and Sperm were on course. It was nothing??? We almost have to look for the dogs in the house *S*!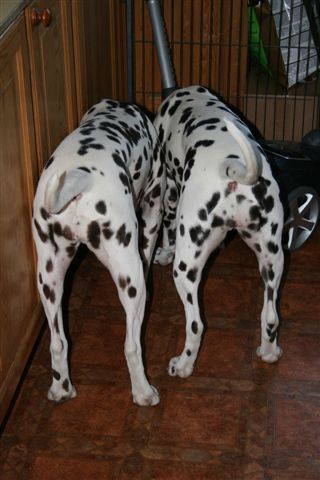 Both Devlina and Gloria in heat....so good to have it on the same time. They sleep together and eat together. Something to eat???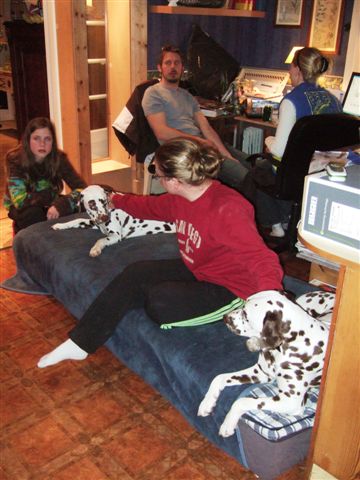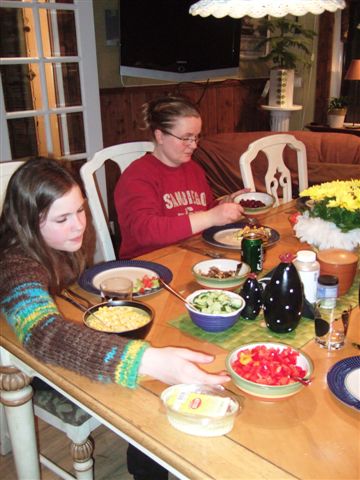 Many was waiting for dinner.........but not Gloria, she think she HAVE to lay down all day long when she is in heat..normally she is more high than low *S*!!!
Friday 28 March 2008
Rune up VERY early and drive to Gothenburg to pick up a friend from the airport.
In the afternoon Rune made dinner for us all. We were home just in time to se the final of "Let's Dance"....30 minutes later Hildegun and Elsa came here to stay over the weekend. Tomorrow and at sunday they will enjoy a handler course one hours drive from us. They are going to borrow two of our dogs, Bell and Sperm.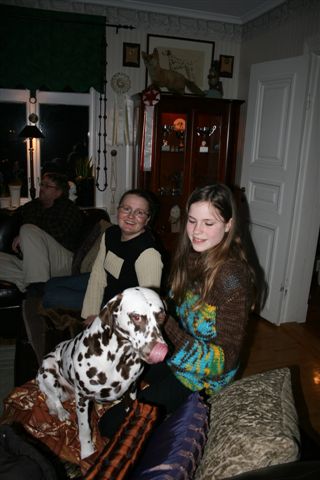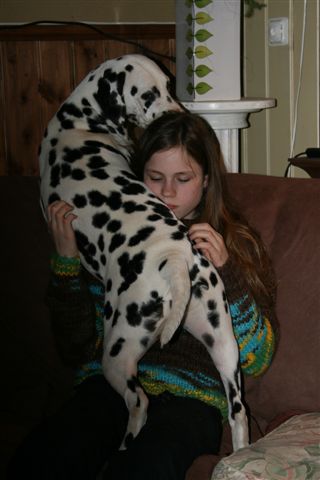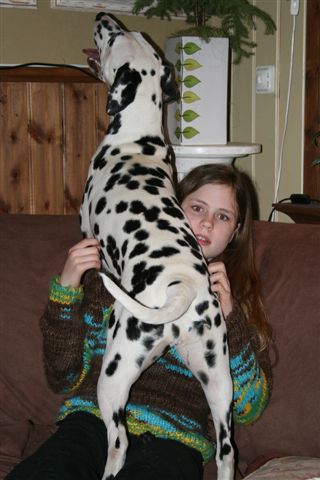 Friday evening in front of the TV. Bell and Elsa played.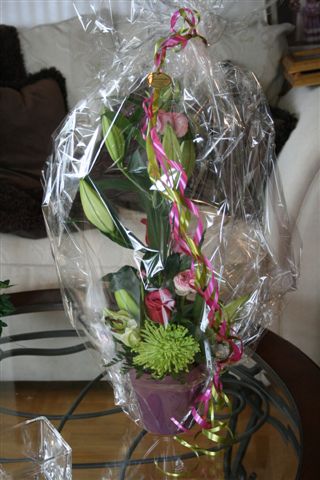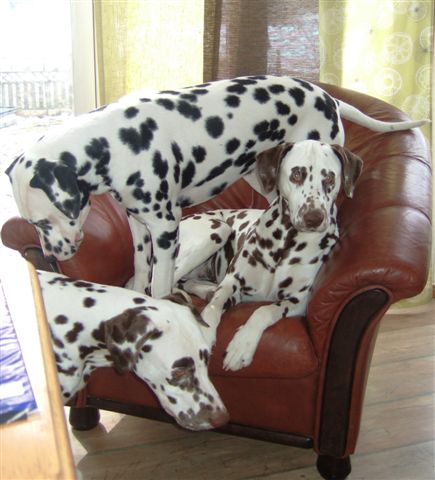 Bell got a toy from Elsa. Lovely flowers from Hildegun. Devlina and Bell in a chair and Gloria at the floor.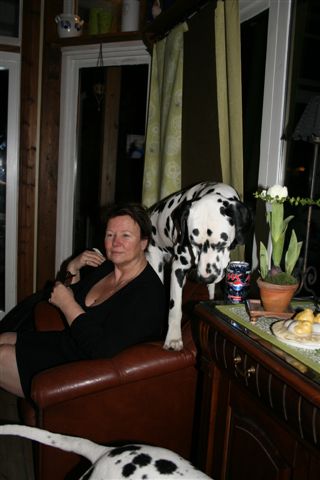 I try to look at TV. But Daddy want my attention.
Even Bosson would like to lay down in my knee, on top of heavy Daddy. Puh!!!!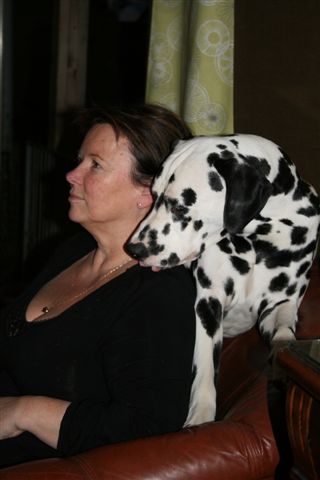 I try to follow some program, but after it was finished I couldn't remember anything of what I have seen, wonder why *S*!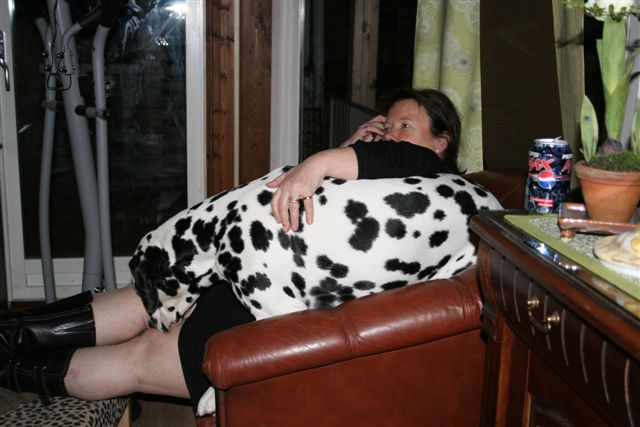 It is hard work to look at TV, now I understand why I am so tired after some hours in front of the TV.....
Thursday 27 March 2008
Up 4.30, I have been sleeping for some hours in front of the TV, and then try to go to sleep, but it was to light out and I was just thinking about how much I/we have to do today.
For once in a while I have cleaned all over before 9.30, when I wake Rune up to start this day.
Just before 12 o'clock Annette with Star/Diezel and almost the whole family was coming for visit..They have to drive in two cars because they are so many in their family *S*! But it is nothing that are difficult for them. Annette solve all things that make other families crazy with a shrug of her shoulders and say...no problem...she is soo calm in the middle of her big family *S*! I admire that......
Moa, Joel, Annette, Haldór, Linn och Mimmi..... Mini love to eat children!!!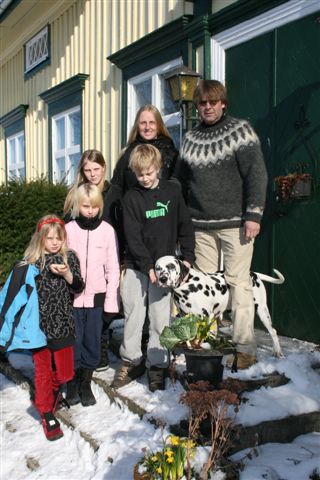 Star/Diezel (J Somebodys Star) and Gloria are sister and brother. All dogs were in the kitchen to say hallo to our visitors. Puh!!!
At 15.00 the family and Rune drive to Vara to our vet. to get a health control of Star.
At 17.00 Rune have to be at Skaraborgs Kennel Club meeting.
At 17.00 Jenny came to me with the most wonderful flowers (sweet girl)!!!!
Then I go with her to Larv and a large hotel were our Kennelclub will have their Meeting of the year with dinner after.
At 18.00 the meeting start and we met Rune there.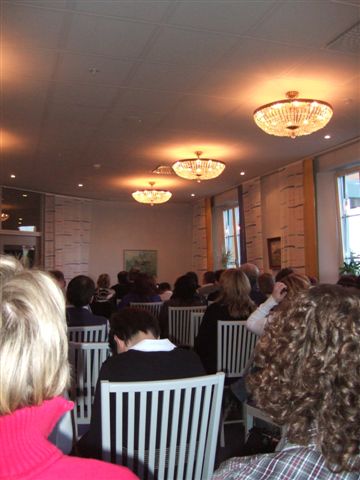 Look at all crystal lamps in the roof. As always at the same table as Per Ove for the dinner. I will give fortune to be a owner to one of this crowns....(if I could).
One of the best hotels to eat dinner on. So much fresh fruit to eat and super food. Even Jenny was very pleased over her vegetarian dinner. At most places we go to there is just something dull to eat for her, but this dinner was perfect!!!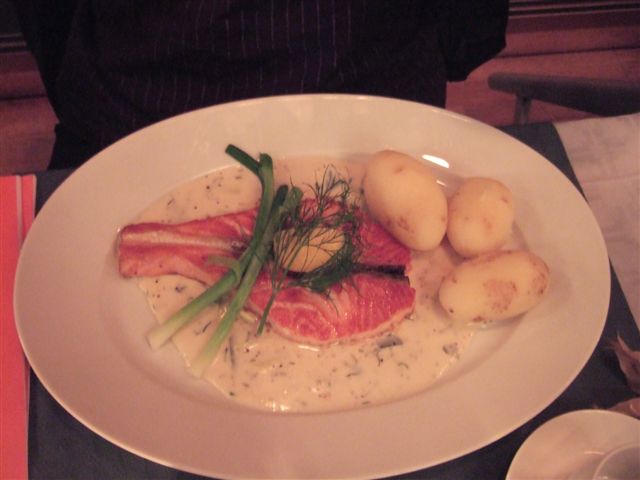 So very proud of Darling (Such Jilloc´s A Match Made in Heaven) she was Skaraborgs Kennel Clubs BEST VETERAN 2007.
But Darling didn't bother about that, she is soooo tired after collecting and guarding her shoes and bowls.
She will do anything to collect her bowls etc. Once she wanted to carry her water bowl up to the first floor. At the first attempt she got all the water over her when she started on the stairs - next time she reversed up the stairs, and she managed to bring a full bowl of water up the stairs. Clever girl.
Very late in the evening I have to go to a house and put the last touch with a room that I made as a office....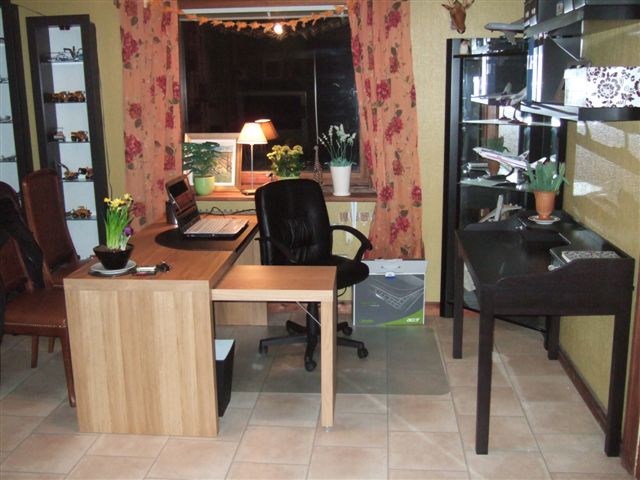 Wednesday 26 March 2008
15.00 Bride on visit to look for a dress.
17.00 Helped a girl that have bought a prom dress to change her dress and to chose accessories....
18.00 Girl and her mother and grandmother here for 2,5 hours to try prom dresses.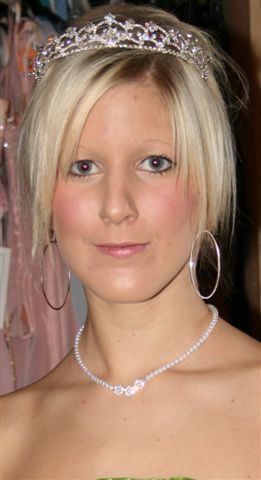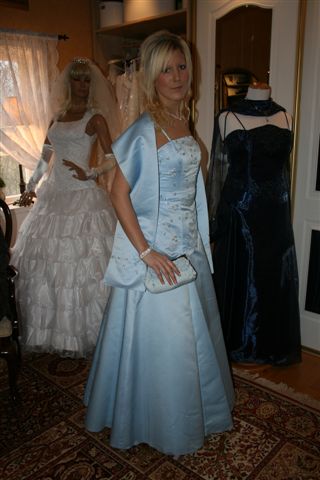 So funny to see sweet girls try dresses like they are real top models.
I am tired all the time now, if I have to go to a 8 to 5 work I have probably been home and sick all time (poor employer), so it is good that I can chose my own working days in my business, but sometimes I wonder what I am doing...many dresses 50% discount and that means that I do not earn any money at all, so most of what I am doing is for free. But I love what I do so there is probably some meaning with it *S*!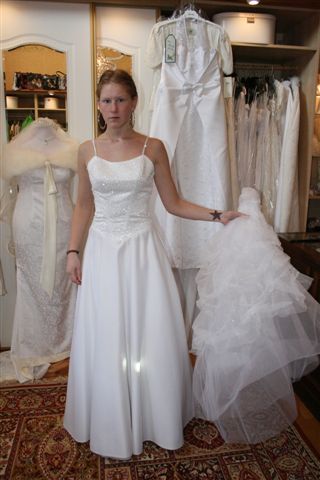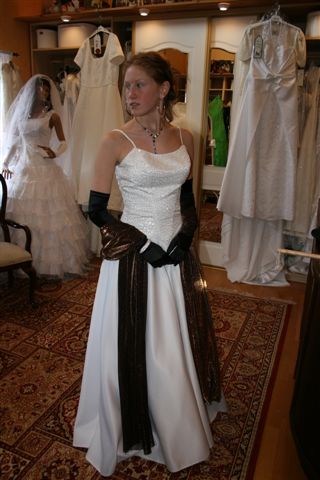 Lina cut all tulle away from her dress, and it looked very different, just the way she want it.
Snowstorm!!!
Tuesday 25 March 2008
Congratulations


Jilloc´s R-litter 2 Years Today, and Runes Mother have Birthday too.
Devlina with her fathers toy.

Devlin is back home again to rest in peace.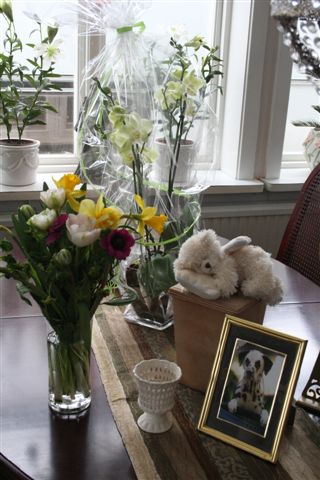 We will try to eat only soup for some days/weeks now to get in better shape before next dog show....do You believe in that????
When I was in my store this afternoon I got a sms from Rune it sounded like this -:Now I have been shopping colour for the computer and more paper.....It have been damned good with pizza tonight!!!! Do You want any????
I answered NO!!! Then I get a new sms back -:Can I have one please???????? You do as You witch....IF you go for pizza so please buy me a salad. It is no sacrifice for me to eat salad...it is my favourite food....BUT to let be to eat bread it is really hard for me, even if I love dark bread I can't eat 1 cm of any kind of bread without gaining 2 kg the next day...crazy? Yes I know but it is the fact. Maybe it depends on that I use half a package of butter on my very small sandwich....I don't know!!?!!
Albert (Int N S Ch Timanka´s Wonder Bird) 12 years today too (the cocker..)
Here with Tobine and her little brother.
Monday 24 March 2008
Early in the morning Kai and his family were going back to Norway.....it have been snowing all night so they had to let their caravan stay here until summer *S*!!!! Thank You - we will use it for our bitches when they are in season so it will be calmer inside for all our males *S*!!
Our new kennel *S*!
We got those lovely photos of Jilloc´s Roller Coaster today, thank You Ulrika and Kent.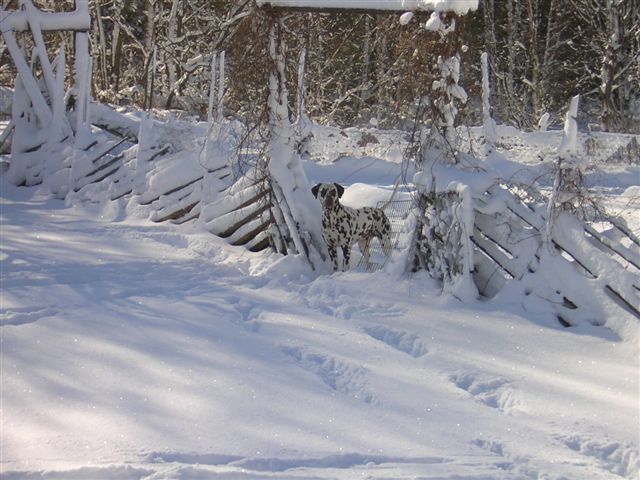 Bruno in his garden, first we thought it was Jill at the picture.... Photo: Ulrika Bjursten
BRUNO happy...tomorrow it is his Birthday, maybe he got cake then?? DORI back in England......in February...
It's good that Bruno isn't the father of Doris coming litter, they probably have look like rabbits and with flying ears *S*!
Now DORI only have nine days to go before she get her litter with Bosson!
Some hours in the morning I was at hospital, and they did lot of tests on me. It was very good that they couldn't find anything wrong, but I'm still not well so they will continue with some other tests in some weeks. I need to be in good condition before all shows this summer *S*!
Three booked customers this afternoon/evening.....I was sooo tired that I fell asleep immediately when I sat down in front of the TV.
Sunday 23 March 2008
Int Show in Stockholm.
Outside the ring are we friends, within the ring we are hard competitions!!!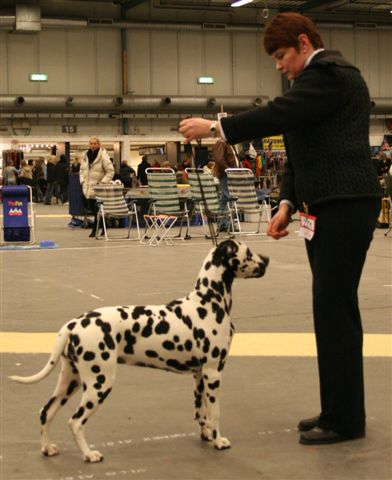 Jenny showed her/mine Dezibel (Jilloc's Top winning Trophy) & Kristina with Breeze (Jilloc´s Super Model) she have been to many inoff.shows always placed in BIS. Today junior with ck/5th best bitch, shown by Pia L.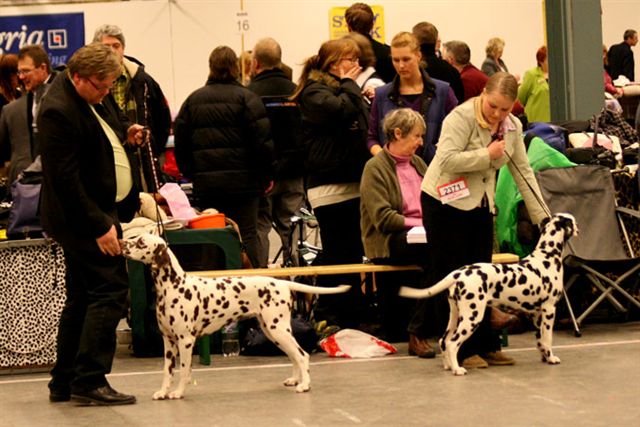 Rune had to show Gloria, my heal string was hurting after being in the ring with Daddy (he became nr 3 best male with another CAC). Pia with Breeze!!!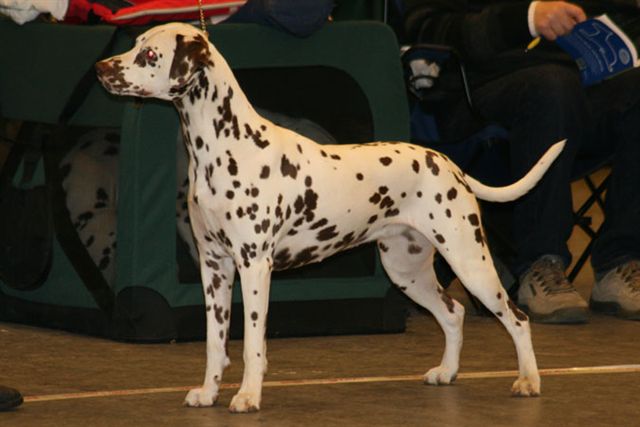 Expo and Pia. Jilloc´s Right Here right Now (Milda).
Most pictures by Teemu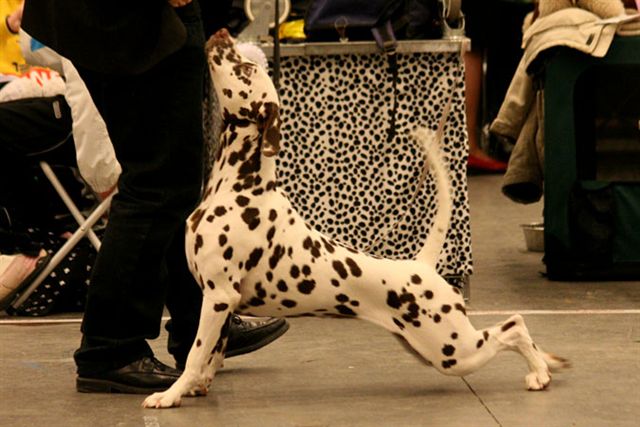 Time for workout......I have to do it EXCATLY at 10 o'clock every morning....WHO CARES WHERE I AM *S*!!!
I have to stretch before I start to run....today it was "only" good enough to be nr 3 best bitch. (Mummy told me that it was very good, but I would like to run in front of everybody else. Maybe it was wrong handler today mummy said *S*! She was only jealous that she couldn't show me and that I did exactly as good as with her..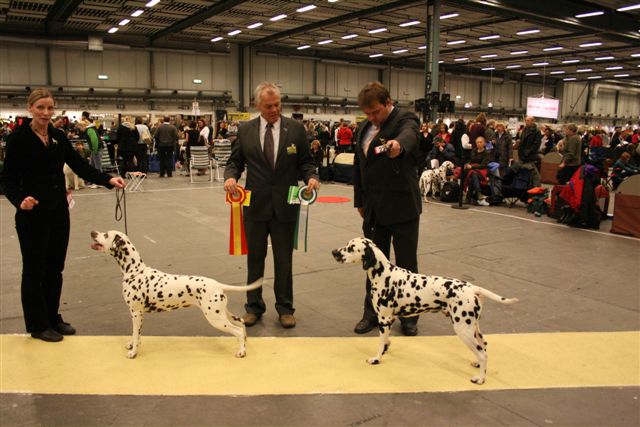 BOB Helena o Molly Judge G Nyman, Denmark BOS Int o Nord Uch Lovindas Fridtjof, Zid and Kai.
J Key To Success and her owner Hanna. With J Sugardaddy, Fairytaile Spot's A Key To My Heart, J Super Model & J Splendid Choice.
This progencygroup was BIS 5! We were not placed with our breeders group (and we shouldn't be..they were so different in size).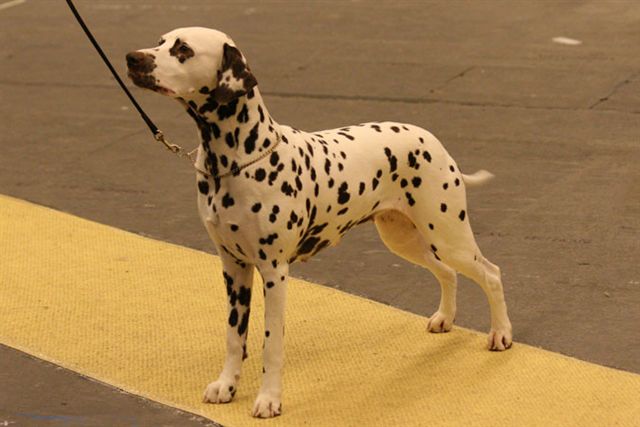 Ch Timanka´s Movie Star BOB and later BIG 3, Congratulation Helena!! Photo: Teemu
Helena with some of our dogs..........here Bosson and Bell.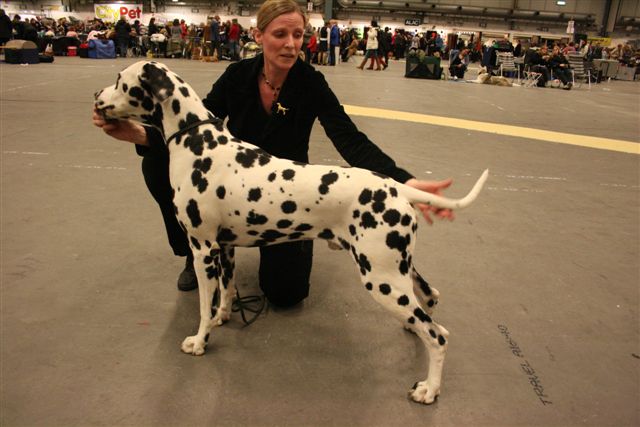 This is one of the best things with dog shows..........time to meet your friends.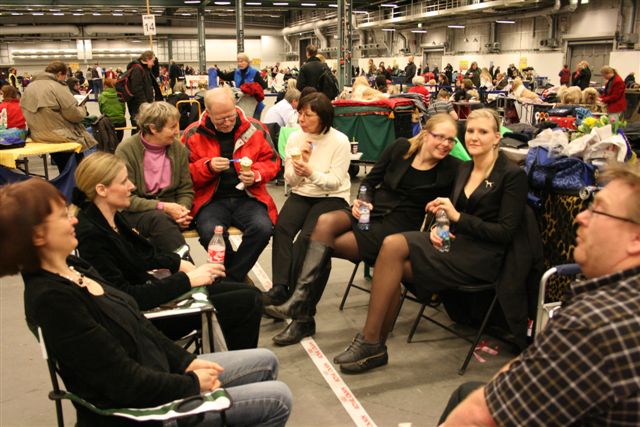 And
Today in Holland!!!

Jilloc´s Seventh Heaven 9 m 3 weeks old, was BOB, and BIG 5!!!
Photo by Diana.
We Congratulate Seven, Diana and André.
Breed Judge: Mevr. de Vries-Hoogland/Holland
Group Judge: Dhr. P Muntean/Romania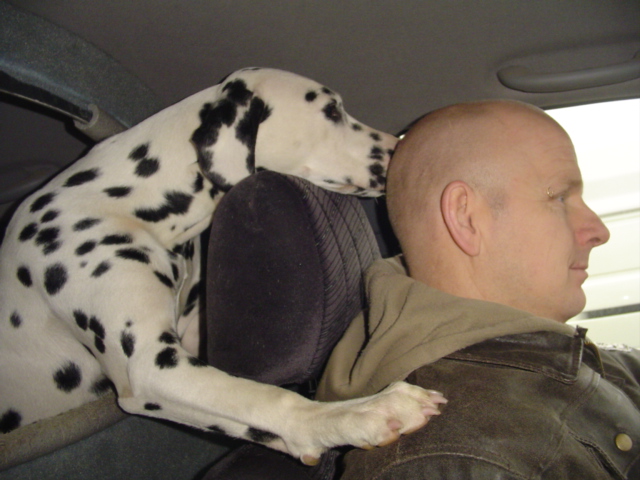 Seven was so happy for her day so she can't stop kissing her dad/handler Andr'e *S*!
Photo by Diana.

From last weekend in Finland!!!

Jilloc´s Scandal Beauty 9,5 month old was BOB, and BIG 1!!!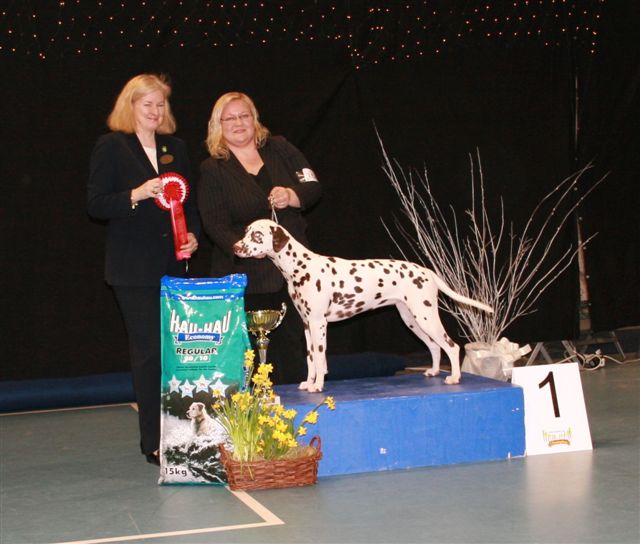 Photo by
We Congratulate Neela, Niina and Mette.
Breed Judge: Marie-Christine de Labelle/Belgium
Group Judge: Annukka Paloheimo/Finland
Saturday 22 March 2008
Today
Picture from 2004.
EASTER EVE
But it was more like Christmas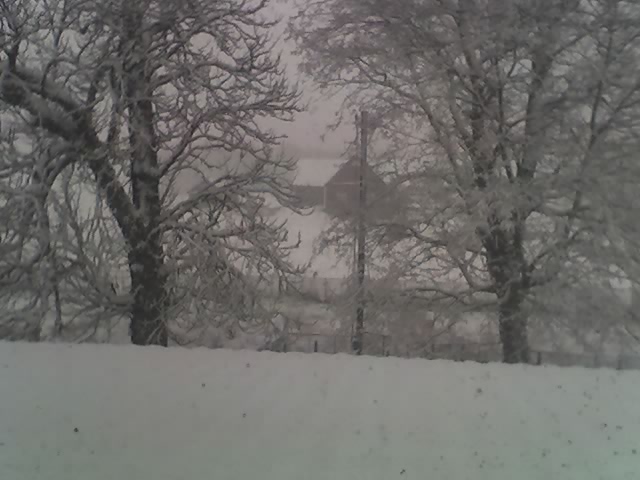 HAPPY EASTER TO ALL FRIENDS AROUND THE WORLD!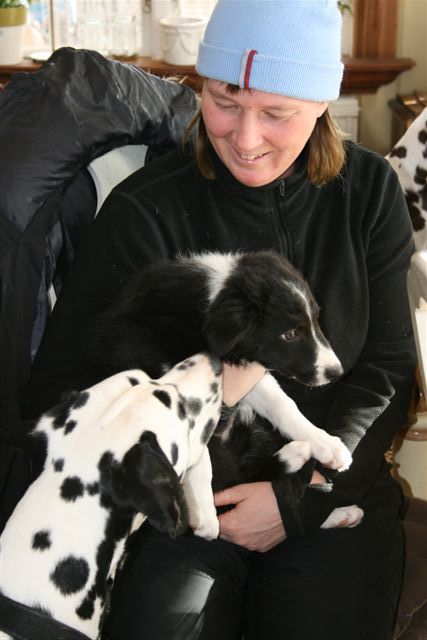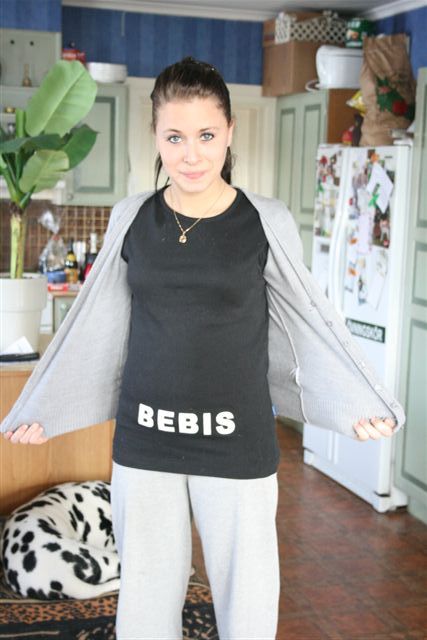 Carola o Peter came to get some dogfood, and braught their new puppy with them. Nathalie wanted to show her new T-shirt.......
Jimmie and Jonnie where out spinning with their cars in the snow - they better do it, because any day the snow will be gone. Some kids never grow up.......(Runes comments).....that came from right person *S*(Flo´s comments).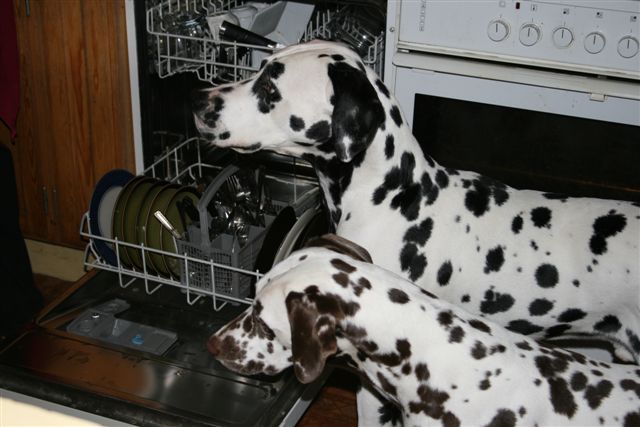 Bosson and Jill clean up before I put the dish washer on.
We wish Camilla and Andreas all the best for the future!
Pictures we got from friends!!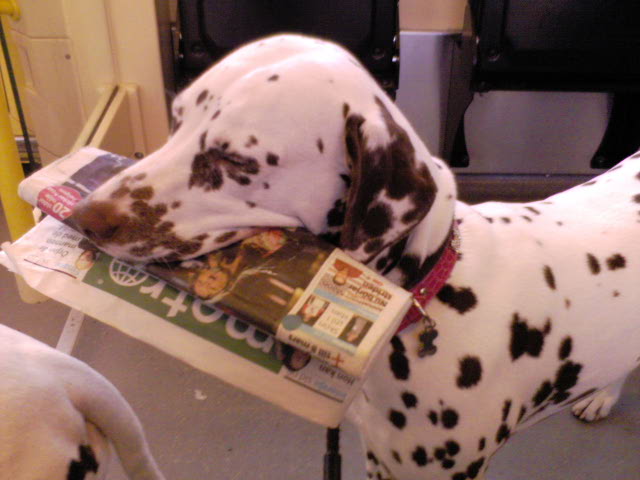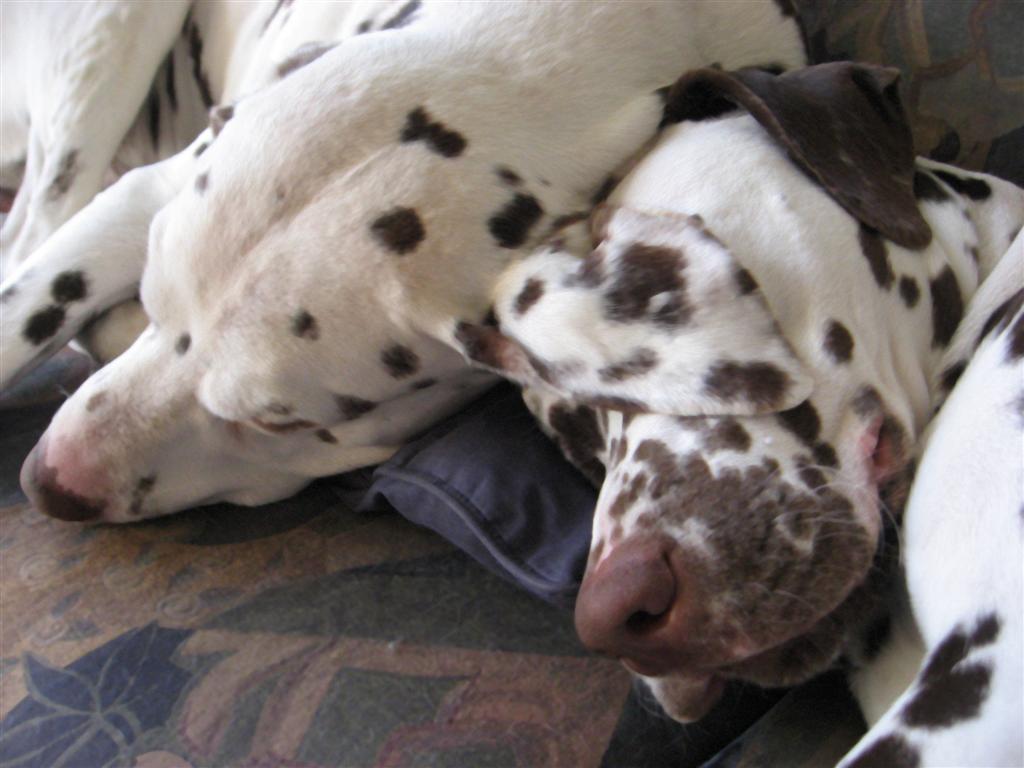 Photo: Helena B Photo: Kentin
Milda at the subway carrying Metro. Shadow and Dusty in Holland sleeping, Shadow was not allowed to go up before the curtain was gone *S*!!!
Star is now named Diezel...here in his new home looking for Easter Eggs in the garden!!!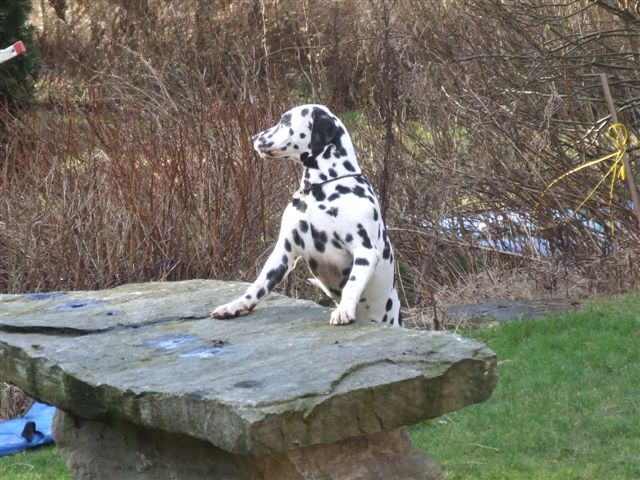 Photo: Annette P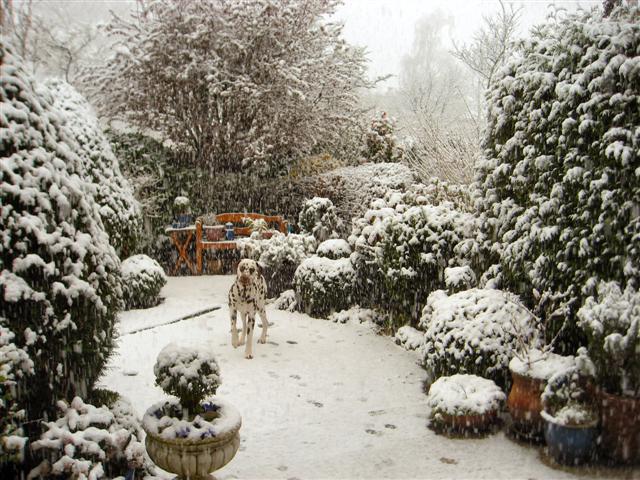 Shadow in Holland. Photo by Kentin. Edna and Seven in Holland. Photo by Kok.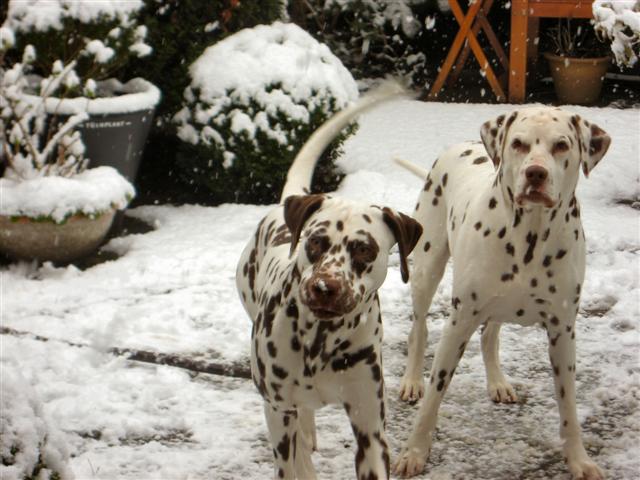 Shadow 11 months and Dusty almost 11 years. Photo: Kentin.
We all went to bed early because tomorrow we all will go to Dog Show in Stockholm.
Friday 21 March 2008
This evening we had dinner before we all look at "Let's Dance" at TV.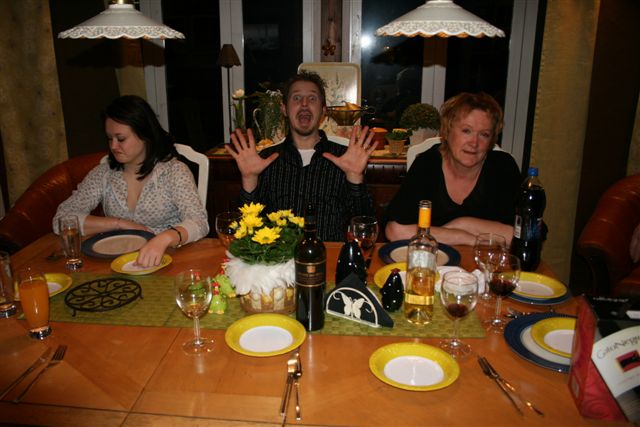 Mari didn't seam to like the food, Jens was very happy when he saw the wine and Anita was just tired after her long trip to Cyprus.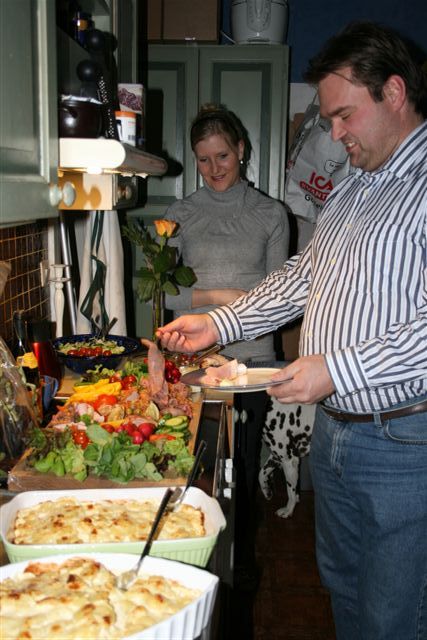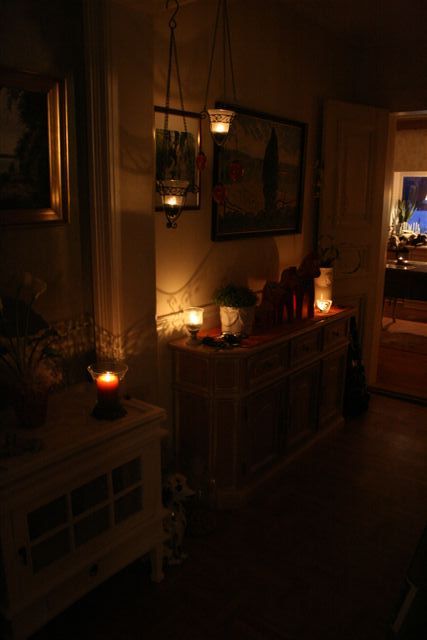 Kai try to break into a locked cupboard to get more wine....then he enjoyed the dinner. Lot of snow outside, but warm inside with lot of candles.
Hanna is fantastic, she have made panties for Devlina that start her heat today!!!! It was fancy!!!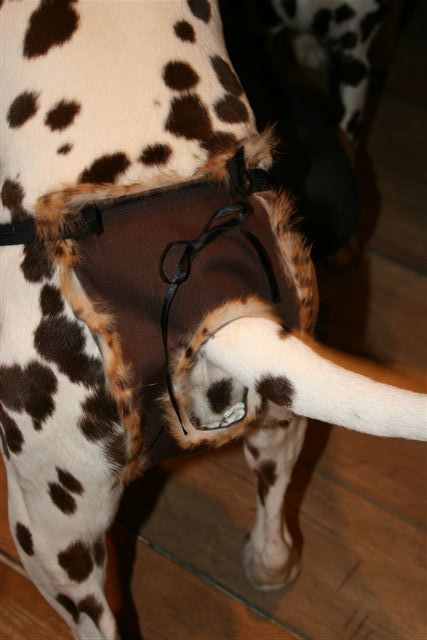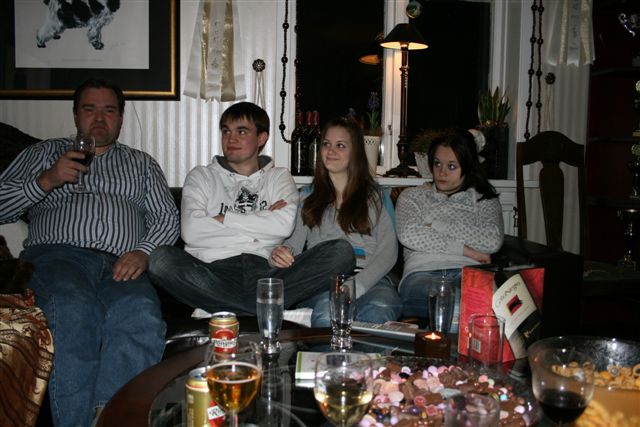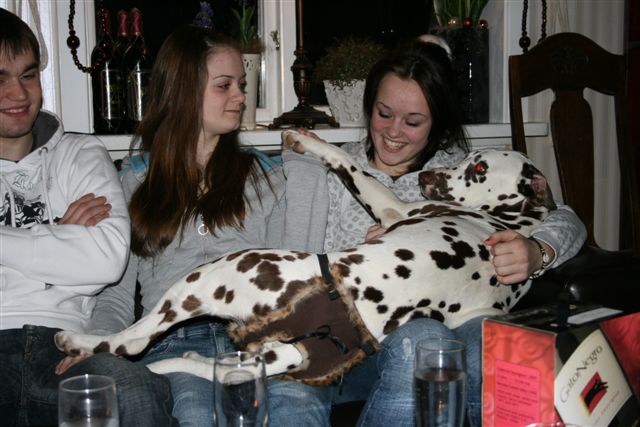 We all look at TV and eat and drink, and Devlina was everybody's baby.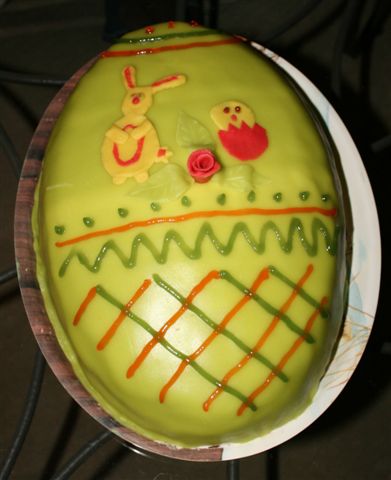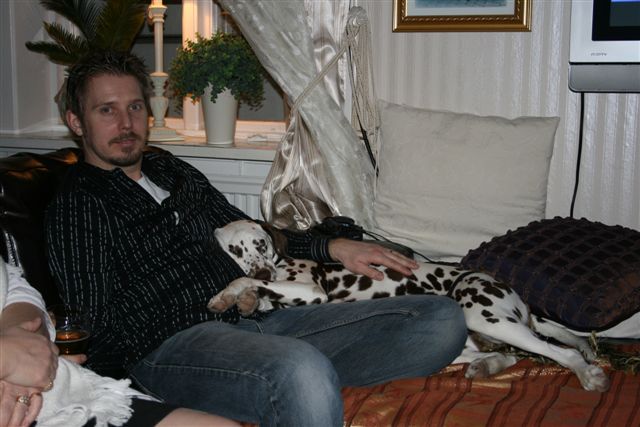 Hanna and Jens have made a fantastic Easter Cake today for us!!! Jens and Devlina looked at TV.
Devlina was just as happy as we were to have ANDREAS on visit!!!
Thursday 20 March 2008
We are still sleeping in the guestroom!
Mattias o Jonnie wash some cars..
It start to look much better in our living room now...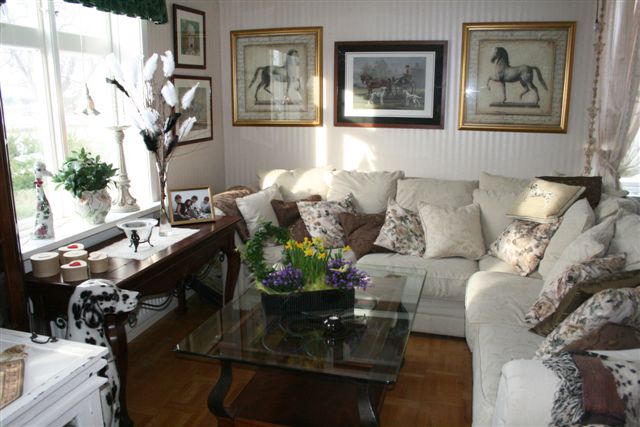 And we bought a new cupboard on the internet for nothing!!!! But it looks nice I think.
The family that sold it had so less space in their new house that Rune got the table and chairs free...that is good business!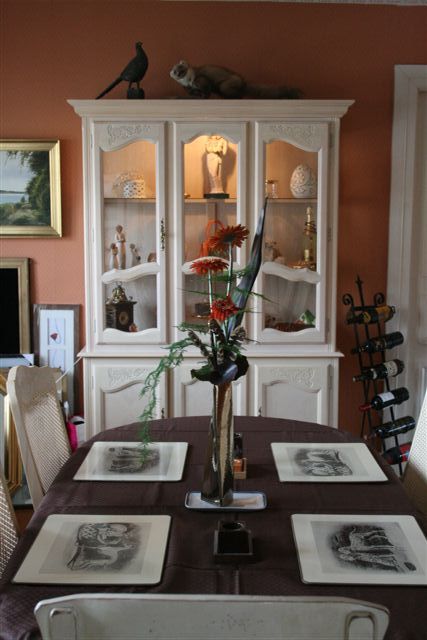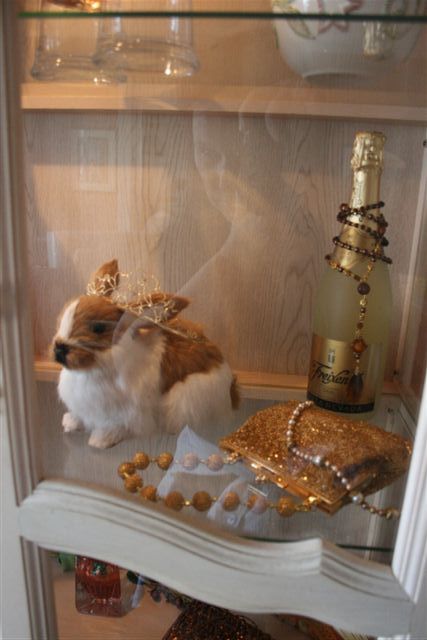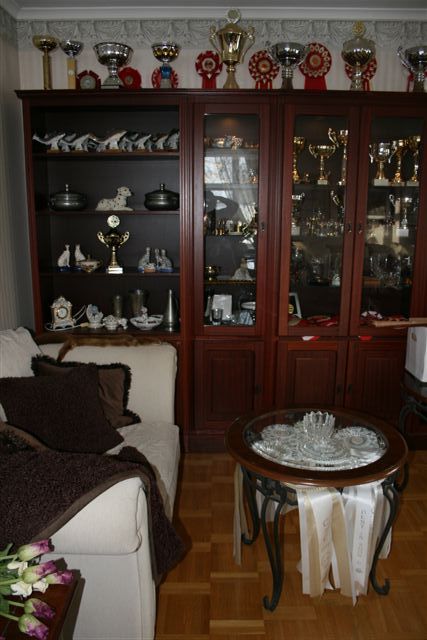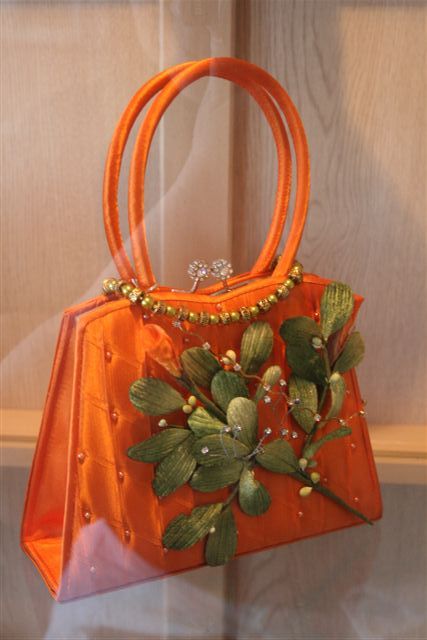 I love to collect different kind of things, they do not have to be expensive, just special for me!
We served Swedish "Smörgåstårta" (directly translated - sandwich cake) for our Norwegian friends!!
Wednesday 19 March 2008
Our dogs really love each other!
Devlina use Gloria as a blanket!
We Congratulate!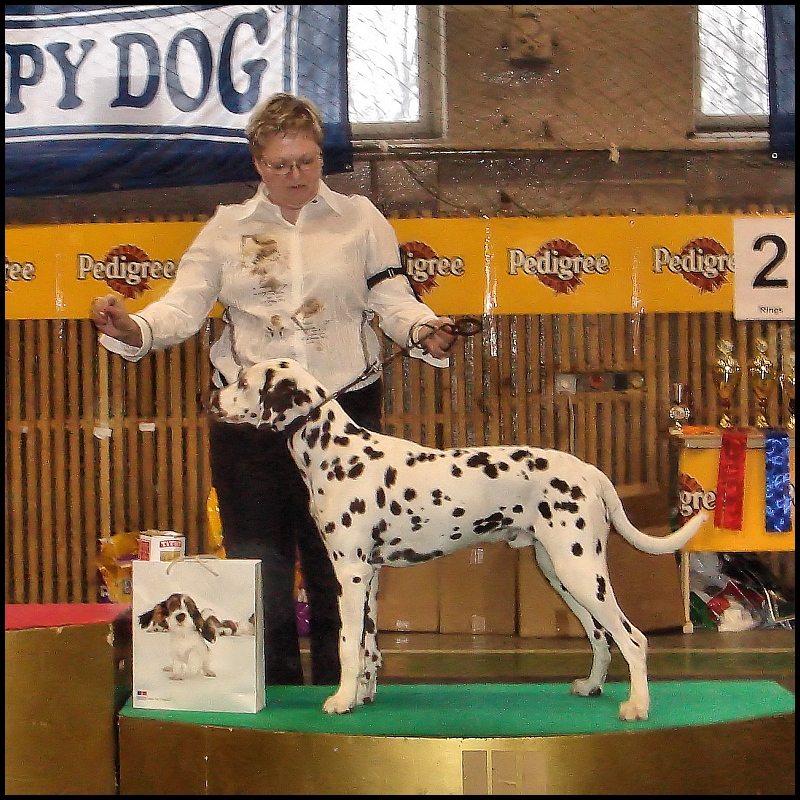 Picture from Latvia of Bossons son at a puppy show. Vitalight Aragorn the King and Svetlana.
BIS 3 Puppy!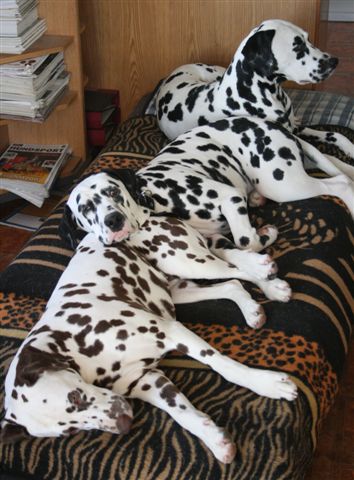 Lacy dogs. Bosson and Daddy behind a dirty window ( it was clean one hour before *S*).
We were so happy to get friends on visit from Norway today. (Especially Andreas)!
Kai and Mari. Andreas and Camilla.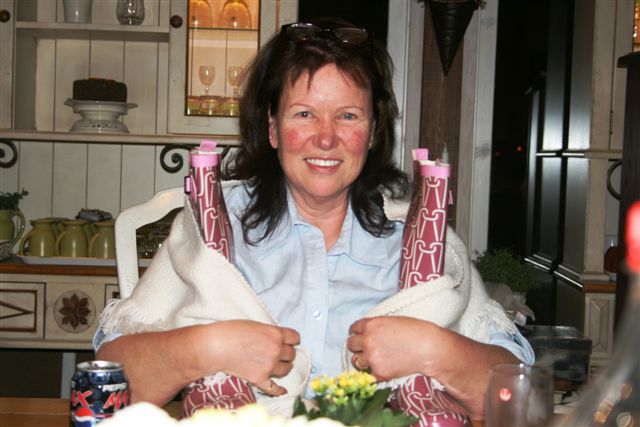 si
Sissel have sent presents for me, a lovely scarf that was made by her with lot of love, and rubber boots so I can walk around in the Swedish summer *S*!
We miss You, but understand that You have to stay home with Your other dogs and children.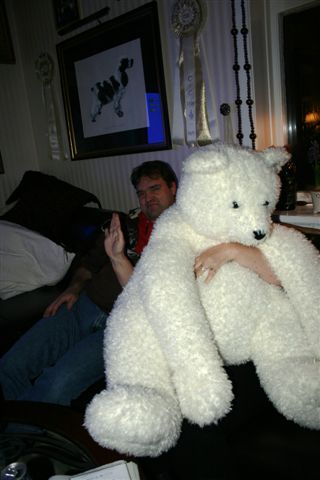 Kai was so happy to be here and to carry furniture around in the house. Here he is sitting with someone and cuddle in the sofa!!!!!
Ha ha, it was only me! Rune was looking for fish behind our TV!!!
Jill and Andreas looking at tv.
Tuesday 18 March 2008
Today we try to start a diet again *S*. After soup in the evening....I saw that Rune eat at something else.....peanuts????? this was not in the diet??!!??
He try to hide behind a paper, but I saw him!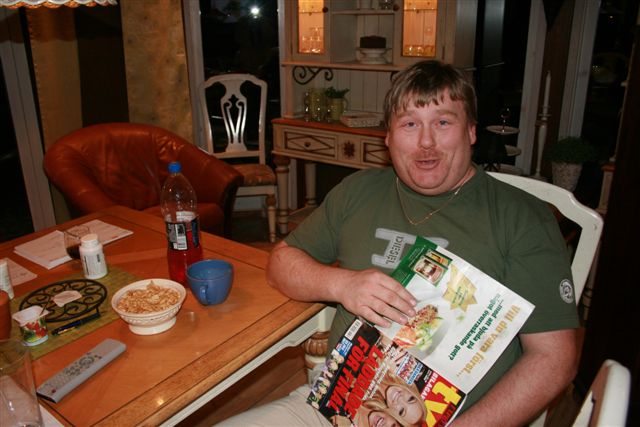 Tjo hooooo it was NOT meeeeeeee *S*!!
Rune away to Karlstad to buy some glass tables that I found at internet...this is fantastic how cheep You can buy....you have to drive some hours but if things are really nice and cheep it is worth it.
I talked to many friends at phone and try to answer some mails.
When Rune was back in the afternoon we drove to Lidköping to buy another cupboard for all things we have won to our dogs. We saw exactly the same in a store some months ago for over 10.000 kr, and this was only some years old and they only asked for 2.000 kr..
Monday 17 March 2008
Yesterday when we drove out of Malmö, Jenny suddenly said that there were an clear and colourful rainbow on the right side of the road....It's not often rainbows this time of the year...but it just were there so we have to see it.
Then at the same time we got the same thought .......of course it was DEVLIN that will show that he was with us, and probably this was his way to show how proud he was of his son Daddy, that he behave so well today, and that he always will be at our side wherever we are.
This warm our harts!

We were home all day long and just didn't do anything else than try to clean up a little ..
I have really problems with my legs today, and that make me soooo angry, so I try to walk a little at my cross trainer even if it hurts.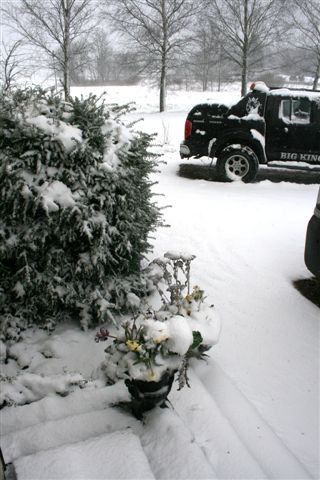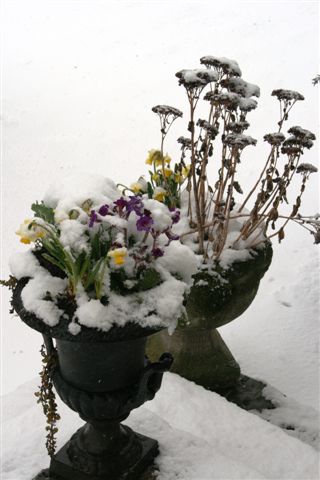 Finally we got snow...I love it, but poor flowers!!!
Sunday 16 March 2008
At half past five it was no use to stay in the bed anymore...better to go up and start to make us ready for the show. I was already longing for my bed at home in the evening..
There were 36 Dalmatian entered and maybe we can go home early because I have only entered three dogs. Two juniors and Donna in champion class and she was not in top condition because of her phantom pregnancy.
It was really hard to walk in and out with all things to the ringside. We even have to walk into another show ring to go get to our ring.
I got a message: Seven (Jilloc´s Seventh Heaven 9 months and 10 days) was second best bitch on her first show yesterday in Belgium or Holland, and she got her first junior CAC, and a reserve CAC. She was only beaten by Gwynmor Ysgawen, topwinning last year!!! What can we say....more than CONGRATULATIONS André and Diana, we are so proud to hear that even Seven love to be in the ring....and that the judge loved her.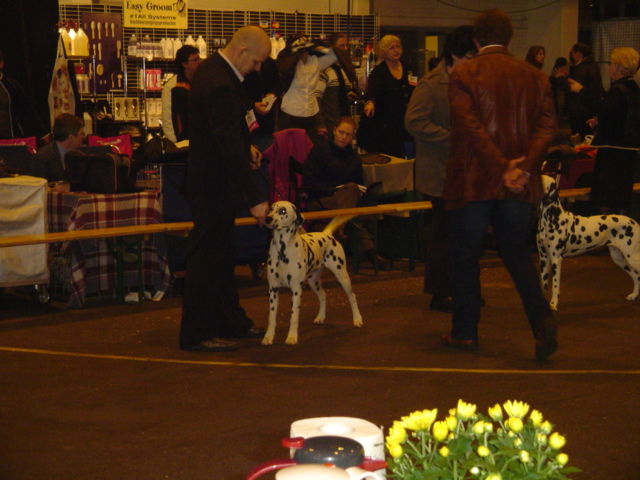 At the show. Photos by Diana. Edna was so happy when Seven came home, that she mated her *S*.

Ok, now back to our show......Daddy was in junior class, he behaved well but it was not that easy to try to run into this small ring with this "moving machine", he need much more space. I was happy when he won the class as the only one with ck. And he was happy too because then he will get more meatballs, when we go back for best male competition in a while.
I think it was seven males with ck in the last competition. I was so concentrated at Daddy that I only saw that he start to pick up dogs on a line, but not us.....ok..Daddy behave very well in the ring today, and that was my motivation this first time, so I have to be pleased anyway. I saw that he put up the top winning champion dog in front of the others.....AND then the judge came to me and point at first place, so far........I was ready to start run together with the others when I heard Zacco's handler said - Congratulations...but it is not ready I said and probably looked stupid, we have to run again....The secretary in the ring said....haven´t You heard him say that You are the winner, I was sooooooooo surprised and of course very happy, this was almost to much (NO, it can't be *S*) this weekend became even better and better...
Thank You Rebecka for filming all the time so we can enjoy this moment of Daddy's first official show in the future.

Then out to change dog, now it was Gloria's turn in the junior class of eight bitches. In the end, we were only three left .....Lena E with a daughter of Pumba, Jenny with her and mine Dezibel, and Me with Gloria.
Gloria was the winner with CK.
In the last competition with MANY bitches that got ck, the result was as follows: Nr 5 was my Donna that Jenny showed as well as always, nr 4 Puzzle and Rebecka, Nr 3 Inger H with one of her bitches. Then the last competition was between Gloria and our Danish friends with Oriana Traceable Titania - we had to run a lot. In the end the Danish bitch was nr one, with both CAC and CACIB, BUT how can I be anything else than very pleased with today's fantastic result. And I'm so happy to be into the ring with Gloria she is such a funny show dog that love this as much as I do.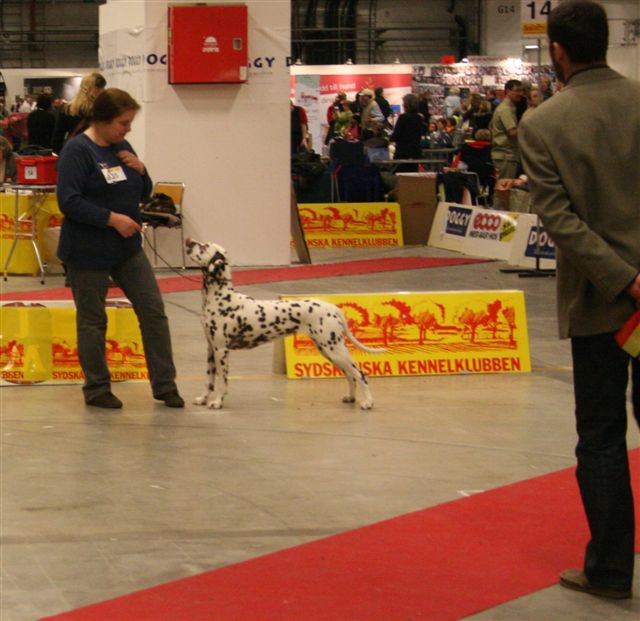 The Danish bitch was BOS. Jenny and Donna.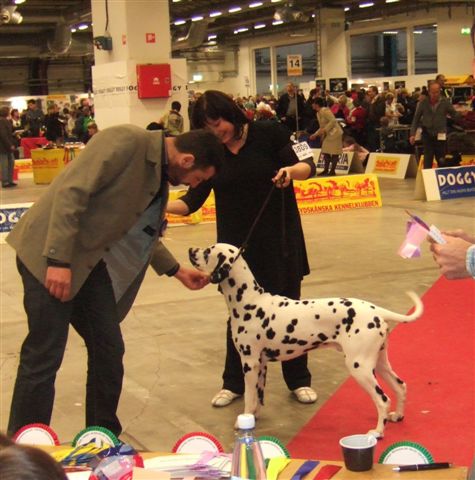 Zamzons son from Dalanyas showed by Catarina(breeder). Rebecca and Puzzel. Bobby and Catarina again.
I was already so pleased with the result so I didn't ask for more....BUT DADDY became BOB...my new "little baby" (I know his father was more than proud for us, in his heaven)!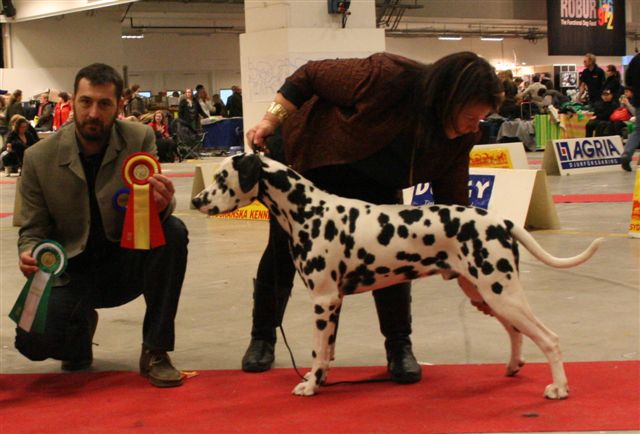 Judge from Rumania Mr L C Zsolt and BOB, Jilloc's Sugardaddy (e Multi Ch J A Man In the Mirror & Ch J Key To Success)
9 months and 11 days old!
Most of all I was so grateful that I have managed to run in the ring with my heal string..Ok, this running was too much for my leg but I love it.
It really hurt after showing in the ring of honour some hours later, even if I try to rest my legs during the time it is not enough. Daddy was picked out in the final even if I think he was so un concentrated and would like to turn around and lick on the other dogs close to us *S*. He ended as BIG 5, what a day!!!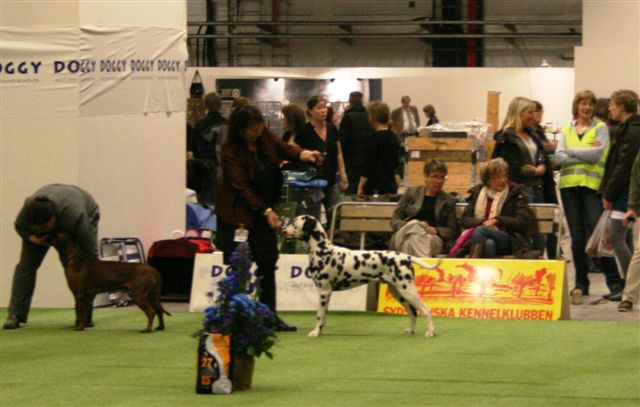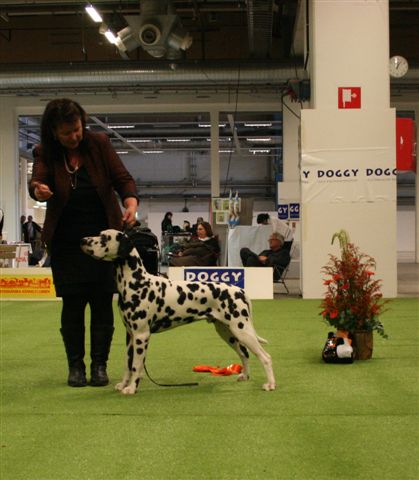 Photos by Jenny
At our way back home Niina send us a message that Neela wasn't placed in BIS, but who cares *S* we can't ask for more.
This weekend have given us so many fantastic results, more than we ever can ask for!!!
At ten o'clock in the evening we were home...very tired, but very happy!

Of course we had to check our e-mail immediately when we came home, and there we got another show result from this weekend from Russia!
"OUR" TYSON
hoto: Aljushina Lubov
Tyson (Timanka´s Real Power), 12 months old won JCAC, and became Russian Junior Champion!
Jun BOB and Junior BIS
AND
Best of Breed and no 1 BEST of Group and no 4 Best In Show!!!!
Judge was L. Smirnova.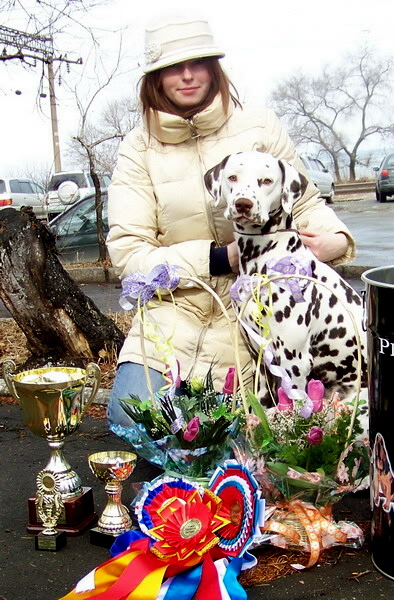 Photo by Aljushina Ljubov
Congratulation Evgeniya for your great results with Tyson, we are so proud of you both.
When we see the photo's of him, we remember how sweet and lovely he is.