Friday 18 April 2008
Up early and fix the last things with the caravan. for once we were ready in time to leave home at 10 o'clock in the morning as we planned yesterday.
BUT
When we put all dogs in the car and try to drive away from home....nothing happened. Just this.....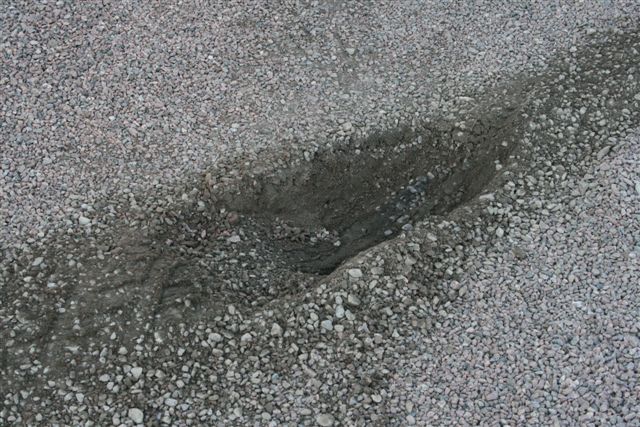 ........our car couldn't move the caravan, just dig a hole in the ground. The brakes on the caravan was stuck.
We have to call for the Tow Truck! And in some minutes we were on the road again. Just without air in two tires, so we drove carefully to the gas station 3 km from us to fill air. After that Rune remember that he forget the electric cable at home so we have to turn around again and get it, because we need electricity especially for his breathing mask, and for our TV of course.
At 12.30 we were on our way to Västerås again.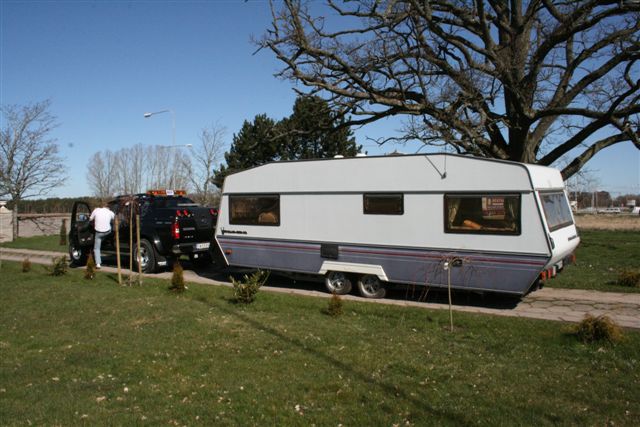 Just a short brake in Örebro at a shopping mall where I bought a new summer dress and some small glitter and glamour things *S*!!!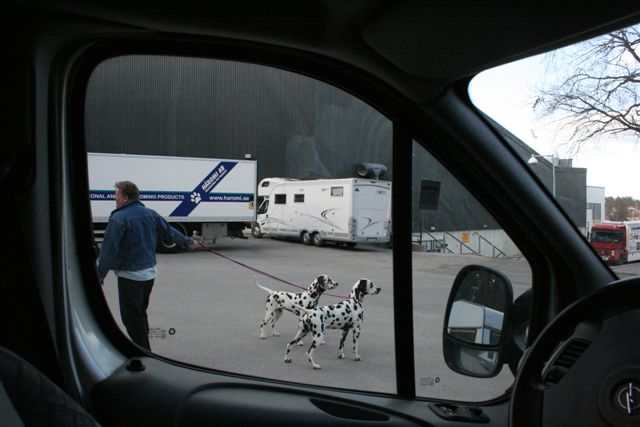 We try to find a good place for the caravan, and finally we and Johan Frick-Meijer park together at a very calm and good place.
Here is Daddy and Bosson (closest to the me) looking for other dogs.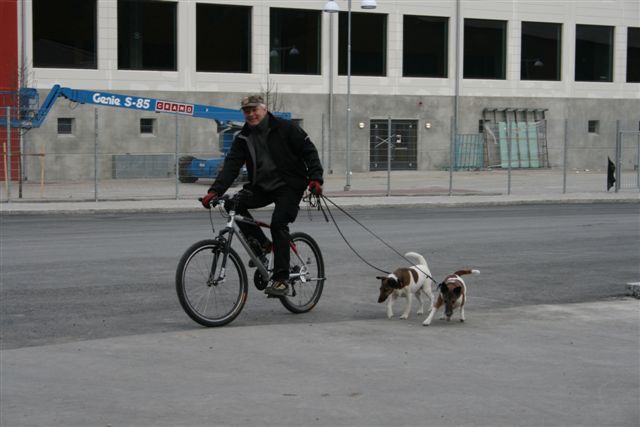 We have good help to find a perfect place from a nice man from the Kennel club. Johan and Jeanette and Rune discussing something!!!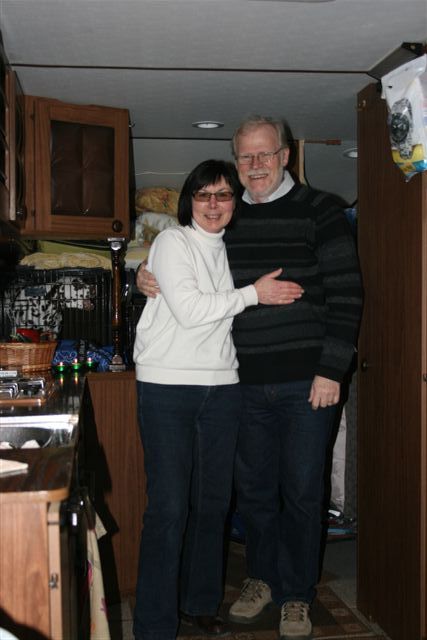 Kerstin and Göran came to take Mini to there home. They think Brandon need a girlfriend, and so do we. She will have a wonderful life together with them. But of course they have to try her for some weeks first. Late in the evening Johan and we talk a lot..it have been a loooong time since we had time to just sit down and talk. Soo good that it is time to meet our "dog friends" again and soon we will start to barbecue in the evenings.
We try to look at TV, but of course we couldn't find any channels, even if Rune tried them at home (we have Jonnies digital reciever with us, so we could see many channels, we thought)......
Anyway we were sleepy..because Rune have to go up very early to practice as a judge tomorrow morning (for cockers).
Thursday 17 April 2008
It is almost spring now...it smells lovely outside.
Even in Holland it is spring, but I just wonder what it smells there????????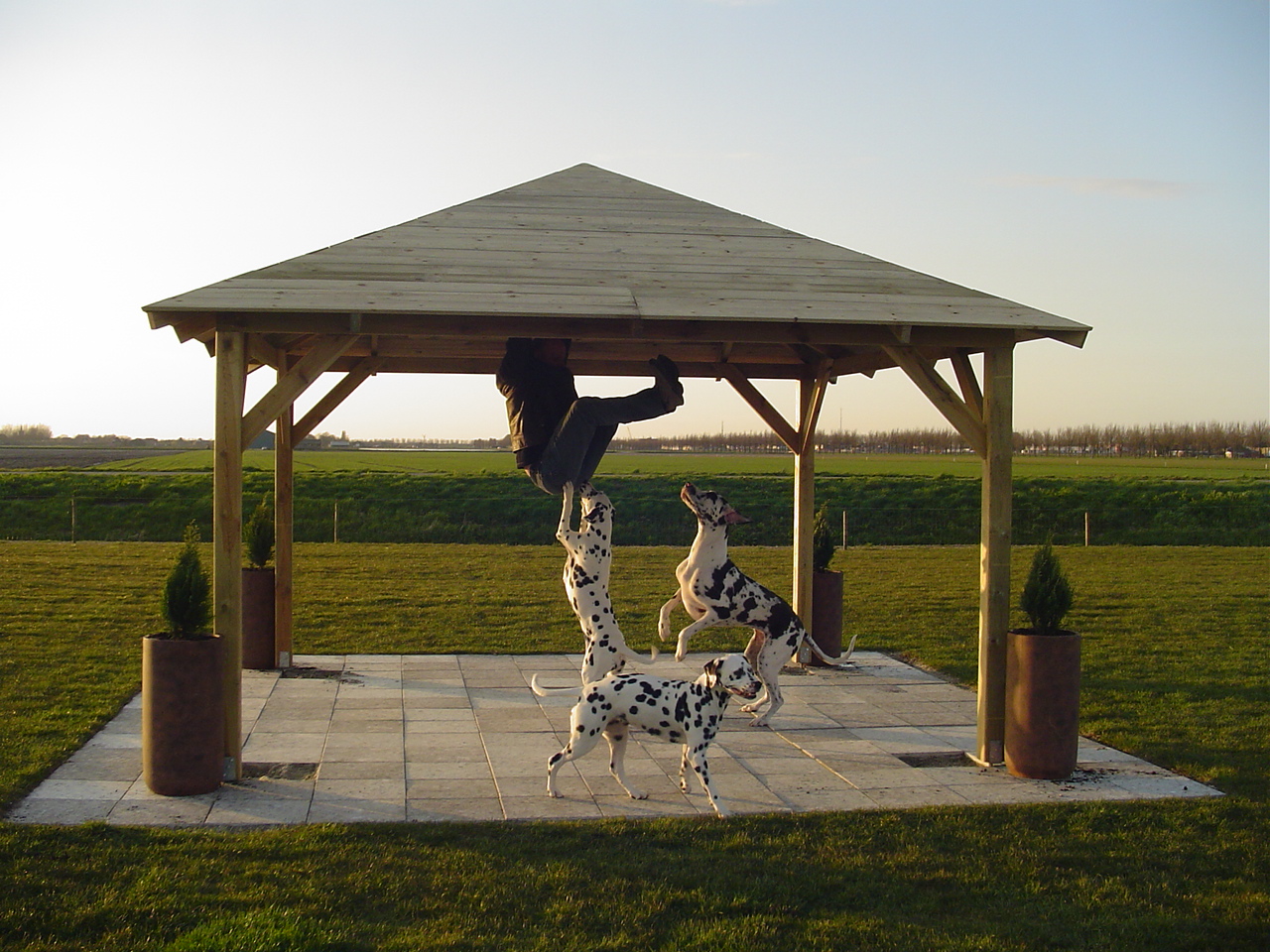 Photo:Diana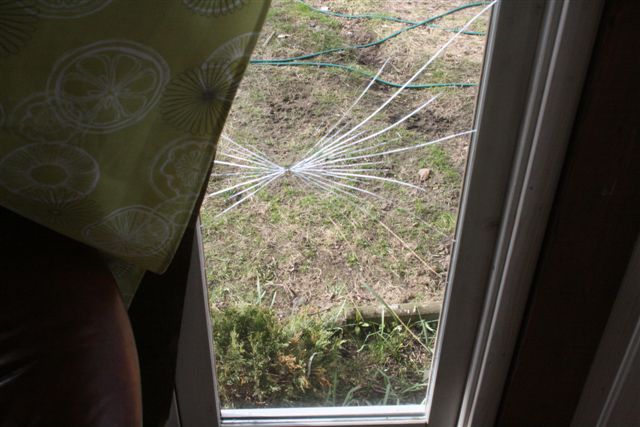 Bell was in a hurry to jump up in one of our chairs in front of the window, and someone...I wonder who....have moved it against the window (normally we put it in front of the wood)...so You can see what happened...Bell is always flying from the middle of the kitchen in a huuuuuuge jump into the chair and we heard a strange sound from the window. This was what happened....just wonder how much this will cost?????
Wednesday 16 April 2008
I found this photo of J Miss Perfect and J Loverboy(6 month) from a special show 2004.
Judge: Birgitta Hasselgren
2004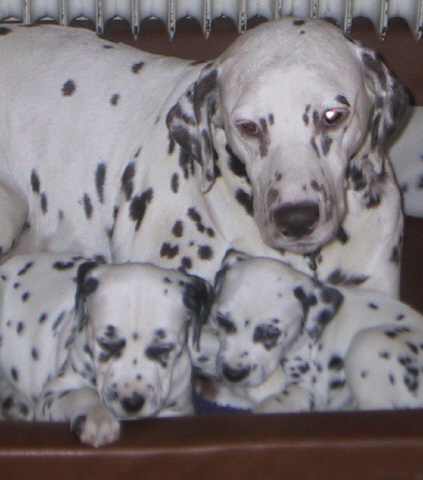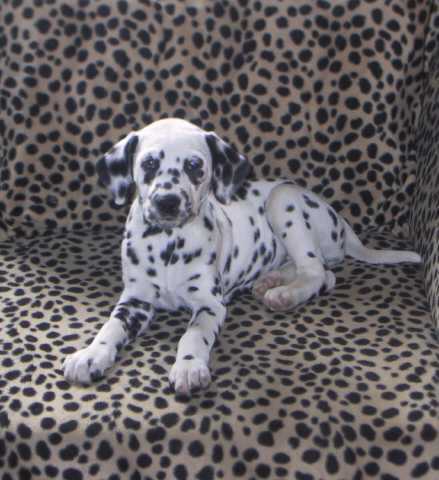 Our sweetheart Melba with Loverboy some weeks old and one of his sisters. J Love of My life another sister.
Tuesday 15 April 2008
Daddy with his quack in Sweden and Disco with his quack in Usa.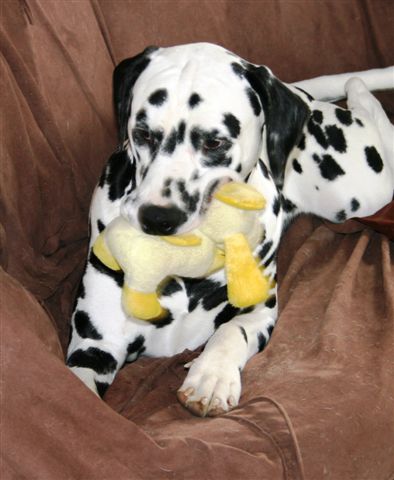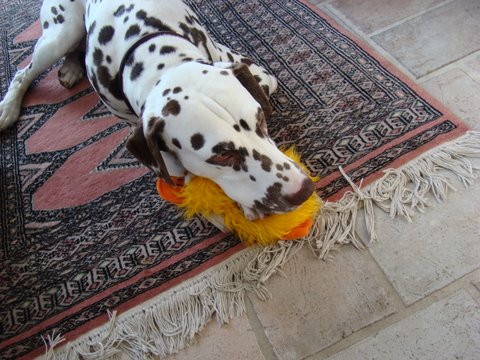 More results from Carl and Inna in Usa about Discos show carrier. At the very large and prestigious Harrisburg Show he became Winners Dog & Best of Winners again.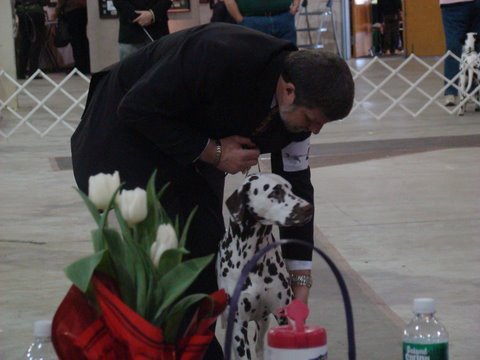 Here with his handler Greg Strong. Photo: Inna
I can se that he is looking for me???? as he did when Rune showed him (of course he is looking for Inna now). But this wonderful little boy will always have a special place in my heart. He got 3 more points on his way to his American Champion Title.
Well done!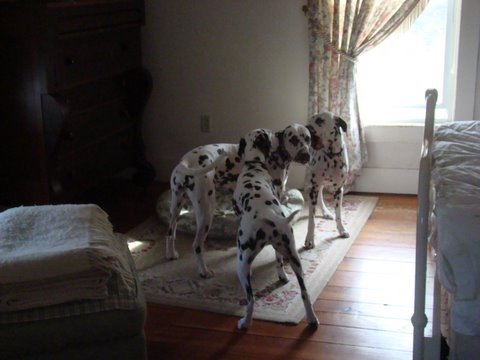 Photo: Inna
He have a lovely life with two girlfriends. Here they are whispering in his ears that they love him, so he do not have to miss his sister Devlina in Sweden so much.....*S*!
I was back to the hospital today, and I met a Norwegian doctor....he talked about him selves in 55 minutes, he didn't even ask me why I was there, and I couldn´t even interrupt him!!!!!!!!!!!!!!!!!!!! Then You understand that he was special because most of the time I talk a lot *S*!
So I have to go back again as soon as they can give me another time.....and they do not have a new time for many weeks!!!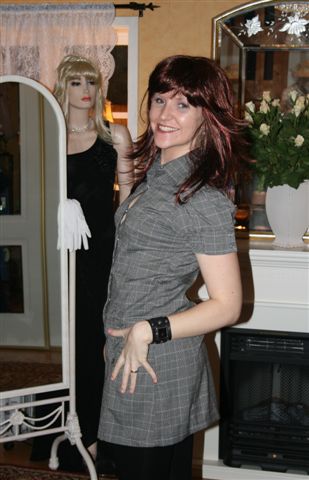 Hanna and Rune try to get the same look!!!
Monday 14 April 2008
Donna and her daughter Bell is resting under the kitchen table....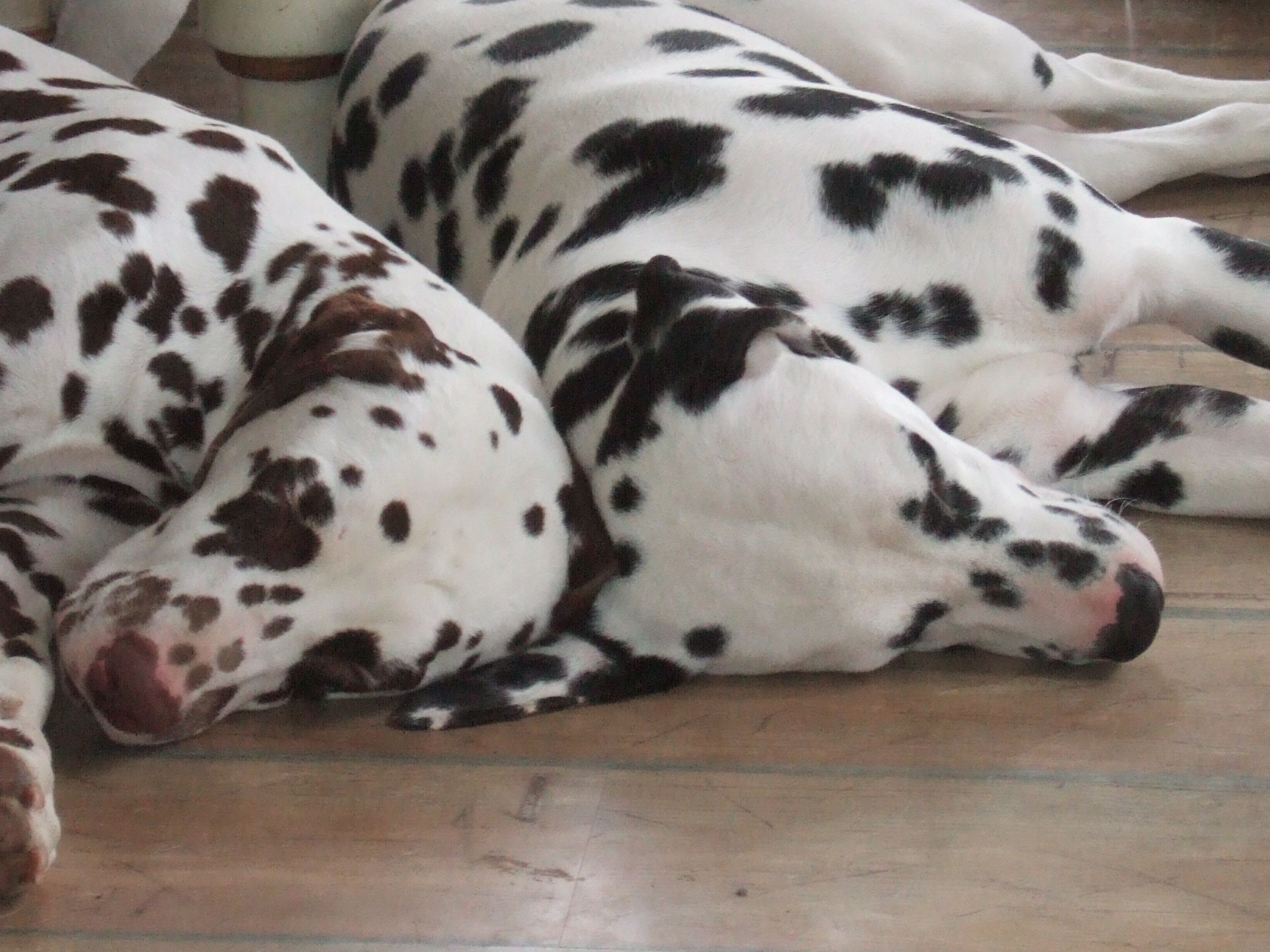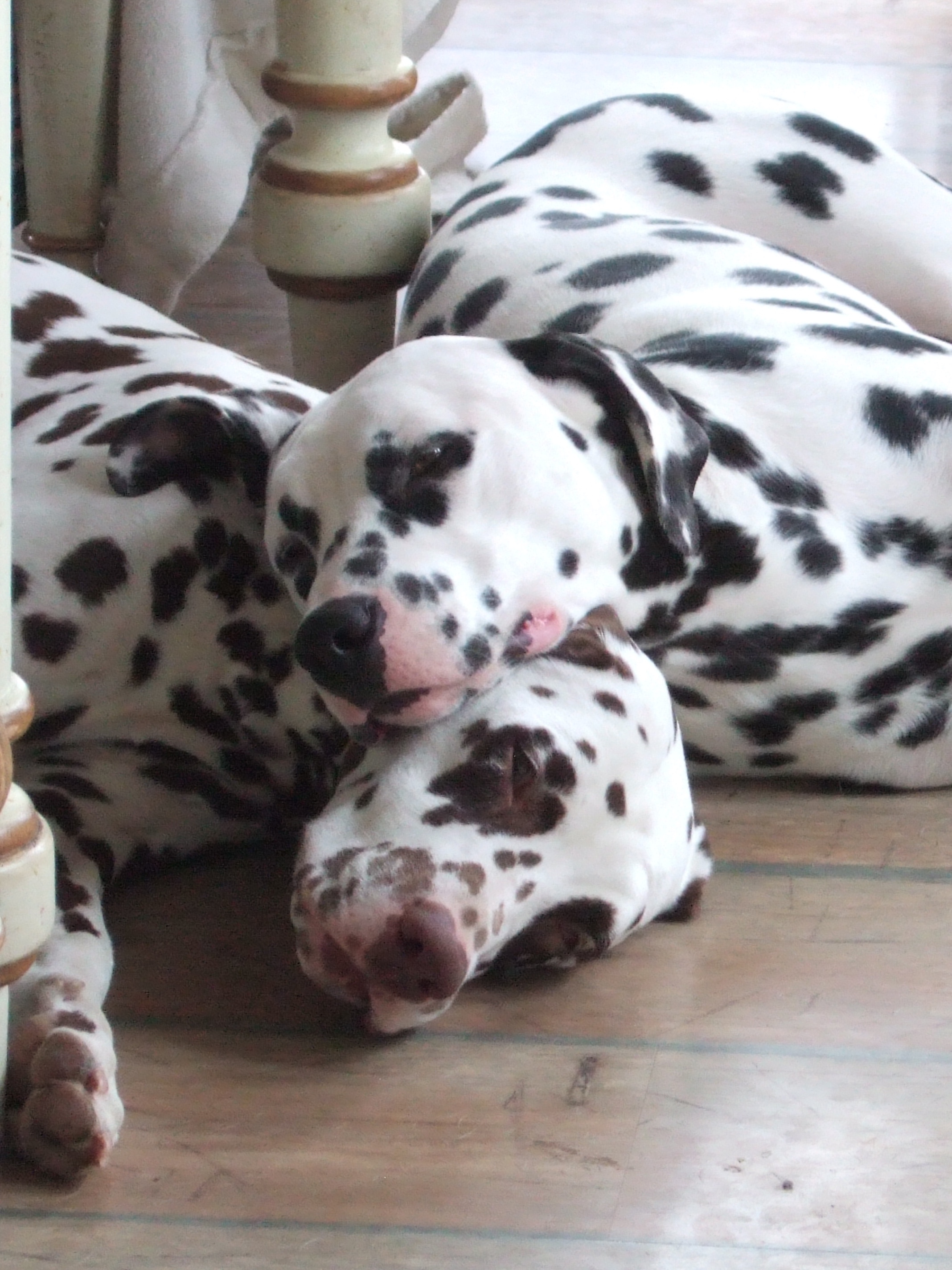 Sunday 13 April 2008
In the afternoon we start to make us ready for the photo session*S*, we had so fun!
Hanna was very good to put on make up at Jenny and she think that Rune need a little more colour in his face too.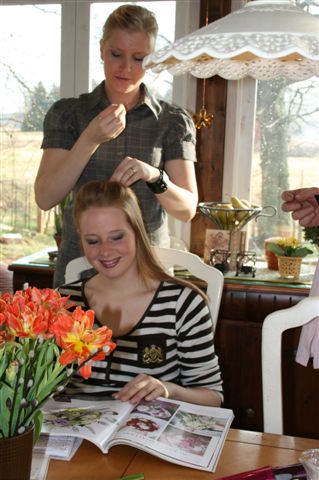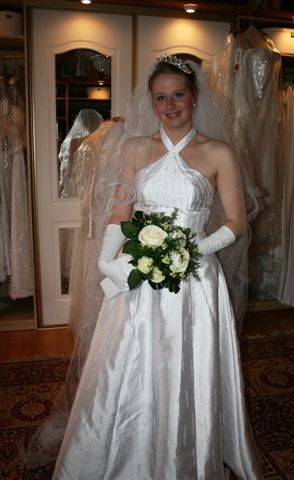 The bride to be.....Jenny!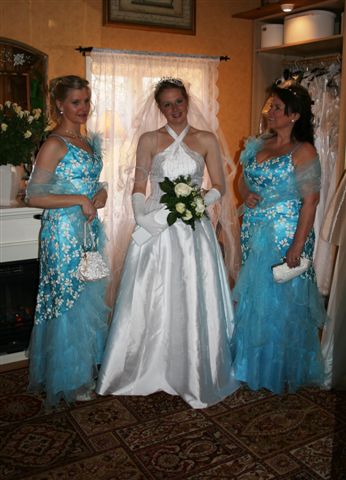 The Bride with her sister and mother *S*.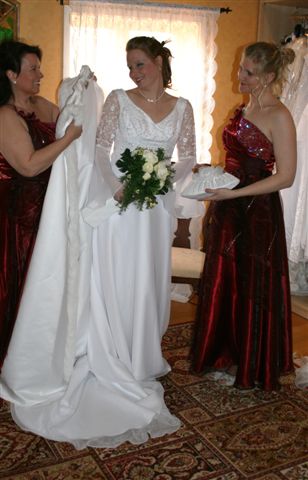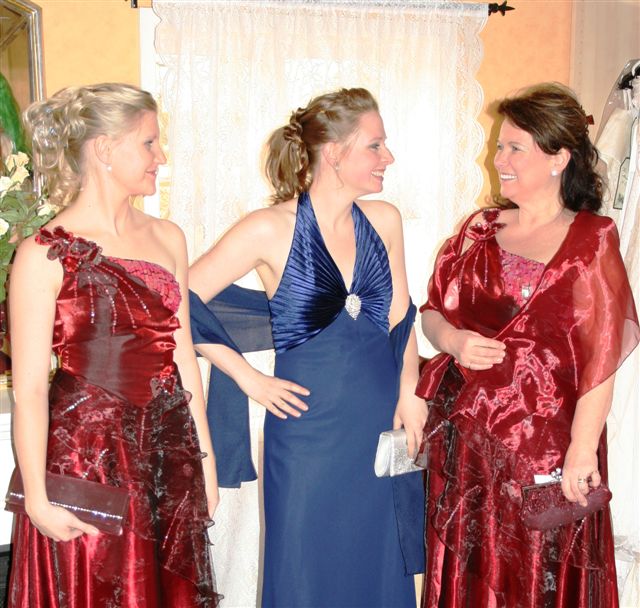 I give Jenny her cape and Hana give her her purse. After the wedding ceremony Jenny change to a sexy dress, to go to the party.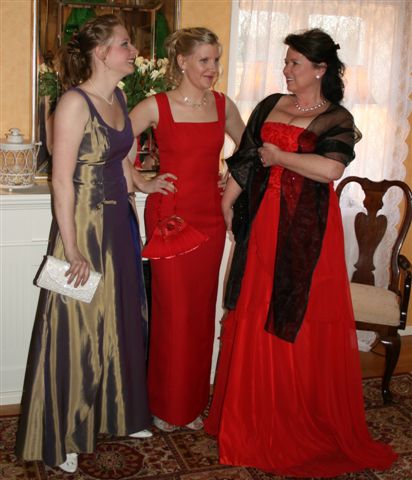 Here we are on our way to another wedding.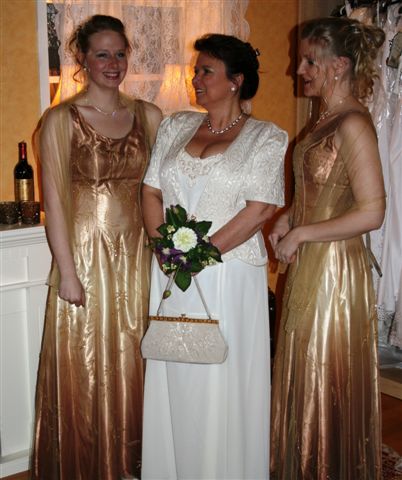 And here I am the "old bride" model with my daughters (this is not me, but I have to show my customers what I have for sale)!!!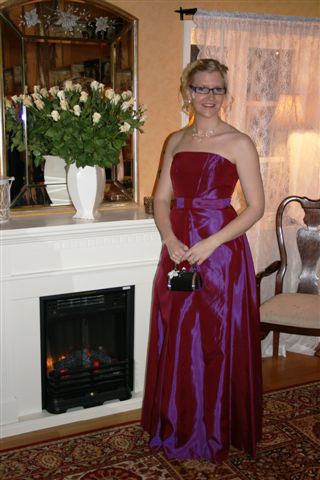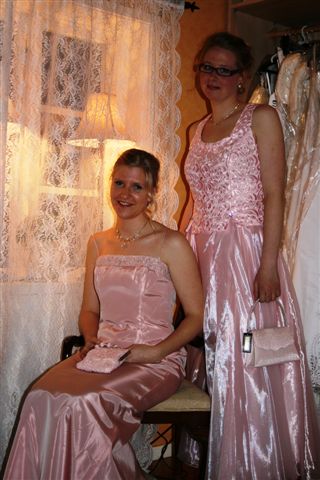 Same dress in different colour, with or without straps. Pink was not our favourite colour, but we have to show the dresses.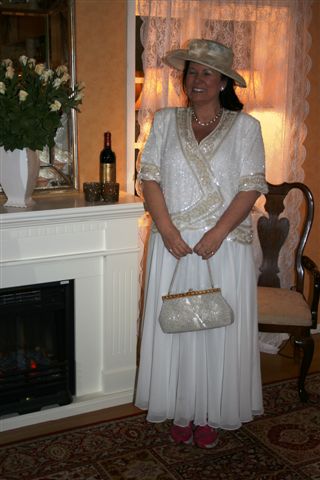 As You see we had lot of fun....look at my shoes!!!! We really had big problems not to laugh all the time. For the first time in my life I try a hat!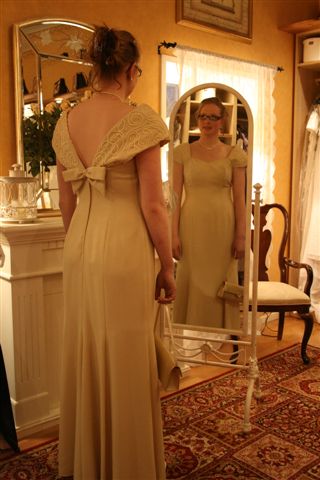 Sweet Jenny in an "old fashion dress"....I love dresses like that, but it doesn't fit my body *S*! Fair Jenny as a Bride again!!!
Jenny in a dress from 2007 and Hanna in a dress from 1989
(my crazy daughter Jennie bought it on discount for SEK 12.500:-,
it was half the prize then, she never worn it, she just wanted it *S* - wonder who her mother is...)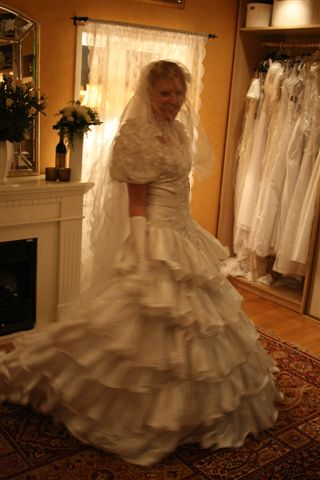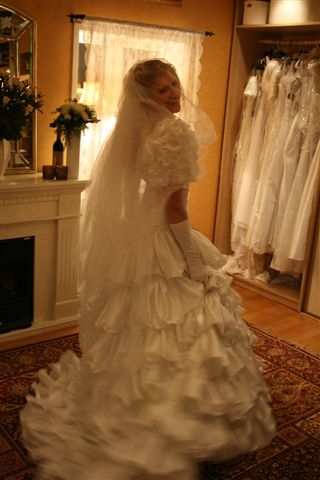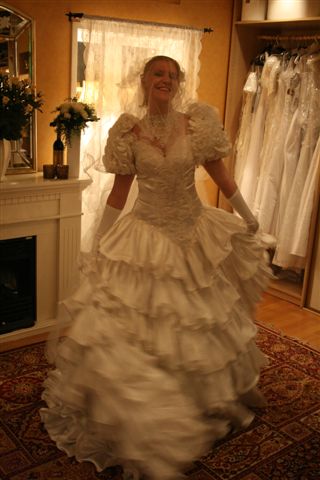 Dancing Queen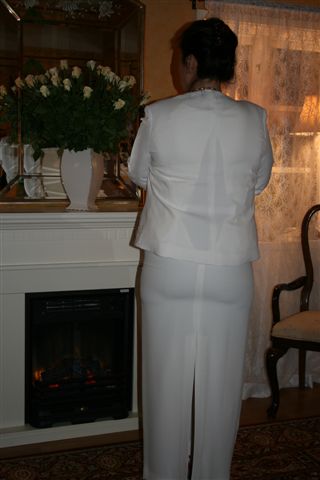 To You all that ask when we are going to get married, I can tell You that first of all this dress are going to fit me...and as You can see it will probably take a veeeeeeery long time, so You do not have to be in a hurry to plan for our party!! We will tell You all long time before *S*!!!
Saturday 12 April 2008
Today Louice, Nils and Louice sister is coming to try clothes for a party, and later on another customer......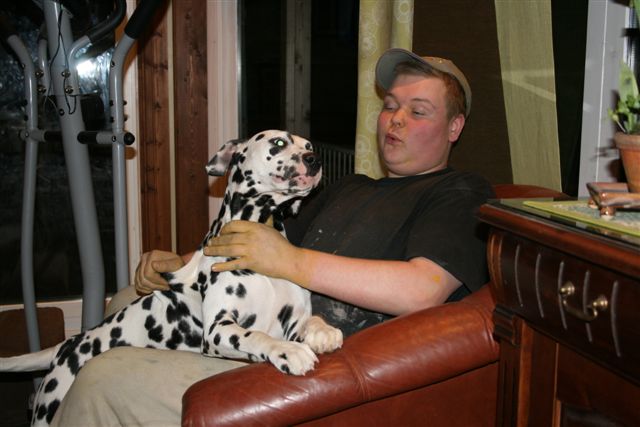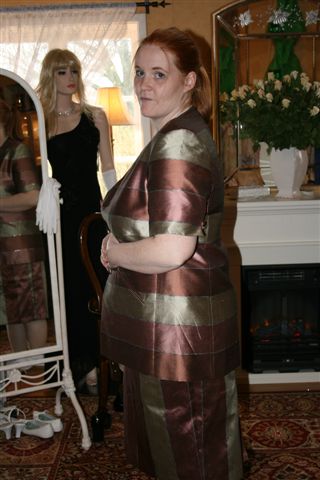 Bell really get crazy every time se see Jonnie!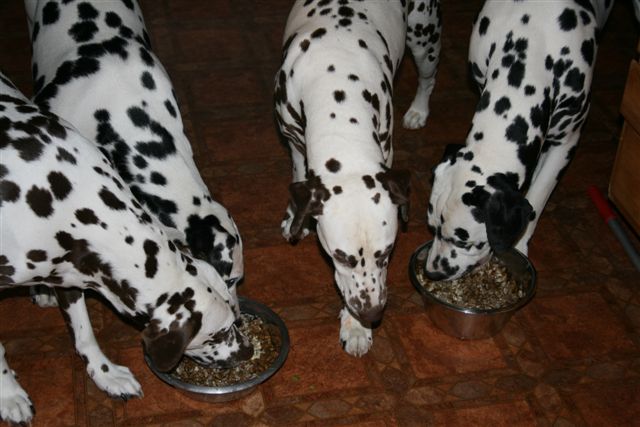 Jill, Bell, Devlina and Daddy eat together.
We stay in bed as long as we can...we really feel like 100 year when we try to stand up in the late morning. Lot of things to do of course today because we were away for such a long time yesterday and the day before.
The plan was that we will try to take pictures from different dresses in the store, but Jenny, Hanna, Rune and I was tooooo tired.
Friday 11 April 2008
Since many weeks we have decided to go to a store in Gothenburg that only is open once a month, and it was today...unfortunately....because we had a very hard time getting out of the bed this morning....but if we don't go there today then we have to wait another month until just that store is open. So of course we had to go there...puuuuuuh! And I ordered the furniture that I have been waiting for to buy many years now...it is so hard for us to go to a store that only is opened in weekends (because of all dogshows).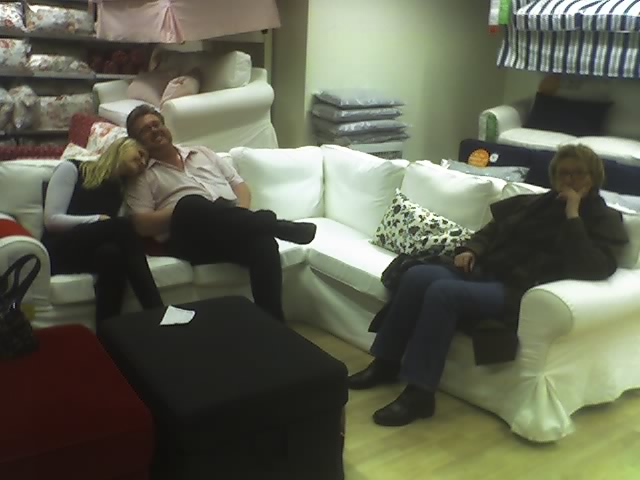 We were so tired at Ikea in the afternoon that we all would like to find a bed and sleep. William was in the car (Anita's Swedish vallhund) he was not tired at all after playing with everything he could find, without his own bone *S* but when we start the car he fell asleep immediately.
Thursday 10 April 2008
Market Day in Götene!
Jonnie and Rune was at the marketplace to put up our tent 3x6 meters five o'clock in the morning. It was no good weather but it was at least not raining.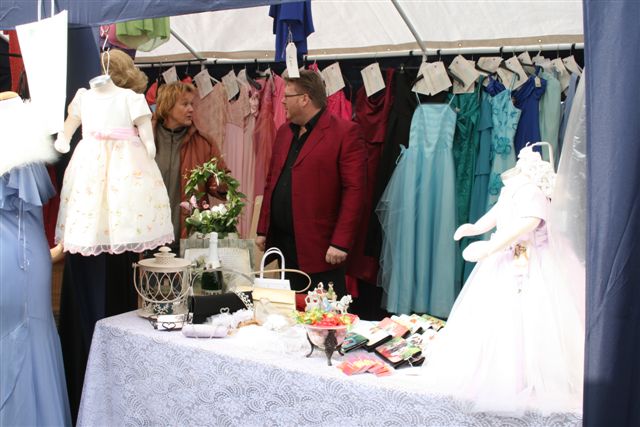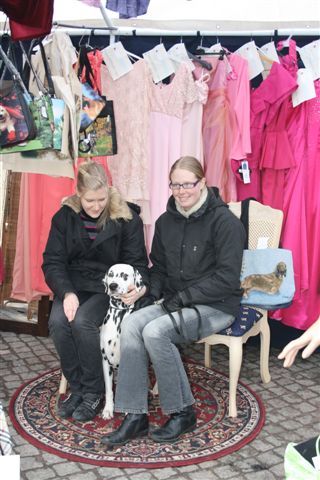 Our market tent look good, but I couldn't bring all things there that we have decide because of the weather. People were very curious and most of them didn't even know that we sell and rent out dresses, they think we make big parties in our house for other people....ok it is only a sign "Wedding and Party" on our brick wall by the E20...but now they know. I booked many new costumers for the weekend and next week, that was good, and this was the meaning with our market tent, not to sell clothes at the market. After standing on our feet, without sitting for 12 hours we were almost dead!!!! We had pain from every part of our bodies...
Hanna and Crissie was visiting us many hours and Jenny pick me up early in the morning and stayed with us almost all day. Ant when we came home, EVERYTHING had be to taken in to the shop again, as it couldn't hang in the car one more night without heat.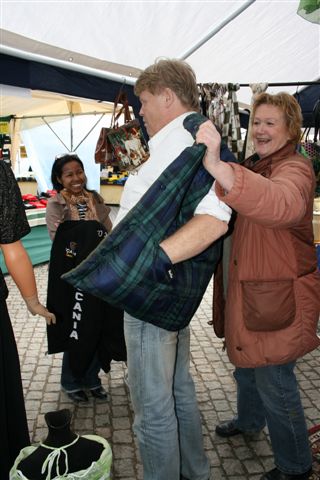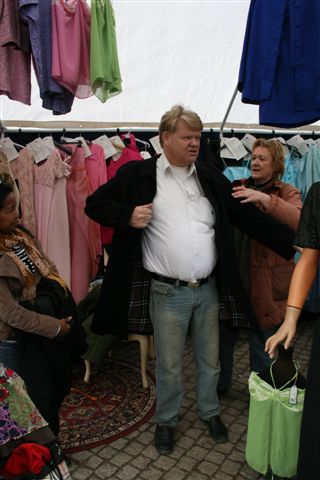 Anita try to sell many things from her table, and in the end of the day she gave the rest away to The Salvation Army (ok I bought pants and a blouse from her to my mother and two paintings for Jimmie or Jonnie.....I can promise You that the ladies and gentlemen in Götene NEVER EVER have laughed so much as today when Anita try to sell them things they didn't need *S*!!!
She tried with Roy but without any luck (not easy to sell to anyone that is a seller by occupation)*S*!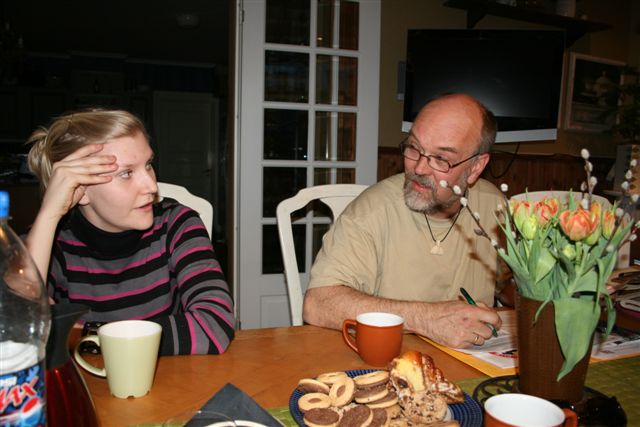 One hour after we were home we drink coffee with Peter from Denmark, he was here to mate his bitch with Anita's dog Harry, and they prefer to do it here with Runes help..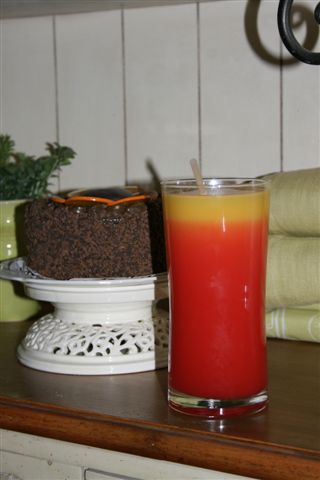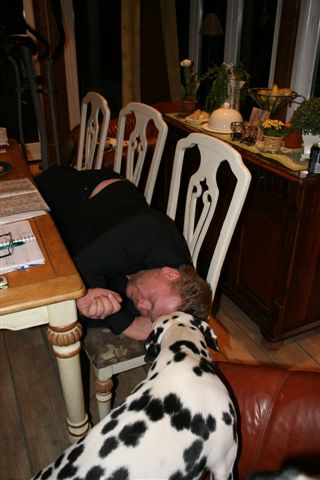 After a long and a very busy day Rune need a drink....who is sleeping on three chairs in the kitchen????
Wednesday 9 April 2008
In the store all day packing everything together that we need for tomorrow.
A Bride in the middle of the day here to try to find anything to her wedding in some weeks.
Terrible weather, raining and raining AND snow!....this weather tomorrow..it will be terrible!
Jill do not want to pee in the garden..she runs like hell and jump over the fence...pee in the field....then immediately back in again, clever girl!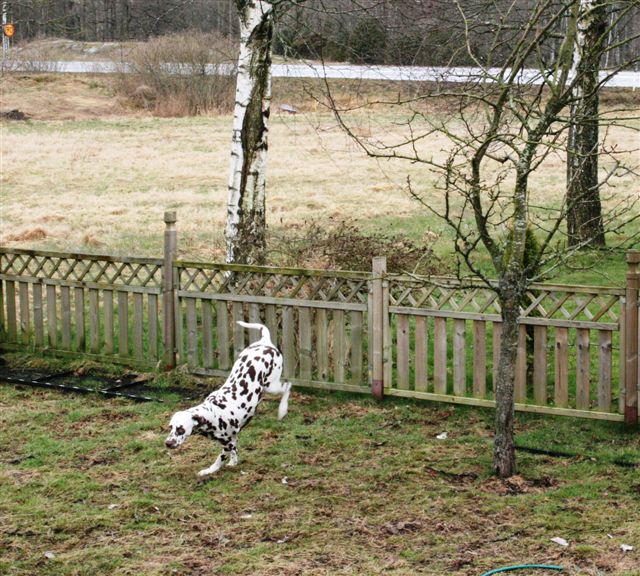 Hi mommy....I'm back....was it fast enough??? Yes......45 seconds!!!
Tuesday 8 April 2008

Diamond and Rolex 1 Year today!
We Congratulate the whole litter from Kennel Gwynmor, and wish all of them Good Luck in the future!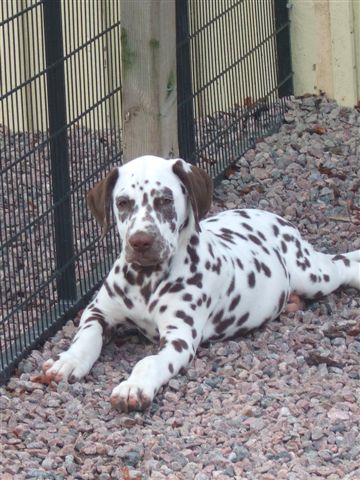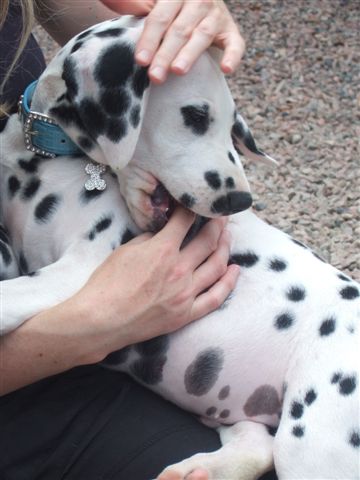 Thank You Joke and Henk for this photo of Shadow and his Birthday present!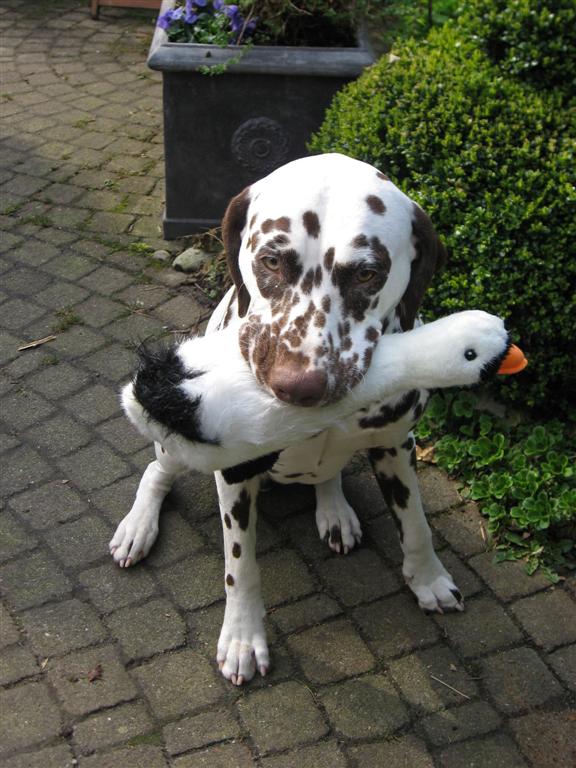 Who can be his father?????

Of course........Devlin!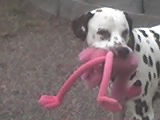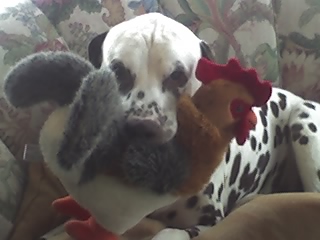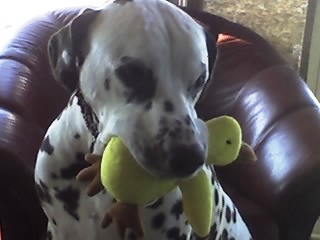 Monday 7 April 2008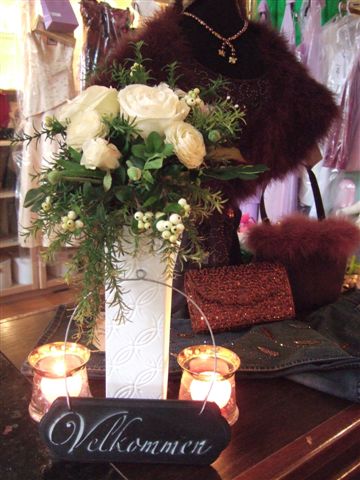 New signs to put on our cars.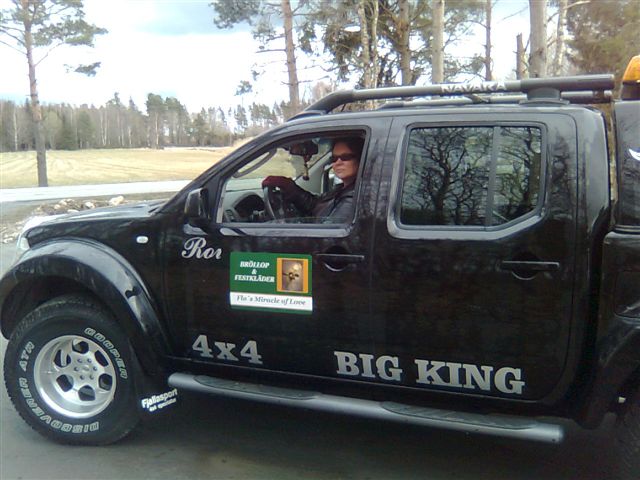 Sunday 6 April 2008
Lot of work in my store to go through all things and all dresses. Next week there are a large market in Götene and we have hired a place to show what we have and what type of clothes we sell. Most important is to get people to know that we exist!! I do not think that we will sell anything because people (at least the older one) here on the countryside, do and sow most thing by them selves....
Anyway we have decide to show us up!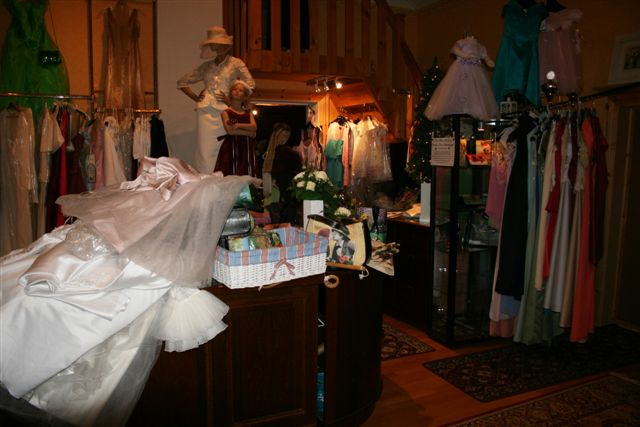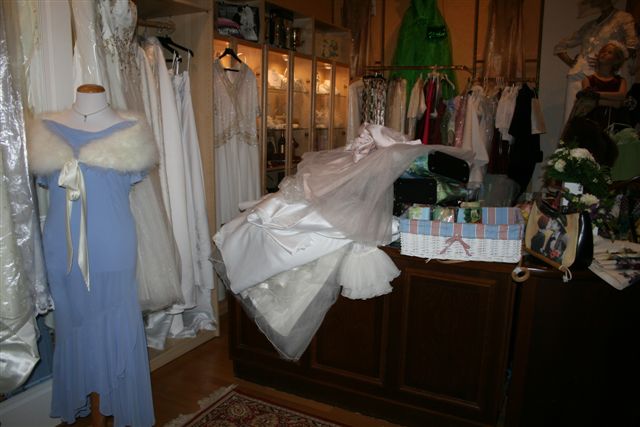 Most things was up and down.
Juan was coming from Thailand yesterday and Bosson and Daddy was curious of her.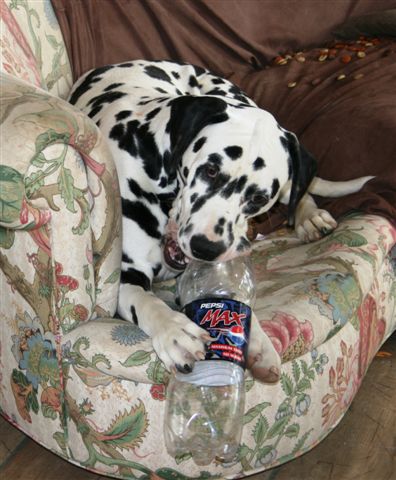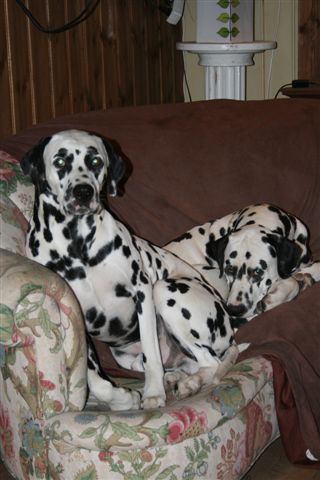 Daddy love Pepsi Max too......Bosson and Daddy have most problem with longing for our bitches in heat!
Gluten free bread, lactose free cheese, shrimps, tomatoes, avocado, lactose free Cottage cheese and salad. I love it, this is what I eat almost everyday just with some small changes now then.
Since Monday I have to start to eat things without milk/lactose, sugar and gluten!!! I have had so much pain in my back and stomach that I really need to do something.....there is no time for doctors to see me until 10 days. We have already take some tests (I have ordered them) and everything is ok so far, but there is something wrong...we have to wait and see what. I will get some more references from a doctor next time...I PROMISE!!!!
It is really not easy to found things without both milk and gluten....but it is interesting, and IF it can help me it is worth every extra time, work and money.
And as You understand Mark and Jackie.....NO MORE CAKES..for me!
This is no problem if I have to!!! (I think...?)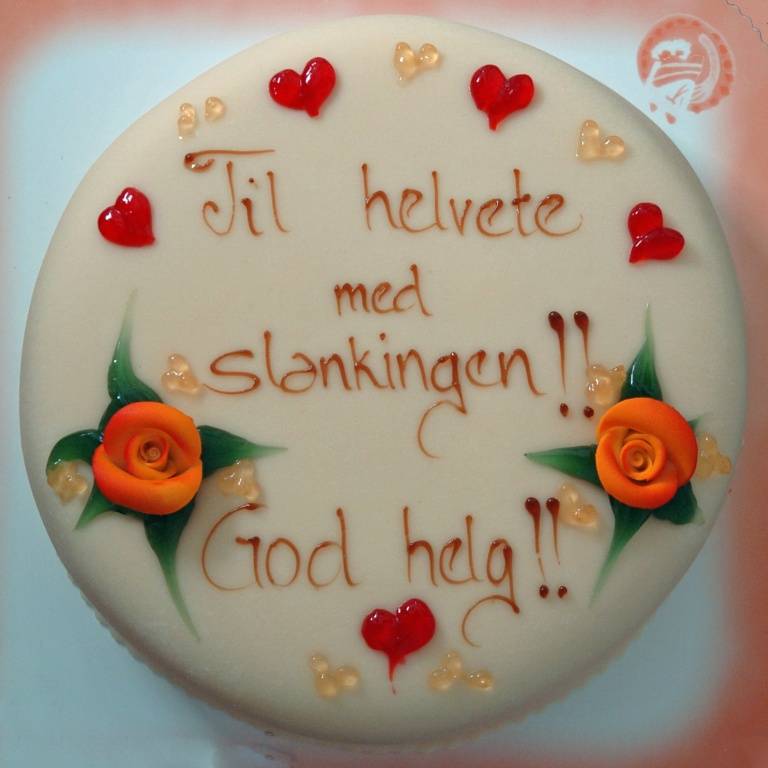 Mmmmmmmm.......this looks really nice, thank You Anne Karin......I can look
and dream about how it taste! (And I promise You.....that I dooooooooo:::)
Saturday 5 April 2008
Nice News!
Last weekend J Super Model was at an Inoff. Show in Vadstena, and Kristina showed her by her self, well done!!
She became Best In Show!
Kristina and Breeze Photo by Leif Cronwall.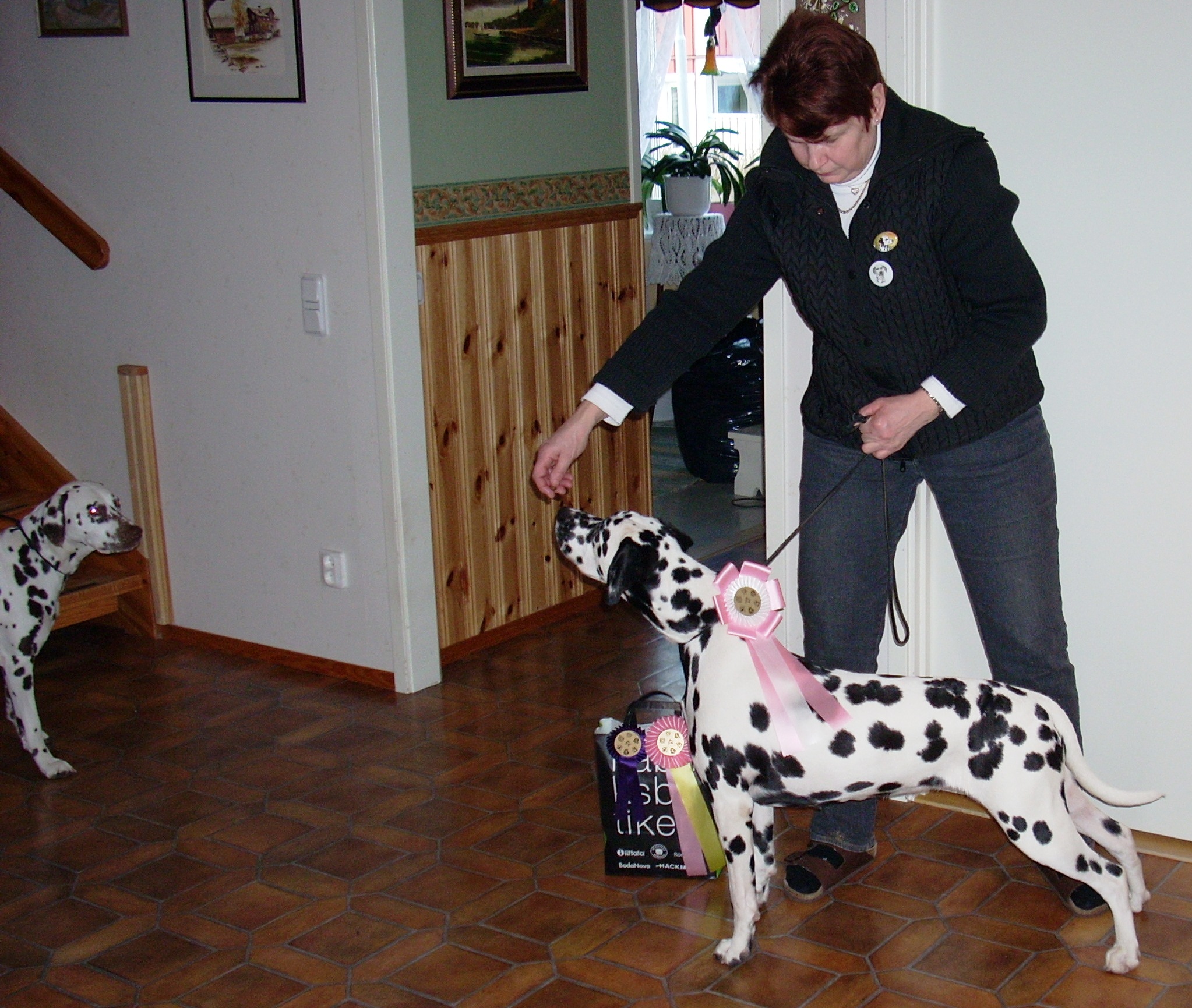 Breeze aunt and half sister J Playmate of the Year is jealous of all candy Breeze get *S*! Photo: Leif