Diary
Saturday 31 May 2008
Up after just some hours sleep in our wonderful bedroom we didn't want to go to bed last night because we can't stop look around which things we will put in there. It was sooooooooooooooooo gorgeous to sleep in our bed again (6 month in our guestroom was enough).
Jenny and Decibel came at 7 o'clock and we drove to Hanna and pick up both her, Chrissi and Hjärtat. They were so happy to see us and can't wait to get into our car, sweet girls.
Photos from today taken by Jenny, Hanna, Rune and Me.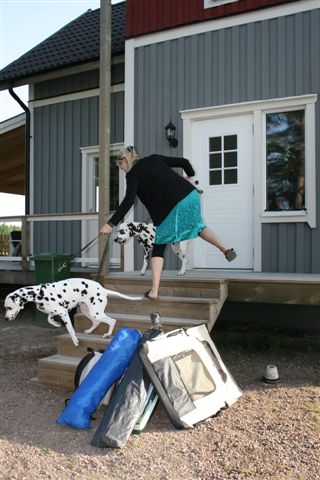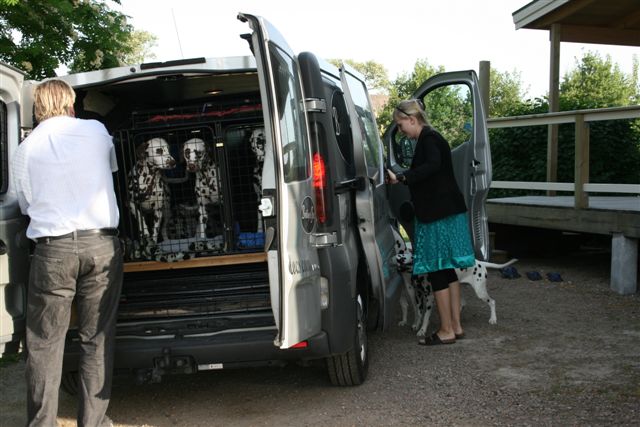 Chrissi was in a hurry to say hello to her son and daughter that she almost pulled Hanna down from the stairs.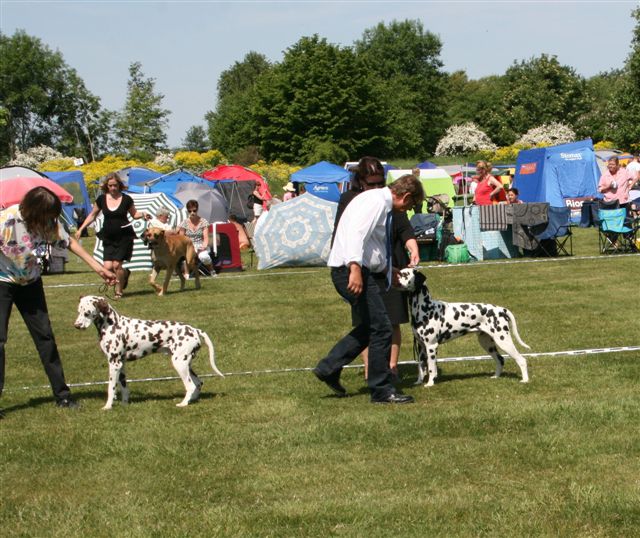 First of all Dalmatians was Norwegian Rolex from Skvå, he got Best Puppy. Then Daddy in junior class. Judge was Björn Einarsve who was judging Dalmatians for the first time today.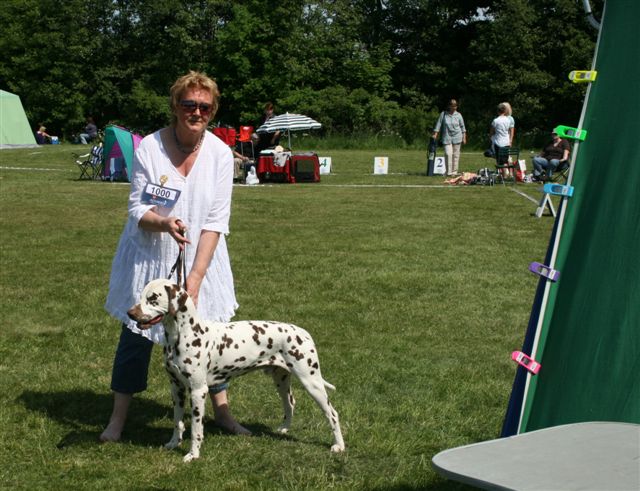 Then Anita showed Harry in Champion class, and in the end Daddy became Best Male with one more CAC, and Harry got the CACIB. We were both very pleased.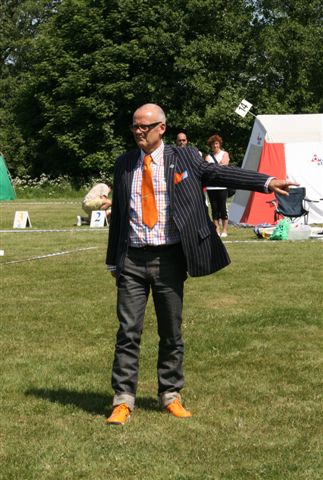 I can't stop looking at the judge in the show ring close to us, there were Hans Rosenberg judging Great Danes, but it was Hans tough clothes I was looking at. It was so funny and very nice and daring to dress up like he often do, it's better being noticed in the crowd. Daddy was sooooo warm in the tent *S*!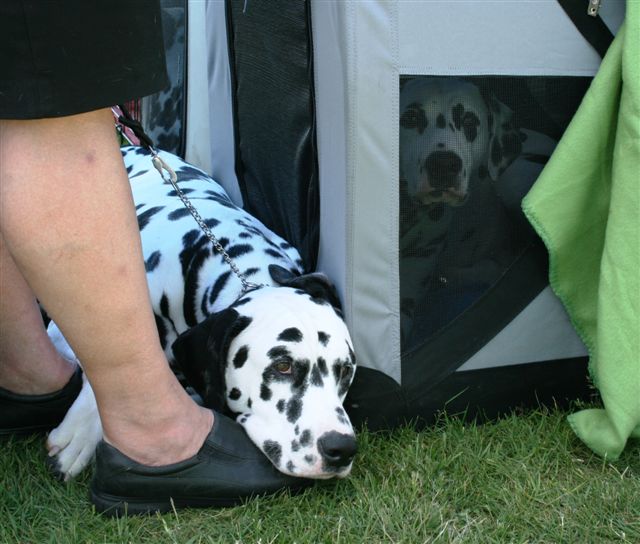 He was resting on my feet close to his mother Chrissi.
Then it was time for junior bitches definitive the largest class on every show nowadays. Me and Gloria, Kristina and Breeze and Jenny with Decibel.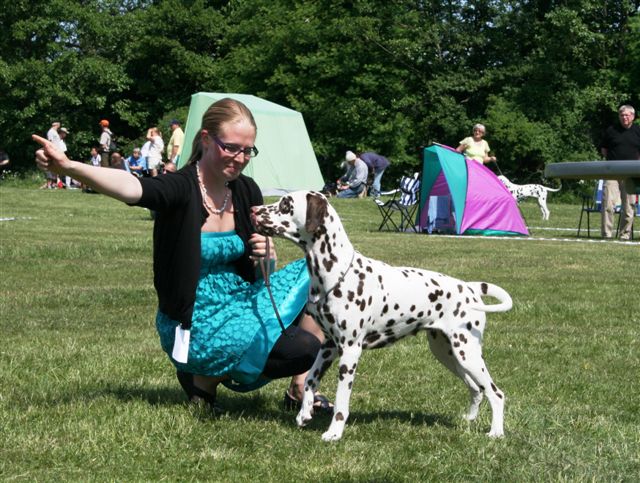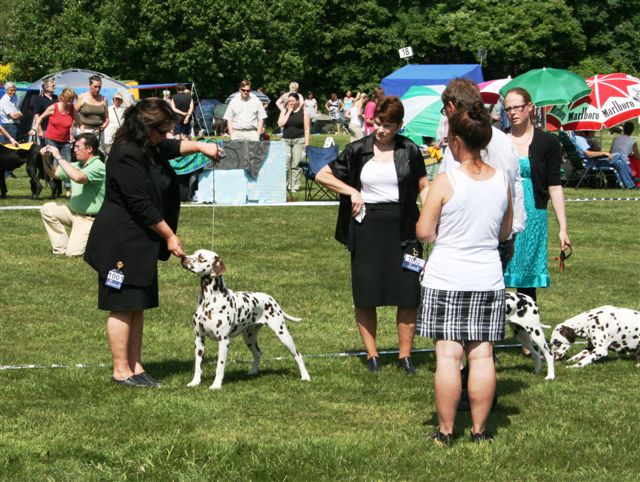 Jenny was happy to be on a show again and Decibel was hungry! One, two three with two ck today.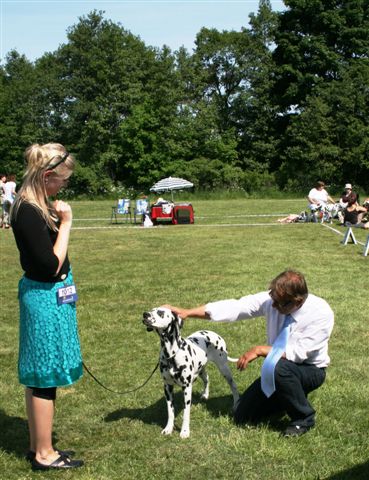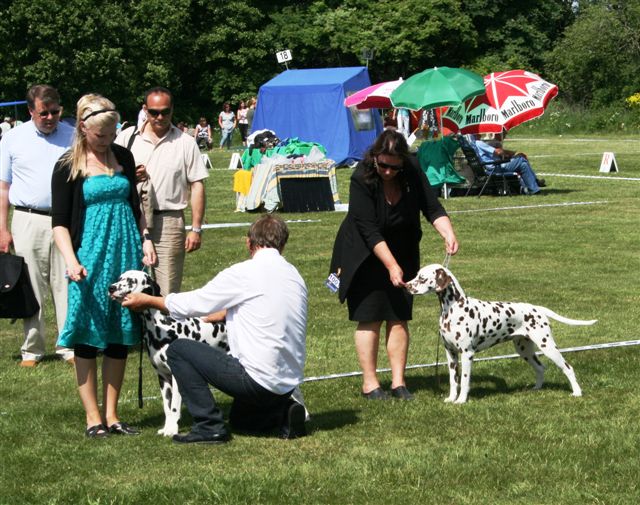 Then Hjärtat in open class, she was nr two with ck. Gloria was best bitch with another CAC and Devlina second Best bitch with CACIB, and Kristina with Breeze third Best bitch...well done!!! Behind Hanna was two other judge standing looking at Dalmatians.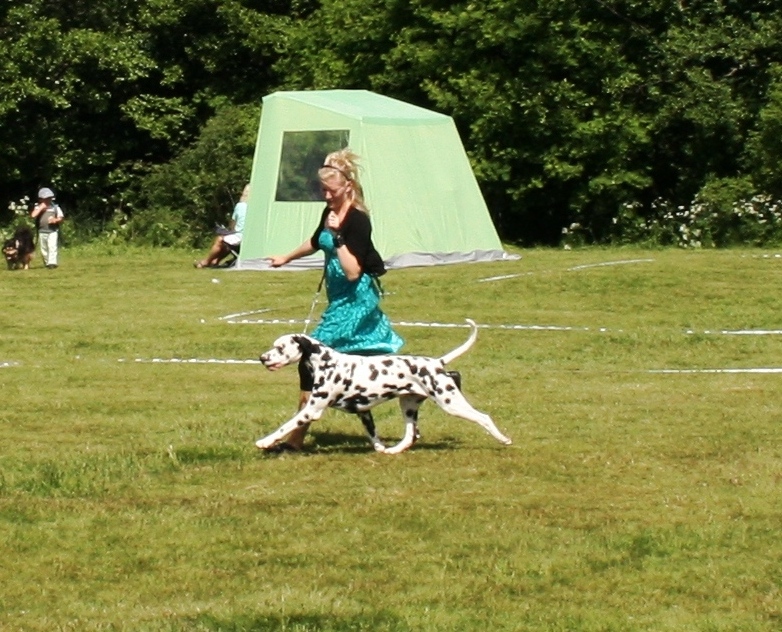 Hanna have to run like hell because Daddy want to run to me *S*!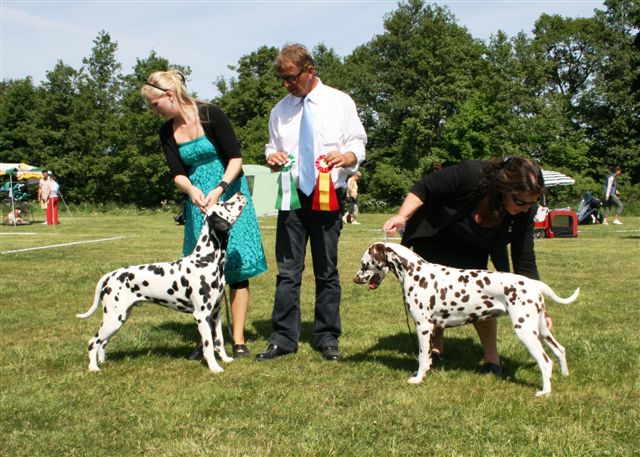 Daddy look at the judge as he was thinking -:Why didn't You chose me instead of my ugly sister *S*!!!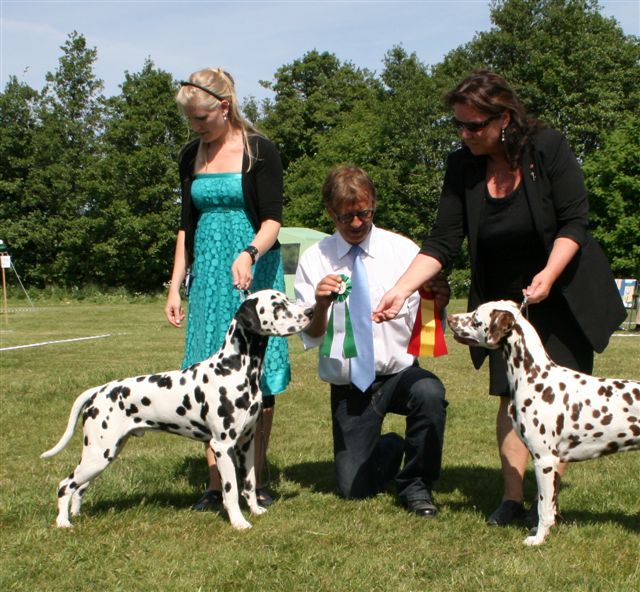 Daddy BOS and Gloria BOB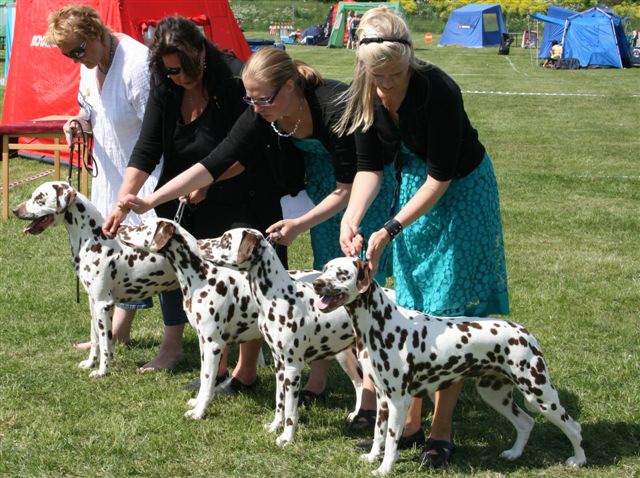 Jilloc´s breeding group was Best Group and later on BIG 3.
Four combinations J Perfect Reflection, J Splendid Choice, J Topwinning Trophy, J Reflection In A Mirror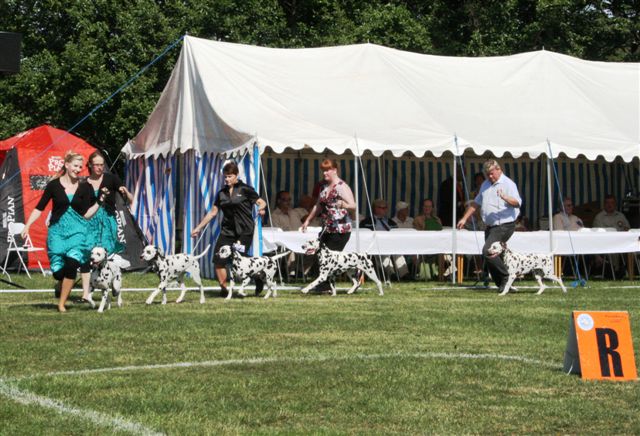 Chrissis progeny group was BIS again!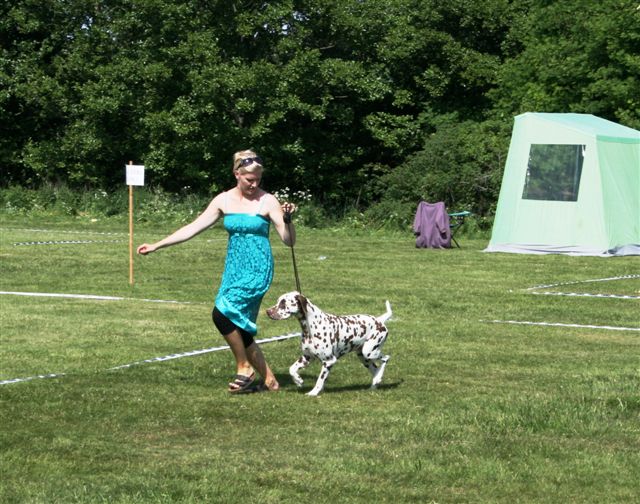 Jenny hold the tent in the wind! Hanna was training with Sperm, we was so sorry that we have forget to enter him to the show.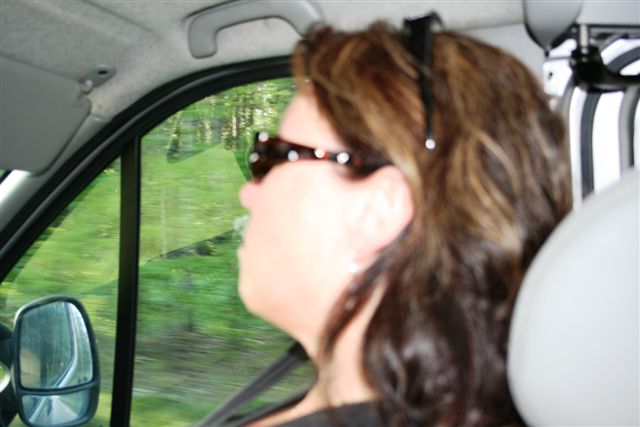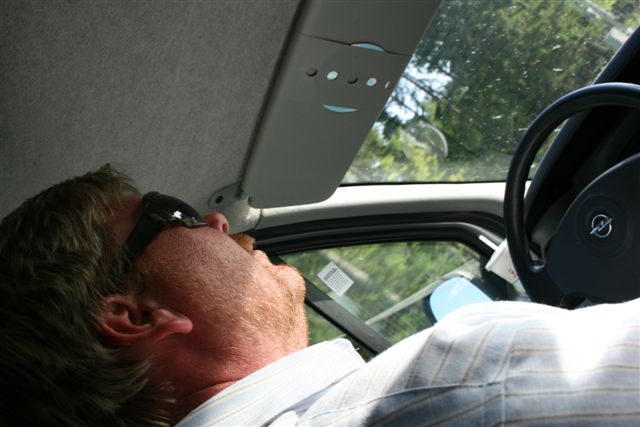 I was sleeping on our way home, and Hanna took crazy photos of both Rune and Jenny. Jenny's is that crazy that I don't want to show it here *S*!
We were really tired on our way home, but when we came home we went to my store and try dresses on Hanna and Jenny.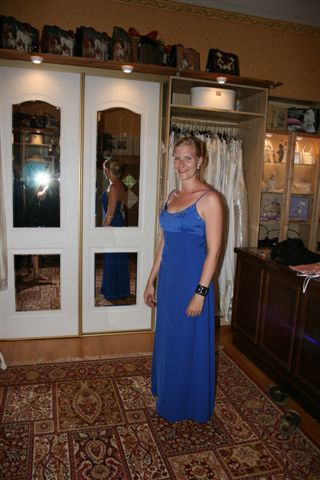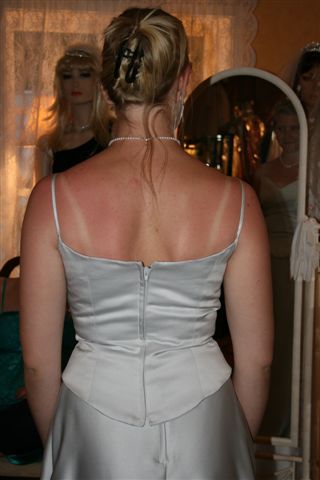 Hanna look so good in every dress, everything looks great on a beauty! Lot of sun today!
Friday 30 May 2008
Lot of things happened today as usual but I can't tell about everything, then I never get ready with all things we have to do before tomorrow.
Tomorrow it is dog show again and we give five dogs a bath in the afternoon.
Thursday 29 May 2008
Today I start at the physiotherapist again for my heal strings I have been there many times last four years but now it is really bad again. I have inflammations that never stop and never heal, of course I never rest enough but what to do..if I just sit still and eat cakes and look at TV, how in hell do you think I would look like then!?!
When summer is over they will tape my feet for 6 weeks.....ok!???! IF I ever can be healthy again it take at least 5-6 more YEARS! I think that IF I lost a lot of pounds I will not be so heavy, that it should help me to get better . But how the hell can I do that??????? Please give me a personal trainer and a swimming pool with HOT water, and I want to buy a training bike too it will be good for my feet they told me.
I bought a new mobile phone yesterday Nokia N95 and I will get it today...but of course it didn't come. My mothers old mobile phone is broken and she will have my old one....but I will miss it, I love my green one (green in different shades is one of my favourite colour).
Still to hot for us when You have lot of things to do inside the house that You have to be ready with...It is almost 100 degrees in the afternoon. Phuuuu!!!!
When the weather is like this, You should have a holiday!
Wednesday 28 May 2008
I had lot of people in my store so it was almost evening before I went back in the house again.
Rune have been painting the walls for the last time. The new floor still has bubbles, so we went to the store and ask about it and some men came home and look at it. It will be ok again they said but it will take some weeks????? It doesn't look good at all right now and we have to pay the bill next week...wonder what happens if I pay and the floor look the same at Midsummer?????
The work goes slowly on with the bedroom and the garden. On the road Jonnie was driving in a new red Bmw he bought today.
Tuesday 27 May 2008
With a test today at the nurse my blood pressure was very good, always something to be happy for.
Today Catarina came here for a visit. I had costumers and during that time I put Catarina to make the dinner. When my last customer was gone dinner was on the table, and Jonnie said that he never eat such good mashed potatoes and fish before. He like Catarina a lot. Many years ago she learn him to whistle, and both of them are crazy in cars so seven years ago they were out racing for some hours that Jonnie still is talking about *S*.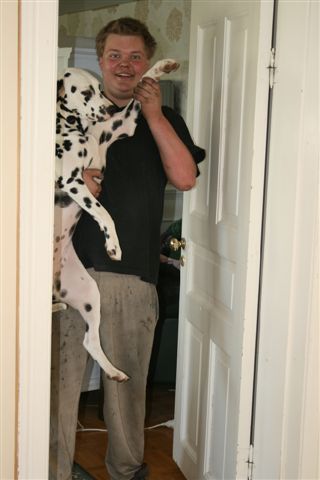 Hanna and Catarina put the new sign by the road. Our handyman was here too to continue with the bedroom.
We continue in the shop in the evening to try dresses on Hanna and Catarina.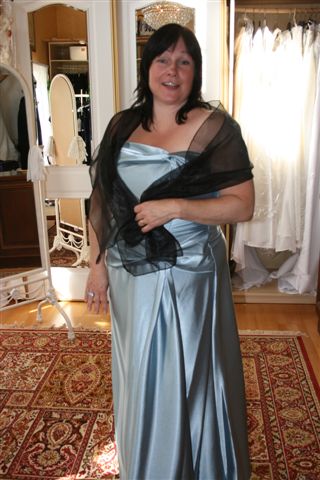 Our new XL Model Catarina, You are the best!
Half past one Catarina drove back home to Gislaved...she had been here for 12 hours, it is always so fun when she is here!!! See You soon again at the party!
Monday 26 May 2008
When we were in Jönköping we decide to shop some more things to our bedroom. We stopped at a market and bought a log for the roof. It was even warmer today than during the weekend.
At five o'clock we were finally home in Götene, very tired as usual after our trips.
Yesterday in Denmark Rune stopped to buy chips on the way home, it was at a ?? PIT STOP ??....very strange names in Denmark, we found even a pizza store that was named......PITTEN.....we didn't dare to buy anything there *S*! For us in Sweden it is the same as WILLY for You *S*!
Photo by Rune.
Sunday 25 May 2008
After just some hours sleep we were up again. Today the show start at 10 o'clock...and it was toooo early *S*. Sun was still shining and today we will show four of our dogs.
The judge was from England.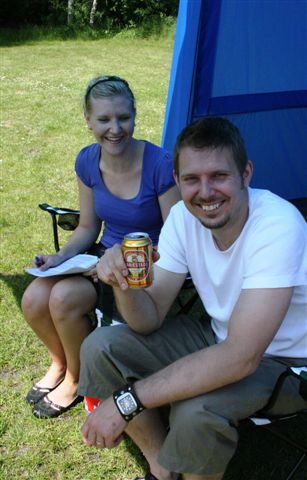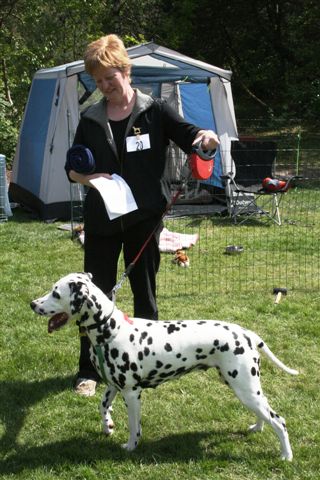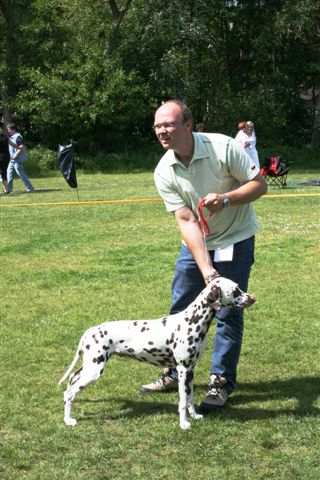 Then we start again...Cheers!! Jette with her sweet bitch. A nice young bitch from Curia´s (Bossons daughter).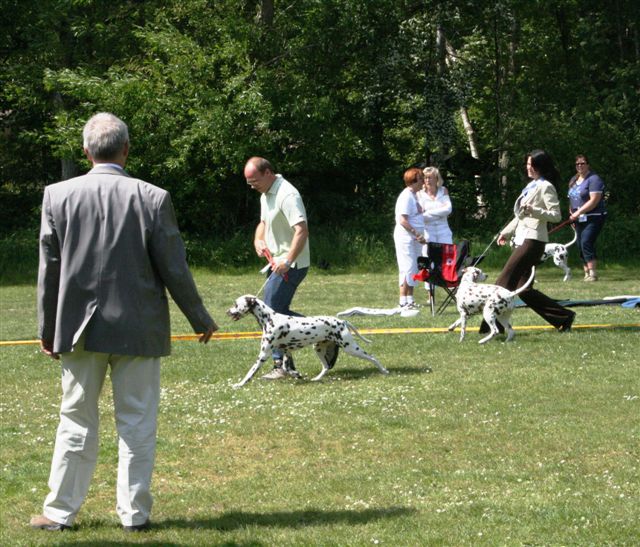 Bossons daughter from kennel Curia, she really could run!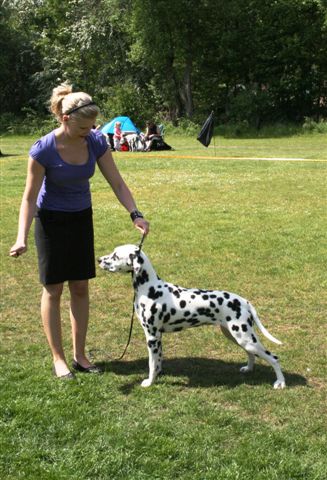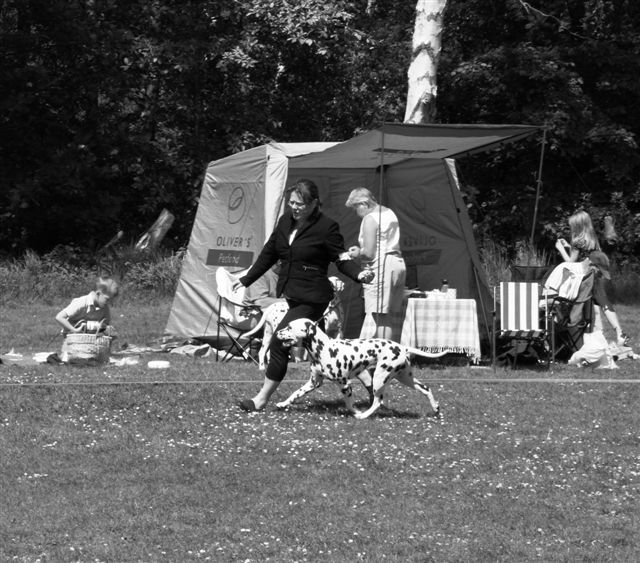 Hanna was training Bell on Saturday and Lena E was kind enough, as always, to help us show Bell on Sunday, as we always have too many bitches to handle.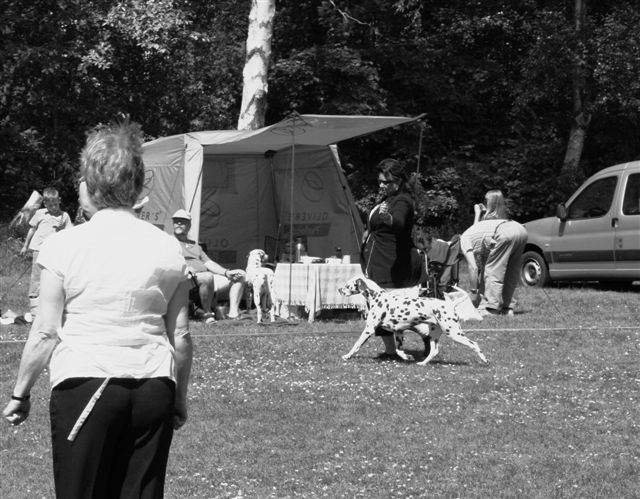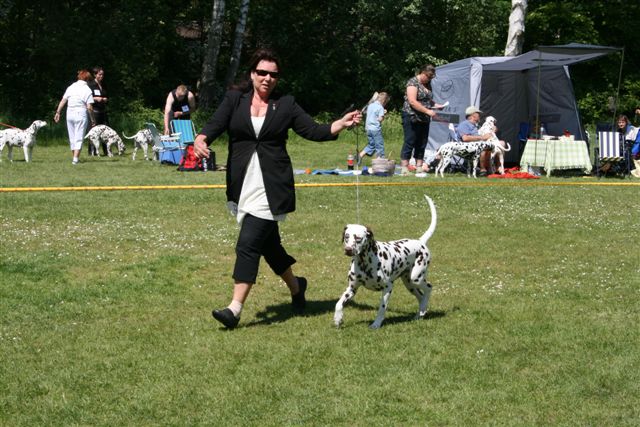 I was showing both Daddy and Gloria even if every step I took hurt bad in my heal strings. Thank god Rune showed Devlina today and Lena took Bell.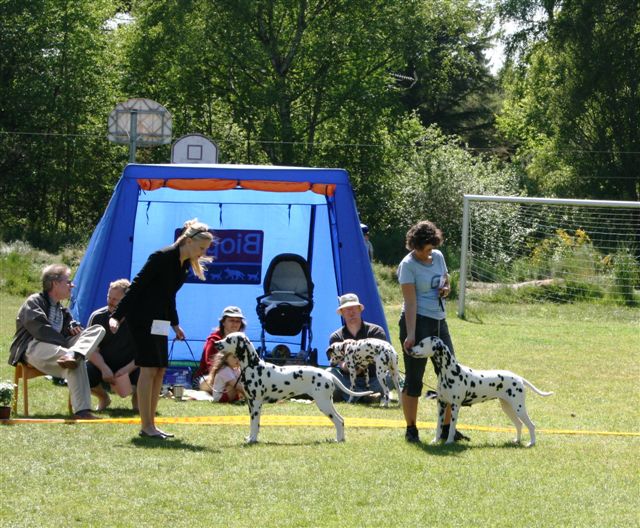 Hanna got help both days to show Chrissy, and she did it very well.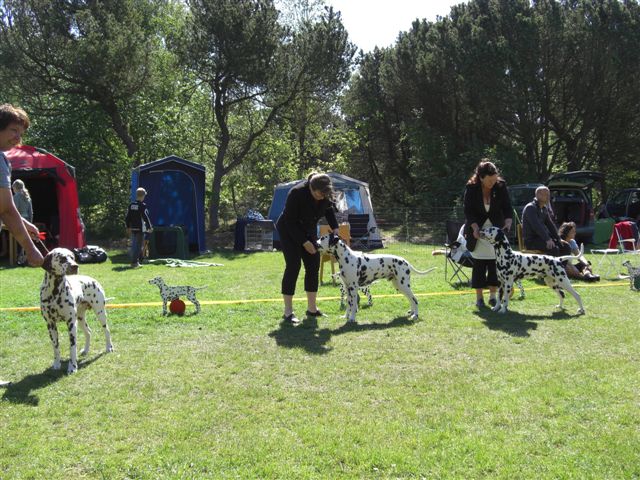 Junior class on sunday. Daddy was nr three, but with excellent and very good critic (as everybody).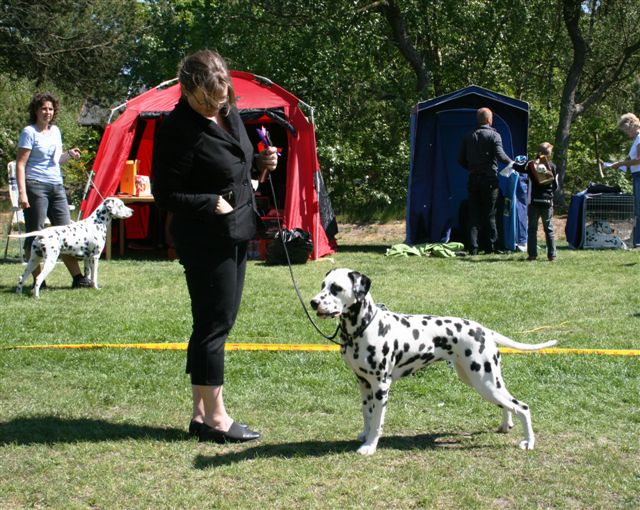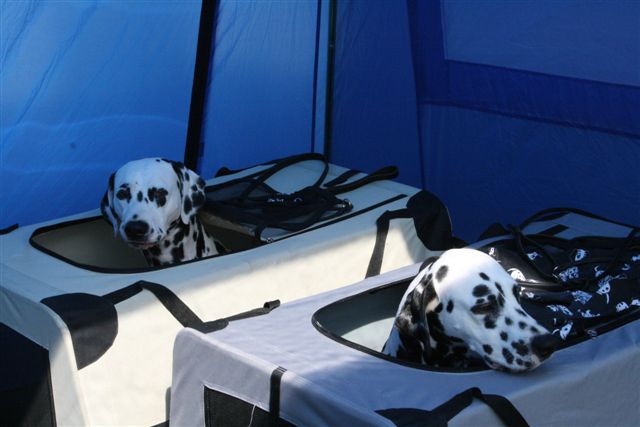 Bell won the junior class against 13 young bitches!!! Chrissi and Hjärtat had cab on their cages *S*!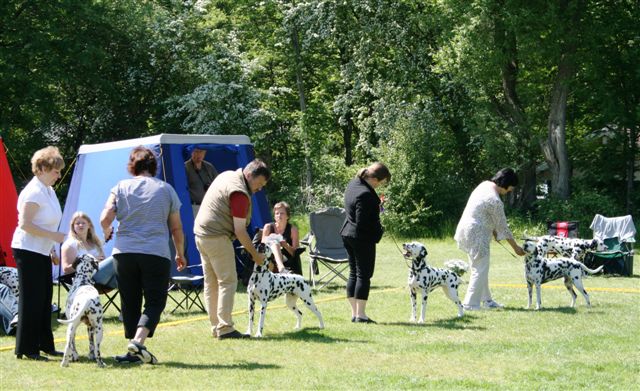 The final competition...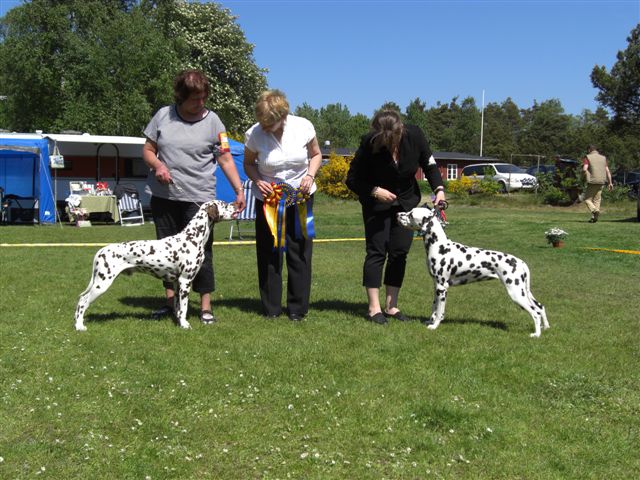 BOB and BOS was both young children of Bosson (Loverboy) HURRAY!!! Photo: Jens
Toots Chantilly Lace,16 month old. The judge Elaine Tillson and Jilloc´s Top Model,11 month old. What a final of a perfect weekend with
lovely friends and a super arrangement from the Danish Dalmatian Club. And we can't remember if we ever had such a
pleasant time together with our Nordic Dalmatian friends.
Rune start to barbecue when all other people hurry away home, but we think it will be better eating first and then drive as long as we could. The dogs will probably sleep for many hours.
Jilloc´s breeding group was nr three out of three groups.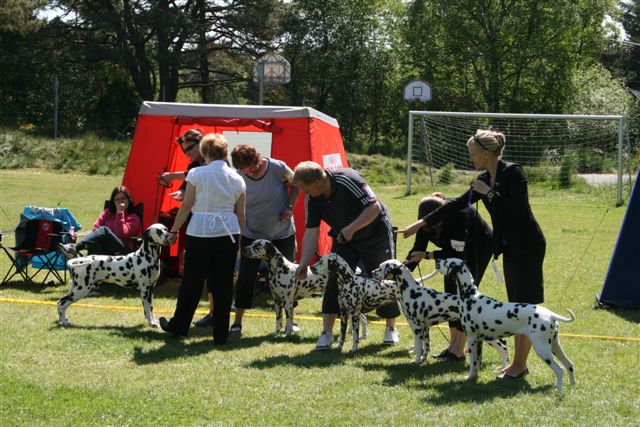 J Loverboy's progeny group with two children from Kennel Toots C- litter, one from Jilloc´s T-litter and one from Fairytale Spots A-litter.
And Bosson self was more than happy to be in the show ring with his offspring.
A hungry Dalmatian that took the chance to rob the garbage *S*!
I found a stamp and to be sure that Hanna will pass the border without any problems I give her a mark on her ass *S*!
Lena and Bell in action (I'm so happy to help You burning off all the good food from yesterday *S*)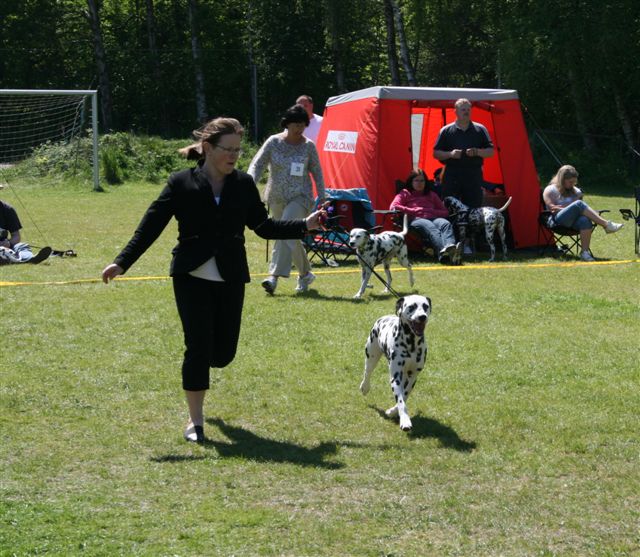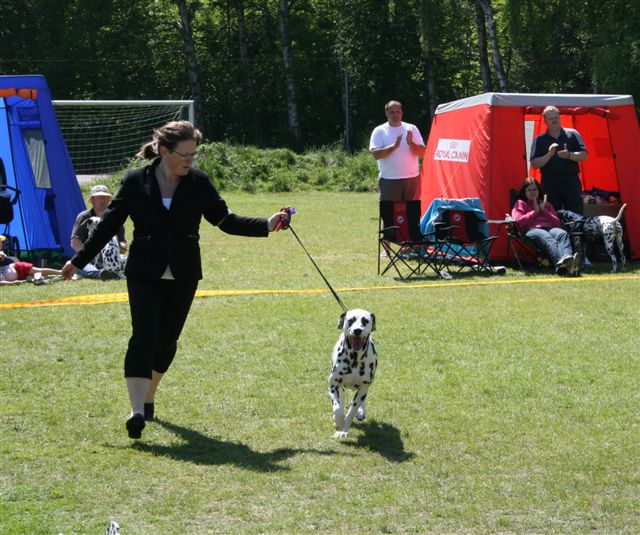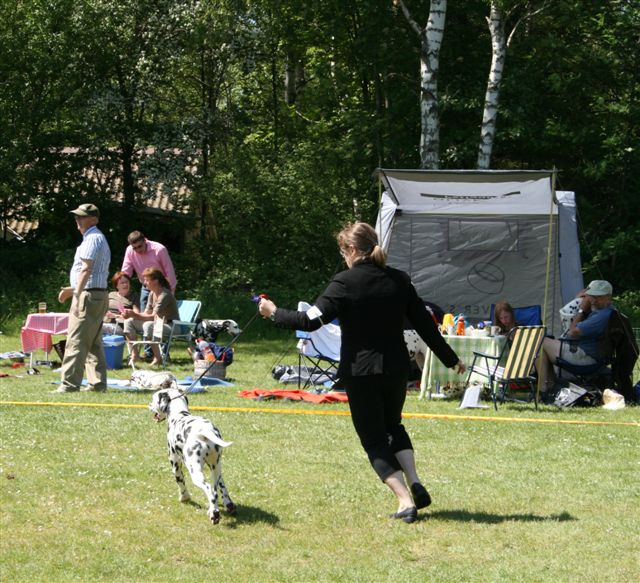 Helena called and was so happy that Milda, J Right Here Right Now got CAC and won BOB in Österbybruk. Later on she called again and cried in the phone....MILDA won the group!!!!!! She thanked her father Devlin in heaven for this Helena said....we were all sooooo happy, what a day to remember!!!
So both Expo and Milda will be in Best IN Show today!! No place there for them there this time, but sooo funny anyway, well done both of You!
Look at ME.......

Yes Expo, You are number one for all of us!!!
Photos by Jonna Ollilainen/Pia/Teemu
Hopefully we get photos from both Milda and Novas group winning this weekend too in some days!

Finally we drove until midnight and then we stopped in Jönköping to look at TV and sleep. We put the TV on and fall asleep immediately, in the morning we woke up and close the TV *S* and sleep for some more hours.
Saturday 24 May 2008
Today the show will start at 11 o'clock!!! PERFECT!!! The sun was shining and everyone was in good mood. Rune was going to traine as a judge so I was free all day to sit and look at the judging and to talk to friends. In the middle of the day I have promise to judge "Junior handling/Children with dogs".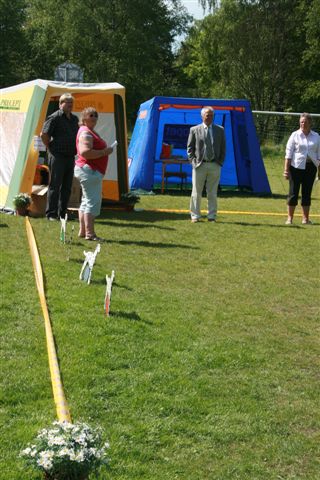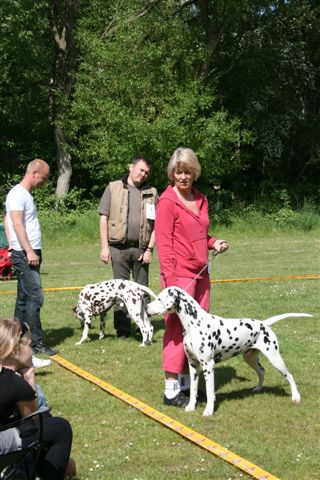 Judge was Gunnar Nyman from Denmark. Friends from Denmark. Friends from Norway.
One problem was that the sun was shining so much that all my photos was in bad quality, I have not read the instructions yet (as always) to know how to use my camera.......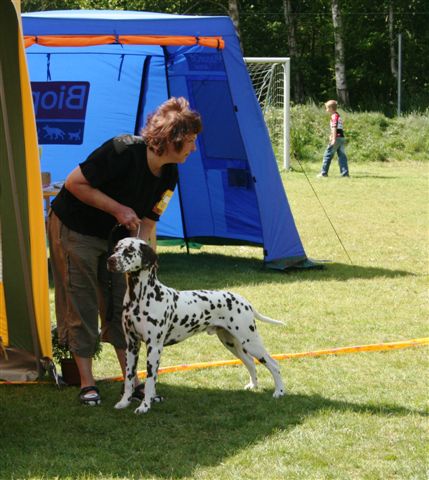 The judge and Rune looking at Bossons son Toot´s Chantilly Lace, he got CAC both days and at sunday he was BOB too, Congratulations!!! to both breeder and owner, we were so proud!

He became even the Totally Weekend Winner with his super results!
Hanna talking with some of our friends from Denmark - and she wish they could talk English instead......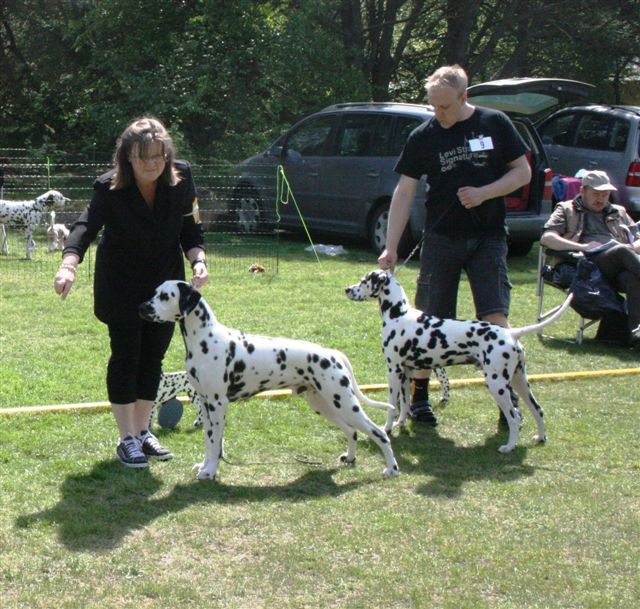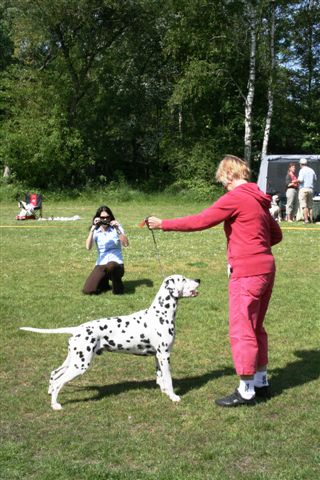 We all drink lot of water during those hot days! Lena E with her "Texas", American Idol. Zacco was BOB in his homeland!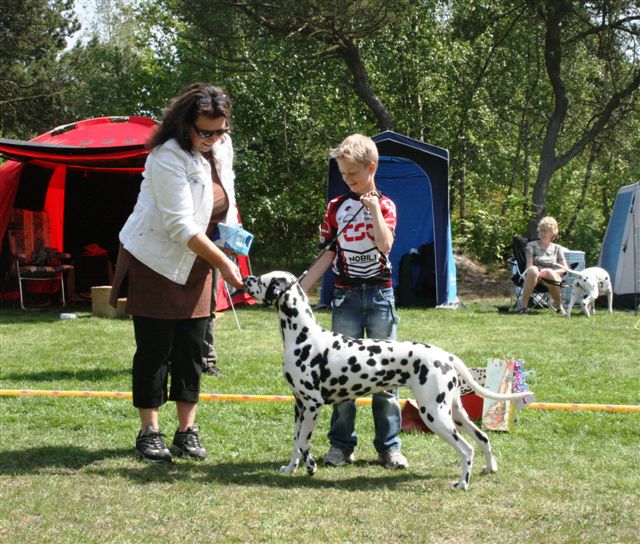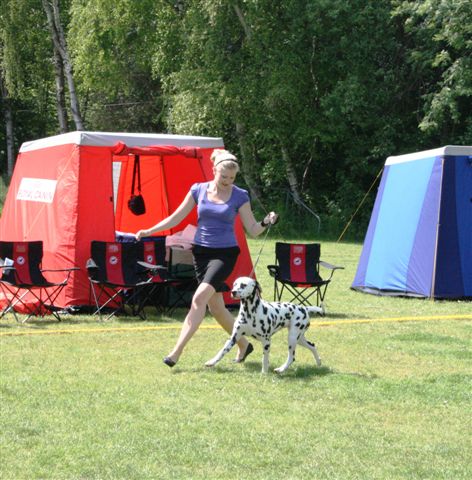 My best equipage today was a young boy with a sweet bitch. Hanna was training Bell.
News from our fantastic friends and Puppy buyers!!!

Anna called to tell us that Nova, Jilloc´s Roll On Big Mama have been a Norwegian Champion today, and BOB, and BIG 1...But she HAVE TO go back home and couldn't stay until the BIS final tomorrow. That was really pity, but we are so proud of You and Nova and wish You good luck in the future.
Then Teemu called and told us that Pia and Expo have been in Sundsvall today......Expo have been BOB, HURRAY, and Pia have showed him by herself...well done, You are the best!!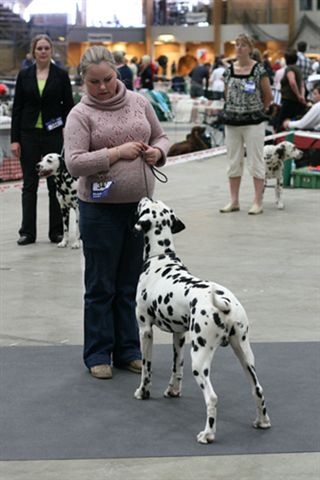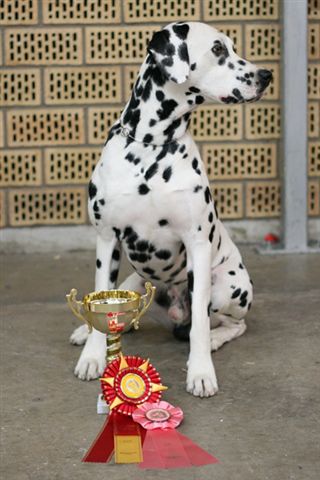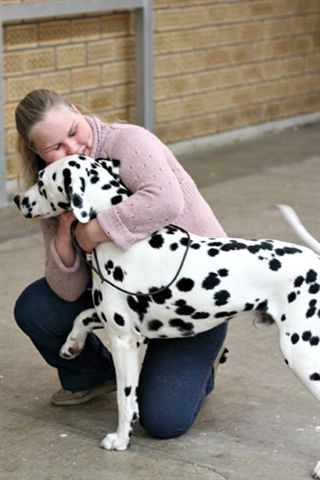 Photo by Jonna Ollilainen
Both of You look so great.....well done!
All photos by Jonna.
In the afternoon EXPO was BEST IN GROUP, back tomorrow for Best In Show, what can we say more than CONGRATULATION!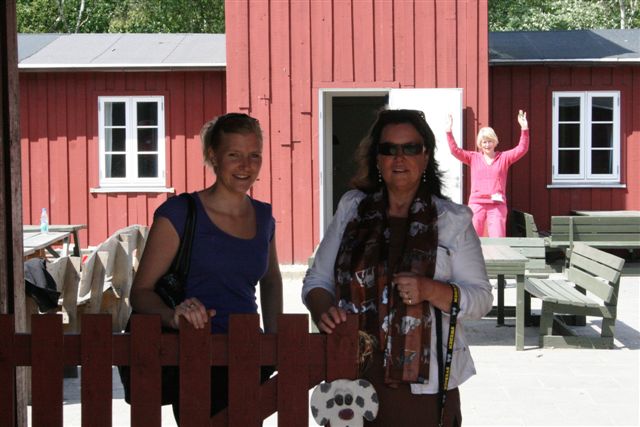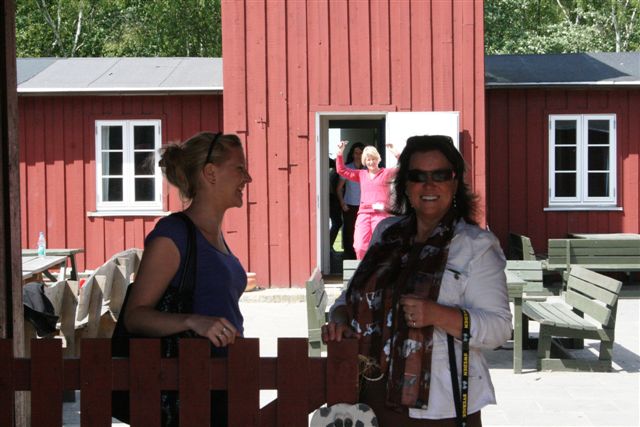 As soon as we took a picture there were some people from Norway that want to be in focus *S*!
We eat a wonderful lunch (Danish people call it breakfast??) in the middle of the day...it was sooo good.
After a perfect day we were in very good mood when we went for the dinner.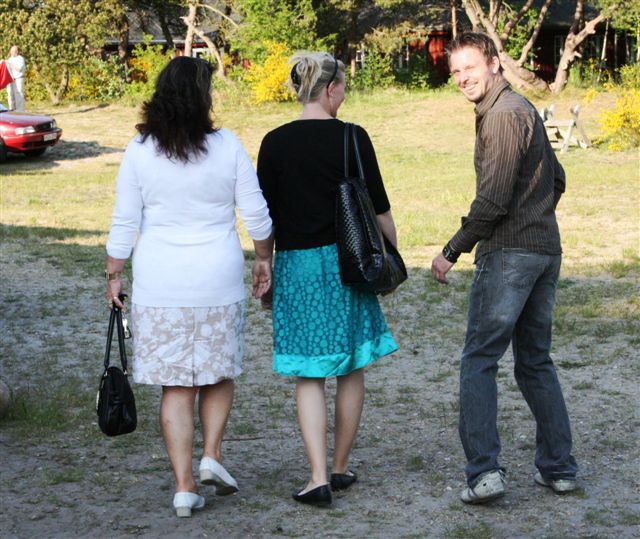 There were yellow ginst all around the show ring. Sören (chairman in DK) waiting for the food. Super food, thank You who made it!!!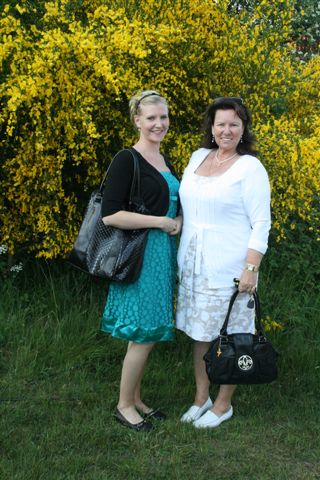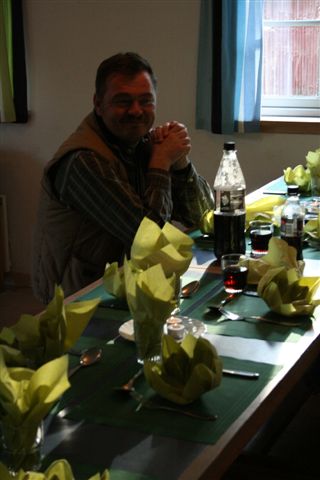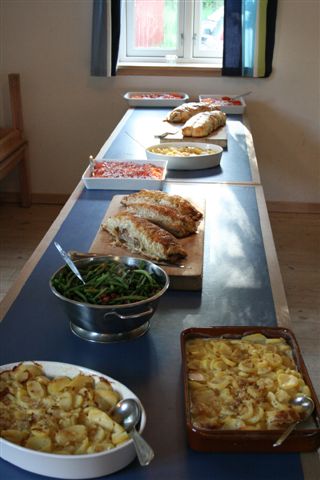 The dinner was soo good that we couldn´t stop eating...and after we got ice-cream and strawberries.......suddenly the bowl with strawberries was gone????????????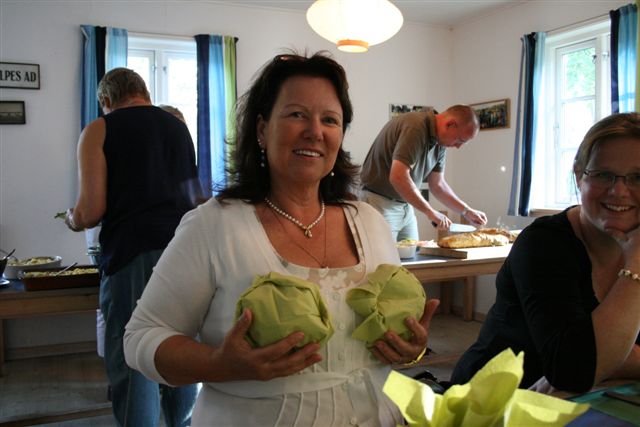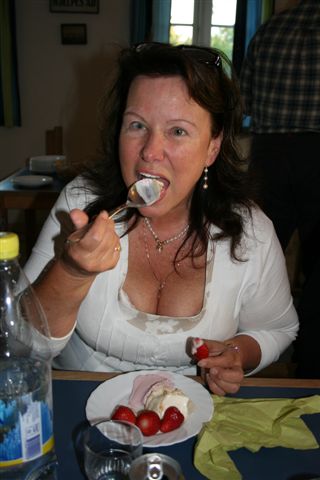 They made green bra for everyone, not only for me....but it was a little too small. Today I HAVE TO eat ice-cream!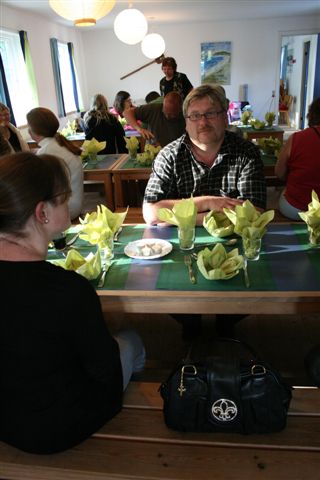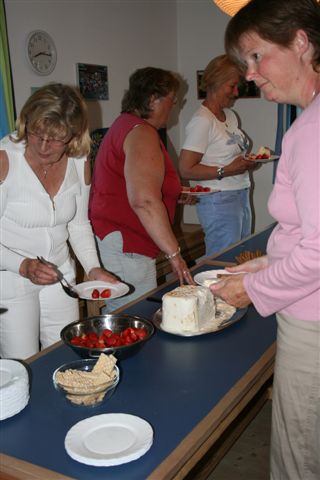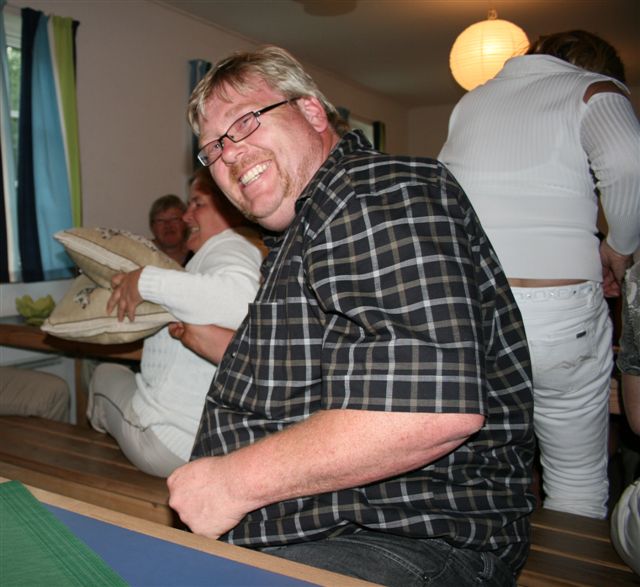 A perfect place for a club show. Everyone want ice-cream. Rune try to steal Pia's pillows to Hanna.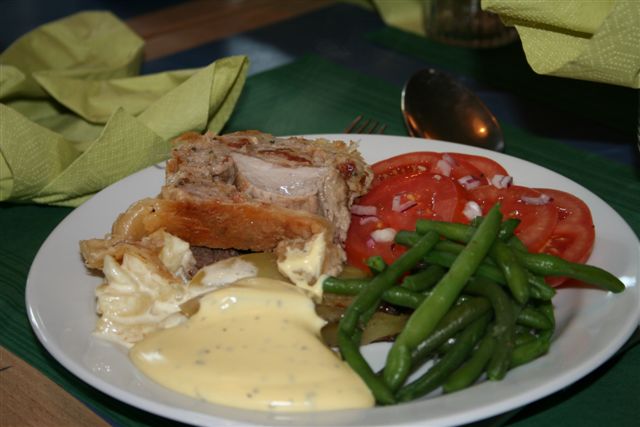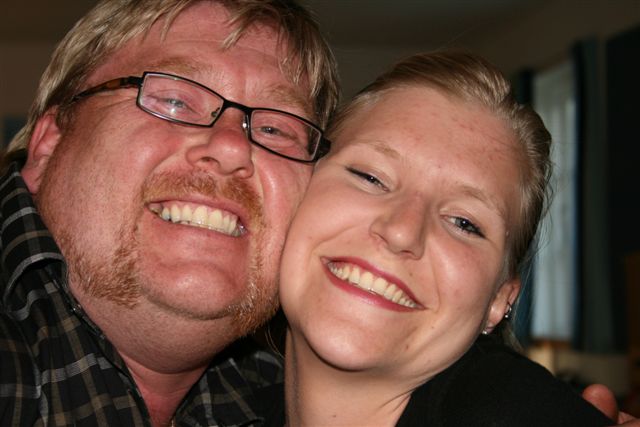 Rune and Hanna was more than happy for the nice dinner....Mmmmmmmmm, I want it NOW!!!! Ps. This was not my plate....it was someone that was on a diet *S*......!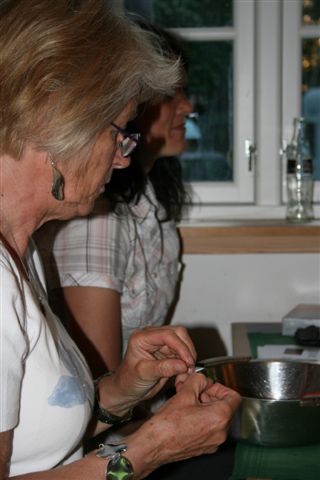 Suddenly we found the lost strawberries!!!! and the empty bowl with two Norwegian ladies *S*!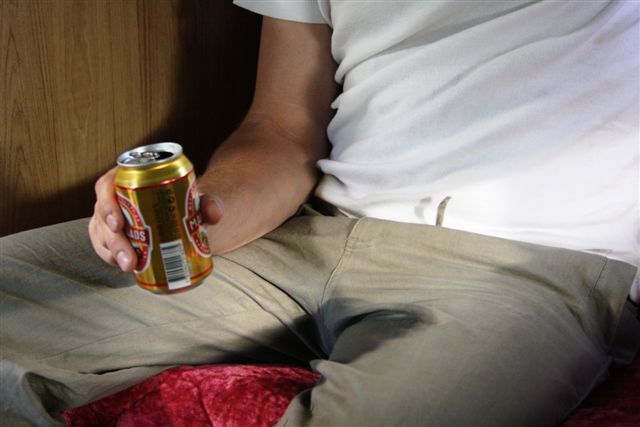 BUT Jens, what have happened here??? Ok...it was only the shadow!!!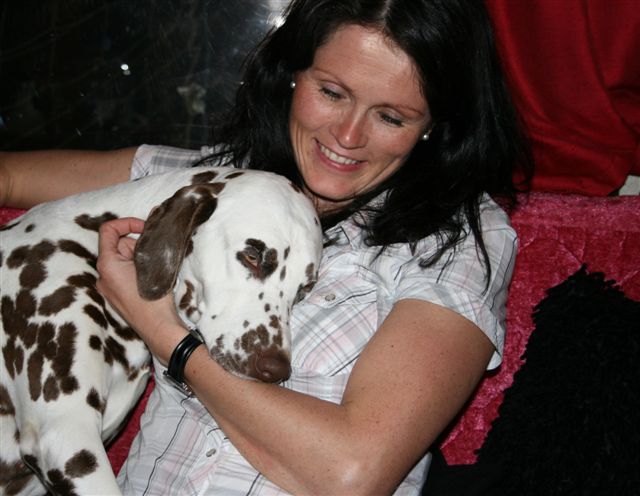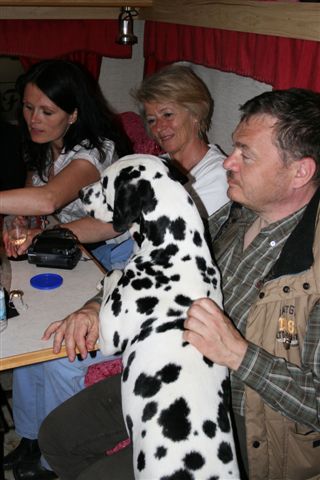 Late in the evening we start a small party in front of the tv..looking at the Eurovision song contest!
Devlina was in love with Bente and Daddy was in Sörens knee all the time *S*!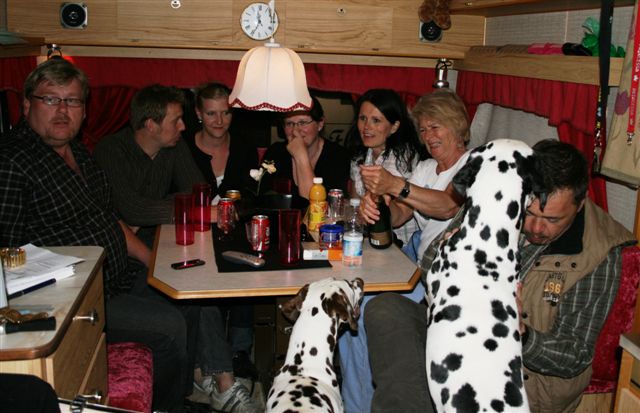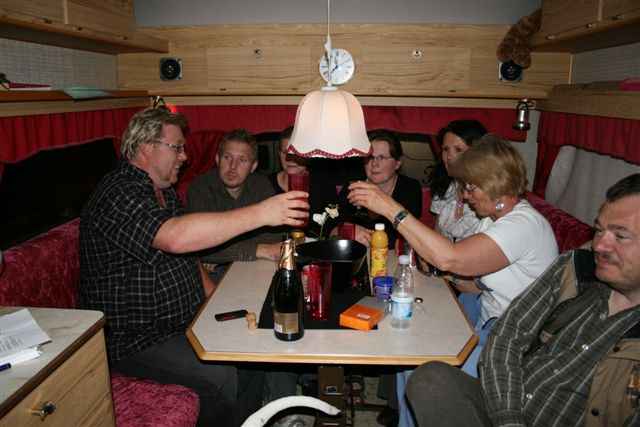 We all enjoy the evening very much. Helle try to open the champagne bottle but she was not strong enough another Norwegian helped her, and then they raised their glasses for Norway, that for once in million years had a beautiful song. Florence tends to forget that Norway have won twice before! - but of course Sweden won several times)
The only problem was that it was 100 degrees in the caravan and if we opened the mosquitoes eat us up!
The police called and ask us to keep our eyes opened, because someone have steal an special Dalmatian sign........ when Hanna and I went to the toilet in the middle of the night we found it on a hotel door. There were a Swedish women that have try to bring it with her to Sweden..*S*, but she told us in the morning that she had nooooo idea how it have come to her door *S*!!!! and Hanna and Me have Noooooooo idea at all!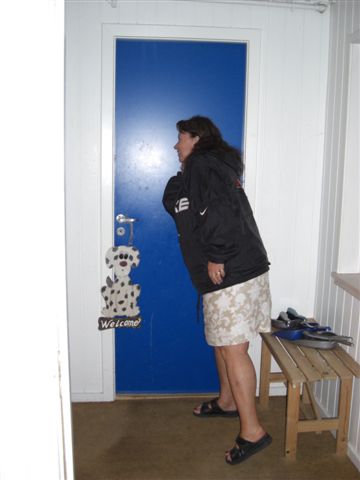 Who is living here??? Photo by Hanna
Friday 23 May 2008
This morning Hanna and Jens start from Götene, and we will meet each other at the ferry to Germany at 12 o'clock. We put their dogs into our car and we all went together in one car with the ferry to Puttgarden. It was sunny and lovely weather and we could almost feel that we were on a holiday trip, even if it only was for one day. Hopefully we can go back to Europe soon and travel around for some weeks.
We were going here today because Jens wanted so much to go to the Border Shop, he have never been there before, just heard us and other friends talk about it.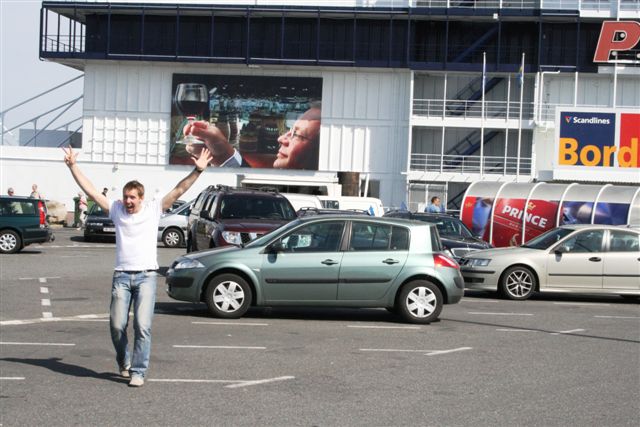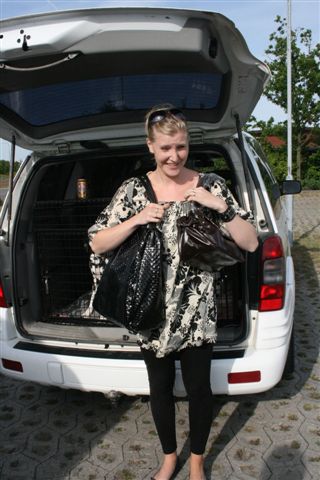 Jens was like a child on Christmas eve in the Border Shop *S*!!!
Hanna and I was not that interesting in boos as Rune and Jens, but we spend some money at bags and belts instead. I was proud of my self that we didn't buy any candy at all.
After some hours in Germany we return to Denmark and start to drive towards Vig where the two Dalmatian Shows are tomorrow and at sunday. Hanna and Jens rent our room when we decide to bring our caravan with us. a little bit too late in the evening, but just before it was dark outside we came to the "camp".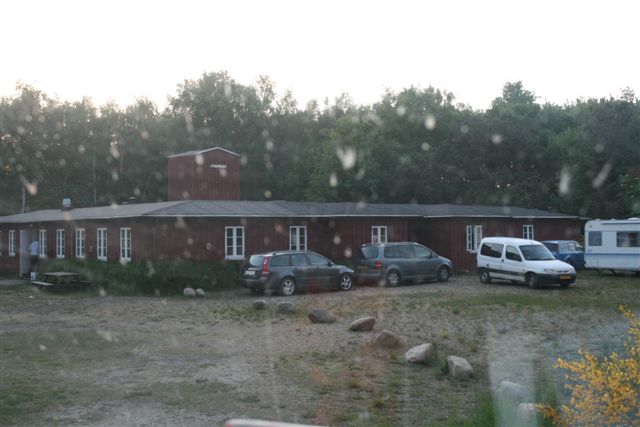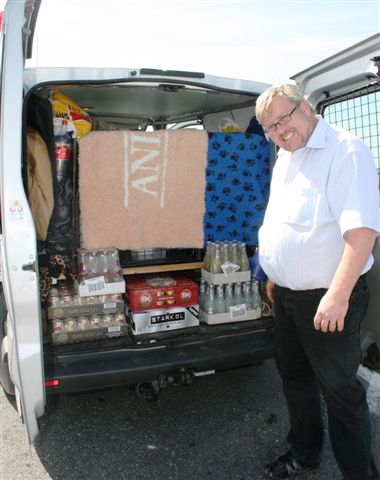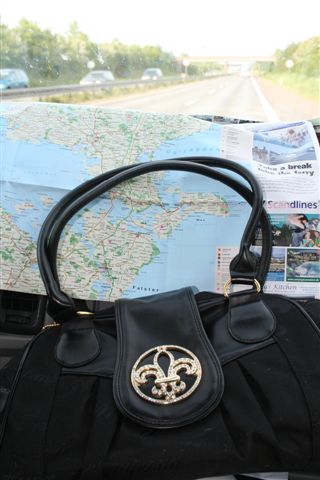 Lyngborgen close to Vig. It is not rain on the window, it is dirty. Rune bought sprit for his party in June. I bought a (several) "glitter and glamour" bag instead of anything else.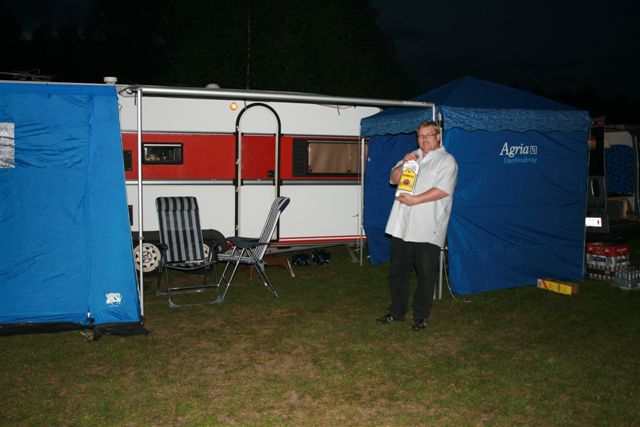 We got the most perfect place for our caravan close to the show ring, we talked a little to friends and was so pleased to be here. It seams to be a perfect place for a dog show, close to car, rooms, food and friends.
We were tired but with big expectations for the weekend. Didn't fell to sleep until four o'clock......stupid!!
Thursday 22 May 2008
Up VERY early again *S*...on our way to Gothenburg... much too early. I was at my dentist and spent toooooooooooooooo much money, that I really need fore some other things, but what can I do???? After that a very quick stop for shopping, just bought some belts and then run out to Rune and the dogs waiting (sleeping) in the car and we drove to south of Gothenburg were I always buy some delicious salad to eat on our journey to Denmark. Another quick stop for shopping at the same time where and I bought a new dress and some other small things (Rune and the dogs sleep in the car, again)!
After that some more miles driving to Jennies home where we parked our caravan last week...now we were going to take it with us to Denmark, so much easier to have the caravan on a trip when we have many dogs and lot of things with us.. Jennie had gone to work about 30 minutes before we were there. We tried not to make so much noise, because Jill was in her house and she will stay there some more days when we are in Denmark.
BUT...when we arrived at Jennies garden a crazy dog with her tongue hanging like a tie to the ground came running from the highway. IT WAS JILL!!!!! How in hell could she be out????
I jumped out of the car and she was more than happy...I ran to Jennies house and saw that the door was locked with her key on the outside of the door...I start scratching my head!!??!! Was there any open window???????? No!!!!! But the door out from the kitchen was open....they never use it and Jill have never gone out that way, but she is a master to open doors at home. Probably she had been trying to run after Jennie when she went for work. Oh my god, what could have happened if we hadn't come that quick. She was wheezing for her breath for more than 30 minutes!!!
And she ran immediately to our caravan and jump into the bed and fall asleep. I called Jennie and told her that we have to take Jill with us to Denmark...so she can't escape anymore, because Jennie was going to work for some more days.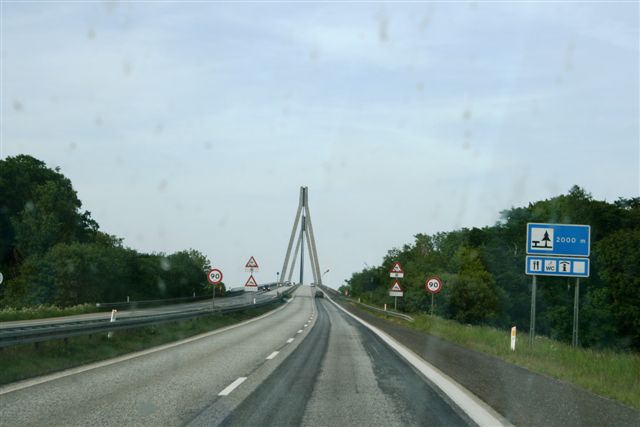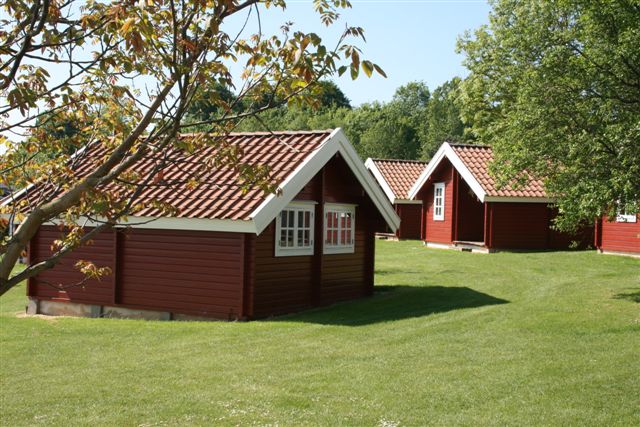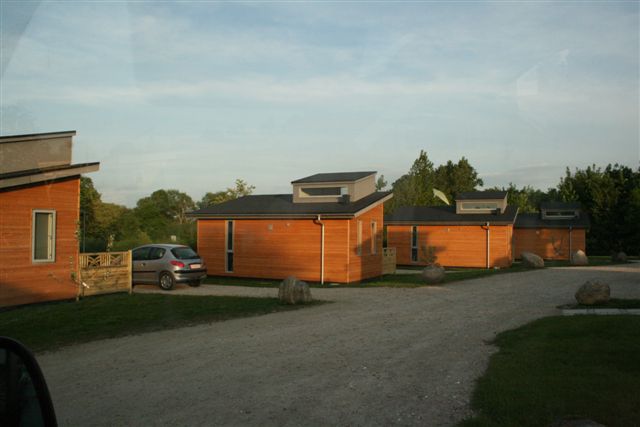 We drive all the way to Roskilde and found a camping at 22 o'clock in the evening, they have nice cabins for rent something to remember until next time we are going to Denmark without caravan.
We were planning for a long tv evening, but both of us fall asleep in about 5 minutes *S*!
Wednesday 21 May 2008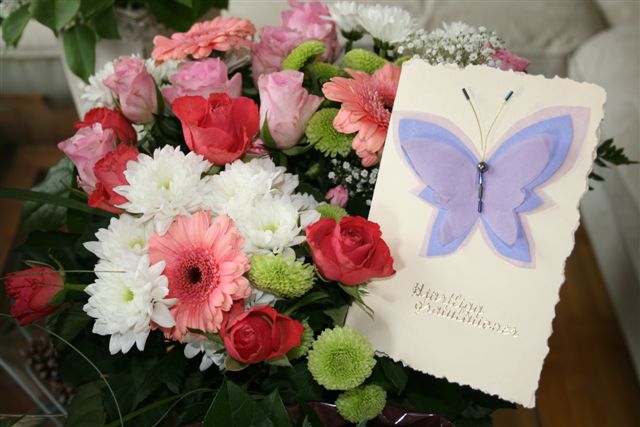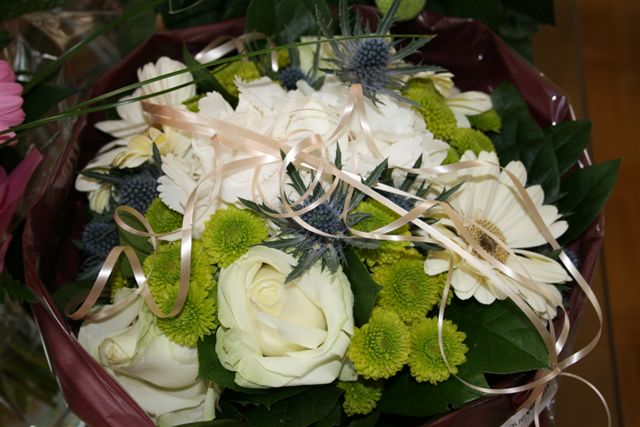 Today I smell the scent from all my flowers all day....lovely!!!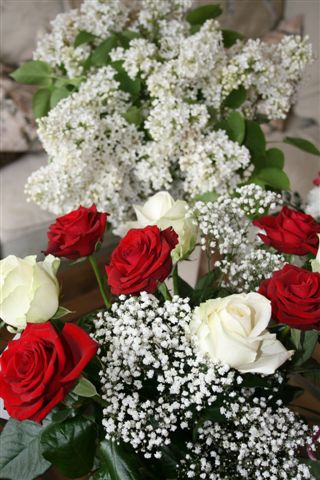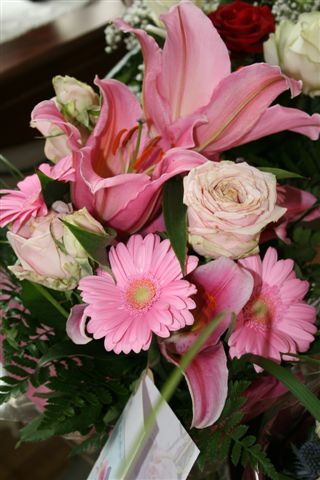 All work with our bedroom continue and Rune put up a kind of wallpaper to cover old damages on the wall. Then we will chose a colour and paint the wall or hang another wallpaper over this paper.
It start to look more and more like an old room, just the way I want it, not that modern as before. We have hard to decide the right colour on white..there are sooooo many different tones. It should not be too white and not to creamy...*S*!
Tuesday 20 May 2008
In the beginning of this day at 00.00 o'clock I got my first congratulations on my birthday from Aase in Norway, she was even quicker than Rune that came some minutes later..then Roy, Juan and Jonnie called and they was singing in the phone *S*. We went to bed very late and in the morning I got lot of sms, greeting cards and so on. Lovely flowers from Rune in the middle of the day. Yesterday Anita was here with a present that I will open today. I have told everyone that I will not celebrate my birthday today because of all mess in the house..so we can wait until Runes Birthday in June. But in the evening Hanna and Jenny and Rebecka came with food, cake and wonderful flowers that is the best I know (they know that)...the only problem is that I have not tables enough in the caravan to place all bouquets on our way to Denmark on Thursday...but I will!!!
Roy and Juan and Jonnie came with half their garden of syringes!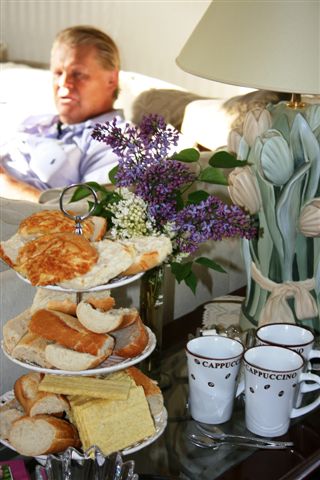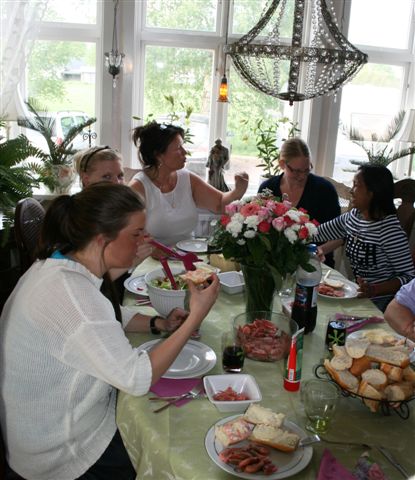 Hanna came first with lovely flowers and present. Jenny have made vegetarian taco pie it is the best thing we can get. Ok, not Rune of course so she bought bread and shrimps for him.
Jenny have even made a cake with chocolate mousse and white mousse too and she have put lacto free cream on it, so even I can taste today. Thank You, you are super!!! For the first time we had only ONE meringue cake..normally I eat two by myself..this time it was more than enough.
If You think the first cake look "strange"/tired, I can tell you that first of all Decibel took a bit from the cake before Jenny came here and then it collapsed a little, but I can honestly say that it was THE BEST I ever have eat. And so think all other who was here too.
Jenny please come back soon and make a new cake for us...but You can do it here so Decibel don't try to eat it up *S*!

Rebecca, Hanna and Jenny. The Everlasting Love Angel I got from Hanna.
This Angel is a member of a Guardian Angel Family, that we give to people that we really care about.
There are different Angels in the family that means different things.
Here is my "Angel family" some are for health, love, friendship, happiness and now everlasting love....
So beautiful in it's simplicity.

I scratch on many lottery that I've got from Jenny and we dream about all trips we would like to do IF I win a lot of money...and dream about to buy a laaaaaaaaarge mobile home with a chauffeur, so we can rest and sleep during all our travels to different shows throughout the world!
But after a while we understand that there were not more than 50:- that I won so we start to talk in a realistic way about our trips again and hope maybe for a bus trip to Hungary in October at European Winner Show, we have to wait and see.
We eat and laugh a lot as usual and Jenny didn't went home until 2 o'clock in the night after Rune have given Donna a bath...she is going with Jenny and Decibel to Österbybruk for a show this weekend.
Monday 19 May 2008
Today they came to put a new mat at the bedroom floor. When it was ready it looked very good, BUT some hours later it looked like hell...bubbles all over. We called the company but they told us that it can look like that for some days...I REALLY HOPE IT WILL BE NICE in some days...this is terrible!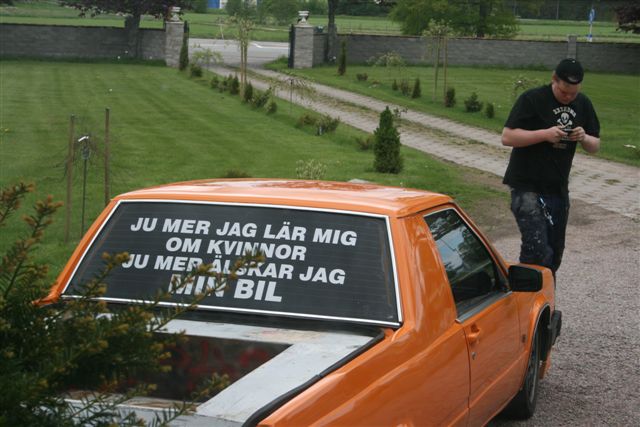 Jonnie put a sign on his car, that means -:The more He learn about Women, the more he LOVE HIS CAR *S*!
Some of his friends have girlfriends and all they do is fighting with them from morning to evening, so he can't understand why it is so important to have a girlfriend then.......one friend told him that he just want to say that he have one...to be someone...Jonnie didn't understand anything at all..and bought himself one more car instead...the car always agree with him (mostly) *S*!
Sunday 18 May 2008
Rune went up early, today he will be a training judge for Springer spaniels. Me and the dogs stayed in bed some more hours....good. At one o'clock Rune was back and I have put all things down in the caravan so we could start our trip back home immediately. We drove to Jennie and Ellie in Kullavik south of Göteborg and put our caravan there because in just some days we will go back south and it is not necessary to bring the caravan all the way home to Götene then. Jill was so happy to see us and jump into the caravan and crawl under a blanket to sleep *S*, she love to be in the caravan. But this week she will stay with Jennie and Ellie because they love to have her there.
We were home before the dark and our intention was to start painting the bedroom, but we didn't do so much more than fall a sleep on the couch.
We were very tired and do not know where to start with all our mess.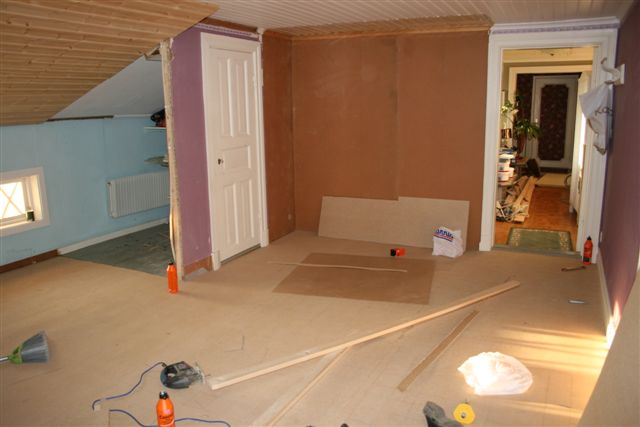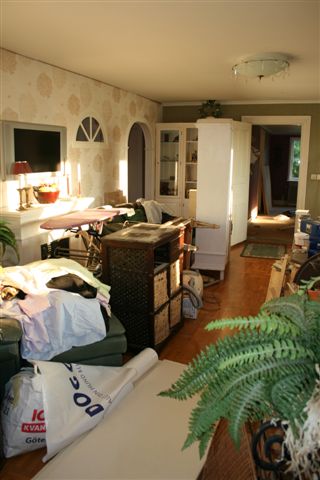 Saturday 17 May 2008
Lovely weather (at home it was cold and rainy).....The show start late for Dalmatians so I went in to our ring about half past eleven. Jenny and Hanna was there since a long time.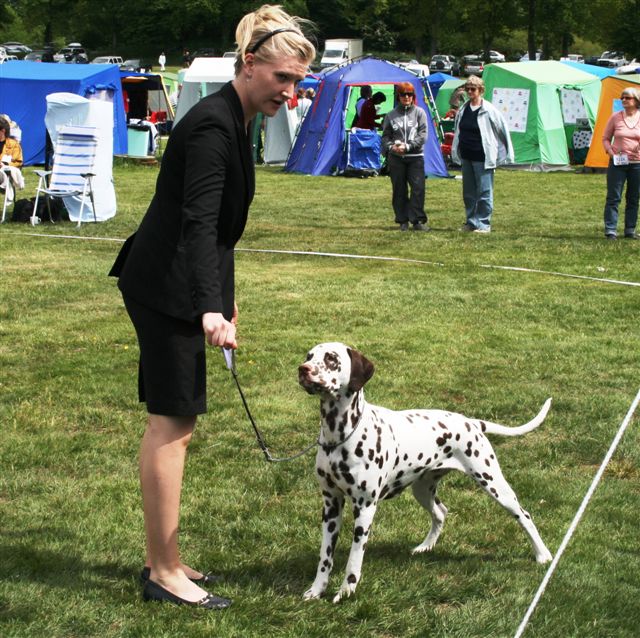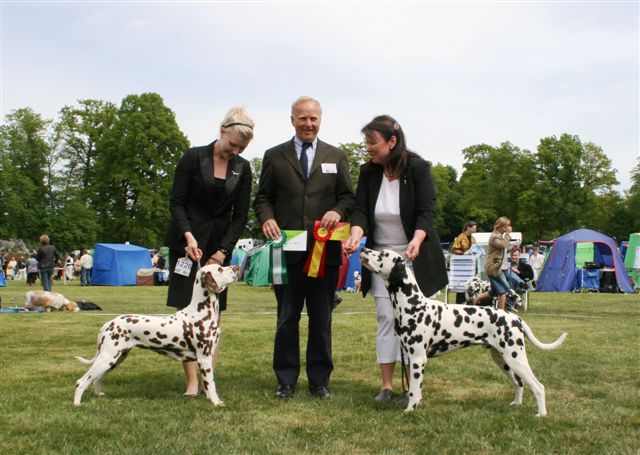 Hanna showed Decibel today. She won junior class with ck and then she was nr 3 Best Bitch. Devlina was Best bitch and BOS and Daddy BOB!!
We met the Norwegian Judge Per Iversen for the first time and were very pleased.
Jilloc´s Sugardaddy BOB and BIG 3, 11 months old!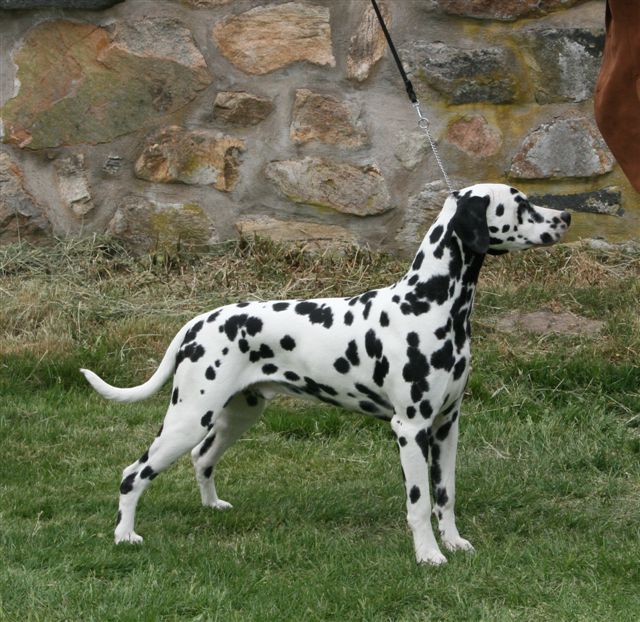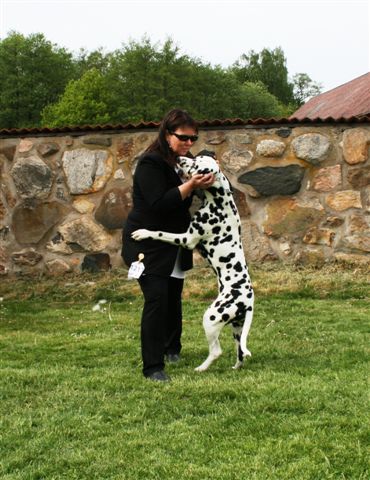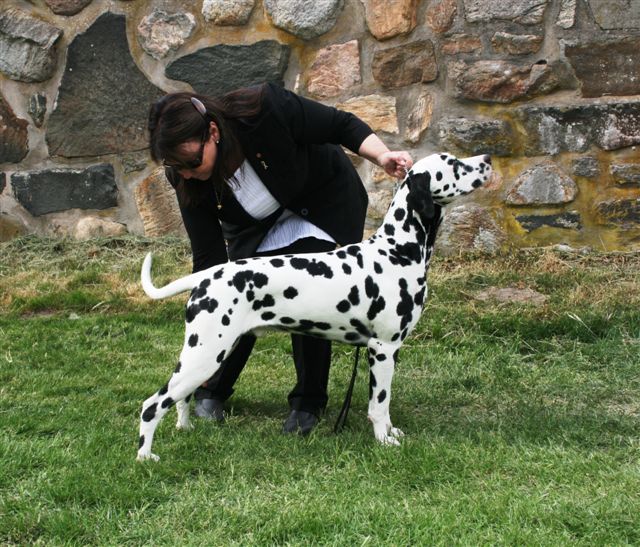 Daddy is a little bit dull in the show ring...but immediately when we went out of the ring he is so crazy and want to play...he think he have been standing still for toooooo long *S*.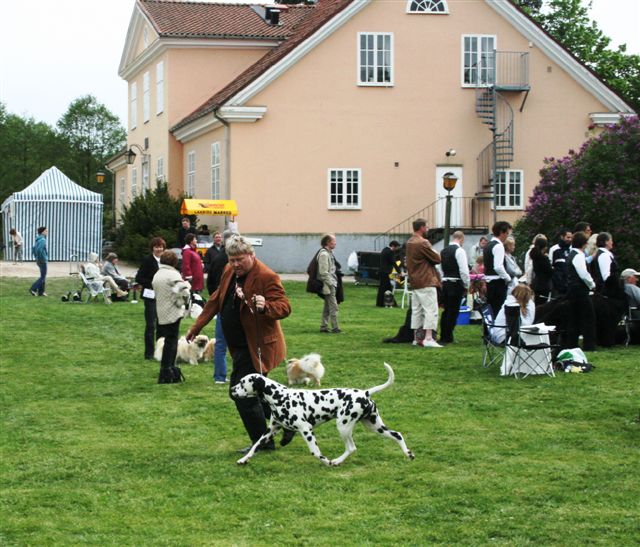 Rune have to run a little outside the ring...he want Daddy to show himself with him...but he is "mama's boy" *S*.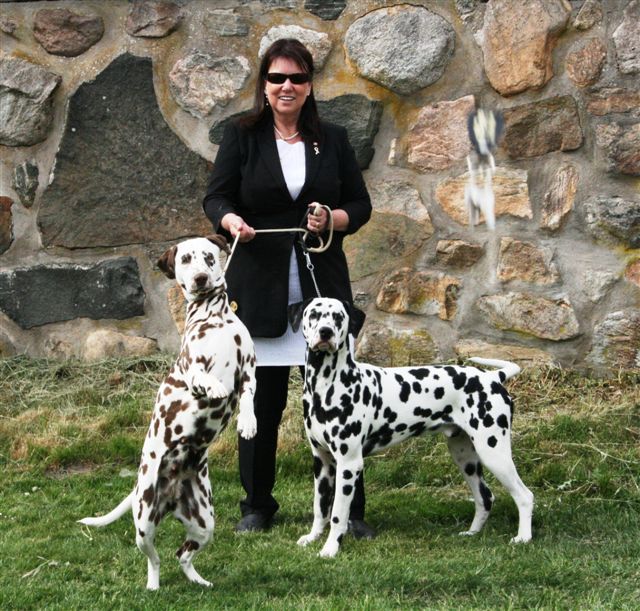 Devlina and Daddy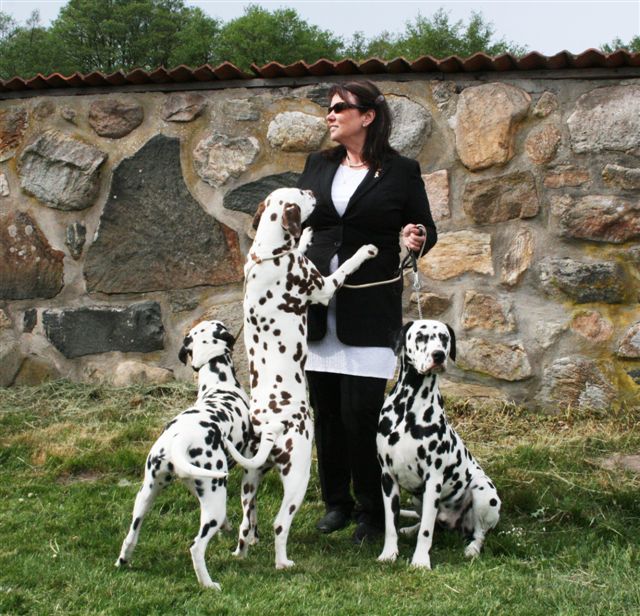 Bell, Devlina and Daddy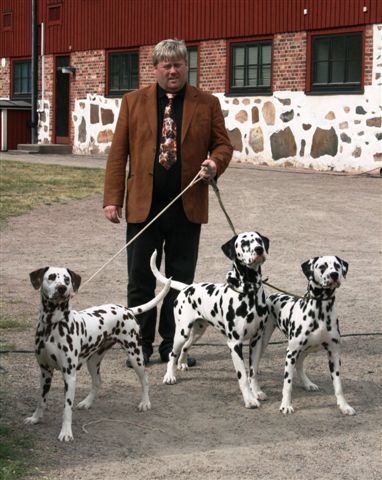 Something is flying in the air..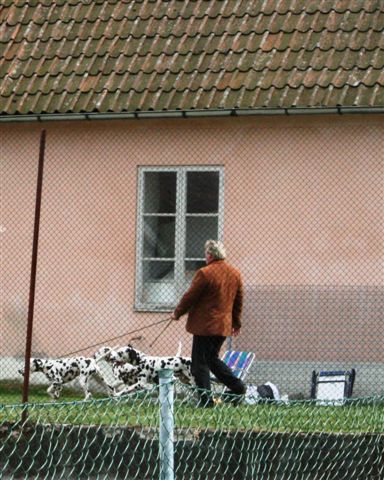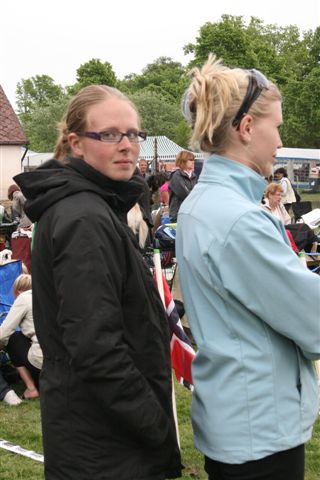 Our dogs want to go to the toilet *S* with Rune, You have to be very strong in your arms for three happy Dalmatians. Jenny and Hanna was curious to look at the final competition, they know someone showing a dog and cross their fingers for "him" *S*!
After the finals Hanna and Jenny drove back home, and Rune and I resting in the caravan. I can't even remember if we ate anything that evening because we both fell asleep in front of the TV about 9 o'clock!!!!!!!!!!!!
Friday 16 May 2008
Up more than early to go to Gothenburg to bring Jennie home from the Plastic surgery clinic, where she was having surgery last evening. On our way there she send an sms and said that she'll take her own car home by her self (crazy girl)!!¨- as always. Nothing could ever stop her..she is not afraid of anything ....she is the opposite of me ..that is scared of easy things.
We keep in contact with her and then we went directly into the city of Gothenburg with both our car and caravan ...I have never seen a caravan there before and it is a hell to find a place to park Your mini car but a caravan...it will not be easy. But we were afraid to put it somewhere as anyone can hook it on their car and take it away!
We were in a hurry because I have to be at my dentist at 12 o'clock...and 5 minutes before I jump out of our car at a red light close to his reception and Rune drive away to try to find a place to stop and wait for me. Of course as always it took much longer time at the dentist, they have told me that they only will check me up today, but they did a lot of things and he want me to come back in the afternoon to get a porcelain to to one of my teeth but I told him about our 6 dogs in the car with rune and our problem to stop with the caravan so we decide that I come back next week on our way to Denmark.
I have to walk for a while to find Rune and the car, thank god for the mobile phones a time like this.. It was very nice a day in the city with summer weather..I have never been walking around there before and I saw people lying in the grass in a park close to a church and there were many people with dogs. but I saw many strange and drunk people and I really hope that I would find Rune soon. I was solo happy when I saw our car.
After that I called Jennie and she was at home an was feeling ok, both she and we were so happy for that.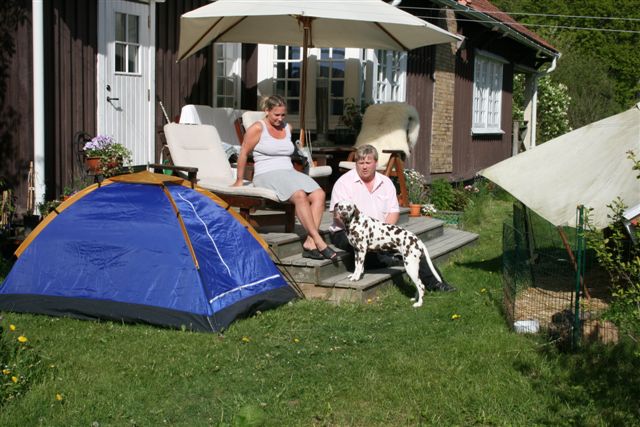 Today is her 35th Birthday...and we all expected that she would sleep for some days and that we will celebrate her birthday in some weeks instead, we remember how sick she was last year after her first surgery.
She felt well and asked us to buy something delicious to eat and to come and spend some time with her. So we were shopping some food and went to her place. Ellie was in school but we decide to let Jill stay with Jennie and Ellie during the weekend, she is Ellies best friend and they love to sleep together.
We start our journey towards Hässleholm where the dog show is tomorrow. At eight o'clock we were there....Very nice place to put the caravan close to the show area, and the weather was so good.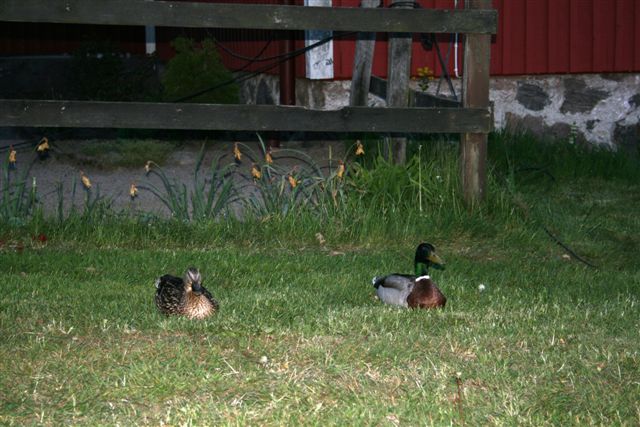 A pair of Ducks try to make love between the caravans in the evening *S*!
First night in our "new" caravan..we are really in mood for camping now. And only five dogs with us, that was perfect *S*! I have only entered Daddy and Devlina and Jenny is coming with Decibel to this show. I didn't know that Devlina will be a champion already so that was why Bell and Gloria wasn't entered I have to concentrate at Devlina...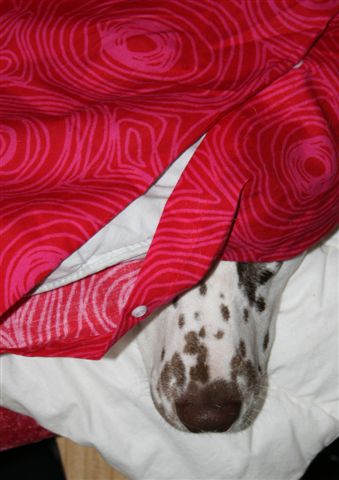 Devlina over the blanket, and in the morning she was sleeping under it *S*.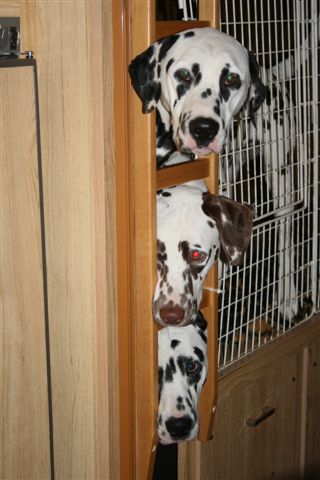 Bell and Gloria in the bunk bed. Bell with a ball in her mouth. Triple of Dalmatians Bell, Gloria and Daddy.
All our dogs love to be camping.....but in the night some of them have to sleep in the cage/bed because I have so much pain in my legs, and all of them love to lay on my side *S*!
Thursday 15 May 2008
I was at my hairdresser and then I did some necessary shopping in Lidköping.
Rune made our caravan ready for our dogs...they will have a large cage in the first bed in the caravan.
And then he cut the grass again.
Wednesday 14 May 2008
The marquise was not ok as we thought, so we have to buy a new one *S* skrattar bäst som skrattar sist/who got the biggest laugh now...!!!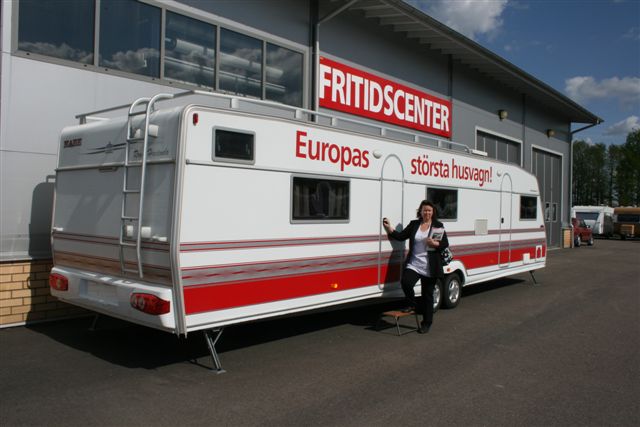 For a short while we were thinking of buying us a new KABE instead of our old one....but we did not *S*!!!
We thought it was a little bit to small for us and 10 dogs !!!!! But we could make a kennel in the end of the caravan so they can have their own door out, and we can put a fence around *S* people would think we are crazy...but they do anyway, who cares.....not we!
Rune continue with the bedroom floor and I was packing our caravan.
New pictures from Tyson in Russia, he is now
Russian Junior Champion
Russian Champion
Young Club Winner of the Dalmatian Club Russia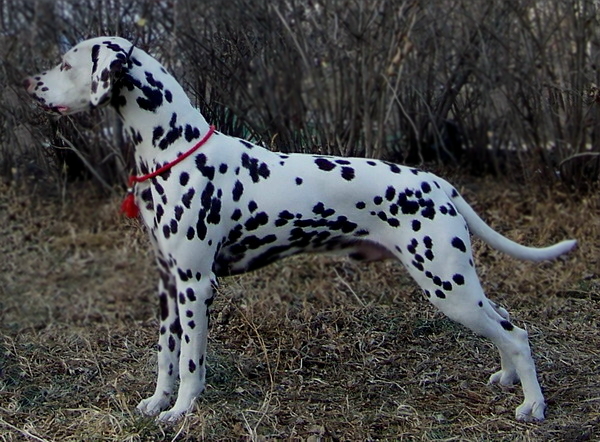 Good luck in the future Evgeniya with Tyson, we are so proud of you both!
Tuesday 13 May 2008
Finally our favourite handyman have come here to help us to finish our bedroom, in these old houses everything is crocked so it is lot of work. Just the most difficult things he help Rune with.
In the evening the roof was ready and tomorrow Rune will make a new floor. In some days they will come and put a new carpet over the new foundation.
I am looking forward to be able to sleep in our bedroom within a few weeks.
Last year Anne Karin and Rune bought a new marquise to their caravan because the old one was broken. And they were at a store to buy a new one or to repair the old one. To repair it would be almost as expensive as buying a new one, so they bought a new. They ask if we want the old one, and of course we would because it was 60 cm longer than ours.
Today we took the broken part of the marquise to a caravan store and ask what to do we would like to put the marquise up at our new caravan.
After a while they found a thing that they say we need to make it ok again, and it cost 19:- Swedish Kroner 19:-!!!!!!!!!!!!!!!!!!!!! Tomorrow we will try if it can be ok just with this small thing *S*, thank You Anne Karin and Rune if it works....but those rich Norwegians prefer to buy a new one instead of pay 19:- *S*........but of course we have to wait and see if it works before we laugh!

My oldest son Jimmie (23 year) do not want to travel to foreign countries and he do not want to go with us to Thailand either....BUT last week he and some friends took a small bus and start in the evening and drove to Netherlands to buy nice and cheep things for their trucks...Jimmie was driving and at the ferry to Germany they were so tired that all of them fall asleep and when the ferry was empty from other cars they were alone with their minibus and a man knock on the window and wake them up..Jimmie couldn´t understand were he was because he have been so tired that he couldn´t even remember that he drive on at the ferry, that was not good at all.
Jimmie is not so good at language, I think that is why he do not want to travel....Thy stopped to eat breakfast and Jimmie went to the toilet..somewere in Holland. At the toilet there were another guy working with cleaning the floor. He presented him self as Morgan....and Jimme thought he was so nice and friendly......so he said that his name was Jimmie!
When he came out to his friends he told them about the friendly guy who have presented him self .....all his friends start to laugh and he did not understand anything at all...... At next stop there were another nice guy at the toilet they used...his name was Morgan too!!!!!! Is ALL guys named MORGAN in this country Jimmie asked his friends...they laugh even more!!!!! And told him.......there were NO MORGAN....only polite people that say good morning=MORGEN when they meet some foreigners *S*.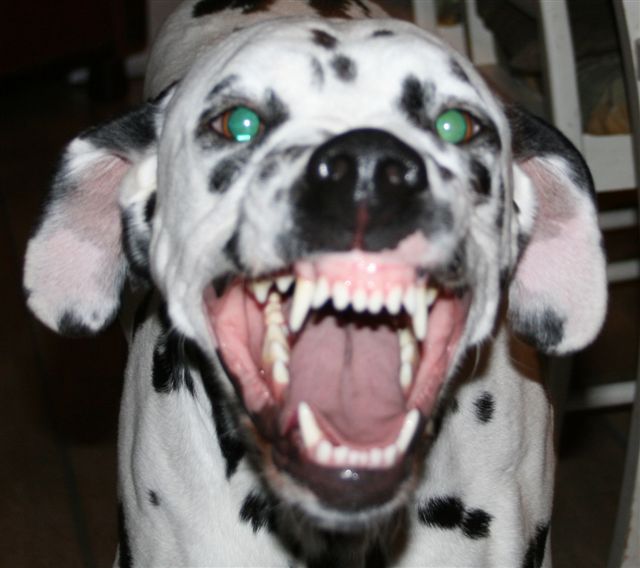 If I know Jimmie right it will take a long time before he go back to Europe again *S*, he just bought hairy wooden shoes for the unborn baby because they were sooooo cheep and cute. When he came home he covered that they were soooo expensive, he thought it was in kronor but it was in EURO.....*S*! So maybe it is best he stay in Sweden in the future....
I woke up in the middle of the night and start to laugh loudly when I thought about it...
Photo by Anne Karin Nyhammer
One more photo from Larv. Ekryda Remus 1/1 Hp and Daddy in junior class. Daddy didn't get anything, he had to develop much more in front and be a better mover with more harmony on the move, so maybe I have to stop showing him now!
What a hell, I think I try again *S*!
Of course I accept the judges critic, but I do not always agree.
Here is Shadow in a tent, with his "quack" in his mouth a sunny day in Nederland's. Photo: Kentin
Gwynmor A Shadow In The Mirror, In The Shadow! *S*
Monday 12 May 2008
I was sitting here at the computer almost all day long and Rune was away 7 hours for a mating, he was so tired already before he drove away that he took both chips and pepsi and candy with him so he could stay awake. I have so many things to do this afternoon but we just have one car so I couldn´t do any of my errands. I was thinking about walking, but with my limping and bad heal string after this weekend I was happy to just came out of the bed today.
We took some new pictures of Diamond today.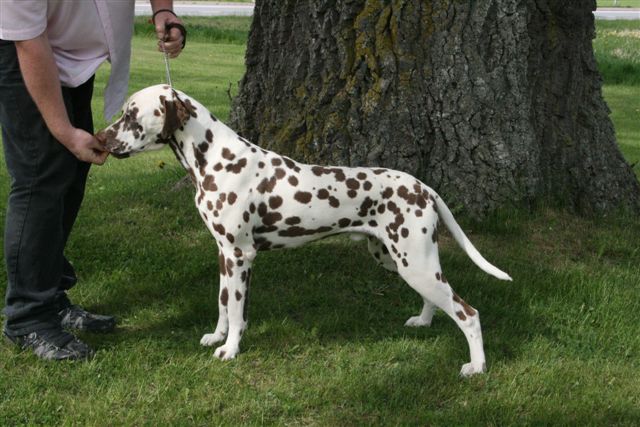 We got his hips result last week it was C, so now we are looking for a nice pet home for Diamond. He is a very nice and easy dog and he is soooo fond of people. He loves to play and be at your side and do things together with You. I think he will be perfect for agility or something funny!
If You are curious about him, just give us a call and ask more about him, so You can come and meet him and maybe take care of him for some weeks in summer when we are travelling, then You can see if You like each other.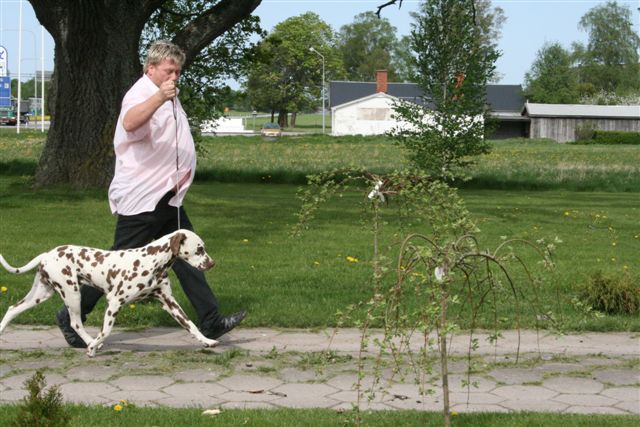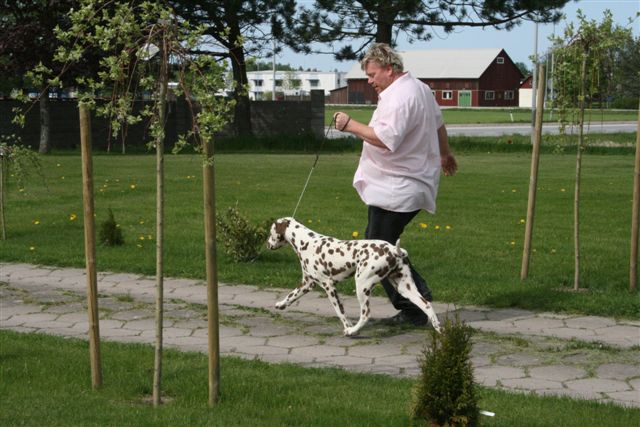 Sunday 11 May 2008
This is one of the best months every year...it start to be like summer outside, even better weather than in the middle of the real summer in Sweden. I love to go out and feel the smell of new cut grass and flowers. Of course it often smell koskit (cowshit and pig urine) this time of the year, but what a hell there are worse things in the world *S*!
Rune up and away early...poor, his body don't want to go out of the bed....Our dogs were barking all morning. They know that Rune was not at home, and he is the angry one..*S* and they probably heard Nyhammers dogs, so there were no long morning. I was not sleeping but resting.
Rune was home at 10 in the evening and he was very TIRED....
Anne Karin and Rune went home some hours earlier.
We eat and start to look at TV, but at 3.30 in the morning we both woke up, let the dogs out one more time and crawl upstairs to our bedroom, I can't remember how we got there.