Diary
Monday 30 June 2008
We woke up to sunshine and a hot and nice day. Jenny and Rune went to the store to buy breakfast and CHIPS...and chockolat pudding, that was why Jenny have come here with us, just to buy these two things *S*! The buy a lot!!! And they were both so happy, because on our trip up here we stopped at a gas station and bought those special chips for 34 norwegian kr each, and today in the grosserystore on discount for 13 nkr.....what a different!!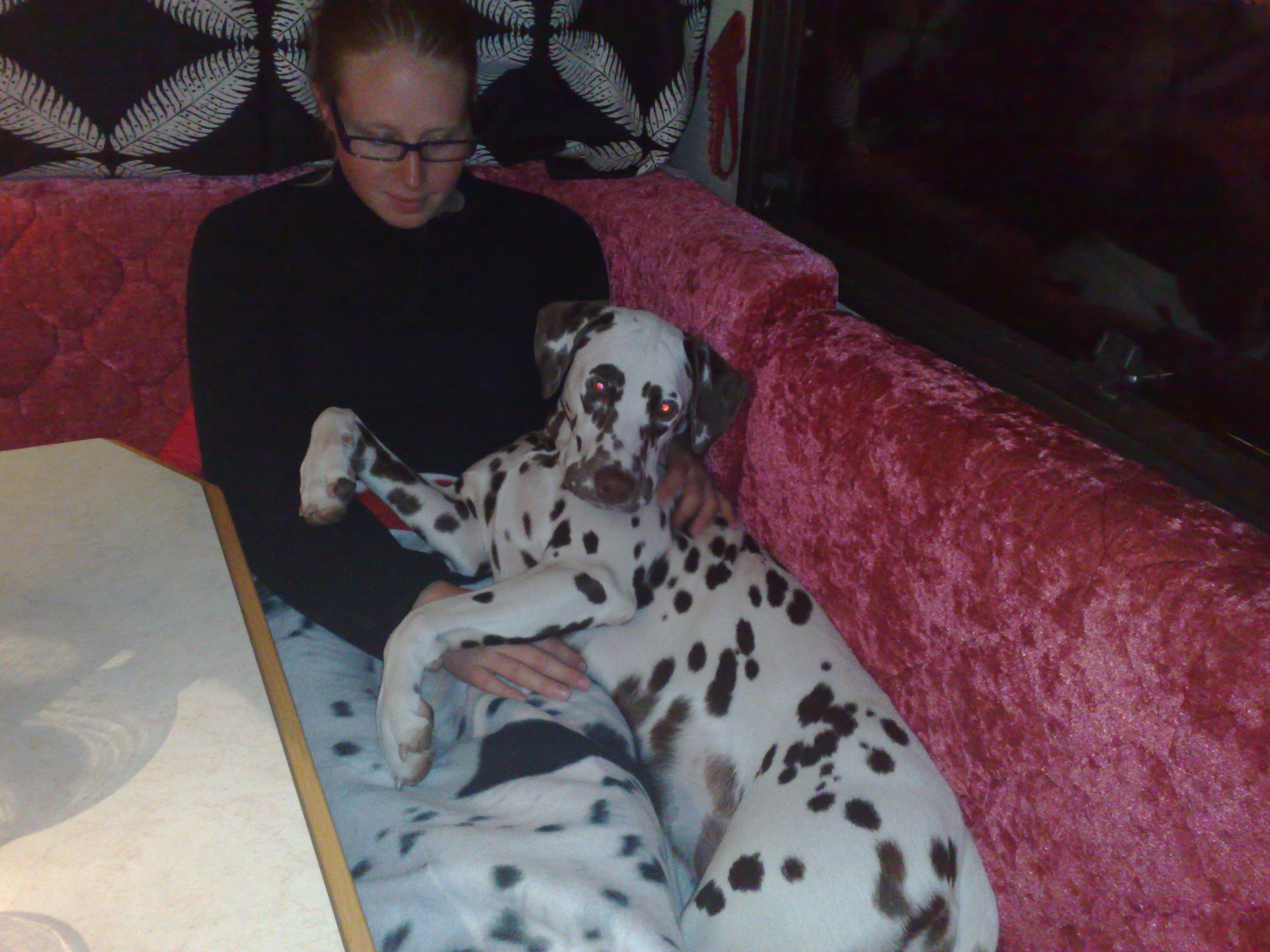 Jill waiting for breakfast. Jenny and Gloria last night.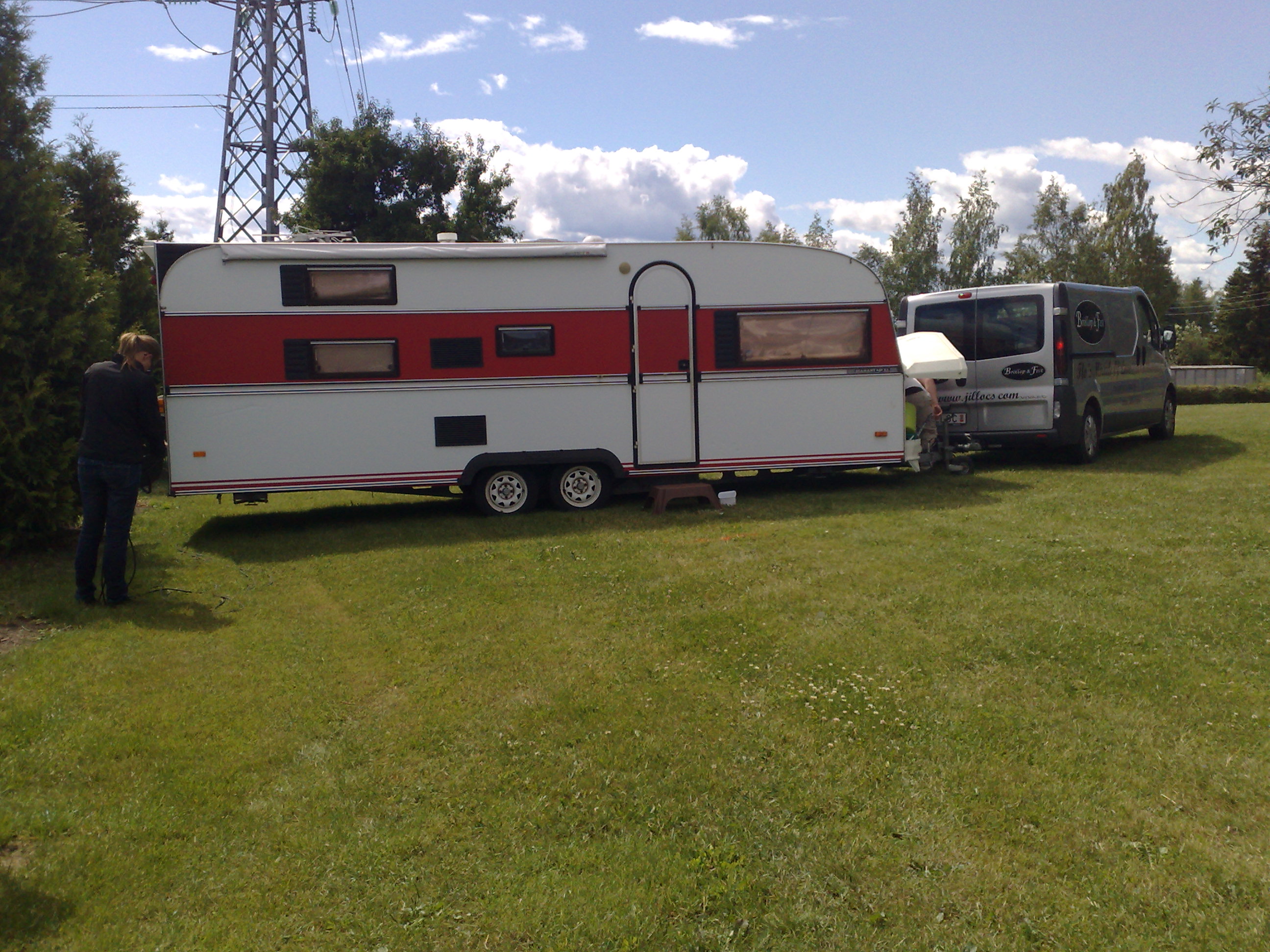 After a looooooong morning we were ready to go back home again.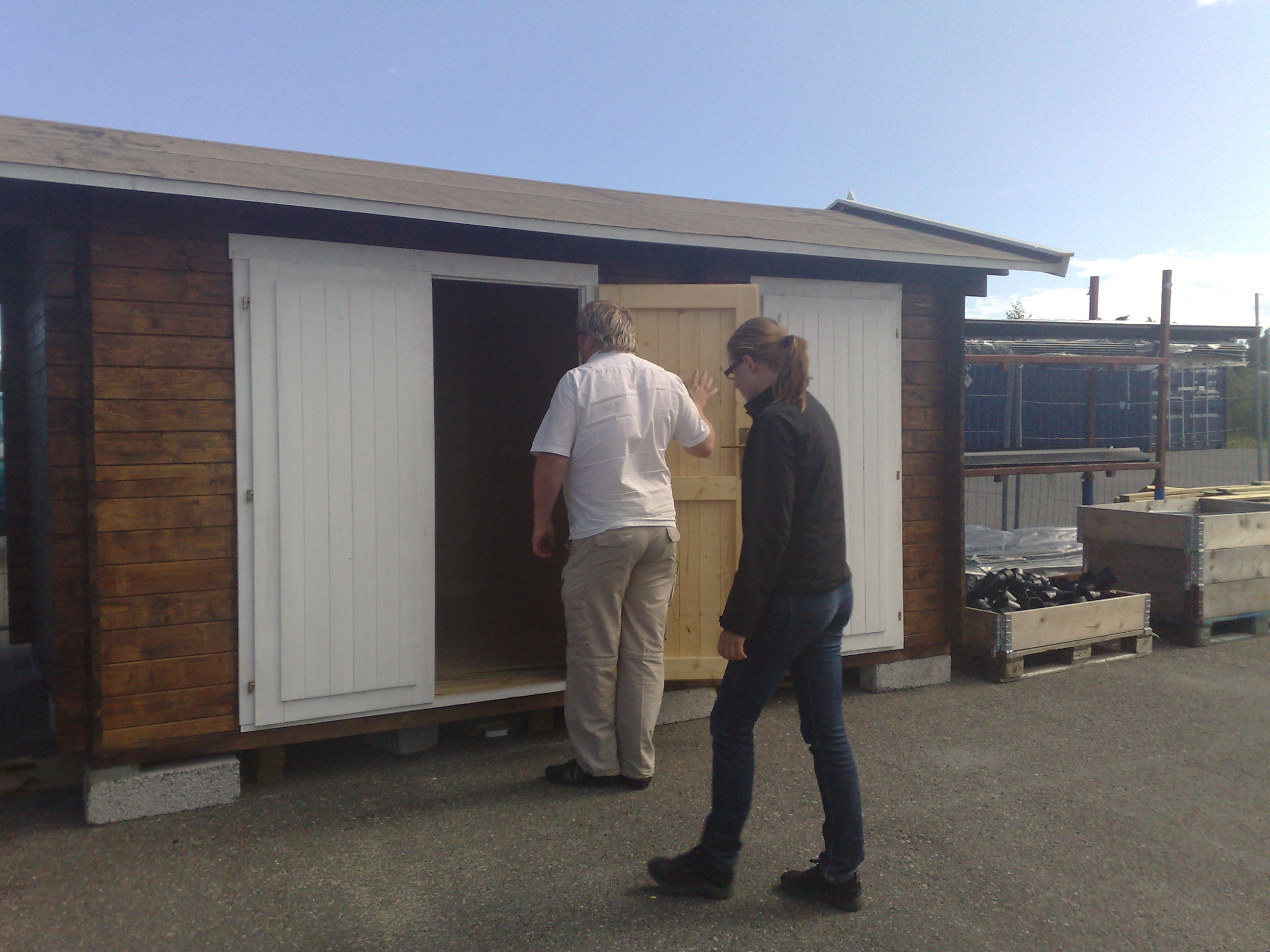 Lot of beautiful flowers. We found a perfect little house with lot of space for 2-3 dogs at Smartclub, Jonnie want a dogyard for his dogs.
Back in Sweden we meet Louice again and get Bell back with us. Thank You Louice!
Outside Trollhättan in the evening we met Monica that bring Puzzel to us, she will go home with us for mating, she is finally in season.
We arrived at eleven o´clock in the night...soooooooooooooo tired. and poor Jenny she will be up for work at 7 tomorrow morning!!!!
Sunday 29 June 2008
Up to a sunny morning in Oslo. The show start at 9 o´clock.
Trine and Hocus, Me and Gloria.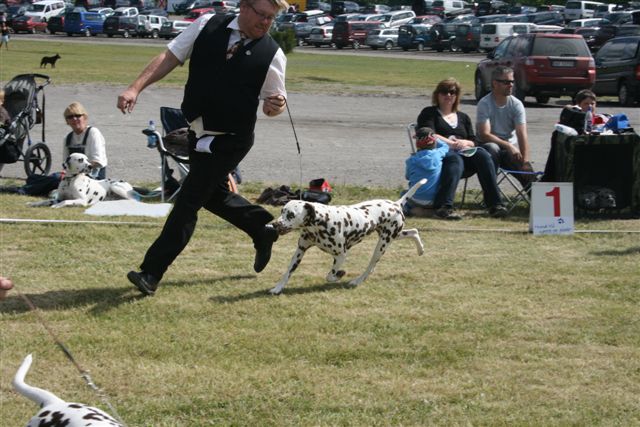 Jenny and Decibel, Rune and Devlina.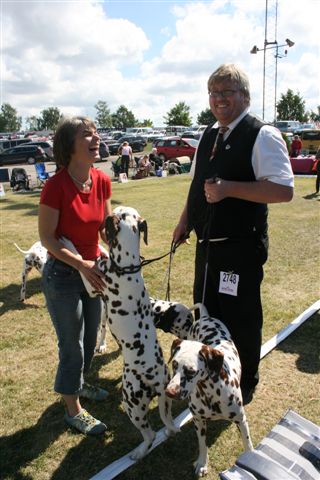 Åse with Scotty. Thank You Trine that helped us in the breeding group with Devlina.
After the show I went to bed and sleep for 5 hours!!!!
Åse have stukat one of her feets when she was out with the dog, and I have always lot of pain after a show, so Rune have to help both of us with our bad feets. In the middle of the night our guests went back to theire mobilehome.
Saturday 28 June 2008
Ooooohhhhh! What a short night.....Tonight when I was in the shower with Daddy...Rune was screaming..stop..stop..stop! Shut the water!!
There were water all over the kennel because the sewer was totally full...we always do an extra emptying every year after our gathering with our puppy buyers...and we have so much people on visit that is why we need to do it, but we haven't had time to think about doing this last week...so now it was PANIC!!! Rune called to the sewerrescue and ask them to come at 2.30 in the night, and they could come but we have to pay 3.800:- plus tax for every hour, and they have some hours to come here...and we have to go early...and it will probably cost us about 15.000:- instead of normal 3.000:-. So we wrote signs to Jonnie, Hanna and Roy NOT to use the water or toilets during the weekend....and let it wait until we are back from Norway on Monday evening. It was good that there is stone and heat in the floors in both kennel rooms so it was dry before we leave at 6.15.
It was raining and we have to park on a place full of earth, so Rune have to carry our dogs in to the caravan when we were in Borås.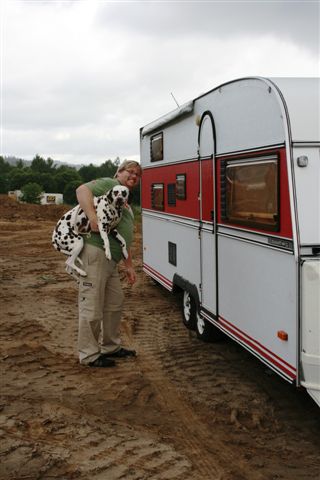 I put bags, to put up shit with, on my feet, because I was to heavy for Rune to carry.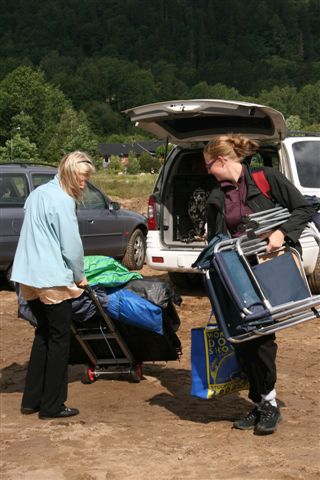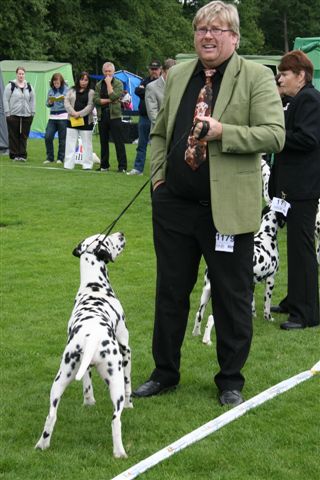 Hanna, Jens and Jenny was there some hours after us. Rune showed Bell in junior class.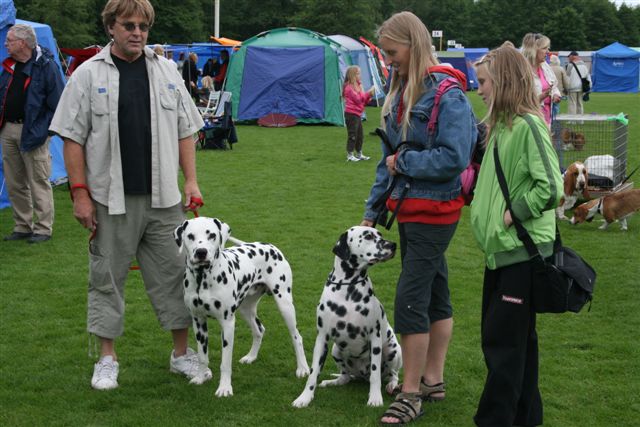 Rolex, Diezel and Donna came with Annette, Haldor, Linn, Moa and Mimmi, they stayed with us until afternoon.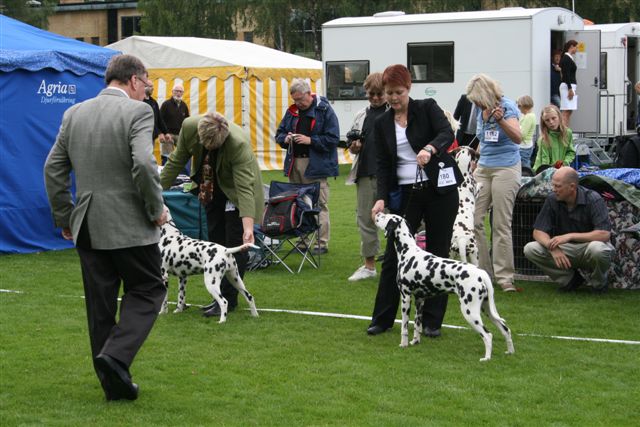 Bell with Rune and her sister J Truly In Love with Yvonne in junior class. Hildegunn and Winta on the run.
The judge John Lyons was from USA and we were soooo sorry that Disco didn't come here, because he was entered just to come and try to finish his champion titles now when he have become 2 yeas old. And of course I would like to hold him in my arms again.....I have been looking forward to that. Hopefully we meet him and his family later this year.
Open class...Hjärtat, Winta, Windy, Angie and Russin. The four in the end from Jilloc's and Hanna in front with her Fairytale bitch.
Waiting and running and waiting again, most of the time there were no rain, but once we have to stop showing and wait for 15 minutes..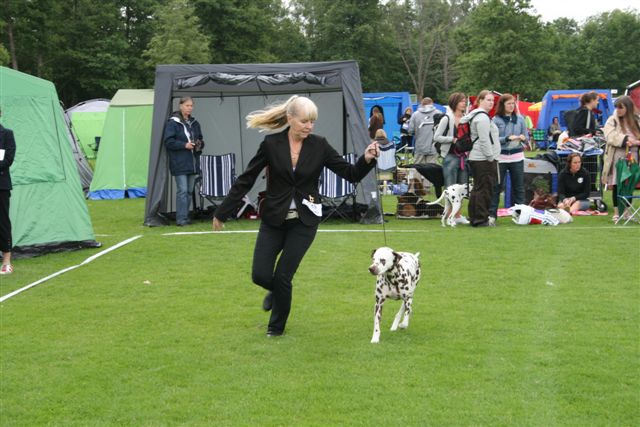 It was perfect weather for a dog show...not to hot..but the cloud was almost black sometimes.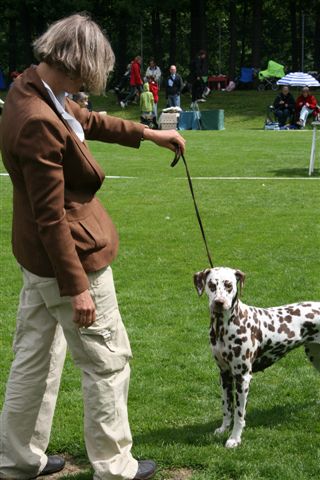 Ann Christine was there to look around, She is our favourite "friend" from our vet station and our dogs love her. Russin and Carin. Hanna and Hjärtat in a perfect position.
Jenny was not showing today. Angie run perfect with Ewa around the ring.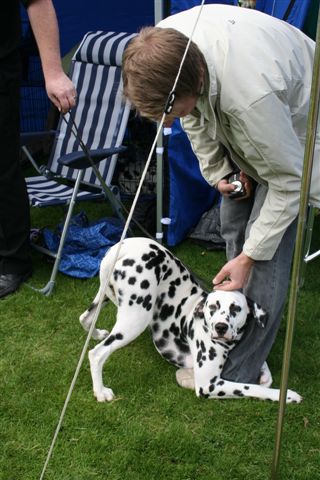 Bell was giving Jens a cosy hug around his leg and do not want to leave him *S*, I want to be Yours she told him!!!!
She was lying there in at least 5 minutes in the same position and we were laughing at her. She is in season so probably she want Jens as her husband.
Devlina in Championclass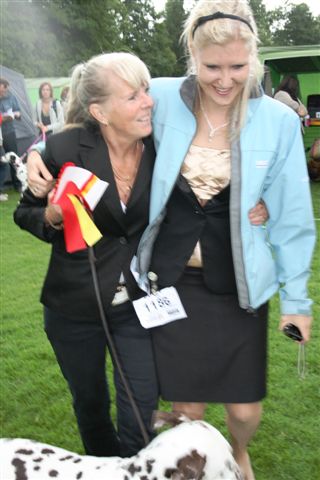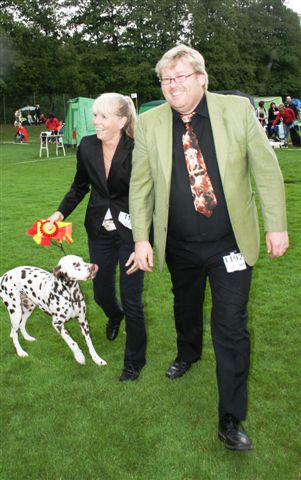 Jilloc's Roses To My Lovely Angie was BOB and Ewa got lots of congratulation hugs!!!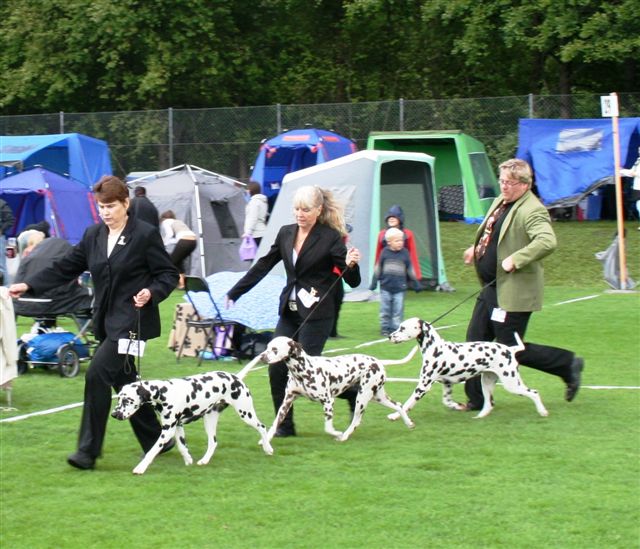 Three of the bitches in the breeding group. J Super Model, J Roses To My Lovely Angie o J Top Model.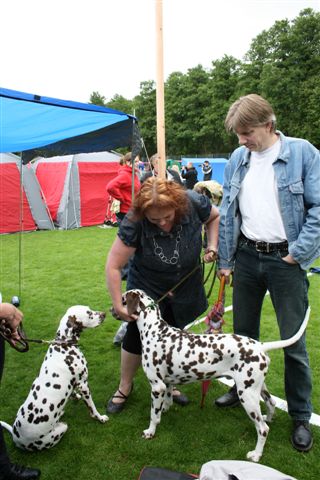 Lotta and Jörgen was here to bring Spermbank home, his new name is LOVE.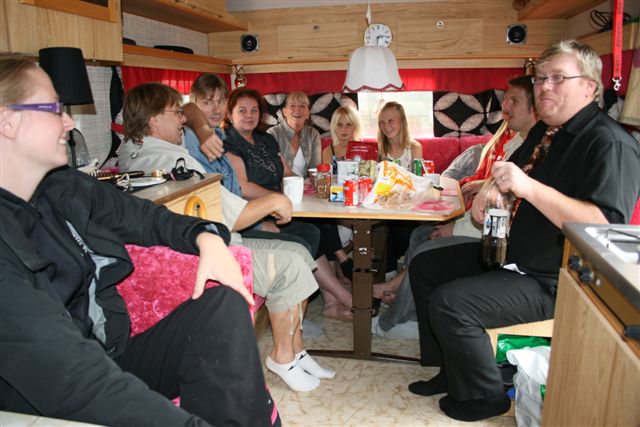 For every season we have to buy a larger and larger caravan........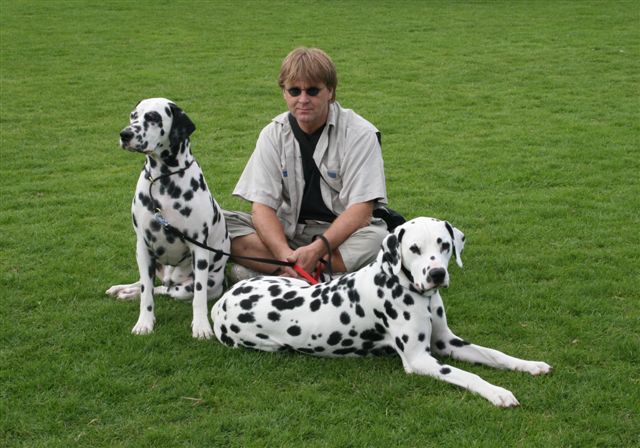 Three Supercool Guys is resting.... Diezel, Haldor and Rolex.
Rolex, Diezel, Donna, Breeze and Windy. Linn and Donna.
75 % of The Petterson family.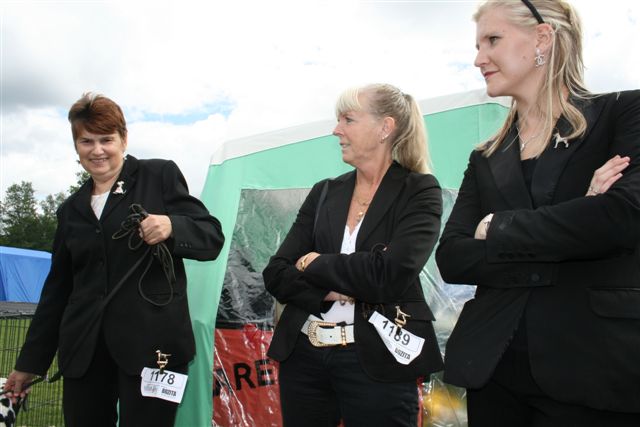 Kristina, Ewa and Hanna waiting. Diezel sleeping and Rolex resting.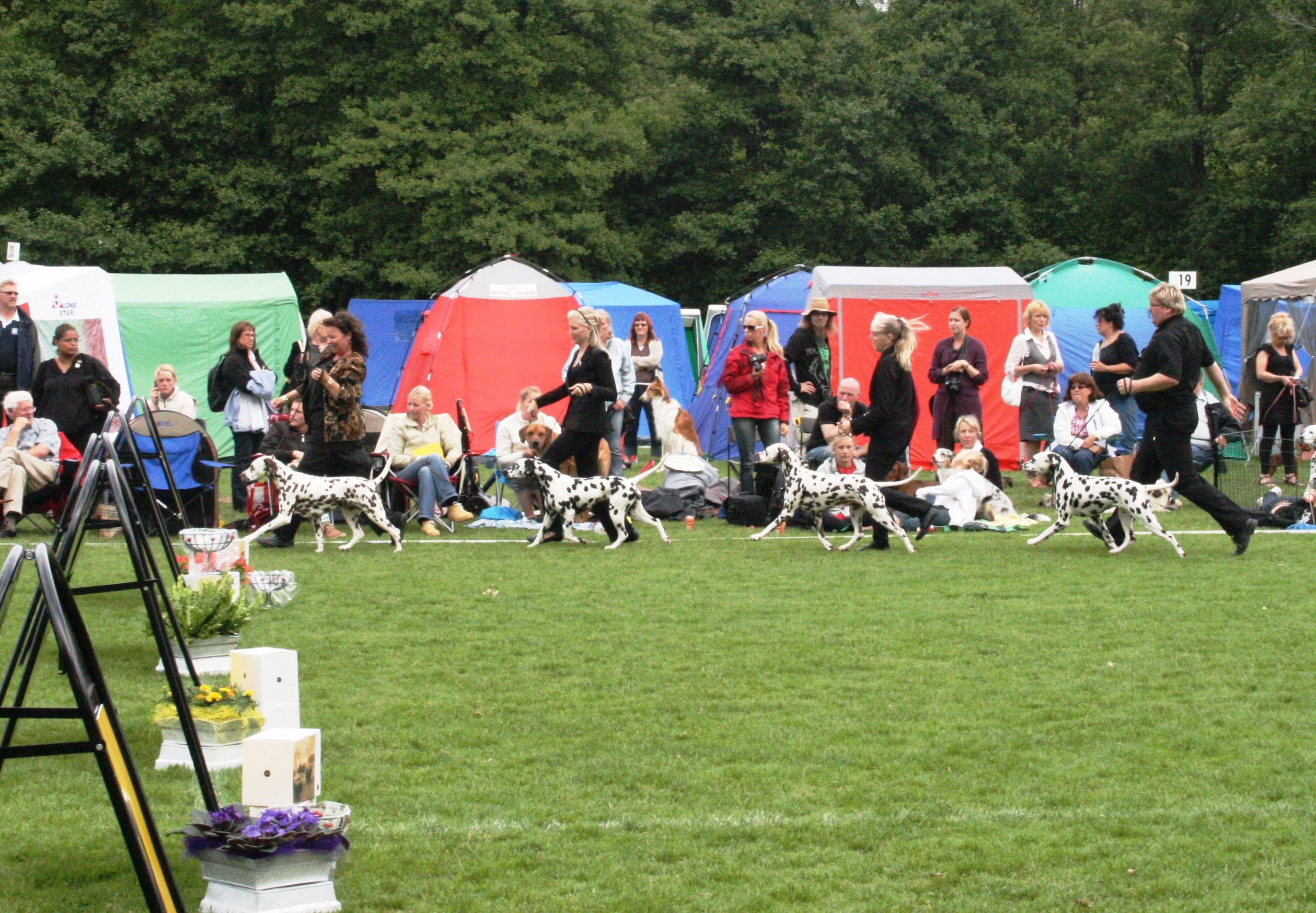 Devlina, Breeze, Angie and Bell.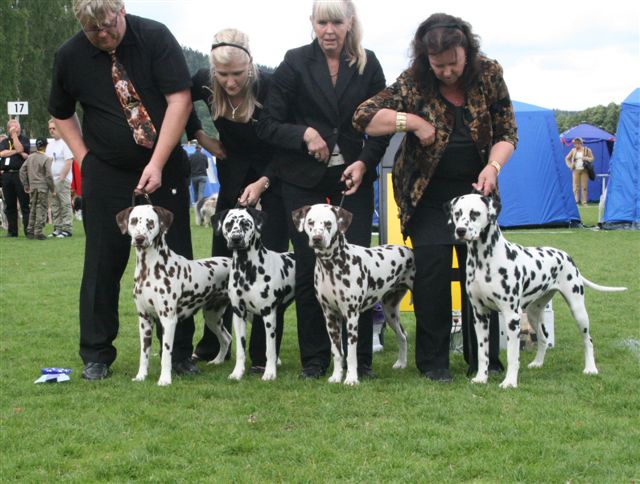 Jilloc's was BIS 2 Breeding group, Hurray!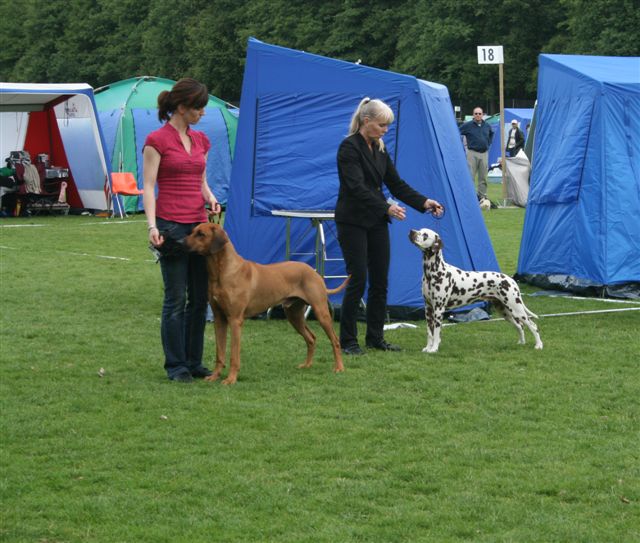 Ewa was showing Angie soooo well, and in the group she became BIG 3, what a day!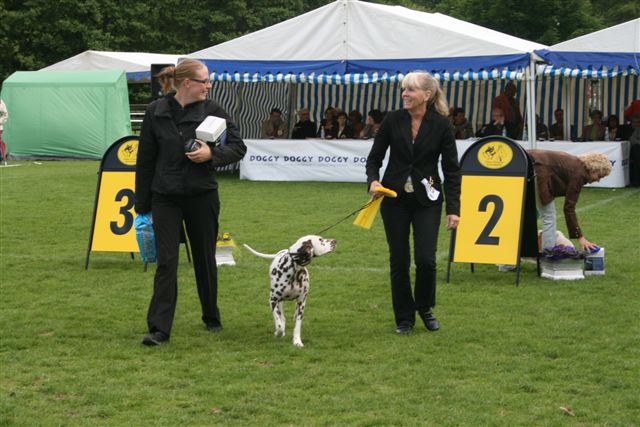 Lot of new congratulations for the winning team!
We were in a hurry and start as fast as we could to go to Oslo. On our way there we stop and met Louice and Darling. She will take care of Bell until Monday when we is going back.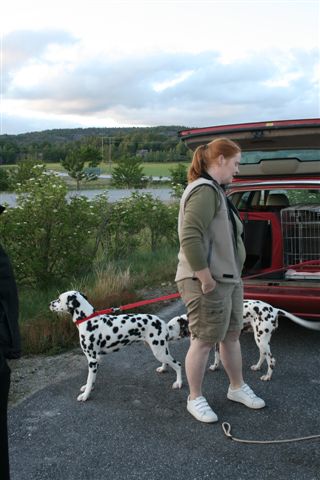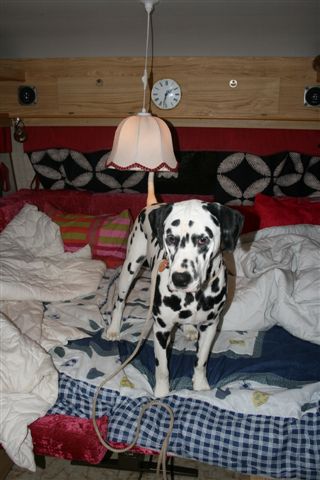 We were in Oslo at one o´clock in the night, we went to bed as soon as we could.
Friday 27 June 2008
Yesterday Rune were with 8 dogs at the vet for vaccinations, Annette met us there because even Donna need a rabies shot. She is so happy to be on holiday with Annette and her whole family. Even Rolex is going to stay with them over next weekend (WW Show in Stockholm). But he was so happy to meet them that they decide to let him go with them immediately.
They have small rabbits at home and we told them first when Diezel moved to them...be careful..he will eat them up!! But it went ok. Two weeks ago Donna went there and once again we told them the same...Be more carefull this time Donna will eat them...we are sure!! But the rabbits is still alive...strange!
This time we didn't say anything about the Ginny pig ...because Rolex is so calm about everything...and this morning we got an mms on the phone!!!! A nice photo with Rolex draggling over the cage with the Ginny pigs...we do not even want to know if they are still alive *S*!
Tomorrow we go for a show some km from their home so the whole family is coming again to meet us there...let's see if they should have Ginny pig for dinner tomorrow or not!!??!!
Photo by Annette
Tonight I saw Rune eat on something green (he hate everything that is green, salad for ex.) maybe he finally start to be healthy???
But it was of course marzipan, I should have known that already, stupid me!!!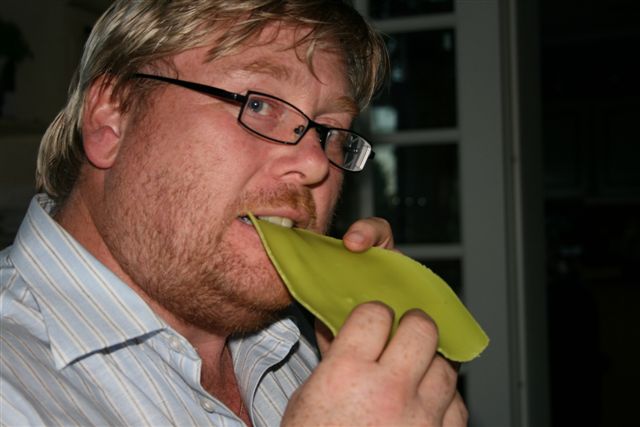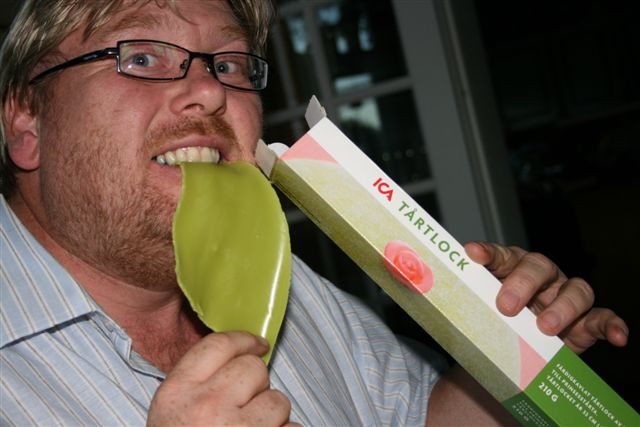 Gloria and Jill use Devlina as a pillow.
The meaning was that we should start from home early this morning to go to Borås were the show is on Saturday, but I got another stupid idea to start to make new curtains to our caravan, this morning at two o'clock, and when I get an idea it have to be done immediately. First we used TWO hours to get the sawing machine ready...it is new and we have not used it before....after two hours I got upstairs to look in the information over the machine and then we understand *S* but we are always tooo lacy to read how to do!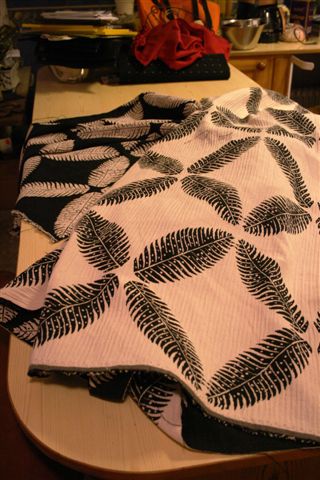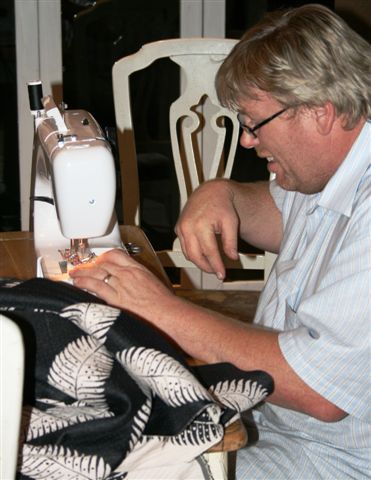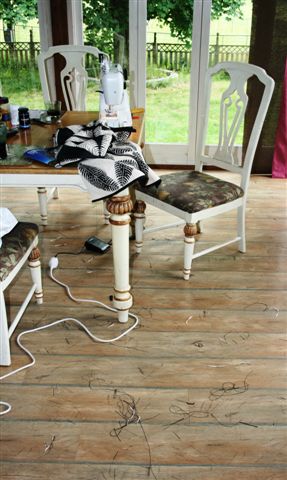 It looked terrible on the floor when we woke up in the middle of the day *S*!
Now it is very soon Saturday but we are still home. The caravan is "almost" ready and we have start to give all dogs a bath, better late then never *S* that is our motto!
Rune will sleep for some hours soon and I will walk around and try to be ready in time..we are going at 5 o'clock...oooooooohhhh!
We saw a store in Denmark when we were there some weeks ago..it was named PITTEN, funny word for Swedish people..it means "little willie" *S*..but we did not want to eat there. Wonder what kind of food they serve???
Thursday 26 June 2008
Devlina thought probably that this was the phone !??! Or her baby, she have a phantompregnancy.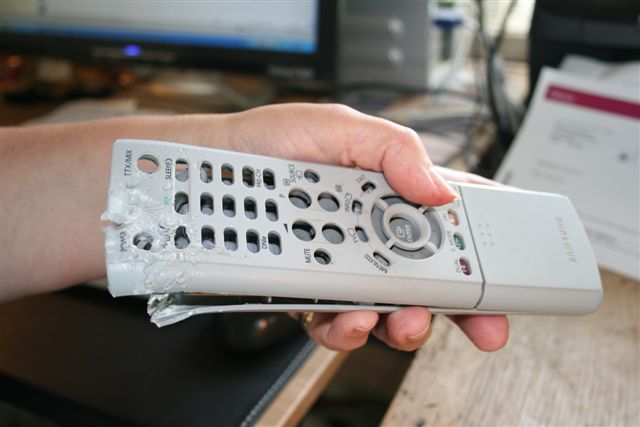 She was very cheap for some hours this morning. But now she is NOT for sale anymore. She is forgiven!!!
New photos of Sperm 12 months old. (Jilloc's Spermbank)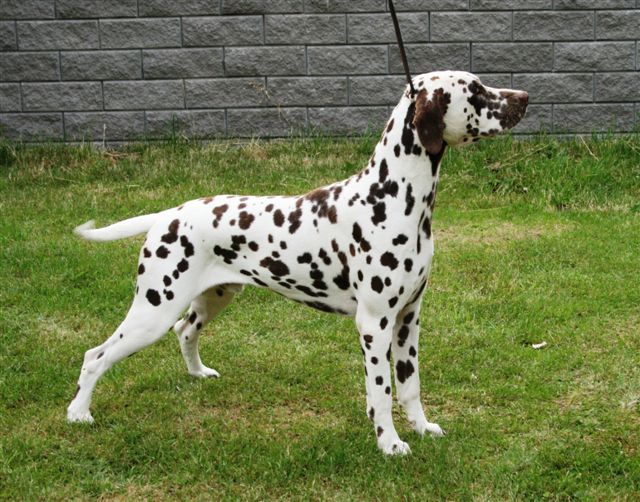 We have decided to enter Sperm to some shows now.
Beautiful colours I found this year for the garden.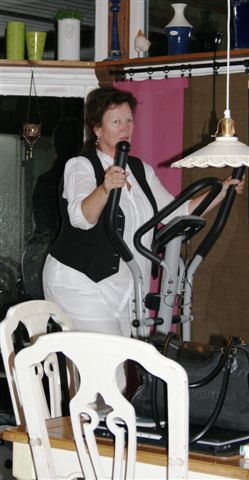 Still flowers from the party. A nice photo in glass that should be in one of our windows (a present from Bente and Reidar). I hate to exercise!
(This photo from 3 o'clock last night..I have bad confidence then and HAVE to do training for 20 minutes before I am allowed to go to sleep).
Wednesday 25 June 2008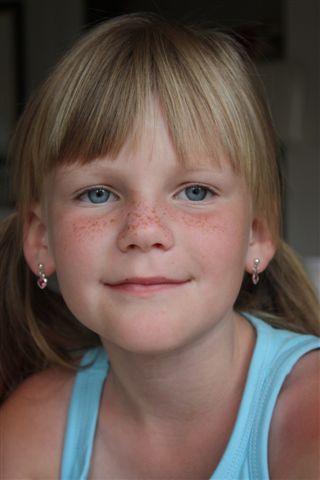 Jennie got a new camera (the same as me) as a late birthday present some days ago, here is her first photo of Ellie.
I got these lovely plant from Hildegunn. I have never seen Astromenia as a bush before only as cut flower.
We took new photos of Diamond (Gwynmor After Eight) today.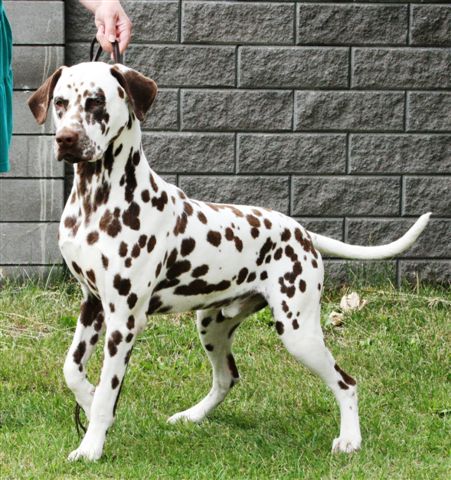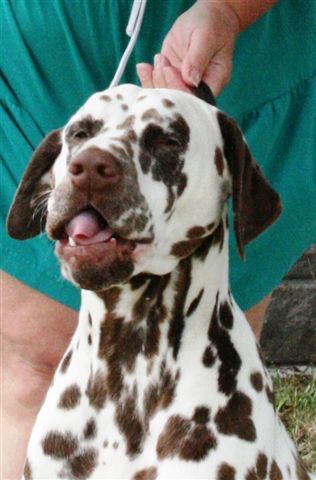 Look at my tongue *S*! Me and Diamond 14 months old.
Perfect weather today. Tomorrow we will start to prepare our caravan for the holiday..we go to a show in Borås on Friday and as soon as we are ready there directly to Oslo and another show on Sunday. Then shopping on Smart Club on Monday in Norway and then to Louice to bring Bell back home (she will stay at her place during our trip to Norway because she is in heat as two of Louices bitches). Then back home because Jenny is going to work some more weeks and we are going to our hairdresser on Tuesday. We will even bring Puzzel here on our way back home from Oslo to mate her.....she is finally in season.
Diamond and Rune in our garden.
Tuesday 24 June 2008
One more simple and beautiful piece to my collection that I got from Jennie and Ellie one week ago.
Here You can see my first shoes, they are very old now and covered in real gold. Already "Glitter & Glamour" from the beginning *S*!
I have a "creamy period" now.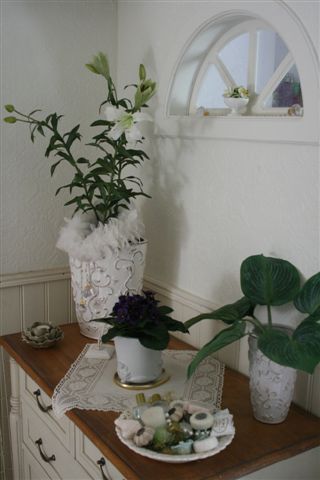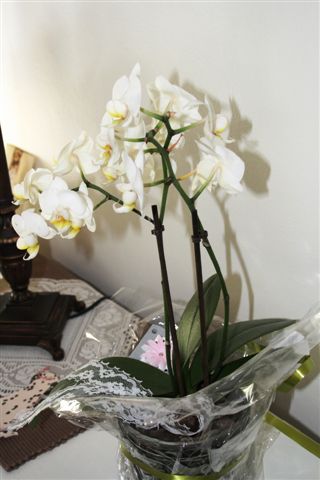 One more "angel" from Ellie to me..thank You my little Darling!
Monday 23 June 2008
Rain, rain, rain.
Up early at 12 o'clock *S*! We have time at the vet for x-ray for Sperm, Rolex and Tindra. Hanna came to pick us up at one o'clock.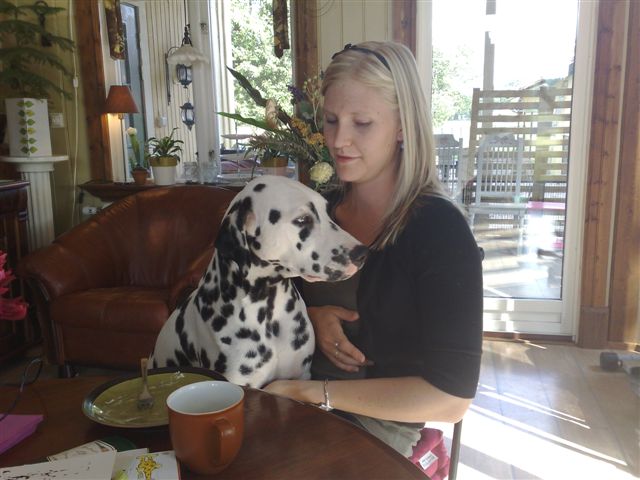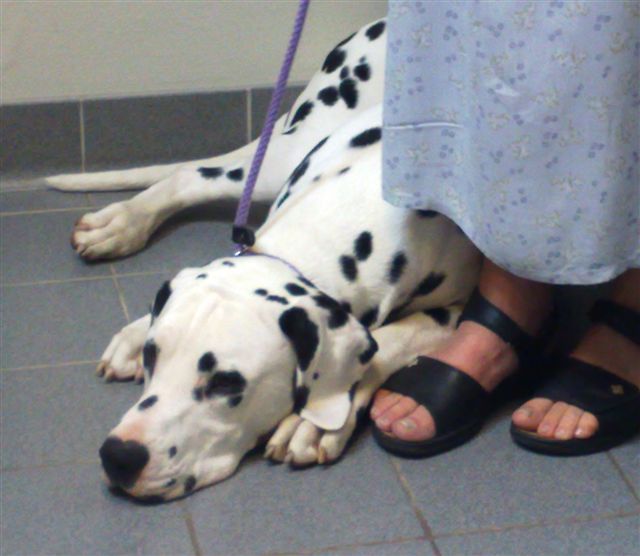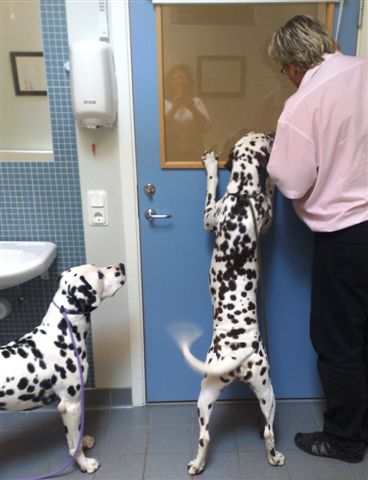 Waiting and waiting.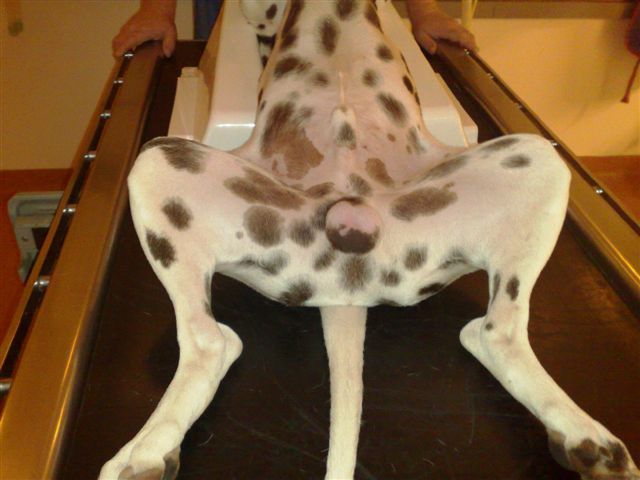 Hanna and Rune sang a lullaby for Sperm...
Tindras tongue was soooo long and lame when she was sleeping. Sperm made a landmark before we left the vet station *S*!
Poor dogs they were still dizzy after narcosis.
Now we just have to wait and see what the results of those three youngsters will be.
Sunday 22 June 2008
Another rainy day.
We were sitting and planning our trips to dog shows this and next year.
Today Yuan came to say goodbye, she is flying back to Thailand and we will not meet for a while. We will all miss her a lot.
Saturday 21 June 2008
One more lacy day in the bed and in front of the TV and the computer.
Rain outside and cosy to be in the house and do nothing *S*!
Friday 20 June 2008
Midsummer Eve here in Sweden
No party for us...just eating together at Roy´s place.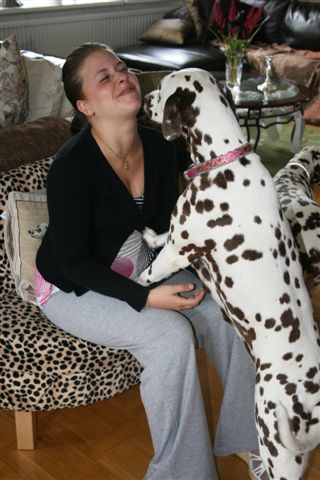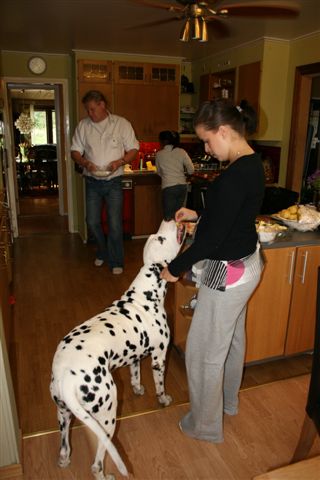 Devlina was happy to see Nathalie. Elliot and Nathalie was both so hungry.
Roy and Yuan.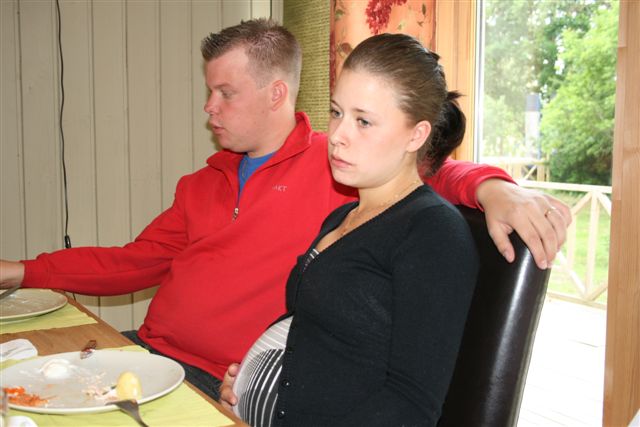 Jimmie and Nathalie that eat too much even if she could eat for two now.
Jonnie did the same as every day...wash his car.
Last week Hildegun called me on my mobile phone and said that it was so strange to call to us to our house phone...it sounds like our dogs was answering...
Some times during the last weeks we have found our phone on the kitchen floor when we came home...once it was full of drawl...yuck!!! But we did not think so much about it. Only Devlina and Jill have been there both times and no one of them chew on anything.....we thought.
When we came home this evening we saw the phone on the kitchen floor again...strange...and in the same time we open the door and saw this, the phone start to ring!!!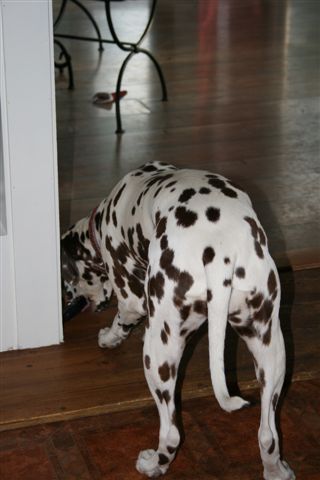 Devlina immediately run to the phone and took it in her mouth and carried it around and try to answer. She drop it on the floor and start to lick on it and when she heard the bell again she pick it up. Sweet girl...we were laughing, she would like to play with it..maybe she thought it was a toy that were jellying when they bite in it.
We are now thinking about what a kind of a mother she will be...carrying around with her screaming puppies in the future *S*!!
Thursday 19 June 2008
Still sleeping about 11 hours every night...and we love it! Even our dogs sleep very long..or is maybe because Donna "the police" who protect our house is on holiday in Sätila *S!?!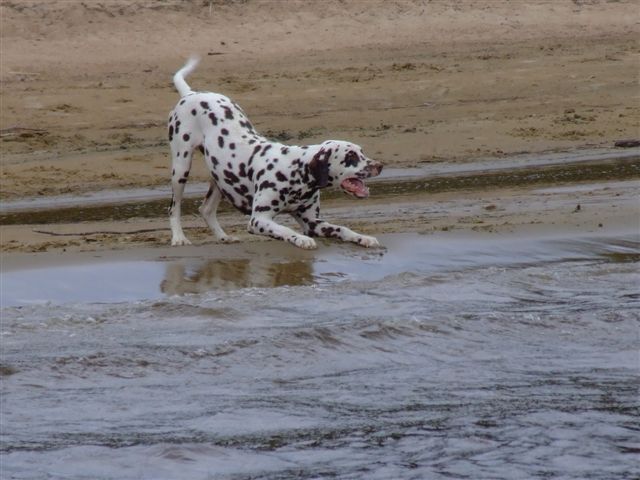 Donna playing by the lake in Sätila. Photo by Annette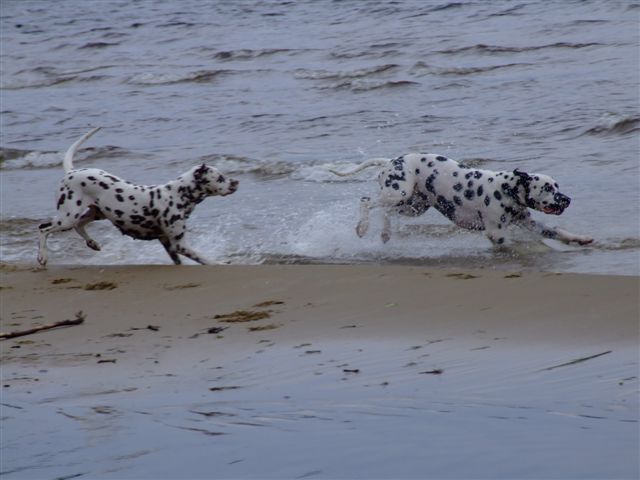 Donna is chasing Diezel. Photo by Annette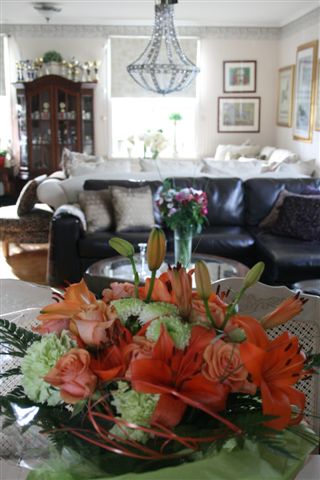 Many guests forgot to bring with them their table cards home, thank you again Hanna for dong these nice cards.
Wednesday 18 June 2008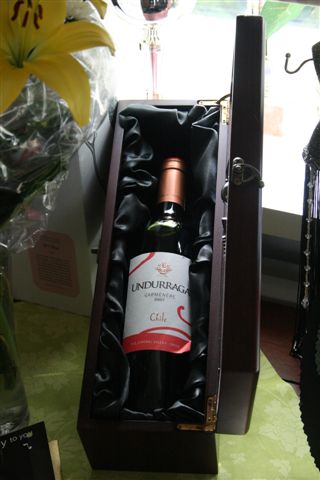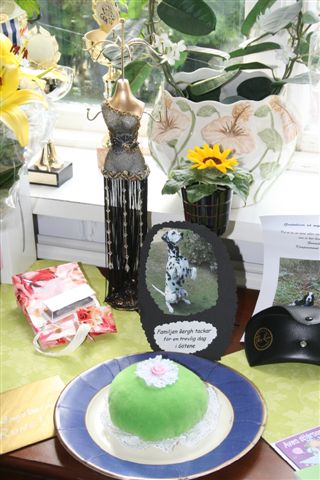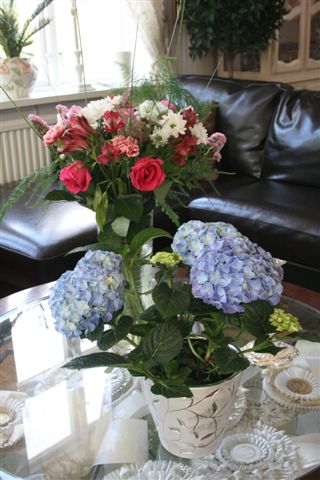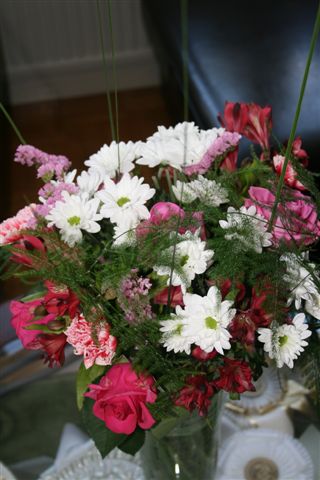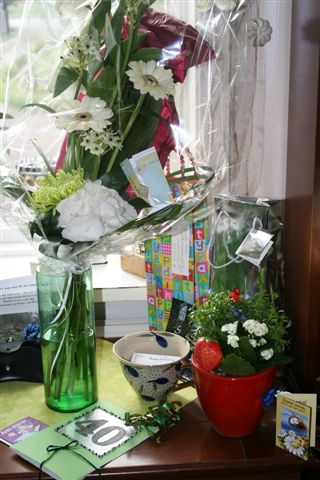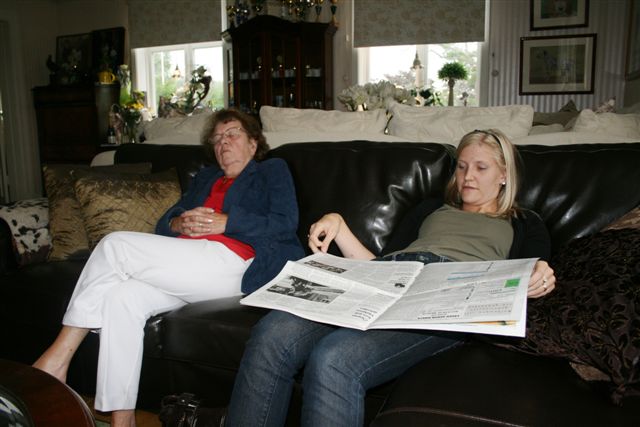 We are all still so tired! Both old and young!
Tuesday 17 June 2008
My Mother is 83 years old today. She is here with us and we eat........yes of course..CAKE!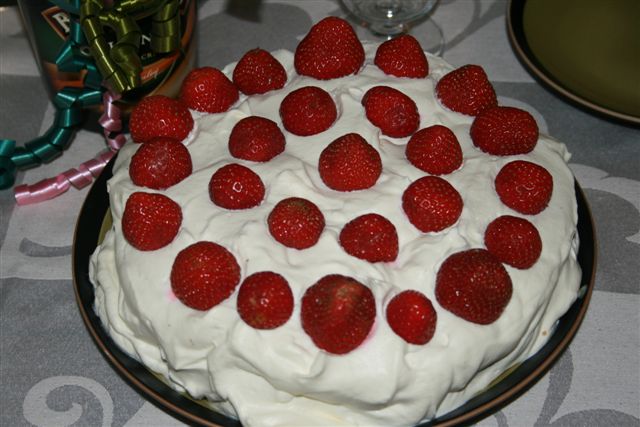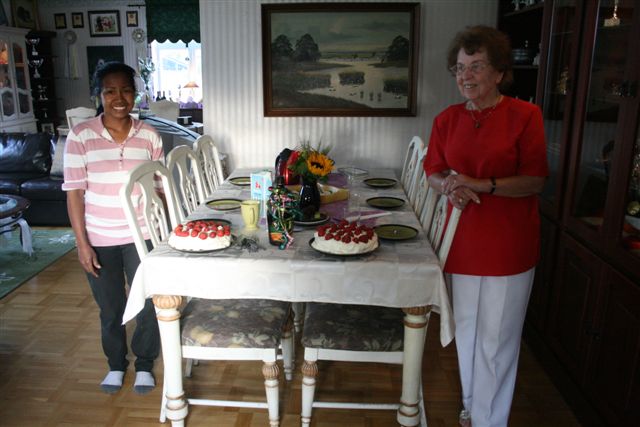 We have moved all furniture in the living room today and changed our sofas many *S* times before "we" decide how we will have them. Rune carried all table we used during this weekend to first floor in the wing, it was really a hard work for him today..poor "old" man!
Kaos again.
Monday 16 June 2008

Today, Rune is actually 40 years old!!
Do Not Disturb we are.....
Zzzzzzzzzzzlllllleeeeeeeeeeping.............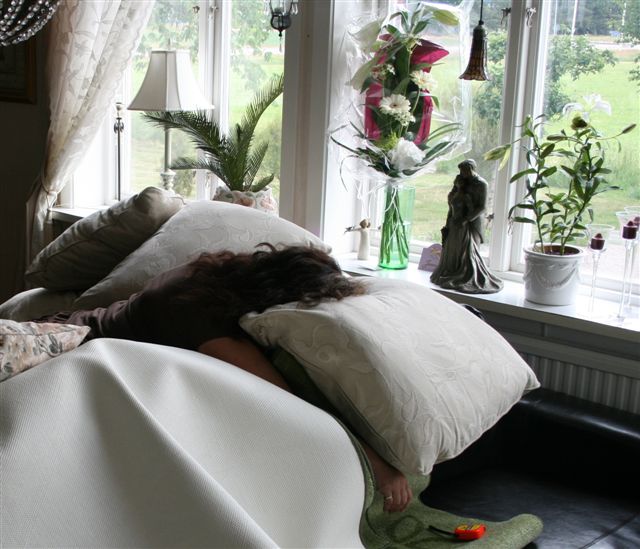 Sunday 15 June 2008
We start at 12 o'clock with ring training.
The sun was shining then but 30 minutes before we have had rain.
Anita took care of the training.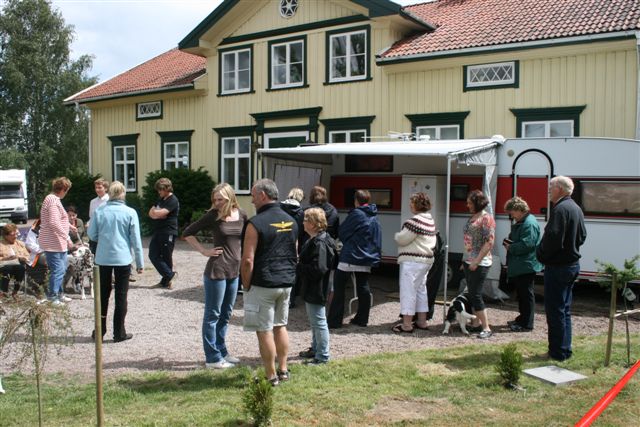 Runes sold food and coffee. Lot of Dalmatian friends, not necessary our puppy buyers. All are welcome for training their dogs.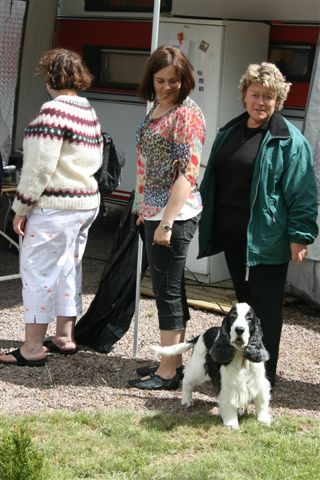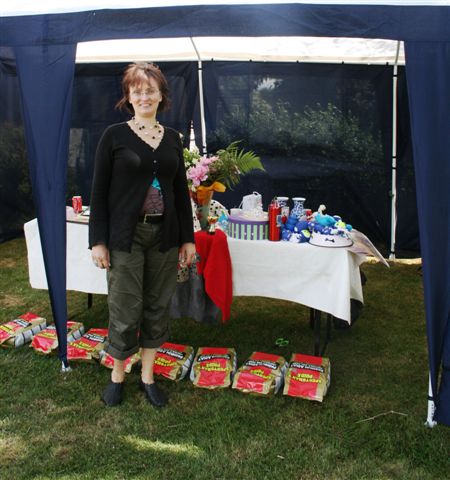 Int N S Uch Timanka´s Wonder Bird, Albert 12 year and 3 month old with his owner Tove. Judge of the day Kattis Bekeris.
Albert again in the ring. He was BOB *S*! Leif, Breeze, Windy and Kristina.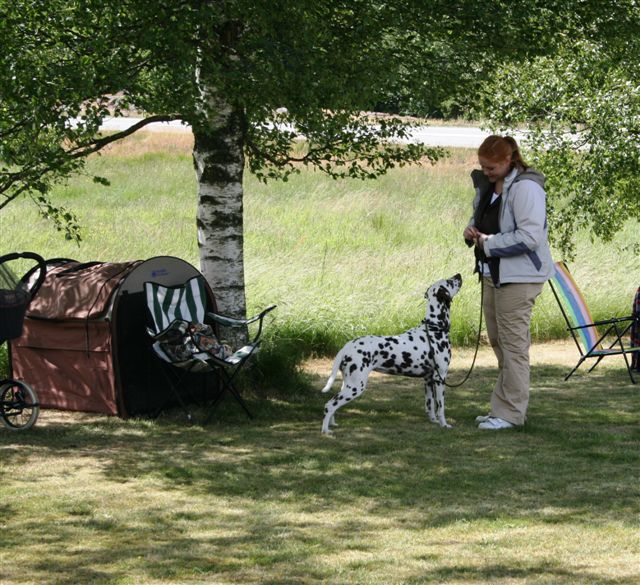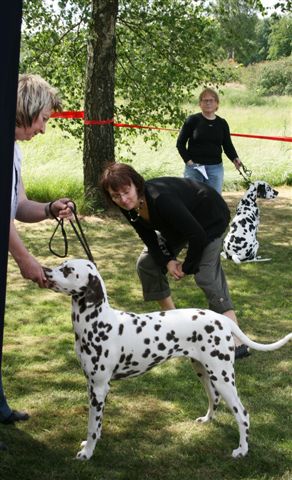 Louice was training Lovisan. Bente with her puppy in the ring.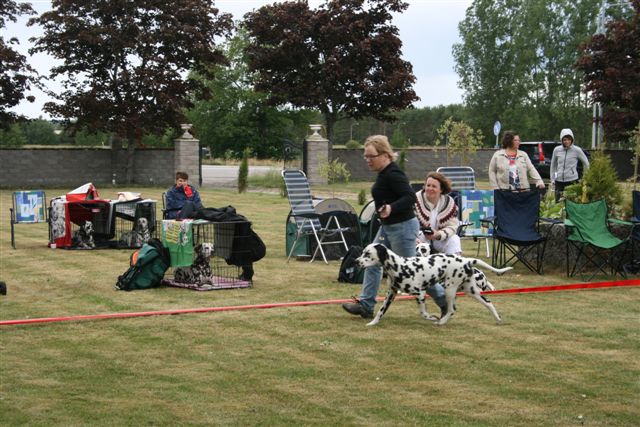 Eva running in the ring with her puppy. Bente again.
Best Puppy class.....Winner Skvå Inu My Black Rolex, Albican's, Ellessar´s, Skvå, Ellessar´s o Ellessar´s.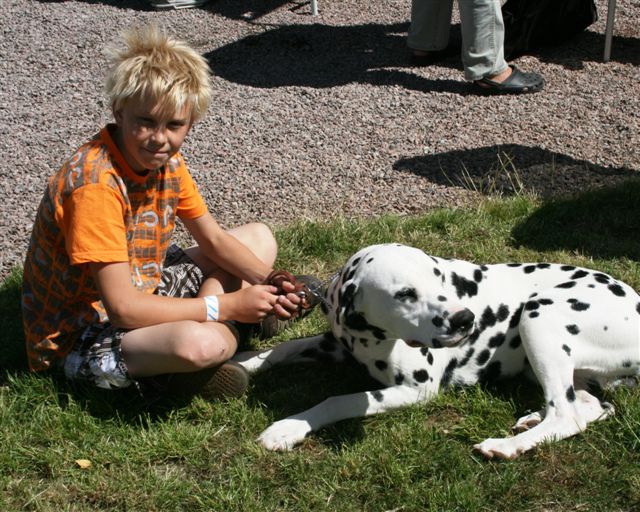 Joel took care of Rolex today. Tove was one of Runes best costumer *S*!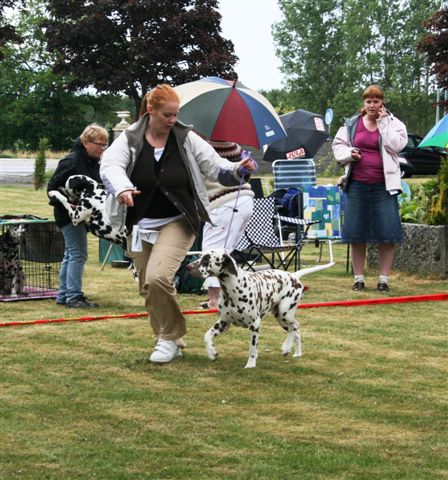 Catarina was here with Basse (Alanya´s Best in Show *S*) Zamzons son. Sperm was shown by Louice.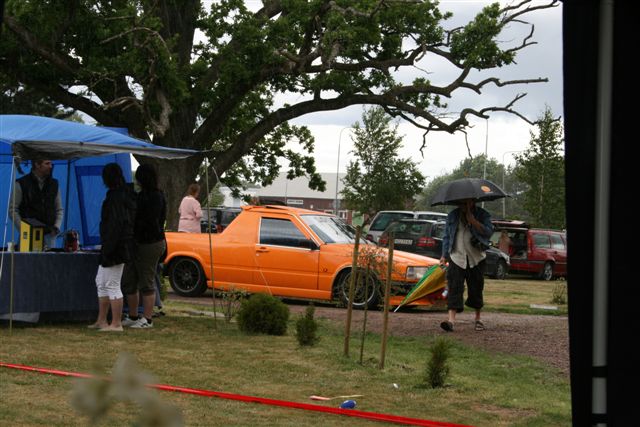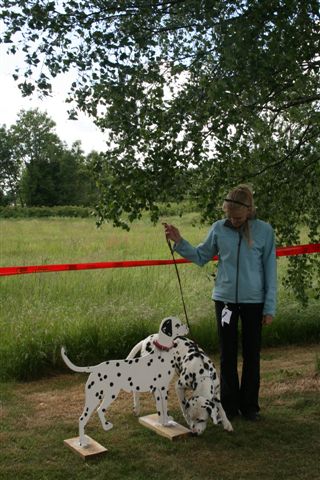 Jonnie came and at the same time lot of rain. Sun again after a while. Rolex was almost in love with a fake Dalmatian.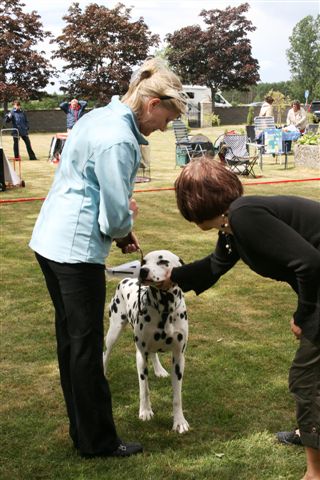 Hanna showed Rolex. Diezel, Gonzo and Sperm, three brothers.
Nils was happy to involve lot of people for his babysitting. Louice was thinking for a short while..What am I doing here with a baby *S*!!!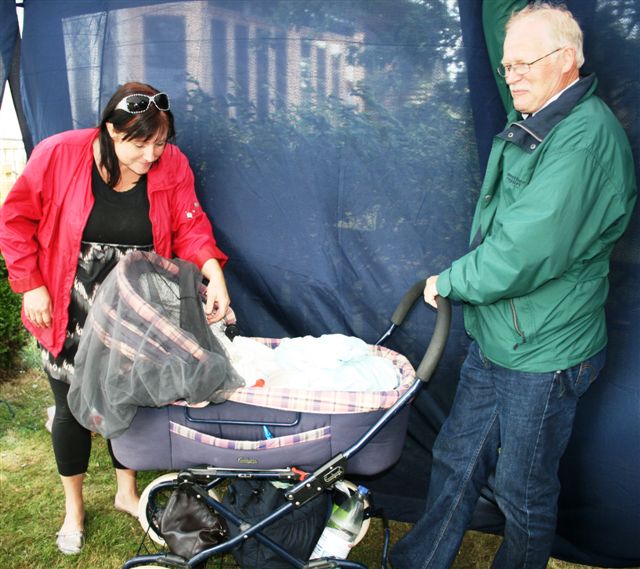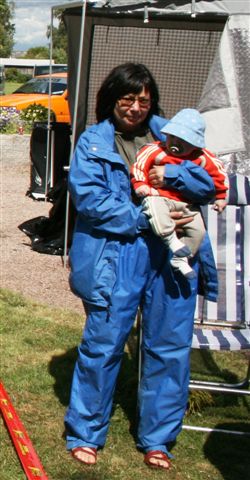 Louice left Nils in the tent with me....I was screaming for HELP!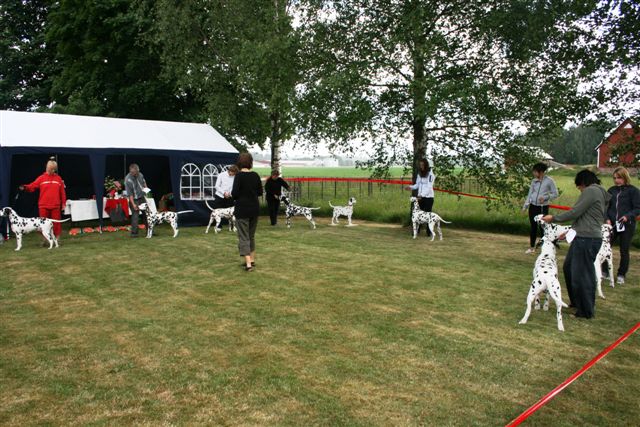 Best Male competition.
Maria showed Gonzo and Annette was wondering why everybody work so much with their dogs in the ring...it was the first time on a show for both her and Diezel and both of them were sooooooo calm.....she is used with 5 children at home and she work with children at school all day long...and she is always this calm, I admire her for that *S*.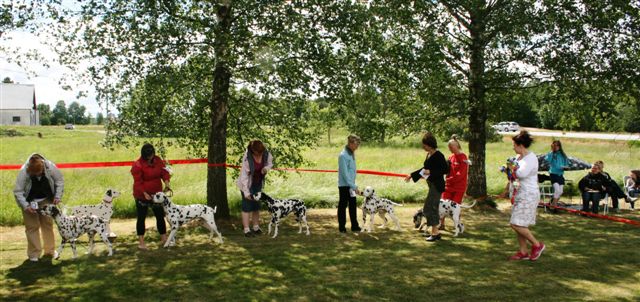 Best junior male Jilloc´s, Dalanya´s, Jilloc´s, Gwynmor, Jilloc´s.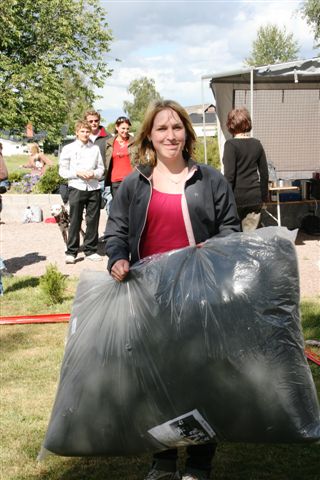 The veteran Ch Jilloc´s Easy Rider, Brandon was Best Male. The first winner in our lottery was Kristina, she chose a bag. Then Helene took a bed for her dogs.
First prize was a mountain bike, but no one knew how to bring it home..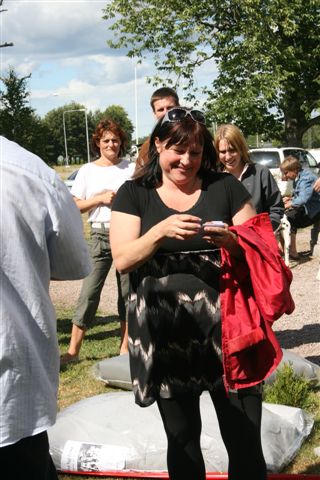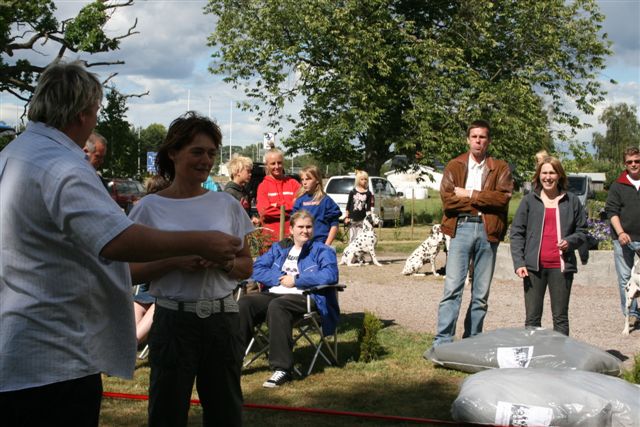 Catarina also took a dog bed. Then Marlene had the right number and was not sure what she will chose......
She took the bicycle even if she wasn't sure how to bring it home......but it went fine on the roof to their Volvo *S*!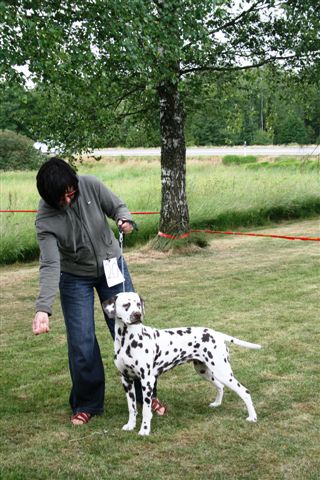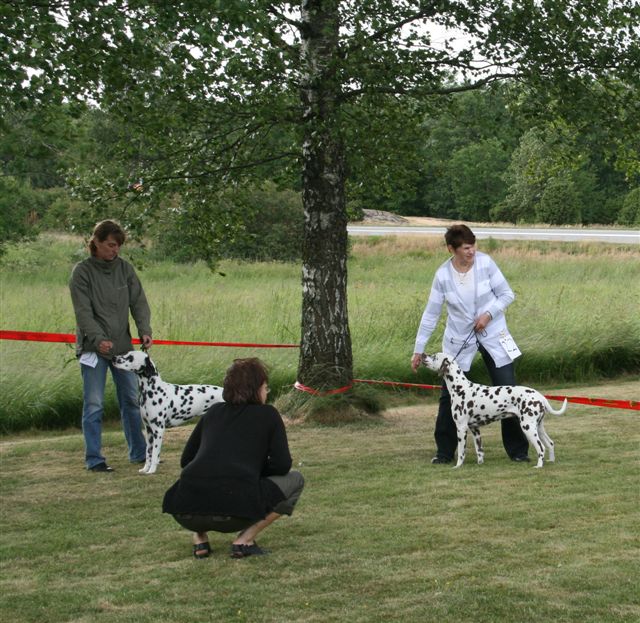 Helena showed Bell, thank You. Kerstin and Mini. Sandra with her Fairytale spot's bitch and Kristina with J Playmate of the Year.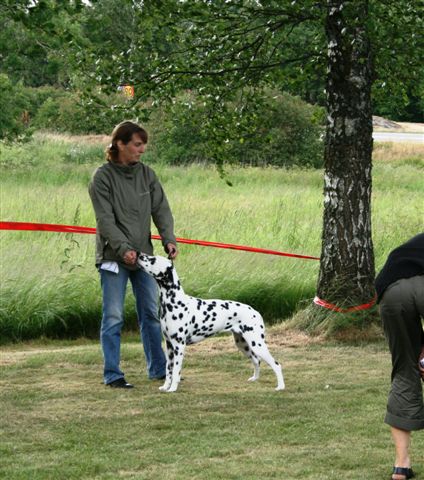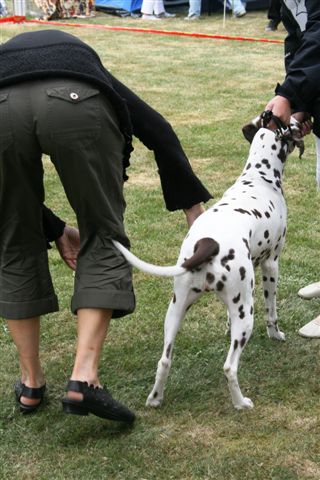 Sandra and Ronja. Kattis showed her butt all day long on almost every photo. But most charming butt today was on this bitch.
Halldor o Diezel and Moa o Donna. Mimmi was training Sperm all day long, she is such a natural talent and he was happy to have his own handler/trainer for the day.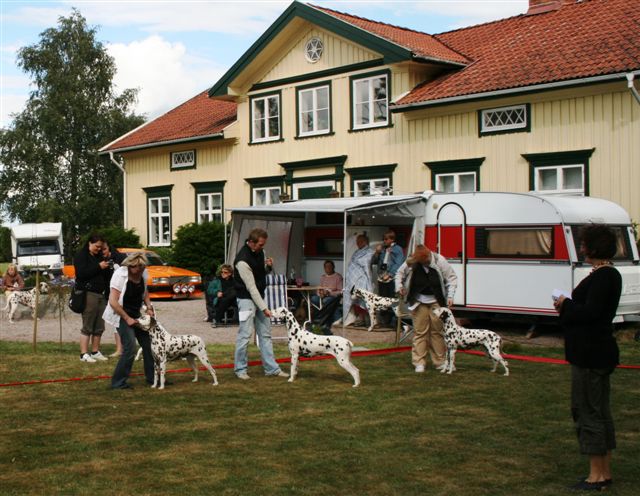 Last year Jens showed for the first time here and said..Never again...he looked like a nerd then *S* BUT today he looked like a super handler, well done! Next time I will use You in my breeding classes *S*.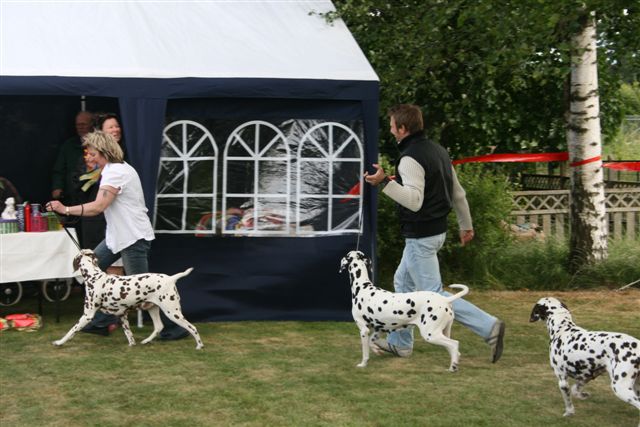 He looked like a rooster in the hen garden but he looked GREAT, he even did thumb up for him self *S*!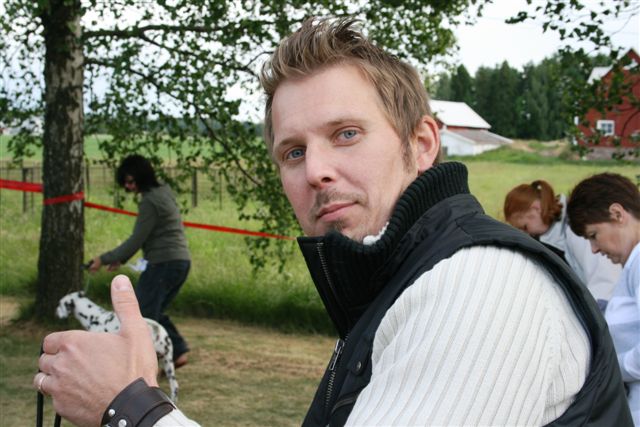 Look how proud he is!!! You even show dogs better than you take photos *S*! I think You will get MANY offers to handle dogs after this reportage...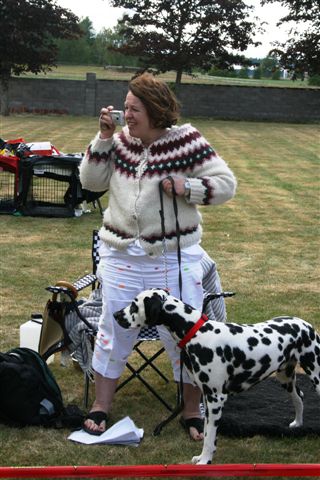 Best bitch class. Tina was fantastic, she took photos and held Gonzo at the same time. Nelly showed her tongue to the judge?
Best bitch of today and BOB Nord J W-07 Timanka´s Romantic Miracle.
Timanka, Jilloc´s, Jilloc´s, Jilloc´s and Jilloc´s.
Darling BOB, Best Veteran and Brandon BOS Veteran.
Run fast, the rain is coming again! Rune couldn't hold Helena's crazy spoiled dogs *S*!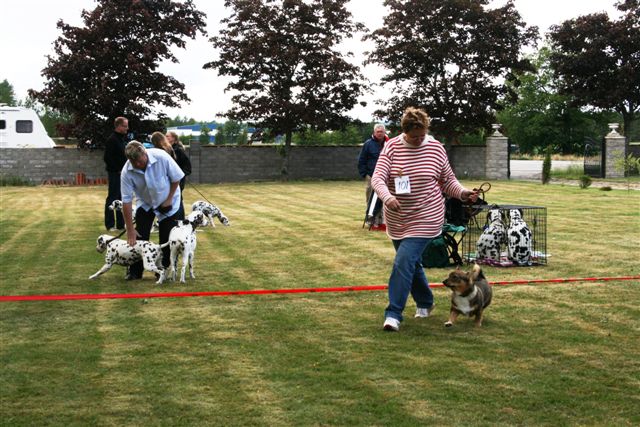 A strange Dalmatian had nr 101.....his name is "Prince" William *S*!
BOB and BOS
Rune was judging Junior handling, Sperm and Donna was happy to see him *S*. Annette was soooo cold.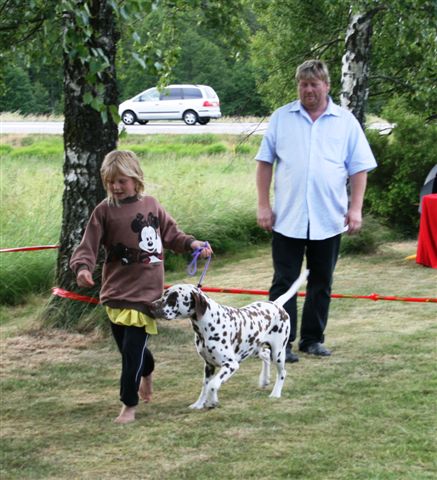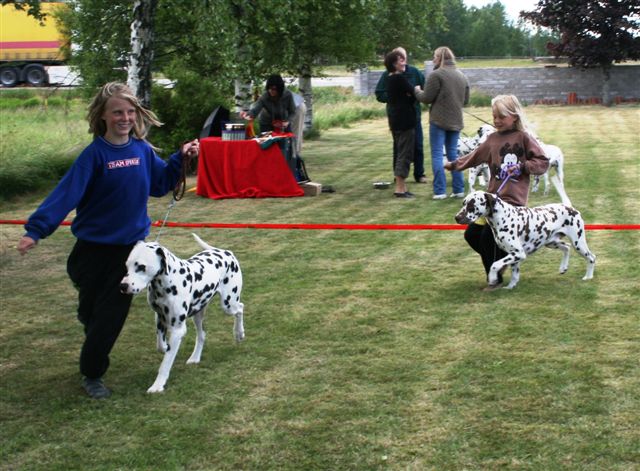 Mimmi was handling Sperm perfect. Moa took care of Rolex.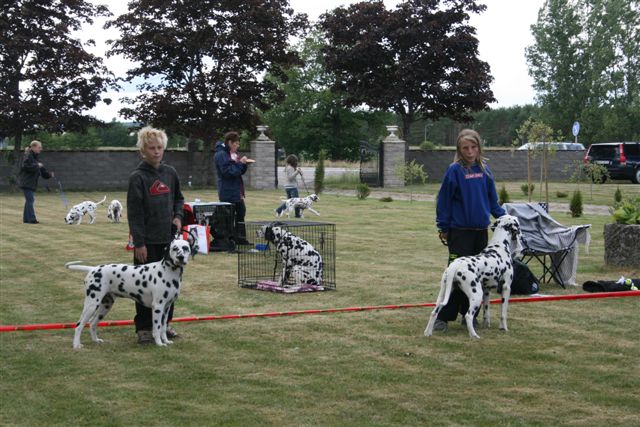 Diezel and Joel resting. Diezel and Joel again and Moa and Rolex again.
Rolex resting..he is the laziest one we know. Mimmie and Sperm get their prize.
Mimmi and Sperm and Linn and Donna just waiting.
Four brothers and sisters with J Sombodys Star 12 m, Gwynmor At Your Request 14 m, J Spermbank 12 m and Ch Alphadirato Evidence of Love 4 years old.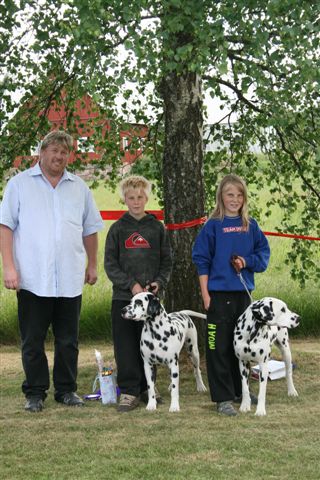 Winner today was Joel with Diezel. Best of all is that all our dogs are such good friends and they love to see each other and even people/children they don't know handle them, and they will still be friends. Our dogs haven't seen Diezel for a long time, but they met him like he still lived here.
Circus class, well done both of You.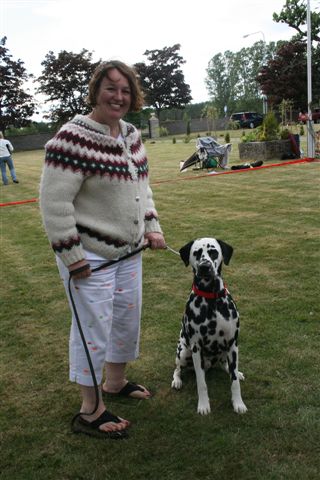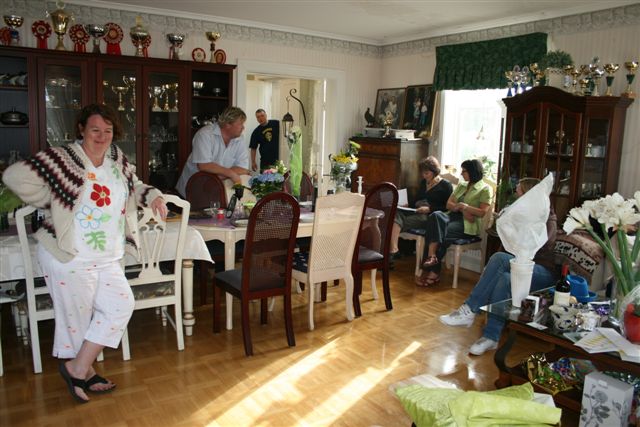 Tina will train Gonzo till next year. Everybody waiting for food before they start their long trip home again. Almost Everyone from Stockholm stayed till the bitter end..!!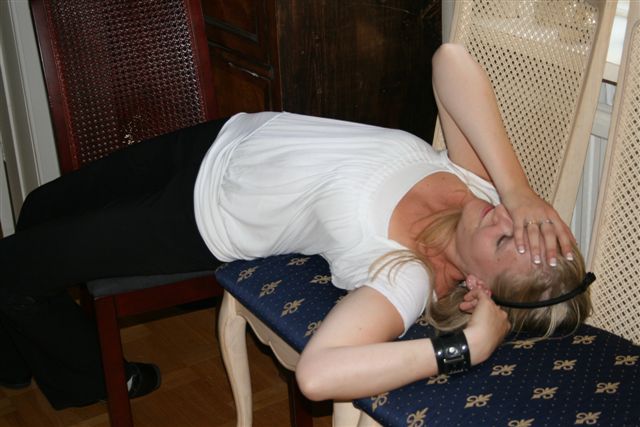 After putting all things and tents together we went back inside for dinner. I just sat down on a chair and want to sleep. Hanna fall apart on three chairs.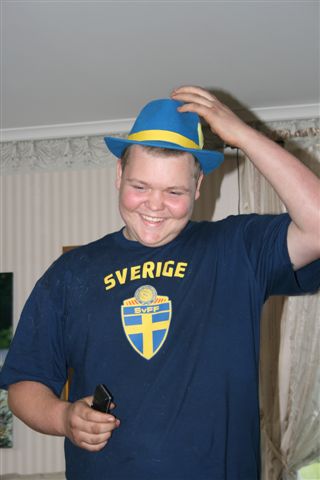 Jens was so tired too after his professional handling, that he held his camera the wrong way - or maybe he wanted to take a photo of him self.. *S*! The only one that was alert enough was Jonnie, he tried on Runes hat!
Our dogs was happy that we have time for them again. Here they say goodbye to Hanna.
Thank You All for this fantastic weekend, and we are sooooo happy that everything went well (and that it is all over *S*) without all of You it would not be so much fun or so many great memories.

Annette's children are so jealous about us having so many dogs They are 7 persons in their family and have to CHARE only one dog... so I have promise them to lend them one more dog some weeks this summer while we are travelling. So today Donna went home with them for holiday ......they were excited and Donna was so happy!
Saturday 14 June 2008
This will be a loooooooong day! Rune and his mother drive away half past 5 in the morning...
So tired this morning.....I was cleaning in the bathroom when I heard someone calling Hallo!!!! Ok, Niina and her father was here already!!
Perfect and Devlina where so fond of Niina's father. Lovely flowers for me and a present for Rune, thank You!
We eat breakfast together and then Niina and I was going to some stores to buy things....here father was home with the dogs.
Runes brother and his family worked in our garden, with things we haven't had time to do. Thank You, it looked sooo much better after some hours.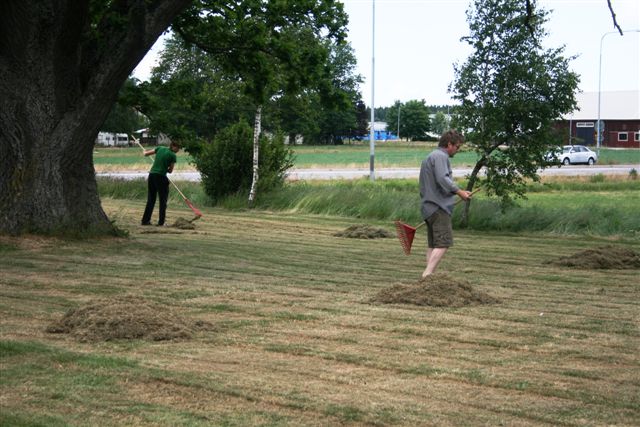 When Niina and I was back, she and her father help us to watering the whole garden....(two hours later we finally got rain *S*).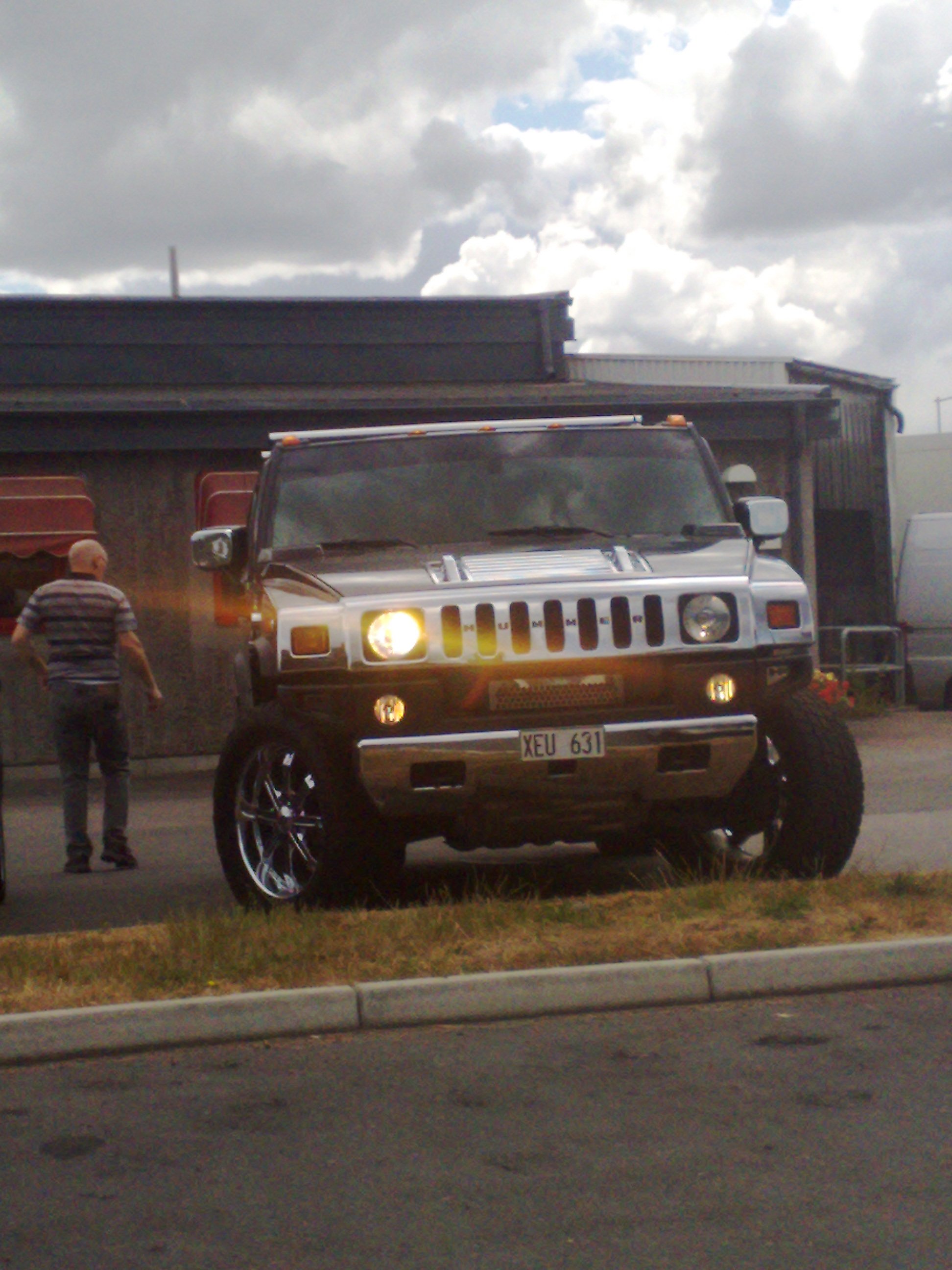 Niina and I found a nice car for shopping *S*...... My best friend came here all the way from Finland, just for helping me to be my "personal shopper" for one day, thank You Niina I come and help You next time!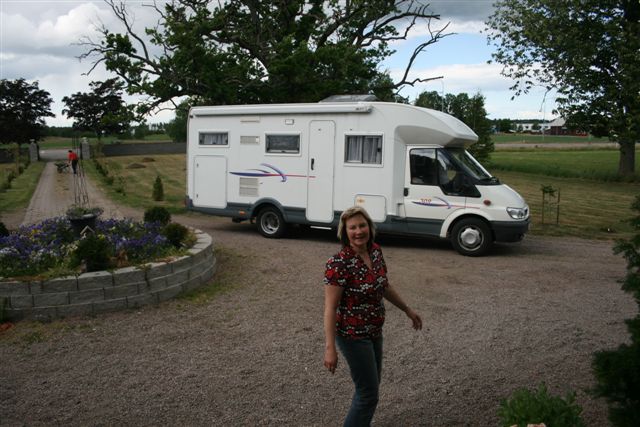 Bente o Reidar came during the day. Helena came in the afternoon and our dogs were so happy to meet her again. She came from Avesta where Milda became second best bitch, and Expo was second best male with CACIB.
Expo has to be one of the most happiest dogs in the whole world!!!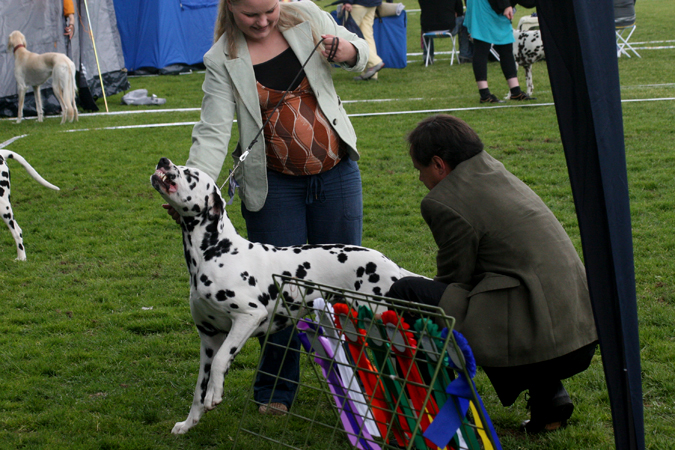 Expo had soooo fun in the ring, he was laughing all the time while the judge took on him.
Those beautiful photos is taken by Teemu.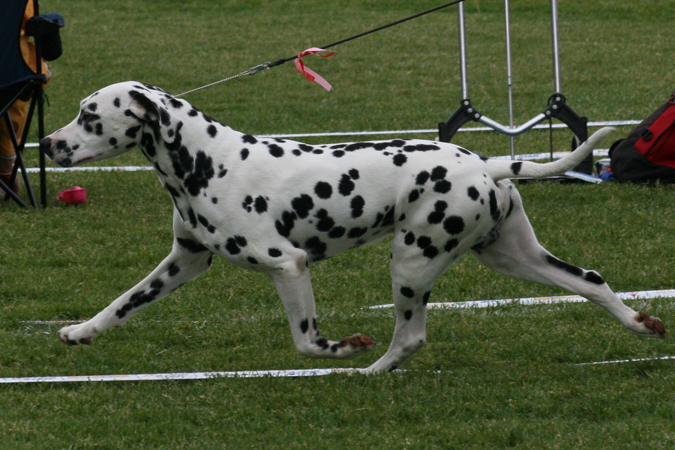 Expo run long before Pia *S* she had really problems to keep up with him now. Well done Pia..but calm down now and get your baby before next showing *S*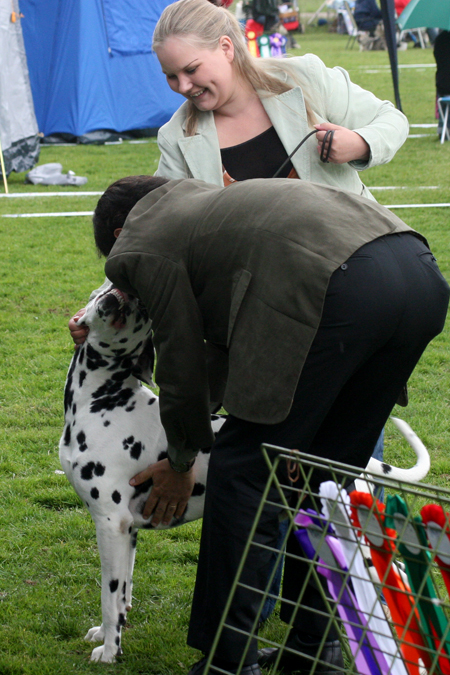 Ha ha ha ha You are tickling me!!!!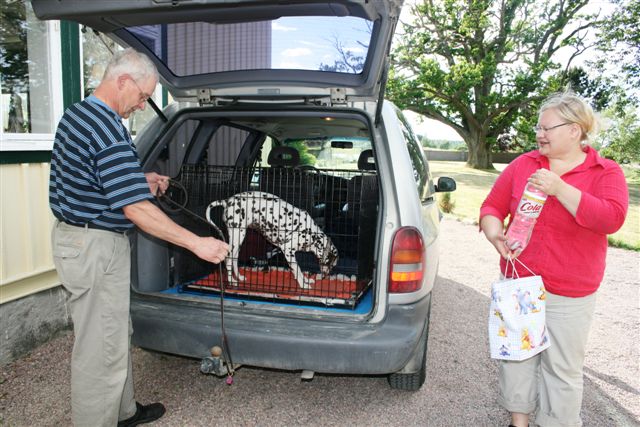 In the evening our Finnish friends start their journey back home again.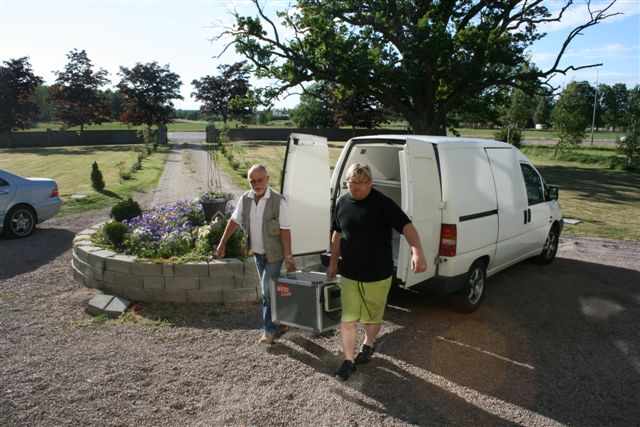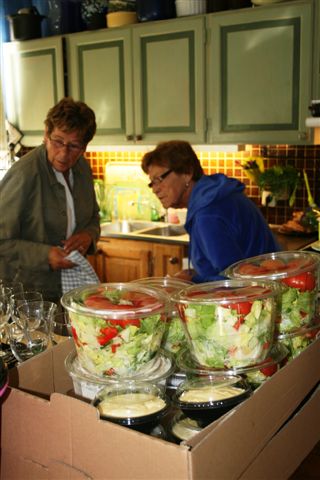 They came from the catering shop with our food.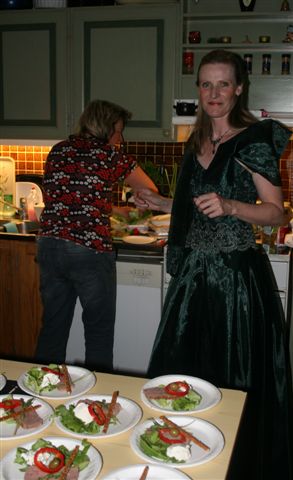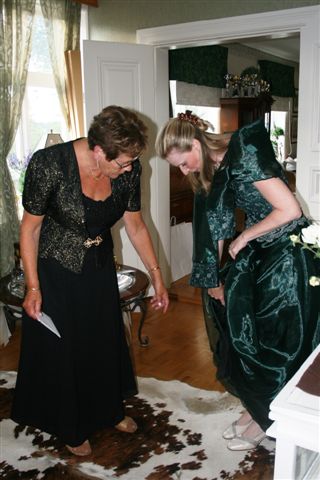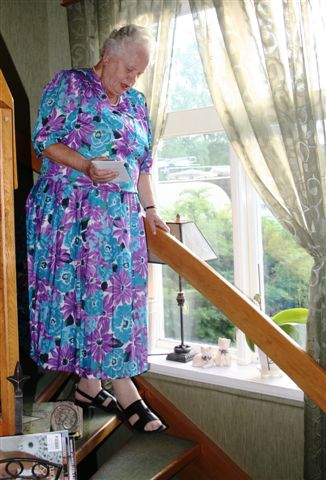 Thank You Bente for helping me in the kitchen when we couldn't get any help from the kitchen help.
Oddlaug and Helena was just interested in them selves and compared their shoes. Helena looked like a princess and act like one *S*!!!
Ella, Runes aunt slides down the stairs.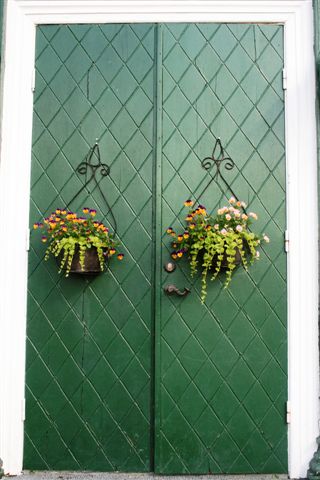 Half past eight we open the door, as schedule!!!
Of course Hanna, Jens and Jenny was here first!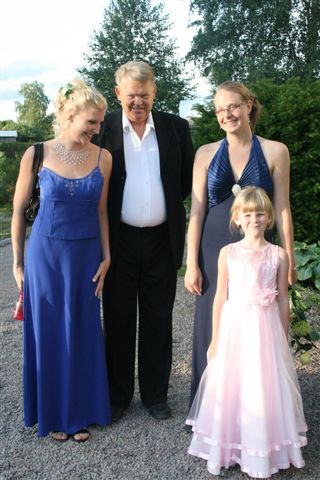 Roy have popped a button on his shirt already before he start to eat *S*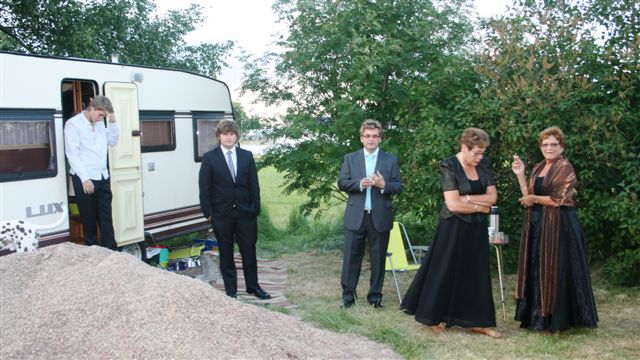 It looked like gipsy camp in our garden...caravans and people in long skirts *S*!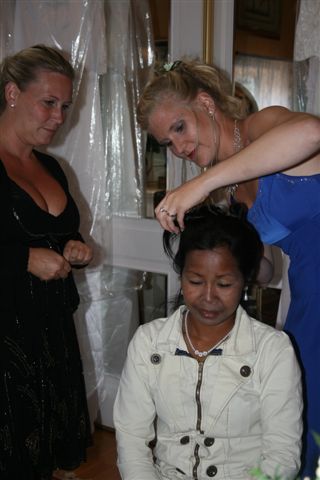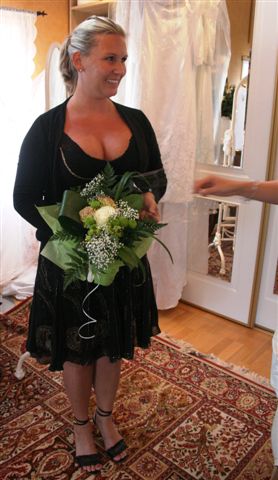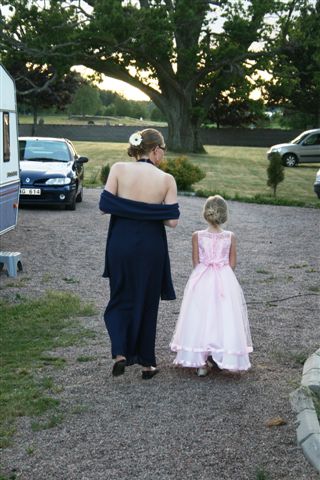 Hanna helped Yuan with her hair. Jennie got Birthday flowers from Hanna and Jenny, she became 35 years in may. Jenny and Ellie walking to the house.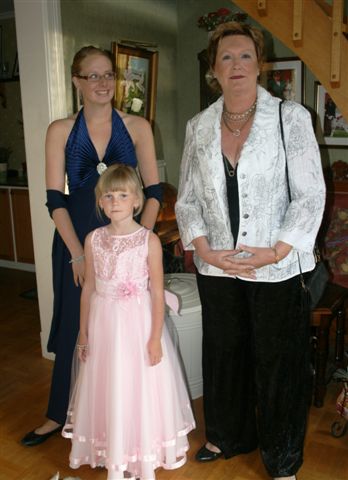 Jenny, Ellie and the elegant Lady is Anita. Yuan in her new dress. Louice looked great in her dress.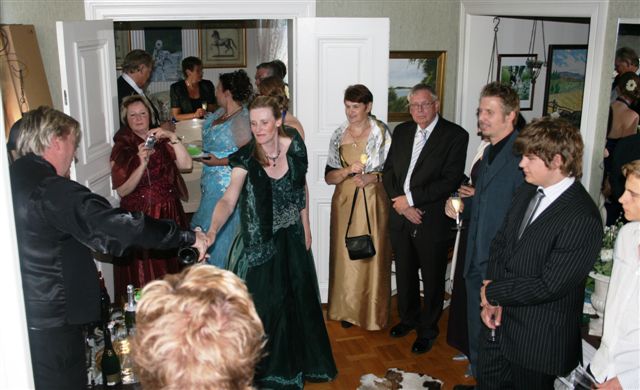 Champagne to everyone.....!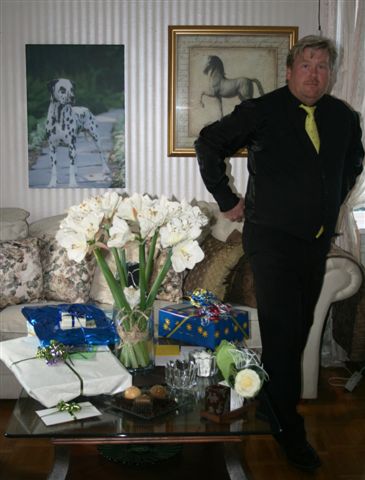 The gift table. I got a princesscake, in fabric.....I wonder why *S*!
Cruella de Will came with a nice present *S*.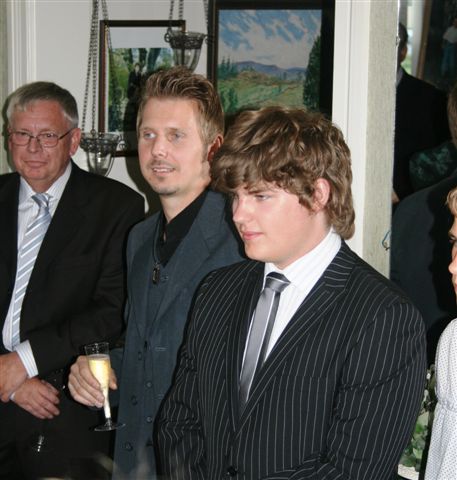 Ellie was waiting for the food. Leif, Jens and Even.
The whole "family" tonight.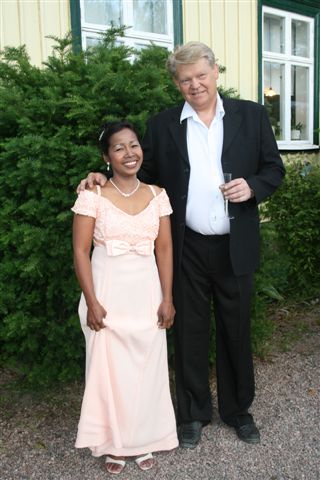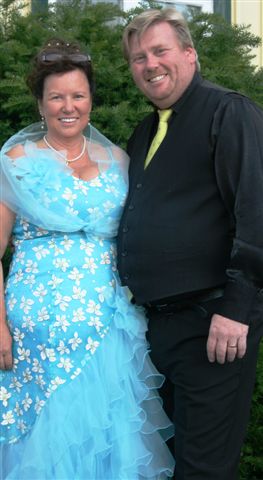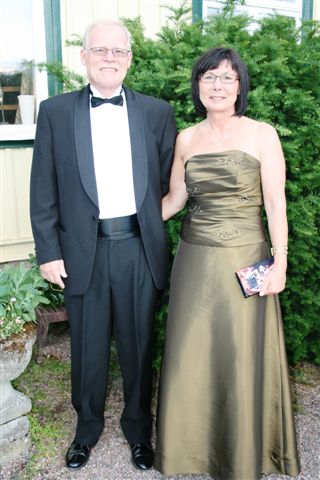 Yuan and Roy. Me and Rune. Göran and Kerstin.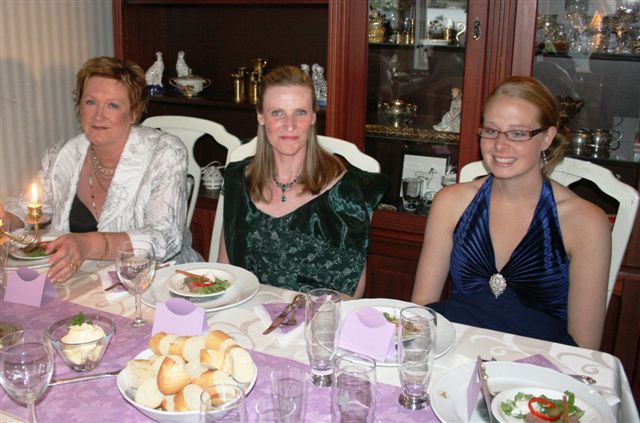 Anita, Helena and Jenny.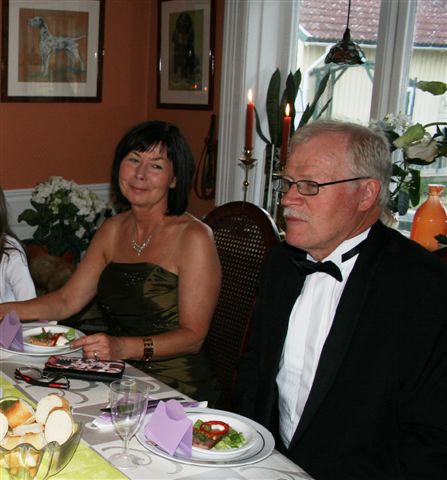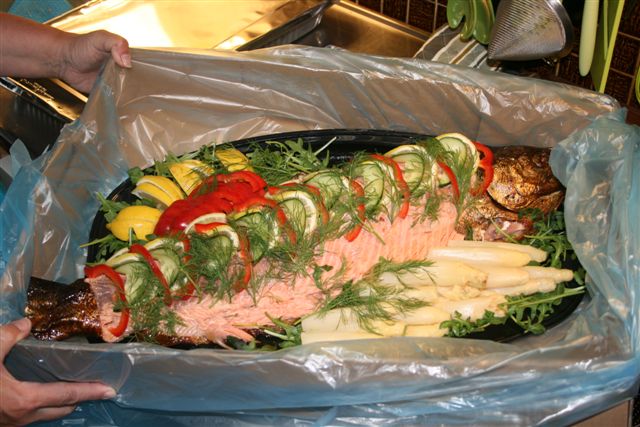 One of the main dishes was smoked salmon.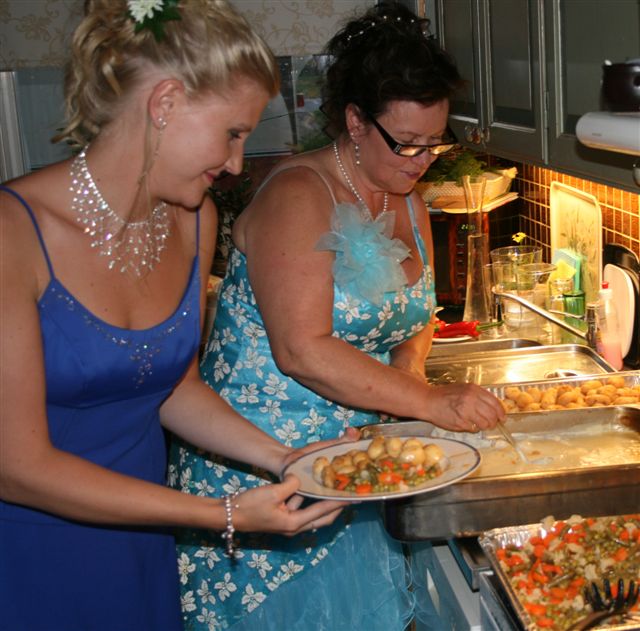 Some other prefer chicken in lime sauce. No personal in the kitchen so we had to take care of it our selves Hanna, Jenny, Jennie and Me.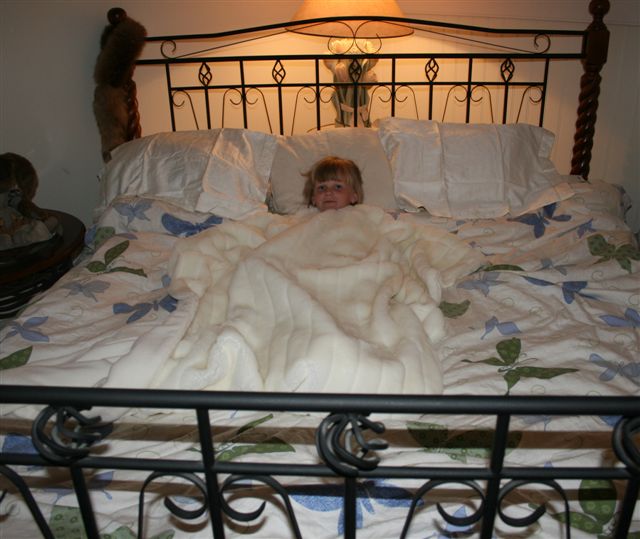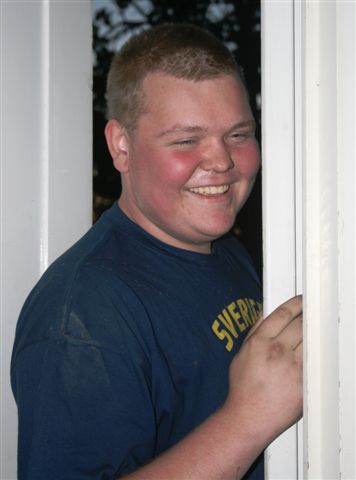 Ellie was tired and took her dress off. Late in the evening even Jonnie enjoyed the party *S*. Better late than never.....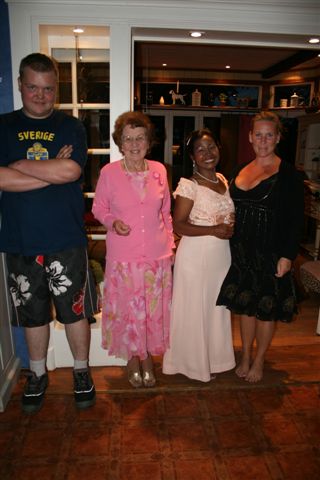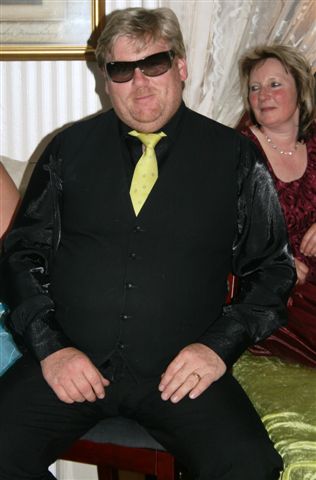 One of Runes best friends "Tove" came from Norway, with Ray Ban sunglasses for him *S*!
He looked like a real mafia boss.
Rune was happy for all bottles of different wine he get. I was happy to get other things than wine!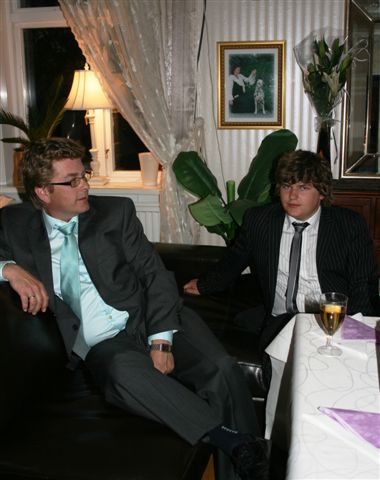 Runes sister in law and his nephew Even. Runes brother and nephew Gunnar.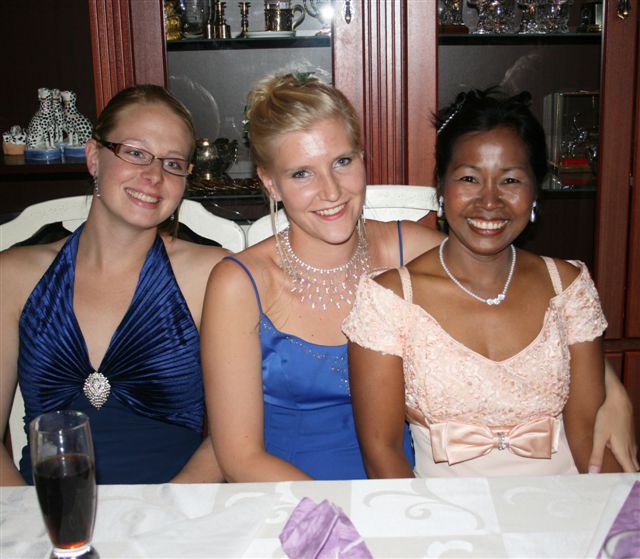 Jenny, Hanna and Yuan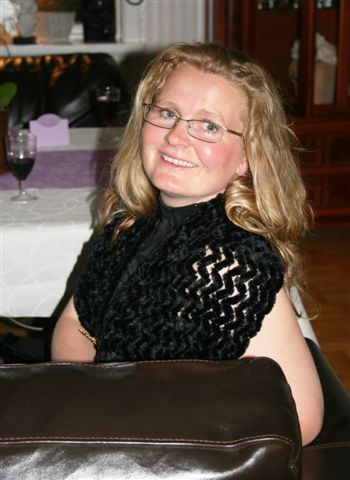 Hildegunn Kristina with a lovely Dalmatian scarves.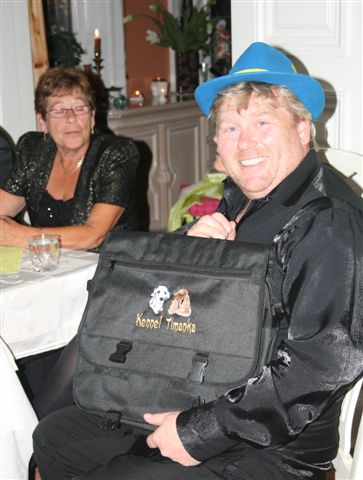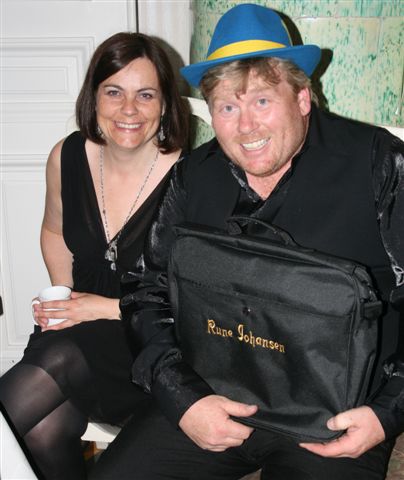 Runes with one of his presents. Tove and Rune....the yellow and blue hat he got from Harry (J Perfect Reflection).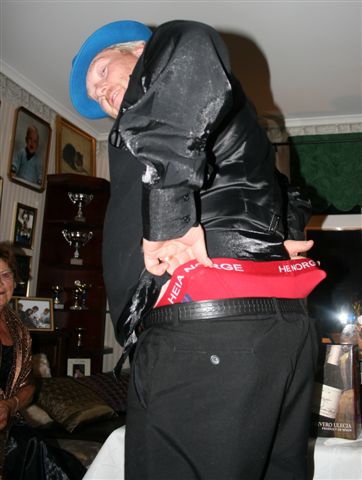 When Rune showed his underwear from Norway Hanna ask Jonnie to drive her home *S*!!!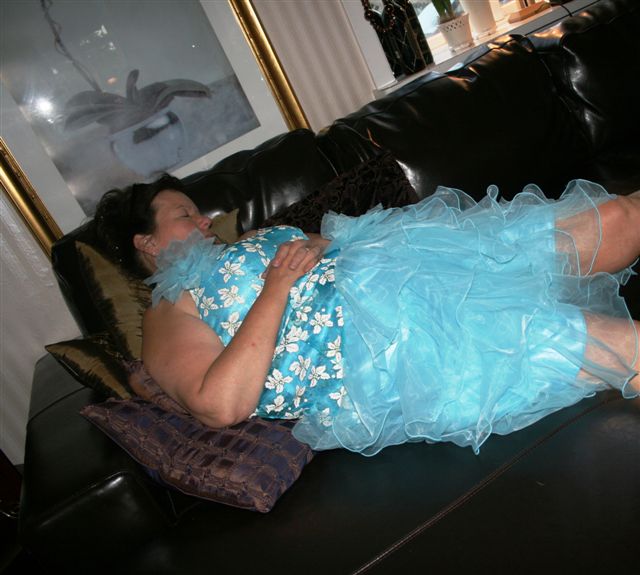 A looooooooooooooooong day was over...Goodnight I was sleeping but all the others were still talking and drinking until 4.30 in the morning.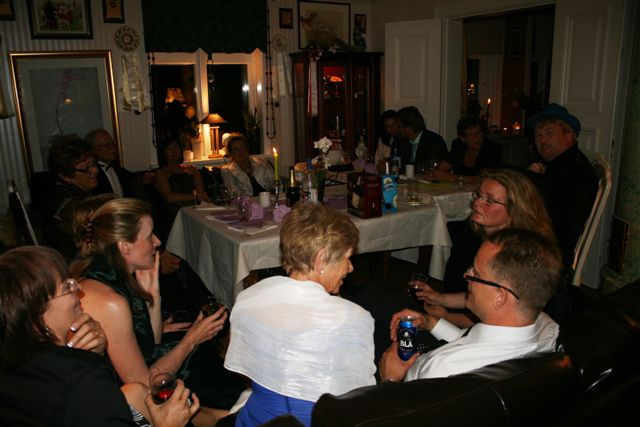 Friday 13 June 2008
Jilloc´s T-Litter 1 year today but we have no time to think about celebrating Bell and Decibel today, that have to wait.
Inger and Aslaug bake cakes all day. Ella try to rub my silver but it was not that easy.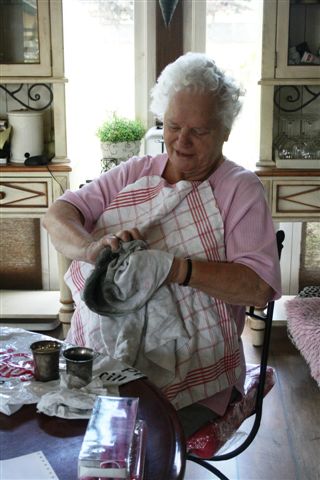 Oddlaug bake a cake she almost eat up by her self...she think it was soooo good!! Mmmm.......Ohhhh my god I can't give this away!!!!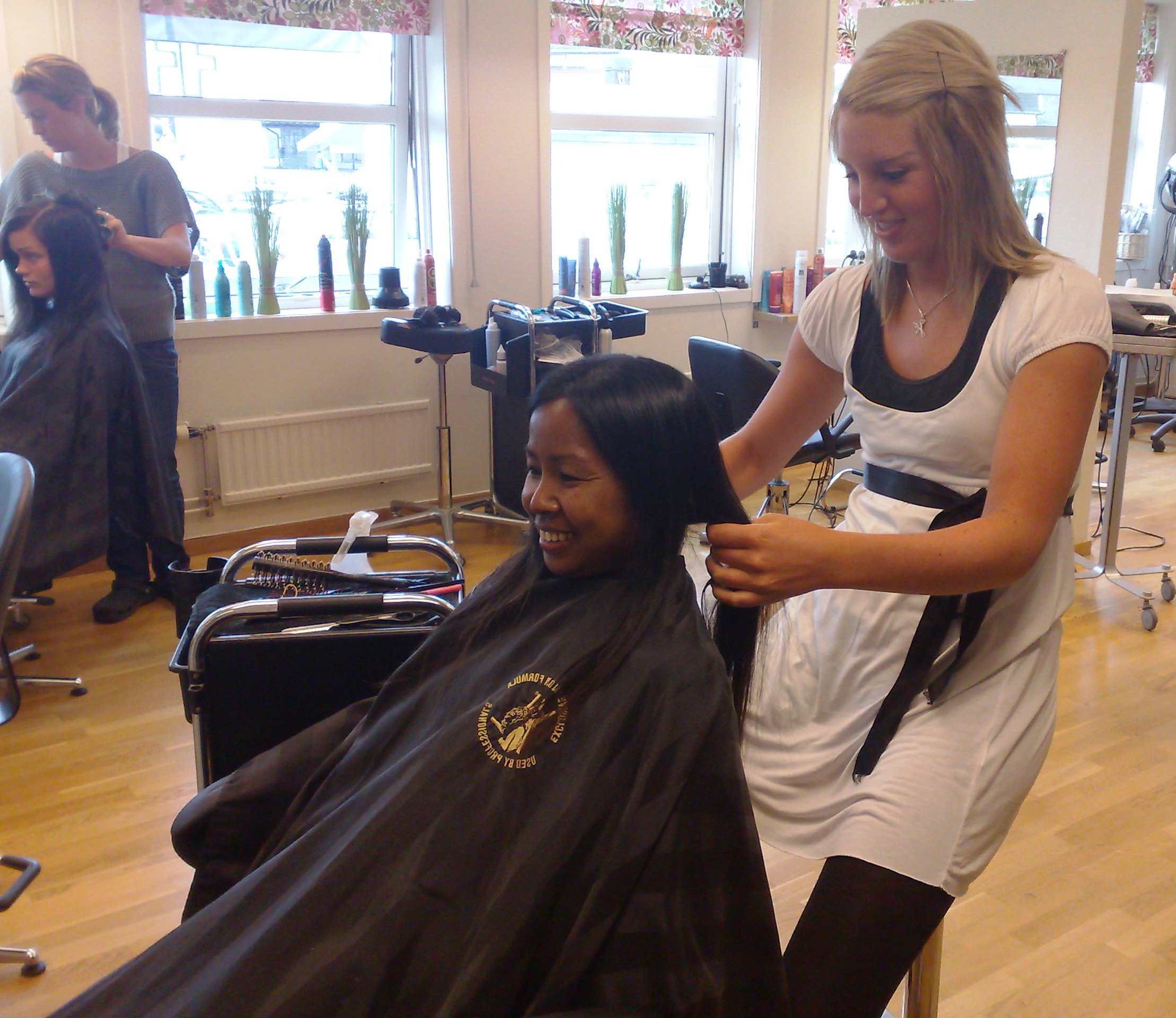 Hanna, Yuan and me were at the hairdresser and then we shopped a little necessary things for tomorrow. It was the first time ever Yuan let someone else cut her hair so she was a little bit afraid in the beginning.
Rune and his mother were out shopping, and at the vet to do ultrasound on Perfect.
At eleven in the evening we eat dinner and an hour later Runes brother and his family came with their caravan.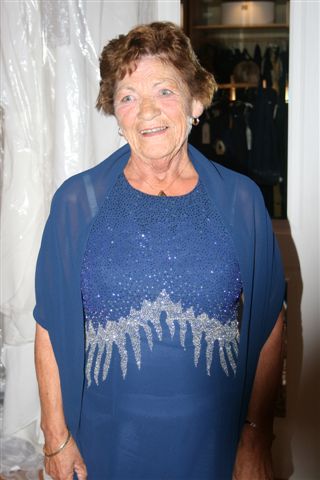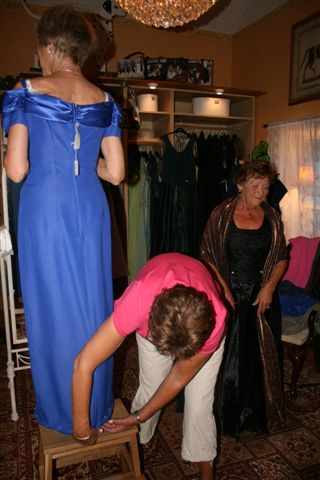 Runes mother got a new dress from us as a late Birthday present. It fit perfect. His aunts try dresses the whole night.......
Rune and I continue to do many things that wasn't ready yet. But he have to sleep some hours because he is going to go to a show far away at half past five tomorrow morning, to do his last aspirant service as a judge.
Thursday 12 June 2008
I went to bed at 5.30 in the morning, then it looked ok in the room...szzzzzzzzzzz! Just some hours sleep and then up again. Do You believe that we have regret many times during last weeks that we should have a party and the day after a gathering for our puppy buyers.??!!??!!
BUT it will probably be many things done that we haven´t make ready if we haven´t had the coming party..*S*!
At half past four, FOUR NORWEGIAN Ladies came to stay for some days!
Yuan make the lawns.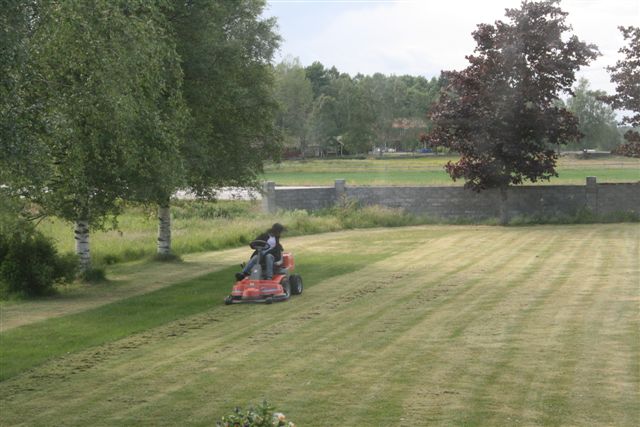 It was hard to continue with all housework when they were here so we eat together with them and when they went to bed at midnight we continue with our work.
It went so slowly because we were too tired to do something, but we have to......
Jonnie was here to help us during the day. Can You se Runes hand on the top of the sofa?? Jonnie just want to pose and let go*S*!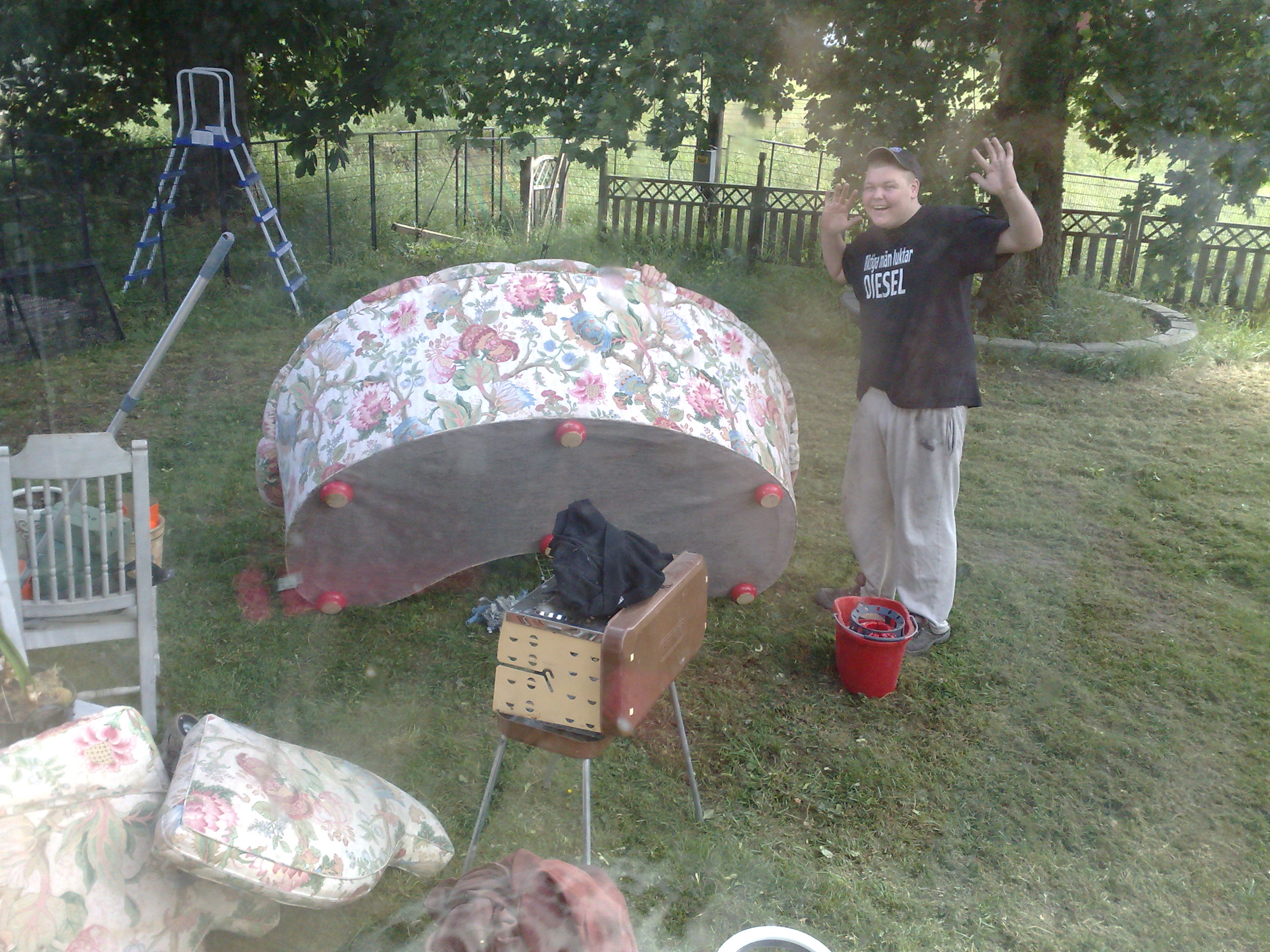 Wednesday 11 June 2008
Hanna and I was at the hobby store to buy things to make table cards for Saturday....and then Hanna start to produce 40 pieces.
She even try to make things on its place in the shelf..not easy *S*!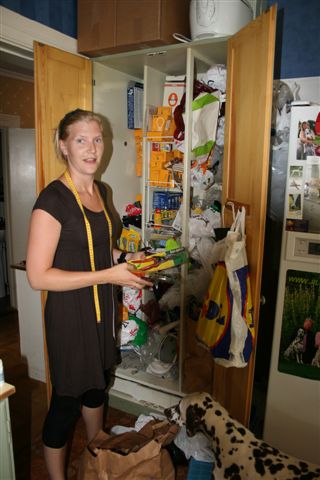 Jenny came here in the afternoon. She have Perfect with her because we will take a ultrasound on her this week, thank You for helping us to bring her here we do not have some extra hours now to go away from home.
Hanna and Jens came with "glitter and glamour" dish gloves for me *S*!
Then in the night Jenny and I continue in the room on first floor...we really have to be ready soon, and Yuan help us to iron 50 of Runes shirts.
One o'clock in the night Jenny, Rune and I work a lot. It have to be ok by tomorrow!!!
At 6 o'clock in the morning it looked MUCH better.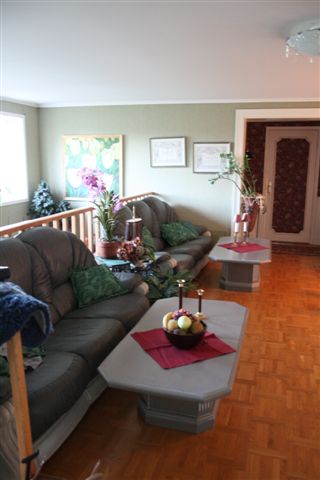 Even the guestrooms were ready for visit.
Our bedroom was also as ready as it can be just now.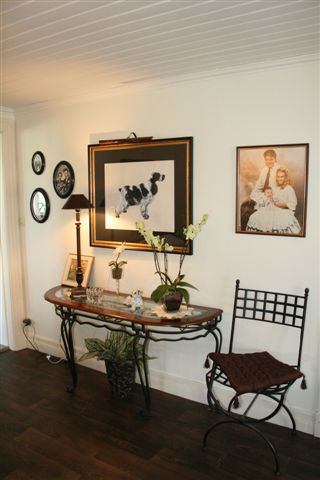 We really are waiting for the night now.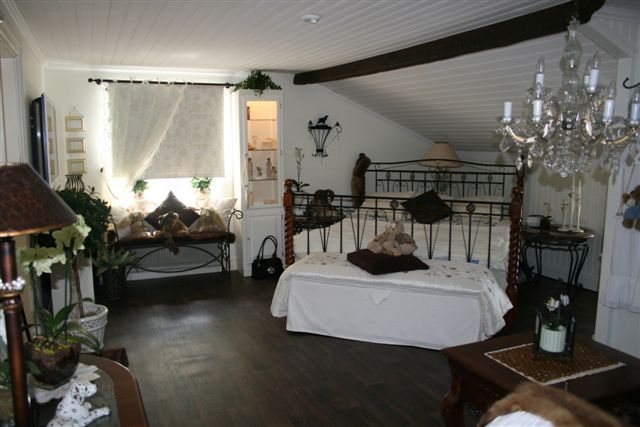 But still we haven't had the time to enjoy this room, we have to wait some more days.
Tuesday 10 June 2008
Now we really have to found the high speed with our house and garden to be ready in time for the party this weekend. And Runes mother and aunts are coming at THURSDAY already, oooooooh my god!! No time for sleeping at all.....
Our handyman were here again, electric man was here too and Rune work a lot with everything....and I just run around and can't decide what to start with..just now it was toooooo much at the same time.
Finally the new door on place...we bought it three years ago, but no one have had the time to put it in. I was so happy when the old ugly door went to the dumpster.
Monday 9 June 2008
We woke up one hour before we were back in Stockholm at an EARLY!!! Monday morning. It was really a lot of beautiful houses to look at in Stockholms skärgård/coastline.
Gloria and I was looking out of the window in our cabin. It was not easy to get the elevator to stop at the right floor....in last minute we were down at our car just before they start to drive of the ship. Yuan and Roy have been waiting there for 20 minutes and were so afraide that we wont come in time.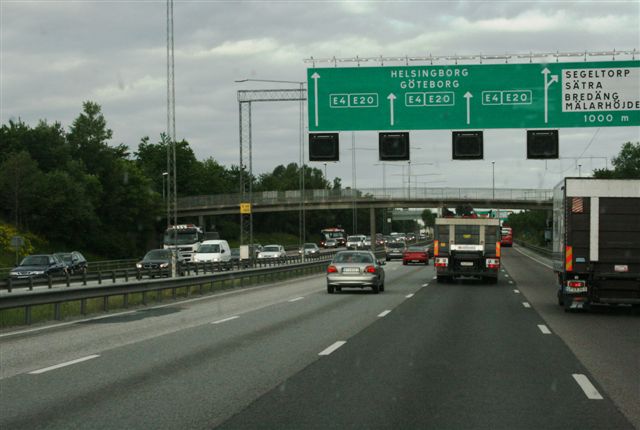 Thank god that we were in Stockholm at 6.30 so there were not so much traffic yet.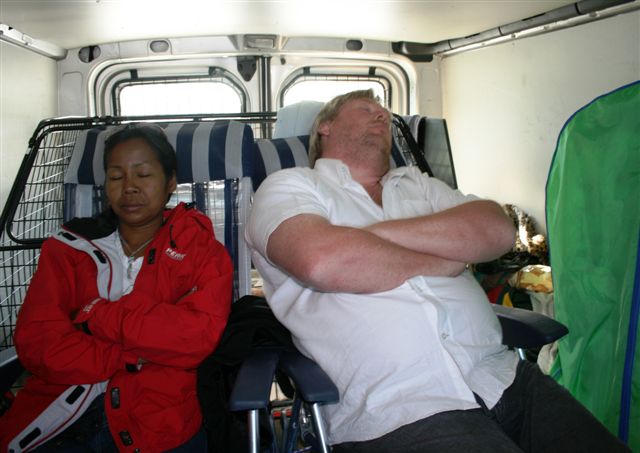 Yuan and Rune was sleeping..... He were not allowed to drive yet because of all wine *S*!
On our way back home I were just a quick look at PK Design and IKEA, but I were soooo tired that we just want to go home. Rune was waiting in the car with our dogs so he was sleeping every time we stop.
It was so good to be home in the evening.
Thank You Helena that stayed with our dogs during the weekend and to Hanna that take care of them too. What will we do without You.
Sunday 8 June 2008
In Finland 7 o'clock (Swedish time 6 o'clock, oh my god..this time we usually go to bed). We drove for 15 minutes to the place where the show will be hold. Of course no idiots were there that early, without us of course...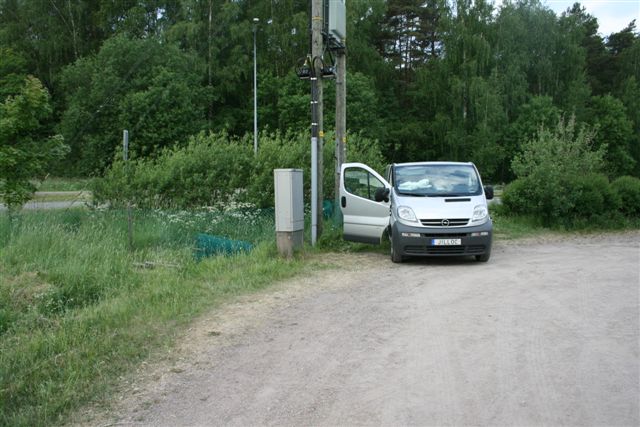 Roy was still sleepy...Juan bring breakfast for Rune and me, they have soooo much leftovers because they stayed in a better cabin than us and were served their breakfast on the bed..at half past five!!!! At nine we think it was ok with a sandwich (early for us *S*).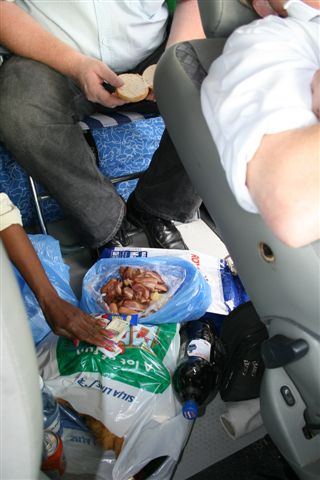 Juan and Roy was sleeping in the car until 3 o'clock....what have they been doing all night???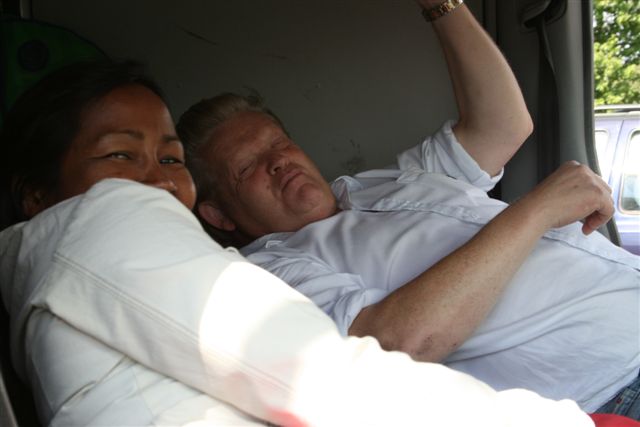 I was so happy to finally be here in Finland and try to look at as many dogs I can reach to see, but because there were bitches in one ring and puppies and males in the other...I look a little here and a little there and didn't see what I want to see at all.....
BOB was Zabavan Excelencia, such a lovely male puppy shown by Kiira. BOS was Caesands Iced Velvet, a lovely bitch shown by Sofie.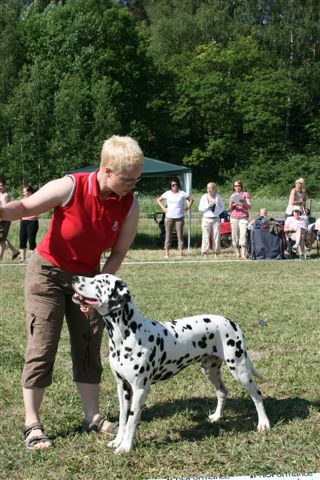 BIS Puppy with the judge Åke Cronander. Junior male with a Swedish father. Junior male from Norway.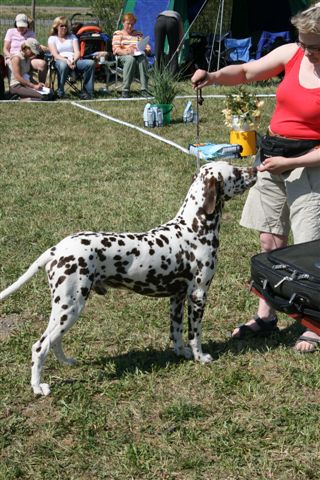 Bossons son born in Finland. A junior male after a Norwegian male.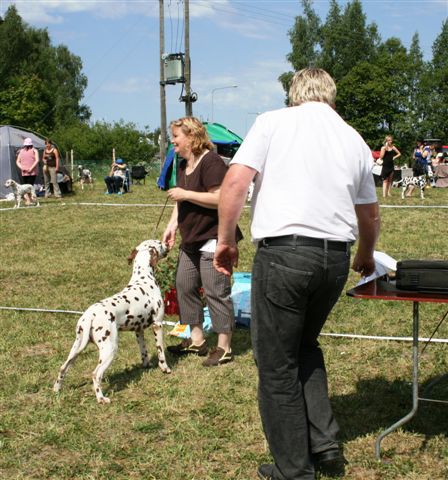 Devlins son born in Finland at kennel Zabavan. Int SF Est LV LT Balt S Rus Ch Est J Ch BaltV-04-05 Zabavan Uzenii
Bossons son Firehouse's Just a Fullback, won open class and became third Best Male with reserve CAC.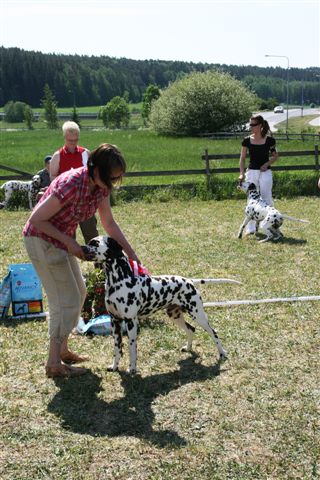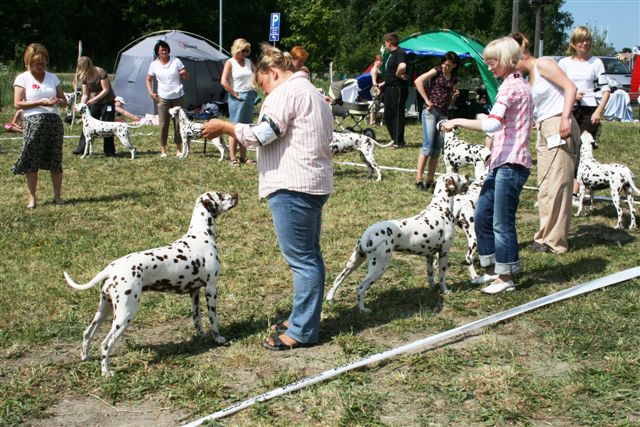 Devlins beautiful daughter Int SF S Est LTU LV Ch BaltV-05 LVV-07 LTUV-08 Zabavan Uliana that was Dalmatian of the Year in Finland last Year. Soo beautiful!!!!!!
A nice bitch from with Tanja. Best Bitch J Scandal Beauty with Niina and on second place Niinas sister with their Marnellin bitch.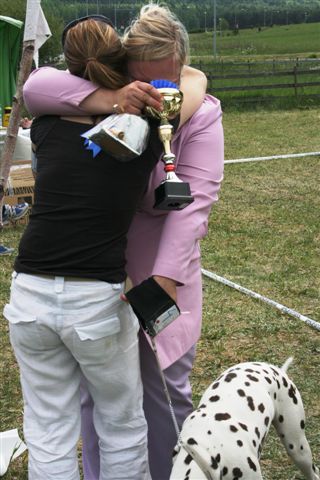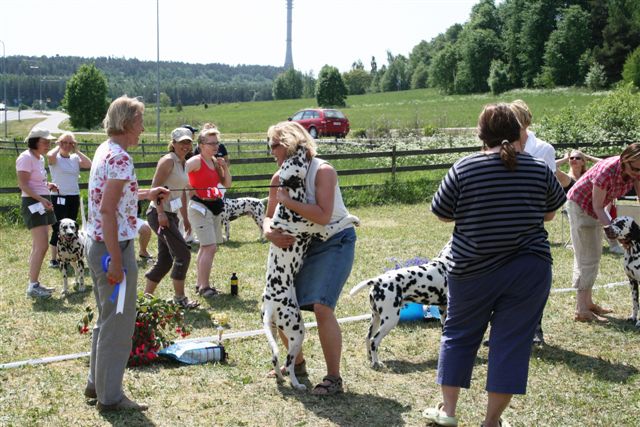 Mette and Niina was happy that Neela was best bitch! The owner of best male was happy too.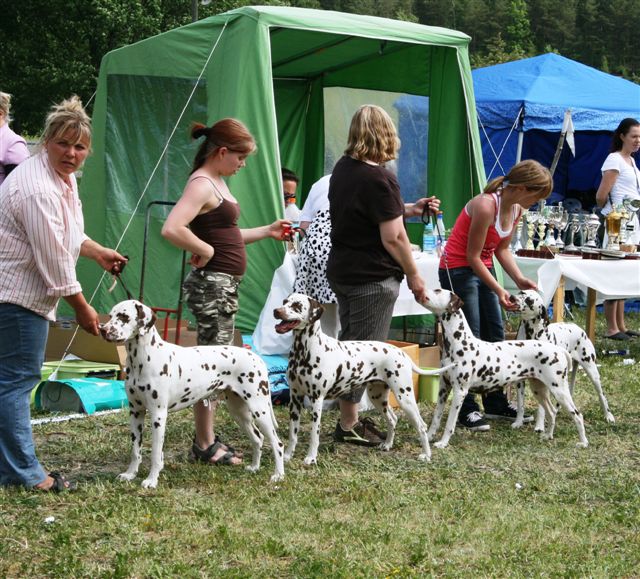 Best Breeder Zabavan.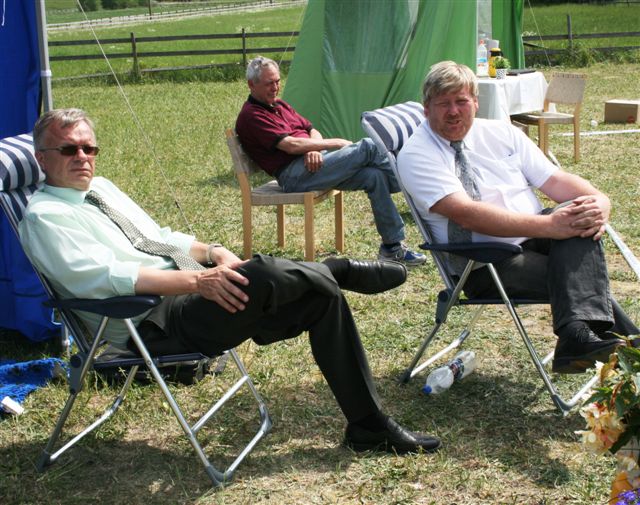 Nine breeding classes. Åke and Rune in the sun.
Mette, Tobbe and Niina in the tent.
Dalmo's Head Hunter II was BOB and Jilloc´s Scandal Beauty BOS
Niina like to exercise a little bit more so she run with Daddy *S*!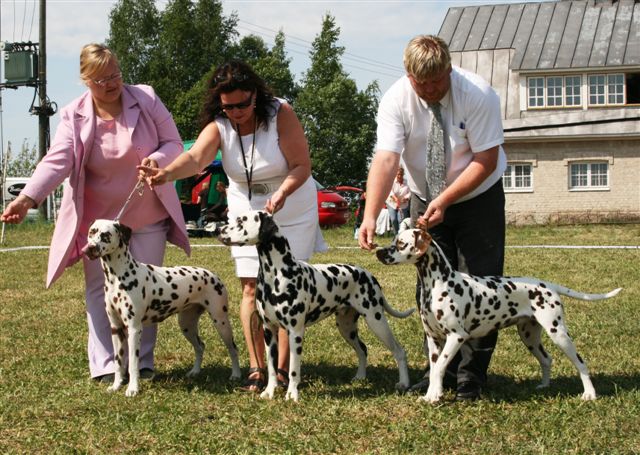 Three littermates that have had their 1 Year Birthday this week.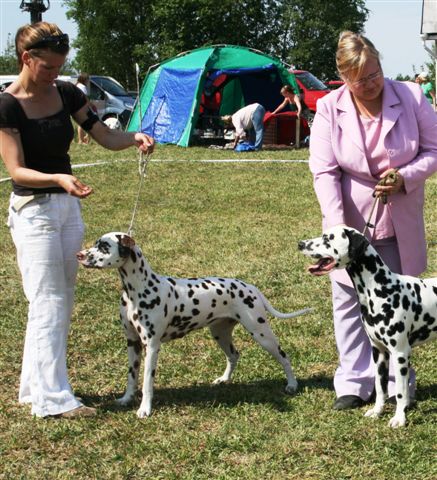 For the first time in 10 months we met Neela and Mette again.
White roses in the garden. Nice to sit and talk in the shadow, after the dinner after the show.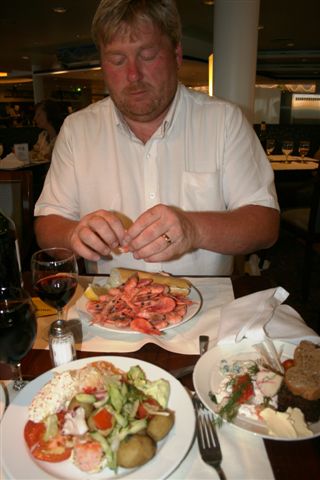 The "smörgåsbord"/buffet again, hurray! Eat, eat, eat and drink for four!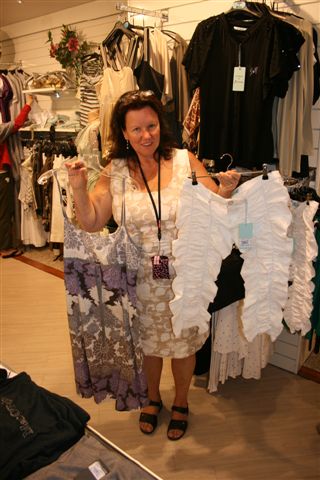 Yuan was afraid to taste some unknown food. It was lot of things to shop, but I have eat so much and we were all so tired so we went back to the cabin instead.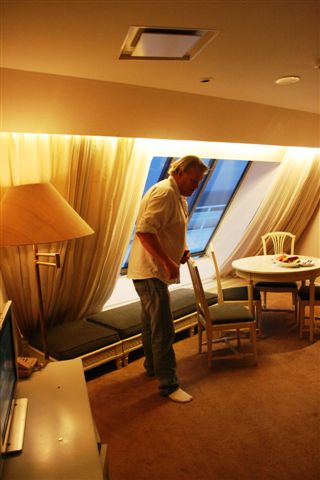 Yuan and Roy had a large cabin but we were to tired to look at TV so we went back to our dogs.
I took photo of my self. Rune resting after all eating. Daddy and Gloria was so happy to see us again.
Goodnight Finland *S*!
Saturday 7 June 2008
Away from home at two o'clock to reach the ferry in Stockholm in time. Roy and Juan start some time before us...we are always late...!
All other people we know (almost) was at a dog show in Vänersborg today. We got the result during our trip to Stockholm.

BOB Jilloc´s Right Here Right Now and later on she was BIG 2....she became even SWEDISH CHAMPION TODAY, Congratulations to Milda and Helena her perfect handler.!
Second Best Bitch Ch Reflection In A Mirror, Devlina, with Jenny as a handler today, well done!
Third Best Bitch Hanna with SV-06 Fairytale Spots A Key To My Heart...so close to her last CAC.....
Fourth Best Bitch Ch Jilloc´s Key to Success.
Fifth Best Bitch ?

And in the afternoon four lovely girls with four lovely liver spotted Dalmatian bitches became BEST IN SHOW Breeding group!!
Hanna, Helena, Eva o Jenny

Hopefully I get photo from Vänersborg soon!
It was totally calm outside..no wind at all and the trip on the sea was perfect (I never forget Estonia 2006...oh my god! I say never more!)
We have not been in Finland since 2002 when we delivered Jilloc´s Girl of Thousand Dreams to Outi Wilkuna most of all because I hate to go by boat!!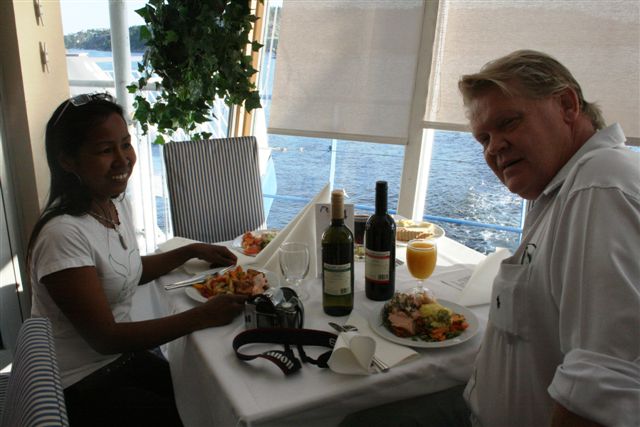 Only Gloria and Daddy was with us to visit their sister in Finland, and to look at the special show tomorrow in Åbo. Roy want to go with us because of the "Smörgåsbord"/buffe.
We all eat a lot of the delicious food and we were so tired after all that delicatessens' that we just shop a little and then went to bed very early (for us).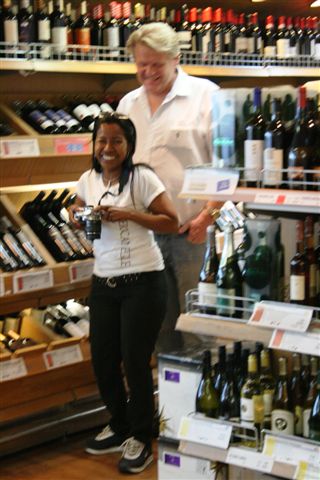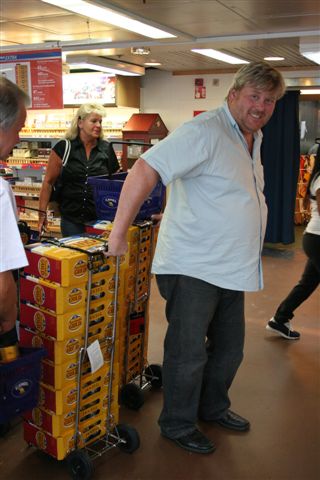 Rune found some interesting things. Juan took photo of everything. In Runes dreams he bought all this beer.
Who's food is this???? Who's phone is it???? Ok, my food and my dessert *S*! Shame of ME!!!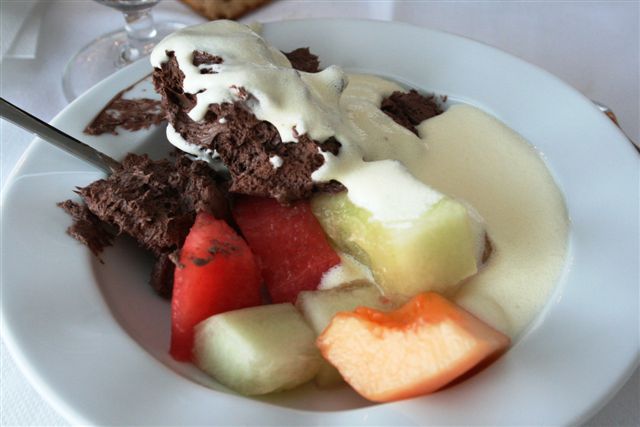 But I can tell You, that I will do it again...it taste better than I can tell You!