Diary
Thursday 31 July 2008
Another toooo hot day. Nyhammers were leaving for a show in Norway on Saturday and Sunday, they will be back on Monday.
We are really happy to stay at home this weekend!
We were at the vet for some vaccinations and after that we did not have any strange to do anything more today.
Wednesday 30 July 2008
Anne Karin wash many machines with their clothes, they have already been out on holiday for 14 days....It looked like a gipsy camp in our garden again *S*!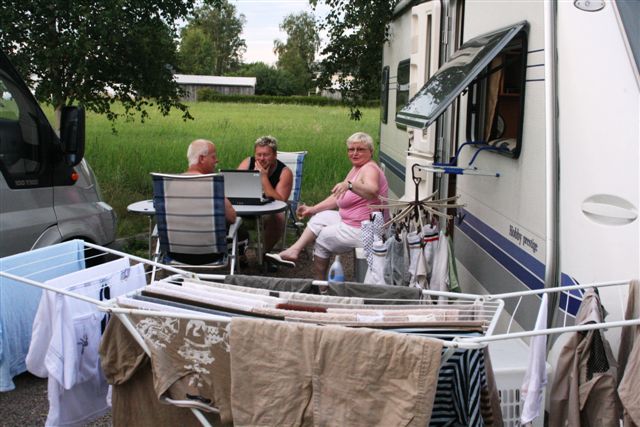 During the day they went to Lidköping to the big caravan store there to buy necessary things and when they came back they have bought food for the barbecue tonight, flowers and a cake (of course *S*)!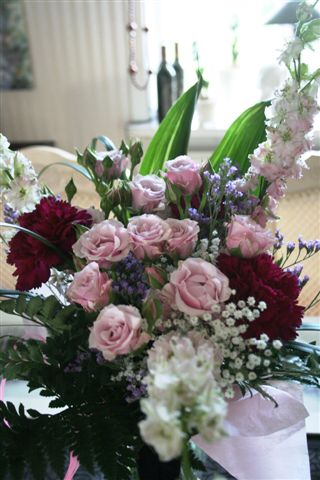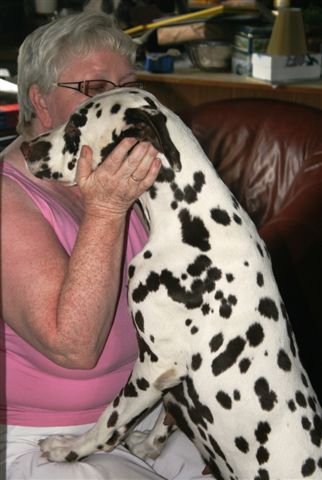 Beautiful flowers! Donna thought the cake was for her. I can promise You that the cake was really good!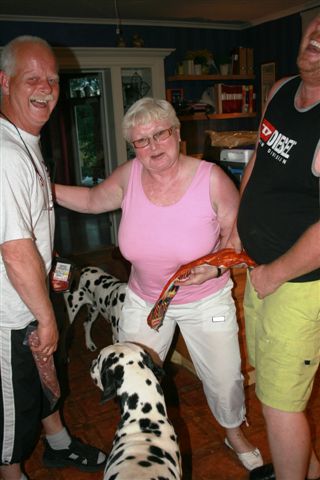 The dinner was soo good. We put both Rune's file's on the grill...they taste delicious *S*! Anne Karin have problems with to decide which one she like the best!
Jenny was here too this evening and we took lot of funny photos, but I put the memory card in the computer and forgot to put it back in the camera so there are no more photos from today! And maybe that was good *S*!
Tuesday 29 July 2008
Rune made his well-known breakfast with egg and bacon and in the middle of the day Niina and Marko and Puzzle start their journey back to Finland.
Bosson and Puzzle was playing in the garden in the morning. Niina was shopping at IKEA yesterday. She lives far away from Ikea in Finland so it was perfect for her to stop in Örebro on her way here.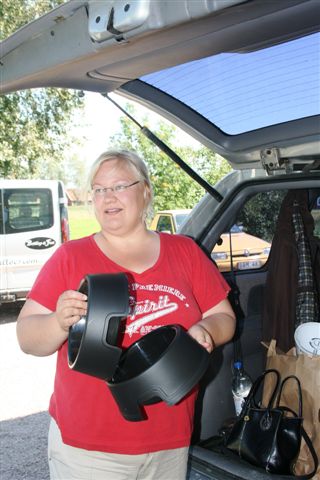 Bosson checked out the cage in Niinas car before he let Puzzle in...and he stayed with her until we carried him out of the car. He is really in love with her *S*, even if he have had many "wifes" Puzzle is his favourite.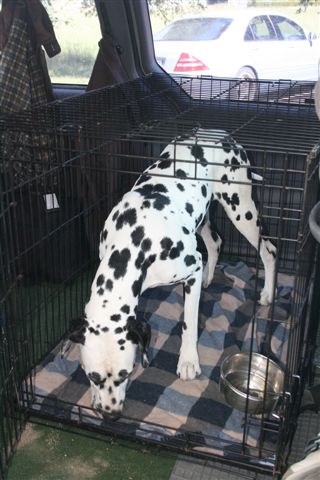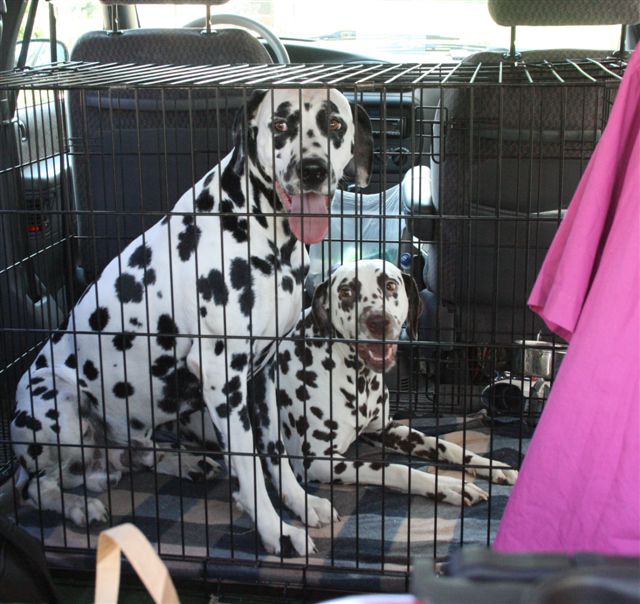 You can follow Ch Timanka's Playmates pregnancy at www.marnellin.com
Please let me follow my darling....Bosson did not want to leave the car, we feel really sorry for him!
It was still terrible hot but it was better being outside than indoors anyway. Rune did a great job today, he paint our old car cage and did an other solution with our cage in the car, now we can have at least 7 dogs in strong cages and that is what we need to travel safe.
Anne and Rune came in the evening, they have been in Finland during this weekend and have now a Finnish Champion in the car.
Congratulations, well done.
We eat a very late dinner (as always) and talked for many hours about dogs of course!
Monday 28 July 2008
We left Karlstad in the morning and stopped after some miles to eat breakfast at Mac D. Rune saw a dog that probably is related to Dalmatians *S*!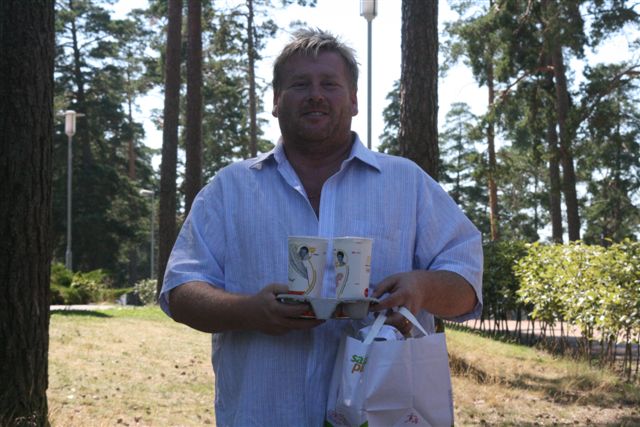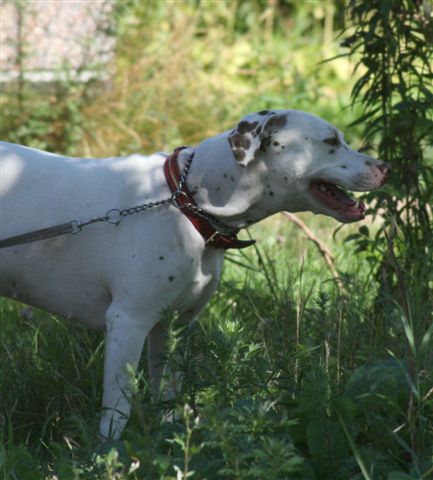 We will be back home again in the afternoon, just in time before Niina and her friend Marko was coming from Finland.
I got an sms that our car was ready, so we stopped at the garage on our way home. I was happy that we could move all our dogs in the cold again the last hour before we were home.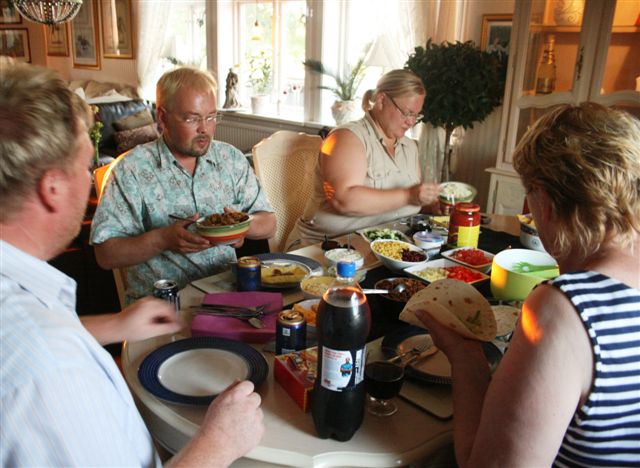 In the evening we eat taco with our friends.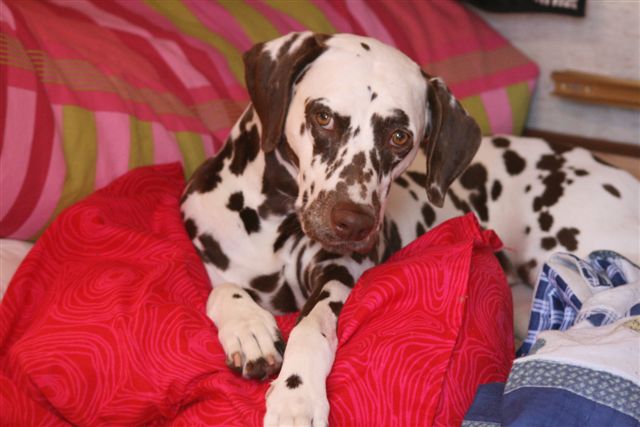 Jill...our Queen in the caravan this morning.
Another beautiful Lady is Puzzle, she is going with Niina tomorrow to Finland.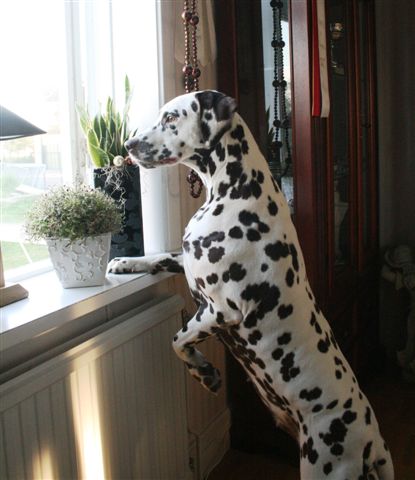 Today Rune got his licence as an official FCI Judge for Dalmatians!
Do You think he was happy????? YEEEEEEEEEEEES!
Sunday 27 July 2008
Lazy day in Ransäter.....a dream is of course to be in Best In Show in the afternoon *S*...but there is a looooong way to go first..ask our concurrent's *S*!!!!!
NO BEST IN SHOW FOR US today *S*! We think it was ok just to try to survive the day without running around in the ring. We moved in the morning to the same camping as Sissel and Kai stay at.
Kai brought some chips to Rune from Norway...he was sooooo happy and sent an mms to Jenny because both of them are so crazy about that special kind of chips....and some other candy from Norway.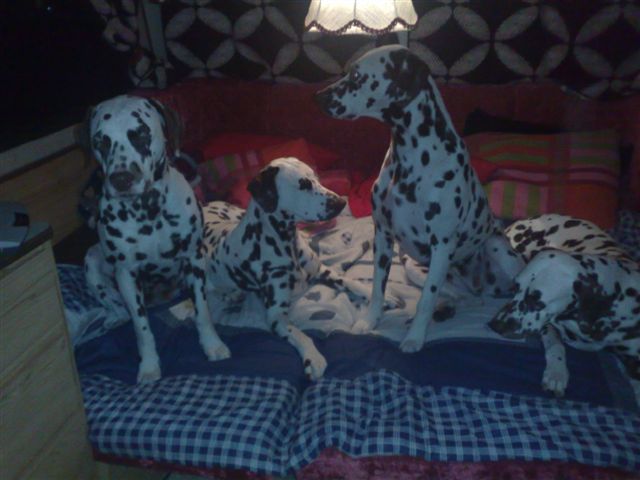 It was hot in the night with four dogs in the bed Donna, Devlina, Gloria and Jill.
Sissel and me were out shopping for some hours in the afternoon and then we were all sitting in the tent eating cake!
We met a lovely puppy from kennel Shandor in Norway, our dogs thought it was a rat...but a very sweet one*S*!
Saturday 26 July 2008
Dog show in Ransäter in beautiful Värmland, Judge today is Carin Åkesson, one of our favourites!
We have entered 6 !!!!! dogs and we are only two (one and a half with my poor feet *S*) to handle, this will be funny!?!
Here are the result.
Ransäter INTERNATIONAL
Photo by Kattis
For the first time there were 5 BLACK SPOTTED males for the best male competition....for a very long time.......
Nr One: Jun.WW-08 Jilloc's Sugardaddy (junior), CAC
Nr Two: Int.Ch Jilloc's Loverboy CACIB
Nr Three: Int.Ch Lovinda's Fritjof Res. CACIB
Nr Four: Ch Jilloc's Easy Rider (veteran)
Nr Five: Skvå Inu My Black Rolex (junior)
BITCHES
Nr One: Int.Ch V-07 Jilloc's Joyride, CACIB
Nr Two: Jilloc's Top Model (junior), CAC
Nr Three: Nord Ch Jilloc's Reflection In A Mirror, Res. CACIB, thank You Bente that showed her in best bitch competition.
Nr Four: Jilloc's Splendid Choice (junior), thank You Kai that showed her in best bitch competition.
Nr Five: Nord Ch Spotnik's Coffee Cream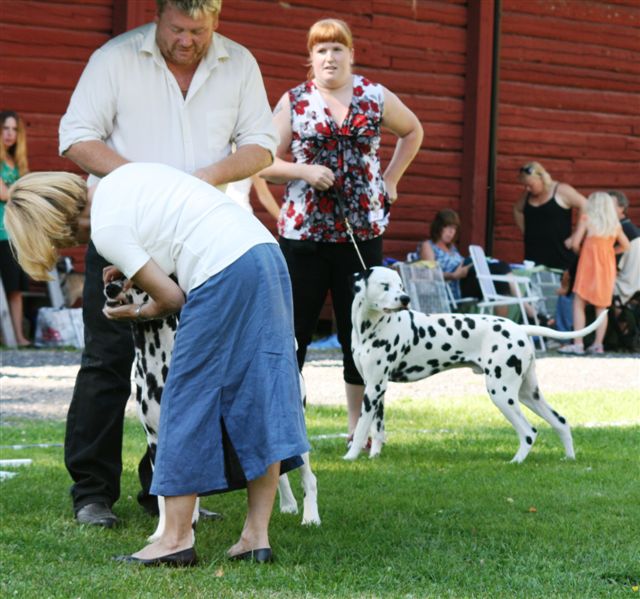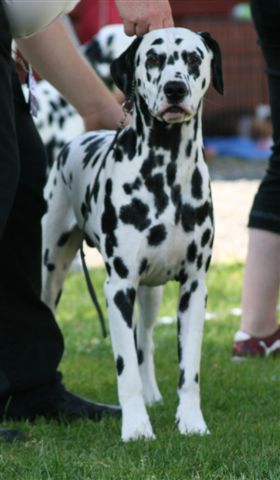 Peek a boo!!! Can You see the big heart on Daddies right front leg.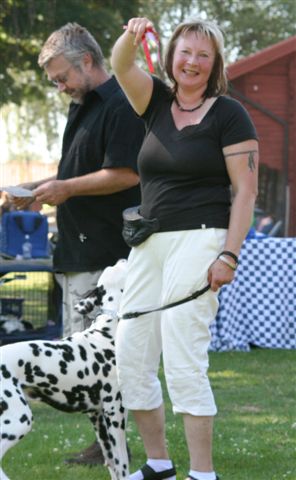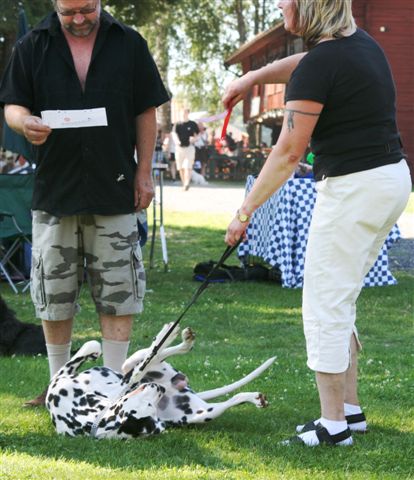 Hurray, first prize and prize of honour for Bente and Mario today....
In the shadow Rune with Bosson and Kai with Zid under a large parasol.
I love my new lens for my camera, I can stay a long way outside the ring and come close to the dogs..perfect. Here is Bosson.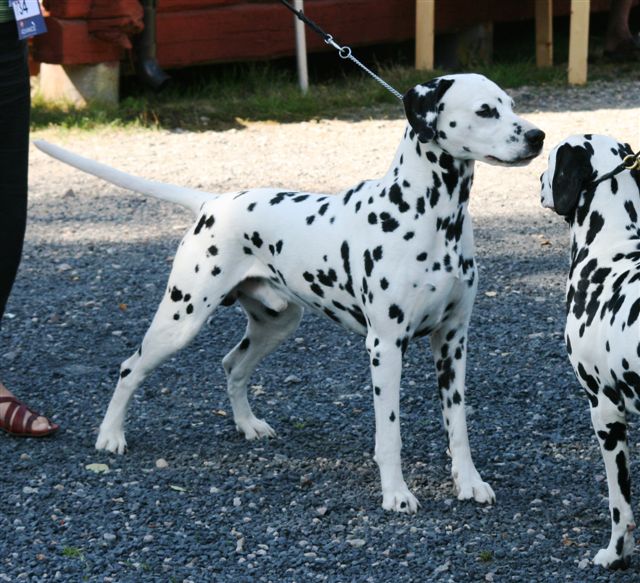 Brandon was in love with a bitch!
Bente and Nelly. Gloria and Kai waiting.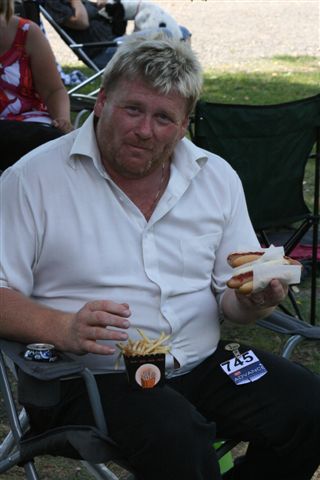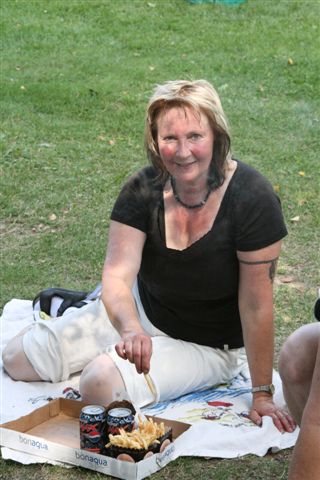 After some rounds in the ring, they deserved a break!
We got what we need and a little bit more *S*!
In the evening we just sit and eat in the dark outside the caravan. Maria, David, Rune and me....fam Christoffersen was back in Karlstad and Bente an Reidar couldn't leave their dogs at another camping place because of the heat for their dogs. I am longing for the Autumn..it is the best time of the year I think for both people and animals. So wonderful to be at a dog show in September with sometimes sun but so much pleasant temperature in the shadow. Today there have been 33 degrees here in Värmland. Just the same as in Bangkok today!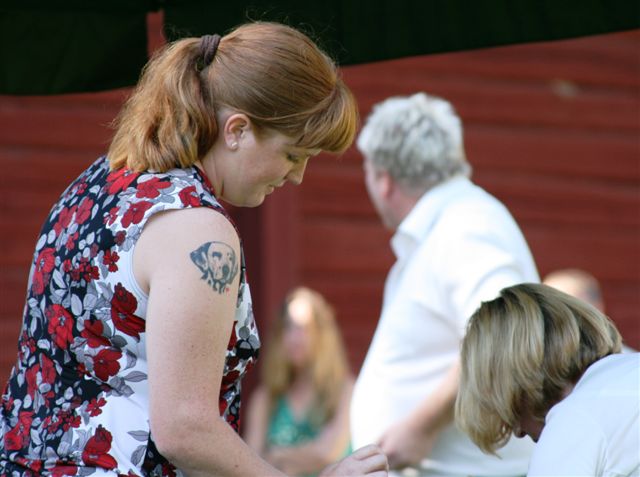 Maria is proud of her tattoo.
Friday 25 July 2008
Hopefully a lacy day in Ransäter together with our Norwegian friends.
We drive from home very early before the sun was to hot. First to the company in Mariestad to put our car there for repair..something that we need to do immediately. So we have to take 7 dogs in the pick up and caravan........!!! Not that easy at all.
We were in Ransäter at two o'clock after shopping a cooler bag.....because today our freezer decide to not work again.. Damned!!!!! We parked in the shadow and let the dogs out...
It was to hot to do anything at all.. we just sit and complain over the heat. Suddenly Kai was coming to give us a present...a cooler bag!!!! exactly the same as we bought two hours earlier...We were really happy to have such caring friends. Both Sissel and Kai and Erik and Knut have bought this together for us because they have it and they know that we need one, and now we have TWO *S* so luxurious..one with water and beer and one with food, thank You we really need it just now!!!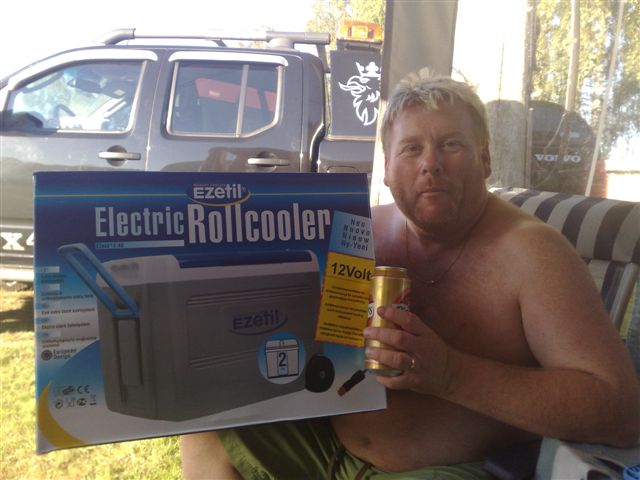 You are welcome to stay next summer and in our garden....for a looooong time....because we need an air-condition for the caravan *S*!
I got manicure and new colour on my nails.....
We were sitting in the tent until late in the night..it was gorgeous to finally get some normal temperature.
Devlina and Jill. Bell is sleeping UNDER the blanket in the heat *S*!
Thursday 24 July 2008
We should have been on our way already...but I am still sitting here by the computer.
Some of the dogs are already washed and all dogs got their nails cut...but there are so much more things that isn't ready (how could we dream about being in Ransäter now..stupid us..have we ever been in time anywhere???, Yes, in the ring of course *S*)
This morning Rune and Jonnie drove to Skara to buy things for his garage so he can have things to work with during the weekend and until we are back again. And we have filled his freezer up with food that he like, so he can be home and work and take care of Elliott and Diamond most of the time. He hate to go to the store by him self so then he only eat at Mac D...and it is ok but NOT every day he think.
It was so terrible hot so we decide to start our journey EARLY tomorrow morning instead, it would be better for the dogs.
Wednesday 23 July 2008
Today we will go to Gothenburg and Lisebergs amusement park. Rune got it as a gift from Jenny, Hanna and Jens on his Birthday. I have not been there for six years, even if Jonnie and Rune have been there together to ride all funny things at the park some times. My only interest is to play on the lottery and win lot of teddy bears and chocolate!
But first of all Rune will drive Roy to Landvetter he is going back to Asia again for his business...
BUT as always many changes, when Mr Roy is involved *S*....there will come a costumer to Roy that already have been travelling from north of Sweden and he will be here at 7 o'clock in the morning, and they have to leave before 7 from Götene to reach the airplane!!??!! Then Roy and Jonnie and Jonnies friend have to take one car to Gothenburg and meet Jennie there with her car, and she will park it at Liseberg in the early morning..so she can take it home in the evening and then she will drive Roy to Landvetter and then back to her home again with both the boys with her...but Roy was almost to late to the plane, so even if she have paid 100:- for the parking ticket in the town she have to drive VERY fast to the airport and meet Roy that (as always) had to run into the airport (he had been looking at a machine to buy on his way to Gothenburg, that was why he was running out of time for the plane....as always)! Now we have to go to Landvetter in the middle of the night when Liseberg have closed.......sooooo much extra work and soooo much extra driving.
And here at home Rune was waiting at the costumer at the bus stop in Götene ...he was not coming, until an hour later he was calling and he was standing in Mariestad waiting, so Rune HAVE to drive 80 km to bring him here and then show him a truck and later deliver it with all paperwork that he didn't know so much about.....puhhhhhhhhhhhhhhhh...he was really high-speed and very hot when he came back home just before 12 o'clock when Jenny, Hanna and Jens was coming to pick us up.
As they know I am NEVER ready to go so Jens almost carried (I said almost *S*) me into the car. Hanna was driving today and Jens and Rune was drinking cold beer.
Almost three o clock, we finally met Jennie, Jonnie, Mathias, Ellie and her friend Elsa at Liseberg, they have been waiting for us for at least an hour. Jenny and Jonnie have been at Net O Net in Gothenburg to buy an objective to my camera so I can take photos much closer at the dog shows, finally!!!! I look forward to that, instead of seeing some small spotted dogs on the other side of the ring....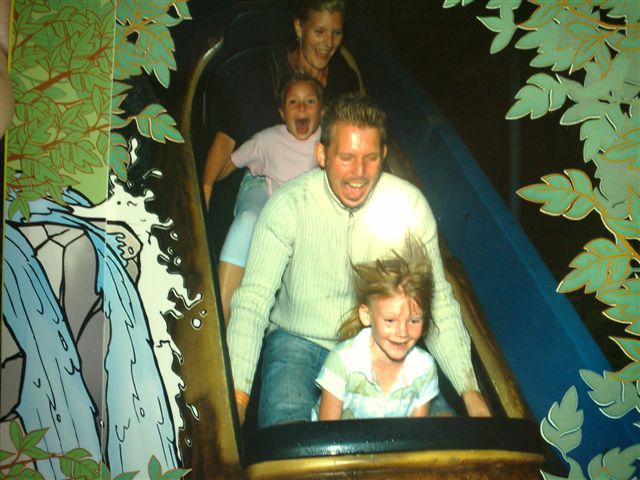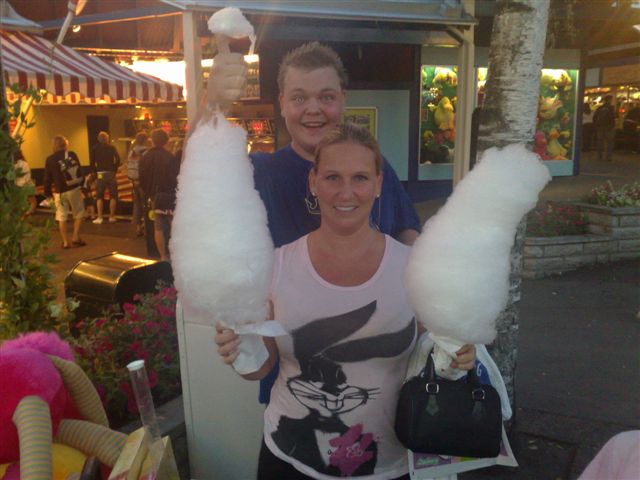 Flumeride! Cottoncandy!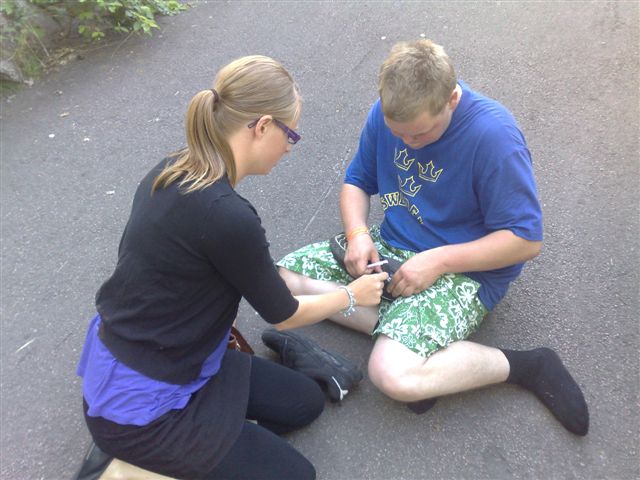 Jonnie was caught in the escalator with his shoe......Jenny had nail glue to repair it with.....he was so grateful and pleased.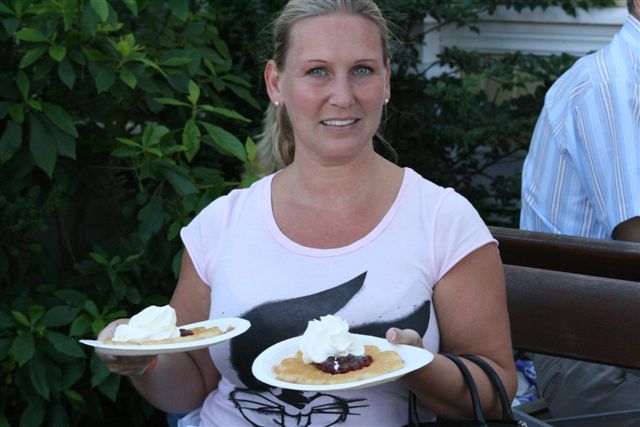 I only had the new lens on during the evening and it was not that good ...I came all to close to the object so I have to take some photos with my mobile camera.
Jonnie was fantastic to hit the ball, and he win a lot!!!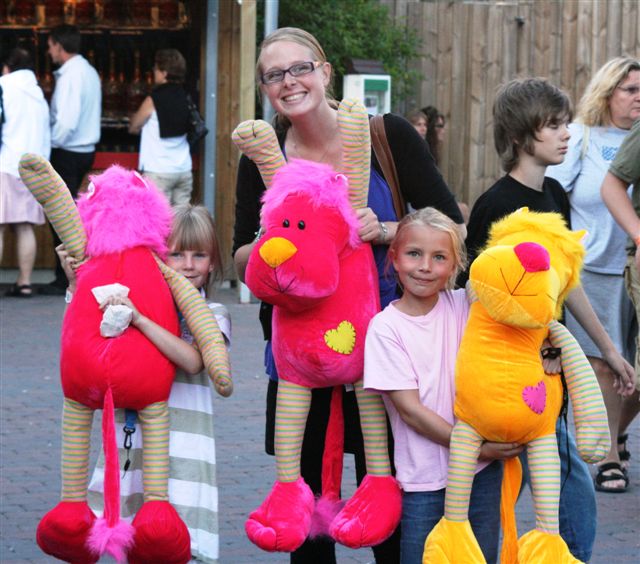 Who will be the winner on car race..........Jonnie of course!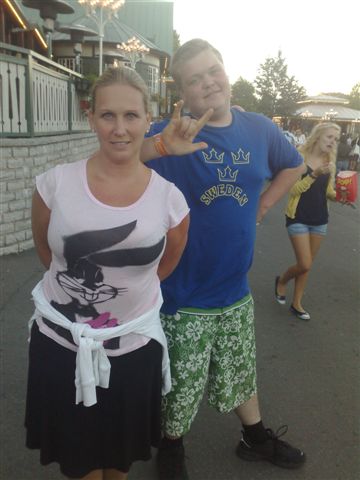 We went home at 11 o'clock when Liseberg was closing. Then we have to drive to Landvetter *S* and get Jennie's car. We were home at 1 o'clock in the night...so tired. Jenny was to tired to drive home....so she stayed here half night *S* and she was going to work at half past six this morning..poor girl!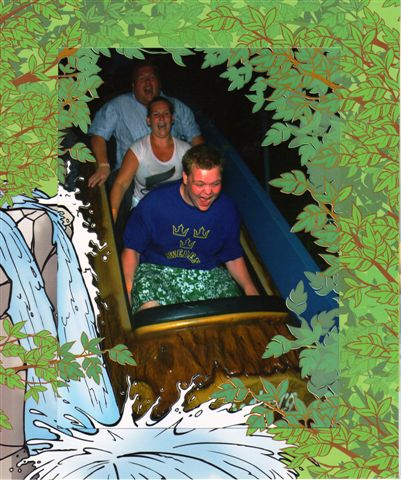 We went to bed at three o'clock.
Tuesday 22 July 2008
Another of my Favourite dogs is Harry ( Ch Jilloc's Perfect Reflection) he is one of the kindest and he soooo terrible fond of people and other animals *S*!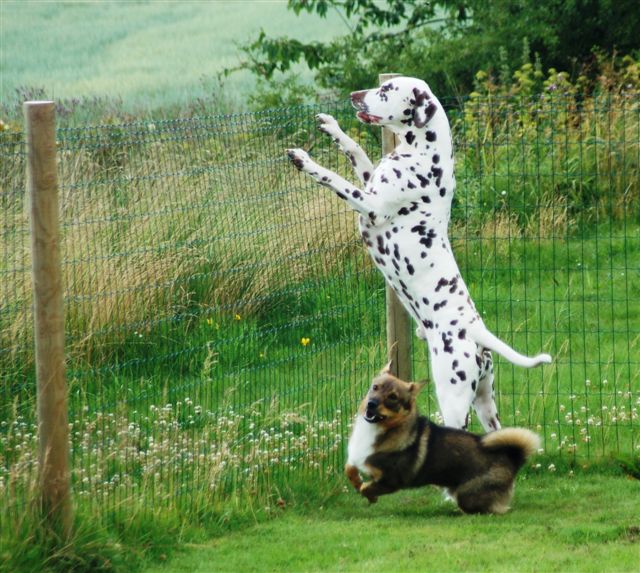 Harry is here with his crazy little brother William.
Photo: By Anita
And his is the best and kindest babysitter too.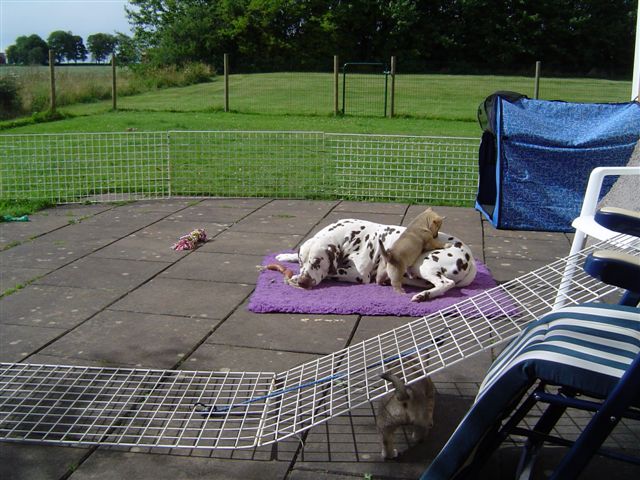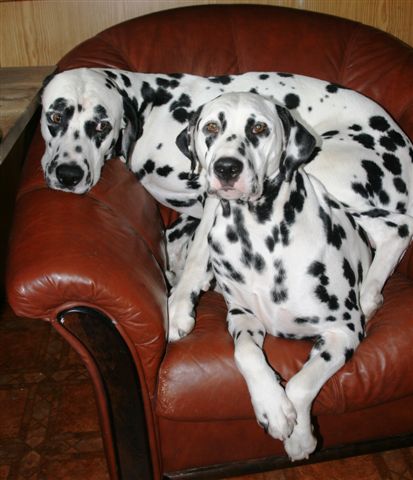 Bosson glancing at his daughter Bell.
Sometimes a look says more than thousand words....why have I done so much babies that I can't have a chair by my self*S*.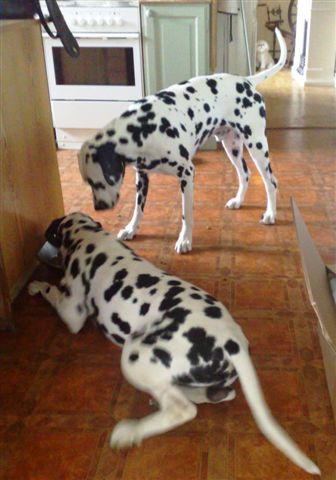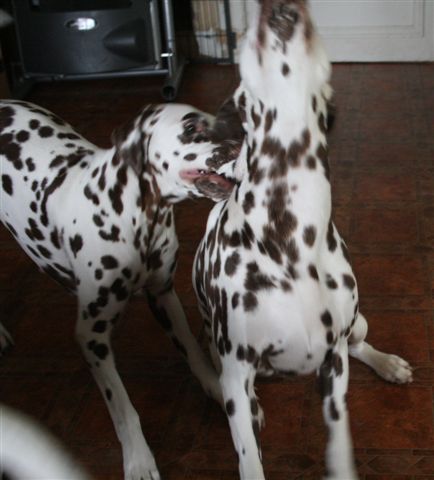 Everyone seams to think that Daddy is Bossons son......Daddy is lying down eating because he would like to show Bosson how small and kind he is! Gloria is the naughty one, that pulls everybody else around in the house by the scruff of their neck *S*! But the other ones love it!!!!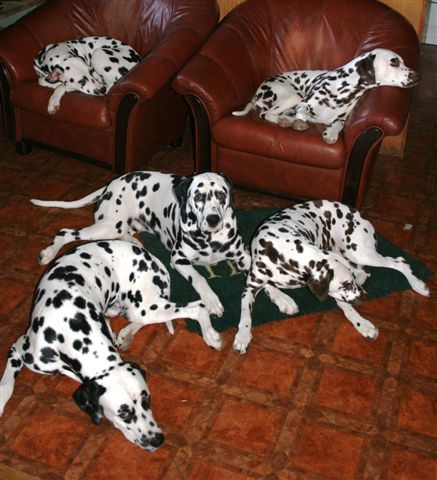 Sometimes they rest for some hours (when Gloria is out playing *S*).
Monday 21 July 2008
Lovely photos from Annette again, here is Rolex on his bicycle training with Moa o Mimmi.
I can't say it often enough this family is soooo fantastic every one are so engaged in the animals/dogs.
If You ever meet a family with a dog there 7 people is holding the lead at the same time I will be rather sure that it will be family Pettersson from Sweden...so just now when they have two dogs at home it is much more easy because then they are only 3,5 persons on each dog *S*!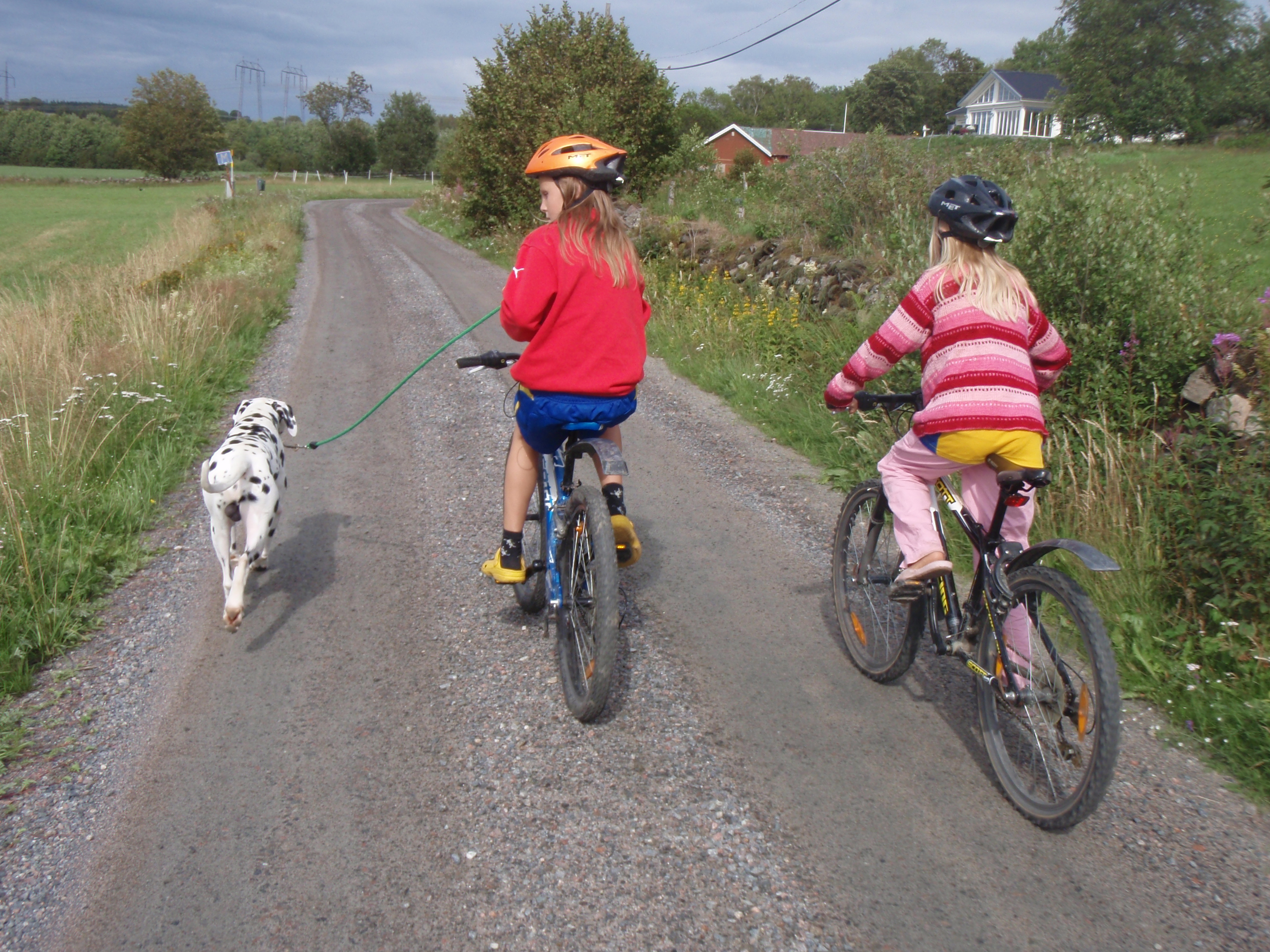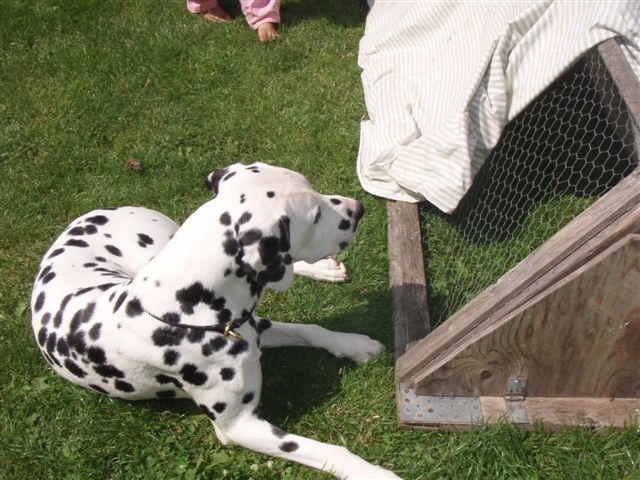 After the training Rolex want dinner!!! Ginny pigs...most of all *S*!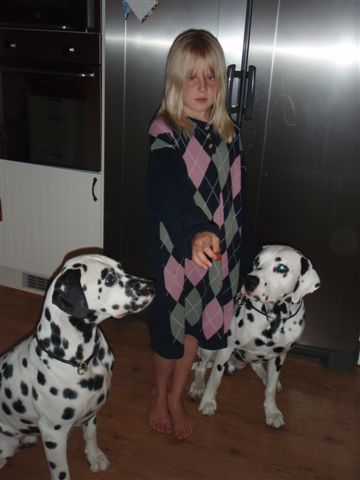 Diezel can trot even if he do not have any lead on, good boy! Mimmi is such a fantastic dog trainer and handler already, I am very curious about her future.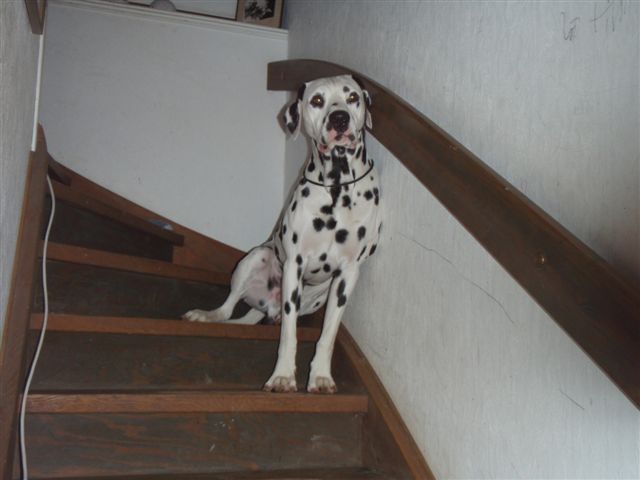 If they can't find ROLEX in the garden or in the house, they can just go to the stair to the cellar........he is often sitting there and relax in the middle of the stair.
He is the sweetest of them all, and VERY special *S*!
Sunday 20 July 2008
Me and the dogs stayed in bed loooong today, Rune poor man drive away early from home to be an aspirant for judging on English springer spaniel in Köping today. It was raining like hell and I listen to the rain on the roof outside my bedrooms window it is soooo relaxing!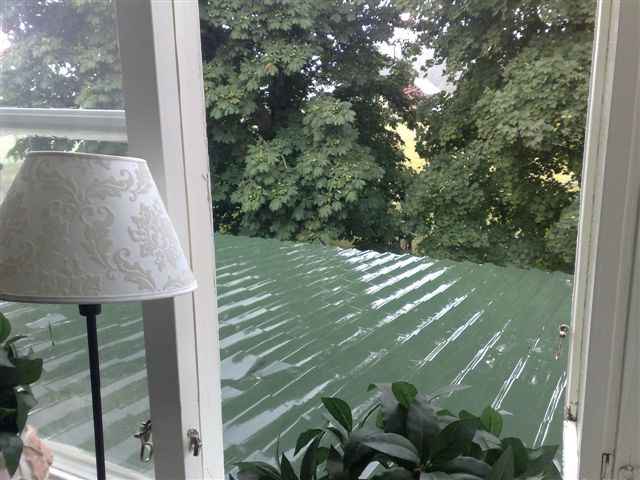 Lovley cakes from Hanna.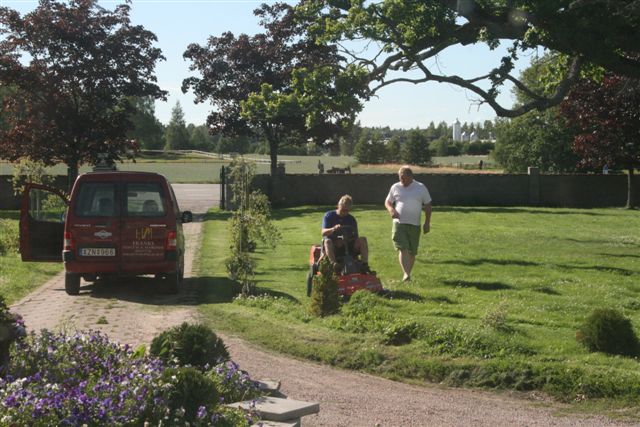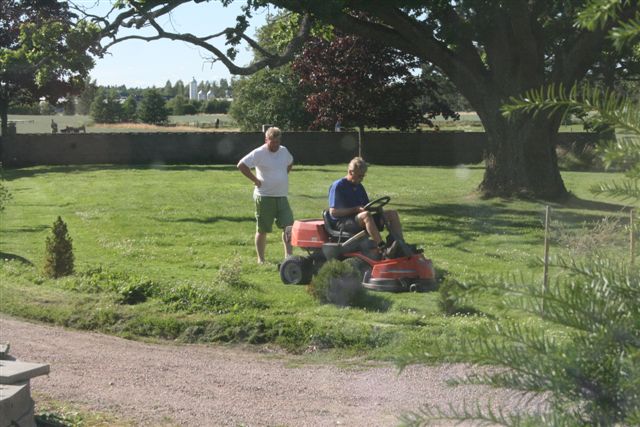 Rune got an excellent idea to exercise....instead of making the grass by him self he ordered a handyman to drive the lawn mover, and he can walk by his side instead!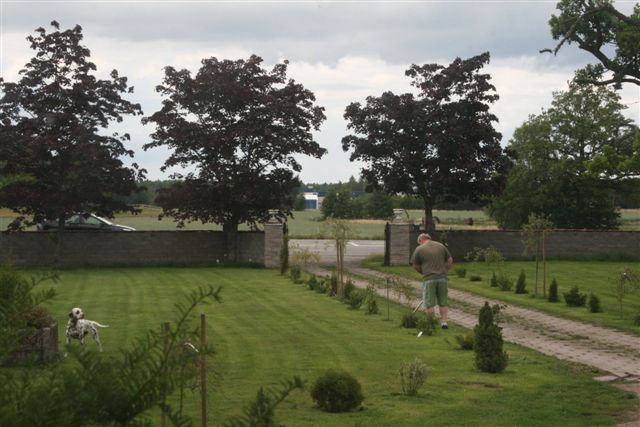 Then he and Donna take care of the rest....she is in season and can't be together with the others.
The boys have full control of where she was!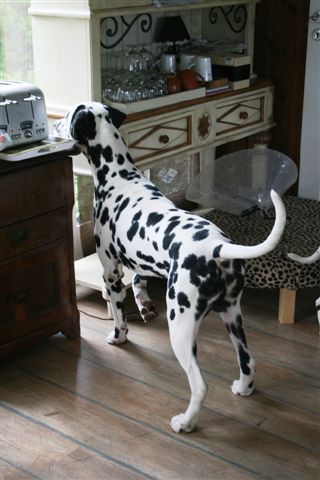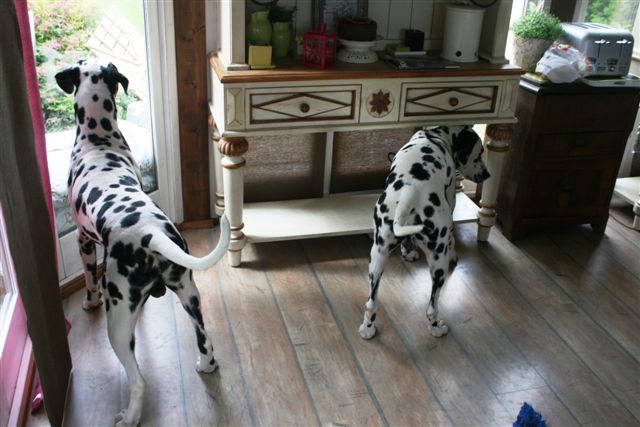 Saturday 19 July 2008
Dog show in Köping, but we haven't entered. The meaning was that Rune should do a training as a judge, but sometimes the ordinary judge do not want any trainer in the ring (Obs! This was for another breed, not Dalmatians. Rune have done the necessary for Dalmatian, but are only waiting for the approval - if he gets it!!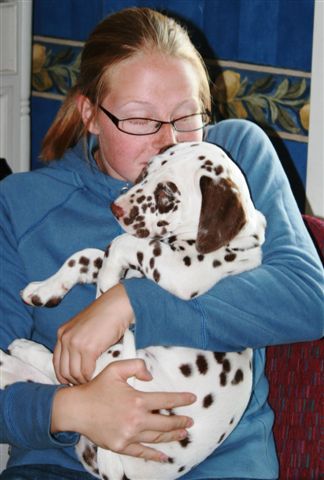 From the beginning of Dezibels life Jenny have tried to prepare her for dog shows...sometimes it has not been that easy..Dezibel have her own free will *S* and most of the time she do whatever she want......she prefer Jenny's two new expensive eyeglasses to eat instead of her food, an Persian rug instead of all the other "normal" rugs in their home, their car keys instead of all her toys, an expensive bed madras (on Jennies' boyfriends side of the bed *S*, it doesn't matter as long as it isn't on my side Jenny said *S*)......a ring of gold....etc etc.
But I can tell You that there are not many dogs in this world that is soooooo loved by her owner......
Ok....she have got better behaviour last months, but after this weekend with her first CAC I got a sms from Jenny that Dezibel think she deserve something special good so she took a bit of Martins side of the bed again *S* (he is on holiday) so we have to hear more about that later...
I am VERY happy that I am only the co owner of her *S*!
And it is a hell to bring her in a lead....she is like 10 great dane at the same time.....BUT in the ring she can behave as a lady!?! last months and we can immediately see it on her results....
But of course she have a name to live up to:
Jilloc's Top Winning Trophy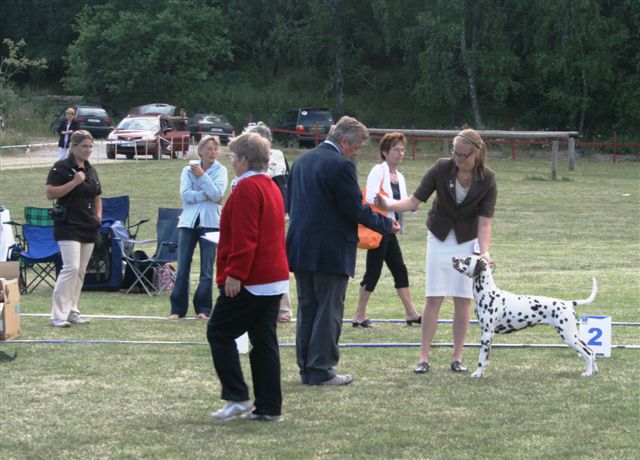 Jenny showed her very early what to win!
Friday 18 July 2008
Zzzzzzzzzzzzzzzzzzzzzzzzzz!
Finally we had a loooooooong morning.
Daddy was proud of HIS World Winner Towel...The other dogs were so jellous!
In the evening Rune and I decide one more time to stop eating in the evening (the best thing that we both know). We take often that decision when we have eat a lot and not are hungry *S*!
Thirty minutes later Roy came in the house with sooooo much good for us *S*! Of course we HAVE TO eat......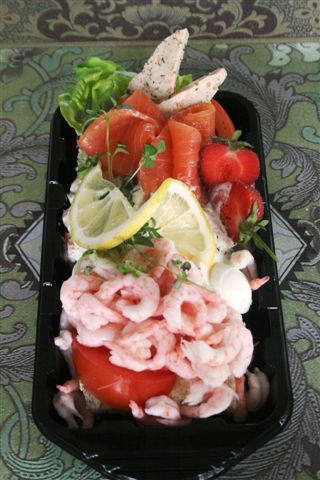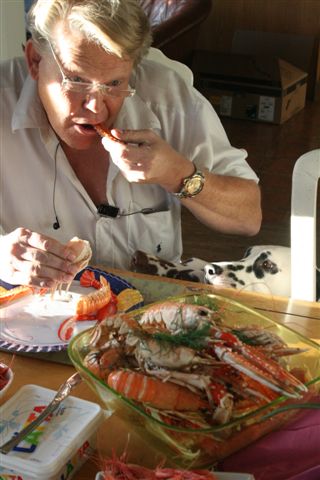 What can we say...more than...We start our diet tomorrow instead *S*!!!
Today we have enter our dogs to tooooooo many dogshows for tooooooo much money.....for ex 7 dogs to the special show in Norway, 9 !!!!! dogs to an Int show in Sweden and 8 dogs to Visby, and 6 dogs to an Int show in Europe, and and and.........unt so weiter!!!
Thursday 17 July 2008
Up toooo early this "morning" to wish Andreas a pleasant and safe journey back home to Arendal in Norway.
Some hours later all the others went on to another dog show in Köping this weekend (we will be home!!!) we were really temped to go with them, but Donna is in heat and it is impossible to handle eight Dalmatians in the caravan when one is in season.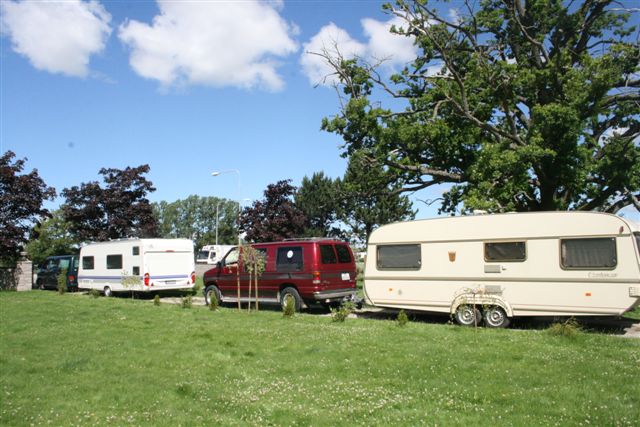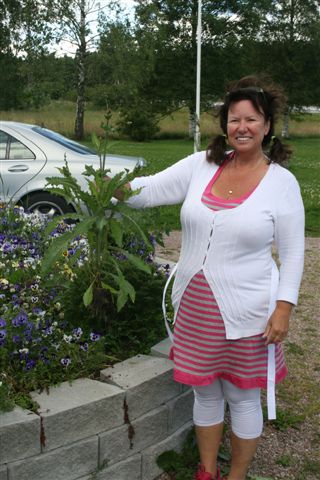 It looked like a gipsy train when they drove in convoy out on the E 20. I found A big weed between all plants.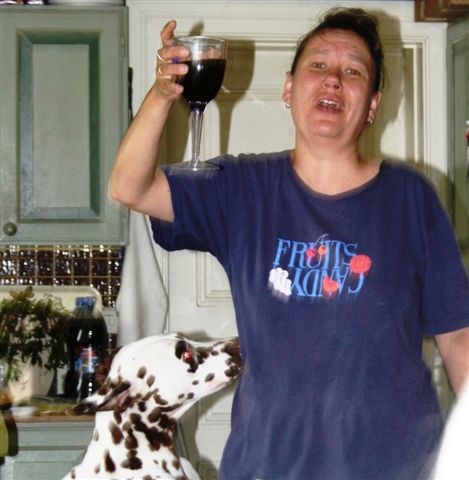 Cheers...Erika is a Coke O Holic as much as I am a Pepsi Holic.....and Gloria want her "drink"!
Wednesday 16 July 2008
Today I will tell You a story of what can happen in everyone's life.
Some days ago we heard a knock on our caravans door. I opened the door and there was a "poor lady" with two children. She was hungry, thirsty, tired and need a bath and roof over her head. Some new clothes was necessary too.
Even if she need a lot of things in her life she was smiling, and a fire was burning in her eyes, that impressed me.
We have to help her!
I said to Rune that we have to bring her and her children back home with us. We can help her and maybee she can help us with something when she will get stronger again, because she told us that she in her whole life had to manage everything by her self, and have lot of things that she do very well.....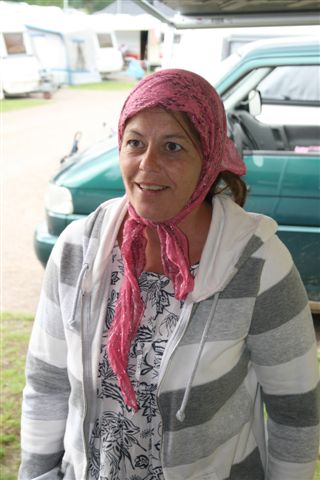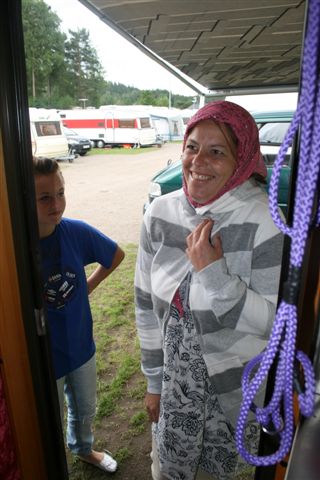 First of all she need to sleep, so we let her lay down on the couch with our dogs, she really needed to rest.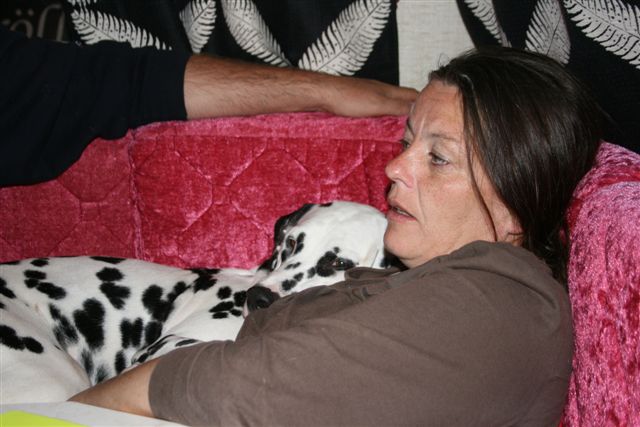 See how tired she is.......poor woman! One of our dogs try to warm her up......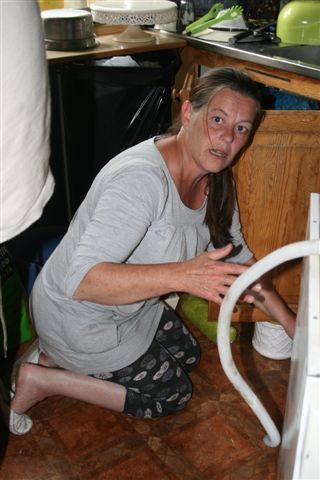 She play with our dogs............She try to repair our washing machine, and she clean the floors.....She get some food, so she will be stronger and can work more....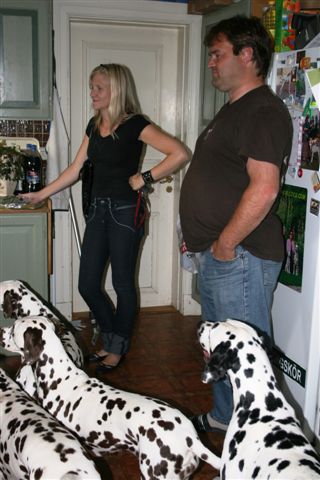 Hanna and her boyfriend *S* was just standing and look when she was crawling around and work.
Then this fantastic Lady bake a cake for all of our visitors. There are so many things that she can do. Hopefully we can find a husband for her that she can impress with all her different skills.
Her cake taste fantastic (Mark...You should have been here!).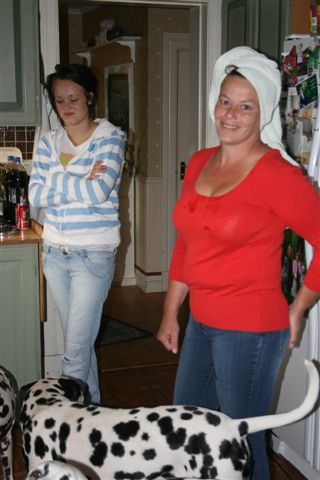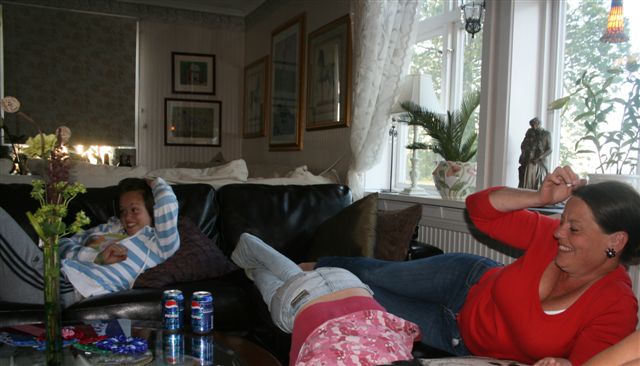 We gave her and her daughter a bath....... In the evening the lady and both her daughters relax in our livingroom....... We can se that she was more happy and have gained some pounds already *S*!
And then after some days something happened!!!
Look at this.
This special woman is fantastic, she can be whatever she want, and......
SHE IS A QUEEN!!!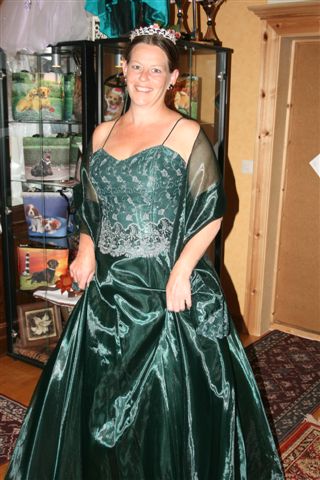 So think about to treat a woman vid care and she can be the one You always wanted!
(And of course the same with a man)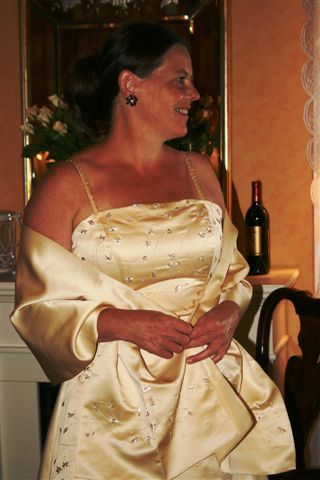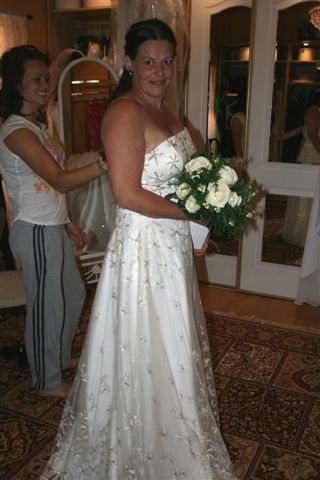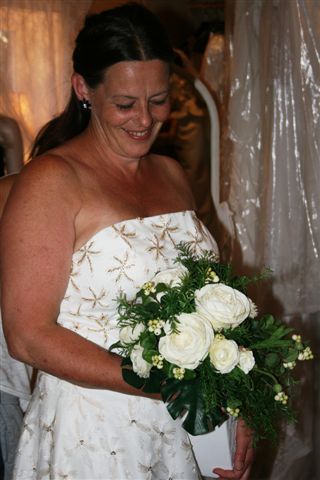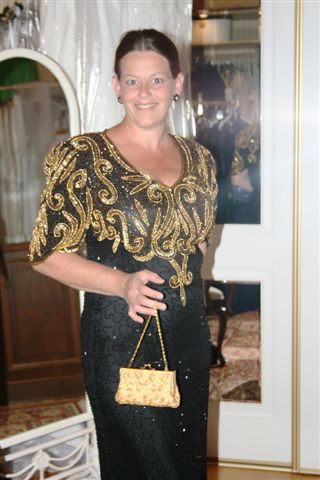 She is our own "Silvia Sommerlath" and we are looking for a "prince" to her now. Tonight she will hopefully kiss the frog and it turn out into a handsome man....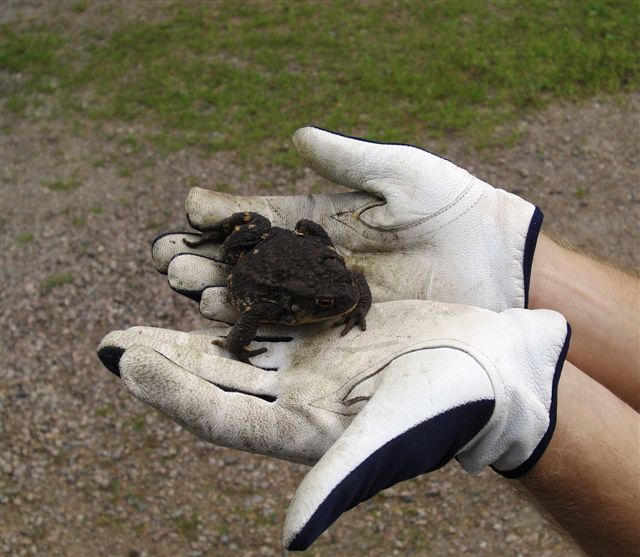 Photo:Hanna

To My Beautiful friend Sissel that have had a laborious year.
I wish You and Your family all the best for the future, and that there were more mum's like You!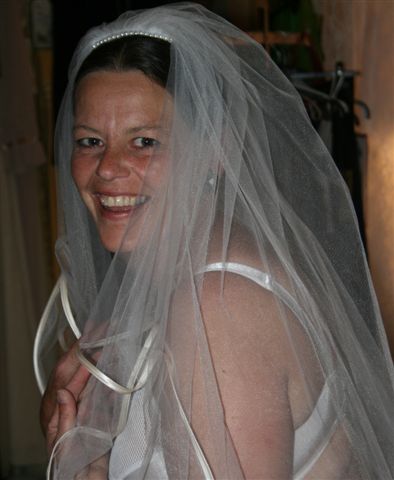 See You soon.....
Tuesday 15 July 2008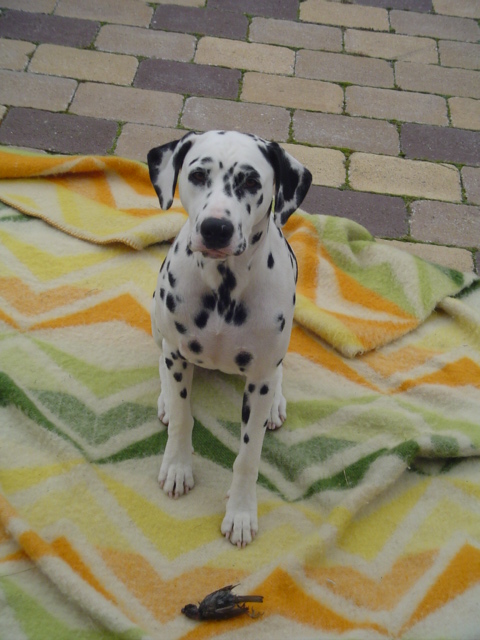 Seven is a hunting dog *S*!
Photo by Diana.
Sissel and Me wash all day long.....in the afternoon even Erika from Norway and her family enjoyed us.
Sissel try to eat chocolate and so many were interested in her candy*S*!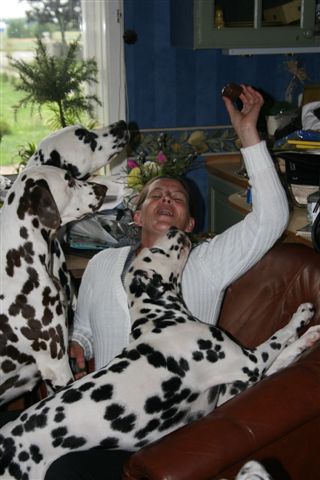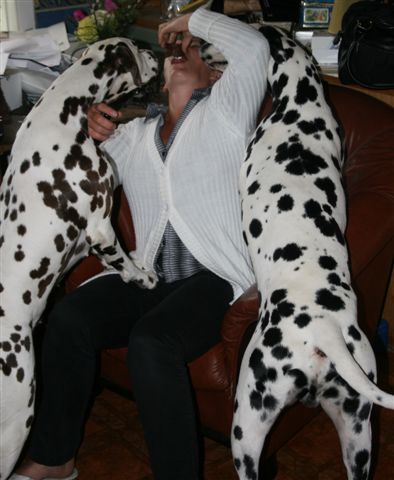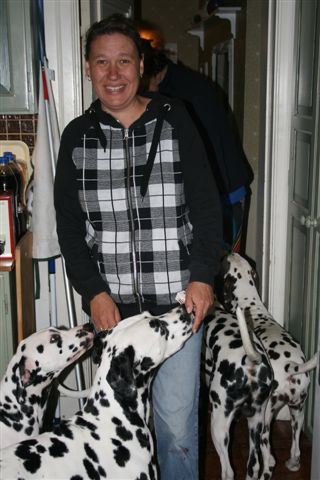 Even this evening we all eat dinner together. The only one that didn't need to exercise just did it for fun....strange!!!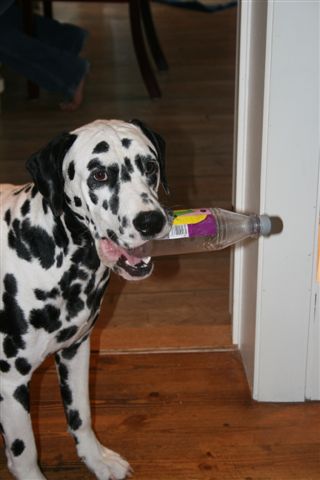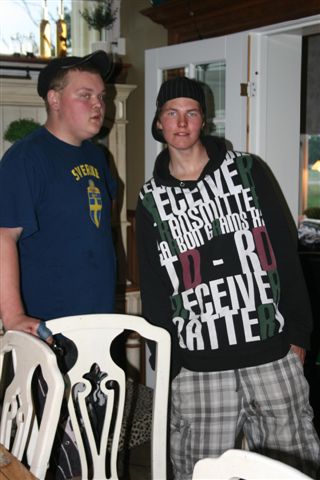 Daddy love to carry things around! Jonnie and Hampus came to eat too. But I think they were more interested in the girls instead of the food.
The dishwasher was broken so we have to eat on plates of paper *S*!
Rune was tired to talk Norwegian all day long...he had plans to do lot of work on the computer in the night, but he took a nap instead!
Monday 14 July 2008
Shopping, shopping and shopping....and we were all so tired after many hours in the big store. After that we start to drive home and on the way we met Annette and her family with Donna. She is in season and we will take her home so they don't get any problem with Diezel and Rolex during this time. We are so grateful that they take care of our dogs during the summer when we are travelling a lot and when their children have holiday. Their children want to have one dog each (they are five*S*)....they think it is not faire that they have only one dog.
The clock was over eleven in the evening when the dinner was ready, even Jens, Hanna and Roy came here to eat with us.
Sunday 13 July 2008
Hanna and Jenny leaved early this morning because Jenny have to work today.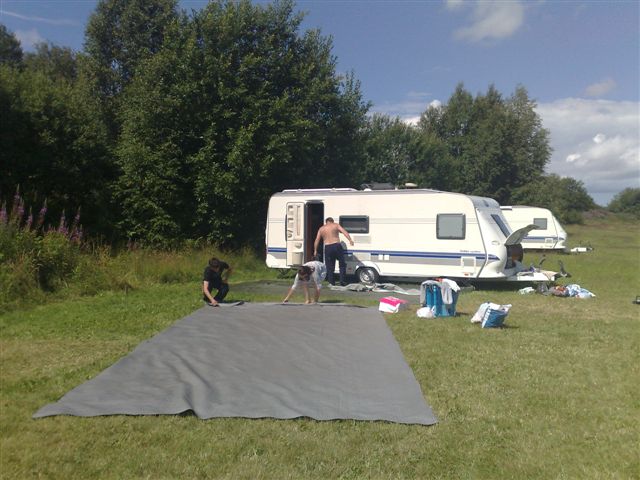 We stay in the bed as long as we could this morning, then we packed all things together and at 12 o'clock we were ready to go to Ullareds Camping there we will shop a lot tomorrow, when the BIG, famous, store opened.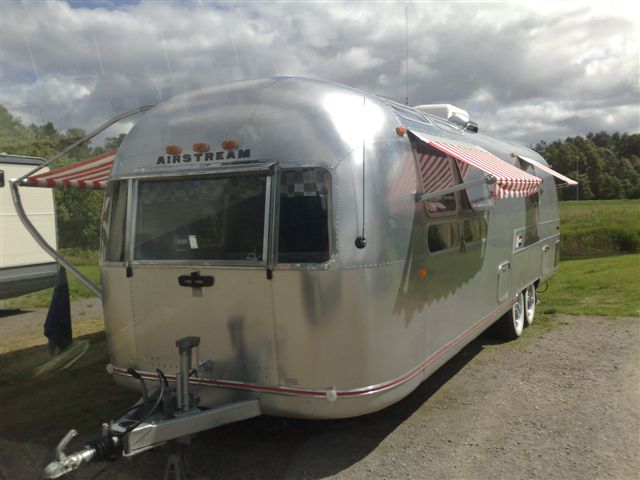 A Normal caravan and an American one!
Sissel made dinner in the evening and we all enjoyed it.
Sissel and me are planning to make plastic surgery on our turkey hooks, but we are too scared *S*!
And if You think that we look stuck-up...the only reason is that we look up in the air to make our hooks smaller *S*.
Andreas look at us and probably think we are stupid!!!
Saturday 12 July 2008
Tvååker Nat.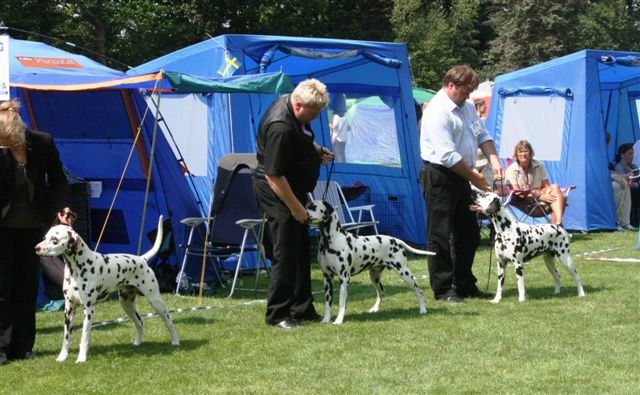 Three of the males (out of five) in champion class. Jilloc's Hole In One, Jilloc's Loverboy and Lovindas Fritjof.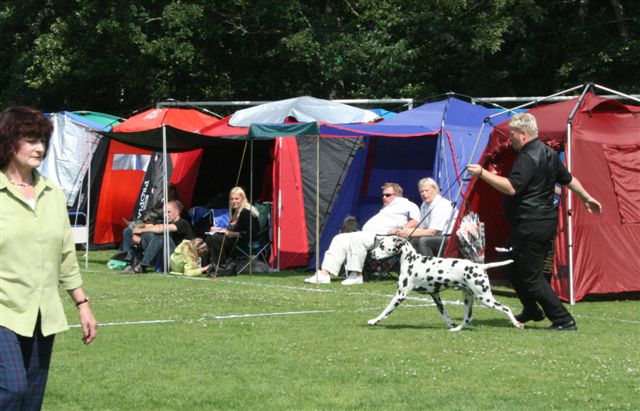 Bosson was so happy to be in the ring again...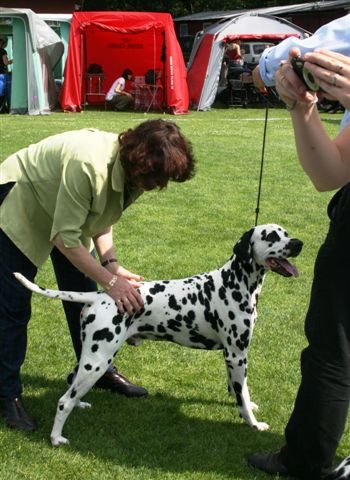 Bosson Zid Tiger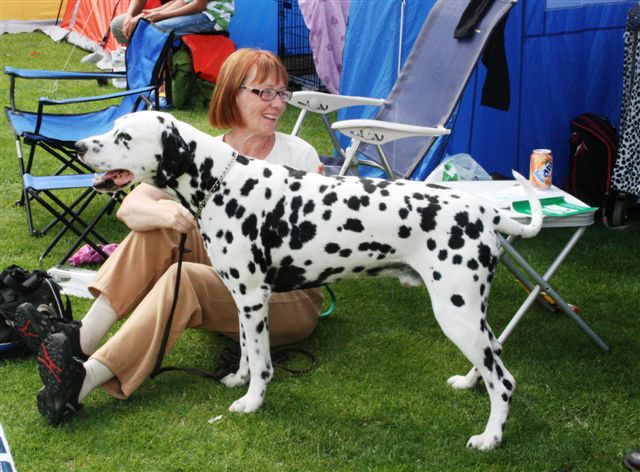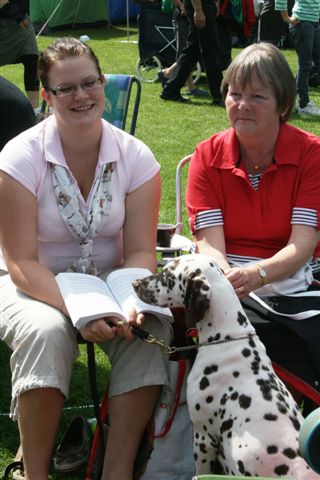 We congratulate Helena Cohen and Formo to his first CAC, as a veteran. Well done. Maria with her dog Lizzie and her Aunt Britt.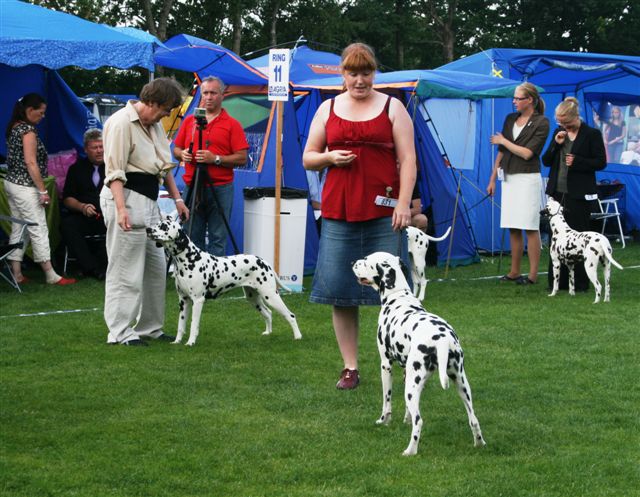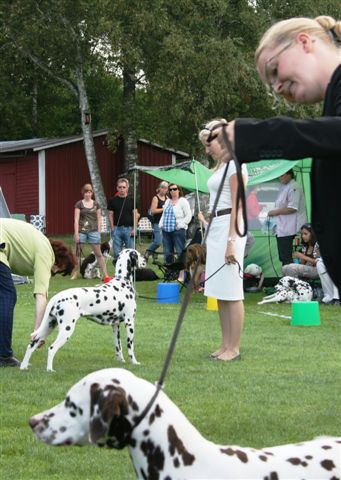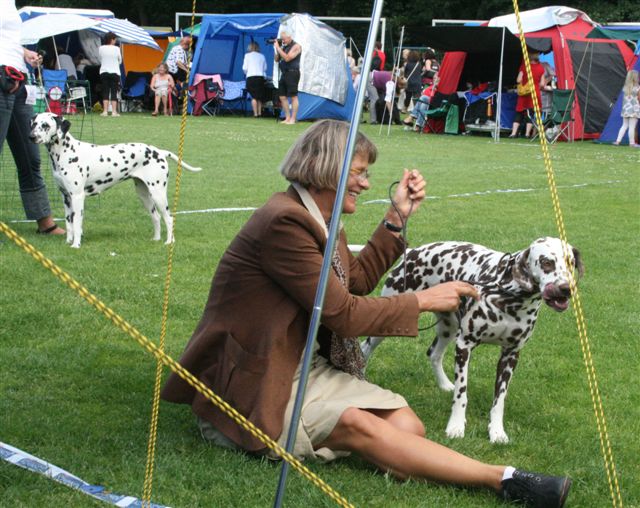 Angie with Jenny that showed her today. Russin so happy that she bring her mum on the ground in the ring *S*!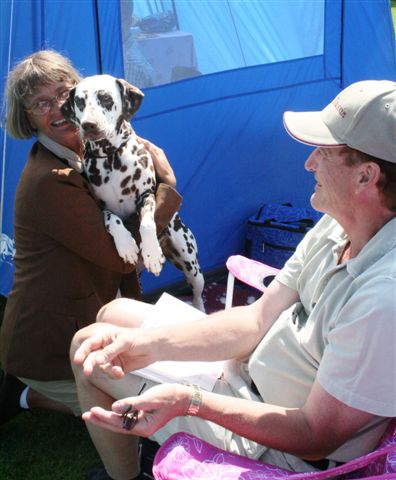 Russin had her own Coach with her today, and it helped, she became BOS.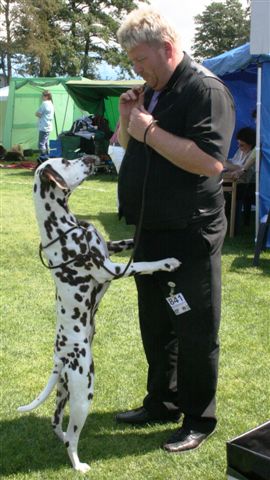 Devlina is a lacy dog, but not in the ring.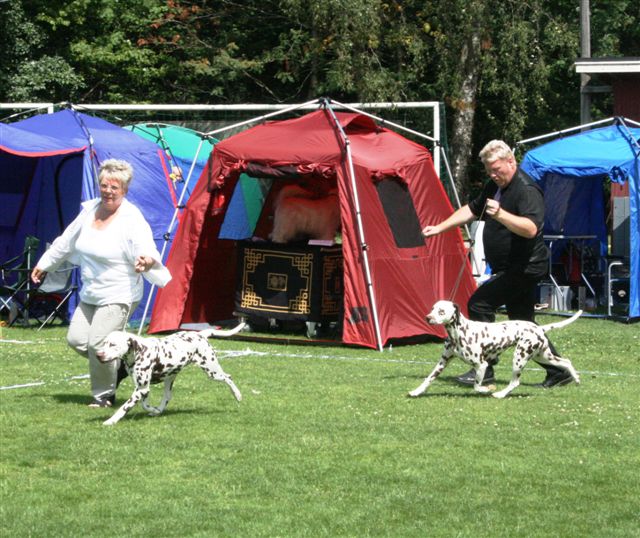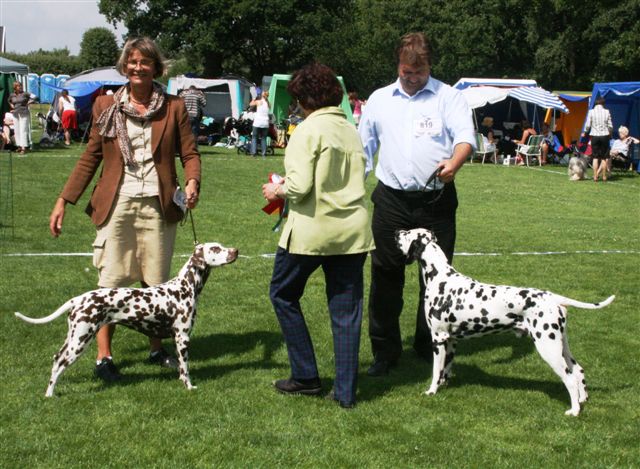 Aase and Rune exercising. Jilloc´s Run Wild Run Free got her second CAC and Ch Lovindas Fritiof was BOB.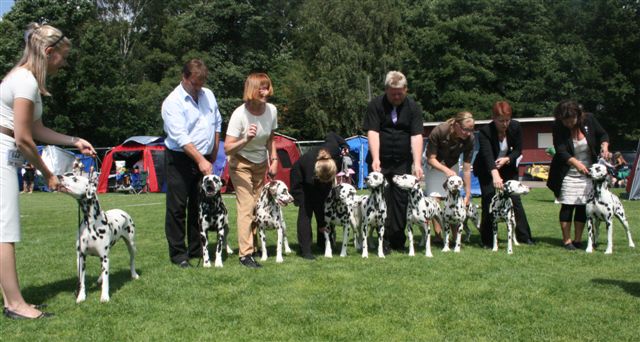 Two progeny groups: First J Key To Success, with 4 children and then J Loverboy with four daughters. Hjärtat in the middle belongs to both parents *S*!
Today Bosson won and we were BIS 2 in the final ring!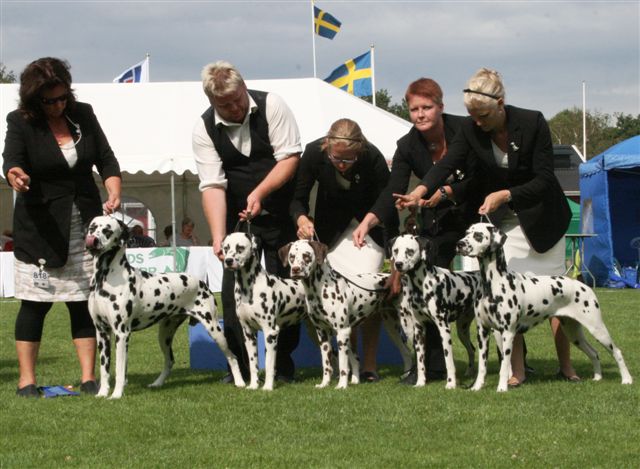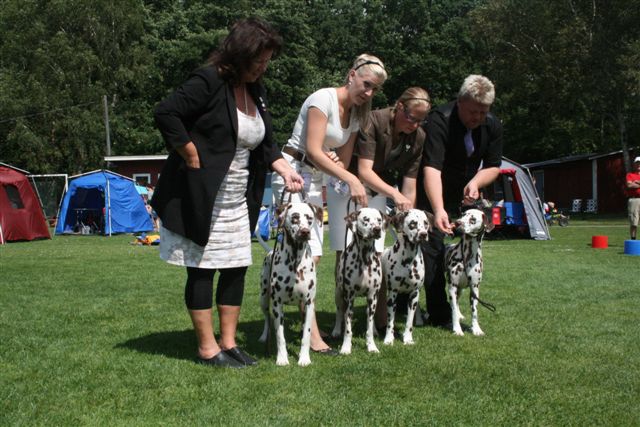 Jilloc's won the Breedinggroup!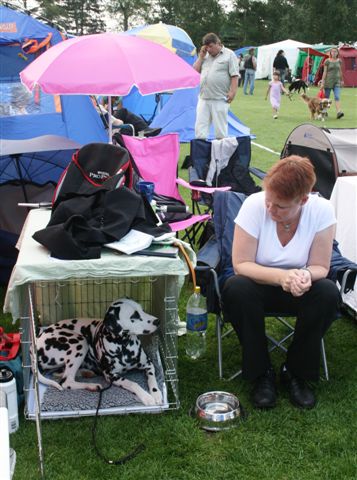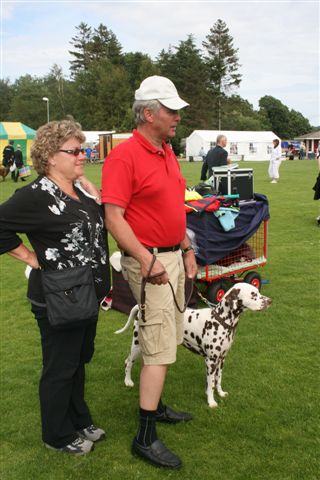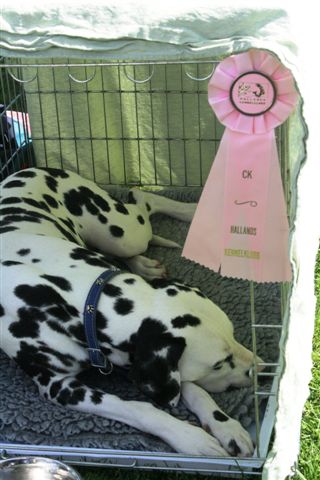 Yvonne and Troja waiting. Angie was waiting with Madeleine and her husband. Troja sleeping with her rosette!
Ellie and Jennie was coming to look at the finals. Hanna found an available knee*S*!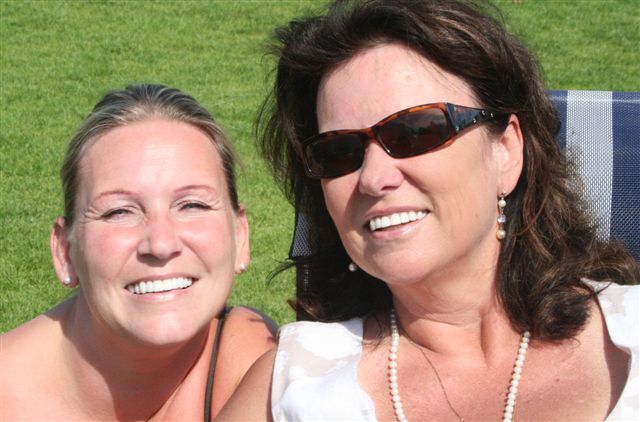 Jennie want to know which teeth are the whitest???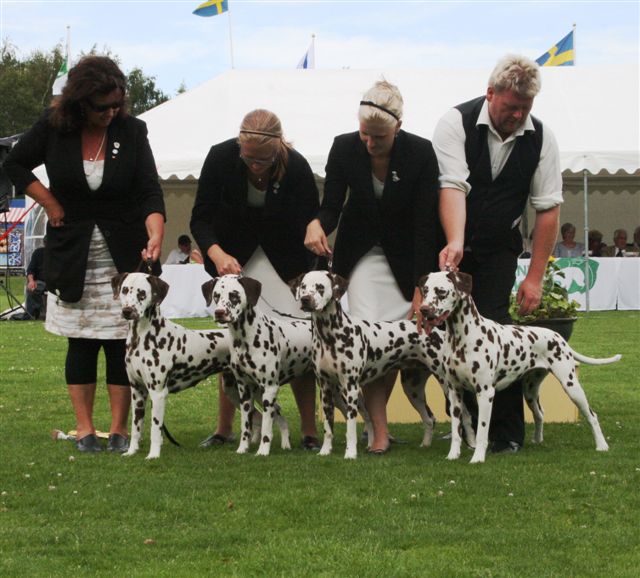 We were BIS 3 Breeding group out of many groups, I was really pleased with that.
Photo by Jennie
Fam Christoffersen was more than happy after the win of Group 6.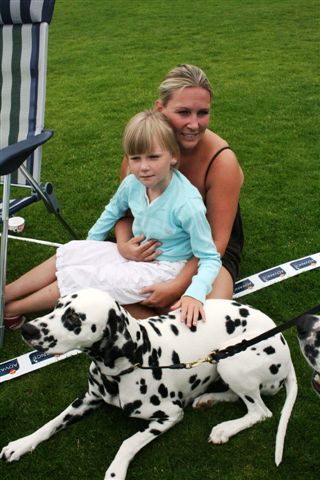 Photo by Kai Yes, we were both tired *S*! Hjärtat with Ellie and Jennie.
We waited for hours to see the final. It was rainy, stormy and terrible weather.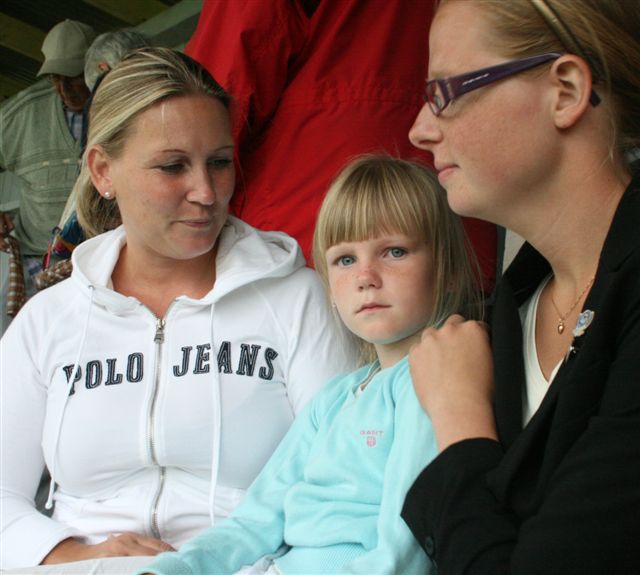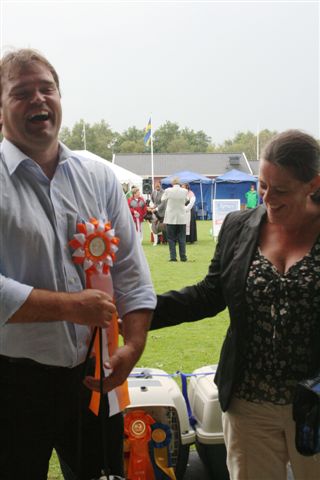 Ellie was afraid of the thunder. Kai and Sissel where just happy for his BIS 5 rosette.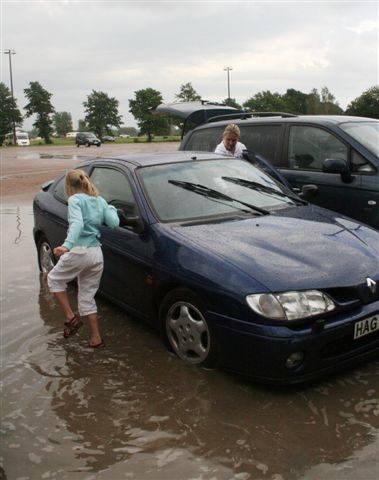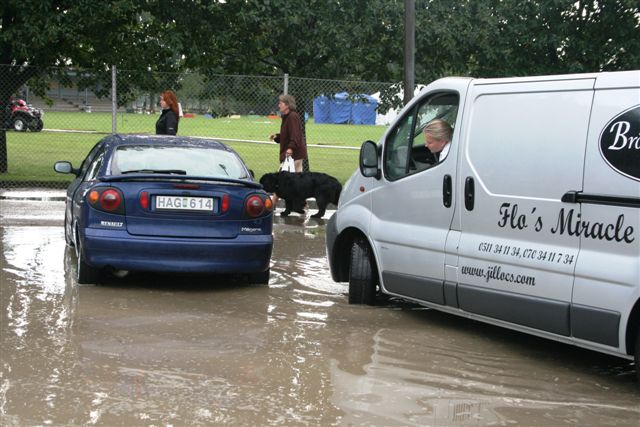 After all the rain many people had problems to get to their cars. Jennie went out in the water and bring our car to land again. Thank You!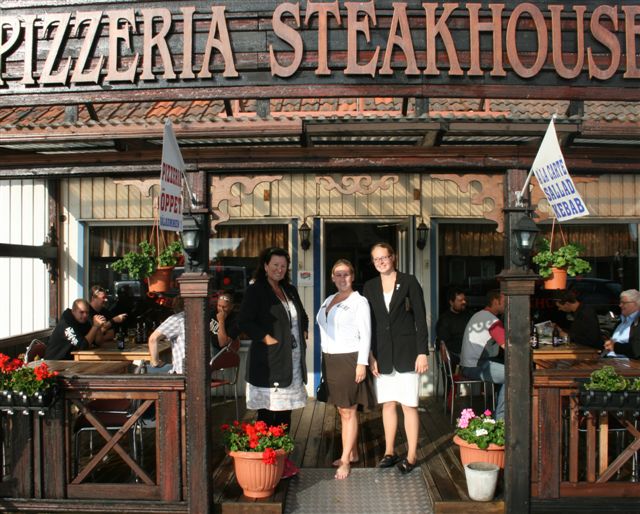 We all need something hot after that terrible weather!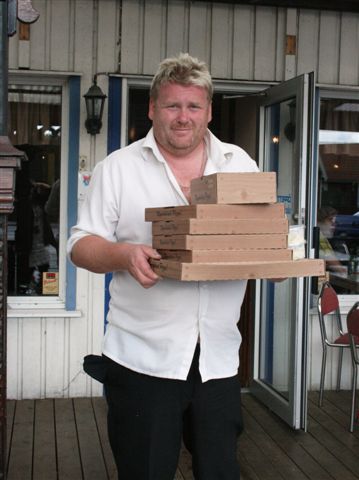 Rune bought MANY pizza...You can see that his money pocket was empty!!!!!
We were all tired after a long day and eat just a little of the pizzas (of course Rune eat his family pizza in two minutes *S*)So our dogs was happy to get pizza too in the evening.
Friday 11 July 2008
Tvååker Nat.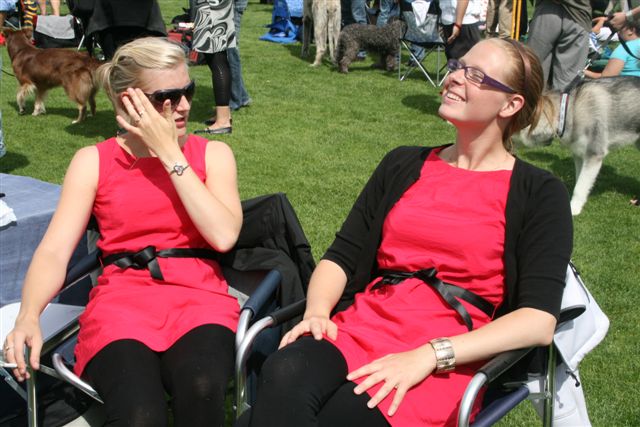 Two sweet girls in the sun.
A Norwegian owner of a World Winner was so happy to relax in the special WW chair. There were many jealous people around her!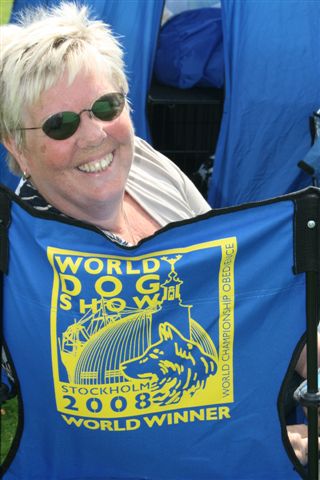 If You are kind enough You can look at Daddy's Junior World Winner Handkerchief too...!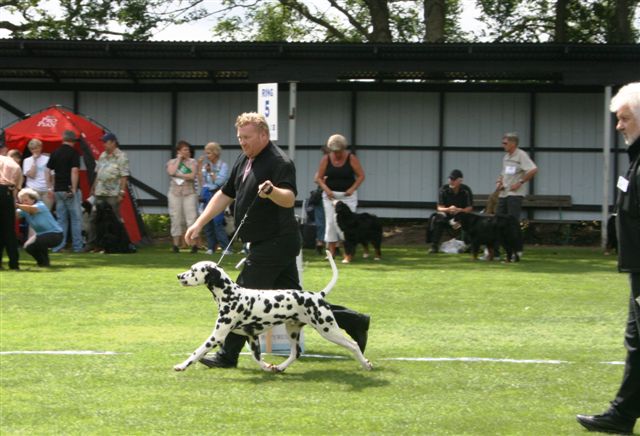 Daddy showing his beautiful movements. Sometimes he get critic that he moves TO well *S*and some judges write or say that he moves so much different from the others that it must be HIS movements that are wrong.....?!!? (PS...not this judge).
I am so pissed of that I only on my best days can show one dog now (bitch)....because I love to be in the ring with my males!!!!
First Daddy that ended nr three Best dog with another CAC and then Scotty BOB and Zid second best male.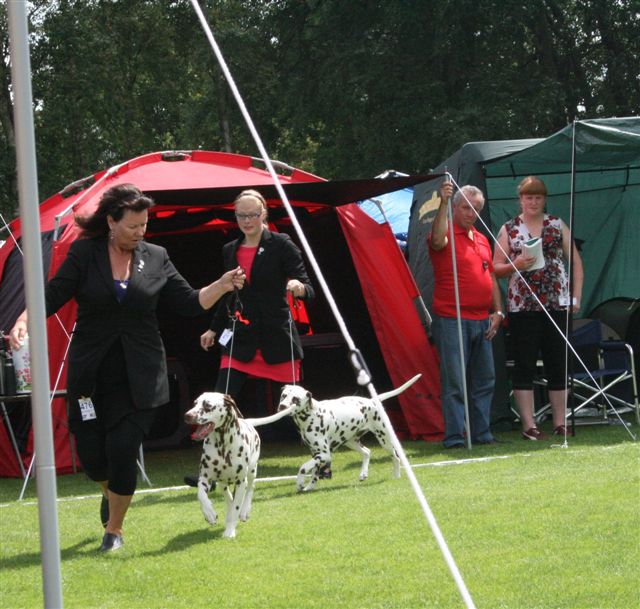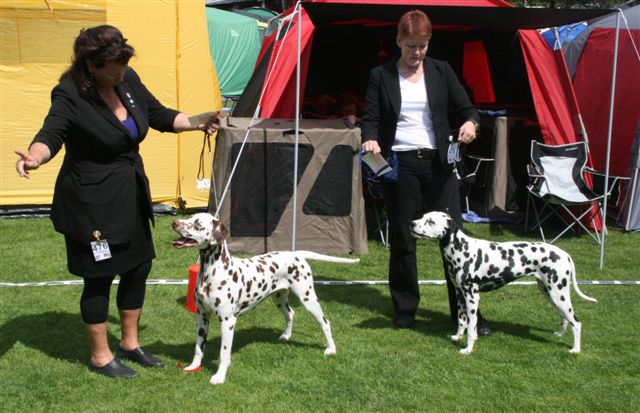 Gloria and Decibel running. Gloria nr one with CK and J Truly In Love nr two with prize of honour.
Open class bitches. First Inger with her bitch from Boing. The two last Hildegunn and Vinta and Carin and Russin in the end.
Bitch nr two from left got the CAC today, all the others from Jilloc´s.
Gloria and all the others waiting for the final.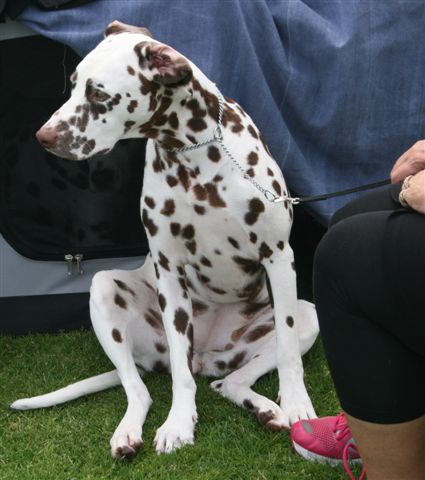 Jilloc's Breeding group at Friday looked really good and was picked out in the end, but it was not enough for a placement today.
Vinta-Devlina-Decibel-Angie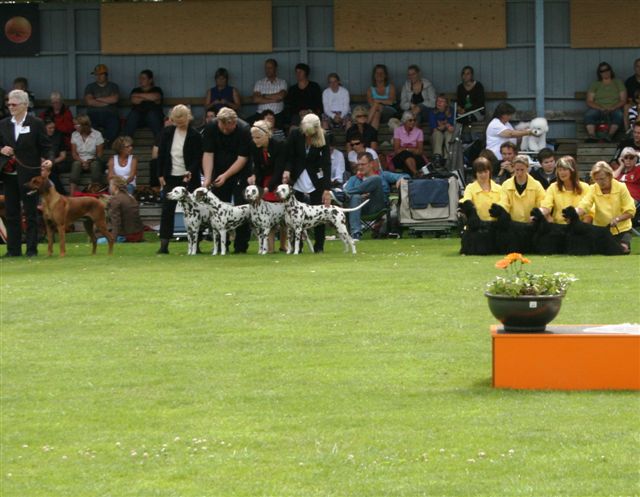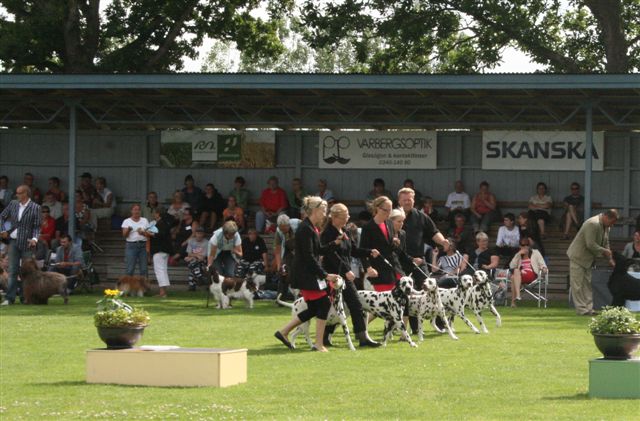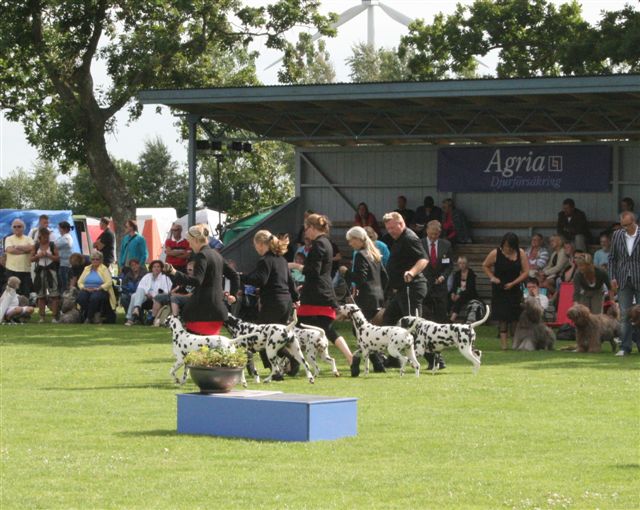 Chrissie's progeny group was nr 3 today.
Aase was sooo tired of Scotty, he won BOB but he didn't bother..only about their bitches in season. Believe it or not, but he was 15 minutes later winner of Group 6. Well done Aase, you really had to work for it today *s*!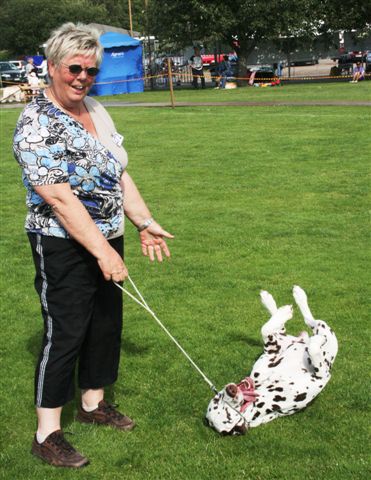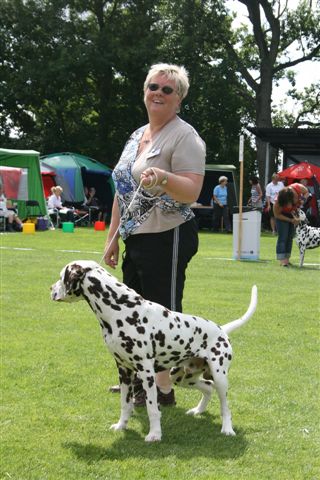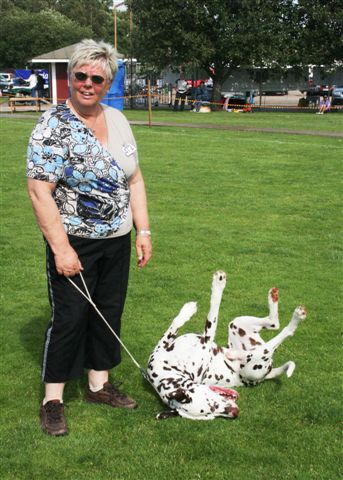 Family Christoffersen bought a new easy tent...but it was not that easy!!!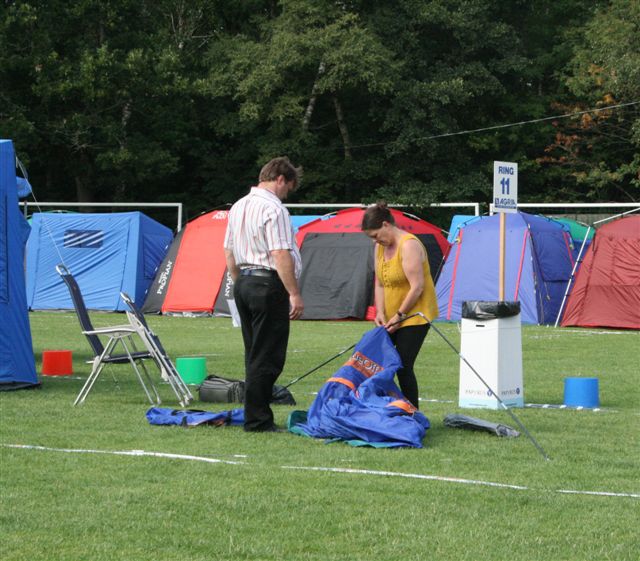 Sissel were sooooo angry and act like a Italian, waving her arms and kicking with her legs..we were laughing...even Kai, but he didn't want to show her his smile...then she have been even more angry (with him *S*)!!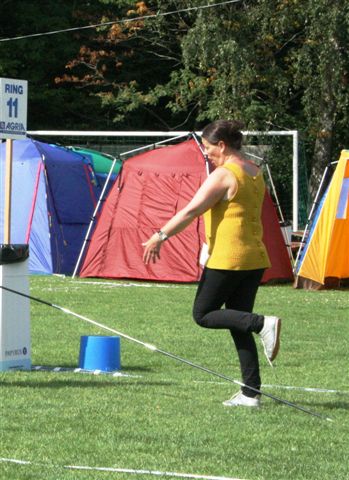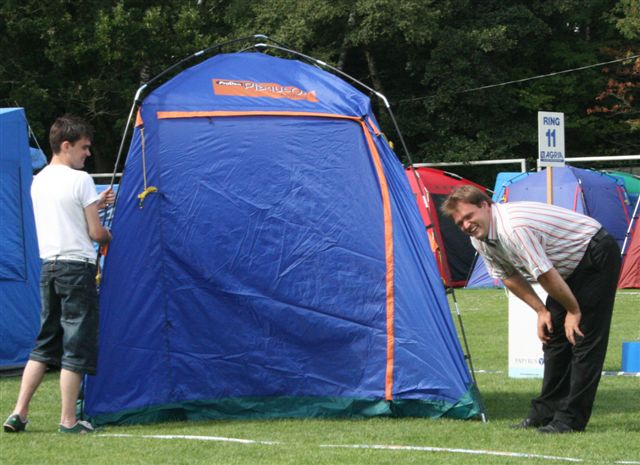 Andreas and Kai work, Sissel just looking...Kai said it was that easy....ha ha ha ha ho ho ho!!
We couldn't find Rune...only his shoes *S*!!! He was going to the ice bar again!!!! Decibel and Devlina resting.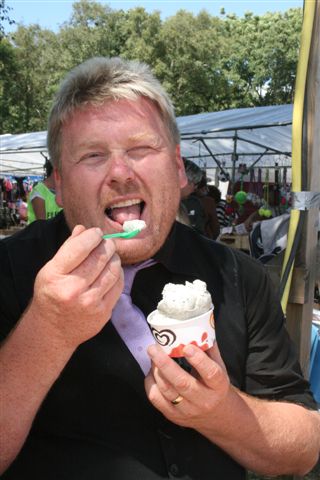 Mmmmmmm...Rune bought all ice-cream with liquorice that they have....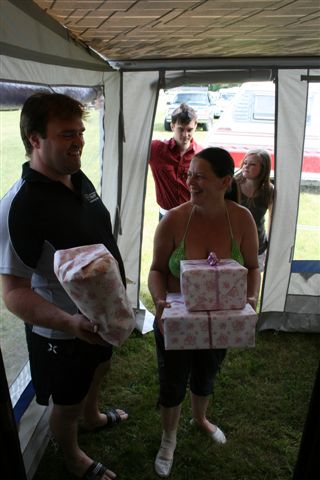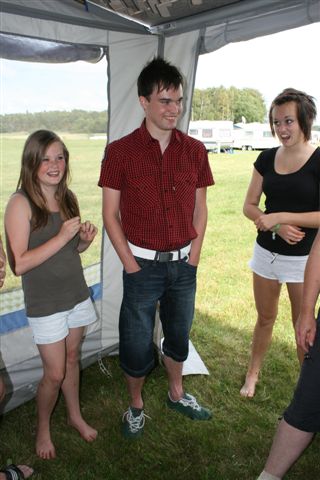 We get lot of presents from family Christoffersen.
All the other was sitting outside in the evening and had fun...I was soooo tired and went to bed with lot of pain in my feet together with our dogs. Can't even remember when I fell asleep before 10 o'clock before! But I love it!
Thursday 10 July 2008
Up, up and away towards Tvååker. We leave from Götene at 11 o'clock. Just before we go we got the result of Rolex hips, and we were not that happy for even he had C hips.....
Ok, no mating for him today then. We were at the camping at two o'clock and Kai, Sissel and family were already there from Norway, even Hanna and Jenny were there.
We have plans to barbecue tonight but we were all to tired. So we prepared for tomorrow and then go to bed.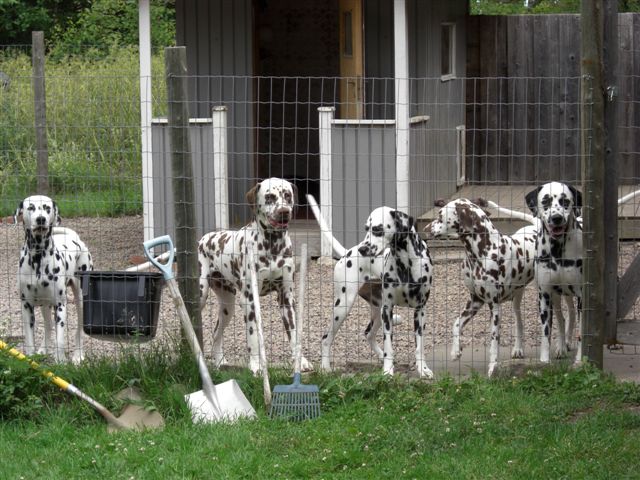 Diamond and Bosson were with Hanna and Jens and their dogs some weeks ago when we were in Norway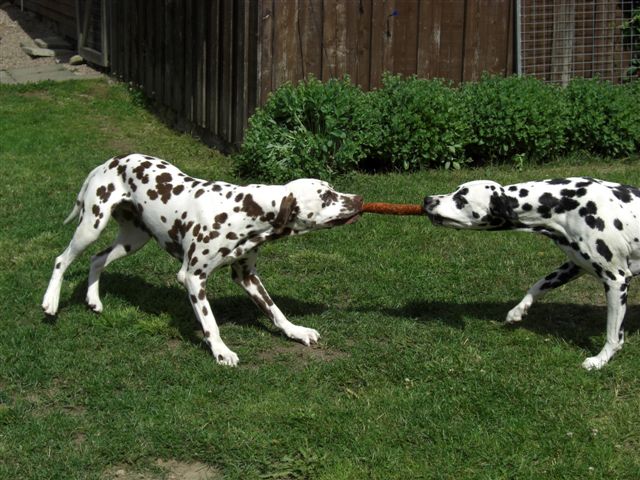 They had so fun that they would like to stay there forever.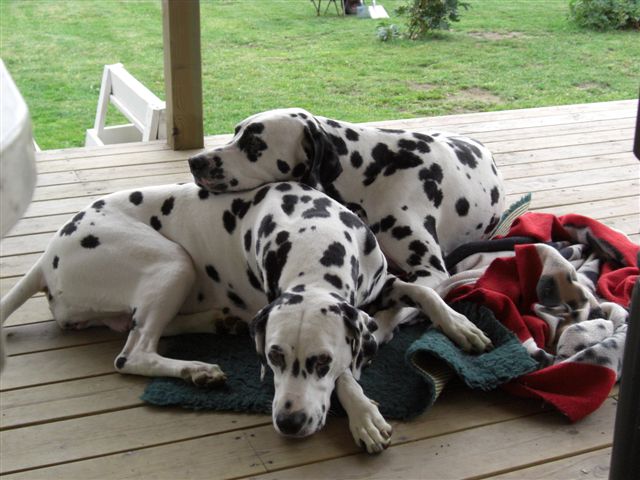 Chrissi and Bosson, still in love!

All photos by Hanna and Jens
Wednesday 9 July 2008
This morning we got
Beautiful photos from Russia, taken by Terentjev Timofej.
Congratulation Evgeniya and Tyson Best In Show and 2 Best In Show!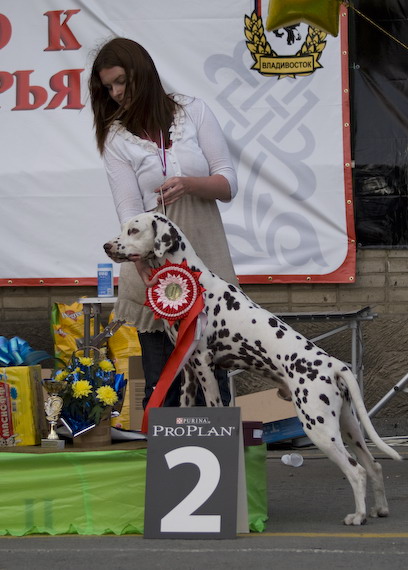 And the same weekend with BIS JUNIOR TWICE You are fantastic!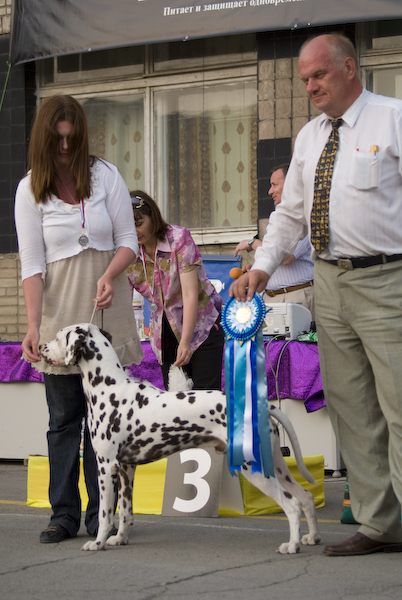 We made our caravan ready to go again and it took almost the whole day. Suddenly the freezer worked again. so we didn't go to the garage to repair it thank You, finally something that didn't cost money.
In the afternoon Rune groom two dogs and we try to wash our dogs in the early evening and then we fall asleep.
Tuesday 8 July 2008
Congratulations to Pia and Teemu!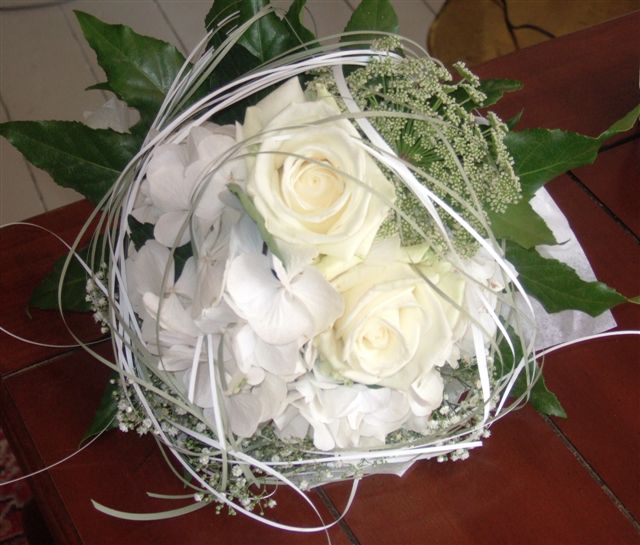 We wake up at nine o'clock when my mobile phone was ringing......it was Teemu..Finally Pia got their little baby boy...but after 26 hour of pain. This morning at 6.30 she got a C-section...poor girl then she can't run this weekend at a show that they have been planning for *S*..
So happy that everything went well, but I was so sure that she was going to have a girl that I have to go back and change all pink things I already bought for this baby...but maybe Jimmie and Nathalie get a girl...so I can keep it anyway!
The rescue man hasn't come yet and it smelled all over the house!
I was in the shower at 10 and then I start to clean on first floor when I heard Rune scream!!! The people from Australia is HERE ALREADY!!!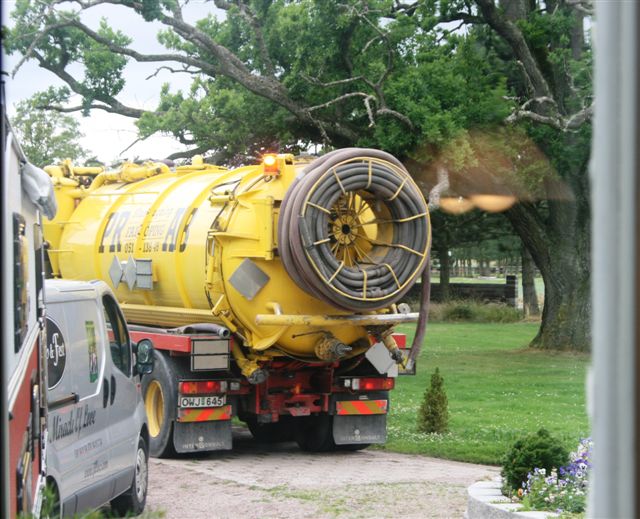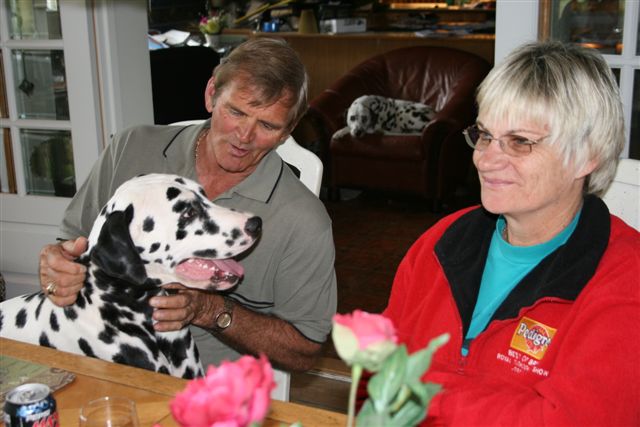 We got panic *S* as we haven't start to do all necessary things this morning, but they were normal people that know that we have been away for many days and have not had the time to clean everything yet. I haven't been to the store but our freezer was full so we found lot of things for breakfast, lunch/dinner and coffee, so that was no problem.
The only problem was the SMELL we have all around us.....sewer!!!
After some hours the rescue man came...finally...he found lot of fat that maybe have been stuck in the pipes for 15 years he told us...grouse!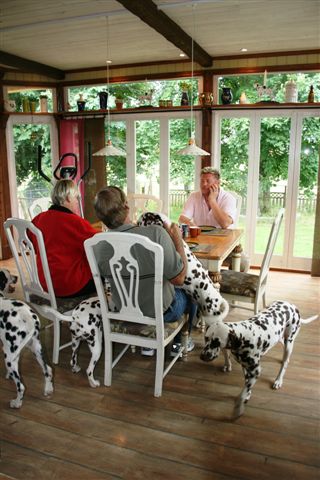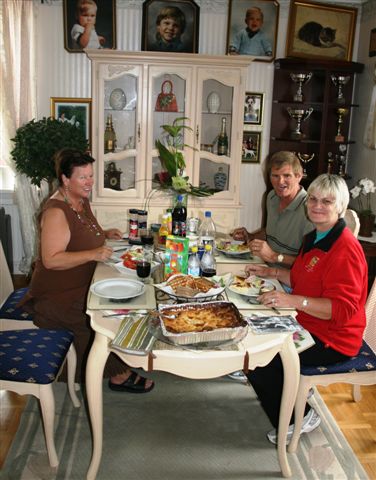 Carola and Peter came here too and Hanna of course. Puzzel were out playing...I have bought a spotted dress for Hanna...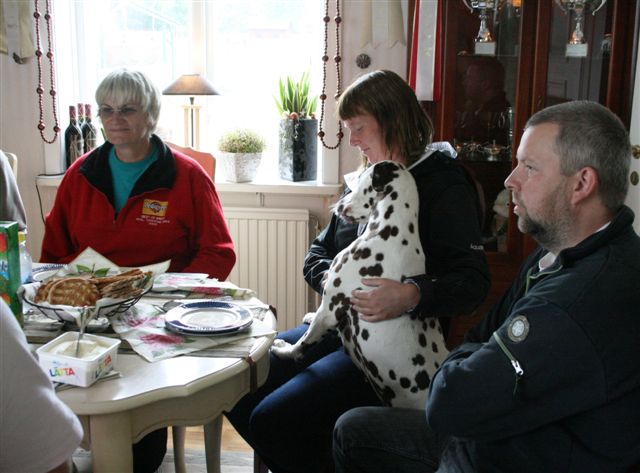 Sorry Mark but we were eating cake too.....(We really missed You and Magic at the WW show)!