Diary
FRIENDS - PLEASE SEND US ONLY SMS WHEN WE ARE ABROAD, NO MMS!!
There will be a bit more about August later....we are NOW going out of Sweden for some weeks and it will be very expensive for us to use Internet.
Next Saturday we will be in Luxemburg for a Show with 6 of our dogs and after that directly to Berlin during the night for a Club show there, with 4 dogs that have all teeth *S* Hopefully we will be there in time for the show...
After that we will take it very slow back to Sweden to a special show on Saturday and an Int Show on Sunday in Sofiero where we have entered 9 !!!! dogs.
We hope to meet some friends during our trip in Europe....we already know that Seven and Diana and Andre is coming to Luxemburg and Anita will be there judging...but not our breed *S*. In Germany we hope to meet our friends and puppy buyers and of course the nice couple Mr. and Mrs. Oberuber!
Then we will visit Charlotte in Denmark before we go back to Sweden, and hopefully there will be MANY more to see.
I'll Let You know later *S*!
Love Florence, Rune, Bosson, Daddy, Jill, Donna, Devlina, Gloria and Bell...
Sunday 31 August 2008
Very early this morning Jonnie and Roy took the ferry home again *S*!!!
Yesterday Jonnie have bought two signs that he was looking for to his car, he remember that he could found those special signs here at Gotland , and then they have nothing more to do here.....!
Dog show again in Visby, Judge Erna-Britt Nordin
Junior Bitches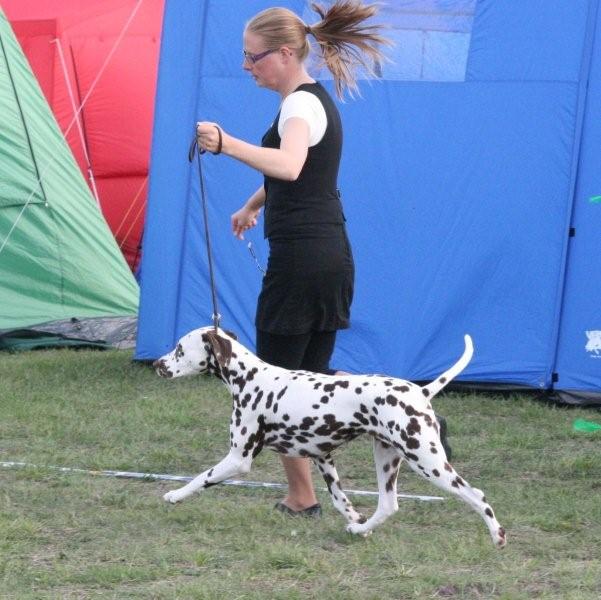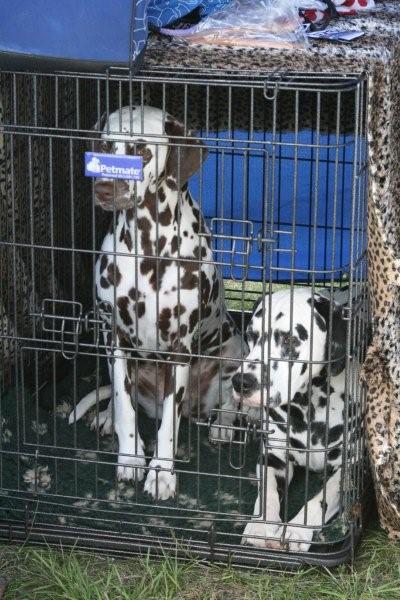 Look at Jenny's hair......it was still blowing a lot!
Jenny showed Devlina for me..I have to rest my foot for the Breeding group *S*!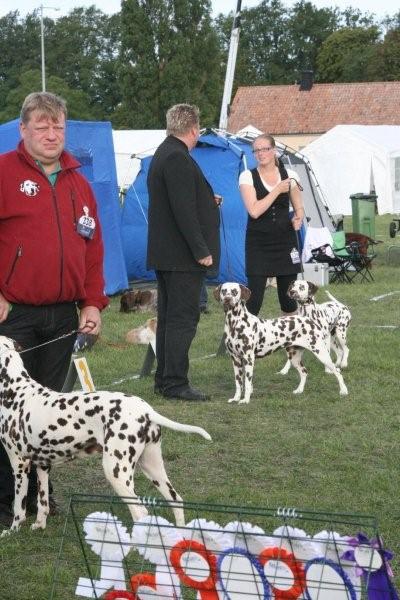 PO, Rune and Jenny in Champion class.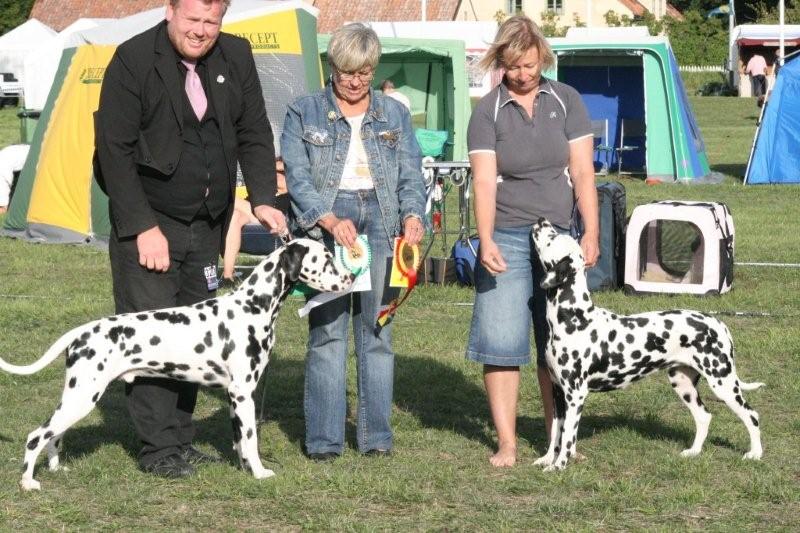 Today we won the Breeding groups competition and became BIS Breeding group, for judge Eva Mjelde, out of 21 Groups!
Kattis and Jenny played with the rosettes *S*!
Our sweet girls, Decibel from My T-litter, Gloria from S-litter, Jill from J-litter and Devlina from R-litter!
Four kombinations from 1 year up to 5 years.
Our Sweethearts, Decibel is standing by herself because she is in season and we don't want our other bitches to get the smell from her, then Daddy and Bosson will get crazy in the car and the caravan......*S*!
Jenny are going back home with Decibel tonight, but we will try to get an earlier ferry back home for her, otherwise she have to first go to Stockholm and then drive home for many hours in the night, so we went to the terminal to try to change...but they give us no hope....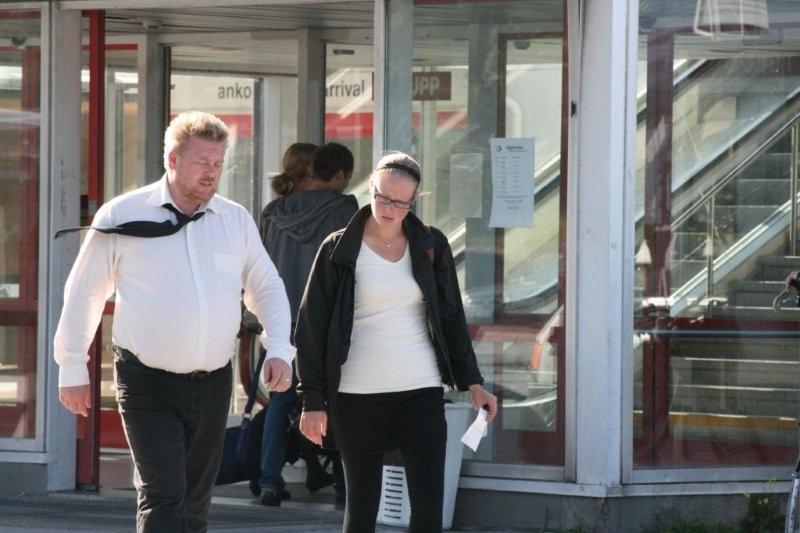 Then they got a tip from a man in the terminal...drive around and put your car in the "stand by file". Jenny get new hope....
We drive to the camping and get her some things and then back to her again and wait with her...and just when the ferry should go they say that she can get place on it...hurray! She will be at her home before midnight then...much safer and better.
She told me, for weeks, that she had one wish after, two days here...to have a red rosette from a winning breeding group to look at on her trip back home, and she had!!!
Sweet girl, she make lot of arrangements just to go her for us so we can have a good breeding group, what should we do without those fantastic puppybuyers...and thank You Kattis, that You helped up with our group both days...
We were planning to show Jenny Visby in the afternoon today, but with that earlier boat she missed it, and she have never been here before..hopefully we can do it together next year.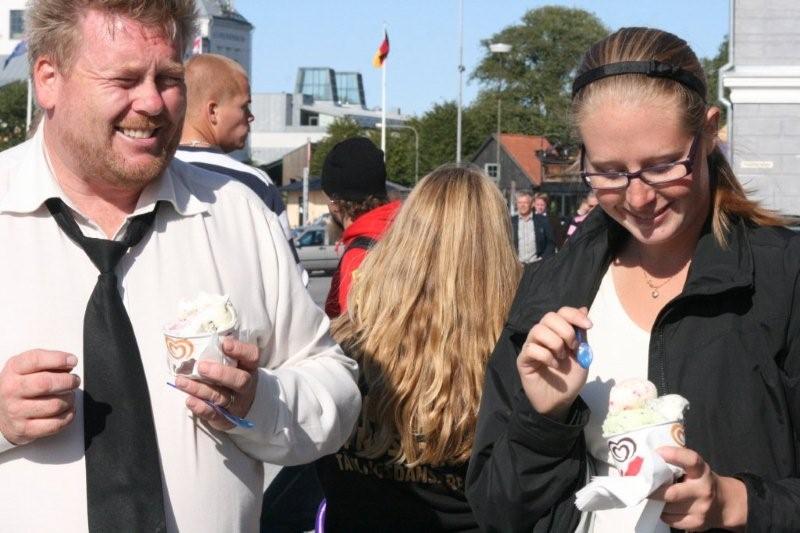 Luckily we had time to eat ice-cream in the harbour.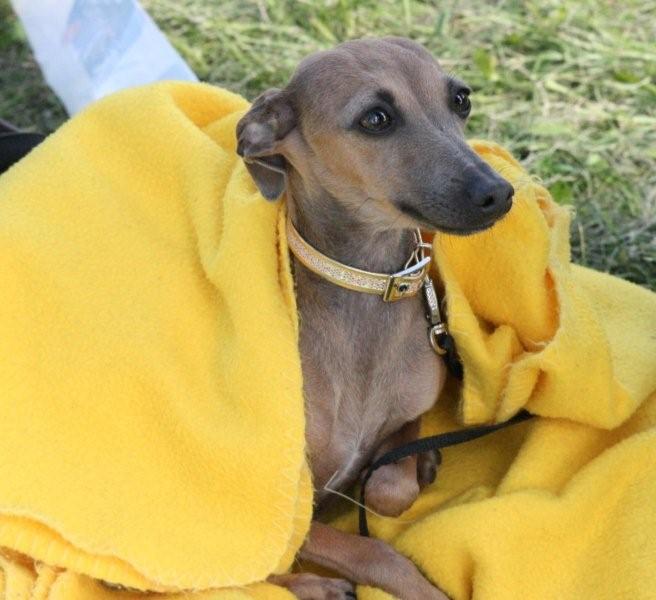 We met Katja our nice handler since last time we were here two years ago and her mother, soo good to see You again!
And she was prepared to help us this year too, thank You!
And Berith and Ivo was here as usual, but this time Berith have to hold there tent for many hours because of the stormy weather....I'm sure she was tired in the evening *S*!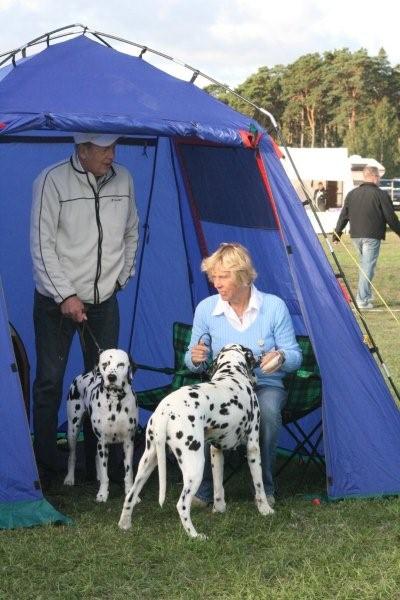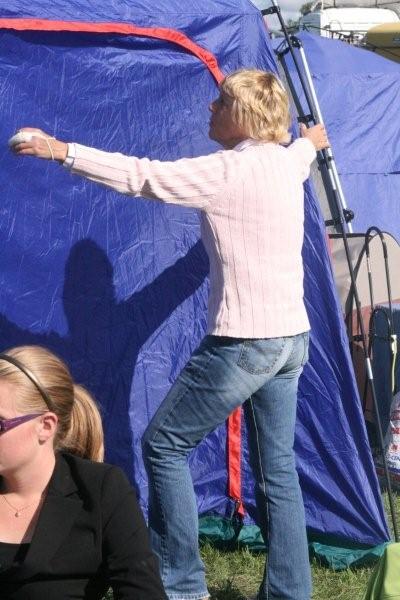 And we have seen nice dog here. And we had time to talk to Eva and look at Nora.
Saturday 30 August 2008
Dog show in Visby, Judge Ann Carlström.
After a stormy night we woke up to an almost blue heaven, and the wind was not that strong.....
Daddy became Best Male Nr 1 and later on he was BOB
Photo by Jenny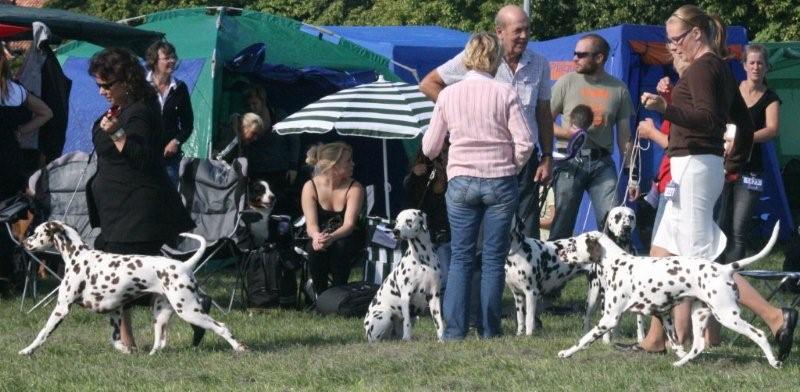 Best Bitch and BOS was Jill, Nr 2 a bitch from Albican's and Gloria Nr 3 with another CAC, Devlina Nr 4 and Nr 5 a bitch from Mellanmöllans.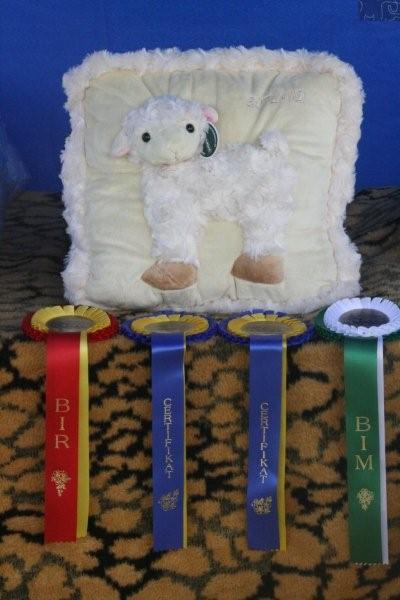 Jonnie came and stayed with us during the afternoon, Roy was sleeping in the car..he is soooo interested in dog shows *S*!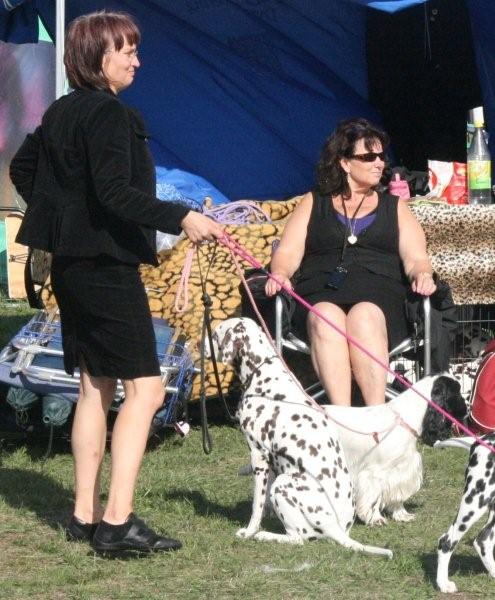 Photos by Jenny, Rune and Me.
It was good that we had someone to take photos when we were in the ring. and there were so many that haven't met Jonnie since he was about five years old and they were almost in chock now when they met him.....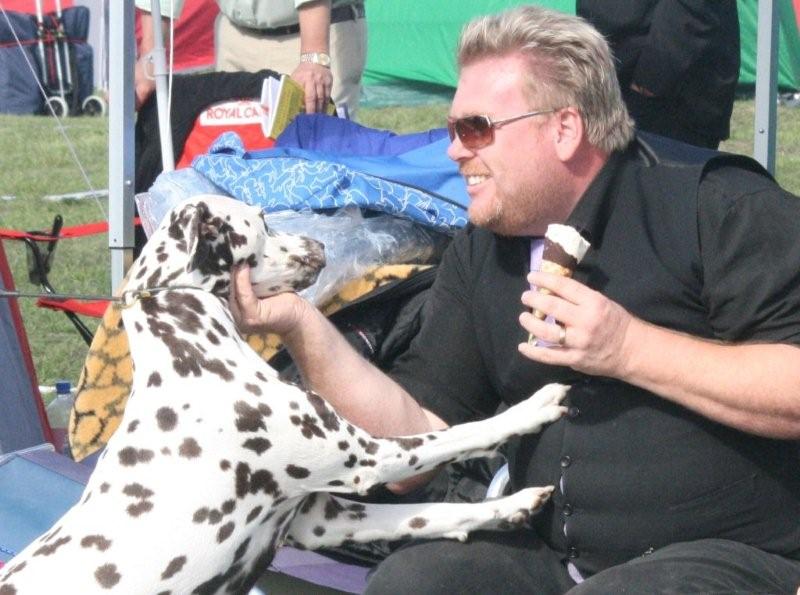 Tutta was so happy to see us........or was it the ice-cream she want.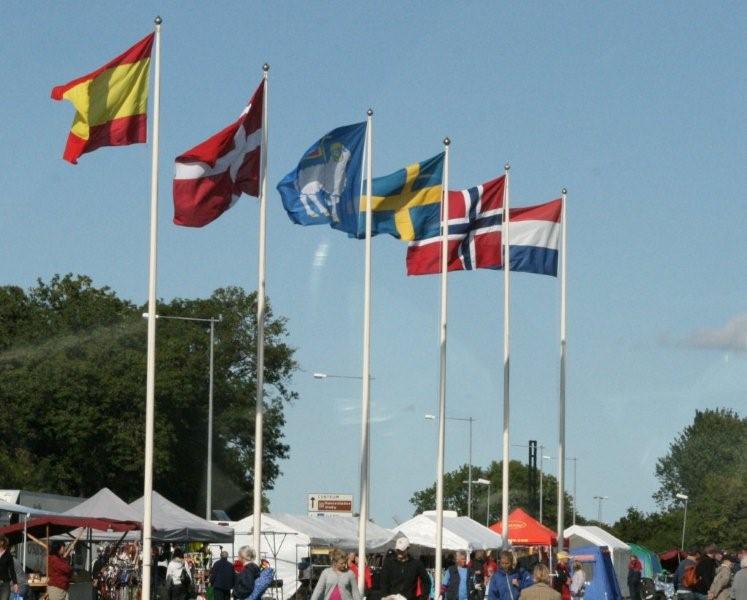 We were BIS 2 Breeding group out of 20 Groups, and was very pleased with that. Judge was Nina Karlsdotter.
Photo by Jonnie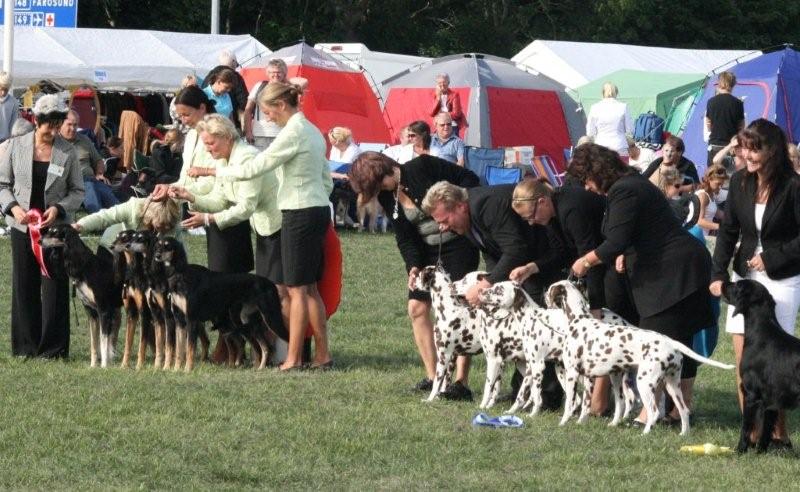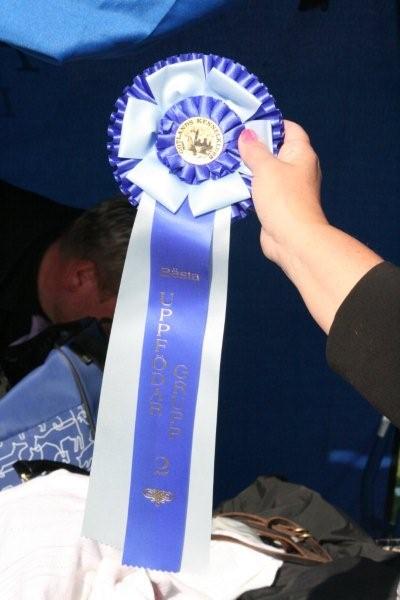 Photo by Jonnie
In Group 6 Daddy became Best In Group No 1
But he was not placed in BIS!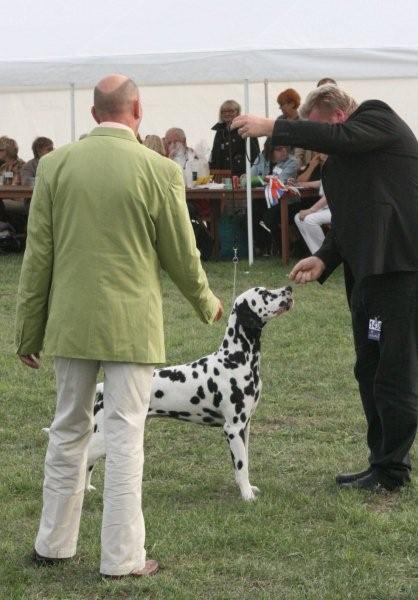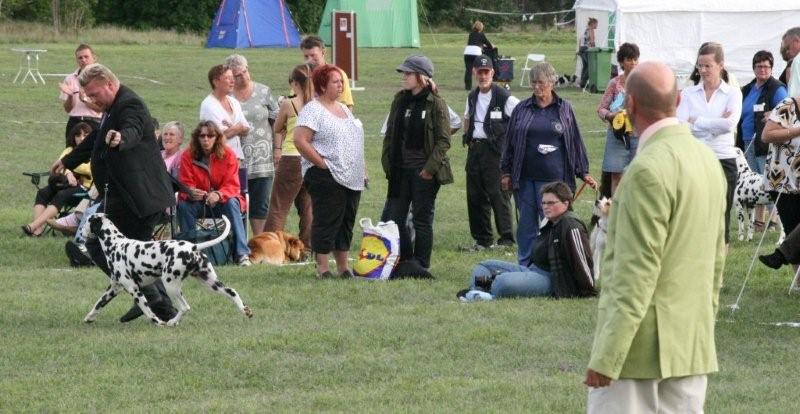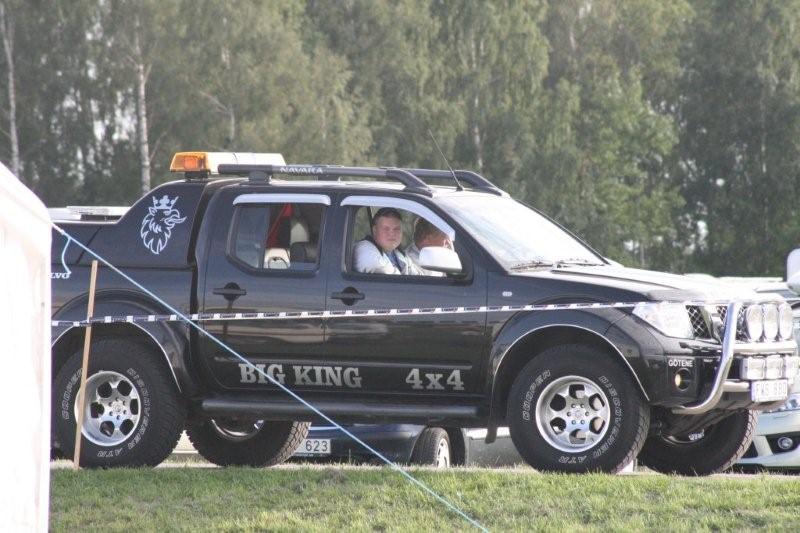 After a long day we were so tired that we said no thanks' when Roy want us all to come in to Visby were he stayed to eat dinner...he came out to the camping later with pizza for Jenny and Rune instead.
Jonnie was so disappointed that is was not as usual when we are at Gotland, with lot of people and music in the streets and lot of things to do and see. Most of the stores in the town were closed and it was not the town that we normally see and love. We don't want to live here in the winter....But we will be back for dog show next year!!!
We have to go to bed very early because the show start 7.30 in the ring tomorrow just because of the early boats in the afternoon for people that are going to go home tomorrow.
Friday 29 August 2008
At Gotland!
Early in the morning we checked in at Kneippbyn Camping.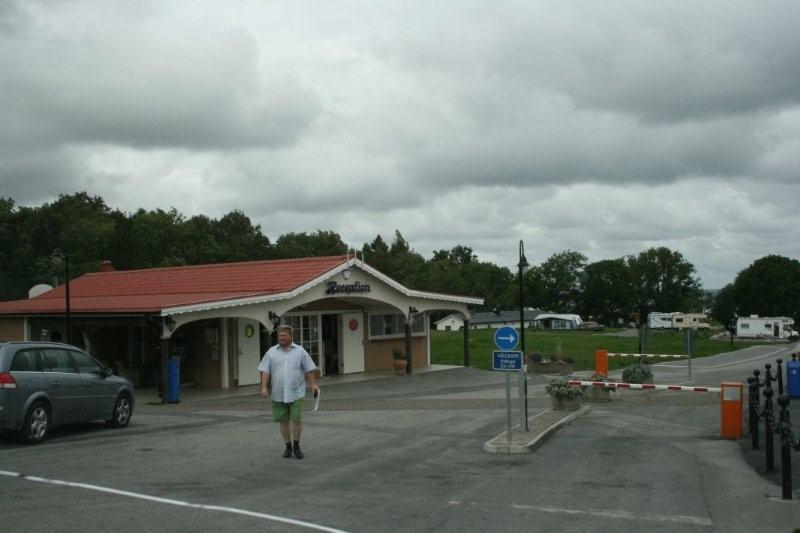 The weather was really stormy!
Inside it was warm and cosy!
!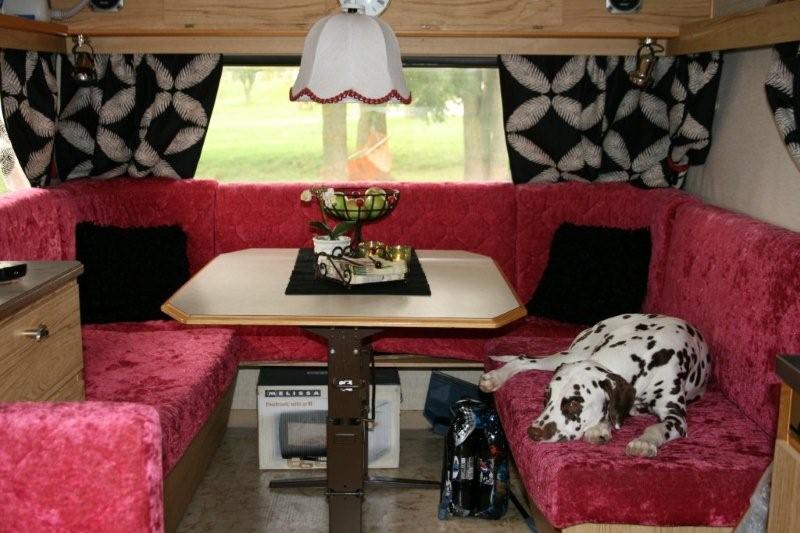 At 2.30 Rune drive to the harbour and get Ewa B and her dog and drive her to the camping, she have no driving license and it is not that easy to travel with dogs without a car...later in the evening Ewa came to us and we were sitting in the caravan and talk.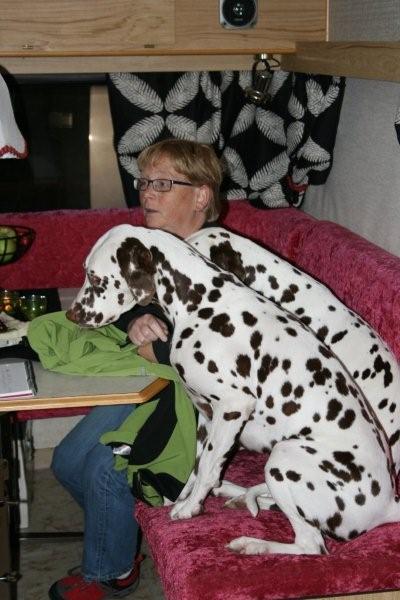 Just before we leave home yesterday we got a packet from Expo with this beautiful candlelight, thank You!
There were only dog people at the camping!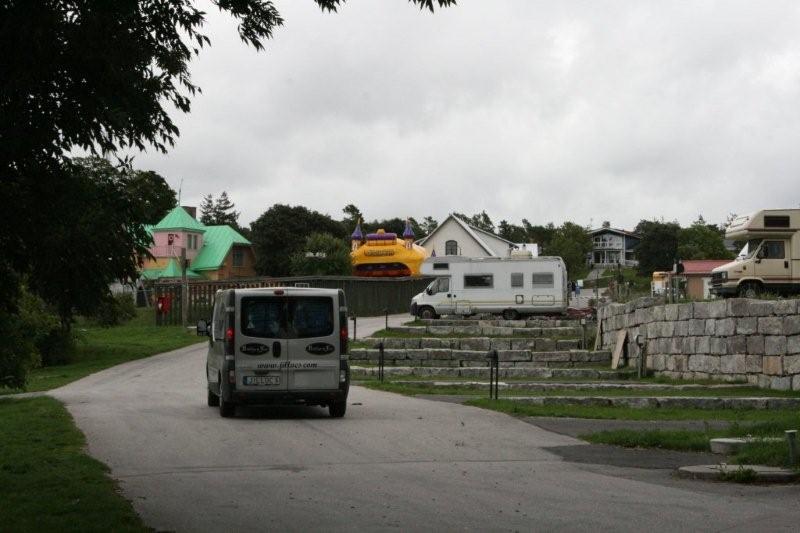 Just after Midnight Jonnie and Roy and Jenny came with the boat......it had been a stormy trip. Hopefully it is better on Monday when we are going back cross the sea again.
Thursday 28 August 2008
We really can't remember how we came out of the bed at 9.30 this morning, but we did in some way..
On our way to Gotland!
Our plans was to go and look for a larger caravan, but as usual we were short of time so we had to go directly to the ferry.
We were in Oskarshamn after 6 hours...it take a long time to drive with the caravan after the car. the weather was good and no storm (I hate to go by boat if it is stormy).......Never forget our trip to Estonia two year ago.......Oh my god!!!!!
We had lot of time to walk and feed our dogs in the harbour. When we were standing in the file for an hour we had a car with a dogtrailer close to us. there were dogs inside that was barking and stressed over everything, it was terrible to hear. I have NO understanding why people have their dogs in a trailer like that......as it seams to not be the best for their dogs!?!
It was cosy to sit on the boat again (we were not here last year) I have been here with my family almost every year, for the dog show, since our children were small, and we love it! But this is the first time we have been here in another season...the show is Always in July but this year they have change the date because of the WW show here in Sweden.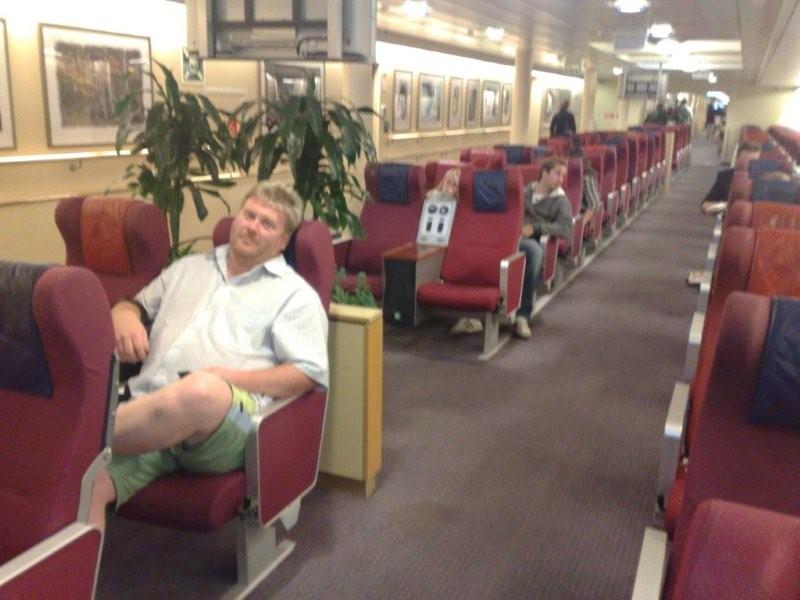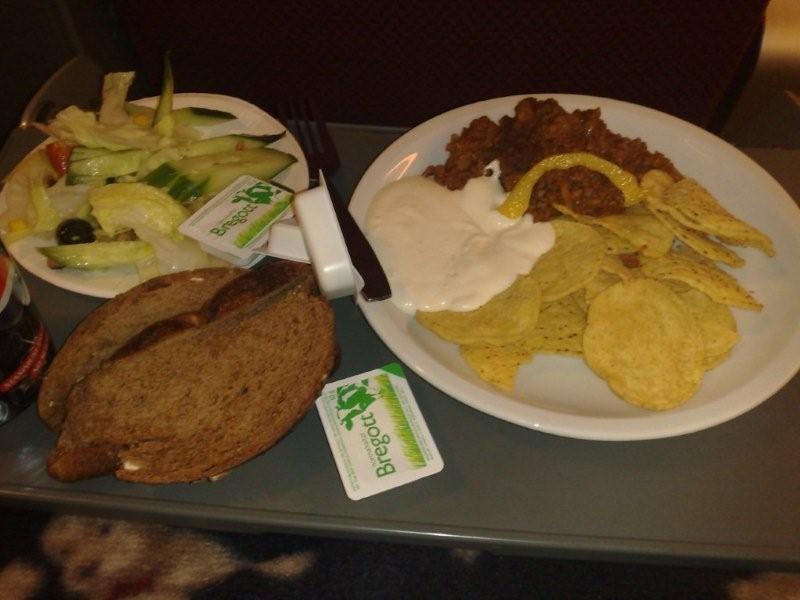 We eat nacho and salad and sleep for a little while.....just after midnight we were at Gotland, it was rather windy the last hour, but her was really storm!!
After just 15 minutes we were at the camping place it was closed for the night and they have told us to park outside tonight..our only problem with that is that we can't get any electricity for Runes breathing mask than.....but he have to sit and sleeping tonight so we hope it will be ok.
Wednesday 27 August 2008
Runes lunch today....he saw him self on some photos yesterday and decided by him self to start to eat other things than 8 eggs, 6 bread, two packets bacon and LOT of cheese with ketchup over every day for breakfast. I wish him good luck!!!
Lunch for the dogs.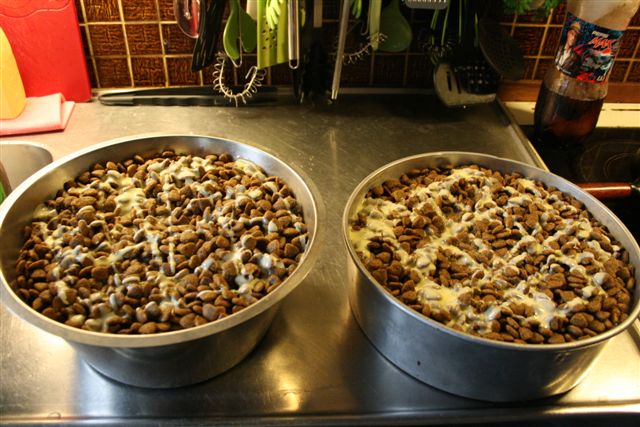 Just when I have decided to try to do the same, Roy called and ask me if we wanted something from a store at a place where he were. Please NO NO NO.....absolutely not was my answer, don't buy anything for us.
Four hours later he came her with lot of delicatessen *S* he thought we need it (and he know that Rune hate fish) because we have tried to go on a diet for about 12 hours !!!!!!!!!
I broke my diet at once, damned!!!!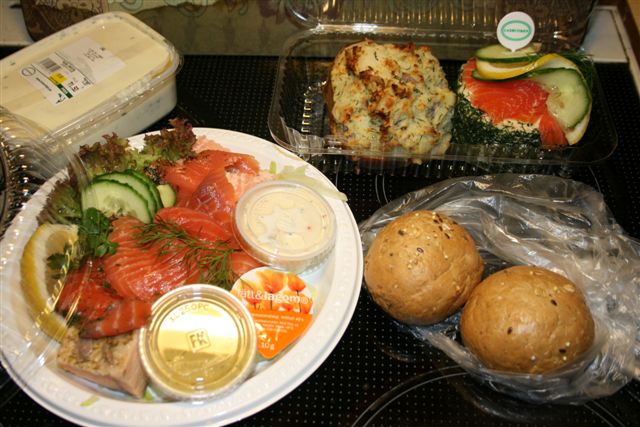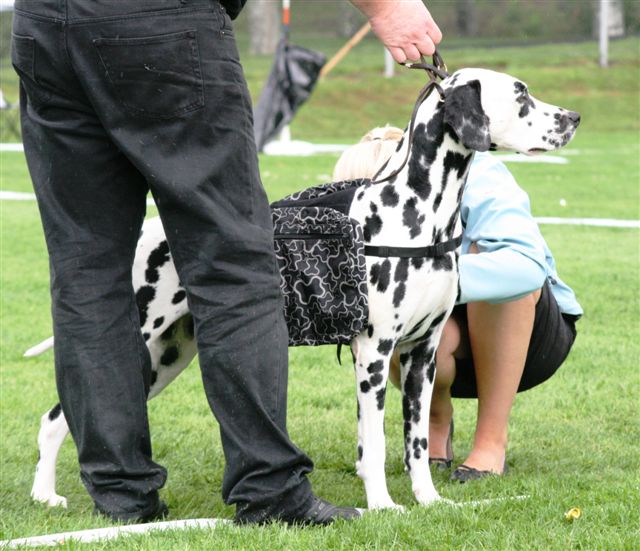 Bosson have to carry his own water in to the shows now!!!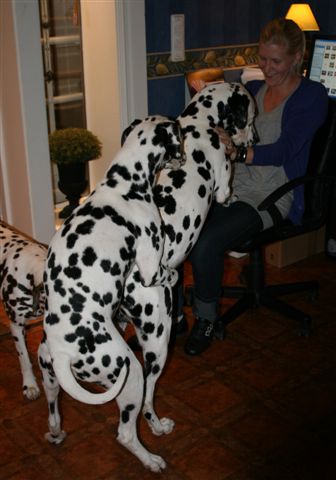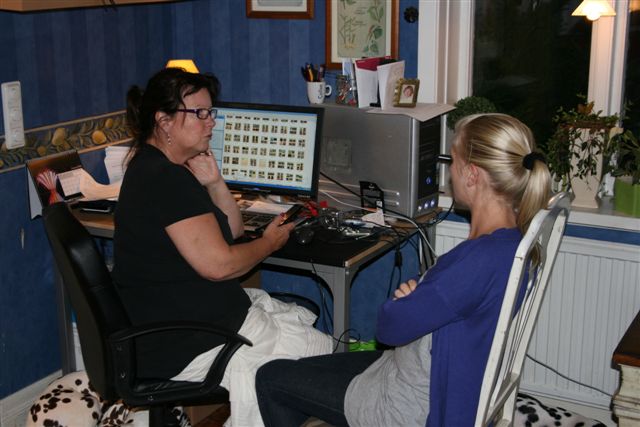 Hanna was here late in the night to say goodbye for some weeks, we do not meet until the special show in Ljungbyhed!
Bell was VERY in love with her father...Bosson *S*!
We continue to do all necessary things the whole night long and I went to bed at 7.30 then Rune was out cleaning the dog yard...I have so much pain in my bones that I could not sleep..typical we need to relax some hours..
Tuesday 26 August 2008
Last night when we checked our passport and our dogs passport we found out that we have to vaccinate four of our dogs again before we go to Europe, so we called the vet and went there. It took four hours from our valuable time just now, but it was necessary.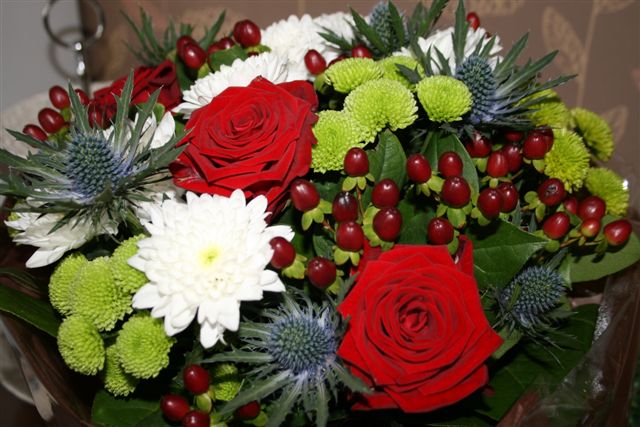 Beautiful flowers from Jenny, what can we say, other than thank You...You are the best. She said that I should sit as much as I can this week and look at the bouquet, so I can run a lot this weekend at Gotland where we are going.
Ha ha she know me....I have problems to just sit...ok at the computer is nice but I always see so much things I have to do *S*!
Roy and Jonnie decide to come with us to Gotland too, so I have to do a lot of calling to try to get tickets for them to the boat on Friday, and to find an available room at a hotel was not that easy this late.
And then to check with Hanna if she can take care of Elliott and Diamond, and she could. You are an angel!!!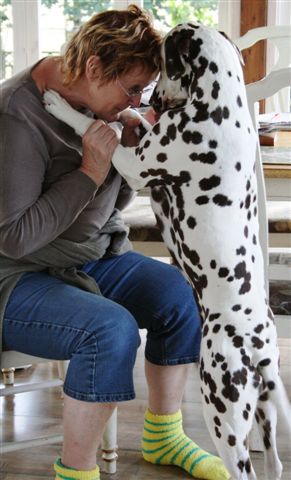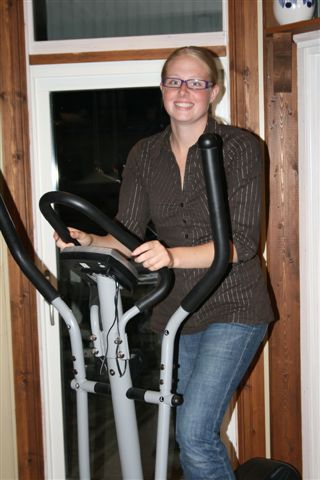 Anita have been in the forest to pick mushroom, and Devlina ask her to bring her with her next time. Jenny who have started to study again this week was here to exercise *S*until 1.45 in the night!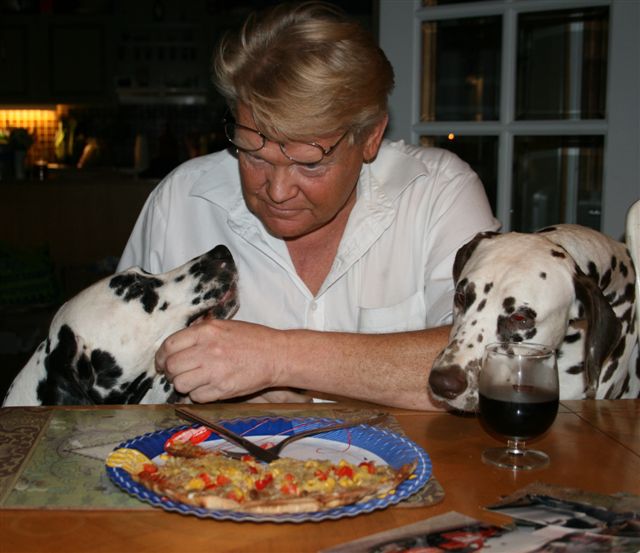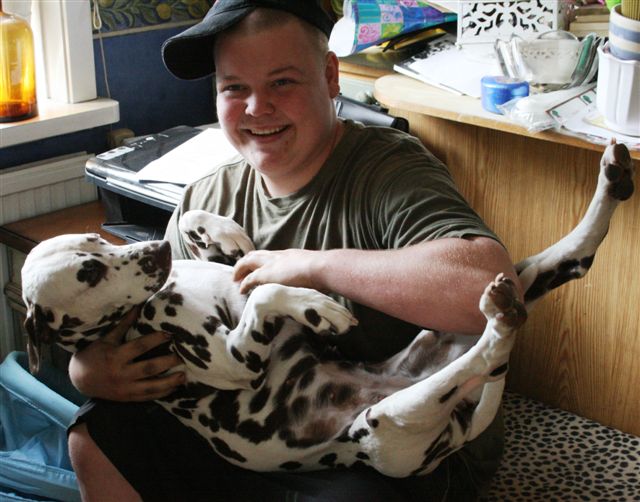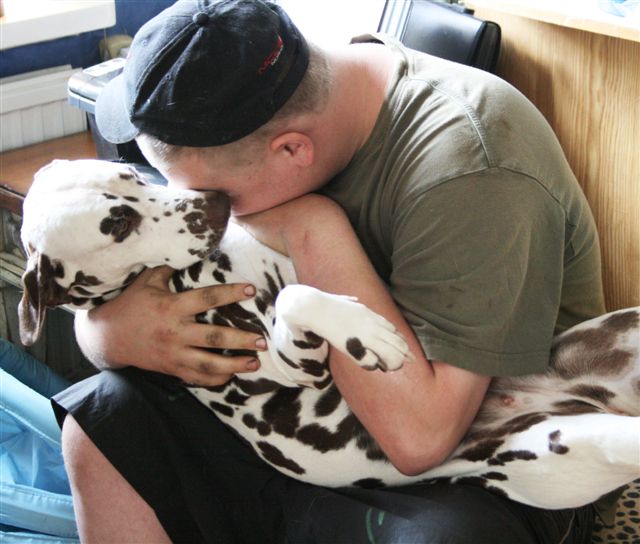 Jonnie told fairytales for Devlina.
Monday 25 August 2008
Simple but beautiful in the garden. I love this season!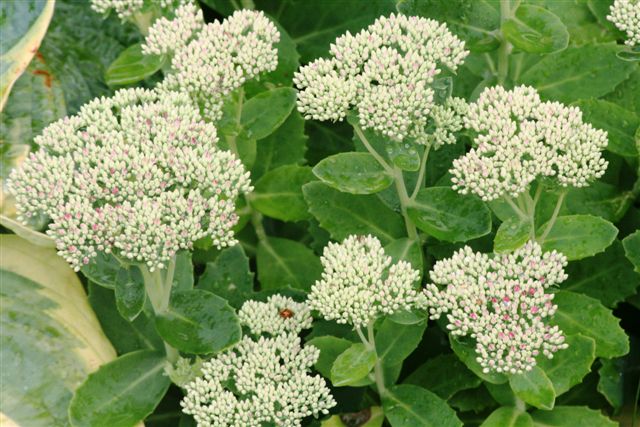 We were at my fathers grave and put new plants there...it was so beautiful with lot of flowers at almost all graves in the graveyard.
Most plants was grateful for all rainy days last weeks.
A friend of me had a bird in her bathroom one morning....she was screaming so I heard it as far as here to Götene *S*!
Then she ran out again and found her camera...well done, that is just the way I do it!
Sunday 24 August 2008
Three tired in the early morning in bed (11 o'clock) *S*.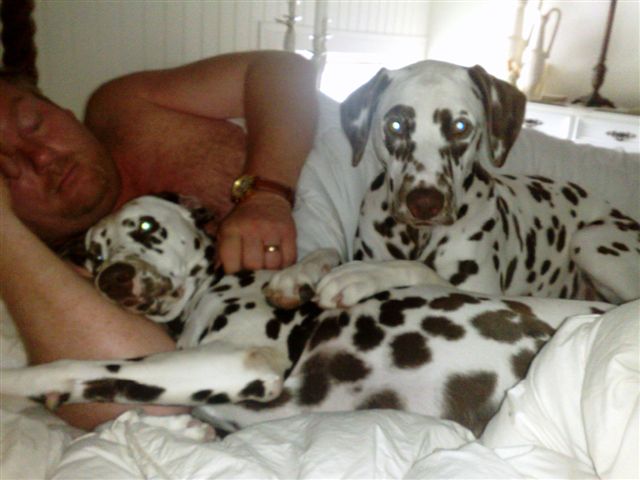 Two spoiled girls with "Daddy".
Saturday 23 August 2008
Sometimes Rune help some friends with their dogs. He start to think about if he do not get any job soon....if he can start a trim studio !?!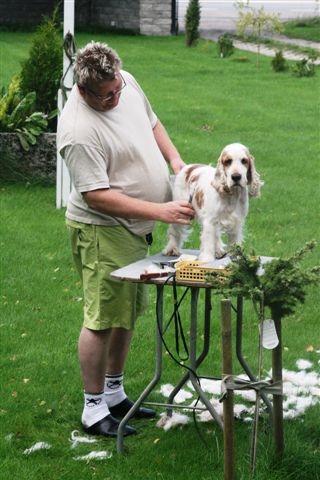 Snobben on visit! In the evening he took the machine on Jonnie, as always!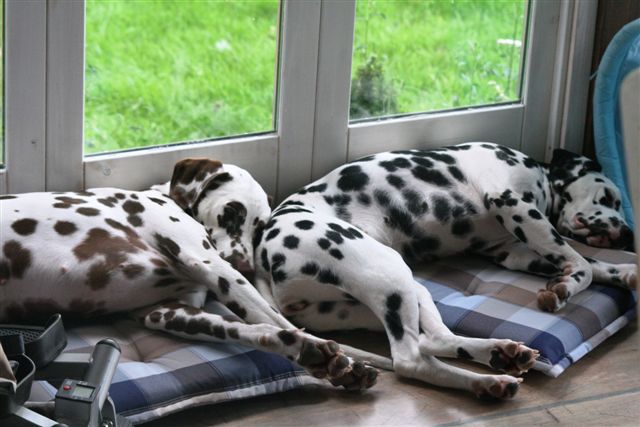 Still tired after our journey!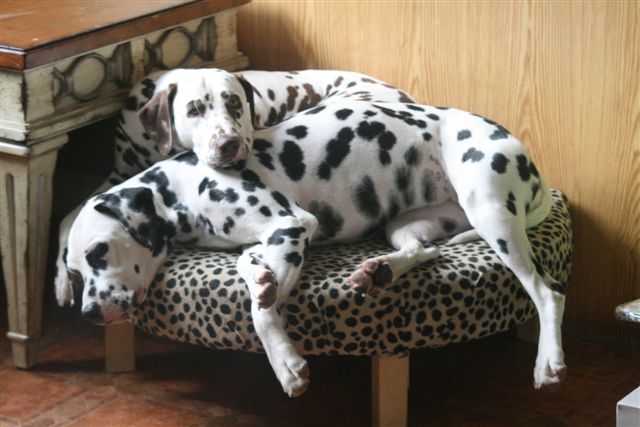 Friends forever, let us hope so *S*!
Friday 22 August 2008
All guests and friends are attacked by our dogs and we serve only "birdseed" instead of cake now (sorry Mark) *S*!
But they are still coming, so they probably are true friends!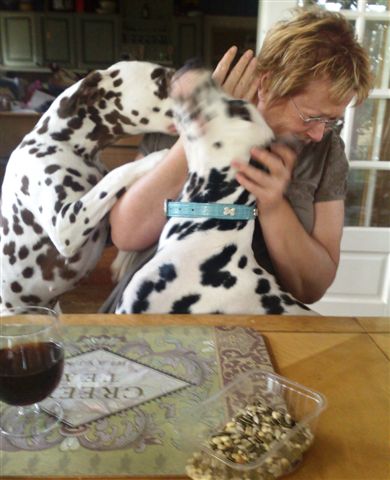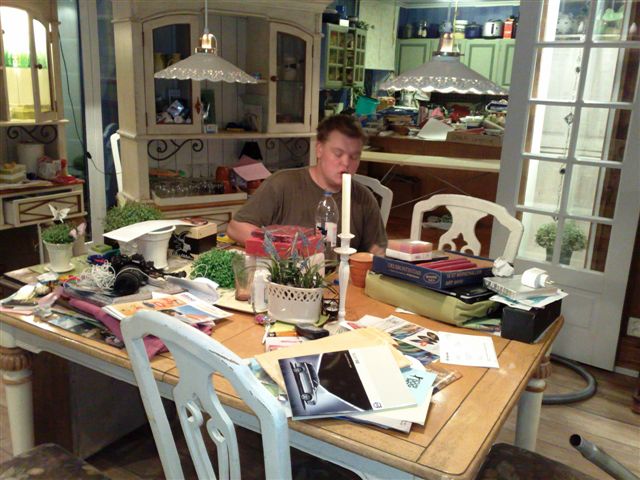 It was chaos in the kitchen when I start to empty some cupboard and throw them out and then try to put all things in the others.....
There were no place for Jonnie to eat!
Rune have lot of energy now and he is still soo happy that he is allowed to eat whatever he want (is he?).
So I hear no argument when I ask him to start change wallpapers on one wall in the kitchen.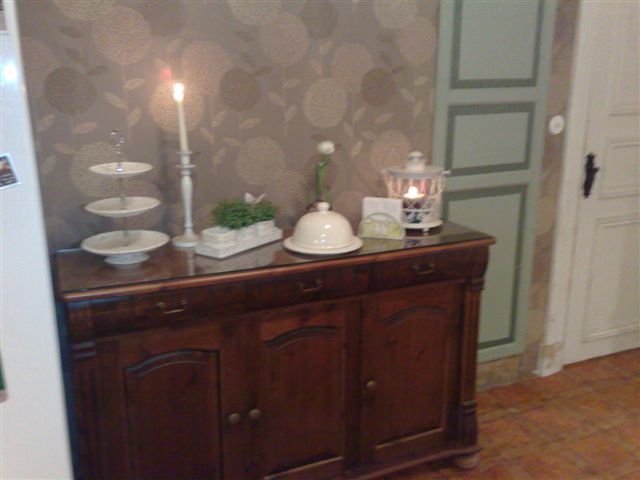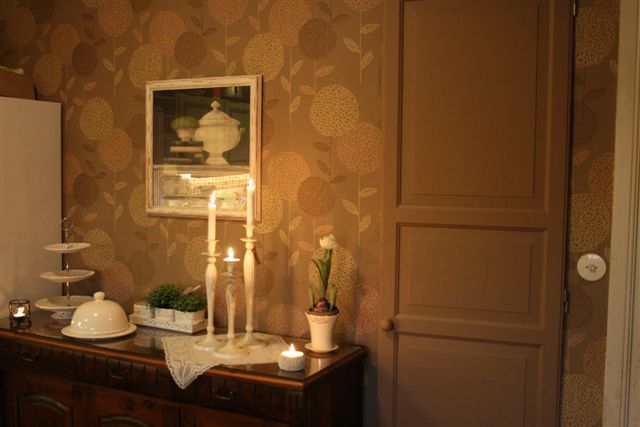 I....not we....paint the door in the same colour. Much better at once!
Thursday 21 August 2008
Sweet Dreams
This is Luca Laurila in his new blanket we send to him by post, look how big he already have become!!!
Photo by Teemu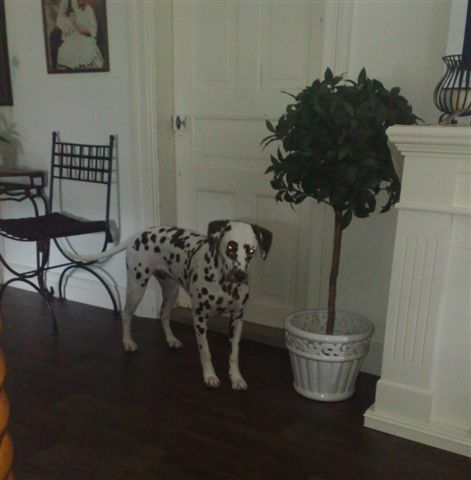 Gloria standing at the bathrooms door this morning...we guess that she would like to go to the toilet! Back with my foot again today!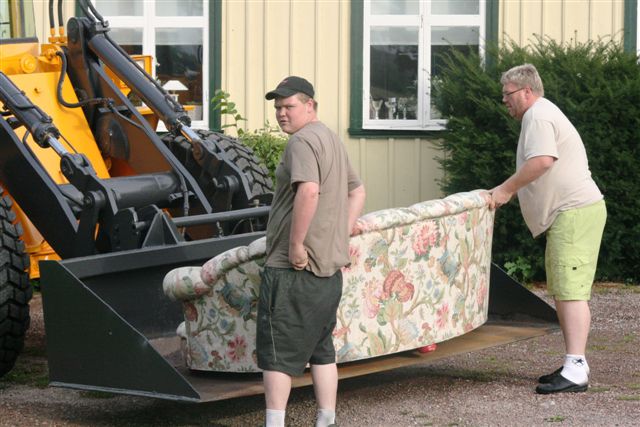 Rune and Jonnie took one of our sofas to the room in the barn where Rune will make his trimstudio in the future!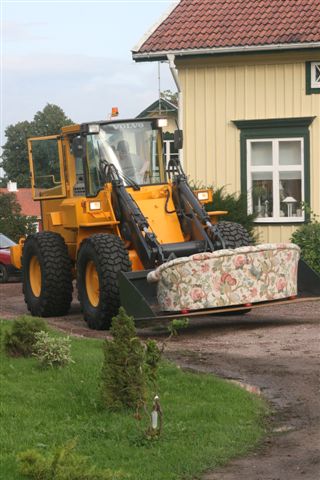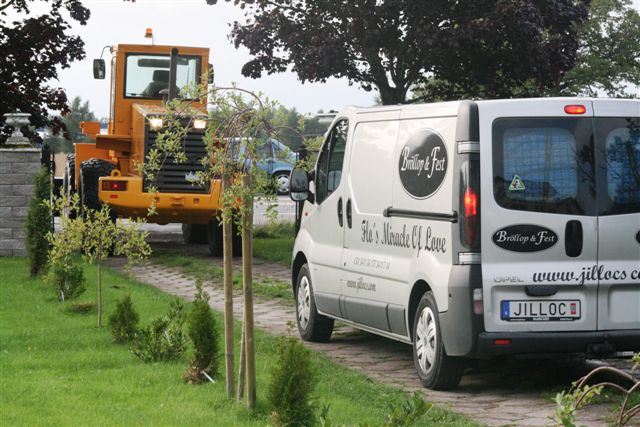 The lawnmower was broken again so Jonnie was here to take it to repair. The easiest way to get it to the store was to take it in the bailer of the caterpillar.
Today we was planning to start a new life *S*! But as always there were something that came in the way.
It will cost us about 3.300:- EACH every month at the Healthclub....and we have to write a contract with an obligation for 12 months!!!
Sure we have been thin if we take 6.600:- of our money every month... then there have been no money left to pay for the house, electricity, gas, insurance etc etc etc etc..and our dogs will starve because there were no money left then for their food either *S*.
So we went home again without any contract with the Club and Rune made pizza, bread and Pepsi of course....Rune have been so depressed many days already since we (I) decide to start there...
Now he was VERY happy again.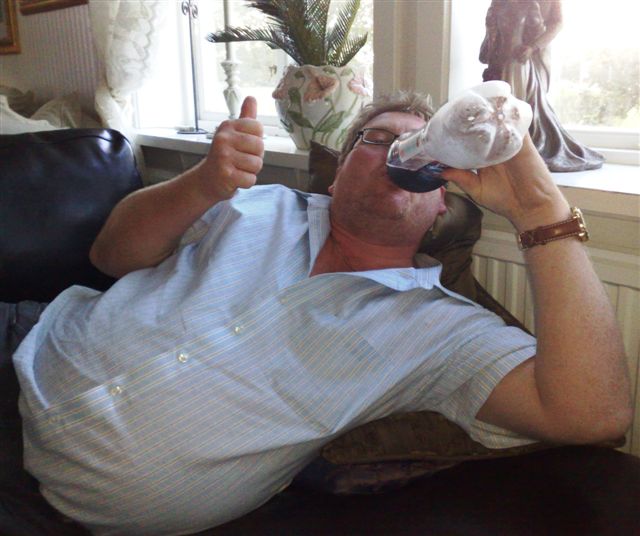 Wednesday 20 August 2008
Today we have to go back home because I have customers in the afternoon.
My new delicates is birdseed on everything *S*!
Tuesday 19 August 2008
We have found two caravans on internet last week and we called the owners today to go there to look at them...but both of them were sold. Typical!!! They have advertised them for a long time before we saw them and just now they were gone.
Rune eat breakfast at Mac D and I eat lunch (chicken salad) there. Perfect camping, recommend....Kvarndammens Camping in Kristinehamn, and it was much cheaper to stay there than at many others (ok.....You will spend some money at Mac D instead) *S*!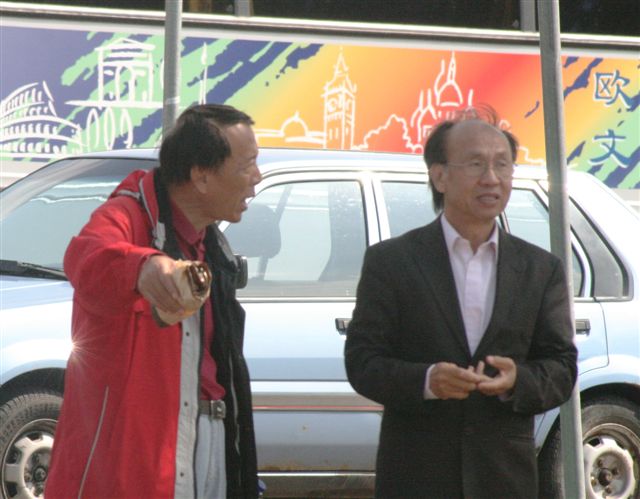 There were lot of tourists that stopped at Mac D to eat....suddenly this man in red stood with his noose pushed to our window and starred in the caravan....I was jumping up.....was he crazy... He didn't bother at all that we were sitting at the table almost undressed and eating *S*!
I wonder what he was thinking......we do not know what he was looking for. Maybe he haven't seen a caravan before??? and with people in.......or did he think it was a aquarium *S*!?!
Between the rain, we took the dogs out. Bell was interested in photos on the computer.
More movies during the day and night. We have decided not to go home until tomorrow.
Photos from Vitola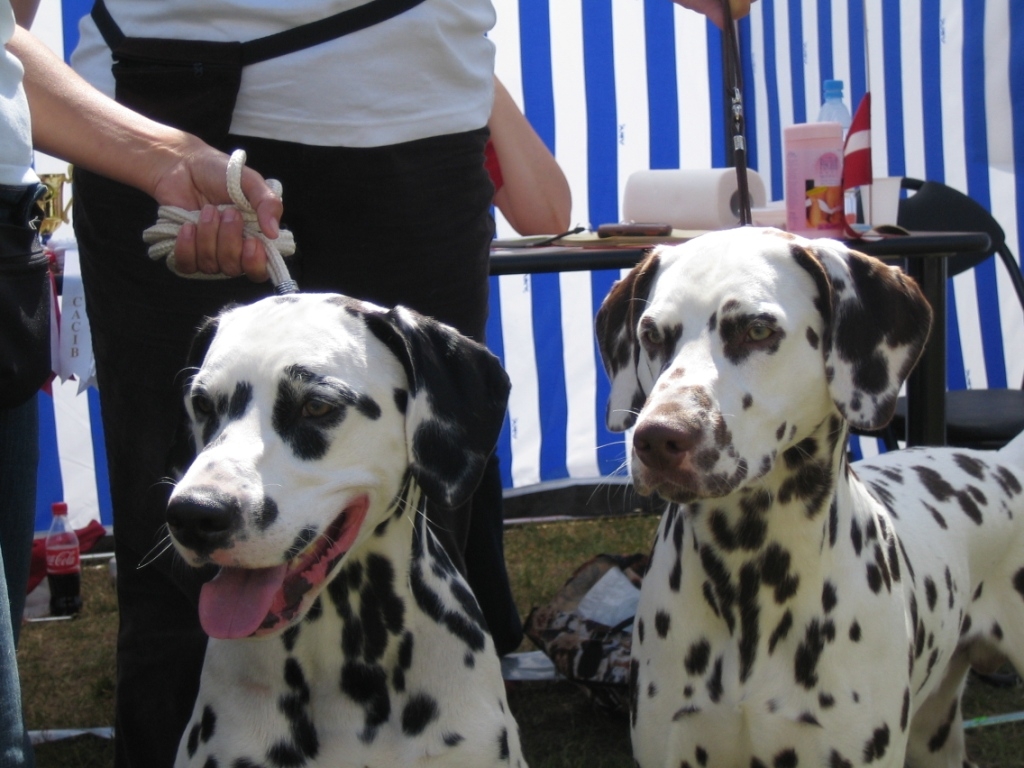 We got a photo of Bossons sons in Latvia, Bondy o Gosha at a show! They have been BEST BRACE.....twice!!!
Bondy, Agent Double O Seven Vitalight (black) is now Estonian and Latvian Junior Champion and is qualified for Crufts. And he have won BIS Junior!
Congratulations!

Aragorn The King Vitalight (liver) is Junior Champion in Estonia and Latvia too, and have won BOB!!!
Two Young boys we love to hear more about, good luck in the future both of You!
Already more titles:
Latvia&Estonia&Lithuania Jun Ch
Junior Champion of Baltic's
Junior Baltic Winner 2008

Aragorn The King Vitalight

Proud Father Int&Nord Ch Est Ch Jilloc´s Loverboy
Proud Mother Multi Ch Marnellin Joy To The World
Photos from Svetlana & Pavels Vasiljevs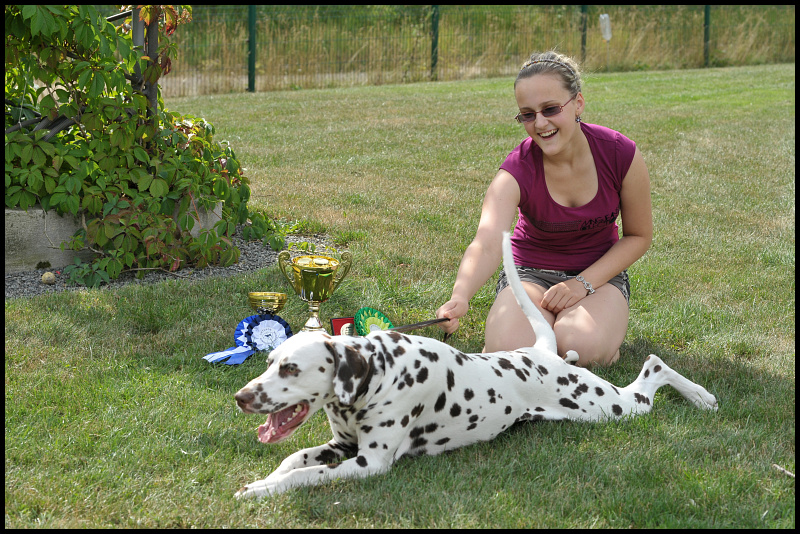 Gosha/Aragorn want to go for more at once *S*!!!
Monday 18 August 2008
We woke up at Övrevoll in the early morning and drove to Klöfta (where Rune lived before). We love to shop there.
Bye bye we will be back here next year!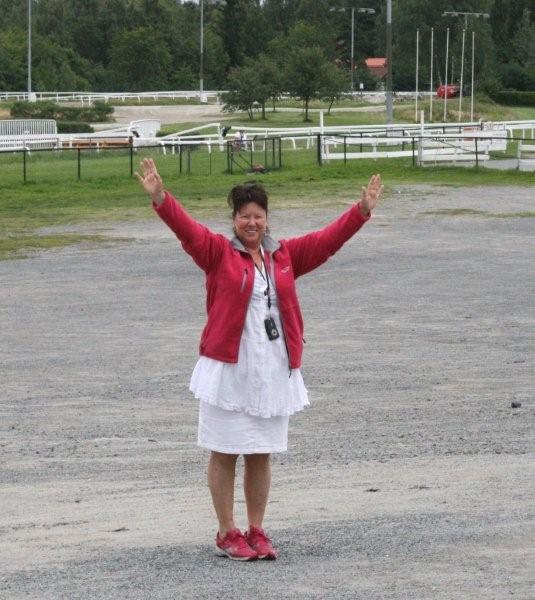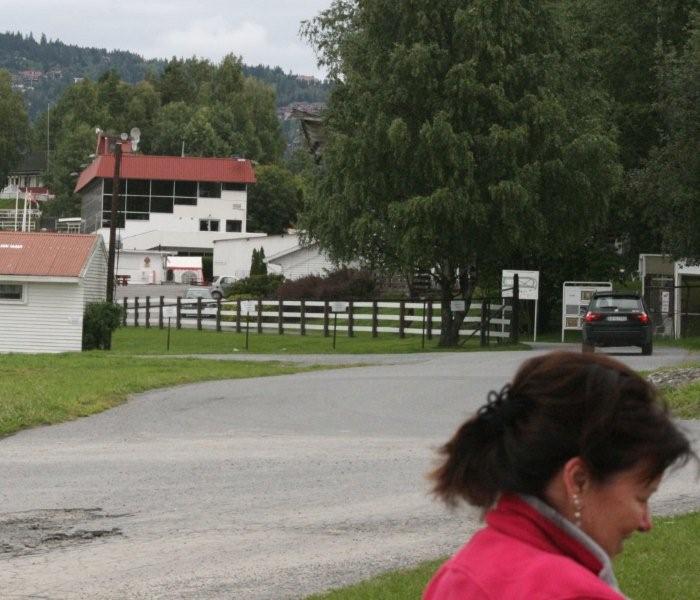 We bought Lollipop for Jenny, but on the way home something happened with the freezer so they where more like lemonade *S*, sorry Jenny!
I love the flowerstore in Klöfta and took the opportunity to buy some flowers and plants.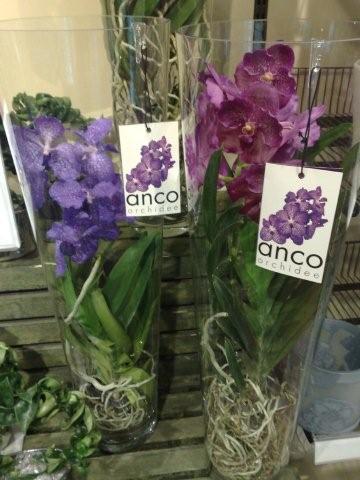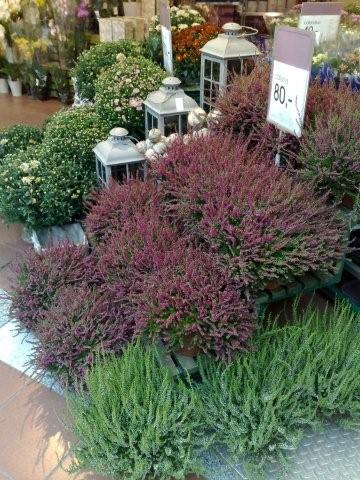 We bought these frames just in case we loose weight sometime.
We have plans to start at a health club this week..so You never know!
My favourite store!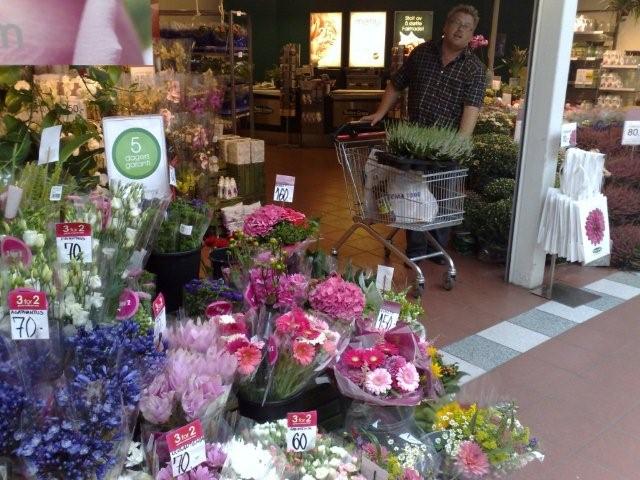 We start in the afternoon from Klöfta towards Sweden, and saw lot of beautiful nature and houses. I love Norway and if we haven't loved our house so much in Götene we could have moved to Norway. And Rune miss one thing with Norway VERY MUCH....his salary!!!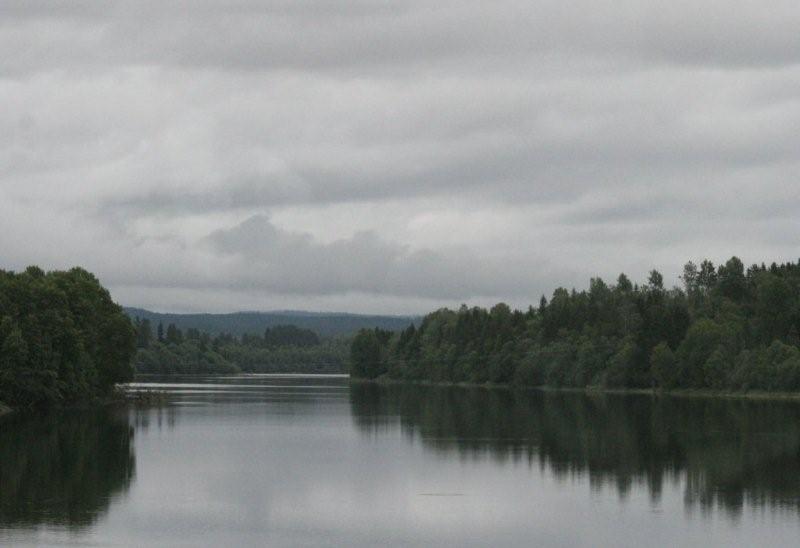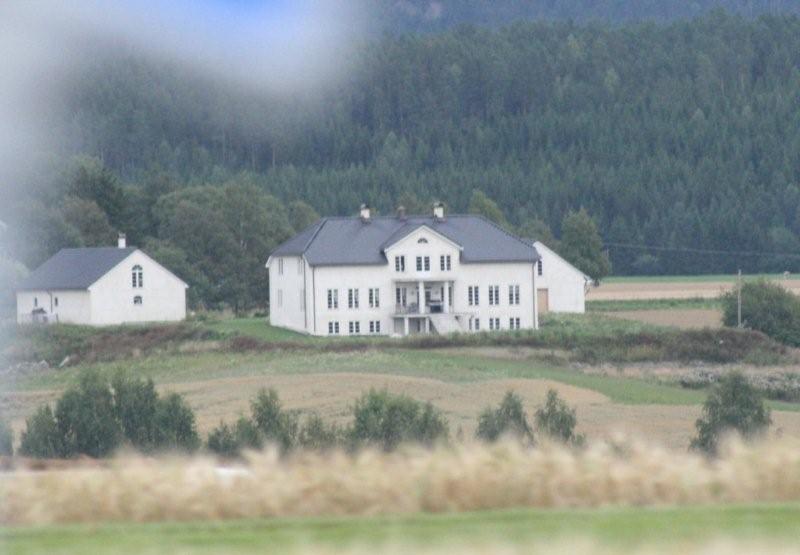 Rune need candy and his favourite Norwegian fuzzy drink when he drive *S*!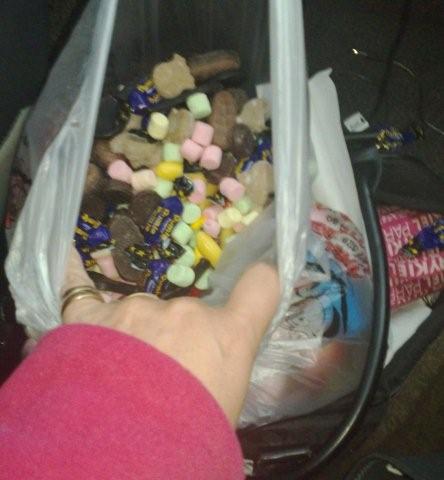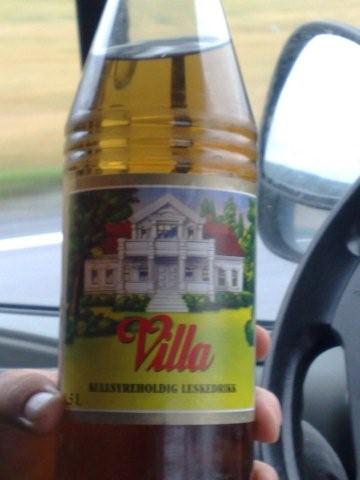 For once I was really happy that we stopped at the border for 10 minutes and bought some candy!
WHY?
Just some minutes from the border an accident have happened, if we haven't stopped at the shop we could be involved in it..
It was stop on the road about 1,5 hour.
Late in the night we were in Kristinehamn at a camping close to Mac Donald's...perfect!
It was raining on the caravan roof and we looked at video all night long!
Daddy did not understand why he have to stay behind the trolly, when he have been out and was wet on his paws *S*
Sunday 17 August 2008
I had lot of pain in my foot when I went to bed last night, but this morning it was much worse...I decide to stay in the caravan today with some of our dogs and Rune and Jenny were going to Drammen for the show there with Decibel and three of our bitches that are entered today.
It was lovely to stay in bed, but I would very much like to be at the show of course.
In Sweden there were another show in Nyköping today, and I was curious for the results.
Helena was BOB with Molly today and Milda became nr three Best Bitch and Chrissi was reserve, well done.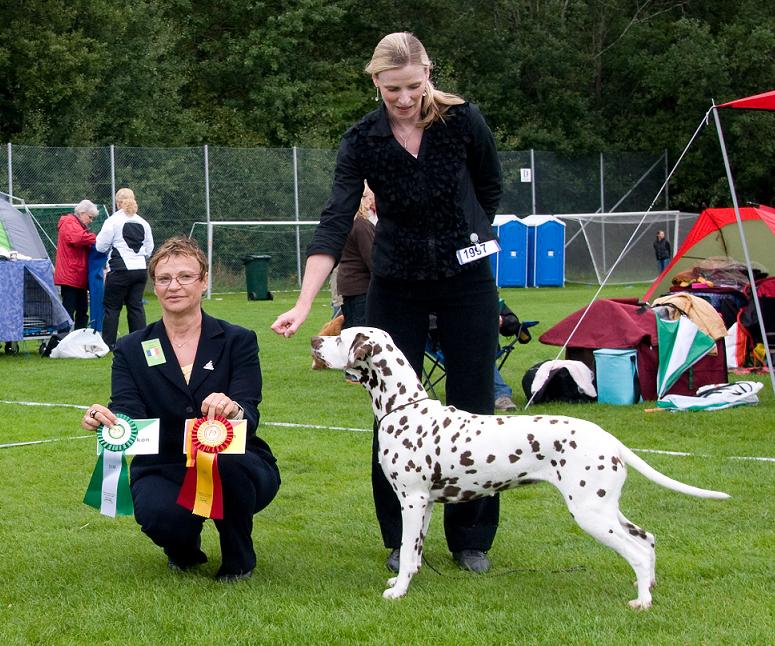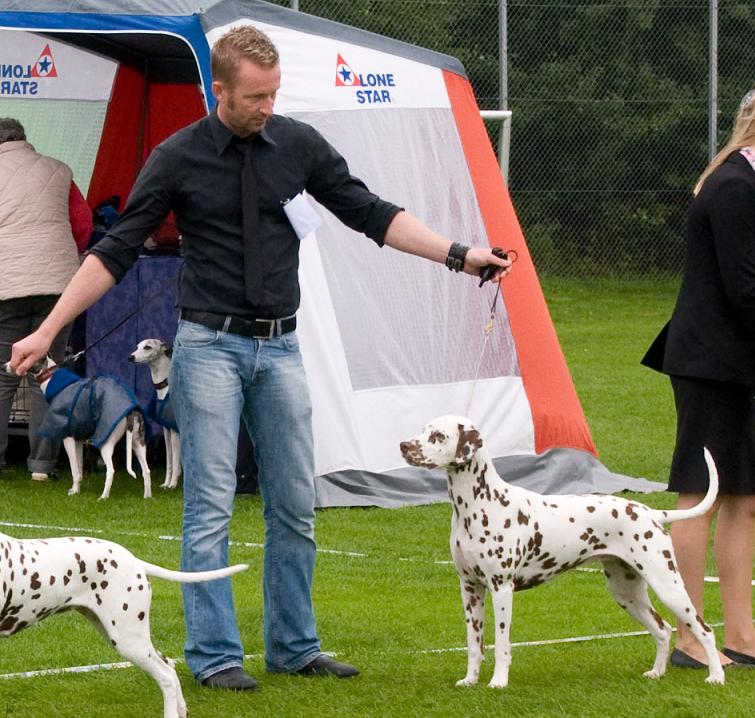 The judge from France, with Helena and Molly (Ch Timanka's Movie Star) and Johan L with Milda (Ch J Right Here Right Now) was nice to help Helena to show, professionally as always!
Thank You Kristina, Hanna, Helena and Kerstin for showing my Breedinggroup both days....!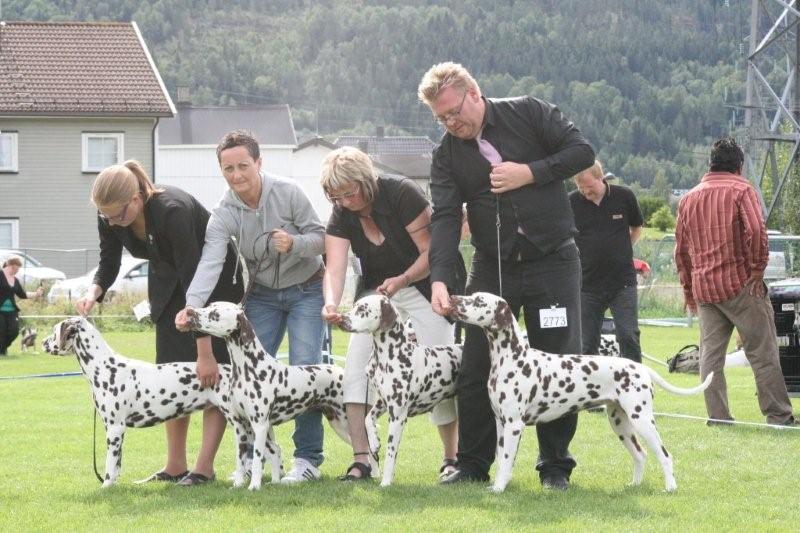 In Drammen Jenny/Decibel, Miriam/Devlina, Bente/Nelly and Rune/Gloria showed my Breeding Group to Best Group again!!
Thank You!!!!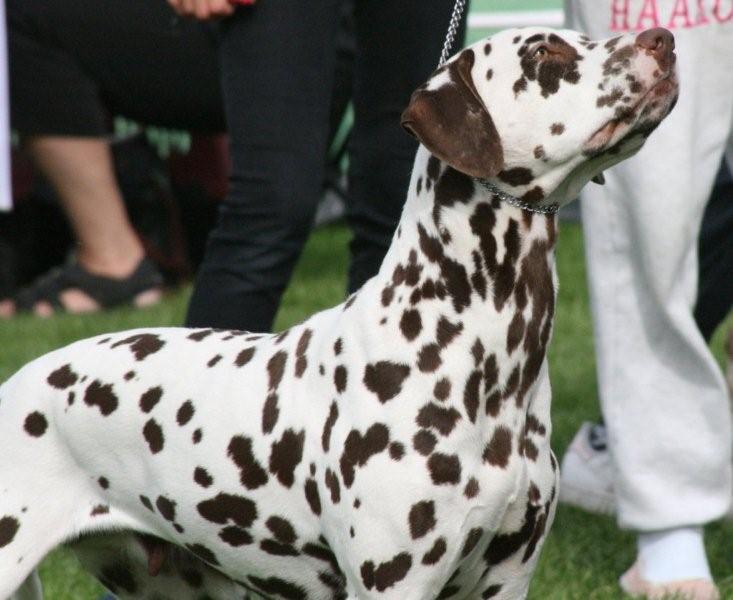 Gloria was second best junior bitch...so close to the qualification for Crufts....damned!! And we have already ordered room at NEC in Birmingham for three nights...we WILL go there next year with or without dogs *S*. Our International Champions can go so maybe we bring some of them there!
No success for our dogs today so Jenny and Rune came back in the afternoon, very tired after two days showing.
We eat together and then Jenny drive back to Sweden again.
Saturday 16 August 2008
Special Show in Oslo, Norway today!
Photos from Norway taken by Jenny, Rune and me.
And in Sweden a show in Norrköping, some dogs from us are going to be there.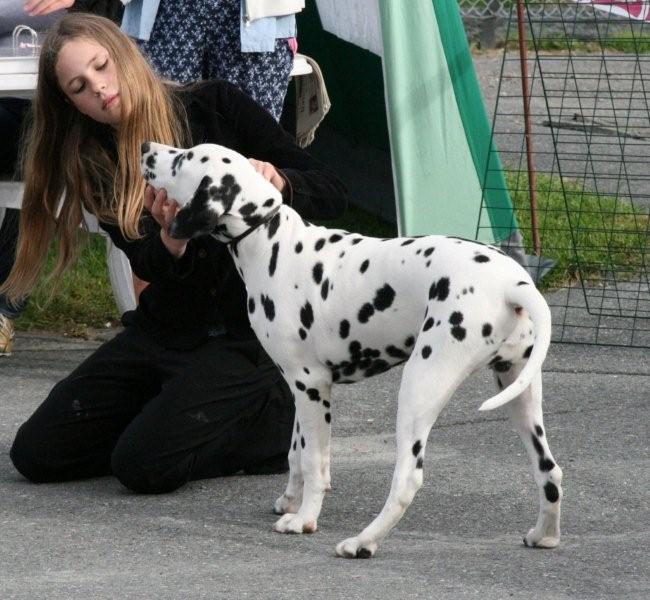 Puppy Class in Norway. Our friend PO with one of his sweet puppies and Elsa with a happy and playful puppy she was so calm all the time even if he was very hard to handle today. Well done, You did it the right way even if You did not win today. We wish You better luck next time.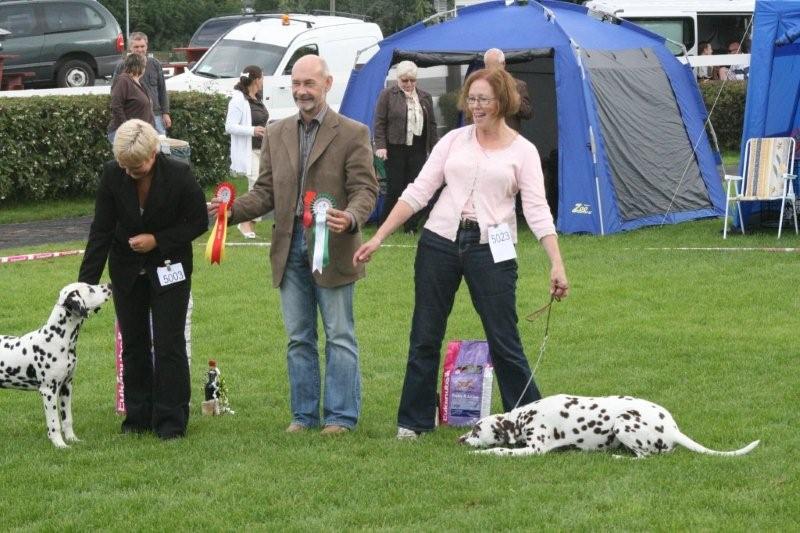 BOB Puppy Solbo's Kimberly with Elisabeth and my favourite handler Eileen *S* showed her sons bitch from Dalmo.
Eileen was the breeder of my lovely Ch Dalstable Attention Seeker, "Zally" she was from Devlins first litter ever, and both Zally and Eileen have a special place in my heart.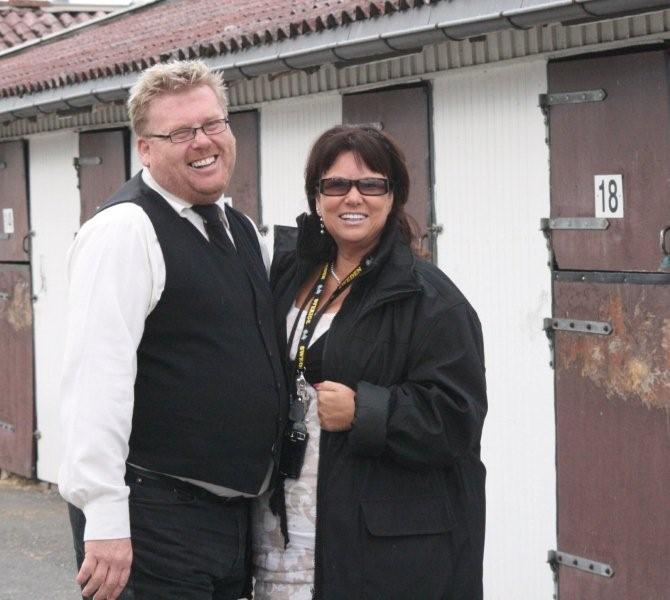 Eileen again in a better position. We were both so happy to be in Norway again.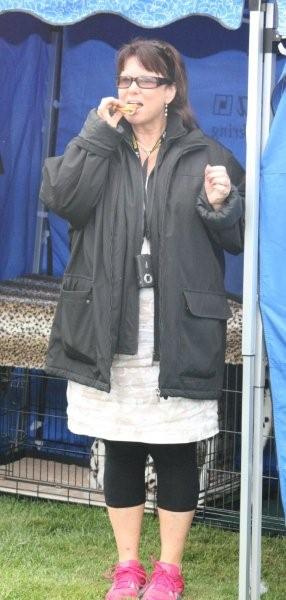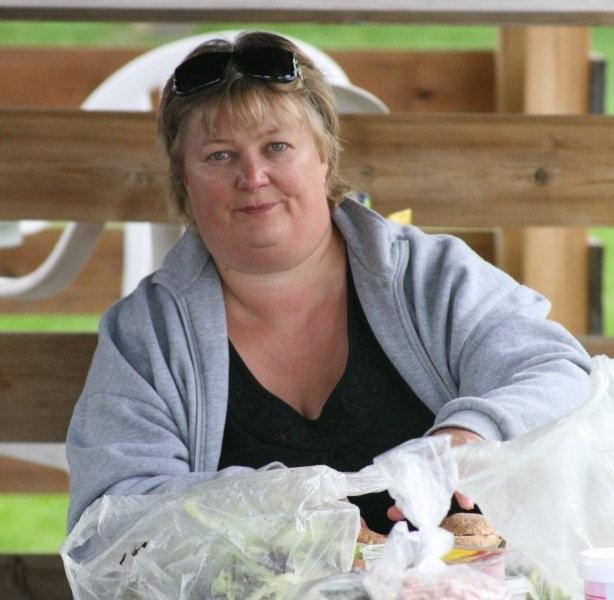 I have to eat a waffle, every one does in Norway...Grethe have made them and all sandwiches as always..they were very good.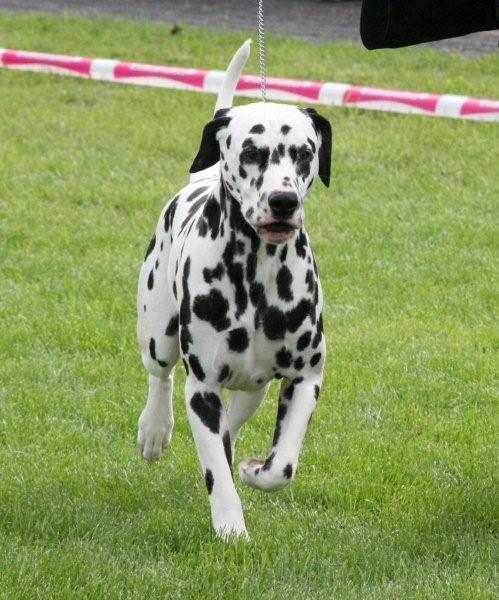 Daddy and Rune, up and down.....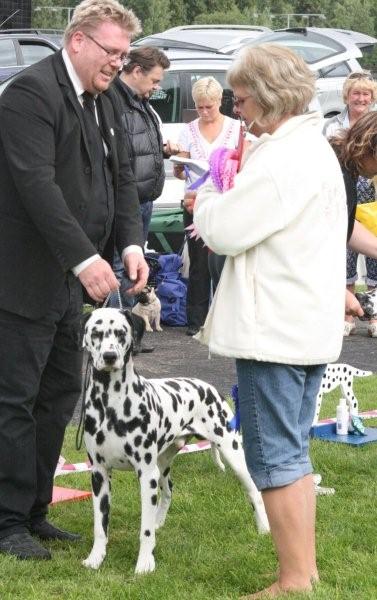 Daddy was Best Junior with CK........he was hoping for some candy, but get a rosette!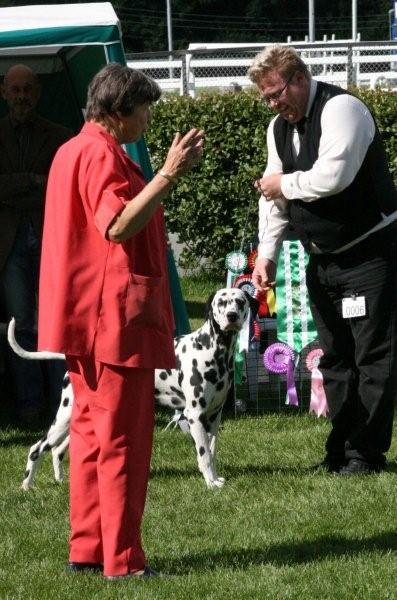 Judge was Grethe Bergendahl from Norway and she gave Daddy his first Norwegian CAC today!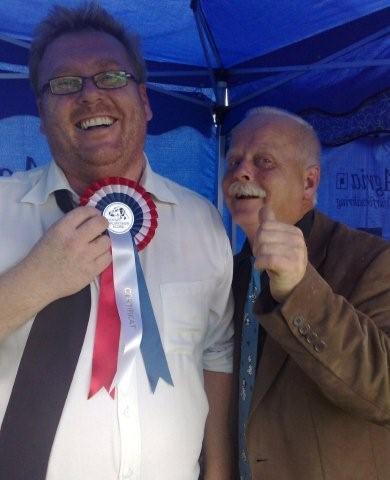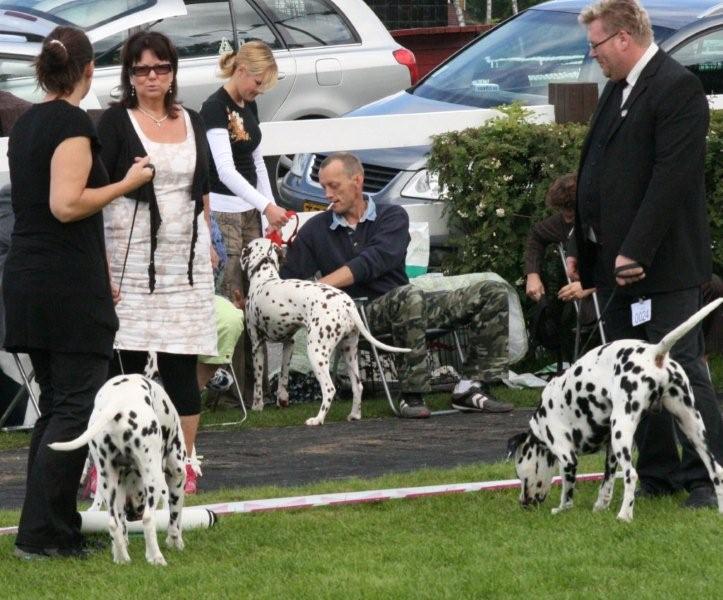 More than 120 Dalmatians entered today so there were lot of time to wait. Here in champion class.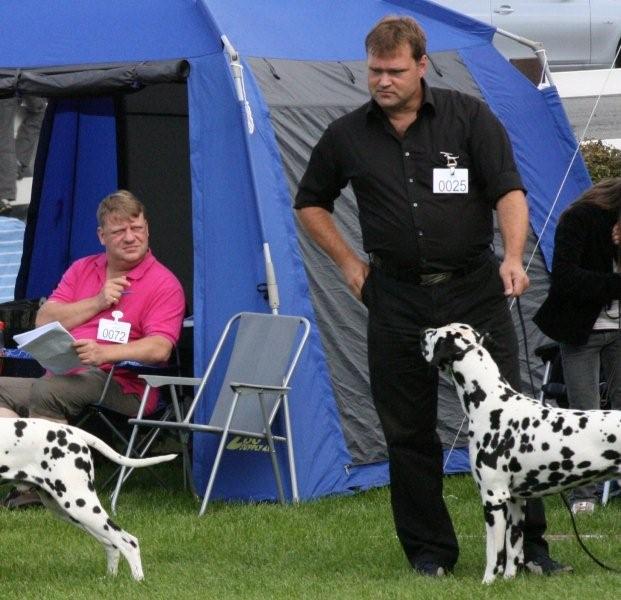 PO was interested in champion class for the males.
Bosson was happy to be at the show, he was nr 4 Best Male today!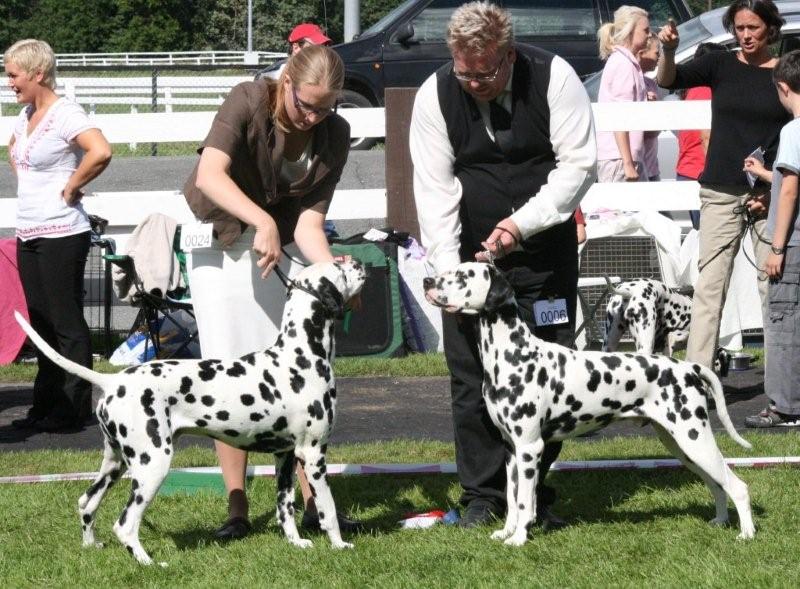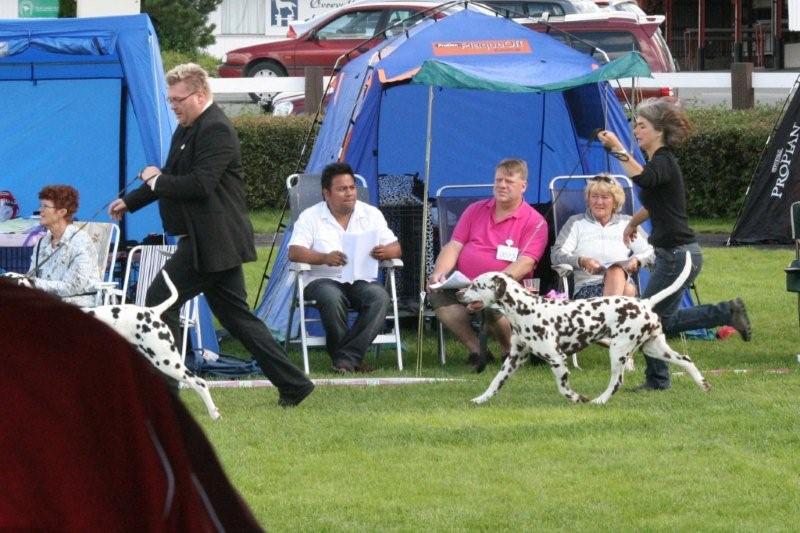 After Rune comes Trine with Devlins son Ch Dalming's Hokus Pokus, so beautiful to see on the run!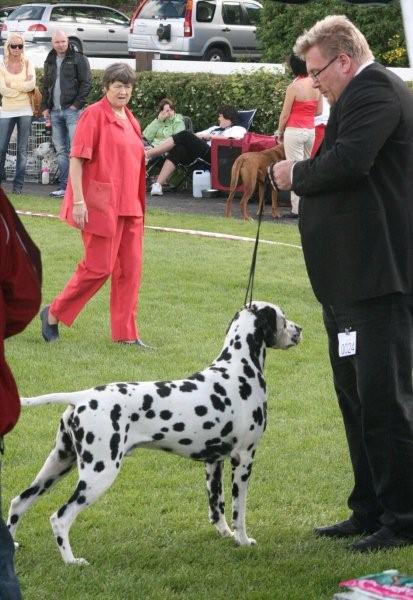 Int Nord UCh Est Ch Jilloc's Loverboy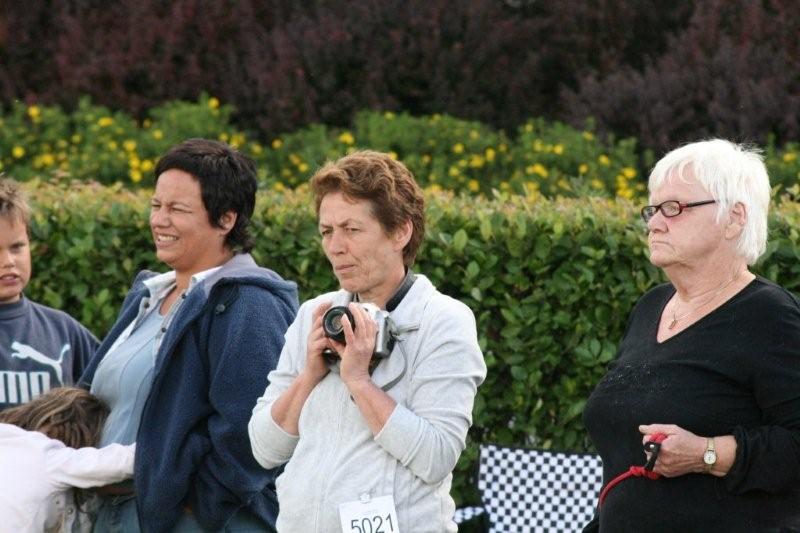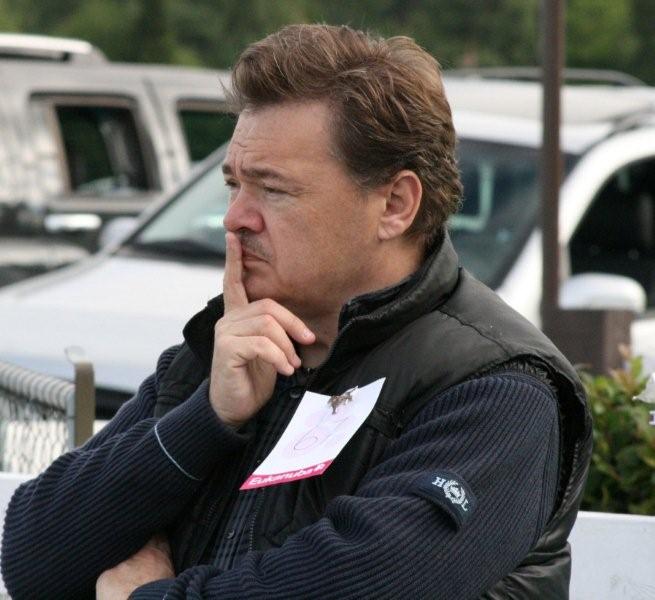 Many around the ring waiting for the result. Sören J from Denmark, chairman of the Danish Dalmatian Club.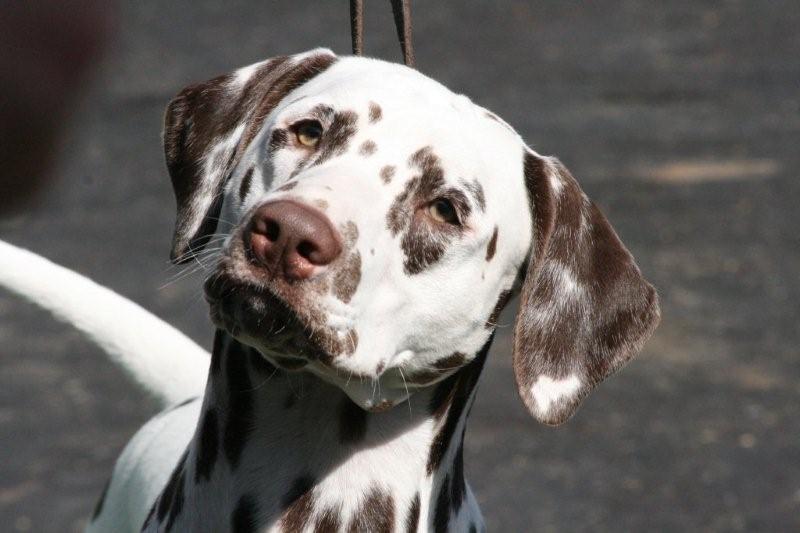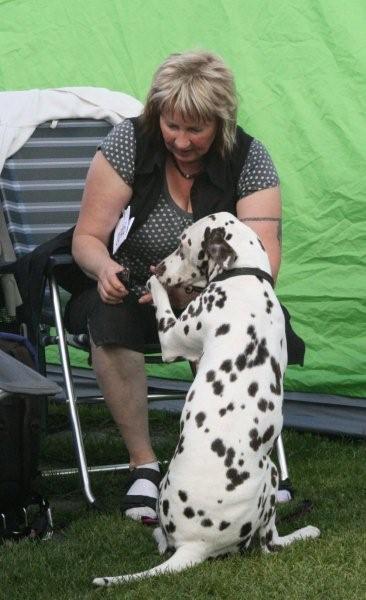 Bossons daughter from kennel Skvå, a sweet little girl! Bente and Silva.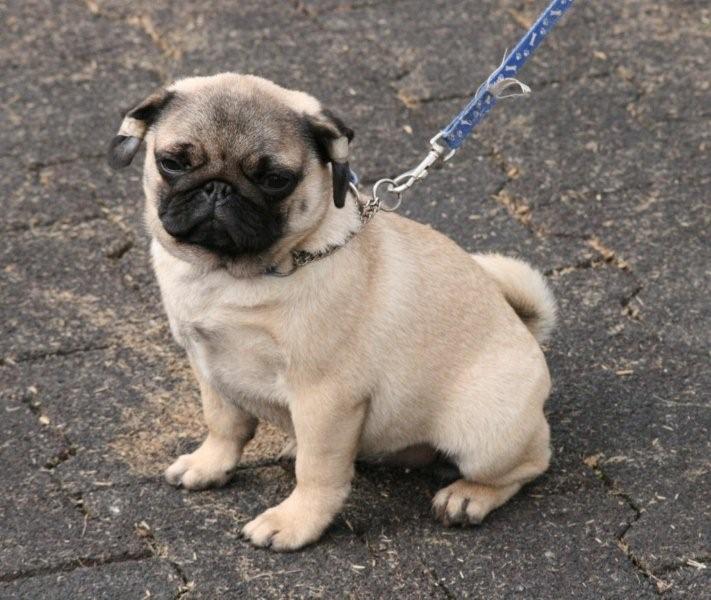 Here is another really sweet "Baby"...normally I am not so fond of smaller dogs..but this one was really wonderful!!!
And she ? didn't bother at all of all huge Dalmatians that run around...just so happy!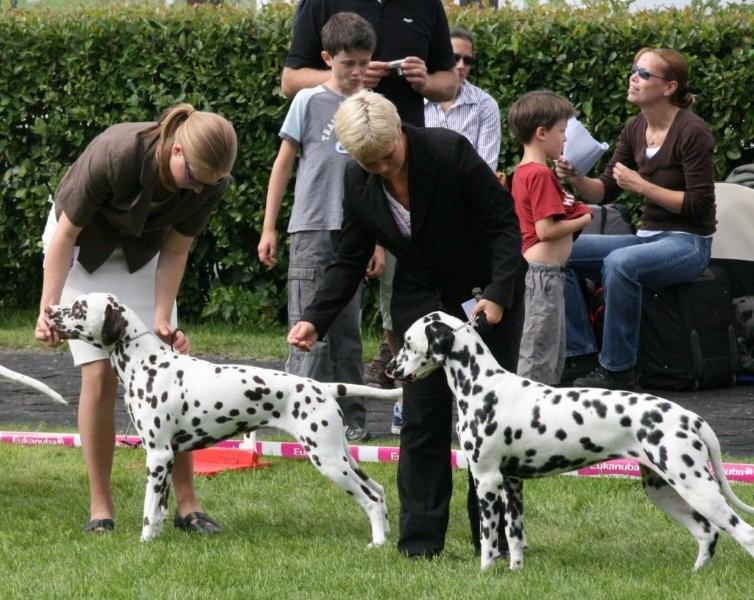 Decibel and a bitch from Spotniks in junior class.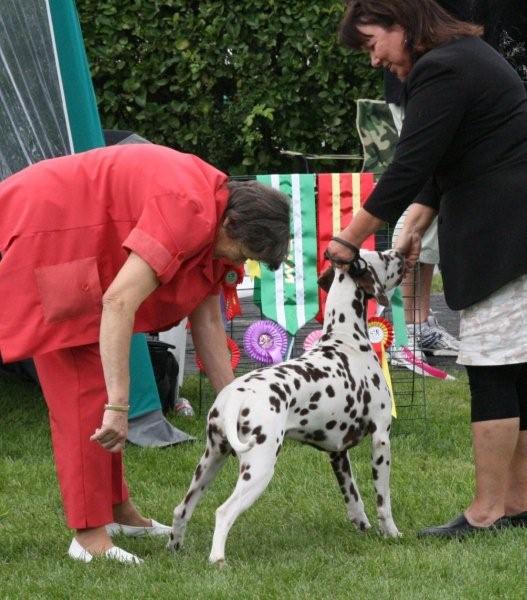 Gloria in front of the judge.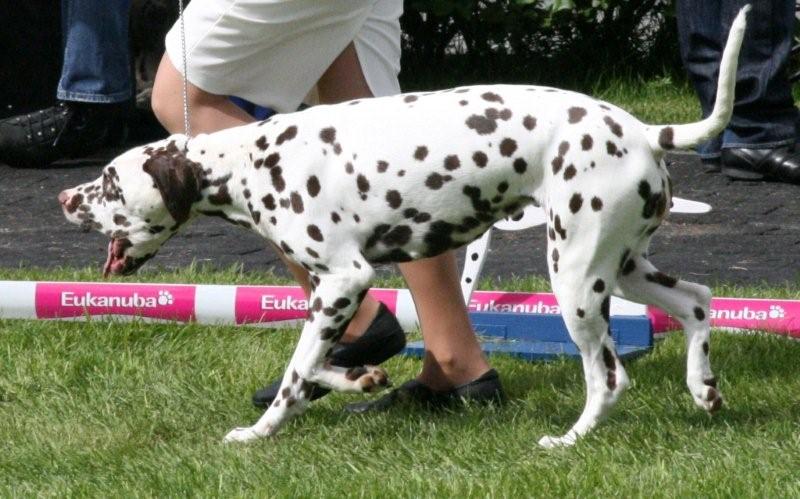 Decibel found out that Jenny have bought Norwegian meatballs instead of the normal "Mamma Scans" Swedish fabric....so she spit them out in the ring *S*!!!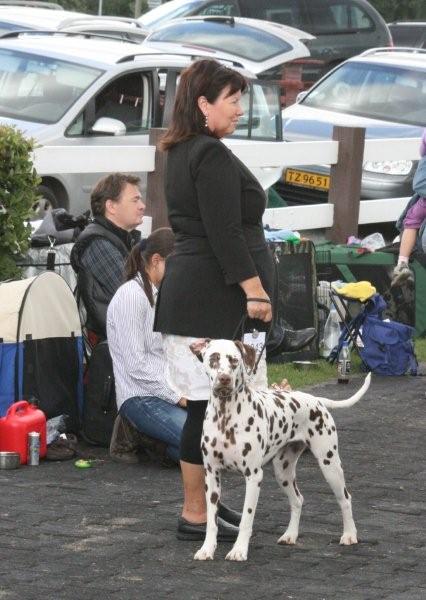 Waiting and waiting.
Then we have to run again....my poor foot!!! But Gloria won the junior class with CK and in the end she was nr 3 Best bitch!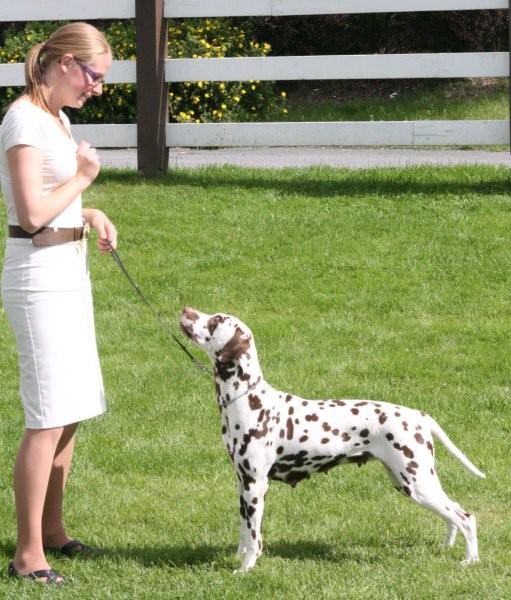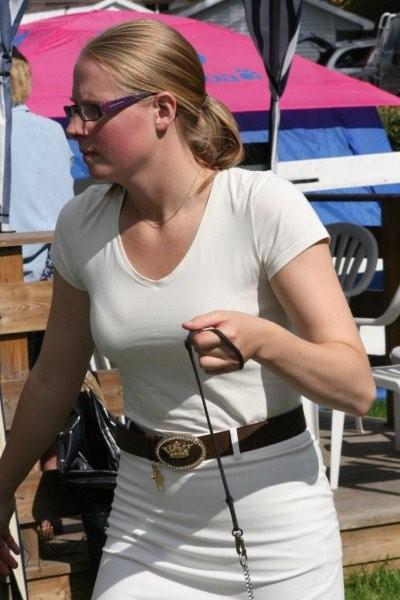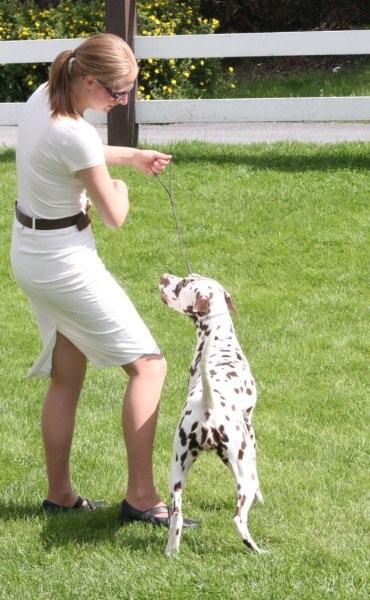 Jenny warm Donna up before she entered the ring with Rune.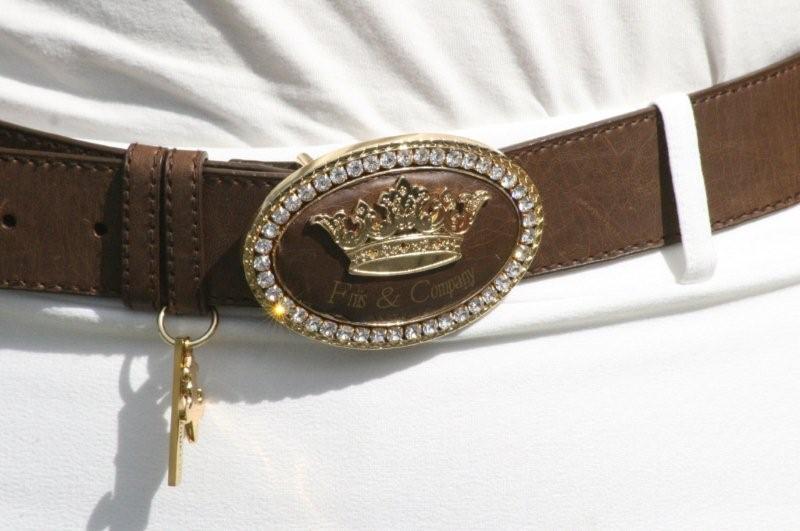 Jenny wear the belt I bought to her for her birthday, when we were in Germany some months ago, and the skirt that I bought for her and Hanna and my top too *S*!
I was out to buy the same skirt for all three of us, but in my size it looked terrible...wonder why *S*!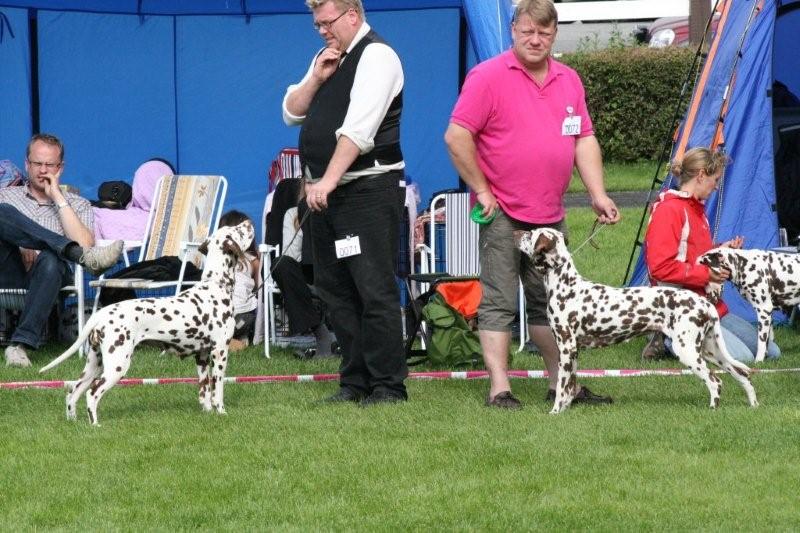 Rune with Donna and PO with Grynet one of his bitches from Kennel Dalmo.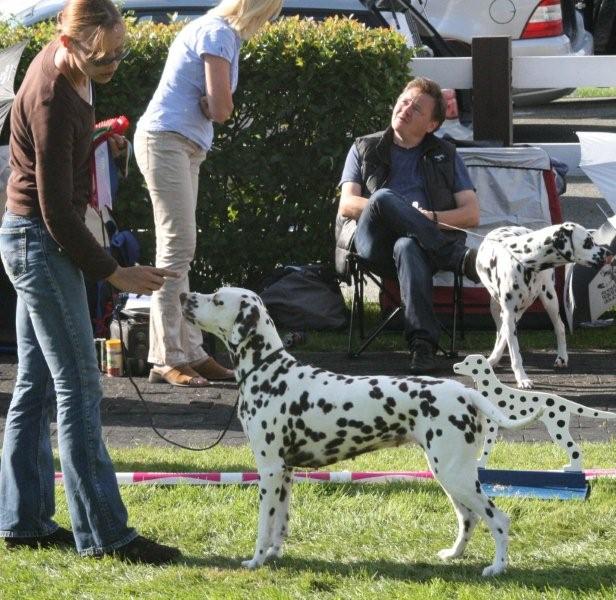 Zacco Best male and Best bitch Åses Berta. Best bitch 2 was from Holland, and she got the CAC.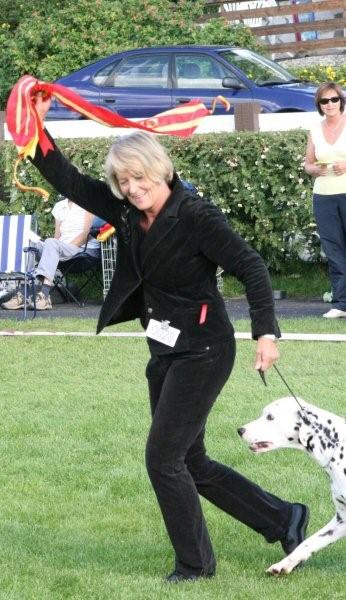 BOB Helle and Zacco, Congratulation!
Kennel Jilloc's won Best Breeding group out of eight groups!
Time to celebrate!
We really had reason to celebrate, because in Sweden today Jilloc's Super Model (Gloria and Daddy's sister) got her first CAC, and became Best Of Breed, and later on BIG 2, Well done Kristina and Breeze You made us so proud!!!

And best of all that You did it by your self, Congratulation!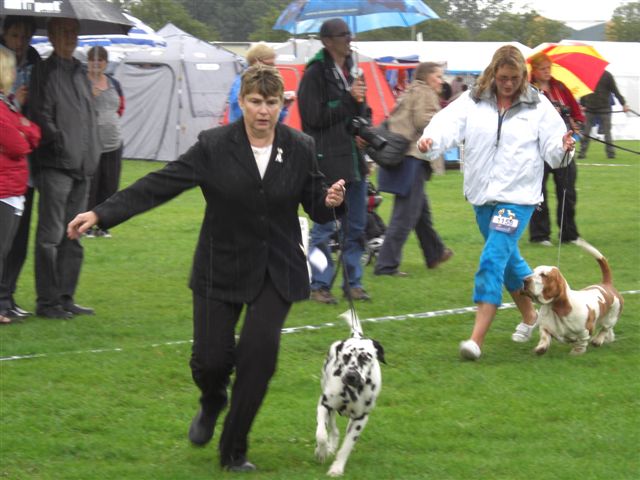 Photos by Hanna and Jens
Sissel and Steinar in our caravan. Time to sleep.
Friday 15 August 2008
We went to bed very late last night and woke up at 9 o'clock, and we decide to go to Övrevoll immediately.
This fantastic bus close to us......is only a dream that never come through.....and if we had one we need a chauffer too *S*! I am allowed to drive this type of vehicle BUT I think I will not...it would be too expensive to pay for everything that I will crash in a city!
Jenny was coming from Sweden and we decide to meet her at Smart Club in Oslo in the middle of the day.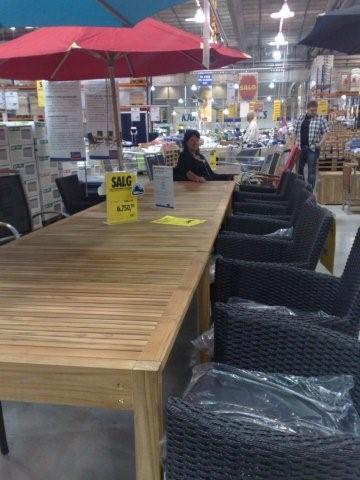 I found a table that we really need at home....because of all our visitors....18-20 people can sit here at the same time *S*! Maybe next year.
Most important for Jennie and Rune was to buy Norwegian Chips...crazy people!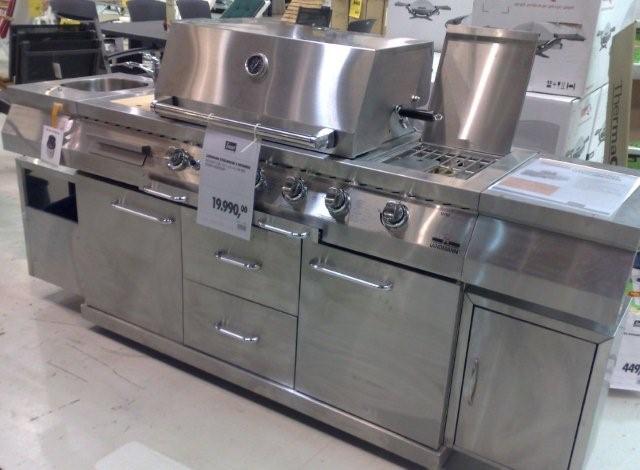 And this is what we need to barbecue.....or what do You think???? I think this was really cheap..it was huge!!!!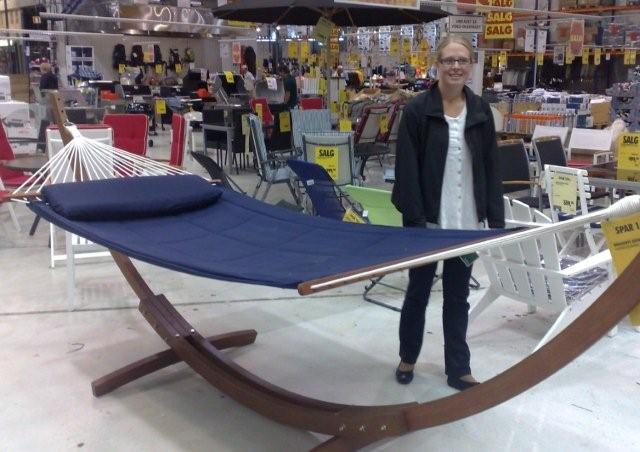 Jenny found a hammock to sleep in. Her only problem is that she was sure that her Decibel would bite of all ropes in the night so she will fall down to the floor *S*....as she still eat on everything as the madras in their bed.....but only at her boyfriends side..maybe Decibel want Jenny to get another boyfriend.... that love to have dogs in the bed......Martin don't *S* and I can understand why!
Of course our friends from Bergen was coming....
One more thing that Jenny love with Norway is Lollipop! Rune have bought a crab, and he was soo happy to eat it!
We bought a strawberry and raspberry cake for the evening, and a apple pie just in case it's too little...to eat after the Chinese food that Nyhammers bought for us all!
Mmmmmmmmmmmm!!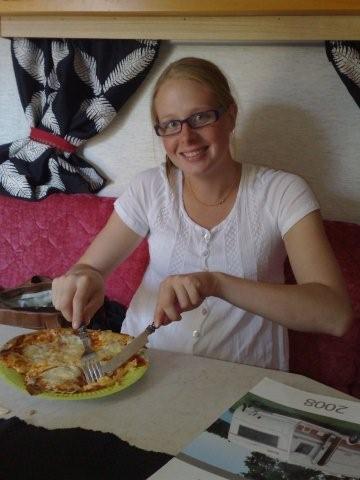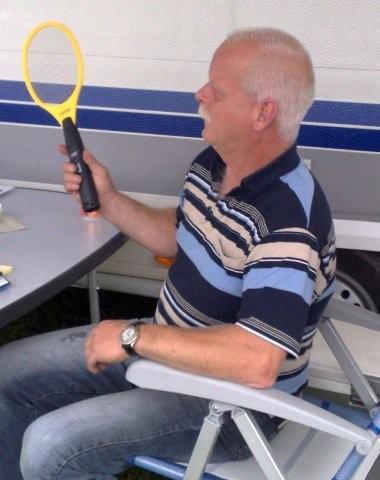 Rune made a vegetarian pizza for Jenny, she love it! Rune catch wasps with his electric racket!
Thursday 14 August 2008
The meaning was that we will drive away from home about 10 o'clock but of course we start many hours too late. We were in Oslo at 23.30.
After some hour of trying to find the electricity at Övrevoll we had to go to Arilds work and park there because Rune need electricity for his breathing mask.. Thank You Arild for guiding and helping us.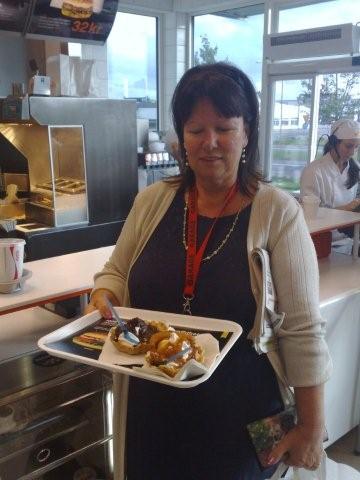 On the way to Norway we stopped at bought "food" at Max Hamburger for the first time ever.
Wednesday 13 August 2008
Today we have time at our hairdresser again...I think those weeks goes faster and faster...but my hair is so gray just after four weeks that I have to go back. Today I decide to change a little and cut the fringe of.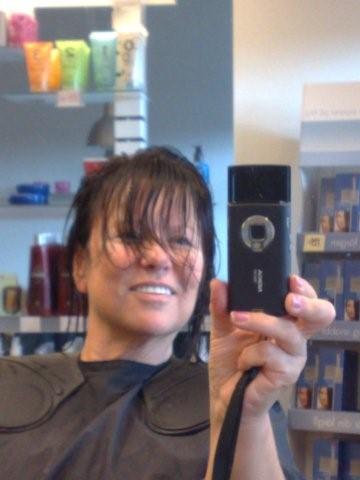 When I was ready we laugh a lot and Rune did not recognise me in the store....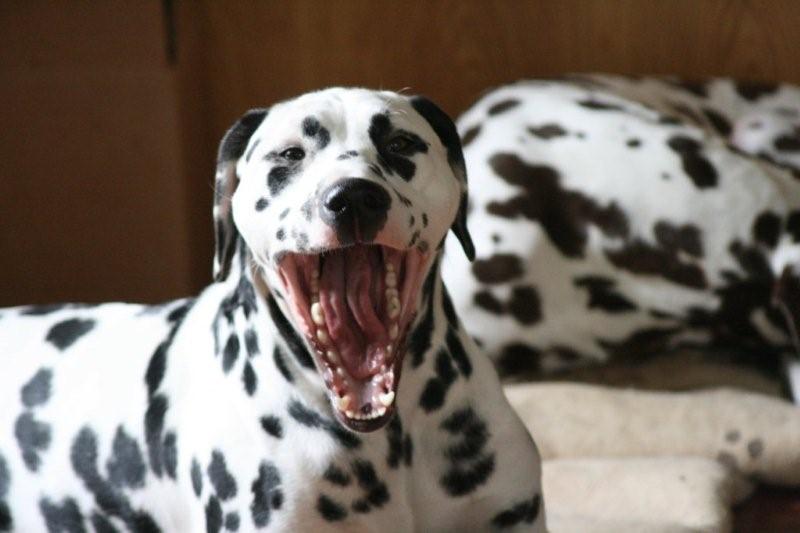 Is there anyone that want to count my teeth?
No one was interested, everybody else want to sleep. Just Bell would like to play!
Hanna and Jens came late in the evening and stayed until 1.30..then we start to pack our caravan *S*!
Tuesday 12 August 2008
Jonnie is happy to have start his driving lessons now, but it take a lot of time to drive him to Lidköping twice a week and wait there for two hours every time.
Monday 11 August 2008
Lazy Monday at home.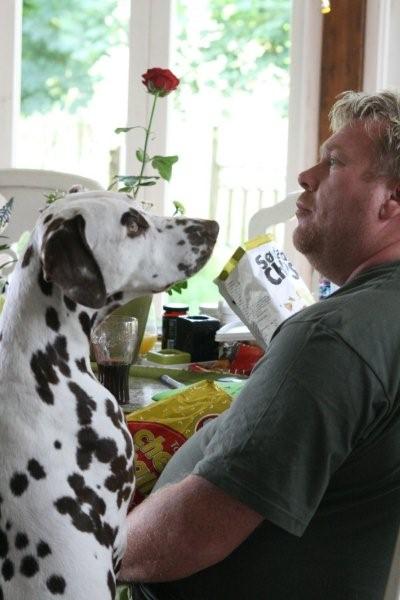 Devlina and Rune eat breakfast......cheese doodles and Norwegian chips! And Rune looked at TV at the same time, Devlina only looked at Rune when she have to wait too long to be fed.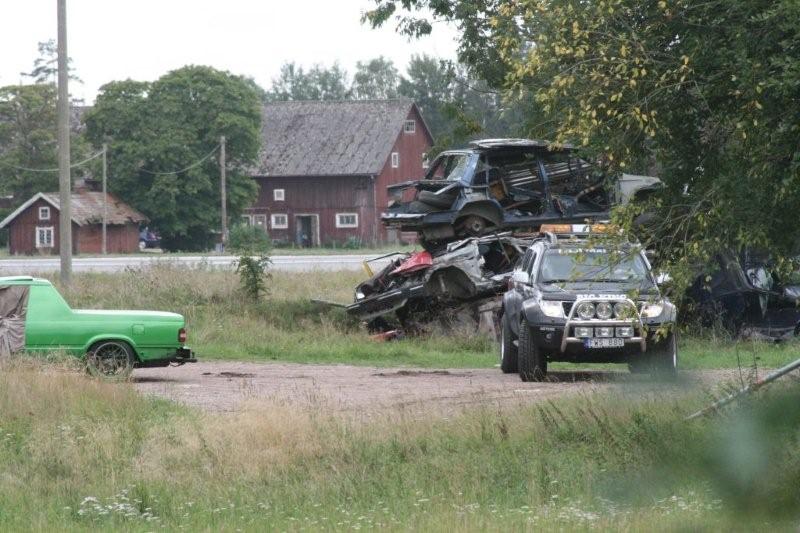 Jonnies latest Volvo is now green.....You can see four of his latest object in the background... When he is tired of them he crashed them together with the large caterpillar!!!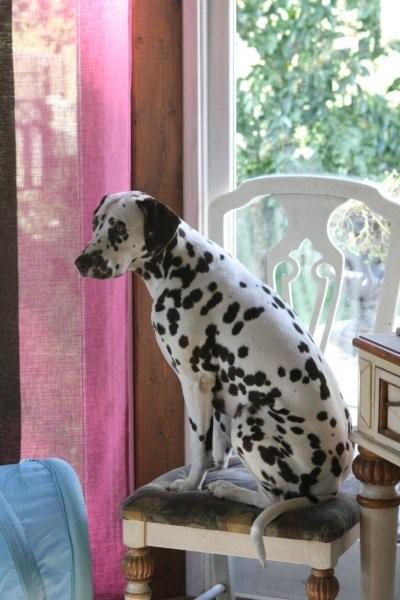 There were some hours without rain so Rune decide to make the lawn....I think he was very tired today because he crashed in the pear three many times..Devlina was wondering what in hell he was doing.
And Daddy did not understand anything as always *S*!
Waiting for visitors!
Sunday 10 August 2008
National Show in Ronneby

Gloria will be back to Askersund for BIS
Jenny and Rune go very early to Ronneby with our other dogs that are entered there.
Results later. Judge Per Svarstad.
I like to have total control of everything that I will bring to a dogshow, so I write loooong lists many days before....our car is always full of things we maaaaay need.....maybe......but it is important for me that I bring them, just in case of. Rune and Jenny did only bring a small bag to Ronneby today....so they have probably forgot to bring everything they need...but they have it all they told me. I can't believe that they only need ONE bag!?!
Anyway, yesterday Gloria's dog raincoat was totally wet so I start yesterday evening to prepare everything for her and me for today. I start the floorheating in our bathroom and was up many times tonight just to turn the raincoat and see if it was dry enough...Rune told me that it probably cost 300 kr to turn up the heat as much as I did for 12 hours...but she need it today in this weather so there were nothing else to do.. I turn the heat off this morning again.....brrrrrr but it is tooo expensive to put the heat on already only for us.
I was thinking about blowing my hair, but I look out of the window and understand that it will be no meaning at all..rain, and storm.
Rune and Anne Karin went back to Norway in the middle of the day, so we will meet again over there on Friday.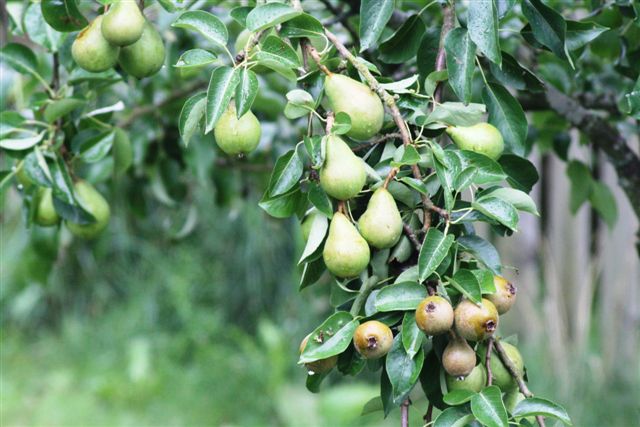 This is our only pear tree..last year we had ONE pear, this year it look like this!!
Rune called and ask me if I was ready to go, and I said that I/we were almost ready. Then he told me that I have to think about that the fabric cage that I should put up in the backseat of the car have to be put up INSIDE the car - or I would never get it in! And I've already put it up in the hall here...? Ok, I have to pack it together again..so I have to hurry.
It was so easy to put it up...but IMPOSSIBLE to take it down...after 20 minutes...I was soooooo warm and stressed now I took my best foot and smashed it because I couldn't get it out of the front door first of all...and NOT into the car either...now it was much easier..but it was totally broken...what the hell.....we have seven more fabric cages that we do not use...they are all broken by our dogs in the fabric..this was the only one that was correct. But not now *S*!
I was really hot after bringing the cage in right place in the car and carried all my things out there..I thought I'd done it already but there were many more small things that I almost forgot so I run in and out MANY times with the key in my hand..water, rain coat for me, rain coat for Gloria of course...the warm dry and cosy one, umbrella, another cage to carry in to the dog show so I absolutely NOT need to bring this down and up again, a chair for me, a toy for Gloria and meatballs and and and and and..I thought I packed everything down last night...but probably not. Every time I jump in to the car there were always sometime that I remember that I have to bring with us...It took me a loooong time before I get Gloria up and in to the "truck" it is sooooo heavy and high up in the air. I have to carry her....and she fall down again...for some seconds I was thinking about to call Jonnie or Roy to come here quickly and HELP me..but then I was really angry that I not could do such a easy (not for me) thing that get my Group winner in to the car...so we couldn't get there in time for Best In Show. Finally even Gloria was in her cage..phuuuuuuuuuuuu! I was really hot when I run to the door and locked it, now we really have to hurry!
After about 20 km I start to relax and put the radio on..Gloria was already sleeping on her new pink blanket with her toy (her fathers quack...I hope it will give her luck today in her first BIS final) close to her........and it doesn't matter if it was raining she have her new warm and dry raincoat.....RAINCOAT.......My stupid idiot....I have left the raincoat hanging on the door...How the hell could I have missed it!!!!!!!!!!!!!!!!! Grrrrrrrrrrrrrrrrrrrrrr I was so terrible angry on my self......
Just for a second or two I was thinking about to turn around and go back for it, but I realised that it was more important to be there in time for BIS than to have her rain coat and I called Rune and said that I will walk in to the show area at once and buy her a new VERY expensive raincoat as soon as I were there...He just laugh...and ask if I hadn't written it down on my list *S* I had but it was so much trouble with the cages so I forget to check it...He think it was VERY funny..and just then he could be VERY happy that he was 400 km away from me. I called Helena and talked to her for 40 minutes and then I called Anita and talked to her for 40 minutes and then we were in Askersund so I have to start take all things out again!!!
We were there at least one hour before the BIS final start and it was raining a little. I have no tent today so it was really awful to just walk around and try to put "shitbags" over the cage of fabric so Gloria will be dry...of course I have forgot some big plastic bags to take over the cage and the parasol that we talked about that I will bring here today!!
Now we just have to wait and hope the rain will stop. We went to the toilet for a while just to be warmer and dryer...very funny!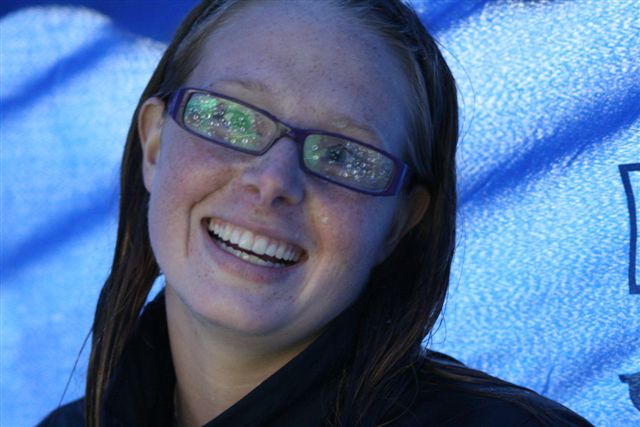 Jenny called me and give me the result from Ronneby!
Best Male 1 with CAC Jun WW-08 Jilloc's Sugardaddy
Best Male 2 Bazius Double Diamond
Best Bitch 1 Nord UCh Jilloc's Reflection In A Mirror
Best Bitch 2 Int o Nord UCh Est Ch NordJ V-03 NordV-07 Jilloc's Joyride
Best Bitch 3 with CAC Jilloc's Topwinning Trophy
Best Bitch 4 Ekryda Rind
Best Bitch 5 Mellanmöllans Bright Pearl
Jenny showed Devlina to BOB and Rune showed Daddy to BOS
And thank You Lena E for helping us showing as always and stayed many hours in the rain just to help us in the final ring. You are "one of a kind"!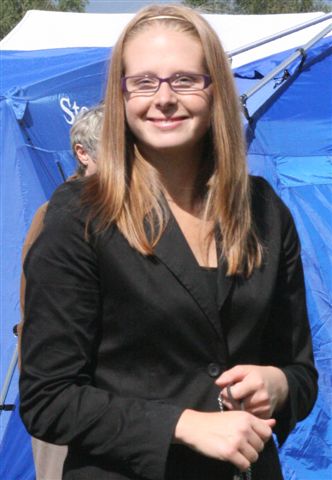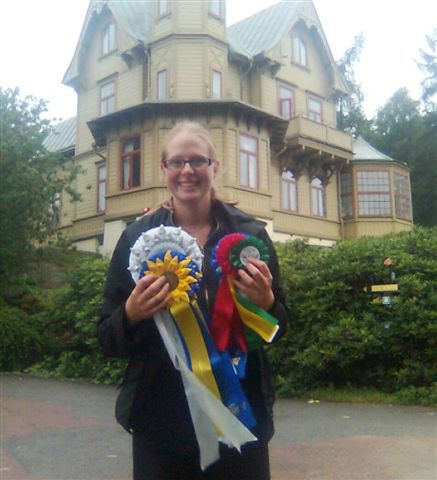 Rune called me and said that Jenny couldn't stop smiling today!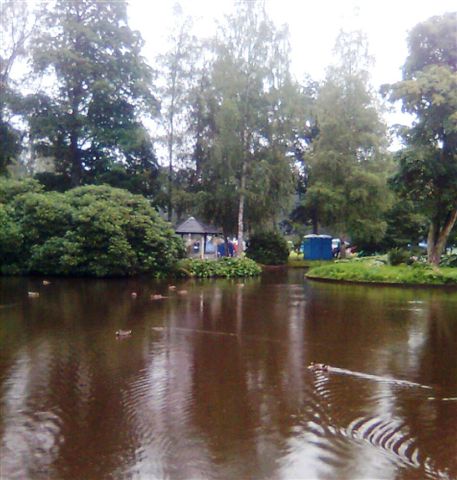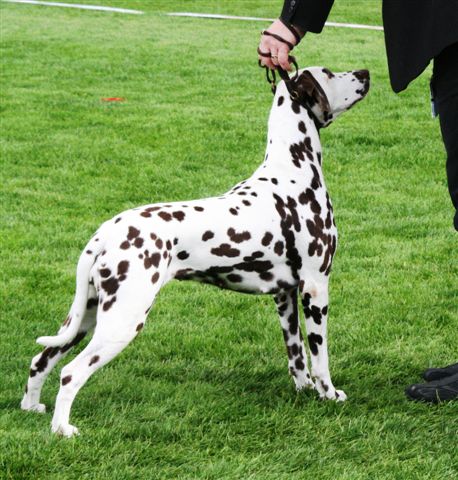 Beautiful as always in Ronneby even if it was raining like hell almost the whole day.
Devlina was Winner of Group 6 in terrible weather! Judge was Kresten Scheel.
Jenny called me and she was screaming in the phone....Devlina won..Devlina won...I have to take photo...and closed the phone....I was laughing for my self...Jenny was so happy that You could think that SHE have won a million....she is sooo sweet and she love dog shows even more than me I believe.....so most of all I laugh for myself of Jenny but of course I was happy for Devlina too.
In the middle You can see the beautiful photo she took with the mobile phone *S*!
A terrible photo I took of myself...but I have to show it....when I see it I remember how much I laugh..people around me probably think I was nuts!
Devlina was not placed 1-5 in BIS, but she was so happy to go home....both people and dogs were so tired and wet of all this raining the whole weekend.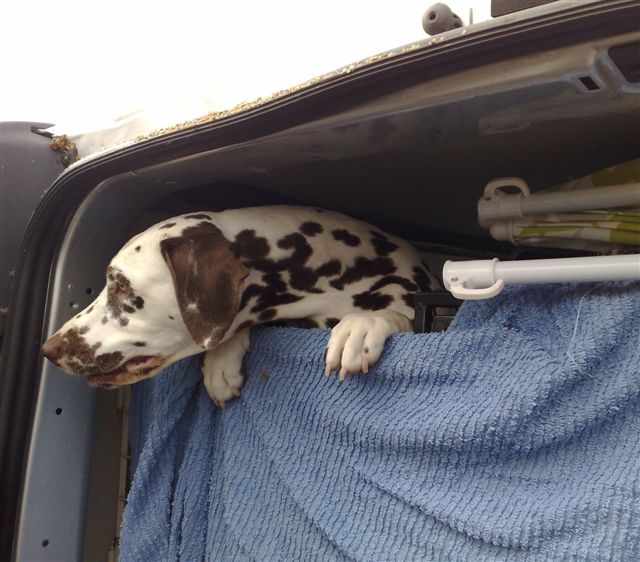 We were so proud anyway with two of our "Girls" in the competition for BEST IN SHOW at the same time but at different places.
Gloria did it so well and was placed at BEST IN SHOW 5!!!!!
BIS Judge was Svend Lövendkjaer, Denmark.
I was in Askersund alone so I have no pictures from the final ring yet.

There were so many that have problems to drive out from the parking. It was mud all over, but I have the tractor so it was easy for us.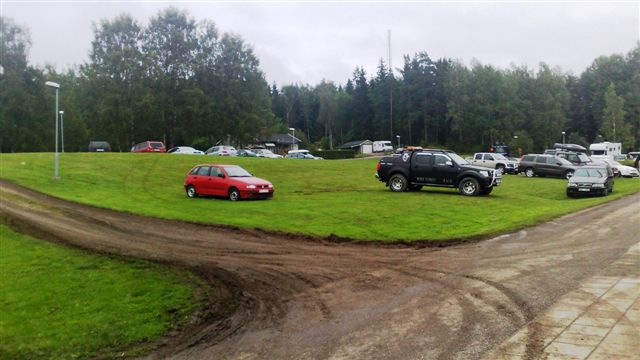 Warning.....here comes Gloria!!!
Even if I dropped the Rosette and it was wrinkled, this was a nice ending of the weekend!
And I really have problems to get 15 kg of dog food to and up into the car.....normally I am so happy when we win extra food, but not today *S*!
But I was too cheap to leave it there *S*!
Saturday 9 August 2008
International Show in Askersund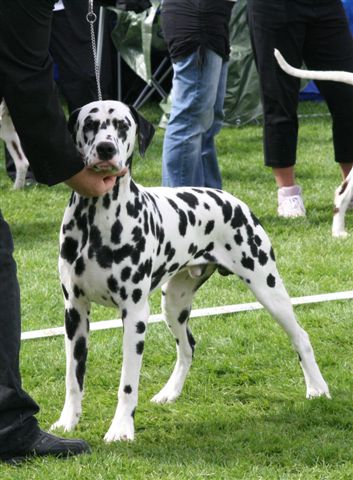 Daddy second Best Male with another CAC.
Some of the males in the competition for Best Male.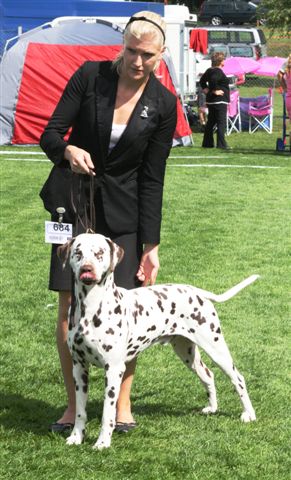 It seams like Hanna, Anita and Anne Karin looked at Harry and Hanna!!! in the ring, or was it her twin sister *S*?!? Only I know!
Number one, two and three Best Male........Harry was nr three because he didn't carry his ear inside out, as Fabian and Daddy*S*!!!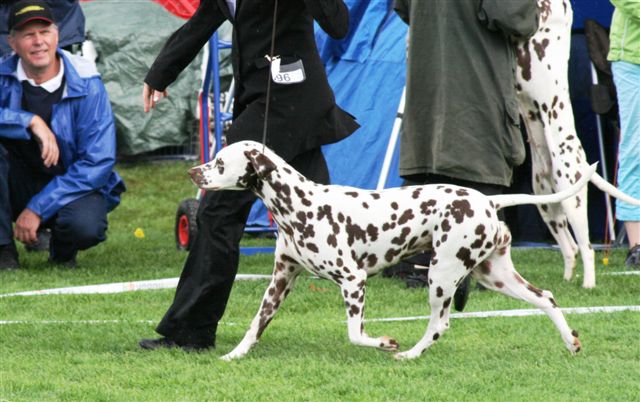 Gloria Best Bitch with another CAC, Angie second Best Bitch with CACIB, Devlina third Best Bitch with res CACIB.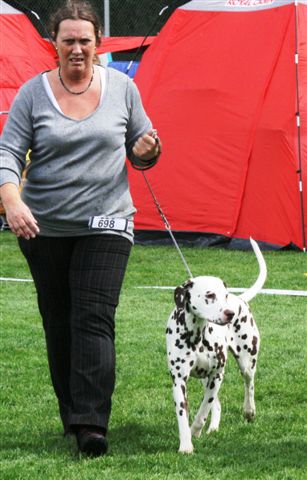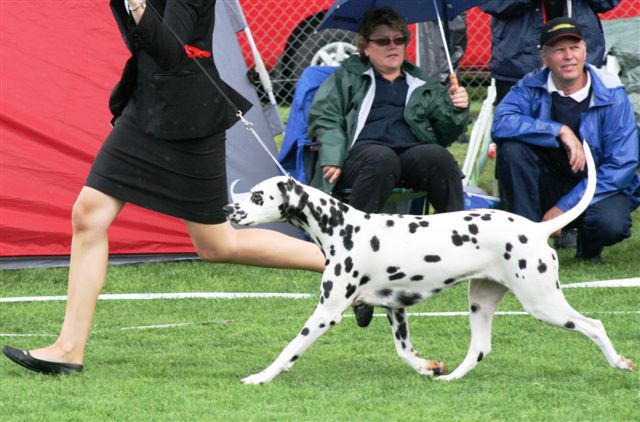 Fourth Best Bitch City Kid's Amazing Grace and nr five SV-06 Fairytale Spot's A Key To My Heart.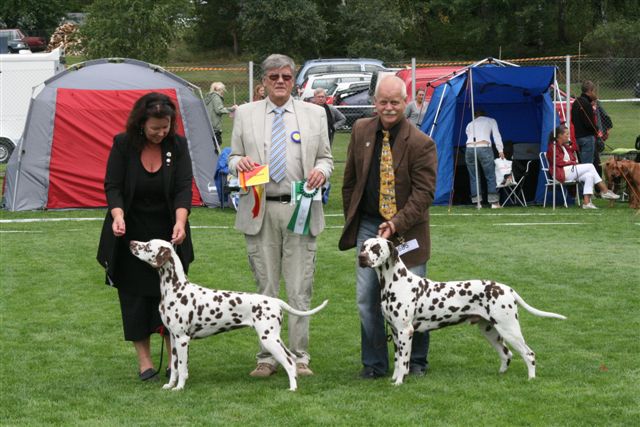 Jilloc's Splendid Choice BOB Int Ch Lovinda's Fabian BOS
Judge Nils Molin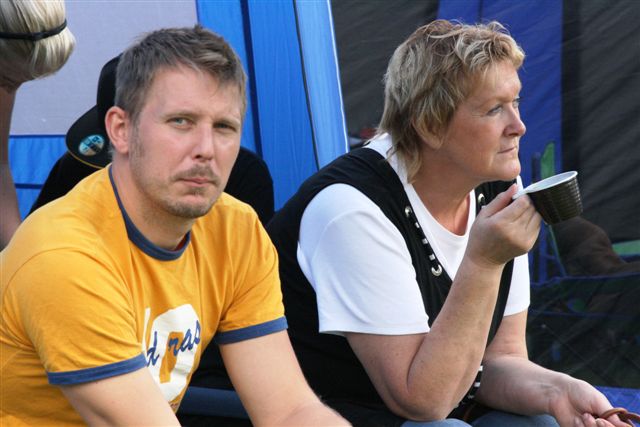 Jens and Anita drink coffee all day long. Best Breeding group Milda, Angie, Decibel, Devlina.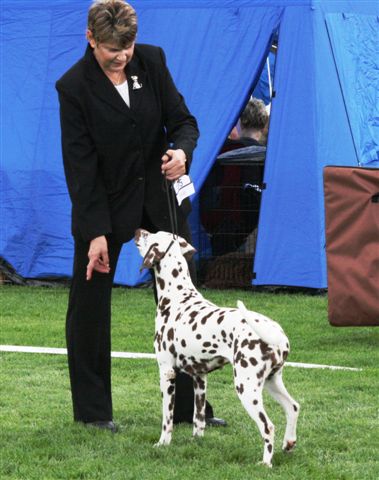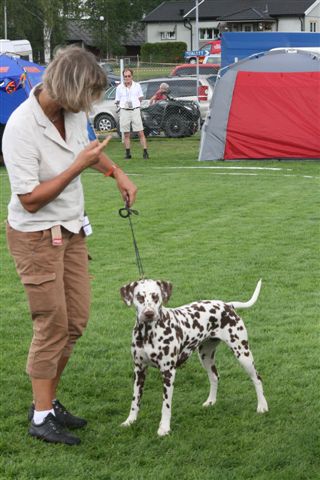 Kristina with Windy Carin with Russin Ewa try to hold her tongue right in her mouth *S*!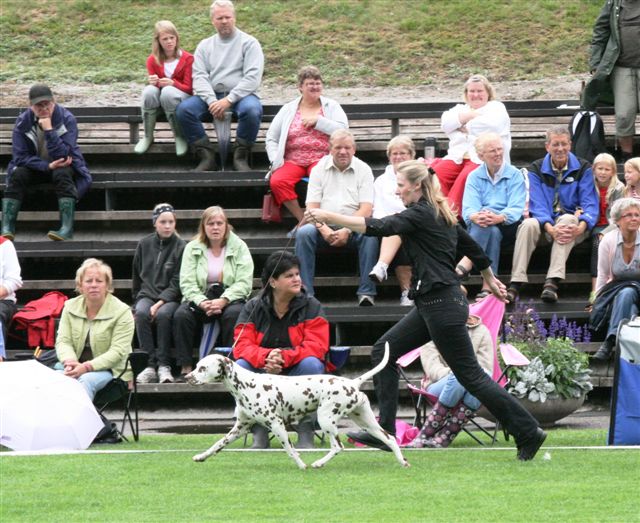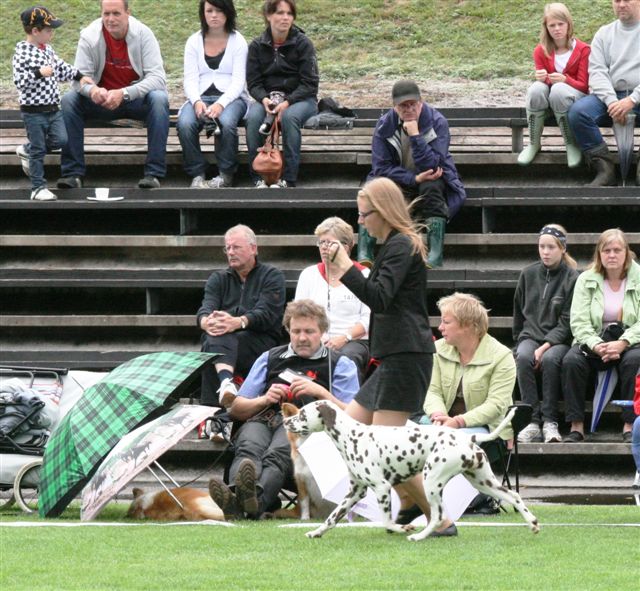 Look at Helena and Milda, what a style! Here comes Jenny and Decibel!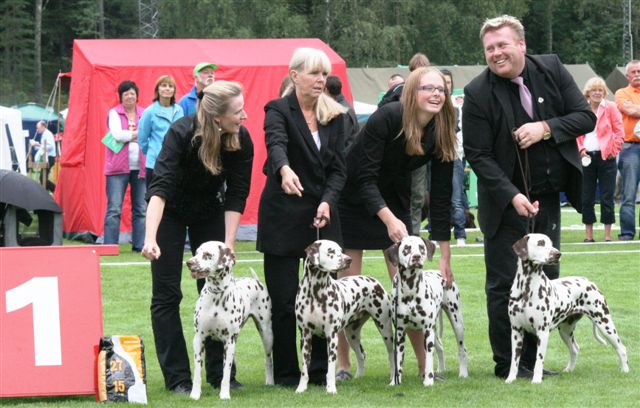 Best In Show Breeding group was Jilloc's!!!!