Diary
Friday 31 October 2008
Before we go down this morning Ellie took a shower and I clean her hair. Then she showed Jill how to put make up on. Jill was very interested.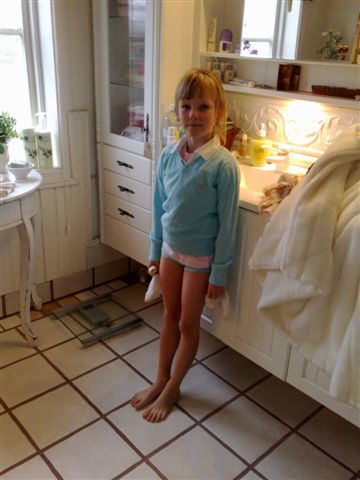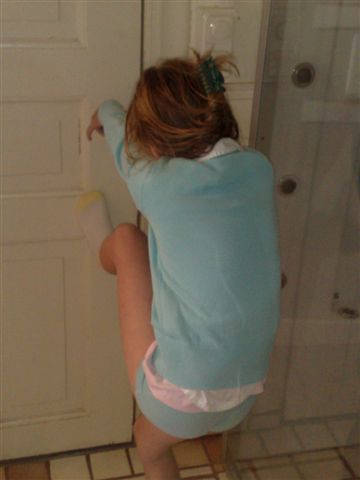 Ellie had problems to open our bedroom door *S*! No modern door handles here!
Breakfast together with Daddy, he loves breakfast!!! And every other meals. In the store testing new clothes for school.
Jenny came here to meet Ellie and to go with us shopping.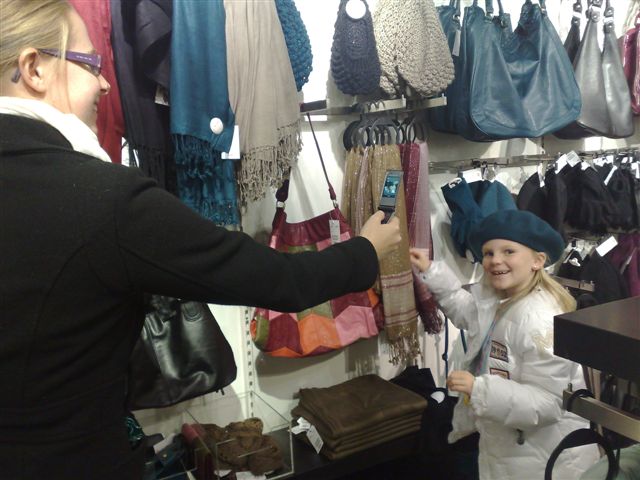 Ellie love to dress up so she tried every hat she could find. She love to act in front of the camera...maybe she should start to play theatre, but just now she have so many other activities..she take lessons with skating to be a skating princess!!!
Jonnie and Roy came to take Ellie half the way to Gothenburg tonight where they will meet Jennie. It was silent in the house when our little sunshine have gone back home.
Thursday 30 October 2008
We bought this on the boat for Jonnie.
Not easy to read the papers with dogs all over, they LOVE Ellie, especially when she eat *S*! Tired to wait for food!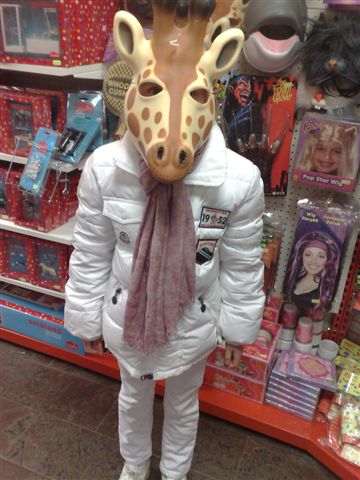 Ellie and I went to the toy store in Götene today and found many funny things. We bought some things that she can read in and work with and a advent calendar with toys inside that she can start to open 1 of December...she was so happy for that one all girls at school have that on top of their list just now.
We saw many nice things there for Christmas, and now I know a little bit more what to buy then. And I saw sooooo many things for Eddie that he need next 5 years...but I would like to buy them NOW!!!!!!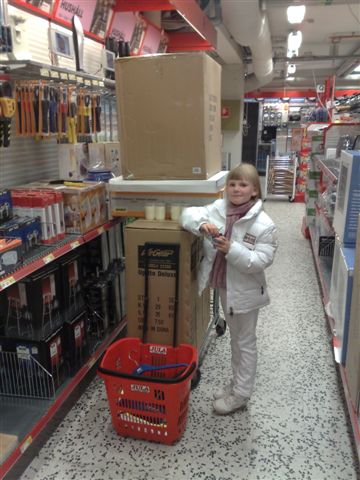 When Rune was ready with his work today we met him in a store and bought a large Santa Clause that sing and act like a real person, fantastic. He will meet our guests in our hall from the first of Advent.
And we were shopping some food and chips and lottery...need to win!!!!
And we bought a bicycle that I can sit on an exercise...my cross trainer is not that good for my heal string.
In the evening Rune and Ellie put it together and she played with all frigolite that was in the package...she have a dream to get just frigolite for Christmas *S*..and now she get it already for free..she build house for her small toys in the frigolite!?!
Wednesday 29 October 2008
Poor Rune have to go to work early. Ellie woke up too early and was hungry (poor me) so we had to go up too.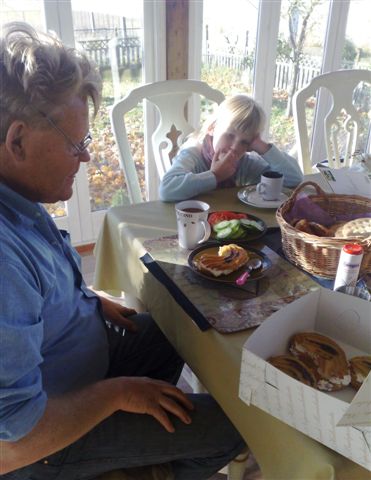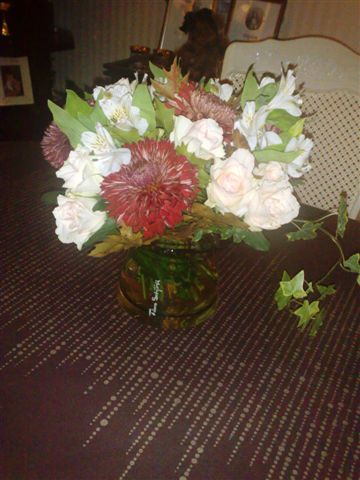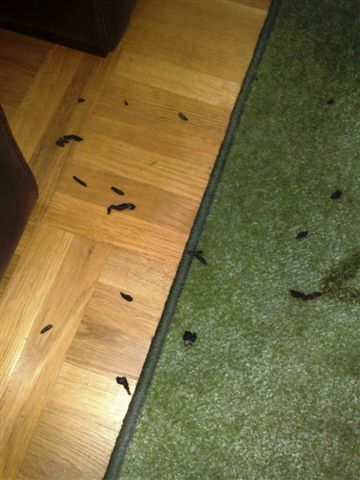 We got a visitor for coffee and he had cakes with him as usual. We found out that we have had more visitors in the room, blääääää!
Just look for some TV in the evening and took care of all necessary things with bills etc before it is new month again. Boring!!
Tuesday 28 October 2008
Just a little wind last two hours before we were in Gothenburg with the boat...but no problem and the night have been VERY calm. No wind at all that we could feel in the boat. Hurray! I would like to go again as soon as possible with this boat to Germany!!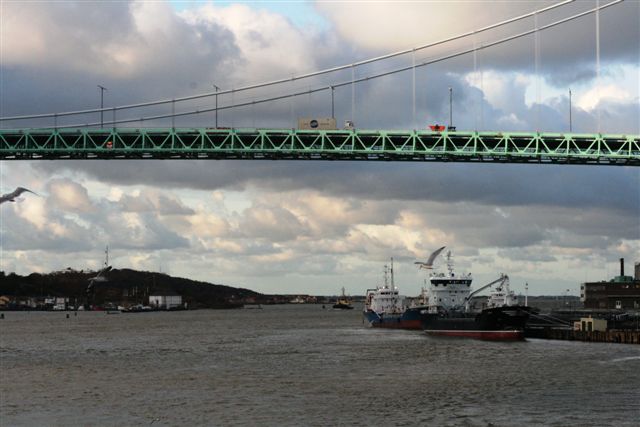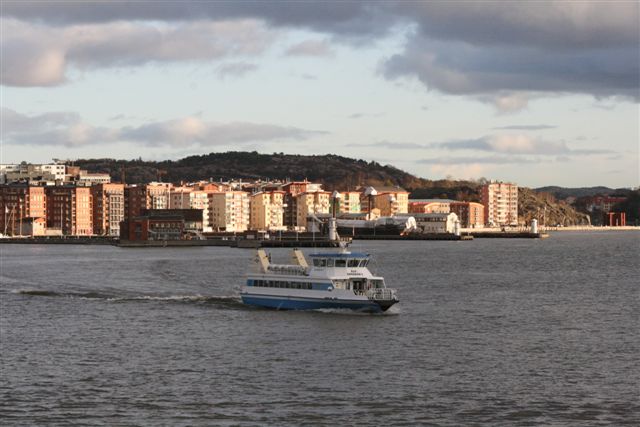 Early morning back in Gothenburg. Here comes the small boat "Älvsnabben" over the river. My father was going with that boat every morning for over 40 years when he was on his way to the Warf Eriksberg.
Ellie and Jennie and Jill was waiting for us in the harbour. Ellie is free from school this week and are going to stay with us. Jennie was in a hurry to go back to her work again. Jill decide to go back home with us today...(she have been on holiday at Jennies place since before we were going to Åland).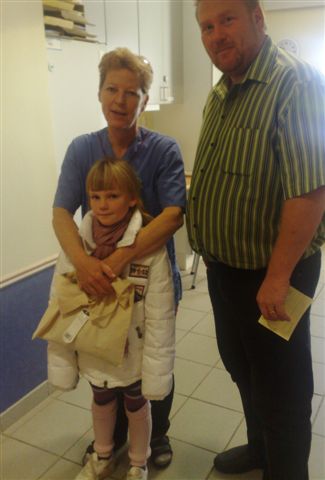 On the way back home we go to our Vet, and met our favourite and friend Ann Kristine there, she is the best!!
We were very tired this afternoon and Ellie was a little bit sick with cough and fever so we did not do more things than necessary.
It was very cold in the house and as we haven't bought any wood this year yet (the oven need to be repaired for lot of money first, and we have as You can understand put those money on "other things" *S*).
Monday 27 October 2008
We woke up to another day in this beautiful country, Holland!
Most of all we would like to stay but we were in a hurry to go back home because of Runes work. After packing all things together again and feeding and walking the dogs (they walk their selves in the fantastic garden) we say goodbye to Diana and drive away.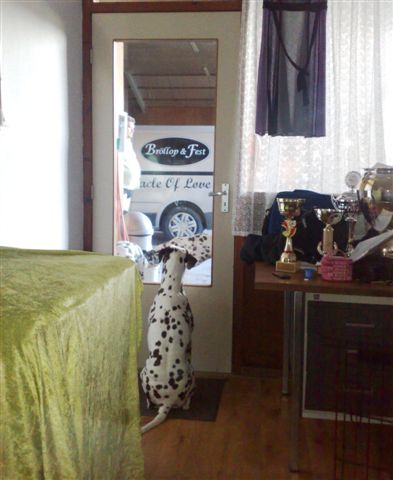 Devlina ready to go to the car. There were pheasants on the field. Sometimes in spring tulips all over this field.
When we came out on the road I saw the sign to Medemblik and we decide to go there to look for a lamp I saw there yesterday night in a store. I really would like to take it with me back home. And we would like to se this small town once again because it was so picturesque and beautiful.
The store with the lap was closed but we took a photo of it and Rune say that he could red the prize......1290 Euro (about 12.000:-)!!!!! Many times to expensive for me just now.....BUT when we have won a lot of money on Lotto, we will be back!
We went to another store close to the other and play some bongs with Lotto *S*, You never know...we told the lady in the store that we will buy a house here IF we win a lot of money.
Nice girl in the store, and all this lovely bread! Rune would like to buy a kg of carrots ???? He don't like it at home!!! When I saw the carrots in marzipan I understand because that is the best thing he can get. And look at the potatoes.....Ohhhhhh....but we did not buy anything of these, but Rune talked about carrots all the way back home!!!!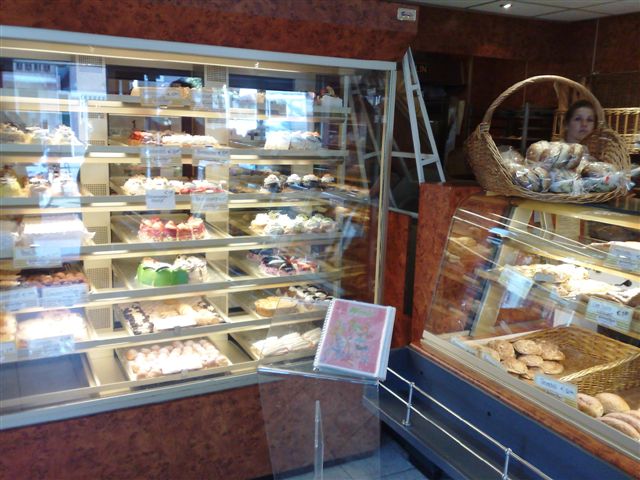 Next to that shop we saw a bakery...and of course we HAVE TO look what they have to advise/offer. Too much of course. I bought me some kind of bread that was called "Musliebollen" and they have to be send by God to Medemblik because they were the best I ever have tasted. Just some butter on and a slice of cheese....Mmmmmmmmmmmmm. One more reason for me to come back here...Mmmmmmmmmmm!
Rune was tired to here my Mmmmmmmmm for a long time because he hate healthy bread...he only eat white!!!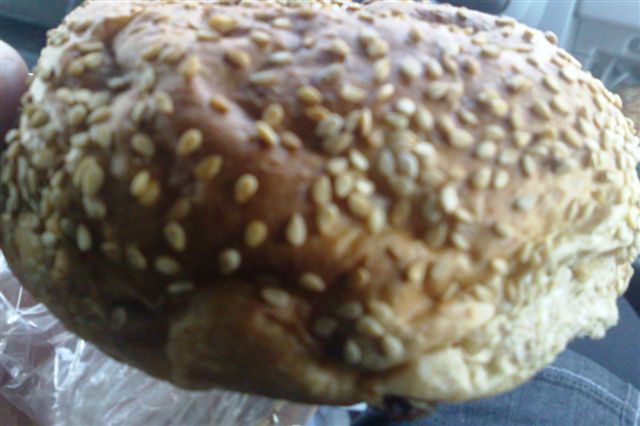 He bought him self a bread with LOT of cheese on that they put in the oven for him...and he bought something with lot of vanilla cream in and sugar powder on.
On our way back to our car I FOUND "THE STORE OF MY DREAMS"!!!! Since I was very little I have dream about to have my own flower shop, but it have never been time for that. But here it was!!!!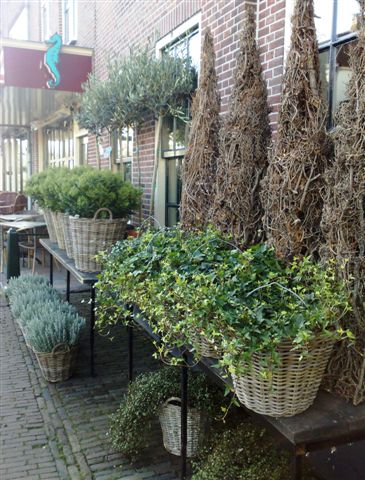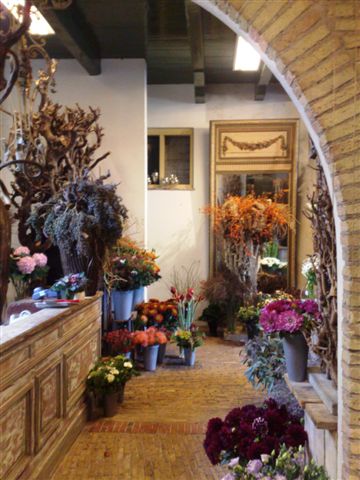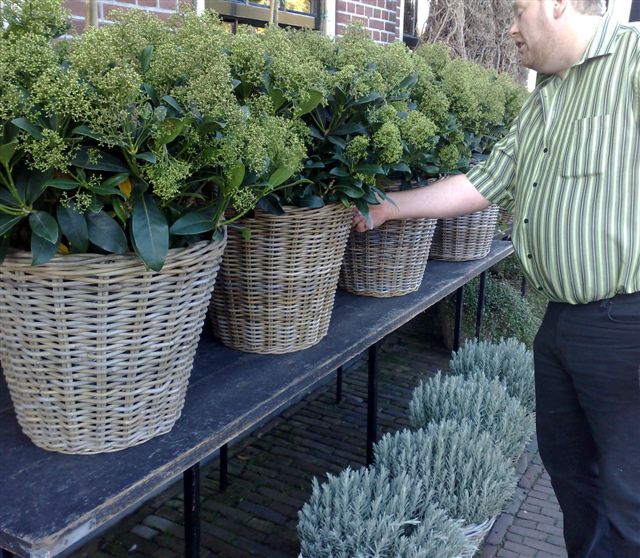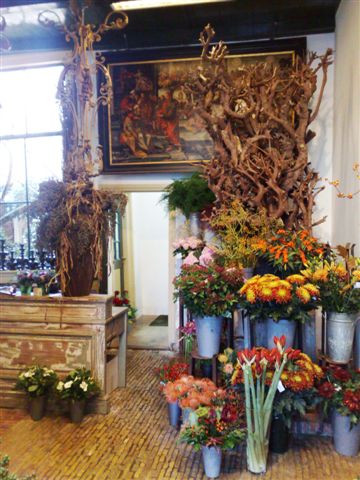 The quality of all plants and flowers were so fantastic in this country if I compare with ours at home.
But when I look at the prizes of the flowers I understand what Andre means when he say that it was sooooo expensive to buy flowers, and because of that he never buy it for Diana *S*!! It was probably in this store he have been looking.
We didn't buy anything here either, it was a way toooooo expensive for us....but soooo fantastic!!! Maybe next time when we are coming to get our win from the LOTTO, then I might buy the whole store *S*!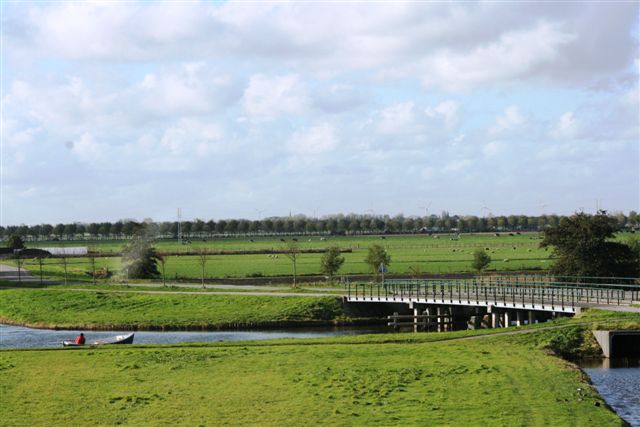 Swans in the town. Close to A and D house there were about 50 swans in the canal sleeping in the night. Canals all over, fantastic!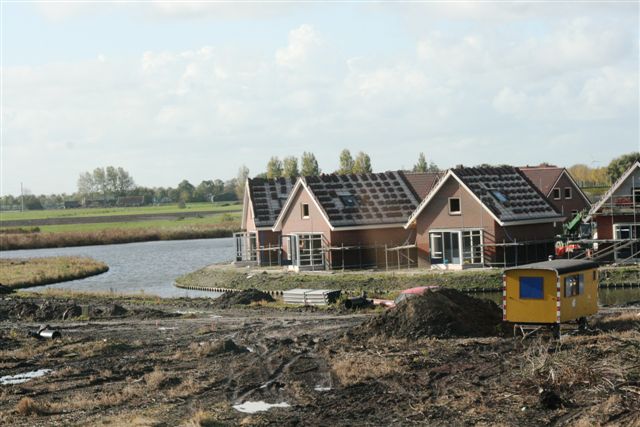 Everyone want their houses to be built close to the canal now. Here is the small harbour in Medemblik.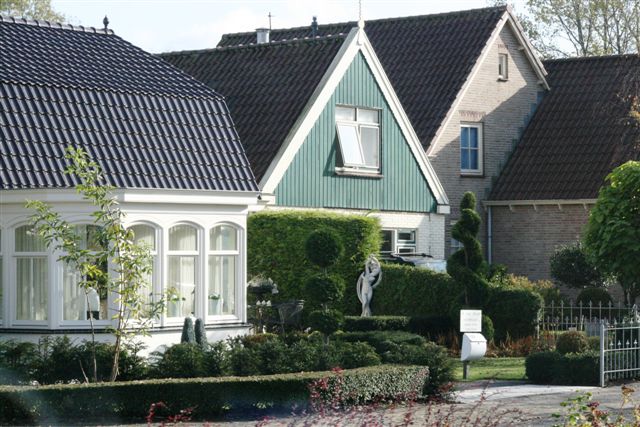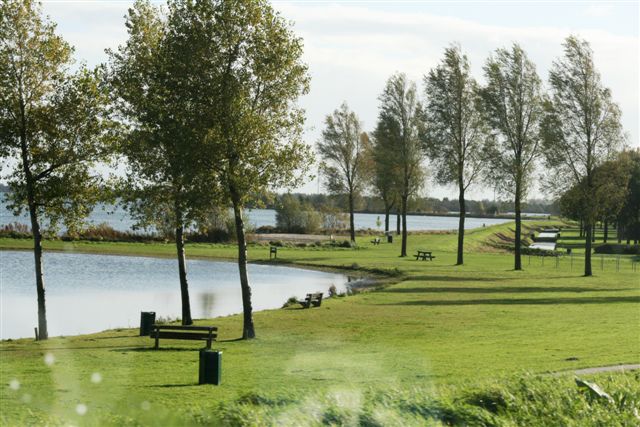 Many, many fantastic gardens. Beautiful parks close to the water.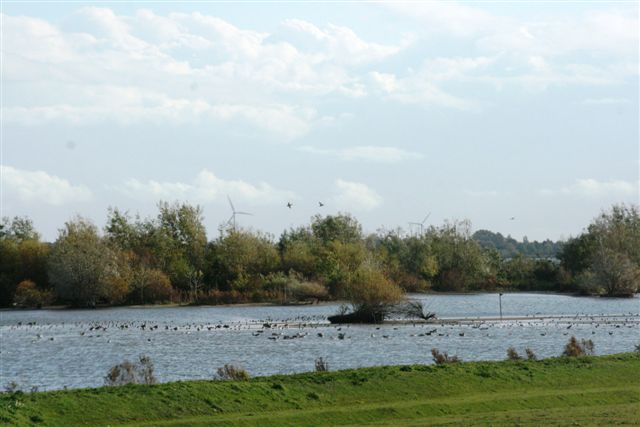 Lots of birds all over.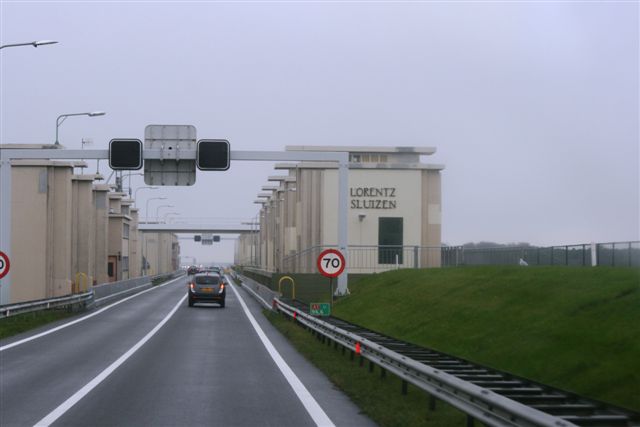 Back again crossing the 50 km long dike again.
Strange buildings.....it has to be much more expensive to build it this way!?!
And Germany, here we come again!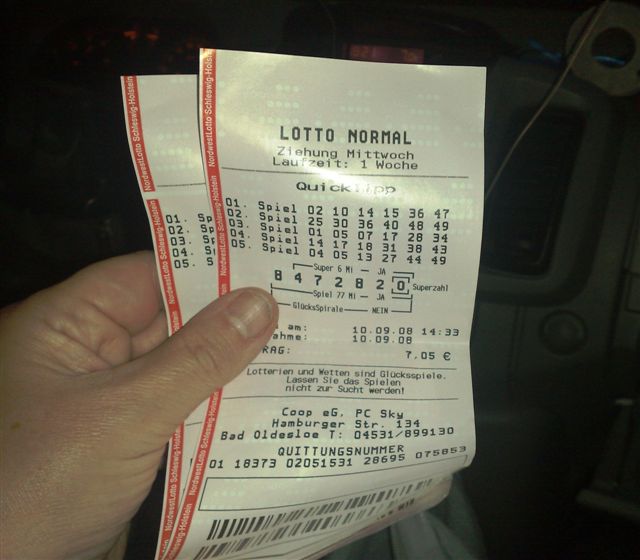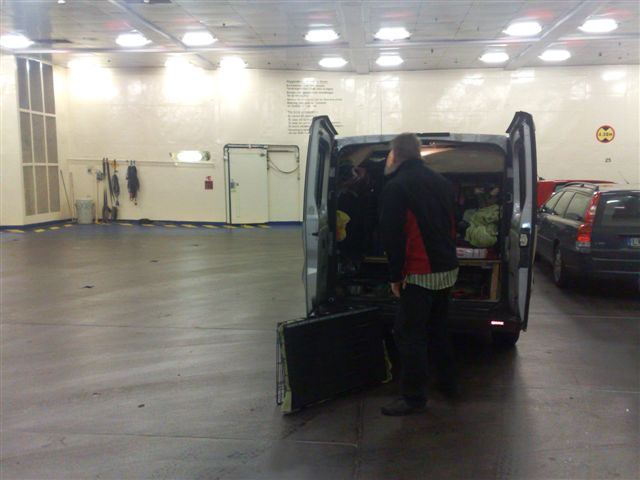 When we were in Europe last month we played Lotto that we checked in Kiel this evening. As You can see the usual procedure as every time..NOTHING! We got the perfect parking on the boat this time we could walk right in front of our car in the white door there. Up one stair and then we were at the place we can let our dogs out to pee, then in through a door and we were in the corridor with our animal cabin.
The meaning tonight was that we should drive all the way back home, because it is to expensive to take the boat both ways for us, but we were so tired and was just longing for some food and a bed just now. Even if it costs 360 Euro (3500:-) plus 55 Euro (540:-)for the food....just to pay and don't try to think about it.
I talked to some guys that was working on the boat and ask if it was windy....about 15 sec/m they say...so I was a little bit worried again..of course better than 20 on our way down but toooo much for me. I took only ONE pill today because I do not want to sleep all day tomorrow again *S*!
It was a perfect trip, soooooo funny to take the boat and relax when You don't need to be afraid for the storm. We eat a lot this time, and sit in the restaurant for two hours, then we went to the cabin and our dogs that were sleeping already. Rune took them out 10 meters to the "pee area" and then they fall asleep again. I was sitting at the computer and worked with all photos..it took some hours. This is what take most time to do before I can start to write in my diary every time..that is why I can't update every day..and even if I do Rune do not have the time to move it over to the internet...and with our problems now with the computer it takes hours every time!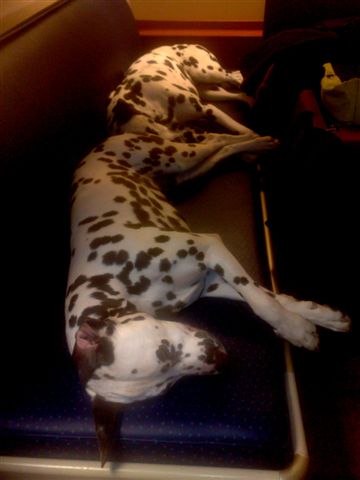 Maybe we needed two cabins *S*!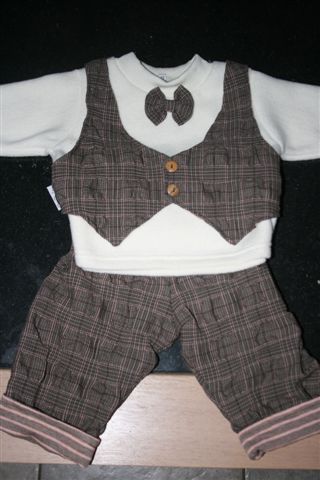 Look what Diana made for Eddie, Thank You so much, You are the Best. Nathalie and Jimme and Eddie will be so happy for this. Then a photo of how The Astonishing Dalmatians in Holland looks like! Very nice and calm....
You can read lot of funny things (for us) in other countries *S*, and it is allowed to go with "BLACK" taxi here, it is not allowed at home, where it means that You pay for it with black money!!!
Sunday 26 October 2008
As You all can see there is something wrong with our modem so it can't upload all photos to 100%..hopefully it will be fixed in some time.
Today we have only 5 minutes drive to the show Annemiek told us.....perfect. A and D and R and I go together because Annemiek have to go there a bit earlier than us. We followed Andres car as usual. In case of he put his navigator on the right address...BUT after 30 minutes sightseeing in Vilvoorde this early morning we all start to be a little stressed. I suggested that we should call Annemiek and ask WHERE she was *S*. We were at the right address but can't find the showplace......BUT just then there came a car and we think it was a very good idea to follow it....WHY!!!! The car was spotted!!!!! Just crazy Dalmatian people can have a car like that *S*!
We followed that car some hundred meters and there we saw the showplace, perfect.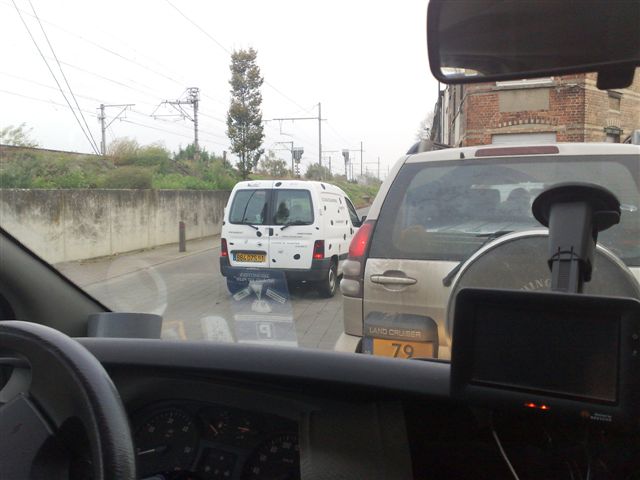 It was a nice place for the show ring and they have put tables around the ring so You can sit and have Your catalogue and things on the table, so nice.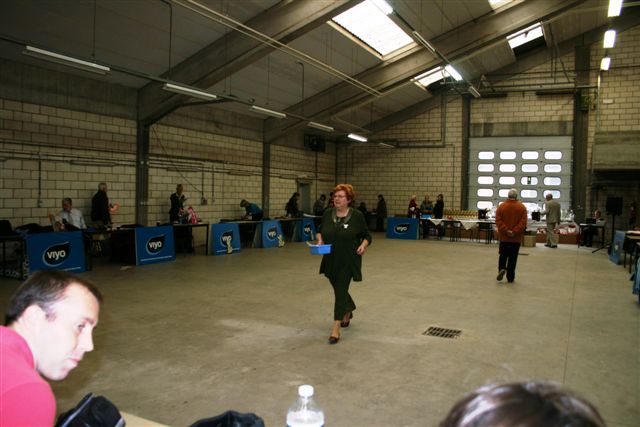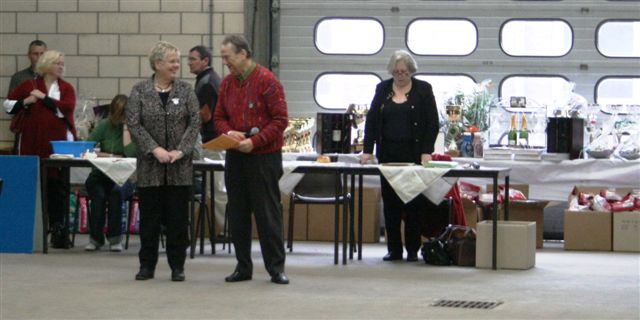 Mrs Liliane de Ridder the chairman of the Club. The Judge Mrs Aase Jacobsen from Norway with Mr de Ridder, all at the show was standing listening to the Belgium Anthem.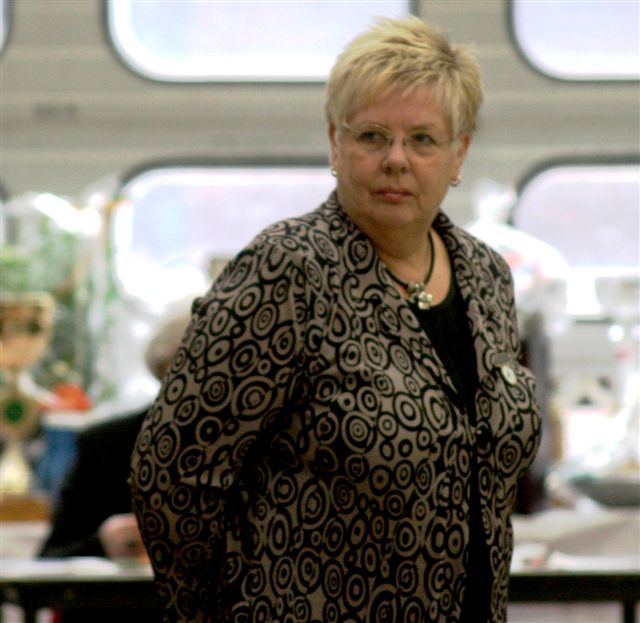 We thought for a second that it was change of judge today because Aase was soooooo elegant with more makeup than normal and so dressed up.
Today we have entered three dogs Daddy, Gloria and Devlina (But because I have to go back to Utrecht in Holland for BIS I did not have the time to show Gloria....so sorry for that).
BIS Puppy today was from Kennel the Astonishing (by Bossons daughter ........and a male from Sweden).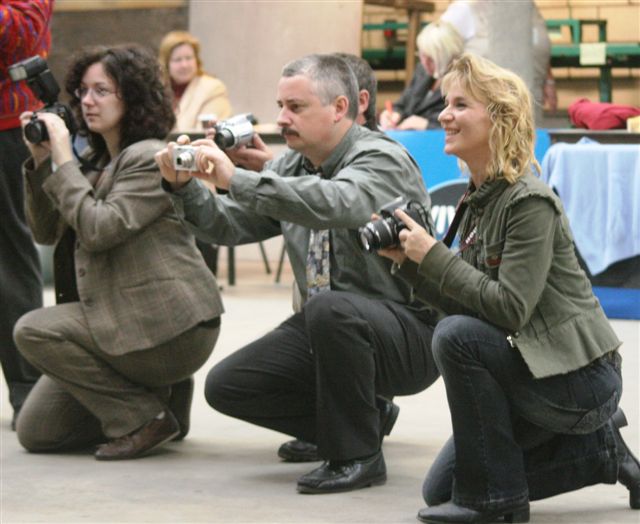 Of course Diana was happy for their Best Puppy, even if he is sold and are leaving to another country next week.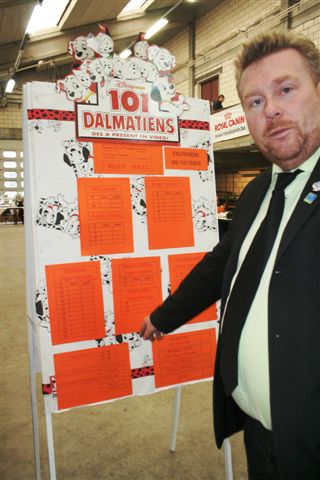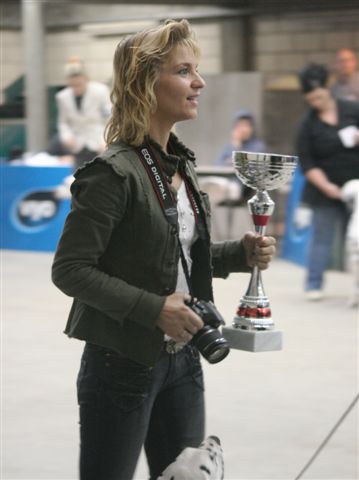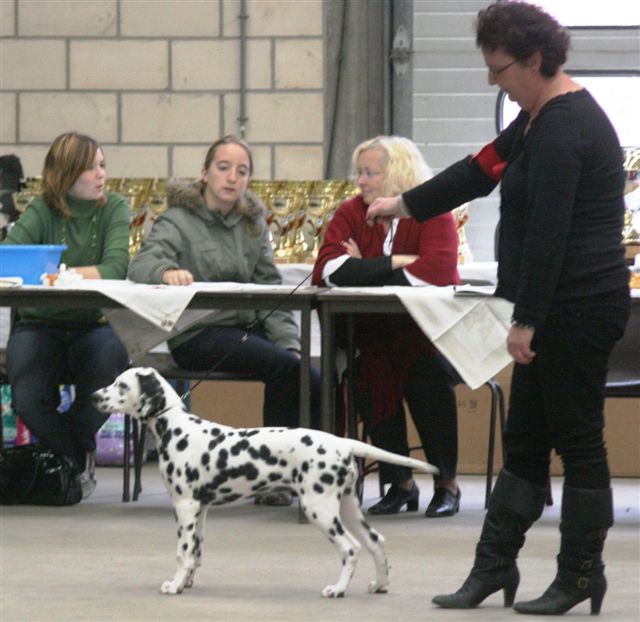 Here You can follow the placements. Diana with the BIS trophy. BOS Puppy was from the Astonishing too.

Lot of Cups!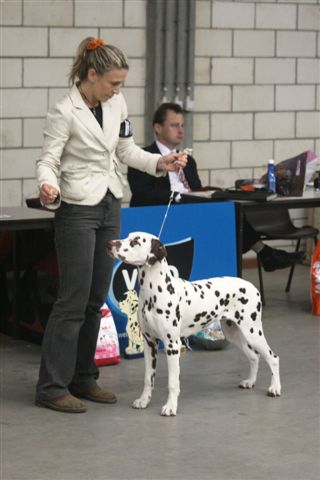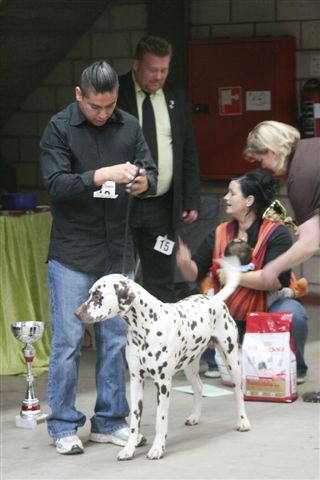 We saw some sweet dogs there. This male beat Daddy in intermediate, the owner is a puppy buyer to us (They have Bells sister, but unfortunately she was not entered here). But they could meet Bosson and Bell for the first time which they enjoyed.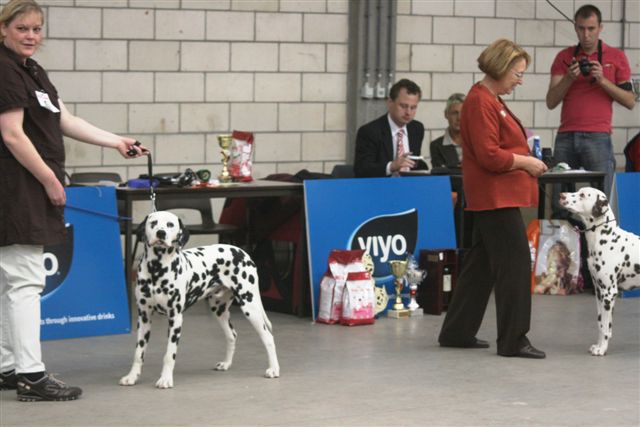 Nr one and Nr two in another class.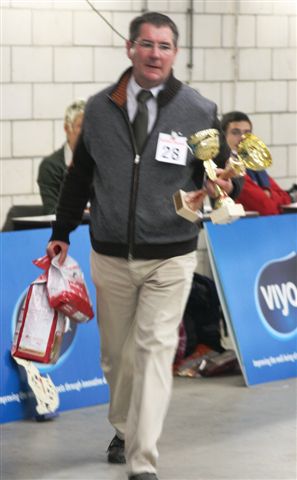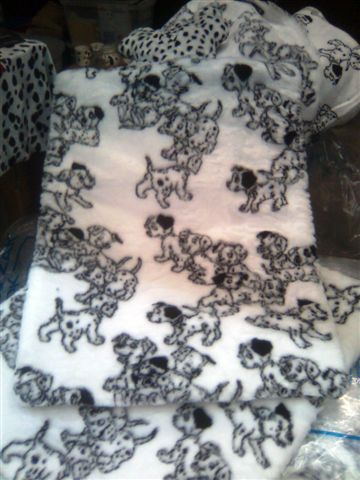 Mr Achtergal and his dog was the winner in another class. Some nice things to buy!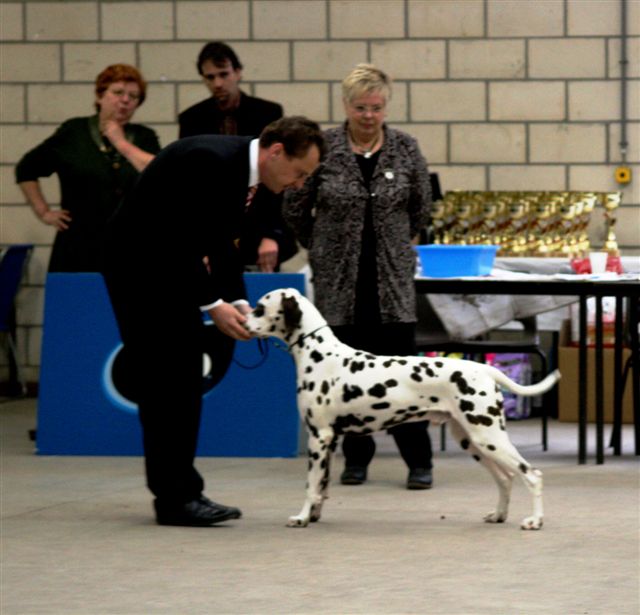 I was so happy to meet two successful children of Devlin here, in Champion class is here Multi champion Alphadirato Emperor (Luis) that lives in Germany (Donnas brother), he was beautiful.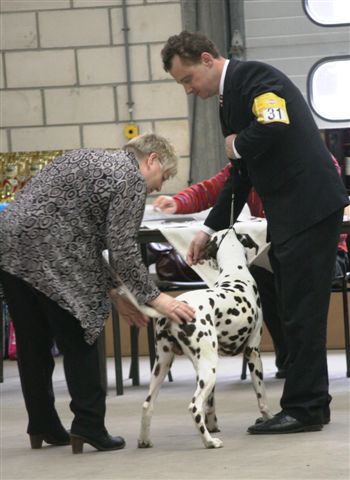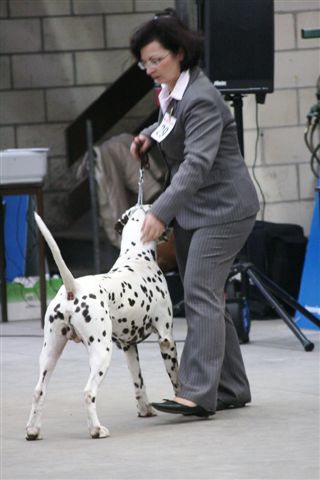 Here is Luis from behind. And here is Neelix from behind.
Multi Champion Dot Com Break Me shake Me (Neelix), he look gorgeous and I loved the look in his eyes!
I was hoping that some of them would be the winner of Champion class, but another male from Kennel Gwynmor beat them.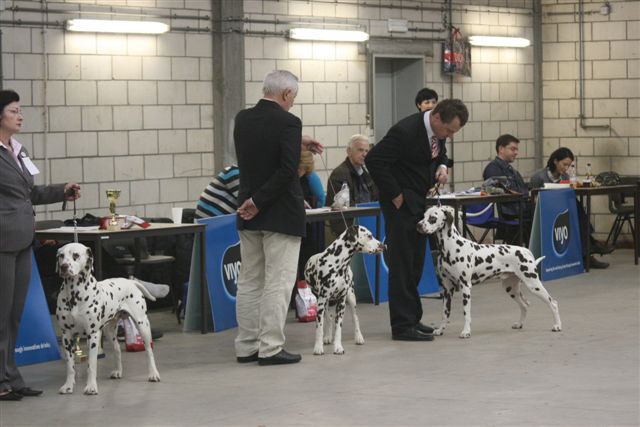 Neelex, Gwynmor Yamka living in Italy (He was BOS today) and Luis.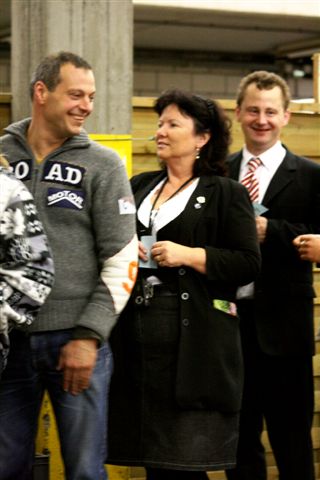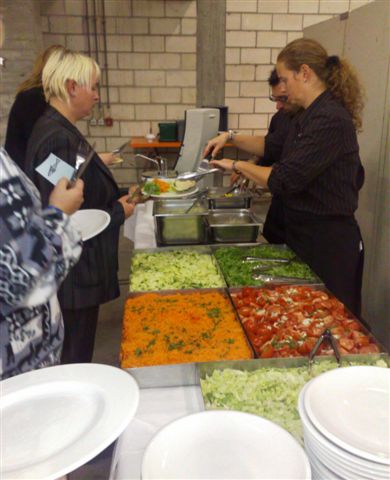 In the middle of the day we have all ordered lunch at the show.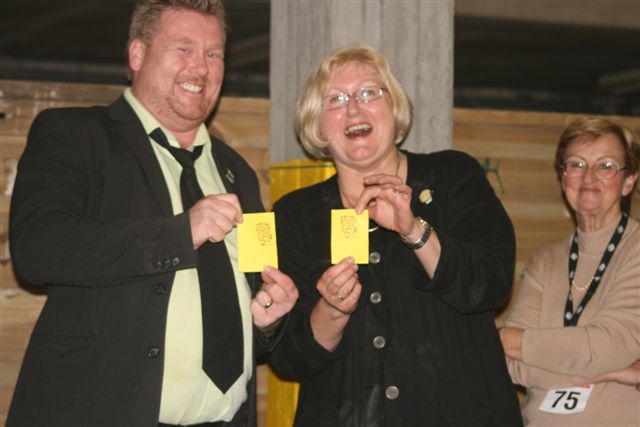 Rune and Annemiek have both PIGS on their papers!!?!!
When we came in the morning we got two envelopes. One with the show number and one with those small papers in. I thought it was something that have been given us by a mistake so I throw them away. Thank You Lilliane that gave us new *S*!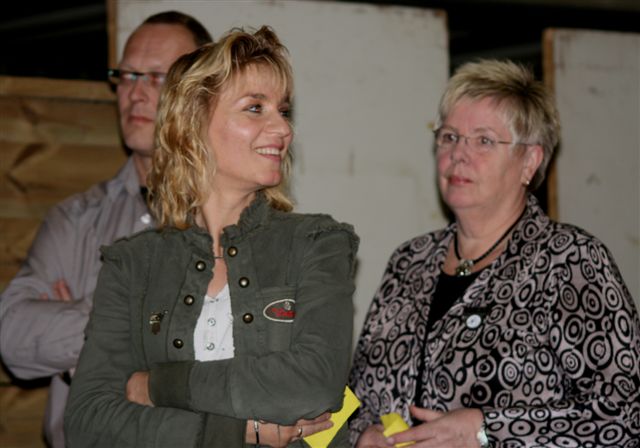 Even the judge have to wait for the lunch (just as in school).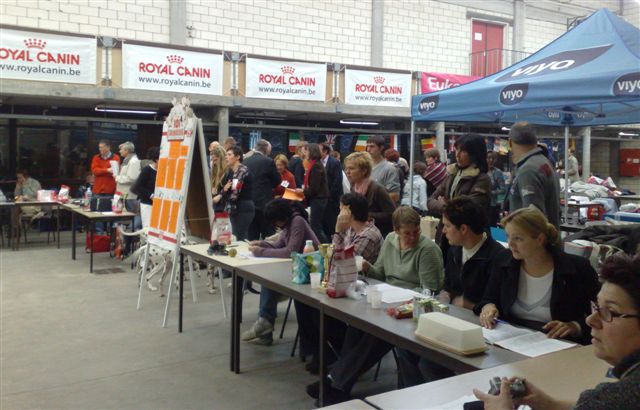 Lot of visitors. Guess who have been parking just outside the gate??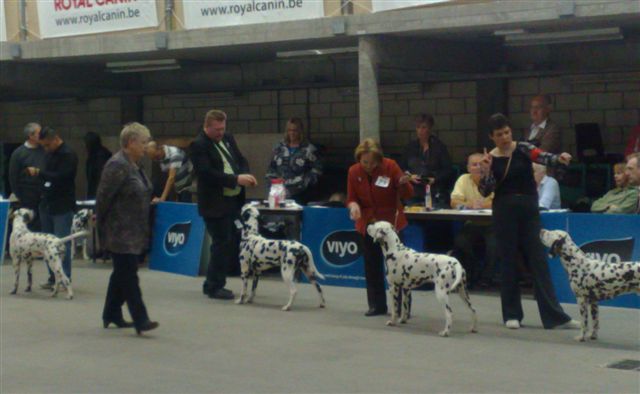 Intermediate males.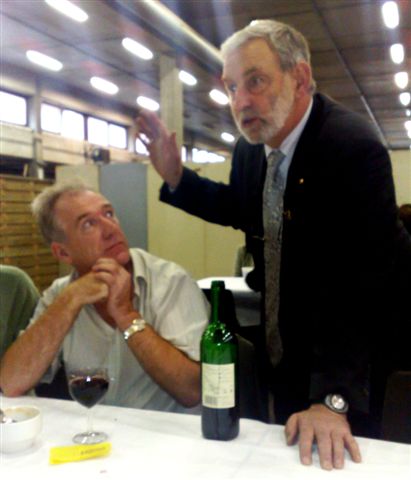 Rhys served wine to people from England. It seams like he is saying -
I swear to God, not to server more wine this year....except to my selves!!!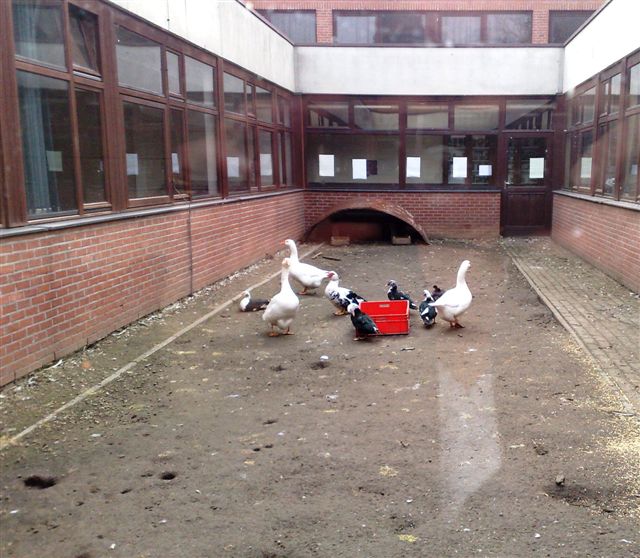 If You have space enough in your car You can buy one of these....we have no room for anything thank good *S*!
Chantal (in pink) with her Championbitch (Devlins Daughter) Donna, Rocca al Mare Donatella from Sweden.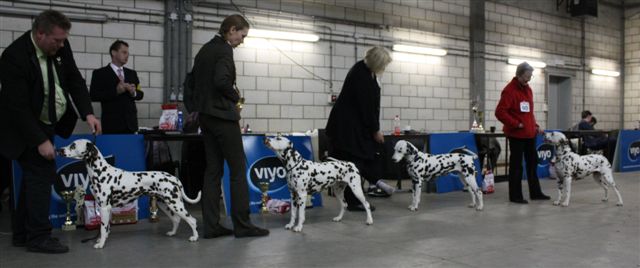 Devlina was Nr 1, a bitch from Holland at second place and Gwynmor Ysgaven third and at fourth place a bitch from France.
My sweet little Devlina, and Andre and I was on our way to Holland and missed all this!
Before they said who won the CAC and best bitch, it was silent and then the National Anthem from the winners country started...what a nice thing to do...but Rune almost didn't recognise the Swedish Anthem.....(maybe he was waiting for the Norwegian *S*)!!!
Two more bottles of Champagne, Hurray. We will celebrate with our new champagne glasses we got from Niina in Finland a while ago...
At New years Eve we will open those bottles and Celebrate for all our friends in the whole world for a successful and healthy new Year 2009.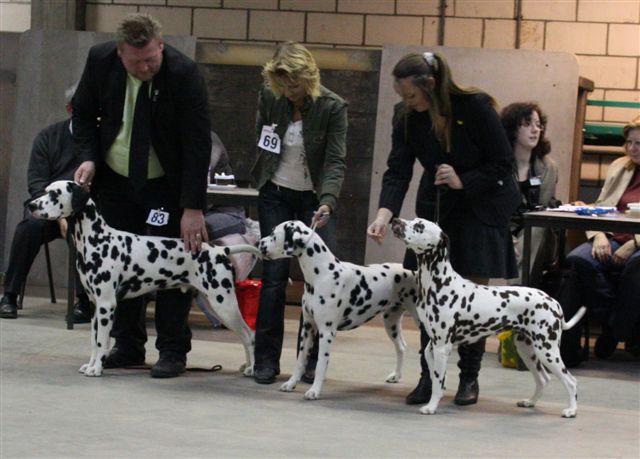 We really needed Gloria in this breeding class, but Daddy, Seven and Devlina was Nr 2 in the competition anyway. Well done!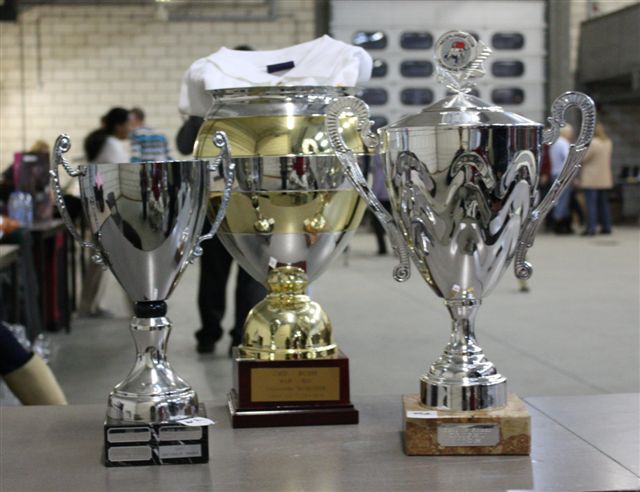 We left two of Devlina's "The Queens" prices in Belgium, they should be back next year. But the big one in the middle is now in our home.
Best Bitch was The Queen and Best male The King, and today the QUEEN became BEST OF BREED/BEST IN SHOW!
Hurray for Sweden!
Once again thank You Diana that stayed and showed Seven so Andre could drive me to Utrecht. Without You we have got really problems.
Seven was Nr 2 in her large class with EXCELLENT, and Rune took a video of it to show us in the night.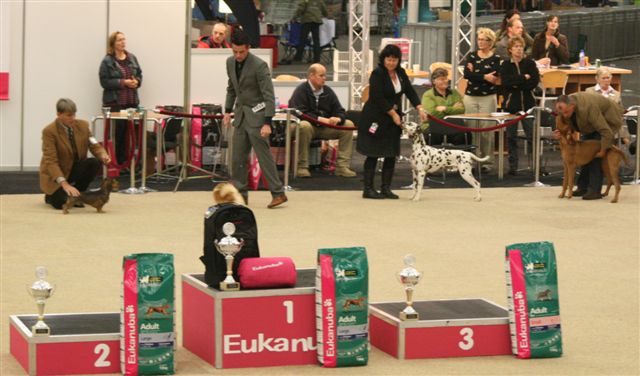 At the BIS final in Utrecht.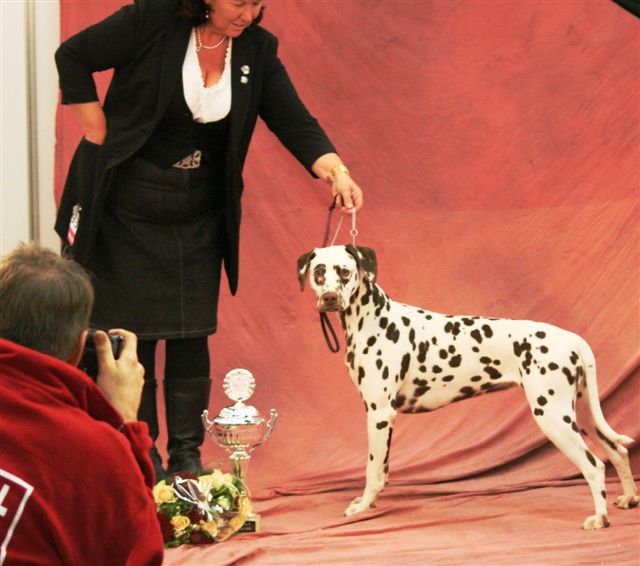 Gloria was placed at BIS 9, but got a very nice cup and flowers!!!
She was more interested in the photographers crazy sound *S* so I didn't get any contact with her at the photo shout....I just think this is a funny photo, so I show it anyway!
Andre and I drive back to Medemblik to let the dogs out and to wait for Diana and Rune. They were on their way back from Vilvoorde after a lucky day, with the car full of prices and dog food.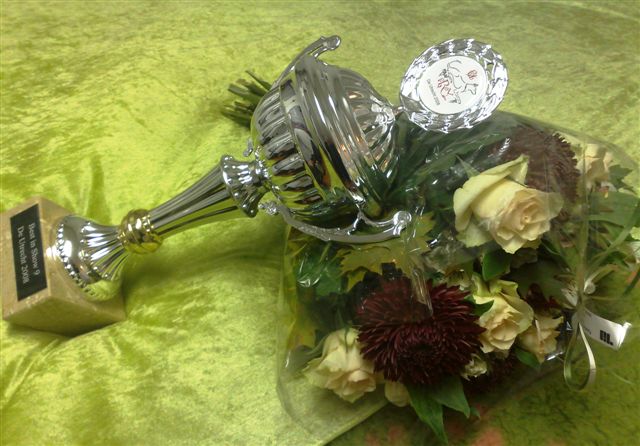 Nice!!!!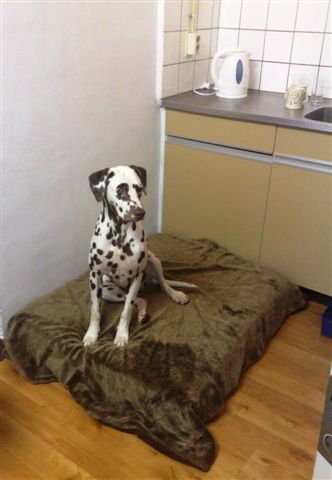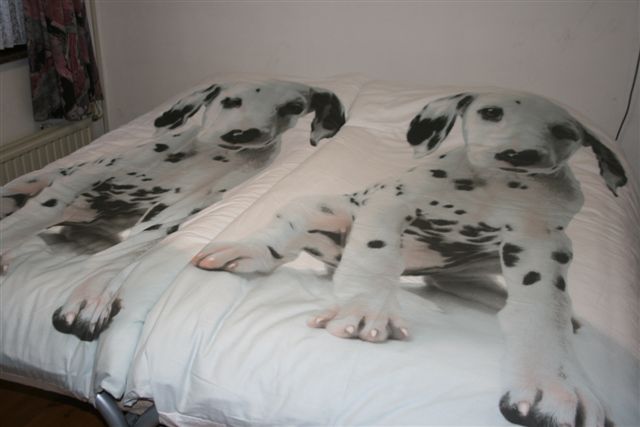 Gloria and I was resting in "our" room in the barn for a while until Rune called and ask Andre and me to drive into Medemblik to meet him and Diana at the restaurant. We have decide yesterday to go out and eat...we were al to tired to fix food this evening.
Sooo happy that our car still was going without any problems.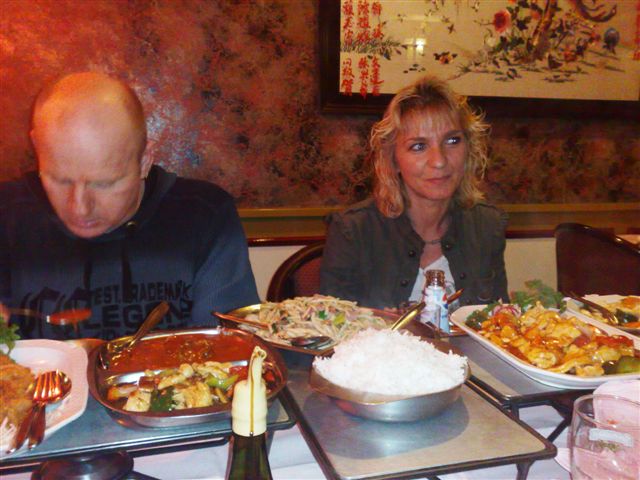 Everything was almost closed at 21.30 so at last we found a very nice Chinese food restaurant that we could stay and eat even if they were closing (Andre is a regular guest there, that helped) It was very good but I was almost to tired to eat..so the dogs get lot of nice food in the evening *S*!
After looking at the movie from the show we all went to a good nights sleep.
We say goodbye to Andre tonight because he was going to work early in the morning...poor man. and we were leaving about 10 o'clock.
Saturday 25 October 2008
After a good nights sleep we entered our car and follow after André......towards Utrecht south of Amsterdam. The show was held at the old Veemarkt (The Animal auction hall). We saw the sun rise while we were driving.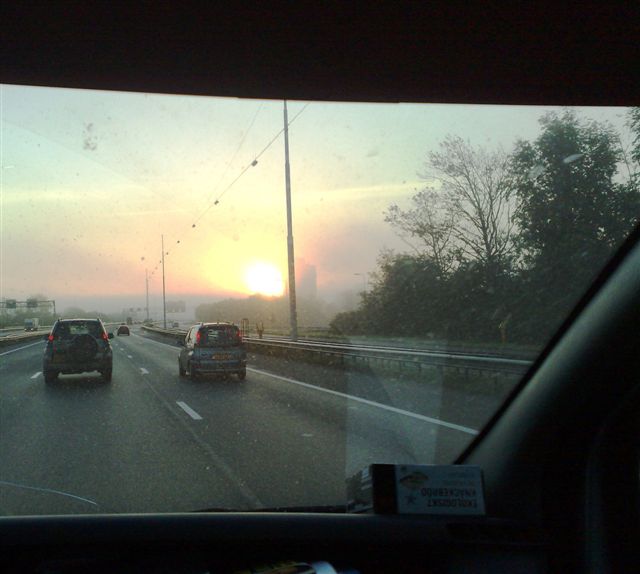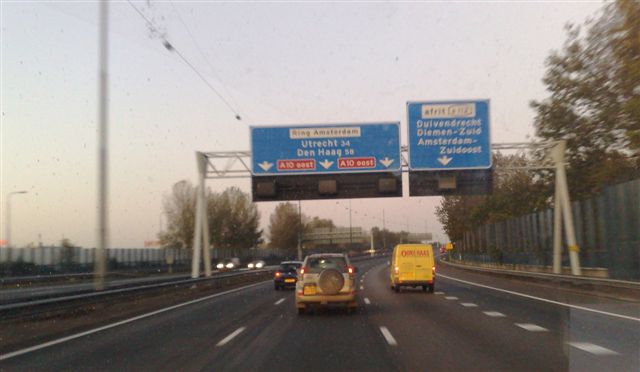 At the showplace we parked and when we were entering to show our papers there were lot of problems. The yellow papers we have got means that they haven't got any entry fee from us?????
They were very helpful and tried to find someone close by that have internet access so Rune can show them our account for them with our payment.
The clock was ticking and in just a little while it will start for our breed. I try to be calm but I get more and more stressed...we decide not to show Daddy even if he was entered because he will go in to the ring at once when Dalmatians start, and his coat was even more bad today than yesterday so it was no use to show him at all. We have Bosson and the girls Bell and Gloria entered today too, so hopefully we will be at the ring in time for them.
We leave our Visacard number and some more things so finally we got our papers. We don't want to pay 220 Euro once again for this show...but if we do they will find them later and send them back..ok first of all we rush to the ring.
We were now in not that good mood as we were before, but after talking to all friends and foreign people around the ring we start to look forward to this day anyway.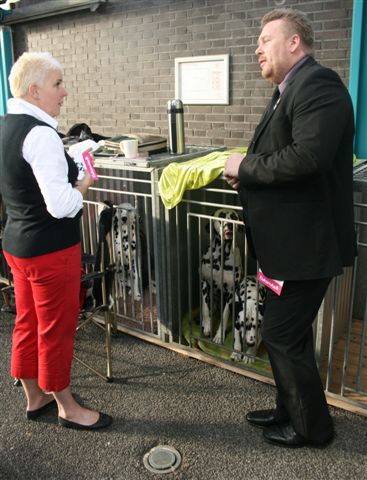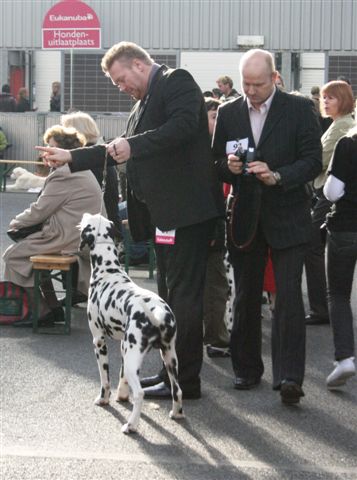 And what a hell, we have paid for Daddy so we decide just to show him anyway. We have never met Oleg Fintora from Czechoslovakia before and did not know what he was looking for. Someone told us that he was Ludmila Fintorovas husband....we have not think about that *S*!
Daddy was happy to enter the ring even if we did not expect anything more than VERY GOOD today this is still good training. We were both so happy when he got EXCELLENT, and from the ringside his coat look very good even if it wasn't. He met Caio (Elaridge Celtic Warrior) and of course he won the class with Rhys in the lead.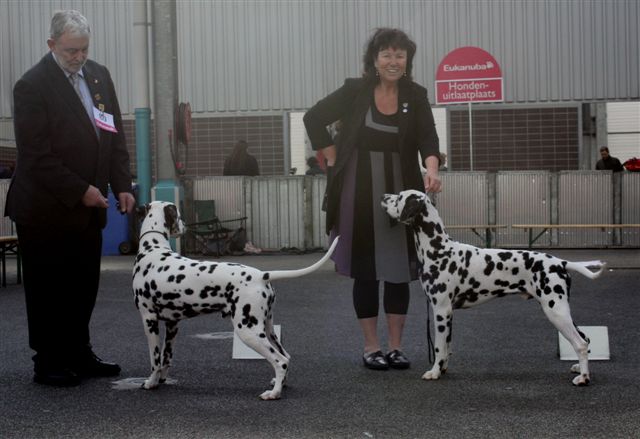 Bosson was the only Champion male and got EXCELLENT. In the best winner class for all winning males (only nr 1 in every class is there for the competition) there were Caio from Holland and Two males from England and Bosson from Sweden. Caio was nr 1 Best Male and then they will pick just one reserve after him. As Daddy was nr 2 after Caio he have to come in for the competition with the three other males that still was standing waiting...I didn't think about that so I have to run to the bench and take him out. Then we have to start running again and after some minutes the judge point his finger on me.......Daddy have been nr 2, the reserve Best Male after Caio. I was more than happy that we showed him today..Hurray!!

Who will be Best Male?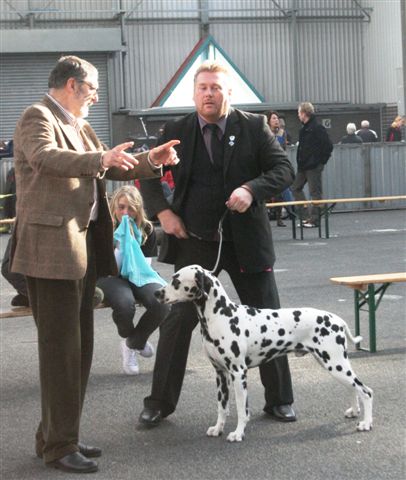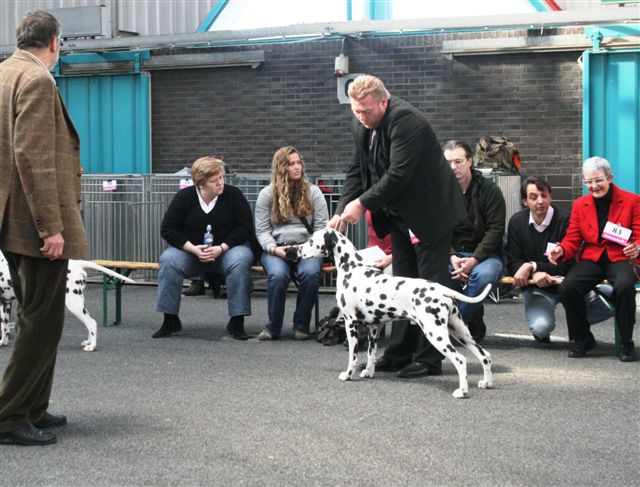 It seams like the judge say to Rune.....Hi there, You can take the same way out as You came in *S*, but of course he want to see Bosson going and coming!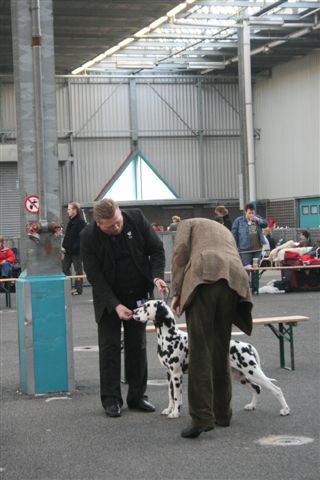 This nice couple came all the way from England...*S*....Oh no not this time....England is not that far from Holland, this time it was us that came all the way from Sweden *S*!
Then the bitches started. Gloria was the winner in her class with EXCELLENT and the reserve, nr 2 was her sister Seven also with EXCELLENT Hurray....this was just a perfect day and all problems were forgotten.
Bell got only VERY GOOD, but was the winner of junior class in front of another bitch.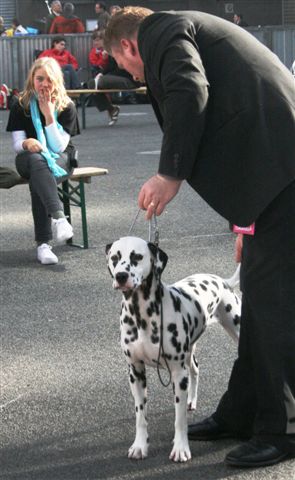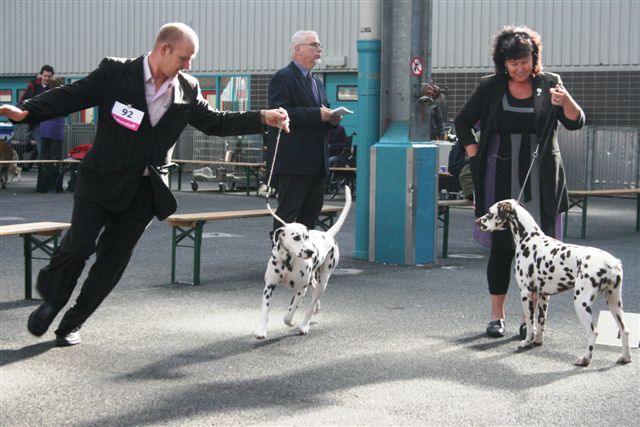 Bell did it well but she like outdoor shows better than indoor. Gloria was placed at first place in her class at once and when all the other was running for second place Seven looked at her like she was thinking -: Ok my dear sister You can stay there this time..but do You remember who was nr 1 in Luxemburg!!!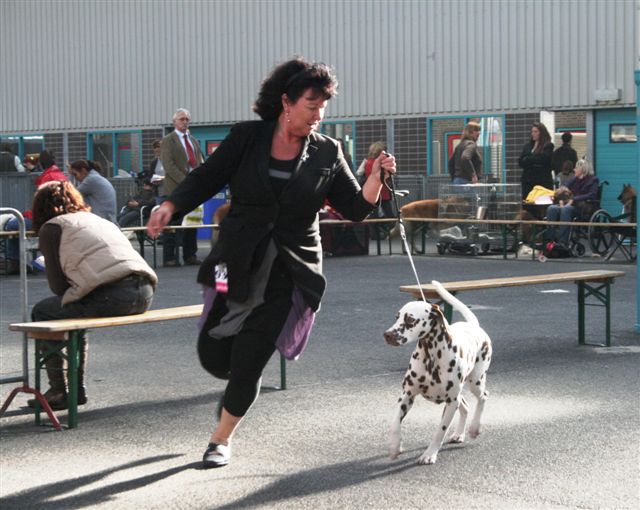 Running for Best Bitch here.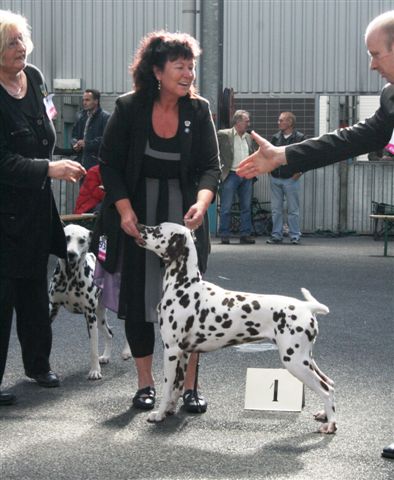 Fantastic.......Even Best Bitch!!! Annemiek and Andre was first to congratulate. We got CAC and CACIB......So happy!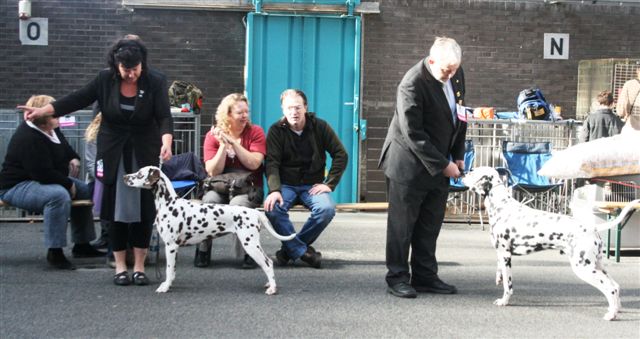 Gloria and Caio in the last competition.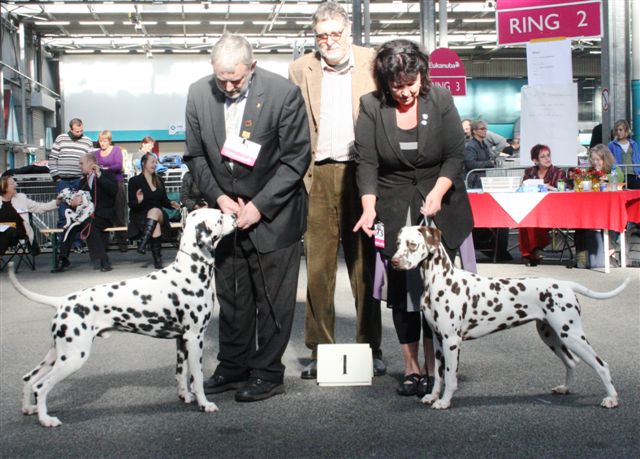 Elaridge Celtic Warrior BOS and Jilloc's Splendid Choice BOB. Yeeeeeeeees, she really is a splendid choice!!!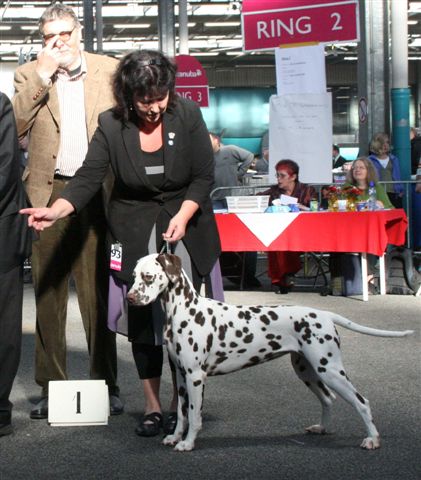 Just a funny photo. It seams like Mr Fintoro is given the photographers (Diana and Rune) a finger, but he was a very nice and gentle judge so of course he was just putting his glasses up on this photo *S*.
Annemiek should show her puppy from Lacrima Christi in Best Puppy Competition in the afternoon before Gloria should compete in the group, so we all went to eat and relax for some hours.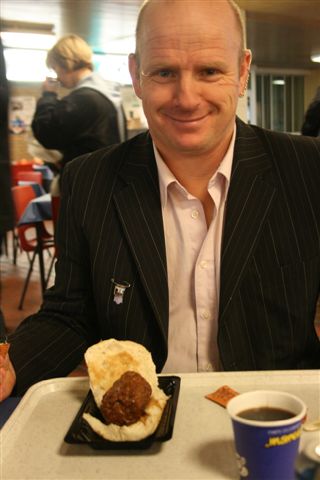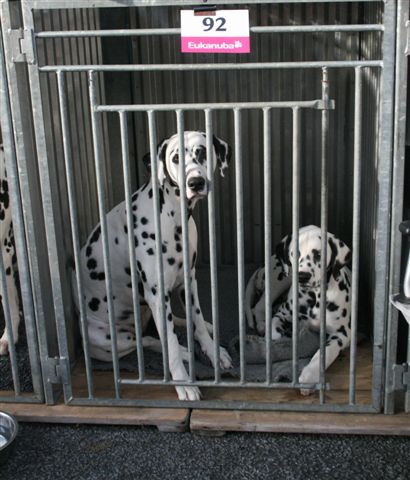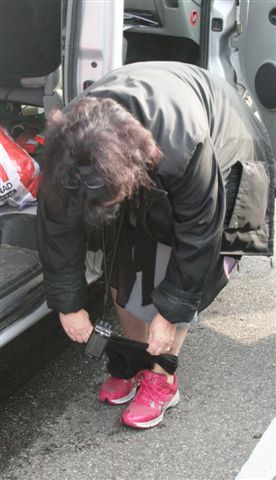 Everyone eat ONE big meatball in Holland, strange!!! Seven and Puppy in cage. I changing my underpants *S*!
What You can't see at photos when I was running in the end was that I wear silky underpants today with tights over that was slipped down all the time when I was running.....IF we have had to run just a little more all people would got a great laugh. It was really critical last minutes running in the ring! So I have to go out to our car and find some that was in cotton and not in silk *S*!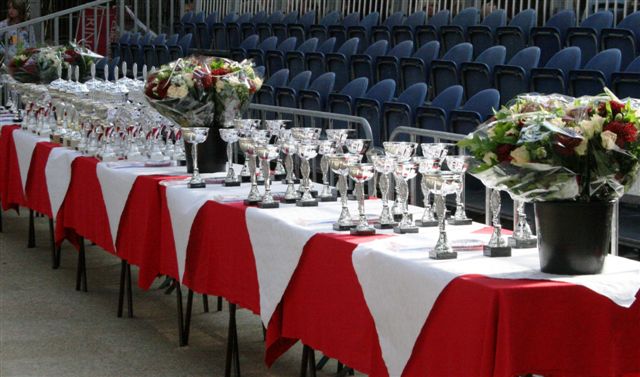 Nice things for the winners!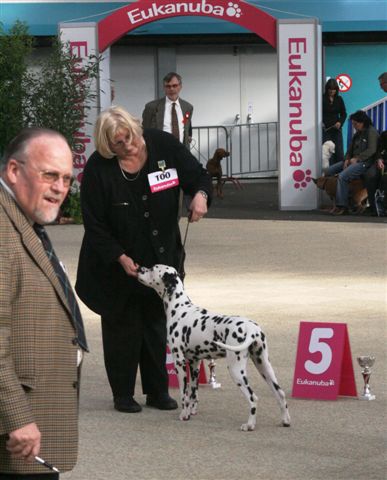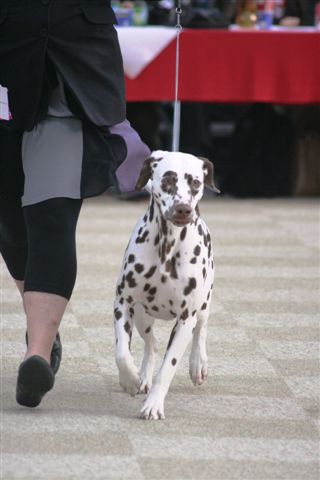 There were lot of Puppies but Annemieks puppy was placed! Gloria in high speed in the ring, my poor foot!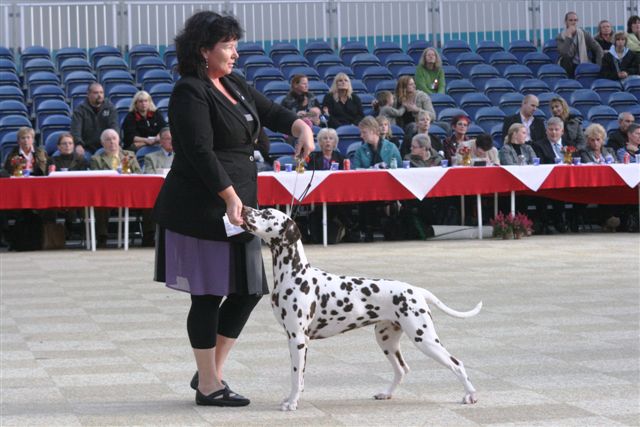 Running and waiting.

Best In Group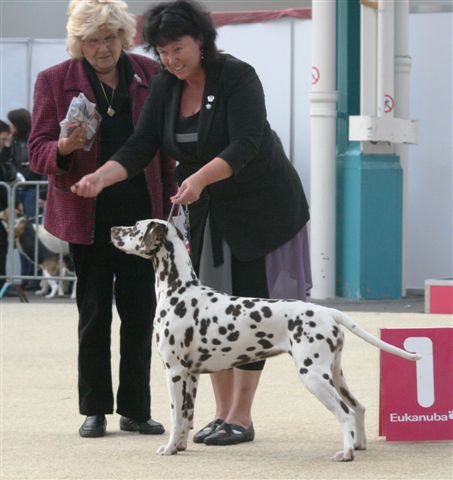 Gloria was Nr 1 in Group for Judge Ms G W de Vries-Hoogland from Holland.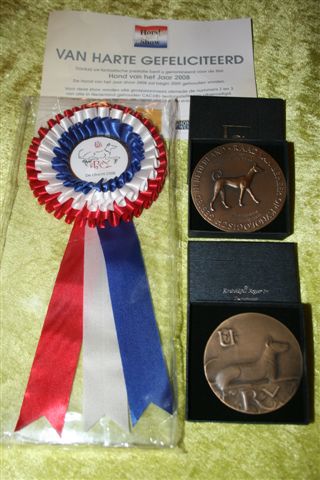 Now we really got problems for tomorrow, because she will be back for BIS tomorrow afternoon, and we are going directly to Belgium now for the Club show there tomorrow in Vilvoorde.
Anyway we all packed our things together and start to drive towards Belgium. We had to stop after 30 minutes because Andre and Diana's puppy have to go out for a while. Just when we drove in to the parking place there came lot of smoke in our car and You can feel that something smell like it was burning!!!!! I jump out and found some lead for our dogs, I have to get them out quickly!!!
Rune opened the hood and saw that oil lid have fall of (he have filled oil yesterday and have probably not put it on hard enough) it was oil all over.....hopefully it was only this, so nothing else had happened to the engine or something.
When I walk our dogs Rune was going to fill more oil on the engine, AND he unfortunately pushed the oil lid so it fell somewhere under the engine.
We all tried to find it...but it was gone!!???!!
After about an hour when we all was freezing and it start to be darker Rhys and Andre walk to the gas station close to us and bought a lamp and a new temporary lid to our car, thank You what should we have done without You all, and You stayed with us until we could drive again.
This little thing was not closed hard enough!!! Rune and André had black stripes in their hair..it looked nice and we all laugh a lot..what else could we do!!!
Andre though he saw the yellow lid..but it was probably a hallucination. Annemiek try to find it, but only saw oil.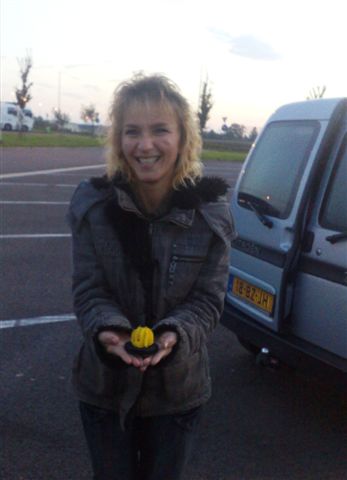 I thought they have bought a chocolate cake for Diana, but it was the lid *S*, I start to be hungry on cakes when I saw it!
Rhys was afraid when I start the car, he was waiting for a big bang...but it went well.
We drove carefully towards Belgium and the Hotel that Annemiek have booked. Thank You so much for all help!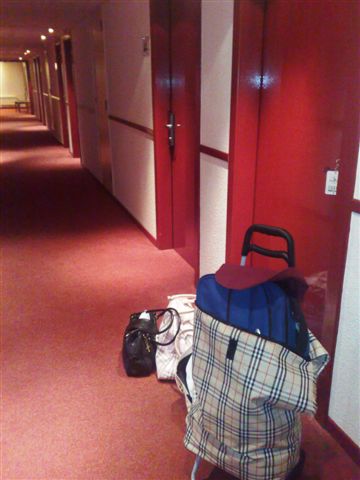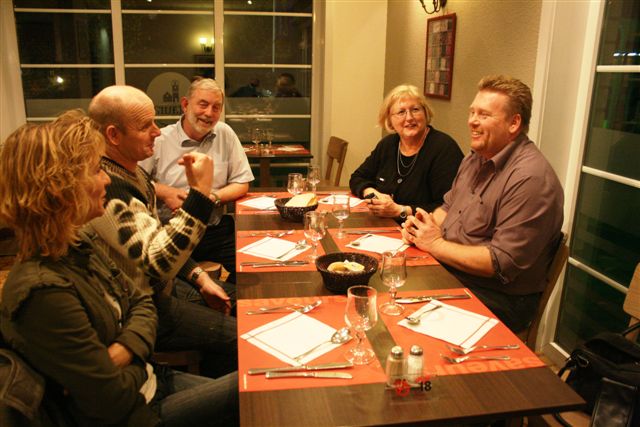 Very nice and cheap hotel that we can recommend. We ate a nice dinner together and went to bed, after a loooong but fantastic day!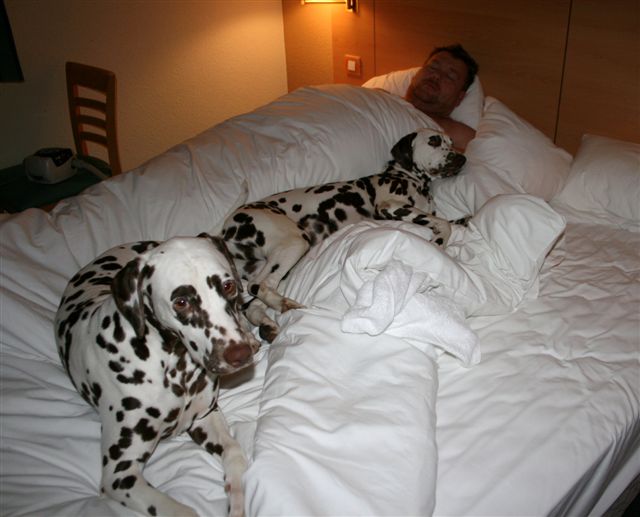 Friday 24 October 2008
We were in Kiel at 9 o'clock.....so perfect to walk the dogs in our own "garden" at the boat, then we do not have to stop immediately to let them out. We drove almost an hour and then stopped to buy tea...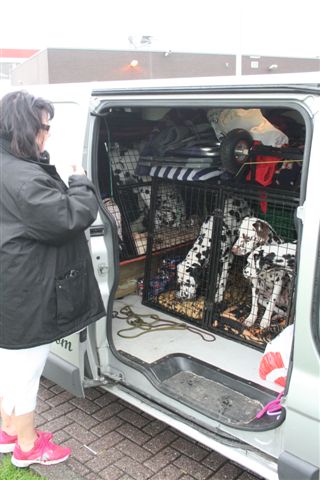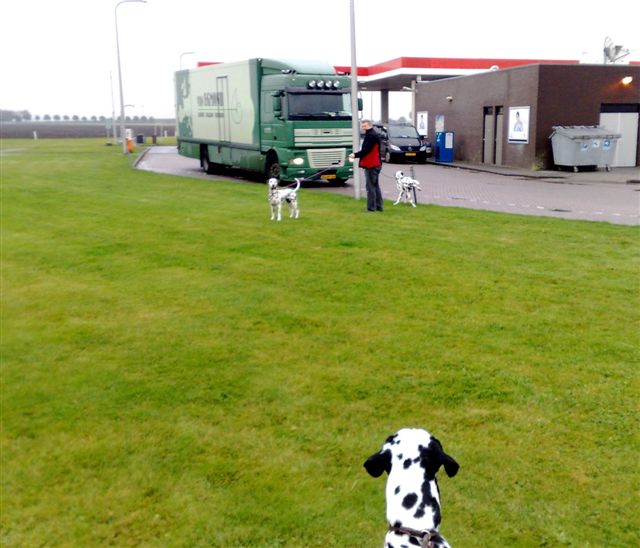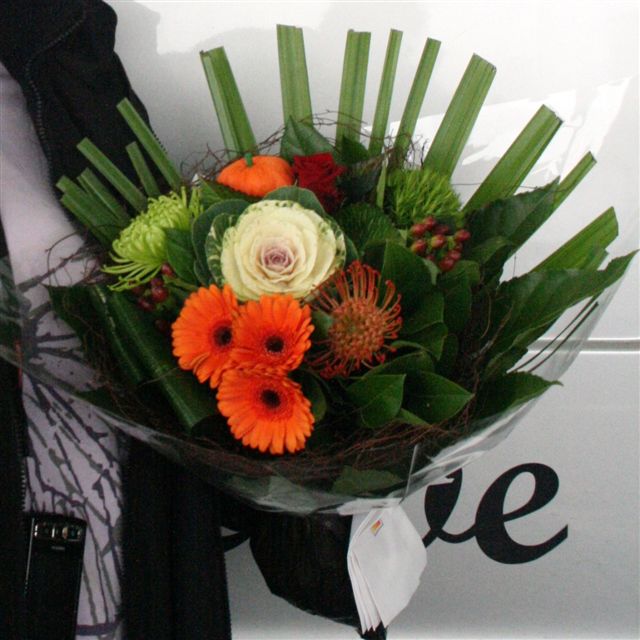 I am sure it was something wrong with my teabag but Rune said that it was me that still was so drugged that I can't drink. He ask to get my tea but I was almost sleeping again and told him that I have to think about it for 5 minutes first *S*.... then I was falling a sleep for 3,5 hours....I heard all noise from the road, but continue to sleep. I have not power to open my eyes...
When I woke up I was "normal" again!!!
We stopped and bought beautiful flowers on our way to Medemblik.
At three o'clock we met André and Diana at Kennel Of The Three Turnips close to Medemblik where they all live. Nice to meet Freak and all his dogs.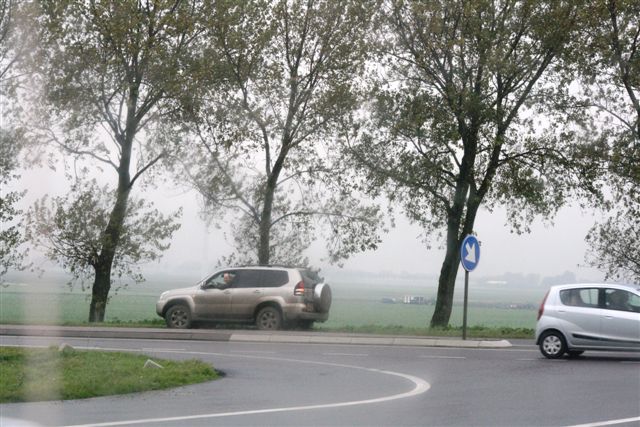 We have to meet A and D to find the way to three Turnips. Freak with one puppy from the smallest litter.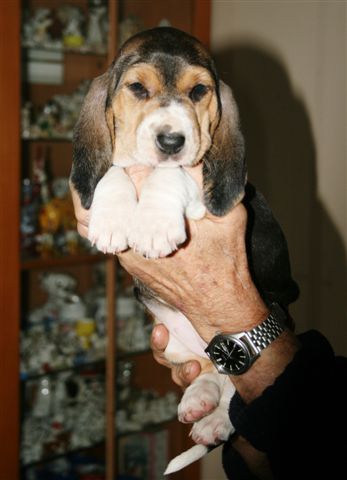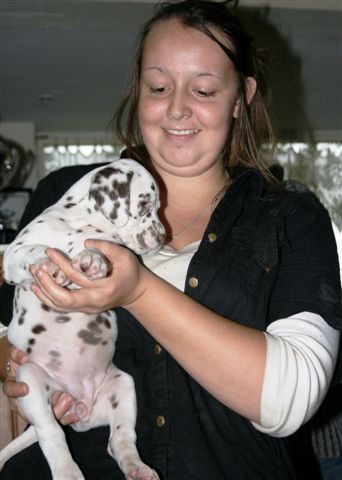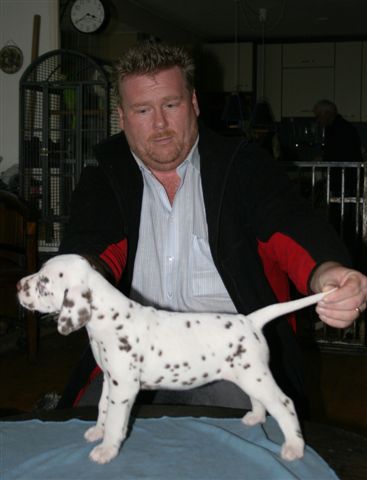 He even had another litter of Basset Artésien Normand now. Desiree' with her favourite puppy. She was extra fond of this puppies because her male was father to the litter (And he suddenly died when the puppies was newborn). Desiree' I hope You can take this puppy home if Your parents allowed it in a while *S*. I cross my fingers for You. Rune with another bitch from the same litter.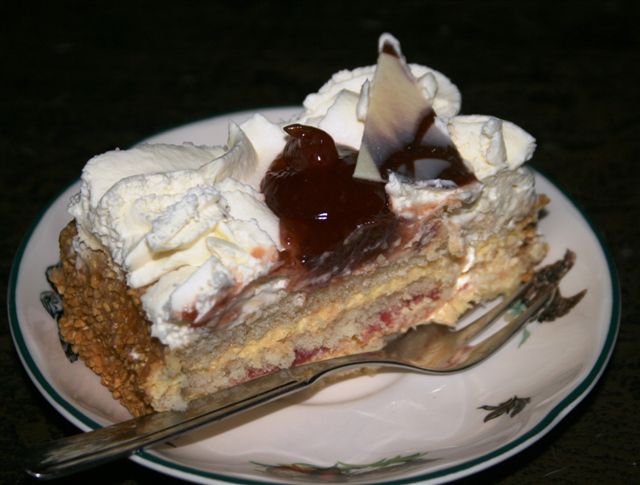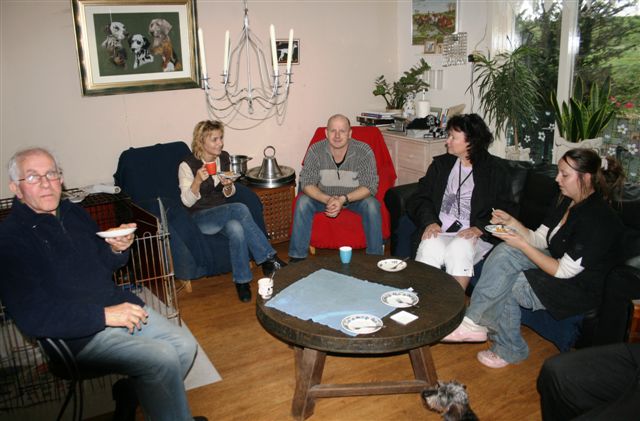 Diana had bought cake for the coffee, I wonder why *S*!
Rune found an old friend here. Freak had a "head" from his Rune...Timanka's Almost A Clown in his livingroom *S*, see how similar they are!
After some hours there we continue to Kennel Astonishing's House and their fantastic garden. I had a dream to see it in real for over three years now and I can tell You that I was not disappointed at all...even bigger than I could dream about, what a fantastic place!!!
All those beautiful planted trees all over Holland. And all those cheep everywhere.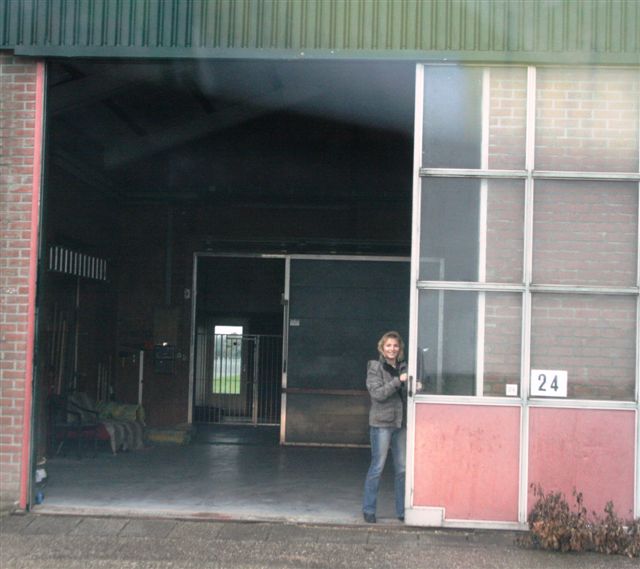 But best of it all is Andre and Diana's place. Diana opened the door to our "hotel". Perfect to drive the car into the barn!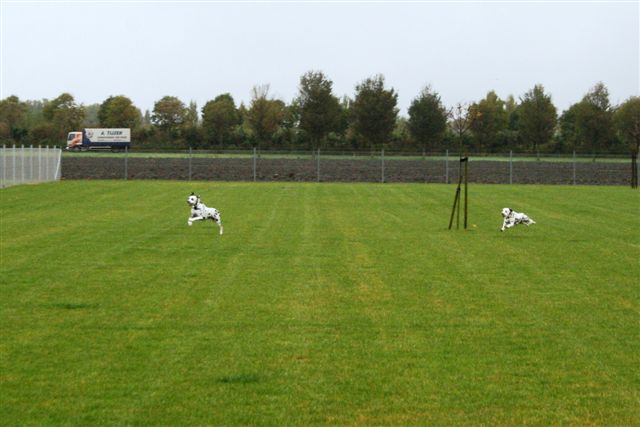 Hurray.......Run Wild Run Free!!!!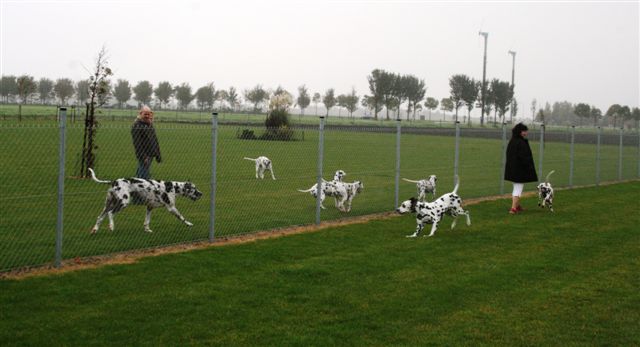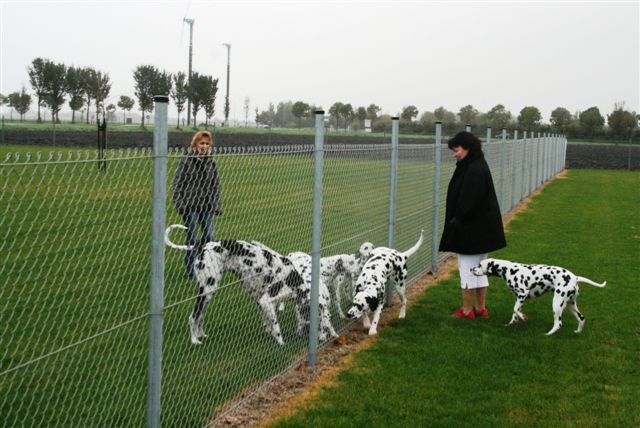 Daddy pee on all the others.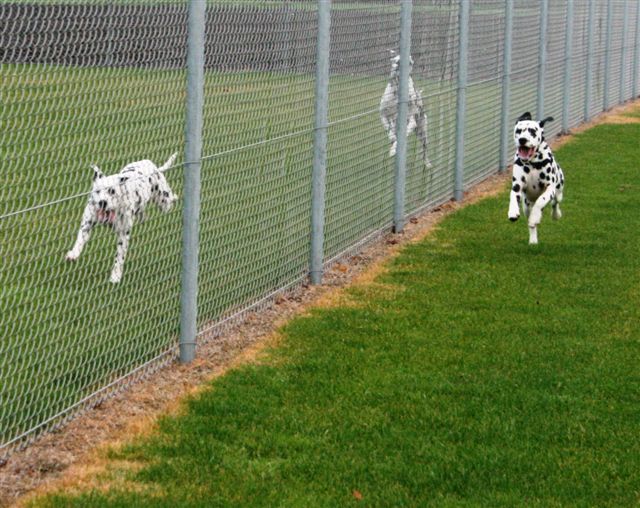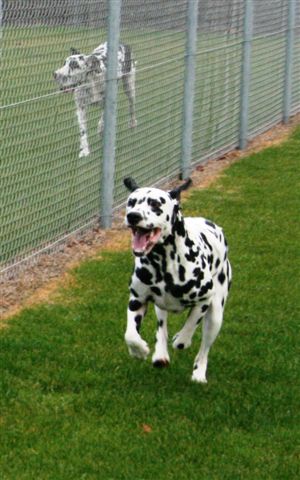 Seven and Florence in the background at their side..Daddy happy on his side!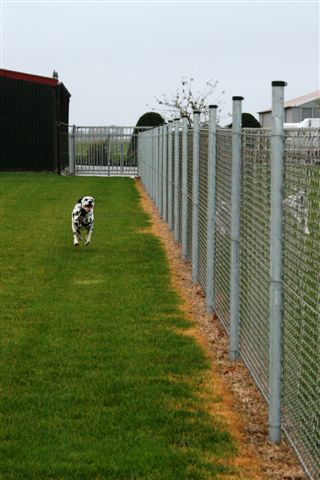 Hi sister Seven........do the grass smell the same on Your side??? Here comes Daddy!!!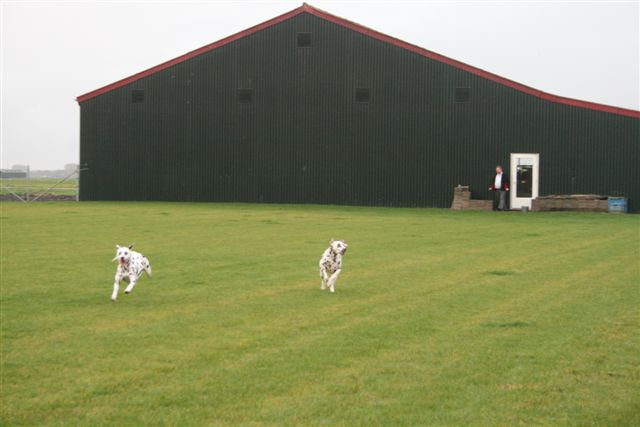 Our dogs loved their "guestgarden"!
After being out with all dogs I took a shower and we eat together and went to bed while it still was Friday.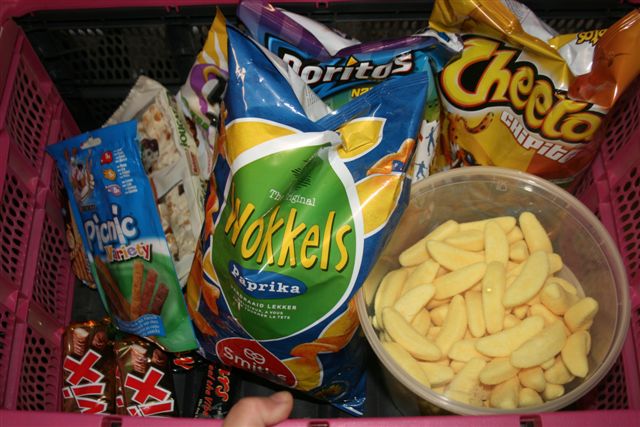 This was in our room. Diana thought we maybe need something sweet during the night *S*!
Thursday 23 October 2008
Soo tired when the doctor called early and tell that I have to go there today to get my foot taped again...I was happy for that because I really have lot of pain.
When I was back after an hour. I eat breakfast and give food to all dogs. We want them to eat many hours before we enter the boat to Germany tonight.
Rune was home at two o'clock from work and we took our last thing into the car.
Then we go to the vet to get some papers for our trip. and our way to Gothenburg I have to go to a shop to leave some clothes back and we were buying lot of sour milk for our dogs to put in the cooler we got this summer from Kaj and Sissel and Ericka and Knut, the best thing we ever have had...thank You!
It was almost storm all the way to Gothenburg and when we were there in the harbour it was even worse!!!!! Ohhhhhhh, I hate to go by boats and especially in the night, and when there is storm!!!!!!
We had an own corridor together with 8 other dog owners and veranda with a small dog yard and a sandbox. It was so perfect and some of our dogs love to pee and shit in these small sandbox. Some of them...as Bell don't. She is a lady and only some times in the day she allow her self to pee...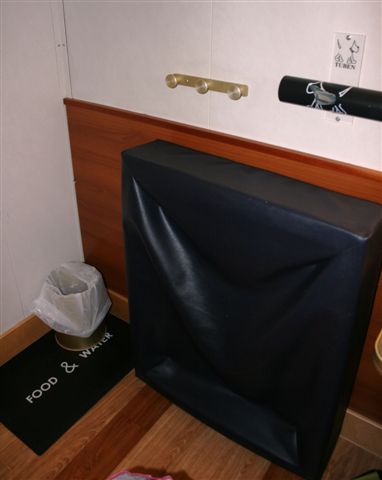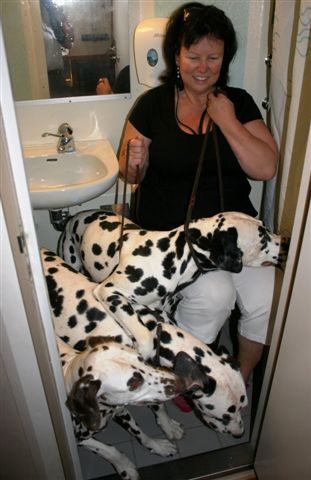 The cabin was small but of course they have not expect someone to bring 5 big dogs in there *S*. We have two cages with us there because we were planning to go and eat buffet at 9 o'clock....so in case of that our well behaving dogs try to eat something up in the cabin..we put our youngest in cages.
Because we heard the captain say that it will be very windy and 20 second meters and more I decide to take some pills and to go to the dinner immediately before it start to float up and down tooo much......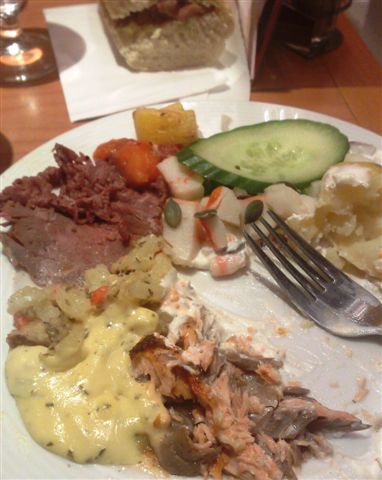 I took just a little food to taste and not much dessert at all (not normal for me), not that I got sea sick but if it is really stormy I hate to know that I have been eating a lot. Most afraid am I that the ship will explode or sink and I don't know how to save us and the dogs..never forget when we go to Estonia 2007.....it was terrible in really heavy sea and our cabin was placed in the front and it was lot of loud noise from the waves and the wind. I was thinking about "Estonia" on the bottom under us and I almost got panic..crying and shaking me during the whole night....I said...NEVER MORE!!!!!
This cabin was in the end of the ship and this boat was much more steady so when it start to blow more and more I go to bed then it was much better..probably I was a bit drugged so I start to get sleepy. You were not allowed to take more then one pill each 12 hour but of course I took two at once...
Wednesday 22 October 2008
To the driving school with Jonnie. When he was ready I picked him up and we were going to Mac D to eat.
Then I drove him back again because he will stay there for about 3 or 4 hours while I was at my hair dresser and when I shop. He was really tired of all reading and testing when we go back home again..it was already dark outside. That make us all even more tired then we are.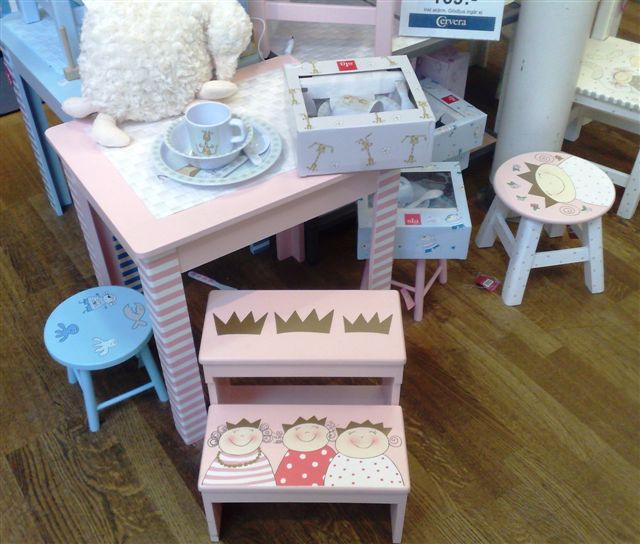 Do You think I bought something? Yeeeeeees!!!
Rune and I continue with bathing dogs and pack our car before the coming trip tomorrow.
We should try to go to bed not that late...but Jonnie have lot of problems to go home with his car so I was on my way to tow him home at 2 o'clock I the night....but just when I was going out to my car a friend of him came to his help! Good, as soon as Jonnie called and told me that he was back home I went to bed...too late of course.
Tuesday 21 October 2008
Today Eddie weighs 3.305 kg...On 18 days he have gain 820 gram.....that is a good boy..just like his grandmother..up up and up!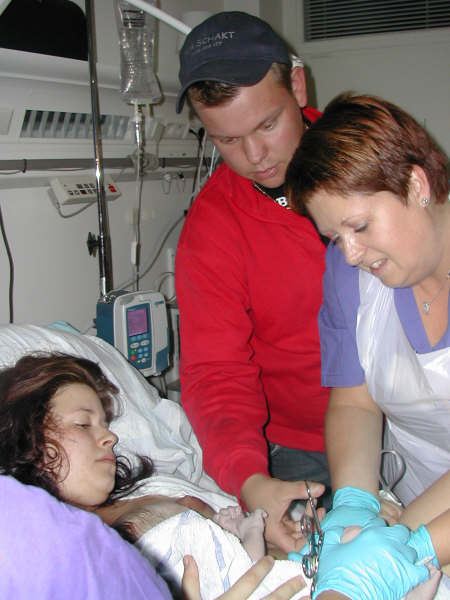 Photo from Eddies first minutes on this world....Jimmie is going to cut the navel here. Photo from Nathalie's camera, and I got her permission to put it here in my diary.

Between 9-11 there will come a man to help us with get rid off some rats that irritate us now. Of course he didn't come until 12.30 after we have been calling him up many times......I got crazy when they think that You have all day to just go and wait for them when they please to visit us. I had a time at the doctor that I have to change now and I can't get any new until in the end of next week...perfect!!!
My mother was going back to her home again today.
After work Rune drive to Lidköping to cut his hair, so he look nice when we are going for dog shows. I will colour and cut my hair tomorrow.
Jennie and Ellie was visiting Jimmie, Nathalie and Eddie tonight.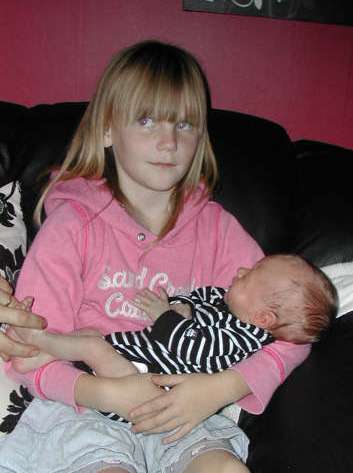 Photo from Nathalie.
Monday 20 October 2008
Today Jonnie and I drive to the car school to work on theory at the computer. I was just with him for a while and then I was back three hours later so we could drive back home again.
Now I have sold three of my caravans...only one left that we will keep forever *S*!
Photo from yesterday. Rune cut the hair of the bushes at the front side. We bought a electric saw for 199 NOK at the opening of JULA in Norway....it was perfect for this kind of work.
At five o'clock in the afternoon it is almost dark outside...then I have some hours that I am very tired...my brain probably think it is in the middle of the night.
Sooooooooo tired! As you can se I need to do a plastic surgery of my face...but I am to scared for the operation. First of all I want to cut my "hampsterbags" away!!!
Sunday 19 October 2008
Eddie Jimmie Ofstad
Karlsson
will be the full name of this gorgeous little boy already 16 days old!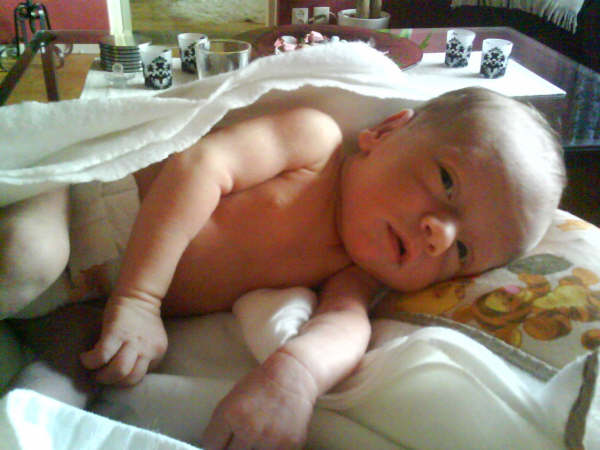 Photos from Nathalies camera.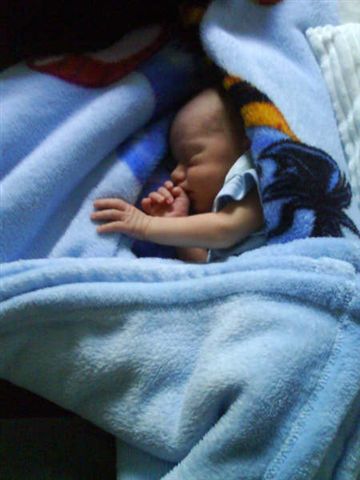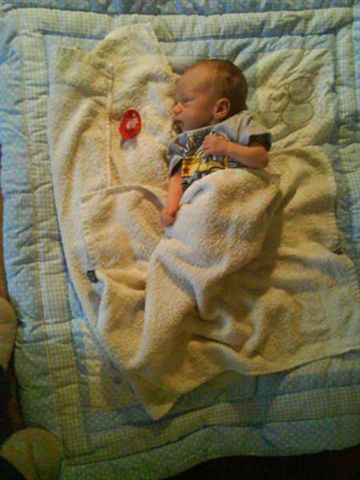 Photos from first weeks.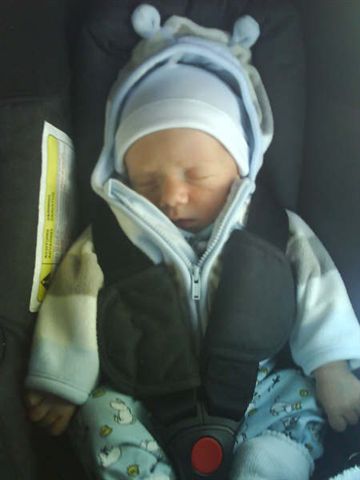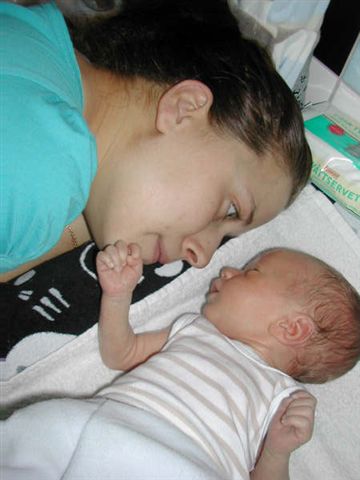 In the car. Hello, I am Your Mummy!
And I am Your Daddy!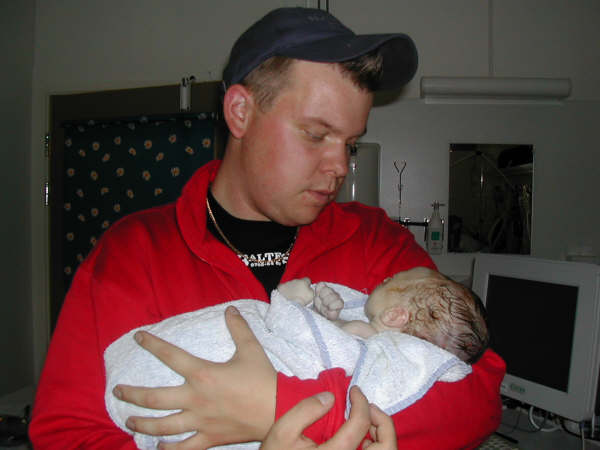 Just some minutes old, 3 October 2008. Poor little, his head was huge after all hours on the way out *S*, but two days later it was perfect again.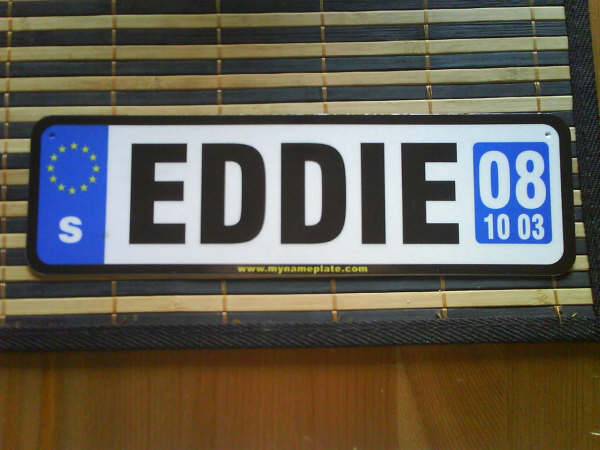 He got his own "vanity plate" for his carriage.
All weekend Jimmie have played with the machine he bought for Eddie, and are now planning to buy Eddie a dumper so he can show him how to load on it *S*. Funny for who???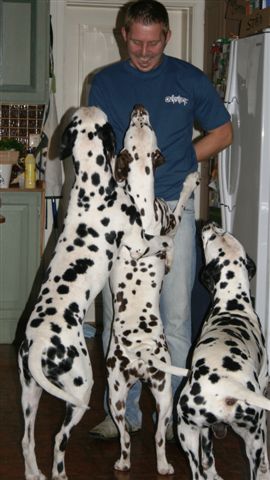 In the evening our own HANDYMAN JENS came to try to help us with some things....the computer first of all is crazy again, as you probably have seen in my diary. the photos can not be uploaded more than just a little bit and 1-15 September is totally gone!!
Rune have put in photos there again...but all that I wrote we can't find again...sometimes maybe I have time to repair it. And we can't close the freezer in the caravan and another door...but handyman Jens fixed it in just a moment....
Hanna and Jens was so fond of our bed, that they immediately start to look at internet for a better caravan than they have at home.
We all look forward to next summer with all travelling to dogshows together.
We have realized this week that it is impossible for us to go to Zagreb because of Runes work. Otherwise we have loved to go there for 3 shows the same weekend and to stay for some weeks with our new caravan....buuuuuuuu!! But we are both very happy for his new work.
Saturday 18 October 2008
Look what we got from Hanna yesterday!!!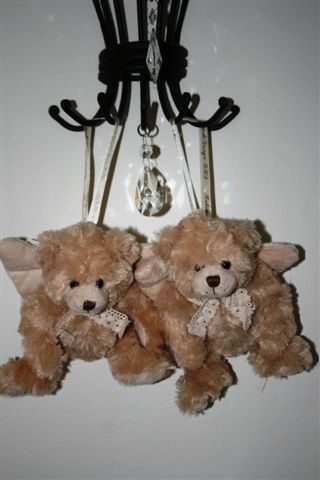 The left one with a thinner nose if for me, and the fat nose to the right is Runes.
Thank You darling Hanna for these protecting teddy bear angels that is in our bedroom now!

We love them!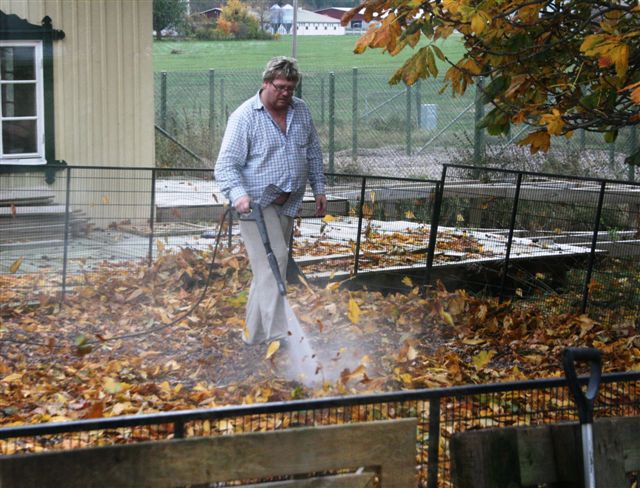 Rune "love" to work in the garden!!!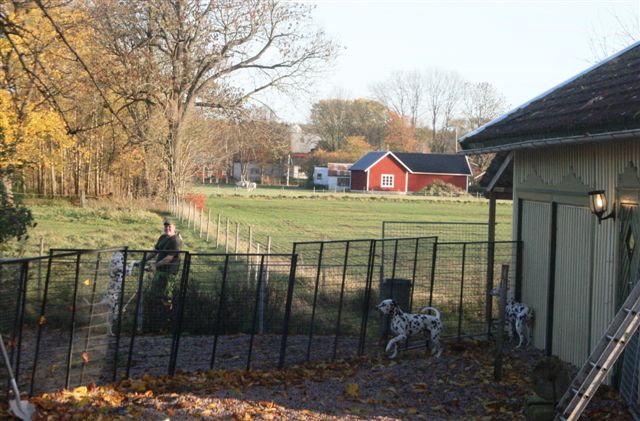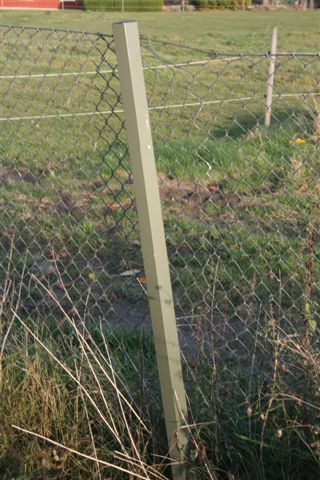 Even Jonnie was out to help for 15 minutes *S*. Someone have broken the fence at the backyard....can it be the one that always put cakes on our table?
Our dogs love when someone is eating.....
Can't we get anything more if we wait......?
Friday 17 October 2008
Still continue to clean the house..in some rooms You can start to see a little improvement..but there is still much more work to do.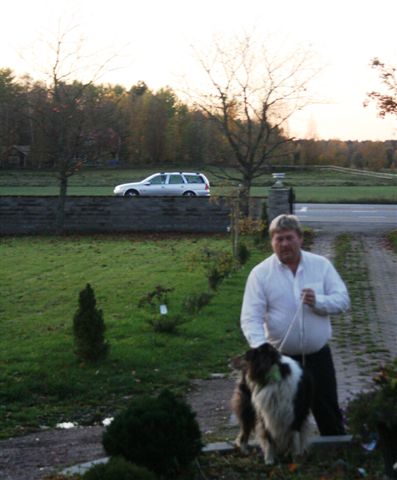 The phone was calling and it was knocking on the door at the same time in the afternoon. Someone had taken care of a dog on E20 and they ask if it was ours. We know the dog she is 11 year old and live a bit behind our house, so we kept her here until the owner came to get her.
Thank You in the background in the white car..that You saved her...we are so grateful when people stop and take care of dogs they see on the road..even if they not are ours.
We were invited to a "Candlelight dinner" in the evening at Ms Buckets residence.....ohhhhh I mean at Anita's home *S*!
And I can tell You that we get sooo much delicious things to eat that we almost roll around home. Rune fall asleep in Anita's couch so she and I have to carry him into the car.
Rune was really afraid to eat the lobster soup...but he loved it. He was not afraid of the grilled potatoes with meat and lot of sauce, but he jump over the vegetables!!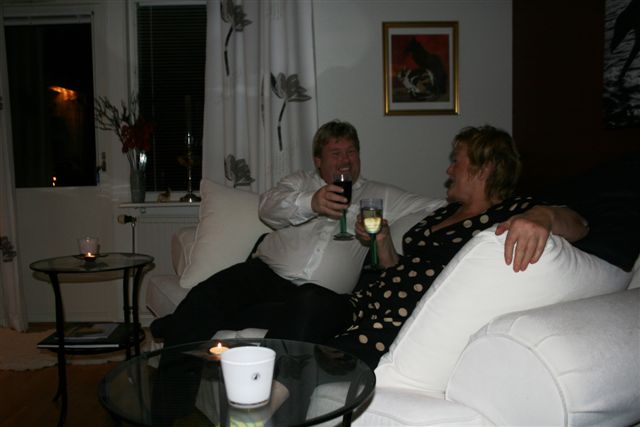 Rune was not that afraid of the wine and liqueur. I was freezing as always under a blanket.
They end with a blue drink from Africa.....but what was it in it *S*!!!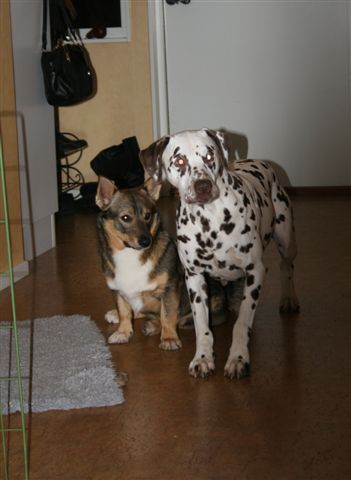 William and Harry are two very nice and easy boys!
Thursday 16 October 2008
My mother and I stayed at the garage with our car again for three!!!! hours and they have ordered wrong things for our car..so we have to come back again later...grrrrrrrrrr...I hate to sit here and wait..and this was the second time they try to fix it.!!
They will order new things and we have to be back again in some week! Very funny! We have to buy a new car soooooo.
During the meantime we went to MIO a house for furniture and more things close to the garage.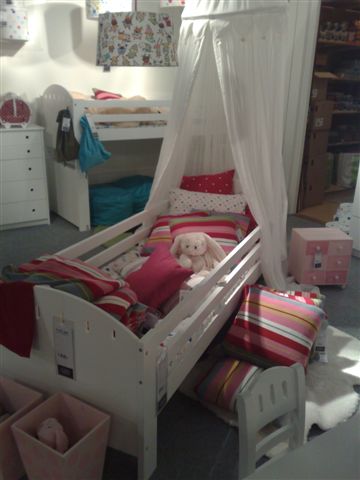 I saw soooo many things for Eddie as Christmas gifts.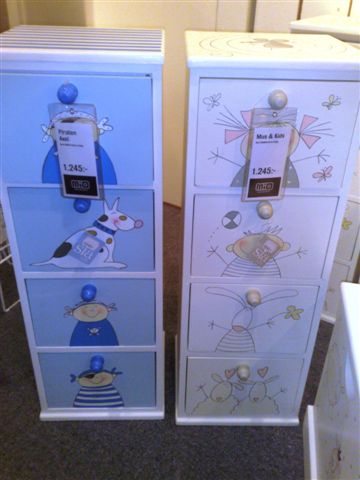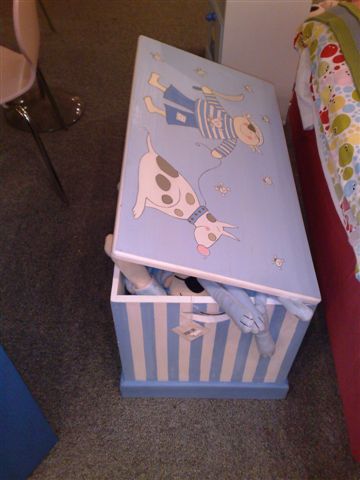 I send MMS to Jimmie and Nathalie to ask which colour they prefer...Jimmie say blue!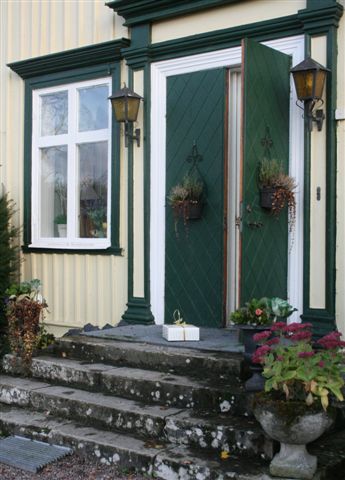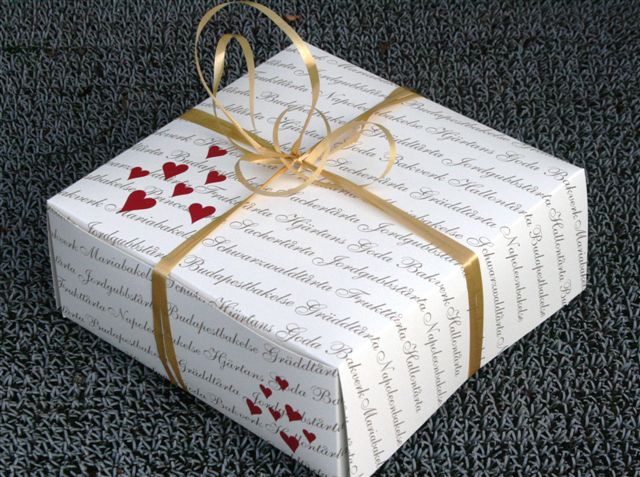 This was on the front stair when we came back home. Mmmmmmmm!
Guess who has been here!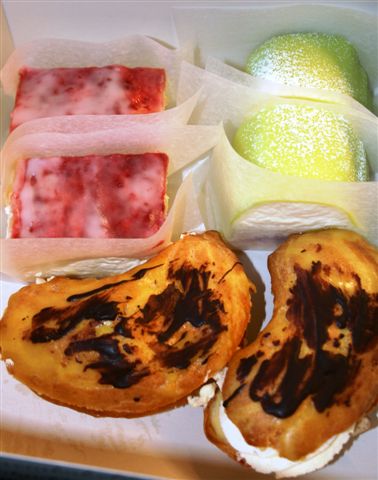 Rune work until late and were happy to get something sweet when he came home!