Diary
Sunday 30 November 2008
A lacy day, finally!
I have to go back to my "normal" diet because GI is not the right thing for me (is there one that could be successful for me ? *S*), but Rune continue because he have lost many kilos now.
I really use my cross trainer 3x5 km and bicycle 3x15 minutes every day without success *S*! But Rune is successful without training.
Amsterdam Winner in Holland today.
Here is two of Devlins sons from Kennel Gwynmor. Winner in Intermediate class was Gwynmor A Shadow in A Mirror to the right, Congratulations from us to Henk and Joke, and thank You for photos taken by Nancy van Wel.
And Congratulations to Annemiek and Rhys that got both BOB and BOS!
Saturday 29 November 2008
Poor Rune was up early. This morning we will get lot of wood that he have to take in to the wing.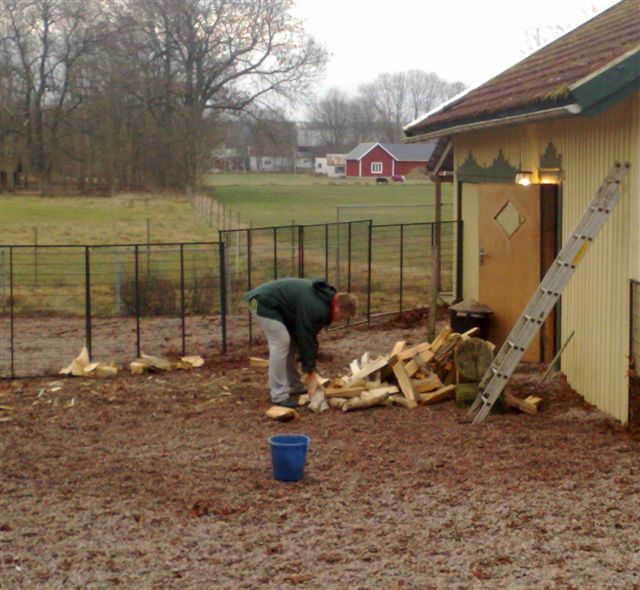 Jonnies car was soooooo dirty so he have to wash it again, that is his favourite thing to do.
Muzica in her own garden looking for her favourite boy, Daddy!
Friday 28 November 2008
Next week I am going to my hairdresser to colour my hair, but I had to do it at home today..it looked terrible!!! Later we are going to a restaurant tonight with some friends and family to eat this years first Christmas smorgasbord.
And then I was cleaning most of our house and wash all floors and put new flowers in every room.
I was in the shower at 18.15 and Jenny and Rune and Kicki and Roy was waiting for me downstairs. We were driving to Lundsbrunns Health Resort, we are going there every December....but as Roy are going to travel to Asia next week we were a little bit earlier this year.
At the restaurant we met Jennie and Ellie...Jonnie was there too with his car but decide not to go inside to eat. He ordered food later in the evening from me instead *S*.
Like father like daughter!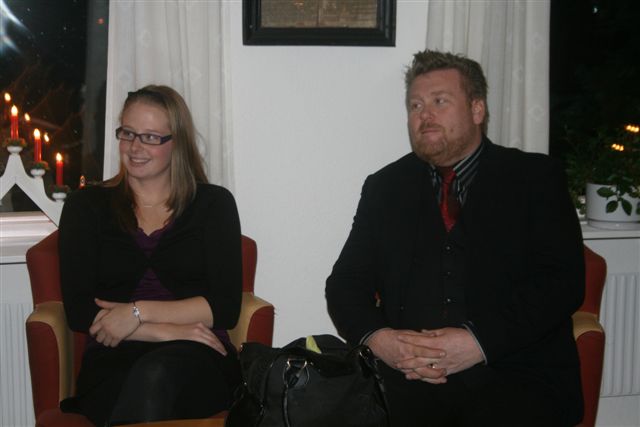 Jenny and Rune pray to god that there are lot of candy on the table!
Here is Jennie talking to Kelly. Steven is smiling to the camera.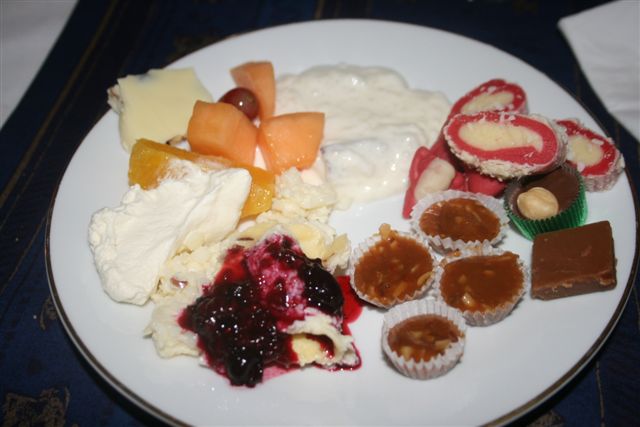 Some ones plate.....ooooooooooohhhhhhhh!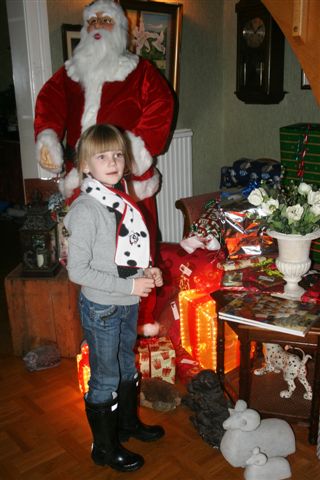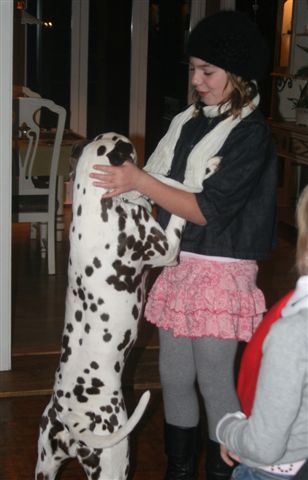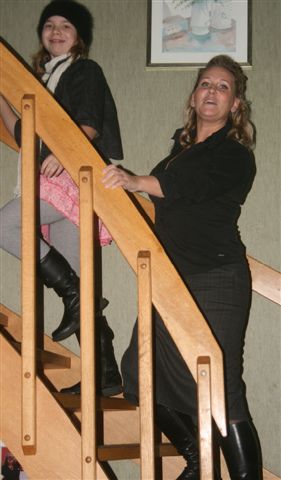 Ellie looking at Santa's corner. Devlina was fond of Kelly. Kelly and Jennie exercising in the stairs.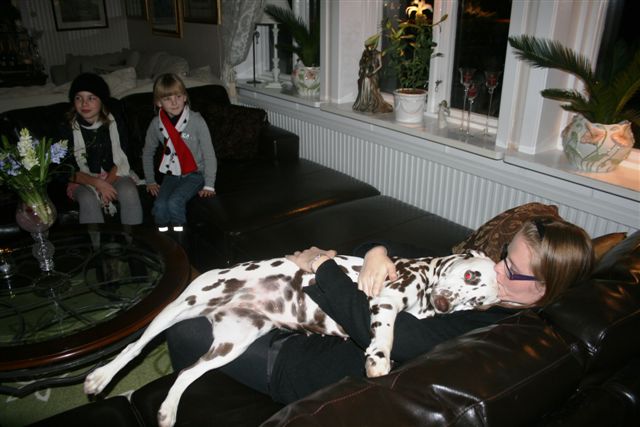 Devlina is like a baby.....and she love Jenny!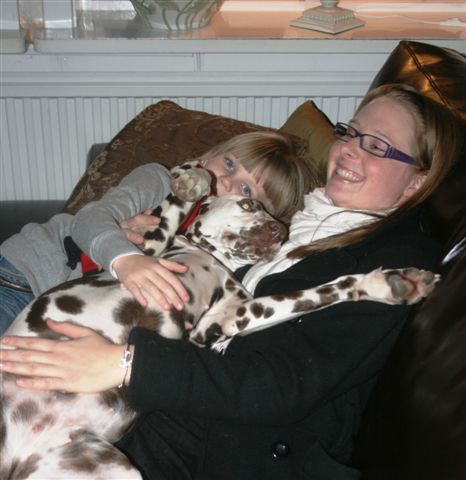 Kelly and Ellie looking at IDOL. Three girls in the sofa.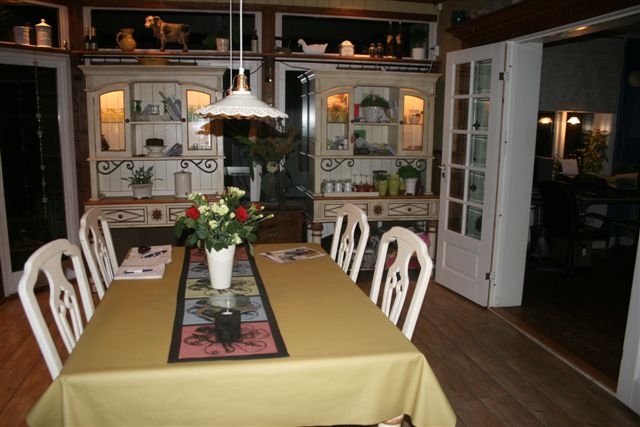 Jenny and I looked at TV until 2.30 in the morning when Jonnie came and want something to eat *S*.
So good to go to bed some hours later and to know that I do not have to start cleaning the house first thing in the morning.
Thursday 27 November 2008
Customers in my store at 11. We have to put the heat on every night before someone is coming so I try to make appointments on the same day, not to have to put the heat on all the time...too expensive.
It was stormy outside and all snow was gone.....it was dark and muddy again.....depressing!!
Jonnie and I to Lidköping again...we are really tired of all those trips there now, but he have to study for his licence. And when I have to wait for him everyday I have to shop during that time....so I am already ready with all presents to Christmas now.
This sweet photo came from Diana today of our darling Seven, thank You.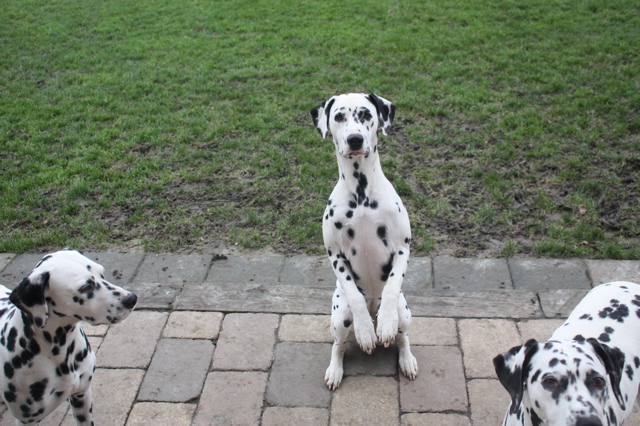 Seven think she is a squirrel......Edna and Ubu don't understand anything. I thing Seven is preparing for this weekends show in Amsterdam, to beg the judge to give her a title (hopefully) *S*!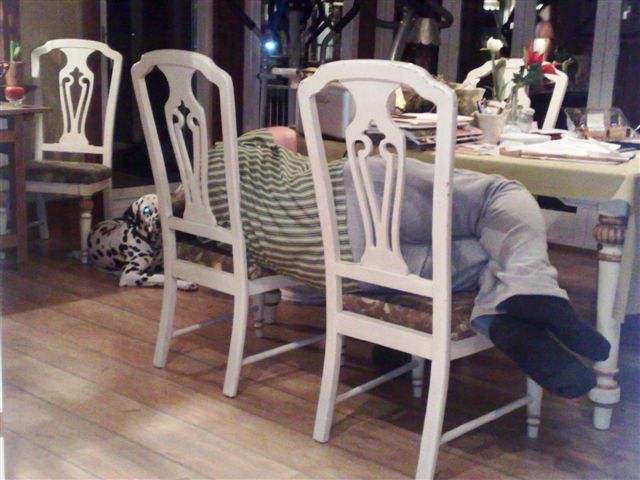 Rune was very tired after work today.
Wednesday 26 November 2008
Jonnie and I to Mariestad and when we were back home there were a handyman here to help us to change the cable from the roof for our TV in the livingroom. We have had transmitter all over the house but because the walls are soooo very thick in this old house it is not that good quality as we want. When he was ready the picture at our new TV in the room was perfect..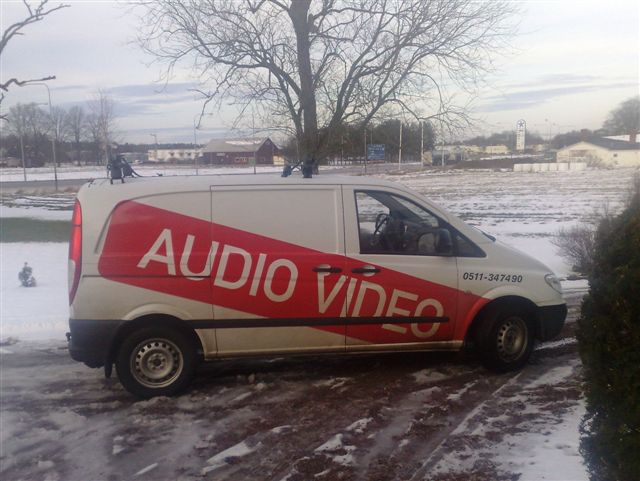 Still snow here but it start to melt..as always. Just when You are so happy for the snow it disappears..and our dogs are dirty at their paws again instead of clean and fresh. And I have to clean the floors three..four times every day instead of one..puh!!!!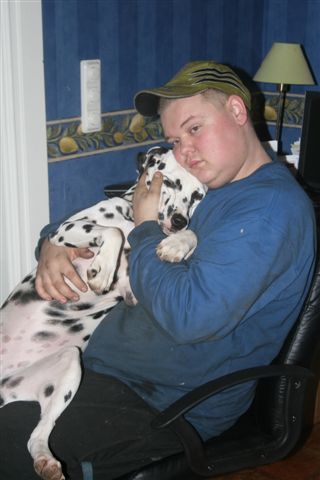 Bell with Jonnie. Muzica and Bell want Jonnies sandwich.
Starting to put Christmas presents into boxes this evening.
Tuesday 25 November 2008
A beautiful day still with snow outside.
Jonnie, Roy and I was going to Lidköping again. While Jonnie was studying Roy and I was shopping clothes to him and Christmas presents for our grandchildren...it is the best I know...and the worst Roy know *S*! Most of the time he is walking around in the stores talking in his phone and I run around and show him things to buy as presents and he talk in phone and look what I show him and nods....
Then I put my hand in front of him and he give me the wallet and I pay for the thing and give him the wallet back.....It is the same procedure in every store.....and he have no idea what we have bought when we are on our way out from the store....I probably could have bought things for me or the dogs and he still have no idea what he was paying for.....*S*!
He is happy that he don't have to do it him self...and as long as we go and drink coffee every hour...because he is soooooo tired of all this shopping that HE is doing *S*!!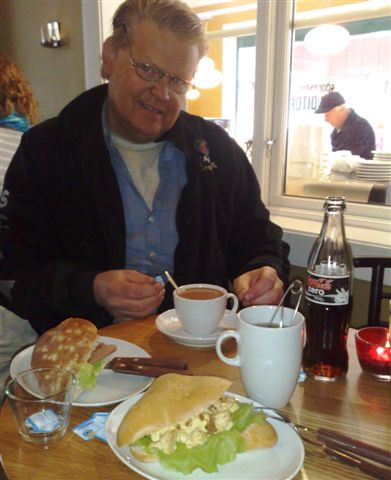 It was discount at Dressman and Roy bought 16 shirts......it is much cheaper to buy new now than to leave them to drycleaners he say.
And he love white shirts even if he work with the trailers and trucks he have to wear white socks and white shirts.....before when we was living together I ordered him to wear black socks and dark shirts...than You cant see the oil marks at once, but now when he can do as he want his home is full of white (oil marks) clothes.
When we were back from Lidköping in the middle of the day I was cleaning and making the ground floor in Jonnie and Roy's home ready for first Advent.
I was back home exactly when Rune came from work. It have been a long and eventful day and we were both very tired.
Our dogs was happy to spend the evening in the TV sofa with us.
Monday 24 November 2008
One month to Christmas Eve!!!
Jonnie and I on our way to the driving school again, in snowstorm!!! It was terrible weather on the road and everything was white outside.
I leave Jonnie in Lidköping and drive to Vara to our veterinarian to get a healthcertificate for Muzica. The insurance company need it when I bought an all covering insurance for her.
Daddy was with us too, so she should have company in the car.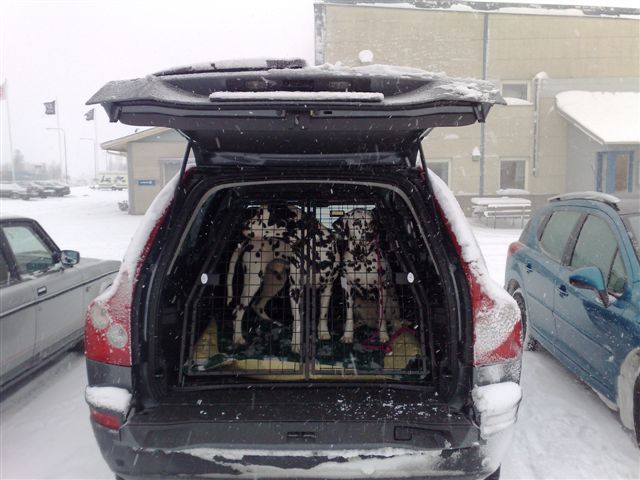 It took many extra hours to drive back home again because of the weather, but in the afternoon we were back home safe again.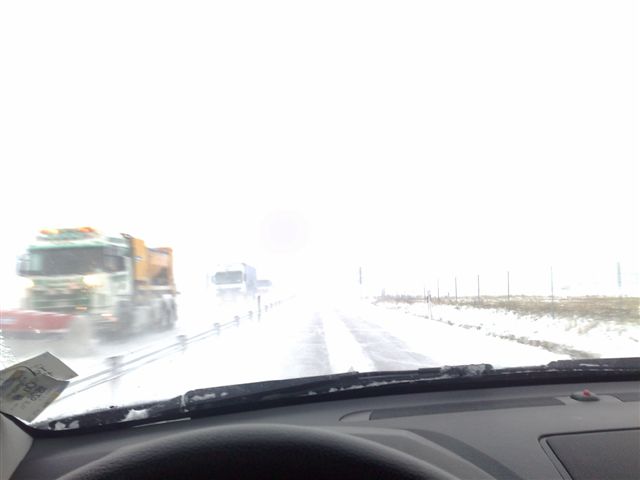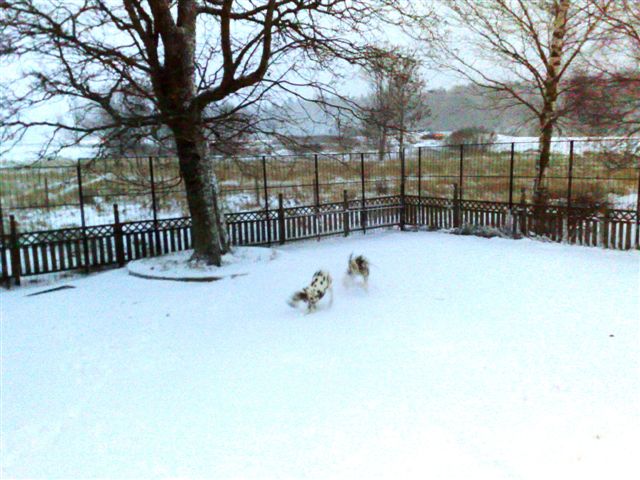 It was dangerous on the highway. Our dogs was happy to play in the snow.
Sunday 23 November 2008
Wild dogs in the bed in the morning.
After an egg and bacon breakfast Rune was out and made one part of our garden safe for our "Russian lady Muzica"!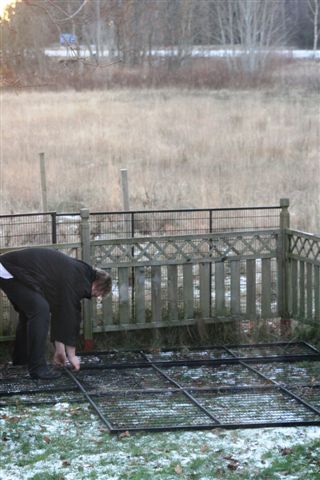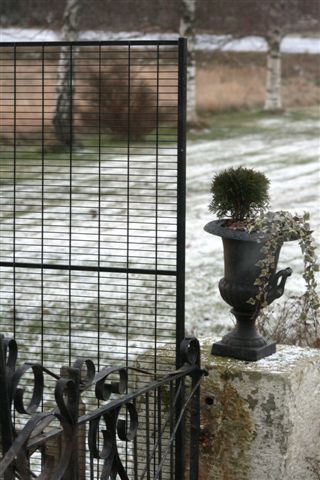 It start to be could outside, and inside.
Saturday 22 November 2008
Hamar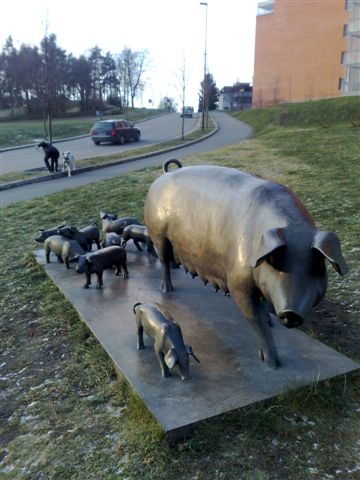 I love this statue outside the hotel...I would love to have it in our garden. It looks like our family!
Happy to meet Trine and Devlins beautiful son Ch Dalmings Hocus Pokus, he was Nr 2 Best Male.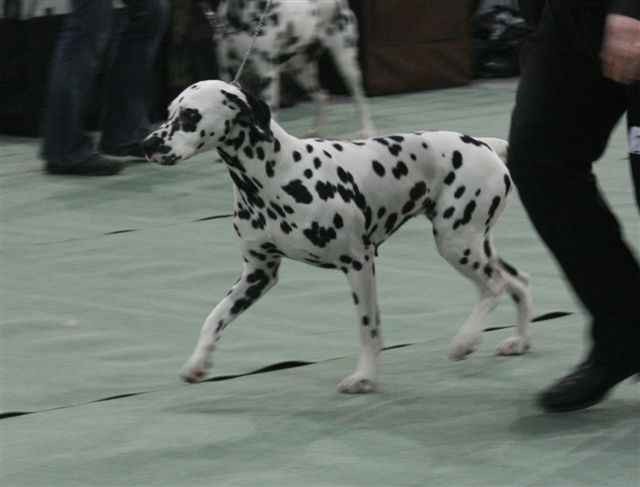 Rune decided to show Muzica anyway. She got a very good and we were pleased with that for today.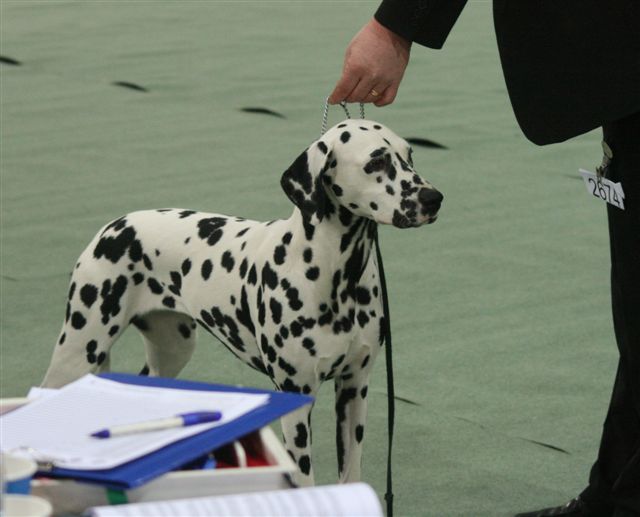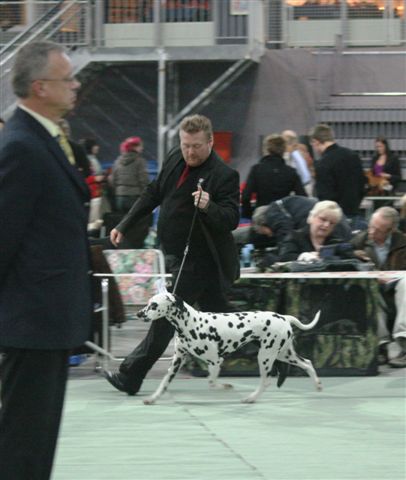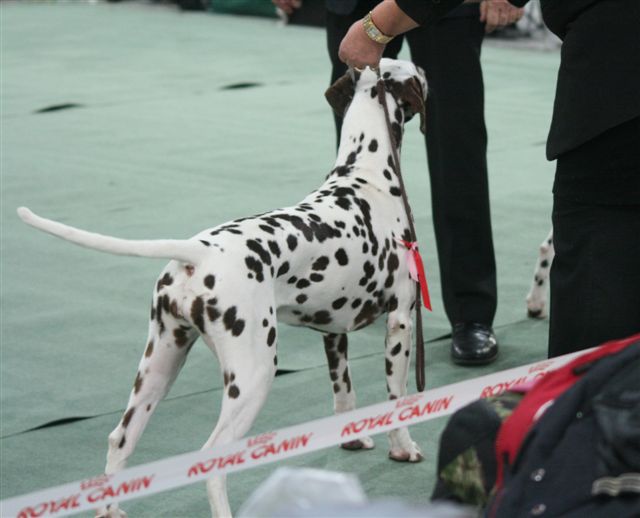 Then it was time for Gloria and me.
Devlina was Nr 3 in Champion class and nr 4 Best Bitch.
This is the only photo I have of Zacco and Gloria in the end.
Gloria became Best Bitch and BOB with CAC and CACIB and the Title Norwegian Winner 2008, Good Girl!!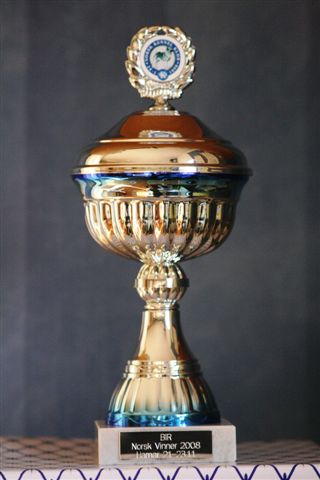 Nice cup from the Winner Show.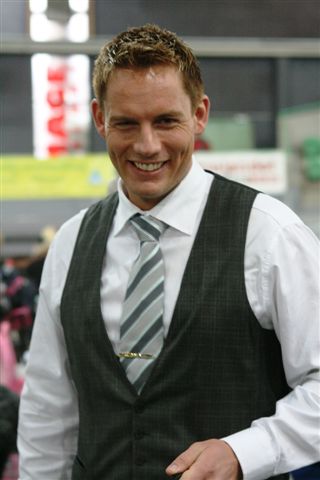 Helle was happy even if she didn't get the BOB today, she got her Christmas beer and wine instead *S*! Björn Erling has already drink up his beer but was happy anyway!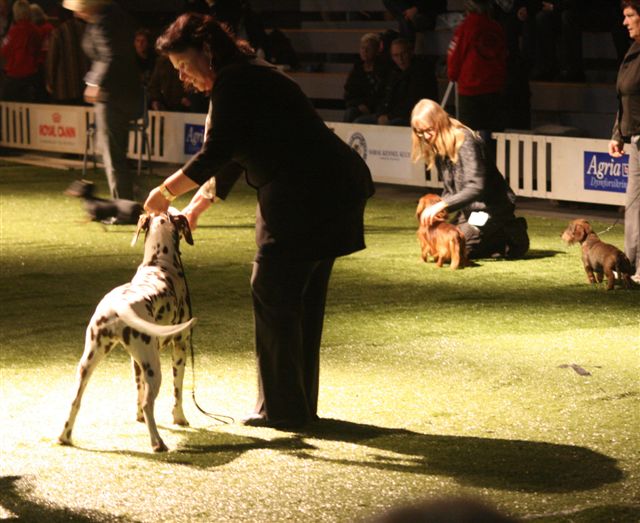 The Judge for group 4/6, (the groups are judged together in Norway), was jumping on crutches. Gloria in the spotlight in the final ring. We did not get any placement.
So happy to meet Anne Karin and Rune in Hamar, unfortunately we do not meet them in Stockholm *S*!
Friday 21 November 2008
Finally some white on the roof outside our bathroom.
Rune is working until lunch and then he meet Jenny and they are coming here and we are going to Hamar in Norway for a dog show.
Judge is Åke Cronander and there are 49 Dalmatians entered.
We have entered three bitches Gloria in Intermediate class and Muzica in Open and Devlina in Champion. Because of that Muzica do not know us yet I think that we are going to wait to show her. But she will go with us there for the training.
After just some shopping on the way to Hamar we were at the Hotel at 8 o'clock. Jenny and Rune drive out and bought Lollipop ice and chips, and Rune found Bacon crisp without carbohydrates!!!! He was soooooo happy!
He has now lost 8 kg on eating fat things...strange....I have only lost 2,5...but I cheat with a tomato and apple sometimes (that is NOT good in this diet). But my brain have learn to eat vegetables and fruit since I was small and I love it..that is a problem now *S*!
Rune and Muzica at the Hotel in Norway.
Thursday 20 November 2008
Today Jonnie and I was in Lidköping most of the day, he was going to try for his driving licence...He did it well with the driving and now he have to try to go on with the theory test.
Andrea, Jonnies teacher at the Driving school. He is very fond of her!
While he was driving I was out to buy some Christmas presents...my favourite thing to do *S*! I wish so much every winter that I was winning lot of money so I could buy presents for everyone I know and some more......The best thing is to give things away, and make nice packages with lot of Glitter and Glamour on!!!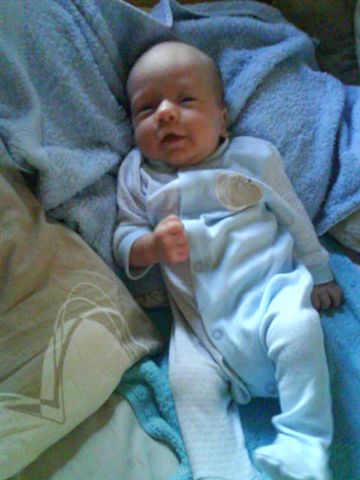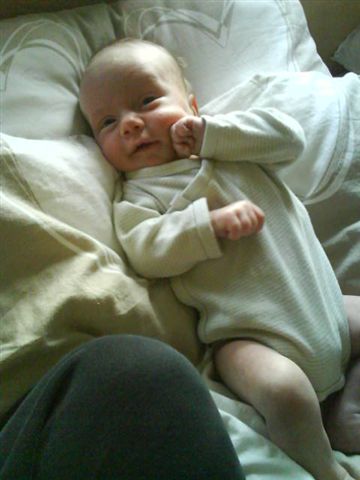 Eddie is growing every day!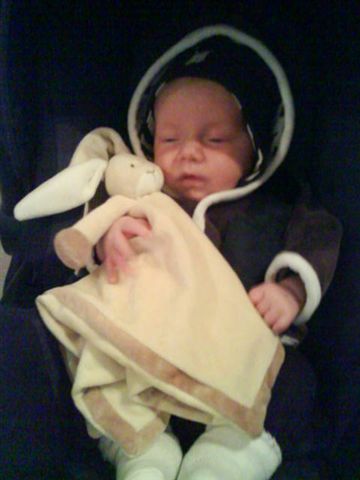 He is gorgeous when he smiles!
Eddie
Now he has gain a lot since he was born. Now 4655 kg and he is 56 tall.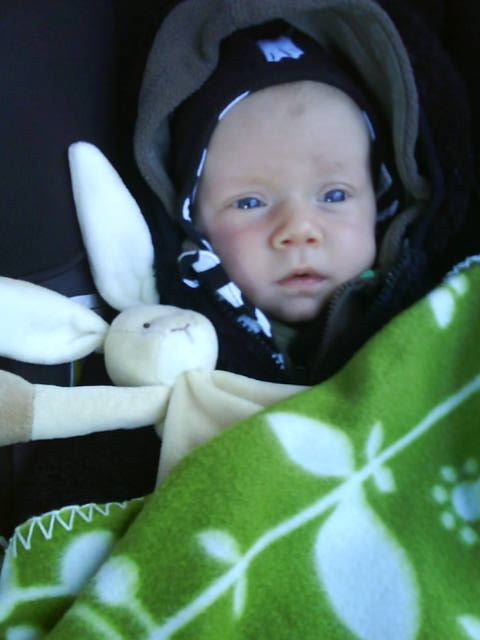 Photos taken by Nathalie.
Wednesday 19 November 2008
Jonnie and I was in Lidköping at the driving school for some hours.
And I was buying some necessary things in the store while I was waiting for him.
In the evening Muzica and I was looking at TV for hours.
Nice gifts from Russia......the champagne we will drink on Christmas!
And I will try to let the chocolate box live until Christmas too *S*!
Tuesday 18 November 2008
Early morning (for me)!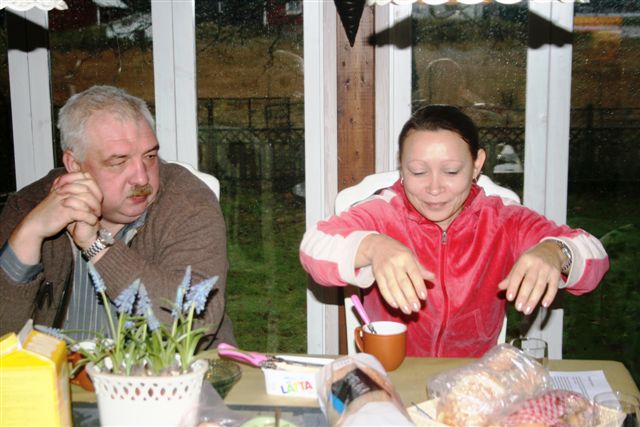 Muzica was hungry and eat Anna's breakfast, so she had to make new sandwich all the time *S*!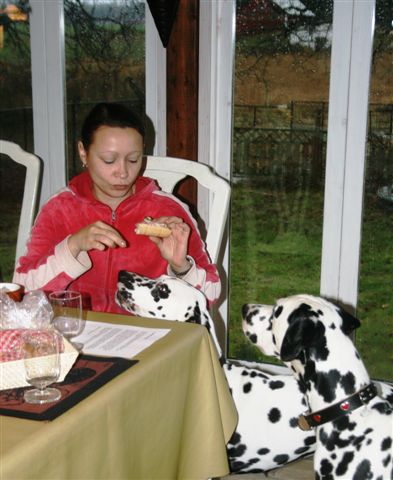 Daddy was hungry too, as always. Marina posing!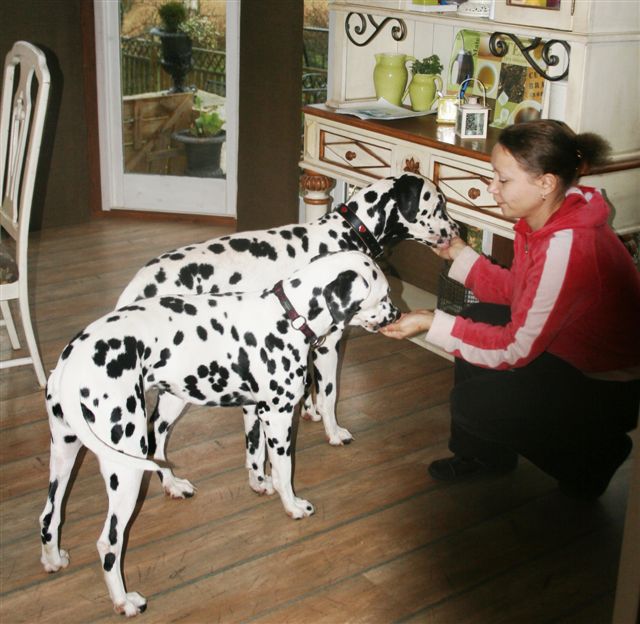 Daddy, Muzica and Anna before she leave Sweden.
It was foggy and rainy outside when we say goodbye for this time, see You soon again.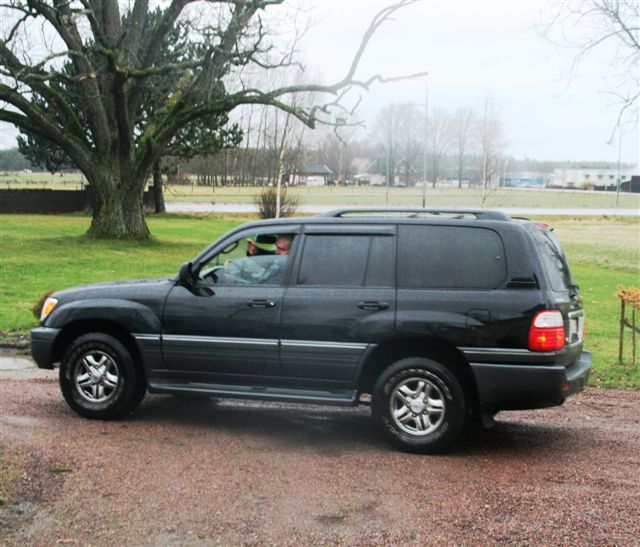 Our neighbours are so curious of all our foreign friends *S*.....in early morning and in nights here is coming and leaving people and cars from both South and East Europe.....!
Rune went to work a little bit later than normally and I was thinking about going to bed again, but of course there were no time for that. Phone start ringing and I have lot of mails to answer and so on.....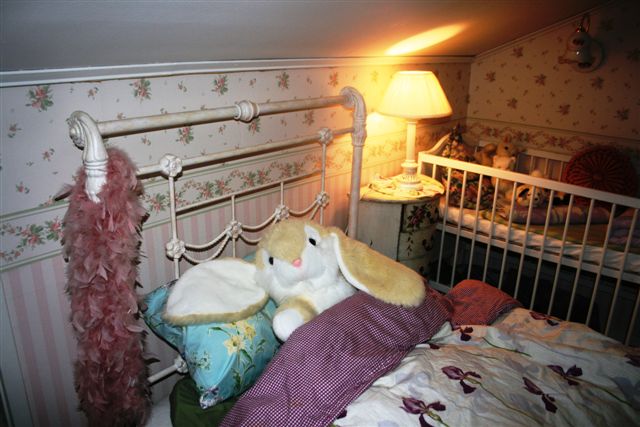 In the "Princess Room" Anna have put a rabbit in the bed instead of her self *S*!!!
Monday 17 November 2008
In the middle of the day our friends from Russia came. They have had a stormy trip over the sea last night.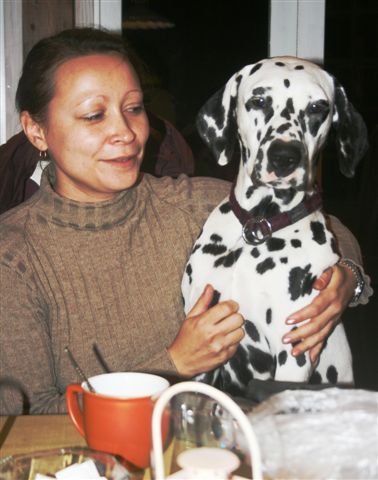 Anna and Muzica.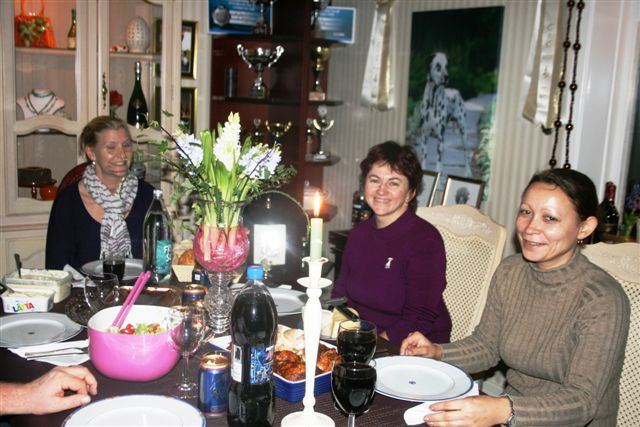 Dinner in the evening.
Mating in the night.
Sunday 16 November 2008
We did NOT put the alarm clock on this morning and slept until 11 o'clock.
We were home all day long.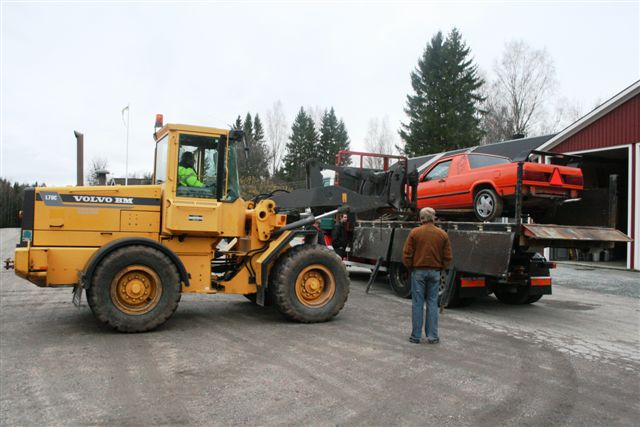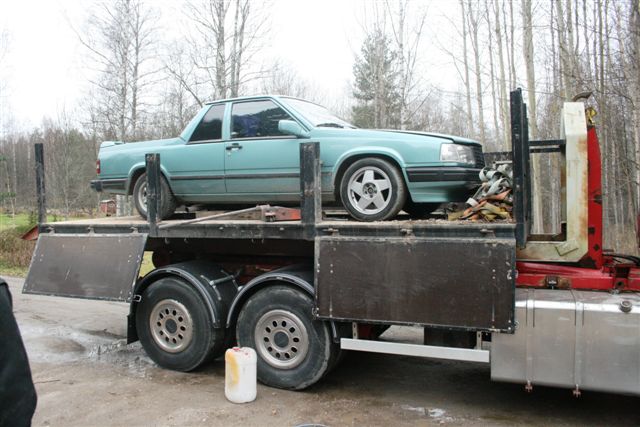 Jonnie sold one of his A Tractors and bought another one with Diesel, and I was hoping for one less instead....!
Saturday 15 November 2008
Up and start to put a hand on the last things before dinner.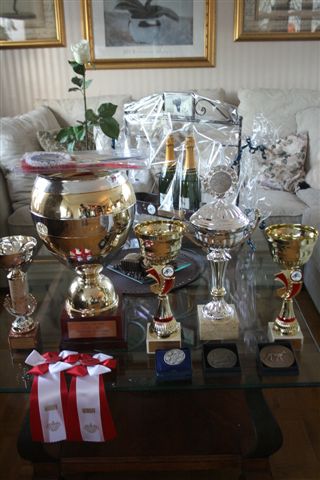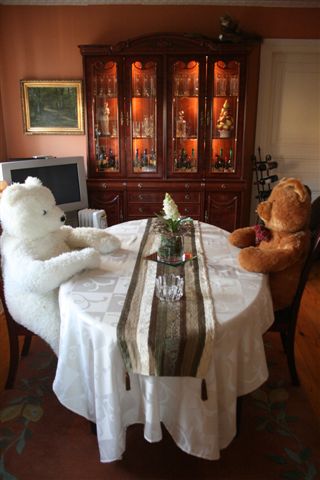 Here are some of the cups from Belgium and Holland. Rune put two teddy bears at the table in the small dining room.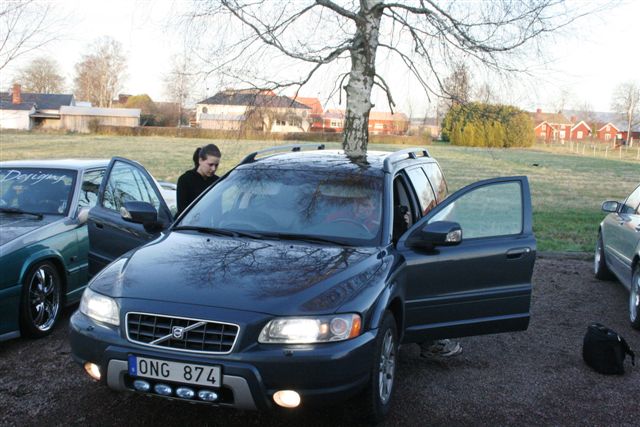 Nathalie, Jimmie and Eddie came in their new car.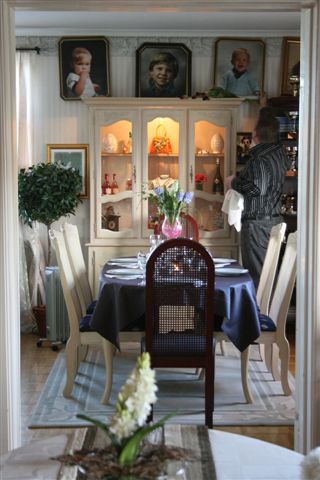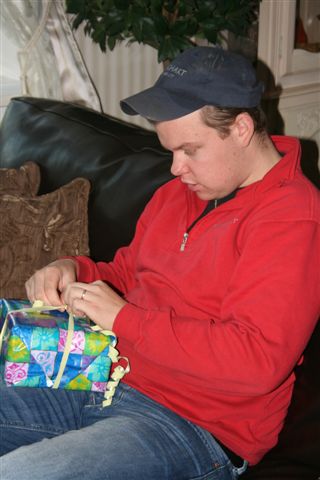 Jimmie got at video camera as his birthday present. We think they need one to start to film Eddie from the beginning of his life. And they get two advent stars one to put in the window and one to hang up.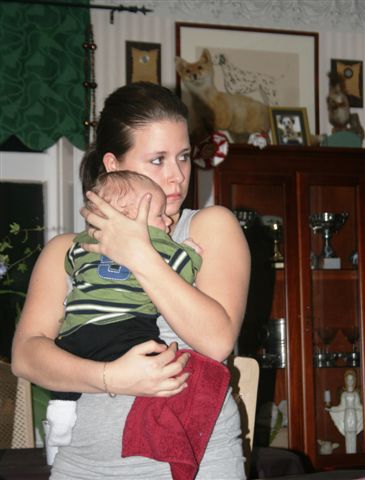 We start with small bread with shrimps and salmon. Then we eat pork filet and potato gratin and broccoli and mushroom sauce and béarnaise sauce.
Then ice-cream fresh fruit and frozen cheesecake.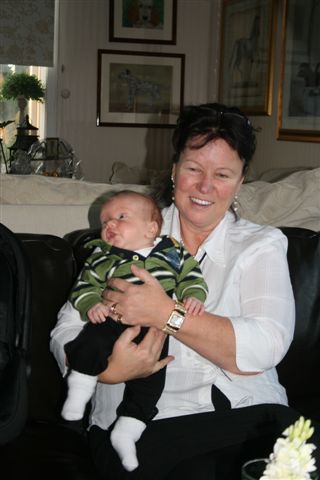 Most popular this day was Eddie, and he was so tired *S*(of us probably)!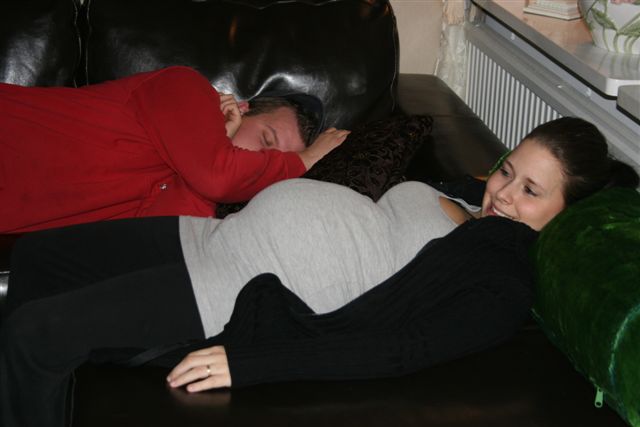 We all start to wonder what Nathalie have in her stomach *S*...is there one more left inside??? Jimmie was tired and fell asleep after dinner.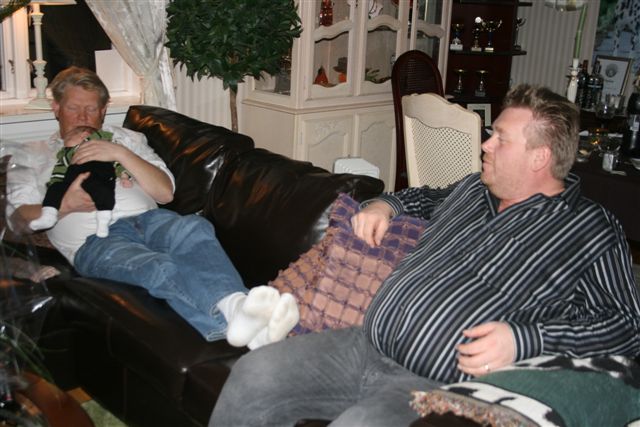 Nathalie said that Eddies new clothes from Diana and Andre will fit perfect at Christmas! Rune was looking at Roy when he took care of Eddie....but said that it was nothing for him! He have never ever hold a small child in his arms. He think that they immediately will shit and throw up on him *S*!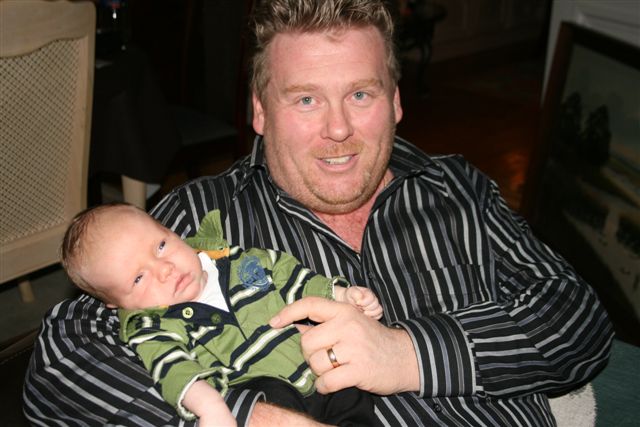 But of course I did what he was afraid of.....put Eddie in his arms!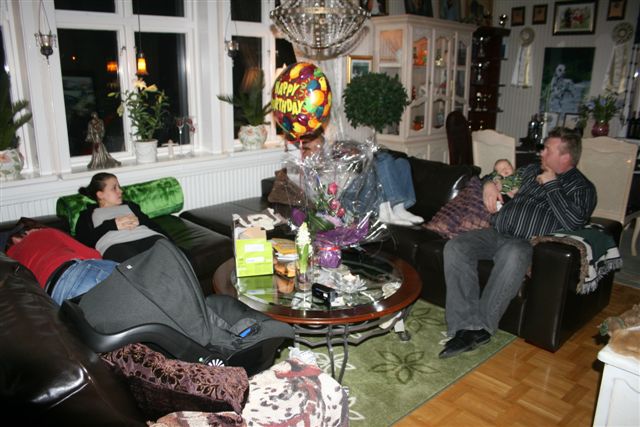 And he was the best babysitter, he was surprised too that it was not that dangerous at all *S*!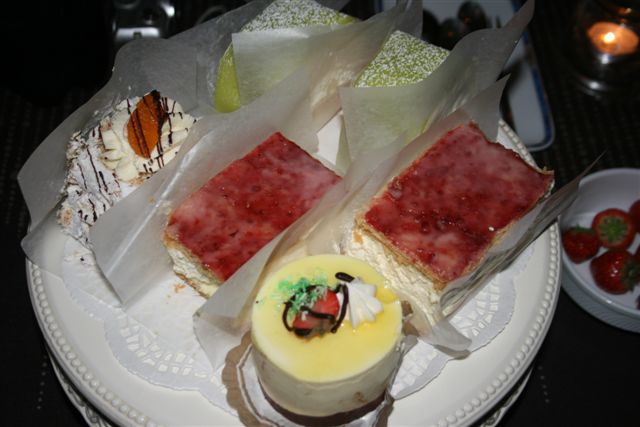 Then it was time for coffee and cake.
Then for sleep again.
Then Eddie was sleeping in the large sofa.
Later in the evening Jimmie ordered bacon (Runes) and egg, and then they have to exercise........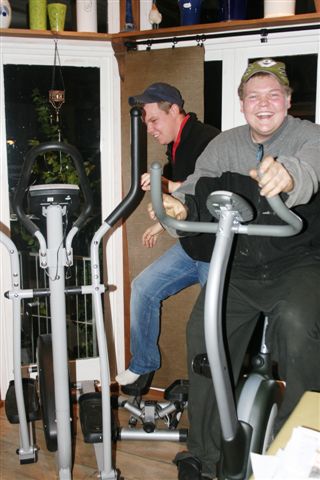 I was jealous how long they could exercise without pause....Jonnie got a stowaway on his cycle *S*!
Friday 14 November 2008
Continue to fix in the house, so much to do I have been lacy all summer...but now it will be a little bit better for every day.
On Saturday, Nathalie, Jimmie and Eddie are coming for dinner and we will celebrate his birthday here. Looking forward to that, even if I get new photos from Nathalie of Eddie many times a week I would like to see him in real and to Hold Him!!!!!
And after the weekend we will get visitors from Russia, Sankt Petersburg so I have to make both guestrooms ready too. There is a bitch coming here for mating and they will stay fore some nights.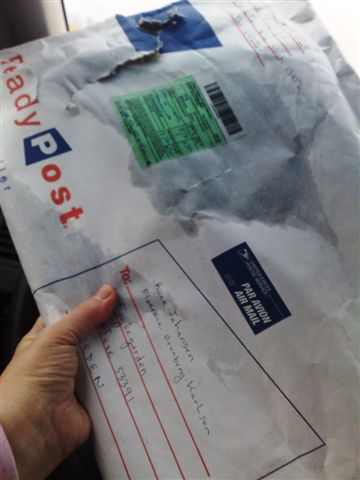 We got a wet package in the post today and I was soo curious..it was from USA. Two large Magazines from Inna and Carl with photos of DISCO my beautiful darling, and with their other Dalmatian from kennel Perdita.
Disco have got a new handler, a lady, and I can see in his eyes that he loved that (he always have been a mamas boy) this will suit him perfectly. Thank You so much Inna and Carl for shearing this nice pictures with us and that You give Disco a new handler, looking forward to hear more about his life with You.
Suddenly my phone rang and it was Jennie.......she just got a call from Ellies fathers girlfriend Sandra she told her that Ellie got sick!!! Ellie is with her father, Sandra and Kevin her little brother in Sälen to skiing. Kevin got sick and they have to go to the doctor, he got false krupp and he have hurt his toe and it looked terrible.
When the doctor was looking at Kevin...suddenly Ellie fell down on the floor and they could only see the white of her eyes....
The doctor immediately took care of Ellie instead and Sandra called Jennie that called me....we were sooooo worried. Oh poor little girl she is just like her mother she was pail and thin (when she was small *S*).....we really hope there won't be anything serious with her. Minutes went and it felt like they were hours.
Then I got the message from Jennie........Ellie have passed out when the doctor was looking at Kevin's ugly toe...she thought it looked sooooo disgusting *S*. Sweet little "chicken mum" how she frightened us all!!!!!
Jimmie remind me of that she is just like Jennie was when she was younger.....Every time that Jimmie was bleeding nose blood, and he did VERY often from both nose and throat and he was running around in the house screaming before he found me (we had a large house *S*) so it looked like someone have killed someone. Often when he was screaming Jennie came running to help, and when she saw all the blood she fainted instead. So when I came running Jennie was lying at the floor with pain after her fall and Jimmie was screaming and bleeding...it took some minutes every time before I found out who was bleeding. But we learned from time to time what it was..the same procedure every time *S*!
Jimmie about 5 years old with Gangster as a kitten. Probably have he seen me putting earrings on this morning and coloured my lips and put something in my hair, and then he have done the same *S*...but he doesn't seem to be happy with the result .....

Louice send us photos of Nisse 11 month already.......he look soo happy!! Photos from Louice.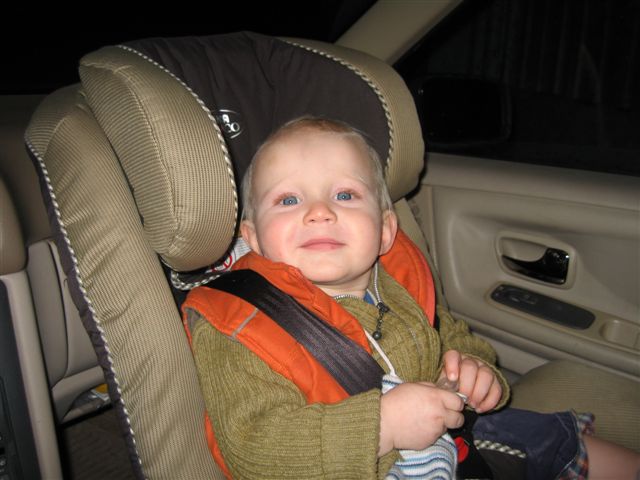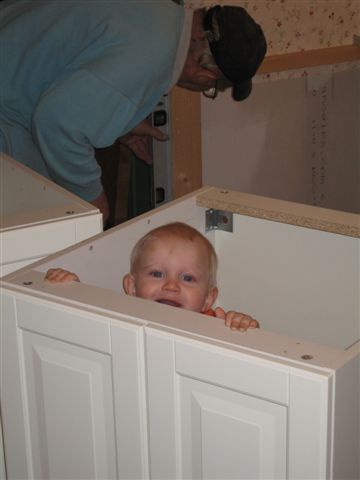 In some weeks Louice and her family are moving to their new home that they have renovate for a year now..I am so happy for You Louice...finally! Well done You are such a "Super Mum"!!!
And here You can see Luca Laurila with his harem of Bodyguards *S*!
Photo by Pia.
Thursday 13 November 2008

Today it is JIMMIES 24 Years Birthday Hurray!!!
Today I have some customers in my store so I've been out there for about five hours. I love to be there and soon we will start to decorate for Christmas again.....that is the best thing Rune know!!! I love that too but I hate to take it away after New Year, but Runes is willing to do that to so he can put up as much as he want in the end of November.....
He came home from work today and he had bought two reindeer with light on them, that he put on our large gate pole. We have decide NOT to buy more things this year, our laaaaarge closet is more that full already.
He get permission from me to have the light on for some hours in the late evening and he was standing in the window most of the time and sparkled with his eyes as a child waiting for Santa *S*!!
Now we are waiting for just a little bit colder weather and some centimetres of snow, but of course we hope it can come the day after last show this year in Stockholm 6 of December. We hope to take our caravan on that trip IF the weather allowe it.
Thank You Joke and Henk for sending this lovely photo of Shadow resting with his "quack" *S*!
Wednesday 12 November 2008
If my grandfather still had been alive it should have been his 113 years birthday today.
Jonnie and I drive to Lidköping in the middle of the day, he have time at the driving school again.
Jimmie have start to be dizzy so I asked/told him to stay calm and in bed....but he was out in the evening to get Eddie to sleep. Most evenings they put him in the chair in the car and after just two three minutes he is snoring *S*he love to go with the car, of course he will be a truck driving man!!!
We got photos from Vladivostok!
Tyson's daughter Gloriandus Europe 4 weeks isn't she gorgeous!!! Look at the heart on her nose!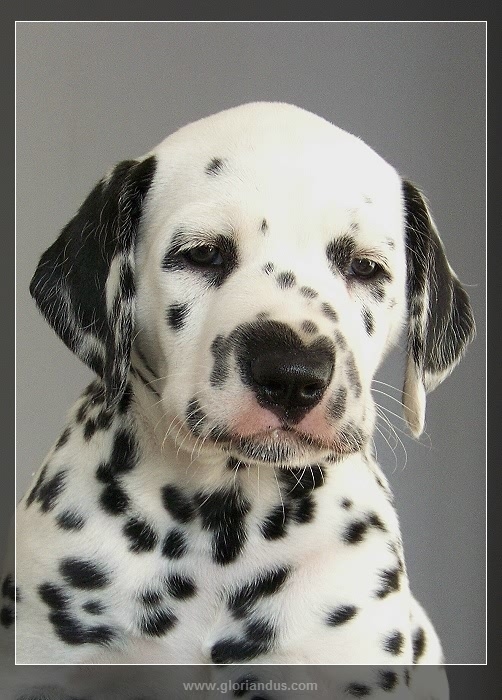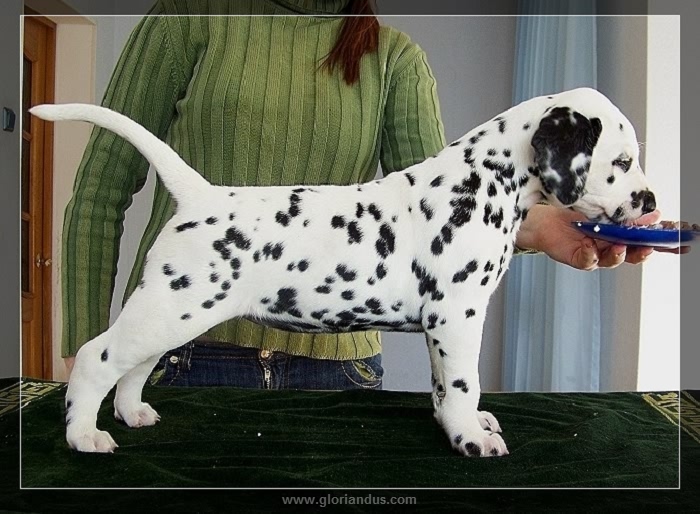 Tuesday 11 November 2008
Jimmie back to the hospital again and he have to be there all day to wait for the result of the x ray.
At the same hospital my aunt came in this morning, because she have been falling on her way to the toilet during the night. My mother called me while they were waiting for many hours and I told her that Jimmie was waiting there to, so she went looking for him and found him so both of them visit my aunt for a short while.
Jimme got the result of the x ray, thank god they could not find anything wrong, he just have to wait some days now for the borelia tests they have been taken.....so we just have to wait and see.
Most of the day I was in phone and in the middle of the day to my doctor with my foot. I have got bloodshed under the skin because of all bandages for many months now so just now they cant do it anymore. The skin has been too thin. and it hurts like hell when I am going without my bandage.
Monday 10 November 2008
Now I know that Helle found her car between all trucks, because I got mail from her today *S*!
We went to bed at two o'clock and I was so tired that I did not hear messages on my mobile phone close to my head 30 minutes later!
When I woke up at 10 o'clock in the "morning" and checked the phone I saw that I got messages from Jimmies number in the middle of the night...and he is ALWAYS sleeping then because he start to work very early......I immediately get scared and think for a short second that Eddie was sick or something. But Jimmie was at hospital and he was lame in one half side of his face.....then I was even more scared then before and called Nathalie immediately. She told me that they have checked Jimme and want to keep him there they have taken EKG and lot of tests so far.....it have start with his tongue and then more and more and higher in one part of his face and further to his eye and so on. They say that they will take a bone marrow test on him...he almost died...he is sooooo afraid of injections o needles.
They sent him to another specialist hospital in Gothenburg to a neurology doctor, there he have to wait until ten o'clock in the evening before they have time to check him. They sent him home and he will go back for an x-ray of his head tomorrow.
Raining all day long and our dogs were playing inside.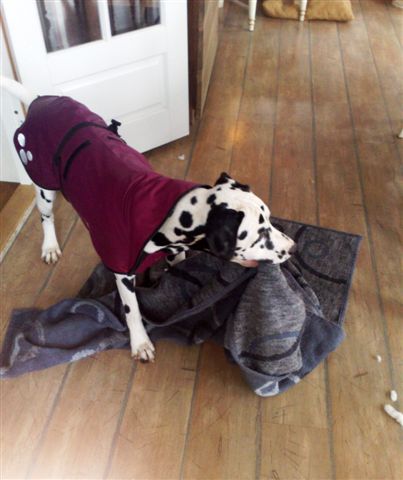 Naughty boy!
Sunday 9 November 2008
We have decide to go to the show early, just to get a parking close to the show area, so even if the judging didn't start until 10 o'clock we were there already 8.30. We have already then take a shower and eat breakfast (bacon and egg). I took a plum to look at..I can't walk away without taking anything out of all the nice fruit there..it is an old habit *S* that now is not allowed in this diet..strange!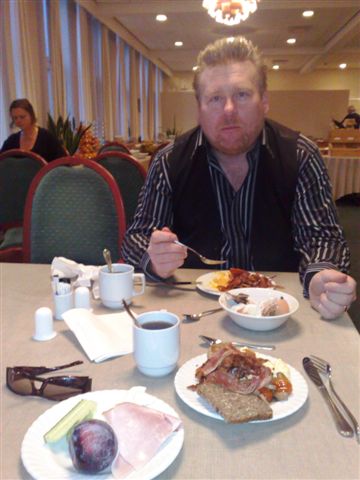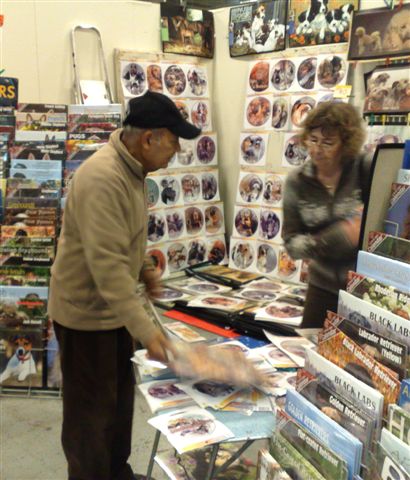 This will be the perfect place for the World Winner Show 2010 here in Denmark...Huuuuuuuge parking and lot of large and light halls most of them with perfect floor. Lot of coffee shops (that we passed this time) *S*...I have bought a salad at the hotel that I eat during the day..but Rune eat only twice a day..as always...and that is not so good, but he drink Pepsi Max all the time.
In Denmark it starts with champion class and there were our worst concurrent at once..Helle and Zacco of course, but we know it already. Daddy got excellent in junior class and get the title NORDIC JUNIOR WINNER 2008, Hurray....in the end (the system here are like in Europe, and at WW Show in Stockholm this year). Only nr one from each class come back to the last competition. First of all some class winners met to compete for CAC....and DADDY got it....Then the others without Junior is running for the CACIB and Zacco got it, then nr two in ch class Bosson is coming in the ring and run against the other class winners!!!! Bosson get Res CACIB...but no one of Zacco and Bosson need it, both are already International Champions.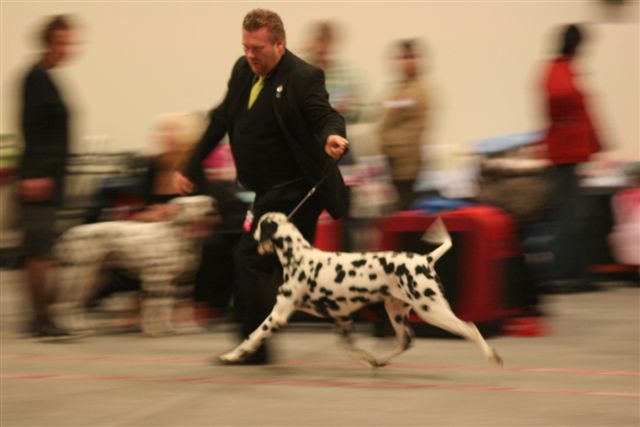 Zacco was happy to meet one of his owners, Sören from Denmark. Only strange photos of Daddy today *S*!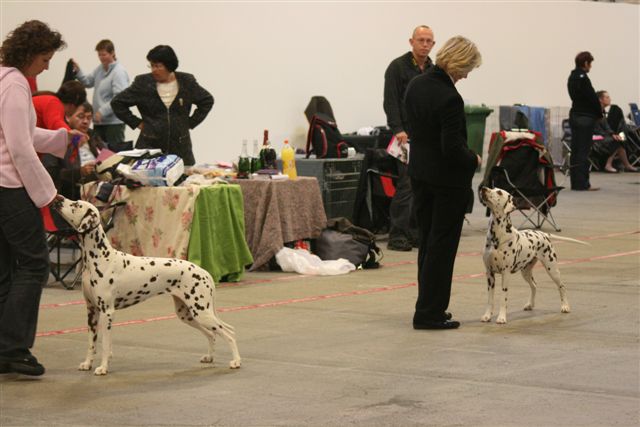 Bosson's son from Toot's in Norway living in Denmark. A bitch from Spotborne living in Denmark, and Helle with Diva from Norway.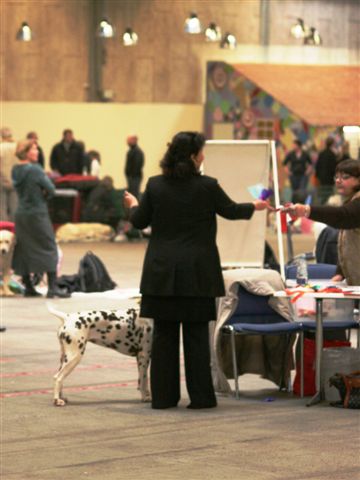 We got a red and white rosette for the title, Thank You!!!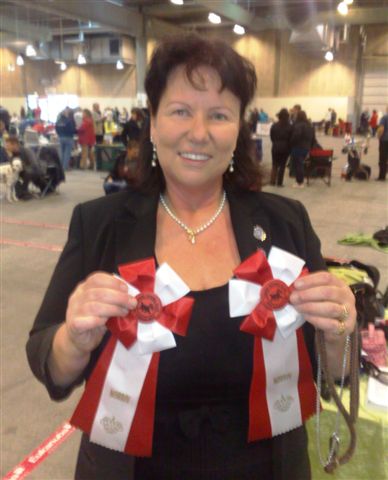 Then the bitches..first five champion bitches and Devlina was nr one! Then five junior bitches. Gloria was nr one and Bell was nr five. Hurray one more NORDIC JUNIOR WINNER 2008 for us today, that was more than we expected but of course we have wished us that.
All nr one bitches run to get the CAC, it went to Diva and Helle (again!!!) That also became DK Ch*S*, then the champion bitch came in for the CACIB, even this goes to Diva, damned. In the Best of Breed class there were only four dogs left. Daddy, Zacco, Gloria and Diva....Two from Norway and two from Sweden. Rune showed Daddy, Helle Zacco, I have Gloria and Erling showed Diva.
BOB with one more title *S* was Zacco and BOS was Diva...all get to Norway today, but we were very pleased for our Junior titles!!!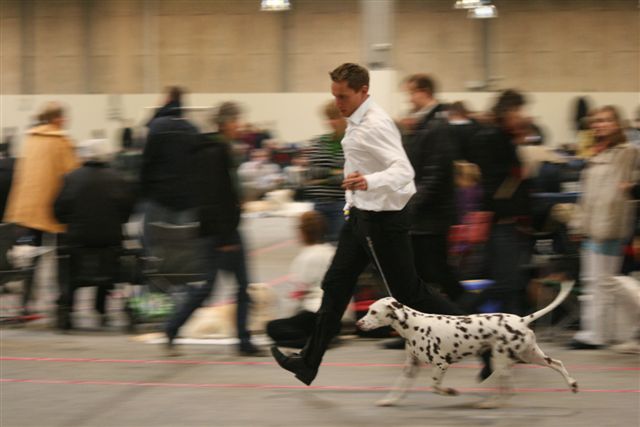 We showed the breeding group with 3-6 dogs, because of Devlinas season and that Bell was to small in the group we showed Gloria-Daddy -Bosson together. And thank You Pia that showed Bosson so perfect in the group. And many thanks even to Helle that showed him in the ring of honor in the late afternoon....well done.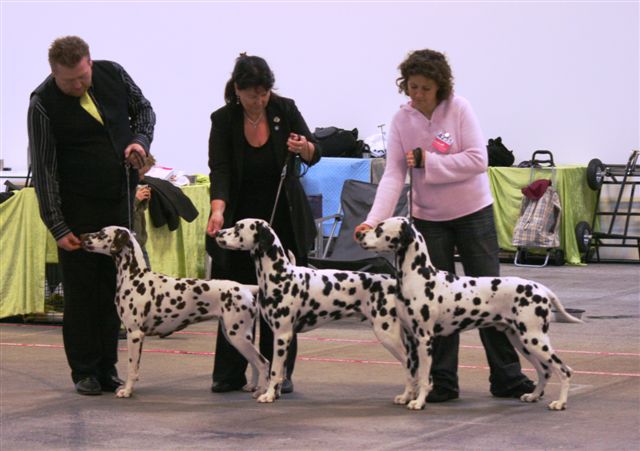 NordicJr W-08 Jilloc's Splendid Choice, JWW-08 NordJr W-08 Lux Jun Ch Jilloc's Sugardaddy, Int Nord Sf Est Ch Jilloc's Loverboy.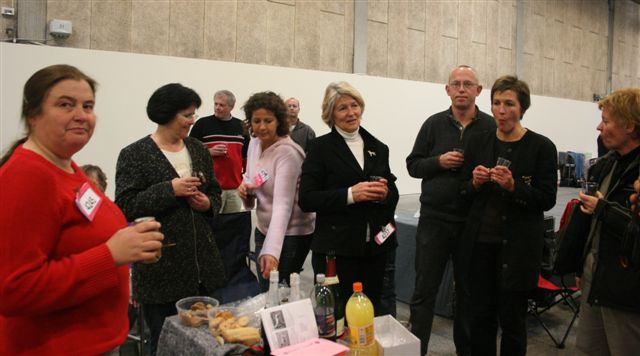 Nice at ringside with chocolate, cakes and champagne and Pepsi to celebrate Sören winning best Dalmatian of the year.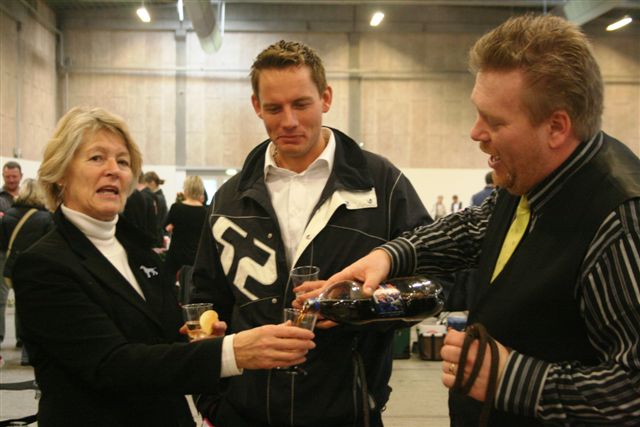 There were three crazy people from Norway (at least two) and they start to sing "Seiern er vår" and "We are the Winners" and actually we were *S*!!!
Bottoms UP!!!!!!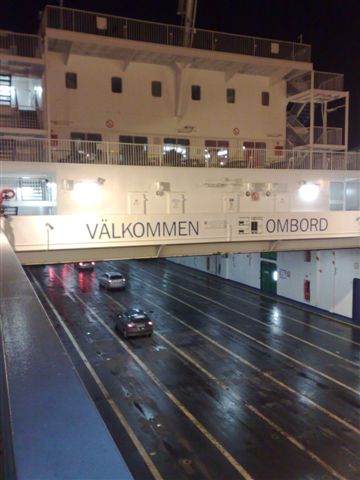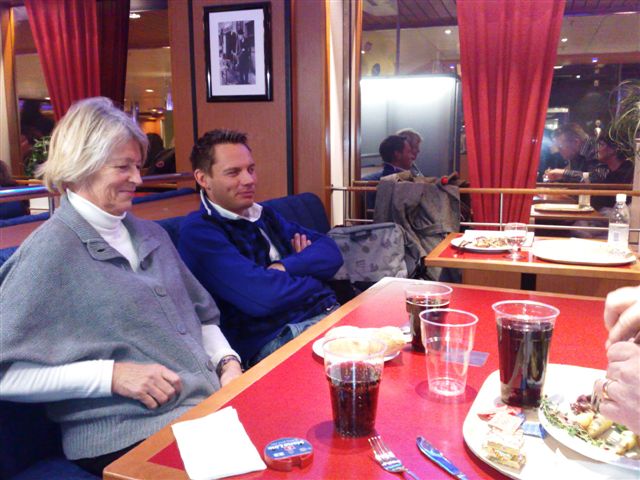 Welcome aboard! Some of us eat dinner.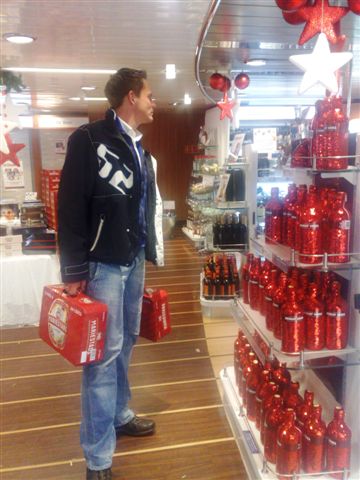 Helle have problems to decide which wine she should buy, so she bought them all *S*!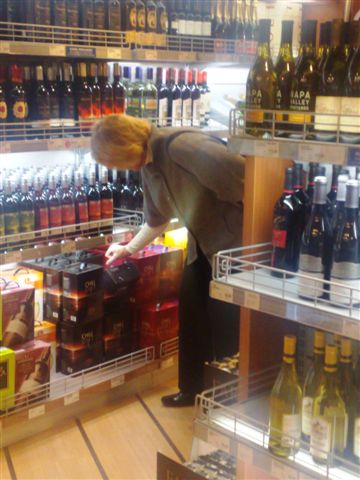 Oooooooo, here is wine .......Maybe I take one to Norway too!!!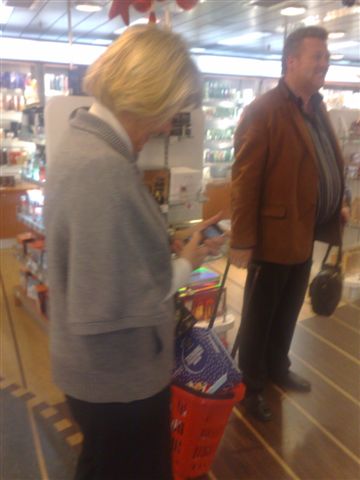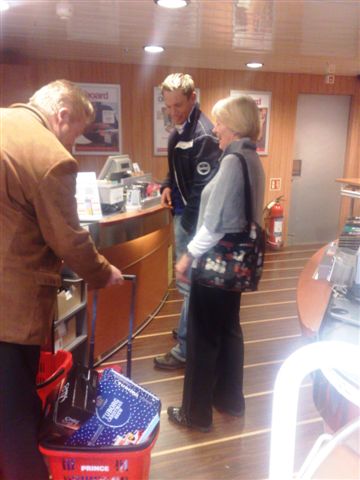 And it was easy to shop with TWO Toyboys helping hands!
And with all bear and wine it was not that easy to be steady on the legs *S*! I did not buy anything but played on the machines instead
and suddenly I won first 158 :- and just after that 805:-, I was more than happy.
After a nice day with good friends company we entered Swedish ground again almost at midnight. And we have 150 km home and Helle had the double and poor Erling at least one more hour than Helle. We were all tired but happy for everything that we have got this weekend in.
Trying to find Helles car was NOT that easy..they have put her together with all trucks!!!!
Saturday 8 November 2008
Up at 5.30 and on our way to Gothenburg to take the ferry to Denmark...in Denmark in the middle of the day and drive about 180 km to Herning and the hotel. We have 5 dogs with us, and Devlina is in season *S*, very funny!
The Show is tomorrow and 34 Dalmatians are entered for the judge Andreas Schemel. If he judge in the same way as he did in 2002 in Malmö and the Bridge Winner Show...I have a good feeling that he could like my Gloria. He made her grandmother, my lovely Zally, to BOB (Ch Dalstable's Attention Seeker), that is why we have entered to this show. Tomorrow we will se what he do *S*! We bring some dogs with a bit different type with us so hopefully he like some of them!?! Or maybe not.
I will let You know!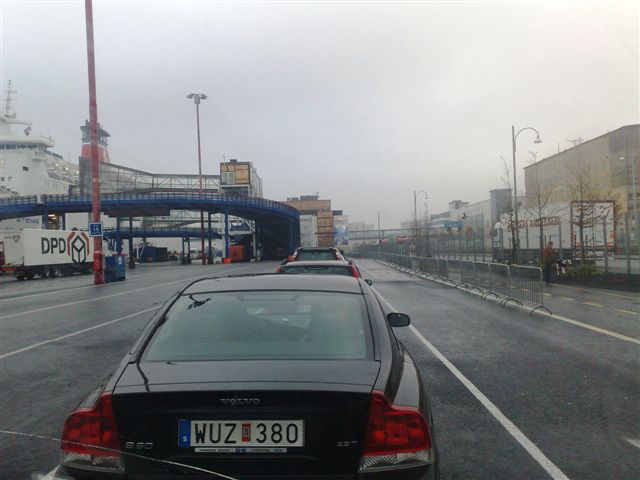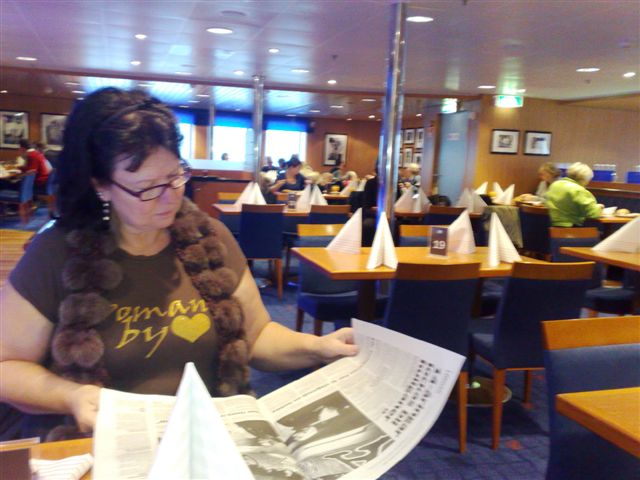 Waiting in the harbour. Breakfast/lunch in the restaurant.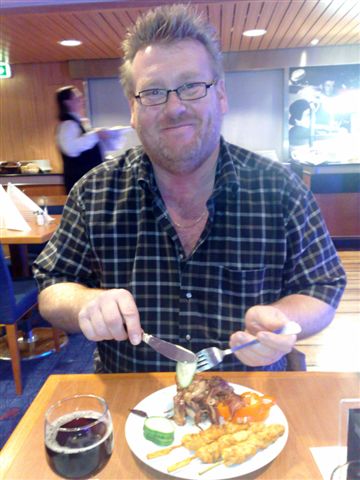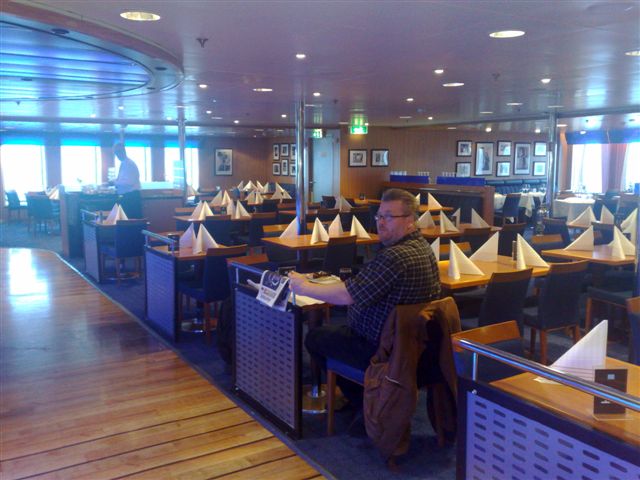 Perfect, we could pick what ever we want. Rune was eating bacon until the restaurant closed *S*!
Soooooooon it is Christmas again!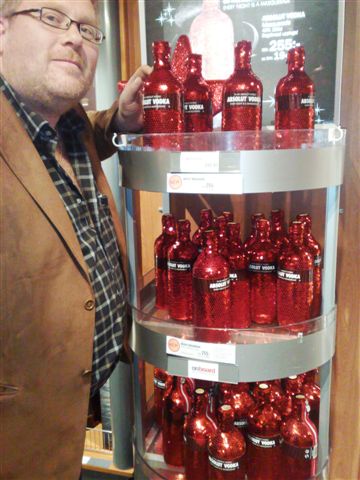 Look such a nice cow/devil I found in the store...but I think I recognise his coat on his breast *S*! I would like to have one of these on the table at Christmas, Rune too. But we did not buy anything today we have spend all our money on this trip (once again).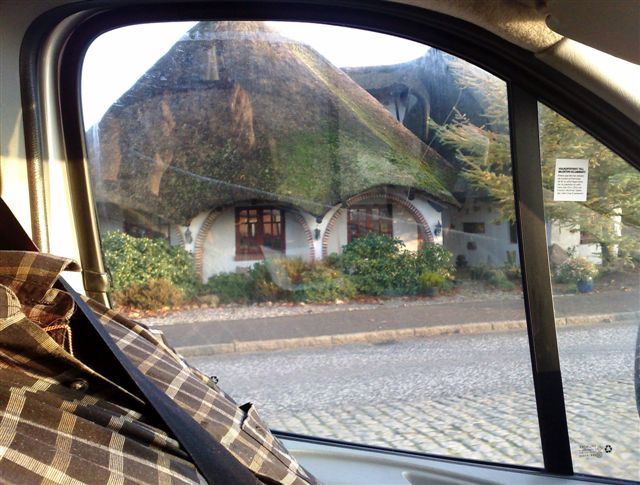 Rune played a little and won 100:- in the end. I found this special and beautiful house after some hours driving.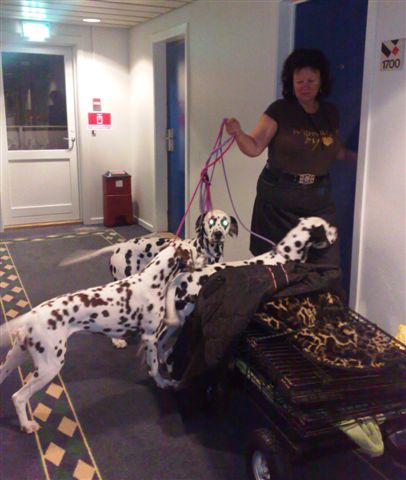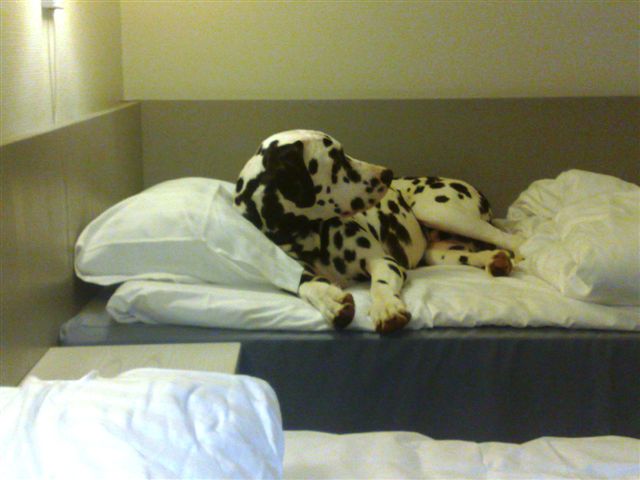 We stay at Scandic as usual, and tonight we used a free night (perfect for us because everything is so much more expensive for us in Denmark).
We have one bitch in season and were afraid that Bosson and Daddy will sing all night long...but Daddy found my bed and was suddenly so tired of the trip. And we always have cages with us on the hotel room, and blankets to cover our beds with. Here You can just call for more sheets when You want to have dogs in the beds...A PERFECT HOTEL for dog owners, Scandic Regina in Herning, Thank You.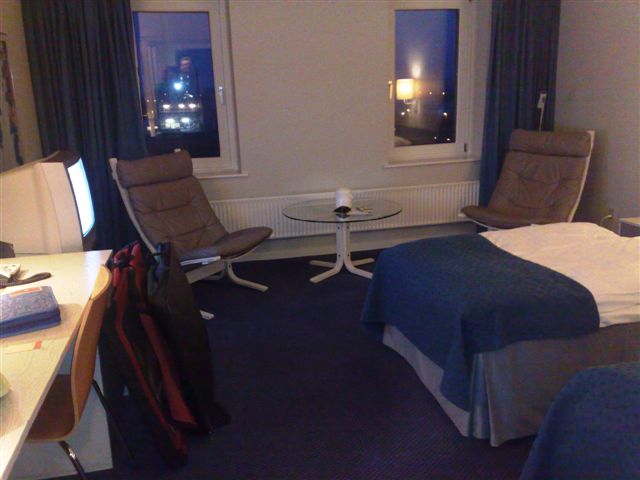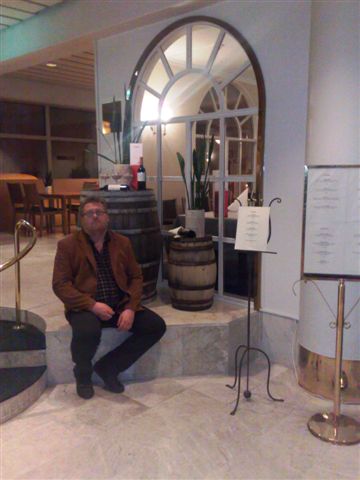 Very nice room with large of space for us and five dogs, and here in Herning You are always welcome with Your dogs. Looking what the restaurant have tonight, but we eat our own shrimp salad.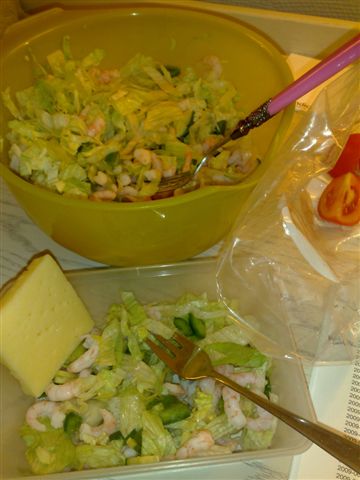 One of us bought something delicious later in the evening......and it was NOT Rune!!!
And I did NOT regret it AT ALL!!!
Friday 7 November 2008
Rune was working and in the middle of the day he went to the hospital..but they could not find any infection on him...
he was back to work again.
I was home and give some dogs a shower before this weekends show in Denmark on sunday.
Thursday 6 November 2008
Lacy day (at least for me)......Was looking around on Internet a lot, that is a thing that we never have time to do anymore.
Rune have still pain in his throat and some fever but he went to work anyway.
In the afternoon Hanna came to get her dog food. She had a present for Gloria because of her win in Belgium. Gloria was hoping for something to eat..but it was a very funny QUACK and Gloria did not think that she was allowed to bite in it...She know when she is taking my teddy bears in the bedroom and guestrooms that I am screaming NOOOOOOOOO!!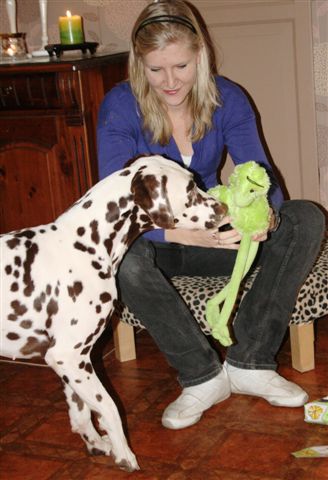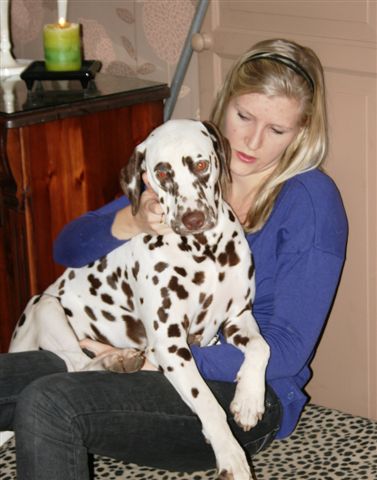 Something to eat? Ohhhhh a green quack!!! Sitting in Hannas knee for hours!
I forgot my dinner in the oven.....my vegetables was black, the fish like chewing gum and the spinach was black/yellow....Blah.....but I eat it anyway *S*!
The rest I gave to Devlina...she was happy!
Wednesday 5 November 2008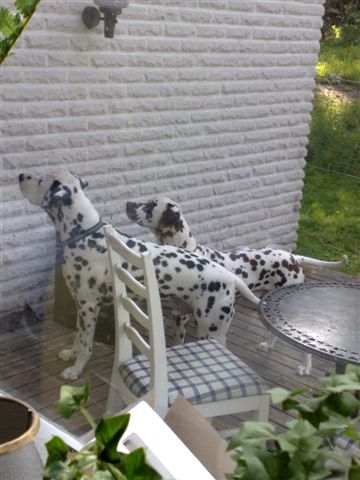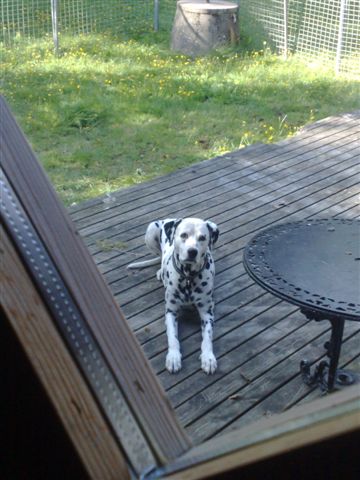 Elliot and Diamond looking if someone is going to open the backdoor.......Elliot saw Jonnie through the window when he was taking photo of him.
Photo by Jonnie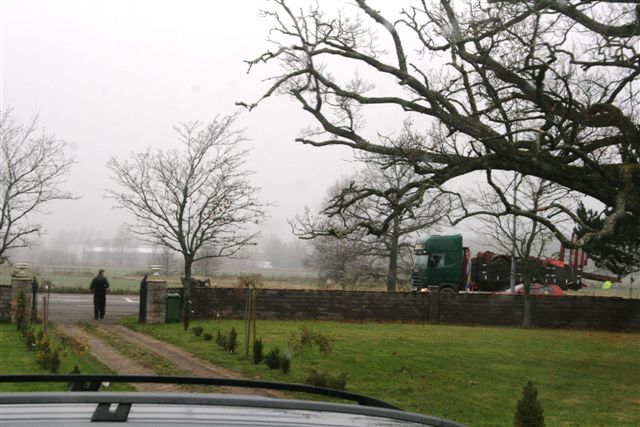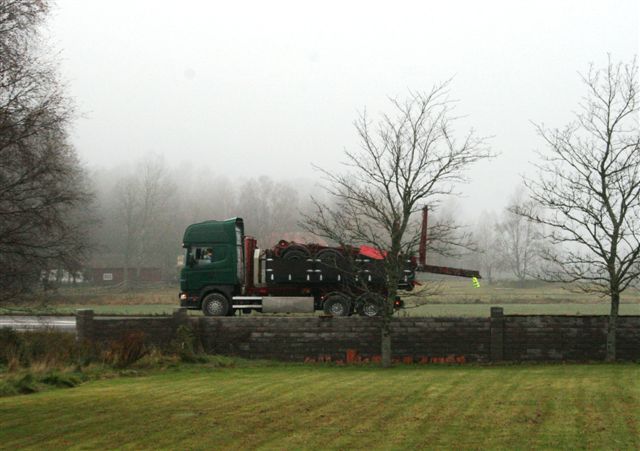 Jonnie was here to bring his breakfast to the truck, they were on their way to south of Sweden.
Gloria had a busy day too look at the workers that took down old electric lines, they've now made it under the ground instead.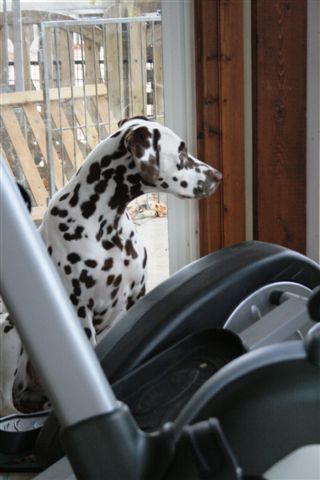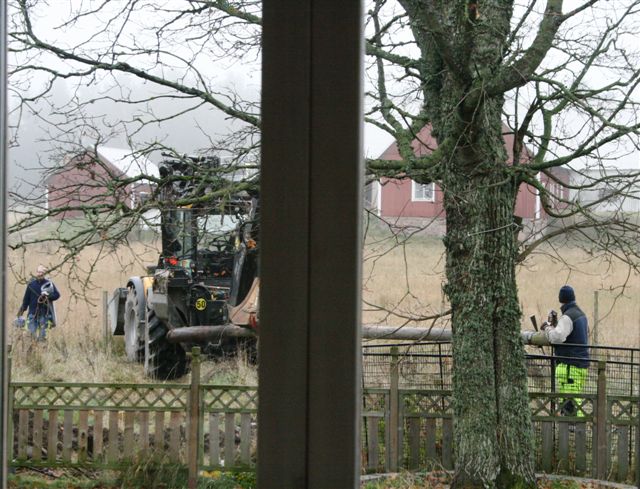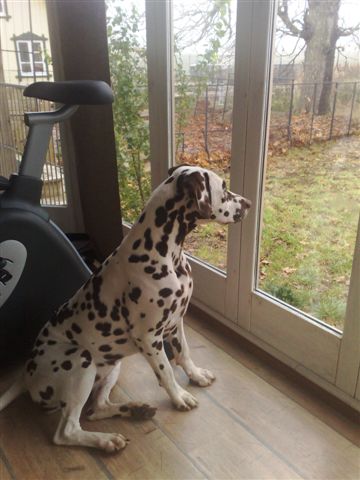 She was sooo interested, but it was a hard work to check when they work outside the kitchen window.
When they were ready for the day, she slept for many hours *S*!
Tuesday 4 November 2008
BUT Daddy really behave.... when Rune went to work this morning he continue to sleep and dream and wag his tail in the bed while he was dreaming. When I went up to take a shower he came into the bathroom and give me a look and went back to the bed again. When I was ready I looked into the bed and he was lying there with a teddy bear that he have picked from the couch.. one of my old ones....ohhhhhhh I was afraid that he have killed him like he normally do!!!! But he was just licking him so he was totally wet..just like Devlin did.
We will take a new chance tonight with him in the bed again...and see if it was a "once in a lifetime" or if he is a better bed heater than before.
I was at the doctor today again to get a new bandage....then I was going to the store to try to buy some healthy food *S*...we are soo inspired to start with some diet now and I try to buy only suitable food....It took almost two!!! hours when I have to read on every package and to make comparisons between different food and packages.
Then I was going to pick Jonnie up. I need his help to go and get dog food and to carry it into the car. There came two police cars in high speed stopping their cars just in front of my car. for a short second I thought....Oh my God. what have I done now??? But they were there for the same reason as us...to get lot of dog food for their dogs *S*!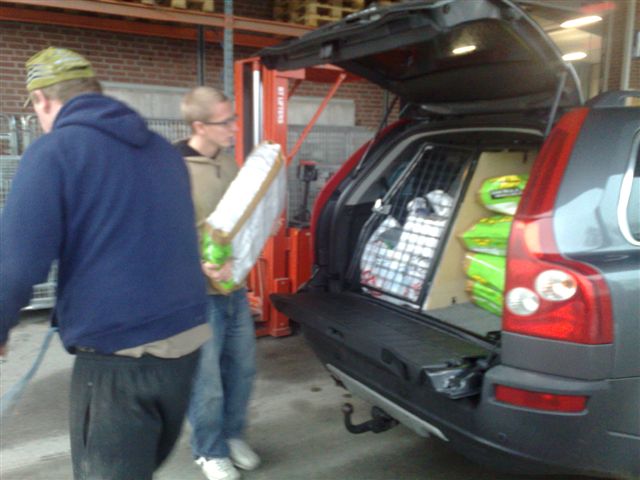 Home and make breakfast for Jonnie (15.30 *S* he is my son)...then Roy need help from him so he came to get him.
I have a bride in the store this evening so we have start to heat up the wing already last night and it was warm and cosy out there. I was there for three hours and then back in here to write in my diary.
Rune is just now sleeping on two chairs in the kitchen, I will wake him up and go to bed now!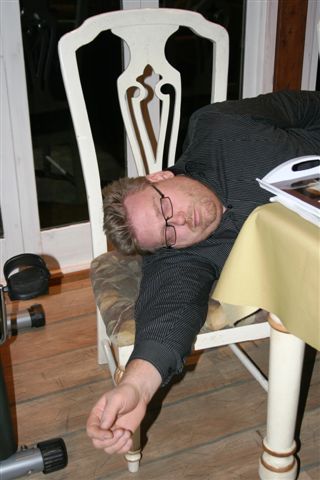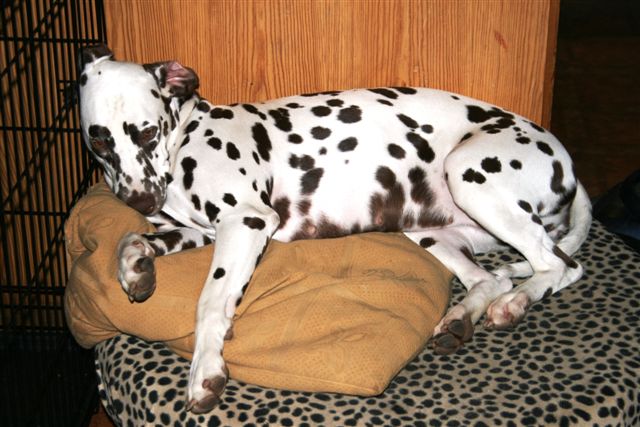 Before we go to bed we unfortunately found those lovely "Stroopwaffles" Rune got from Annemiek last week....so we had to get rid of them immediately.....so we eat them up (Damned...I have done it so well all day, and now I destroy it AGAIN)!
Monday 3 November 2008
Eddie is 1 Month old today!
He is 54 cm tall and 3950 g, good boy he just eat and eat and eat......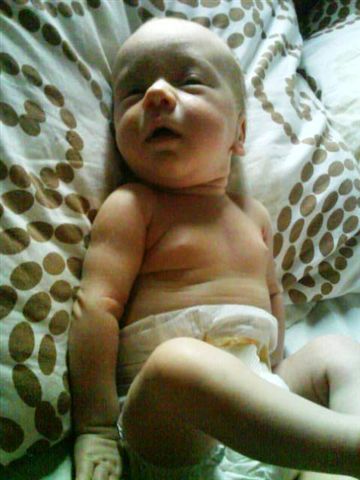 I would like to have him here just now and kiss his babystommac.....Mmmmmmmmm!!
Jimmies truck...he can't almost wait until Eddie is a little bit bigger so he can go with him in the truck. I have already a t-shirt for Eddie, that he can use when he is a little bigger, I will take a photo of it some day. It stand on the back -:When I am grown I will drive a truck too!!!
Last day to enter to Stockholm, but we already have done that last week. We would like to enter some more dogs but we could not afford that. We have to enter to Gothenburg in some weeks and that show is sooo terrible expensive next year. Most people we know will only enter one of the two shows because of that, and we will only take just some dogs instead of all as we use to do in Gothenburg.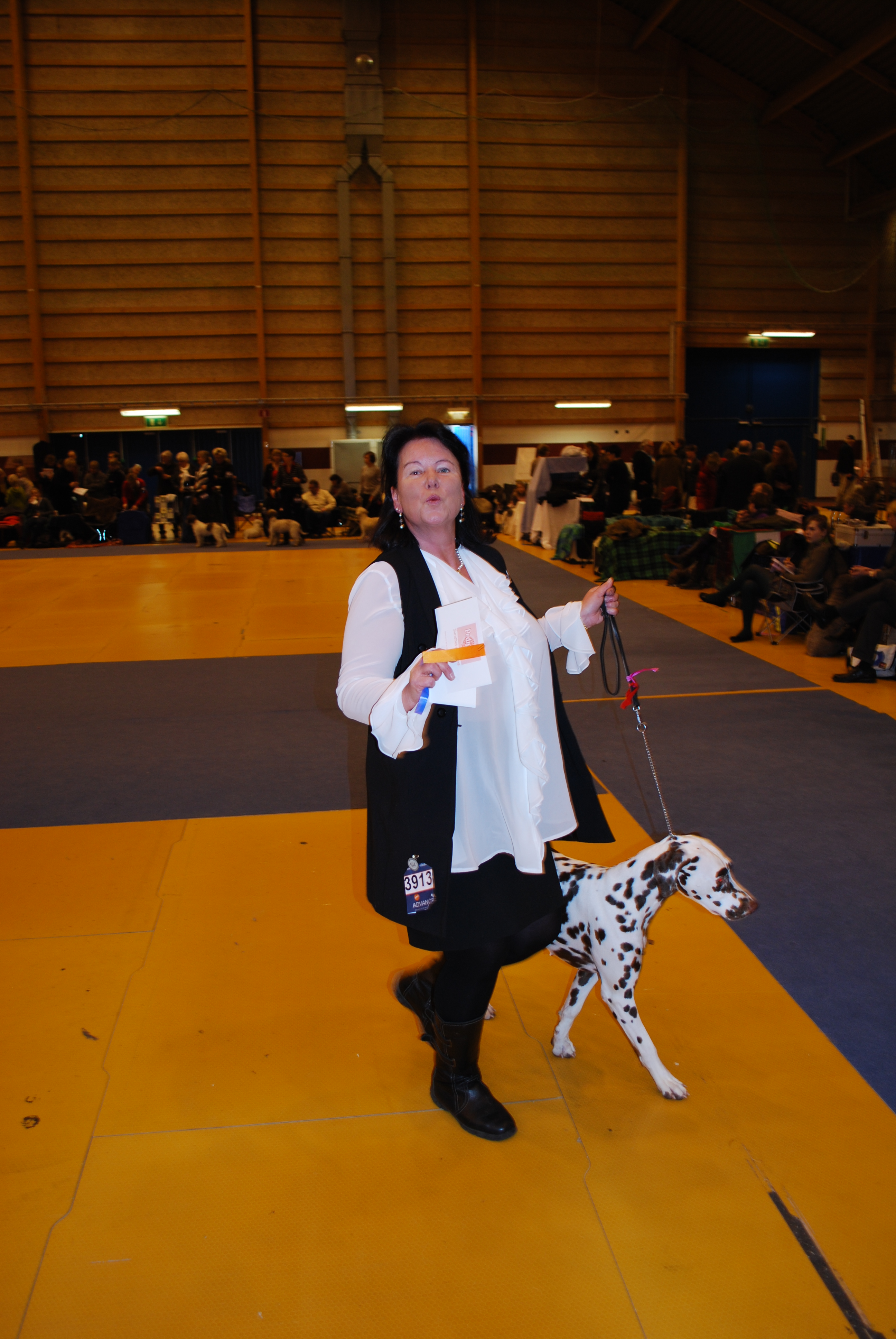 Ingemar took this photo of me and Gloria in Växjö! Jill sent it to me today *S*!
Rune have fever and cough today but he was at his work all day. In the evening we was just sitting at our computers.
Here at home there is bitches in season and tonight it was Daddy's time to sleep with us in the bed. Most of the time some girls are there with us but now the bitches have to be in the kitchen together and we do not want Daddy to sing for us all night long *S*, Rolex and Bosson have not start to be interested yet. When he was sleeping with us before he have been like a caterpillar jumping around and my legs and feet was really in pain in the morning, so I was not that happy to have him in bed again.
Sunday 2 November 2008
At 3.55 my wake up bell was screaming..I jump up at once to wash my hair and try to find my black skirt that I did not find some hours ago...I think I have it in our caravan.. But it was NOT there....do You think I got more stressed than I already was???
Rune found it 30 minutes later in my walking closet there I have been looking for it in the night, typical!
We were on our way from home at 4.45 instead of 4.30. We have to be in really good time because of the cold weather and You never know what happened to our car!
Jenny and Decibel was waiting for us in Falköping, but she is used with that we (read I) always are a little bit late.
Every weekend we can see the sun rise, beautiful.....if we are home we never see it because we are sleeping this time of the day if we can.
It was between -1 degree until -8,5 degrees during our way to Växjö.
It will start in the ring at 9 o'clock but we were there already 7.30..better to be there too early then too late.
We have only entered 4 bitches. Bell and Decibel in intermediate and Gloria in Open (they can go in open from 15 months now, before we had to be over 24 month old) even if she can't get her last CAC in open after 24 month of age. There were 10 Jilloc's bitches entered today, unfortunately 4 of them are waiting for their last CAC and often our bitches take the CAC in front of them even if they have many already but not are in age to became a champion, that is a pity for my puppy buyers.
There were 5 puppies entered and only 6 males today. We have been planning not to go here but entered in the last minute because of the breeding groups competition. We are just now Nr 2 in Sweden of ALL BREEDS so we have to give it a really good try this year. Only Stockholm left after today, and we CAN win.....but of course we are happy to be in TOP 5 in the end of the year.
Our dear friend PO with 4 Dalmatians and one whippet! Jill as calm as always.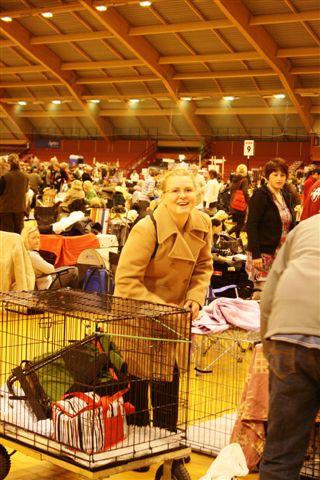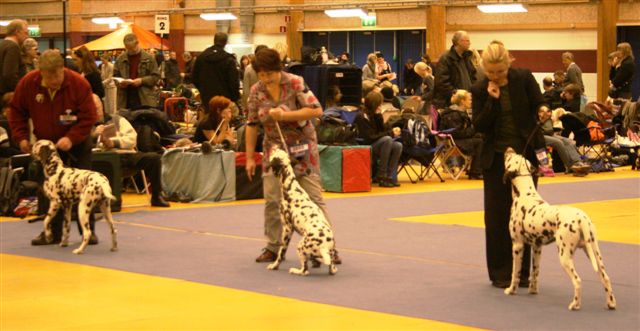 Hildegunn was much more stressed after this morning when her car didn't start. But she was just in time to show her puppies.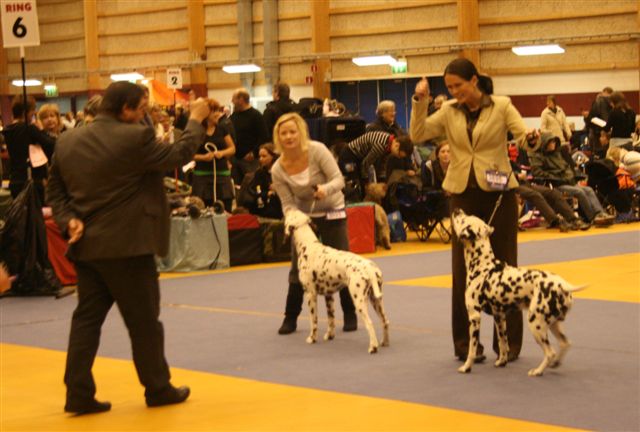 Jill and her dog were to calm for the judge today, he want dogs with high speed. Bente showing a Spotniks male was Nr 1 in open, The Judge Raijko Rotner give her thumb up, and she did the same back *S*!!!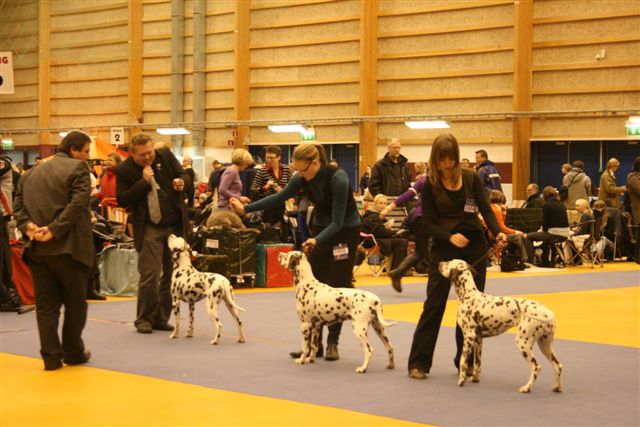 Bell was nr one in Intermediate and Decibel was nr three (but here she still stands on second place). He think it was a little bit toooo much of her, I think she look best of all three.
Breeze and Kristina. There were 13 bitches in open today only 6 got first prize and just some with ck.
Result in open, Gloria, Russin, Angie and Diva.
Hildegunn and Jill was more than happy for their blue ribbons today *S*! Poor girls....but You came home early instead of drive all way home in the night, always something good with something bad *S*!
Photo by Ingemar Sedbring
Perfect back in condition after her litter in Finland this summer. Zacco was BOB and Holly BOS
Jilloc's Splendid choice Nr 2 Best Bitch with CAC and res Cacib, Nr 3 Lux.Jun.Ch Jilloc's Top Model, Nr 4 Jilloc's Run Wild Run Free and Nr 5 Ch Jilloc's Reflection In A Mirror.
Photo by Ingemar
One thing with Växjö is that there is a restaurant where You can pick what ever You want for dinner and taste it all, and they have a lovely salad bar.
Helena C had the Best Veteran today and have to stay for the late competition too.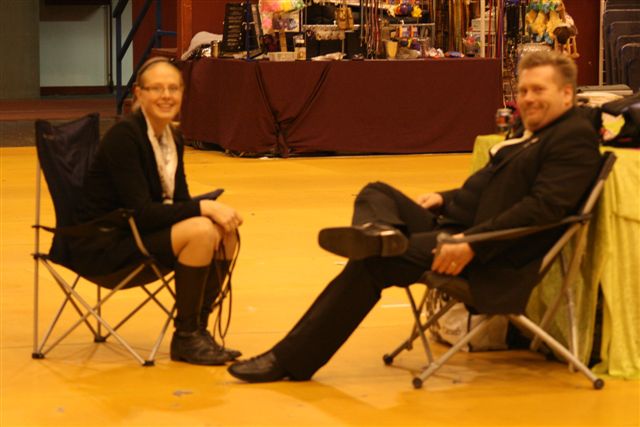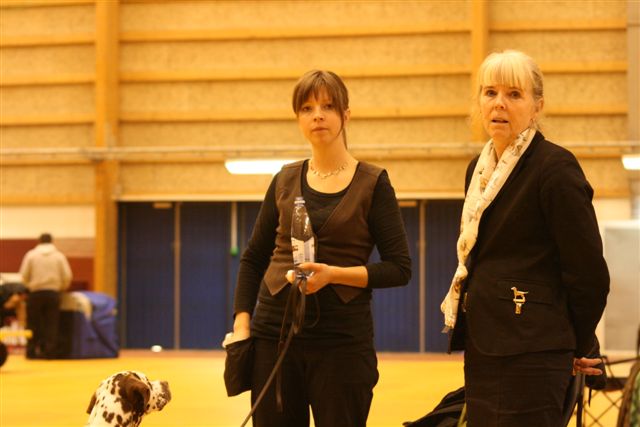 Waiting and waiting. Thank You Lisa that helped us to take photos from the competition of Best Breeder.
Helena and Formo in the Veteran Group. Ewa took a photo of Rune taking a nap before the final ring. It already been a looooong day *S*!
Judge for the Groups was Kresten Scheel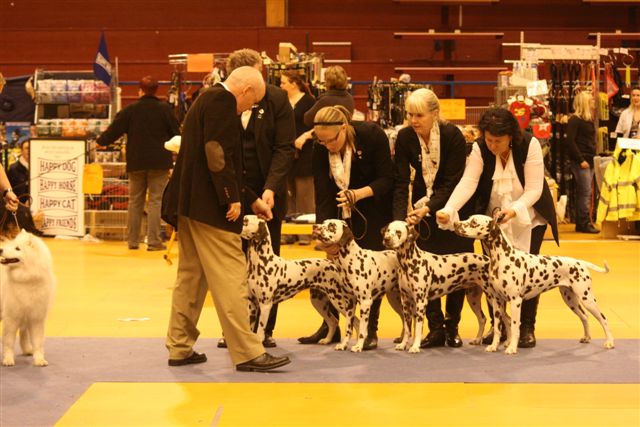 Our four girls behave very good!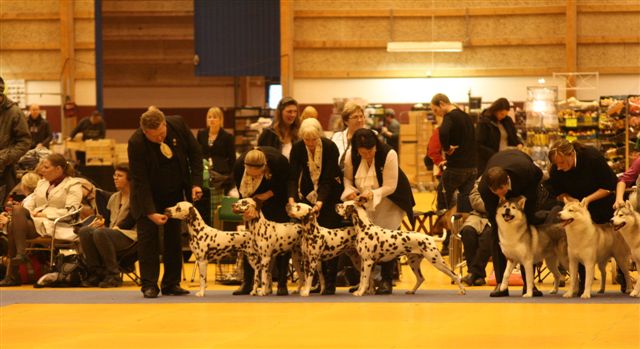 Long time in the ring.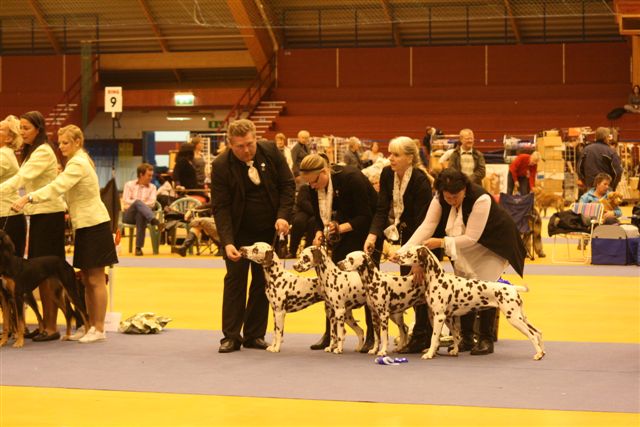 We became BIS 2 Breeder!
Time to relax...Decibel try to eat the rosette.....a long day was over!!!
We were home 19.30 but it feels like it was in the middle of the night. Rune fall asleep immediately and wake up to his bell at 7 o'clock next morning!!!