Diary
Wednesday 31 December 2008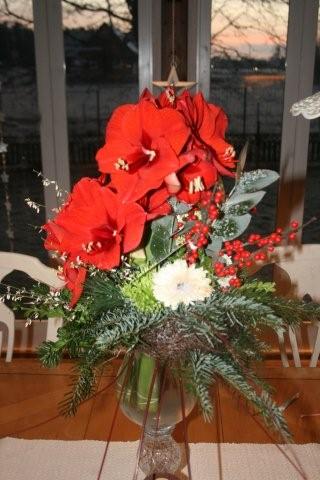 New Years Eve

We were home and made turkey for dinner that we eat together with Jonnie and Roy in the evening.
These days we try to relax and just stay home and look at TV together with our dogs, and we all enjoy it.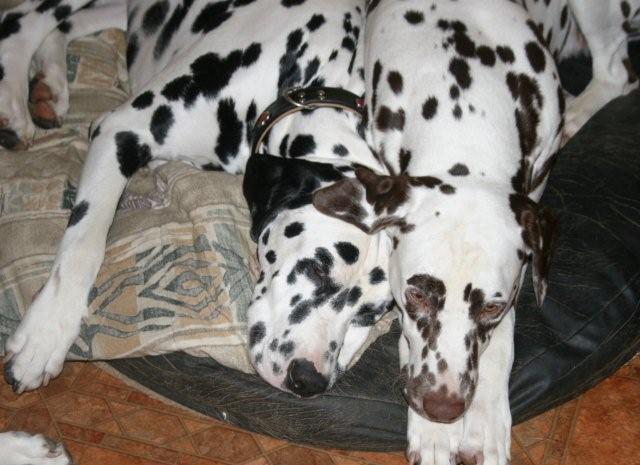 Brother and sister waiting for a new exciting year 2009!

Tuesday 30 December 2008
Rune was working today, but the office closed two hours earlier than normal days.
Disa was mated for the second time late last night....sooo easy - she is a tramp *S*!
I have cancelled my hairdresser today I was not feeling good enough to go there.
Roy was here in the evening with chinese food...I eat something that every time one of us take this food we wonder what it is in it ???? If someone know what it is please send us a mail and tell me.....we can't eat it but our dogs can *S*.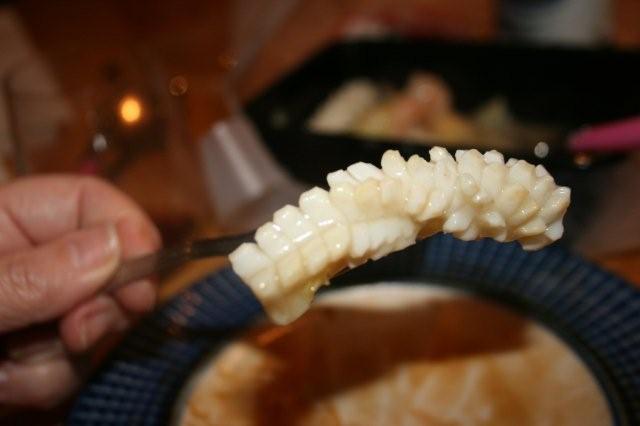 Disa and Jill What is this......it is always in Chop suey?????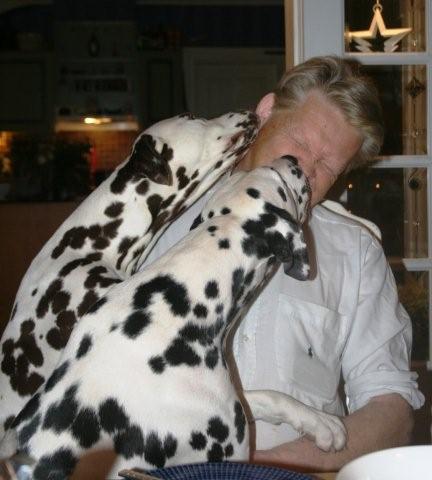 Her comes the food and cakeman......hurray!!!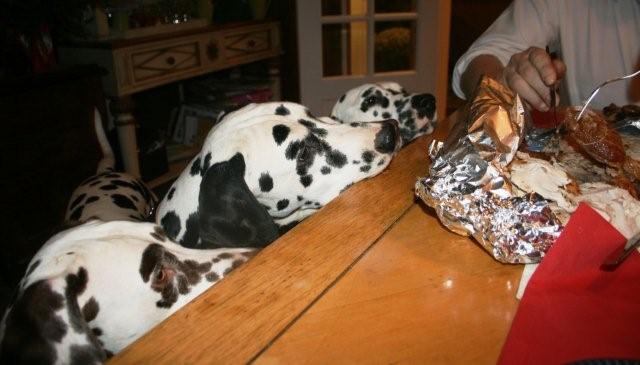 Four noses waiting....
Monday 29 December 2008
Rune is free from work today.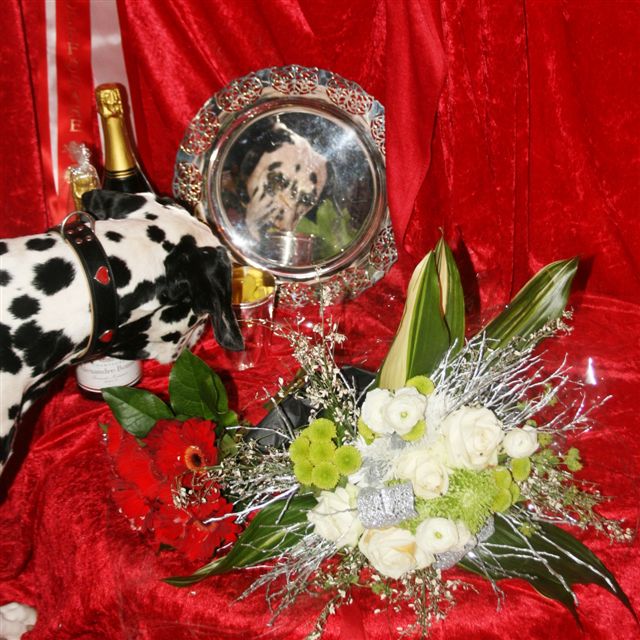 Daddy found someone IN THE MIRROR, but he did not know who it was *S*!
Sunday 28 December 2008
I got an sms 5 minutes to eight but I was to tired to look who it came from......then my mobile phone was ringing instead and I answered.
It was Jonnie and he said that he was close to Älmhult where Lotta is living....NOW???????? I was shouting, so Rune woke up!! I thought he was joking with me.........but no. Lotta is sleeping I told him, so please stop and rest a little until I have talked to her.....
About nine o'clock he was there and get Disa into the car and start their trip back home again. I told him that he and his friend Zeb have to stop and eat and rest on their way back home...they have been looking late at TV last night and decide that it is toooooo hard to get out of the bed after just some hours sleep so it was better to drive directly......he is a nightbird just like me *S*!
At 12.15 they were here with Disa that was soooo happy to meet our other dogs, and I am very proud of our bitches living here at home that let other bitches that they haven't met for some years or never just to move in here and be one of them and share our bed with them or the closest place to my knee without any abjection......as they did with Muzica last month...they are gorgeous!!
In the afternoon Disa had a meeting with Bosson, hopefully there will be puppies born in the end of February in Norway at Kennel Lovinda. Disa is going to Norway already next week with Anne Karin and Rune.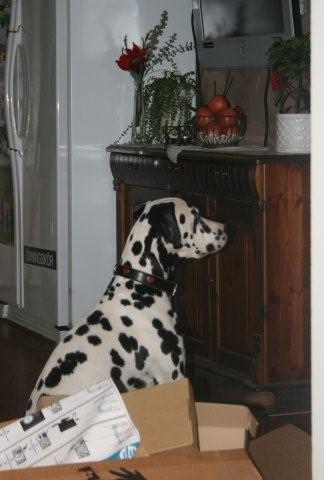 Daddy waiting for Disa ..... stupid dog he think every girl is coming to him now *s*.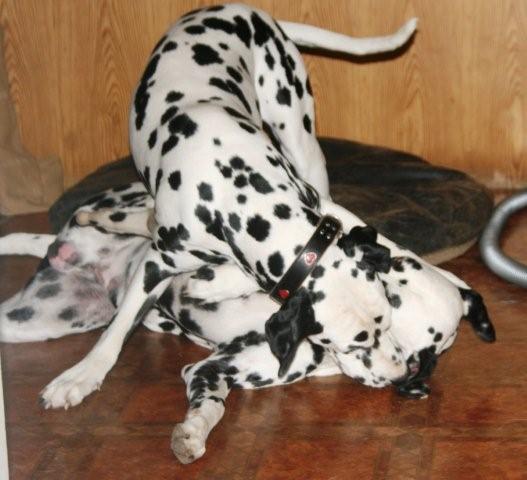 Bosson and Daddy love to play together.
Saturday 27 December 2008
We took a looooong morning, and we need it, especially Rune.
I asked Jonnie if he can go to Småland to Lotta and bring Disa here tomorrow...I know that he love to drive around, lucky me! Of course I can, he said at once...thank god.
We were looking for TV and stayed inside all day long.
Lotta checked Disa during the day (I don't want her here if there is many weeks before she start her season, but I won't miss it this time again) No blood said Lotta, but in the evening Disa was standing in front of Love and act like a tramp.....so I called Jonnie and we arrange that he will go there tomorrow morning.
Jimme have some cups in his home that he have got from truck shows...but this big one is what he want. He was training on a winning pose with one of our big cups already now, the season for his shows will start in summer *S*!
Friday 26 December 2008
I got a sms from Lotta that Disa (Jilloc's Picture of Paradise) was standing and waiting to be mated???????? She was not in season yet...or? After some talking with Lotta we decide to bring her home in some days anyway so it will not be over this time when we are going for mating as last summer. But Love (Sperm or Jilloc's Spermbank) was not interested in her at all.......but we don't trust that girl with her seasons so we will arrange a trip down there to bring her home..soon anyway and check her up.
Rune was driving away from home to go to a show for our Kennel club today. He went away at 6 o'clock..poor man and was home at 8 in the evening..I have been very lacy today and looking for TV most of the time.
Thursday 25 December 2008
Christmas Day
I have been awake half night with pain in my stomach, and the morning was even more painful..... Yesterday I eat "Ris a la Malta" with cream...I love it but my stomach don't!
Nathalie, Jimmie, Eddie and my mother came at two o'clock and after eating a little together with them I was a little bit better....we eat dinner some hours later and at 8 o'clock they drive back to Gothenburg again.
We took lot of photos during the day, here are some of them.
Eddie was still sleeping when he came into, and he was dressed in his nice suit from our dear friend Diana in Holland!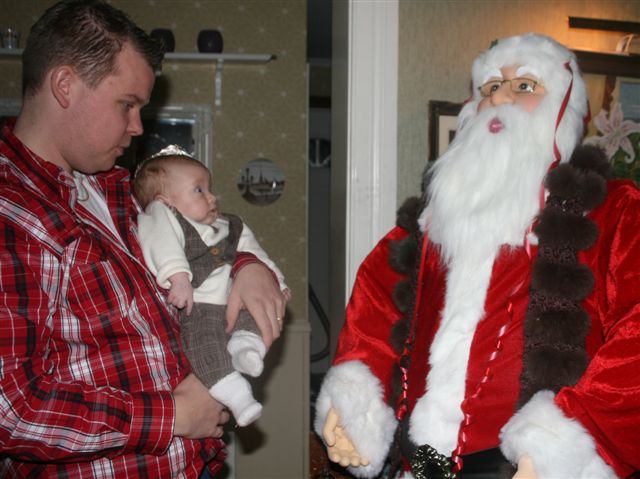 Eddie couldn't stop looking at Santa.....we are all waiting for next Christmas when he is 14 months...what will he say about Santa then?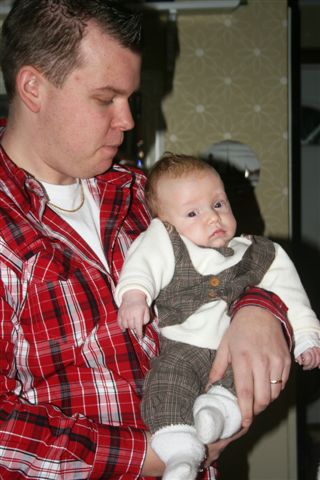 Sooooooo much to look at for Eddie..for ex the beautiful flower from Rebecca and Monika.
Roy was most interested in Jimmies book with trucks, and he got his own calendar with photos of Jimmies cars and other photos!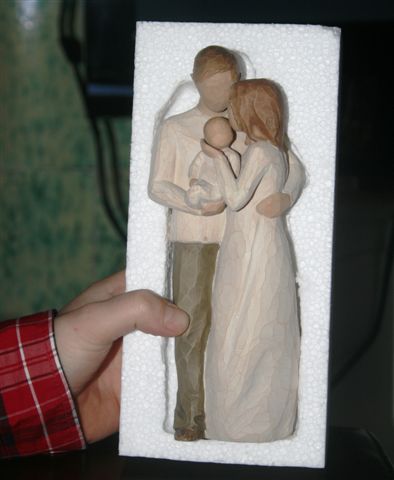 Of course I have bought a baby book with Dalmatians on for Eddie and a "Family Angel" for Nathalie and Jimmie.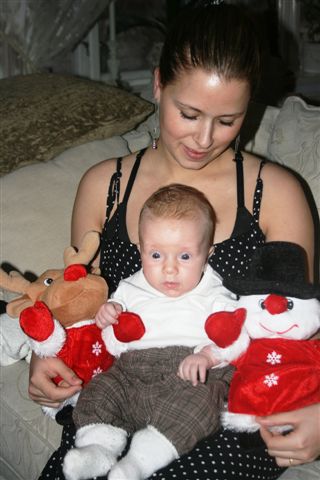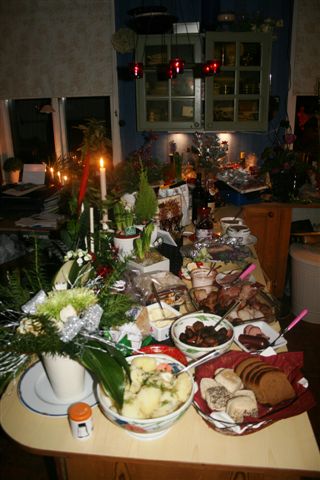 Eddie borrowed Gloria and Daddy's Christmas presents that they have got from their sister Neela in Finland.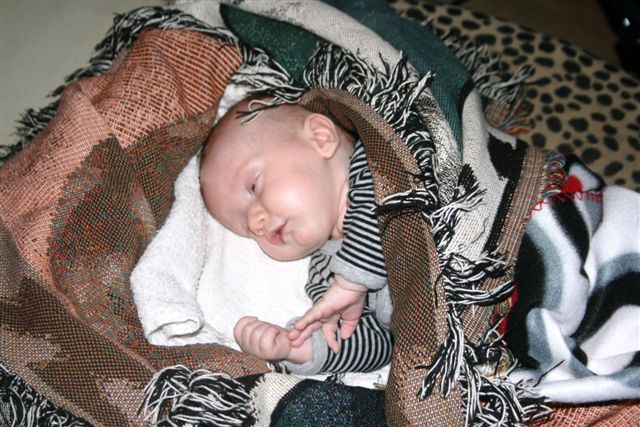 Eddie was taking a nap while we were eating (again)!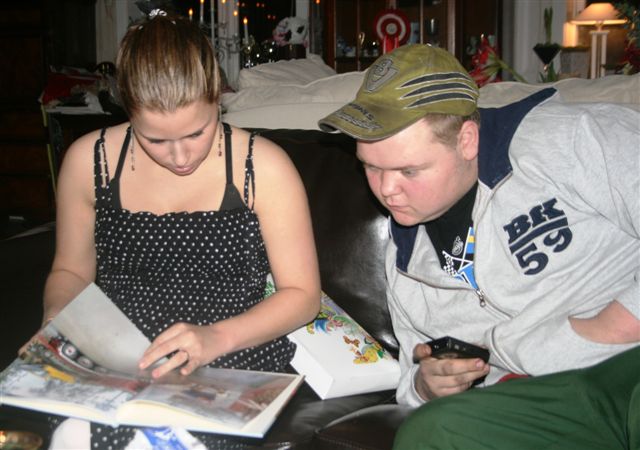 Nathalie have ordered for Jimmie as a present a book with all his trucks in...Jonnie was interested in that book too.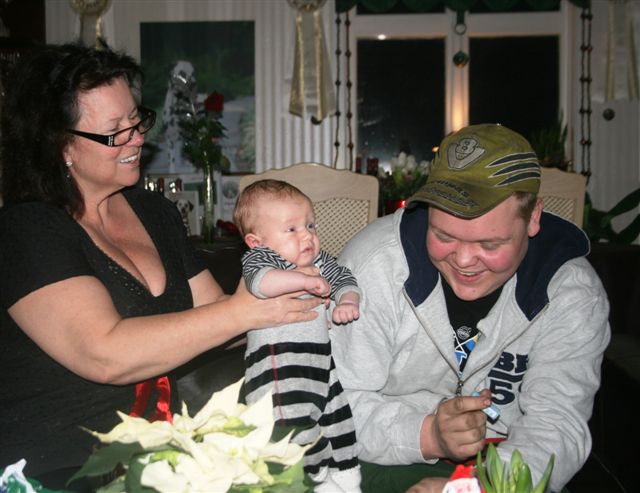 Jonnie have never hold Eddie before so I thought it was time for that now....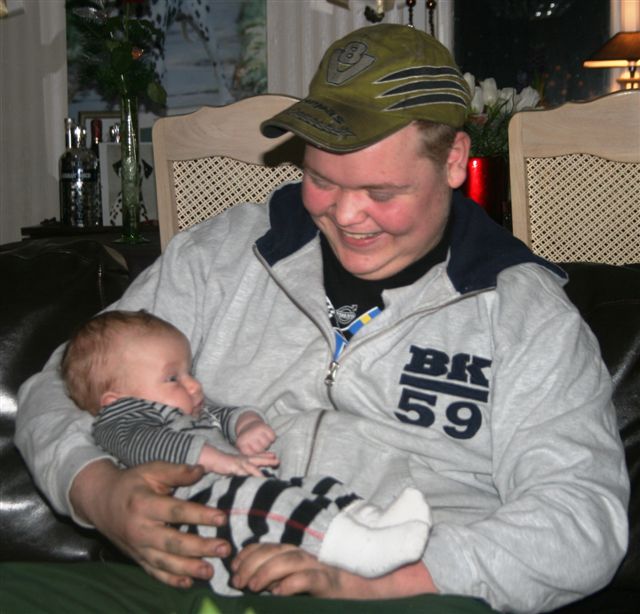 It was a special feeling to hold him......Jonnie told me in the evening....and he was so proud of him self that he did it...and he didn't shit, he said when he gave Eddie back to me *S*!!!
Poor boy...we took so many photos today and he got the flash in his eyes all the time......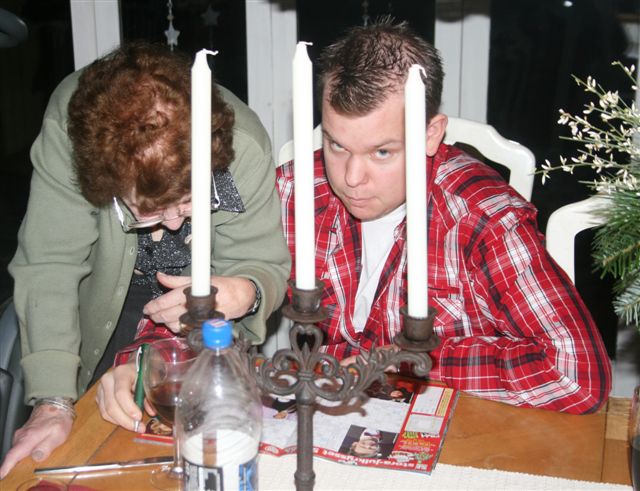 Jimmie was "The lucky one" to help my mothered with her crossword *S*!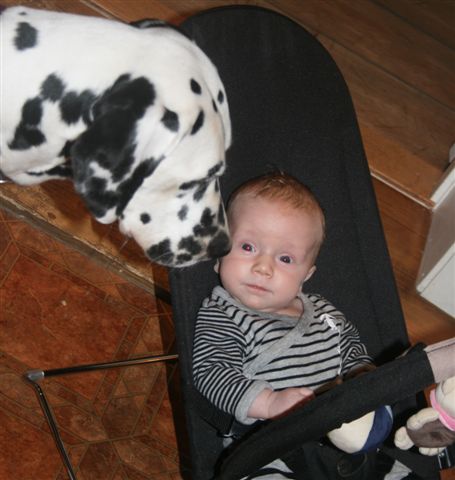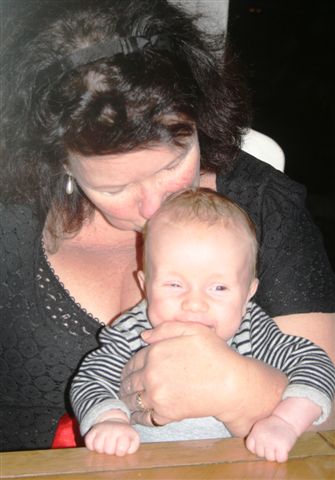 Muzica was so interested..and she practice a little on Eddie to take care of her coming puppies. Eddie love to eat my finger up...and laugh!!!
Four generations....
Do You think that the flowers I sent have reach the right address yet!?! Nooooooooooooooo!
Wednesday 24 December 2008
Christmas Eve
I woke up with a flue and it took a long time before I have take a shower today. When I came down Rune came back from the store and he have bought some "last minutes presents" for Jonnie and me.
Rune and I looked at TV for some nice "Christmas movies" for some hours and I was happy that we will be only five persons for dinner tonight. Jonnie and Roy, Anita and Rune and me.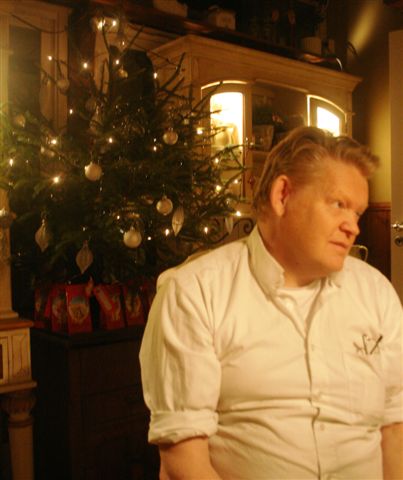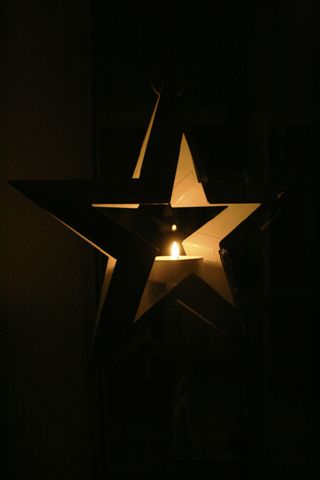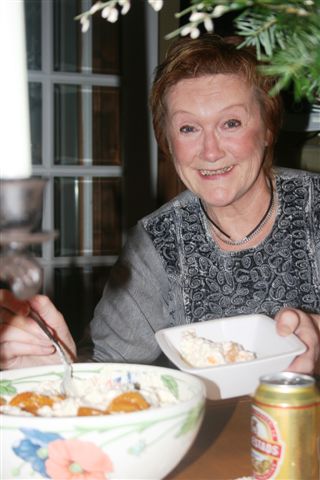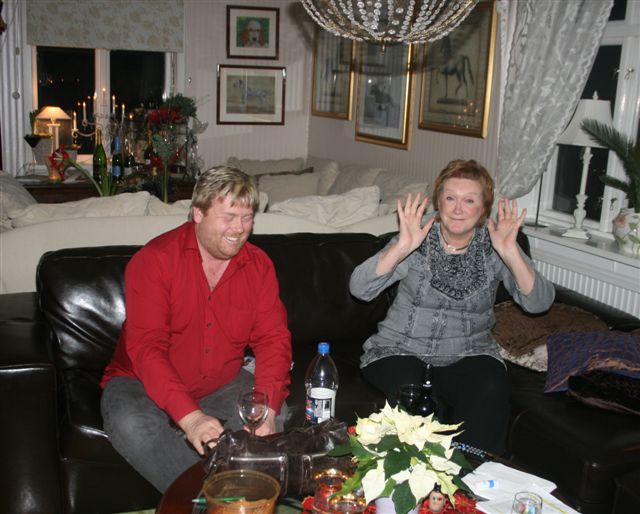 Don't take photos of us!!!!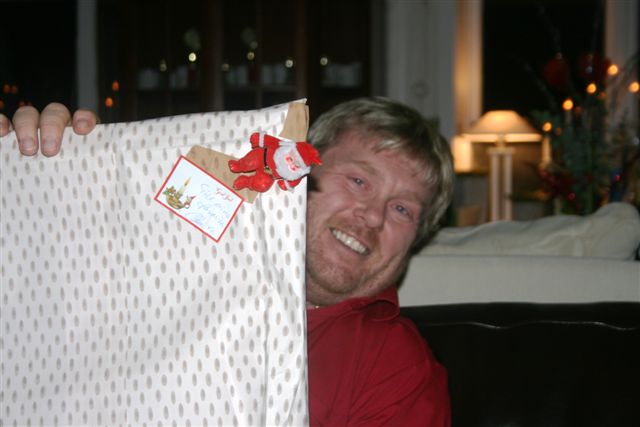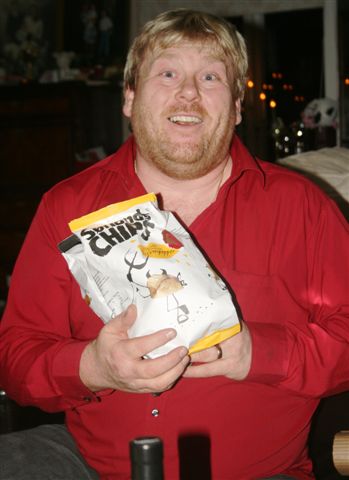 Exciting gifts in special wraps with fun content!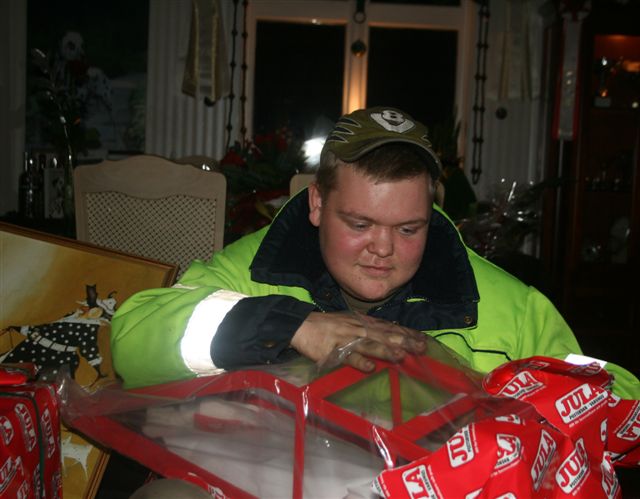 Jonnie was happy for his things for his garage.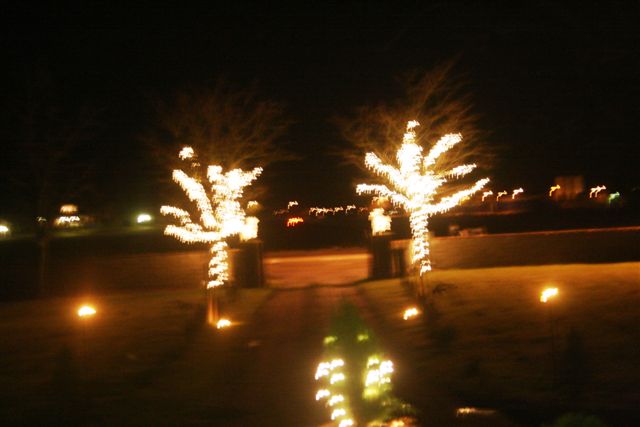 Finally some degrees cold and a little bit white outside in the night.
Last January I start to get problems with my stomach.....after many tests and after lot of visit at the hospital we got the result that I probably was allergic of lactose in large quantity. I felt tonight the same symptom as a year ago, damned. I haven't been careful at all last months just because I haven't had any problems for al long time....
Tuesday 23 December 2008
We have got soooooooo many beautiful Christmas cards and we will try to make ours during the Christmas.
Jenny, Roy and I are going out shopping. And in the evening Hanna and Jens will come here too.
More about that later.
It was already dark before we were back in Götene..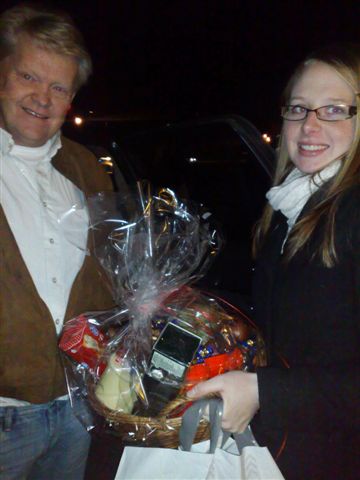 Today we have bought lot of food and fruit and the last Christmas presents. It was knocking on the door as soon as we came in the house, it was more flowers from the flower shop *S* and such a beautiful bouquet from our dear friend Louice, thank You very much!!!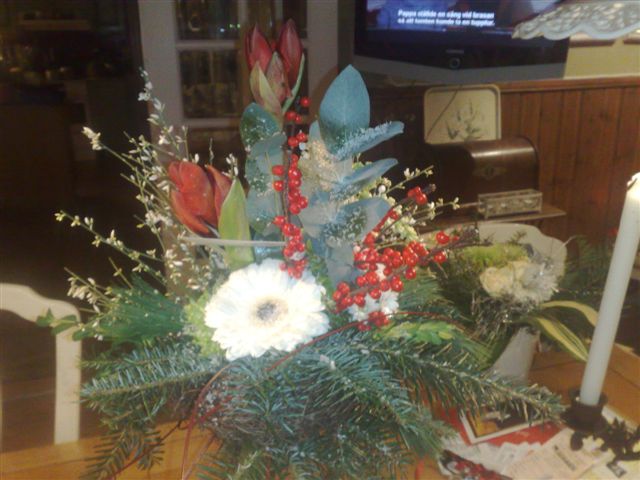 Photos can't show those fantastic flowers that we got last weeks, they are much more to see in real.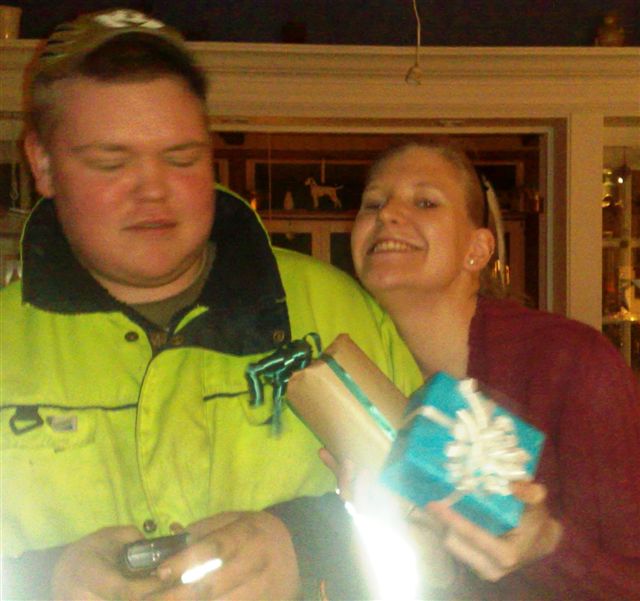 Hanna and Jens came with gifts for Jonnie because that he have got his driving licence, and he got a kiss too.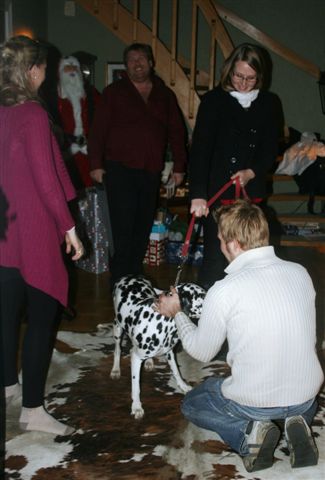 Rune was home early from his work and told us that "Now it is Christmas" and my diet is over for now *S*...Both Kassie and Decibel was here today. They have been together with Rolex and Bosson while we have been out shopping.
Everything was ready without a Christmas three...we haven't had the time to buy one but Jenny fixed one for me in the evening, thank You!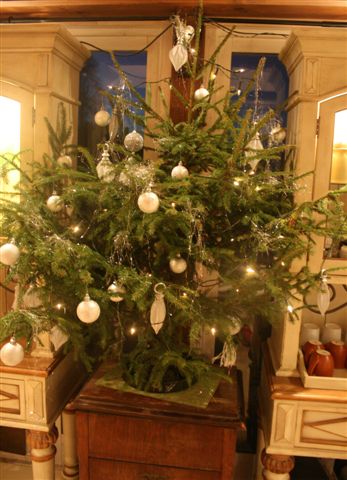 We put it on a table in the kitchen, and it looked a little bit more Christmas at once.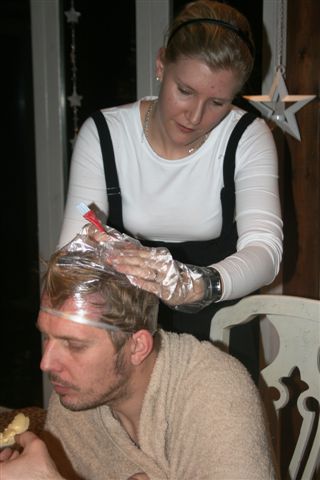 At twelve o'clock Rune remember that he have to have high lights in his hair and Jens want the same while he was eating *S*!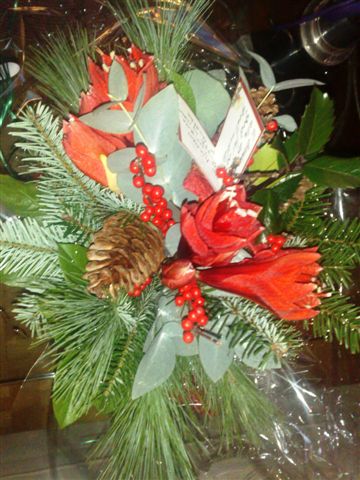 I love those winter bouquets...soo beautiful now....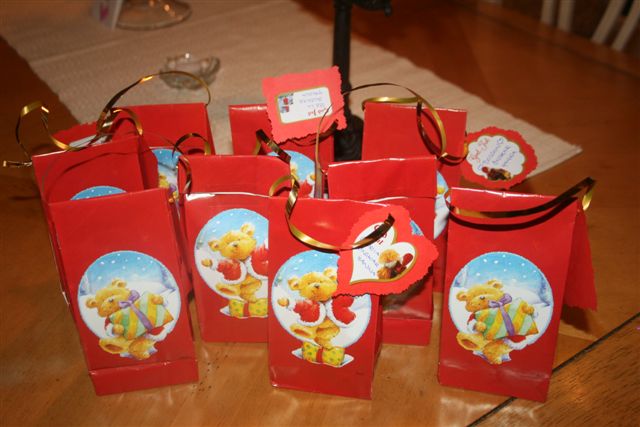 Hanna have made presents for all our dogs with their own name on!!!!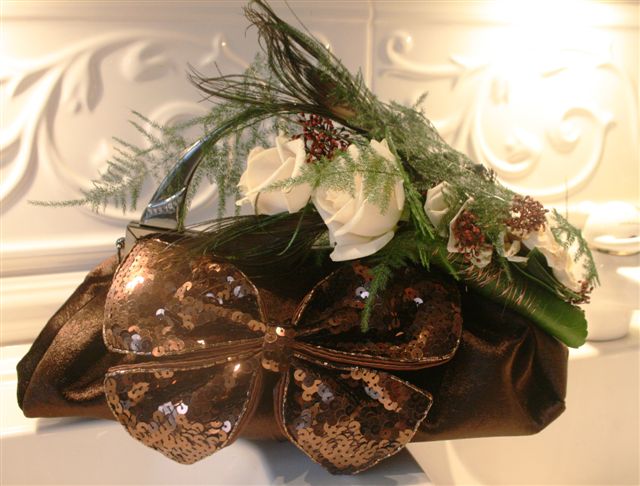 And look what I got from Hanna....A "GLITTER AND GLAMOUR" bag decorated in the flower store with fresh roses...Oooooooooooooo so fantastic and very ME *S*!!!!! I put it in my white bathroom and in our creamy bedroom...and I carry it around so I can enjoy it all the time!!!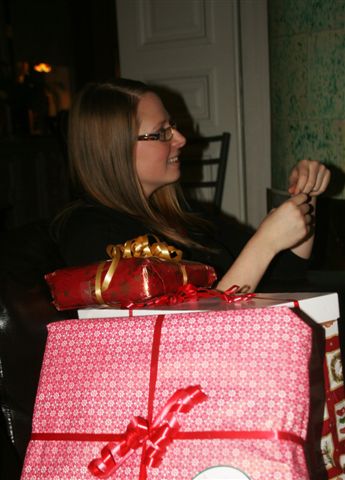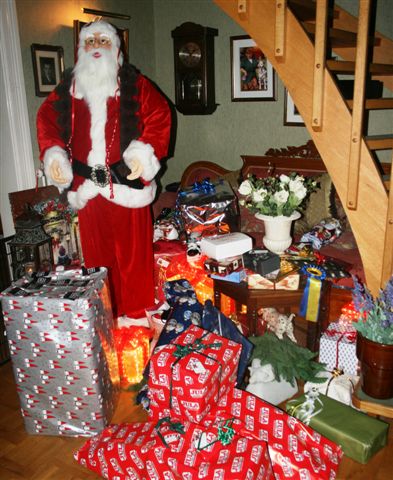 Jenny get her presents before she went home in the middle of the night! And we get ours.....Rune get wine and marzipan so her was more than happy....And I got an "Guardian Christmas Angel" from the Collection that we love to give each other. Jenny got an "Angel carrying a little lamb", every angel mean something and they are so special and beautiful and given by love from one to another. I got one from Jennie and Ellie too with a blue bird in his hand...lovely!!!!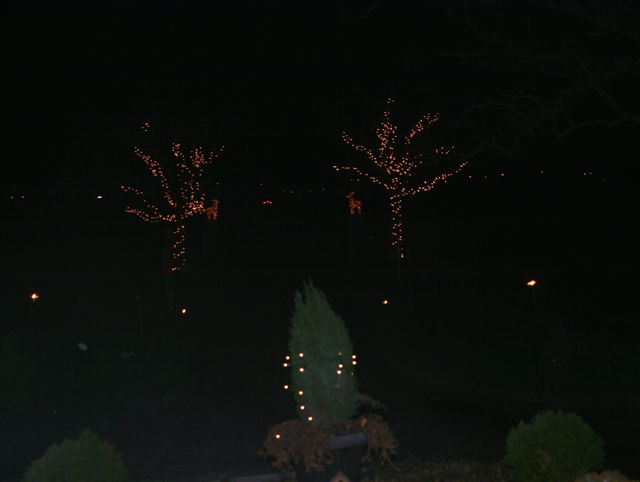 Tonight we put the light on in our threes...it is only some days now that we have them on because our electricity bills are huuuuuge!
Monday 22 December 2008
Yesterday the flower store called and told me that there will come more flowers tomorrow!!! Hurray..
I was waiting for their car when the postman came instead with a heavy package.....I was curious...but it was only things for the dog show two days after Christmas in Tibro where Rune have to be all day long to help with the arrangement...this year we haven't enter any dogs so I will probably stay at home in the bed *S* instead of be there all day just looking...Carola will go there with Perfect and Hannie and Per Ove told us that he have entered some dogs. Maybe I will go there for some hours just to look, but I do not want to be away from our dogs all day long so the I take a own car and go there in the middle of the day.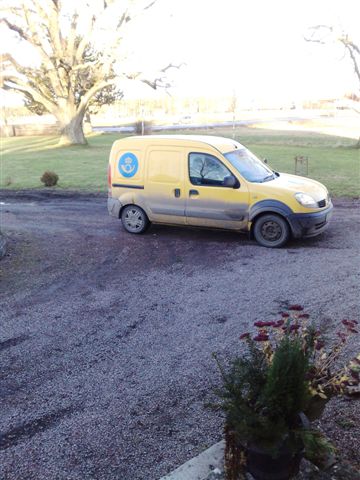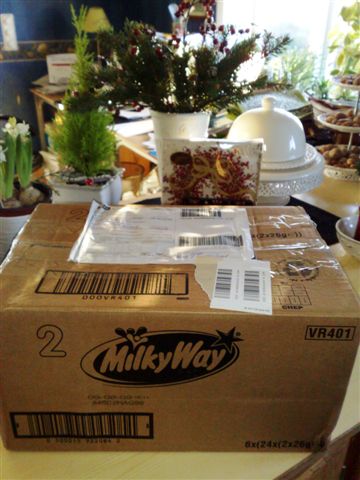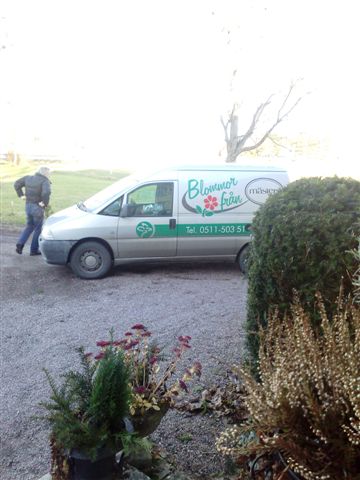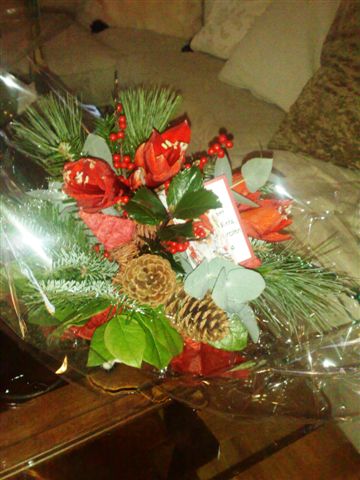 The flower man came with beautiful flowers from Vinta, Muppe and Mocca and Hildegun, thank You sooooooo much!!!!
I have got so much fantastic bouquets with flowers last weeks and You that have ordered this can be very happy that both flower shops here in Götene do such outstanding arrangements (never forget the flowers for Eddie when he was born..terrible).....
Jimmie have been out shopping for Eddie today and of course he bought him a jacket exactly the same as he have by him self *S*!
And this gorgeous little boy is now sooooooo big. Poor Nathalie that have to feed him all the time *S*!!!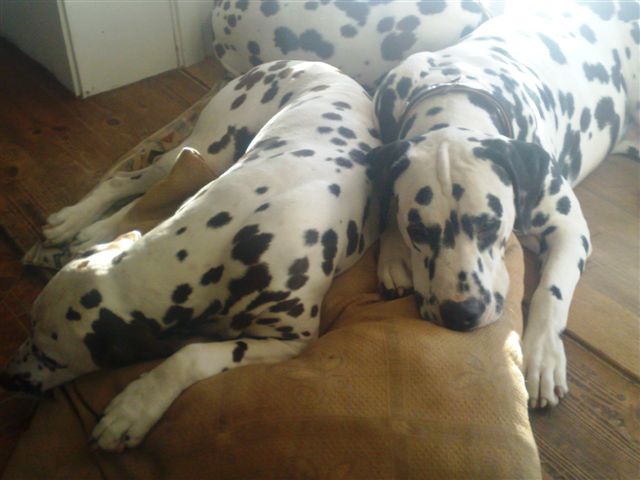 Daddy carry everything around in the house...he found a large pillow but he was not fast enough to lay down so Devlina took most of it....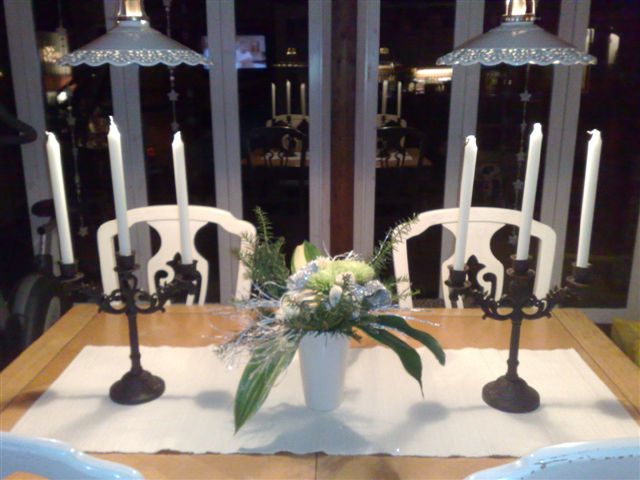 My intention was to have a white and silver kitchen this year....but I haven't had the time yet. Here is the beautiful candelabras from Ola, Anna and Clara and Per Ove....they look very nice here. I love them!!!
Today I have ordered flowers by Internet again...we will se if they come the right day this time or if they come at all *S*!!!
Sunday 21 December 2008
It is very important for Rune to make some specialties for Christmas (I never do, because then I eat even more than normal), so today he made some strange cakes and his (and Jonnies) favourites "medisterkakor" (a kind of meatballs)..........blä!!!!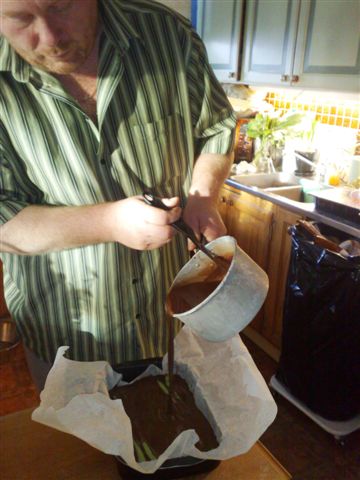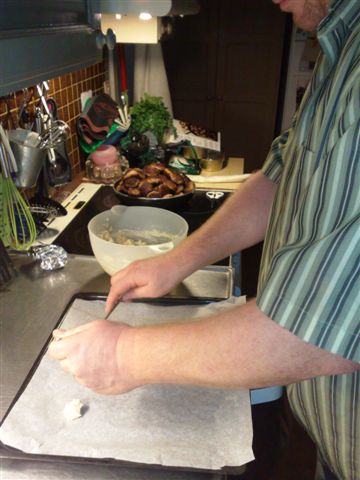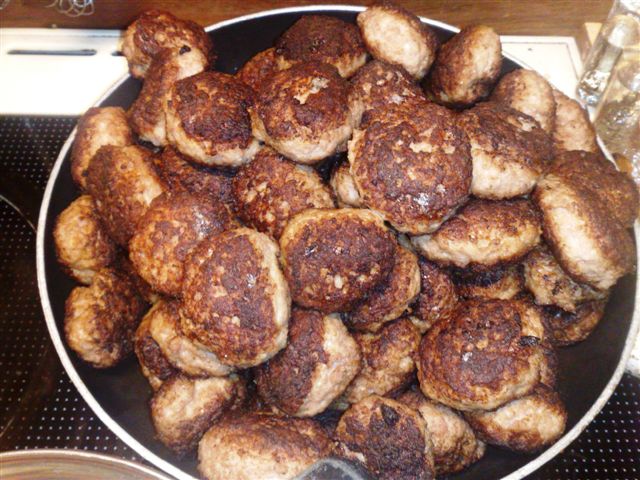 And he did "havreflarn" and they are already gone *S*!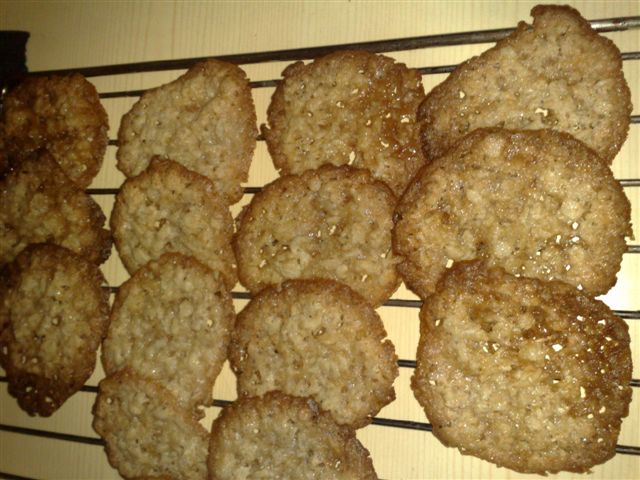 We had to eat the dark ones up...and suddenly all was gone!!!!! Strange *S*! Then he made pizza for evening snack.
Jonnie eating.
We looked at some Christmas movies in the evening, but I fall asleep in front of the TV as usual...and woke up some hours later and was up all nights putting the last gifts into boxes.
Saturday 20 December 2008
We have to go up early..after just some hours sleep (again)!!!
Many things to be ready with before we are invited to Anita in the afternoon.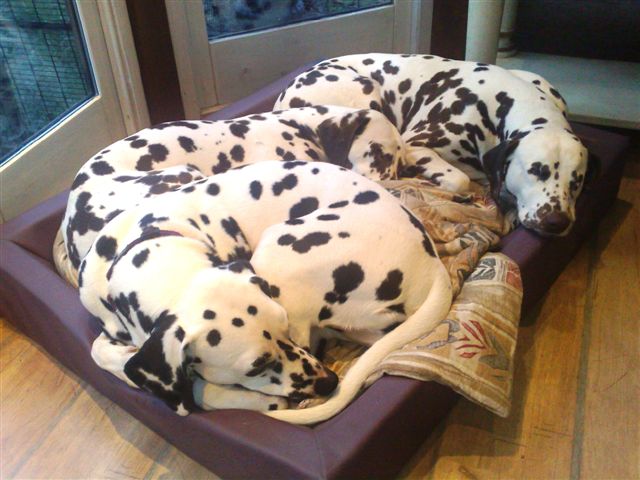 Muzica and Jill and Devlina are waiting for Christmas..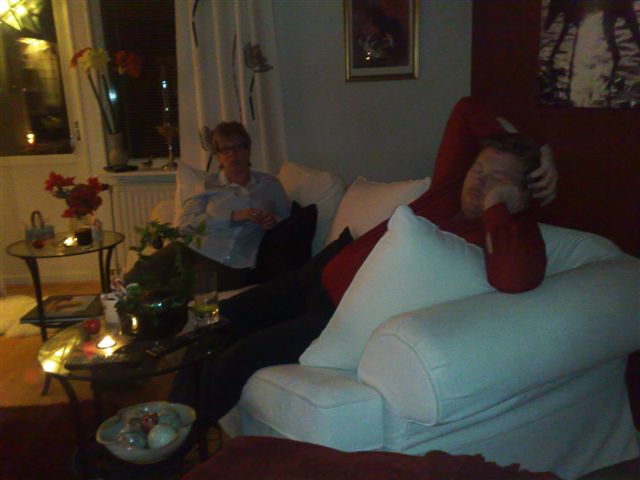 When we came to Anita's place Rune was already tired after starting with his big Christmas baking at home, but he woke up when we got lovely and tasty food.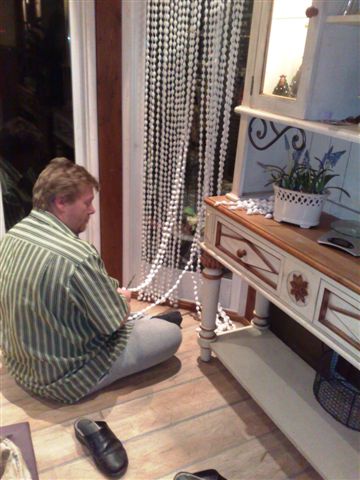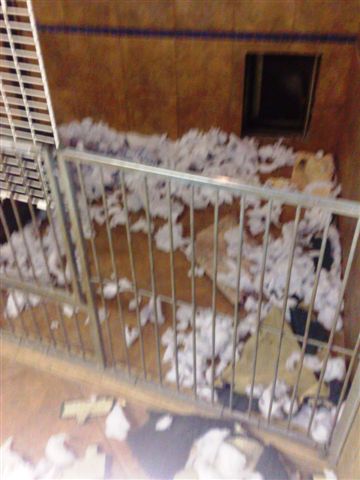 When we came home in the evening we put up snow curtains.........and our dogs have made their own snow in the dog room, clever dogs!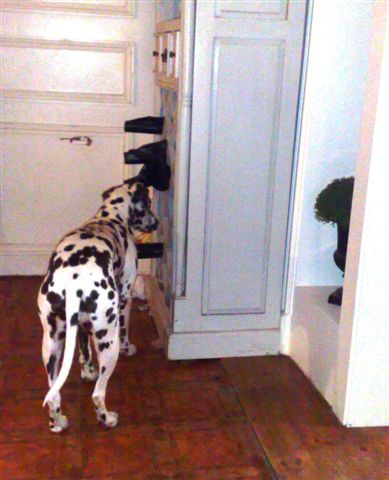 Jill heard the rat again.........
And the other girls found a big one on the kitchen floor.....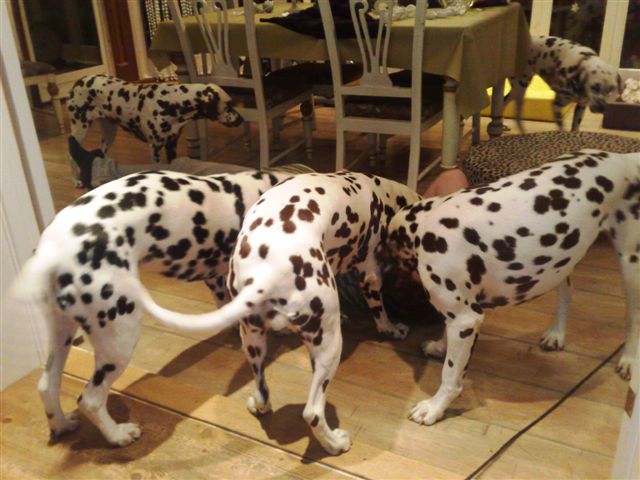 Poor rat...five girls try to eat it up......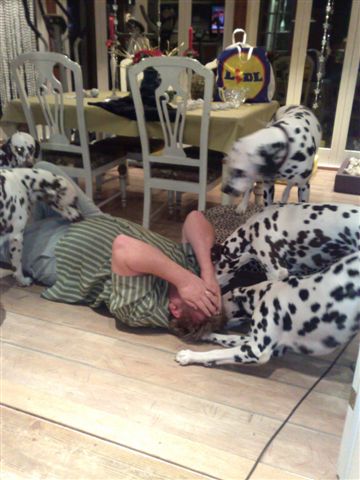 Ooooooooo it was Rune...they try to eat HIM up *S*!
Friday 19 December 2008
Up very early to go to Gothenburg to meet the undertakers to decide everything about my Aunts funeral in the middle of January. I meet my mother there in the middle of the day but first I drive to a large shopping centre. I was only there for a short time because there were sooo many people shopping and I hate that...then I just want to go home and in to our small Götene where You can walk into a store and tell them what You are looking for and they find it for You and You walk out from the store with a nice package in Your hand. And it is not that much more expensive than You believe from the beginning and You save a lot of money and time not to drive for hours to come to the big city. and time is money......
Next week Jonnie and Roy and I are going to shop the last Christmas presents in Trollhättan...and I will start to look for a suit to Jonnie in good time before the funeral and later when we are going to go to Eddies christening. I have a hope that he will were a suit this time *S*...but You never know.
I was back home at six o'clock in the afternoon and was very tired...I hate to drive in the dark.....We eat dinner and I went in to the livingroom to look at a move....and woke up two hours later to try to find a key for my car that Roy need to borrow. Then I fall asleep again and woke up 5 minutes past midnight because Rune was snoring so much.....after a while he was awake too and now we have been doing things that we supposed to do earlier this evening instead...
Now it is 5 o'clock in the morning and Rune is looking at TV and Jonnie was here just now and eat bread and shrimps....I am sitting at the computer but we have to go to bed soooooon. tomorrow Rune will start to bake all things that HE HAVE TO HAVE *S* for Christmas...no diet now!
Eddie reading paper and look at TV in the same time. Food for Jonnie in the night (and us)!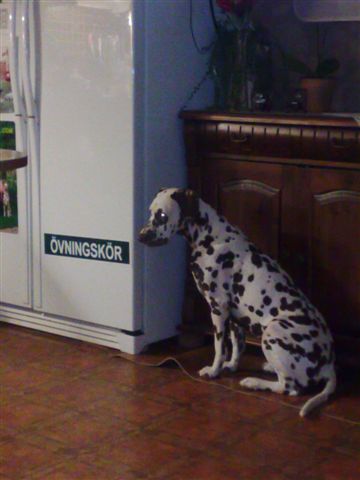 Our best mouse guard, Jill. She can't relax when she know where they are *S*!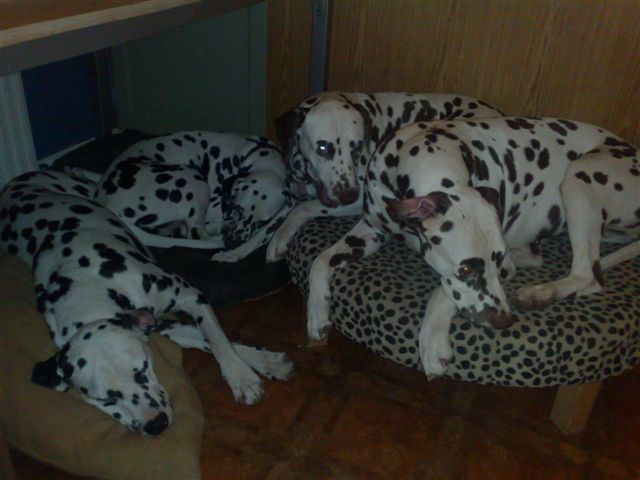 Our four other girls do not bother at all.....
I hope to have the time to go to buy a sofa for our dogs soon, I hate to have things on the floor because you have to move it away every time you clean the floors....and in a dog home you have to do it more than once a day.
Thursday 18 December 2008
Look what a beautiful card I got from Latvia, I would like to use my computer and do things like this too, but I am not clever enough and I have nooooooooo patience at all...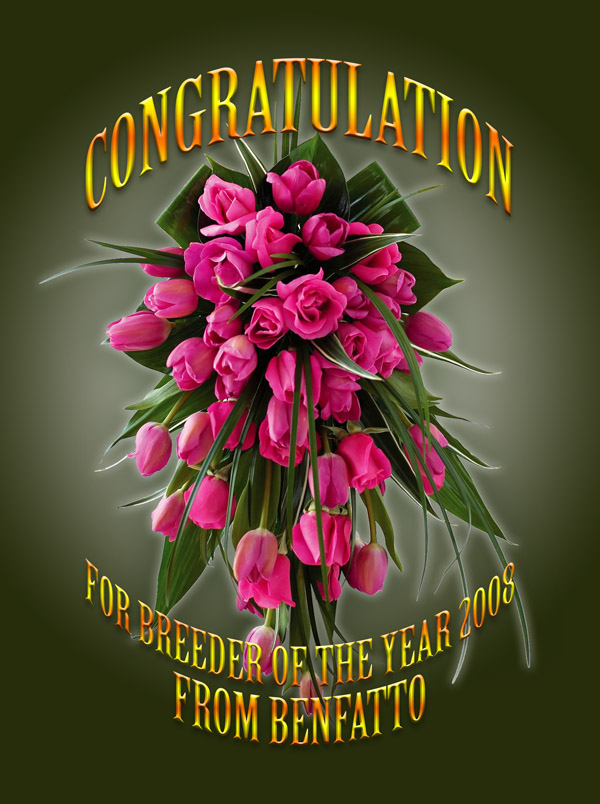 Made by Benfatto.
Time at the healthcentre with nurse today and after new tests she told my that my condition is very good, sorry that I can't feel it when I'm running in the show ring...most because of my feet of course. At a show some months ago a ring stewardess told me when I came limping and puffing and blowing in the ring that I should get in a better shape for dog shows *S* yes of course but I can't change my legs that easy!
I am so pissed of my problems to run like before. The best thing I know is to show three or four dogs by my self.....instead of now when I in the best case, can show one or two....if I have a good day.
Today the cake man came home from his last journey....thank god without a cake this time but with shrimps, salmon pâté and a smörgåstårta...not the best diet but better than cake.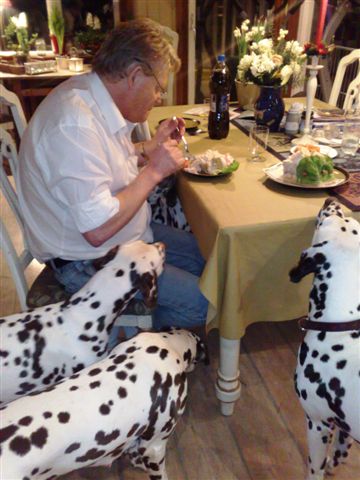 I know some girls that are really happy that he is back home again, now they get extra good food to eat almost every day!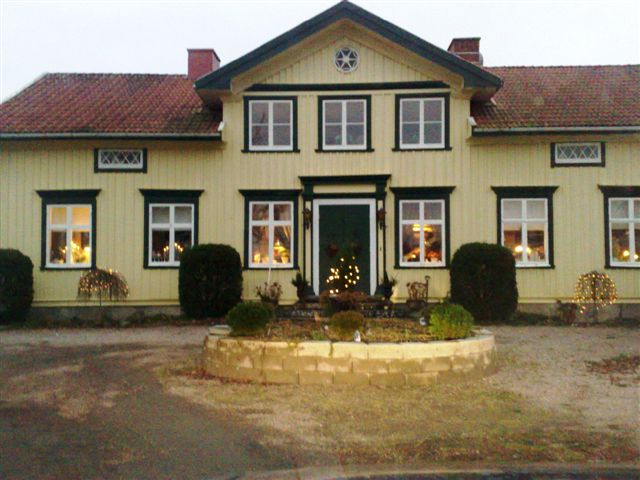 No snow here now, I want it to come back!!!!
It is soon Christmas and it looks like spring.
Wednesday 17 December 2008
We keep the candle burning for all people that are old and sick and have to live away from their homes. As Diana's grandfather in Holland, and she is doing the same thing as I always did to my father...bring puppies and dogs there for visit. All people in the home was so happy just to have a soft licking puppy in their knee, or a little child. Their eyes start to shine immediately......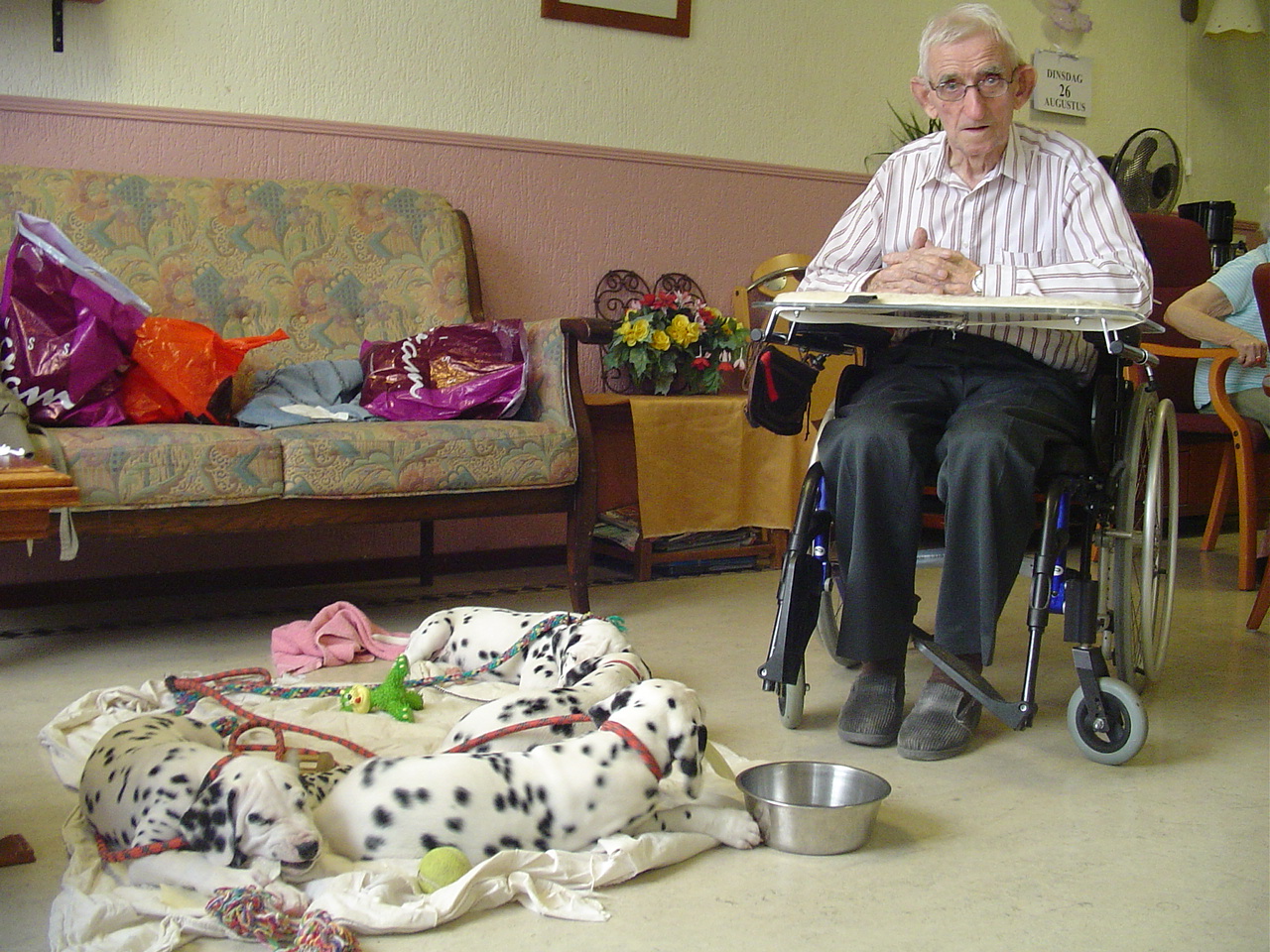 Ellie about 9 months old with my father. Diana's grandpa with some of their Dalmatian puppies.
Here comes a photo of my beloved grandma with our cat Gangster.....she was almost 95 year old on this picture.
A fantastic grandma, the Best!
There were two packages coming for me today so I have to go to the post office to get them. First a blue box with this nice package inside.....Ohhhhh soooooo exciting!!
And inside a exclusive cake knife for all our cakes *S*..and it look just like a dog..Thank You Alexandra o Toka and Hanna o Dumle for this very nice gift!!!
I will bring cake next time we will meet!!!
Then another large package...it was from Norway and Nyhammers..inside it was Christmas gifts for Jenny, Hanna, Rune and Me. You are great. see You in Gothenburg, then we will celebrate..again *S*!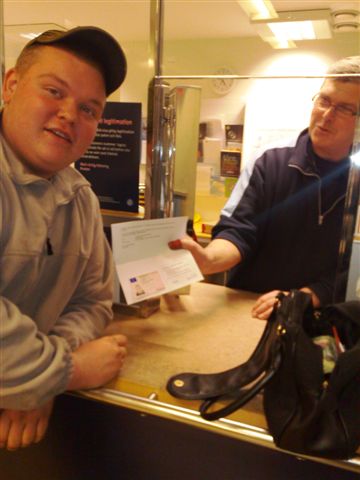 Jonnie was to the Post to get his Original Driving Licence....he was PROUD, and so was I.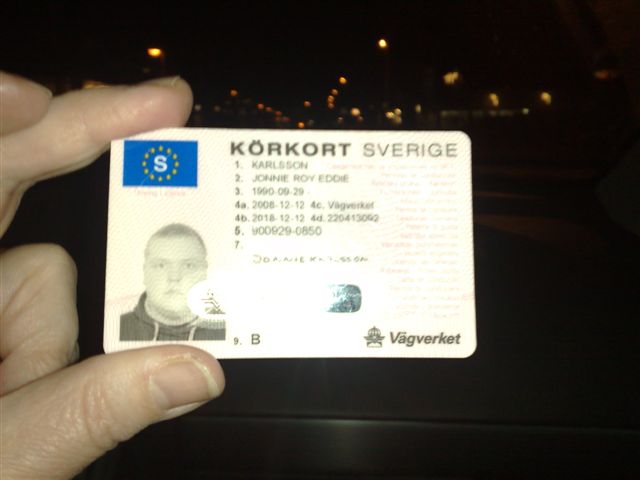 I really hope he will drive carefully so he can keep it forever.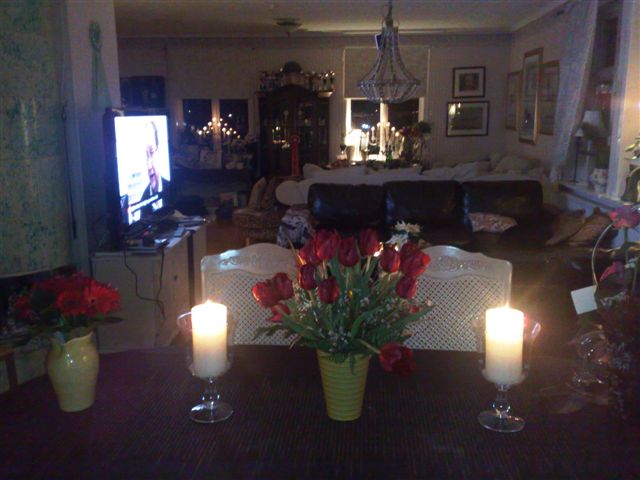 Tonight I have been looking at TV and writing in my diary, while Rune have been trimming four dogs.
He have been out with his work today to eat Christmas food for lunch...and he came home with a big box with delicatessens for Christmas..soo good to get it already now because there are lot of things that I do not need to buy now.
A photo from Saturday when we eat "Runes cheesecake"....Mmmmmmm I already wait for Christmas when he will make more of it. And Anita have made a speciality from England with jelly, cream and candy, very sweet and nice! Devlina and Muzica resting.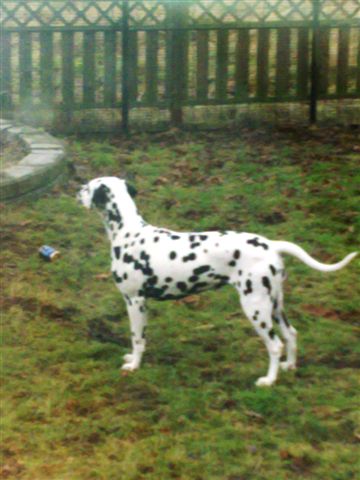 Muzica in her garden playing with a can of beer....she have gain some more weight now (Who will not do that in our home?) *S*! We are planning to make an ultrasound with her last days in December just to know if we should enter her to any shows or not.....Tonight she will be sleeping in our bed again because her season is definitely over now.
Tuesday 16 December 2008

Last night I was looking at TV toooo long, so I was planning for a long morning instead. But at 7 o'clock some workers came to fix something with the electricity, and some of our dogs was barking and wake me up.
I'd just fall asleep again about 8 o'clock and woke up 20 minutes later when my mother called and to tell me that my beloved Aunt have passed away while she was sleeping now this morning. Thank God that our wishes have come true, now she can rest in peace with her dog forever.......
I have been with my Aunt since I was newborn. She had no kids by her own and have always treat and care for me as her own daughter, and we have always lived close to each other until I got my own family.
All my memories include my Aunt, she was the best, and I do not think that anyone in the whole world have anything negative to say about her. My oldest children have always stayed with her during their holidays especially Jennie and even Jimmie.
I have been to many holidays with her and her husband...in Norway and in Denmark....we were going there by train my Aunt and I and her husband go there by motorcycle.... To Germany in their very small car many many years ago when I was a teenager...and we travelled out of the Nordic countries for the first time...we were tenting *S* and it was so less space so the tent was outside the back window so we couldn't see out there.
So many wonderful memories that I will keep in my heart for ever.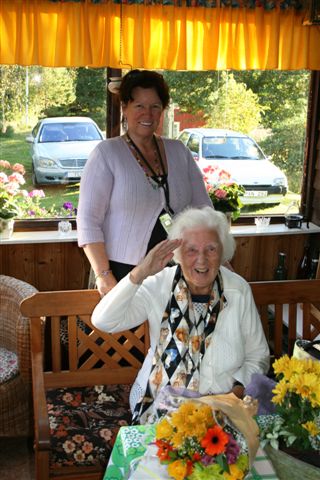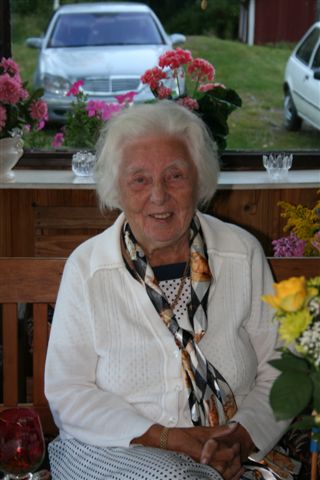 This is at her 87th Birthday last year.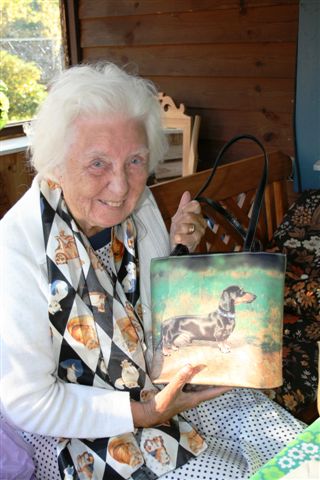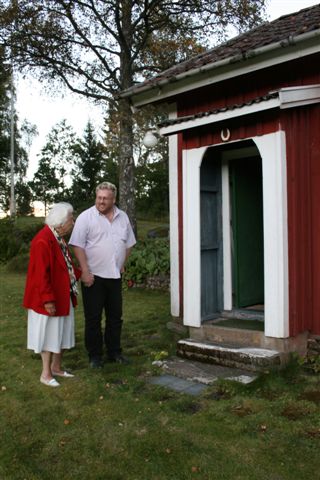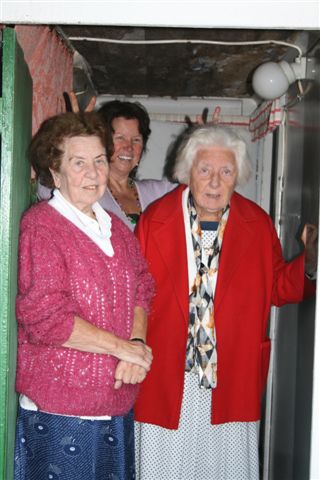 Of course she should have a bag with her favourite breed. Outside her birth home with Rune and inside the old house.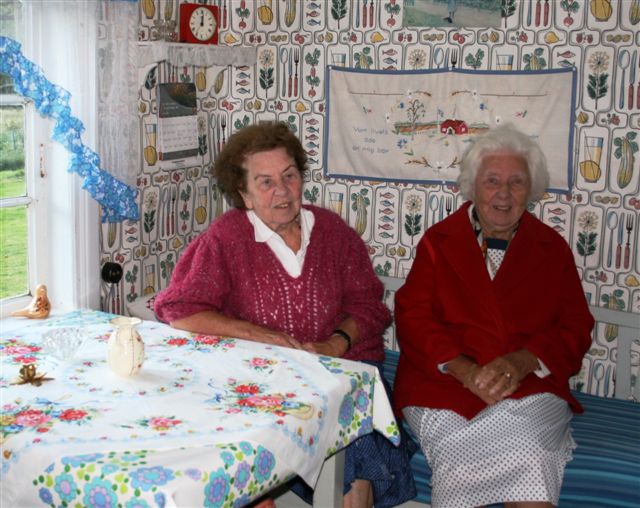 My mother and my Aunt have been eating breakfast here in the 1020´s, and every morning for many years before they went to school.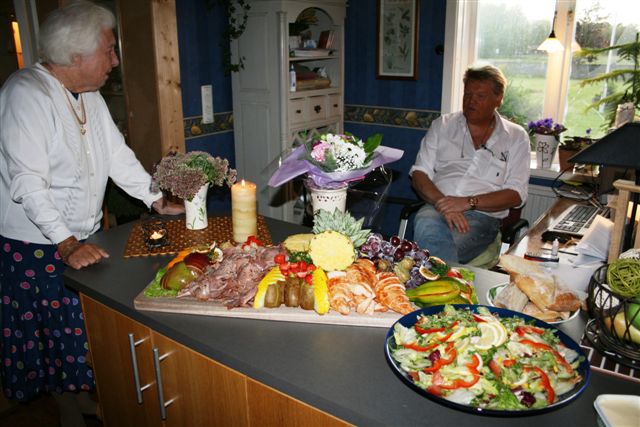 At Jonnies Birthday last year.
Autumn 2007 in our home together with Jill.

Monday 15 December 2008
Jonnies "new" car is already broken, so he came and put it in the garage and took my Volvo instead....and our Opel that we use for dog shows and Rune drives to work...really need a fix up now. We have still not repaired it because it will cost toooo much. But we haven't had the time to go and look for a new...(newer) car. Rune is working all the time and we haven't been home any weekends, and Roy is far away at work...so he can't help just now.
My mother went back to Gothenburg in the middle of the day.
I was working on the computer for some hours and many friends called just to talk and ask how our weekend have been, and more flowers came!!! Thank You......our home start to look like a flower shop now...beautiful!!!!
This is fantastic we have now been celebrating in 8 DAYS!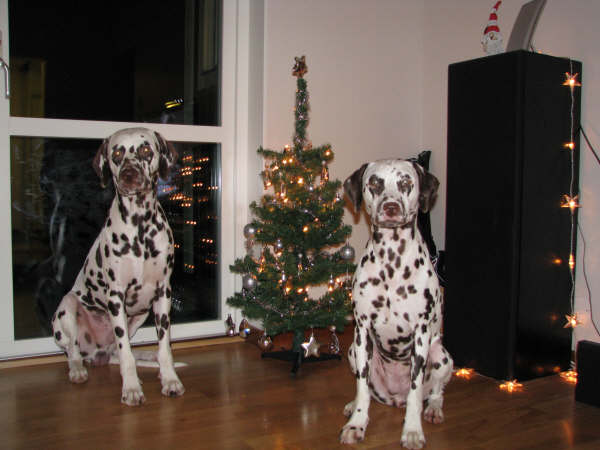 We got greetings and Best Wishes from Max and Jilloc's Trumph-Card, so good to see her.
Thank You for this photo Jenny and Andreas.
And look what I found in a map.....Rune some years ago with a fantastic cake we got from a puppy buyer (with cocker spaniel!)
We saved it in the freezer for awhile and eat it together with our Dalmatian friends at a special moment.

Today my Aunt been much weaker than before so she got her own room at the retirement home, my mother and Jennie were there in the evening. She was sleeping like a child with her toy dog on her arm...it have been her best friend for a long time now and the only one that she have been talking to the last weeks. Jennie and I talked when she have been there visiting her and both of us wish that she will pass away in her sleep for her own good.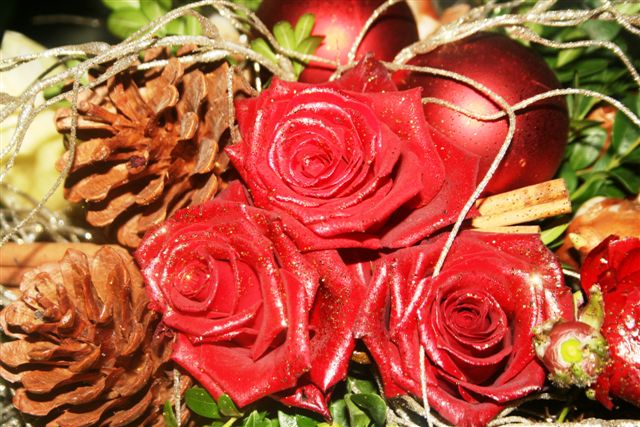 Sunday 14 December 2008
We have put our alarm on 10 this morning because we will have time to eat breakfast together with Helena before she leave for Stockholm.
I was looking in the pink guestroom, but the bed were already made and when I came down to the kitchen she was sitting there kissing Devlina and Bell *S*!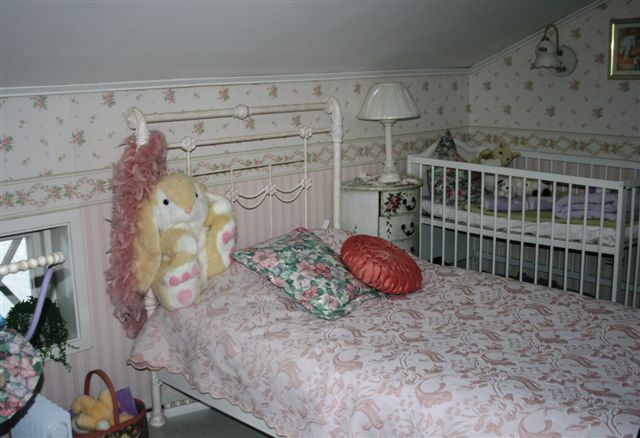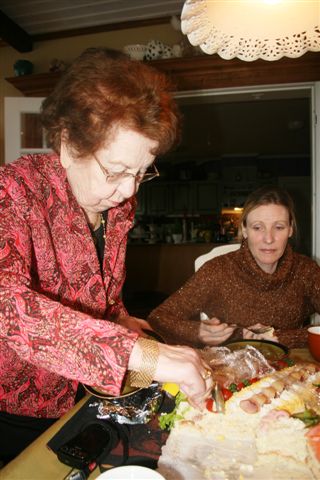 Muzica would like to help Helena with her morning cleaning...... And we eat smörgåstårta for breakfast......Rolex want to cuddle too....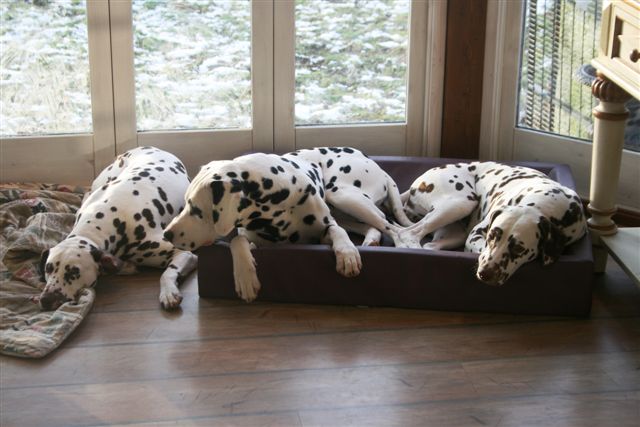 Devlina, Rolex and Gloria was also tired today. We were lazy in the sofa in front of the TV most of the afternoon and evening.
Someone eat toooo much yesterday and broke a chair.....it was not Rune this time *S*!
Saturday 13 December 2008
LUCIA, and our Winner party Tonight!
The phone wake us up....more flowers on the way here!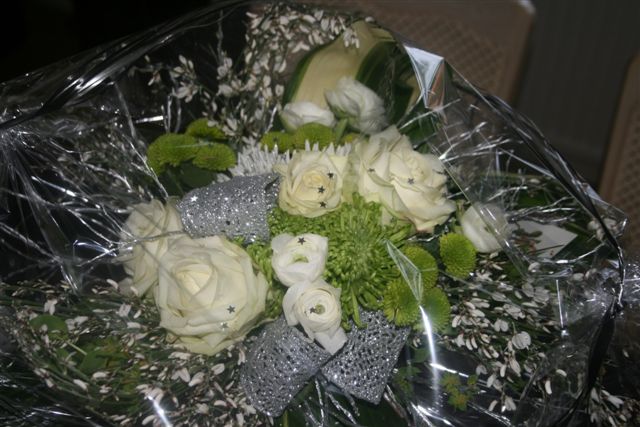 Soooooooooo beautiful!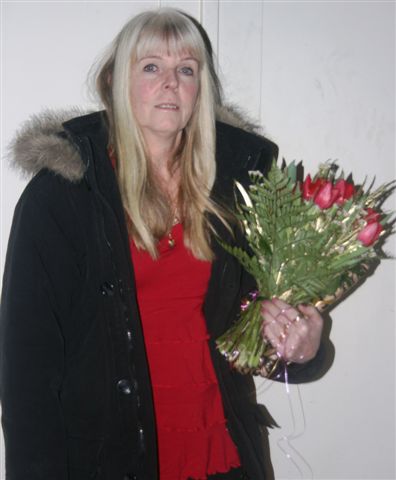 Exactly at three o'clock our first guest came trough the door, it was Helena from Stockholm, we were so happy that she could come to us this weekend even if the weather was not the best today. Muzica loved her immediately. Then Eva came from Gothenburg....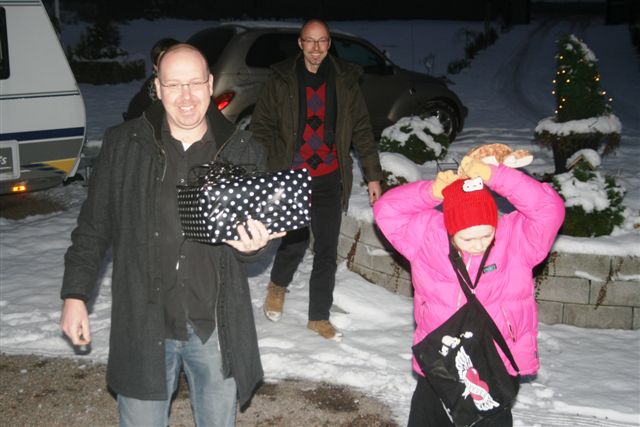 Ola and Anna (behind Ola *S*), Per-Owe and Clara.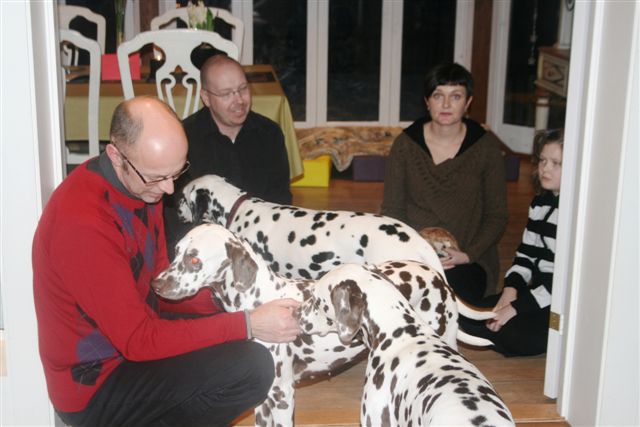 Always funny with visitors for our dogs, and there have been an hectic week and many new people to know.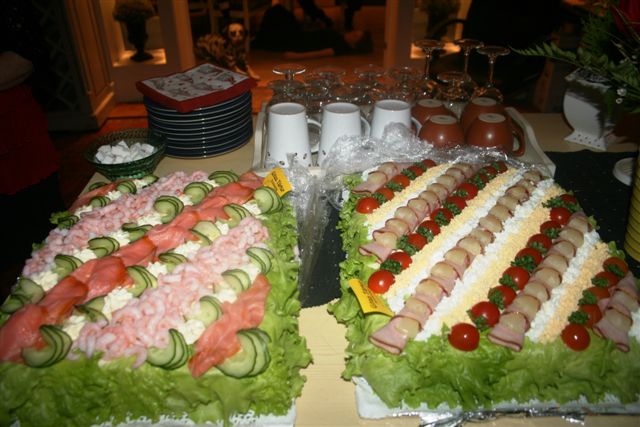 Something to eat of course.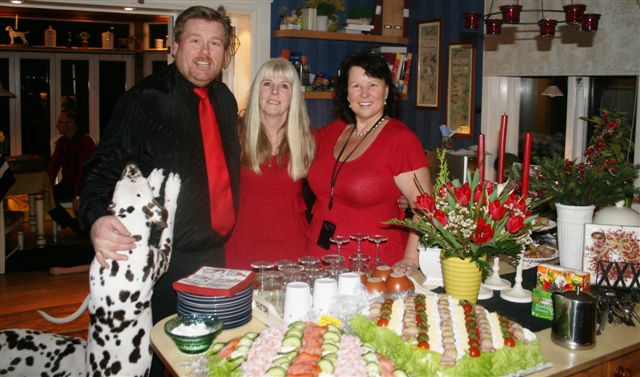 Our "baker" have done exactly what I have asked for (And Mark, it tasted very good)!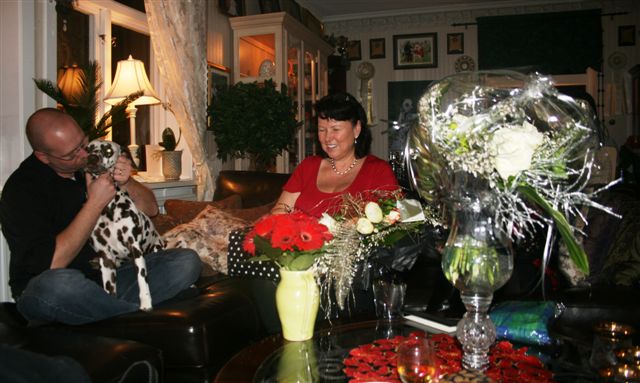 Nice presents from my friends and colleges.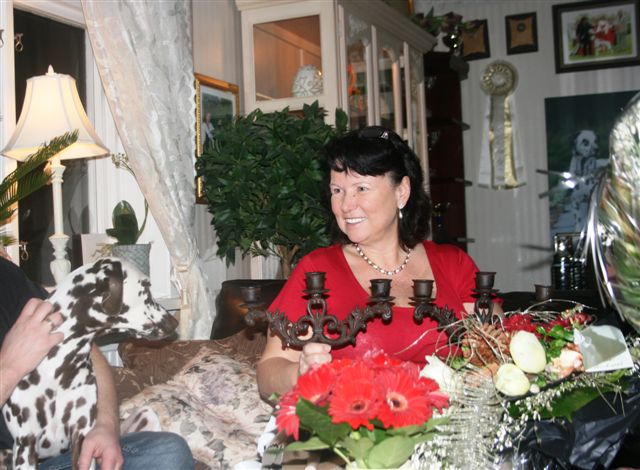 Jill was curious what I got in the package.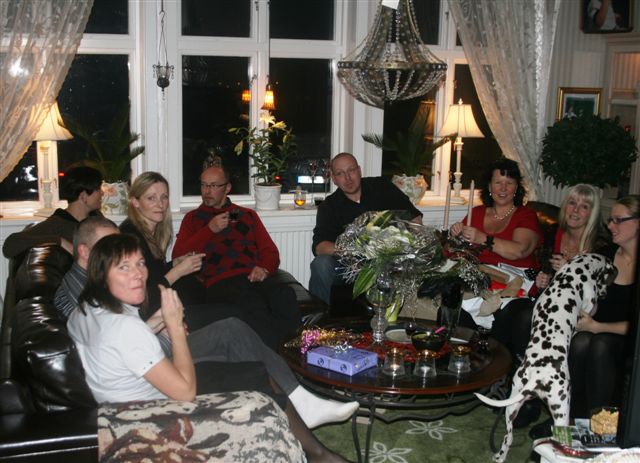 unfortunately many of our friends was sick today (we really miss You) but it is often so this time of the year !
More beautiful bouquets.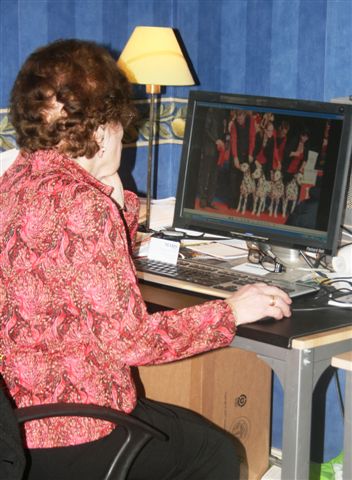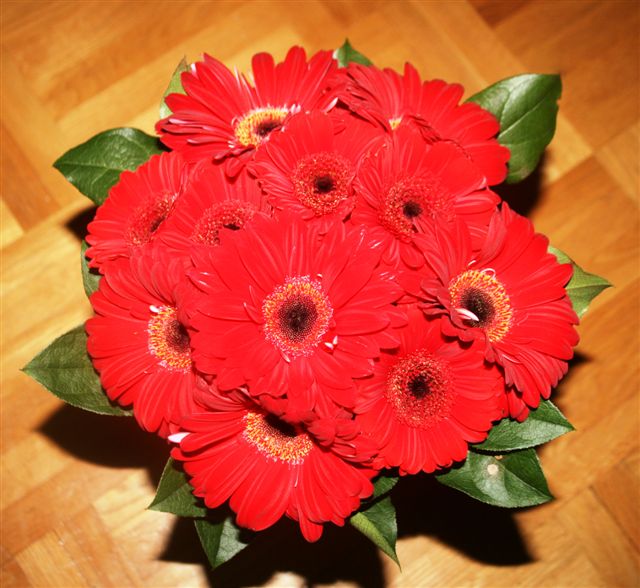 My mother was looking for all photos from Stockholm last weekend. Jenny helped her with the computer. We say that we will give her a computer as a Christmas present, but then she need someone to stay with her and help her to put it on every day she said *S*. I think that she will learn that after a while.....she is so damned that she couldn't read in my diary more than when she is visiting us or Jennie or Jimmie..
I think it would be perfect for her to get photos many times a week from us all instead.
I bought My first computer in 1999 together with my first digital camera and used only for my photos until I entered my self to a course so I could use it like normal people *S*. Until then I HAVE TO pull the plug every time I was in Jimmies room to close the computer that he had for his computer games, and he got lot of trouble every time I did it that way!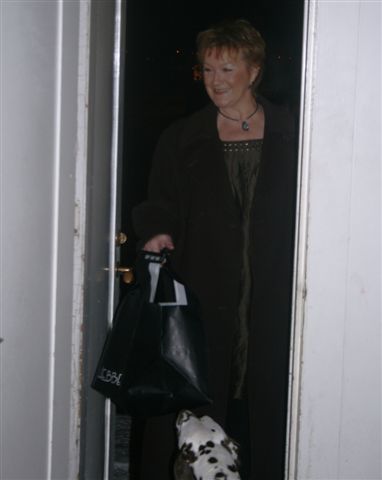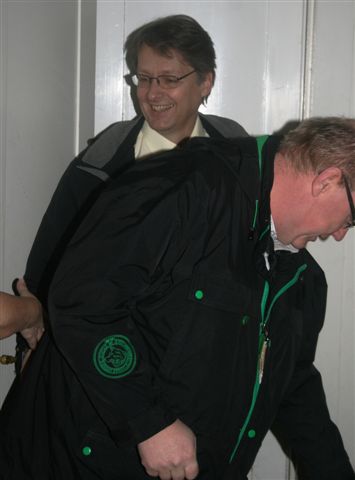 More guests Anita, Volker and Jonny.
Rebecca, Santa and Monika came late. And Rebecca was hungry, she just came from her work.
There were even some doing speeches.....and Anita made nice drinks to everyone (almost).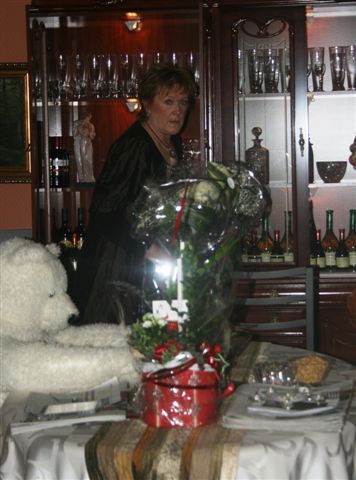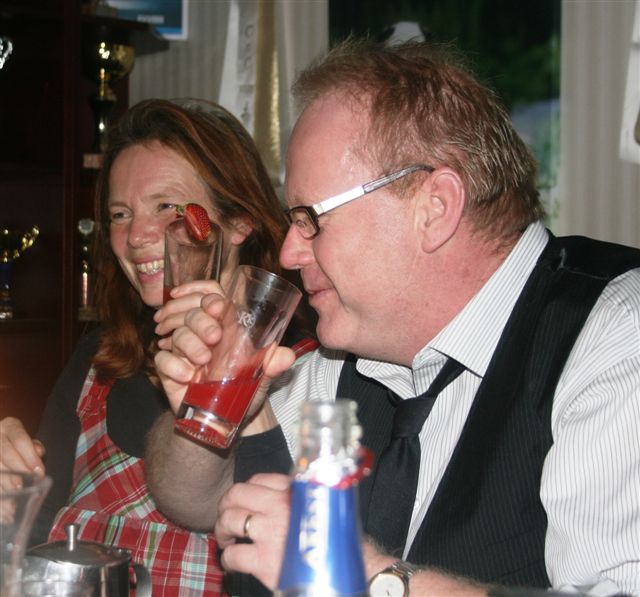 Anita found lot of things to mix in our bar. Monica loved the strawberry drink!!!
Then we all looked at the movie from the finals in Stockholm...and Jonny loved to see him self because in the final ring he couldn't see anything because he had a spotlight in his face all the time and couldn't even see the flowers and things he got..(His kennel was Nr 5 Top Breeder this year).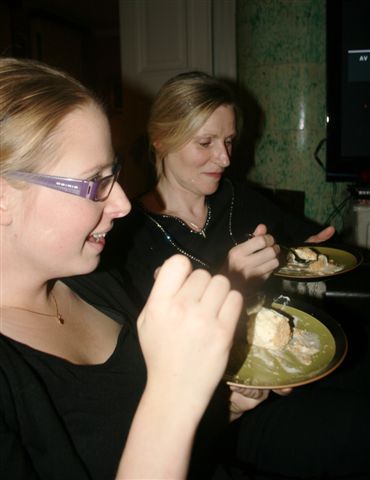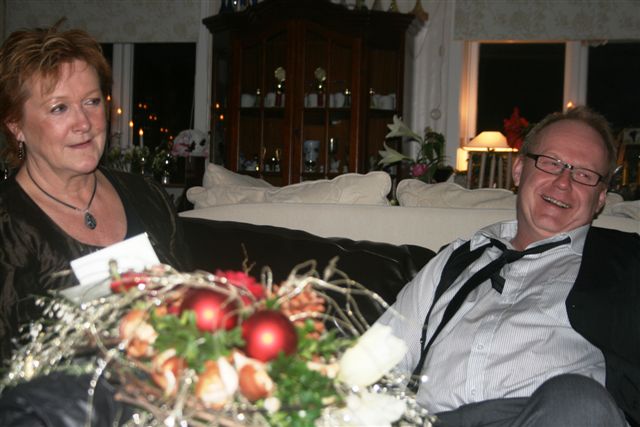 Finally Runes frozen cheesecake, Jenny have been waiting for it since last December.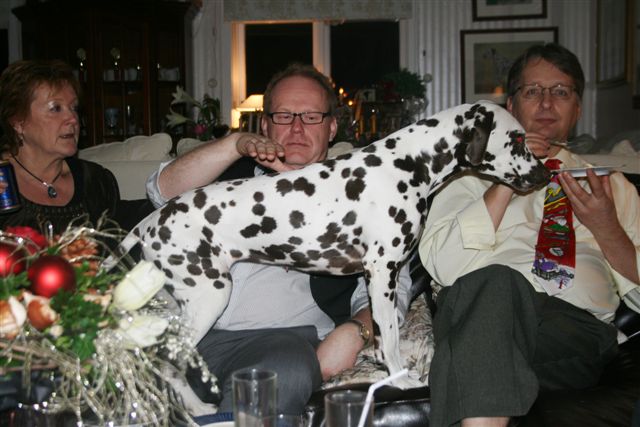 Jonny asked if Jill was a good example of our breed ...Yes, and she was hungry!!!! (They always are)!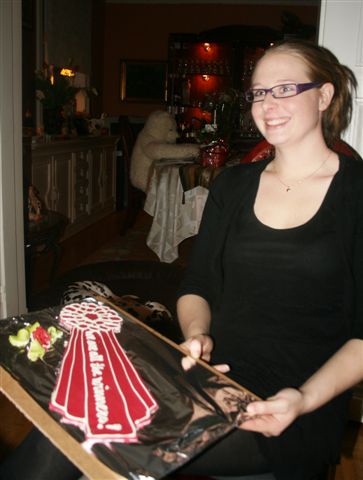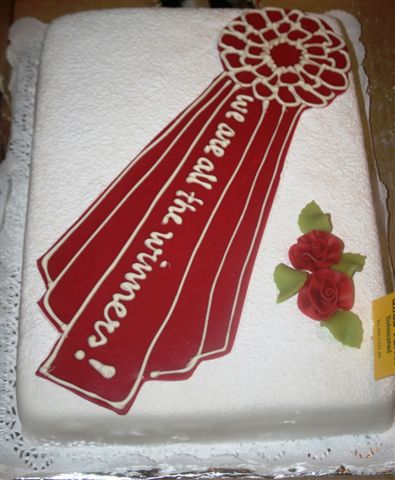 We took the rosette made of marzipan from the cake to save it...and keep it...Jenny hide it high up under the roof.....it is not easy to hide it good enough from the marzipan monster in our house!!!???!!! Yes, RUNE.....he love it and even if the marzipan that I've picked off from cakes are some years old, and he is desperate for something sweet, he can eat it if he find it even if it is full of dust and Dalmatian hair *S*!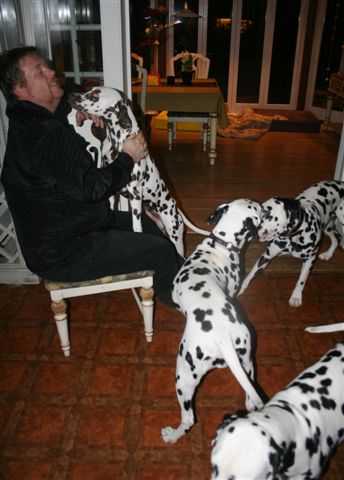 At 5 o'clock in the morning our dogs start to play again...it was only Rune and me and Jenny and.......YES you see it correct..HELENA that still was up and eat cheesecake again *S*! She can't stop partying when she come her to our house..normally she can't hold her eyes open at 10 o'clock in the evening..she couldn't understand how she could stay awake.....
Zzzzzzzzzzzzzzzzzzzzzzzzzzzzzzzzz!
Friday 12 December 2008
Snow, snow and more snow, so beautiful outside. This is the weather that I want for Christmas!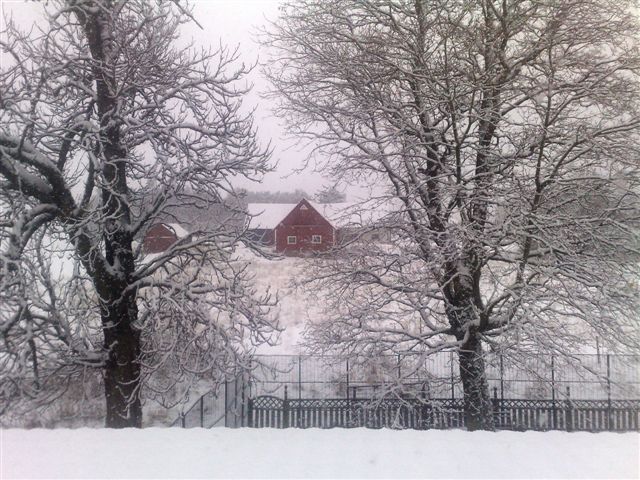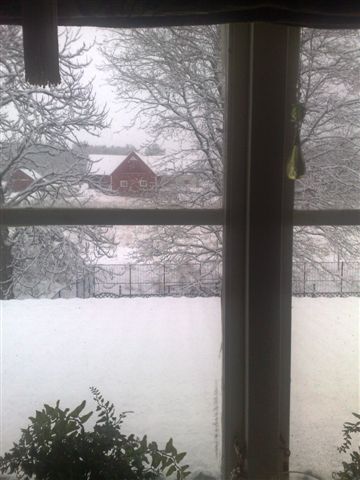 The view from my bathroom window.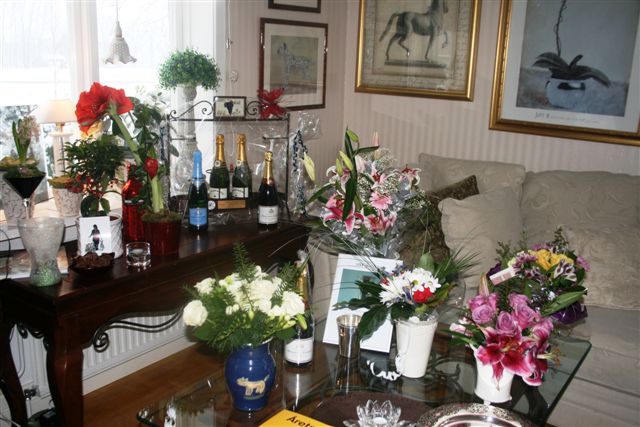 Champagne from the show in Belgium, from friends in Russia and from Kerstin and Göran in Stockholm, and a Glitter and Glamour Vodka from Niina...hurray. I love the outfit of the bottle and Rune love the content of the bottle *S* that is a good deal! Flowers and trees from puppy buyers...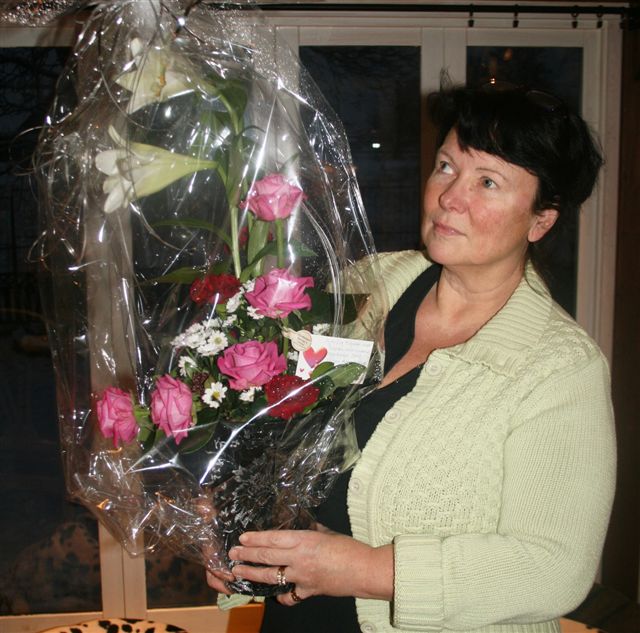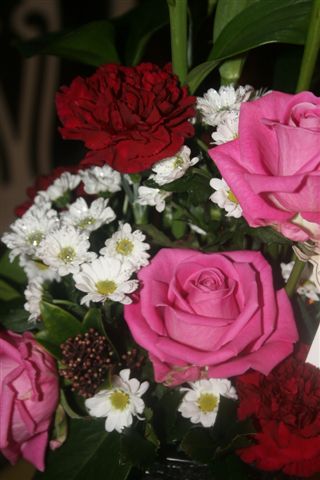 More beautiful flowers came from my friends in Norway, soooo gorgeous! Silver on the flowers looks like raindrops.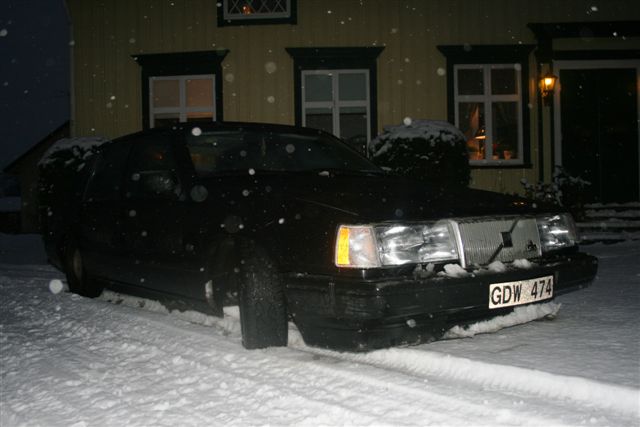 Jonnies latest car. The roses I got at Monday are beautiful now.
Eddie is such a sweet child, he love to bath and sleep (so far *S*). He is soon at 6 kg now, good boy!
Photos from Nathalie.
Thursday 11 December 2008
Lot of snow during the night and Jonnie and I had a hard time to wake up this morning. He was almost awake when I came there to pick him up. He had pain in his stomach, I believe that he haven't been sleeping more than just some hours because he have been working with one of his cars in the garage until early morning.
No good day for the test today, but we have to give it a try.....it is so hard to get time for the test..so long time to wait to book.
I was in the flower shop while he was doing the test at Vägverkets office. It will take 50 minutes then the time is ended.
I was sitting reading and he was coming out from the office, down the stairs and he saw my car. I thought that I had to look for his face expression but I had no time to think because he lift both his arms in the air and smile with his whole face..is he joking I think....but he did it again and run towards me in the car and shout I get it ...I get it!!!!!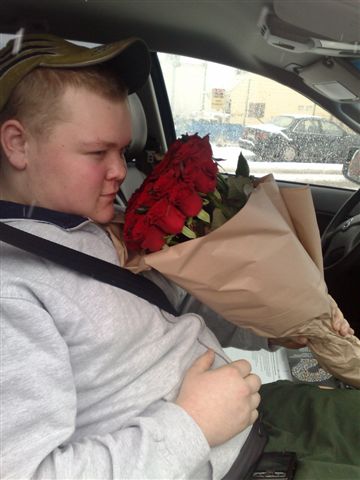 What a victory for him, he is the best driver, but hate to read and do tests..but now it is over!!!!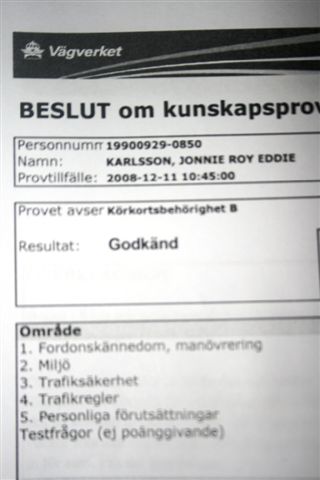 Now he got a new problem, his car was not ready for the road yet...and he want to drive today!!! His showcar is too nice to take out on winter roads...so he start immediately to look for another one. Puh......there is always something.....
Oh my sweet little baby boy *S*......finally, I was sooooo happy for him (and for Rune *S*)....he took the phone and called Rune immediately, he know that he should be sooooo happy, then he continue to call all his friends and send sms to his brother and Jenny and I called some other that was hoping for him today!
Damned he said...now I have to drive Jenny home on Saturday *S*..he have promised to do that IF he get the licence this time. And he did...I think that he would like to do that so much that his brain where working overtime to make it*S*!
We drive home and HE took my car and together with a friend of him, they drove 150 km to look for another Volvo...again...I think he have 7 of them now and 4 that he have squeezed and o made a pile of outside the garage..he is crazy, but decent
and very nice!
And every time he say that we have promise him because he do not smoke and drink as many other young people today..and then he know that he get one more car without any nag.....ha ha ha!
Some hours later they were home with his new Volvo and he was out all night long driving in the snowy weather.
There were more flowers coming to our house......Ooooooooo I LOVE THIS!!!!!!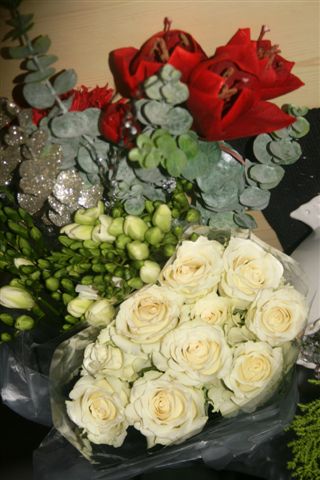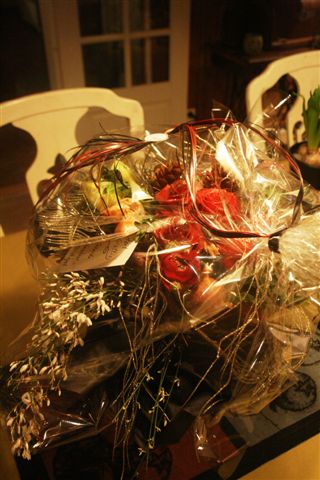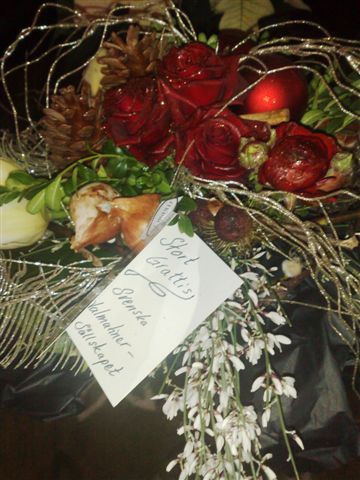 Wednesday 10 December 2008
This was in another paper today.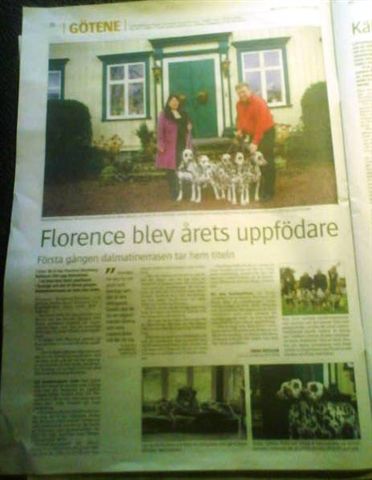 Jonnie and I drive to Mariestad to try for the theory for Jonnies driving licence. But they say that he haven't booked any time for that there today???? So we have to go home again...I checked our papers when we came home and we had a time there but it have been cancelled for some reason, damned!!!
Back home to eat breakfast/lunch and start to call for a new time for the test.
Lucky us that got a new time tomorrow in Lidköping 10.45, no rest for me tomorrow morning either!
Our little friend was lying dead in the livingroom when I came home, and our dogs thought it was their dinner for today. Look at Bell, she is licking her mouth *S*!!! It was sad not to have this little sweetheart as company anymore (that was what I thought..there is more of them..many more, but they are not as social as this one was).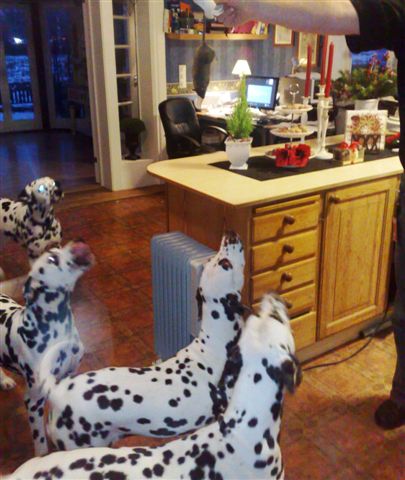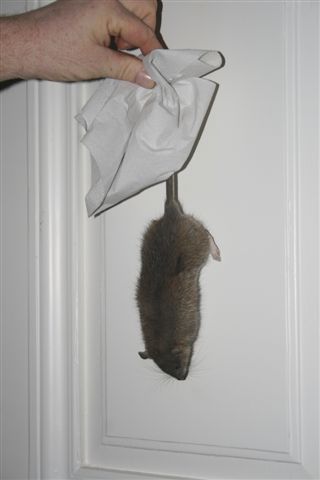 Rune and Jonnie at the school again, training for the theory. I do not know which one of them that would be most happy when this is over *S*!!
Looking at TV in the evening and fall asleep in front of the TV, we woke up at five o'clock in the morning and walk up to the bedroom...
Tuesday 9 December 2008
One Newspaper today.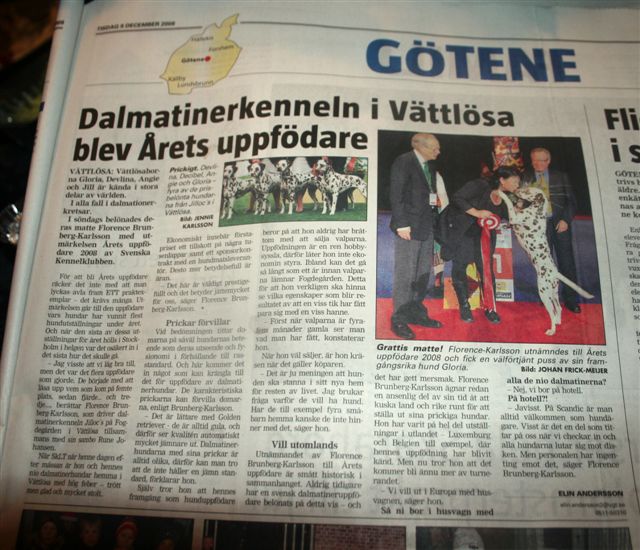 We were expecting the people from the newspaper at 11 o'clock and just when I was coming out from the shower they called from TV4 and ask if they can come to make an interview for the local TV news. It will be shown this evening.
I called Jenny and ask her to come immediately and to buy something for the coffee on her way here.....we did not have the time to go to the store...she was laughing. SHE WAS THE ONE that have given the tip to TV about our success in the dog world.....Oooooo is it Your fault I said then You have to come NOW....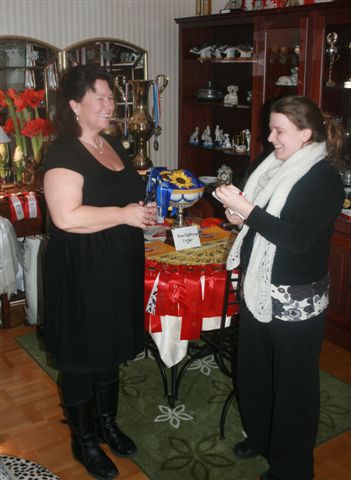 I told the reporter that they were welcome at 12...oh my god..this is funny of course but this is nothing that I could live with every day...You have to have it cleaned all over, You never know where they are going to take photos or film. I have only one place in the kitchen where I put things that is in way, under a shelf......(and of course that was the first thing I saw at TV news in the evening *S* damned!!!) I thought that they will do the recording in the livingroom but the light was so much better in the kitchen so they decide to go for it there...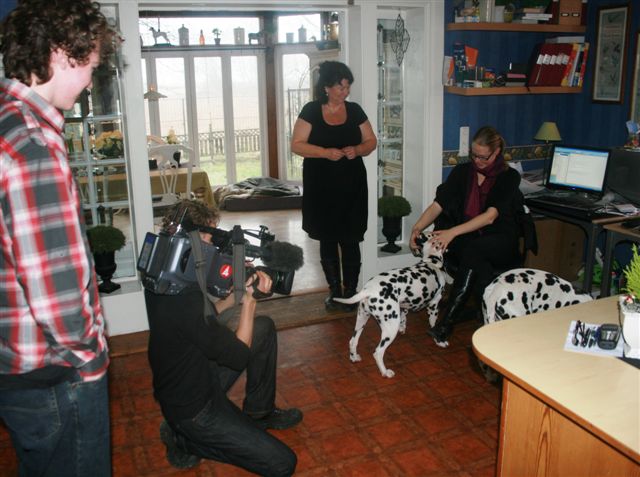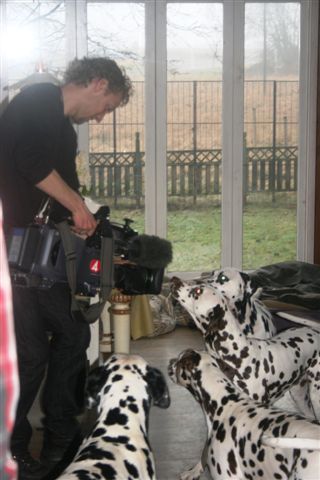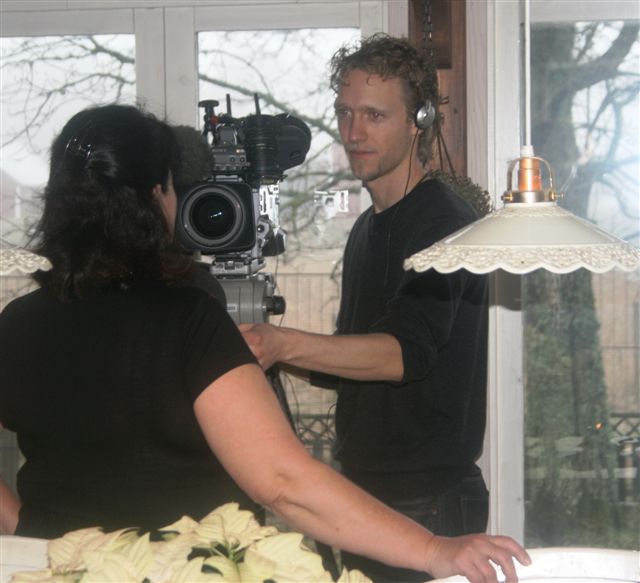 At 11 we start the first interview and a quarter past 12 we start with the team from TV4...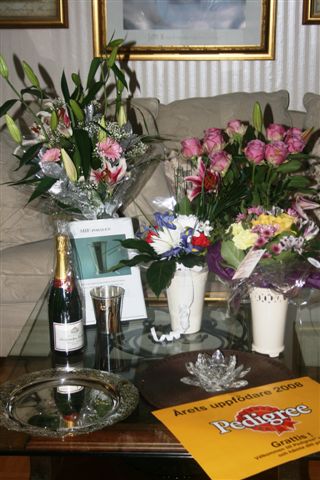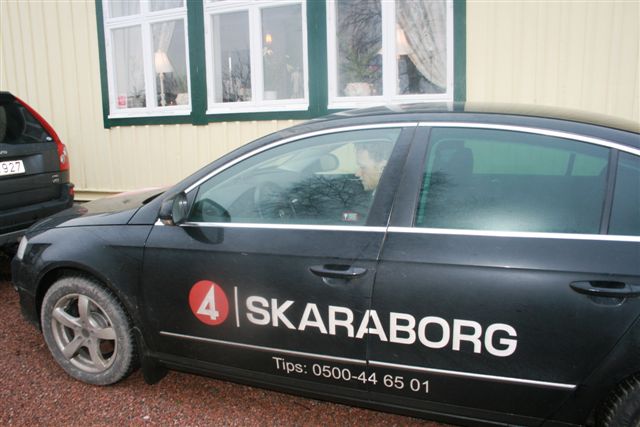 One hour later it was calm in the house again (as calm as it can be *S*). Rune have gone to his work and Jenny and I was driving in to Götene to buy newspapers to read the first interview they did with me yesterday. We bought 6 newspapers *S*........... And we have to buy something extra tasty for lunch/breakfast.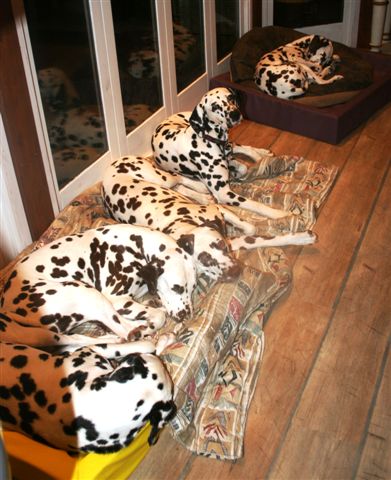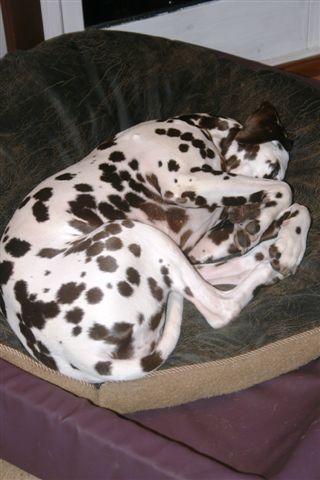 At six o'clock we drive to Hanna and Jens to look at the evening news at TV and to ask Jens for help to record it.. they have bought a BIG CAKE to celebrate...puhhhhhhh lot of cakes these days *S*!!!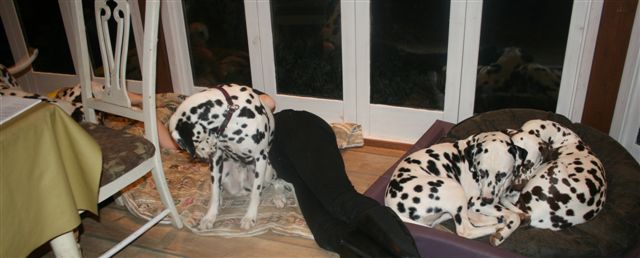 Jenny have to rest with the dogs for a little while first *S*.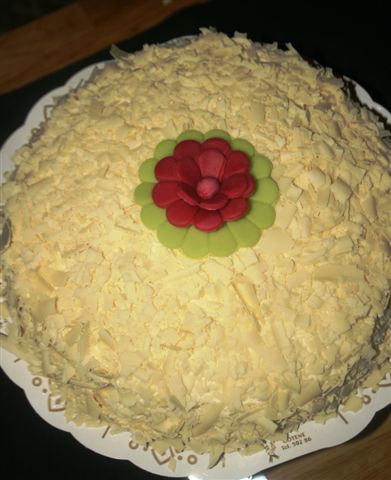 Beautiful and lovley cake with white chocolat on...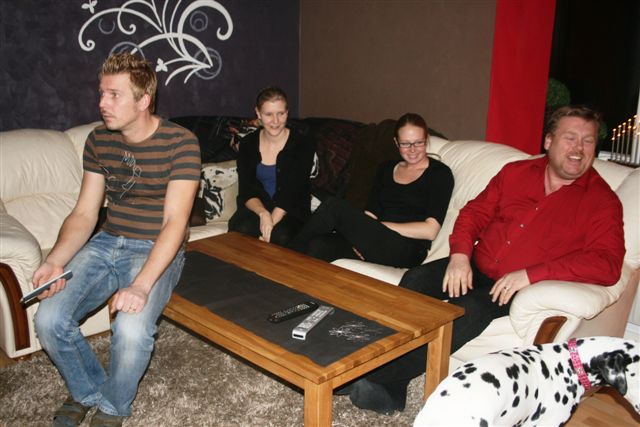 I hate to see myself on TV and to hear my own voice....terrible!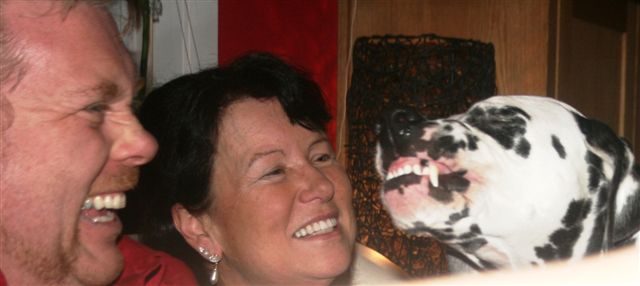 Hjärtat thought that it was soo funny that we were there...
When we came home there were 20 new mails from friends from all over, college and judges and even people with other breeds that I do not know.

Thank You All for Your Congratulations!

Monday 8 December 2008
My plans to have a calm morning did not go as planned ..both phones start to call at nine and continued to do so all the day....newspapers made an interview with me on the phone I was to tired today and had fever so I couldn't let them come her.
Today I get the feeling that I should have had yesterday before the final...I was shaky and high speed and can't calm down *S*!
Most of the time I was answering mails and phone calls and in the evening suddenly Hanna and Jens came with beautiful flowers and just after they arrived there came a flower delivery at the door. More beautiful flowers from my friends and puppy buyers.
We showed the movie from yesterday and Hanna wish that she had been there with us.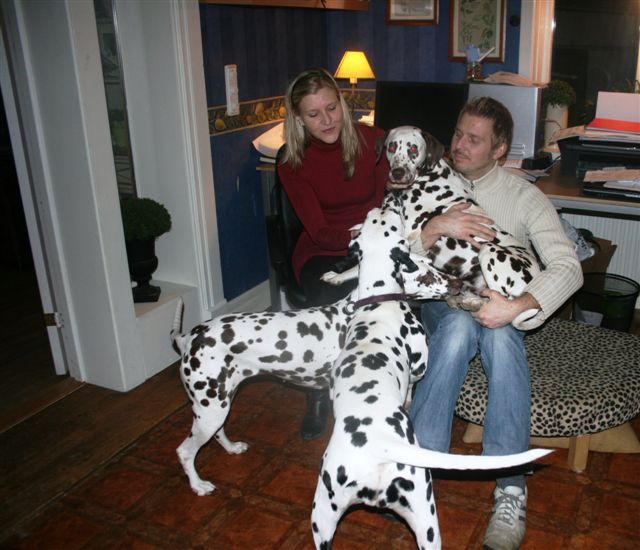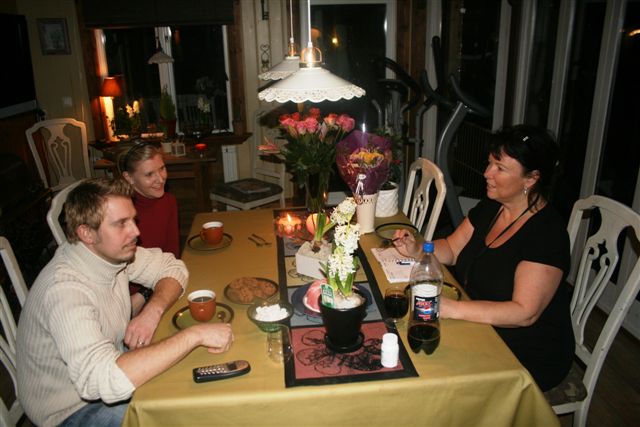 Jill , Devlina and Muzica so happy for visitors. Coffee and cake of course.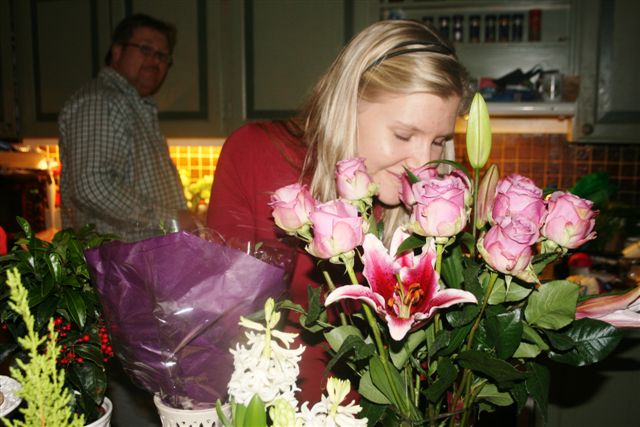 Hanna smelled the flowers. Rune made dinner for us.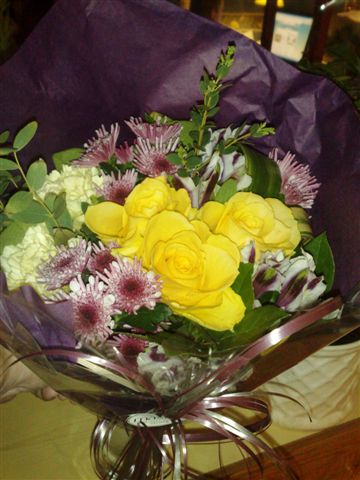 More flowers from friends.
It was hard to calm down in the late evening I think about yesterday again and again and I realised now how fantastic this was.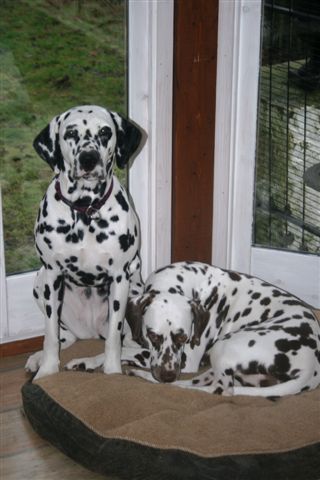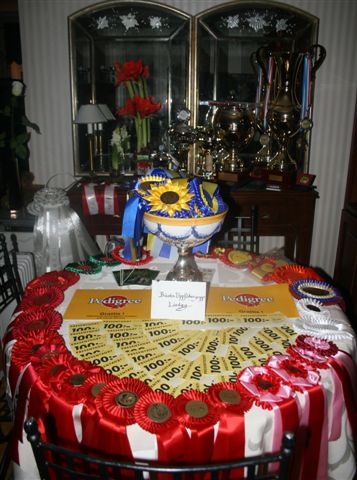 Muzica and Jill are so relaxed about everything. Lot of gasoline checks, hurray!
Tomorrow there will come another newspaper for an interview so I have to do lot of things before that so no long morning tomorrow either.
Rune will stay home for some hours and go to his work at lunch.
Sunday 7 December 2008
Today Rune was going to do his last training as a judge with Springer Spaniel. Jenny and I was thinking about staying in the bed this morning at the hotel and then later on go to the Expo, but we decided to follow Rune this morning even if it was too early.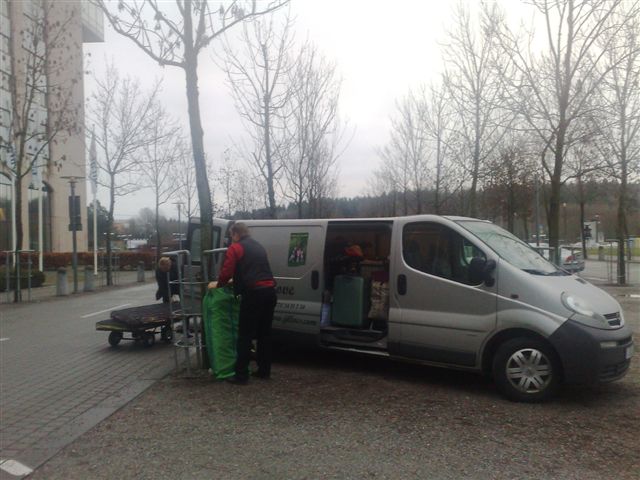 Back into the car with everything again. We love to be back to Infra City again.
Kari Granås Hansen was the judge for Springer Spaniel. Arne Foss and Rune were training.
Jenny was so nervous and excited that she can't stand still or sit down for more than 30 seconds *S*...I was soooo calm all day that I think it was something wrong with me...normally You should have had butterflies in Your stomach an important day like this. Soo many asked me all the time are You nervous.....are You nervous.....but I wasn't. Just happy, every placement now is a huuuuuge win for us!
I was soooooo happy for our win yesterday that I can't wish for more....now I have to be in top 3 and that is better than I have expected. I have studied all beautiful groups soo many years now and the competition is really hard to beat so I am more than happy to come this far with my spotted darlings!
During the day we were walking around and look for other breeders groups, and some of the breeders that have a chance to climb at the list did not even win in the breed ring. Jenny can't stop smiling and jumping then, it is not many times in my life that I have seen someone be that happy.....she is soo sweet and a my biggest fan *S*!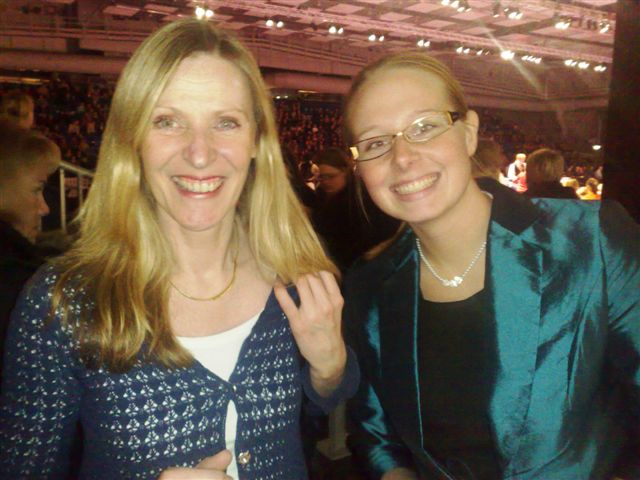 When it was time for the competition of the Breeding groups for Saturday there were only 23 groups today and Rune said it was impossible for someone to beat us now. We HAVE TO be Nr 1 or 2 then.
Then Helena and Jenny smiled even more than before *S*! And Jenny jumped around for 5 minutes laughing and smiling and almost crying, poor girl..this was almost too much for her *S*! All we other were happy just to look at her!!!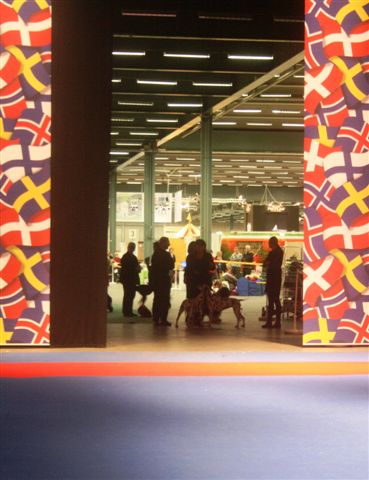 Jenny was pale in her face and have pain in her stomach during the whole day, but when they called me up as WINNER of Breeder Of The Year 2008, everything fell of her shoulder and she felt so good again. Poor her we were really afraid for her health for a while.
Waiting outside for the result. They have called up five kennels and when they call for the second place...Then I was standing there alone waiting for the spotlight when I was running in with Gloria to the first place. (Rune made a movie of all this and when they call for nr 2 and we know that I was Nr 1 Jenny shout...don't look at me...don't look at me...and she was jumping away with both feet so I couldn't see that she was crying because I have told her not to cry so I can see it...then I will start too *S*!)
Johan (Our favourite photographer) took this lovely photo from the ceremony, and it was on SKK:s Homepage after some hours.
It looks like Gloria thought that she had won something.....and she had together with all our dogs and my puppy buyers dogs.
Thank You all fantastic puppy buyers that helped me to get this prize.
We are all the Winners!
And of course a big kiss to my "One and only" Rune that is the biggest reason that all this was possible!
He is the one that drive all nights long to come to a show and go back home again, and he is the one that carry everything in and out to the shows, and he is the one that show most of my dogs because of my bad feet, and he is the one that do everything in early mornings when we are going to shows (while I am in the shower and making my hair) and he is the one that is always there when I have forget something that I should have done.
If there were a BEST IN SHOW for kennel boys, partners, friends, handlers and so on......
He is MY BEST IN SHOW!
And after him comes Åke!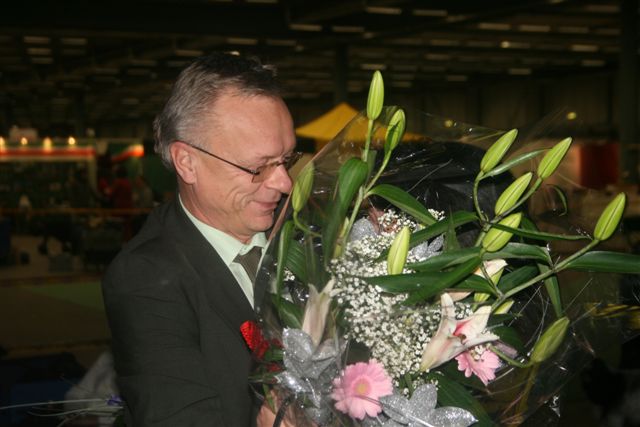 Lot of greetings as soon as I came out from the show ring...All our friend from Stockholm with a fantastic bouquet of beautiful flowers, and ....
Åke was the first of them all, thank You for everything!!
Fantastic !!! Out of Top five Best Breeders we were THREE from Skaraborgs Kennel club!
Johnny A with his kennel Lundecocks was Nr 5, and our friends Björn E and Johnny N with kennel Diplomatics was Nr 3, and Jilloc's Nr 1.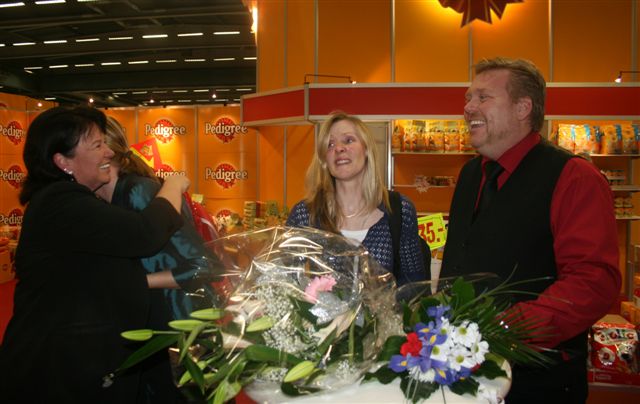 After all laughs we all have to cry a little *S*!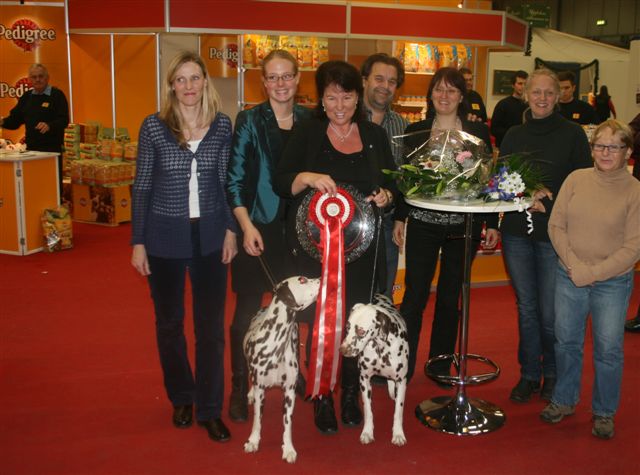 Helena, Jenny, Me, Voijkan, Kattis, Helena T and Eva B.
We wish this day will last forever.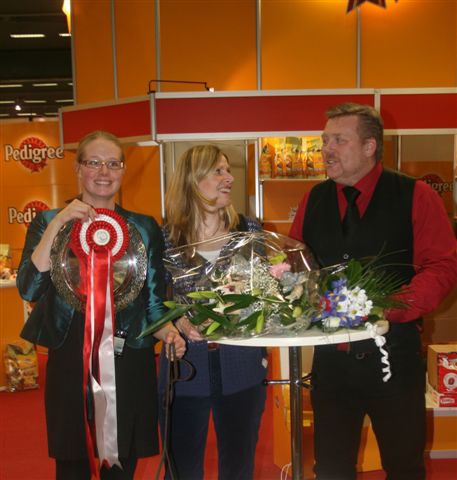 We could not stop to take photos...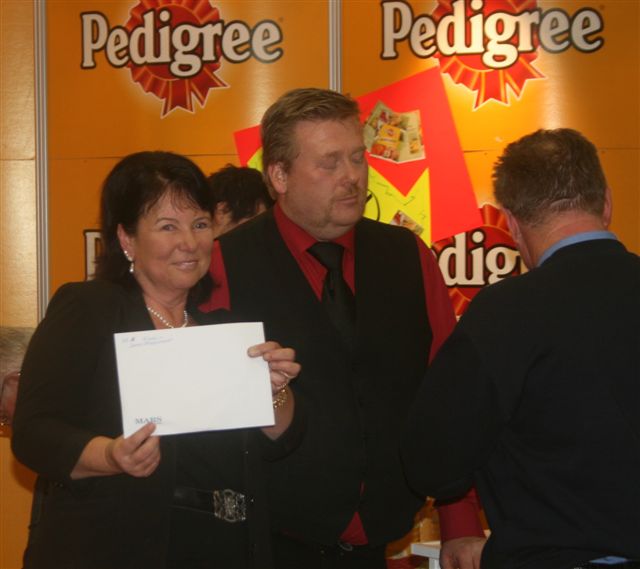 Sooooo happy for gasoline checks from Pedigree, our gas account is huuuuuge!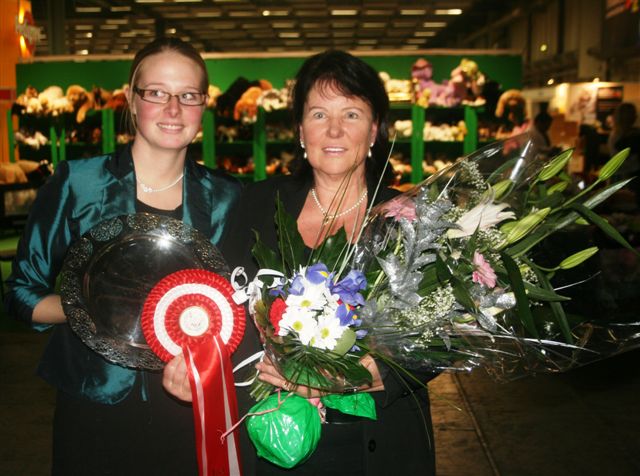 Just one more photo of today.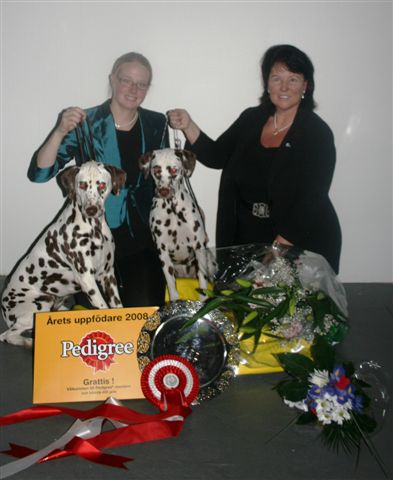 It was late before we had packed all things together and started our journey back home. We were home before midnight and....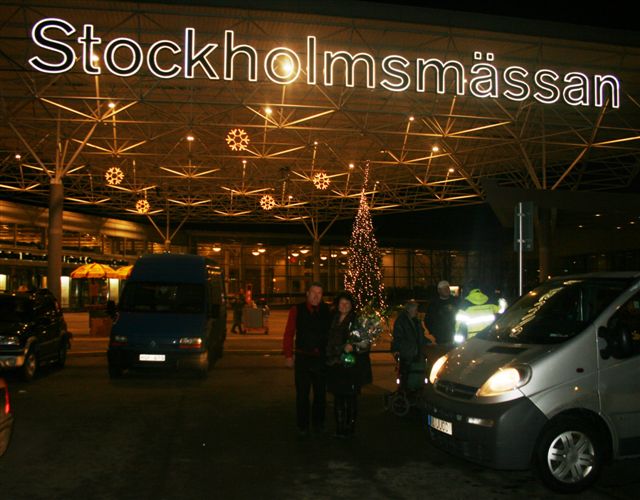 Goodbye Stockholm for now, we will be back (as always)!



In the middle of the night Daddy mated Muzica, we are now hoping for puppies in the beginning of February 2009.
Guess if we were sleeping well tonight *S*, but poor Rune had to go up some hours later for his work. I was planning to stay in the bed for a loooong morning.
Saturday 6 December 2008
Stockholm Int show, Crufts Qualifying
Judge Åke Cronander, Sweden
Most important this afternoon is the Breeding groups.
My hardest concurrent's that are placed close behind me are also in today's competition, so we will soon know IF we are IN OR OUT for the final on Sunday.
I am NEVER nervous for this things it is JUST A BONUS, but now I am *S*!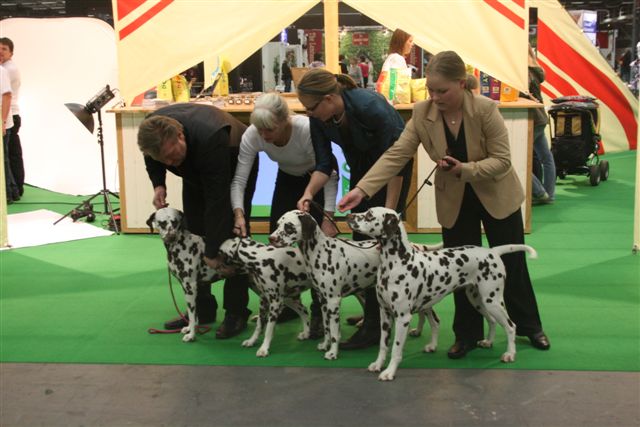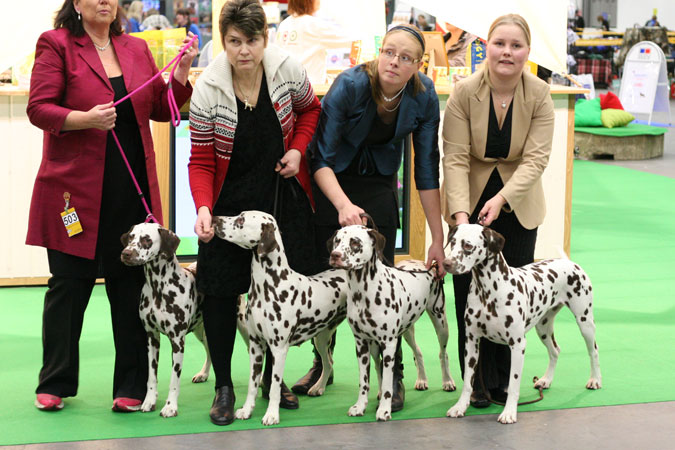 We drive away from home at 3.30 together with Eva and Jenny in their car and Hanna drive her car one hour later... it was important to have many cars IF something should happen with one of ours...it is only one thing in our head today..to be there in time so we can show our breeding group, MOST IMPORTANT OF ALL...
We tried some different combinations with dogs when we were in Stockholm, loooong time before the judging started. We try to think about everything and in the end we decide to go for a group today that was by Nr 1-2-3-and 4 BEST bitch...but we didn't know that then *S*.....some hours later when we were placed we found out that these four bitches that we have chosen was the top four today for this judge...PERFECT!
Now we have done as much as we could before the final competition this afternoon in the ring of honour......brrrrrrr nervous!!!
We have borrowed a handsome handler from Norway *S* just to give the group a nice look, but of course it would have been better if we were all in the same size as some other nice groups handlers (I am sooo jealous of those with Saluki) they have same length, weight and clothes and their dogs are soooo calm and are not naughty at all like ours too happy Dalmatians that have a hard time to stand still in the groups.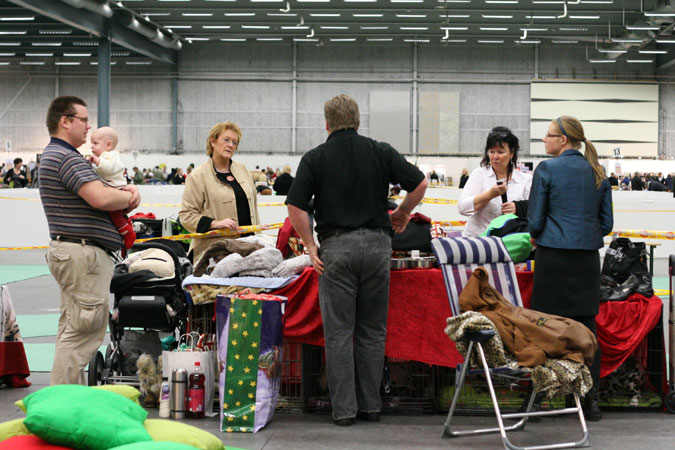 Photo by Pia.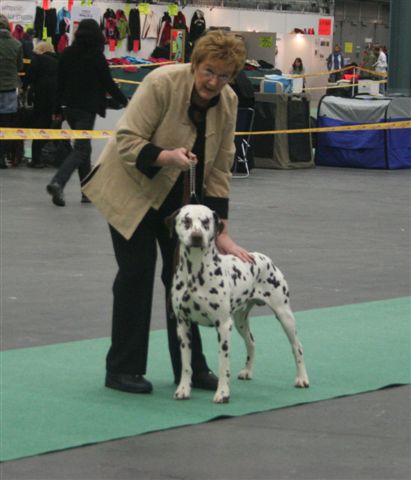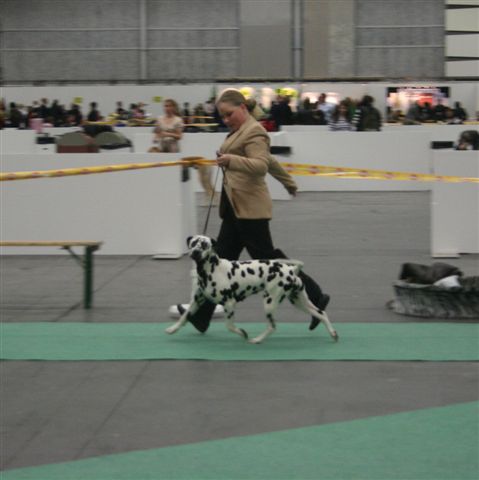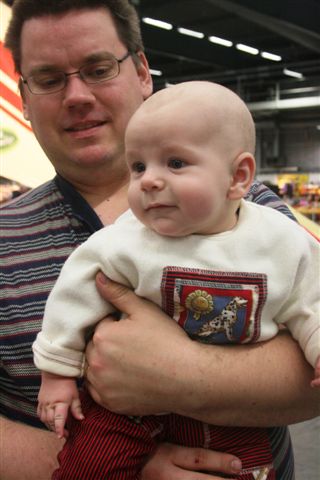 Anita and Harry was training in the ring. Pia running with Breeze. Teemu and Luca was looking.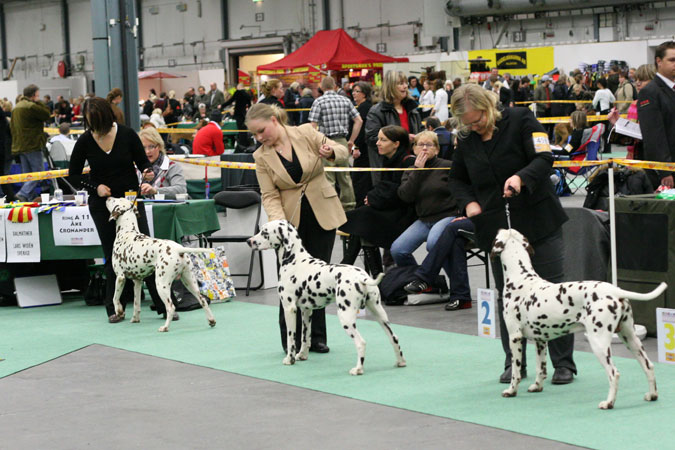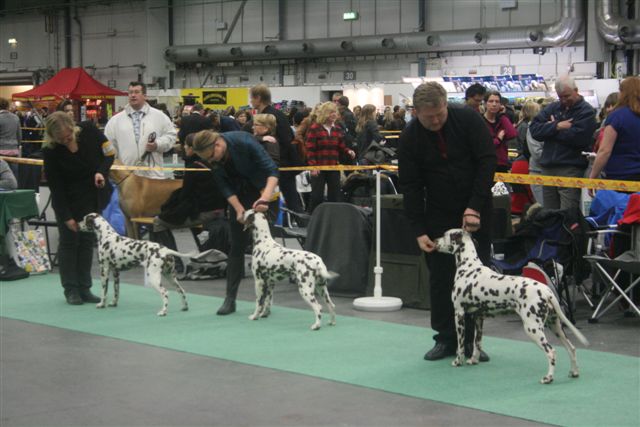 Ch class males Citykid's, Expo and Harry. Ch class Jill, Devlina and Puzzle.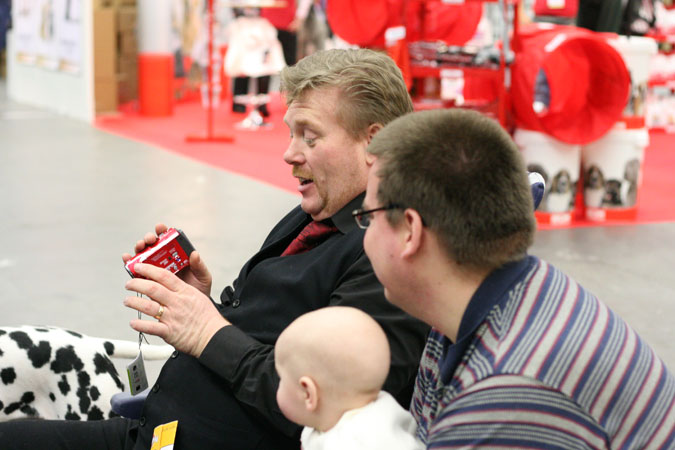 Neela was here too from Finland (Jilloc's Scandal Beauty) she was nr two after Gloria with ck. Rune, Teemu and Luca.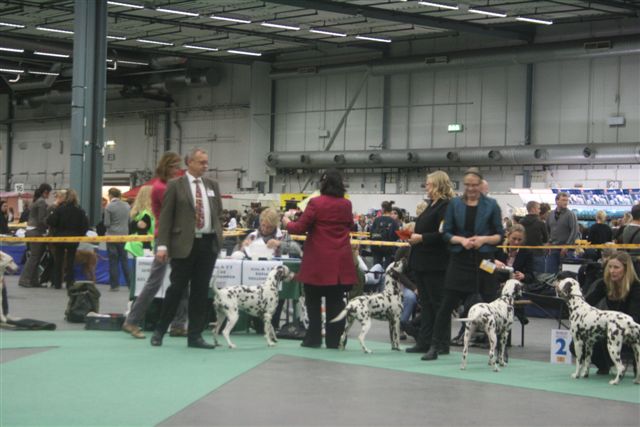 Best Bitch Gloria, Jill, Angie and Devlina...thank You Niina, Jenny and Helena that helped us. Brandon was Best Veteran today, Congratulation!
And he became second best male too.
Nord Jun W-08 NV -08 Jilloc's Splendid Choice BOB, Judge Åke Cronander and BOS Ch City kid's Dark Chocolate Danilo.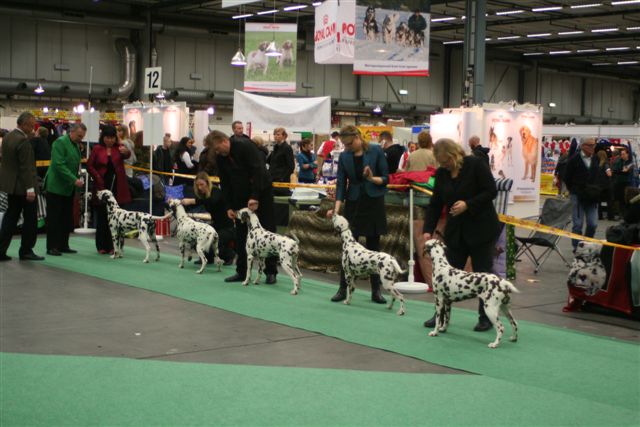 During the afternoon there were an examination for two new judges for our breed, that is very good. And during the judging of Dalmatians today there were one student and one aspirant in the ring, looking and learning about our breed together with the judge Åke Cronander. So many dogs was really tired in the afternoon because so many people have been looking and examined them, but not Gloria, she is always on top *S* thank god. First we took her to the photograph for the Winner Photo and then she was in the finals for group 6 and then in the final with the Breeding group.
We were at the photographer to take Winner photos, and with this win Gloria is now Qualifyed for CRUFTS 2009!
All photos from Mässan was in this bad quality..it looks like my mobile camera but it isn't!!!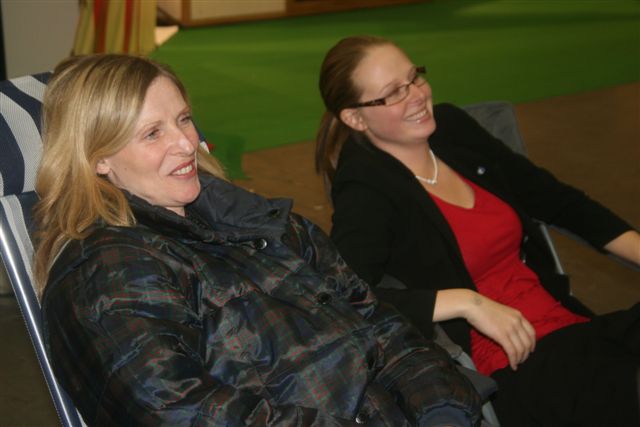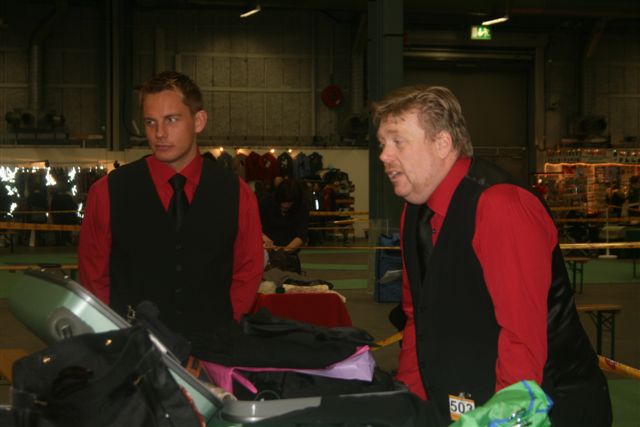 Helena and Jenny resting before the final. Björn Erling and Rune waiting.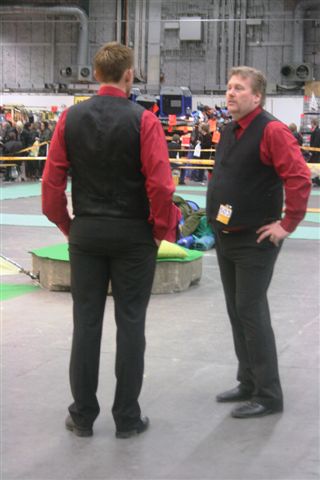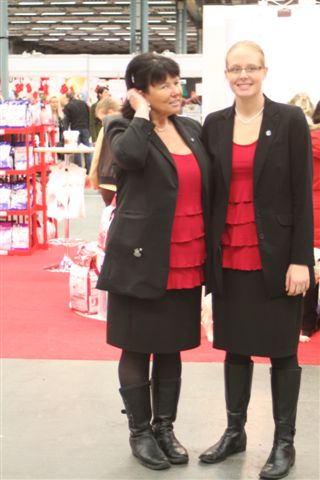 Long time to wait, the Breeding groups were in the end of the day, and of course we change clothes to be more similar *S*!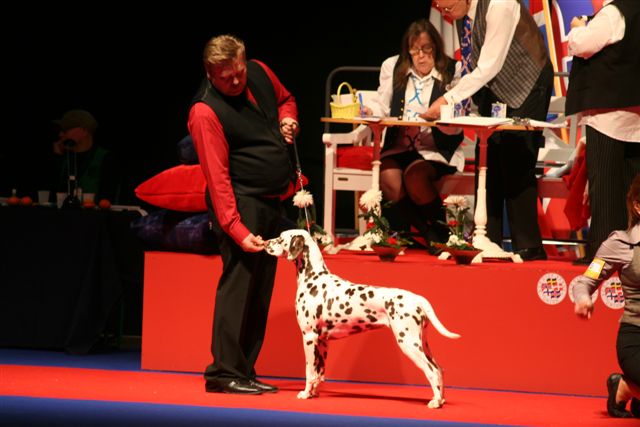 Gloria was Big 5.
Finally!!!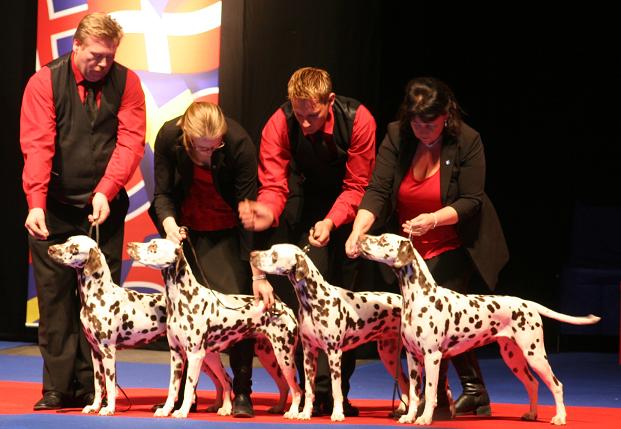 Rune with Jill, Jenny with Devlina, Björn Erling with Angie and me with Gloria.
There were 28 groups from the beginning, and later on we were only five Groups left. Great Dane, Saluki, Newfounland, Miniature Schnauzer and Dalmatians.
Nr 5 was Newfoundland
Nr 3 was Great Dane
Nr 3 was Miniature Schnauzer
And as many times before this year it was between Saluki and Dalmatians.
Nr 2 was Saluki, and I did not hear them say that because the fanfare was soooo loud..but I saw Jenny start jumping and Rune and Björn Erling was smiling with their whole faces and I ask B-E....who won...was it us??????
Yeeeeeeeeeeeeeeeeeeeeeeees!!!!!
Best In Show Breeder on Saturday was Kennel Jilloc's!
Hurray!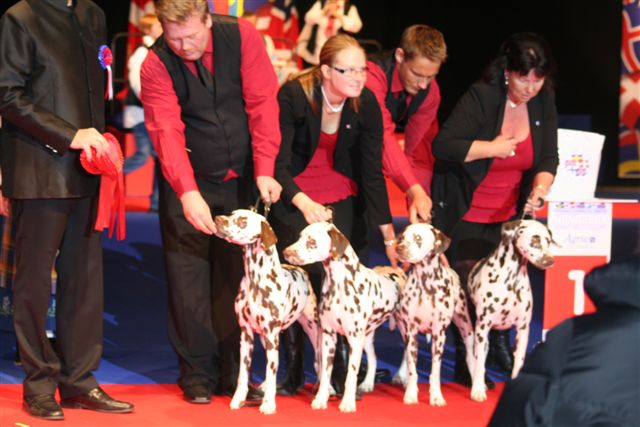 Always chaos when they shall take photos *S*. Then we have to do a "Honour round"!

Photo from the final taken by Eva Ahlberg, thank You.
And Thank You Niina that filmed the finals, so funny to see us all the same time, and me kissing the judge in the end *S*!
And an extra kiss to Björn Erling that helped us in the group this important day.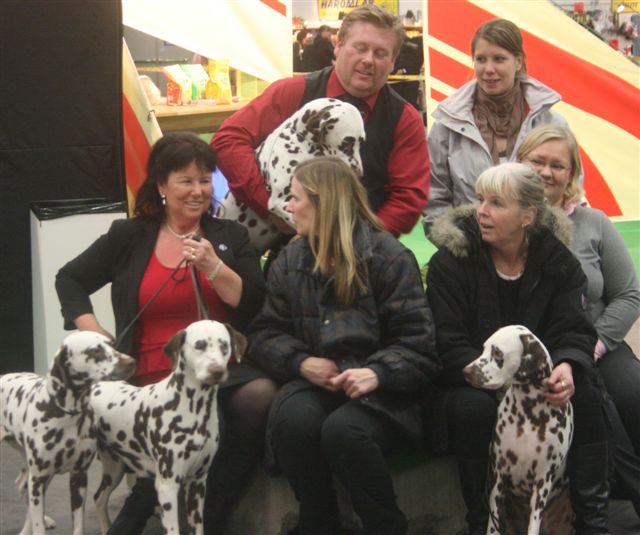 Happy TEAM.
Photos from today taken by Rune, Eva, Jenny, Niina , Pia, Teemu and Me.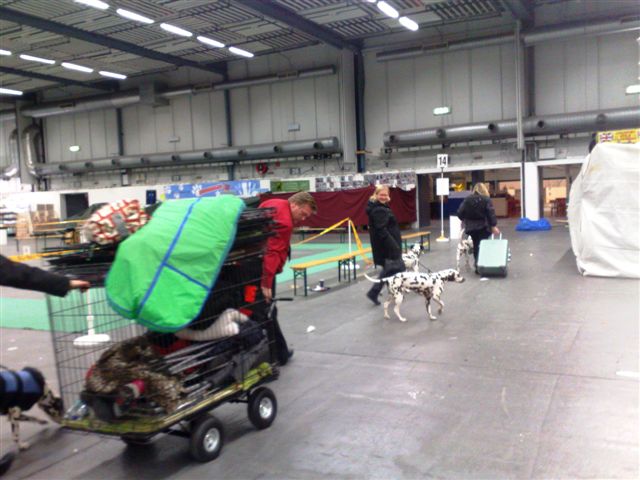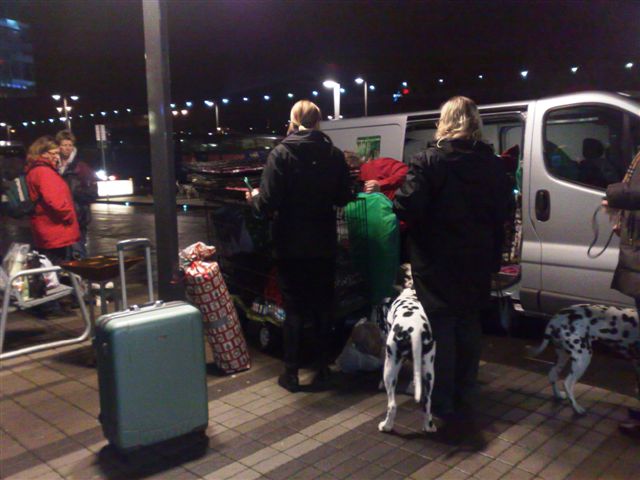 All things back to the car, and try to get space for it again *S*. Thank god that our finish friends and Helena helped us to the car.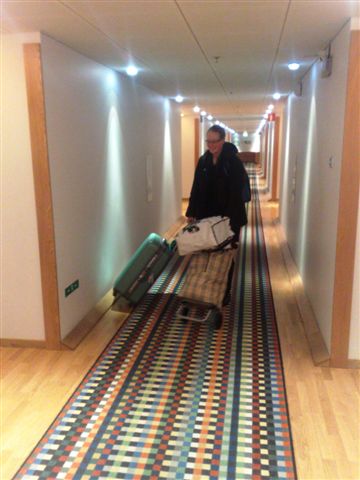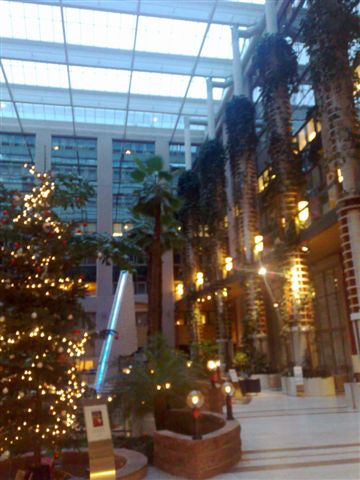 And then to the hotel and out with all things from the car and up to the hotel room. We stayed at Infra City one of the most beautiful and best hotels we know, with the fantastic winter garden in the lobby/restaurant. And You are always welcome with Your dogs without extra costs there.
Christmas flowers in the reception.
We were really tired after a long day and a VERY early morning. Our intention was to eat something and to watch the final of "Stars On Ice".
Rune and Jenny went out to buy food and I fall asleep on the bed. Up and eat a little and start to look at TV...then I woke up in the middle of the night..I haven't seen anything of the program that I have been waiting for, for such a long time *S*..
I was looking around and couldn't find Rune. I thought he was at the toilet, but after 15 minutes I went up looking there...no Rune there.....strange....Jenny was sleeping so I couldn't ask her. Maybe he was out with some of our dogs and I start to count them...strange...all of them was there sleeping! I was too tired to think more about it and went back to my bed again.
About one hour later the door opened and I heard Rune start to talk to Jenny....Even if he was tired too he had gone down to the lobby and ask for a computer...He was there for some hours and he have been counting all points for the breeding groups through the whole year for all the groups in the top eight, again and again *S*.....And he was rather sure that we now was in the lead before tomorrow......Jenny was excited and jump up, I heard them talk and talk for a long time, but as I said to them before...don't think about it until the SKK computer have count it all tomorrow afternoon...Everything CAN happen in the last minutes..we just have to wait and see. And then I fall asleep again...but they were up most of the night counting again and again and try to convince each other that we CAN win......
I do not think it is possible so I sleep instead!
But I love them for their spirit, without them I have been nothing!

Success keeps You glowing.
But, only Friends keep You going..

Friday 5 December 2008
It was raining, snowing and during the day there were just above freezing point but early morning it was cold
and probably tonight again, shit!!!
I was giving some dogs a bath and after breakfast/lunch I start to check upon all clothes one more time, there is always something I have forgot.
This weekend will not be that nice as we have been planning for many weeks now. First of all we have to start from home at 3 o'clock at the latest if the weather is ok....and then at least Rune have to go to bed EARLY tonight, and every time we have to go to bed early it is impossible to sleep.
We were so happy that Dalmatians didn't start before 10 o'clock tomorrow, but now we have to be there at 7 anyway, just to get parking close to the show...shit!
We will travel in normal clothes and have suitcase with nicer clothes with us (as always) and tomorrow I have 6 different shoes with me because of my stupid feet.....You can understand that there will be no space in our car.
And we will have different clothes with us for the finals, IF we get there.....I really hope so. It is important that we are dressed exactly the same....not for the judge probably, but for me *S*it is as always the dogs they are looking at, and it should be! But IF we have different colours and clothes it disturbs the impression of our dogs...most other breeders have a breed where all the dogs have the same colour...but our dogs are so SPOTTED (thank god) and no one can be the same so WE have to be VERY SIMILAR instead not to disturb the whole impression!!!
We will have 6 dogs up to Stockholm, two males and a bitch in high season..this will be funny!!
Jenny and Ewa are going in their own car at the same time and even Hanna, so IF one of us get problem with the car we can help each other to get to Stockholm...I hope.... Anita and Niina and Mette is already there and I am so JEALOUS of them!!!!
I have forgot to tell You that we have a long time guest that is together with us most of the time.....it is a rat that love to be with me in the livingroom in the late evenings and it is really sweet. He/she runs in front of me and hide between the Christmas presents in the hall. We have try to catch him for about two months now but he is just playing with us..he eat up everything during the nights and I have to clean after him/her every day. IF this little friend didn't eat our things up he/she could have lived here with us, but it start to be expensive with all nice things that is destroyed now.
I heard Rune scream tonight when he was coming out from the toilet and almost step on the rat. And the same did I later in the evening....ha ha ha ...but we are most afraid to step on "it". Thank God that I am not scared for rats...this is not a mouse but a rat..I will try to catch it on a photo but my dogs are always there before me.
Jill is home now so the rat have to watch up...she love to play with them and scare them to death...so in the morning there can be a wet dead mouse or rat on the kitchen floor.
I've a sad message today that Jilloc's Gremlin Ghost is dead, thank You Tina for this beautiful photo: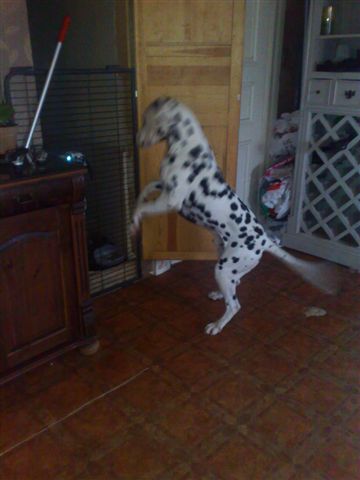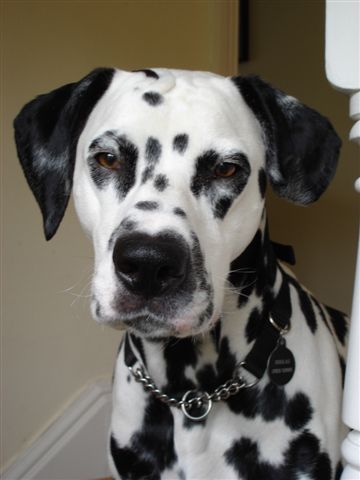 Rolex is dancing for Muzica. Gloria and Muzica looking for the rat. Doglas a very special and nice dog.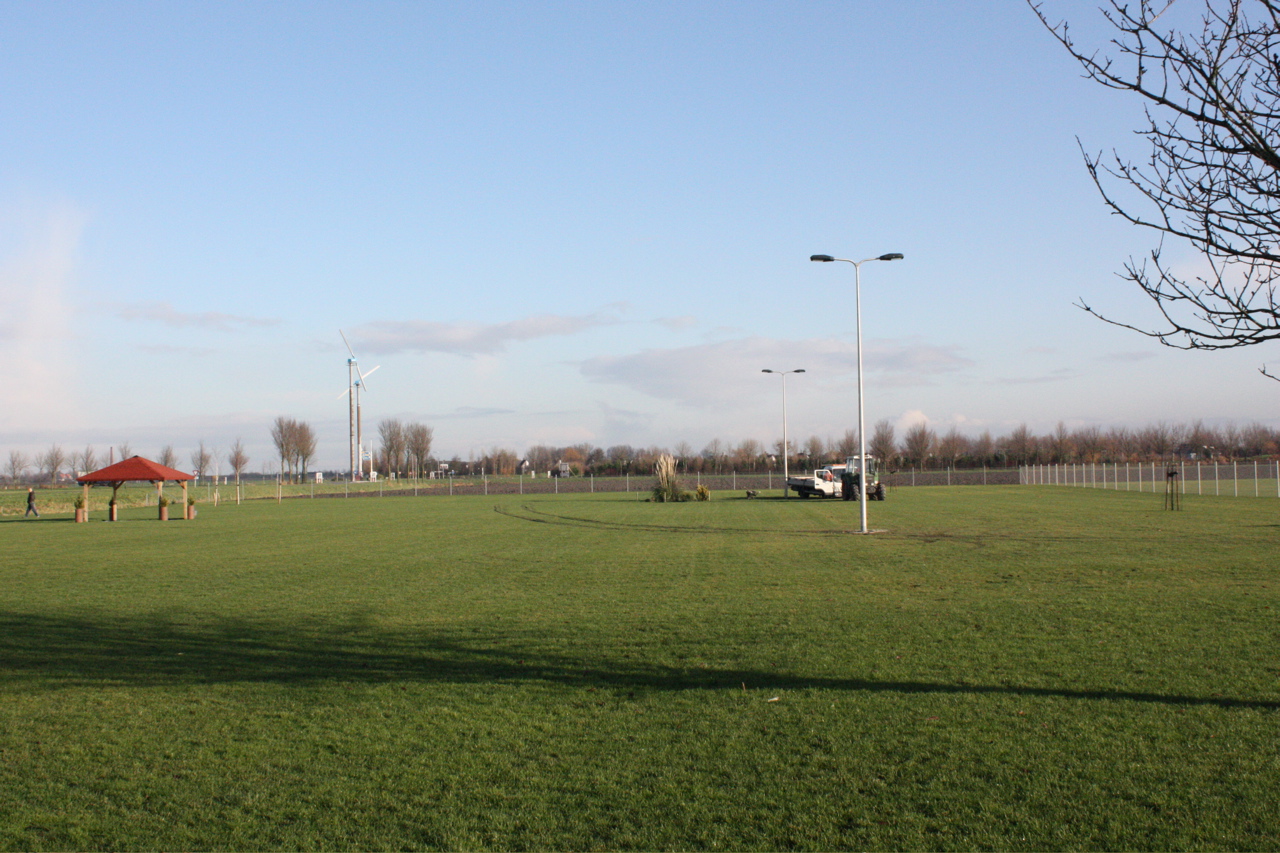 Look what my favourite puppybuyers in Holland (the only one.*S*S*) have been doing this week!!!
They have put spotlights in their dog yard so we can use the whole area even in the night......we are coming..soon!!!!
Lucky Seven to live there!
Thursday 4 December 2008
Only two hours sleep tonight, damned!!! I have to go up early because Roy was here with Jonnie already at 7 o'clock and he want breakfast.
Jonnie and I was on our way to Skövde to take photos for his driving licence and try for the hard theory there....He was soooo close 50 points today, and he need 52 to ....... shit!!! We have to start home 1,5 hour before the normal time because the roads was very dangerous today.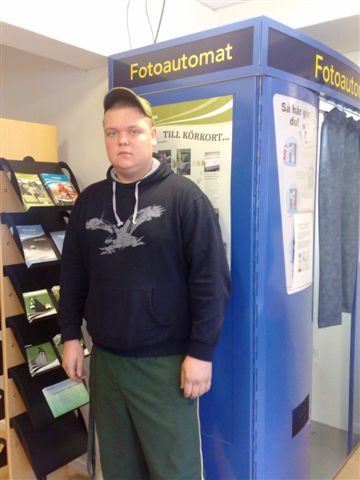 We met a friend of Jonnie there and both Jonnie and Ludde went back home with me.
some hours later I have an appointment at my hairdresser in Lidköping, so I have to drive away again. And I was so tired and felt almost sick today..pain in my body, stomach and head. I need more sleep now..I can recognise this feeling, it is just like when You have been up waiting for puppies for some nights...You feel sick!
I have to eat lot of chewing gum when I was on my way to Lidköping..it was really hard to keep awake. But when I was ready there I took a quick shopping round instead of going home *S*.
After dinner Rune and I was sitting and discuss how to do with the caravan tomorrow. He can't go home from work early because of many things so it will be dark before we can start from home.......he checked up the weather during coming weekend and it sounds not that good. Then we start to look for hotel in Stockholm until late in the night........I am soo pissed that we can't take the caravan, because it is already packed with all our things for this weekend. I can't imagine HOW THE HELL all those things and clothes and Christmas presents and dresses (for Niina to try) can get room in our car????????????????
Wednesday 3 December 2008
Eddie is 2 month old today!!!

Congratulations Yulya
Bosson got puppies in Russia today with Russian Ch Puding Dog Chein of Gold
There is 4 males and 4 bitches.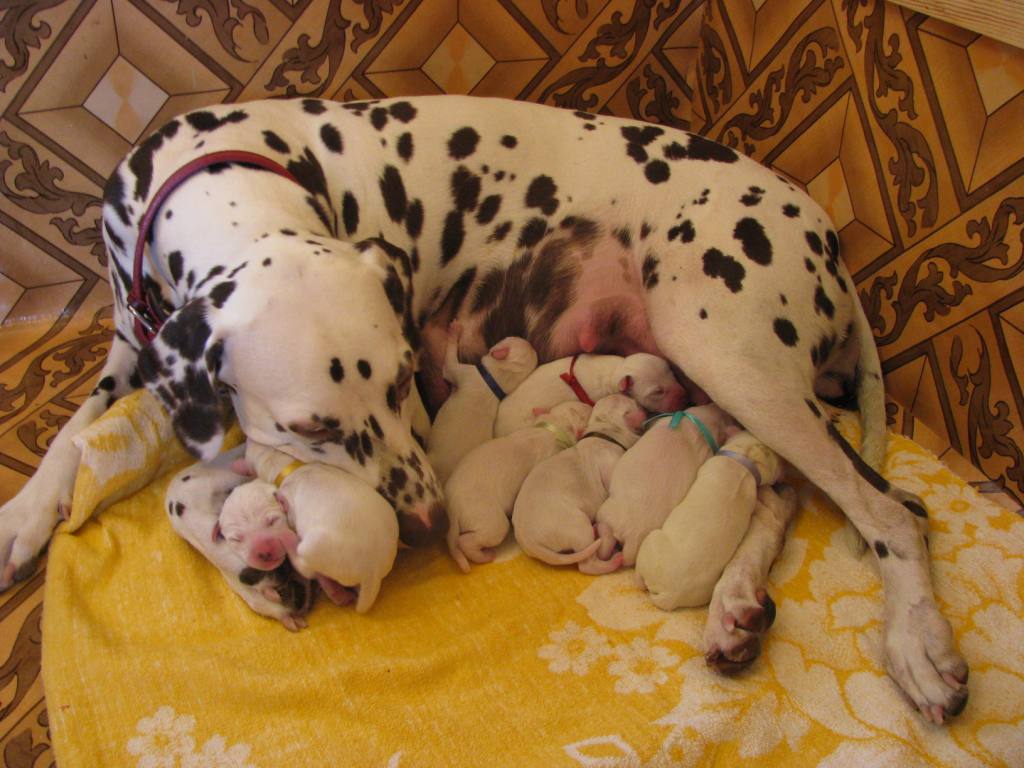 We are really longing for puppies too now.
We will mate Muzica next week and hopefully get a litter in the beginning of February.
Today I have been on the road almost the whole day. I drive to Gothenburg this morning to meet Jennie and bring Jill home again for Stockholm. And I will meet my mother too and bring her Christmas flowers for her home as always in the beginning of December. We have bought some bottles with liquors to her and some chocolate too.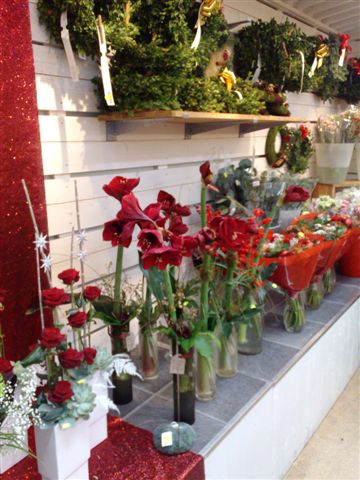 All three of us went for breakfast/lunch and after a quick look in the stores, we drove to my aunt that now is at a retirement hospital home close to my mothers apartment.
She did not recognise me but was happy for her cake and marzipan pig as I always are buying to her at Christmas.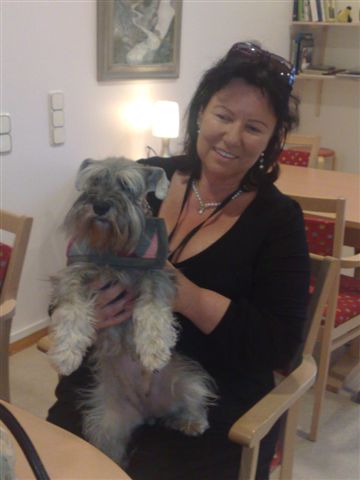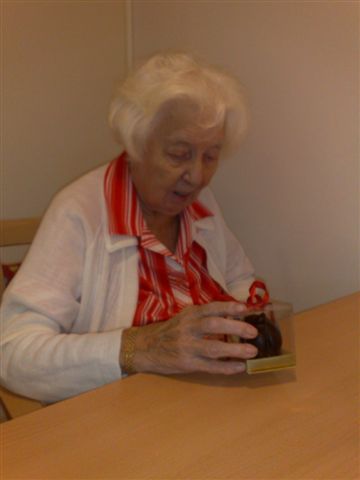 I found a dog there she was owned by one of the staff.
It was lot of traffic and it was soo dark, I hate to drive then.....I was home at 17.30 and sooooo tired. Both Rune and I fall asleep in front of the TV for an hour and then lot of things to do again.
Poor Rune is still working with a laaaarge cage in our caravan to protect everything from the dogs (the young ones) the only thing with this new caravan is that it is tooooo nice to destroy! The clock is 2.15 in the night.....poor! But tomorrow he will work many extra hours again and we have to be ready for our trip at Friday afternoon, so he have to do it in the night.
And I feel soooo exciting just now before this weekends show so I can't sleep, but we really need it..last night Daddy sing some songs during all night for Muzica *S* so we slept about 1,5 hour!!!
Tuesday 2 December 2008
I continue to make lot of Christmas presents and fill our caravan with them. We will bring them with us to Stockholm next weekend.
Now I start to be really nervous, not for the judging..it is not the most important thing this time, BUT we still have the possibility to be Top Breeder 2008, all breeds in Sweden. It depends which placement we get in the final ring at Saturday (if we come there)....and the final result is ready after Sundays all breeding groups competition about 17 o'clock in the afternoon, so we will stay in Stockholm until then. and Rune is going to make his last training as a judge on Springers on sunday, and I will sleep in the caravan.
We still can beat nr 1, but there are some breeders behind us on the list that can beat us too of course. Hopefully we can stay 1-5 in the end.
Time will tell!
If we win it all (it will not happened) there will be an reportage in the Swedish Magazine Hundsport of Kennel Jilloc's and I am not so fond of that, but Jenny (our biggest enthusiast and puppy buyer and friend) she even have promise to be here for a week and clean the house before they come here to take photos *S*, I told her she have to do that, even if she hate to clean, because I am that crazy that I would like to have every cm of the house perfect (as perfect as a very old house can be) if someone is coming. It is worth it as long as we win she said....I am not sure that I believe her this time *S*!
It start to snow like hell this afternoon and normally I love it, but we have to take our caravan for this show so I am really afraid if there is winter road or not.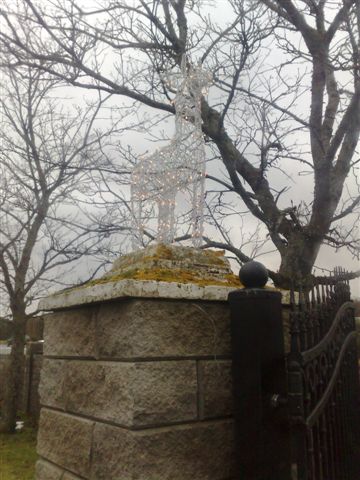 Our gatekeepers!