Saturday 28 February 2009
Sunny Saturday today!
So much mud on the glass door that you almost could see Jill and Muzica.
Photo from Eddies christening party.
Those cakes was very good and Roy was so fond of the one with raspberry on that he ask for a bit to take home.
He put it in the back in the car......I asked him the day after if he have remember to take it in and eat it up....Yes he said and it was even better than the day before.....HA HA HA HA ......... at Tuesday when Jonnie and I was in Gothenburg we stopped to buy bags for my store. When we opened the car in the back to put them in ....what do You think we found......YES, the plate with a big bit of that lovely cake.....
Mr Cakeman is sooooooo senile that he do not even remember what he have eat or if he have eat.....in the future we might have to start to feed him to see that he get nutrition enough *S*!!!!!!!!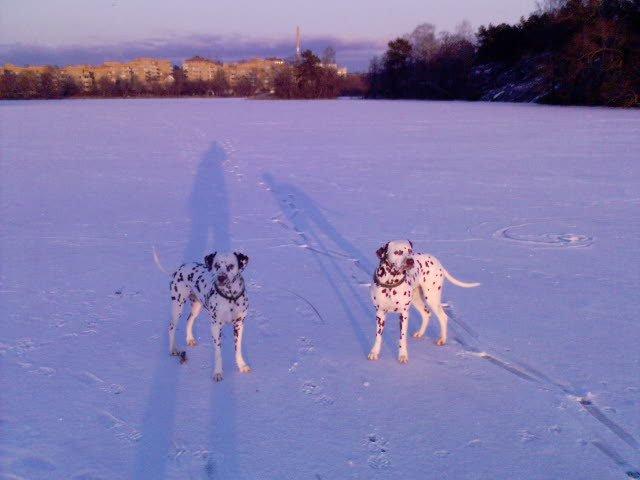 Beautiful photo from Helena B in Stockholm from a walk with her dogs ...on the ice - it looks like....
Sweet Milda and Molly.
Friday 27 February 2009
My number one!
Now we have entered six dogs to Bratislava in October 2009 for WW-Show.
We hope that some of this W-litter can go there with us as puppies!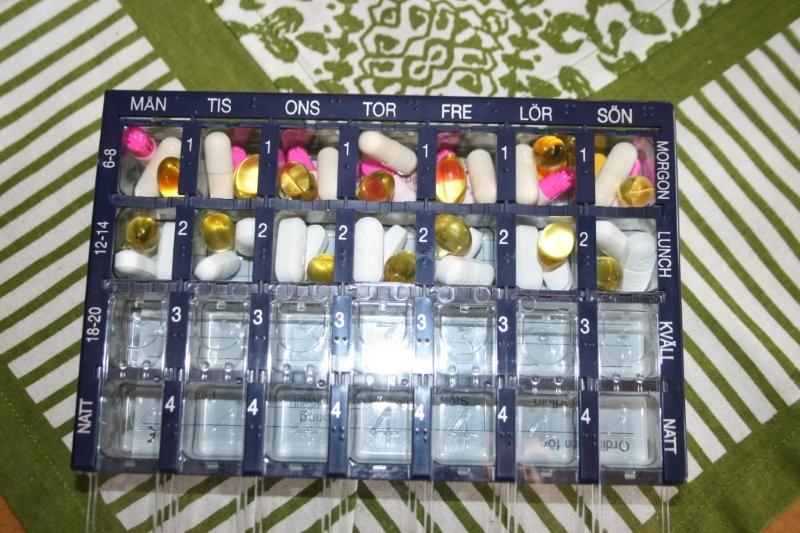 Very good breakfast today, pate' and shrimps. Much better than cakes.....*S*! I have made me a senile box for my tablets *S*...I have one for the pain and inflammation in my heal string and some others health food pills.....Do they help??? No, I do not think so, but in case of...I take them anyway!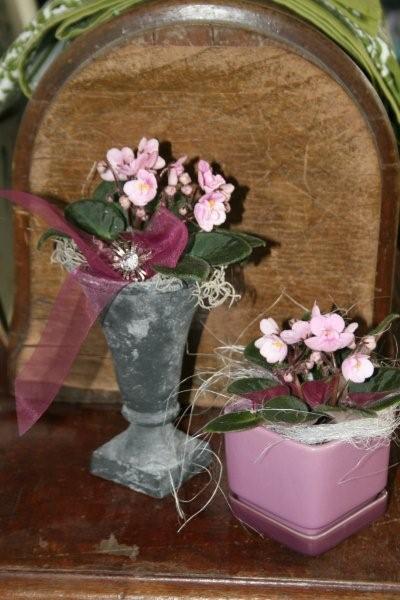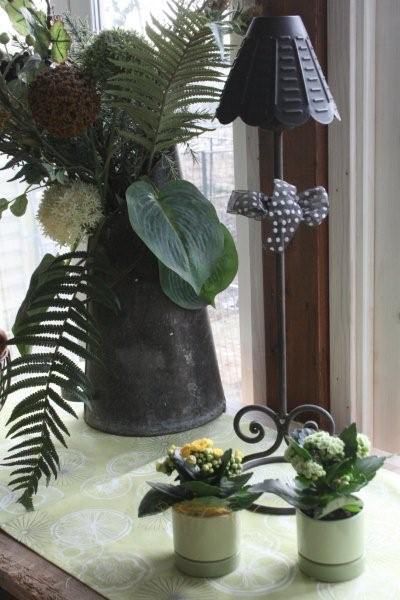 Spring flowers.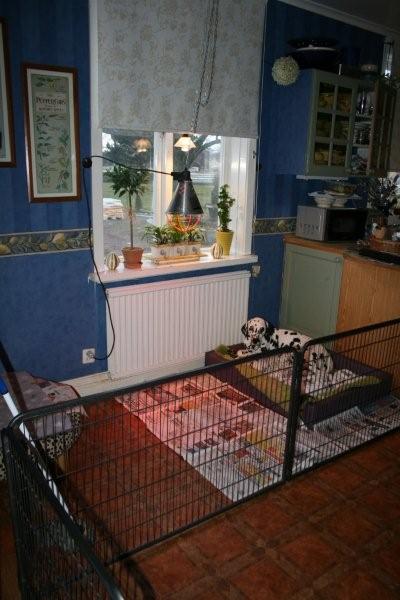 I change a little for Moss today. The puppies are so cleaver already, they climb out from the bed and pee on the newspapers and back in again, sweeties!!! Our garden is full of mud now...one day snow and the other rain.....it is dirty all the time on the floors inside.
I would like them to eat more meat, but they prefer Muzicas milk.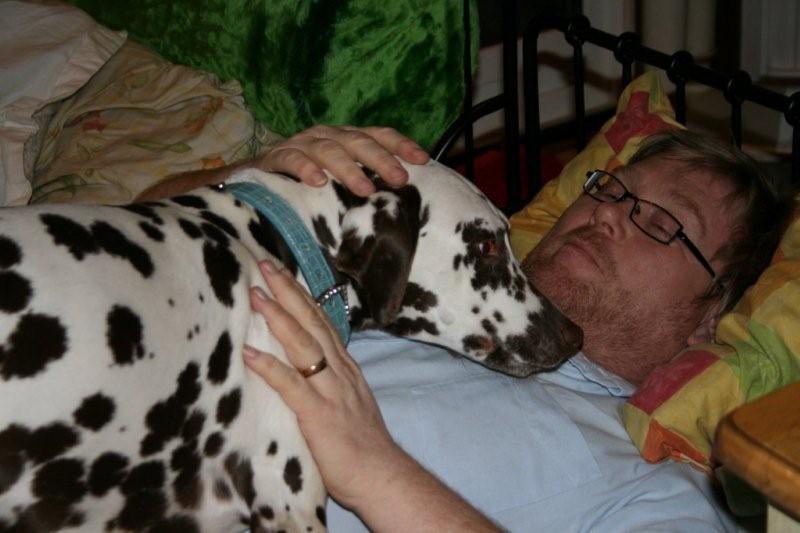 Jill is happy to be with us in the kitchen again.......Muzica love when she is back her now!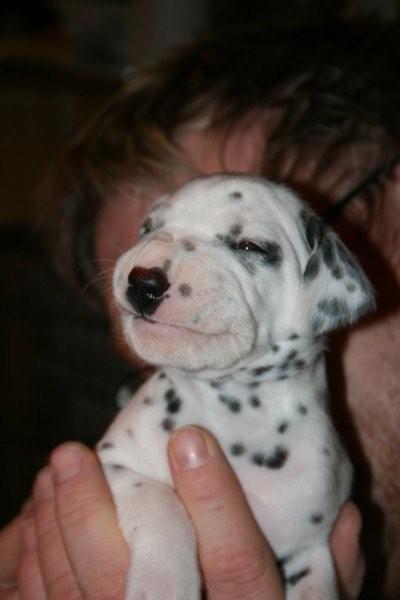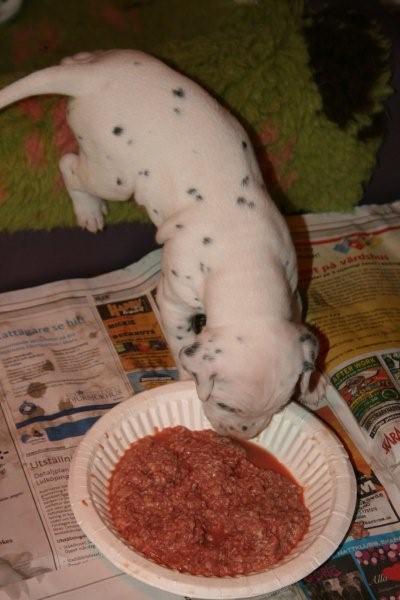 Three weeks old today and already start to laugh. Some eat just a little and some of them eat better.
It don't need any words to photos of puppies.

Thursday 26 February 2009
Today I have time at the veterinarian station with one deaf puppy and after that I went to the flower shop and buy some nice flowers, just to feel on a better mood.
And I bought a nice glass bowl and filled it up with candy. I think it is nice to have a full bowl on the table, but in our house there is probably still some more rats to catch.......because the bowl is often empty in the morning even if I filled it up all the time *S* strange!
Let's see tomorrow if there still is some candy left.
Sunny weather but suddenly a grey wall in front of me.....strange!

Hanna called and say that Chrissie have start to give birth to her litter......exciting!
In the middle of the night she have got 8 males and 2 bitches......so far!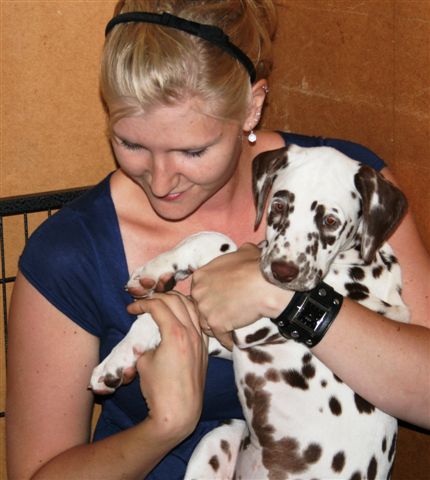 Hanna and Gloria summer 2007.
Wednesday 25 February 2009
I have forget to tell about an old man that was calling here last week and ask if Rune can cut nails on his CAT......I say yes he can, and forget about that he is so afraid of cats *S*. He said that he do not even know how to find the nail...but I told him that it is just to press on the paw so the nail come out..I have had a lovely cat for 10 years, Gangster , so I know.
At Saturday the old couple came here with the cat and Rune was sooooo nervous, but it was a very nice cat and Rune was almost in love after that and talked about the sweet cat all day long!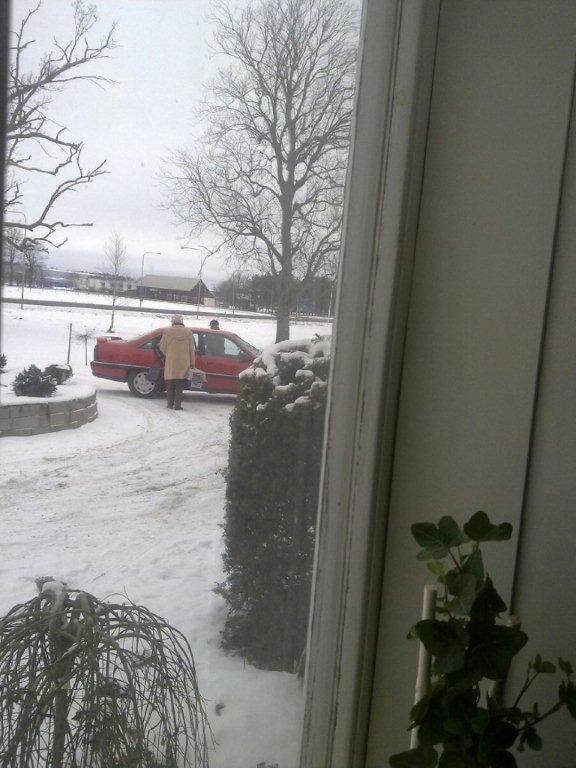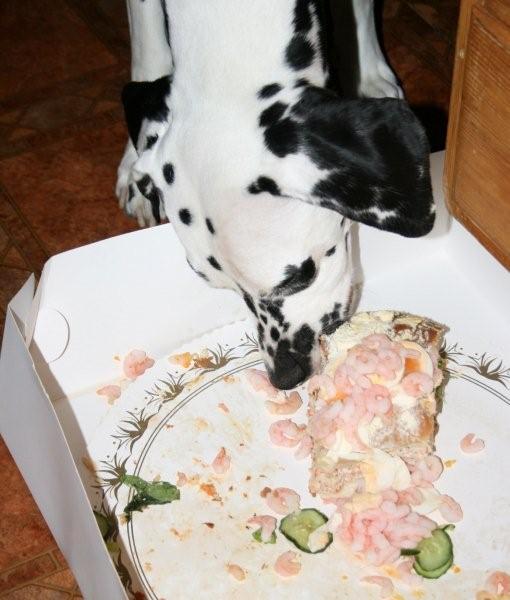 We were all sooooo fed up with "sandwichcake"...even Muzica just eat the shrimps on the top on day three *S*!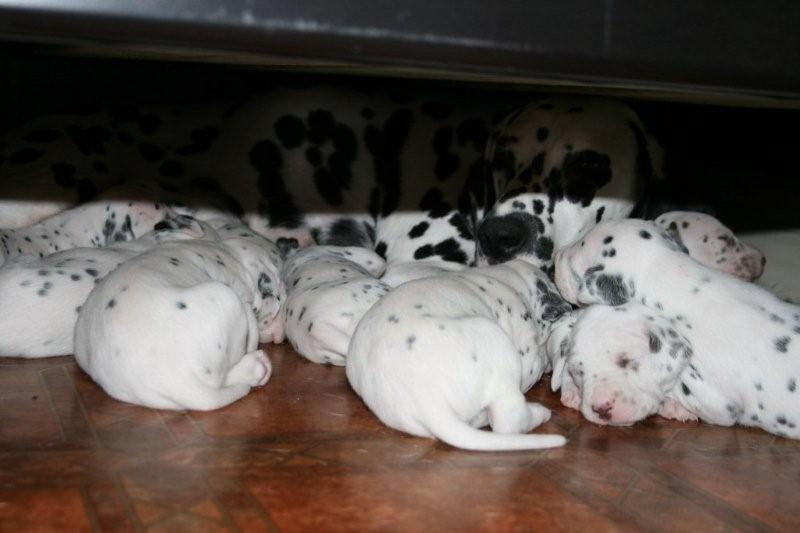 Muzica took all her puppies under the bed today!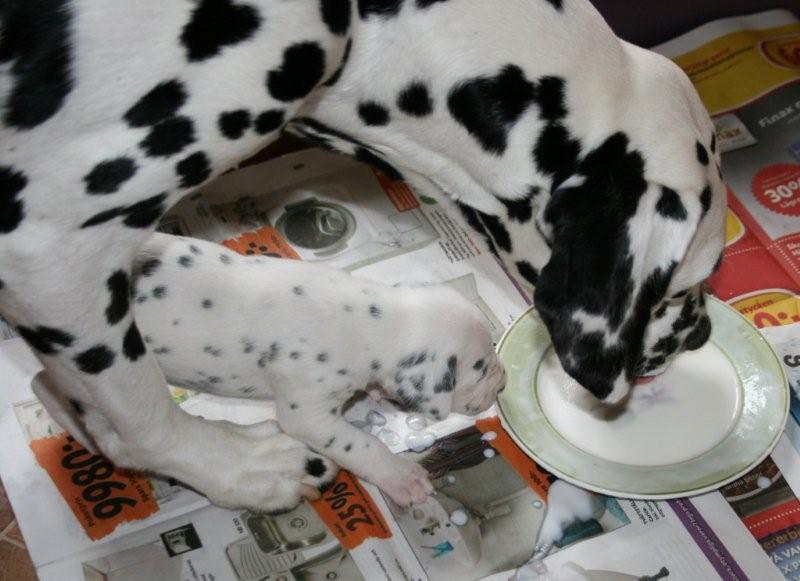 Then she took one of them and try to learn how to drink milk.....without success !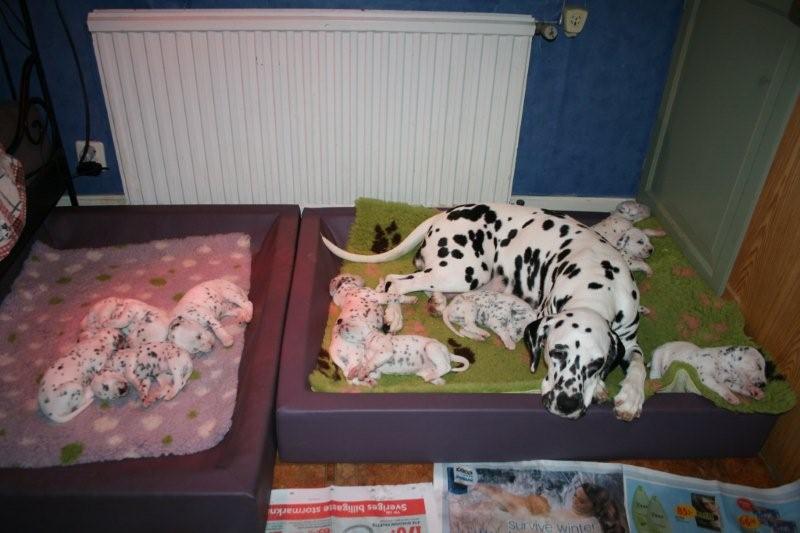 I change a little for them today and took the whelping box away.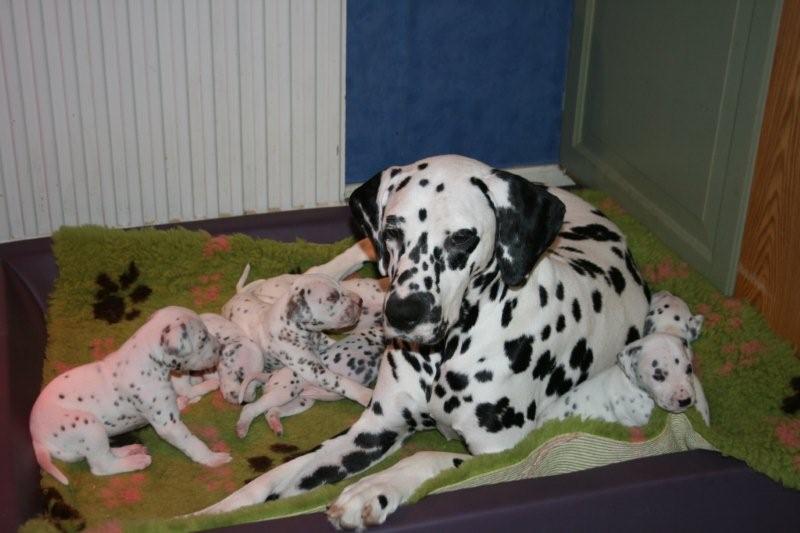 Beautiful...yes!
Jonnie and Moss at the computer.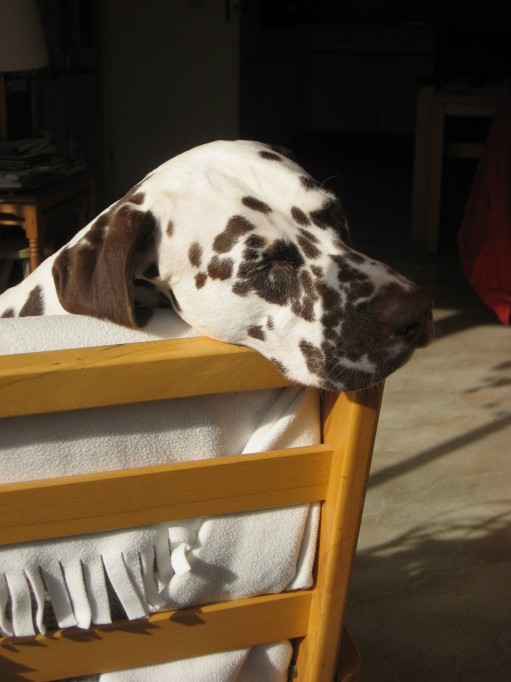 Photo of Shadow sleeping in the shadow....from Joke and Henk. I really cant say with 100% if it is Shadow or Diamond *S*!!!
Tuesday 24 February 2009
Up too early and Jonnie and I drive to Gothenburg to my dentist.....We both hate the big city, and just want to go back home as soon as possible.....Jonnie was pursued around in the city by all parking guards while I was at the dentist ...it is hopeless in the centre with parking.
We were home again at three o'clock and I was sooooo tired and after doing all necessary things first I lay down at the couch with Muzica about 16.30. When Rune came 45 minutes later he joined us there and we all sleep for some hours, we really need it.
After an hour I called for Jonnie to come for dinner, and I wake him up...he have been sleeping too...City SUCKS *S*!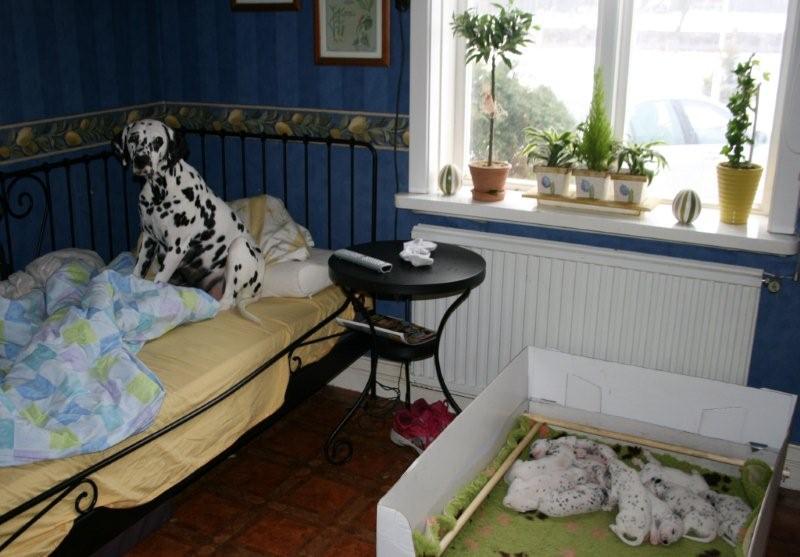 I like that Moss is jumping up in my bed to rest, but with every little piiip from the puppies she is back to feed them again, such a perfect mother.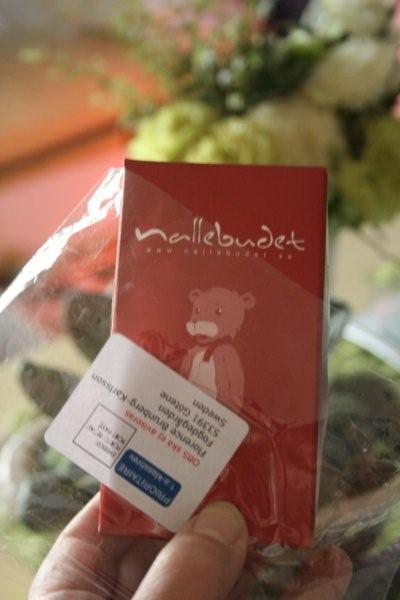 I got a very interesting small package in the post today.....It was from Bossons daughter Hjärtat, that wanted to wish him all the best for his Birthday some days ago..and she sent lot of kisses, how sweet!!!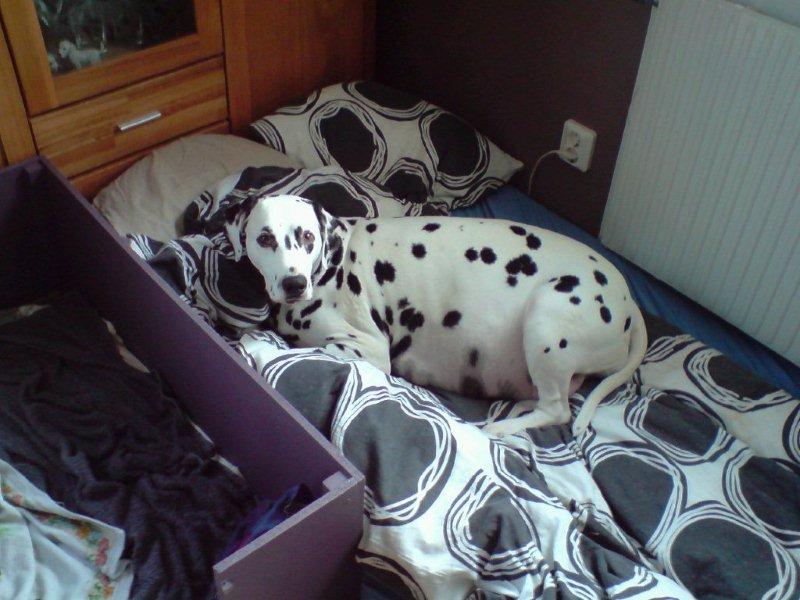 Hjärtats mother Crissie (she is even Bosson and Devlins ex wife) is waiting for her puppies any day now!

And in Norway Jilloc's Puzzle Piece for Skvaa (Nelly) got 8 puppies today, Congratulations! http://skvaa.com/
Jilloc's W-litter 2,5 week.
Monday 23 February 2009

Jill is 6 Years today, Hurray!!! (and Congratulations to Kennel Jilloc's J-litter)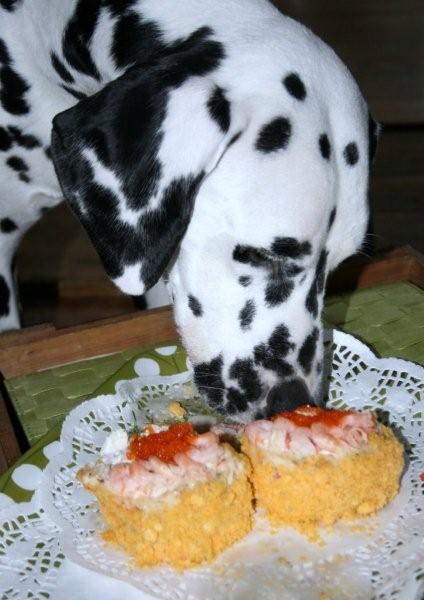 Muzica and Jill eat sandwiches to celebrate....!
We have now found out that we have at least one deaf puppy........but we will be sure in about a week.
That is the backside with this lovely breed.
Cute photo from Joke and Henk in Holland of their grandson Joey and Shadow (he is as crazy as his father Devlin in teddy bears *S*)!
Sunday 22 February 2009

Eddies Christening today and Nathalie's 23 Year Birthday!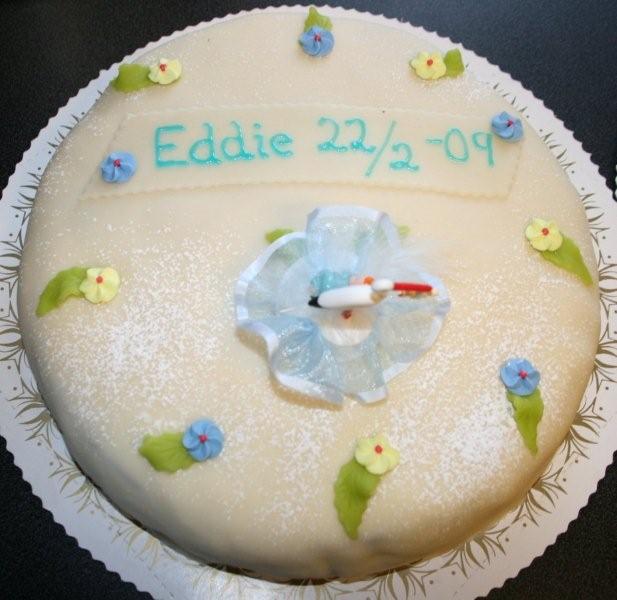 Jennie, Ellie, Jimmie, Nathalie, Pierre (her brother) and Eddie.
Poor Ellie was sick today, but happy to be there and fill the baptise fountain with water before the christening.
The priest was very nice, and Eddie was soo fond of him.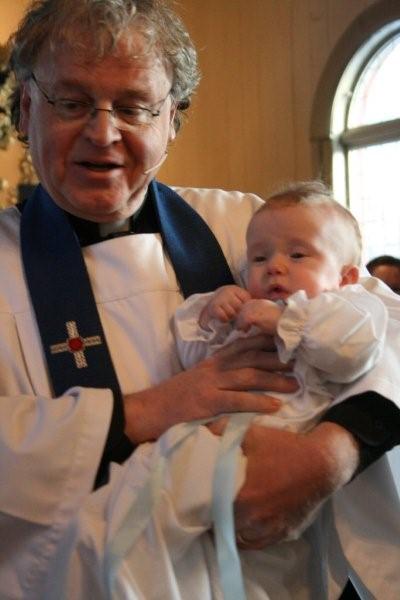 His name is now Eddie Jimmie Ofstad Karlsson.
Eddie wanted his christening candle!!!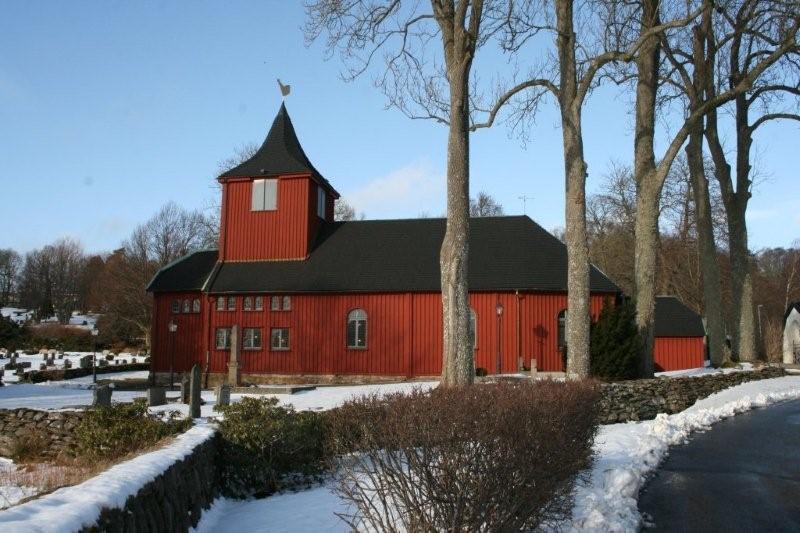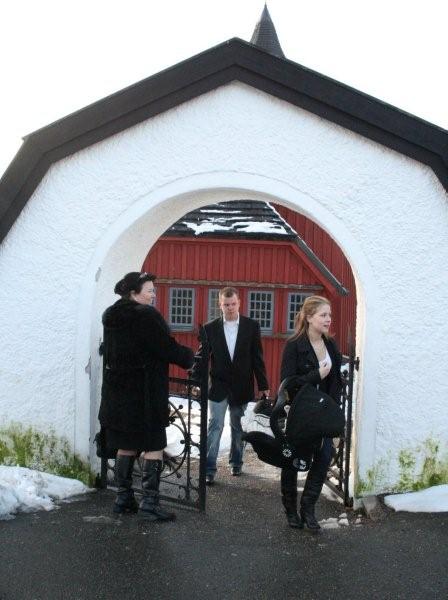 Very nice church, and a beautiful winter day.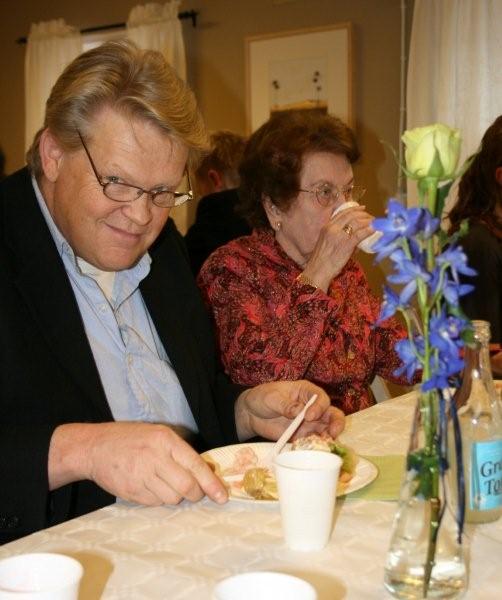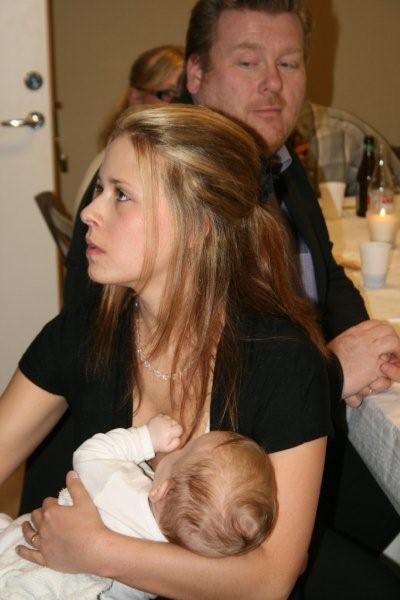 Roy and my mother is eating. Eddie got something to eat too.
Jennie try to take a ugly photo of my double chin, but I was quick and grip it to the other side *S*!!! Now I really have to take it away with an operation....if I can afford it!!!!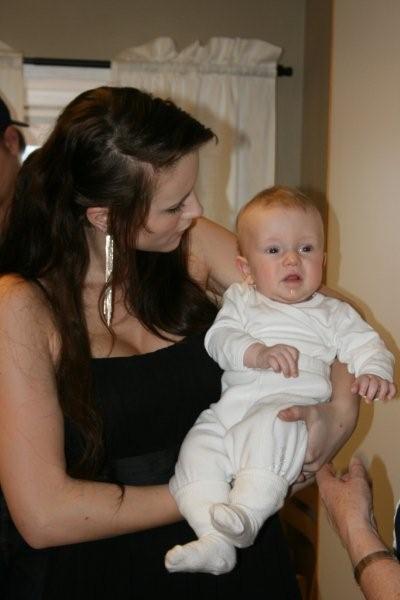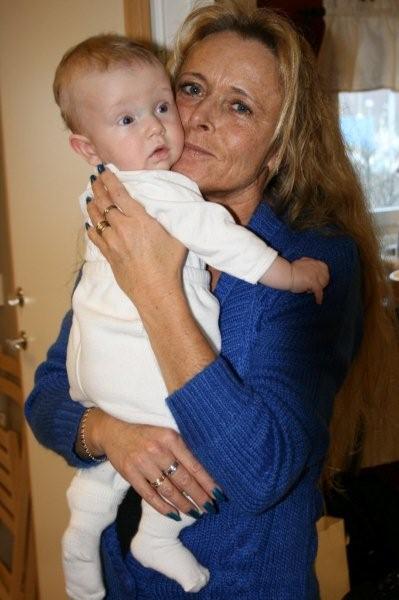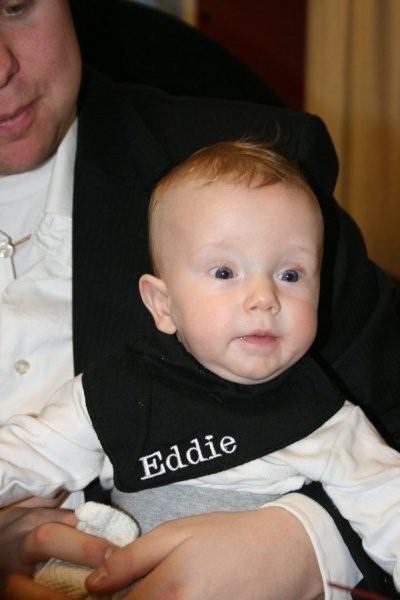 Nathalie's little sister with Eddie. Nathalie's mother with her first grandchild. Eddie with his new scarf (just like dogs have *S*).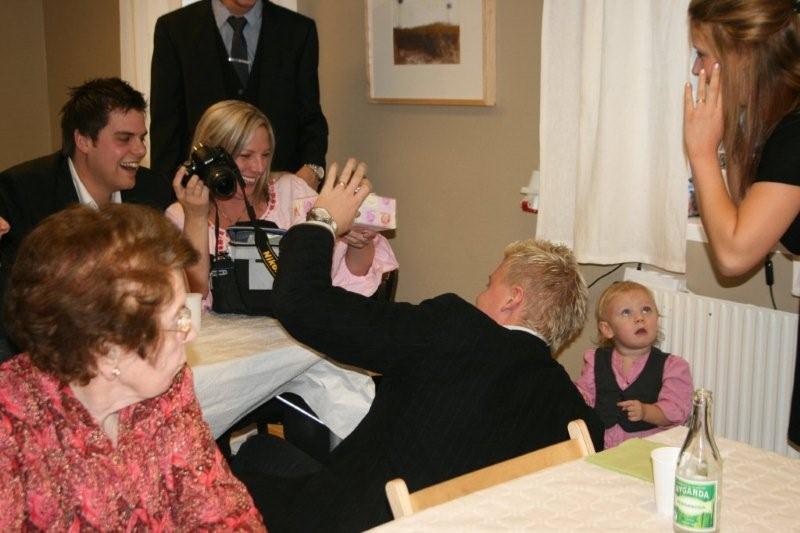 Jimmies employer got a broken chair and fell down on the floor, thank god without hurting him...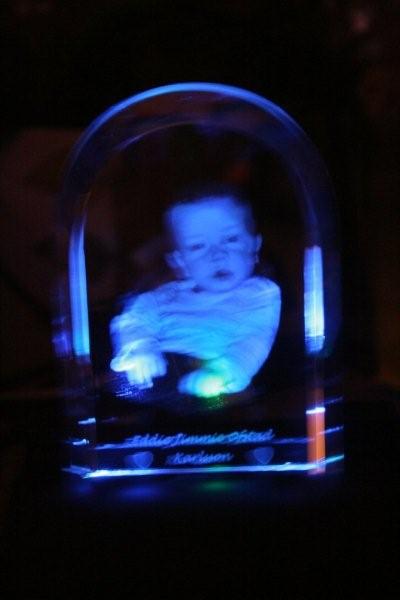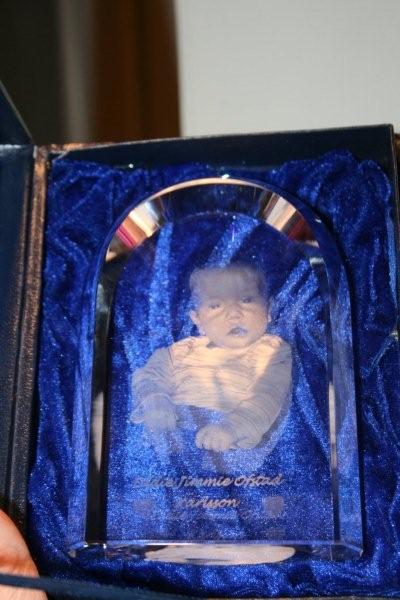 Our present for Eddie was a crystal peace with a photo of him made by laser, and it changed colour all time from blue, green and violet!
And of course he get some money to save for his future!
Flowers from us.....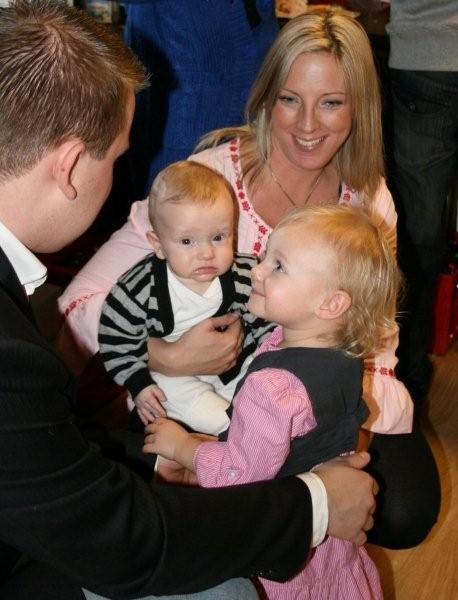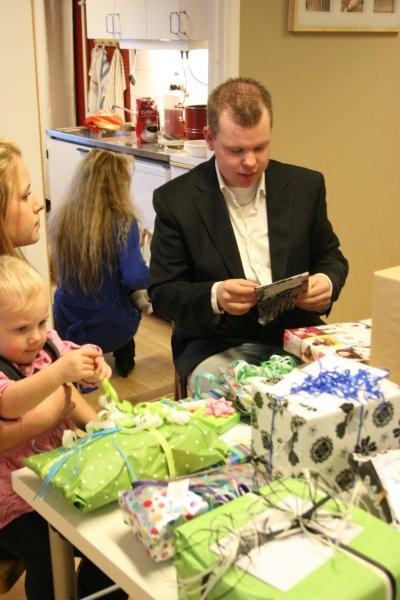 Lot of presents and money for the little boy. Jimmie and Jennie change kids *S*! So much to opened.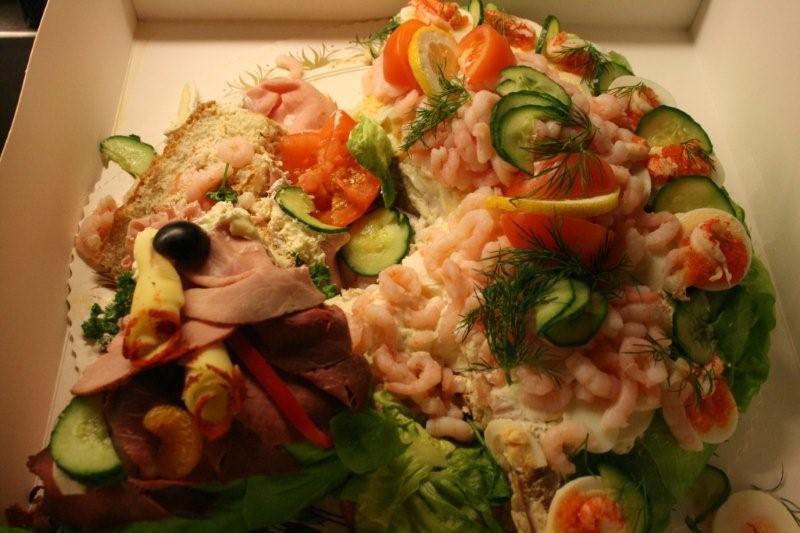 We got lot of food with us home, they had soooooo much left, we all have to eat this for MANY days now *S*!
Babies was so happy to see us when we came back home, now they all can see....

Bosson is 5 Years today, Hurray!!!(and Congratulations to Kennel Jilloc's L-litter)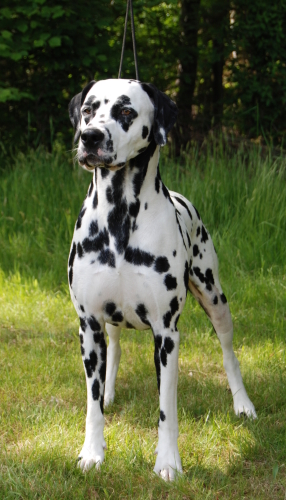 Saturday 21 February 2009
Our hall is full of things from my aunts apartment and I start to look in some boxes today.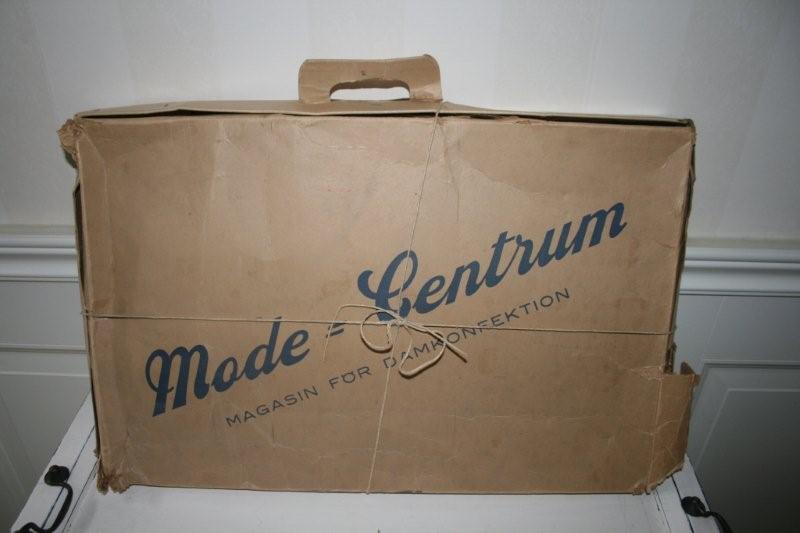 This one looked very old and interesting and when I opened it there were my aunts Wedding dress.....
The dress and a small bag with buttons......
We already know that Jennie, Ellie and Kelly will come here today, it is too early because of the puppies, but we have promise Ellie that she can see "her" puppy for a short time because her teacher told Jennie that she have problems to concentrate her in the school, and when she have asked her what have happened she said that she can't stop thinking of her newborn puppy *S*!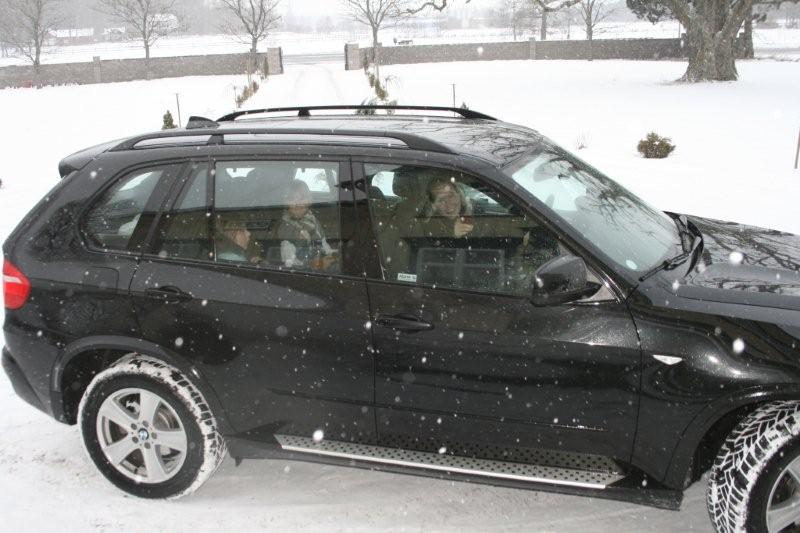 It was snowstorm here, but she have a very good and safe winter car today!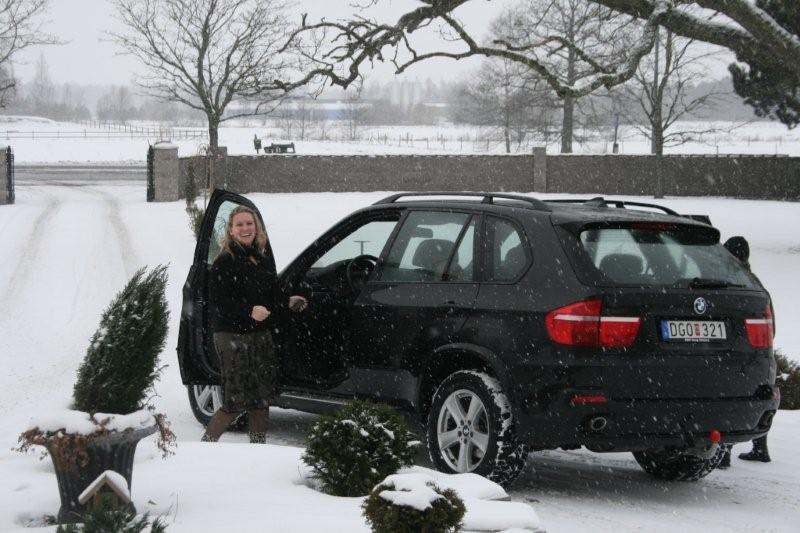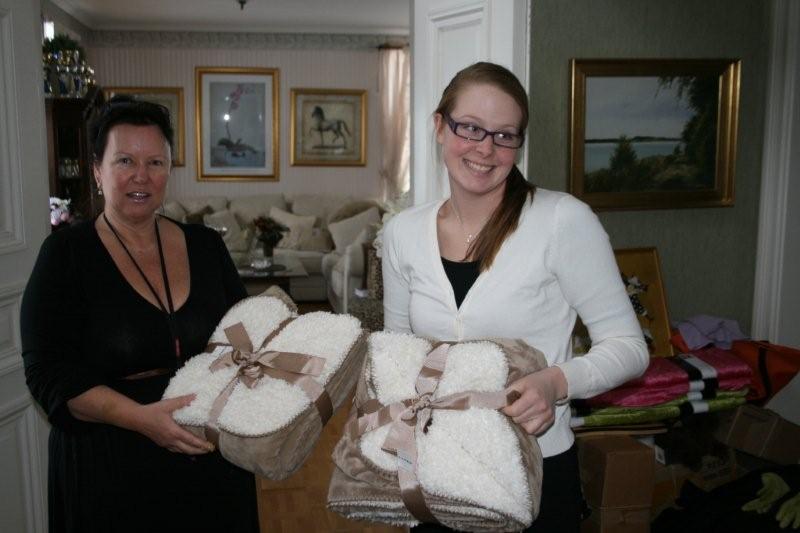 Both Jenny and I got a lovely gift from her..... Ellie and Kelly say hallo to the puppies when Muzica was out.
Muzica wanted food too.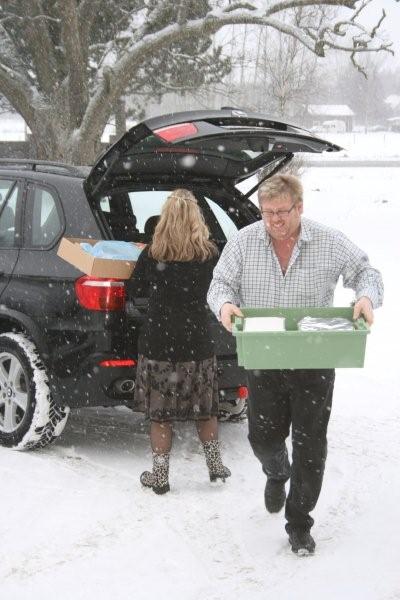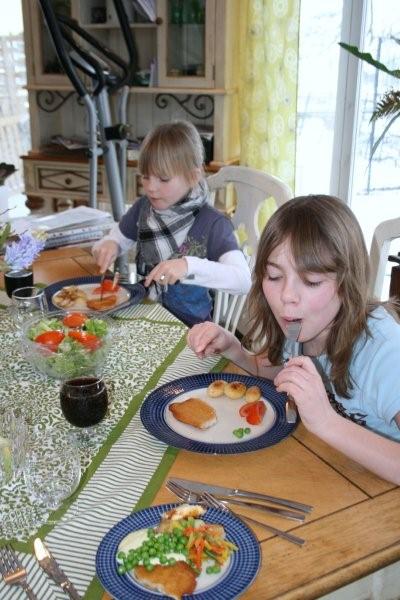 Jennie and Rune went to the catering store to get the food we have ordered today, and the girls were so hungry!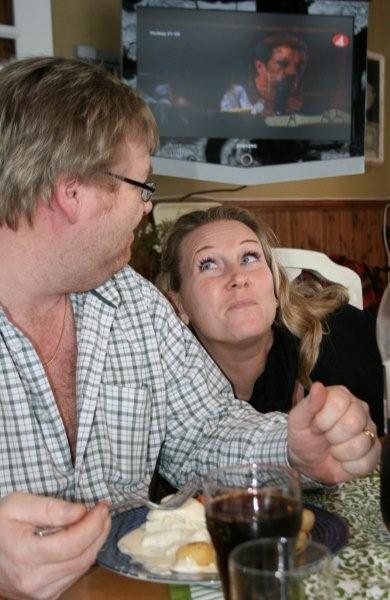 Jennie showed Rune her (false) eyelashes........Cake man eat food today.........both Kelly and Ellie fall asleep with the puppies.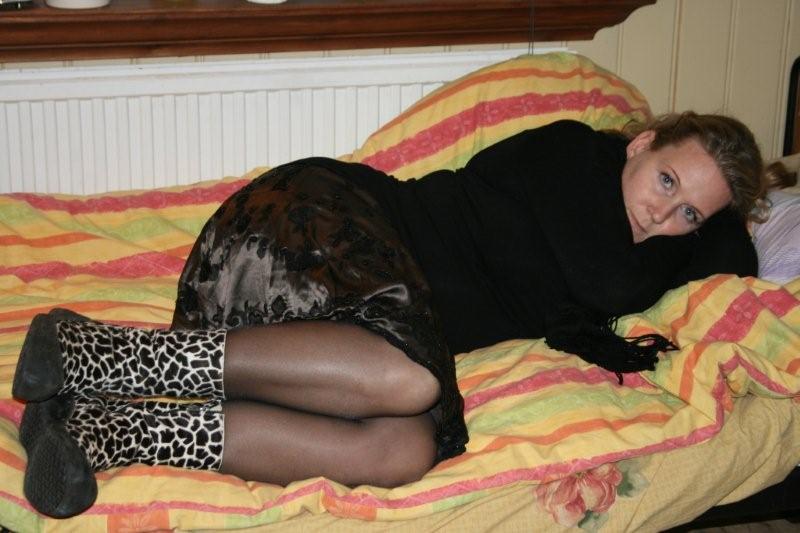 Everyone was tired after the dinner, and Ellie and Jennie wanted massage from Jenny!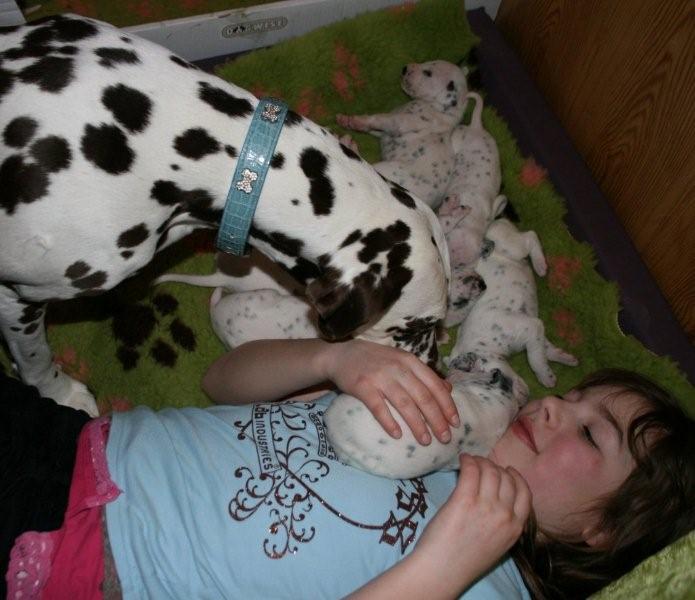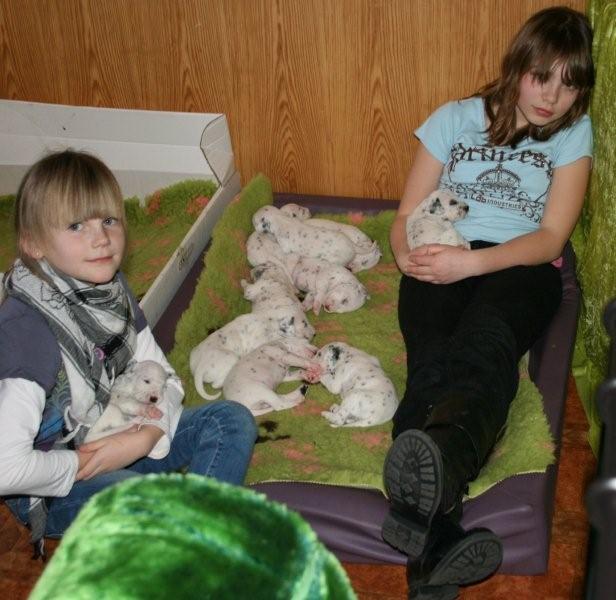 Jill love both children and puppies. We told the girls that next time they come here (In 14 days) then the puppies will not be that nice and calm ....!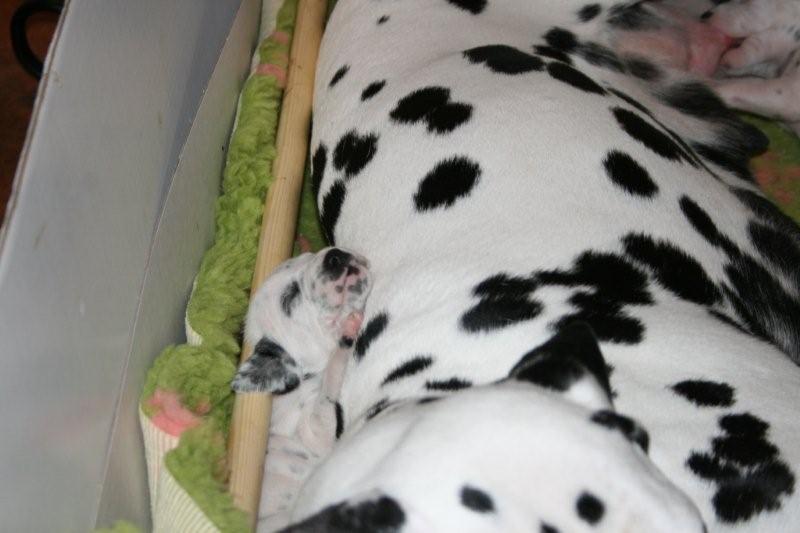 Jenny tried the bed too in the middle of the night.
It was snowstorm outside, but warn and cosy inside.
I was sleeping in front of the TV in my new nice blanket, and Rune and Jenny looked at TV all night long!
Friday 20 February 2009
In the afternoon I went to the flower shop to order a nice bouquet with flowers for Eddie that I will come back to pick up at Sunday before we leave for the christening. The lady that I normally use for my orders because she understand what I want better than some else in the store, was sick, but she will probably come in and make my order.....I just cross my fingers.
Then I have to go to a gift store to try to find something for Nathalie that celebrate her 23 year Birthday the same day. The do not have that much space in their apartment so it is not easy to find something small....
I found two very nice chandelier one a little bit higher than the other they were in crystal and black glass...BUT Eddie will probably bring them in the floor *S* as soon as he start to walk, and they cost 1.800:- so it was toooo much..
After that I stopped at the solarium...it is over 3 years since I was there, but days like this when I am freezing so much I love to go there...
enjoyed my 20 minutes and hope to have the time to go there next week too.
Rune already have start to scale the shrimps when I came home and we eat in front of the TV in the kitchen looking at "Let's Dance" that start in a while...after that we went in to the living room and fall a sleep at the coach both of us...we woke up two hours later and continue to look at TV.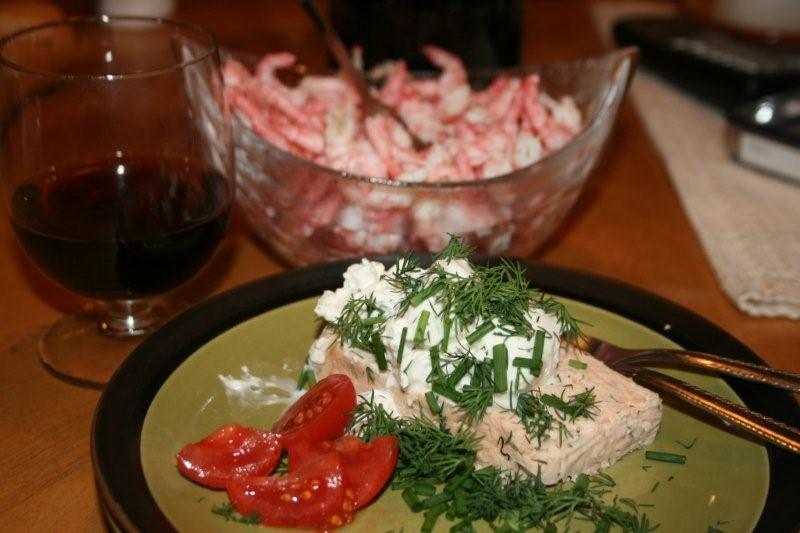 Thursday 19 February 2009
Up early to call to my dentist in Gothenburg. I can come tomorrow, but then they will take away the porcelain that is left of my teeth and then I have to go like that over the weekend, and at Eddies christening so we decide to wait over the weekend instead. Because first they have to take it away and take a new print of my real tooth and then I have to come back some days later to put the new facade over the old one....and that will take some time....so now I know that I have to go to Gothenburg twice next week....and I hate it!!!!! There will still be guarantee of the work I did almost two years ago, but we have to wait and see...I know that always when something happened and You are going to use any kind of insurance or guaranty...they say that it not is working on injures like this...Grrrrrrrrrrrrrrrrrrrrr!
I have an appointment with my diet consultant at 11 o'clock and after that Hanna is coming here.
Chrissie is going to have her puppies next week so Hanna do not want to leave her alone at home the coming week.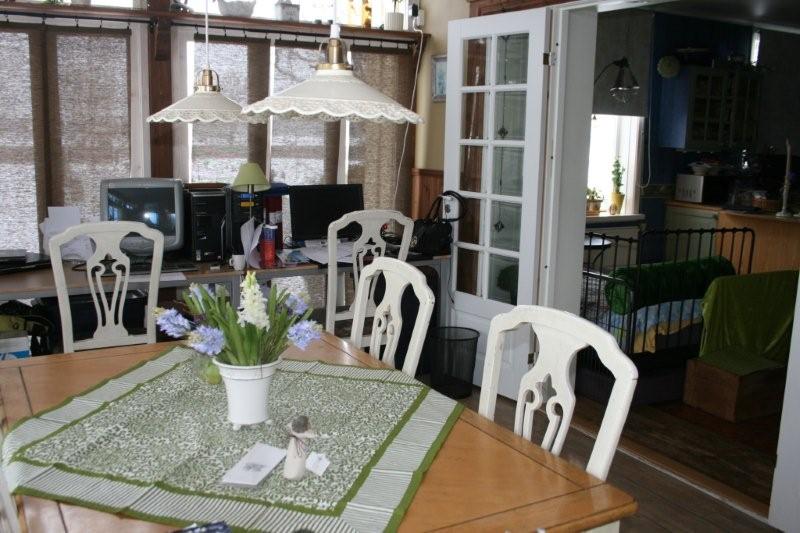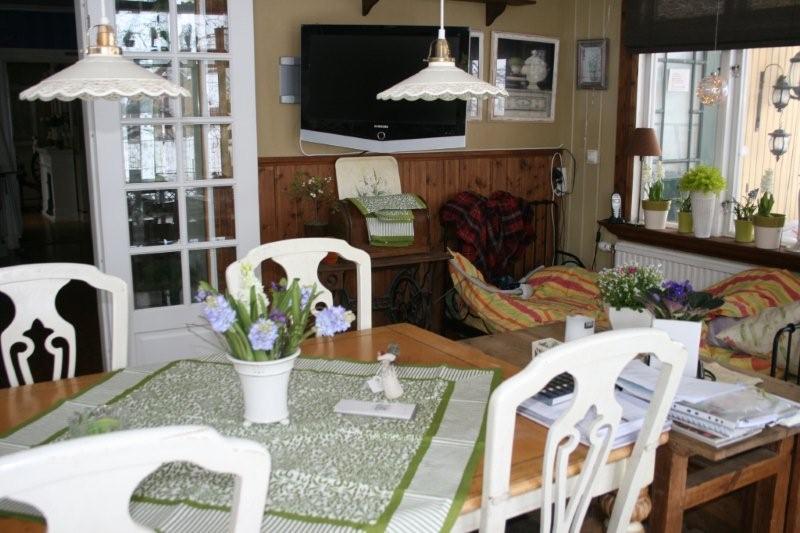 One part of the kitchen with the office, and the other end with Runes bed and the TV. We moved one of the beds out here because Muzica need space now around her puppy bed.
The puppies do not want that much meat as I want them too, probably because that Moss have sooooo much milk for them, thank good.
I have heard the opposite and that must have to be a hell ......
Wednesday 18 February 2009
Daddy is curious of his children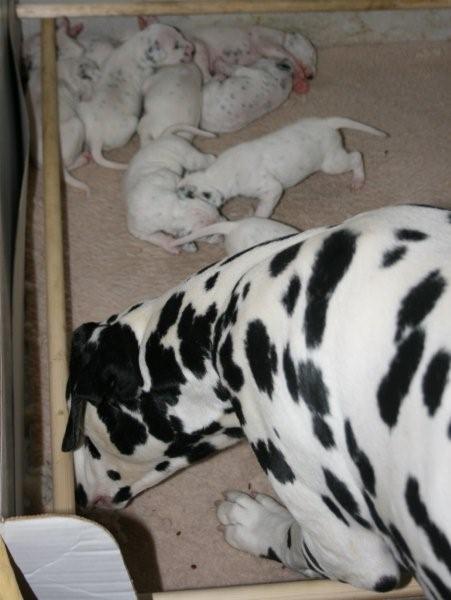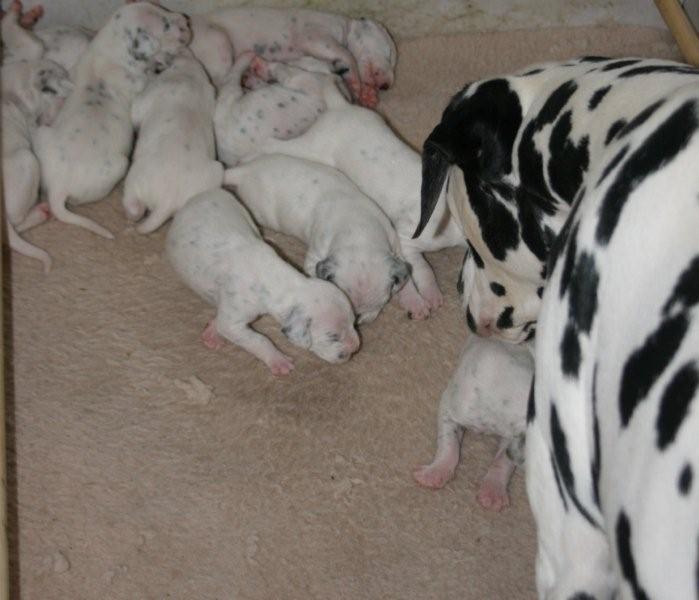 Nostalgia
A very old photo of Jimmie and Ch Jilloc's Ticket to Heaven.
Suddenly tonight I felt that one of my front teeth was broken, the enamel I put on for almost two years ago have fallen of...damned then I have to go all the way to Gothenburg to repair it......I do not have the time just now, the only thing that is good is that this didn't happened just before or after Muzicas birth, now I can go away from home for some hours, but I hate to leave her anyway and I hate to go to my dentist. But of course it is good that it happened now while it is still guaranty for the expensive treatment I did.....
Goodnight!
Tuesday 17 February 2009
Lovely photos of Bond and Aragorn (Bosson and Joy's sons) from Svetlana in Latvia. They really love each other and take a tango together!
Aragorn The King Vitalight (liver) is now LV LT EST BALT Jun CH and became BIS 1 Junior on last Show Congratulations.
Agent Double O Seven Vitalight ((Black) is LV and EST Jun CH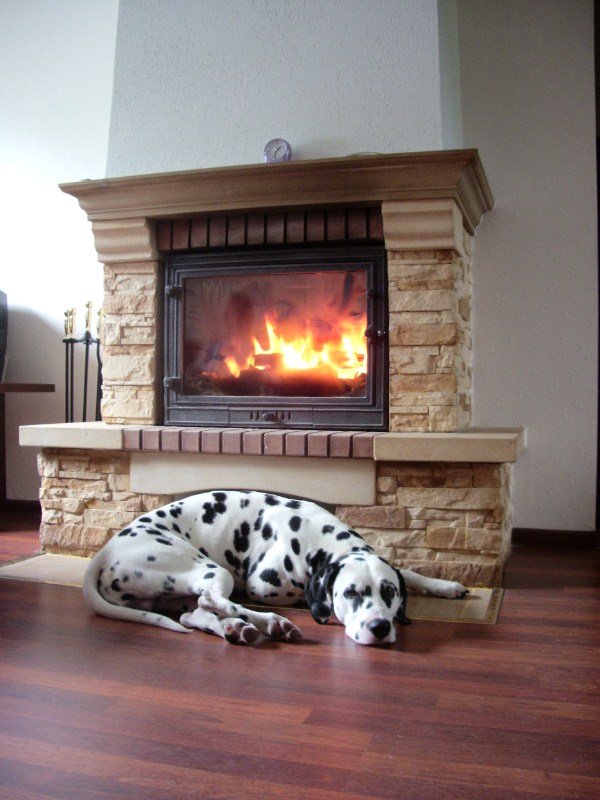 Bondy (Agent Double O Seven) in front of the fireplace in Latvia, photo from Svetlana.
Aragorn (Gotcha) and one of his best playing partners the Boxer lady! Photo from Svetlana Vitola.
In the evening we made the "office" a bit larger in the kitchen, we need our own desk now as Rune have his own computer for the Kennel Club and I've got ours and then we have the laptop....so this will be funny when the puppies are some weeks older and they will start to be caught in all wires from the computer..and when they start to eat them up *S*!!!
Here is the new shelf in the hall....now I am just waiting for to put light in it...Rune will do that, so I think I have to wait for a while for that...he is busy now.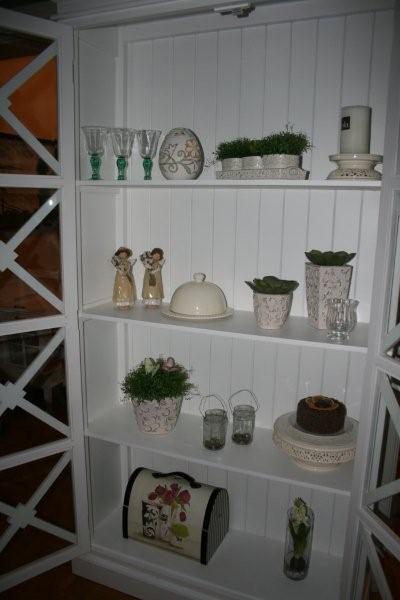 Jonnie and his friend Marcus have been in Gothenburg today for many hours to meet Jennie and my mother at my aunts apartment and to bring some things for my mother to her summer house and to bring two old set of china here for me.....I really hope they are intact when I get them home, because he love to drive over bumps in the road with high speed *S*!
For the first time since some days before Muzica got her puppies I was away from the house for one hour. First to get Eddies christening present home, it was ready now and we were soooo pleased when we saw it (I do not put any photo of it here yet, if Nathalie and Jimmie look here in my diary)...You have to wait some days for the photo.
After that to the grocery store to buy something and then hurry back home again.
When we came back Muzica have been making her a bed in one of our beds and pushed a pillow in to the whelping box *S*, she was looking strange on me when I put my jacket and scarf on before I leave the house...she is used to always follow me but of course she have to stay home with her "babies" now.
But I love when she jump up in our beds and relax from the puppies for a while she need it, but as soon as someone of them make a beep she jump back.
Rune cut all puppies nails for the first time today too.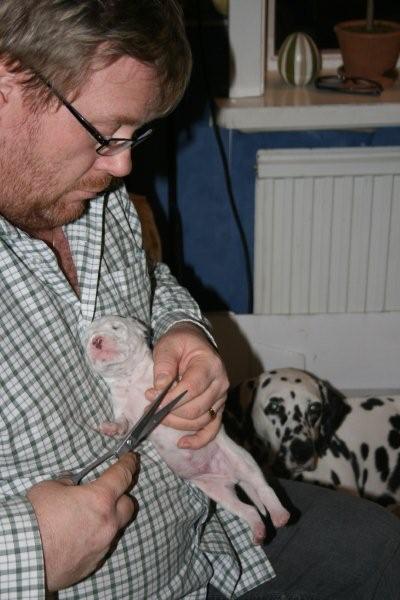 Monday 16 February 2009
I had lot of things to work with on the computer today. I had a long and lonely day and night, even if You do not feel alone with Your lovely dogs close to You...I was happy when Rune came home from another meeting at the Kennel club, and then he continue with their homepage again...we have to change our office in the kitchen now so we both can use our computers at the same time.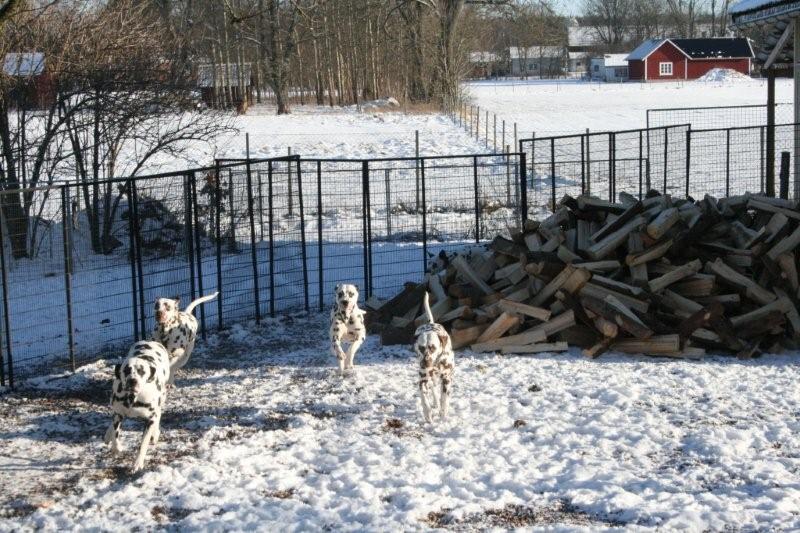 Lovely winter weather!
I have found a favourite in the whelping box today......Can it be Devlin that is back with us again????? I can't stoop kissing him all the time, and Muzica start looking strange at me...she want my kisses, but I have enough for them both, and all the others *S*!!!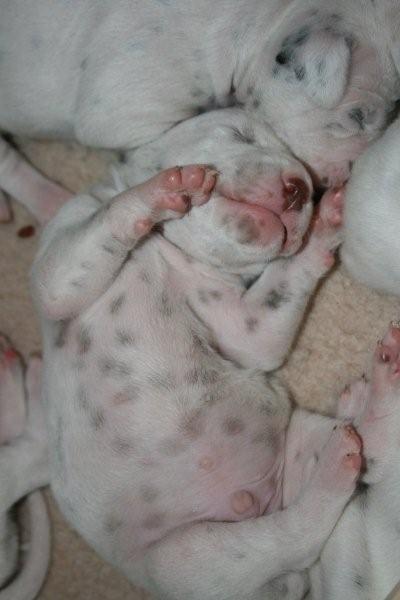 Please God, let him be hearing and do not have any blue eyes.....That is the worst with our breed that You have to wait until 3-3,5 weeks before You are sure about that.
Very special when they are almost dead...they look like art!!! But more beautiful when they are fresh!
Many small darlings!
Sunday 15 February 2009
We took a long morning and after that Rune have to hurry away to another board meeting in the Skaraborg Kennel club.
I love to be home this time of the year and just be home and try to clean up inside where You never have the time to do it normally. After some weeks You get so much better space and better organization of everything. From spring where we travel every weekends until late autumn I never have time for that.
We got lovely photos from Finland from Niina and her sister Heelie of their son of Bosson and Puzzle...Hattie!!! Marnellin Hot to Handle 5 months old now. He was BOB on his first puppy show and later on winner of Group! Congratulations!! And many thanks for the cd with movie from the show!
Bosson and Puzzles son.
Rune came home late and continue to work with the kennel club's homepage until the middle of the night!
Saturday 14 February 2009

Neela, Jilloc's Scandal Beauty is in Estonia, Tallinn today. And soon we got good news from Niina and Mette!
She became BOB with both CAC and CACIB, HURRAY and CONGRATULATIONS!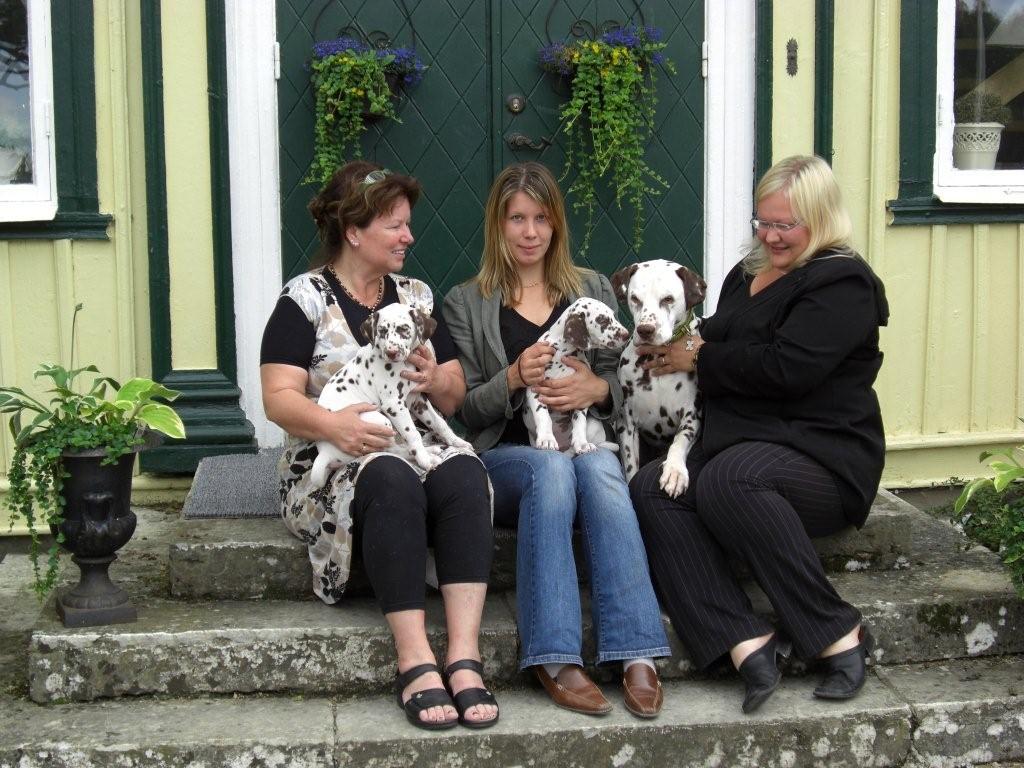 Photo from august 2007, when Neela and Taisto is moving to Finland. Me with Neela, Mette with Taisto and Niina with their father Devlin!

Valentine Day Today
Angel "You are loved" from Jenny and Love Songs from Rune!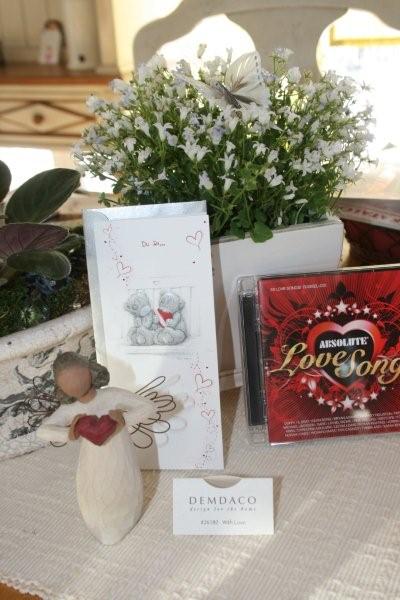 The phone was calling today. It was Jenny and she told me to go upstairs to the pink guestroom and look in the first wardrobe on the left side. Two weeks ago she have hidden a Valentine gift for me there, as she know that we couldn't meet for a while because of the litter. What can I say more than -:You are even more beautiful inside Jenny than outside......Love You!! And she have even sent a present to Ellie by post.....!
I have been thinking about sending flowers to some people, but I am still so afraid what they will deliver after the "accident" when I send flowers to Eddie when he was born.....so I decide not to.....that is a pity because it is such a happiness to get and send flowers to special friends.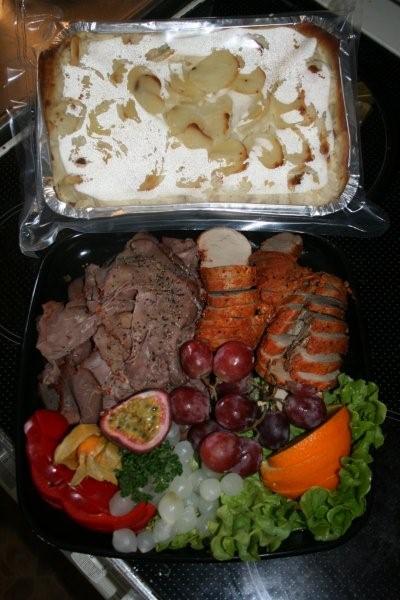 Cakeman came here with nice food for the evening, lovely!
For US, not for Muzica....she got one packet of chickenmeatballs *S*!
We got wood today so tonight will the whole house be warm and cosy again. Last weeks we have only have the electric heat in the kennel floors and bathroom floor. And very hot in the kitchen of course "where we live our life right now" *S*!
Friday 13 February 2009
Jilloc's W-litter 7 days old.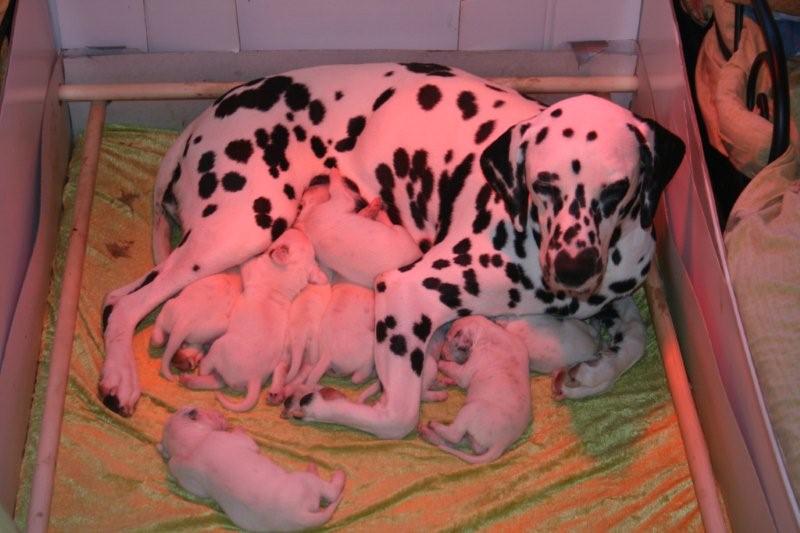 The whelping box is still working very well....but in some weeks she will move to a larger one!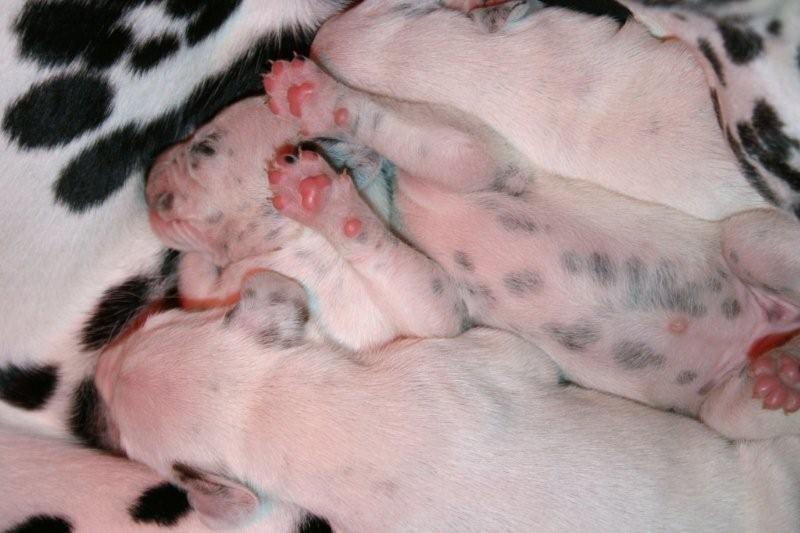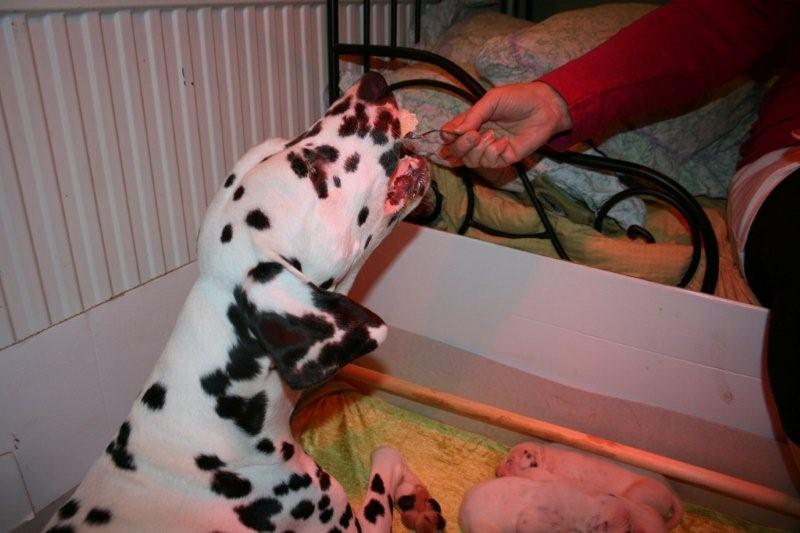 Muzica get delicatessens in the bed in the evening, Mr Cakeman have been here with too much as always. He can walk in here in the middle of the night with the light closed but Muzica probably smell him so she never bark at him, she know there is food coming *S*!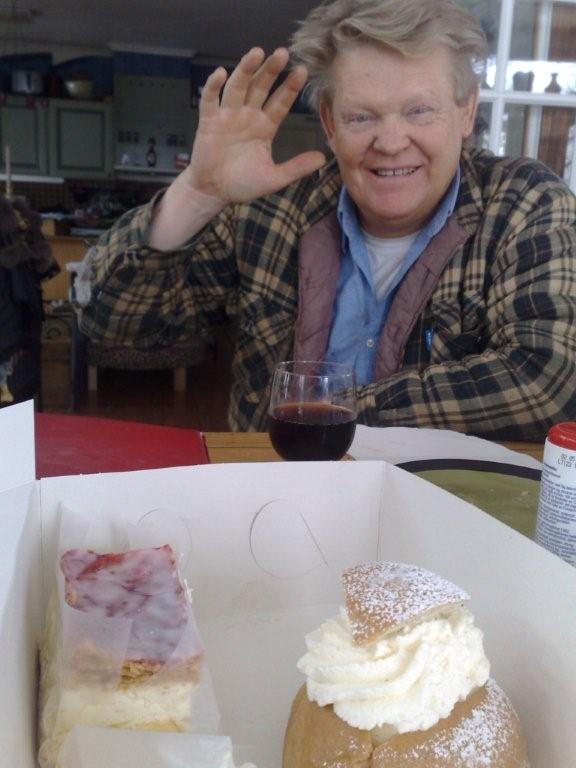 These two cakes was for Muzica......Now You understand why he is soo popular!!!
Thursday 12 February 2009
Muzica start to eat normal food again, now I understand why she didn't have had any hunger before.



Moss with one of her daughters.
Look at her lovely eyes......My heart will burst when I send her away from me in the end of this year????
Just one thing to do.......don't think, just be happy for every day together!!
Jill love to just lay in the bed looking at the puppies......when Muzica is out.

In the evening when Rune came home I was in the store with some girls for some hours again.
Outside it is all white with 5 cm snow and it is beautiful, bright and about minus 10 degrees in the evening.
We got these beautiful photos from Ulrika o Kent, thank You, Bruno is such a handsome boy!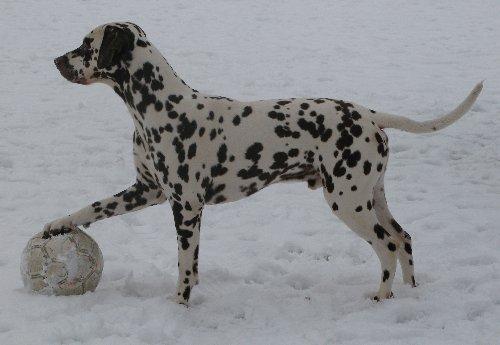 Jilloc's Rollercoaster (Devlinas brother).

Jilloc's Picture of Paradise, Disa relaxing in front of the oven at Kennel Lovinda.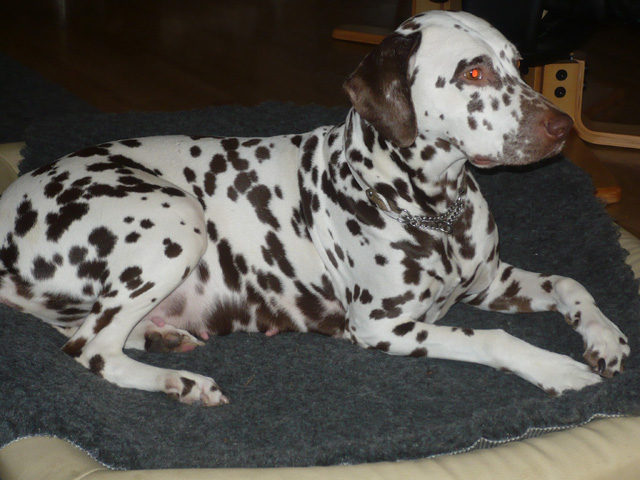 Photo Anne Karin Nyhammer
Wednesday 11 February 2009
I was still awake reading when I suddenly heard a well-known sound!!!!
Muzica start to lick A LOT....and when I looked at her..she was licking behind her selves and there were ONE MORE PUPPY!!!!!
FIVE DAYS after the litter was born, strange..and we have taken her temp some times the days after she gave birth as always and it had been normal. The only thing have been that she was not so fond of anything else than meat, cheese and sour cream. Normally she eat everything I feed her with.
I grab it at once and take it to the light, of course it was dead and he was bend double with broken neck..poooooor, and pooor Muzica, she did not understand nothing at all....and neither did I.
I was worried that she will be sick, and maybe she have more puppies inside she was a bit worried and crawl under my bed again...
I had fever my self and urine infection and couldn't go away from home, so at 7 o'clock Rune have to go to the vet and take x-ray so we know that she will be empty for sure. He was back home 9.15 with a very happy Muzica that wag her tail and run into the puppy bed at once.
I went back to bed and we sleep for some more hours, we really need it I have been so nervous when this happened the worst thing is that something will happened with this fantastic bitch!
I was not in that good shape today so I was mostly in bed.
Rune was tired too and we didn't do anything at all in the evening more than feed the dogs and rest close to Muzica.
Tuesday 10 February 2009
We finally got a shelf that we ordered in April last year!!!! It was hard for the girl that came with the truck, so she have to reverse back out on E 20.....not recommended at all, but she couldn't stay here forever either!
After job Rune went to do the yearly check of the car at the authorities with my MB, and thank god there were no faults.
When he came home I had a costumer for some hours,
After that we were both soooo tired and Rune fall asleep at once. I stayed up and take care of the dishes and at two o'clock in the night I was still sitting in my bed and read the script from Anna Lena the girl that wrote for Swedish Hundsport. There will be a reportage about the Top Breeder 2008.......ME, in next Number of that paper....Oh my god!!!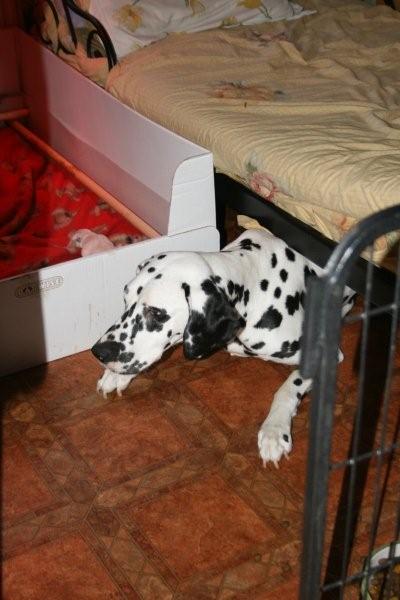 Muzica have been crawling in under my bed many times this evening and I wonder why she start with that just now?
Monday 9 February 2009
Calm day at home.
We have been starting to feed puppy Nr 12 yesterday because instead of the other fat puppies he haven't gain any weight during the day. He was the one that I helped to breath and he was full of birth water when he was born.....I have bad experience of helping newborn puppies to much in the beginning, then it is often something wrong. So I was rather angry of my selves that I did it once again with this weak puppy.
Suddenly in the evening he start to scream and didn't stop what ever Muzica or I did. I have to put him in a big bag with many blankets after I have try to carry him around...and he was warn as the others but something was really wrong. I know that Rune was in the meeting far from home and Roy was in Stockholm.....I called Jonnie and he told me to find a veterinarian station that had jour opened. He said he could go to Gothenburg, but I said that the puppy couldn't have pain for two more hours, it broke my heart to here his screaming voice. and Muzica was stressed when she heard him, I put up the sound of both TV's in the kitchen and took the puppies up to the bathroom and start the dryer...but I heard him scream when I rush downstairs again to try to find a vet. In Sara they answered and they say that we can come immediately with him. I called Jonnie and he was here in 4 minutes and 8 minutes later he was at the vet, and they put him to sleep at once.
Jonnie said that it was the worst he have heard ever and we felt so sorry for the puppy, stupid me, never more will I keep a weak puppy again.
It was a relief in the house when he was gone, I have had plans to put him to sleep tomorrow anyway because his weight was under his birth weight and the others was at least double of him.
Rune home late again after a board meeting in Kennel club.
A long day ended.
Sunday 8 February 2009
Two days old.
Tired boys and girls.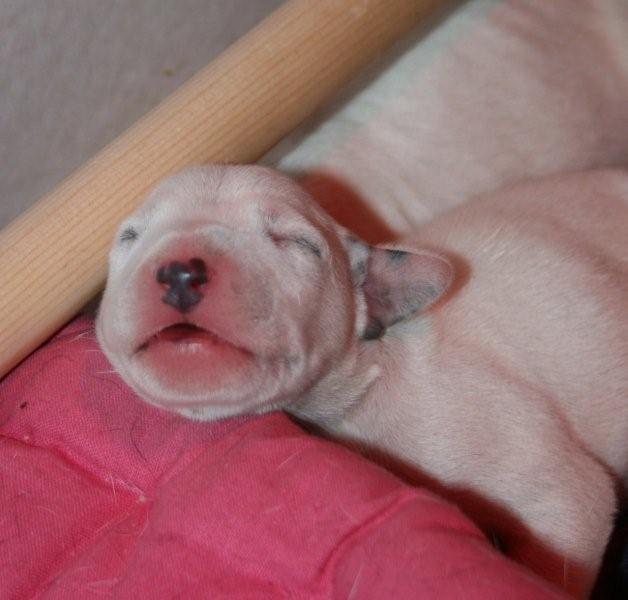 Strange sleeping positions.
Soooooo relaxed!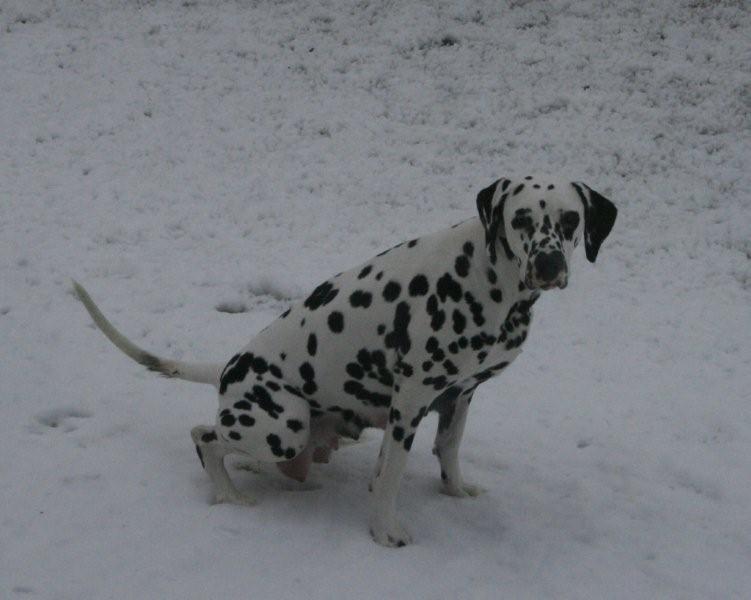 Muzica do not want to leave the puppies of course, but have to go out some times anyway *S*!
Puppy Nr 12 the male that I help to come back to live when he was born is starting to be thinner than the others. So we start to feed him extra.....I am so pissed of my self that I can't let it be......I know from before that is not the best to help them too much in the beginning, but now I did it again, damned!
Jennie came from Gothenburg with lot of paintings and other things from my aunts apartment....maybe this is the "one" that will move to her and Ellie later....?
Rune made a lovely (as always) dinner for us all, and Jennie bring some fat and delicious sauces. Jill in jail so she can see and hear the puppies, but she is a very good jumper so we put up a high fence.......she is soooo happy when Muzica is outside peeing then she lick the puppies and her tail is waving like a propeller *S*!
Roy and Jennie.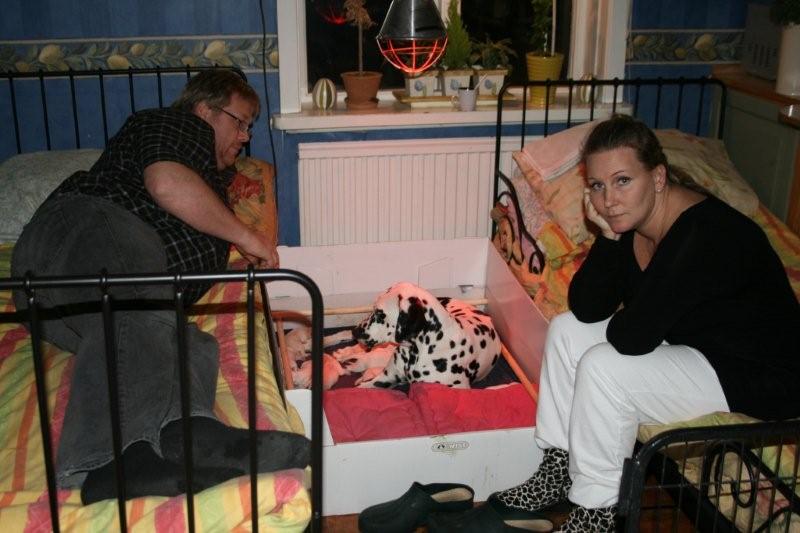 Everyone is tired as soon as they see our beds.
Saturday 7 February 2009
I should have a costumer in my store at 12...but at 10 o'clock she called and have to go to the vet with her dog...I was happy and stayed in bed some more hours....it is easy to relax so close to Muzica and the puppies and when they fall of her pups just take the arm and bring them back to her..I do this from one side and Rune from the other side *S*!
Then Muzica and I take a shower..we both need it again.
All puppies are still strong and healthy, it is always nervous the first days. And Muzica is the best mum!!!
After that we looked at the puppies and Rune look for the colour of them ...I have most of the time problems to be sure of the colour when they are this small, and it is not that important for me...But here was many black puppies so that is more easy to see......no brown bitches.....I have had a wich for a liver lady...but of course I a m happy for all those black girls, I really need black bitches for breeding....
AND there were 5 males and 6 bitches, so one of them have changed sex during the night *S*
We have now:
Black Male, Black Male, Black Male
Brown Male, Brown Male (I thought one of these was a bitch)!
Black Bitch, Black Bitch, Black Bitch, Black Bitch, Black Bitch, Black Bitch

It will hopefully be some nice new dogs for my breedinggroups!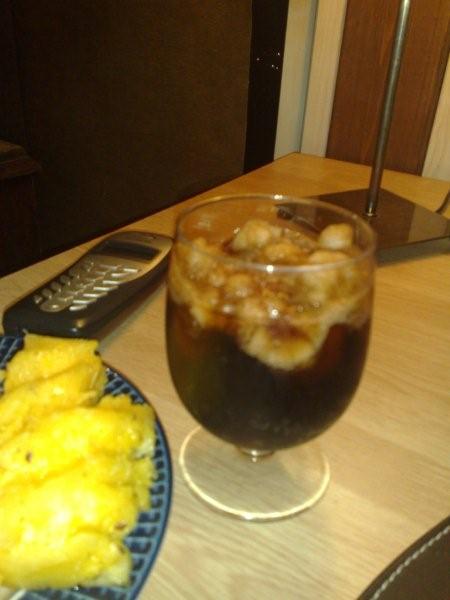 My new diet....pineapple and icy Pepsi Max.
Friday 6 February 2009

Kennel Jilloc's W litter is born!
First Puppy was born 01.00 and last one out 10.15
Rune have to go away from home at 6.30, he should have a course today for many people.
I took lot of photos this early morning because it was snowing outside and the nature was soo beautiful as never before.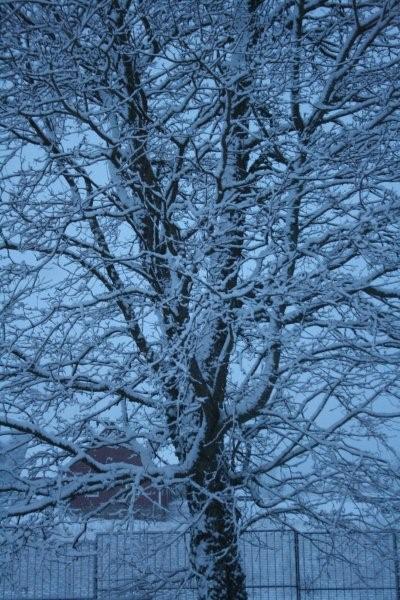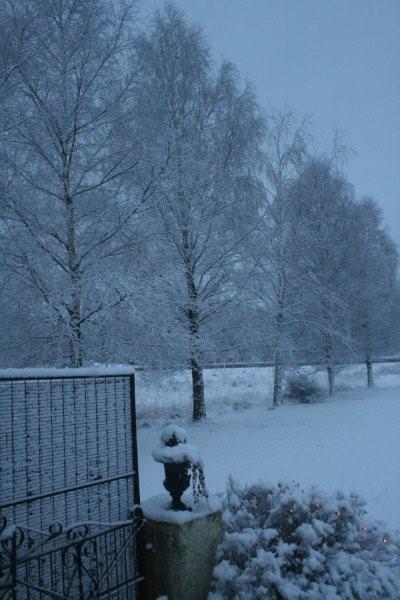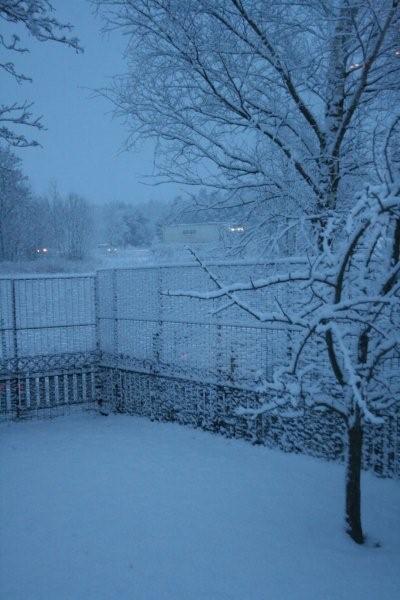 Kennel Jilloc's W Litter is born on this date.
1.00 Bitch 360 g
1.20 MALE
1.30 MALE
2.30 MALE Patch
2.50 MALE
4.15 Bitch
4.50 Bitch
5.15 Bitch
5.20 Bitch
6.05 Bitch
7.05 Bitch
10.15 MALE
(NOTE FROM SATURDAY...One of the bitches have change sex to a male *S*!!!!! So now we have 5 males and 6 bitches instead!!!
There were soo much amniotic fluid that it sometimes looked like a swimming pool. Still some puppies inside!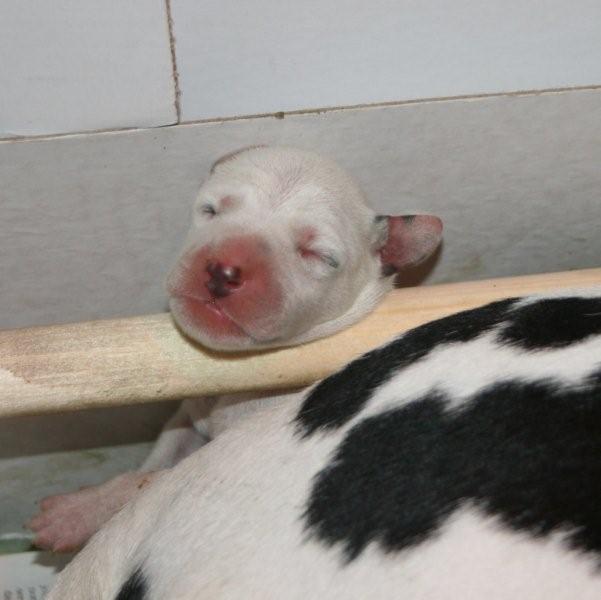 One cutie!
Our new testing whelping box was perfect...I would like Muzica to lay down the other way but she prefer to have her head on the rib....
Thank god that CAKE man came here with something sweet...I really have problems to keep my eyes open...and Jenny called me and talked for hours I have to stay awake until Rune is home...!
Early this morning I sent him an sms and ask for cake today and I asked for a special one but they did not have that type today.
But three hours later he have been in another store for shopping and then he was back with my favourites, and a big bouquet with tulips for Muzica, thank You..but now I do not need any cakes for months *S* blah sooo full.....! (But he eat some by him self and Rune eat one in the evening so I ONLY *S* eat three....and it was three to much...But I Loved it!!! And need them just now!!!
Go to hell with all diets today!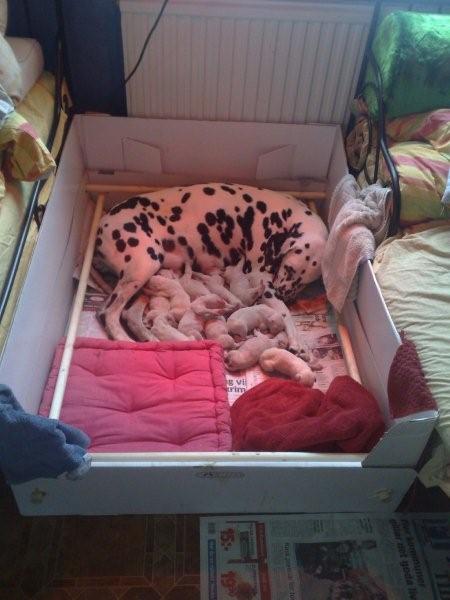 When Rune came from work I lay down and close my eyes for 1,5 hour...I really need it then, my legs were shaking and I really feel sick (so tired)!!! Then I have to look at "Let's Dance" and then I have to do some more things like dishes food for Jonnie and so on.
Rune was unconscious during that time even if he promise to watch the puppies so I can walk around and feed our dogs etc..but I heard from upstairs when I take a well needed shower how he was snoring in the kitchen so I have to go back there and watch the puppies by myself again...he have had a long and hard week and really need to sleep.
Muzica is a calm and perfect mother!
Thursday 5 February 2009
I can honestly say that there were not much sleep last night for Muzica and me..she was jumping up and down and I was waiting for her to start to get her puppies....we were both sooo tired in the morning.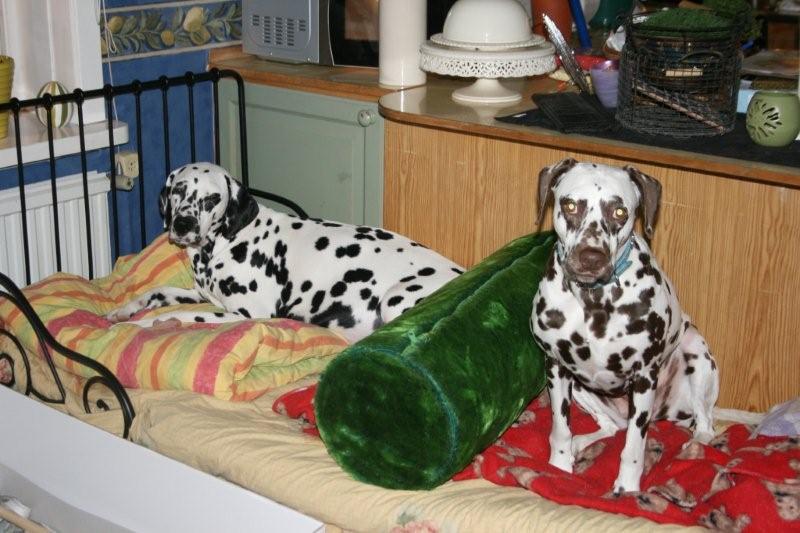 In the morning our girls still shared bed, but in the late evening Jill have to go to the other dogs in the kennel, she was unhappy.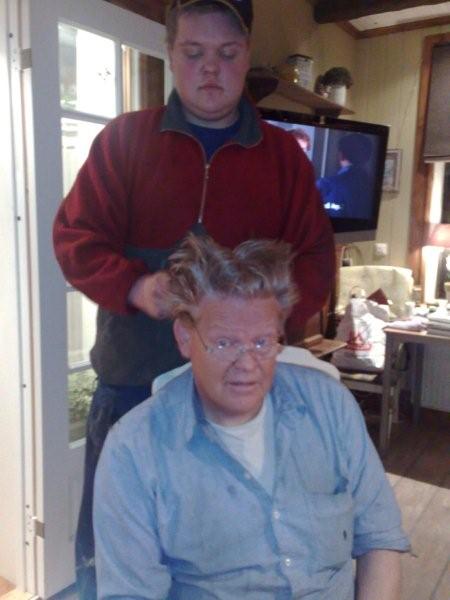 Muzica found different places to sleep. Jonnie and Roy was here to eat and Jonnie have thoughts of what he will work with in the future..so he is testing some different things. Today he tried to be a hairdresser, but out of the result we all decide that it will be better if he continue to work with his cars instead *S*!!!
Testperson unknown *S*.
During the day Muzica was very active sometimes but in the afternoon and evening she was sleeping and sleeping in my bed where she have decide to have her litter *S*...her temp was 37.8 at midnight...is it on the way up???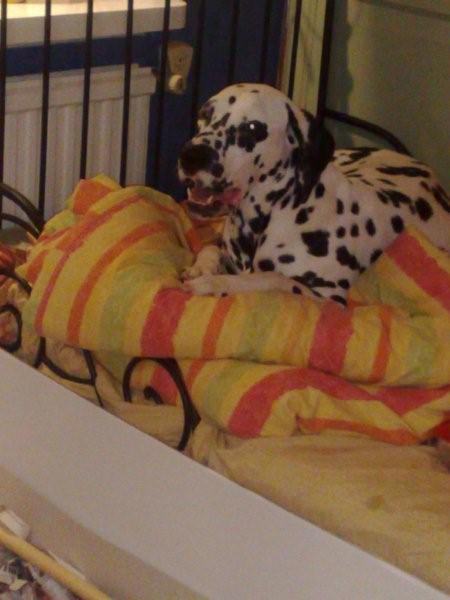 Rune came home late from a meeting and when he took her out and they came inside again she showed that it really had started.

At 1.00 the first puppy arrived.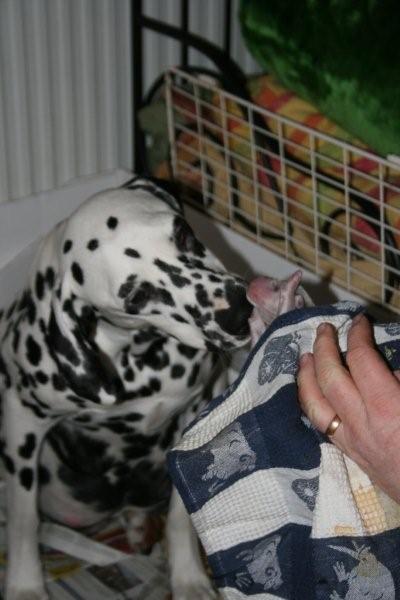 She would like to have a soft bed for the first puppy.

Wednesday 4 February 2009
This was in the Swedish Kennel club's Magazine this month...HUNDSPORT!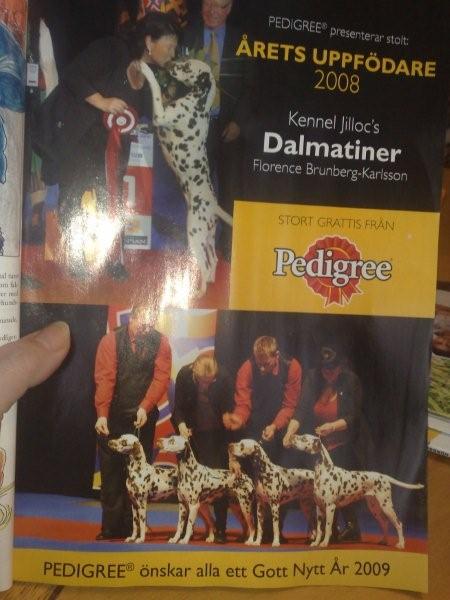 Muzica start to step into her birth box some times during the day, and in the evening she split the blankets in the bottom into shreds.
At 21.00 her temp was 37.4, it is time to start take her temperature some times a day now. And in the evening she didn't even want her sausages, but Jill was happy she eat them all......Jill think it is perfect when Muzica make her ready for the coming puppies instead of eating *S*!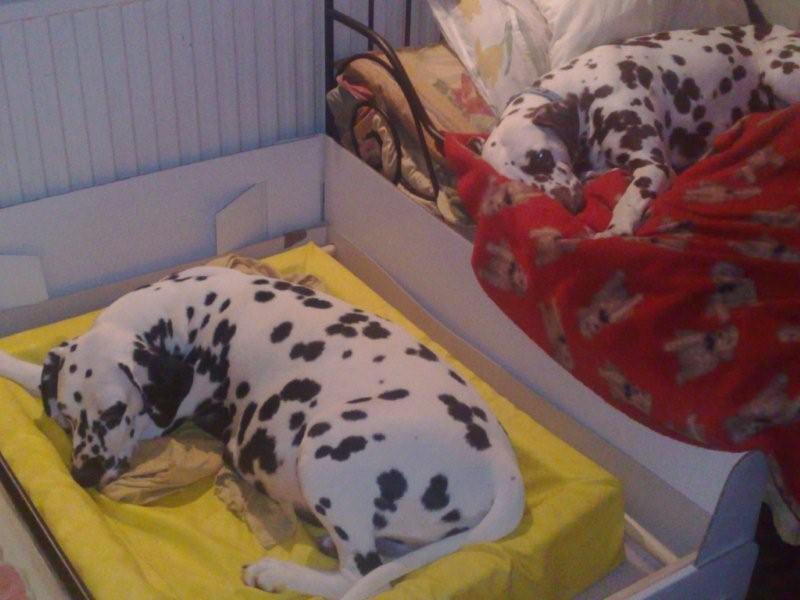 Best friends! (So far *S*)
Rune love when we have beds in the kitchen too *S*!
We put the fence so she will stay in the bed and nesting here and not walk around and find some strange places to put her puppies, as behind a shelf in the kitchen..she think she is so small that she can come behind it *S*!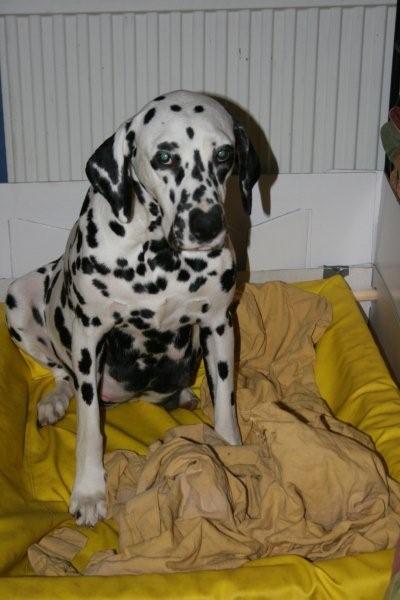 Muzica is very calm and relaxed as long as she can se me all the time, and I am just some meters from her the most.
Rune made pizza for lunch tomorrow, and Jonnie came here late to pick up two for him *S*!
Muzicas temp was still 37,4 degrees 1.30 in the night, we will look a little at TV and try to get some hours sleep all of us!
Tuesday 3 February 2009
Last night Rune have one of his old cockers here to trimm...when he was ready he cleaned the kennel, but did not take the garbage out from the room. He put everything in a black plastic bag in the other kennel...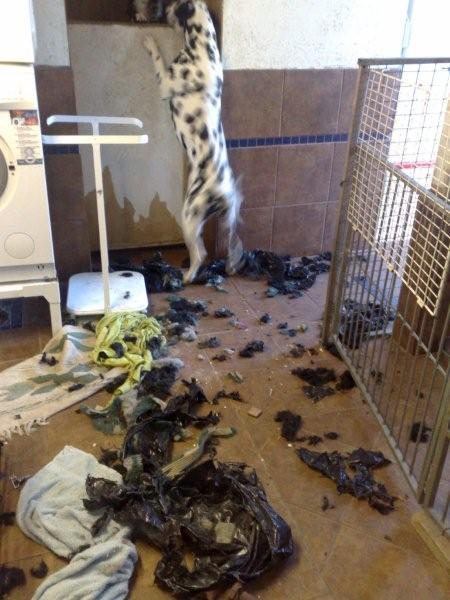 This is what I saw when I opened to the kennel this morning.....our "funny" boy Daddy have opened the door from the dog yard and had a funny time with the plastic bag and even send some coat from the cocker under the "door" between our kennels....very funny start on a nice day.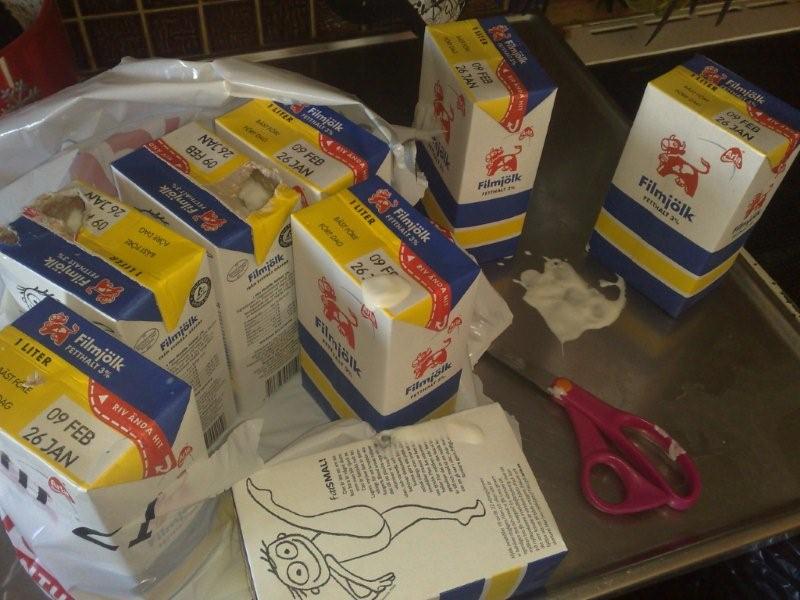 Then I went out to the outdoor freezer those cold days to bring in sour milk for my dogs...but BIRDS have probably been there before me!!! They have been there trying to find something to eat because everything is frozen outside so they have problems to find food. From now we will keep all sour milk in the freezer instead *S*!
As always when we put a bed in our kitchen, everyone love to use it *S*....Jonnie laying in the bed eating breakfast together with Muzica and Jill. Later Hanna came here to say hallo to the dogs.....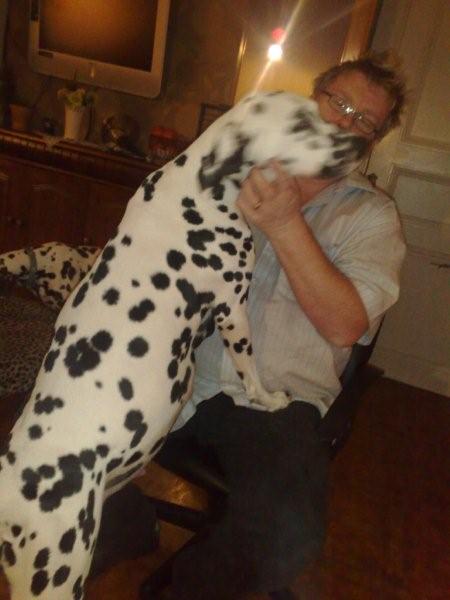 Muzica is happy when Rune came from his work. Rune is happy when he have the bed sooooo close all the time *S*!
Rune love to make dinner, but today he got problem *S*!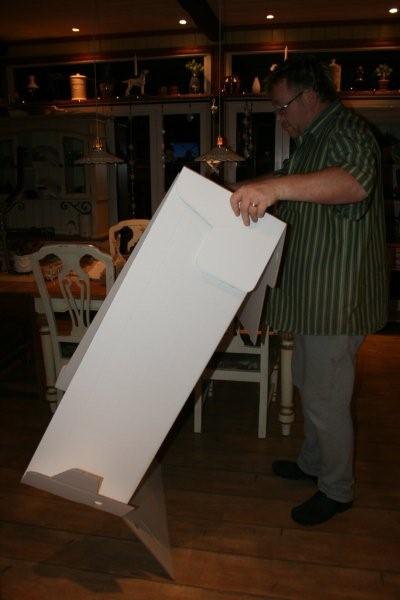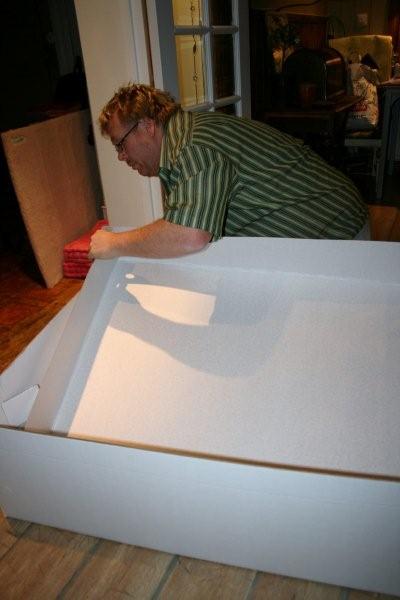 This time we will test a new "birth box" that we got from Anne Buvik in Norway, check it out on www.dogwise.no
I think this will suit us perfectly to throw it away after one or two litters.
This kind is only to use for 1 litter, but you can use some of the equipment again and again. The perfect thing is that the blanket is washable and you put a plate in it, so the bitch cannot dig in it, and you also get, fitted, one time blankets that absorb the fluids etc etc.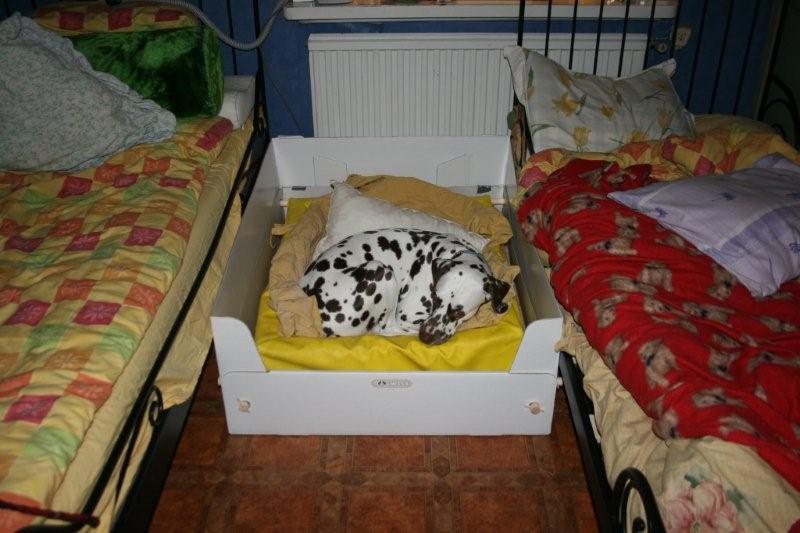 Jill thought this was for her..poor girl she will never get puppies by herself.
Monday 2 February 2009
Last night we moved both dog beds together in the kitchen for Rune and me..from today we stay with Muzica here all the time because she had really problems last night when we were going to bed upstairs.
Jill love the new area too.
Muzica can come up in this lower bed too, so far.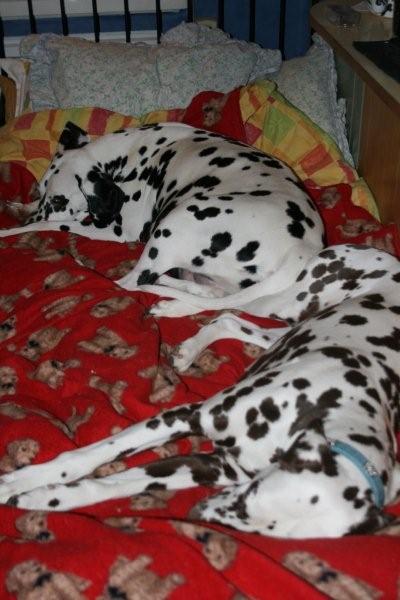 Lacy days.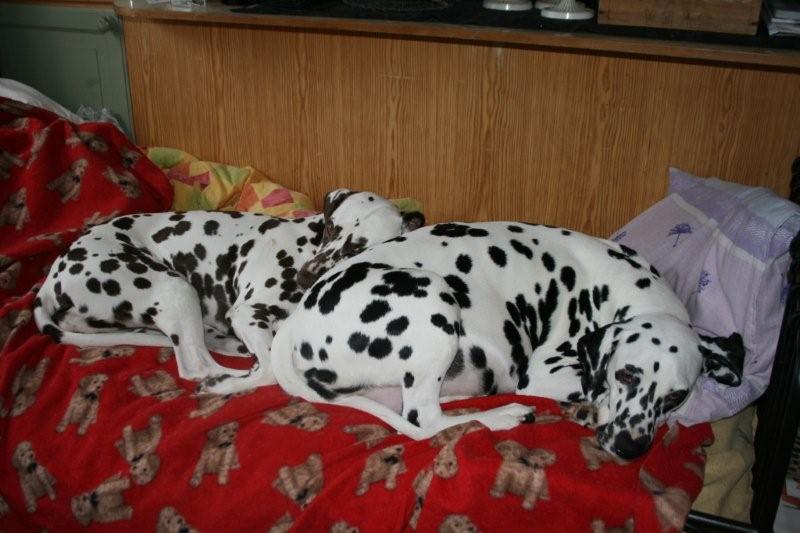 Jill was Nr One Leading dog here before, but she adore Muzica and let her take care of everything here now....
Sunday 1 February 2009
I start the day with a good breakfast.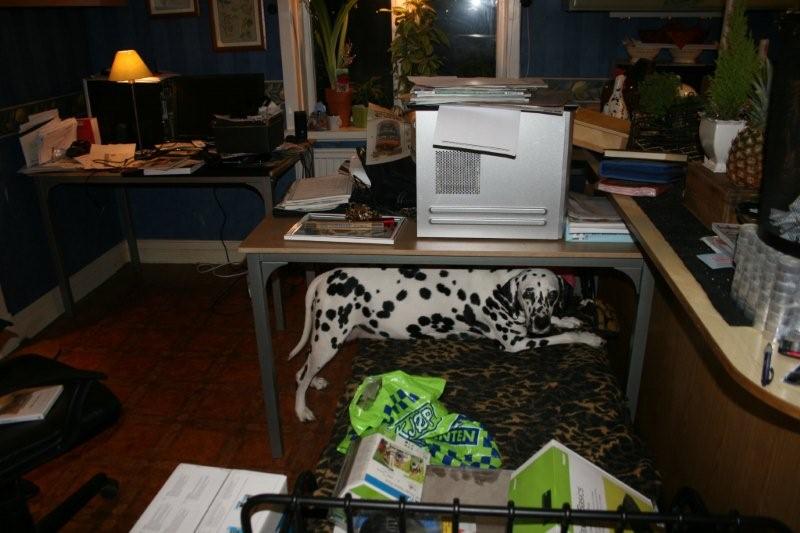 We moved our "office" into the dining area in the kitchen ....and moved beds here instead.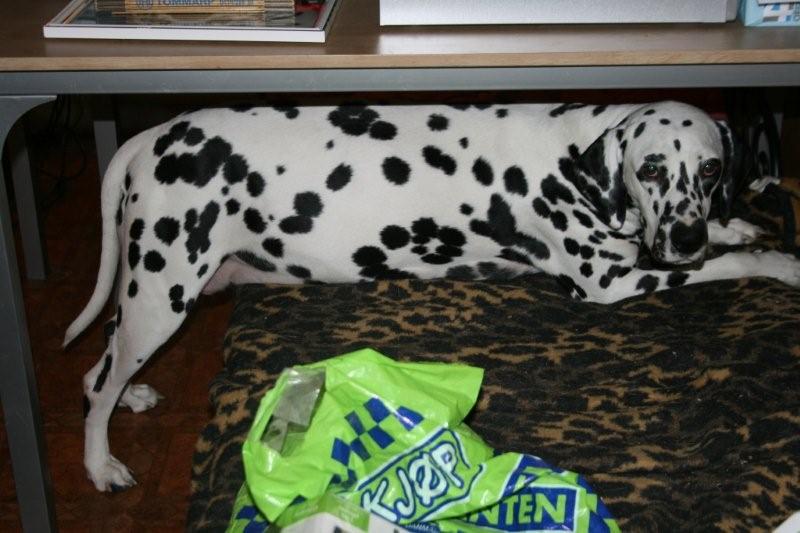 Muzica didn't find her normal resting area *S*......What are You doing mummy?????????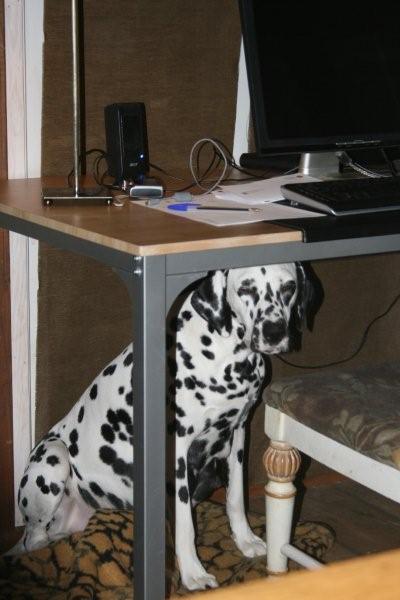 Are You ready soon???? Finally the new office is moved temporary.