Tuesday 31 March 2009
At 11 o'clock Roy was on his way to Asia and Jonnie on his way back home here again, how will this work out?????
I continue to sleep today, still strange in my head!!!
Customer at 16 and I told them about my pills so they did not think that I was like that normal days *S*, soooo tired after that!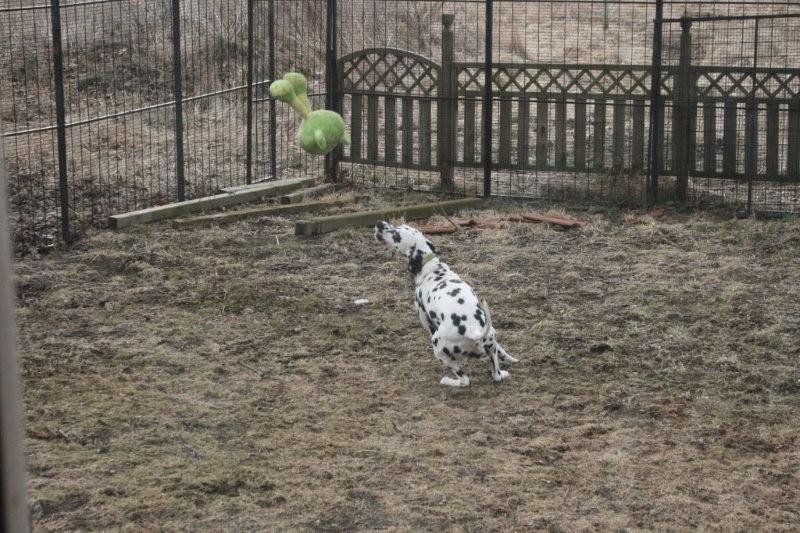 Muzica is so playful now, and she love Devlins toy he got from his son Hercules.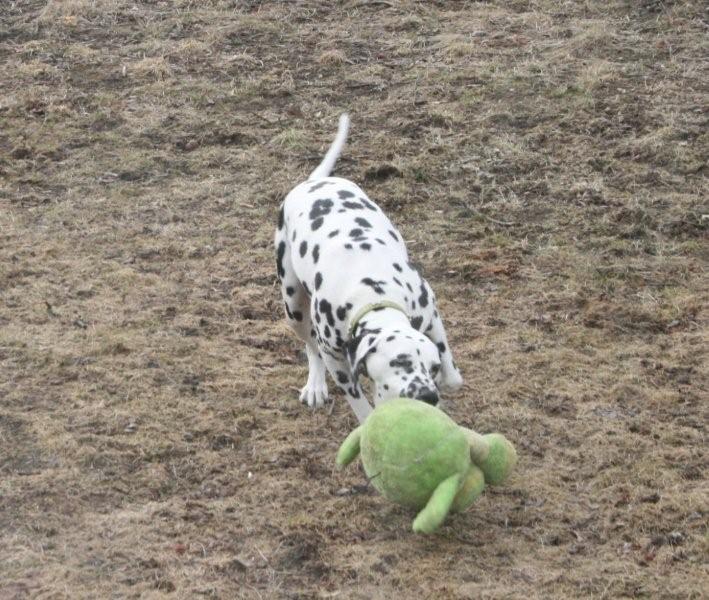 Monday 30 March 2009
I slept and slept and slept, and I couldn't even talk in phone.
I have time for my injection with B12 at 14 but when Hanna called me I said that I have cancelled it...BUT suddenly I was there and said that my son have drive me there...but I had my car outside so I have gone there by myself. and I was not sure that I have got my injection but I didn't absolutely not feel anything at all......I was still as drugged!!!!
And I have been sending lot of bla bla bla messages to my friends they did not understand anything, this was not good, really dangerous if You ask me.
The doctor said that after some days this will work better and today I will start to take TWO tablets instead of one that I have been taken Friday Saturday and Sunday...............Ohhhhhhhhhh Nooooooooooooooooooooo, NEVER EVER!!!!!
In the late night I have to call for ambulance for Roy again and they came and say that they couldn't do anything but that he have to start training his legs to be better??????????????????? He hope that they could give him some injection so he just can walk on the plane to Asia tomorrow.......!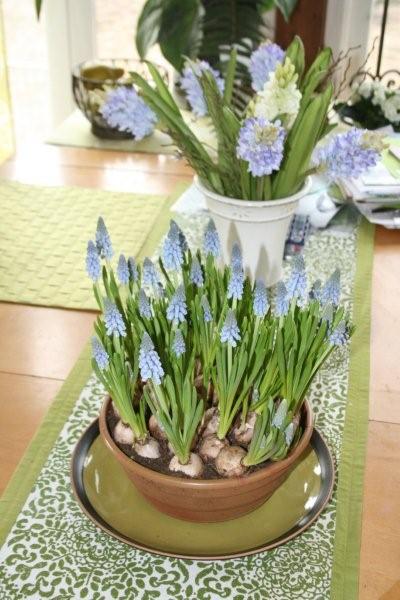 Beautiful flowers we got from a friend.
Sunday 29 March 2009
We are proud to tell that Jilloc's Seventh Heaven now is
Luxembourg Champion too, Congratulations Andre and Diana!
Foto Diana Kok

Probably still rats in our house....or????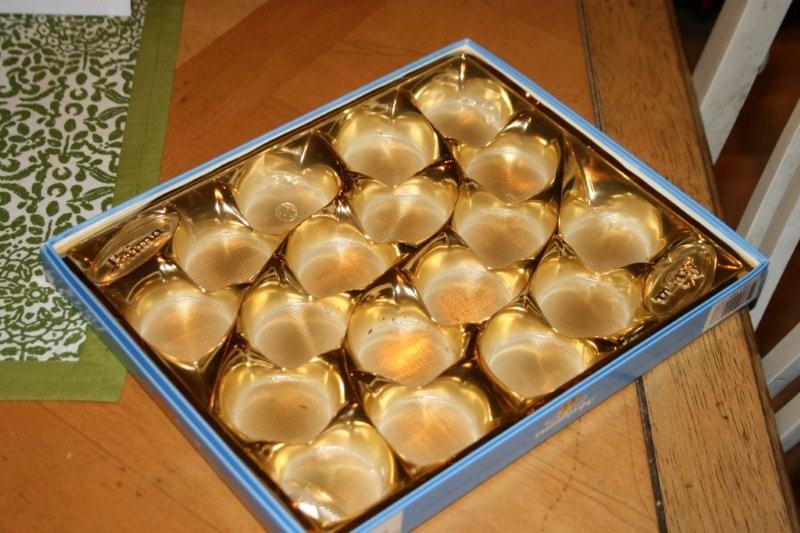 We went up early....Leelo was on her way back home to Estonia, so we have to say goodbye to them.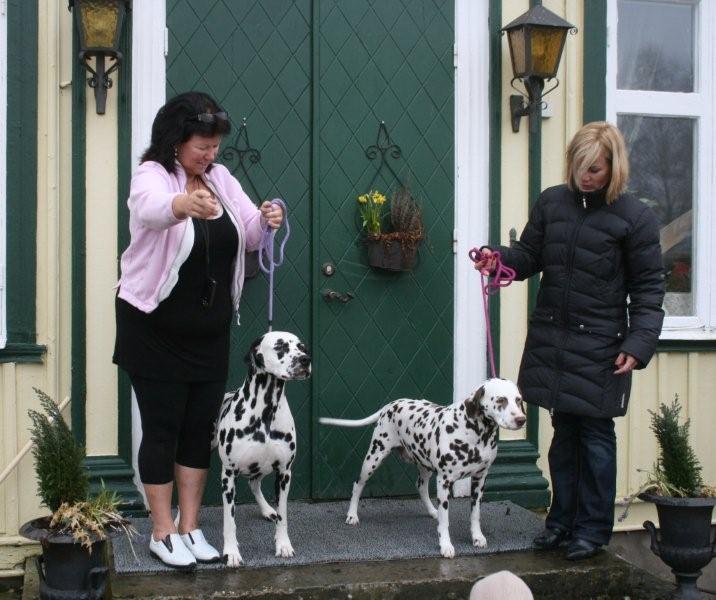 Our dogs were not interested to stand nice at all...just want to play.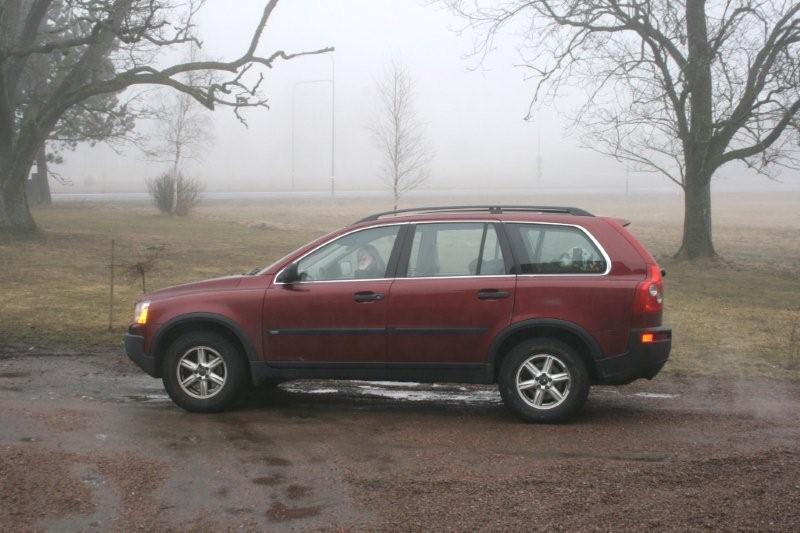 After that we rest a little in front of the TV and then we got puppy buyers in the afternoon.
I took a new pill in the evening and hope to just get read of my pain nothing else...but after some hours I was totally wasted again and talked a lot of strange things and did not have the strength to do anything....terrible!!! What is this!?!
It was a sleepless night with nightmares and I felt really sick and sooo gone, but no pain.........do not know what is worst!
Saturday 28 March 2009
I do not know how to manage visitors today!?!
I was still very strange after my medicine and I have been awake almost all night long because my Ex still have such terrible pain in his back and we have had to call for the ambulance two times this week, and to order other doctors six times too and several phone calls of course. And when he is in pain in the night and noon is awake I talk to him and Jonnie drive him to hospital in the nights and in the morning sometimes...last three weeks have been like this..just some hours sometimes he felt almost normal without pain, and he have go laser and everything else other things that doctors and specialists have ordered. But there is still nothing that have helped!?!
His plans were to go to work in Asia three weeks ago but then he was at hospital for five days.....so now he have a new date again at Tuesday......I really can't understand how he can go there but there are lot of specialists in Bangkoks Large and very famous hospitals, so maybe he should try to go there even if he is in pain, and he have the possibility to get the x-ray there at once instead of waiting up to six months here......
But everything works when You have to do something special...so we love to meet Eddie again and Nathalie and my dear oldest son Jimmie again today.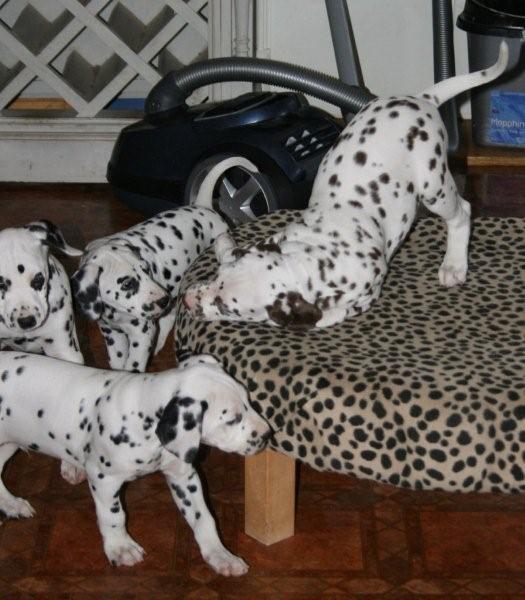 We had a nice family here for some hours they would like to say hallo to our grown dogs and look at our puppies of course but they will be Expos new family in the future...we have had contact for some months and I really like them more and more.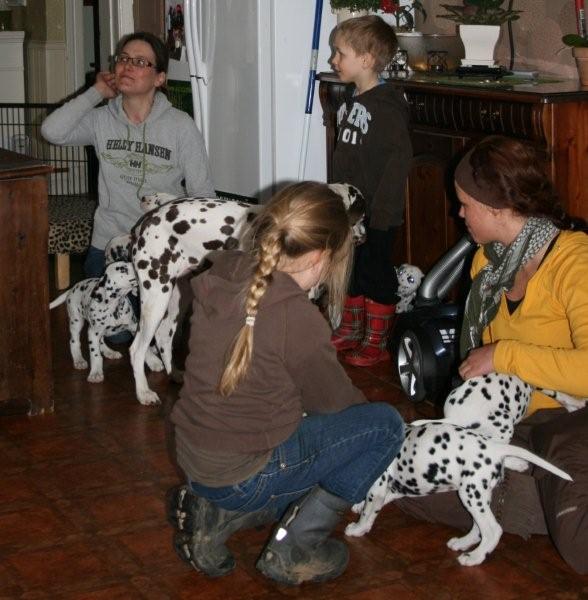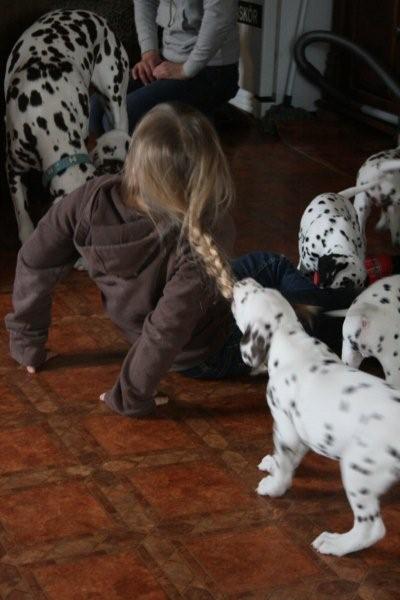 In the afternoon Rune did potato gratin with kassler and salad and and very good bread, and we all eat together and even Leelo and Jonas came when it was ready, that was perfect.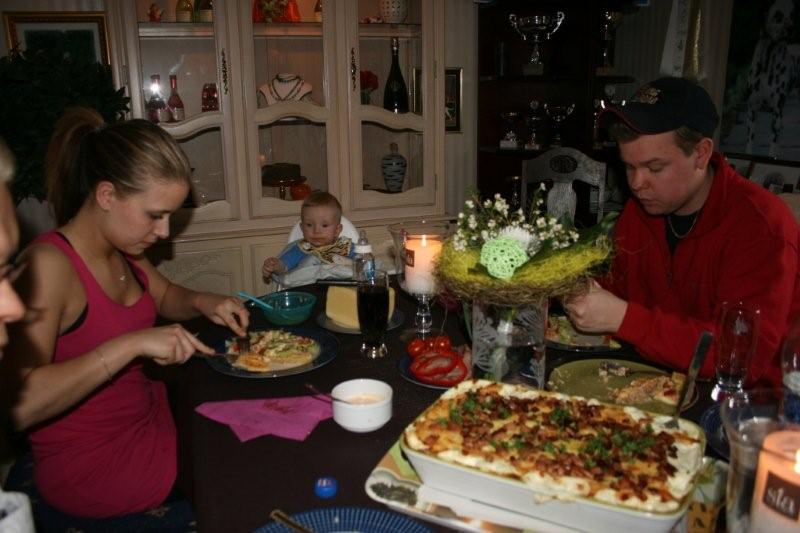 Eddie was soo hungry too!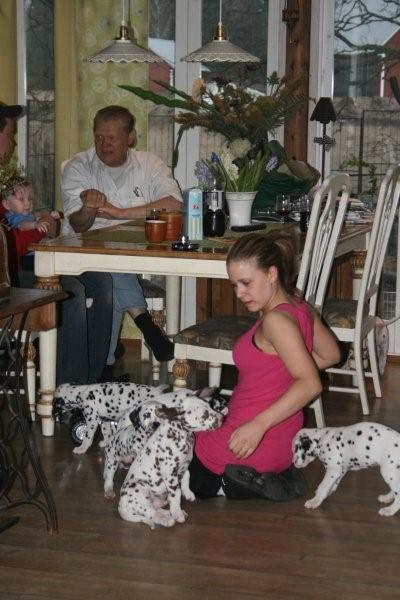 Nathalie have planned to come here for many weeks now but there is always something for us or them, she love to come to see our puppies, and fell in love with the blue eyed male!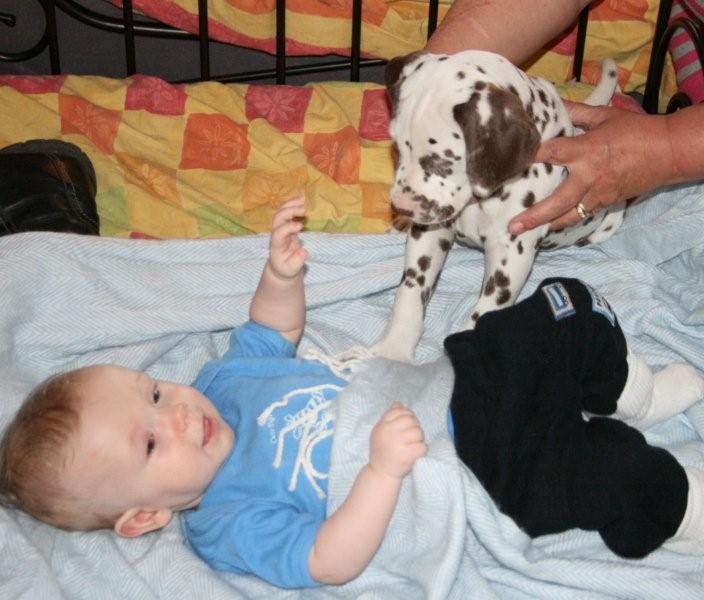 Eddie have never met our Devlin, but I told him that he was sooo similar to this puppy.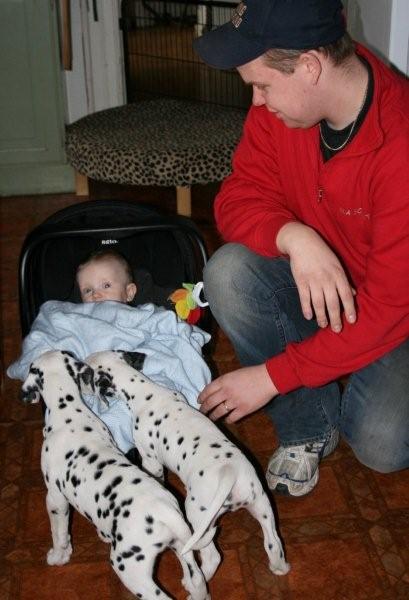 Here he is again....J Walk On Top. What is this??????
Nathalie want Wery Important VERY much!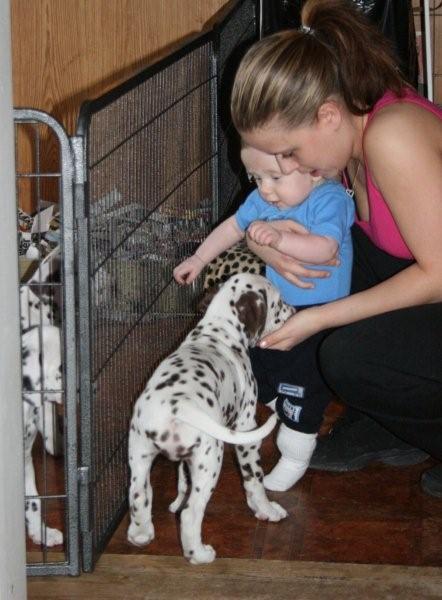 This was very funny for both puppies and Eddie!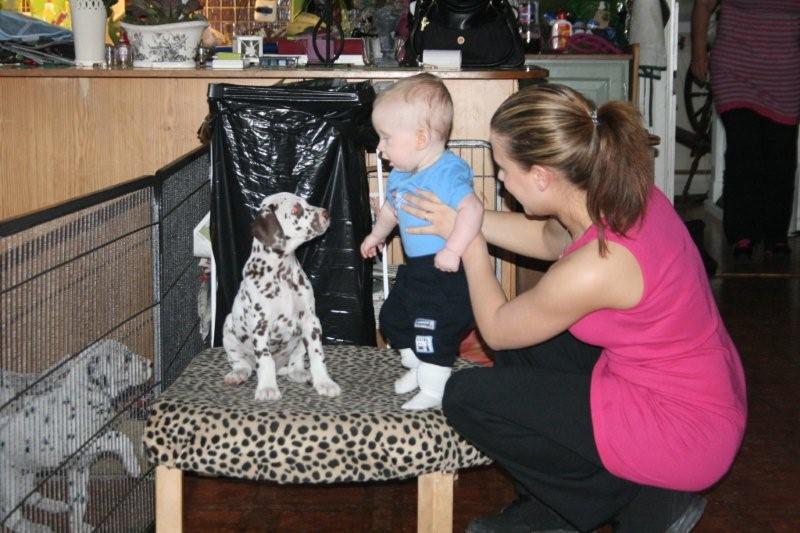 Puppy 7 week old and Boy 6 month old. We looked at the movie from Eddies Christening.
The "VOLVO Family", even Leelos Volvo on the backside of the house *S*!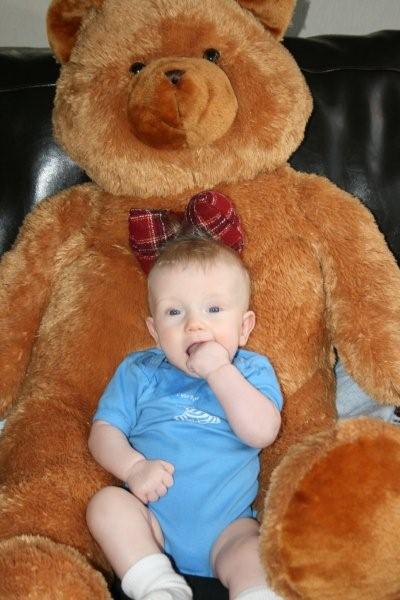 Uncle Jonnie and small Eddie. Uncle Teddybear and small Eddie.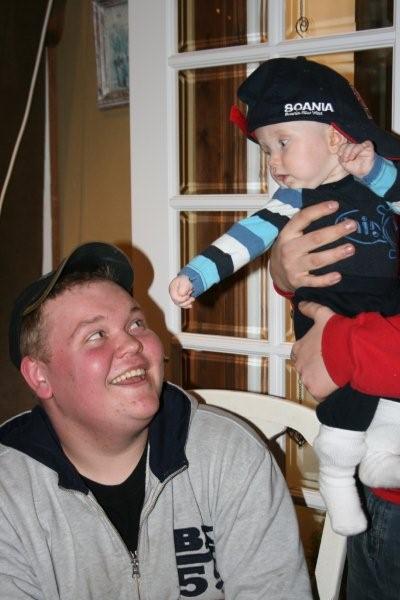 Both boys like caps!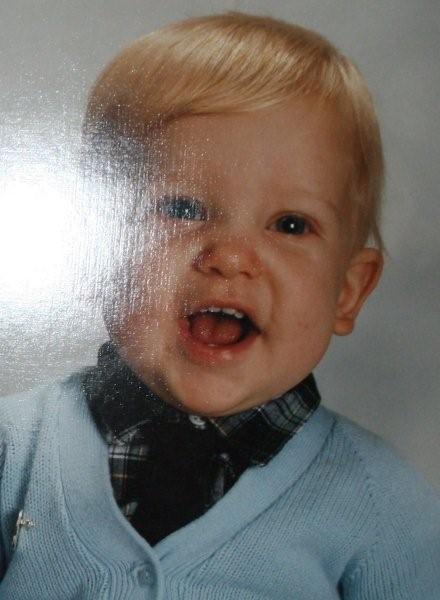 Eddie almost 6 months and Jimmie 11 months at the photograph.
Nathalie have never seen a mating so she used the moment to give Eddie milk when Donna and Bosson have their "love moment" *S*!
She thought exactly the same as I did when I saw a mating first time 1979, we did not understand that there will be a "hanging" after *S*!
But Jonas will know in the future for sure*S*!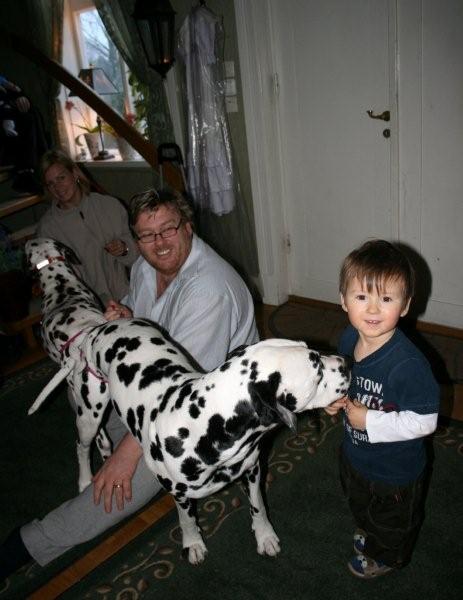 Bosson mated Donna (Our Donnas mother) again, and we had a looooong and nice night together with wine and chocolate and Leelo was a Top Model in my store..............soooooo cute!!! Jonas and all dogs were sleeping.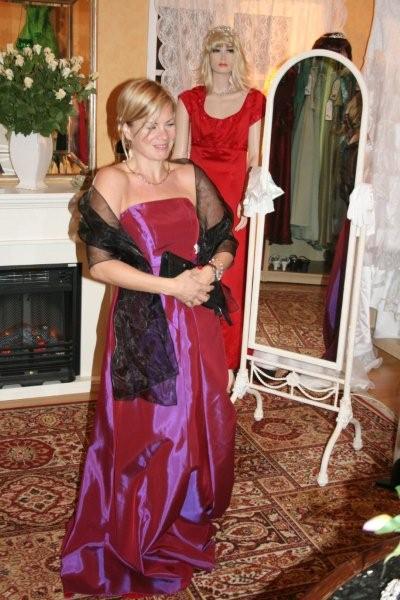 We eat chocolate from Latvia that our Latvian friends last week bring for us, it was Leelos favourites!!!
Just when we have gone to bed.......
We have to call for the ambulance in the night again for Roy and he were back in the morning at home again and then they come back to bring him to the hospital again to try something else and in the afternoon at Sunday Rune go there to take him back home again, poor Jonnie was sleeping he have been to the hospital all night long with him, and poooooooooor Roy.....he have lost almost 10 kg in five weeks!!!
No one could really understand why in hell no one could help him or send him to anyone else that can????
Friday 27 March 2009
Leelo drive to south of Sweden to friends. It was snowing a lot in the morning, but there were no problems....she have a Volvo!!!!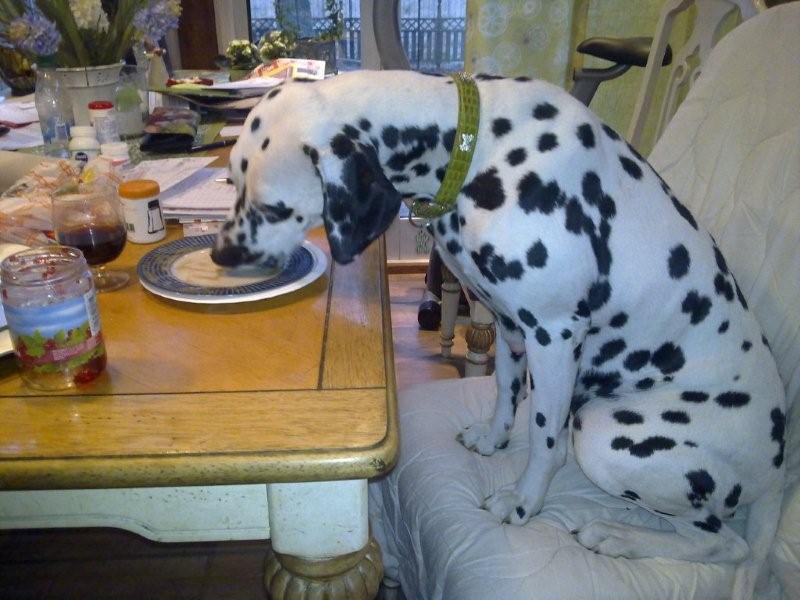 Muzica eating lunch. Anna, now You know what she will expect when she came back home *S*!!!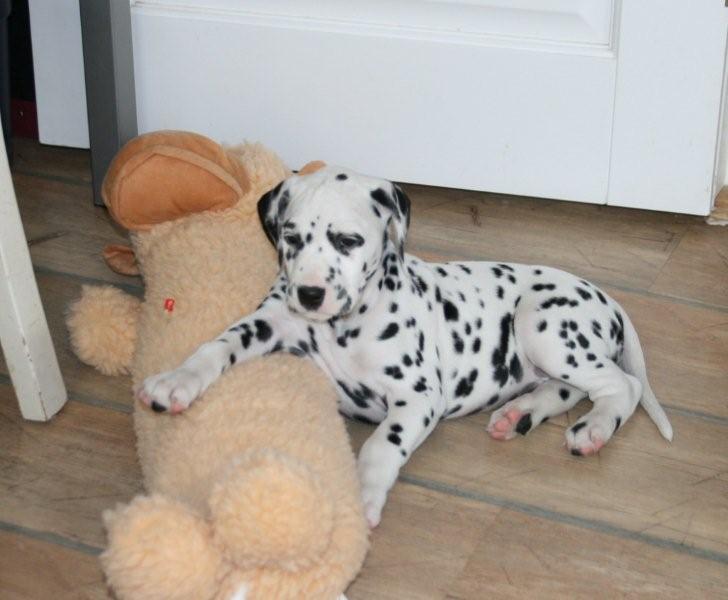 Walk On Top relaxing. One of his sisters take care of the toy!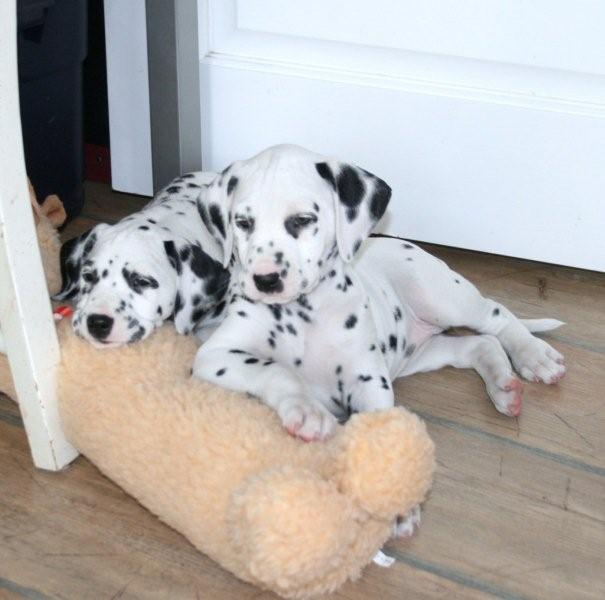 Here she get company of Runes favourite the lightest bitch with the most gorgeous expression of them all.
I got new medicine again that I start with tonight and two hours after I was just lying at the sofa totally relaxed without pain anywhere..
BUT talking and talking and talking about everything strange...I heard my self talking...not fun at all.
Thursday 26 March 2009
Jonas love to play with Jonnies car together with our puppies.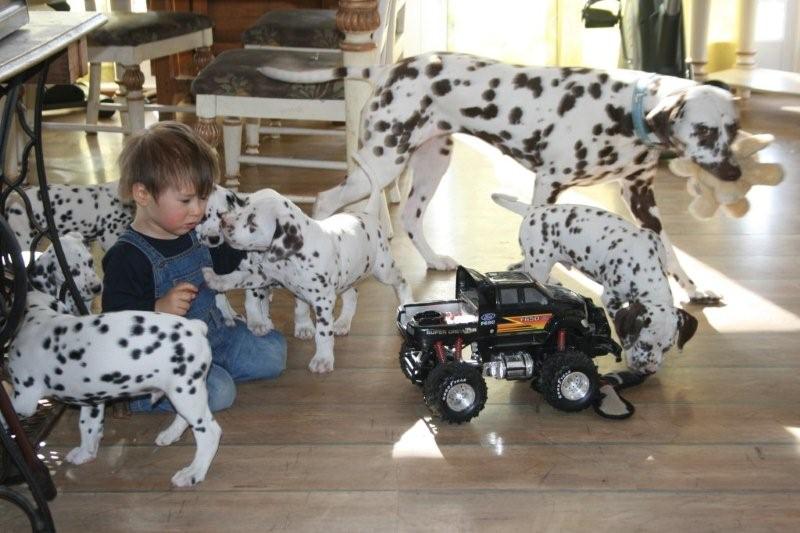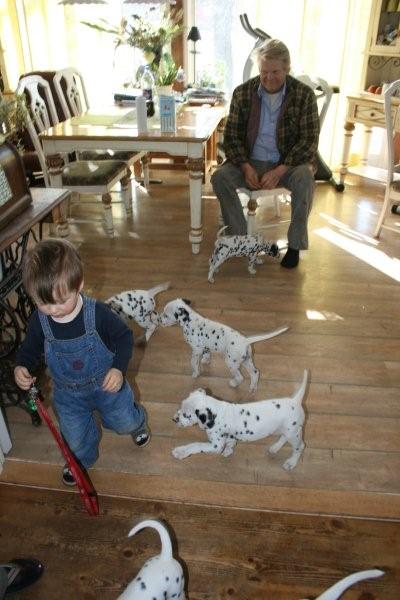 Lucky Jonas that CAKEMAN came today too *S*!
I am sure he will remember Sweden for nice cakes *S*!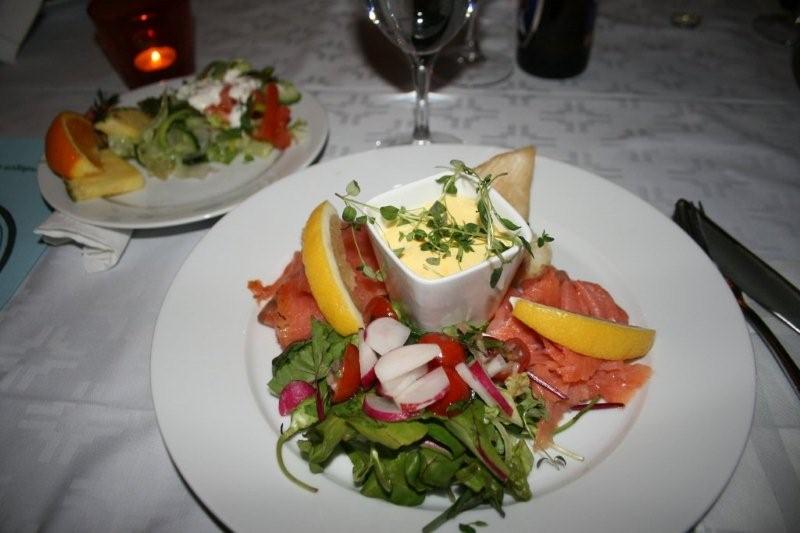 In the evening Rune and Jenny and Hanna and me and many other members of Skaraborgs Kennelblub was at the meeting of the year, and after that their fantastic dinner. Jenny and I have ordered fish.
Some of the members get flowers for their dogs titles etc and I was (of course *S*) Best Breeder and P O get prize for Best Veteran and Puppy and Hanna get the Best Progeny Dog with her Jilloc's Key to Success!!!
Leelo and Jonas was home watching the house.
Wednesday 25 March 2009
Even Rune had to get dressed today because Leelo and Jonas and Donna was on their way here in the afternoon.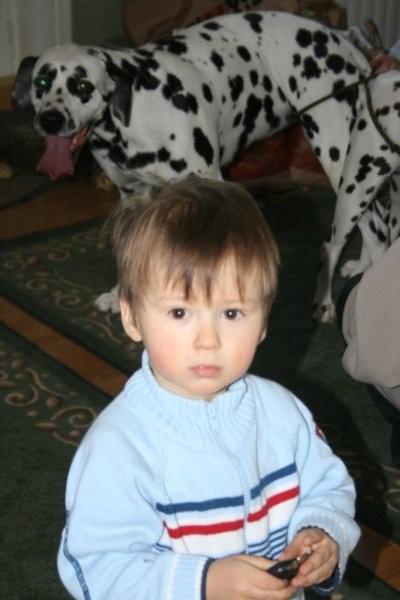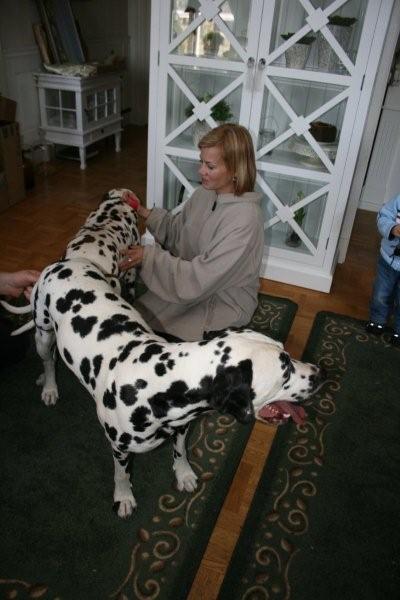 Jonas took the MB key....thay had the same at home and he recognise it! Clever boy!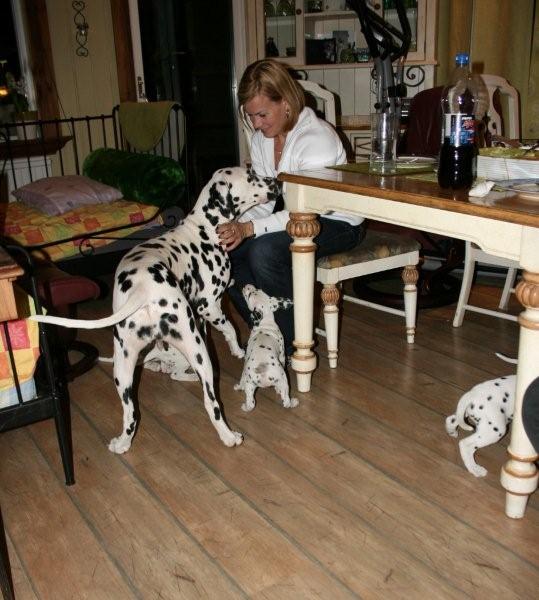 Muzica showed Leelo her puppies.
Sleepy puppies in strange positions.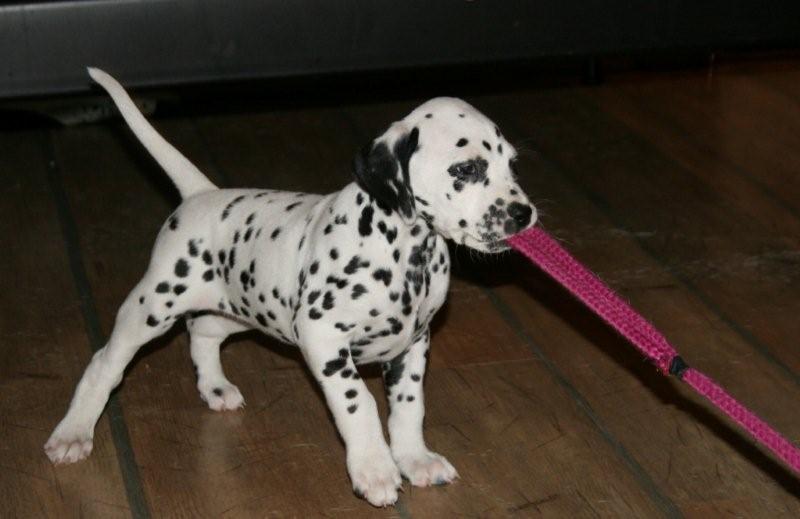 Hallo, is anyone want to go for a walk??????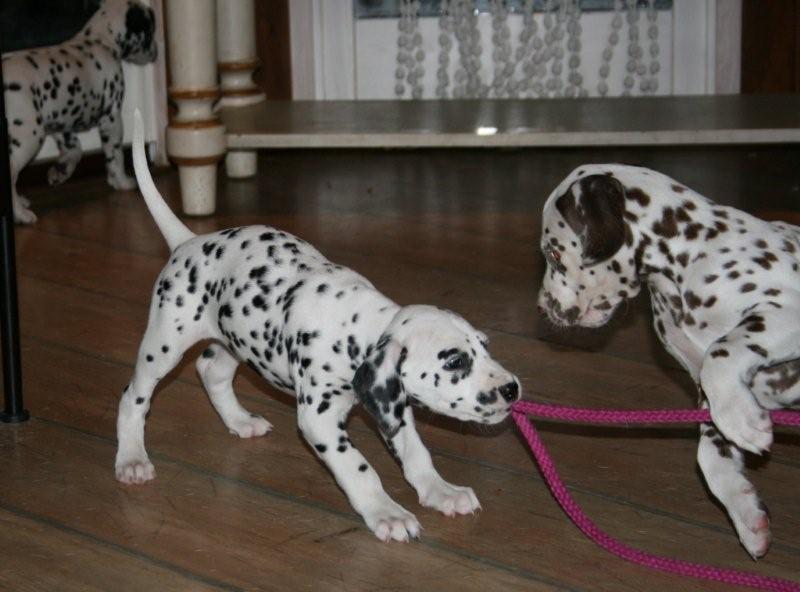 Hi sister.......I want to jump the rope instead , can You please wave the leach!!!
I think those photos was made by our Latvian friends in the beginning of the week!
Tuesday 24 March 2009
Tired and sleep as long as we could at least until cakeman came/called for coffee!
I was running downstairs to my nice and clean kitchen, to put the coffeemaker on! I should better have been staying in bed *S*.
Rune could be happy that he still was sick and in bed.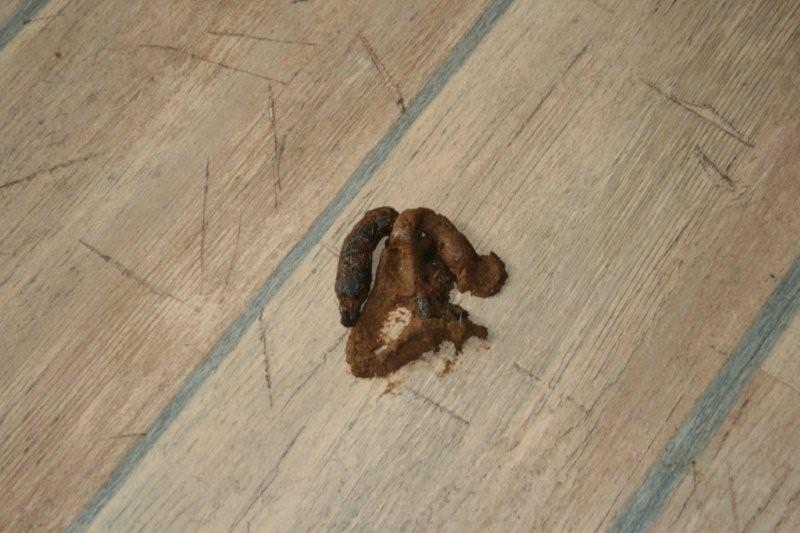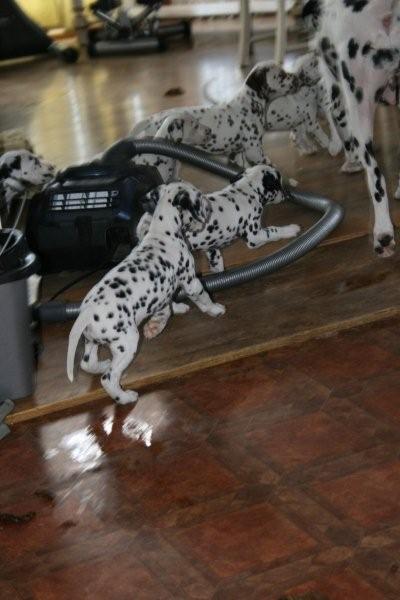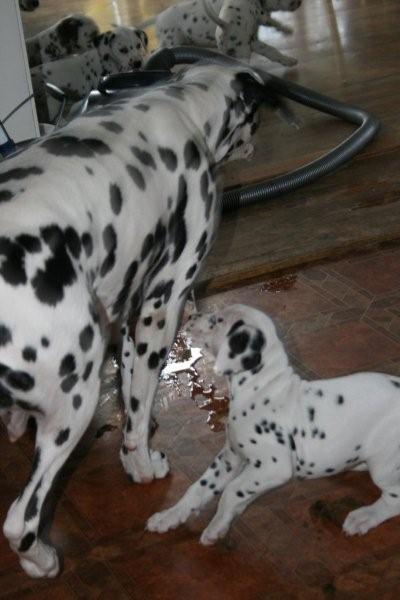 I do not think I need to say more.....all puppies were sleeping soooo good, at a madras that they first have eat up a little *S*!
Muzica told them that they have been sooo nice and she was happy to meet them, she should better have helped me to clean the floors!!!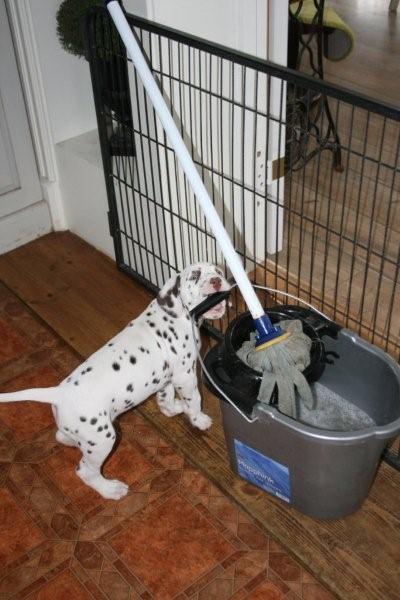 Nice and shining again.......but just for a while, but they are very good to go to their own paper toilet! And Wild Music is ALWAYS helping me to clean...the other are just playing.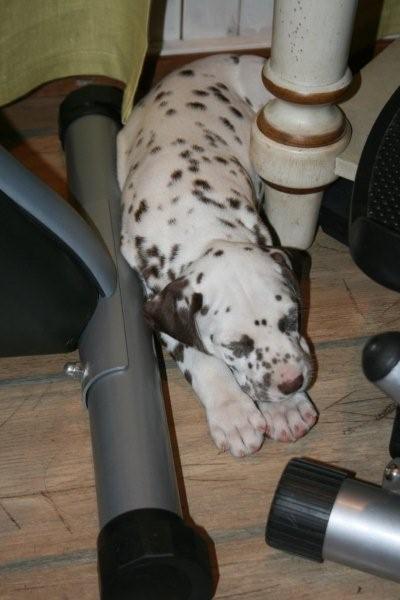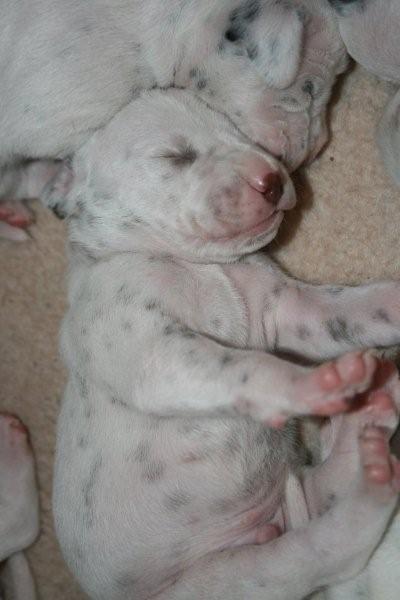 "Small-Devlin" sleeping.....we are not sure about his nick name yet! I fell in love with him when he was only 9 days old!
And my first "special feeling" was right!
I was in the store to buy food until tomorrow when our Estonian friend is coming.....I was so tired that I do not even have strength enough to go to the solarium.....normally that is so relaxing.....am I going to be sick again?
Monday 23 March 2009

Congratulations to Elliott (T-Cart Kracker Jack)
10 Year old today!!!!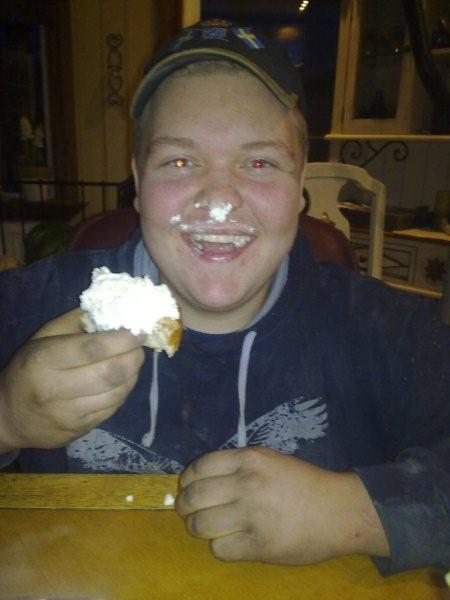 We celebrate Elliott with cake.....he is Jonnies dog so even he have to eat....today!
Rune back to doctor again, and so did even Roy....so now here is TWO sick and POOR men in the house most of the day, and they both ask me what to do to get help to get well again.
More Pepsi and cake is my suggestion *S*!
New photo of Jilloc's Spermbank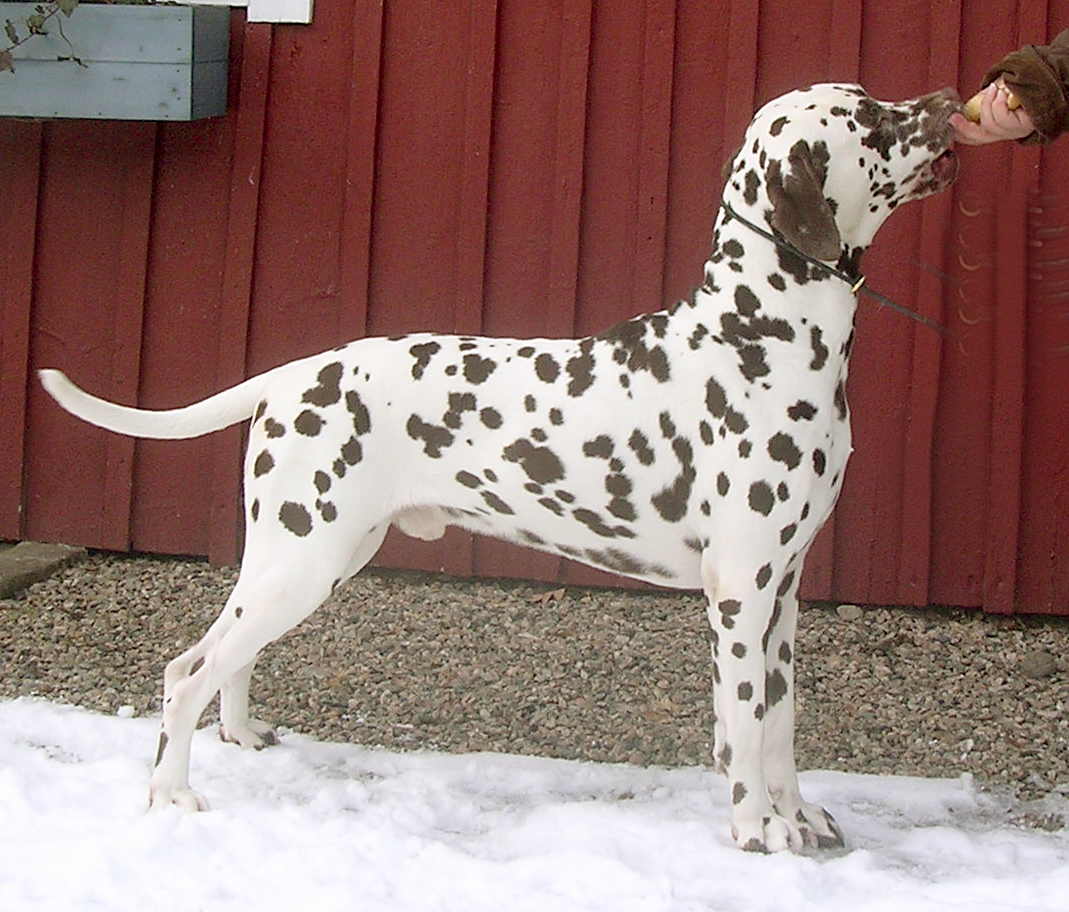 Photo taken by Lise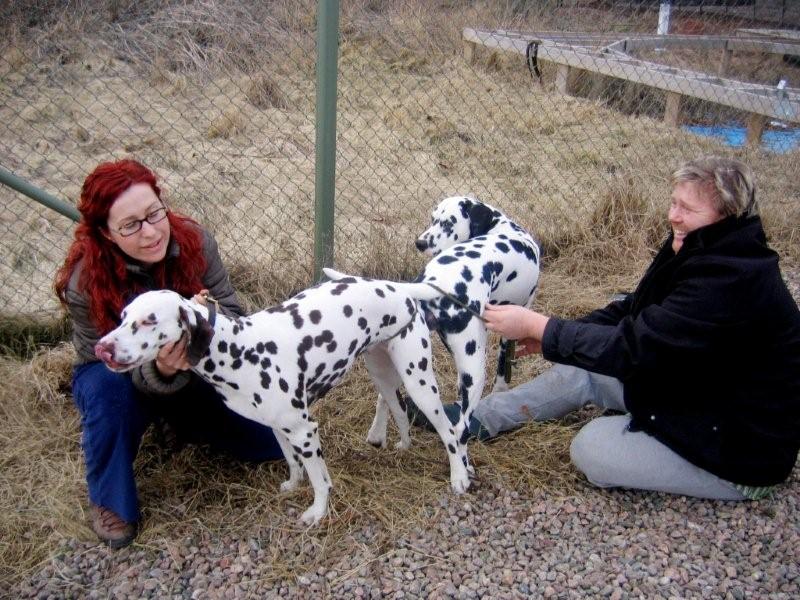 Photo from yesterday of Torry and Daddy taken by Anastatia.
Even I have to taste the Latvian Champagne after the mating.........photo from Sunday.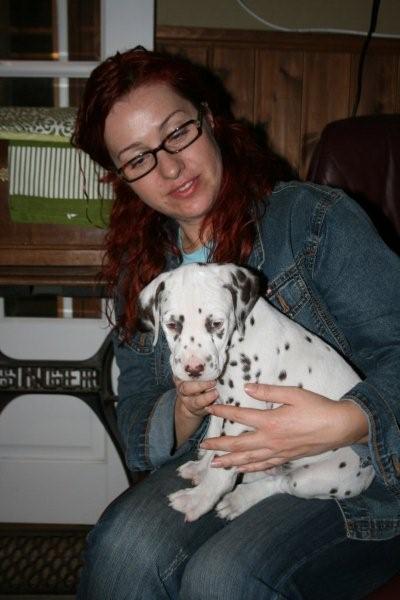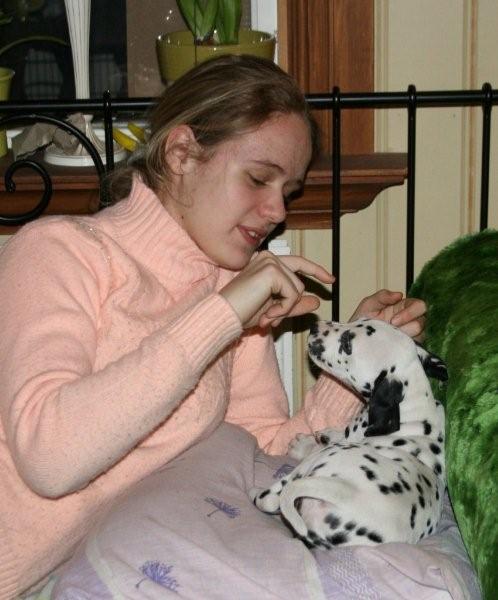 Puppies was so happy for visitors.
Tanja and her daughter was going back to Latvia today even if we wish they have could stay for some more days mating.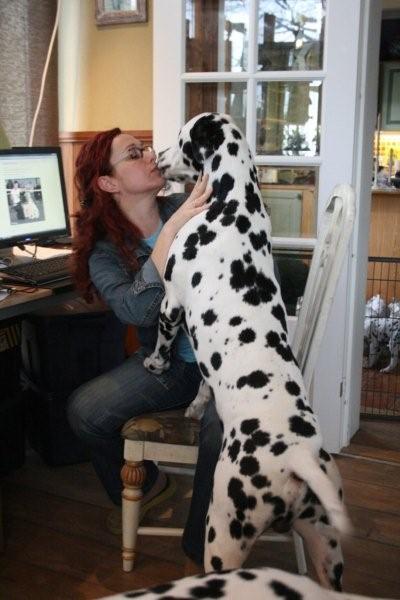 Bosson love to give and take kisses. Goodbye Sweden for now!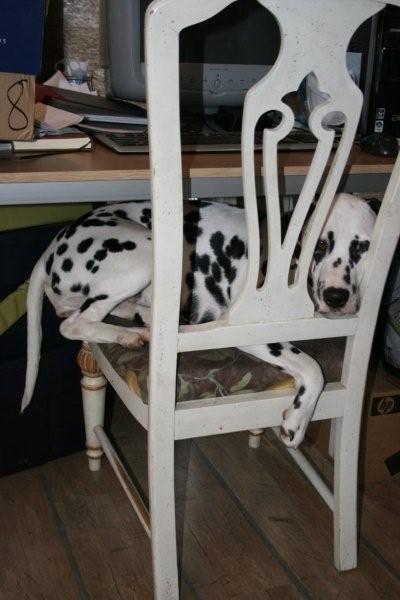 Bell think she is a cat *S*!
Sunday 22 March 2009
Mother and son playing.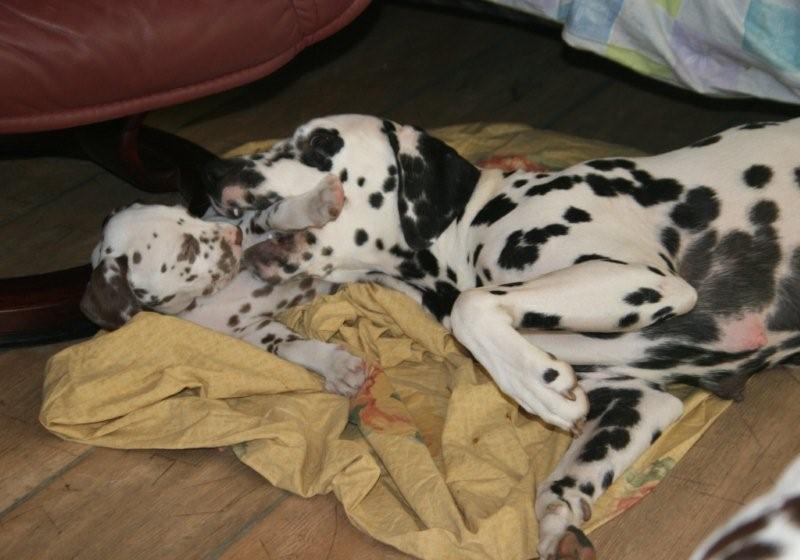 Oooops Muzica thought it was a chewing bone *S*!
Ellie with her new pony......but it is Jennie that want Ellie to ride and have a horse (the same way that I want Jennie to have my interest in dog shows when she was young *S*, and then she hate it)!
Think about that Jennie.......ha ha!!!
Torry was mated in the day....thank god......it is a long way to go back to Latvia without there have been a mating...but it is not easy when it is the first time for a bitch. Everything can happened. Follow the litter at Kennel Benfatto.
I did not go up until two o'clock today......tired....Rune went up much before me..he couldn't sleep with his pain in his ear.....
We was very tired and did not do anything except talking a with our visitors...but they were out for some hours looking for Läckö Castle in Lidköping.
Rune fell asleep about ten o'clock on the sofa in the kitchen and he slept there all night long......
He didn't even hear when I try to wake him up.....I was just happy that he could sleep with his hurting ear....I put his clock on 7 because he have to call the doctor and go there before he can drive to his work .......probably he need antibiotic.
Saturday 21 March 2009
We went up at three o'clock.
When I start to dress in the night Rune was already sitting in a chair in the room...he had so much pain in his ear that he couldn't sleep anyway.
I follow You to Malmö he said to Jenny and me, we both say Nooooooooo, but he insist...it is better to sit there than go here and be crazy with the pain he said and took lot of medicine with him........Our Latvian friends Tanja and her daughter will be home to take care of the puppies and Jill and Muzica...I have already talked with them to help me with that today so Rune can rest.....and my daughter Jennie and Ellie is coming here today too to look for their puppy, so they can feed and clean for them.
After a little while we were on our way towards Malmö.....Jenny and I have already put everything in the car yesterday.
Rune fell asleep in the car immediately, much better to sit and sleep when You have pain in Your head or ears, I always did that with my children when they were small *S*.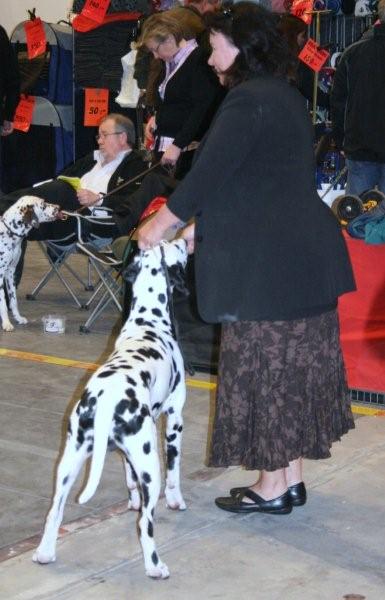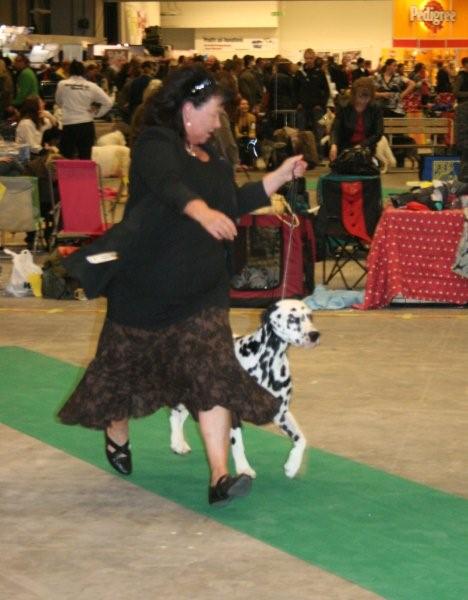 I feel rather good yesterday, but today I could almost run one round in the show ring...I could almost not bread and feel really totally wasted and shaky in my legs.......so happy just then that Rune was with us...he have to show some dogs....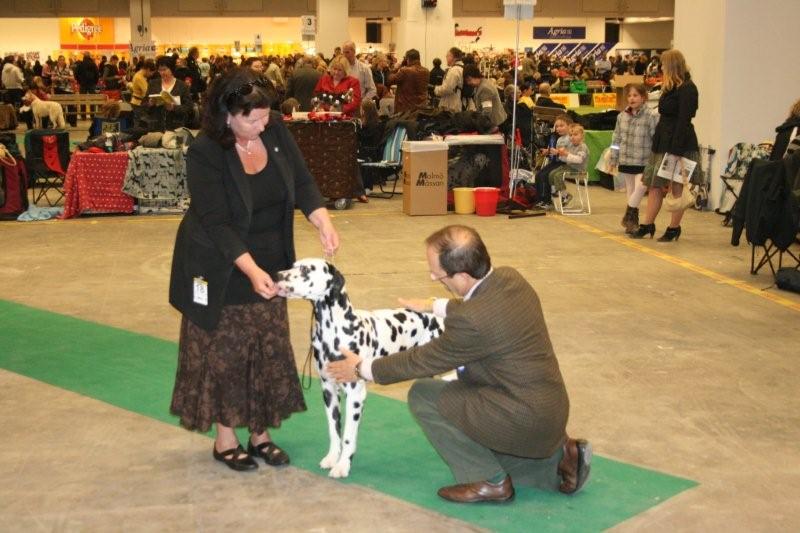 Valerio Nataletti from Italia was judging, and we were thinking that he was looking for thin and tiny Dalmatians...but no, but he look a lot of eye colour and he was even counting spots on tails *S*!
Bosson became Nr 2 Best Male, just after Toro Béarnaise from Norway....soooooo close to the title, damned!!! Decibel and Bell in the ring.
Jenny showed Devlina so well, as always.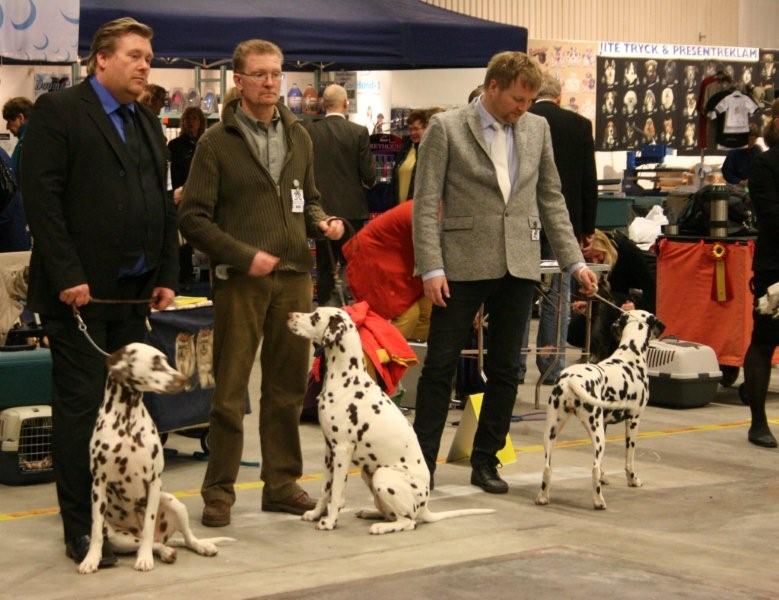 Carin and Russin in the ring. Rune, Peter and Trygve waiting. Rune was so tired that he almost couldn't keep his eyes open....poor....he regretted many times today that he was not at home in the bed, but I was happy....I could only show two dogs and was almost dying.....I did not know that I was that week still. Thank god that Jenny was in good shape (as always) *S* so she could show many dogs today!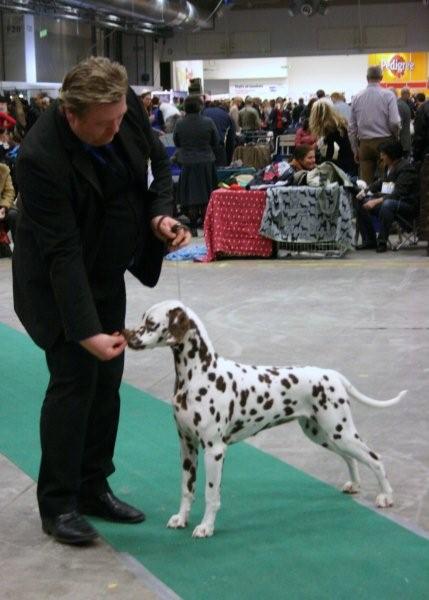 Gloria became Nr 1 Best Bitch with another CAC and CACIB, and most of all the Title SWEDISH WINNER 2009, Molly and Helena Nr 2 Best Bitch and Tuttas daughter from kennel Bazius Nr 3 and Devlina Nr 4 and I think it was a bitch from Löjtnatntshjärtat as Nr 5, Bell was Nr 6 just outside the prize placement .....
This morning we have decide to go home directly after Best of Breed because of that we feel so sick and that it was a long trip back home again. Then only thing that will change our minds was if one of our dogs will get BOB...but we thought it was no chance for that, we thought he will have much lighter type than we have on our dogs, but because Malmö had discount for multiple entries, THANK YOU MALMÖ we love You for that, we have entered here because of that and because of the title of course.
BUT
Gloria was running for one more Victory.......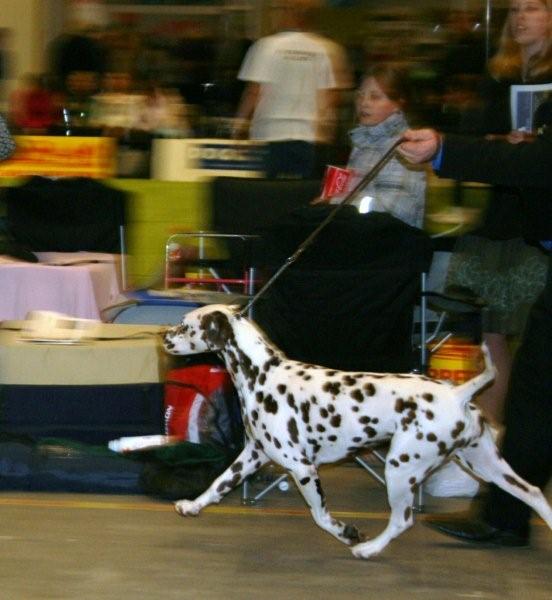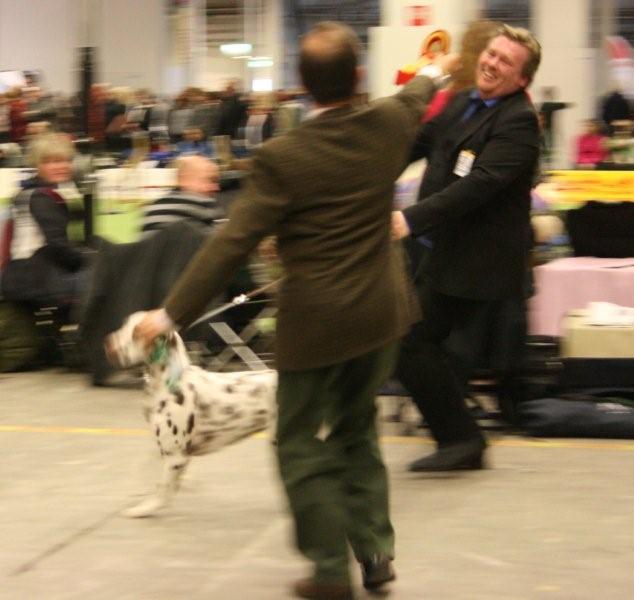 And...............Mr Nataletti give the BOB cocard to Rune and Gloria, that was the first smile from Rune
for a long time. but he was really worth that he have done a hard days work just to come here today!
Thank You my dear.....I have had to leave the victory to another because I was so exhausted after showing just a little, without You there haven't been any Winning title today.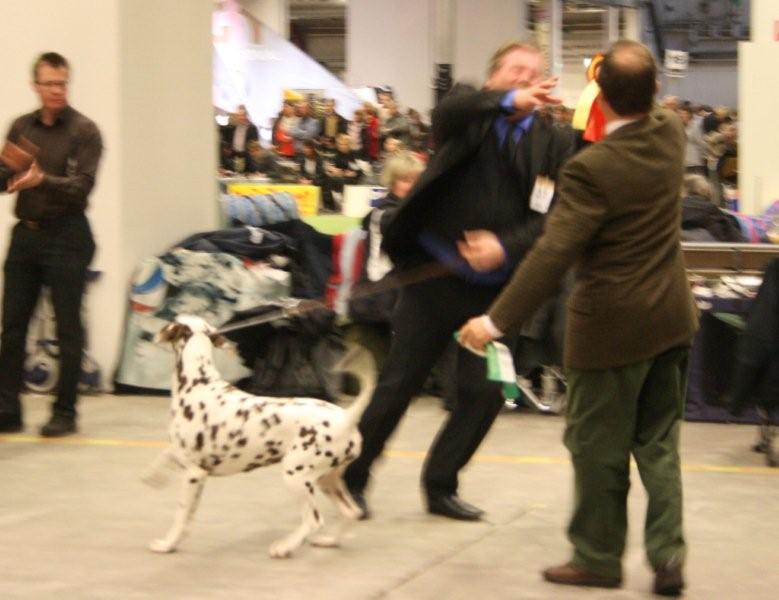 I love this photo.....it seams like Rune says.......Give it to me, give it to me...Before You change Your mind...ha ha ha...sorry for the bad quality of the photos....
Two Norwegian handlers was BOS and BOB, thank god that one of them was mine *S*!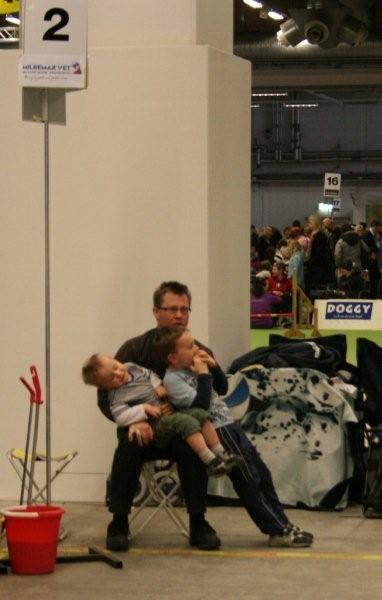 This man was sitting all day long with his two sons in his knee.....here is one of them sleeping....such a good father!!!!
Rune and Helena was happy!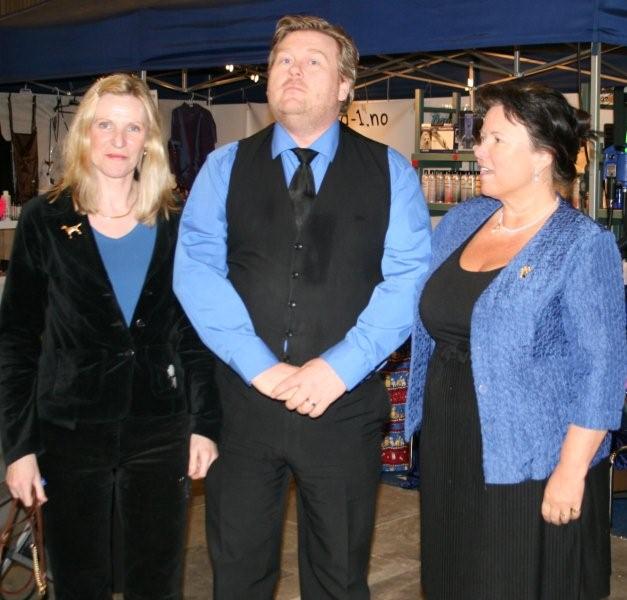 We were sitting and rest/sleep for 3 hours and then we were ready for the final of the group and the Breeding group.
Gloria did not get any placement in the group, but we were BIS 3 BREEDING GROUP out of 20, that was very good!
We can't even remember how we came home...Rune have been eaten so much medicine that he did not dare to drive at all, so I start the first 200 km and then Jenny drive the last 250 km...we were soooooo very tired, but Runes snoring made us almost hysterical crazy so we keep awake......until home. Poor Jenny that had to drive 60 more km in the night then.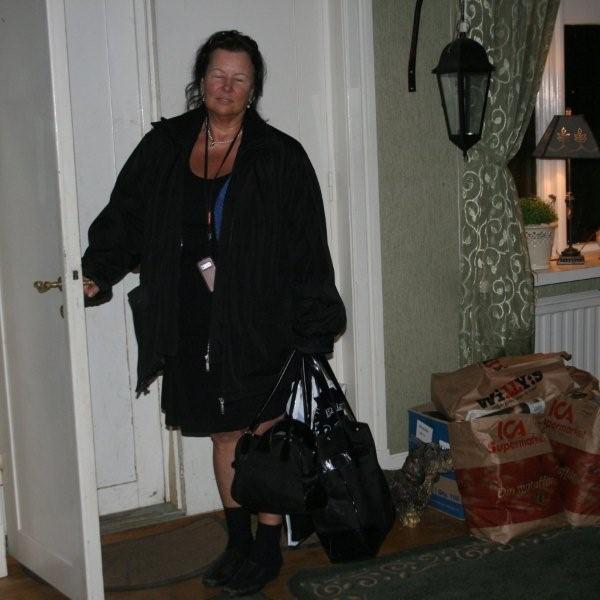 Finally at home, without pants *S*! And soooo tired!
We were trying to mate when we came home, but it seams like it was still too easy. We went to bed.
A really hard and looooong day was ending.
One more problem.....Runes breathing mask is probably broken in some way......he don't think it helps anymore, he is even more tired and sleepy during the day than before not only because of his flue..but he have been so sick last week that he couldn't go to Lidköping to fix it at the hospital. Not good at all.
And I have forgot to tell about the night to Friday........I woke up at 4 o'clock of Runes very LOUD!!!!!!! snoring...I push his back and ask if he have take his mask off!?! Yes he said and start snoring again...even louder!!!!
Then he found out that something was very wrong....he was snoring in a closed mask.....because there were no electricity in the house!!!
This is really dangerous for him. He went up and saw that whole Götene at least all houses we can see was dark.....really hope they will fix the broken electricity very soon!
Rune have to go up and sit in a chair and try to sleep and at least rest.....it is dangerous for him without electricity in his mask..we should bring our electric power machine in the house if this happens again, never have been thinking about that before!
Friday 20 March 2009
Rune still in bed even if he can lay on the sofa in the kitchen...poor, now he start to get pain in his ear too. Will we come to Malmö this weekend??? We have ordered a room at Scandic as usually, but can't leave home today. Worst is that we have tried to cancelled it, but it is not possible so we have to pay for it...damned!!!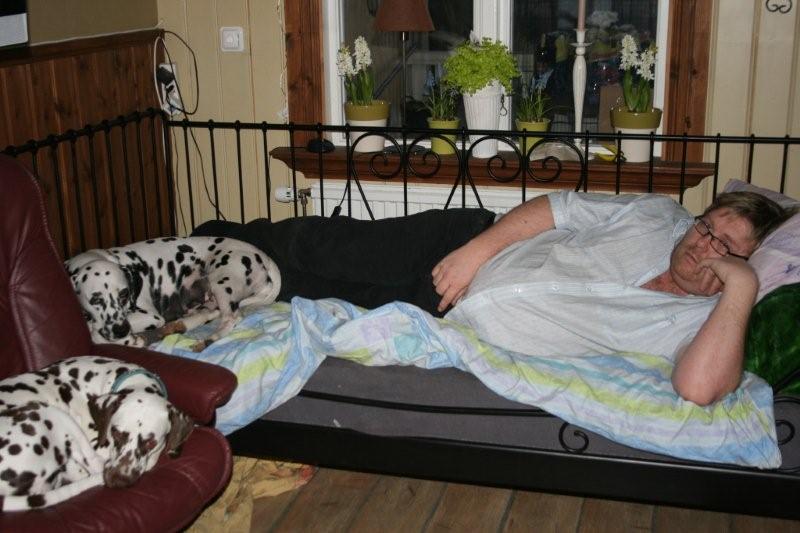 One of the extra-mothers here is Devlina, but there were no milk in her tits *S*!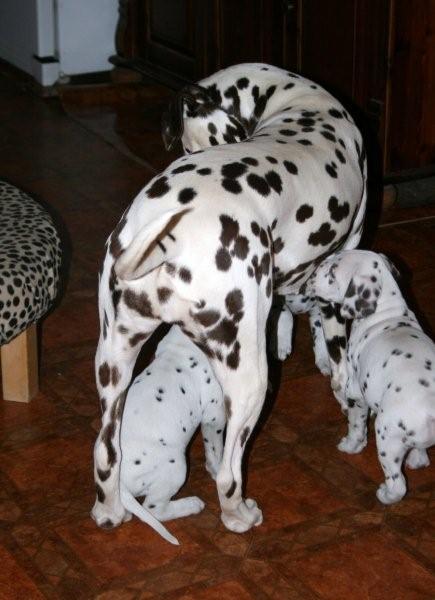 Jilloc's Wild Music is going to stay here too!
As soon as Rune leave the bed Jill and Muzica go there....
And Gloria, Daddy, Bosson and Devlina.
Bosson and Daddy.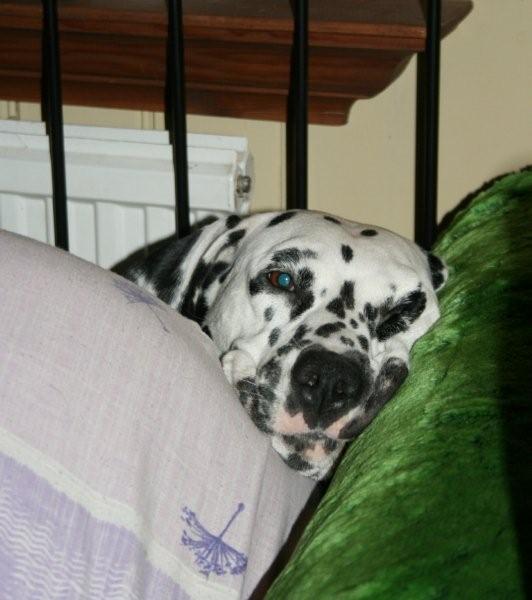 Lazy Muzica *S*!!!
Devlina and Gloria.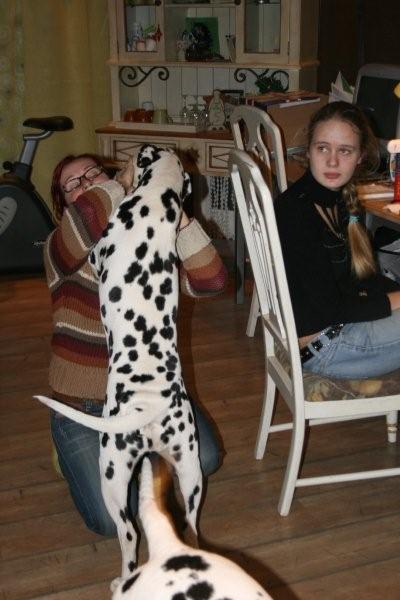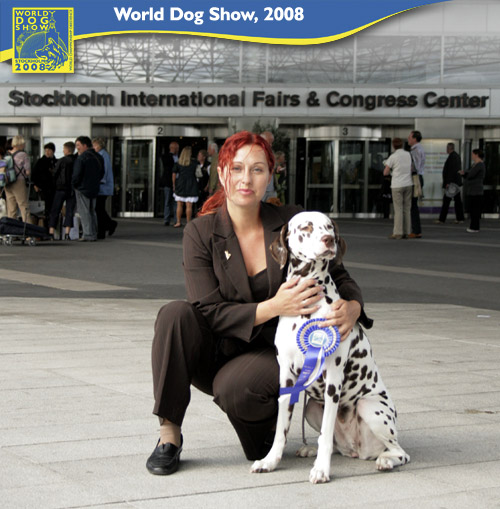 In the afternoon our guests from Latvia came to visit Daddy. But it was too early for mating yet.
Especially Bell love when there come new people in the house.
Photo from Benfatto of Torry and Tanja in front of the Fair Centre in Stockholm this summer.

Tanja with INT LT LIT EST Baltic RUS CZ POL Champion LT Junior Champion BalticW-08 Vittoria La Grande Benfatto in the showring.

News from DENMARK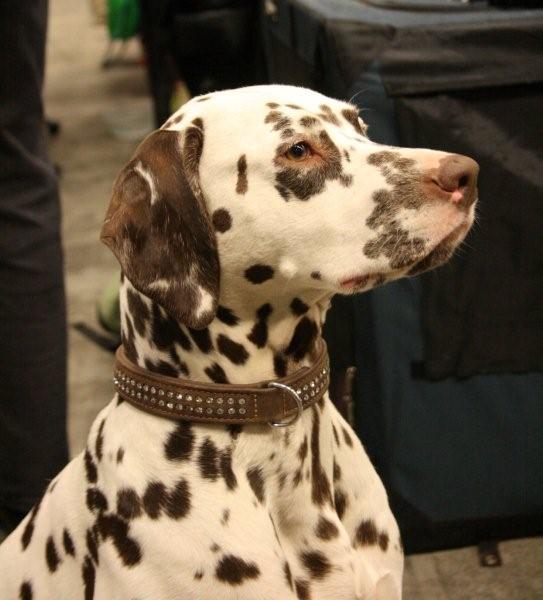 INT DK S CH NLJCH DEVDHCH DECH Orianas Tatania is hopefully expecting Puppies with our Sugerdaddy in may Kennel Lots Of Spots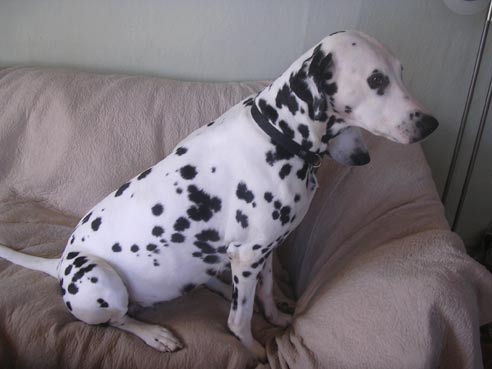 Photo from Lise in Denmark of her bitch she is mated with Jilloc's Spermbank...puppies will come in April. Sperm 5 weeks old 2007.
A strong male that will fit Goodie well. Kennel Dallise.
Jenny and I decide in the evening that she and I will go to Malmö to the show because we have entered 6 dogs and it is the Swedish Winner show, so we will be stupid not to go there. We will start from home at 4 o'clock.
Thursday 19 March 2009

Today it should have been Dennis (Ch Rocca al Mare Allegro ad Jilloc's) 14 years birthday, my happy and important dog for my future...I will always be grateful for his fantastic character and everything he have given me to my breeding.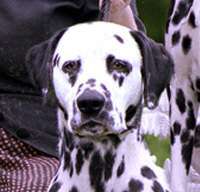 Dennis proud father and grandfather of many nice and beautiful Dalmatians.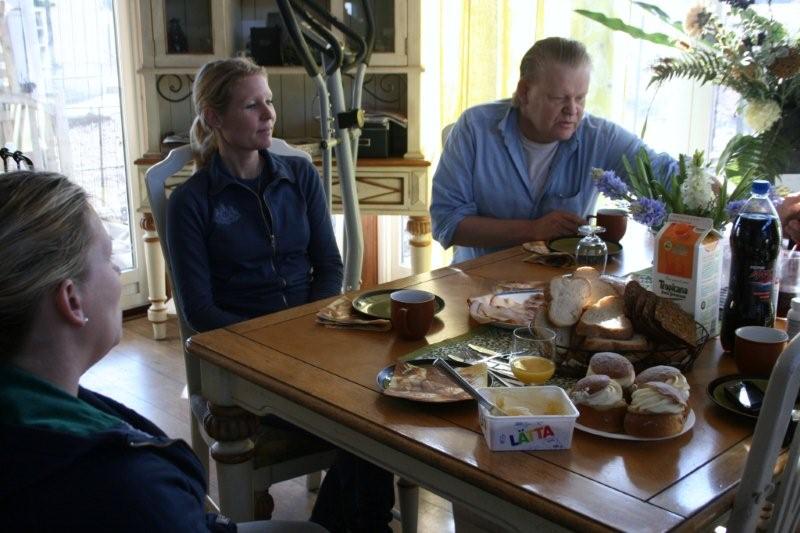 Jennie and Louice here again, to give Roy his treatment.
Wednesday 18 March 2009
My doctor called early and I got new directions for my medicines.
11.15 time for my Dietist again.
Our car is at the garage this week......we have to fix some things on it so we can go to Malmö at Saturday....IF we can no one of us think it will be possible just now.......Rune is on his legs now but fall asleep as soon as he lay down on the sofa in the kitchen, so he and some dogs are there most of the time *S*!
Today he can use his voice but still cough for 5 minutes again and again.....and again.....and than he feel sooooo terrible week...I know I had the same last week....and I am sooo much better but start to feel more of my flue again.
Rune called his doctor and they said that this mean flue can be hopeless for THREE weeks, and You can't do anything without rest and sleep.
That sounds positive *S*!
And we will have guests from Latvia in the end of the week for some days...and we do not want to send them back home again with the Swedish flu.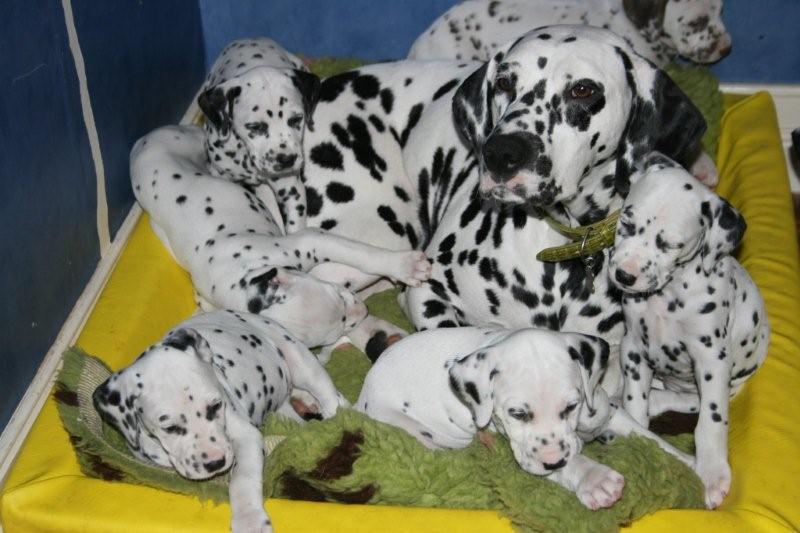 Tuesday 17 March 2009
Rune even more sick today, poor!!! You know (ladies) it is a hell when a man have some flu *S*!!!
I have some costumers in the afternoon and I was there for some hours even if my feet was in bad pain..I have probably not get enough B12 in my blood yet....but it will be better after a while my doctor told me and I will eat this medicine as long as I live....and I hope it will be for 50 more years *S*...because I have soooo much to do and sooo many shows and countries I would like to see and enjoy!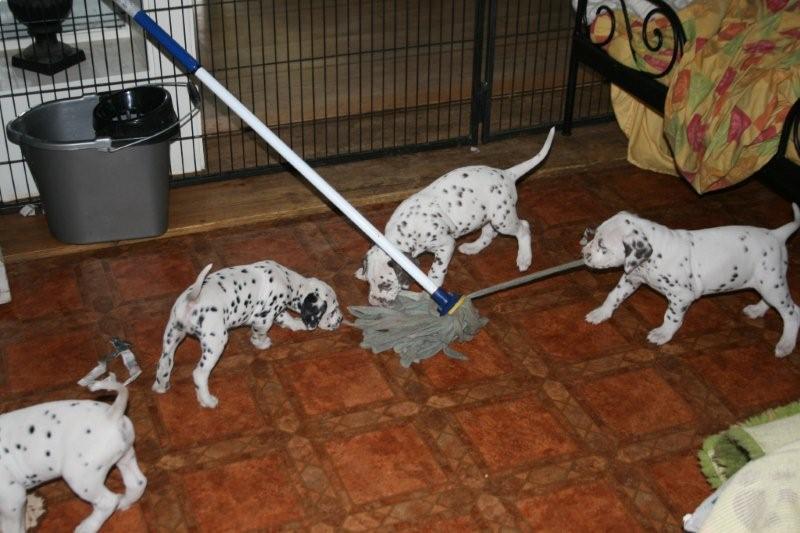 I am cleaning the floors all the time now, and especially Wild Music is soo happy to help me with the mop...every time he steal it and hide it under the bed, and try to eat it up.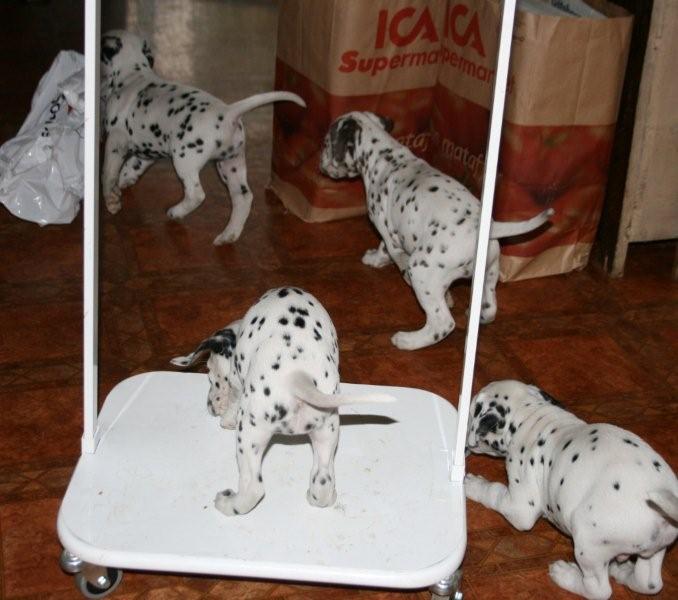 They climb on everything and have race on the floors and are so happy when Muzica open the gate for them......
Monday 16 March 2009
Rune have got my flue with fever and headache and a terrible cough.
Nothing more than the normal things today...like coffee to cake man and dinner to Jonnie and and and....
Rune was in bed all day long.
Sunday 15 March 2009

We Congratulate Rénee and Champion Alphadirato Emperor, to BOB and BIG 1, in Munich today.
(Luis is a Devlin son and a brother of our Donna).
Photo by Roberto
And Tina send a beautiful photo of Gonzo (J Speedy Gonzales), in the sun! Photo by Tina.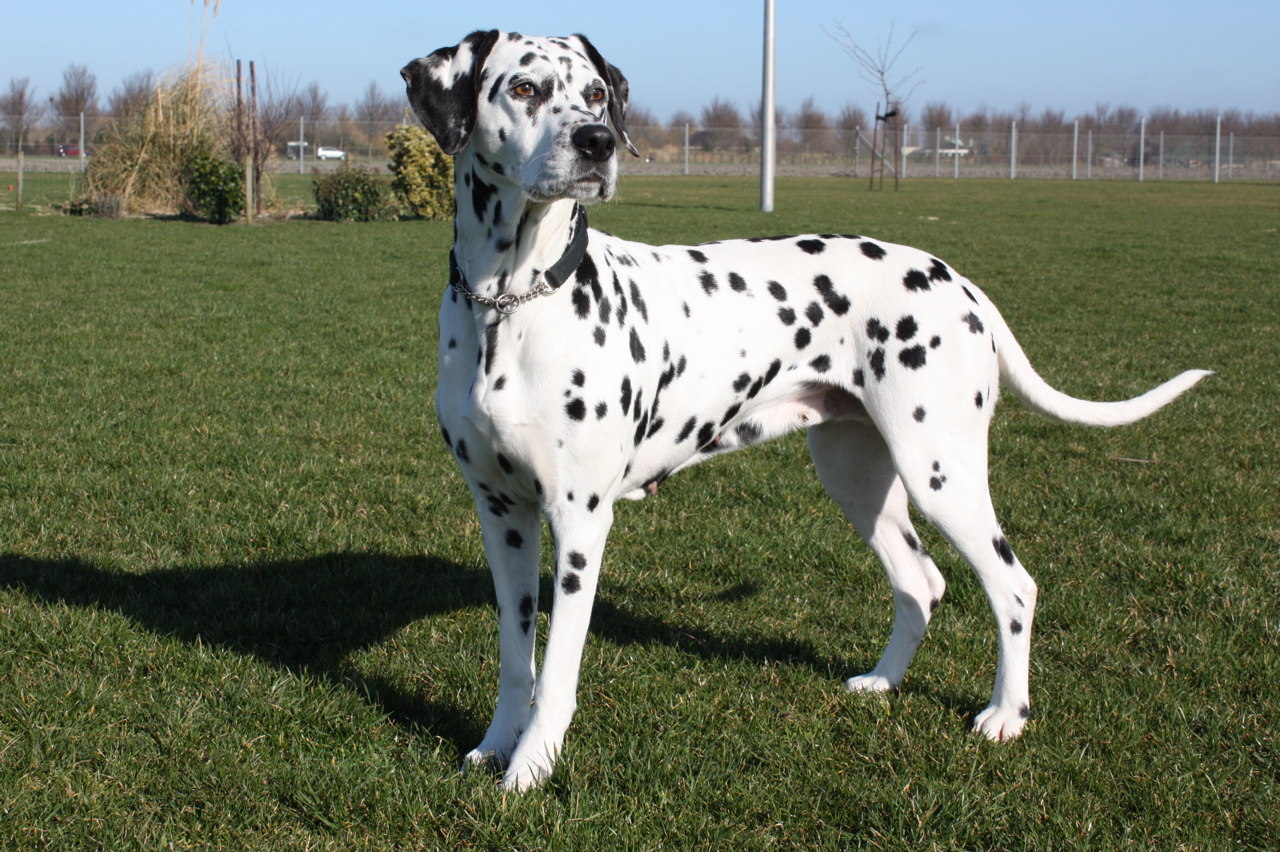 Ch Gwynmor Pere Ubu in the Nederland's winter the same day as the photo above....different.....YES!!!!
Lovely photo of Expos fantastic mother.
Photo by Diana.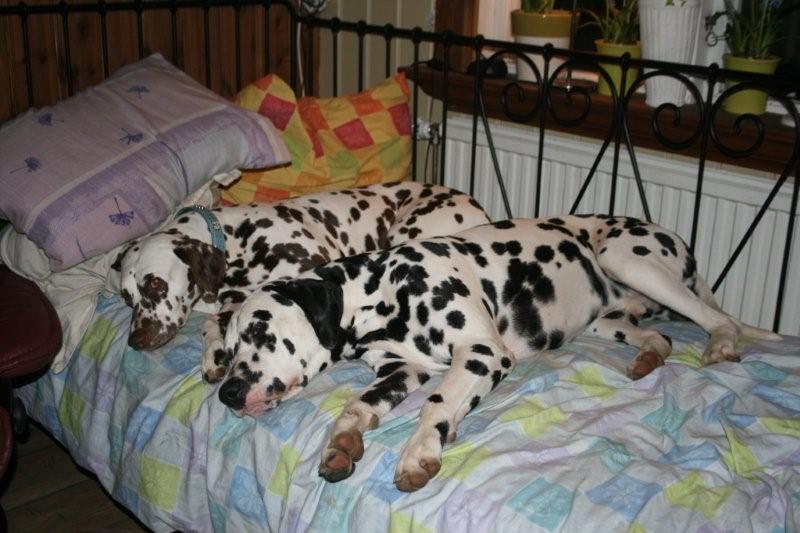 We were all very lacy here in Fogdegaarden today, so even the dogs *S*!
Rune start to feel sick today, but I was much better now.
Saturday 14 March 2009
Today we expect visitors.....Jill and Hildegunn will joins us in the middle of the day.
They were not in a hurry so we talked about Dalmatians and look at our dogs and puppies for many hours, we talk every week in phone but this time of the year we do not meet that often.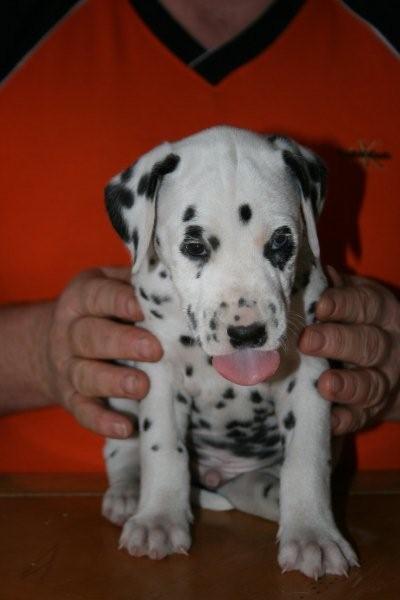 Ha ha I have a blue eye...but who cares...not me!!!! (But mummy almost cried)!
As soon as Jill took a puppy in her arms she asked.....is this one a blue eyed...both Rune and I said nooooooooooo, and immediately looked at the big nice black male that my daughter Jennie will keep......an he was!!!!! We both look at each other with open mouths...how in hell could we have missed that.....I normally do not look so much in young age because it is most important for me with first of all that they are hearing and then I start to look for other things......but one week ago Rune have been taken a quick look at the eye colour....and it was probably tooooo quick *S*.
This was really a pity.....but that is the way it is with our lovely breed...soo many things to take care of!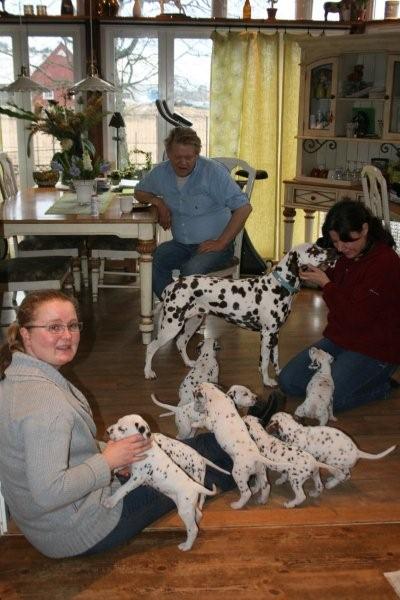 And of course we eat pie and cake that Jill have baked, and it was so good that I suddenly discovered that it was gone before I have even been thinking to take a photo of it *S*!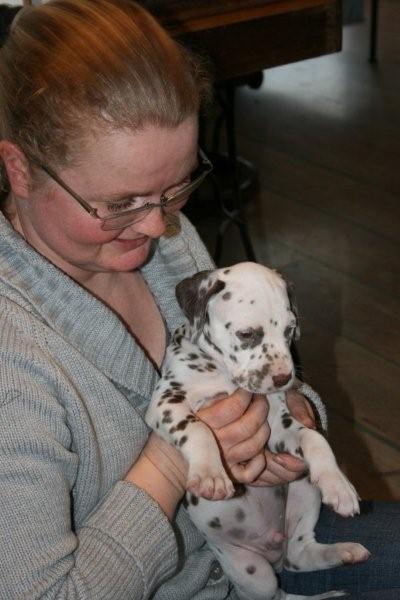 Hildegunn with my Walk on Top.......Bosson was soooo happy to see Hildegunn *S*! (Daddy and Gloria in front).
Bell was very curious of the small puppies. Our guests have lots of newspapers for us, thank You!
In the evening Rune and I fell down on the couch and look at the Swedish Song contests final!
Friday 13 March 2009
Our proud and joy...Gloria!
Photo from Norwegian Winner show 2008. Nord JW-08 NV-08 Jilloc's Splendid Choice (Here 17 month old)
Thursday 12 March 2009
Tired tired tired.
BUT Jennie woke me up and say that she and Louice, her friend were on their way here already to give Roy laser treatment for some hours on his hurting hip......Ok, just to try to get up from my bed.......
Roy want to come here for the treatment so I had to prepare for that and make all other things ready for my trip to the vet.
I send Jennie to the store when Louice start her work with Roy, and I put the coffee on - then I gave all coffee and we filled my car with puppies and I have to go before the others.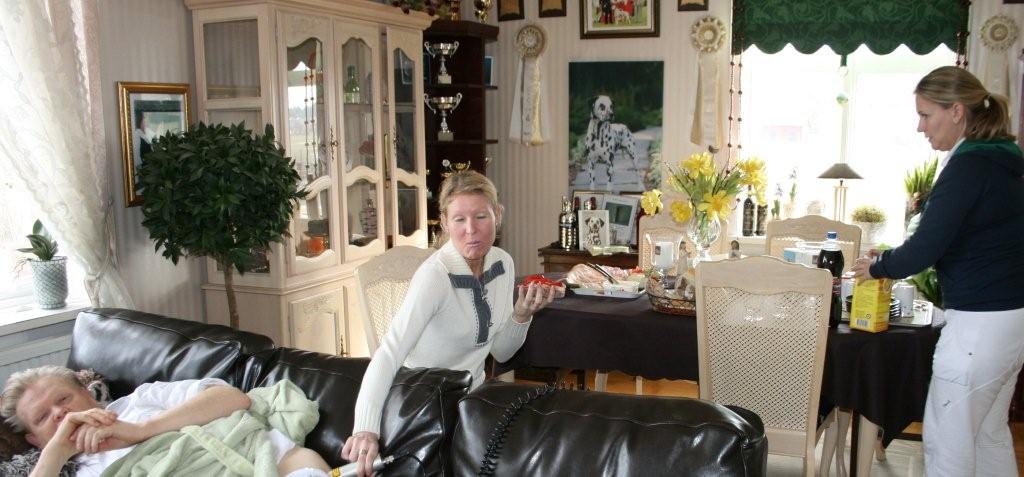 Louice both work and eat at the same time.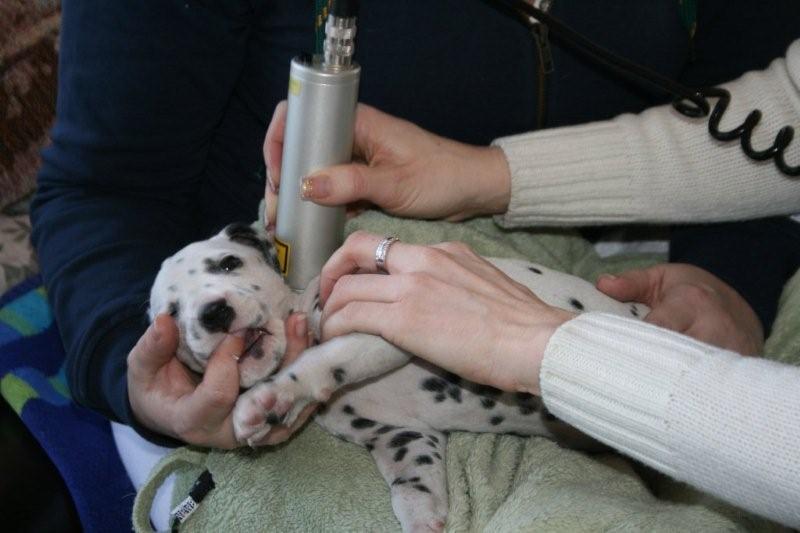 Try the laser on a puppy too.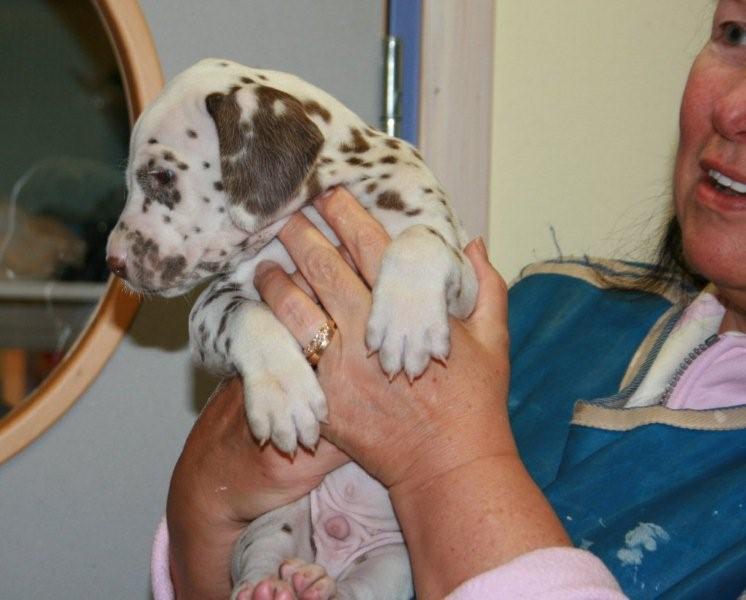 At the veterinarian station.....My WALK ON TOP......was FREE FROM MEGA-O!!!!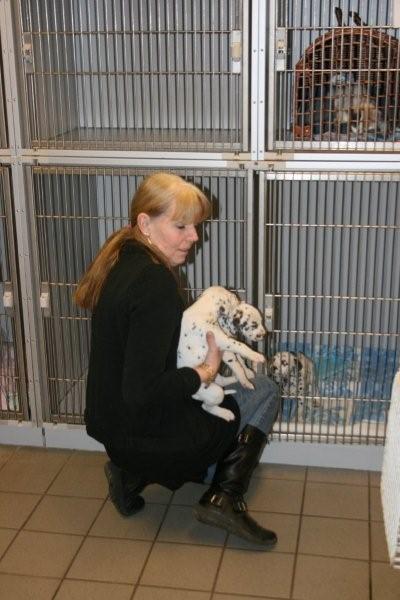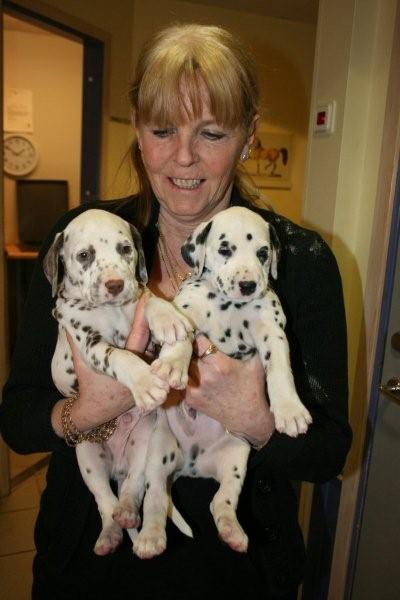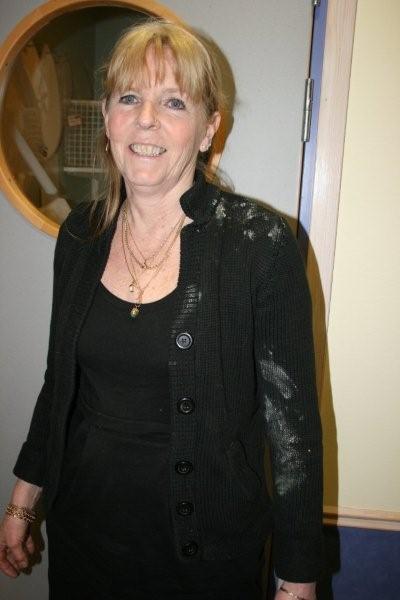 I was so happy that Eva met me there ...she was dirty after a hard days work *S*!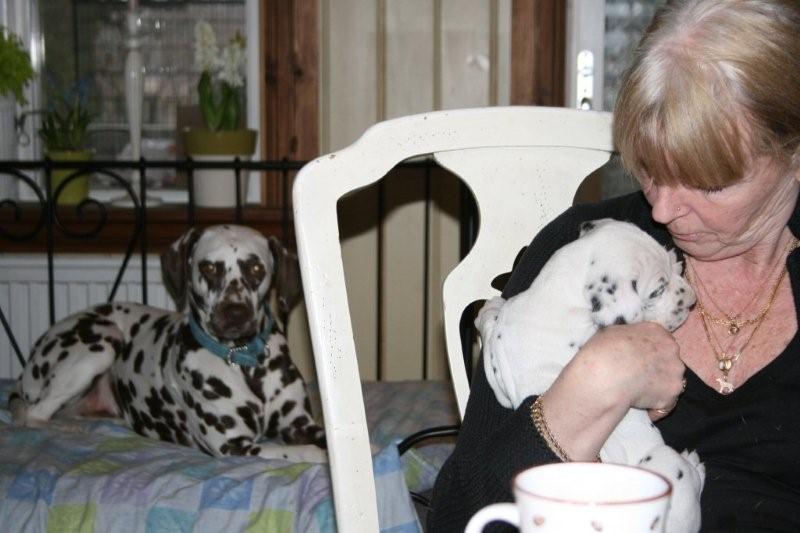 Then we continue back home to us again to eat and to rest and to play with the puppies.
In the evening Hanna came to look at the puppies.........Muzica got a new puppy today again.......but a fake one this time, than god!!!!
Wednesday 11 March 2009
I was in the steam shower for at least 30 minutes...I need to clean my brain before I go out in my store... When I came out from the bath I heard a well known whistling downstairs.....I have heard that for many years. Wherever You are in a store or somewhere else in the world, You can here that special whistling (as on a dog) ha ha...then You know that Roy is somewhere close and want your attention...and now he want coffee...ha ha and of course he had cakes with him AGAIN, puh!!!!
There was a time this noon when I asked my selves IF I really can go out there and talk to people for some hours...but it went ok. And I hope they will be back again and decide for the prom in some weeks.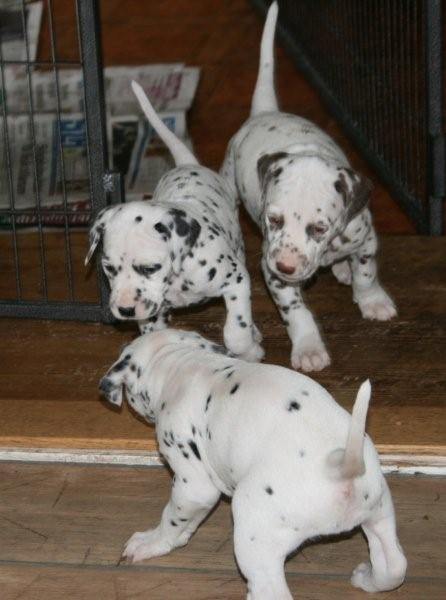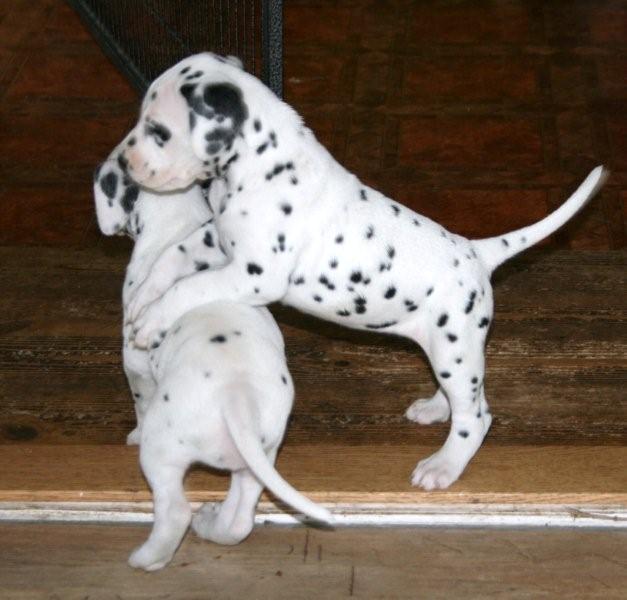 It is enough just now to just sit and look at my puppies.....
Tomorrow we will go for the MEGA - O test at the veterinarian station. And I cross my fingers for the result and that I will be a bit stronger then.
Tuesday 10 March 2009
Photos of Kennel Jilloc's W-Litter under Puppies/valpar now!!!!!!
My seamstress was here in the morning to look at some changes at dresses.....I was soooo sick in fever and coach all the time...
After that I was just inside all day and fell asleep in the early evening in the kitchen....
I was so stupid that I booked for two trying tomorrow....but maybe a long nights sleep will help.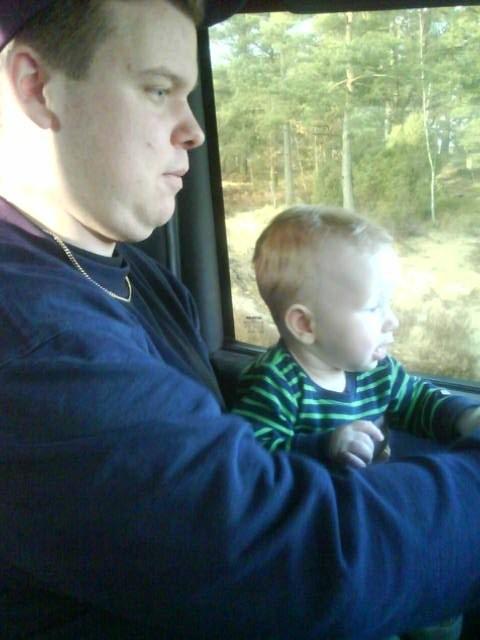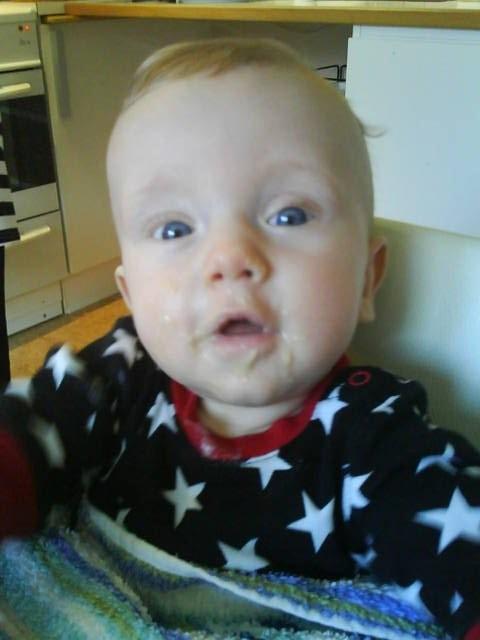 Eddie on his first tour with Jimmies truck.......and after that he was very hungry and want to eat a lot!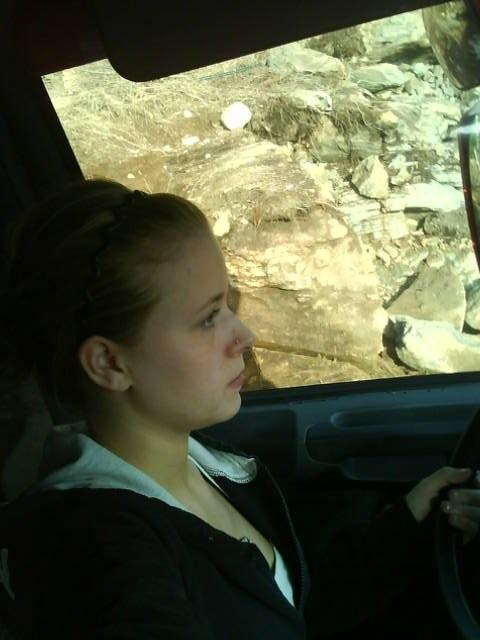 Even Nathalie try to drive the truck, but it look like she is off road......????
I was so shaky and clumsy that everything fell out of the freezer when I opened today, puh! Lot of extra work, damned!!!
Monday 9 March 2009
View from my bathroom window this morning.....snow again.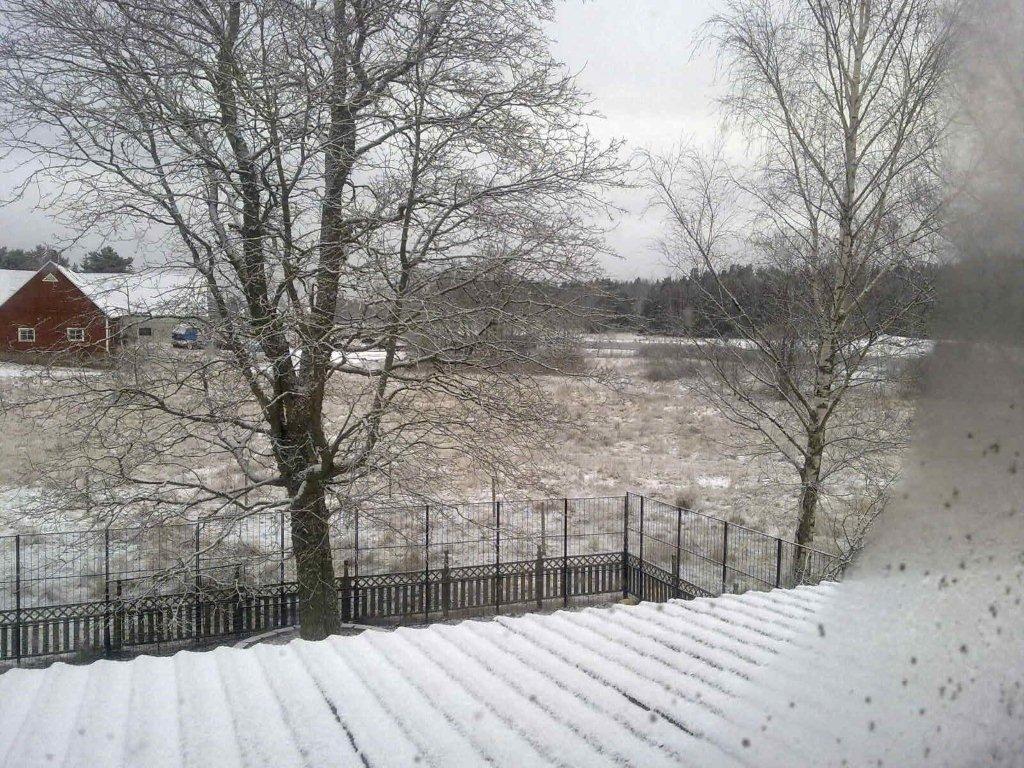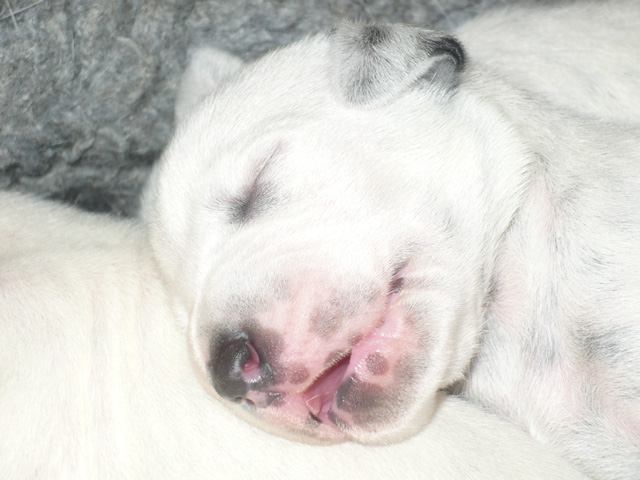 Puppy at kennel Lovinda in Norway...after Jilloc's Picture of Paradise, Disa and our Bosson (J Loverboy).
Tonight we are going to sleep in or bedroom again.....it is always a little bit nervous to "leave the puppies alone in the kitchen".....I know...but I am such a chicken mom.....and love to stay with them all the time.
I went to bed at 3 o'clock and Muzica and Jill follow me upstairs.....Rune will take Moss back to the puppies at 7 o'clock when he go up for work.......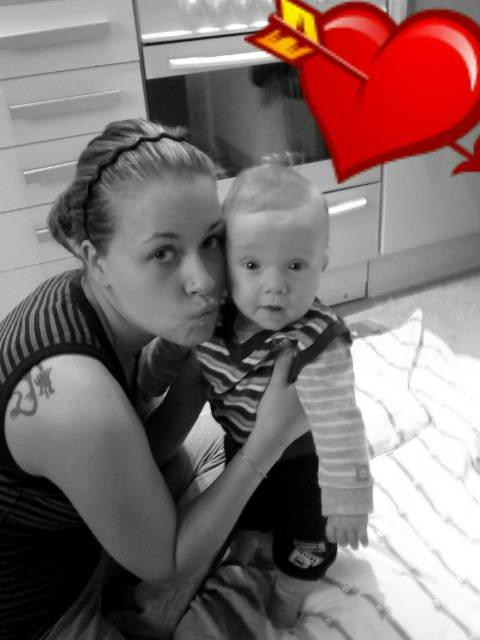 In love...Nathalie and Eddie!
Gloria and Bosson was curious of the puppies....
Sunday 8 March 2009
Snowstorm, again!!! In the afternoon all snow have changed into water, again!!!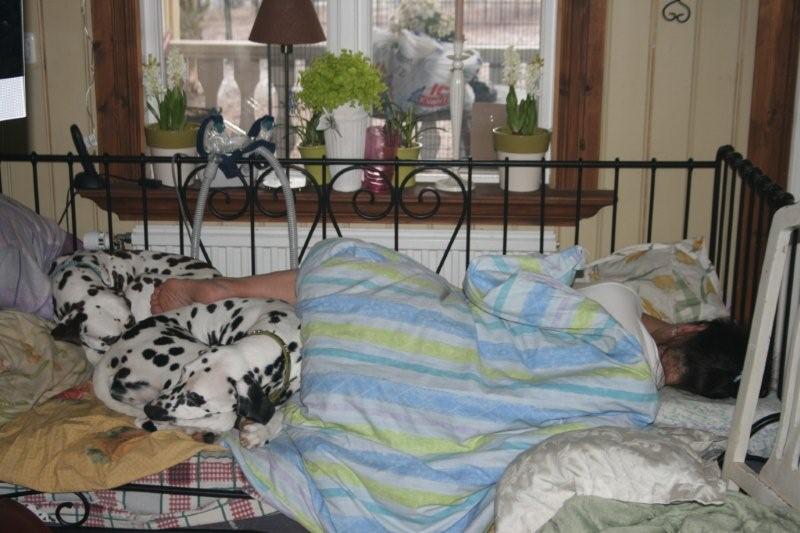 Jill, Muzica and me sleeping in the morning in the kitchen.

Jennie and Ellie came to see how the puppies have grown.
Love!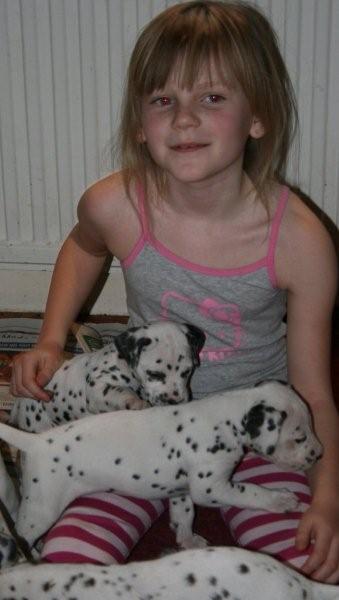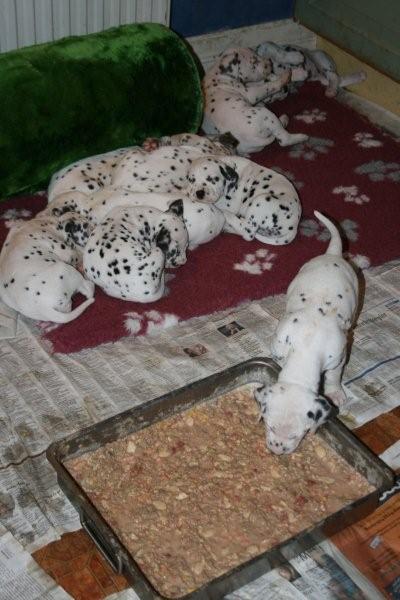 Ellie didn't know which one she love most!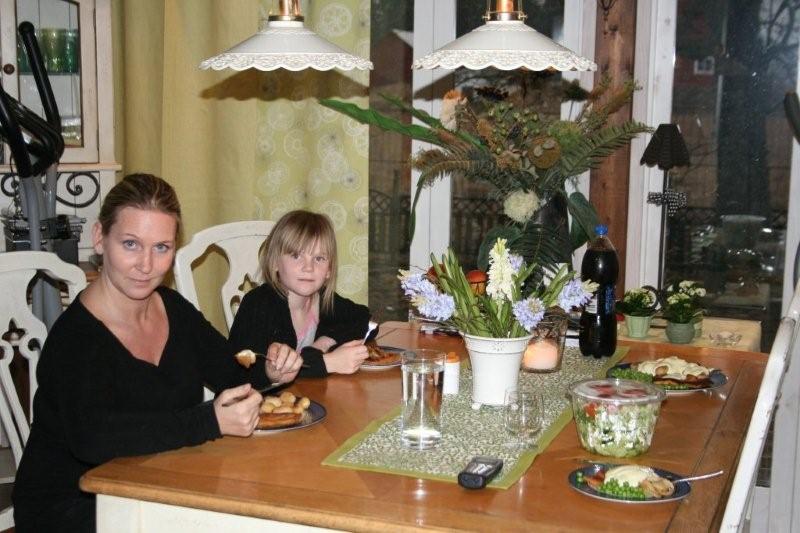 Dinner of course.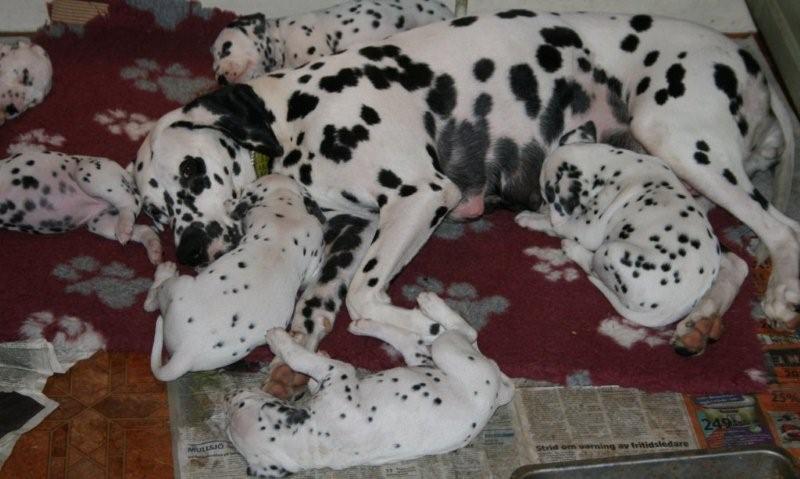 Muzica love to feed her puppies again now!
Saturday 7 March 2009
We should have dinner here today but we cancelled everything because Roy is still at hospital, and I have fever and pain in my throat.
Can't stop looking at the beautiful flowers from Pia.

Hey there.....I am Your father.........at least mummy say sooooo....I don't know!!!!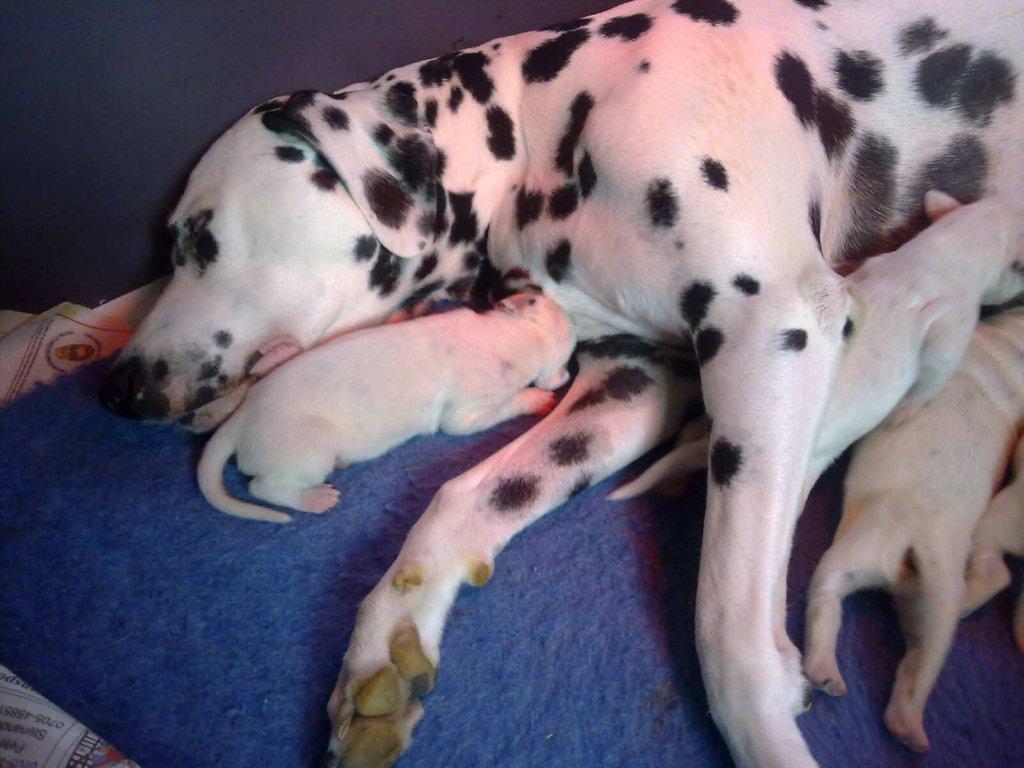 Daddies' mum Chrissie with her puppies 1 week old.
Friday 6 March 2009

Dalmatians is today at Crufts...and can You imagine that our dear friend MARK and his MAGIC was BOB for the FOURTH year in a row!!!
That is more than fantastic, and Magic is only 4 years old.
CONGRATULATIONS from US!!!
This is for You Mark!!!!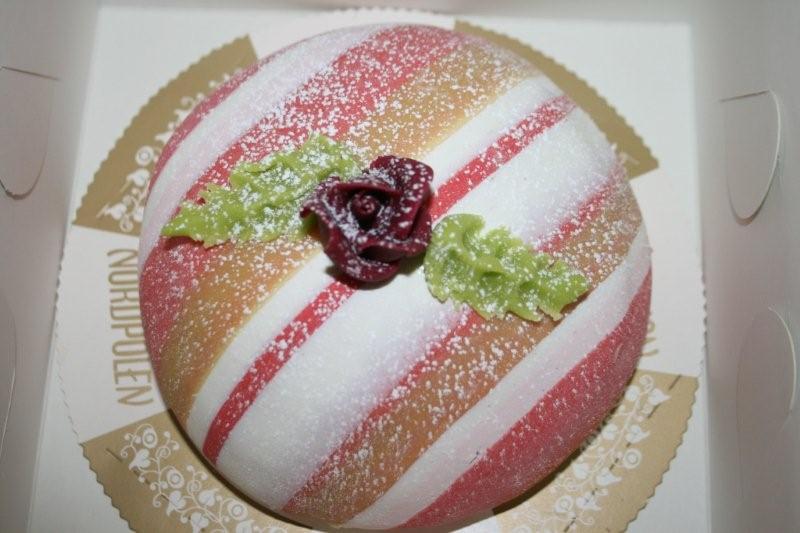 We took those photos some days ago. Puppies 3,5 week old. Five girls and four boys so far......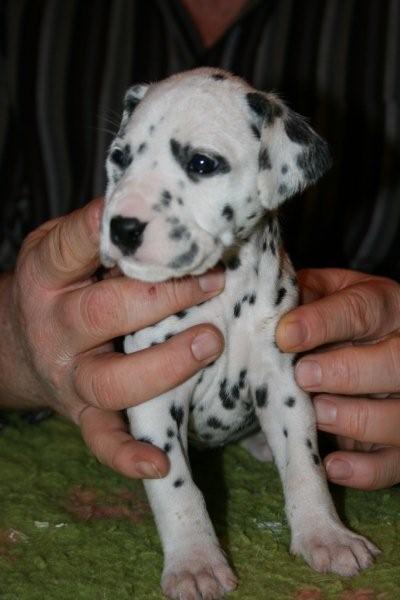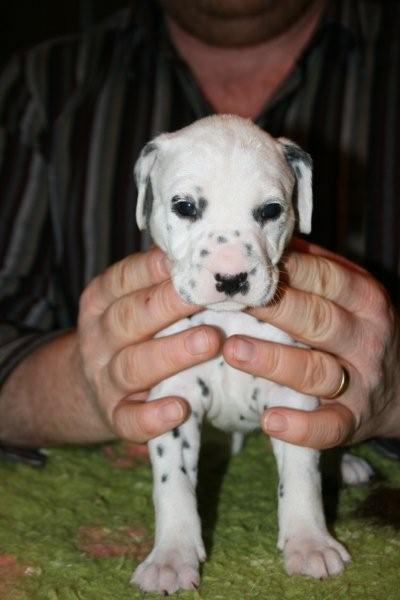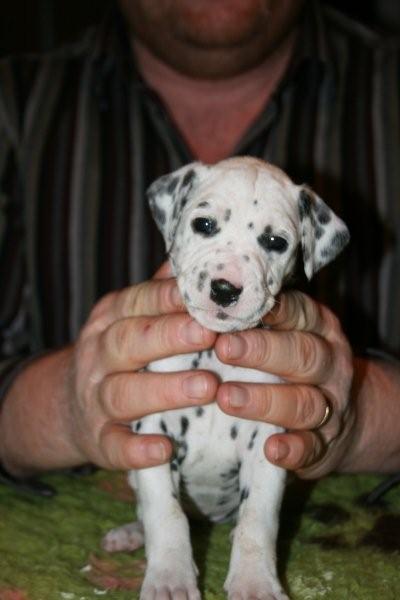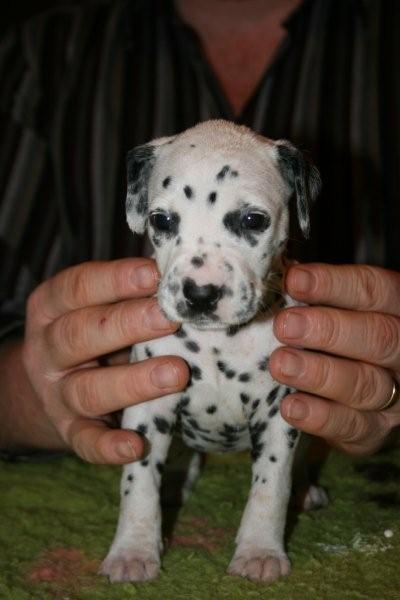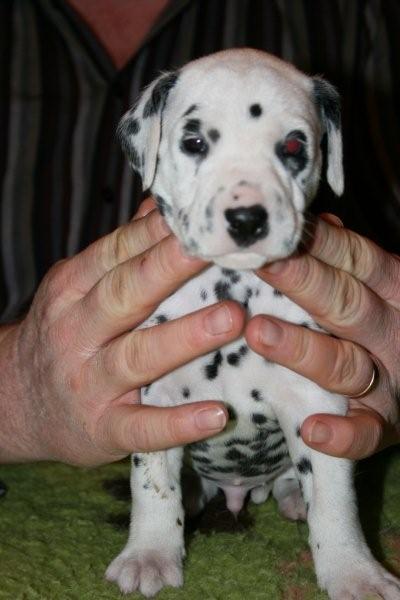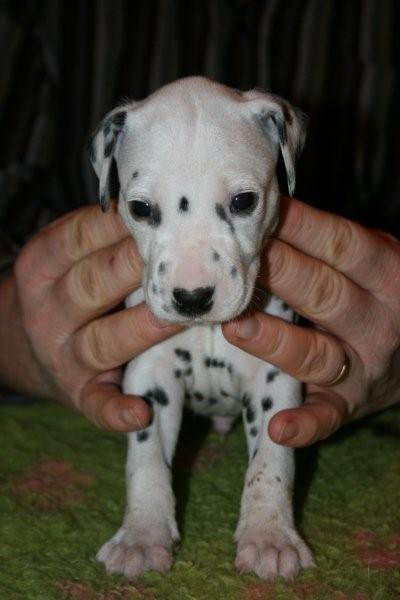 In the evening Jonnie have to drive Roy to the hospital..he had such pain in his back and leg, so they kept him there...and his "sugar" was way to high, even if he take injections every day! Jonnie back home again at 3:30 ......
Thursday 5 March 2009
Kennel Jilloc's H-Litter is 7 years today, Hurray!!!
Daddy and Titania, met in the morning again, and then Rune went to work and Pia go for shopping in Gothenburg before she will take the boat back to Denmark.
A last kiss in the early morning.
I was sleeping in the morning, and in the middle of the day I was to my doctor because my feet are hurting so much..not only my heal string this time. They feels like elephant feet and hurt very much but they were not swollen or nothing so they take new blood tests and will check if I need B12, the answer will come in some days.
I go back home and try to rest my feet, that is not easy....I hate to just sit still on a chair...so much to do all the time, as always. but I had to take it a bit calmer today...because it hurt too much.
On my way from the doctor I jump in to say hallo to Chrissie and her puppies....she was as happy as always and loved to show me her puppies..they were 6 days now and very fat and lovely!
Jill love the puppies....... Jonnie had fever and a soar throat so he just look at his breakfast sandwich today...poor!
Wednesday 4 March 2009
Many things to do in the morning...In the afternoon Pia came here after her shopping tour in Lidköping...and she think everything is soooo cheep?? And we think everything is very expensive *S*!
Daddy and Titania, had their "love time" again in the evening.
And we eat cake!
I have costumers for three hours and Rune have to trim some dogs, so Pia was looking at TV...DANISH....she was so surprised that we look at Danish TV all time, but there are so many nice programs during the day that I always have that channel on. I guess that she felt like home then *S*!
Tuesday 3 March 2009
Kennel Jilloc's K-Litter is 6 years today, Hurray!!!
There were no snow at the road and most of the snow was now gone...so here was mud and water instead.....
I was at the vet station to give some injections.......And now we got the answer that Muzica had an infection and that was why she didn't want to give her babies food last days, or to clean them....so now we really have to start to feed them up....they need it to look the way we want them.
Puppies walk in their food and are dirty all the time...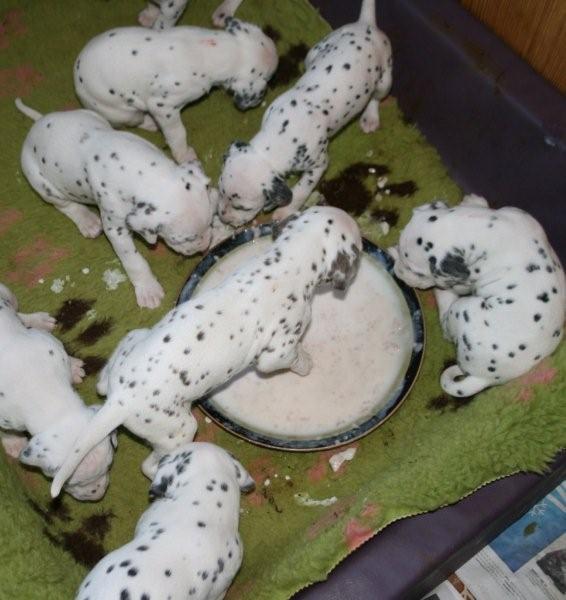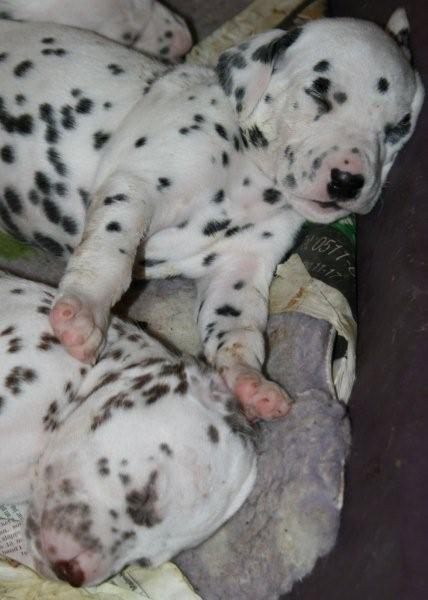 Many nails to cut!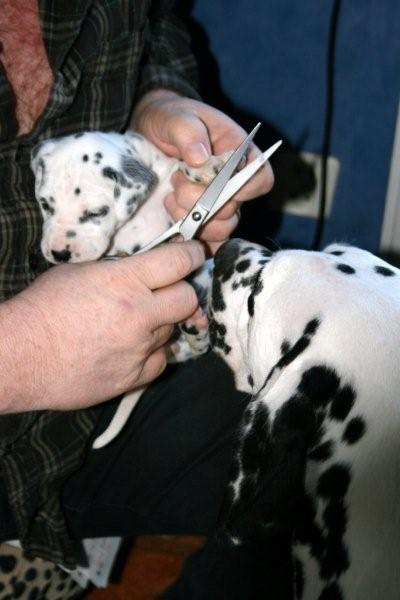 Look at this beautiful "DANISH" flowers that Pia bring for me.......I LOVE them, thank You again!!!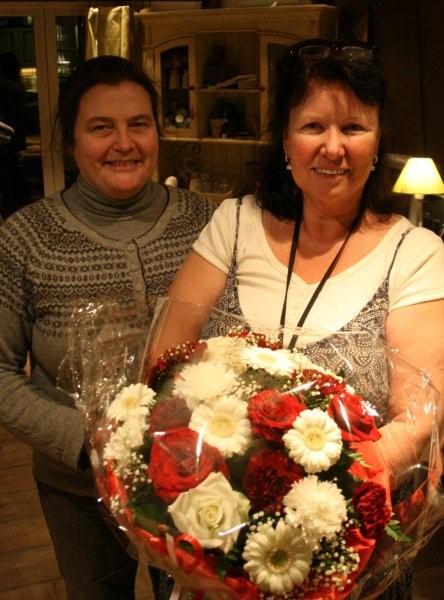 Daddy was proud to mate
Int DK S NL D VDH Ch Oriana's Traceable Titania, in the late evening.
What are You looking at ??????
We eat together and talked a lot *S*!
Monday 2 March 2009
I was up early to go to many different places today...
It start to snow again, this was in the middle of the day, and in the evening there were about 6 cm snow!
I really hope it will stop until tomorrow because we have a friend that is coming from Denmark tomorrow and she have asked me about the weather...and I have said..no problems at the road anymore and no snow *S*! And I do not want to lie......
Soooooo tired in the evening and was lying at the sofa in my new favourite blanket I got from Jennie last week.
Sunday 1 March 2009