Diary
Sunday 31 May 2009
Sometimes You can wonder why life are too short for both people and animals, what is the meaning with that????
But Jenny told me today that everyone have a mission in their life and that Decibels mission was to come her for almost two years to make HER happy every day and to give so many nice memories, and to help ME to be the Breeder of the Year.....that is true, but it was a hard price she have to pay for that.
And sweet Jenny that can think about this after her big loss!
We love You!
Both of You will have an extra star in heaven.
First of all Jenny couldn't even think of going to a show anymore and Decibel is already entered all over this summer and even to WW show in Bratislava in October.
But her showing interest has already overpowered her greave so she will go with us already this weekend to help us with our dogs as always.
But we are grateful if You not ask o discuss Decibel with Jenny just now. You can turn to me if You want to say or ask something.
Please respect this, thank You!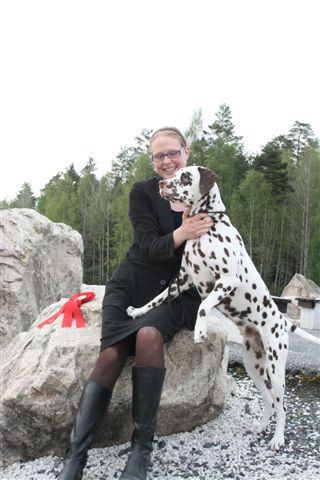 2008

The sweetest and fattest puppy of them all.
Decibel 2007

Decibel 2009

Saturday 30 May 2009
Four of our girls in the shadow this morning.
Nathalie, Jimmie and Eddie is coming today and we will go to Roy and try to put out furniture's in the garden until he comes home maybe this week.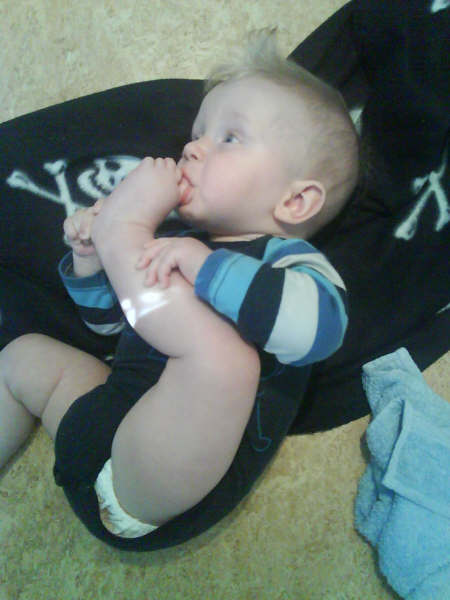 Hurray we are at the country! If I can't get anything to eat I have to eat on my toes *S*! Help.............He is peeing *S*!!!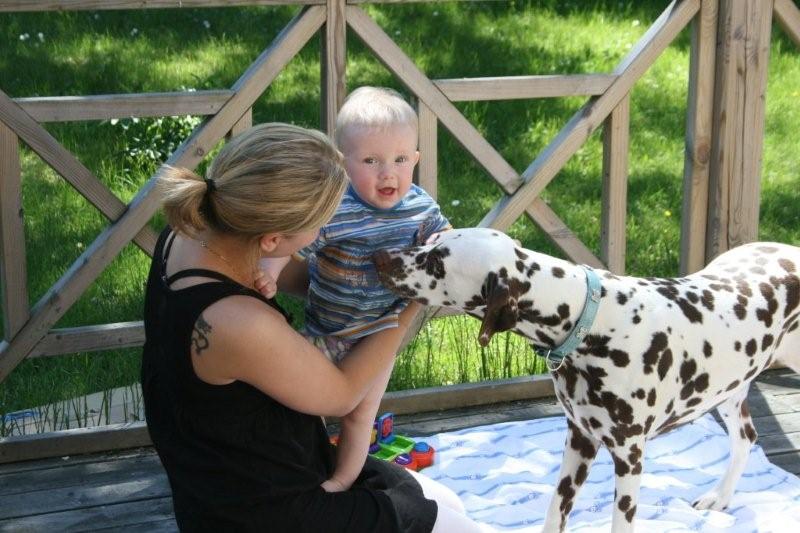 Lot of leafes at the veranda. Jill was happy to meet Eddie again.
I found this little "pool" for Eddie in the store in Götene today. Next time we will come to our house to make lot of things ready, please.......!
I think it is a good idea to go to each other to give help with the garden for ex..or other things it is much funnier to be many together working.
All boys want to drive the lawn mover today!!!
We were all so hot that Jimmie and Rune took the car and drive to JULA and bought a large pool there.....7,5 meter X 3,6 meter, and 1.30 deep.
Eddie talked and talked so Nathalie get a headache.
I got a very nice birthday present from Eddie and his parents today, and I will take a photo of it and show You later.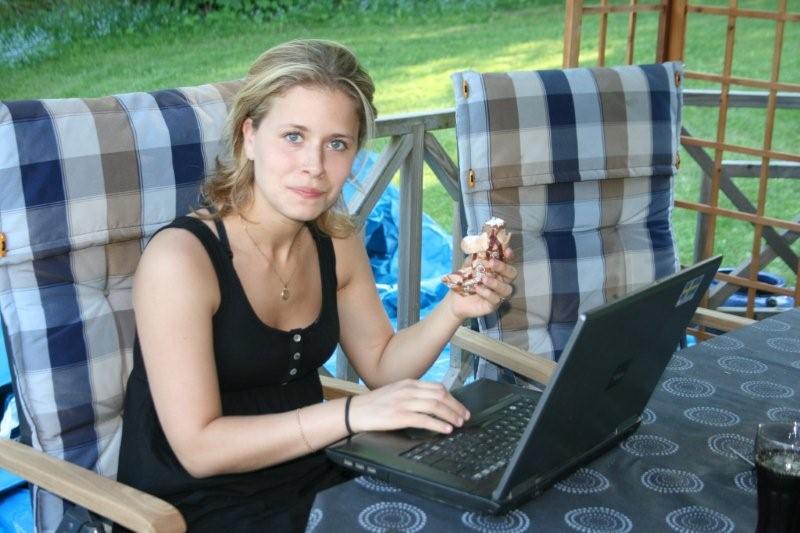 Then he was sleeping for 40 !!!!!! minutes so she could rest a little.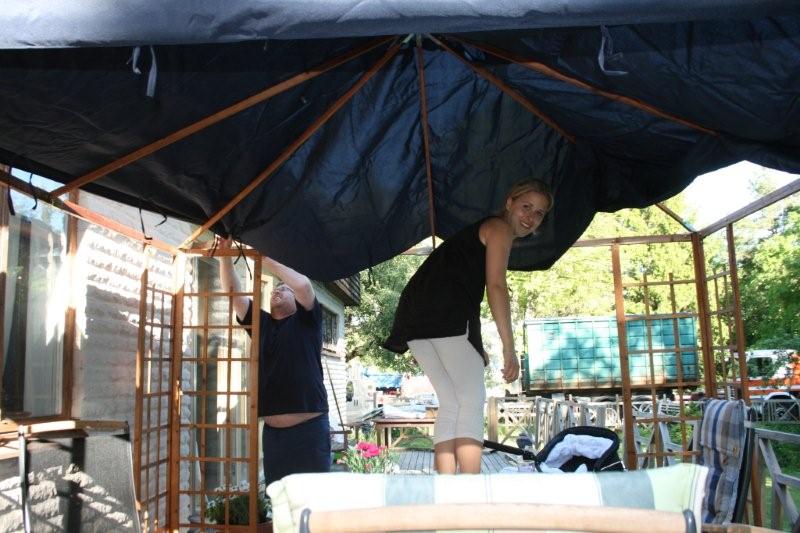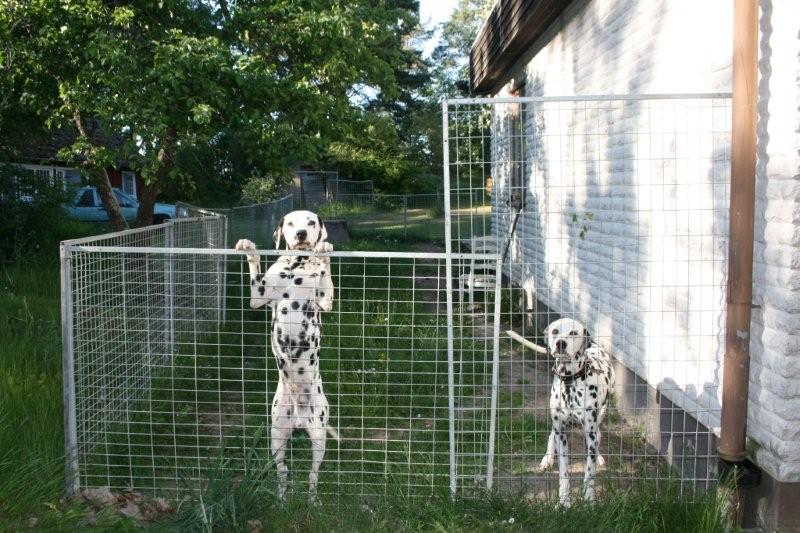 Nathalie was the only one that can jump up on the table without it was broken *S*! Rolex and Elliott was happy to get company.
The pool was much bigger than we thought it was.....almost 22 000 litre!!!!!!!!!!! Oh my god, where will we found so much water!!!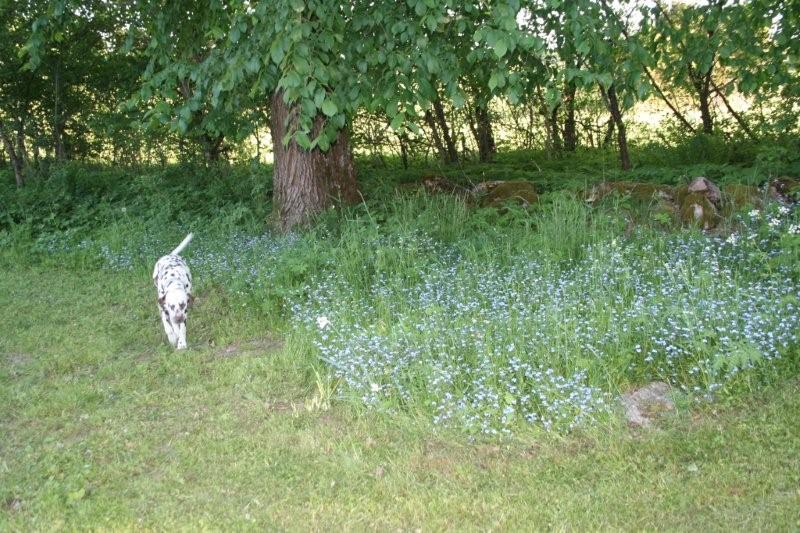 We realised that Roy have been at the hospital for three weeks now when we opened the freezer *S*. Lovely summer flowers in the garden.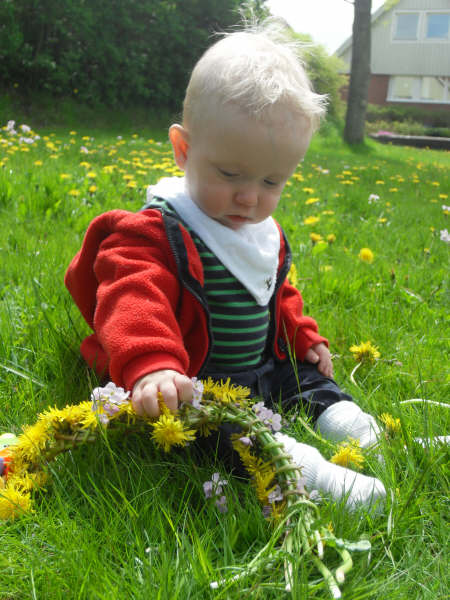 Eddie at Liseberg amusement park last weekend for his first time in life, but not the last........
Photos from Nathalie.
Soooooo much new things to see every day!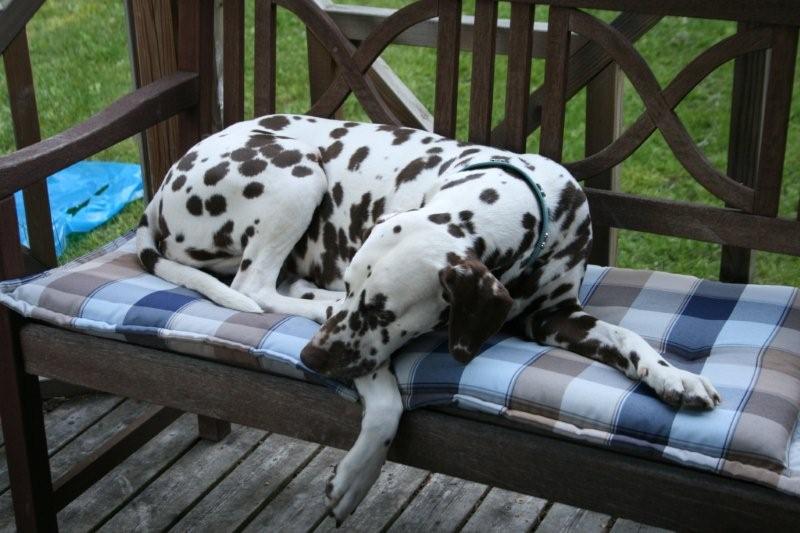 Finally Jill fall asleep, so tired of being all over the whole day. then it was time to go back home and make dinner for us all (Mmmmm Rune made baked potatoes and roast beef etc).
Friday 29 May 2009
Some months ago Decibel, Jilloc's Topwinning Trophy start to get problems to coordinate her legs sometimes, and have problems to trot. At the show in Kista the Judge Anita Whitmarsh asked Jenny what she have done. No one of us have seen it before that day so we were surprised, and thought it was something temporary....outside the ring she walked perfect.
She was in her season and we thought she was troubled over her swollen end, because she looked like a baboon *S*.
Some weeks later she start to run into things in the apartment, but Decibel was a speedy one so Jenny did not think so much about it then.
Decibel was the kindest one and we have never had any problems when she travel with us.....when I met her in Larv she was so different and it seamed like she couldn't recognise our dogs as before.....We saw that she was affected in a strange way and couldn't find balance. She was more like normal Decibel under next week so Jenny decide to go to the show in Piteå, if she get ok to travel with Decibel from her vet. It was no problems and she gotboth the CAC and was Nr 2 Best bitch, Jenny was so happy and start to make plans for this summer. But just some day later she had more problems to walk again and even more problems with furniture's in her way inside...of course we took her to the animal hospital then.
They immediately thought it was Borelli or any other tick carried decease so they did lot of tests, and took lots of blood samples and x-ray of her body. It could even be any poison because she walk as all Dalmatians with open mouth *S* on her walks.
She even had an infection in her body and they start to give her medicine for that.
She get more and more problems during every day and after a week we got the result that the Borelli test was negative. We were sooooo sad because that could have been the easiest thing to take care of.
Something made a pressure in her brain probably a tumour or a bleeding and the vet says that it was nothing to do about it on a dog.
It was something of the worst I ever have done to meet Jenny and to move Decibel over to my car to go to the vet and put her to sleep.
I know that Jenny would do everything in the world to keep her darling here with her but it was much worse the last days so she realise that there were no hope at all for her best friend.
Today the happiest of them all, Decibel, moved to our other Angels, and there will never be any rest for dogs that meet her there.....
We know that the first one to welcome her is her grandfather Devlin, he and her other relatives will never ever have a silent moment anymore when she is there *S*!
She love everyone that she meet and love to play all day long.
Later on Jenny said that Devlin will not have his cucumber, paprika or toys for him self anymore because Decibel was just like him, like loving vegetables and to carry around with a toy in her mouth.
But she have some more favourite dishes than Devlin had. She love to eat Jennies eyeglasses (she have eaten 3 pair, and only the most expensive ones...she have good taste *S*). Crazy dog, the world will never be the same without her...she was always so happy and laugh a lot and we have to tell her to calm down because she hurt us with her whipping tail.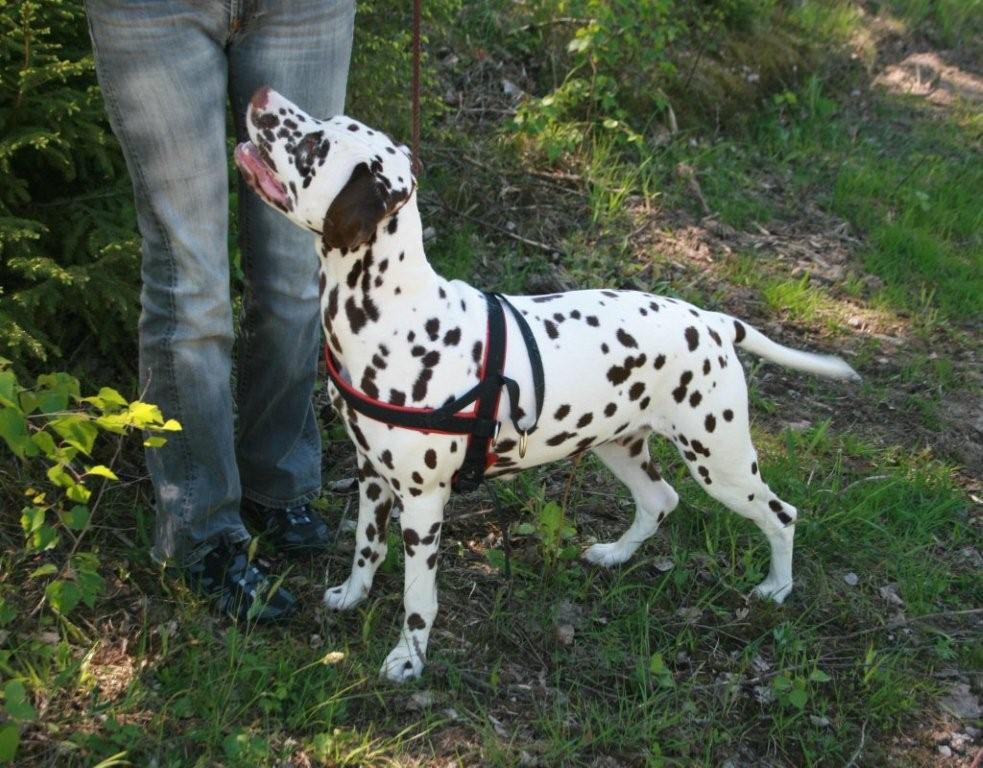 Jilloc's Topwinning Thropy

2007-2009

Beloved and Missed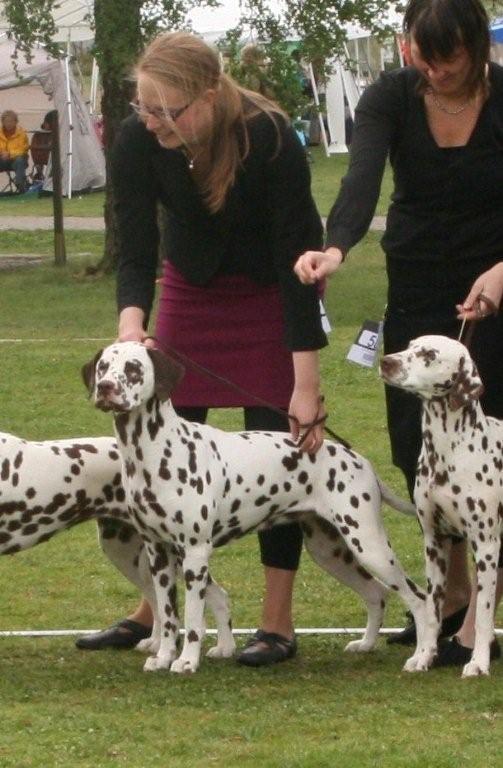 Decibel and Jenny was one of our foundation dogs in our Breeding groups last Topwinning Year, and we will always be grateful for her participation.


Roy have moved to the hospital in Skövde so Jonnie and I have to go there in the afternoon.
He was so tired of being at the hospital, but he have to recover a bit more and be trained to walk better before he can move back home again.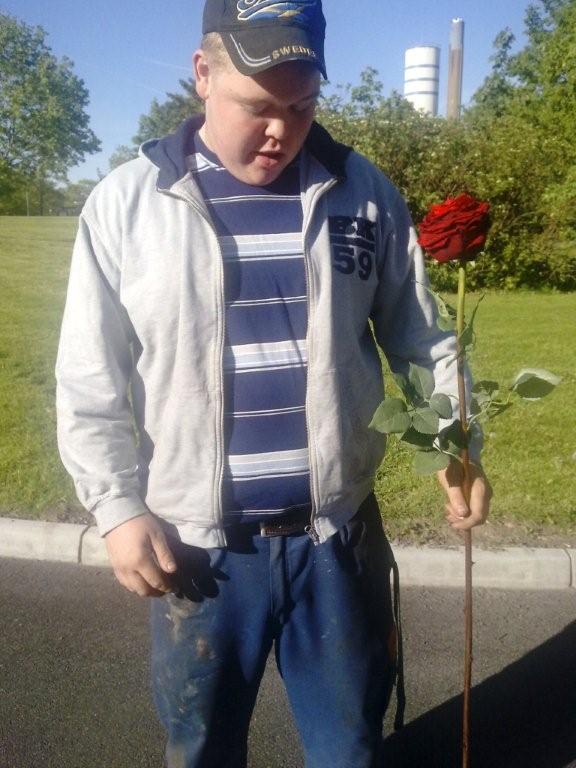 Thursday 28 May 2009
Congratulations to Leelo and Donna.
Some days ago Ch Laguna Dios Bella Donna and our Bosson got 7 puppies in Estonia, see under www.Alphadirato.ee
Today to our vet for vaccination of J With All My Heart and her new owner.
I found a heart on her neck.......most Jilloc's dogs have *S* somewhere at the body!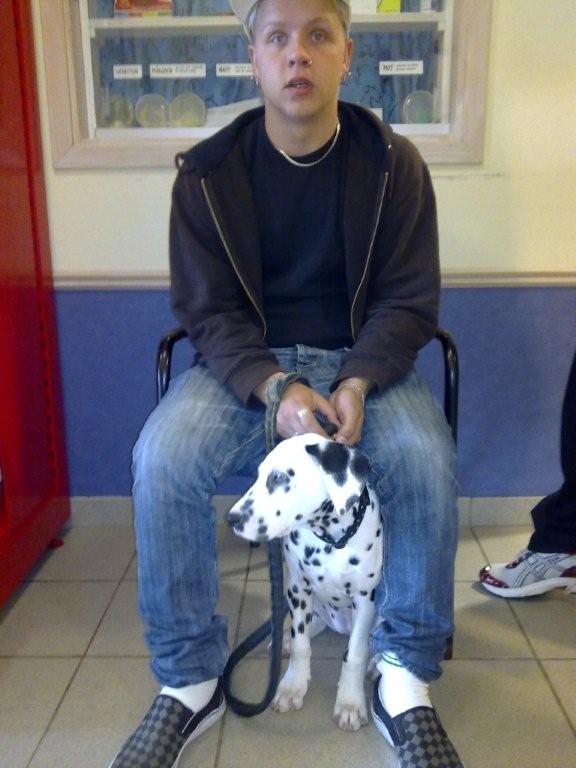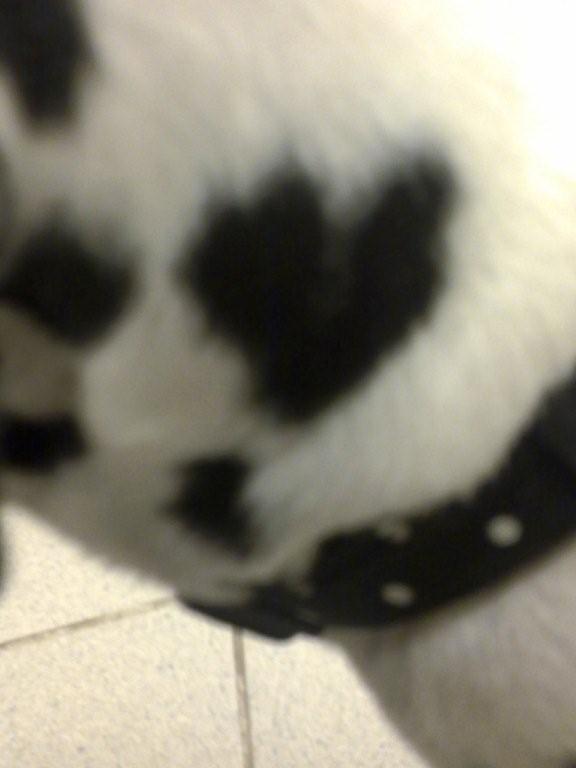 With All My Heart..................................................................................................And I found a cap for Eddie!
Wednesday 27 May 2009
Good news from the hospital that Roy have been up and taking a shower and Jennie have been there as every day and shaved him...and he start to ask for food, that is a good sign!!!
Today it was time for the dietist.
We are still so tired, have to try to start to sleep a little bit more. But Rune is working with the crazy computer and that take him MANY hours every evening/night....
Tuesday 26 May 2009
I have my time at the physiotherapeutic today and were there for training. It hurts but is probably good for my back and neck, I hope.
In the afternoon we got our English friends on visit again, they have been on sightseeing to Läckö castle and many other places, during their days in Sweden.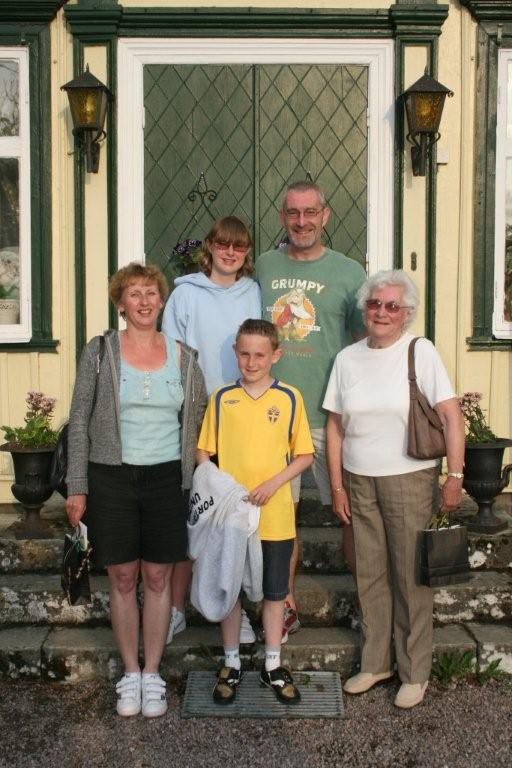 Today they bring scones and a cake *S*!!!
We had a nice time today and talked a lot again and tomorrow they will go back home from Landvetter airport in the middle of the day.
We were so happy to learn to know them and Mary the grandma was a fantastic Lady that will celebrate her 86 year Birthday this year!!!!
She was a hell of a Lady!!!!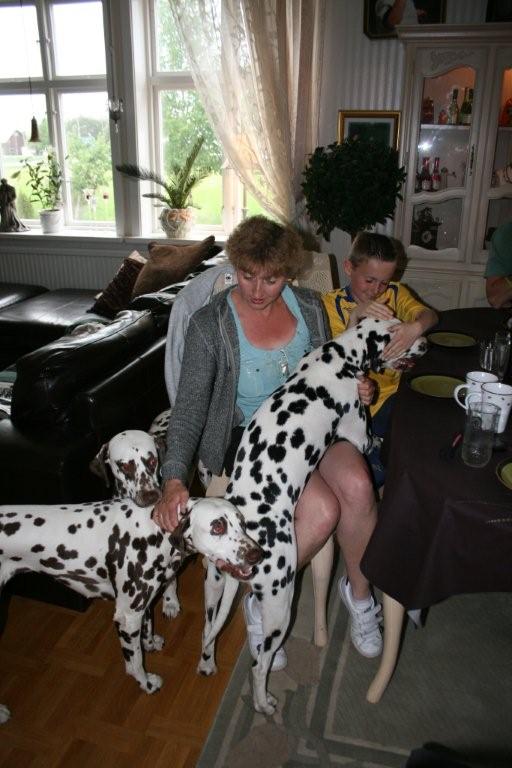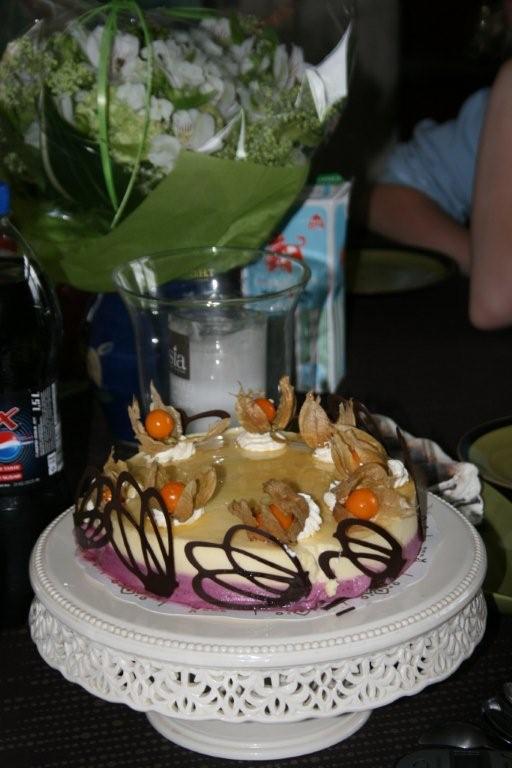 Monday 25 May 2009
I were at the dentist with Jonnie today and he will go back in some weeks.....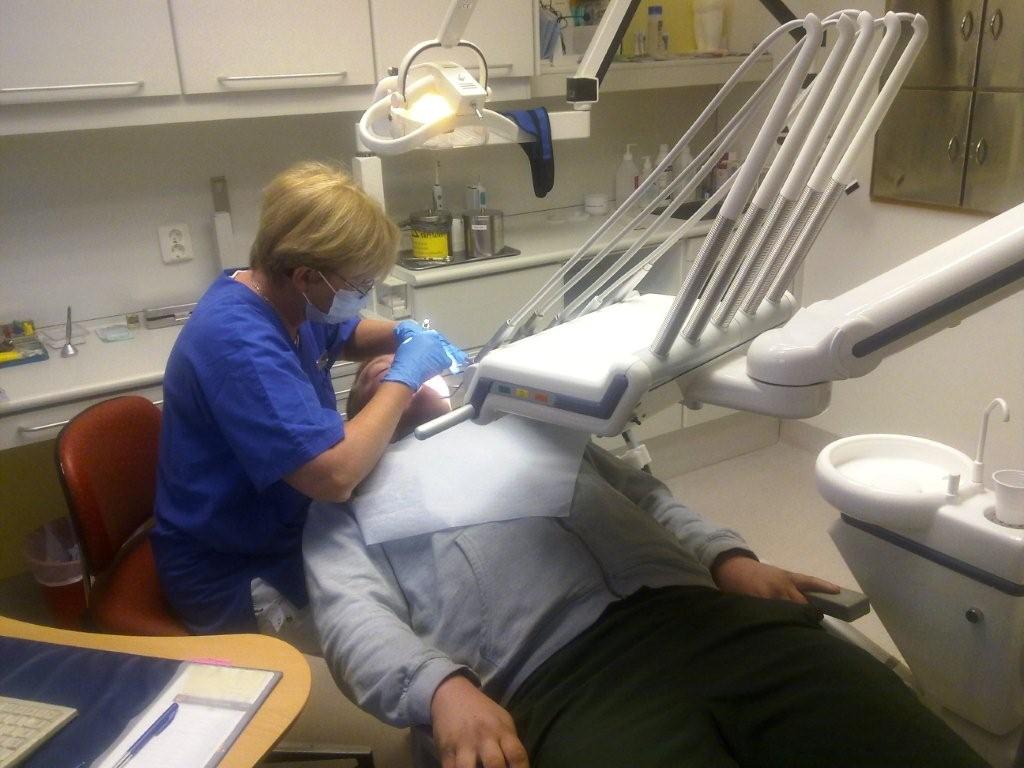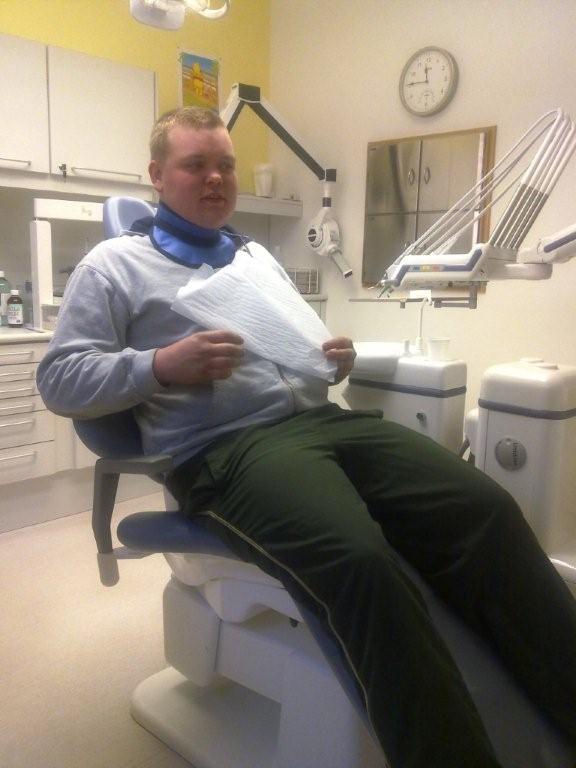 In the afternoon I met Rune in Lidköping and we drive together to the Kennel clubs meeting in the evening.
When the meeting was over I took my car and drove home to the dogs again and Rune have to stay for a another meeting and he wasn't home until one o'clock in the night and then he start to install the new modem and router to the computer....I went to bed then.
Roy have had hell the last days.....they try to start to give him less medicine now but he have the same pain as before ??????
His body react as he have been like a drugged person with pain, hallucinations and terrible things......I asked them before the weekend if it couldn't be abstinence but thank god that they finally understood the same, they sent for the pain team that try to help him..but nothing helped. Poor!!!!!!
He called me 3.30 in the night until 5.30..because he need to talk with someone....he have nightmares because of the medicines and then it is hard to sleep. And they have connected him on drip again because he can't eat and drink.
As always I jump up with a tremendous heartbeat and with lots of stress when the phone was ringing that time of the night...it is always a bit stressing when it is dark I think. But he need to just talk and I was soon very awake. When we talked for a while I recognise that Rune was not in his bed....?
Where could he be have he fall asleep downstairs? I know that he work with the computer that have been broken for two days now......but he have to get up at 7 o'clock for work...so he couldn't continue with that now...or????
I went downstairs still talking with Roy and Rune was sitting at the kitchen table and try to make the computer to work...and he was tired and damned that he couldn't start. We are so very much in need with the computer.....shit!
I stopped to talk and go to bed again 5.30 and Rune went to bed then too......How in hell can he make his day at the work today??????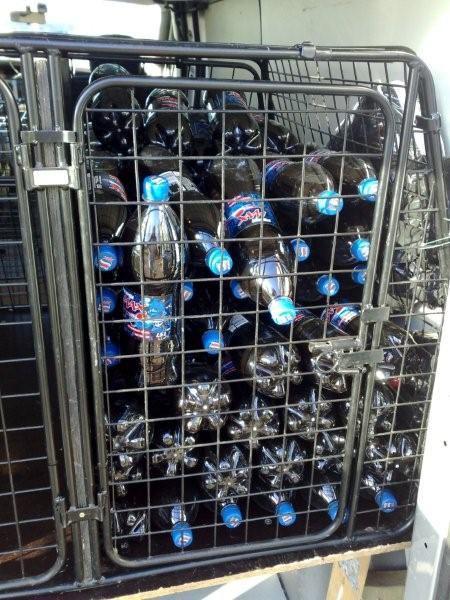 Rune have been shopping our Pepsi Max for this week *S*!
Sunday 24 May 2009
Today we expect visitors from England, and in the middle of the day they were here.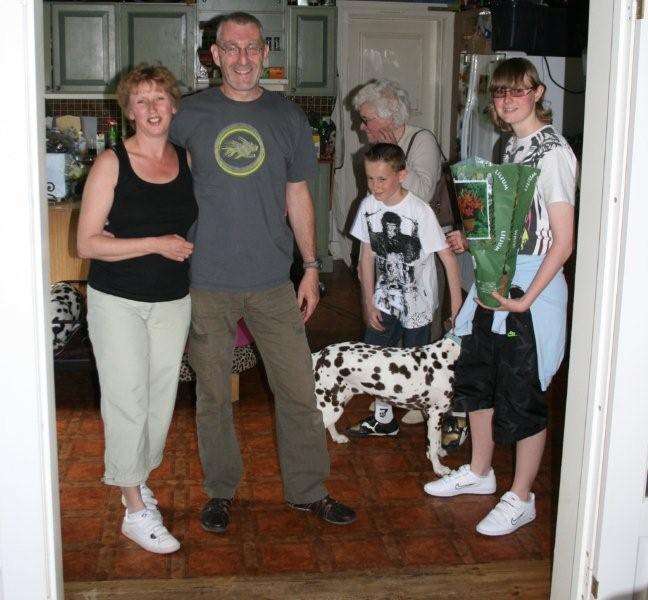 So nice to finally meet Tim, Sara, Jen, Tom and Grandma, we have had contact for about 6 months with mails and they have been planning for this trip since then. First of all they want to see our Dalmatians and especially Bell that they like very much.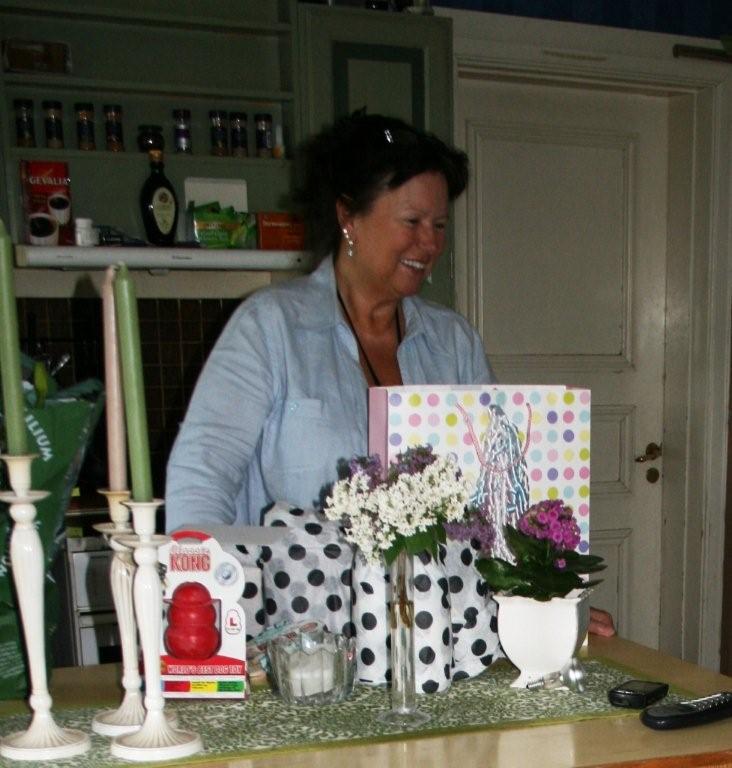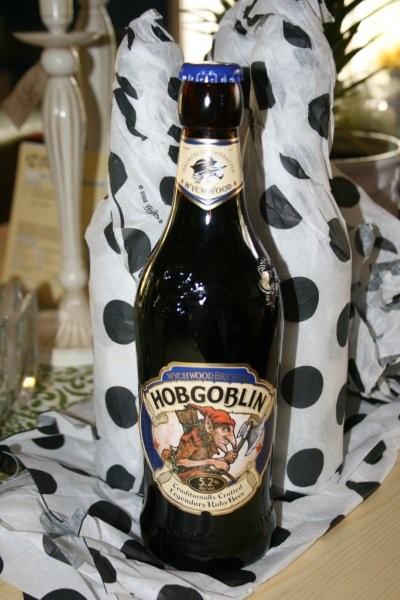 They bring us lot of presents with spots on and Rune got English beer, chocolate and many other things.
I was soooooo happy for a "Willow Three Box" that we cant buy in Sweden, thank You so much again!!!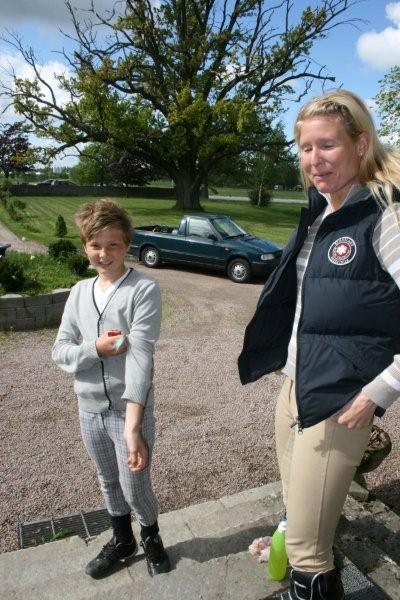 We were babysitting for Snurra while Jennie, Louice and Albin were away for four hours to look at a horse.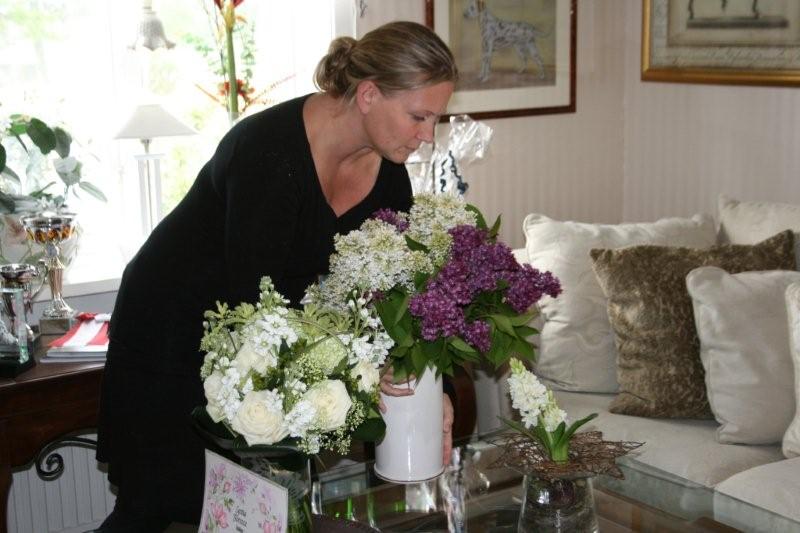 Jennie have picked lot of syringa in her own garden, they smell lovely!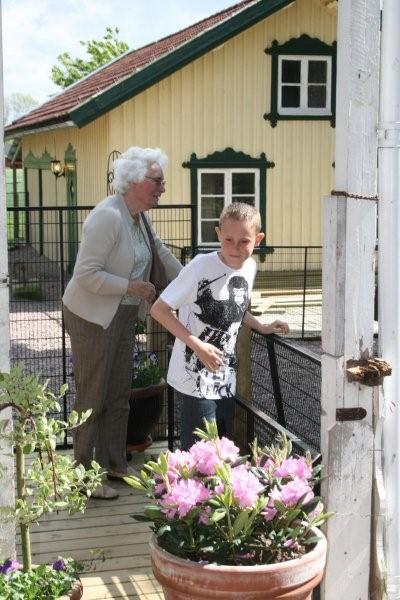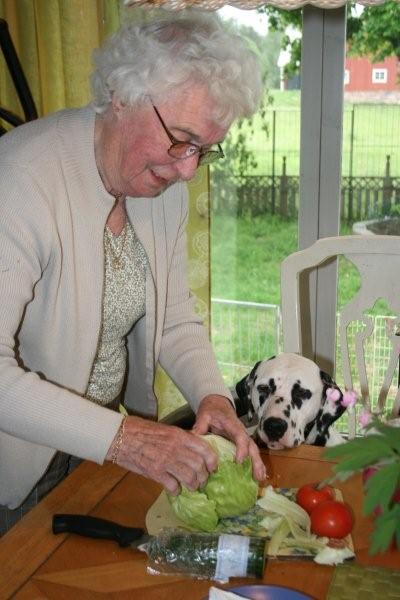 The weather was ok but it was too windy to sit outside and barbecue, so I put everyone in work so after a while we could all sit together and eat.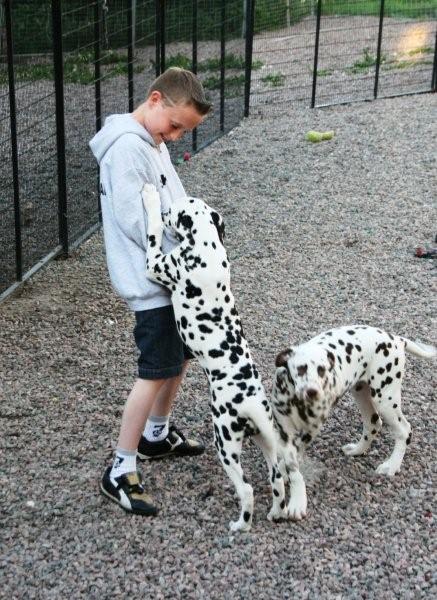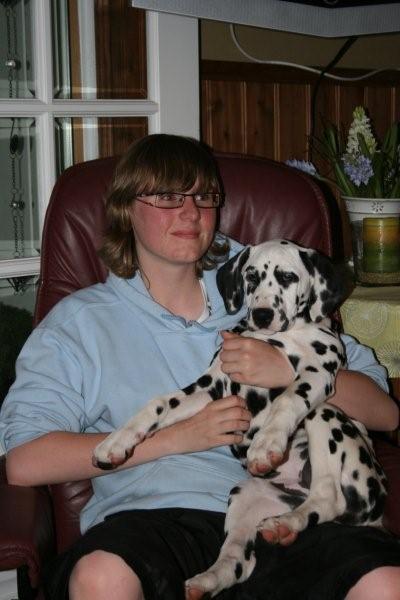 Tom should have been a perfect kennel boy!!! Penny was naughty and Sara took care of all the mess *S*! Penny was tired then and sit in Jen's knee for a while to rest *S*!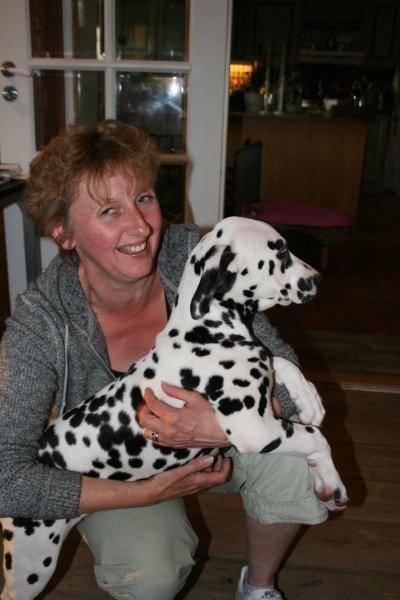 Naughty girl but lovley of course.
Even the dogs got presents.
Saturday 23 May 2009
Fantastic news from Andre and Diana about Seven......today she became BOB in Germany and later on BIG 2!
CONGRATULATIONS!

In the afternoon Rune and I went to Lundsbrunn to look at one of my costumers wedding!
Both the bride Ylva and Camilla looked very sweet and had such lovely hair, and they were very nice in their dresses.
Perfect Bride to be!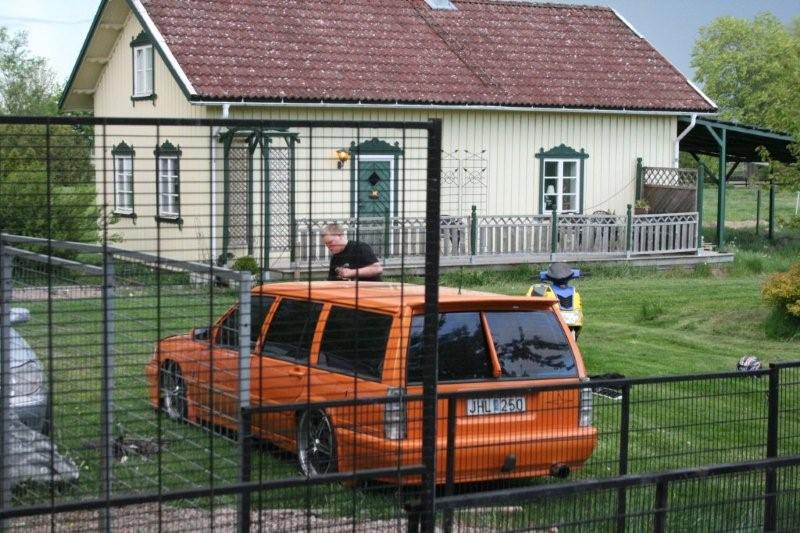 Jonnie was home working with one of his cars, before the rain came.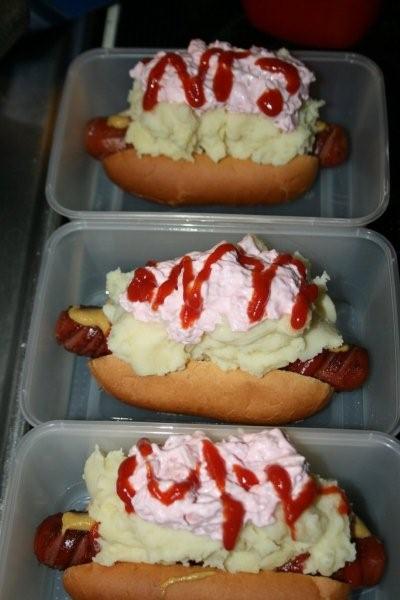 He was hungry and wanted some food with him when he went back to Evedal.
Photo from Helena......this is the way a real Jilloc's dog will look like *S*!!!!!!
Milda do not act like the little princess Helena want her to be!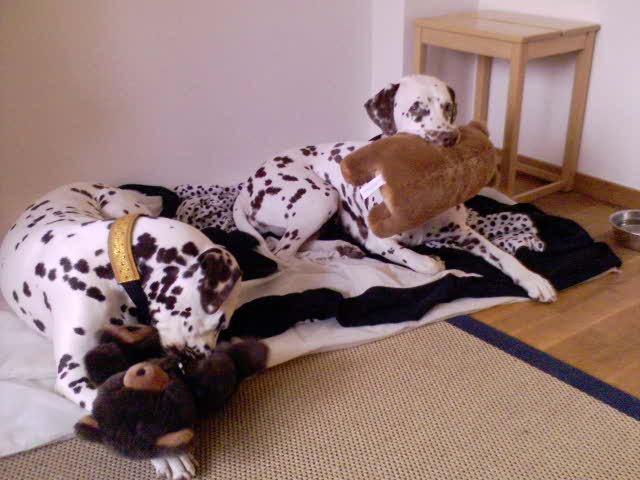 But mostly both her girls act like the princesses they are...and they are really spoiled with new teddy bears every week!
Friday 22 May 2009
Poor Rune have to work today, and after work he will go directly to a meeting...!
When I came down this morning Tina and Helena already was eating breakfast.....and we continue with that for over an hour more *S*!
We talked a lot about dogs of course what else.....!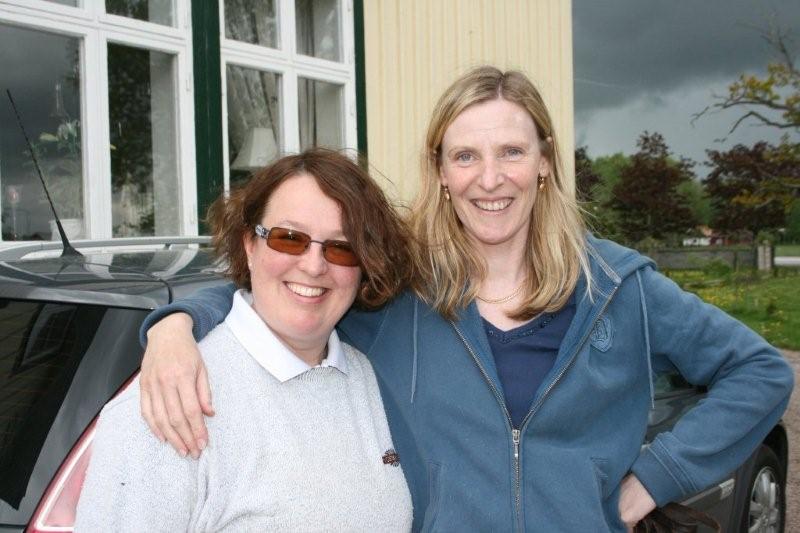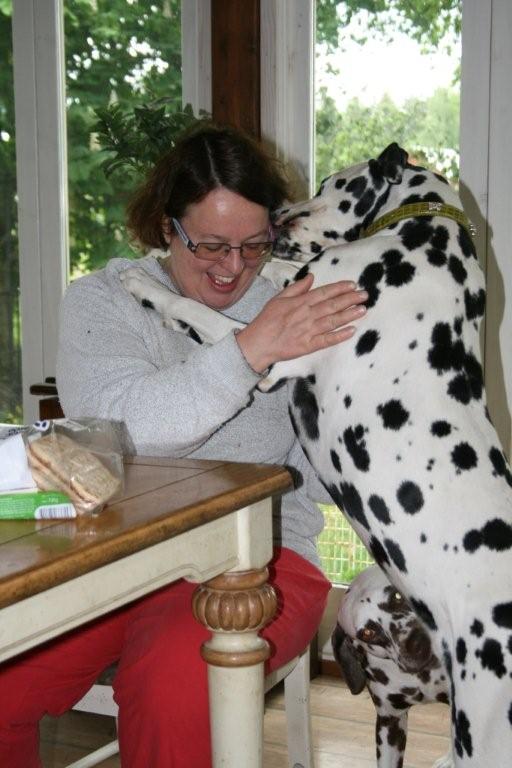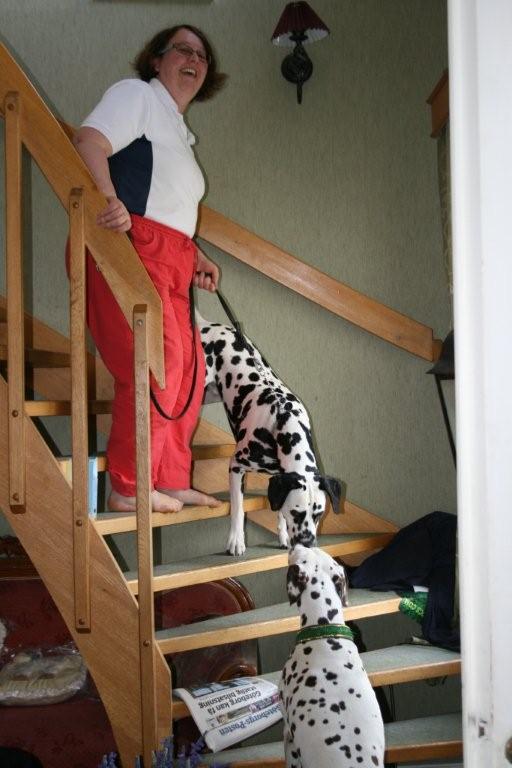 Helena went for the post in Runes shoes *S*!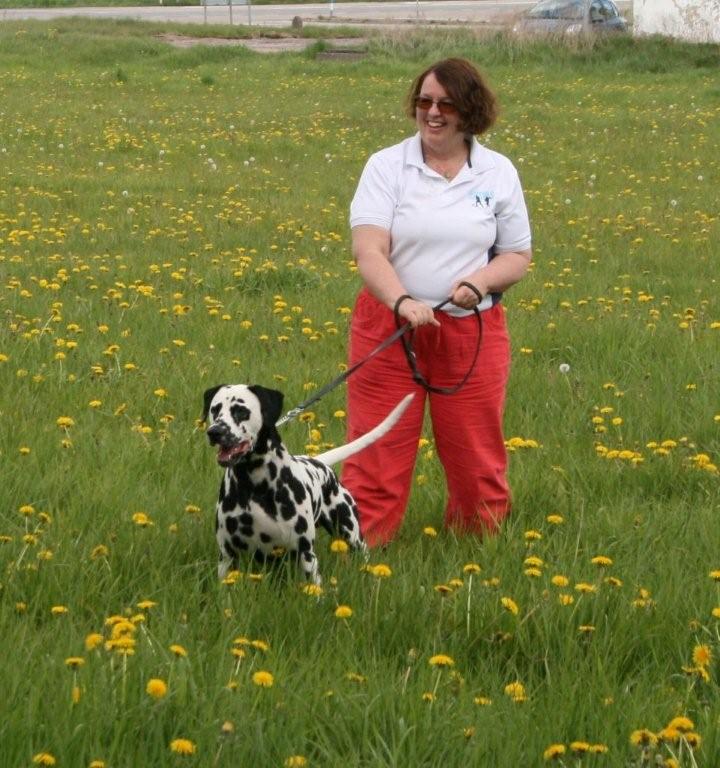 In the afternoon Tina and Gonzo (Jilloc's Speedy Gonzales) go back to Stockholm. Gonzo try to hide in the grass but we saw him *S*!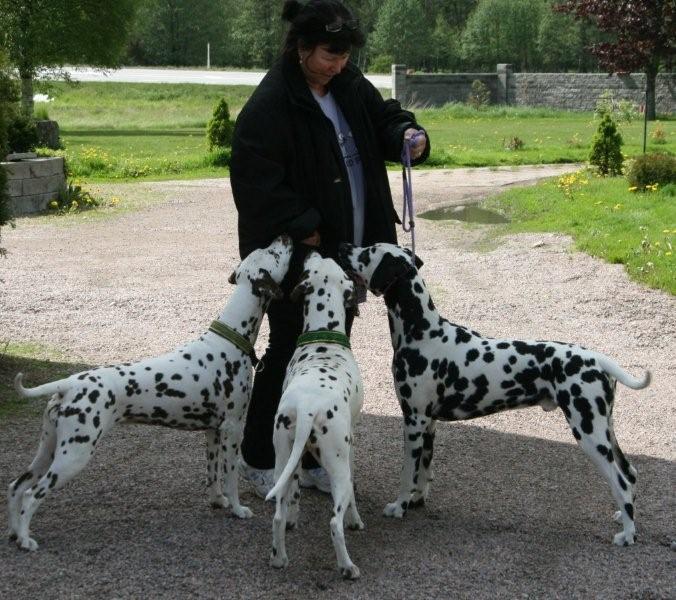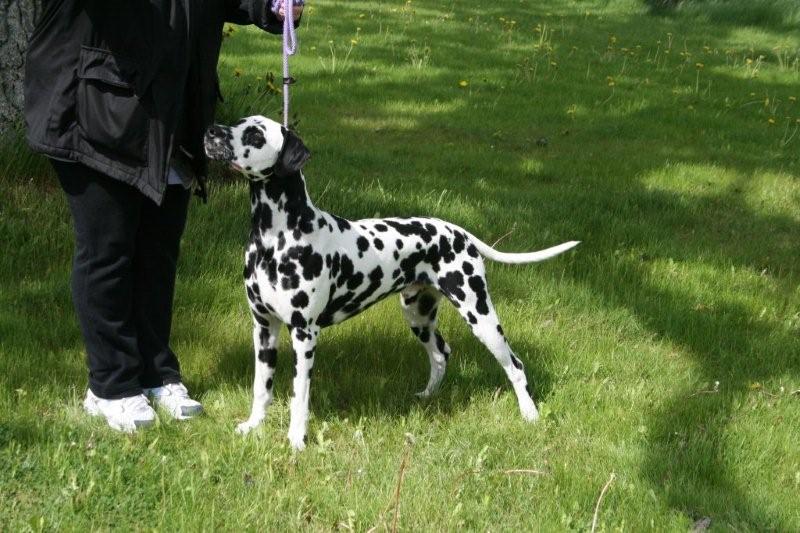 All three "Stockholm" dogs wanted my candy!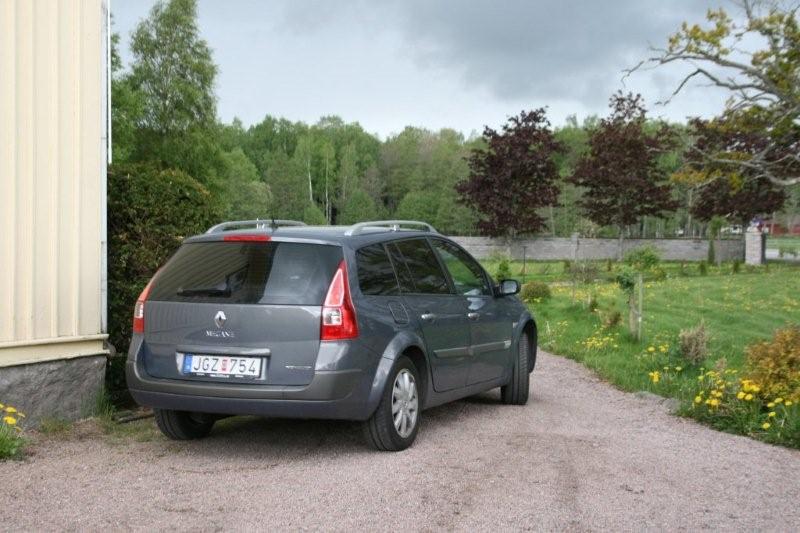 Gonzo in his belt, in their new car...but he did not like this one either *S*!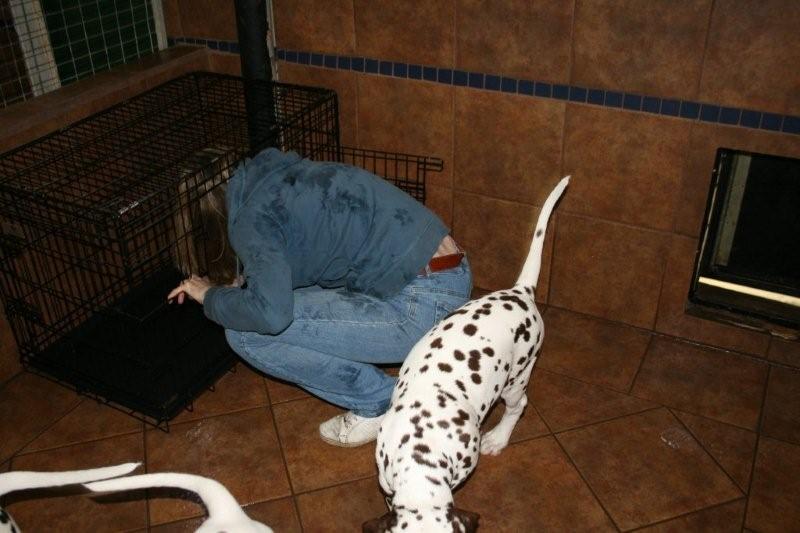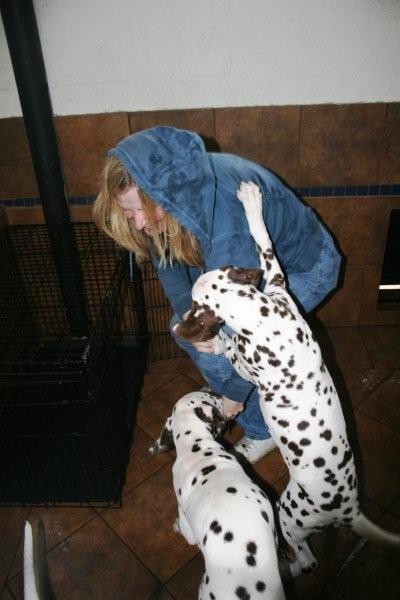 Helena and I cleaned the kennel, we decide to put in a cage there so they can crawl in to sleep and hopefully stop shitting so much during the night..when it is dark outside they shit inside instead.....naughty dogs!!!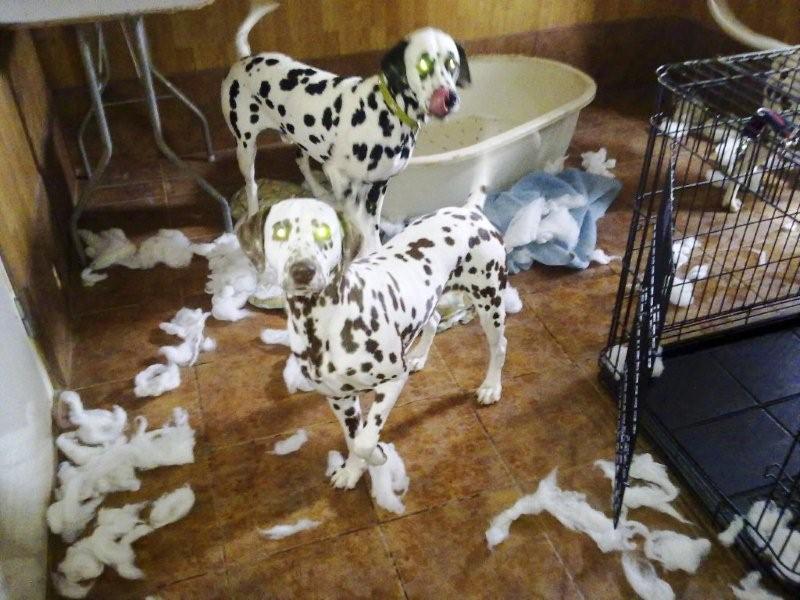 Devlina and some other youngsters have had a funny time to make snow in their room!!!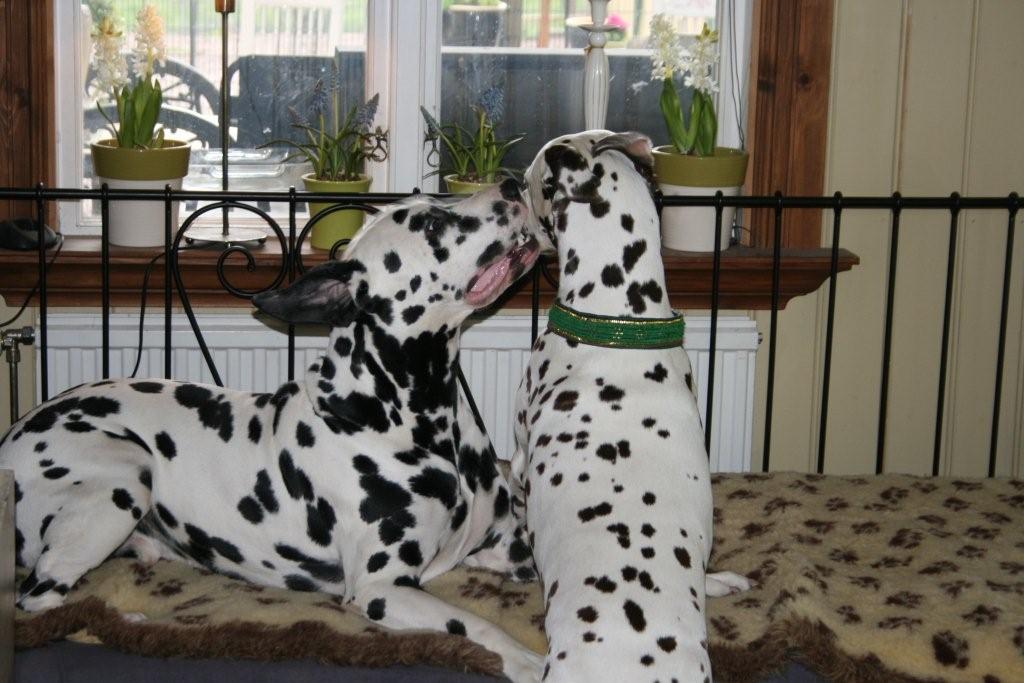 Molly was so much in love with Daddy...and he was crazy in her (as he is in all girls)!
In the early evening Helena start her journey back home and I was just walking around and smell all lovely flowers.
My mother was still here with us.
Rune was home about eight o'clock and we fell at sleep in front of the TV some hours later.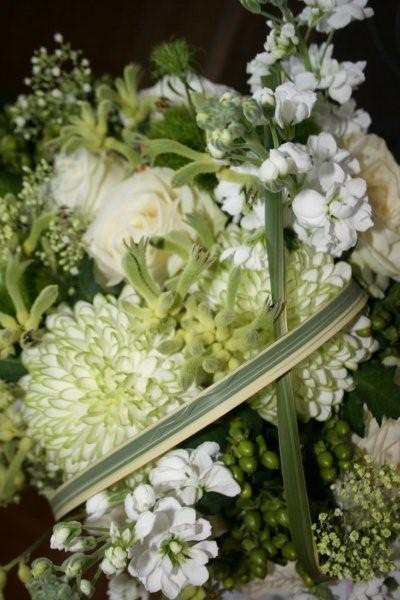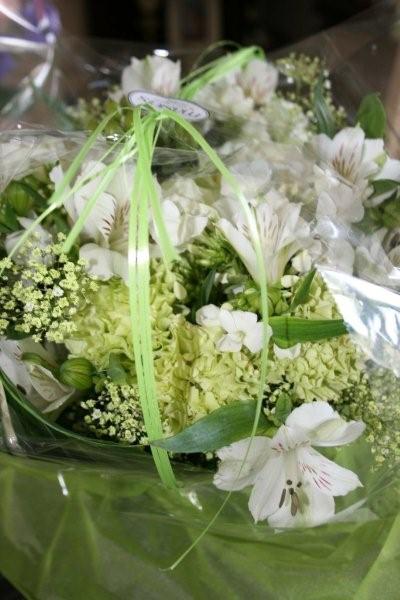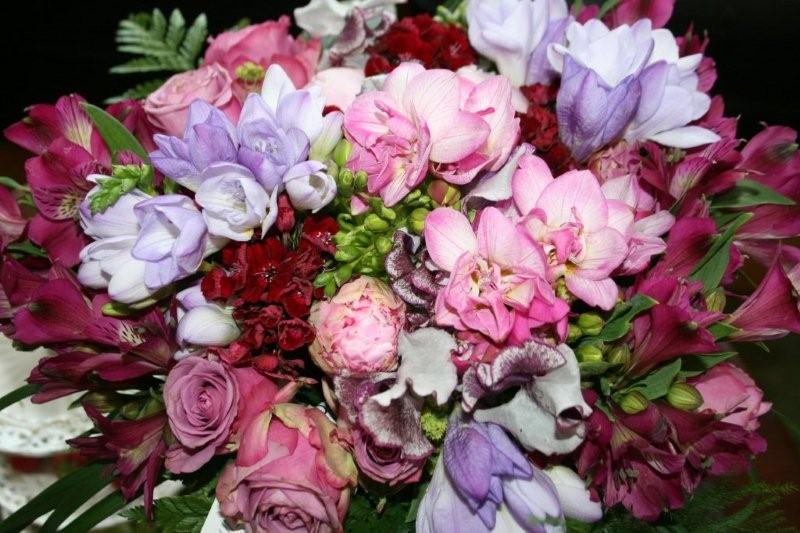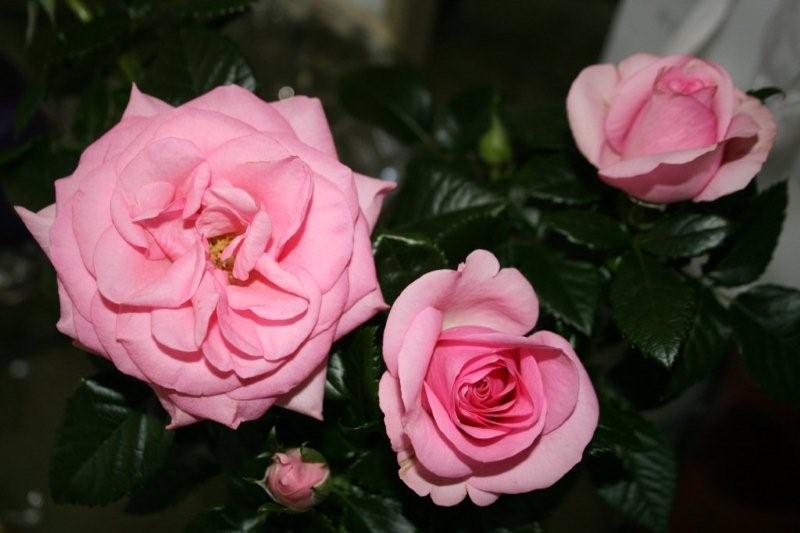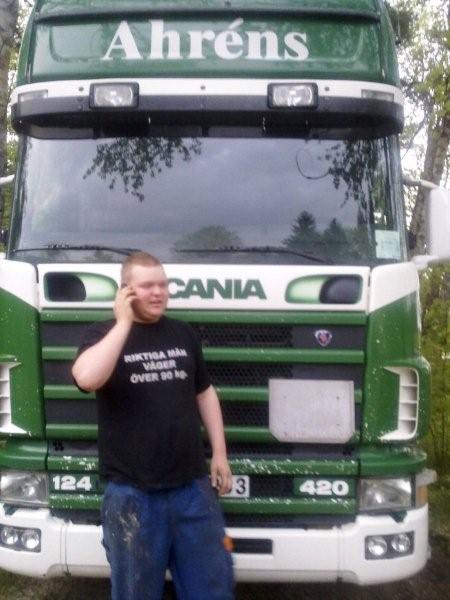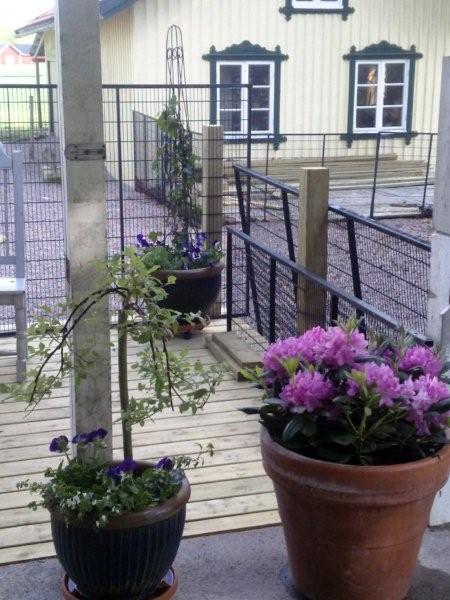 Jonnie was working with some trucks today, and we were planting some flowers on the terraces.
Roy is still recovering at the hospital.
Thursday 21 May 2009
Cake again in the morning.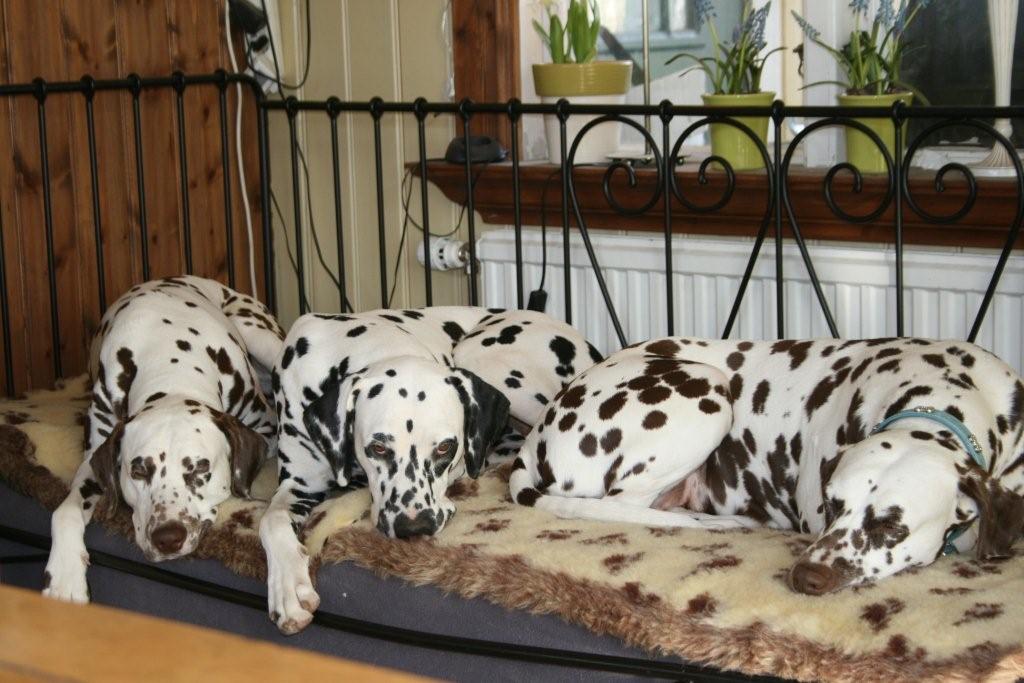 Three tired girls. Devlina, Muzica and Jill.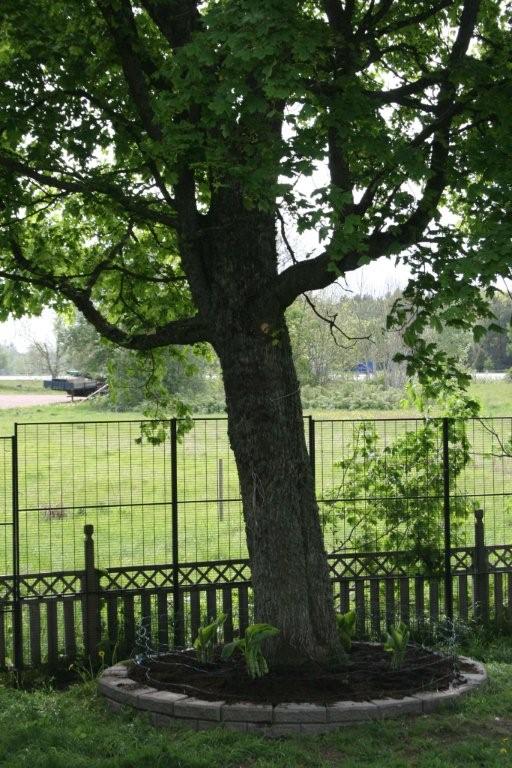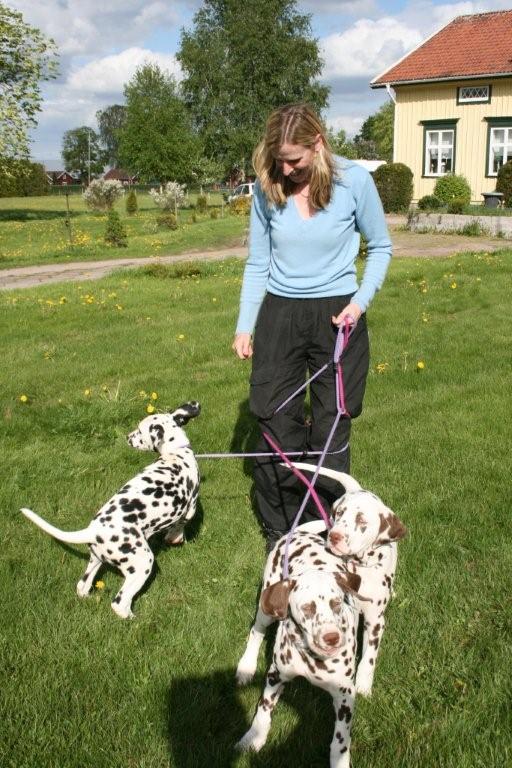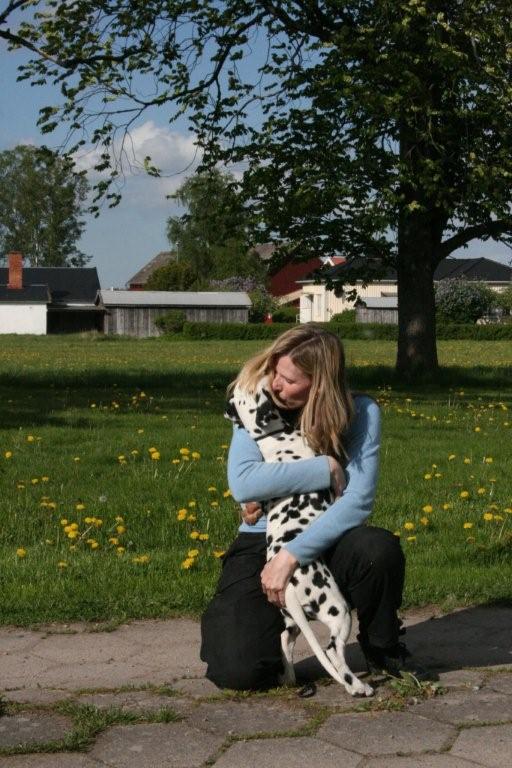 Helena came in the day and she had really problems to walk with three puppies at the same time.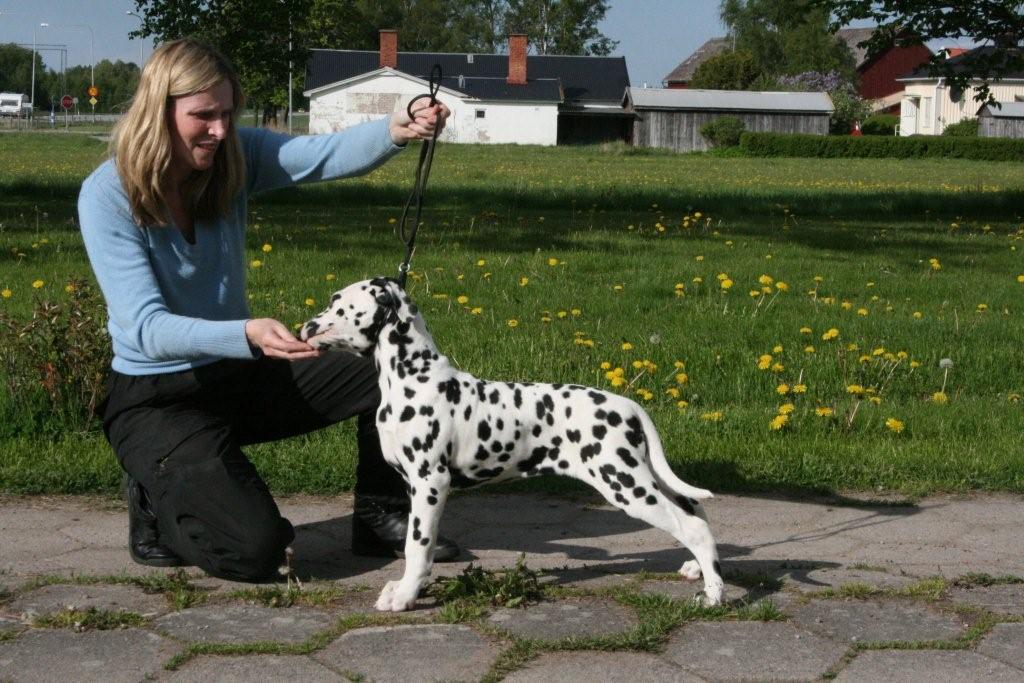 But only with Penny it went much better (Jilloc's Wannabe).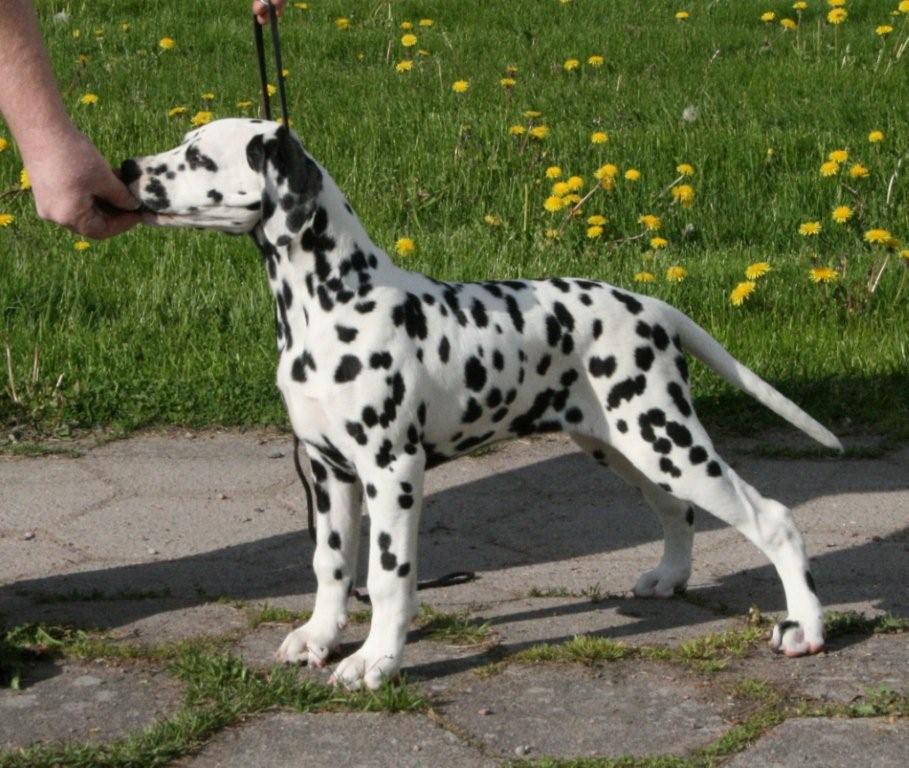 Penny 3,5 month.
Her brothers.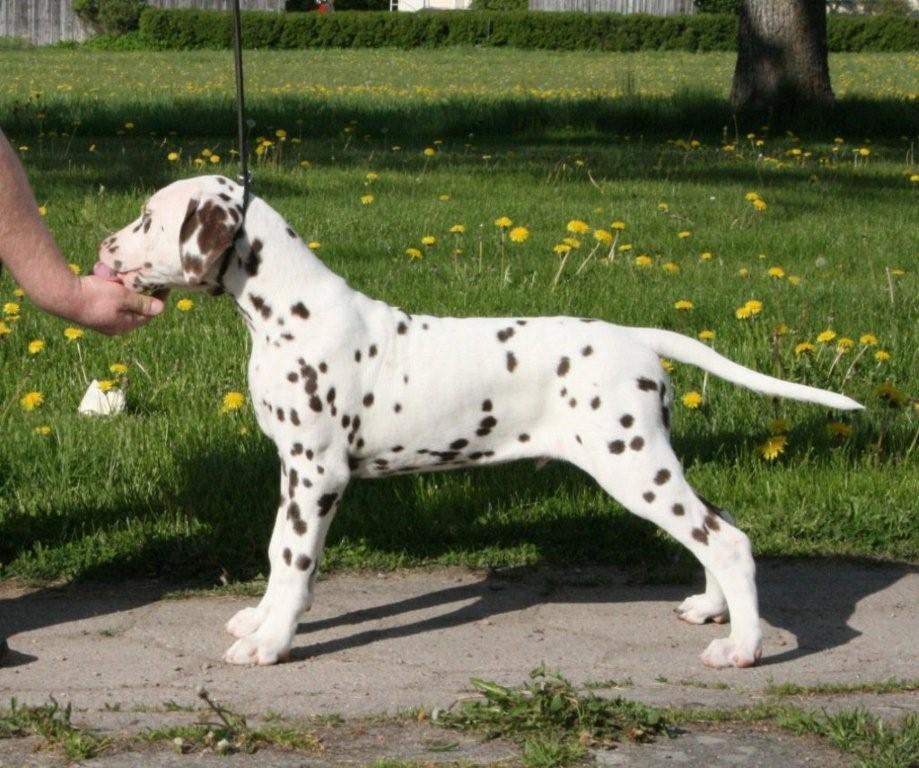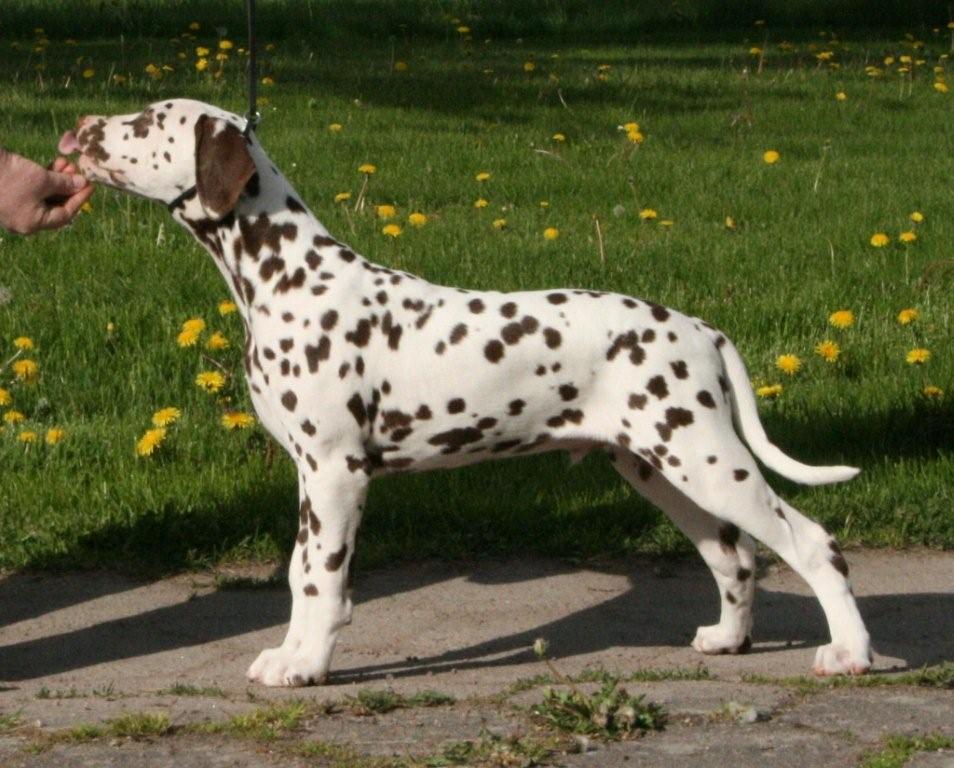 Euro.......Jilloc's Wild Music and Dollar.........Jilloc's Walk On Top.
Soooo lovely weather today!!!!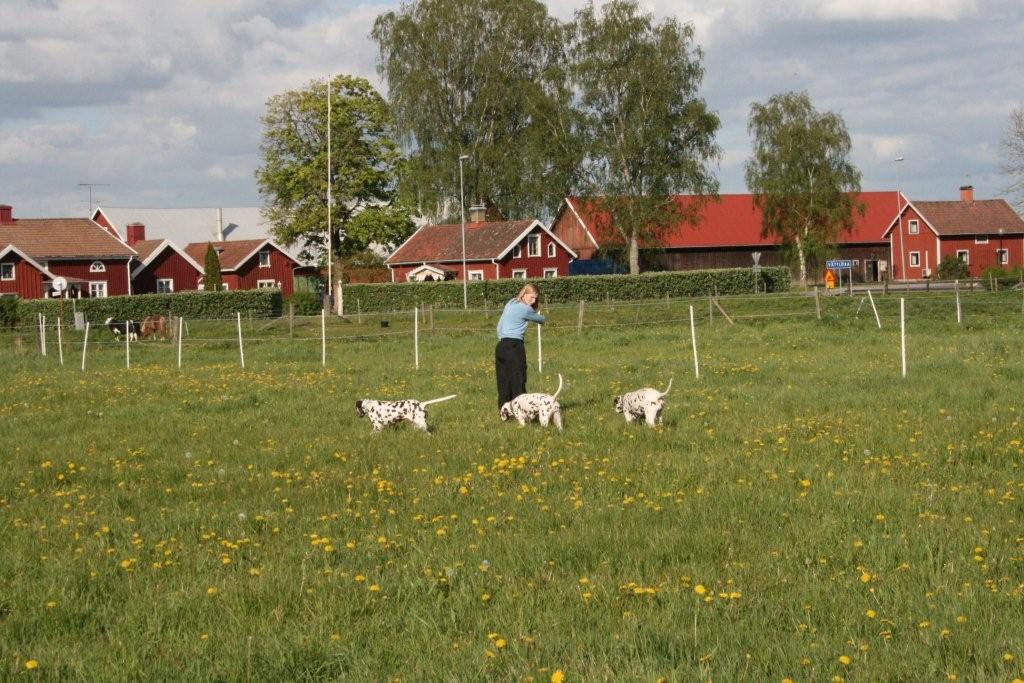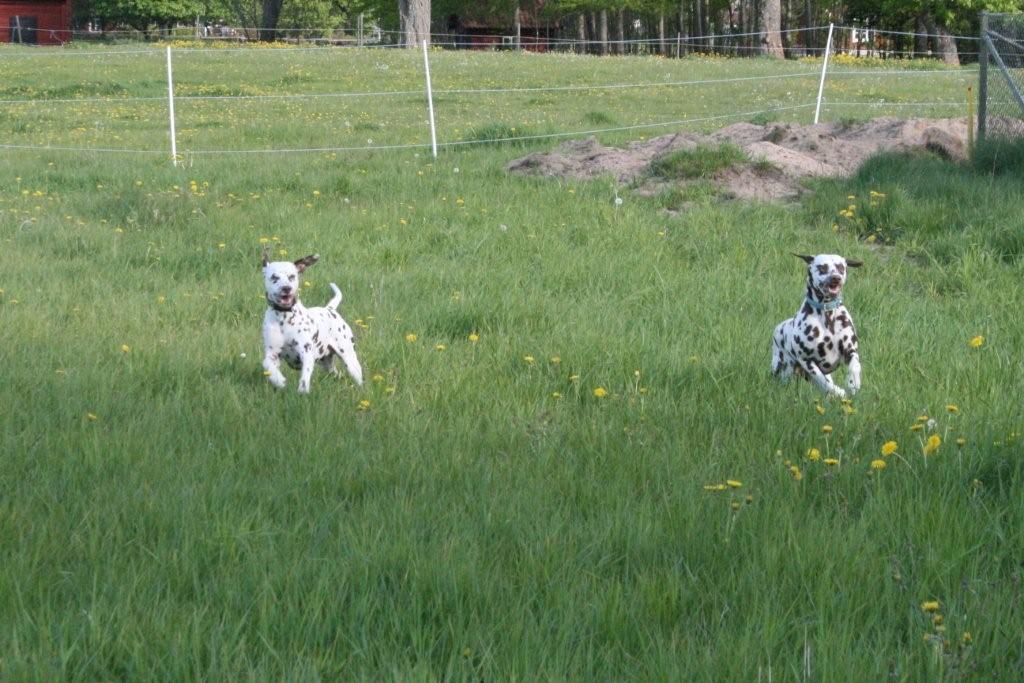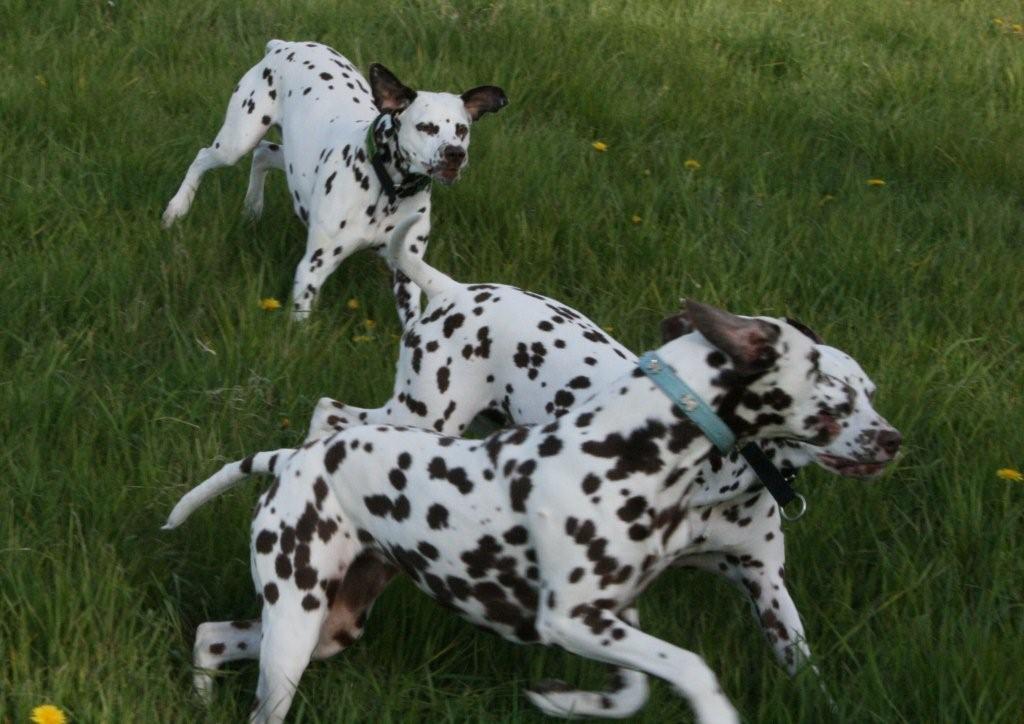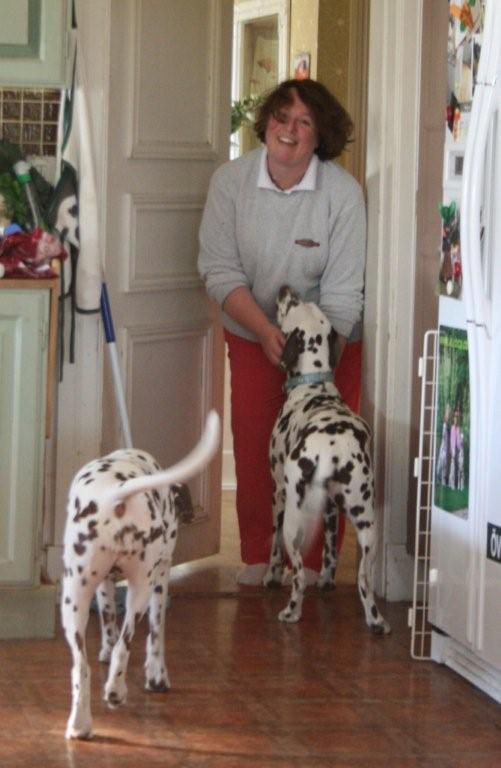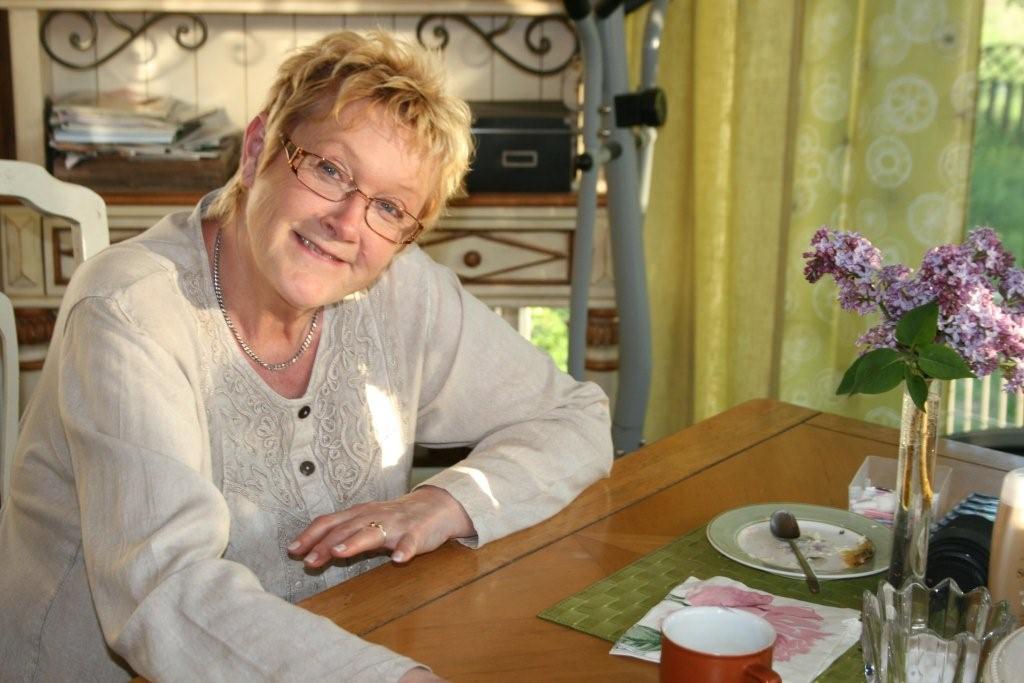 In the afternoon our special friend Tina came from Stockholm and after a while even Anita came for coffee. She was in a hurry because she is on her way to Finland to judge there tomorrow.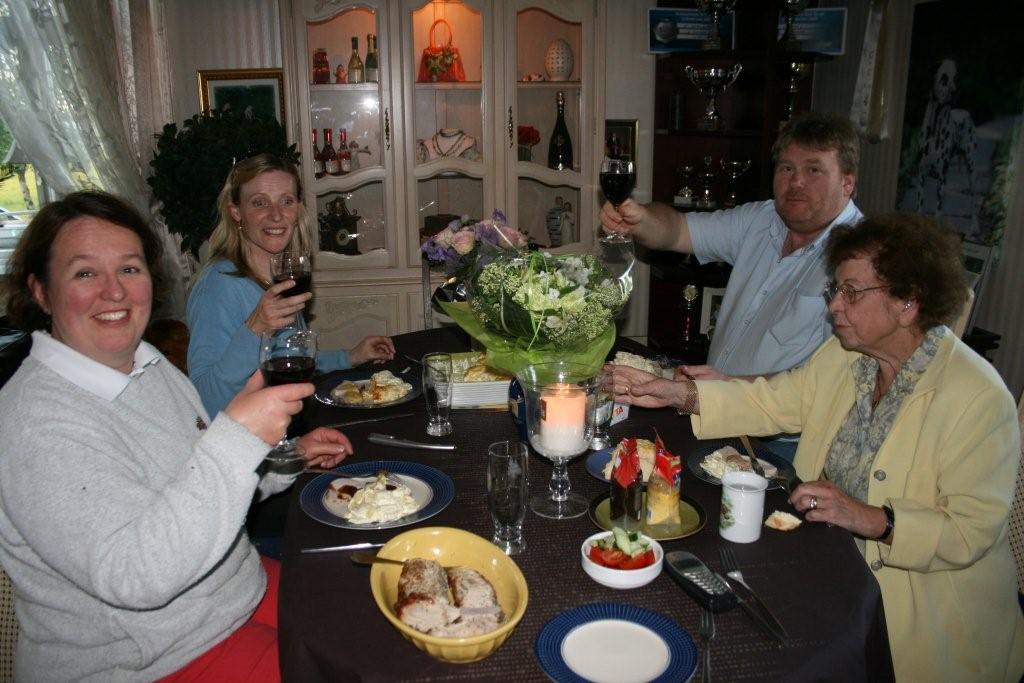 Dinner in the evening.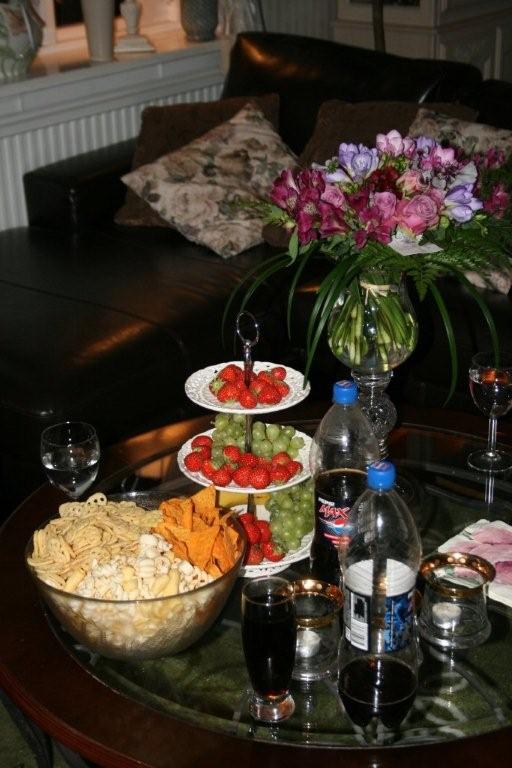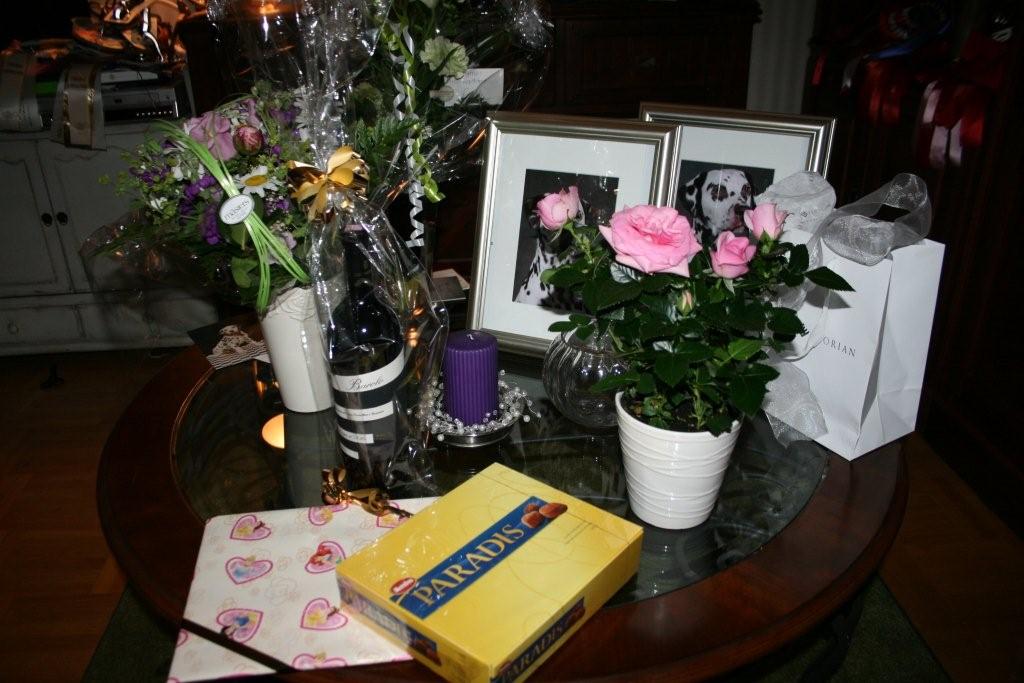 Relaxing in the livingroom, with snacks and fruit. More presents and flowers.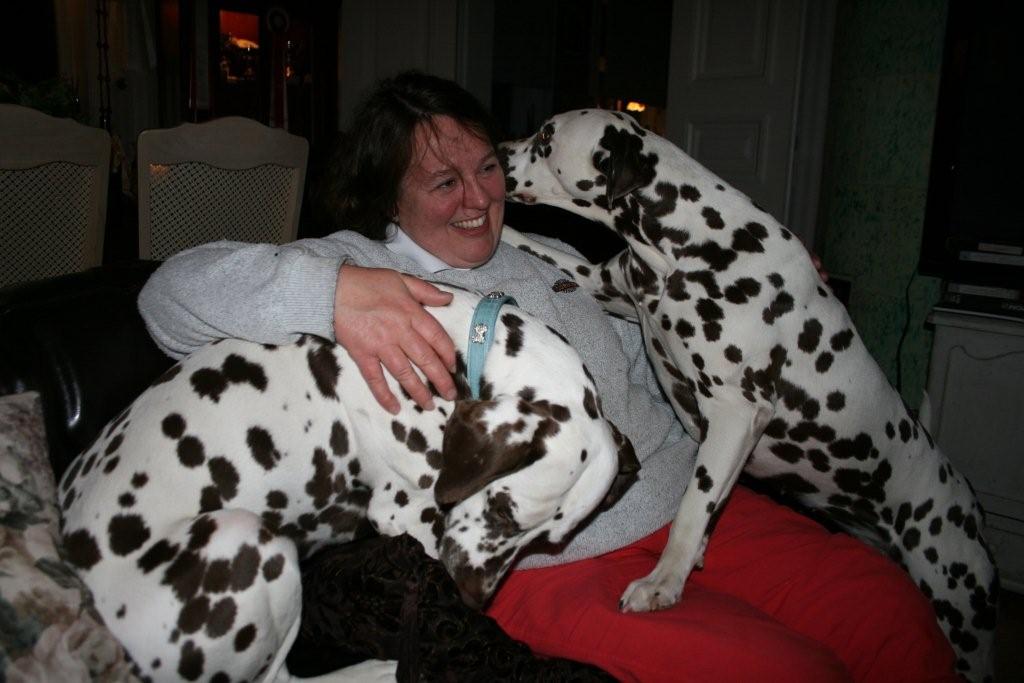 Jill and Devlina try to eat up Tina *S*!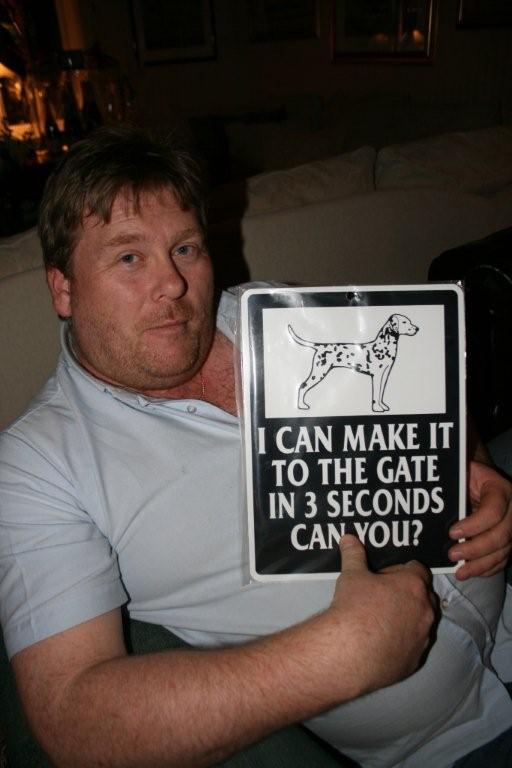 A perfect gift from Tina to put on our gate!!!
Wednesday 20 May 2009
Thank You so much to all my friends that sent me flowers, congratulations and gifts today!!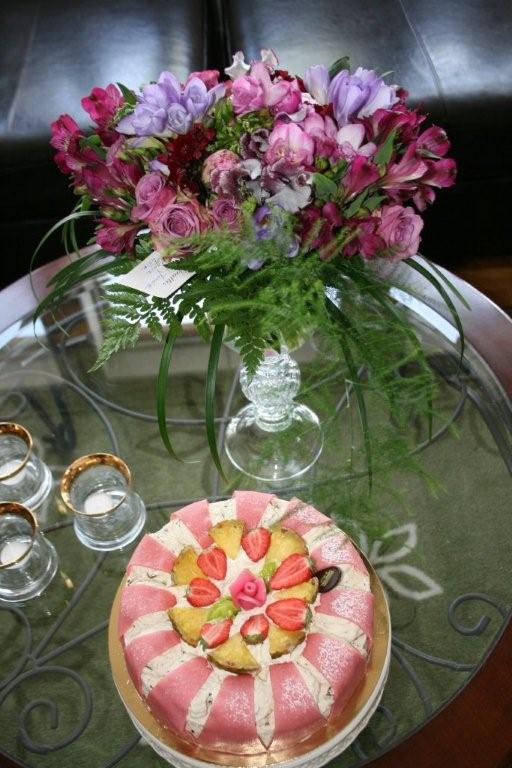 My mother is coming, I am going to my dietist and then we have to go to Lidköping to change some clothes I bought last week.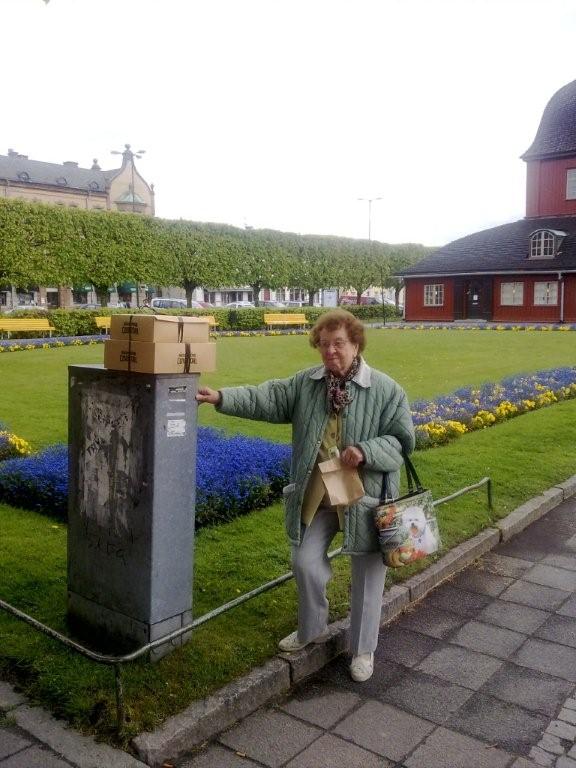 But before that I have to clean the kennel, take a shower, feed dogs, eat breakfast, call many different instances to ask about bills and other letters that we have got and don't understand, and to buy a new dryer the old one short circuit the whole house yesterday and I can't live without my dryer (no Dalmatian owners can *S*). Call for my new test results and to call to hospital and ask when my x-ray will be done.
And we have to wait for result of Roy's operation today.........and in the evening we got the message that everything went very good so far....thank god!
I was away almost the whole day and when I came home we had puppy buyers here, I have talked to them earlier and the have decide to come here today.
Peter the husband have fall in love at once that he came trough the door and have been crawling around the floor with the little girl that we had for sale.
We talked a lot and eat cake.
Jilloc's With All My Heart
Everyone want cake...even Tuttilutt!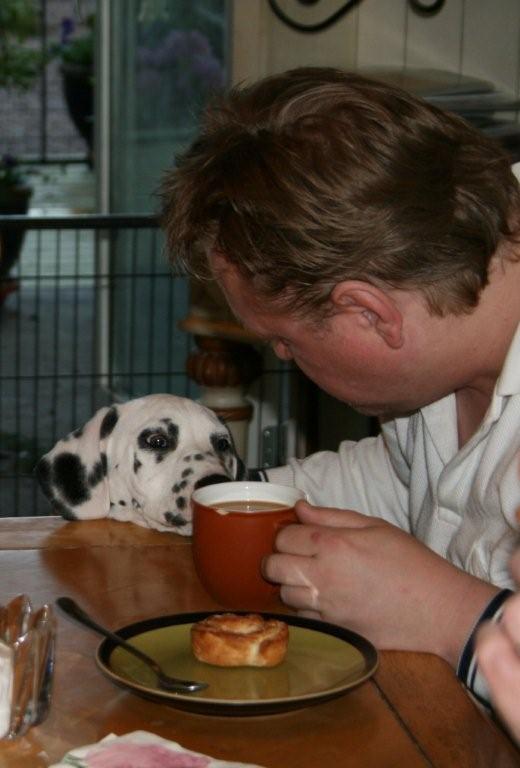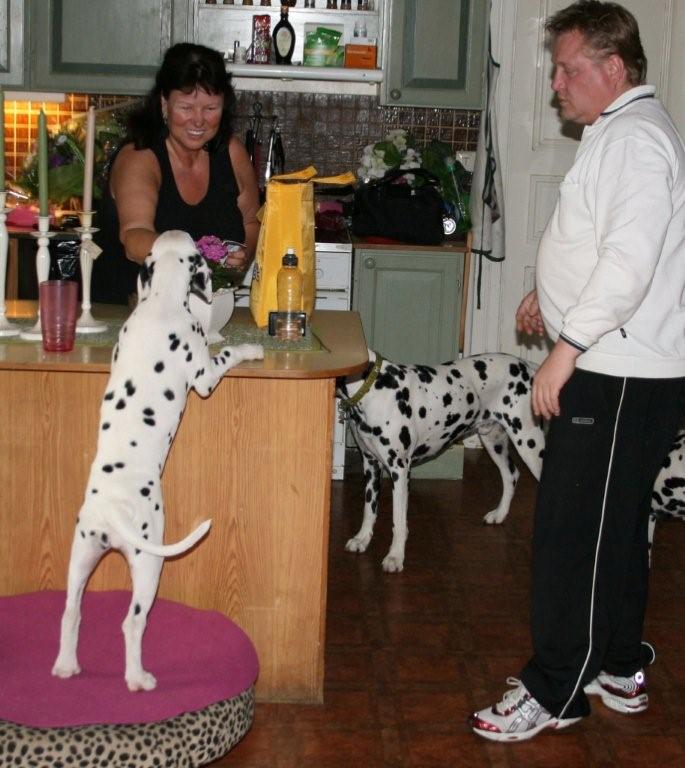 Best friends at once!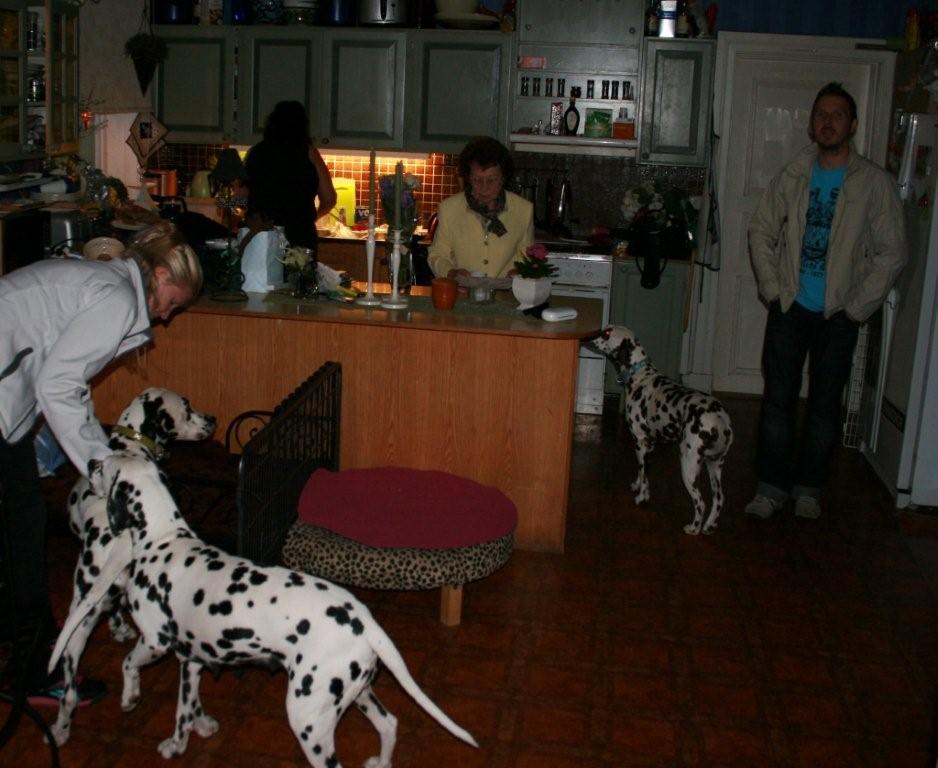 Hanna and Jens came with present and flowers! Rune made pizza for us all in the night.
He is the chef in this house!!!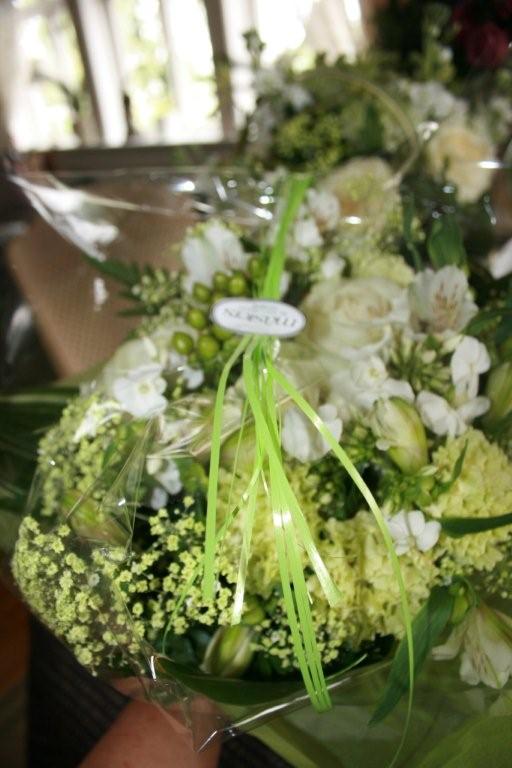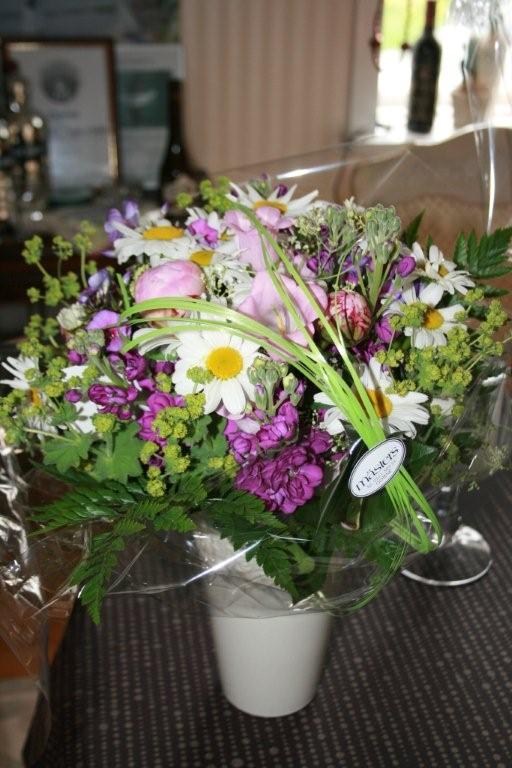 Thank You so very much!!!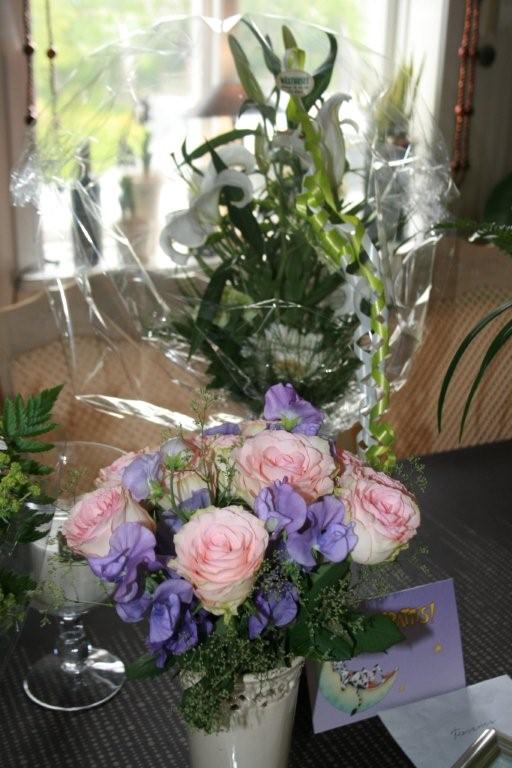 I love flowers!!!!!
And they smell sooooo wonderful!!!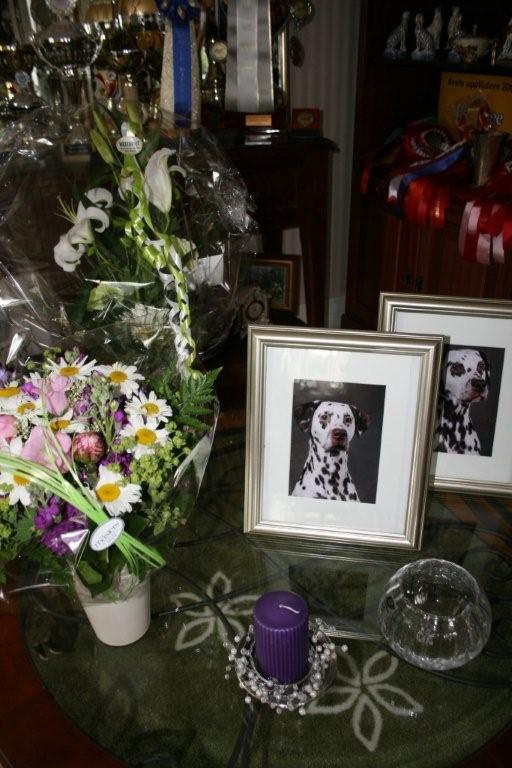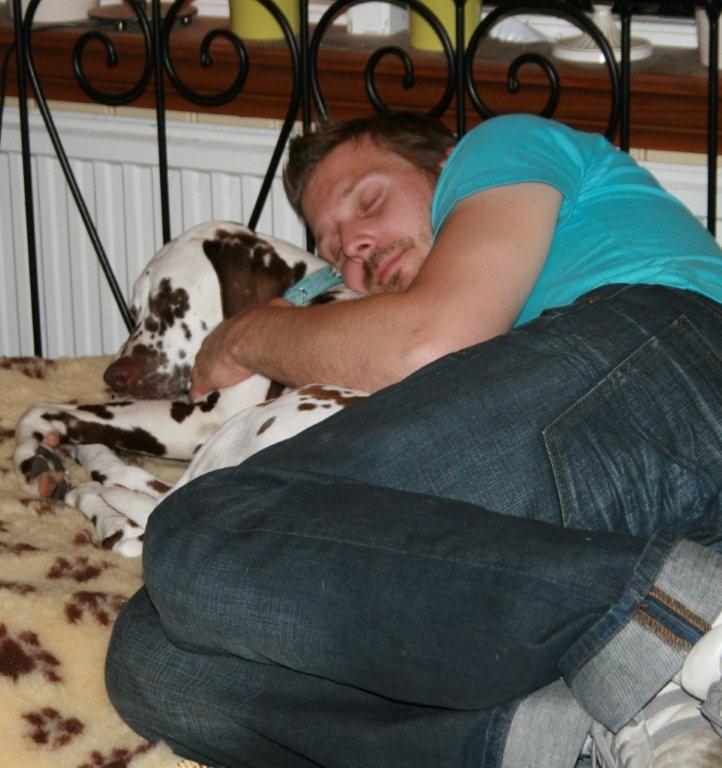 Photos from Annicka of Alice and Molly! Jill and Jens was tired!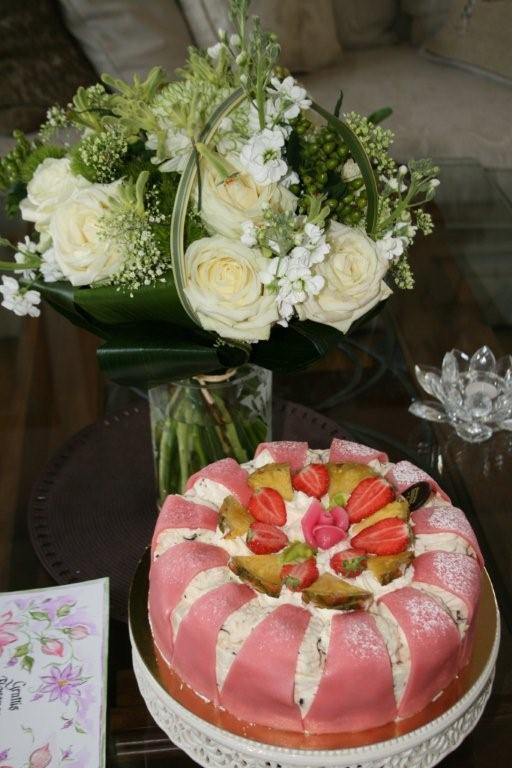 A very long day has come to it's end and we went to bed late as always!
Tuesday 19 May 2009
Yesterday we got the fantastic result of Roy's biopsy. His tumour was Non-malignant, this was the best gift for us all, but he is still at hospital in Gothenburg, and will be until he is operated. Finally he can start to look forward. Even if it will be a problematic operation with lot of risk because of the tumours placement....we just have to wish for the best result and be grateful for everything.
This morning I was at the physiotherapist and then to the store and then home to feed dogs and clean a little, and put the coffee on because I will have visitors today!
Alice, Molly and Annicka came to say hallo, it have been a long time since they have been here so I was looking forward to that.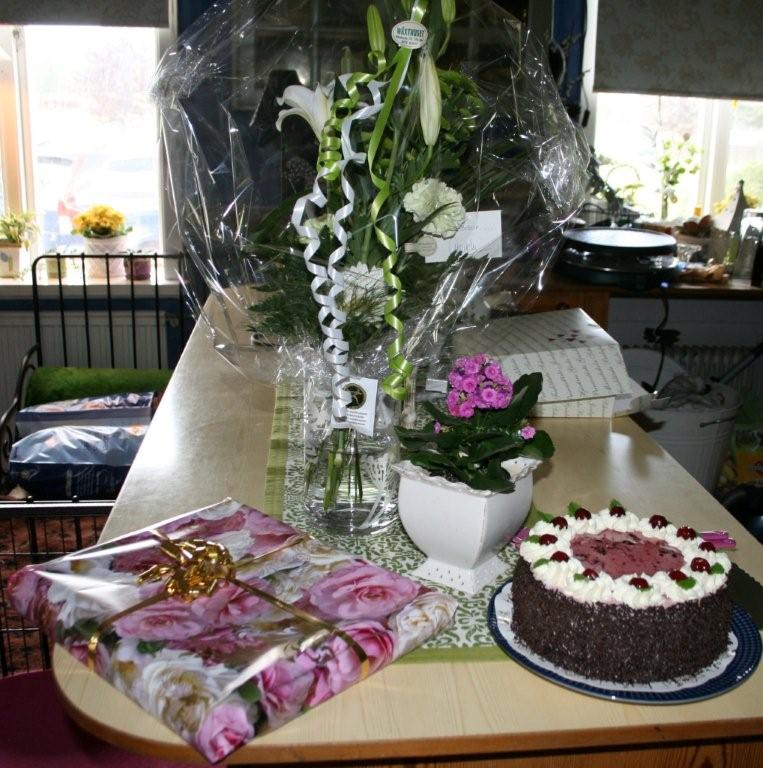 She bring flowers, cake and a present with lovely photos of Molly and Alice, thank You so much, but best of all was to meet You and Your girls!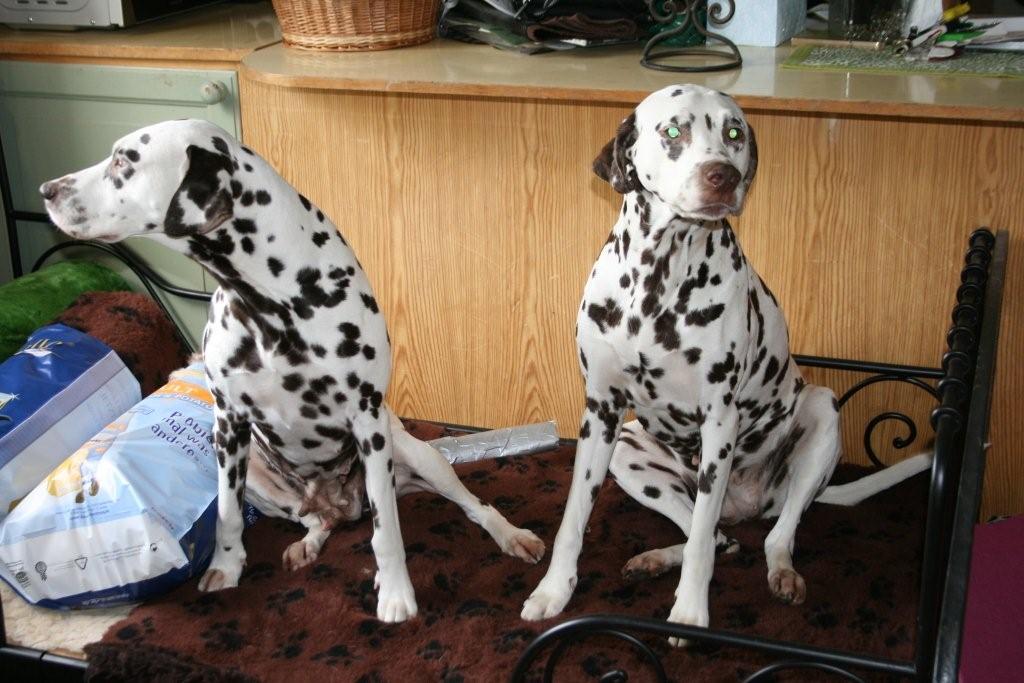 More of Andre and Seven in Belgium on Sunday.
They are both in perfect shape.....as always *S*!!!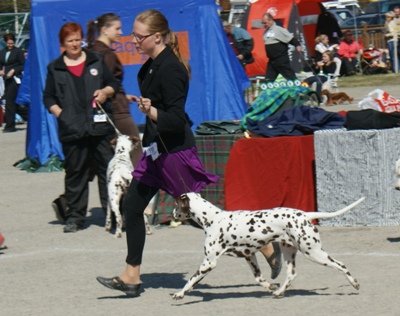 Picture lent from Annas homage, shows Jenny & Nova in Piteå this weekend.
Photo by Anna Lindberg.
Monday 18 May 2009
Today Jilloc's P-Litter is 4 Years old, congratulations to You all.
I am the worst to remember such things..thank You Kristina that remind me *S*!
My beloved Zally.
Andre from Holland was here to mate Ubu with Bosson and he was so fond of Jilloc's Playmate of The Year 5 weeks old (Windy).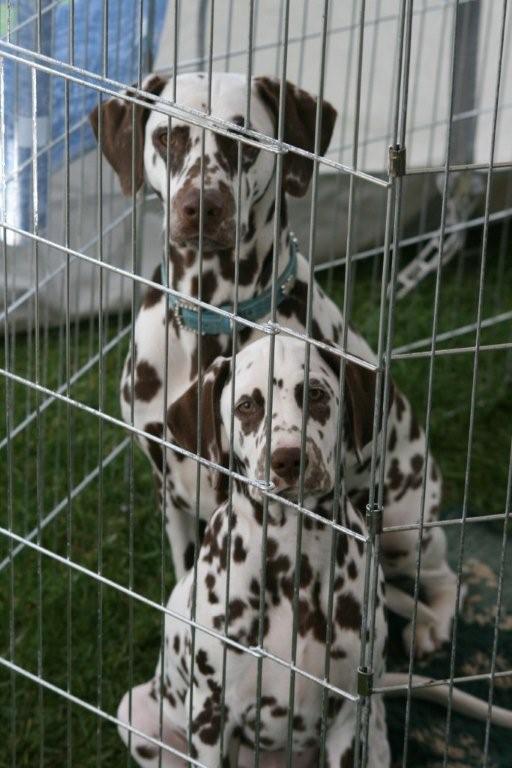 Jill is a good babysitter for Dollar. In some special way she is extra fond of him....maybe they've met before?????

He have soooo expressive eyes....they say...Mama I love You too!!!! (I think *S*).

We got new photos from Niina in Finland, thank You!!!
Pussel and Bossons daughter in Finland. Marnellin Hyacinth Bucket 8 month.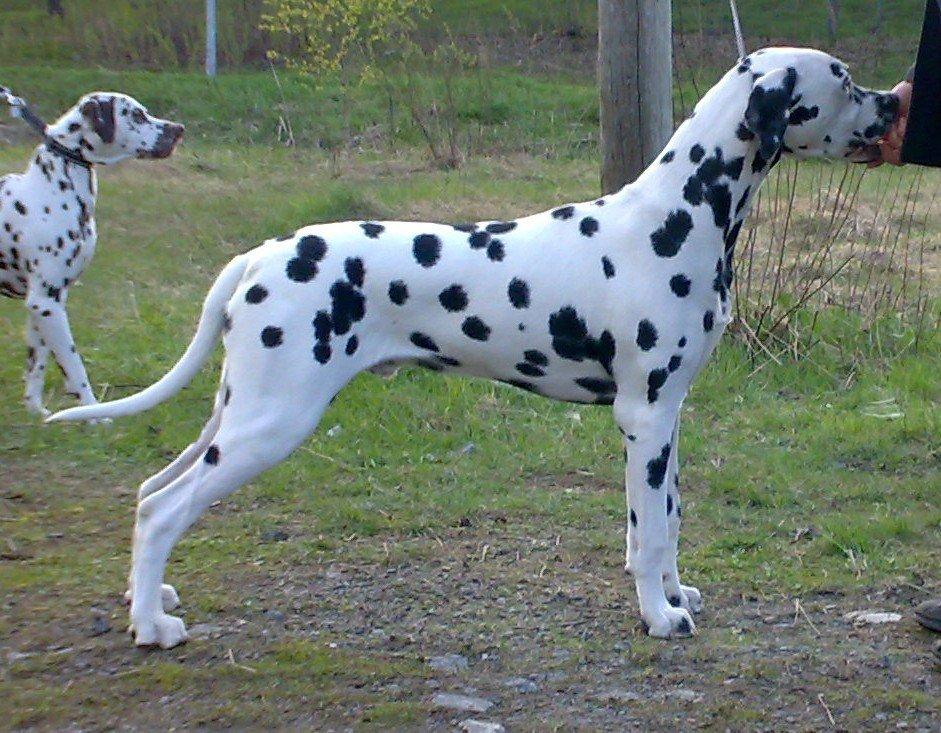 And here is her brother Marnellin Hot To Handle.
Sunday 17 May 2009
Only 4 dogs are entered to our gathering/meeting at Thursday, so we have to decide during the day if we will go on with it or not.
It is lot of work to arrange with tent, prizes, cockards, lottery etc etc..so we feel it is no use if we are not at least 15 dogs.
And we can't just do it the day before....
I have had some friends that have had Birthday last week and the week before, I am sooo sorry that I totally forgot about it, sorry!!!
Even if we stay in bed until 10 o'clock today we were already so tired in the middle of the day..we have been cleaning up in some terrible shelves and first of all we have to take everything out......Why do You have so many unnecessary things in Your home to take care of????
Winning Team .... Seven & Andre
Photo by Diana
Diana and Andre was in Belgium today with Seven, and we got the message that she have been BEST OF BREED, Hurray!!
Congratulations to the whole family!
In the afternoon she was the WINNER OF GROUP!

Fantastic!
Spermbank was in BIS in the afternoon in Hässleholm but he was not 1-5. He was Nr 6 together with four other group winners and got a nice white cockards to hang on the wall at home.
We were all so very happy for this weekend!
And Yesterday Jenny and Decibel were in Piteå at a show there, she travelled together with our friend PO. He got both BOB and BOS on his dogs but Jenny and Decibel was Nr 2 Best Bitch with CAC. Nr 4 Best Bitch was Jilloc's Roll On Big Mama from the champion class. Congratulations to You all!
And crazy Jenny passed our house about 5.30 (they drive from Piteå about 5 o'clock last afternoon) this morning to hurry home and sleep....and I guess that she still is sleeping *S*!
And her mother!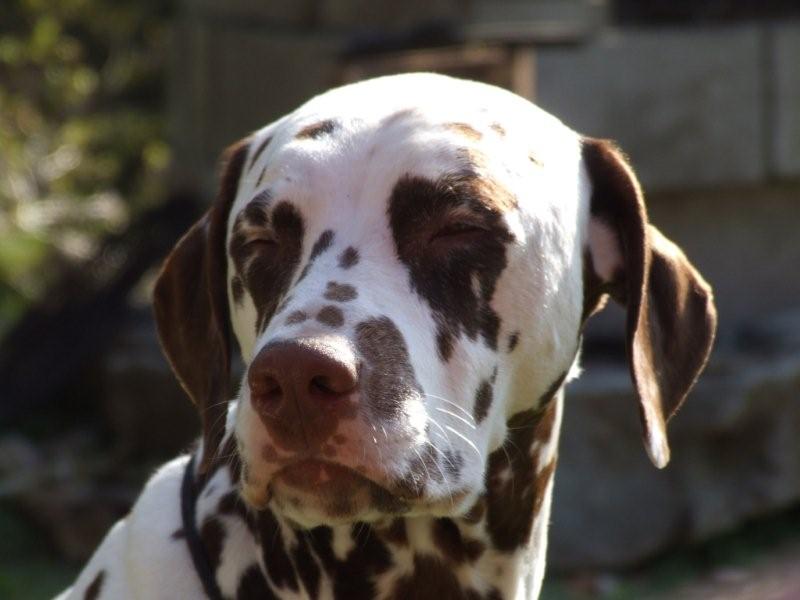 Photo from Annette of Donna in the sun!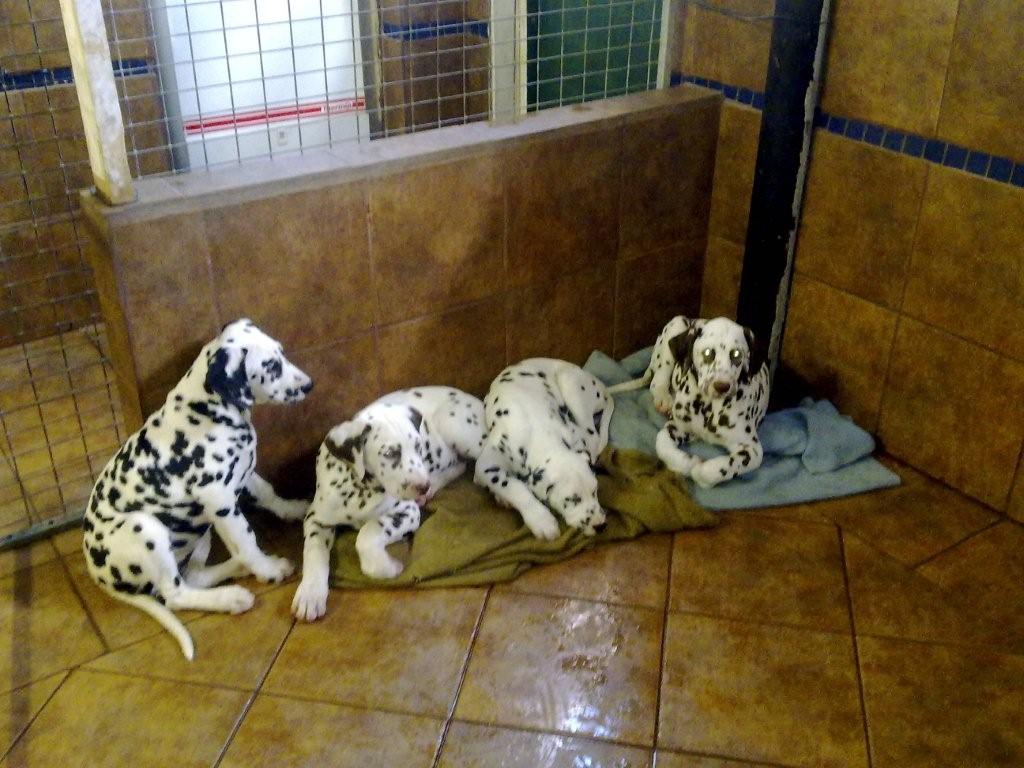 Nice with a cleaned kennel, but it just last some minutes.
Gloria can be happy that she give us a lot of joy most of the time......because sometimes we are very angry at her....like we were today *S*!
She is in phantom pregnancy now.
Saturday 16 May 2009

My Sweet Daughter Jennie is 36 Year old today!!!!!!!!!!!
Hurray!!!
We send her flowers! Here is what she got, and to the right more like what I ordered....!
Can You see the different? I can!!!!!!!!!!!!!!!!
We drive away from home at 4.15 and was in Hässleholm 7.15...the GPS said over 4 hours....now we have could been in bed one hour more instead, stupid!
Dalmatians start at 9 o'clock and there were 28 entered....judge was Mr Mogens slot Hansen from Denmark.
We was happy to meet Love..Spermbank again and he was happy to meet us too of course.
Daddy was entered in Intermediate and Love in Open....
Both won their classes with CK/Excellent and in the end there were only those two boys with Excellent today and Spermbank was the Best Male today before Sugerdaddy, HURRAY!!!!! This was his fourth show and his fourth excellent and second CAC...very good! Daddy have already more than he need, but in just some weeks both boys will celebrate their 2 year old birthday and can then be Champions....
Lotta and Love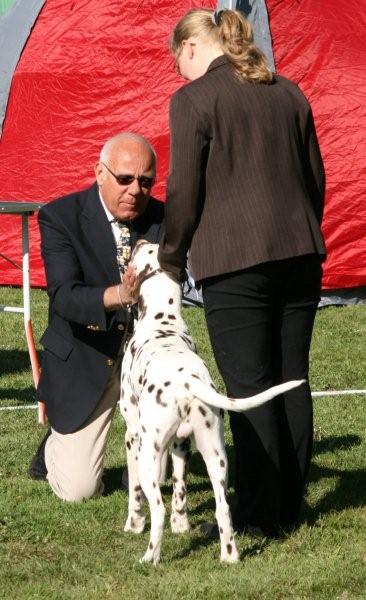 Hildegunn with her Junior Muppe.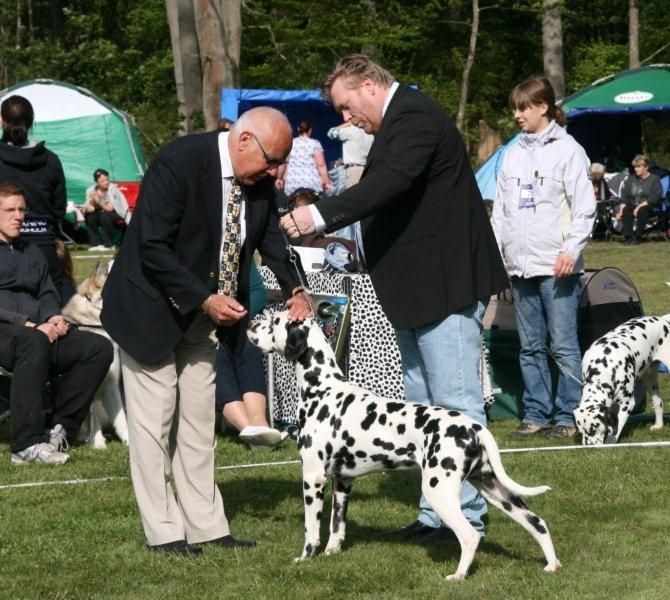 Daddy.
Love is a good mover too.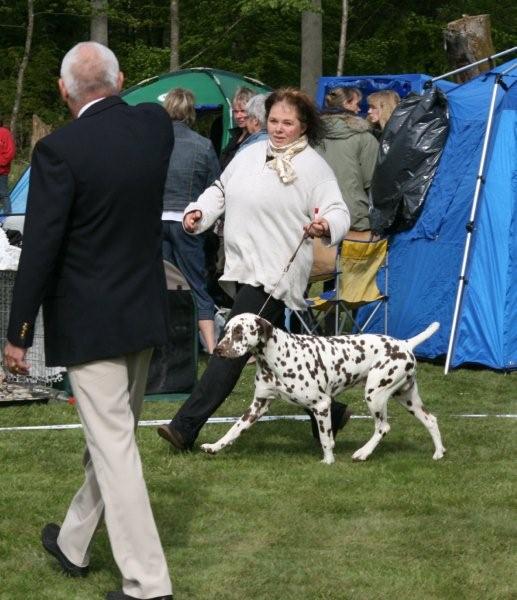 Today Spermbank was Best Male before Daddy...Daddy looked insulted *S*!
Daddy with me and his spotted toy.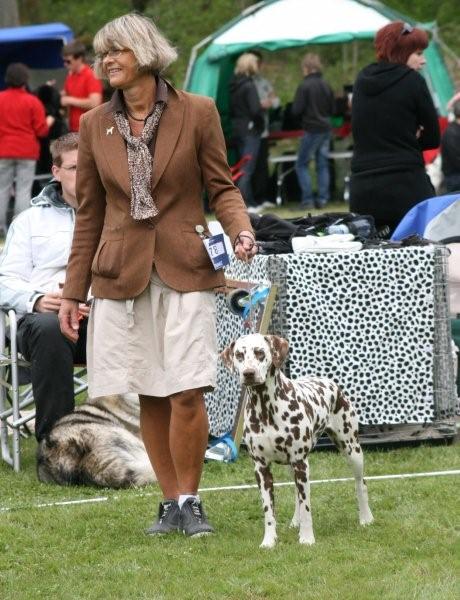 Vinta and Hildegunn need one more CAC for the title.... Russin and Carin need one more CAC for the title Swedish Champion too.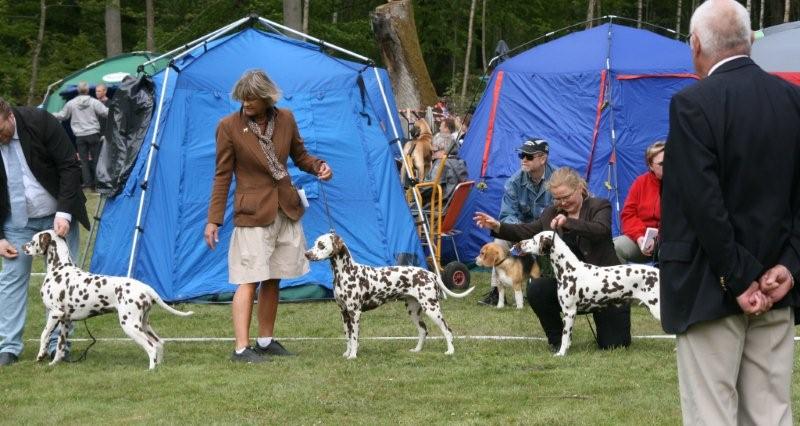 BUT once again the cac went to Gloria.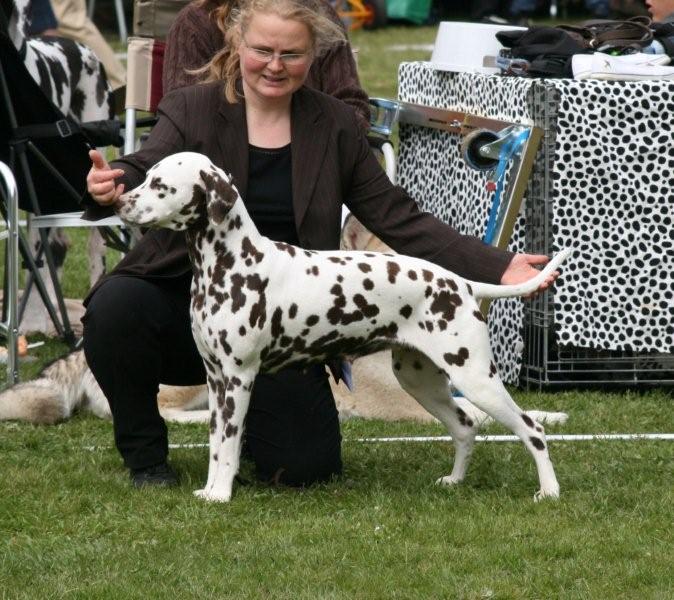 Vinta showed well today!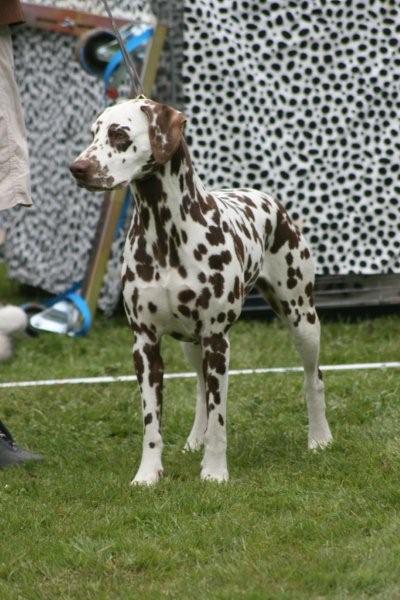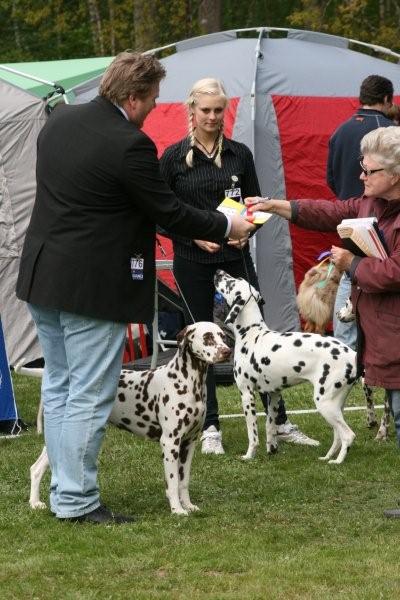 Russin is always so stylish! Later on was Gloria Best bitch.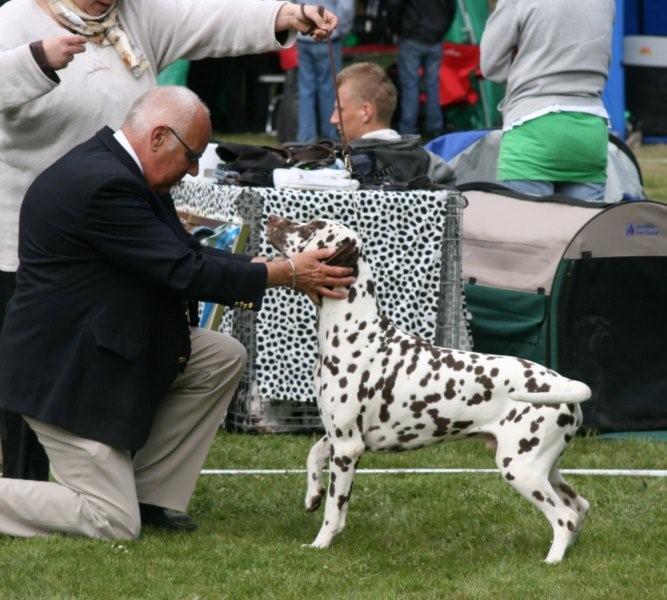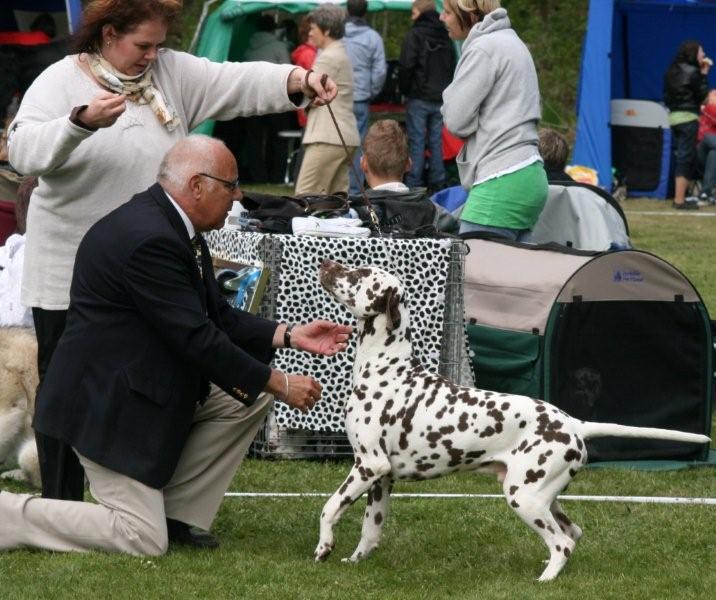 The Judge was very fond of Love.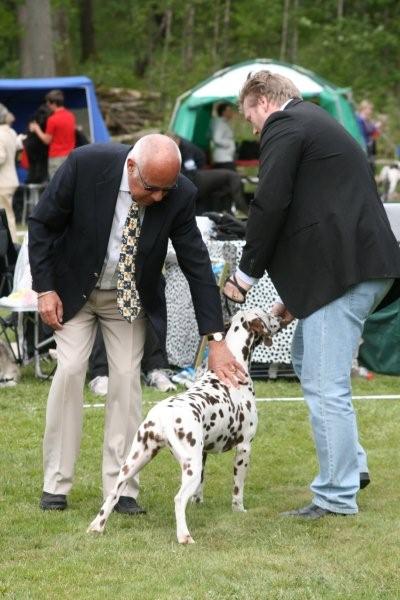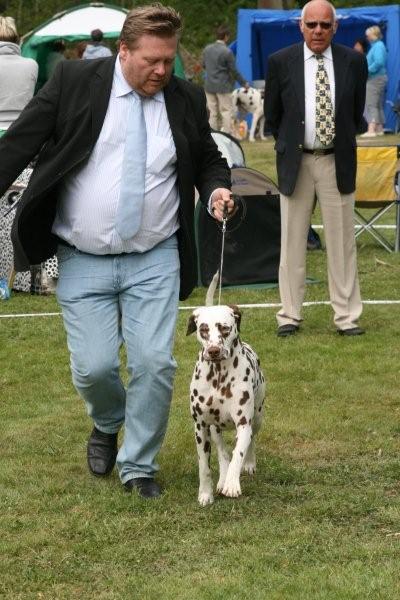 He looked a lot on both male and bitch before he decide who will be BOB....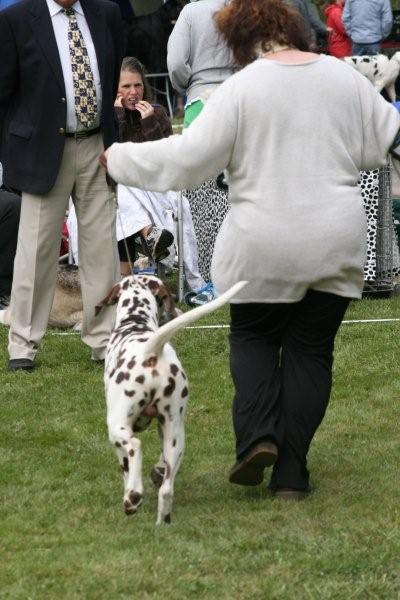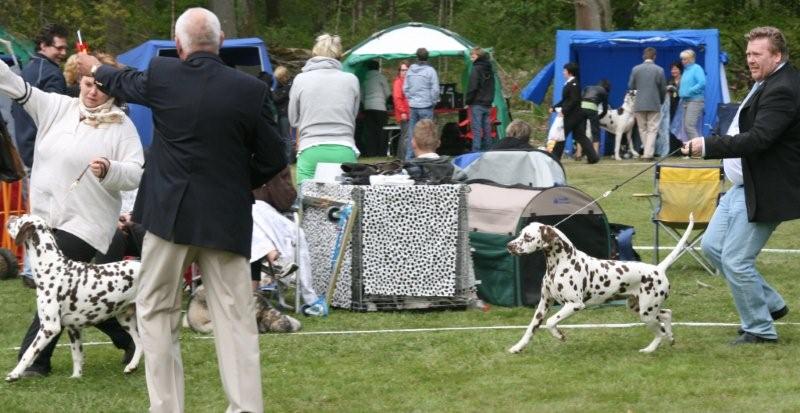 The red cockards goes tooooooo LOVE!!!!!! Gloria was almost to hot to handle today..she just want to play with her brother!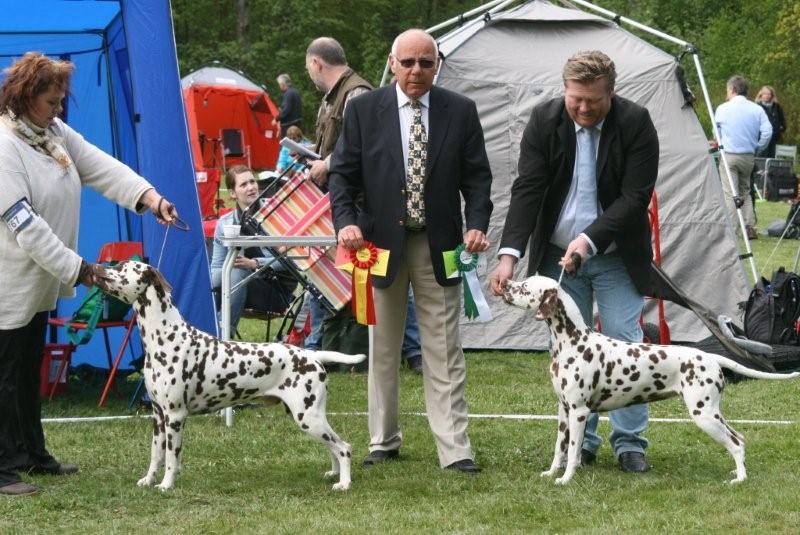 BOB Jilloc's Spermbank and his sister NV-08 Nord JV-08 SV-09 Jilloc's Splendid Choice BOS.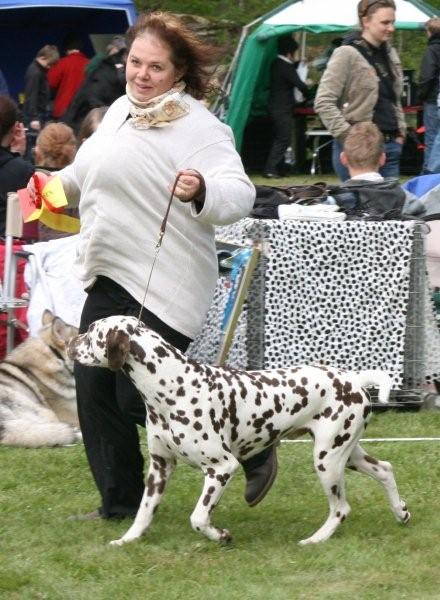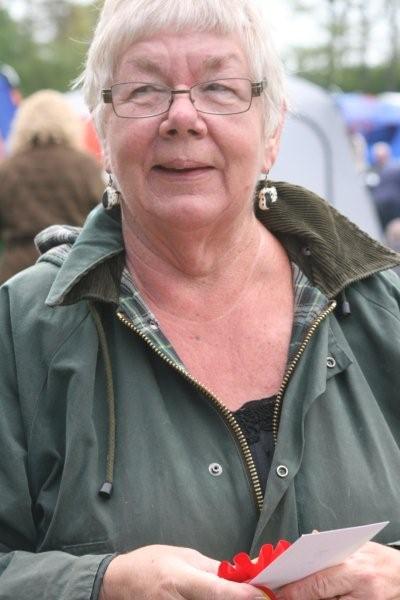 Winning parade!!! Lottas mother was also happy!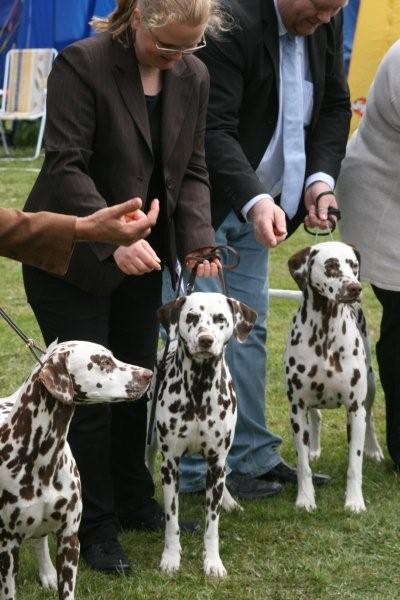 Three girls in the breeding group Hurray we can go home early today, and cross our fingers for Love in the group this afternoon.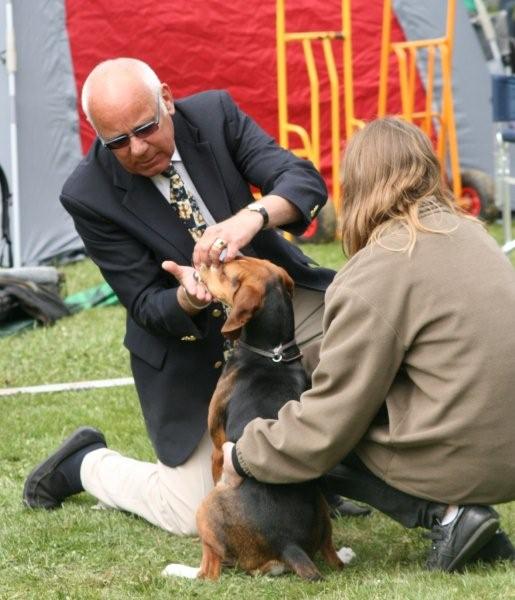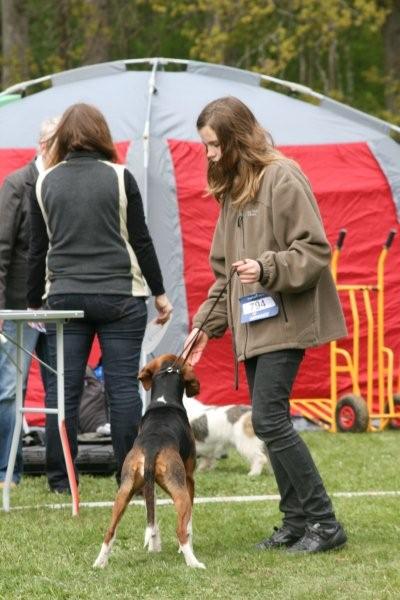 Elsa showed their other dog in the same ring.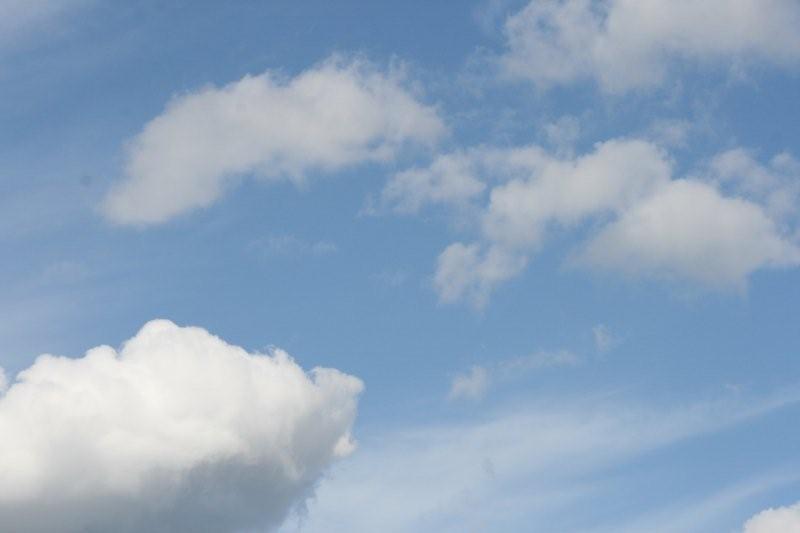 It was a sunny day....when we were close to Jönköping we were both so tired that we stopped the car and slept for over two hours!!!
Then we got the message from Lotta that she was on her way home.....TO CELEBRATE!!!!!!!!!!!!!
Spermbank WON THE GROUP and will go back tomorrow for BIS!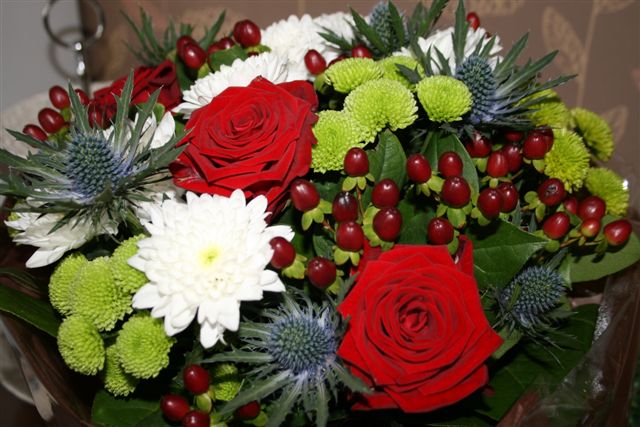 HURRAY WHAT A DAY!
Tomorrow one other sister.......Jilloc's Seventh Heaven is going for a show in Belgium.....we wait for more good news!!!
Friday 15 May 2009
How can we manage to go to Hässleholm this weekend??????
We are both tooooo tired, but we have to just do it. We will take just Daddy and Gloria in the Volvo and quickly go there and back again.
Funny to meet Sperm it had been a long time since we met him, sweet boy. He have now puppies in Denmark at kennel Dallise.
But there are people that are even more crazy than us...just now Jenny and PO is on their way to PITEÅ, in the north of Sweden, just to show their dogs on a show! Really hope they get something.
Try to be in bed early but when we put the alarm clock on it says 2 hours and 5 minutes to sleep.....! Crazy..yes!!!!!
We should have been home and take care of the garden instead *S*!
Thursday 14 May 2009
Today I decide to finally go to Lidköping to do some things I have to do....I was there for 4 hours and was soooo tired that I was just sitting
in a store for a while before I can manage to go to the car.....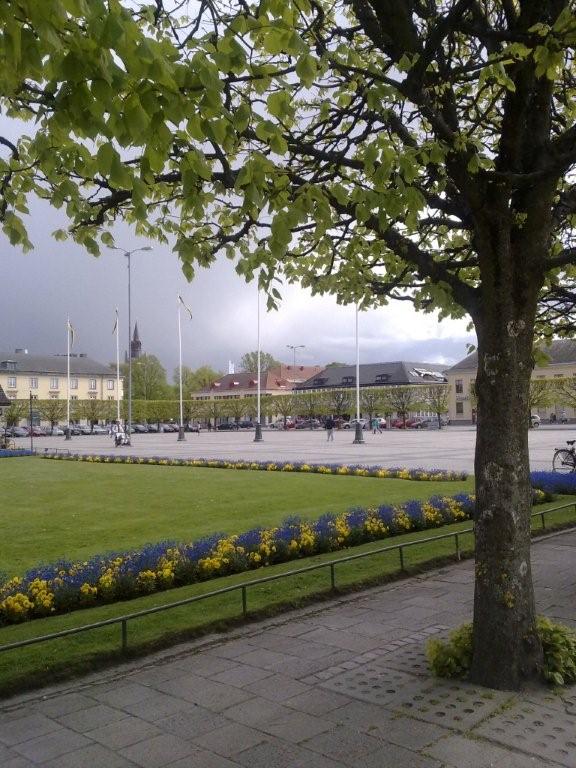 I thought I found a nice dress for Ellie, but Jennie thought it was ugly!! Very nice flowers in Lidköping at the square.
But I was pleased that I have made some things that I have put way ahead of me, because I've not had the energy to do it.
Got the rest of the results of the tests of my joints and connective tissue test today....everything was ok??????????????? How in hell can I be so healthy..? Of course I am happy for that, but WHY do I have sooo much pain??????
My doctor will call me at Monday again because my pain pills do not work at all!!!!!!!!!!!!
We both fall down on the sofa in the living room for many hours this evening.
Wednesday 13 May 2009
I have had solo much pain especially in my back last days....
Got the result for my borealis test. Nothing wrong.....
Customers in the evening.
Roy home from hospital after lot of tests he will be back there at Sunday to coming operation, finally.
He was hungry at "homemade" food.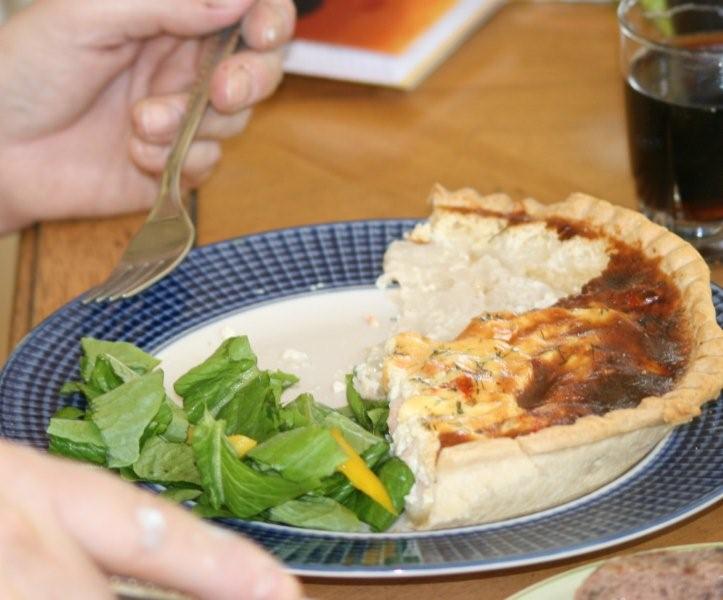 Tuesday 12 May 2009

This is Diamond, Gwynmor after Eight (So much look a like our dear Oliver, Spermbank and Shadow in Holland)

Monday 11 May 2009
Lacey Moss in the Caravan this weekend!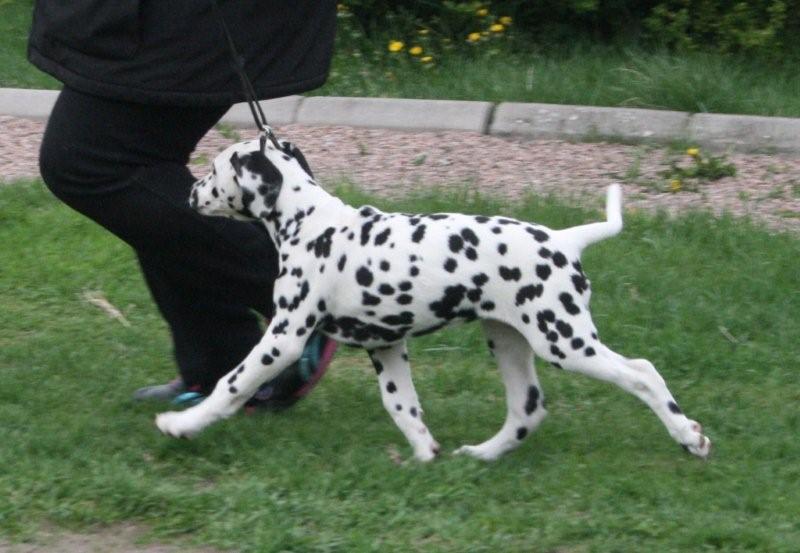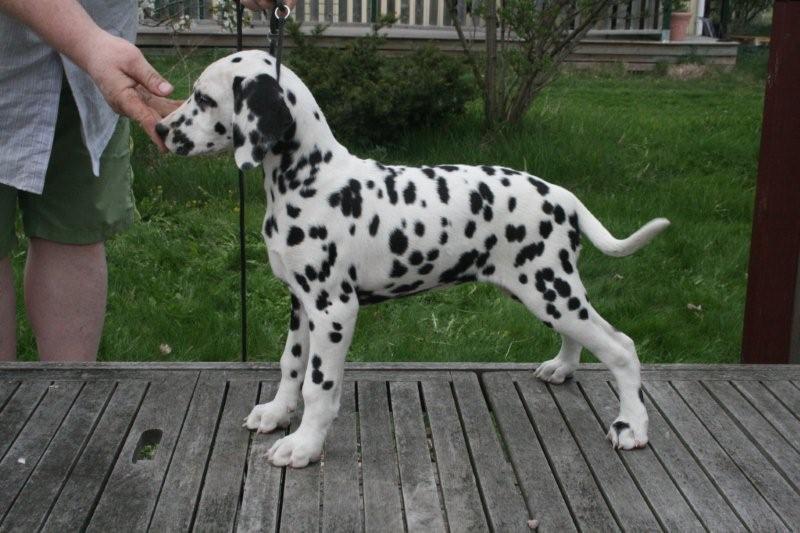 This is Muzicas daughter, Jilloc's Wannabe (Penny) 3 month....we might keep her.
At least co own her.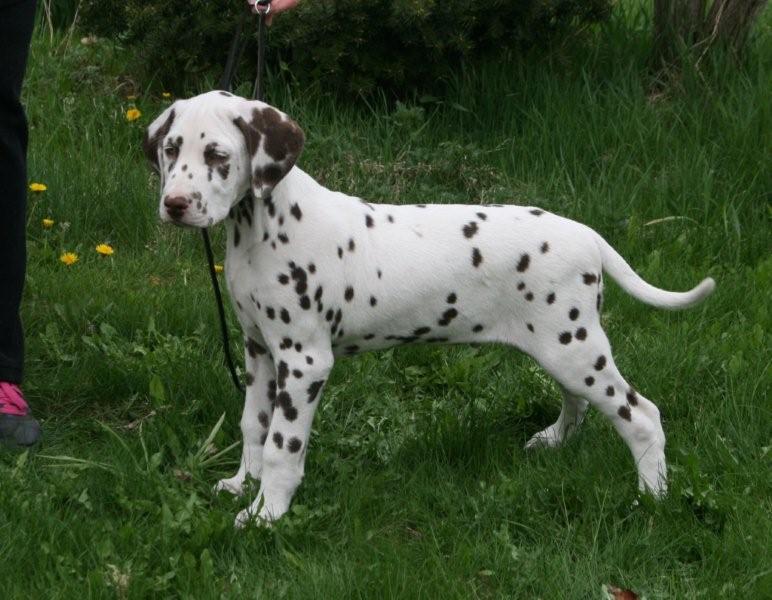 And we will keep Jilloc's Wild Music (Euro).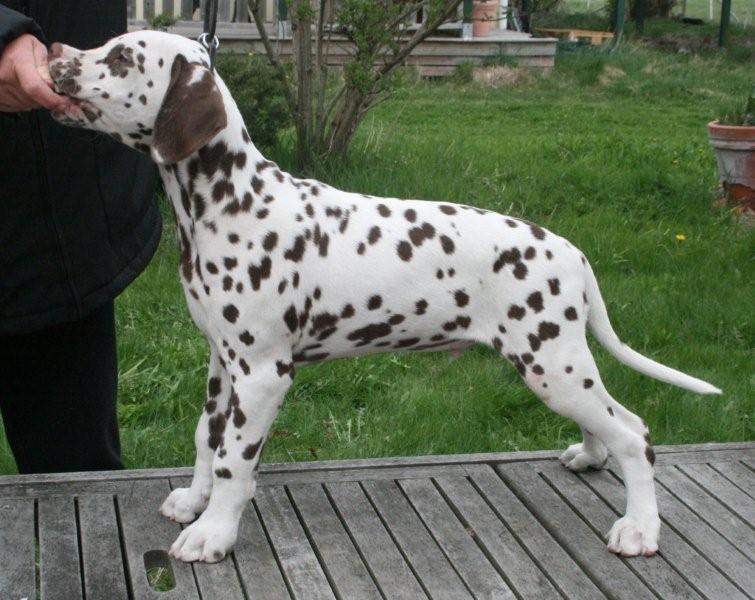 And even Jilloc's Walk On Top (Dollar) at least for a while until we see how they will mature. No one are looking good at photos, but a bit better in real, we just have to wait and see.
Sunday 10 May 2009
To everyone that helped us to take photos and showed our dogs yesterday we will send a great thank You, without You we have had big problems.
And then we will send lot of CONGRATULATIONS to Timanka's Romantic Miracle that became SWEDISH CHAMPION yesterday at the special show in Iggesund. We are very proud!!!
And even to Jilloc's Easy Rider that once again became BIS Veteran! (And he was Veteran of the Year 2008).
Brandon

Brandon 6 weeks, many years ago.
More nice NEWS is that Donna in Estonia, Multi Champion Laguna Dios Alicia Donna is very pregnant with our Loverboy, follow kennel Alphadiratos homepage www.alphadirato.es??????

And NEWS from RUSSIA Vladivostok about TYSON!!!
RUSSIAN CHAMPION
Timanka's Real Power
BOB and BIG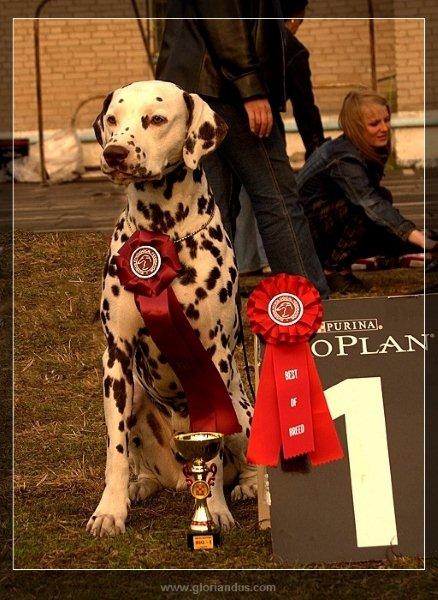 CONGRATULATIONS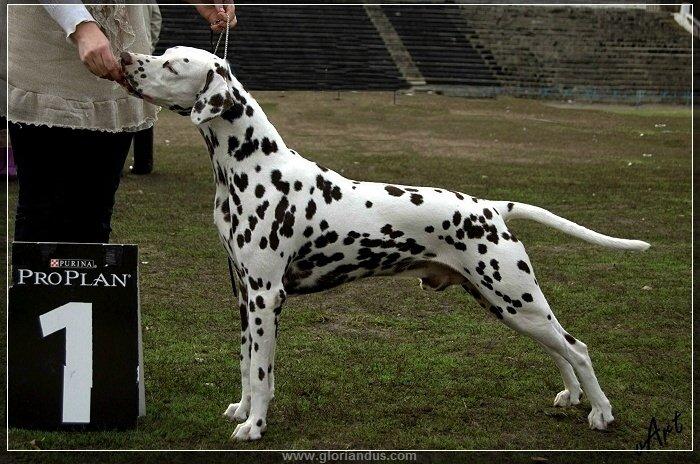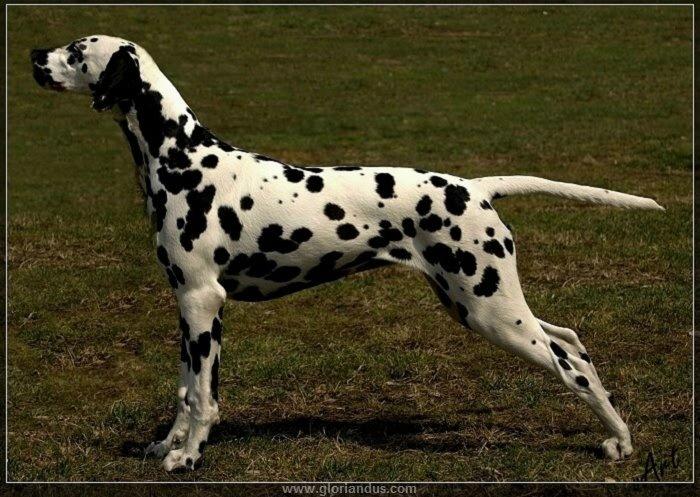 Tyson and his young daughter Gloriandus Europe.

Gloria was resting in the caravan the whole day waiting for BIS!!!
When I walked the dogs I saw that some bird have been shitting a lot on our caravan.
Sometimes we say that that means good luck, ha ha I really hope so.....I want a 1-5 placement in BIS, then we get very nice flowers!!!!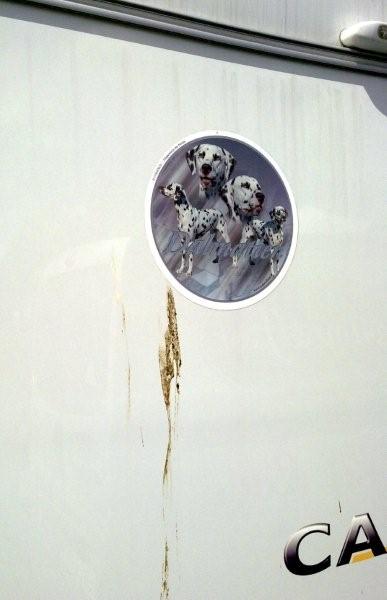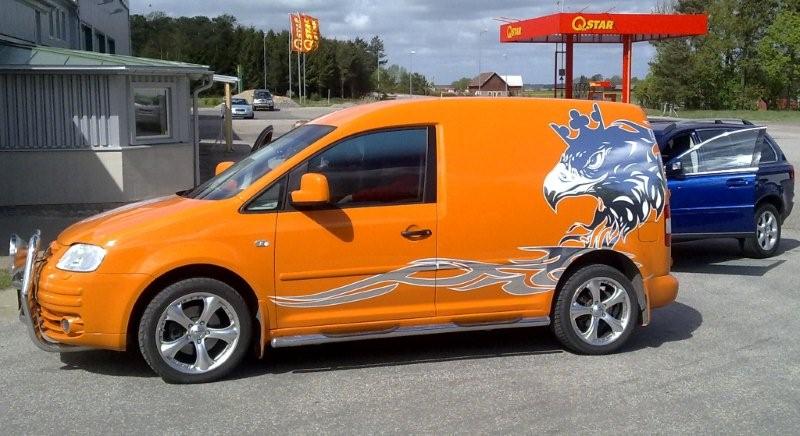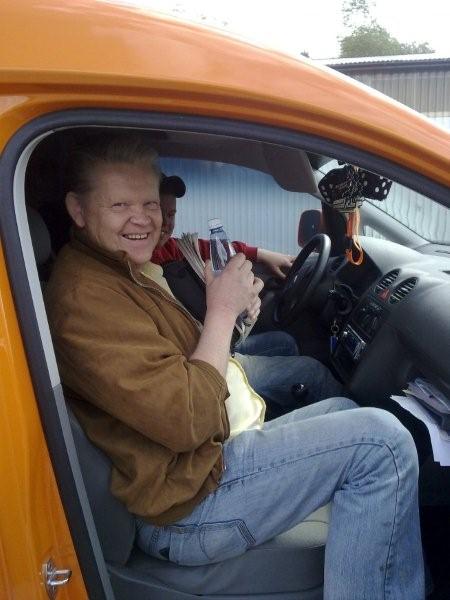 Roy came to Larv and I drove him to Vara where we met Jimmie, he will drive him back to the hospital in Gothenburg now.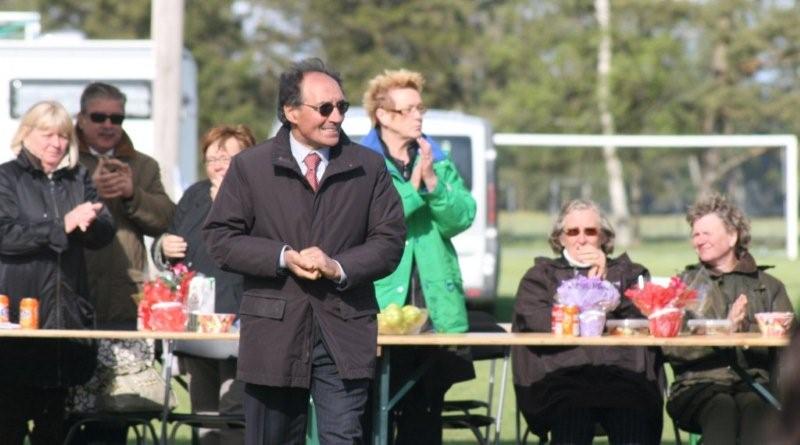 Mr Biasiolo was judging BIS.
There were so many nice prizes for 1-5 and flowers!!!!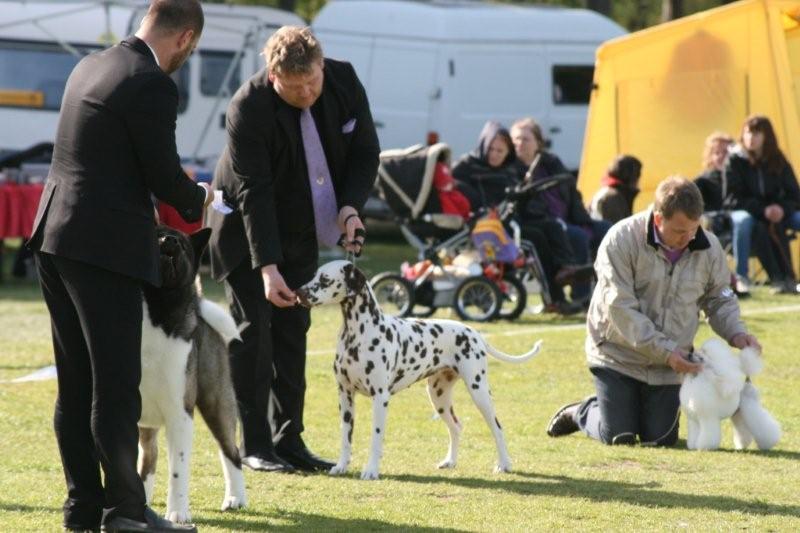 I was not nervous, just happy that we will get flowers *S*!

Hanna and Chrissie (she want to look at her daughter in BIS) came in the afternoon, and so did even Jenny.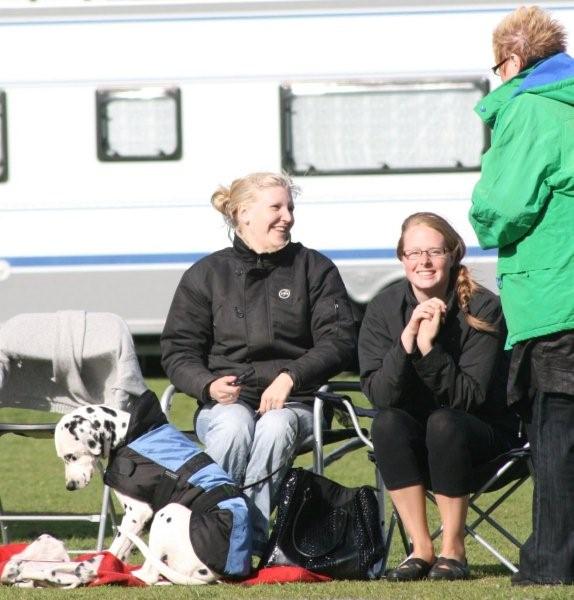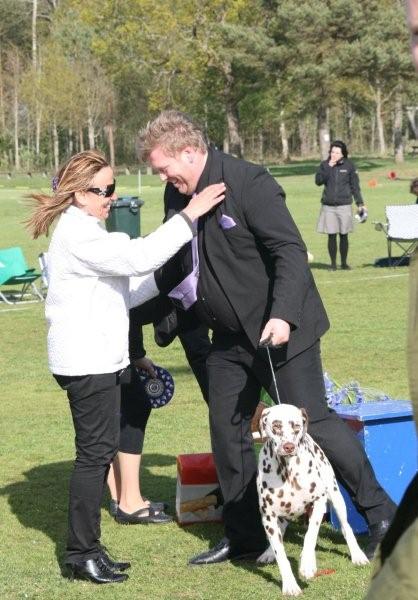 Mrs Manola Poggesi who judges us yesterday was happy for Gloria. Happy that both Jenny and Hanna was here today and share this with us.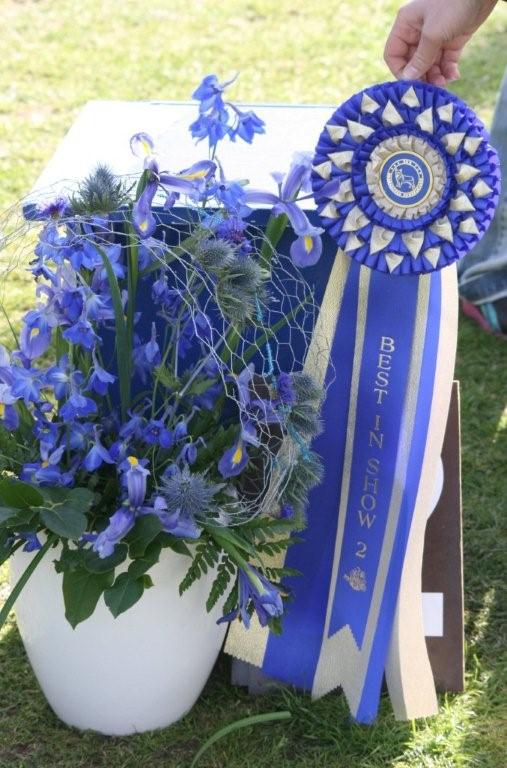 BIS 2
On our way to the car!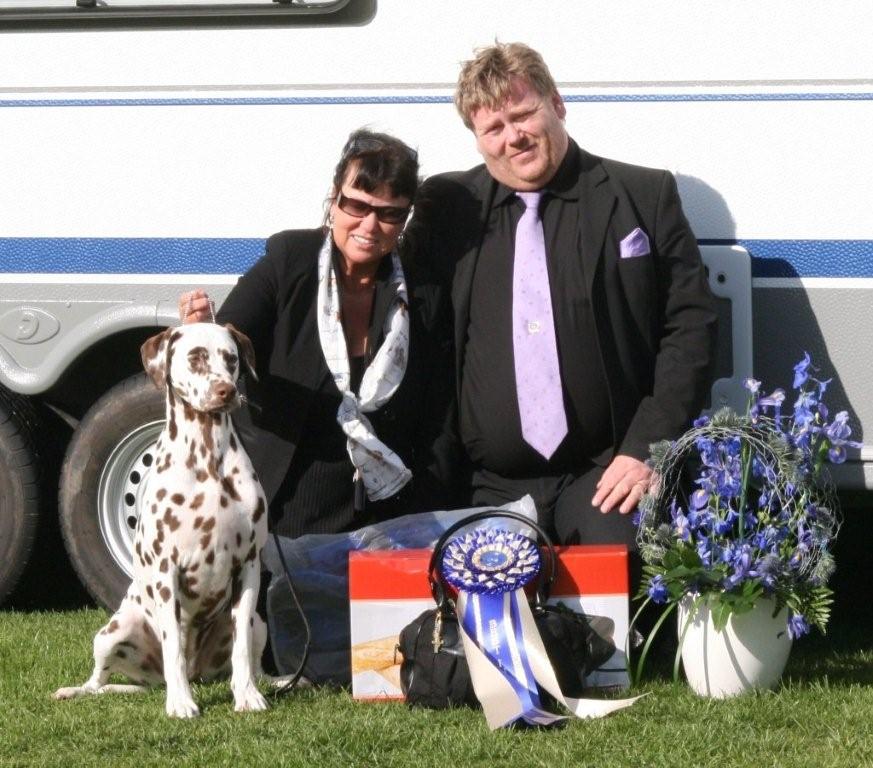 We were very proud of course!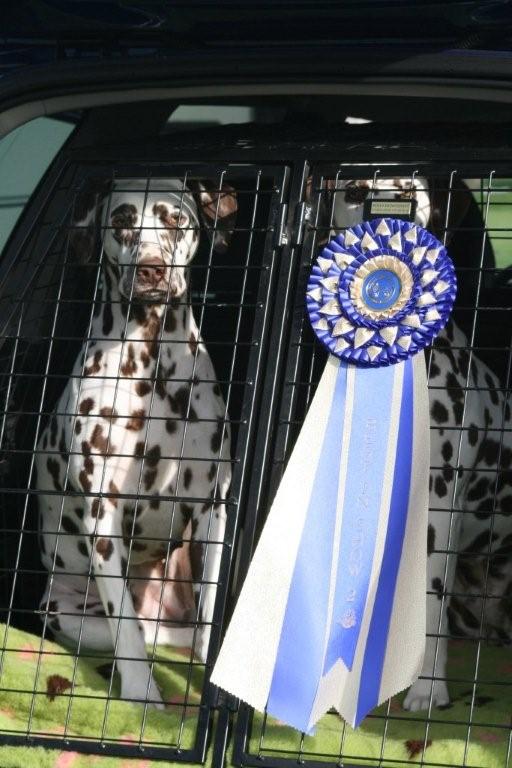 Gloria told Devlina to sit behind the cockards because she haven't got any today *S*!!!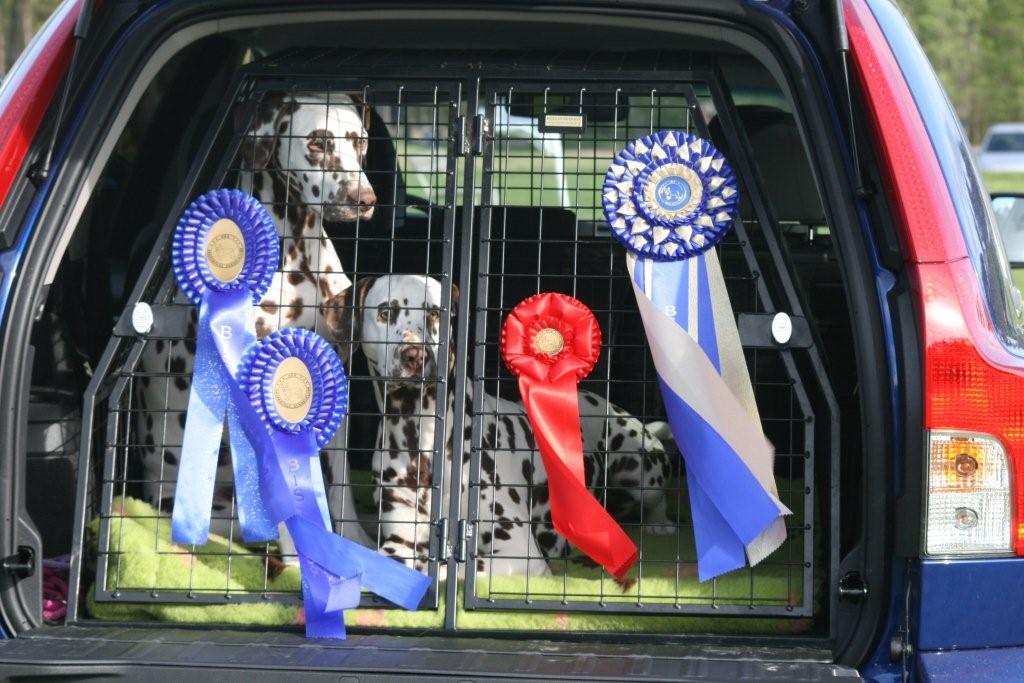 I took two of our girls in the Volvo and drove home..........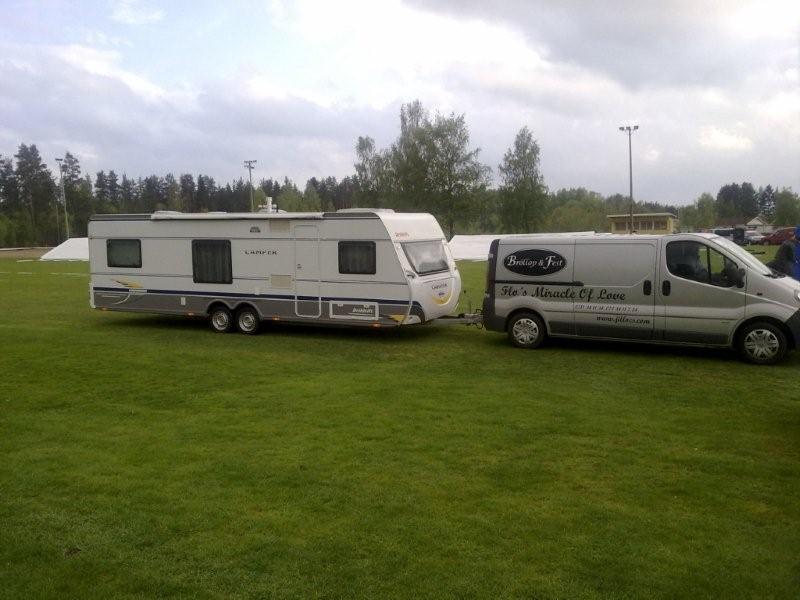 Rune took the caravan home after they have made everything clear at the show. I was home some hours before him, and I was in Götene and bought Chinese food...sooooo good!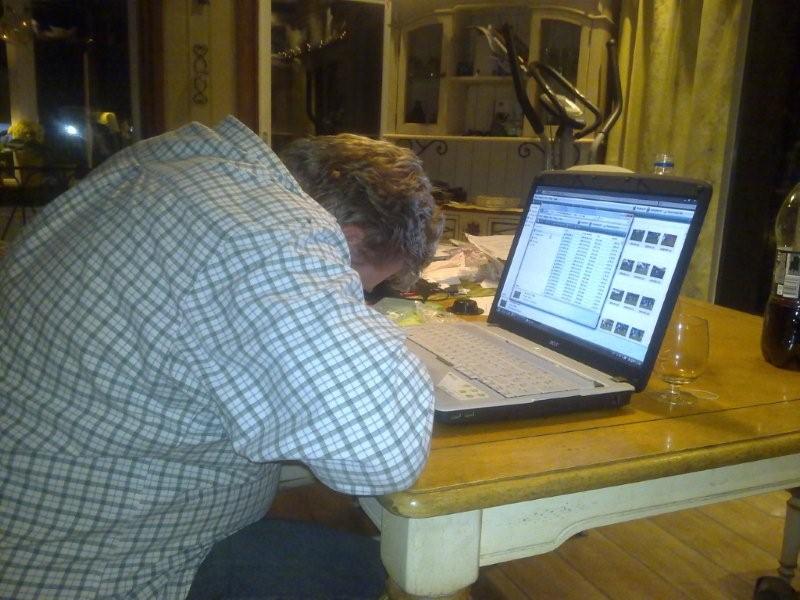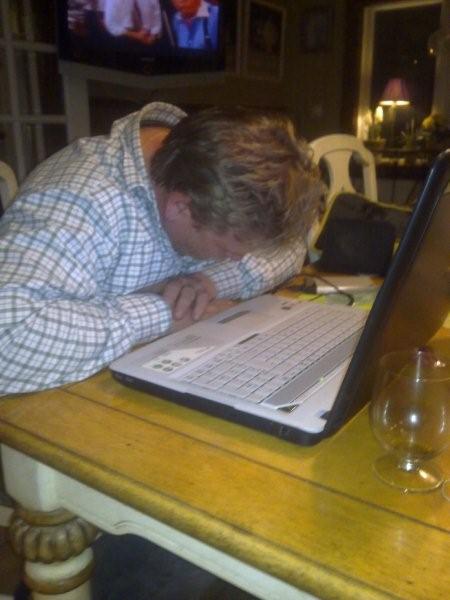 I wonder what Rune was looking at...but he was sleeping *S*!
Finally in a bed...but at the dogs coach in the kitchen *S*!
Very soon it is Monday morning and work again...poor!
What a weekend!!!!!!!
Saturday 9 May 2009
The alarm clock was ringing at 5 in the morning, and we have to jump up immediately!
We were at the show 6.45 and I went out with our dogs and Rune start to prepare prize of honour.
Then me and our dogs go to bed in the caravan for an hour....it was very windy outside..almost storm and sometimes during the day it was raining like hell. Not very good weather for a dog show. But the grass was short and the ground was hard so it was still very easy and good to run in the rings, but many tent were blown away, and when we put our dogs up their ears was standing right up or out and it was not easy to get a vey good showing today. Many dogs was afraid of the storming in the tents and judges raincoats that was blowing over them like a whip...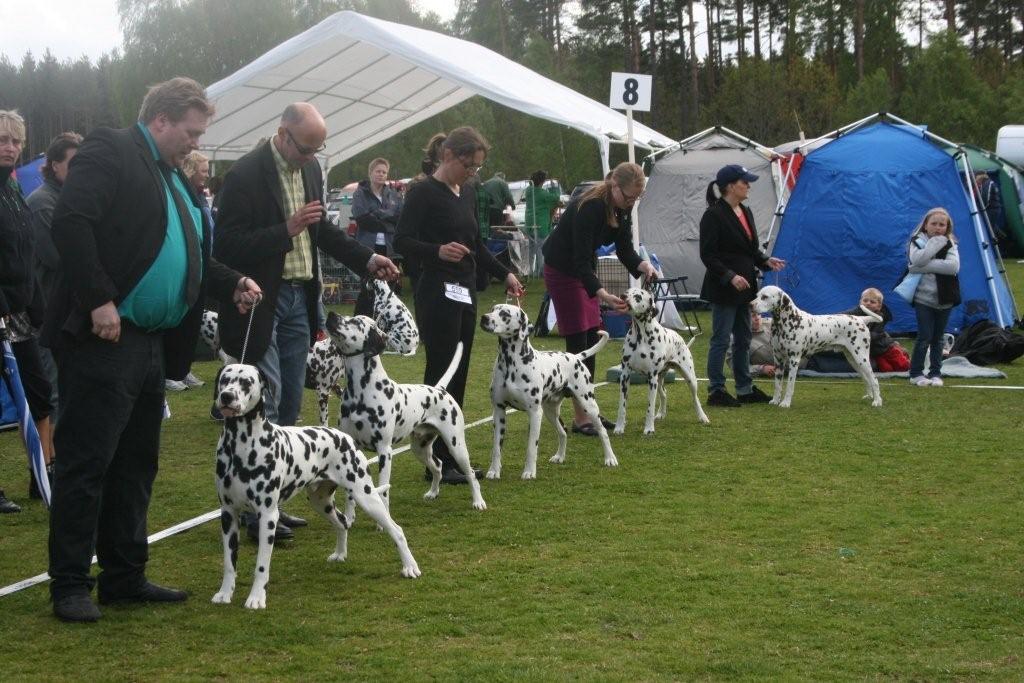 In the middle of the day it was time for our breed. Mrs Manola Poggesi from Italy was the judge today. Here is the result from BEST MALE!
DADDY, Ekryda, EXPO, TIGER, City Kid's.
Daddy got his 17 th CAC today, Ulrika with Expo winner of Champion class was Nr 3 Best Male and Nr 4 was Jenny showing Tiger for Hildegunn that showed her junior Muppe.
There were 7 bitches in Intermediate class.....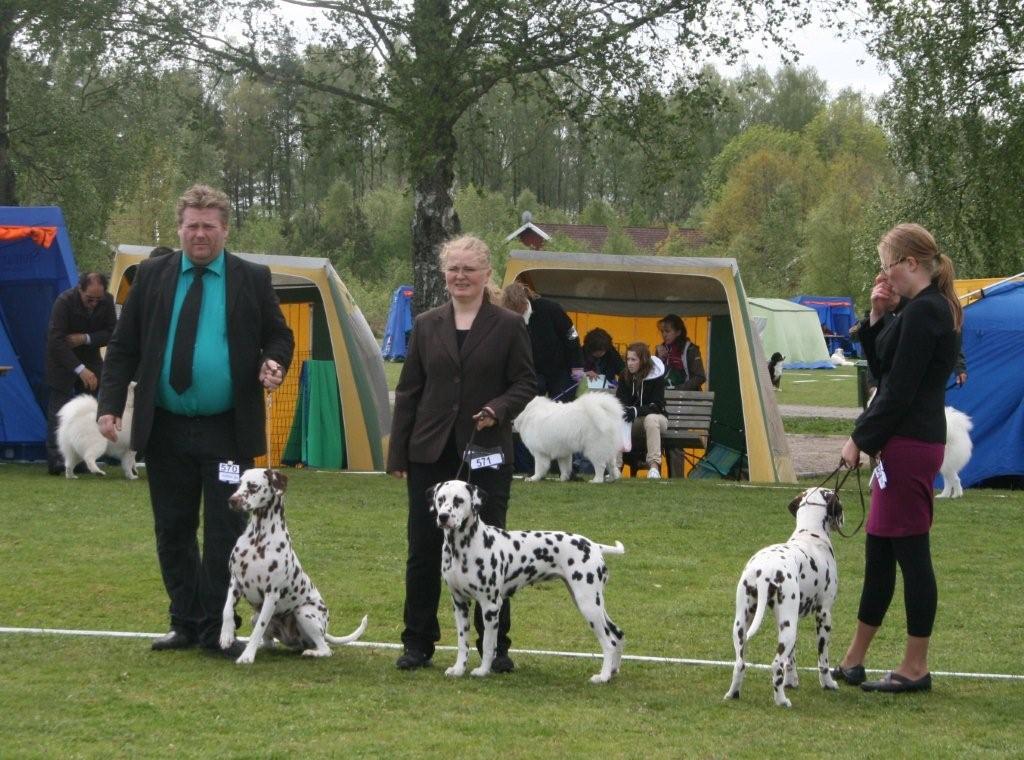 Intermediate Gloria, Troja and Decibel. Troja, Bell and Muzica in best bitch class.
Gloria was Nr 1, Nr 3 was Yvonne with Troja and Nr 4 was Hildegunn showing Bell and Nr 5 was Jenny and Decibel (the last three was siblings) and the whole class get CK.
Next class was open and there were 10 bitches......brrrrr long time to wait in the hard weather!!!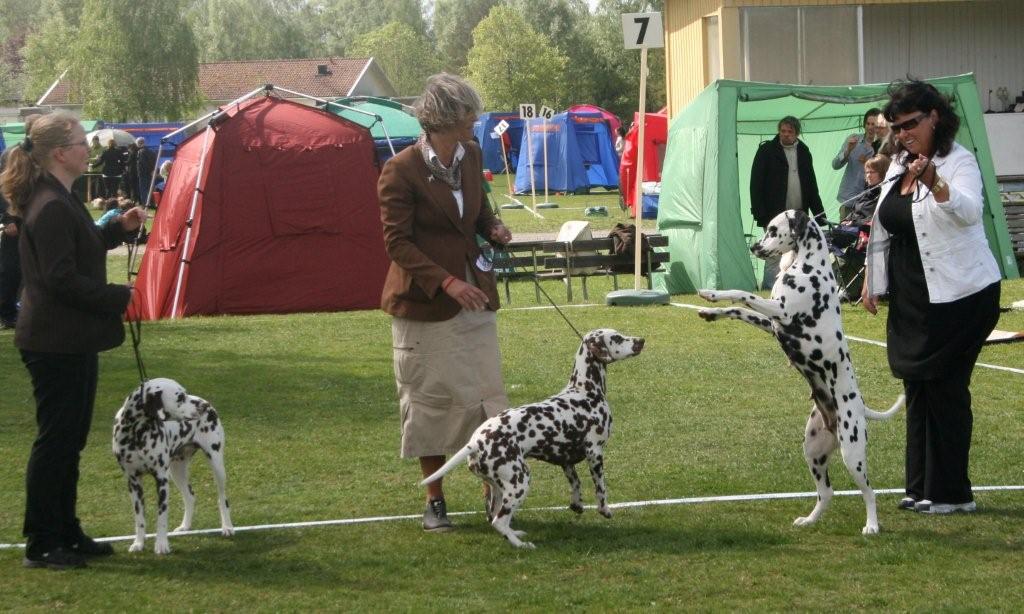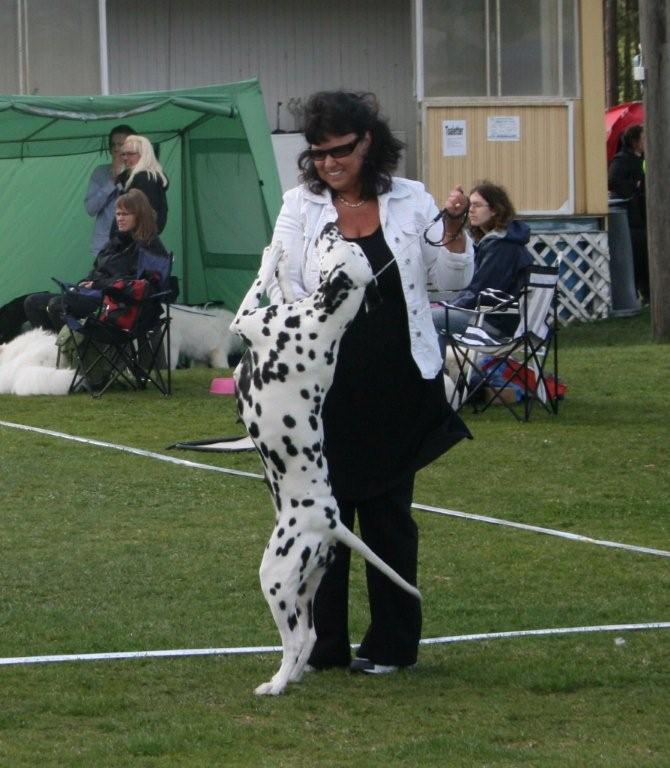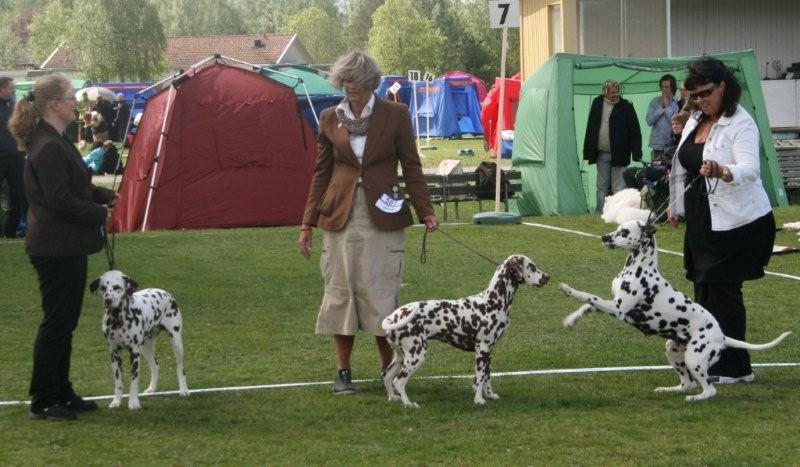 But Muzica think it was funny and try to play with everyone *S*!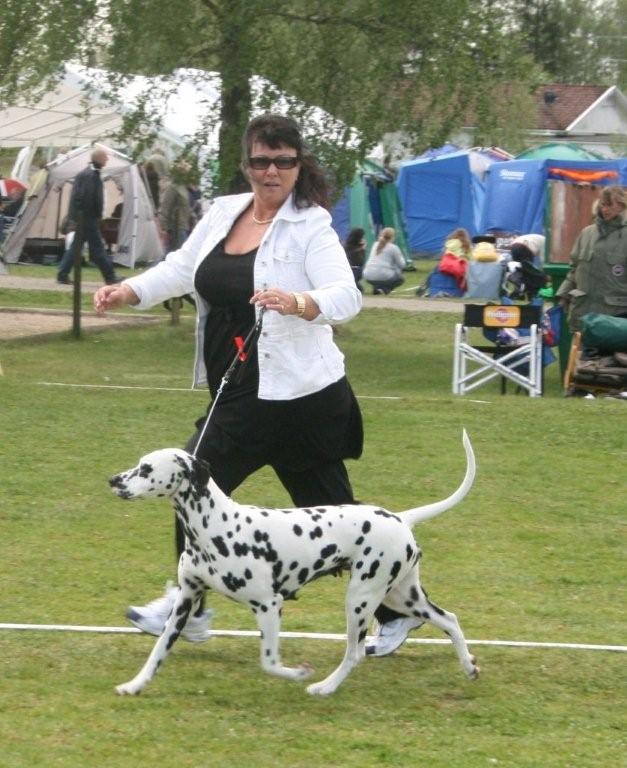 Muss is in very good shape again in her body (much much better than me *S*).
Carin with J Run wild Run Free and me and Muzica.
We crossed our fingers for Hanna and Hjärtat that got CAC last time this judge was in Sweden two years ago...but even Vinta, Russin and Muzica was waiting for their last CAC until we all will became CHAMPIONS!
Muzica was Nr 1, Hjärtat Nr 2............Sorry to beat You...but You will take it the next time!!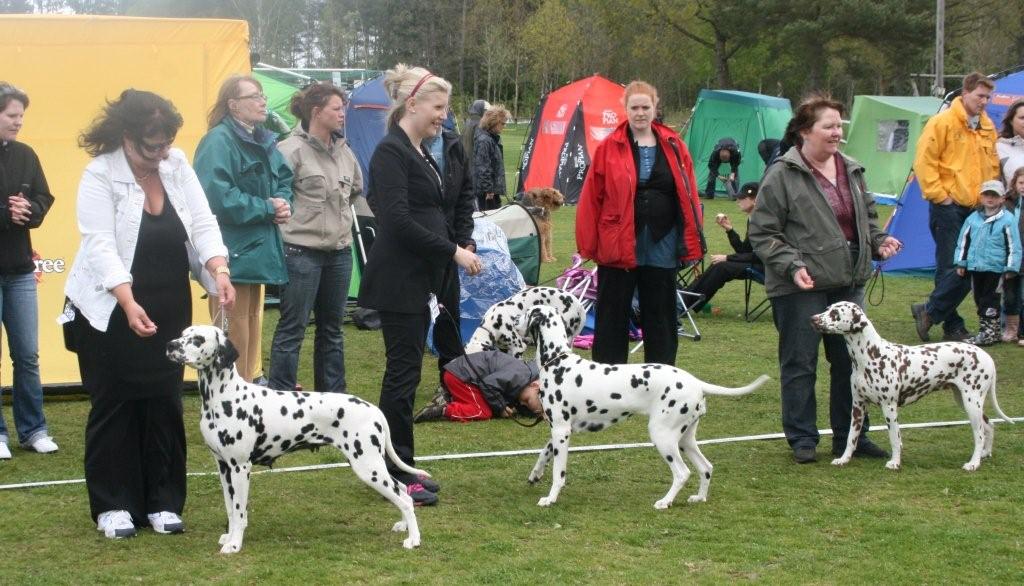 BEST BITCH was GLORIA just before Devlina that won champion class, Muzica Nr 3 once again lost her last ticket for young Gloria....but just wait..next month she will be 2 year old..finally, and I have heard that many are happy for that *S*! Perfect was Nr 4...and the Judge Mrs Poggesi said that she want to buy the first four......and I told her that they were in the same "house" and that no one was for sale she said that she at least want two of them *S* when we have them all.....we have to give something to Italy!!!
From best bitch class.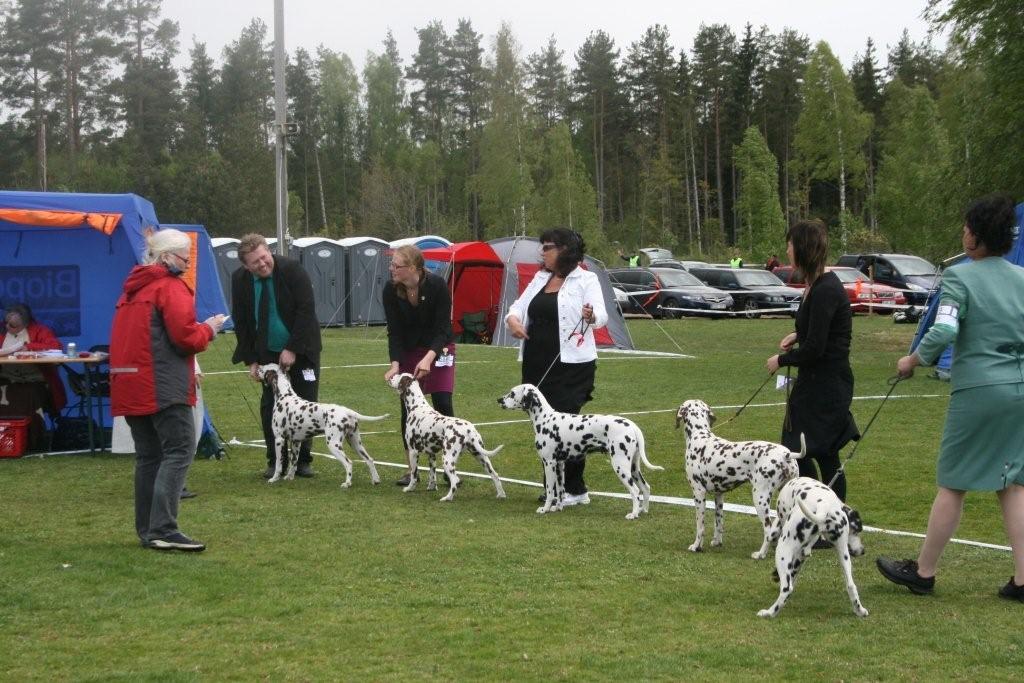 Jilloc's Splendid Choice, Jilloc's Reflection In A Mirror, Muzica S Nevskih Ostrovov, Jilloc's Miss Perfect and an Ekryda bitch.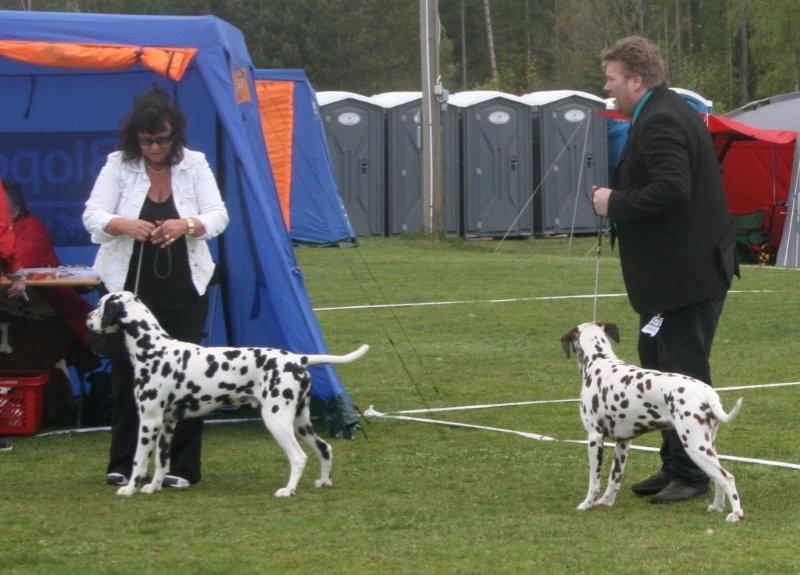 Than Daddy and Gloria once again have to compete with each other and even today Gloria was the Winner and BEST OF BREED.
It was just a short time to rest until the finals, and it start for us with Bossons Progeny group under Helene Björkman. There were many groups today and he was BIS 2 Progeny Group!!!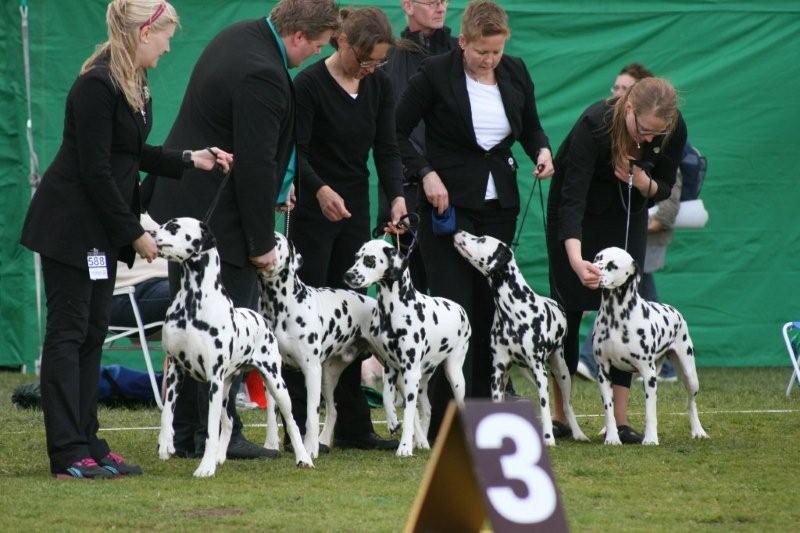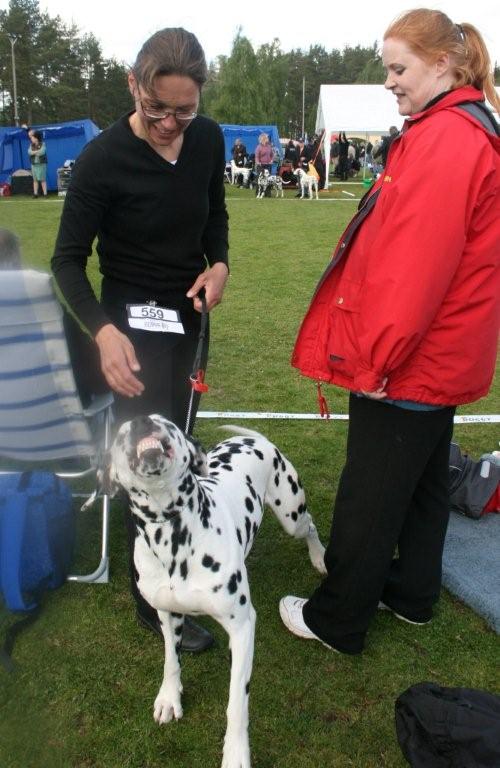 We were all so happy to meet Expo today......and he was laughing a lot as always *S*!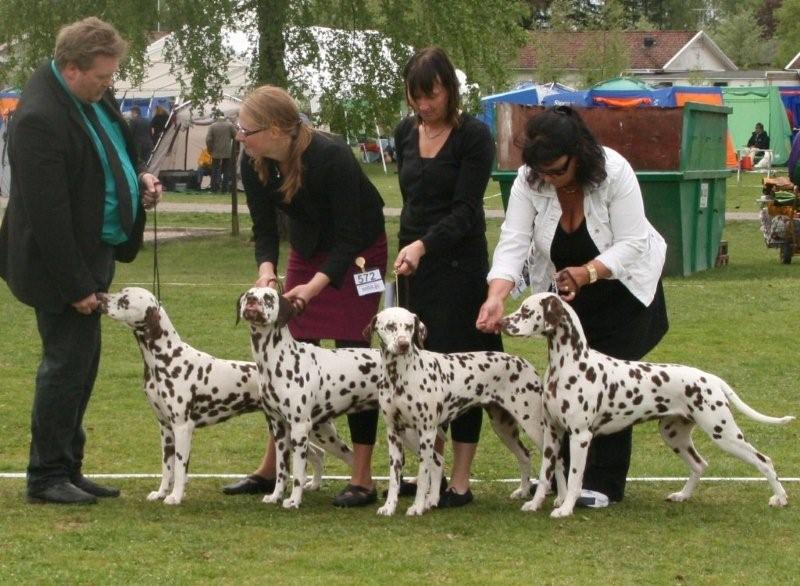 Then the Breeding group for Mrs Jacky Perry and Jilloc's ended up on a very good BIS 2!!!
We were very pleased but Jenny wanted only red cockards *S* ha ha she is crazy.....I said just wait, we have one more chance in the group for Mr Mogens Slot Hansen from Denmark.
I know that he was very fond of Glorias daddy - Devlin and of course I hope that he would like his daughter too..Once Devlin won the group for him in Sofiero and that day he became BIS there too for an Estonian Judge.....Mrs Ubrova Lubuse in the worst rain ever!!!
Devlin Sofiero 2001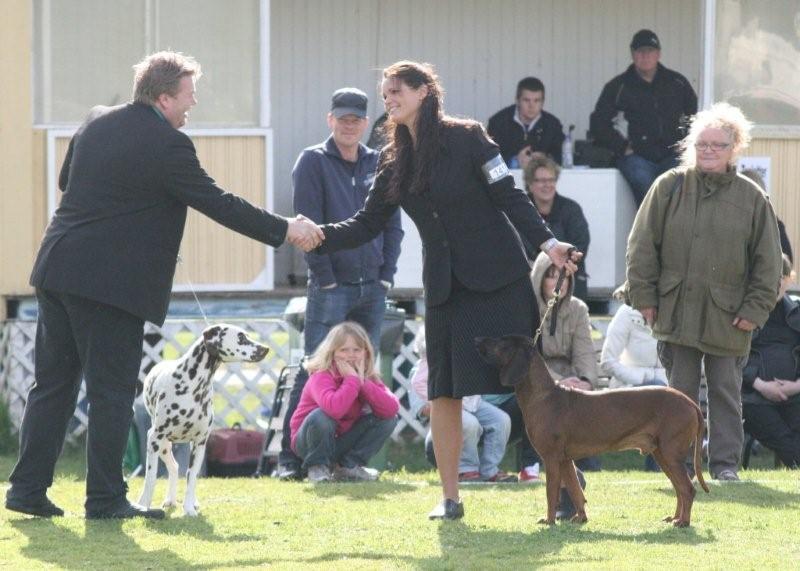 Larv 2009, who will be the winner this time?????
Yeeeeeeeeeeees!!!!
Hurray for Gloria! BIG 1!!!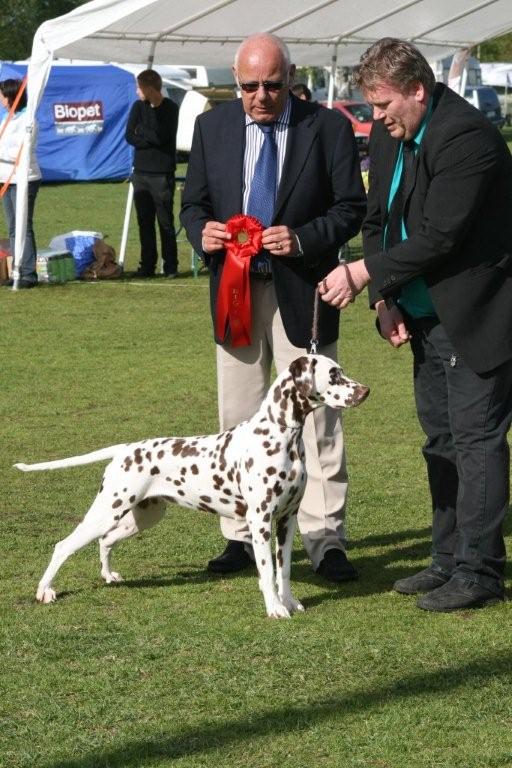 Here comes the red Cockards that Jenny wanted *S*!
Some more photos from today!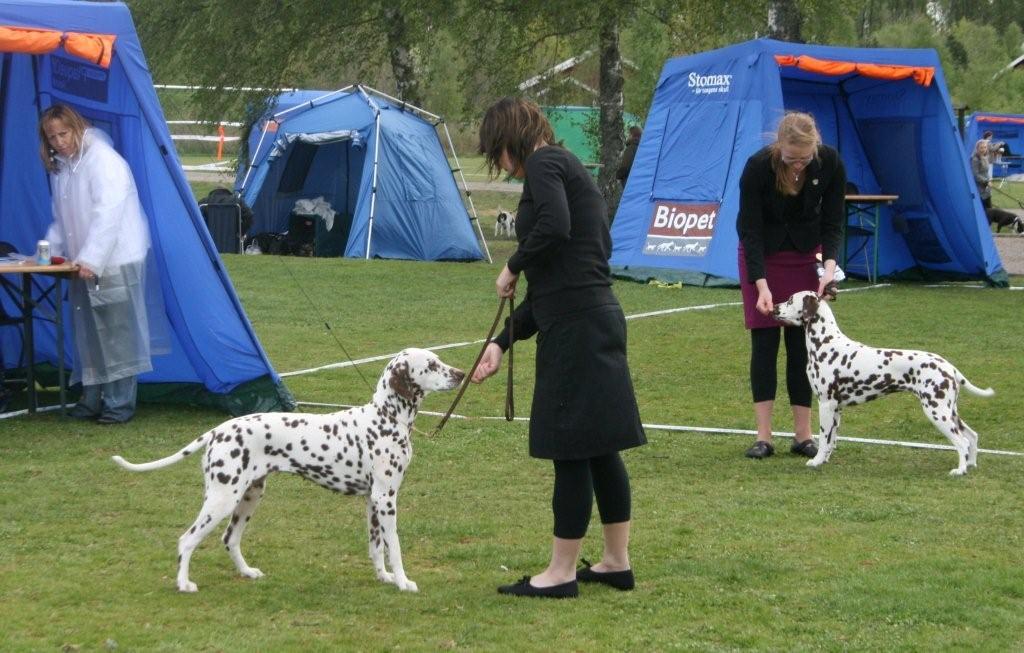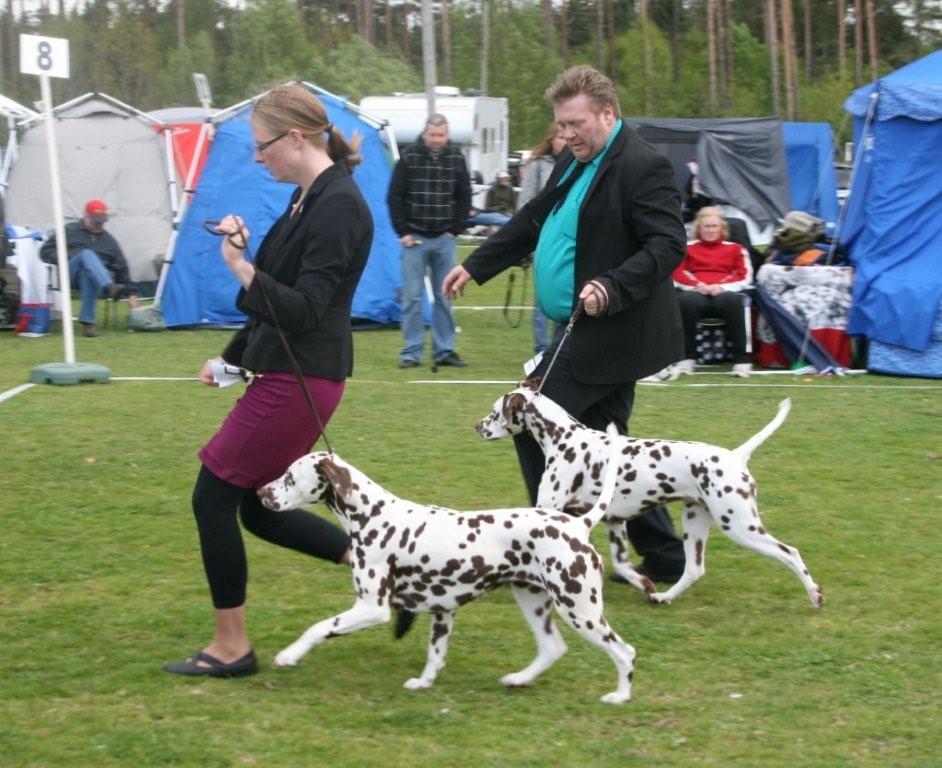 Carola and Perfect and Jenny and Devlina. Devlina and Gloria competing to be the best bitch.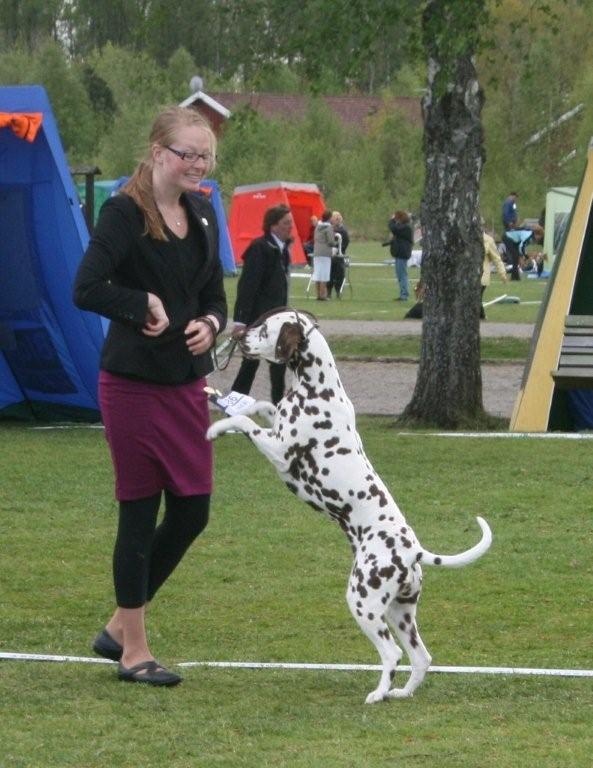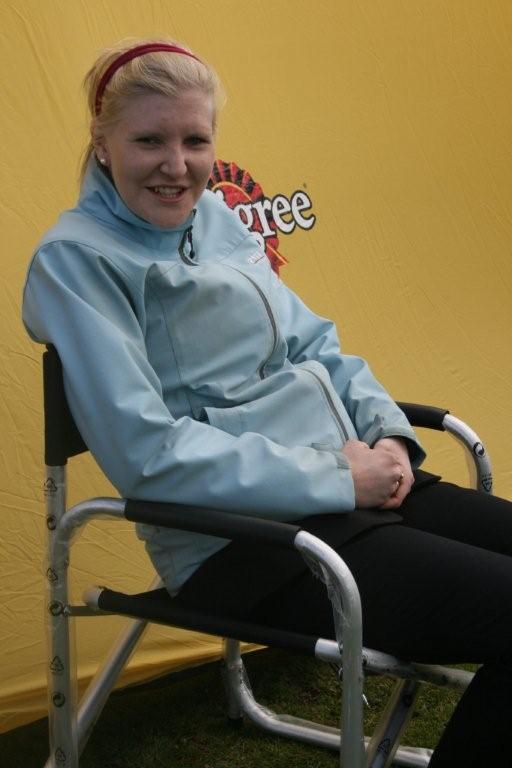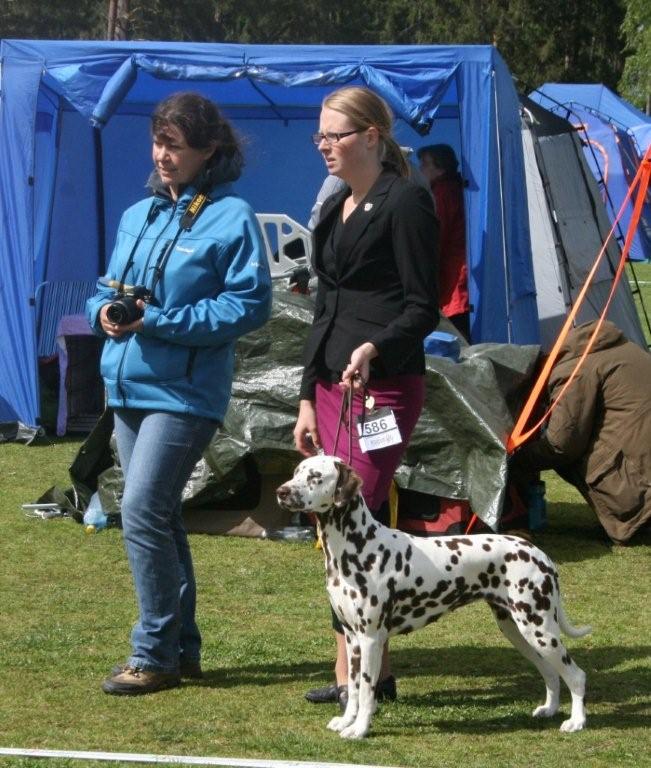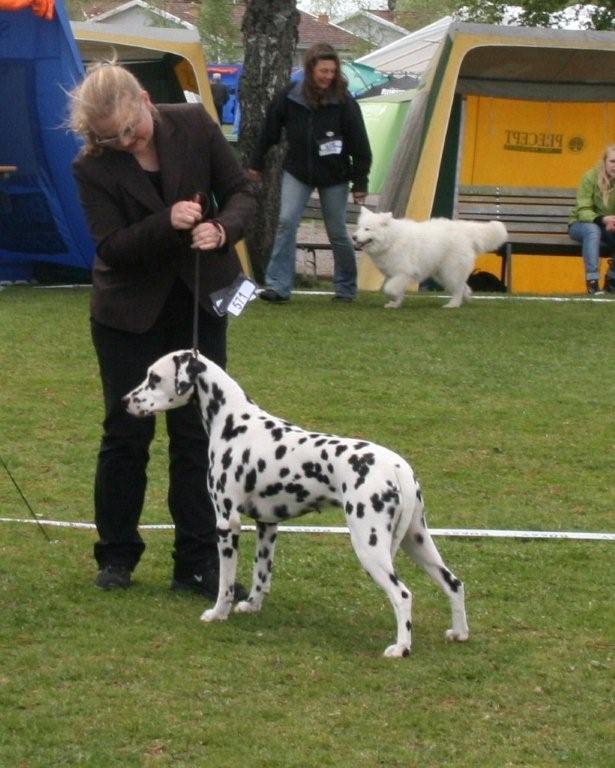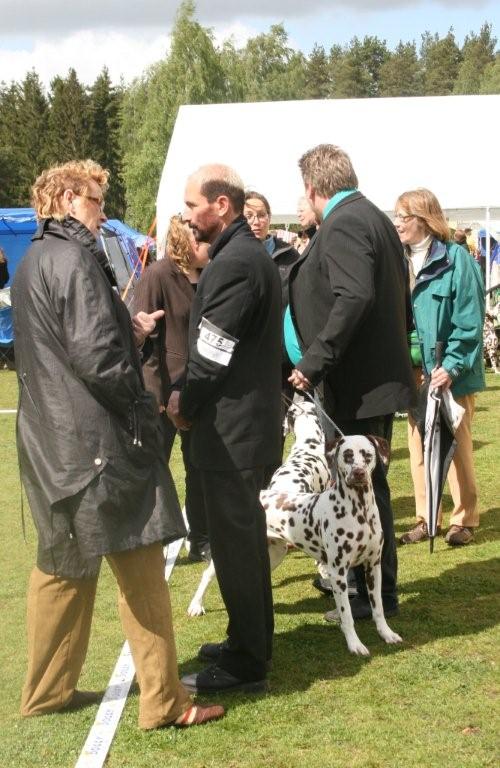 Hildegun showed our Bell. Waiting and waiting.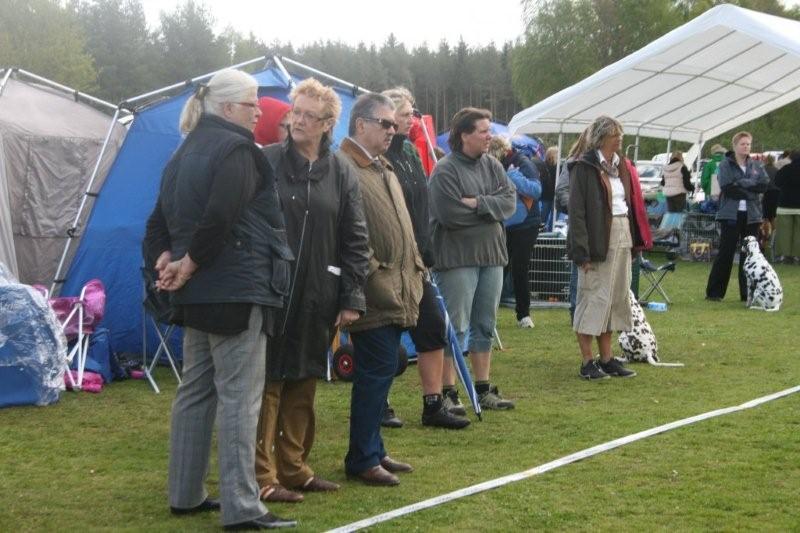 Lot of interest for our breed.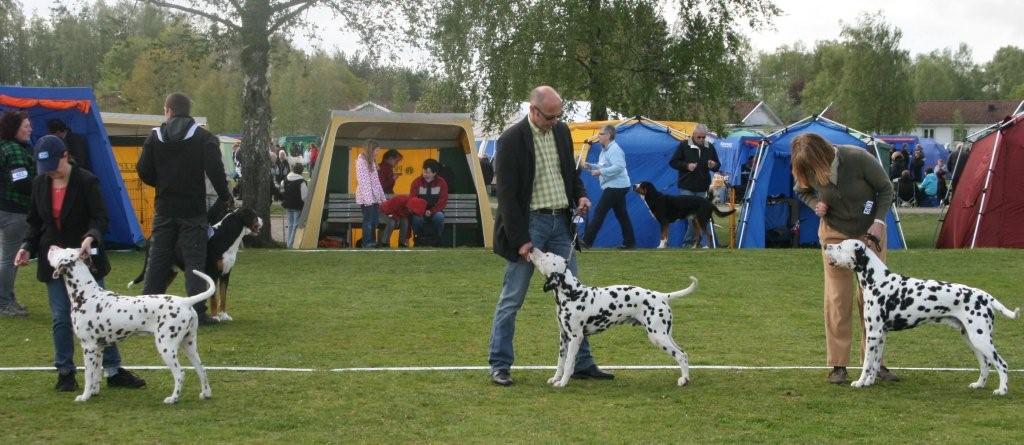 Three veterans today from City kid's, Ekryda and Farliga F's.
Very tired....we rest a little and then it was time for dinner.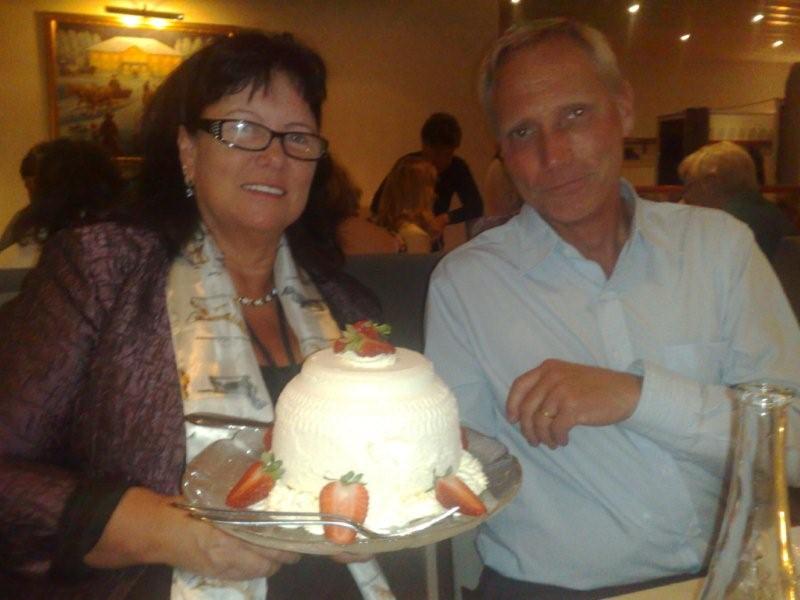 But it was really worth to go for the dinner at Lumber & Karle.....always sooo fantastic food and delicatessens and desserts.
I can tell that we eat and eat and eat....too much of course *S*!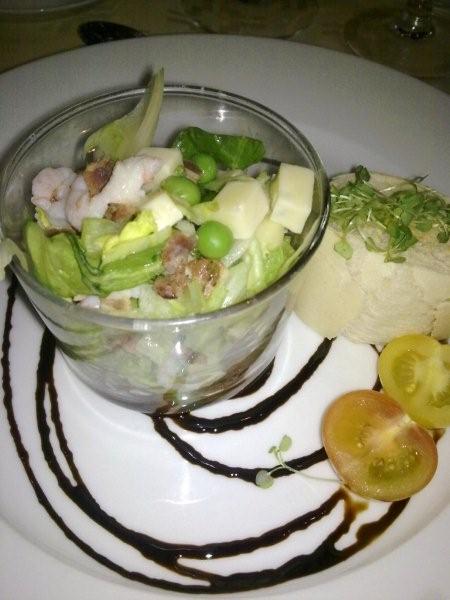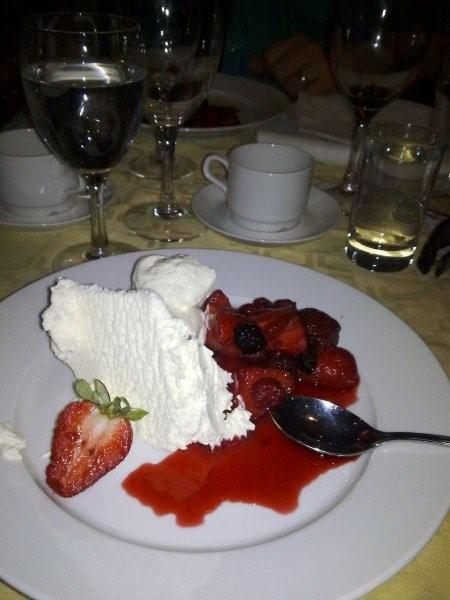 Mmmmmmmmmm!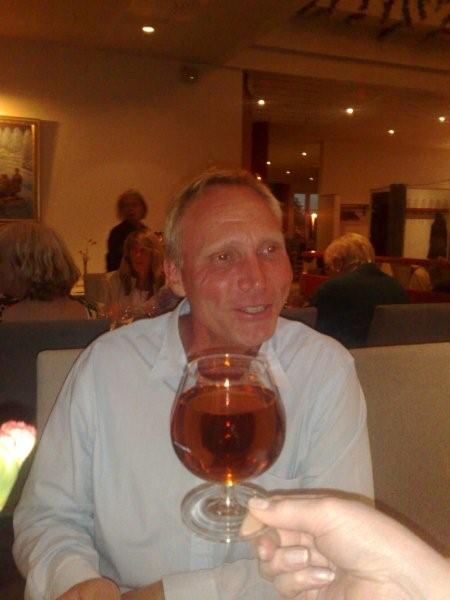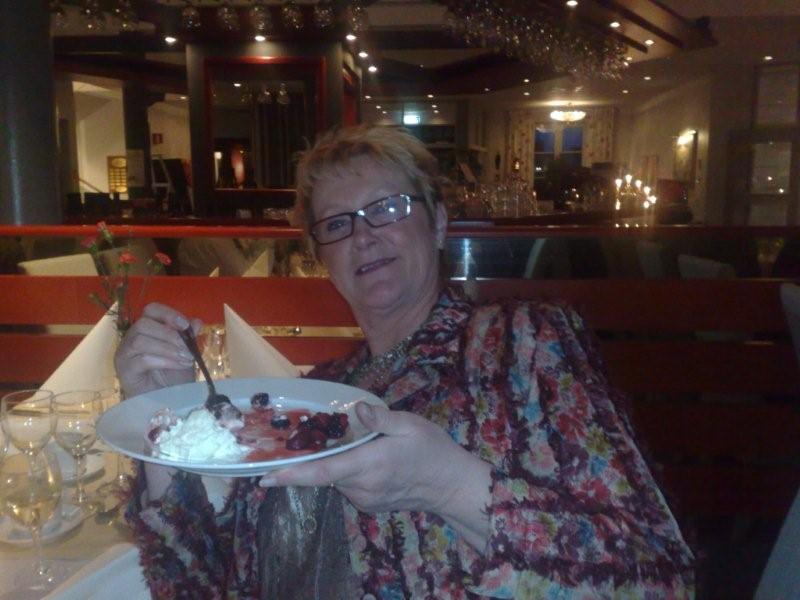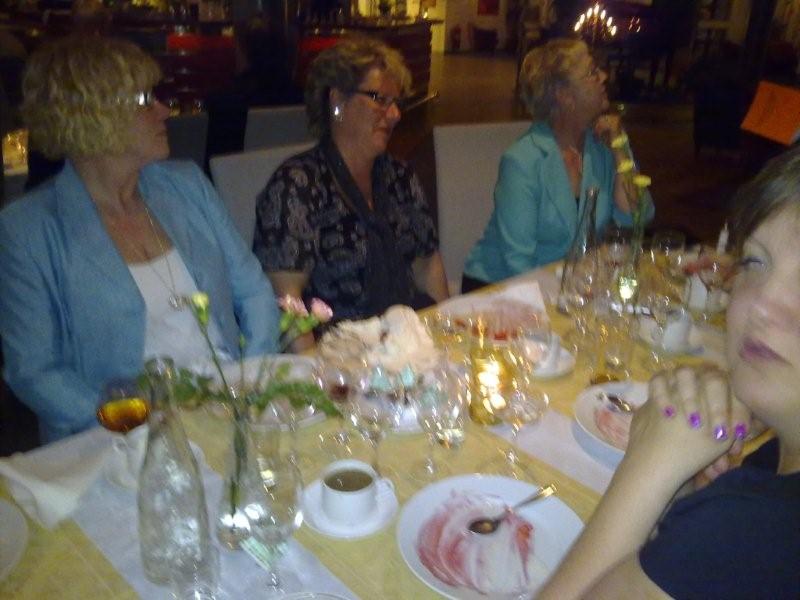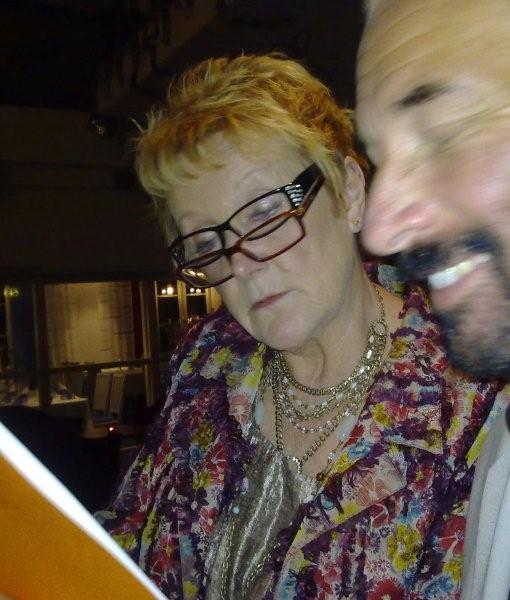 Marianne, Angelica, Bibbi and Maria that did a lot of things to make this show so successful. In the end of night Anita needed two glasses to read, and then she disappeared with mine to her room..ha ha ha...but I got them back at Sunday *S*!!!
Anita W was the hostess for the Judges this weekend, and she did her work in a perfect way, she even sang the Swedish National anthem and spoke a little bit French *S*, well done.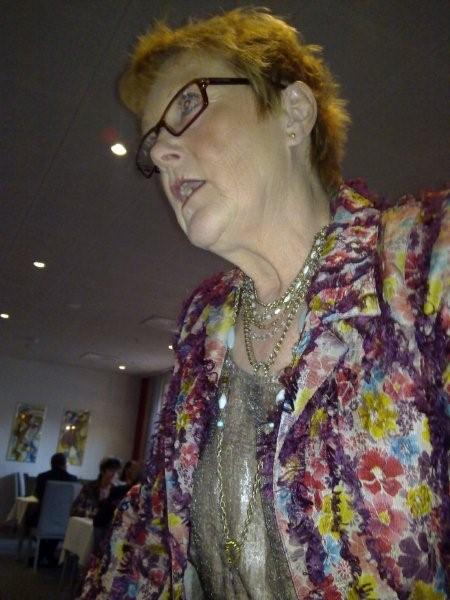 A long and fantastic day was at its end and we went back to our caravan and dogs for a good nights sleep!
Friday 8 May 2009
I put colour in my hair and it will be there for 25 minutes, BUT after over TWO HOURS I wash the colour out...there have been soo many phone calls from puppy buyers and people that is going for their first show in Larv that I almost forget about my self.
Jonnie called and his motorcycle was broken.....ok this time he have had it for 3 weeks.....We are soooo used to that he destroy everything he have in just some days....so now we have to drive him back and forward again.....not stressing at all x!zzx!!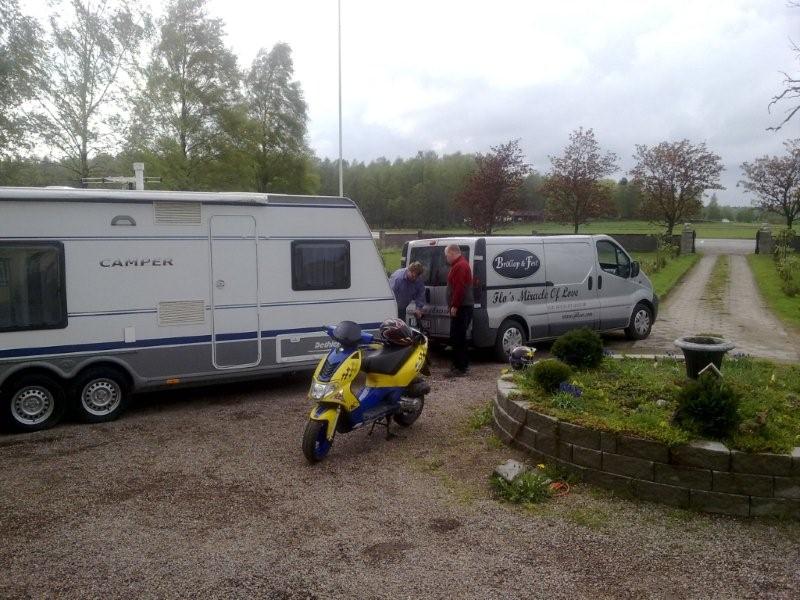 We have started to prepare the caravan yesterday and today I put in the last things there. When Rune came from his work at 17.15 I was ready to go to Larv, but we decide just to go there with the caravan and Rune have to work with some things...the other people have been there all day long so the most things was ready when we came.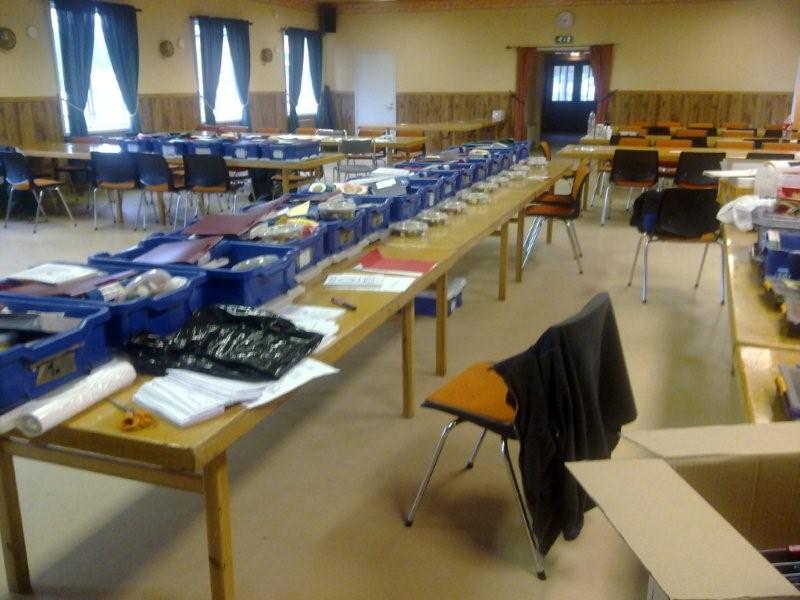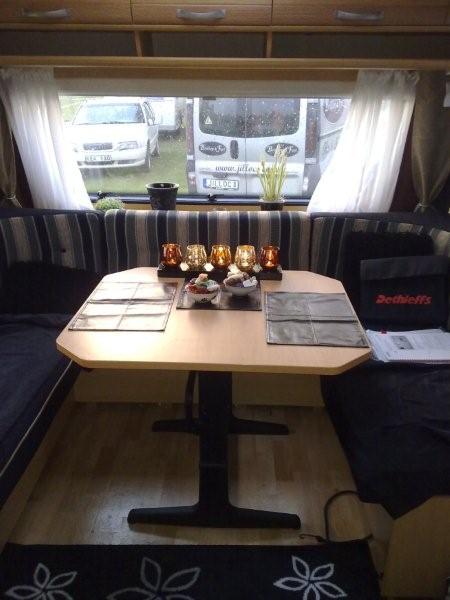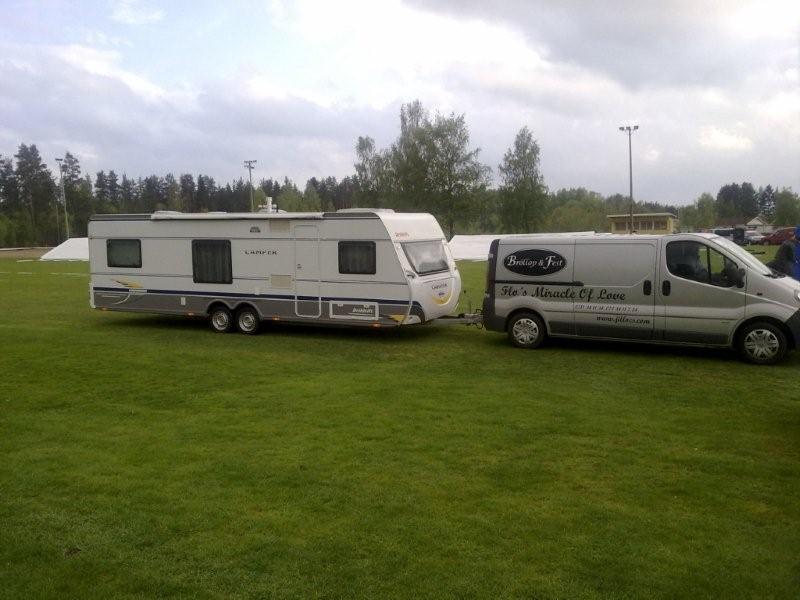 We have 60 km to the show and while Rune was arranging some things I try to fix it in the caravan. Oooooooo how much I have been missing this "life"...but it will start soon with all travelling, and then You are sooo tired about to do it every weekend *S*!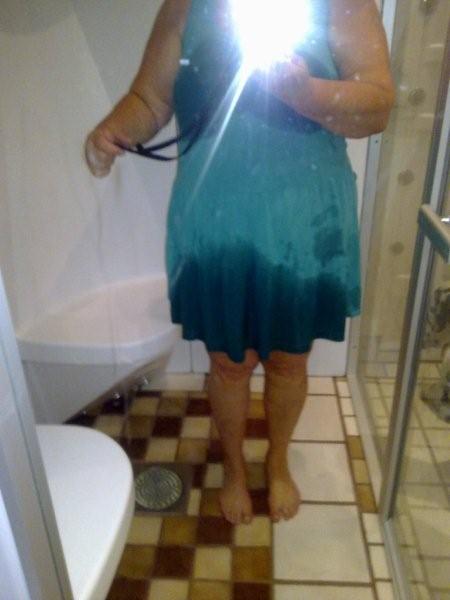 After some hours we drive back home and start to wash seven dogs etc...I was sooooo wet after washing some of them...and dont talk about my back!!!
We fell asleep at two o'clock!
Thursday 7 May 2009
Another crazy day in our lives! But as Roy said from his hospital bed....We probably have to be happy that we can wake up every morning and that we can walk and see and talk. That is soooooo true!!!
I should be at Hanna to pick her up before 11, because she is going with me to our vet in Vara with our puppies today.
I was so very warm when I was there at 11.15.
My car is way too high to lift heavy puppies up especially with my bad arms, and the car is sooo high in the rear.....stupid for dogpeople. It is tooo high even for a grown up Dalmatian. I am NOT fond of Volvo XC90.....at all!
Jennie and Snurra was waiting for us at the vet station. She have some papers for me that I need today and at the same time Snurra will get one more vaccination.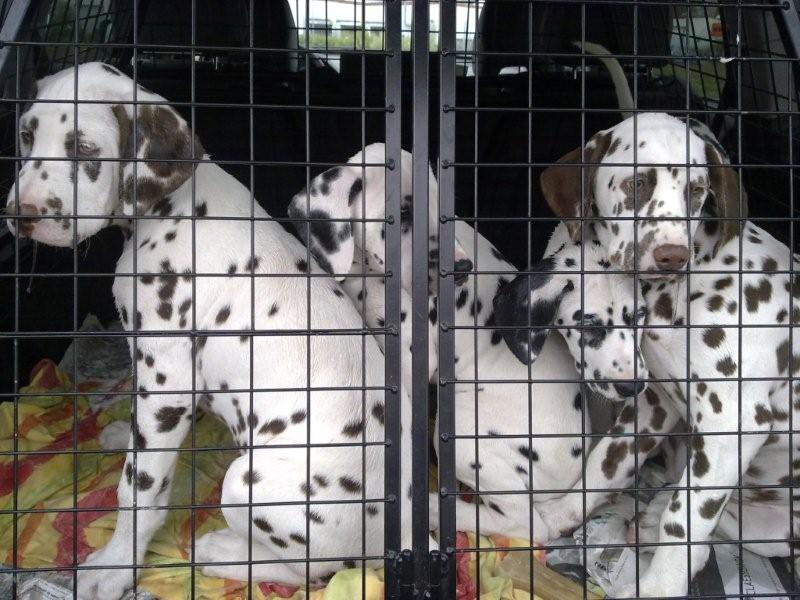 No one of us did know how we should get our puppies out from my car...they have been soooo sick and it looked like they were blowing bubbles from their mouths....poor....ALL JILLOC's dogs are sooooo sick in cars the first months...You probably don't believe me when I say that IF I have some puppies in the car..some Jilloc's and some Timanka's, it is such a different.
ALL Timanka puppies are dry calm and fresh and wake up when I stop the car....BUT every Jilloc's puppies have been throwing up and maybe have been shitting and are sooooo slimy just as a new born baby that we almost couldn't get a grip of them to get them out of the car. Even if I have a litter from a Timanka bitch they are very sick...but in next litter with the same bitch IF it is named Timanka they love to go by car...
We actually can't understand that!?!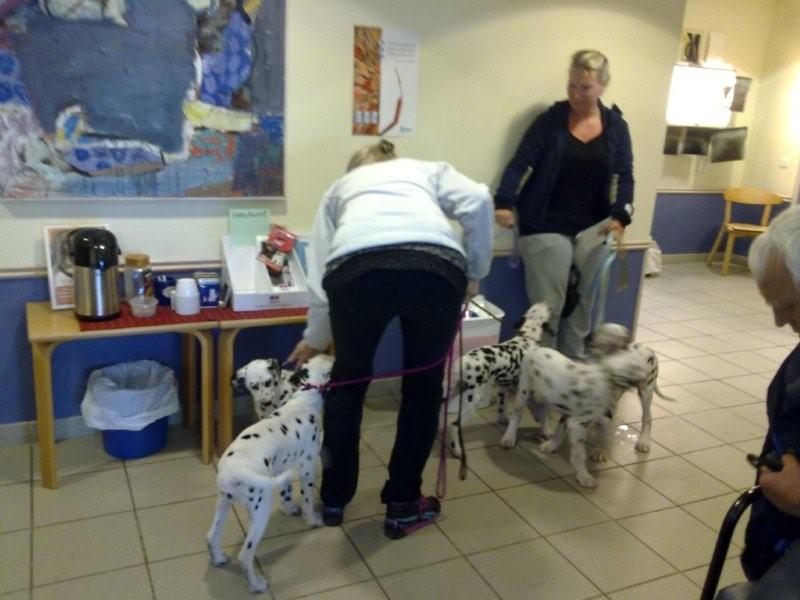 After one and a half hour we were out in the car again ....... much poorer *S*! Even if I had put hundreds of newspapers and blankets in the car my puppies have thrown up under the papers...blä!!!!!!!!!!!!!!!!!
It was now lunch time and we drive in to the small city Vara to a bakery to eat lunch. Normally it taste very good but today we all took a pie that was not that good...but the cake after was VERY good *S* of course.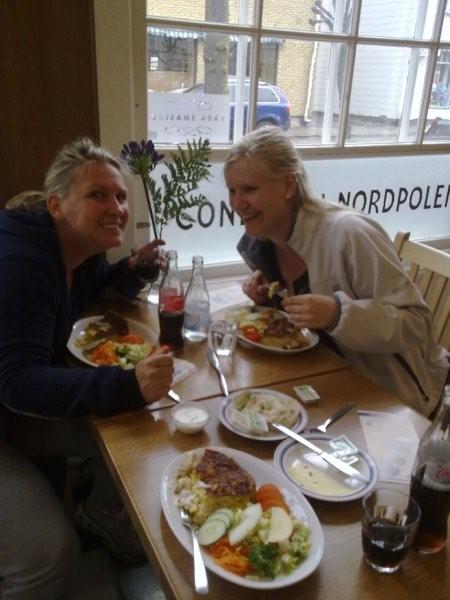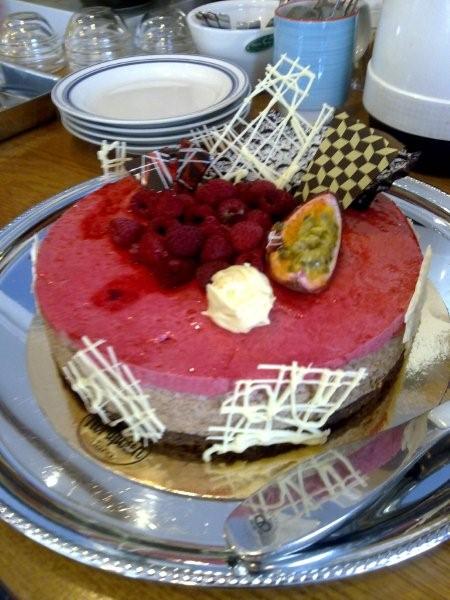 Then I have to find a small store in Vara that I have heard that they sell those lovely "Angels" that we all give to each other at special occasions. I have been trying to find one in cherish conditions that is so hard to find, but they have one left in this store. I bought it for Hanna! In the bottom at the right side!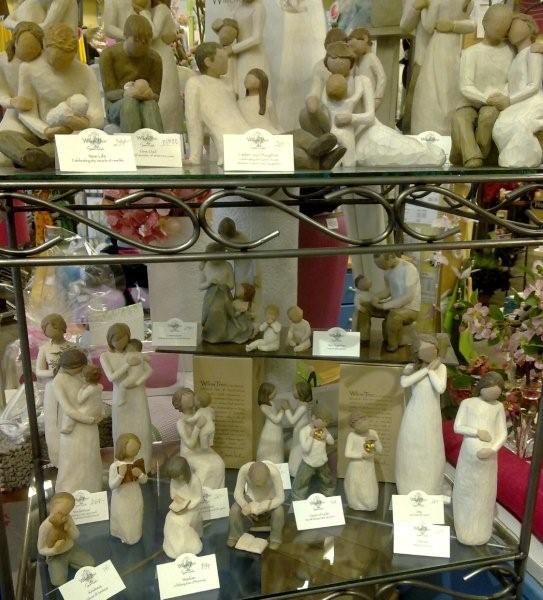 There were soo many more nice things I would like to have but we were in a hurry because I have to be at my dietist at 15.15 and I will try to leave my puppies in the house before that.
At 15.05 we were home and we struggled to get my slimy puppies into the house puh!!!! The two last males I put behind the gate in the kitchen I had no time to carry them longer.
Quickly out and took all dirty, slimy blankets out from the car and then a quick stop on E20 to let Hanna of and I was just in time to the dietist.
Relax..relax..and no stress...just take everything very calm...ha ha they probably do not know how impossible it should be for me. But one day I will try, I promise *S*, at least try!
After the dietist I should to another nurse to measure my blood pressure..and I paid and they told me to sit down and wait. After 40 minutes when I was soooooooooooooooo stressed I asked them again why everyone else accept me have been in to the nurse. Then the lady told me that she haven't told me that I should go to another part of the house to make the test......nice!!!!!!!!!!!!!!!!!! Grrrrrrrrrrrrrrrrrrrrr!!
After 20 more minutes I was on my way back home. FINALLY!
When I enter the kitchen at home Devlina and Muzica have been opening for the two puppies that was in the kitchen......guess what I saw!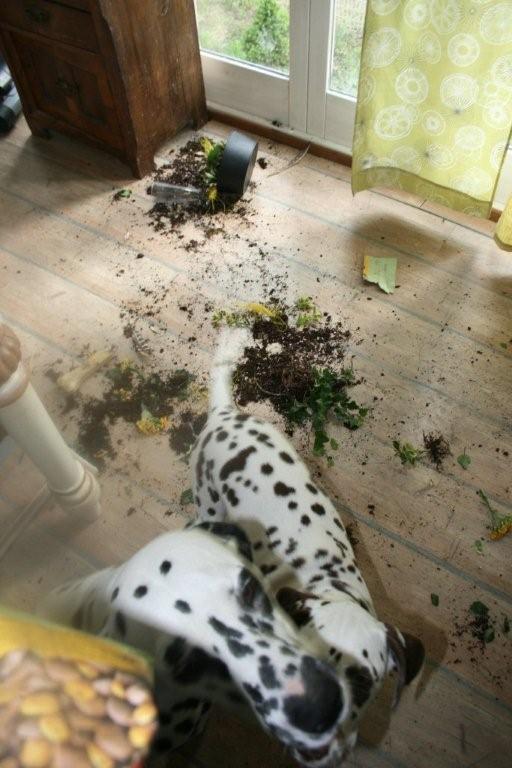 Rune asked me what Hanna and I have been talking about today.....and then I remember that all the way to Vara and back again I have been on my mobilephone to try to fix some papers and recopies for Roy and to check up his bills *S*, and as soon as I close my phone someone was calling me....It is really crazy to talk in the phone all day but sometimes it is necessary because the day only have 24 hours and most normal people sleep in the night (not me *S*)! But I can't call them after 10 o'clock...but if they are awake they can call me!
Rune made the final things for the show in Larv...and checked everything up together with the others.
I am soo tired now days that I often go to bed at two o'clock and poor Rune often come some hour after me. Next week it will be better!!!
I hope.
Wednesday 6 May 2009
I did not believe my ears when Jennie called and said that the time for Roy in Gothenburg was cancelled from the hospital!!!
Thank god that she can be there with him today...he have no strength enough to argue with them now.
Finally after some hours, with help from our dearest friend Tina (I hope You know that we all love You more and more for each day, just because that You care about us), Roy was admitted to the hospital and they will "probably" do the necessary test operation on him tomorrow.
But You never know!
In the afternoon Nathalie and Eddie visit him and in the evening Jimmie was there with his charger for Roy's mobile phone that he have forgot at home.
I was soooo tired of all frustration and calling around today....and we were in a high-speed in the night that we almost couldn't go to bed. What will happened tomorrow?????
I got the advise from many people to try to calm down and relax so my own pain will not get worse
But how in hell can You relax or even think about Yourself when the world is a hell!!!
Rune have to work at the computer all night long..poor...hopefully it will be better after next weekend when the Skaraborgs Kennel clubs Dog show is over, because he is solo tired that I can't understand how he can get his work done during the days at Jula.
Tuesday 5 May 2009
New tests at my doctor today and we still wait for the result from last week.
Disa and Bosson are happy together.
Rune did some more trimming this evening.
Roy didn't feel so well so well when we were there with dinner for him in the very late evening.
It is important that he eat well because of his diabetes, and he will leave at 5 o'clock in the early morning for the hospital in Gothenburg.
Finally they will take those tests at him that they promised to do 4,5 weeks ago and they say it was urgent and that they will give him the best treatment!!!!???? And they haven't even care about him even if I and many others have called, write letters, mails etc etc..
Some doctors in Götene and our closest hospital just give him more and more drugs and send him home....it is a catastrophe!!! And they all refers to Sahlgrenska in Gothenburg....but they do not care!
After being into this I just can say DON't get sick in Sweden, at least NOT in our part of the country!
If I get sick....please send me to Stockholm there are some friends that really care about us!
Monday 4 May 2009
Another "normal" day with thousand things to do again!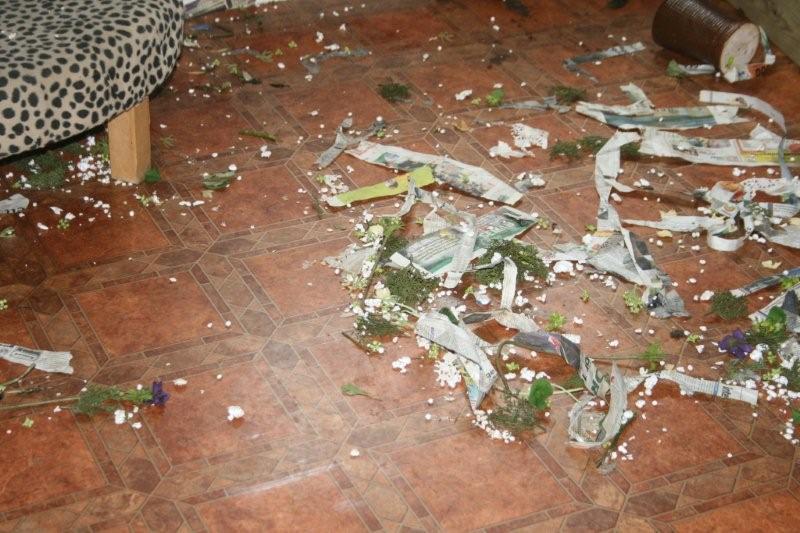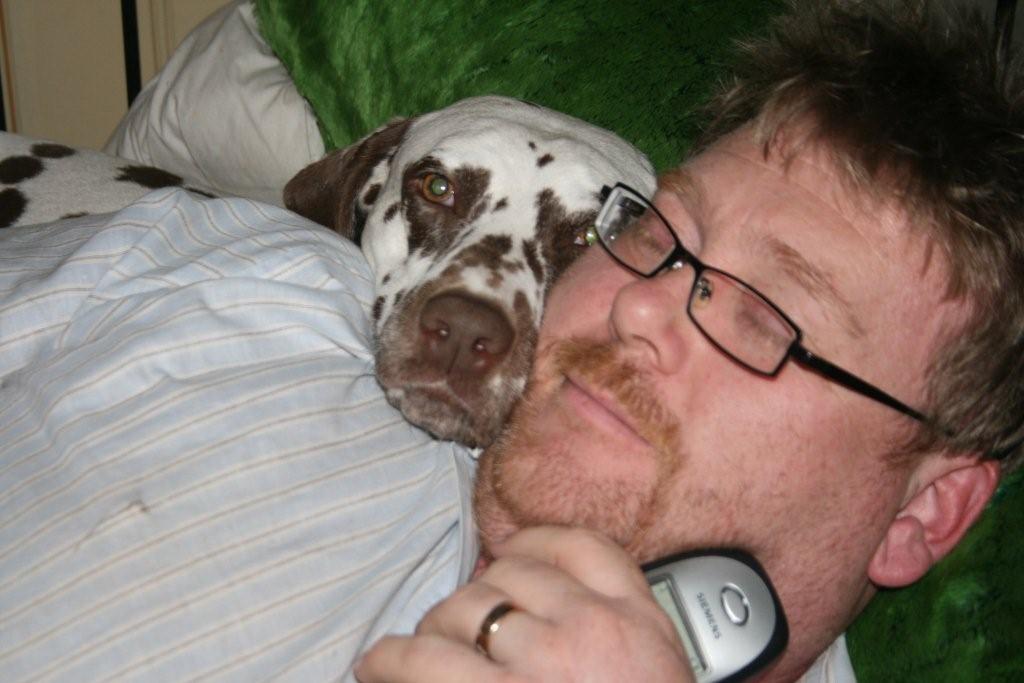 Cleaning after our puppies *S*! Trimming Jonnie! Jill and Rune resting after work!
Sunday 3 May 2009

Eddie 7 Months today!
We love You, our little sunshine!!!!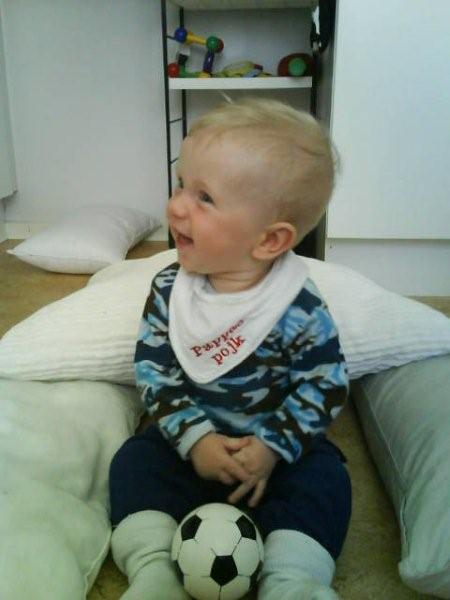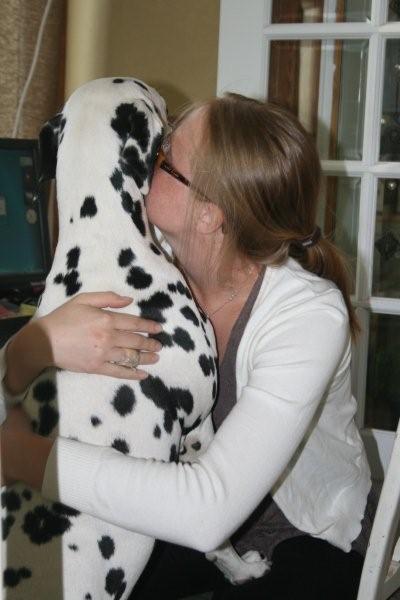 Jennie came a short while, she admired my nice things I have got from Tanja and Anne Karin this weekend and then she filled her freezer bag with 25 Lollipop ice creams and took her favourite chips and go back home again *S*!
I do everything extra slow today but I am just happy that I can be up on my feet today.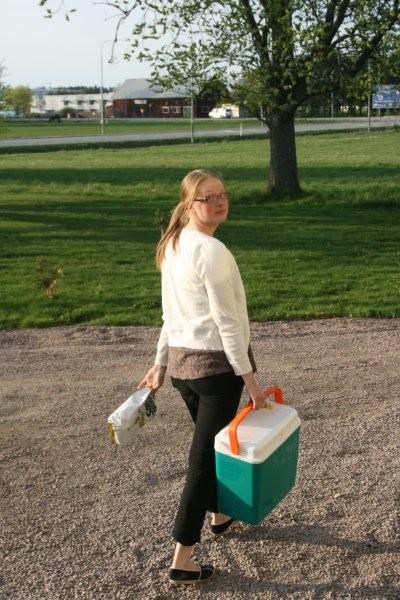 She didn't think that someone have seen her rob the freezer *S*! But we caught her red handed!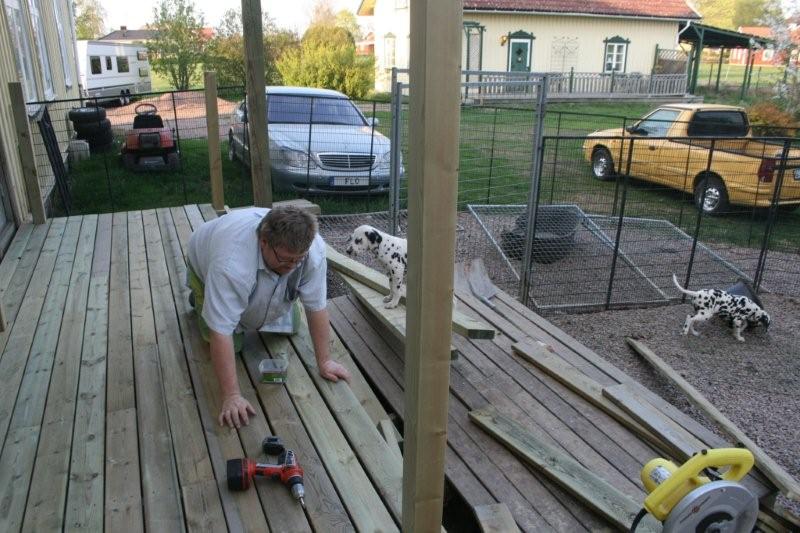 Rune continue today too with the backside of the house and the puppies were very happy with company all the time.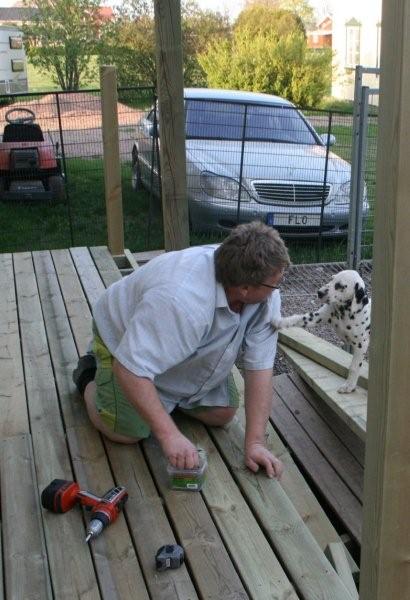 Especially this little girl that is Runes favourite...she steal his tools all the time and try to get his attention *S*!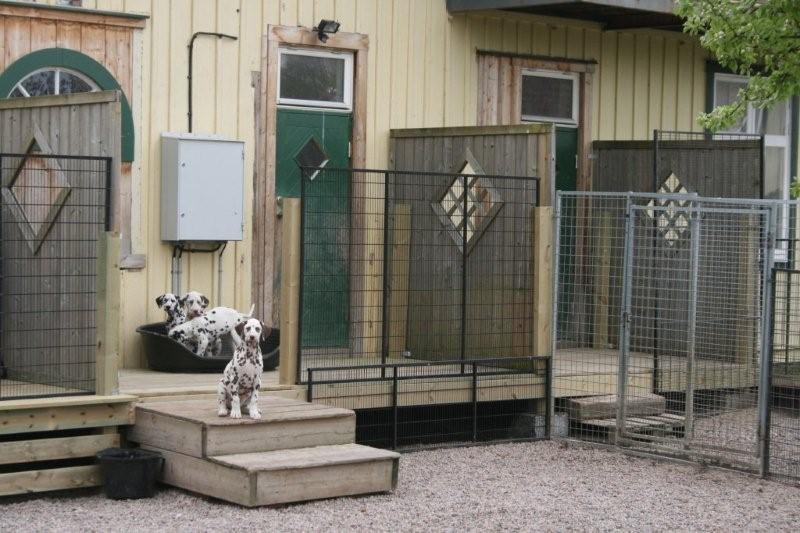 Before it was dark outside it look soooooo much better, now we just have to paint the walls and to move the yard. The puppies have to use the old stair for a while until Rune have time to make a new one, but that is no hurry!
Hurray for my handyman Rune!!!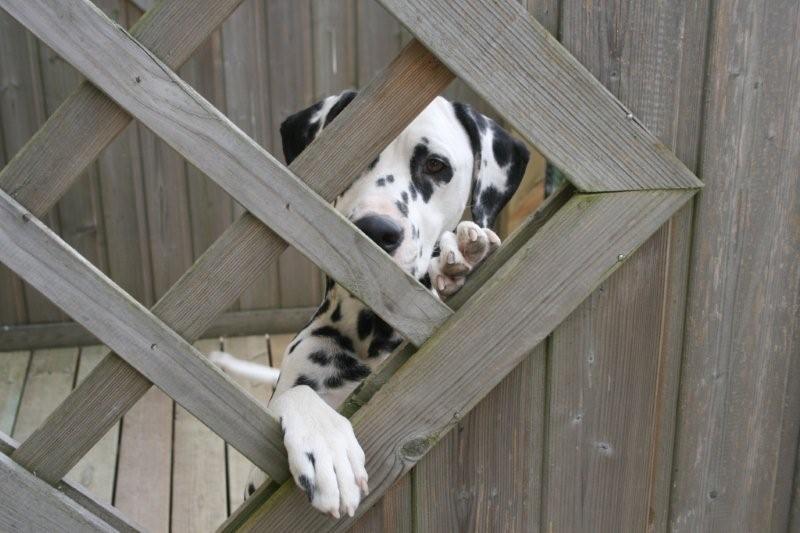 Bell think it was funny to be in "jail" *S*!