Friday 31 July 2009
Sooooo happy to be at home this weekend, we really need to take care of sooo much things here at home. Especially in the garden...(jungle) *S*!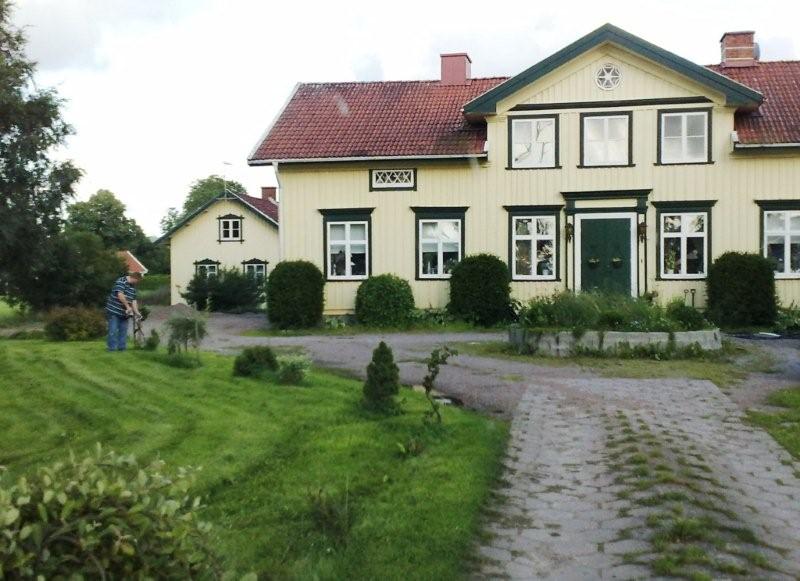 Rune did not have any key to our house today when he came from work, so he start working with the trimmer in the garden....if I have known that I should have been staying away for a longer time *S*!!!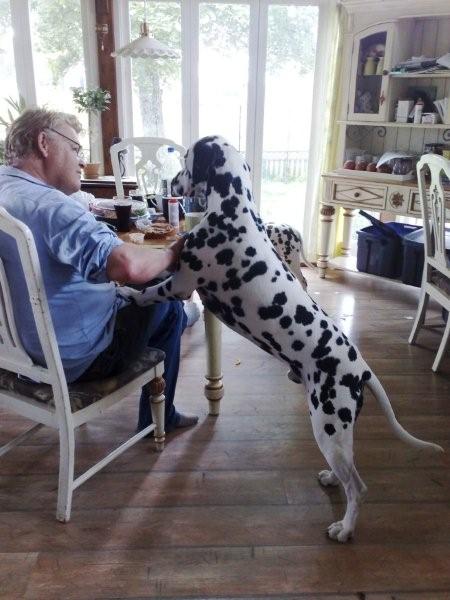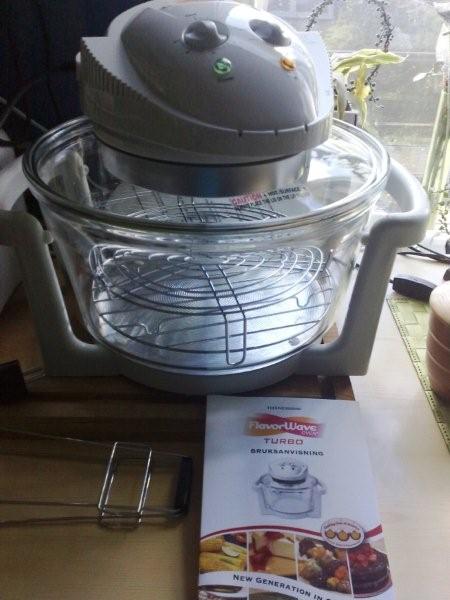 Roy have bought a gift from TV-shop for us....a turbo owen that he think we need. Probably he want us to make dinner to him in that one, that is why he bought it *S* I know that man!!!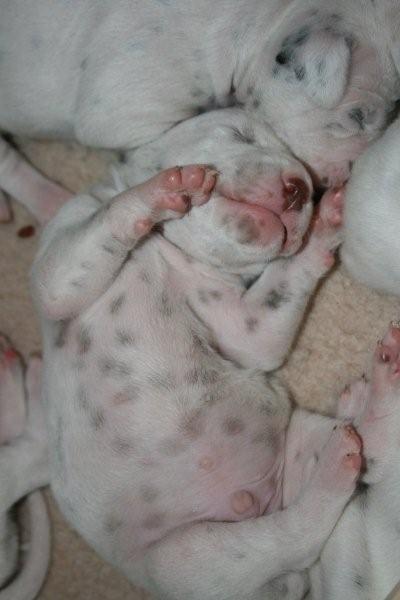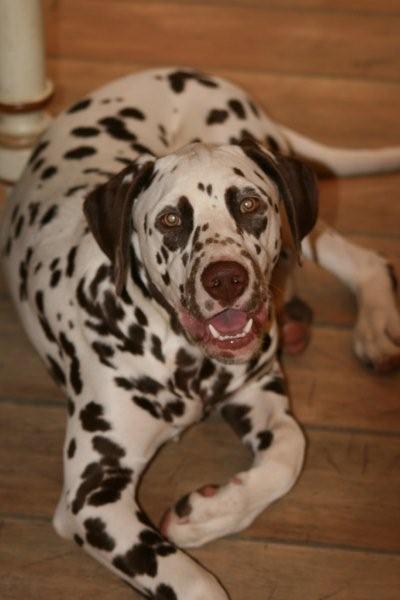 Finally a photo of Dollar 9 days old....Oh my god, soooooo perfect! And here is one from today, still VERY sweet but a bit naughty, he took my mobile phone last week as candy *S*!

Thursday 30 July 2009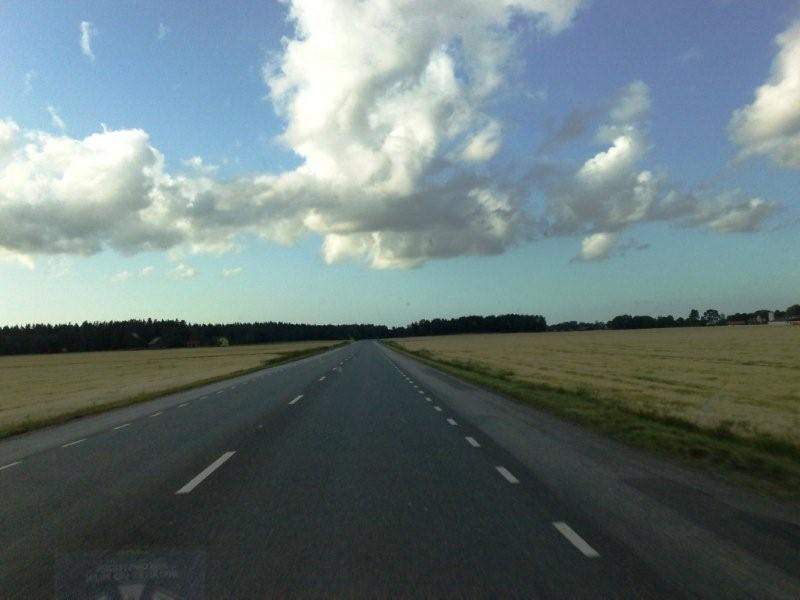 Some weeks ago they moved E20 about 700 m behind our house instead of 70 meter in front of it...perfect. Now, sometimes there are no traffic at all and not that much noise or pollution in our garden. Last summer we could try to get out on the road in about 15 minutes before we could, because of all the traffic especially when people have holiday!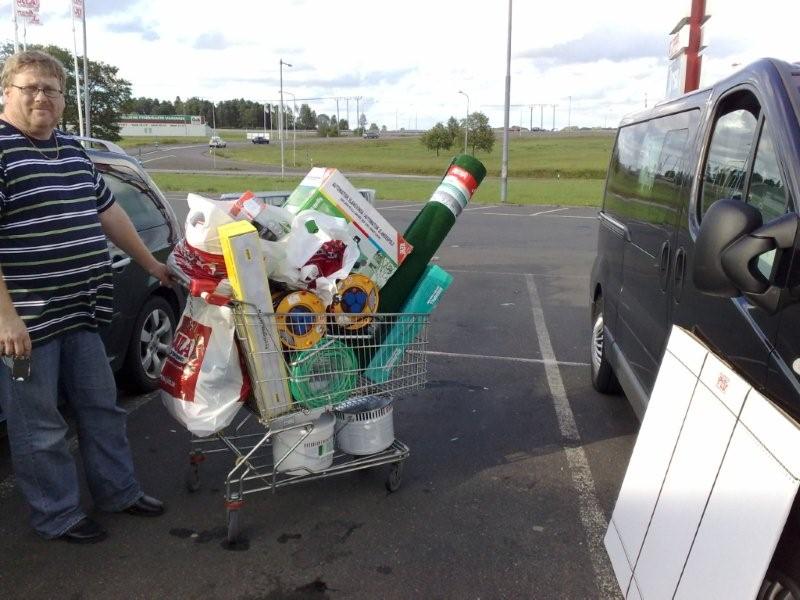 The roof that fell down in Jula supermarket is still not fixed. We were there to shop a little, but as always we needed a lot.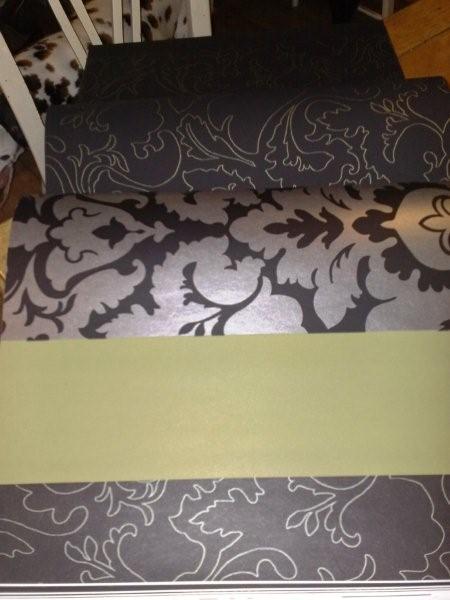 I try to ask Jonnie what kind of wallpapers he want for his room...Not to dark he say and not to light. I think I have showed him thousand different this week but nothing is what he wants....and he do not know what he want he said. He want me to decide because it will always be ok then he said today.....but I will make something that he like and not I. He love black and we/I decide that around his bed it will be black so he can have it really dark when he should sleep or look at TV, and than there will be a single wall with green and silver and black, and then we will paint the other walls in green. I am sure it will look ok I just hope that he do not change his mind, that he did not chose by him self.
I really hope that I can get him to throw out his large sofa in dark green leather...but that will not be that easy...he just love it because we have had it in about 12 years and he love things that been with us for a while...*S*!

Wednesday 29 July 2009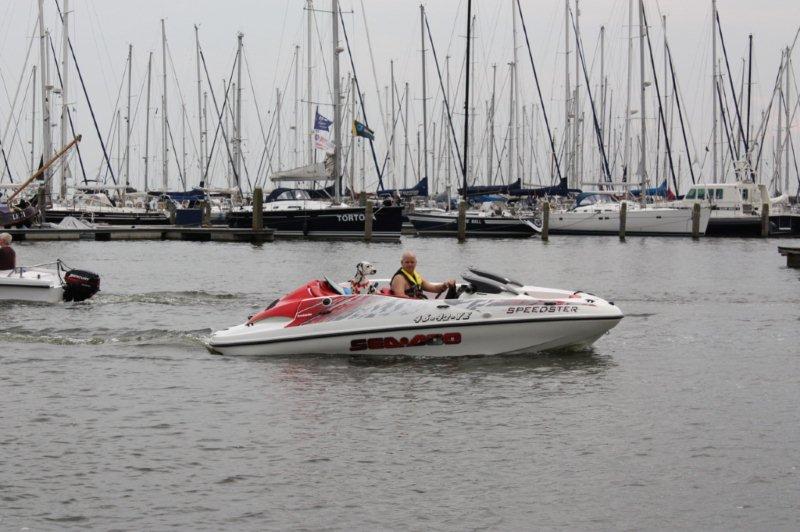 This week our friends Diana and Andre in Holland have been at the sea with their Speedboat, that Andre told us about last year.
Seven was the lucky one to enjoyed Andre in the boat. Diana was the photographer from land.
Seven haven't been in this boat since Diana drove the car with this boat behind on a trailer with Andre and Seven in it. When Seven was a little puppy, she could not be in the car without shitting in it, and because they could stand the shit smell in their car, the last solution was to drive with Seven sitting in the boat. She only shit once in the boat - and after that she stopped. Maybe because of the shaky road or because it was too cold.
BUT
Today, she HAD TO LEAVE A LITTLE SHIT in the boat - just to remember her "childhood"........ She is crazy???? No - but very special!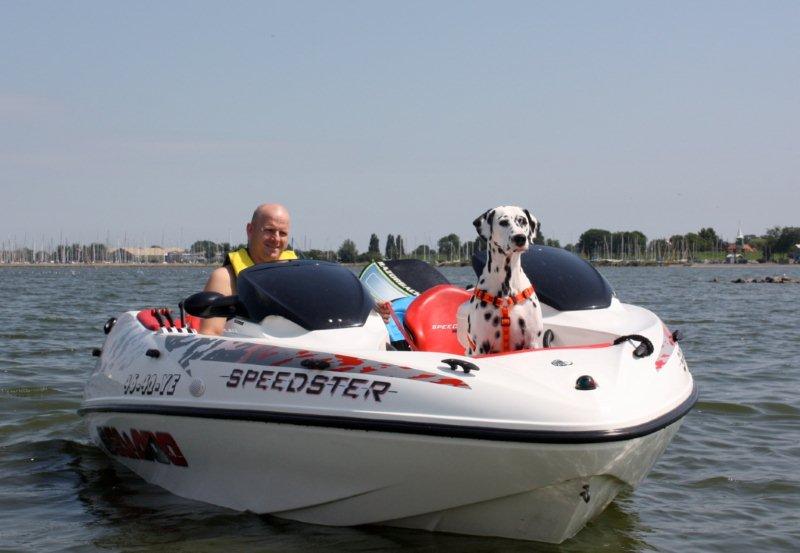 Oooooh what a beautiful "gallion figure" on this boat, I understand why the driver look so proud!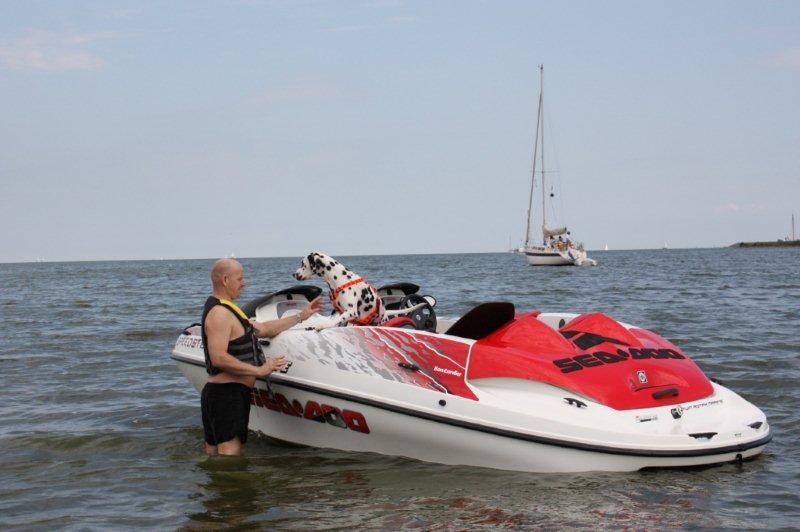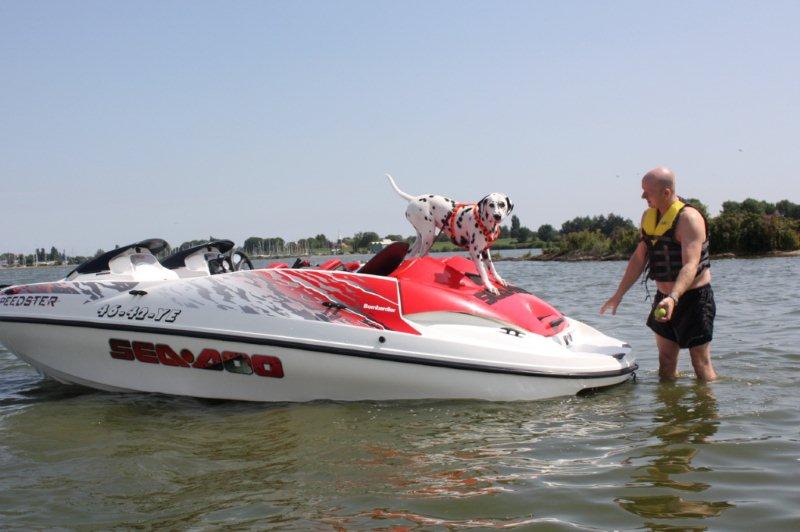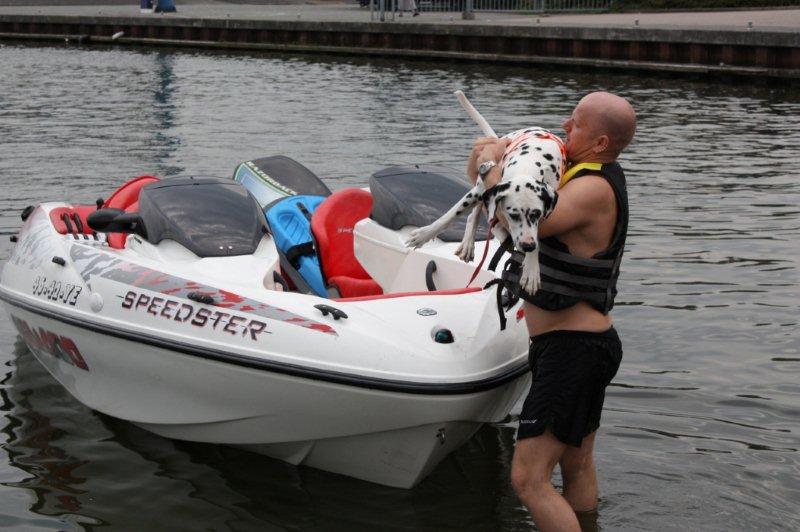 Heeelp Daddy, I do not want to fall into the water!!!!!!!!
But I love to run in the water when I decide to do!!!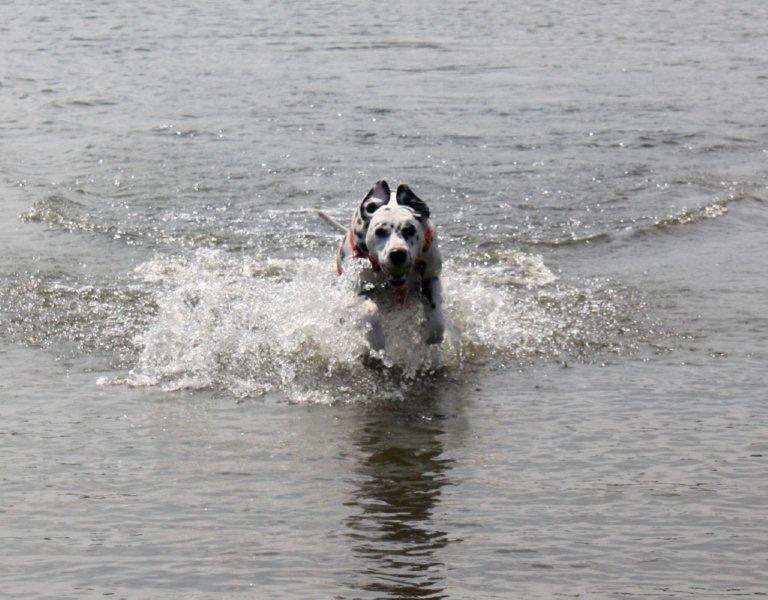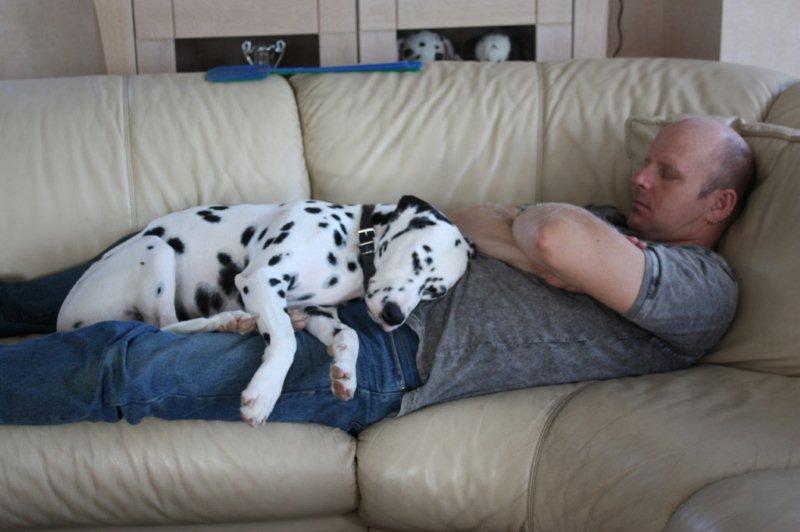 Tired after a looooong day, but this is what Seven and Andre do EVERY day - Diana told us *S*!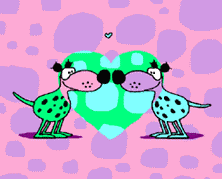 Tuesday 28 July 2009
Going to the vet today to give Muzica a new Rabies vaccination. Try to find wallpapers for Jonnies room and a new madras to his bed etc etc etc.
Mother and daughter on the way to the vet for vaccinations.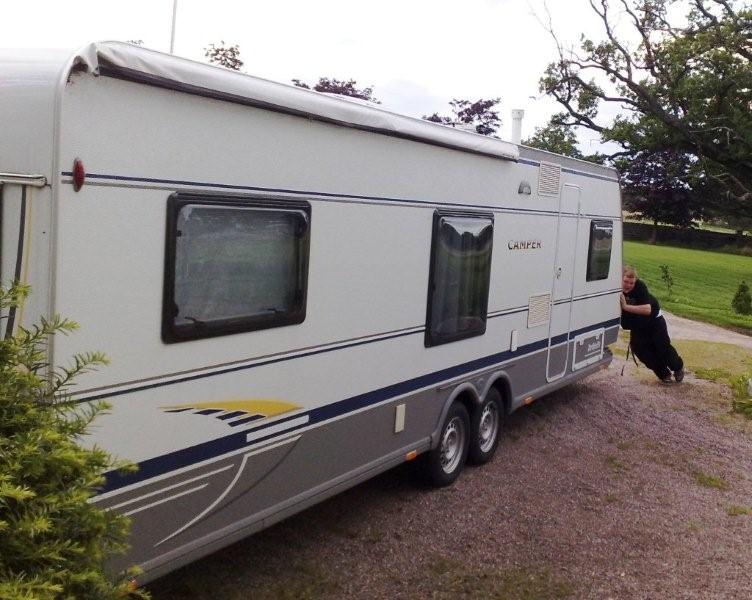 Jonnie and Rune have to turn our caravan around at home by hand...the road behind our house is broken so we can't turn around there now!
Bell now living in Stockholm have already got a new friend from the nighborhood.
Monday 27 July 2009
Very tired.... and after lunch for dogs, Roy and then Jonnie it was time for dinner for Rune, Roy and Jonnie and then was this day at its end!
And I haven't done anything of all things I have had plans for today, as usual.
Here comes photos from yesterday when Rune came from the boarding kennel with Jill and Moss.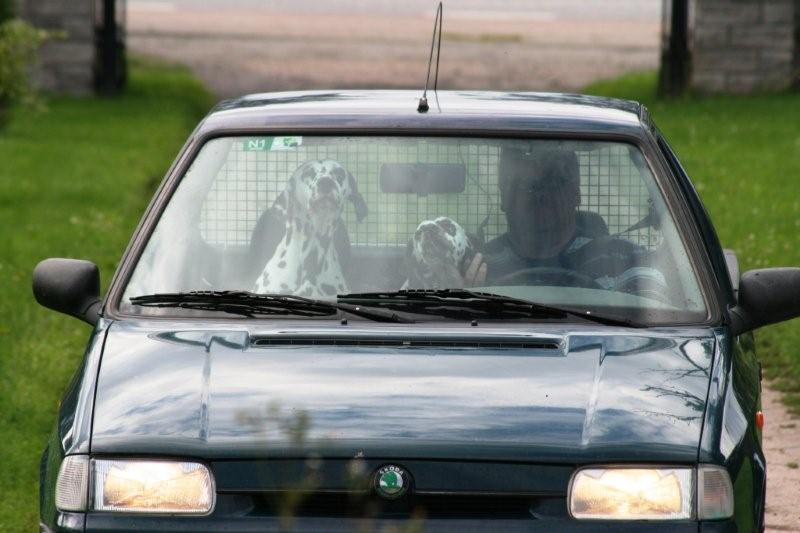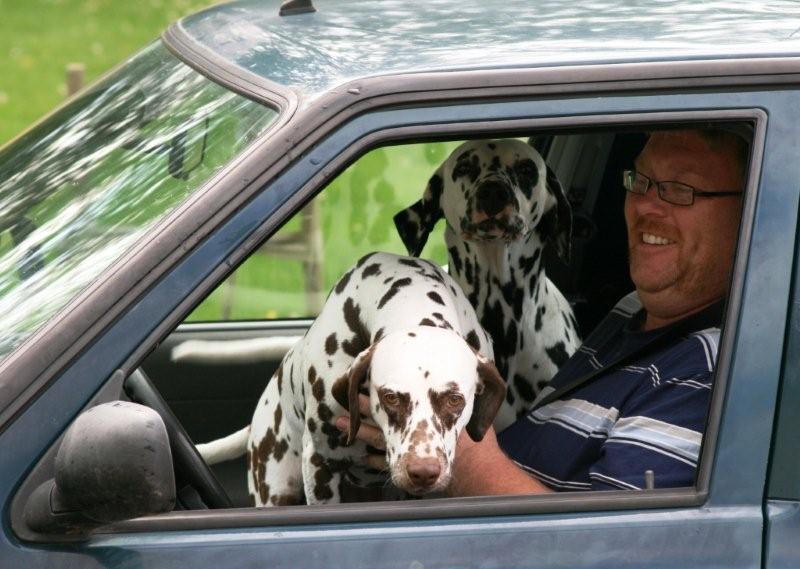 At hoooooooome!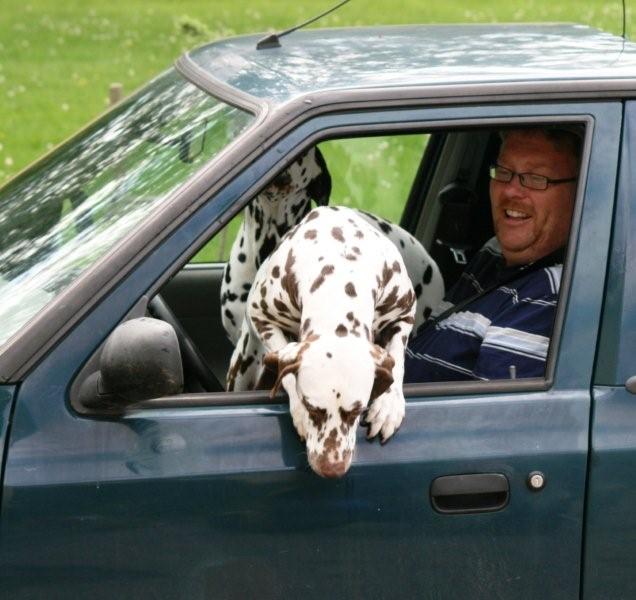 Jill took the fastest way to me, she was allowed to!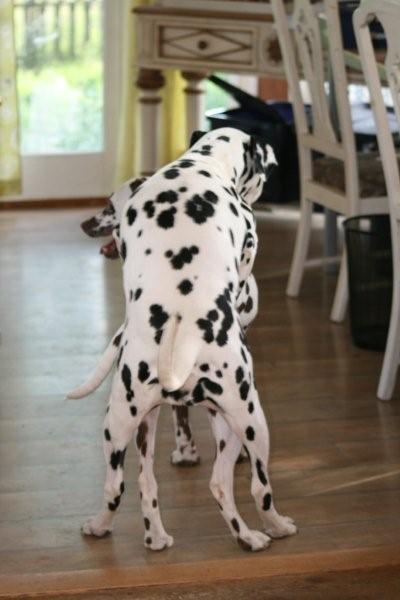 Jill and Moss continue to mate *S*!!!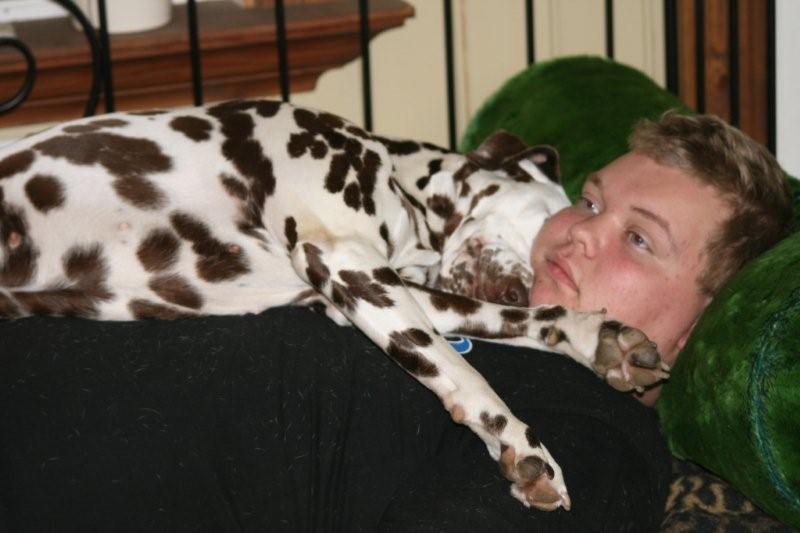 Devlina love when someone lay down on the cauch.....she is for sure pregnant!!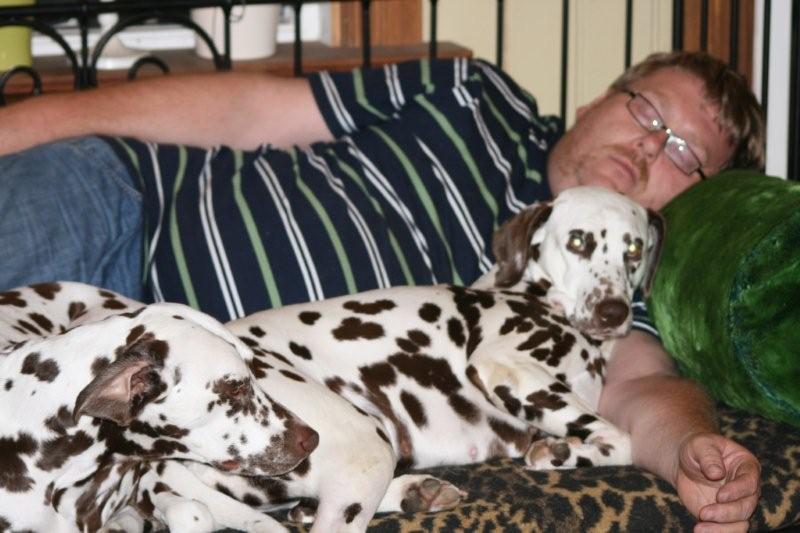 And then Rune took over the bed.

Filippa

1996-2009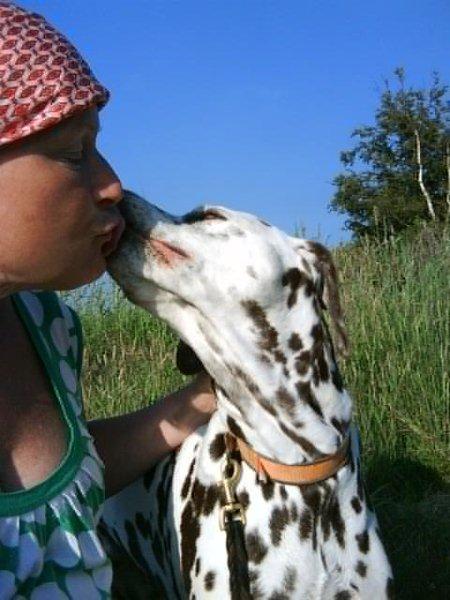 Yesterday this special and beautiful Dalmatian lady........Up to Date Kelly Mac Gillis, Filippa, passed away, almost 13 year old.
She have had a long and healthy life together with her soul mate Lena.
Thank You Lena for this true photo one of her last days in life together with You by the ocean where You often walk together.

Sunday 26 July 2009
Still so tired, we woke up at 10.30....
Eat breakfast and talked with Anne Karin and Rune N for a while before we start to drive back home.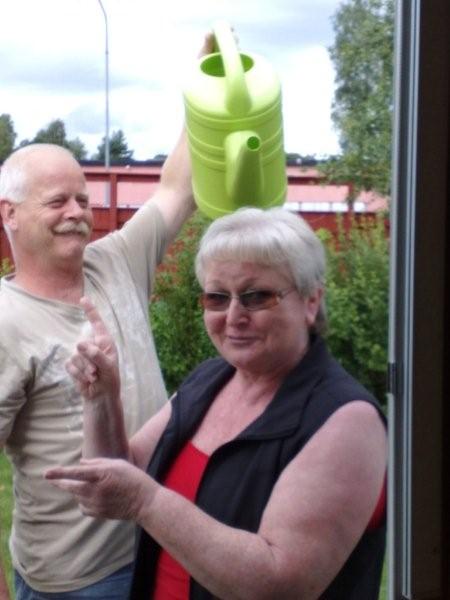 Rune N told us that Anne Karin have been soooo "hot" this holiday that he need to cool her down a little *S*!!
We left one of our cars in Mariestad so we stopped there and Rune took the pick up and went to the boarding kennel to pick Jill and Moss up, and I drive home before them. Jonnie came for food just 5 minutes after I came home *S*....30 minutes later came Rune and then Roy....he was hungry too, so I made dinner for us all. Rune took everything out from our car and we cleaned it at once so now it is ready for next journey already and I wash 4 machines of clothes......
We fell down on the couch at 9 o'clock and look at a good movie and I woke up at two o'clock when Rune was still looking at TV!
Saturday 25 July 2009
We went up early but Rune was not ok...after two hours he was a bit better and we drive to Ransäter. Jenny came here to the camping to go with us in our car.
International Dog show in Ransäter in Värmland today. Judge Göran Bodegård is judging bitches and there where too many dogs in his ring so they have changed judge for males, so Åke Cronander is now judging all males. We have entered four dogs Devlina, Gloria Bell and Daddy.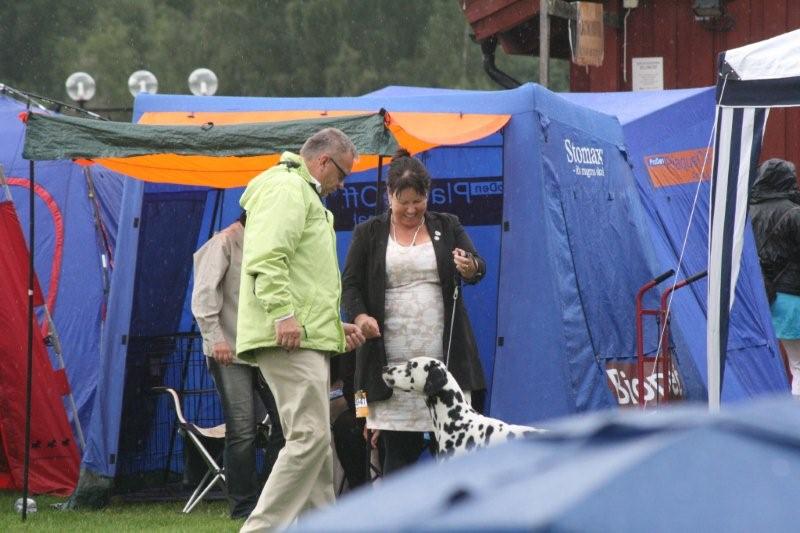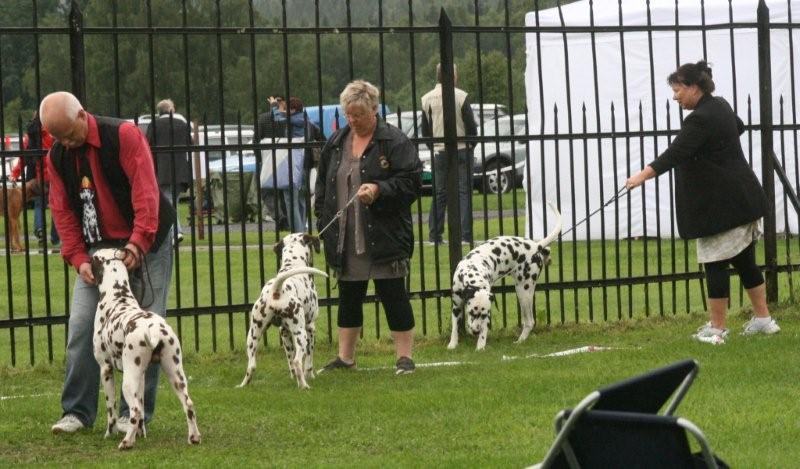 Championclass males....... Fabian, Scotty and Daddy!
We were NOT singing in the rain....but we were in the rain!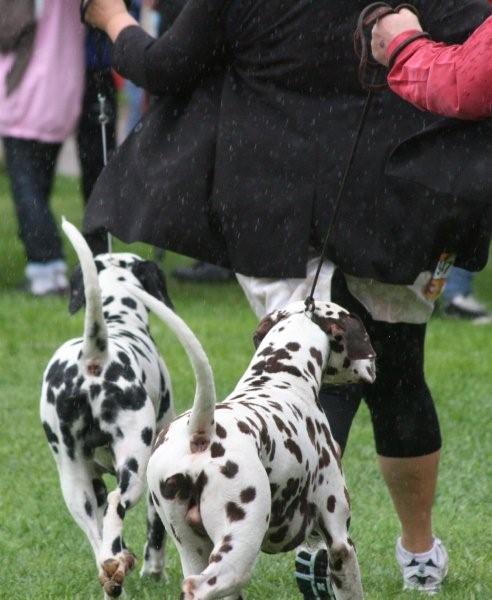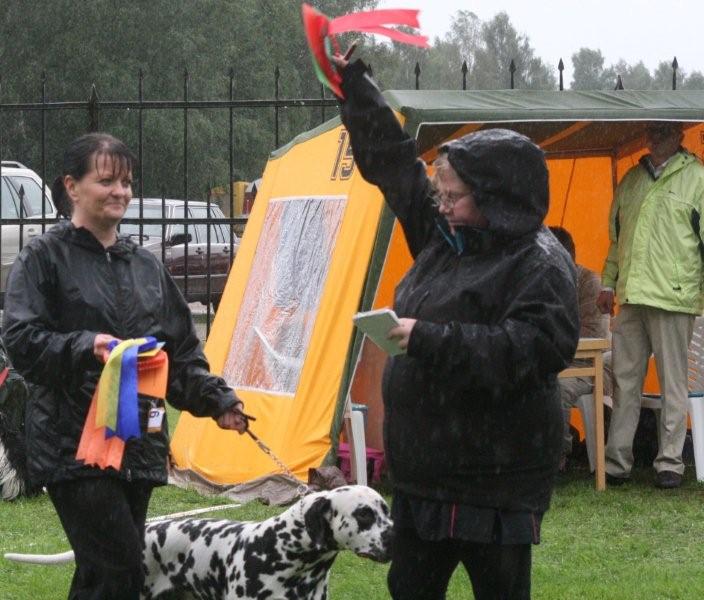 Lot of muscle power when Daddy and Fabian was running around the ring! Bettans Danilo got his last cac and became SUCH, Congratulations!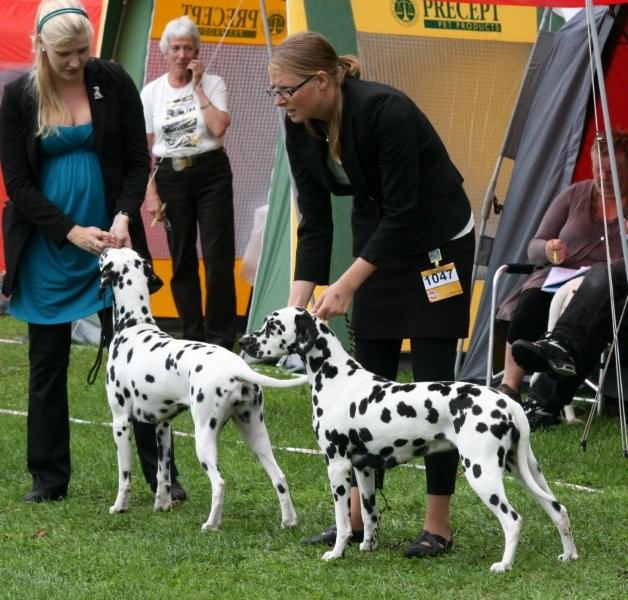 Hjärtat was soooo close to get her Champion title today, just a Citykids bitch before her, shit!!! Breeze with Jenny looking for Kristina.....
Kai was not that happy today, he have to be a babysitter for one of Sissels rat......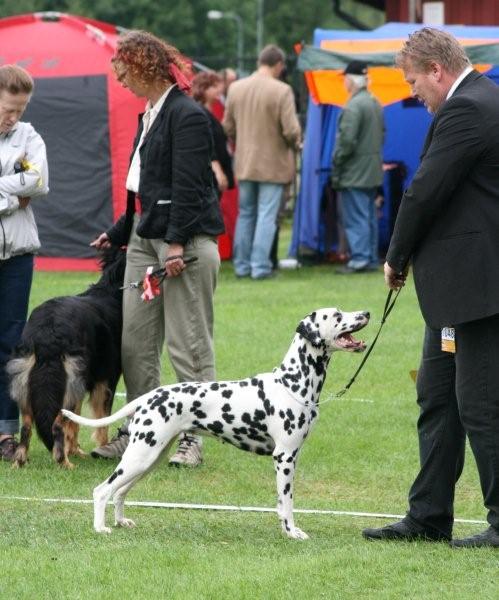 Bell (Lux JCh Jilloc's Top Model) have never been so fond of shows but she seams to think it is much more fun now than last year....we will try for two more cac for her in Sweden. She got one here last year in terrible heat....what a different!!!
Breeze is still looking for her mum when Jenny showed her in the ring, but it start to get better and better for every show. Bell just behind Breeze!
Three sisters from J R Litter in Championclass. Devlina, Milda and Nova!
Two sisters first......and "ugly" Gloria was pissed to be nr three today *S*!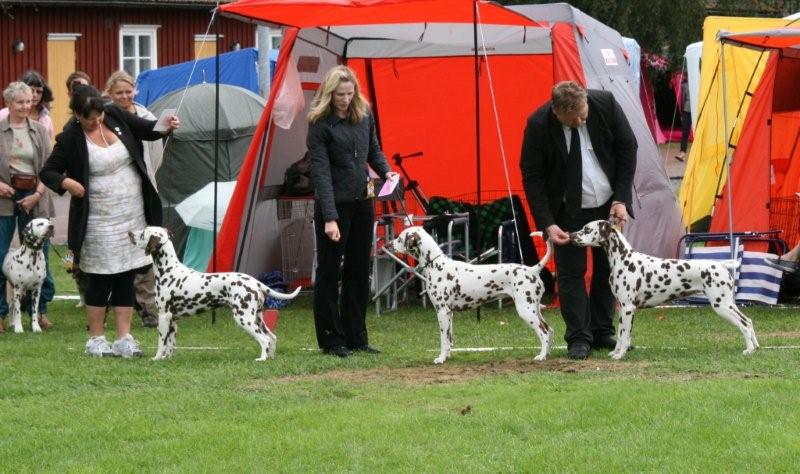 1-2-3 in Championclass Jilloc's Jilloc's and Jilloc's!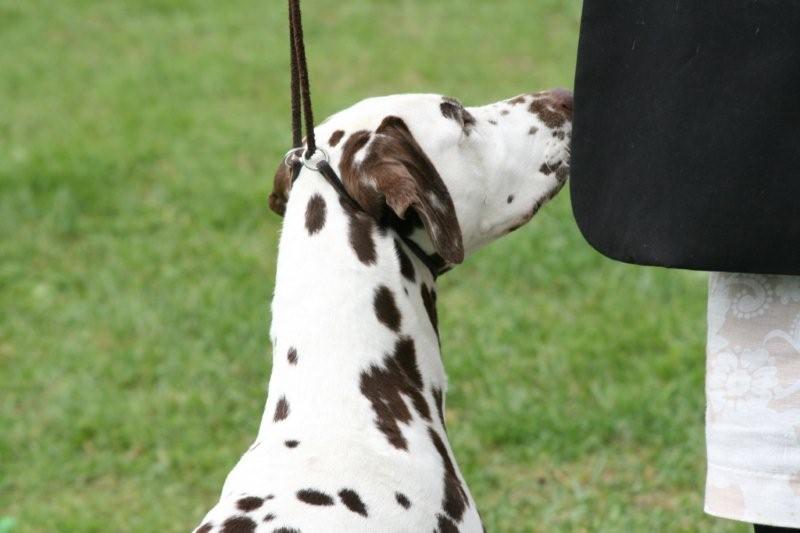 Devlina
BOB Nord UCh SF UCh Jilloc's Reflection In A Mirror (Devlina) beat (Daddy) SUCh NUCh DKUCh JWW-08 Nord JV-08 Lux JCh Jilloc's Sugardaddy
Judge Göran Bodegård Photo Jenny A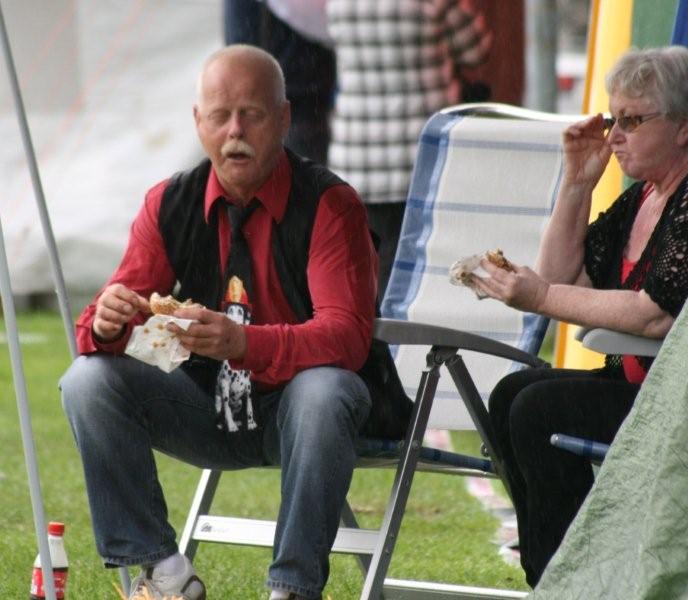 Our Norwegian friends seams not to be that happy with the swedish food *S*. Thank You Helena and Tomas for holding up the roof *S*!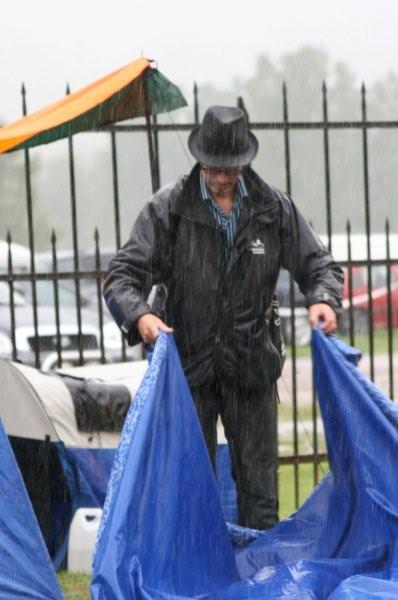 No one want to go out in the rain to help other people with their tents. There were many that try to hold the water away from Hannas tent.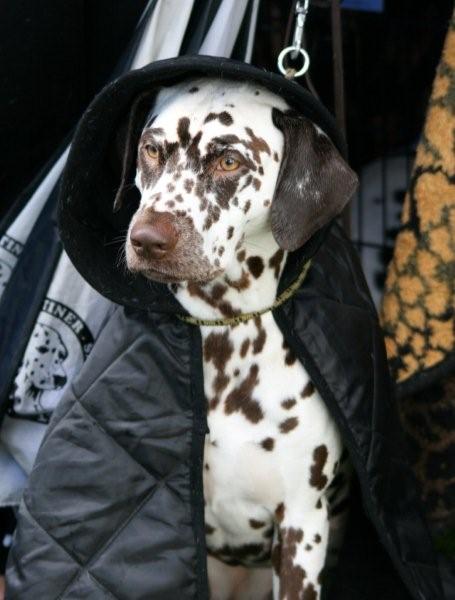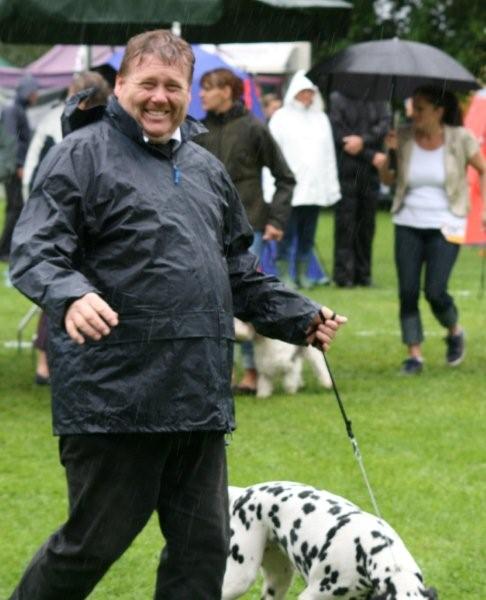 Nova in her raincoat while we were waiting. Sooo sweet!! Rune was happy that he was allowed to wear his dark blue raincoat in the ring *S*!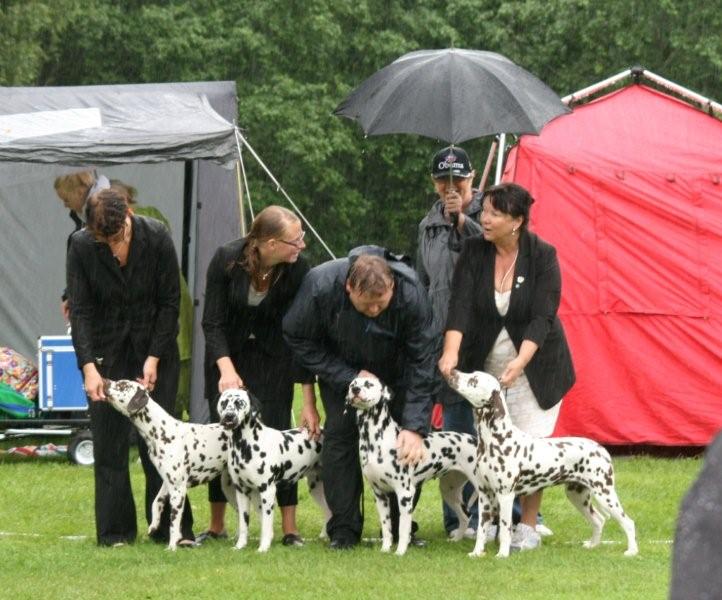 We have to stay for a long long time and wait, thank god that Anita covered at least me and Devlinas head with her umbrella.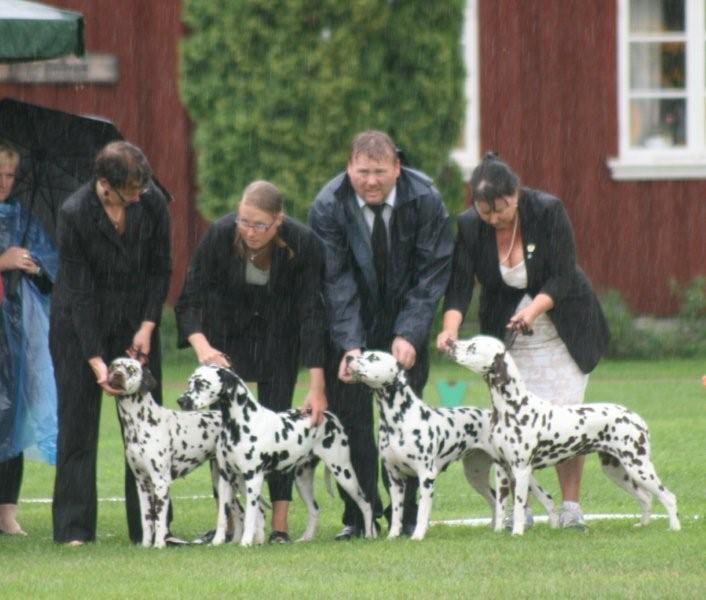 When we were in the finalringm it rain even more than before as You can see. I think You almost can feel the rain here *S*!
Bell with her new "Mama" and "Papa" in the rain!
We all try to find shelter for the rain! It took soooooo long time before they start and we had to stay in the rain all time brrrrrrrrrr!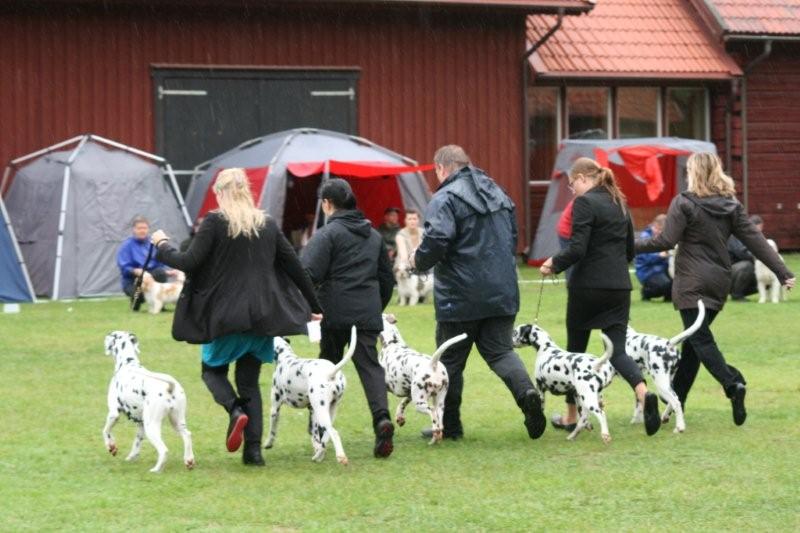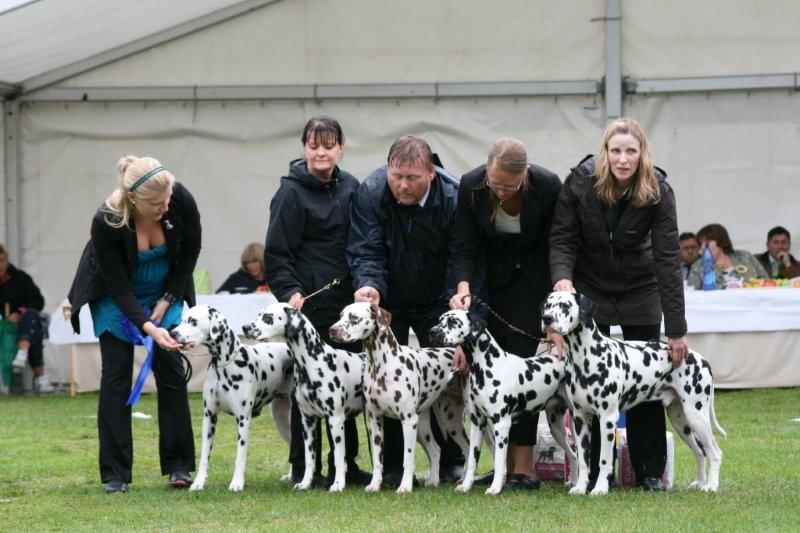 Hanna with J Key To Success Progeny group was BIS 2, Congratulations!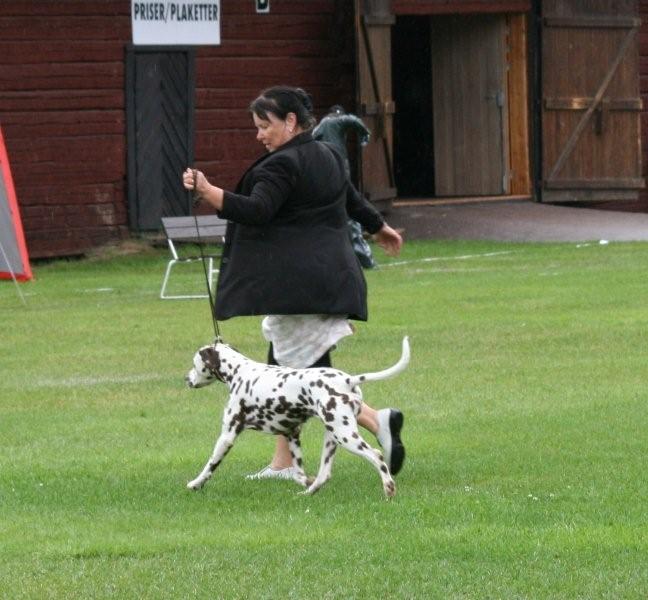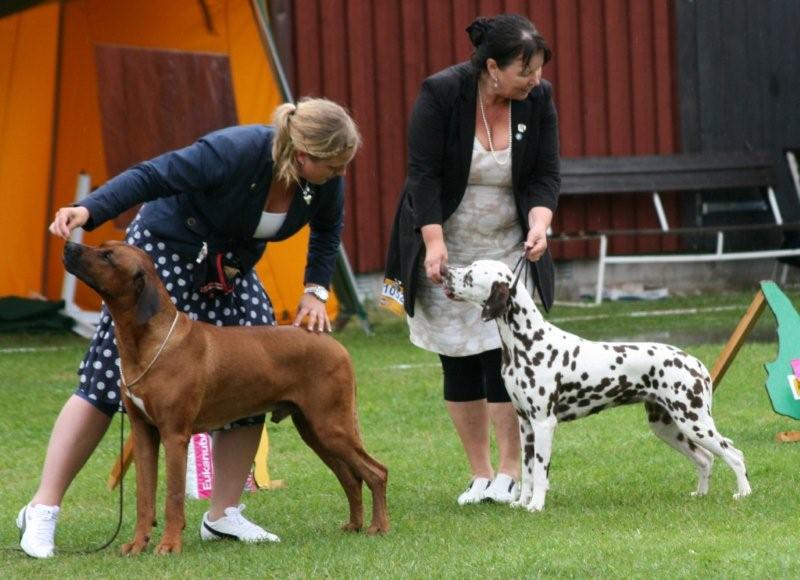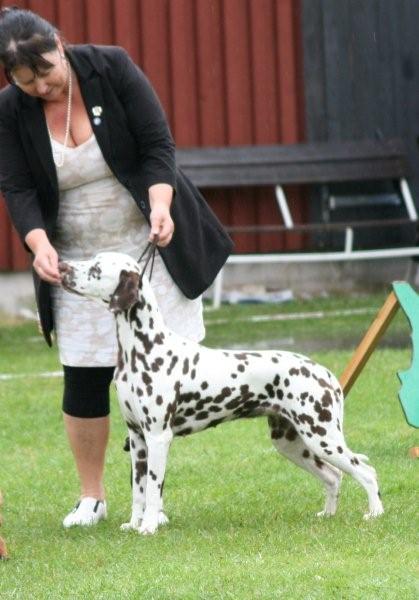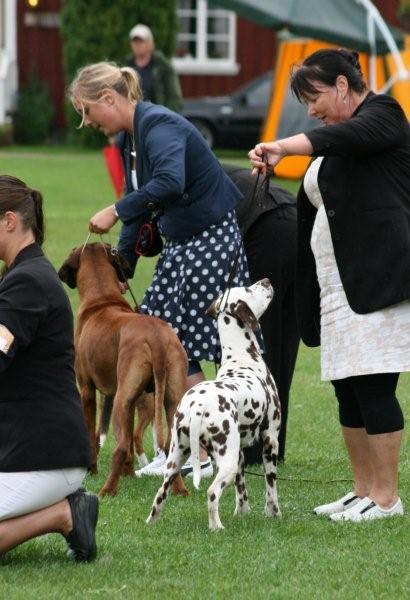 Devlina became Nr 3 in Group.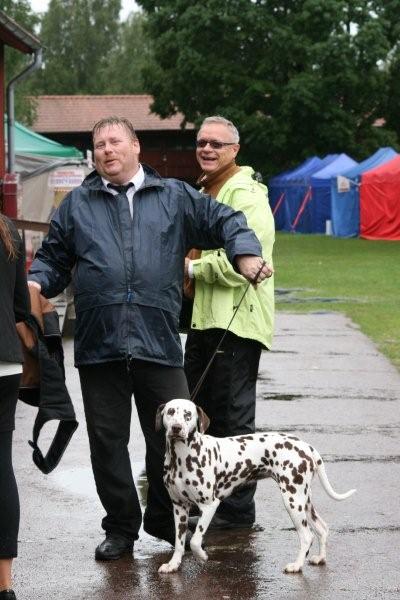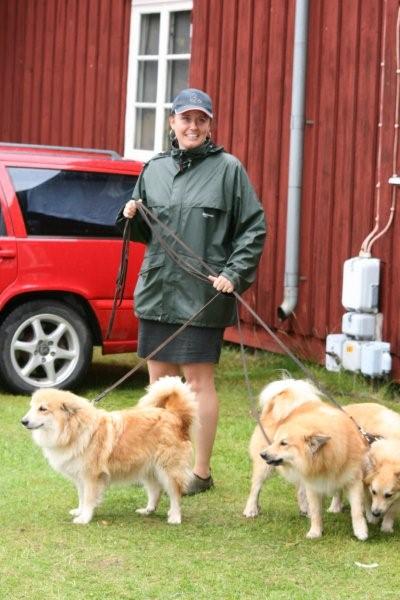 I know what those two were laughing at *S*!!! Bruno's "mother" was here today with her other dogs.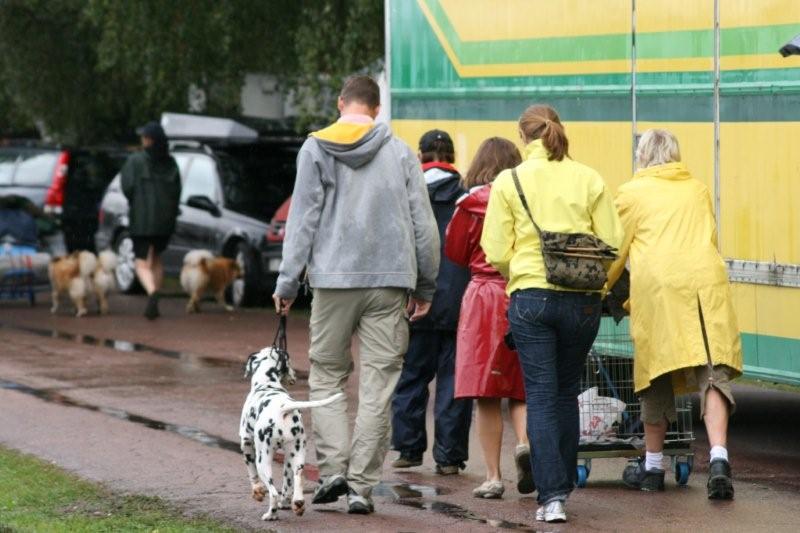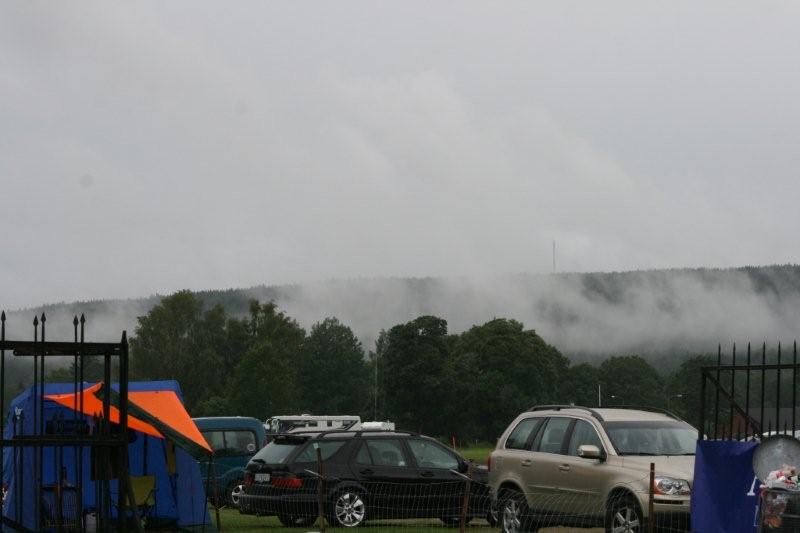 Bell was happy to go with Tomas and Helena to their car and to follow them home. It was so wet in the nature that it looked like it was burning with all smoke/fog.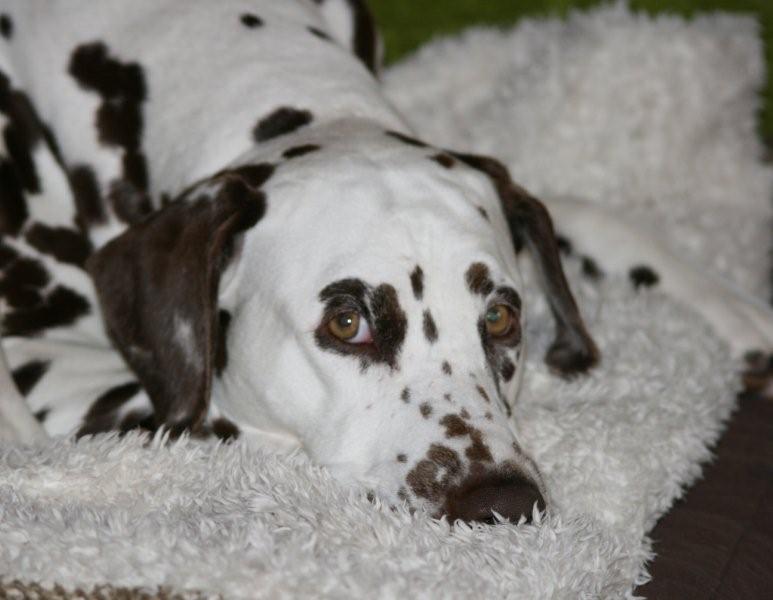 Devlina jump immediately up in our bed and I think it look soo tempting so I lay down beside her while Jenny and Rune and Rune N was out and buy Chinese food.........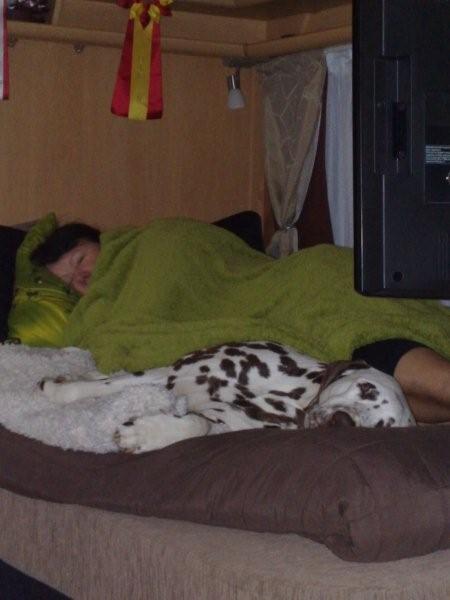 I heard when they come back but continue to sleep until twelve o'clock in the night. Rune was still looking at TV and I eat a little and went back to the bed again......still so tired.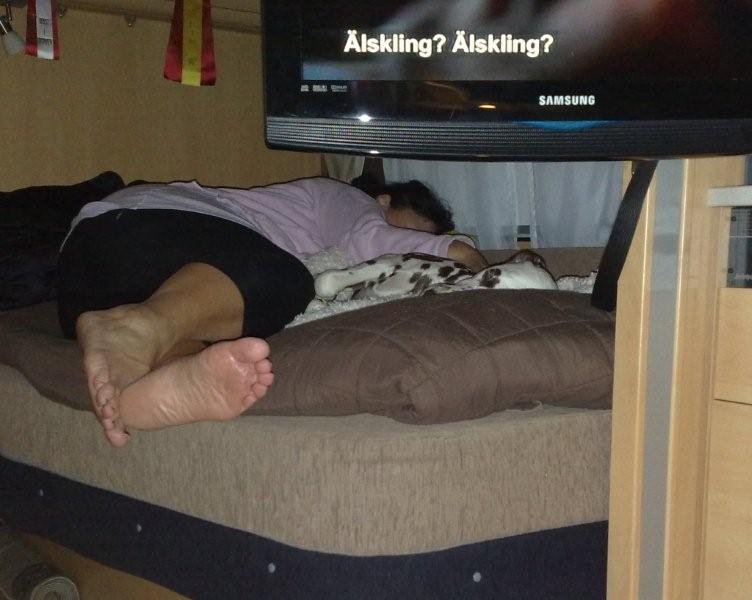 I fell asleep again and Rune continue to look at TV until 4 o'clock.
Friday 24 July 2009
Rune have had a long night sleep but did not feel ok yet, so he stayed in bed until the middle of the day when he came up to eat.........we will start our journey to Värmland as soon as possible.
Aase have ordered a place as close to the show as we can come...all the camping that we normally go to was full, so we will stay in Forshaga instead.
We have ordered boarding kennel for two of our dogs...Moss can't go with us then Daddy will get an heart attack in the caravan...and she can't stay home because of Bosson...he and Euro will stay home and Jill will follow Moss to the boarding kennel so she do not have to be there alone. We will leave them there in the afternoon and take them back home again on our way back from Ransäter on Sunday afternoon again.
Jennie and Snurra came here today to eat lunch with Roy and Jonnie and some more things. Some friends of Jennie is at Roy's place to help him with some things with his house, it is really necessary, I promise.
Edgar have the dinner ready for us when we came to the camping, and we got lovely food, thank You!!!!!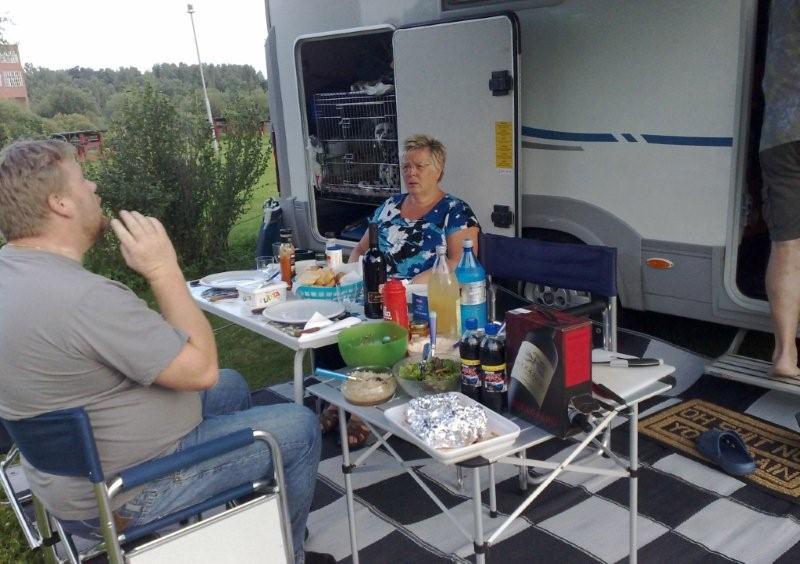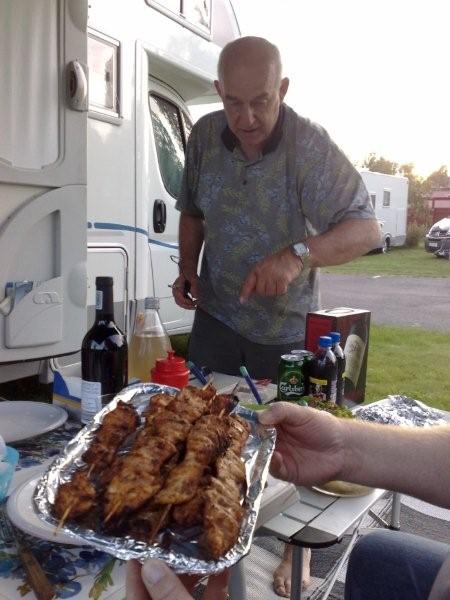 We were looking at TV in the late evening when Rune start to feel sick again...and it continue all night long almost....he have had this strange pain since 1990, and been to doctor several times to try to find out what is wrong, but no one can find anything, so it feel hopeless as it can come any time any where when he is awake or sleeping!!!
Tuesday 23 July 2009
Today we will clean our caravan and our car and make our lawns...our garden is like a jungle..Jonnie have promised to make the lawn while we were away but of course it have been rain every time he try to do it *S*, do I believe it ???? Nooooooo *S*!
In the middle of the day Nyhammers drive towards Värmland where we will meet tomorrow night.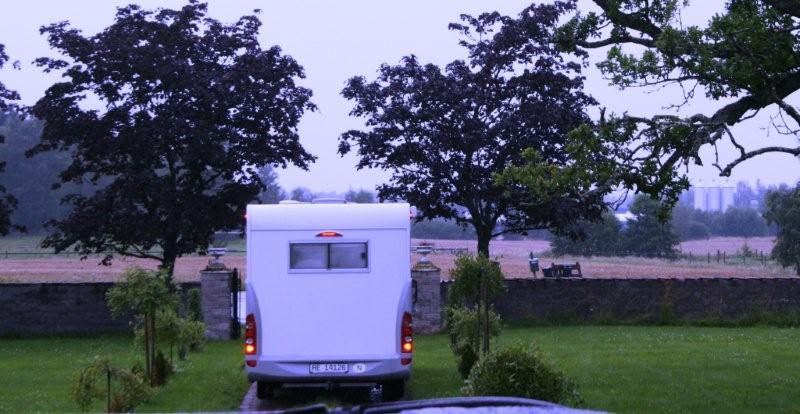 Just after they have gone, Rune came home, he feel sick and go directly to bed for many hours sleep. He woke up in the evening and we continue wit paperwork again and I continue with this diary!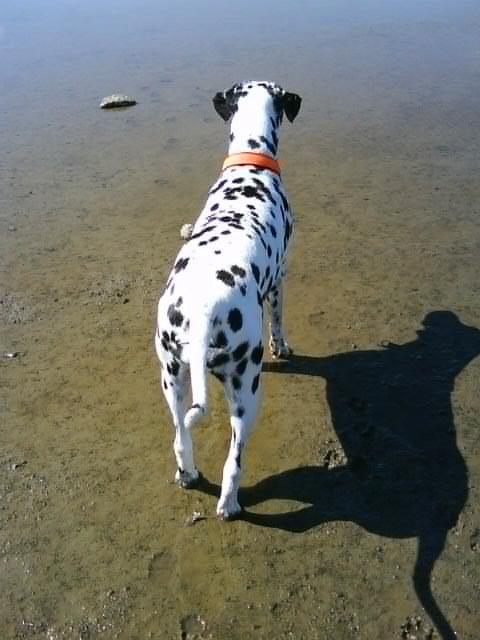 Last week I got this beautiful photo of BASIC, Jilloc's Call Me Basic, Zamanthas sister, now 11 year old.
Thank You Lena, she looks great at least from behind..*S*!
Wednesday 22 July 2009
Still soooo tired....I heard that Aase was up and wash clothes but I was to tired to go up...I got an sms 7.12 from Jonnie that he was hungry, but I saw it at 9 o'clock *S*!!! I take care of some wash before I went down at 11 o'clock.
We looked at photos on our computers and talked a lot...at three o'clock they drive further against Värmland.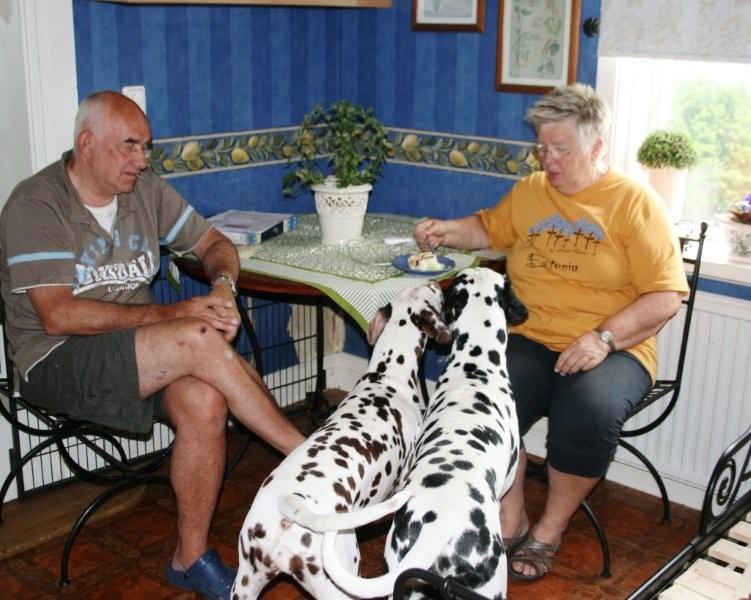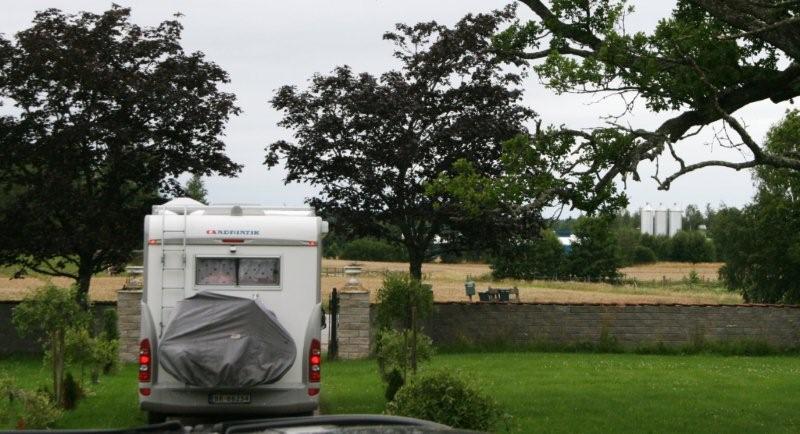 Two hours later I got customers to my store for some hours and I decide to try to sell most of my wedding dresses soon...very cheep, and just keep some of my favourites...and maybe buy more dresses for prom and bridesmaids instead.
Before Aase leave, Roy came with cake and we have even cake left from yesterday that our visitors bought in Lidköping!!!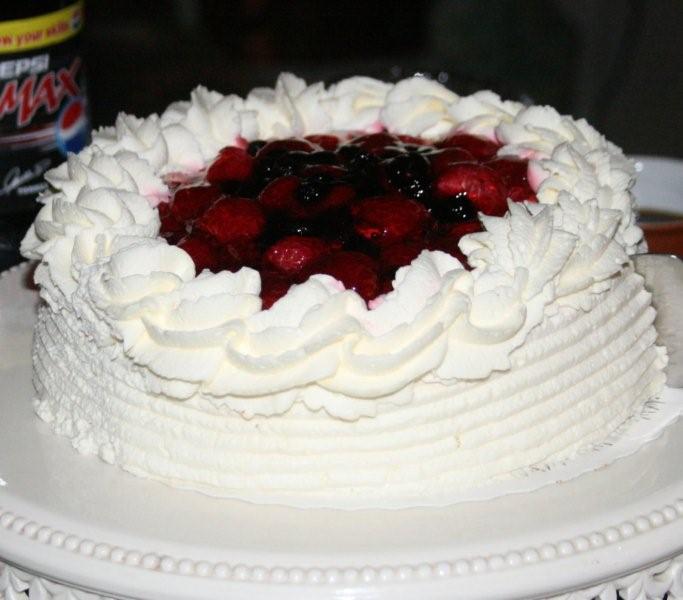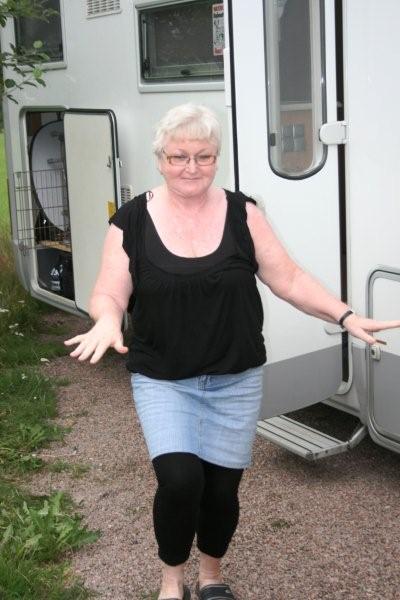 Just a little while after I was back in the house Nyhammers came with their mobile home, to stay here. Thank god we got help to eat all cakes up *S*.We all eat dinner together and then I try to sit here with the computer and Rune was sitting with the laptop and Anne Karin look at her mails too.
Tuesday 21 July 2009
I did not even heard when Rune went up for work, just sleep some more hours but was even more tired when I went up.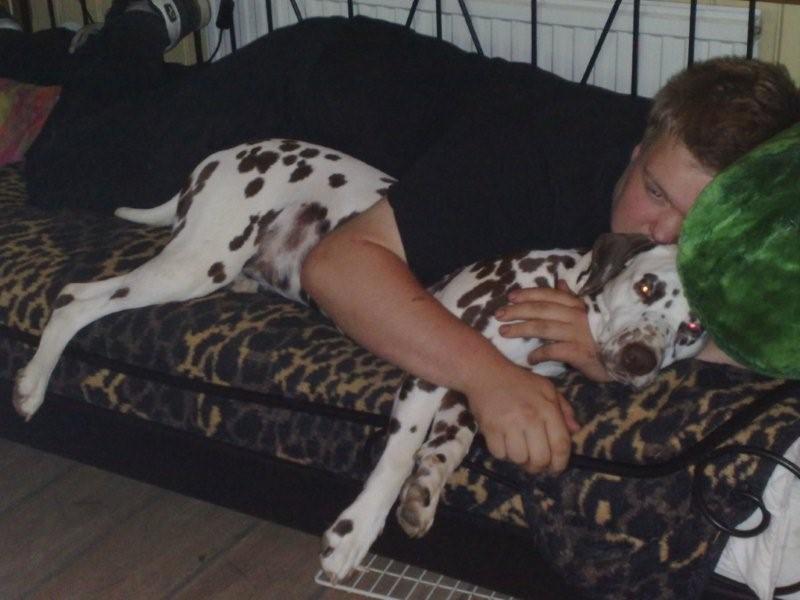 Jonnie have been so lonesome without our dogs he said, even if he have two own dogs at home.
We have had some terrible days now with Daddy and especially Bosson longing for Muzica. I do not trust even locked doors just now *S* so it is best to stay at home. Thank god that we are home this week and not in the caravan. They are so much more in love with Moss than Devlina......thank god it was not that bad last weeks.
In the afternoon Aase and Edgar came here with their mobile home, we made dinner and eat and talked all night long.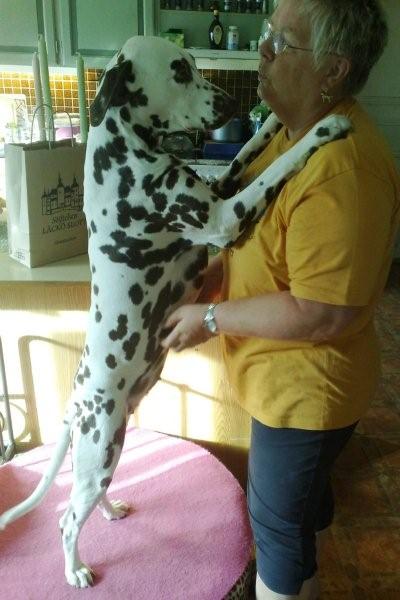 Devlina is so fond of people, and especially Aase and that is likewise.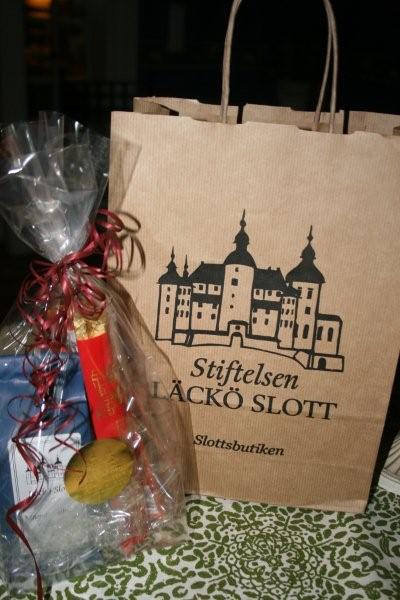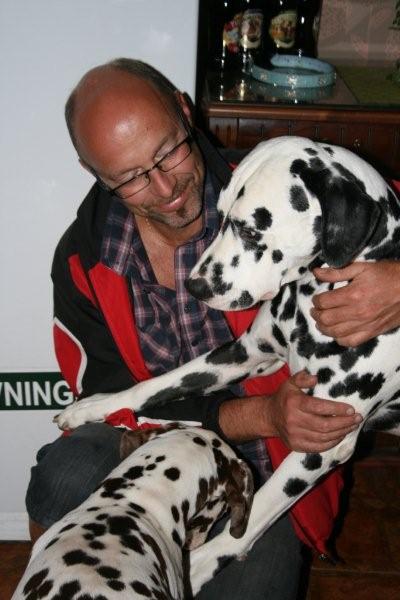 Aase and Edgar have been at Läckö Castle today and bought tea and chocolate to us there. Per Owe was her with dog food for Aase in the middle of the night *S*. Stupid Daddy thought he was coming with a girl for him!!!!
Zzzzzzzzzzzzzzzzzzzzzzzzzzzzzzzzz.
Monday 20 July 2009
Tired, tired...and poor Rune was up even earlier than me today. I went up to early because I have two appointments with my doctors today one in Götene and one in Lidköping both before lunch.
I have to freeze a small point in my forehead where they operated away a sun damage two months ago, and to be sure that it will not develop anything bad they do like this today.
When rune came from work we did a lot of paperwork and then we fall asleep at two o'clock (too late).....even if we wasn't ready with everything!
This was the first things that met me yesterday evening when we came home.......we have been away for 11 days.....You can see that I am neede by someone at home (Jonnie). Lot of things to take care of at home after so many days holiday *S*!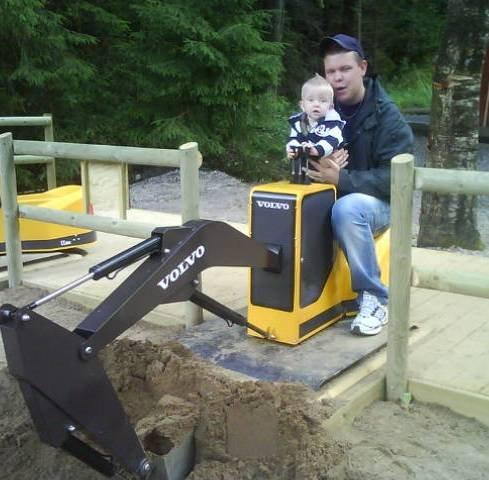 They have started to make our road behind our house to the barn better, but it was not ready as they have promised, of course.
Jimmie and Eddie and Nathalie have been in Borås Zoo and at least Jimmie have had a funny time with the machines for children *S*!
Jill eat first and then Devlina and Gloria.
Sunday 19 July 2009
The show start at 10 o'clock this morning thank god...and even that was too early for most of us..We have to go up at 7 because we will try to put all things and tents together this morning so we can go directly home when the show is over. We have about 5-6 hours to home with the caravan.
Today Jelena Kruus was Judging the puppies.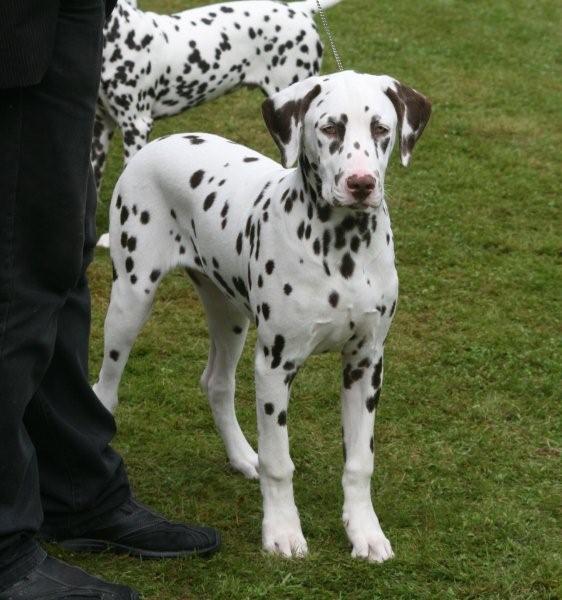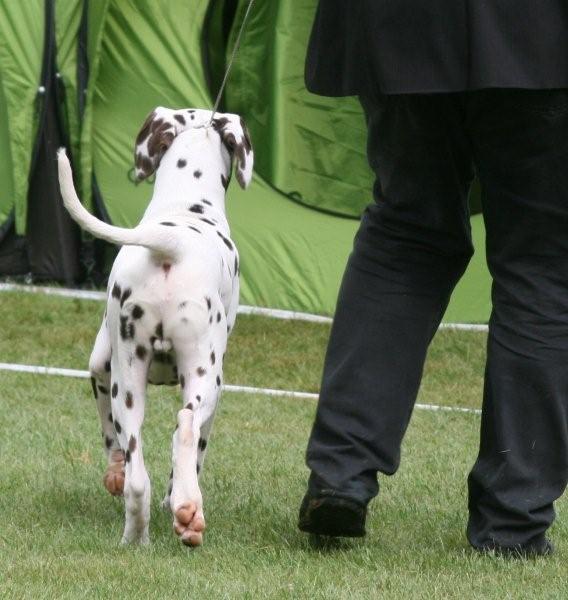 Euro standing and going.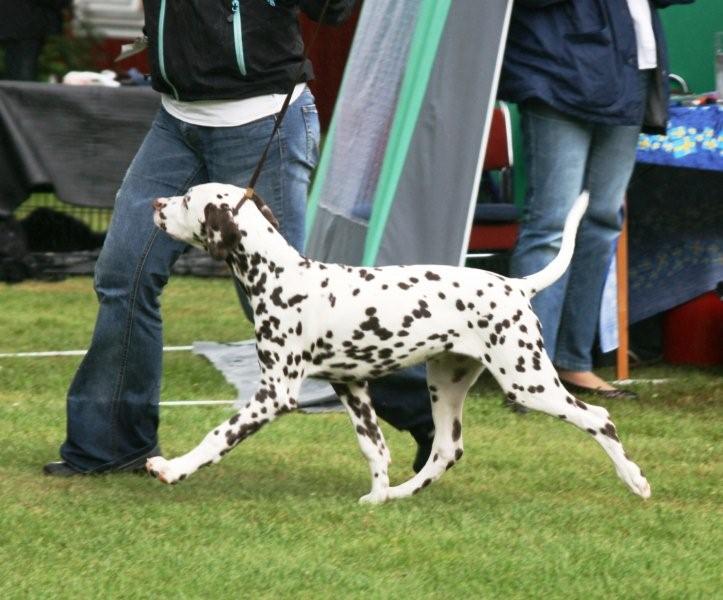 Dollar Bosson and Dizas son from Kennel Lovinda was Nr 2 Saturday and Nr 4 at Sunday, well done Nina.
A puppy from Spotnik was best male before Dollar.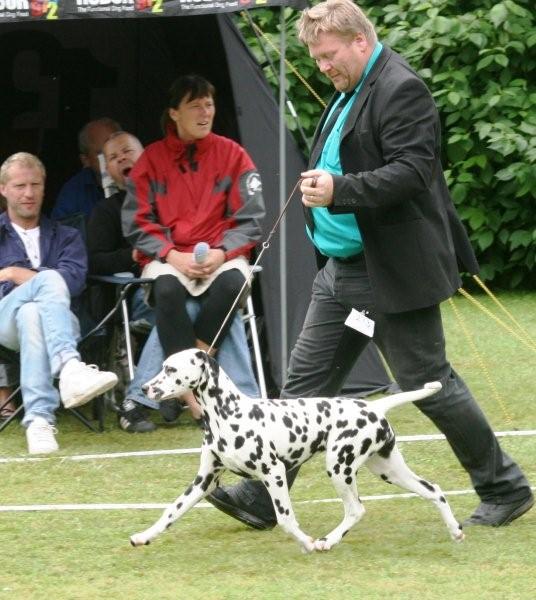 Hannas Doris and our Penny. Penny on the move!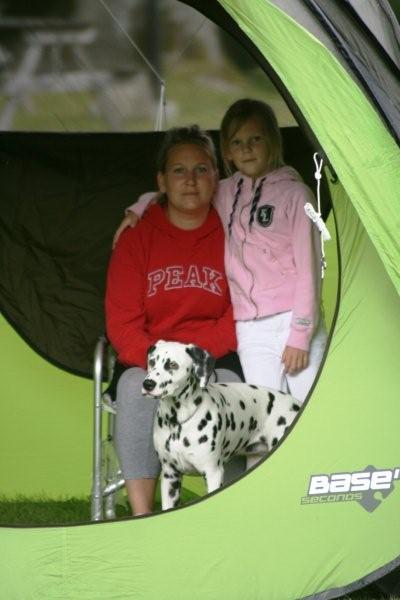 If we had known that Jennie and Ellie and Snurra (J Wild Card) would be here today we should have entered her to the show!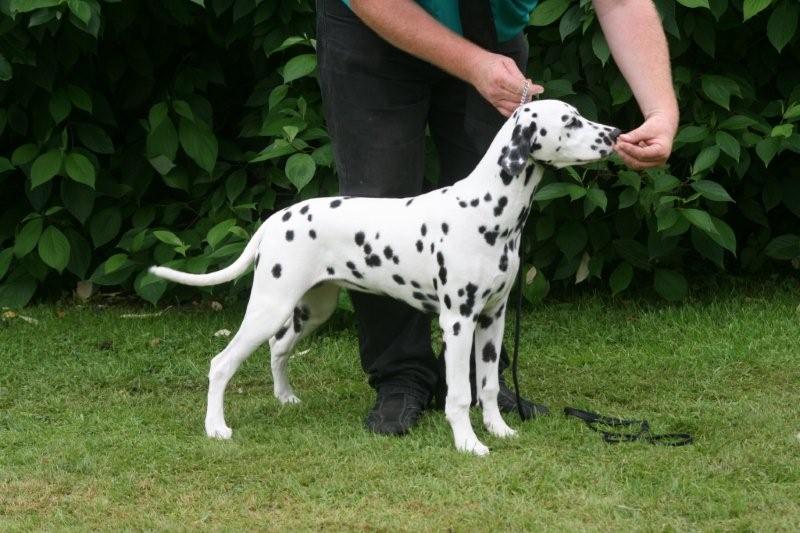 Snurra
A puppy from Spotnik's was BOB today and Penny was BOS.
Leelo Ratas was the Judge for all grown dogs today.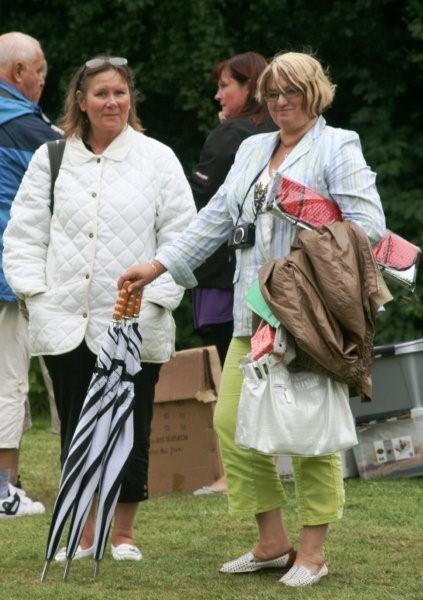 Annika and Jelena, just looking. Ulrika and Expo.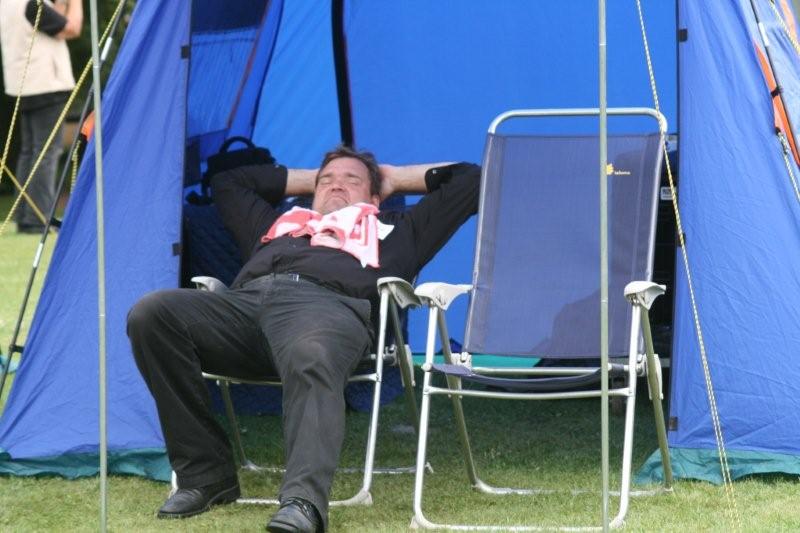 Kai was very tired today!
Waiting and waiting.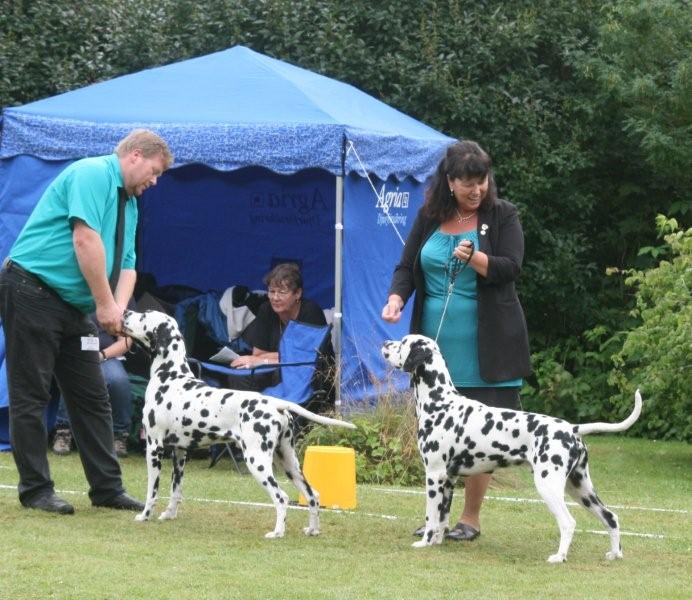 Bosson and Daddy in Champion class.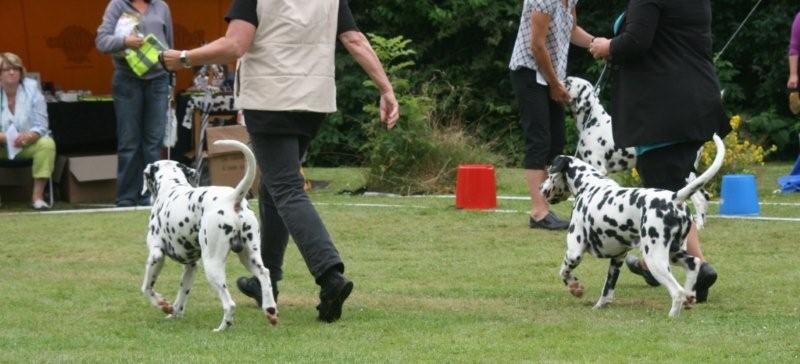 Zacko and Daddy on the move together.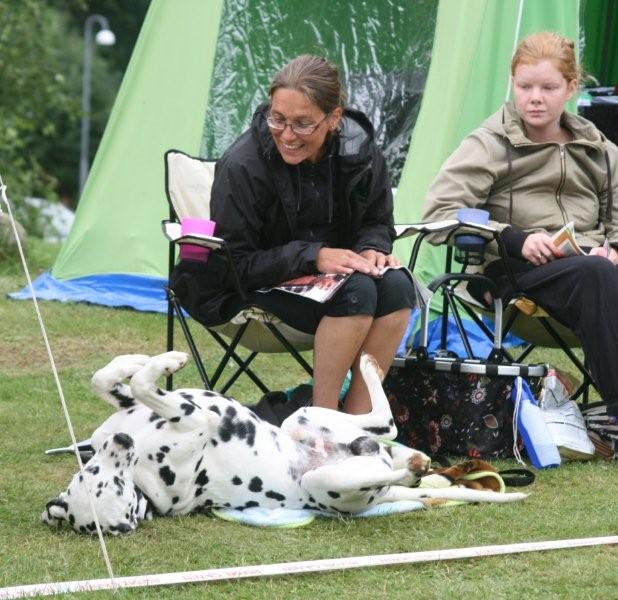 Expo was as happy as always, soo good to see him!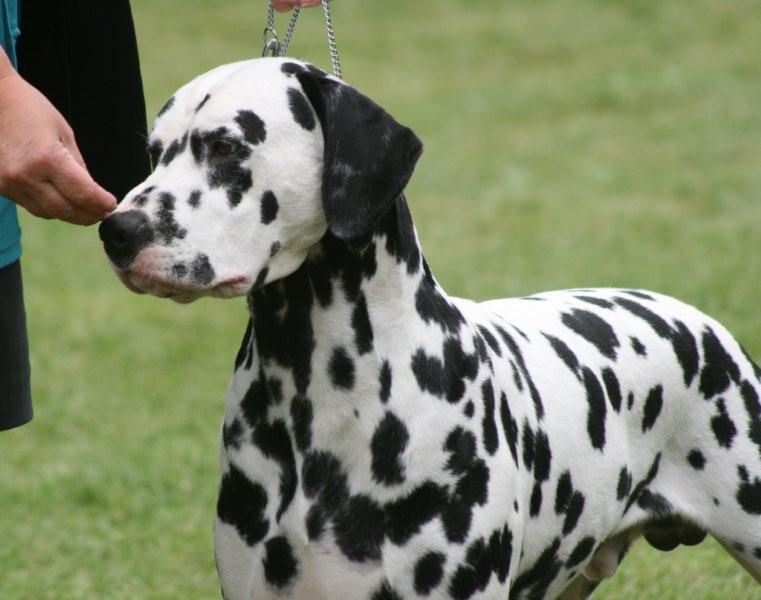 Daddy in front of the judge.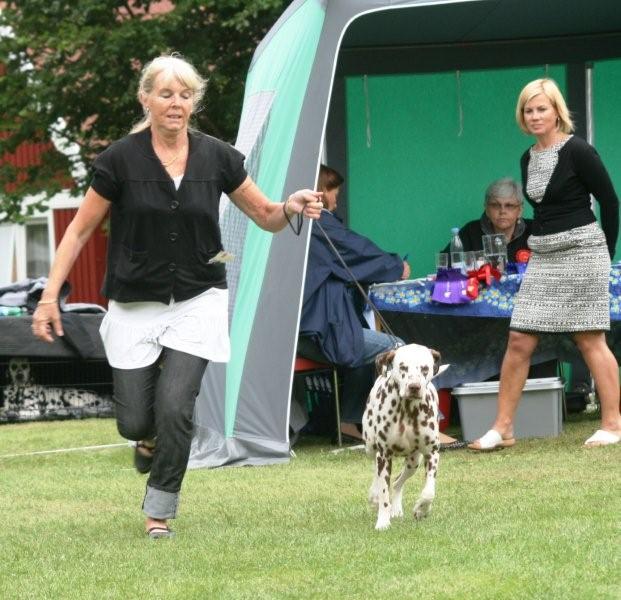 Eva and Angie won open class today, congratulations!!!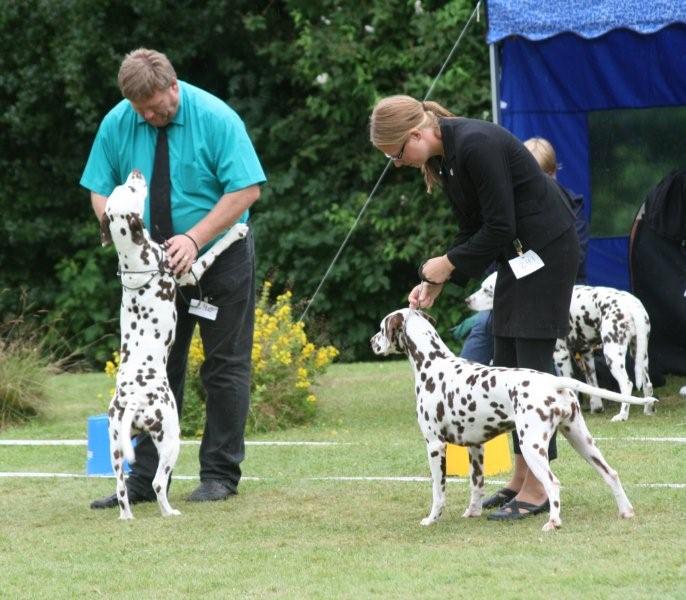 Devlina and Gloria waiting in Championclass.
Bertha and Aase and Rune with one Toots bitch waiting.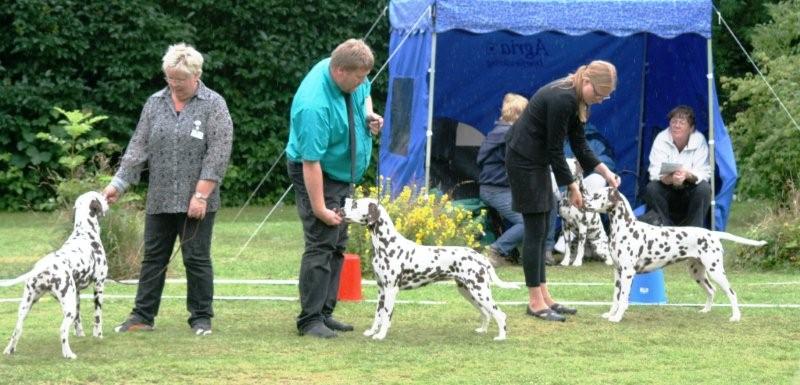 Bertha Nr 1 Best bitch Devlina Nr 2 and Gloria Nr 3.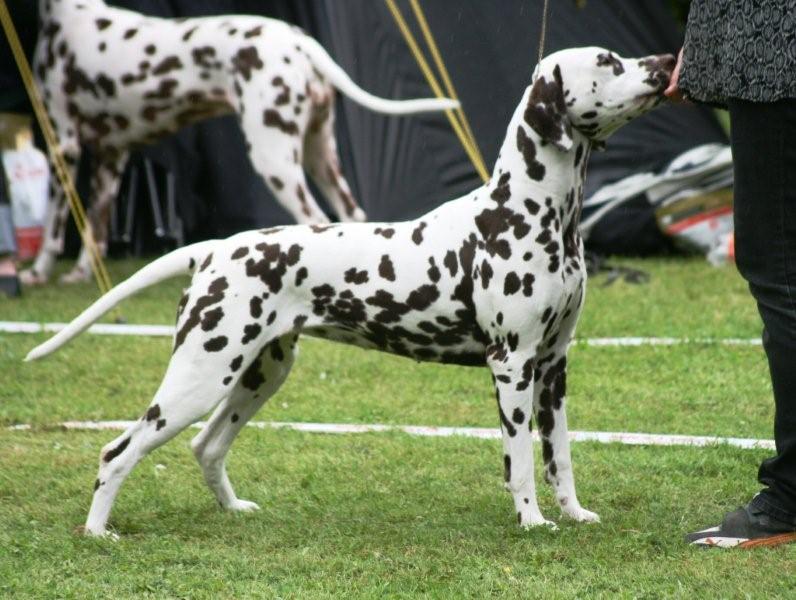 I do not have any photos from BOB and BOS because my memory card was full..hopefully I will get some from Jens later!
Toot's Bobadilla Light became BOB and Kayo became BOS, Congratulations to You both!!
Today I have the only Breeding group, but yesterday there were many, but we were the winner both days!
Bosson-Daddy-Gloria-Devlina
Yesterday I used Bosson-Daddy-Diza-Gloria, I hope anyone have a photo of that group.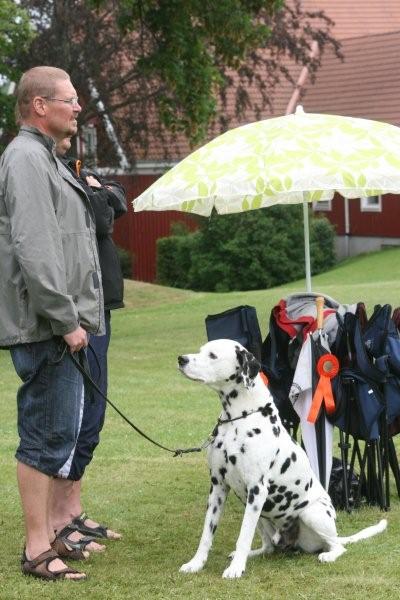 Garwin (Dennis son) from Johan Frick-Meijers litter 10 years ago was here!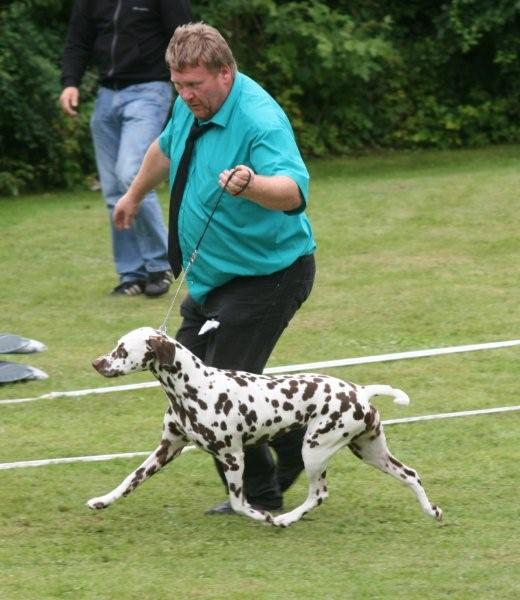 Rune think he need more exercise so he took Jill and run some rounds in the ring...she was sooo happy! She is only six now and we are so much looking forward until she can start in Veteran class in February 2011 *S*!!!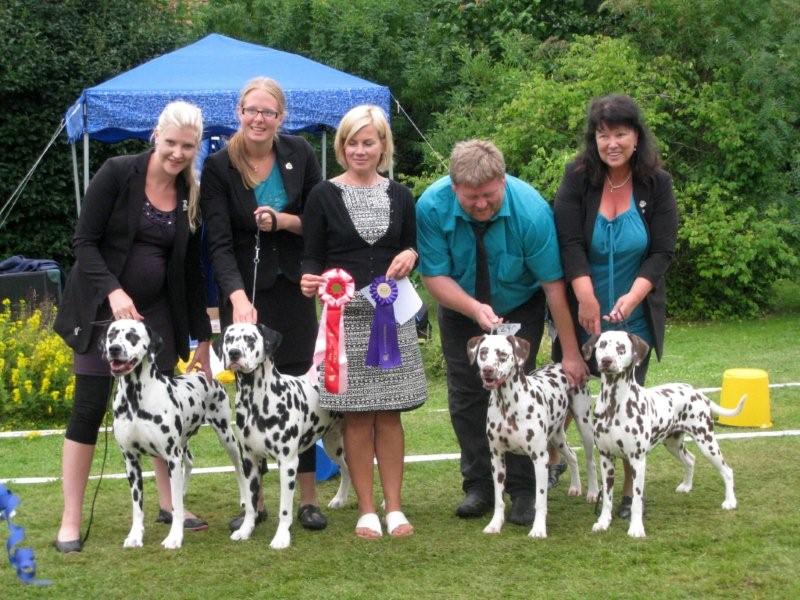 The Judge Leelo Ratas with Jilloc's Breedinggroup. Thank You Maija Eloranta for this loveley photo.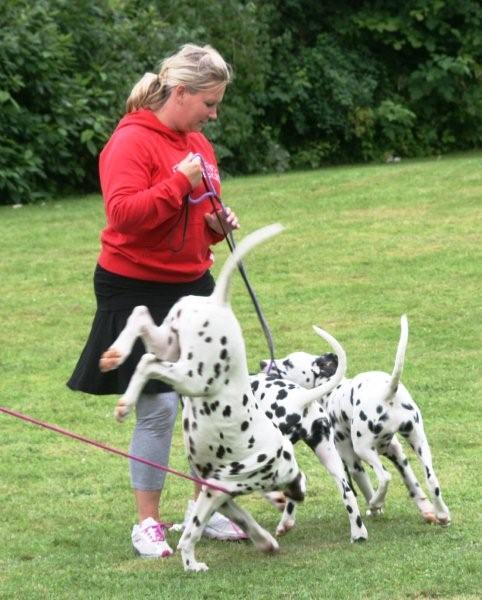 Euro walking on his frontlegs, crazy dog *S*! Jelena and Leelo was pleased with their (rainy) weekend in Sweden.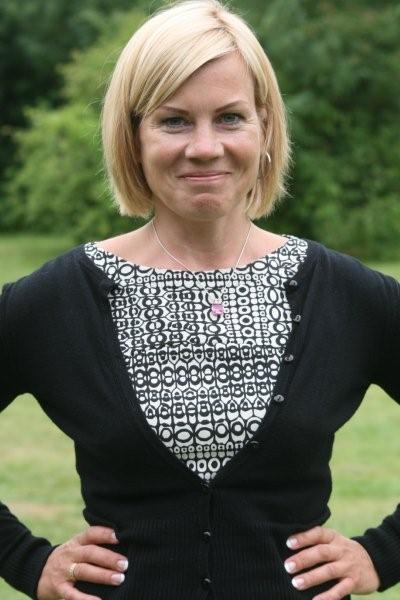 Here is the strict lady that let us run and run around the ring so we all had pain in our muscles for many days, we never forget Röstånga 2009!
Easy way to feed the puppies before we go home.
We drive home in terrible rainy weather and was very tired in the evening, again, as always!
Saturday 18 July 2009
Rain in the night and rain in the morning, shit!
Judge for the puppies today was Leelo Ratas from Estonia. Nine males and five bitches.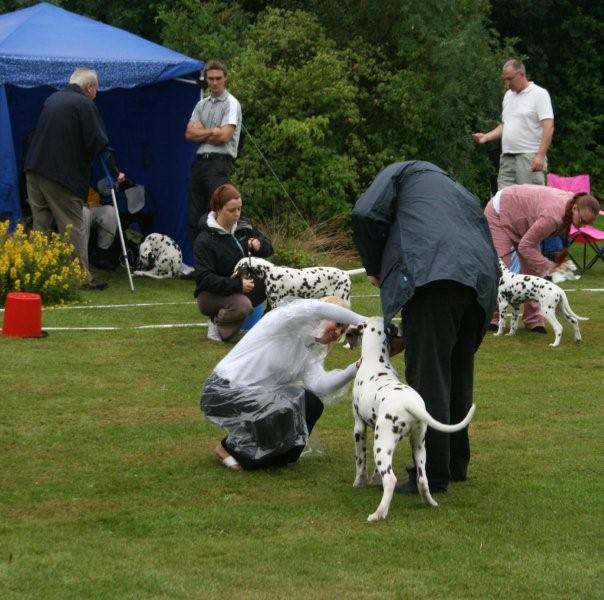 Dollar (J Walk On Top), namned by Helena Berg! Euro (J Wild Music)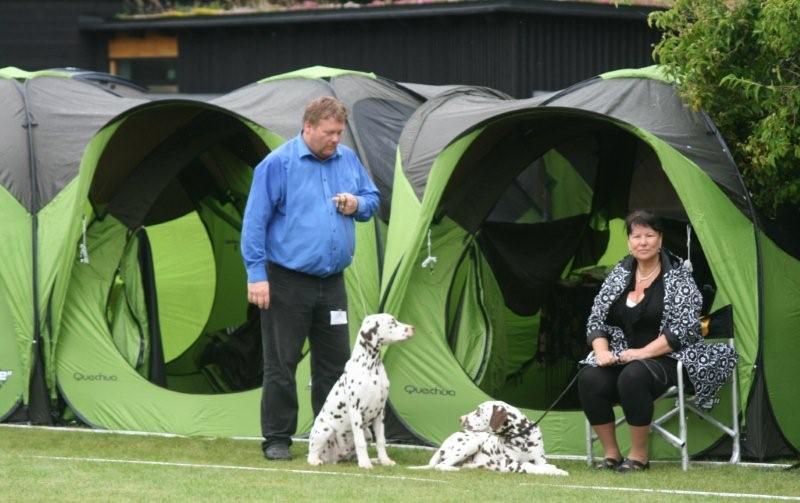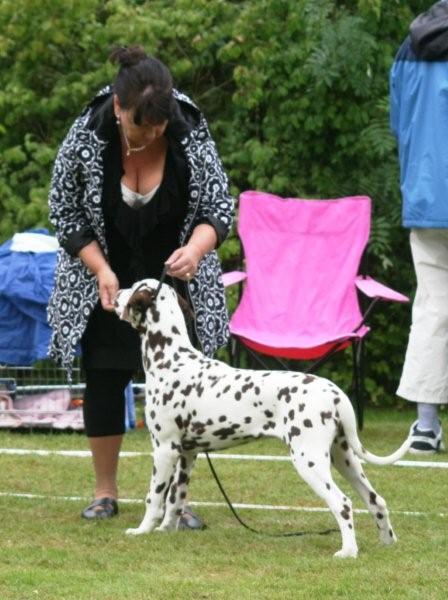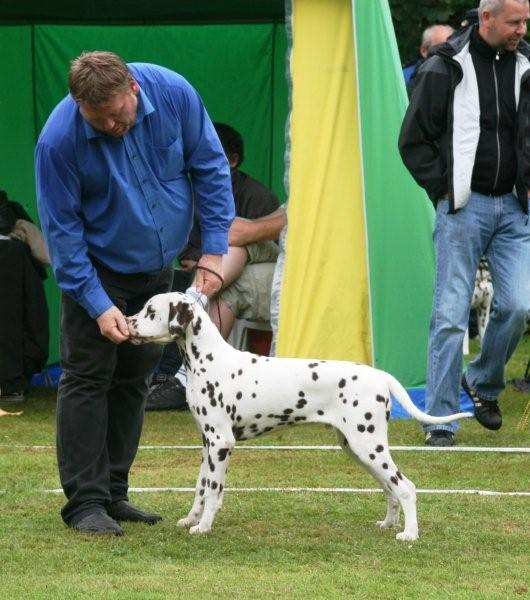 Close to the tents if the rain starts again.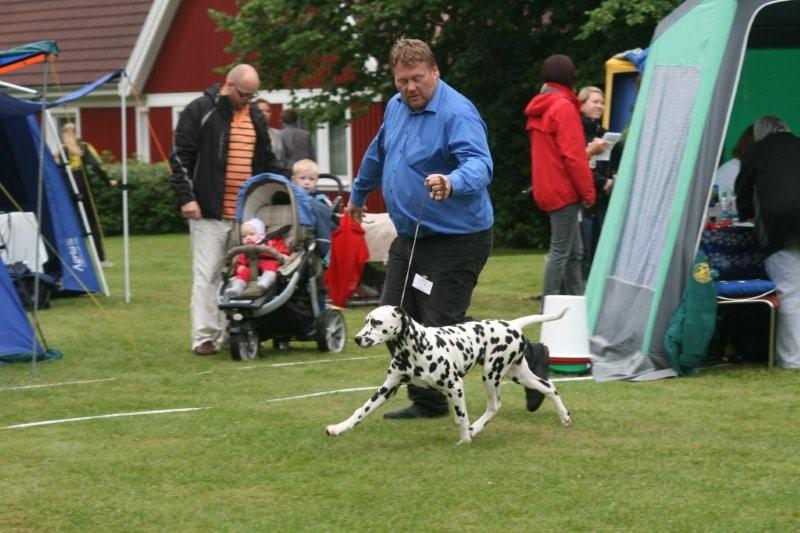 Penny became Best Bitch Puppy! (J Wannabe).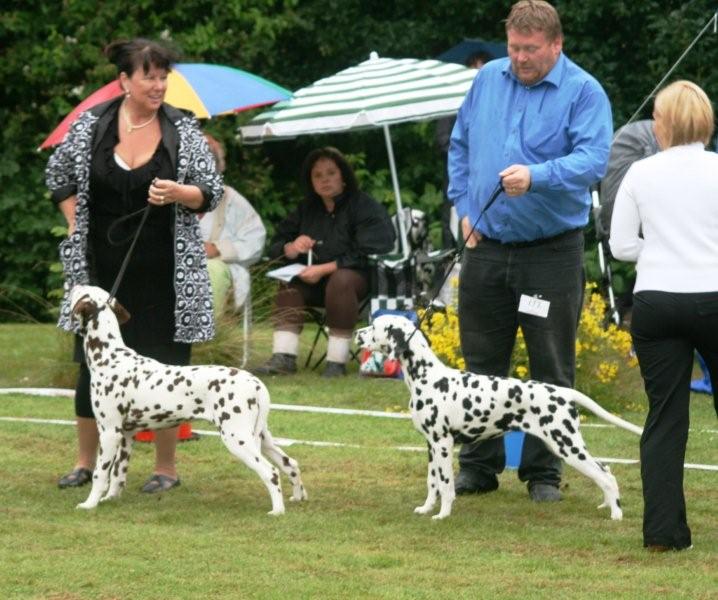 BOB Puppy Dollar and BOS Puppy Penny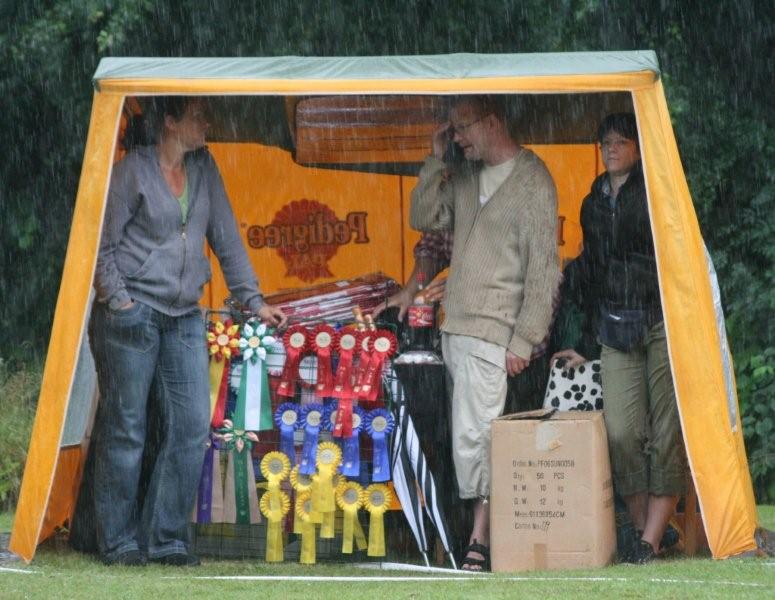 Rain!
And even much more rain!!!!!!
The Judge for grown dogs was Elena Kruus from Estonia.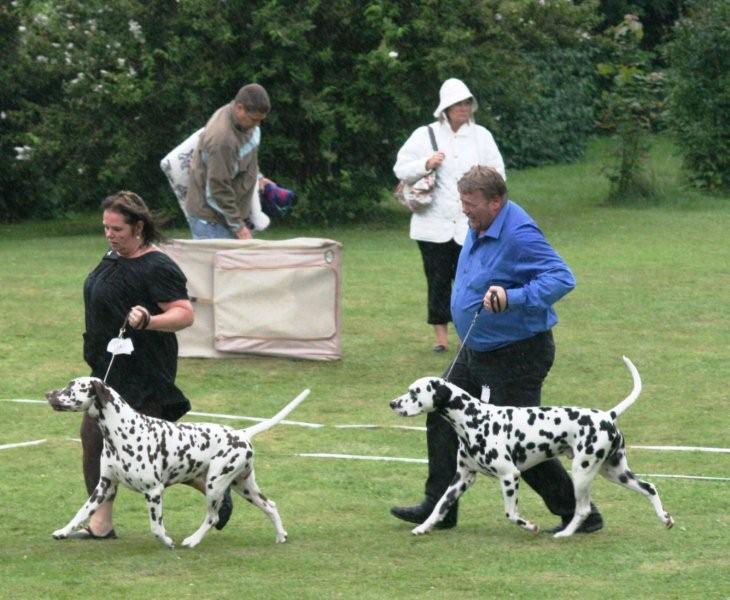 A photo of Sperm Bank and Sugerdaddy from the progeny group, there were no photos of me and Daddy and Rune and Bosson because it is hopeless when we both are in the ring at the same time.......maybe we can get some later from other people.
Anyway Zacko was best male, Daddy Nr 2, Scotty Nr 3, Bosson Nr 4 and Kayo Nr 5 with CAC.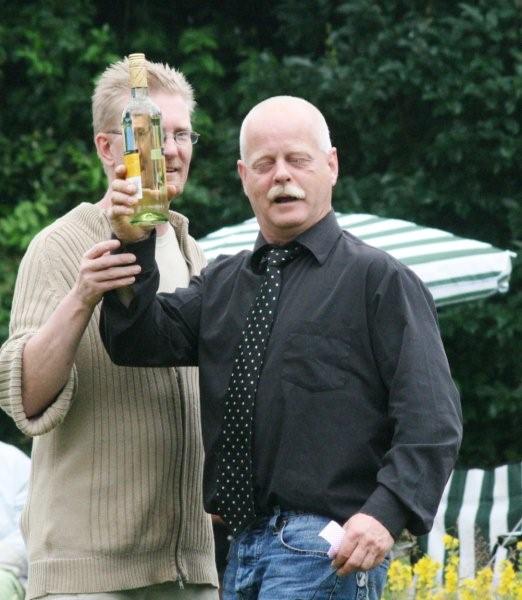 Lot or wins from the lottery, and everyone was sooo happy for boos !??!

We got phone from Jenny, she is in Köping at a Kennel club show today and she have became BOB with our Jill (J Joyride), well done!!!
Nr 2 Best bitch was J Right here Right Now.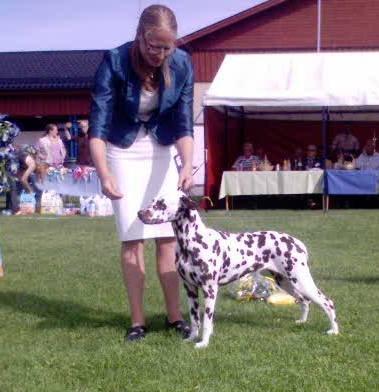 In the evening they were placed Nr 3 in Group, see You tomorrow.....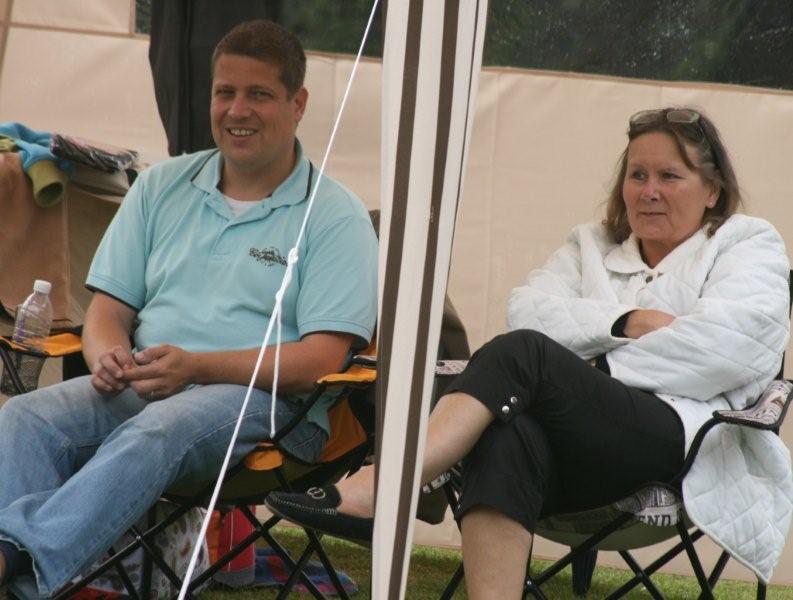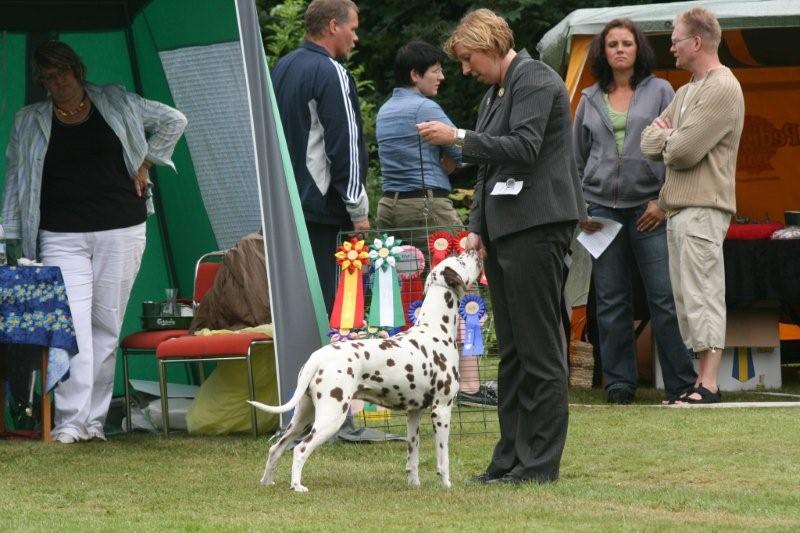 Patrick and Annicka. Chantal is showing her Rocca al Mare bitch, Daughter to our Devlin.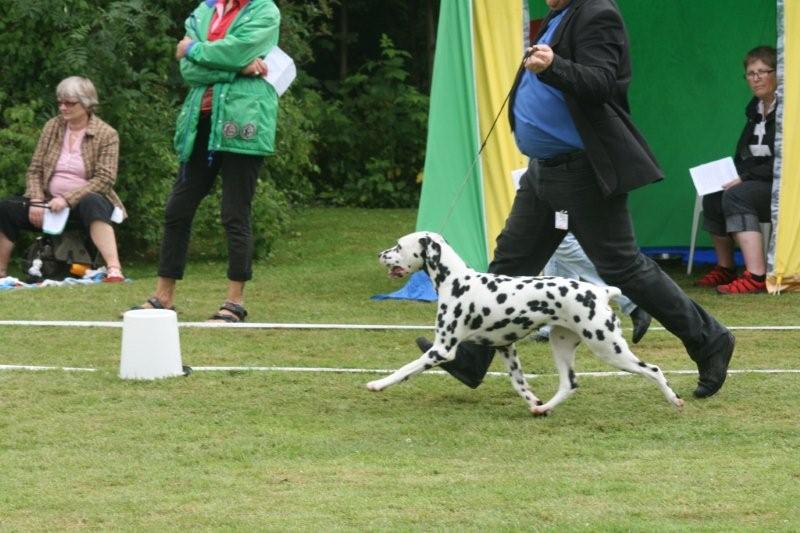 Angie and Bell. Bell on the run.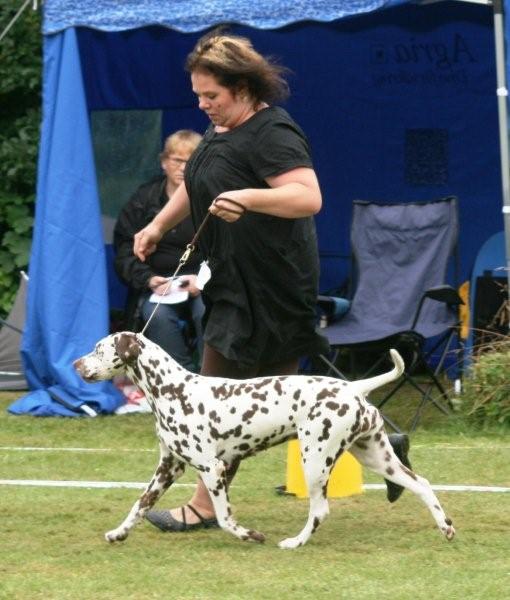 Diza on the move!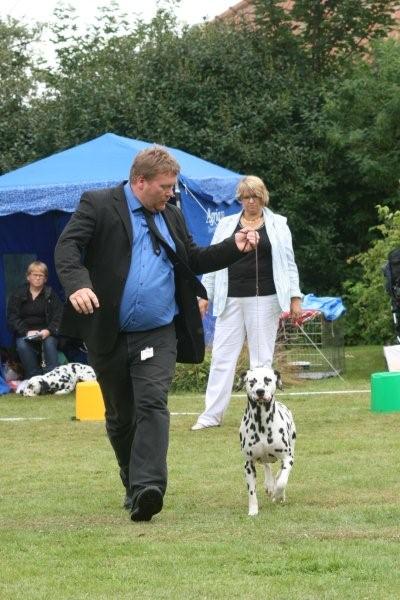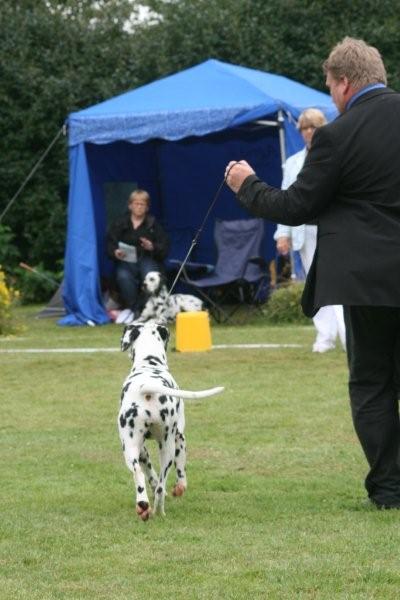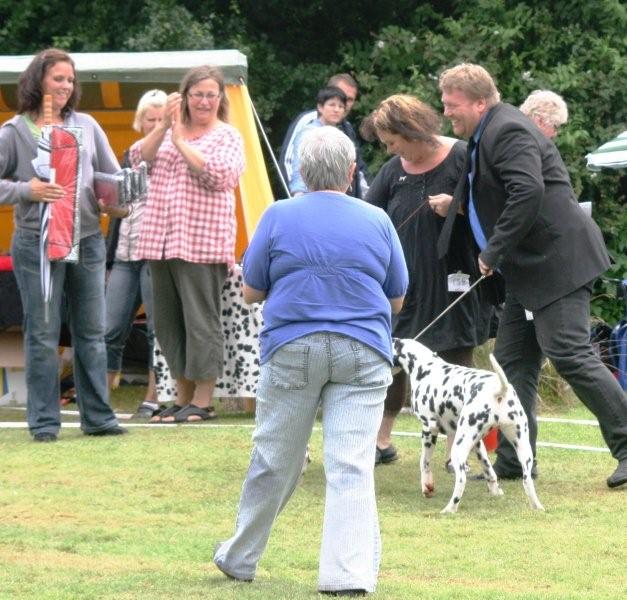 Bell, coming and going. Rune congratulate Lotta when Diza won open.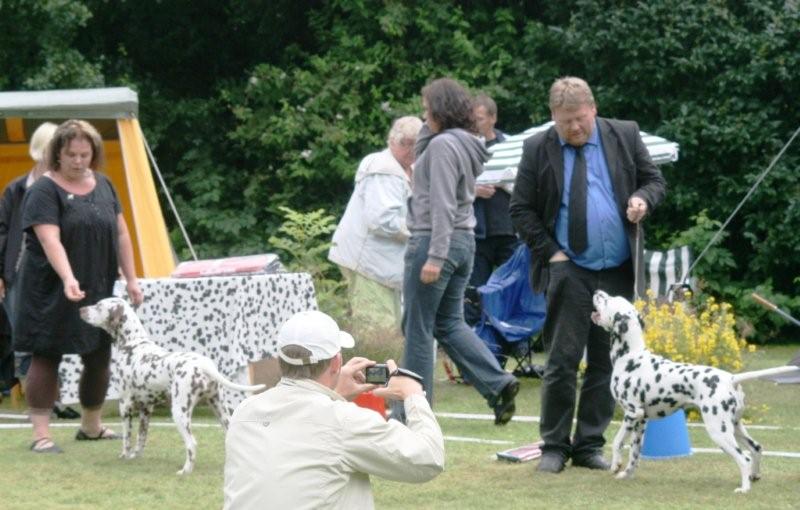 Diza, Jilloc's Picture of Paradise became a Champion today, fantastic! Here photo from open class where Diza won and Bell became Nr 2.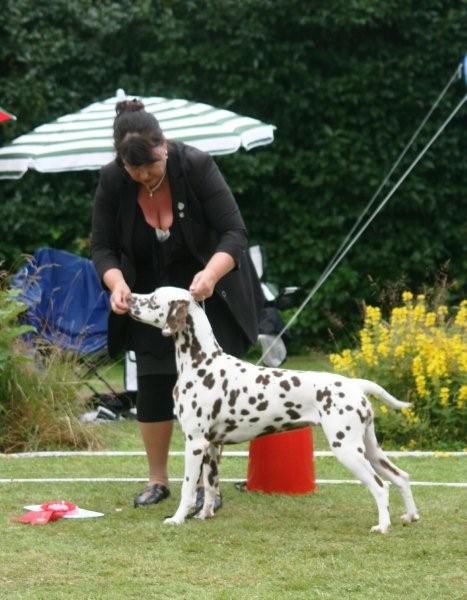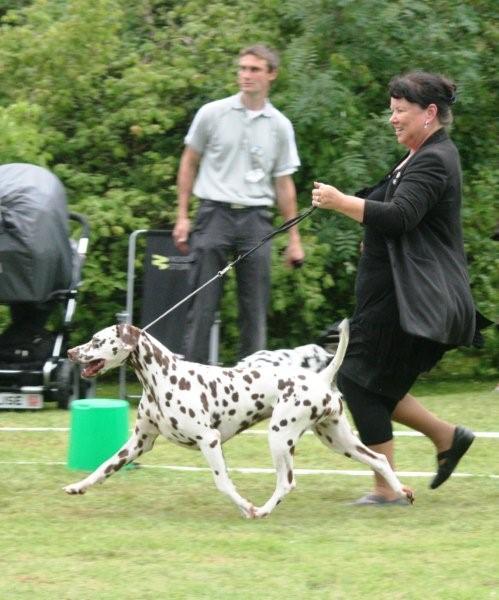 Gloria won the champion class and later on she became BEST BITCH, Hurray!!! She run as always "like a train" we always got that in her critique.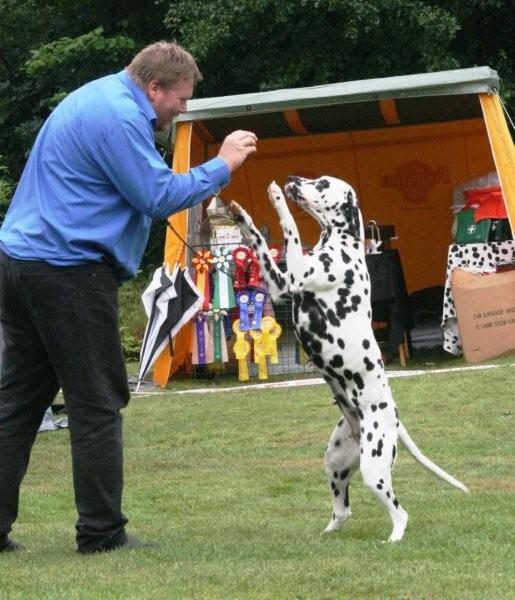 Muzika was happy even if she did not get any placement today!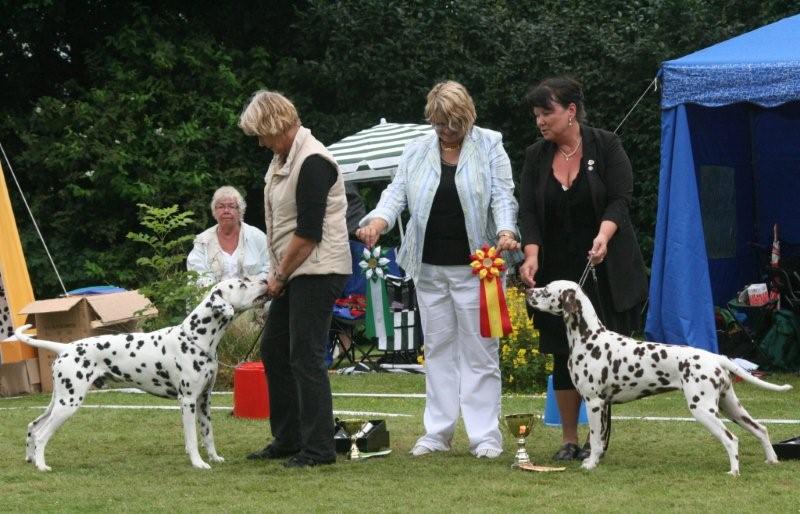 Zacko, Multi Ch Bel a Mir's elegant Envoy became BOS and Gloria became BOB today, hurray, thank You Jelena Kruus, we are so happy that you liked our dogs so much*S*!!!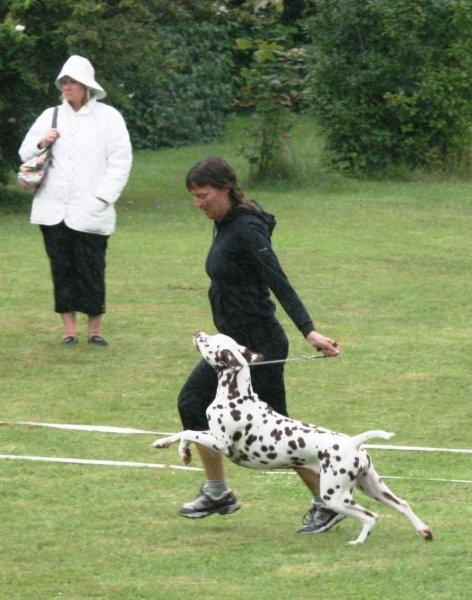 Thank You Carola that showed our crazy Gloria in the Progeny group.....not everyone dare to do that...You can see why *S*!!!
Hanna showed Chrissies progeny group.
We let our "Two seconds" tents stay together at the showground until tomorrow!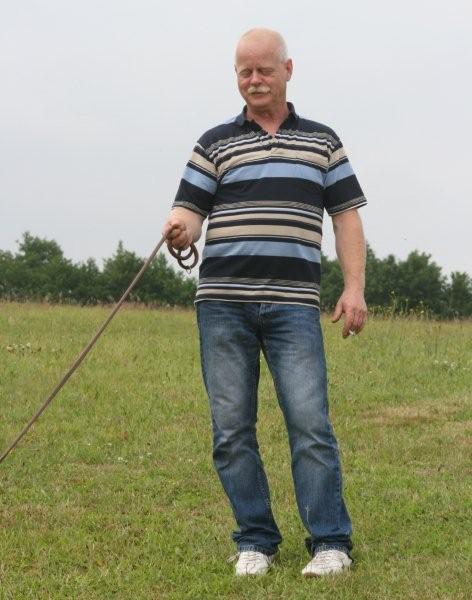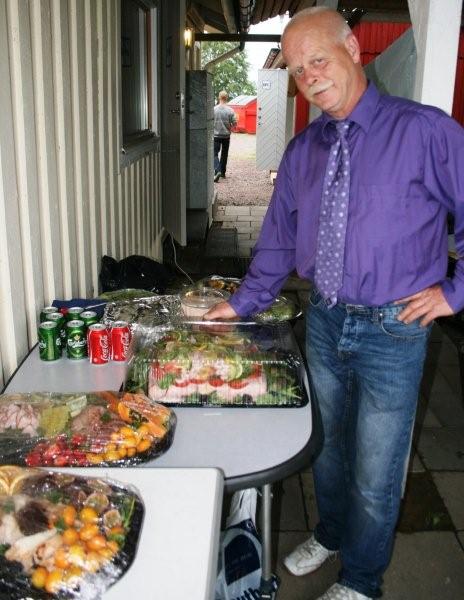 Tonight we were invited to a dinner for this nice Young man that will celebrate his Birthday.
We were all very tired after the show but after a while resting we all shaped up and enjoyed the party.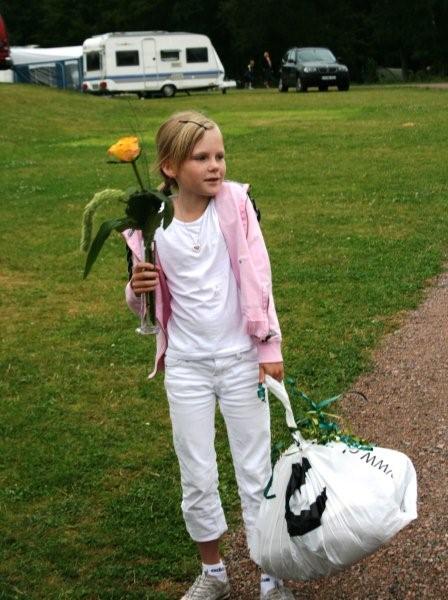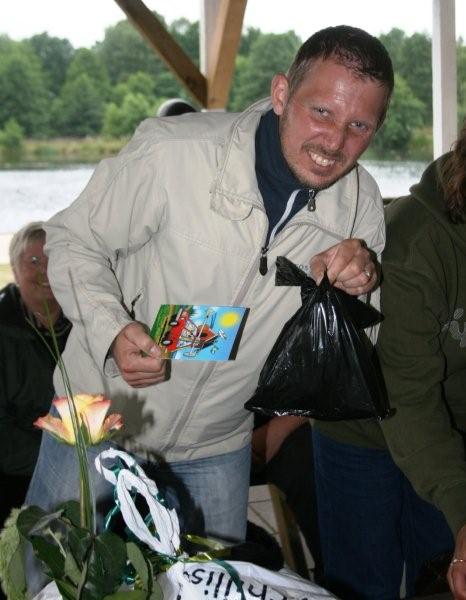 Ellie carried a flower and a gift. Jens came with a card and a "poop-bag" bläääääääää!
Hanna and Ellie cheered with lemonade!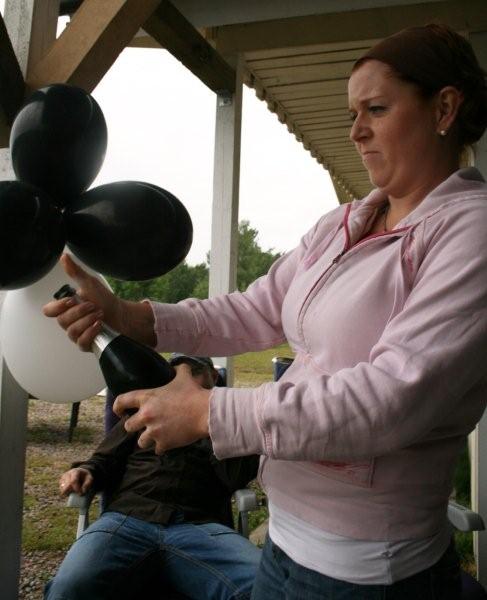 Nina opened many bottles with champagne tonight, and Rune, Kai and some others drink it up *S*!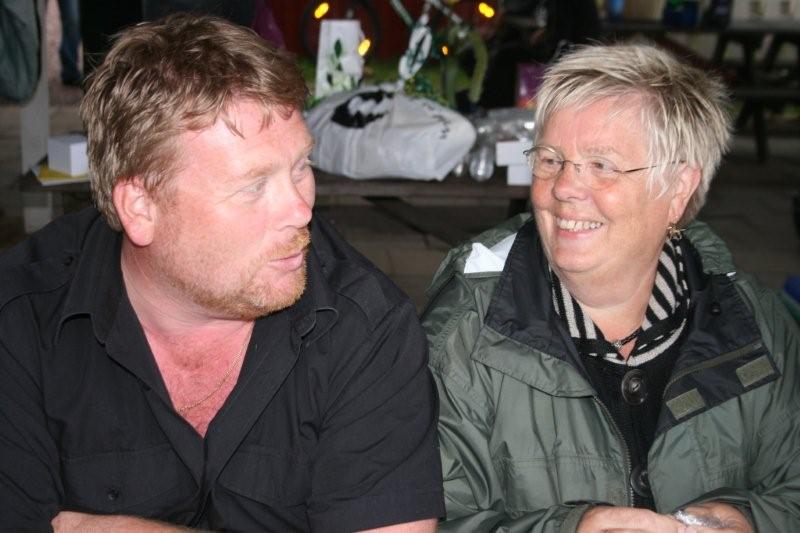 My Rune and Aase looked secretive, we wonder what they were talking about!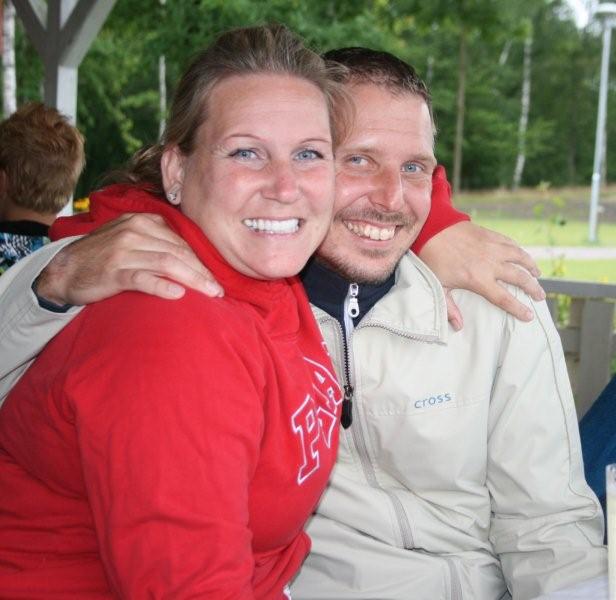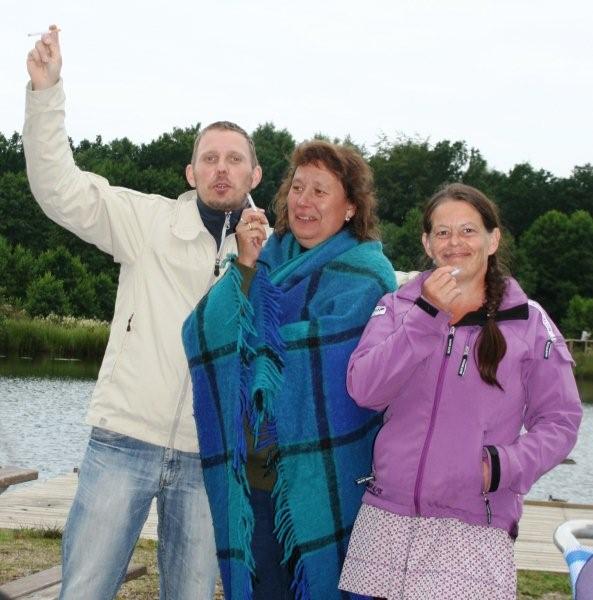 Jens was fond of ALL the girls tonight!!!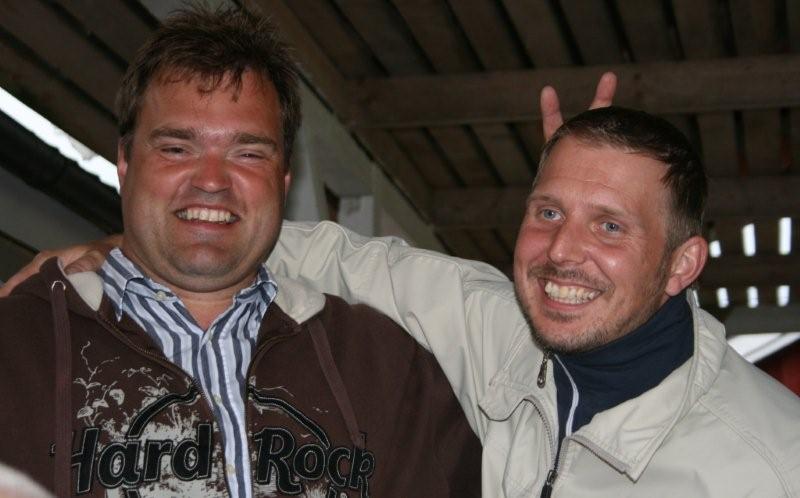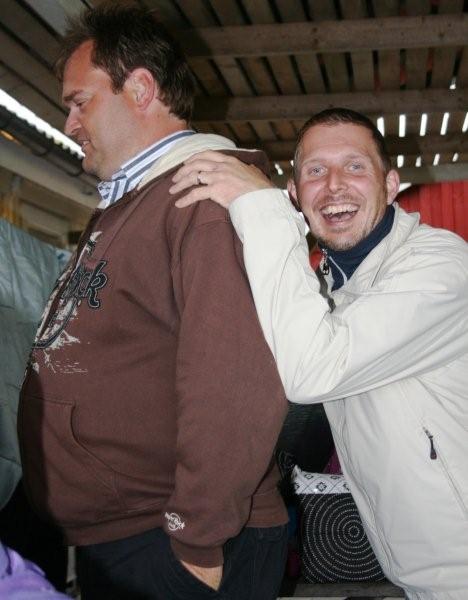 He was even fond of all guys tonight too *S*!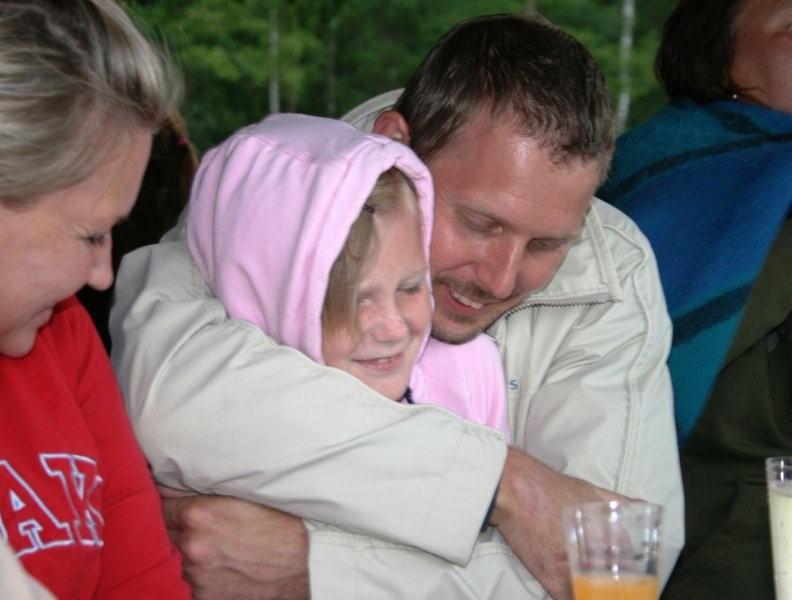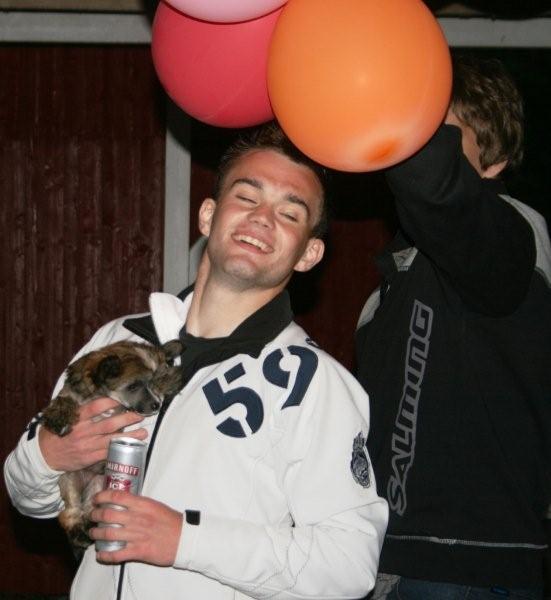 Every one was in good mood - even if the weather could be better. Andreas with Sissels "puppy-rat" and Kenneth behind the balloons!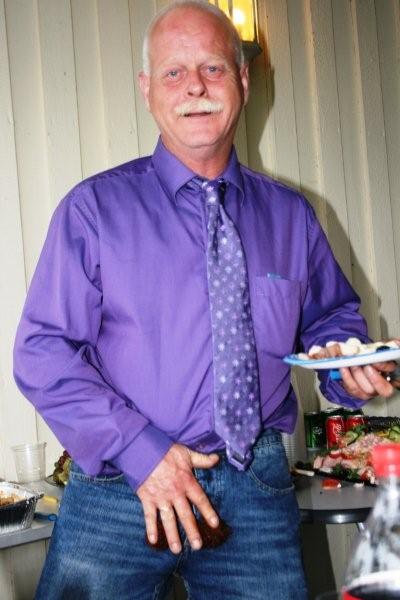 Sissel took a strange fruit from the table and put it under her nose like a moustache...Rune put two hairy fruits on another place *S*!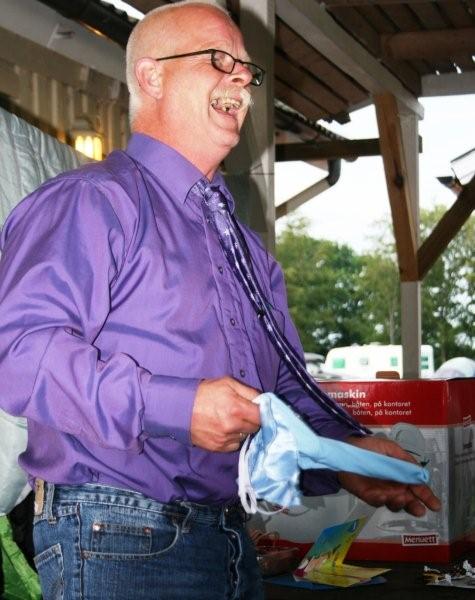 He got a sexy underwear from us, like a elephant with trunk *S*, love to see him try them. We have bought an ice machine for the mobile home too, together with Sissel and Kai.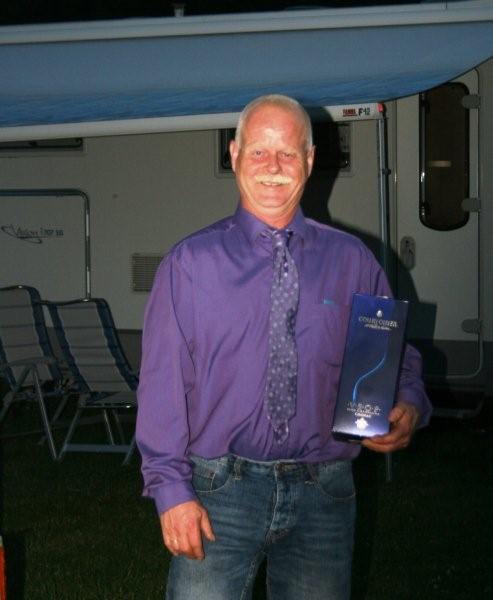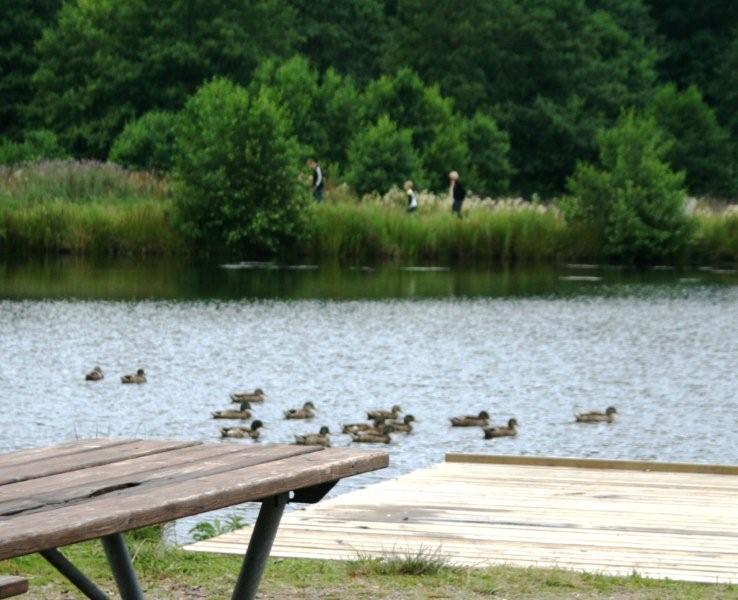 I eat cake, and Rune get more to drink from the car. And the ducks were in the beautiful little lake just behind us.
The guys continue until late in the night....will they be up in time for the show????
Friday 17 July 2009
I have booked hotel for Roy and Jennie and Ellie at "Kalle på Spången" a famous hotel close to Röstånga. Roy will be here today for fishing here at the camping and Jennie and Ellie is coming tonight or tomorrow morning. They will all stay until Sunday, and they will be here to celebrate our friend Rune Nyhammer Saturday evening at his 50-year party here at the camping. And of course they will be with us at the dogshow some day.
Today will not be a relaxing day. We must give our dogs a bath, and prepare everything for the show tomorrow.
Sun in the morning and during the day...then RAIN!!!!
The pregnant Devlina is resting like a queen in the caravan, thank god her season is over so she can stay in the bed again.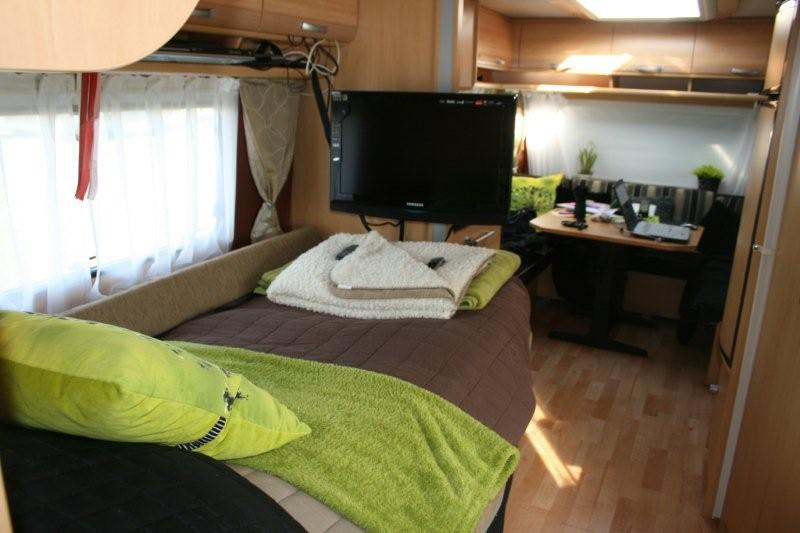 I am soooo happy for our caravan, it is so very good for us and our dogs but 9 dogs is toooooo much, especially when two bitches have been in season last week. And the new TV is perfect!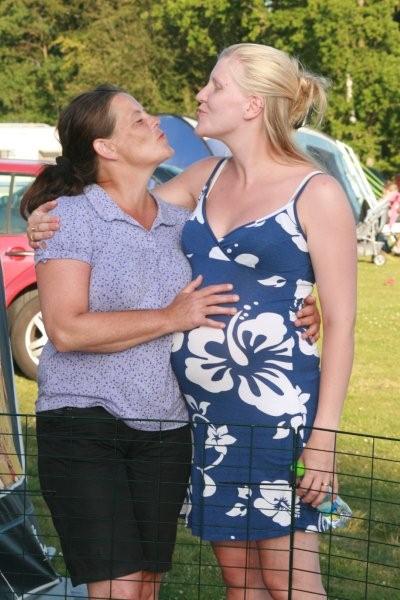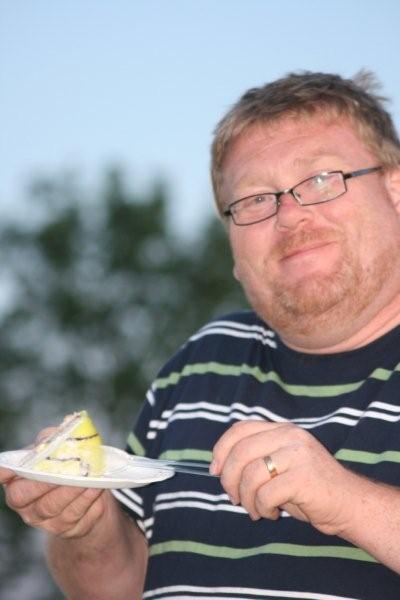 Sisters????? Even Rune eat cake today!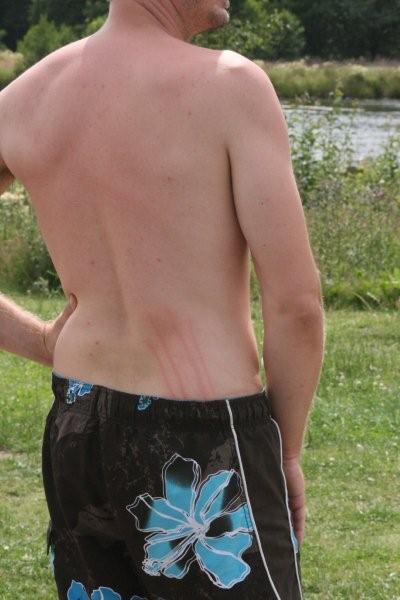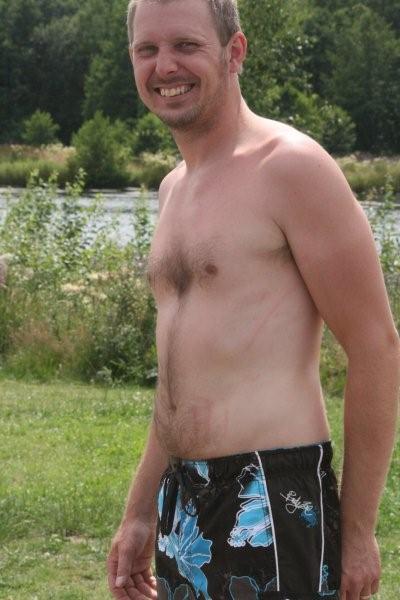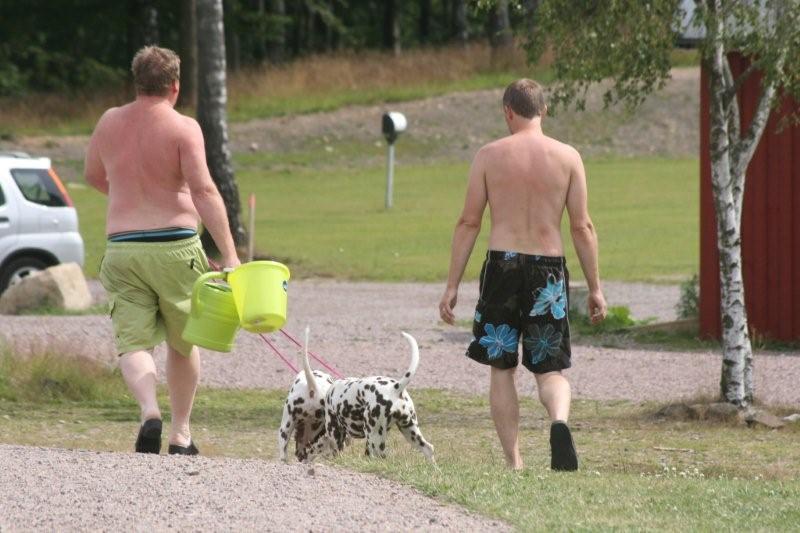 Jens have had a hard night, we could see that *S*!!! Or was it just Gloria that loved him too much? Rune and Jens walk away to start to bath some dogs.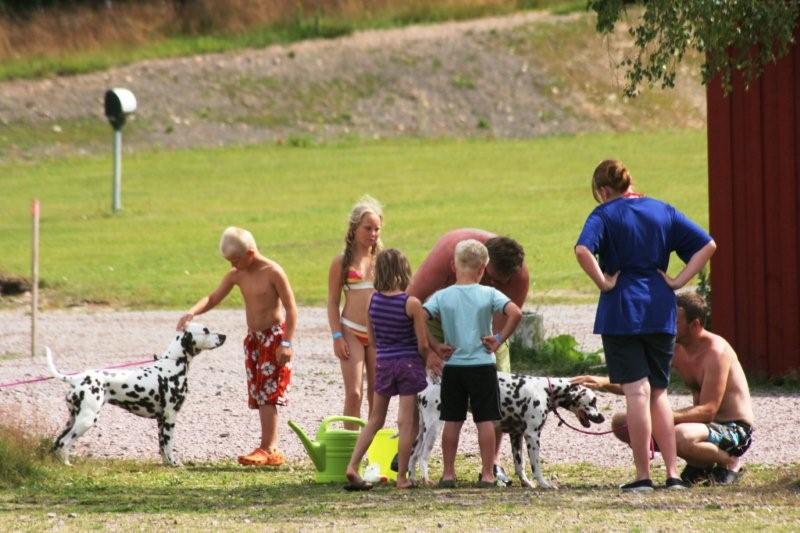 But they were not alone, sooooo many was interested in helping him!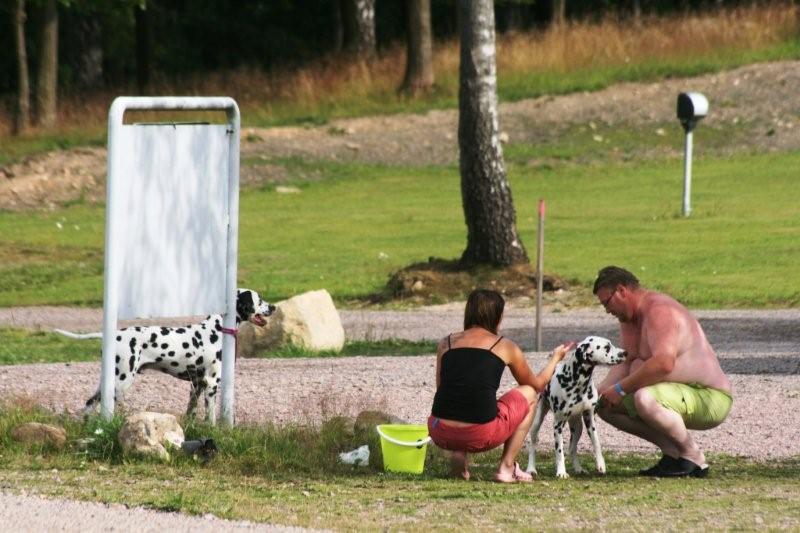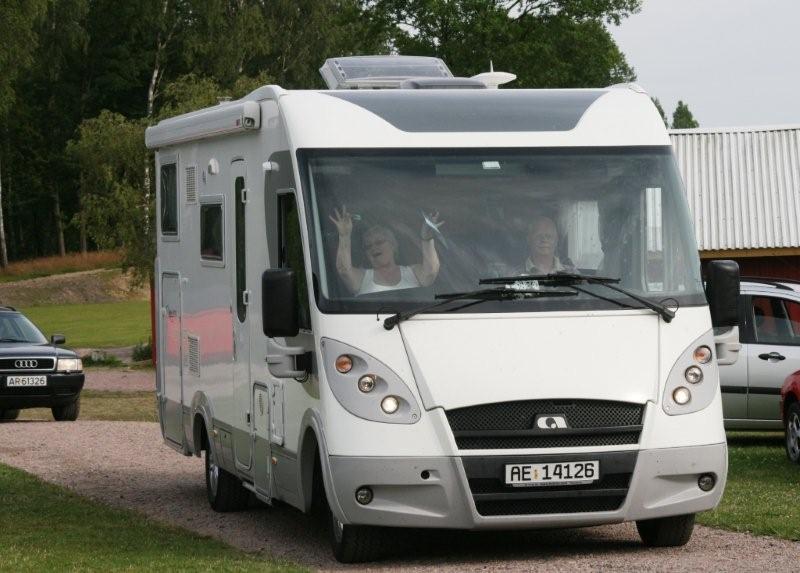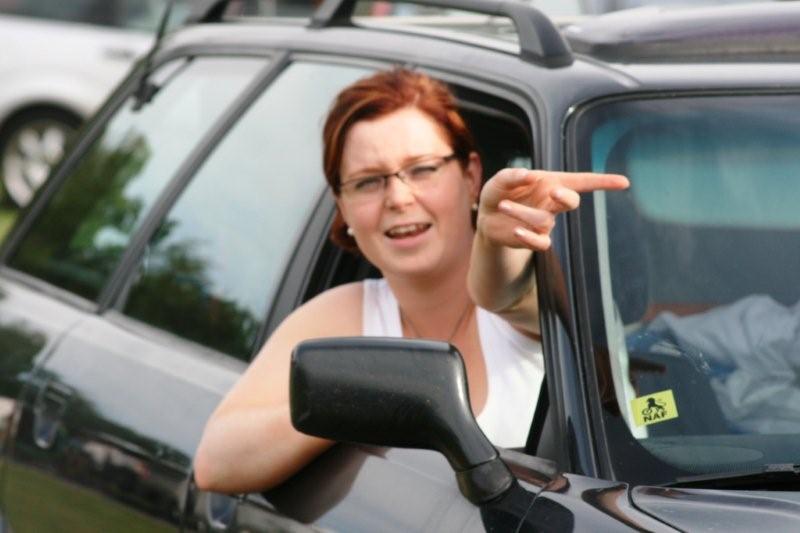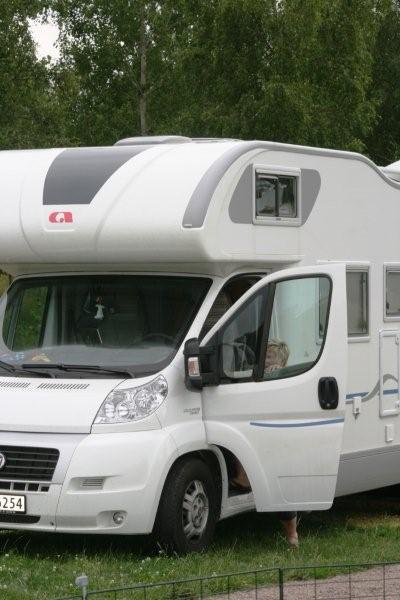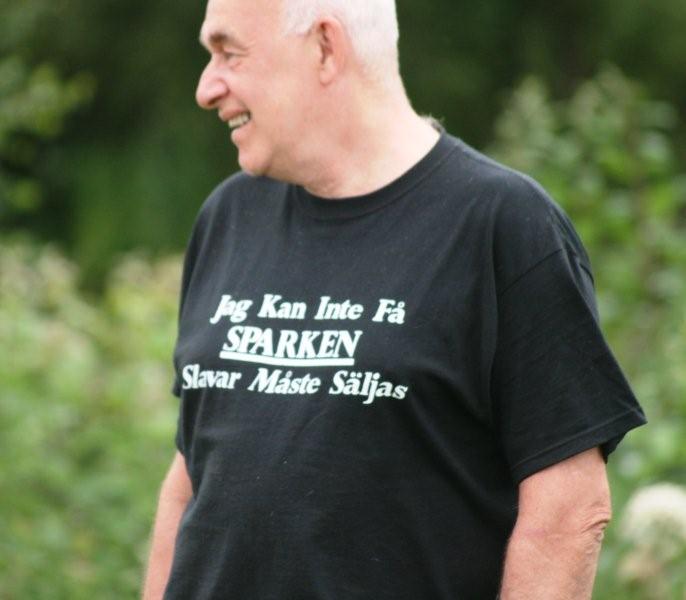 Nina and Tom came in the car behind them. Aase and Edgar came in the evening too...and he immediately start with his work *S*!!!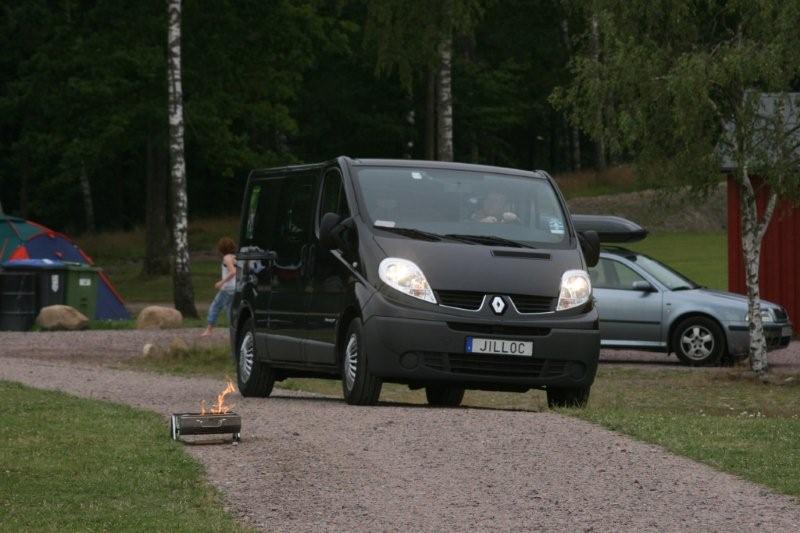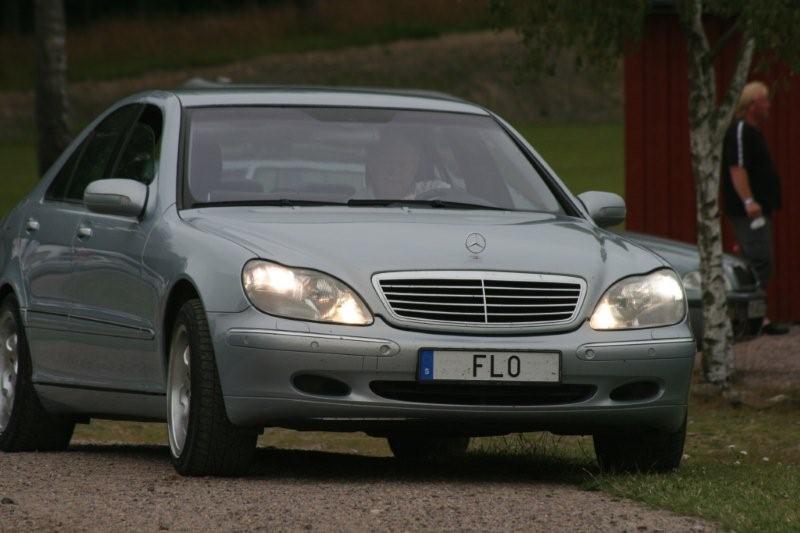 Rune came from the store. Roy came from home.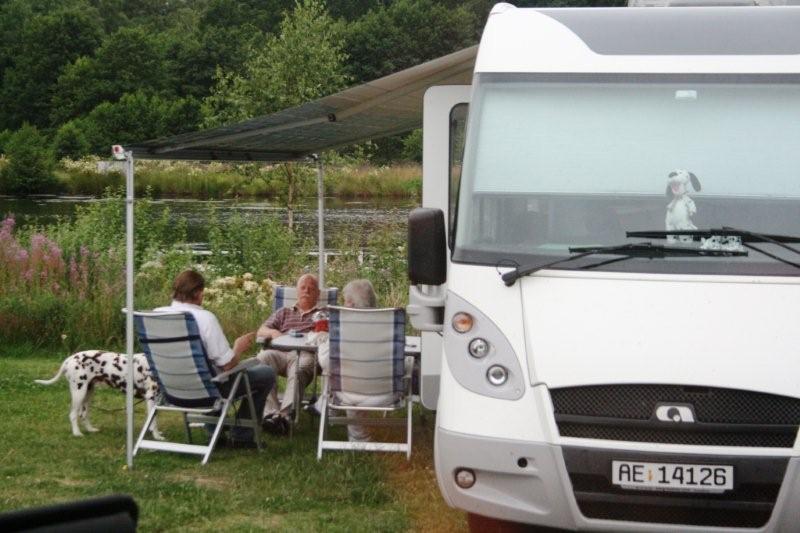 Anne Karin was happy that Roy was one of the unknown guests for Runes party tomorrow (her Rune). We eat schrimps and sandwich cake until the rain started.
Rune carried lot of boos to Rune N:s Mobilehome.
Thursday 16 July 2009
We went to bed at 5 o'clock this morning so we slept until 12 o'clock when Catharina came and wake us up *S*! We made brunch and it is always something to do...feed the dogs walk the dogs....then Andreas came from Norway with Sörlands chips and Lomper for Rune and then we all eat dinner together in the evening again.
Carola and Peter joined the group tonight too.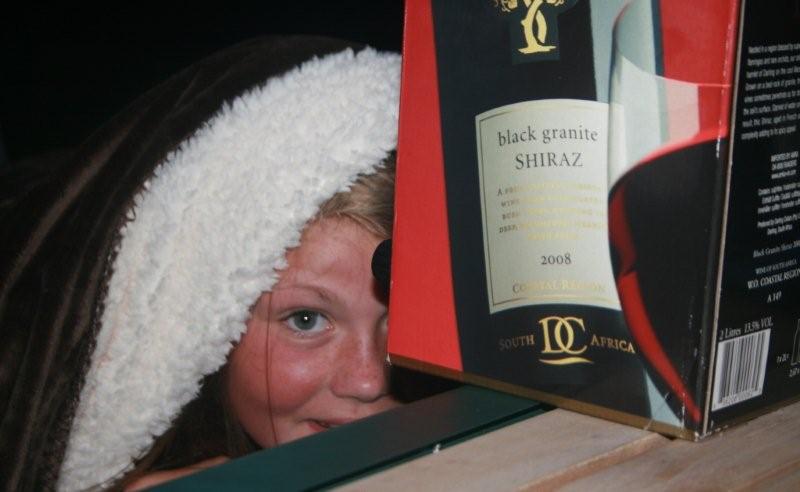 Marthe was hiding bewhinde the wine.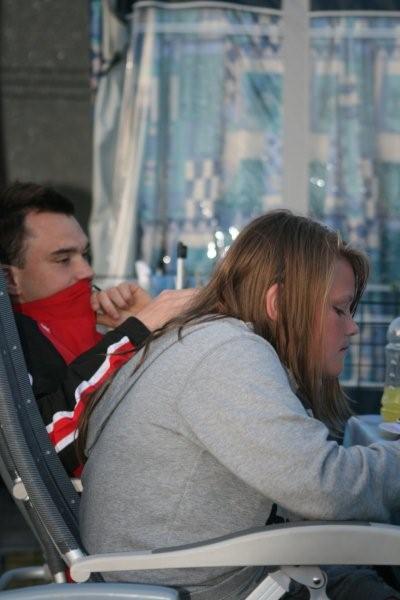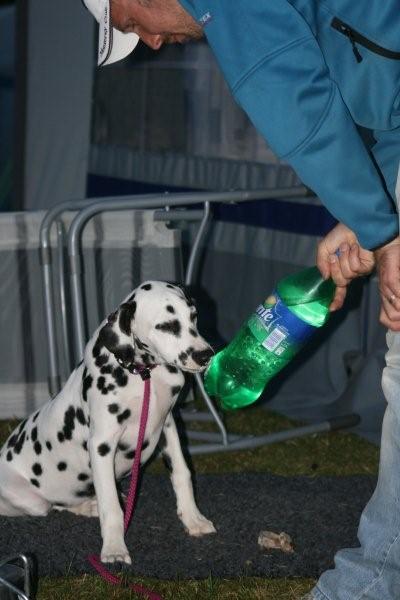 Sissel want to drink all wine up. Andreas and his sister. Doris was licking the bottle. Some Norwegian people did not drink bear or wine, just THIS!!??!!
Wednesday 15 July 2009
Too Höör for some shopping and then back again and we all eat together in the evening again.
During the day Kai was babysitting Sissels rats.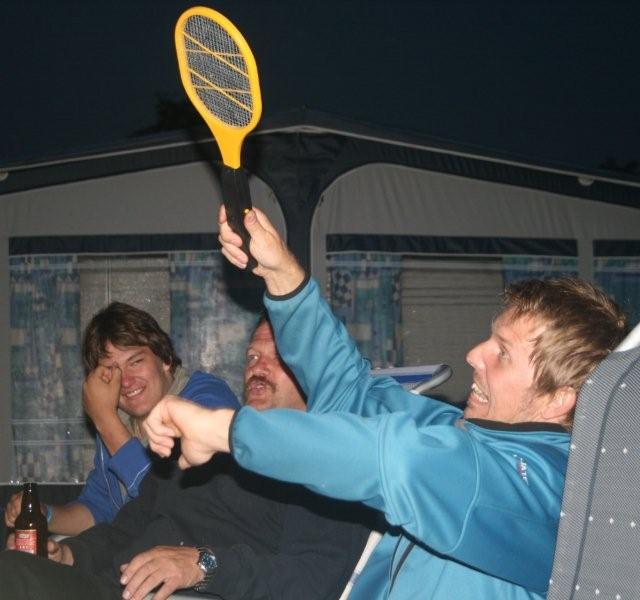 Jens was a hunter in the night!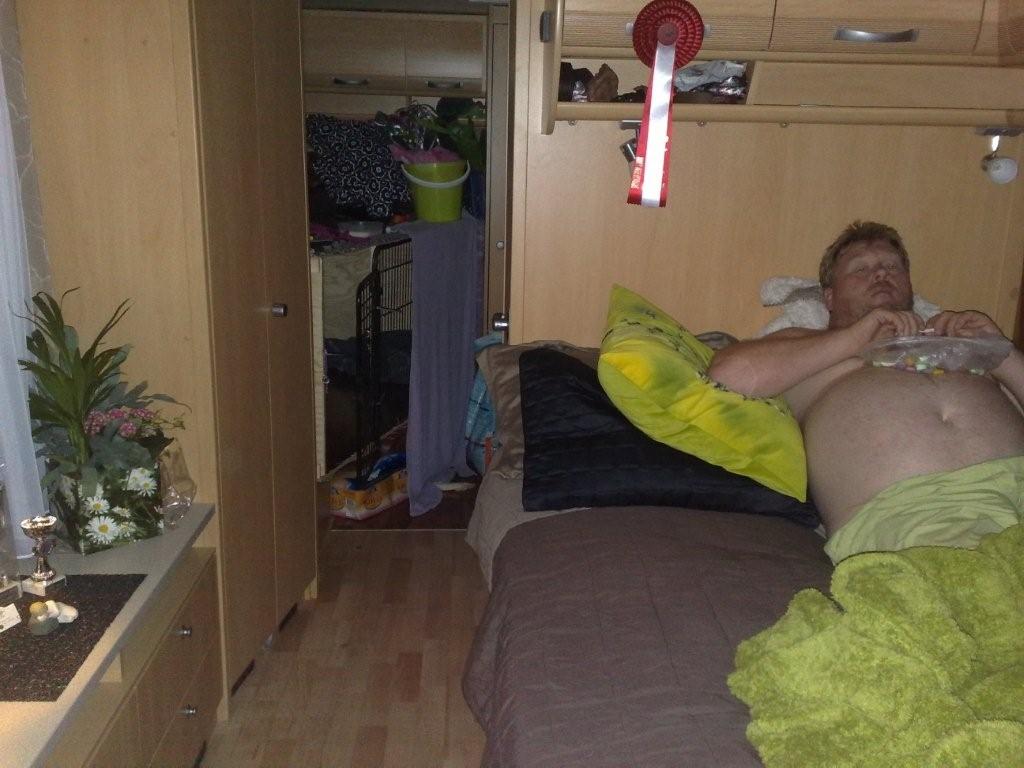 Rune eat candy and look at tv...he really need some time off now.
Tuesday 14 July 2009
Sunny day at the camping.
In the evening we all barbeque together.
Marthe was nice and take care of my sausages, and I wanted them black!
Knut, Erika and Kenneth from Norway have bought meat for us ALL..........a lot!!!!! Thank You!!!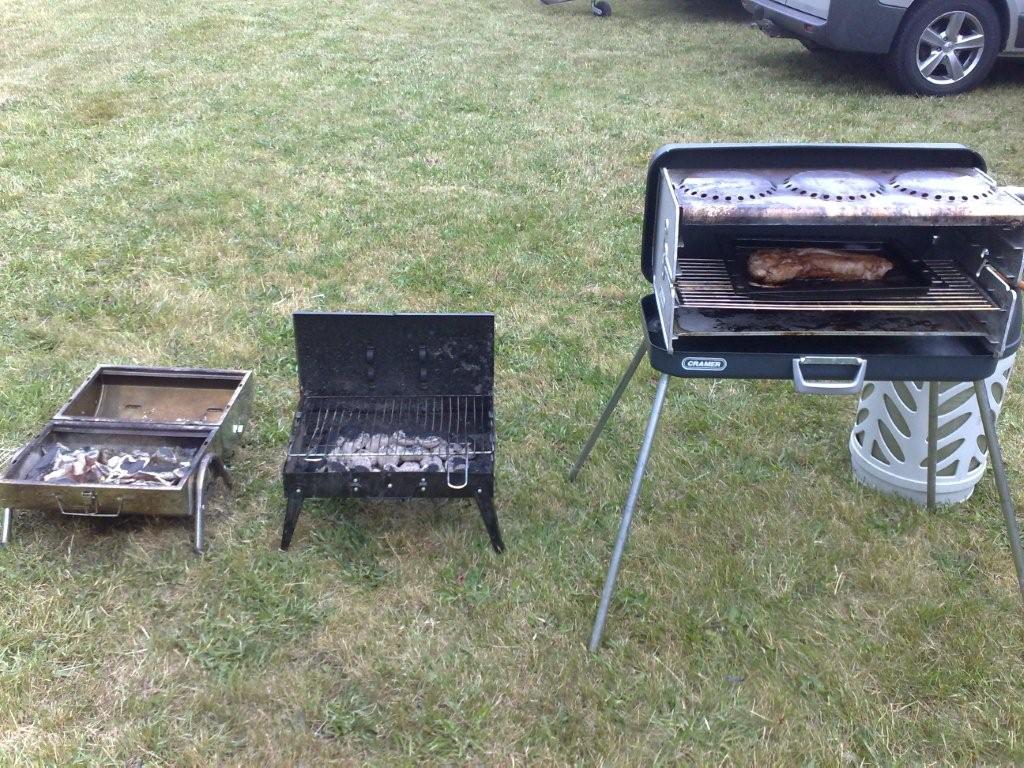 To the left two grill from Sweden..small and we barbeque sausages..The big one was owned by a Norwegian of course and there were tender stake on the heat!!!!!! (All those Norwegian people with all their oil money.... *S*)!
Monday 13 July 2009
Problems with our laptop again so we have to go to Helsingborg to a Telia store. It took two hours and it was Rune that in the end find out what was wrong with the sim card!!!!! A quick shopping at Jula and at the market so was this day over!
Before we leave the camping we moved our caravan to another place close to the field...it was no meaning to be in the middle, then have all our dogs already been peeing before we reach the field. Now we were very close instead, perfect.
Bossons lovley sons from Latvia.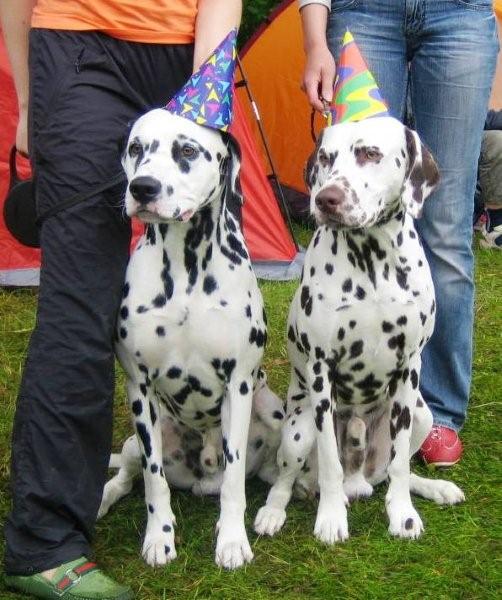 They have had their second Birthday and celebrate it like this *S*!
Thank You so much Svetlana for nice photo!
Their names are Multi ch Agent Double-O-Seven Vitalight and Multi Ch Aragorn The King Vitalight
Sunday 12 July 2009
We were tired after a hectic week, but happy to be at the camping already. The "only" thing that Rune have to do today is to drive to Stockholm !!!!!!!!!!!! To mate Tutta with Daddy.
But our dear friends Kattis and Voijkan took their car and drive many kilometers to Ödeshög so he save many hours driving today too, but it was enough anyway. We/he have been driving 8000 km last two week........crazy, our new car is already ready for service!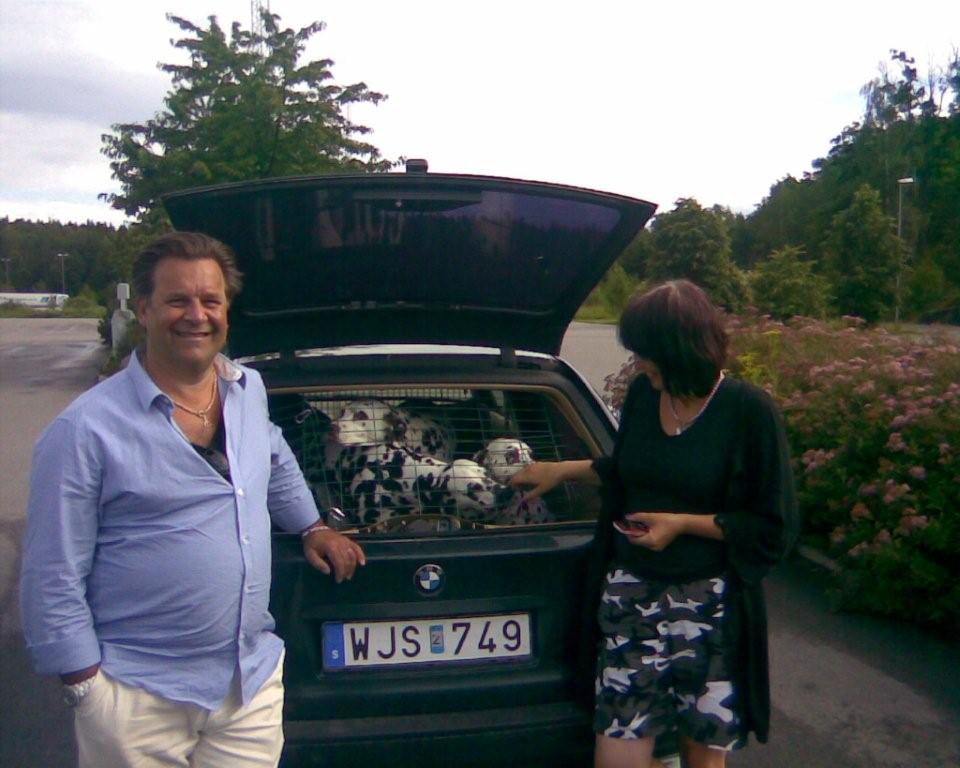 They have a quick meeting and then they say goodbye and thank You. So Tutta will have her last litter just a few days after her daughter Devlina. Rune was back at Röstånga in the evening and at that time all our friends have come here too with their caravans.
I woke up this morning with migrain and have been sleeping a lot during the whole day, as much as I could. It was a bit better when Rune came back and we relax in front of the TV. He bought pizza for us and Hanna and Jens, soo easy.
My daughter Jennie have ordered a self designed Nike shoes from USA and I have start to make my own design too, but it is not that easy because You have soo many combinations of colours to chose from.
I think I will order one pair like this and one in white green and black, so hard to decide.....and I got my name on them too.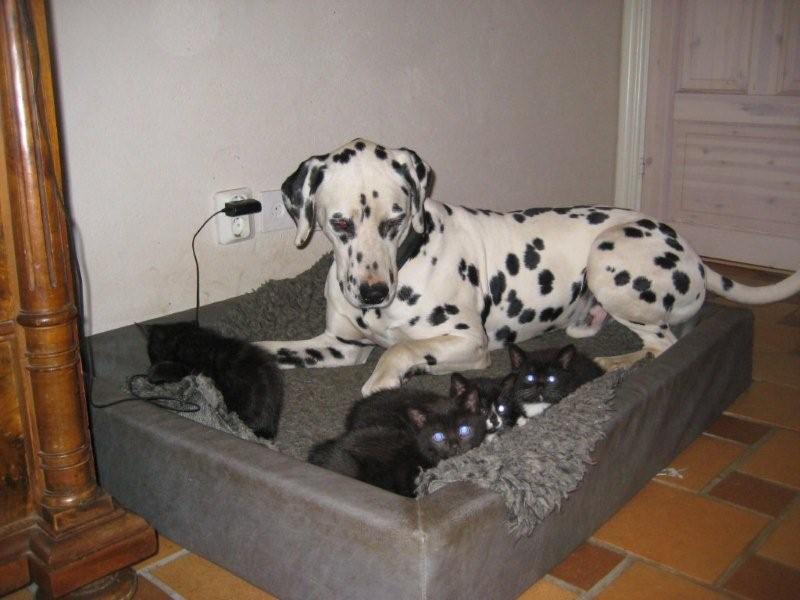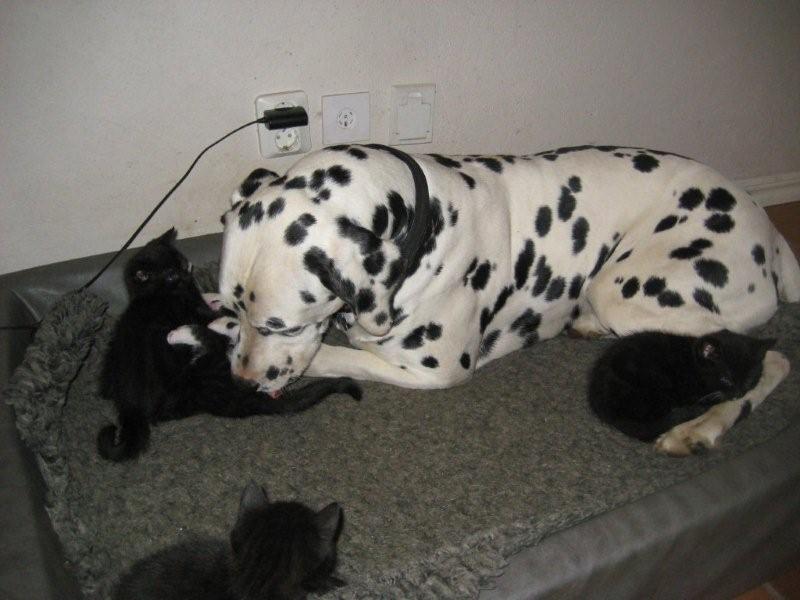 Look at this fantastic photos of our dear EXPO.......he take care of some kittens in the family. Thank You Ulrika for sharing this with us.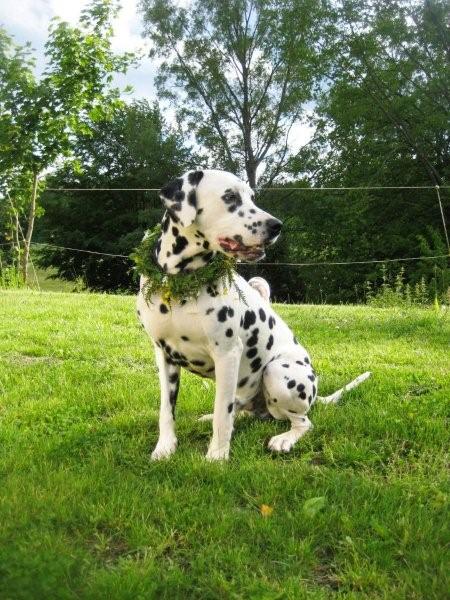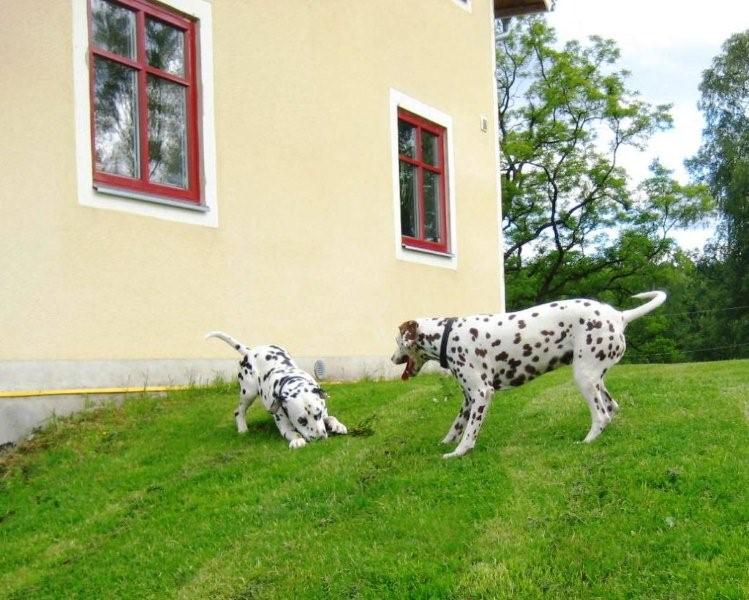 Expo is as happy as always!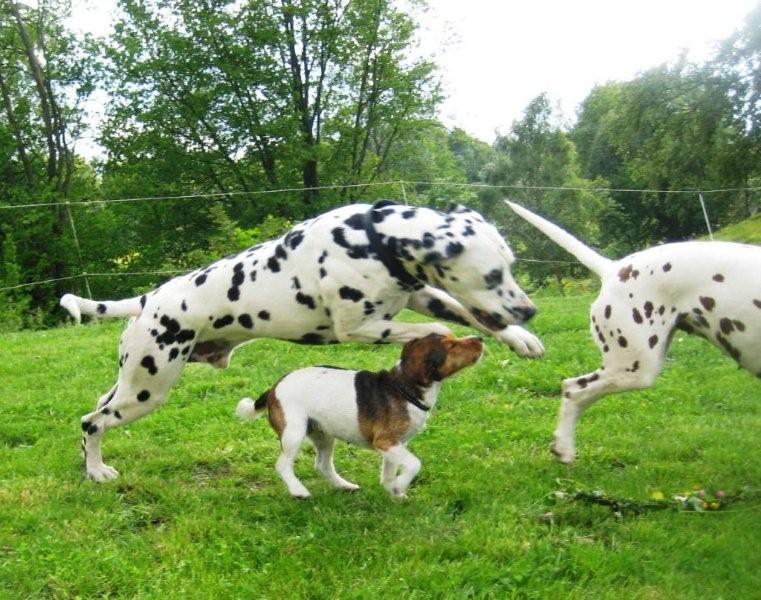 Photos by Ulrika.

Saturday 11 July 2009
International dog show in Tvååker.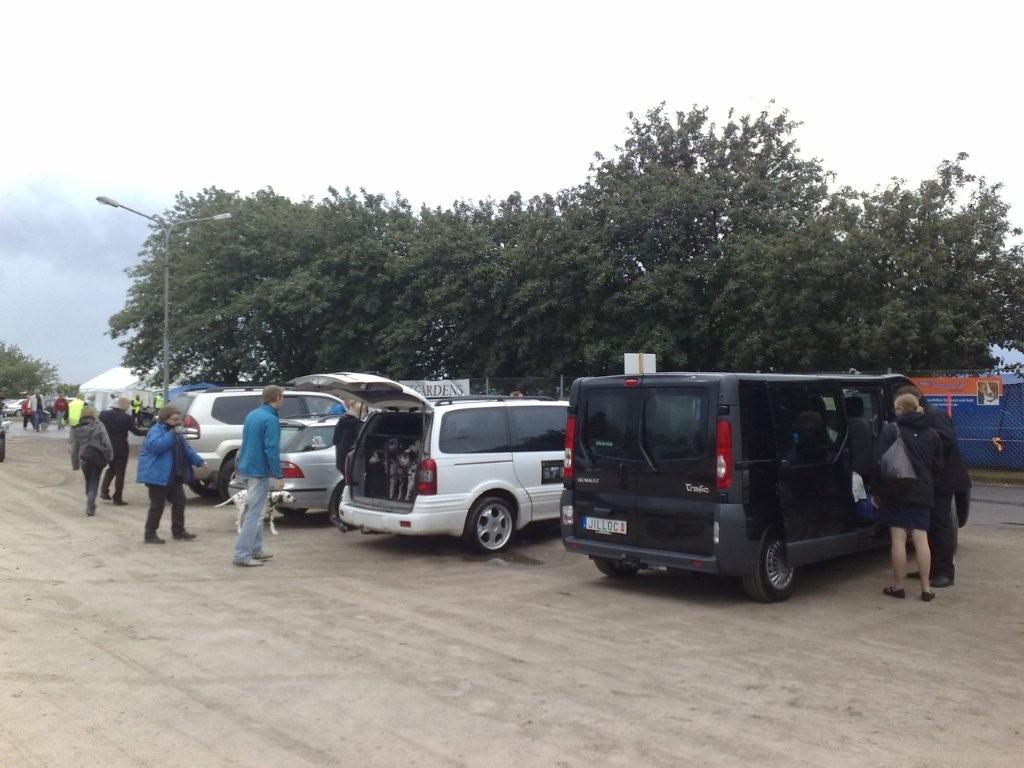 Early morning at the show.
Rainy summer in Sweden.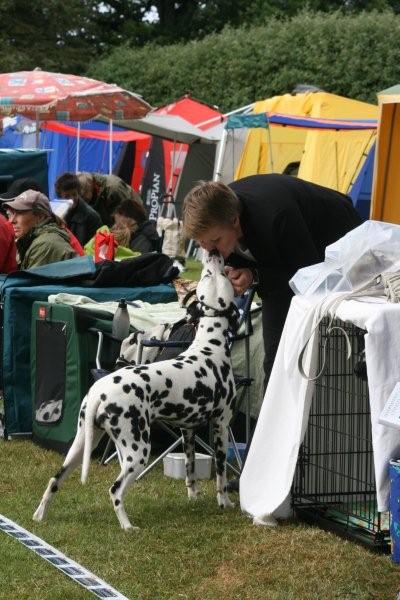 The judge didn't like the Swedish Dalmatians at all......But Yvonne said to Troja that she love her as much as always.....anyway they have to run MANY times around the ring...even well trained people was very tired *S*!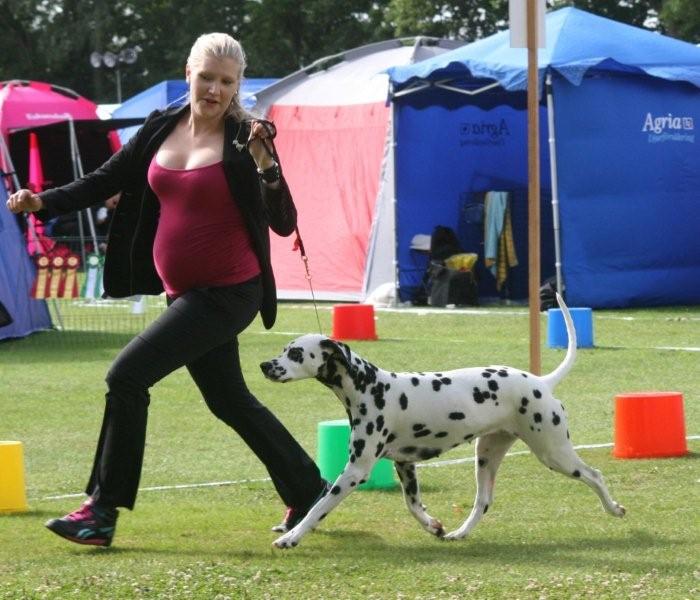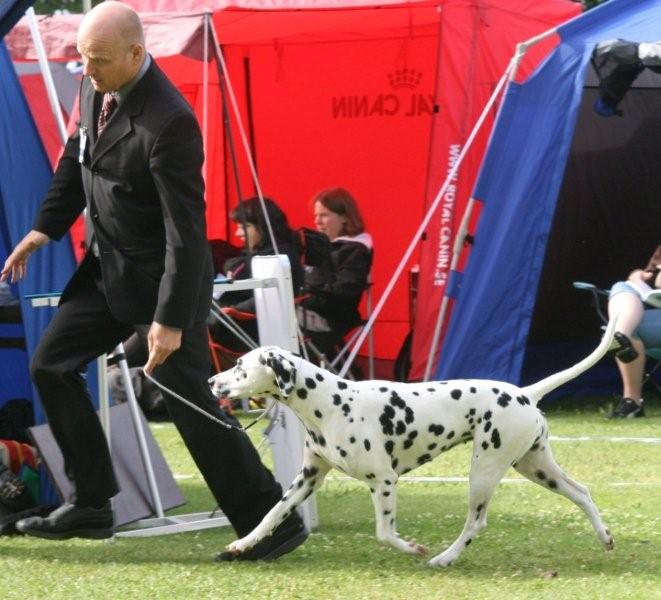 Only two bitches left with first prize for the competition out of all......Hjärtat and Seven, thank god that at least one of them will be a Champion today........Seven was the winner and we were all so happy for Andre and Diana that came all the way from Holland to try for the Swedish Title!!!!!!!!! BUT no one was good enough for the judge and she did not get any CK, damned!!!!
Hildegunn have to hold her hand for her mouth...she have sooooooo much she wanted to say *S*!!!!!!!!!!!!!!!!!!!!!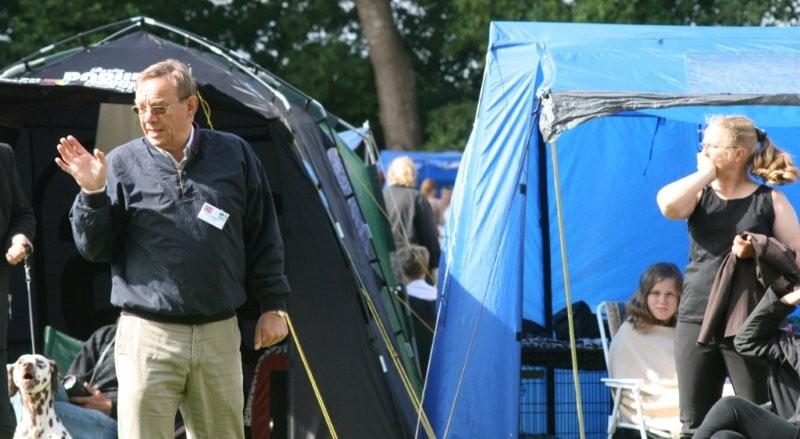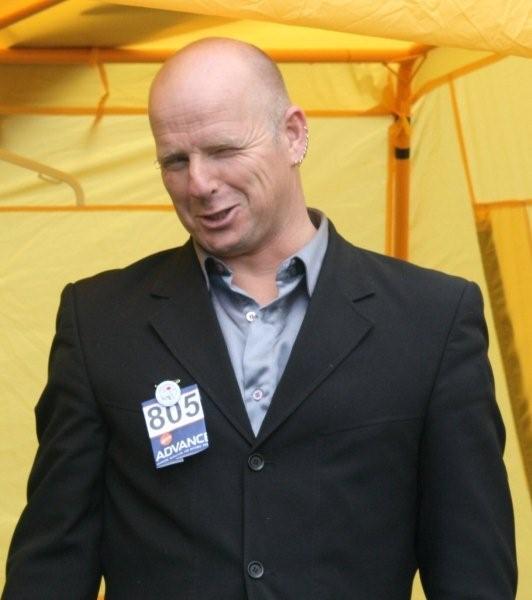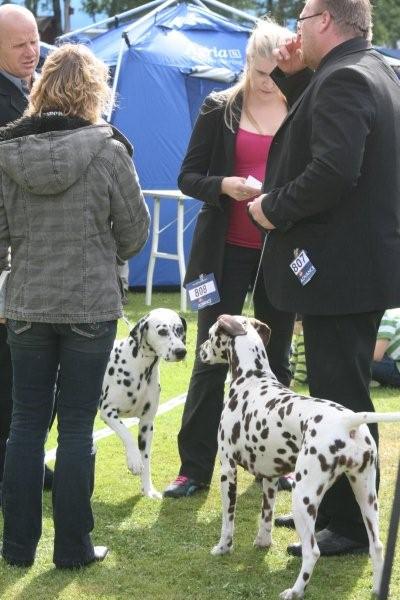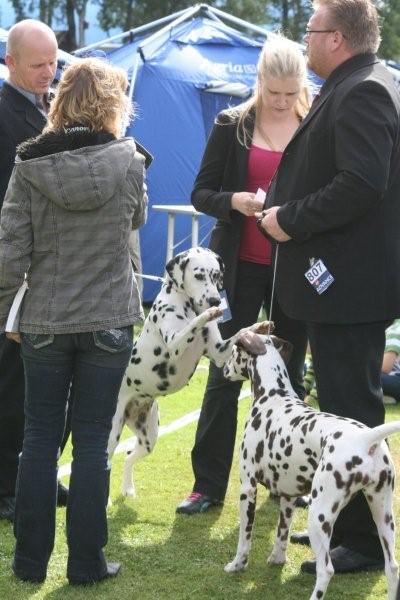 Not even this handsome man could charm the judge today*S* better luck next time Andre!!! Seven and Gloria find out that they have met before *S*!!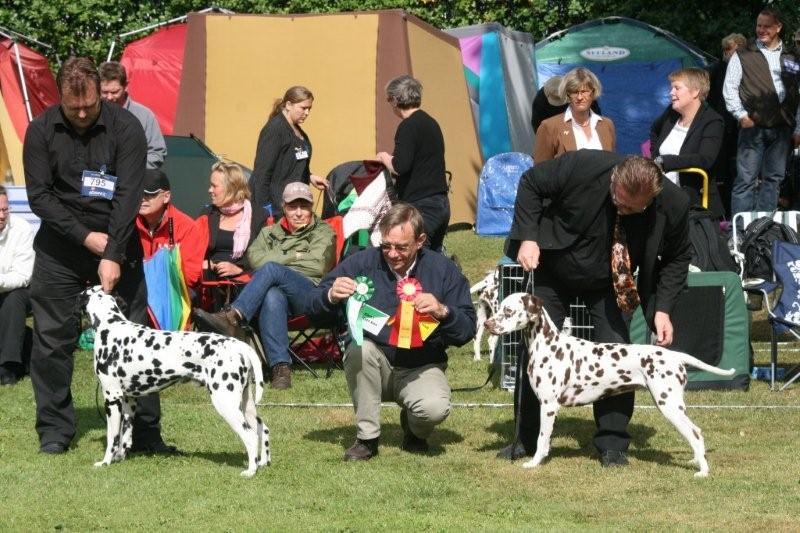 BOS Ch Lovindas Fritjof and BOB Ch Jilloc's Splendid Choice.
Judge Niels Brandstrup.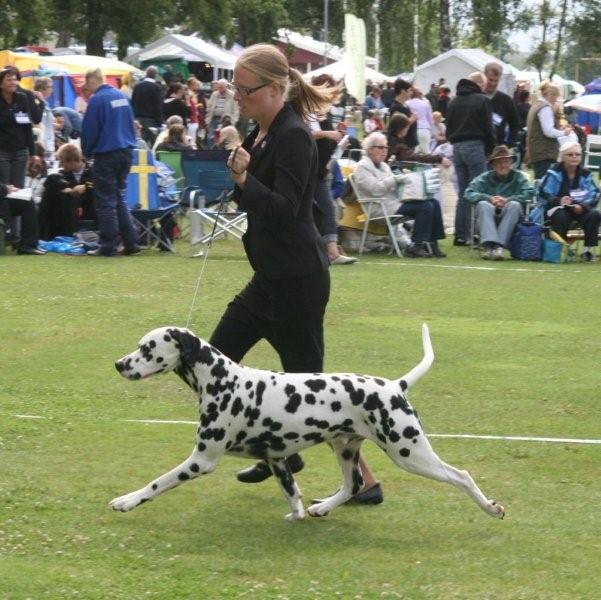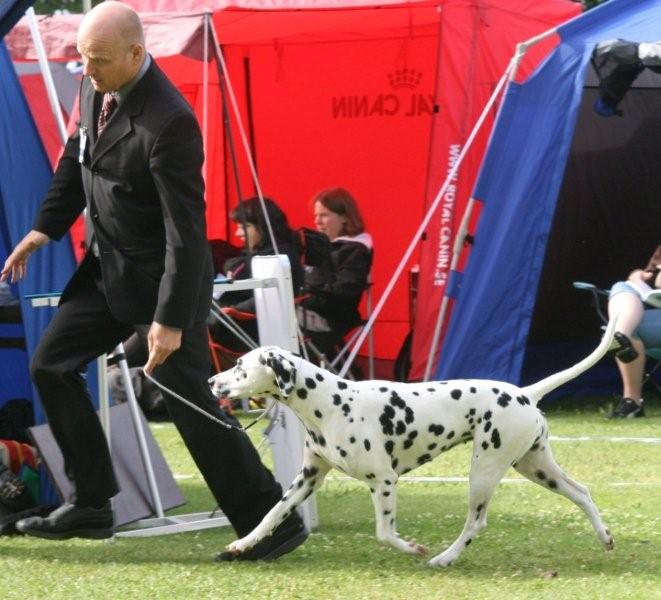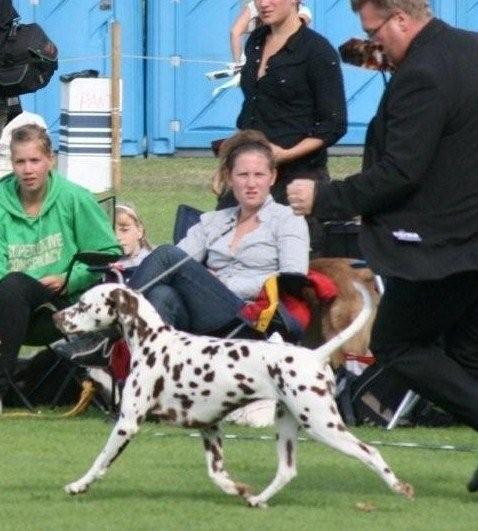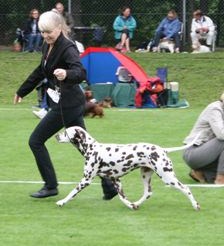 We did not get any Prize of Honor today for the Breedinggroup because the dogs did not move well enough.....!?!
CH Jilloc's Sugardaddy, CH Jilloc's Splendid Choice, Jilloc's Somebodys Star, CH Jilloc's Seventh Heaven, CH Jilloc's Spermbank.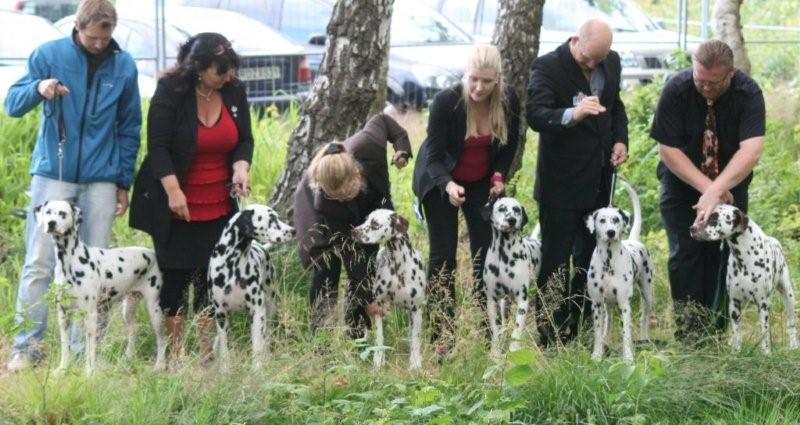 Chrissi with five children from Jilloc's S-Litter.
Look at Daddy, he seams to say to Gloria.........-:Sister Glory, did YOU know that mum have more children than You and Me???????? And think about if there are even more of us!!!!!!!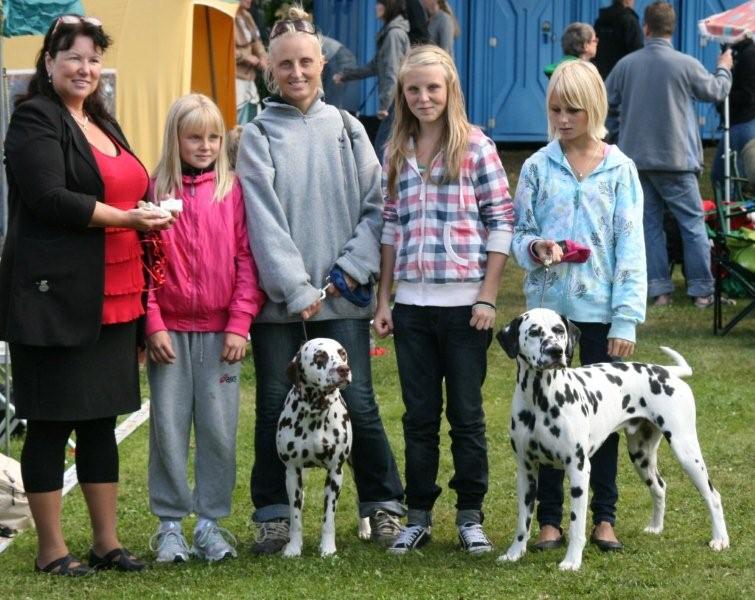 So happy to meet Annette and her girls again.....Mimmi, Moa o Linn and Diezel and Donna of course.
And they bring me a beautiful Willow Three Dreaming Angel, thank You! I love them and I love You!!!
Mimmi and Diezel. Maria is going to babysit Euro this week so we get one less dog in the caravan, thank You!!!
More rain.
We were in a hurry as soon as the show was over. We were going to drive to Röstånga Camping about 150 km south where we were going to stay next week.
As soon as we were there and put everything on its place, Rune have to hurry away again (poor) where too?????
To Denmark of course. At 23.30 he and Sören and Vic and Devlina had a meeting in the harbour in Helsingör.....Many thanks to You Sören, Rune saved many hours because of your help. At two o'clock Rune and Devlina was back in the caravan again.....at least Rune was VERY tired. No we just have to keep our fingers crossed for nice puppies in the beginning of September.

Friday 10 July 2009
National dog show in Tvååker.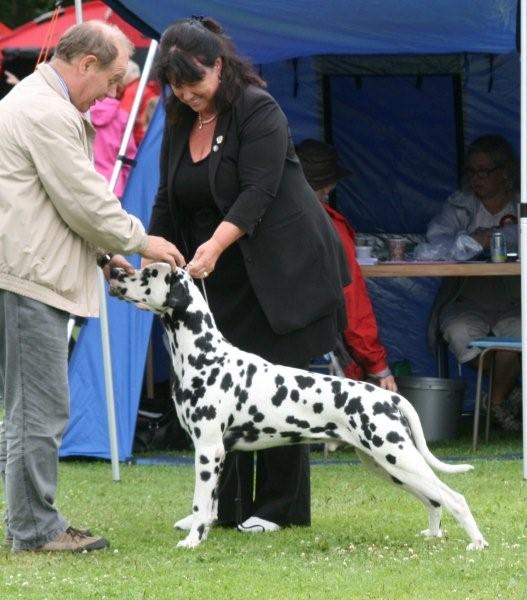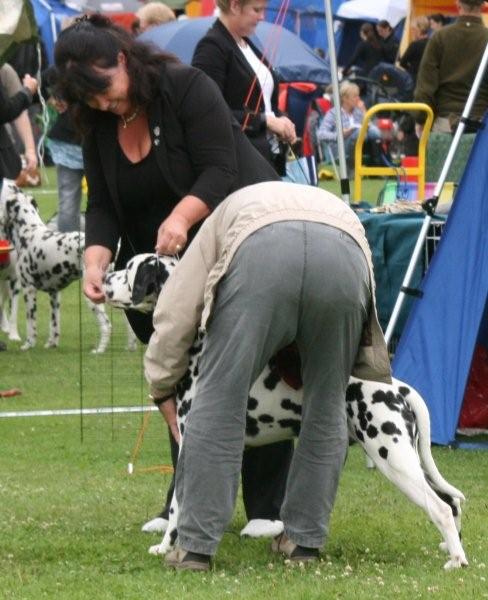 Sometimes I wonder what our dogs think about when a foreigner come quickly towards
them and immediately start to look in their mouth and to examine them and in the end take a big hand around their balls *S*!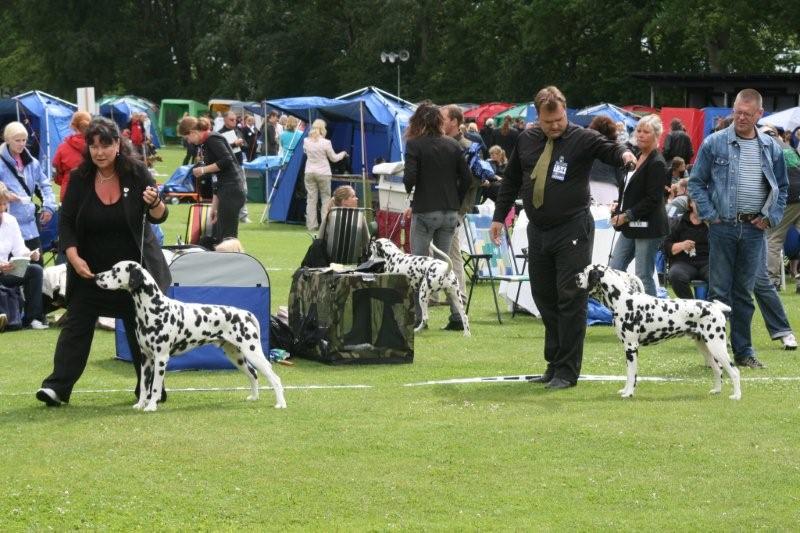 Daddy and Zid from Norway in championclass.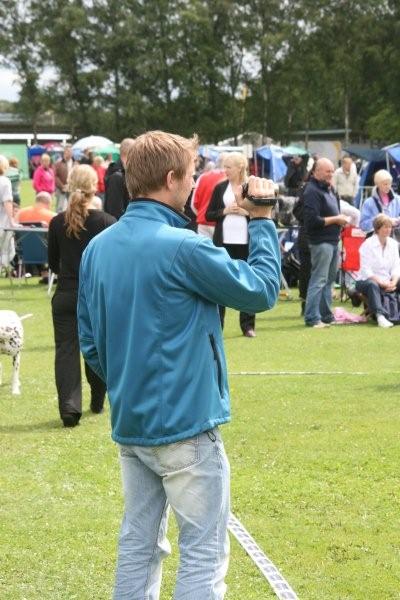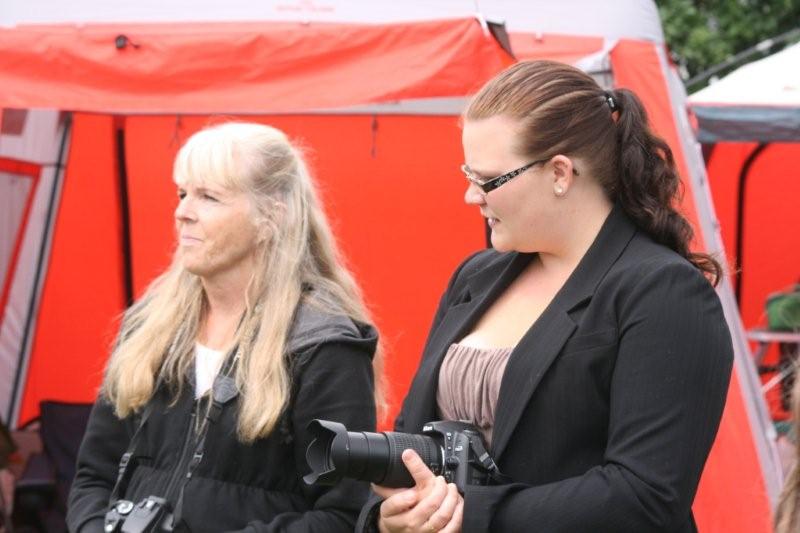 Jens and Eva and Maria take lot of photos today.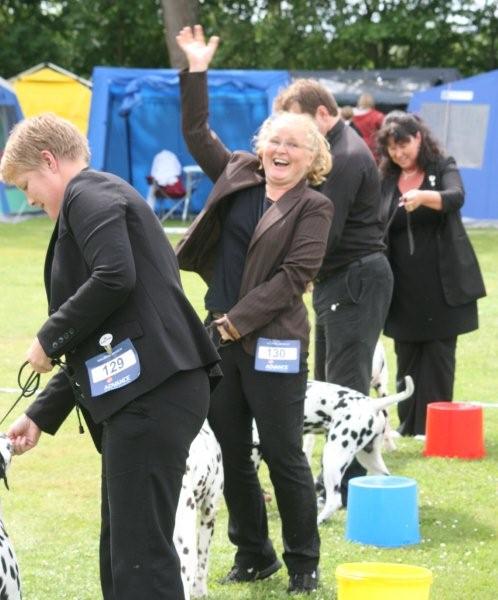 Hildegunn with her own bred young male Muppe became Nr 3 Best Male and got the CAC today, was she happy? Yeeeeeeeees!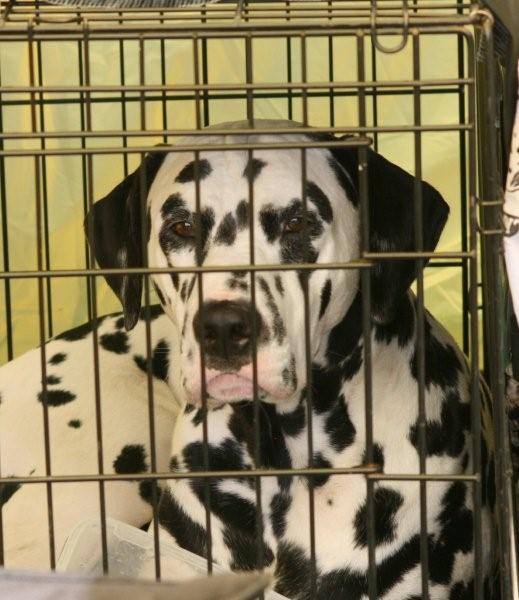 Daddy and I was very pleased that he became Best Male, so far *S*!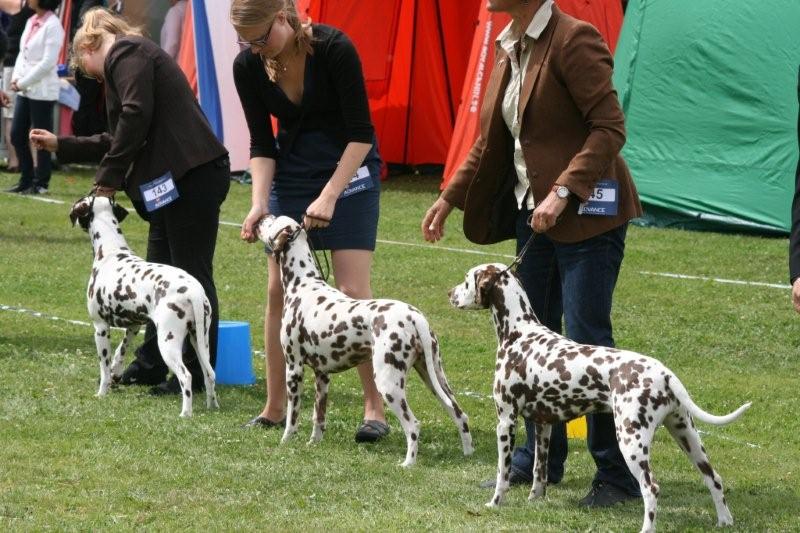 Hildegunns Mocca like to fly *S*. Winta, Angie and Russin in open class, all three need the last ticket to become champion.
Seven from Holland only need one CAC to become a champion too. Troja and Yvonne behinde Andre and Seven.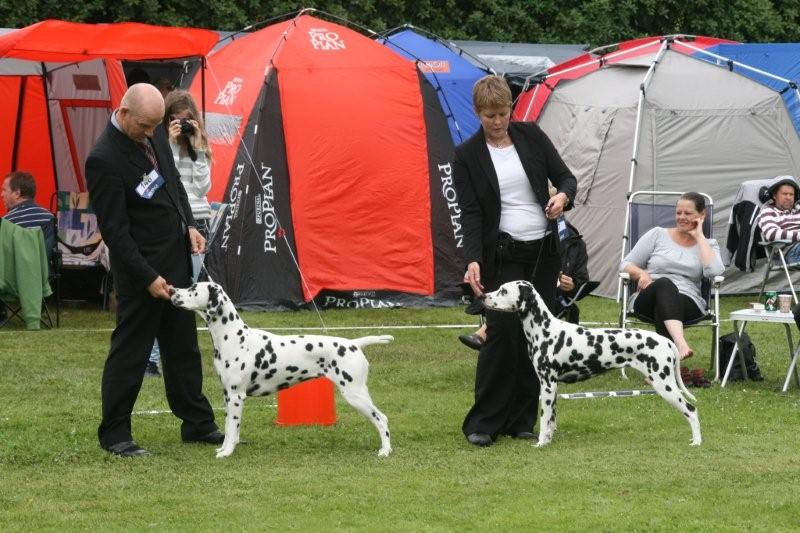 Winta is the sister of our Jill, and she is in very good shape right now!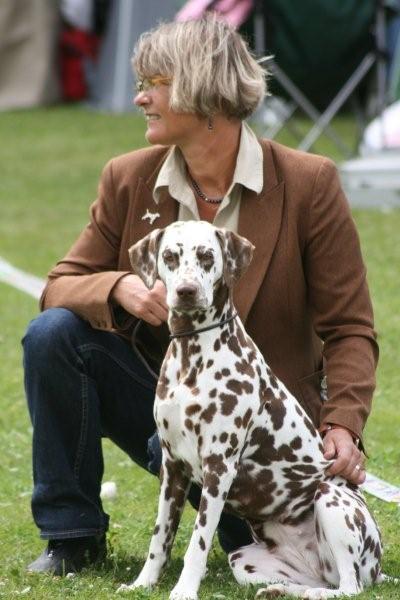 Russin and Carin are a nice couple.
Look at this handsome handler from Holland....Andre and Seven look soo calm!!!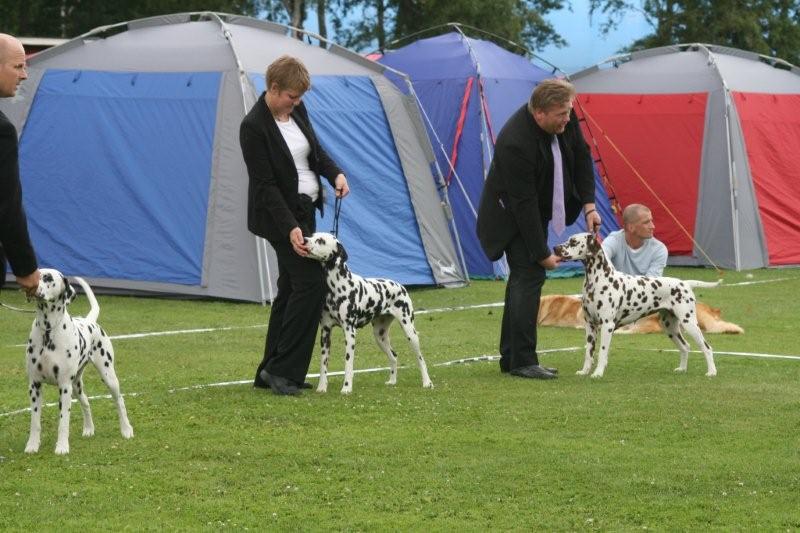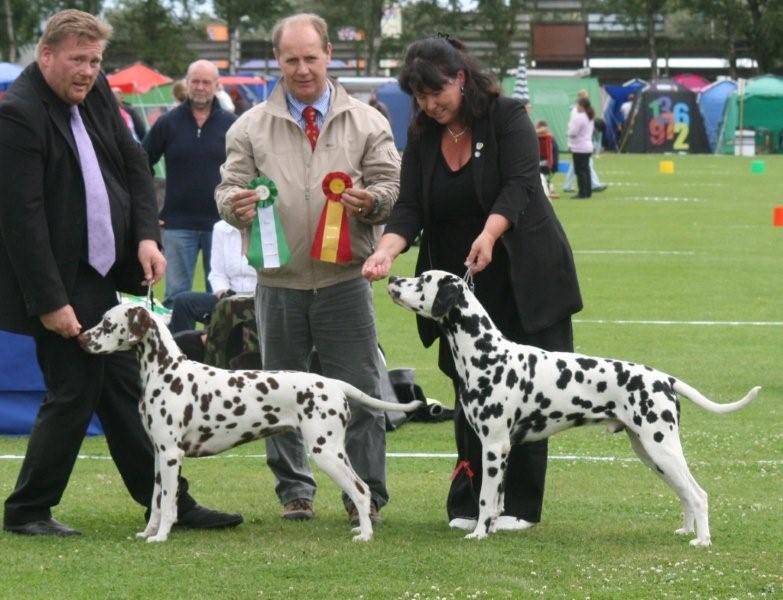 Ready for Best Bitch...Seven, Troja and Gloria. Gloria BOS....today Daddy beat his "ugly" sister and became BOB, for Mr J Verrees, Belgium.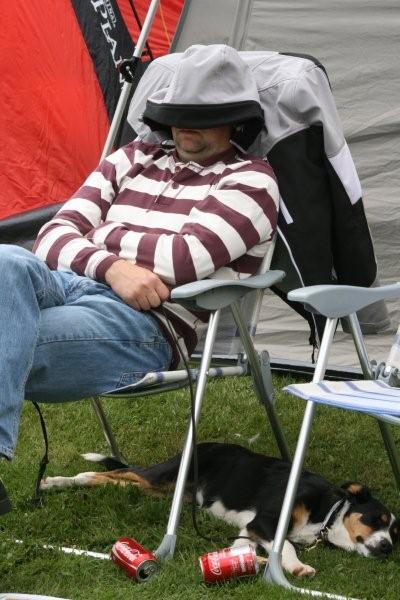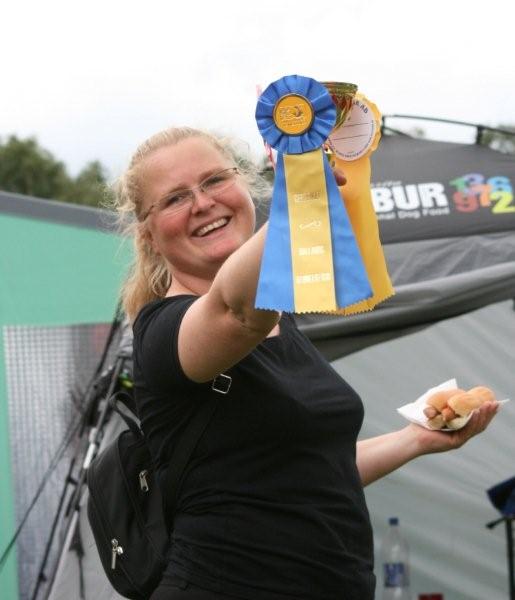 Some of the public have drink too much Coke and fall a sleep *S*! Some were so happy and celebrate with TWO sausages *S*!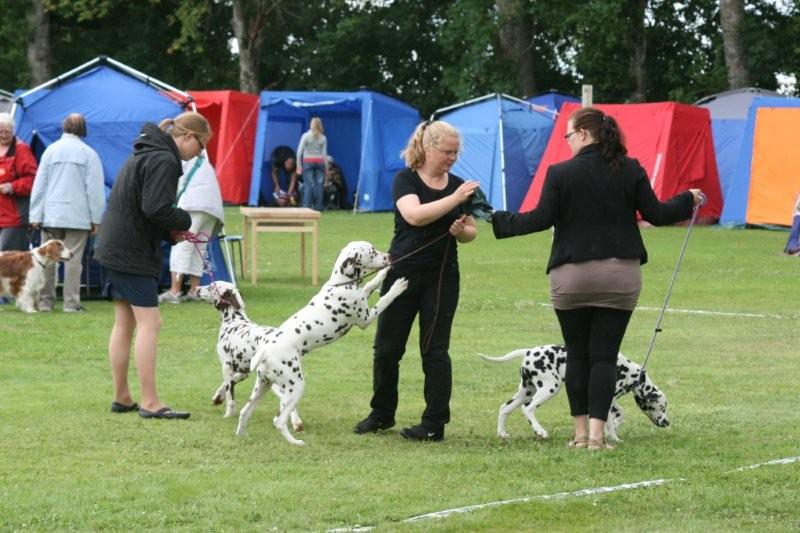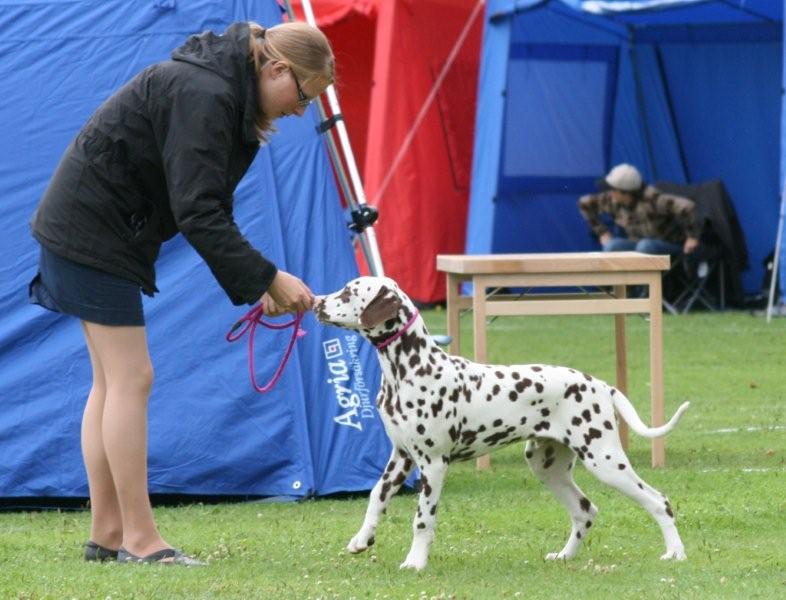 My puppies were happy to have THREE kennelgirls today (and so was I). Jenny was training with Dollar, soon is his first show!
Rune was so happy for our new very light tent so he carry it around all the time.
Russin, Winta, Angie and Gloria in Breedersgroup.
Hanna showed Chrissies Progenygroup and became BIS 3, Congratulations!!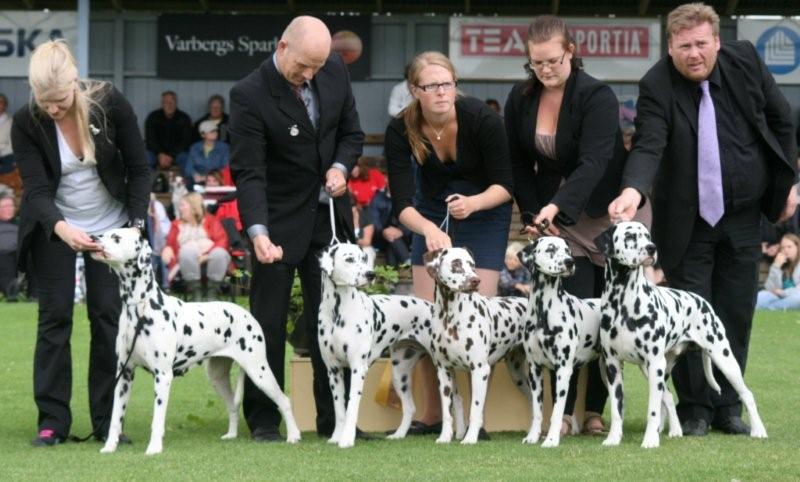 Photos by Jennie.
Waiting, waiting and so on for the group, but no placement at all.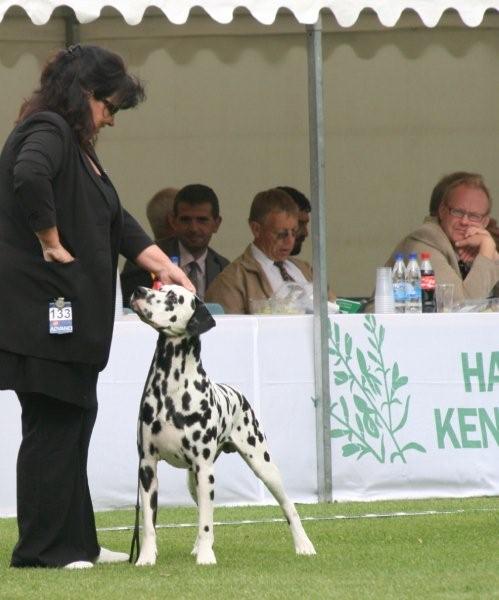 But there were many other judges that was very fond of Daddy, unfortunately they did not judge the group today, that's life *S*!
Rune was training with Perfect.
Maria was here both in sun and sometimes during the day in rain!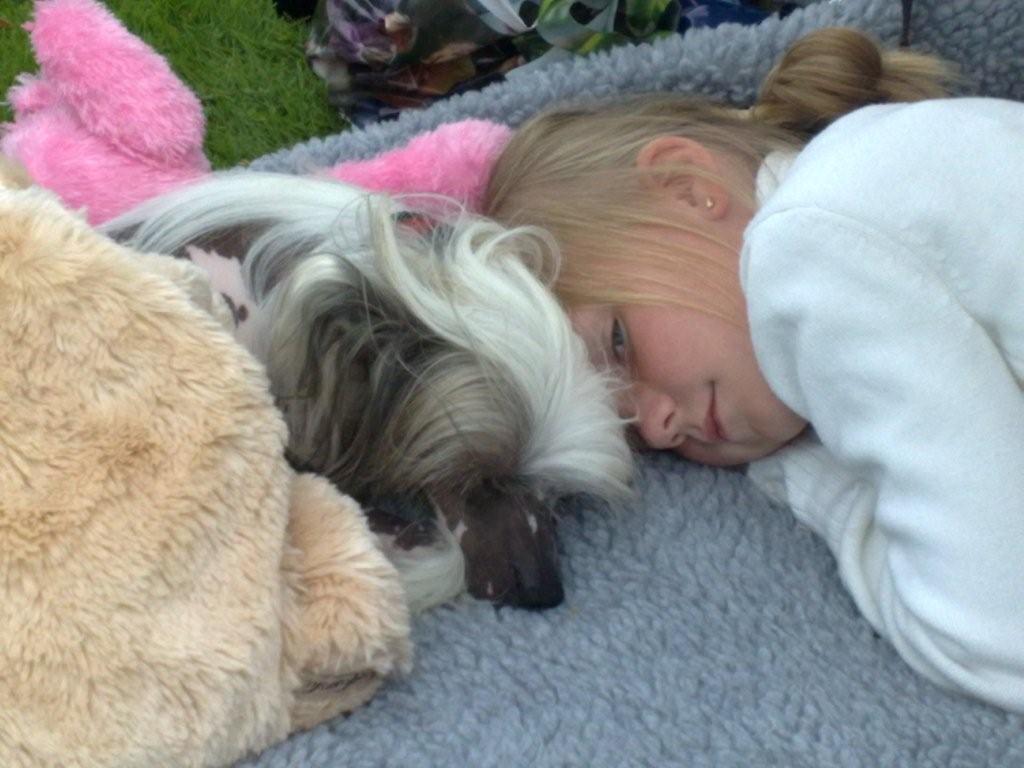 Ellie and Jennie came in the afternoon, and Ellie was so fond of one of Sissels rats.
Photos from here by Maria.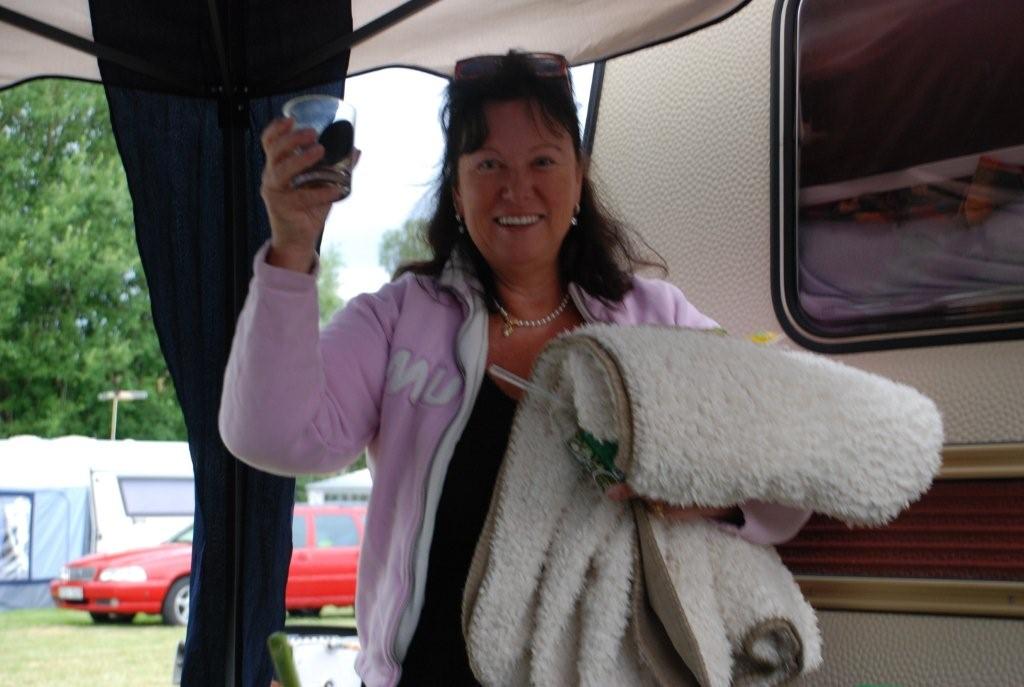 I came with my blanket and a empty glass.....
We were many that barbeque together in the evening.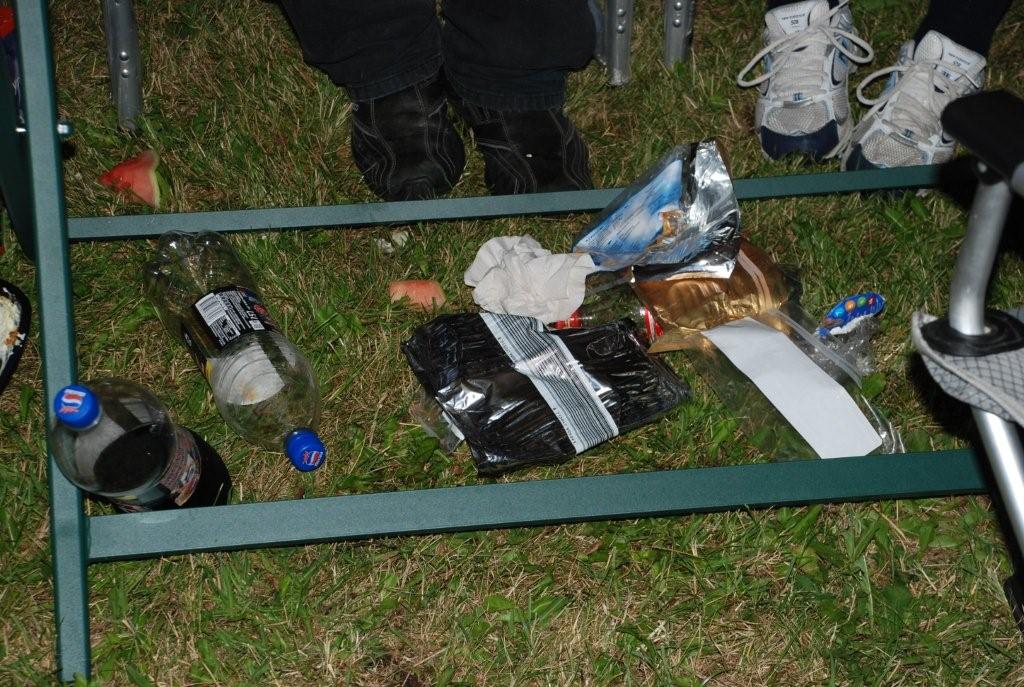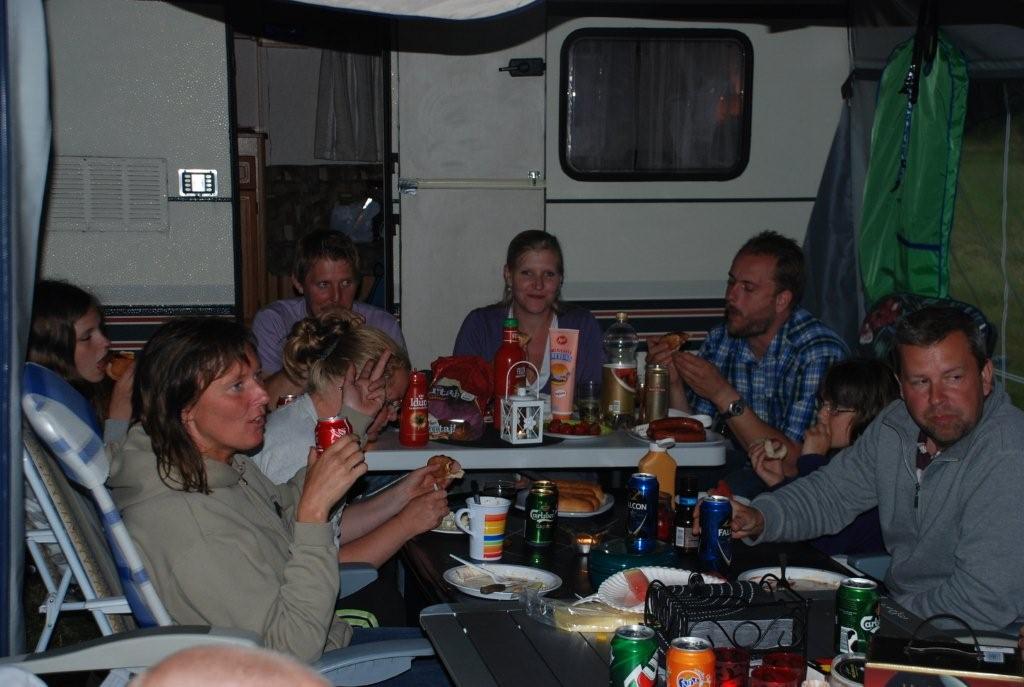 Who was it that eat a lot and throw all garbage under the table??????
Rune try to point on someone else..but we recognise HIS shoes *S*!!!
Thursday 9 July 2009
We do not dare to wait longer for mating so Rune and Kai took the ferry to Denmark..AGAIN *S*.....and this afternoon there were a mating between Devlina and Vic, Hurray!
In the evening all our other dalmatian friends start to come to the camping.
Yvonne with family, Hildegun with family, Carola and Peter with dogs, Hanna and Jens and Andre, Diana and Seven came all the way from Medemblik in Holland, soo good to meet them again!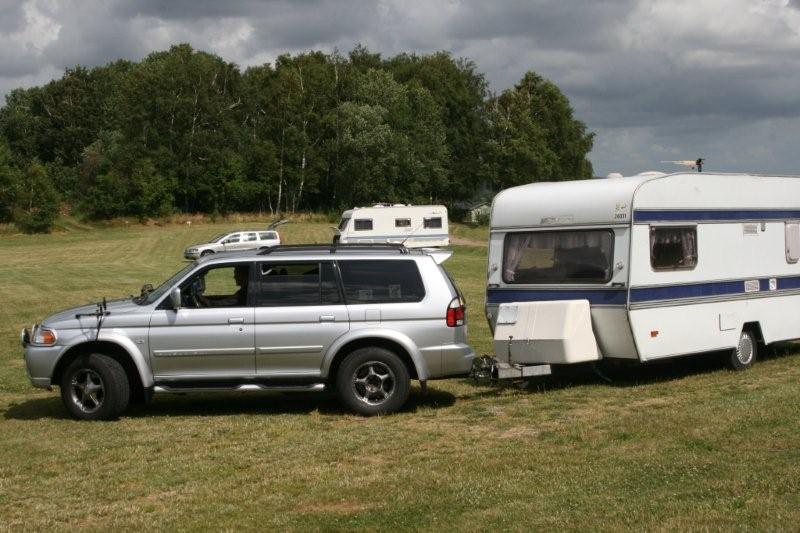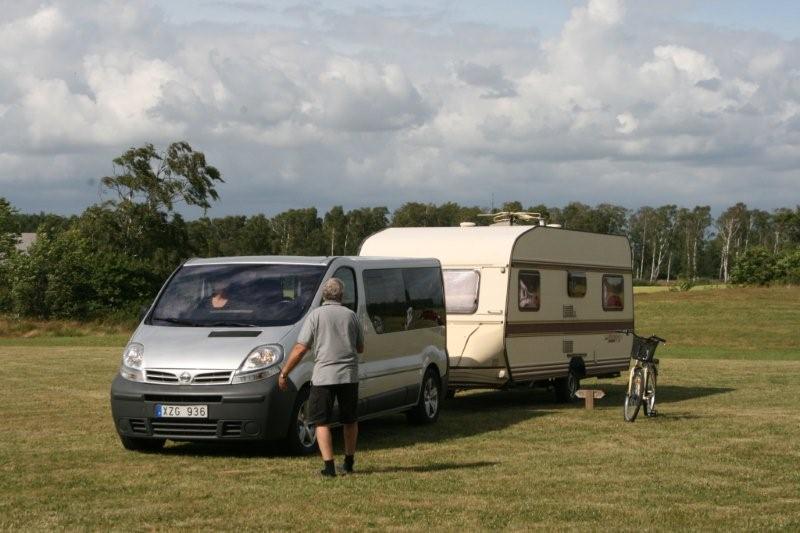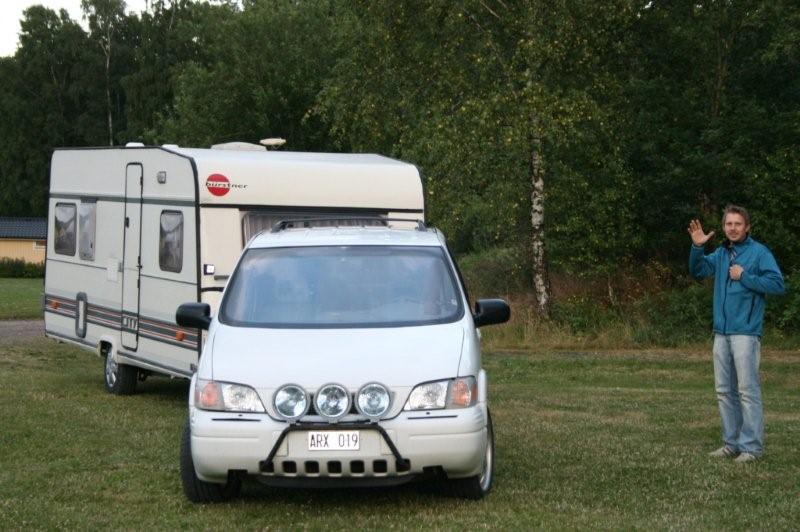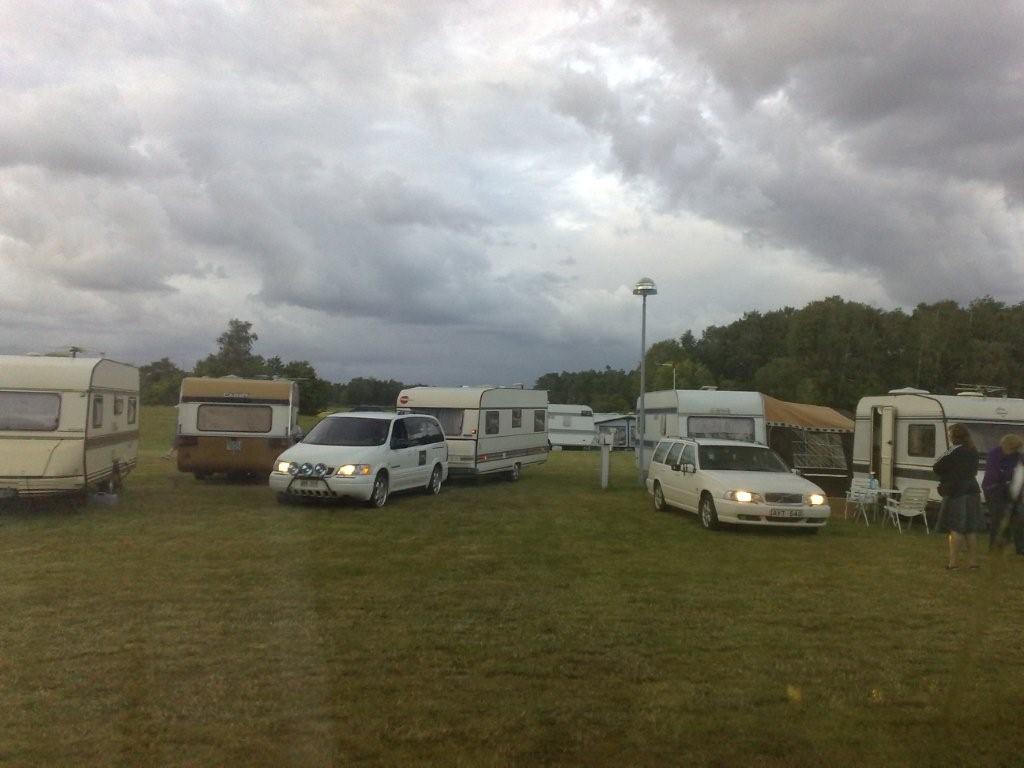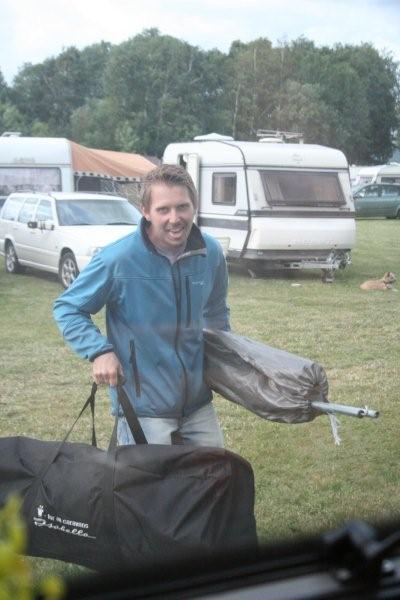 Jens came with our small winter tent for the caravan, we need something to put things in. Thank You that You could go to our home so far from You *S*(800 meters) and take it with You here today!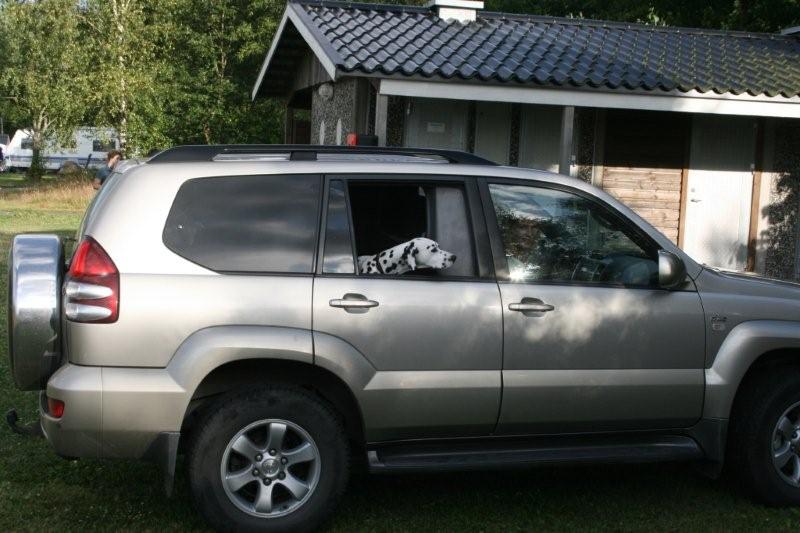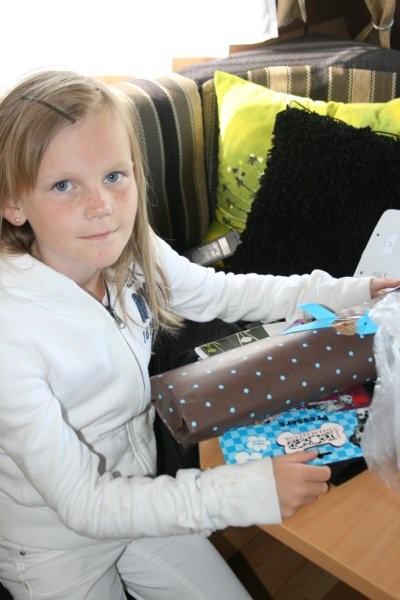 Jennie and Ellie came in the afternoon.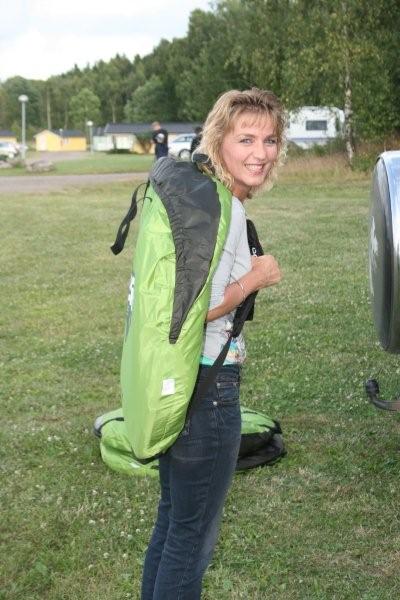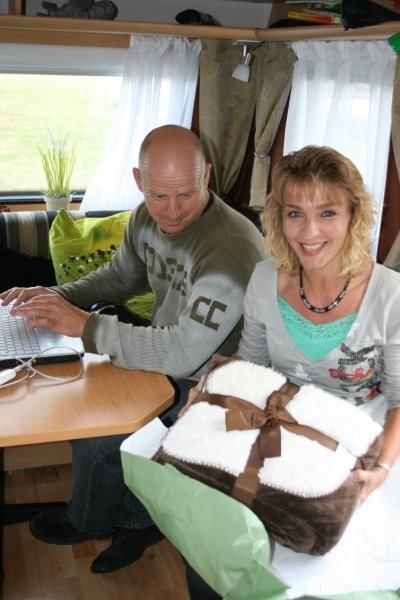 Thank You Diana and Andre that bring our new fantastic tents to us!!!!
Kai with Devlina and Muzika in Denmark.
They had to take a small ferry to get to Nyköbing, and we got big eyes when we saw how small it was. During the trip our car was washed with ocean water so it had white spots all over.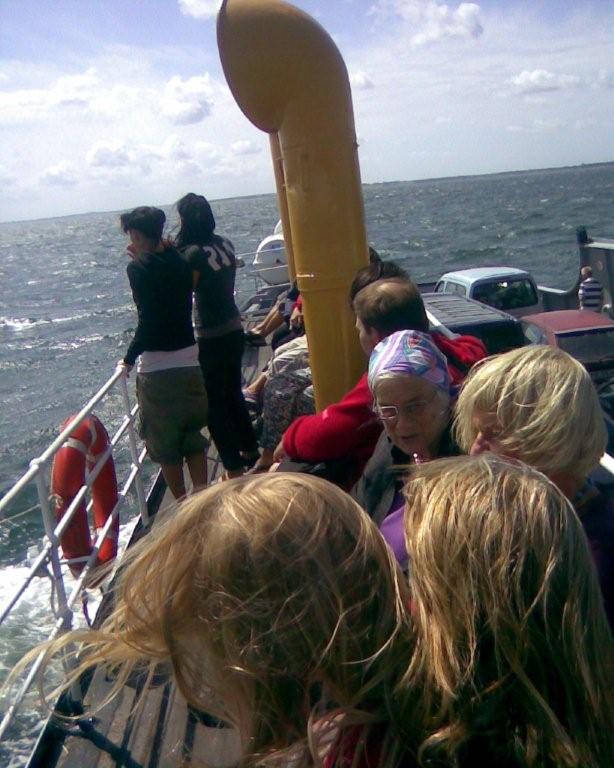 In the evening Rune and Kai was back and we all eat together in two big tents.
This is summer!!!
Wednesday 8 July 2009
All night long there have been a terrible rain and thunderstorm, when we woke up our markise was fulll of water so it looked like a pool. Rune went out and try to take it off but when he did that the whole marquise was broken...fine, what a good start of our holiday!!!
Today Sissel want to go to Ullared, a big shopping centre.......I was thinking that I will not go there this year, but of course she and Marthe go with us in our car over there. Rune let us off and he drive back to Varberg again to change the TV and to fix some other things so we can use our computer in the caravan.
We were at the big shop for many hours and of course we bought too many un necessary things as usual...that was why I was thinking that I will skip this trip this year.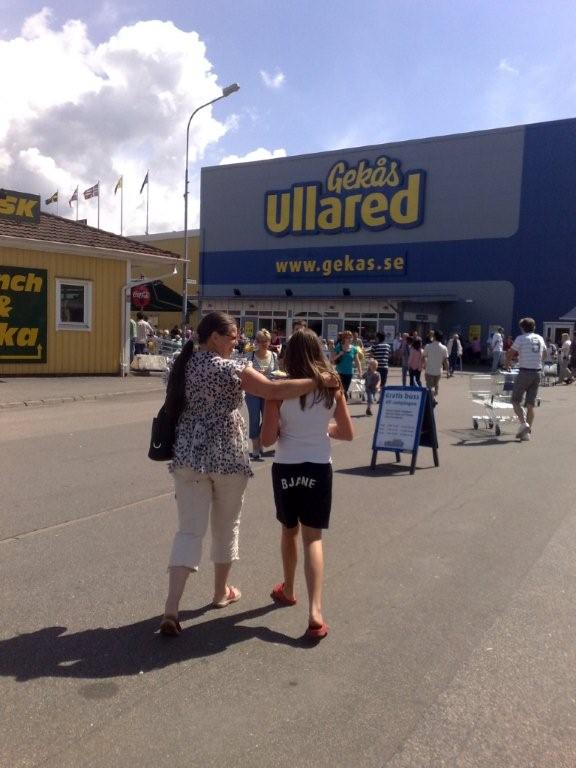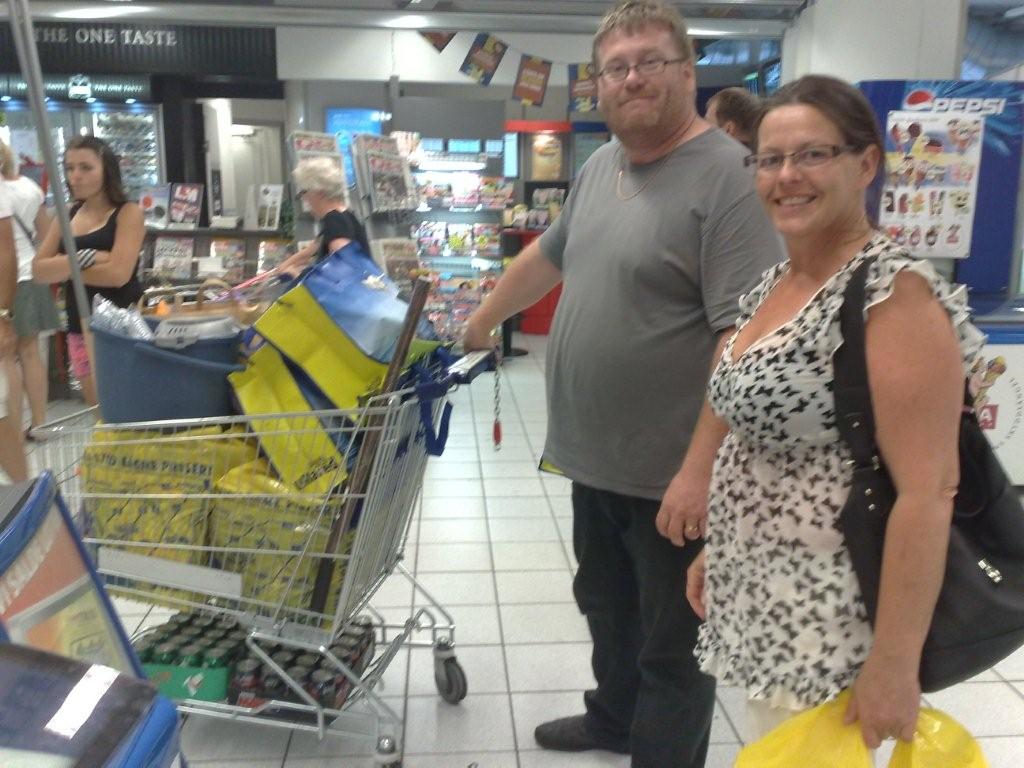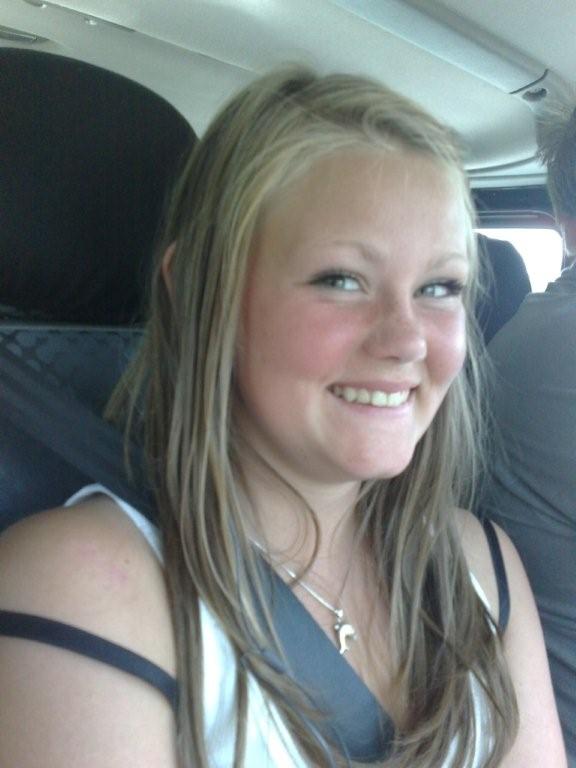 We had a funny day as always with Sissel and we laugh so much in some stores that everyone looked strange at us *S*, but who cares!
Back in the evening and filled up our caravans with more things *S*.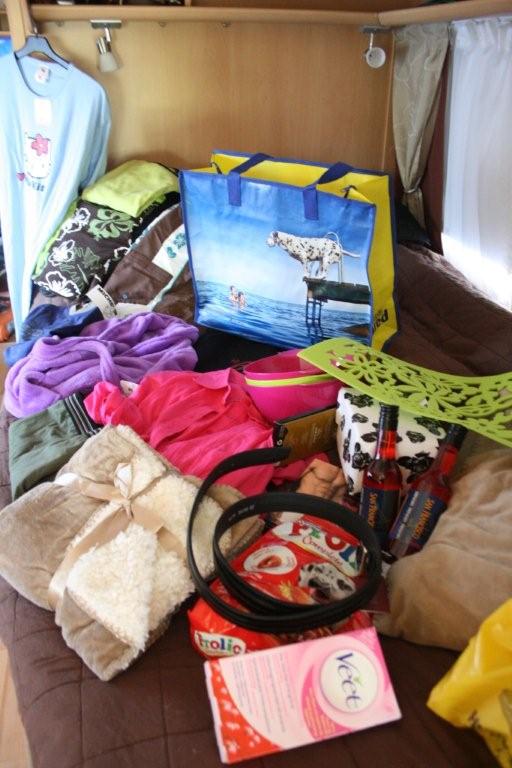 '
The new 26" TV was sooooo perfect in the caravan.
Tuesday 7 July 2009
It was really hard to jump up this morning...we were very tired, but we just have to start this day!!
Roy came with breakfast and cake *S*!
At 12 o'clock the car was filled with everything we need...9 dogs and lot of things...we have a very good car *S*!
We drive to the veterinarian station to take a test from Devlina....and they say that she was still too early to mate!!!
After some short things we have to do on our way we were in Gothenburg and I have to shop a little. We were looking for a new laptop for me that is not that big as the one we have and not too small either. And we need a TV for the caravan so we don't have to move one of ours from our home every time.....We found a TV 32" but we were not sure it will fit, maybe it will be to big, but we bought it anyway.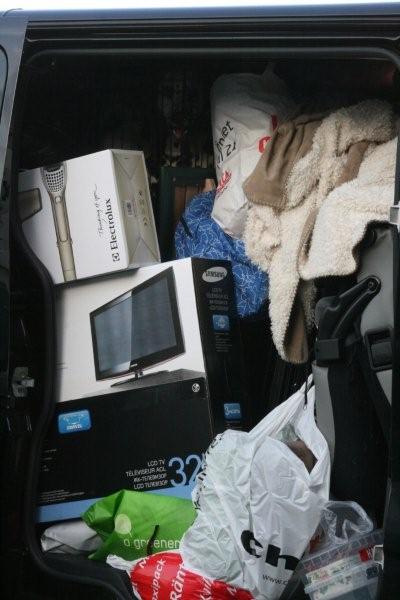 I found a perfect and very good looking laptop for me, perfect size....gorgeous colour (most important for me *S*) and with a large memory.
the only thing that wasn't that perfect was the prize. Almost 1100 Euro........but I want it...but I have to wait!!!!! Buuuuuuu!
I bought some presents for some friends in a store there and then we were on the road again towards Tvååker.
Sissel and Kai and Marthe was there before us, and we spend the evening to put all things in right places.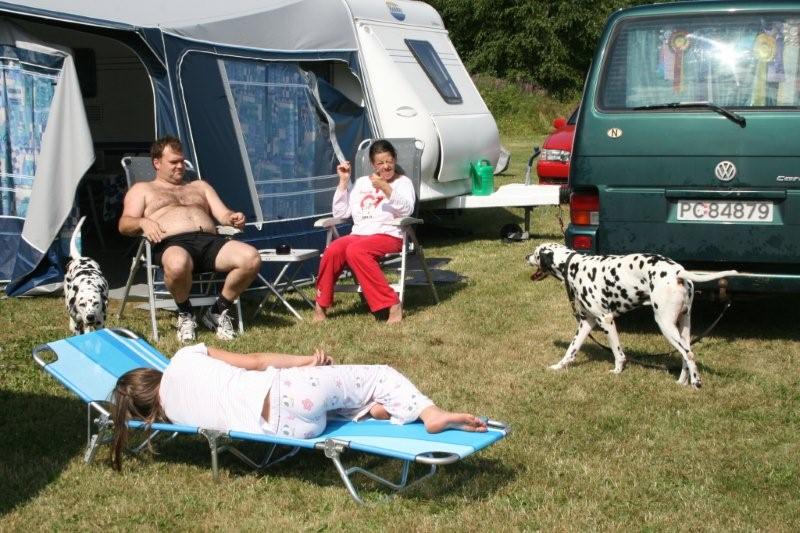 The TV was toooo big, even for me *S*, so we have to buy a smaller one tomorrow.
Monday 6 July 2009
On our way back home early....... we have lot of things to do at home before we go back to Tvååker tomorrow morning for HOLIDAY!
Suddenly all lamps on the dashboard in the car start to twinkle...and after a while the car stopped!!!!!
We were just about 200 m close to a gestation but there were at least 10 l diesel left Rune said..anyway he walked there and buy diesel and we filled it and start to air the system as it was standing in the instruction book for our car...nothing happened and it wouldn't start at all..
We called Roy and told him that we did just what they say in the book..but they did not mention that at the same time one is pumping the fuel pump the other one have tot try to start the car....I wonder what you should have done if You have been there alone?????
As soon as we did that the car start again.....and it have been to little diesel in our car. strange we have just drive 20 km since we heard the signal for 10 l left!!! We drive immediately to the station and filled the car up, we were now two hours late at our schedule..damned.
When we came home we feed our dogs and we go together with Roy to Lidköping, he need things for his computer, and we have to buy some small things.
In the evening we were back home and start to fix everything for tomorrow....we went to bed very late and put the alarm bell at 8 o'clock.
Some photos from yesterday on the boat to Sweden.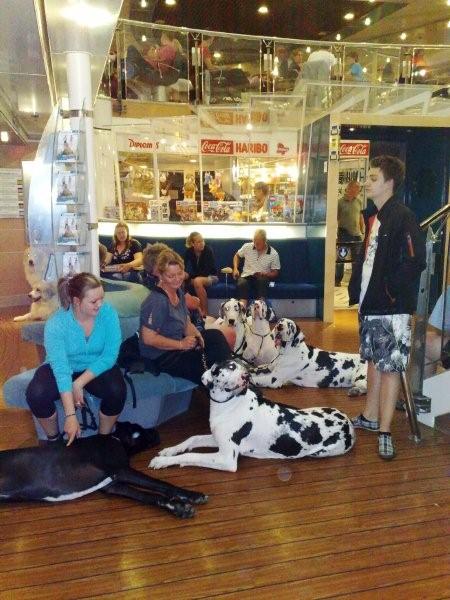 Sunday 5 July 2009
I have heard about stupid people that followed the car in front of them just thinking that they will go to the same place as You....
So we followed two cars with dogs in and after 20 minutes we were some miles outside the city *S*...then we turn around and try to find the way to the show area and this time we read in our pm *S*. We parked outside the area and both of us fell immediately asleep. It will start about 11.30 for us...I got an sms from Jenny at 10.30 thank god because we were sleeping too hard to hear all people around...
It was time for us to go inside and to dress etc etc. It was a toooooo hot day and our dogs were soooo warm just the same as us.
There were some dogs from Sweden and some very nice from Denmark that we really was afraid they will beat our dogs...especially some bitches.....But they were probably afraid for concurrence from our dogs too *S* that is the way it is..You never know what the judge will do. It was not that much concurrence with the males as it was with the bitches, so even if Daddy was lacy today in the heat and did not run with his normally speed he was best male with a Danish CAC and became a DANISH CAMPION today.
Today he is 2 year and 1 month old and THE LAST MONTH he have got CAC in
NORWAY
SWEDEN
POLAND
GERMANY
DENMARK
What a fantastic month!!!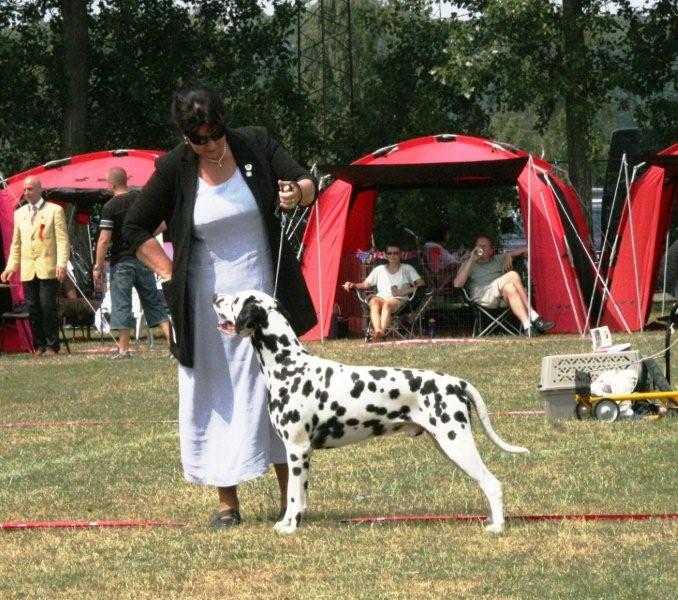 Me and Mamas boy!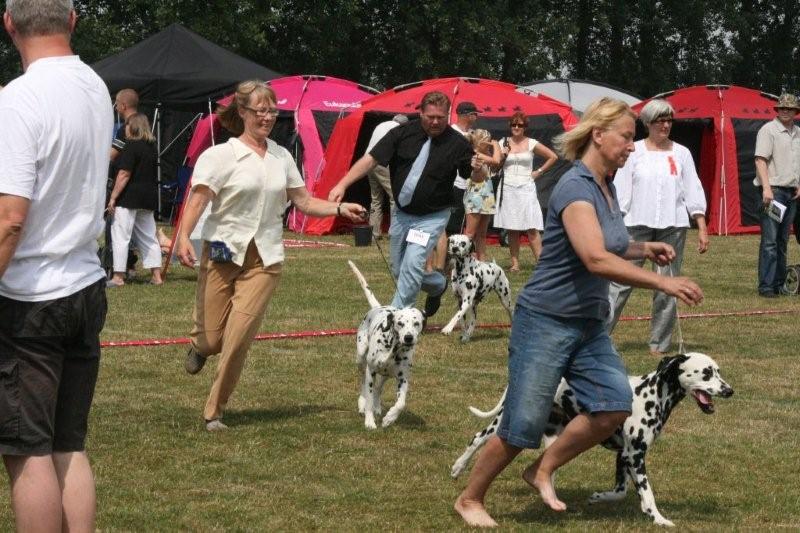 Bitches from Open class......Sweden, Sweden and Russia.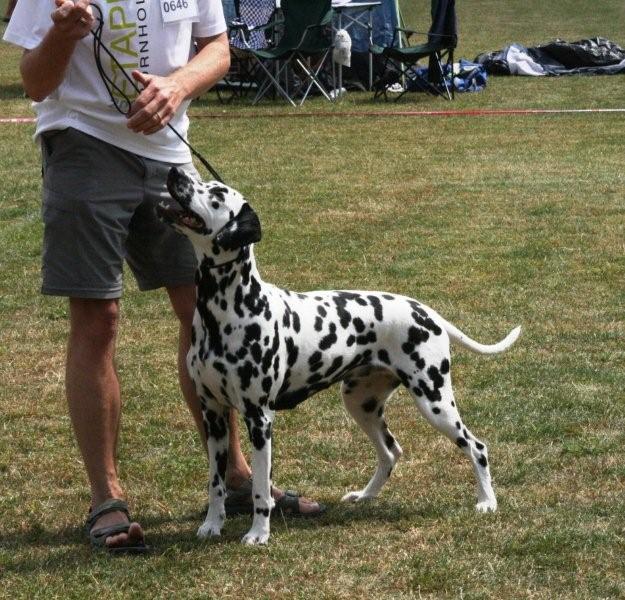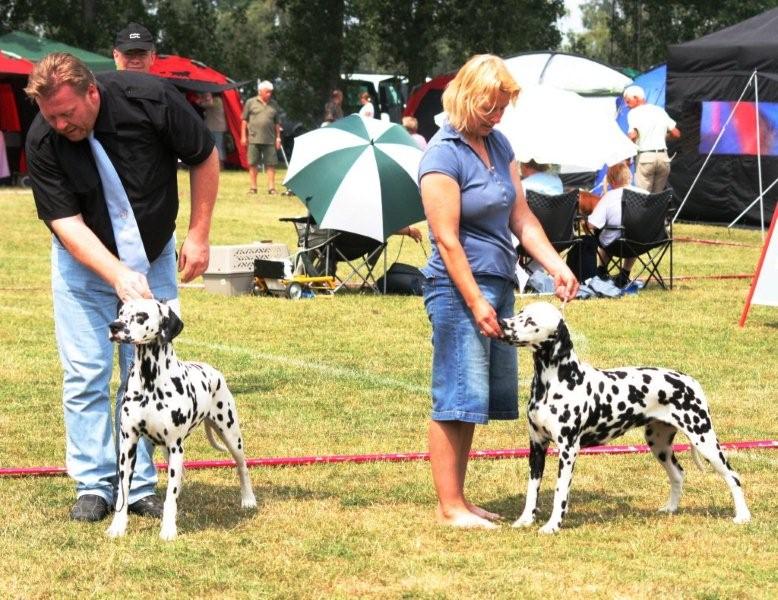 My favourite bitch was from Denmark. Muzica Nr 1 in Open and Annika with her Mellanmöllan bitch Nr 2.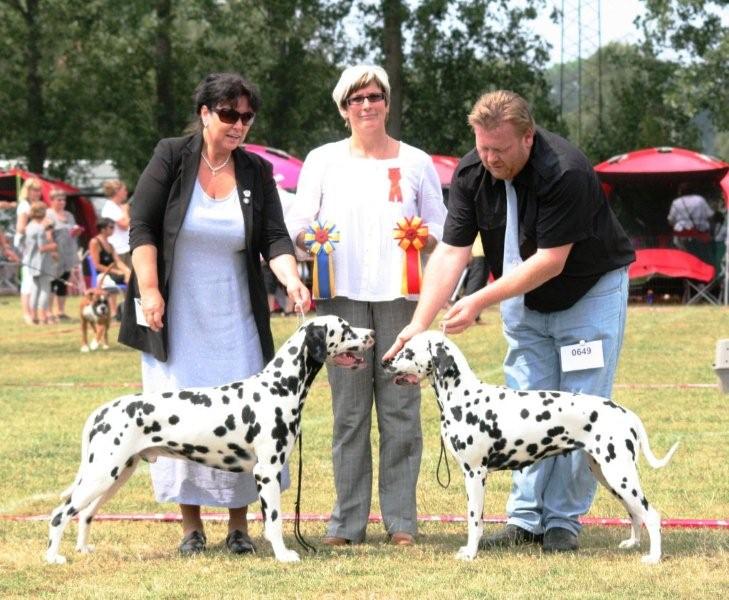 We got two new Danish Champions today.
BOS to SUCH NUCH DK UCh Nord JV-08, JWW-08, Lux JCh Jilloc's Sugardaddy
&
BOB to SUCH DK UCh Rus.Ch Lt Ch Muzika S Nevski Ostrovov
Judge Ann Carlström, Sweden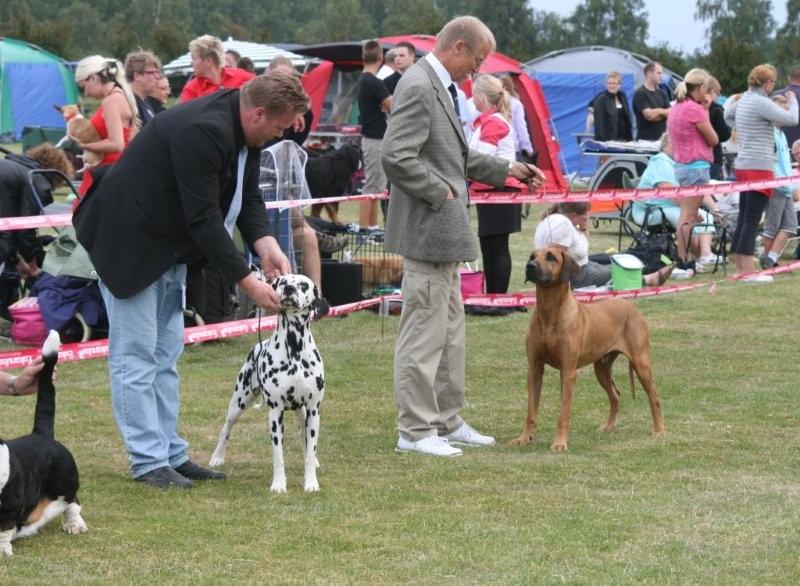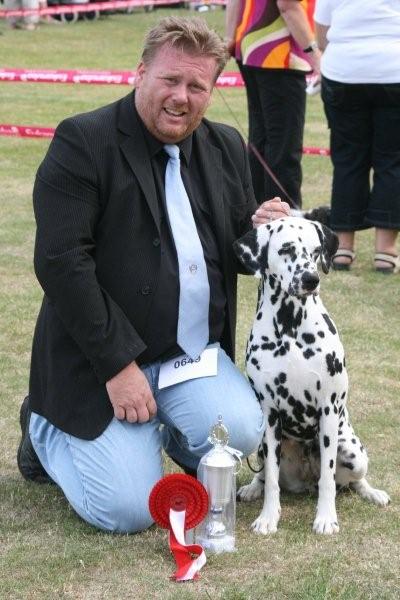 Nothing wrong with Rune and Muzikas condition........that helps *S*!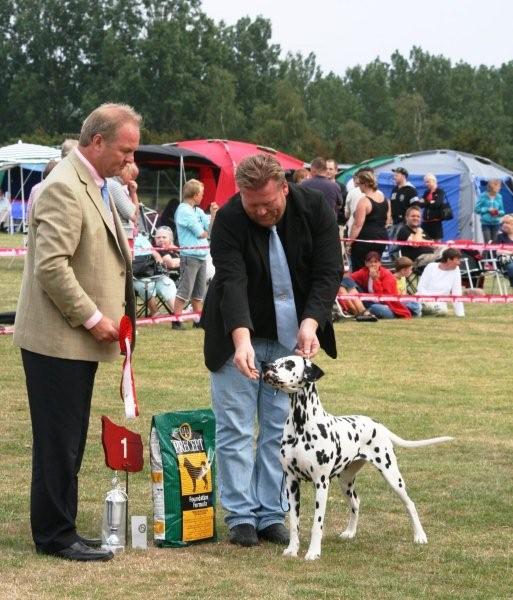 Muzika Nr 1 in Group for Judge Gert Christiansen.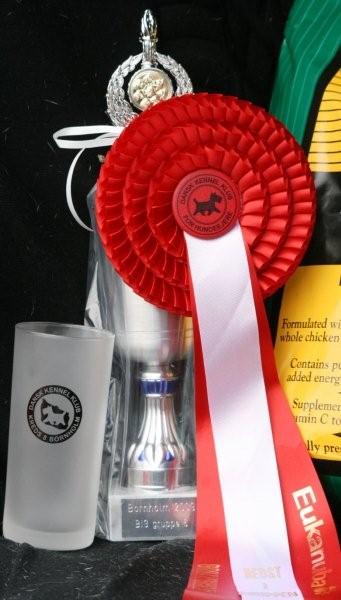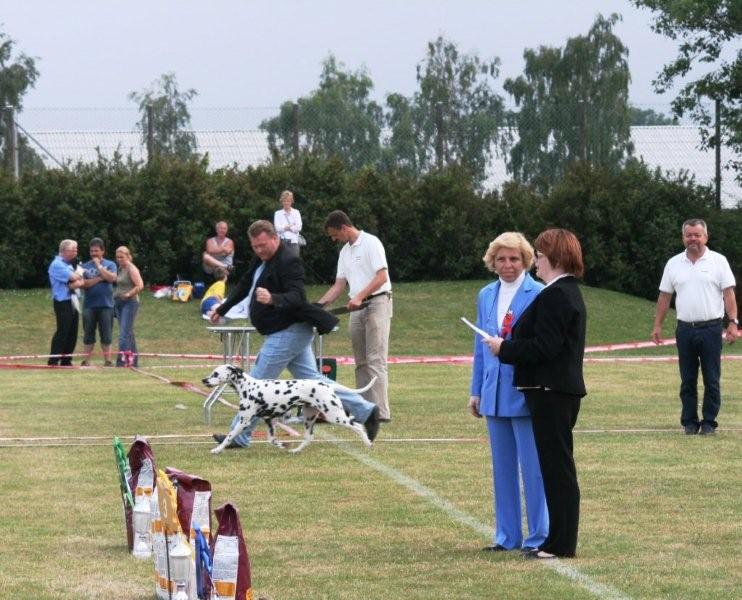 Muzika run very good in Best In Show, but the judge went for other dogs.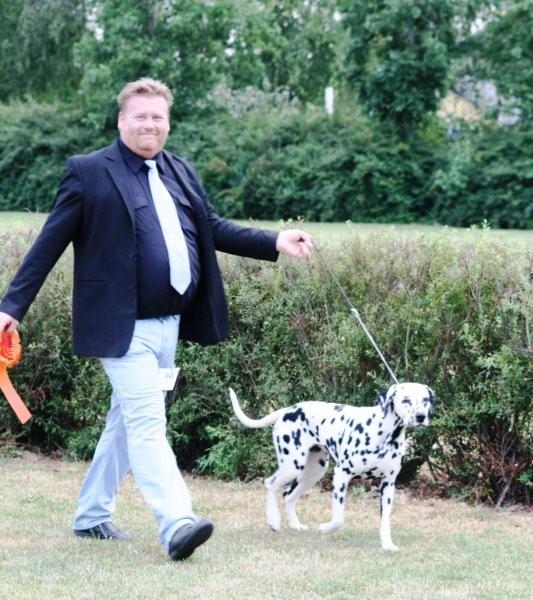 We were happy anyway.
And soo were Moss *S*!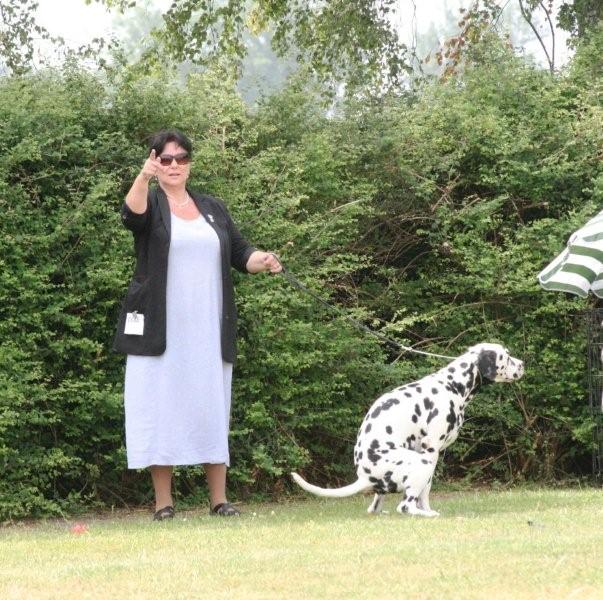 Hey there......can You bring me a bag.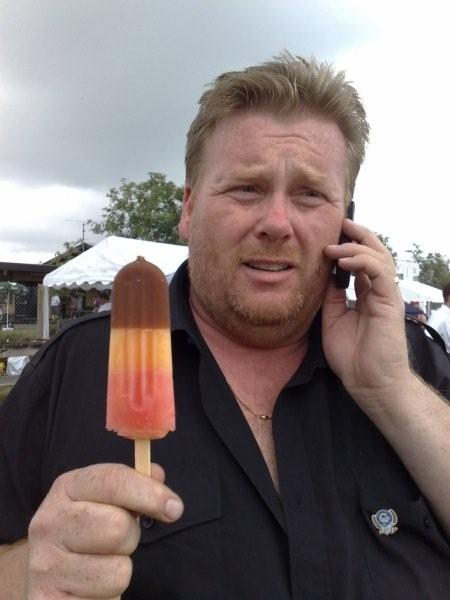 Our friend from Poland Mr Janus Opara! Rune eat Lollipop and send photos off the ice to Jenny *S*!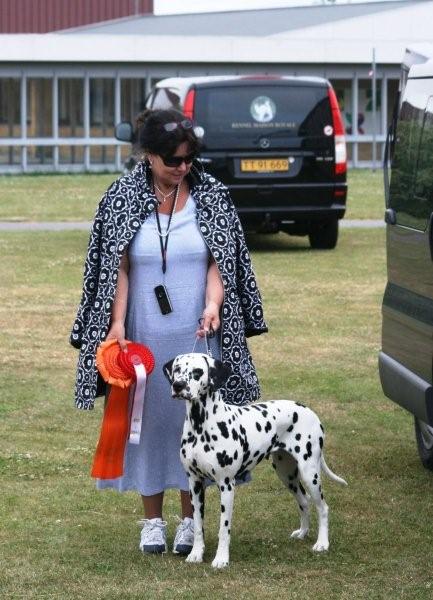 Our boat will go back to Sweden was at 20.45 so we drive around in Rönne and looked at all beautiful flowers and houses. We stopped in the harbour two hours too early and Rune slept for a while and I eat at Sörens cake *S*!
Because it was too early to mate Devlina and we understood it would be very difficult for Rune to get back to work on Monday, he called his boss, and asked if she could work for him a couple of days this week, even though she was on holiday - and she said Yes and she could work the whole week!! So now he will have 2 weeks holiday and we will have the time to do everything we need to do. We are sooo grateful!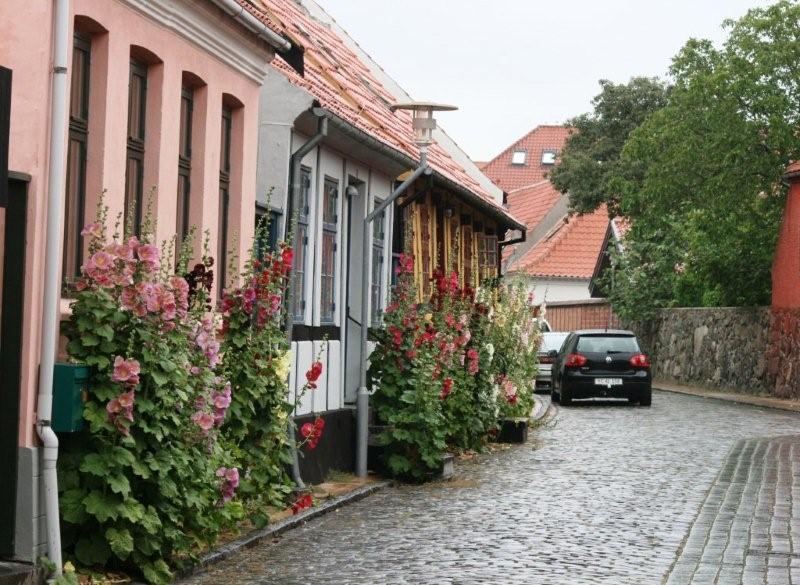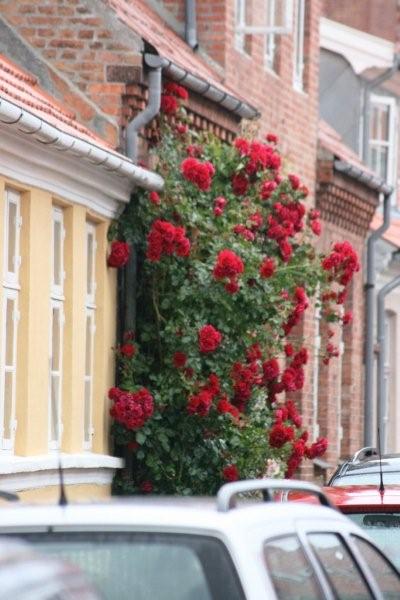 Beautiful...and it looked just like Gotland/Visby!
We go with the catamaran. All Danish mosquitoes was smashed in front of our car.
At 22.05 we arrived to Ystad again.....at 1 o'clock we were back in Tvååker and Himle camping to our beloved caravan....a quick walk with all four dogs and sooo good to lay down in the bed. We have done so much things in the last 24 hours.....and we were very happy for everything today.
Zzzzzzzzzzzzzzzzzzzzzzzzzzz!
Saturday 4 July 2009
My Darling Eddie 9 months today!
I was packing the caravan all day long and all night too, both Rune and I. At 3 o'clock we were almost ready...where should WE sleep??? Do we really need everything that we bring...and I say as always that we should take this and that "in case of". I hate to go out to buy things again that You have a lot of at home, it is sooo unnecessary.
Up early because Rune will build a cage for some of our dogs in the caravan today, but the store here in Götene was of course closed at Saturday during the summer so he have to go to Skara to buy things, damned it took much longer time and that is just what we do not have..................TIME for everything.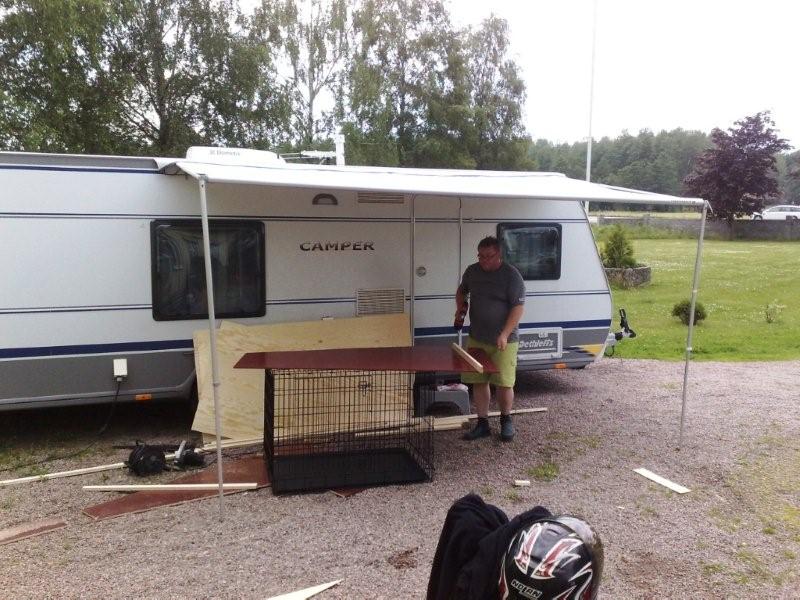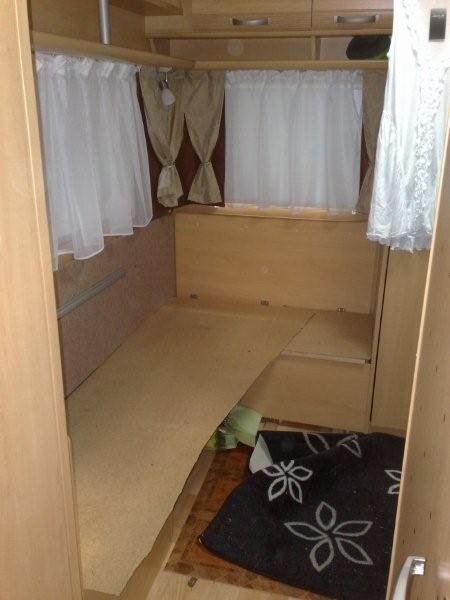 We have planned to go from home about two o'clock but we drive out through the gate at six!!!!
After just a short while I start to get pain in my stomach....not normal, and we have to stay 5 times the first hours so I can go to a toilet, damned....the clock run very fast and I start to be very stressed. Rune have to drive and I lay down on the sofa behind him, thank god for this new car with this sofa...I fell asleep and suddenly I heard him say that we were close to Tvååker and Himle Camping where we will put the caravan. There were lovely roses at the Reception.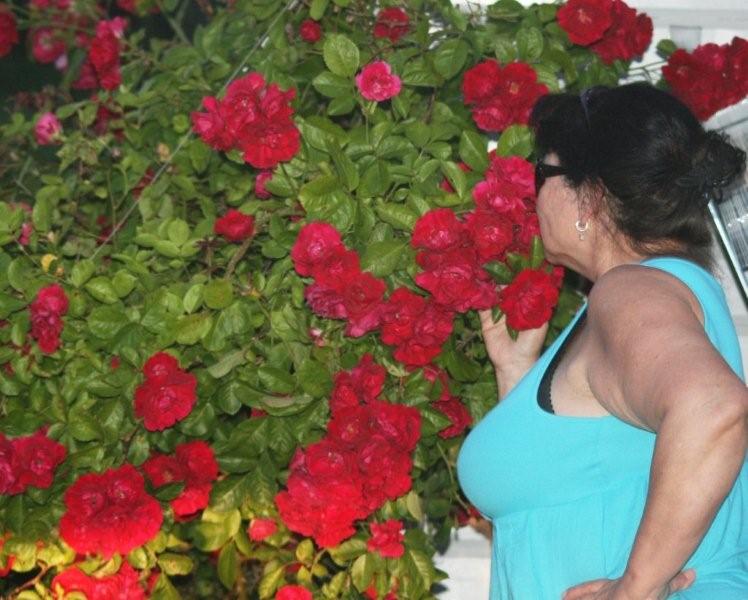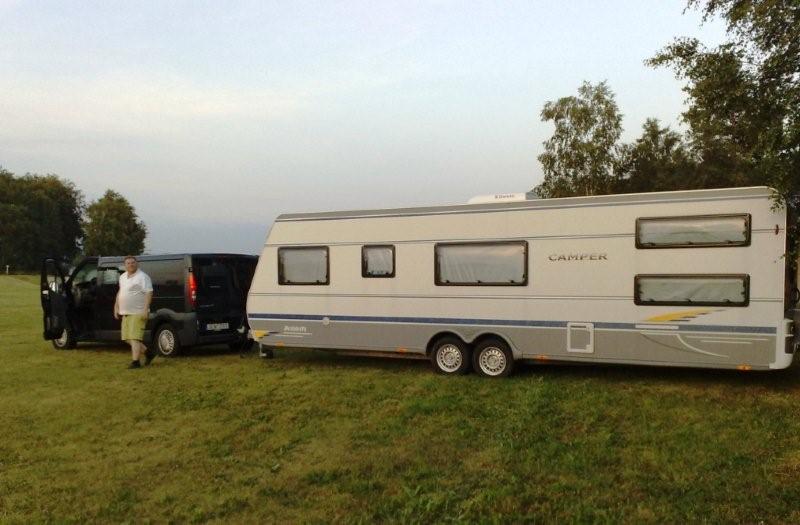 I was feeling much better and I walked the dogs while Rune was parking the caravan. 22.30 we were ready to go again...Help!!! How can we make this???? We have been planning to be in Denmark to meet Vic at midnight, but we were there at 2 o'clock in the night. Poor Sören have to wake up.....and he have make coffee and bread and CAKE for me ...I wonder why?????? Doe's he read in my diary to *S*!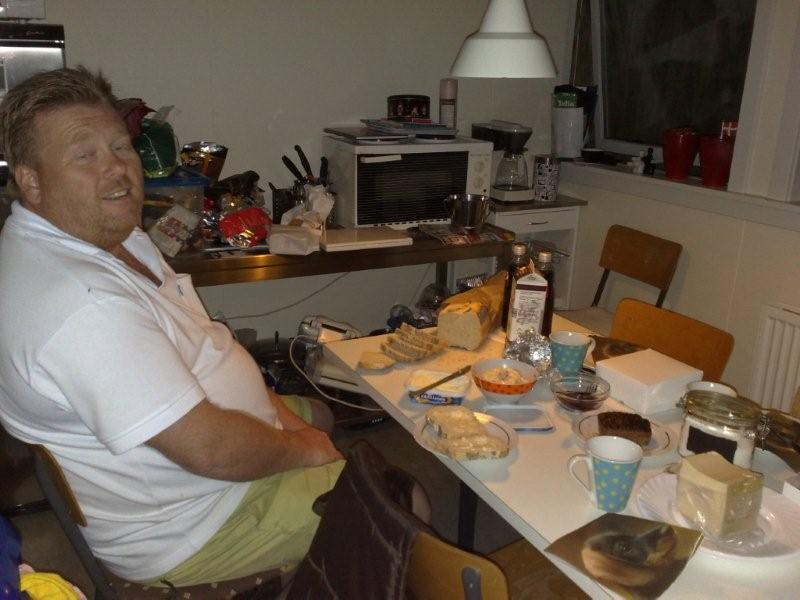 We know that it probably will be to early for Devlina to mate but we will get it a try because we can't go there tomorrow.
And one more problem is that Rune have to work at Monday morning at 8 o'clock.
We stayed with Sören in 40 minutes and then we have to back to Sweden again to try to reach the boat at 5 in Ystad for the ferry to Bornholm! Crazy.......Yes we know! Sleep......no way!!!!! Tired..........Yes of course!!!
When we drive over the bridge between Denmark and Sweden they stopped us in the Costume...and of course we have to find and show all papers for the dogs!! We do not have the time for that, and when I told the polis that we just have been in Denmark for two hours and now on our way back to the ferry in Ystad to go back to Denmark/Bornholm again...He looked at us as we were crazy, but he said that -:People like You use to have all papers in order!!! Yes, I said and give him a tired smile and he let us drive again...we lost 14 minutes in our time schedule just for this check, damned!!!
It was high-speed all the way to Ystad, and we were there 20 minutes before the ferry will leave..perfect!!
It was not allowed to stay in the car at the boat, but we HAVE TO SLEEP, so we lay down for one hour and sleep well and woke up when the ferry were in the harbour of Bornholm.....Denmark again.......here we come *S*!
Friday 3 July 2009
Start again in the morning to put more things in the caravan *S*!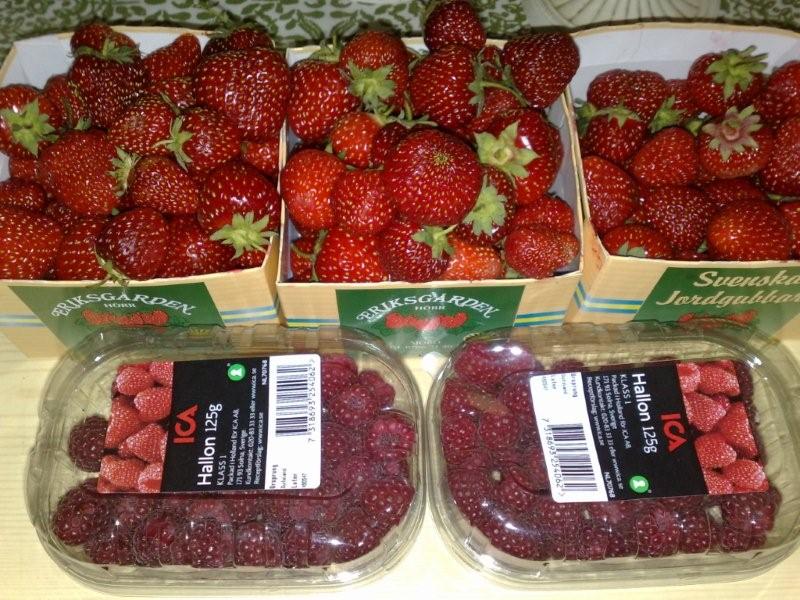 Roy came for breakfast. And he bring berries.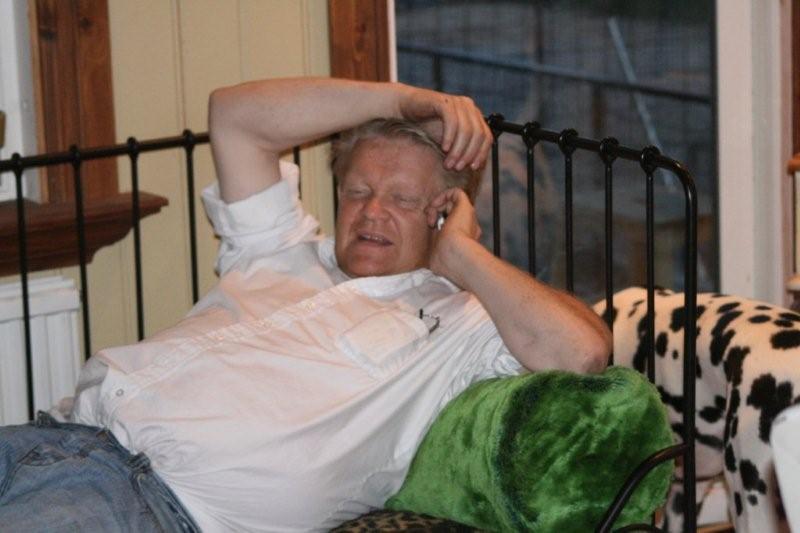 XXXXXXXXXXXXXXXXXXXXXXXXXXXXXXXX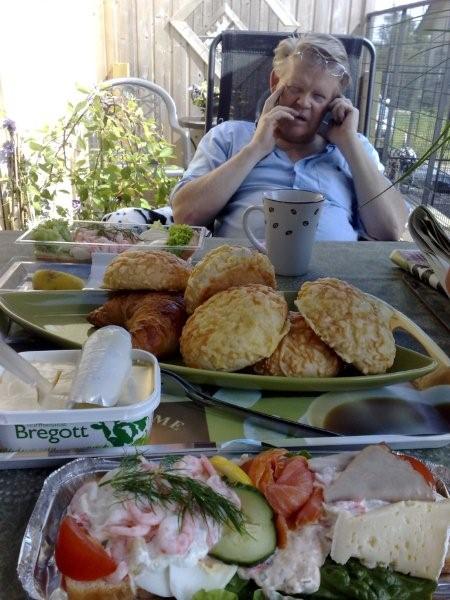 Roy came with lunch.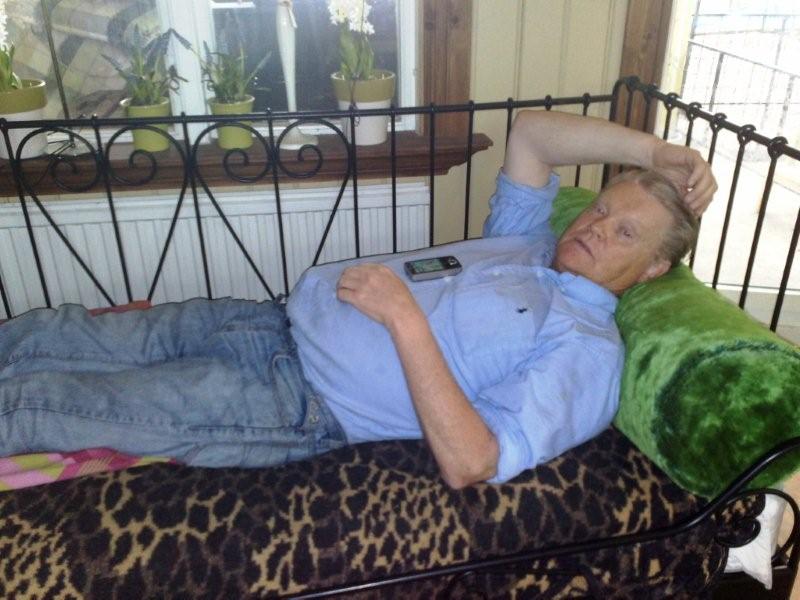 XXXXXXXXXXXXXXXXXXXXXXXXXXXXXXXX
An Roy came for supper *S*!
And then was this day over.
Thursday 2 July 2009
Bosson and Puzzles daughter in Finland!
Marnellin Hyacint Bucket, a coming star!!?!! Thank You Niina for the photo.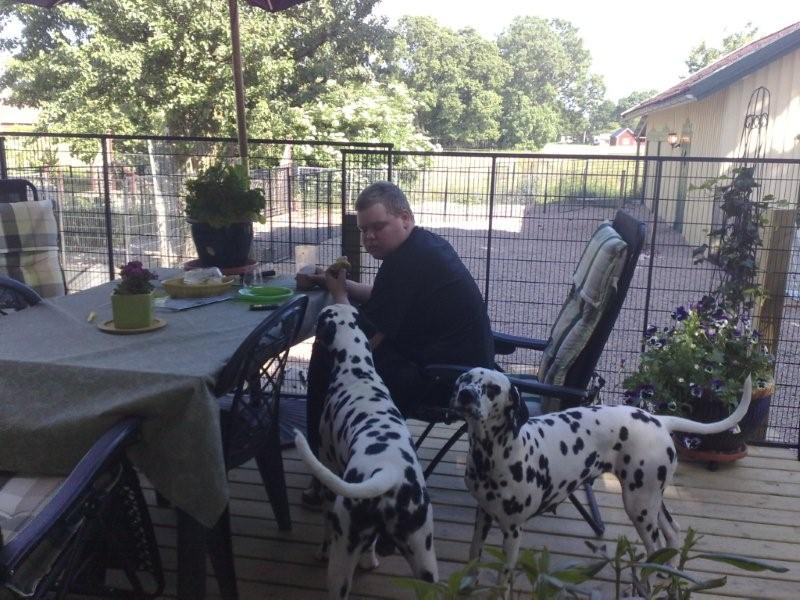 Breakfast for Jonnie.
Dinner for Roy.
This afternoon Rune and Jenny drive 400 km to look at a cage for our dogs in our new car...but it was too small so the man will make a new one for us that we will get later........it will be perfect!
Kassie stayed with me and the dogs while Jenny was away.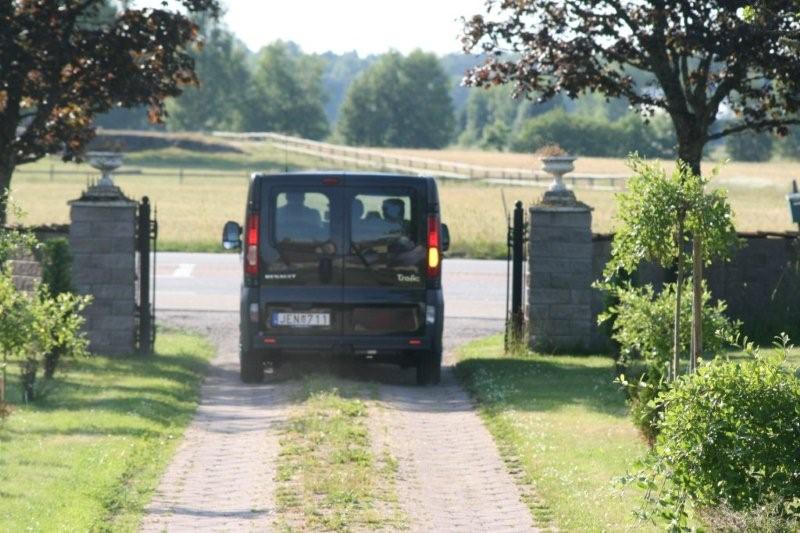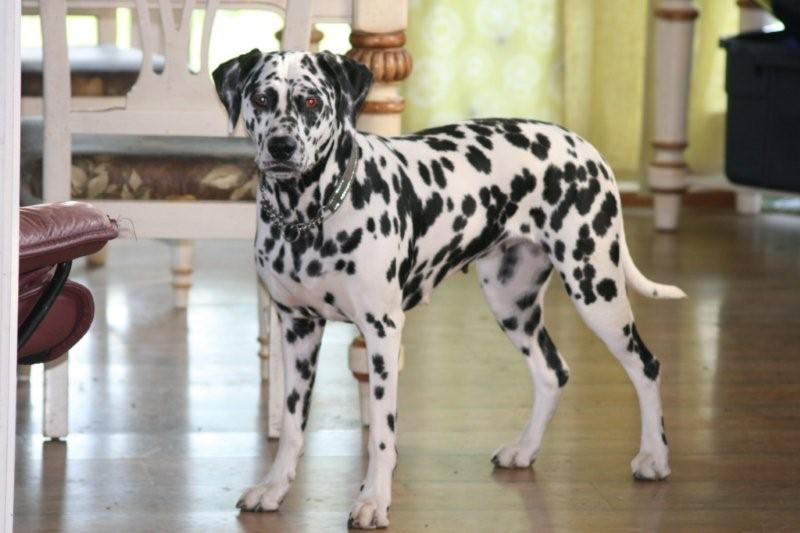 But when they were back it was midnight so we did not have so much time to do things that have to be ready before our trip this weekend.
Wednesday 1 July 2009
I was up at 8 and start to call to different doctors and hospitals because I have been waiting for examinations for almost 4 months now...and there is a law that says that if You have to wait for more than 3 months You are allowed to go to another hospital or doctor immediately.
I was soooo angry after calling around and ask when it was my turn to come...maybe one more YEAR!!!! we have no time they say...You have to learn to live with your problems???? I can bear a lot of pain but this answers was tooooo much even for me. I "jump" up and put colour in my hair and did lot of things just because I was sooo frustrated.
I hate the stupid and insensitive nurses that say things like that to people that need help...please find You another job with dead things..not people that might be dead before we get help from some doctors that understand that I am not interested in getting a sick leave or a pension (I have never got a cent from the goverment my whole life, stupid me....) I have sometimes been that sick and tired that I not want to expose my self for that long process, and I have in my whole life been able to work when I can in our own company, and rest when i need it...and pay for my own doctors, but no one can find what is wrong and that have cost a lot of money and when we talk about
health You can't count in money just in life quality!
Later on I went to the vet for vaccinations and because of the terrible weather with lots of rain and thunder I was so delayed 1 hour, because I do not want to leave my dogs at home alone, all windows in our house seams to be broken with every bang. When I got to Skara it was even worse and I had to drive in a long queue with cars that just was standing, no one dare to drive. Rune called me and said the roof in the shop he is working for had collapsed because of the rain, and they talked about it on the radio all time! Finally I got to the vet and it was a long day!
So many people got their houses and cars destroide......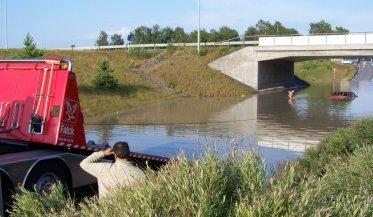 Photo by Wighsnews
Jill is still with Jennie and Ellie, and here she and Snurra, that have grovn a lot is resting in the WHITE!!!!! sofa!