Monday 31 August 2009
Today I was up really early and drive to Skövde to meet both Jenny and Carola to look at kitchen and to do a little shopping.
We had a funny day together!
And I have soooooo many ideas in my head how to make a new kitchen next year!!!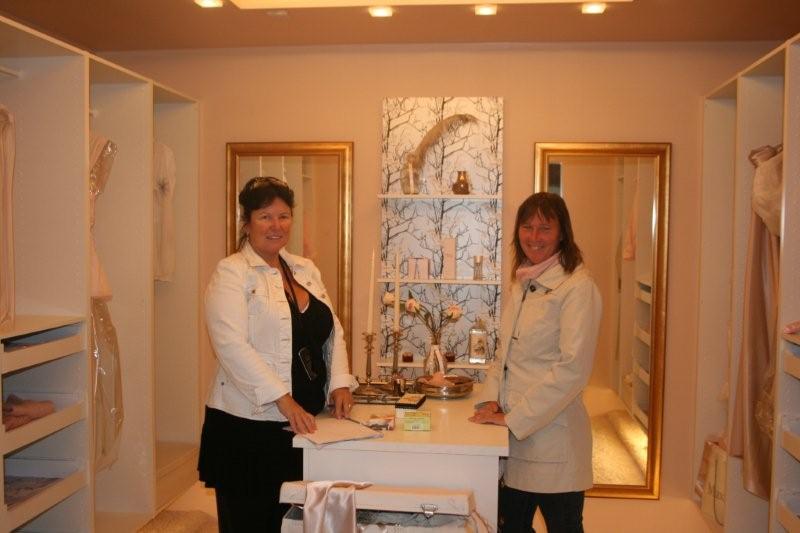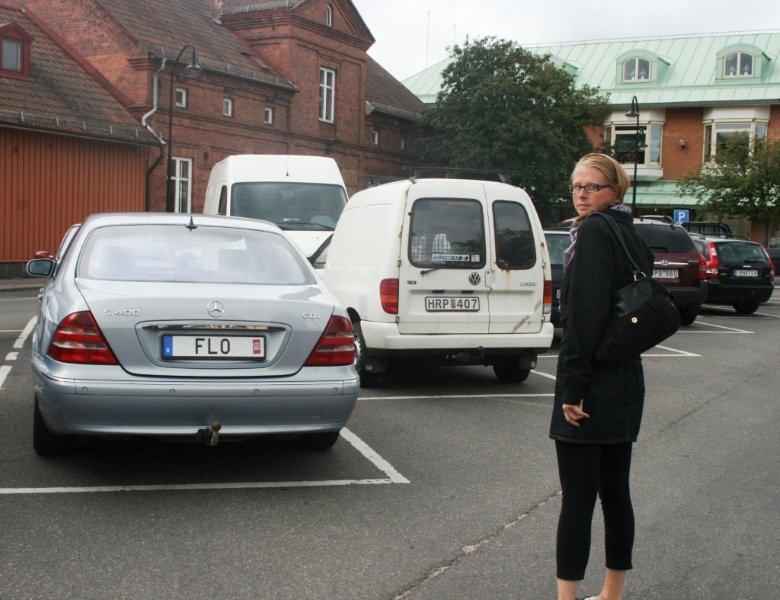 I already have a walking closet, and I can recommend it!!! Jenny on the way to the car.
Still beautiful flowers in the city.
Sunday 30 August 2009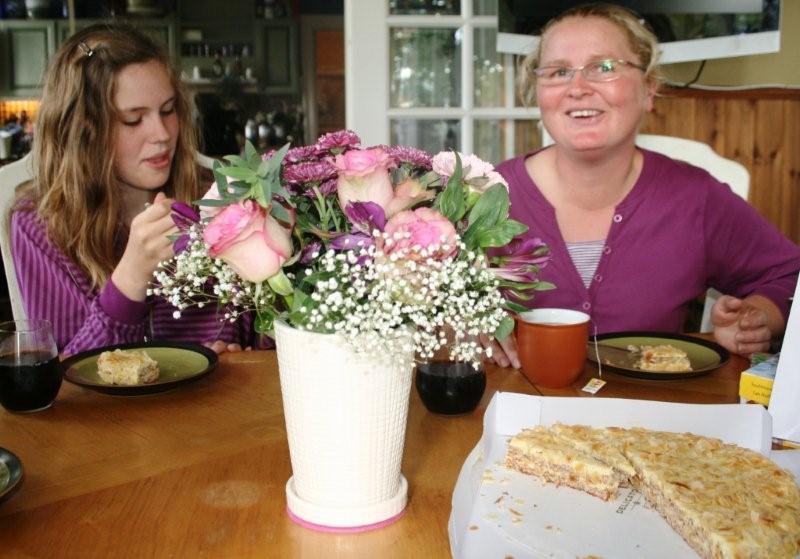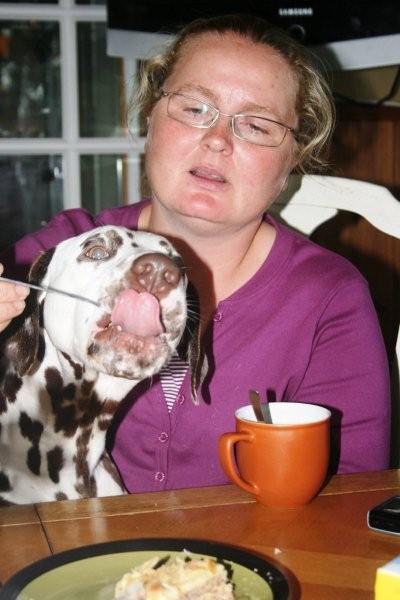 Elsa and Hildegunn came with cake in the afternoon when they were on their way back home from Medevi. Devlina was happy!
In one part of our hall there is a bench outside the door to one of the kennel room, and RUNE love to put all thing there for a loooong time, and even on the floor. Once in a while we take everything away and have it nice there with flowers and candles because our "angel shelf" in over the bench. BUT in just some days it looks the same there again, and I HATE IT!!!!!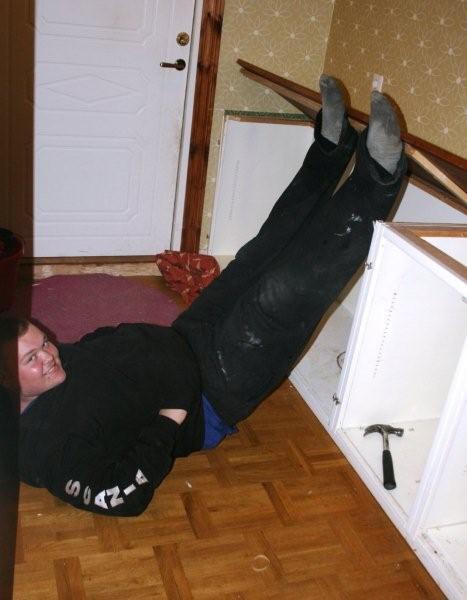 Today we took everything away and Jonnie came and crashed the rest.
Some hours later it looked like this!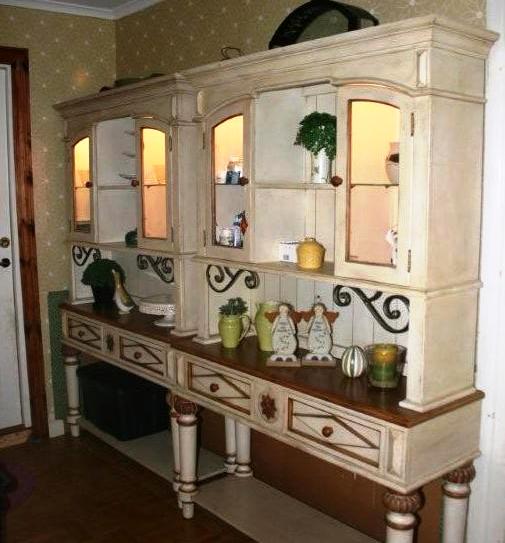 And now there is so much more space in the kitchen when this both shelves are here instead.
I love to make changes in the house this time of the year...and if we just have had a lot of money I will do as Extreme Home makeovers (my favourite program), blow it all out and start from the beginning.
We have been planning for a new kitchen for maaany year now, but time go so fast that we do not have the time of the money (we put EVERYTHING on dog shows)....stupid to do the way we do but VERY FUNNY!!!!!!
We think that we have to start to change the kitchen next year if we can...as we have mould in the ground and it is urgent to take it away (maybe can it be one of the reasons for my pain?????). But it is not that easy to find "small" people that can go down between the logs and dig all the old saw dust and earth out from the ground and then dry it and fill up with sand again, and then make new floor and we think we have to put heat in the floors so the ground will continue to be dry as long as we live....but it is sooo expensive to use the heat in the floors, it is enough that we have it in the kennel for the dogs..there it is really necessary!
Time will share what we can do, and when!
Saturday 29 August 2009
Really hard to leave the bed after just two hours sleeping!!!!
Medevi Brunn special show with 102 Dalmatians for Björn Einarsve (puppies and juniors) and Pam Marshall for the rest.
There were 23 puppies entered today.
Dollar ( Jilloc's Walk On Top) became BIS Puppy!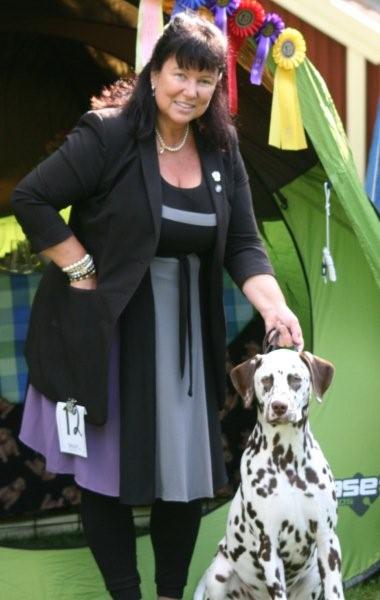 Photos from today by Jenny, Rune, Jens and me.
Dollar Nr 1 in the class and Euro Nr 3.
Madelenes Fairytaile spots puppy was Nr 2.
Dollar
Judge looking at puppy males 6-9 month. Louice were here with Lovisa and Expos puppy (Gåtfulls B ), she became second Best Bitch.
Our new habit is to drink champagne as soon as we have something to celebrate *S*!!
So even today Rune opened champagne that we got from our dear friends at kennel Benfatto and kennel Vitalight and we even had non alcohol cider for Hanna and me *S*!!!
We toasted for Dollar today, but we would celebrate even if we hadn't won anything today....just to celebrate meeting with our friends, that's reason enough!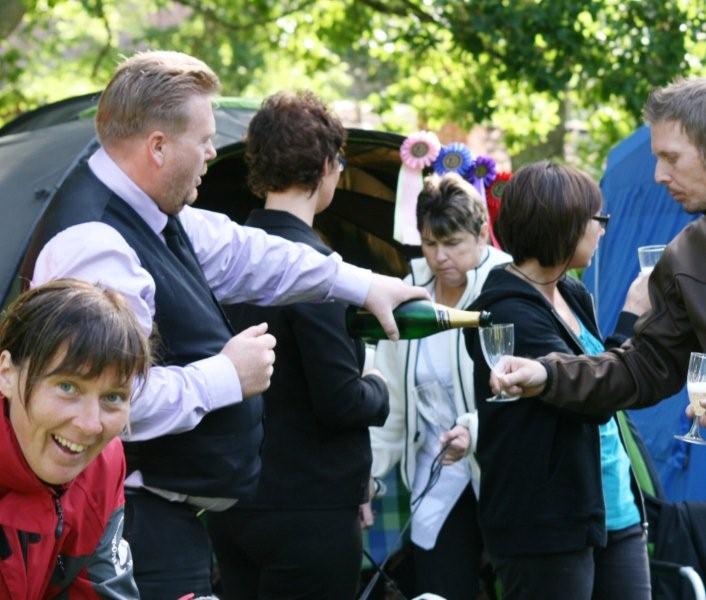 Carola was interested in the camera. Everyone want something to drink.
Hanna, Nina, Louice and Rune.
I know, I know, I know that You have been waiting for the rest of this show for many days now, but my days are soooooo full of everything just now (as always)..........
I am so happy that You are so many that are interested in my diary and we will try to be better to update, but Rune is at work all days long and when he come home there is so much work for him with the kennel club and to search around how to travel the cheapest way to dog shows in Europe etc etc....and suddenly he is sleeping by the computer *S*, and then he say that he will do it next day, but then there is the same again, an so on *S*!
Leif took a walk with Breeze (J Super Model) and Penny.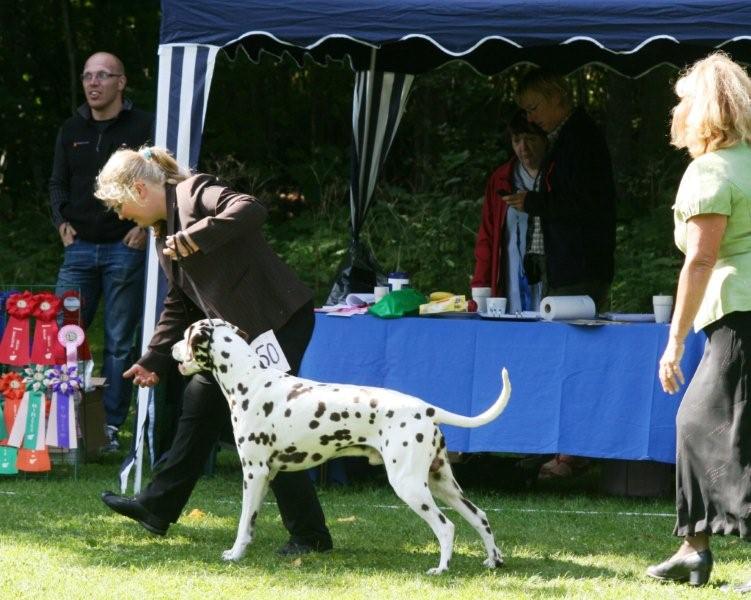 Championclass males....Bosson (Loverboy).......Lowe (Sperm Bank)........Tiger (Hole In One)!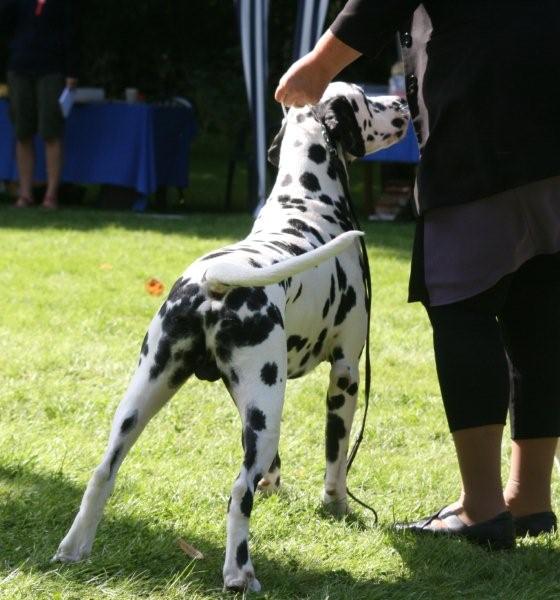 Daddy from behind *S*!
Winner today was Daddy and second place to Bosson, good boys!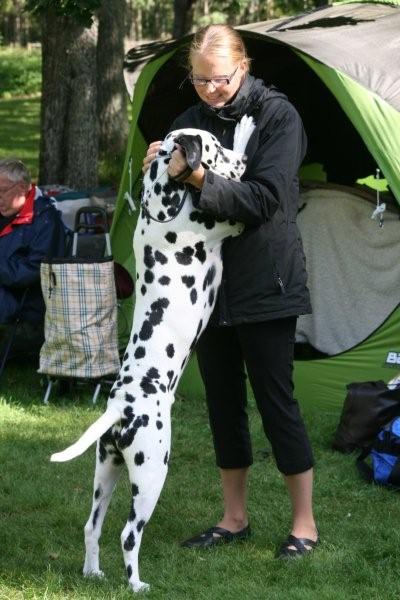 Both Jenny and Daddy was pleased that he was the winner.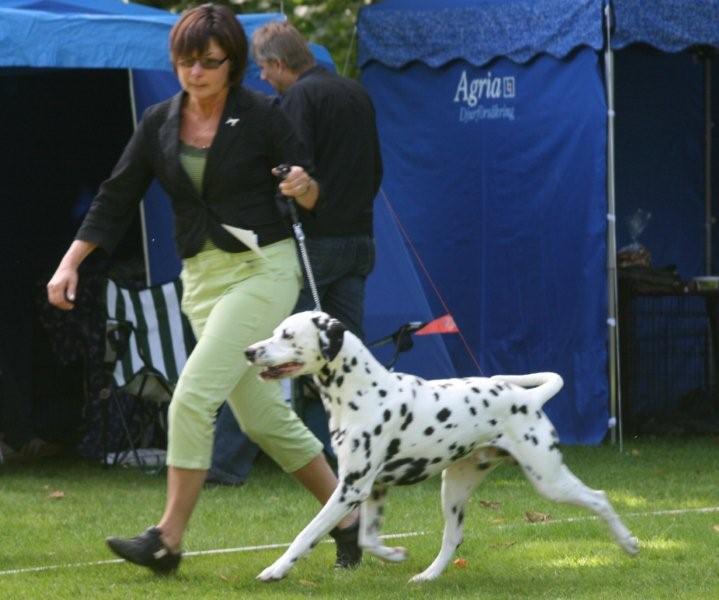 One of today veterans Brandon (J Easy Rider).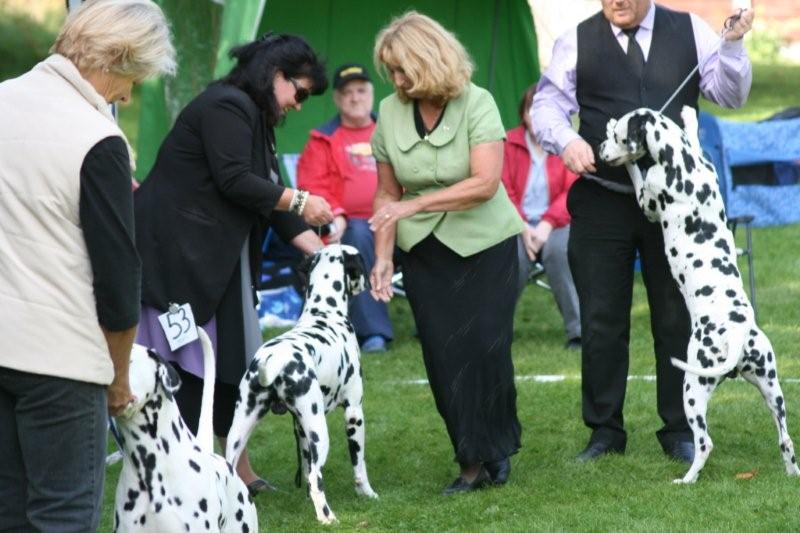 Judge was chosing for Best Male......Kayo or Daddy?
And this was the placement today Kayo with CAC-Daddy-Bosson, Congratulations Helle and BE and to us of course!
It start to look nice on our tent!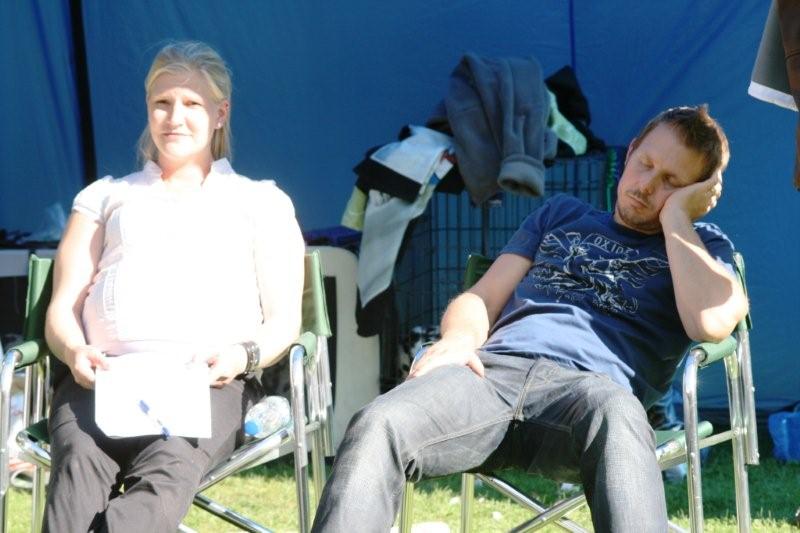 Then it was time for lunch and almost ALL men start their siesta?????????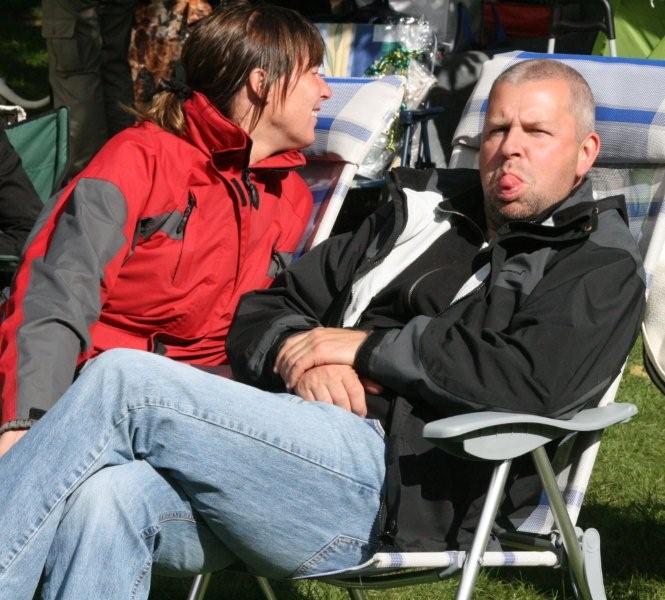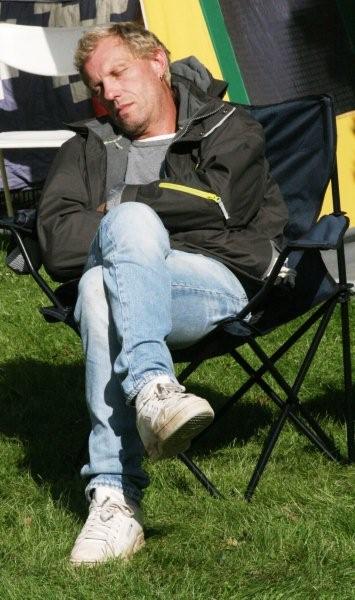 Carola and Peter and of course Arne have to sleep.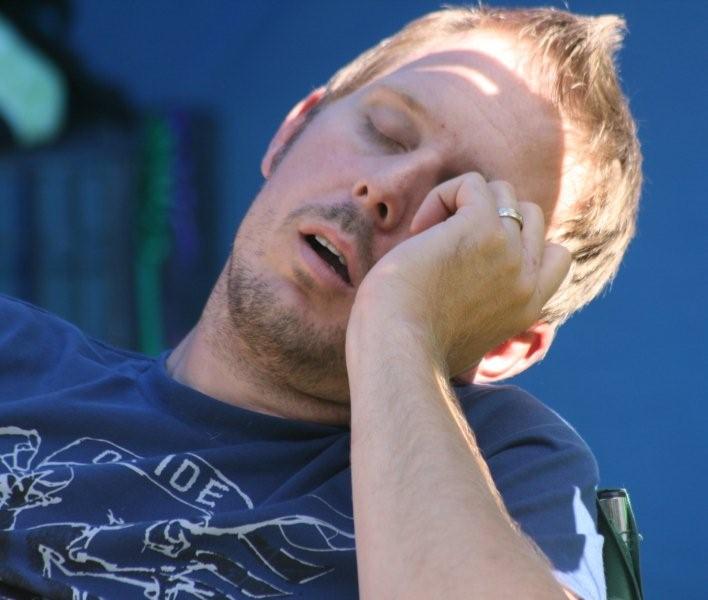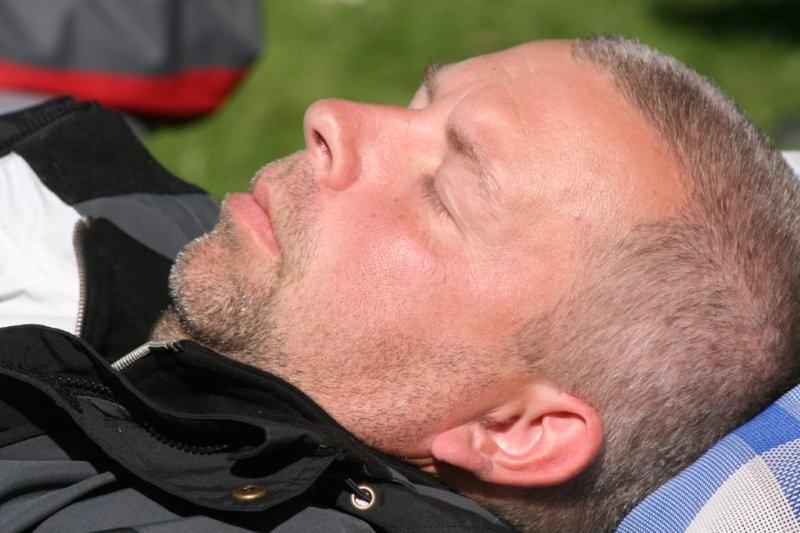 Jens was soooo tired. Just wait until the baby has come (then You can't sleep at all *S*). Peter did not want to show me that he was that tired today as on EVERY show ha ha ha.....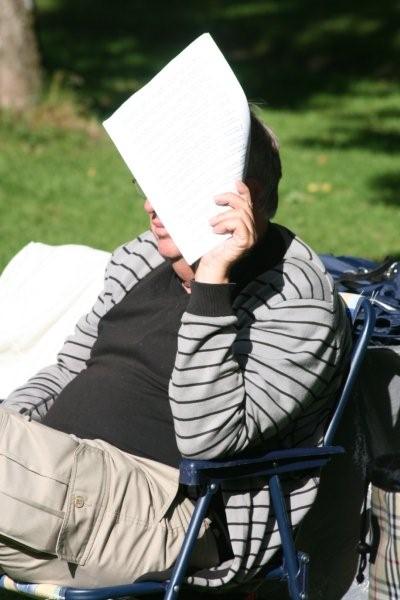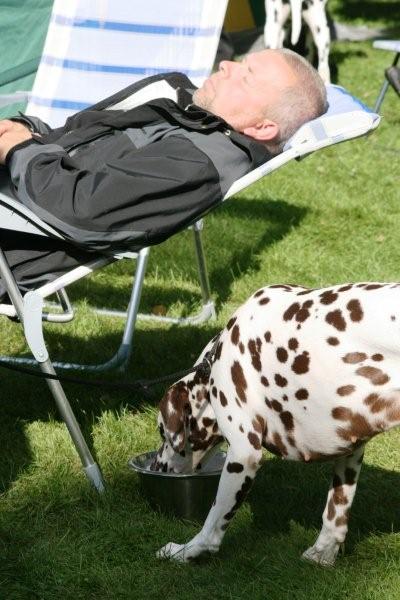 Leif sleep a little behinde the cataloge. Peter did not wake up for anything!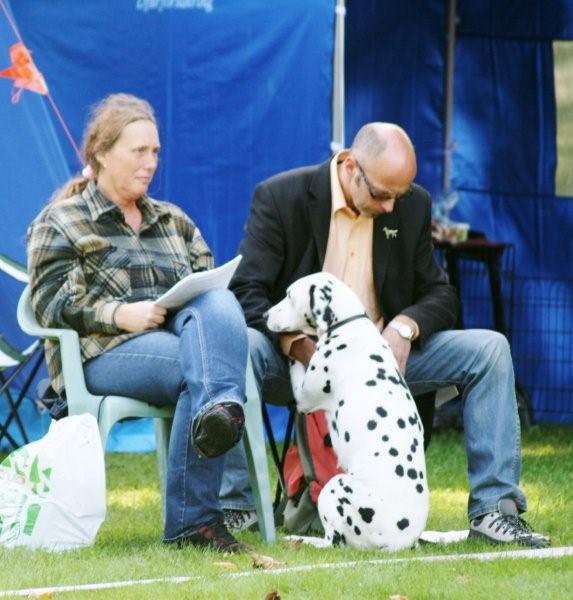 Jens crawl into our tent and continue to sleep. Per Owe was taking just a power nap *S*. Annelie was awake as EVERY lady at the show. Start to wonder what the different is between men and women???????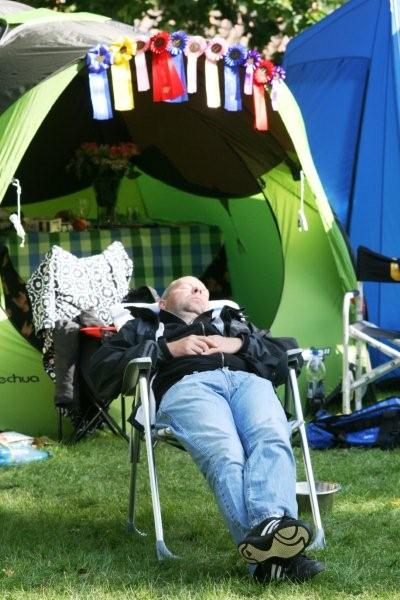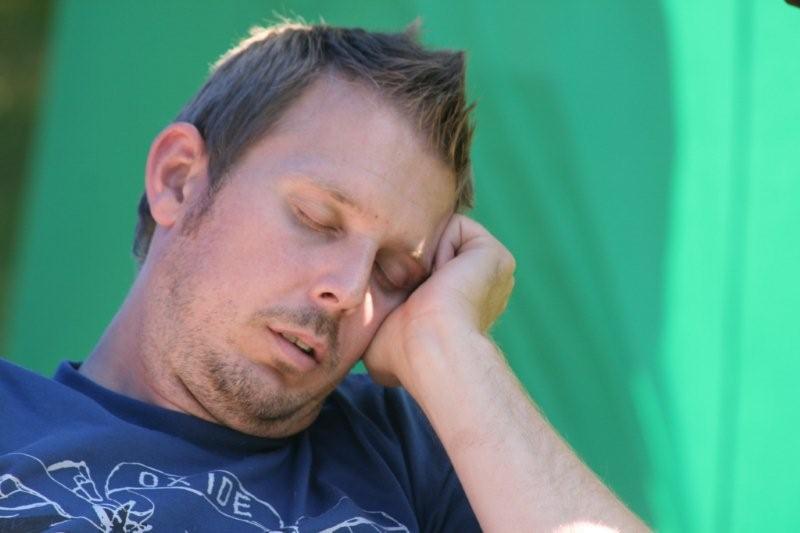 After three hours Peter was still asleep, and Jens got up in a chair but continue to sleep *S*!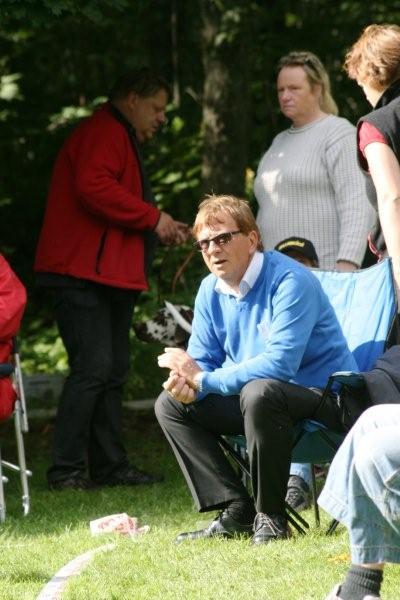 Björn Einarsve was awake too, he have been judging the Puppies and junior males and will continue with the junior bitches after lunch.
My super man was of course awake and tagged to go into the ring again.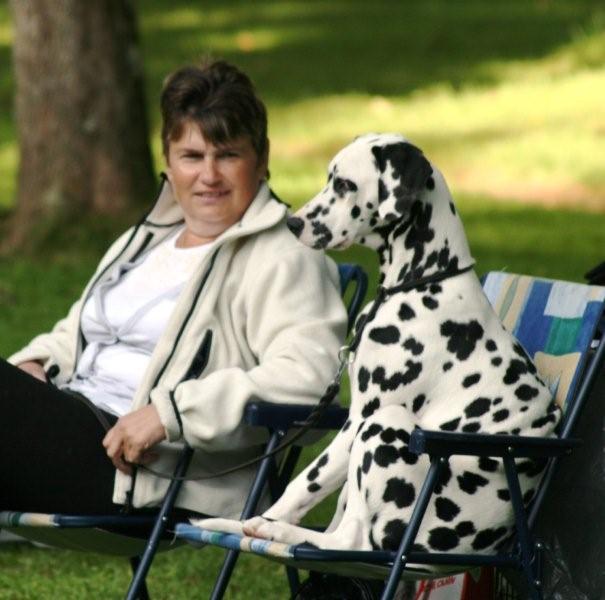 Kristina o Penny!
Kattis with her young Bazius bitch.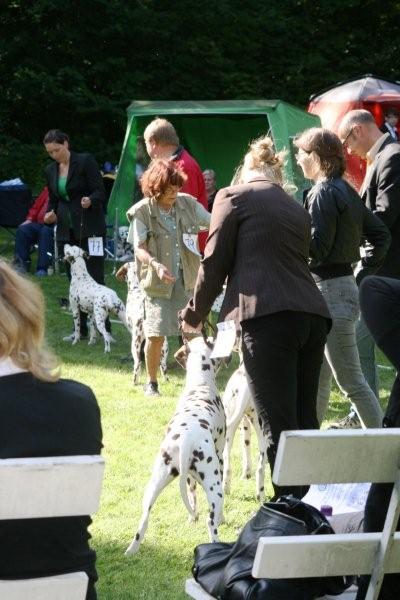 Open class was laaarge today. Rune have always a good eye for cockers!
Windy was shown by Jenny today.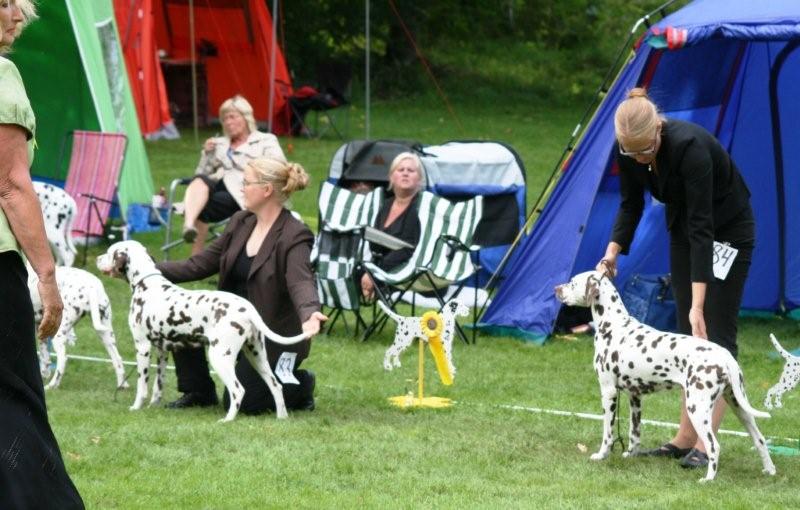 Hildegun with Vinta (J Journey To Your Heart) and Jenny with Windy (J Playmate of The Year).
Kristina with Breeze (J Super Model) together with the judge.
Eva and Angie (J Roses To My Lovley Angie) was finished for today unfortinally.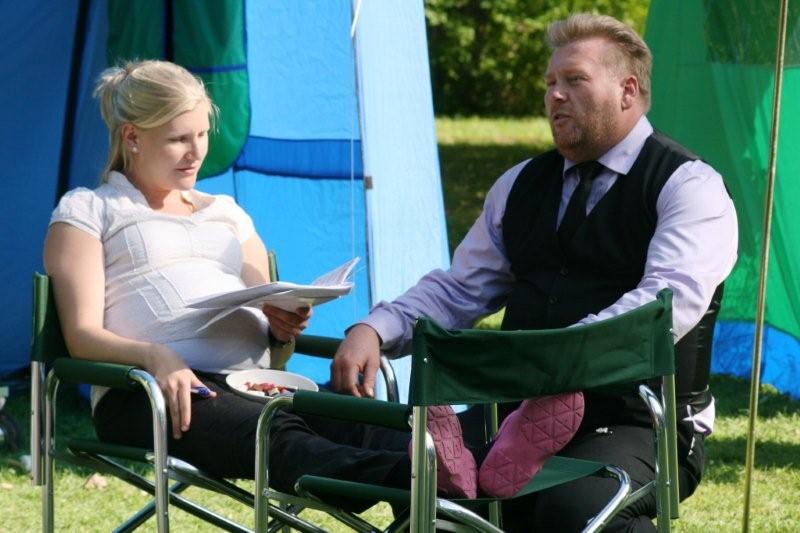 Hanna was pleased to just rest outside the ring today. Louice was showing Hjärtat for Hanna (She have even bribed Jens with a TV in the bedroom IF he show her today, but nothing help......stupid Jens I know that he would like the TV sooooo much but he was too afraid ? to enter the showring *S*).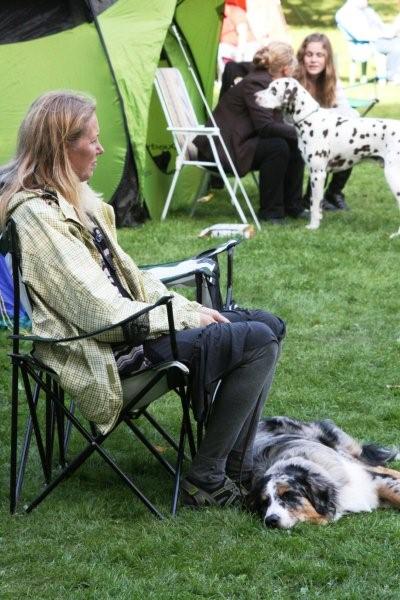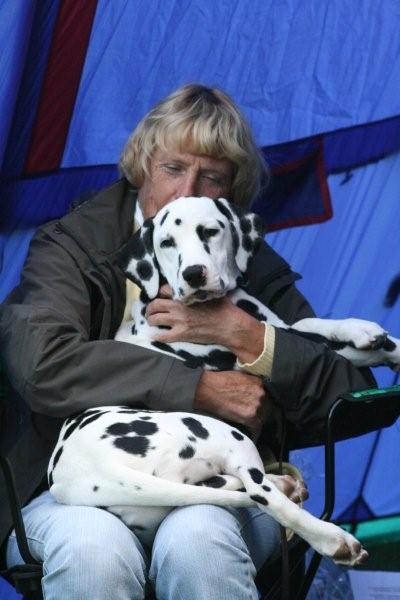 Nina - an old friend was there today with Louice, so good to see You! Berith with her new Falabellas Puppy.
Oooooooops......Ivo was always falling over the rope from the tent...And I was there with my camera of course *S*, sometimes I wonder if I do ANYTHING else than take photos!!!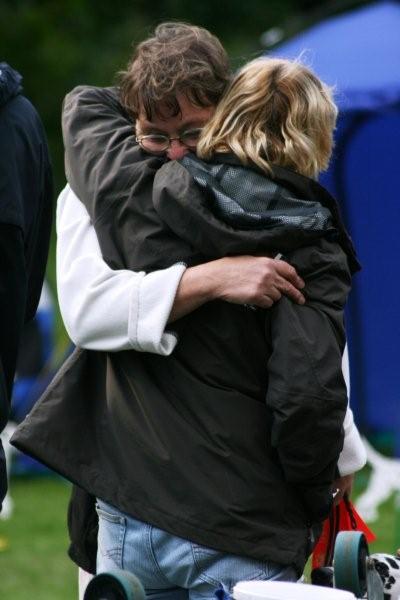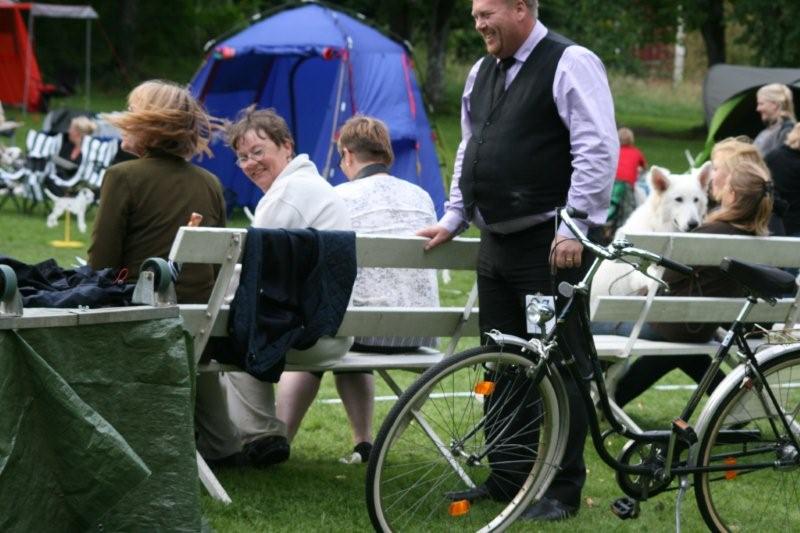 Congratulations to Inger that won the open class with her bitch (and she take her bike all the way to the ring as always *S*).
I do not think that Inger really could believe that she was Nr 1.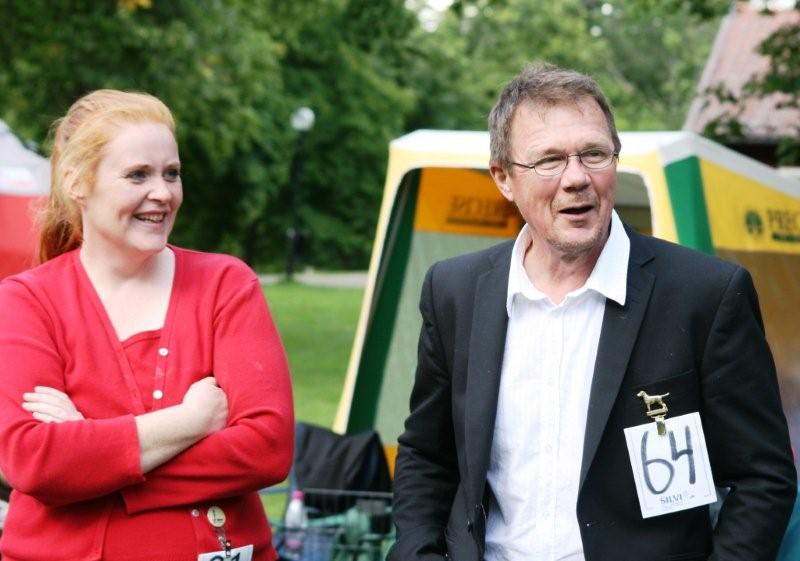 Louice and Matti was discussing how to show dogs *S*!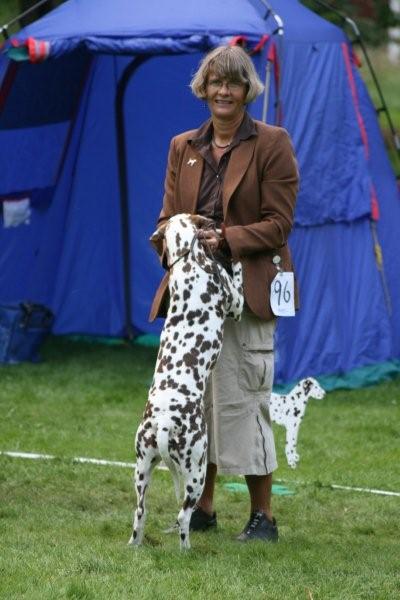 Championclass Gloria, Molly and Mini. Russin and Carin.
Hjärtat, An Ace Of Spades bitch, Perfekt, Disa and Nova.
Nova (J Roll On Big Mama) on the run. Gloria was to hot to stand still.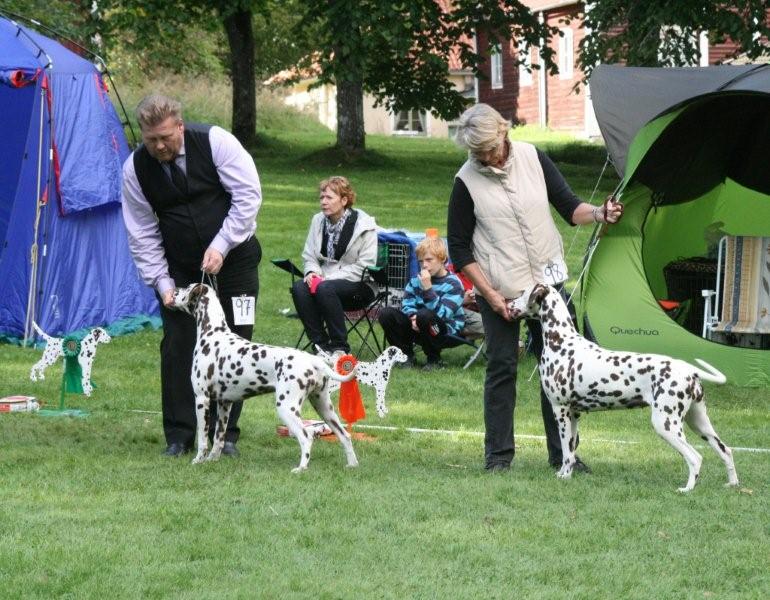 Gloria Nr 1 and Molly Nr 2.
In Best Bitch competition Inger with her bitch and PO with Helles Diva.
Gloria became BEST BITCH, Hurray!!! Ingers Boings......second with CAC, Congratulations!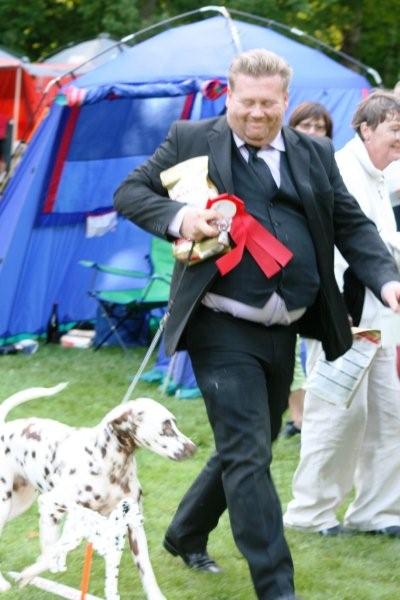 Gloria showed her tongue to her competitors ha ha ha, but say that happiness that last forever!
She was beaten by Kayo in BOB.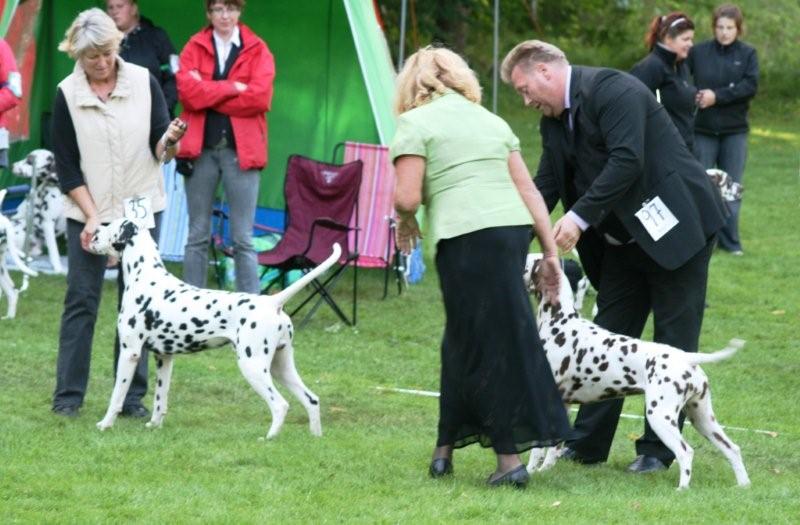 Here comes Gloria steaming like a runaway train after Kayo, like she want to come closer to bite his tail ha ha ha.
Nice judge today, Sue Wilkinson.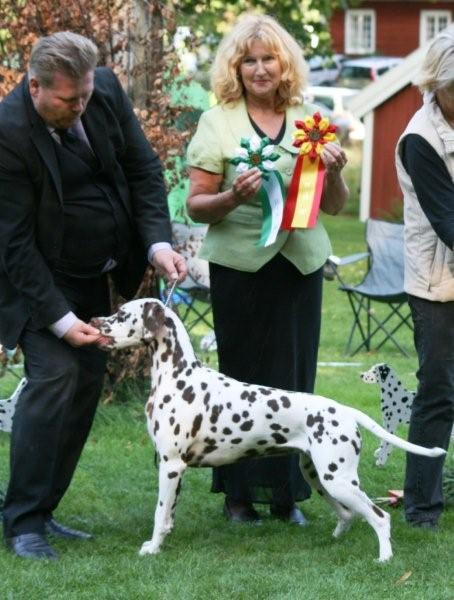 All photos was terrible so here is one of Gloria and one of Kayo, and here HE is giving Gloria his tongue that he beat her ha ha ha!!!!
So many photos today was destroyed by the bright sun...and that I as usual can't adjust in the camera right. I just want to shout the photo.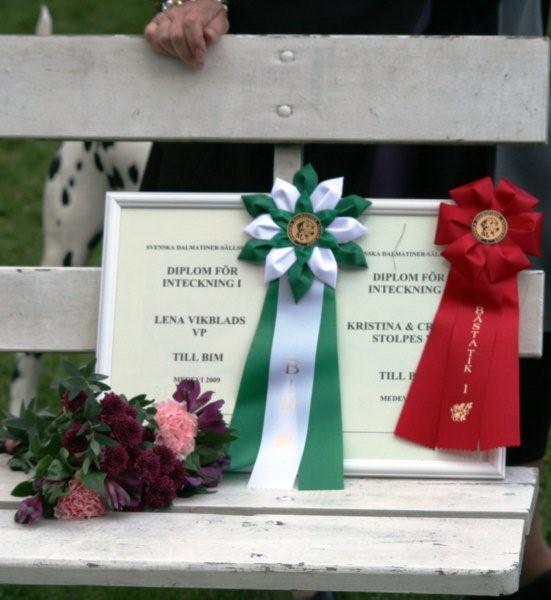 We won some challenge trophy for good!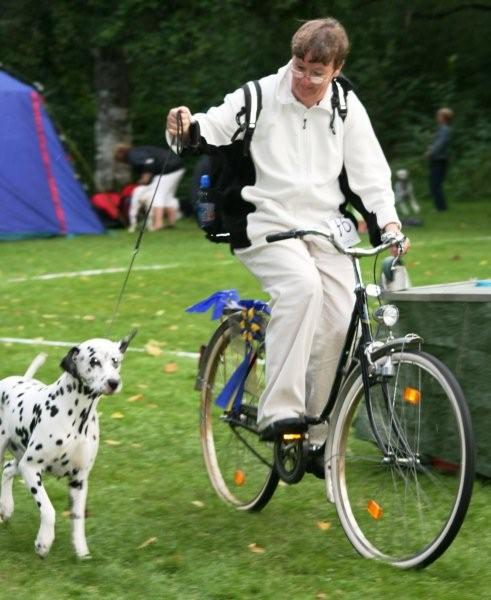 I think that Inger was the most happy person today!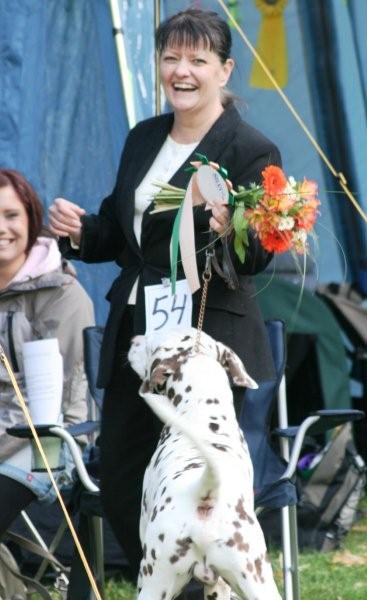 Bettans Gambler was Best Veteran, Congratulations!
Congratulations Hanna!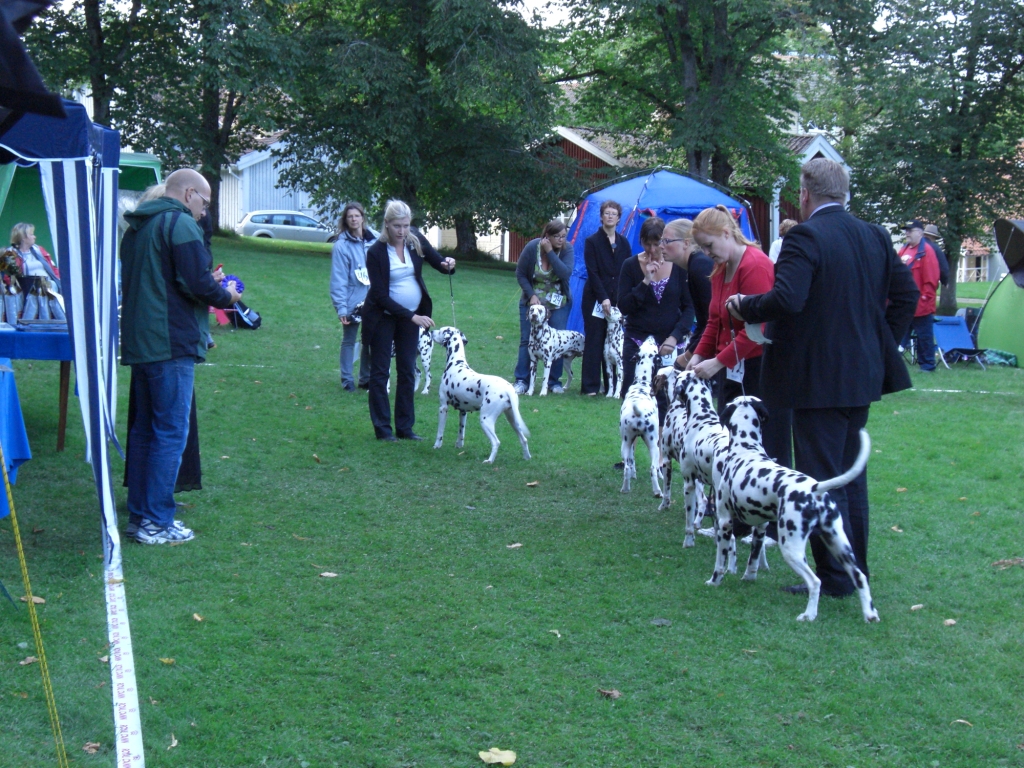 CH Jilloc's Key To Success won the progeny group AGAIN!!!

And Jilloc's won the Breeding group again HURRAY!!!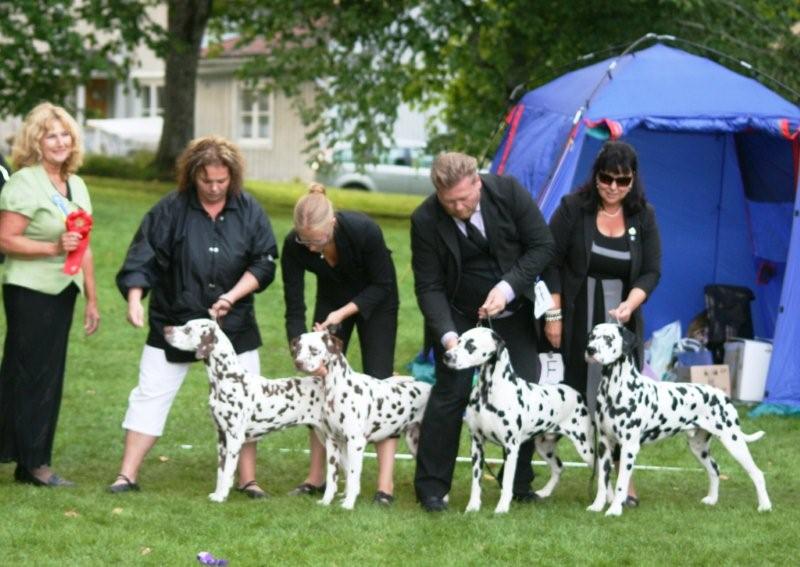 Diza, Gloria, Bosson, Daddy....I was considering the whole day witch dogs I will use in my Breeding group today, I had many to chose from *S* (Thank You all puppy buyers that were here). In the last minute I decided to take two bitches and two males that fit well together, and we have won one time already this year at SKK with two + two.....and even today it was the right choice!
Bis Breeder in Avesta 2009.
Devlina, Gloria, Bosson, Daddy.

So good to come home this evening after a long and happy day!
Friday 28 August 2009
I was at my hairdresser for the first time in 10 months!!! It was sooo necessary!
We give 5 of our dogs a bath this late evening and try to sleep for some hours after the car was packed..
Of course there were many very nice and interesting movies at TV this evening so we cut out the light at three o'clock in the night and put the alarm clock at 5!!!!!!!!!!!
Thursday 27 August 2009
In Estonia I tasted sushi for the first time, and I can just say that it was the last time for me too *S*!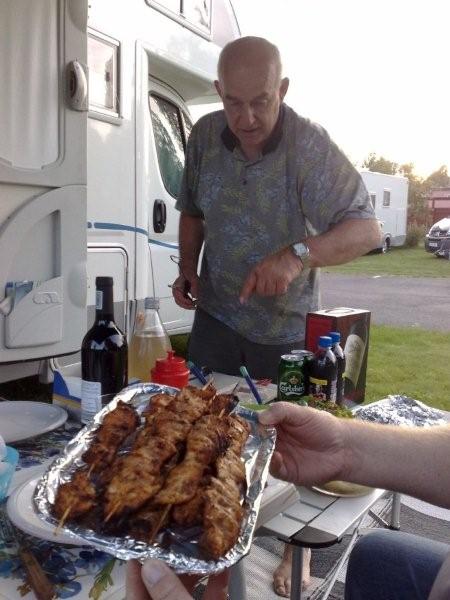 Soo much better with Edgards barbeque sticks, Mmmmmmmmm!
Today we bought a new washing machine...so we put the "old" one (it was a year last week) in the kennel and throw the old one in the kennel away...I love to change machines because they are so grouse after a while when You have washed dog blankets in them. This one is perfect for me some times You just want to wash some cloth that You only have been using for some hours and this new machine have a program that takes 15 minutes and the clothes are fresh again, perfect for me that always are doing things in last minutes *S*!
Brandon, Dollar and Mini. Thank You Kerstin and Göran for taking care of him this weeks. Photo by Kerstin.
Thank You Kristina and Leif that gave Penny such a nice holiday, while we were away to Estonia!
Penny was so socialised with Kristina and Leif this weeks too, and Windy and Breeze accepted her immediately (and the cat)!
Wednesday 26 August 2009
Today I got help with our windows, and I can tell that it was sooo necessary!
Lot of things to take down before we could start.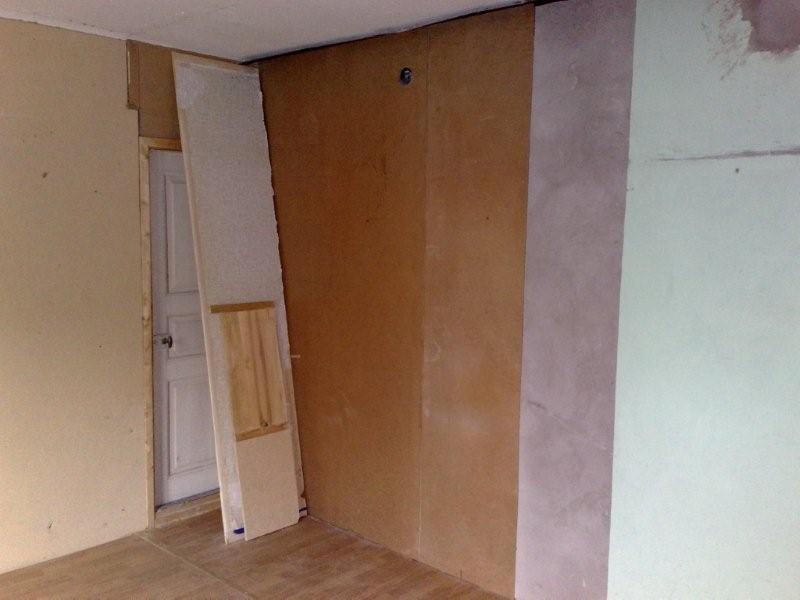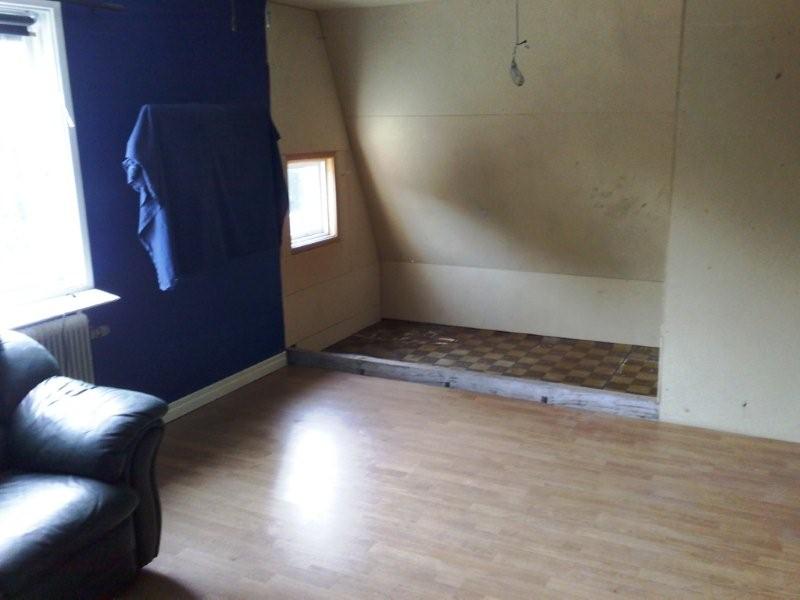 This was Jonnies room that we start to renovate some years ago but we have never finished.....Last weeks we got help to make it more ready, we have changed his window to a new one and built his bed into the wall and paint with another colour and put up new wallpapers, now we will only buy new furniture's.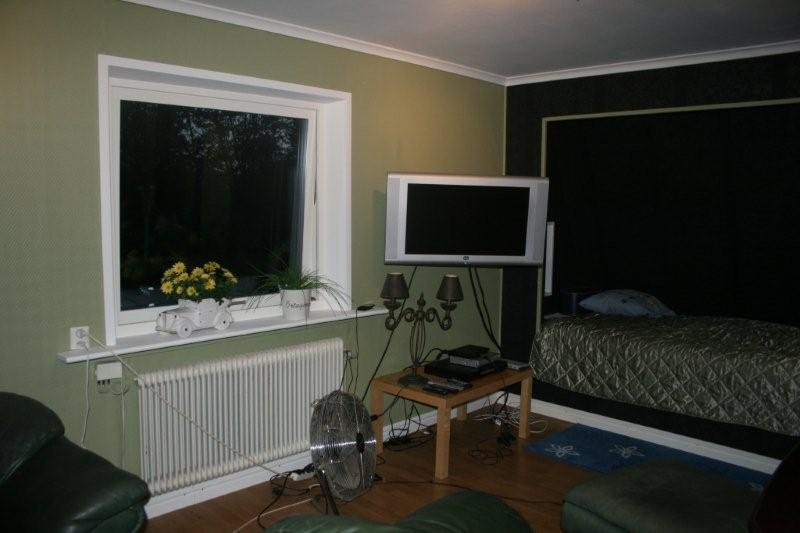 So much better now but I would like to through his old leather sofa out, but he love his "old" things and is convinced that he must keep it *S*! We have to buy things on his walls and some shelf with light in...but it has to be when Devlinas puppies are some weeks old because I do not want to be away from her too many hours now, and even if it is only 3 km to the house, it always take me many hours every time I go there it is always many things they need help with like to give their dogs a bath, cut their nails and so on.....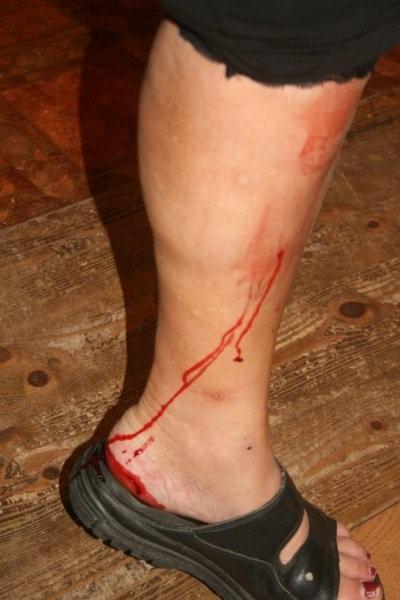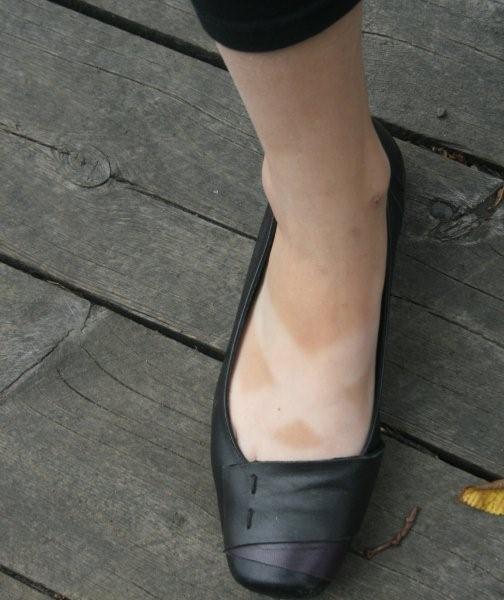 All kind of bugs like to bite me all over and I am soooo full of blood after scratching! And I have a friend that look so strange on her feet *S*. Is it dirt or tan?????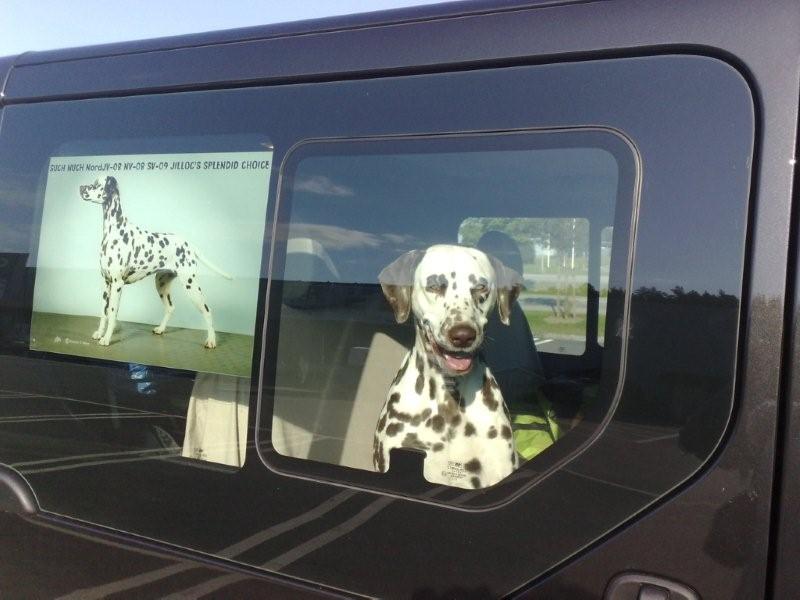 Photo some weeks ago in Askersund!
Tuesday 25 August 2009
This is the only thing that we don't miss with not having Moss here anymore...her "Hole to China", she was so funny, as soon as she was extra happy she have to run out in the dogyard...dig a little and throw dirt up in the air and jump after it...two or three times and then she run inside again.
If we fill the hole she was even more happy to dig in it again, and some hours later it looked exactly the same *S*!
Tomorrow I will fill it up, so we get read of all the sand inside, better with the normal stone.
Jenny came with Jill, and she was curious to see Devlinas belly.....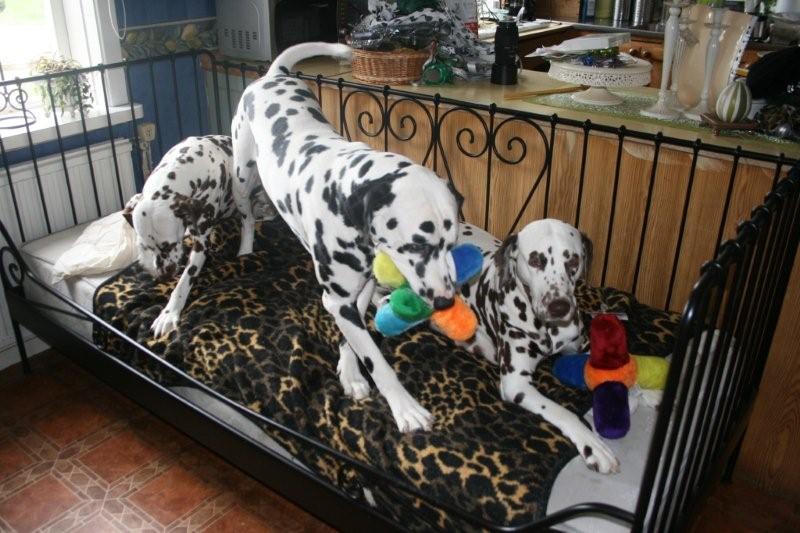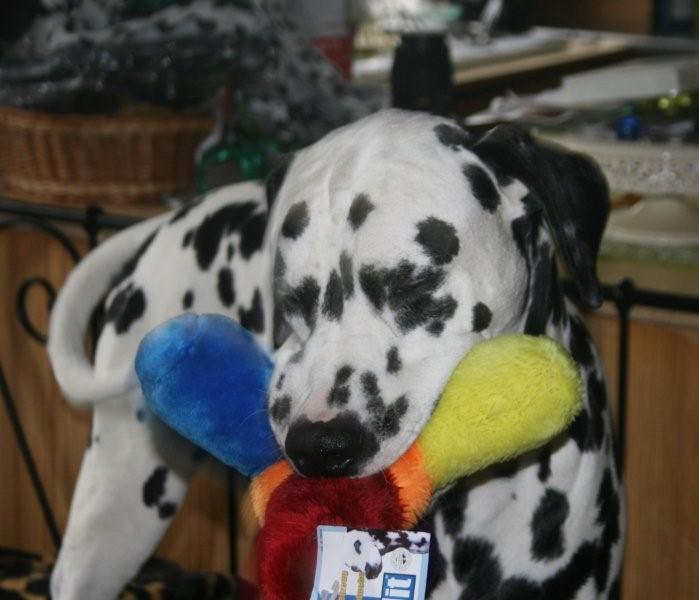 Our dogs were so happy for the toys they won in Estonia, especially Daddy!!!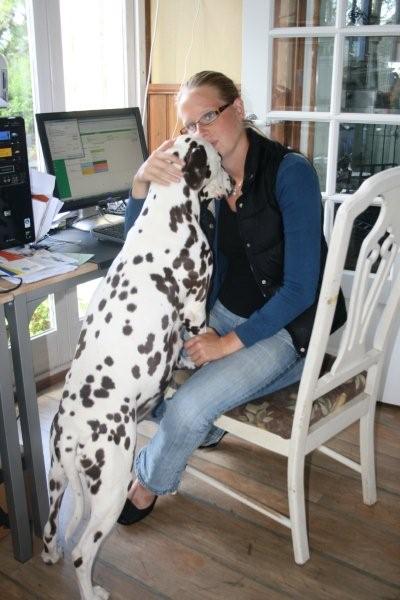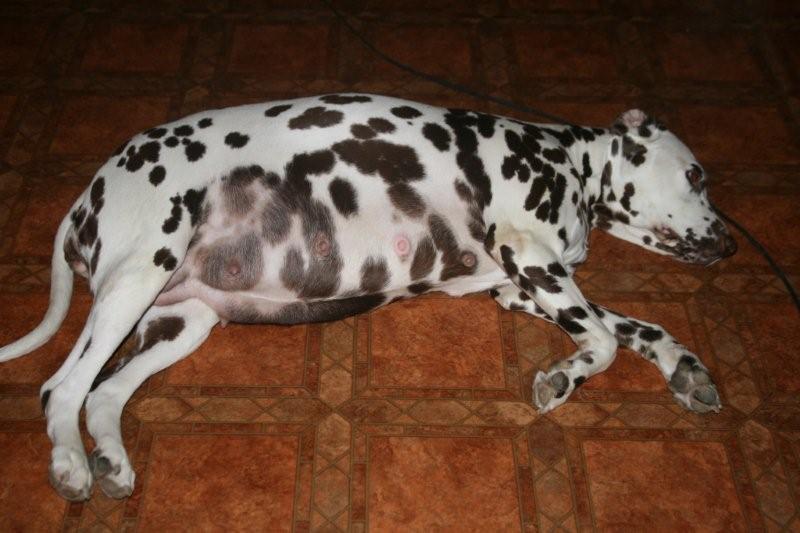 There is now about 3 weeks left before the puppies will come. Devlina is double of her size since yesterday.......!?!

¨Thank You Lena that called us in the evening and say that "Devlins Movie" named "Hug Me" just was shown on Swedish TV, we immediately send message to all our friends and look at the movie for the hour that was left and saw my sweetheart on TV. PROUD!!!!!!
Monday 24 August 2009
But the morning came and we have to wait for our cabin for an hour...it wasn't ready. Then we all went in to the cabin and fell asleep until the middle of the day.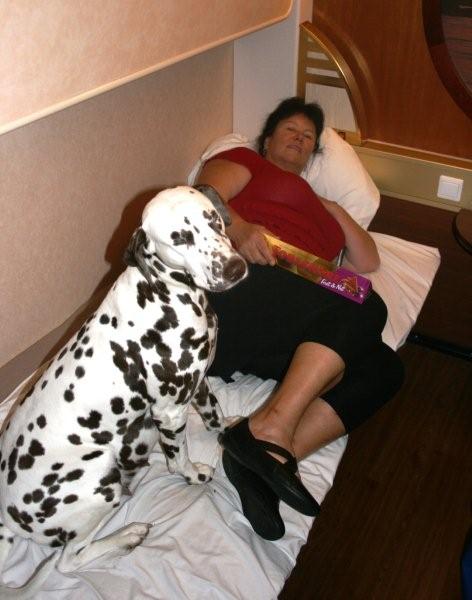 Thank god for the soft cage....but Daddy eat up the floor in it *S*! We bought many toblerone as gifts, but as usually we don't have the time to give them away before they are empty...strange!!!!!
At 3 o'clock we went up for the Buffet, the best You can eat...there are things for everyone to chose from...Mmmmmmmmm!
I love fish and all their very good caesar salad and other kind of salad. Rune love meat and potatoes and sauce......and scrimps and white bread, and he drunk 14 glasses with Pepsi *S*!!!!!
As dessert he eat caramel sauce with glass...other people eat glass with caramel sauce ha ha ha.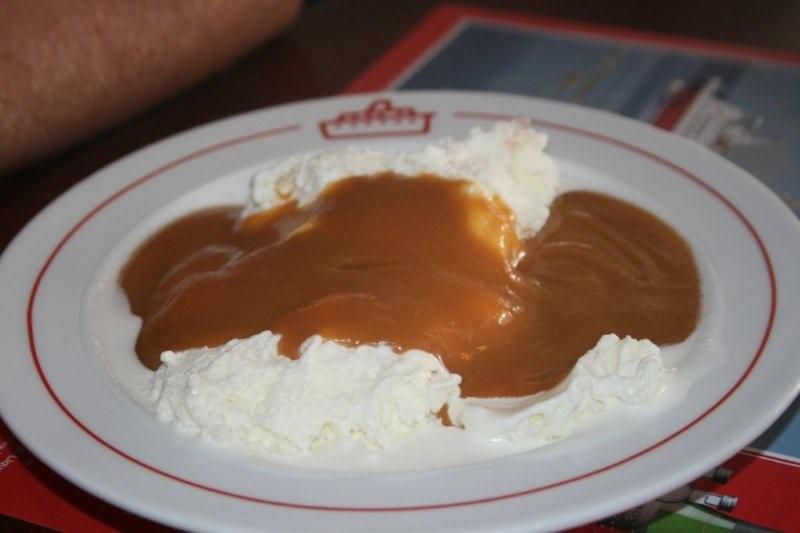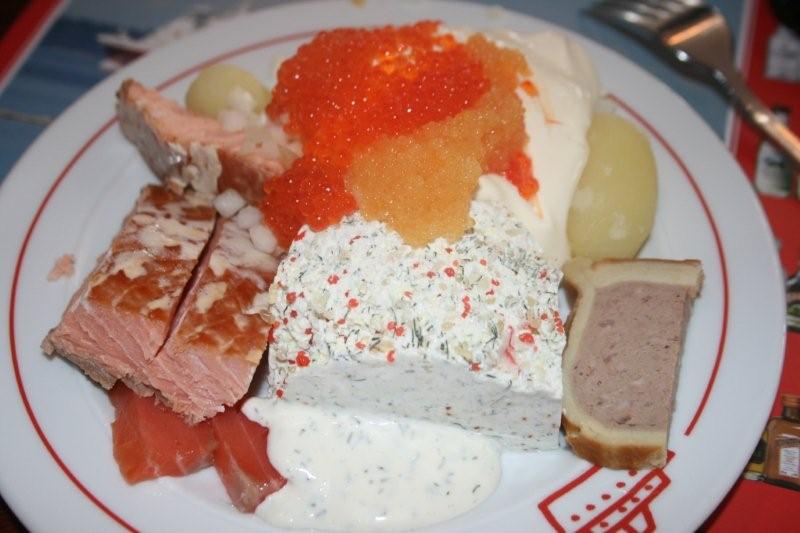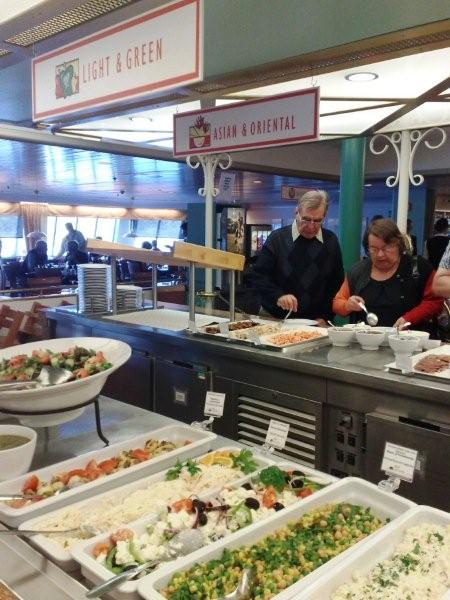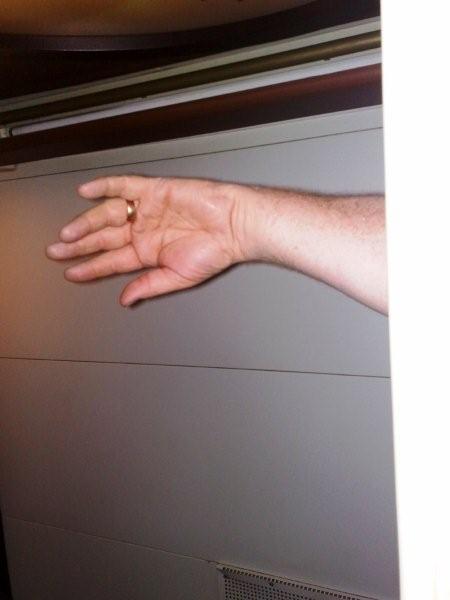 Food for everyone.... This was what I saw when Rune sleep in the bed over me.
Sunday 23 August 2009
Jenny is going to Stockholm with Jill for a show together with some other Jilloc's dogs.
We wish You all good luck!
Dalmatian Show with 28 dogs for Ivana Bakal, Croatia judge 28 dogs in Tallin.
Here is Rune asking (His twin brother) about which class we will show our dogs in today, as they both were champion yesterday. We will start in Open and just say no thanks to the CAC......IF our dogs win.
Daddy won open class today too, but there are no photos as Rune was somewhere else talking to someone (thank You, You are sooo interested) and in Best Male he was nr 2 after a Champion dog from Kennel Alderisland in Estonia, so I have to say No to the CAC, a dog from Finland get it instead, Congratulations to You.
Of course there are many photos of Gloria as usual, and here are some....
Gloria won open class today too!
BOB Gloria and BOS a champion male from Kennel Alderisland, with his very kind and helpfull owner, thank You!
Gloria and Daddy was so happy for their toys every class winner got!
All dogs from group 6 met in a concurrence.....the judge pick out four of them for BIS.
Finally Gloria got BEST IN SHOW just in front of the Rhodesian Ridgeback, and we got so many nice and funny prizes, thank You. And we even got a free entry for next year show, so we might have to go back!!!
Many people took photos today, maybe someone took a photo when Daddy won open and we were standing together with the judge????
My cameraman was talking as usual and forgot to take photos!! (Rune is writing this)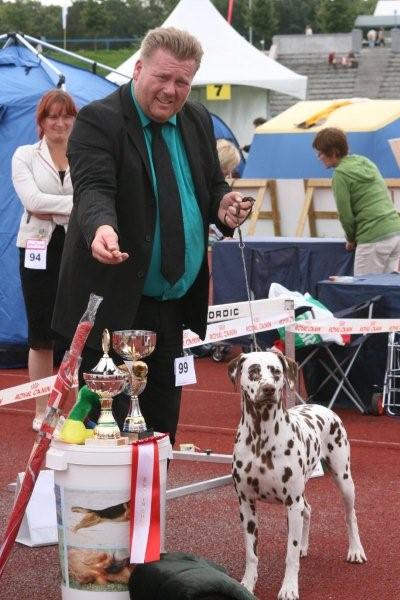 Very nice cups from the Judge and from the Dalmatianclub, and much much more.
We were in a hurry to reach the boat to Finland, and we have packed everything together and run out to the car.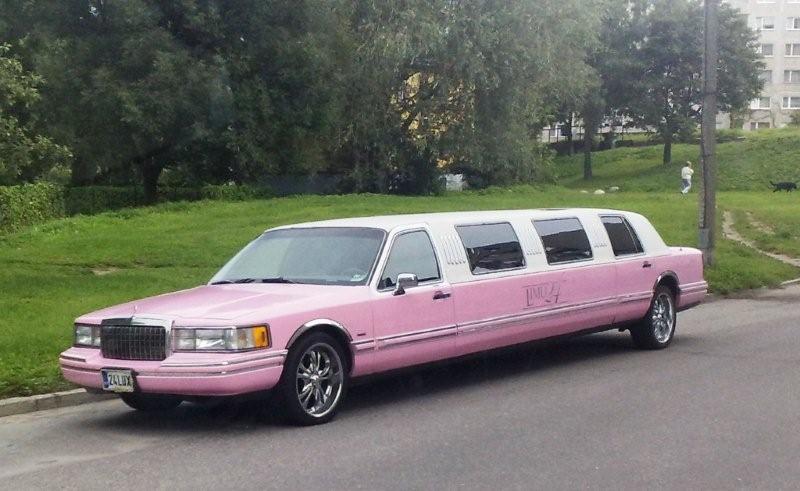 We should have been going with this limousine instead, than we might have come the right way to the harbour directly instead of driving the wrong way (Yes!!! sometimes we really hate the stupid lady inside our GPS that send us into dead ends so many times this weekend) *S*, but we were in the harbour just in time for the boat.
But as we said, the finals was much more important for us, than to reach the boat in time.........we just would have taken a later boat if the finals hadn't finnished.
We have no hurry in Finland as we were going to drive to Turku tonight to take the boat from there early tomorrow morning because that was so much cheaper. And we have booked to late to got tickets from Tallinn to Stockholm directly...unfortunately!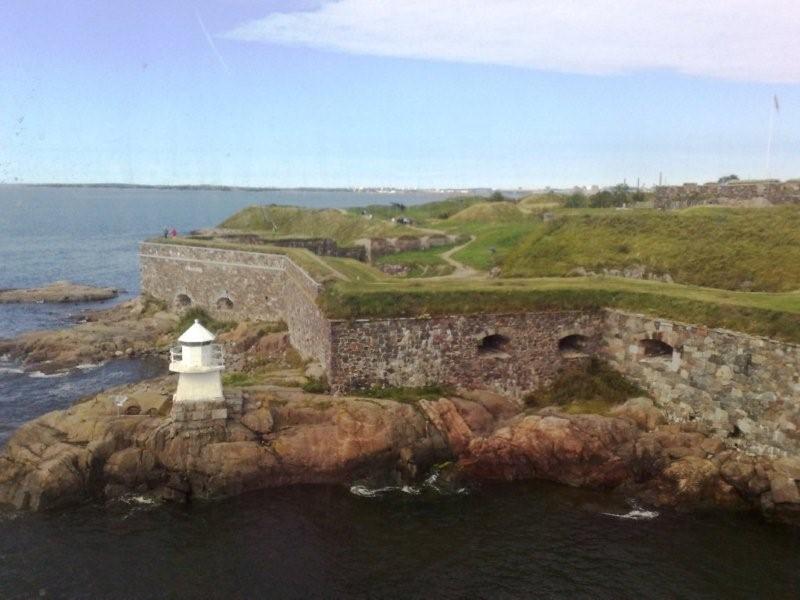 It was so beautiful by the Finnish coastline.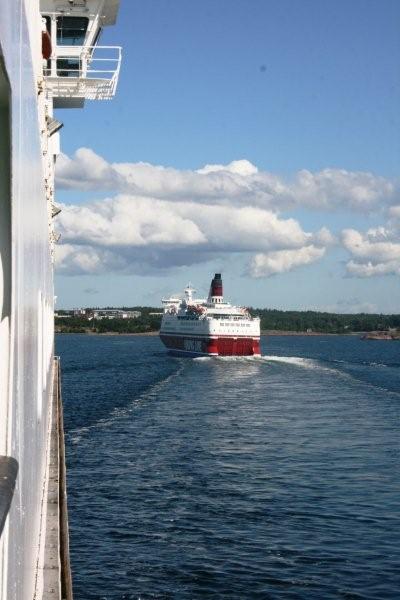 Many boats in the water at the same time.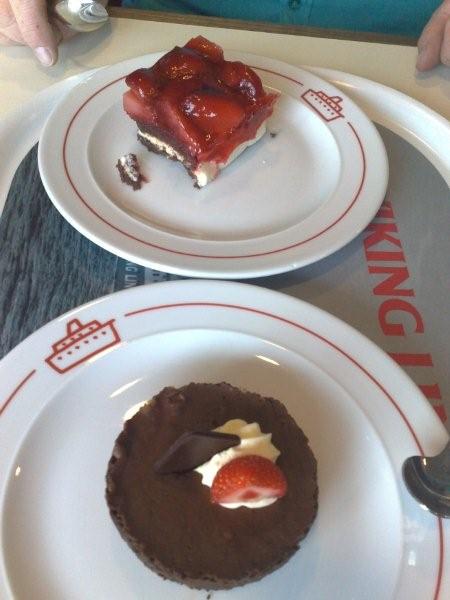 Nice cakes on the boat....
We saw our new boat in the Helsinki harbour.....(Andre and Diana..are You sure there were no more money left from our lottery ticket?????)
At 10 o'clock we were in Turku and we bought tea and something to eat at Mac D. Then we drive close to the terminal where other mobile homes have been parking to wait for the in checking next morning.
Our intention was to sleep in the car and it was not cold outside so it will be no problems, the only thing was that I have to go out 3-4 times during the night...brrr.

Nice news from Sweden
Today J Miss Perfect became BOB and BIG 3, Congratulations!!!
Proud owner Carola........Photo by Peter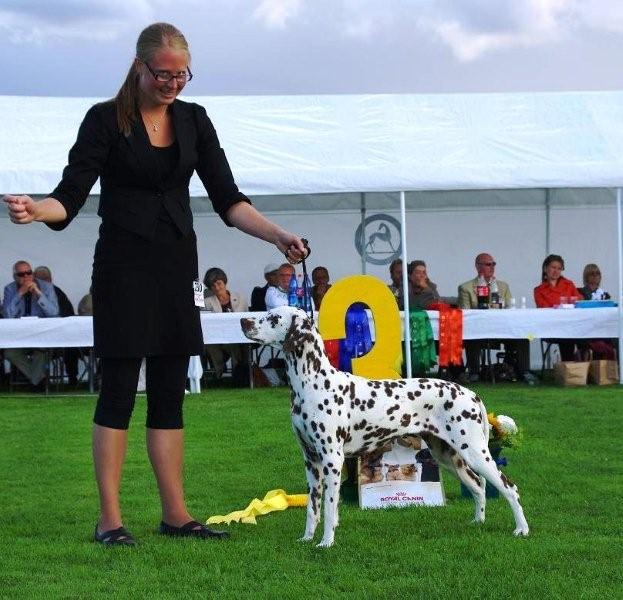 Jenny showed Perfect in the Group to BIG 3, Hurray! Photo by Peter & Carola
Helena with Milda, Jenny with Windy, Carola with Perfect and Johan (You look so great, thank You for helping us) with Jill!
Lot of groups today at this one day show and they were picked out to the last 7 but get no placement.....shit happens! But well done!
Saturday 22 August 2009
International Dogshow in Tallinn, BALTIC WINNER 2009. Mrs Ludmila Fintorova, Slovakia is judging 40 Dalmatians.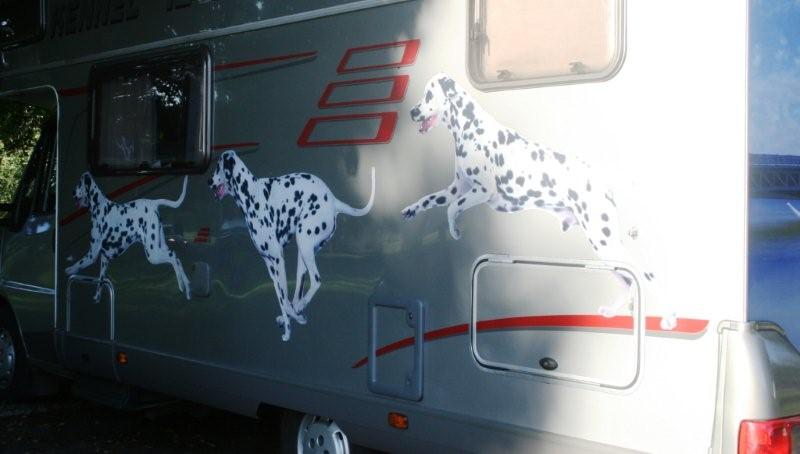 This nice decorated mobile home was the first thing that met us at the parking outside the show area.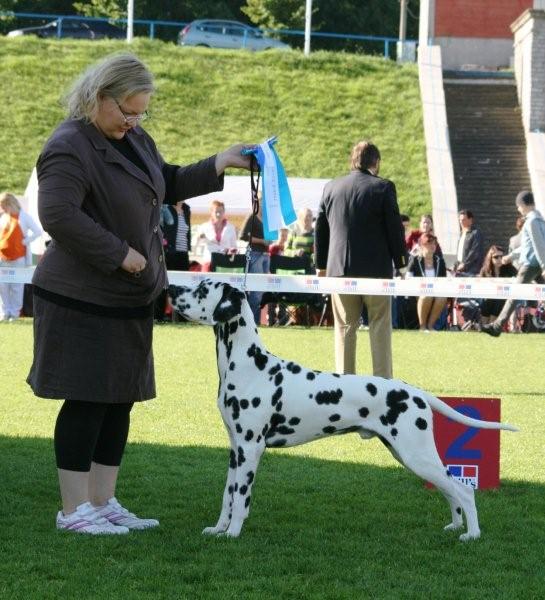 Proud to present, Marnellin Hot To Handle, BALTIC JUNIOR WINNER 2009!!!
He is after our J.Loverboy and our T.Playmate but bred and born at Kennel Marnellin, CONGRATULATIONS Niina and Heli from us, You will have lot of fun in the future with Hatti!!!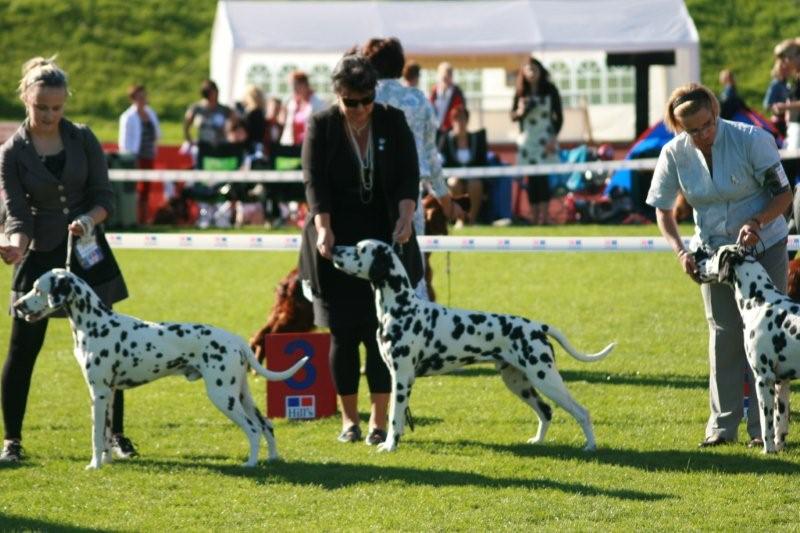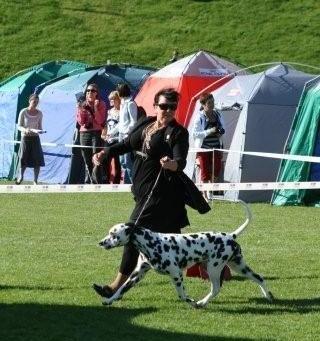 One of Bossons sons from Kennel Vitalight in Latvia in front of Daddy and Air Force One from Finland behind.
Daddy in open class.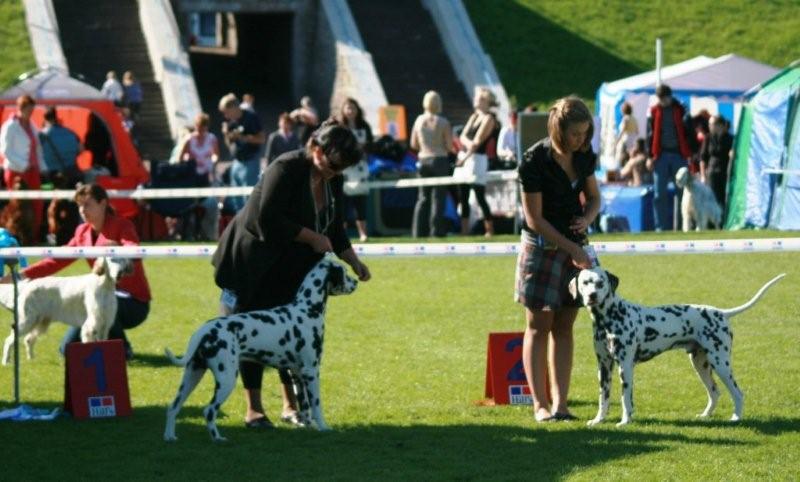 And he was the winner of Open class and then BEST MALE and BALTIC WINNER 2009, with CAC, CACIB and the Title, HURRAY!
Fantastic, I was so happy, this trip was already a success!!!!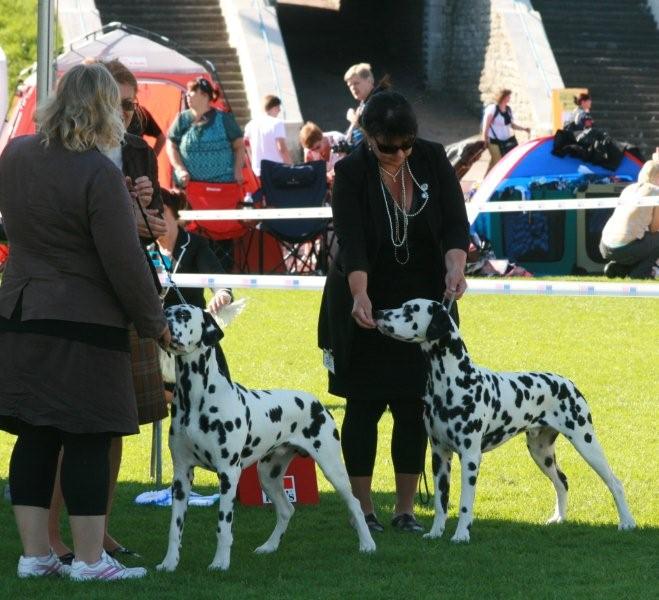 Hattie was and Daddy in the Best Male competition.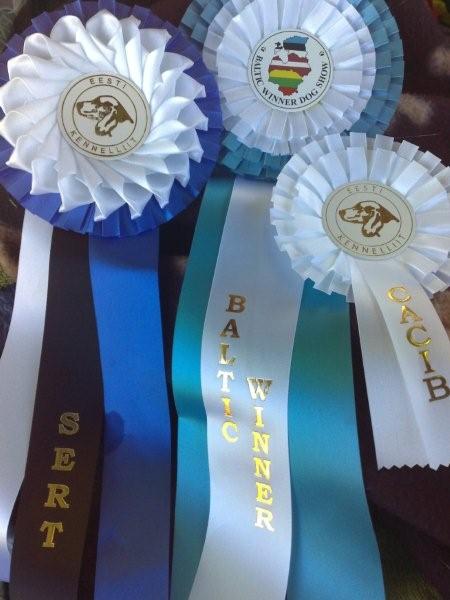 Mummys sweet boy got this nice rosettes today!!! Well done!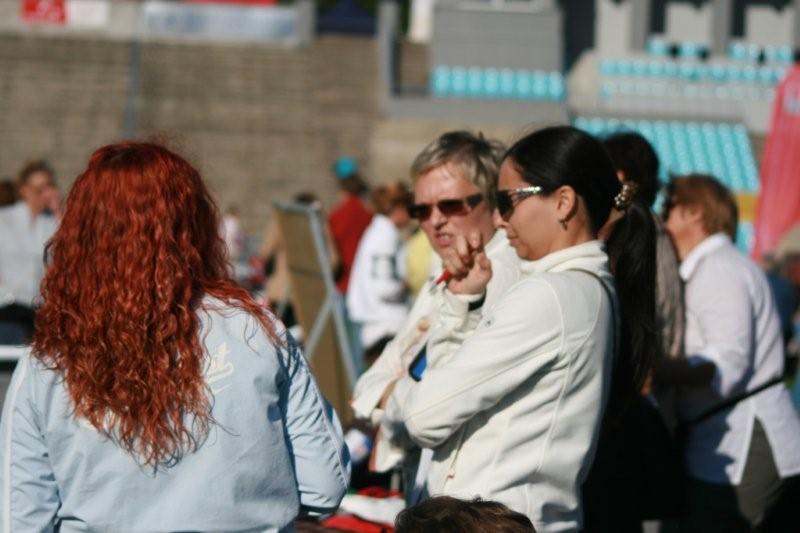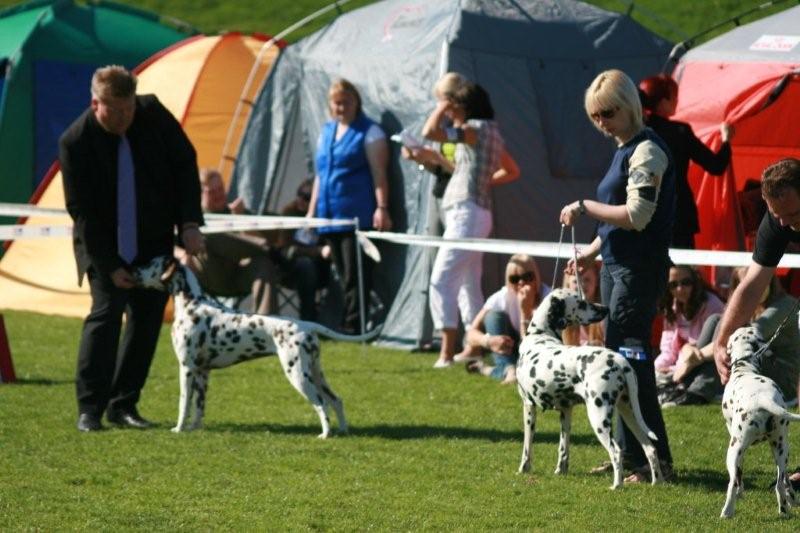 Lot of friends around and in the ring. From Latvia, Estonia, Russia, Finland, Lithuania and so on!!! Gloria in open got excellent too, hurray!
Best Junior today was a sweet bitch from Russia Cinnamon Swirl von Ascabah, with her nice handler.
Gloria won open class with CAC, and later she became BEST BITCH with CACIB and the same title as her brother....this was more than fun (at least for us *S*)...all people were very friendly and nice, and we got both chocolate and champagne from different friends, such a nice gesture!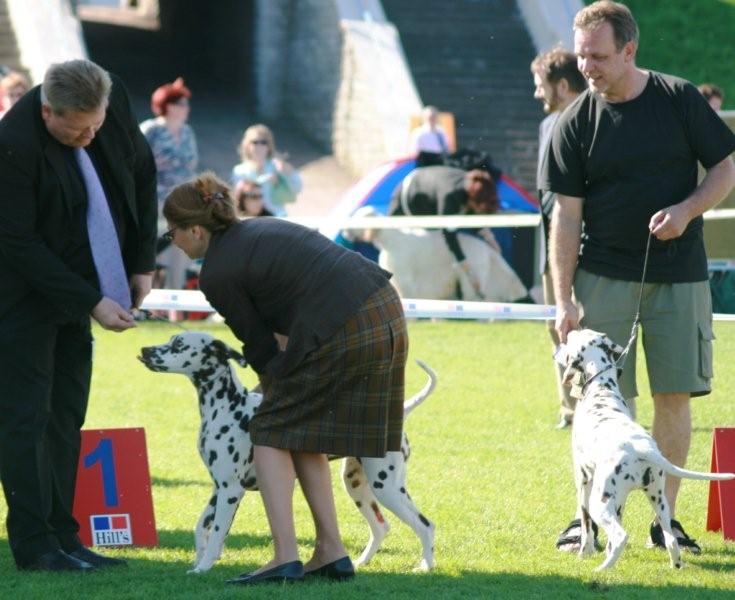 Gloria was hungry *S*!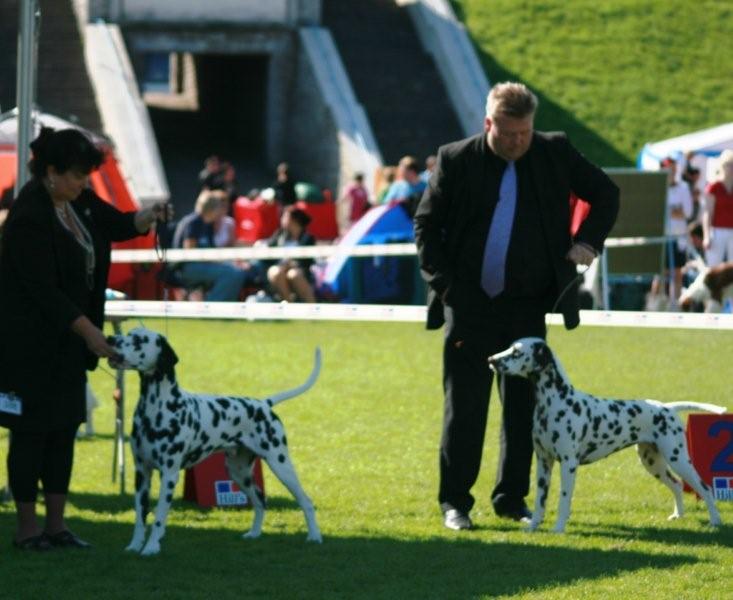 Daddy and Gloria in the competition for BOB.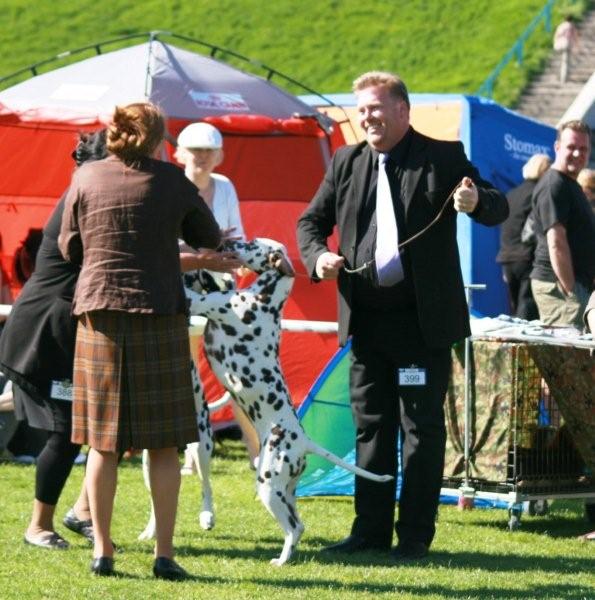 Today the "ugly" sister was the best *S*! But we were all so happy, what else could You wish for!?! And both our dogs were Estonian Champions, almost to good to be true!
Some photos on this side by Benfatto, thank You!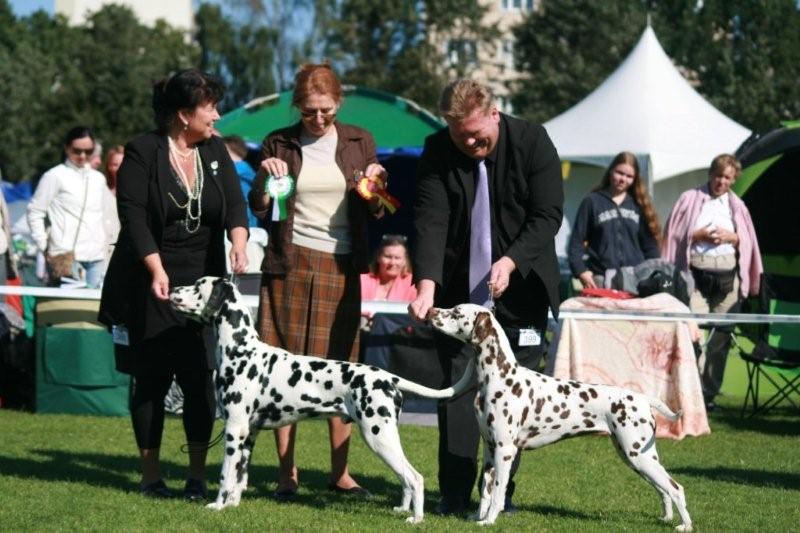 NordJV-08, JWW-08, Lux Jun Ch, Such, Nuch, Dk Uch, Est Ch, Baltic Winner-2009 Jilloc's SUGARDADDY BOS
&
NordJV-08, NV-08, SV-09, Such, Nuch, Est Ch, Baltic Winner-2009 Jilloc's SPLENDID CHOICE BOB
Together with The Judge Mrs Ludmila Fintorova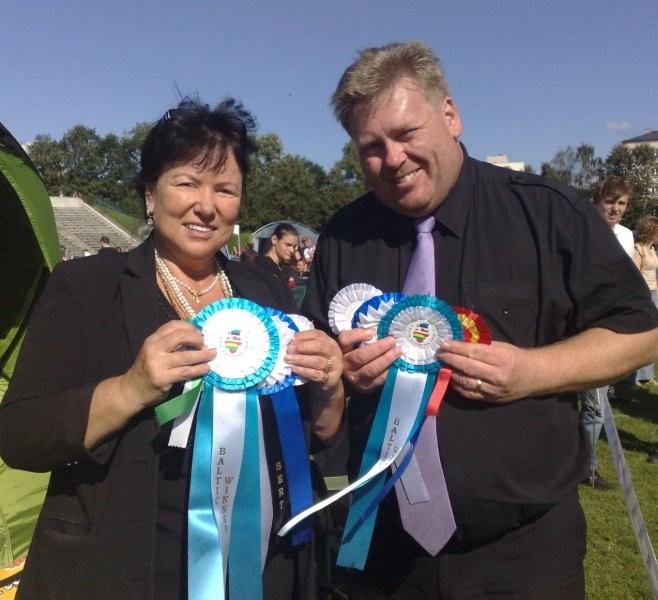 We got it all......!!!
Many friends bring champagne today!
Cheerio!!!!
Svetlana with her daughter Me and Karina. Annicka L were here today too, Tatjana, Leelo and another Tatjana, and Rune served the cold Champagne we got!!! Cheers!!!!!
Three of our (Glorias) favourite judges.........Jelena Kruus, Ivana Bakal (after Sunday we understood) and Ludmila Fintorova.
Niina and Rune ringside.
Nina Laine Kennel Zabavan, Finland was Bis 2 with her Breedinggroup!
Group 6 was much larger than in the Nordic countries. The group judge picked out 6 from the group and placed 4 of them, but unfortunately not Gloria.
But we were soooo pleased anyway over this fantastic day!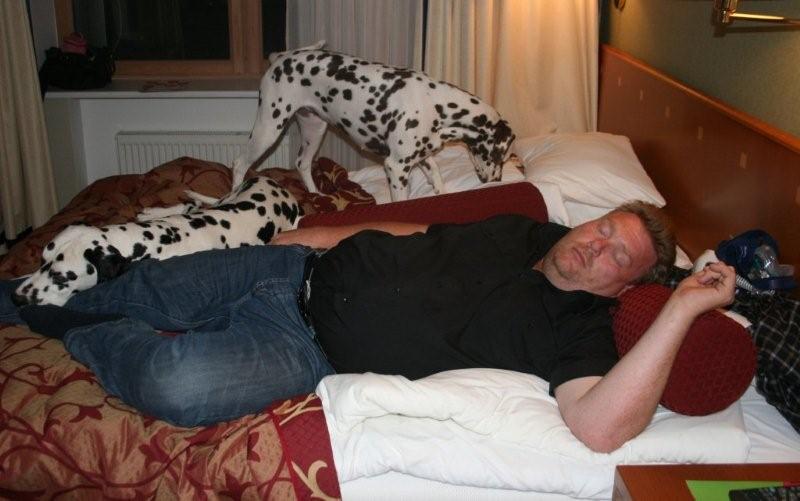 Tired after a long day, but Niina and Heli want to go out and eat and then Rune want us to follow them in a taxi to the "Old town" in Tallinn.
And of course we have to see something of Tallinn even if we were tired, we can sleep when we are older *S*!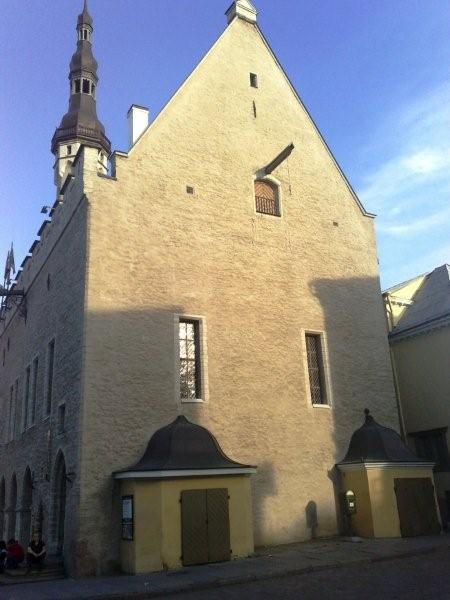 It was beautiful buildings and lovely weather and we walked around to find a nice restaurant, but there were too many....
The food was fantastic but after a while we start to wonder why Niina was so quite.......ha ha ha we got the explanation.....on Niinas plate they have put and very old cow *S* and she have to chew for at least 5 minutes for every little piece ha ha ha......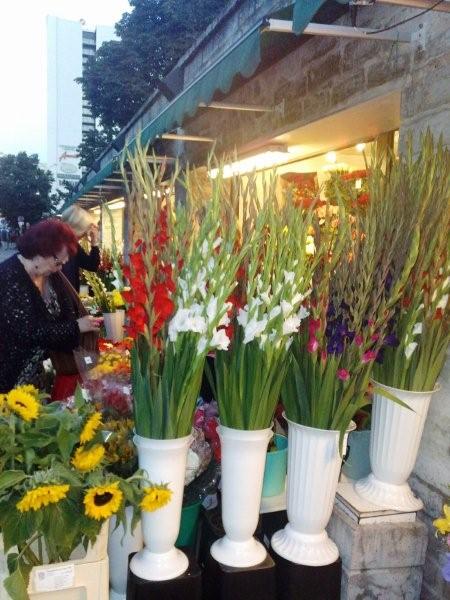 Then we walked back and try to find a cab. There were lot of flower shops with beautiful flowers...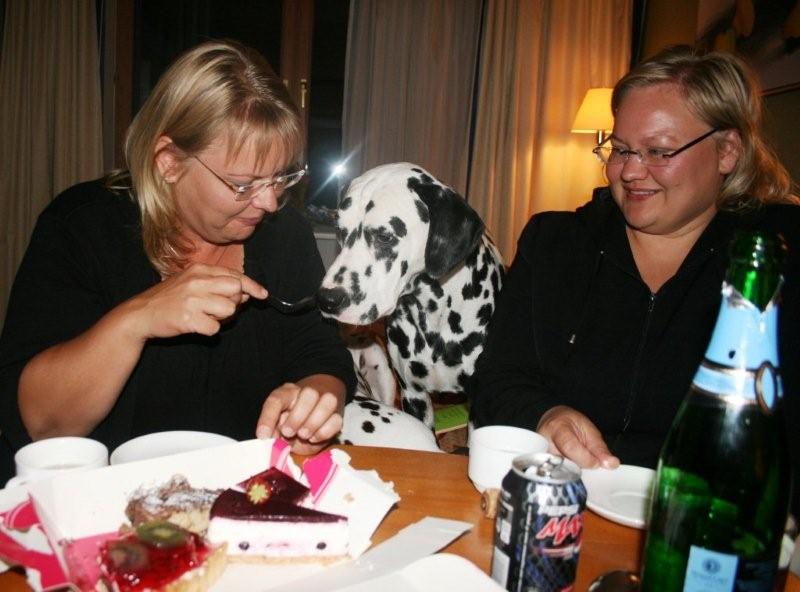 We bought cake at the hotel to celebrate this day...and we opened another champagne. Most of the cakes went to our dogs because we was not so fond of them, and too tired to eat.....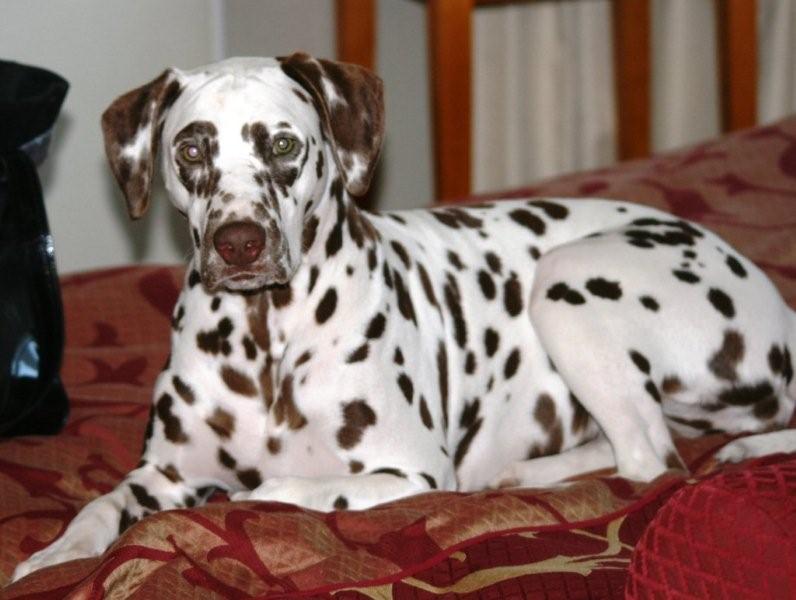 Gloria was not tired at all (as usual), she just wait for tomorrow and the special show!

This was my plants a month ago......ha ha I can tell that they do NOT look like this today!
Friday 21 August 2009
We are coming with the boat to Finland, Helsinki this morning, within one hour we leave for Estonia with another boat.
We are going to meet Anna in the harbour to give Muzika back to her. She is going to go directly to a show in Russia with her, this weekend.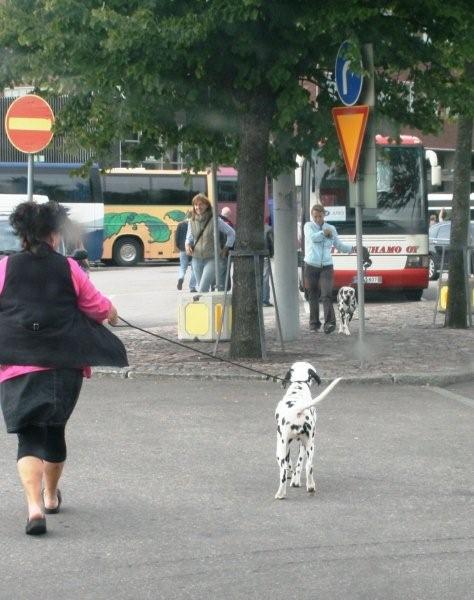 It took a while before we found each other at the big terminal area, thank god for the mobilephone!
We did the goodbye as quick as possible.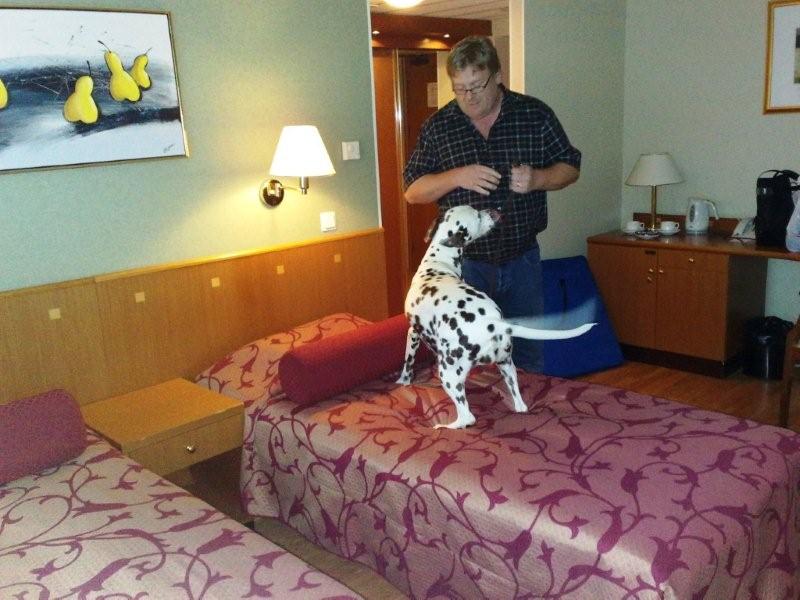 If You have small dogs You can bring two or three Breeding groups by Your self *S*! We got a very nice hotel room in Tallinn....
As we were here already we drive in to the city to look around a little....Rune found a hairdresser and we told her very particularly how he want his hair.......but ha ha ha ha....she did exactly the opposite, and he looked like she have put a pan over his head and cut ho ho ho.....we just laugh and went back to the hotel, where Rune immediately wash his hair and try to make it normal *S*!
We have got parking fine outside the hairdresser , ha ha ha but we just laugh .....! And we drive to the show area just to be sure where it was...until tomorrow morning.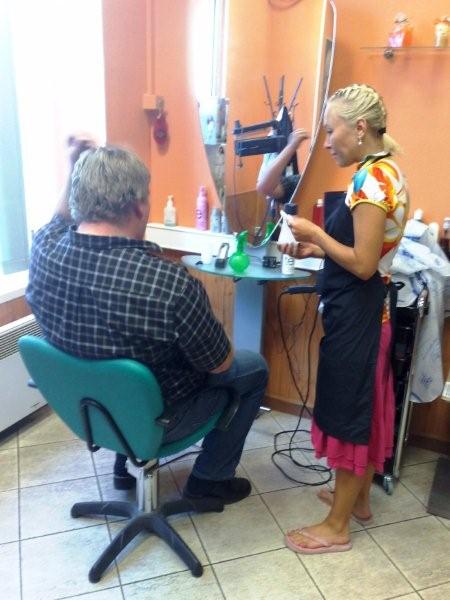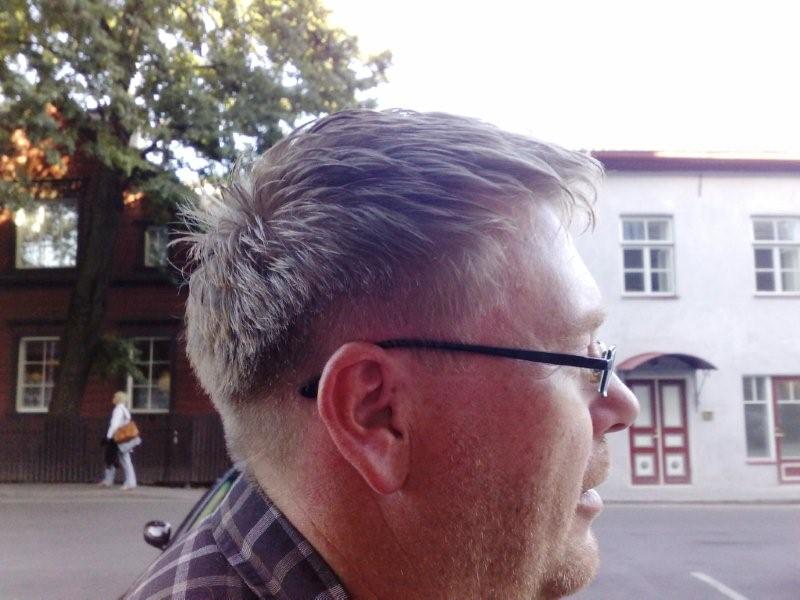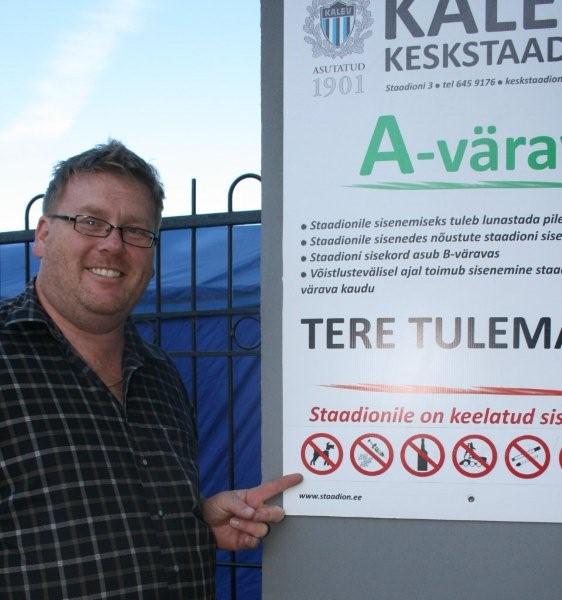 We laughed even more when we saw the sign that dogs were NOT allowed there *S*, this will be a funny weekend!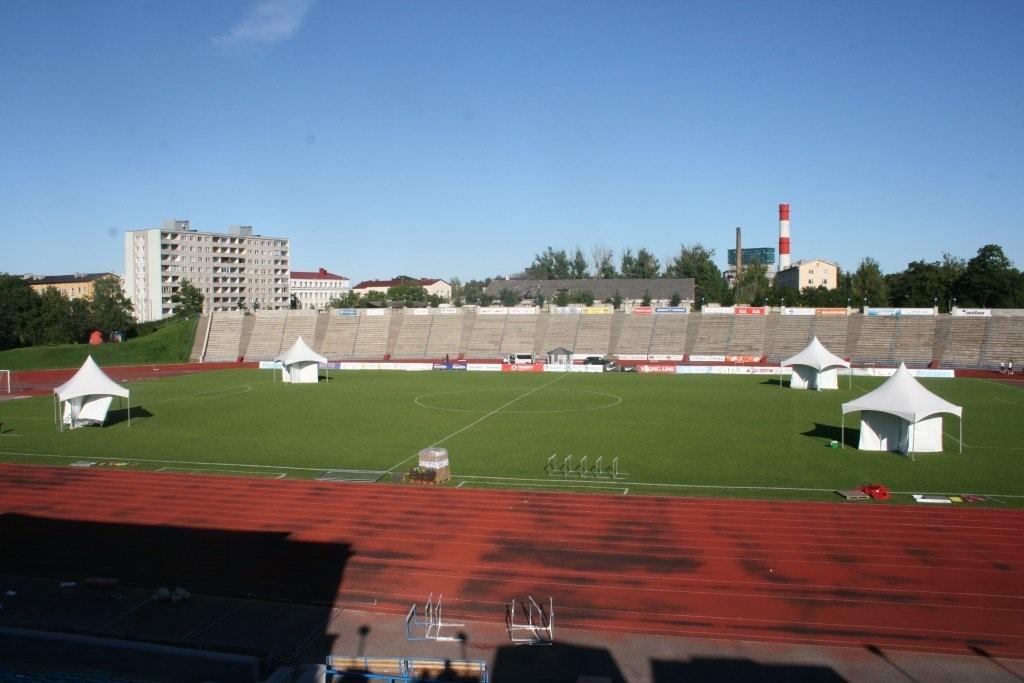 Kalevi Stadion was the area for BALTIC WINNER 2009.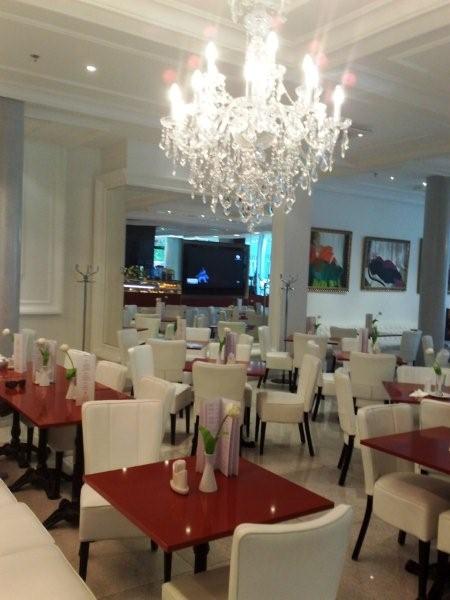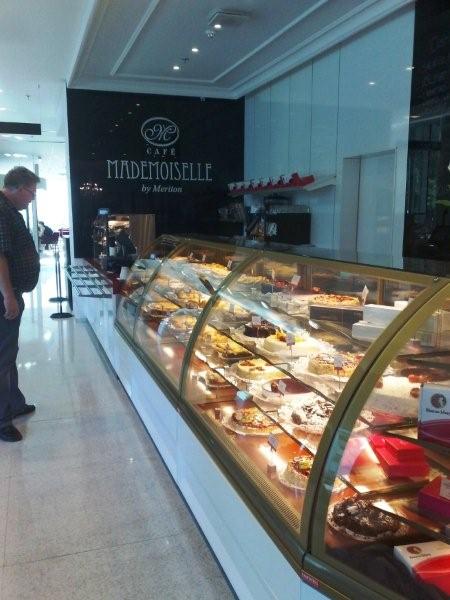 Happy to meet Niina her sister Heli and two of Bosson and Puzzles children here tonight.
We went to the restaurant in the hotel (there were 4 !!!!) when they came and we spend some nice hours together before we al went to bed.
Gloria got a bath before she went to bed.
Thursday 20 August 2009
Rune is free from work and we have to drive towards Stockholm about 11 o'clock, the boat to Finland will leave in the afternoon.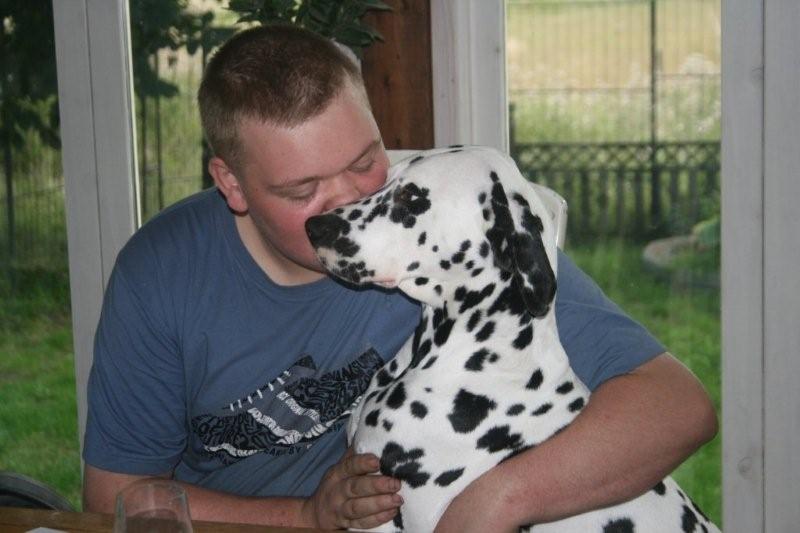 Jonnie came for breakfast and to say goodbye to Moss....his favourite......ok he have been saying goodbye many times last weeks but now it was a fact, he will probably not meet her anymore as he never follow us to dogshows.
He says that one day when he got his driver licence back and when and after two yearr (the testperiod) he is allowed to drive out from Sweden then he will go and meet her again - that is his plan...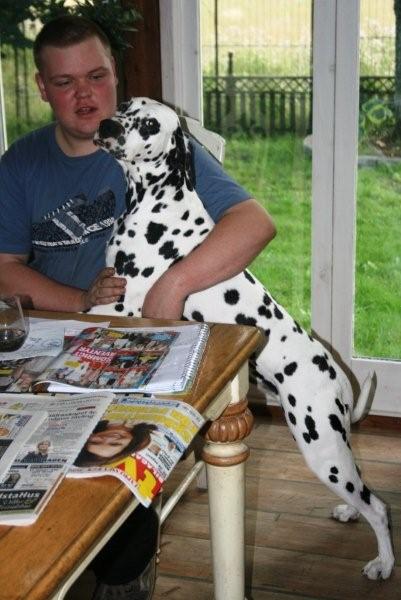 We are sure that Muzika know that something is going to happen because we have been kissing her extra many times every day the last weeks, and she have been in our knee as soon as we sit down.
Look at her eyes that break our hearts that she is going home now, but there is nothing that we can do about it.
Just to hope that this beautiful and lovely "Princess" will have that wonderful life in the future that she deserve. But we are sure that Anna will give her the best as we have been told that the breeders in Russia consider her as a National Treasure, and we can just agree... she was for us as well.

On the boat to Helsinki, Finland.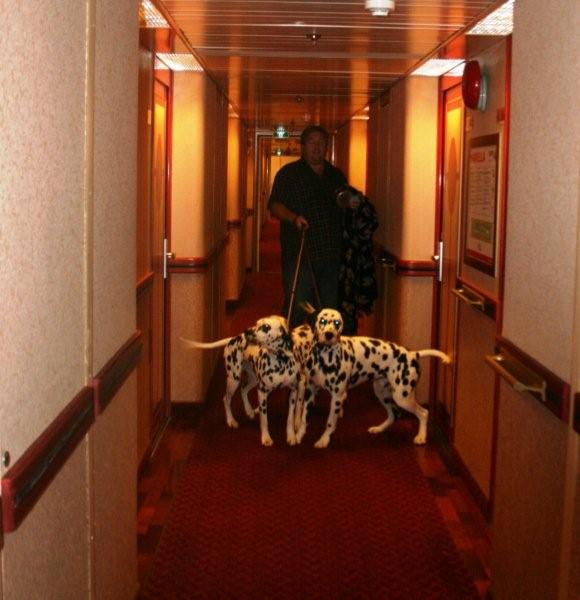 So easy to bring our dogs everywhere! They are just happy to be together with us whatever we do, and people on the boat was so fond of them.
Muzika, Gloria and Daddy!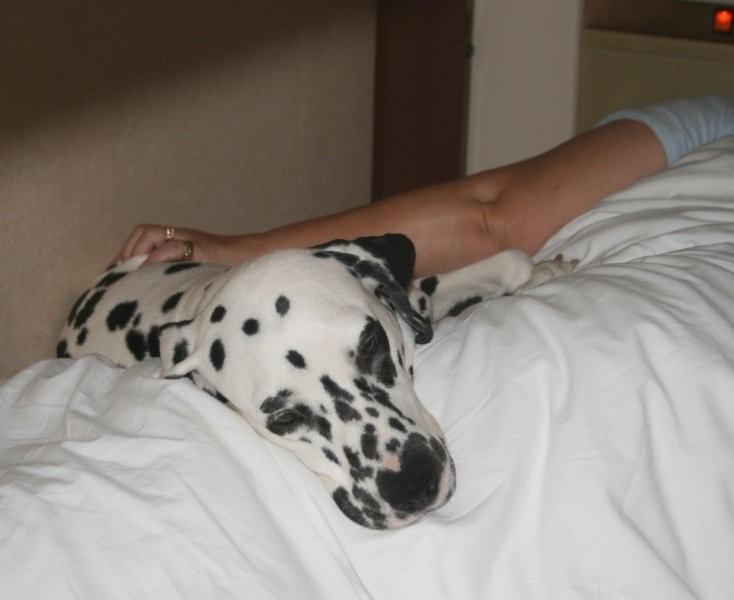 Last night together, Moss in my bed as always.......



Wednesday 19 August 2009
Muzika get a bath in the morning so she will be clean and shining again after all her digging.
Today Roy came with breakfast before I went to the vet with Moss and Jill.....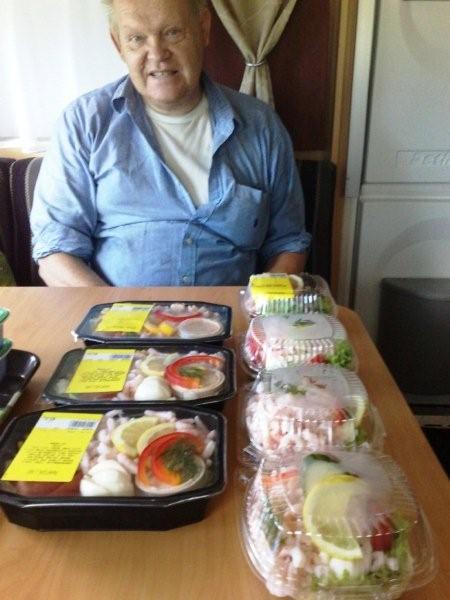 We have put the new cage in the car now, much better space.
Yesterday evening we start to make changes in the kitchen....we have to buy a new kitchen next year and we can do what ever we want with it just now so we saw a bit away to get space for the sofa for us when new litters will arrive. Dogs was confused...even if they are used with all my changes *S*. We found lot of dust under everything and in the night it was soooo much better and cleaner.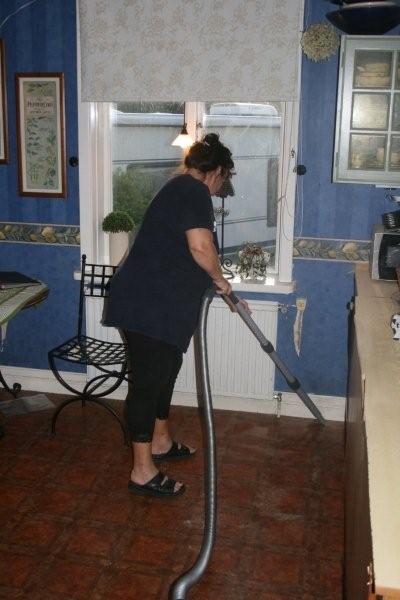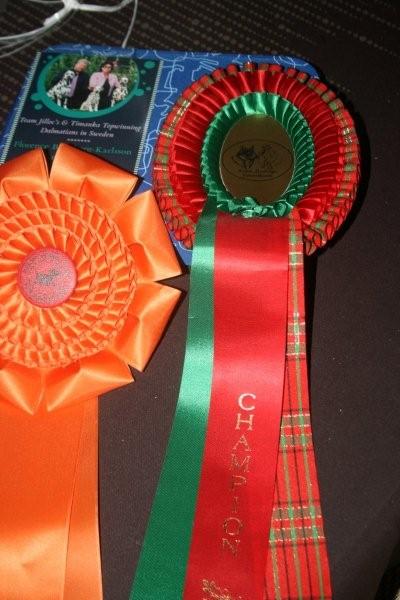 I put Muzikas kokards and papers in a bag.
Tuesday 18 August 2009
Today I got a package that I have to go to the post to collect. I really hope that it is Moss Champion Diploma so she can have it with her when she go at Friday, otherwise I can take it to Bratislava where we meet her and Anna again of course...but it is so easy to forget things...just tell ME!
Shit it wasn't....we have to bring it to Anna in October instead.

SV -06 Fairytale Spots A Key To My Heart (Bosson & Chrissies daughter)
Is Now Champion in Sweden
We love You!
Hjärtat
Monday 17 August 2009

Fantastic photos of Disco from USA, thank You Inna and Carl, love to see him!!!!
Disco will start his real show carrier soon, here he is training with one of his handlers Amanda Miller.
Disco and his other handler Heather Bremmer

Am Ch Jilloc's Rich and Famous is coming soon......
Photos of Disco from USA taken by Photographer Miguel

Love You forever and Miss You My Darling Disco.....see You in 2010!!!
Sunday 16 August 2009
We took the car to Nyköping, some hour drive and leave the caravan at the camping in Norrköping.
It was a sunny but VERY windy day.....All tents that was put up in the morning have blow away until the evening *S*! It was really a problem!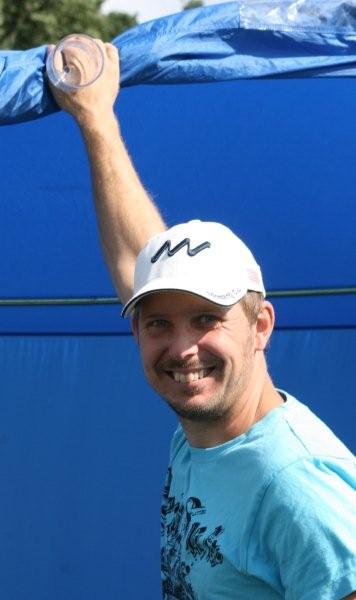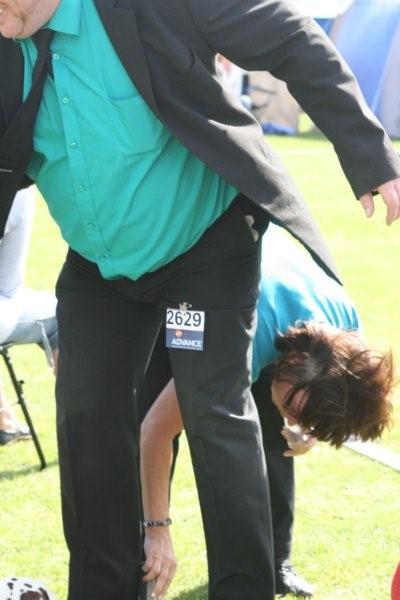 Jens have to hold the tent in the storm....he was lucky that he did not have any soda in his glass *S*! WHAT is Rune and Kerstin doing????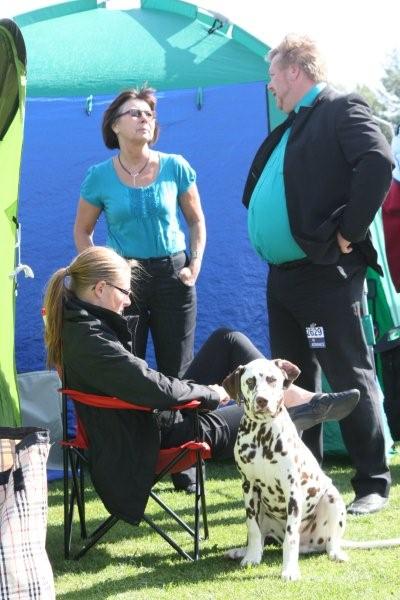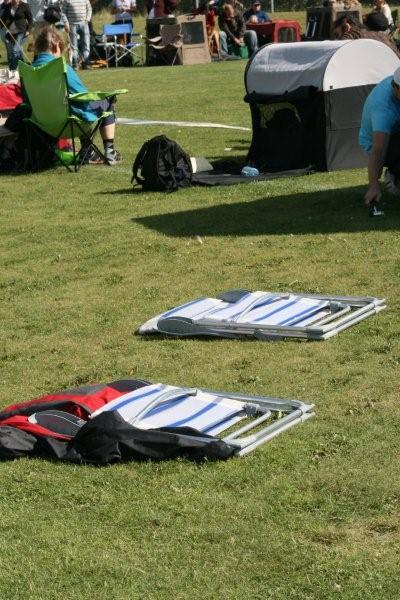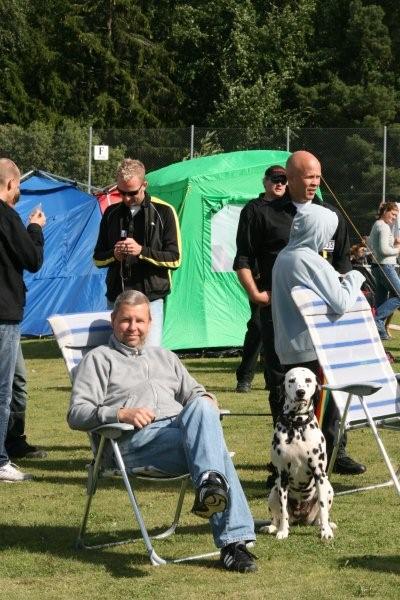 Even dollar was confused what she did! Empty chairs.......Whos could it be??? Peters of course *S*!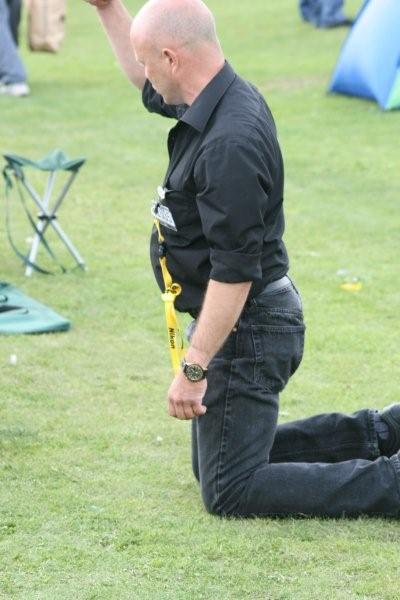 Devlins son from Ekryda is now a Veteran in very good condition. Johan F M was playing by him self *S*. Hanna and Jens was eating all the time!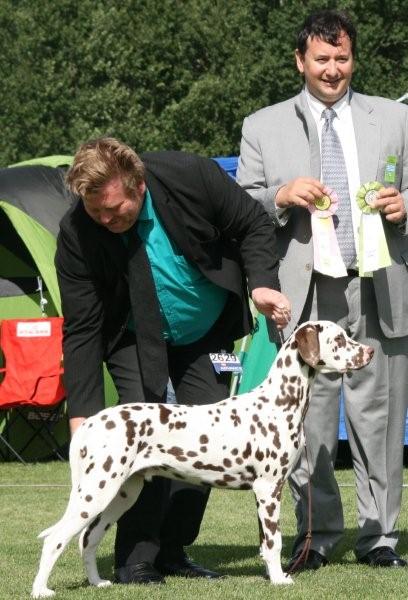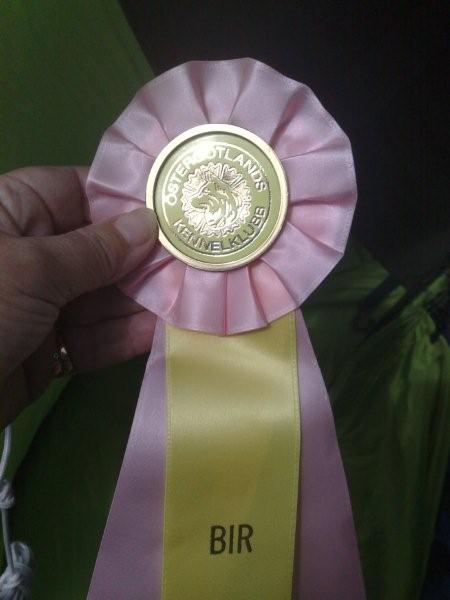 Jilloc's Walk On Top (Dollar) BOB Puppy today! (6 months and 10 days old)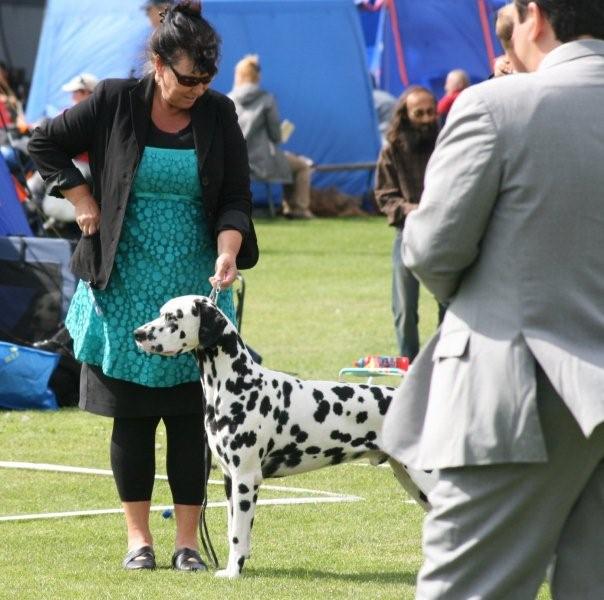 Daddy in championclass.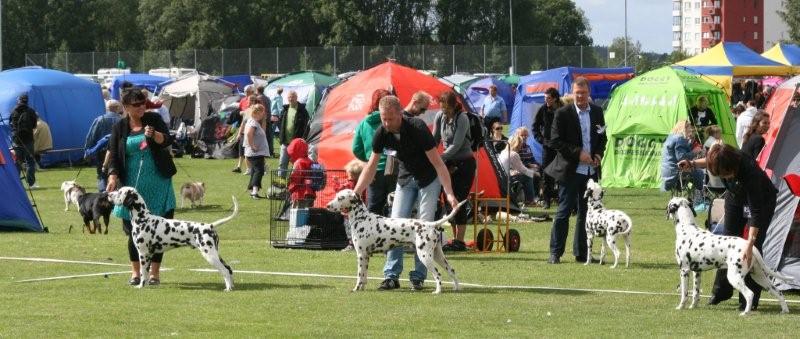 Best Male today in front of Johan and his Alphadirato dog and the Veteran Ch Jilloc's Easy Rider (Brandon)......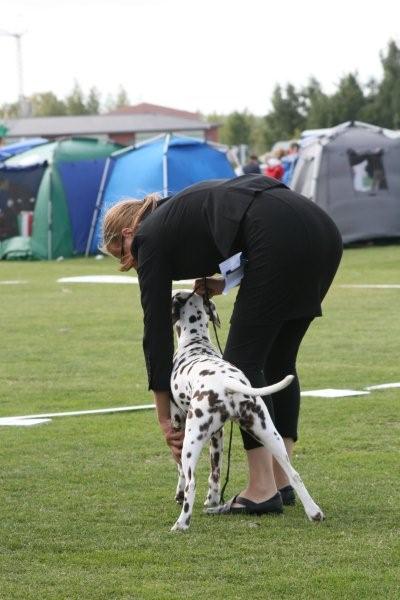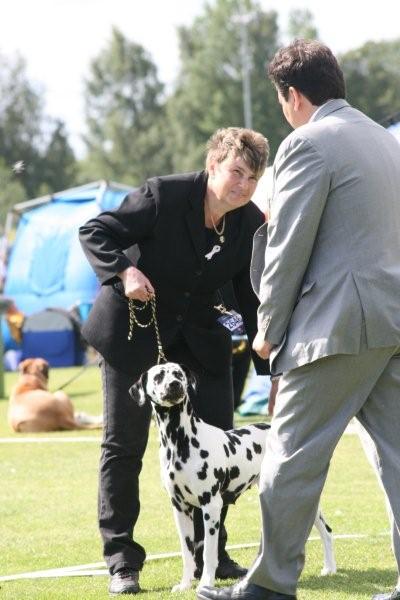 Matti with a daughter of Tutta from Bazius. Jenny with Windy and Kristina with Breeze.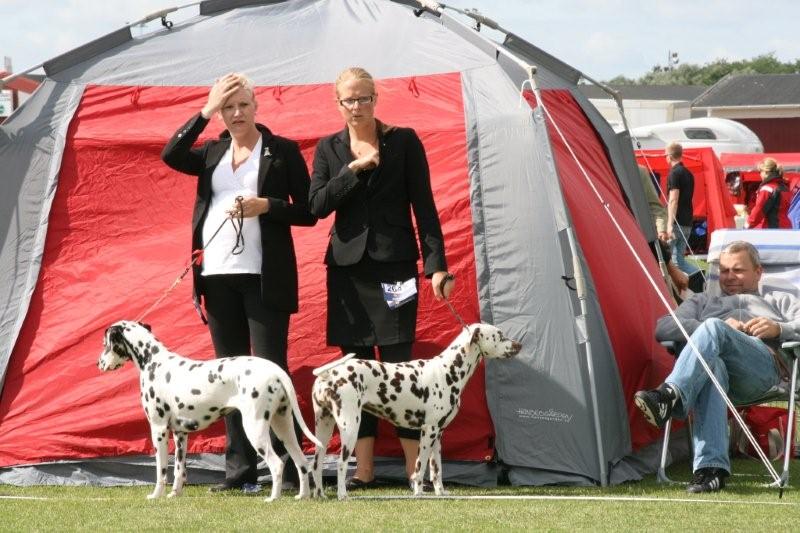 How the hell will this end today??????? Peter was resting in his chair.....as usual, what a tired man *S*!!!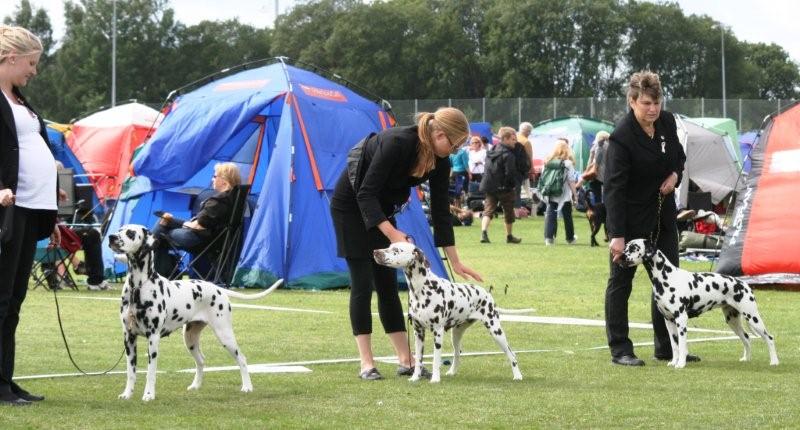 Hjärtat-Windy-Breeze
Waiting and waiting.....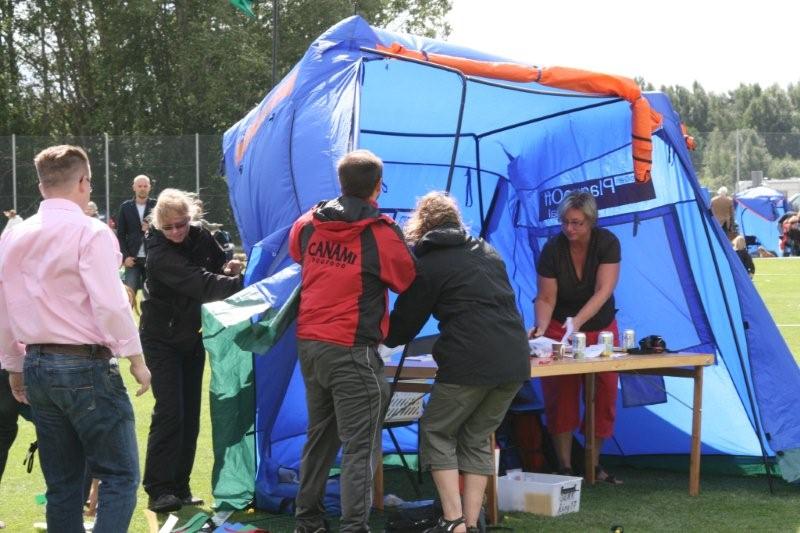 Because of the tent in the ring was blowing away!!!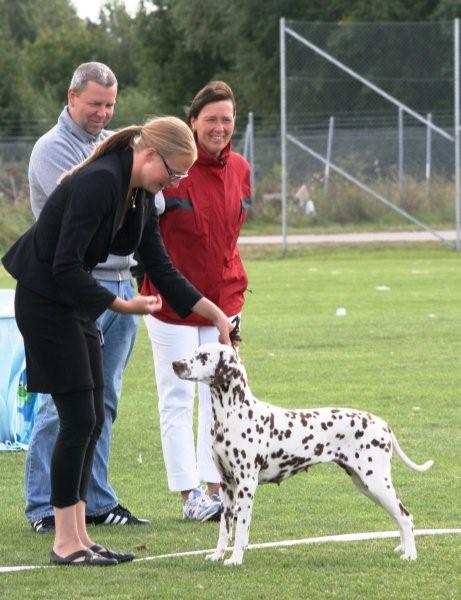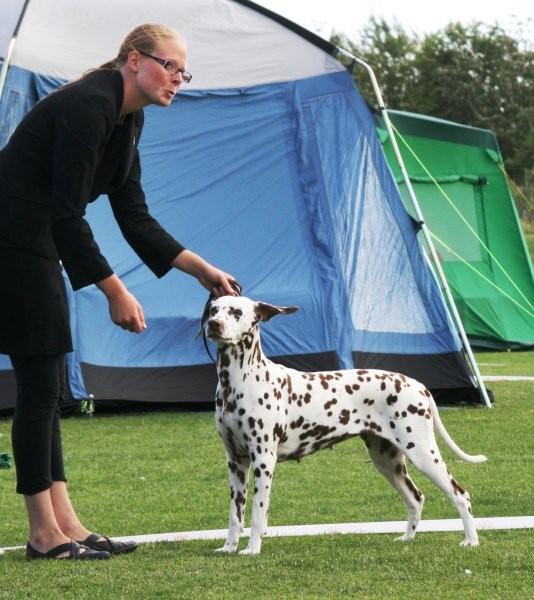 Perfect in Championclass with Jenny today, Carola and Peter (standing!!!!).....Jenny have learned Perfect to lift one of her ears when she wissled *S*.........or was it the storm??????
One two and three in Championclass.
Finland was happy today too!
Hanna and Hjärtat finaly got the last CAC and became a Swedish Champion today, Congratulations from us all!
Daddy in the competition for BOB and BOS.
And today we beat the finnish bitch, Hurray. Daddy BOB and The Gracilis bitch BOS.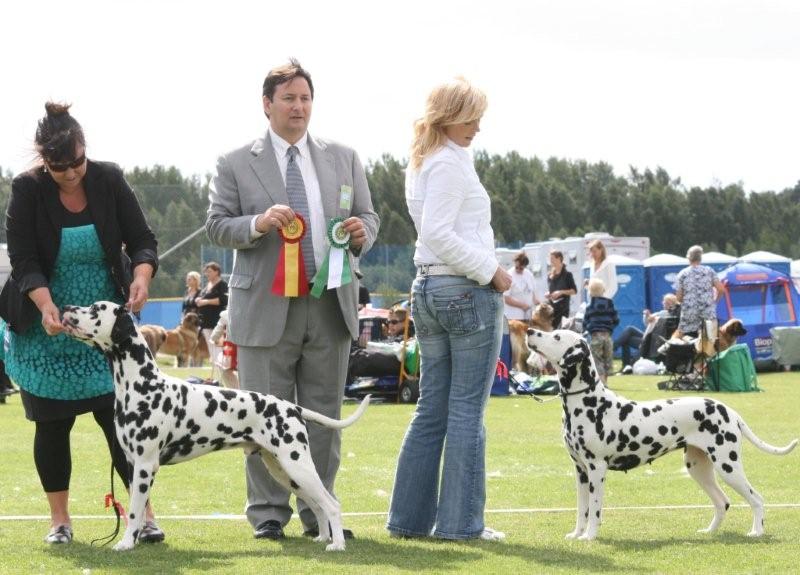 Judge Dimitris Antonopoulos was from Greece.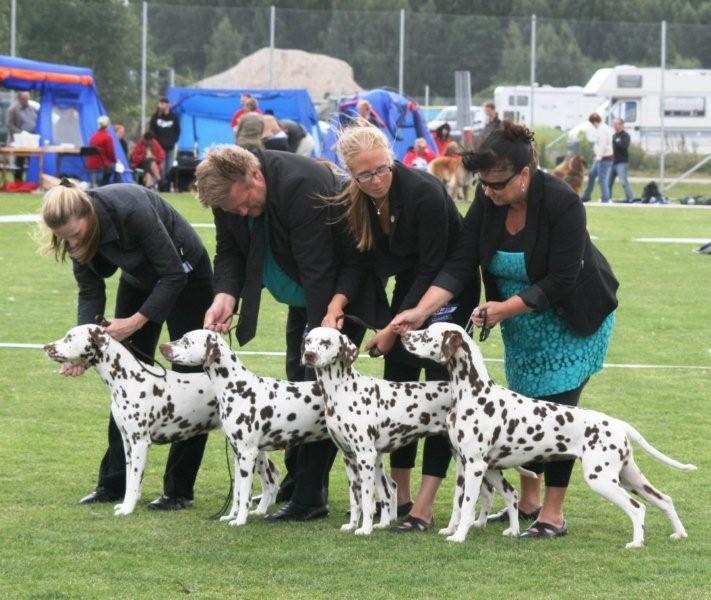 FOUR-combinations Jilloc's bitches J Right Here Right Now, J Playmate Of the Year, J Miss Perfect, J Splendid Choice.
Photos from today by Jens, Jenny, Rune and Me.
The judge talked with us after the show and he talked SWEDISH, and he lives just 40 km from us!!!!!
Daddy think he and I will start with Freestyle in the ring *S*!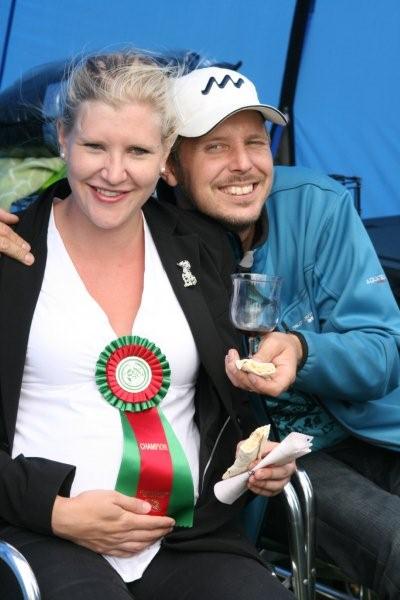 Jens was celebrating their new Champion with another glass of ????
We took the dogs to the car and that was not easy in the hard wind.....
After a while the finals start with BIS Puppy, and Dollar did it well he became BIS 4 Puppy, good boy!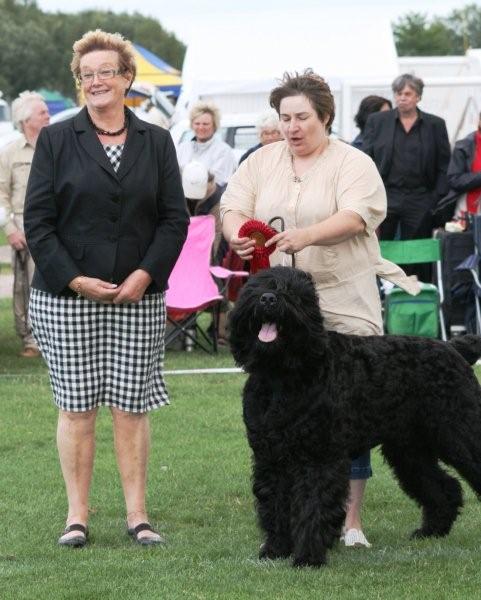 We saw Anita W in the finals.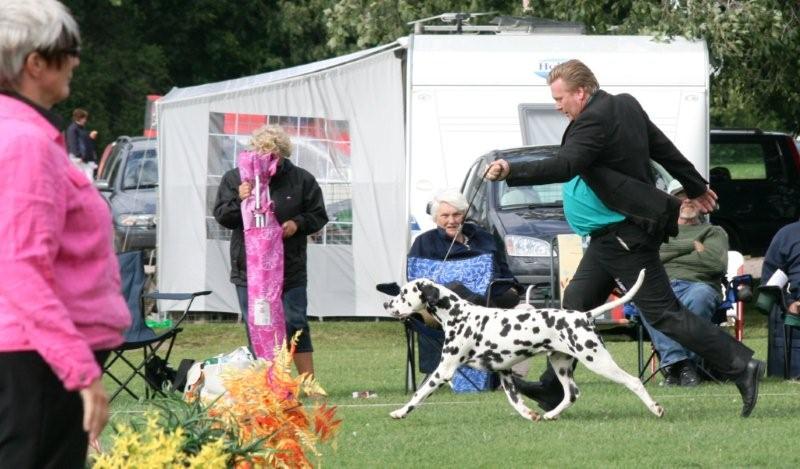 Rune have to run with Daddy in the group, I have run enough this weekend, and as usual he did it sooooo well.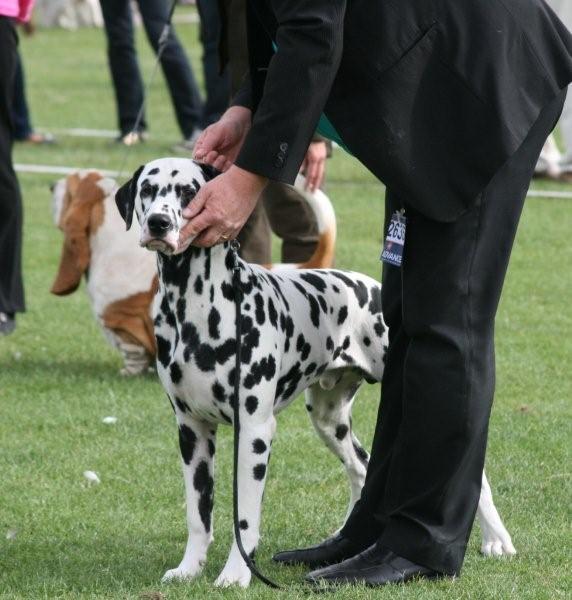 Mummy....come and get me!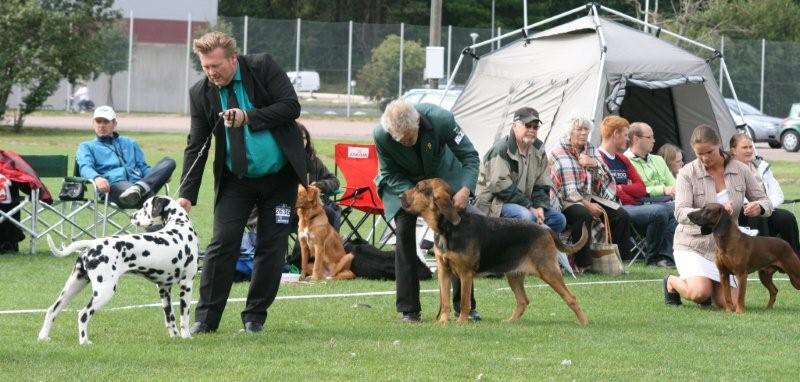 Where are You Mummy *S*!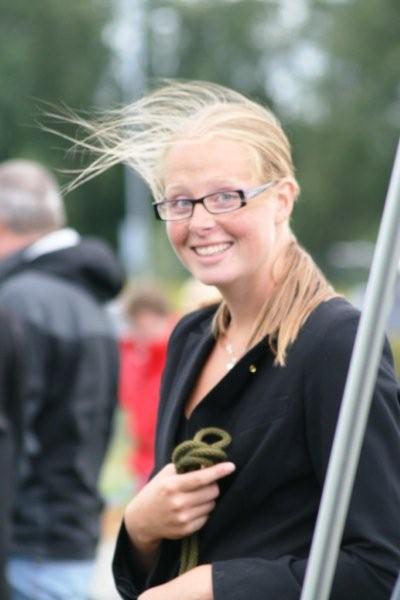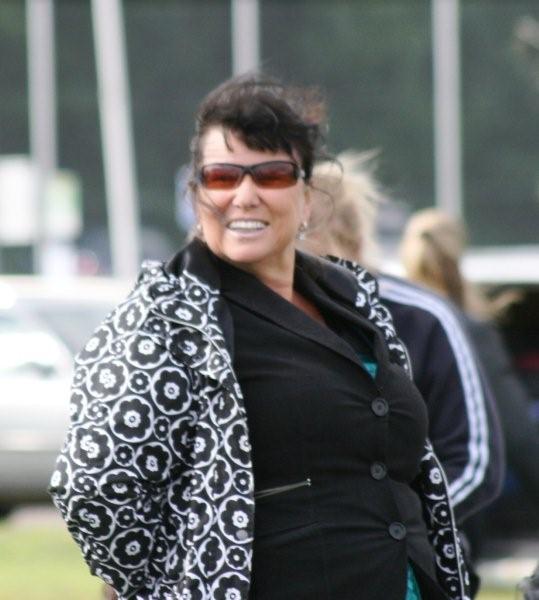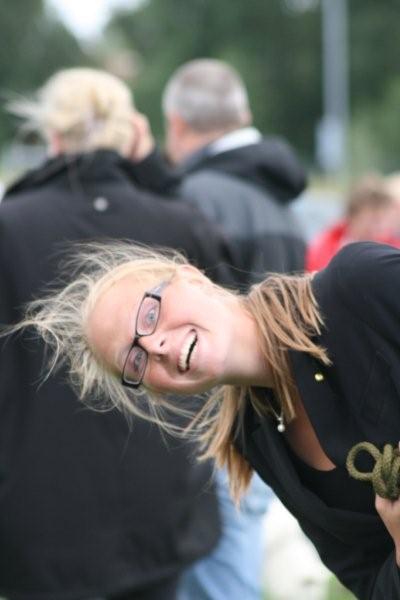 Jenny was so nervous that she forget to take some important photos.......!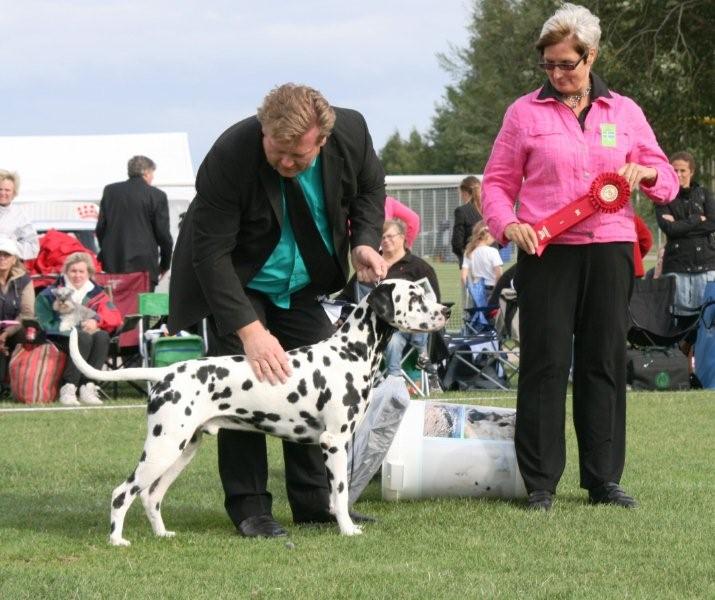 Ch Jilloc's Sugardaddy BIG 1 for Ann Carlström, HURRAY!!!!!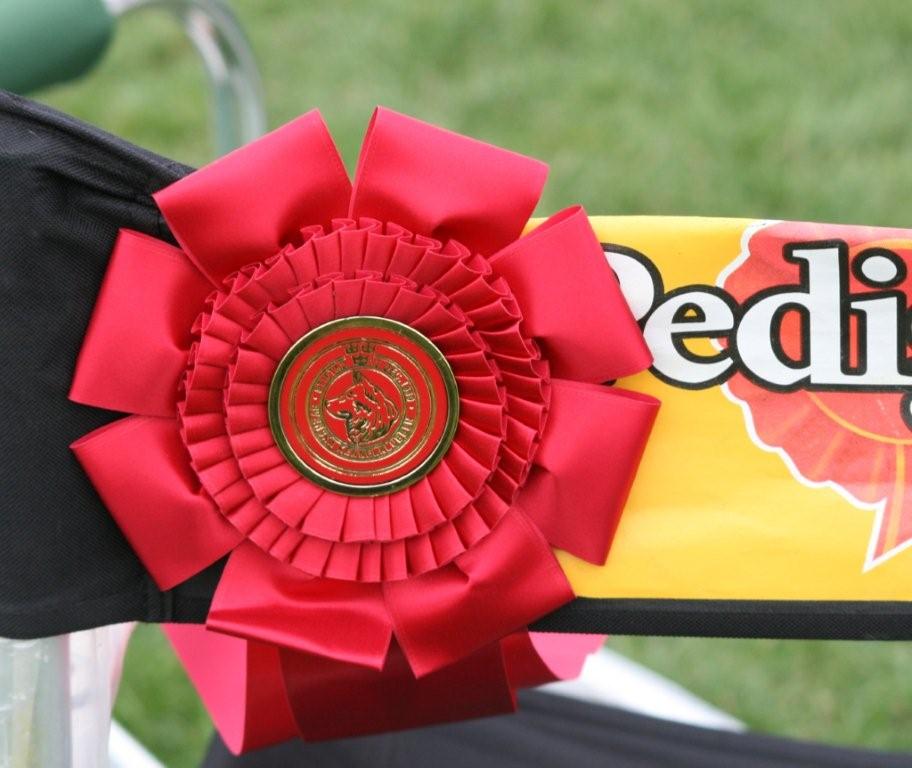 This is a colour we like!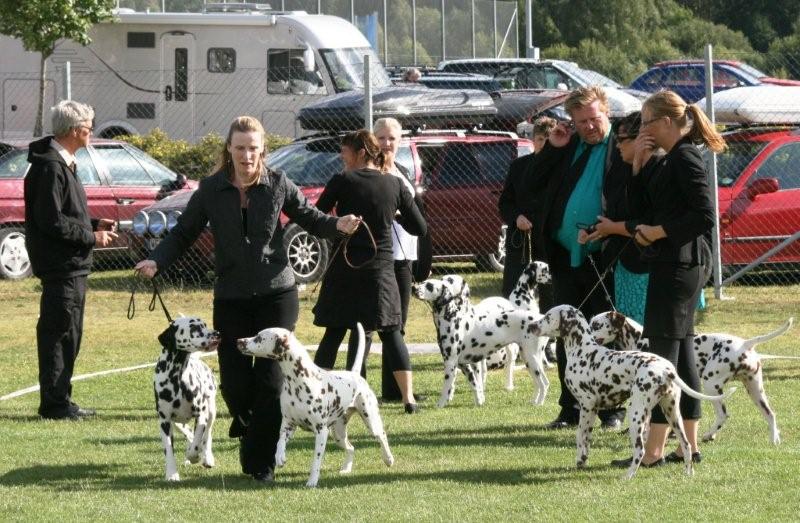 It was a bit chaos when both Breeding group and Chrissies Progeny Group should be in the ring almost at the same time and we have to change some dogs...no rest here, at least not for Daddy and Rune.
Jilloc's Breedinggroup BIS for Miklos Levente from Hungary, what a day......and what a chaos before we have put the dogs up, they all were tired and want to play instead.....especially Gloria *S*!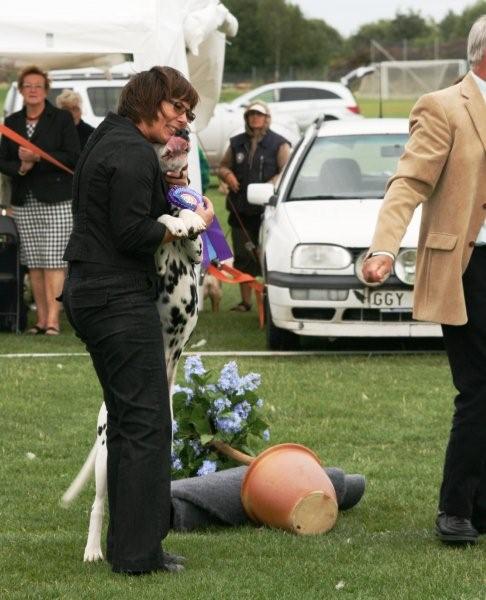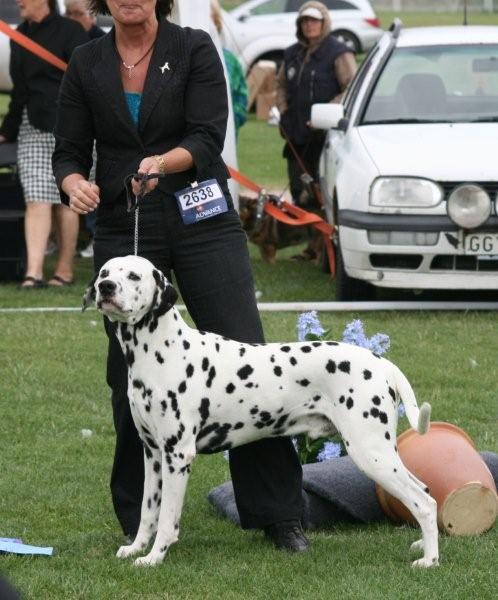 Brandon became suddenly BIS 2 VETERAN, CONGRATULATIONS, and my memorycard was full, so I got problems. Hopefully I will get some more photos from Jens in a while.....Chrissies Progeny group was BIS 2, Congratulations to us all today, we will celebrate with CHAMPAGNE next time we meet!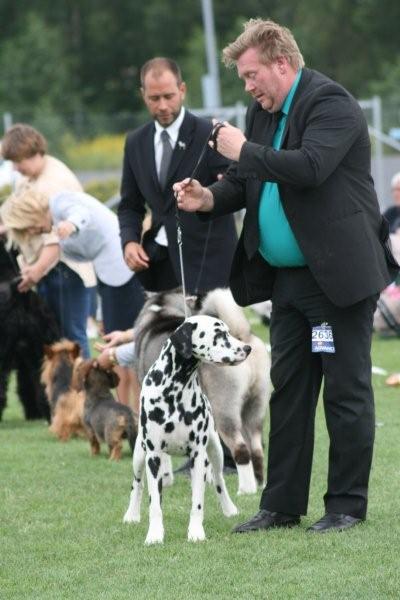 Line up for BIS.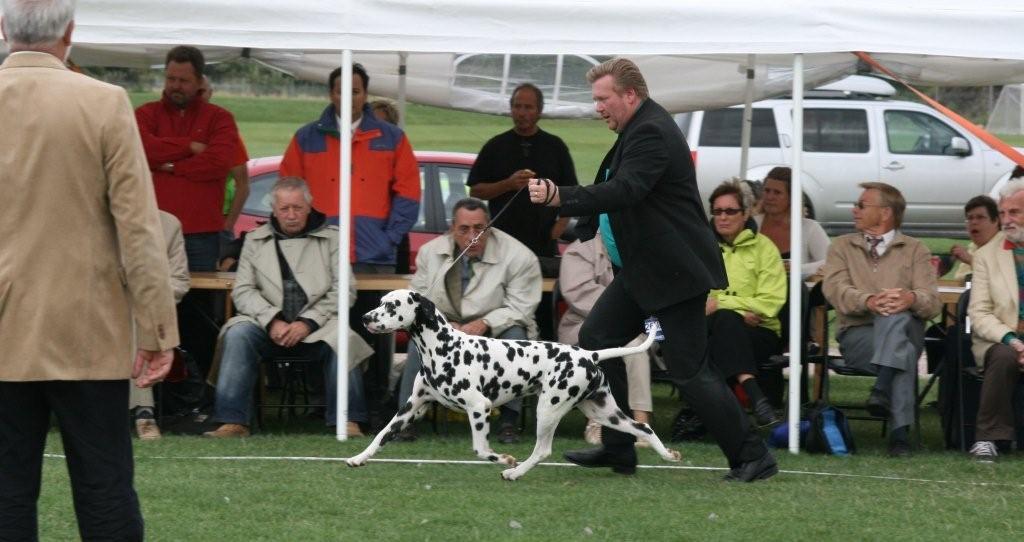 Daddy and Rune give everything (as always) in the final round in front of the BIS Judge Joe Sheperd from Holland....Daddy is up in the air with all his paws at the same time, he really love the Ring of Honour where there is space enough for his movements *S*!
He start to show better and better and here he seams to be so proud of himselves........and so am I!!!!!!!
I wish I could run by my self with him sometimes in the final ring like this, that is one of my highest wish for the future.....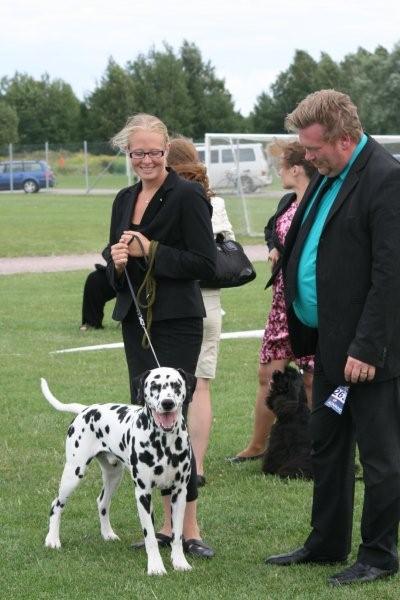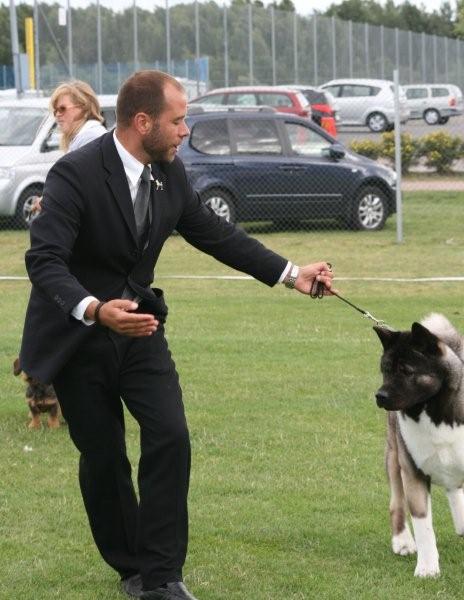 Waiting and waiting outside for the result....
And one of our favourites the American Akita was Bis 1 and DADDY became BIS 3, PERFECT!!!!!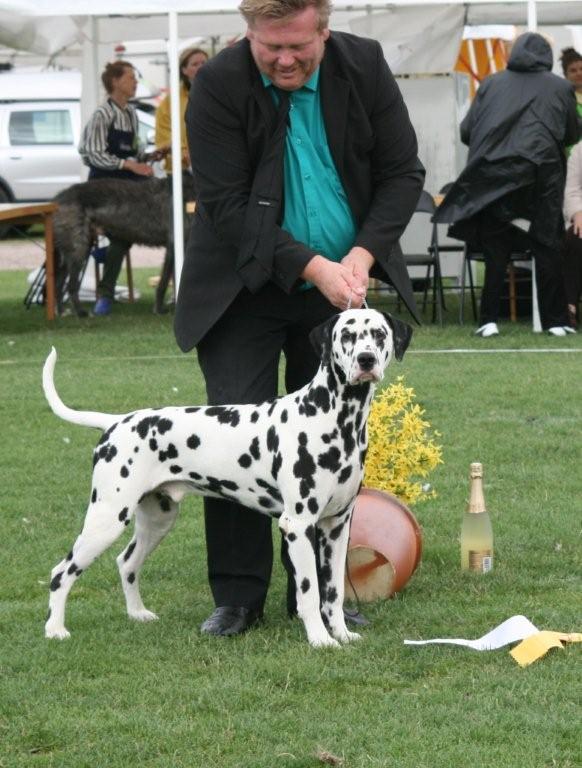 BIS 3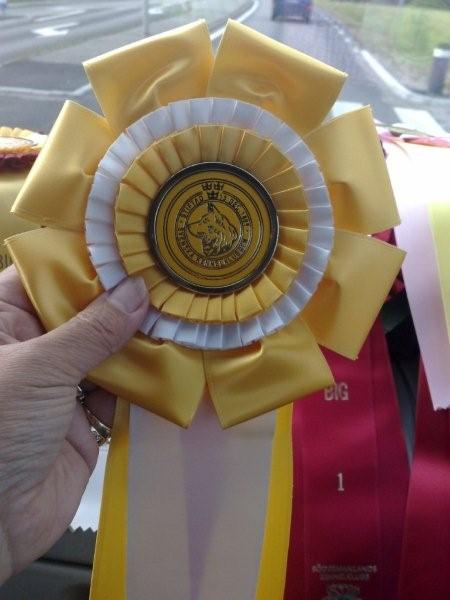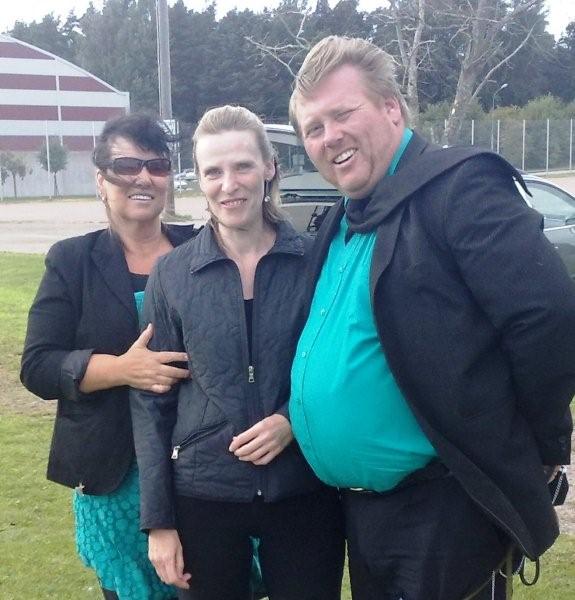 I was happy Helena was happy and............Donald Trumph was happy........I mean Rune, sorry!
Penny will stay with Kristina, Leif, Windy and Breeze for two weeks while we are going to Estonia, thank You for helping us with her!!
And Thank You Kerstin, Göran, Brandon and Mini that let Dollar be with You until Medevi.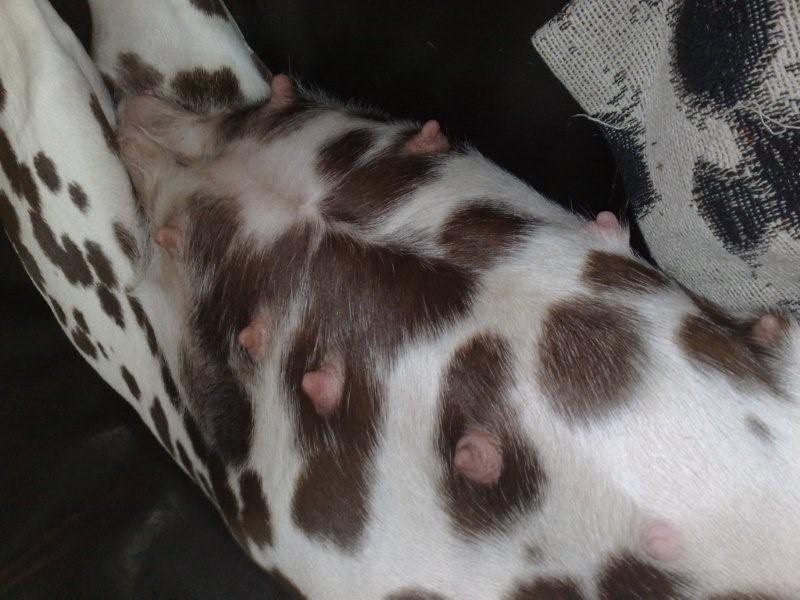 Devlinas stomach 4 weeks and 3 days........Big...Yeeeeeeeeeees!
Home at eleven o'clock it was very dark tonight and we were very tired, but happy for a nice and busy weekend!!
Saturday 15 August 2009
Sunny day in Norrköping. Int Show with Rob Sansom as a Judge.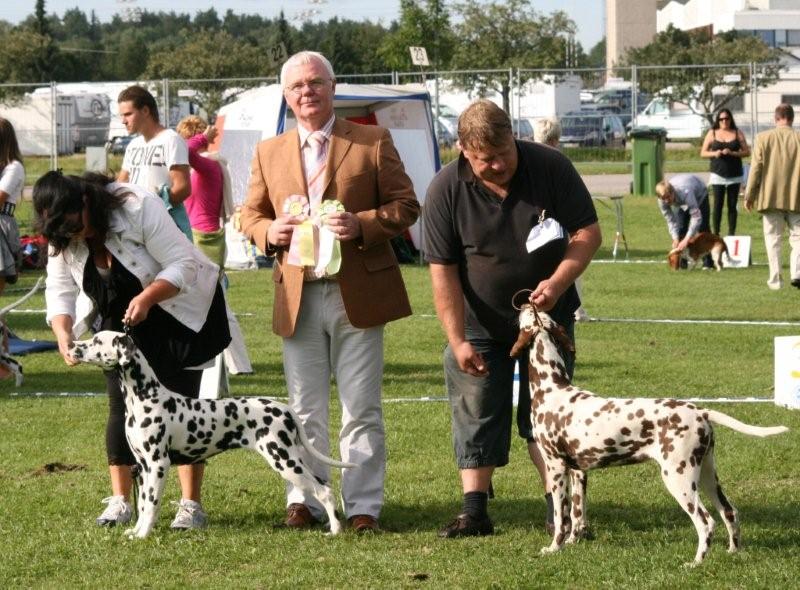 Penny-Jilloc's Wannabe BOB and a puppy from Bankirens BOS.
Penny was so happy to be shown by me today and wagged her tail almost all the time, so in the future she have to be my showdog too *S*!
Daddy is my boy too *S*!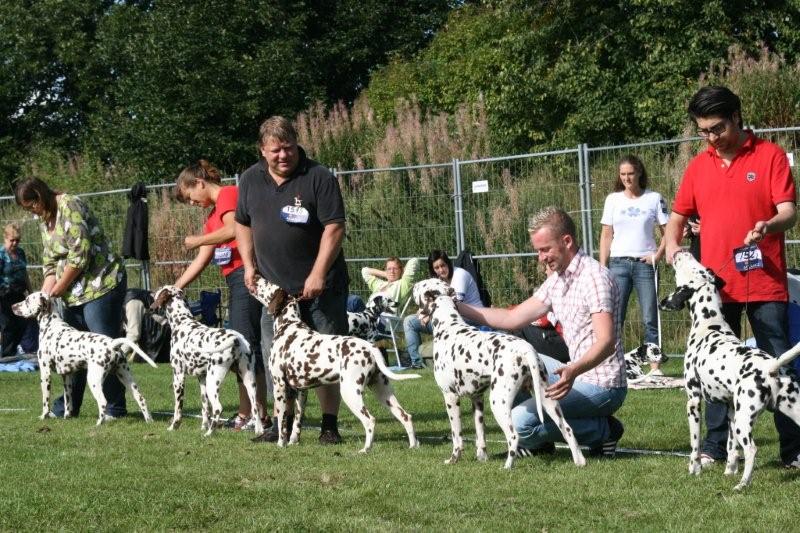 Some dogs from the best male class.
Daddy was beaten in the championclass by an Albican dog so Jenny showed him in best male..my feet and legs and back was already wasted. Our dear and wonderful friend Johan Lenkel and his Alphadirato dog became Champion today and Best Male, congratulations we were many that was happy for You!!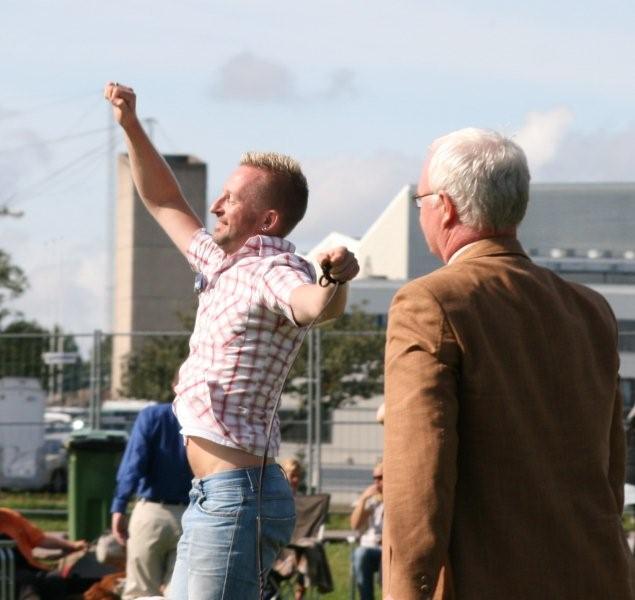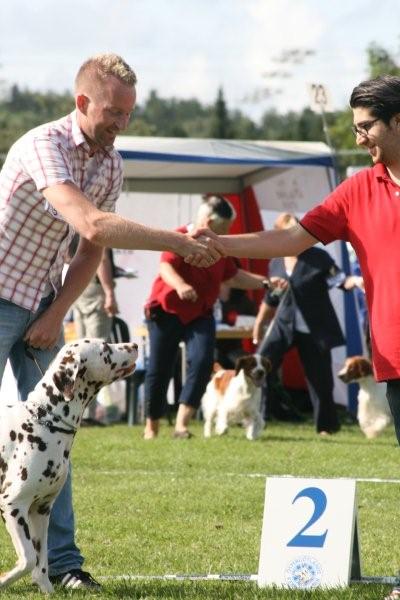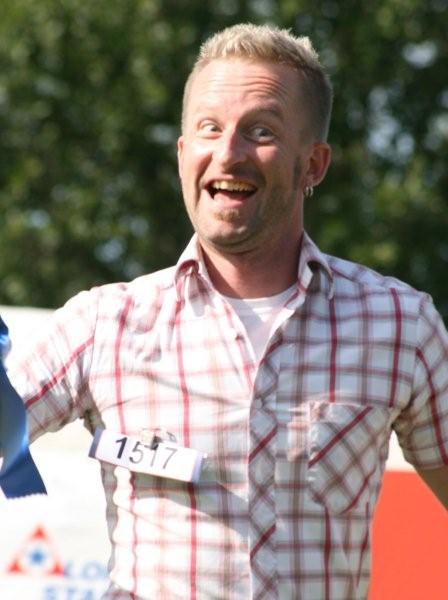 Do I need to say something to this photos??? Nooooooo *S*!
This is a young SON of CH Jilloc's Perfect Reflection (Harry) that A Whitmarsh is the owner too.......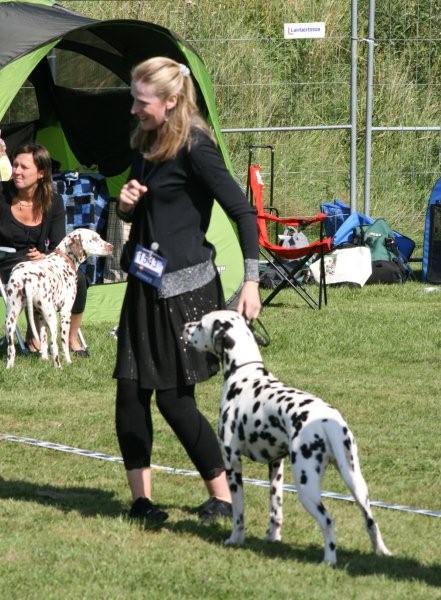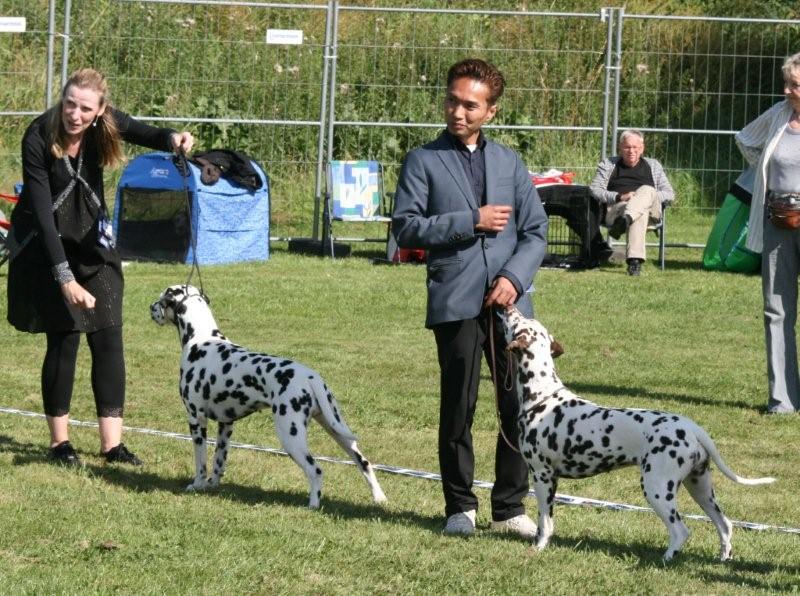 My dear friend Helena showed Bell today, thank You so much, You both were very nice together in the ring. To the right a bitch from Kennel Spotborne.
In front of the judge. In the background Matti with his young Bazius bitch waiting for his turn.
Hanna and Hjärtat have been waiting a long time for the last CAC, but she didn't get it today either!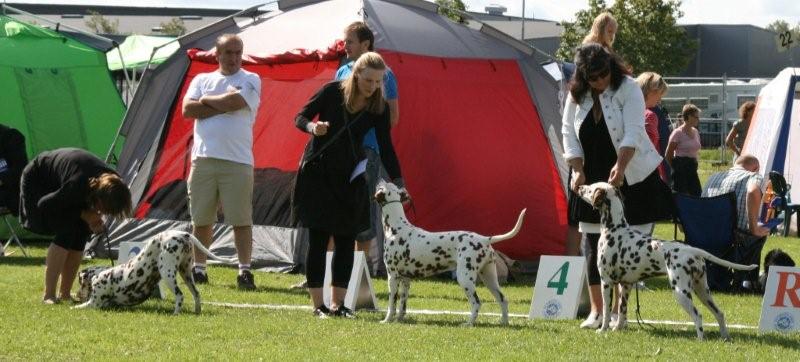 While we were waiting in the Championclass one handler start to train her dog for obedience instead of putting up her dog in a nice way *S*....I do not tell which person it was!!!!
Helena and Milda. Gloria won the championclass but was beaten in best bitch of a Finnish Gracilis bitch.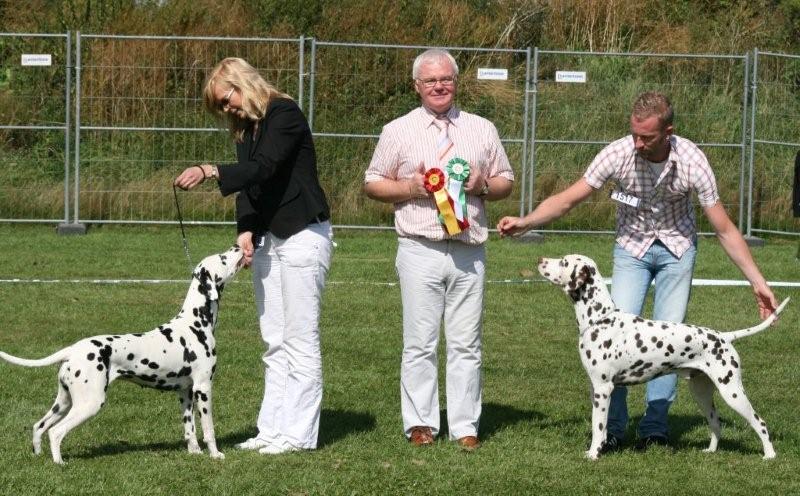 The Finnish Gracilis bitch BOB and Johans Alphadirato dog BOS.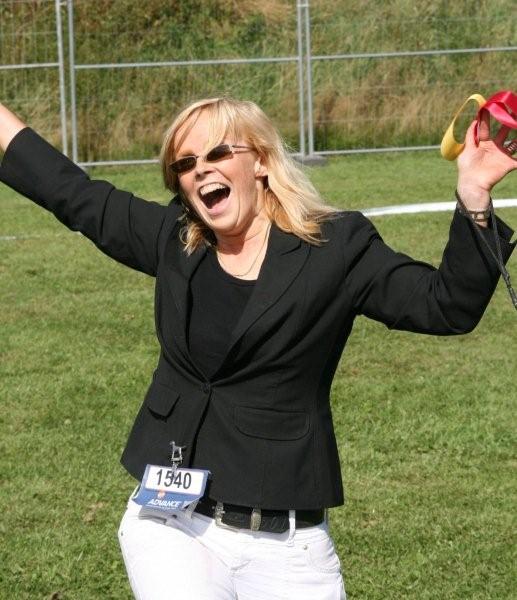 Congratulations to the International and Swedish Champion title.
Daddy did not want to be in the group......he was screaming at me...Mummy...come and get me!!!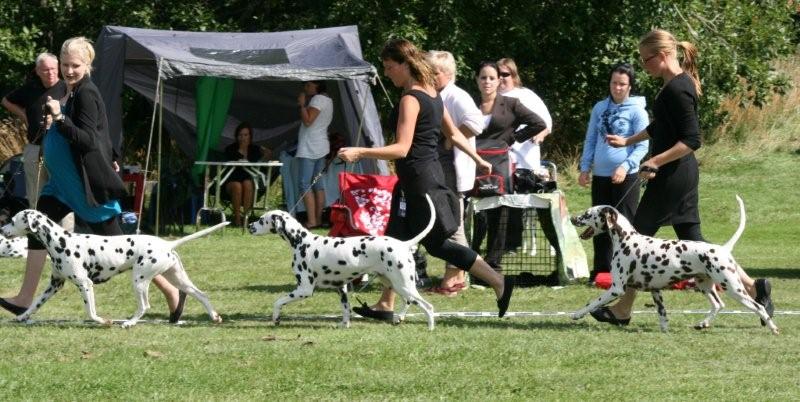 Chrissie with two of her daughters Hjärtat and Gloria.
Shape up girls, this have to be better!!!! Peter in his usual chair, but today he was awake *S*!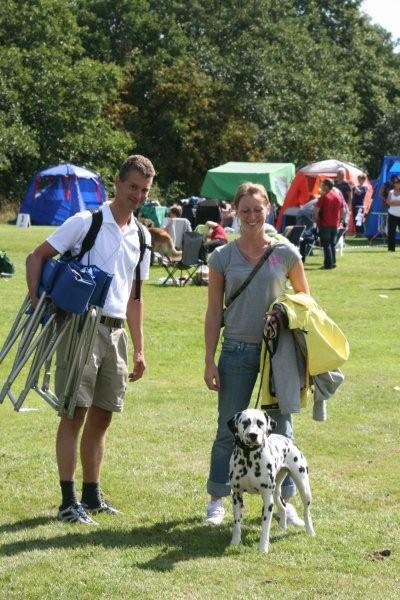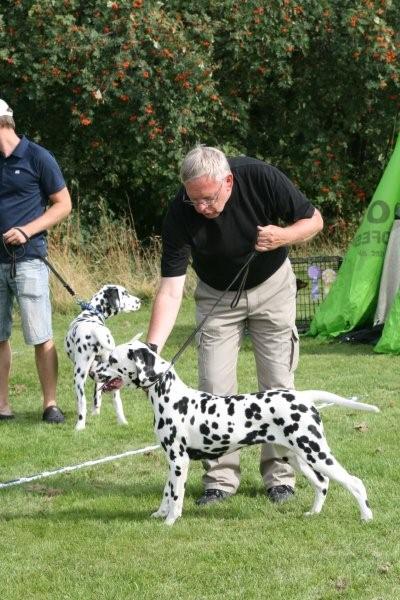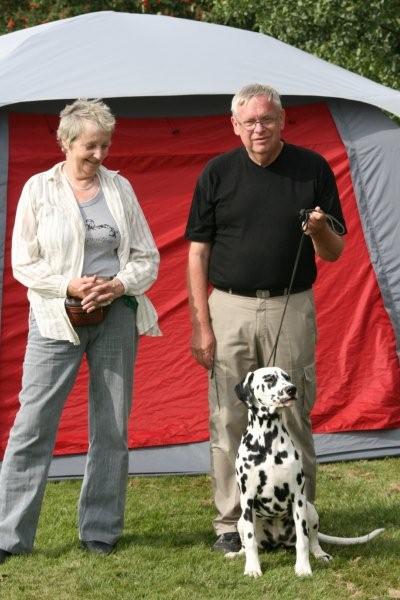 Bell on her way back home. Leif was babysitting Penny and Helena's mother was just watching.

Int & Nord UCh Dk UCh Jilloc's Right Here Right Now, owner Helena Berg.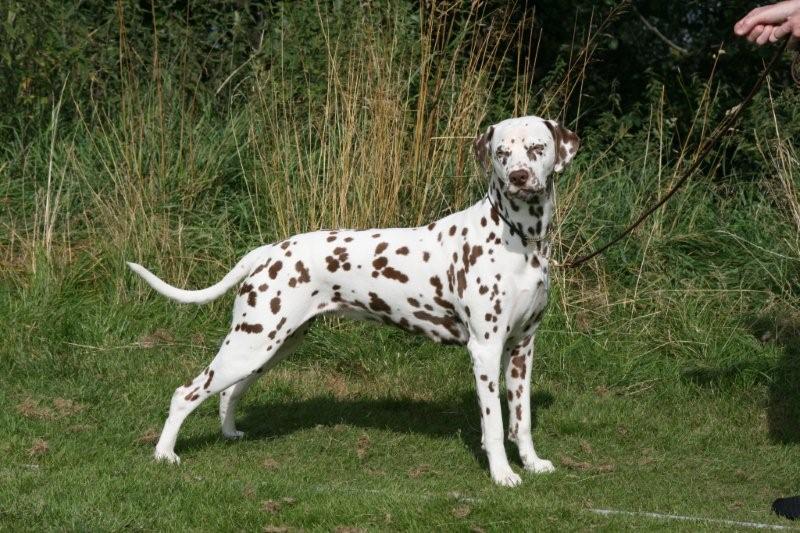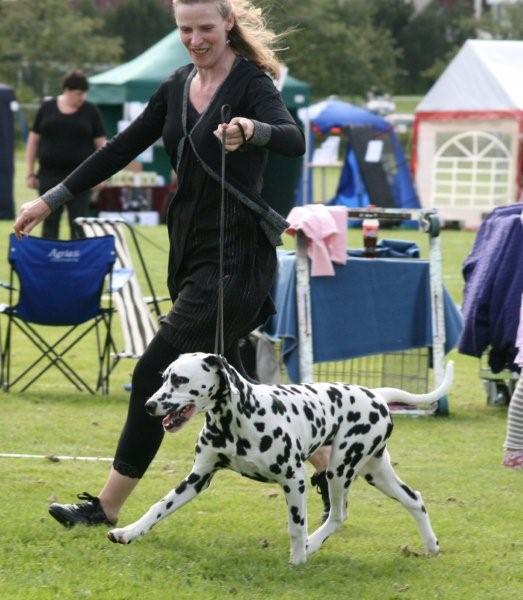 Helena was training Penny, and she can trot!!!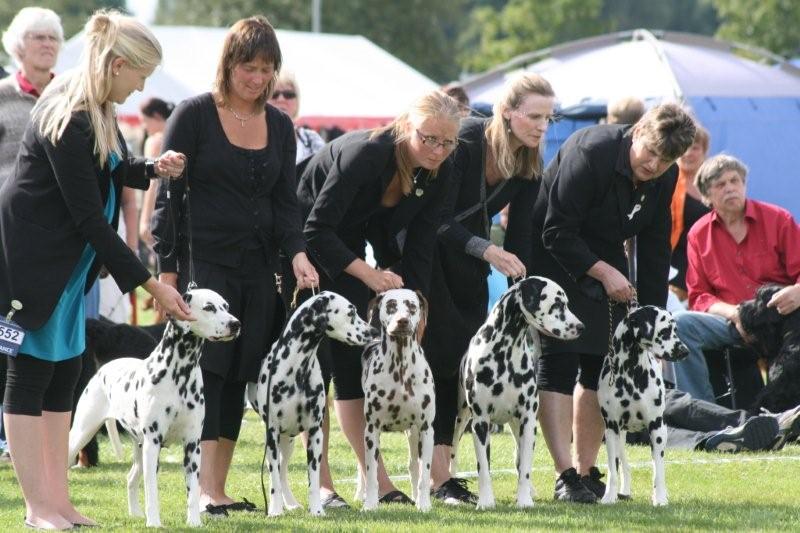 CH Jilloc's Key Success with her Progeny group became BIS 2, Congratulations Hanna, well done *S*!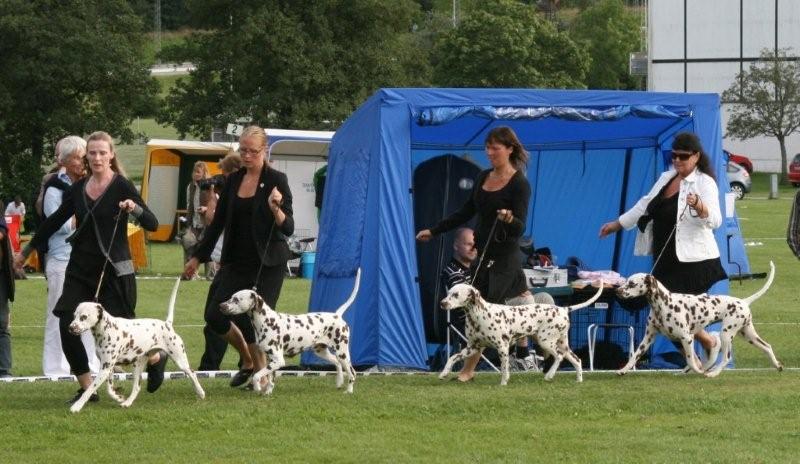 Run run and run again! Helena, Jenny, Carola and Me.
BIS 2 Breeder today, HURRAY!!!!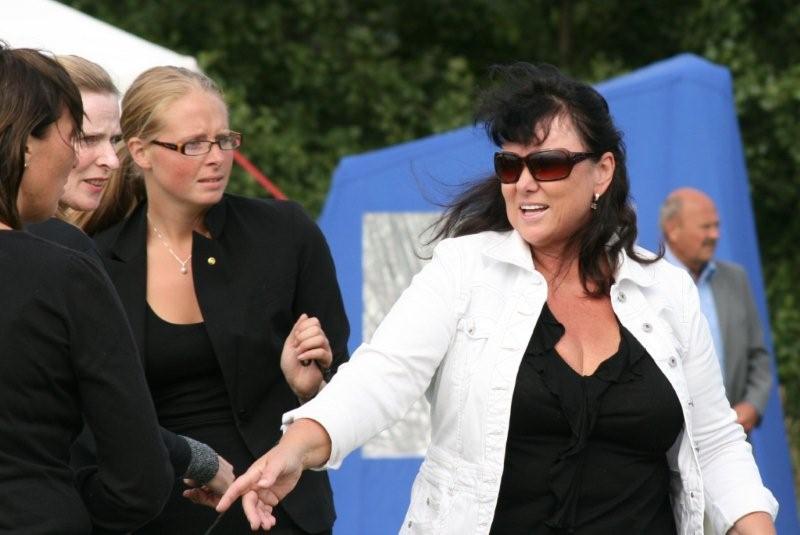 It looks like I say -:We should have been staying there instead.....At the FIRST place *S*and it is YOUR fault that we did not win!!!
Ha ha ha ha.......my team seams to have lot of respect for me *S*!!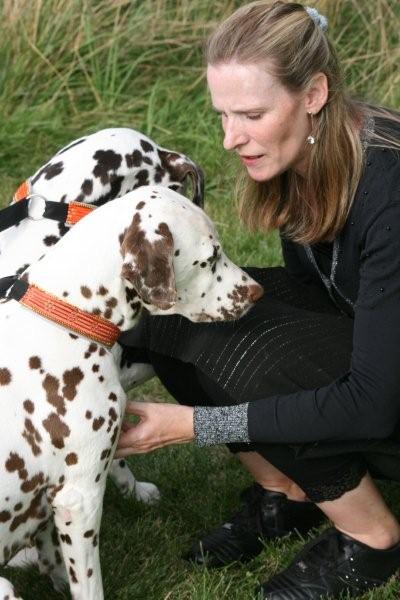 Helena with her two Princesses.
Helena asked Devlina where Jenny's puppy was....and suddenly Helena said.....here, here she is *S*!!!! Devlina did not understand anything!?!
ABOUT WAFDAL IN NORWAY
Today I had my debut as an official judge doing the bitches at the Wafdal special show in Oslo. The judge for the males was Aase Jacobsen, kennel Toots. Aase had ok weather while she was judging - but during the lunch - it started to poor down. Not cats and dogs, but almost.
They said I was going to be baptised today - and I'll tell you I was. Not a single part of my body was dry!
But back to the main thing. I was so happy to judge the bitches. Already in Junior class I found a very promising bitch Perdita's Addicted To Love, and her sister Perdita's Another Chance was number 2. Both of Ch quality. I really liked the bitches in intermediate as well and the winner was the Dutch Perfect Kiss of Dukes Proud and Napori's Ever Lasting Love as number 2. Open bitches was a battle between 2 - a bit different types but both very good. They had to run some rounds before I decided between them, and in the last round Lovinda's Golden Girl showed to me that she was the better mover and won before of Gwynmor Yahimba. Champion Class bitches was full of very good champions. I think only 1 or 2 didn't get any CK and it was the condition of the day that did that. The winner was anyway Ch Crazy For You At Dukes Proud and as number 2 Ch Dalmo's Campari. I was also honoured to judge some very nice veteran bitches, and the winner was Ch Perdita's Itchy Itch in front of Perdita's Flower Power.
In the end my best bitch with CAC was the junior Perdita's Addicted To Love, 2nd best bitch Ch Crazy For You At Dukes Proud, Open bitch 3rd best bitch Lovinda's Golden Girl and 4th best bitch as Ch Dalmo's Campari. I really would like to be able to place more of you as I think you deserved a placement, but I only had 4 places to distribute. I enjoyed the day a lot - and I hope you that was there also did.
Aase found Ch Dalming's Hocus-Pocus as best male and I think our winners were a very perfect couple in BOB/BOS. Hocus-Pocus was BOB.
I'm so sorry if you thought I tortured you by letting you run many rounds, but when you presented so many nice bitches for me - I needed to see you move the dogs several times and some of the bitches showed to improve for each round and it paid off.
I'll publish the results under judging as soon as I've got some pictures I can use - I would be very grateful if someone could send me some photos I can use. I will even fill in the best males too.
I wish I could have stayed for the barbeque in the evening - but as you understand - my trip back to Sweden was quite tiring.
00.30 Rune came to us and we went to bed immediately.
He have bought lot of Sörlands chips for him and Jenny *S*! So they both fell asleep very happy!
Friday 14 August 2009
Rune went up early...he was better today thank god.....at 7 o'clock he was standing outside Volvo in Skara and asked them to change the diesel filter on our car.......and they did, just 800 SEK .......peace of a cake.......and the car was ready after an hour, but then he have start his work and we try to reach Roy so he could take Jennies car (that Rune use nowadays to work) and go to Skara to meet Rune and take my car back again.....After some hours Roy was able to go there and about 11 o'clock he was here and helped Jenny and me to hook the caravan to the car, and we all have to pray a prayer that the car will go to Norrköping today because there is still dirt in the diesel so the new filter can be full too, but they haven't had the time to empty the diesel tank...so we just have to cross our fingers!!!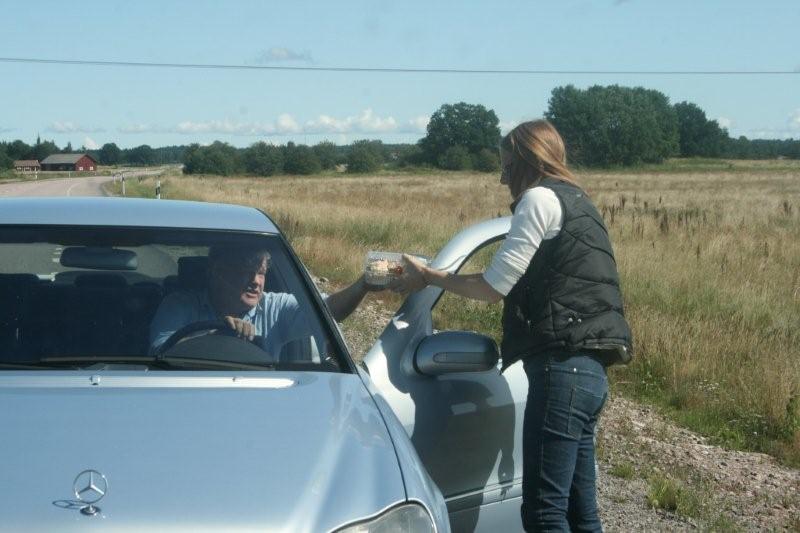 When we drive through Götene we met Roy again who had bought cake for us *S*!
At 12 o'clock we drive away from home finally (we have 7 dogs with us) Daddy, Dollar, Jill, Devlina, Gloria, Muzika and Penny..the meaning was that we should be in Norrköping at 12.......but as always something is changing our plans.
The sun was shining and we had a pleasant drive to Norrköping without any problems, hurray!
After a while *S* I have put the caravan in the right position with Jenny's help. I start to put all things in their places in the caravan and Jenny start to walk the dogs and after that she went in to the show area and put up our "quick tent"....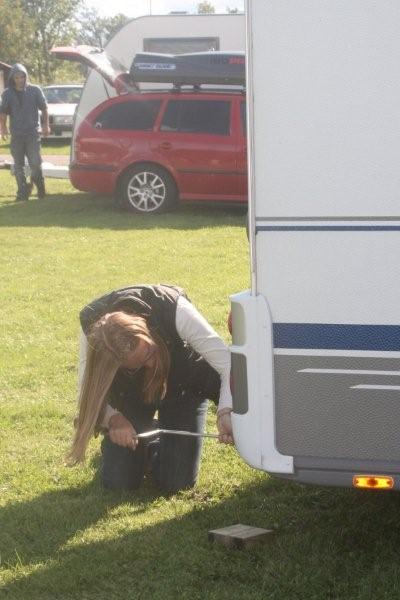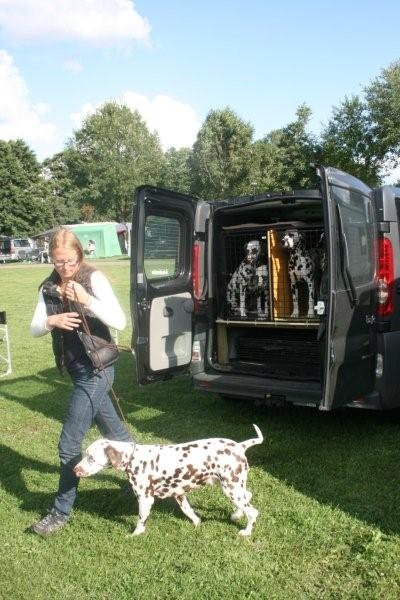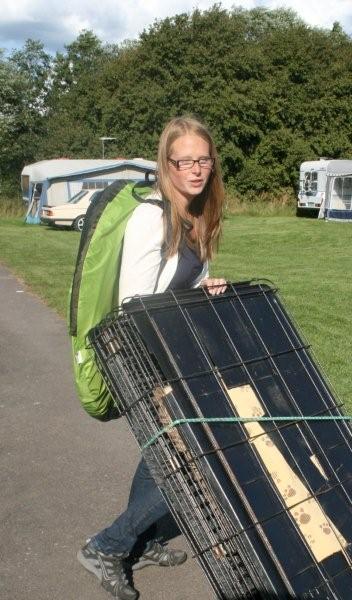 After some hours Hanna and Jens joined us at the camping and then Carola and Peter came ........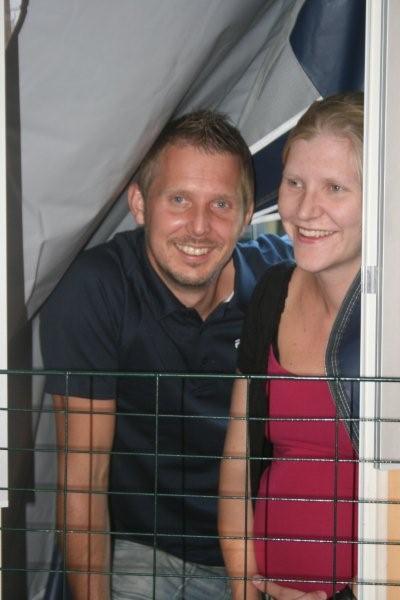 We have tried to put up our caravan tent....but we couldn't figure out how to manage..so it was hanging over the door...we hope that "someone" will have mercy for two ladies that couldn't do it by themselves, but every visitor this evening just crawl under and inside *S*! Where is RUNE!!!??? HELP!!!!
I have my "green period now", even in the caravan *S*!
Jens came to us in the late evening to "help" us with our TV channels (that was what we told Hanna) ha ha ha.....Jens is not allowed to have TV in their caravan so he often "help" us to install our TV *S*!
Rune was in Oslo at eight in the evening and go directly for the dinner together with Dalmatian people from all over Europe.
Thursday 13 August 2009
Rune was still not ok so he slept until the middle of the day....he have to be healthy until tomorrow when he is going to drive to Norway in the afternoon and to join the WAFDAL meeting....
In the afternoon he have to go to the drugstore for new tablets and then he got problems with our car....it stopped and many lamps was twinkling red....Oh Nooooooo not now.....Me and Jenny will go early in the morning tomorrow with the caravan to Norrköping!!!!!
I took the car to a garage and they say it was dirt in the diesel so Roy and Jonnie try to blow the filter clean in the evening because they did not have any at home at the garage until Monday!!!!
What should we do????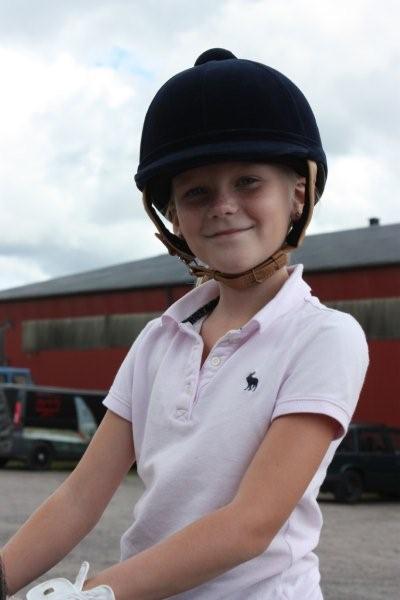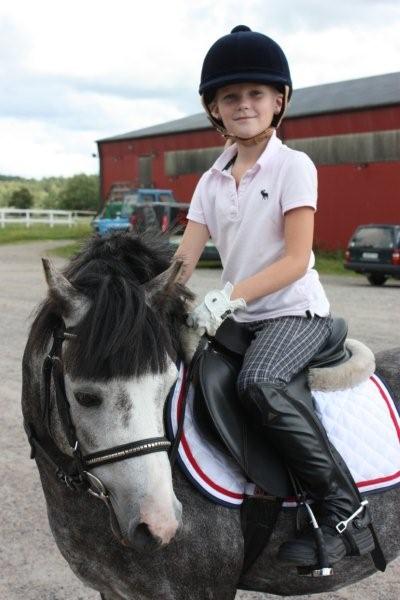 My sweetheart Ellie have now start to try for competitions with her horse SOLOIST, I wish You good luck!

Photos from Louice of some puppies from her litter after our CH Export Selection The Astonishing and CH Jilloc's Matchmaker, at Kennel Gåtfulls.
The black girls (Louice own bitch) to the left was BOS Puppy at the WAFDAL show in some days...but we had no idea about that when I put those photos in here today!
Congratulations!
Wednesday 12 August 2009
Today I was in Mariestad and took a blood test on Bosson that is going to be sent to Germany to a professor
that is making tests about BAER. It is the same as we sent two months ago for Daddy.
Danish Dalmatian Club are doing a research to find the gene that make dogs deaf.
After that I was shopping a little and then back home again. Than Rune was home from work....he feel sick and have fever, so he was sleeping in the caravan in 16 degrees for some hours together with some of the dogs.
Here is a photo from Carola when she and Puffie is swimming in a hot evening, thank You I suppose that Peter was the photographer!
I have forgot to tell about last Friday when we were on our way to Askersund......first of all I could not open the backdoors at the car, I thought that I did something wrong, but when Rune came home from work he had the same problem....he called the garage and was there 15 minutes later. Something have been breoken in the backdoor so they have to climb over allt hings in the car and take out everything to opend it and repaire it, thank god it went on the guaranti so we did not have to pay anything for it, but we were now 2 hours late....when we finally leave home with the caravan ..we drive for about 10 km and then we find out that we forgot to take all vaccinations for the dogs with us...we stopped and start to look in the car and the caravan but no...we have to turn around again and go back home to try to find it in the house....and we did. Start again and after 20 minutes driving I took my camera to take a photo, but nothing happened! Yesterday Rune have put the memorycard in our computer at home to put photos in the computer and of course he have forget to take it out again...shit!!!
We decide not to turn around again......better to stop and buy a new one otherwise we never will reach Askersund in time for Edgars dinner.
Tuesday 11 August 2009
Nice photos from our friend Dimitar in Bulgaria.
Timanka's Rainbow Diva in the middle. Dimitar Stanchev we are soo happy to meet You in October in Bratislava, and we really hope to visit You next summer.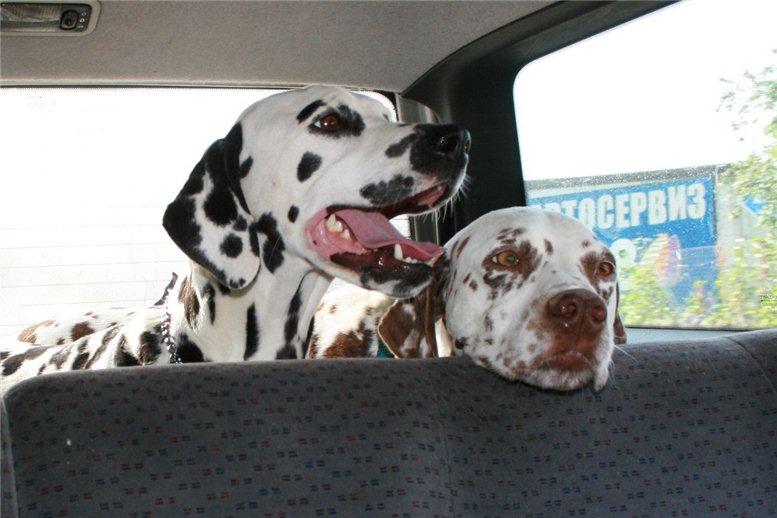 Diva in the car................Photos from Divalinor.
Here is a photo from Andre and Diana showing Ekspo (The Dutch one *S*) (Bossons son).......he might be the future husband for Seven next year???
Bell have now a perfect life with Helena and Tomas, and here they are in north of Sweden on holiday!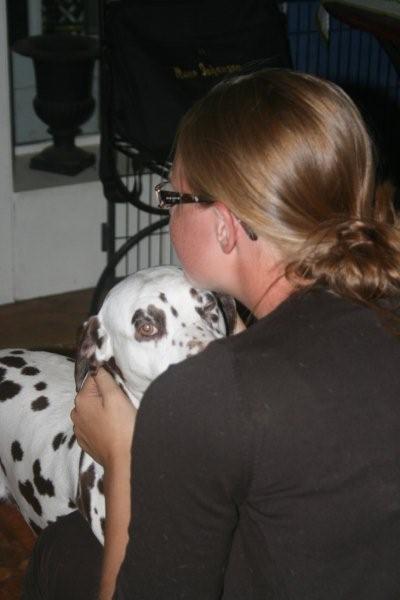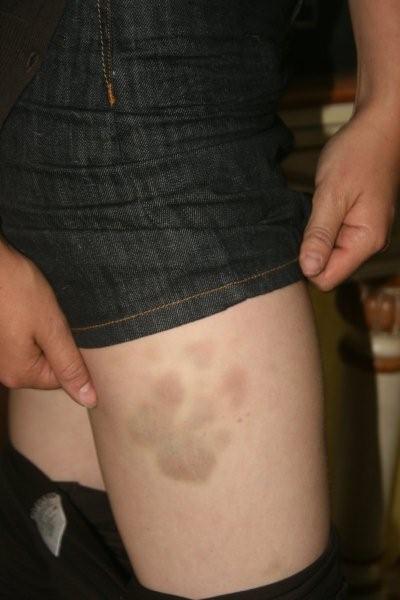 Jenny came here with Dollar in the afternoon......Rune say that she want to get red of him quickly so she don't fell to much in love with him *S*......And she do not need any tattoo.........Dollar is so heavy and was standing on her in the night when he want to play...and Jenny want to sleep......so here is his sign, his paw!!!!!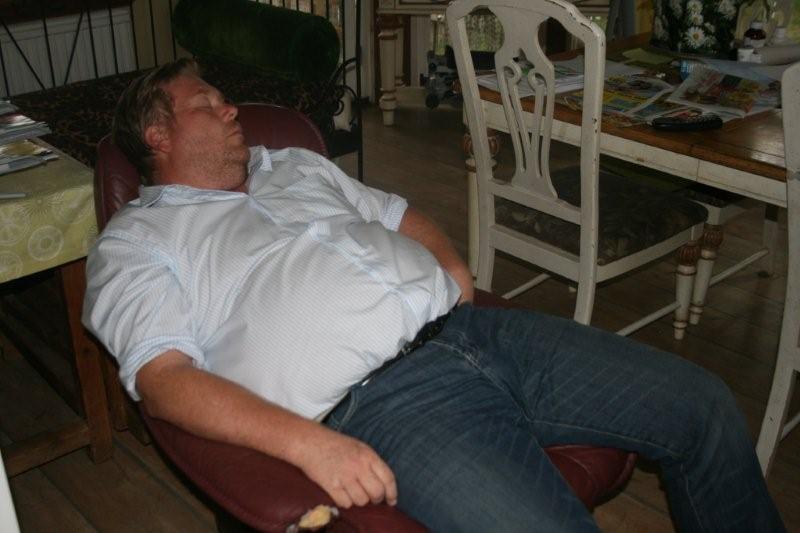 Poor Rune so tired after work, he is on medicine for his stomach again, and is even more tired than normal.
Monday 10 August 2009
The alarmclock was ringing at 5 in the morning and we have to go up immediately. It was not that hard because it was a nice morning.
And I can tell that is NOT often that I am up at this time to see the sunrise, but sometimes I haven't gone to bed yet...so of course I see it then, but not of the same reason as now *S*!
Some of our girls already waiting in the car, they could not understand what we were doing this time of the "night" *S*! they looked so strange at me........
What are You doing...Photos now?????...We want to go back to bed mummy!!!!!!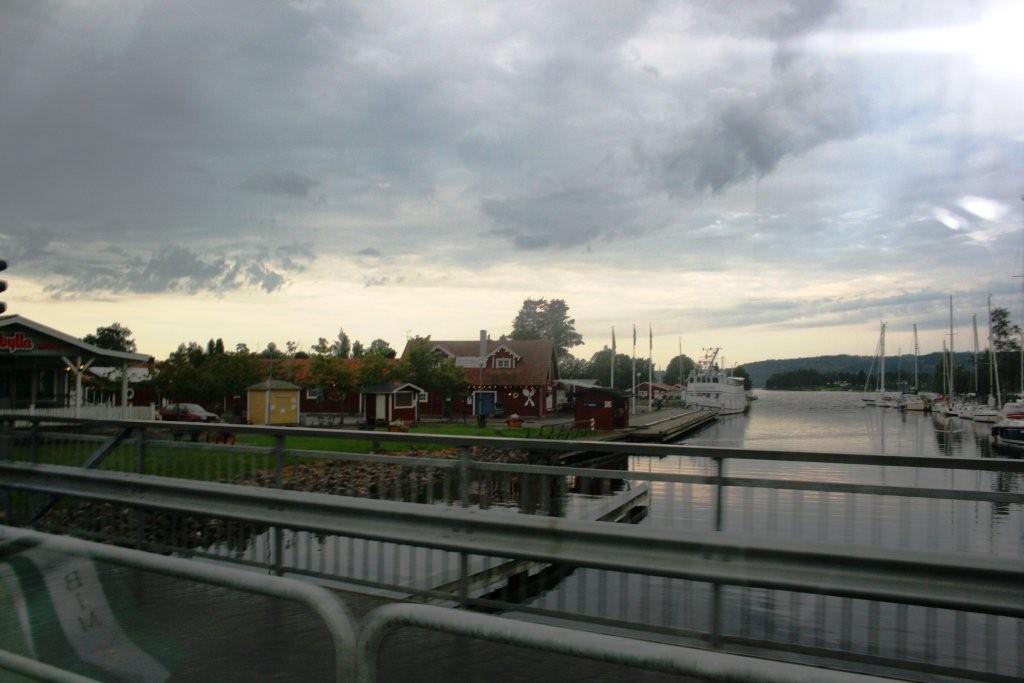 Everyone was still sleeping .
After two hours driving, we were in Skara at JULA. Rune dressed for work and I drive home alone.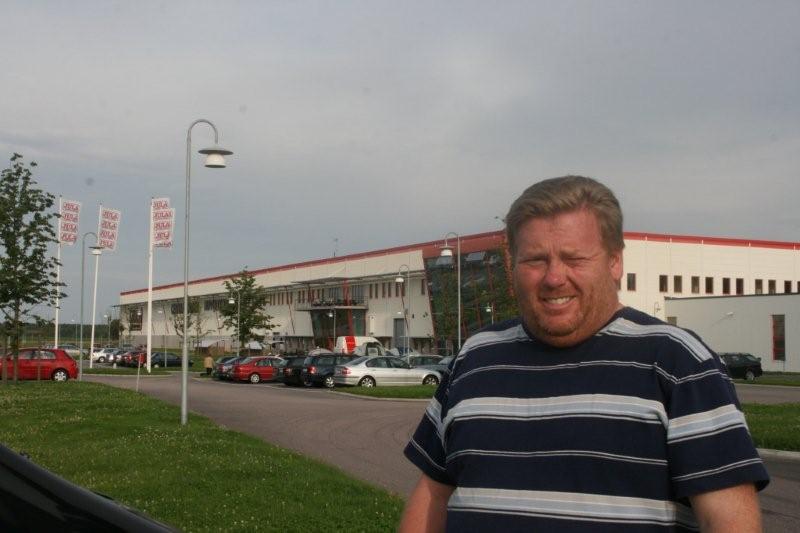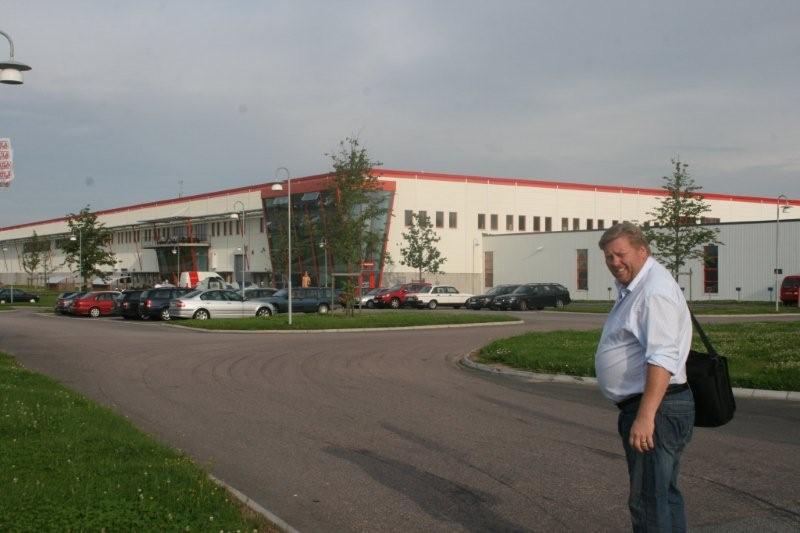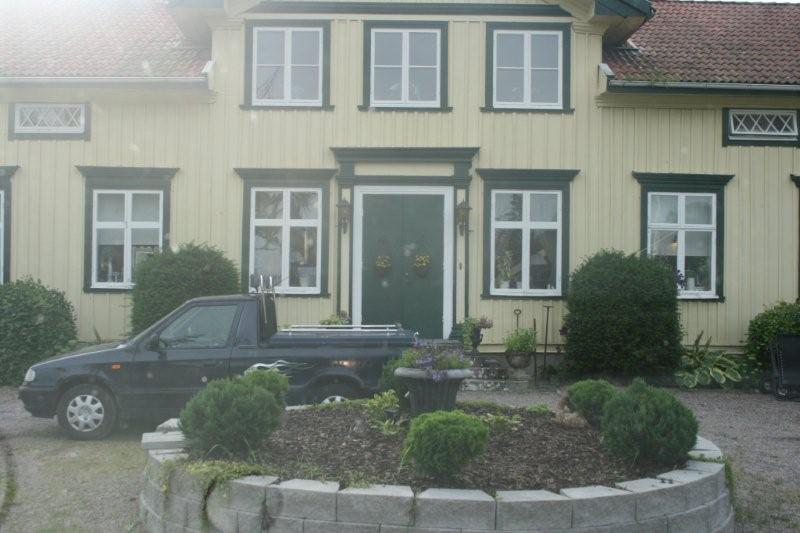 Our old house was happy when I came back with all dogs.....it have been soooo silent when we have been away!!!
We love to travel but to come back here after our journeys and meet our house is fantastic every time.
I really love this house and this place of our country.
Borta bra men hemma bäst! Home Sweet Home!
I was full of energy this morning (where did that come from?) and at 9 o'clock I have been feeding the dogs, washing two machines, answered some mails, give water to all flowers inside and outside. Washed all dishes from the caravan and so on........Then I looked at my daily TV program "Days of our lives"..........and then I was totally as lacy as normal *S*.....for the rest of the day I mostly was sitting at the computer just looking without doing anything necessary!!
Ok, I feed Roy and Jonnie and prepared for the dinner, but I did it as in coma, and did not know what I was answering when they ask me something. Of course I could go to bed for some hour but I am stubborn and do NOT want to go to bed during the day!!!!!
Sunday 9 August 2009
I was sleeping for a looong time.
News from Ronneby Int Show.
Today Jilloc's Run Wild Run Free became SWEDISH Champion and BOS with CAC and CACIB, CONGRATULATIONS!
BOB Ekryda Remus
Judge Keith Nathan Photo Kristina Cronwall
Best Puppy Jilloc's Walk On Top
SUCH Jilloc's Run Wild Run Free........... thank You Carin for those beautiful photos of Russin.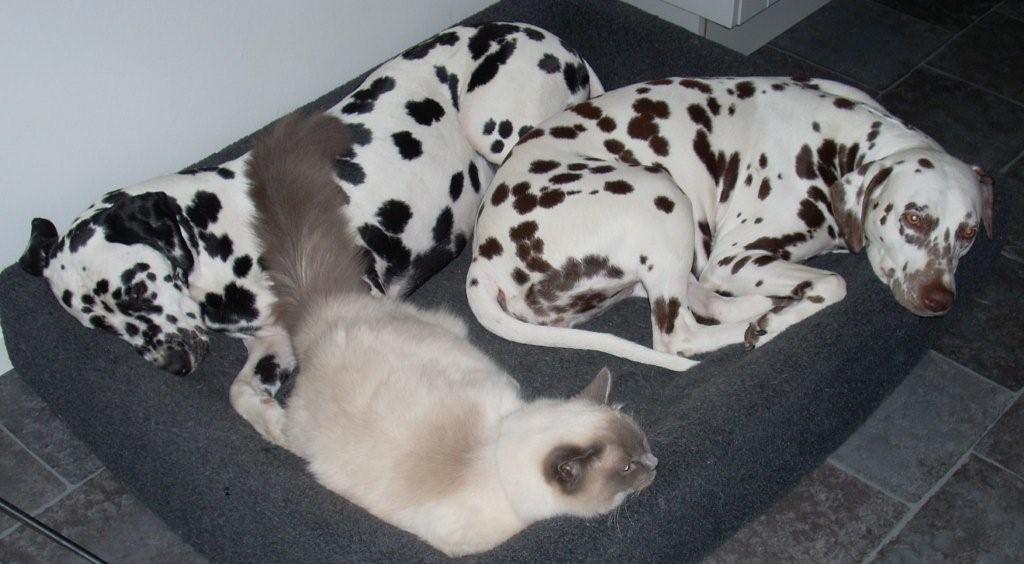 Breeze, Windy and an Ekryda *S* CAT!!!!!! Thank You Kristina for sharing Your animals with us!
Here is HENK and SHADOW at a club show in Germany, they just won the Open class, Congratulations!!!
And here is the handsome handler Andre with Shadow (Gwynmor A Man In the Shadow, Devlins son), and both of them CAN run!!!!
What a perfect photo.........taken by Diana?!?
Rune and Aase was back in the afternoon and we decide to buy pizza for us all tonight.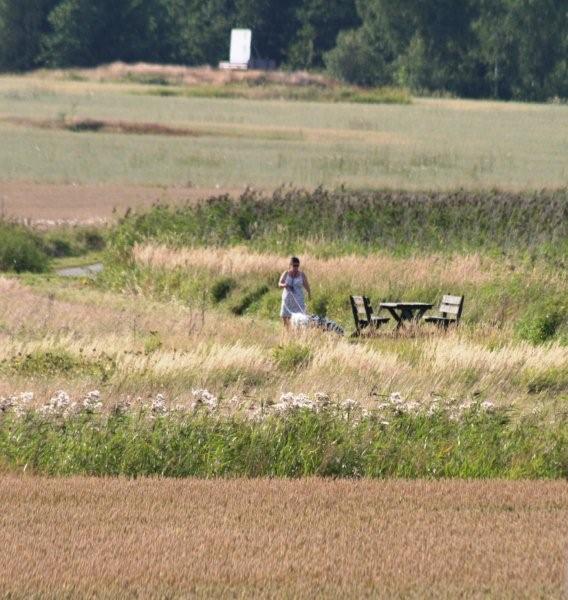 With good shoes on my feet and lot of pills for pain (after yesterdays running) I walked the puppies. It was a beautiful place to walk on at the camping place.......soo important all of us that is travelling with dogs.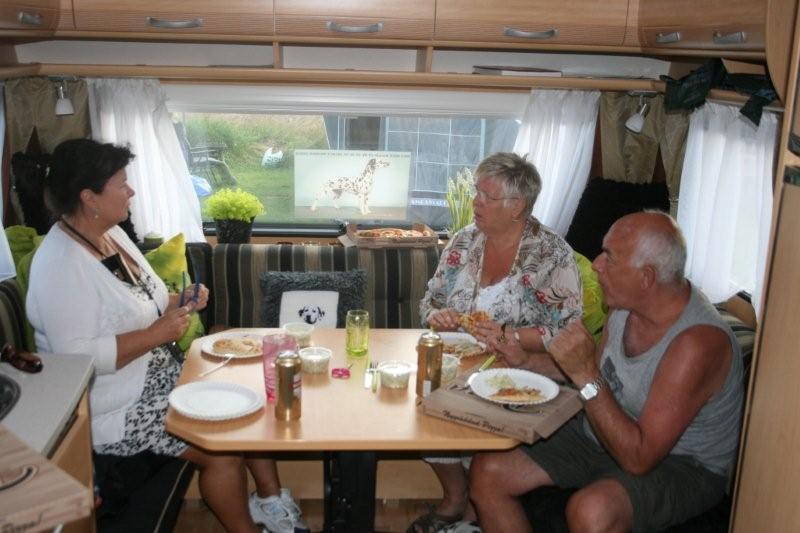 We have to wait for more than ONE hour to get the pizza.....and it did not taste anything...but we and Devlina *S* was hungry so we eat it anyway. This must be the best time of the year for pizza bakers here, soo much tourists in this summer weather, and the canal is going towards Askersund so there are a lot of boat tourists too.
We should have been going to bed early because we will start from here at 6 o'clock tomorrow morning to reach Skara at 8, when Rune start his work, but Rune and Aase had lot to talk about so they were up very late. Maybe they were talking about next weekend when they both will Judge Dalmatians at the WAFDAL show in Oslo.
Unfortunately I will not be there because of another show weekend here in Sweden. Jenny and I will take the caravan early Friday morning and go to Norrköping, with seven dogs.
Saturday 8 August 2009
National dog show in Askersund.
Thank god that Dalmatians was the first breed in the ring this morning because this will be a too hot day for people and dogs.
It start with puppies and there were Euro and Penny.
J Wild Music became BOB and J Wannabe BOS for Judge Mr C-G Stafberg.
Their brother J Walk On Top was not entered, he is going with Jenny to Ronneby tomorrow instead.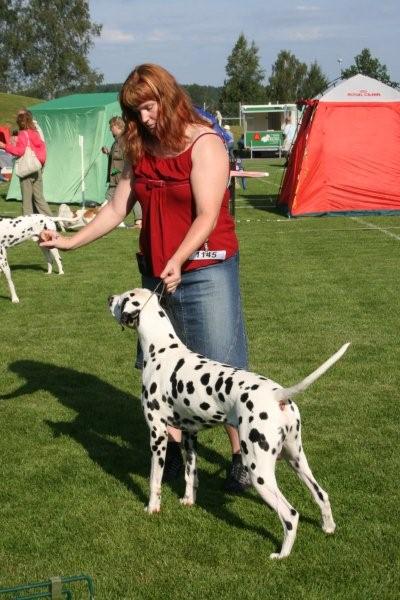 Maria was there with Skvå Inu My black Rolex (Bossons son)......Daddy was beaten by Bosson in Championclass..and they were Nr I and 2 in Best male too.

There were many with ck in Best bitch...Nr 1 was Gloria, Nr 2 Aases Berta and Nr 3 Spotniks Coffee Cream......
Aase and her Toots Bobbadilla Light (Berta), on the run......and I can tell You that they can...both of them *S*!!!
Mr Stafberg is choosing between Bosson and Gloria in Best of Breed. Photo by Jenny.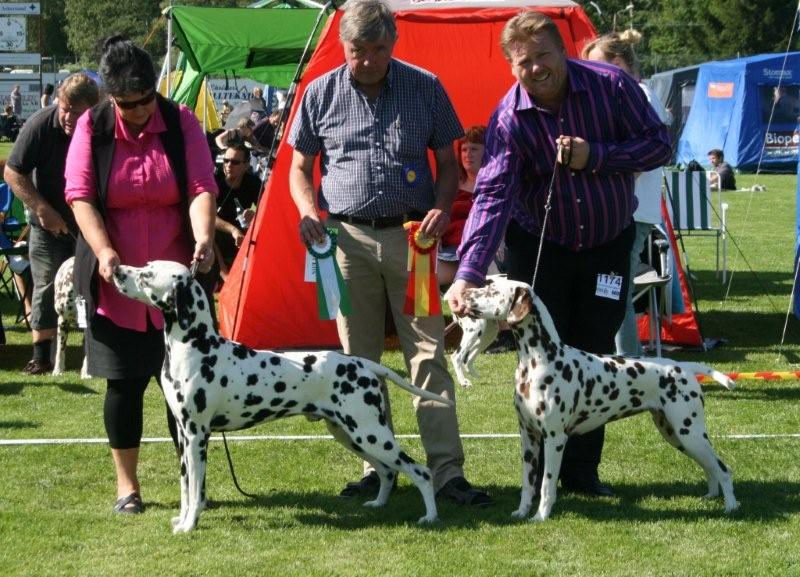 Bosson BOS and Gloria BOB.
We went back to the caravan for some hours resting. To walk the dogs and to eat a little, our friends followed us there......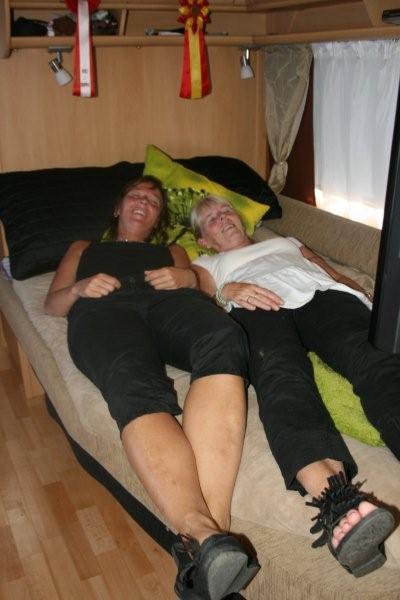 Peter is the one that always sleep on strange places *S*. Carola and Eva was in our cool caravan resting too.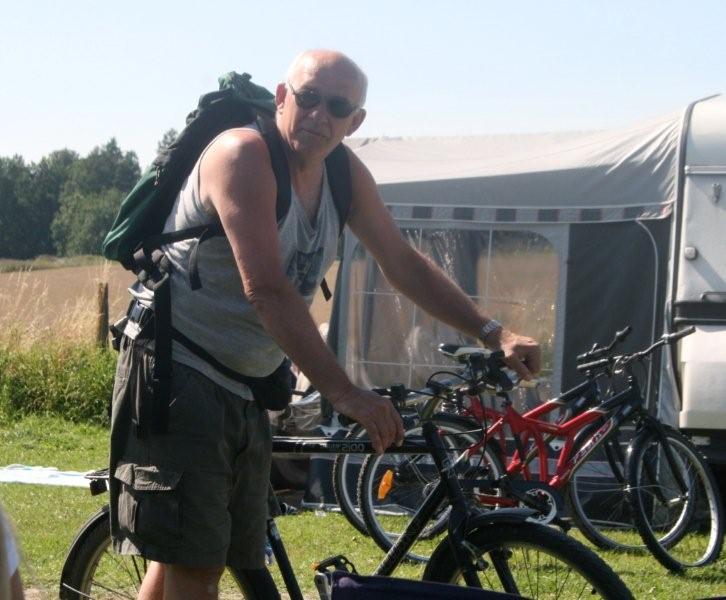 Edgar is the sporty one and took his bicycle and cycle to town to buy nice food for the evening.
It was dangerous to be in the sun this afternoon...but we had to.
We became Bis 3 breedinggroup today with Daddy, Perfect, Bosson and Gloria. Photo by EvaAhlberg
Rune have to go to the shower with Gloria to cool her down!!!!
Then it was time for Group 6.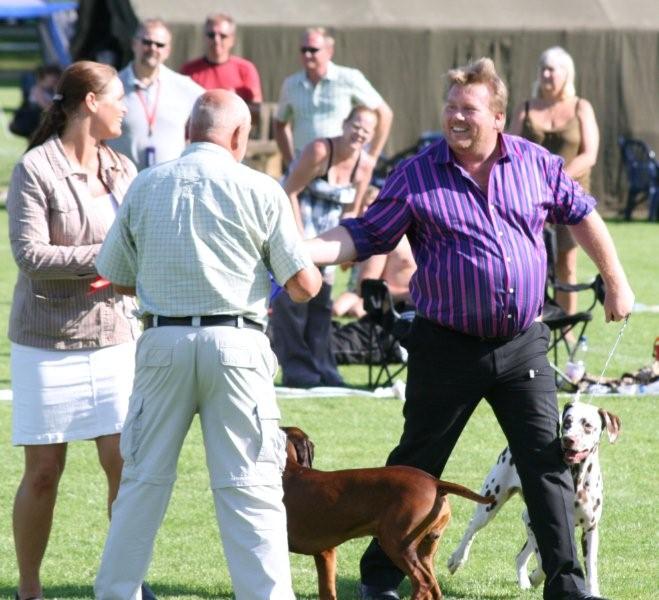 But shit happens.....Gloria was beaten in the group with one of her biggest concurrent.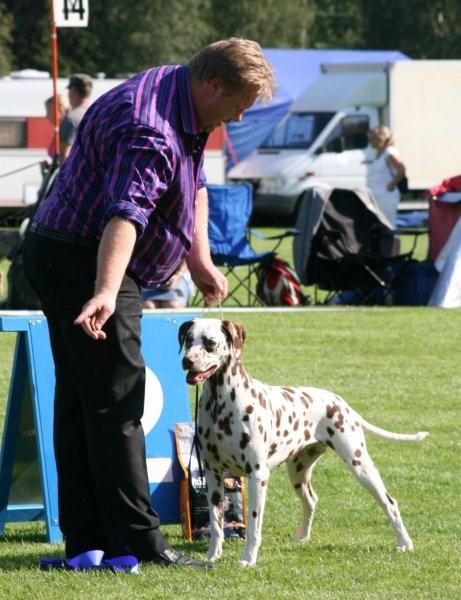 BIG 2......we have been hoping so much for Nr 1 here today because BIS will be judged tomorrow by our race judge Mr Stafberg, so we have dreamed about to get a placement there if we were lucky.....shit shit shit our normal bad luck! (No, we cant say so ...we are very lucky most of the time).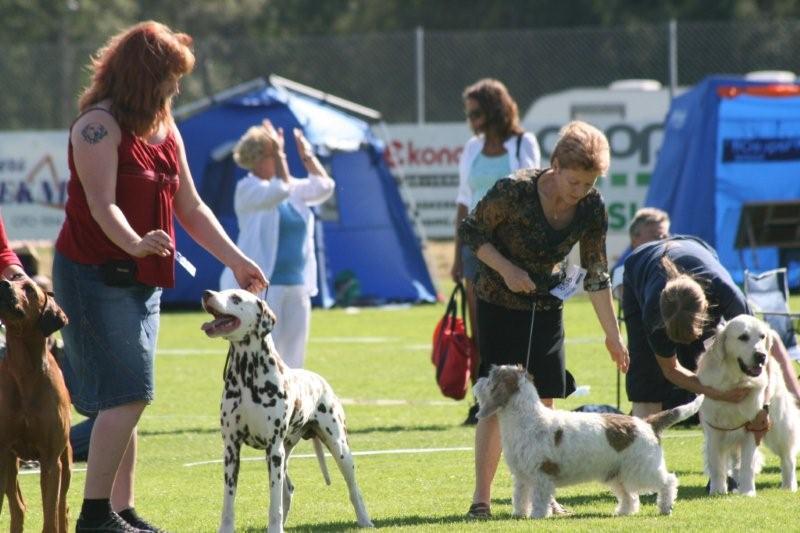 Maria and Hercules (Devlins son) and Ann Christine (our good friend from the vet station) with their VETERANS in the final.
Ankis dog ended up as BIS 3 Veteran, Congratulations!!!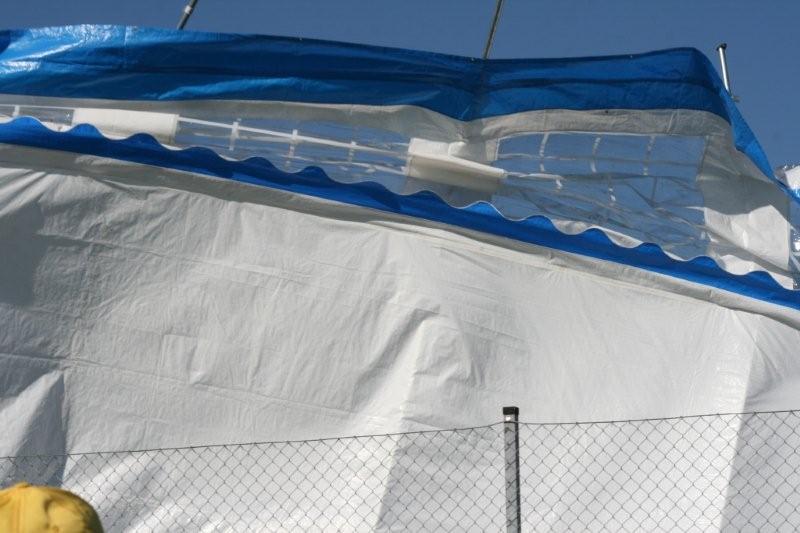 Before we leave the show I was in the tent to get some prizes from today, and just when I walk away from there came a hard wind and took the tent up in the air......I grab my camera (as always) an took those photos, but I had my loooong objective on so I was to close to show how it really looked like.......we heard a big crash on the other side of the fence and hoped that no people or dogs was under the tent!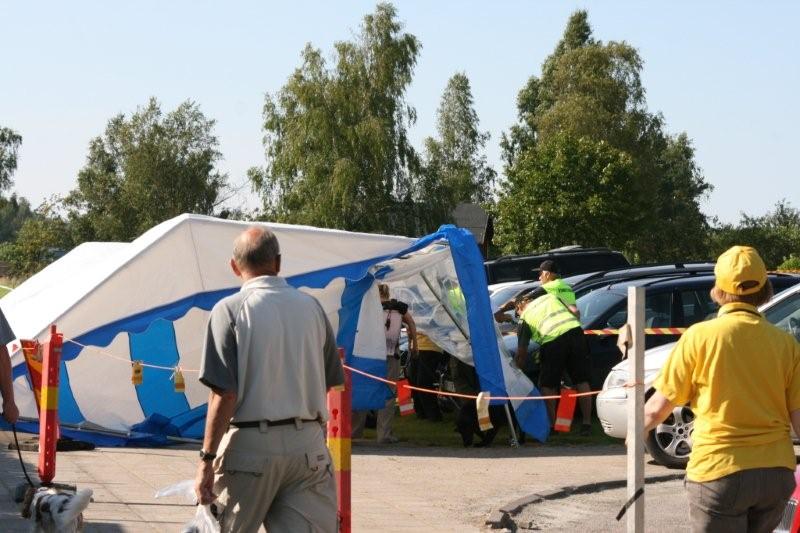 Many people run out to help...thank god there were only some cars that got some damages, this could have been much much worse.
We went back to the caravan, we were so tired of the heat. Thank god for our Air-condition otherwise we have had to bring all dogs to the show. Now Devlina, Jill and Muzika was sleeping there in 17 degrees instead, and Rune and I fell asleep too for a short while. We should have been going to the store to buy something for the evening but when we woke up Edgar have made a lot of food today too so we took what we have and eat together again...delicious!!!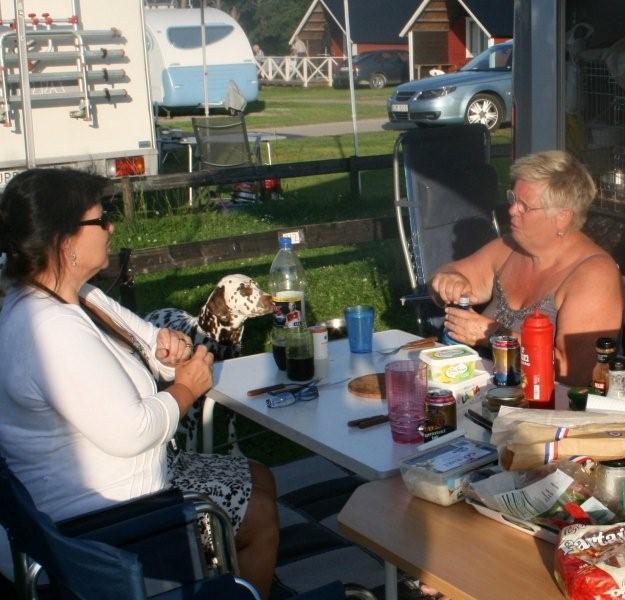 We went to bed in normal time today, because both Rune and Aase will go up early to go back to the show and to be training for some breeds there tomorrow.
Dollar followed Jenny home and they will try to sleep early because they will start from her home at 4 in the morning to reach Ronneby in time for the show there.
I got sms after midnight from Jenny that Dollar did not want to sleep, just to play all night long in her apartment *S*!
Friday 7 August 2009
Photos from Kennel Lots OF Spots Homepage.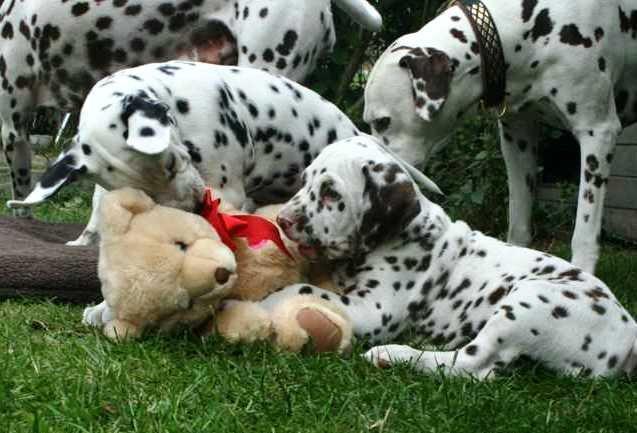 Look at Daddys sons at Kennel Lots Of Spots, in Denmark.......they seams to love teddybears just like their father and especially their grandfather Devlin!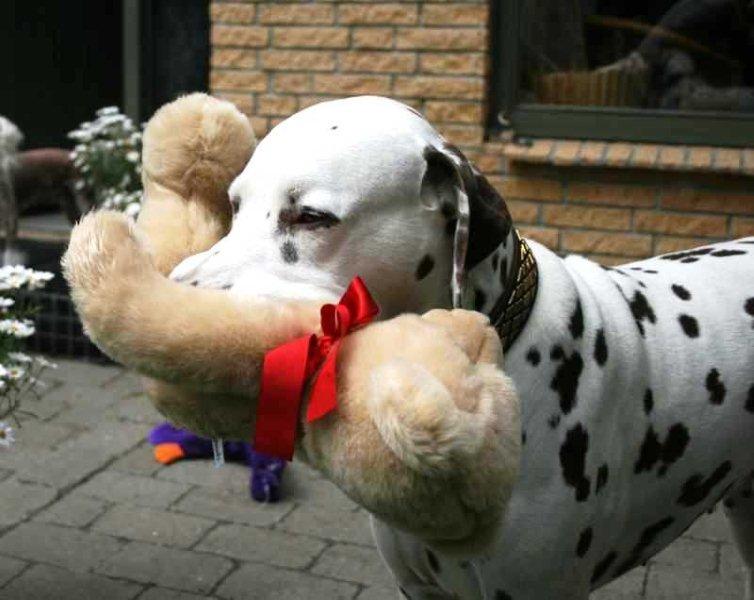 And here is Boris, Ch Otalix's Introduces A Man By A Man, living in the same Kennel, and as You can see HE is a son of Devlin.
Devlin with a shoe, but his favourite was teddybears. Gonzo always want to have something to carry .....but this "ball" was stuck in a rope and should stay in the water, but he can't understand why he can't carry it to land. Thank You Tina for sending this photo of Your Devlin son.
As soon as Rune is coming from his work we are going to Askersund to the camping where Aase and Edgar is waiting...and we are invited for dinner again..which we look forward too.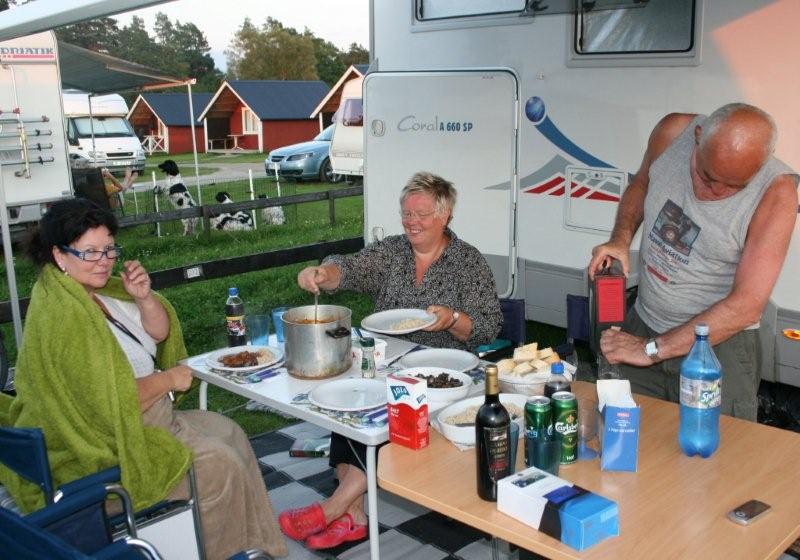 As always when Edgar make something to eat it taste delicious, and in the evening he even made waffles.....do I need to say that we eat too much *S*!!!
Thursday 6 August 2009
Another beautiful photo of Filippa that I got from my friend Lena.......Thank You a lot!!!
Beautiful flowers that smell lovely in the whole house, I got them from my darling some days ago!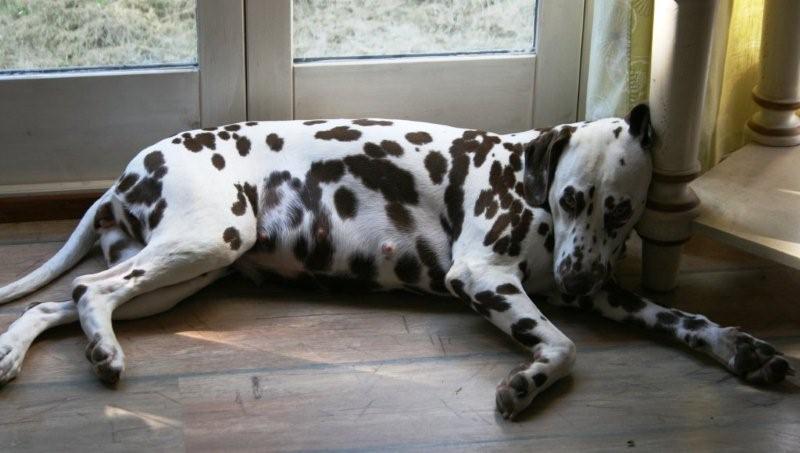 Devlina start to be tired in the heat...and here she is in a resting position and look at the flie in front of her nose.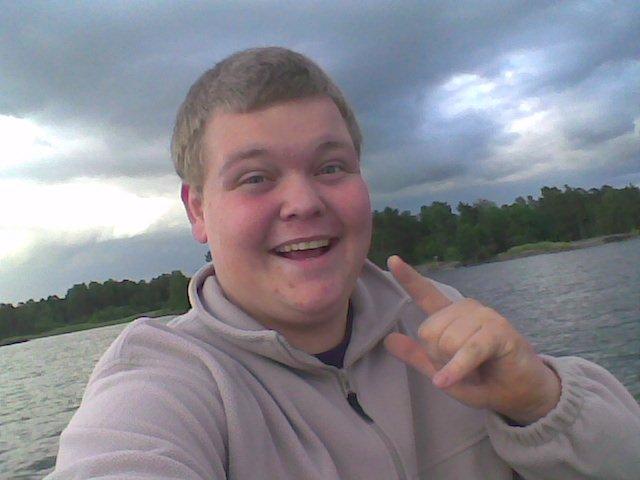 Jonnie was out fishing and took a photo of him self.
Jenny and Devlina looking at TV in the evening.
Wednesday 5 August 2009
I woke up early, my dogs was barking a lot when they heard that we have visitors....
Aase was up working on her computer in my kitchen long time before I came down *S*!
At 10.30 Jimmie, Nathalie and Eddie came, they were on their way to Orsa for some days holiday and they will visit "Tomteland" (Santa land) in Mora where we were when Jimmie was about 5 years old......and he can remember that.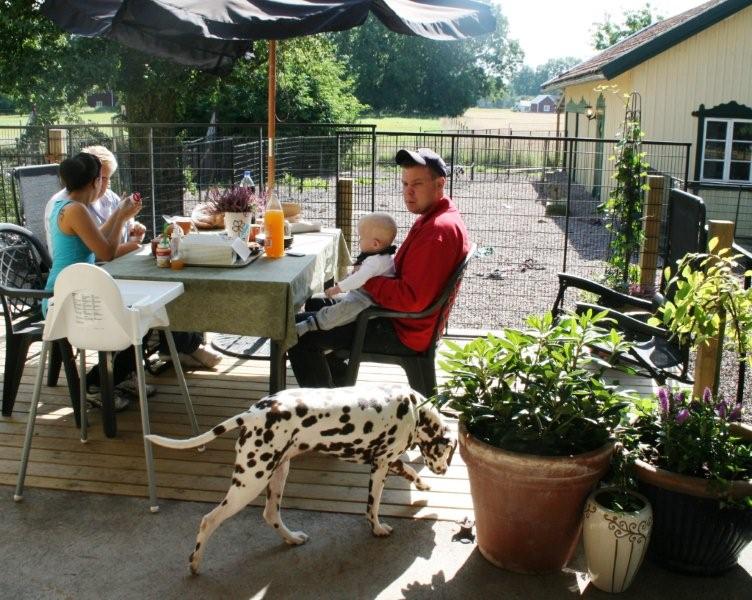 Roy came and after one hour Jimmie and his family drove on towards Orsa.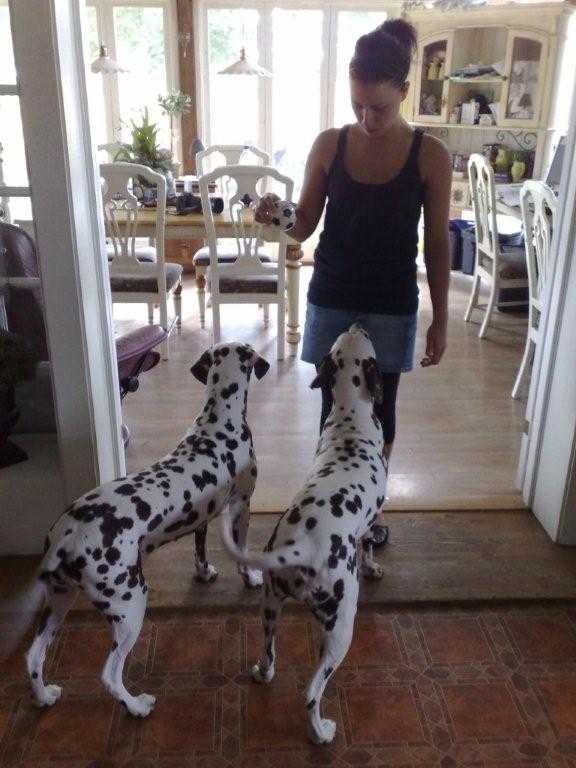 Nathalie ALWAYS try to get our dogs to "sit down", she can't understand why they don't do it when she said SIT *S*, and we have told her many times during last five years, that they are NOT allowed to sit when we show them something, but she still try it every time *S*!!!
Aase and Edgar were planning to visit some other friends but instead of that they drive to Askersund and took some really good places at the camping already today, because of the lovely weather. We would love to enjoy them today too but Rune have to work......he will have to take so many days of later when we are going to Estonia and Europe in August, September, October and November so he can't take time off now.
I've had problems with one of my nails on my feet for a while...and today when I looked it seams like it is going to fall of in a while. Help!!! It look terrible and it hurt a lot when I try to take shoes on...damned there is always something!!!
I called to ask the nurse in Götene but she immediately send me to the doctor, and I got pasta to put on......will it help? Of course not this comes from the inside...yes yes I have to go back next week no time for this now.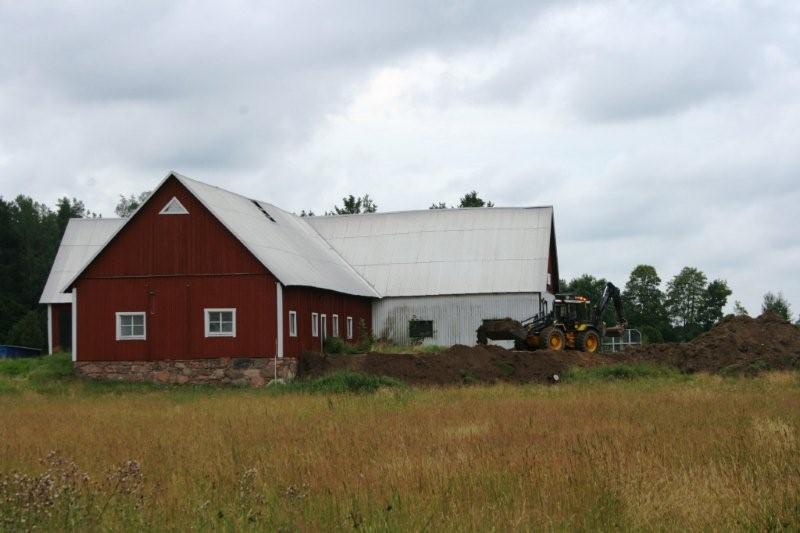 Here is my next object to take care of...we will make an apartment in the wing of the barn...there is already three small rooms, office and a big garage, but when Jonnie is there working all night it will be better if there is a bathroom etc so he can take a shower, or go to bed there for some hours before next truck come to get something fixed...... but this will take time.
Roy and Jonnie start today to fill up the land outside with lot of dirt that someone want to get rid of.
I love these project, I just wish that I could do as in Extreme Home makeover.......do it in some weeks, instead of some years *S*!!
But just wait and see, I will keep my diary readers informed.......
Tuesday 4 August 2009
I was in Götene to pick up Jonnies new wallpapers, but of course they had sent wrong to the store so I got only two rolls today and they will send the three with wrong pattern back again...damned!
Today Aase and Edgar came back from Ireland where she have been Judging during the weekend, and they have left their dogs in a boarding kennel close to us, that we know is very good so in the day they came here to stay for some days until we are going to the dog show in Askersund next Saturday. On Sunday both Aase and Rune will be training for some new breeds to judge.....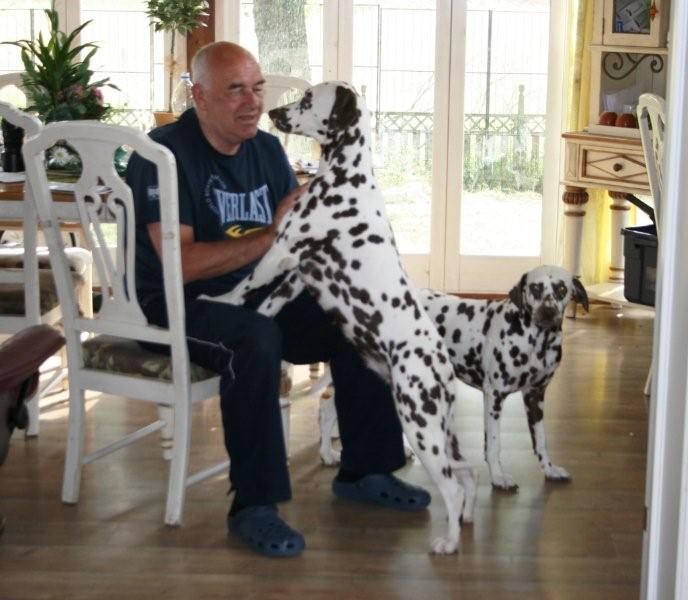 Before my mother go back home today she nag and nag at Roy so he have to come and put sand in a hole in our garden *S*.
We looked at a lot of photos from Ireland and talked a lot...
Rune made his "hamburgers" with potatoes and onion sauce for dinner and it was soo good that we all eat too much and for dessert we eat frozen meringue cake.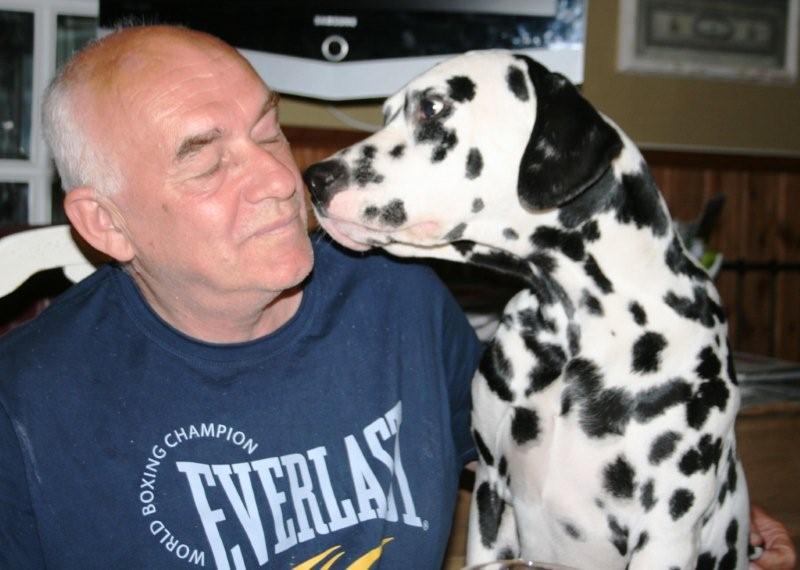 And as usual Daddy begged for food from our visitors *S*!
When Aase got up from her chair...Devlina immediately took it from her *S*!!
It seams like Aase was thinking that she should have stayed sitting because she did not want to push the pregnant girl down!!!
I was cleaning the kennel for almost 3 hours in the afternoon......and I really need to do that there is so much things that the young dogs carry inside and eat to small pieces....and if I only vacuum clean, it will be full at once.
Rune lay down on the sofa in the kitchen and four dogs want to lay there with him *S*!
Monday 3 August 2009
Roy 56 years today! Eddie 10 Months today!
I talked with Jenny in the afternoon...and she just laugh....she haven't eat anything yet today...still too full *S*!!!
News from our friends:
We are very proud to tell that Jilloc's Seventh Heaven have got one more CAC and CACIB in Germany at Saturday for Mrs Lillane De Ridder and at Sunday she got one more CAC there in Bremen for Mr J P Achtergal, what a weekend, CONGRATULATIONS to You Andre and Diana (Better luck than in Sweden *S*)...
And Congratulations to Daddies wife Ch Orianas Titiania that became BOB on Sunday!!!!!!
Photo by Diana

Lovindas Indian Squaw (Diza & Bosson's daughter) BOB Puppy and BIG 2 today in Norway, Congratulations!!!

Last Weekend Neela, Ch Jilloc's Scandal Beauty became BOB with another CACIB in Mikkelä in Finland.....Hurray and congratulations to Niina and Mette.

We are all the winners....that is a perfect song for us *S*!!!

I got a photo of Taisto, Jilloc's Stand By Me last week too, thank You very much Malla, so happy to see him, hope to meet You in the future.

And now is one of Bosson's sons from Estonia, Alphadirato Innovation Brand in Belgium with Marieke, we wish You all the best for the future there. See You both in November.
It is really strange, that so many of Bosson's children looks like they are children of Devlin.....sooooo similar!?!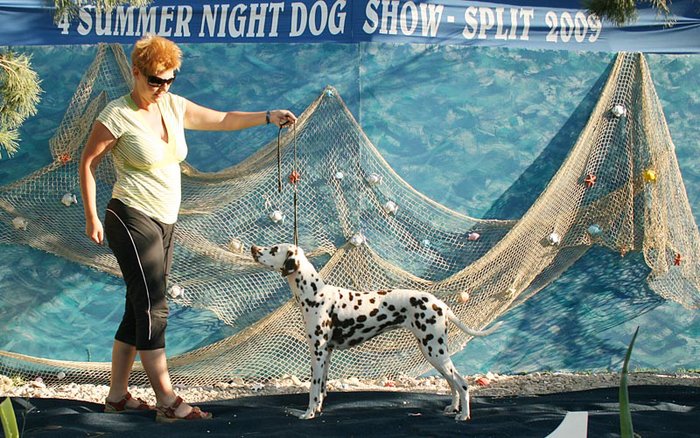 Photo Ruzenka Heckova
News from Split. We send Congratulations to Devlins granddaughter Ch Dreamskape Loves of Naire (Mother Alphadirato Eternal Love)
BOB and BIS 2 at one of the shows...See You next year there, we have already made plans for our trip 2010. We should have come this year but we could not go because of our puppies was not ready with their blood test yet.....shit!
Owner Lida Machacova, Czech.
And just for Your information........WE GET ABOUT 90-150 e-mails EVERY day, and we try to mark all that we will answer soon with a red flag....but sometimes we forget it..... or when we are away for three to four days over a weekend that it is sometimes too much to handle when we are back home, so PLEASE contact us again if You do not get any answer from us.....and remind us of Your mail.
We will try to be better with this, but just now we do not know how *S*!!
Hopefully it will be better in winter when we do not travel as much as now!
Sunday 2 August 2009
Rune continue in the garden and I went to buy more plants and flower for Roy and Ellie.
Sweet flower with "diamonds" for a sweet girl.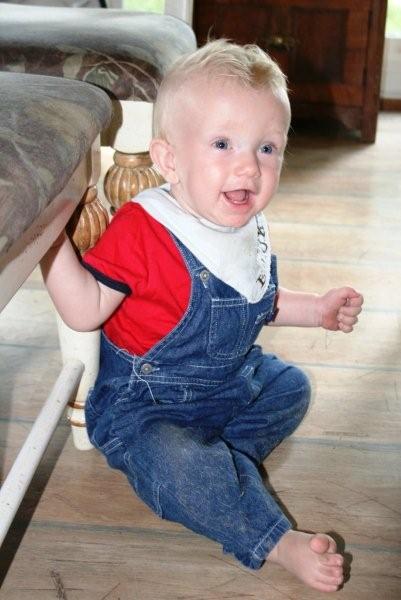 Eddie, Jimmie and Nathalie came early to help us in the garden.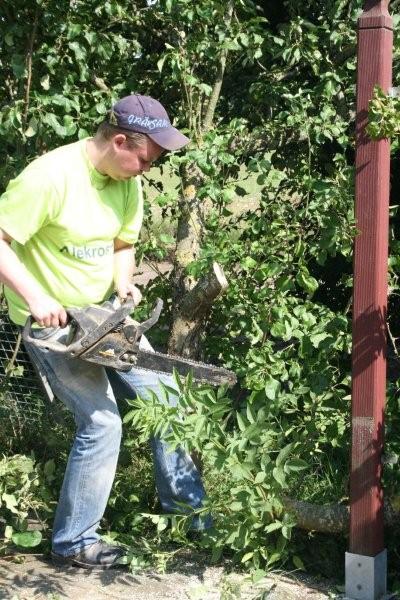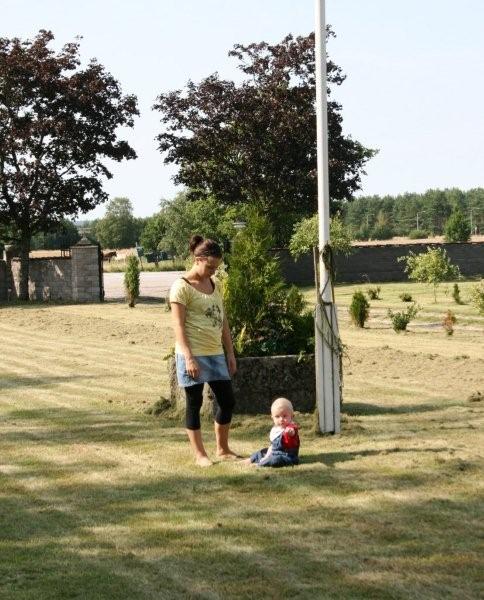 Jimmie cut down a lot of trees for us. Eddie eat the grass for us *S*!
Lovley day with perfect weather.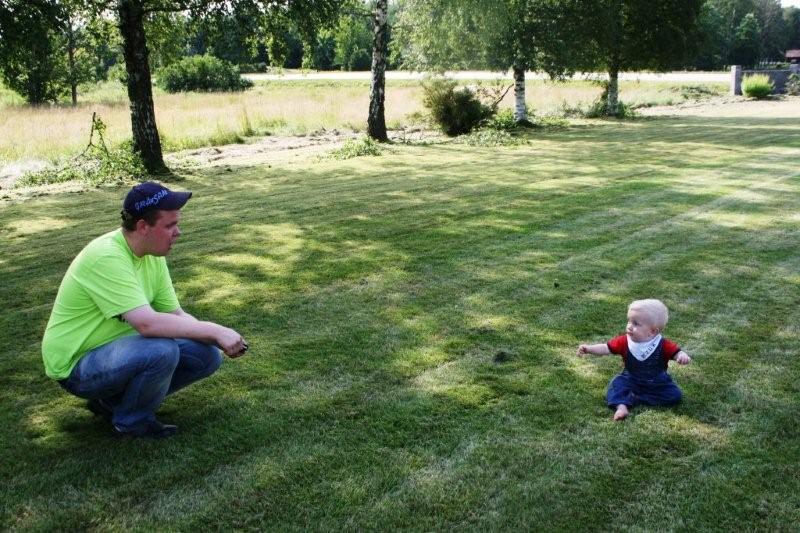 As soon as Jimmie start his phone with a melody - Eddie start to "dance"....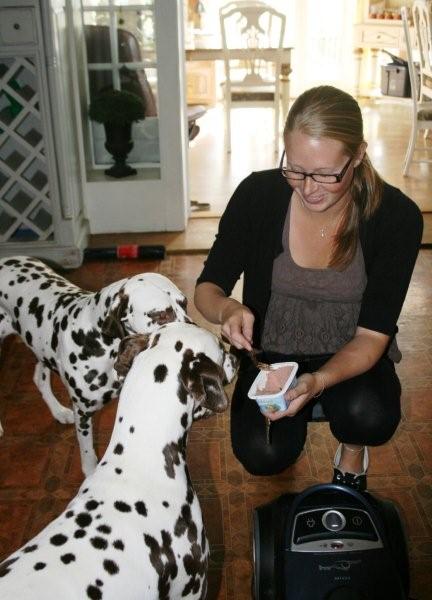 Jenny came to come with us to celebrate Roy...but first she had to feed our dogs with something good *S*!
Lovely to sit for many hours eating and talking.
Eddie had lot of things to look at today!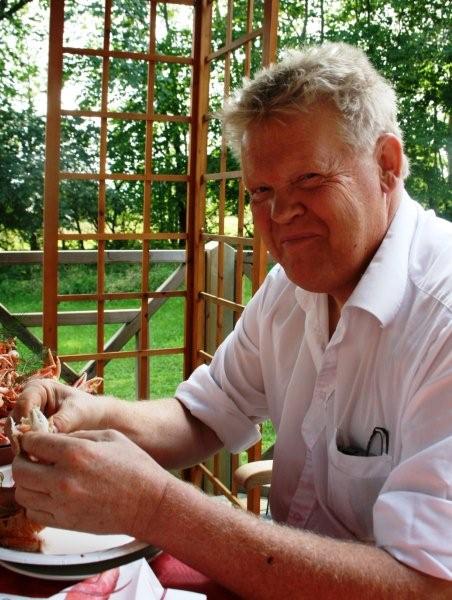 The Birthday boy himself (tomorrow)!
We eat shrimps and crayfish as Jennie have bought from a fishing boat outside Gothenburg!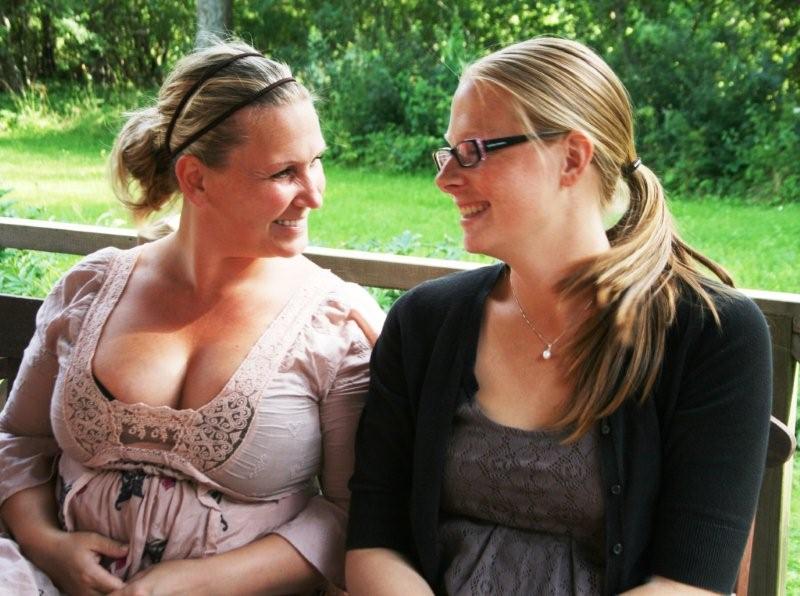 Someone wants to be There on every photo *S*!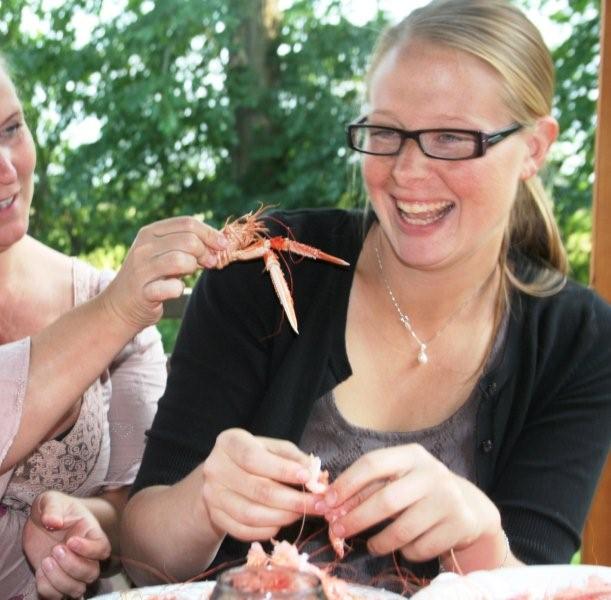 You can see who eat the most crayfish....and she even played with them when she was not hungry anymore *S*!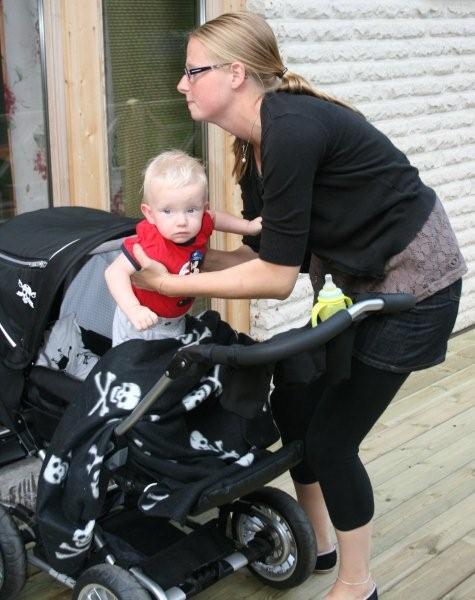 Jenny was babysitting Eddie today so Nathalie was had some time off.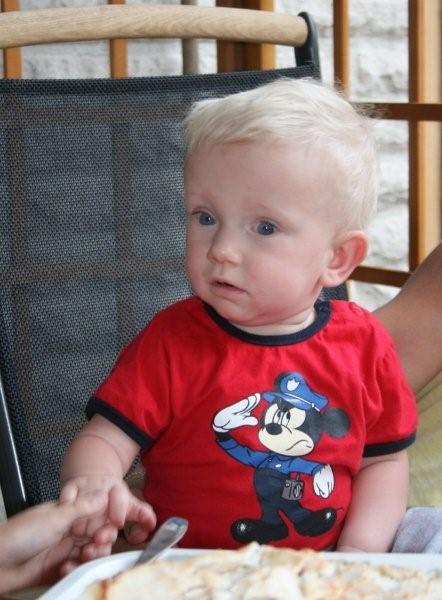 Eddie is 10 months tomorrow.
Boys are playing.....
Jonnie have a scruff car with a 500 HP engine....all "boys" think it is very funny to play with it.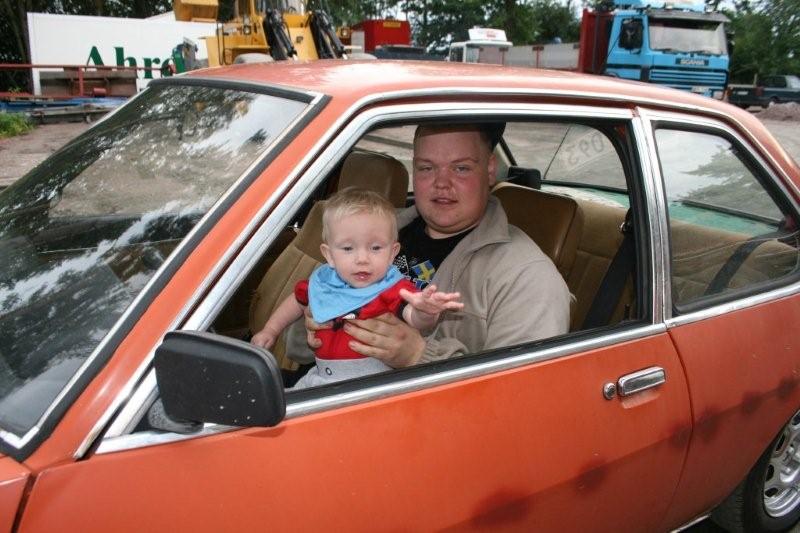 Here we come! The young once must be taught early....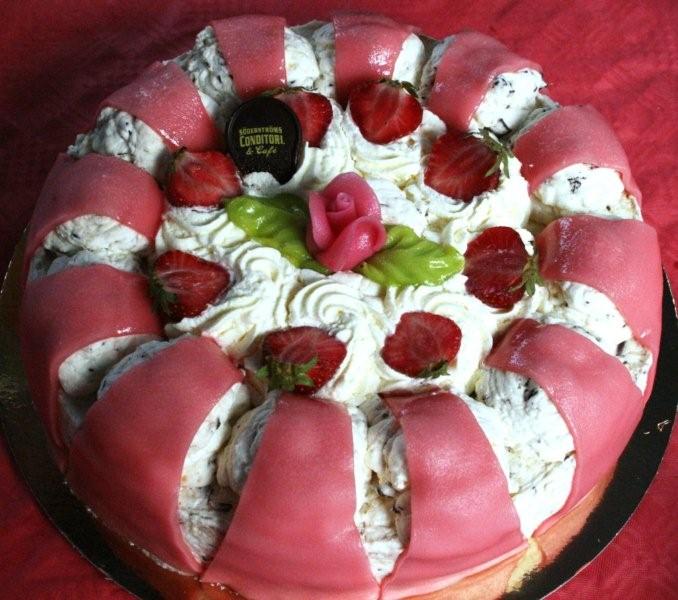 Then we eat cake.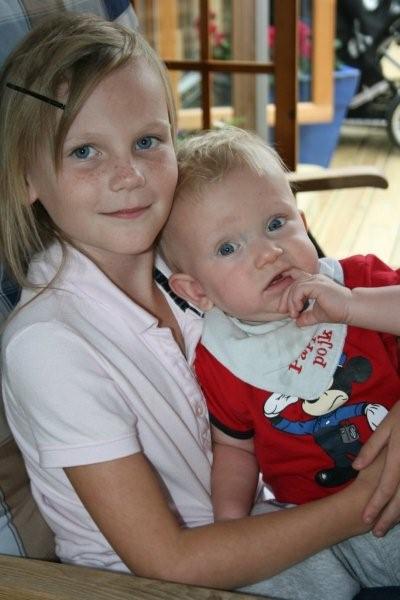 Ellie is such a perfect babysitter for Eddie too.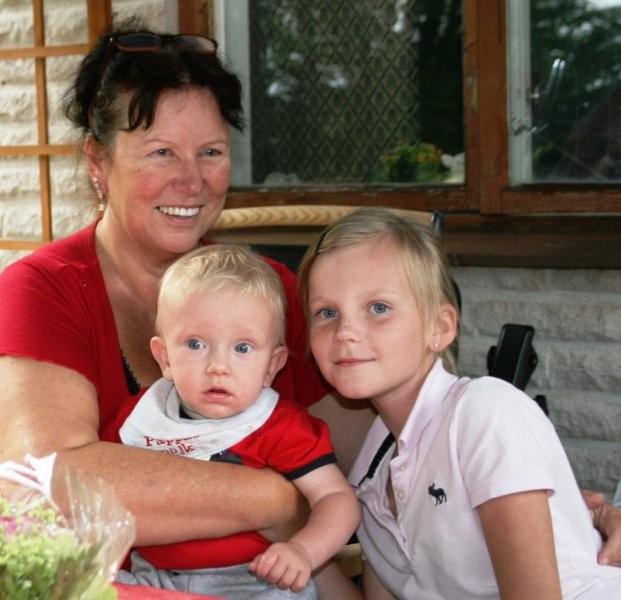 And so am I - for some minutes *S*!
Then Jimmie have to do some digging for Roy and Eddie just have to sit in the machine for a while!
Rune was training Snurra.
Jenny was training too.......this is Snurra, Jilloc's Wannabe 6 months old in some days...we checked and found she got all teeth too.
Ellie and Eddie have fun together.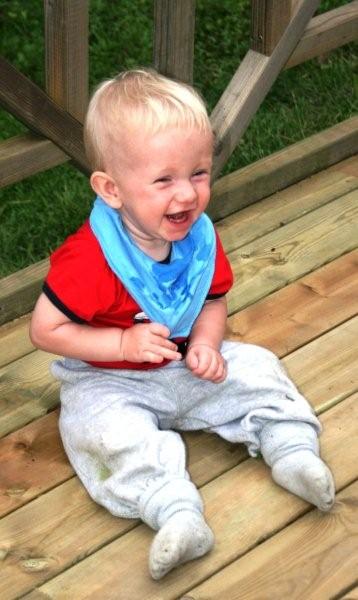 Eddie is a very happy boy.........and he want to taste on everything!
It's hard to see on this photo...but it's Roy's gift from Jimmie and his family...with the prefix they like so much that Jimmie want to make a tattoo with this Scania eagle on his arm........ha ha......I can tell you that he is sooooooo afraid of needles that he do not even dare to do a sting in his finger to test his blood sugar *S*...
I think it will take a very long time before he can have that tattoo *S*!!!!!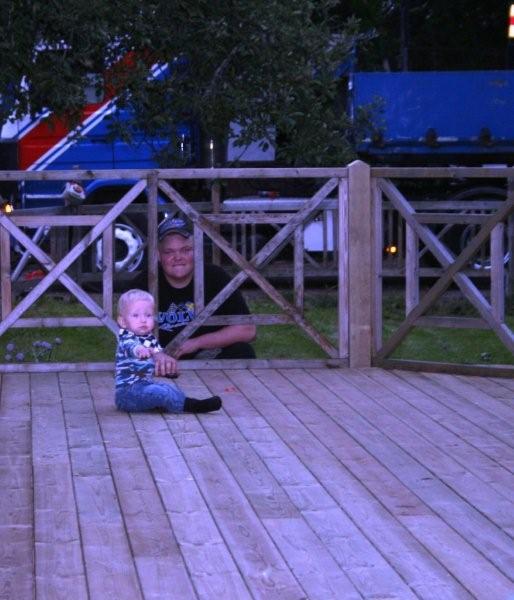 It was so hot outside that we could stay on the terrace until late evening.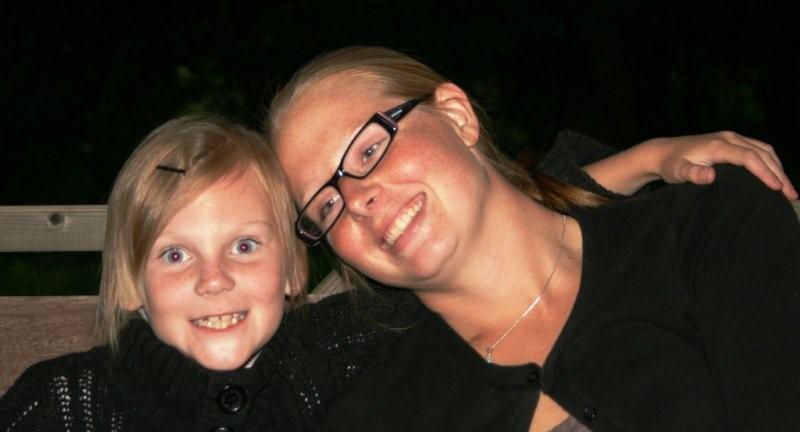 Ellie was very rowdy and played with everyone....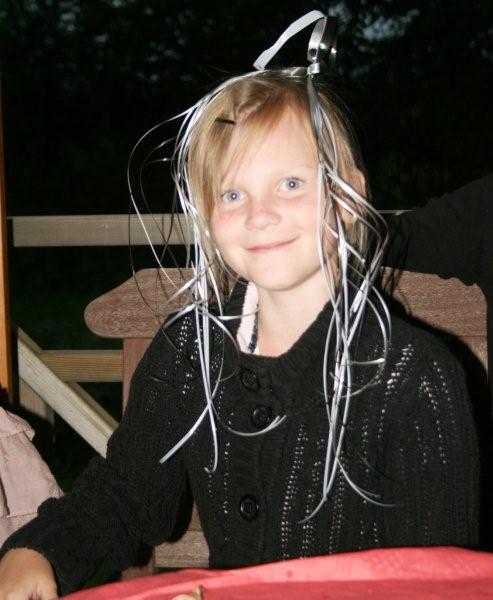 She think it was a pity that I haven't bought hats for everyone so she put strings on her head instead!
And then we eat another cake! (Mark You should have been here)
Then we went home again, and in the middle of the night we eat shrimps and crayfish again......at least Jenny *S* We have never, ever seen her eat that much as today....she haven't eat fresh crayfish before and thought it taste fantastic, so she couldn't stop. and I can tell You that she ALWAYS eat like a bird...but today.....she did not go home until 3 o'clock in the night she was too full *S*, and she should go to her work at 7 tomorrow morning...poor!!!!
A long day have come to its end again!

Saturday 1 August 2009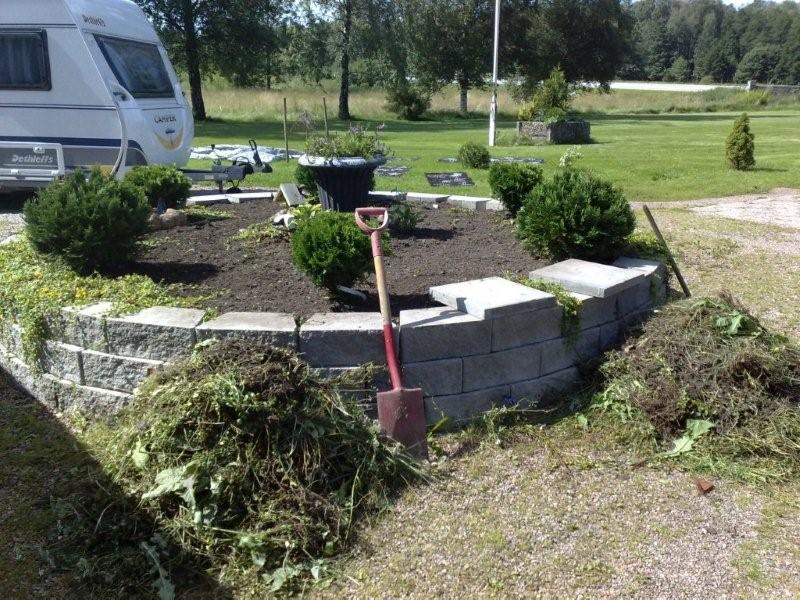 When we woke up this morning, someone have done a great job in our garden already, hurray!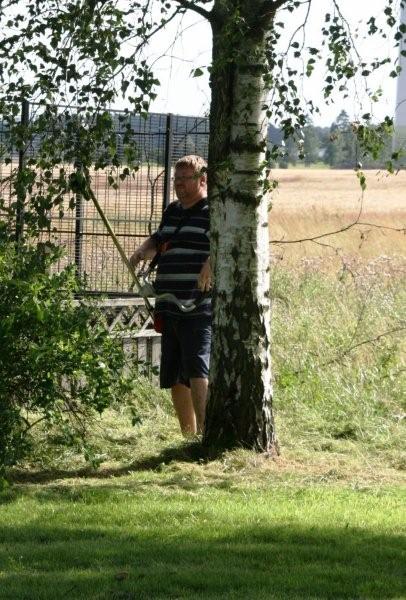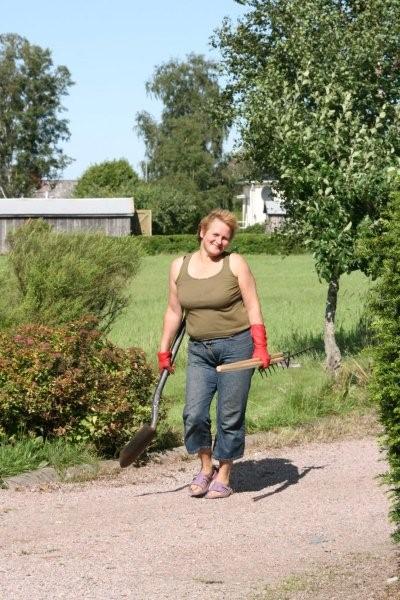 Rune stayed at home with our friend and took care of the garden.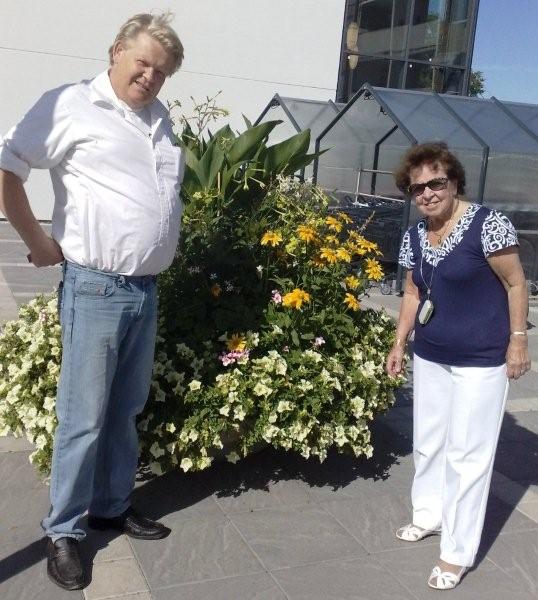 In the afternoon Roy, my mother and I was shopping food, we will celebrate Roy's birthday tomorrow so we need to buy a lot of things.
And we were shopping flowers to the garden.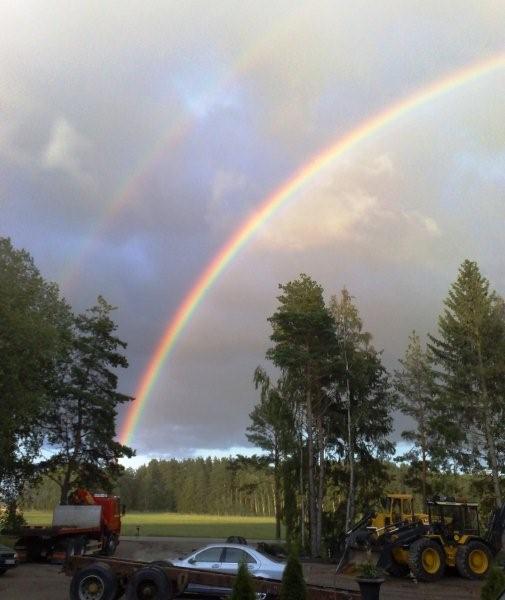 For the first time in my life I saw TWO rainbows at the same time.......
Beautiful.

In the evening Rune cut Jonnies hair first and then Roy...and of course my mother have to take a photo of it with her mobile phone...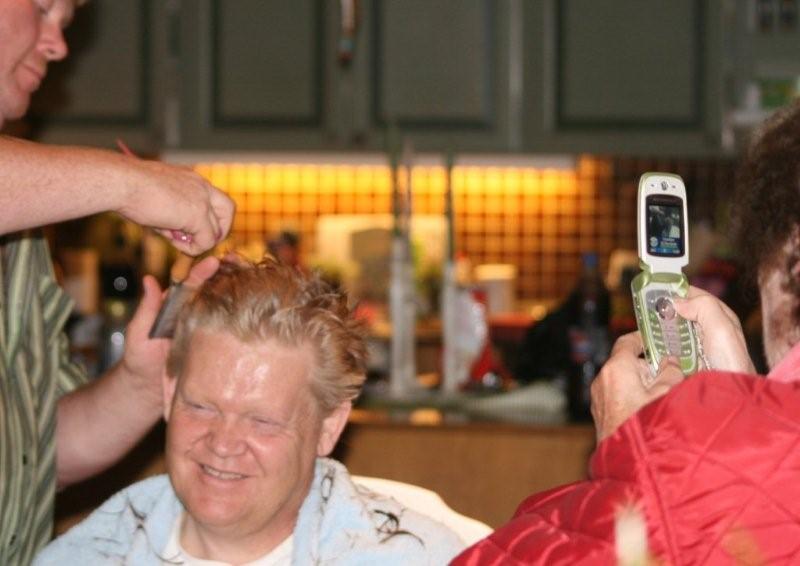 Rune have had a long and hard day today. But it look soo much better in front of our house now.
This is what "normal" people do every weekend, but we are never at home, and first of all we hate to do it!!!!