Saturday 31 October 2009
Halloween
Rune up after just some hours sleep and put Jill into the car and then he continue to Falköping to pick Jenny up and they were going to Växjö International Show in Växjö today. Judge will be Owe Germundsson. There were only 22 Dalmatians today??? But as we know there are some puppies and then 6 Jilloc's dogs and one from Timanka..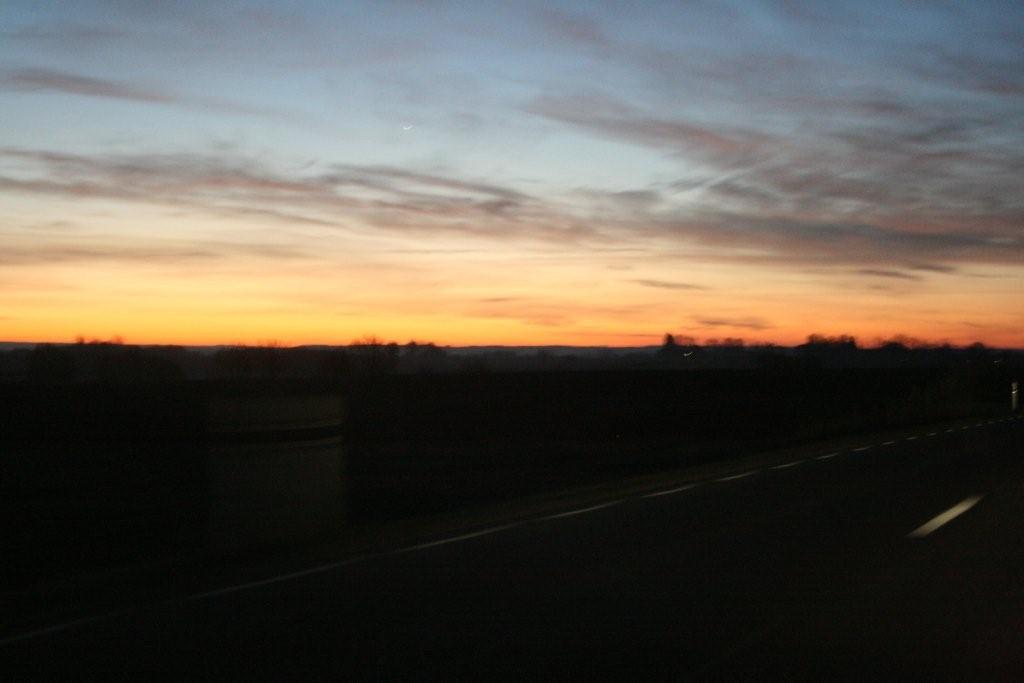 Rise and shine, early sunrise. If we didn't go to dog shows, we would never see it.....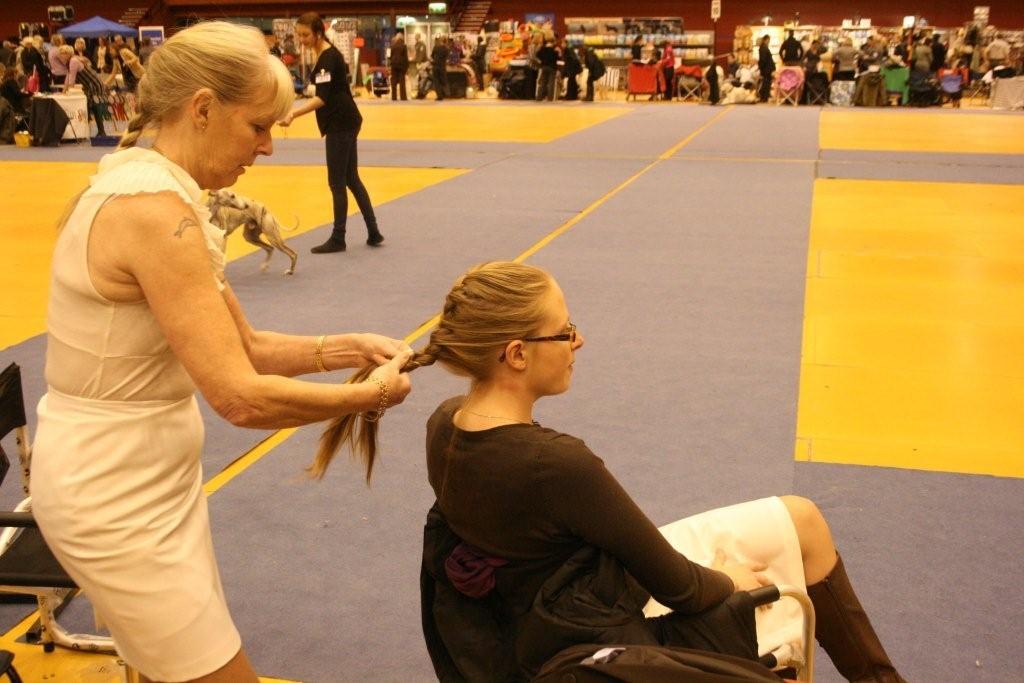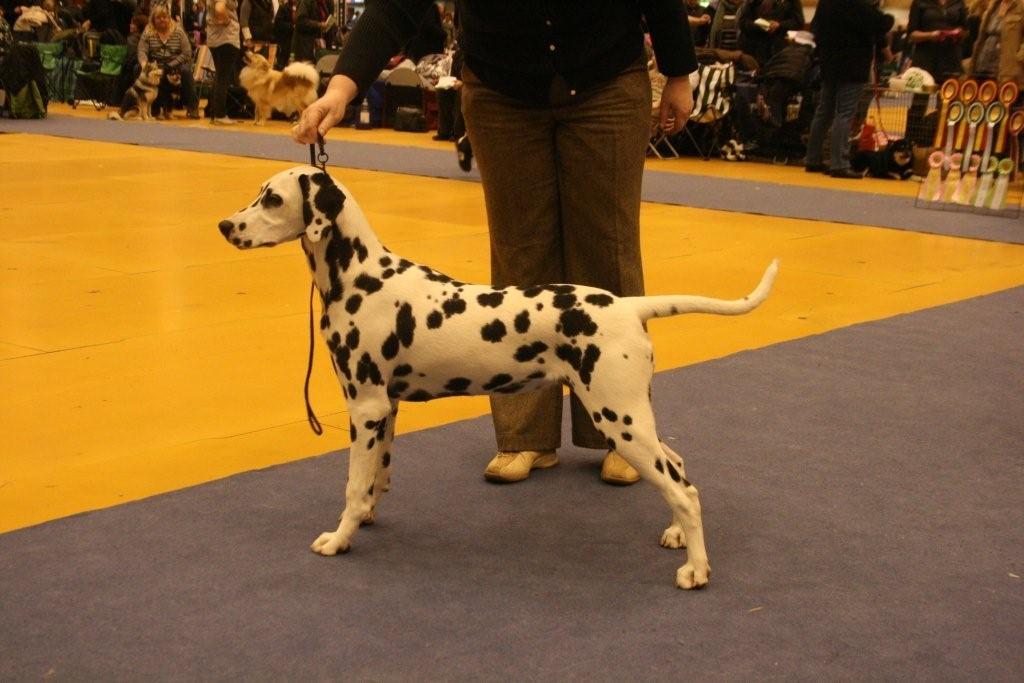 Eva made Jenny nice in her hair. Here is one of Louices puppies after Expo and Lovisan (black).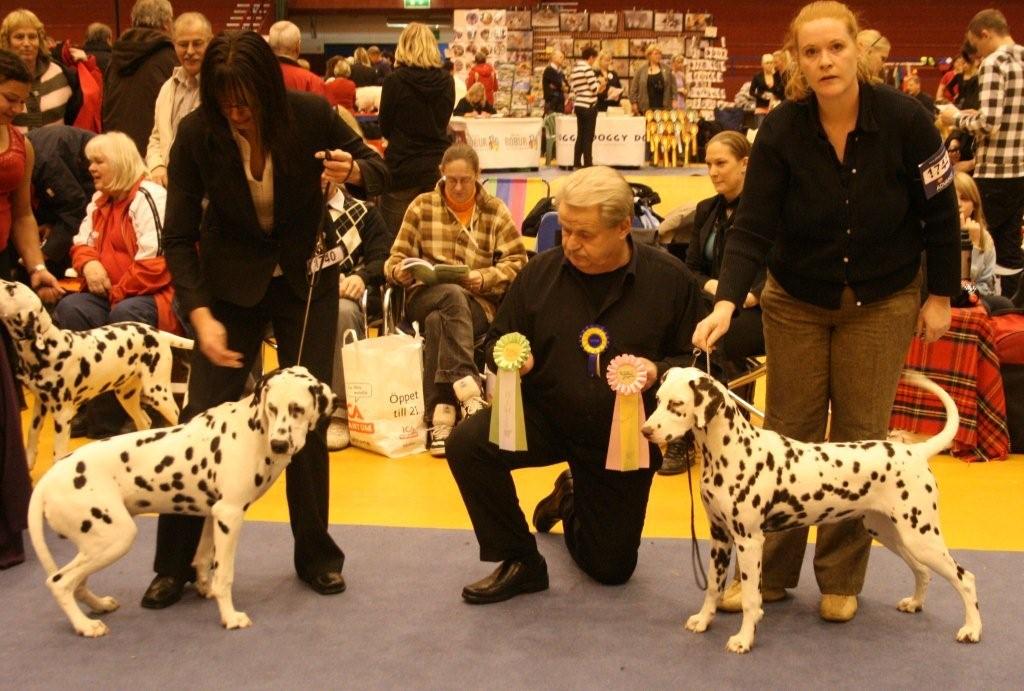 Louices other puppy her brown bitch Gåtfulls Back In Business BOB and BIS 2 Puppy in the afternoon, Congratulations! Ch Jilloc's Easy Rider BOS and Best Veteran, Congratulations to Kerstin and Brandon, after Stockholm he will final his carrier as a show dog.......
From the left you can see Kerstin and Brandon, Lotta and Sperm and then Björn Erling with Kayo.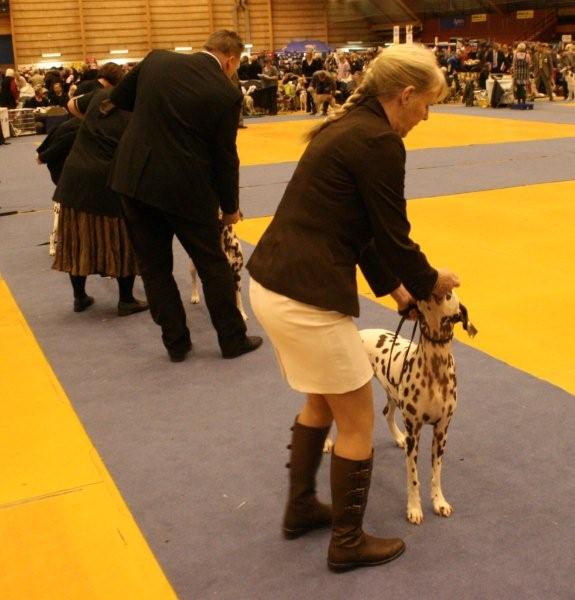 Here is Eva and Angie in the front, Rune with Jill, Lotta with Disa..........I have asked Rune to stay home today as he should go back tomorrow and finish his education of cocker spaniel, so he have to go then, but today he have needed some rest at home, but as Jenny said he probably think he get more rest at the dog show than at home.....wonder what she mean with that *S*.Jenny could go there with Jill by her self, as many times before.......but late in the evening yesterday he decide to go even if he did not feel that well. He start to get his flue back again! Stupid I think if You ask me....
Ch Jilloc's Easy Rider BOS and Multi Ch Jilloc's Joyride BOB
Judge Owe Germundsson
Photo from today by Eva and Jenny
Then Rune was totally wasted, Eva and Jenny told me that he was pale and hot and I told them to find a room at the sport arena for him to rest, but he fell asleep in his chair for an hour....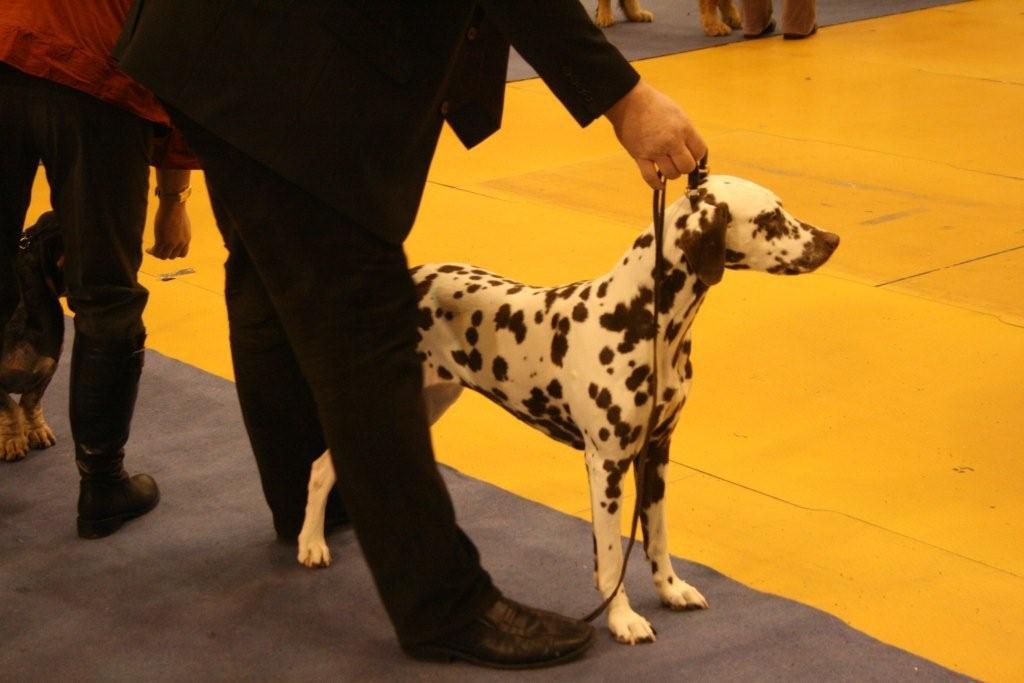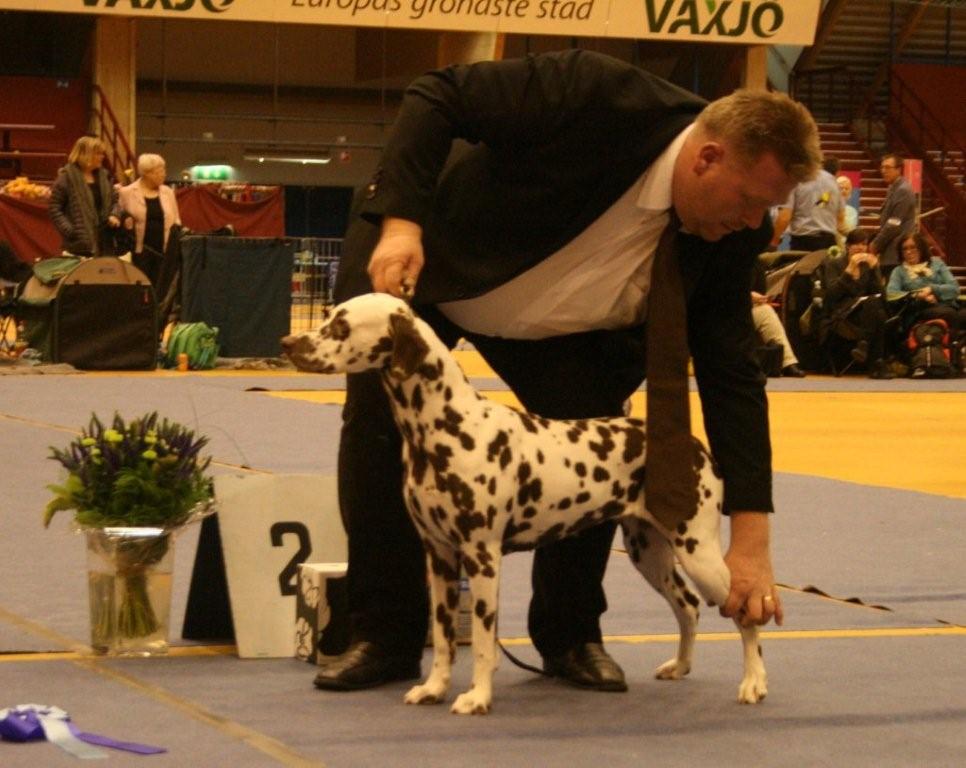 He told me that he cant understand how he could manage to show Jill in the group that afternoon and that Jill have been very strange today too, she did not show her normal way and seamed very tired and un interested, hopefully she's not sick too.
Roy came with pizza and salad for us and Rune couldn't even eat his whole pizza (not normal I can tell *S*), he fell asleep immediately after eating. As he should go back for the education tomorrow, crazy I said but he HAVE to he told me......Jill was totally crazy and happy when she came home and she and Daddy played a lot, she was absolutely normal...probably she have been missing me, she like to look at me outside the show ring when she is in the ring....she is very special...and she is Runes favourite dog but she always would like to stay with me *S*!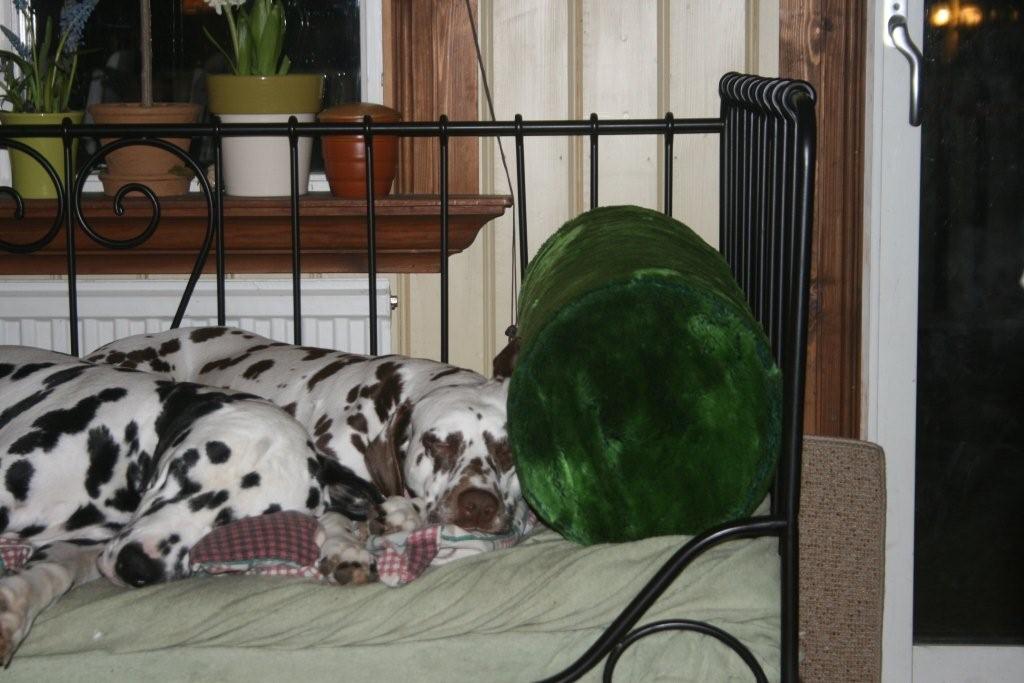 Daddy was soooooo tired after playing and they both slept together for hours.
Jilloc's Very Very Sweet is sweet.
She tried to eat up the flowers!
Friday 30 October 2009
Mr Cakeman showed up up for breakfast with a Halloween Cake, it looked great, and tasted as usual, very good. Roy eat the cake but not the marzipan, and either do I, so when Rune came home there were piles of marzipan on a plate in the kitchen. Today even Jonnie eat a piece of the cake, he normally don't eat cake at all, but he probably think this look so funny *S*!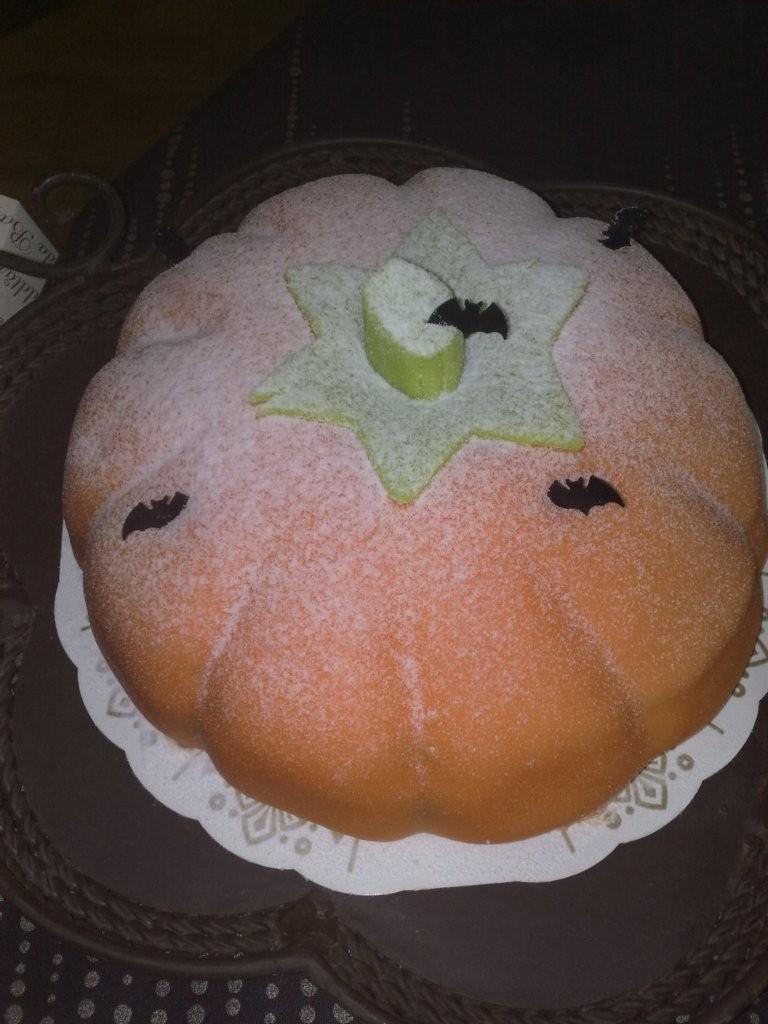 An exciting package in the post today and it was from our English friends Sara, Tim and family, thank You soo much the lights will be perfect in our home, will try to find a perfect place for it and come back with more photos. Thank You sooooo much. We start to have lot of special things in our home that we got from all our visitors and friend all over the world and I can tell You that every time we look at a thing we remember those persons that we got it from, it is so full of memories....ok except all chocolate I/we got from our friends because it is empty very soon *S*!
Thursday 29 October 2009
In Lidköping too early.....Jonnie and me......I did lot of things while Jonnie were at the traffic school, there are new rules for all young people now that have to be at a special course for four hours about drugs and alcohol in the traffic because that is a big problem. Jonnie think that is soooo stupid as he do not drink as his only interest in the world is to drive and work with his cars, but it's a criteria so he had to go there.
I was buying things for my fathers grave as it is Halloween this weekend, and You make some extra at the graveyard and everyone light candles in the dark, it is really beautiful and that makes people to think a bit extra of their "Angels" both human-angels and dog-angels.
We have a three in the garden there I since many years have had plans to put up small signs with all our dog-angels names and where we often can light candles in the evenings.....still not ready but it will come.
Wednesday 28 October 2009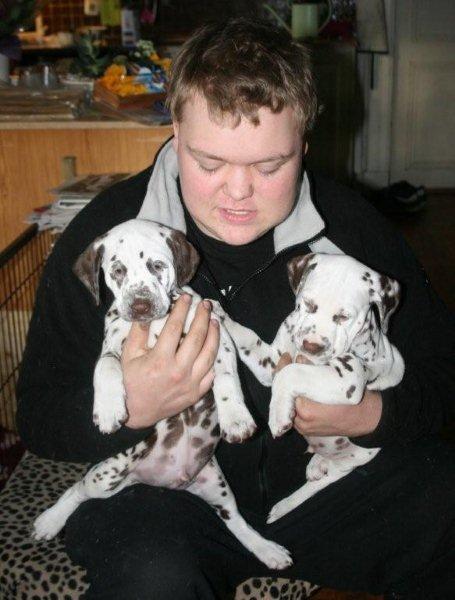 Puppies are happy when they got visitors, and I am happy when Jonnie can help me to carry all heavy papers in the morning, but he hates it.
Ha ha ha ha mamas good boy!!!
We have calculate on the trip to Belgium and called lot of flights to check for prizes and how our dogs can travel and we have found one possibility, but if we take that flight we have to go up in the middle of the night, or no use to sleep at all and drive for some hours to the airport, but it can work... The only thing is that the prize is too much for us......so we once and for all decide that we can't go this year....shit shit and shit!!!
Tuesday 27 October 2009
Fantastic news from Vladivostok
Ch Timanka´s Real Power (Tyson) have been in Korea for Showing!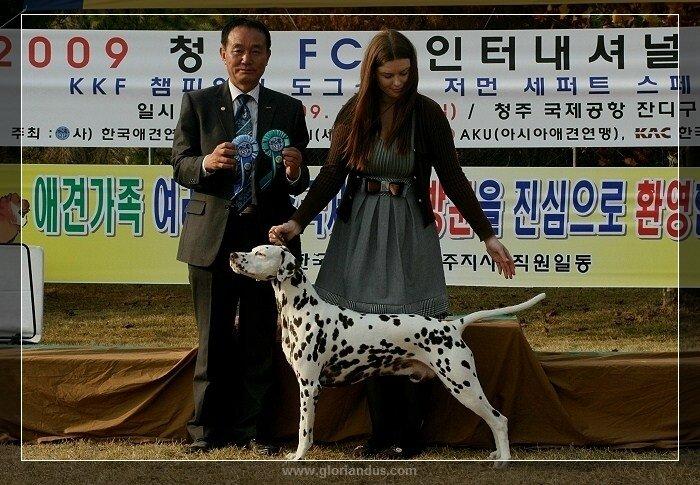 Tyson became BOB both days and won the Group. Congratulations to Eveginya for all success, You are such a beautiful couple together!!
Here together with Mr xxxxxxxxxxx from Japan.
See more at www.gloriandus.com
Best wishes for the future and for Tyson's children too.
Here at home are our "coming stars" *S* full of energy and made lot of naughty things every day, as they should do in this age!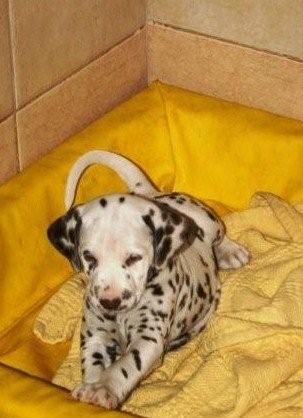 Monday 26 October 2009
When Rune came up in the early morning Amy was already up after four !!!!!!! hours sleep, she was even more crazy than us *S*! And when I went down at 10 o'clock Amy was already ready with the cleaning for the puppies....perfect thank You I miss a kennel girl when I have puppies in this age.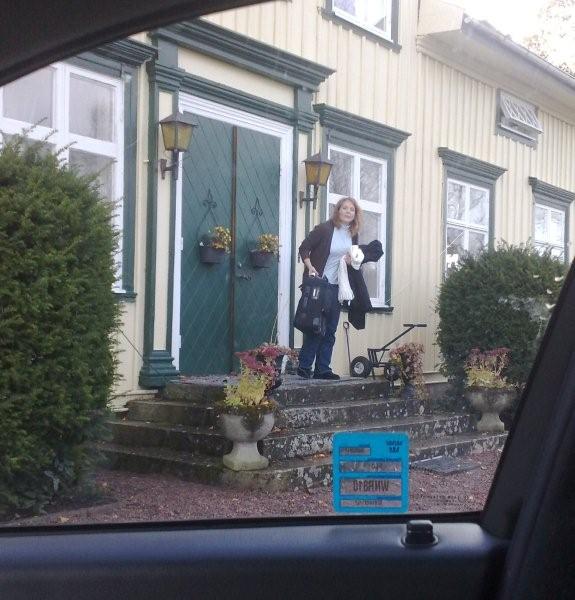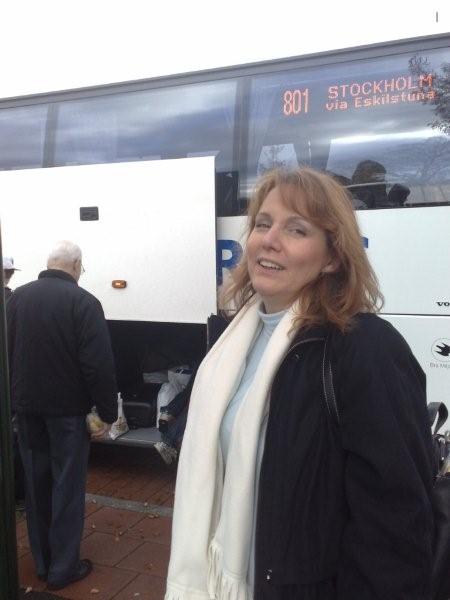 In the middle of the day Amy went back to Stockholm to her relatives to spend some more days there before she go back to USA. She was happy for her winter jacket because in LA it was 35 degrees Celsius when she leave for Sweden *S*!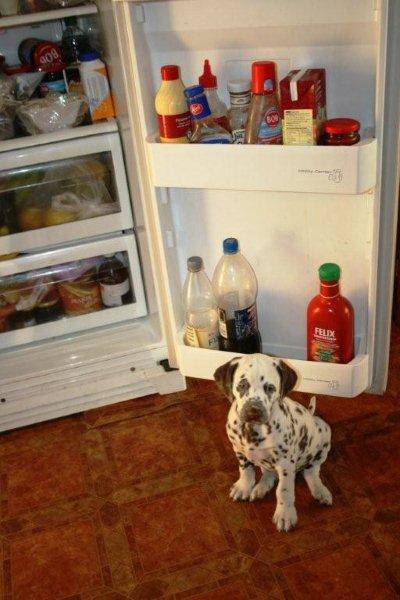 VIPs want food from the freezer and Small Darling was curious what it was in the wine shelf
The puppies want to sleep in strange places in the kitchen instead of in their own place.....And I can just say that they destroy a lot if I don't fit them enough!
Sunday 25 October 2009
Today we got more visitors, and as long as from USA!
Amy came as long as from LA - California, she is a veterinarian over there and have just now only one Dalmatian male in her house.
She bring a lot of nice things for our puppies, thank You they love them.
Eva and Arne leave in the afternoon and we hope they will come back soon. (We will celebrate New Years Eve together we decide today already)!
Time to cut the puppies 198 claws, thank god that is Runes work. Jenny was here too, but she was studying most of the time. Amy picked the puppies up for the photograph ring......
We looked at the puppies and talk and talk until middle of the night, so much to talk about.........
Saturday 24 October 2009
Two months to Christmas!!!
We got visitors from Belgium and we had a long and interesting day and evening together. We have now decide that we can't go to Zagreb in November as Rune need to be in Norway for an opening of a new Jula store early Monday morning after Zagreb...shit shit and shit again, I have tried to go there by myself but as we still will have a lot of puppies left home I just have to understand and accept that it is impossible.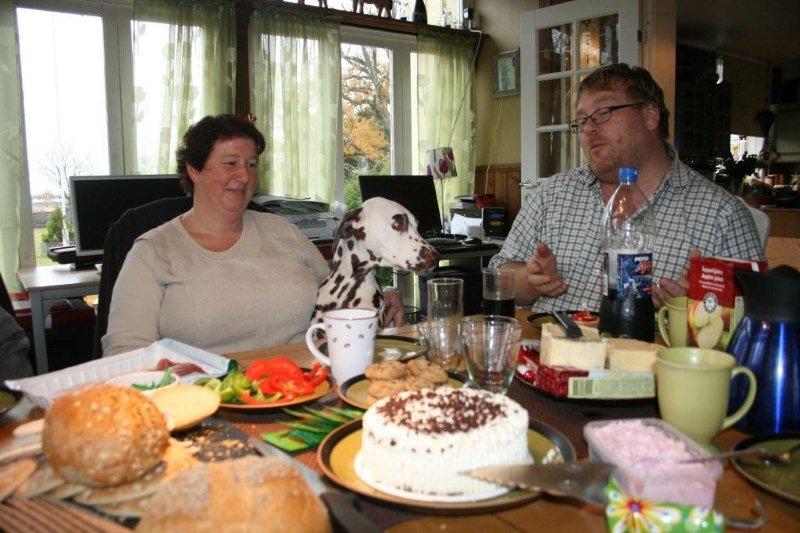 Now is my new hope that we instead can go to Belgium Club show the same weekend at Saturday.....But our Belgian friend made some phone calls to Belgium as they were rather sure that I have mistaken of the day........Nooooooooo!!!! But yes, I was.... wrong it will be at Sunday and then we cant go...buuuuuuuuuuu. But I will check out the flights first before I accept a no. Even if it should have been Gloria that was our first choice for the judge Mrs, Jelena Kruus, I can go there with Daddy and some other bitch (as Gloria looks like she is pregnant I have to leave her at home)........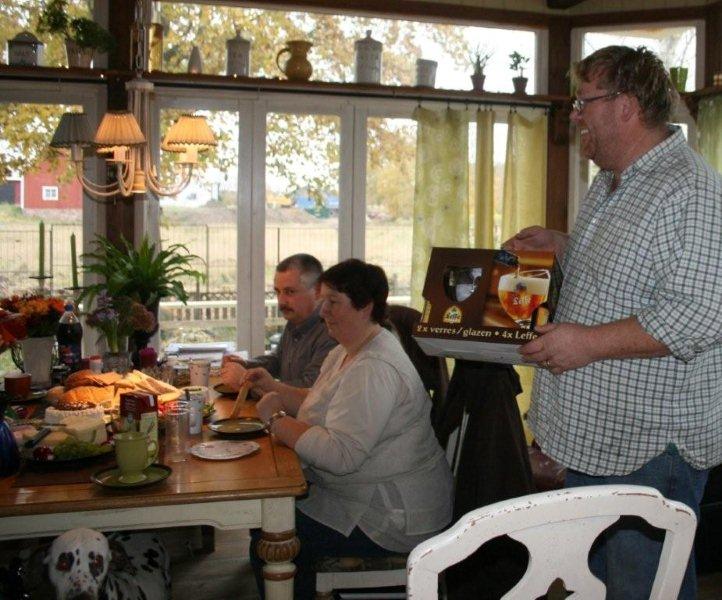 Rune got beer and nice glasses in a box, thank You for all nice presents!
Jonnie and Arne haven't meet for 10 years so Arne think that Jonnie have been a "bit" bigger than last time *S*. In 1999 Arne/Cliff had his own hard rock band and Jonnie was always there to listen at them as they had a small "studio" in the garden to our big house when we lived in Vallda, there were one more house in the garden and Eva, Arne and their dogs lived there for some years until we moved to Hyssna. And Eva often talk about when she was out in our own forest there that Jonnie often followed her and her dogs with his 4-wheels motorcycle.
It was not the best weather today but Rune and Arne did a lot outside anyway.
Arne/Cliff , helped me with some small irritating things at home, thank YOU (he have two names, as he change his name 15 years ago) but I still use his old, for me he is Arne forever *S*!
Hanna and Alicia came to spend the evening with us and to eat together with us and our Belgian friends and Eva and Arne.
Hanna and Rune was the first in the chocolatbox *S*!
One of the puppies have the Jilloc's Trademark, a heart on the back!
Nr 2 Very Very Sweet is soooooooo cute!!!!!
Nr 3 is afraid not to be there when the food is coming so she sleep in the food bowl in case of ..............
I stay here until the food is coming so I for sure will be the first to in the foodbowl. Nr 3 Velvet Touch is very special *S*, and most of our visitors favourite (especially Carolas)!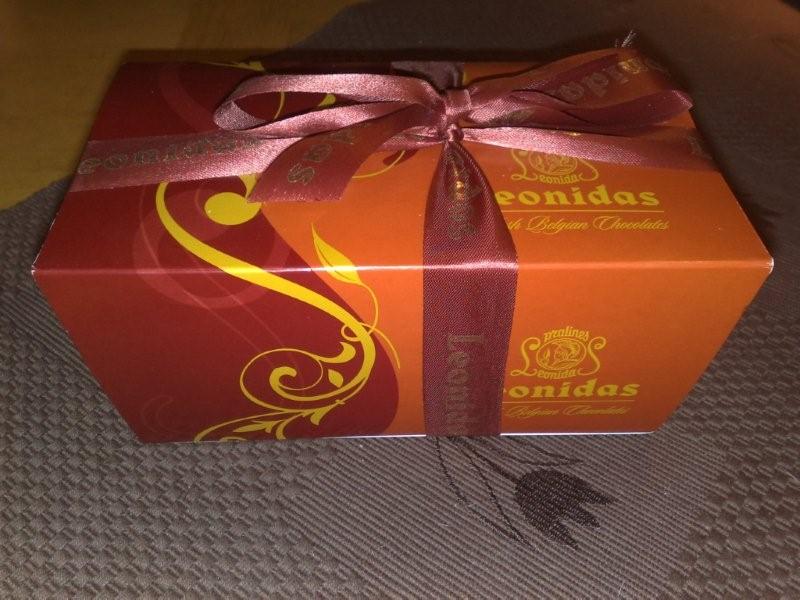 I got delicious Belgian Chocolate, Mmmmmmmmm!!!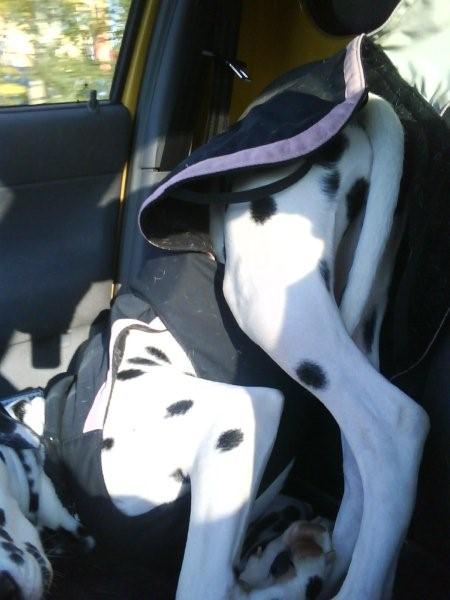 Ha ha ha .......Snurra is a crazy dog, in the car she is "sitting" like this on the front seat, with her head on the seat and her back up against the chairs back.
Jennie took the photo while she was driving *S*!
Friday 23 October 2009
Still so damned tired and I start to get pain in one of my ears...hopefully I will stay healthy during the weekend as we will have LOT of visitors.....both from Sweden and other countries.
Eva and Arne came in the evening and Rune and I made pasta with bacon and salad. We have to clean the kennel tonight because tomorrow morning I/we have so much other things to do......and Arne and Rune will continue with our terrace..
Eva with Devlina and Jill.
Perfect to have some extra help as we made changes for the puppies.
They got a new toilet in one part of their area and most of them walk there to pee.
.
They even think it is sooo funny to play in all the news paper!
VIP is the one that love to sleep and pee at the same place *S*!
Thursday 22 October 2009
I was in Lidköping with Jonnie for some hours today and when we were back home I clean and made food, as always.

Then I start to look at internet for a MOVIE CLIP that I saw last week. It was from the Dalmatian Club show in Bratislava at Saturday and it was taken from the Champion class males and showed many different dogs and lot of me and Daddy and Helle and Zacco....I would love to see it again if anyone can tell me where to find it....

Thank You a lot Lida Machachova that send me the link of the movie that You have taken. And give us the news about Devlins DreamskapesLoves of Naire, that have been BOB twice last week in Cezch republik.
Here is the movie from CHAMPION CLASS!!!

Wednesday 21 October 2009
It take many hours every day to clean and feed Your puppies as every breeder know, and when You are ready it is time to start all over again. I have some stupid *S* puppies that love to sleep in their toilet instead of shitting there...they make me crazy
I was at my dietist in the middle of the day and then it was time to et back home and clean again.
In the evening Rune and I was at the grocery together to get lot of things home for this week. After that we were going to Jonnie to cut the nails on Elliot and Rolex and to check them up (we haven't met them for over two weeks now). Roy was in north of Sweden and he got problems with his truck so I have to call around to try to find someone that could help him with the car. After some hours he got help and could continue his trip..
Then Rune already was sleeping at the couch. He is still so tired and he might need to go to the doctor to check him up after his flue as he now have pain in his body and many other things that should have been better now.
Tuesday 20 October 2009
Carola and Peter were here some hours and our garden look so much better already....
I was in Lidköping for some hours with some necessary errands.
Try to take care of all things, and post that now is like huuuuuge piles on our desks, that took almost all evening and half night.
We are still so tired and need to sleep much much more and Rune is still not feeling well even if he is going for work.

A half blue eye more, shit!!!!
Photo of Diana and Andres G D Florence, at a show in Dortmund, Germany. CH Jilloc's Seventh Heaven got CAC both days, Congratulations!!!
Henk is here a very good kennelboy for Florence *S*!
Monday 19 October 2009
On the way to his work very early this morning Rune leave our car at the garage.
Carola and Peter leave for work in the morning while I was sleeping. Carola came back after some hours when Jenny, Hildegunn, Jill, Ingemar and Johanna came here to look at the puppies.'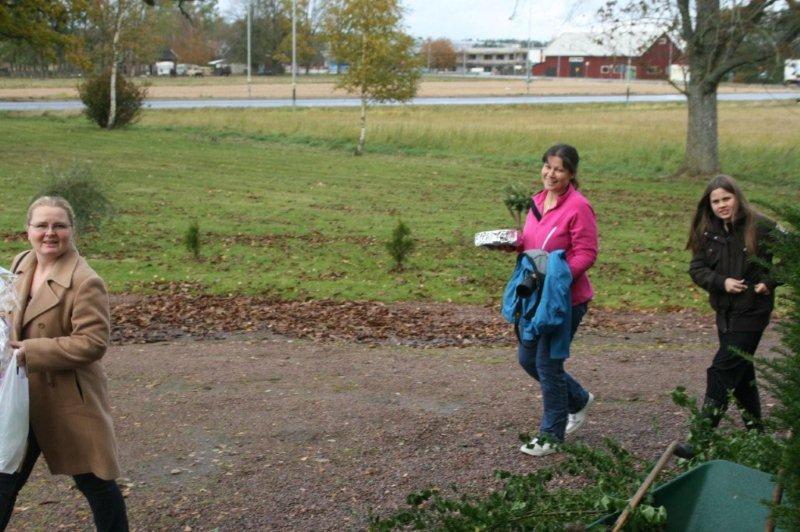 Ingemar have made a fantastic smörgåstårta and Jill have made a very good apple cake....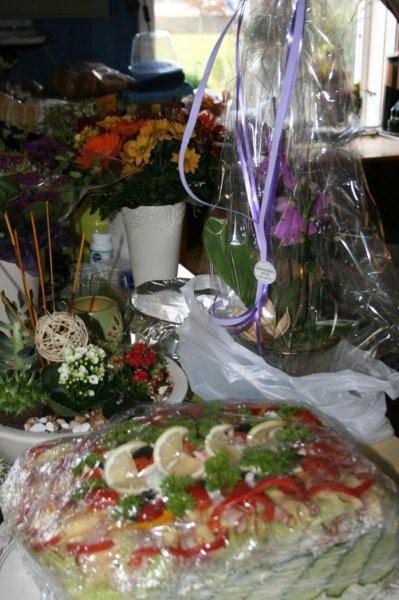 More flowers at the table from Maria and David, from Hildegunn and from Peter and Carola....it start to look like someone have had birthday in our home!
Ingemar found his place among the puppies immediately.
It looked fantastic, and taste even better!!!!!!!!!!!!!
Carola and Jill.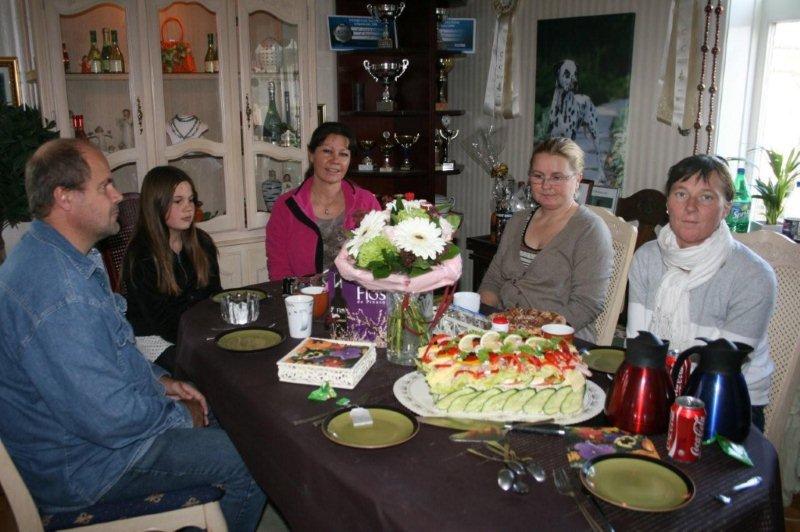 Mmmmmmm this will be good!
Lot of visitors in the puppy box today!'
Our dogs was fond of Ingemar, they probably think he will make them a cake next time. Jill soo happy when Rune came home from work!
Rune showed all puppies on the table and Jill took photos.
In the afternoon Rebecca came too.....soo good to see her, it was too long since she was here now!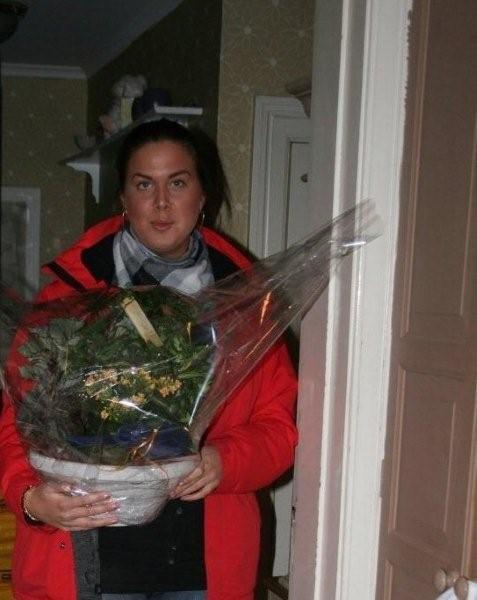 .......maybe it was because she have heard that we have smörgåstårta ha ha ha, and she even bring flowers, sweet girl..!!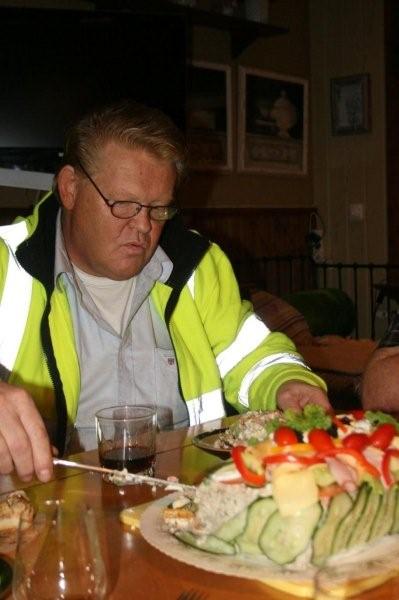 Mr Cakeman heard that we have sandwish cake so he was here very quickly. Jonnie was not interested of the cake but of the puppies....
Ingemar (the chef), Johanna behind him, Jill, Hildegunn, Rune and Rebecca. I hope they come back soon...wonder why *S*!'
There always something happening around Rebecca and suddenly she start to scream......she got cramp in her leg!!!! Poor.....*S*!!!
During the day the District veterinarian from Stockholm called and told me that a Jilloc's bread Dalmatian bitch that have disappeared from her owner 6 !!!!! years ago suddenly appeared up in Stockholm (She did not inform me when it happened, instead of that I was told about it over 7 months later) and that they have taken care of her and that she now at 8,5 years age have five puppies at 8 weeks. Thank god that we got an answer what have happened to her (but I am so sorry that I have no idea what she have been out for all those years).....and that she now will come to normal people that take care of her and love her. She will not be send back to the first owner, as there are questions around her disappearing.......thank god!
I will be happy to help to find a new owner for her.
Sunday 18 October 2009
Everyone was up before me and some of our guests was lucky to have to take care of our puppies party in the night in the whole kitchen ...we have forget to close their fence last night..but no one have taken a photo of the mess *S*!
We eat breakfast/lunch together and in the afternoon there were puppy buyers here to say hallo to our dogs.
So good it was a sunny day!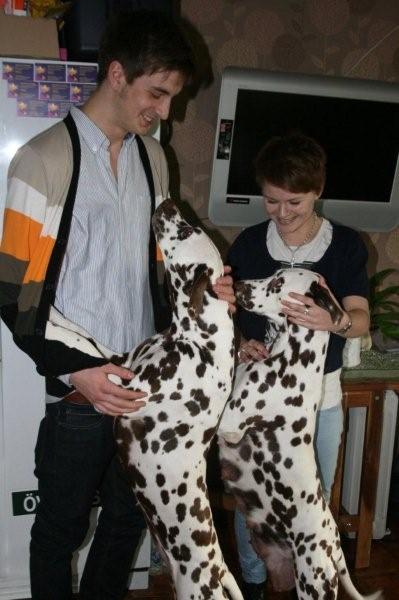 Visitors, Hurray that is what Jill and Devlina like.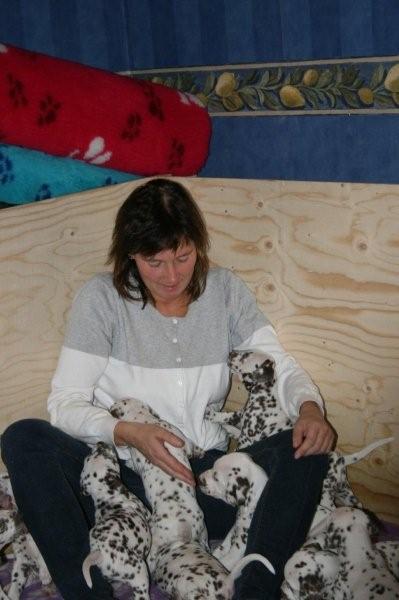 So happy to have it clean and nice outside the kitchen windows. The puppies love visitors too.
Our sweeties.
Dinner again and there were lot of dishes this weekend *S*!
VIP love his grandfathers QUACK.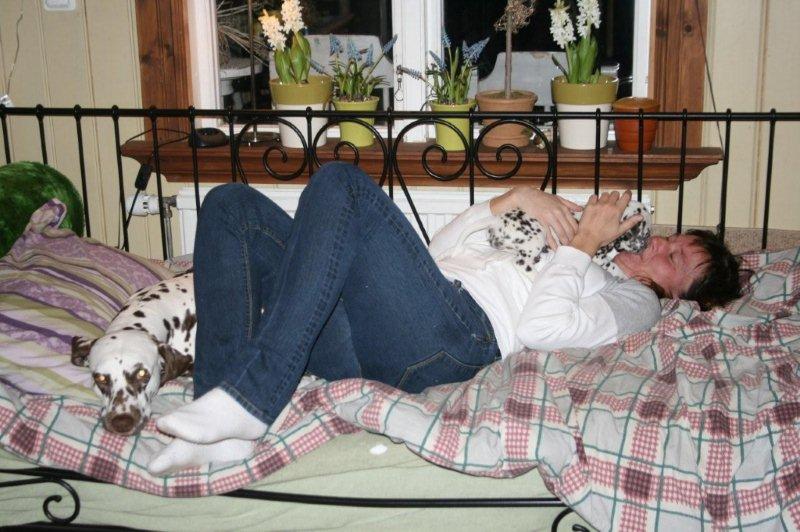 Maria and David have to go home before we start to eat unfortunately.
Eva and Arne was the last ones to go home and we already looking forward to next weekend when they come back here again. Carola and Peter stayed over the night in their own caravan and Eva and Arnes caravan will stay here during the week too.

Saturday 17 October 2009
Our friends bring their own caravans so it looked like a camping place outside our house *S*!
Arne start to build the terrace and Eva helped me with the puppies. Carola and Peter was in the garden and in the afternoon even Maria and David came with their caravan too.
Breakfast in morning, even cakeman was here as usual but without cake *S*!
Who want Peters sandwich sooooooo much??????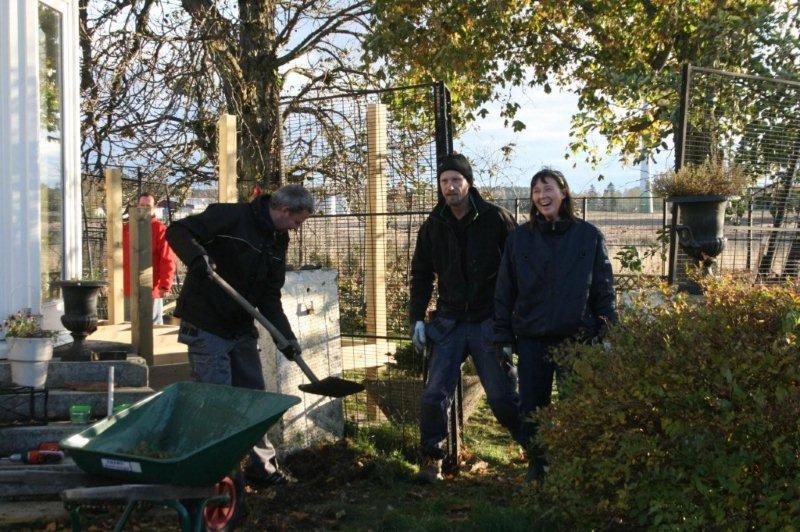 It is so fantastic that Carola can even smile when she work in the garden *S*!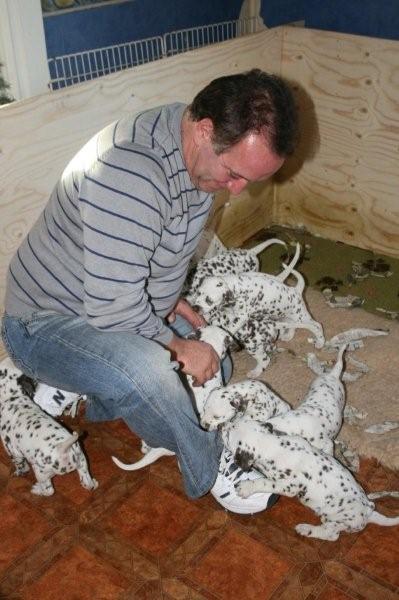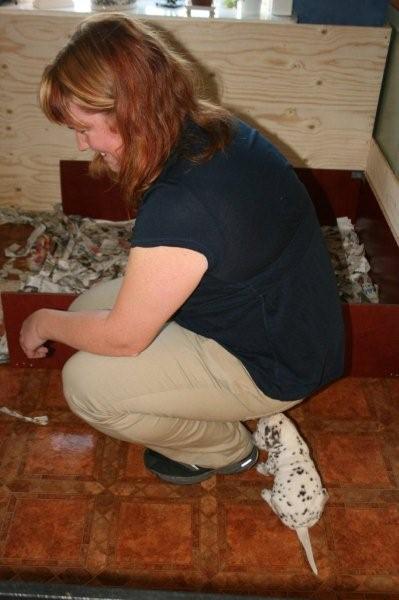 David and Maria in the puppybox.
Two months ago they got married, we congratulate again!
Photo from Maria o David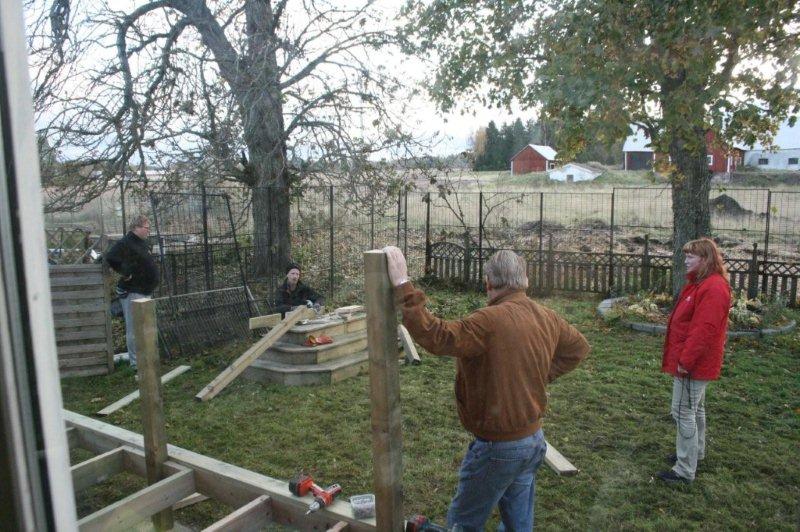 Thank god there were no rain today. It happened a lot in front of the house, Carola is hell of a lady to make things happen and she is not afraid to work hard (as me)........Peter follow her instructions and it soon look so much better.
Maria and I was at the catering and get my ordered food home...
We all eat together in the evening.
Jenny came just in time for the dessert and she bring more newspapers for the puppies, thank You what should we have done without You.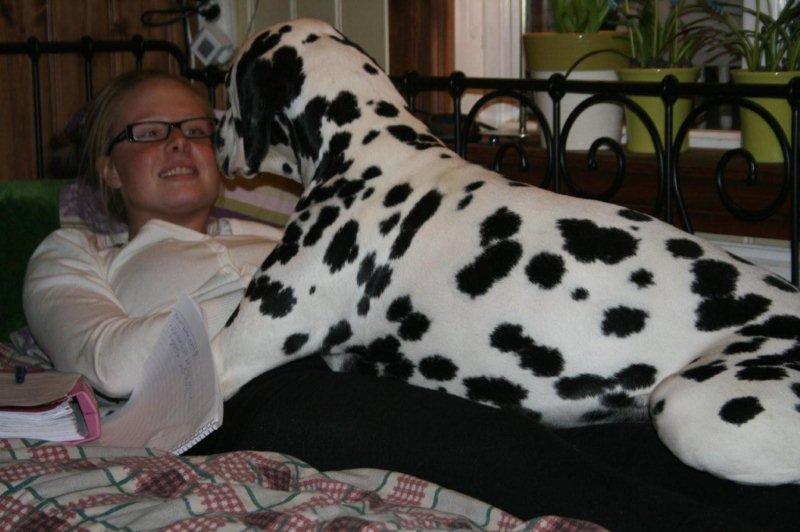 Daddy was happy that she was here again, but he disturb her when she try to study *S*!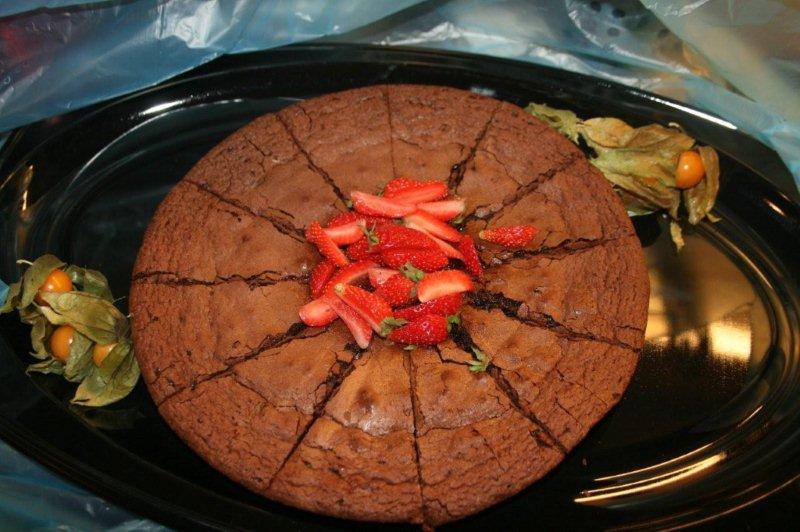 We were all tired...first Arne fell asleep and then me........but I woke up again and Jenny and Rune and I was up too late.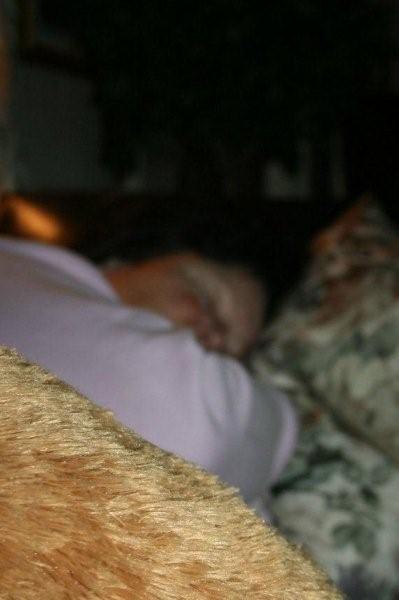 Both Arne and I was tired....the other talk and talk and we fell asleep.
Jenny have some puppies to chose from and she have a hard choice to chose.....one day she want one bitch the day after another and another *S*!
Friday 16 October 2009
I was shopping food, Rune still inside at home....in the evening some friends will come to help us to build a tears outside our kitchen and some other friends that take care of our garden.
They came with their own caravans because it is so much easier when we all have dogs, now we have 29 dogs together *S*!
Roy came from Gothenburg with something good for Jenny and me.....
So much nice flowers to me from Jenny and Eva.
Dinner in the evening. Spicy chicken, rise and vegtables.
Photo from Estonia.
Thank You Leelo for this lovley photo of Your Donna and Bossons son....Alphadirato Innovation, looking forward to follow him in the future!!!!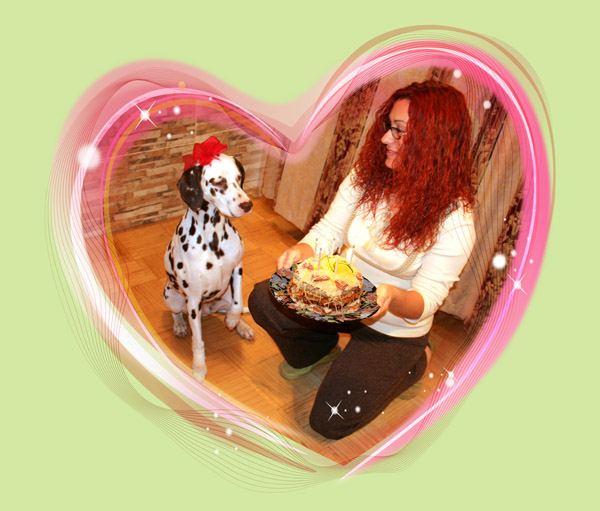 From Tatyana at Benfatto a photo how they celebrate their dogs birthdays, lucky dogs!!!!!
We got greetings from Alexandra and Dimitar!!!!! See You again!
Photo from Dimitar.
Thursday 15 October 2009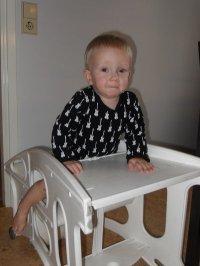 The Third of October Eddie was 1 Year old but I haven't got my computer to work to copy Nathalie's photos until now.
Eddie is not only my grandchild he is also a happy and fantastic child that everyone loves and he have start to walk very well now, I am longing to see him soo much, and hate that we are living so far from each other but thank You Nathalie that send me movie and photos many times every week so I can follow him!
Rune still sick...he was even better yesterday than today! Can't remember what I did expect try to start answering all mails that we got and answer all phone calls from friends that wonder why I haven't write in my diary.......It took the whole day and night together with cleaning all our clothes from the trip etc. etc.........

Wednesday 14 October 2009
Inger with her broken arm, she will go directley home to be operated, thank You for staying here with all your pain during those days. And Oddlaug have been Ingers nurse and our kennel girl, I am sure that You have had lot to do, thank You again, what should we do without You!!!
And the puppies were fat and in perfect condition!!!!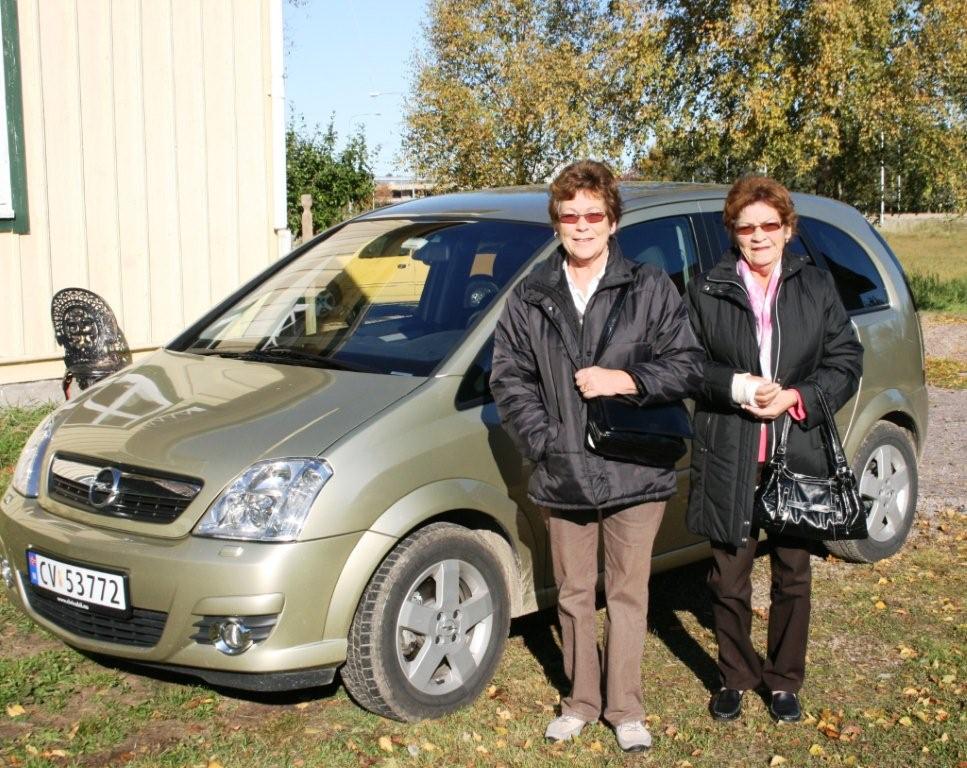 Runes mother and aunt drive home in the middle of the day and Rune went back to bed and just sleep and sleep...I was tired too but not sick so I try to write at my new computer but it will not do what I want it to do...Did I tell that one night in the caravan on our way to Bratislava we had no light in the caravan and in the candlelight I try to read on my computer but took the screen and put it back over and suddenly it start to burn.....shit..my new, nice and too expensive laptop was melting a big bit at one of the side...thank god that not the whole computer or the caravan start to burn......so we were lucky that time, nothing else to say.
Early evening.

Tuesday 13 October 2009
We woke up at 9.30 and start to go home as soon as we could, we did not eat anything just want to go home as quick as possible.
I have to drive again........Car still function perfectly, best of all.
While we were waiting for the vet we eat a late breakfast in the caravan.
We have time at the vet at 15 but we realise that it was short of time so Jenny go to our home and bring all our puppies to the vet and we were there at the same time as her. The vet checked even Gloria and she need medicine....Since yesterday she have had problems with one of her feet/legs and he found a big wound under her paw......we haven't had the time to look.....
Oh my darlings how much they have grown..........
Jenny with my male. Soo good to see the puppies again......we have really missed them. Will Ingunn have a Dalmatian now? No.......just want to hold!!!
At five o'clock we were back home and paced all things up that we bought for Runes mother and aunt.
Jenny was here too and we took photos of the puppies that have grown sooooooo much and start to look really great! But unfortunately we find the sweetest bitch with two blue eyes......
Cake for Oddlaug (Runes mother) and Inger (his aunt) and for Jenny and for Mr. Cakeman......
Bread and salami from Germany! Cake from Sweden.
Jonnie haven't been here while we were away and was happy to see the puppies too.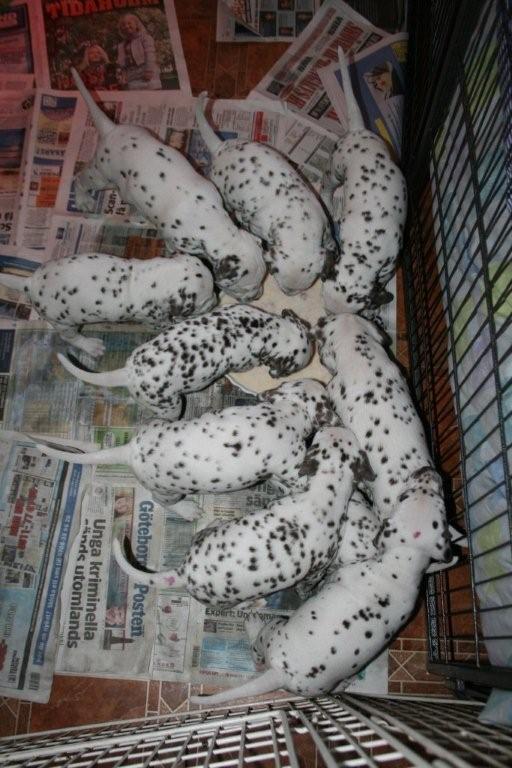 Sweet boys and girls. I look terrible on my arms, one night in the caravan I was bitten a lot!
Rune was still so tired and had fever so we went to bed very early!
Everyone was happy to get something to eat again, I cant find out how they can manage when we are away *S*!

Monday 12 October 2009
Up early and take a shower, then packed the car in the rain....still problems with the backdoors so we have to do the same procedure as Rune N did last week every time we should open the backdoors...shit!!
Jill was tired and wanted to stay in the bed. The camping was very nice with a little sea in the middle.
Out from the camping place and stopped immediately at a small bakery in this little city......then we drove the other way out from this small place because the way we came yesterday evening was just soooo much downhill that we couldn't go up there again with our car and caravan. The other way was like serpentine ways in the Alps and in Norway but it was better as it did not go straight up.....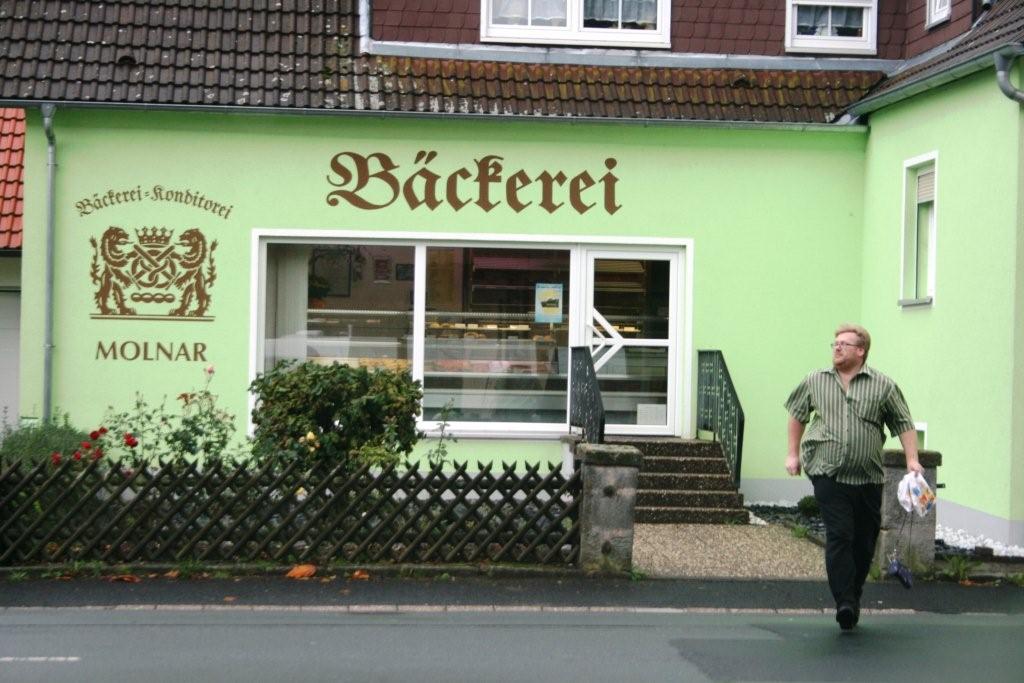 There were nothing that we want in the small store but Rune bought some bread.
We drove all day and stopped in the evening in Lübeck to shop some food and things for home as salami etc. I saw so many things we would like to buy but we did not have the time. When we came out from the store it was dark outside...we would like to reach the ferry in Puttgarden as soon as possible. Rune want us to come into Sweden tonight.....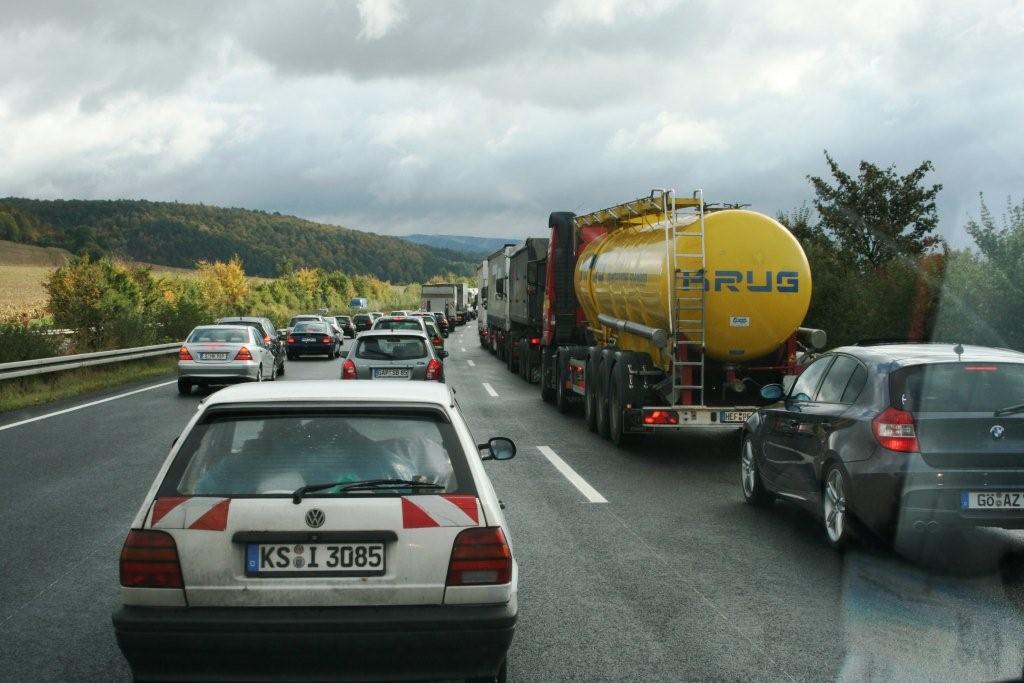 We haven't the time and nerves to sit here hour after hour, and we have to stop and fill diesel and to buy food, but it was mayonnaise in this good-looking sandwich so it became dog food *S*!
Now we have done more than 50% of our way back home....
We reach the ferry about 1o o'clock and we had contact with Elisabeth and Björn Erling and they were now close behind us but just missed the ferry that we took. But just after some hour in Denmark they drove like an arrow passing us on their way back to Norway.....I can't understand how they could reach their home at Tuesday morning, but now I know that they did. It took so much more time for us with the caravan....
When we came to Denmark we found out that we haven't had any Danish money and the diesel on our car was almost empty that RED lamp start to twinkle...shit and shit again. Rune have drive the last 50 km and I was almost sleeping......finally we found a gas station and they took card, so we were sawed.
We continue to Helsingör for the ferry to Helsingborg and there they did a thorough check of our dogs papers, it took about 30 minutes. It was now both raining and snowing at the same time and it was frozen on the ground....we stopped and let the dogs out and feed them again. Jill was fond of some small rabbits that was running at the place where we stopped.
We will try to continue to Halmstad where we can have electricity and we use to stop. But it did not function anymore and they could not help us... Then Rune drive towards Varberg and at 4 o'clock in the morning we were there and paid 100:- for electricity for some hours, very good because we need heat in the caravan both for us and our dogs......it was could outside.
To tired to eat, we just go to bed.
Sunday 11 October 2009
On our way back home again......
As soon as Torry was mated again we drove towards Sweden. Almost 20 000 km back home, puh!!!!!!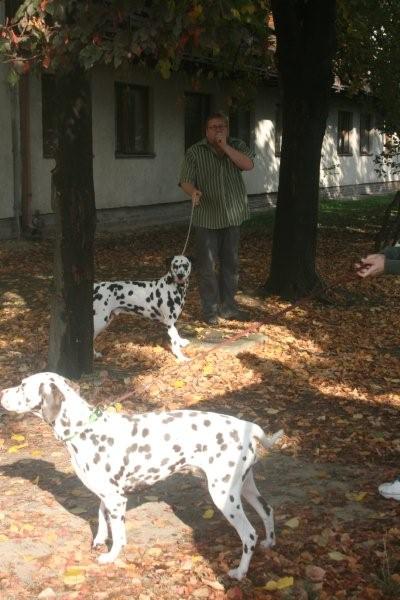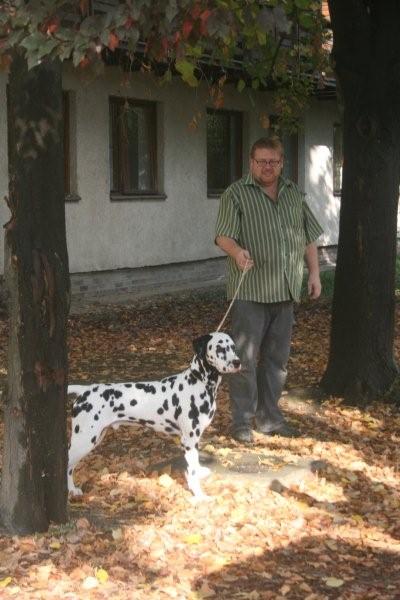 Hi Torry here I come again!!!!
Rune did not feel well and You can see it on this photo......
After today's mating we all go home again and of course I have to drive, I was not sick just tired. So at the Austrian border we stopped at a gas station and bought something unhealthy to eat, and to buy a road ticket for our ekipage.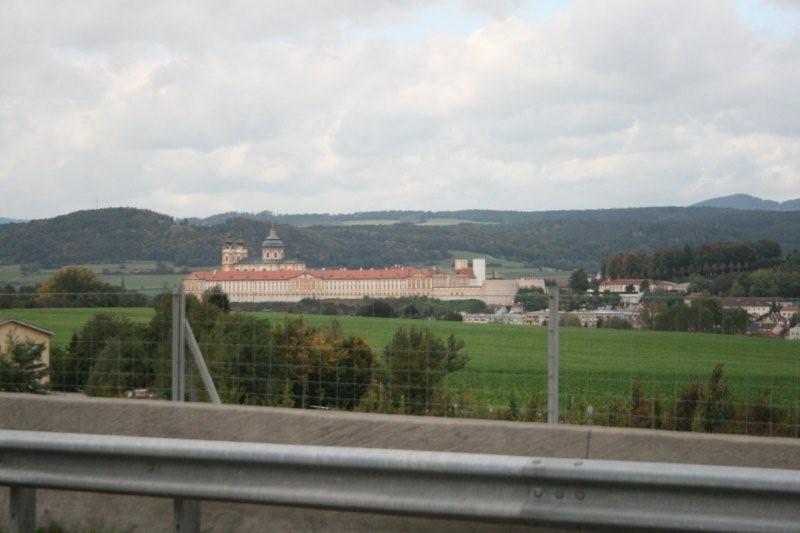 Goodbye Bratislava.
Mmmmmmmmm!
Just when we drive cross the border our Latvian friends came and drive passed us...they were going for a trip to Wienna before they go back home, which we could have had the time to do that too........maybe next time.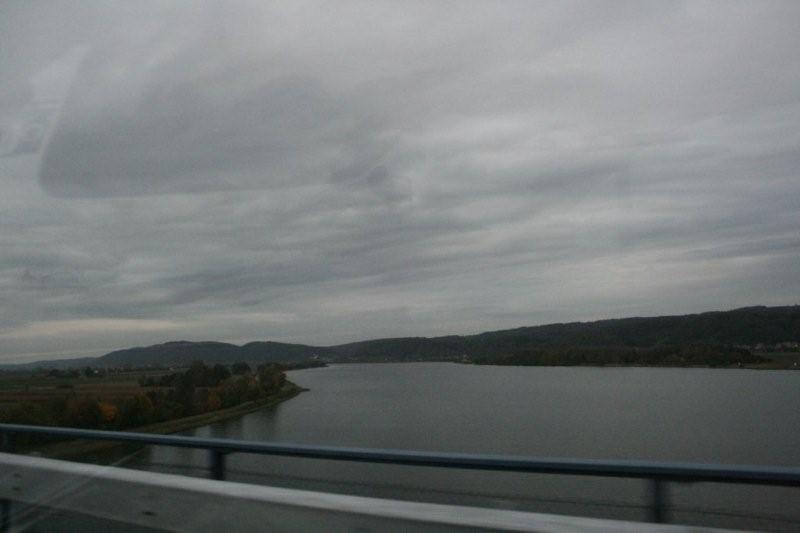 An der schönen blauen Donau.
Today I drive 880 km until we were at an German camping at 21.30, where we feed the dogs and Rune fell asleep immediately. It was raining like hell.....it was hard to drive in the rain last hours, but now......who cares!
Believe me or not, the car have worked perfect....no red lamps in the whole day, but lot of queue on the autobahn, we were sitting still for about two hours, shit!
Zzzzzzzzzzzzzzzzzzzzzzzzzz!
Saturday 10 October 2009
Special show in Bratislava
Judge Frank Kane/ Change of Judge this morning to Tamas Jakel, Hungary.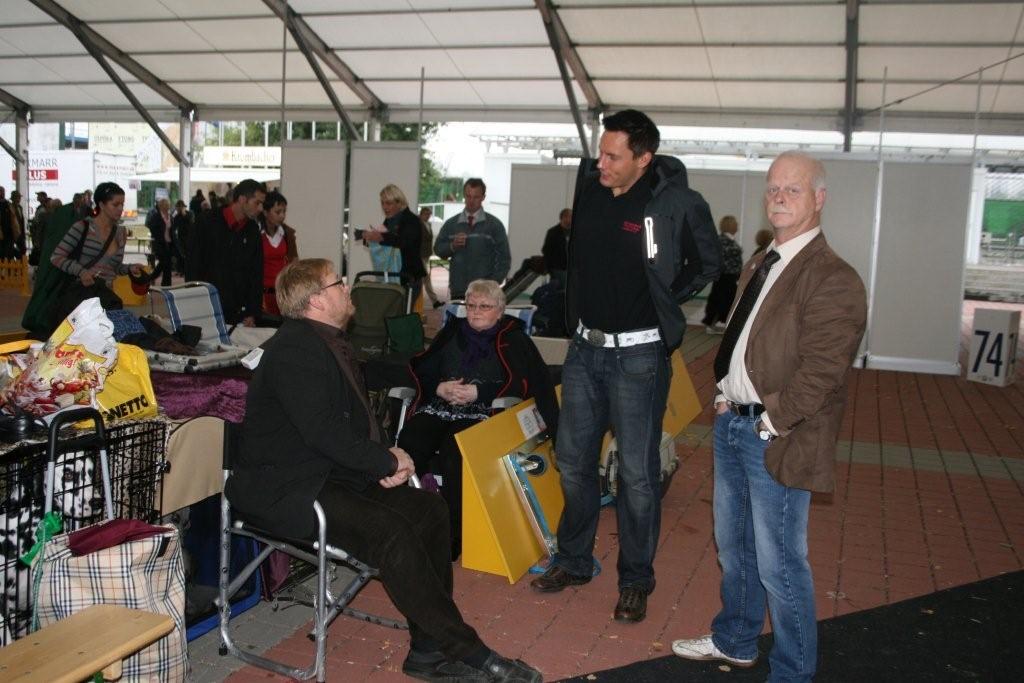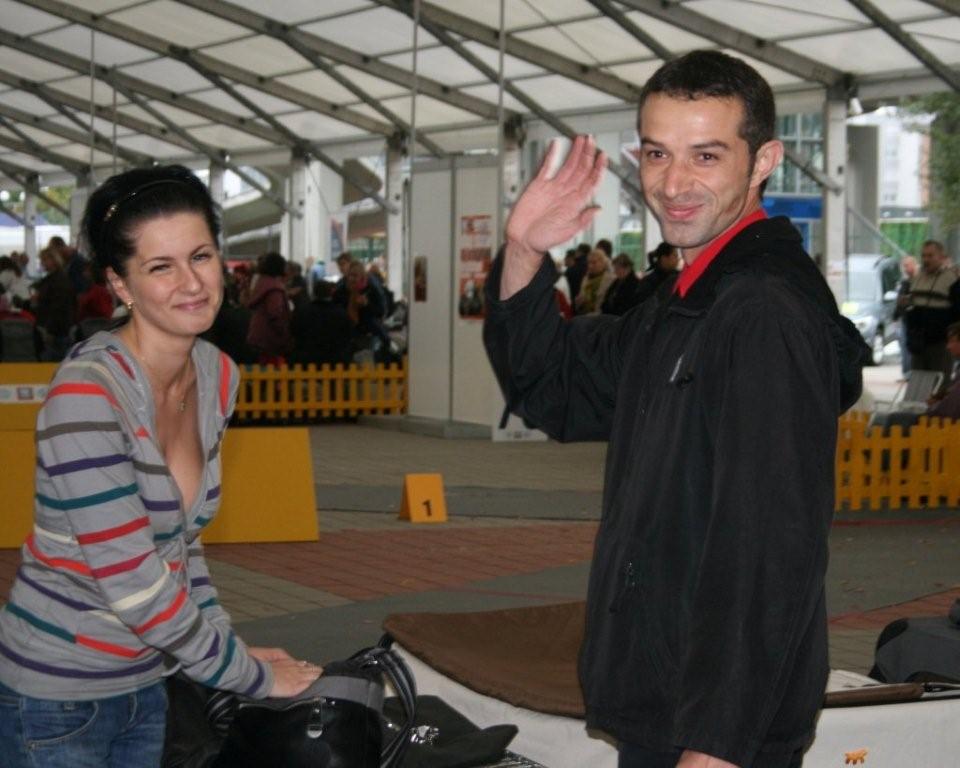 Rune so tired sitting on a chair with lot of fever, talking to Björn Erling and Rune N both from Norway.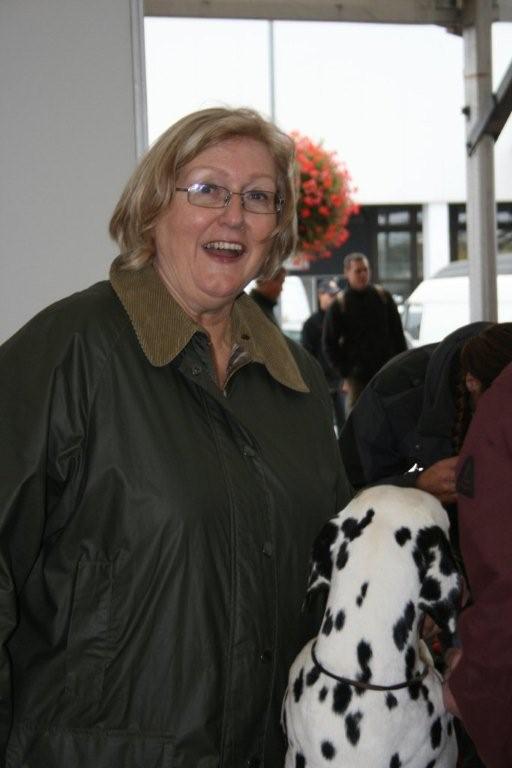 Annemiek smiling as always.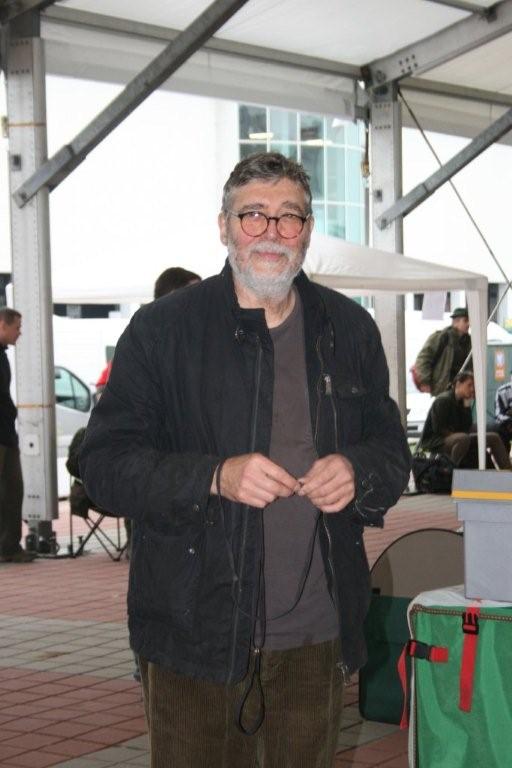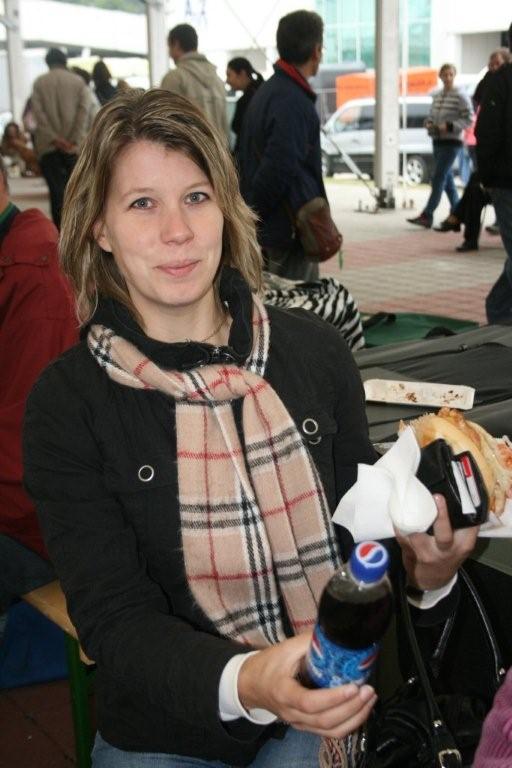 The judge from yesterday Oleg Fintora. Mette was here but without Neela, shit!
Breakfast for Niina and Heli.
All of us want this big cup today of course *S*!
I talked to an Italian lady that made nice scarves and bags, and I saw lot of nice things that I would like to buy for Eddie, Ellie and Alicia, but they were sooooo expensive that in the end I did not bought anything at all.
Oooooo what are You doing here Elisabeth???????
Ivana with one of her males...she was here with four males by her self...that is tooo much to handle!!! Two girls from Russia singing together with a dog.
Fabian in Anne Karins knee, he want to go home. Daddy is probably wondering why everyone look at his theeth.....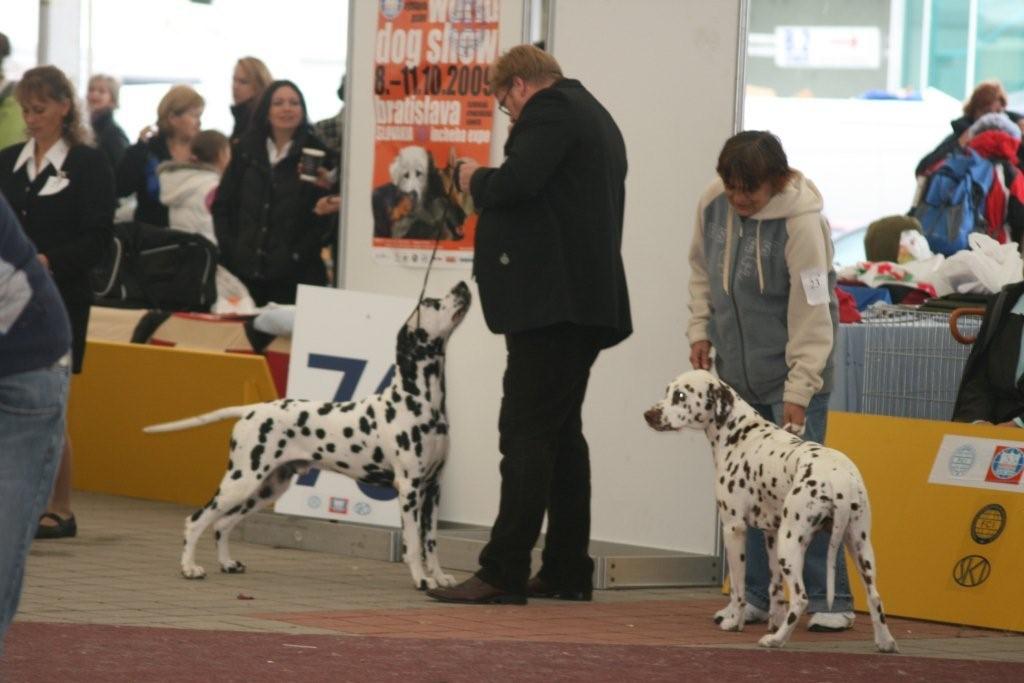 Bosson in Open class today, and he was Nr 2, good boy.....soooo close to the CAC, shit again.....And I have entered Daddy in Championclass today without thinking about that we probably will meet our worst concurrents there today, and we did, shit again!!!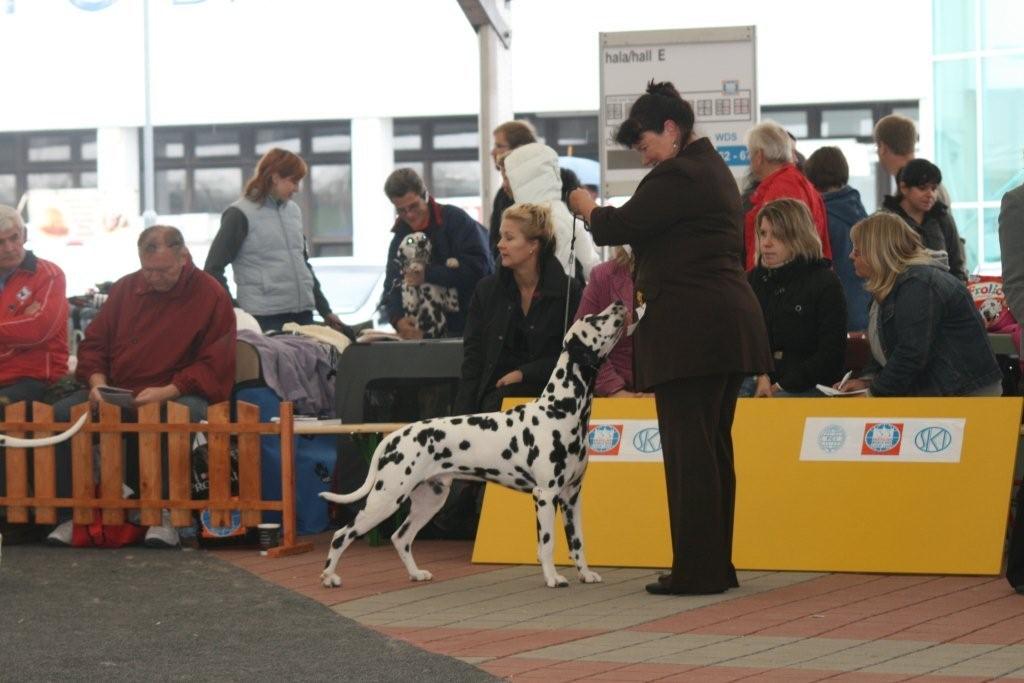 Much much better floor and size of the ring today, but Daddy was sooooo unconcentrated. Here is the only time I got eye contact with him while we were in the ring *S*!
First Daddy was placed before Zacco, but in the end he was nr two, shit again!!!
I got male from the owner of the movie....thank You a lot Liana Fulinova!!!!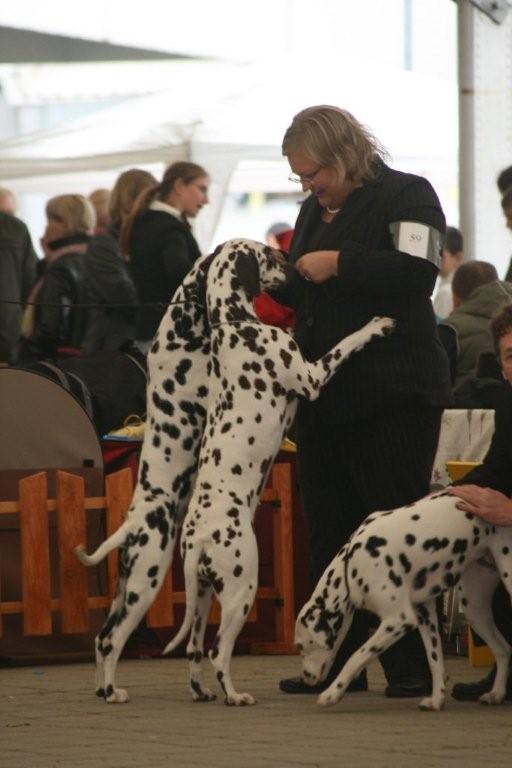 Niina with Haija and her sister.
Helle and Zacco won the nice Dalmatian that I wanted for Daddy, shit! Even handlers get hungry sometimes *S*!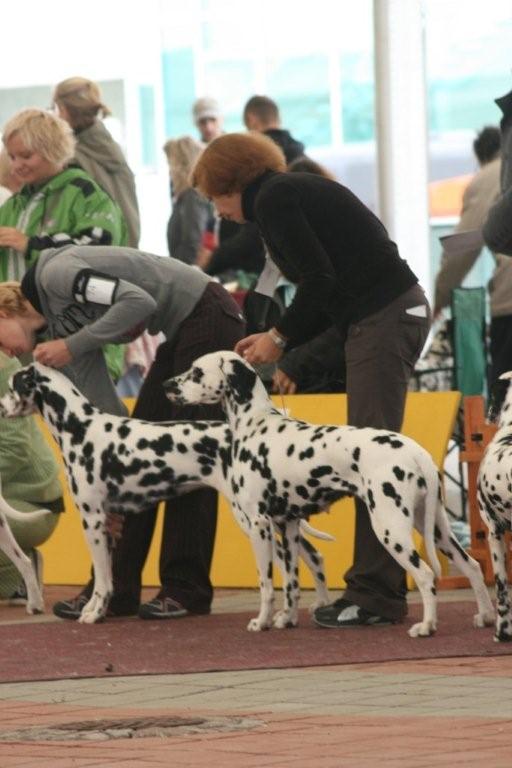 Niina and Haija again. Here is Muzika with Anna in Openclass!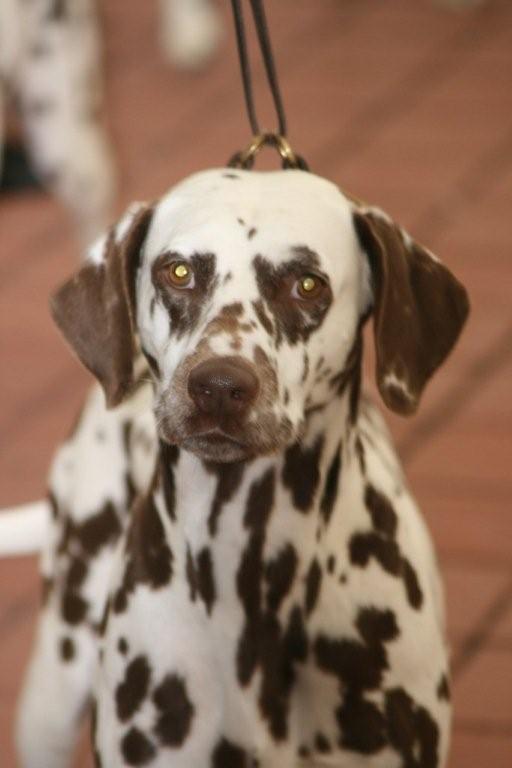 Both Muzika and Jill can see me even if I try to hide with my camera......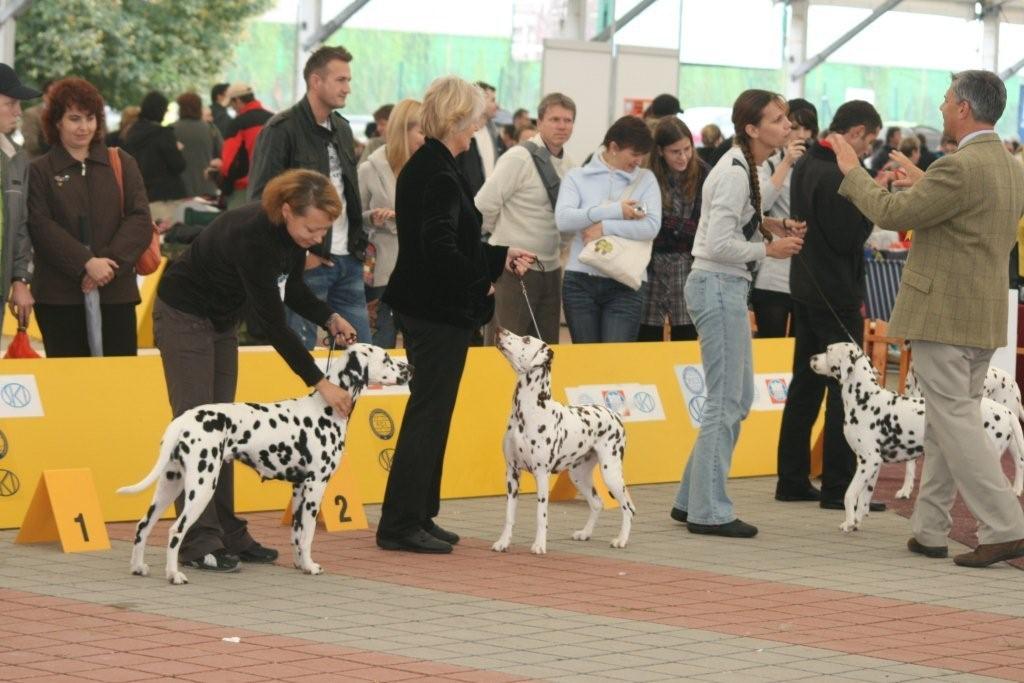 . Muzika was the winner from Open Class, Congratulations and Helle with Diva at second place. A Dutch bitch at third place.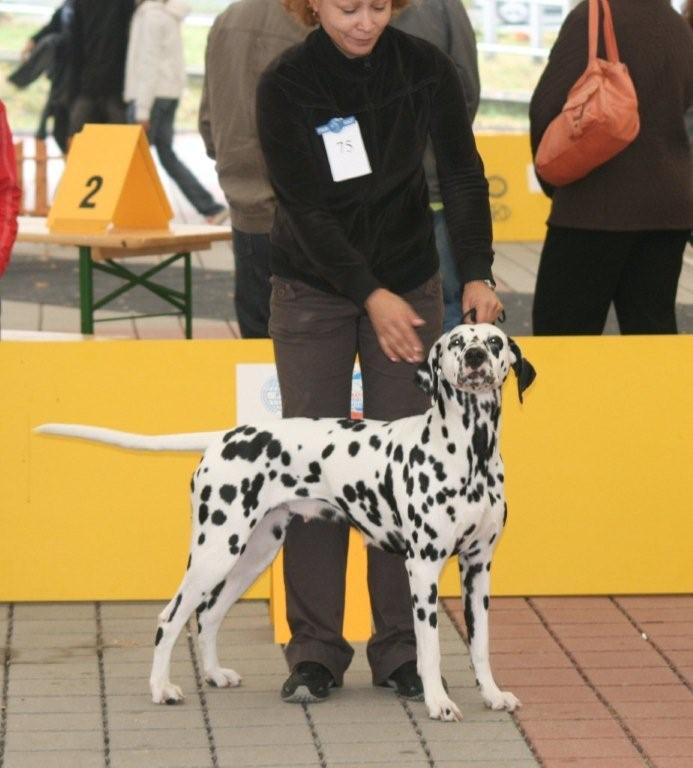 Anna and Muzika.......she won Openclass, Hurray, good girl, and she saw me as soon as I was at ringside with my camera.....here she look into the lens and wawe her tail *S*. I have to hide for a while because she was almost hopless for Anna to handle.....but soo good to se that ´she was as happy to see me, as I was to meet her.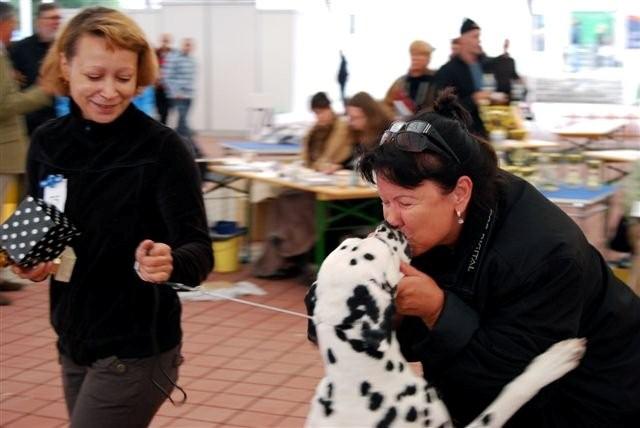 Thank You Annemiek for this photo!!! I got many kisses from Moss during those days. I was so happy that she was the winner
Jill was succesful today and won the championclass!!! Here is Niina and Hattie (Marnellin Hot To Handle, after our Loverboy and our Playmate)
Congratulations Niina and Heli that he became SLOVAKIAN CLUB JUNIOR WINNER today!!!
In the end Annemiek with her Inermediatewinner, Anna with Muzika Openwinner and Jill Championwinner!
Today Moss was happy to meet Rune too and she and Jill remember each other......
Four Clubwinners was in the competition for BOB, Zacco from Norway, Jill from Sweden, Hattie from Finland and a Veteran bitch from Spain.
Just a photo for fun of Jill and Zacco (But here were not BOB and BOS, as at home).
The Judge have to chose one of the Clubwinners for BEST OF BREED, and today it was JILL!!!!!!
Int o Nord UCh Sf UCh Ee Ch NordJV-03 NordV-07Slowakian Clubwinner 2009
Jilloc's Joyride
The judge together wita a very tired but happy Rune with his favourite girl JILL.
And now I got the same as Helle, hurray
Tatyana from Benfatto congratulate!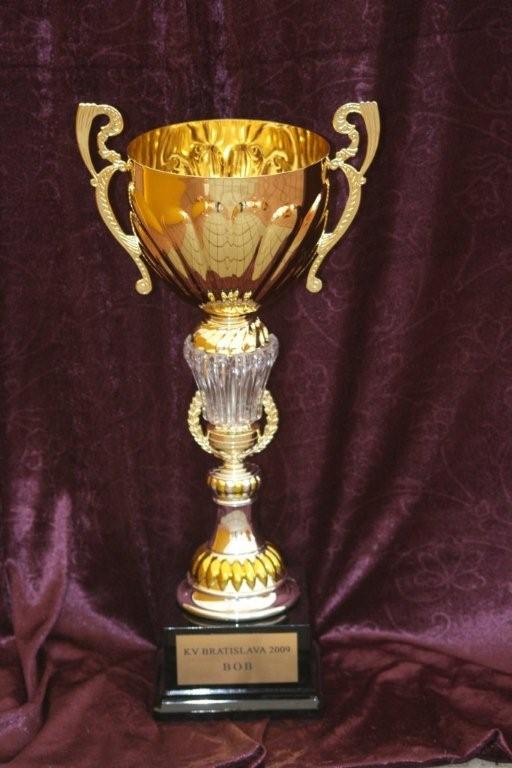 So proud of Jills BOB.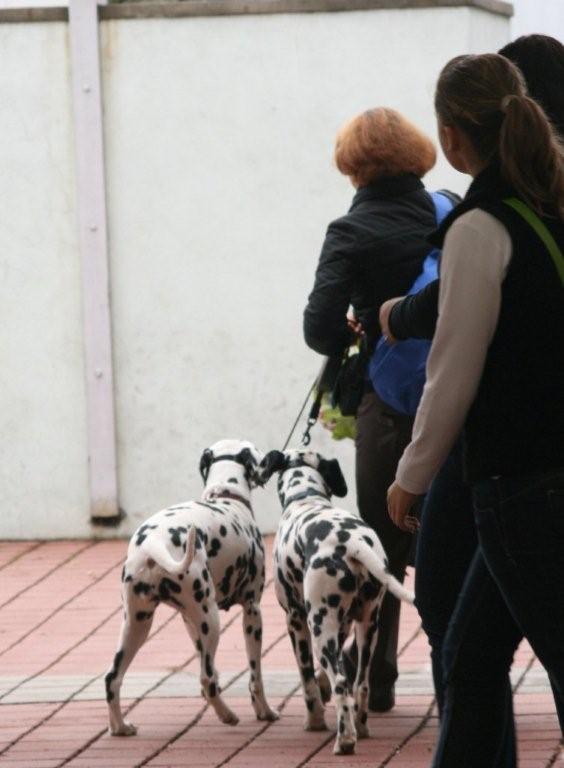 Moss and I kisses each other goodbye and Anna went back home to Russia again.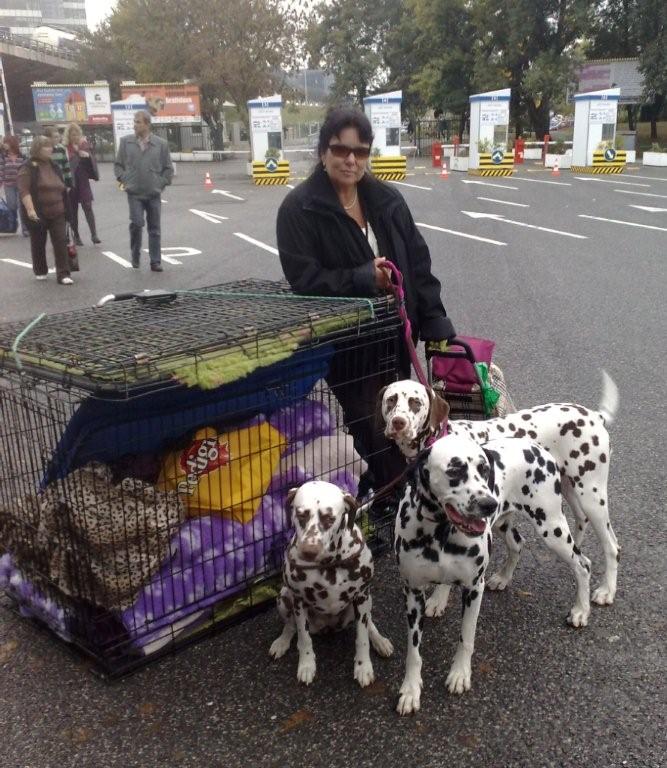 Rune jump on the bus and took our car a bit closer to the show and then he came back to me and then we have to walk over 2 km to the car because we couldn't enter the bus with 4 dogs and all our things......it was so heavy and we stopped every 10 th meter to rest......I have Jill, Bosson and Dollar and a heavy bag..tank good that it was on wheels. Rune have all cages, things and Daddy and just a little trolly for those heavy things......he was really tired and sick now. This morning he said for the first time in his life that he couldn't come with me to the show, just have to leave me there and go back, but when we reach the showarea he was to tired to go back
We were both so happy to reach the car, now we have to hurry to the caravan for a mating with Torry (Benfatto) and to rest before we start our trip back home tomorrow.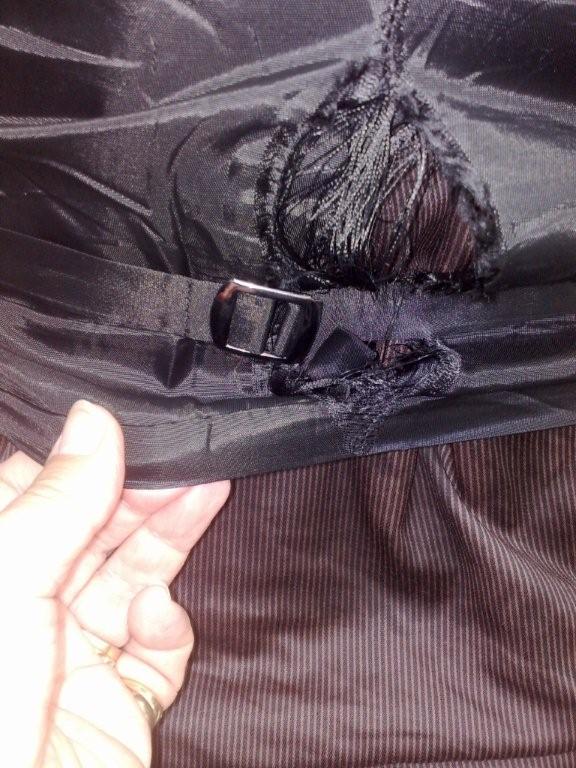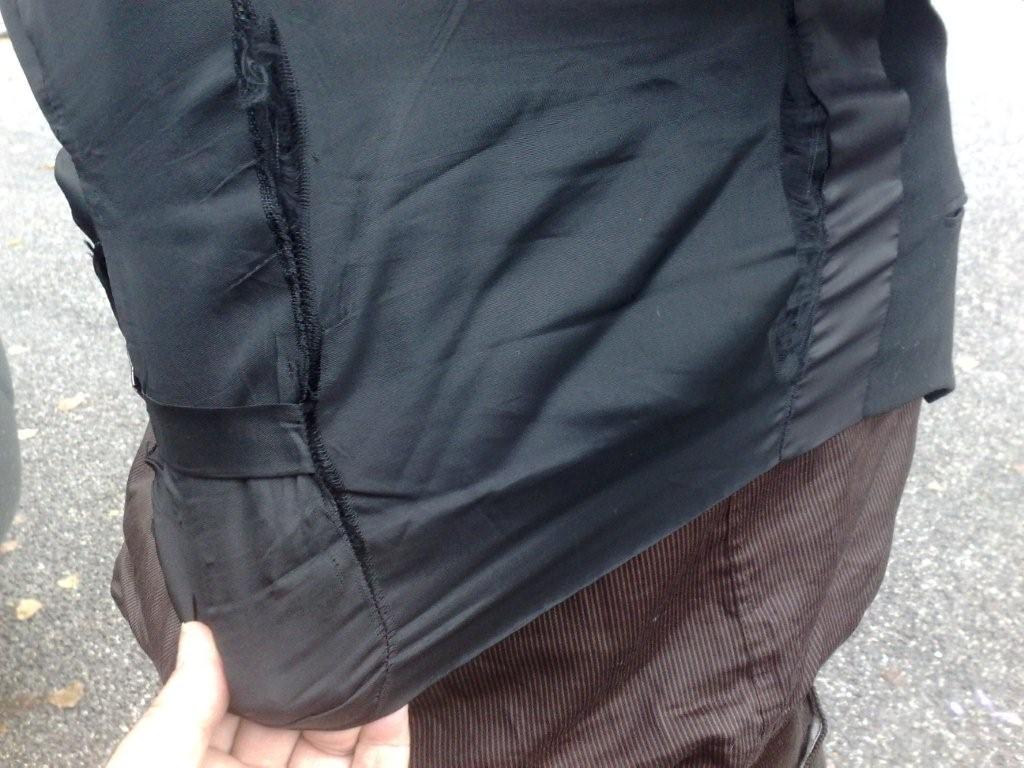 Runes new vest have been broken all around today, but it was worth it!!!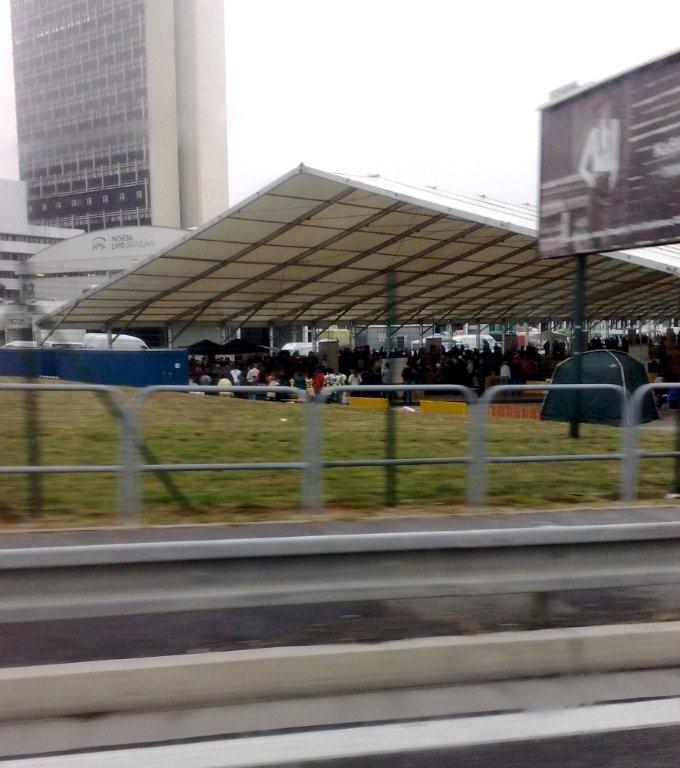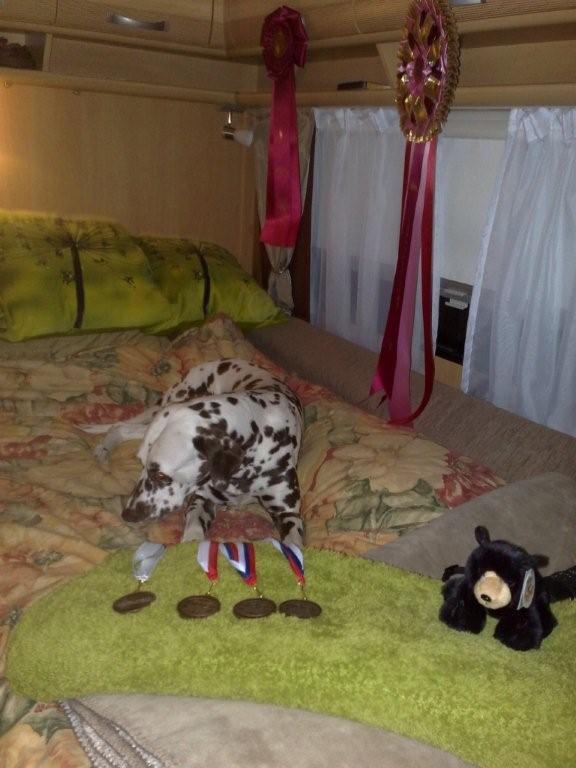 Thank god there were a roof over us today at the outdoor show because some times it was raining a lot. Jill resting!!!
I guess there were lot of puppies produced during those days. Here is Kayo mating a bitch......
Thank You Katerina with the help with Gloria and Bossons second mating.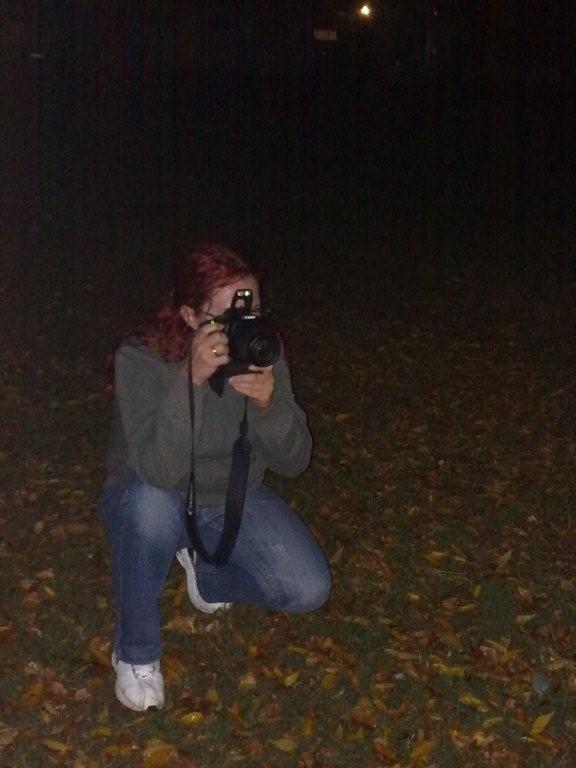 xxxxxxxx took photos.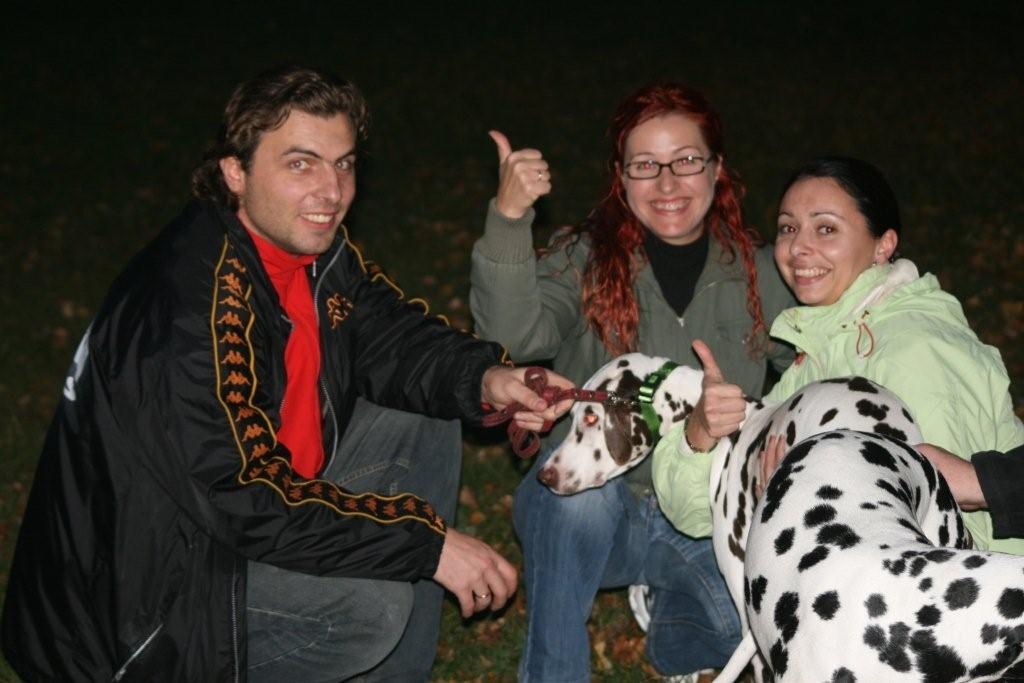 Thank god that Torry was more interested in mating today, that was good for us all, now we will sleep calmer tonight.
We eat a little before all of us went to bed, soooo tired after two hectic days here in Bratislava.
Daddy say goodnight and ask them to come back with Torry tomorrow morning again before we leave for Sweden.
Rune was so happy that he (as always) got Stroopwafels from Annemiek, but he ask me to put them in a shelf until he was better again so he can njuta av their decicious taste.
Gooooooooooooooood night!!!!!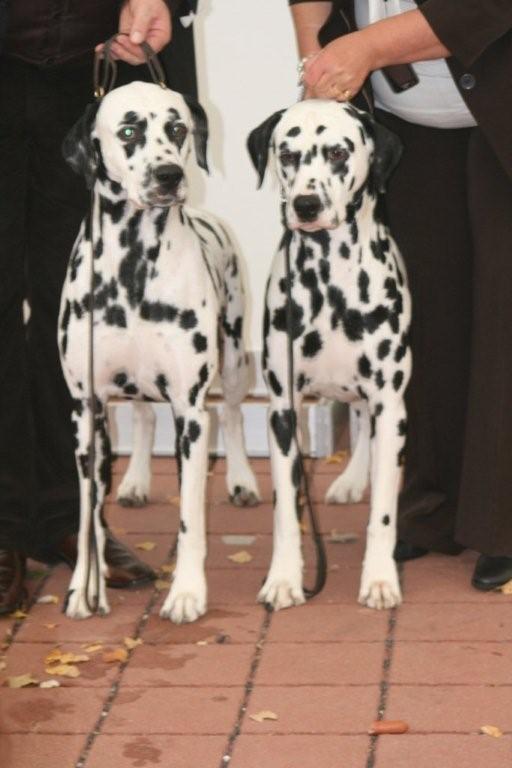 Friday 9 October 2009
WW-show in Bratislava
Judge Oleg Fintora
We went up at 5 o'clock to be in time to get a parking as close as we could to the show area. It cost much more to be at parking A, but it was necessary. tomorrow we have parking B, and that will be terrible...some km from the Show, but You can take a bus........not easy with 5 dogs on two persons and lot of cages, clothes, bags and things!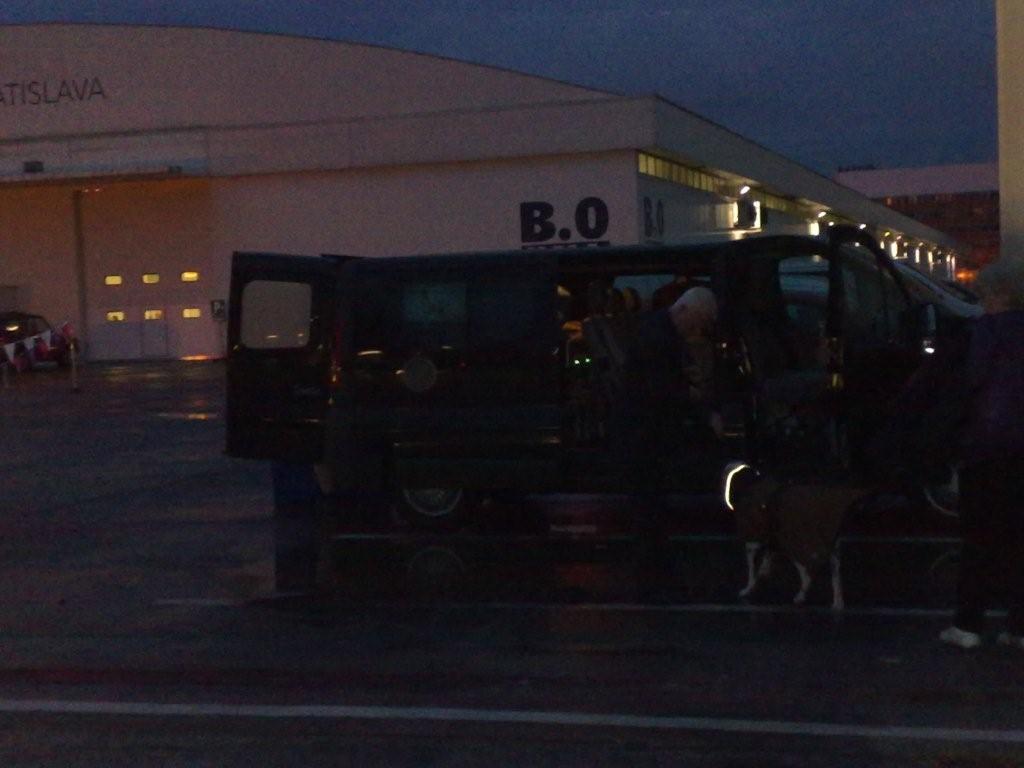 '
It was still dark outside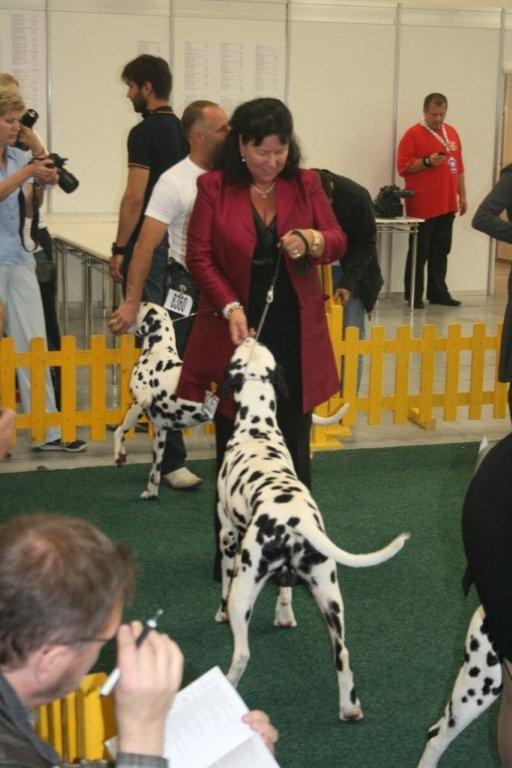 Dollar and Rune ready for the puppy class. He became BOS Puppy today. Daddy was entered in open, and there were especially some males we/I was afraid of. But in the end Daddy was the winner of open class with CAC, Hurray...Mama's good boy even if he was a bit uninterested in me we did it!!!!!! (Hopeless to travel with three males and a bitch ready for mating...puh!!!)
Bosson was also entered today but he is totally without contact so we did not show him (never more a long trip like this with bitch in season and males together in the car).
In the other ring where Kari Järvinen from Finland judge puppies and juniors, Bossons son Marnellin Hot to Handle was Nr 2 in his class, well done, and better luck tomorrow (I know, I know......today was the most important day for us all, but we can't win every time even if we want to *S*).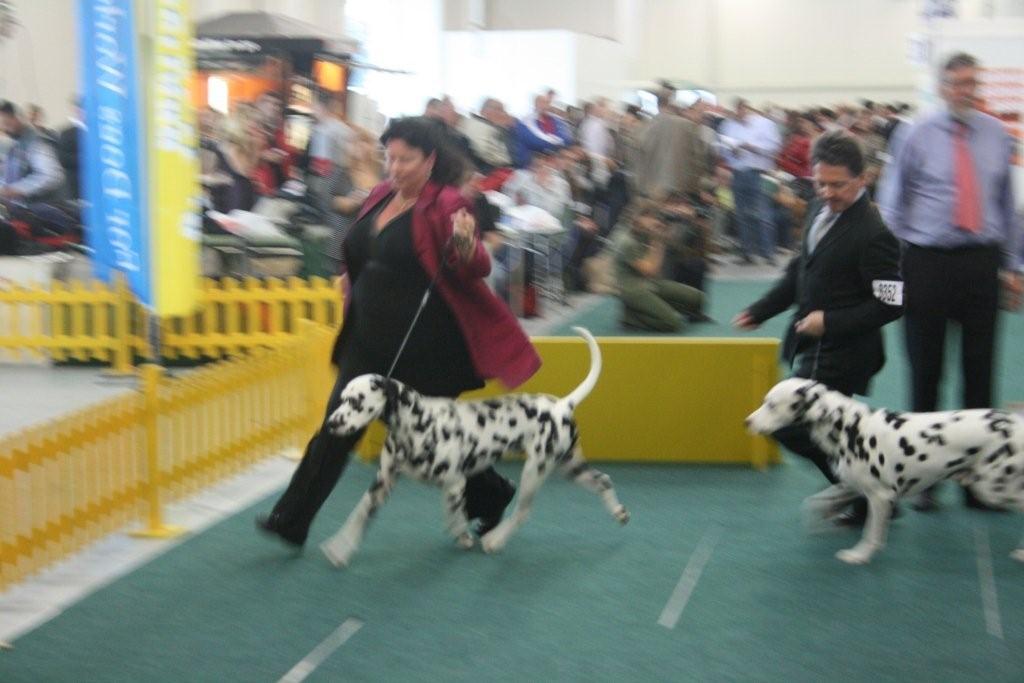 The Dalmatian ring was like a joke, and especially at a WW show we all have expected something bigger. This was maybe good for ten Chihuahuas, but NOT for bigger dogs that would like to show their movements.....it was a pity, and the heat inside was almost tooooooo much.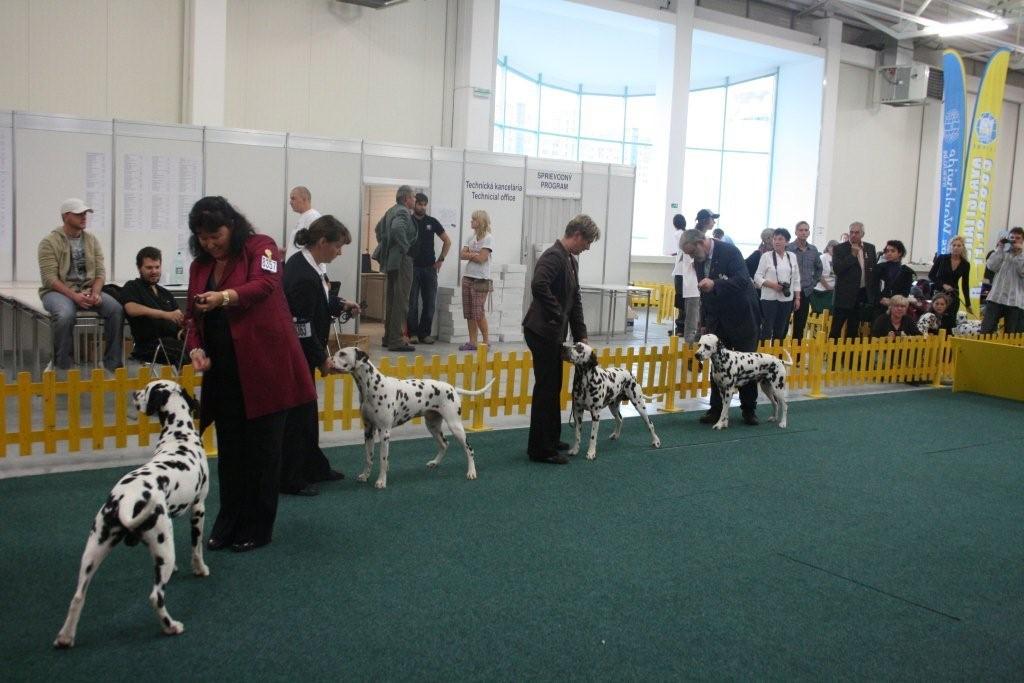 Here is the four last males in open. Daddy, Andrea with her male........? and Rhys with his and Annemiek's Caio........one of Daddy's worst concurrent.
Daddy was Nr 1 and Caio Nr 2.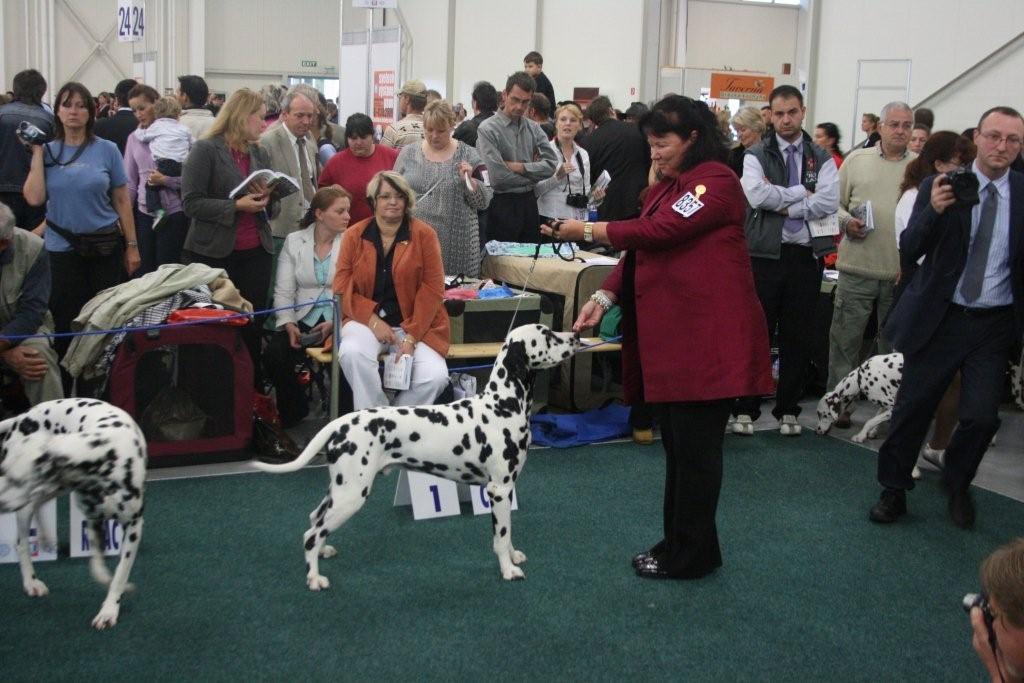 Daddy was hopeless to show because his backbeats slipped on the carpet, so every time he was standing ok (not here) his back feet slip away and he moved again....
Link to movie from Open male in Bratislava
See Daddy win by clicking on the link above.
I have entered Muzika here and it was so good to meet her again. She did not recognise Rune, but she kissed me and hug me.......Ooooooo that lovely girl!!!
Of course I have to taste the cakes in Bratislava. Finally we met Dimitar that have a Timanka bitch and live in Bulgaria.
Not much space in the ring!!!!!
I did not want to show Gloria because of her water tail and heat, but Rune did, and she was a good girl and wag her tail at one side *S*!!!
Our Norwegian friends Björn Erling and Elisabeth.
Thank You Elisabeth that helped us with Gloria, and to Niina too.......without You it would not go as good as it did.......
Jill was entered in champion class and became Nr 2 with Res. CAC, good girl because all classes were very large today with dogs from the whole world.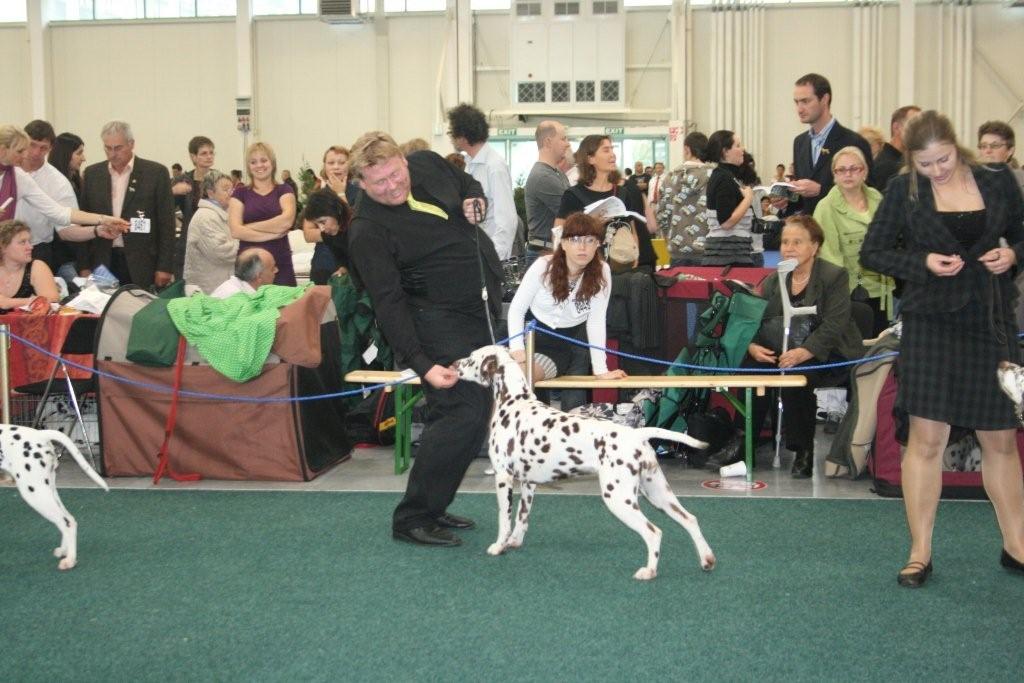 There were three bitches left for the competition of CACIB and the title WW-09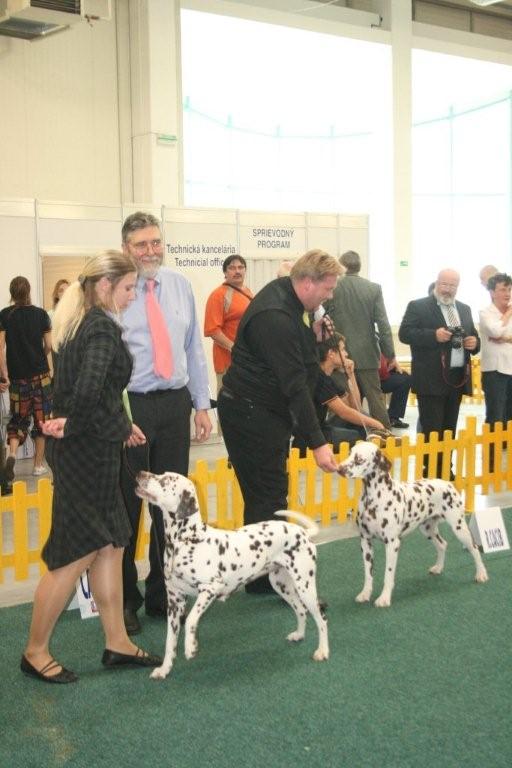 It didn't go all the way for Gloria, but she ended as second best bitch., behind a bitch from Russia, we can just hope that she is International Champion already (we could not find any titles in the catalogue)..shit so close to the title, but we have to be pleased as she wasn't in top condition and wasn't shown by me....as she like the best *S*!!! Helle and Zacco became WW one more time what can we say, CONGRATULATIONS, well done!
Heia Norge!
Anne Karin took care of Rune, he feel hot and sick today......
Nyhammers were extra nice dressed today and suit each other well.
Lovely grandchild/child to Devlin...You can see it as they all are crazy in Teddybears/toys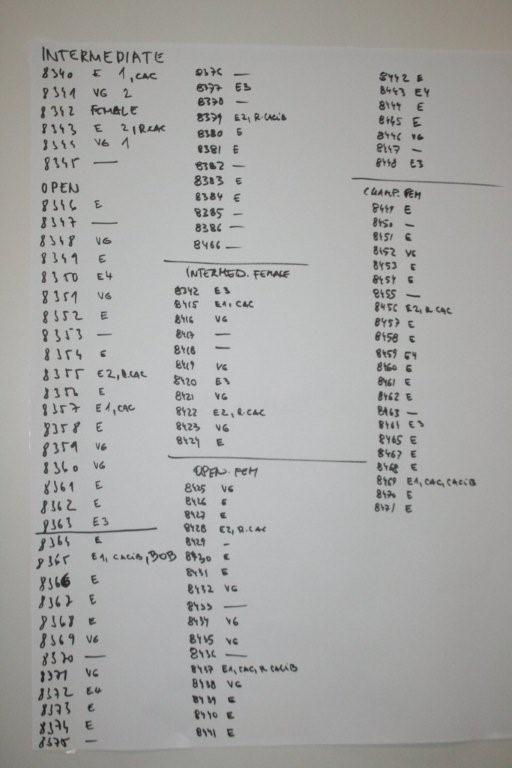 We had no titles to celebrate, but we comfort us with cake from Germany.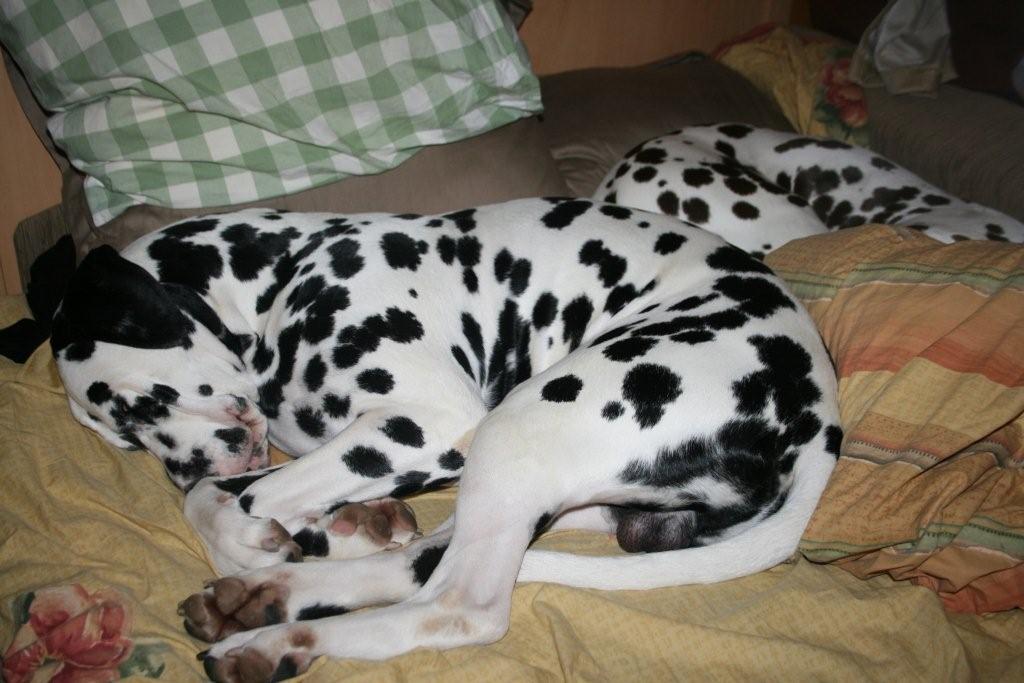 Daddy and Jill was very tired as the other dogs.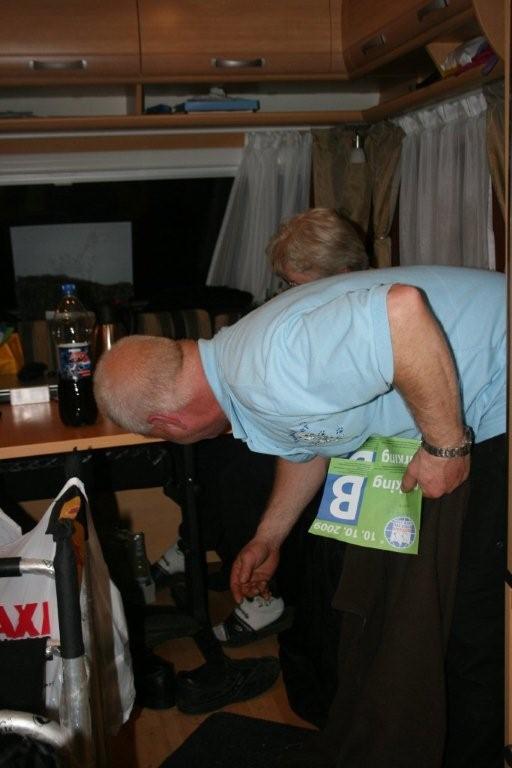 Rune couldn't find his shoes when he was going "home"......we think it was too much cognac *S* as he had them on his feet!!!!!!
Still too early to mate the Latvian bitch, hope for better result tomorrow.

Thursday 8 October 2009
Last evening I set my mobile at 5 o'clock but as it was no connection it doesn't work. I was awake first time 01.30 and then I was just listening to Rune breathing.......that is very stressful and as soon as I haven't hear him breath for a loooong time I have to talk to him and wake him up! No rest for us....We went up and made some sandwiches to bring in the car. Rune and Anne Karin was drinking coffee and we drove out on the terrible road again as soon as we could se daylight just before 7 o'clock. We have now 150 km to Brno that is the last city before the Slovakian border......
We did not talk so much Rune and I it is so much to concentrate on in the traffic down here........both of us was just sitting and steer at the instrument panel to see when the red light go on.........When You drive You can feel it immediately that the car can't pull.....But it went perfect km after km and mile after mile????? No problems at all to climb over mountain, and suddenly we were in Slovakia, Hurray...Bratislava here we come! Could God have heard me last night when I ask for some luck to come here?????
Birds, birds and birds.
We stopped at the border to buy road tax tickets, but we did not stopped the car......we would like to continue to the camping in the city before we stop. We have booked camping place at the Show area for lot of money, but without electricity, so we would have to use the generator then, but as there is something wrong with the caravan we need el for the freezer so we can't go there now...When we came to Bratislava about 11 o'clock my phone start to work again???
What in hell....everything is working today *S*!! Could it be better....no!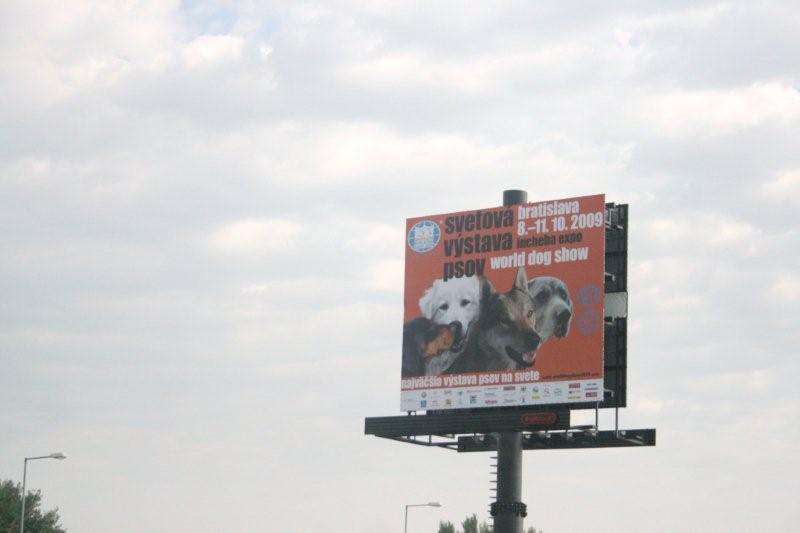 After a little sightseeing in Bratislava, Rune N :s Gps send us around a little and our did not work at all...(the lady in our was totally crazy today), we found the camping and we both got ELECTRICITY, what a beautiful word. It was too hot outside 28 degrees and it was perfect with our ac now.
After walking the dogs we try to mate Gloria and after a while it went well......she look so strange with her tail today, could she have water tail after all the cold in the car.......????? Don't know! But she did not look nice at all...and it is for her we are here! Shit, shit and shit again! Bosson is soooo stressed/excited before and after the mating so we do not think that we can show him tomorrow as we can't get any contact with him then. And if Gloria look the same as today tomorrow.....then she should stay in the caravan too.......buuuuuuuuu what are we doing here........?????????


Dollar is not that good looking now in this age, Bosson is out.....Gloria looks like hell......Jill is very good and Daddy is fit for fight, last time Mr Fintora saw him he was NOT IN COAT CONDITION AND WAS BEATEN IN Holland BY Annemiek and Rhys Caio......today his coat is perfect but there are about 60 more nice males that want the title we all are here for. It was not for him we drive here, our big hope was Gloria....but not now.....buuuuuuu I want to cry........but I never do for things like this I just get angry instead.......
At the camping I try to go to take a shower........after three days in the damned car we really need it, it is NOT enough to wash a little in the caravan..I want a shower!! When Rune and I came to the building it was closed...and open at 5 in the afternoon...I want the shower NOW!!!!! I stink!!!!! Rune went to the toilet and start calling at me after a while........paper.......do You have any paper?????? No I said, use Your underwear to wipe your self déjà *S*!!!! We were so tired and today we laugh at everything......
Outside it was as warm as in Thailand......poor dog owners without ac! I was sitting in the caravan for some hours and try to write everything down while I remember it. Rune and Rune drive back to the Incheba/Show area to try to fix some papers that we haven't got in time......there is no time for that tomorrow.
My back is hurting like hell after all driving in the same position...no pills help. Maybe a shower and some rest......do they have hot water here.....I wonder!
We are so much looking forward to me to meet friends from the whole world tomorrow, and to see if there are any interesting things to shop...but I should probably save all money as we can because we do not really know how to come back home with this car........But I should buy a souvenir from Bratislava, I must!!!
Daddy will have a love moment with Torry tomorrow, but he do not know that yet *S*! If it is not too early for her as last time, we have to wait and see.....
Still no connection on our mobile phone in the whole evening. Rune tried to get connection with internet with his phone so it was totally blocked...shit and nothing helped to open it up den . Anne Karin was online but not we....Grrrrr!!!!
In the evening I got my shower and it was hot and there were lot of water....very good!
It was such fantastic weather so Rune, Rune and Anne Karin (and almost everyone else on the camping) was sitting outside in the late night. I was inside trying to find clothes for tomorrow. I have bought something new for Rune and me but in the end I decide to take something that I have had since before.....
Wednesday 7 October 2009
We continue towards Bratislava as long as our car will go there......!
We start driving at 10 o'clock and immediately the instrument panel was full of red lamps! I hate it I hate it I hate it, I was so angry and disappointed of all people that sell Renault in the whole world...this car is almost new, and we bought it just to be safe on our journeys around in Europe......Then we better have had our old shit Opel !!!! And saved 200.000:- instead to use for flying to dog shows instead!
When the lamps start lightening the effect of the car is gone....we can't almost drive up in a hill.....30-40 km is max and we have a looooong way to go!! Grrrrrrrr!!!!!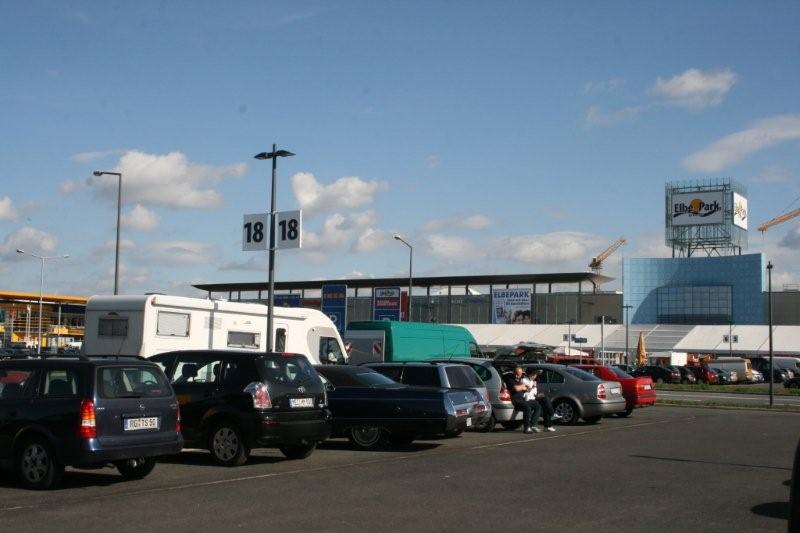 We have now driven over 250 km in east Germany and there were no place to shop close to the road. After 100 km we found the last Germany city before the Czheck border, Dresden, there were a large shopping centre and we were happy for a while. We shopped lot of bread, fruit, schnitzels and cake and other things we need for coming days. Our plans was to just drive trough Czeck and stop when we came to Slovakia....as we did not know if there were any shopping centre along the road in that country.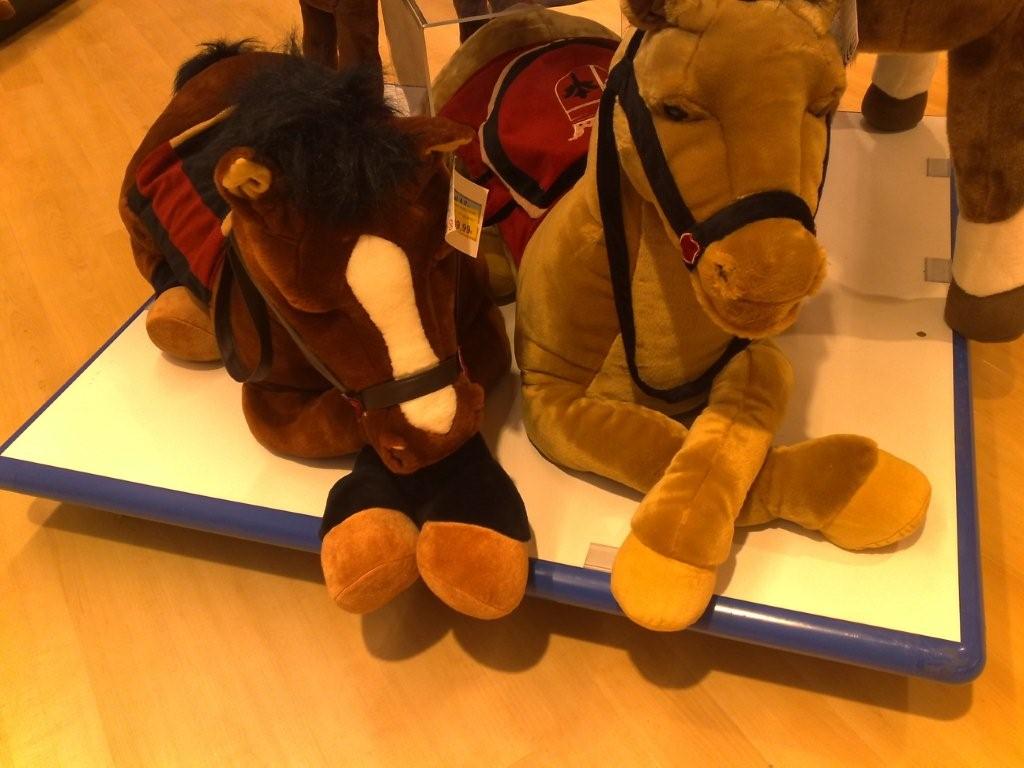 .
I saw those lovley horses in a store and was on my way out to the car to ask Rune to go back with me and carry them out.......BUT when I came to the parking I forget all about that!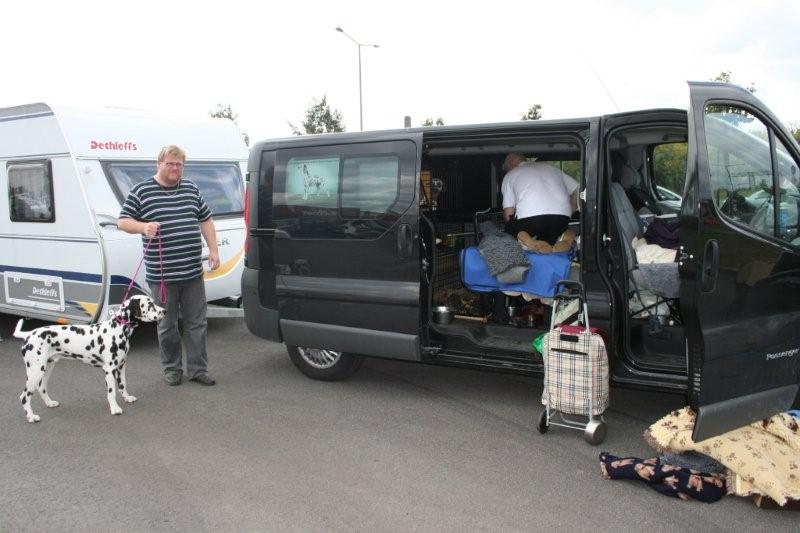 I was still in the centre buying new shoes and the others went out to our cars and to walk the dogs. When I came out there 30 minutes later I saw directly that something was wrong...why was everything taken out from our car, and why was Gloria in a cage outside the car, and why was Rune N crawling inside our car, I did not understand anything until it hit me.. Oh no, not again!!!!! Our back door's lock has locked it self as they did the day we should go to Askersund for a show. The garage told us that this never happened as it was a fabrications fault, but it did...and now it have happened again. That time we could not get our dogs into the car, and now we couldn't get them out and they start to be very warm as the sun come up and it was 25 degrees here. After almost an hour Rune N took a long thing from his marquise on his mobile home and clime over the cage and reach over the two others and get the damned lock up from inside...then both Rune try to fix it, and we should have found a Renault garage, but there were no time....We start to walk the dogs and then it happened...both backdoors were taken by the wind and the door was locked again with dogs outside this time!!!!!!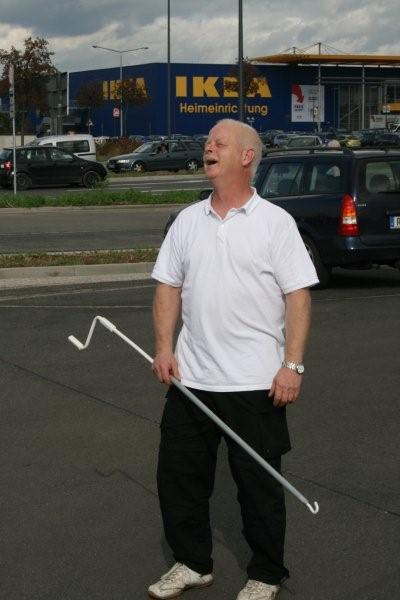 Rune came back with his stång and fix it again...love You!!! What should we have been doing without You???
While Rune and Rune worked with our car I took the time to clean Jill and Daddy from oil, and with soap and hot water they looked so much better after a while!
The same procedure as before and 30 minutes later we were on our way towards Bratislava again....I drove first and the Norwegians behind as I can't follow them with my broken car they have to go slowly behind.
We were soon at the Czeck border and Rune N found out that we have to pay tax to drive on the roads.....and we haven't checked the value in that country, hopefully they have Euro......and they had plus their own value too?!?
They bought a ticket for their car but they did not have that one that we need for a car over 3,5 ton....what should we do then?????? They say that we could go to next gas station to buy one..ok. After 25 km we stopped and went inside to buy the ticket. And they gave us the same ticket as Nyhammers had for their car and we told them that that was wrong but all personal in the gas station said that we was wrong...but it stand on the backside of the ticket------UP TO 3,5 TON, but they probably can't read and they have no others and insisted on that this was what we need. Grrrrrrrrr!! We were so angry.......!
We put the ticket on the window and start driving again...what in hell should we do???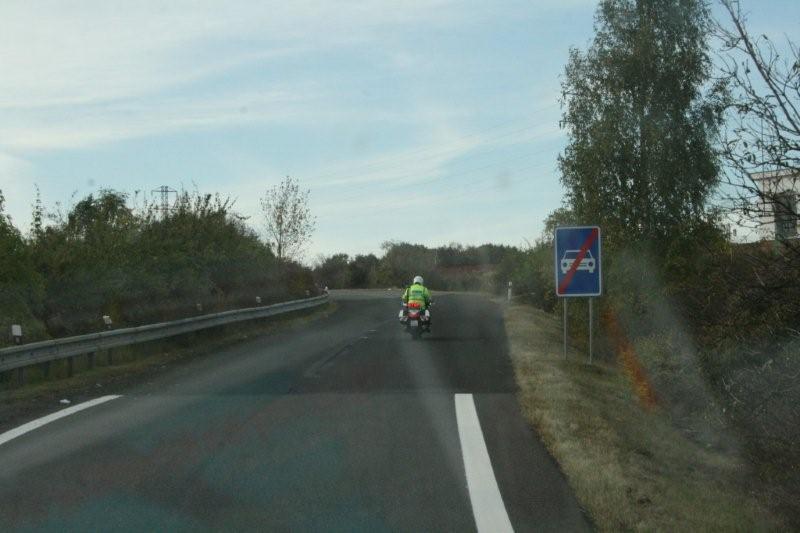 After just some km I saw a motorcycle behind my caravan, this country was full of police.......and of course he light his blue light on and a sign start twinkling in RED (my favourite colour this days *S*) with FOLLOW ME!!!! And of course I did what else could I do........
We followed the police to a smaller road some km away. He immediately saw that we have the wrong ticket..I was so upset because that was just what we have told the staff at the station......but "our" ticket was sold out so what in hell could we do with it!!!!! After a while we have found everything that he was asking for driving licence, papers for the car and for the caravan, insurance papers etc etc. The police man was very nice and polite and he was also angry with the stupid gas station staff..they do not know anything he said, and we have found out that by our selves, so we just agree. After 30 minutes we were ready and he recommend us to go to next gas station to buy the right ticket, and he gave us POLICE ESCORT there.........thank You!!! Always something this rotten day!
It was a hill to the station and our car almost stopped I could only drive 30 km /hour nothing happened when I try....we stopped at the station to buy ticket, but of course they did NOT have any ticket left, unfortunately the policemen have already drive back to his district.........we bought one more ticket for a car and put at the caravan!!!!!!!!!!!!!!!!!!!!!!!!! Runes idea and just now it was the only thing to do, but it was NOT allowed of course but we give a damned in that!!!!!!! Next problem the hill seams to be very long and now we have to start in the middle...it will not go at all, so Rune N put our caravan behind his mobile home and I took our car and drive in front......It was ok to drive up there without the caravan behind....it was like in the Alps, thank god that we have Anne Karin and Rune with us otherwise have our trip stopped here.
When we came over the mountain I try to find a place to stop to take the caravan back after my car, but it was very small roads and not possible, so me and the dogs drive 20-30 km.......we talked to each other in phone Rune and I and we found our that my Gps have send me the old highway and they were at the new one.......suddenly I saw them far far away on a bridge......they just have to continue to drive and I have to go back to the small village and try to find the new highway...after 30 minutes we found each other again and we put the caravan back to me. After 100 meters all my lamps start to twinkle RED......oh I hate that colour just now!!! But we continue to drive in sometimes 70 km/hour as the best and sometimes 30 km......do I need to tell You that every miles took a VERY long time.....we have planned drive much much longer but when it have been dark for some hours we have to stop. I had pain in mu stomach and that remind us that we haven't eat since this morning there have been so much trouble that You not are in a mood to eat (not normal for me *S*)!
We try to find a camping place but there were no in this country??? Then we stopped at at least 7 or 8 gas stations to sleep for some hours but it was impossible. All trucks have stopped to sleep and there were not space for a normal car anywhere!!! One hour later in the hard traffic on cement roads we stopped and found two parking spaces between all trucks....inside our caravan was everything up and down after all bumping and in Nyhammers car all cupboards have opened even if they were closed. How in hell can people have cars here, they must change every third month????????? I try to put the light on in the caravan but it was not possible...I have 3 small lights left and one large so that was what I have to use. And of course Rune N had a flash light for us....It was so dark that it was impossible to try to find out what have happened, probably something that have been shaking loose. It was not easy to make food in the dark without water in the tap...we have to take our dogs water to make mashed potatoes and heat up some wiener sausages.......blä!! As we both have shopped so much food today there were no space for Anne Karin to take more than our "Lollipops ice" in their freezer everything else have to stay and be food for our happy dogs because it will be destroyed tomorrow without no working freezer....
Then we fell down on the couch in the caravan and try to rest, we can't stay to long because Rune need electricity for his breathing mask, and we couldn't get it here or anywhere else just now. On top of everything my mobile phone has stopped working since some hours, it just said no connection......very funny!
Our plans was to mate Gloria today, but just now who cares!!!

Tuesday 6 October 2009
We took the boat from Trelleborg to Sassnitz and were so happy that the car was ok now.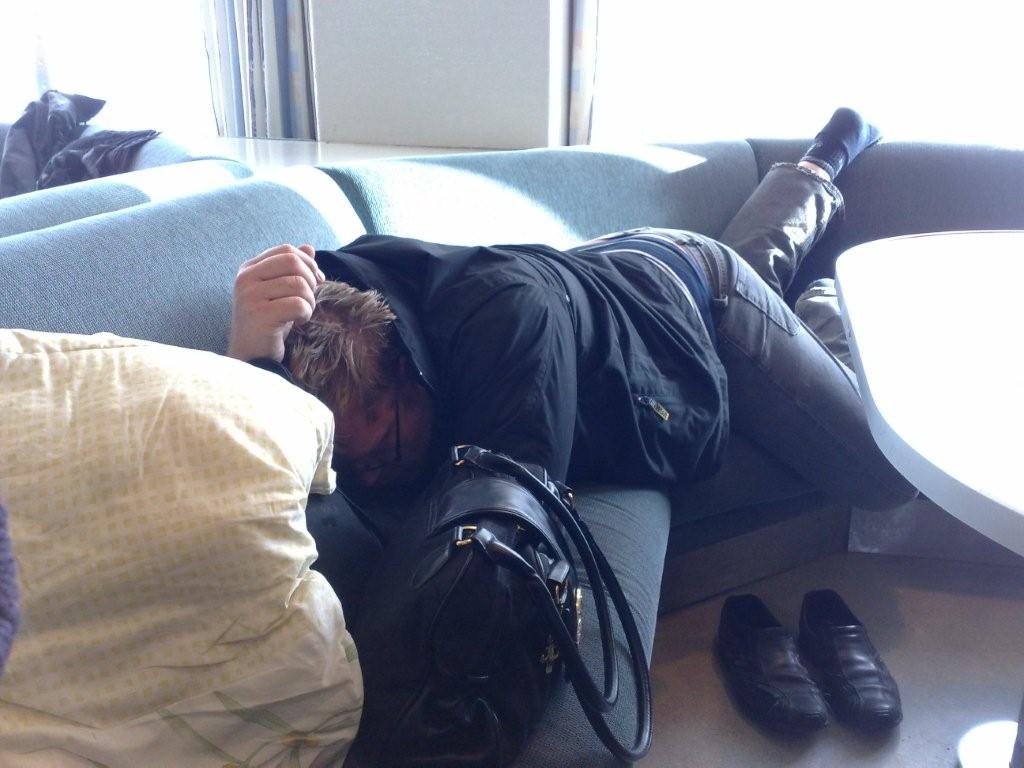 We both fell asleep on the ferry in the morning.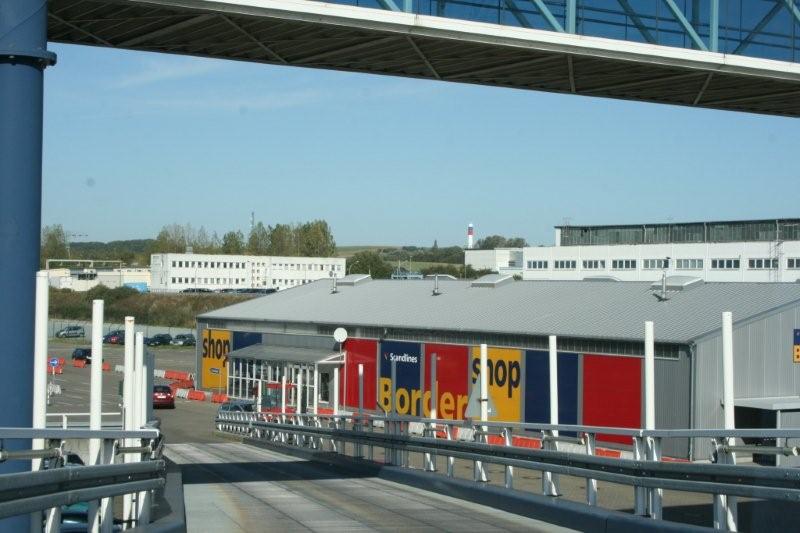 We have never been on this Bordershop before.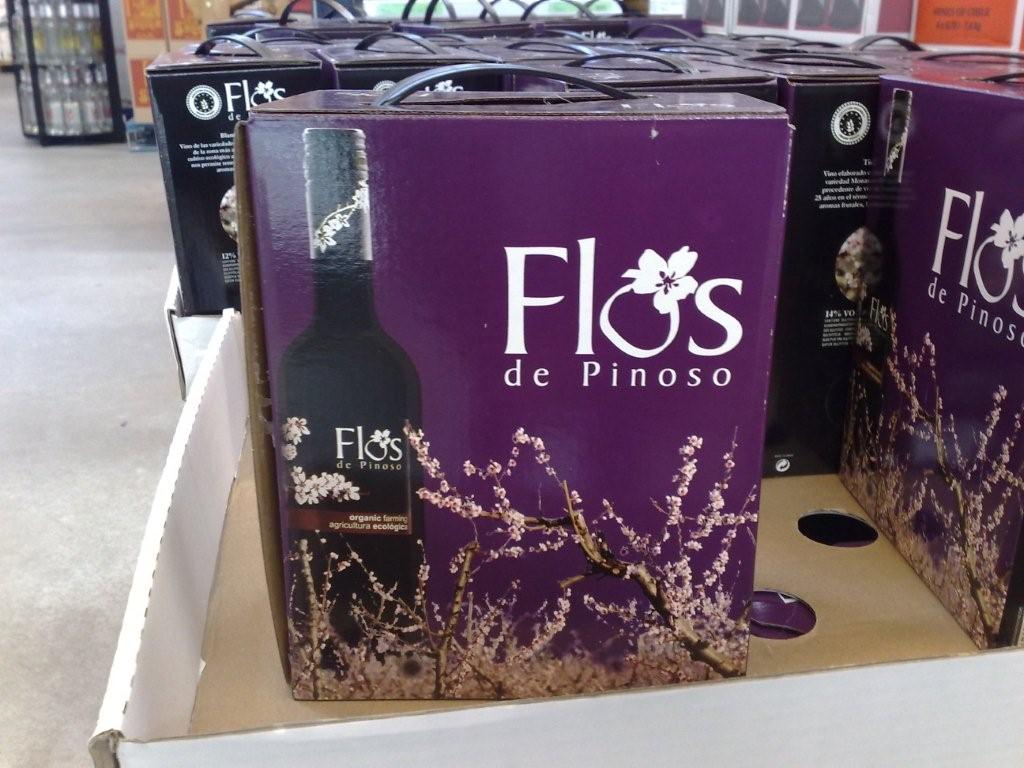 Do we need any champagne on this trip?? We bought wine with my name on!!!!!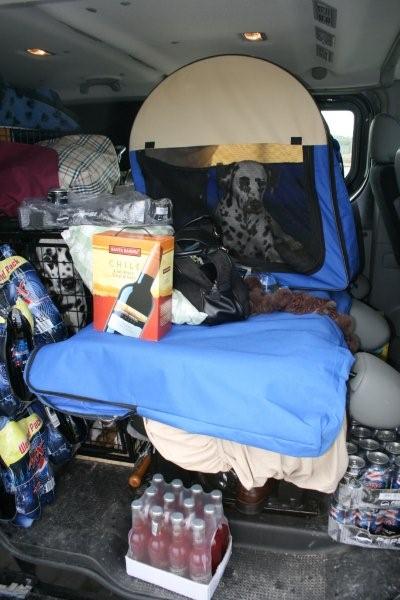 We were shopping in Bordershop in Sassnitz, and I love it, even if I don't drink! We walked the dogs at the same time and saw that Jill was full of oil all over and the same with Daddy...where in hell could they get that from????????
Rune said that this was a sign from above that Jill (Jilloc's Joyride), will win on this trip ha ha I do not think so.....there are many dogs on the way to Bratislava just now and they all want to win.
Rune eat some candy in the car and suddenly he lost one of his teeth that he have been at the dentist and make a new one just a month ago..now it is a dark big hole instead, so he have to stop smiling this journey (when this happened we had no clue that we lots of new problems were in line)....and it was easy not smiling during this trip....
Some kilometres later all lamps in our car start to twinkle AGAIN!!!!!!!
HELP!!!!! We start to call to the garage in Sweden and we talked to them many many times during the day.....they have promised us that everything was ok with our car now and we without problems can drive to Europe!!! It was expensive with all phone calls today and we stop and start and drive in 60 km/hour and stopped and so on....we were so frustrated and it took such a long time before we reach a camping close to Berlin and met Anne Karin o Rune there as we have planned.
On the road we called Nyhammers and told them that we now saw the sign to their home adress BERGEN, but they did not believe us..but it was true. there is a Bergen in Germany too!
We ordered dinner from the steakhouse at the camping, but I couldn't find my schnitzel on the plate......they have forgot it on the oven so Rune had to go back and ask for it *S*!
We forget all about our car in the evening and cheered in champagne for this years win and have some nice hours together. It was falling lot of rain on the roof in the night and we hope it will end before the morning.



Monday 5 October 2009
All morning and half the day Rune was driving first to one garage and then they send him to another with our car......
He was home at 12.30 and now it should be perfect they say one more time, I am not that sure that I believe them!
Runes mother and Aunt are now here to stay her until we are back again.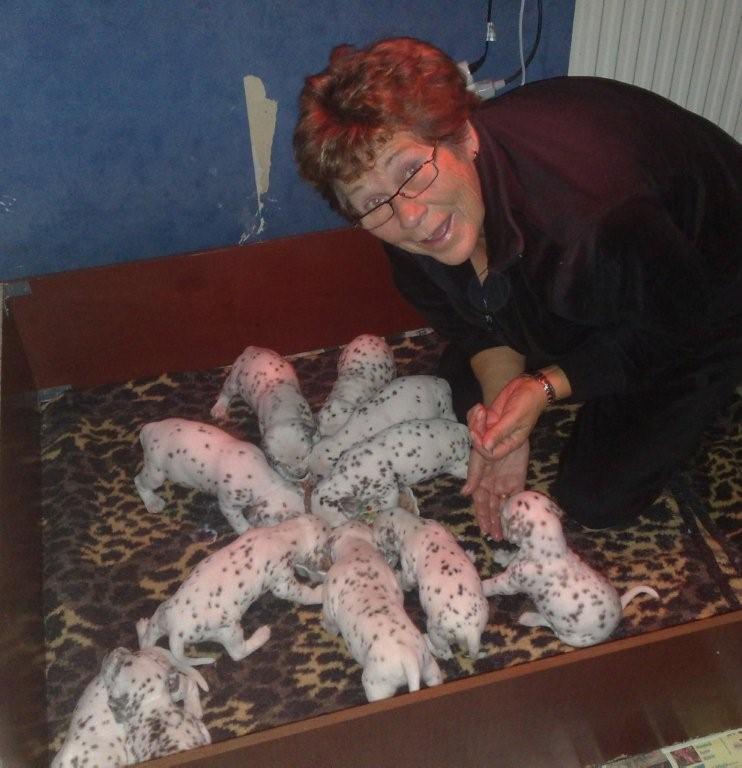 Fantastic news from Holland:
Ch Jilloc's Seventh Heaven is the first in the S-Litter to became an INTERNATIONAL CHAMPION, and this weekend Dutch Champion too, Congratulations to the whole family and her super handsome handler Andre that is out of his head on this photo *S*!
She became BOS in Zwolle for Judge L K M Erhart from NL this weekend.
Sevens sister Ch Jilloc's Scandal Beauty is now on the top leading the list in Finland, hurray, we wish You the best!
We leave home in the evening and first of all we met Jimmie in Gothenburg to leave some presents for Eddie, as he have celebrate his first Birthday when we were in Sundsvall unfortinally, and today we have made plans to go there in the afternoon but as we have been in the garage all day long with our car it was to late to meet Eddie as he sleep early in the evening. Love to meet him soon again as he grow that fast now.....
Then we continue south, and in Hässleholm we were so tired that we haave to stop and sleep a little. It was cold in the caravan so all five dogs have to stay in the car and we fell down on the coach for two hours.......brrrr we woke up and continue to Trelleborg and were there at 6 o'clock and at 7 we could drive onboard. We went up and found a free sofa and fell asleep emidiatelly for three hours.......one hour later we were in Germany.

Sunday 4 October 2009
Back to the show area in the afternoon waiting for BIS. The BIS Judge today was Annicka Ulltveit Moe and we were excited, as we know that she at least like our breed, but she have never judge Gloria. (Devlin became BIS 2 in Drammen in 2001 for her, a happy day).
Ch Jilloc's A Man In The Mirror BOB and Ch Timanka's Collectors Item BOS for Annicka Ulltveit Moe in Drammen 2001. Later that day Devlin won the group for Per Svarstad and then BIS 2 for A Ulltveit Moen....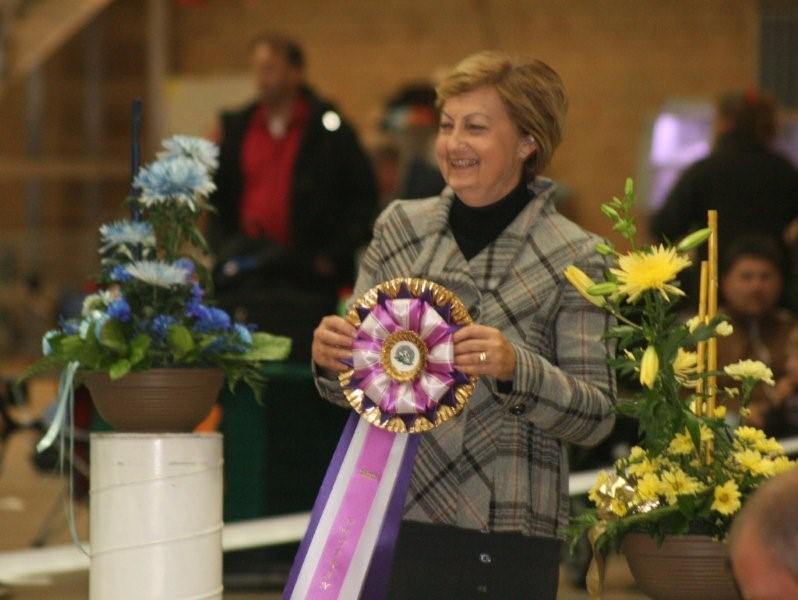 Annicka Ulltveit Moen judge even Veteran BIS today, and the club here have so fantastic cockards, that everyone was happy to bring back home!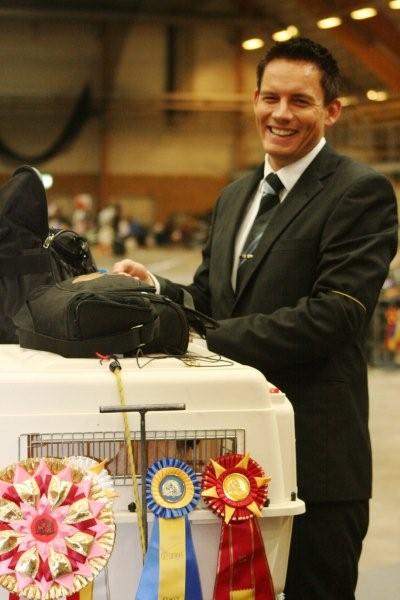 Björn Erling was happy today he won the Breeding group with his pugs. In some days we will be concurrent in Bratislava.......looking forward to meet You and Elisabeth there (I think *S*)!!!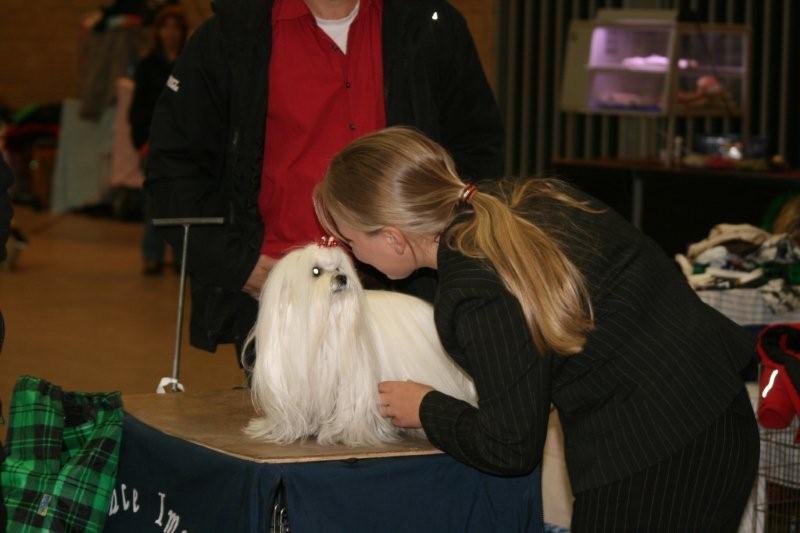 And we were so happy to meet Pia, Teemu and Luca here today. Congratulations to You for all Tittis fantastic results.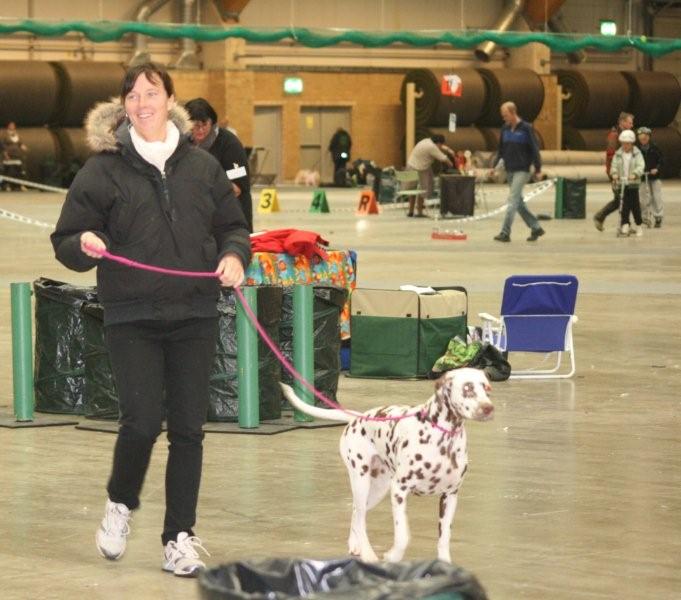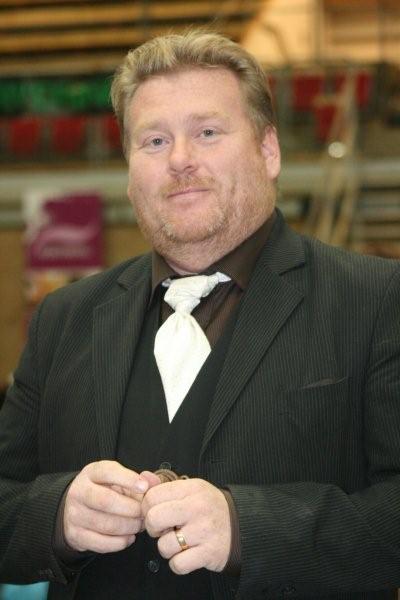 Carola was a good kennel girl this weekend and she bring Gloria in for BIS...Rune was prepared.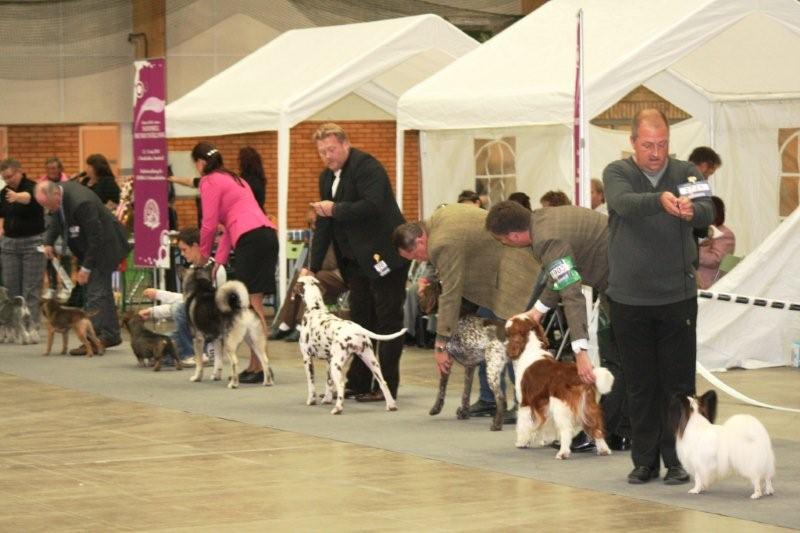 Very nice line up with many beautiful dogs.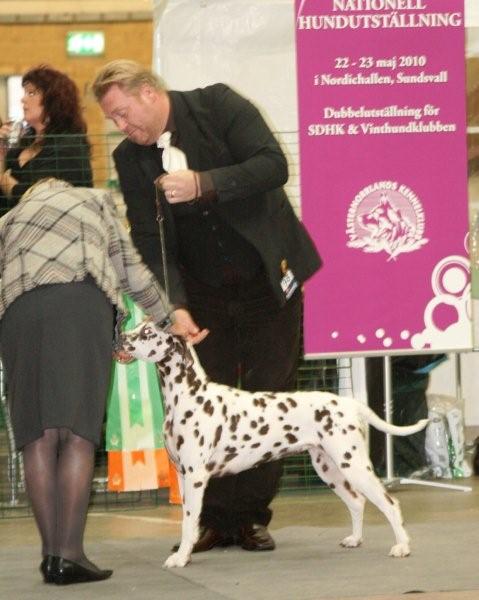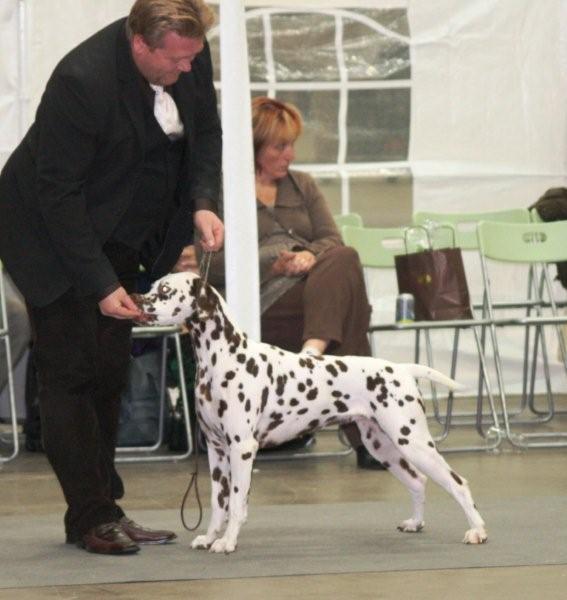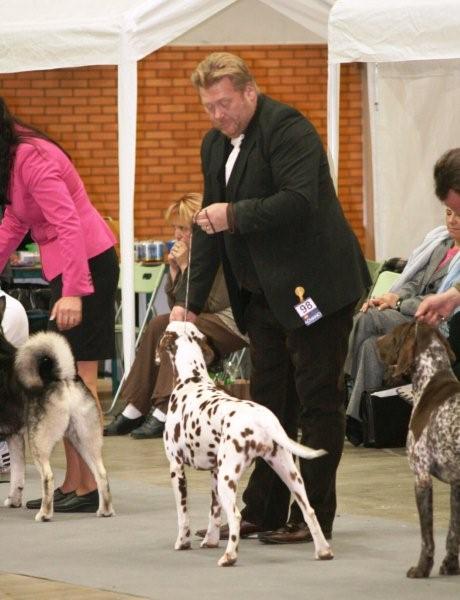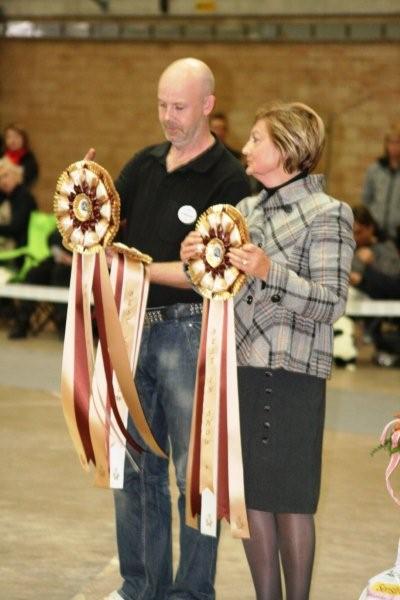 First five dogs at sixth place should have their cockards.
Gloria was still left among 1-5, Hurray.....and then the last five should run again....and then suddenly we all saw Gloria run faster and faster and she passed the dog in front of her.....but WHERE, WHERE is RUNE?????? I put my camera down and then I saw that he was standing like a ? with only half of a leach in his hand.....Gloria was running free but continue on the mat and suddenly she discovered that she was in front of some of her concurrent *S*...she stopped and was standing nose to nose with Jeanette's Jämthund and she was a bit confused.......then Rune was there and took her in the collar, and all BIS finalists have to start all over again.....and we were many that got a big laugh. I just say thank god that it wasn't a small and hairy toy dog in front of her because then she could might think it was her hairy toy at home *S*!!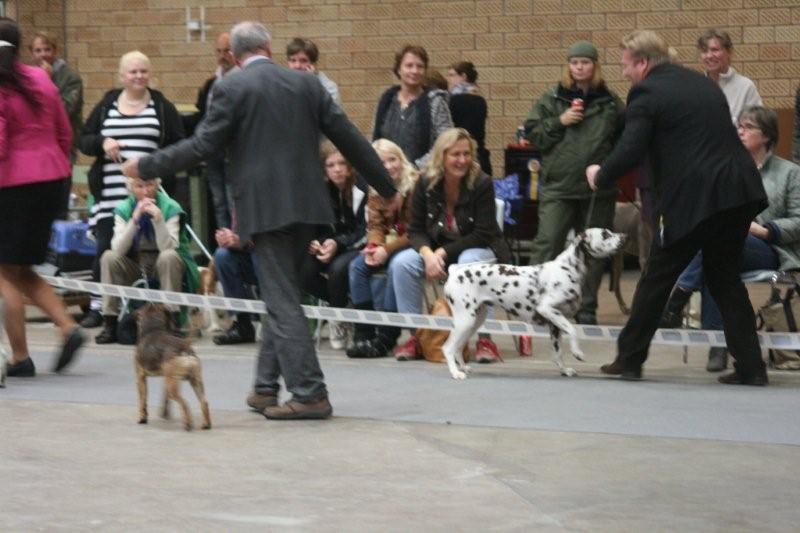 We all laugh a lot, Gloria is too hot to handle, and just too happy. She is a bit better with me and I will show her in Bratislava next week, it is so much better for me to run indoors because the rings are in normal size......outdoor shows can have a final ring as two footballs fields!!!
Thank You Jeanette that You stayed so calm when Gloria came running almost over Your dog, but You know that she is just playful and crazy and in season *S*!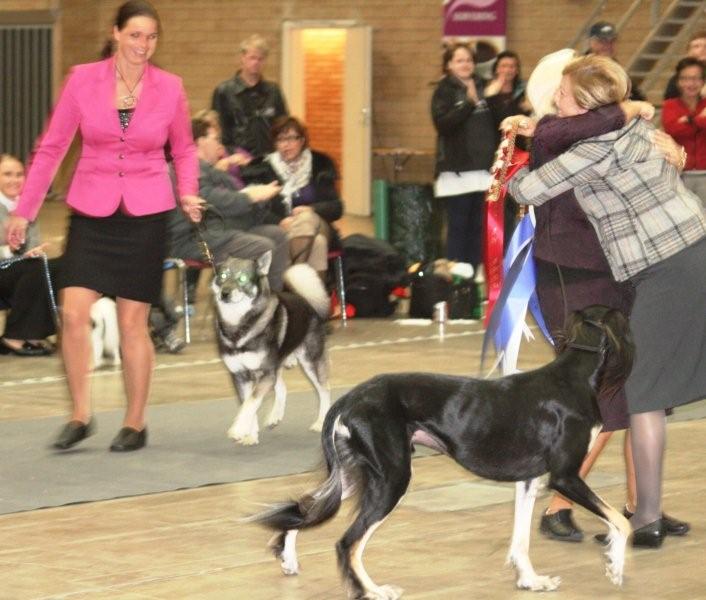 Ingunn was BIS with her fantastic Saluki and Jeanette was BIS 2 with her Jämthund and BIS 3 was GLORIA, Hurray what a weekend!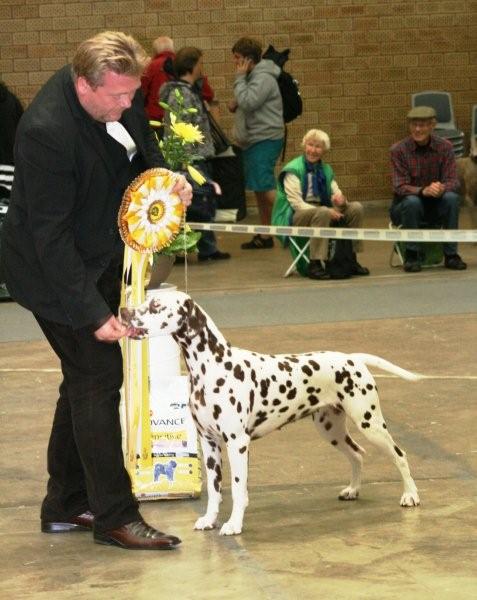 One more fantastic cockard for Gloria, and FLOWERS, the best of all, Hurray!!!
What a weekend!!!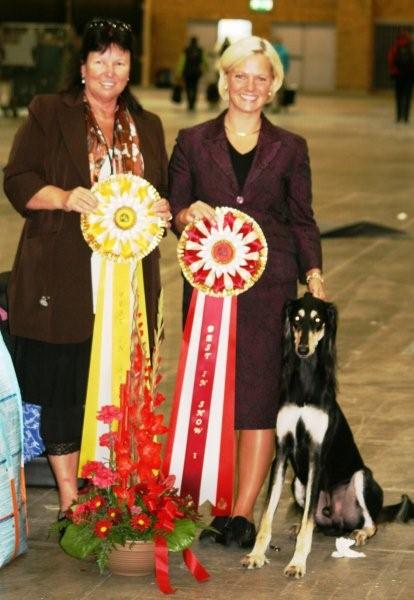 Two BIS placements for Skaraborg!!!
Congratulations to Ingunn and Niclas and their California Dream, and we were so pleased with Glorias BIS 3.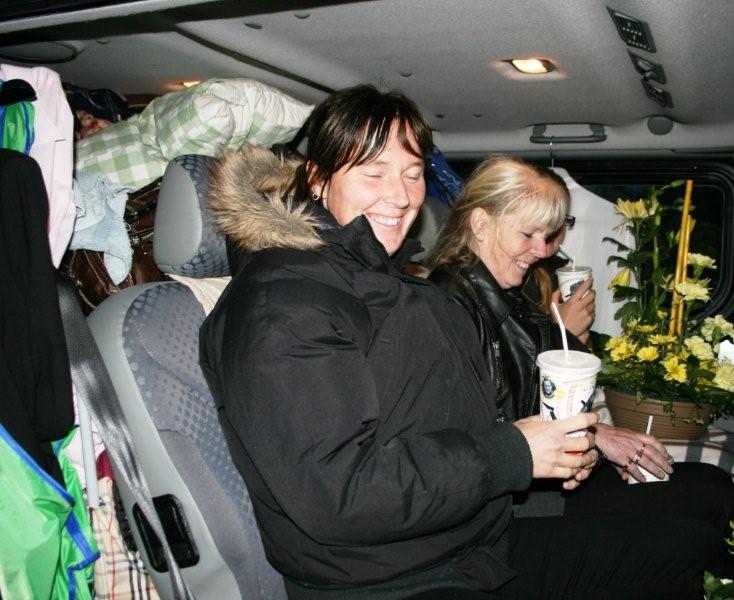 We really don't know how we get everything in to the car in the evening.....
After some hour we stopped at Mac D and eat. We were all tired and laugh a lot during our trip, BUT.....we stopped laughing when...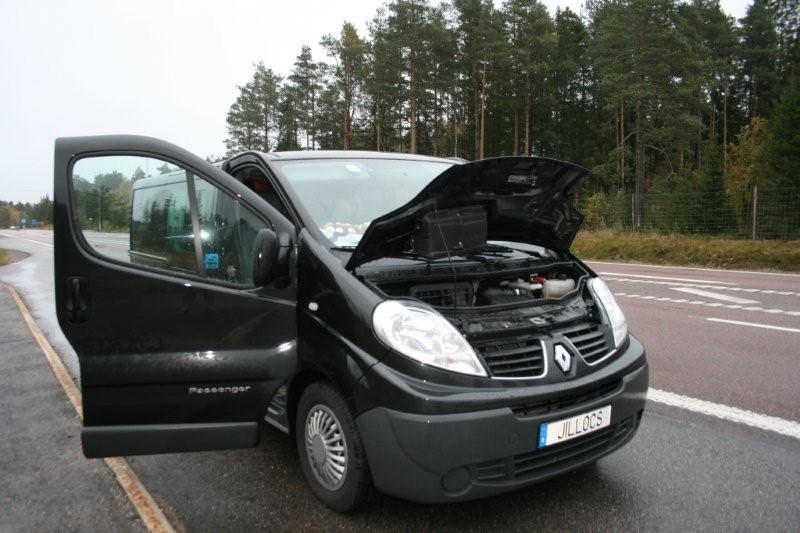 Our car stopped AGAIN...oh no shit what in hell is this...we have been to the garage six times now and this should be impossible....After a while it stopped coming smoke and we drive carefully against home.......two more times the car stopped but finally we reach home at midnight......we know what to do tomorrow morning.....the garage AGAIN!!!!!

Saturday 3 October 2009
Today my grandchild Eddie is 1 Year old and we are so sorry that we can't be there, hopefully we are ready for Bratislava in time tomorrow and then we will be there in the evening on our way south with his presents.
Bild Eddie
International Show in Sundsvall.
We have never been here before, but as we got some good results with our breeding groups the last time we have to go for it even here today.......we haven't been that active this year as one of our rocks in our groups died this spring, and we was not in the mood to go like last year. But there are just three more shows to go Sundsvall today, Växjö and Stockholm, so we will try to get some counting results if we can to just hope we can stay in top 10 this year, if it is possible. We will start again next year and see what we can do about it.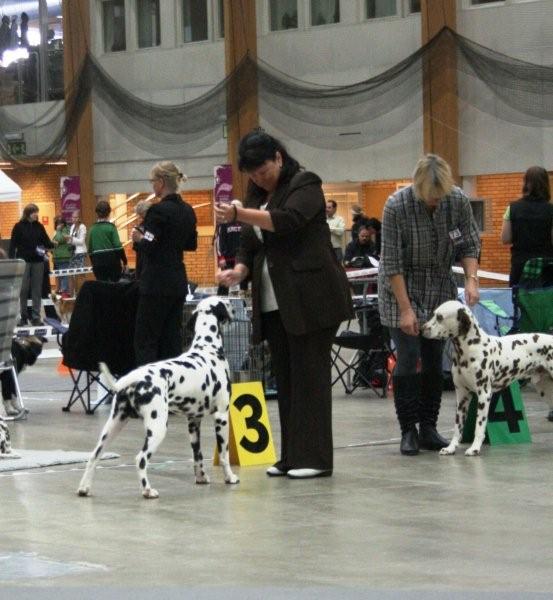 Daddy became best champion and later on Best Male with another CACIB. Second was Devlins son Ch Ekryda Hercules, and he became even Best Veteran, Congratulations! (There were no photos of him).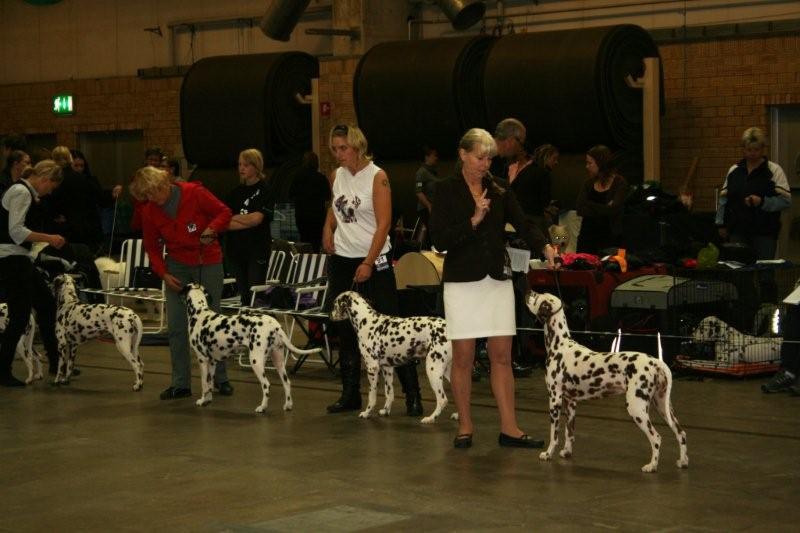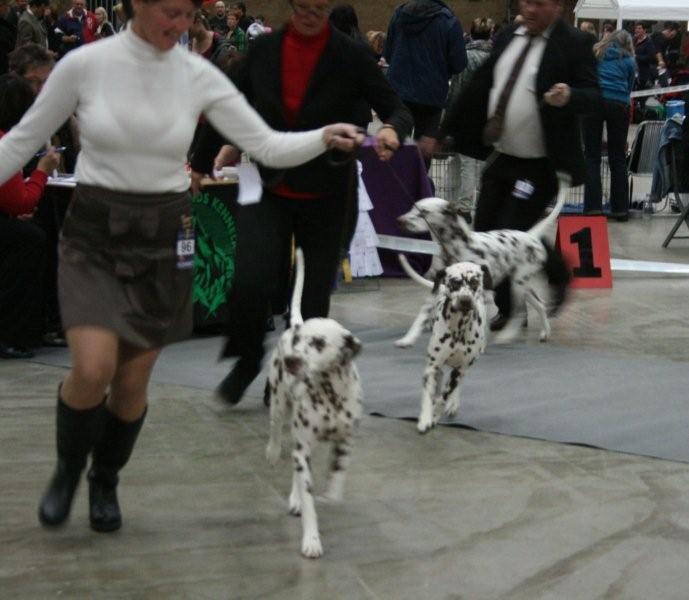 Many bitches in open class today so Eva was so nervous, but she was winning the class with excellent! Then the champion class with five bitches, four from Jilloc's. Jenny showed Jill today and Carola had Perfect and Anna with Nova and Rune with crazy Gloria *S*.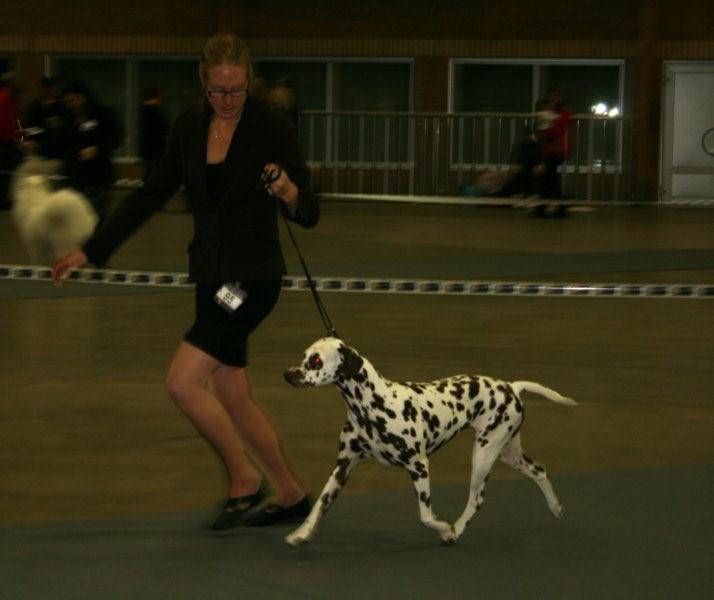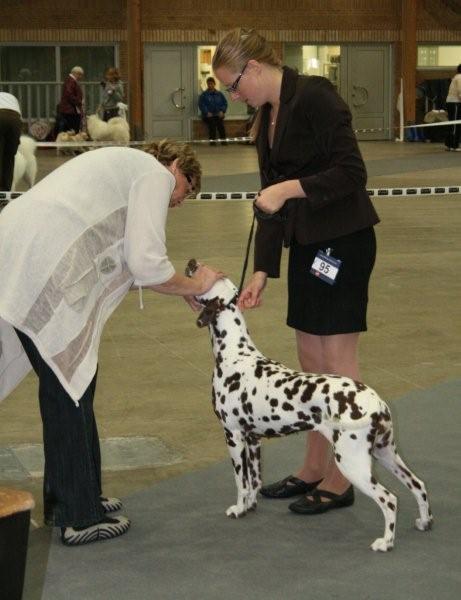 Jill is sooooo happy when she can be on a show (we do not show her so much now, but we needed her for the breeding group today, that is why she was here). Rune just wait until she will be a veteran in early 2011, that should be fun!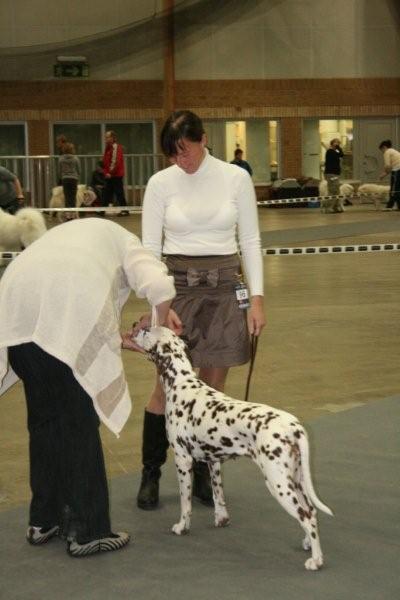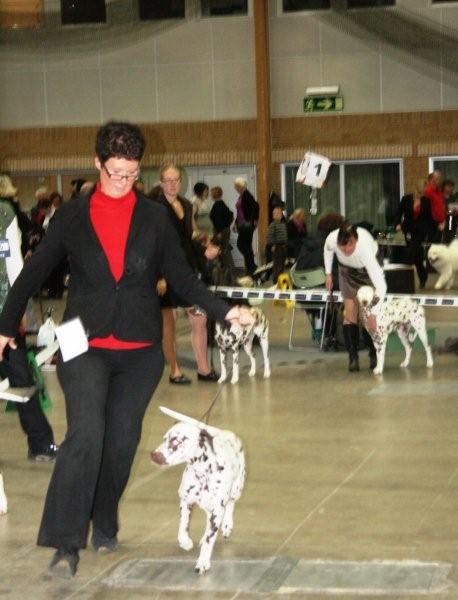 Carola and Perfect in front of the judge. Nova and Anna showing their movements *S*!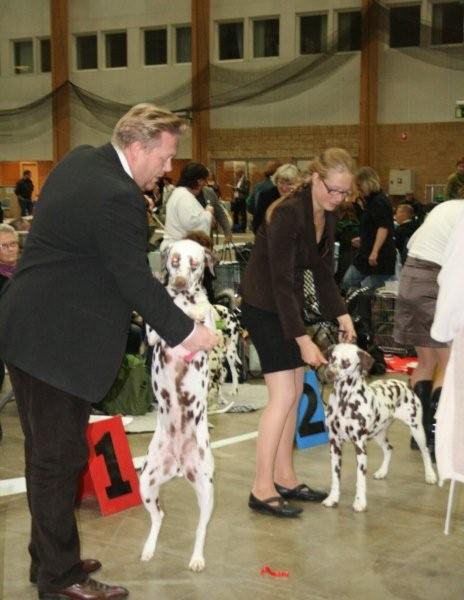 The judge was very fond of Jill but finally Gloria beat her, and later on she became Best Bitch.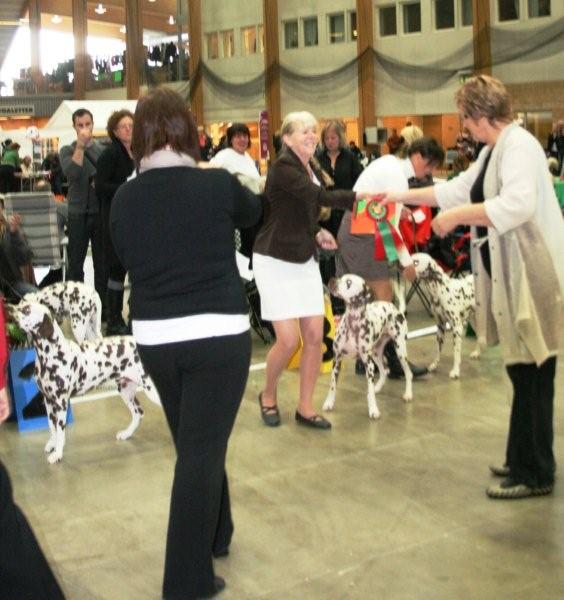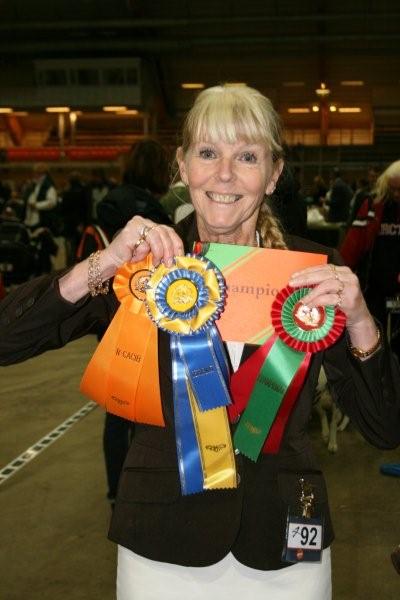 Eva and Angie became third Best bitch and she did not understand that she got the last CAC that made Angie to a Champion, because she did not stayed in first place *S* she did not think about that both Gloria and Jill in front of her already was champions.
Congratulations from the bottom of our hearts to You and Angie!!!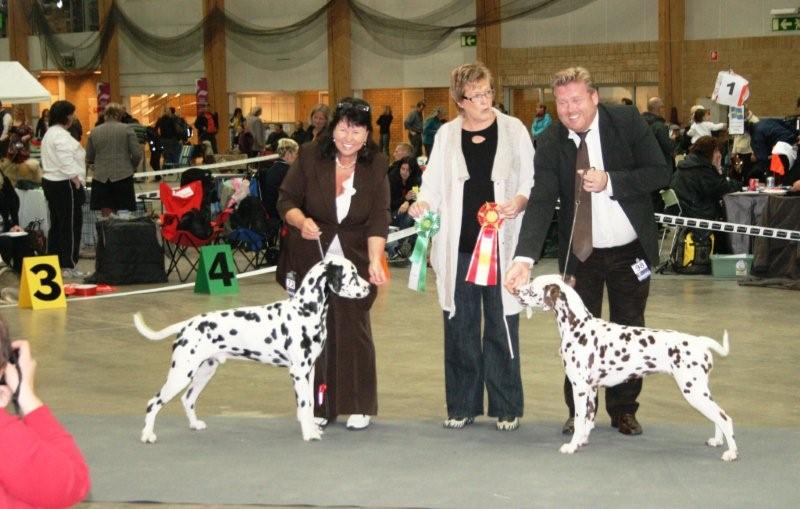 As usual Daddy was beaten by his "ugly" sister Gloria that became BOB. Here together with the judge from today Anita Whitmarsh.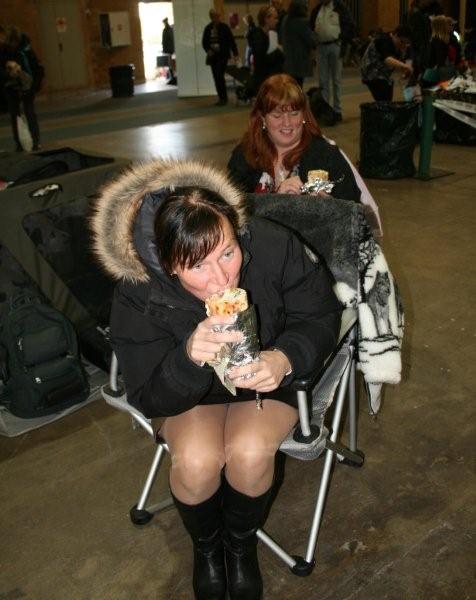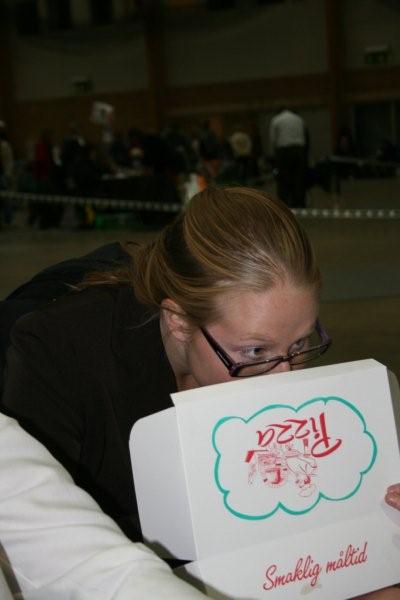 Pizza for Rune. Something else for Carola. And something secret for Jenny.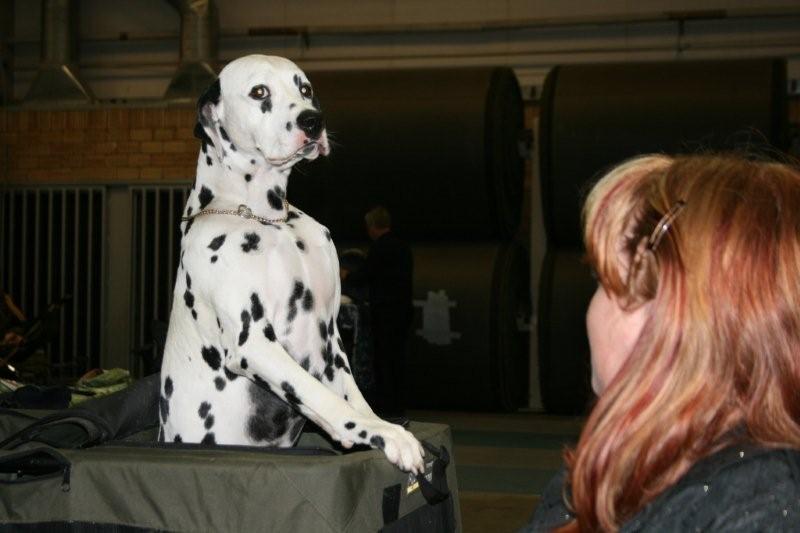 Skvå Inu My Black Rolex wanted something to eat too. But Marianne and Maria eat everything up.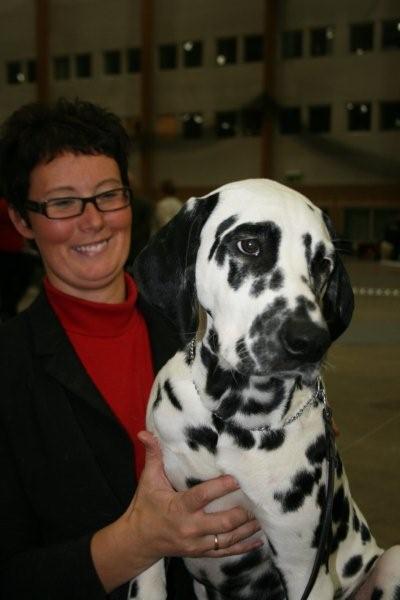 Anna with her own puppy boy!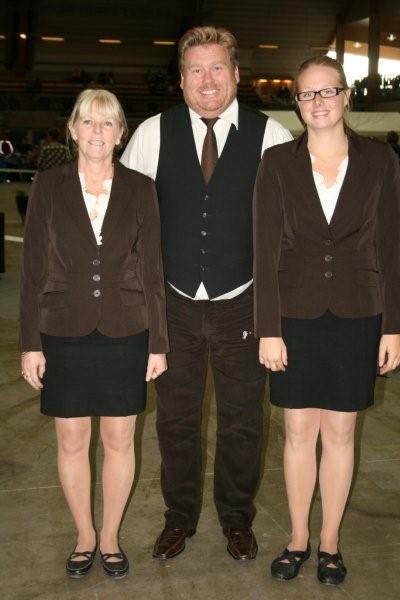 Yes, You all look sooooo good!!!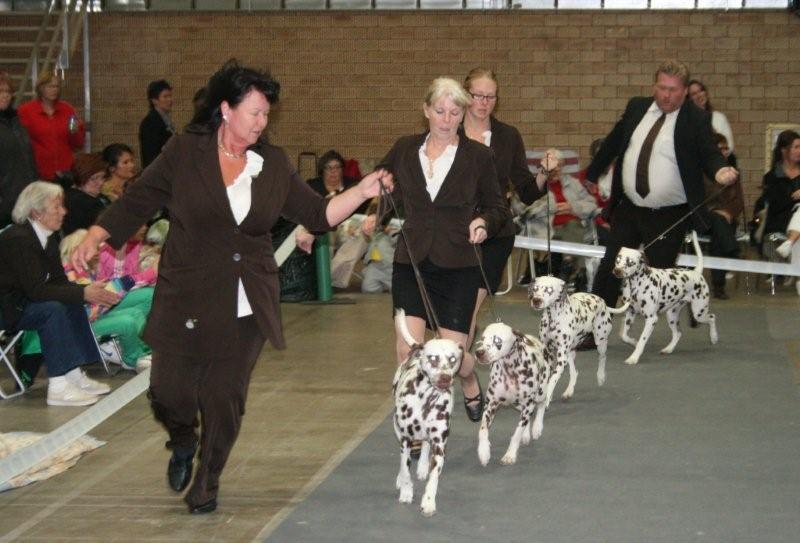 Standing. Running.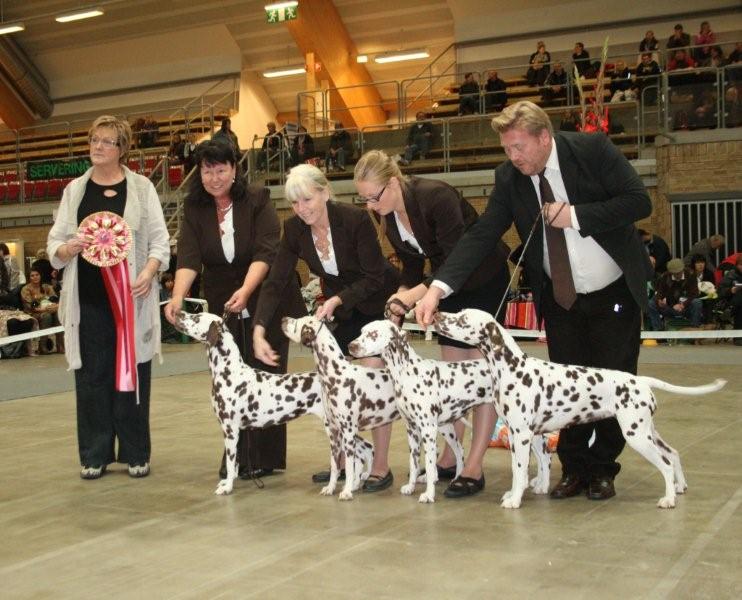 Yes, we did it again BIS-Breeding group, Hurray!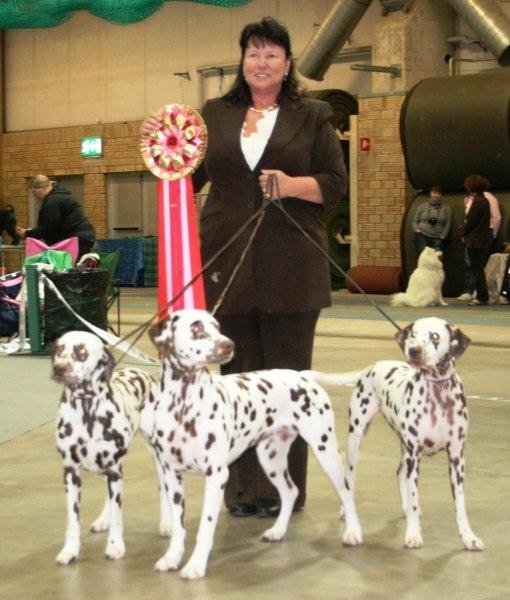 And what fantastic cockard.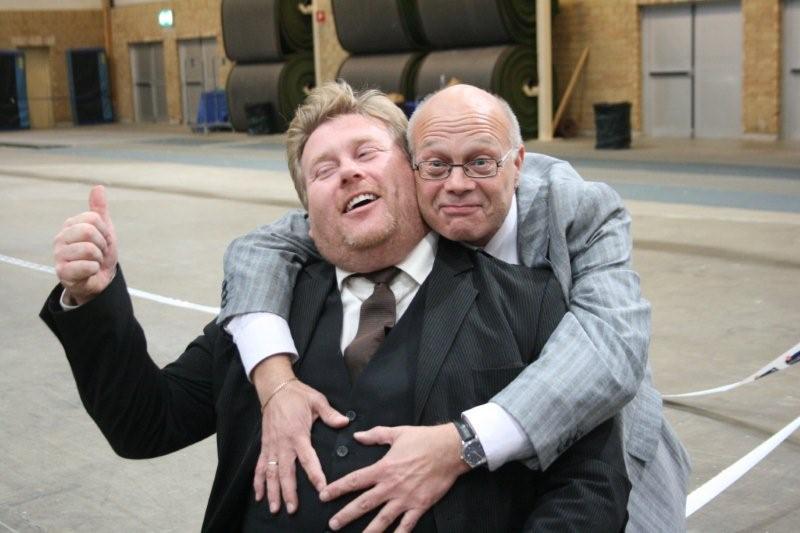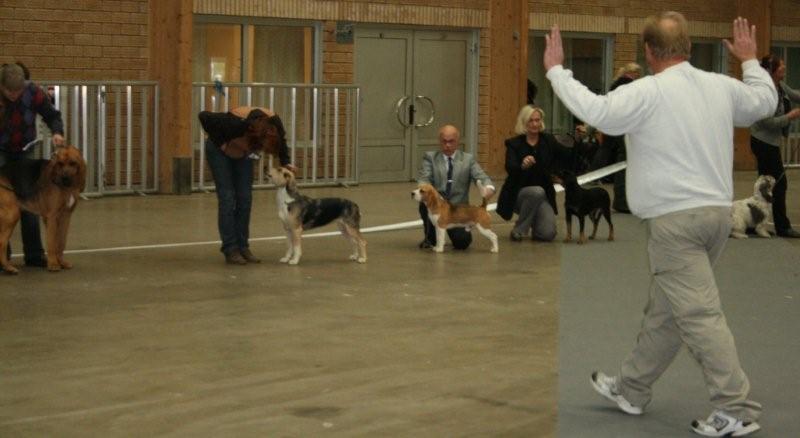 Ray and Rune wish each other good luck before the group.
Ray was one of our biggest concurrent in group 6 with his nice Beagle........Judge today in our group was Mats Jonsson, we were very sure that the Bayersk Viltspårhound or the Beagle will beat us.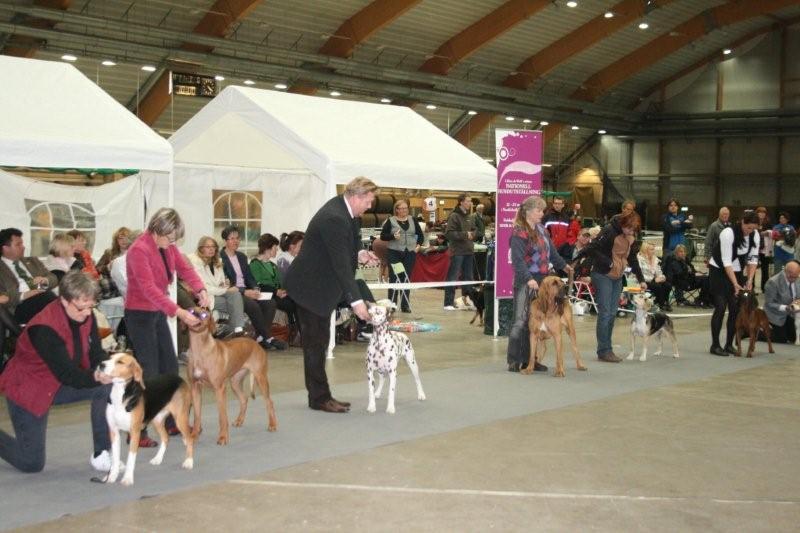 Some of the finalists in Group 6.
But the Bayer became Nr 3 and then it was only the Beagle and Gloria left in the final round......We have to go home and start our journey to Bratislava tomorrow morning, so we do NOT have to win (normally we hope the opposite).......and the winner is the DALMATIAN...everyone was cheering but I said....Oh Nooooooo this is not possible!!!!!! Everyone laugh at me, but now we really get problems....Jennie at home have to go home early tomorrow morning and where should we stay, and we have Eva, Carola and Jenny with us and they have to have a room too......It too some minutes before I could be as happy as the others *S*!! Of course I was very happy (but worried), this is what we go for every time...this is the payment for all travelling!!!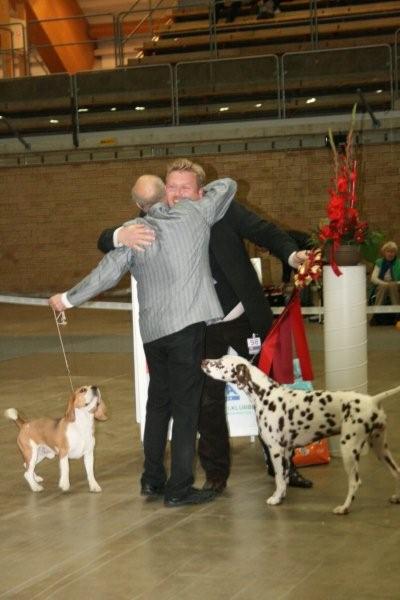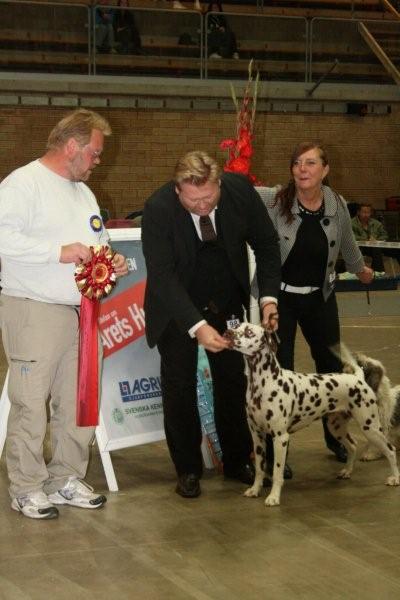 Very good sportsmanship from our co competitors. First to congratulate was Ray and Inge........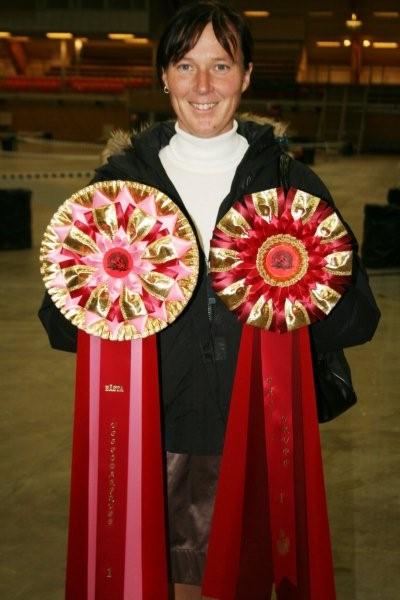 Carola was happy to carry around TWO fantastic cockards.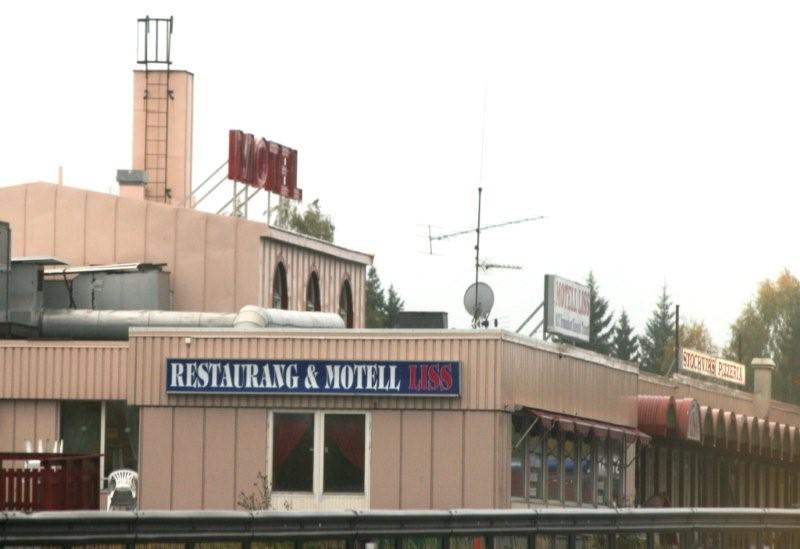 After over 20 phone calls to different hotels we found this one...I say it looked like a brothel.....but Rune and Carola was up looking for the rooms that was upside a Chinese restaurant, pizzeria and tattoo store.....it was clean but very simple and they never thought that I could stay here *S* but I was so tired and we were hungry that I say ok. The staff was very friendly as all people from Asia and they get us a TV for both our rooms. We immediately fell asleep....I with Daddy and Jenny at my feet *S* and Rune in his bed with Jill......we were so tired that we can't even think about eating now. But after some hours we woke up and went down to the Chines restaurant to eat just something little before we go back up sleeping.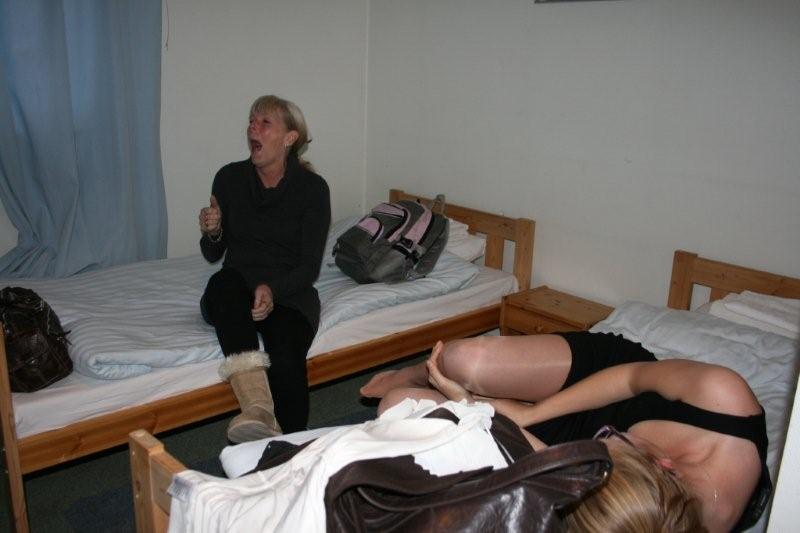 Jenny and Eva laugh so we heard it all the way to our room......Carola fall down on the floor, her bed was broken, and they can't stop laughing!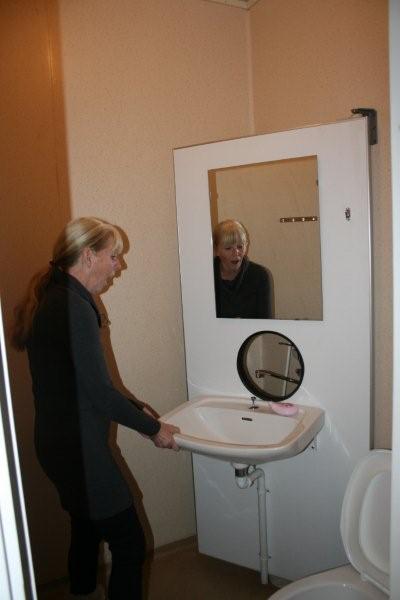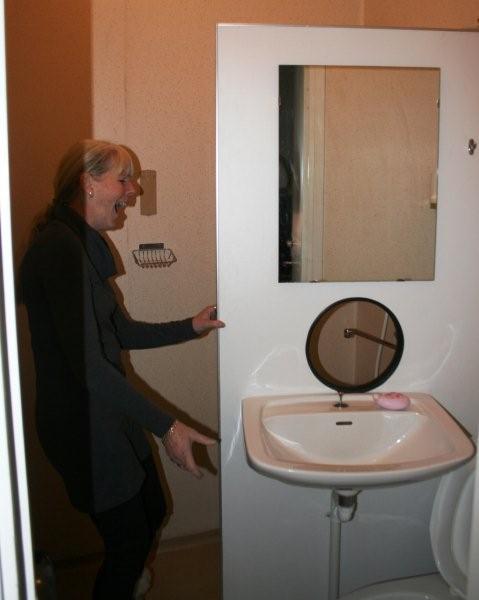 Oh my god the sink moves... is it broken?? Oh Nooooo it is a shower behind the wall..ha ha ha, Eva was soo surprised *S*!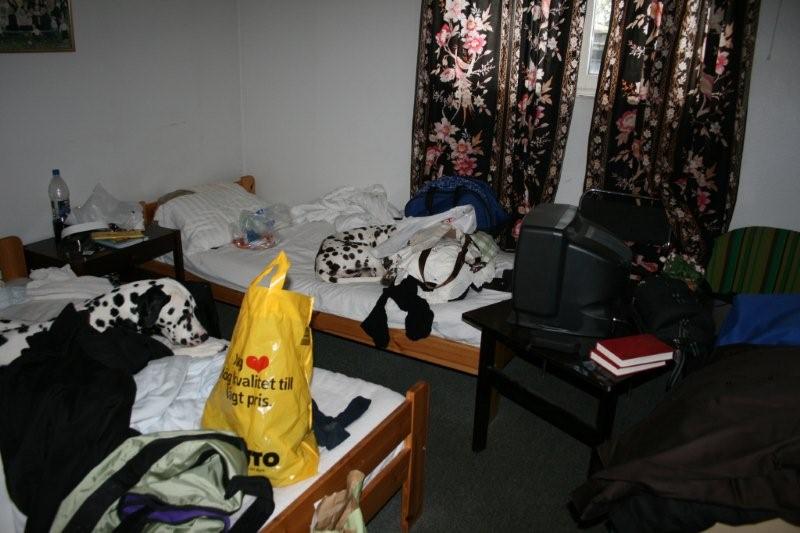 It was clean and cheep, but we do not think about coming back. My bed tilted so much that I almost fell down on the floor all night.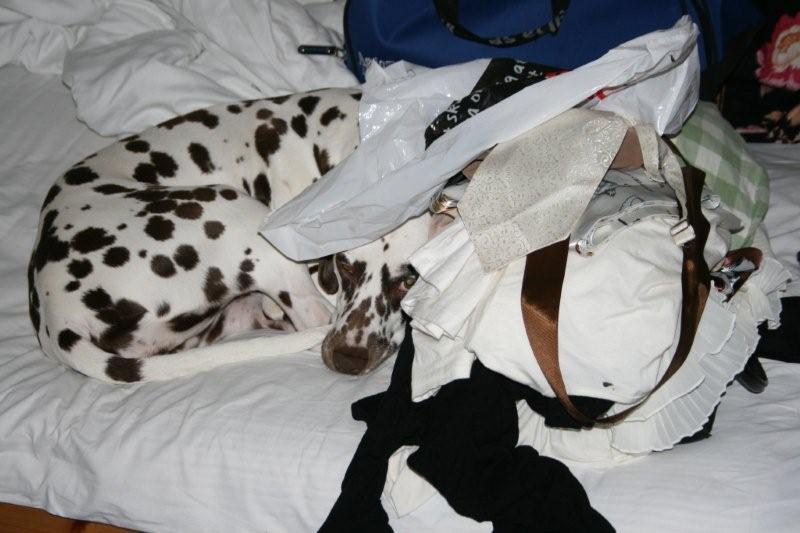 Jill was really confused....What are we doing here mum????????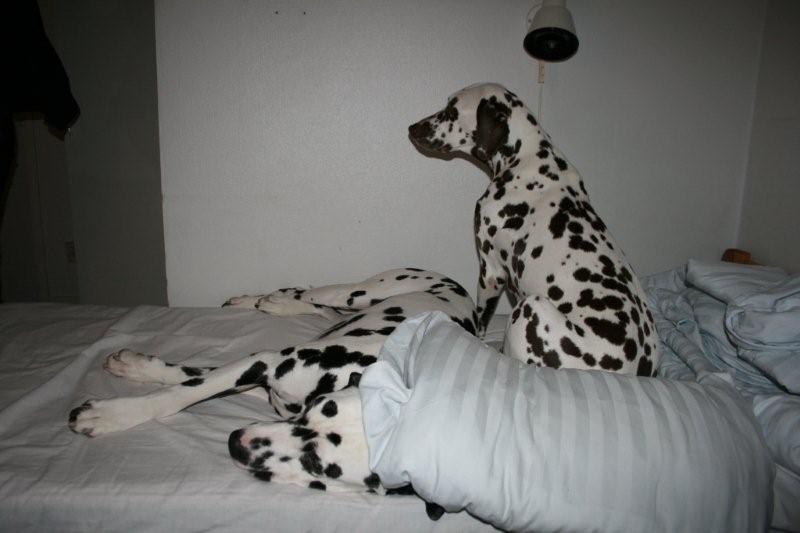 Daddy think the room was ok as long as he can sleep in the bed!

Friday 2 October 2009
After just some hours sleeping we have to go up again.....At 10 o'clock Eva came and soon after her Carola and Jenny.......
Half past eleven we drive out on the road on our way to Sundsvall, with our car packed all the way up to the roof, and with five dogs with us. It was a beautiful and sunny day and we had a very nice trip.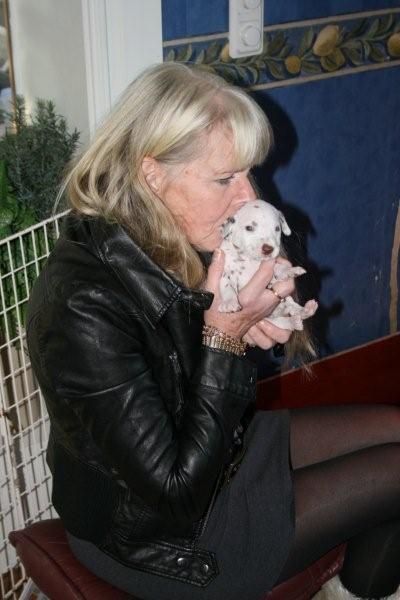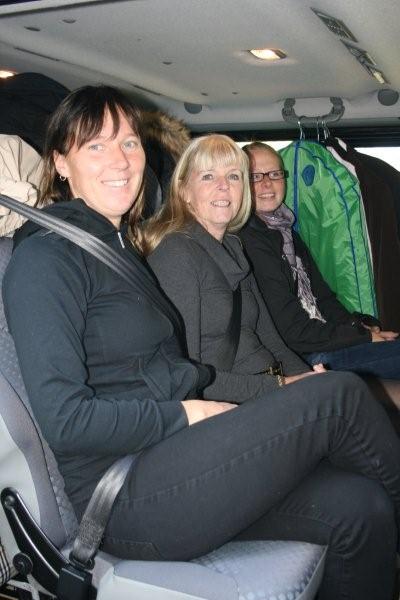 First we stop in Örebro to shop a little and then to walked the dogs Jill, Gloria, Daddy, Perfect and Angie.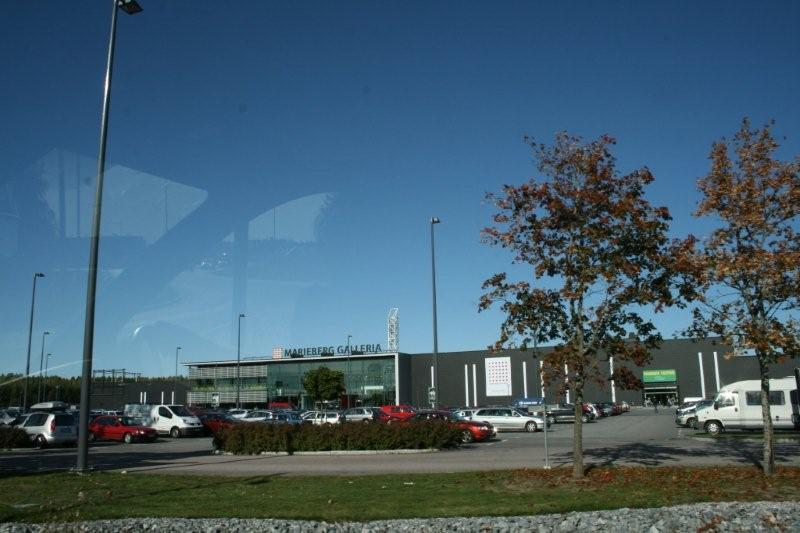 Our girls are so nice and easy to bring.
Jill is the police so she shave to be in her own cage *S*. Angie and Gloria think it was ok to share cage.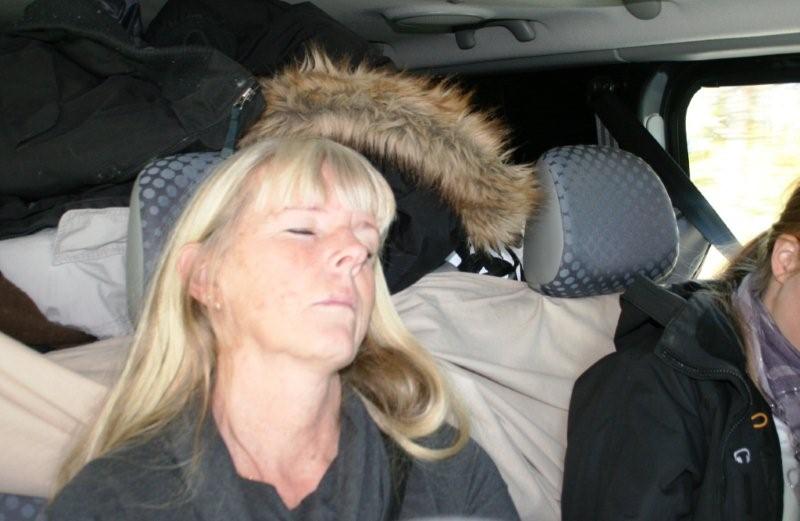 Eva had been working so was tired and took just a quick nap, but woke up when she heard us laugh *S*!
Just before 7 in the evening we reach the hotel 200 meters from the show area, perfect!
Rune and Jenny drive in to the city and bought something to eat and then we looked at TV for a while and then we all go to bed.
In our room we had Daddy in one cage and Gloria in another just in case because she is in heat.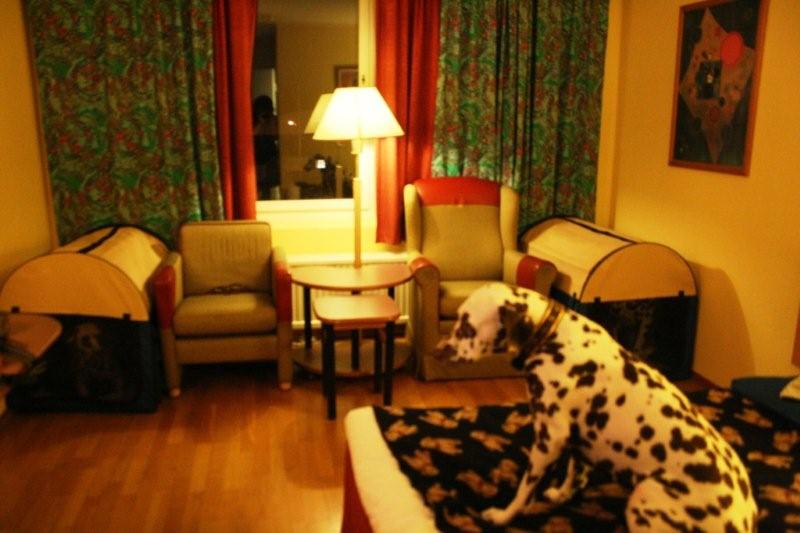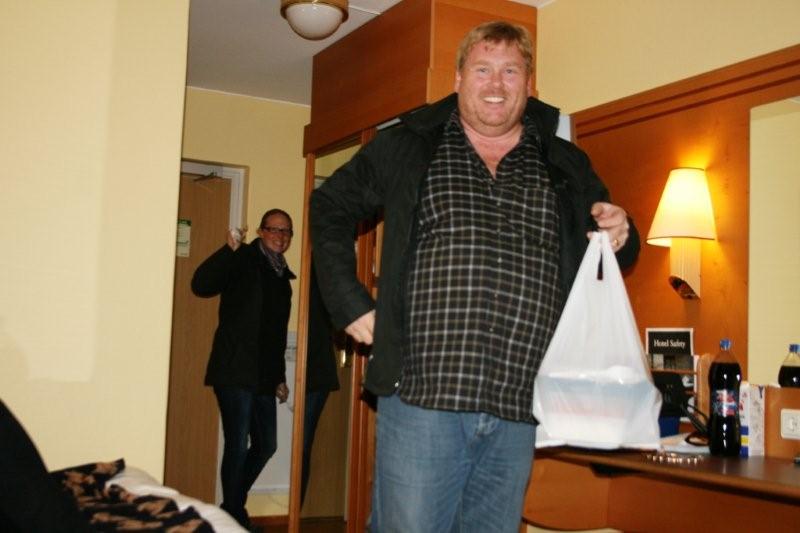 Jill on the bed.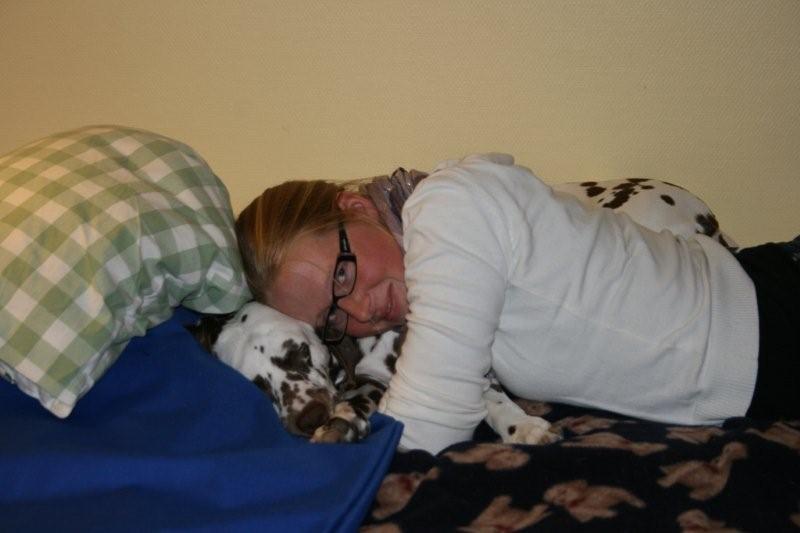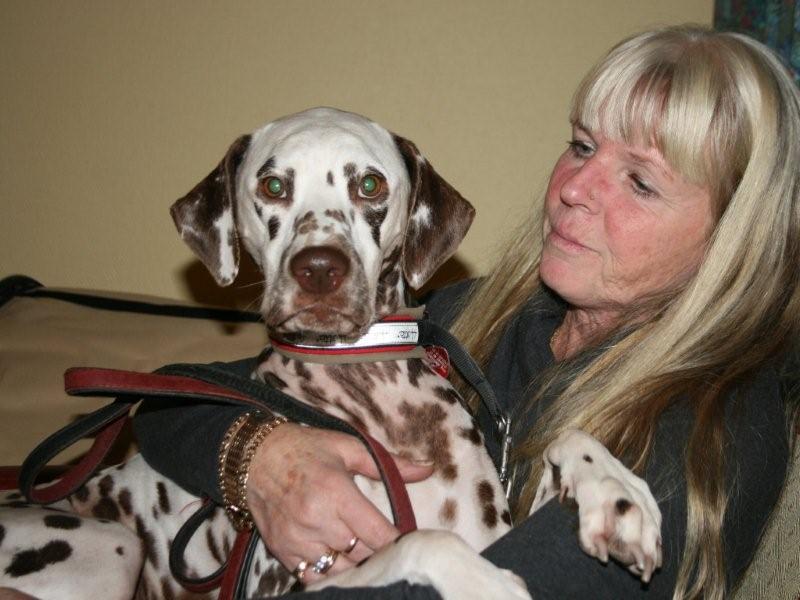 Jenny and Jill was cuddling and so did Angie and Eva.

Thursday 1 October 2009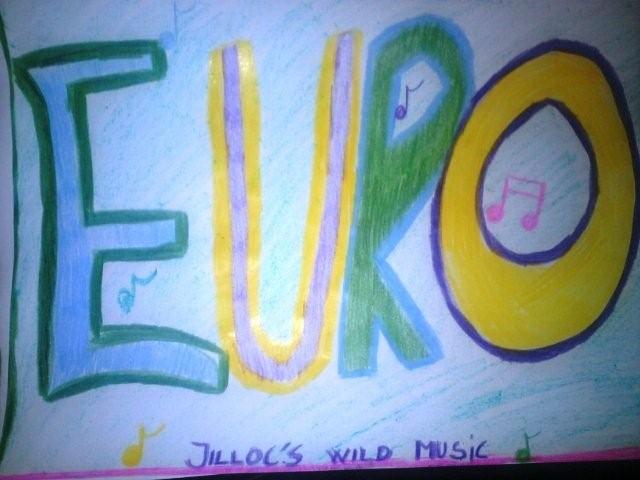 Pias little sister love to paint, and especially nice drawings to EURO!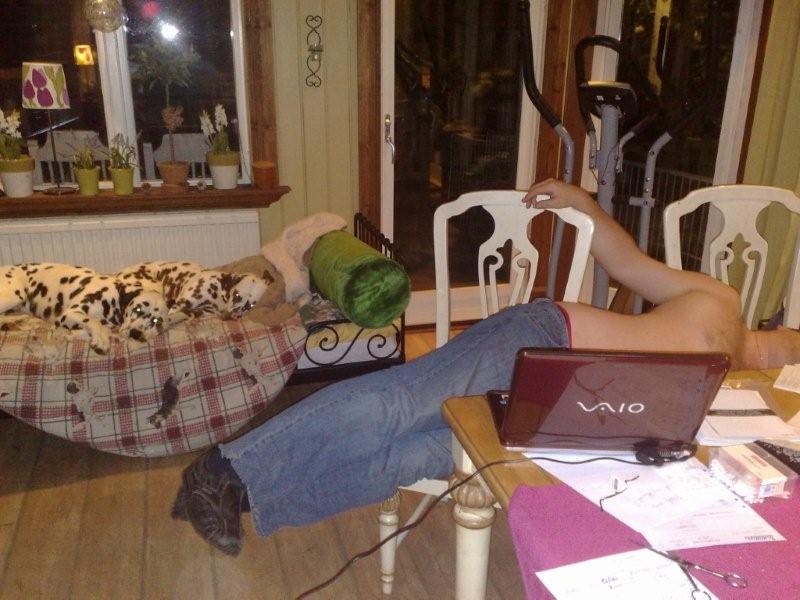 Every time when we have sooooo much to do, we are extra tired, and can sleep as soon as we put down our heads.
Me sleeping under a pillow and hope that no one will see me *S*! Rune sleeping on two chairs, just for a while, but his snoring exposed him *S*!
Penny and Gloria mate each other all day long, do much exercise for nothing *S*!
Gloria have start her season this week.