Monday 30 November 2009
Perfect have start her season last days and will be mated next week.
Today Bertha, Ch Toots Bobadilla Light and Daddy were mated. It was no problem at all...the only problem is that Bertha is such a sweet and lovely dog that I gladly have had here for good. Strange.......and I haven't even bread her by myself *S*!!!
First they have to play a little!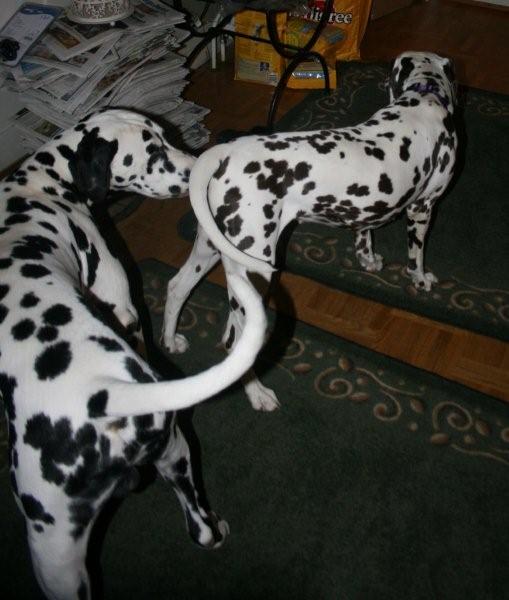 Then she was ready!
We were at Jonnies place and helping him with some things in the house. I took the dishes and made food for him......it took over TWO hours to clean in the kitchen!!! I just say MEN/BOYS!!!!!!
Then back home and fell apart at the coach together with our dogs.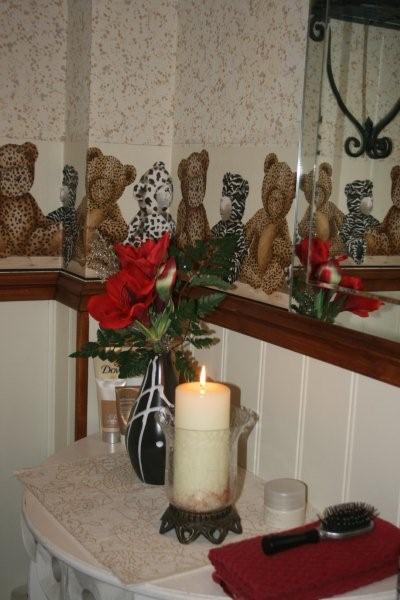 Even the toilet have to be ready for Christmas with at least a red flower.
Roy called from Asia in the evening and I immediately looked at the clock...how can he call now he should be at the airplane right now???? He did not believe his ears when I asked him why he wasn't on his way home!!!
He have forget that it is only 30 days in this month and thought that it was tomorrow he should go home...he run from the phone and find his ticket and I heard him curse.....!
I got sms the whole night from him how to find a ticket home at once....he HAVE to be in time for the Christmas table at Friday evening, he should die if he miss that *S* as he love food even more than me and Rune *S*!!!
Sunday 29 November 2009
Dog show in Lilleström in Norway today. Carola and Jenny were going there together, with Puffie, Hannie and Jill and Helena is coming too with Milda and Molly.
Milda was Nr 3 Best bitch with CAC and now Norwegian Champion, Congratulations to You and Ch Jilloc's Right Here Right Now!!!
Hopefully I will get some photos from there.
Jill was Nr 2 Best Bitch only beaten of Helle and Diva that became Norwegian Winner today, Congratulations to You too, and to Aase and her Ch Toot's Working Class Hero, even he became Norwegian Winner and BOS. And in the Top of the Year Best Progeny Dog he was the Best this Year too, that is a honourable title. We are so sorry that there is no competition like that in Sweden anymore.
Jenny and Carola had to stay many many hours to wait for Bertha that should be in Scotty's Progeny group in the late afternoon, but as sweet as You both are You were sitting there waiting just to bring Bertha to Sweden in the late night to us (Daddy). Thank You so very much, I feel a bit shame when I know that You both should go up very early in the morning for work. And You even stopped on the way back home to pick whelping boxes and things for our dogs in Your car Carola even if it was more than full already, and thank You too Anne Buvik that met the girls on E 4 in the late evening so they will save time on their trip home.
xxxxxxxxxxx
At the show in Finland last weekend I forget to mention that Perfect and Harrys children from the Marnellin litter both became Winner of open class male and female at the same show that Neela became BOB, Congratulations!!

Emma
A month ago Devlins sister Emma, SUCH A Pace of My Heart, was put to sleep 13 years old, she is now with her brother and other siblings on the green green grass in Heaven. Owner Annelie Andersson, Kennel City Kid's.

Saturday 28 November 2009
Some of Jonnies best friends........... his Volvo cars.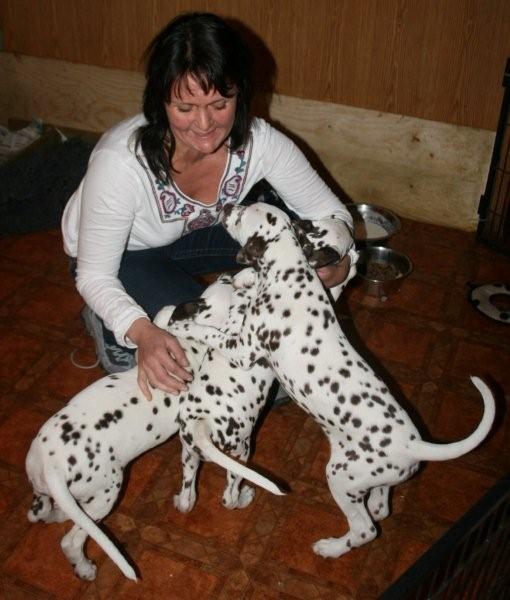 Then Linda came to pick up her puppy Daisy, everyone wanted to follow her back home *S*!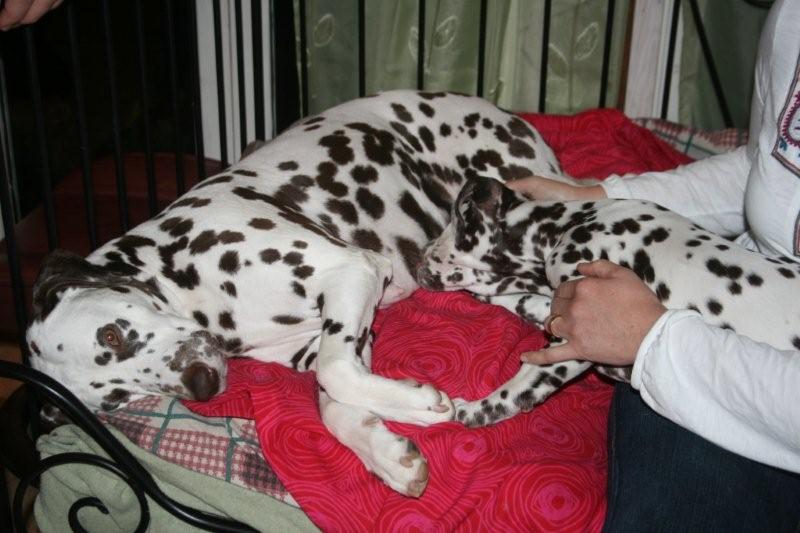 Someone try to steal milk before she leave (but there is nothing *S*)!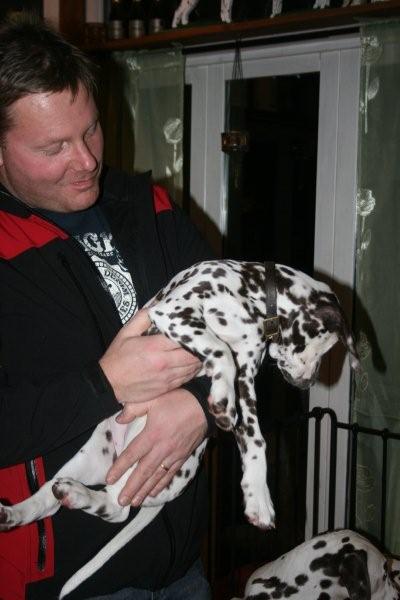 One puppy less..thank god, they are very active now, and far to many at the same time *S*!
Friday 27 November 2009
Today we got a letter from a friends husband in Germany, he told us that she just died after being sick in flue.
It was so chocking and our thoughts goes to Willi and the family for their unbelievable loss this time before Christmas. Martina should have been 48 year at New Years Eve!!!
Martina You will always stay in our hearts!
Martina Palm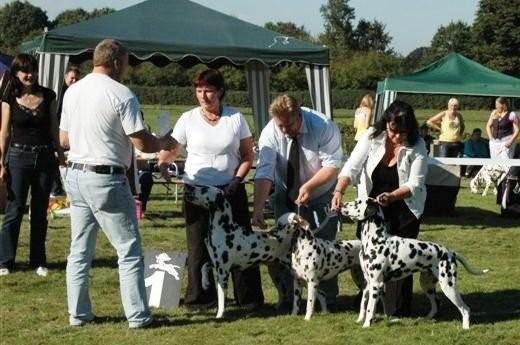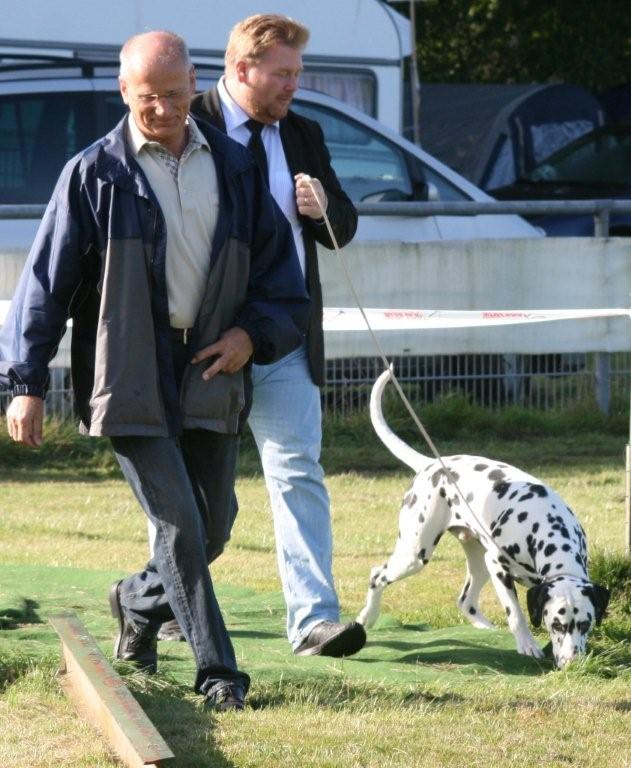 From Germany Club show in the end of September 2009. My Breeding group with Martina helping us to show Bosson.
An angel that I got from Bente last week, thank You.
____________________________________________________________
This Friday morning I drive to my vet with three of the puppies. Version of a Dream is going to move tomorrow so I have to make the health test for her and to vaccinate on other puppy that is leaving in some days and then I took one male there too for vaccination. It is more than enough for me with three "babies" when I am alone.
But now they are so clever and are good to walk in their leach so I do not have to carry them in and out anymore, that helps.
On the way back home we bought some flowers and small things and of course I stopped at Mac D to buy something for Jonnie. This is the first period over two weeks that he haven't eat food from there, when Roy is home they travel a lot and eat from Mac D many times every week.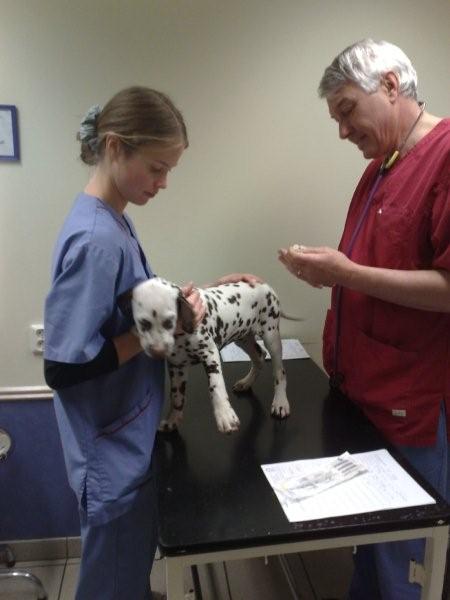 The puppies love to go there, and they are popular of the staff too. Both bitches was 8,8 kg and the boy visit at Midnight 10,8.....
Visit At Midnight is a real heartbreaker *S*!
VIP (Very Important) and JUNIOR (Vic Junior) is the same too........as You know how much I LOVE MALES, I can keep them all, and I probably have to do as no one is sold *S*, but it is always the same when we have a litter, but who cares, we will take them to shows in the future and hopefully win a lot with them (I hope *S*)!!!!
They have some really sweet sisters too that still will be here for a while.
Almost directley after work Rune is going to hurry back to a restaurant for eating Christmas food with his co workers. Jenny came to me to pick Jill up for Norway and to eat a little and let me look at Princess as I haven't seen her for three weeks now.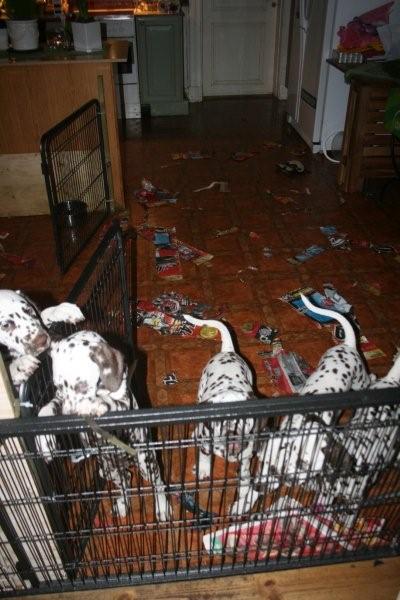 We eat and all 9 puppies with Princess made a mess with newspapers and had very fun for a while, and the kitchen was just new cleaned.
After just some hours Rune were back and he put Princess up on our table again.
This is not a good quality photo as it was taken by Jenny from her Mobile, but YES, we liked what we saw.
So proud of Jilloc's Vote For Me (Yes....I do)!
Thursday 26 November 2009
Today I am going to the foot clinic to get my feet ready for Christmas *S*! I love it.....
Then much more shopping...but still much more to buy next week.
And I am soo pissed over all people that buy or hire clothes from my store, then they can borrow jewellers, evening bags and necessary things from me, and they just have to bring them back within two weeks.
Now I am still waiting for so many things from different persons, and even if I have called them and send them sms and even talked to them I don't get my things.....
I have no interest to have that service anymore when they don't respect my rules.....So sorry for all good people but this will take an end, or if they have to pay a deposit for 50 E or something then they probably will come back, but I will trust people without that, but I obviously can't!!!!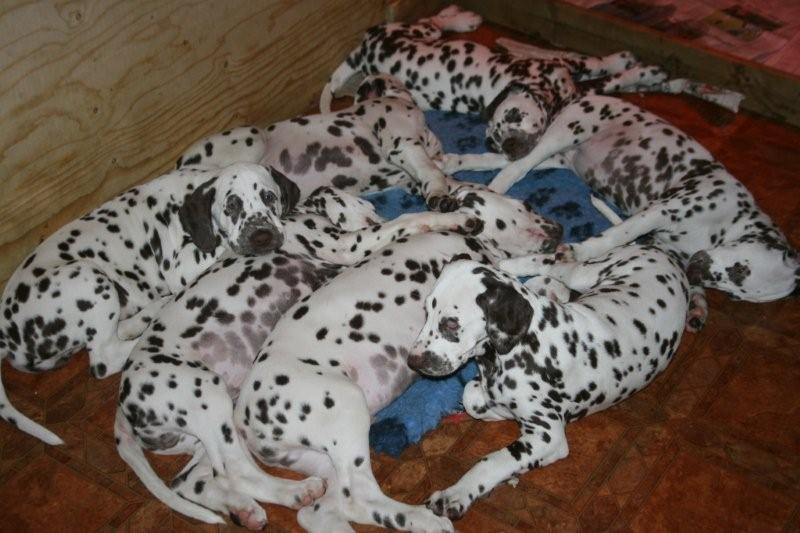 Still too many at home, and they were 11 weeks yesterday.
Snurra and Ellie is reading a book together! Euro in Norway with his big sister resting together!
Photo by Jennie Photo by Pia.
Jonnie working in the garage all night with painting a spolier to one of his cars.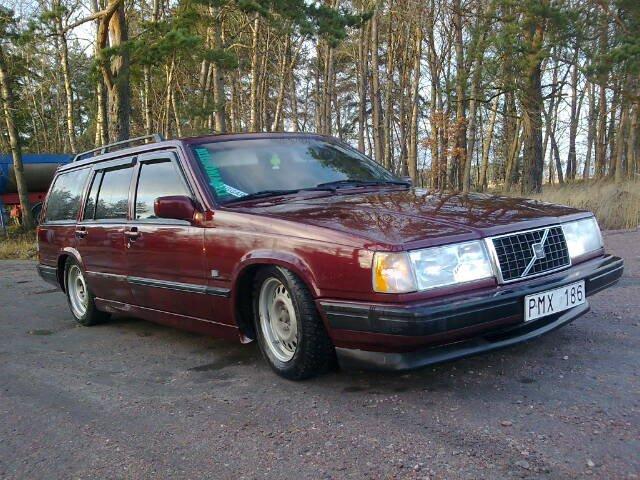 The car before and after painting the spoiler and changing the front....so much better. Good boy!!!!
Wednesday 25 November 2009
Today shopping and shopping, I have to be ready this week. But first clean a little after Daddy's night party in the kitchen last night.....Jill says......Don't look at me, I was in Your bed Mummy...yes I know, but in the afternoon I was angry of Jill too.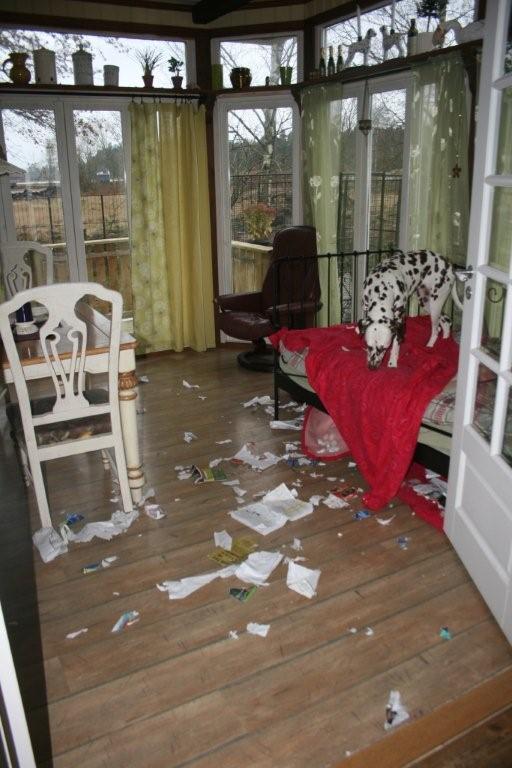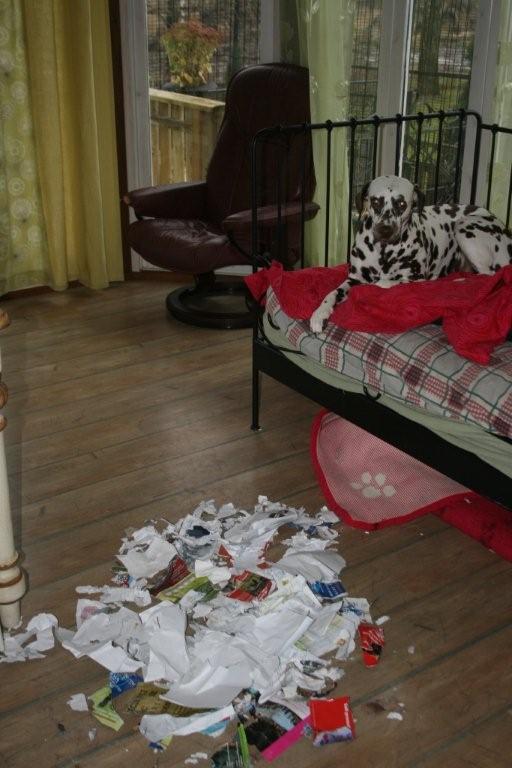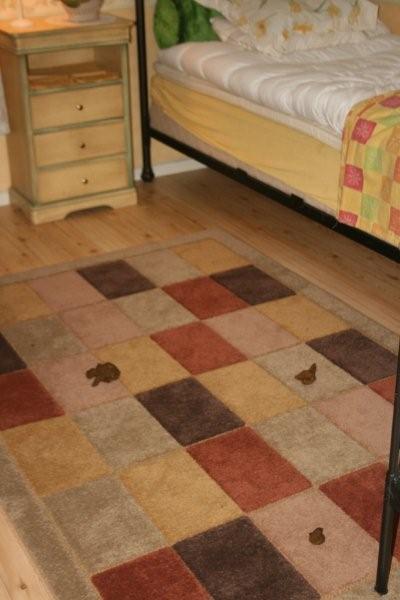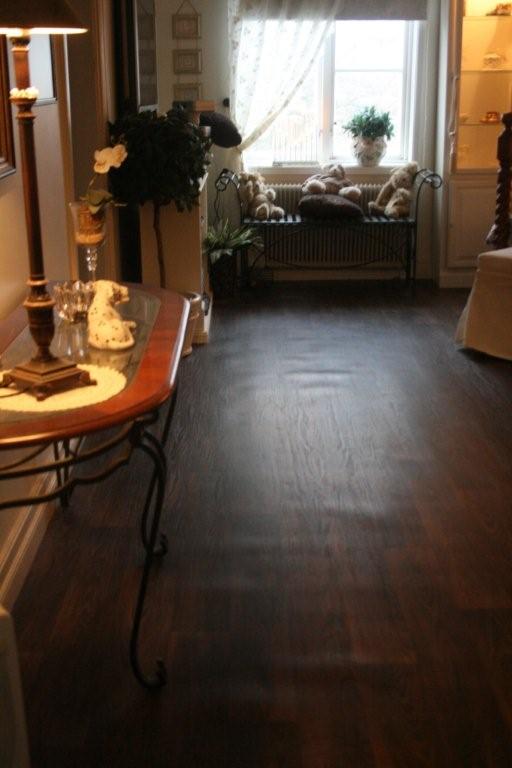 Only one dog was free in the living room and on first floor when I was away shopping...and I immediately found this after Jill when I came home, because I felt the smell, and in one of the guestroom on first floor, it looked like this!!!
The right photo from our bedroom, where we renovate and get new mat last year and after about ten hours when the carpenter have been there to lay the mat it looked like this. We called them and they promised that it will be fine after some days...after some days we called again and they told us to wait for some weeks and next time we called they say that it will look great in some months and next time they say that we have to wait a bit more, and now it was 1,5 year since they were here and as I told them from the beginning that I did not believe them but the owner of the store told me that he know so much better.......ha ha I can see that. Now I will send him this photo and ask what we are going to do, I am really pissed of him!!!
Still raining and raining, but if there have been snow instead we have had at least 2 meters *S*!!
Tuesday 24 November 2009
Best Friends.
Ellie and Solist in the paddock. They are still training every day, but in the small horse arena when the weather is too bad outside.
Photo by Jennie.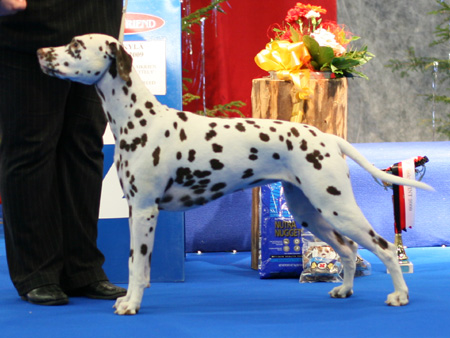 Photo by Salme Mujunen
Ch Jilloc's Scandal Beauty, is now in the lead again in Finland, Congratulations!!!!
Belgian Club show yesterday (Oooooooo I wanted so much to be there!!!!)
Here is Lovinda's Indian Princess (e J Loverboy and J Picture of Paradise), with her owner Elise Rapati van der Neut.
We wich You all the best for the future!!!
Photo by Diana Kok
Photo from Marieke
At the same show Alphadirato Innovation Brand won BEST PUPPY, Congratulations to Marieke Nieuwenhof and Bono, we will follow his future. (Son of Ch J Loverboy and Ch Laguna Dios Bella Donna
And Congratulations to our friends Annemiek and Rhys Morgans that was BOB with their Multi Ch Elaridge Celtic Warrior.
.
We hope so much for Bossons progeny groups in the future and hope to have a nice group in Denmark at the WW show next year with his children from Norway, Holland, Finland, Latvia, Sweden and so on!
Monday 23 November 2009
One month to Christmas tomorrow, we already got the feeling.
Daddy and Devlina upstairs. (Devlina is a excact copy of her grandmother Zoe here)..........!!!
Sunday 22 November 2009
Jilloc's Velvet Touch.
Out from the house this morning for the trip to her new home in Norway.
Posh was curious of the new Sandy. Rune say bye bye to this little charm troll.
Sandy too a last visit around the house.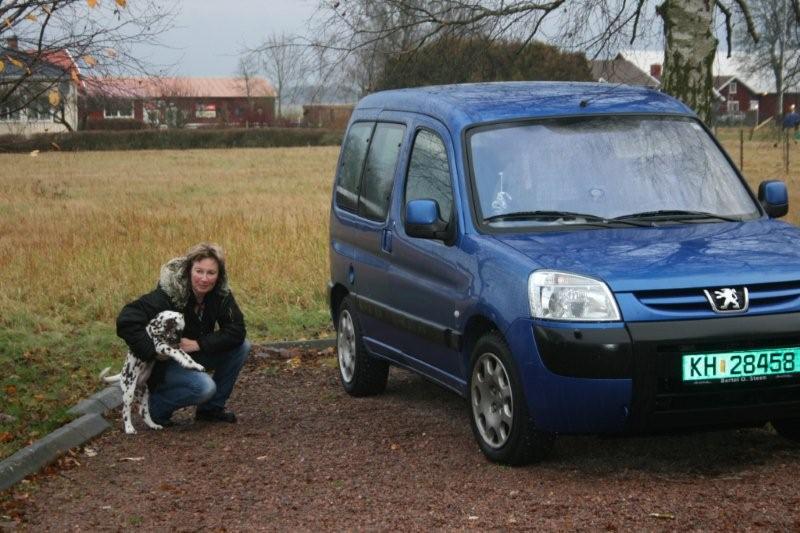 Godbye - have a safe trip home!
Jill, Eva and Devlina.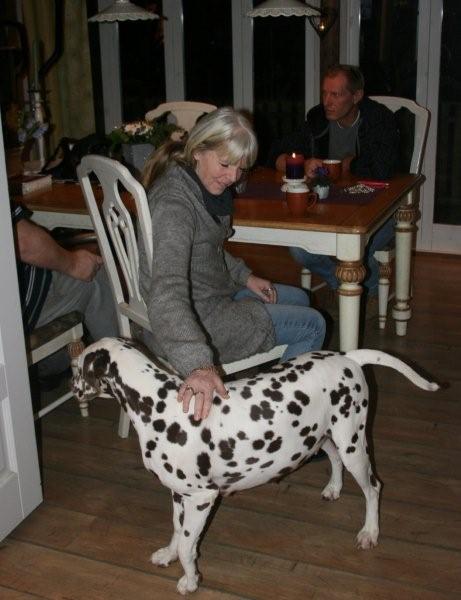 Three weeks more to go for Gloria. Eva and Arne were in Götene this weekend too, we hope they will move up here soon.
Saturday 21 November 2009
Good news from Finland Int Dog show in Jyväskylä.
There were 59 dogs entered for Mr Frank Kane, and Neela (Ch Jilloc's Scandal Beauty) was BOB, and BIG 2!!!
Congratulations to both Mette and Niina!!!
Two weeks ago they were in Estonia and she became Estonian champion and BOS. At the same time Hattie (Marnellin Hot To Handle, Bosson and Puzzles son) got his Estonian Junior Champion Title.......Congratulations Heli, Niina and Mette!!!
We are so proud of You !
Hopefully I will get some photos from the shows, without being there my self *S*!!!!
xxxxxxxxxxxxxxxxxxxxxxx
When we went up this morning after a tooooooo late night (again)........Rune start to make his well-known "bacon and egg" that we all want. Bente start to clean for the puppies and I had time to put colour in my grey hair...I should have done it many weeks ago or been to my hairdresser, but there is not time enough sometimes so I was very pleased to have time to do it today!
Rune and Bente went shopping in Götene and I was home feeding the dogs.
Carola came to say goodbye to "Sandy/Bente" because she have had her as a favourite since day one, as she know that she will move this weekend.
Lots of kisses to say goodbye......Sandy have been Carolas favourite from the beginning.......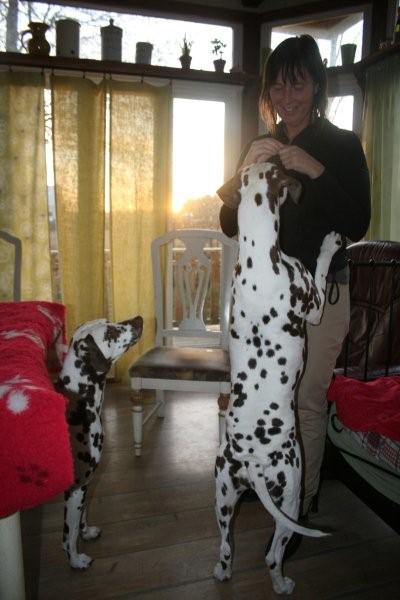 Everyone wanted sausage from Carola.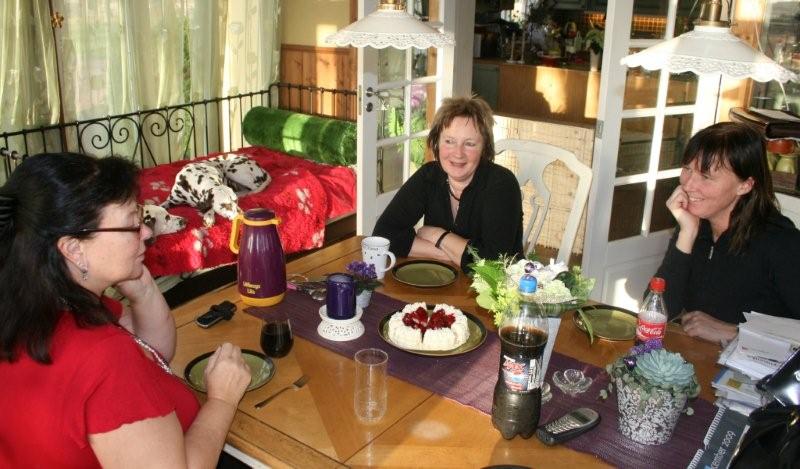 We try to take nice photos of the puppies soon 11 weeks old, but as usual we have really problems to do it in this age. Now they really want to play and kiss in the face and everything except to stand still for a few seconds *S*!!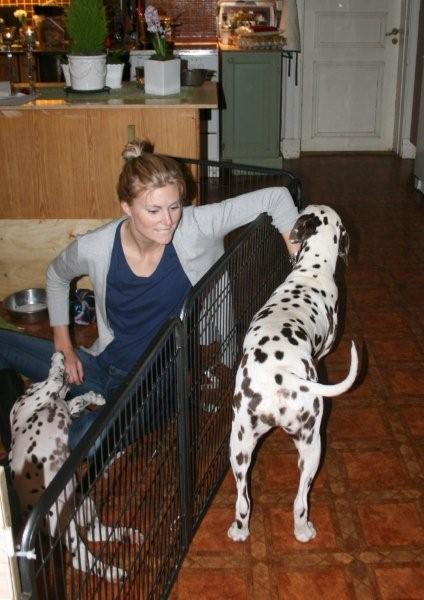 Mari and her boyfriend were here to say hallo to our dogs, and the puppies was happy for visitors as always.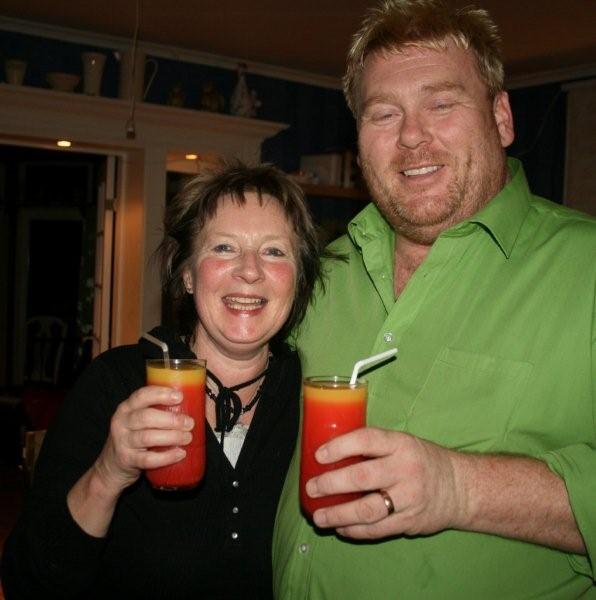 Nice coloured drinks!
Dinner in the evening.
In the afternoon we were planning to go shopping in Skara, but I decide to stay home and put some time for this...."MY DIARY" as I know that we will have visitors tonight and so many other things to do and I have to do it now when Rune have time to move it over to the internet. Coming week he have to work loooong days from his office in Skara as there is opening in Norway for a new JULA store, and he was just grateful that he did not had to go there as it was planned from the beginning as we just now have trouble to take the caravan with us and stay for some nights, as we had wished to do. I love Norway and it have been fun for me to go shopping Christmas presents in Oslo.
In the middle of the night Rune went out starting to decorate with light in the garden, until next weekend the first of Advent it has to be ready.
The only thing that we miss now is the snow.
Princess is eager to start her show carriers and during the time until she is 4 months old she take all chances to rest as much as she can *S*!
Photos from Jennies' Mobile.
Friday 20 November 2009
This morning I took Velvet Touch for the obligatory health check at the veterinarian station in Vara. She think it was so funny to see many other dogs and people, she wag her tail all the time. But in the car she have been screaming for a long time and she have been shitting in the cage and walked around in it, not that funny.........Her weigh was 7,9 kg here......
First of all this morning when I was driving in my car to Götene I saw that the window WAS BROKEN.......shit, we haven't seen it yesterday because of all the rain on the window......!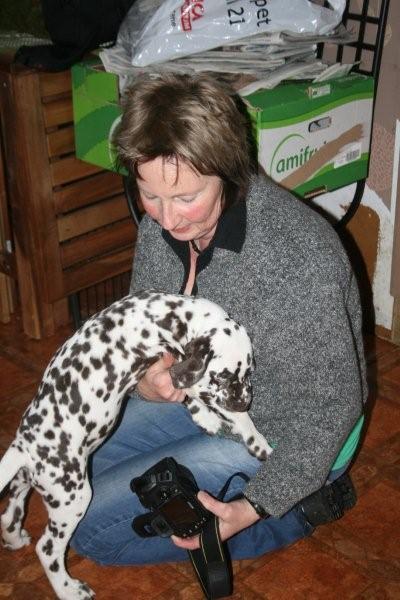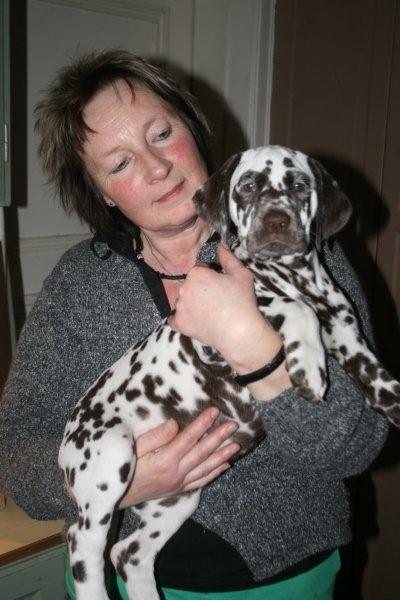 In the middle of the day Bente came to bring "Bente" to Norway...now we have to start to call her Sandy as her name is.....Bente have had that name so close to her heart for 23 years now. First of all her German shepherd Sandy and then her Dalmatian bitch named Sandy that leave her this year and now she can bring her new little Sandy home for many many more years. She have asked her two first Sandy's if it was ok that there will be one more Sandy so soon......but both the first and second Sandy have said that it was ok....they love to be remembered. The same as for me. My first Dalmatian was nicknamed Jill and when Joyride was born in 2002 I really have been waiting for a new Jill............I have decide that I wanted a child with that name, but as my third and last child was a boy and he was named Jonnie, born 1990 (to fit together with his siblings Jennie and Jimmie).
And as I love my first Jill so much I want to keep her spirit alive with using her name every day again.......the same as Bente want with her Sandy!

'
This might be Sandy when she was newborn 10 weeks ago!?!
Of course Bente have to work when she came here *S* and she got "help" from Sandy!
Jill is very protecting with her toys, it is only Daddy that dare to take them from her *S*, but Sandy try to charm Jill to get it, but Nooooooooo!!!!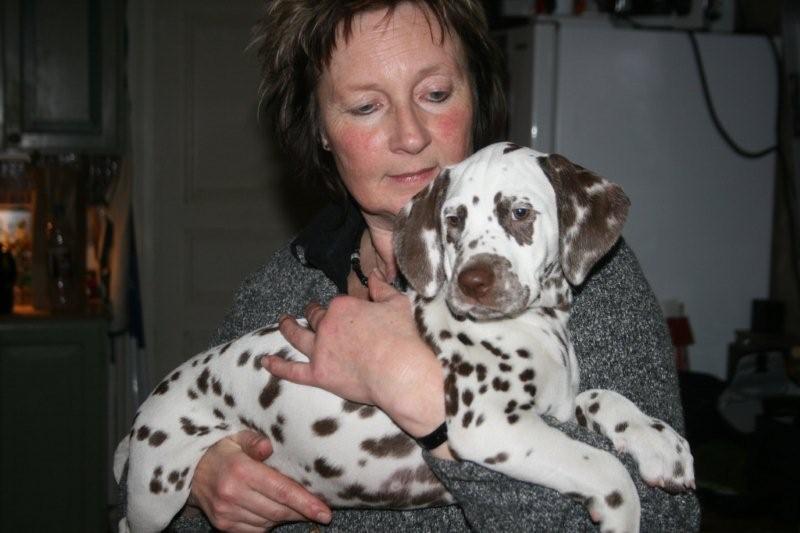 Bente say hello to all puppies.
Have you seen such a obedient dog....she stay almost behind the fence *S*!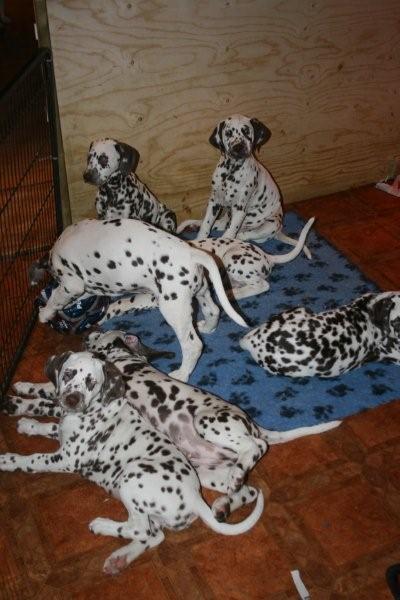 We all spend a nice evening/night together!!!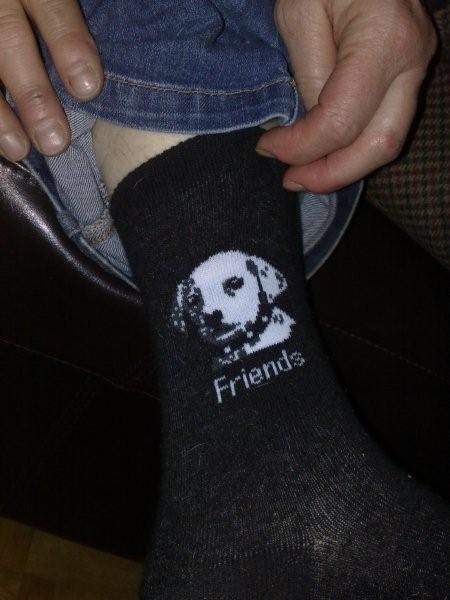 Bente with her friendly socks......
Thursday 19 November 2009
Today Jonnie and I will go to Lidköping. We drive first to Mercedes to buy new wipers to my car.....I know that they were not for free, that was why I have waited too long to buy them.
100 E........oh my god it was much much more than I have expected!!!!!!
Jonnie changed them while we were there and he dropped the arm to one off them because it was raining like hell and everything was so slippery.....thank god that the window did not broke he said, yes..thank god!!
Jennie came in the afternoon and we continue in Roy and Jonnies house for about 3-4 hours with putting new flowers and lights in the threes outdoor etc etc. Jonnie think it look so much better when we leave.
And Rune cut the nails of Elliott and Rolex and they are so happy when there is lot of people in the house, nice boys!!!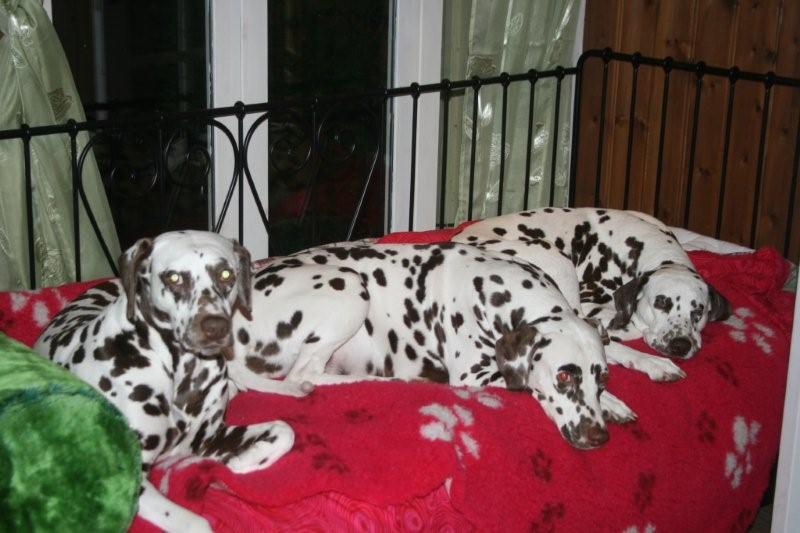 Jill, Gloria and Devlina resting.
Wednesday 18 November 2009
I had not so much to do today except all normal things and paperwork, but I got some extra things to take care of.........
I thought the puppies were in the kennel while I was cleaning their dog yard in the kitchen, but they have walk under the fence, (or I forgot to close enough) and been playing with two bags with their and ours garbage for 5 minutes before I HEARD THEM.......Lovely to start cleaning this........grrzzzx!! SHIT!!!!
Is Daddy bleeding????? What have he done?????
Nothing, it was ME again!!!
I dropped my fruit over the computer, my self and the floor and over lot of papers of course, this was not my day today!!!!!!!!
Tuesday 17 November 2009
Today I was at the new Healthcenter in Götene to deliver all my papers since the last two years, I really hope that I will get a time for my doctor very soon.
Jennie was coming so we will start to furnish for Roy and Jonnie in good time before Christmas. She was at the house about two hours before me and she had already took care of all the boring work to clean away many unnecessary thing, so I just have to buy table clothes, flowers and things to decorate with (my favourite thing to do)! Perfect for me.
Devlina do not want to do anything extra before Christmas than to sleep on the coach, and dream sweet dreams, just wonder about what*S*!!!
Monday 16 November 2009

Ch Jilloc's Rich And Famous
Beautiful photo from Inna and Carl in USA of our proud and joy Disco, this was the first side of the E Magazine this month.
Love You Disco and miss You but know that You have a wonderful life with Your mama and papa, and sisters and brothers
Recently Disco won a lot of shows again, and we are waiting for winning photos.

Sunday 15 November 2009
Today there will come puppy buyers and Eva and Arne is coming too.....They come just after we have come downstairs so we eat breakfast together at one o'clock *S*!!! And Eva was looking for houses in our area that they could look at today.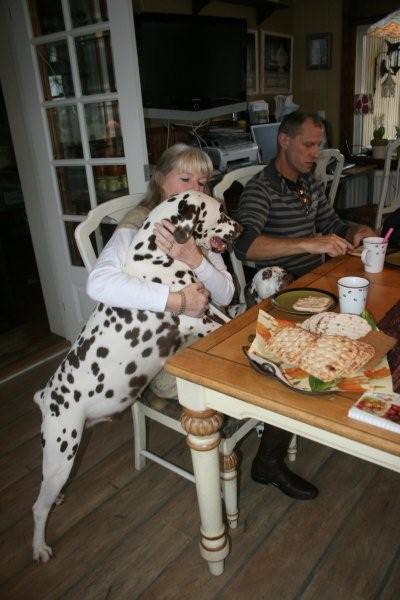 Gloria was jealous when we eat and she got something to eat too........she probably need it she is soooooo huge already.
Of course they were so fond of little Darling, and she will move out from us in two weeks, but her name will be Daisy.
Jill loves when the puppies move out, but I do not know if she understand that there soon will be more of them from Gloria *S*!!!
Roy was leaving for Asia today and we really want to follow him to the summer heat over there, but we can't because of our dogs and Runes work, and that we have to save all money as we could over the winter because of the coming renovation of our kitchen next year.
Saturday 14 November 2009

The Santa comes early this Year for us, because today Santa Claus call and tell that he will give us the Värmepump as a Christmaspresent.....I really hope that You all got nice things for Christmas, but this was the best thing we could get.......especially I LOVE TO NOT FREEZE ANYMORE, Thank YOU again!!!
I LOVE CHRISTMAS, and the best thing is to buy presents to our friends and family!

When I woke up this morning I immediately felt a terrible pain in my right hip....it felt like someone have put a HUGE spike in my leg....I couldn't turn around or move.....I try to be as calm as I could but I was thinking what in hell this could be. I have been sleeping on that side as always but I have never ever felt such strong pain on one place before... Could it be something dangerous?? A block in my vanes or something??? I try to be absolutely still in the bed for an hour but the pain was constant the same, and I had to go to the toilet but couldn't move my leg....I hate things like this and today we are going to buy birthday present to Jimmie and be there for coffee at three o'clock. I could see myself at the hospital instead, but decide to get help from Rune to go to the steam bath to try to do something with hot water...I have NO time to be sick....sicker now. I have problems enough so this was just too much!!!!
After one more hour it was a bit less pain so I try to dress and take me out to the car, thank god that it is Saturday so Rune was free from work as I couldn't manage this morning on my own with dogs, puppies and everything.
We bought a new GPS for Jimmie exactly the same that Rune want for Christmas, and thank god that I have ordered flowers yesterday already so Roy went to the flower store to get them.....and he took his own car and drive after us.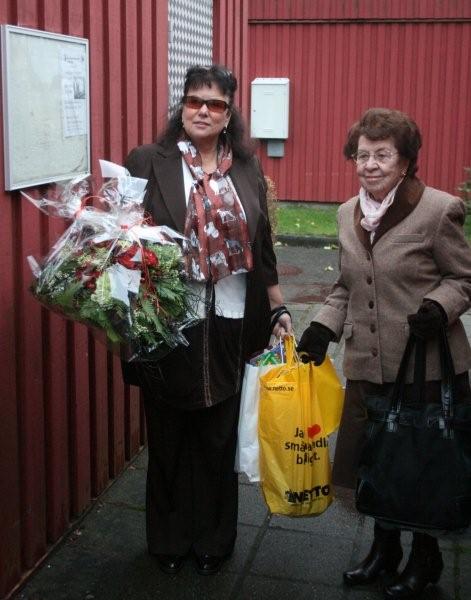 My mother and Jennie came at the same time, and of course we have to take photos.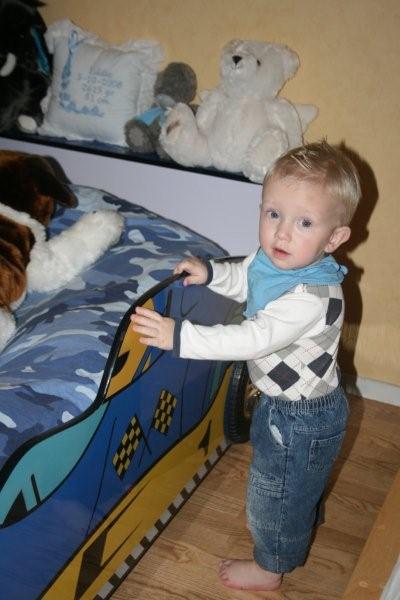 We were all so happy to meet Eddie again, it have bee too long since we met, and he show us his new race car bed that he love already. He is such a nice and happy child that smile and laugh most of the time, and we were many that want to play with him today!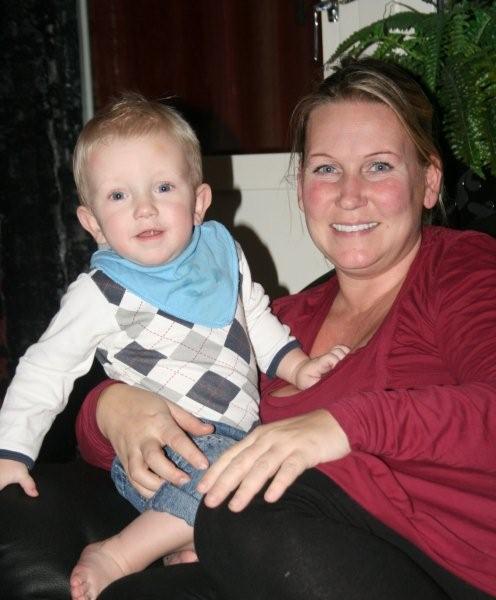 He love when we take photos of him and know that he should smile *S*!
Nathaile have baked a nice cake to Jimmie!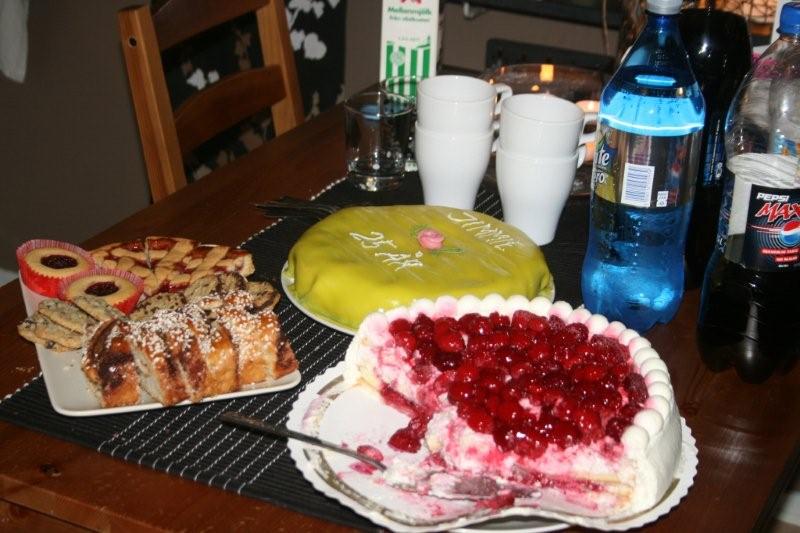 Mmmmmmmmmm and there were Jimmie and Jennies favourite cake with raspberry too...Mmmmmmmmm!!!!
Everyone think that Rune looks like "Kalle Kaviar" with his new orange hair *S*!!! My mother and Roy laugh at something together, was it Runes hair???
Flowers.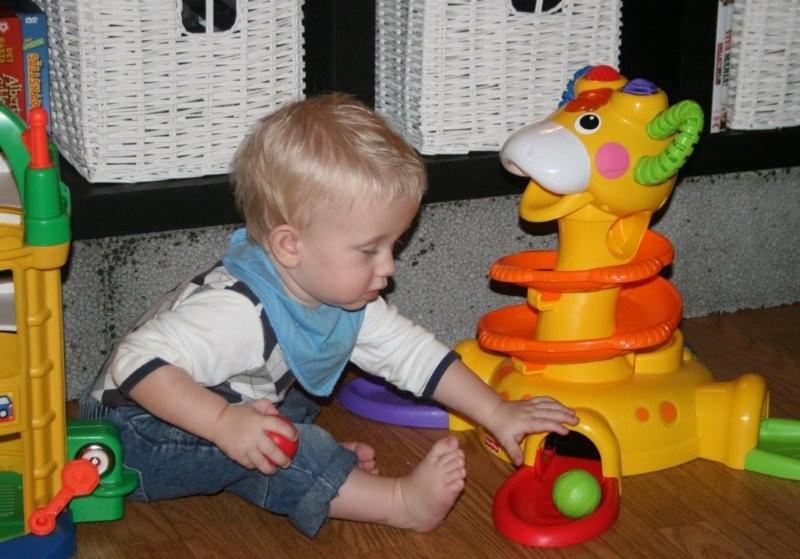 Eddie have got so much toys already that the family really need a larger apartment now!!!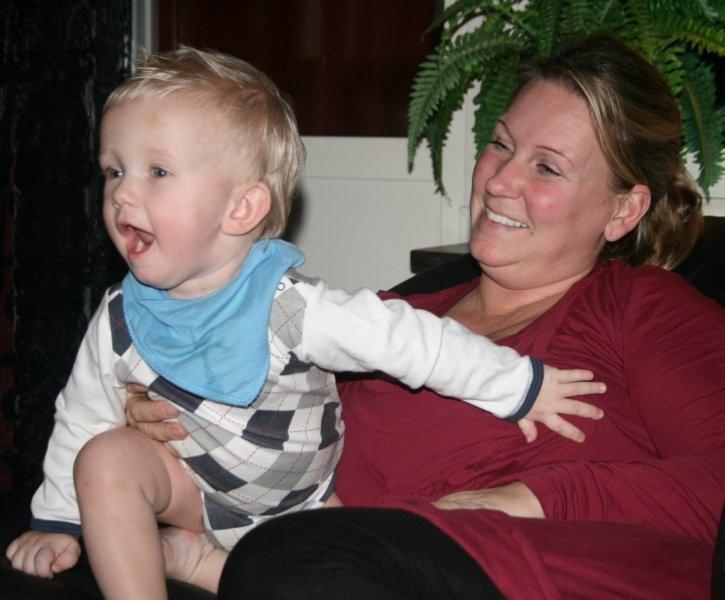 Eddie know where to put his hand *S*!!!
Missan was interestead in what Jimmie get.
Jimmie almost fell asleep before we leave for home *S* but Eddie still want to play.
It was a dark and rainy trip back home and after two hours we finally was back in the house at our waiting dogs and puppies.
Roy followed Jennie back to Kullavik and stayed there during the night, but first of all they went out to a restaurant for dinner in Kungsbacka.
XXXXXXXXXXXXX
Fantastic to come home to a warm house, and we think we can smell the fungous a little bit less as the nwq heater will change the air in the house many times every day.
Friday 13 November 2009
My oldest son Jimmie is 25 Year today, Congratulations!
Here is my new angel the cake topper!!! In the background the glamorous bag I got from Hanna last December and it was decorated with fresh flowers then, beautiful!!!
When Rune was on his way to work and went downstairs he soon found out that all puppies have had a party in the kitchen and in the dining room the whole night....It was newspapers and shit all over, and they have run around in it so it looked terrible, but they were so quite and calm when he find them....of course, they were VERY tired after their "funny hours"...
When we went to bed last night I asked Rune if he had closed the puppy gate as he opened it when I was cleaning the floor last night, and he had he answered from his "alien mask", and I believe him...then unfortunately!! Why didn't I went down and checked.....I regret that now.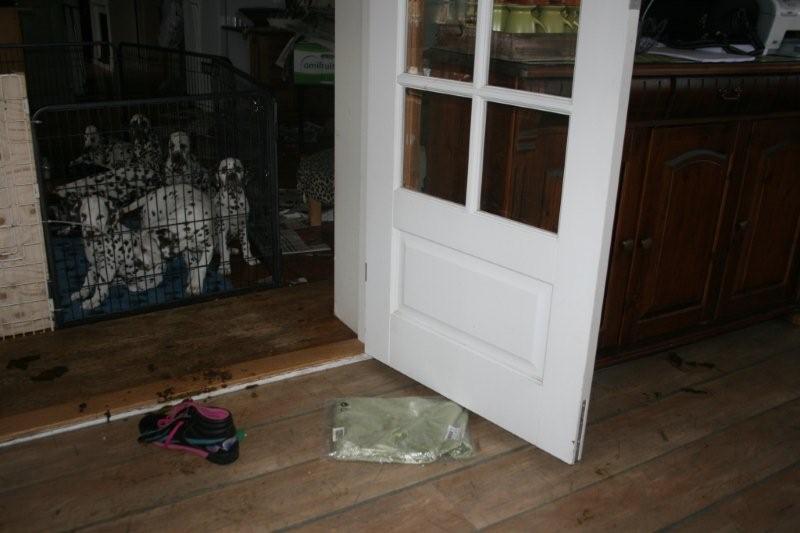 Rune sent me an sms and ask if I have been downstairs but as I had lot of things that I have to take care of on second floor I often stay there for an hour or so in the morning because IF I go down I stay there as there always happened so many things during the day, and this afternoon Rune will bring some of his "ladies" from work to look at the puppies and I know since before that he love to show people around in our house (but then I need to know it one week before so I have the time to clean up on the first floor o make the bed mm), I hate to show the house when I am not prepared..thank god that I have made the bed very sloppy but anyway better than normal days.....
At 5 o'clock I took the car and drive to the to buy some fresh flowers for my kitchen table and then I was just ready with the floors all over the ground floor...I think that I have washed them 15 times today to get read of all shit and pee......Now it look nice and I light a lot of candles as every afternoon this time of the year and as it was almost dark the house look really good (as good as it could after my quick makeover)..but not at all the way I want it...at Christmas when we have been home for some more weeks I hope that I am ready.
Rune came home before I was back and Gunnhild, Tone and Ingebjörg came soon after me.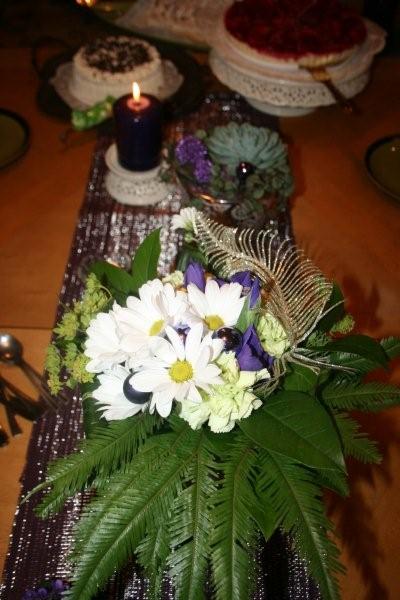 I found this for lights in the flower store too. And three cakes for three ladies *S*. Fresh flowers for the table.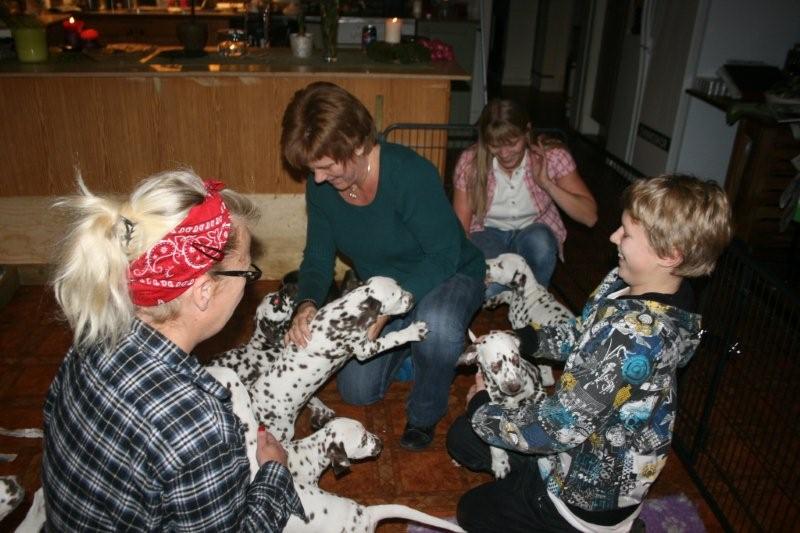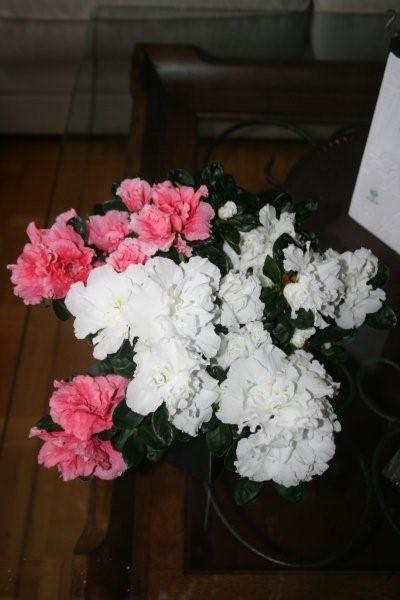 Puppies so happy for visitors again. Rune got nice flowers.
We all think it was nice that it was Friday.
Daddy went from guest to guest to get cake! Gunhild think it was terrible when Ingebjörg feed Daddy at the table!
But look here how "happy" she looks when Daddy come to her *S*.....He love visitors that he can flirt with to get something extra......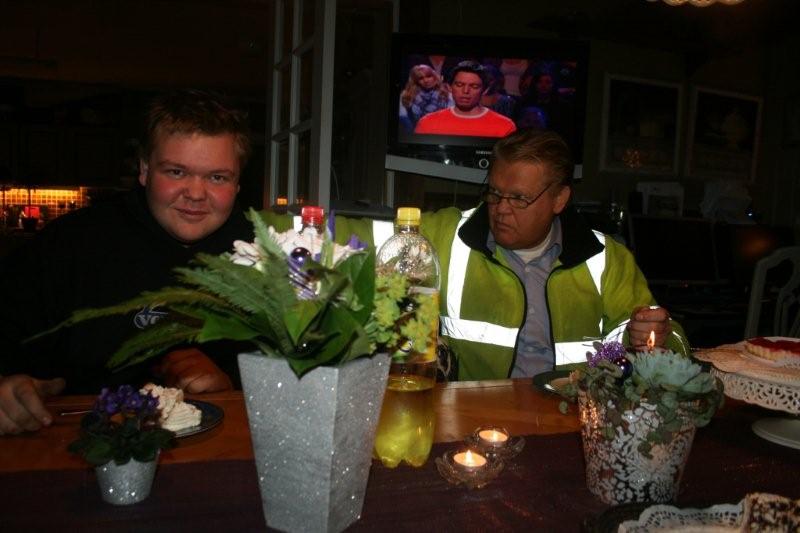 Then the big cakeman and the "small" cakeman came to eat, and after that we fell down on the coach in front of the TV.
So fantastic to sit in the room tonight and look at TV without freezing!!!!
Thursday 12 November 2009
One side of the livingroom is ready.
The "angel" light *S* that I got from Sara and family in England is just now in the shelf in the hall.....but there is not sun/light enough during the day so I have to find a better place for this chain of lights, .but it was so nice here in the evening as I have asked Rune for about 8 months to put light in this shelf, but he haven't had the time *S*!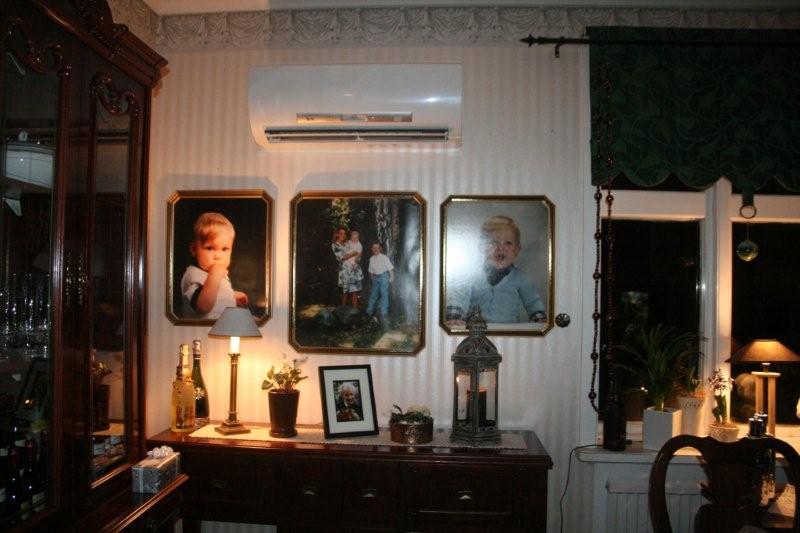 Today they were here and installed our new economic heater now I am not going to freeze anymore!
Wednesday 11 November 2009
Thank You for this talking photo!!!
Here is Shadow that sweet son of Devlin, living in Holland with Henk and Joke and all his toys *S* (Gwynmor A Shadow In The Mirror).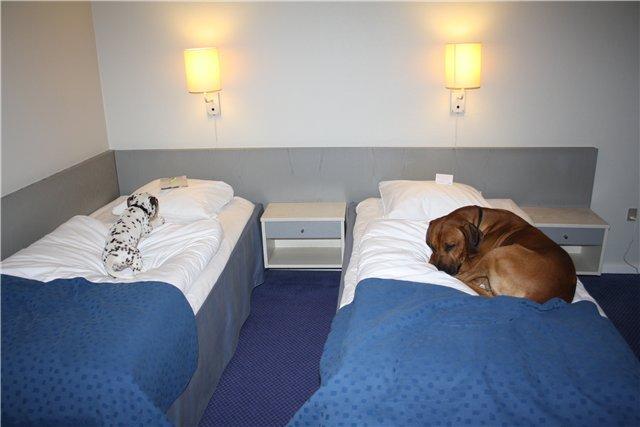 Got nice photos from Very Very Sweets trip to Russia, here at the hotel with her travel company.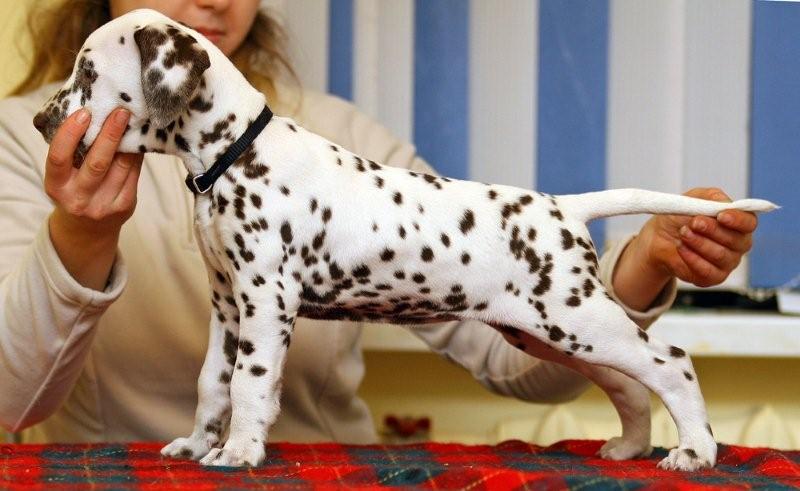 Here she is in Moscow shown by Lera that bring her to Russia, photo taken by Irina, thank You a lot for those beautiful pictures.
Do You understand why she got her name??

Thank You Emma for this nice painting for me of me??? and one of my dogs/puppies shitting????? (Daughter to the owner of Vanilla Ice)!
Tuesday 10 November 2009
Velvet Touch is soooooo photogenic!!!! Take photo of me me me!!!!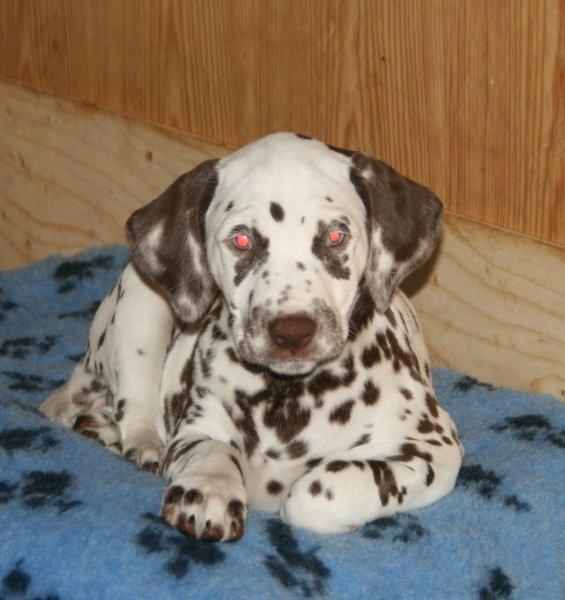 Darling like a alien with her red/blue eyes *S*!
Sooooo sweet when they sleep, here is Princess and Vip.
Time for cutting nails today again.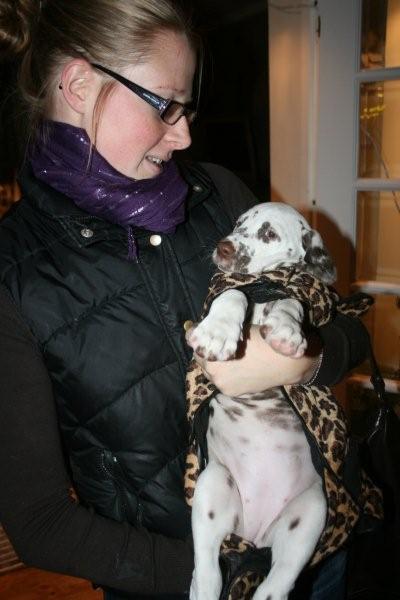 Gloria was happy that Jenny came today too. Jenny have been waiting so long for this little girl.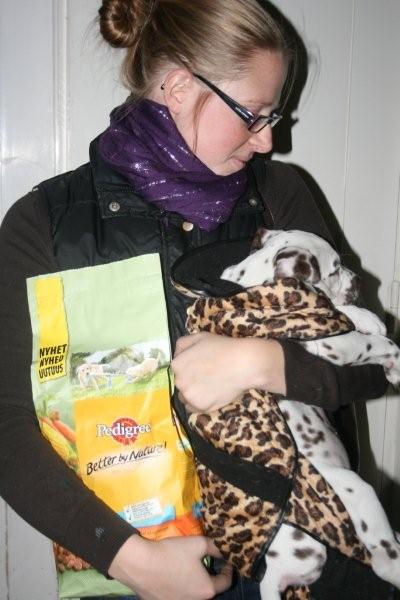 Decibels coat was way to big for Princess because she is much younger than Decibel was when she moved home to Jenny.
Monday 9 November 2009
Today Jimmie was in our area with his truck, and he was at our barn with something to fill up with. As I was waiting for puppy buyers I had no time for making lunch, as the cleaning took over two hours today because the puppies have slaughtered their bed tonight.....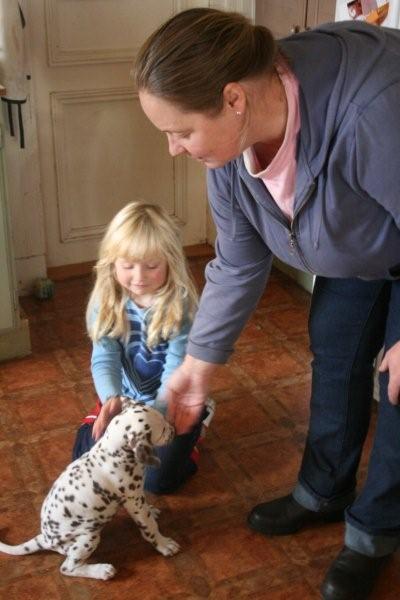 Ann an "old" puppy buyer to me came here with her daughter Emma 5 year to look at Nr 6 Jilloc's Vanilla Ice, they already have decide to name her for ISA.
Ann have still Jilloc's Caribbean Catwalk, Zamantas sister (Candle In The Wind) 11,5 year old at home, and today she was here with her, so fun to hear that she have been healthy and have a good life even if she start to look a bit older today, she was happy to see me, but she love everyone *S*!
Roy came with TWO cakes for the coffee!!!!
Jenny came with more newspaper for the puppies and tomorrow she will come back to bring Princess home. Emma and Jenny with Isa at the front stair and Ann with J Caribbean Catwalk, Milda.
Sweet Emma was sitting for 300 km on their way back home with ISA in her knee and clapped her so she shouldn't think about moving away from her mother Devlina, I am rather sure that Emma slept well in the night *S*!
Jill and Devlina and Gloria think it is good that the active puppies start to move out *S*!
Sunday 8 November 2009
Day at home, perfect we need it!
Puppies are so nice when they sleep *S*!!!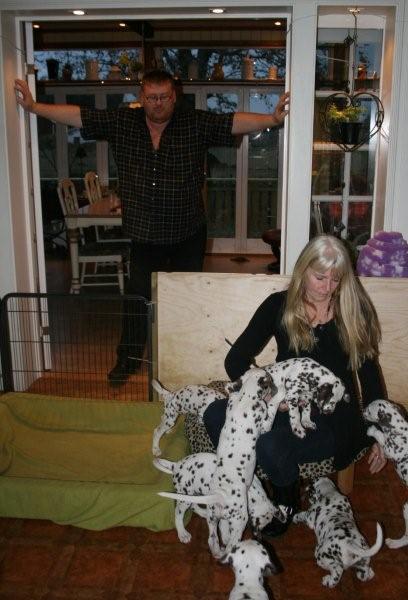 Eva and Arne/Cliff came and Eva find her usual place with the puppies immediately.
Arne helped us to measure the kitchen exactly so we can order our new kitchen (in the future, but it is time to start to think about it more seriously now as we hopefully can dig the floor up next spring and then we have to take all things away).
They love our vacuum cleaner and it make lot of noise, hurray we play with it *S*.......Vanilla Ice sit in the toilet and told me that it was not HER that have been shitting on the bench !!?!! I wonder how it was!!!!
In the evening it was time to cut all the puppy nails again, and some were very calm and some were so crazy happy and just want to eat Rune up *S*!
We call the puppy to the right for Anne Karin, wonder why *S* and she is the worst to kiss all of us!!!!
Saturday 7 November 2009
Today Carola and Peter is coming to bring their caravan home for the winter and Josefine and her boyfriend is coming to chose puppy. They have been here together with her family before but today she can look at the puppies in real and decide wich one she want for her. She will have a dog for pet and to do funny things with and to make obedience and maybe agility or something so she have decide to chose one of the blue-eyed girls.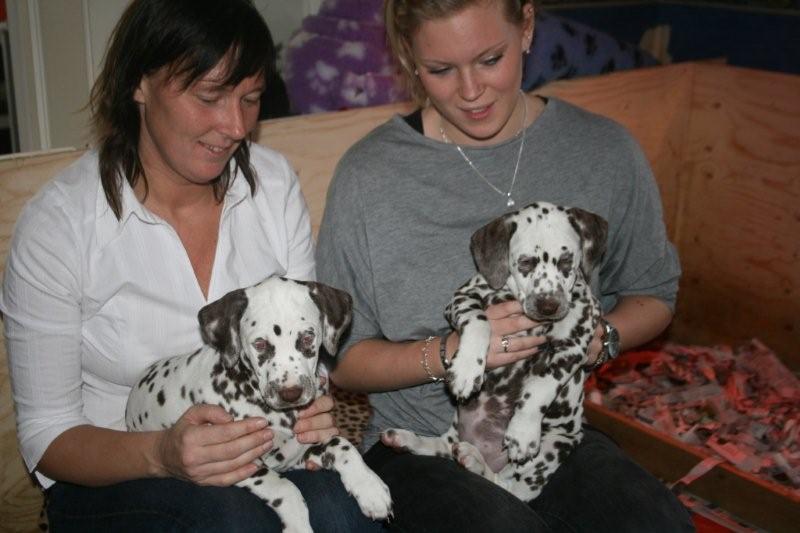 Carola with Nr 1 bitch and Josefine with Nr 7 bitch.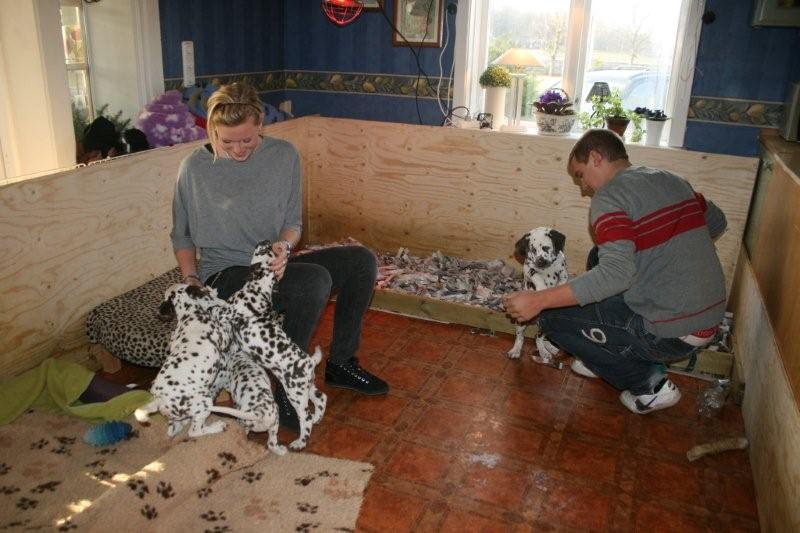 Josefine was fond of one bitch and her boyfriend of another one...but it was her choice today *S*!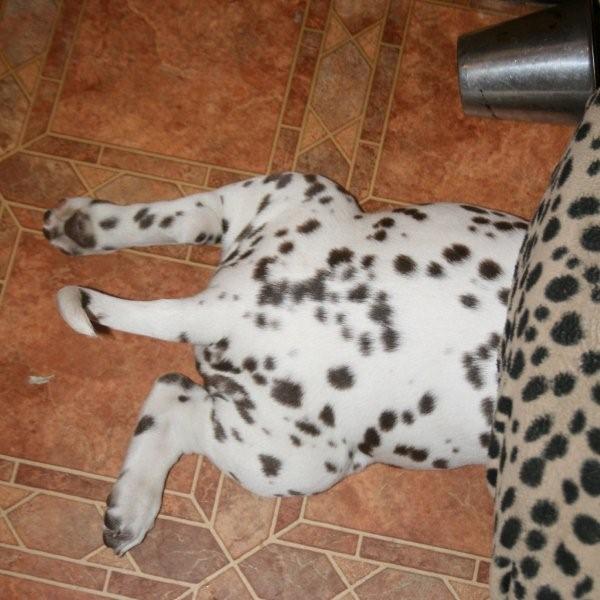 Rune was lucky to get help from Peter to take the pool in for the winter. Is it my fatty that is under the bench........Yeeeeees!!!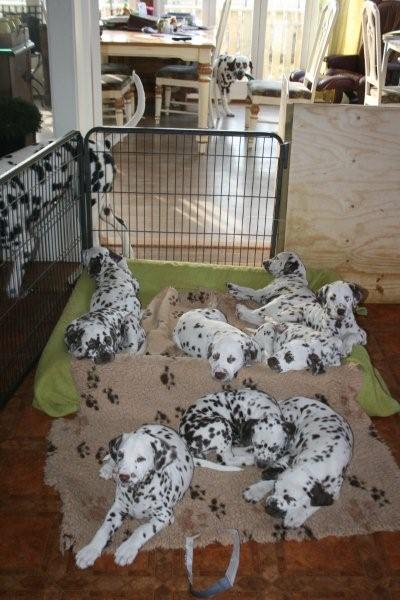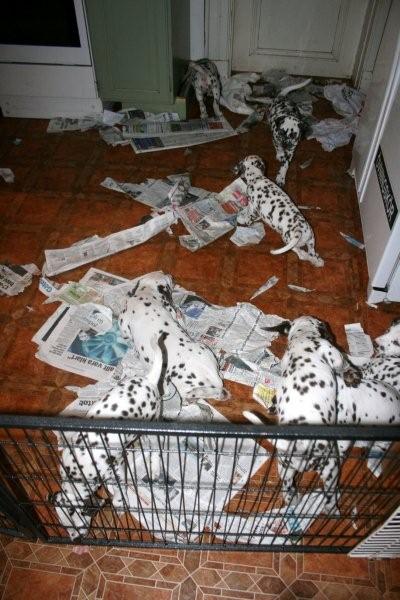 In one second calm and nice and in the next they make my new clean kitchen a mess!!!
Carola with her favourite Nr 3 bitch....we call her Bente *S* she is the most funny girl....when we can hear someone scratching in the water bowl like a crazy then we know that the other puppies have sent Bente to tell that the water is empty *S*.
Nr 1 bitch "Small Darling" and the other puppies out for a quick play in all leaves in the backyard.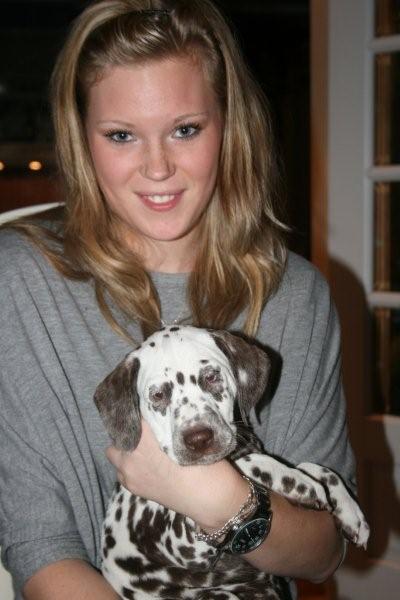 It was no hard choice for Josefine, she was in love with Nr 7 Jilloc's Value Of Money very quick, and she can hardly wait until she can bring her home. All three of us....The Puppy.....Josefine and I looking forward to that but of different reasons *S*!
In one month she come back and take her home as she have to finish her practice first as we decide a while ago. That will be perfect, most important is that as many as possible of the puppies are leaving before Gloria will have her litter so it can be a bit more calmer in the house!
Friday 6 November 2009
Today I have to go back with some new puppies for the health check and vaccination and chip.....
Thank god that there were trainee at the vet station today that helped me with the puppies as they are so heavy now that my bad hands and arms couldn't carry more than one in a time, thank You girls!!!
And today Jilloc's Very Very Sweet is leaving for her new home in Russia, can't stop kissing her!!!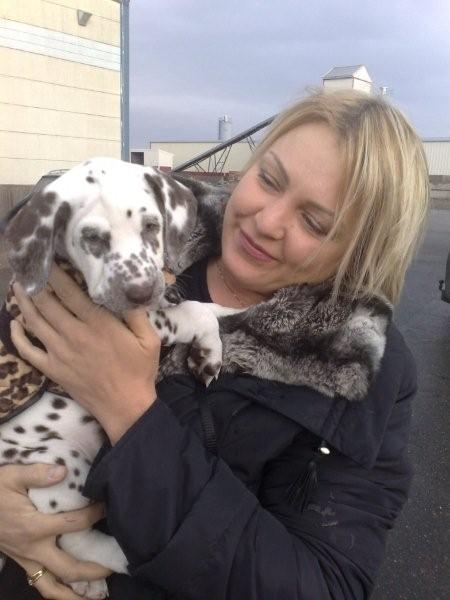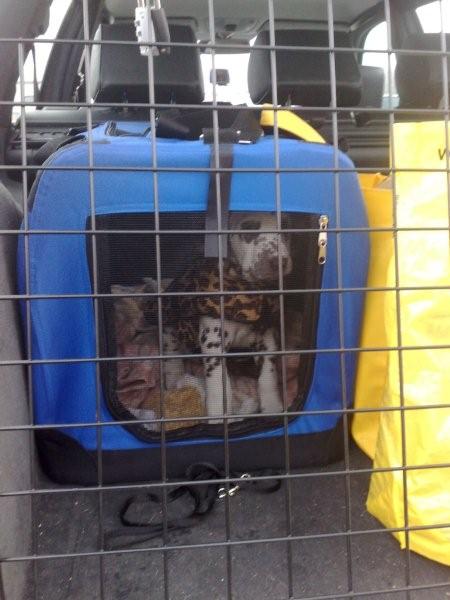 New cage for the trip and a Coat with Glitter and Glamour of course
I was in a favourite store to buy Christmas presents and saw this "Willow Tree Angel" of a grandmother and grandchild and I told my daughter Jennie that I want it for Christmas..........Photo of Princess from the vet station today.
I bought a "Cake topper" to Rune as a present for our Wedding Cake, that we will have in some years when I have lost that much weight that I can use my favourite Wedding dress that is hanging in my store...and as I have told You before that will take a looooong time!!!! I will take a photo of the cake topper in some days.
Goodnight !
Thursday 5 November 2009
Rune will try to go back to work today, he think that he is not that sick now to be home but I think he is to tired and wasted but he will at least give it a try. He can cough for 30 minutes sometimes but he had been to the doctor this week and they said that he have to take it calm and just wait, and it is at least not "the pig flue" that many people have here in Sweden now....ha ha ha but sometimes I think he looks like one....a marzipan pig *S*!!!
Today it is 4 weeks exactly since Gloria was mated to Bosson and she have been "big" for 14 days already. I have planned to take an ultrasound this week but it is not necessary at all...there is puppies!!!!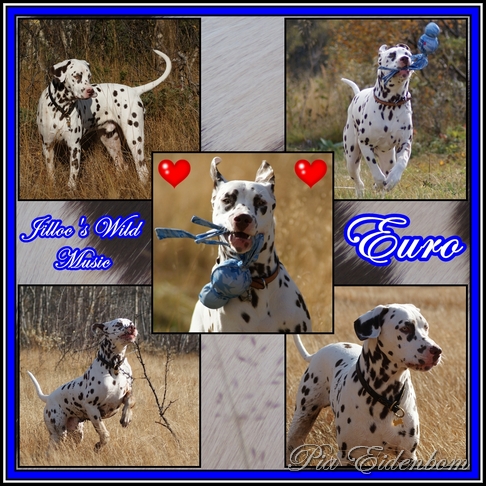 And thank You Pia for all fantastic photos You send of Euro, love them all!!!
We got flowers from Roy some days ago, sooooo much better than cake, Thank You!!!
Wednesday 4 November 2009
Puppies are 8-weeks today!
Today I will go to vet again to do health check and give injections to some of the puppies, I have to take just some each time as I can't get anyone for help to go there.....Runes is tired and Jenny is studying and Hanna take care of Alicia.......Eva.......please move closer soon!!!!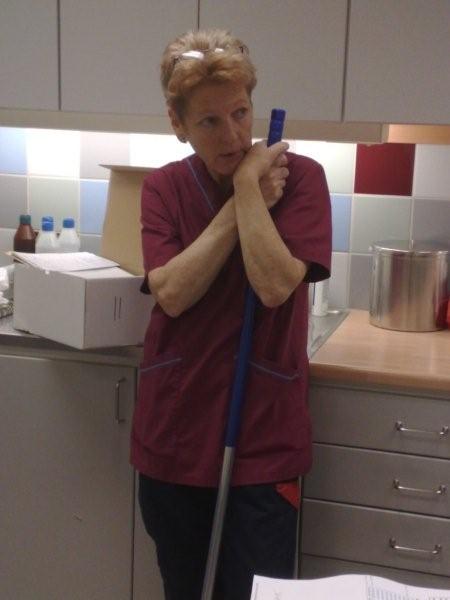 A trainee played with the puppies, and Anki had to clean all over, they pee MANY times during our visit there...
Today I found a big house for rent so I called my friend Eva in Gothenburg to look at it. She and Arne have plans to move closer here and it should maybe be a good thing to first rent a house and try to find out if they like to live in this part of the country. She called and at Sunday they will go there and look at the house, we keep all thumbs for them.
Continue with moving around all furniture's in our living room...in some days it will be better.
Tuesday 3 November 2009
Up very early to take a shower and go to the hospital for some tests, at 10.30 I was back home with breakfast for Rune and me.
Today I will go to Strömsholms animal hospital in Västerås, as one of the puppies is going to be BAER-tested as she will go to RUSSIA this week.
And of course I have to go to PK-Design in Örebro then as it is on the way there. I was very disappointed when I find out that the store have moved into a very small local and there were nothing that interested me today, shit, but it was cheep then to go there *S* that was good.
It was very dark before I was at Strömsholm at 17.45......I hate to drive in the dark but this time of the year it is dark most of the time I think, but today it was necessary. And I was happy that they have given me a time already as I called yesterday.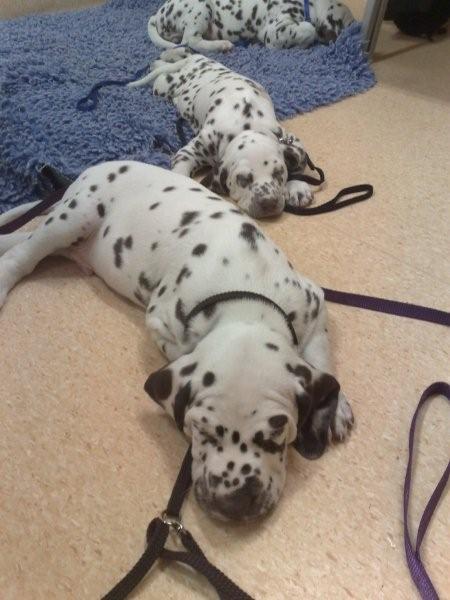 Sleepy boys and girl....
I bring some of the males with me as they say that they might have time to take some more than the bitch.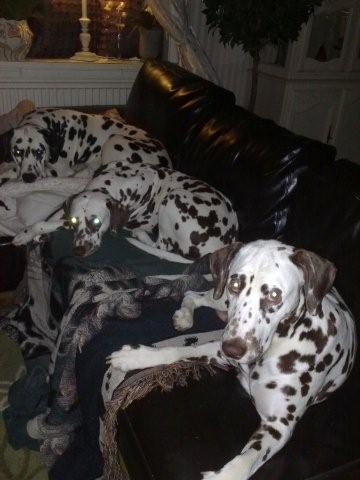 I do not know how I came back home 260 km in the dark...but I did and I was very tired but of course happy that the bitch was full hearing. I have been away from home over 8 hours today thank god that Rune still was at home even if he was very tired he could walk up and let the dogs out and I had some of the grown dogs with me in the car so it should be calmer at home for him.
Monday 2 November 2009
Rune sick and stayed home from work, he couldn't even go up from the bed today.

Alicia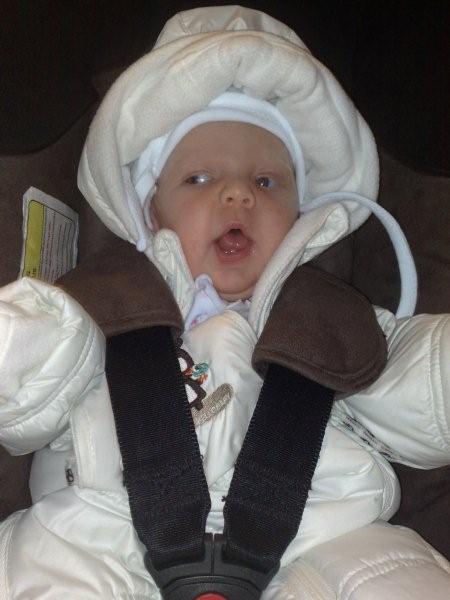 This little sweethearts parents have now decide her beautiful name for the future:
She will be
Alicia Florence Eleonora Gustafsson
And I am sure that she will be very special with soo many beautiful names *S*!
Eddie is now climbing all over and here he is at his grandmothers place and try to eat up her fruit!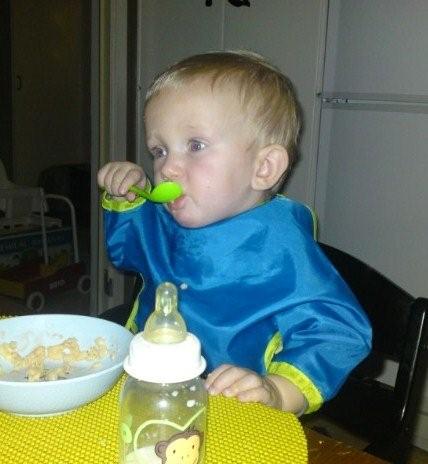 And he have start to eat by him selves.....I love to meet him next week, when Jimmie is 25 Year....... it have bee too long since last time!!!!!!

Tired puppies!!!
Sunday 1 November 2009

My sweet and clever granddaughter Ellie and he pony Solist have been at two Clear round and both went faultless. Congratulations to my darling Ellie, You will go far with your riding now when You think it is fun again to ride!! (Some years ago she fell of a horse and was afraid to rider for over a year).
Today Rune went up in the middle of the night and go back to Växjö again to make his last education for cocker spaniel. He have fever and pain in all his body so I think he was crazy to go, but he said that he had to.
Devlina think it is so nice when she can rest with me in front of the TV instead of taking care of her puppies.
Rune was back home in the evening and was totally wasted. He bought pizza on his way home but eat just a bit of it. He fell asleep immediately!
Poor.....
I was looking at TV all evening together with our dogs.