Wednesday 31 March 2010
Today Perfect will have her surgery so she was delivered at the vet station at 8.30 in the morning.
Today Hildegunn is coming here to look at small puppies before some of them start to leave for their new homes. I was out shopping and when I came back home she was already at my home. She have brought flowers for me and lot of toys and candy for puppies, and cake of course thank You!!!!!
As I was going to pick up Perfect around 4 in the afternoon Eva came here too to follow us there as I should have two small puppies in the car too for vaccinations. Hildegunn was sitting in the backseat with small puppies in a fabric cage. On the way back home Eva will have the cage in her knee as Puffie will lay in the backseat.
When we were ready at the vet we went out to the car and put everything on their places. When I start the car and start to drive Hildegunn shout that Perfect was bleeding...I stopped and look at her and there were blood coming from the wound...and I was TOO much I can tell...I ran in to the vet and told him what have happened and then out to the car again and bring her in. It looked terrible on the ground and on the floor........it pumped out blood and she got immediately two injections to put her to sleep again...poor Perfect. But thank god that we still was outside the vet station when this happened and not at home as we have 40 minutes drive to get there.......this time it could have been a catastrophe for us. Hildegunn try to save the leather in my car as there were soo much blood already in the blanket that she have been lying on.........Eva have to sit down on a chair as she hate to see blood!!!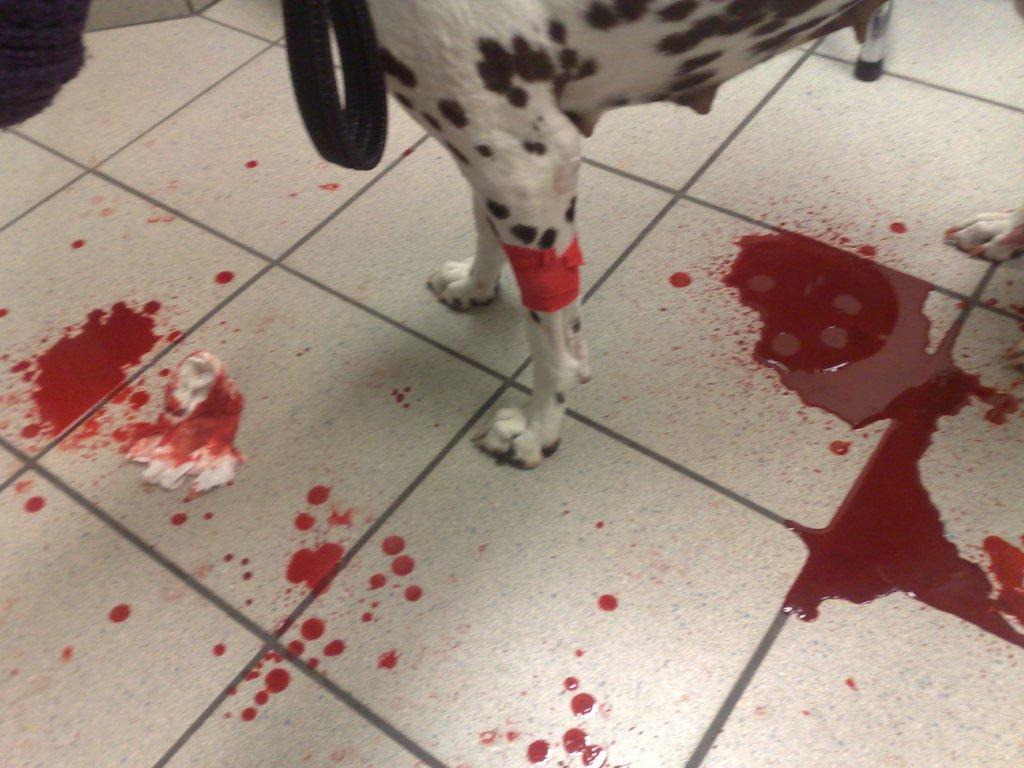 The vet have to open Puffie again and try to find the bleeding.......after an hour the operation was over and she was put on blood transfusion as she have lost to much blood. She was lying there some hour and we were sitting in the waiting room talking andeating biscuits...tired now and hungry.
Suddenly Puffie came walking out by her self from the awakening room...she probably think it was enough for today now. Good girl........She have pulled out the catheter with blood and walked out to us when she woke up enough to stand on her feet.
We drove home immediately with Puffie and she was very tired after a long day.
Tuesday 30 March 2010
Today Jonnie and I drive to Volvo in Skara to bring his nice black Volvo back home again.....now he was pleased as he is going to show it on a competition at Saturday at the Expo in Jönköping.
Then I was to the flower shop to buy lot of yellow flowers for Easter.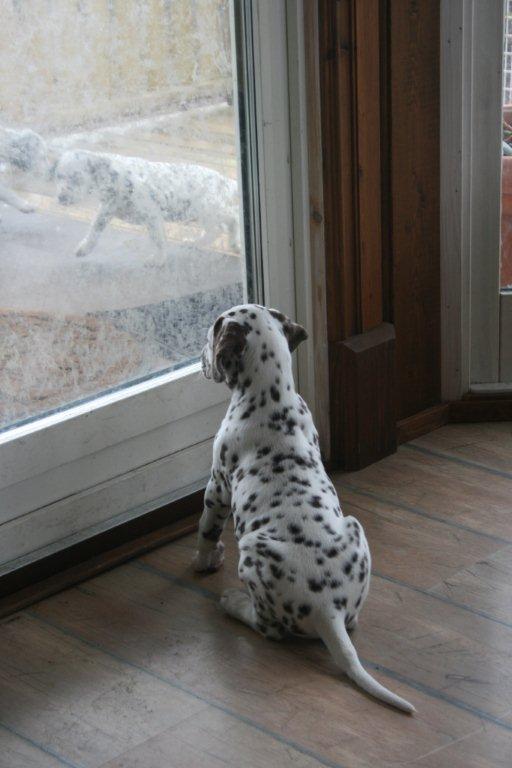 I have to go to Jonnie tonight and give his room and bathroom a makeover before he will have guests in some days.
Monday 29 March 2010
I put my alarm on 8 and called the vet to book a time for Perfects sterilizing as she is still bleeding and drink a lot and is not on top....there have to be something wrong.
Then I try to sleep for a while but it is impossible when the sun is shining and dogs have heard that You are awake. I got the flue and have problems to sleep in the night as I am coughing a lot....so better to dress and go down to the kitchen.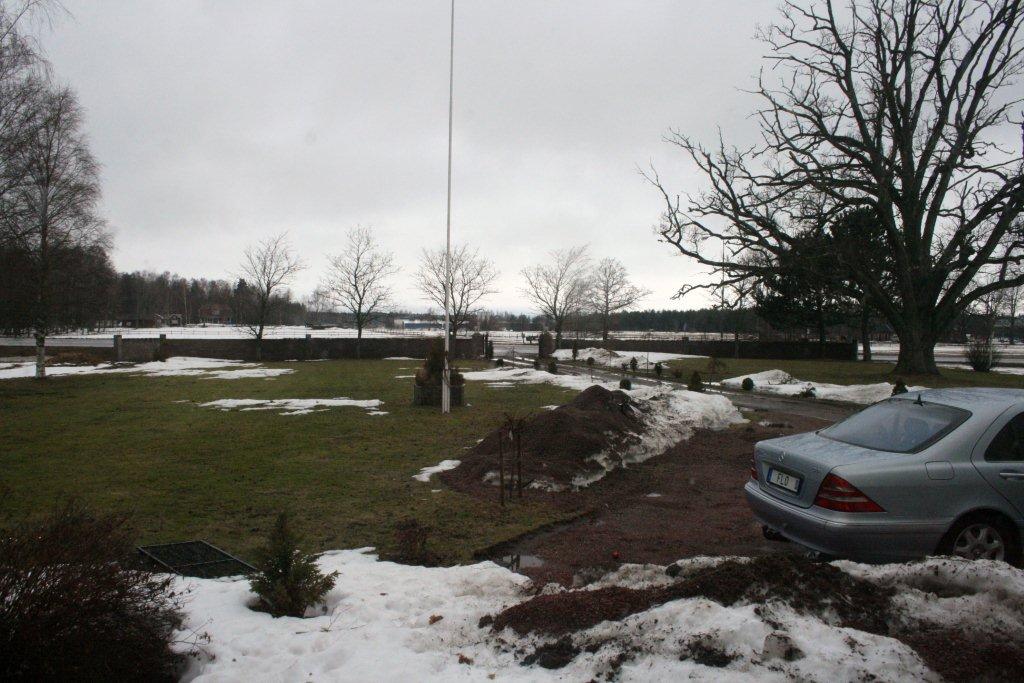 The garden is not that beautiful these days...but it will be better we hope. So long so much for Carola to come here in some weeks, she is our gardener *S*!
Last days I have totally lost my voice.....and it is so hard to try to get out any words .....and as You know it is very hard for me to shut my mouth *S*!!!
Sunday 28 March 2010
Start our journey to Stockholm at 5.30 and we were there 9.30 as we have planned. It was a day full of appointments and funny things...so we had lot of things to talk about on our journey back home in the evening.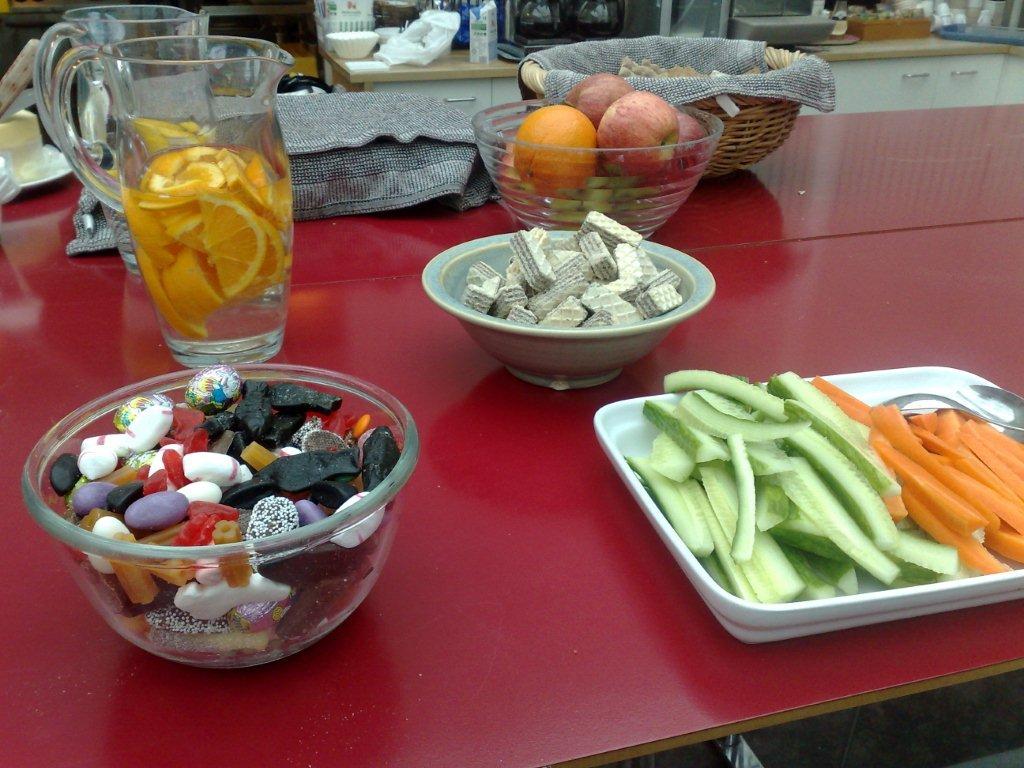 Rune was even more tired than me so I drive and he sleep *S*!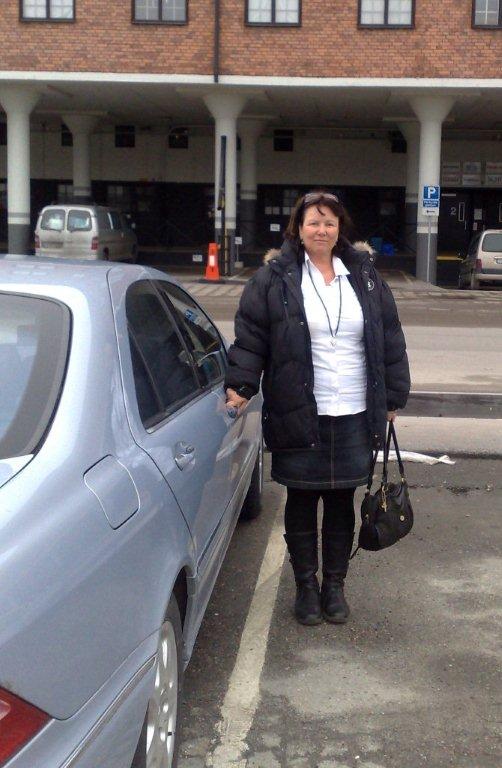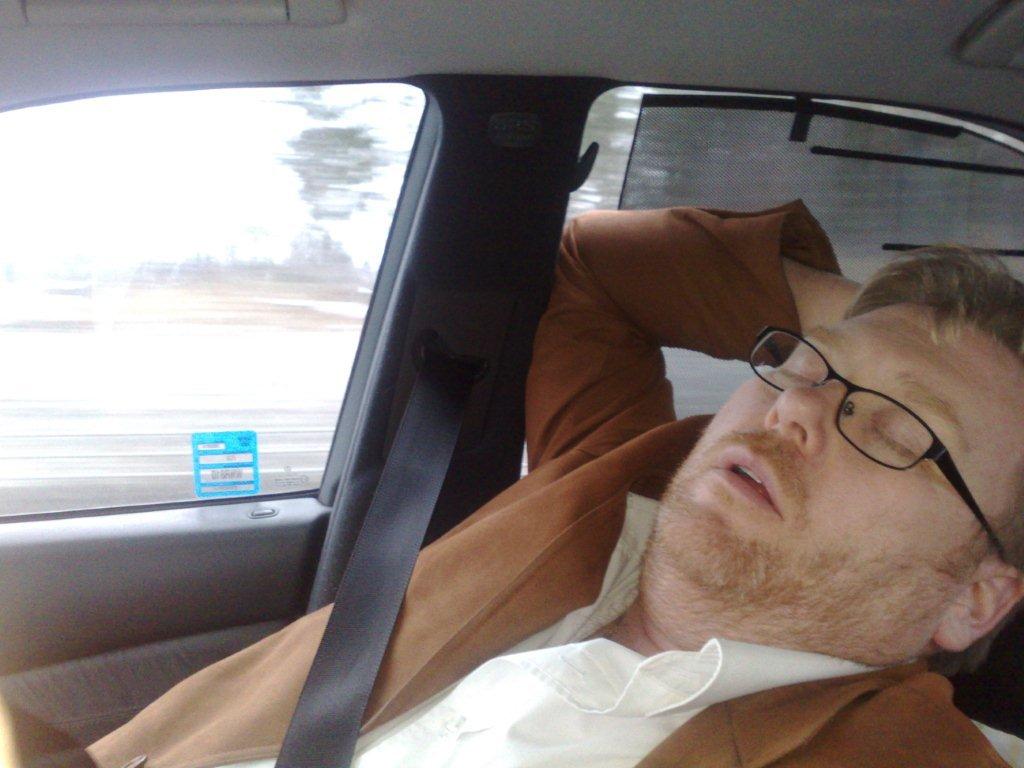 Zzzzzzzzzzzzzzzzzzzzzzzzzzzzzzzzzzz!
When we came to Köping we stopped at Volvo and Rune took our Renault that have been standing there since the car rescue brought it there this week.......They did not find anything else that was wrong than that it was almost empty for diesel, even though the meter showed it was at least more than 10 litres left, there have come air in the system, sigh!!!!!
Then we stopped at a gas station and bought lot of candy so we will keep awake until we were home. I arrived at home at 9 o'clock and Rune came 30 minutes later. Soooooo good to be home again after a very long day.
all 8 puppies was so clean and the kennel was new cleaned....Carola have had a full day *S* and I am rather sure that she will sleep very good tonight. Thank You so much for all help today!!!
Saturday 27 March 2010
Lot of hours in the garden today to try to clean up the worst.
Put up flowers and candy for Carola when she is coming here tomorrow morning to be a babysitter for our dogs,
as we are away all day long, and it is her Birthday!
Friday 26 March 2010
Today we should have been going to Luxemburg, but we have another important meeting in Stockholm at Sunday that we won't miss so we have decide to go there instead. Shit that it was at the same day...We have paid so much money for everything already for the trip...but but!!!
At 11 I have an appointment with my foot specialist in Lidköping and then just a little shopping of gifts for Easter.
Carola came in the afternoon to learn all about our dogs so she can feed them correctly on Sunday when she will be the kennel girl from the early morning until late when we will be back home again.
Puppies love Carola massage.
I had costumers in my store and I ask Carola to take nice photos of puppies while I was there......and she did.
Mummy we love You.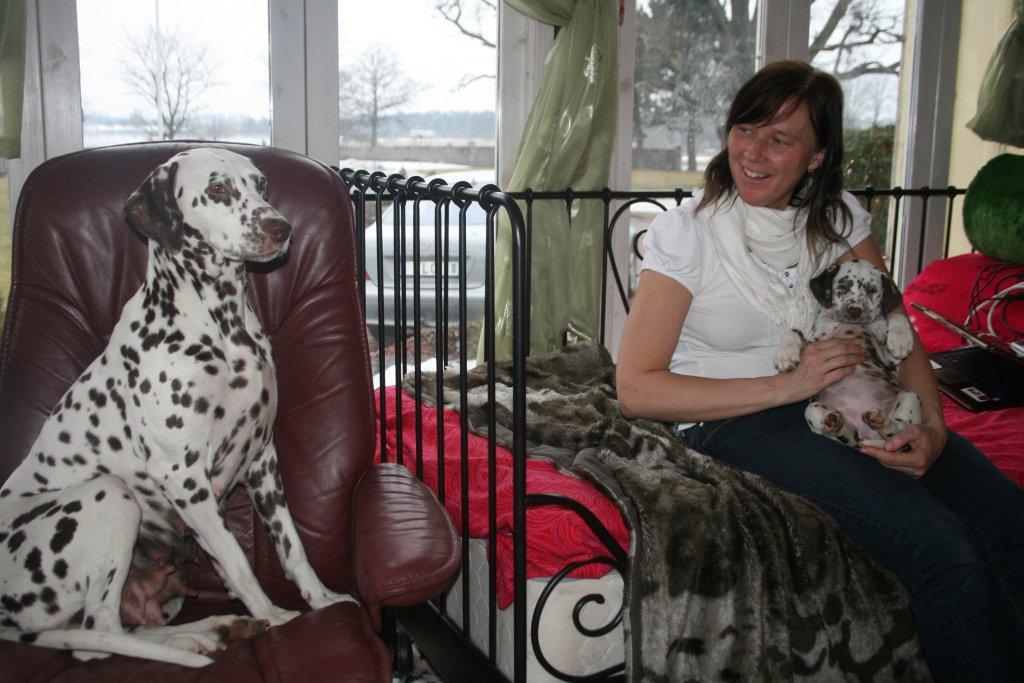 Awake all of them.
Tired all of them.
Then came Rebecca and her father and Puzzle.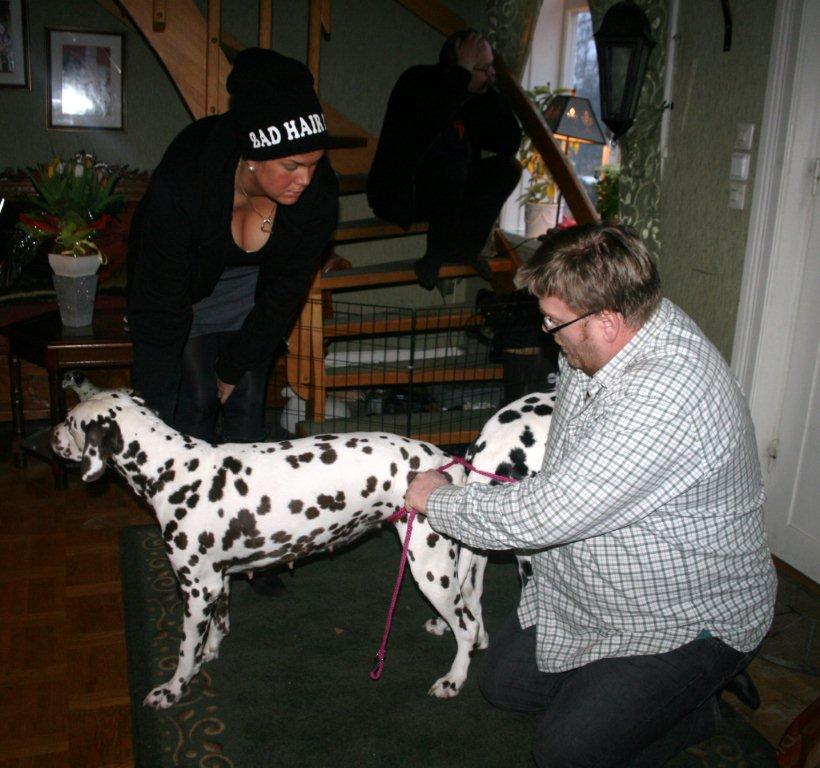 They came here for a quick love meeting.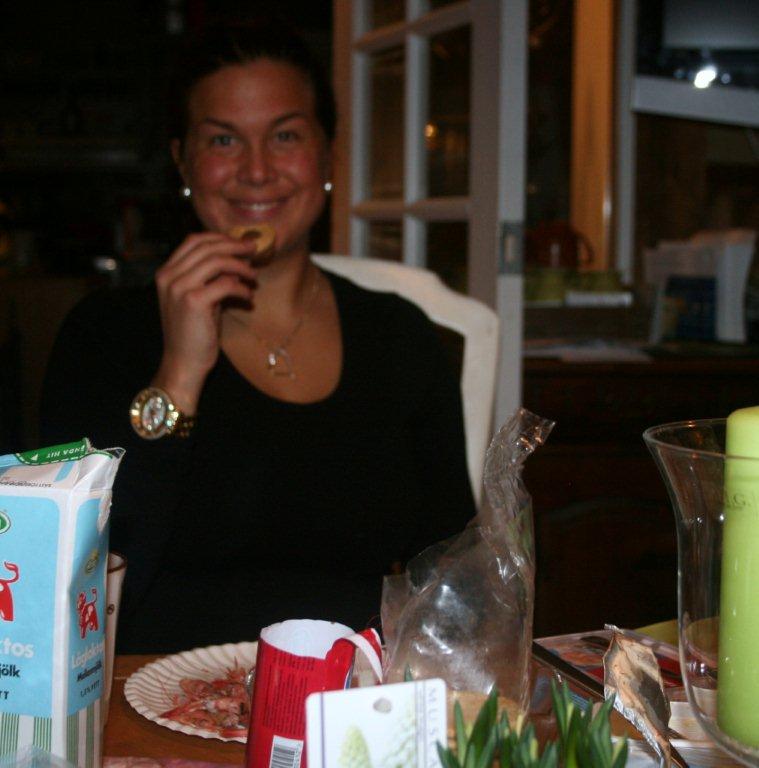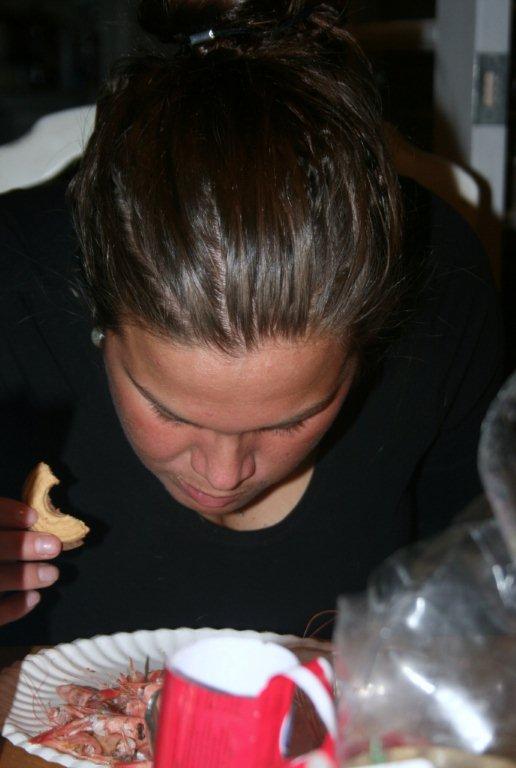 Then we eat a little and Becca was hungry as always....and she was so tired as she was in a hurry back to her next job in an hour...she was so tired that she almost fell down with her head on her plate while she was eating *S*! Crazy....yes she is.....but so lovely!!!!
Jonnies show car is at Volvo to make something with the engine, before he will go to the Expo with the car next weekend in Jönköping.....he and Roy is almost there every day and check it out.
Thursday 25 March 2010
Eva and Arne came with flowers.....Love You!!
This evening there will be the annual meeting of the Skaraborgs Kennelklubb with dinner and awards.
Jenny came here after being with Eva and Arne in their new home...and we met Rune at his work at 16.30. We have to be in time to the meeting as we have to make all the food ready before all people came there.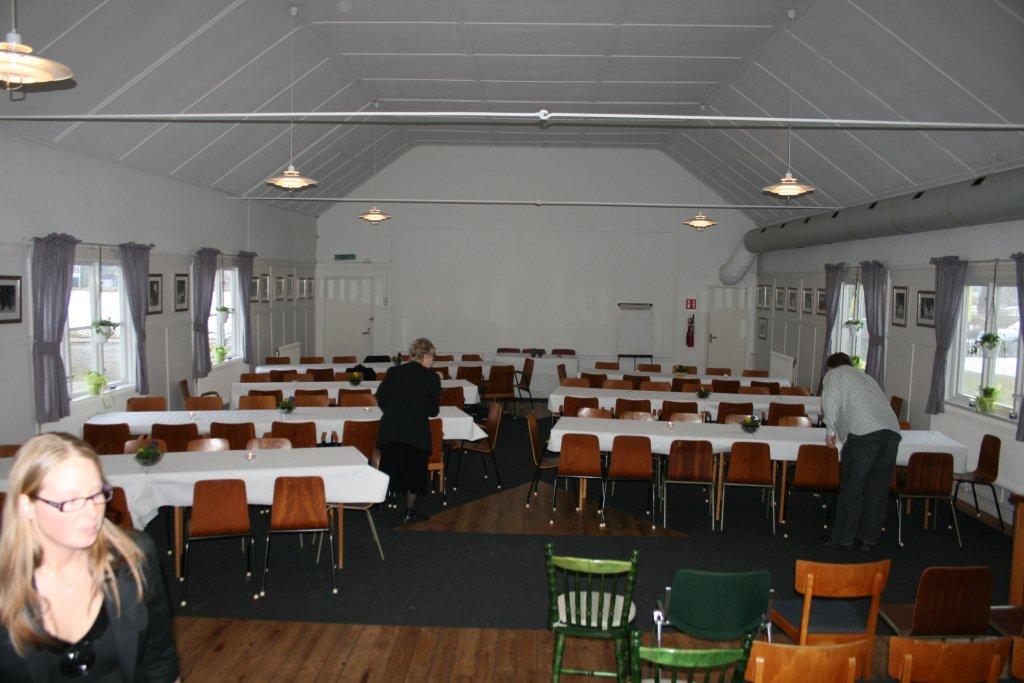 They have made the club house very nice last months and put all BIS Winners in Skaraborgs Kennelklubb since 1980 ? in nice frames on the walls.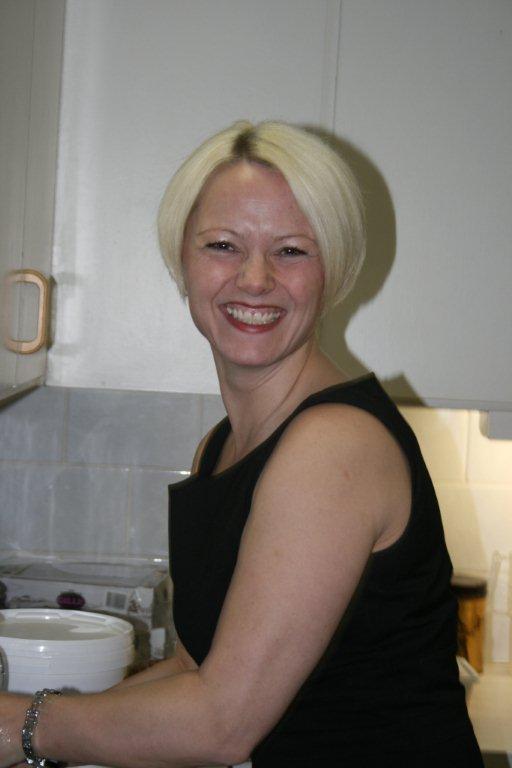 Very good food from the catering...Ingunn had lot to do!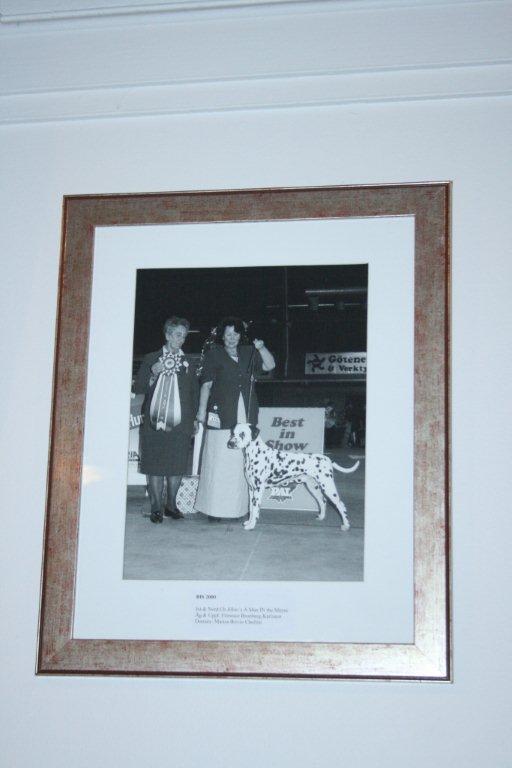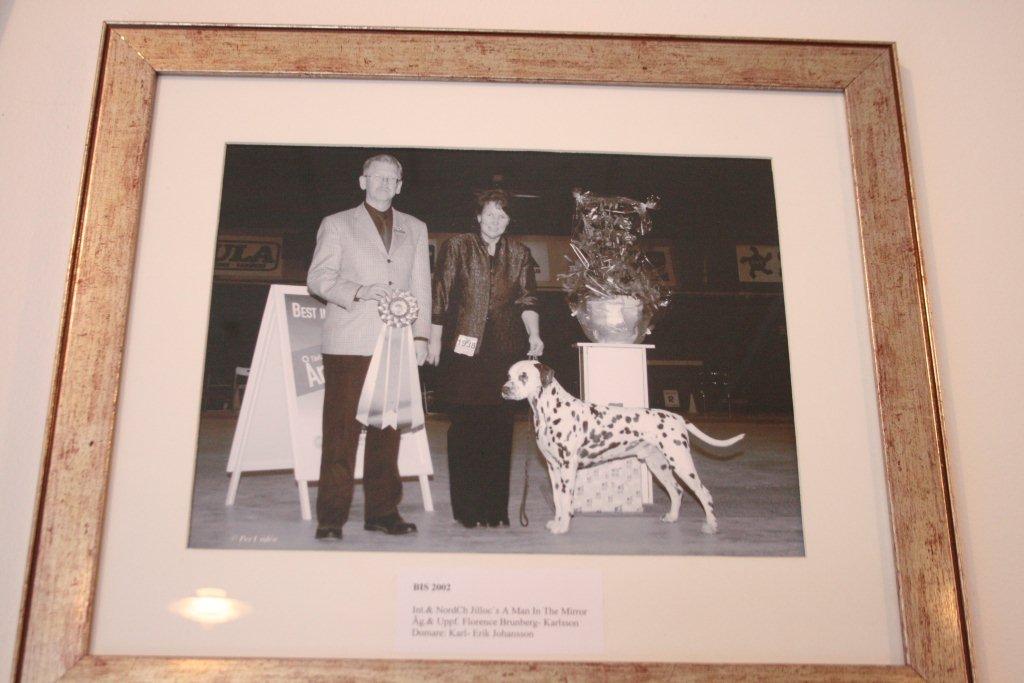 Devlin have been Best In Show twice in SKARA, both in 2000 for Marisa Brivio Chellini and in 2002 for Karl-Erik Johansson.
Gloria was almost there last year...she became BIS 2.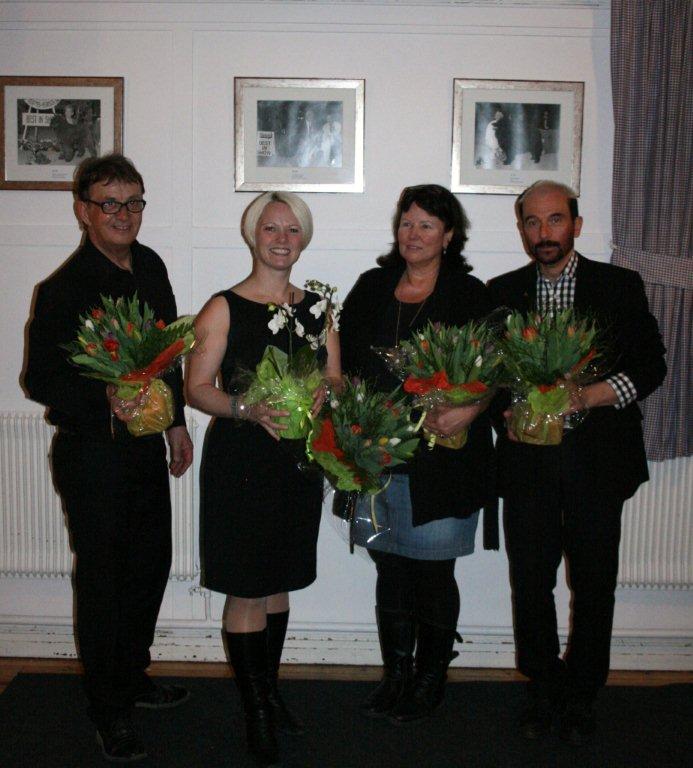 Björn and Johnny got flowers for Best Breeder in Skaraborg last Year, Ingunn got flowers for Best Dog, and Dog of the Year and I got flowers for Best Puppy of the Year.
Wednesday 24 March 2010
Lot of activitets in our house early this morning. Roy was here and Jenny was here already and took care of the morning cleaning when I
came down in the kitchen at 9 o'clock. She and Rune will go to Västerås/Strömsholm today again to BAER test some of the puppies that will go abroad.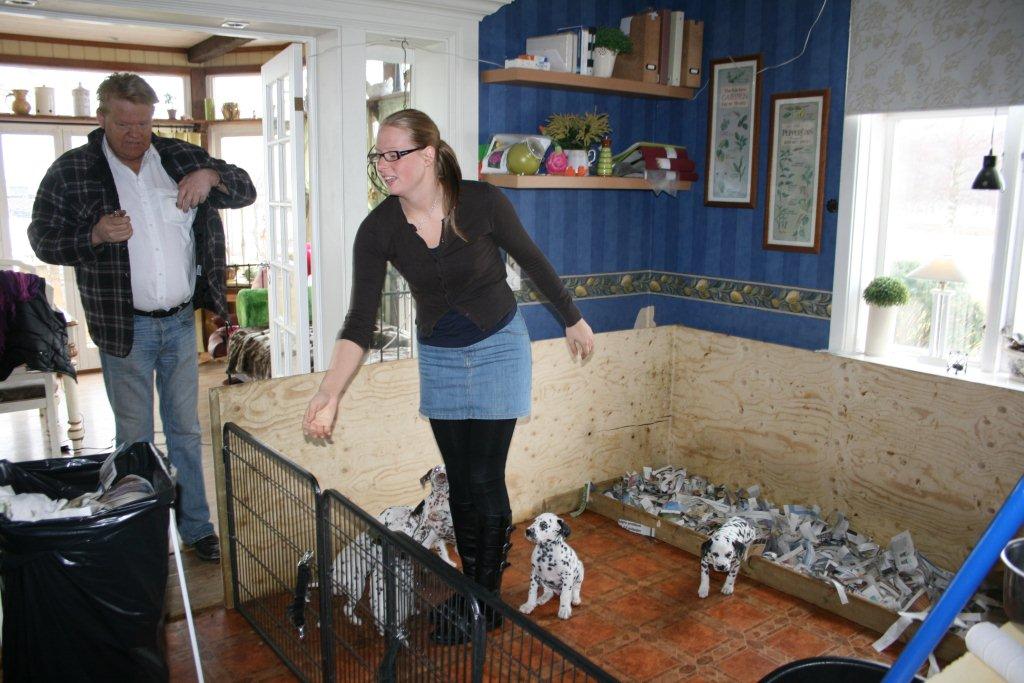 So good to have a kennel girl in the morning, I want it every day!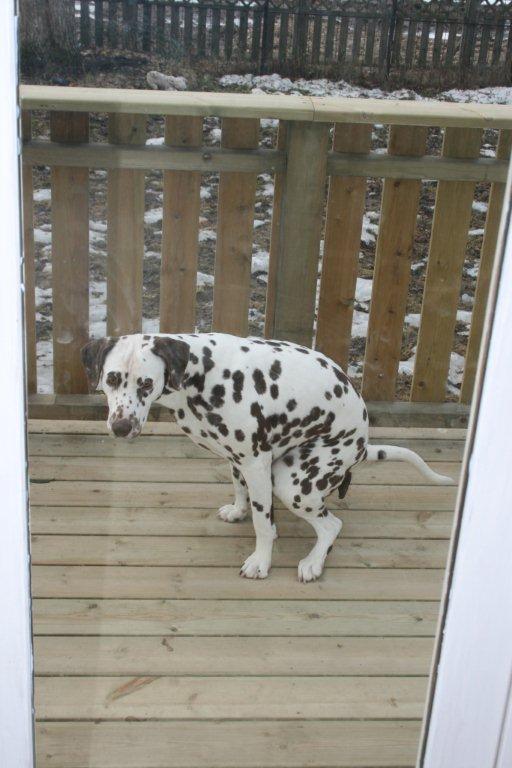 Devlina think it is too much mud in the garden now and water so she start to shit at the veranda..grrrrrr!!!
After some hours Rune called and say that our car have stopped and they can't start it again and that they have called the car rescue...shit what to do. They have to reach Strömsholm in time as we need to test the puppies today there were no more time for that in many weeks. I know that Maria should be in Västerås waiting for Rune to look at our puppies and she was probably there to look at P O :s puppies too, as they are after her male Ekryda Hercules.
Rune called her and she came immediately driving to Rune and Jenny and took all our puppies in her car and Rune and Jenny of course...thank You, it was really fantastic as it should have taken me at least two ours to go there with my small car so where should we have put all people and dogs *S*!!
Of course they were late to the veterinarian but Per Owe was there and told them all about what have happened with our car so it was ok to come even if they were an hour late, thank god!!!!
The first puppies they tested was going abroad but of course she was the only one that wasn't full hearing, typical!!!!
At 6 o'clock there came a car full of dogs and people...sooo good to see them all *S*! And thank You Per Owe that have been waiting for Rune and Jenny almost the whole day to bring them home to Götene when they were ready!!!!
Dogs here and there.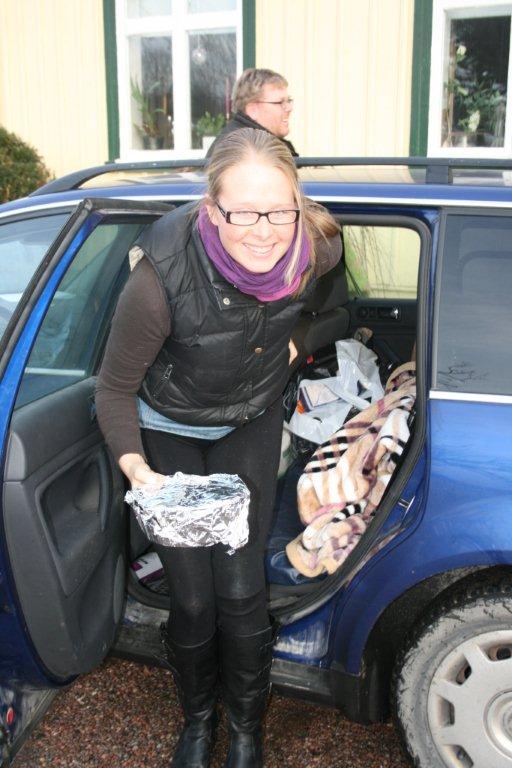 Not much space for Jenny...thank god that it wasn't me ...they would have to to put me on the roof *S*!
Ekryda to the right and Jilloc's to the left. A total of 15 dogs in the car, but this was a emergency situation.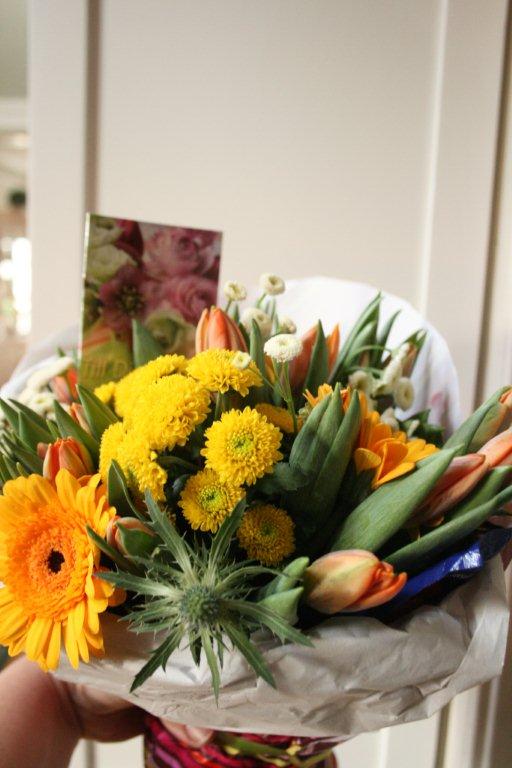 At least flowers and chocolate for PO..........Puppies and people were pleased to finally be back home.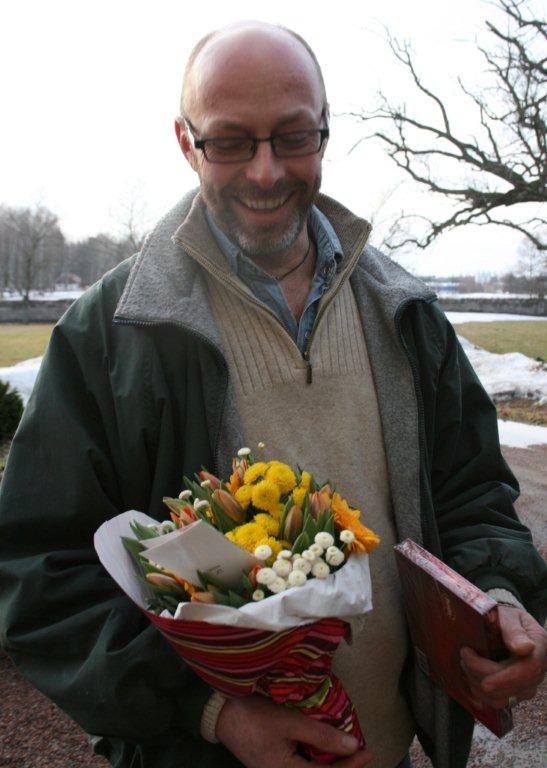 Our Hero of the day!!!
Rune was in a hurry to his chair meeting that already have started and Per Owe was very late for his painting course too.
The car rescue had taken our car to Volvo in Köping/Arboga. I hope it is skrot...I really hate that car...we need a car that we can trust as we are travelling a lot, but there is always something, shit!!!!
Tuesday 23 March 2010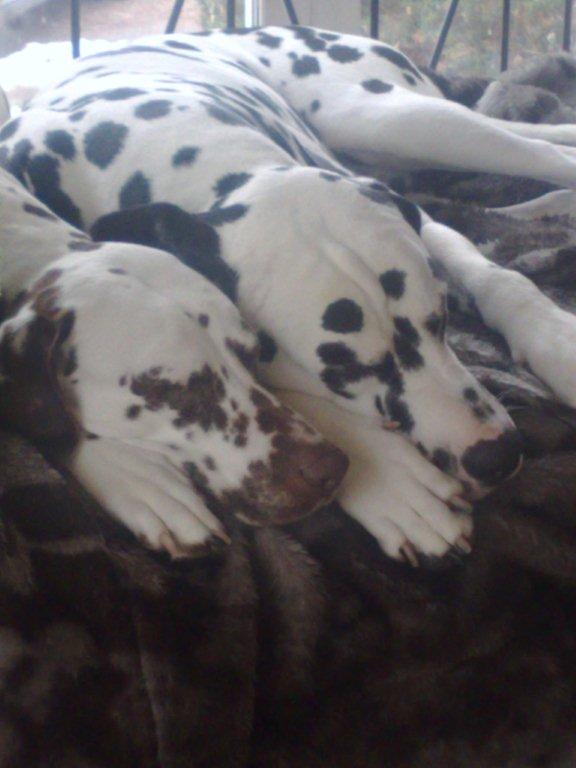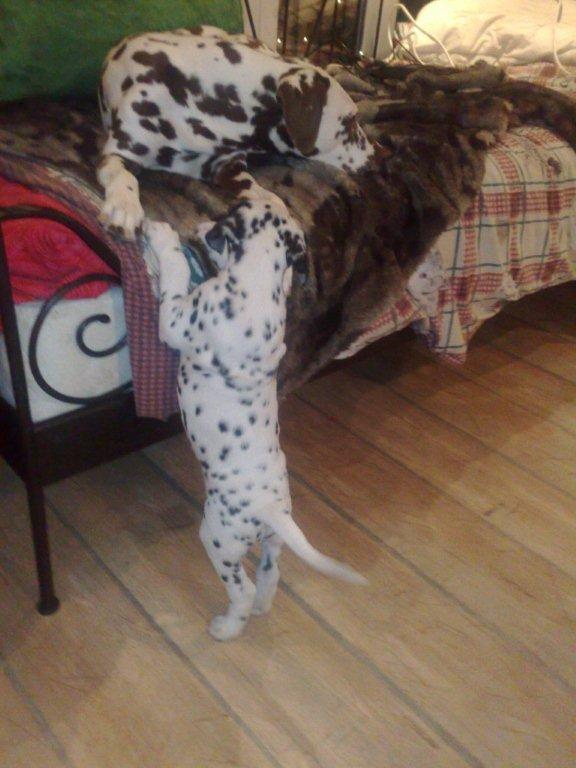 Lot of resting dogs *S*!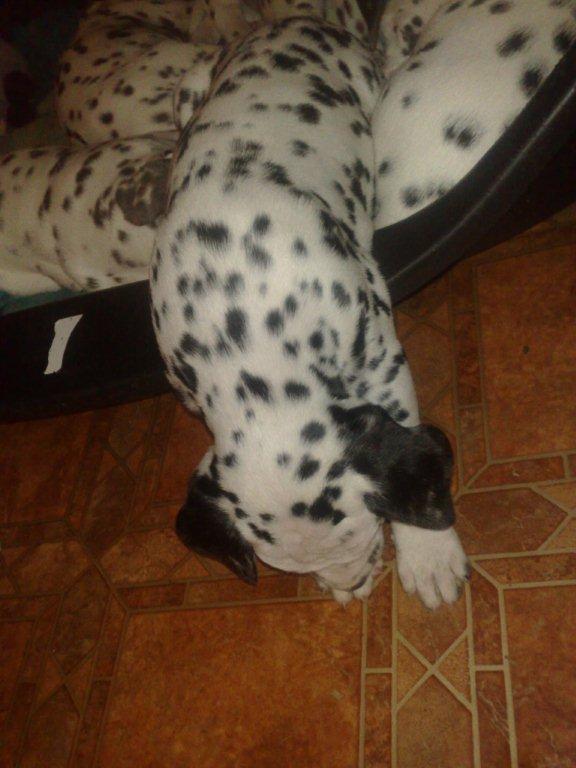 They can fall asleep in every situation.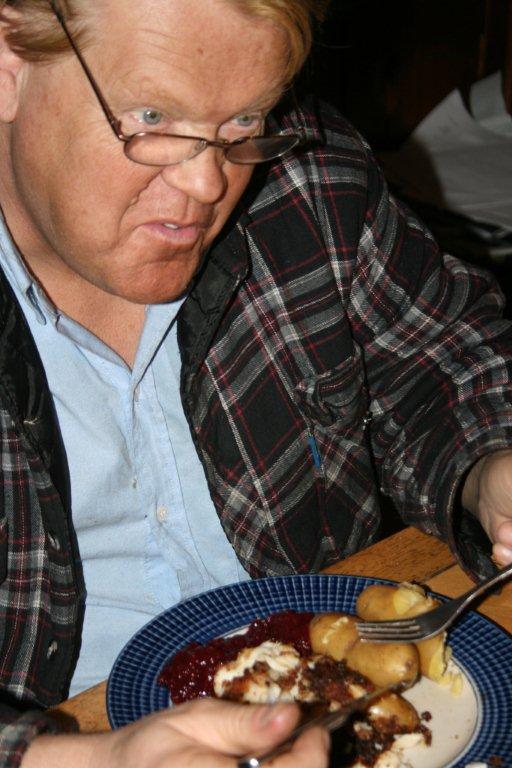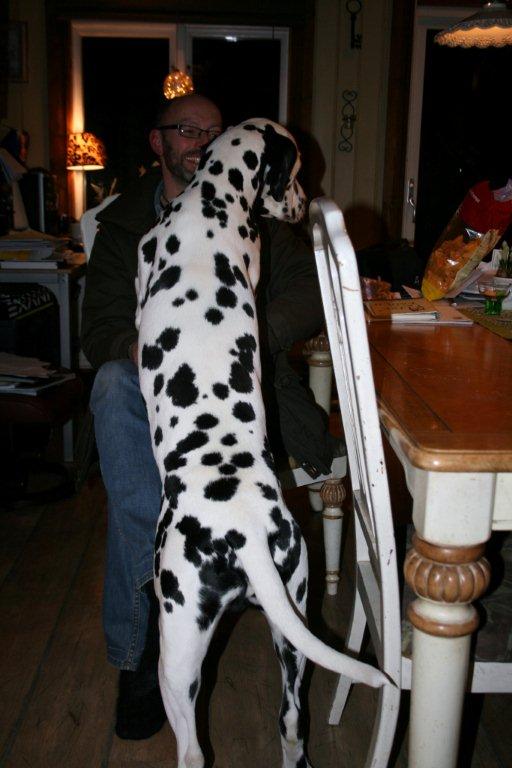 Roy have boiled fish and potatoes today and came here with the food in the evening, I told him to take lingonberry jam in the freezer and he went to the table and start to eat. ten minutes later I was ready to eat....and when I should take lingon I saw that the box Roy have take out from the freezer was with raspberry jam ????? I asked him what he eat ....... and what it taste. Ok he said and when I went to the table and looked at his plate he was eating potatoes, fish and raspberry jam ha ha ha ha ha ...strange combination *S* , so it is true that You can serve a man what ever You have and he'll eat it *S*!!!!
I took lingonberry jam to my dinner *S*!
P O Saleryd came here to rent our big wheels for his cage tomorrow as he is going to Strömsholm too to BAER testing. But he will be there in the morning and we have time at lunch.
Monday 22 March 2010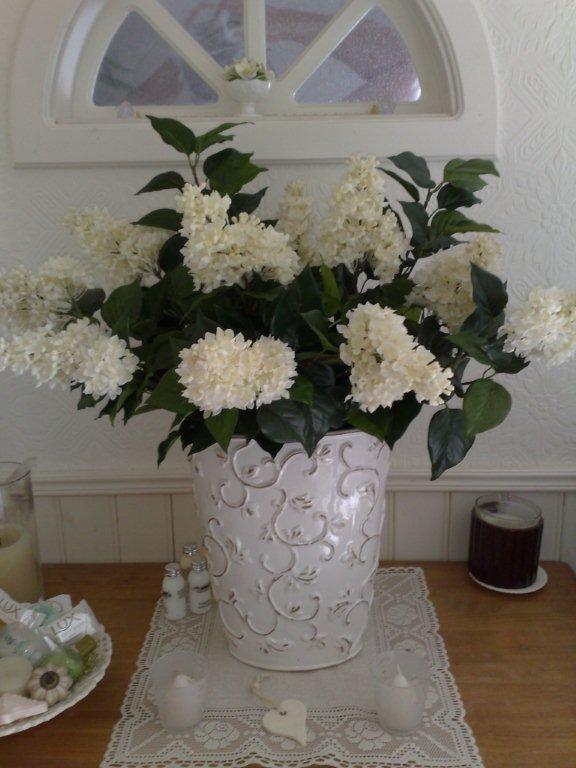 Spring is here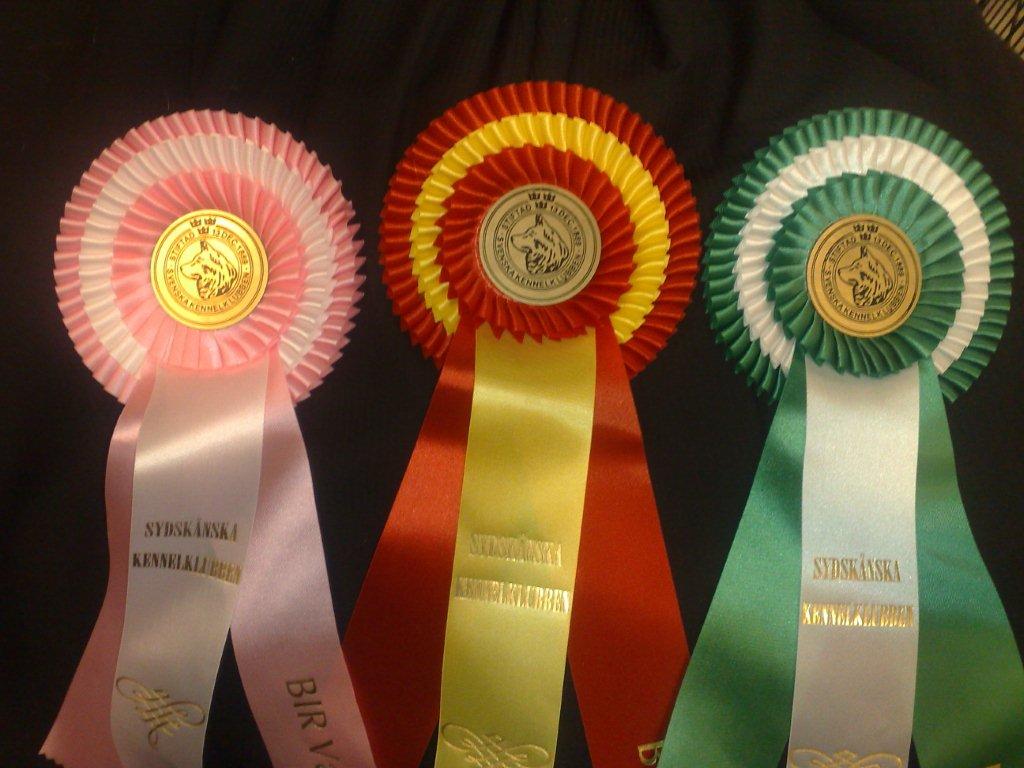 VIP-----JILL-----DADDY
Sunday 21 March 2010
International Show in Malmö today 40 dalmatians entered for Carin Åkesson one of our favourite judges.
So excited to show VIP for the first time as a puppy, and the first time in a leach...this will be funny *S*! I had plans to show him, but decide to leave him to Rune as he os soooo in love with me.....Vip I mean *S*....and I am rather sure he will not concentrate if I show him, and I probably will need all my power to show Daddy today as he is so distracted of Devlinas heat and he is hopeless to show then (more than normal...).*S* I wich he have had got just a bit more of his sisters show temperament.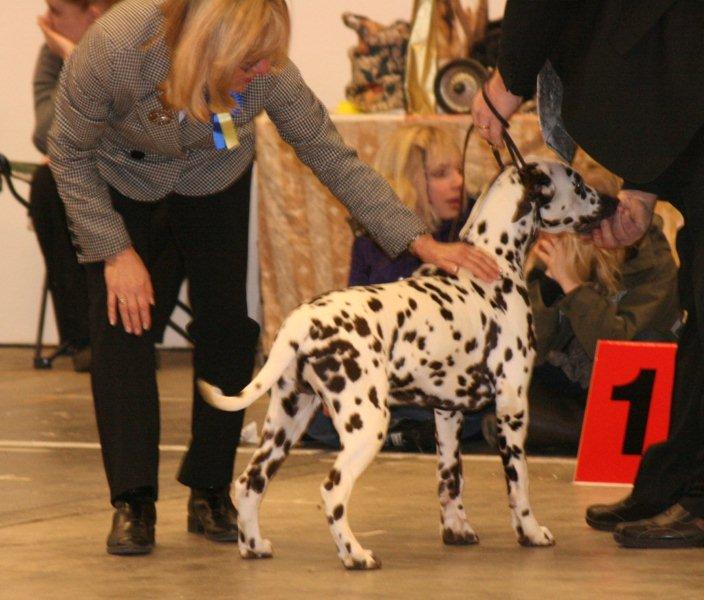 Our small wonderful boy Jilloc's Very Important 6 months and 1 week. (After Devlina and S Viking Victory)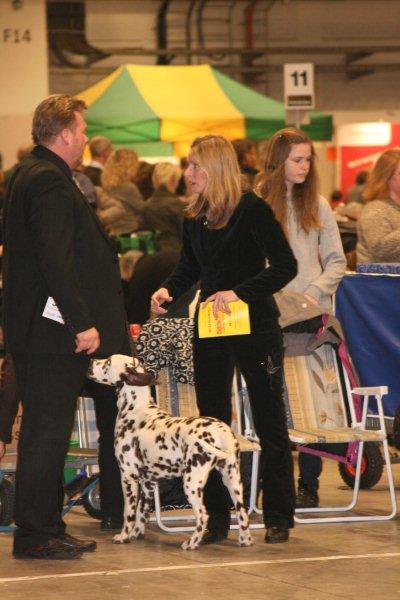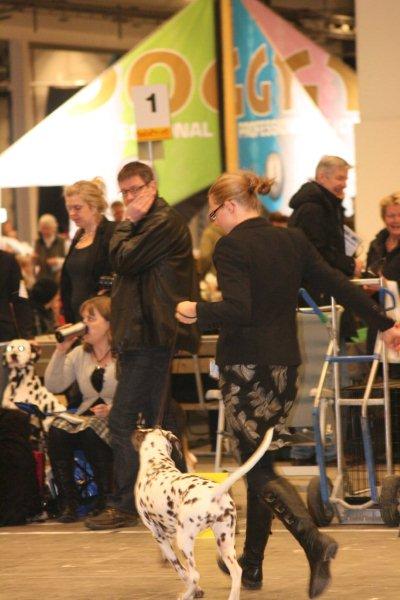 VIP and Princess..poor Jenny have inflammation in her knee and was limping around.
Do You want me like this mummy????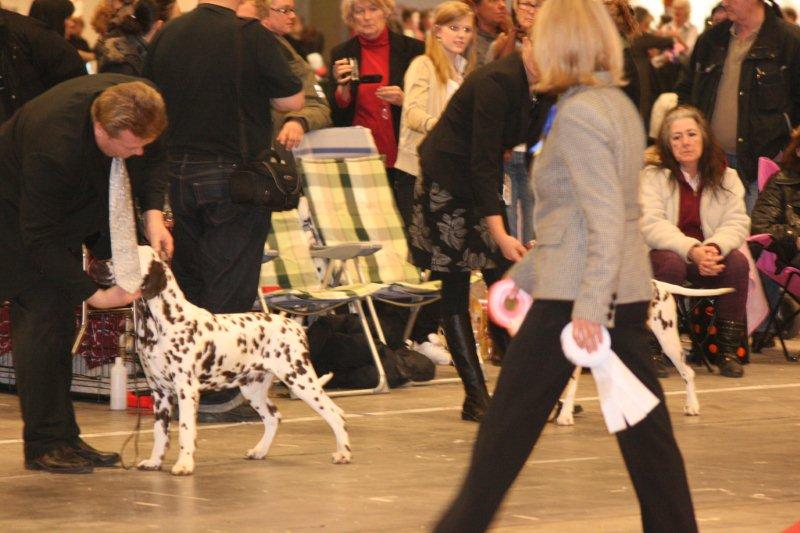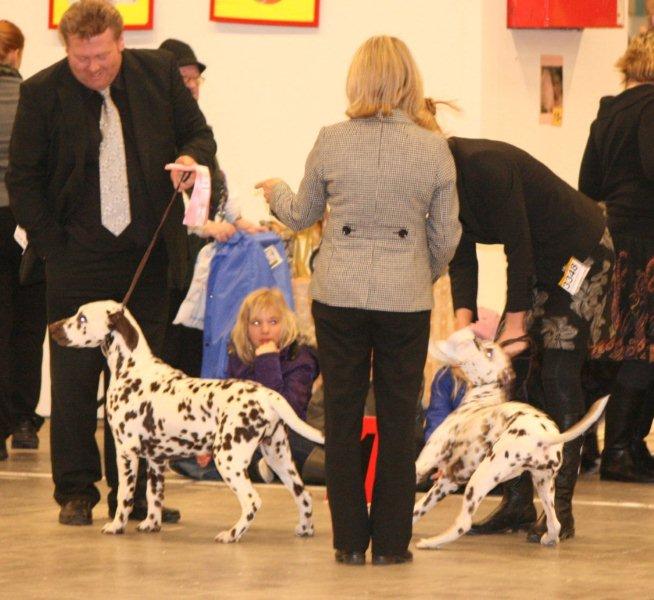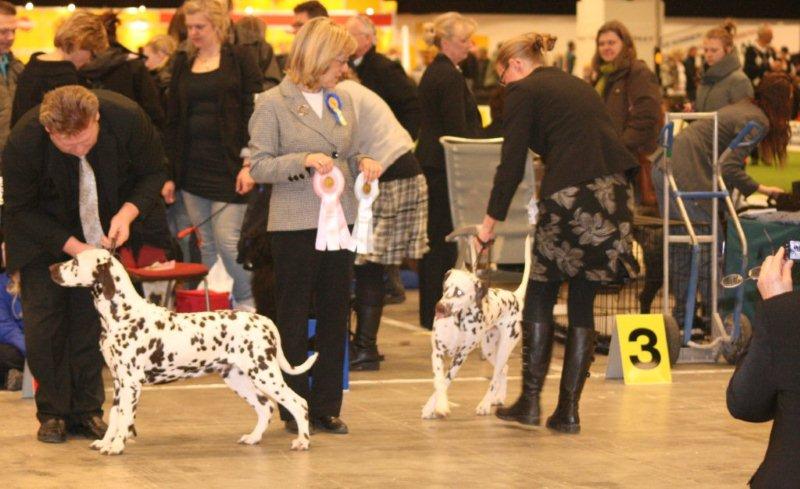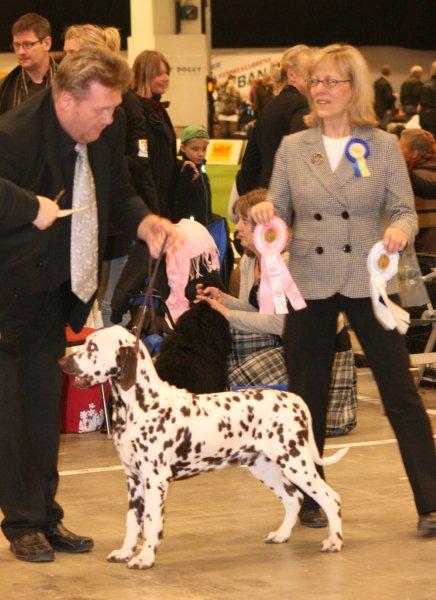 I am rather sure that if I have shows Vip he and Princess should have tried to play all the time in the ring...he was so good and concentrated with Rune.
Such a good and cleaver and well trained dog....could it be from Jilloc's............Noooooooo!
Yeeeeeeeeees even a Jilloc's dog can be smart and very good on things that the owner learn them to do ha ha ha.........!
The common opinion is that they are only beauties without brain.......but it is the owner that should have a brain that is smart enough to learn their dogs what to do!!!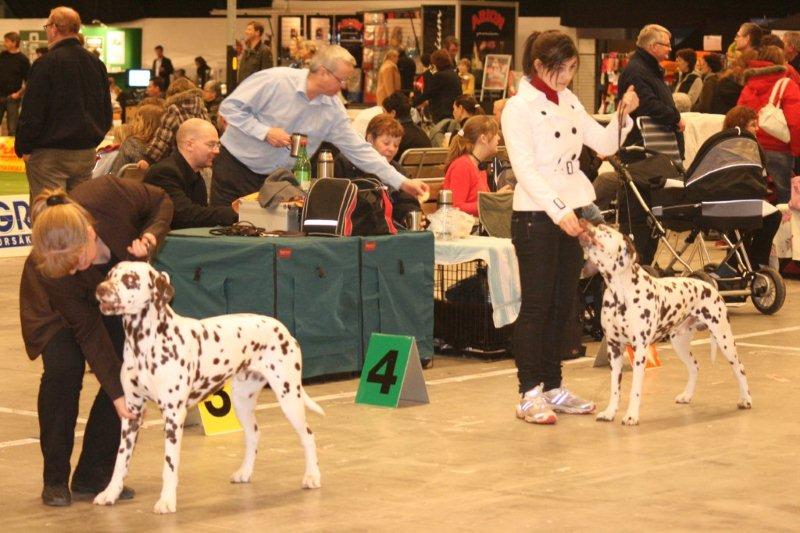 Hildegun with her own bread Muppe and a Danish dog.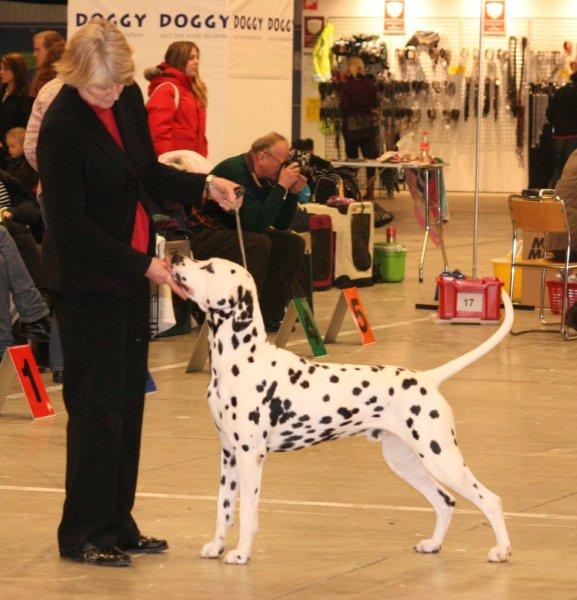 Kayo and Expo.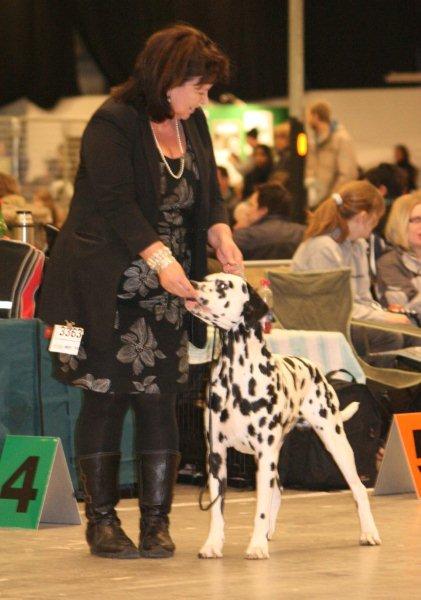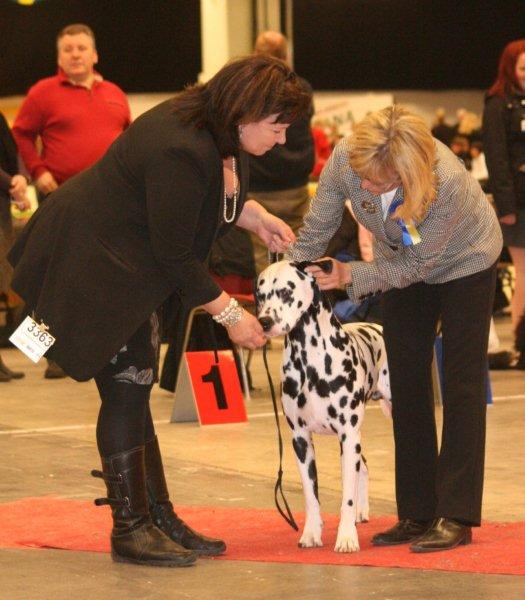 My un concentrated darling *S*!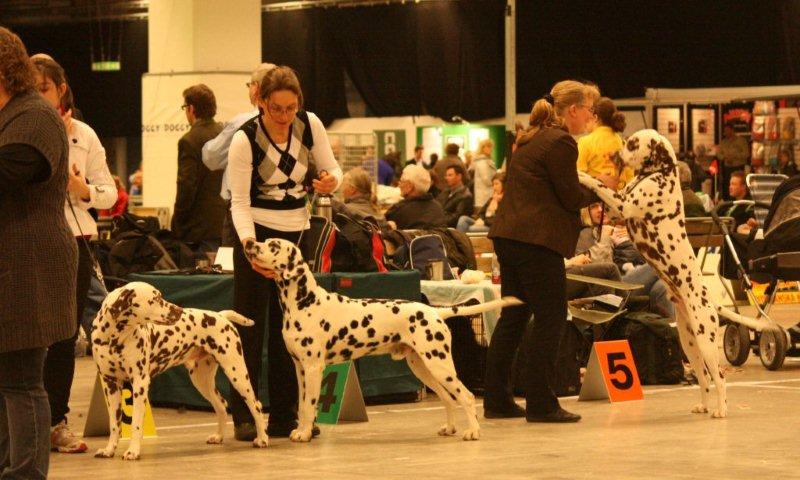 Waiting for the Best Male class..Danish dog, Expo and Muppe.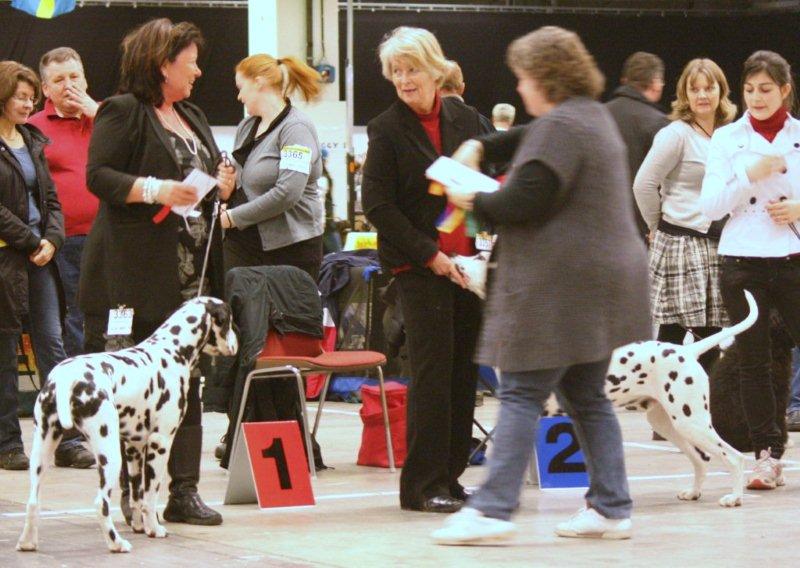 Daddy best male in the end. Helle and Kayo nr 2 with CAC and Swedish Champion, Congratulations to the owner.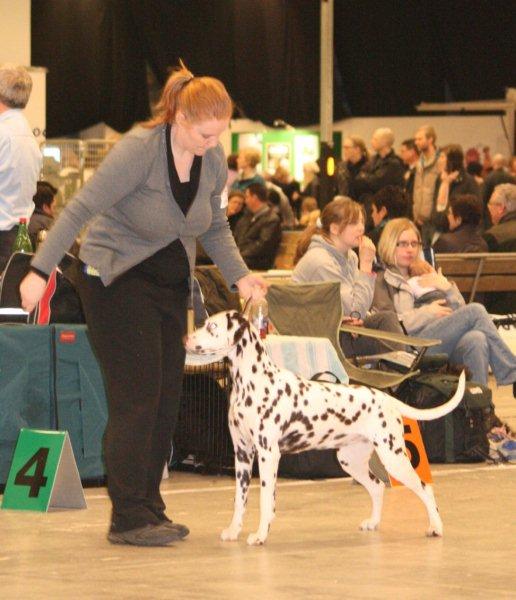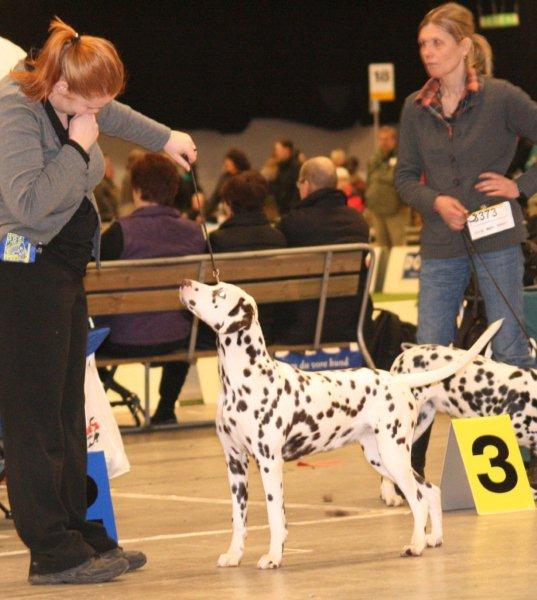 Louice with ISA.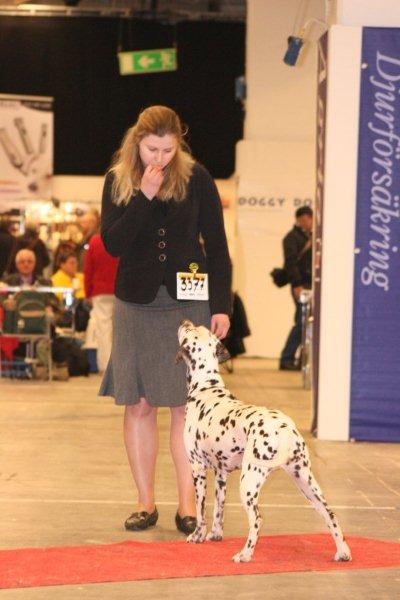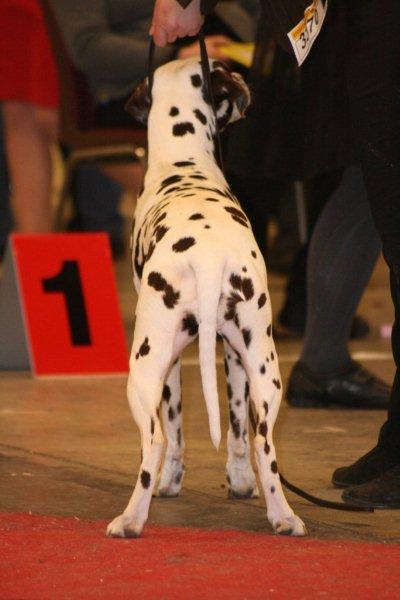 Lera from Russia with her WW 2009 bitch that beat Gloria in Bratislava, she won the open class............. ..Vinta from behind!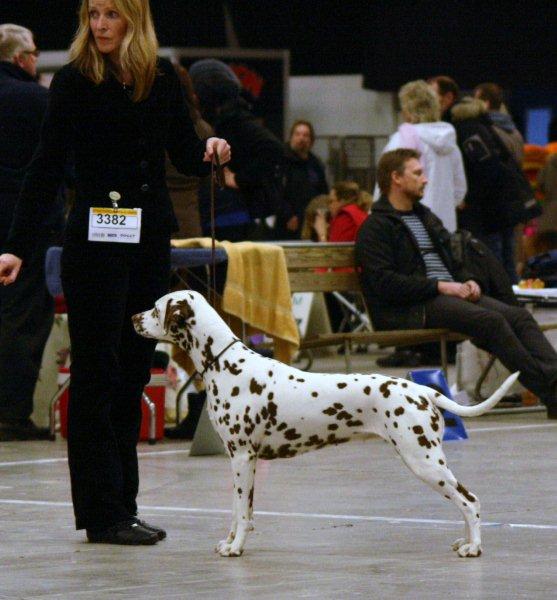 Helena and one of her princesses.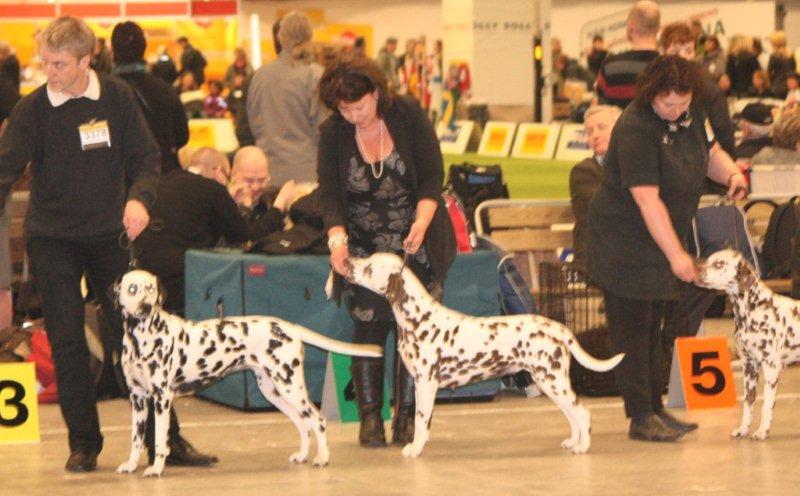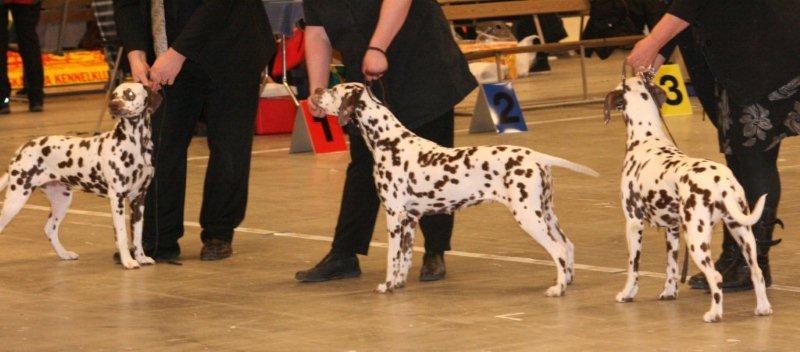 Jill, Disa and Devlina.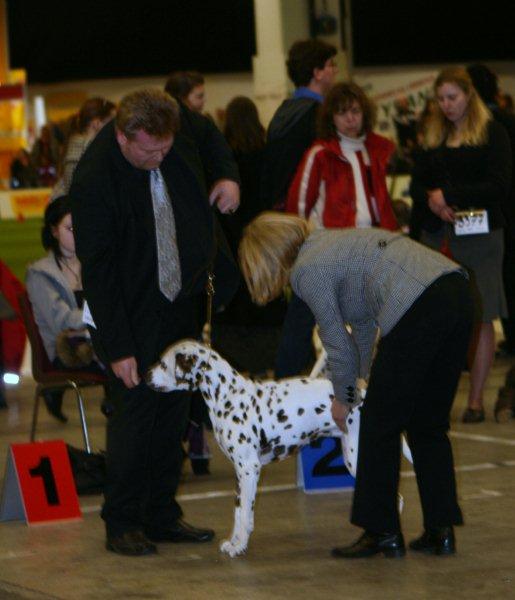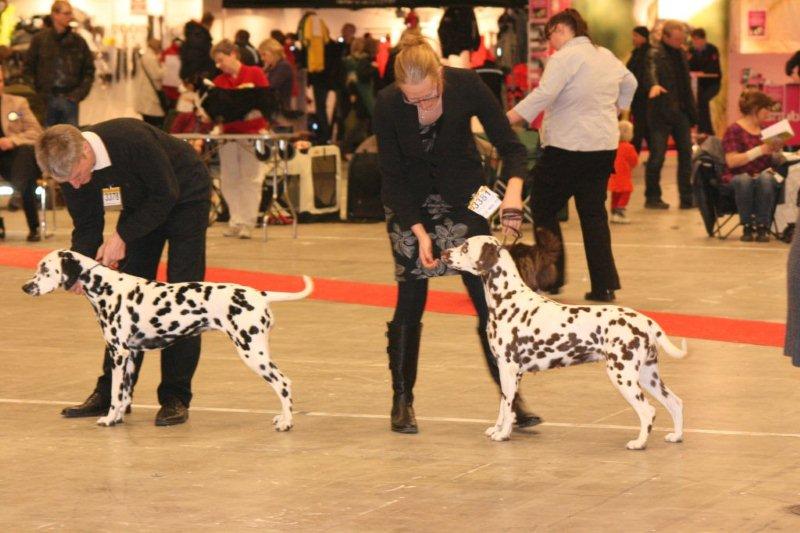 Rune with Molly as Veteran. A Danish bitch in champion class and Devlina.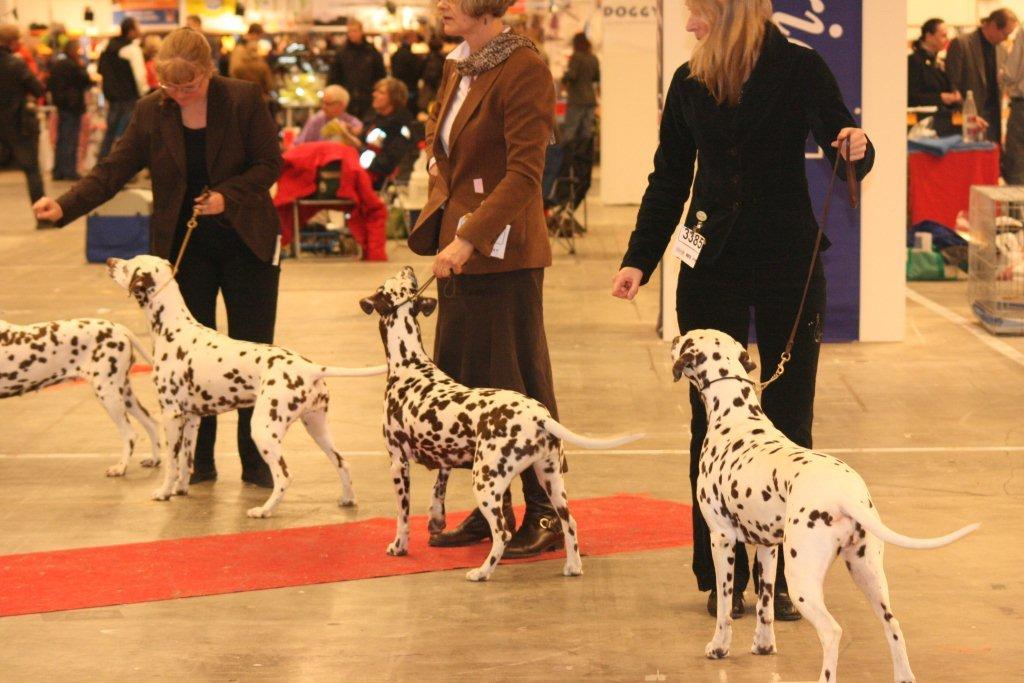 Milda with Hildegunn, Russin with Carin and Molly with Helena. We had too many bitches in best bitch today, but it is just a pleasure!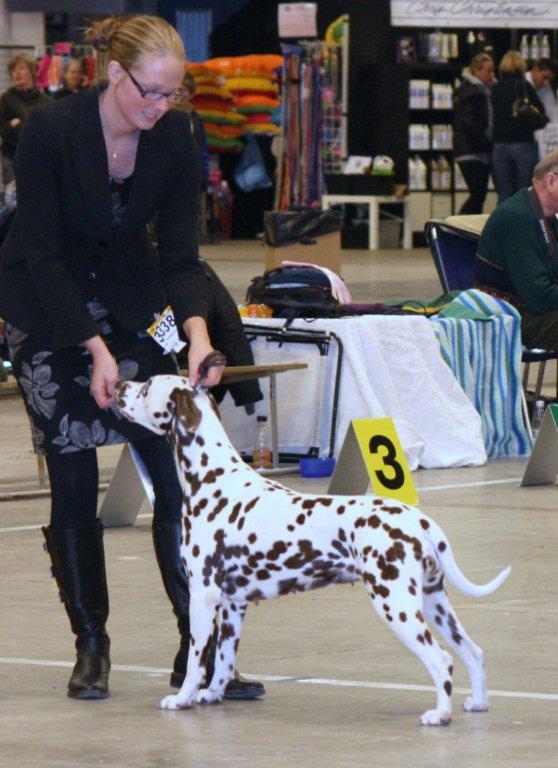 Devlina and Disa.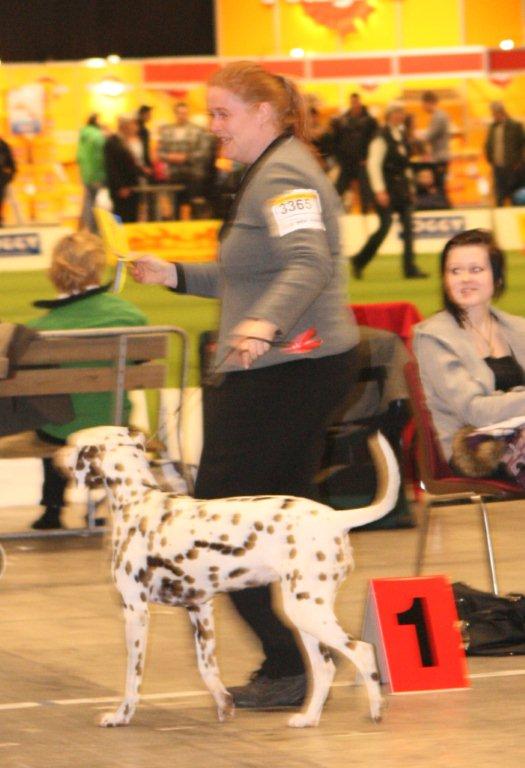 When Louice discovered that she was the one that got the CAC today even if she became nr 6 best bitch she was so chocked and cried a little....well done and all the best for Isas future.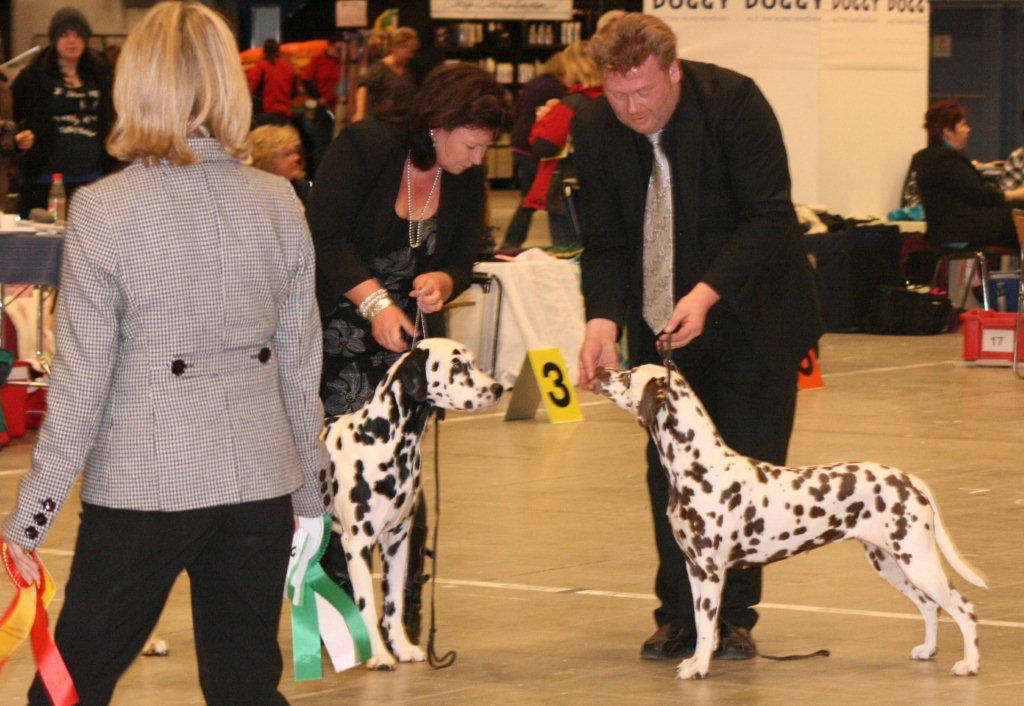 I was hoping that Daddy will beat "the old witch" today but noooo *S*!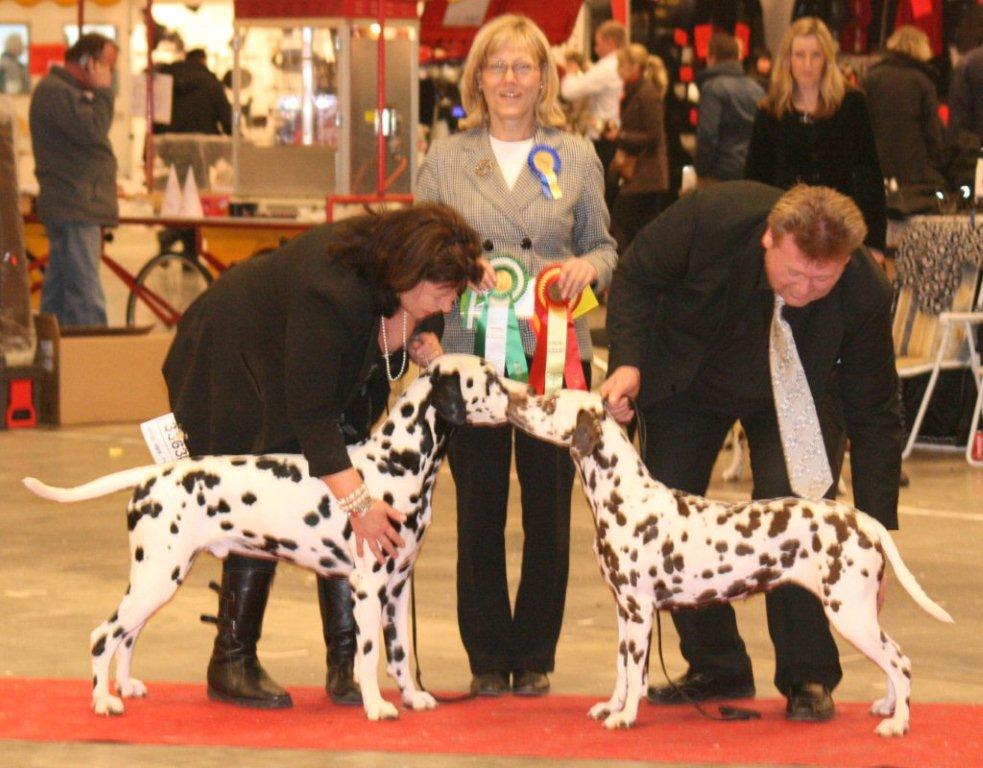 Daddy BOS and Jill BOB together with the judge of the day Carin Åkesson!
Daddy was just looking for Devlina all the time *S*!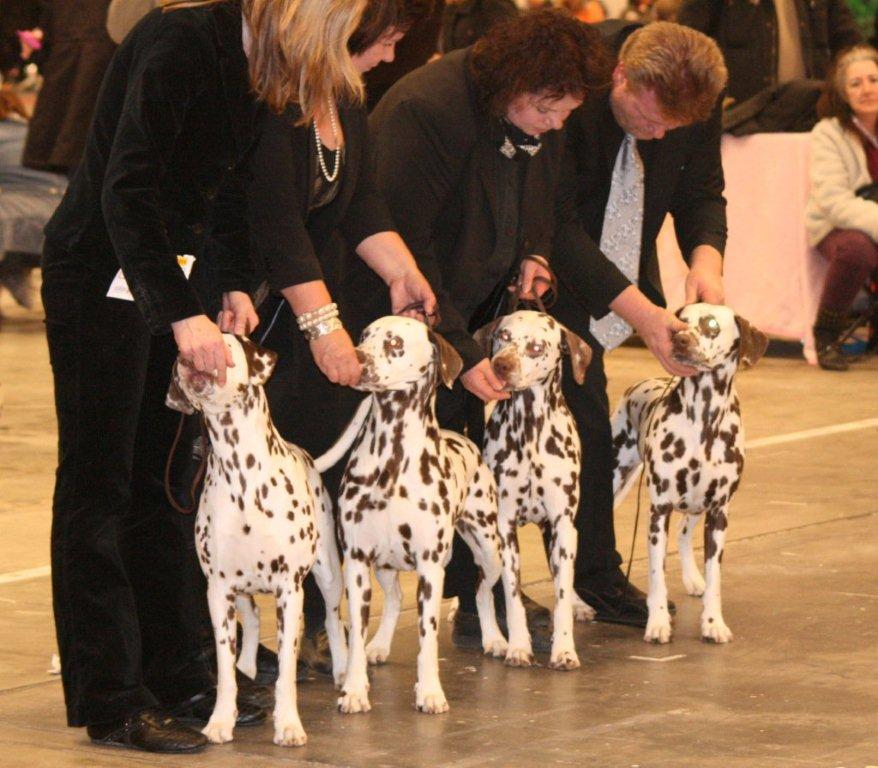 Breeding group today!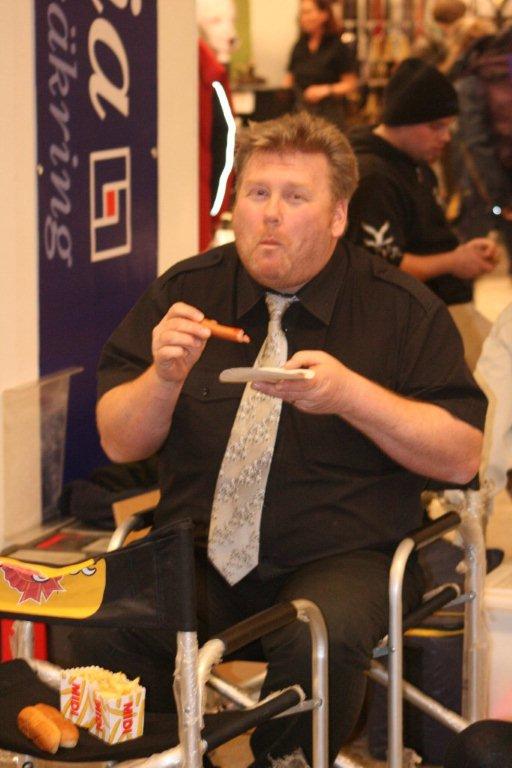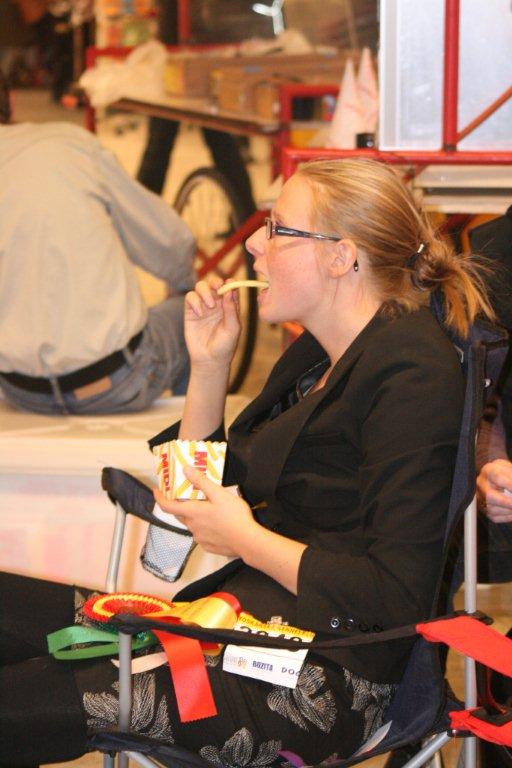 Jenny and Rune was soo hungry after showing.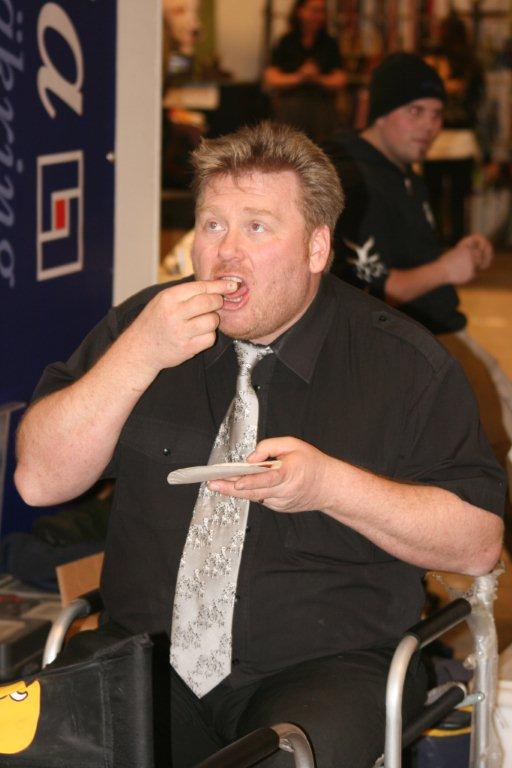 Thank god for food, that is almost better than dog show!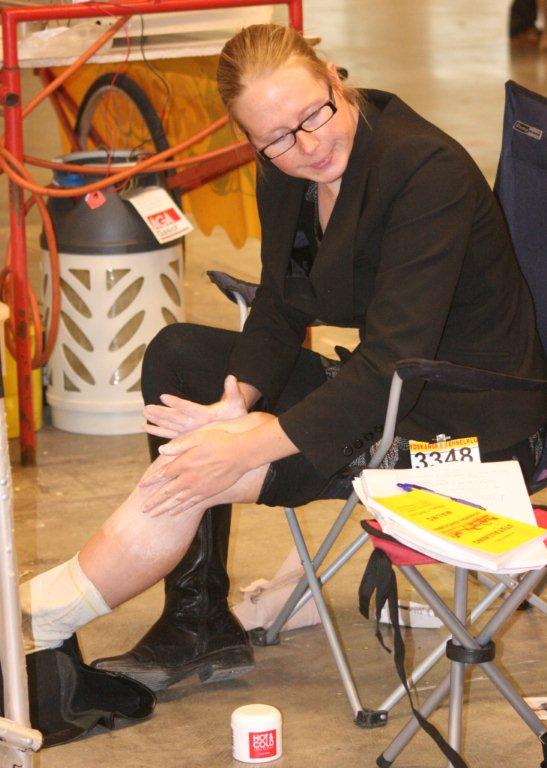 Poor Jenny with her leg......but she have been a professional football player when she was younger and something happened than that come back again and again. Two years ago she hade the same problems a whole summer.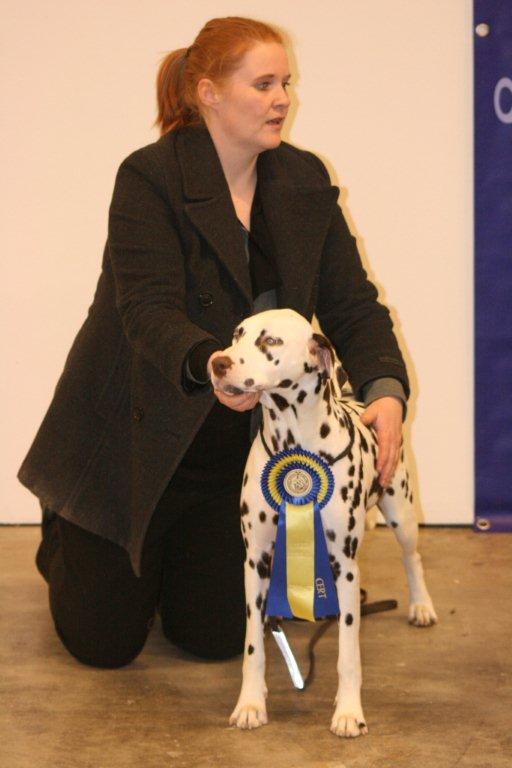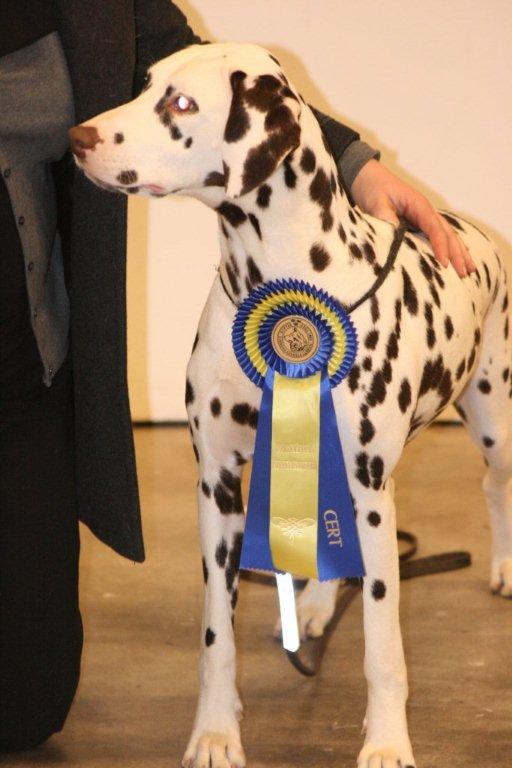 Louice with Lovisan and Expos daughter Gåtfulls XXXXXX, got her first CAC today, Congratulations!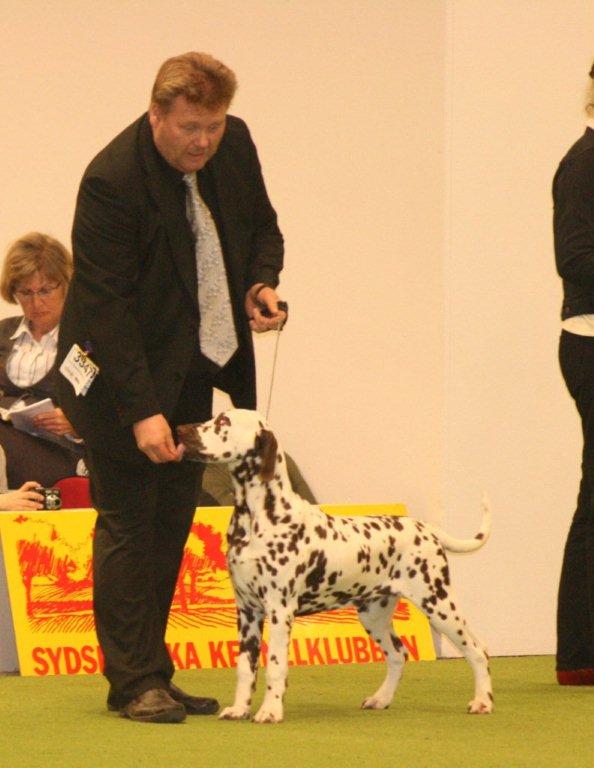 My sweet baby boy.
Vip in the ring of honour..he was picked out together with some more finalists but then he was send out, but it was very good training for him today on his first show, and I was very please with that happy little boy 6 months and one week old.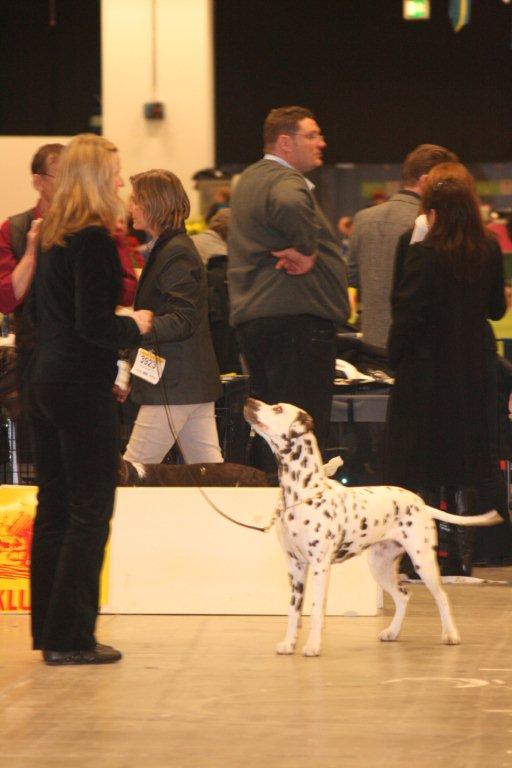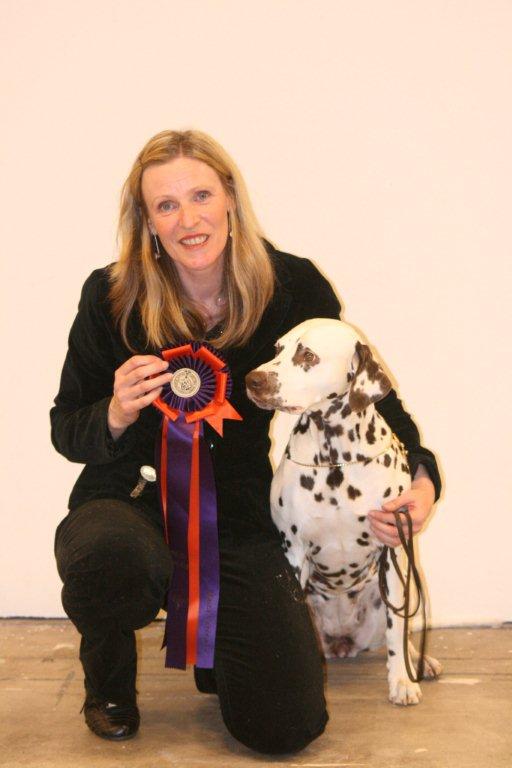 Molly and Helen in the ring and outside. so proud of the big and nice kokard!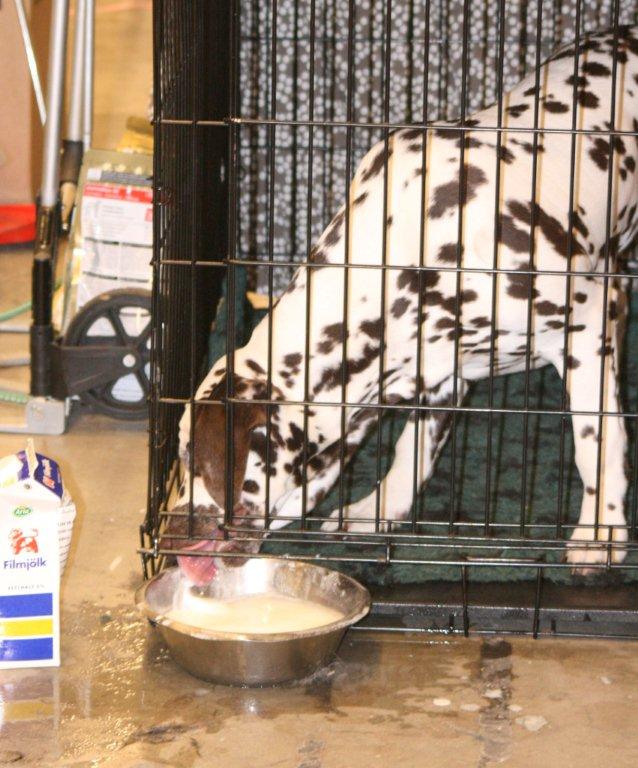 Vip was smart when he was thirsty.....he just played with the milk when we put the bowl in the cage...and when we took it out he did like this *S*.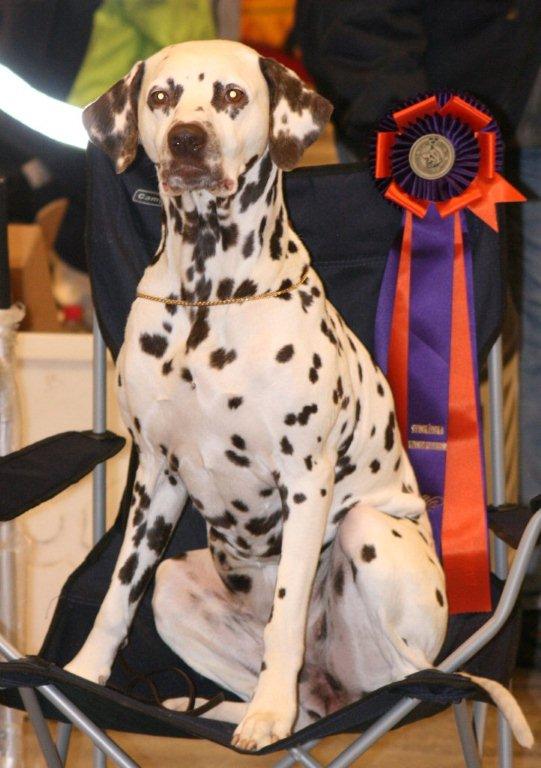 Proud Molly in her chair.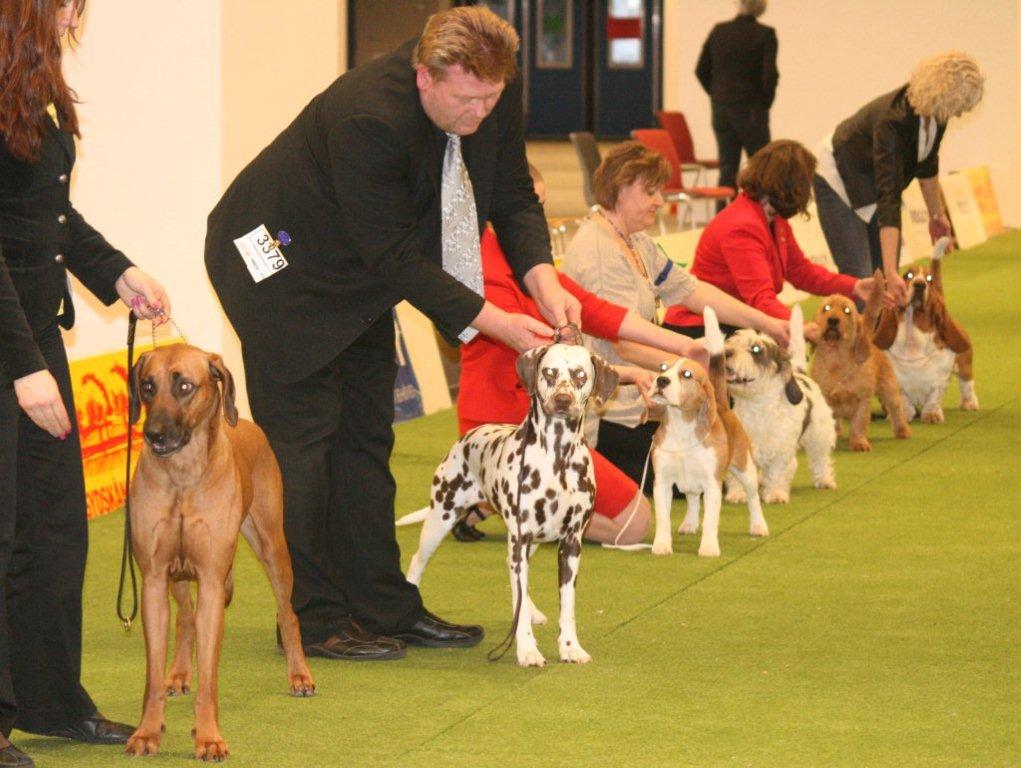 Jill looked so nice in the Group, she ended Big 3 beaten by the Rhodesian in front of her and the Basset in the end.
Proud breeder and owner of Ch Timanka´s Movie Star BIS 2 Veteran today on her first time in Veteran class, Congratulations!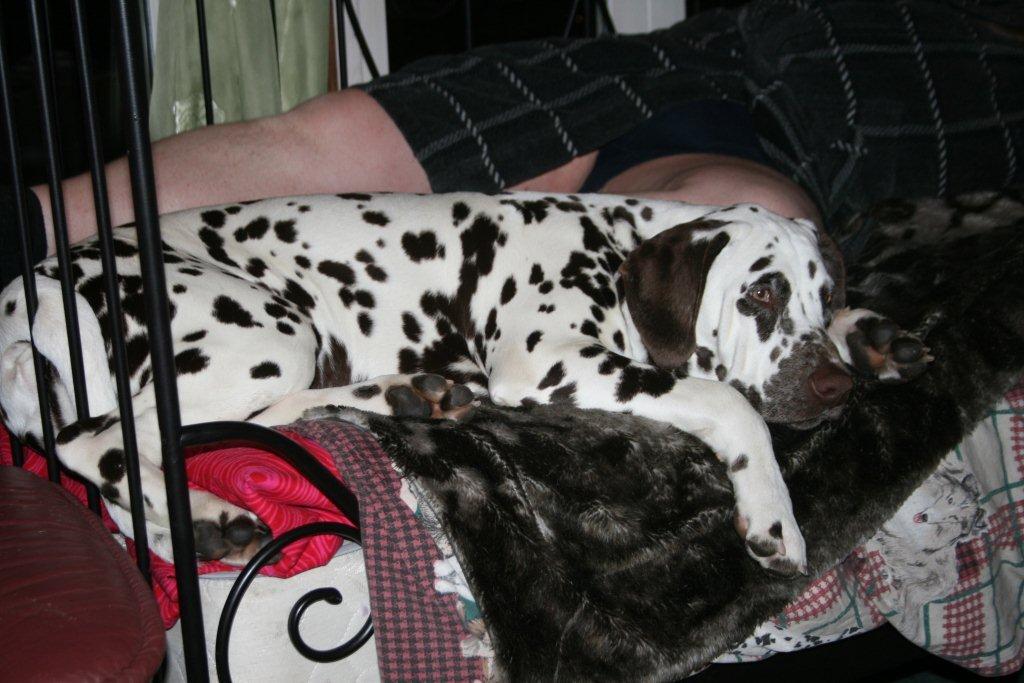 Two tired boys in the late evening when we were back home again!
Saturday 20 March 2010
A Million thing to do before we finally was in the car on our way to MALMÖ. We met my daughter Jennie on the road, she was on her way to our home to be a babysitter for our dogs, thank You, what should we have done without You and Snurra helping us this weekend.
In the evening we met Hildegun and Elsa at the hotel. We bring pizza and our four dogs there, and we all eat together at our room as we do not want to leave our dogs because Devlina is in heat, and You never know.......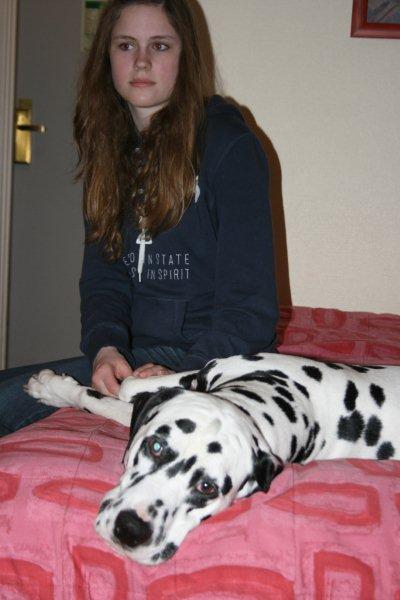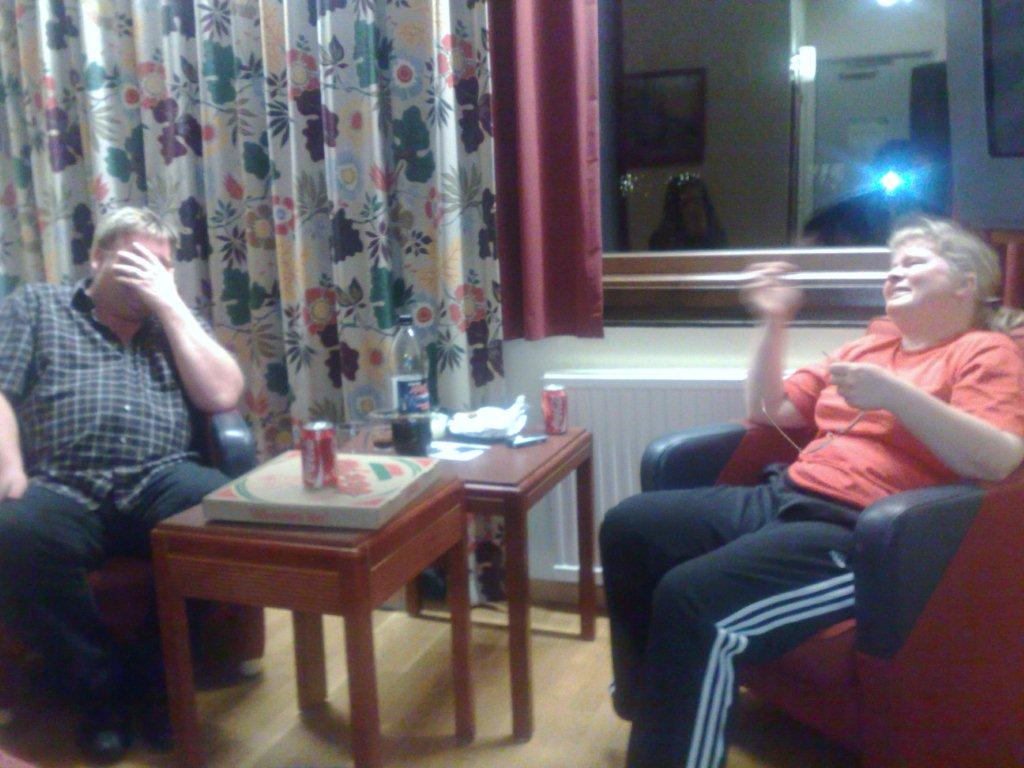 Elsa and Daddy. Rune and Hildegunn was very tired and laugh of everything.
We were very tired and will try to sleep early but but as always so much things happened and there were a film on TV that Rune wanted to see so it was very late as usual.......until we both fell asleep.
Friday 19 March 2010
Rune was free today and we did the normal things in the morning...then I was shopping food in Götene and Rune start to clean in the dog yard again...it look terrible those days when the ice and snow is melting more and more every day..
Det som göms i snö kommer upp i tö *S*
I was very pleased that I had clean the living room already this morning as it was a long time since last time...but now I had to because of the removing of the heat pump.
We got visitors in the middle of the day and Sofia was fond of the puppies as everybody else, they are in a very nice period of their life just now.....
Roy came to eat but he had toothache and we called and he got immediately time at his dentist in Götene. Then Jonnie came for lunch and then it was time to clean for puppies again.
The same procedure as every day.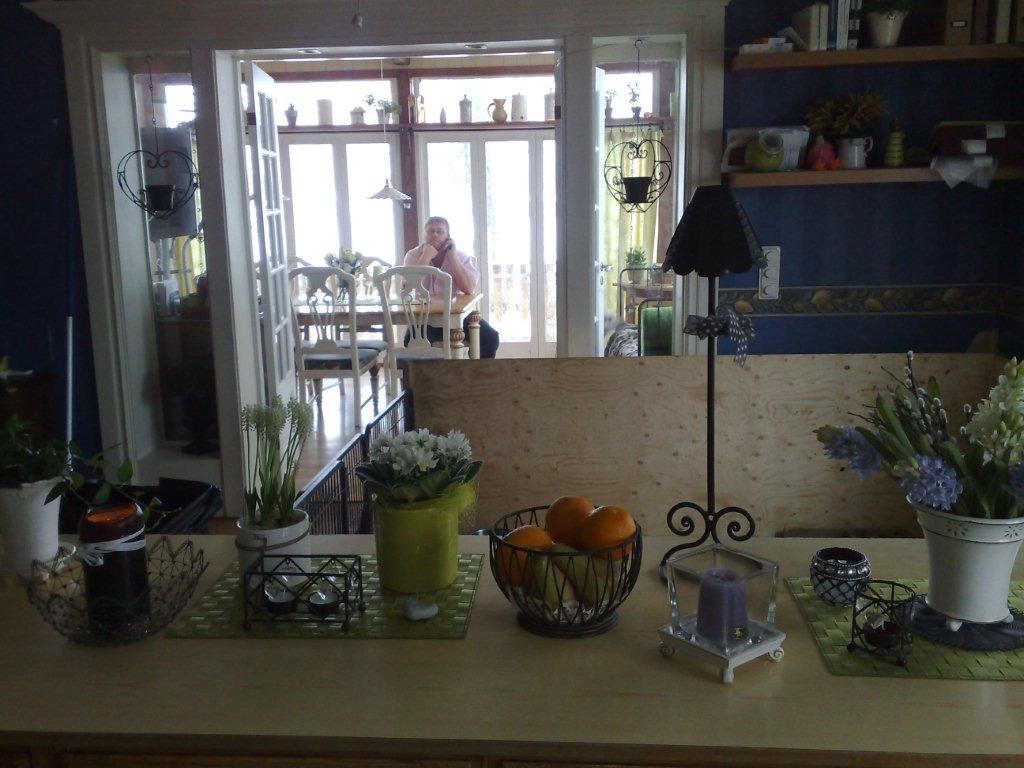 Then we cooked dinner and after that I was upstairs to change channel at TV, but fell down on the coach there and slept for some hours *S*. Then we looked at Let's Dance and some other programs and fell asleep again as always.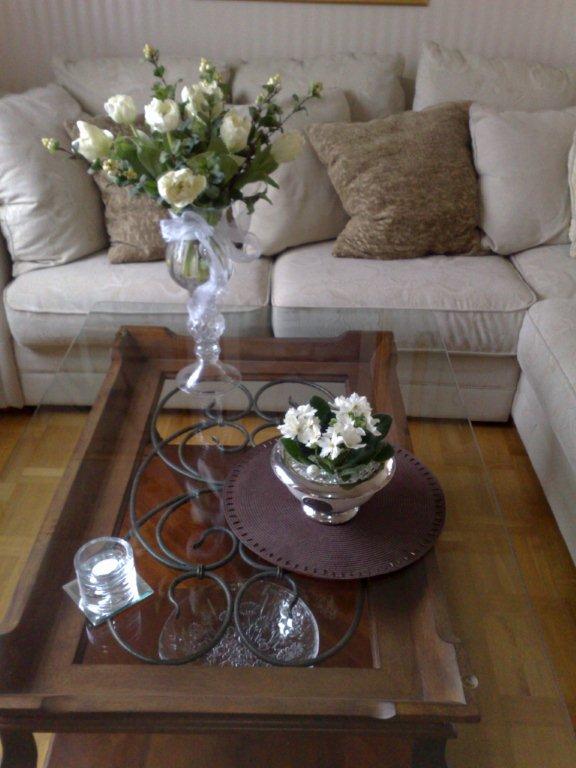 Living room for once in a while good organized.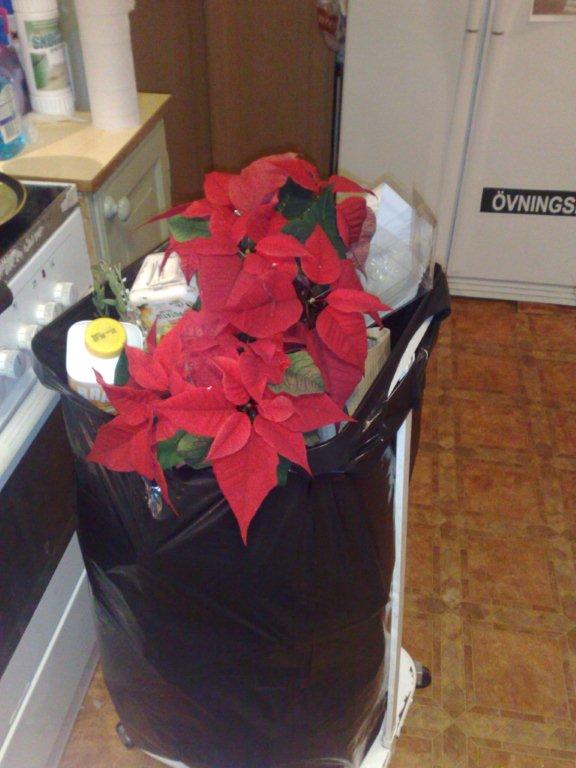 It breaks my heart but I have to through away our Christmas flowers today even if they looked nice...I don't want to have red flowers this time of the year.
Thursday 18 March 2010
Early this morning before Rune went to work the workers from the company that installed our expensive Heat pump was here and took it down, as it have been useless the way it worked...it was blowing ice-cold air as soon as it was some degrees minus outside!!!!
Now we have to wait some days and see how fast it will take until we will get the money back from Mitsubishi.
Then to my hairdresser for some hours and I was pleased with the result and colour.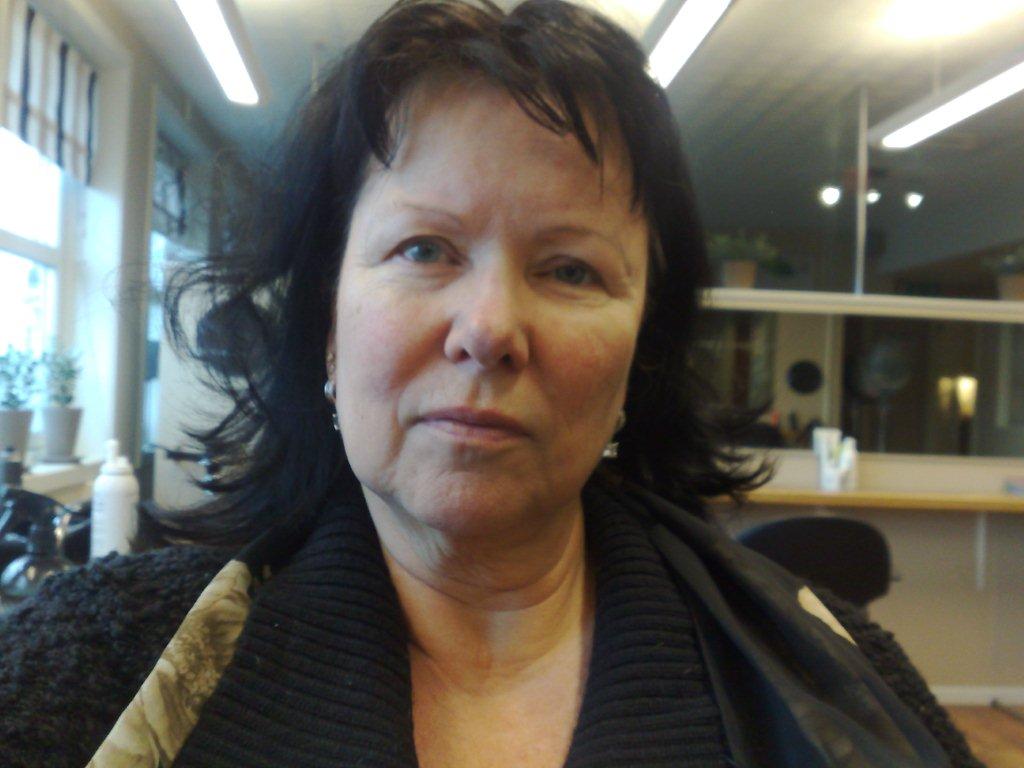 I would like so much to do a facelift, and as You can see I need it....but just to go to the hairdresser and be a bit more awake than two hours earlier can do a lot and take away Your tiredness a bit, I was in mood for shopping and bought jeans shirts...I send sms to Jenny and Jennie wich colour I should buy....Jenny thought the light one and Jennie thought the dark one and Ellie thought the light one too and I was so confused that I took both *S*!
I was at the police station to take photos for my new passport...it took 1,5 hour as there were so many people waiting today...soon vacation.
Rune was trimming dear Tosca this evening...she is our darling too.....we have to give her away as she had bad hips and epilepsy, otherwise we should have had puppies out of her this year....so sad for that!!!!
So happy to meet Tosca every third month.
Arne came in the evening and helped us to put something in the hole so we don't have to had cold air directley in the house. Thank You, it is so good to have true close friend that You can call for help.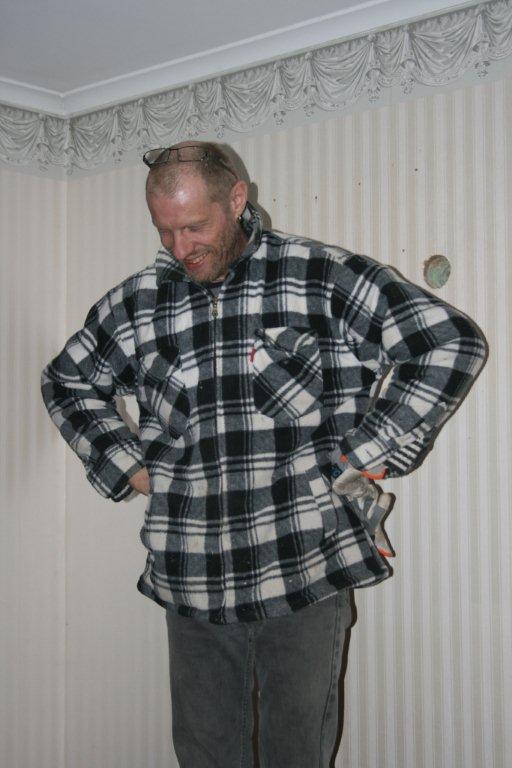 Arne/Cliff.
Or is it because of the cakes they come here *S*!
Wednesday 17 March 2010
Today I was going alone with 8 puppies to the vet to make the MEGA-O X-ray. Ticket and Limit was with me too to get their first rabies vaccination.

I can say that it was more than full in my MB......but with some fabric cages it went ok even if I was really hot after putting all in the car *S*!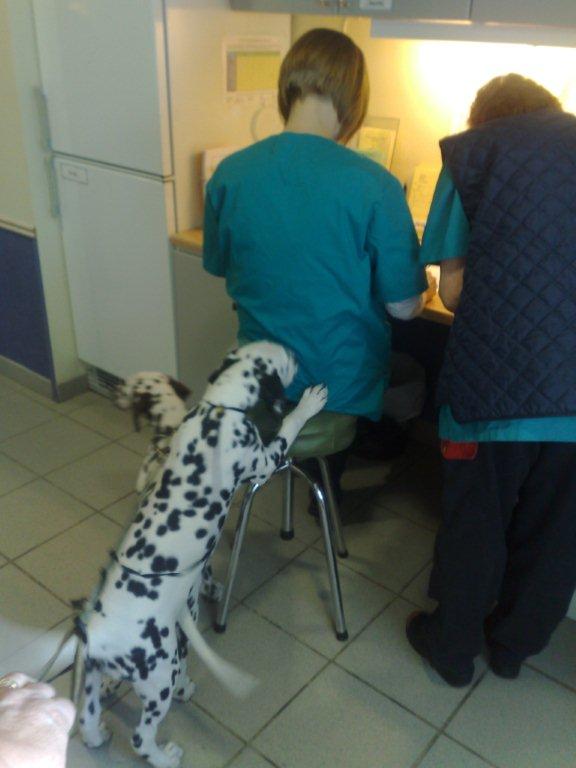 Ticket and Limit think everything is soooo funny! Ann Christine our good friend make contrast for our eight small puppies, and some puppies eat by themselves as they always put some well tasting meat in. But we think it smell terrible, blääääää!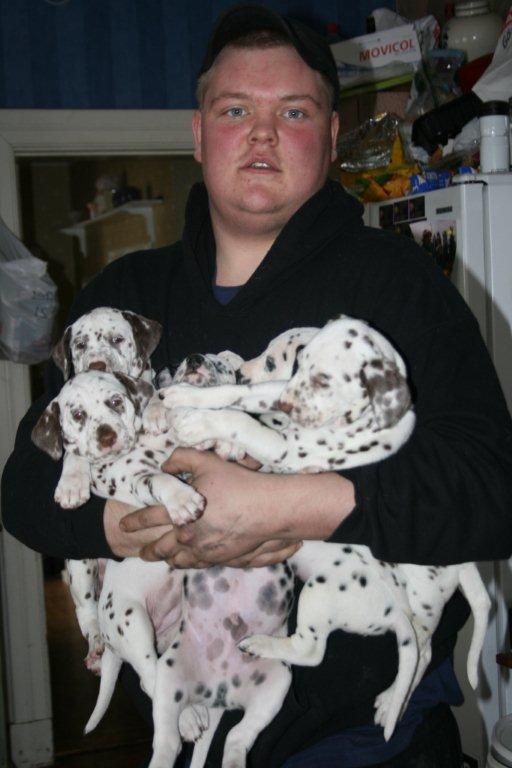 Jonnie helped me with the puppies from the car in the house again....he is so strong and I can only take one or max two every time *S*!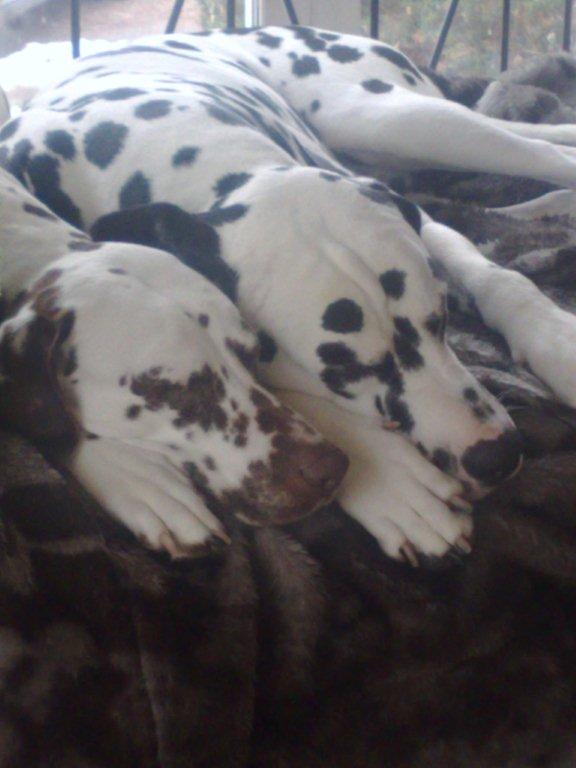 Jill and Daddy home resting.
I was so happy that all was free even in this litter, so good to know. Of course I have to buy some cakes to celebrate!!! Stupid..Yeeeees but very good!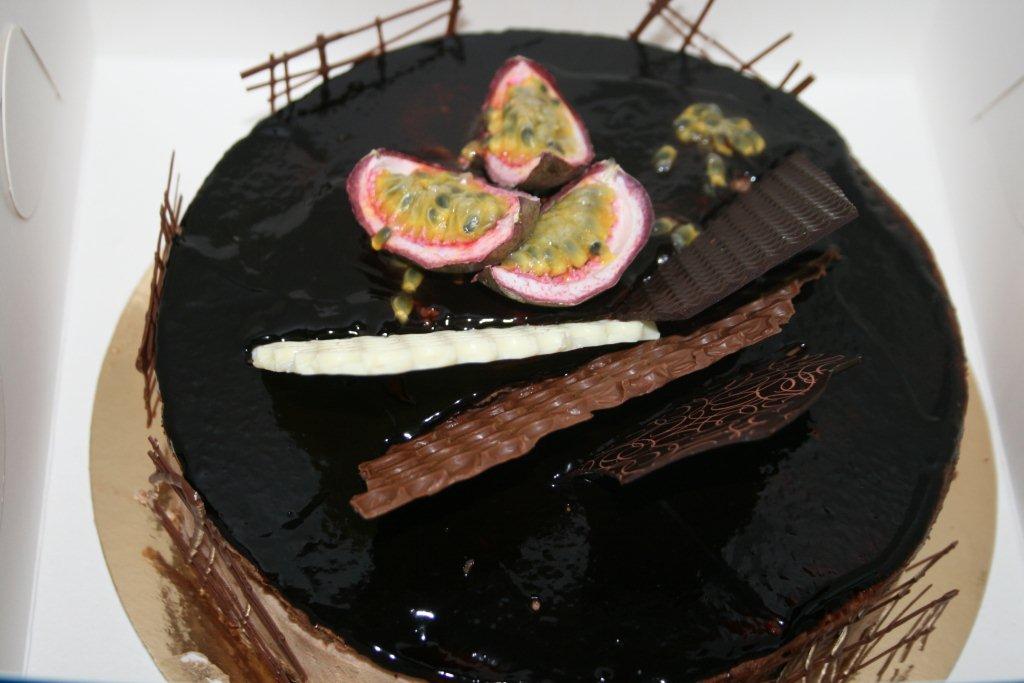 Visitor at ten o'clock in the evening for Bosson again as Rune worked until then and I have had so many appointments today too.
Tuesday 16 March 2010
Up early to go to Skövde hospital to another doctor to discuss a possible operation, but it was not so good to do on me as I have been operated before...so we decide just to let it be as it. It was a bit disappointed but nothing to do......
After that I was in the mood for shopping and stayed in the shopping centre for some hours before I go back home to our dogs.
Today I bought just one new dress just one size to small hi hi. (Shit that I never learn anything..my wardrobe is sooo full of too small clothes).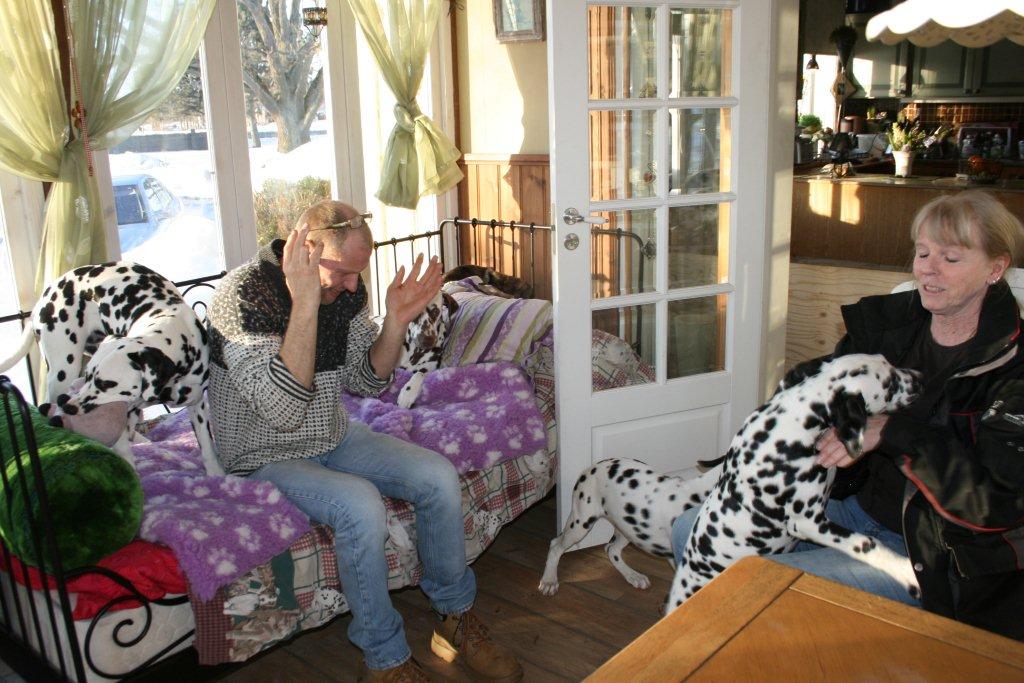 Eva and Arne came when I was back home from Skövde.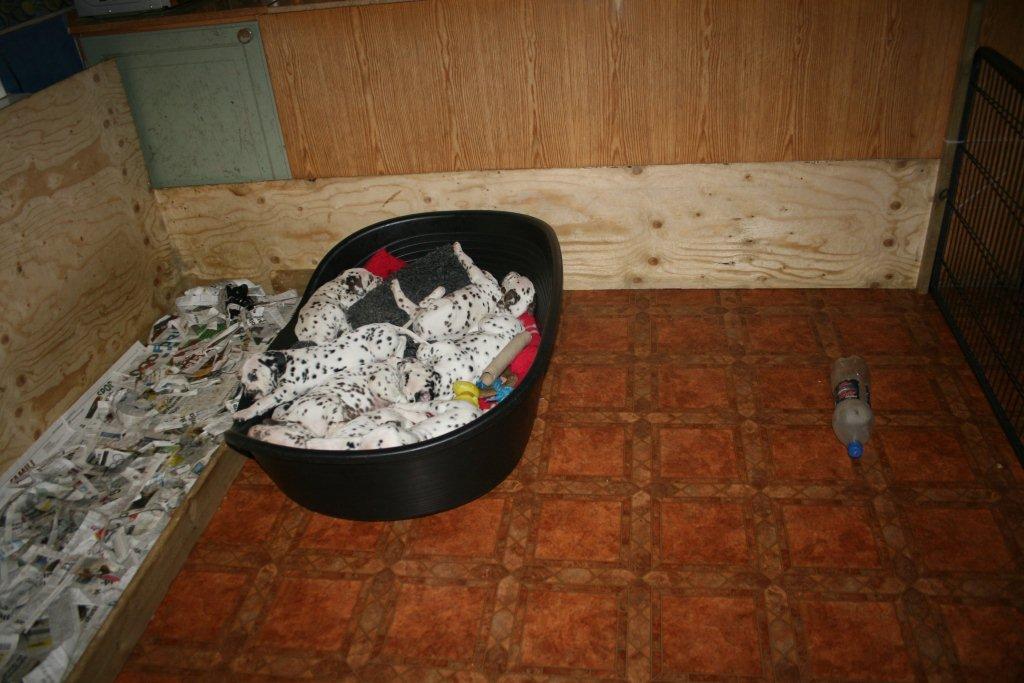 We moved the smallest puppies to the yard in the kitchen middle puppies moved out in closest kennel 2 meters from the kitchen and they was soo good to walk in and out immediately, and we were happy to get less cleaning inside.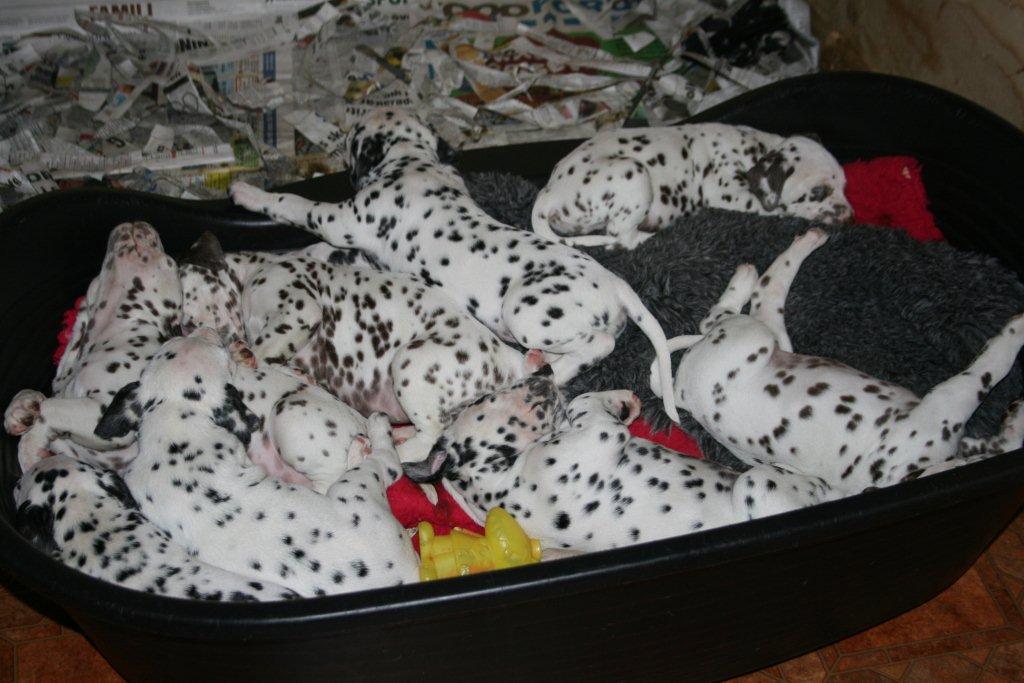 New bed.
Puppy love!
Visitor for Bosson again. And Roy came at the same time and eat with us in the evening.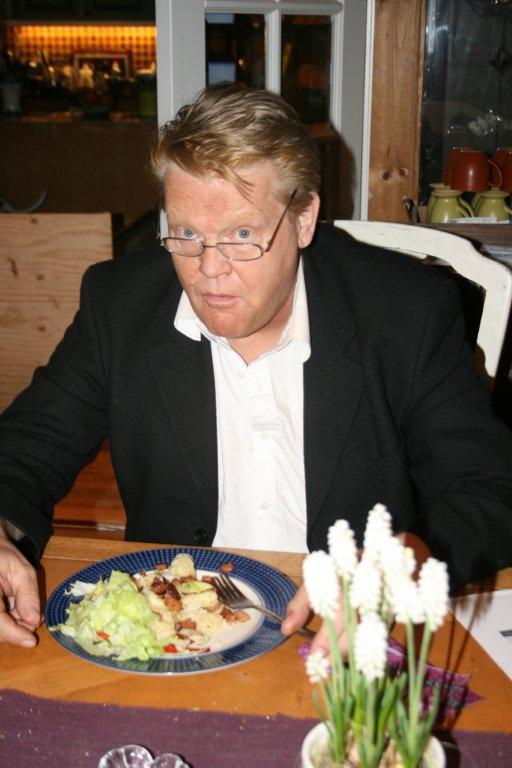 Monday 15 Mach 2010
Early morning to the doctor to take new blood tests.
Our sweethearts.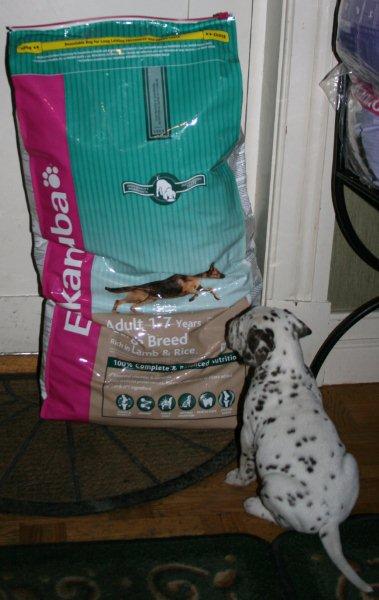 Small puppy is dreaming of to be Adult so he can eat the lamb and rice food too *S*! And he might wonder if he will mature to a dog like the one on the package hi hi hi. Or was he waiting for that the running dog will jump out from the package??????
Hi Daddy!
Visitor from Italy for Bosson, in the evening.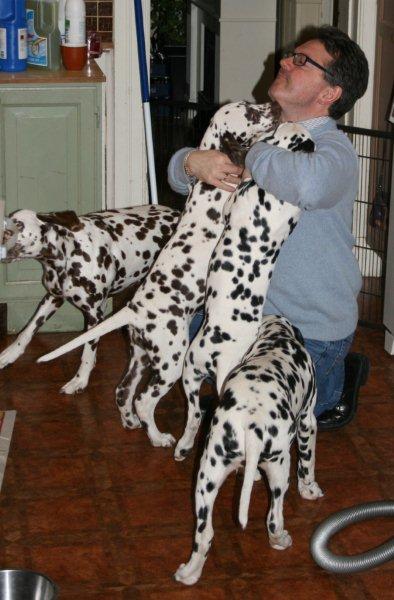 Our dogs was so happy for visitors again, especially Bosson.
Devlina and Penny was so happy for someone to lick on.....Gabriele was most of all tired from the loooong trip I think.
Sunday 14 March 2010
Xotic Choice is going home.
Rune have to be on a board meeting in the middle of this beautiful day.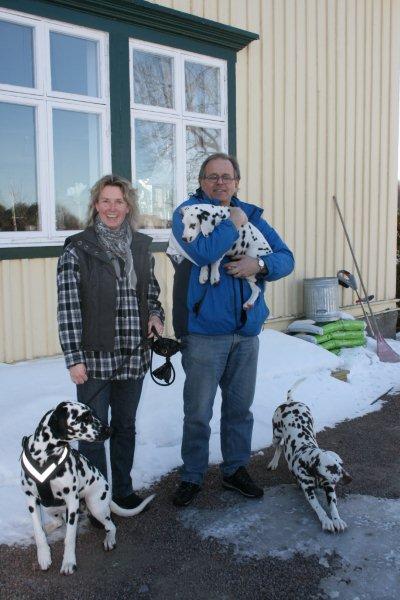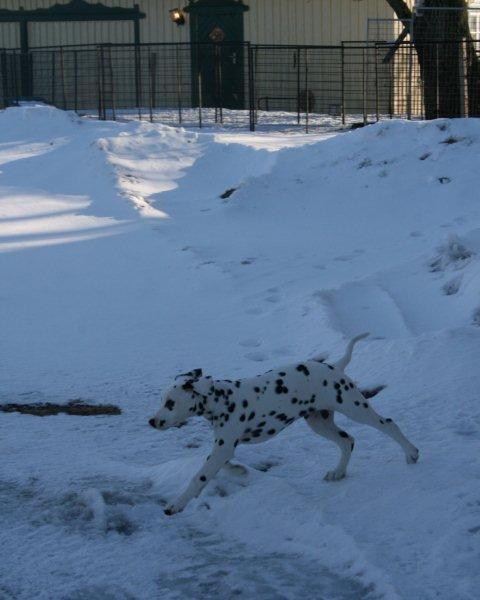 Jill have to be so close to everyone...or she was just so pleased that one more puppy is leaving from home..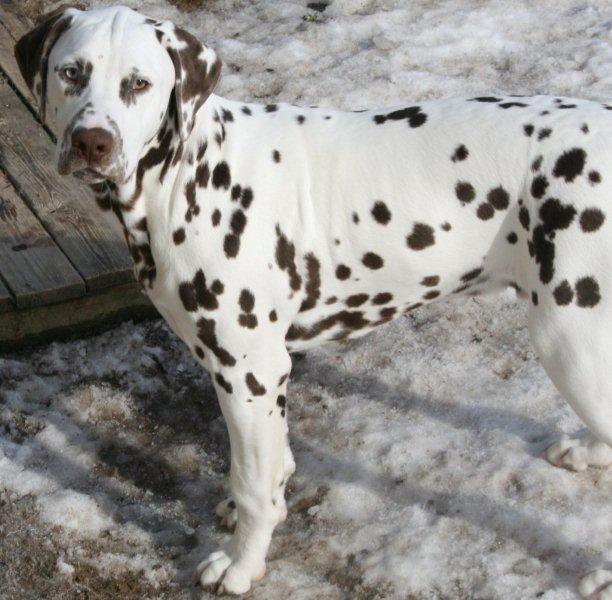 Our blue-eyed boy is still looking for a loving and caring home......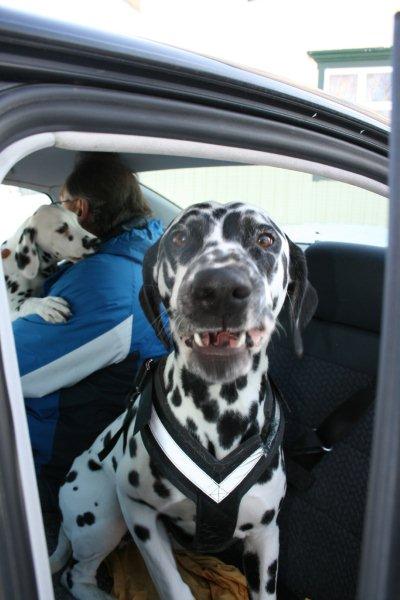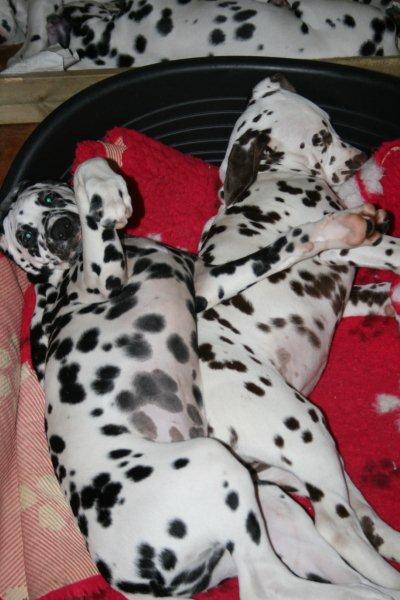 Eddie in the seatbelt *S* good boy! Brother and sister LOVE!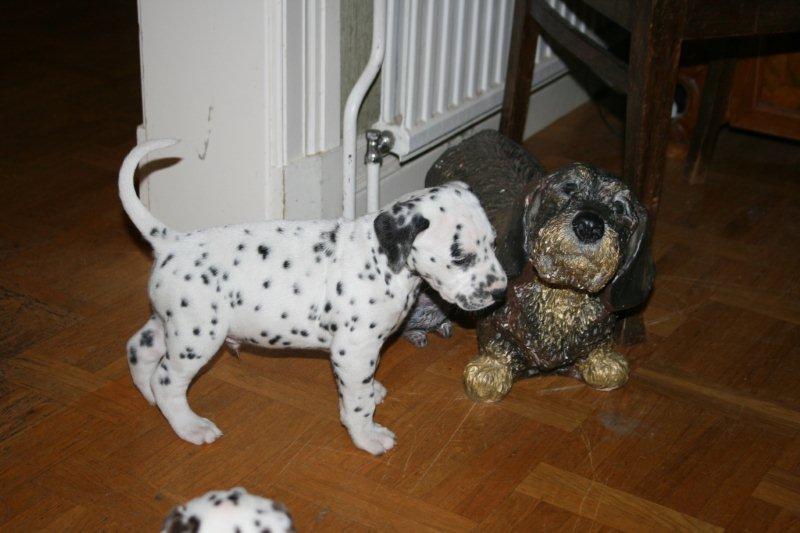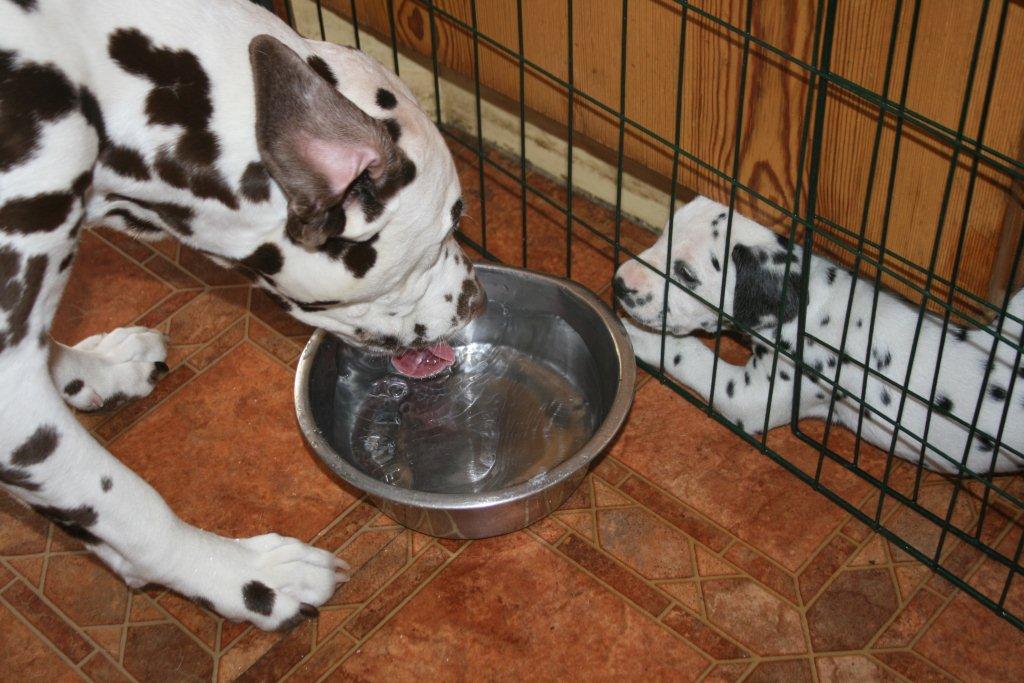 Devlina and small Perfect puppy.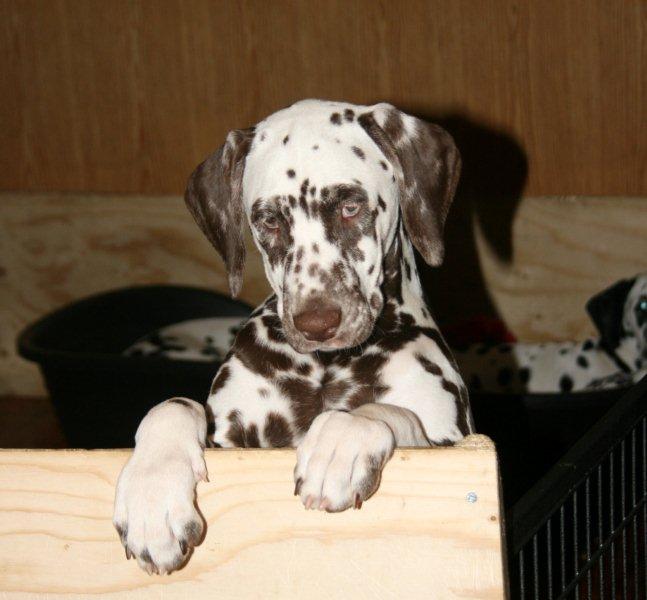 Ticket.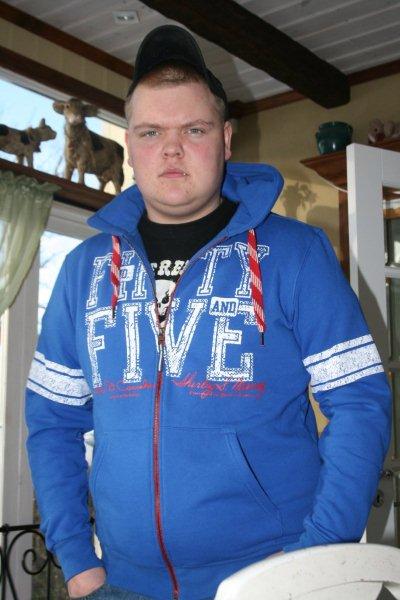 Jonnie in his new blue sweatshirt.
Saturday 13 March 2010
Today we took Extra in the car and drive to Eva and Arne and knocked on the door. Eva opened and I gave her Extra in her arms...and said that she was a housewarming gift.......need I say that she was HAPPY! Arne was happy too as he got a big pack with 24 Beer *S*!
Is it true Eva said many times !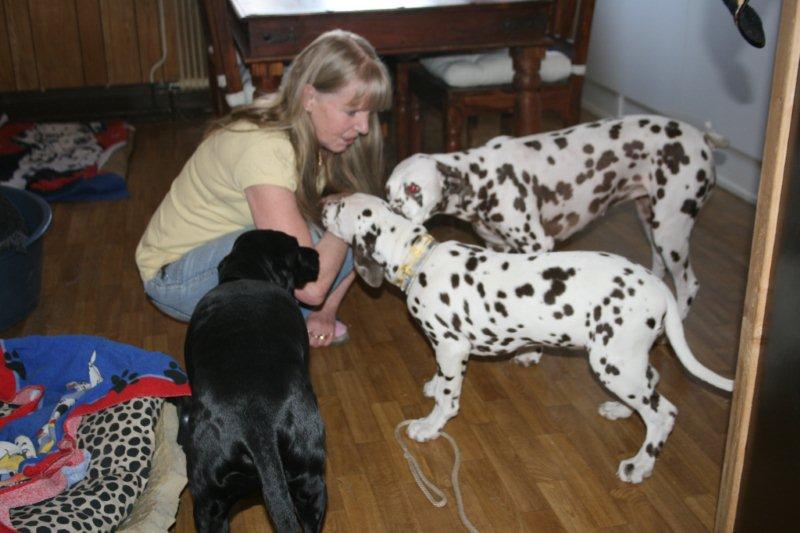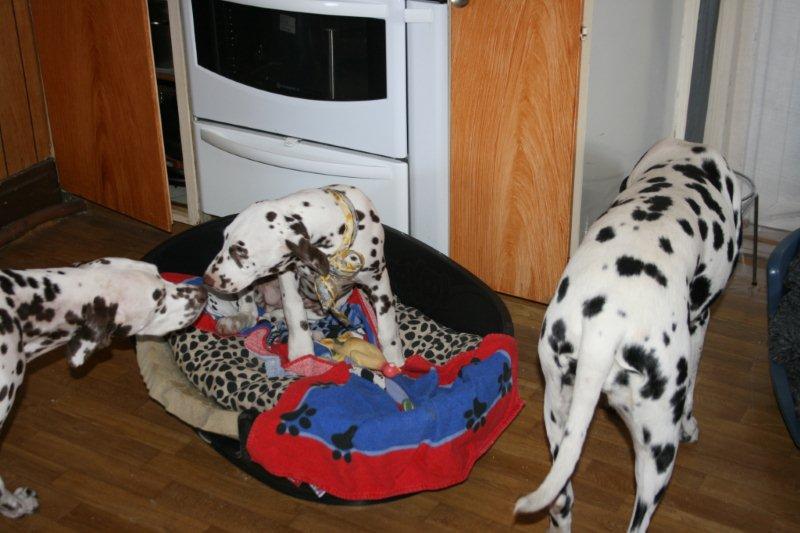 Angie, Daizie and Gustav were so curious of little Extra.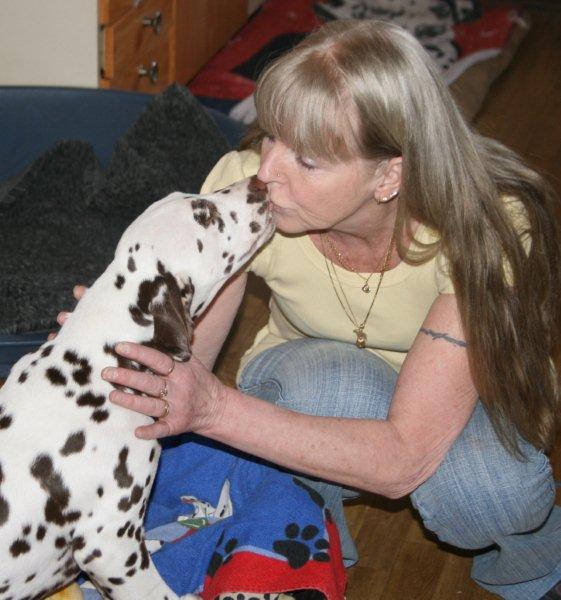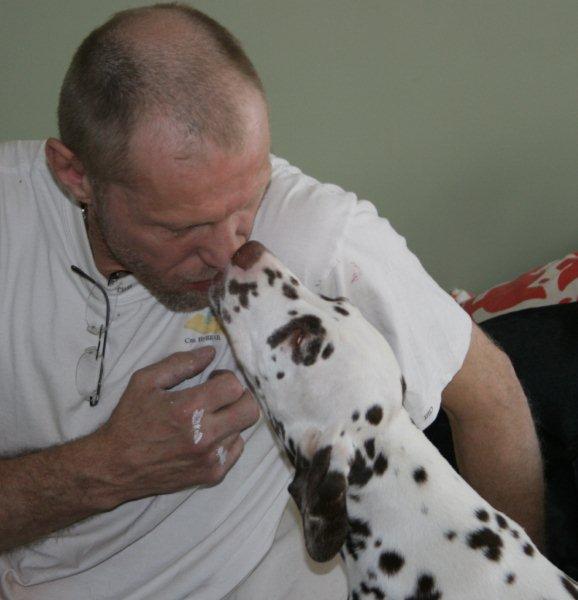 Eva can't stop kissing her and even Arne got a little kiss from Extra.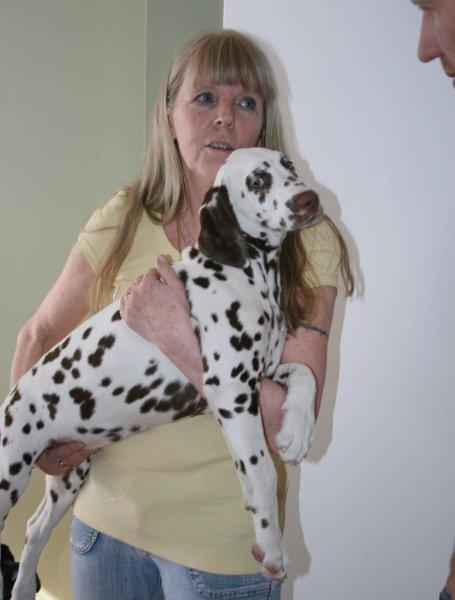 She is a gift so I have to keep her Eva said to Arne....he was mumbling something that we did not hear *S*!!! And we maybe don't want to hear it either...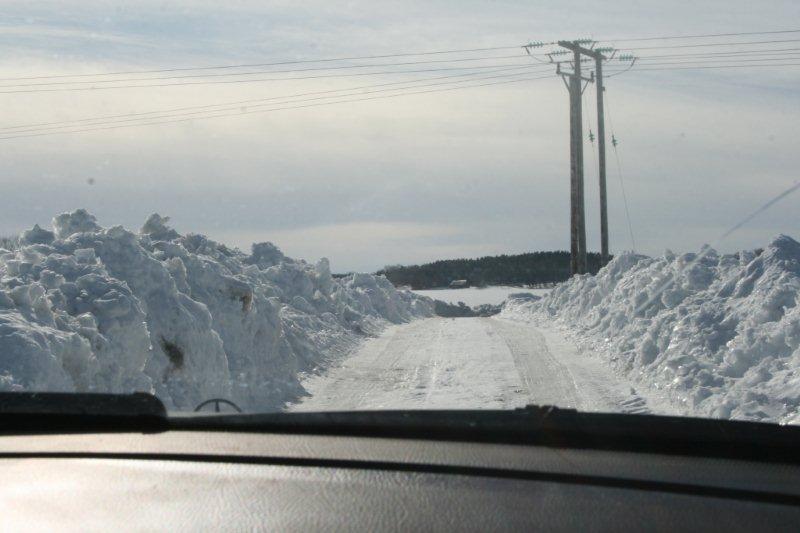 Then we have to hurry home because we will have visitors.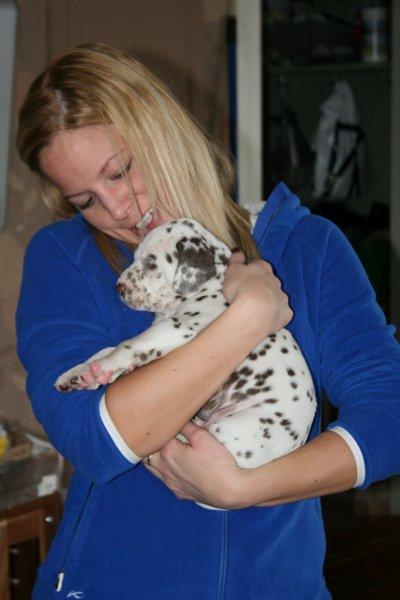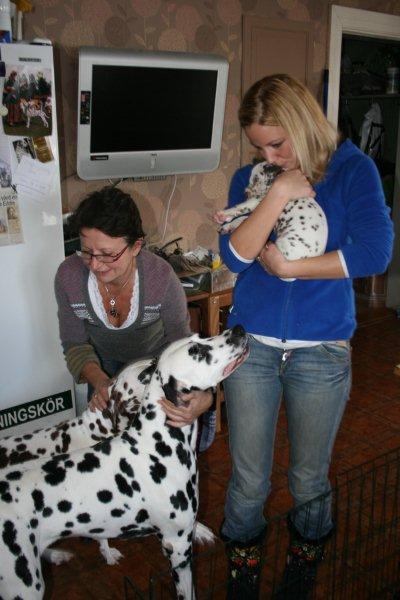 Soon our puppy buyers were here, and Gloria and Bosson and Perfect and Daddy showed their puppies.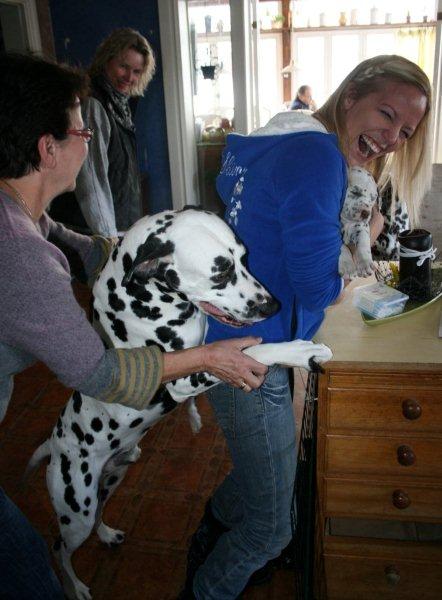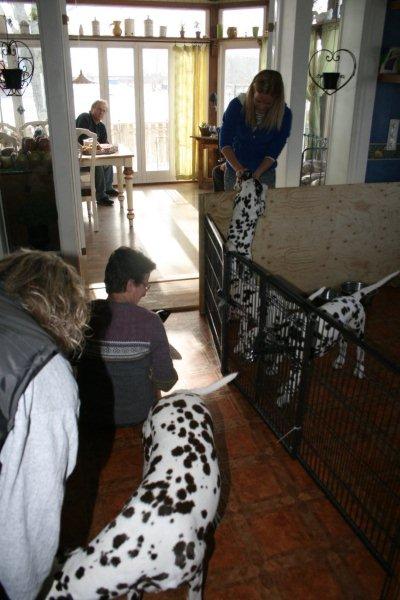 Bosson think that he get to less attention *S*!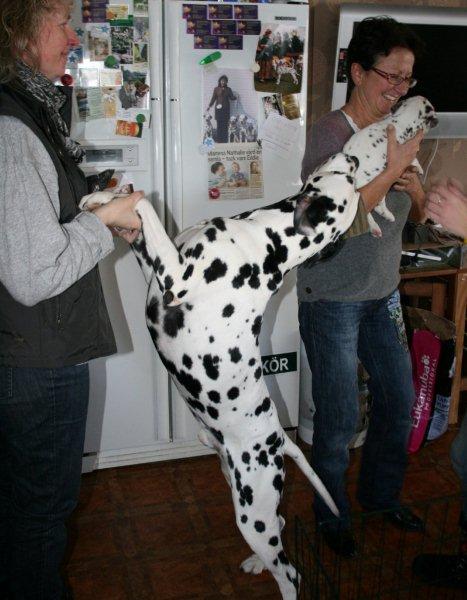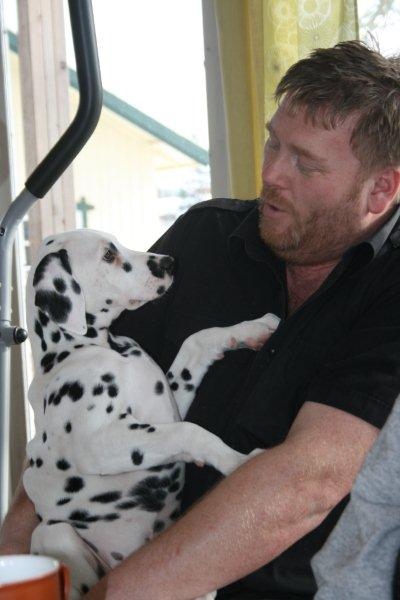 Smaller puppies live in the kitchen now too, close to the bigger once.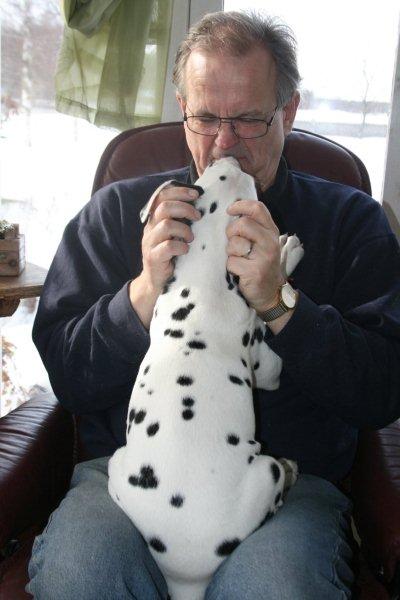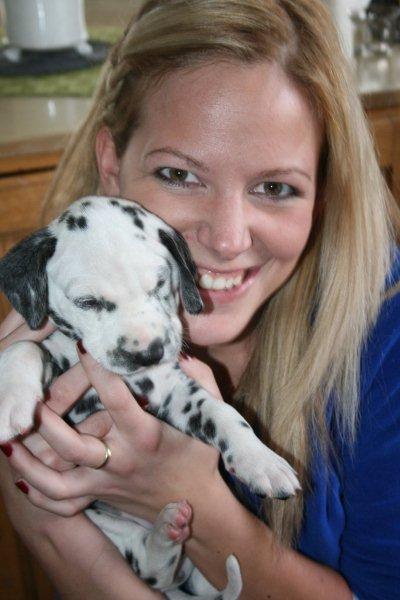 Someone fell in love with each other.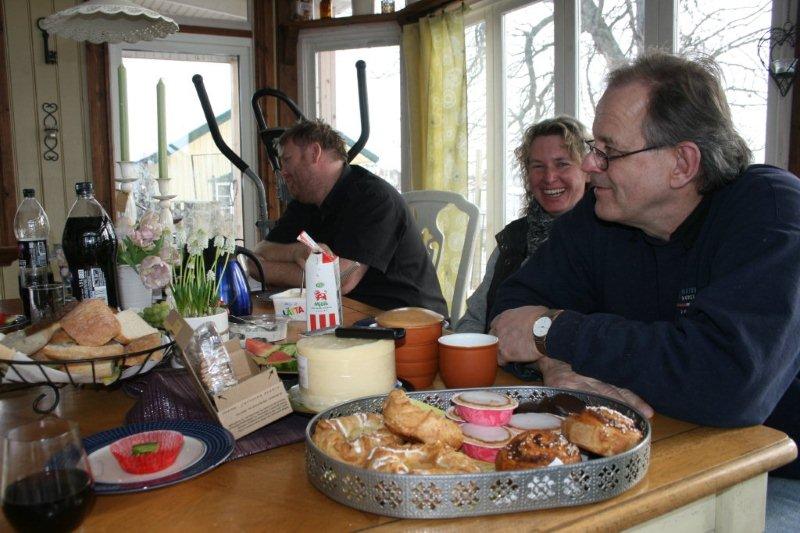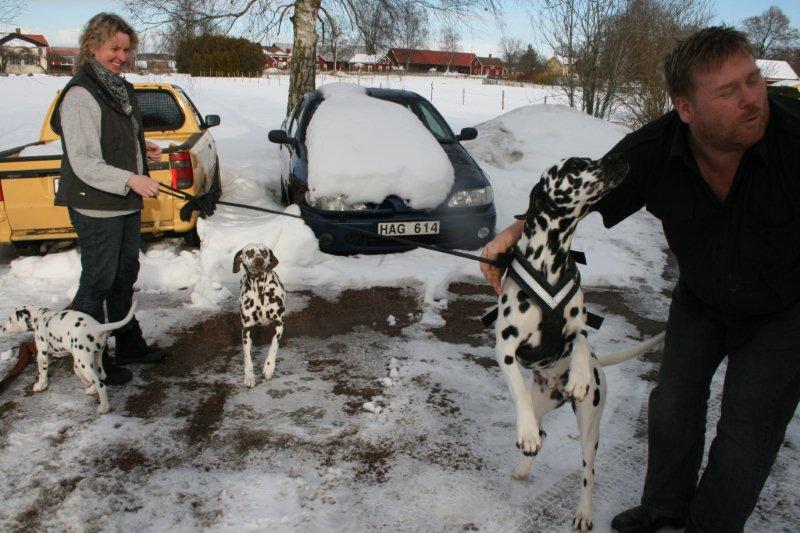 Then we say hallo to Chrissies son Eddie, he was such a happy dog and was so pleased to get a little sister.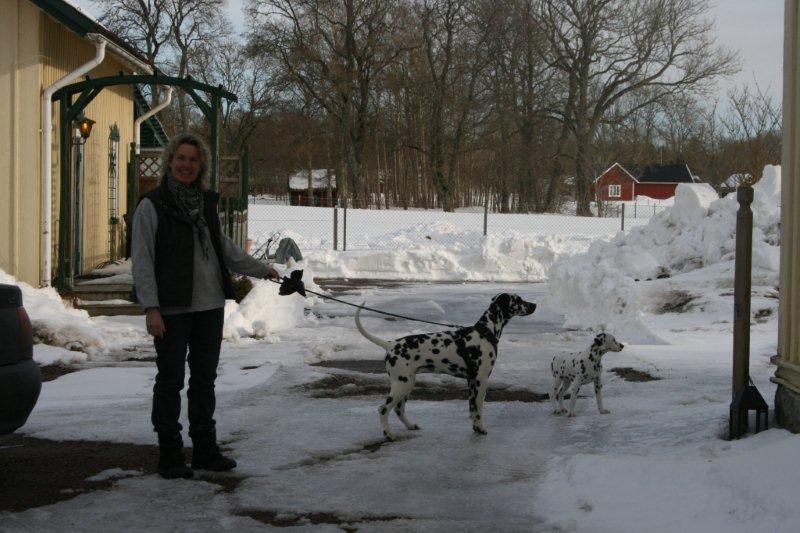 Eddie and Choice looking at our other dogs.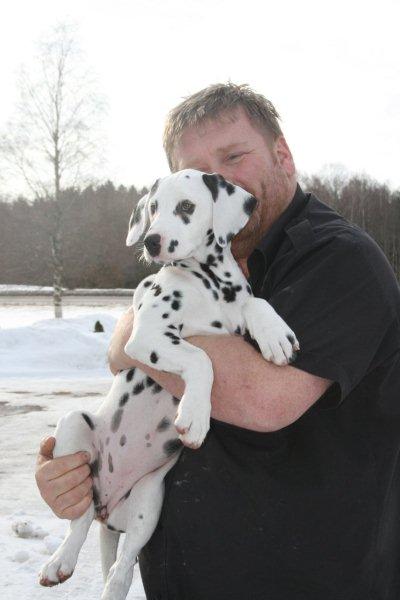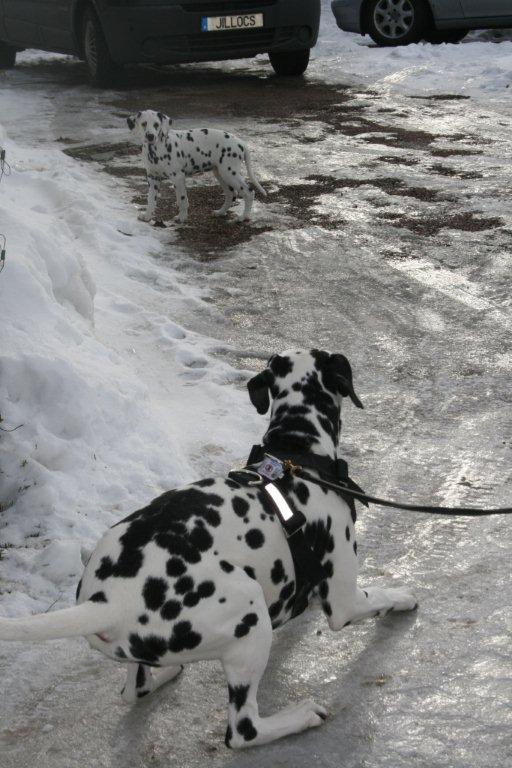 Bye bye see You tomorrow!!!
In the afternoon we were looking at TV........nice!!!
Friday 12 March 2010
It was snowing for some hours in the morning......no no
Just after lunch I have to be at Skövde hospital to make a Magnet X Ray of my neck and head. I have never done it before but I have heard from some friends that is was a bit hard.
My blood pressure was a bit better today.....150/85 so they say that I do not need to start with medicine for that yet.
First I have to wait for more than an hour...oh I hate that, I am too stressed to just sit there and wait. Then the examination took one and a half hour in the machine and it was a terrible high noise - oh my head, and it was hard to stay still that long. After 30 minutes the nurse injected contrast in my blood. I was very happy when this was over, now I was really in the mood for SHOPPING...here I come.
I went to the shopping centre for some hours and there is soooo fantastic much nice clothes in the stores now...I want it all *S*.
I bought two dresses that I just loved...one to use next weekend in Malmö and one for a party. As always I buy something too small and just hope that I can have it some time *S* that is why my walking closet is full of new clothes with tags on that I never have used...but hopefully sometimes ha ha ...I have said that for many years now!!!!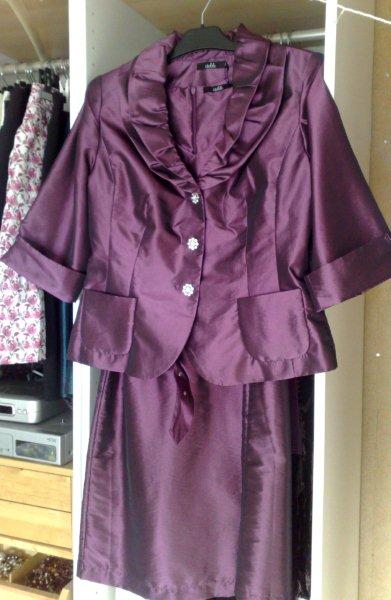 Thursday 11 March 2010
This morning I have to go to Gothenburg to my dentist for the check of the year, and I hate it!!!!!!
Too long to go and just in the middle of the city and it is hopeless to find a parking there, shit why do I have to go here!?!
As I have made my tooth implants for my teeth here at this specialists three years ago no one else can work with my teeth as they are very sensitive and that it is so easy to hurt them if they not are experts on this......so I my self to go here once a year.
I was shopping just a little in the city as I was longing to my home...as always when I am in Gothenburg where I am born and have lived for many years of my life and went to school there and worked there for some years and took my driving licence in the city.....so I have no problems to drive in city as many other people from the countryside hates to do*S*!!!
I stopped to buy candy for Rune on the way home and some food for the evening.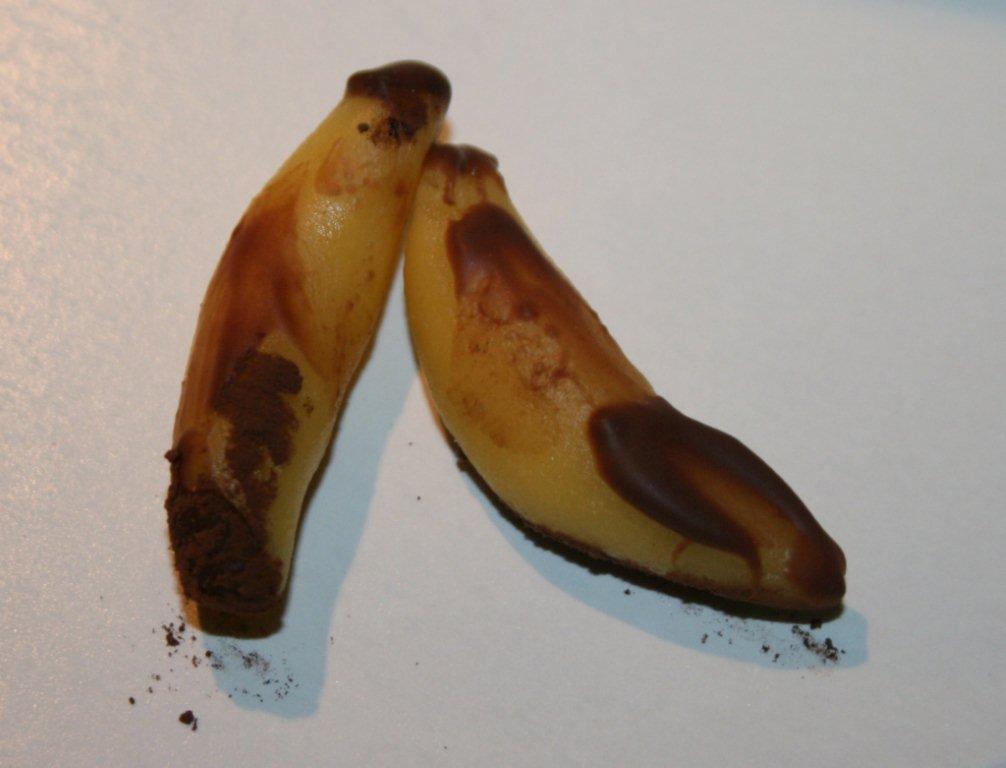 This is Runes favourite fruit...bananas...*S*! In marsipan of course!
I was back home at 7 o'clock just in time to see "Biggest Loser" our favourite program since some years now. We try to see it four days every week, and the same with "Days Of our Lives" That series I have to follow every morning *S* and there have been over 3000 episodes of that story now!!!!
Biggest Loser USA.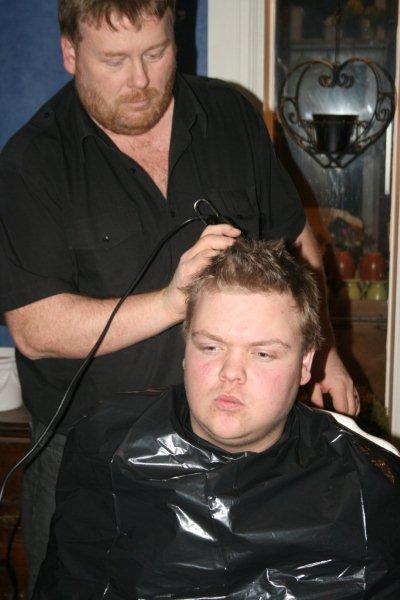 Rune was trimming Jonnie in the evening.
Wednesday 10 March 2010
Time for me at the doctor today. My blood pressure was a bit to high 160/90. I'll be back in some days for another check.
Home and out in the garden again.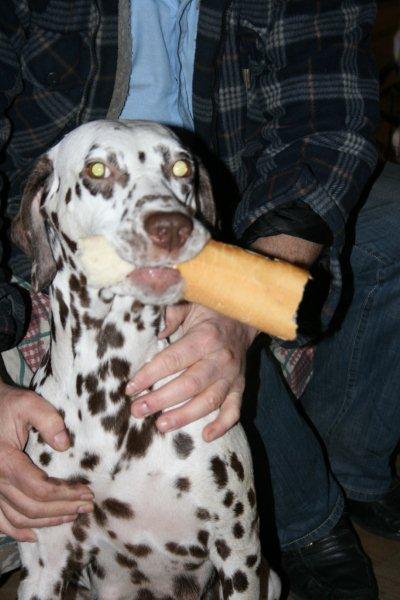 Perfect is a thief...she was stealing the baguette *S*!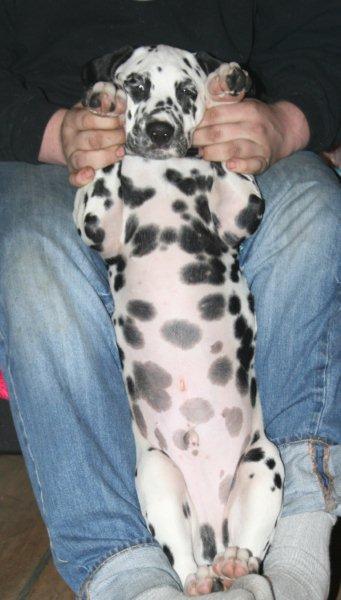 Marc is everyone's favourite.
Poor Rune have to work until late in the evening
Tuesday 9 March 2010
Poor Rune have to go extra early for a morning meeting.....
Sunny lovely day again.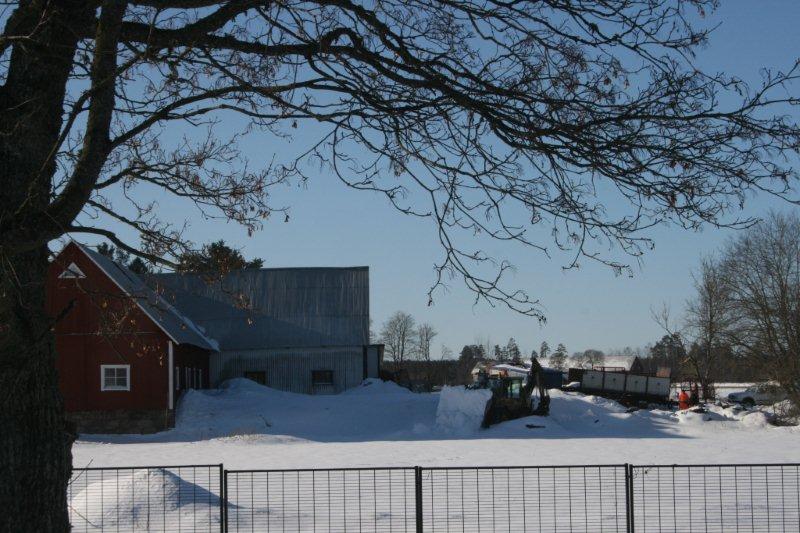 The cable men have to take all snow away on our back road to get to the point where the fault with the phone cable was...very good for us ha ha.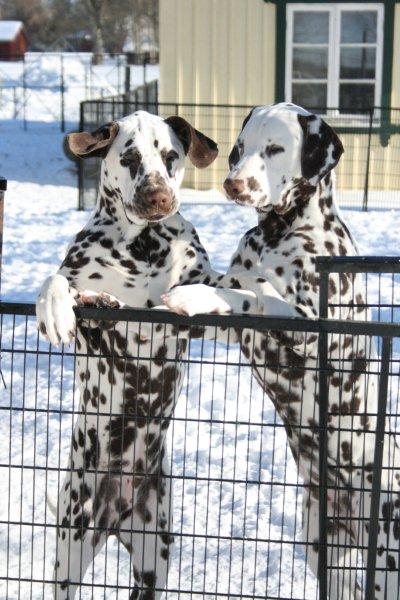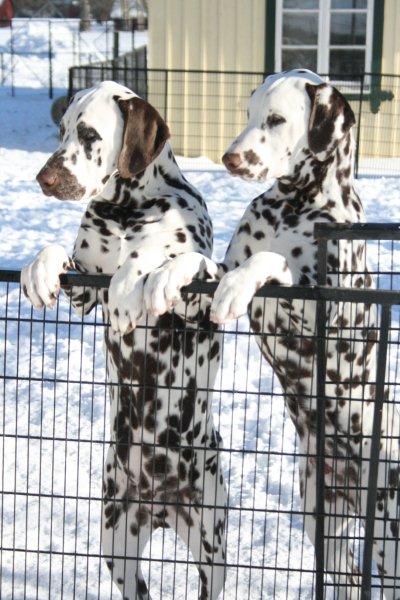 My beautiful and funny boys VIP and JUNIOR!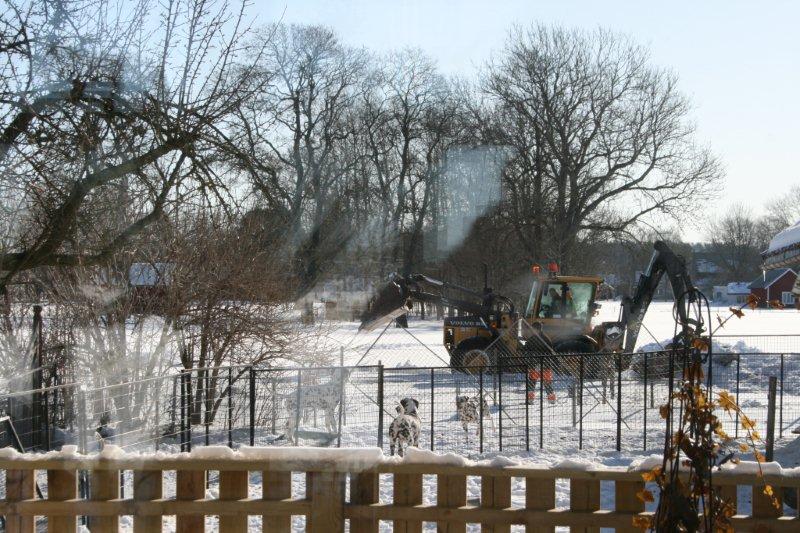 Workers have to dig a lot in the hard ground as there were something wrong with all telephones in götene and the missing link was on our land...but our phone works. Dogs were so curious what they do.....
So good to be out in the sun.
Jenny came here with newspapers again, thank You what would we done without You.
Monday 8 March 2010
Sunny day and I was out on the veranda together with puppies to wash with warm water so the ice will disappear faster.....I want spring NOW!!!!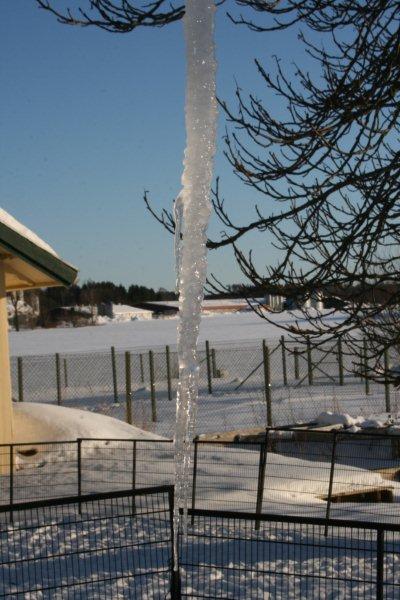 It was so cold outside.....these photos do not need any comment I think!
Small puppies also loved Puffies new toy!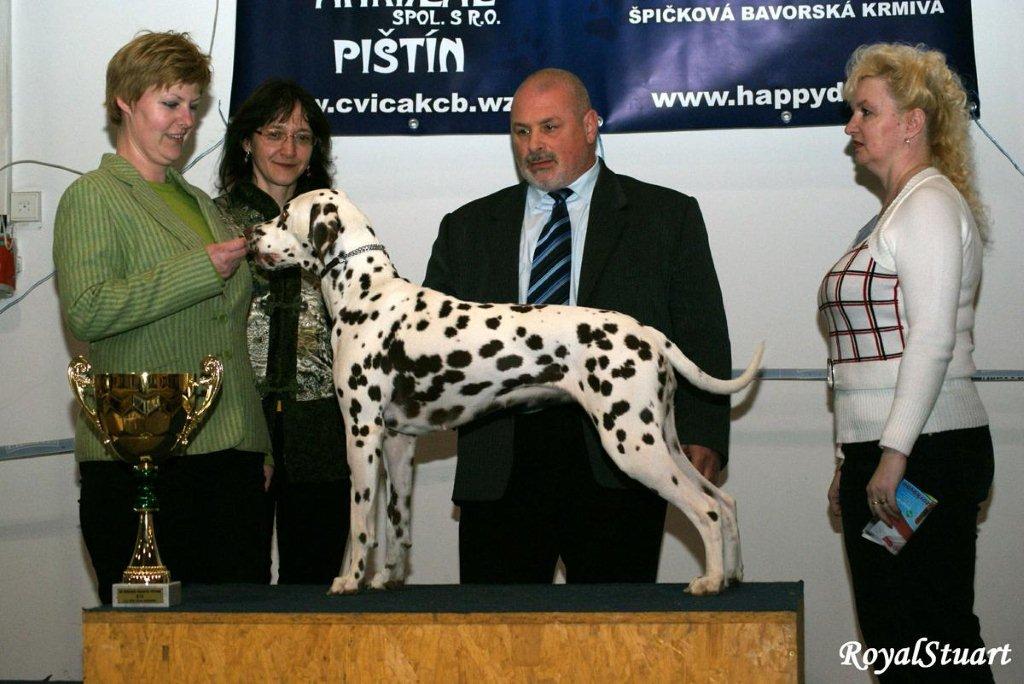 Congratulations
Devlins granddaughter..........Ch Dreamskapes Loves of Naire won Best In Show in Czech Republic.
Thank You to the owner Lida Machacova that send us photos.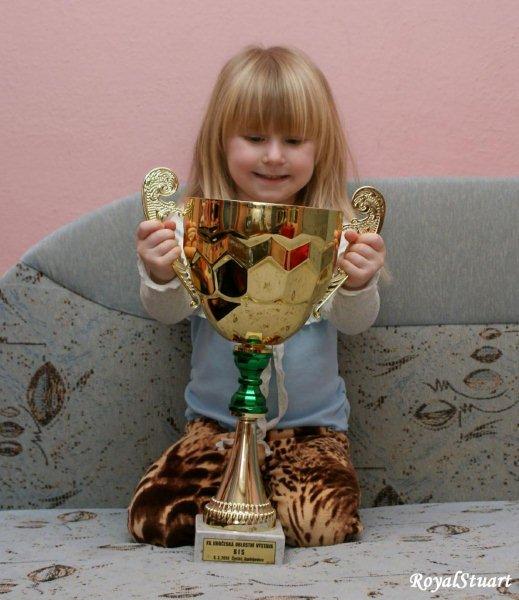 Happiness!!!
Sunday 7 March 2010
Beautiful and sunny day......Lot of things to do at home, thank god there is no show until some weeks. I love to stay at home especially in winter when it is dark and dangerous on the road. But soon is spring here......and then we start travelling again.
When Rune is home in the weekends there is breakfast like this......at least for him.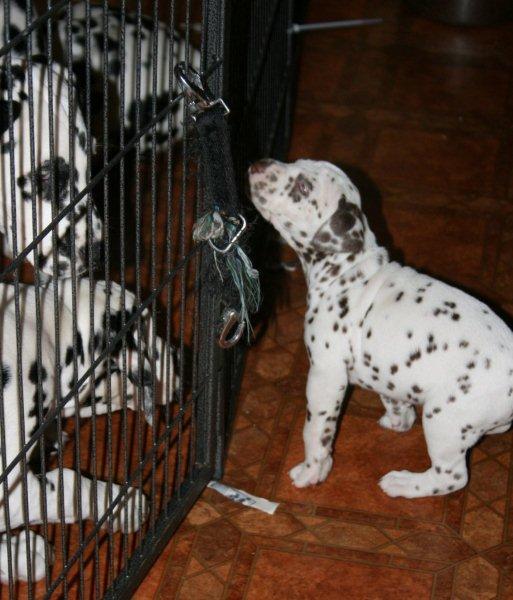 Ha ha You are in jail and I am not!!!!!
Saturday 6 March 2010
Today Peter came to say hallo to Perfect and her puppies, and he bring a new toy for her that she was very proud of and try to hide for her puppies *S*!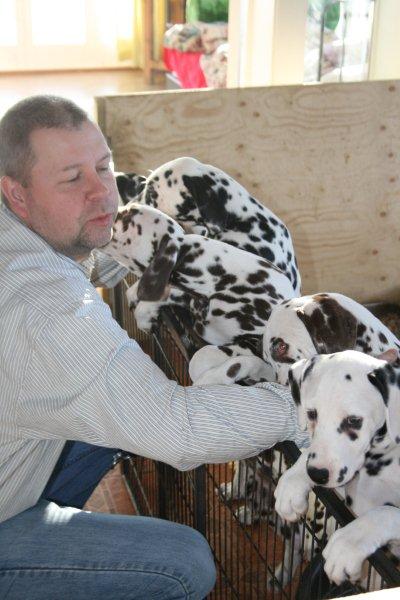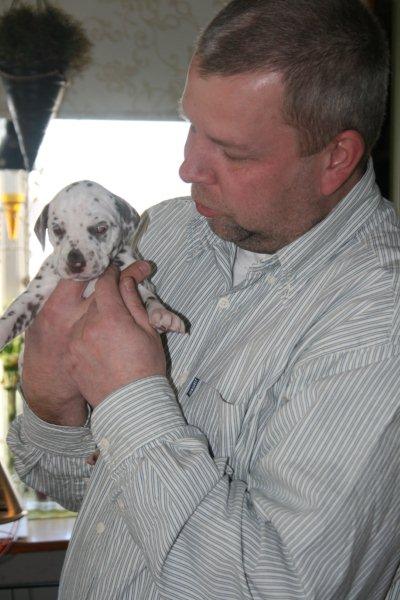 Jenny came here too, and bring lot of newspapers for our dogs as always.. what should we have done without her......We all drive to Eva and Arne to drink coffee and look how far they have come with the renovation of their house.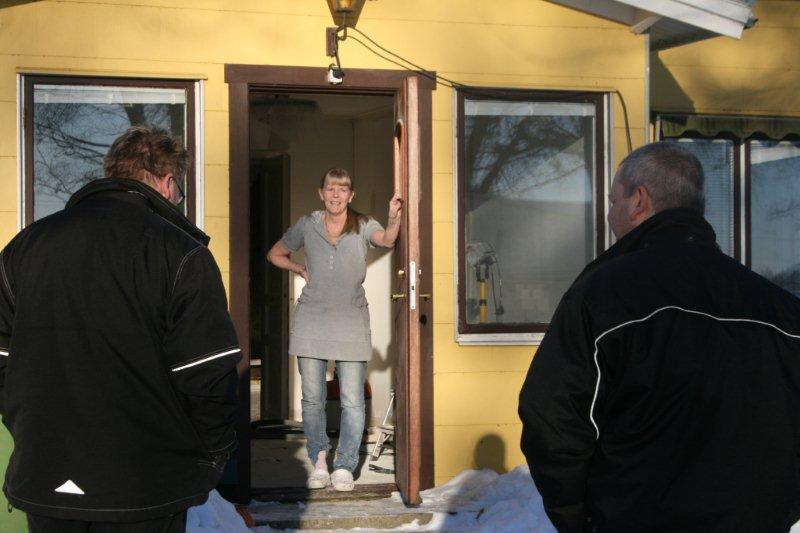 I love that Eva is moving closer to us as it is good to have Your friends as close as possible, we always need help from each other when we have dogs. And it is so perfect to have someone wíth You when You travel to the vet with lot of puppies etc. And as we have lived "together" for some years before in Kungsbacka we know each other so well.
Gusted in Jenny's knee......And Angie in Jennies knee *S*!
Daizie resting in Eva's bed........she and I have the same birthday. She will be 12 year in may.
(Jilloc's Diamonds Are Forever)
Friday 5 March 2010
We are not sick but just so tired those days, so in the evening we were looking at Let's Dance and took new photos of smallest puppies. So happy that no one was deaf and blue eyed in this litter...we have had enough of that in last litters.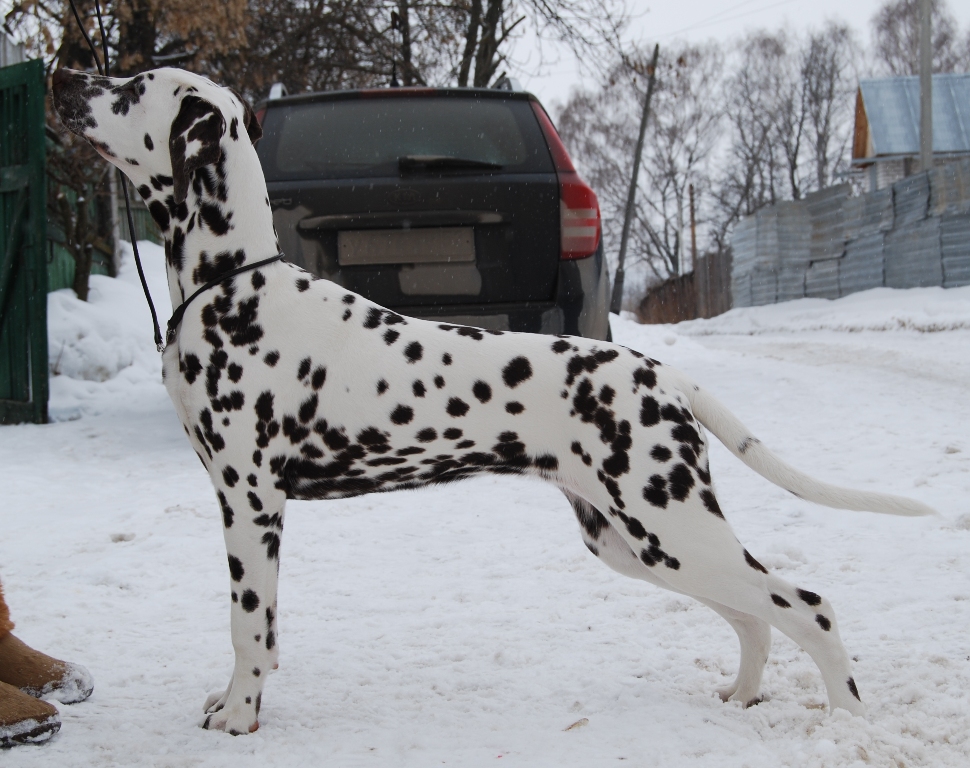 Misti 6 months.
So happy for new photos from Russia of Jilloc's Very Very Sweet, she start to look like a lady now, and she is really sooo sweet *S*, and she can stand very good.
She have done so well at puppy shows:
Congratulations from a proud breeder in Sweden

Photo from Katya.
Thank You very much for sending us those lovely photos of Misti in the ring...she is exactly as her siblings...so happy for everything!!
What a start of her show carrier:
12.12.2009 BOB Puppy and BIS 1 in Moscow
12.12.2009 BOB Baby Club show in Moscow
31.1.2010 BOB Baby and BIS 3 in Penza
13.2.2010 BOB Puppy in Tallinn, Estonia
7.3.2010 BOB Puppy and BIS 2 in St Petersburg
14.3.2010 BOB Puppy and BIS 1 Novogrod
Thursday 4 March 2010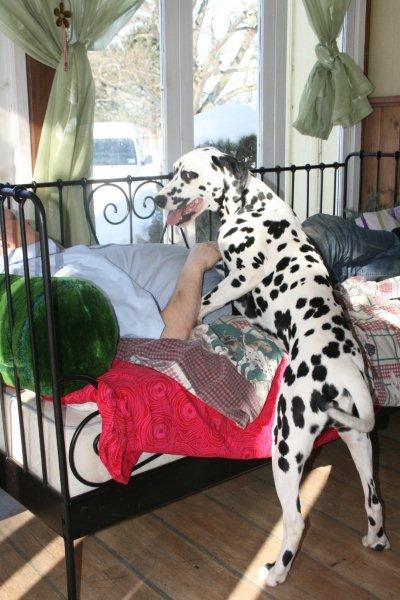 Penny is in season...even more cleaning than normally.........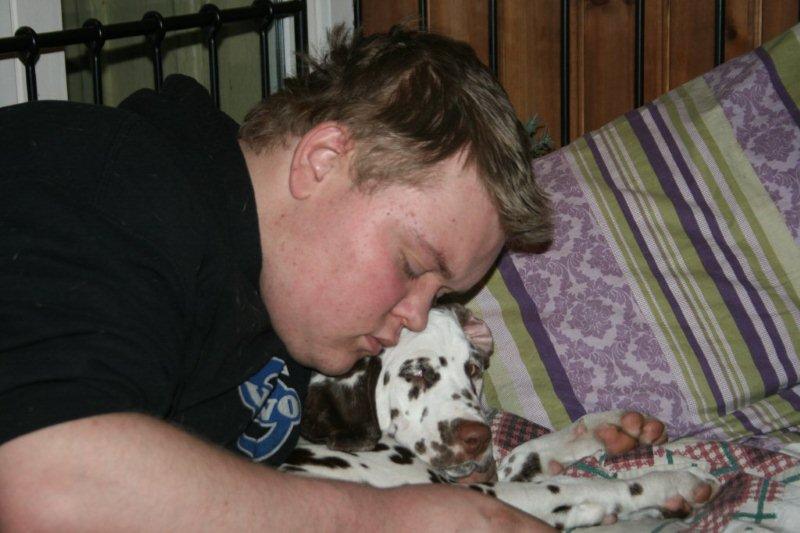 Jonnie have his favourite in the bed.....Extra will move out in some days to her new home, but Jonnie don't have to miss her so much as she is going to live just some km from us/him with Eva and Arne, but they do not know that Eva will get her as a housewarming gift from me. I know she have been in love with her for a looong time and that she want a new puppy.......!
And it will be perfect with better space in the bed for babies *S*!!!
Wednesday 3 March 2010
Today I got a phone call that I have been waiting for a looong time *S*!
Rune got the same call in the evening *S*!
We were sooooo excited...time will tell!
Tuesday 2 March 2010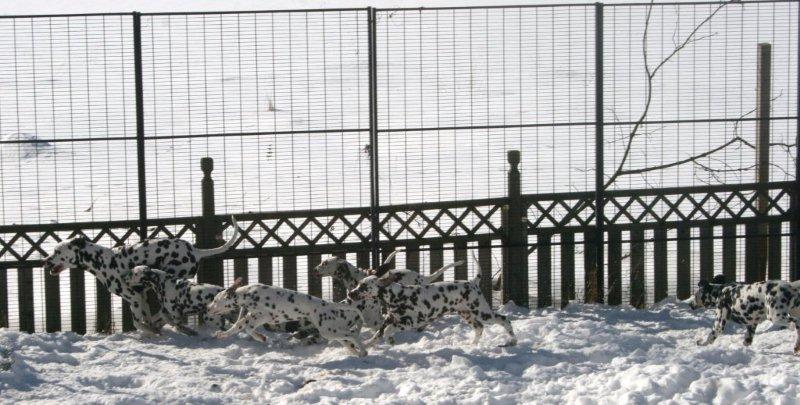 Penny and puppies have snow race!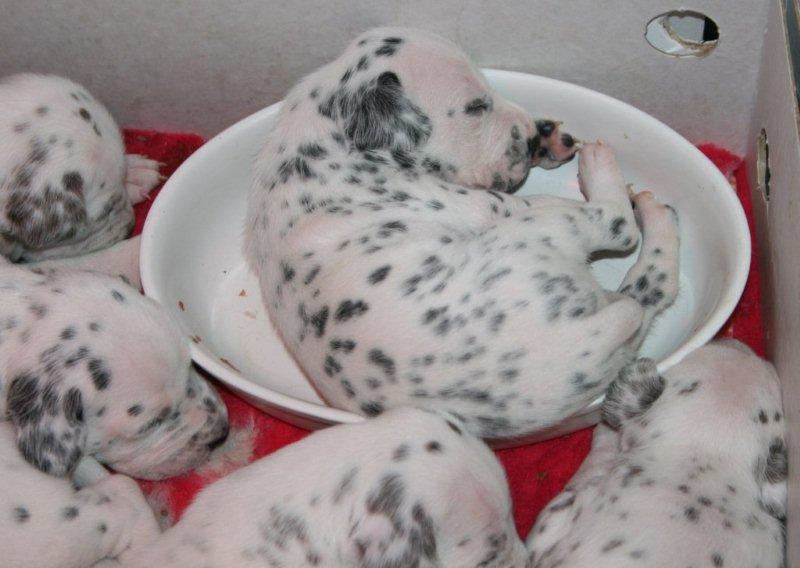 Next time there is food I will be the first one to discover it *S*!!!
Monday 1 March 2010
Yesterday Jenny were at the first puppy show with Princess......here are some photos.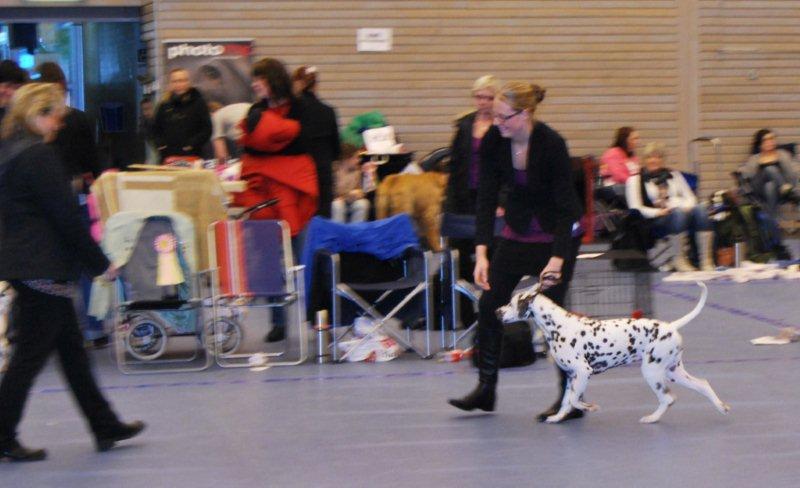 Jenny was happy that it finally was time to show Princess.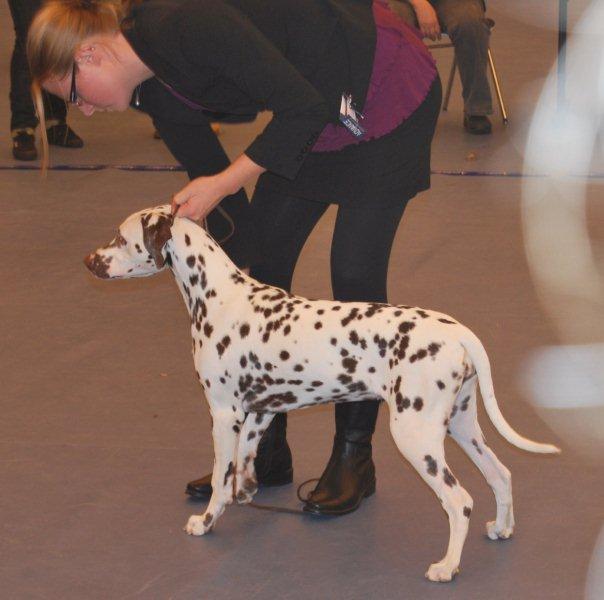 Princess became BOS Puppy today and she was happy in the ring, the most important in this age (6 month).
Today it is snowstorm outside again...I think it can be enough now.....we want spring!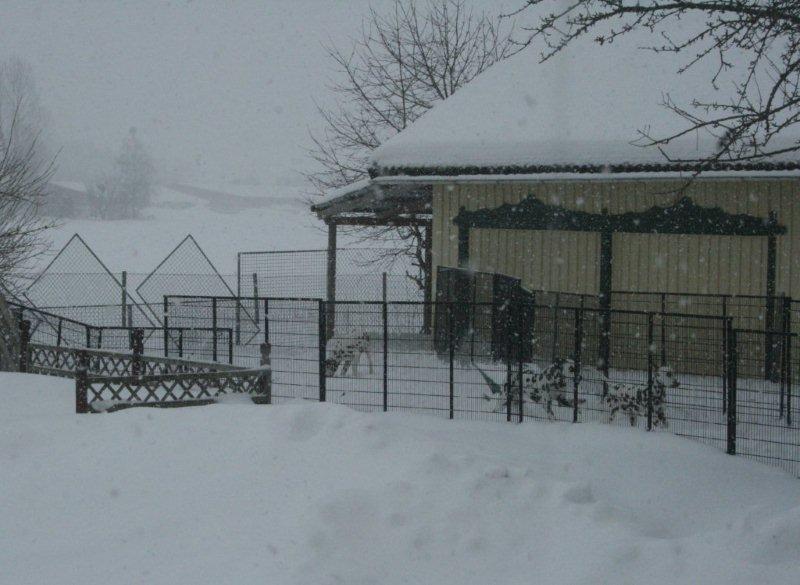 Dogs are happy for more snow!
Eros (Jilloc's Xcellent Lover) is with Maria at her work and have a little sweet friend there....gorgeous.......they are sooooo nice together!!
Everyday Mr Cakeman s coming with cakes.......he eat is as breakfast, even if he have diabetes....!!!!!
Look at this fantastic old lady born 1998, Jilloc's Call Me Basic, owner Lena Johansen. She is Samantha's sister (Candle In The Wind).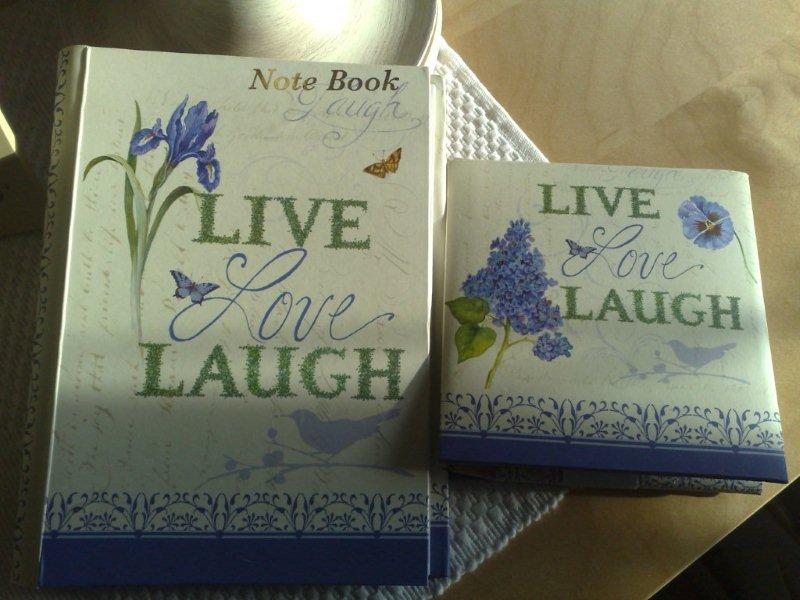 Beautiful books that I got from Hanna some weeks ago...they look so nice on my table, thank You!!!!!
Rune worked until late this evening and I feel sick and dizzy again, shit!!!!