Friday 30 April 2010
We started on a new week today, and have to make it better because all is so very good on exercising without me I felt....pain in every part of me. Rune is so good on this he do not complain, just do what Tanja expect us to do.
Thursday 29 April 2010
First time on the scale in the afternoon and we were all so exciting.....when You don't have a scale to check Your weight on it is impossible to know if You have lost any weight at all....!
Cameras on all the time......
Rune-7,0 kg Hurray and I lost 3,9 kg. We were second best couple with 4,7 % just 0,2 % less than red team with the big guys!
<3!
Yellow and green team under the yellow line. Therese and Emelie have to leave the castle in the evening.
Wednesday 28 April 2010
Tired tired and tired.......Pain pain and more pain!!
Tuesday 27 April 2010
This morning the chiropractor came to help us with pain in our bodies. But first of all we were at the gym for some hours. Then lunch I made an omelette, but most of the time I was so tired that it was hard even to make food, and to eat *S*!
We will get information about a Weight program on the computers which is called COACHA and we can have full control of our kcal there, that sounds like a good idea.
Back to gym 2 hours, spinning 30 minutes, terrible then treadmill that is better for me (but I hate all of it)....So tired today ..outside the gym running back and forward..my legs hurts as every other part of my body too, but my new jogging shoes from LÖPLABBET, New Balance, is fantastic. I haven't even felt any pain from my heal strings since we came and I have had problems for 7 years even if I only have had special shoes and went to a special clinic for special shoes etc etc. I did not even mentioned it when we try to be in Biggest Loser as I thought that they would never choose me if they will hear about it. So I can tell You everybody go to LÖPLABBET in Sweden they immediately saw what the problem was and gave me shoes that was built in a special way so my heal strings keep straight when my heavy body pressure on them. FANTASTIC, and the shoes have the same prize as my other Nike and expensive jogging shoes.
I went home before Rune and made hamburgers. Very good. Then we try to learn Coacha on the computer for a while.......We went to our room 18.30......my bug bites irritates me so much!!!
It feel like we are on a school camp and everyone decide what You are going to do as when You were 10 years old.......that was a new feeling that I had hard to accept! I have been my own employer for many years and normally I decide how our days and weeks will look like. Rune are used to his work so it is a bit easier for him but I have only been at home since before my first child 1973, so this is really a new experience for me.
I think we were sleeping before 8 o'clock!
Monday 26 April 2010
Photo shoot again and then training on the field with running and things to pull and to carry it was really more than terrible and my feet was so heavy as 100 kg each...in the deep grass. Tanja and Mårten jump around like feathers and try to push us.....hate it!!!! I got many new bites from mosquitoes in the grass the same as I got in the gym yesterday and I am sooo allergic so this will give me lot of pain in the night.
We had to run up a hill many times and I was so bad at that..Mattias try and try and he was so good but I felt so sorry for him he had so much pain but he was so strong....I admire him. He collapsed after a while and I was so afraid for him and I was sitting by him and cried. No one could understand what he is going through his weight is 206 kg...and it is enough just to walk around for him. My mother heart is bleeding he reminds me so much of Jonnie.
To the room and sleep during the day after lunch. To gym then and I took a hard ball and almost broke two fingers....they were black and hurt a lot after a while, but the nurse put on a bandage. Interview and Synk again outside the gym. Back inside again more training (hate it as it hurt so much) TV team there all time....we hope they don't put the camera at us.....There were others that like to be in on front of the camera more than us as we had problems enough to breath when we was walking on the cross trainer or the treadmill.
Back to make dinner and the others back to gym again. I went out walking and pick some spring flowers.
Hopeless to sleep I only scratch my bites........!!!
Sunday 25 April 2010
Up 7 o'clock....The bus was outside at 8 (In a Sunday!!!!!) We were driving forward and back many times so the film team can make movie of our arrival to the castle..Nice to just sit and talk for some hours, but what will happen.....I was a bit nervous to not know from minute to minute what will happen next and I already start to worry about the challenges that will come some day (I know all about that as I have seen the American program for many years now).
Then to the Barn with the studio over the gym......we will meet our Personal Trainers and the hostess for the TV show, who will it be?????
On the weight for the first time with camera on......I was 101 kg and Rune 130 kg. This was fun...I love to be here on the scale and do not bother about showing my fat body in front of the camera at all (we are all in the same boat and are here to be healthier) the only thing was that it was sooooooooooo cold in the barn brrrrrrr.!!!
Tanja and Mårten will be our coaches and Jessica Almenäs the TV host.
After meeting Tanja and Mårten - we started our first workout EVER!! It was tough!
Back to our room to sleep some hours and then to the gym again for the camera team. Interviews.....Rune and I borrowed DIXIE the small dog living in the castle with her mummy Raija and we walked her about 4 km to the water ....Oh how we missed our dogs at home!!!!
Went to bed 10 o'clock. Sooooooooooooo terrible tired.
Saturday 24 April 2010
Today we will get our team clothes in different colours. Hope we will have a nice colour......not grey it is too dull for me as I love colours but absolutely NOT orange. that is the only colour I have hated since I was little.
All girls got black trousers in size 54!!!! They were a bit big and we hate them from the beginning. Such a enormous size.....but ok we probably need it *S*.
In the afternoon our t-shirts and sweatshirts came........Rene and KF got red, Mattias and Peter got the grey one..hurray, not grey for us......Linn and Maria got yellow, Sara and Fredrik got light blue..nice!!! What will we get????? Green for Emelie and Therese........And a bag with pink clothes for Lotta and Sofia, and finally the last bag named Flo and Rune........It can't be possible!!!!!!!!!!!!!!!!!!!!! ORANGE!!!!!!!!!!!!!!!!!WHY, WHY, WHY I will look so pale and we will look like to oranges walking around, and the t shirt with round neck as I haaaaaaaaaate!!!! I look 10 kg fatter in my face......T-shirt is my hate clothes and there are no ones in my wardrobe...they will not fit to my pearl necklace *S*!
But now we are here and no one can see me (did not even realized that this will be shown on TV in that moment), so I have to use the clothes as all the others. I look terrible!!!!!
Out walking in the afternoon many kilometres (at least for me) and I got so much pain on the inside of my legs can't even understand how I came back to the castle. I need powder so I can walk but it doesn't help much have to take my pants inside out and try to walk but it hurt anyway, shit!! Rune and I try to walk some km in the evening it was hard especially with my wounds on my thigh but we have to lose at least some weight before next time on the weight and we are not here to have holiday so at least we have to try to do something.
Tired but hard to sleep.
Friday 23 April 2010
Some one woke us up 6.30, oh my god, this is not me *S* my best time in bed.
Information at 7 o'clock, breakfast at 8 (we make all our meals by our selves). Media training, photos in the afternoon...I am still a bit sick, almost 4 weeks now....everyone is so positive and happy but Rune and I start to think about if we really can stay here for a long time?????
Out walking 1 km around the castle...oh my god it hurts and it seam so much longer than just one km...so tired in our bodies.
I went to our room 19.30. Thinking about everyone at home especially if Jonnie have been eating today when I am not at home that normally make all his meals and his father is stocked in Asia because of the dust from the volcano in Iceland? And I can't get any news from home that is what worries me the most...if I just know that everything is ok......
Thursday 22 April 2010

So much longing for our holiday, but will miss our dogs so terrible much!
See You soon in the show ring!


When I wrote this I was not allowed to tell about our journey that started today with BIGGEST LOSER SWEDEN!!!!!
Jonnie drove me and Rune to the railway station in Skövde in the morning!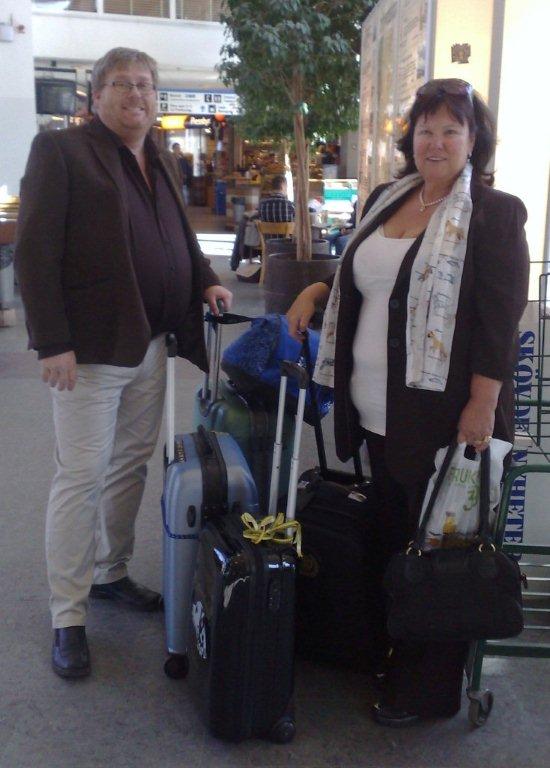 In the afternoon we were in Stockholm.......and we were so exited to see who the other competitors were. There were a big bus waiting and when we came inside we saw the Twins Linn and Maria that we met at the casting some month ago and there were Lotta and Sofia that we also met earlier. Mattias the big and wonderful young guy that I fell in love with *S* at the casting (he was so similar to my youngest son Jonnie, that I already missed) We were rather sure that he would be there, but You never know.
Peter "the taxi driver" we remember from the casting was there too, just as we have hoped for.
We have all been at the casting in Stockholm the same weekend we planned to go to the dog show in Luxemburg in march.....and we lost lot of money as we already have entered lot of dogs there and played for the hotel etc. But when we got the phone call that we were one of the lucky 14 people for this years Biggest Loser we think it was sooooo worth every euro <3!
First of all the bus took us to Sabbatsbergs Hospital for a BIG *S* health test in the afternoon, it took some hours, and we were eating out one "LAST BAD MEAL" while we were waiting for some more participants.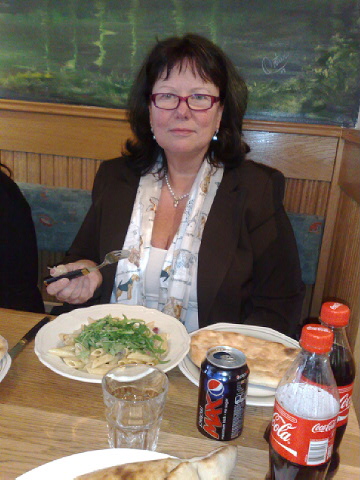 We have to go on the weight for the first time and then we got some media training and they did interviews with each of us.
In the evening we were in the bus again on the way to EKOLSUNDS CASTLE not far from Enköping. It was very dark when we arrived there and there were lot of candellights on the way up all stone stairs to the top floor where we got our rooms. Rune and I got room Nr 9...hopefully it is a sign that we (one of us) will stay that long *S*.......After 9 weeks (two days before Midsummer eve) the last persons in the competition will go back home! But we did not know about that until very much later.....we did not know what will happen from day to day, hour to hour and minute to minute...that was very hard especially for me that is used to have full control of everything and plan everything in our "normal days".
They had already taken our mobile phones and my new camera that I bought just to bring here to take memory photos with and everything else that we can have contact with the world out there with......it felt very strange. And then we did not know what time it was as we haven't been thinking about to bring a clock with us.........it was probably the worst of all to not know how many hours until You have to go up in the morning when You woke up in the night etc etc etc.
When we went to bed that night we was thinking about WHAT HAVE WE DONE!!!!!!!! *S*!!!!!
Wednesday 21 April 2010
Crazy and stressful day....I was out shopping clothes for Jonnie this morning in Skara, and then to the drugstore and then to my hairdresser and then to make my feet in good shape again....and then to some stores for shopping in Lidköping......back to Götene and did some shopping there and then I ordered dinner at the restaurant and bring home for Jonnie, Rune and me and then Eva and Arne came for a while and then Rune did the Taxes for him and me....and then played with puppies and then I was here working at the computer until late. Jonnie came in the night for food again just when I was ready to sleep....
Just when I go to bed sooo tired it was time to go up again!!!!! Crazy......Yeeeeeeees!
I will spend our holiday in the bed sleeping first week!
I was looking for Ticket and couldn't find her....but she is sooo fond of all blankets and the peace in the small place close to the kitchen so she did not even lift her head......or was it because the clock was 5 in the morning????????
Oh my god what I love that girl.....normally Rune love the girls and I like the boys most, but this little sunshine she touch my heart in a special way that You just felt for some special dogs. Love to start to show her in some months. I think she will be a perfect showdog as she have the lovely crazy happy temperament as her mother, and the tail never stop wagging her tale. We have to wait and see!
Tuesday 20 April 2010
Today Jilloc's View From Above, called Tuttilutt...moved to his new family, they have Appaloosa horses...Oh, I have to get photos of them together!!!
IF I should have a horse it have to be a spotted one (but it will never happened as I am afraid of horses *S*).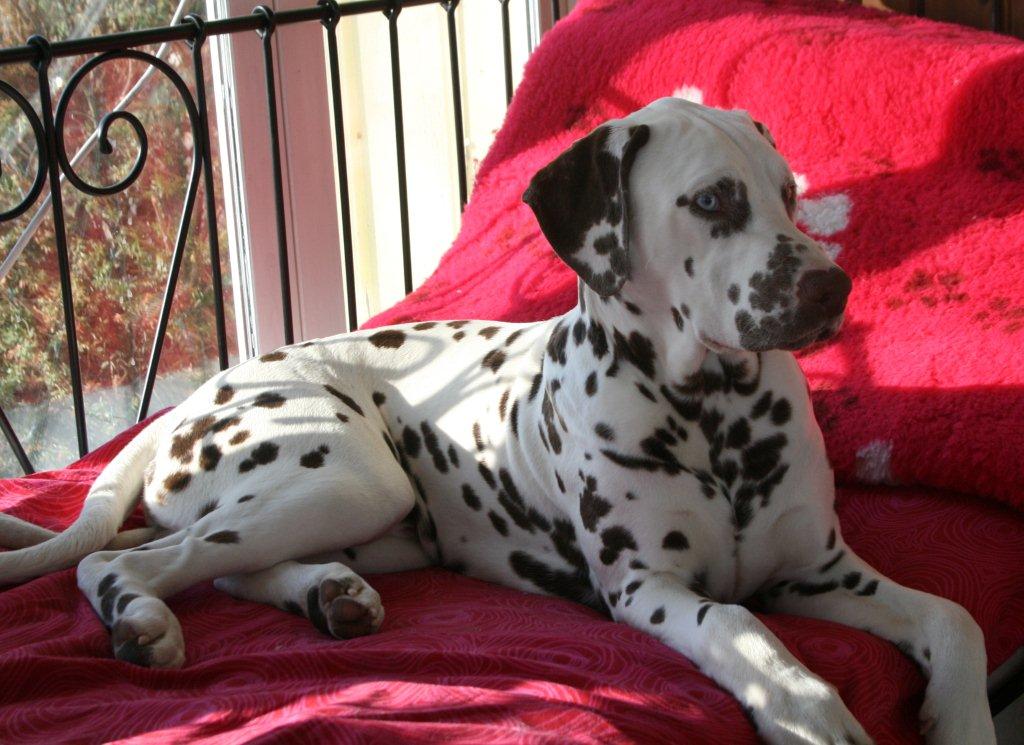 My beautiful blueeyed boy!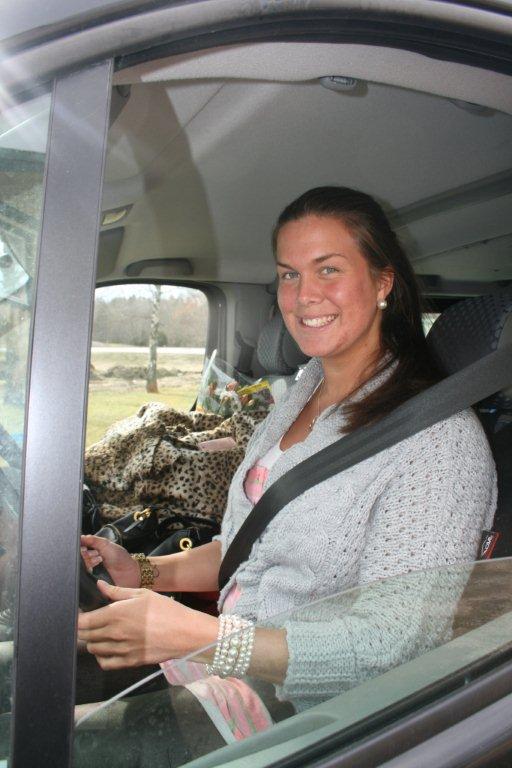 One of my bonus daughters *S* Rebecca came here and took my car and some dogs and drive to Hildegunn against the Norwegian border. Hildegunn will take care of Devlina, Junior and Penny for some weeks, so Jenny will have some less dogs at home. Now there will only be 13 dogs for her to take care of including her two own dogs. That is nothing and I almost have to look if there are some dogs home now *S* can't almost find them?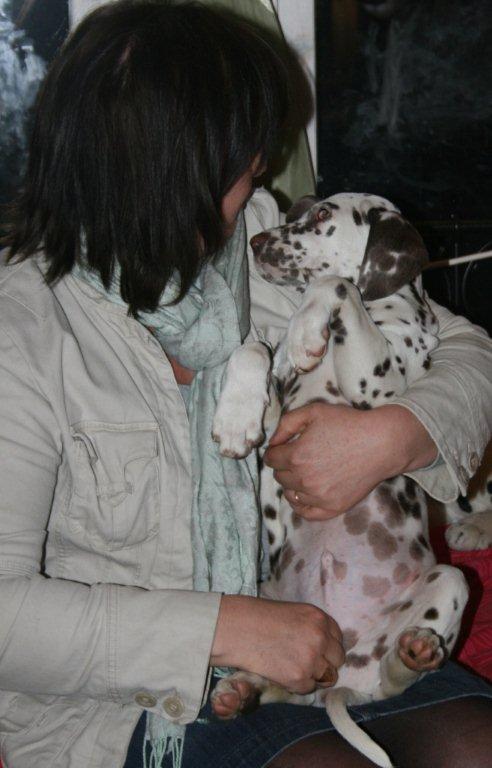 Maria was here to pick up some papers and was talking to Zensation, and he was so pleased.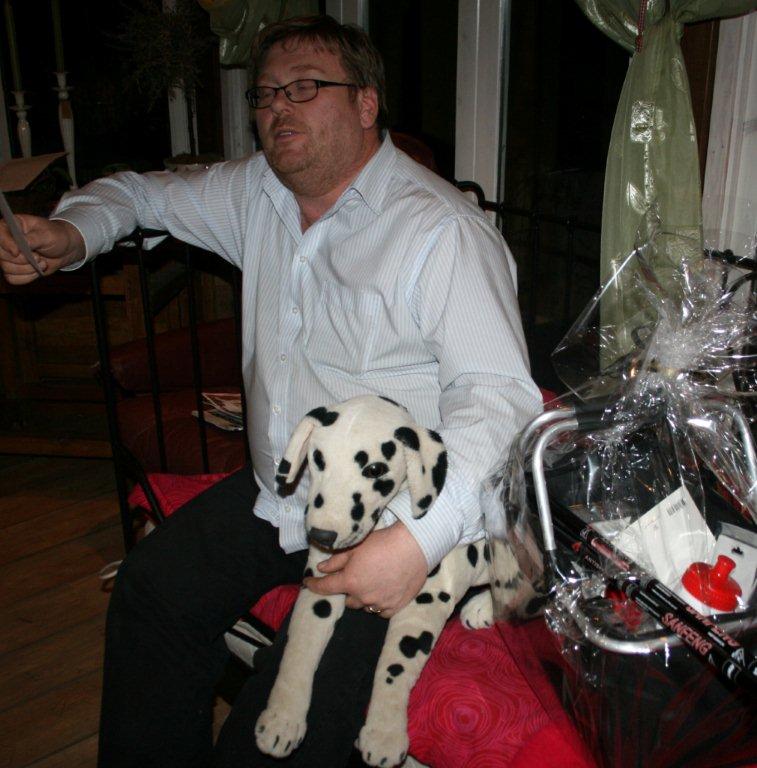 Rune was happy to show his present from his work today..they think that he need exercise and have given him lot of things for that...I do not think that he was soo happy *S*!!
Monday 19 April 2010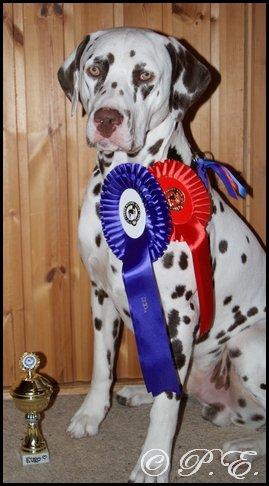 Jilloc's Wild Music was on his first show yesterday and he became second best Junior with Prize of Honour, Congratulations Pia and EURO...........well done, and thanks to Your handler too.
You just have to go for it now Pia!!!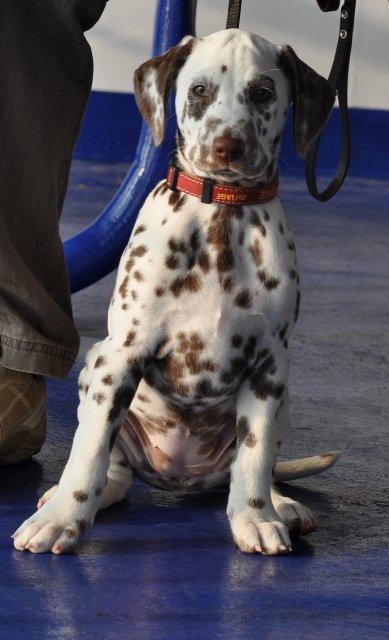 Jilloc's Zwedish Design has arrived safe after a long journey to her new homeland Belgium, with her mum and dad Christel and Paul. Good luck in the future with Your little doll!!!
Photo from Van Mol
Sunday 18 April 2010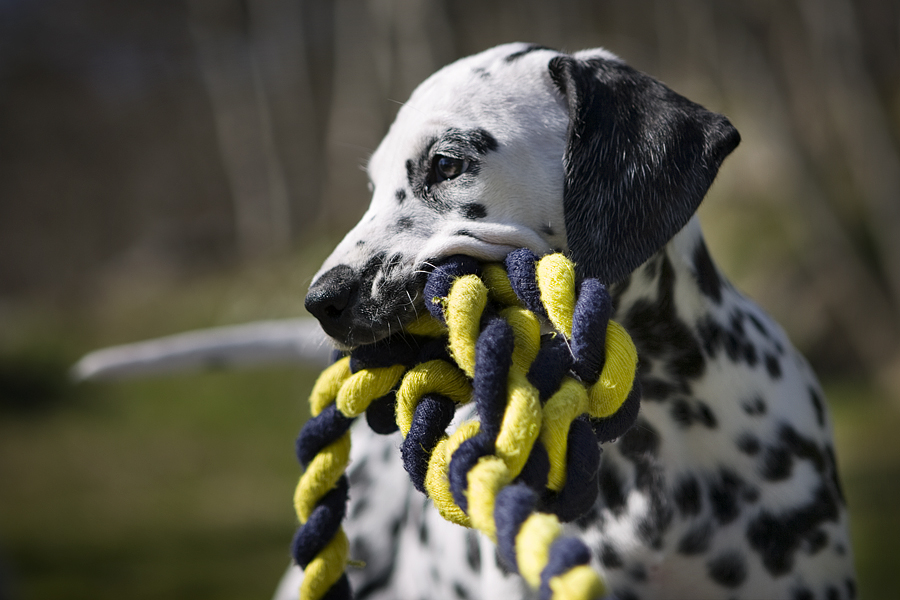 Zexy Sister !!!!!!!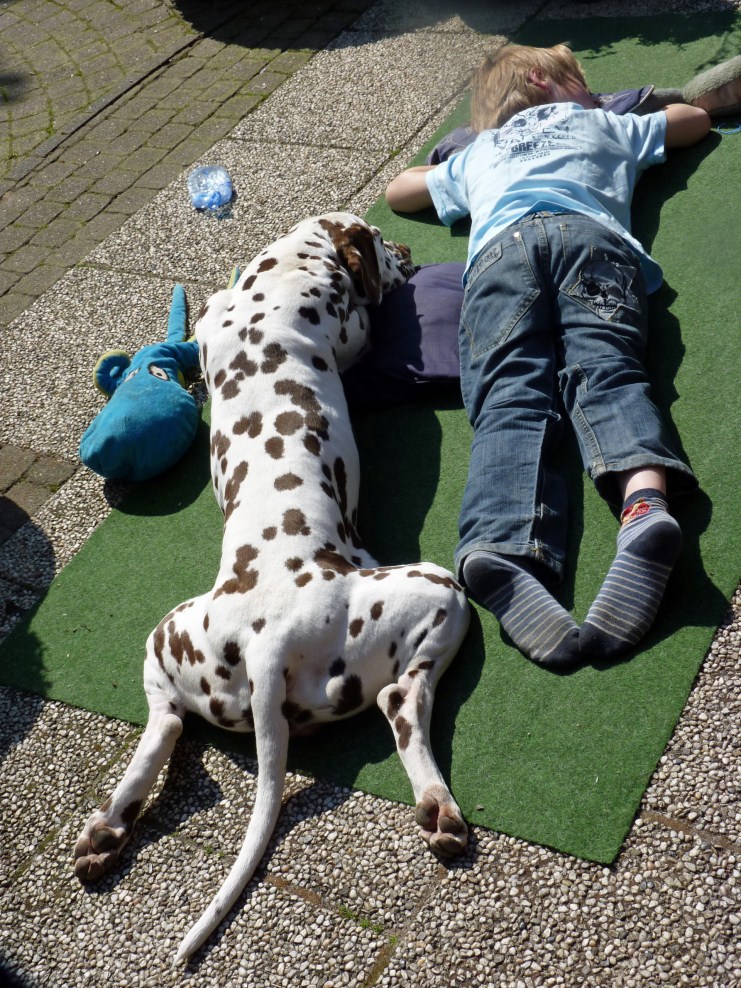 Friends resting together in the sun....... Shadow and Joey, in Holland.
Photo by Joke and Henk Kentin, Thank You!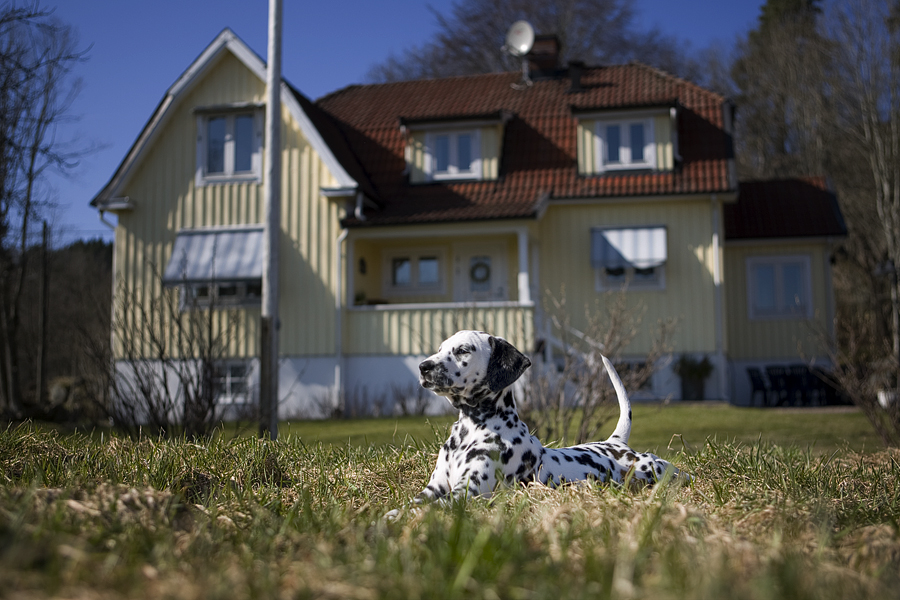 This is MY property (Jilloc's Zexy Zister).
Fantastic photos taken by a friend of Linda...........Thank You for sending them to me!!
This is MY older sister from Rohospots and she is an old wich that I LOVE TO TEACH *S*!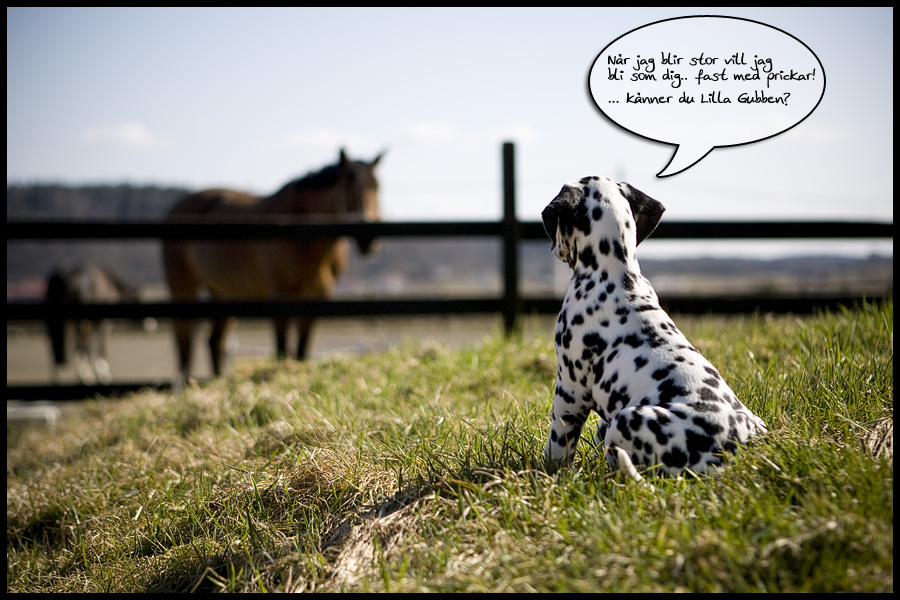 This is a big friend that I have a little more respect for........but just wait!!!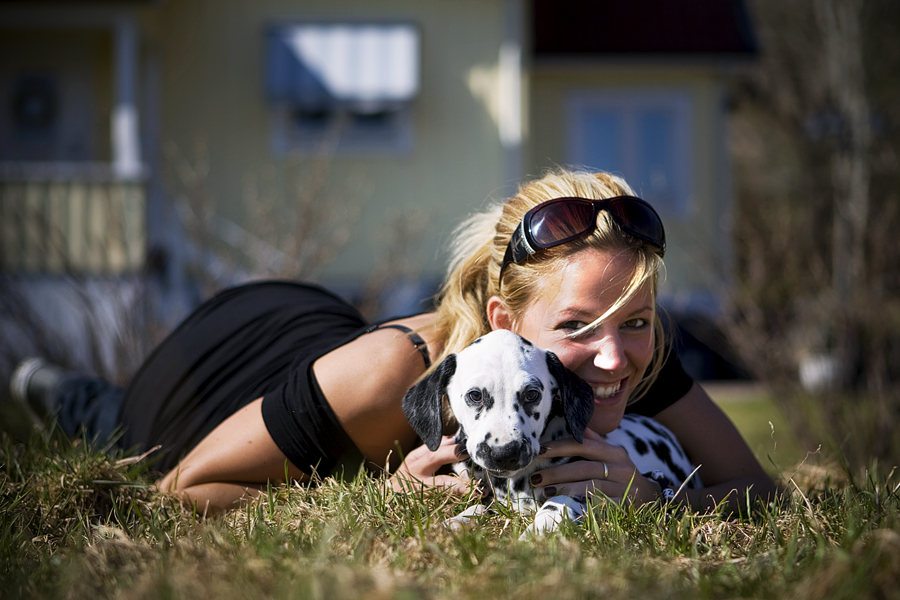 Two Zexy Zisters!!!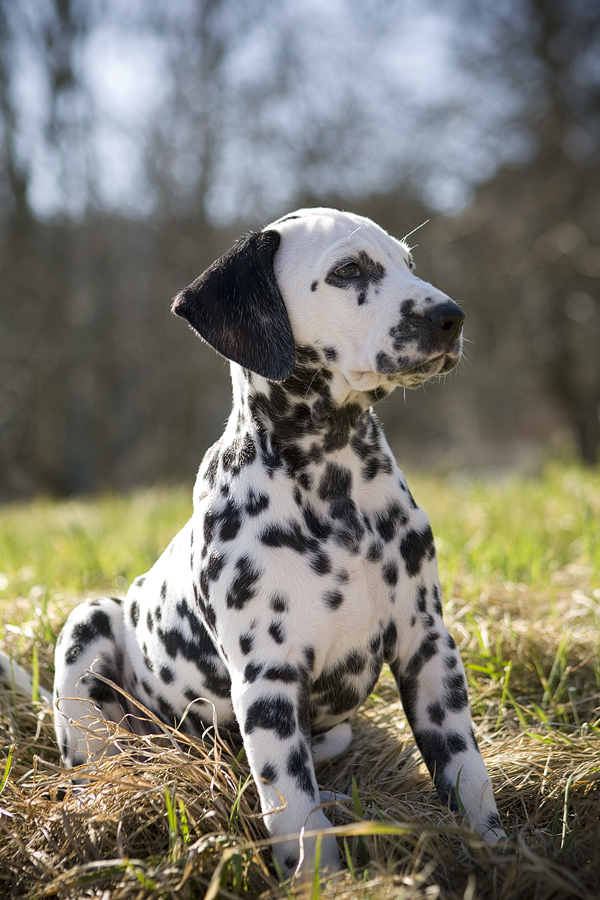 Now I am a bit tired after walking around and look at everything.......mummy say that You have to wait for a while to call to our house, as I eat up the telephone this night.....hi hi hi......it was much more funny than all my other toys together!!!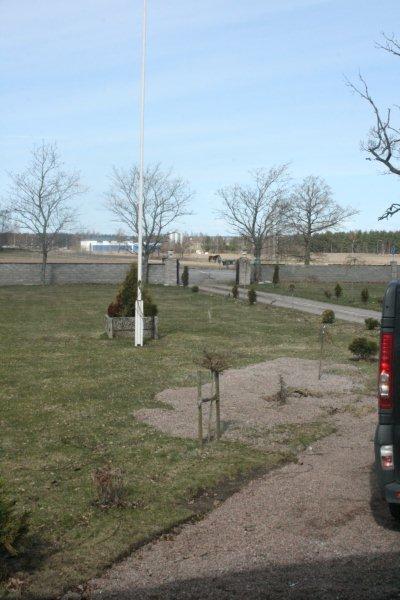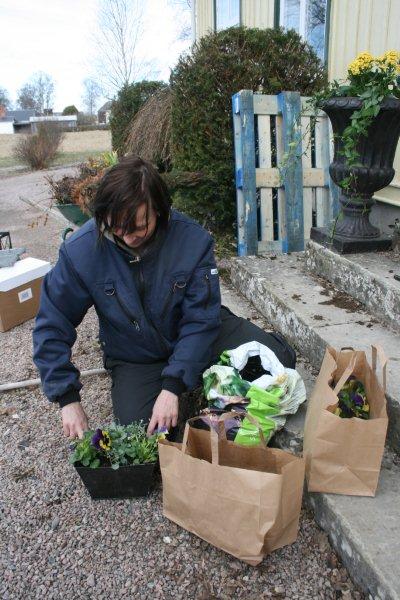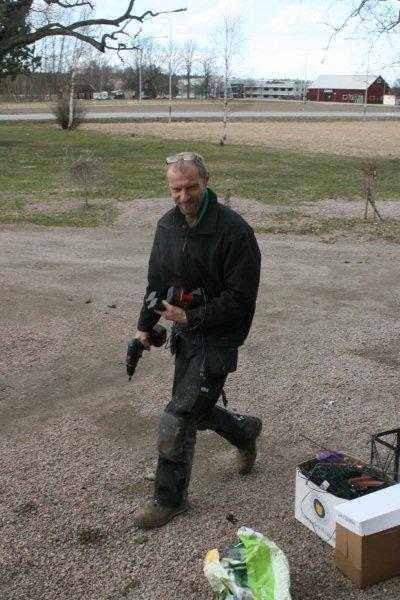 Our garden look terrible now after the long winter and we have asked our friends for help today with some things. first in the morning Arne came with all his tools, thank You......You are always so helpful.
Then Carola and Perfect came...she is the best gardener You can find in the whole world and it looked so much better after some hours, and she will be back....love You!!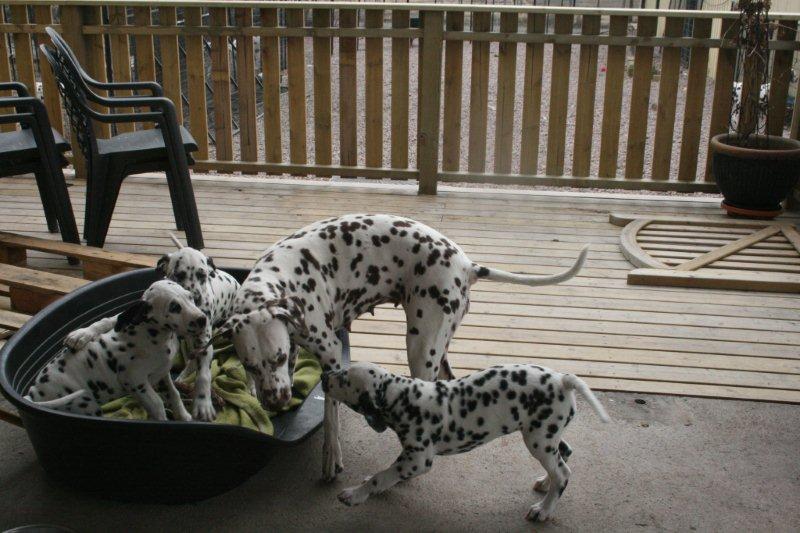 Puffie was so happy to see her children again as she have been home for two weeks with Carola now, and she already look in very good shape in her body.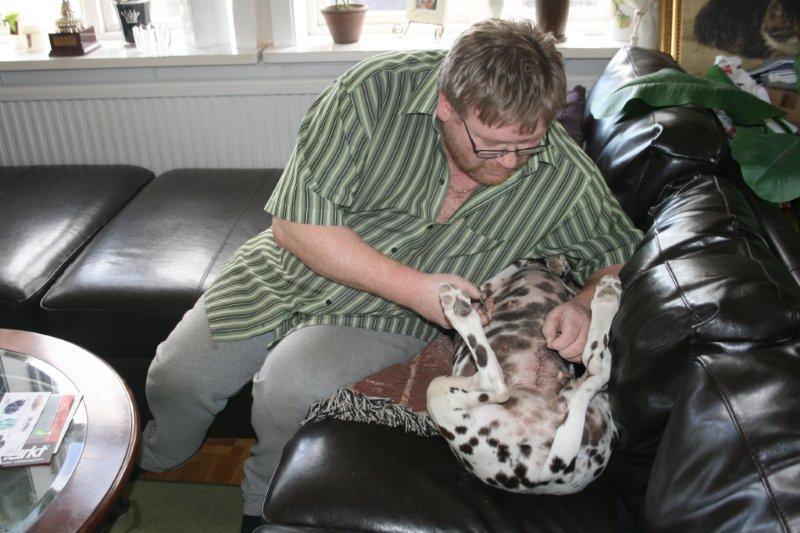 Rune took the stitch so she is now as new again.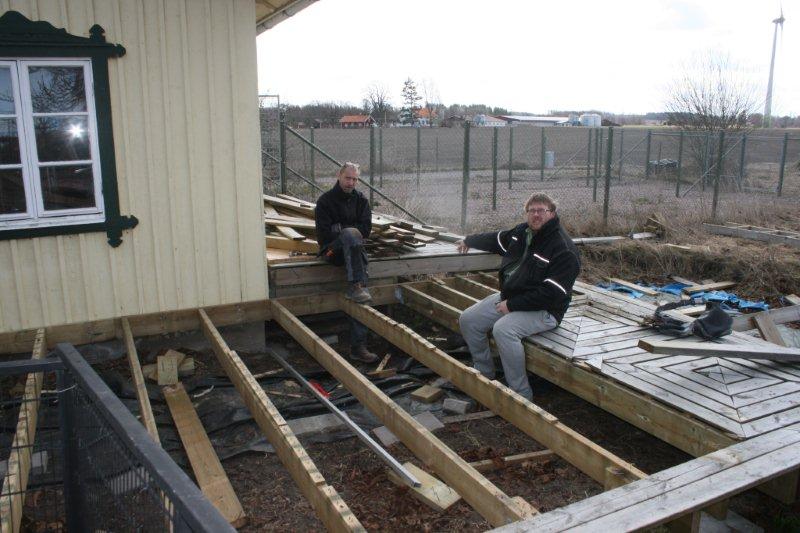 Arne and Rune made a new veranda as the other was broken last summer when we had a too big pool on it and filled it with water. They were out working with this for 11 hours today before it was ready......and then Rune made the dog yard much bigger. And in a while we will order more sand and make it even bigger again as soon as it is that dry on the field that the trucks can come that way.
It was stormy and cold outside today so puppies have to be out just a short time.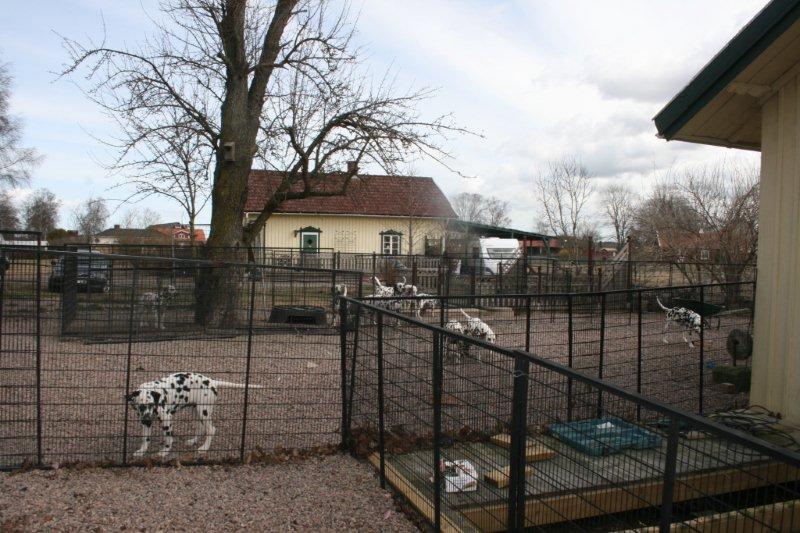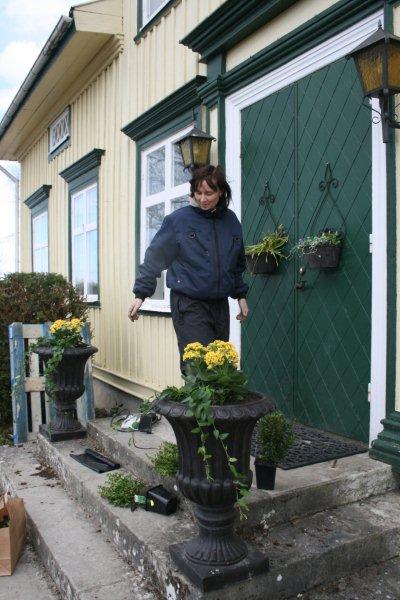 Carola planted some new flowers, even if it is a bit early (the nights are too cold), so we just can hope for better weather, so they stay alive at least for a while.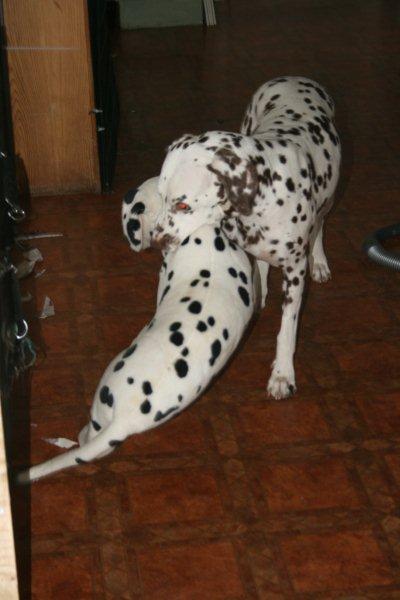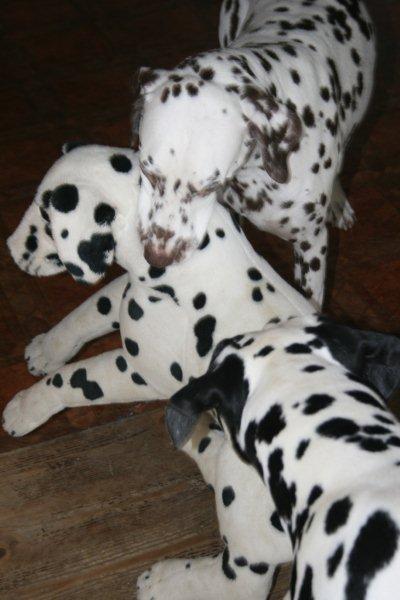 Perfect found the "extra mother" and carried her around the house *S*!!! Daddy think she was crazy!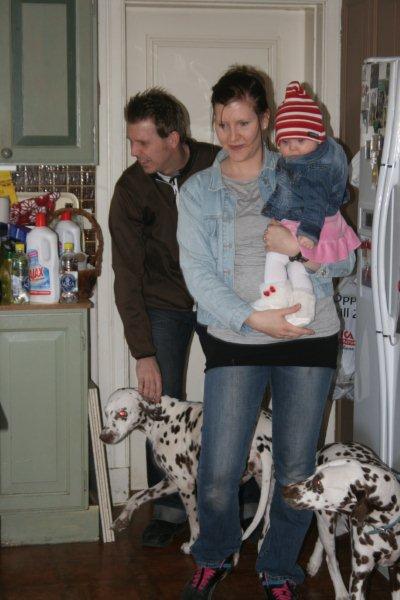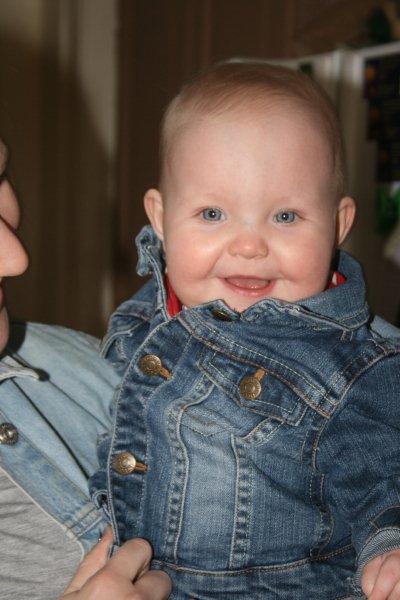 Then came Alicia, Hanna and Jens.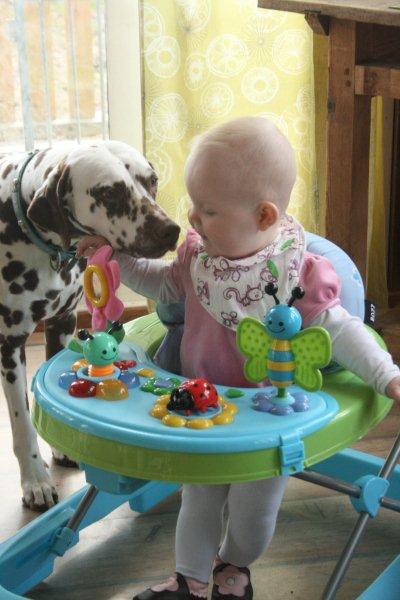 Jill and Alicia were immediately friends.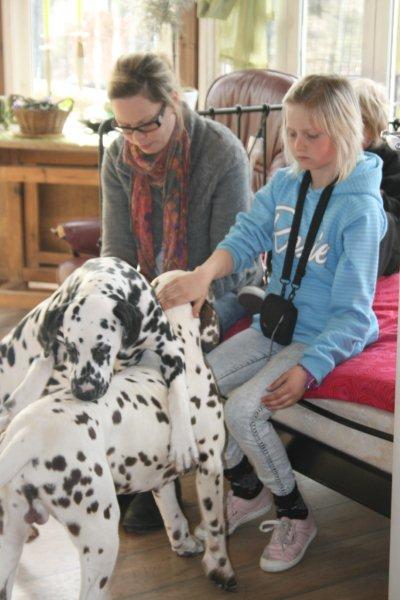 Jennie came here with a friend of her and some of her children...unfortunately Ellie was not with her today.....They have horses and love to be more known with dalmatians as they often meet Jennies Snurra and like her a lot, and Sara the mother have always had a dream to have a Dalmatian in the house....so now it was time to find a nice pet for the family.
Inez and Marc....he charmed everyone in the family.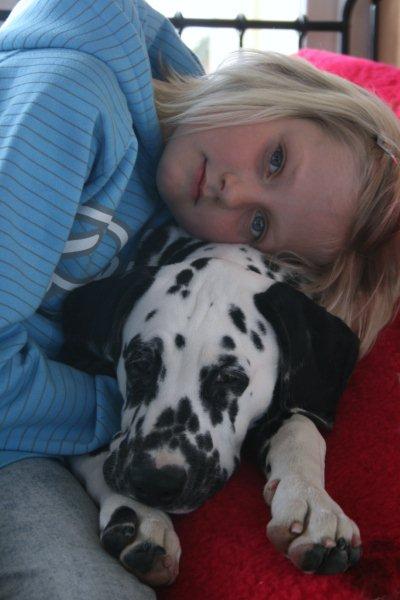 Doris and Marc resting.....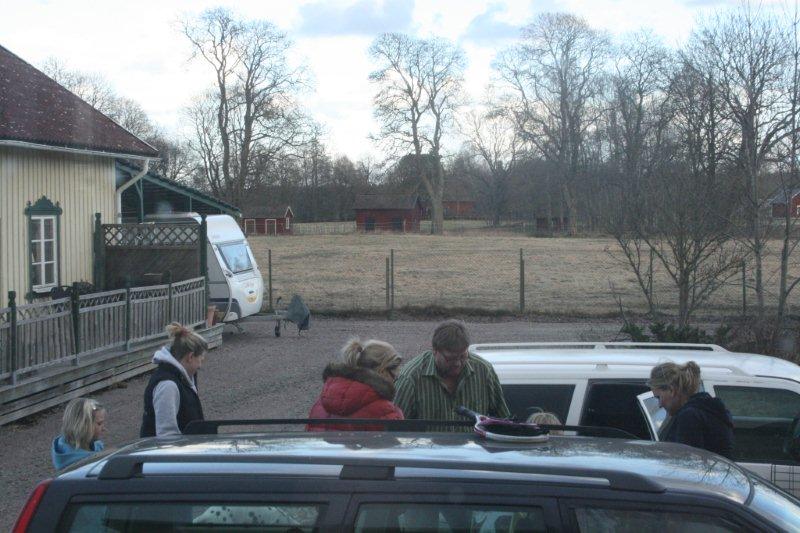 Three dogs and three children and two grown persons and a cage...there were not much space left in Jennies car and it took a while to get everything in place hi hi.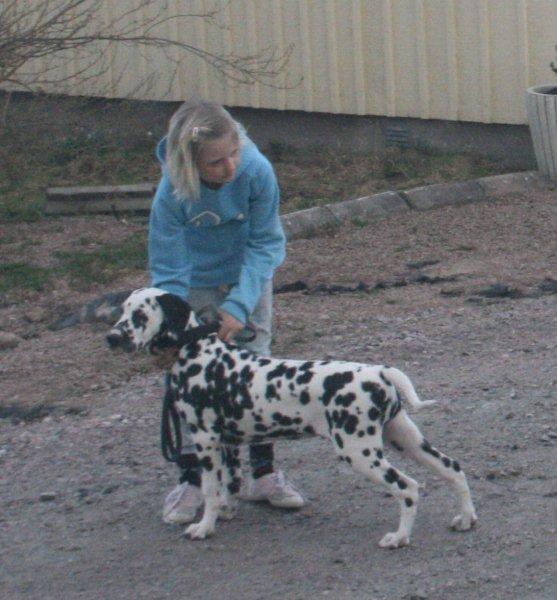 Ooooo I am so fond of Marc and have been since he was born but he is just a pet and we can't use him here unfortunately. I love his strong body and he is a real "Ferdinand"....he will always have a special place in my spotted heart.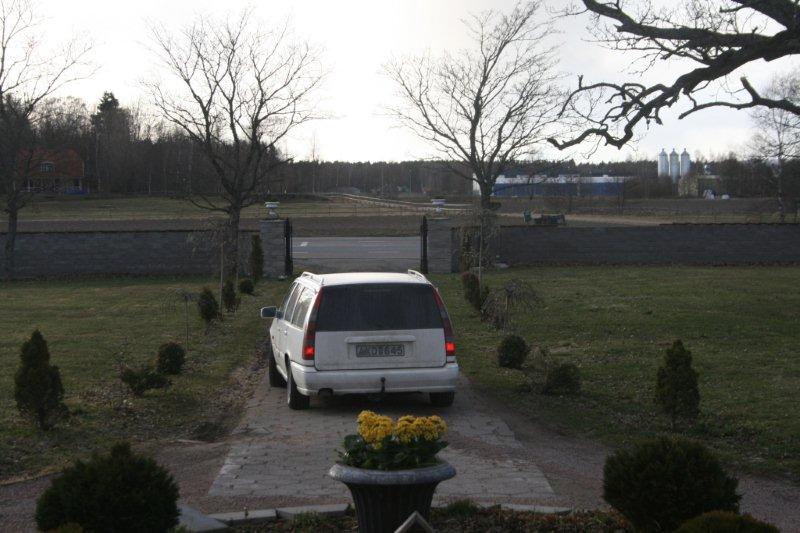 Bye bye Marc, Snurra and Jill.......Jill is following Jennie home for a while as usual. Just 16 dogs in the house now *S*!!!
We were both working on our computers until 2.30......tired.....Yeeeeeeees!!!
Zzzzzzzzzzzzzzzzzzz.
Saturday 17 April 2010
Rune up to take care of the puppies when I jumped in to the shower this morning......but our Belgian friends Christel and Paul have already take care of the "dirty morning work", thank You a lot.......could You stay for a week?????? So Rune could go out immediately and start with the dog yard instead, perfect.
I had a costumer at 12 that was here just to pick up her dress so it was quick done. After that I went in the house and we eat together again.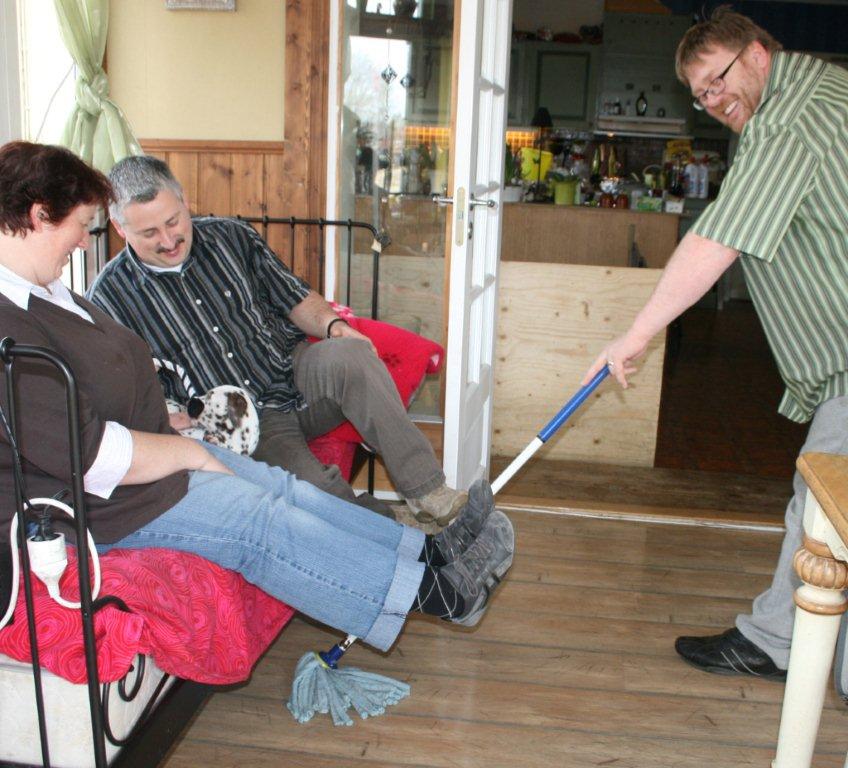 Kitchen floor have to be cleaned even if we have guests *S*!
Then I gave Crazy Daizy a bath and we took care of all export papers and then it was time to eat lunch again, and Rune made bacon gratin Mmmmmmmmmm!
After that our visitors was in a hurry to the Kiel boat so we took a quick goodbye and wich them a safe trip home (in the stormy weather today).......!
Jilloc's Zwedish Design on the way to her new home country Belgium, we wich You all a safe trip home and a happy future.
Lot of paperwork for both of us today so we were sitting on our computers for many hours. In the evening Kristina and Leif came back here after that they have been on their cat show. Eva and Arne came here too so we eat together one more time *S*!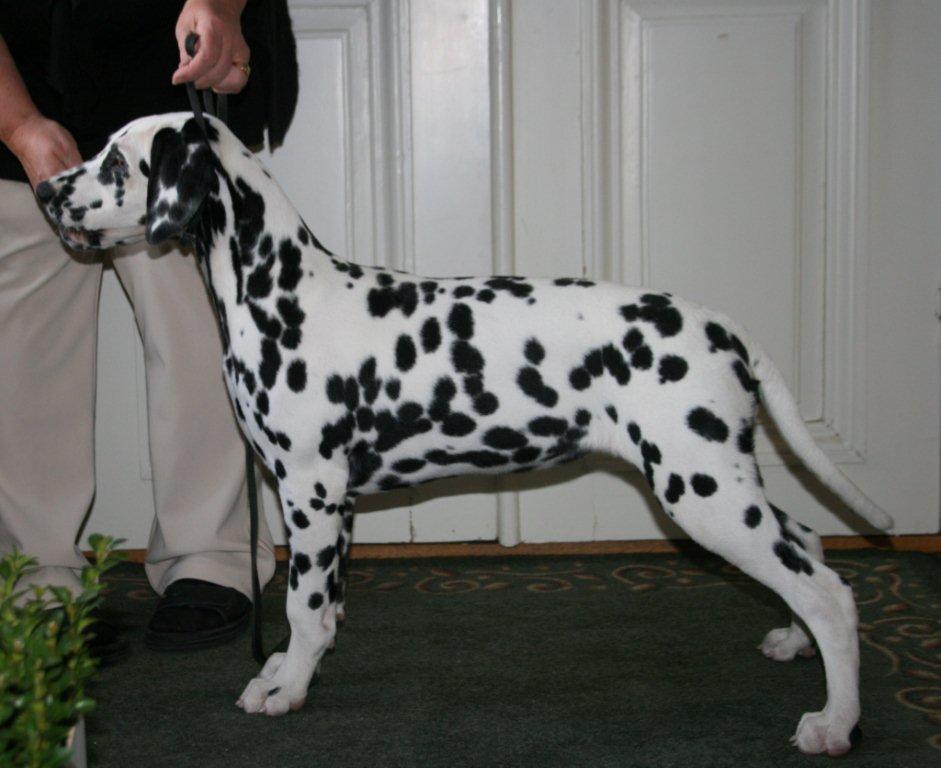 Kristina bring Limit with her home for a while just to give here some socialising with everything, that is so fantastic to have such nice friends that help us with different dogs sometimes, as we have to many young ones just now to give them what they need every day. And their own dogs Windy and Breeze is so kind and understanding for those foster children!
Kristina was happy after coming back home in the evening with Limit...they were so sure that it was one more real Jilloc's dog they have had in the car back home...........As she have been both shitting and throw up in the car many times (Ha ha ha that is what everyone with a Jilloc's dog recognise.........and the strange thing is that if they have one Jilloc's puppy in the car and one Timanka....You can see directley wich one is the real one *S*!!!!)

I felt even more sick today so I have to go to the doctor at Monday to see if I need any medicine or not.
We were up until 4 o'clock in the morning just to take care of all entries for summers dog shows so we entered to them all tonight instead of risking to miss anyone ...it is hopeless to keep all entry date in the head. Perfect we will continue with this in the future.
Hopefully many of our friends is coming tomorrow to help us to make changes in the garden for the dogs......so it will be to short hours to sleep tonight again! Shit!
Friday 16 April 2010
Crazy day.
Before seven o 'clock this morning DSV called and would like to come with more dogfood. Rune have to be quick and carry it inside as the hungry birds eat it up in just some hours, at least destroyed all bags.
I was hoping for some more hours sleep, but after just a short time the phone was ringing again and I talked for almost two hours. I heard that Arne was coming and that the puppies want to go out so I went down and took care of them.
Then someone called and want to come immediately and buy my MB (Oooooo my dear car, that I have loved for 5 years now), I have to sell it as it is to expensive for me to own and that we need to make a new kitchen instead.......But I will miss it!
Jenny came here and helped me to quickly empty the car for ALL things and then we drive to Jonnie and he too all his things out from the car. Then Jonnie drive us to Götene and we met Rune at the dentist and talked to him. While he was at the dentist we went to the food market and collected two "sandwich cake" and one sweet cake for the evening as we are expecting puppy buyers and friends and some others tonight and tomorrow.
Daddy think that everyone come here just to meet him *S* or is he hoping that they are here with a bitch for him.......today he was wrong........
Christel and Paul came by car from Belgium to pick up their puppy Jilloc's Zwedish Design, and Alexandra came from Stockholm to finally bring her Lotta, Jilloc's Ztar Quality home. And Kristina and Leif just came here to say hallo.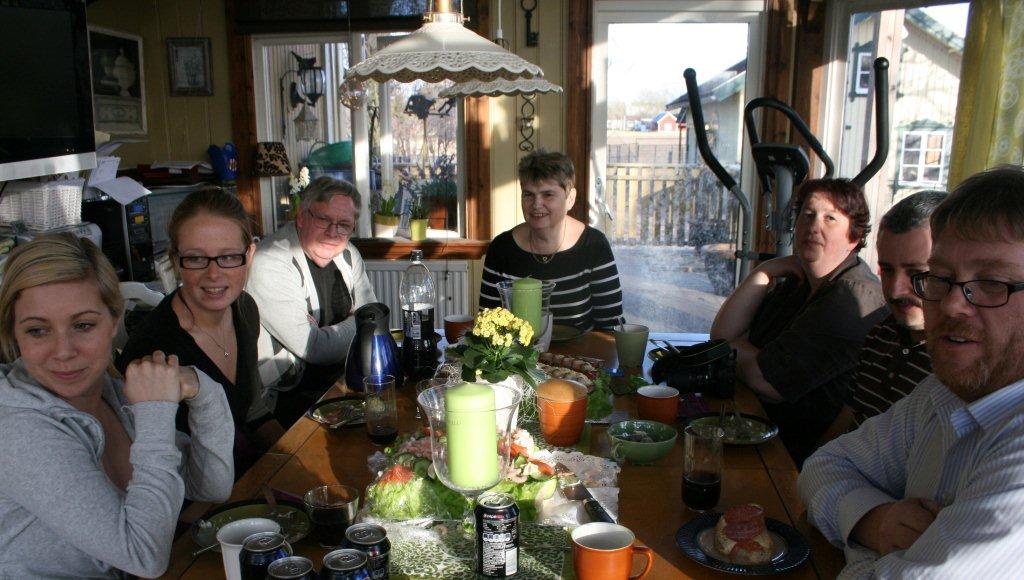 We all eat together and after all paperwork Alexandra and her little puppy drive home to Västerås, to her Dalmatian bitch at home Jilloc's Love At first Sight 6 year old.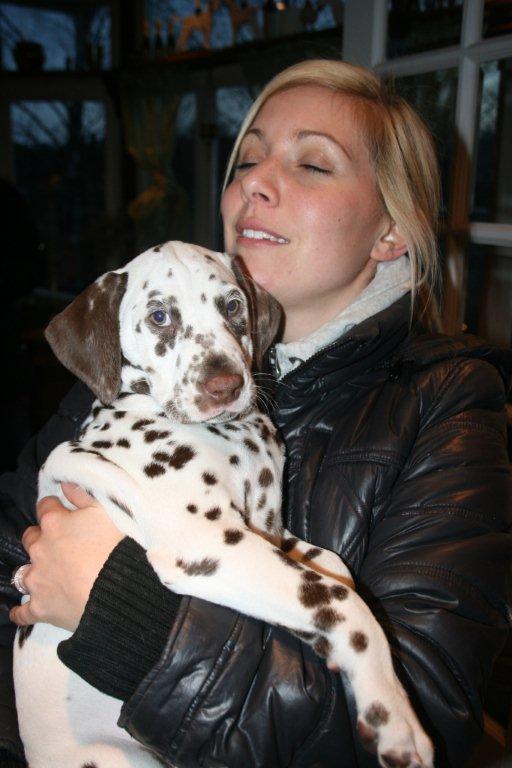 Then it was coffee and a cake. Alexandra used the nice cake knife I got from her and Hanna Penza as a present when I was breeder of the year 2008, it is strong and perfect and have been used MANY times already.
Alexandra was happy that they now are even in the family...before they were 3+2 and now they are 3+3, Hurray!!!
Even if no one of us was hungry anymore the dinner was ready at 10 o'clock and we eat again.......!
Our Belgian friends bring us a very nice bag with Belgian specialities and it was exciting with lot of new things to taste.
Kristina bring toys for our dogs/puppies, and of course Daddy thought they were his *S*.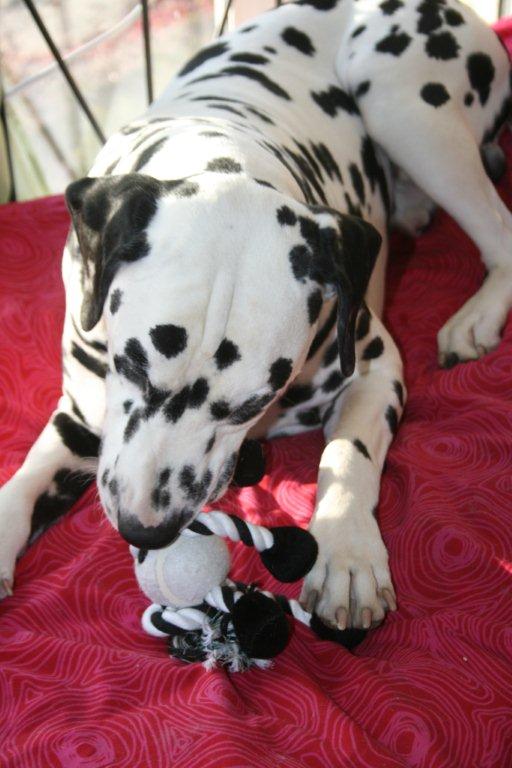 Thursday 15 April 2010
Rune still sick but I think he is a bit better today so it is maybe not my virus he got, because then he will be sick for weeks......as me and Jonnie.
Last week when Arne was up on the loft at our old house to help us to collect the TV cable he found this...an old package to a bottle with anti dandruff liquid...it was for sure older than me *S*!!!! So funny to see!
One of the toilets in ground floor was broken so we had suddenly water on the floor. Arne, our handyman came here to try to help, and he will be back tomorrow morning.
Wednesday 14 April 2010
Jonnie called for breakfast at 9 o'clock and I went down to feed him and the puppies, and let them out (the puppies).
Rune slept for some more hours and I was preparing the car for my trip to the veterinarian with 8 dogs that need vaccinations and to make bloodtest on VIP. Jenny was coming there too for the test of Princess at the same time. Even Eva and Arne was coming soon after me with their dogs but first of all they helped me with mine, and we have to wait for 1,5 hour as there were a dog that need c section first.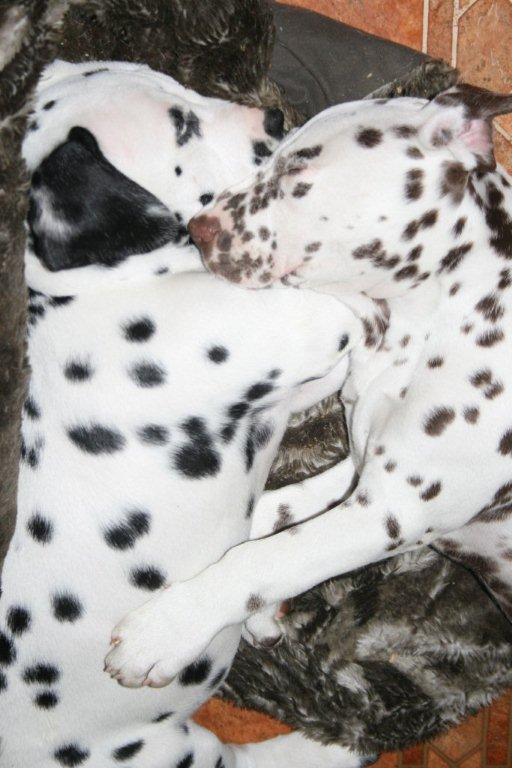 Then we drive to Skara to pick up lot of dogfood from DSV and Arne helped me to carry it in to my car........we even got the new tent from Eukanuba.
Then back home and Jonnie picked me up and we go to the doctor with him again as his throat is worse again, and he got a new longer period with antibiotic. Then to the drug store to get the medicine and then home...soooo tired.
Tuesday 13 April 2010
Rune have to go to the dentist this morning before work so we took the chance to try to take some new photos of our youngsters while Lera was here with her camera.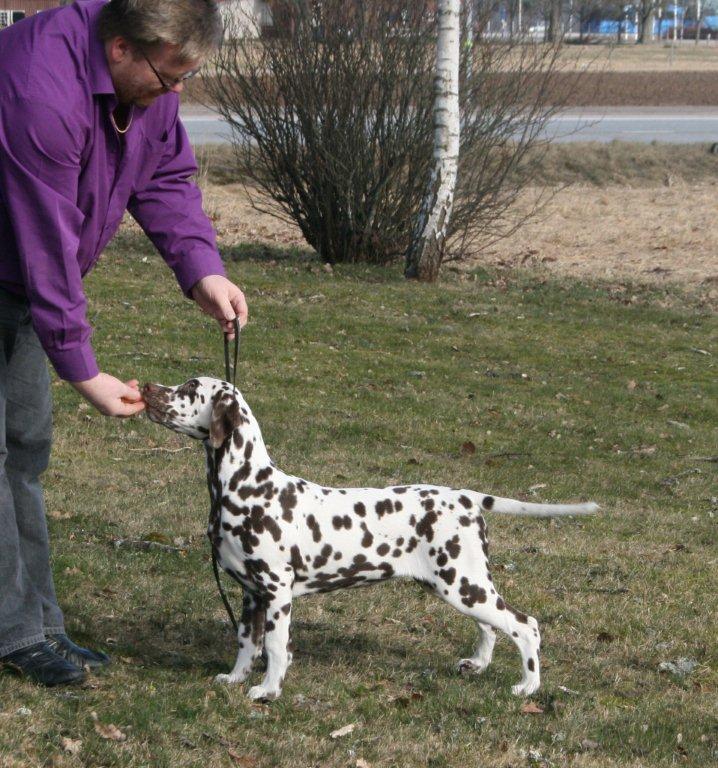 I took this photo with my camera.......ok Ticket is a bit fat but better to much in this age than the opposite!
VIP, JUNIOR, TICKET and LIMIT was what we had time for before Rune have to leave and our friends have to go back to Stockholm for the boat back home again.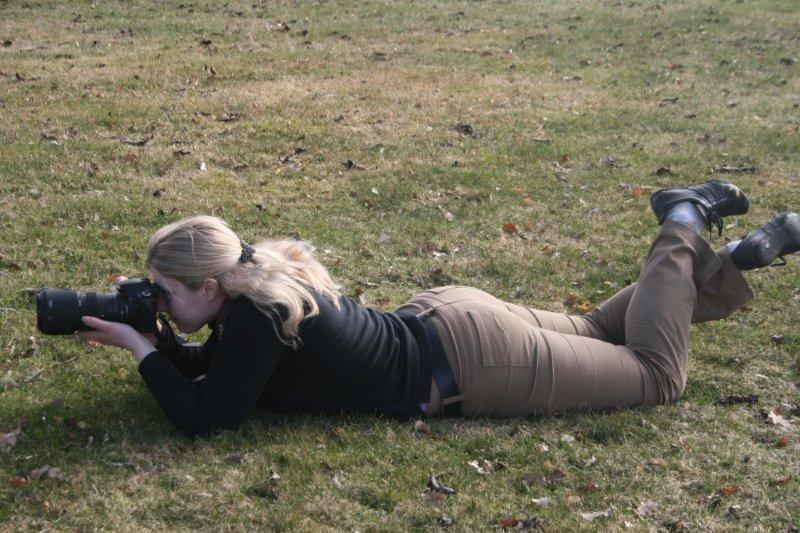 Lera in action *S*! So exciting to wait for her photos!!!!!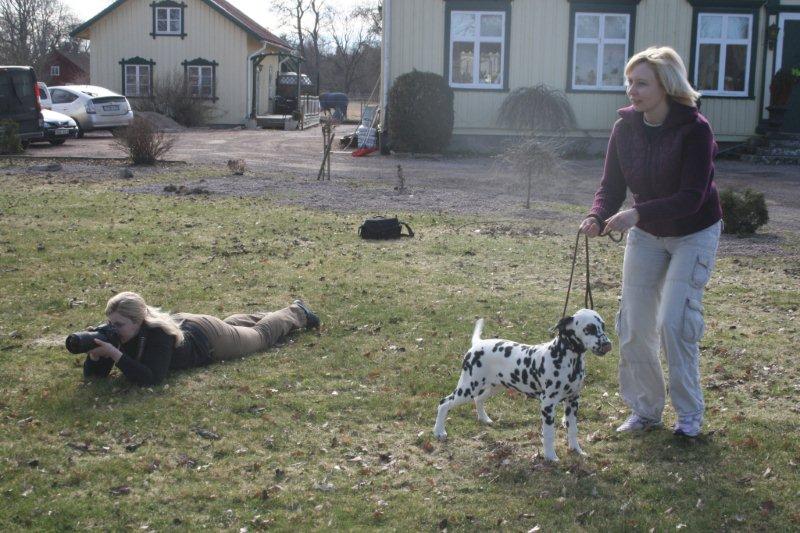 Lera still on the ground and Limit with Irina, waiting for her turn to be a foto model.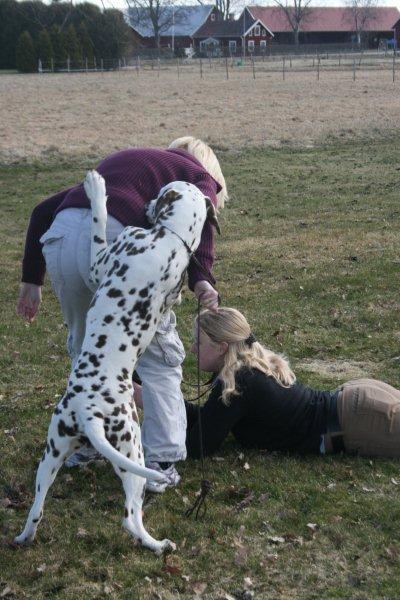 Junior was wondering what those crazy people was doing ....... but Irina and Lera was discussing if the photos was good enough.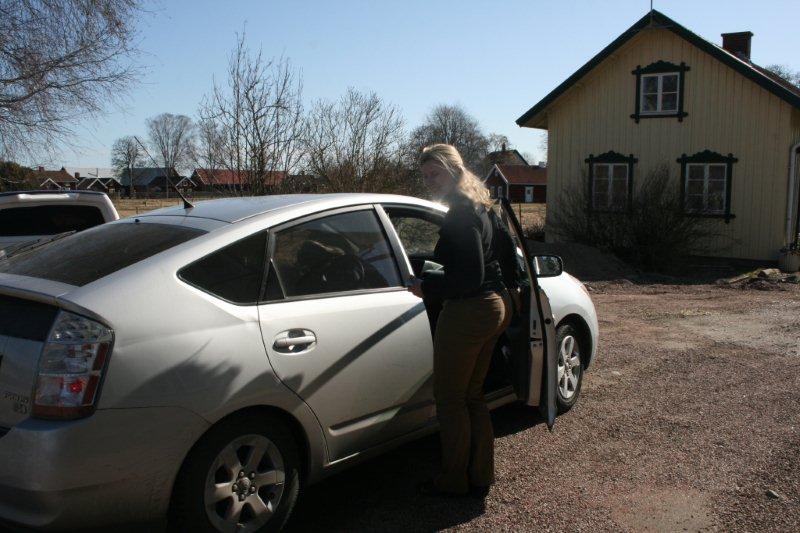 Bye bye see You soon somewhere in Europe again!!!
To the garage today again as it is time to change from winter tires now. Today Jonnies/mine Volvo S 80 got new "shoes". Then we were shopping some food and back to the house and eat.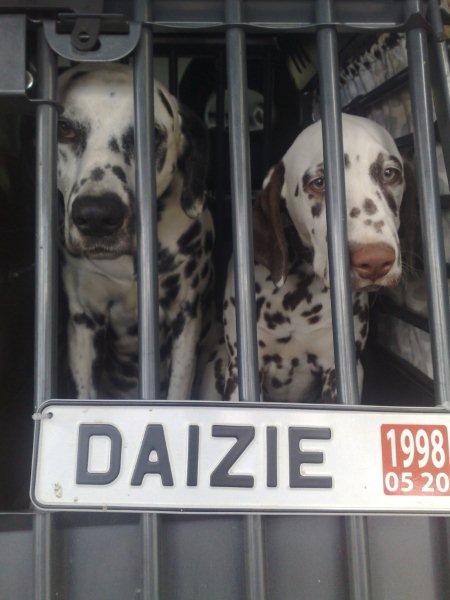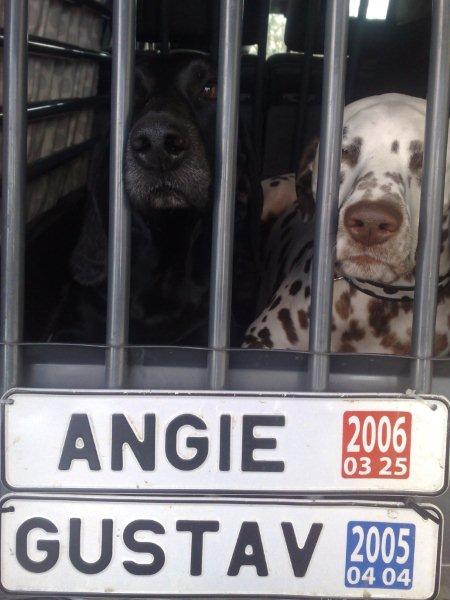 Eva and Arnes dogs....Daizie is born on my birthday in 1998...Jilloc's Diamonds are Forever. Small Gåva/Lova ...... Jilloc's Xtreme Makeover and Angie......Jilloc's Roses for My Lovley Angie...and their black dog of mixed breeds is Gustav....it is hard to see him as he is black as the night *S*!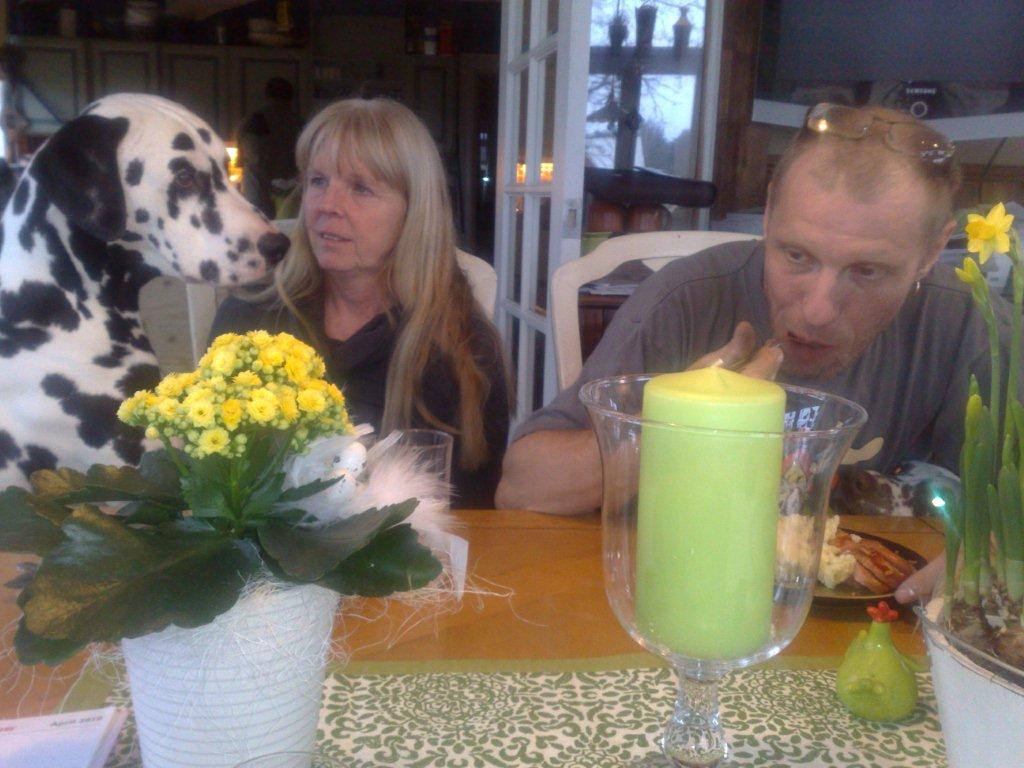 When Rune came from work his was really sick in "my flue"? He went to bed emidiatelly and slept for 4 hours, and he really needed it. Then he was awake for some hours and went to bed again.
Even I went to bed early as I am still so tired after beeing sick four weeks now!!
Monday 12 April 2010
I was driving Jonnie to Skara to leave his car at Volvo again...always something wrong even if they repaired it two weeks ago just before the car show.... for a lot of money!!!
Nice and clean.
But there were many days cleaning and finish before the show. Sanna try to look like a model!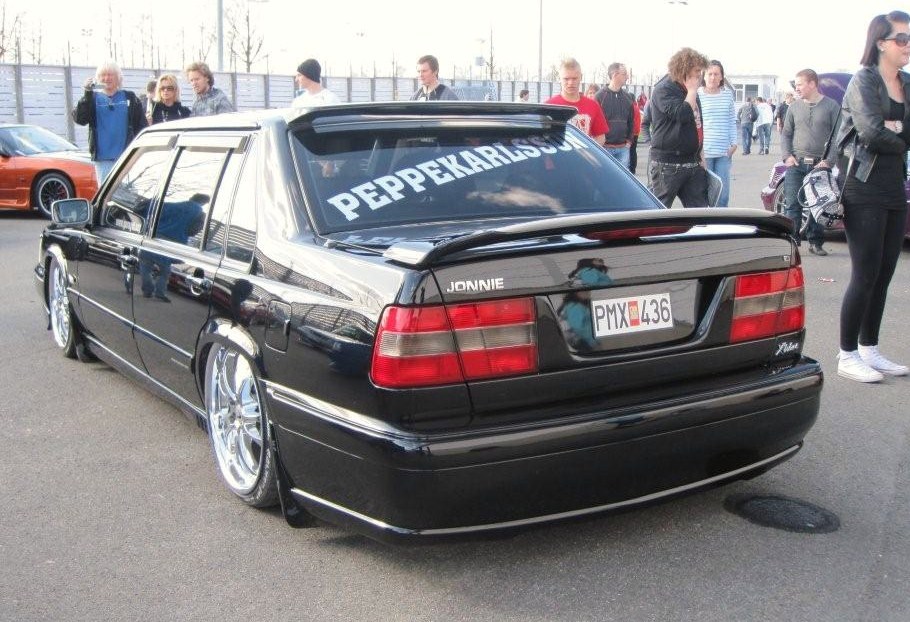 Team Peppe Karlsson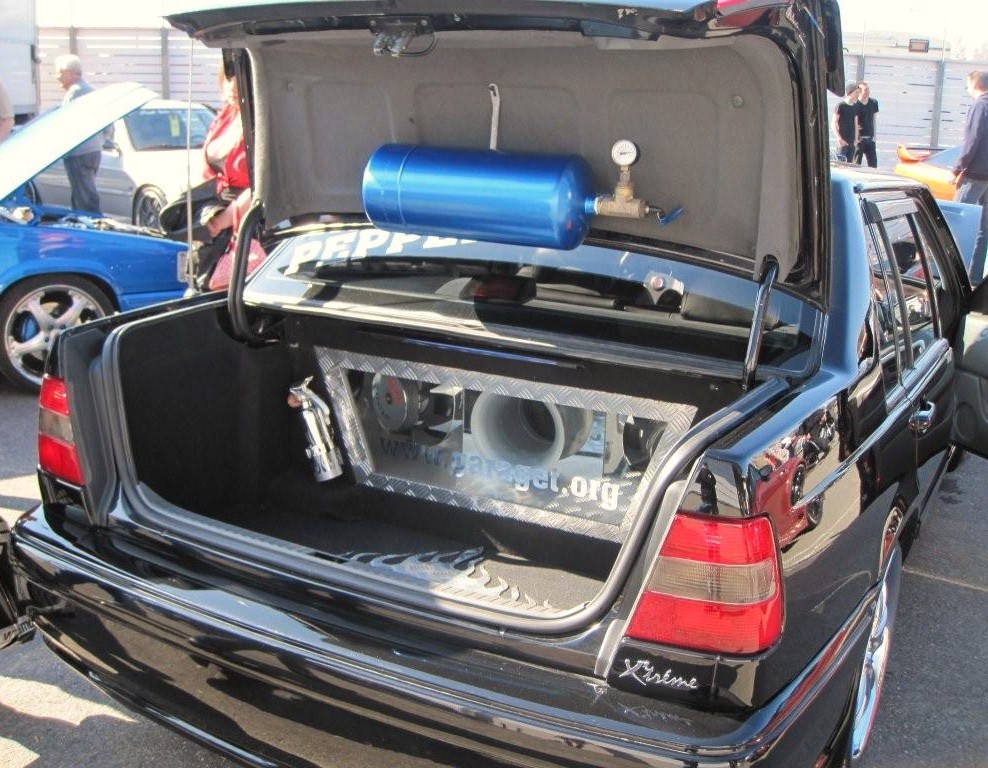 Not a normal trunk to put things in *S*!
I even ordered the same jackets for them with the team name on. Her is Jonnie really sick the day before the show. He had high fever but have to make everything ready as he have been waiting for this day over a year now. So typical to be sick just now, and I think it is the first time since he was very small!
In the afternoon we got visitors from Russia....it was our friend Irina that was coming with a bitch (not her own), for Daddy, but he don't know yet.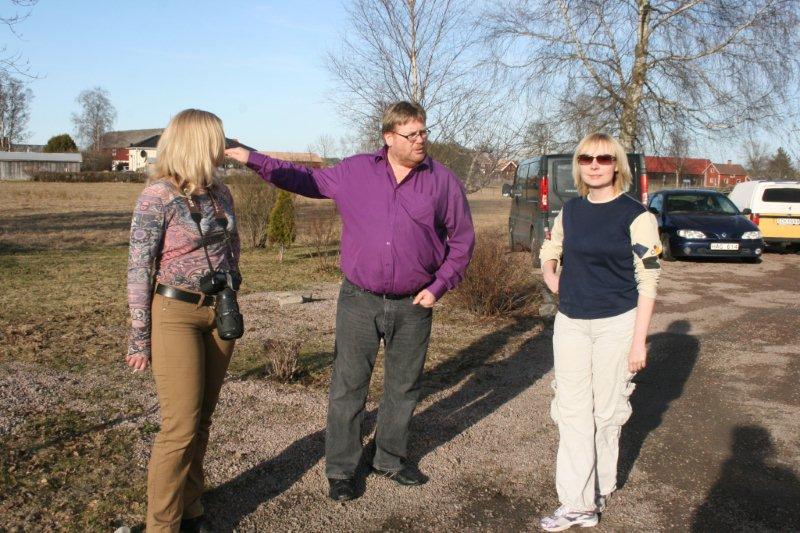 Lera, as we have met before too was with Irina and we had lot of things to talk about...especially when she and her bitch (bread by Irina) beat Gloria in the WW Show in Bratislava last October......!!!
Bratislava.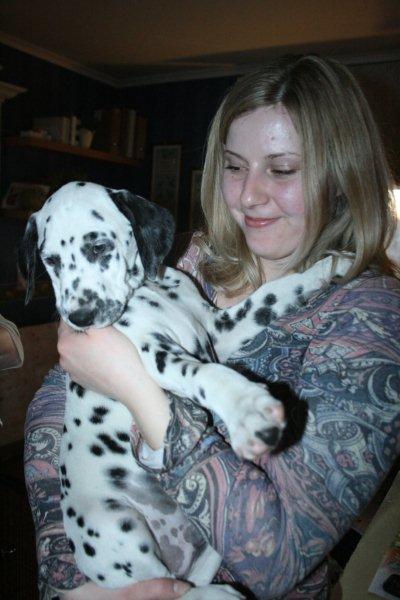 Daddy is always so hungry when we have guests *S*! Lera with Zero!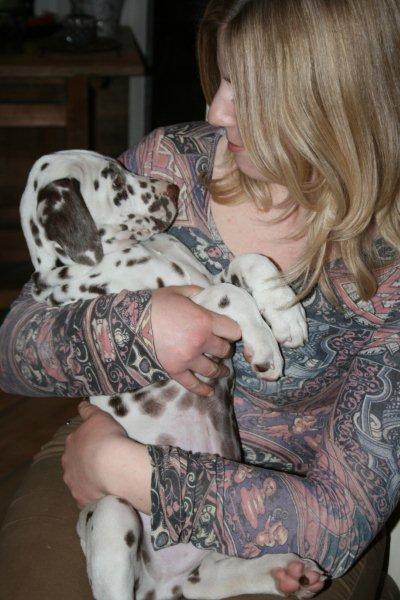 Love at first sight.....Lera and Jilloc's Zenzation!
Of course we were up too late in the evening, there are always too few hours a day!
Sunday 11 April 2010
Home and lot of work in the garden. Rune was out for 6 hours just to clean the dog yard after the loooong winter, but it look so much better after that. I start to clean on first floor again..I do it every week but especially the bathroom can be made every day when my dear "little" son is walking around with his dirty and muddy shoes on white floors. Grrrrrrrrrrrrr!!!

Alberto send me message in the day that DOLLAR, once again have been BOB at an International show in Spain. Oh my god...You are both fantastic and such a successful couple together. I am sooooooo proud, Congratulations!!!

In the evening we were both very tired (as always) and we took the car and drive to Eva and Arne 9 km away to pick up some boxes as I have start to empty the kitchen today and clean all things we will keep after the renovation of the kitchen....we just have to start now otherwise will will never get the mould out of the house.....and it might be because of that we are so sick and tired all the time????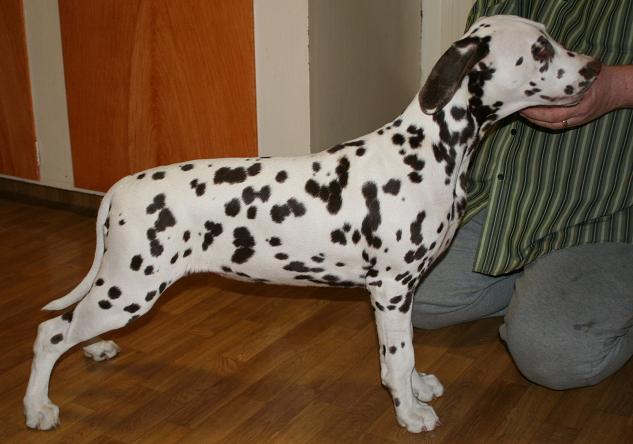 Evas bitch (Jilloc's Xtreme Makeover) Lova/Gåva is so good looking and we love to meet her!! Photo by Eva.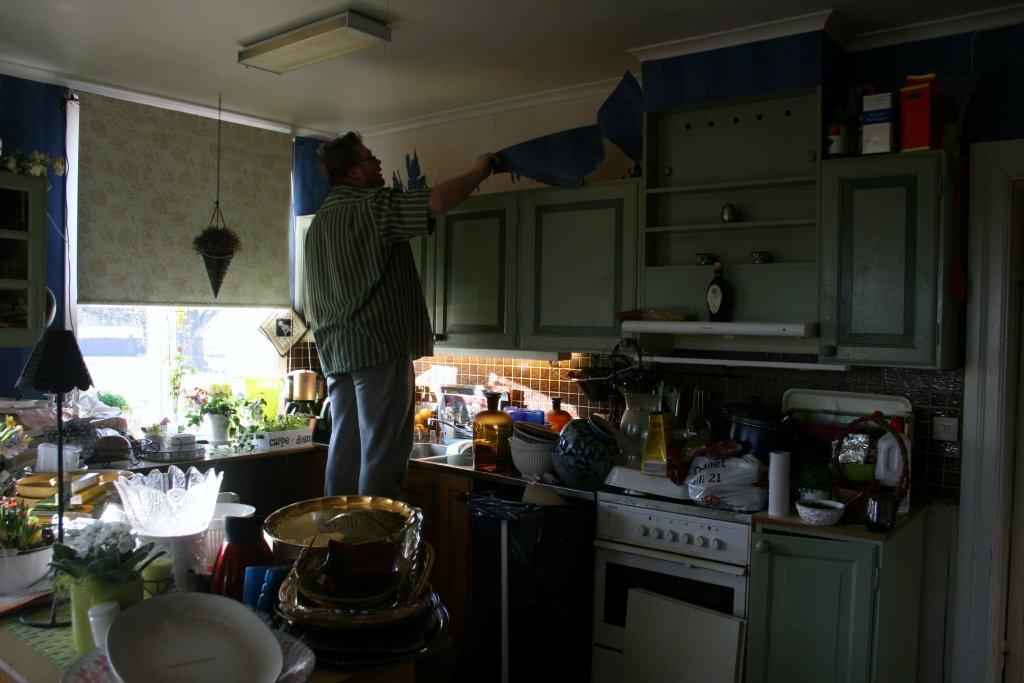 I hate the mess but I love that we finally have been started with this.
Message from Maria that they were at the first puppy show with Eros (Jilloc's Xcellent Lover) and became BOB and BIG 3, Congratulations.
He is such a nice and happy boy, good Luck for the future.

Then we got a phone call from Carl in USA.......Disco (Ch Jilloc's Rich and Famous) have just been BOB on an important show and an hour later they called and told us that he just WON THE GROUP, Oooooo so fantastic!! We are so proud of all those nice boys all over the world.
Bild Disco finns i mail idag.
We were just a quick visit and looked at Gåva/Lova and she have grown a lot and looked soooo nice!!! And of course she was as happy to see us as we were happy to see her.
Then we met Jonnie in Götene and we all buy pizza as we haven't had the time to eat before (too late dinner as usual).
Saturday 10 April 2010
A morning like every morning with some hours cleaning and feeding...no time for breakfast when we were ready as we were going to Jönköping to the Annual meeting for the Dalmatian Club.
Of course a small puppy was playing with us and crawl under the veranda and it took a loooong time to convince him to come back out. Shit we were too late now and when we came out in the car it was empty for diesel so we have to stop and fill it up and it took more of the time that we did not have.
We should have been at the meeting at 1 o'clock but it was almost an hour later when we were there.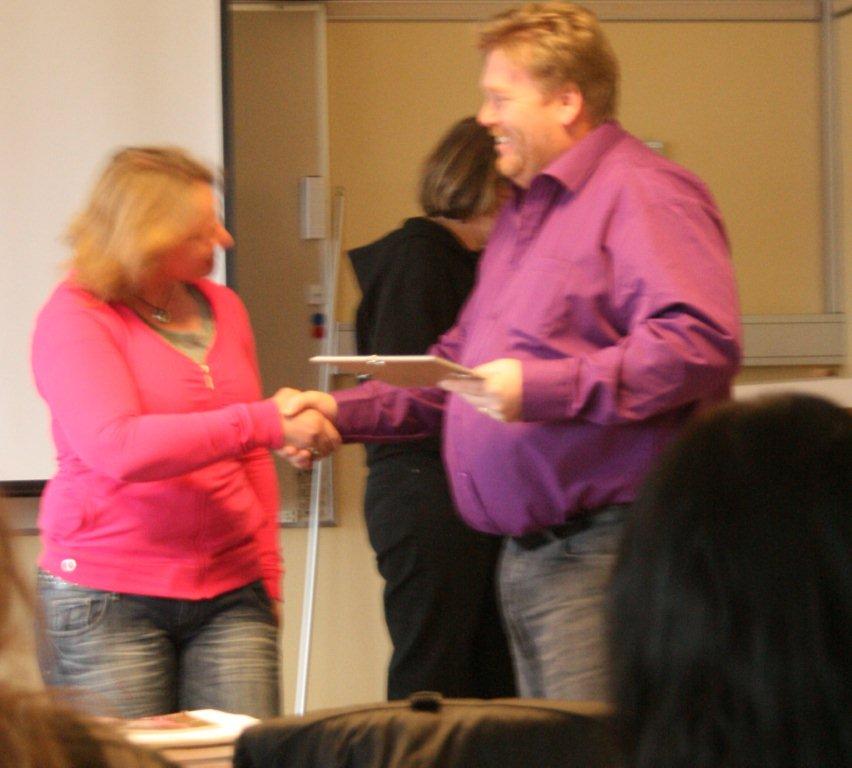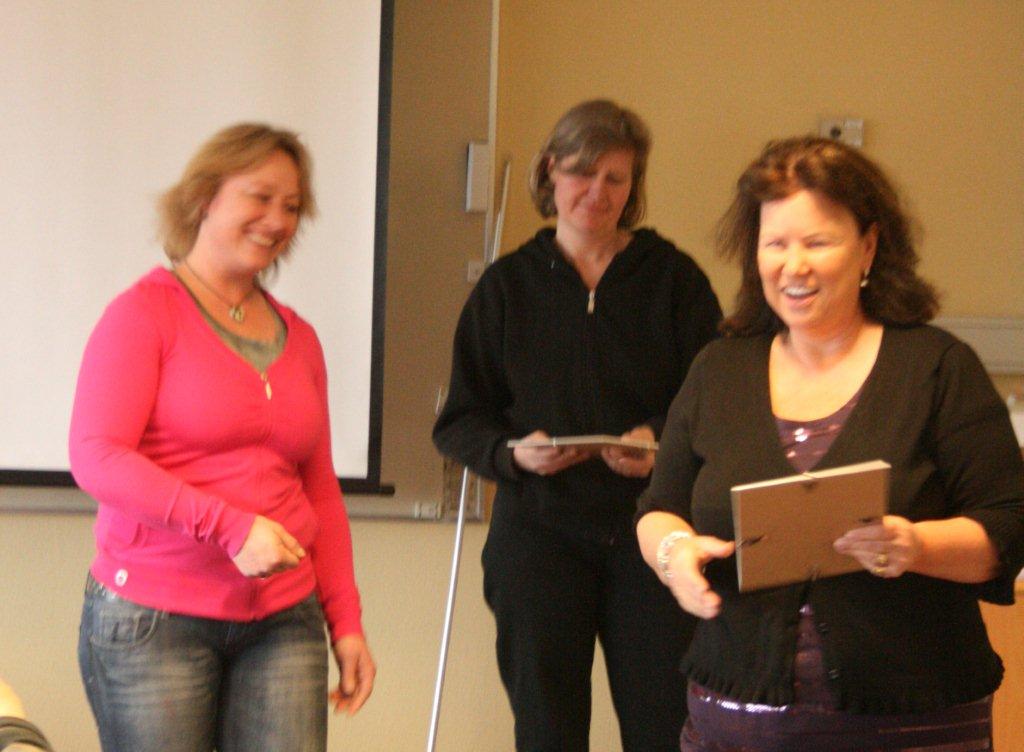 Rune got the prize to Gloria for Dalmatian of the Year 2009, and I took the prize for Best Breeder and Best black spotted, Daddy.
After the meeting we just sit down and talked with Eva and Annelie and Eva, it was so good just to be there without dogs, and have time to talk a little and I have my computer so I can do some necessary things too. That was perfect and relaxing.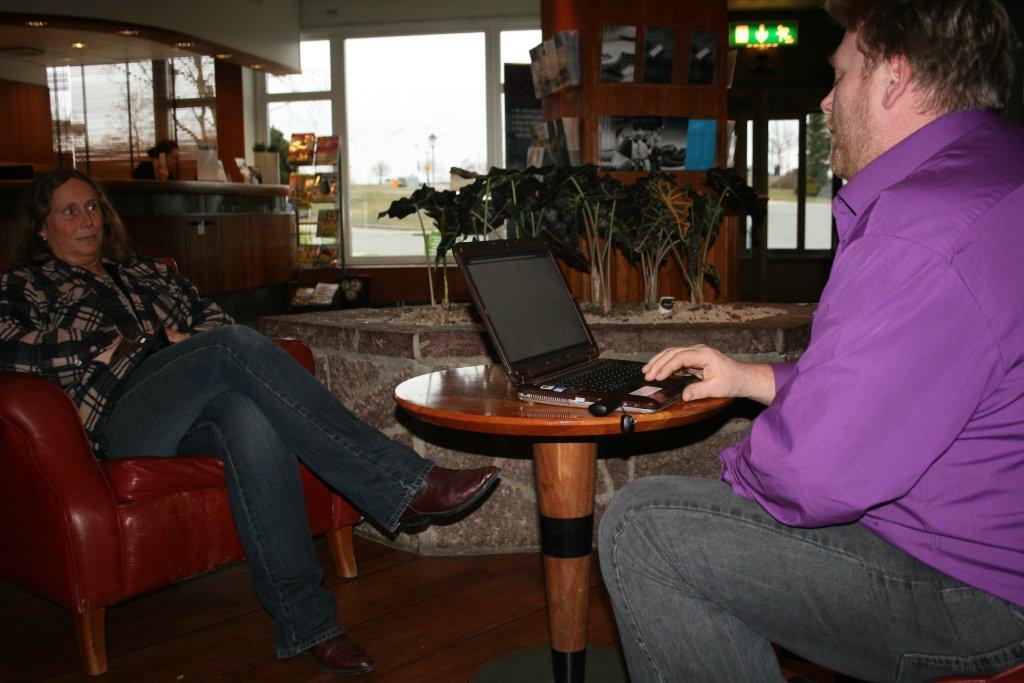 Dinner start at 6 o'clock and we got delicious food, really good and nice made. Two hours later we were on our way back home again, thank God that Jonnie have time to be baby sitting today as Jenny was working and Eva was in Gothenburg.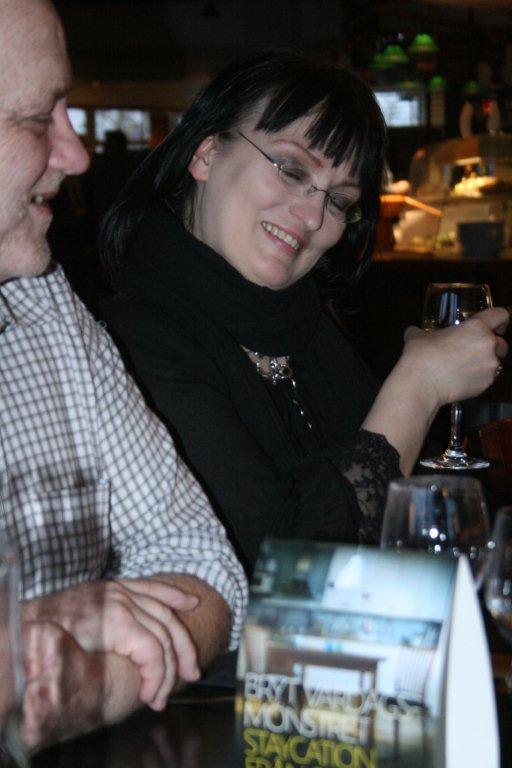 Mrs Bekeris with a glass of chardonnay.....we all eat a delicious dinner.
Friday 9 April 2010
Jonnie up early to drive Roy to the airport...and of course they have to wake me up so I can make some sandwiches they can have on their way to Gothenburg.
Then Jonnie came back after some hours and wanted lunch. I was already so tired and have been up to many hours after sleeping just some hours. I wish I could sleep better in the night but there is always so many sounds in the house from the puppies and dogs that You always is listening for something.
This evening Rune will go directley for a chair meeting and I will have a nice dinner and relax in front of the TV until he is home very late.
But so much happened and I have to make another dinner for Jonnie in the evening and then I felt sick and try to sleep but couldn't so it was not that nice evening that I have expected.
But someone in the house was really relaxed!!!
Thursday 8 April 2010
Shopping in Götene and was at home with dogs as all days. Cleaning, feeding, cleaning and feeding again many many time every...tired of it but so used to it now that I don't even think about it. Waiting for the summer when hopefully some more dogs have moved to their new homes so I just can clean once a day.....!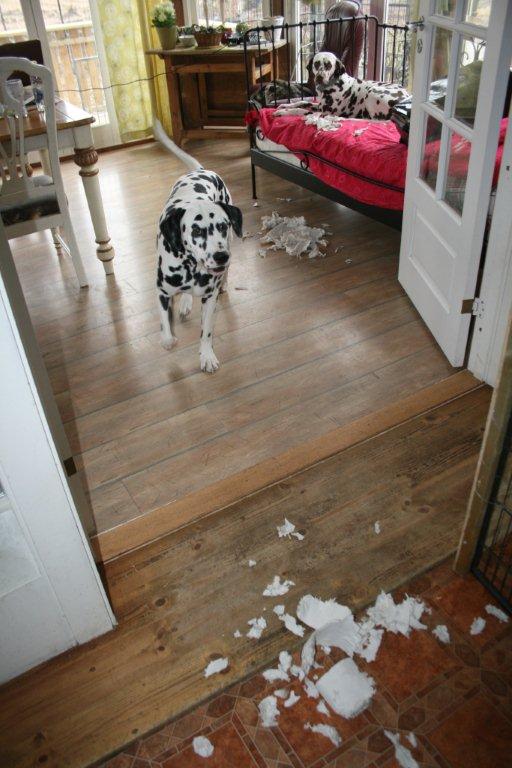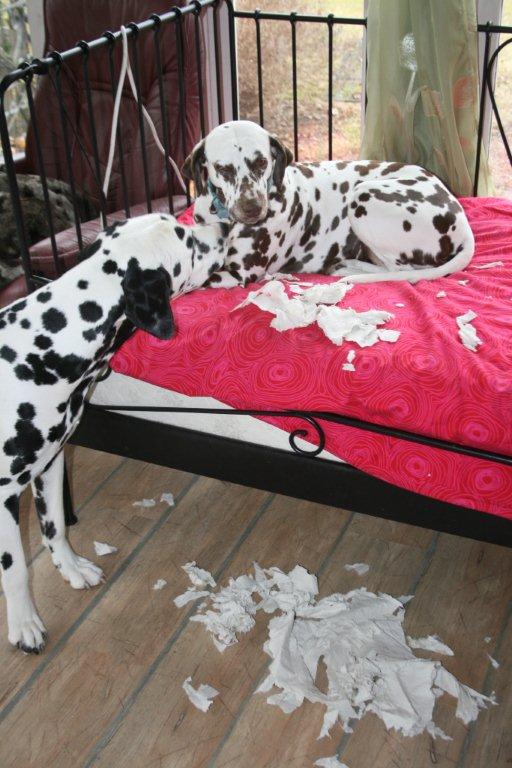 As usual Daddy destroyed something when I was out for a short while....and he tried to talk him self out of it and give the blame to Jill....but I know him....my stupid dog *S*!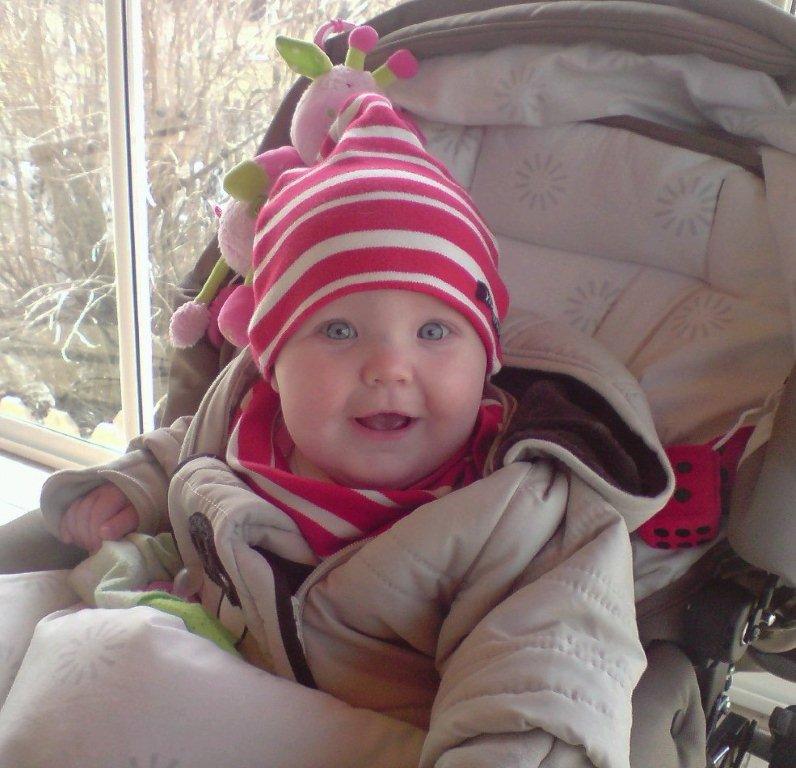 We haven't meet Alicia for a long time now as we have been sick but she seams to be happy anyway *S*!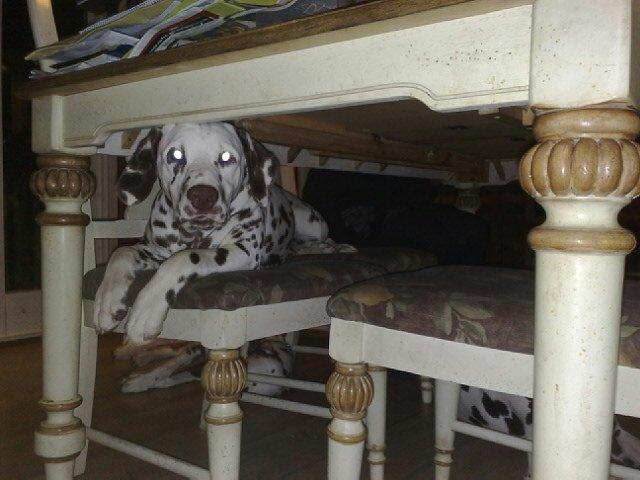 Junior think he is a cat and lay on the chairs under the kitchen table *S*!
Wednesday 7 April 2010
I am going to my dietist today, and she is now after some years more than a friend that You meet some times every month. We have lot to talk about as both our interest is food of different kind.....she suggest healthy food and I eat healthy food, PLUS lot of shit food, and love it but hate it at the same time *S*!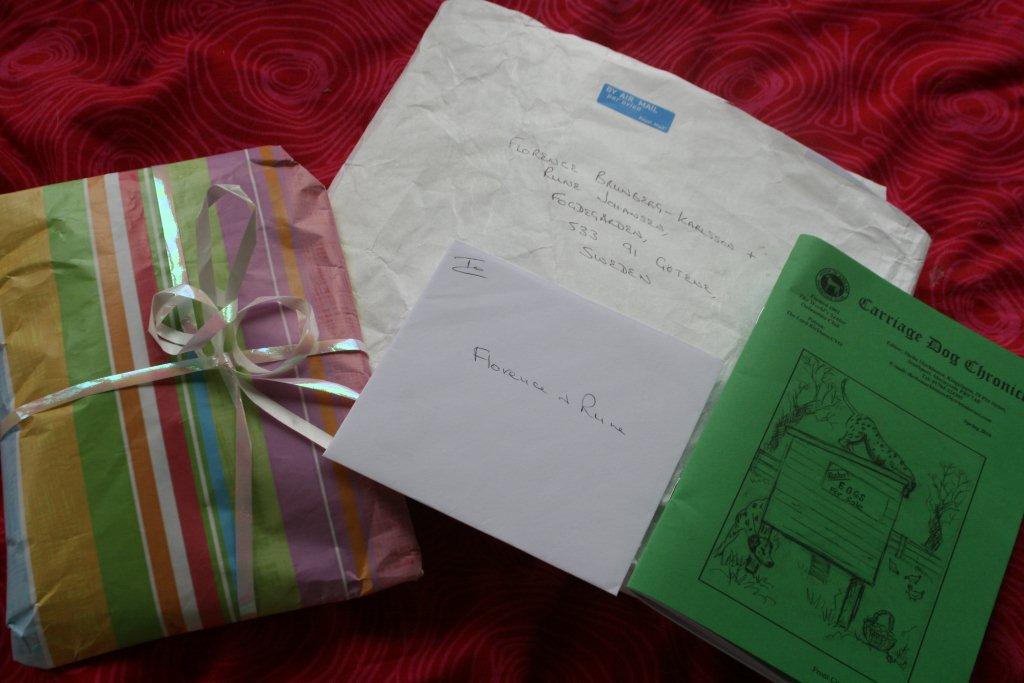 From my dear and kind friend Sara in England we get surprise package once in a while......Thank You soooooo much!!!
I got a big spotted scarf and a magazine from England where the English judge that was in Spain at a special dog show have written about Dollar when he became Best Male there...thank You soo happy to read that.
Hope to meet both You and Your family and grandma this year too.
Nathalie sent a photo of Eddie baking bread, good boy!!
Tuesday 6 April 2010
To the doctor with Jonnie again he have got my flue but many times worse than me (or is it that he is a man *S* and complain all the time). He have been on antibiotic for five days now but is even more sick than last week.
Today I have to ask the old doctor to look in his ears....he just talked to him ...the same as last time...And he said : What have we here????? Yes- yes the eardrum is about to crack and when he looked in the other ear he said that it will be broken any second??!!?? Yes......and what can we do now I said......Yes, this will hurt he said. Jonnie was almost on his way out he was almost crazy of all his pain. Can we change the medicine to something better I asked and he said that we can do it IF I WANT it.....of course I said as the other medicine haven't help him...for five days. Sigh!!!!
We are all tired now that never feel ok, but it is probably this time of the year for all of us.....It is my third week now and I wait and wait to stop coughing, especially in the night. Thank god that Rune is ok.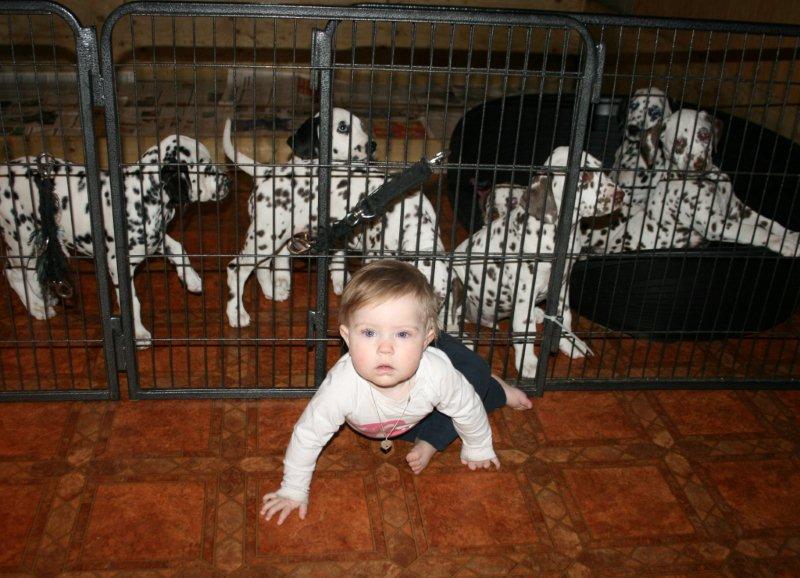 Elvira in front of the puppies.
Elvira is sick too but happy anyway!
Monday 5 April 2010
Thank god it was a free day today too, especially for Rune...we were soo tired last evening when we came back to home after 20 hours on tour!
Today the first puppy will leave for her new home.
In the middle of the day after we were ready with all morning things for all dogs it was time for our breakfast/lunch and it was perfect that Linda and Ingrid came then so we could sit down and eat together. (Don't know what we will do to get our life in the right direction......we have had it like this for so many years now that we think it is normal to have our hectic tempo every day, but we would like to change it ....but how?????)
I am still so tired of my two weeks flue now and we are afraid that even Rune will be sick....no time for that.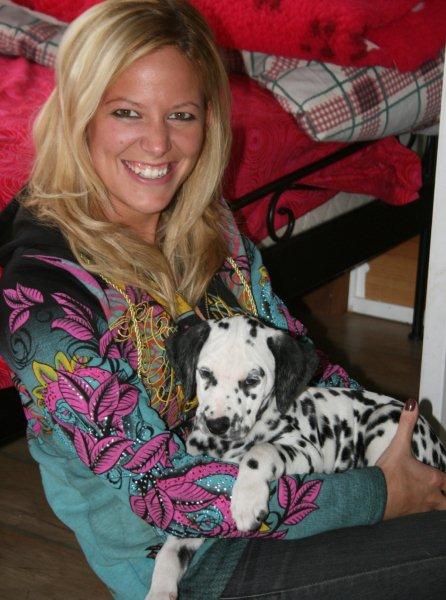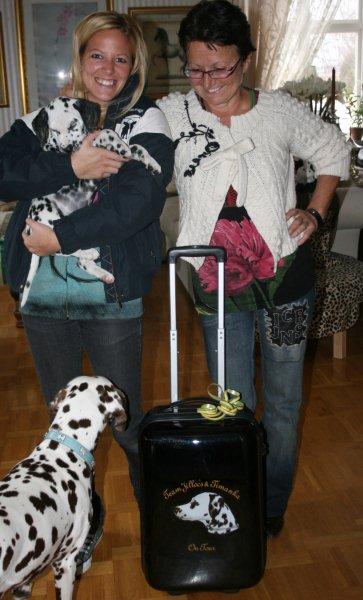 Linda and Roxy.
Love at first sight, some weeks ago! We got an fantastic gift to bring our dog things in on our tours, Thank You so much....there are already so many that are jealous of us for this special bag!!!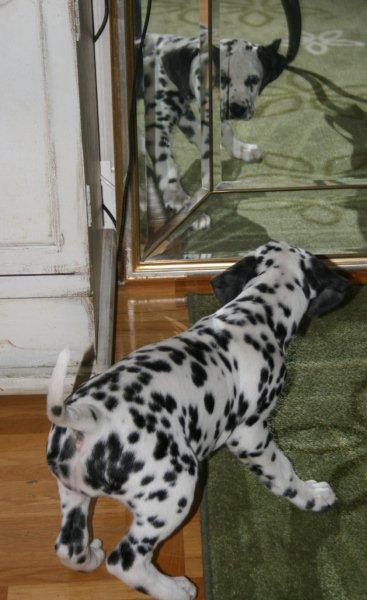 Jilloc's Zexy Zister was wondering wich dog there were in the mirror *S*, and she love to use the computer (eat it up I think)!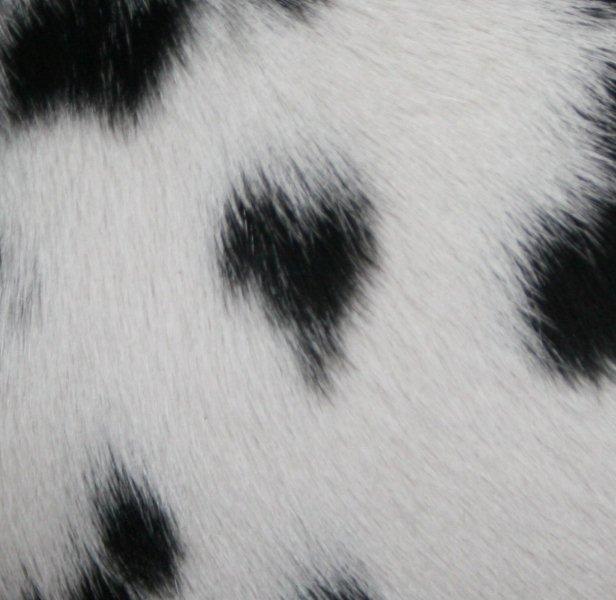 Of course we found the Jilloc's heart on Roxy!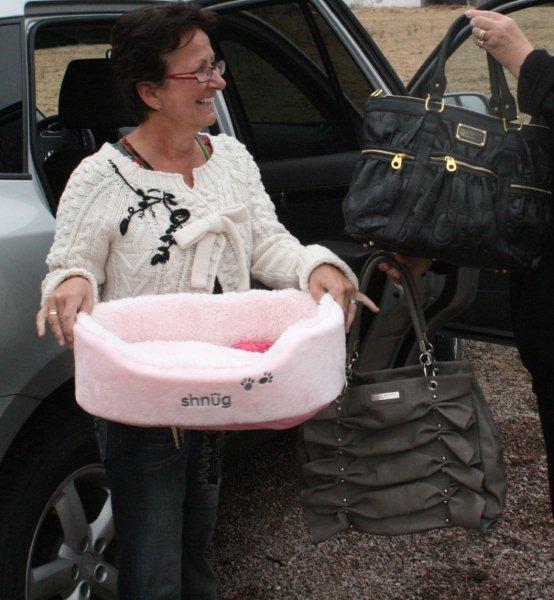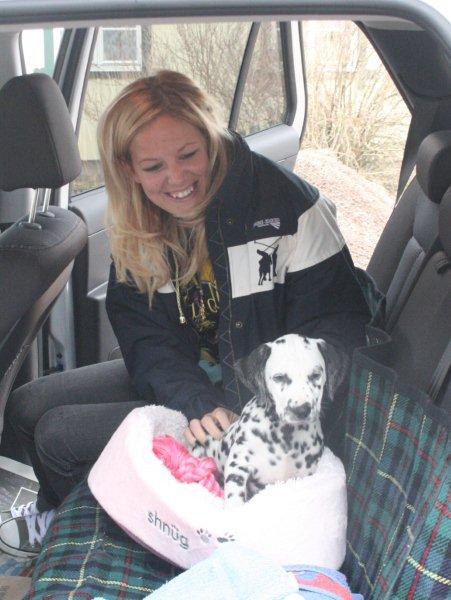 Ha ha ha this little princess bed will be to small already tomorrow (Ingrid told me that after 48 hours it was destroyed anyway *S*). I was wondering if Roxy was a real Jilloc's dog as she did NOT through up in the car.....every Jilloc's do. If Rune and I have two litters in the car at the same time You can see that all slimy and sick puppies are Jilloc's and all Timanka puppies is dry and sleeping...we still wonder why?????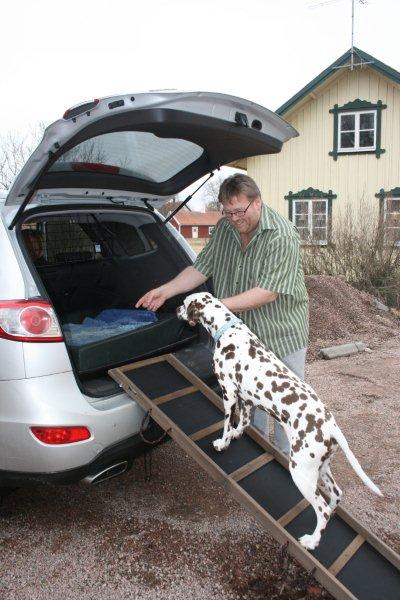 Ingrid have bought a special ramp for their old dog to use when she enter the car...and we let Jill try it. So perfect for both young and older dogs....as it is not good on jumping to high.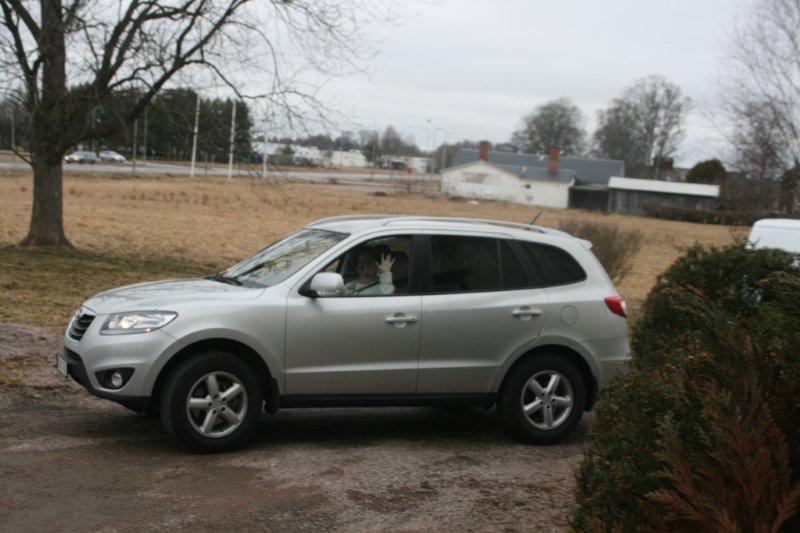 Good bye and good luck with Your little girl.

Roxy is already a little naughty girl *S*!
Sunday 4 April 2010
International Dog show in Stockholm, Judge Eva Eriksson.
I was so damned tired after just some hour sleep so I was thinking about to stay at home today....but when Jenny came I decide to take a quick shower and then I took training clothes and my pillow and lay down in the backseat in our car. When Jenny watch Rune driving I can relax...otherwise I am so afraid that he will fall asleep....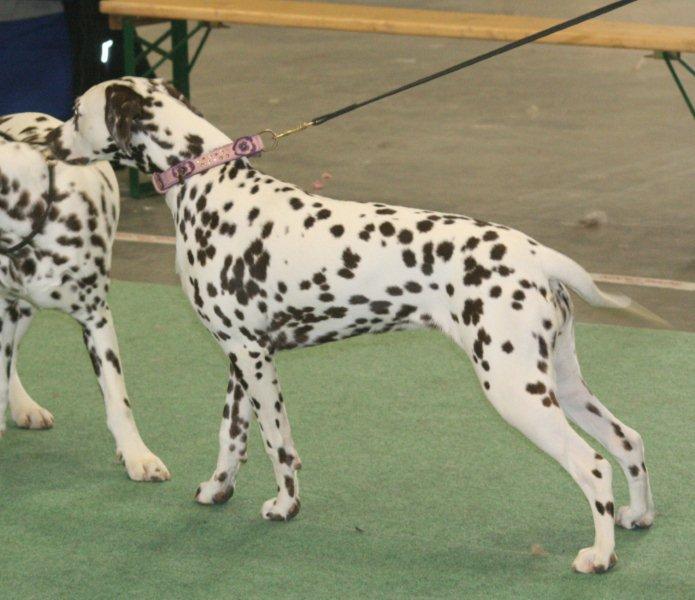 So happy to meet J Victorias Secret and Marie-Louice again....we haven't seen them since she leave our house four months ago.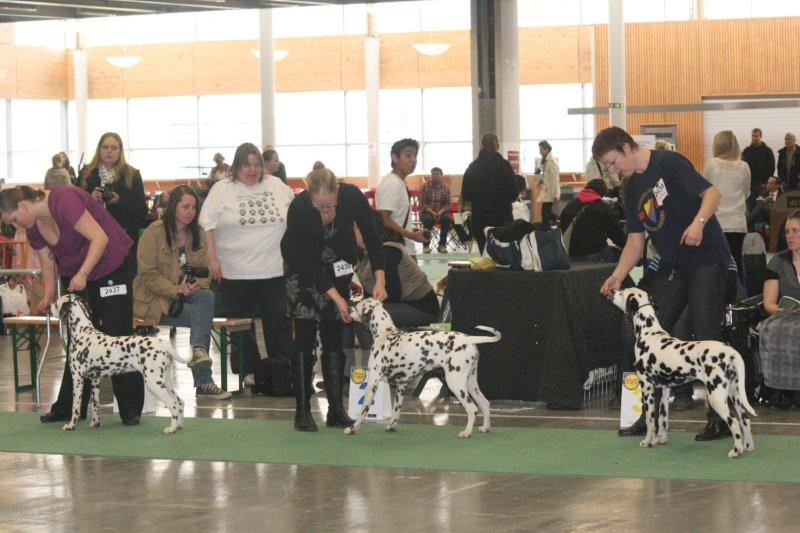 Three puppy bitches today. J Victorias Secret, J Vote for Me and Ylva with her puppy from Stream Island, I think. (Tell me if I am wrong).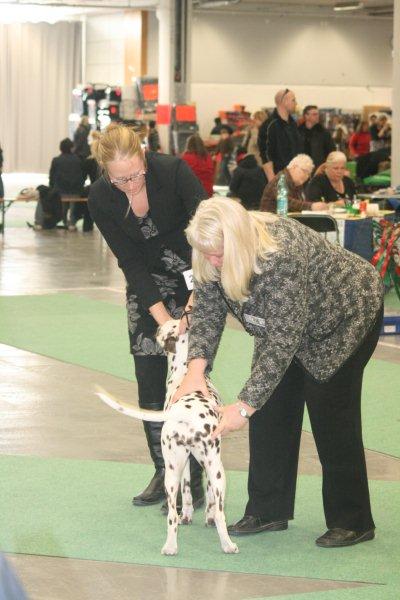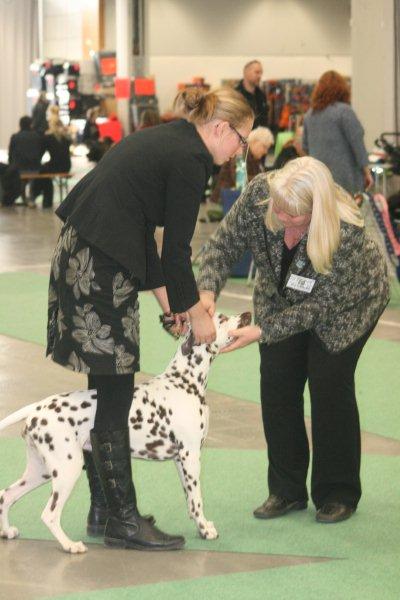 It was not that easy to keep Princess with all four paws on the ground...ha ha that crazy happy girl!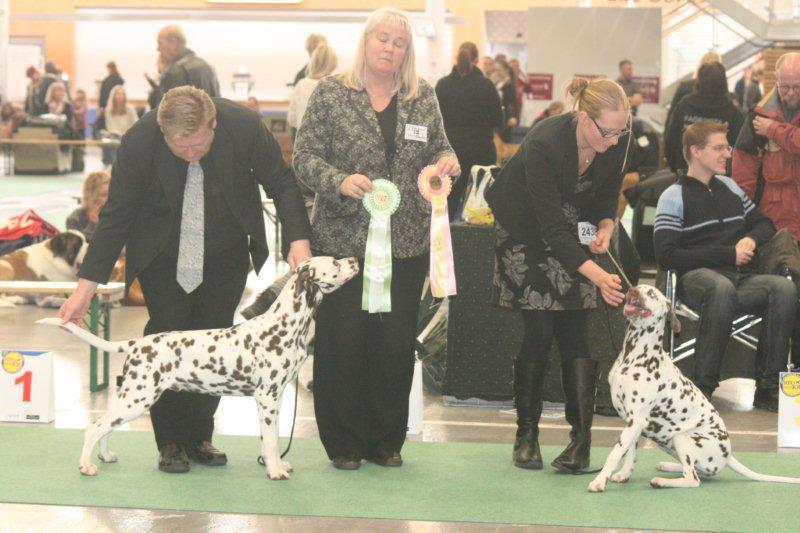 J Vic Junior BOS Puppy and J Vote For Me BOB Puppy today, Congratulations to You Jenny and Princess.
Here at the photo the judge just have taken the green and white kokard back from Princess mouth...she jump up and steal it ha ha..but she took the wrong colour...sorry that I and David missed that funny moment..my camera is tooo slow in such situations!!!
Maria showed Skvå Inu My Black Rolex today and he start to get much more body than last season, that is good. Rolex is a son of our Loverboy and Jilloc's Puzzle Piece for Skvaa, bread by Bente Ovnerud our dear friend in Norway.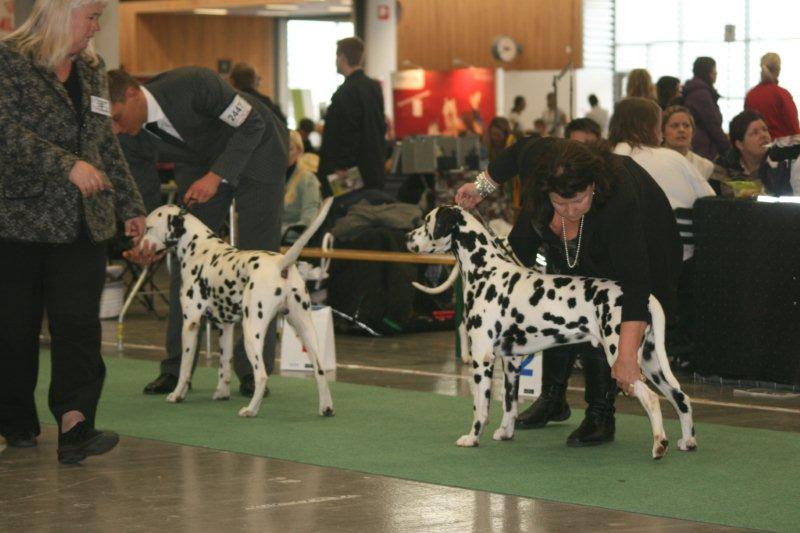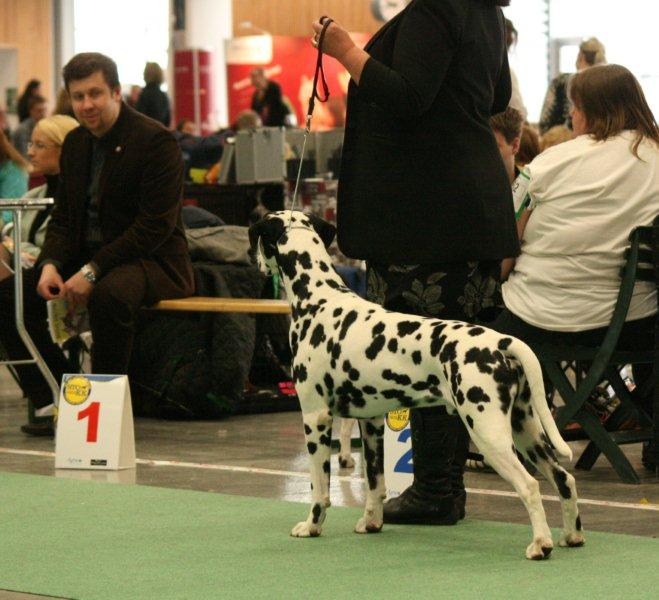 Two males in championcalss today.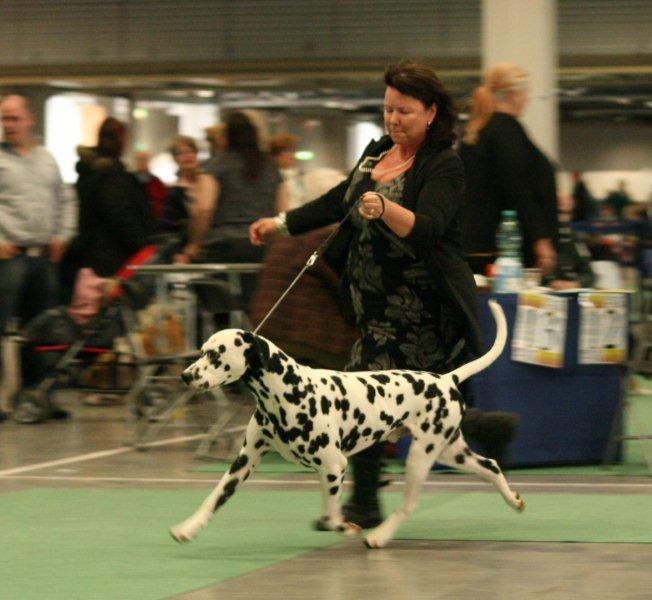 Daddy on the run.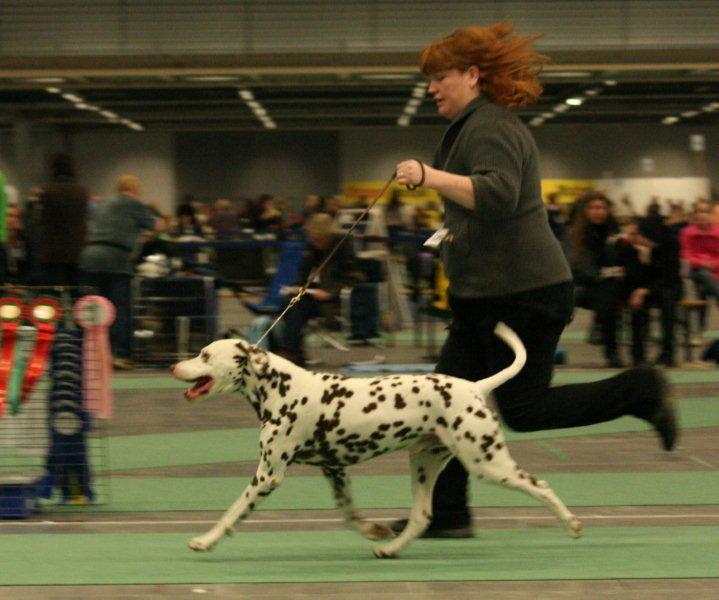 Best Veteran Male today in super condition Ch Ekryda Herkules...with his mammy, Maria.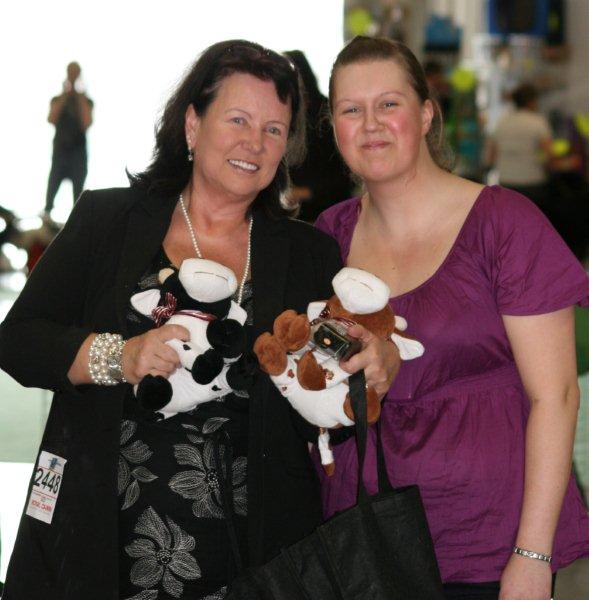 Marie Louice bring me two heart spotted cows for my dogs, thank You, and I got a bling bling shit bag keeper too for a bit more Glitter & Glamour in my life *S* You know exactly what I need ha ha ha....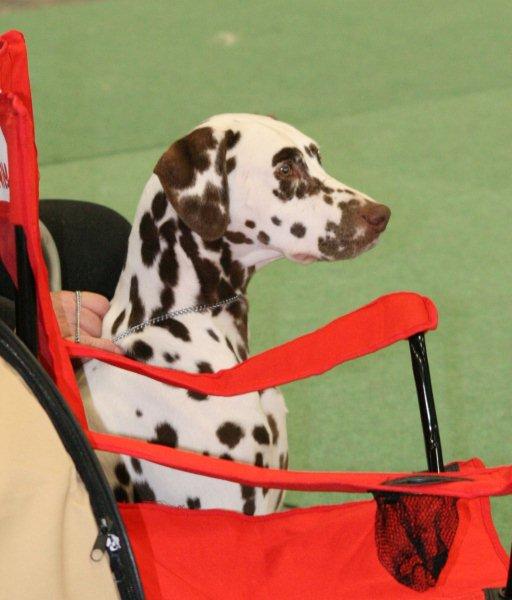 Gloria was sooooo happy to be with us today....she will be hard to show for Rune today *S*!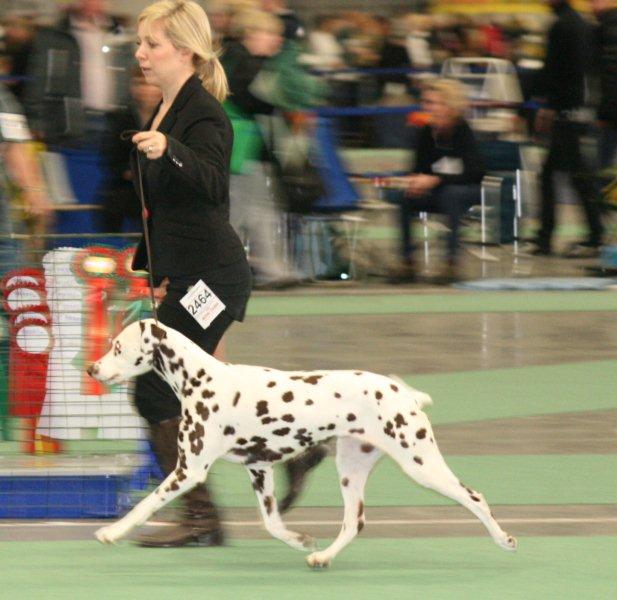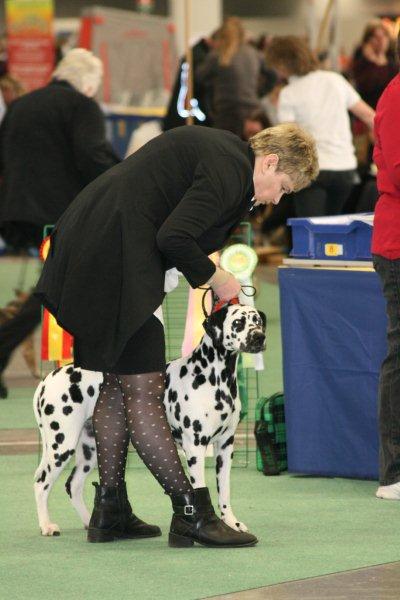 So happy to see Toka (J Love At First Sight) in the ring again. Here is J Super Model, Daddy and Glorias sweet sister and Kristina, in front of the judge.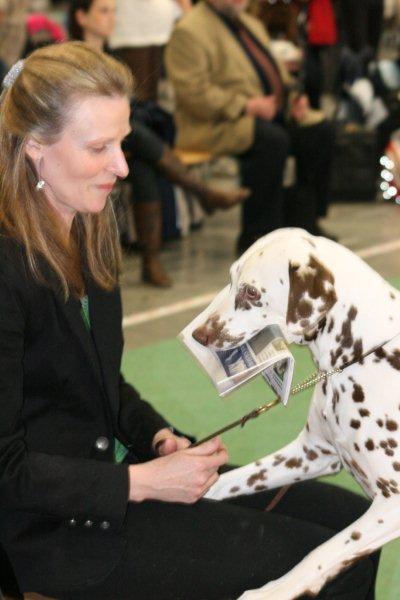 Such a good girl......Milda bringing the newspaper to Helena every day.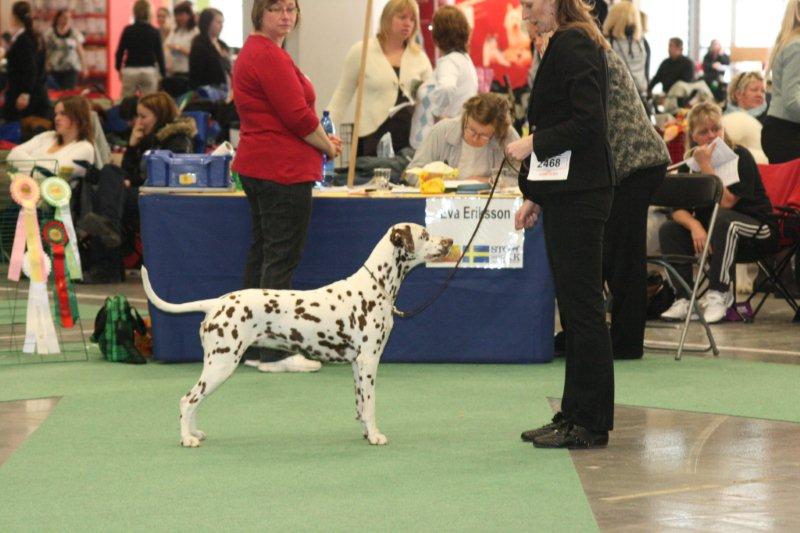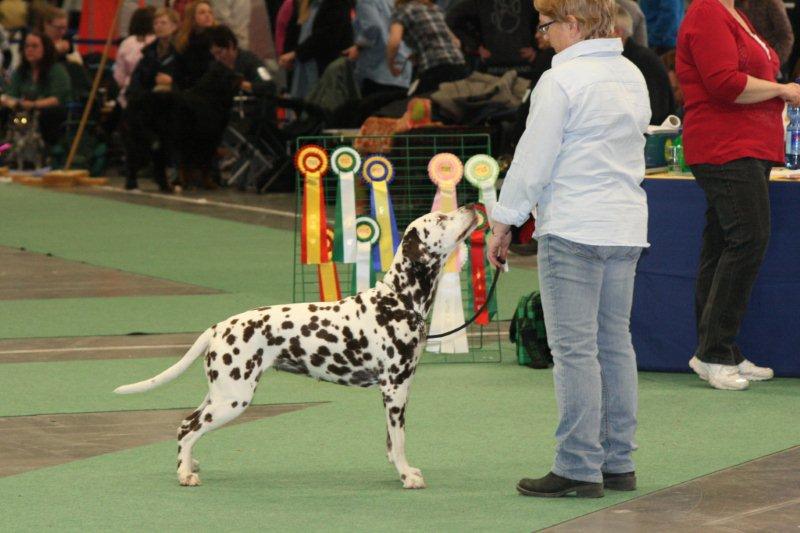 .
Milda in perfection as always with Helena. Eva o Maja in Veteranclass.......Maja is looking better and better for every year!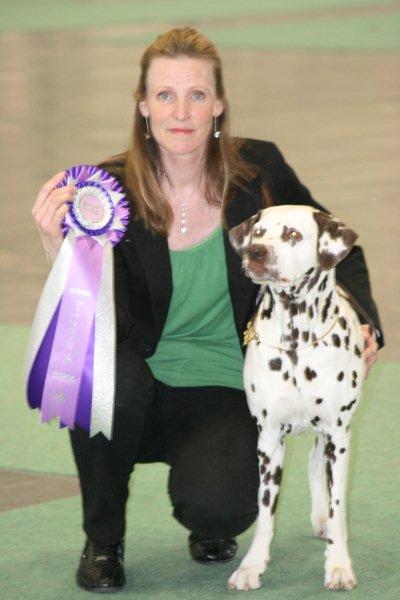 Molly BOB and BIS 3 VETERAN today, Congratulations Helena and CH Timanka's Movie Star!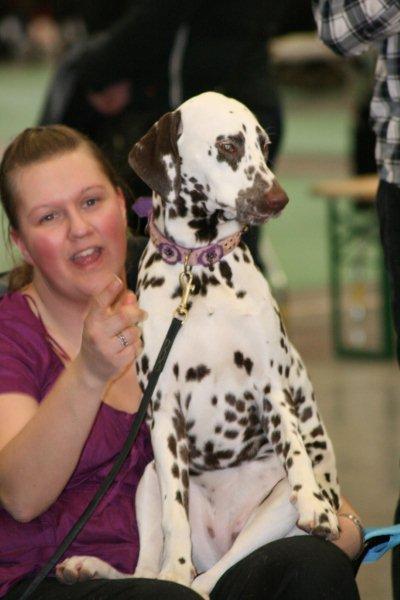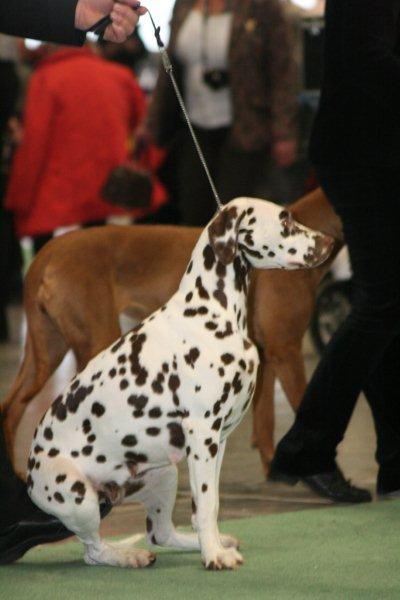 Vicky in Marie Louices knee, she is already a spoiled girl with LOT of collar in different styles *S*. Gloria resting on Runes feet.......!
Princess in the ring of honour, happy as always!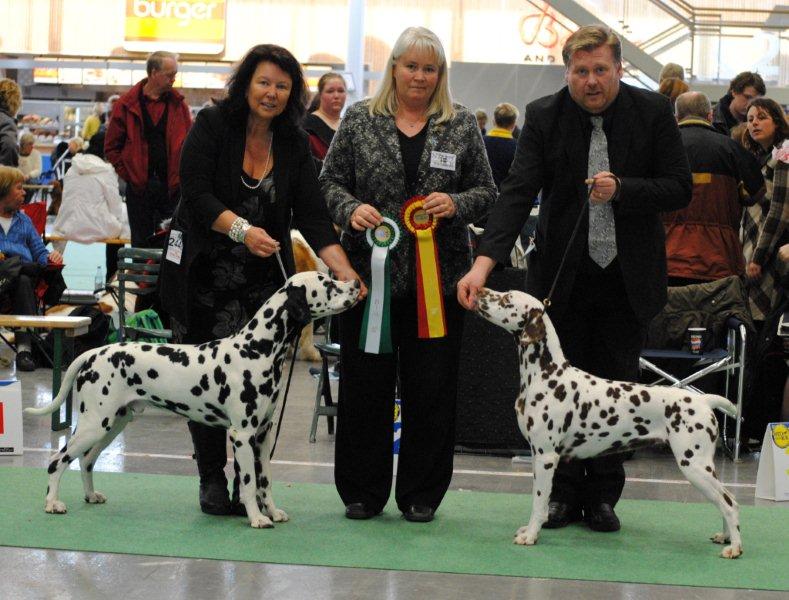 Thank You for this photo Maria.
DADDY BOS and GLORIA BOB, together with the judge Eva Eriksson.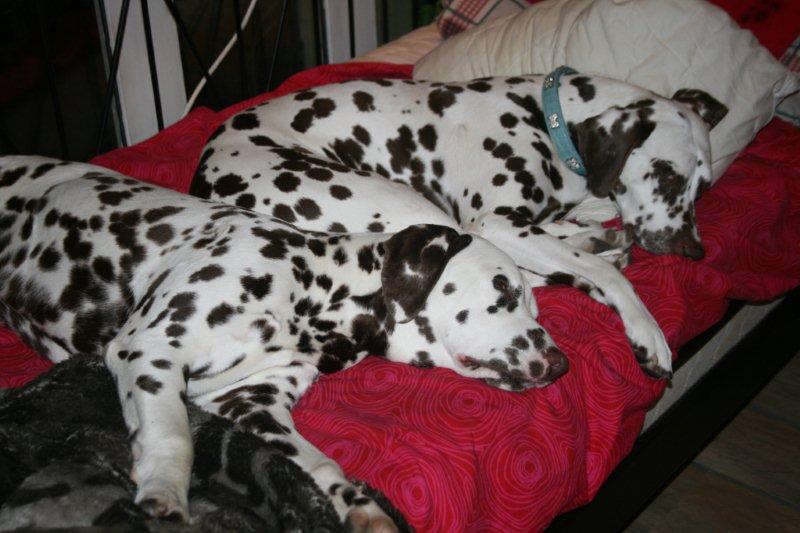 Junior was sooooo tired when we came home late in the evening, and Jill was tired too even if she have been home all day, or was she grumpy for being left at home today. She was probably pissed of that the young Gloria taken the BOB from her today!
Saturday 3 April 2010
We got lovely flowers!!!
Daddy was happy when Alexandra and Toka came to visit....(that stupid dog think she was there just for him *S*).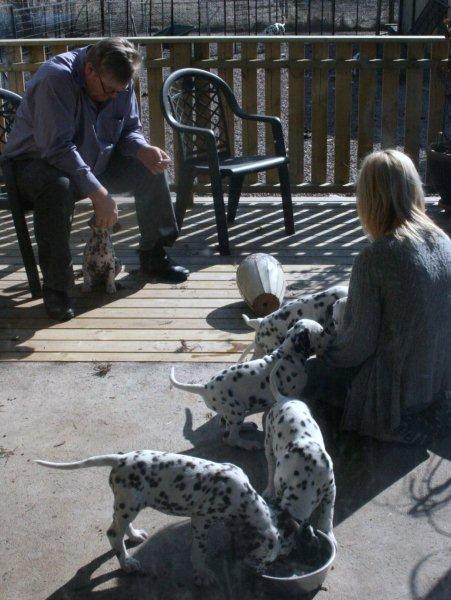 It was like summer outdoor today...so good for the puppies.
Eva and Arne came for lunch too.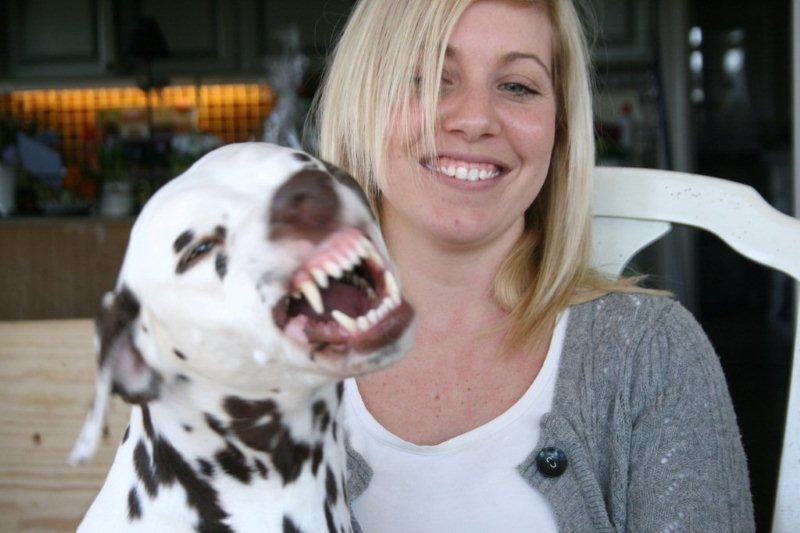 Toka was so happy to be here again.......!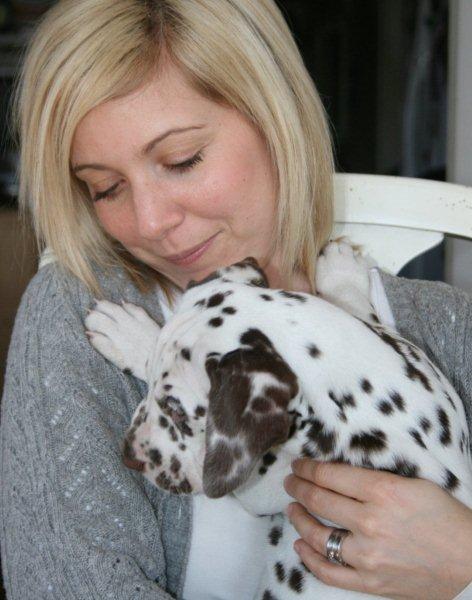 Alexandras newest love...Jilloc's Ztar Quality.
Jenny came in the afternoon to say hallo to her favourite J Zenzation......
Our plans was to go to bed early as we have to start our journey to Stockholm at 4.30.......!
Of course I was up tooooooo long and when I try to lay down I was just coughing all the time, shit!
Friday 2 April 2010
EASTER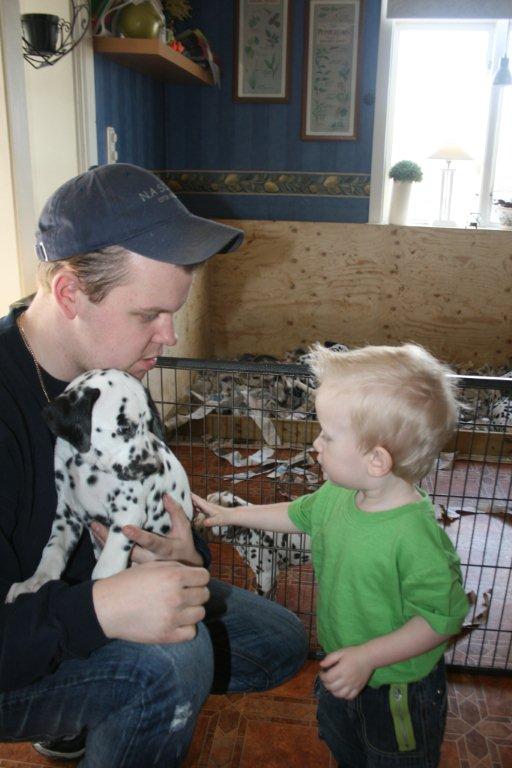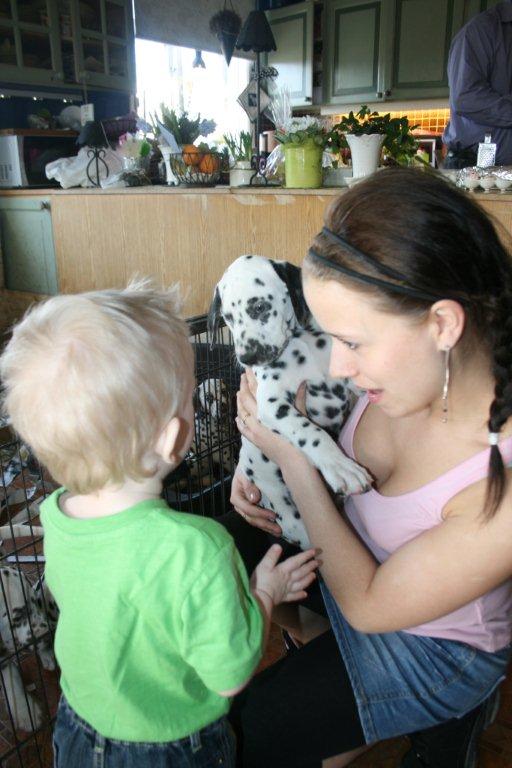 Nathalie want a puppy, but they have to wait as there will be one more baby in he family in the end of the year!!!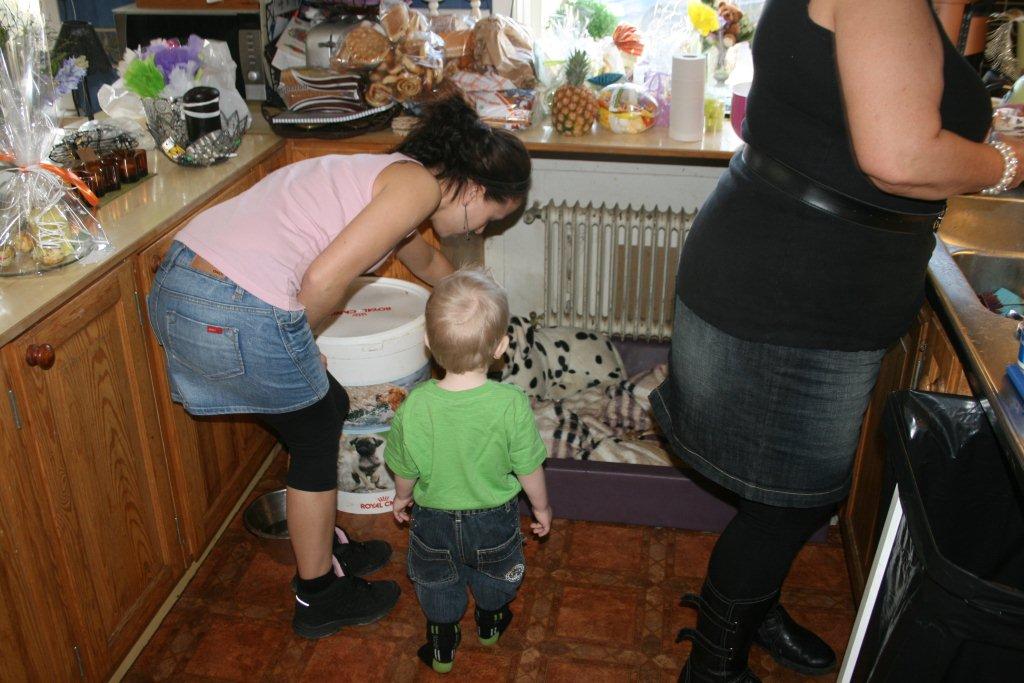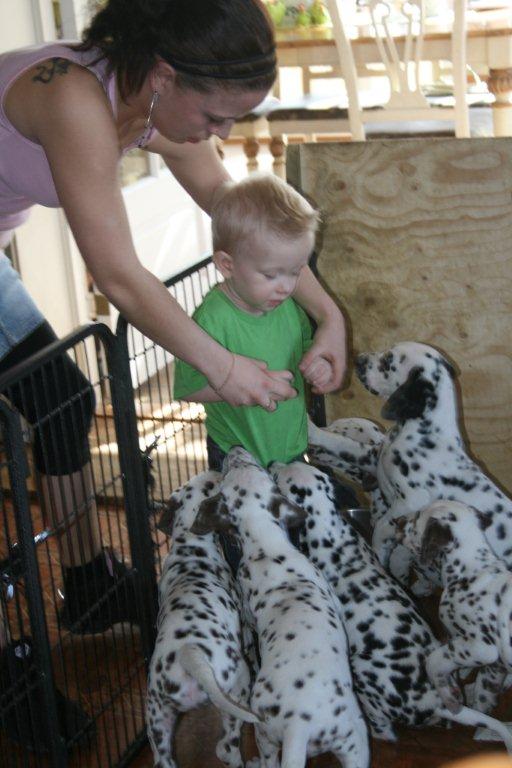 Eddie was so interested in the dogs, even the fake ones *S*!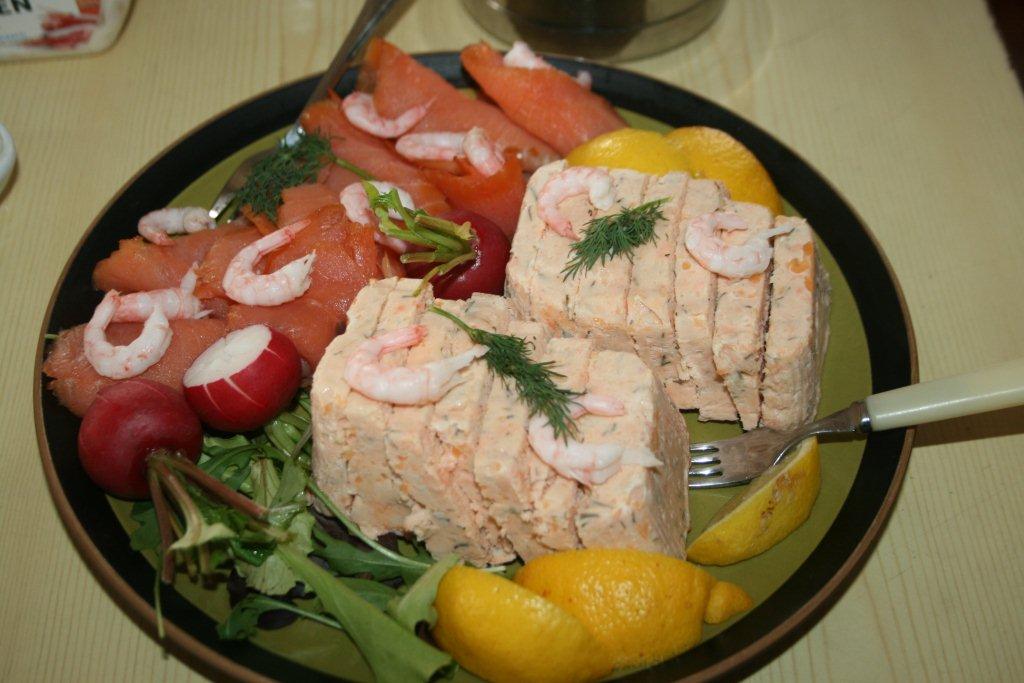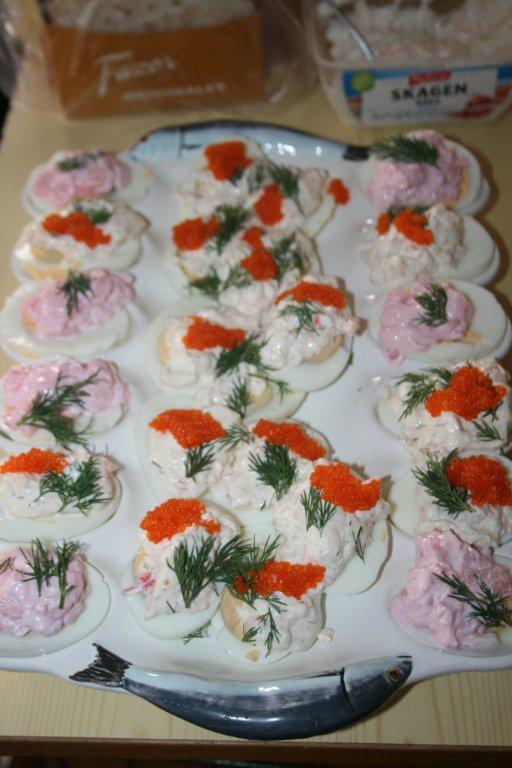 Smoked salmon, pate' and shrimps. Eggs shrimp salad and caviar.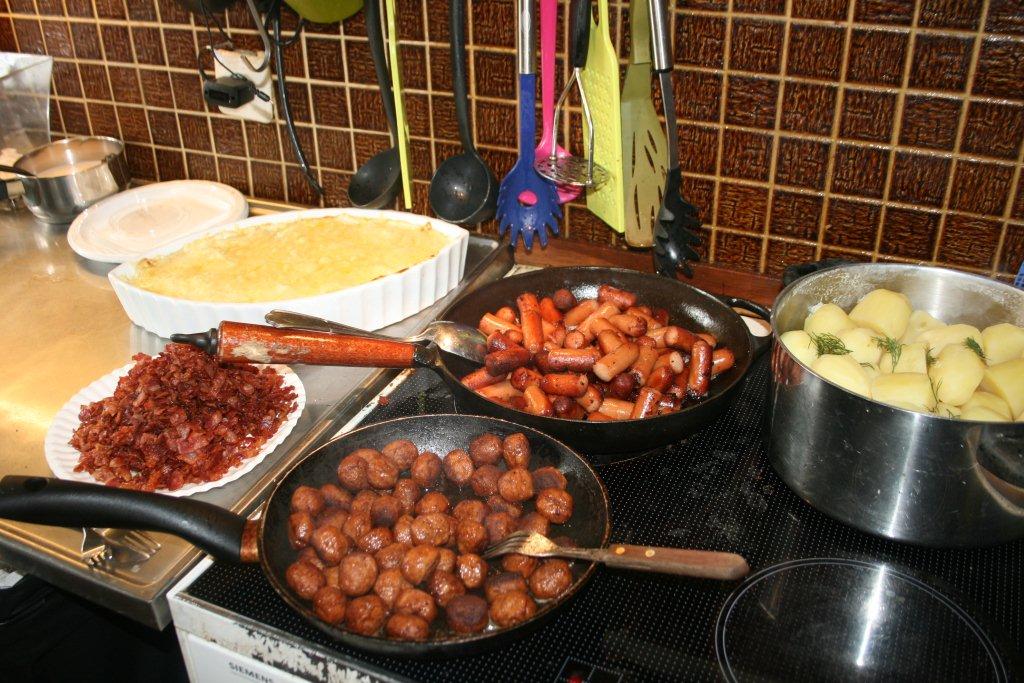 We eat gratin, bacon, meatballs, sausage potatoes and salmon......Something for everyone. Rune and I was most in the kitchen, as always, and I had a terrible flue......it is more than a week now since it started....so tired of the cough all nights long!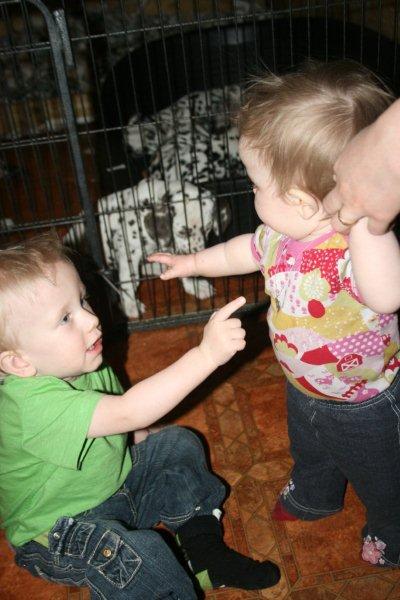 Eddie like to taste everything on the table........and he was so interesting in Elvira 9 months old.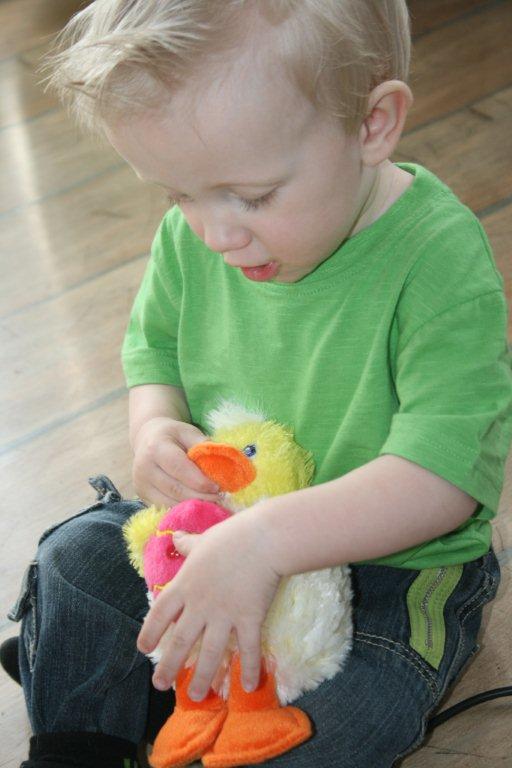 I have bought a singing knack for Eddie, and Jill was soo jealous....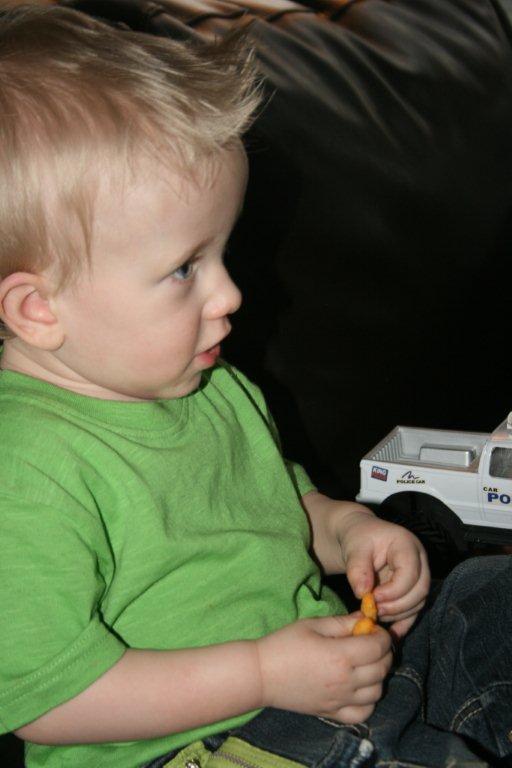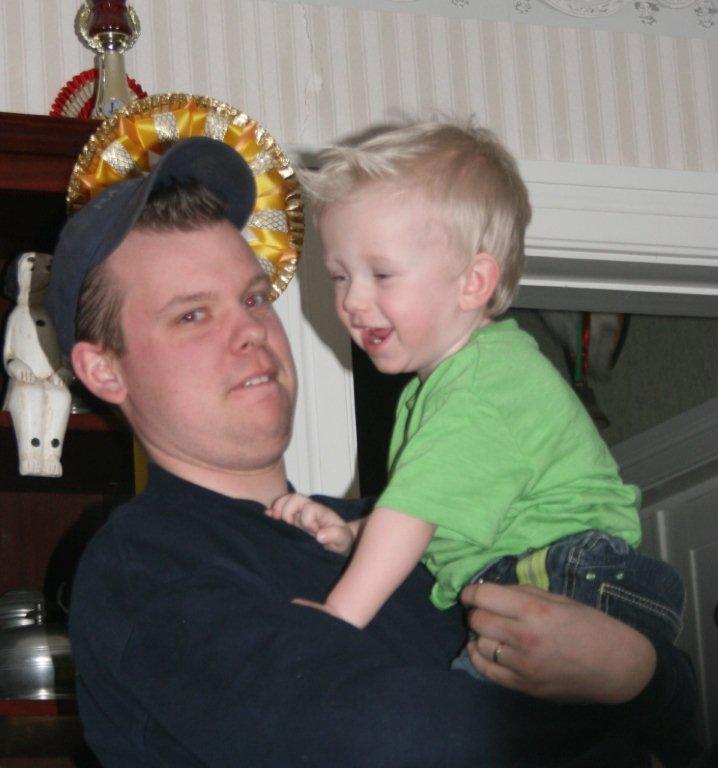 So good to see that Eddie is in good shape now and are the happy little boy again that we all love so much!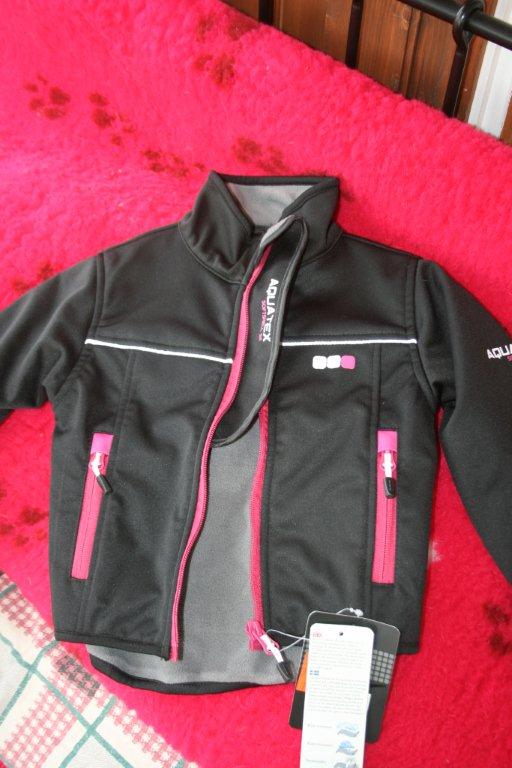 I bought jackets for Jonnie and Sanna for the Car Show tomorrow in Jönköping, Elmia, and I had to buy a small one for Elvira too (Elvira is Jonnies girlfriends daughter).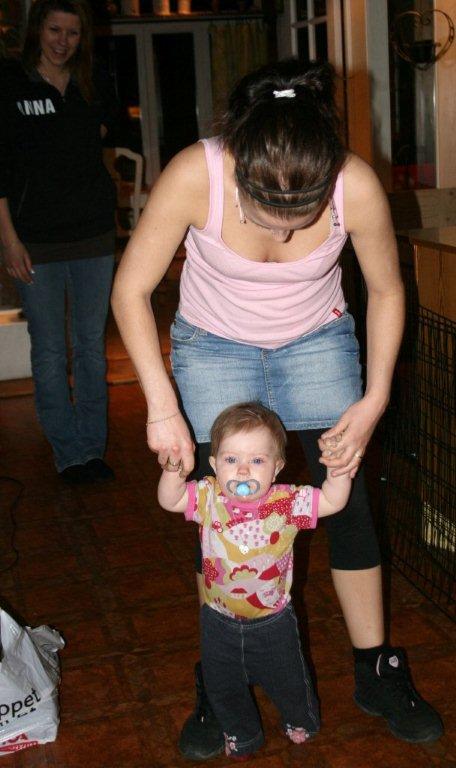 Nathalie with Elvira and Sanna in the background!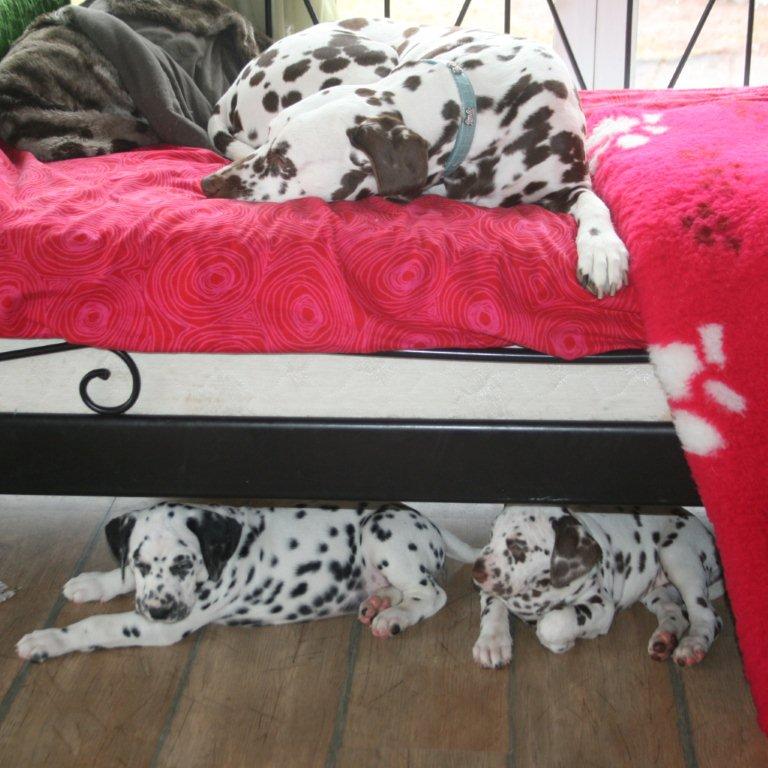 When I see this photo I remind me of the fairytale about the big Bocken Bruuse and the small bockarna Bruuse that should go over a bridge...Here is the big witch Jill guarding the bed and the small babies afraid to disturb her and hide under the bed *S*!!!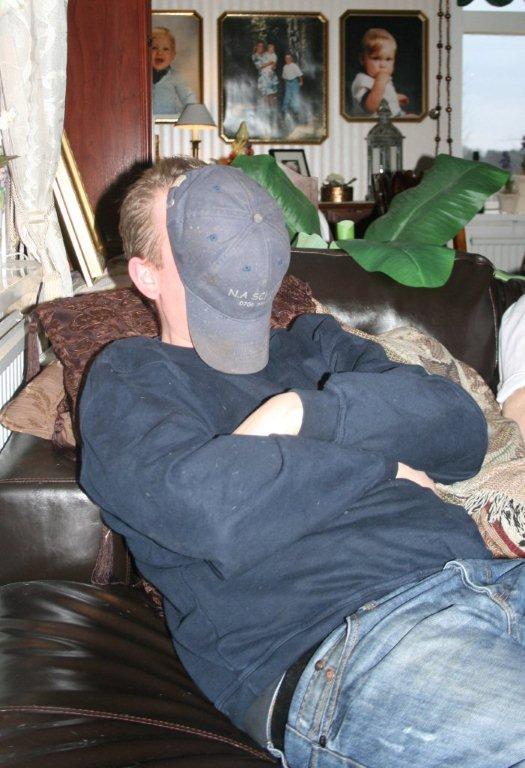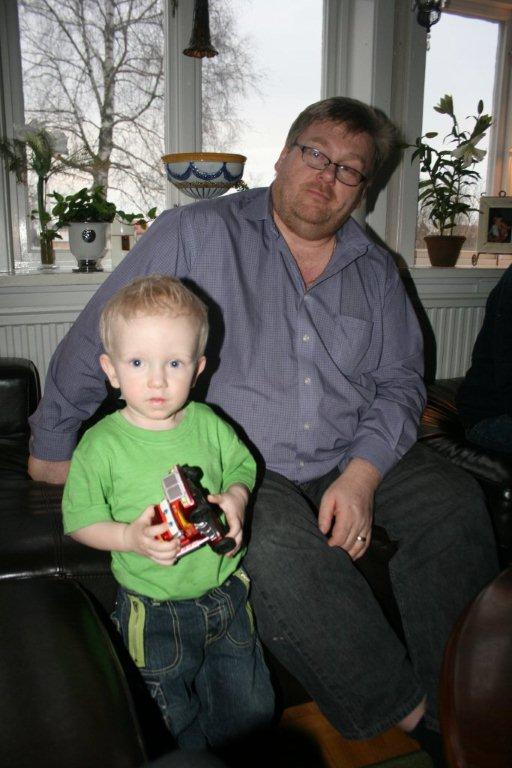 Jimmie and I saw something that no one else saw so we start to laugh and couldn't stop....Rune did not understand anything *S*!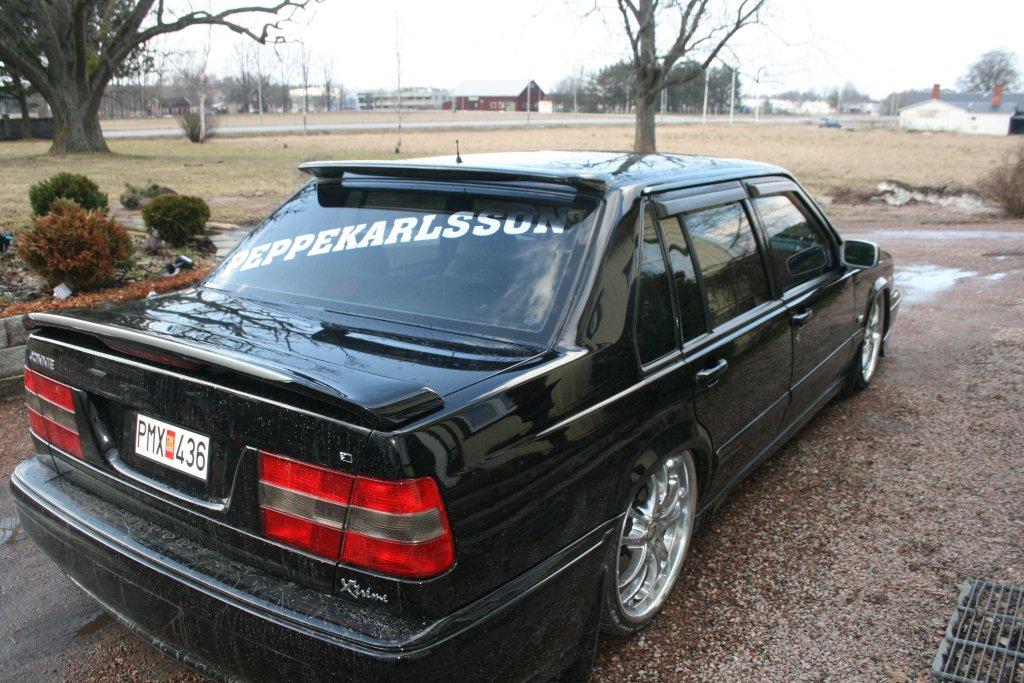 Jonnies car was ready....they just have to clean it when they come to Jönköping tomorrow morning.......unfortunately Jonnie have the flue and 40 degrees fever, he should absolutely stay in bed and he haven't eat or drink for two days, but he got antibiotic yesterday from the doctor but it will take some days before it helps him......
Thursday 1 April 2010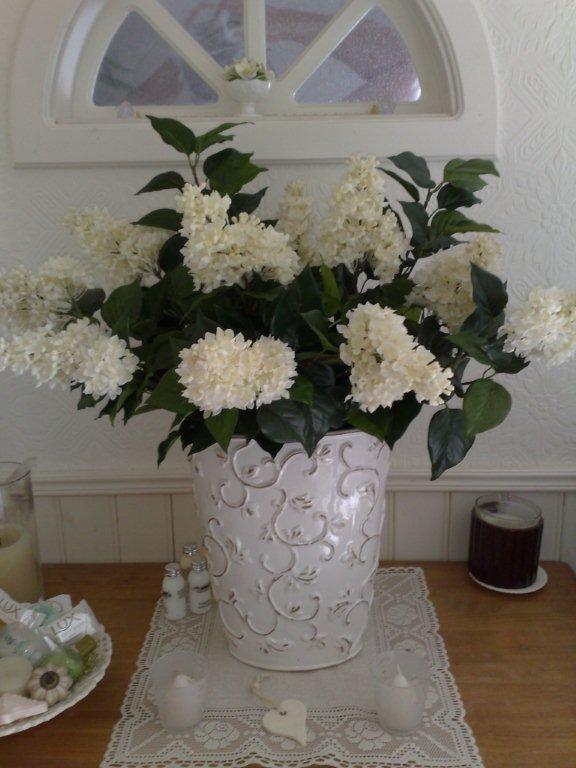 Spring is in the air.......some days!
Jill like some of the puppies sometimes *S*! When SHE decide!!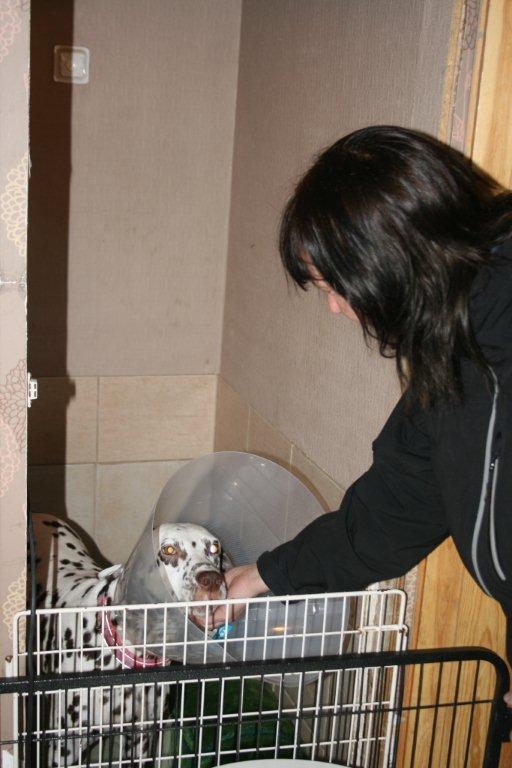 Puffie was happy to see her mummy.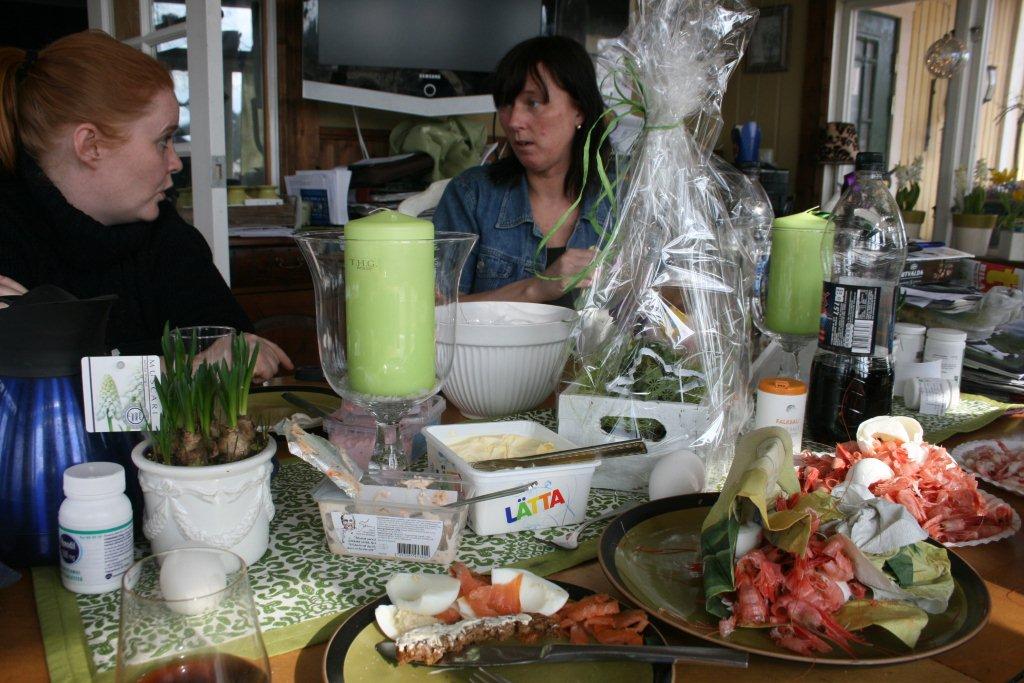 Carola was soooo hungry and eat lot of shrimps hi hi hi.....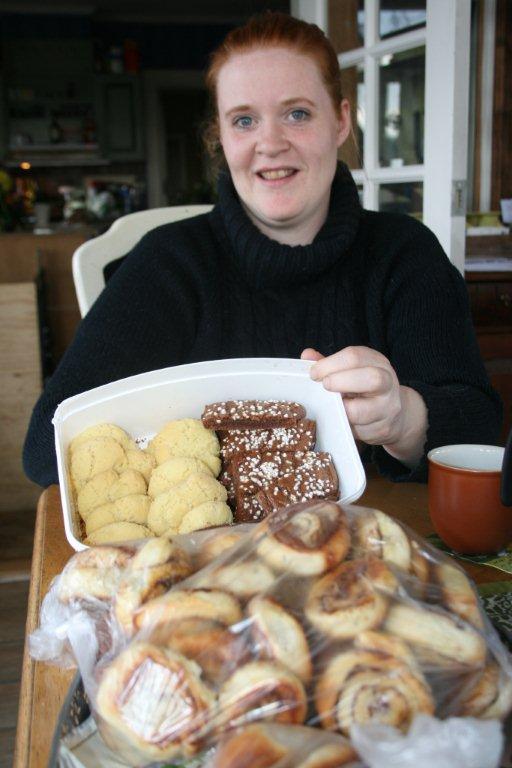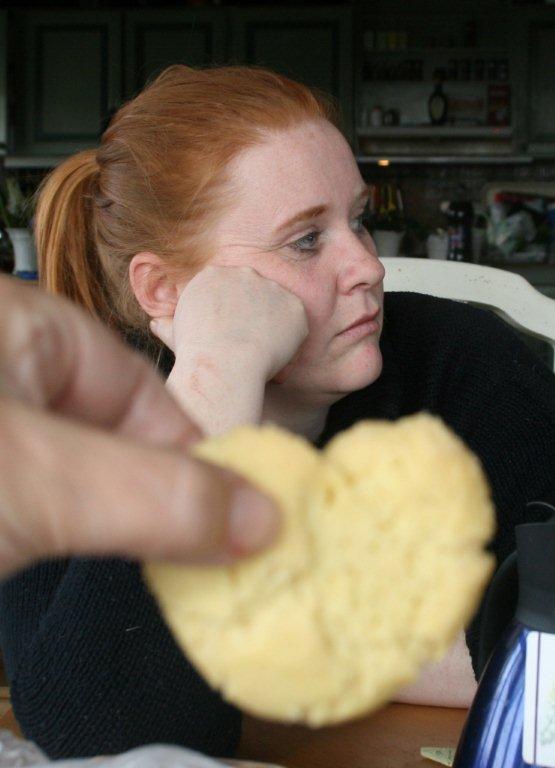 Louice is a fantastic housewife she have lot of energy to bake, and she have even made some hearts...look at the cake *S*! She might be in love ???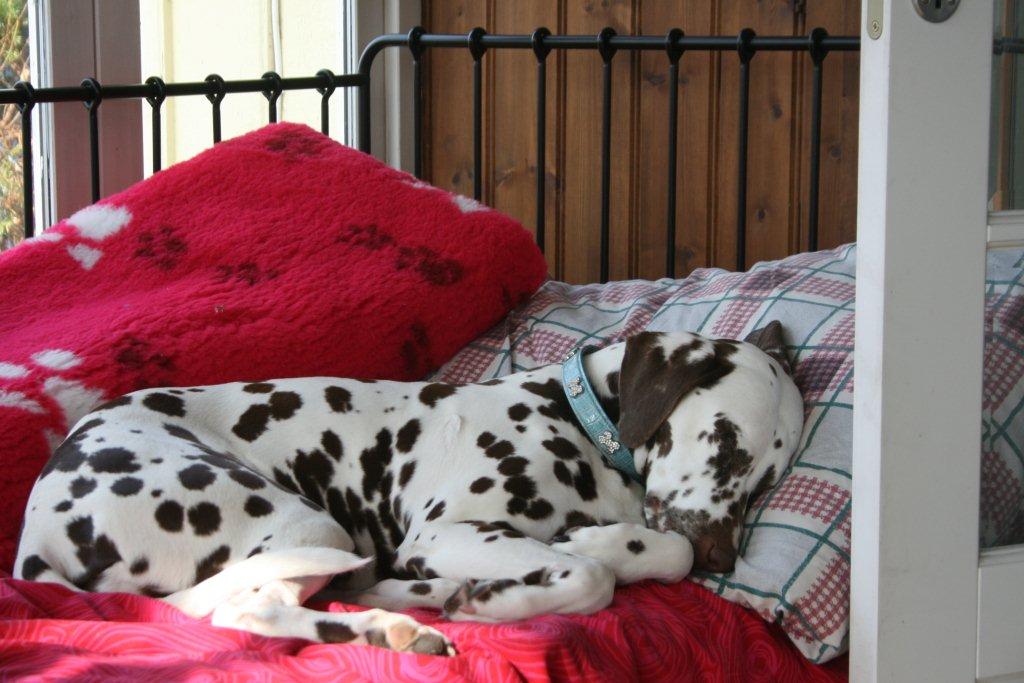 Jill is so tired of all the fuzz around her so she prefer to sleep *S*!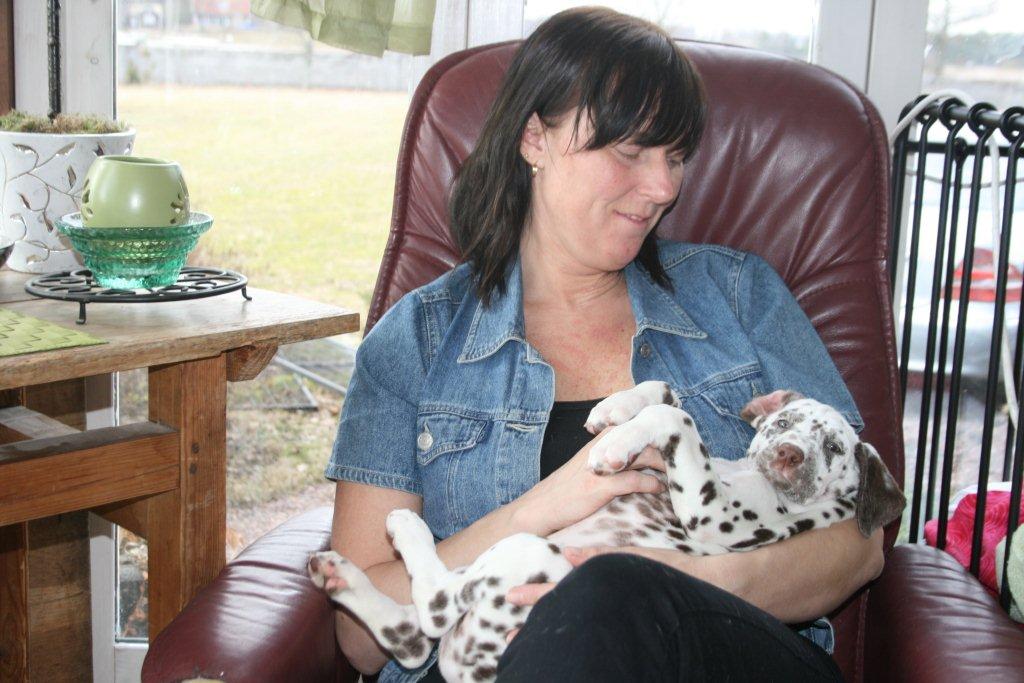 Carola came to bring Perfect to her home so she will get as much rest as possible, and the puppies are 8 weeks in some days.
Sorry to say it but this was the first or maybe second time training in a leach....it have been a hopeless winter!!!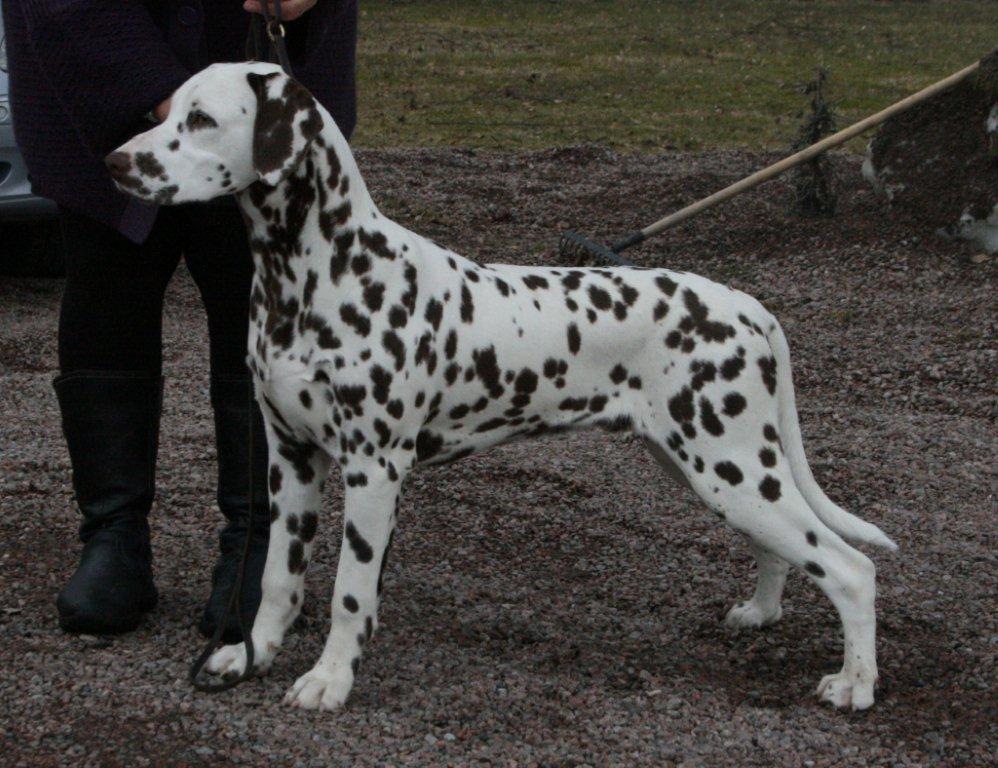 Vic Junior soon 7 months old start to look really good if You ask me.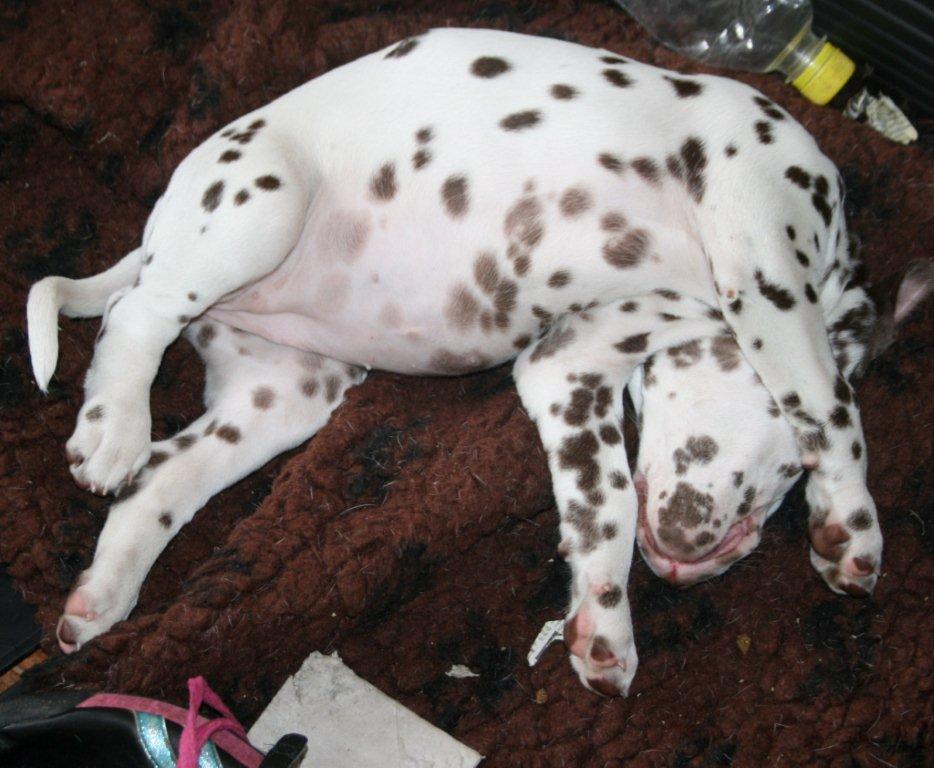 Strange sleeping positions.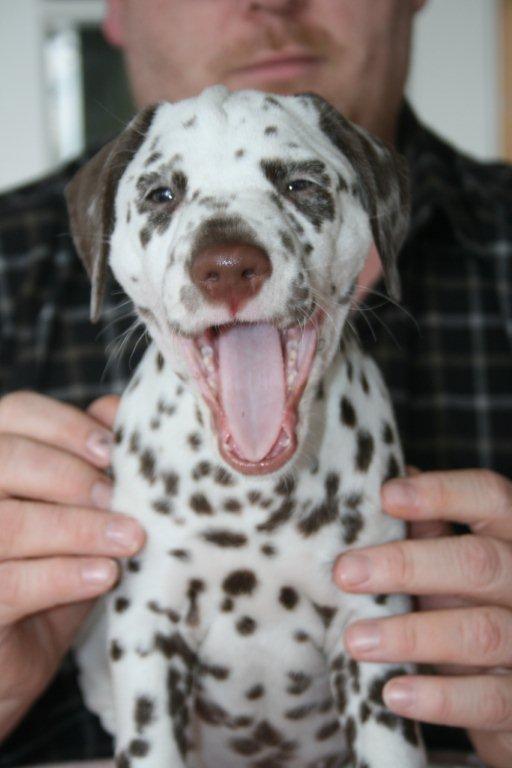 Tired puppy after all visitors and all trying to take nice photos. They just want to play now, not to stand still for photos.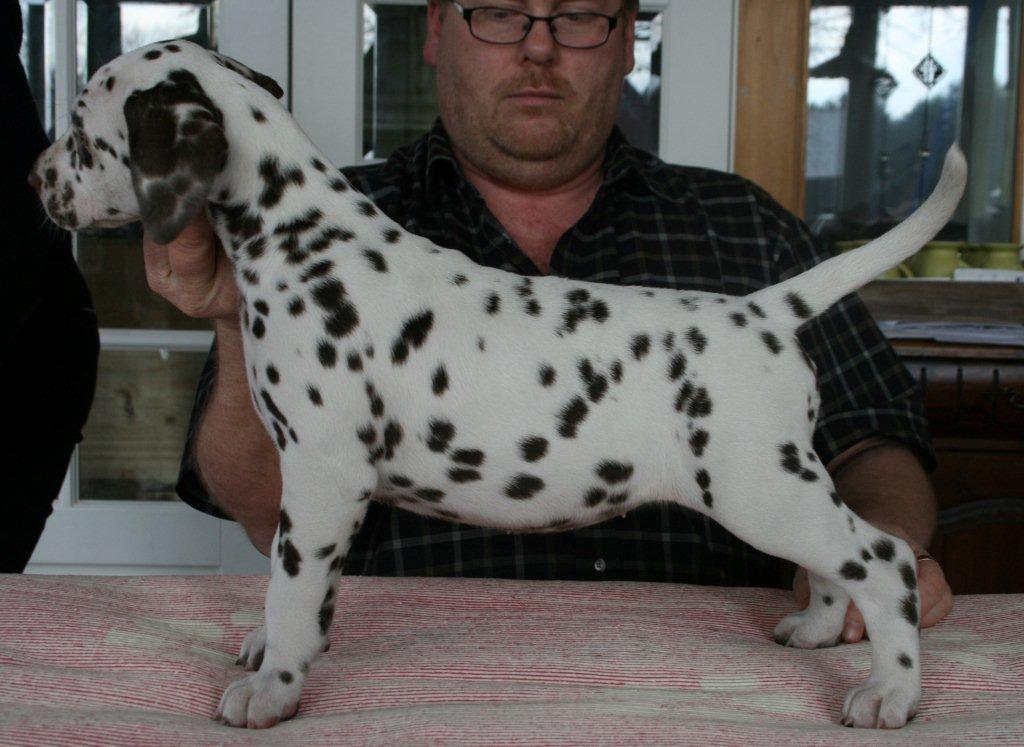 We got some nice photos of some of the puppies, here is Ztar Quality....