Diary
Tuesday 31 July 2007
Up early again and took all puppies from the S litter with us into the car for another trip to the vet. Today they will have their vaccinations and health control etc. They got their chips last week.
At saturday we have had plannes for a small Show together with our puppybuyers and our friends, but today there is only 12 dogs entered, so we are really thinking about if we should wait until next year, with this arrangement. Probably people are on holiday at this time.....they send us mail all year and wait for this gathering, but ofcourse it can´t fit for everybody. Here are pictures from last years show.
2006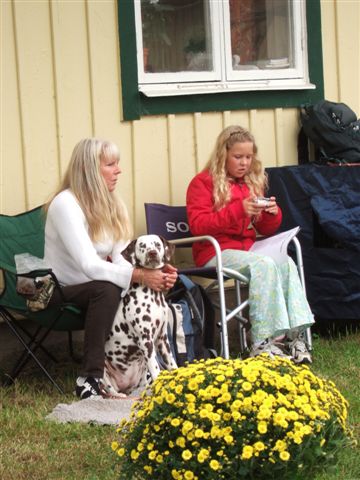 2006
2006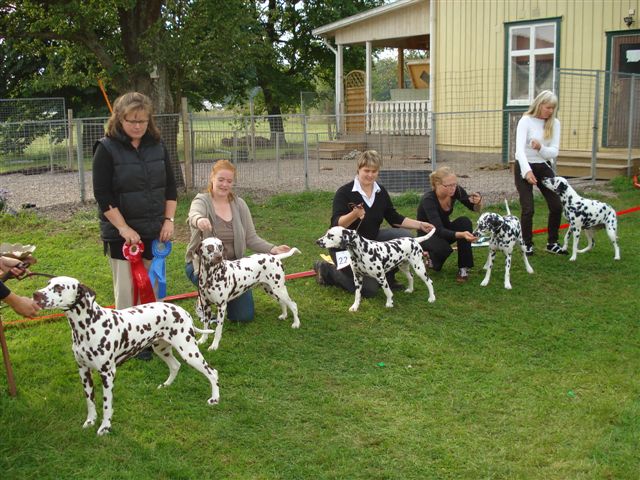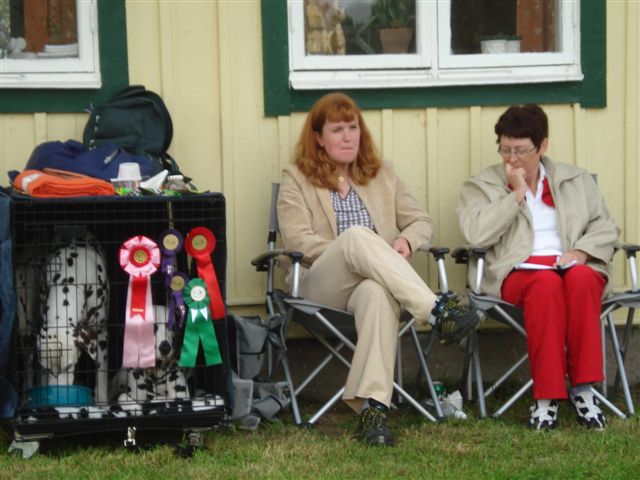 2006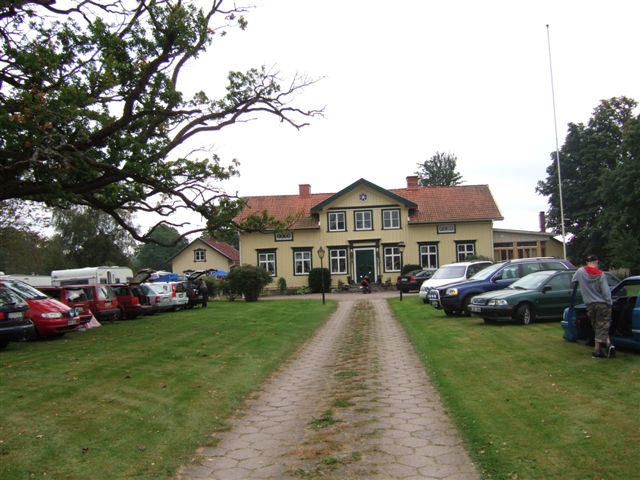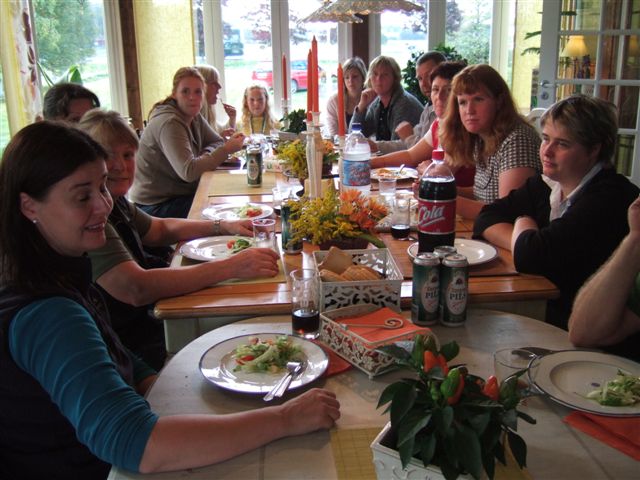 2006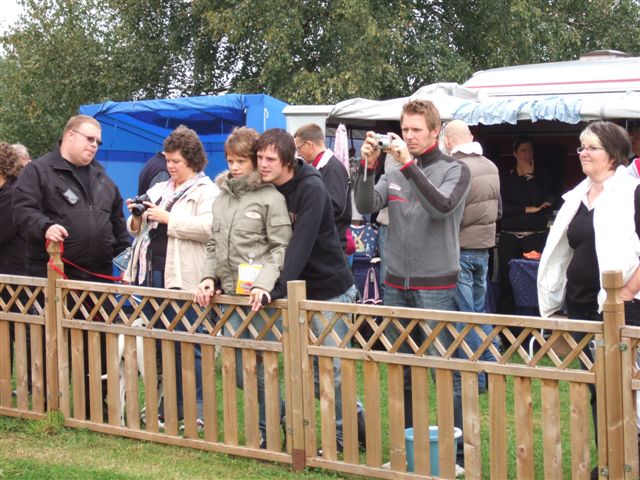 2005
2005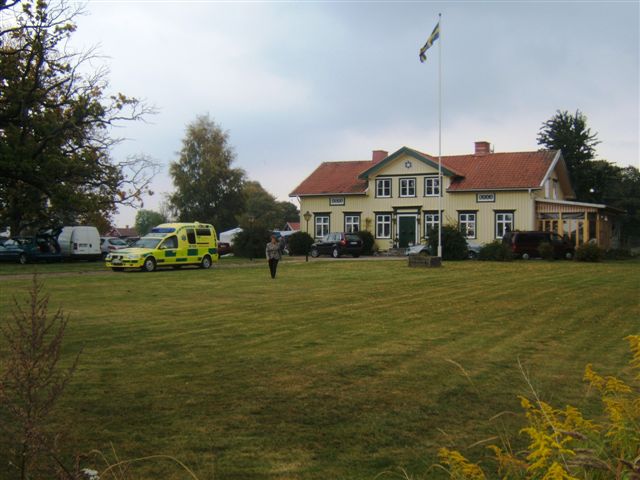 Monday 30 July 2007
Tired but wake up early. Some friends called, they was in Stockholm and would like to come and say hallo and look for all puppies. Happy that they called us so we have some hours to clean the house before they are coming. They were here all day and we had a very great time together.
More pictures from yesterday.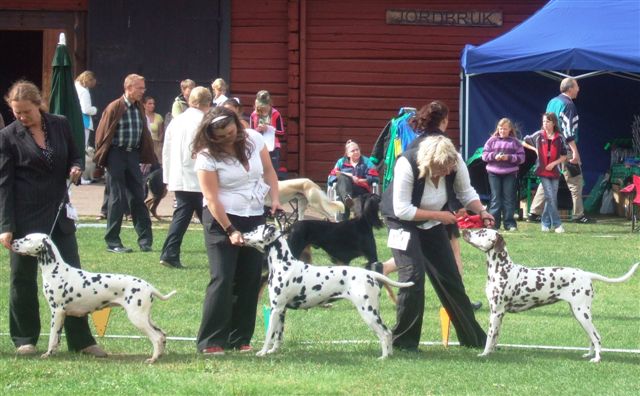 Citykid´s Charmed Witch (daughter of Dennis), J Kismet Miracle and J Puzzle Pice for Skvaa, all open bitches.
Sunday 29 July 2007
Up tooooooo early (at four o´clock), Jenny came here at 4.45 to go to the show with us, just for fun, she loves it. And of course we are happy to get some help with all things, as tent, clothes and the dogs and to take photos and to help us show our dogs if all of them get into the ring at the same time, in breeding groups etc.
So happy to meet our Norwegian friends and their dogs again, they have been in Ransäter since many days already.
It was a very lucky day for us...beter than we have expected.
Expo best male and another CAC (really don´t know how many he have right now.) Devlina best bitch with one more CAC, Jill second best bitch, Darling our veteran third and Nelly (Jilloc´s Puzzel Pice for Skvaa) nr four and Chessie (Lovindas Charnel) nr five...all the same family!!! Sorry that Nelly didn´t won the CAC, then she have been Swedish Champion, but that is life, You never know what the judge will do.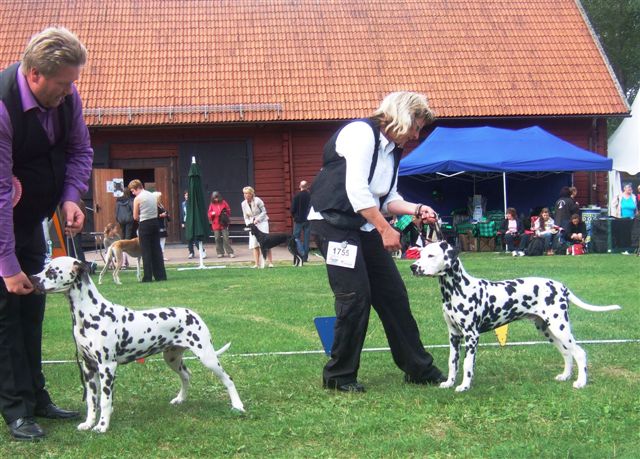 Best Puppy was Timanka´s Romantic Miracle and BOS Puppy her brother Randevouz. Rune N with his Ch Lovindas Fabian, playing in the ring.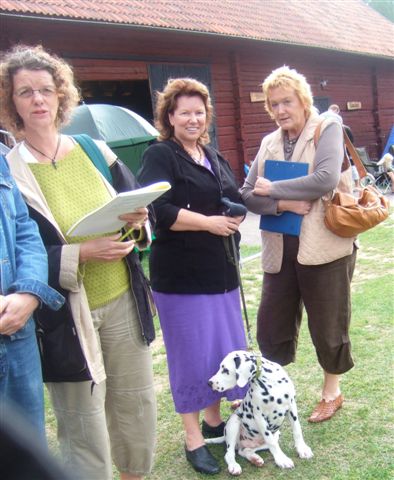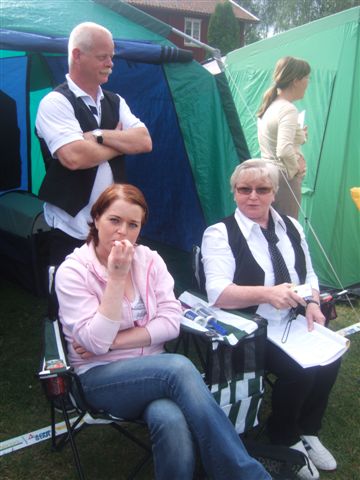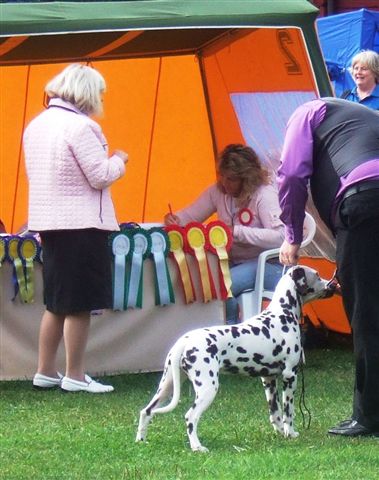 Some friends meet at ringside. Nyhammers family. Expo and Rolex so happy to meet many people. Devlina Best of Breed and nr 5 in Group.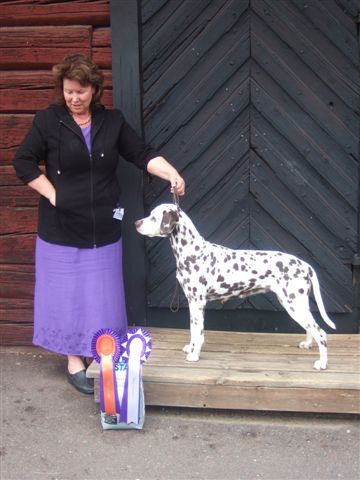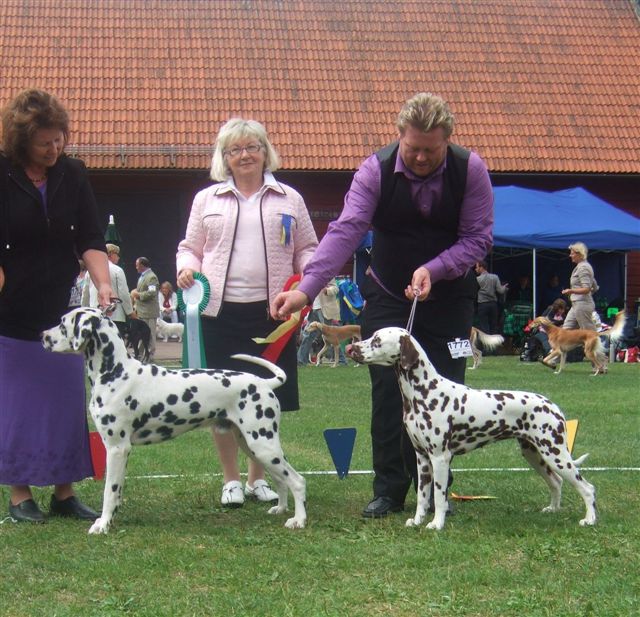 Many Norwegian people in Ransäter. Darling almost 11 years became BIS 3 Veteran. Judge Kerstin Nilsson with Expo and Devlina.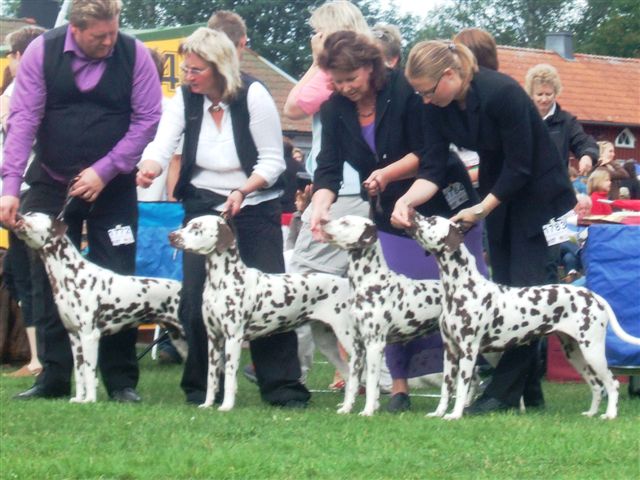 BEST IN SHOW BREEDINGGROUP was Jilloc´s, Hurray!!!
Judge Diane Andersen, USA
Saturday 28 July 2007
Some more brides in the store today, in the afternoon we packed our car with all things we need at the dogshow tomorrow in Ransäter.Jennie arrived, she have to be here again to take care of all our puppies tomorrow. In the evening we give seven of our dogs a bath, four of them was sleeping in our bed in the night and we were all WET!!!
Devlin decide to bury the stork today, I do not understand why!
Friday 27 July 2007
Lot of things to do today, and after lunch until the evening some brides comming into my store to try to find gowns for their weddings.
Here under some nice pictures from yesterday.
Jilloc´s Seventh Heaven 7 weeks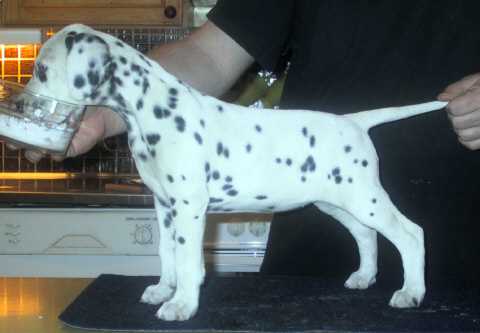 Jilloc´s Key To Sucess 7 weeks, mother of Seventh Heaven
Ch Dalstable Attention Seeker 2 years, mother of J Key To Sucess. Timanka´s Goodness Knows 2 years, father of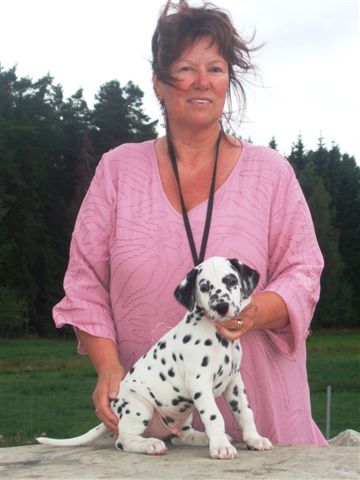 J Somebodys Star J Seventh Heaven J Sugardaddy
Jilloc´s Somebodys Star
Thursday 26 July 2007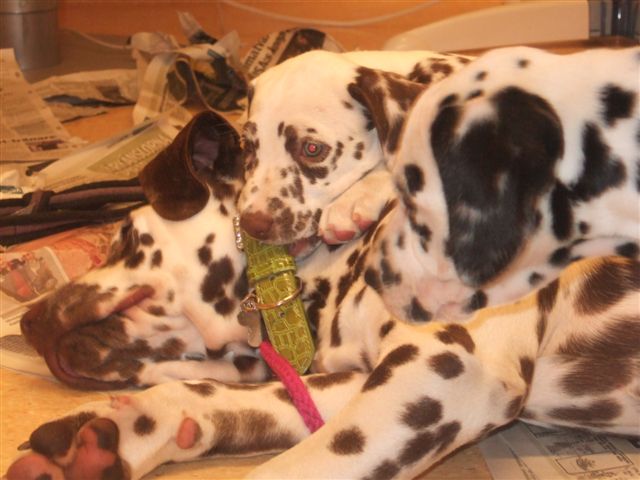 This is the day for the BAER test for some of the puppies, in Västerås.
Bente o Reidar started before us with their mobilehome, we had so much to do in the morning with all dogs. Cleaning and feeding. Five of Chrissi´s puppies and one of Donnas are going with us. Rune and Bente decide to BAER test even Mario today if they have time at Strömsholm.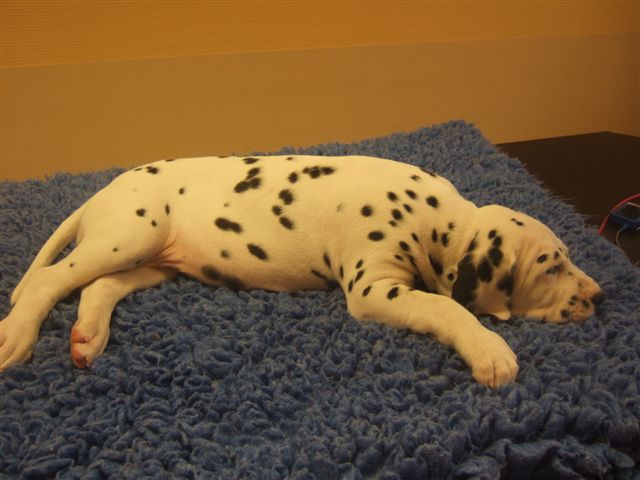 All seven that we tested was fullhearing on both ears (Normally we don´t do this with puppies, because we do not like that they have to let them sleep during the test here in Sweden) In some countries the dogs Have To Be fullhearing, otherwise it is not allowed to let them have puppies, that is why we test some of the puppies sometimes.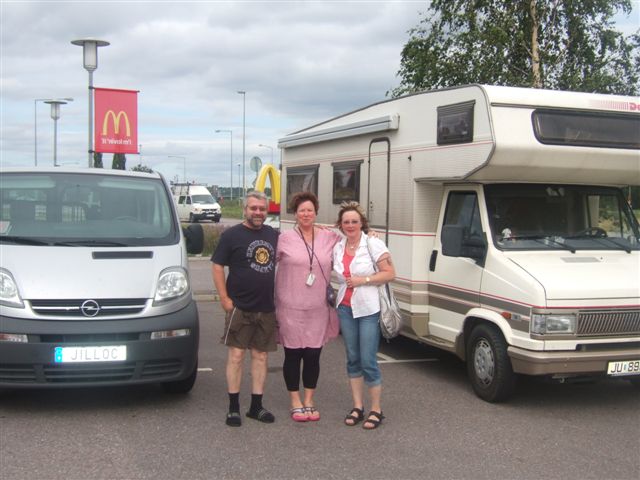 After that we ate a VERY late breakfast (half past three) and then Bente and Reidar drove towards Ransäter and Rune and me drove home with very tired and hungry puppies, we where not allowed to give them food until the evening, terrible because at normal days they already should have had their third meal at this time.
Wednesday 25 July 2007
Woke up early and looked out.....Reidar was raking together all grass at our large lawn. Hurray!!! Rune was so happy, he has not enough
time to do this every week....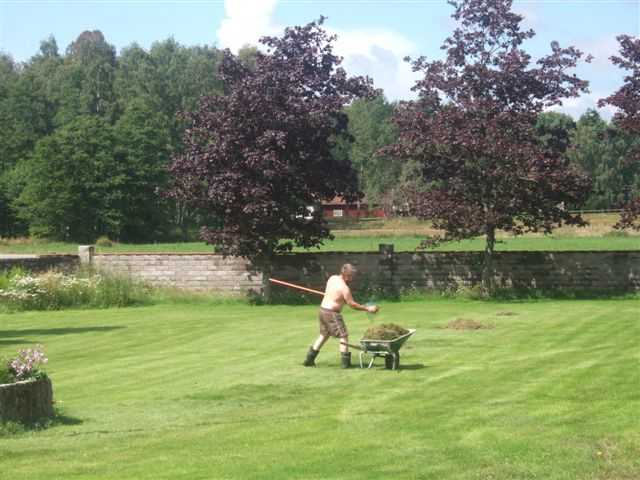 After lunch we took all puppies in Chrissi´s litter to the vet to give them their chip marking. It was an aria all the way there, last time we have not heard anything from the puppies, but today....OH Jesus! And then they started to shit and throw up something white?????.......and then we where there.
Both Kennelboys have a hard work to get the puppies clean again *S*.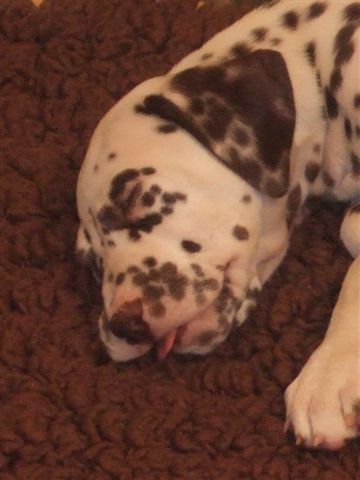 We went to Lidköping directley from the vet and bought us a new camera, CANON EOS 400 D, it will be very good, everybody told us. We have to wait and see, first we have to read the instructions (this is something that we never do) because we have many things at home that we can not use because we are to busy (lazy)to read instructions....*S*!
On our way there I suddenly remind Rune that this was the day that he have booked some of his cockers and Tosca our Springer Spaniel to come home for coat trimming.....Vrooooooooom......step on the gas.........Bente closed her eyes and thought she was riding the rollercoaster...
After two cockers and Tosca .........Bosson mated Nelly (Nuch Jilloc´s Puzzle Pice for Skvaa).........another day was over and we had to hurry in bed before night became early morning (again).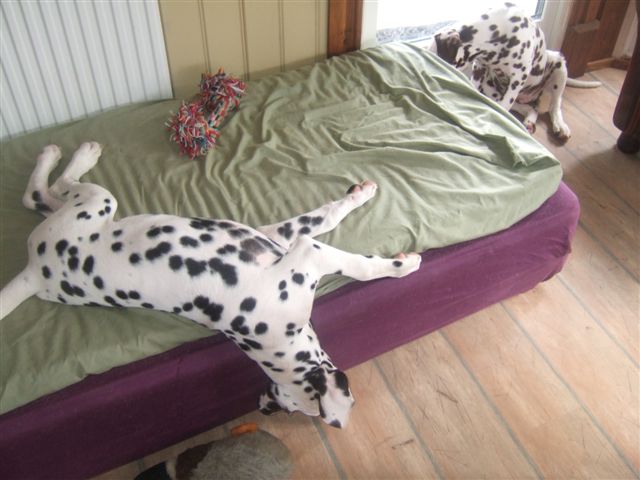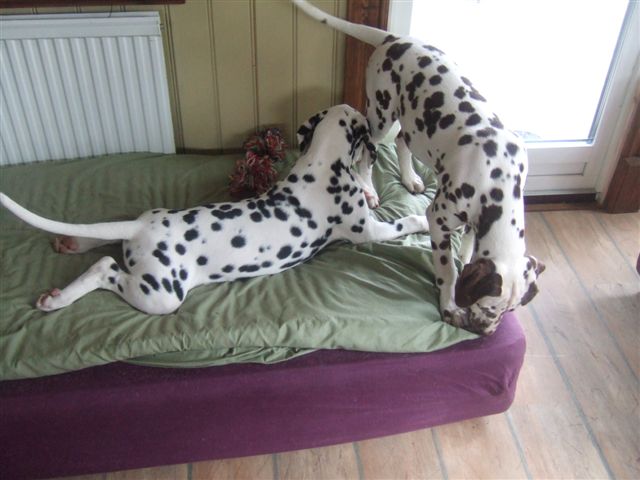 ROLEX SLEEPING ROLEX FALLING AND UP AGAIN
Mummy says that I am not the smartest one.....can't understand what she means?????
Tuesday 24 July 2007
So tired today, even if we sleep until 11 o´clock, but of course we went to bed at 4.30 this morning...so much paperwork to do in the night when all dogs are sleeping. Tried to take new pictures of the puppies but the phone was ringning all the time and we were making breakfast, lunch and Bente made pizza in the evening (late night). Rune cut all nails on the puppies and we checked them. So many puppy buyers are calling and sending mail that we hardly have not had the time to answer.....of course they would like to have new pictures of their puppy and to know how they develop.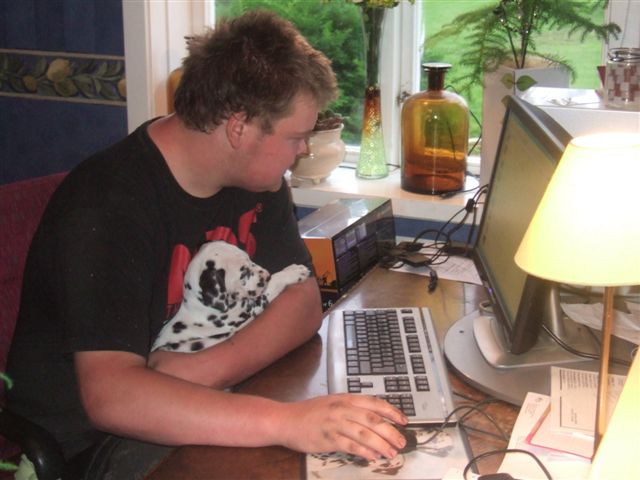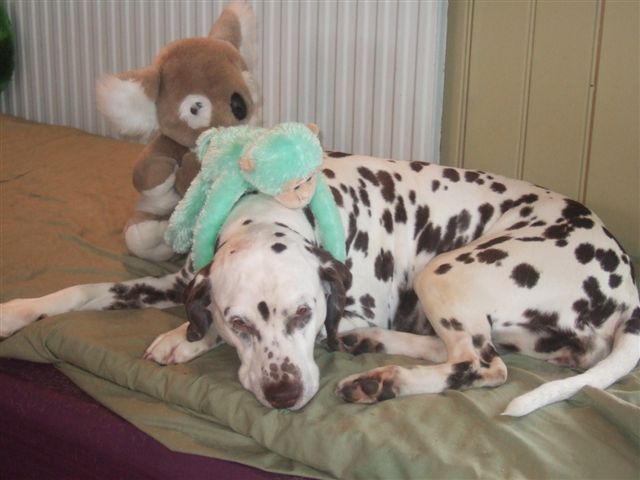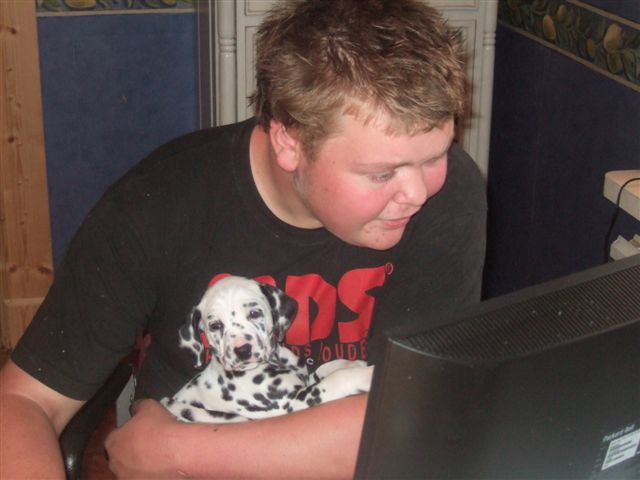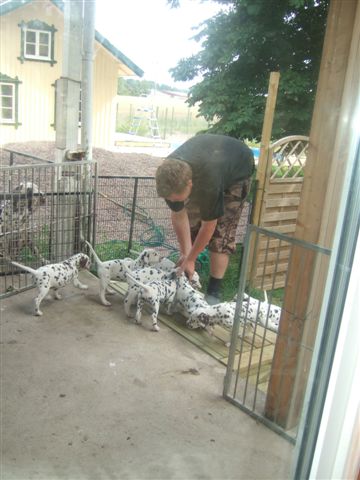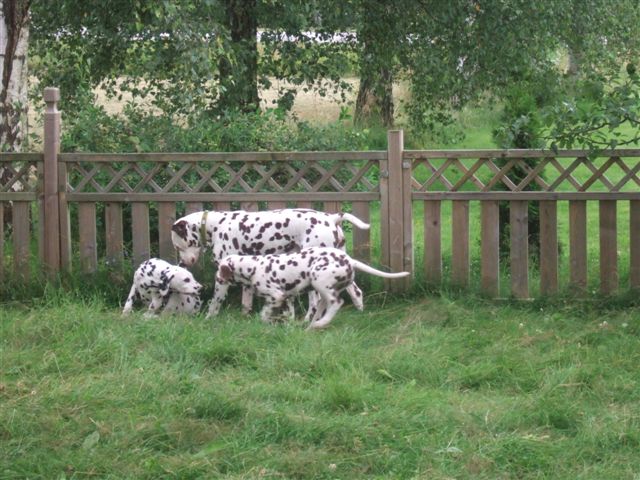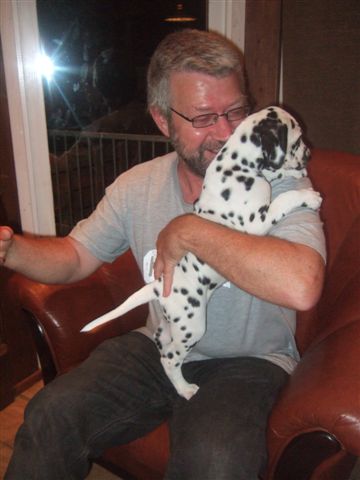 Monday 23 July 2007
We woke up in the caravan at eight o´clock....oops...we had slept to long, no one of us have heard the alarm clock! First to Falköping to leave Jenny and Kassie at their home and then one our later at our home.
Bente and Reidar (our friends and puppybuyers from Norway) and their dogs had arrived there o'clock in the middle of the night so they have already parked their mobile home in our garden. Some hours later Erika and her family from Norway arrived, we all ate lunch together. They went home to Norway in the evening.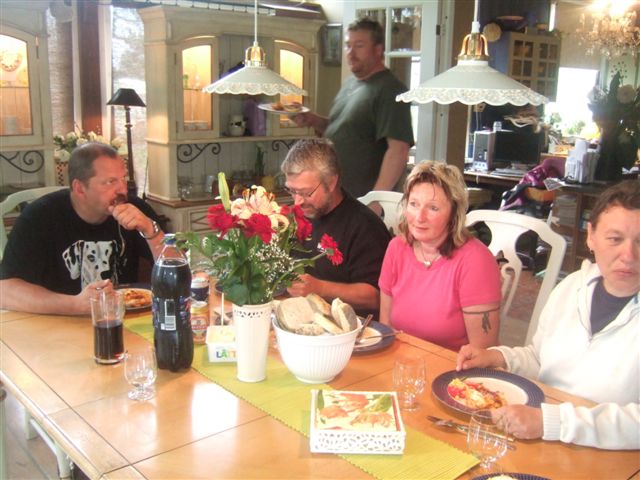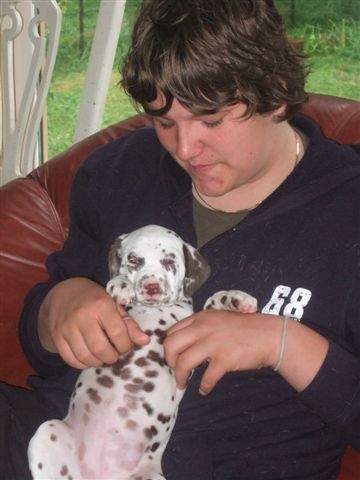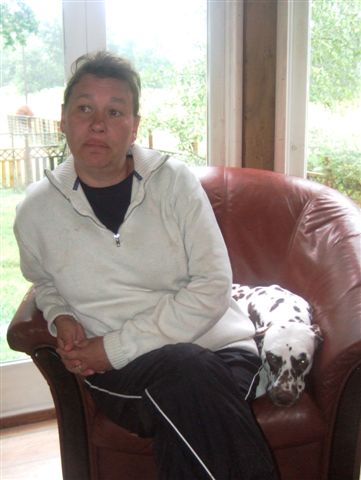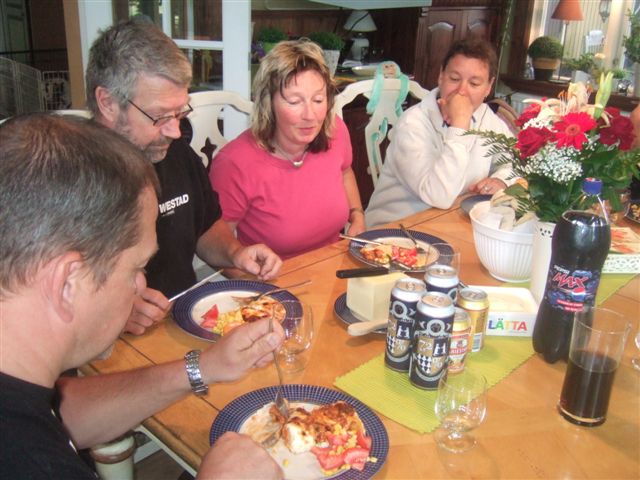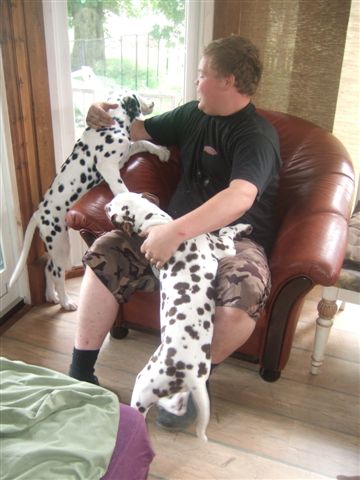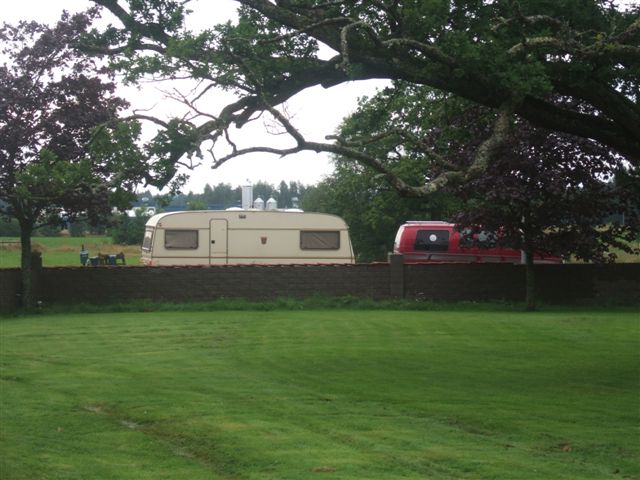 Sunday 22 July 2007
Photo by Kirsten Ravndal, Norge
BIS VETERAN Both Days Ch Jilloc´s A Match Made In Heaven
"Darling"
Born 1996.10.09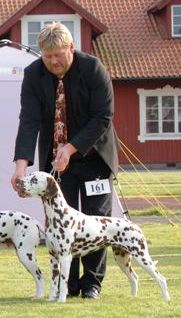 BIS Sunday & BOS Saturday Jilloc´s Reflection In A Mirror
"Devlina"
Born 2006.03.25
Terrible weather in the afternoon, almost all bitches got wet, and the final and groups was held in cloudburst. I was not happy for the rain, but it was better than to much sun for my Darling almost 11 years old. She became second best bitch after our young Devlina. Bossons daughter Fairytail Spots A Key To My Heart was nr five best bitch. Judge was Sören Jacobsen Kennel Oriana, Denmark. Best Male Ridotto Napoleone, our Export Selection the Astonishing nr two. Loverboy nr four.
It took over two ours to pack everything together, after that we started our trip home again....all of us so tired . At half past ten we stopped in Jönköping to sleep for some hours. Just a quick trip out in the awful rain with all dogs first.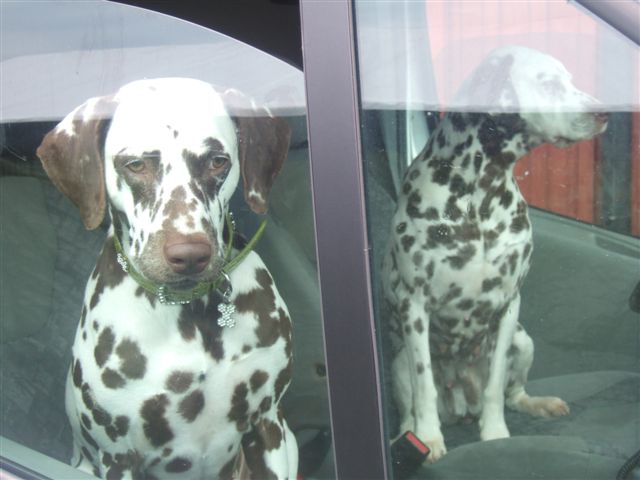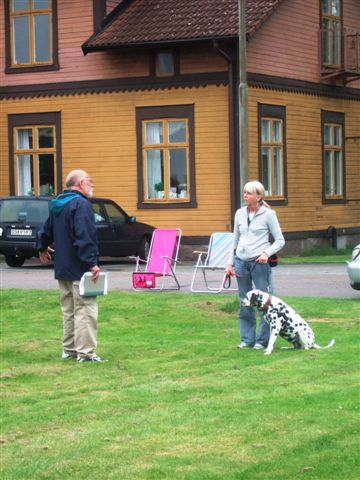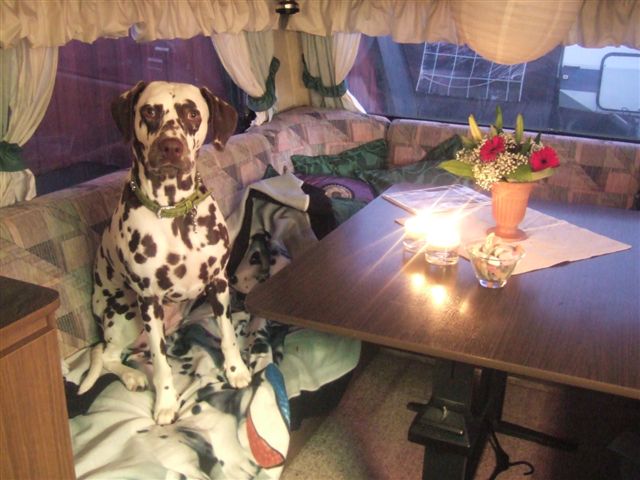 Jill and Darling in the car waiting to go home. Ewa and Daisy training. Jill in the caravan.
Devlina and Rune Expo at Sunday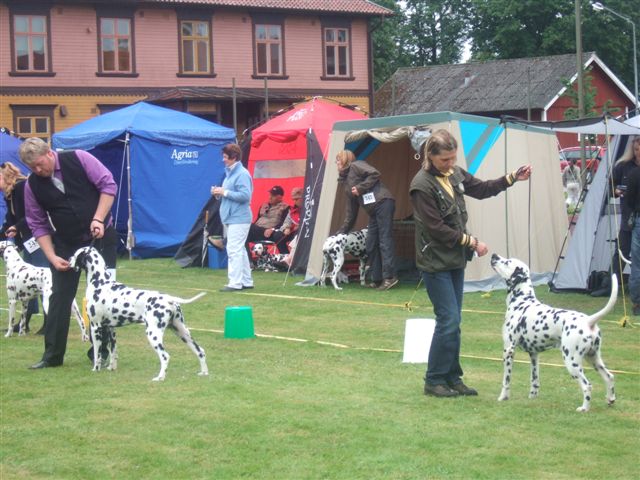 Saturday 21 July 2007
The show started with puppies. Our Mini Mel (Timanka´s Romantic Miracle) got a leach on for the second time in her life *S*, but she behaved very well. She was BOS Puppy. (See all results at Show results)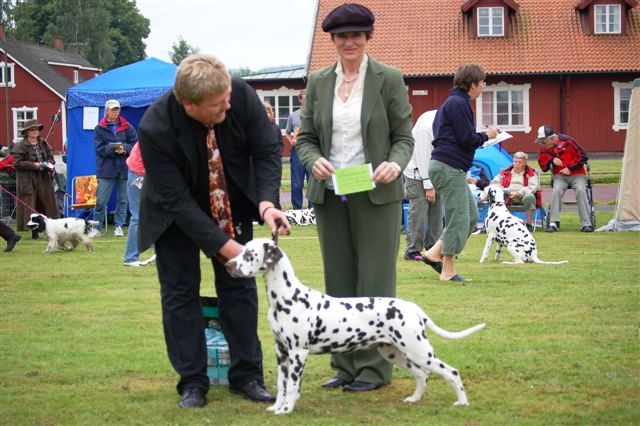 Most photos taken by Kirsten Ravndal, Norway.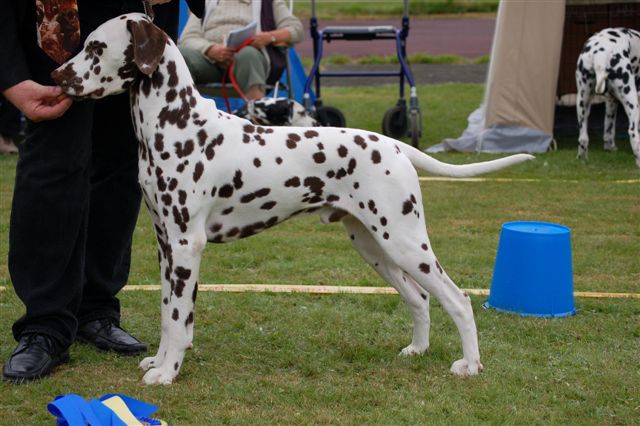 Disco second best male with CAC. Expo nr three in open with ck.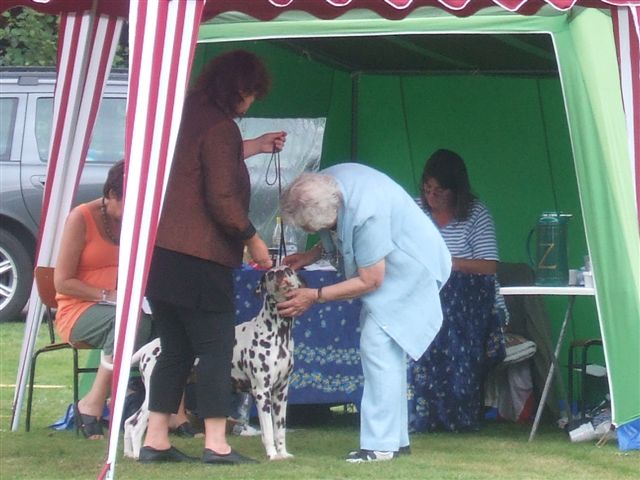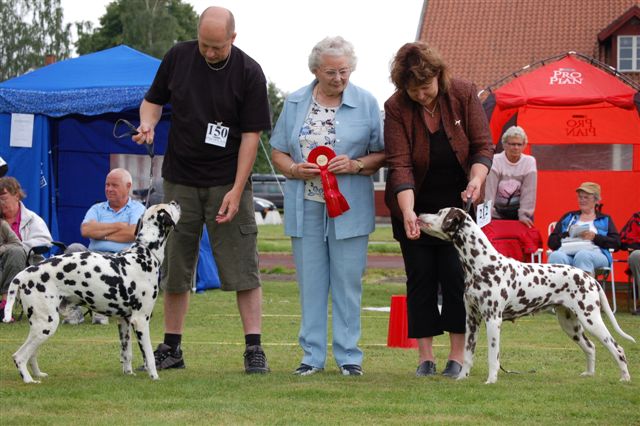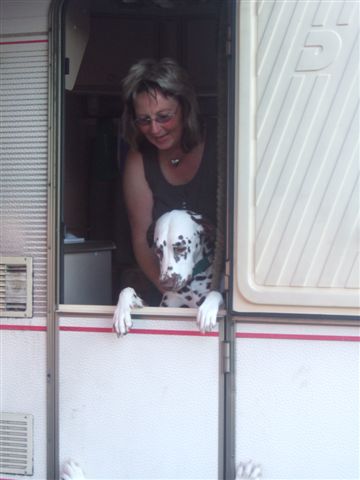 Molly nr five best bitch. Solbos Umberto Bos Veteran and Darling BIS VETERAN. Nelly from Norway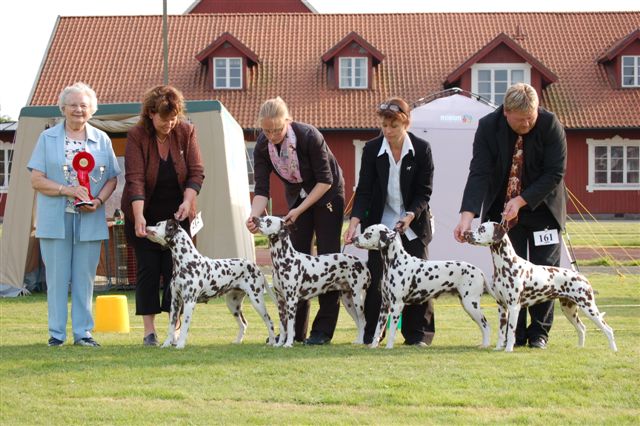 BIS Breedinggroup Both Days Kennel Jilloc´s, judge Joan Curtis, England.
Friday 20 July 2007
This is me and my daughters NAMEDAY........MARGARETA! Up early, and tried to be ready with all things home so we can start our trip to Ljungbyhed as soon as my daughter Jennie was here. She was ready at the hospital at 11 o´clock and was here at 1,5 hours later. The sun was shining and Rune had bought flowers for both Jennie and me... We started from home at two o´clock.
Jenny our kennelgirl/handler was goin to Ljungbyhed with her dog by her self after she finished her work. Our car and caravan was really full but we thought it was a pity that Jenny should drive all the way to the show alone so we called her and asked if she and Kassie could be as small as possible *S*. than we could try to squezze them in too. Of course it was succesfull!
In the afternoon all people that had arrived, was sitting at a very long table eating and barbeque. It was a nice evening. I went to bed before Rune, together with the dogs. Soooo tired as usual.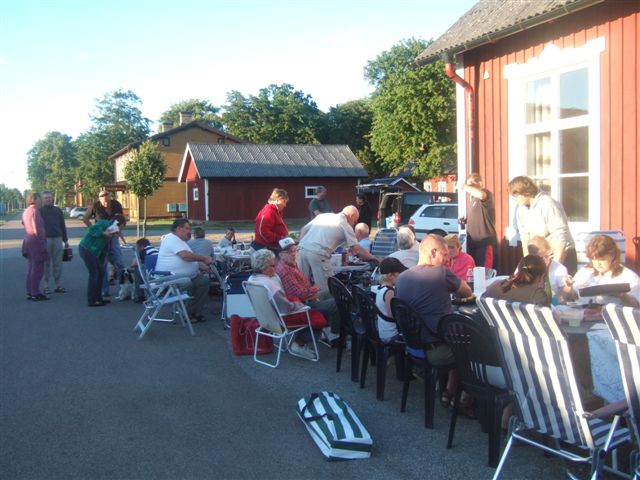 And Congratulations to Rune N today it is HIS Birthday!
Thursday 19 July 2007
This morning a Lady from the curch close by, called to ask me if I could come there next week and speak about myself and my life. Because so many her in Götne is interested in our property (it has been one of the biggest farms many years ago before they split it up). People can see that we have done lot of things with the house and are interested in our dogs and in my store. The owner before us lived here for 52 years it is now 5 years since we bought this house. Unfortunataely we are not at home the day they asked me to come, but maybe I can do it later in the Winter, and I need time to be a little more prepared than today.
At 10:30 i had a time at my hairdresser in Lidköping and Rune and Nyhammers went there to go to an old café for breakfast. After that Anne Karin and Rune N went back to our house to start their trip to the south of Sweden, and we planned to follow them as soon as we were ready to leave tomorrow. We where home some hours later, when Anita W came here for some hours and Louice came here with Darling because I was going to show her at the special show this weekend, then Darling will stay here with us for a while as usual. She and her brother are so very fond of each other and love to be together.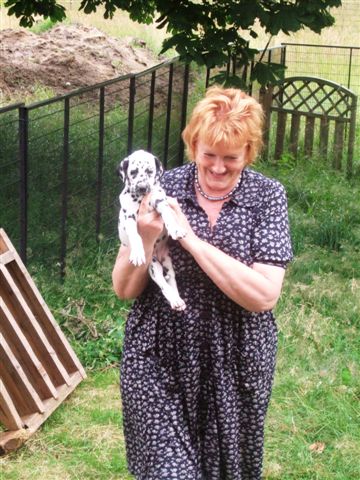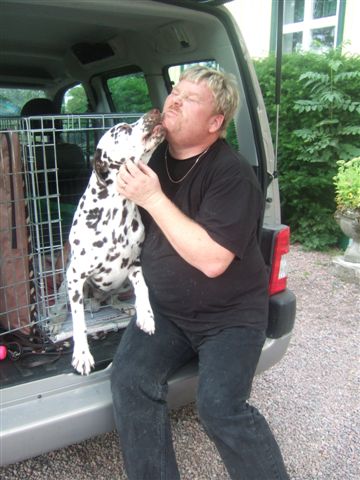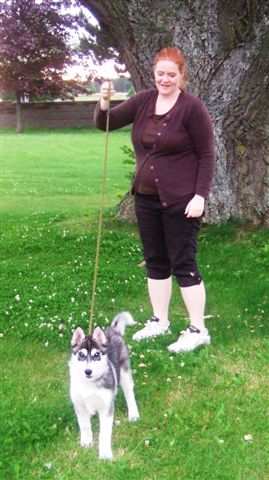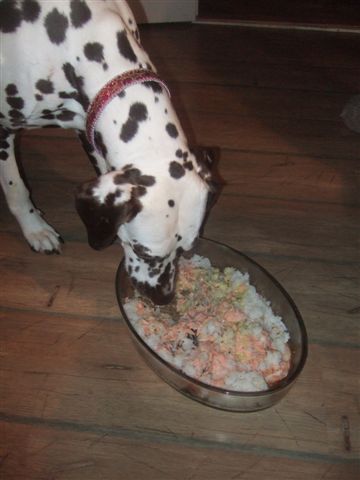 Anita found a favorite. Harry got his nails cut, so happy for everything. Louice and her new puppy. Jill with her dinner this evening.
At half past two in the night we started to give seven of our dogs that will come with us to Ljungbyhed tomorrow a bath, and then we went to bed with the wet dogs in our bed. I put t-shirts on some of them, so they would keep warm and dry up sooner. Not much sleep this night, three of them liked to sleep on my pillow at the same time, and Disco destroyed my new t-shirt into strips after a while when he was too hot to keep it on!
Wednesday 18 July 2007
Rune was very happy this morning, Chrissi had dissect all our garbage all over the kitchen, and carried most of it in to the puppies. Not very good. It took over 1,5 hour to clean it up. Loveley morning...I came dovn into the kitchen just when the floor was shining again, good timing for me *S*! The first thing I asked him when he told me about it was -: I really hope you took a picture of the mess, so I can put it in my diary!!!!! He looked at me (probably he think I was really stupid) and said, NO I WAS TOOOOOOOOOOO angry for that. I thought it was a pity.
Today another trip to the vet. Some more vaccinations and a x-ray of one of the puppies tail. Something happend yesterday when we were cleaning the puppy yard, we heard one puppy scream and she got a hanging tail after that. The x-ray did not show anything wrong, just a little injury at the soft part of the tail, thank god!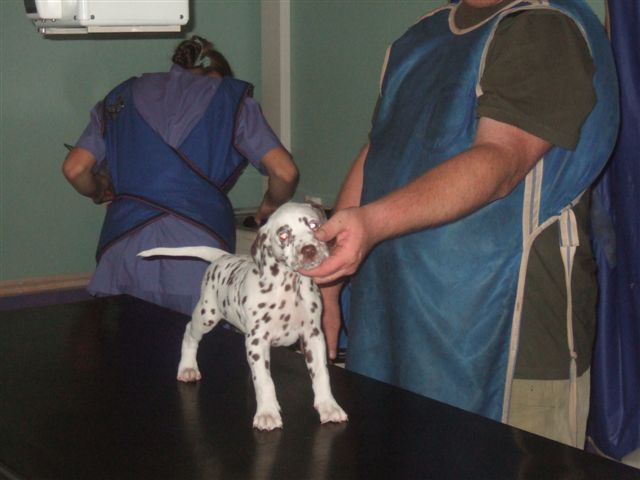 The puppie was so happy for a trip to our favourite vet Tore. She had to be still for some seconds. After that there was time for training on the table...Rune is a little bit maladjusted, maybee he think she is a cocker...but she like it, everything is so funny she think.
After that we started to be hungry for breakfast, and we took a trip to a café to buy something to bring home.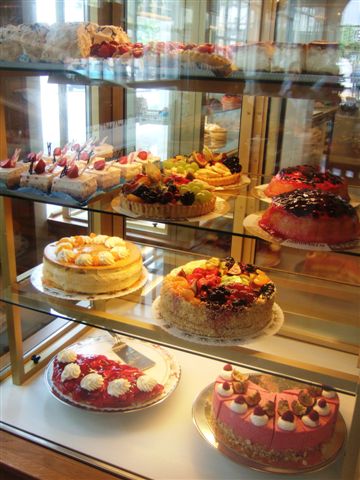 We bought some sandwitch and a cake. One of the puppies found a friend.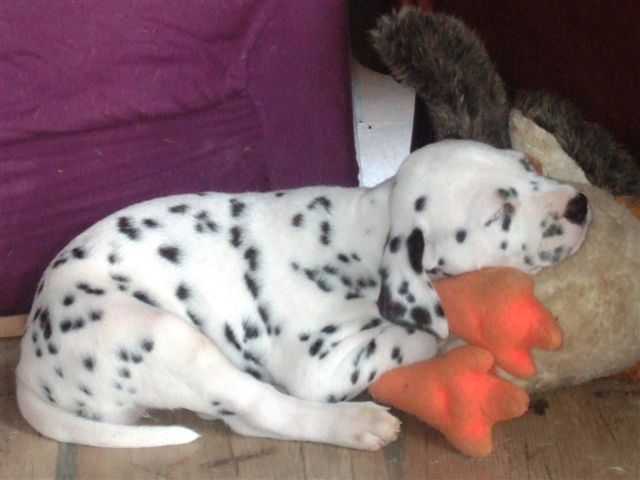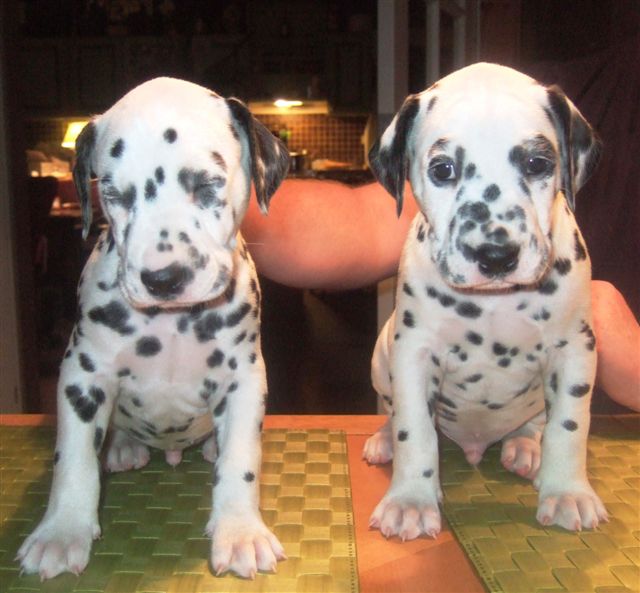 When we arrived home there was a car with two persons at our frontyard. It was the Kennel Adviser on visit. As always (they come sometiomes once a year and sometimes every second year) they check how your dogs live, how much space the have in the garden and if you have room enough for your dogs, and of course they look everywhere and lcheck the condition of our dogs, and papers that you write when you sell dogs etc.etc. I think this is a neccesarry inspection for the dogs wellfare, but of course it has been good if they have checked everyone that sell dogs, not only the breeders.
In the evening I got my new stair to the garden. Four strong men carried it there....so very good! Rune Nyhammer We Love You, please come back soon *S*!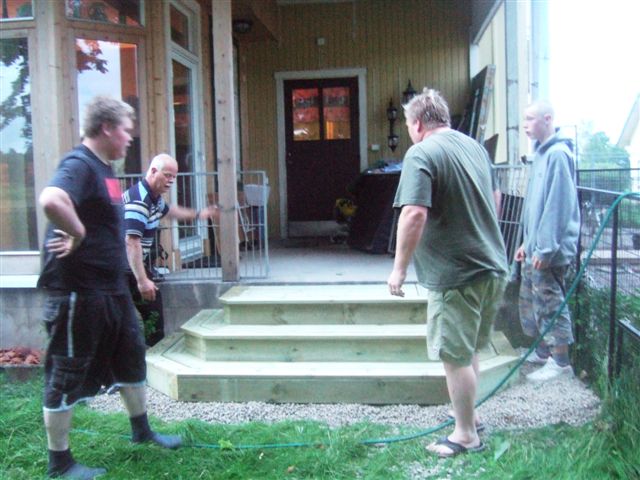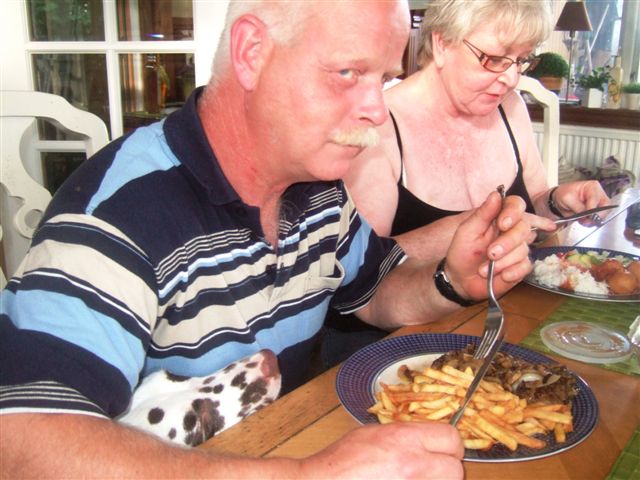 So nice!! We celebrate with a good dinner.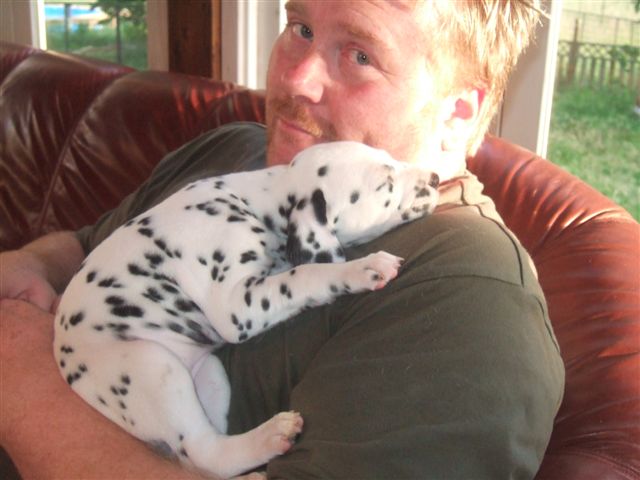 Tuesday 17 July 2007
Rune Anne Karin and Rune N was sightseeing in Linköping and me and the dogs slept until 12 o´clock, nice!!!!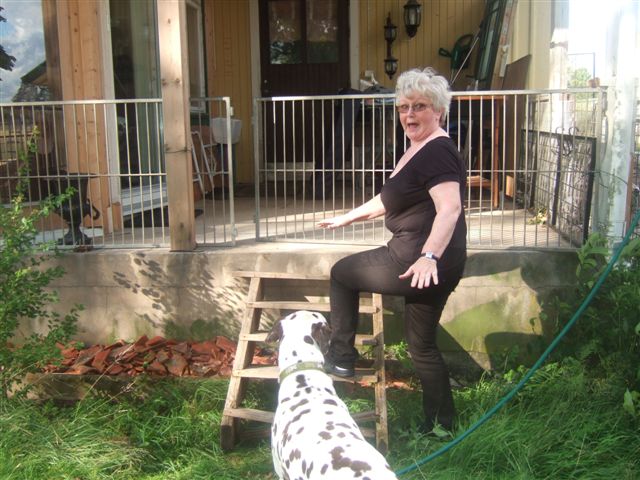 Anne Karin found our dangerous stairs that Rune put up....and she ordered HER Rune to make a new for Devlin *S*so he can go out this way to the backyard.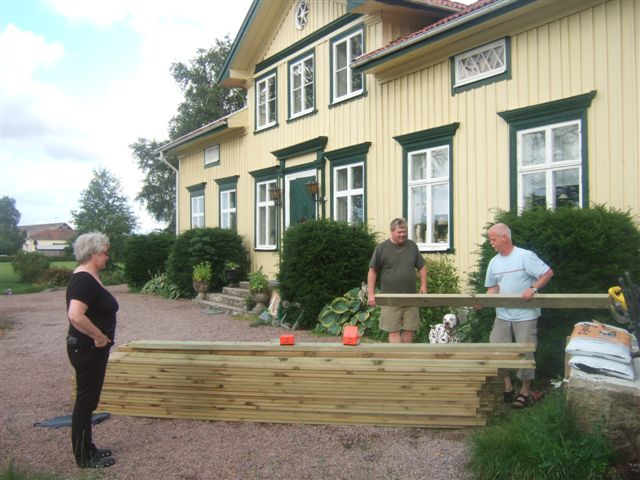 The Boss had full control on everything and take the time so her slaves didn´t rest to long.
Both of them got something to play with in the evening ( a rack to hunt flies with) they were so happy!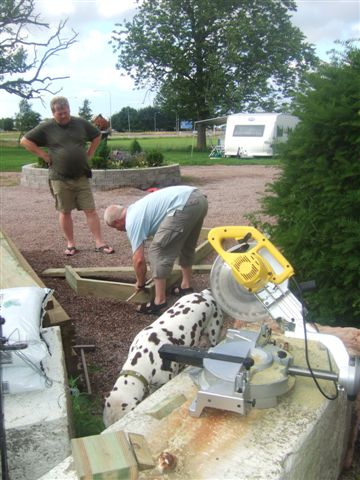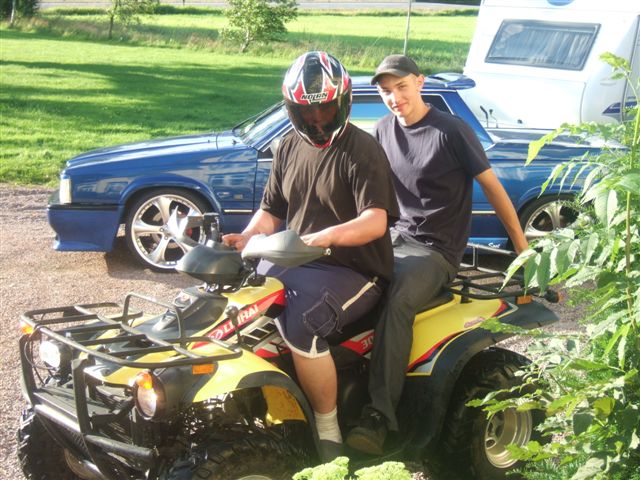 Jonnie have so close to the gas station. The sun was shining on Jonnie and Johan.
In the evning Jenny came with lots of newspapers for the puppies, thank You again, and Hanna and Jens was here and Roy came to for the fourth time this day *S*, someone that was driving through says that they think we had a place for "Bed and Breakfast" here, and sometimes I understand why!
Monday 16 July 2007
Uppdated "History". You can read about all litters from our kennels and follow the links to the owners with homepages.
Up very early because we will try to mate once more before Anna and Lena have to go back to reach the boat from Stockholm to Helsinki and then drive back to S:t Petersburg again.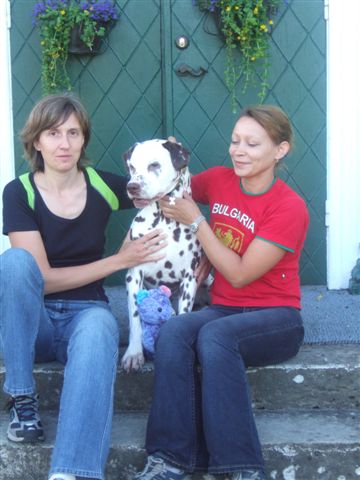 Devlin looked at me when I try to wake him up at 7 o ´clock....and fall asleep again.... I try to tell him who was waiting for him in the garden, but he was NOT interested att all. At this time in the morning he prefere to sleep, at least until 10 o´clock. After a while I got him out but he think I was rude of me to ask him to go up and out in this time of the day... We went in again and make breakfast for all dogs the puppies and us, bacon and egg the best for us and Devlin. After that we try to mate again, Devlin started to be really interested but the clock was that much that Anna decide that they have to go, IF the mating will be successful now they probably hang together for 25 minutes and they do not have the time to stay that long. We take a quick goodbye and Rune went in to the doctor to get help with his back. I really can´t remember what I was doing...probably fall a sleep on the dog bed in the kitchen with Jill and Donna over me because I was so tired and was so frozen. After a while Rune came back with lot of pills, hopefully it will help his back. And Jonnie came for breakfast, and to bring his toys to Roy´s place.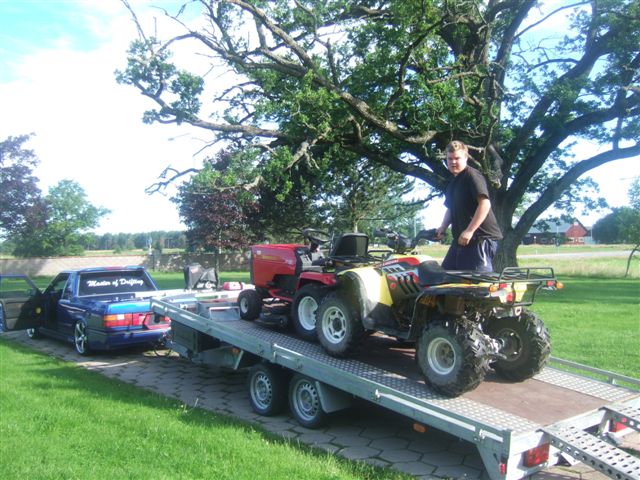 Some hours later I was standing in the kitchen to do the dishes and I head through the open window a car was hooting, I looked out at E20 and saw Nyhammers car and caravan passing by....what in hell, why don´t they stop. I call for rune and say that he imidiatelly should call them. He could not find my mobile (I ALWAYS wear it around my neck) and I remember that I probably forgot it in our bedroom at first floor this morning when we went up. He run up to get it and found a message from Nyhammers from this morning, and they ask if they could stay her with us (as usually) this week until we together go to Ljungbyhed for the special show coming weekend. That was why they did not stopped, they think we di´n´t want them for visit because we haven´t answered their message*S*!! They should know us better than that!! They turn around when we call them and we all laught a lot!!!!!
In the late afternoon I had costumers in my store for some hours, and later we made dinner, Hanna and Jens came too and the clock was almost two in the night before we all went to bed.
We have called Strömsholm Veterinarian Hospital today and booked time next week for some puppies to do the BAER test, because some of our puppies maybee move to countries that demand only fullhearing dogs to breed from.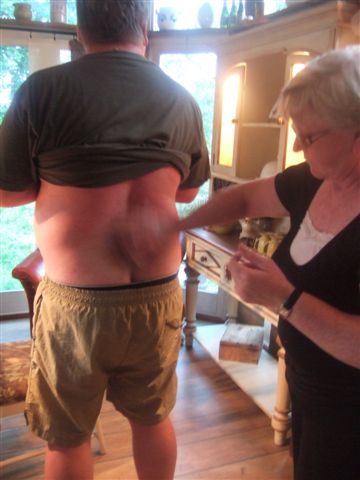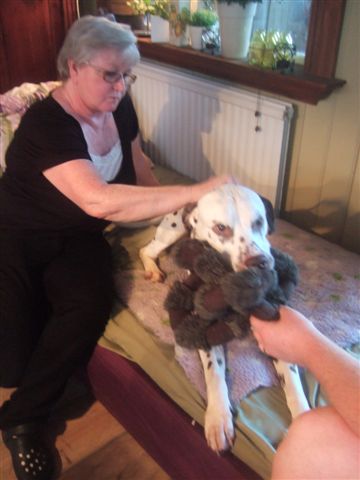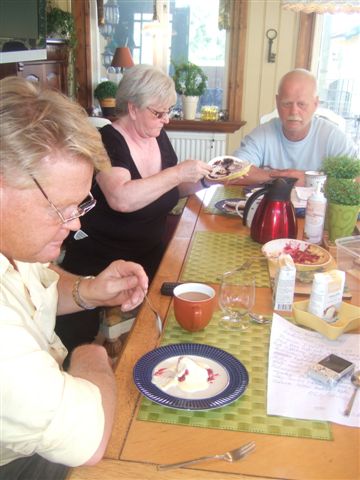 Anne Karin gave Rune magnetic massage on his back, and even Devlin *S*.......Here we eat and drink all the time, always someone knocking on the door with something to the coffe......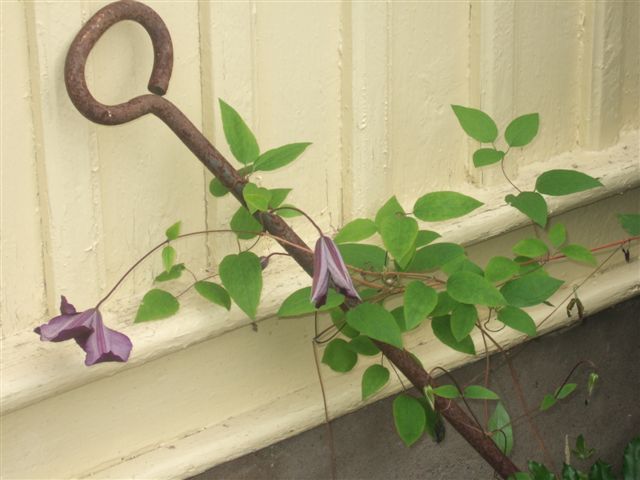 Sunday 15 July 2007
Devlin has now mated a Russian bitch. To see more of development, Follow the link.
http://dalmatian-spb.narod.ru/index.html
Up very early in the morning, lot of things to do as always. My daughter Jennie go back home again, thank god that she can be here, even if it is not easy for her to help us just now... In the middle of the day Maria and her mother Marianne came to se the puppies and to visit us. They have a son of Devlin Ekryda Herkules, and they think it is so fun to meet Devlin and see how similar they are in everything they do. Last year when we were in Thailand for a month Devlin lived with Maria in Västerås ( she was one of three people in whole Europe that I trust to take care of him). Started to make lunch and when it was ready the breeder from Russia and one of her friend that speak English came in front of the house. Just in time! We eat and then out to meet the bitch. Because Devlins is week in his legs we need lot of time for mating. After 15 minutes we take a breake and went in for a while, and then out and try again, and it was imidiatelly sucessfull. I don´t know who was most happy Anna or me!!!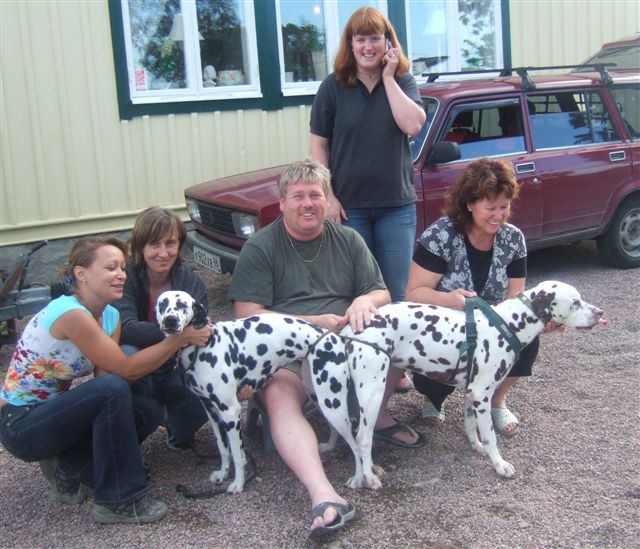 Rune was very convalescent today, his back was almost locked. Together for lunch Maria our Russian friends and Marianne.
We talked about Dalmatians for many hours and saw lot of pictures of Russian dogs it was very interesting. Anna her friend Lena and her bitch sleept in our caravan because we have our two puppy litters in the house now.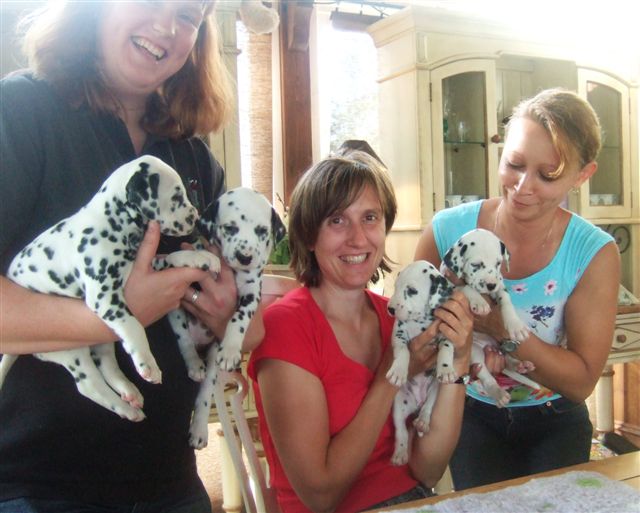 Saturday 14 July 2007
Late night together with all our friends last night, no rain and we barbecue and opend 3 bottles of Champagne (Nyhammers ALWAYS find something that we celebrate!!!) I went to bed before the others, just so angry of my self for distroying all nice pictures in my camera....
Early morning (I hate it) and a new show and new chances for all of us.
Judge was Anders Cederström 86 years old ! I admire all of these old judges that can walk around in the ring all day long in all type of weathers...today it was raining from time to time.
In the evening after the final, we started to drive home.....we recovered very soon that we had no light at the caravan, it was totally black....still it was daylight, but very soon it will be darker and we had no light at all.....we stopped and try to repaire it, but nothing helped and we HAD TO come home as fast as possible because tomorrow morning we had a breeder from Russia coming to try to mate with Devlin, and we have to make lot of things in the morning before they come. Both in and outdoor. It was almost dark when we recived home at half past ten....thank god that we have´not seen any police on our way back home.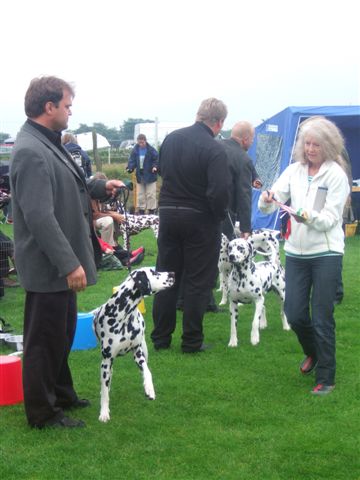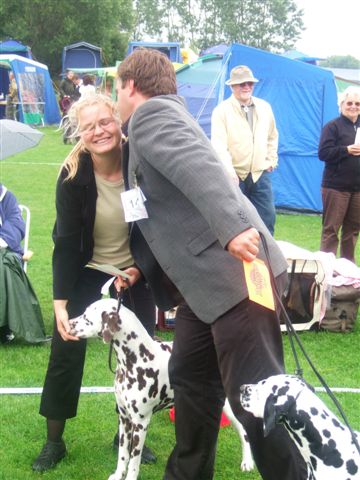 Expo so happy when the judge say hallo to him! Kai and Zid winner of open. Hildegun and Vinta (J Journey To Your Heart) CAC and BOS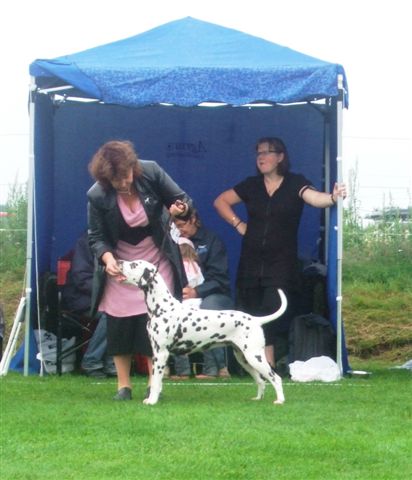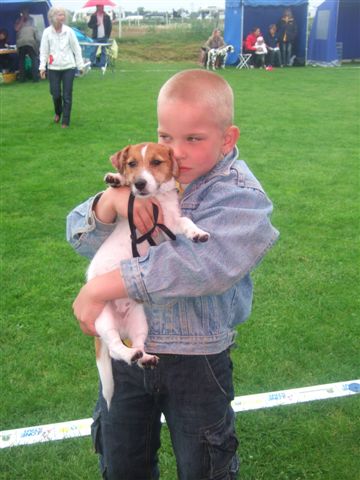 J Hothouse Flower (Molly) BOB on friday .........nr two in championclass at saturday.........Nice dog and little boy!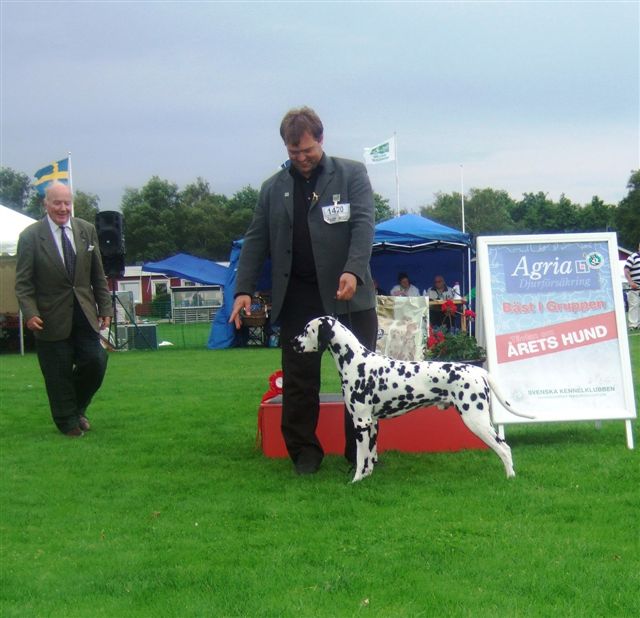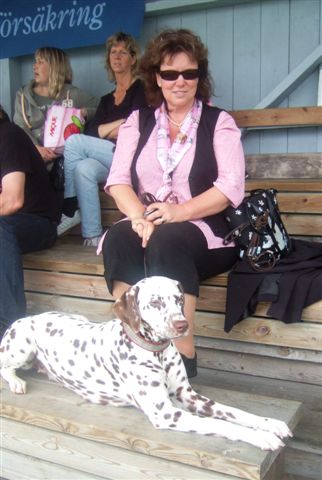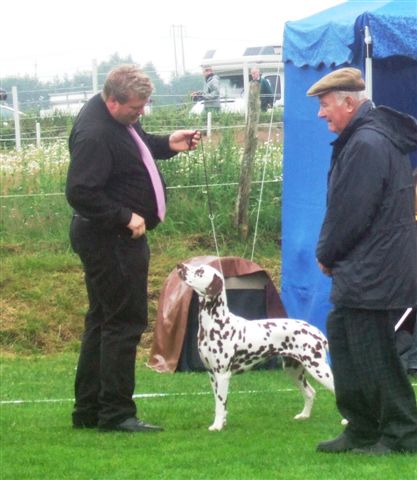 Sissel nervous before the group final.......... Lovindas Fridtjof was Big.......... Perfekt and me waiting.......... Rune and Devlina
Friday 13 July 2007 !!!!!!!!!!!!!!!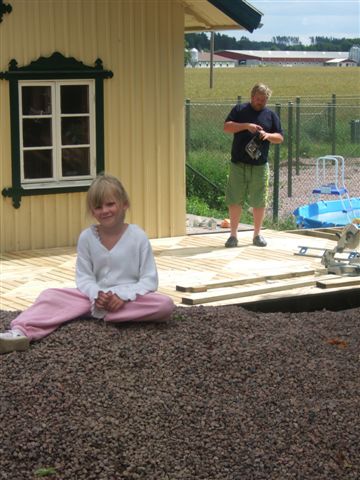 This date at a friday says it will be an unlucky day for everyone.... Sometimes this is wrong, BUT this day started with me waking up at four o´clock in the morning in the caravan, something was wrong...I opened my eyes and I feel a nauseating smell of shit!!!!! Devlina was jumping around in the caravan and she had done lot of things (I dont say more) in the sofa...over the new silk pillows on the floor and in our bed!!! She have probably eat something that she found the night before at the evening walk.......hungry dalmatians!!!! We take her out and then started to clean the caravan, it was not easy because there are a thick fitted carpet with heat under, and we really need LOT of warm water and soap. I took of our new dirty quilt cover and put it in a plastic bag and together with some nice and new blankets in matching colour....I told Rune that he should REMEMBER THIS BAG, so you NOT throw it away, and I remind him of that special bag two or three times the day after, and OF COURSE he throw it away together with the garbage when we drive home....I found out about this imidiatelly when we was home when I started to wash all our dirty things from the weekend...and asked if he have not heard what I told him about the bag...of course he had, and he have looked in every bag except one that I have closed very well......JUST WHAT I TOLD HIM...this one that is closed with dubbel ties...DON´T TROW IT AWAY...he NEVER heard that!!!!!!!! Men!!!!!!!Grrrrrrrrrrrrrrrrrrrr!!!!!!!!!!
Try to sleep some more hours BUT my dear man snoring more and higher than ever, so it was better to go up and start the day. We have got a change of the judge from Elsbeth Clerk that we entered our dogs for to Hans Lehtinen instead, but when we came to the ring he sit on a chair and got problem to judge so they try to find someone else to take over the dalmatians. After an hour they have found a reserv it was Lisbeth Liljeqvist, and the show started. Disco won the first class and his brother Bruno was nr two, next class Expo was the winner, and in championclass our friend from Norway, Rune Nyhammar with his dog was nr one. Later Expo became best male. In the young class for bitches Angie shown by Jenny was nr one, nr two was Devlina...In open class Vinta (sister of Jill) was nr one and I won championclass with Annickas and my Molly (Jilloc´s Hothouse Flower, Dalmatian of the Year in Sweden 2003). She was BEST OF BREED and later on BIG 4. I took lot of very good pictures this day...for ex when Jenny showed Angie to second best bitch and she got her first CAC, and when her owner came running crying to hug them....and of course as I said before this was friday 13 !!!!!! so unfortinally I made a mistake and ERASE ALL nice pictures and movies from this day...I hate to think about that, because those moments never come back.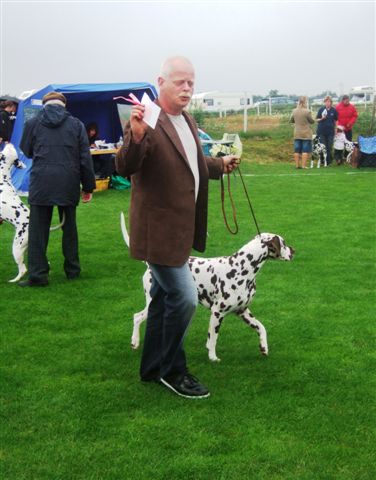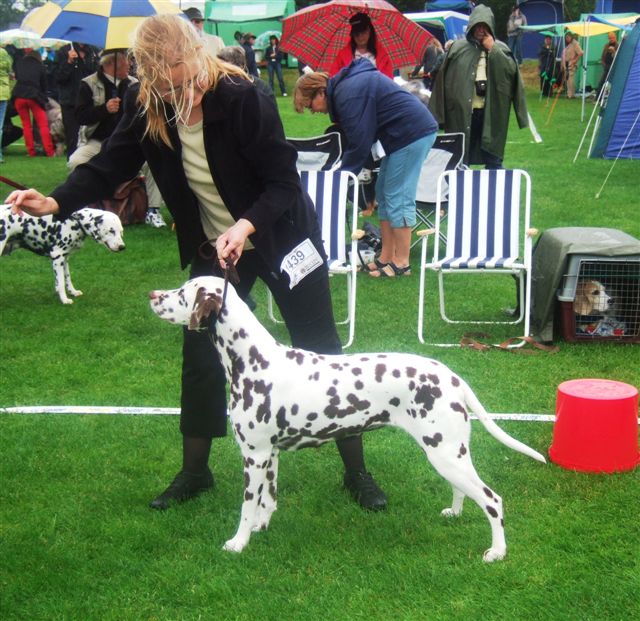 Thursday 12 July 2007
On our way from home at 12.15 after a hard and busy morning....We stopped in Gothenburg because I was going to shop a lot of cheap things to our dogs in a store there. Of course I bought tooooooooo much as usual. I do not need 46 neckles and 34 dresses for the dogs...but of course it is fun to give away as presents. It was raining all the time and the last week it has been raining so much in south of Sweden that there have been many problems in the traffic....at Varberg we saw a car and caravan that was floating around in about 2 meter high water!!!! Then I remember that I just forgot to buy gumboots at the shopping center. We stopped and try to buy some but there were no one left...after two hours we found a pair for Rune at size 45 at a gasstation.....the last one.
On the camping ground where everybody already was since many hours it was only mud...and the owner of the camping pull everybodys caravans with his tractor...because we could not drive with our cars....terrible. Of course our friends from Norway came to rescue me with one of their own pair of boots.....thank you again, Sissel and Mari.
Wednesday 11 July 2007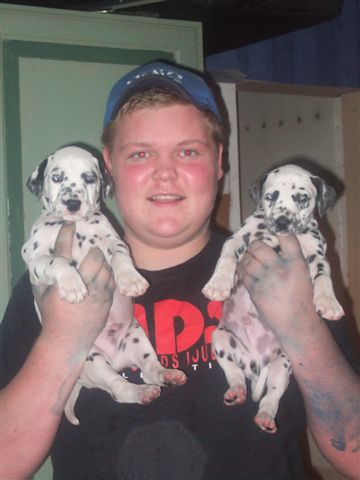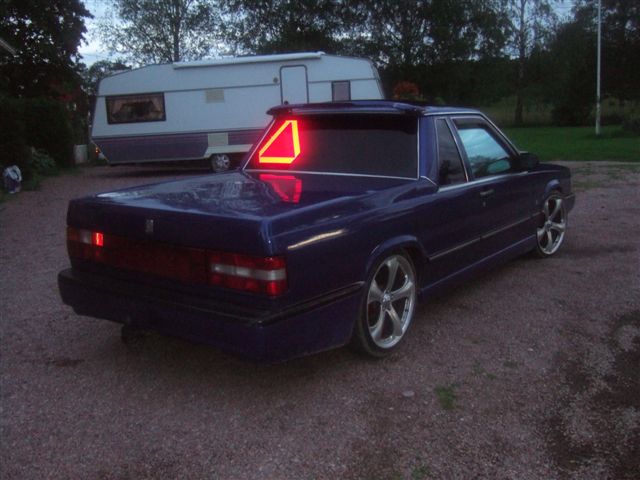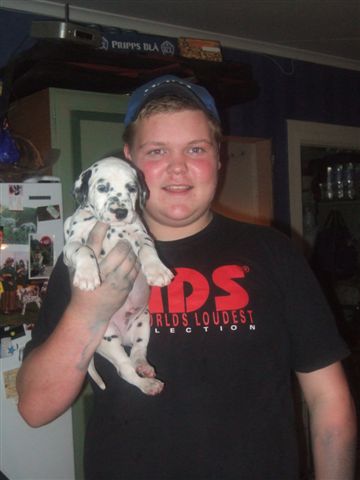 Jonnie with Sugardaddy o Speedy Gonzales, every time he went into the kitchen he dive into the puppies bed to pick one of them up..This is my favorite he says....and ALWAYS in every litter after he have looked at them some minutes he pic up "the right one" in my eyes. When Bosson was born some years ago he paint him with green colour when he was 10 days old so he could remember him.... Can we keep this one he said....You are crazy I said....we do not know anything about that puppy yet. He is the best he said...and so he was!!!!
This night (he is just like me...awake in the night and sleeps only some hours in the morning) he have been painting a trailer for Roy...You can see the colour on his arms....blue! He wake us up at 10 o´clock, when he was finished, and want me to make breakfast...and fall asleep at the bed in the kitchen while I was making it. After an hour he wake up when Roy was calling from Asia and then he drive to Evedal (Roys house) 3 km from us and let his dog Elliot out and then both of them go to bed again for some hours sleep.
I asked Jonnie to take a photo of our caravan we bought some months ago (we sold our nice one that we had for some years now and bought a much cheaper one that is ok if the dogs eat it up *S*.....Can You see the caravan???? Of course his car is in front of the photo!!
At 10:30 we have time at our veterinarian 50 km from here so we have to start the day early. Jenny came 9:30 to come with us there, she is so very interested in everything that have to do with dalmations especially with Donnas litter, and today we go there to Mega O test them because they are 4 WEEKS TODAY and you HAVE TO DO IT between 4 AND before 5 WEEKS IF you want a correct result. IF you do it later it could be to late to know if the puppy is born with MEGA O.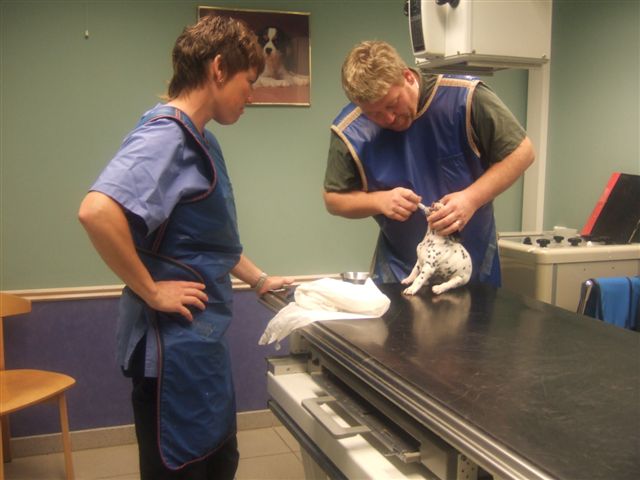 The staff are happy when we are coming because we are there so often that we can treat our dogs by our self. If you are PREGNANT it is not allowed to be in the x-ray room....BUT they make an acception specially for RUNE *S*!!!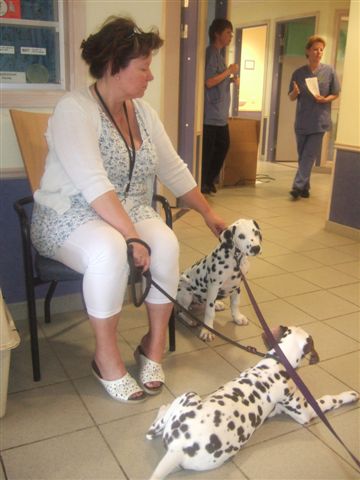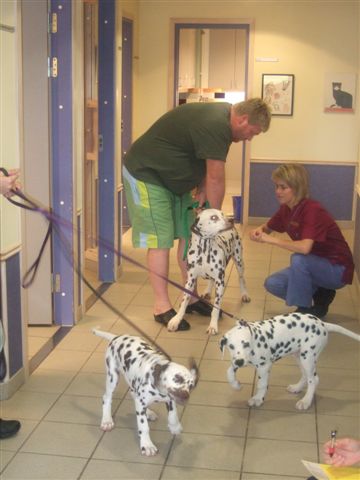 Rolex and Diamond was there to get their first rabies vaccination. and even Devlin got some injections, to try to be stronger.
On our way back home we saw a very strange ekipage on holiday. This is our garden every morning at 5 o´clock! Birds, birds and birds.
In the evening Jennie came to stay here during the weekend to take care of all dogs and the puppies, with some help from Hanna (while she still is very convalecent after her both operations). Rune went to bed at 4 o´clock in the morning and I fall in bed at 7......! And get up at 8.30......soooooo tired, but we will try to start the trip to Tvååker at 10, but we was not ready to go then...so much to do and think about because we will have friends and breeders from Russia on visit at sunday when we are back home again. And of course do everything with all dogs before we go so Jennie do not have to start the day with cleaning all over the first thing in the morning.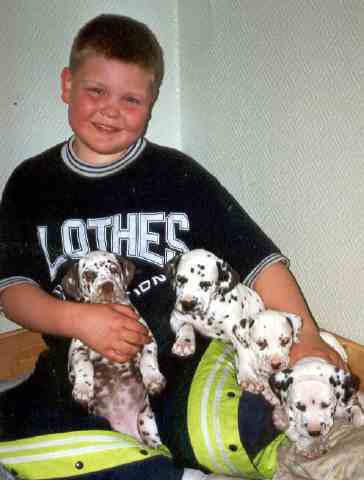 Jonnie 1999 with Jilloc´s E-litter Jonnie 2005 with his own dog Elliott (T-Cart Kracker Jack)
Tuesday 10 July 2007
We went to bed at five o´clock this morning...have been up all night to take photos of the puppies and try to se wich one we will keep and wich of the others that will suit our puppybuyers/breeders in Sweden, Finland, Holland and maybee Italy......everyone is looking for different things that they need in their breeding just as we do when we buy puppies from other breeders/countries.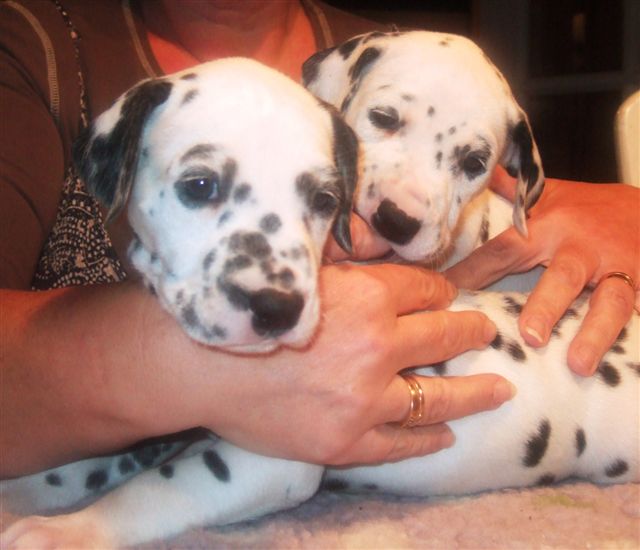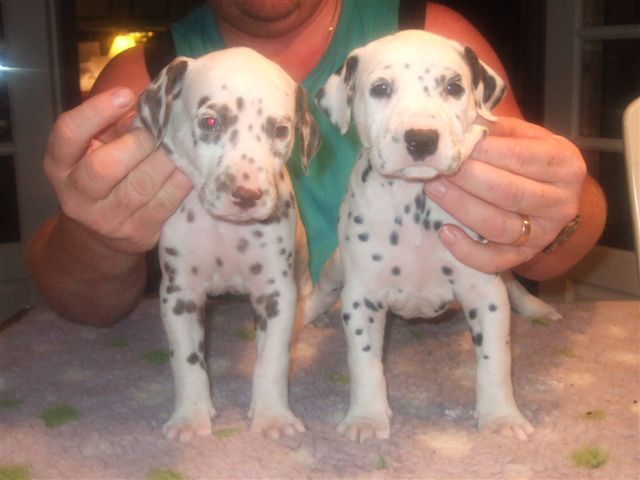 J Scandal Beauty o J Seventh H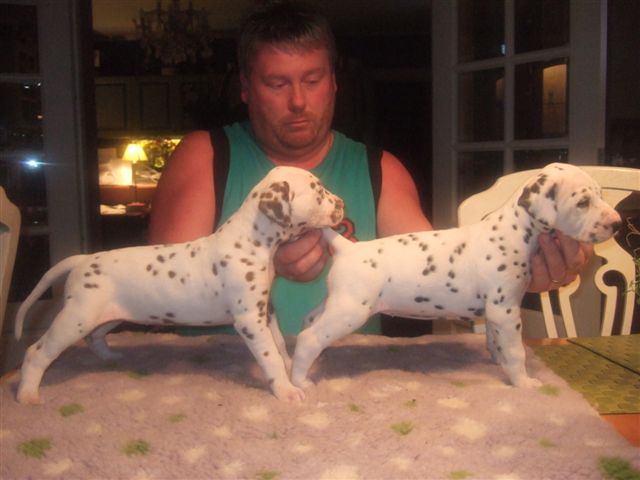 J Scandal B o J Seventh H J Scandal B o J Trumph Card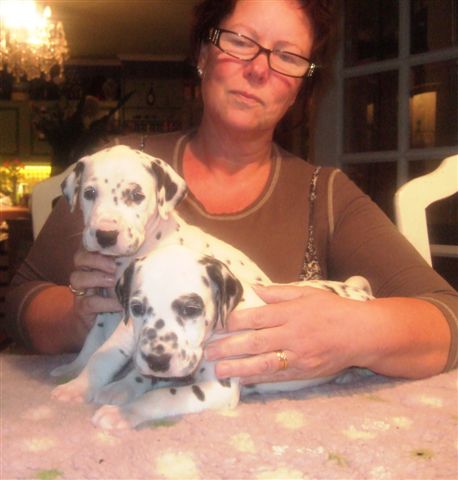 J Top Model o J Seventh H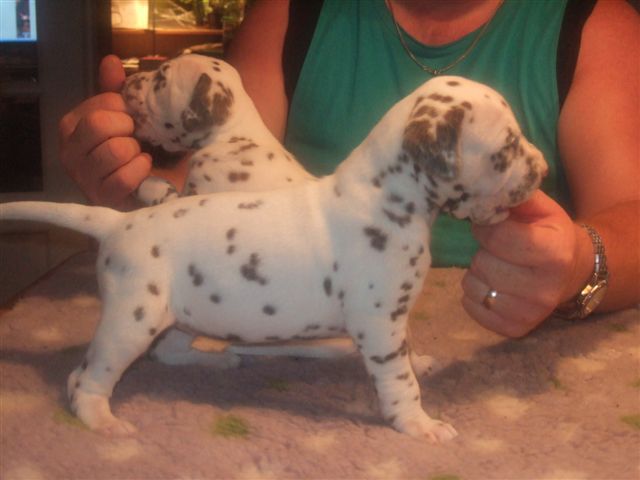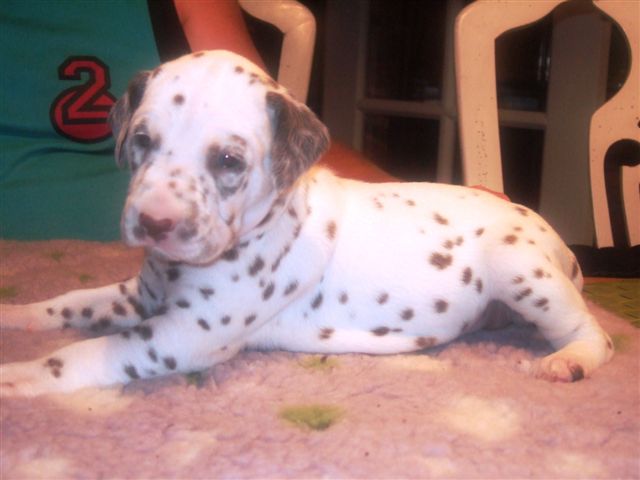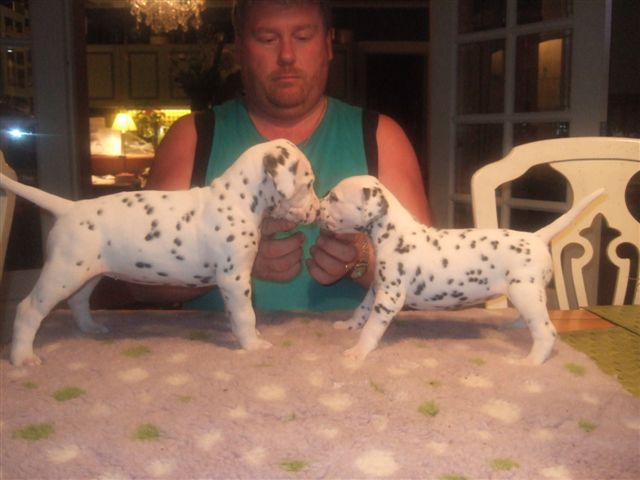 After some hours of sleep, just a new day to take care of everything again and again...the same procedure as every day...*S*
We made a better cage to Chrissi and her puppies, now there is one bedroom for the puppies and one bedroom for Chrissi and one room for other things...a playing area, and of course they already run free in our kitchen and start to destroy and have fun.
Rune started to make us a larger bed in the caravan...I´m sure it will be very good (and better space for the dogs) *S*! At thursday we go to Tvååker for dogshow at friday and saturday...!! And it will be fun to meet all friends from Norway again, and eat and barbecue together in the evenings, that is the best thing with this time of the year. Hopefully everyone!!!!! come and stay with us in Götene this week, it is so easy when they have their own caravans with them, and our garden is large enough for all of you that want to come and visit us.
Hopefully there be no more rain so we can finish the pooldeck and put up the tent so we can sit there in the evenings if we are tooooooo many *S*.
In the middle of the day I try to take some corn flakes and Rune have put it up on a shelf, he hope that I couldn´t reach it so he can have it for himself...later. I took a long thing and try to pull it towards me...and I did!!! I got it over my head...so sorry that no one take a photo of that...I even have cornflakes in my bra....BUT it was something left for me .....You can see it at the photo. My dogs was soo happy and eat the most of it, and I have to clean the kitchen floor again.....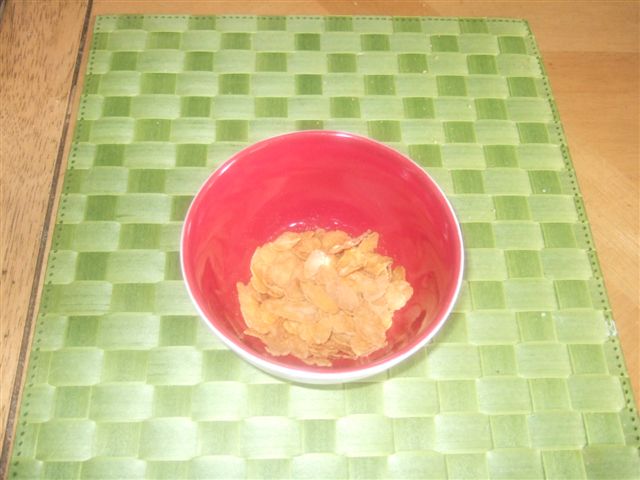 Monday 9 July 2007
Now we have been looking for my camera for over three hours, of course their have been so many perfect occasions to take photos of the puppies in funny positions....just because we coudn´t find it!!! Maybee Jonnie took it last night to take photos af his car...but he always ask me first....he know that I go crazy if I can´t find it...I use it all day long.
It was in his car....grrrrrrr!!!
It was 240 pictures of his car and Trucks on the road when I empted my camera!!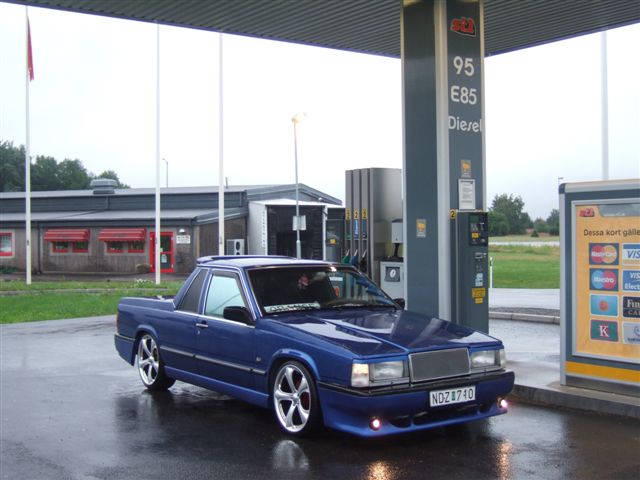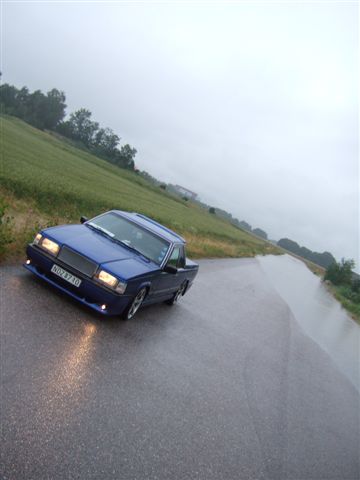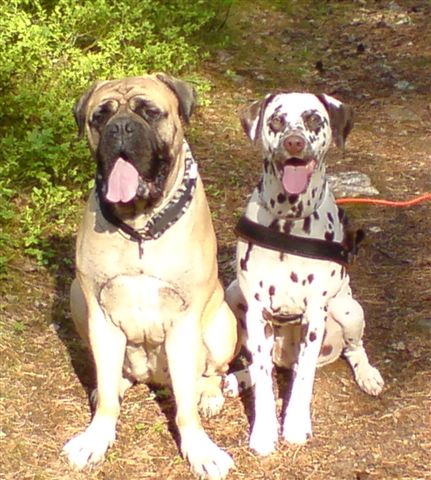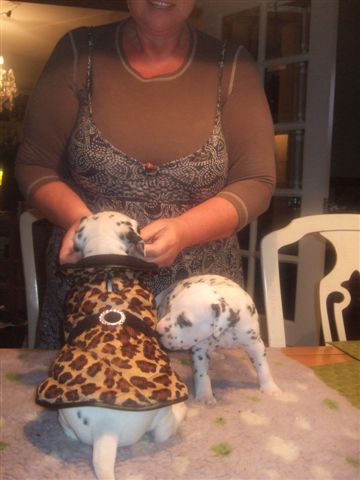 Chrissie a bit tired of her puppies sometimes Devlina and Discos sister little My(right) One puppy try her winterdress
Sunday 8 July 2007
One more rainy day....but I like it sometimes because you can stay indoor without bad consience.....and there is always so much to do inside that you never have time for in summer. So during this weekend we have rearranged the funitures in the kitchen/dining/sleeping room, because we almost could not move here anymore with all things and both mothers with their litters and some other dogs. I got crazy when there are things all over the floor and you can´t clean the floor in an easy way. Take lot of new pictures of the puppies etc. etc.
Halleluja Here I Come...
Jilloc´s Top Model 3,5 weeks old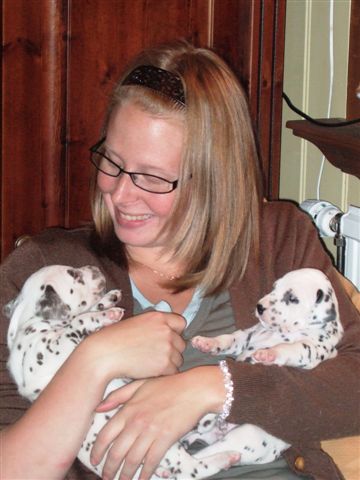 Jenny (one of our best kennelgirl, puppybuyer, handler and friend was here yesterday to play with especially Donna and her puppies, one of the puppiegirls will move to her in a while.... She is here many times every week and is more like a daughter to us...same as Hanna and Rebecka...and next weekend we all go to Tvååker for dogshow and the week after to the big specialshow in Ljungbyhed. Our only problem is that no one of us will stay home to take care of everything at home those weekends so then Jennie (my real daughter) is coming here, she is so happy that she do not have to go to dogshows anymore because the first 15 years of her life she had to go with us almost every weekend for shows, she got enough of that then*S*, hopefully Ellie her daughter come with us in some years to be a juniorhandler.....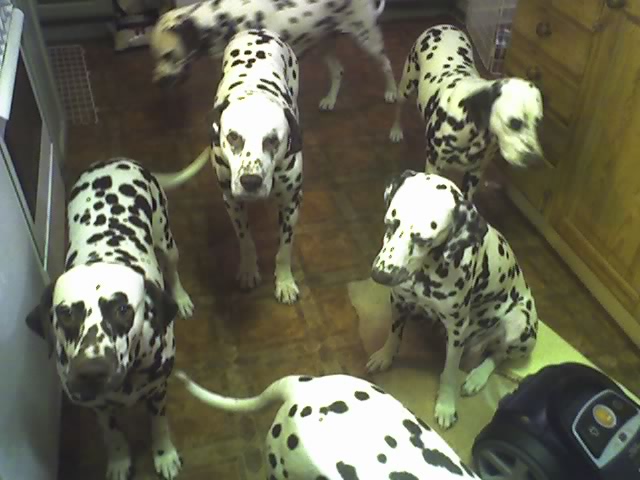 Jenny and Devlin resting Donna,Jill,Tutta,Devlin,Darling and Disco around me all day. Rune and Devlina sleeps together.
Saturday 7 July 2007
Uppdated pictures of Donna and Bosson's children. Jilloc's T-litter 2007 3 weeks and 3 days on pictures.
Still don´t feeling well but my doctor say that it will take time to get ok again...it is 3 weeks now with fever some days, and pain in my throat both day and night, and I cough 20 hours day and night....I´m sooooo tired of this now. Really need to be good again because we have so much to do with all the puppies and other things to take care of every day. Rune ask me to take some medicin for the cough, but I hate it...it smells and taste like alkohol!!!!! and that is the worst thing I know, I do not even drink wine or bear...I hate the taste... and I really don´t need it to be in good mode, I´m guite a happy person and can say what I would like to say without alkohol. The best You can give me is icecold Pepsi Max, without sugar or icewater!!!
Rune drink everything that I don´t want. He is so happy that he get dubbel of everything, and that he has me as a private driver when we have been to party somewhere. But the best You can give him is Pepsi Max too. first time I went to him in Norway I had 14 bottles of Pepsi with me because I did not know that You could buy Pepsi there....and Rune already have 20 big bottles home because Pepsi was the only thing he drink. No coffe and tea like other normal people......just the same as me I have never drink a cup of coffe, don´t like the taste....
My granddaughter Ellie was sick two days ago..she could not eat or drink anything..she throw up it emidiatelly...after one and a half day she started to get pain in her stommac, and Jennie took her to a special childhospital...Queen Silvias ChildClinic in Gothenburg. She told me that it doesn't look like anything she ever seen before. So perfekt for children to come to and so special staf to take care of them. Happy to hear that this kind of hospital excist today...remember those terrible people you met when my children was sick and you need to go to hospital sometimes (20-30 years ago). No understanding at all that my child was sick and afraid...just do this and that...and just stay still. They did not explain anything....still remember how awful it was.
After some hours at the hospital Ellie started to keep her water, and get then some healty drink with fruitsugar...and the pain she had was soon a little bit better so they could go back home again and rest. I called her and she was so happy...she already want to come back to us to eat Runes "bacon and egg", I will stay for a month and you have to make the same breakfast for me every morning she said....to Rune. She love to be here with all dogs and to wind especially Rune around her finger....*S*. He have never been fond of children, he decided when he was 15 years old to NEVER get any children by himself, but I know he will be the best father of them all......no one in the world have more patience than him... And Ellie said You and Grandma´is my best favourites in our whole family......he was really proud!!!!!! She is a gorgeous child just like her mother when she was in that age (7 year). She is one of our greatest Joy in life!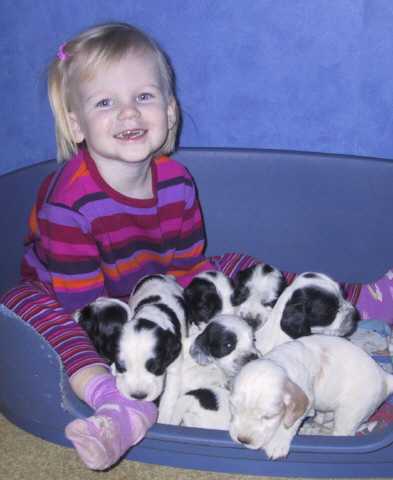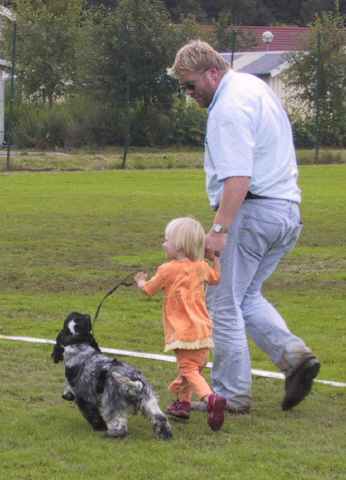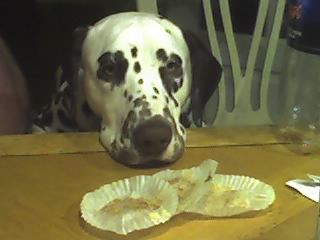 As always..nothing left for me!!!!
Friday 6 July 2007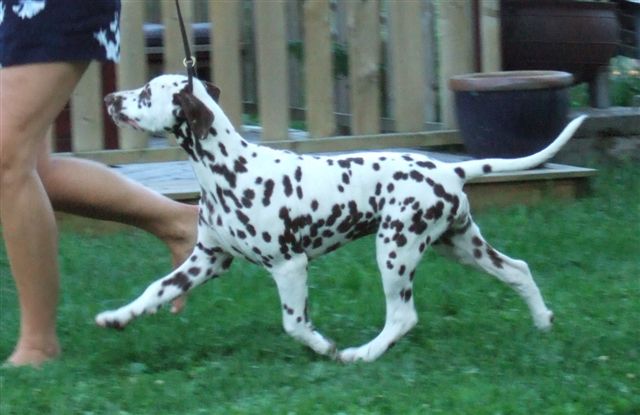 Last summer Devlin almost 10 year and his Daughter Devlina almost 5 month.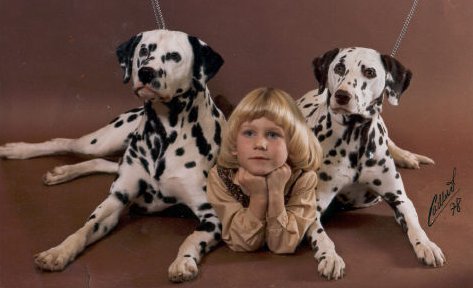 Ch Krasse and Jennie 5 years old and Ch Pongolands Urci Will
Thursday 5 July 2007
All day we have been home and make things with the dogs, and take care of some paperwork (we really need to do this).
Chrissi do not want to be with her puppies all the time now so we change place for the bitches, and build a new place so she can jump out much easier than before when she want to rest. Try to take standing pictures of donnas litter, but we have to wait one or two days more because the pictures was not good at all.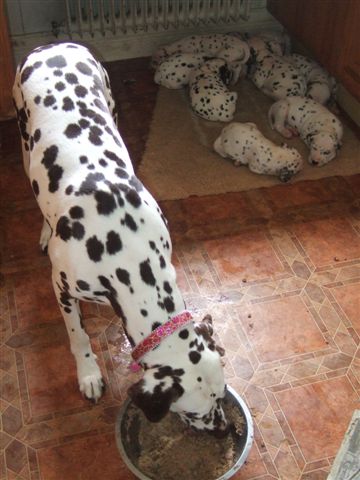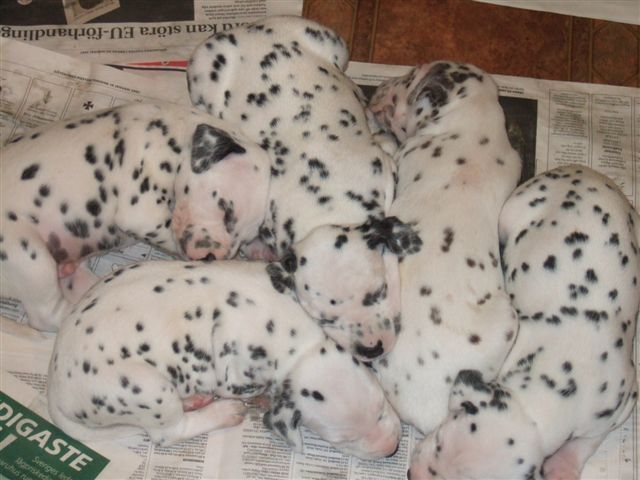 Here is the thief ...Jill! Some of Donnas puppies 3 w old. Better to sleep here so I´m first next time for food.
Wednesday 4 July 2007
Today we went to Kungsbacka about 200 km from home to take Devlin and Bosson to a osteopat...it is a man that works with people, horses and dogs if they have problems with their muscles or bones.....we have been there many times before with Bosson after he was injured in his leg some years ago, but Devlin was there for the first time. I just wanted Lasse to take a look at him because he is not so strong in his legs for the time, and there is a bitch from Russia who want to come for mating soon. After going through Devlins body he say that it was just a small passage in spinal, so that is why he is a little bit weaker now....I was so stressed that he will be hurt during the palpation. Lasse knows all about Devlins operation two years ago when he walk into a wall in our caravan and got a hernia in his neck (halsdiskbråck) and he know also that he was lame two days later and how we rehabilitate him many months after the operation. No one belive that he can walk again and he have even mate three bitches since that...it is a miracle.....and the greatest reward for us is to have him here with us, I´m so greatfull for every morning he jumps out of my bed and run down the stairs and out at the field....even if he looks like a Bracco Italiano when he run. I would like to tell the whole world and especially those three or four vetrinarians that ordered us to let him die imediately after his injury (skada) aug. 2005, because the operation will be so very expencive and that they could not give us any garantee that it will be sucessful. They tell us to spend our money on a long nice trip instead of an old dog!!! (Their "problem" was that we had no incurance on him) It was not a problem for us, you can NOT count money when it comes to your "children". We told them that we only want to give him a fair chance, and we do not ask for any guaratees. They think that he was soooooooooooooooooooo very old!!??!!??!! He was 8 year than almost 9, and today he is almost 11 year.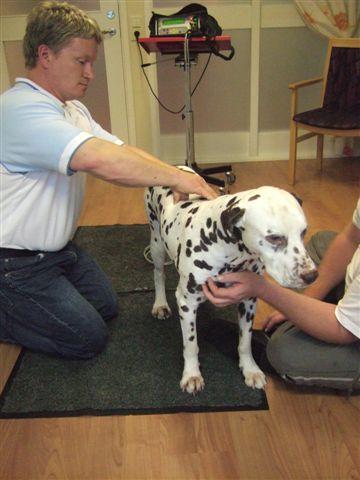 Devlin think it is always funny to try something new....
I have lived close to Kungsbacka 10 years ago (Devlin was born there) so I love to shop in a large center there...especially in their Flower Shop, so of course I have to go back there to buy some flowers for Jennie, she lives in Kullavik close to Kungsbacka so we will drive to her on our way back home...
Rune found something else to buy *S*!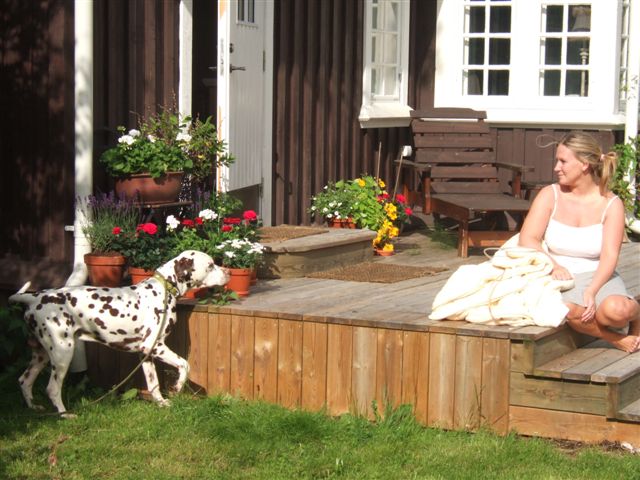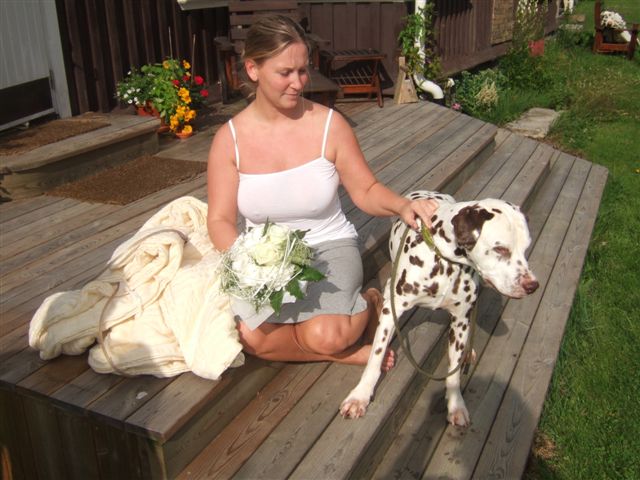 At Jennies place I found a toy, just want to carry it and se if it scream like my toys at home. Don´t hold me I want to go to the rabbit!
Ellie was sick but she was so happy when we came.........Flowers for Jennie and Ellie...............!
Jonnie bought a new car again!!!
Tuesday 3 July 2007
To the vet with Chrissi´s puppys four weeks old today to contrast x-ray them for MEGA-O, all of them were 100 % free, even the deaf puppy that we put to sleep after the x-ray.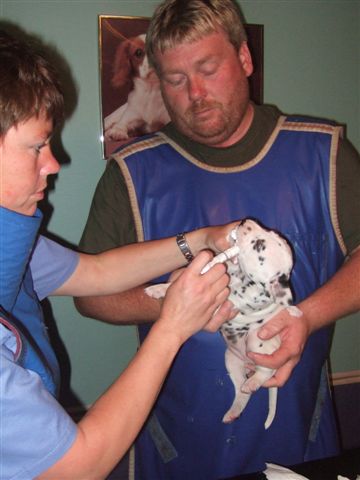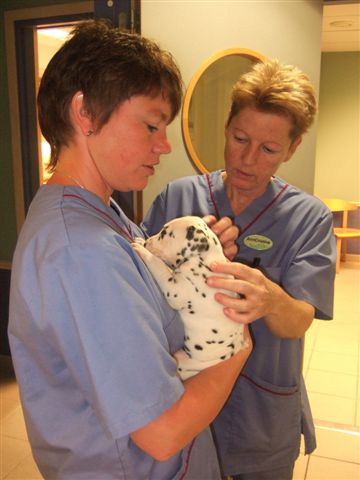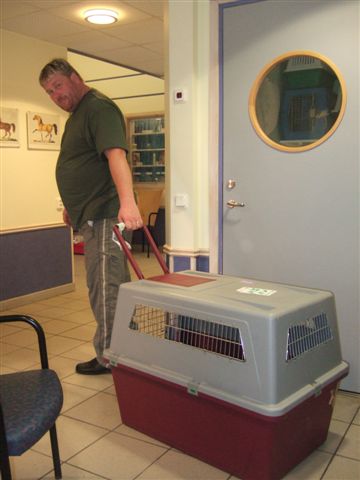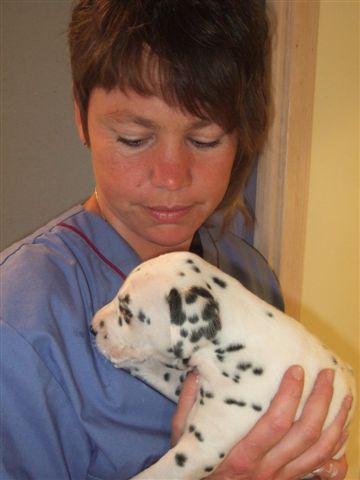 Contrast before x-ray Best Clinic for dogs and owners in VARA Home again Goodbye Darling
| | | | |
| --- | --- | --- | --- |
| | So happy to come home and see that a Pepsi bottle had exploded in the freezer (we put them there to get them really icy!!!) And this was NOT the first time......... | | I love the small puppies here at home, but I can´t get any....so mummy gave me a nice bone instead... |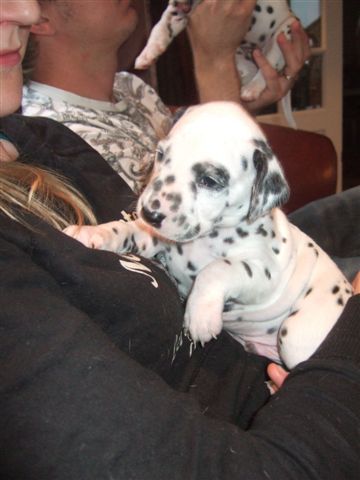 In the evening grandma and grandpa came to play with Chrissis puppies,and Jenny was here to take care of Donna and her puppies.
Monday 2 July 2007
I was sleeping almost the whole day...not feeling good at all. Rune was out for some hours to build a little bit more on the pooldeck.
Sunday 1 July 2007
Uppdated pictures of Crissie and Devlin's children. Jilloc's S-litter 2007 3 weeks and 5 days on pictures.
It was very nice weather and we were out with the dogs the whole day. Helena Berg from Stockholm(owner of T Movie Star o J Righte Here Right Now) have been here since yesterday and she and her dogs had been sleeping in our caravan.
Rolex and Diamond tested their new collar......and the other dogs was so jelous, but I brought to them too.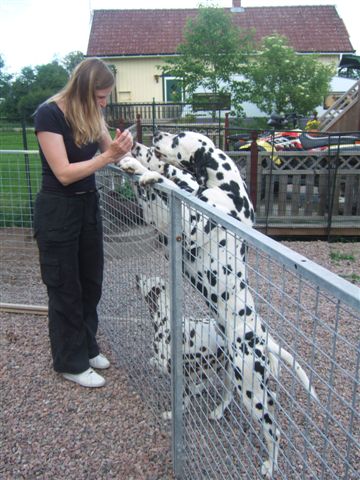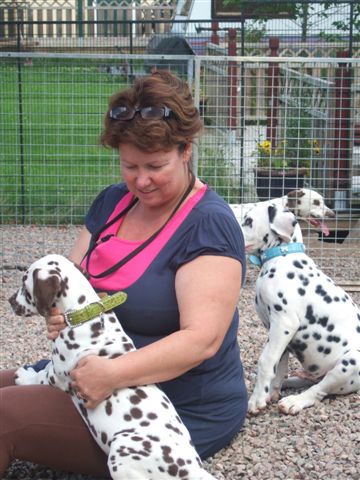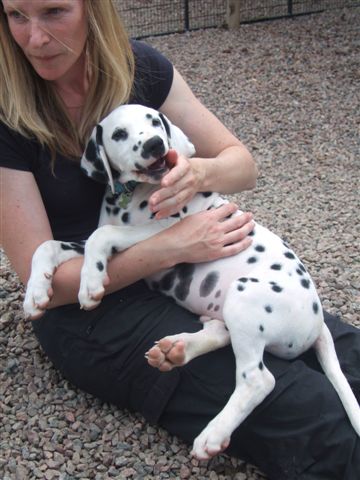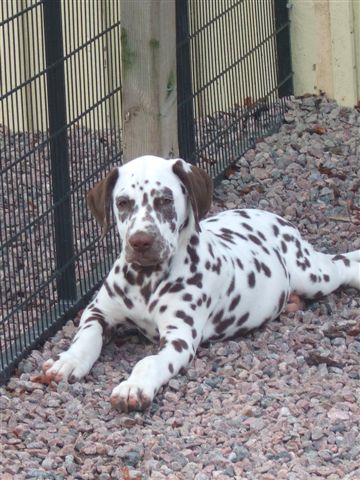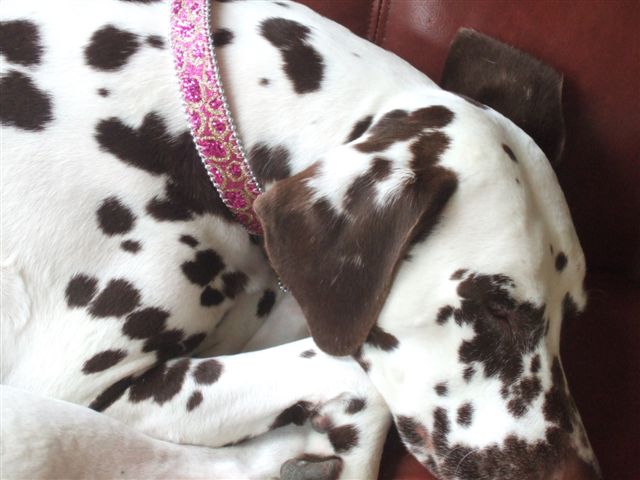 Jill think she should have a little more exclusive collar than the others. Devlin chose the same as his sons.